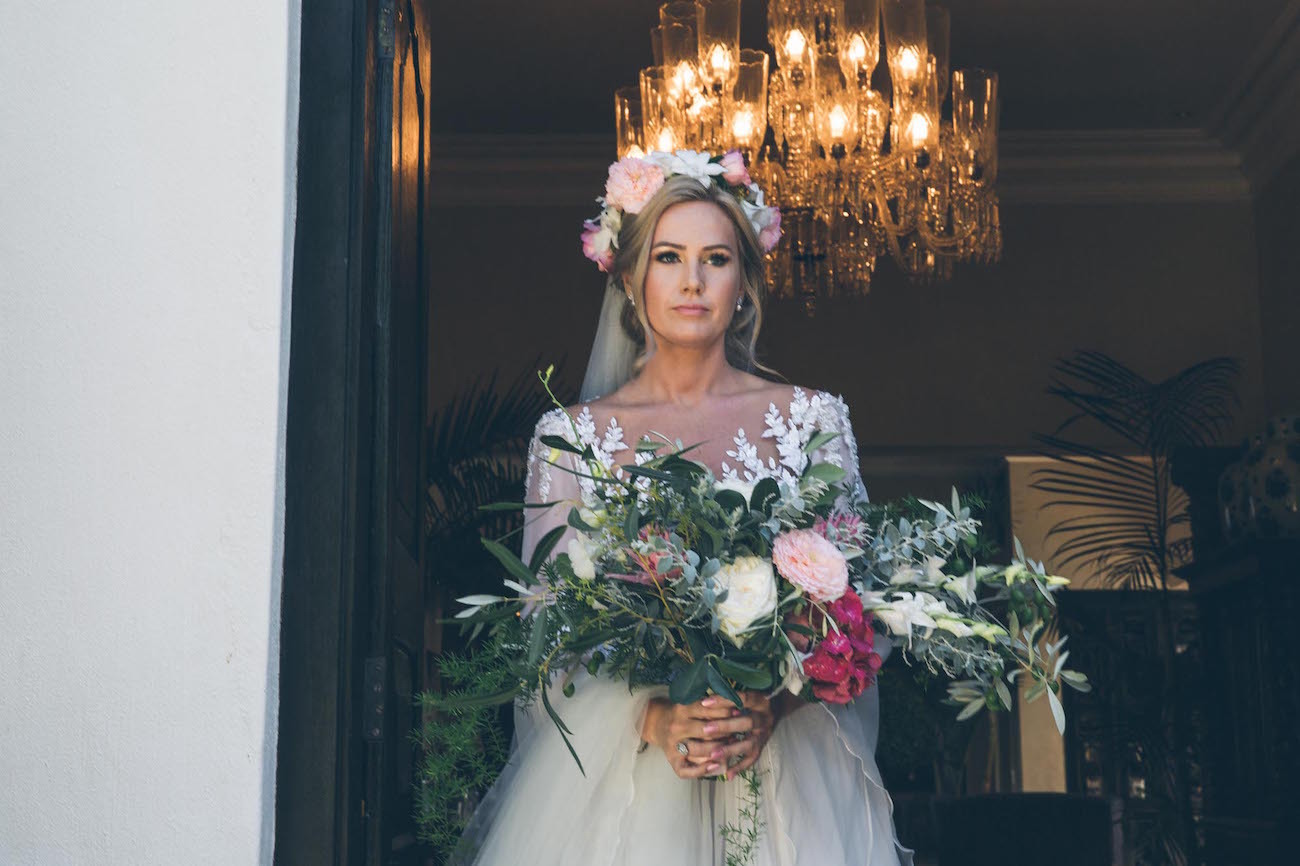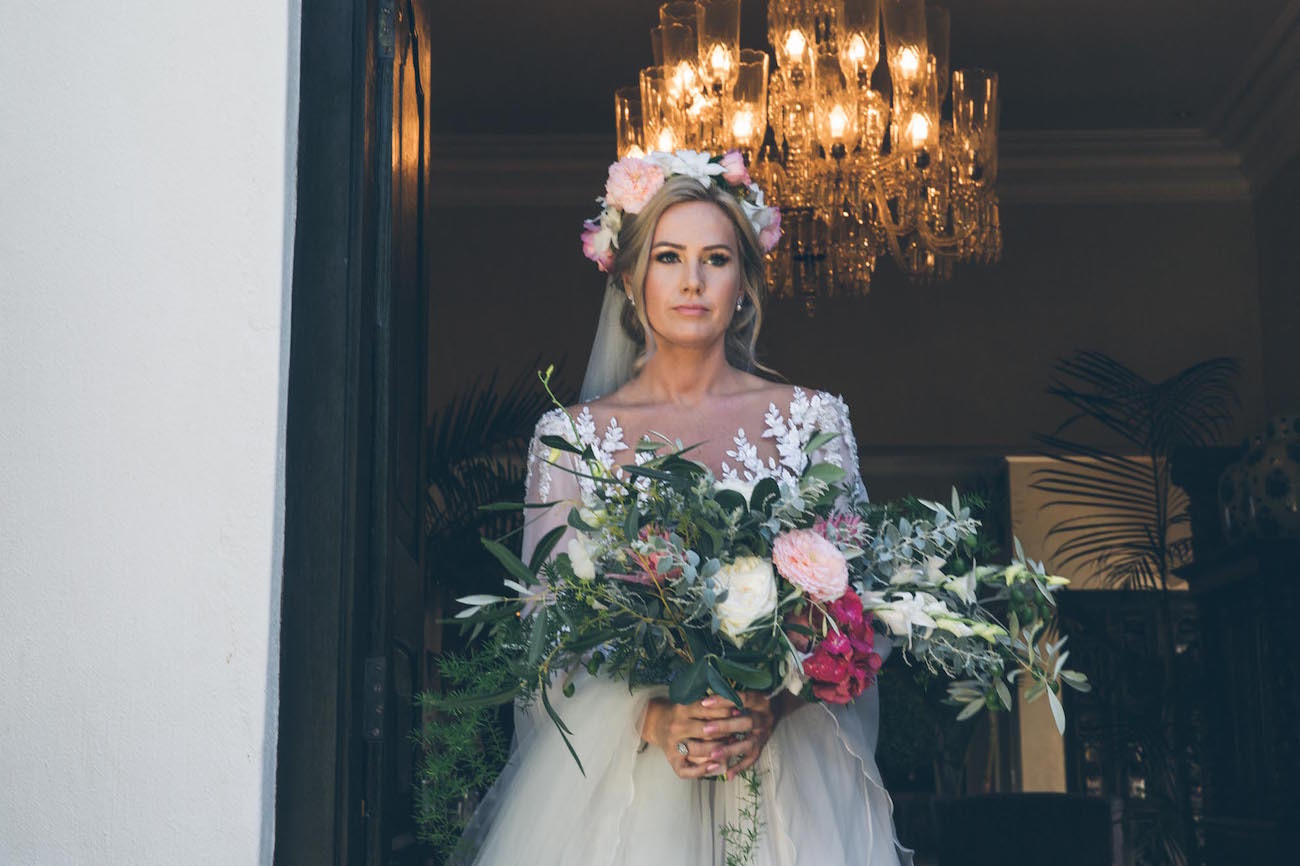 You know, I might have been doing this wedding blogging gig for a while (and thousands of brides might have stopped in for inspiration along their journey) but I still get such a thrill when a bride tells me that SBB has been a big part of her planning experience from day one. And when the end result is as heart-stoppingly GORGEOUS as Sandrine & Sam's wedding? Well, that's one giant compliment! Everything about this celebration makes my heart sing, not least the reception in the midst of the Molenvliet vines, the incredibly lush florals, and hello – Sandrine's incredible wedding gown! Serious. Wow. Factor. The couple, together with their superstar planner, Cara of Mosaic Weddings, took A Midsummer Night's Dream as their inspiration and translated it into a day that manages to be romantic and elegant and utterly magical, with fairy lights everywhere and personal touches, and peeks of floral print complementing those beautiful blooms. Basically, perfection. Shanna Jones took these wonderful pics!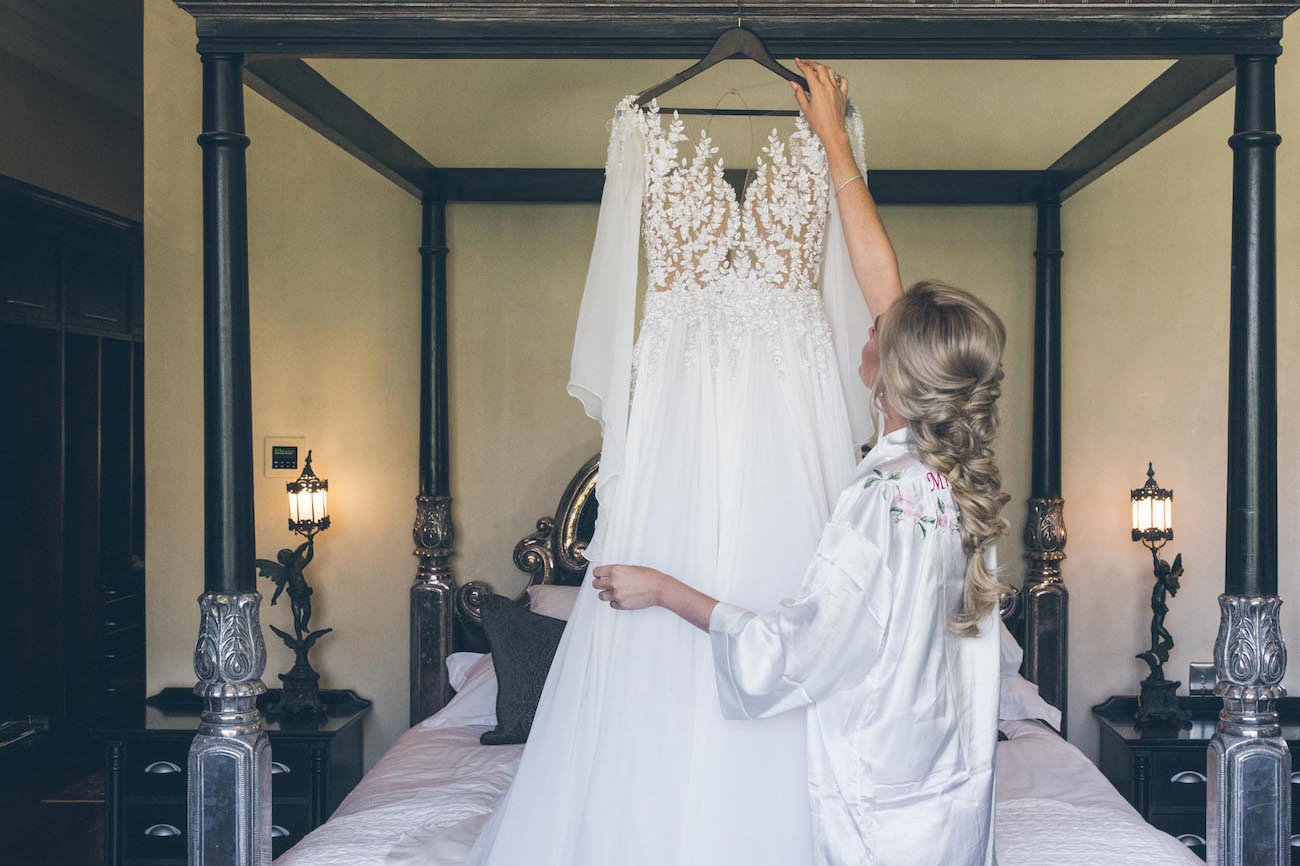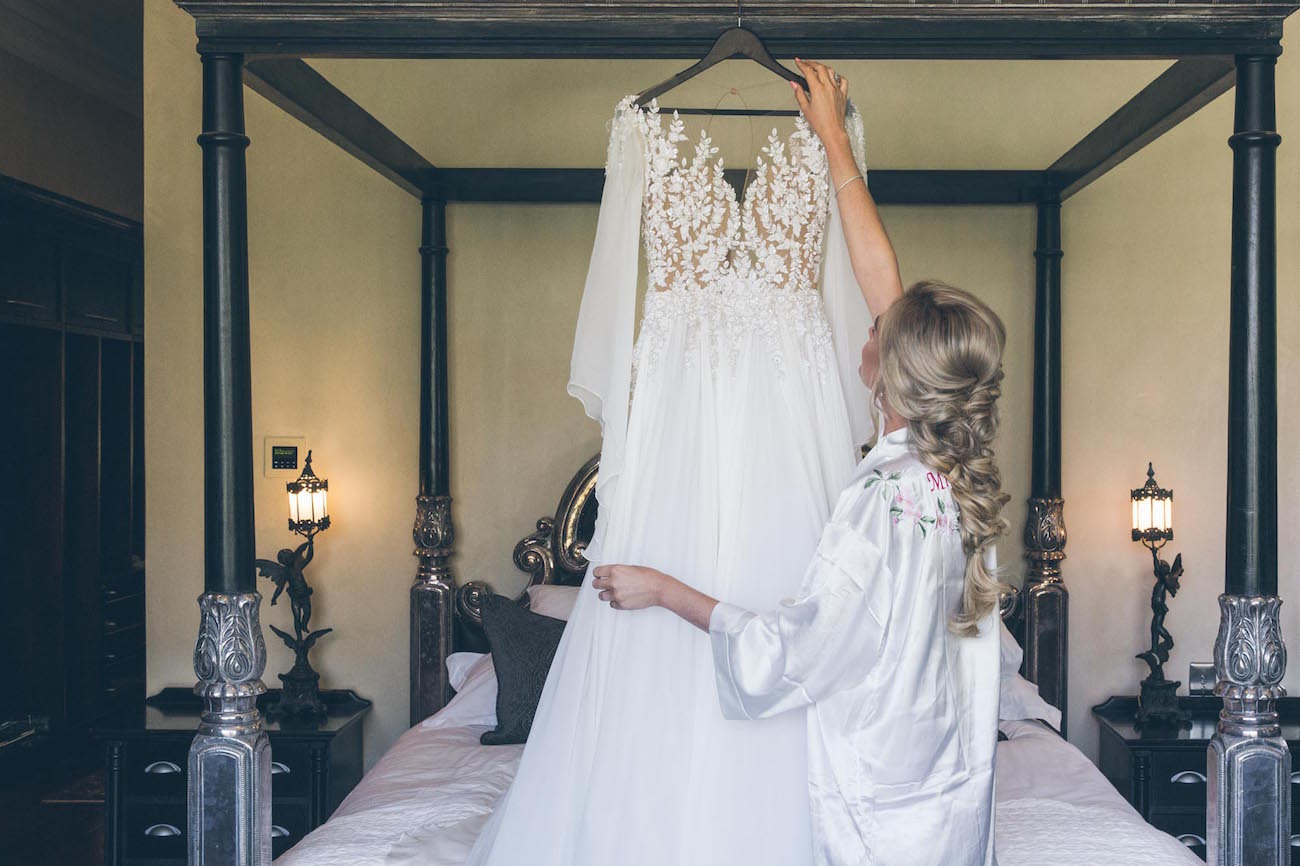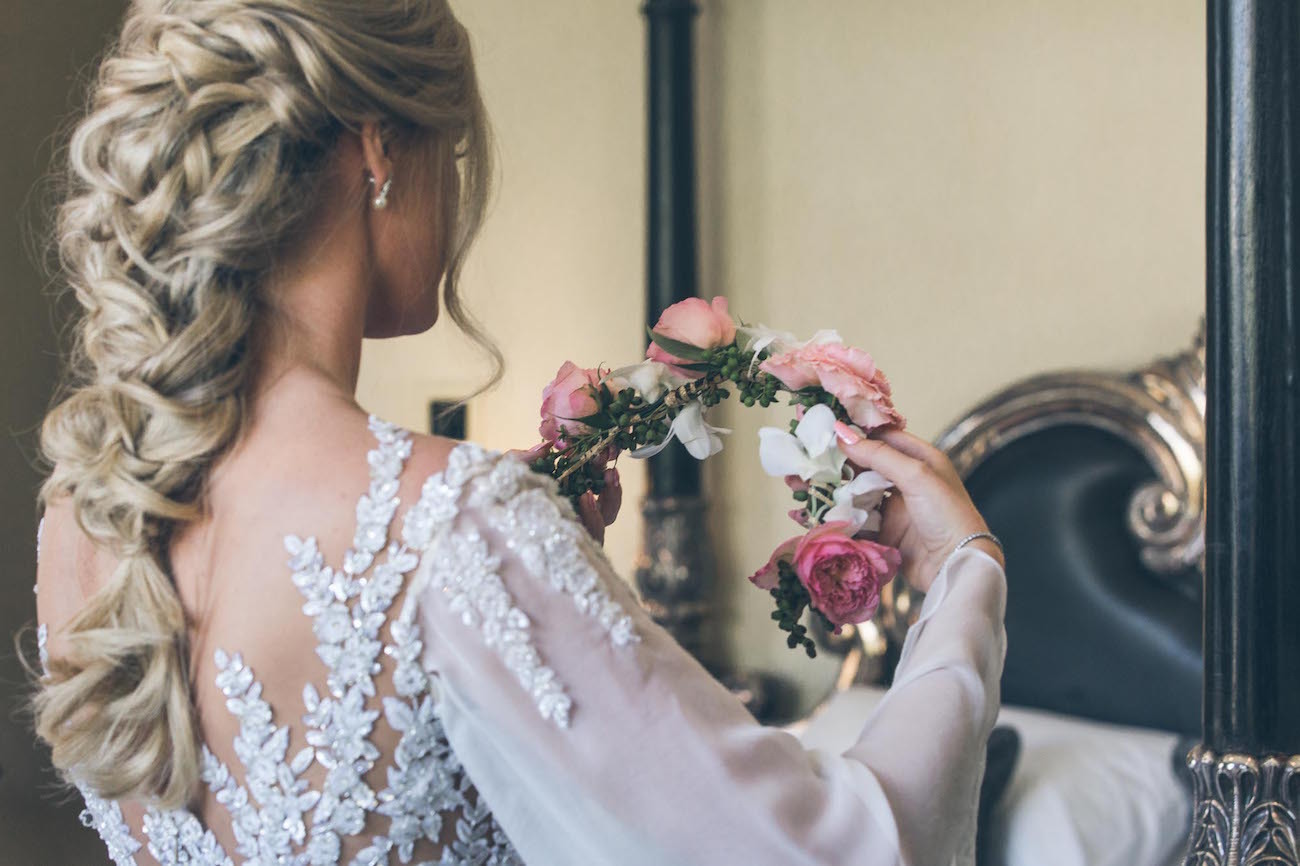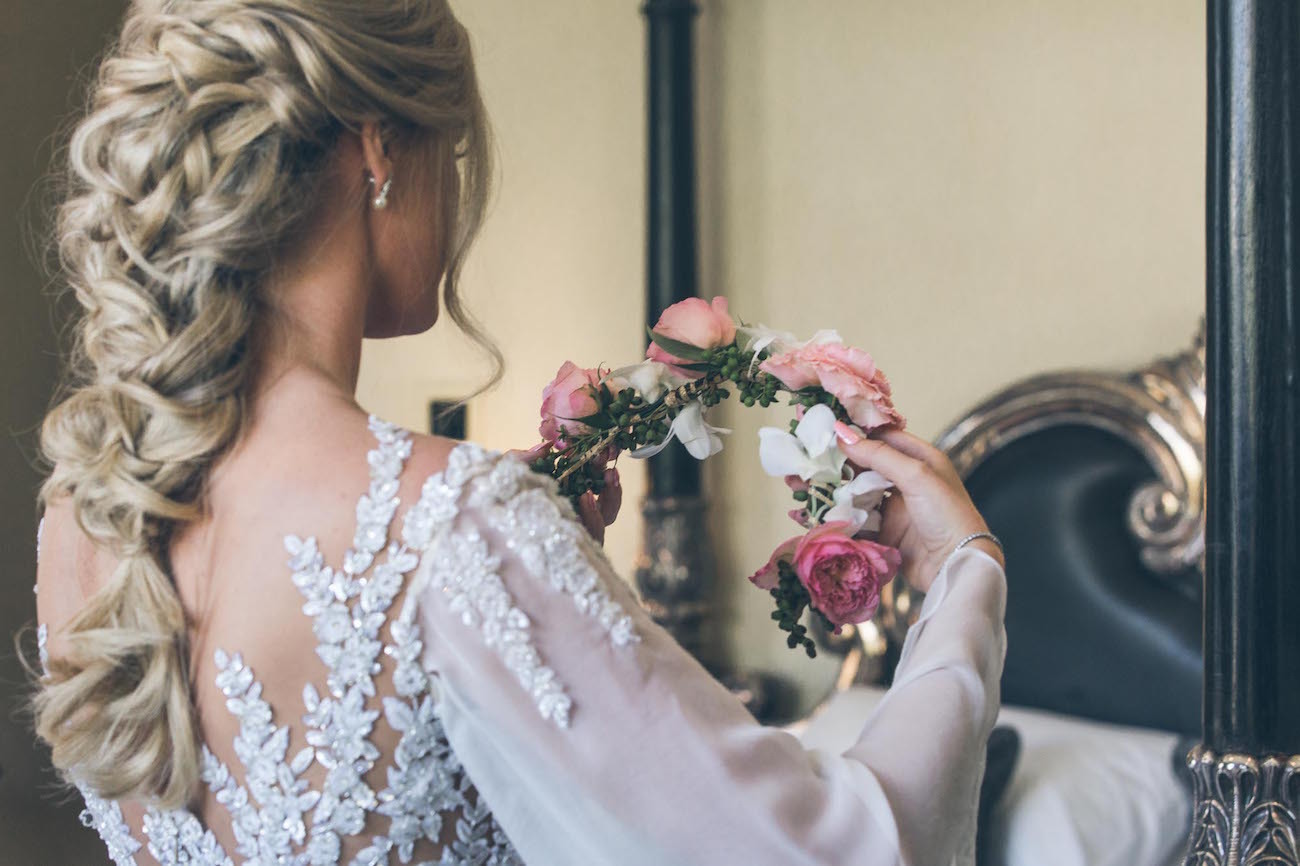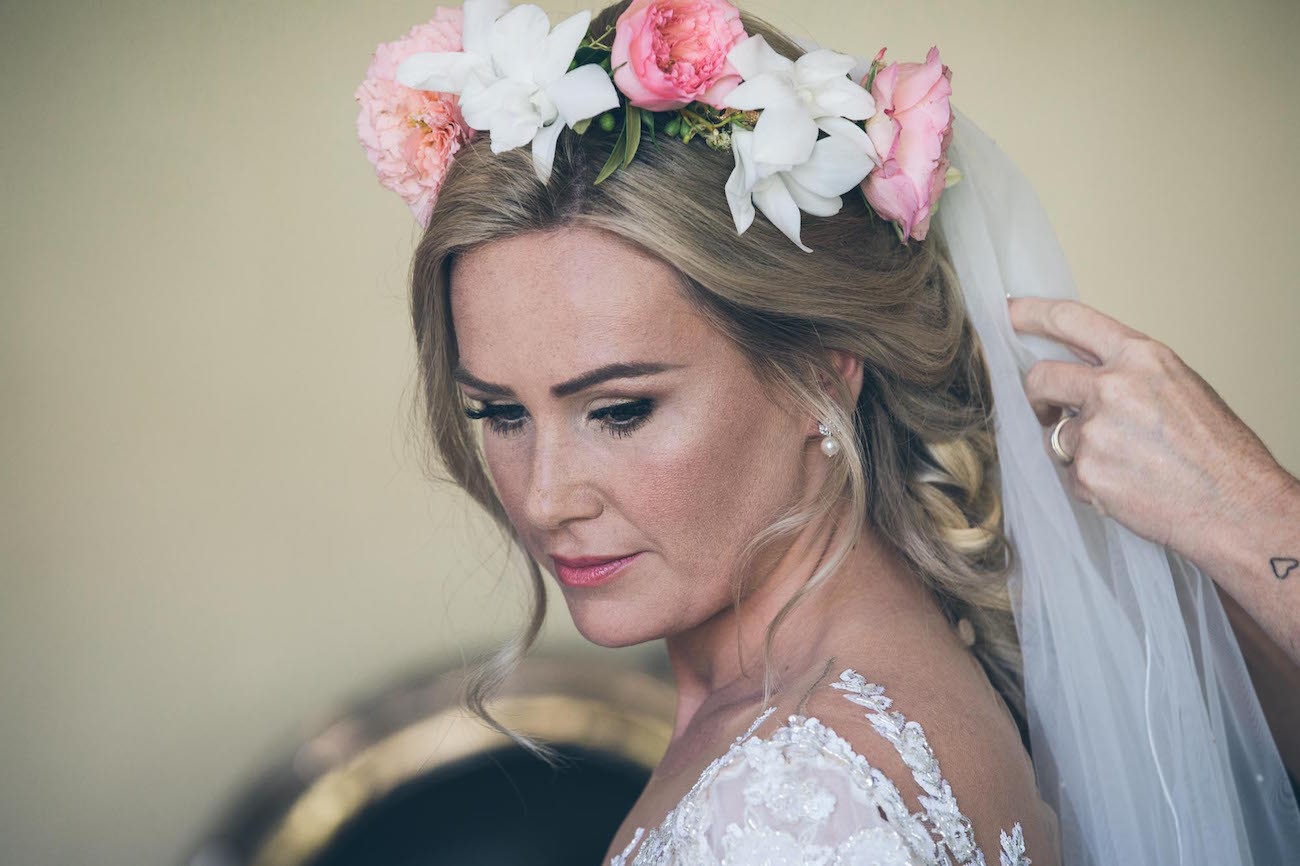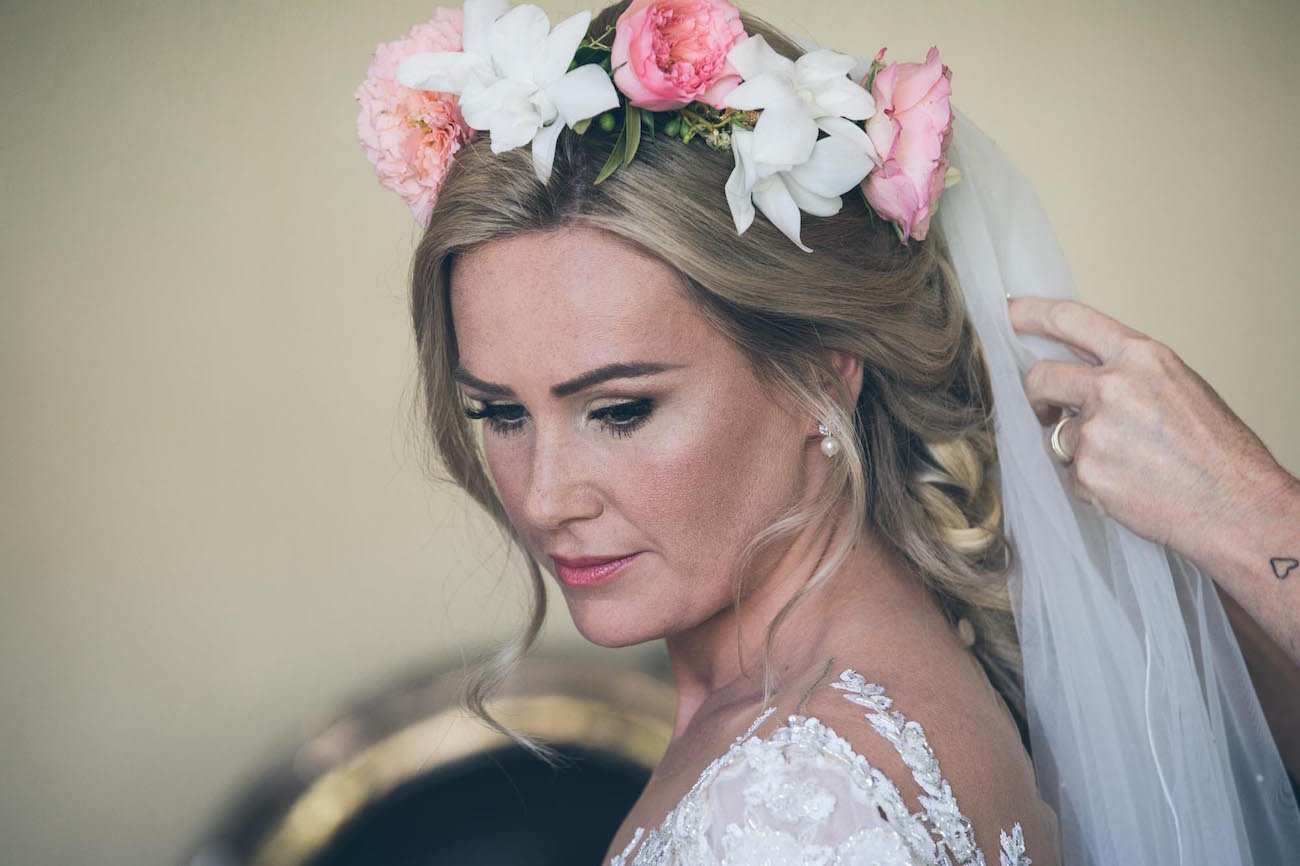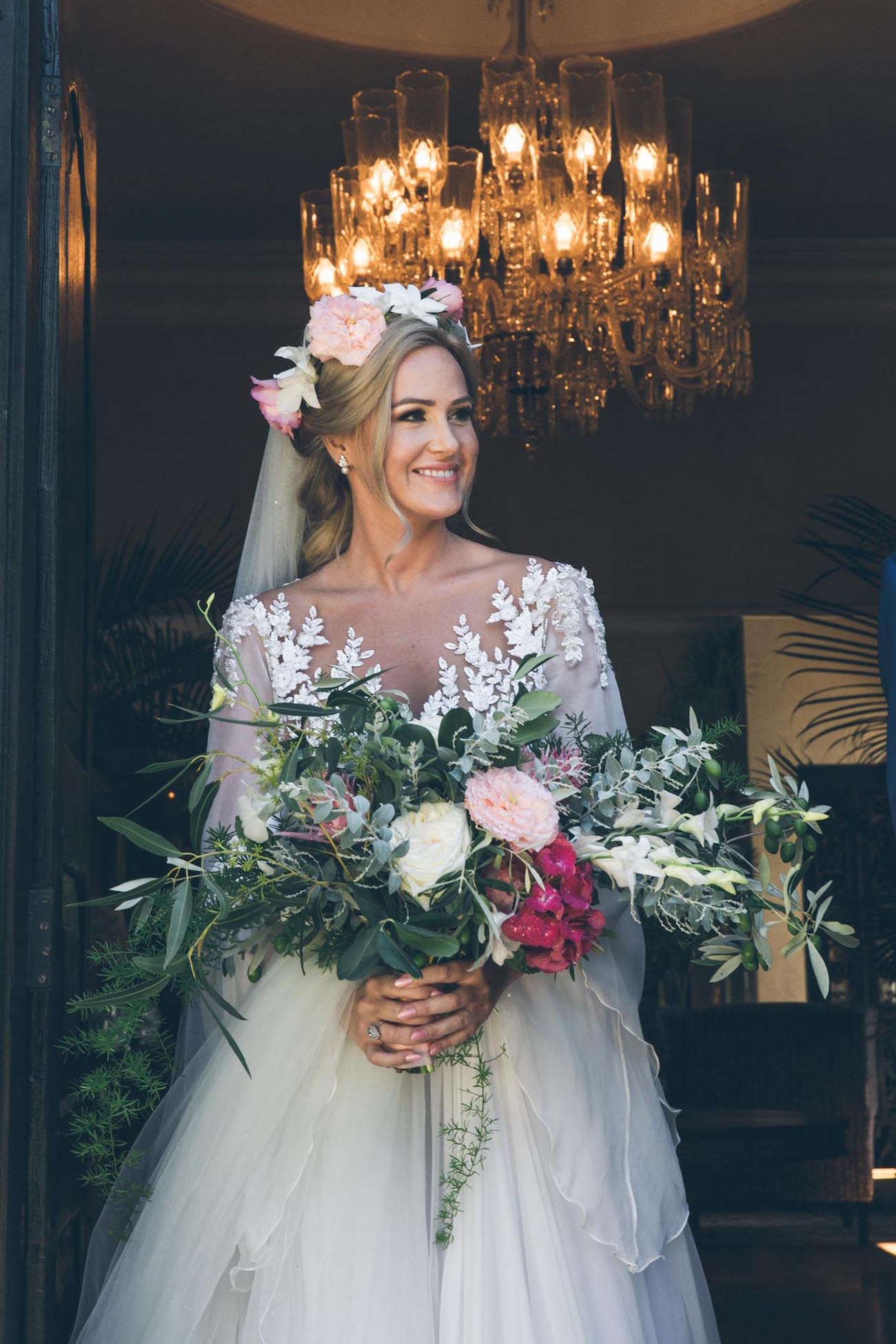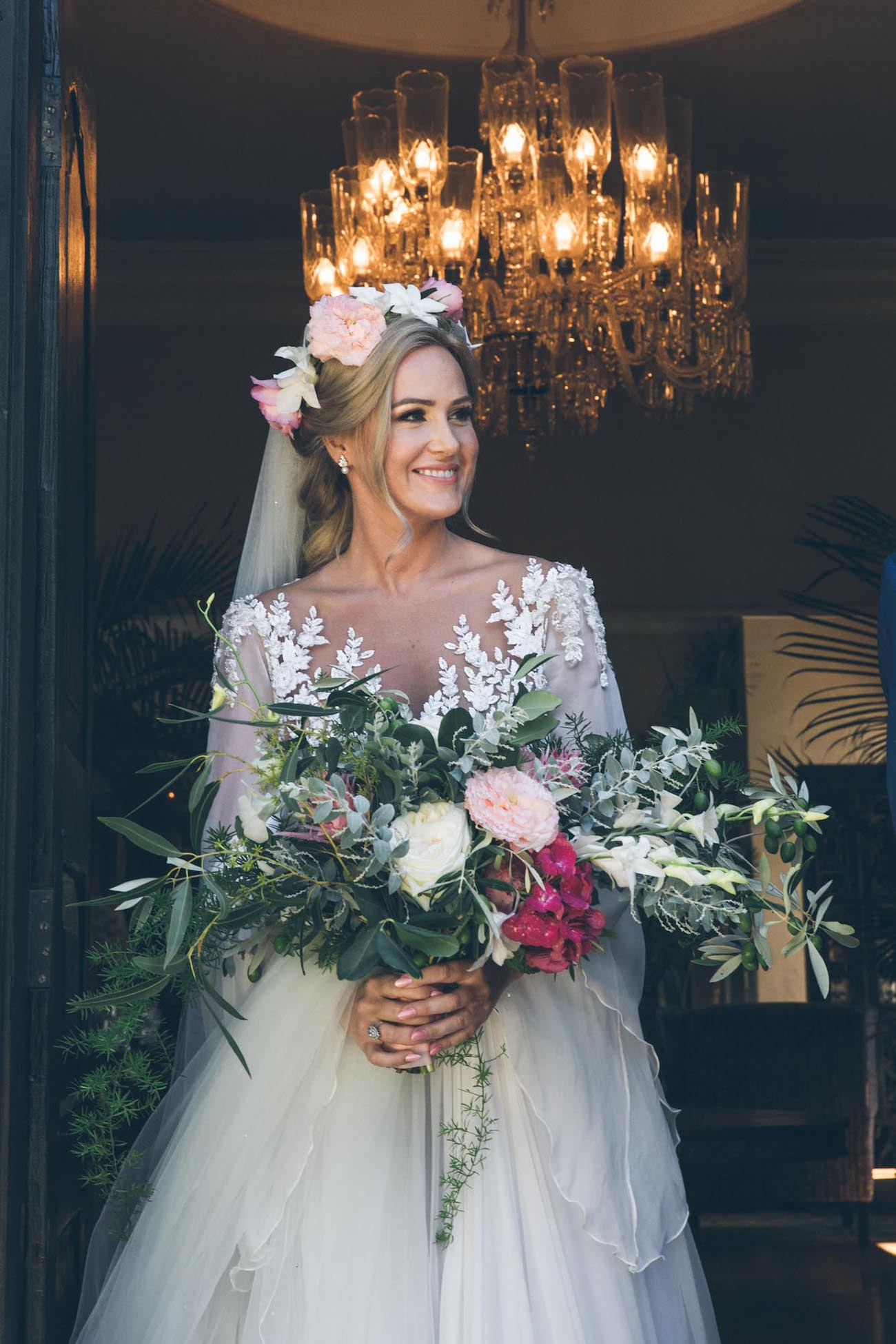 Love Story
Sam: I met Sandrine in my first week of living in London. I had just started as an intern at a finance firm and we met while I was out with some friends celebrating getting my first job. I still remember seeing Sandrine walk through the door of the bar and thinking she was the most beautiful thing I had ever seen. I then spent the few hours using all my best lines trying to impress her though I think I did the opposite! However, she gave me a second chance and agreed to go on a date with me!
Sandrine: A few months after moving to London from Botswana, I met Sam's sister. She casually showed me a picture of him whilst scrolling through her camera. I remember thinking he was utterly gorgeous, so I was thrilled when we met a few weeks later by accident at a local bar, though my first impressions of him weren't phenomenal as he danced on a table, dressed in only his suit trousers, with his shirt windmilling above his head! He called to apologise profusely the next morning and asked me out to the movies… three months later we moved in together and my "one year only in London" became a very distant memory.
The Proposal
Sam: I had been thinking of proposing to Sandrine for a number of weeks and I was heading out to see her in Botswana for a holiday. While waiting for my connecting flight in Johannesburg airport I walked past our favourite jewellery store, Browns, and thought I would take a wander inside… After checking my bank balance around fifteen times and asking the opinion of every sales assistant and customer, I walked out with something sparkly. Not the traditional ring, but a bracelet. I knew she would love for us to choose the perfect ring together. Well, if she said yes! Luckily my dreams came true and she made me the happiest man in the world!
Sandrine: During a trip home to visit my parents, we spent a few nights on safari in a stunning camp in the Okavango Delta. On the first night and after far too many G&Ts on our evening game drive, we bounced back into camp, reeling from great game viewings. Before supper, Sam suggested we take a stroll down the long candlelit jetty to a floating pontoon out on the water. It was a beautiful evening and I began to show off my very limited knowledge of the stars. We chatted away until I noticed that his voice sounded distant. I turned to look at him and saw him on one knee, holding out the most stunning diamond tennis bracelet I had ever seen, sparkling wildly in the candlelight. He said some very special words and asked me to be his wife. I was beside myself with surprise and utter heart-bursting love. When I finally managed my "YES!", it was completely muffled by a huge splash and loud grunts from a not so happy hippo that had popped up right next to us. We spent the rest of the night around the fire making plans for our future together.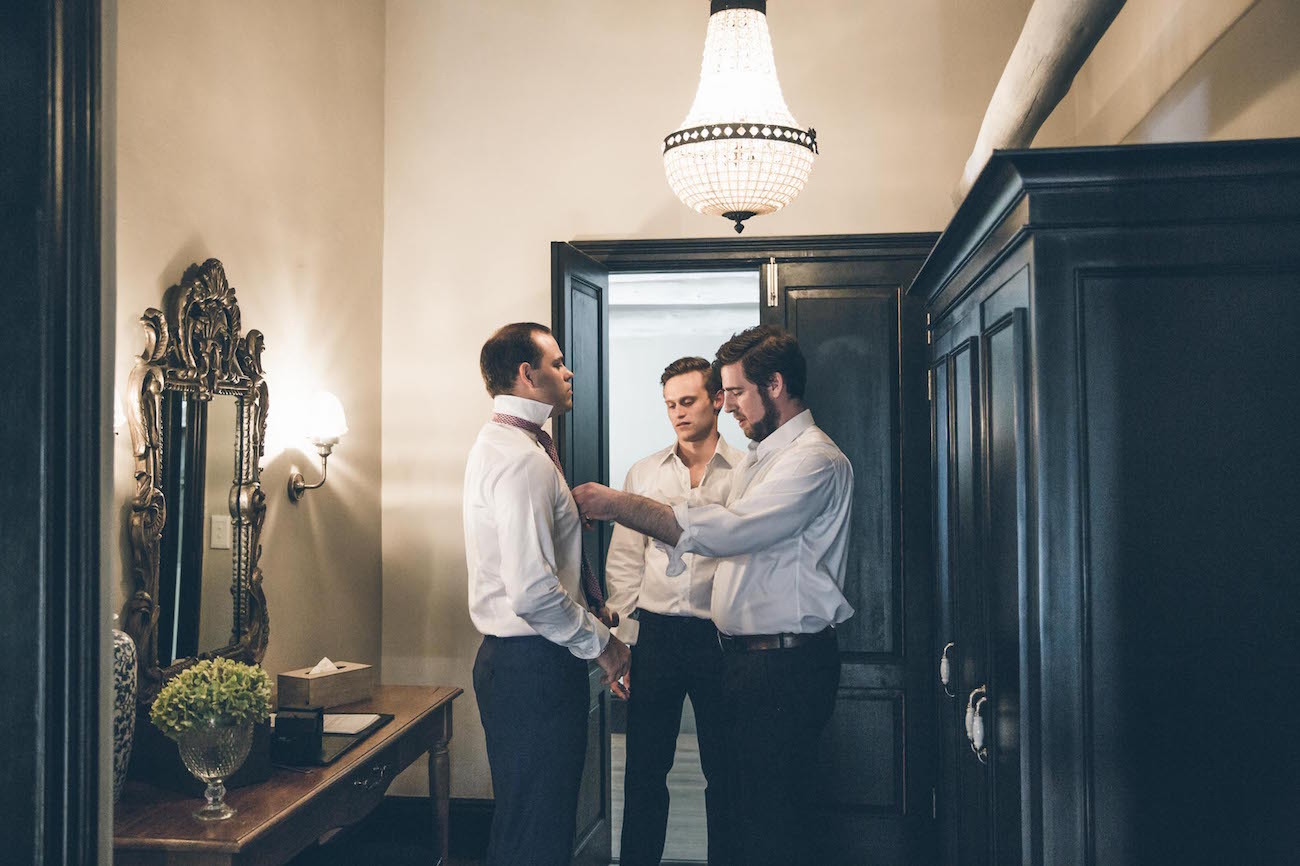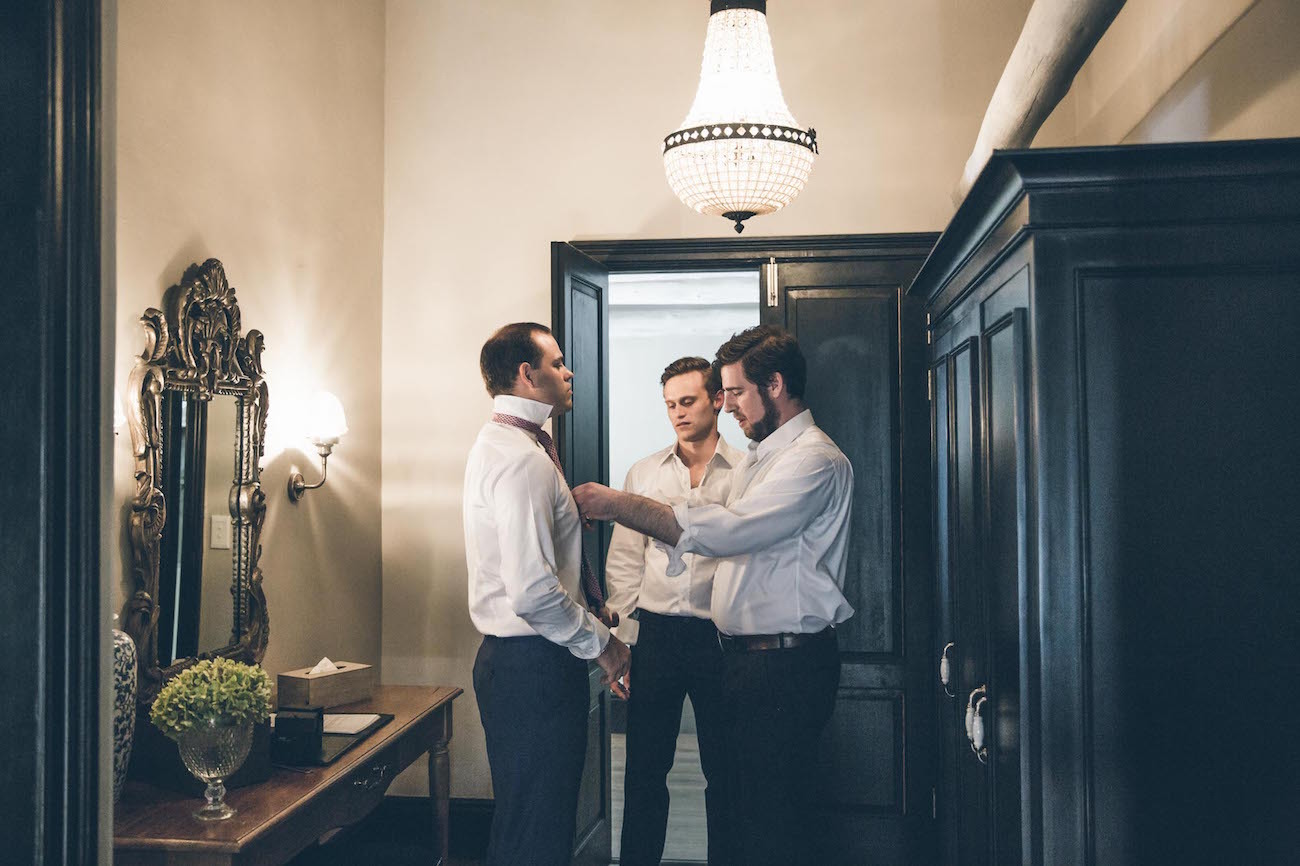 The Venue
Sam and I have always been in love with the Western Cape. We knew it would be the perfect place for a destination wedding. Molenvliet was our top choice on a very long list as we researched venues online from London. After a quick trip to view our favourites, it was clear that Molenvliet was perfect for us. The estate and venue is a blank canvas that we could dress from top to bottom to create exactly what we wanted. Though with the views of the mountains and vineyards, you could easily do next to nothing with decor and still make everyone's jaw drop! We loved the incredibly luxurious accommodation on-site with the two separate houses for the bride's and groom's wedding parties, and the cottages for close family to be on-site. It was simply perfect.
Wedding Style
We wanted to create a very romantic, ethereal forest feel for our day, and to spend as much of our time outdoors as possible. 'Midsummer Night's Dream' was researched to death and we brought aspects of the whimsical look to each part of the celebration. Thank goodness for websites like SouthBound Bride, which offered such amazing ideas and inspiration for us. We chose bright and deep pinks and dark green colours for a rich woodland feel. We especially loved playing with the lighting and used a large variety in every area possible. Candles and bulbs of all sizes and strengths where crucial to keeping the mood soft and romantic. We dined outside on the deck and ran fairy lights along the white draping on the beams above us, with naked bulbs hung low along the tables to contrast the candlelight. We also lit up the vines to make the most of them after the sun set behind the Banghoek valley. It all looked so magical!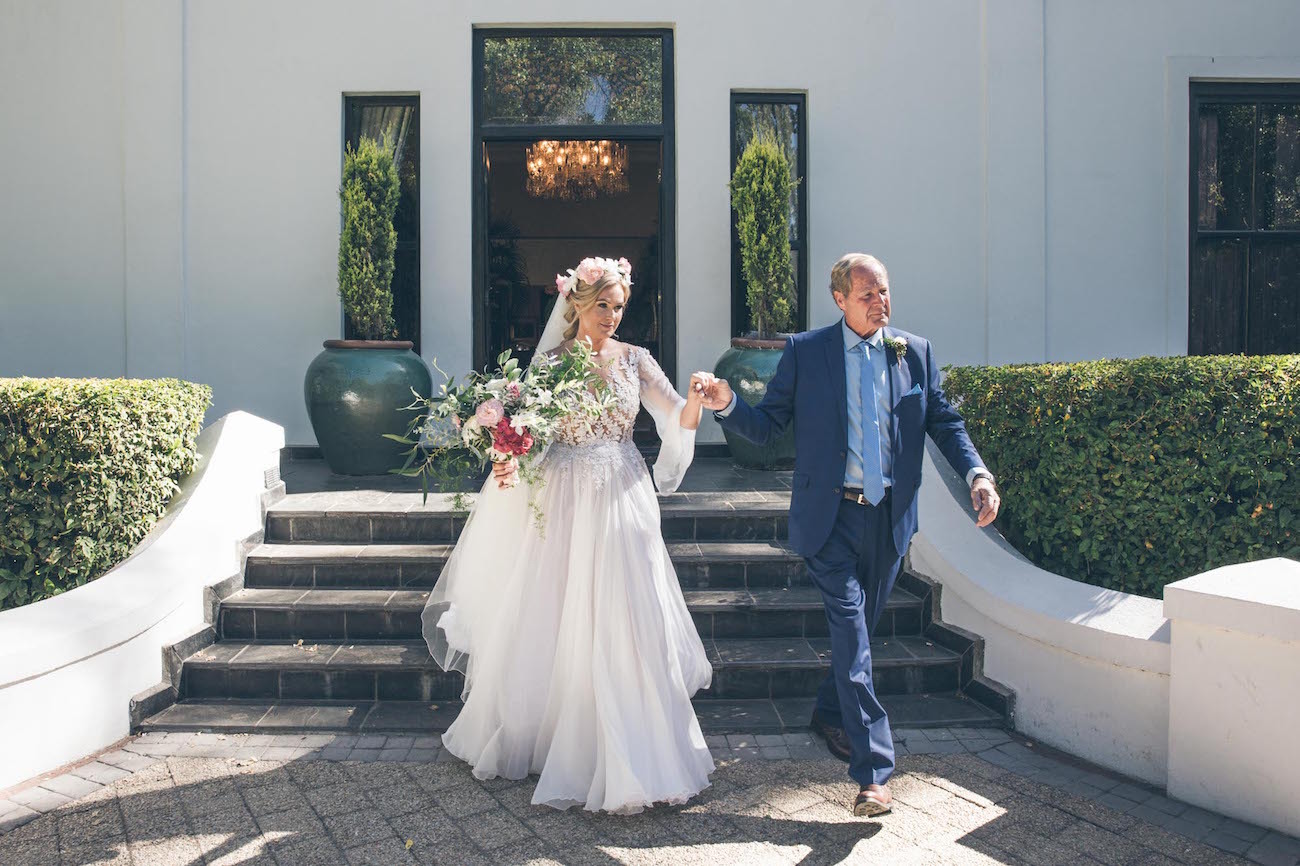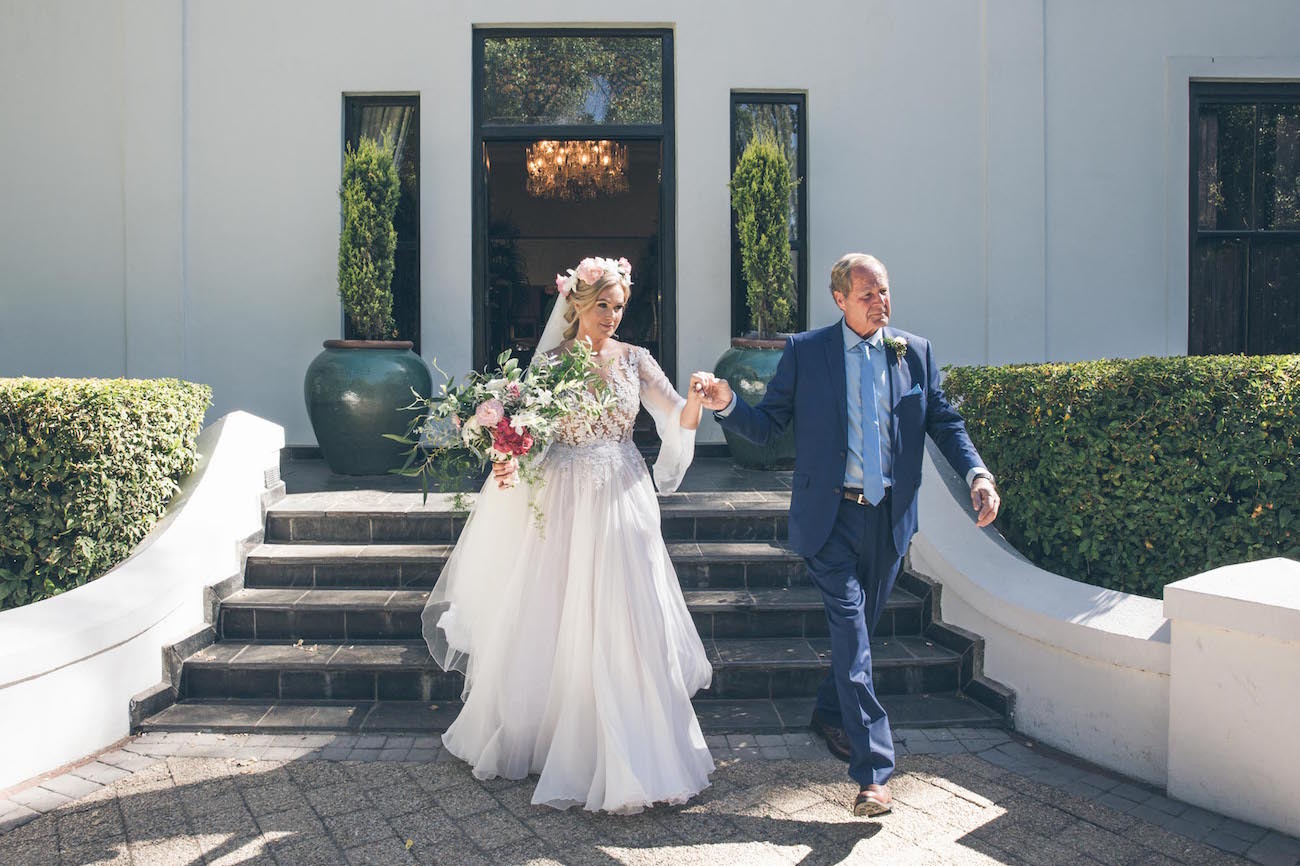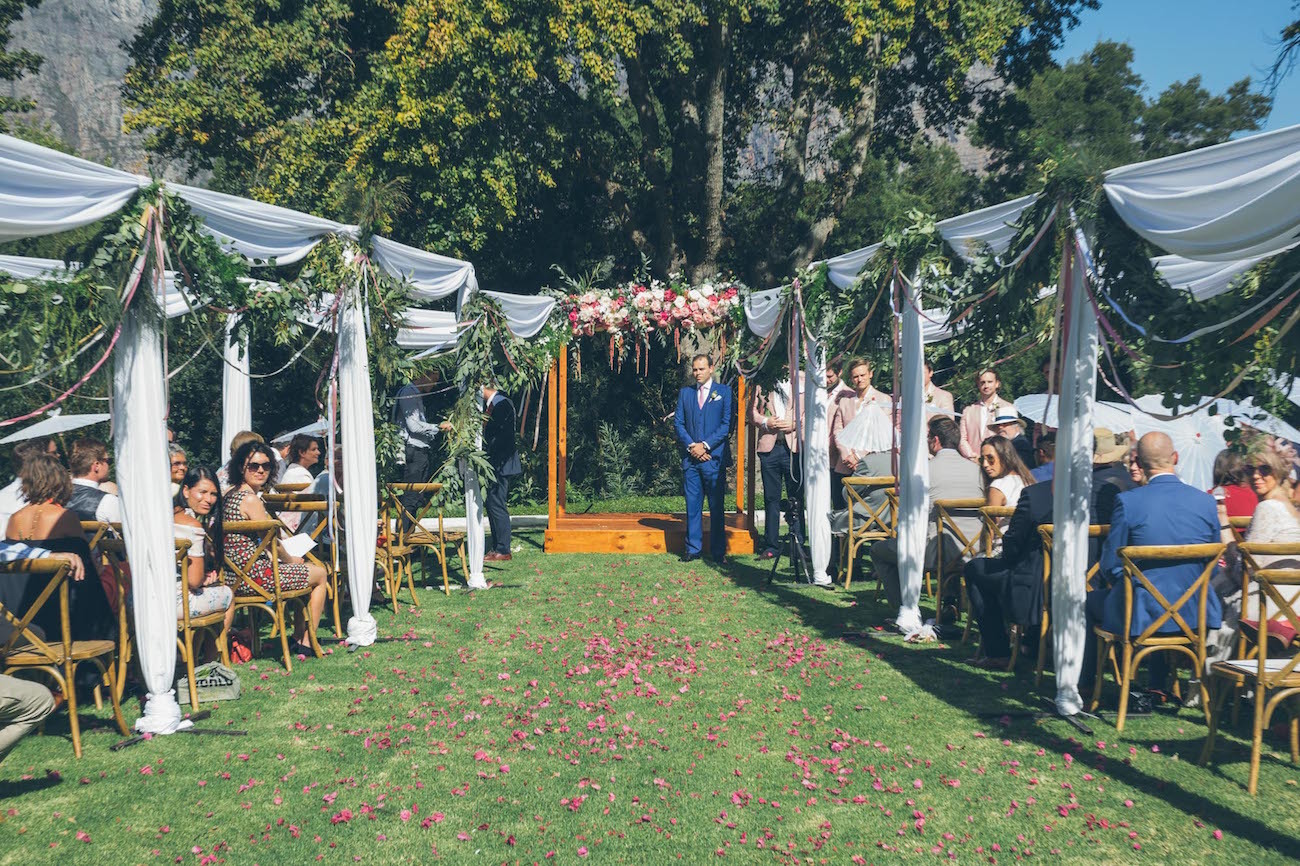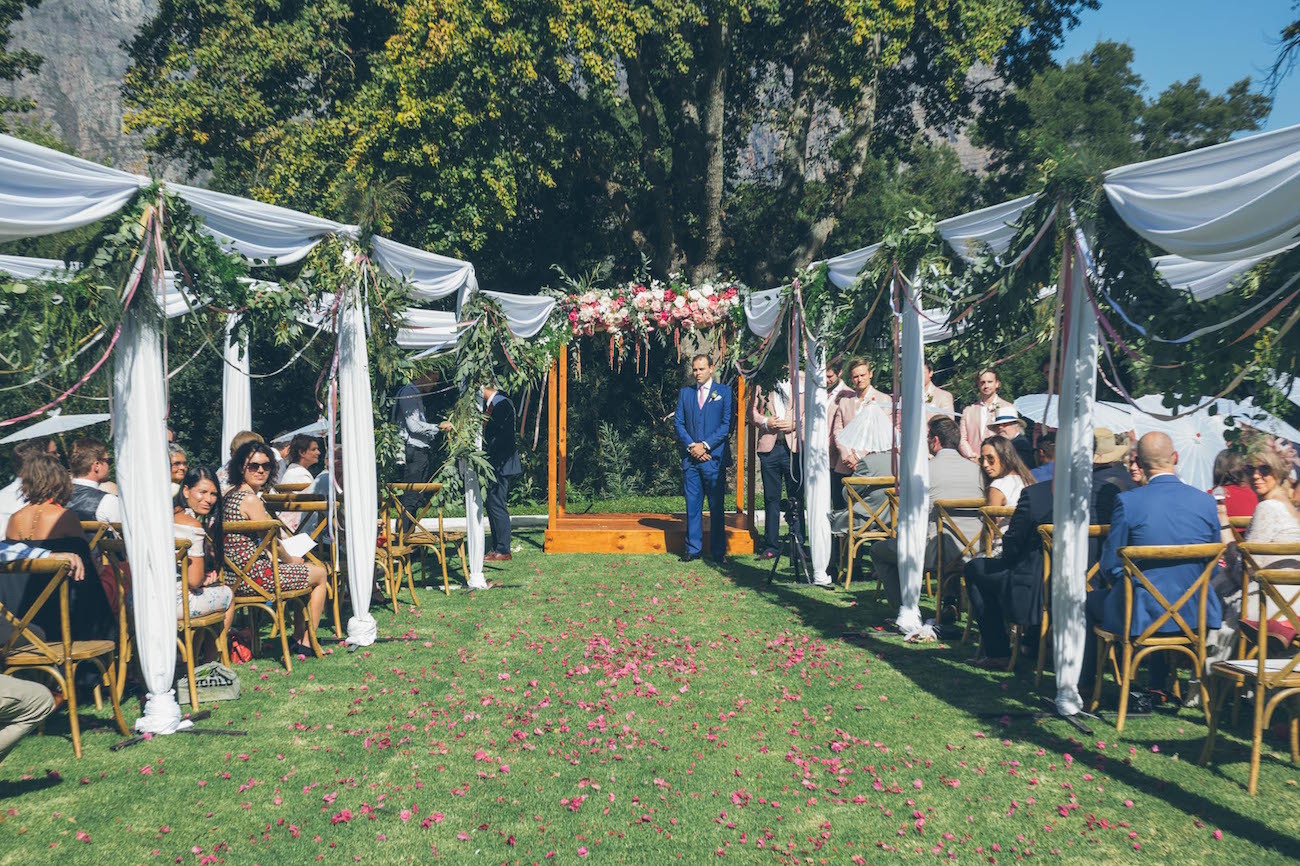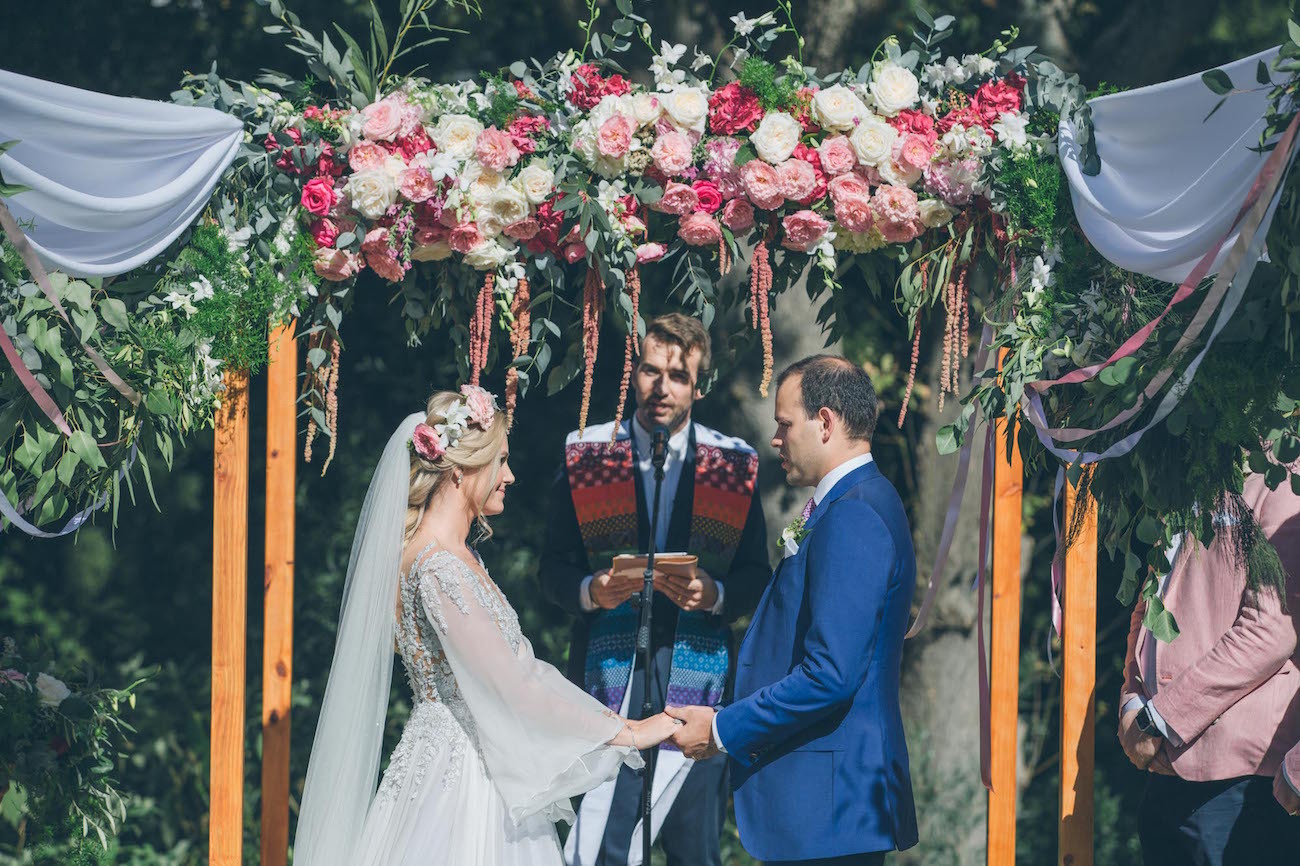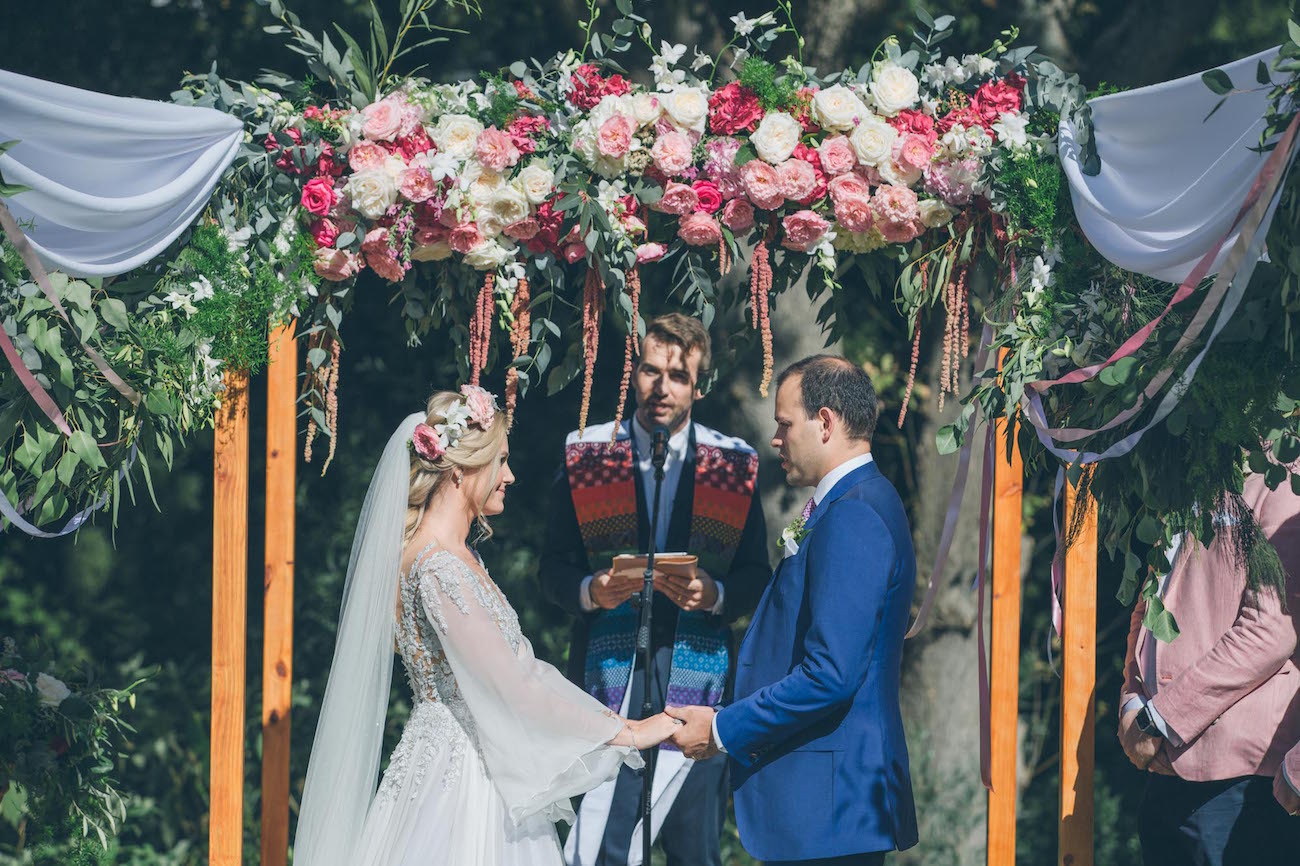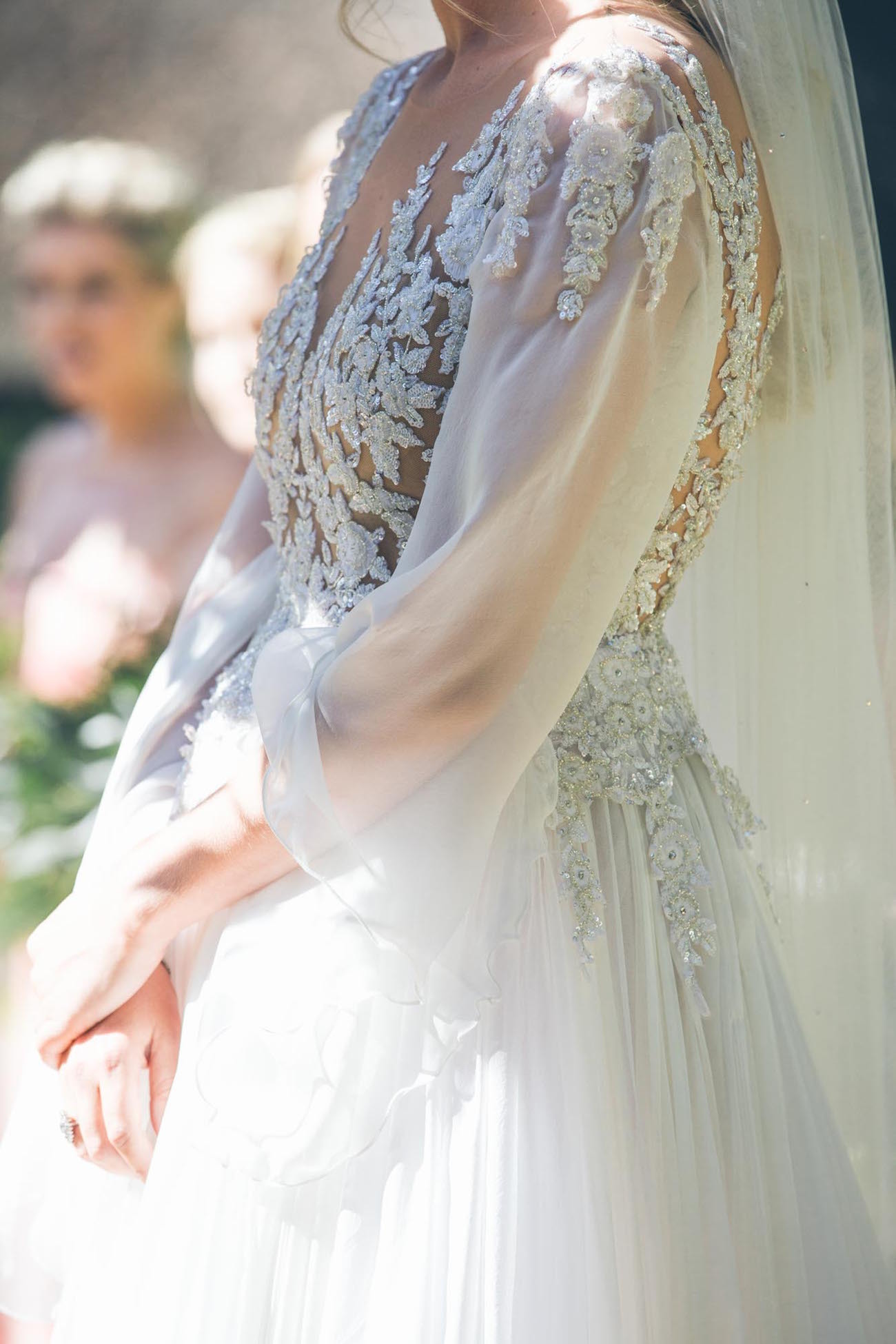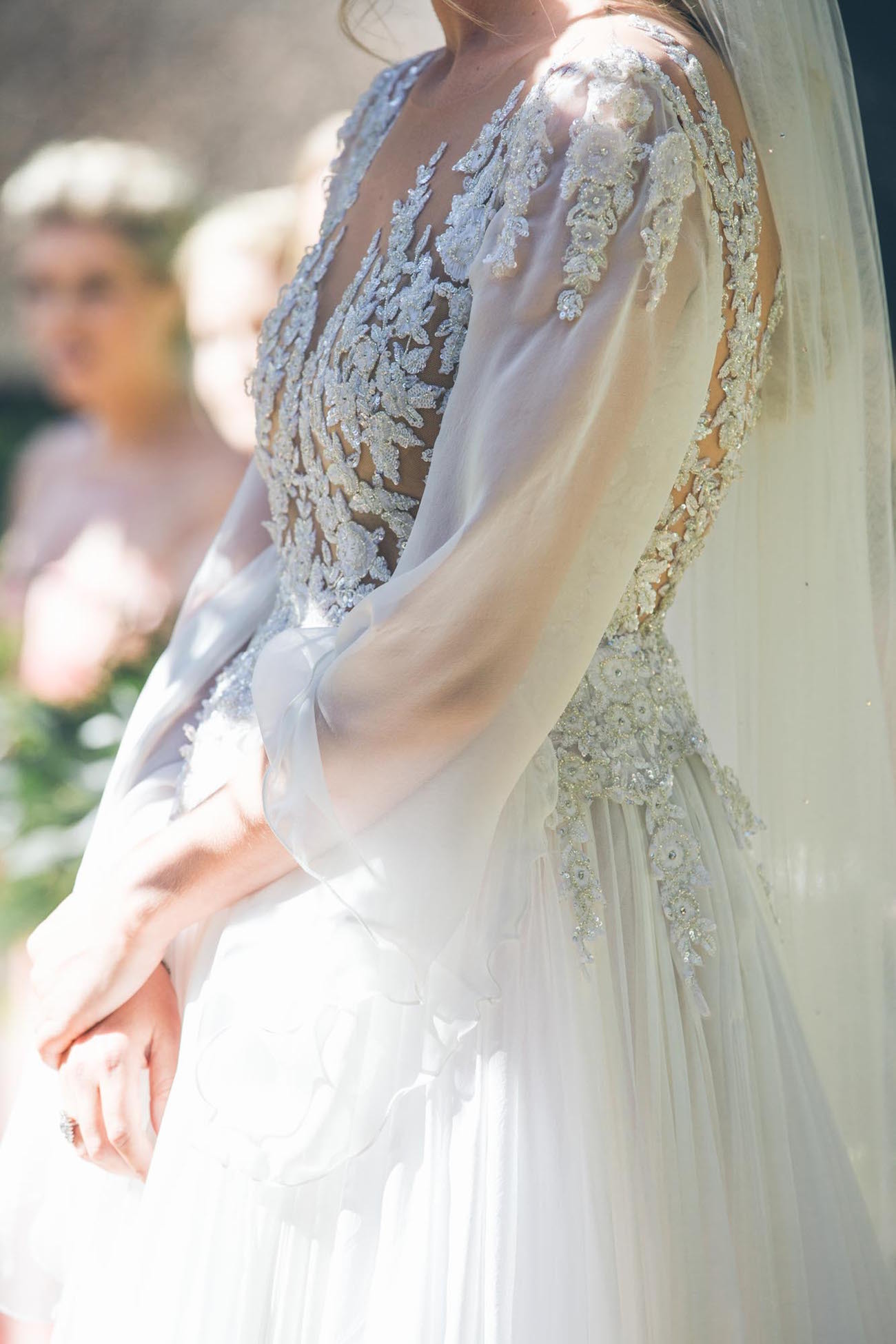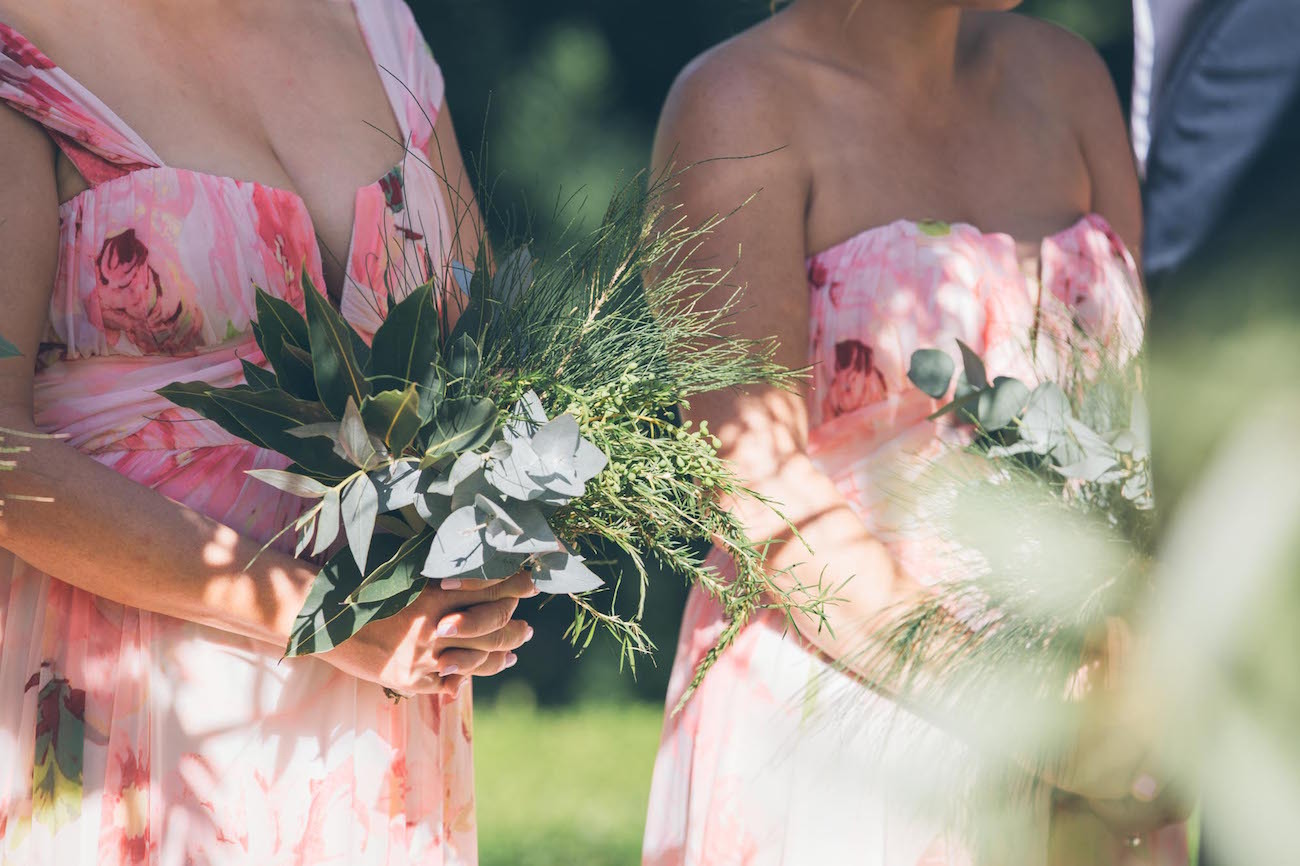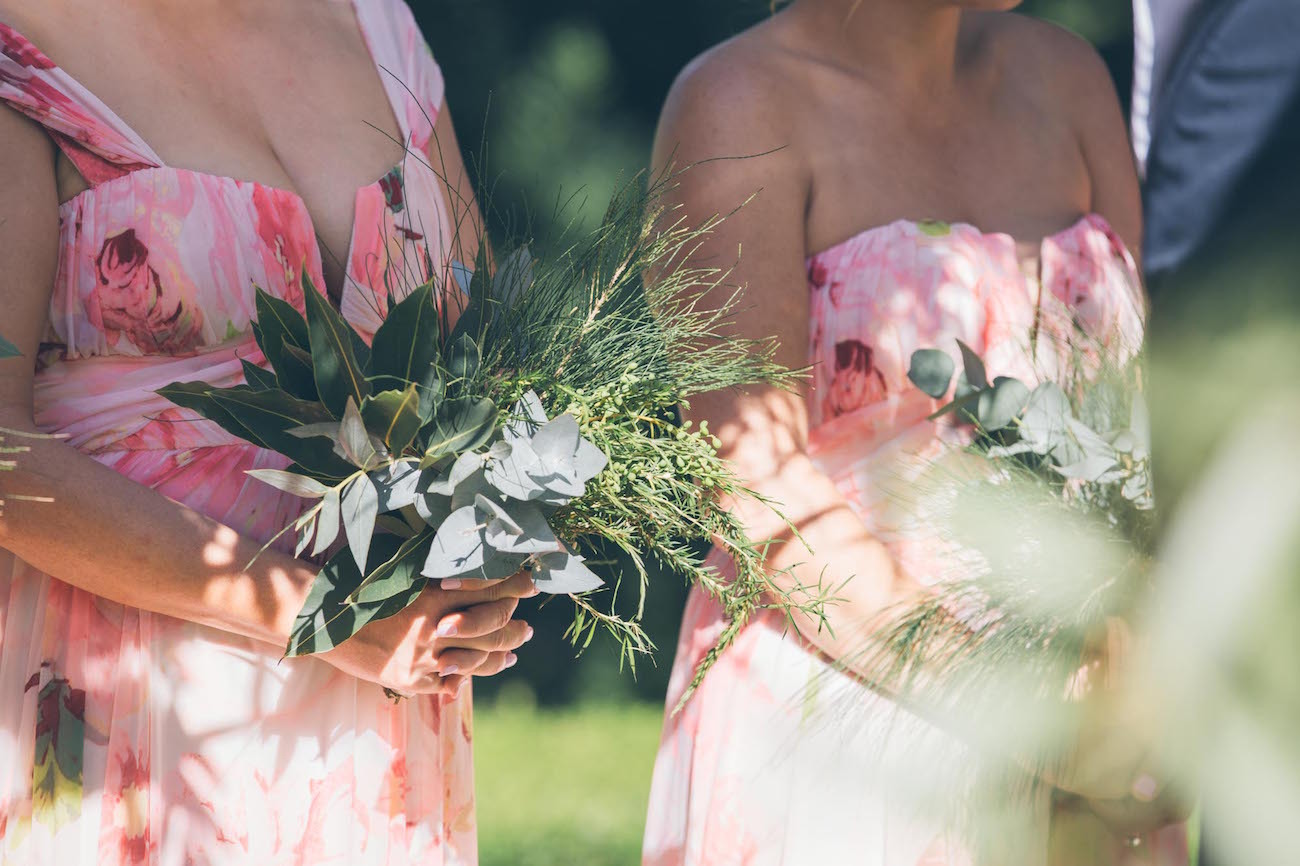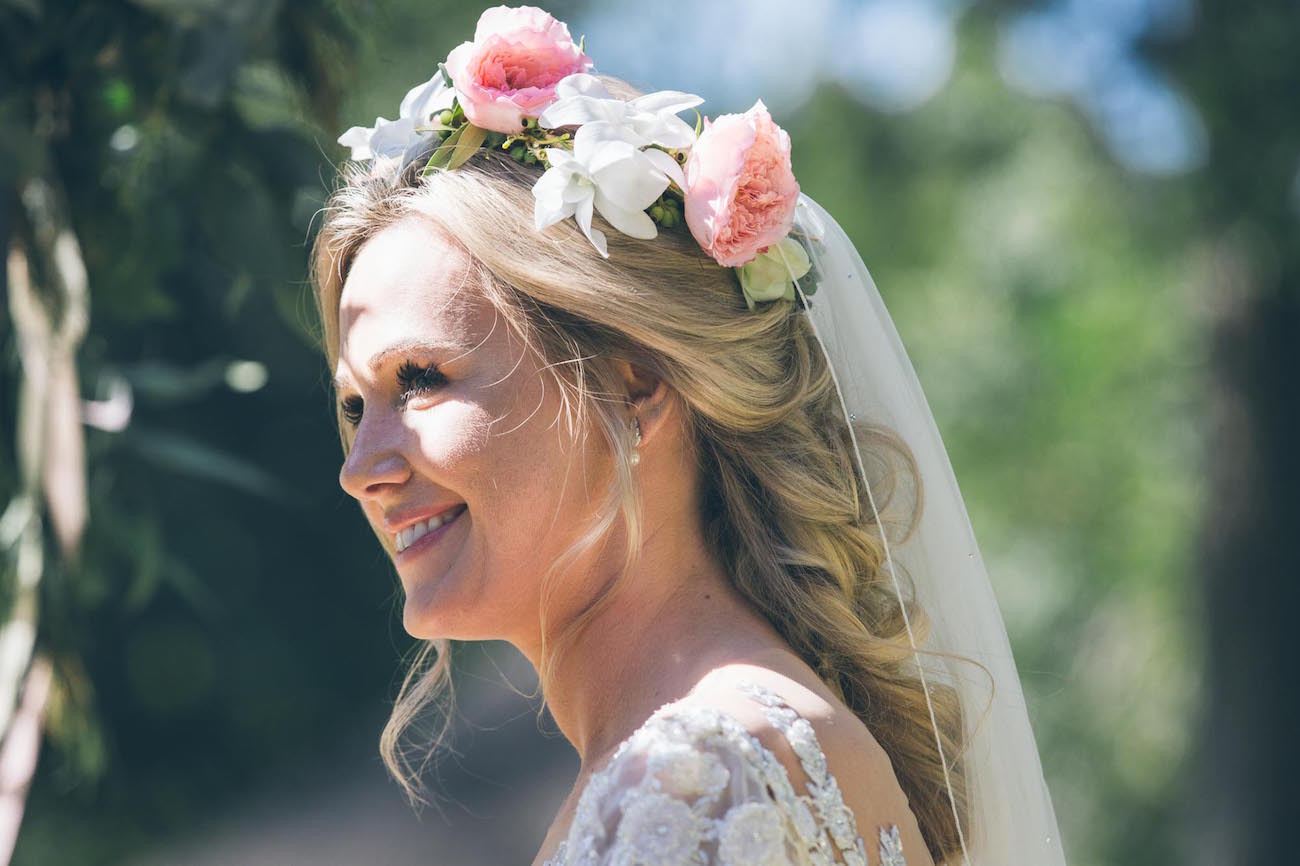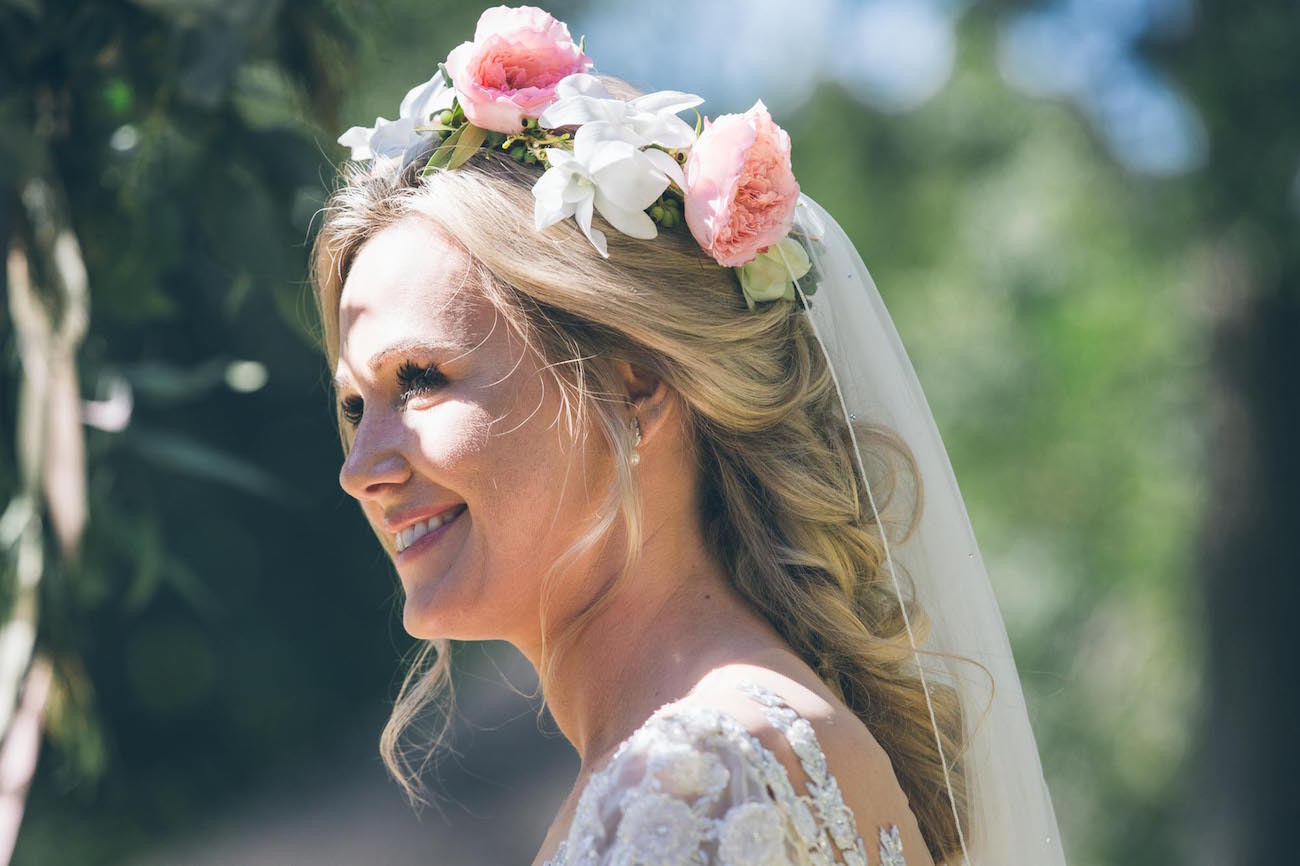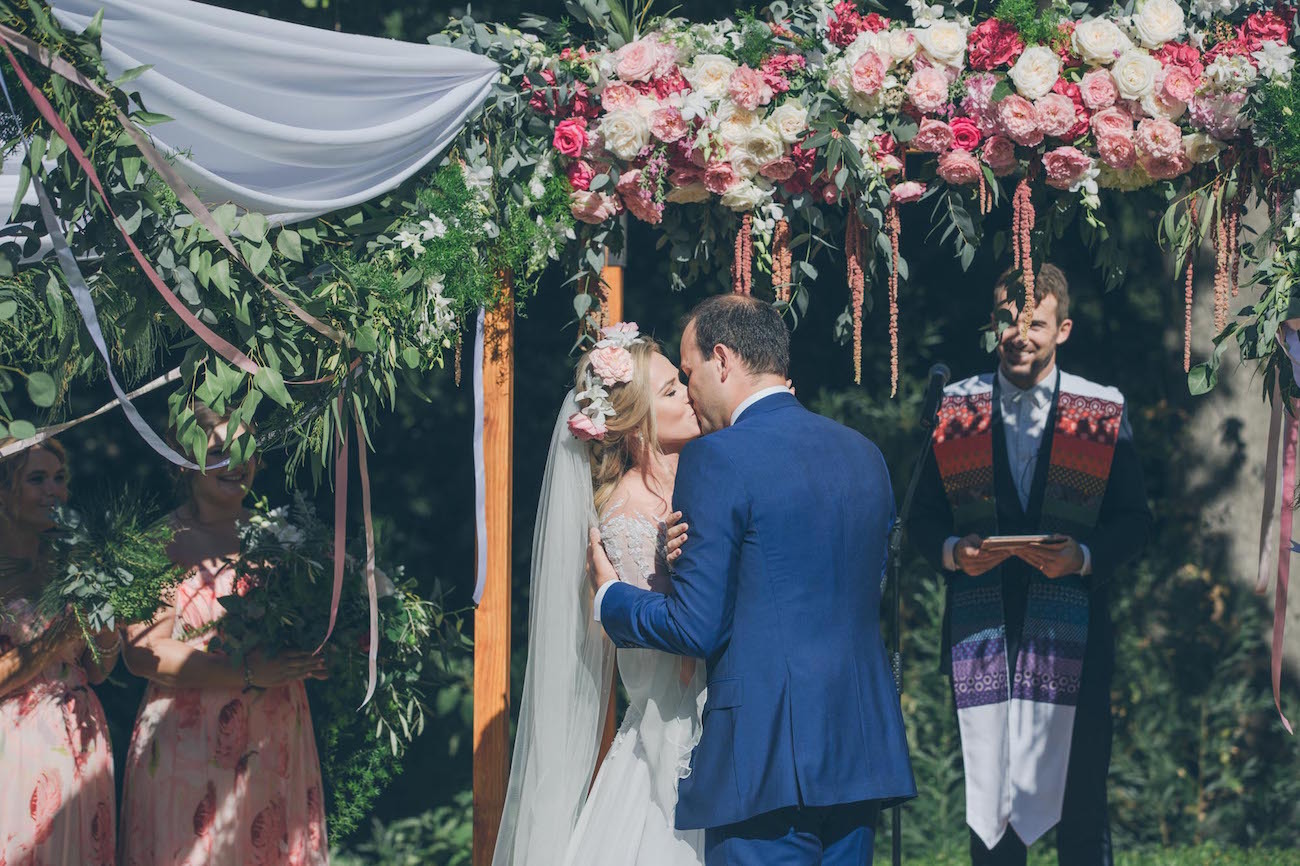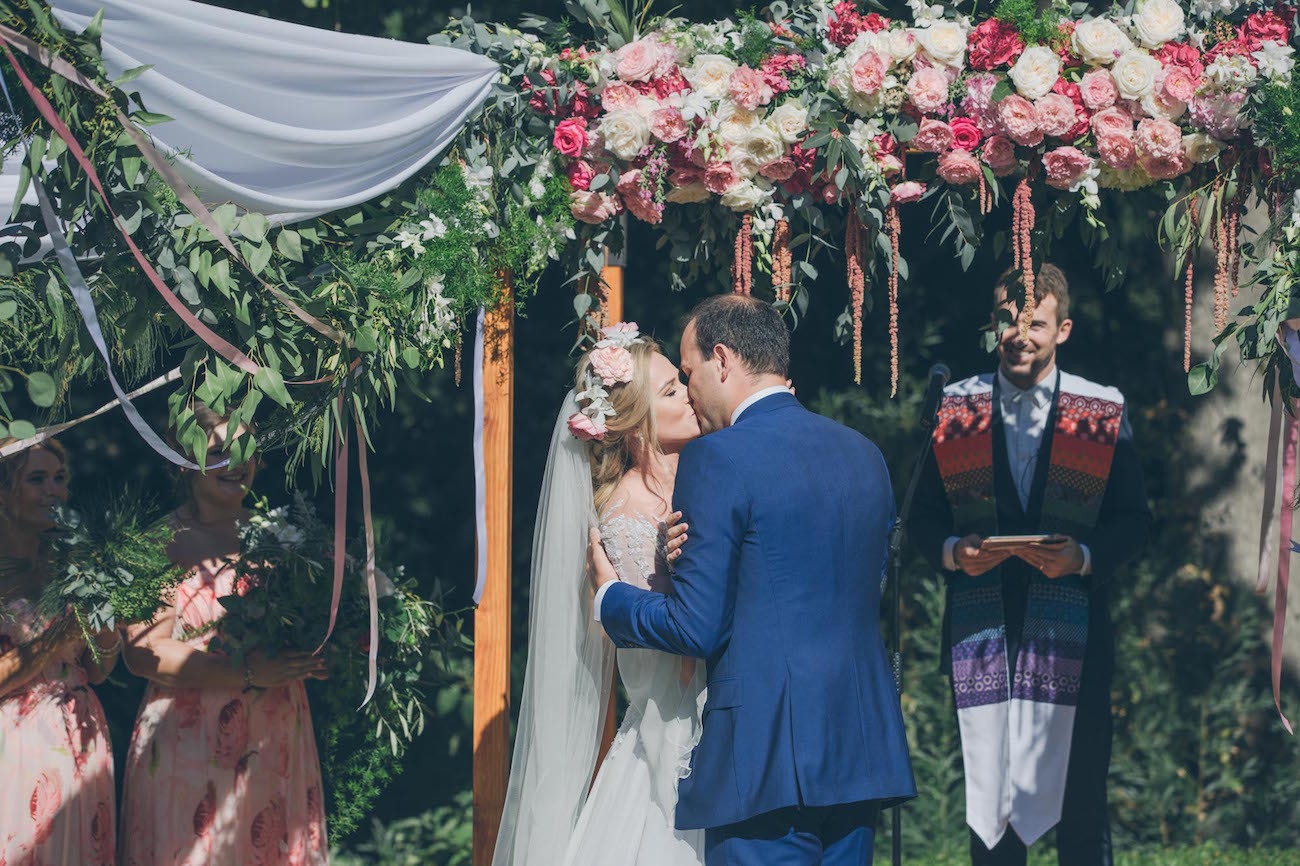 Wedding Details
Sam and I are very much a free-spirited couple and we agreed straight away that for it to feel 100% our day we didn't want to be restrained by what people think or say a wedding should look or feel like. So, from walking down the aisle to Florence and the Machine onwards, we were bound to be different! Sam had 'three wise men' instead of one Best Man and our readings where extracts of a Led Zeppelin song and a speech by Bob Marley. We pretty much wrote our entire ceremony ourselves, which was such fun to have that freedom to choose the words that really spoke to us!
DIY Elements
My family home is covered in deep pink Bougainvillea flowers. As children, whenever there was a birthday, their place setting would be surrounded by the beautiful flowers. My parents spent months and months picking and drying the flowers and drove them down to Cape Town for the wedding. My fabulous sister and two nieces (who were my flower girls) made beautiful fairy wands for them to hold during the day. Ribbons and sparkle galore! My dad is an avid woodworker and he jumped at the idea of making our wedding ring box. We designed it together and it turned out beautifully. He also made our mini whiskey wedding favours and designed Okavango Delta-themed labels for us. They went down an absolute treat with the guests, most bottles being drunk before the dancing even began! Sam worked closely with A-BRU to create two perfect bespoke beers made from scratch to his tastes for the day. The kegs dried up in record time.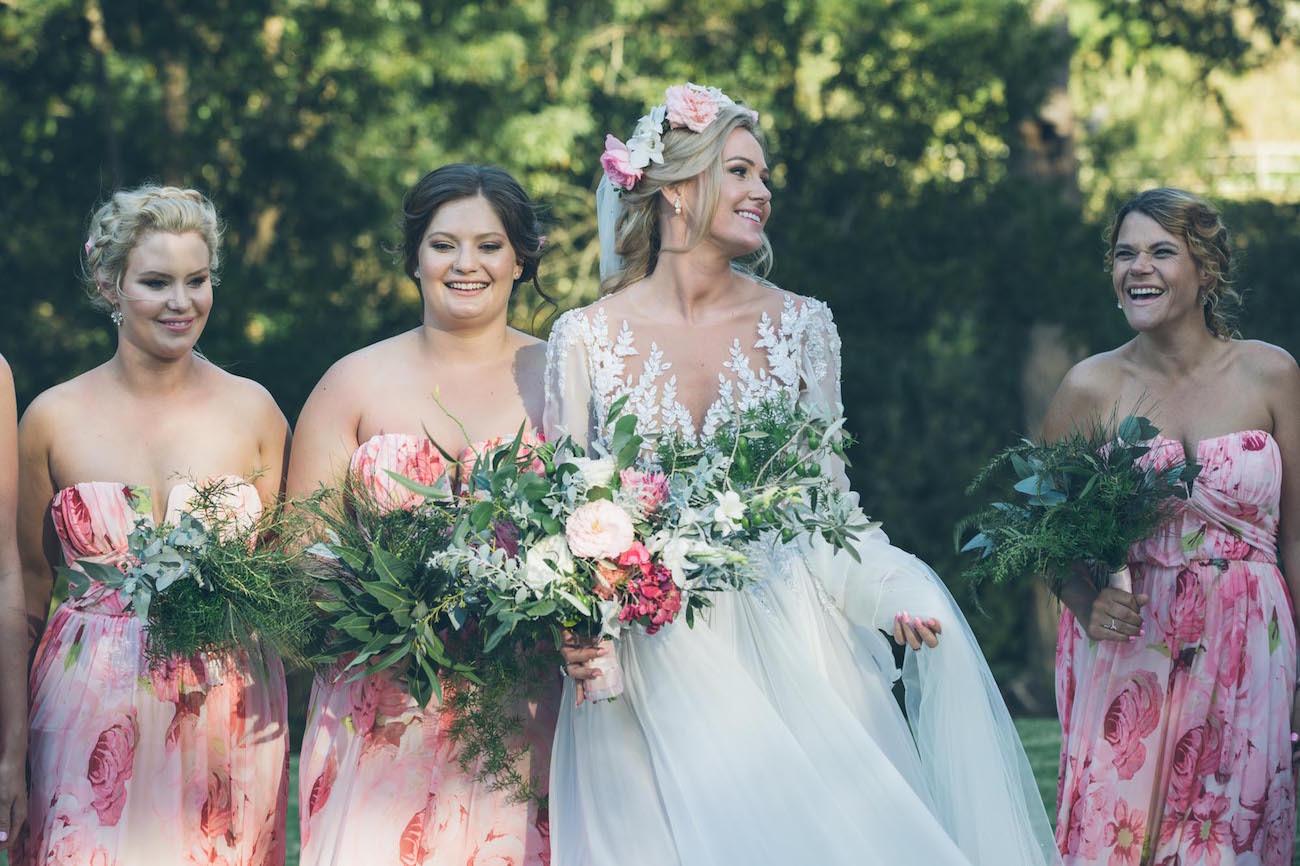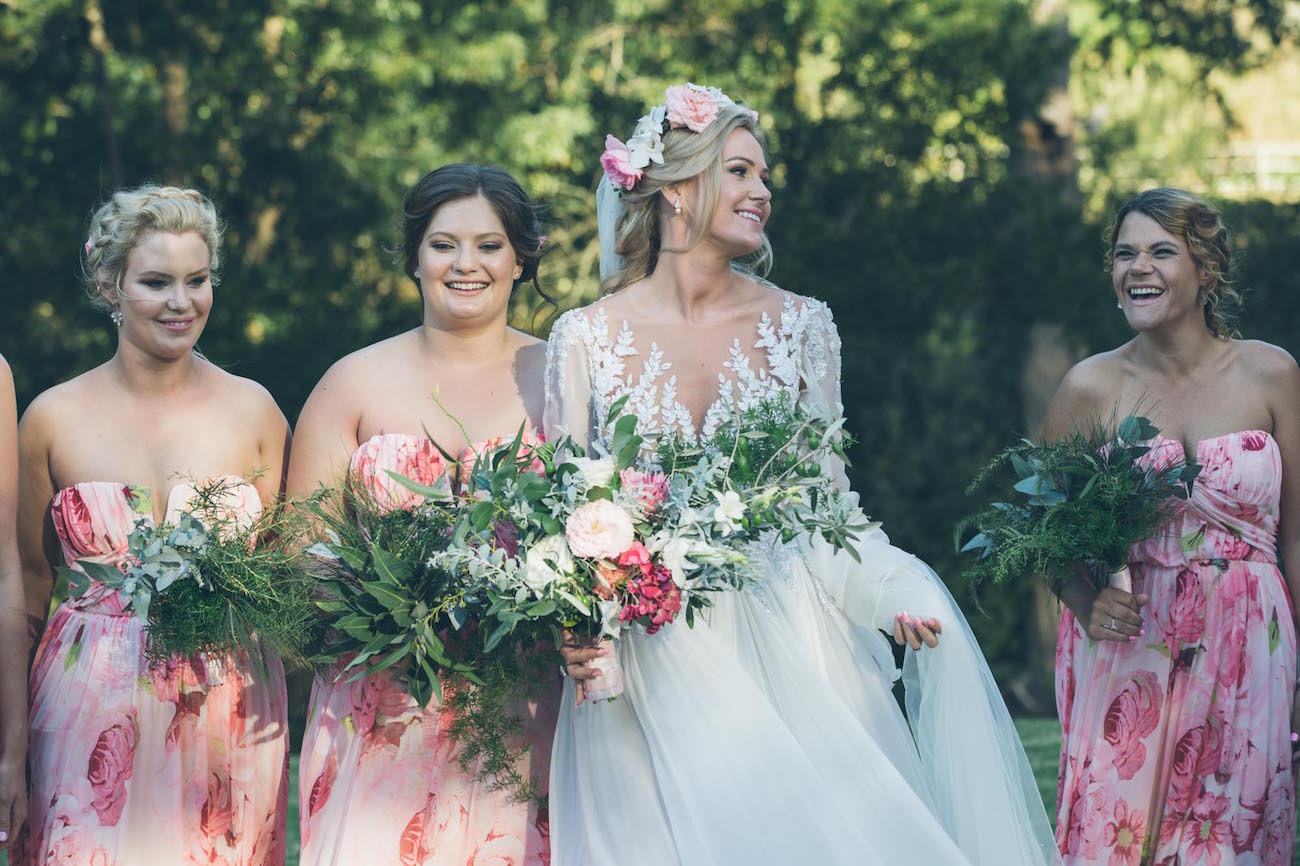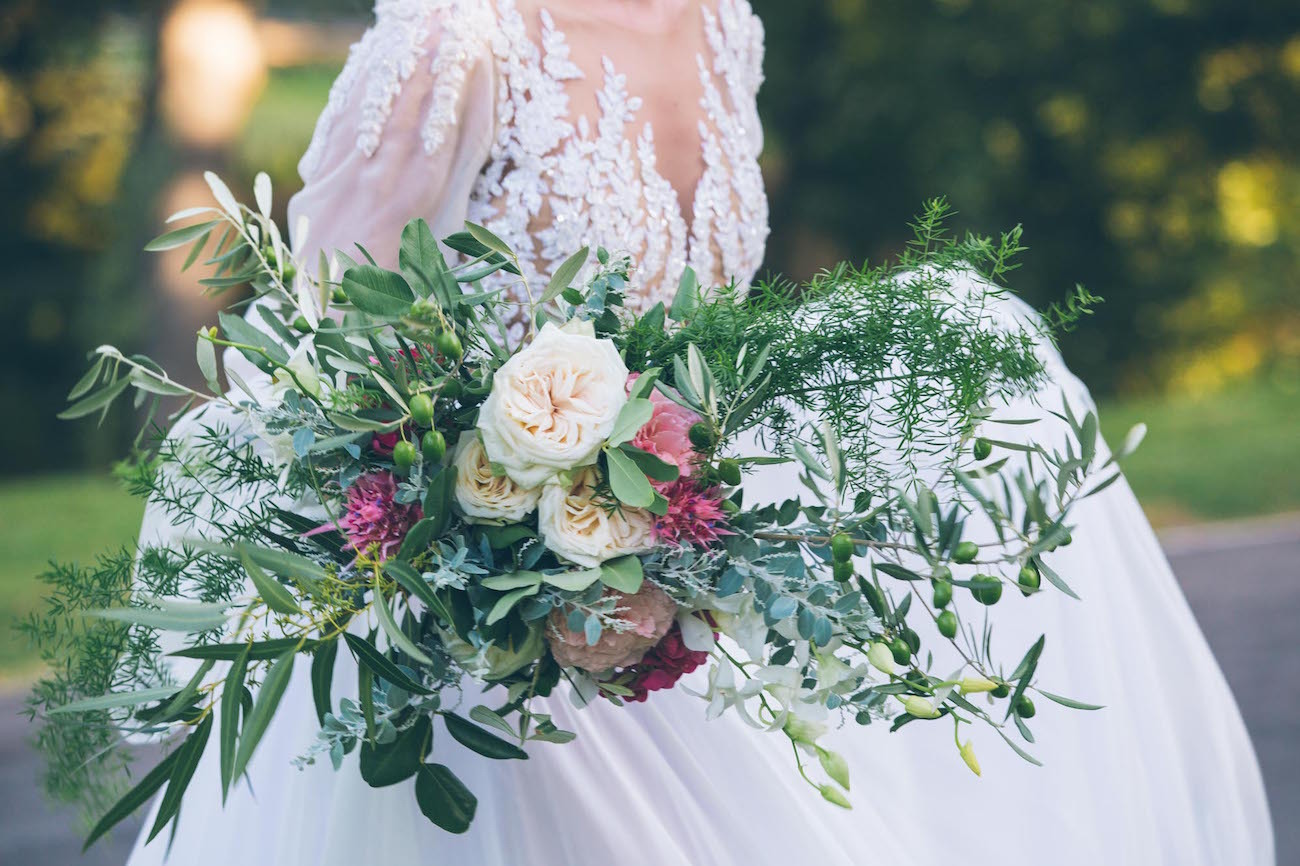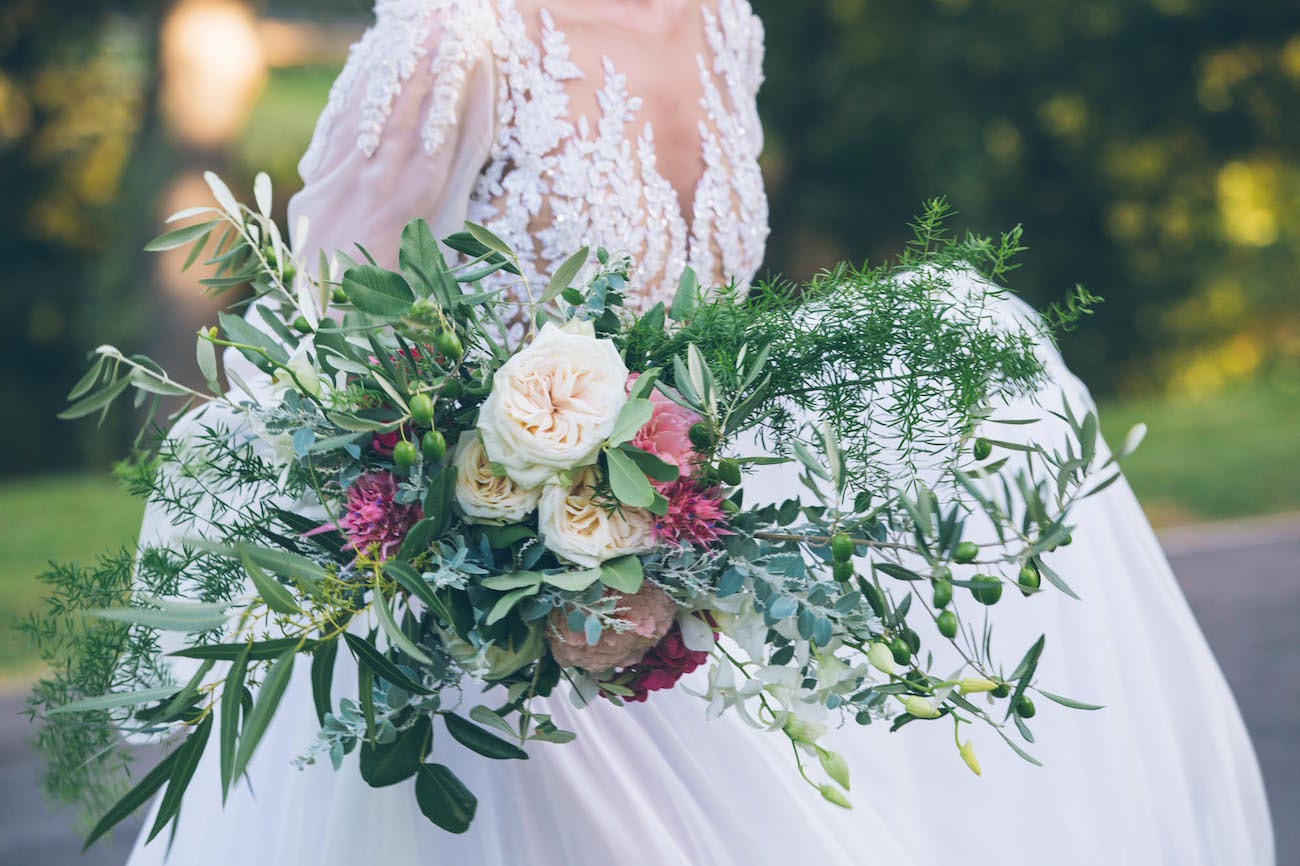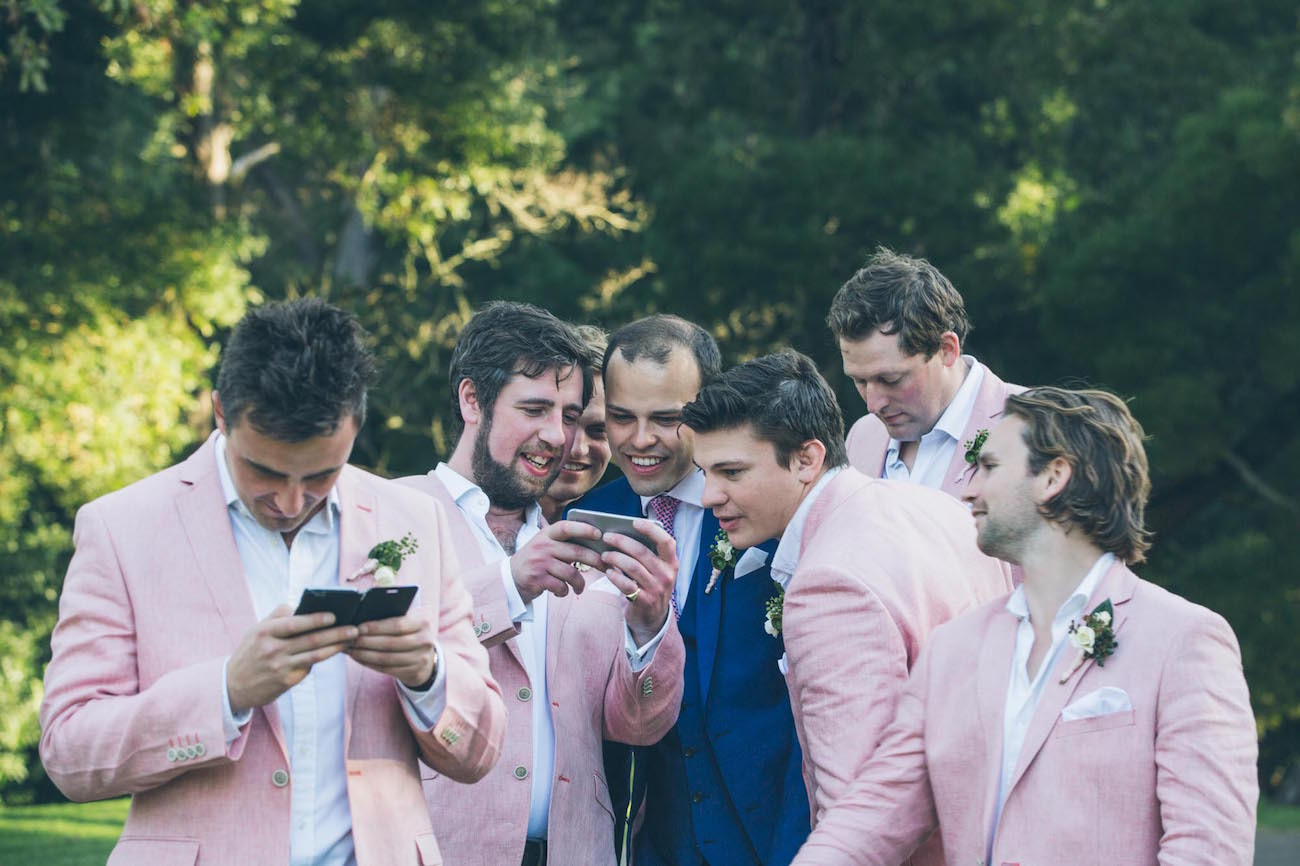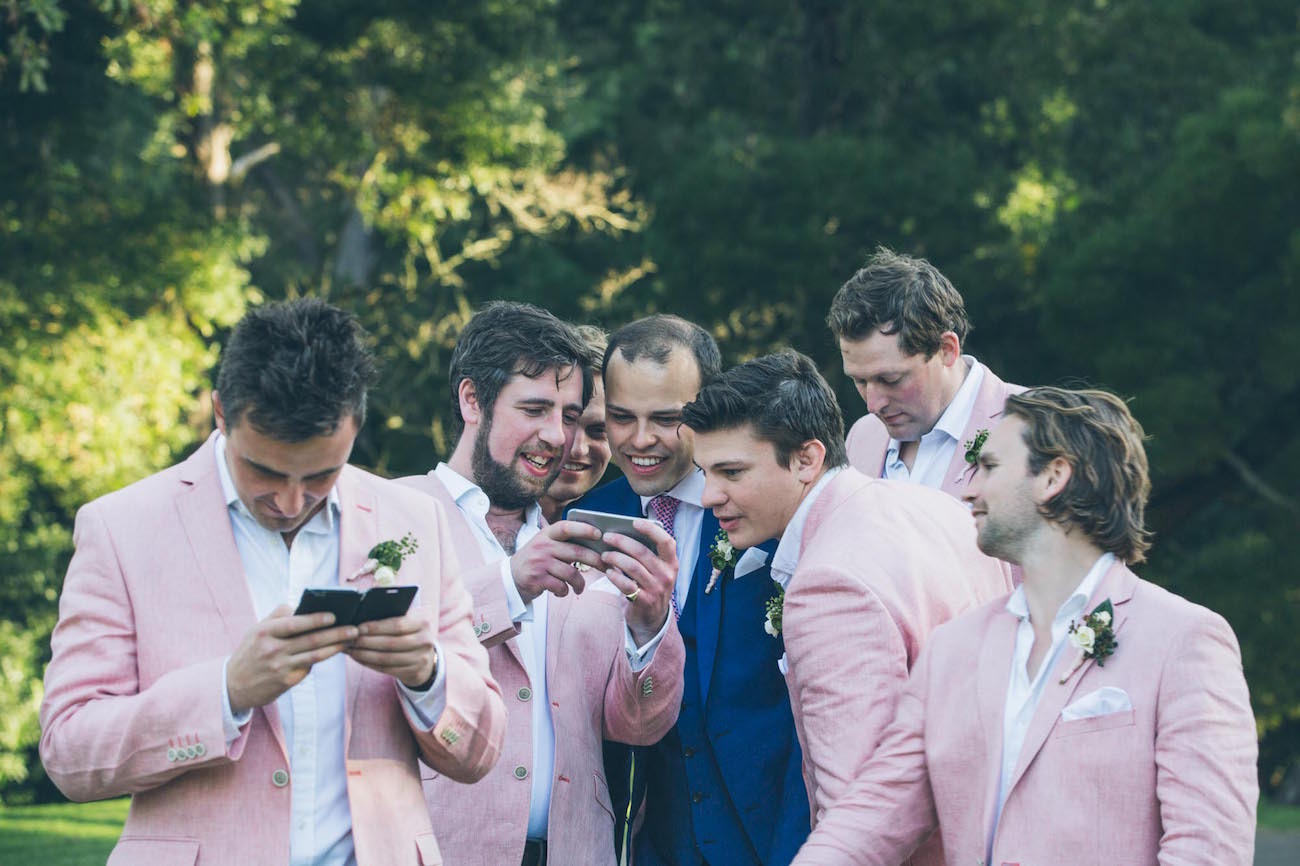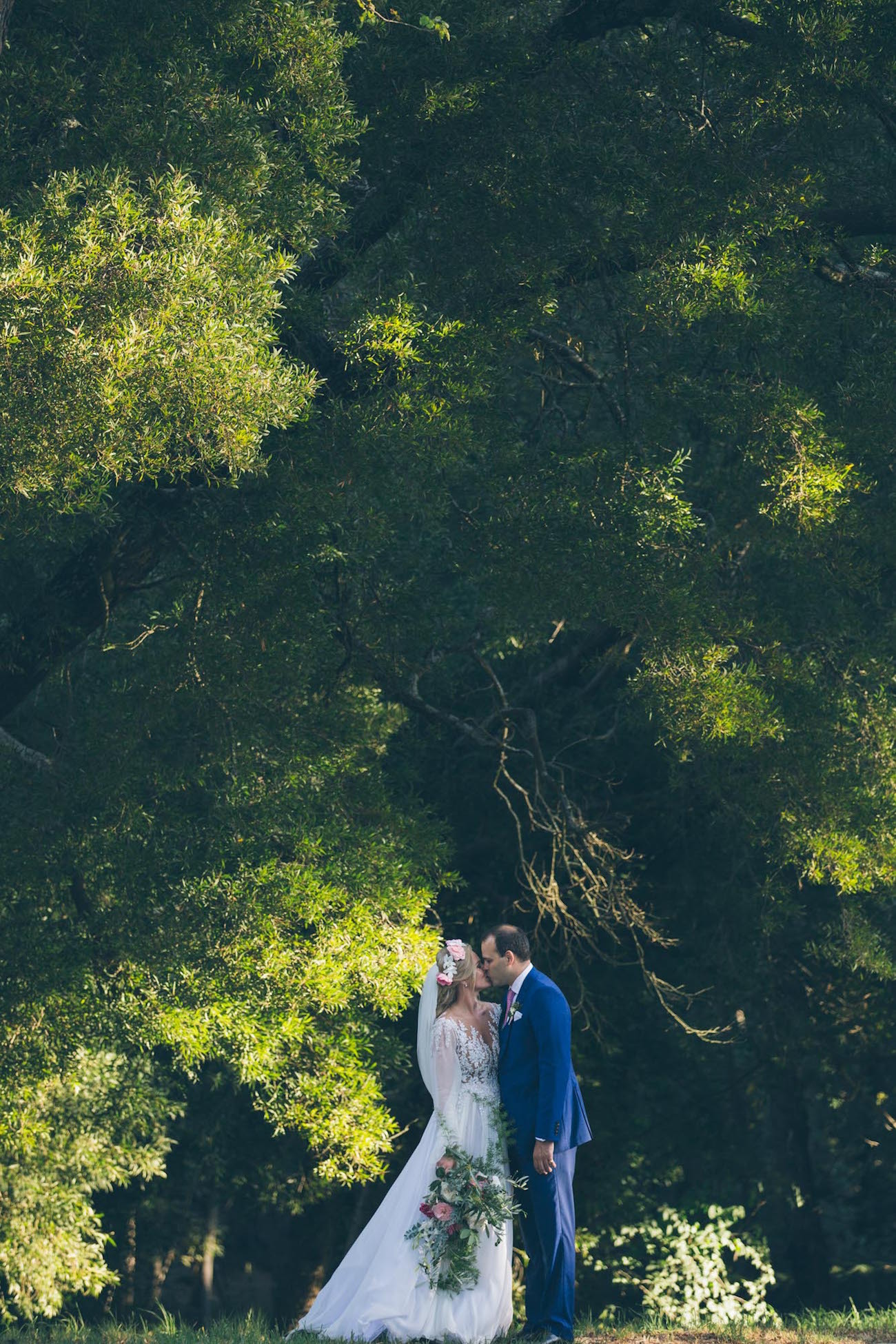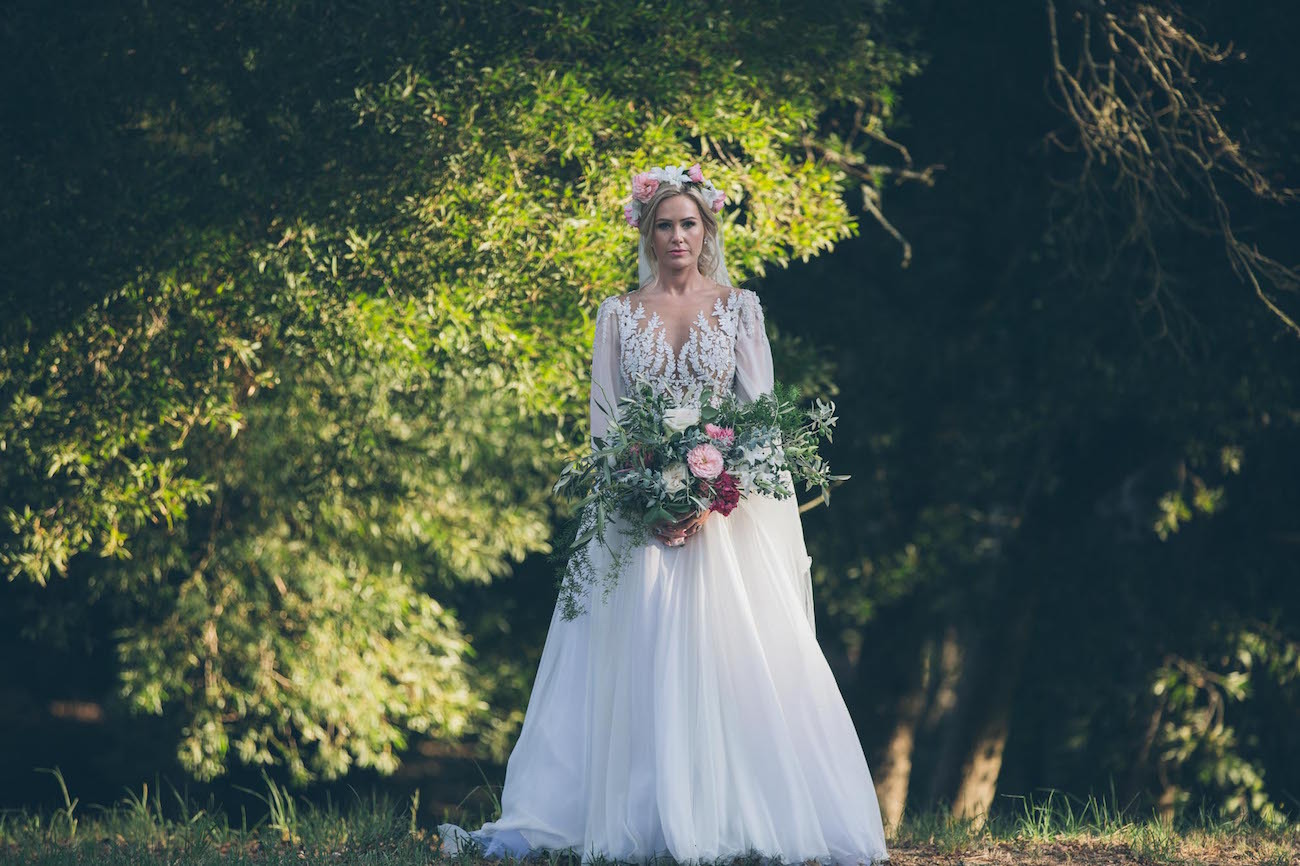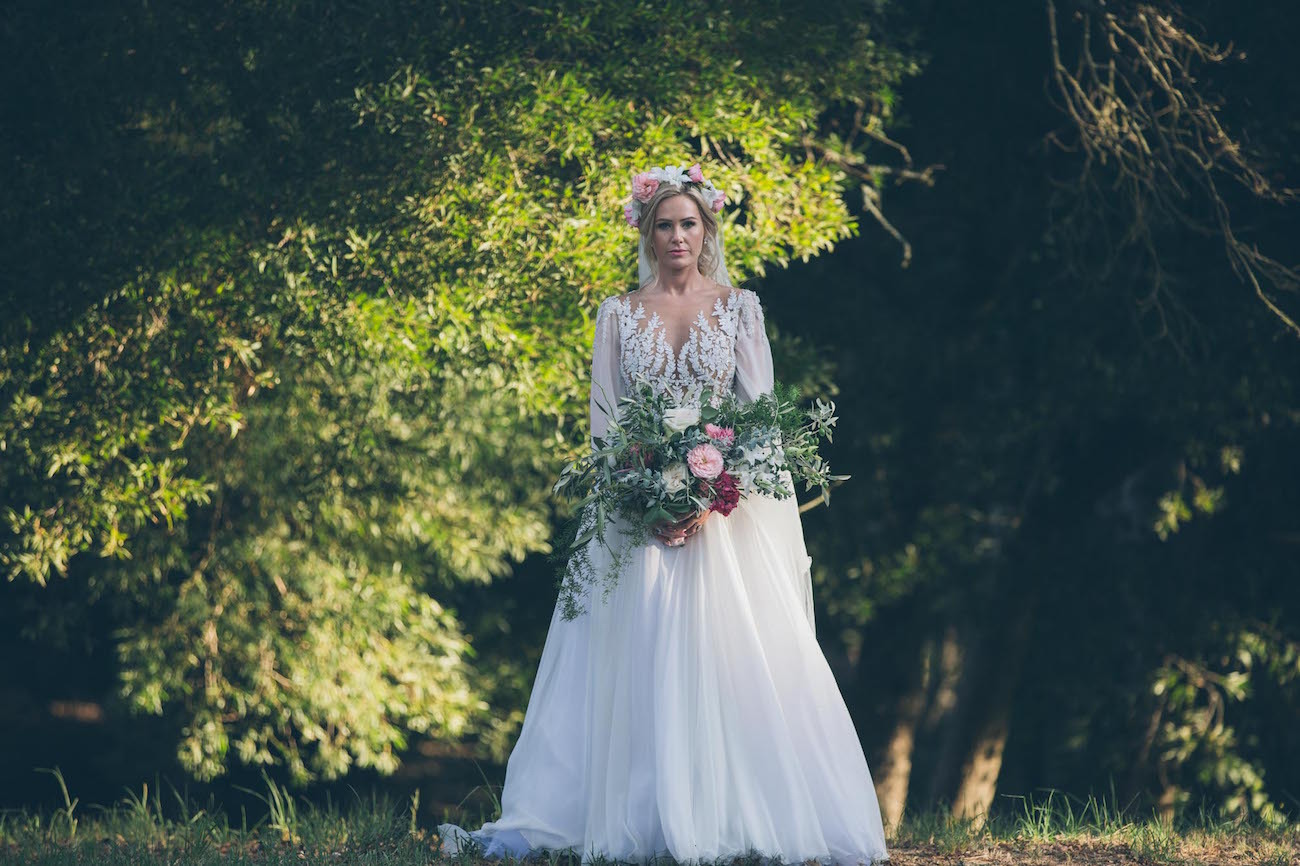 The Dress
I thought about getting a dress made but the princess in me knew I had to take the opportunity of living in London to try on some of the big bridal designers. I flew through countless Reem Accra, Ellie Saab and Berta dresses, but there where no 'heart stopping' moments. I arrived at the famous The Wedding Club with my mom who had flown over to help. As we waited for my appointment, a young bride walked past in MY dress, I knew it straight away. I jumped into the stunning Zuhair Murad gown and all the emotions I expected to feel came flooding through, and more. The top of the dress was an illusion fabric, with hand stitched floral embroidery and small crystals that crept up my chest and back like ivy. Small pieces flowed down the drop waist skirt. It had a slightly full silk chiffon skirt with a small puddle train, It was so light, it fluttered as I moved. It felt ethereal, like a fairy's dress. To make it totally mine, I had gorgeous detachable silk chiffon wide bell sleeves made; they were whipped off when the dancing started! The fairytale was complete with a cathedral length veil dusted with tiny Swarovski crystals that glittered in the sun as I walked down the aisle.
The Bridesmaids
I had six fabulous ladies by my side on the day and wanted them to really stand out. We chose bright bold, full length floral print dresses with rouched bodice tops and flowing skirts. Their hair was plaited up with a few slices pulled out and curled to create a soft and romantic boho look. A few chose to go barefoot which I loved! True gypsy princesses.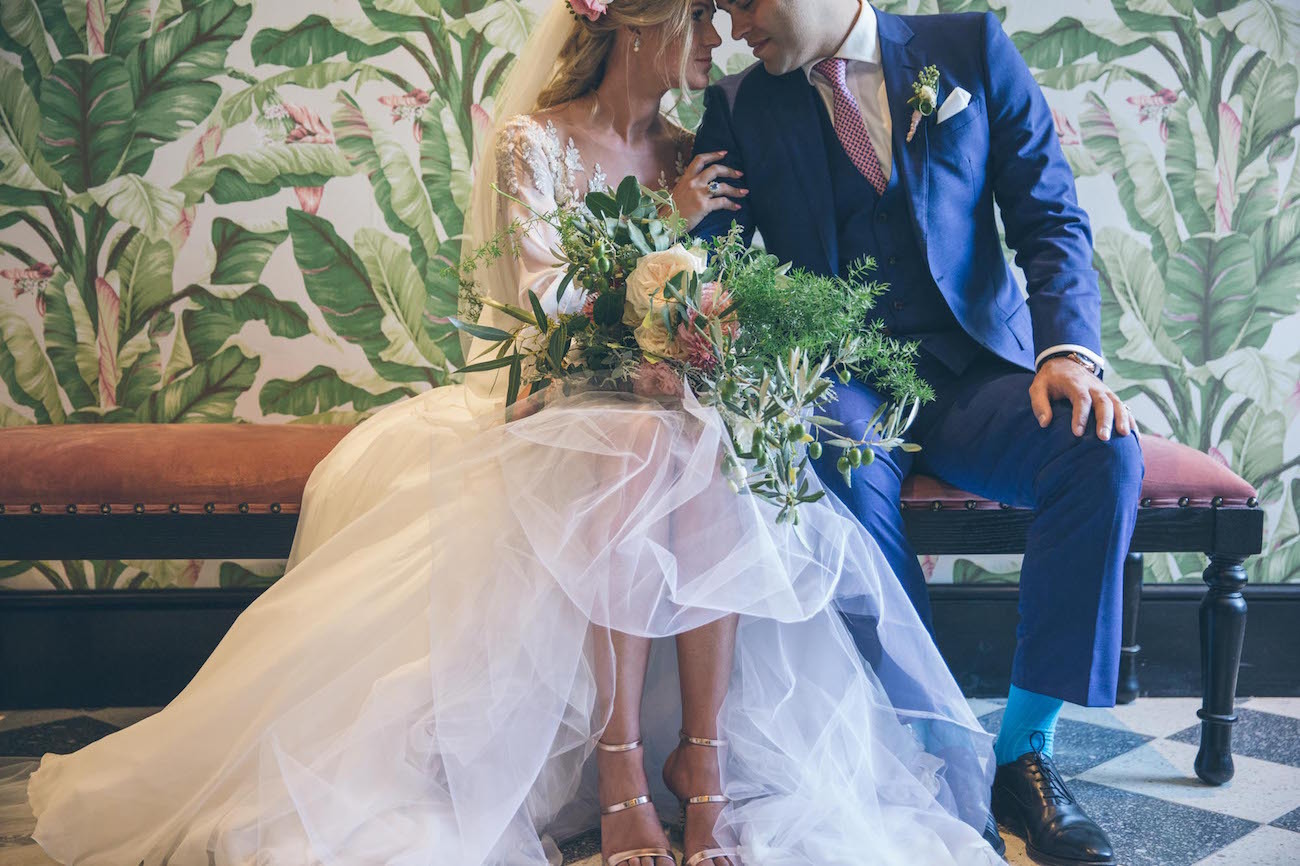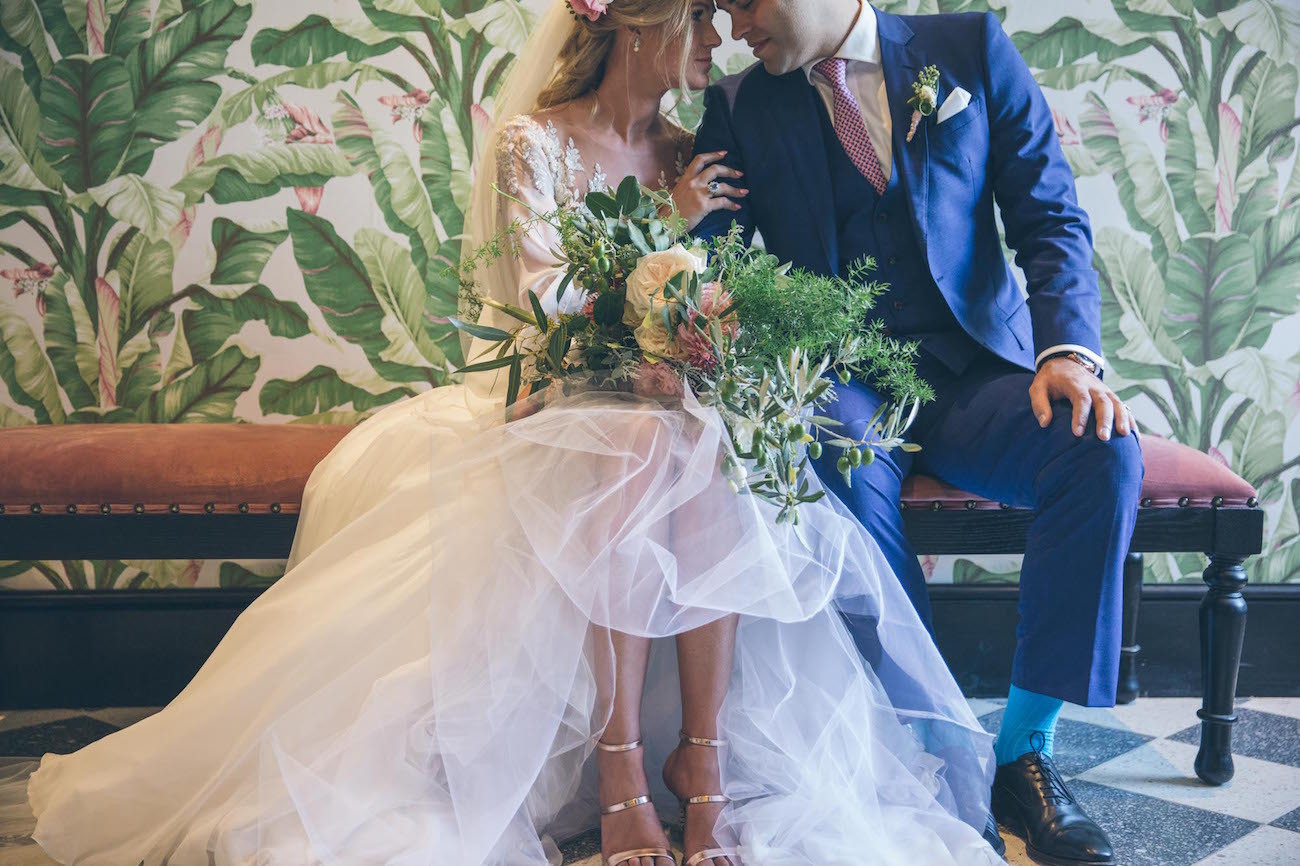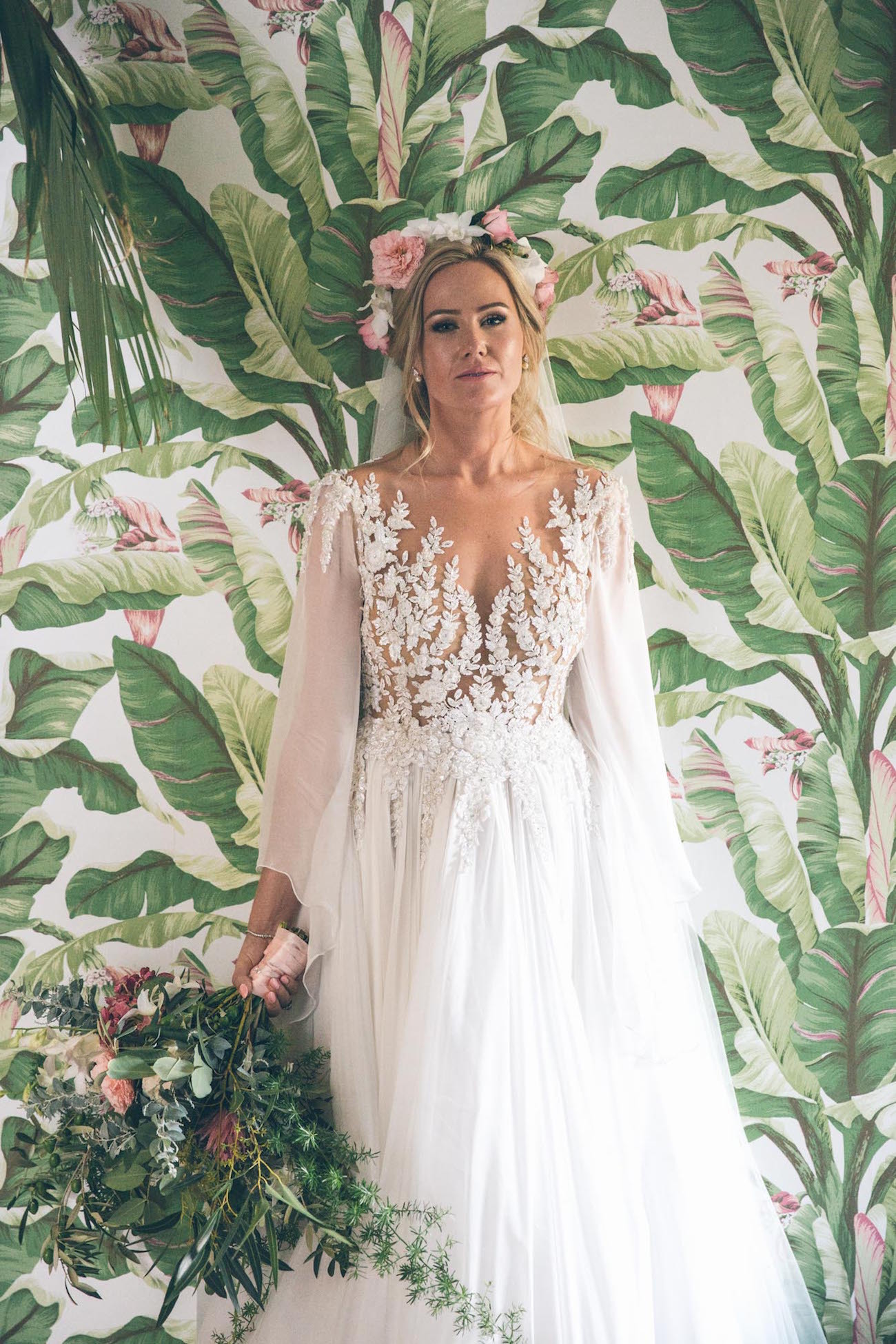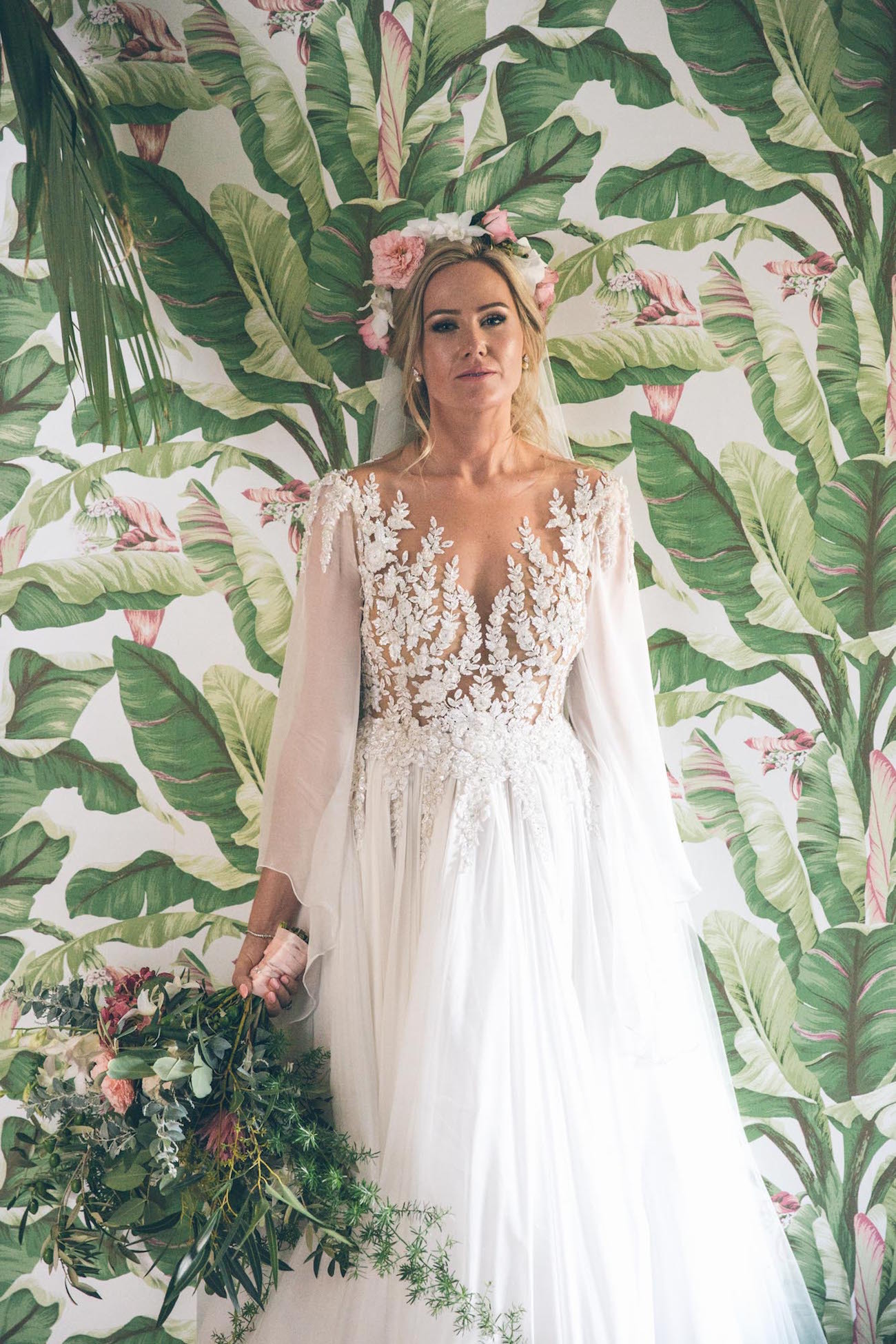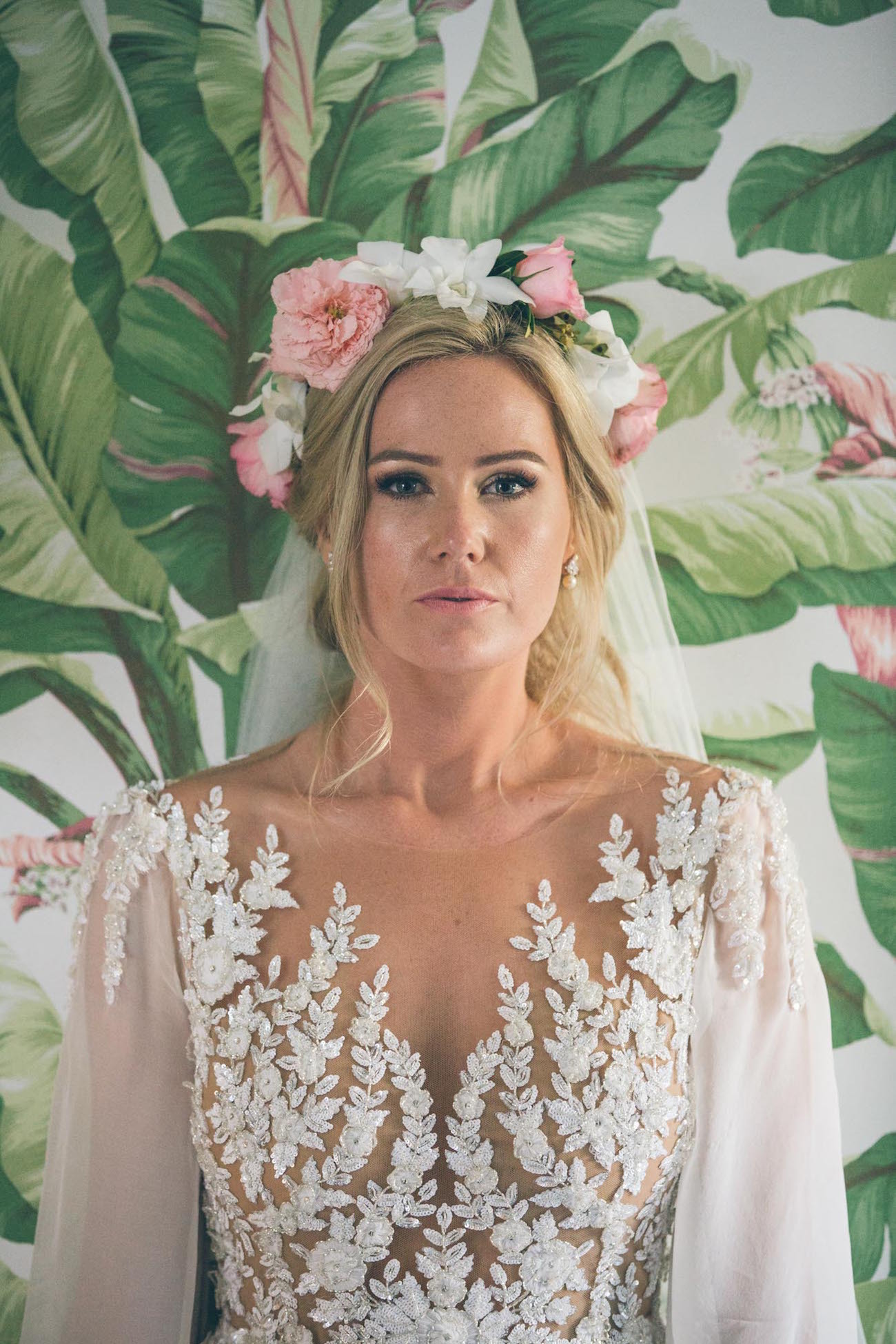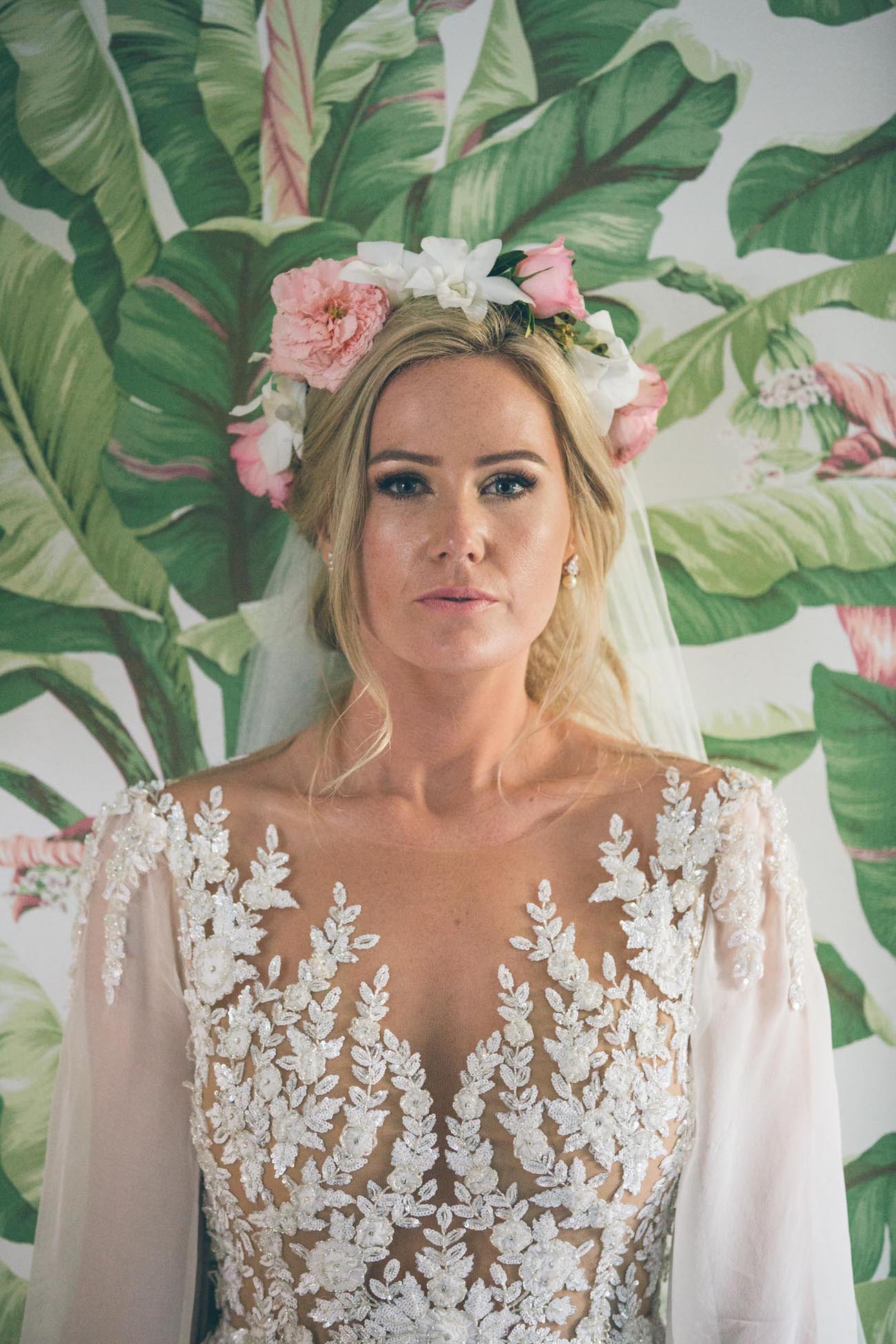 The Flowers
Heike of Fleur le Cordeur was the most incredible florist to work with and certainly warrants all the hype around her. I gave Heike a brief description of the overall feel of the wedding we wanted to achieve and she transformed our vision into a botanical wonderland! For me, she created a wild, sprawling bouquet & a stunning pink and white flower crown which perfected my bridal look. The bridesmaids held lush green bouquets which offset their very bright floral dresses perfectly. Our ceremony area had a trellis of greenery and coloured ribbons above the seating towards the wooden platform which was dripping with pink & white flowers. For the reception, we loved the idea of two long banqueting style dining tables which felt less formal. It was so visually impressive with the thick flowers running low all along the middle of the tables and up multiple brass candelabras before cascading off either end. Deep Greens, pale and dark pinks gave a richness to the forest look.
The Dessert
We knew from weddings we had been to as guests, that everyone is itching to get up to mingle and dance as soon as the main course is finished, so we decided not to serve a traditional desert, opting instead for an Ice-Cream Sundae Cart and a very large cheese area that our guests could go back and forward to as they danced the night away.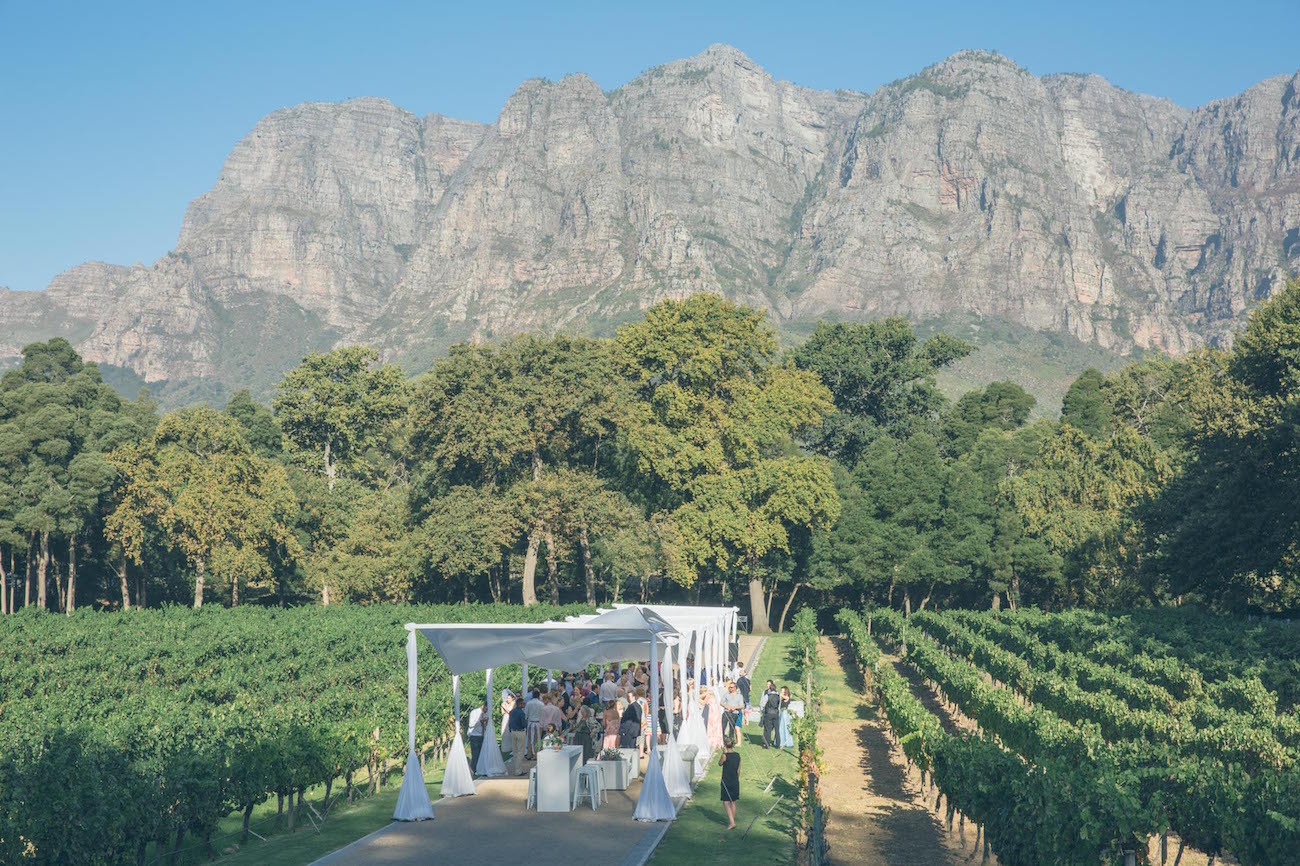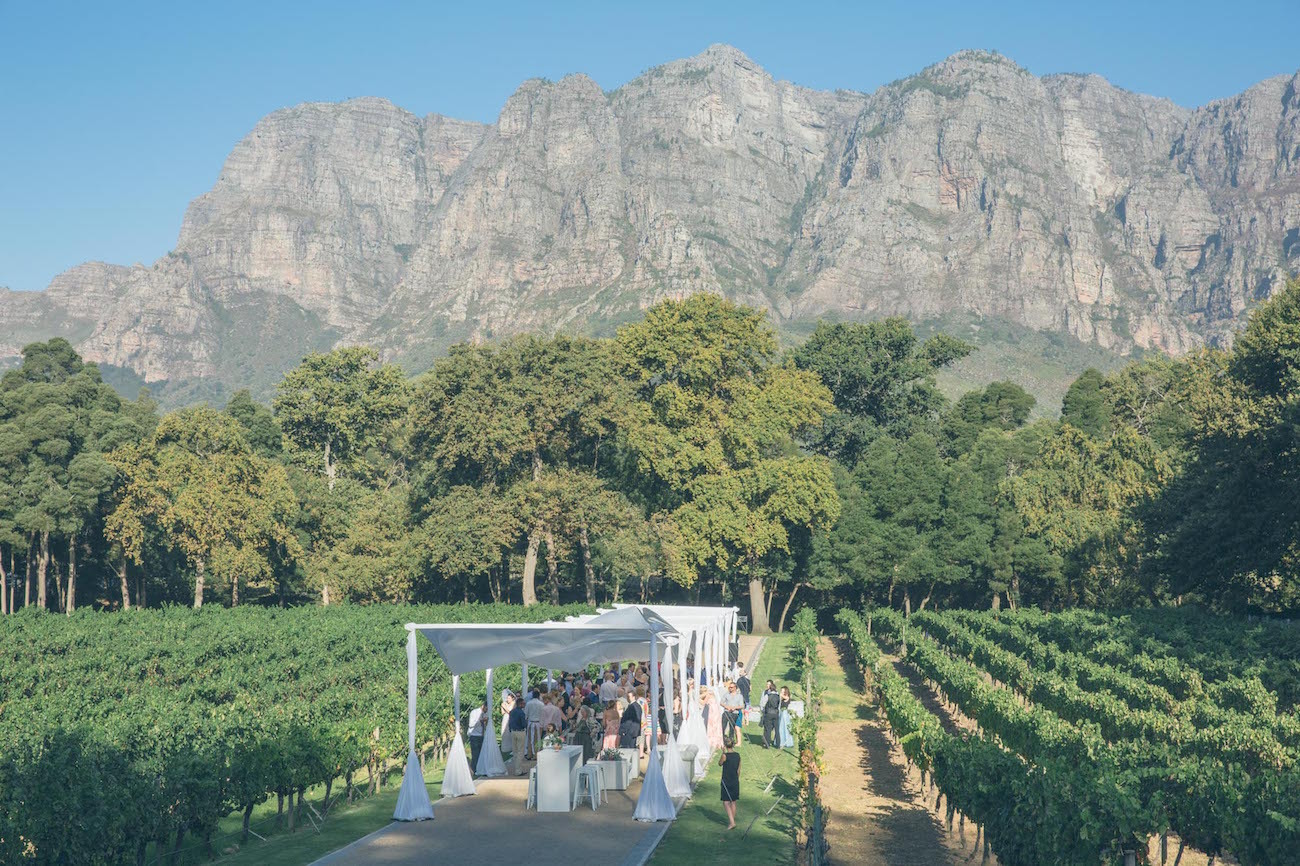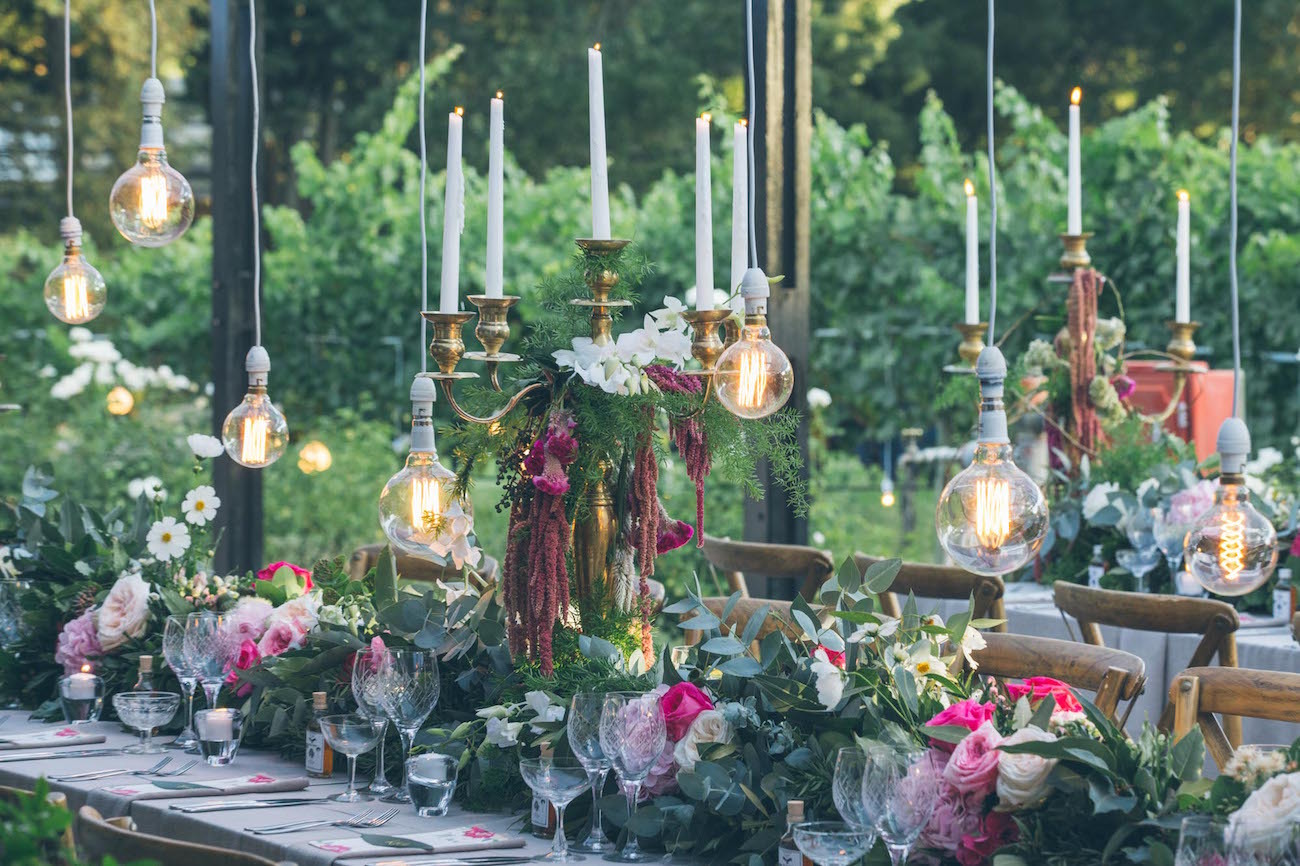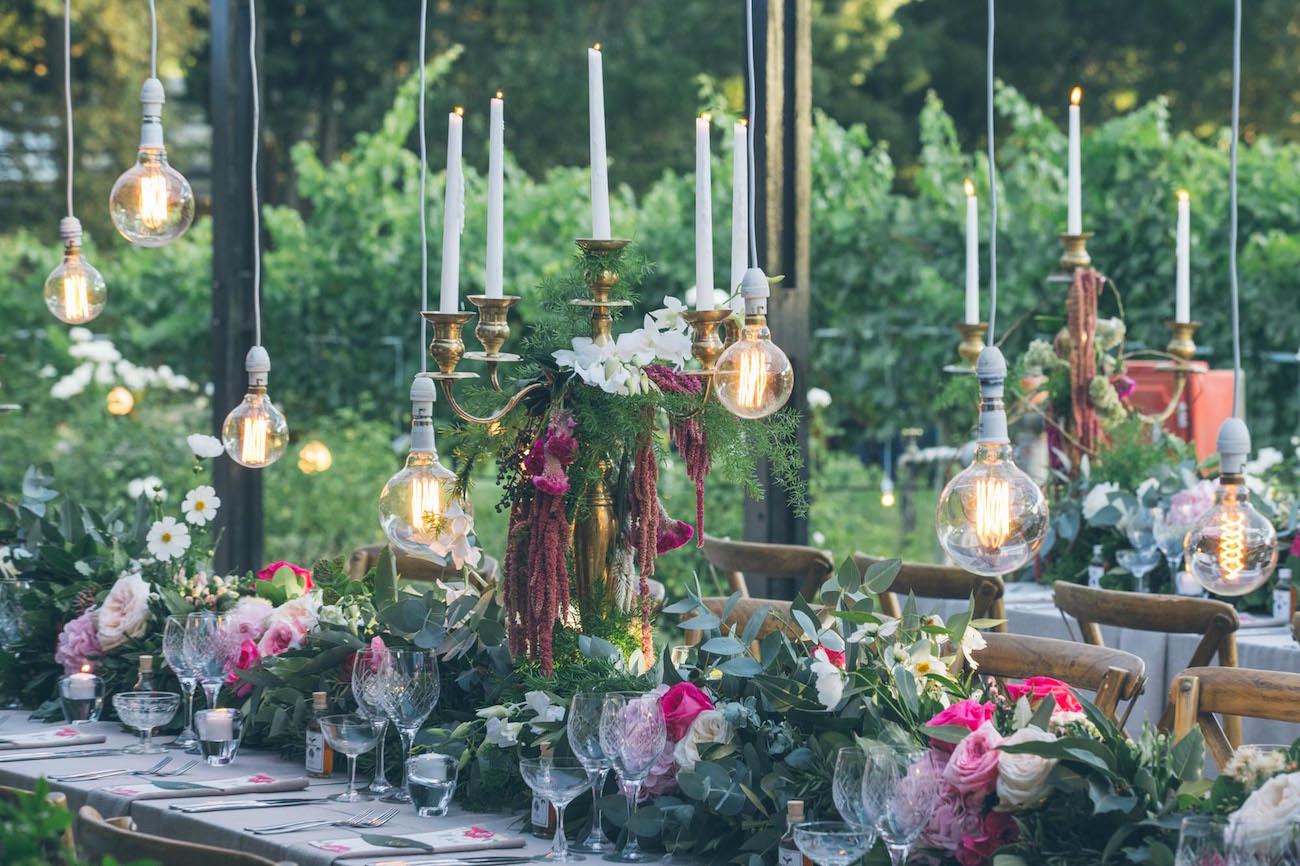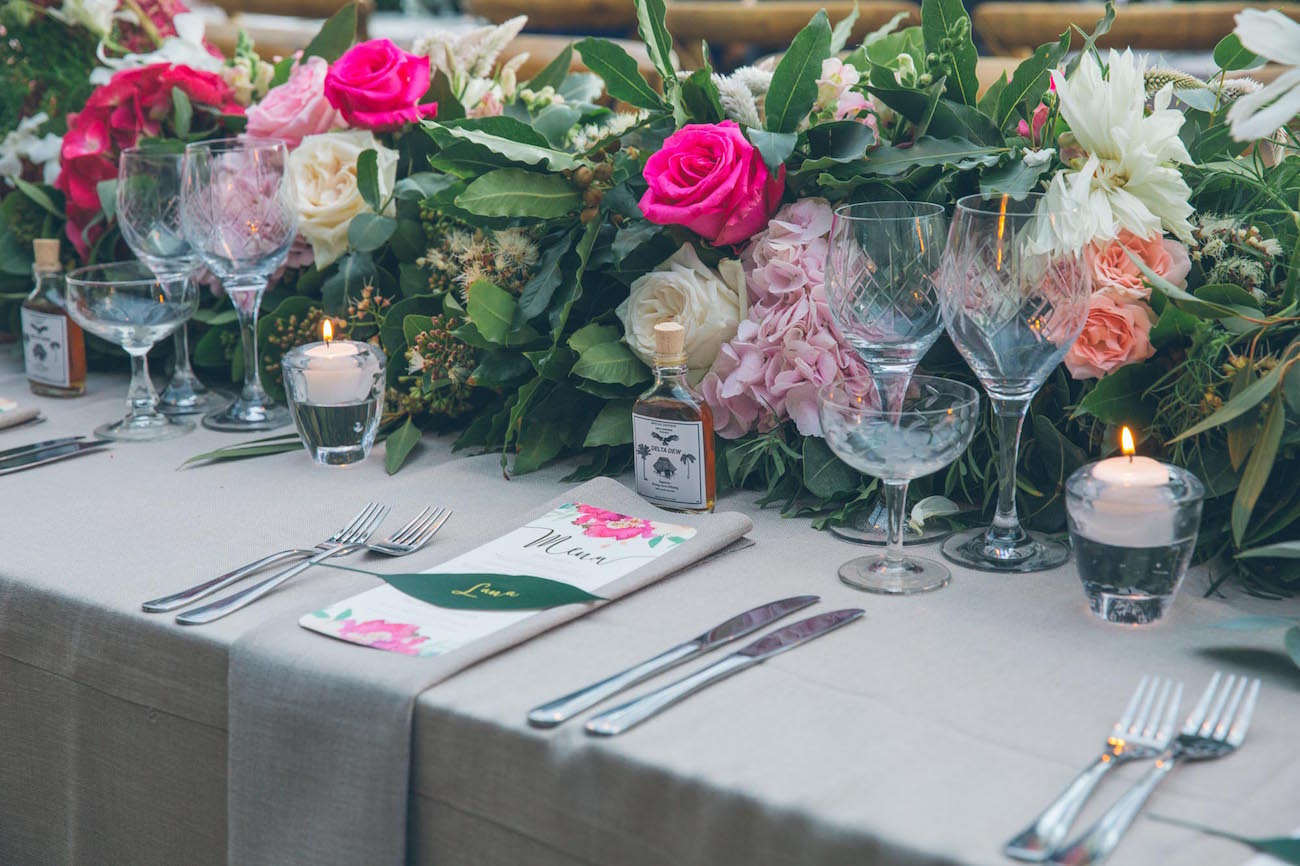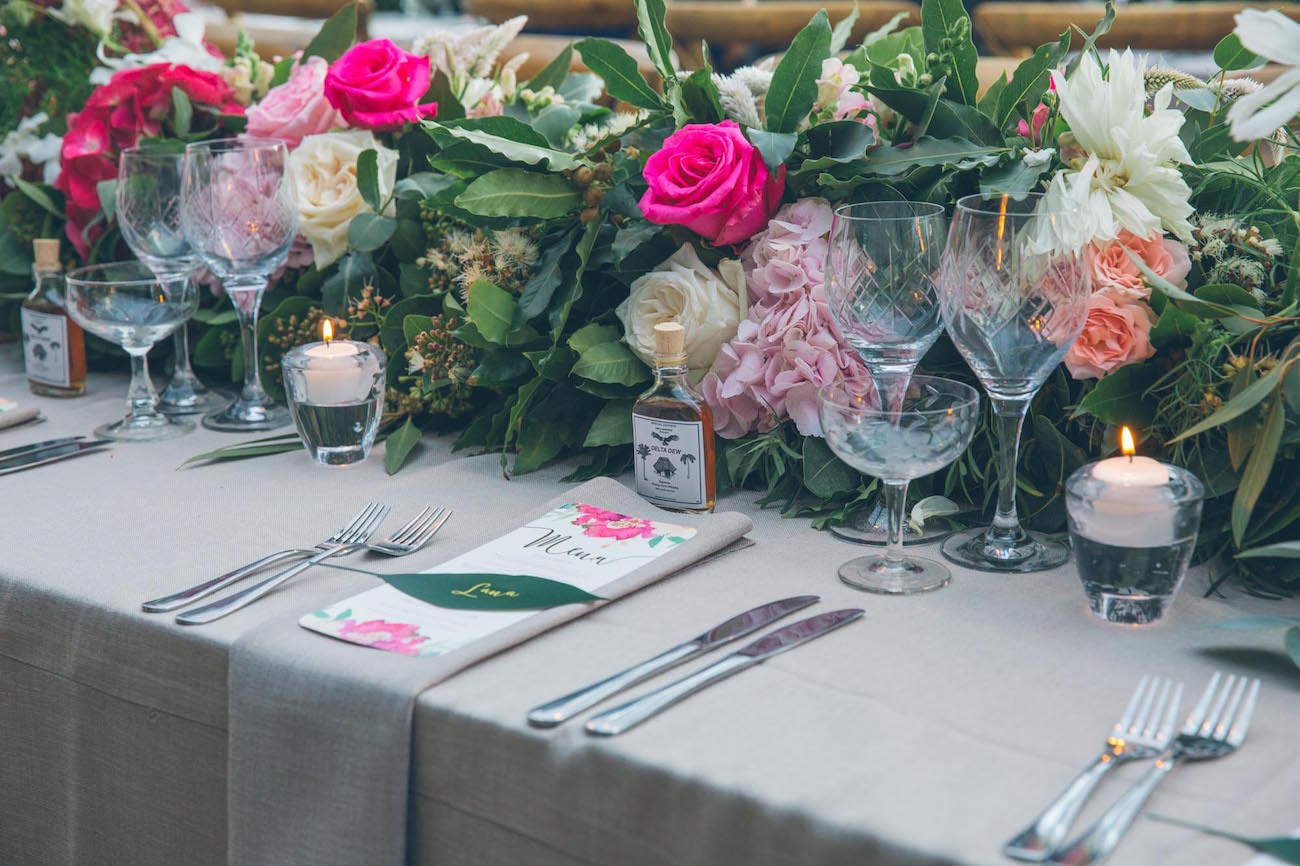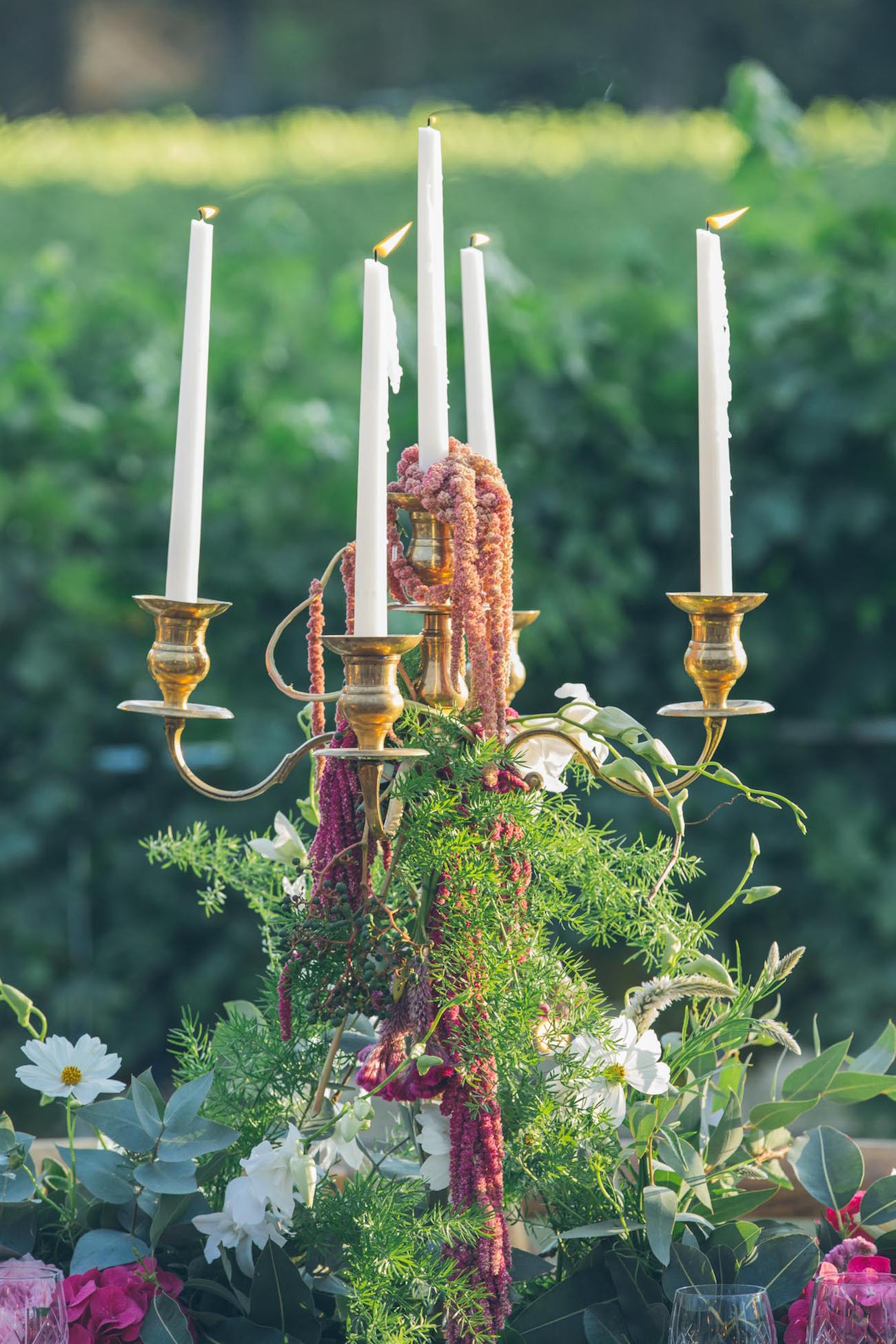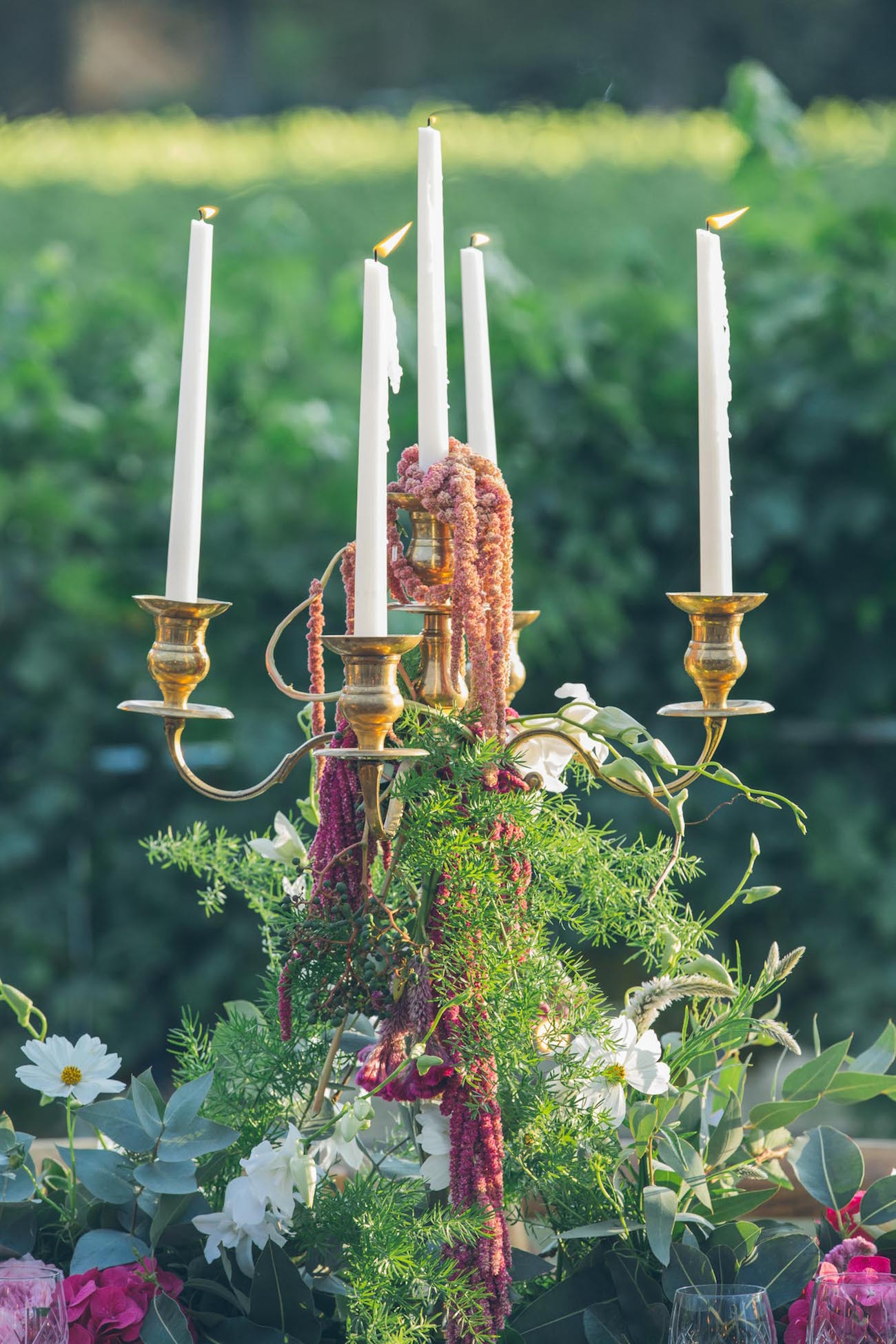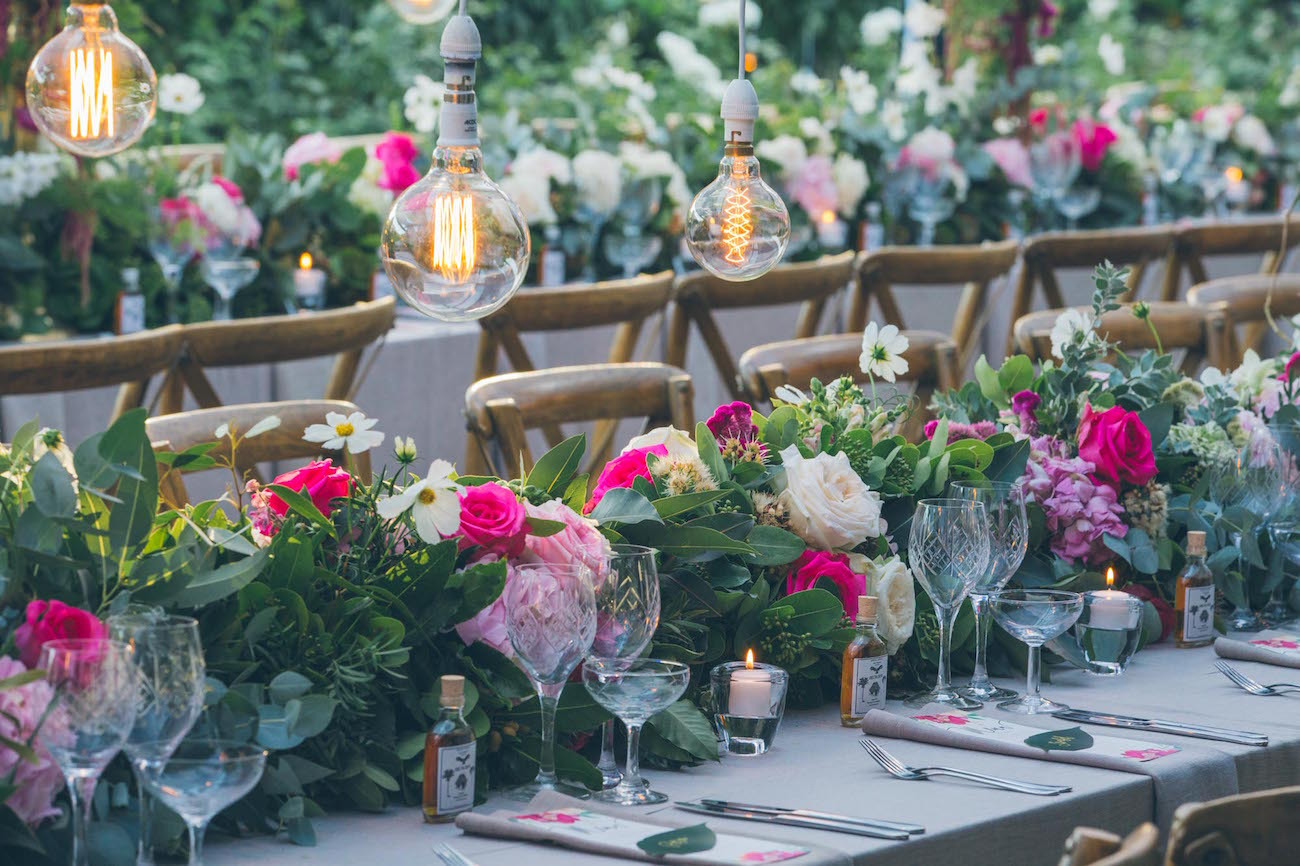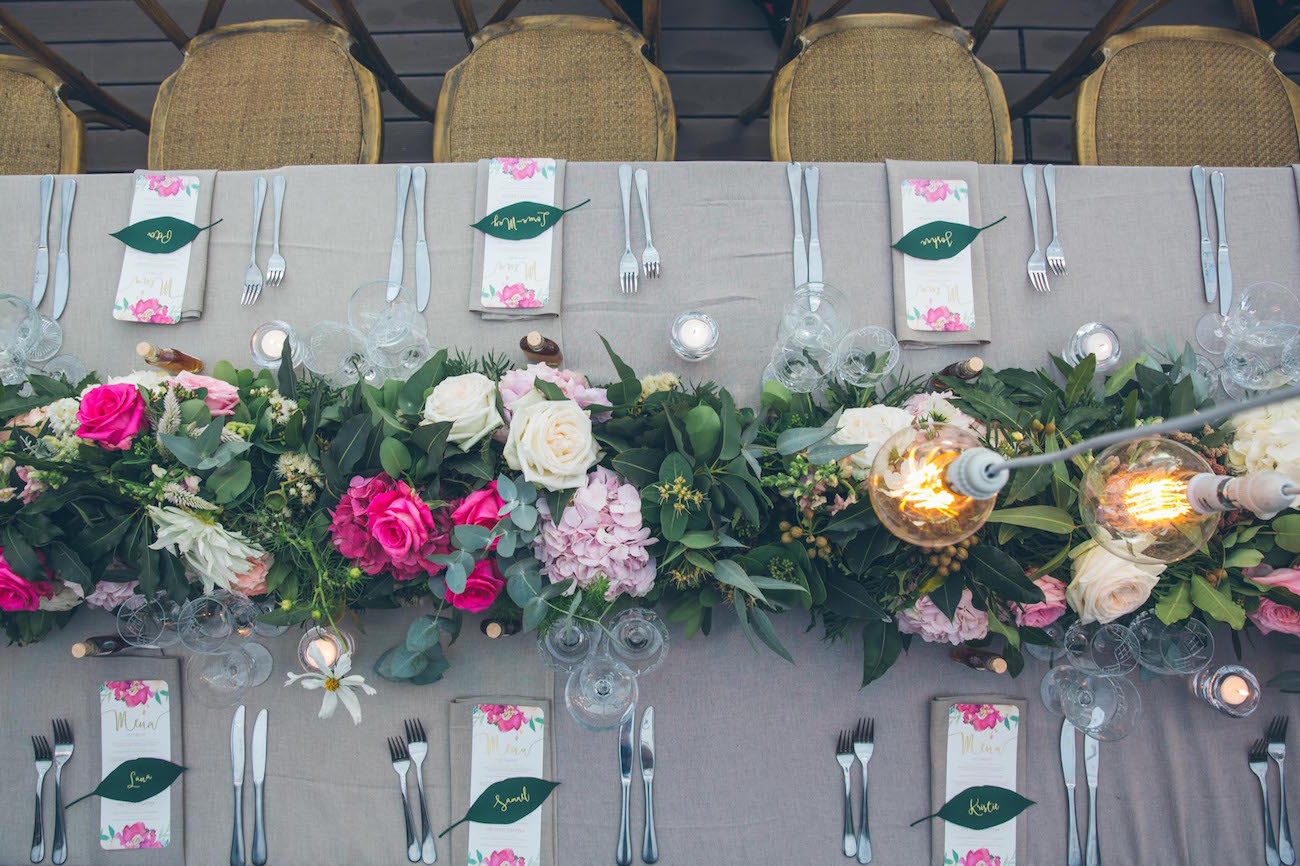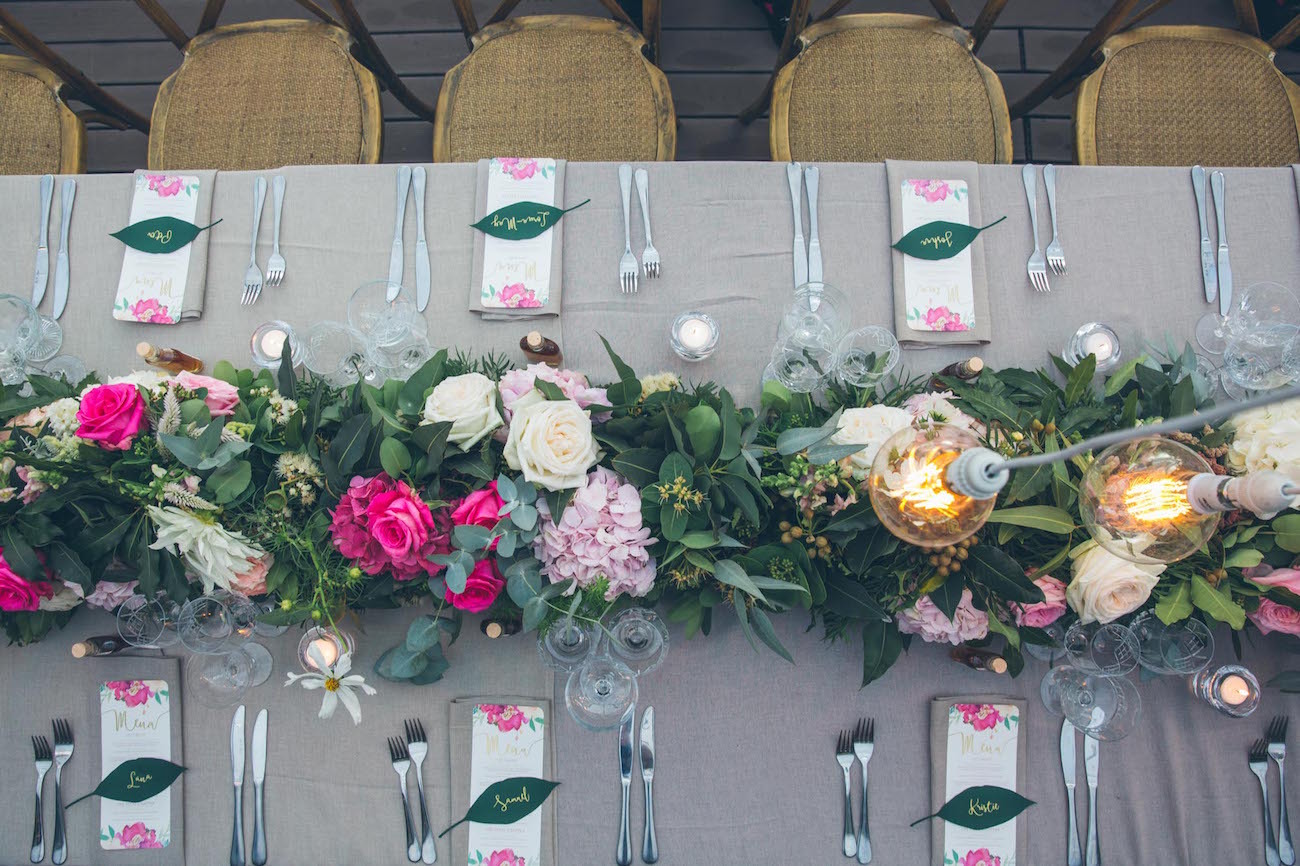 Memorable Moment
The ceremony was the most special time – seeing Sam well up when we finally saw each other as I walked up the aisle made my heart explode with love! But with all those important words we say and all the eyes on you, it can feel slightly stressful at times. So, when it was all over and we began walking the winding road to the street party in the vines we could finally breathe and begin to soak it in for the first time. Champagne in one hand, my husband on the other, strolling behind the Zulu dancers with our full congregation following behind us, ready to celebrate. It was an unforgettable feeling!
Proudly South African Details
My mom had the super idea of having some Zulu dancing as entertainment. We walked down from the ceremony to our pre-reception drinks following the drummers and dancers with our congregation following behind us. They also gave a performance before supper which was great fun. Sam and I were pulled on to the dancefloor with them which gave everyone a laugh as we tried our best to pull off some Zulu dance moves. Stir Foods helped create a perfect traditional menu. During our street party in the vines we had someone shuck fresh Saldana bay oysters for our guests. It was such a fun addition that everyone loved! We also had a live braai station served for supper with my mom's mielie bread recipe on the side, and delicious boerie rolls for midnight snacks.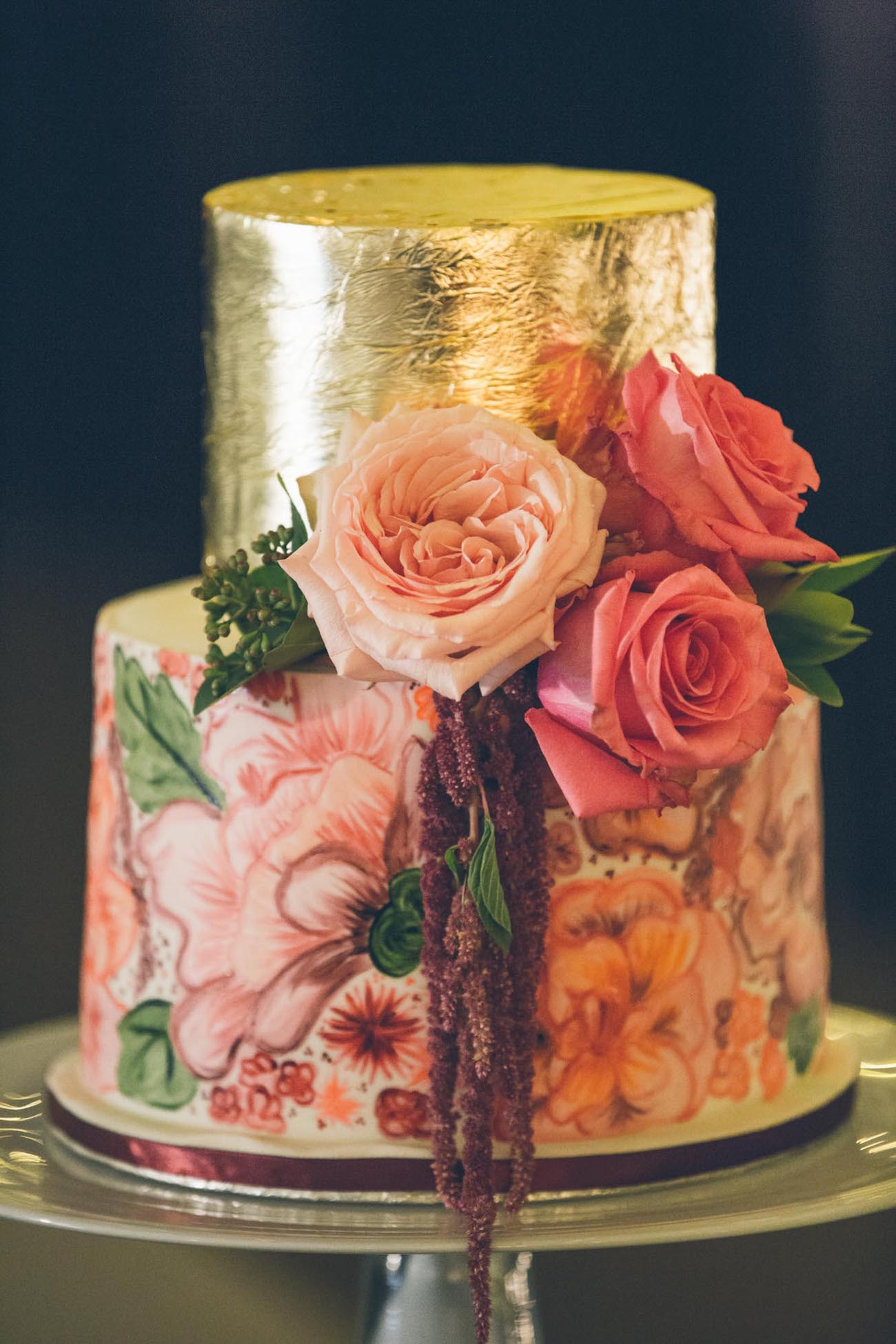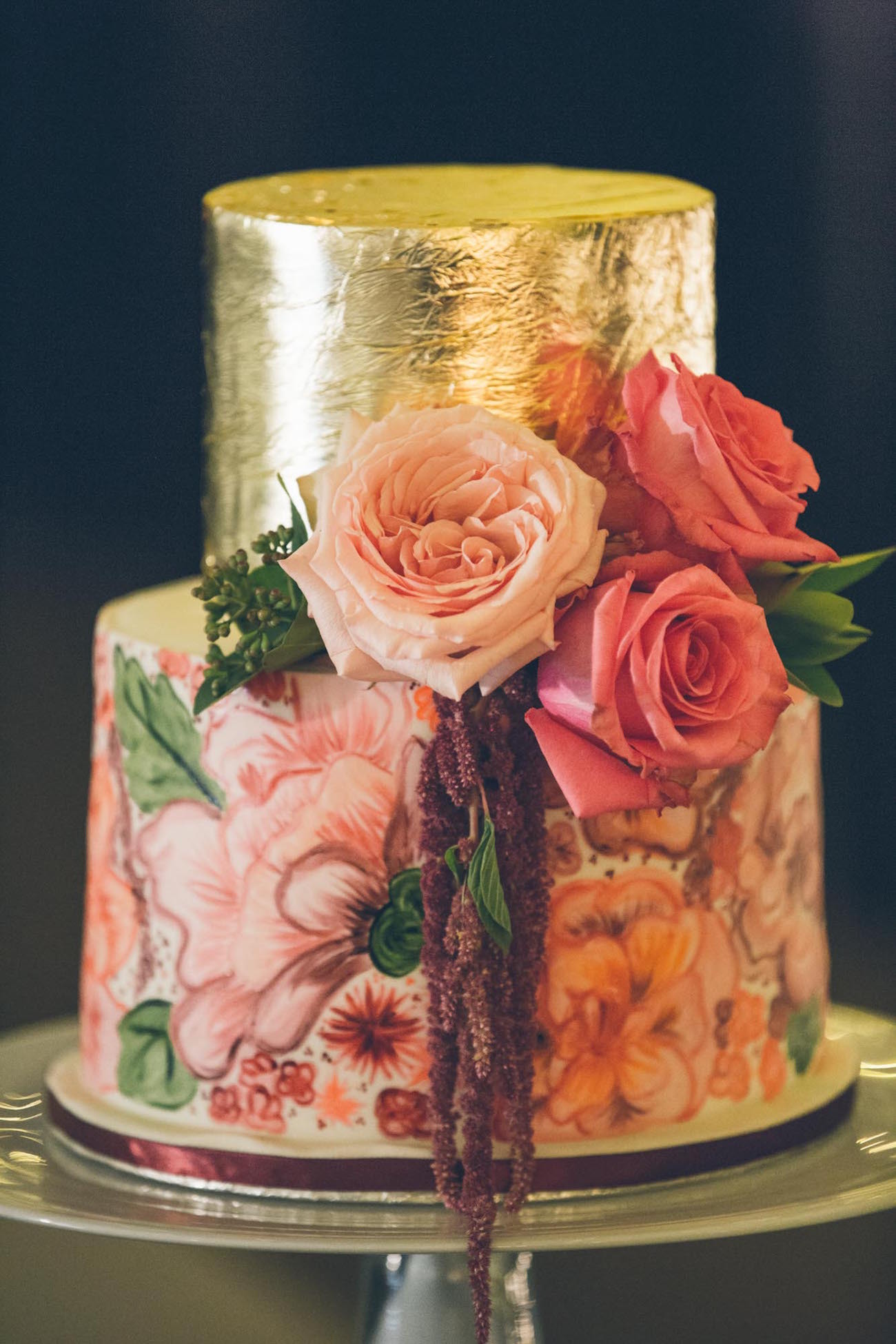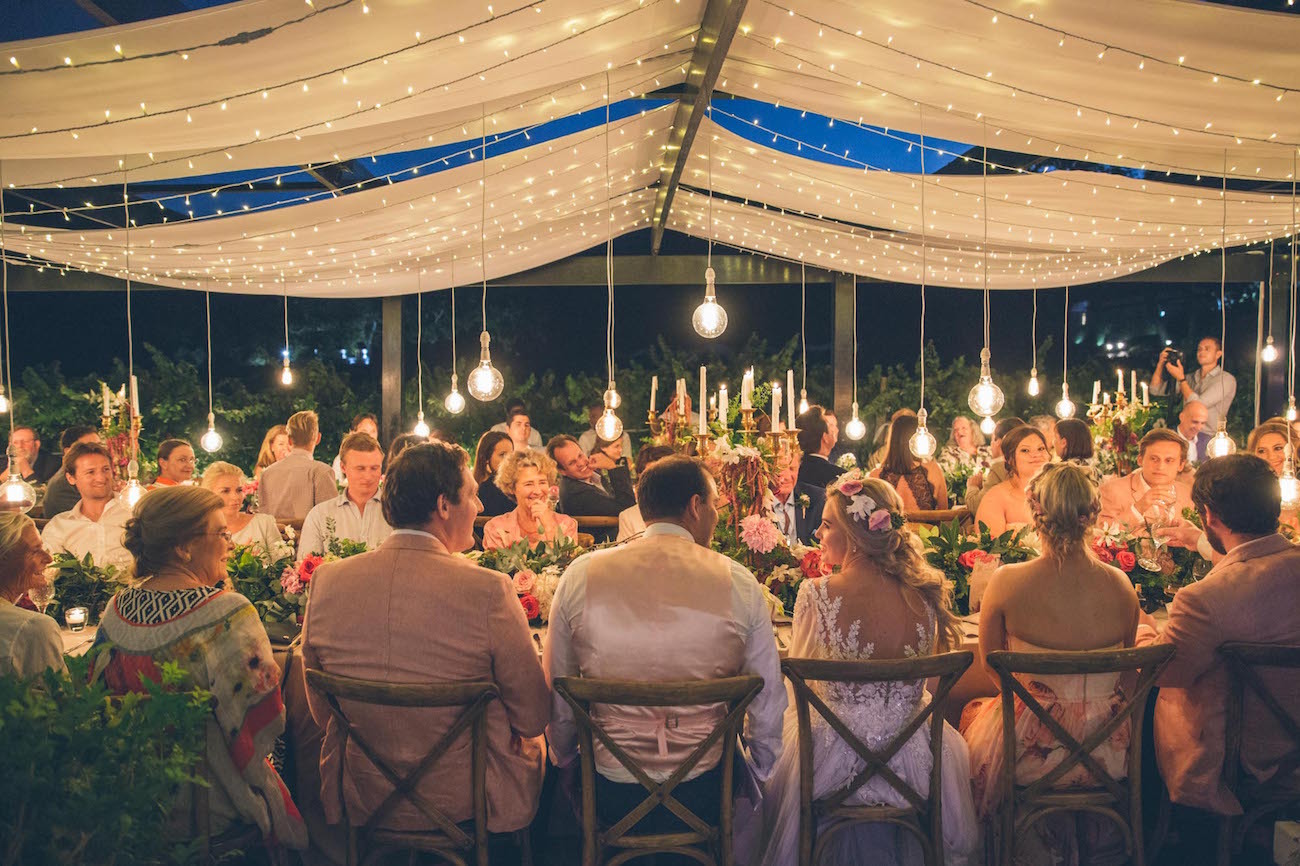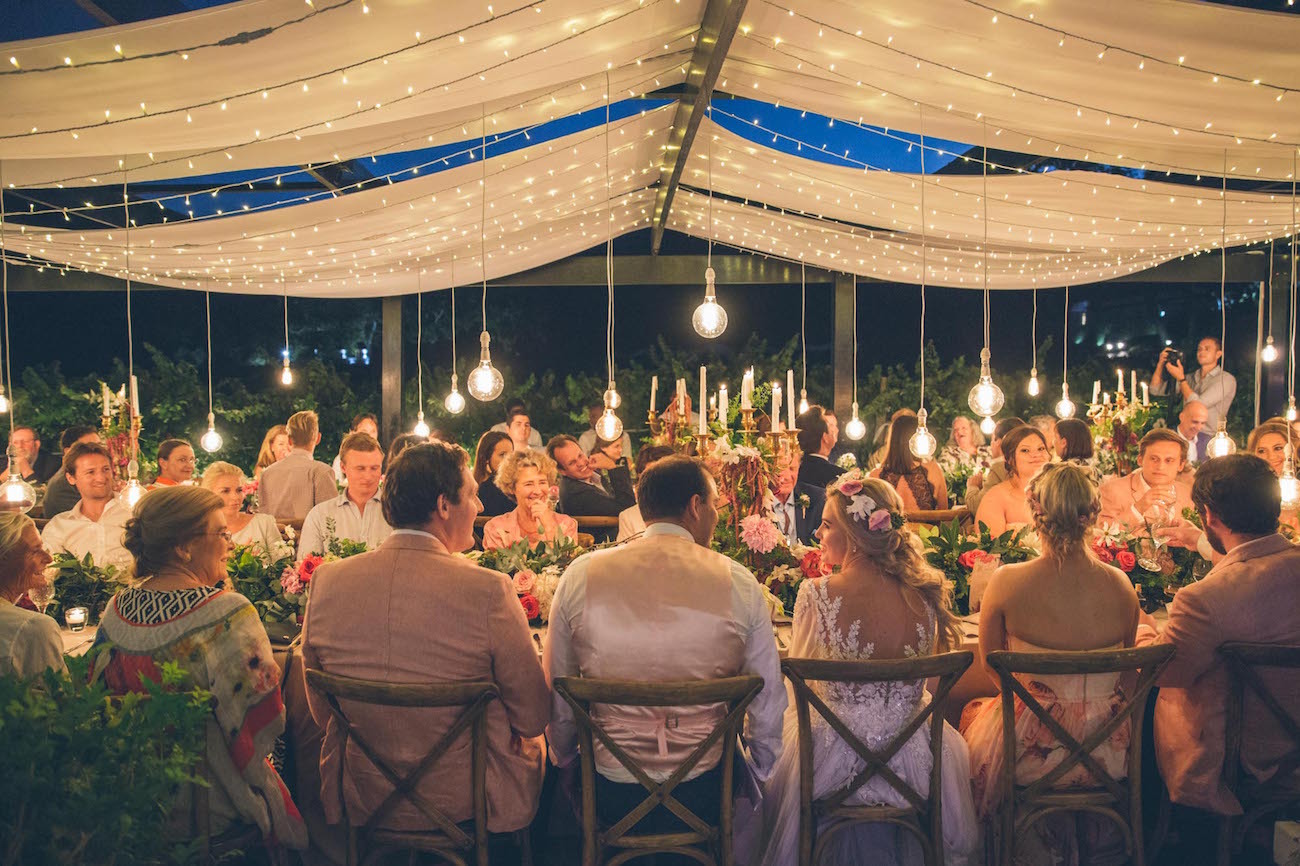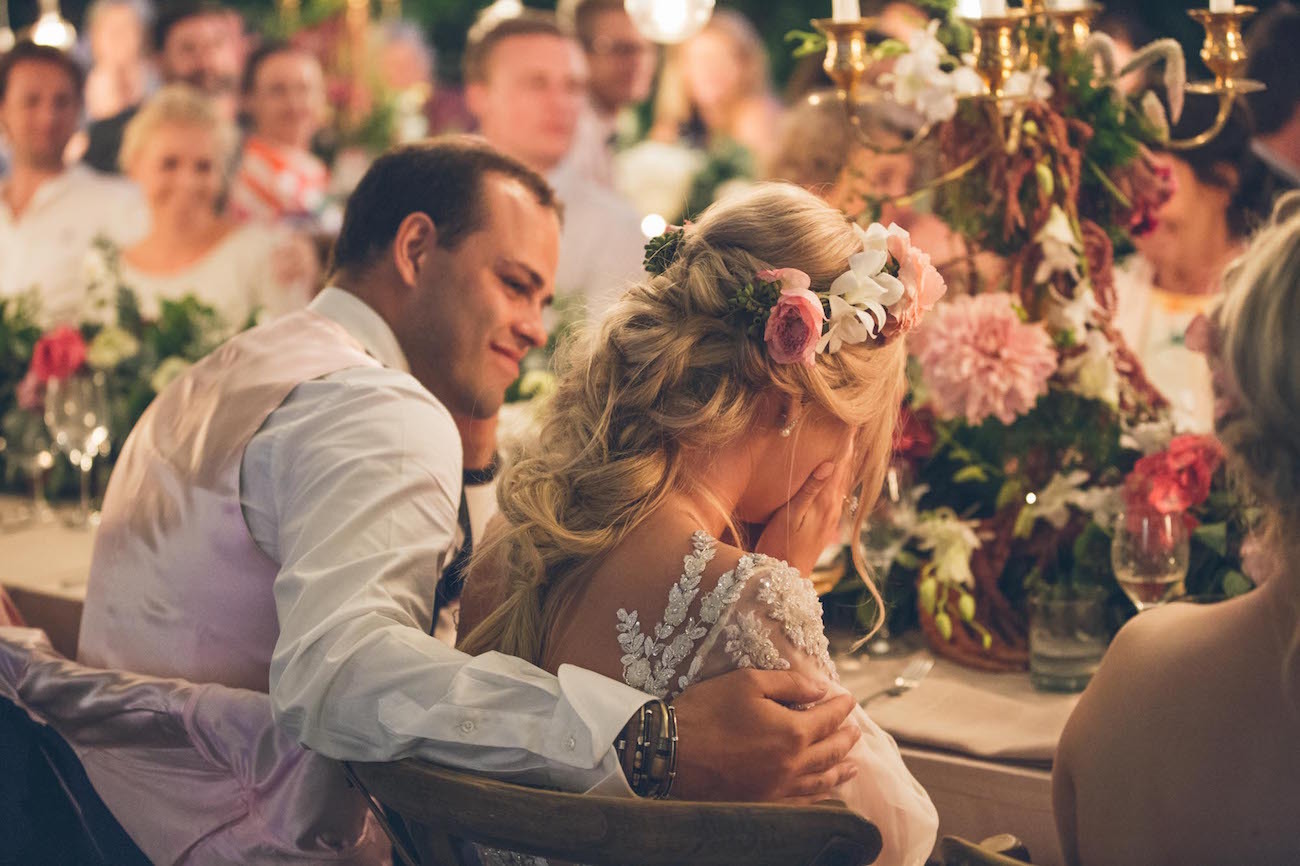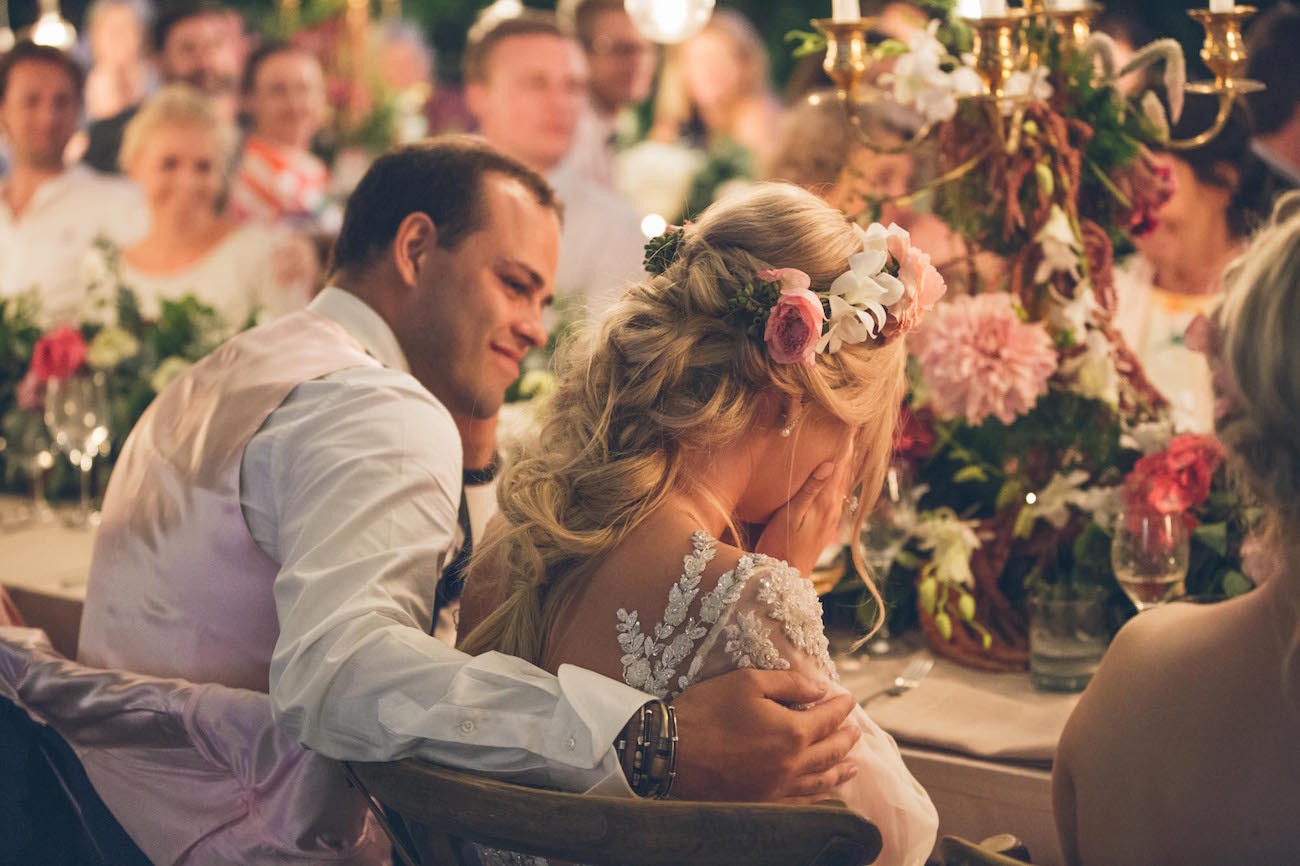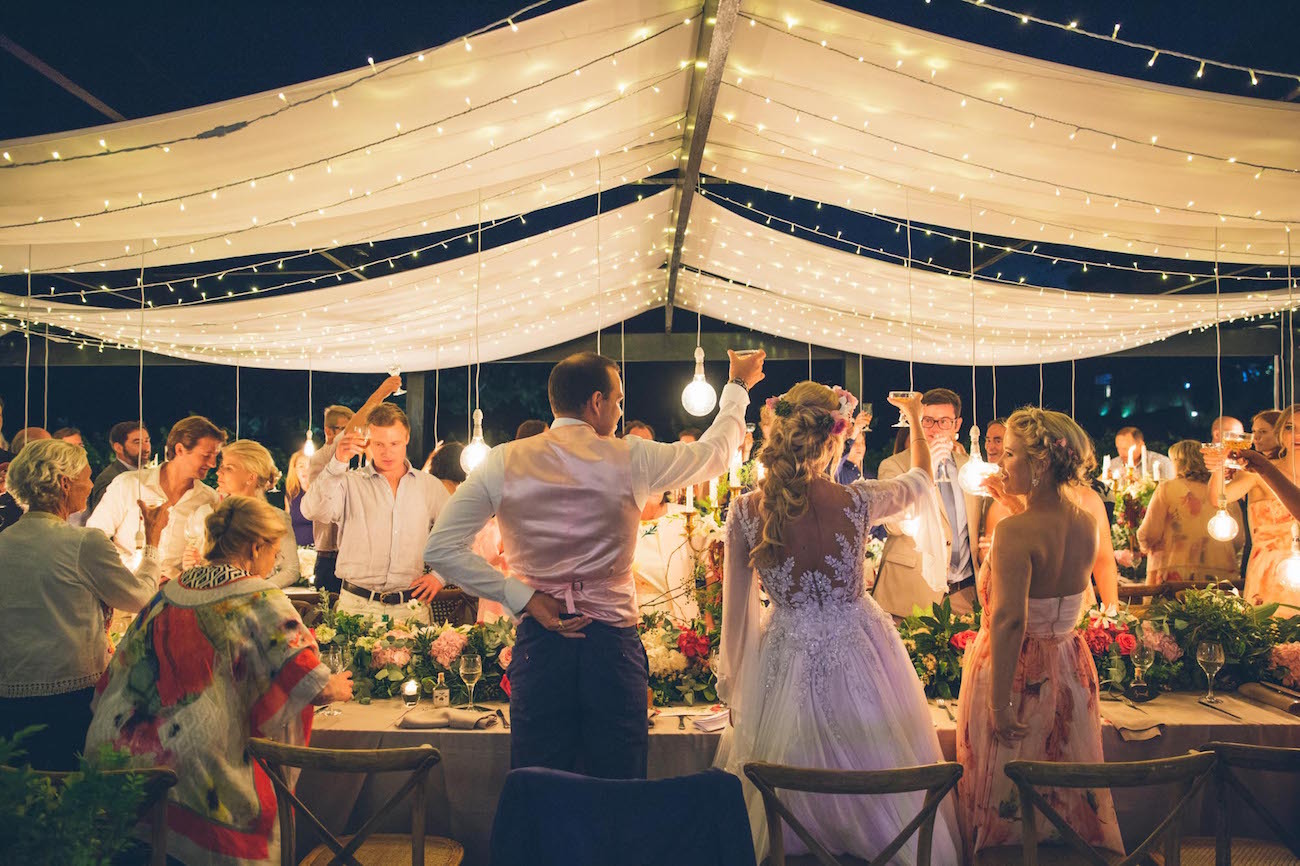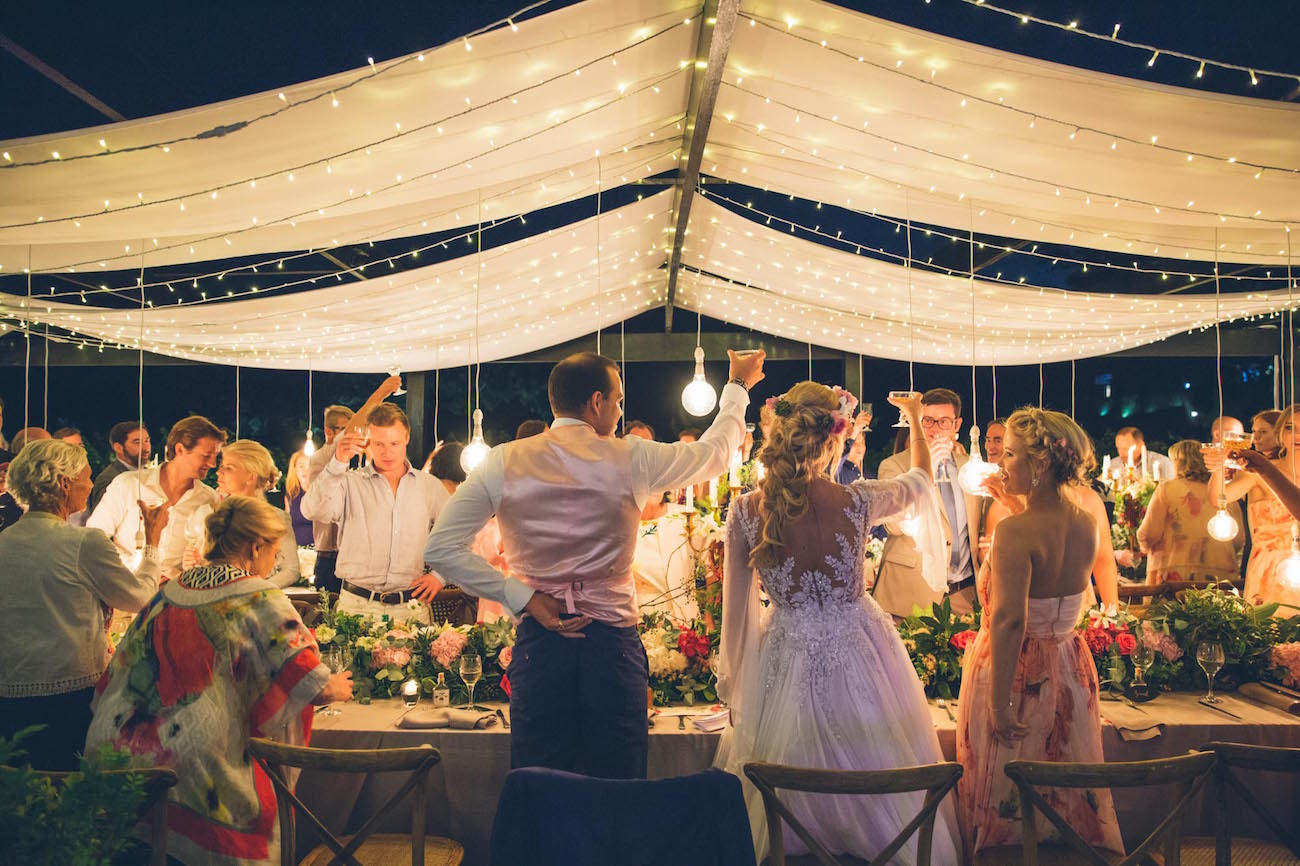 Best Decision
It is without a doubt, hiring the most phenomenal wedding planner in the Cape if not South Africa! I truly don't know how we could have organised a day half as special without Cara of The Mosaic Wedding Company. She made what is normally quite a stressful process, totally effortless. Despite having countless weddings to plan simultaneously, she always made us feel so special, as though we were having a royal wedding. Cara managed to decipher all of my jumbled ideas and make the reality ten times better. She was so professional and got every aspect organised to perfection in record time whilst maintaining the calmest and friendliest of demeanours. We were lucky beyond words to have her with us on the wedding journey, and still today as a friend.
Advice for Future Brides & Grooms
Don't get caught up in 'perfection'. Sure, some aspects are important and you'll want to get it just right for you, but don't spend hours pulling your hair out over shades of cream, etc. Your guests will not notice the little things. Remember what it's like to be a wedding guest. Your wedding day is an expression of yourselves, but it's not all you'll ever be. It's just the beginning! Embrace the unexpected, and each others' opinions, and don't let an unattainable ideal (or Pinterest) sour the big picture. You're in this together, now and for the future.
How awesome is this video by Vision on Fire?
You can see more from this wedding on Shanna Jones' blog.
SERVICE PROVIDERS
Venue: Molenvliet | Catering: Stir Food | Photography: Shanna Jones | Co-ordination: Cara Lee McLaughlin of Mosaic Weddings | Flowers & décor: Fleur le Cordeur | Stationery: Lara's Designs | Video: Vision on Fire | Cake: The Birdcage | Bride's dress: Zuhair Murad | Bride's accessories: Sophia Webster (shoes) + Stephanie Brown (earrings) + Browns (tennis bracelet) + Heidi Gibson (engagement ring) | Hair: Jeanette Genis Bridal Hair | Makeup: Algria Ferreira | Bridesmaids' dresses: ASOS | Groom's attire: Moss Bros (suit) + Mr Fish (shirt) + Churches (shoes) | Groomsmen's attire: Moss Bros (blazers) + ASOS (shoes) + Gap (chinos) | Hiring: My Pretty Vintage + Goeters + Next Dimension Entertainment (dancefloor) | Lighting & draping: To-Netts | Staffing & glassware: Urbantonic | DJ: Me & Mr Brown | Entertainment: Gerry Liberty | Zulu dancers: Shake & Bake Entertainment | Celebrant: Fourie Roussow | Oysters: The Oyster King | Beer: A-BRU | Ice cream: Tuist


Save
Save