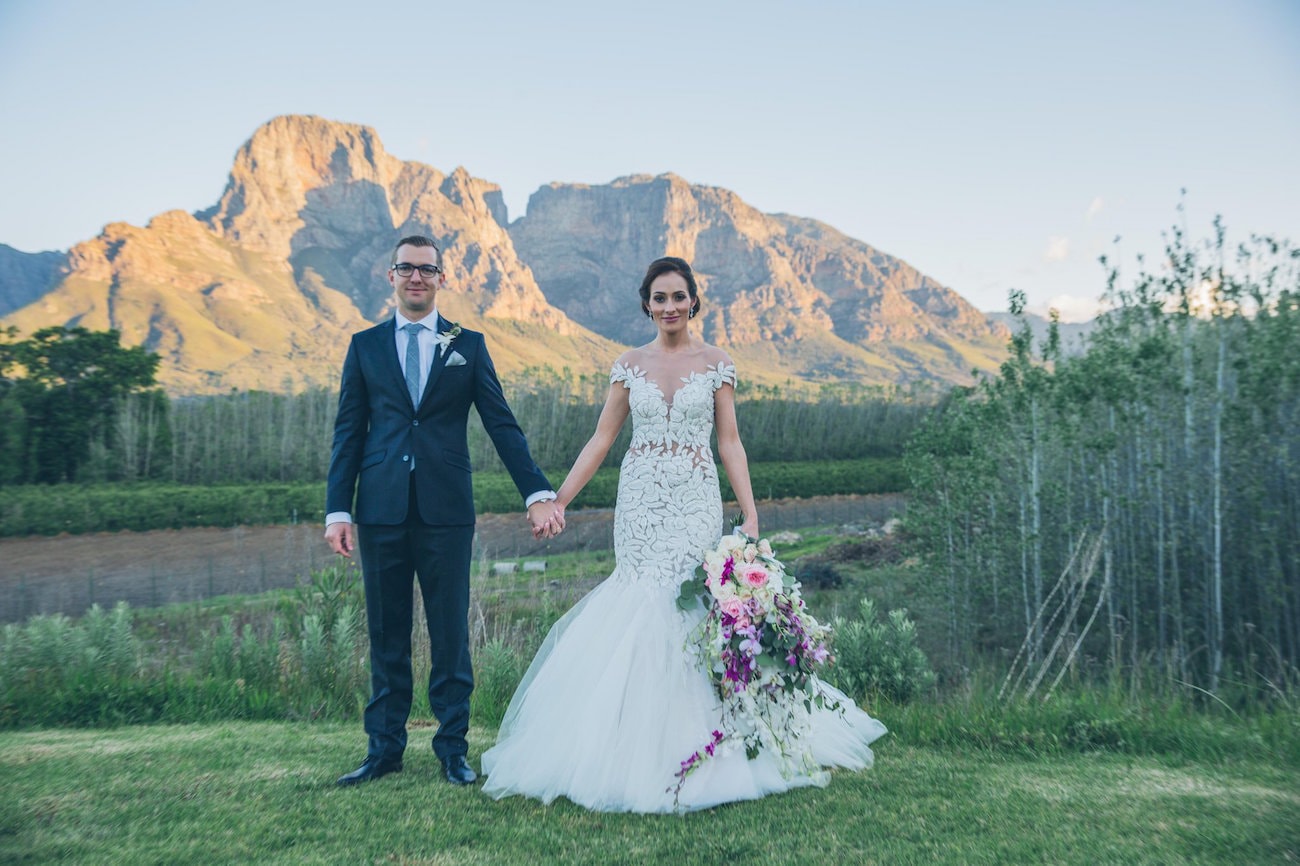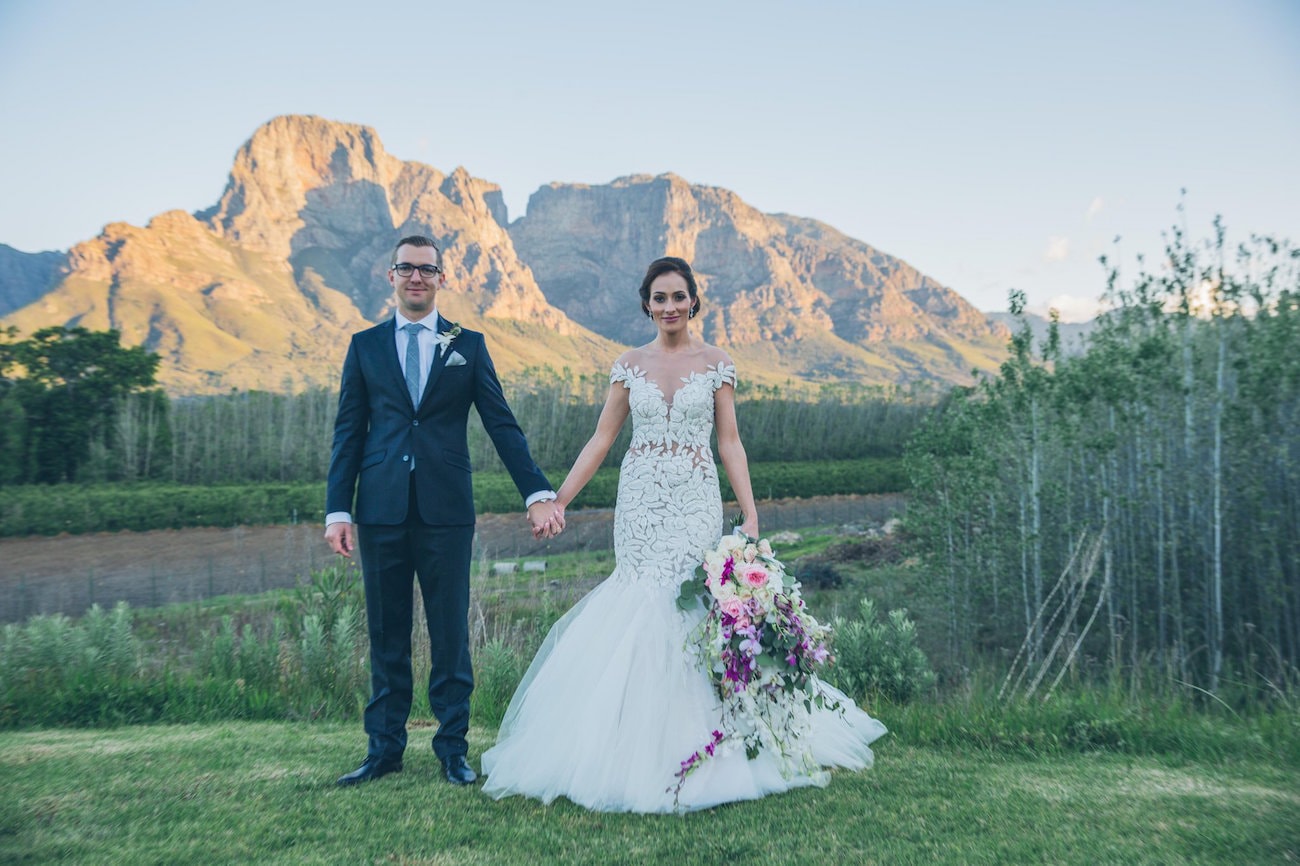 There are so many gorgeous details I could talk about when it comes to this floral-filled wedding by the fabulous Aleit Group at Boschendal, and let's be honest, we could spend the whole day gawping over the beautiful images by Shanna Jones. But there's one element that completely, utterly took my breath away: the bride's bespoke Kobus Dippenaar gown. Holy hauteness. With hand-placed lace floral applique reflecting the floor to ceiling flowers at the reception, a froth of tulle at the bottom, and tiny pearls for good luck, it is everything. And as for the rest, from the coolest custom cocktails, to the decor, to a late night Mickey D's surprise, I can't do any better in describing Marilize & Helgard's wedding than the bride herself, so be sure to read her words, below.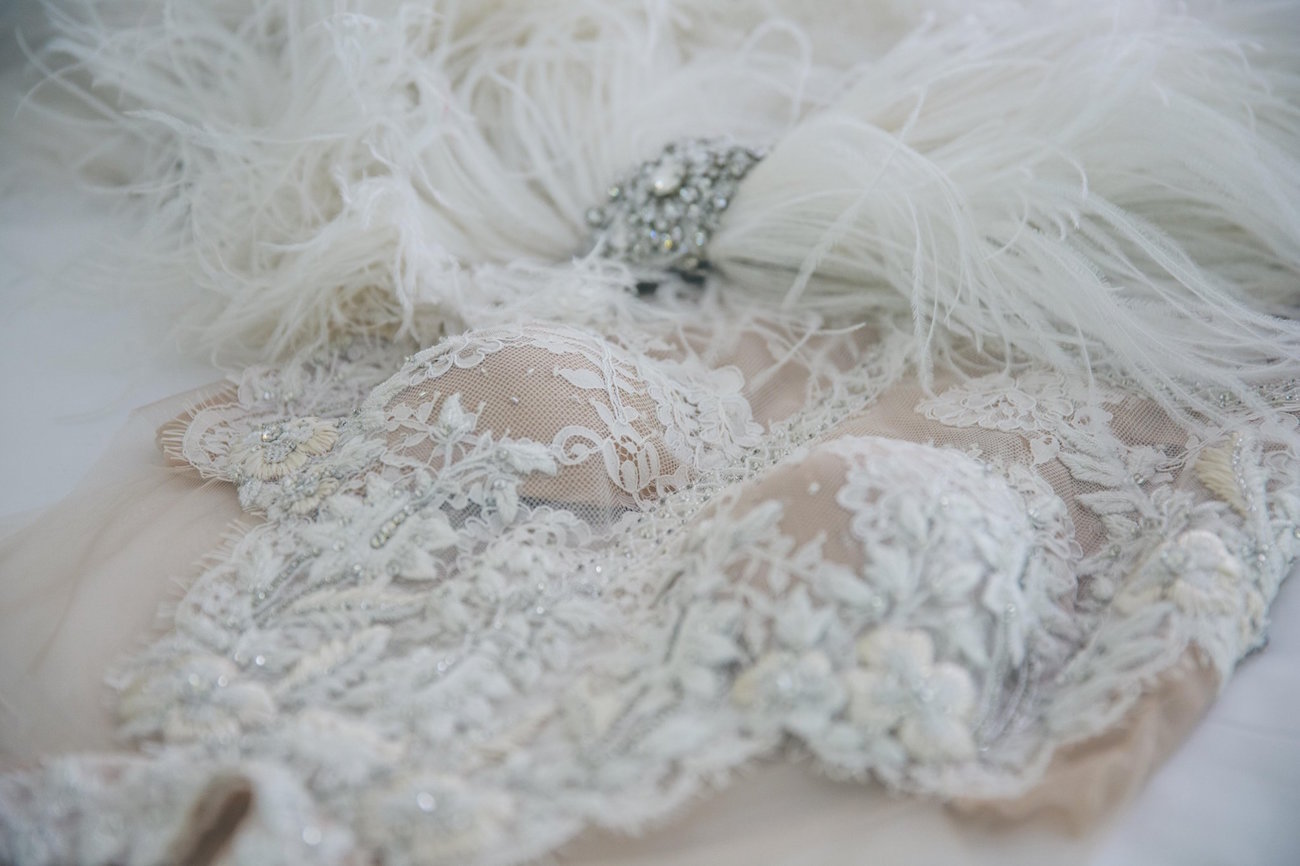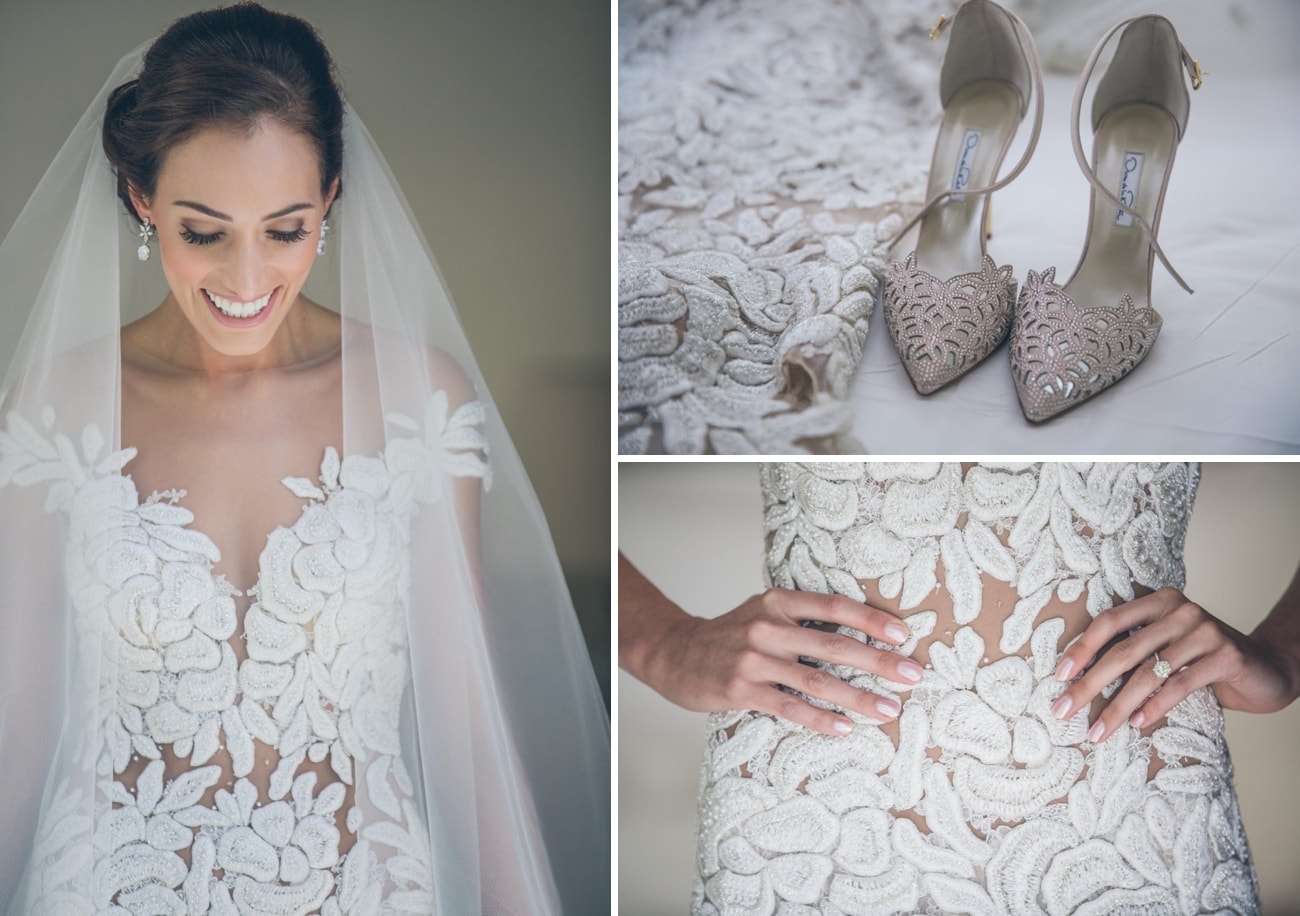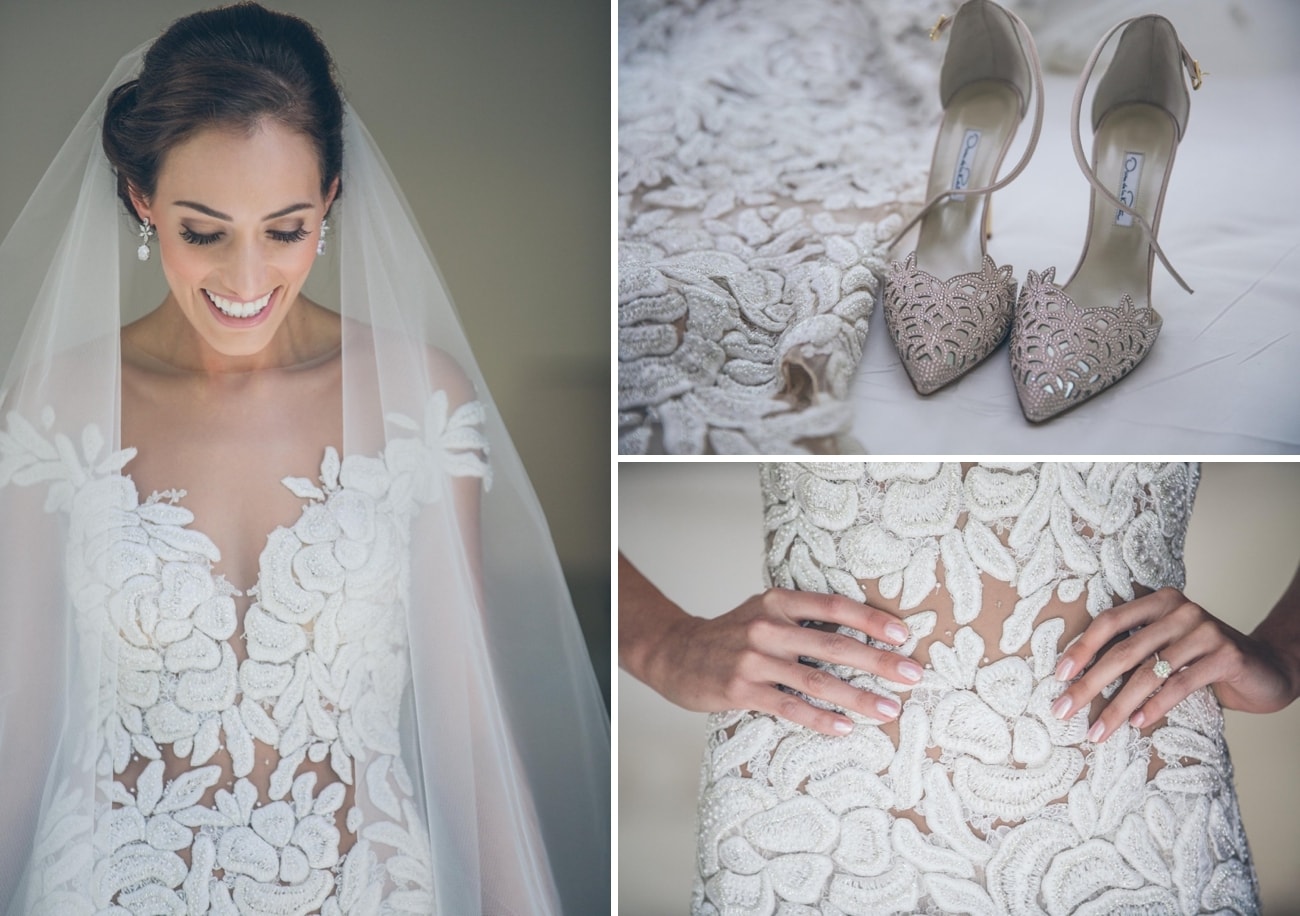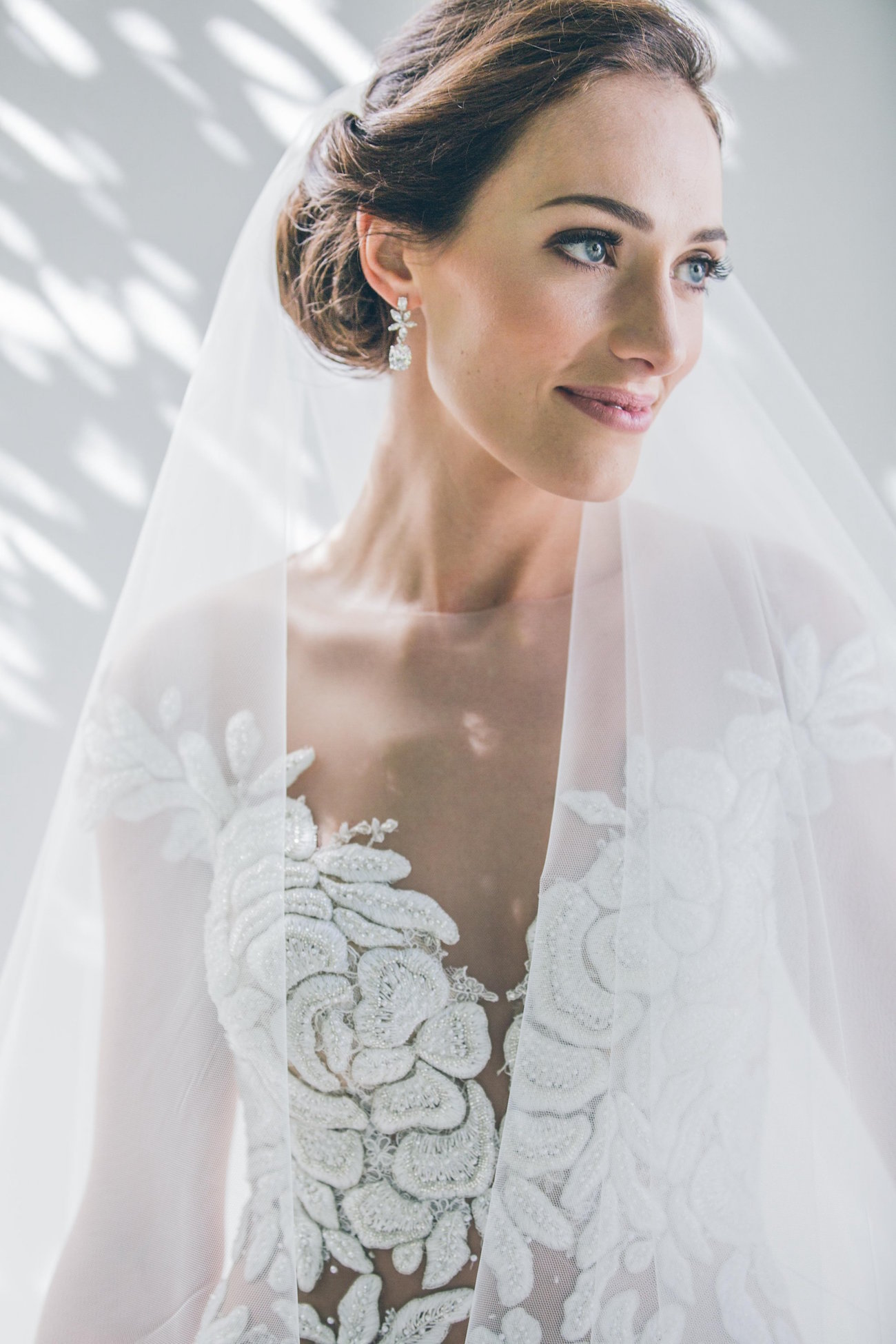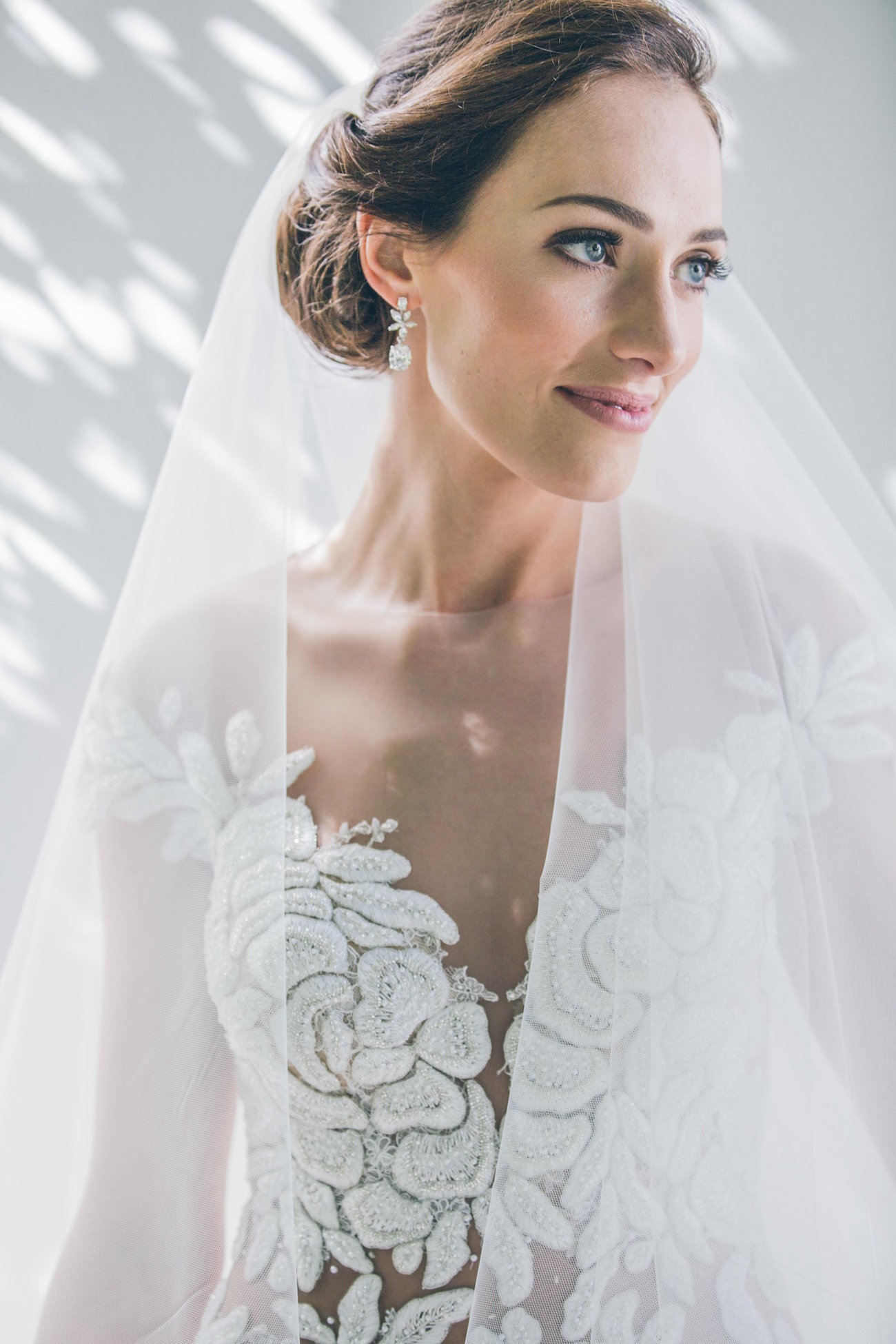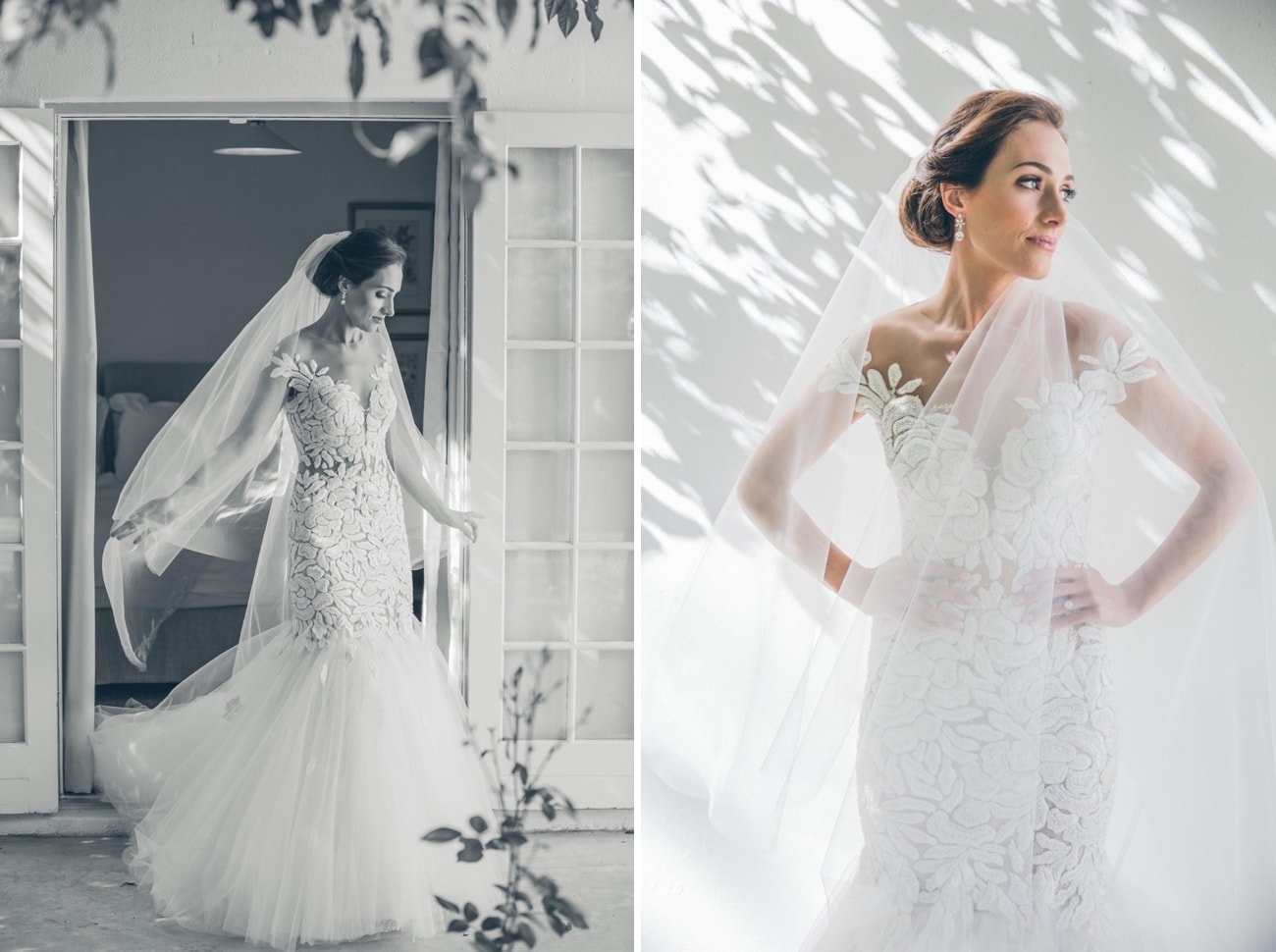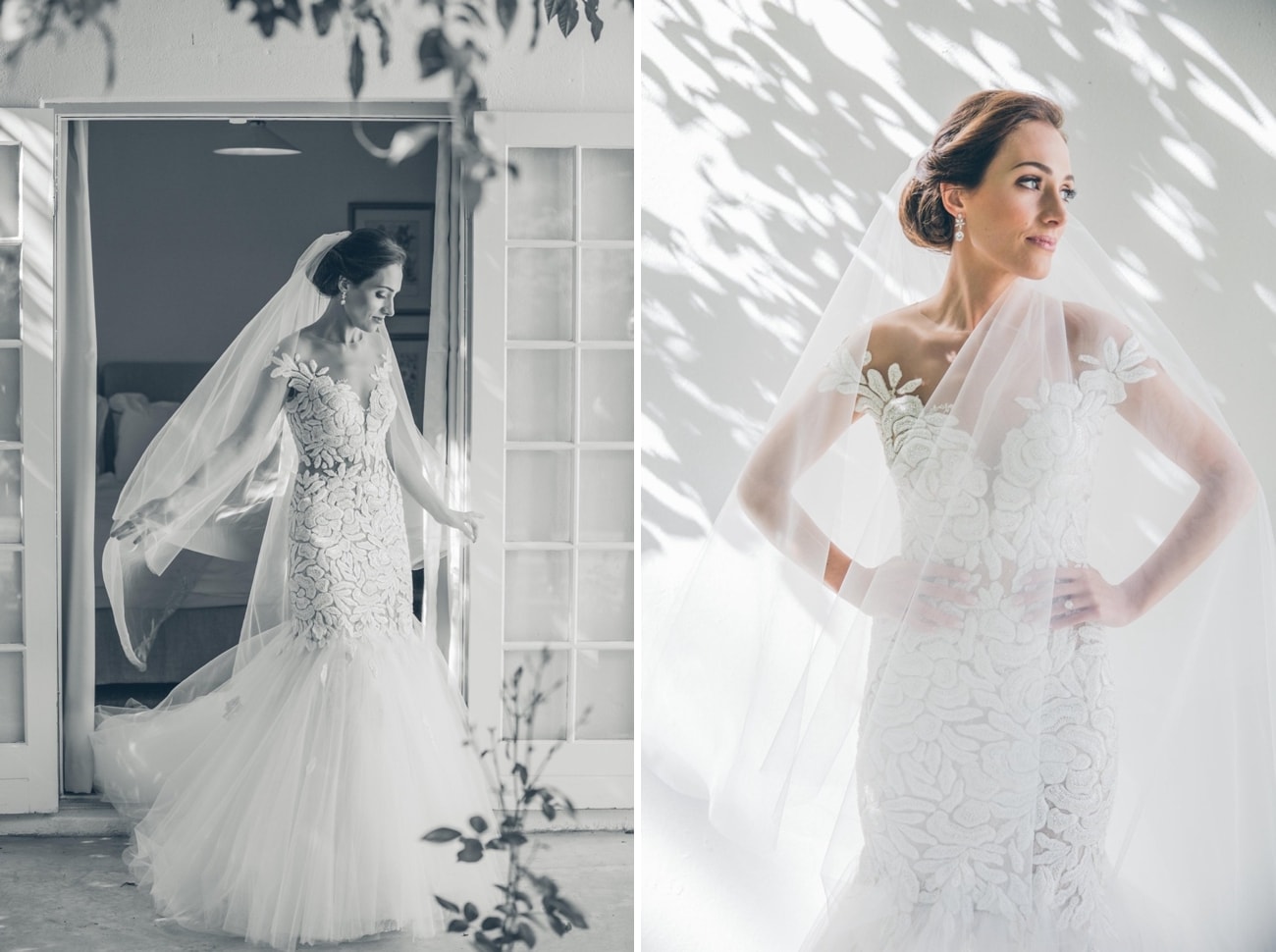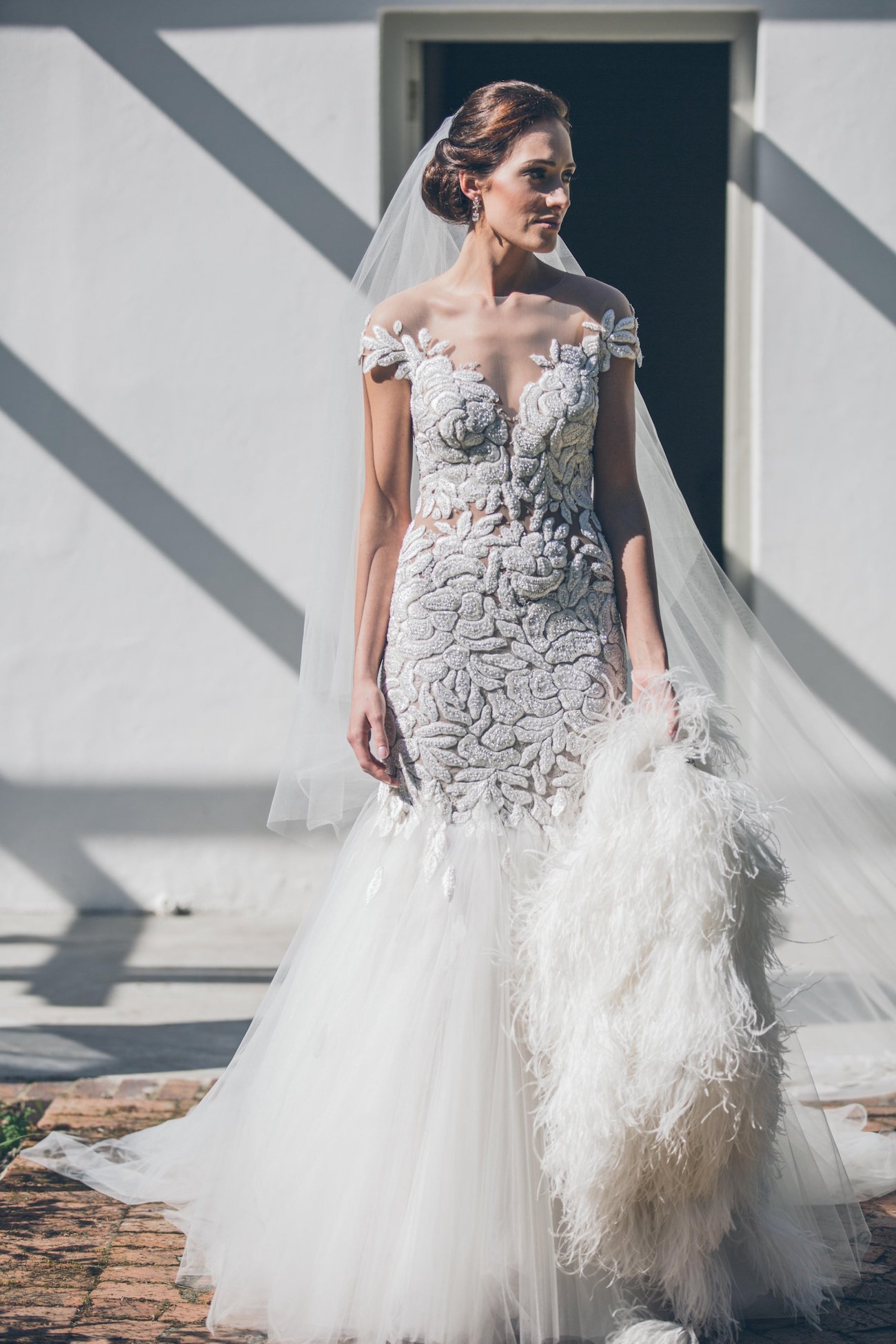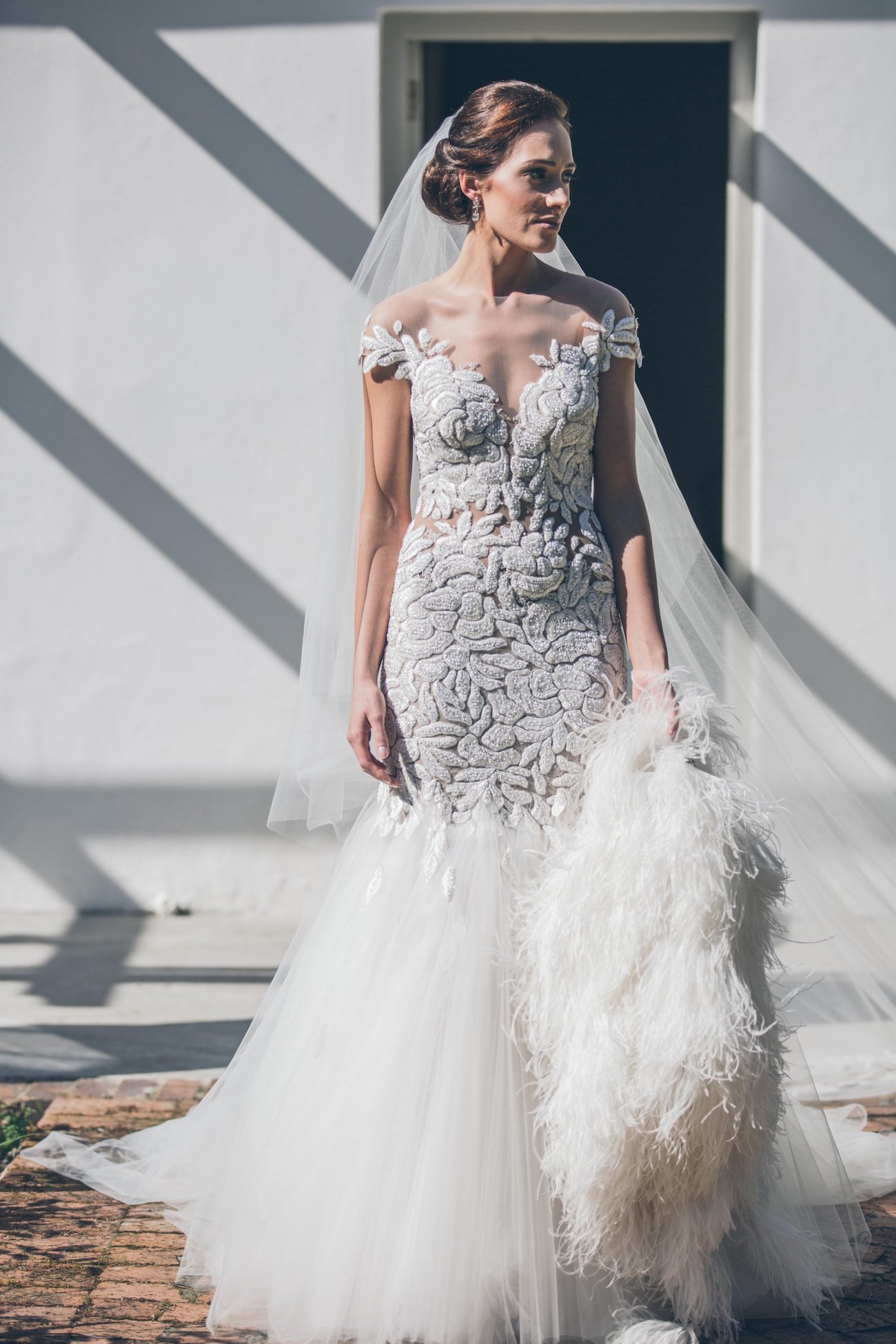 Love Story
It all began at a place nicknamed "Lucky's" – which makes me think that Shakespeare may have got it wrong with his "what's in a name" quote. What I thought was just an innocent comment on his glasses, Helgard interpreted as a clear sign of my interest and so the courting began.
The Proposal
We are firm believers in not wasting any time – something that might be the consequence of our working lives as an attorney and actuary. So, less than a year after we met, Helgard went down on one knee at the breathtaking Boschendal, the place where we became Mr and Mrs six months later.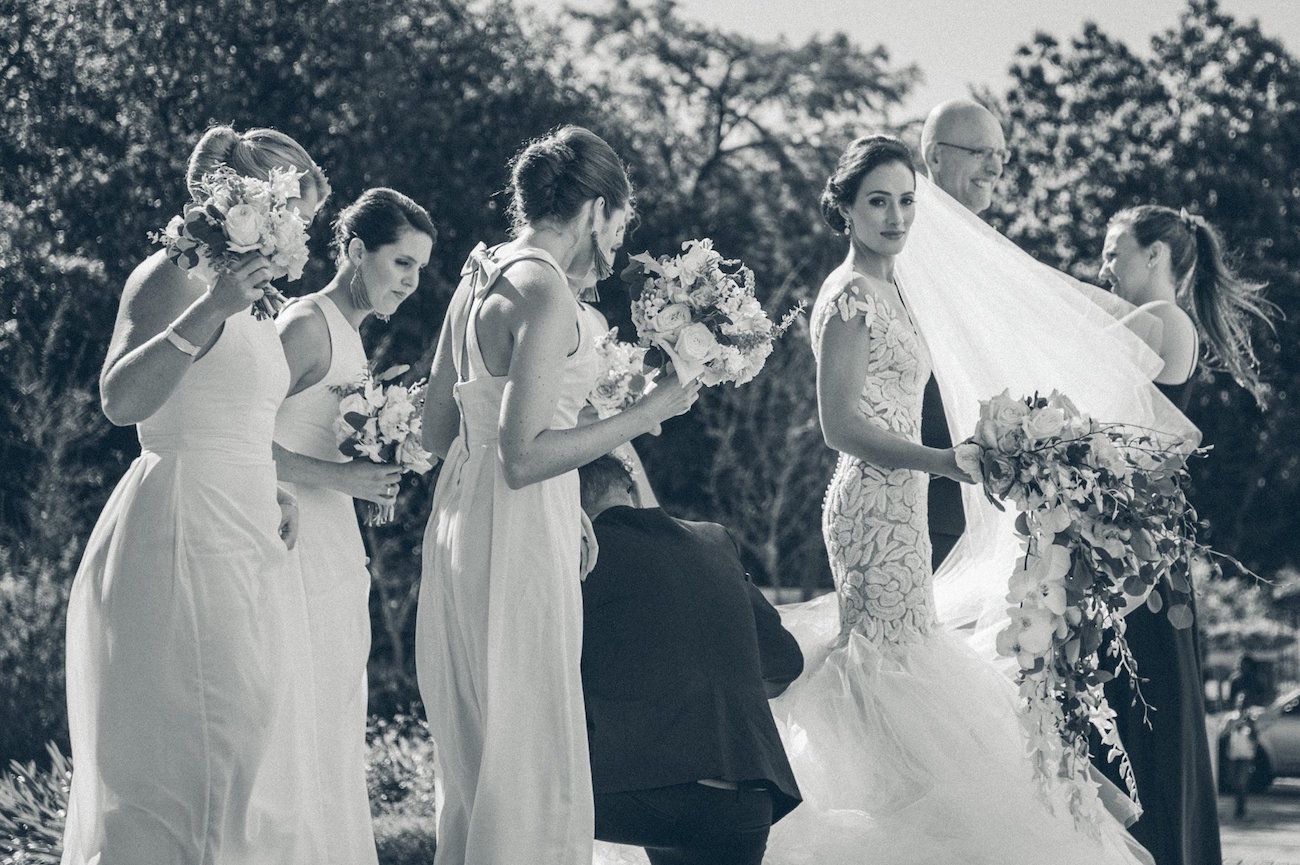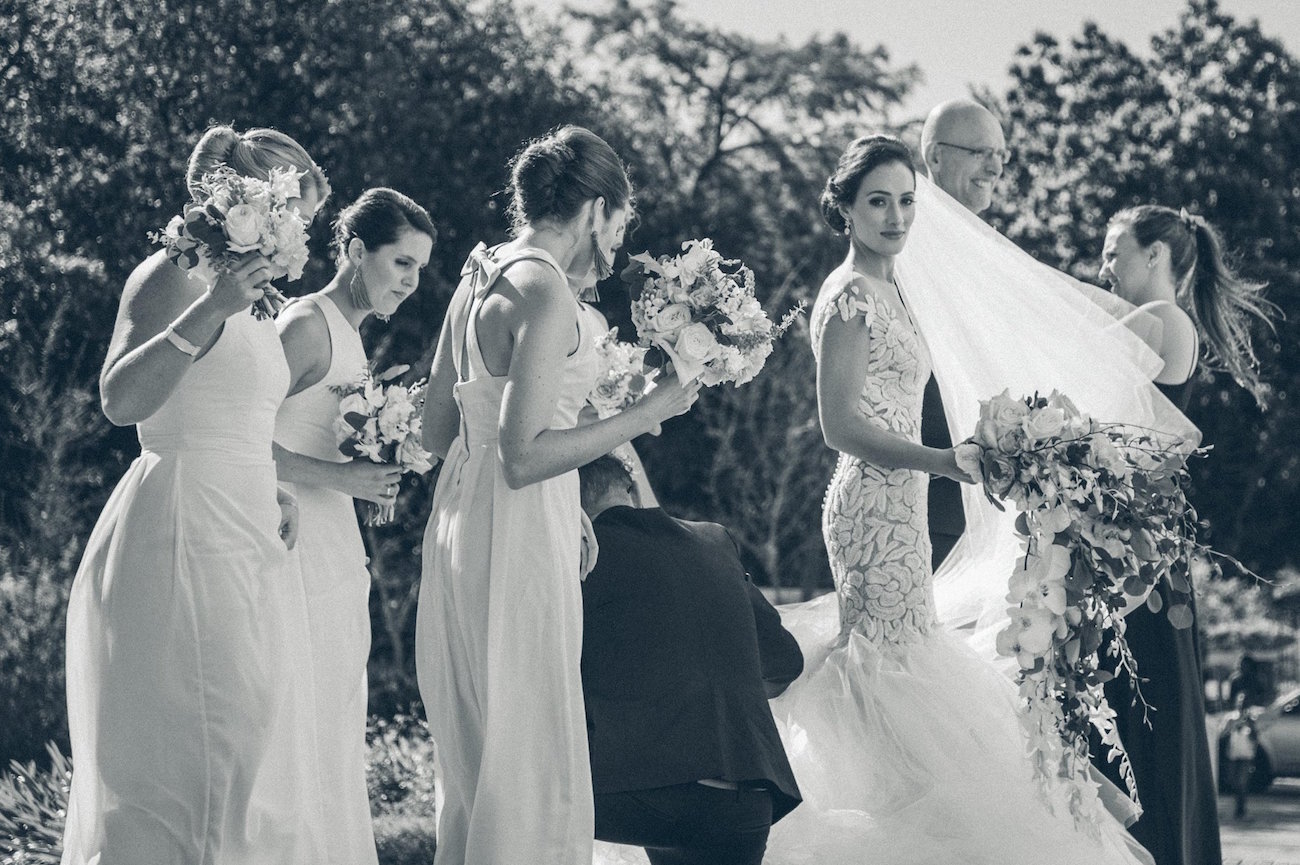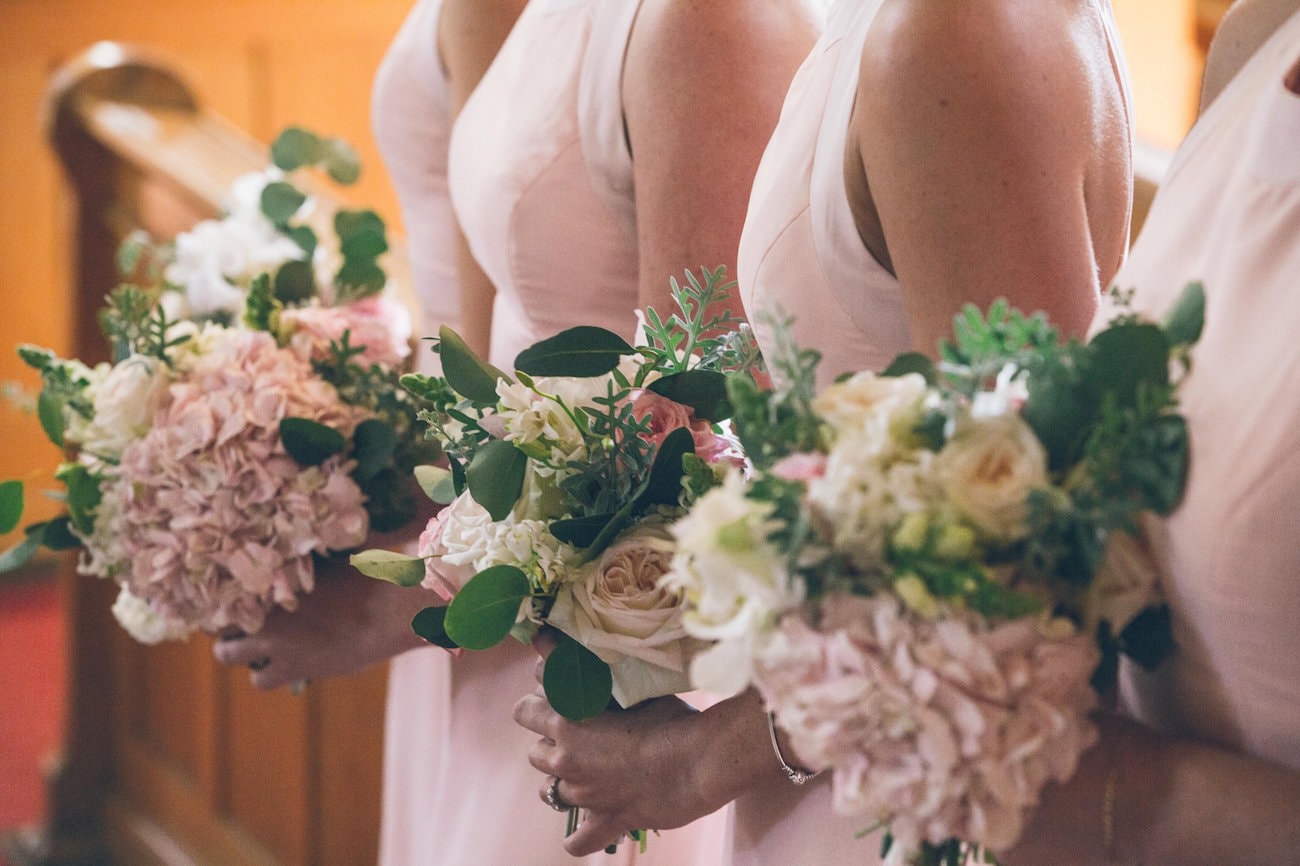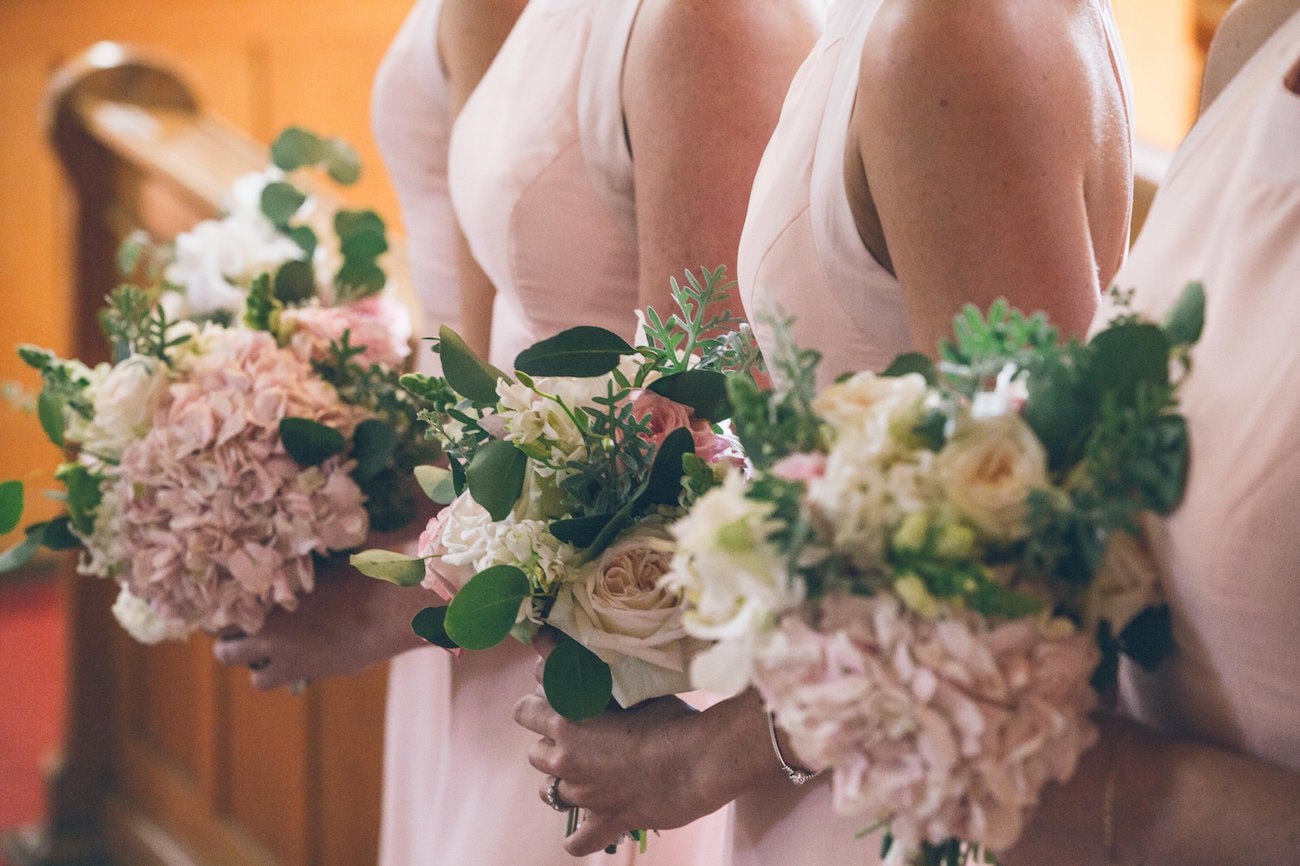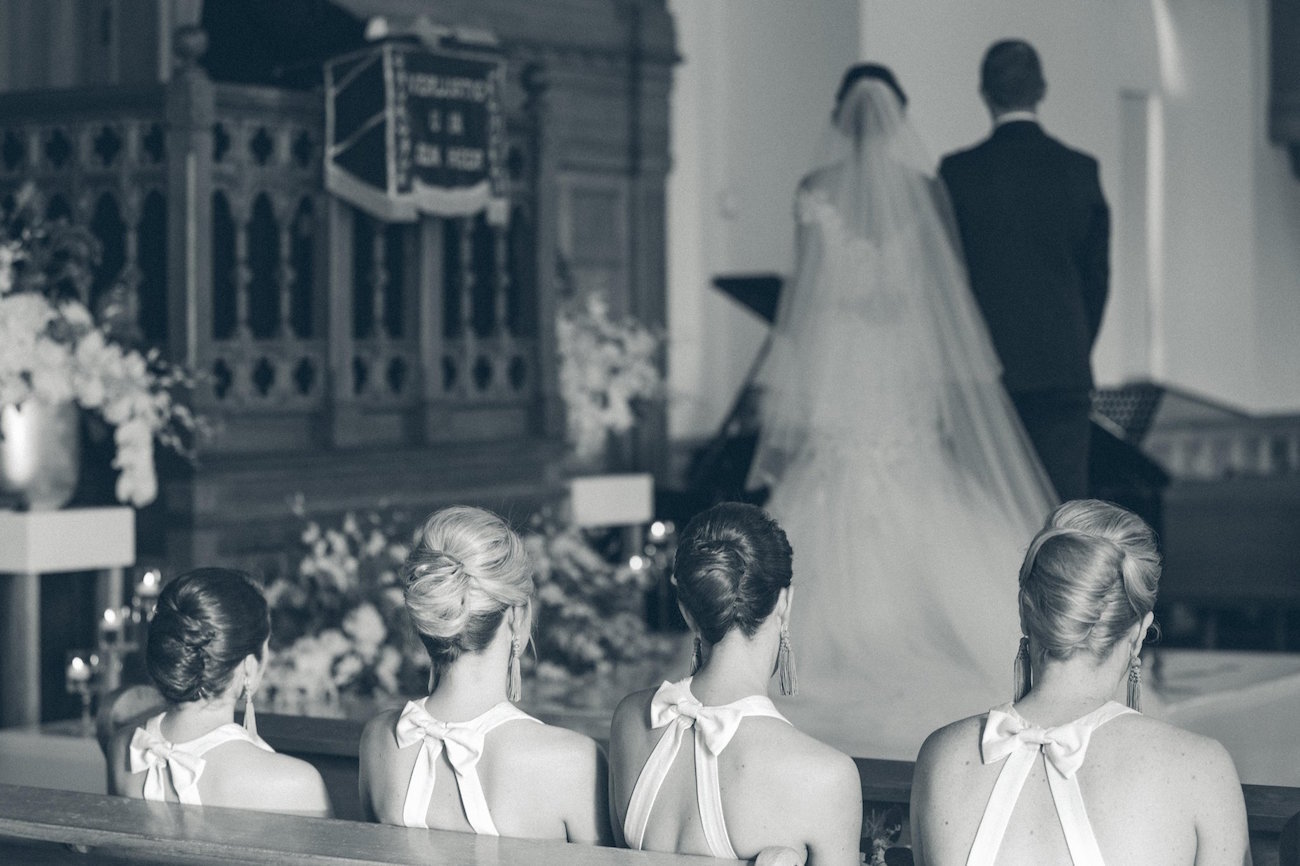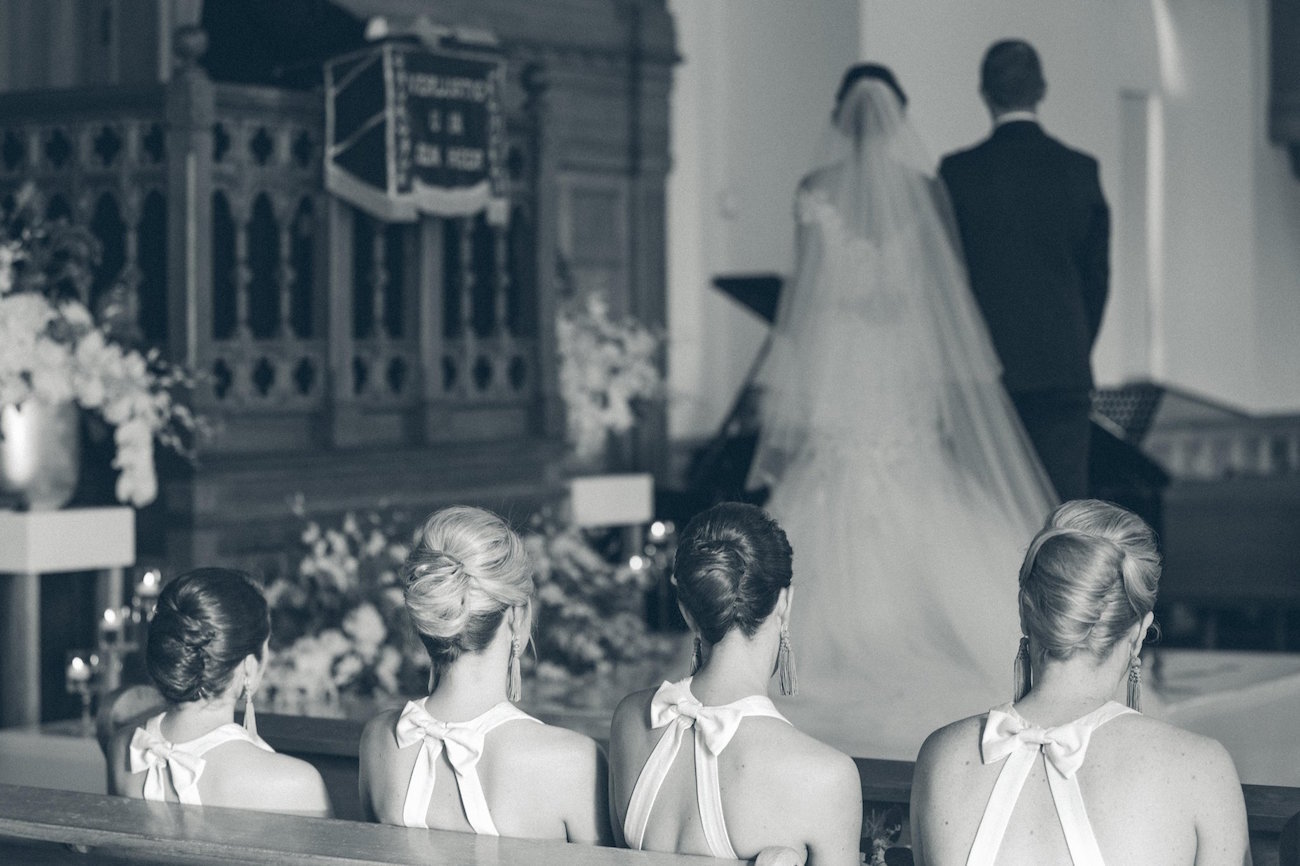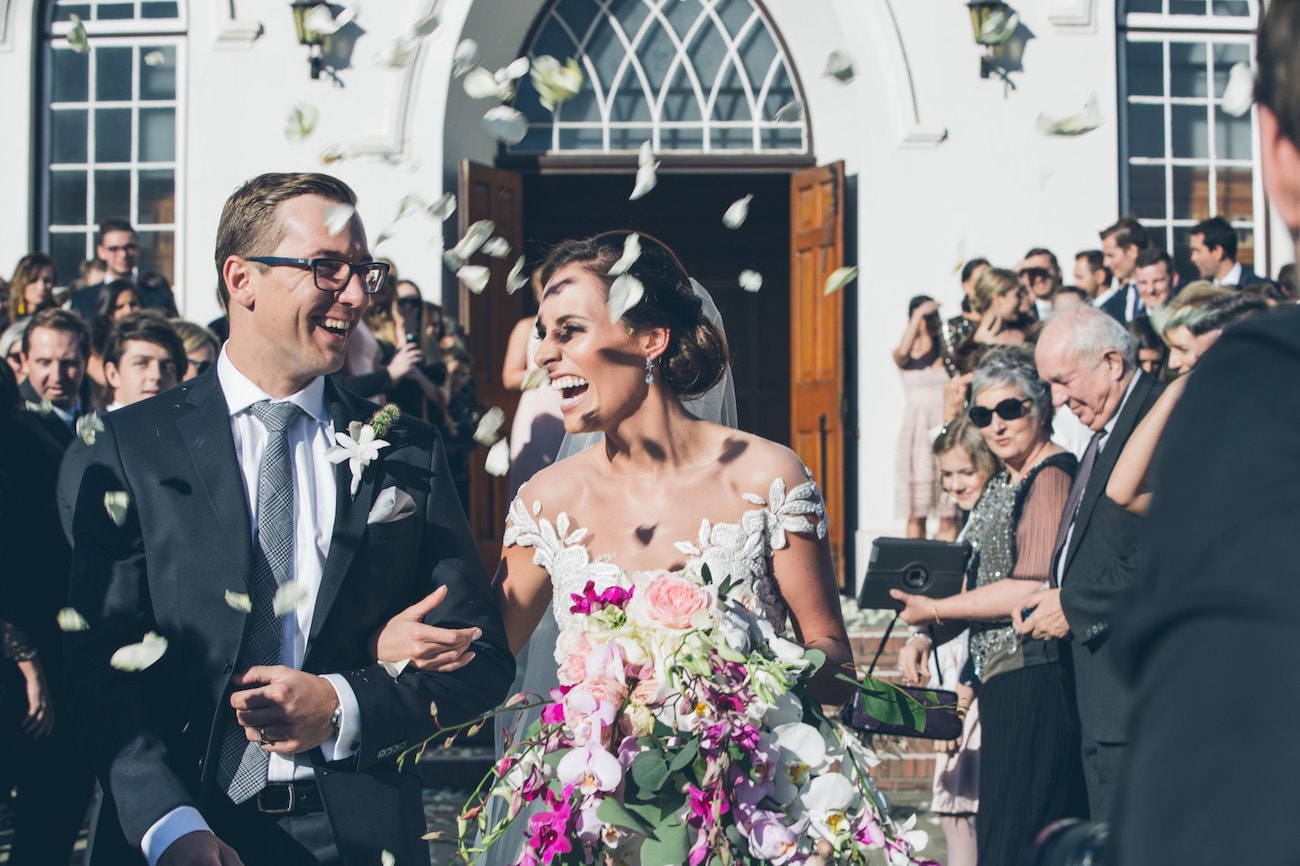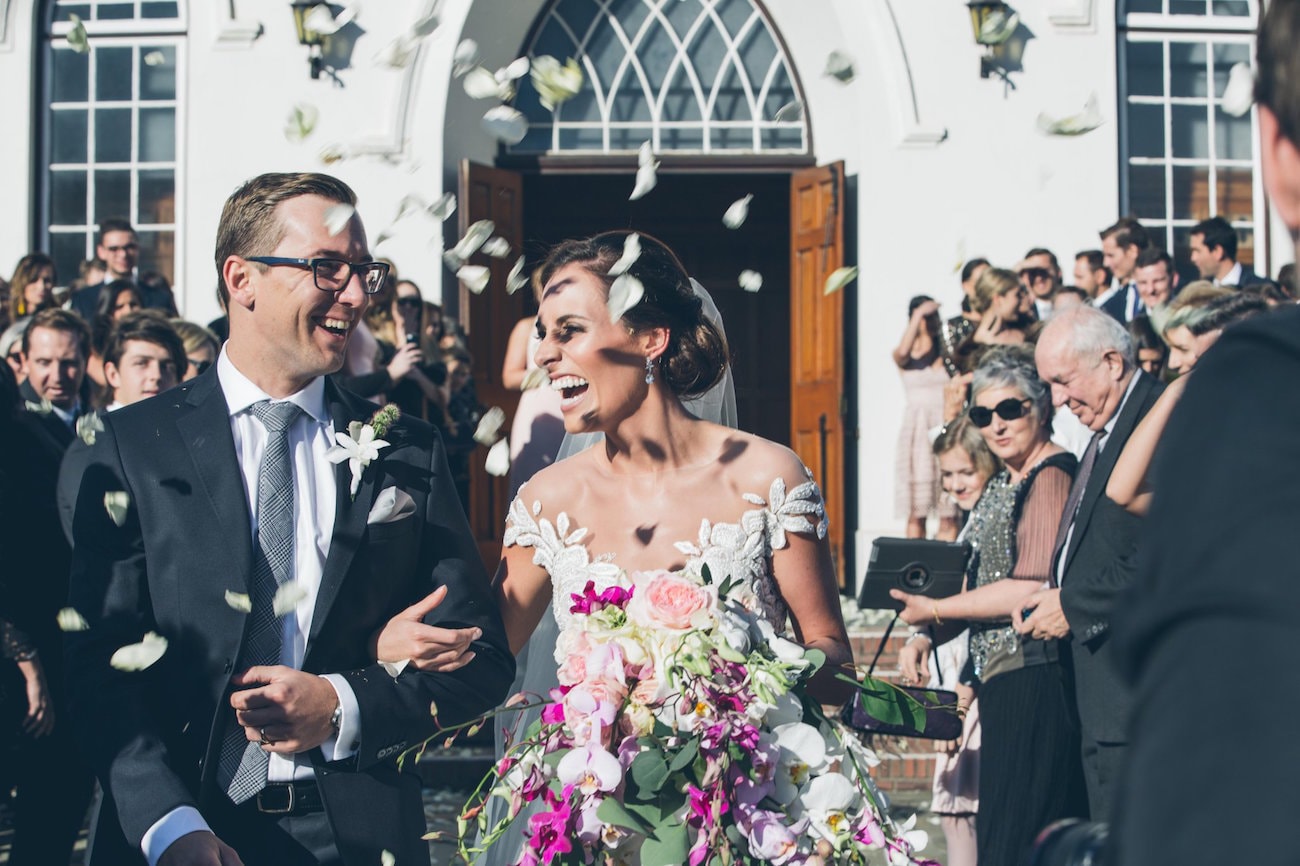 The Venue
As with Helgard, I just knew! Nothing compares to the scenery and beauty of the surroundings at Boschendal.
Wedding Style
We envisioned a romantic, elegant affair with a subtle touch of glamour.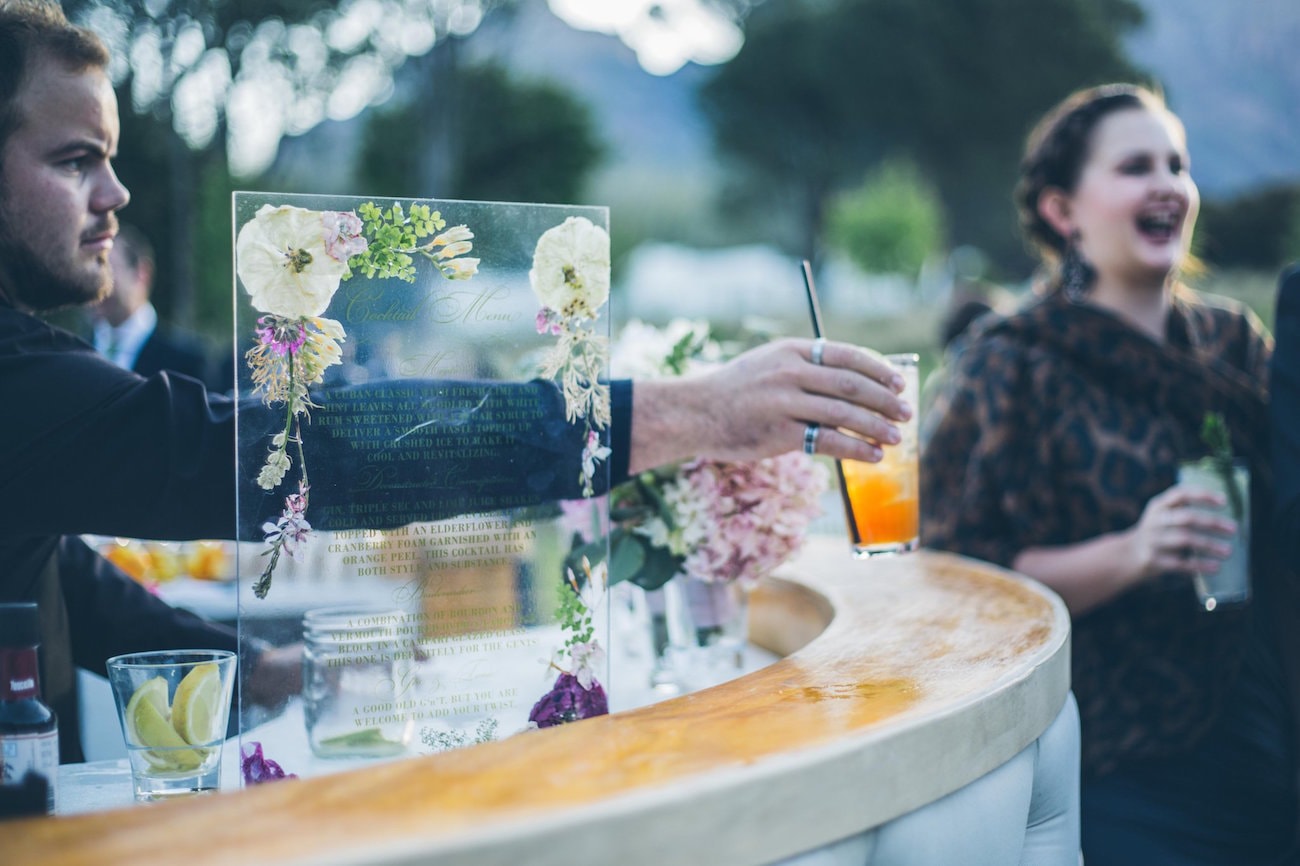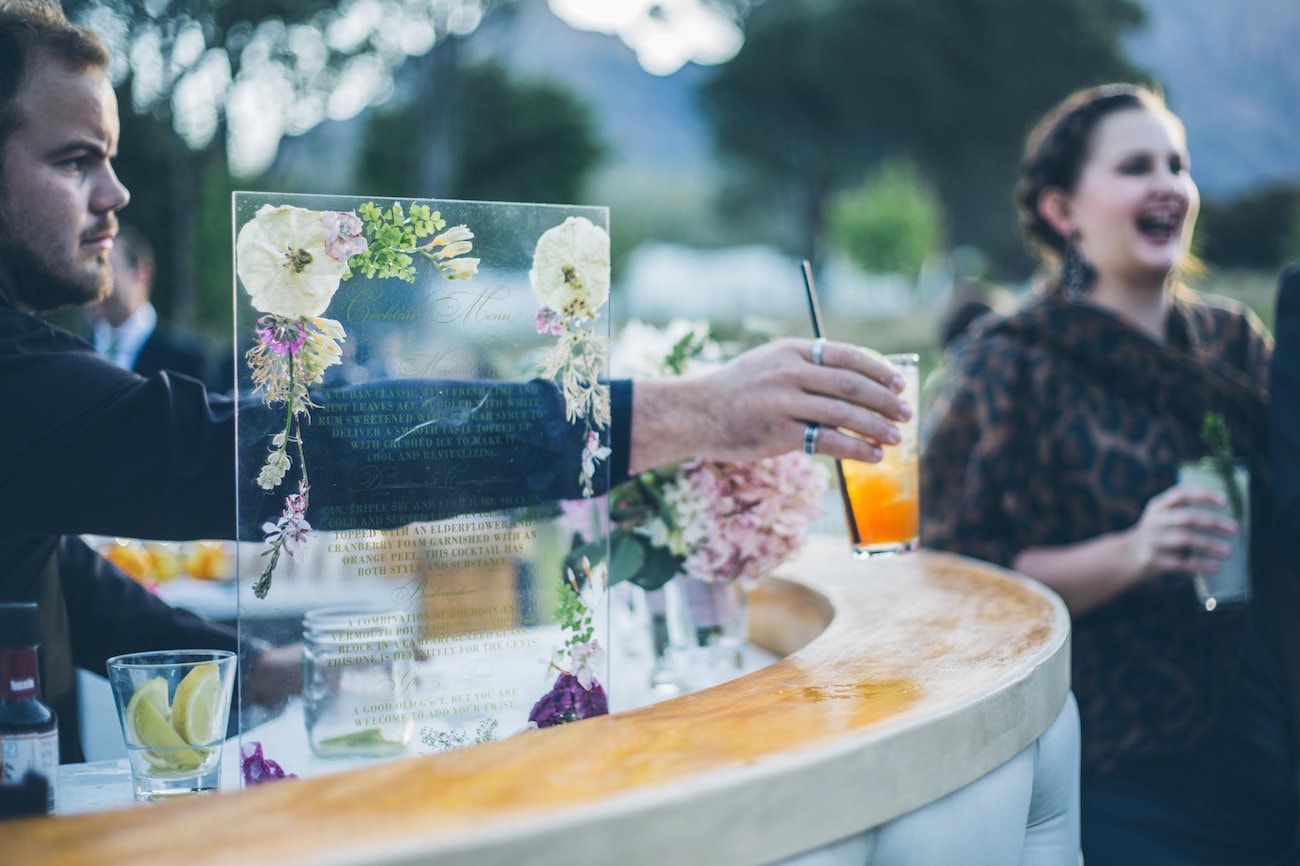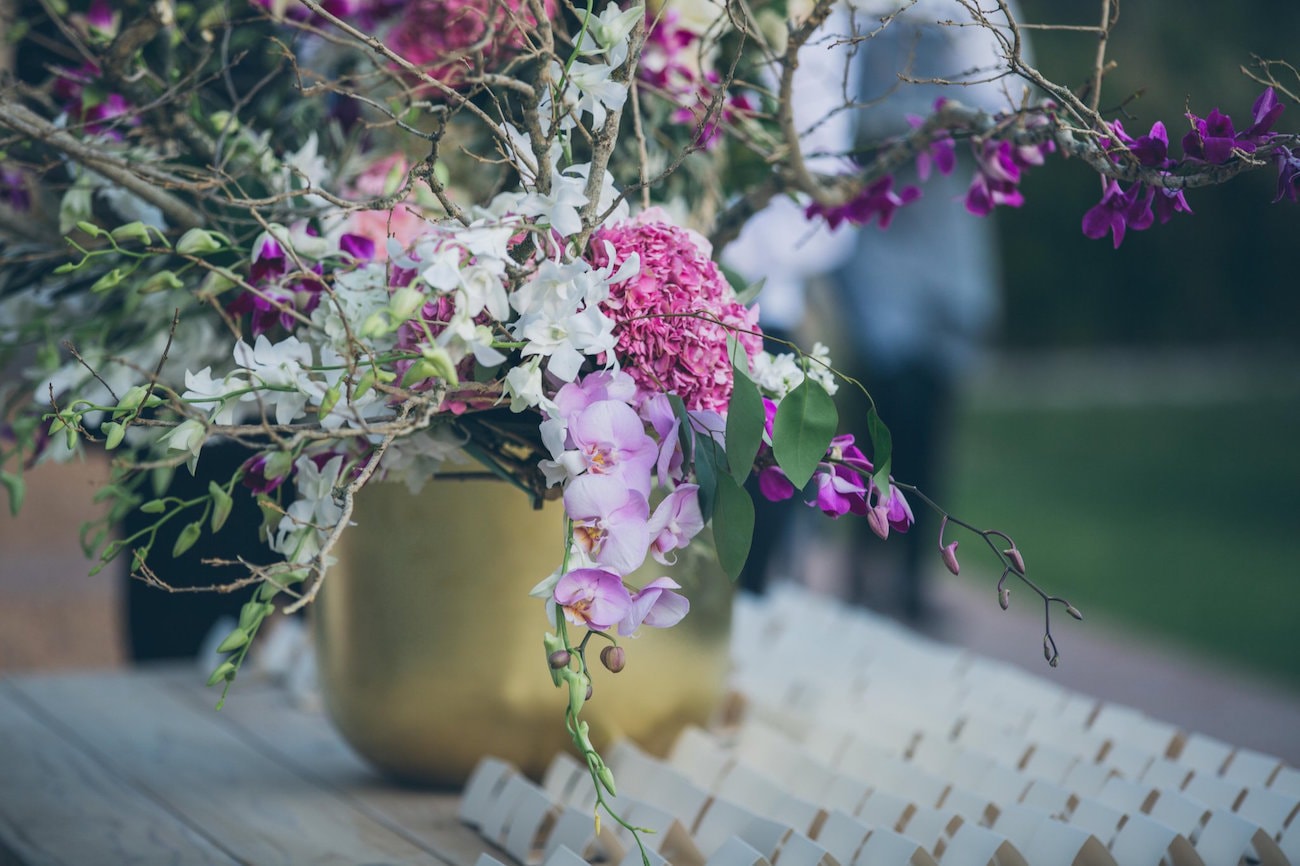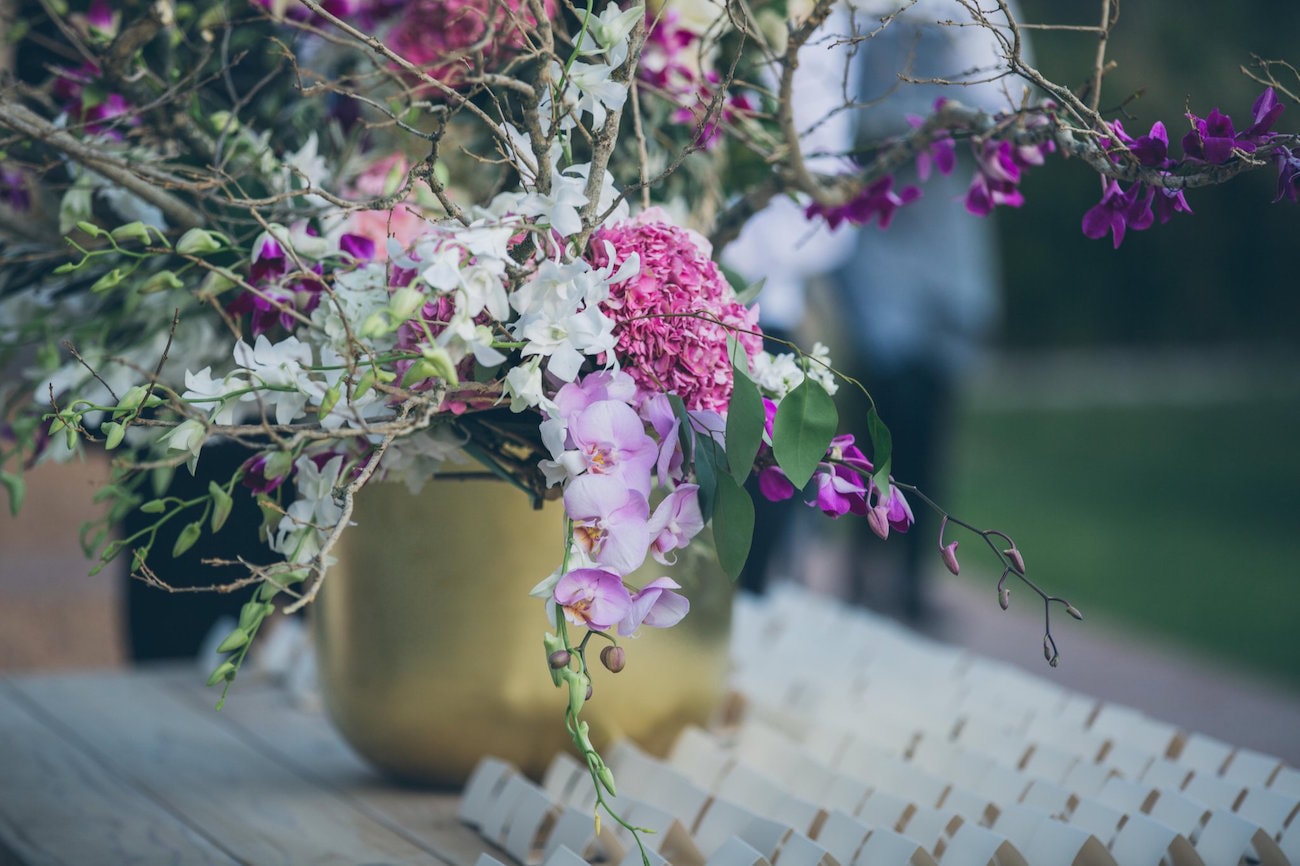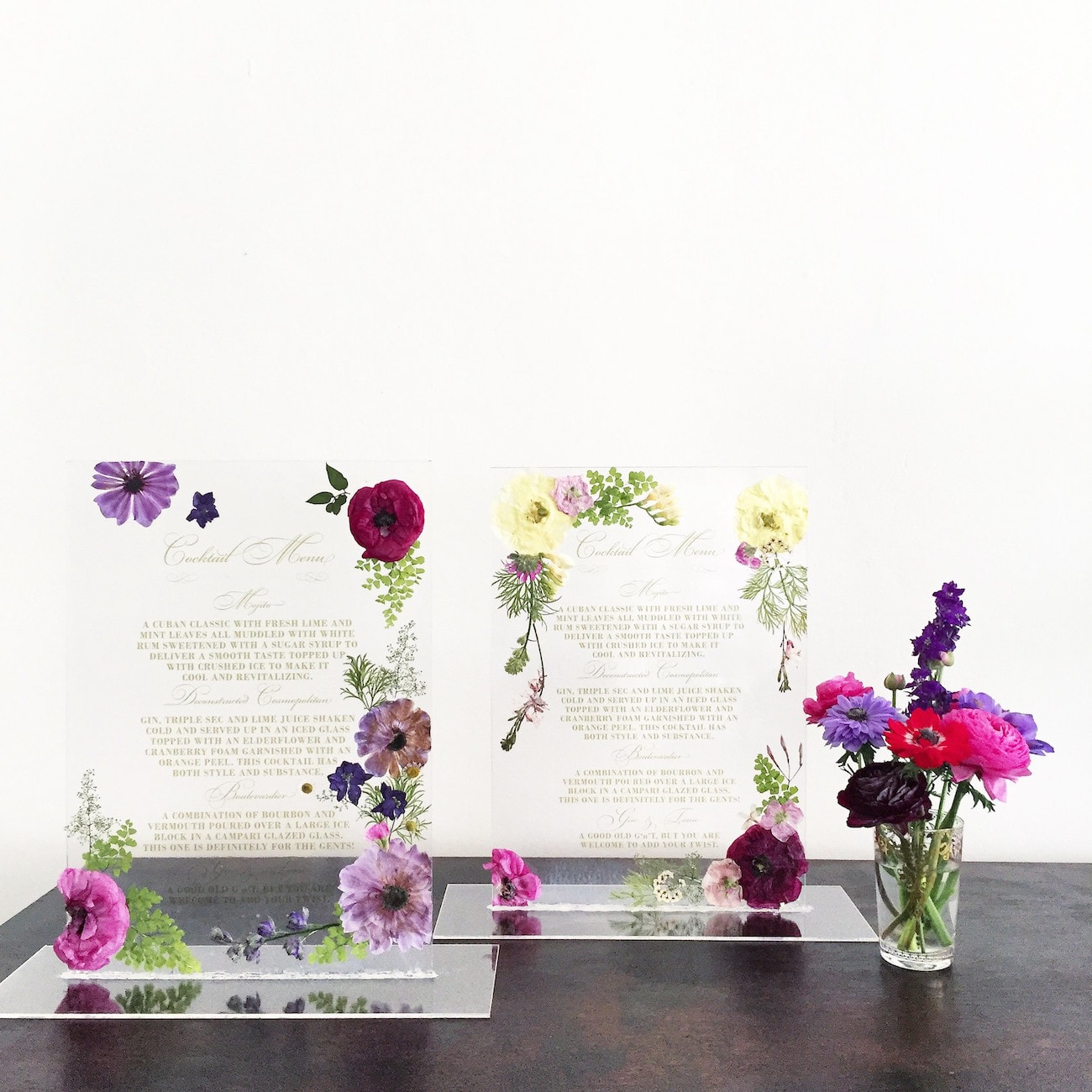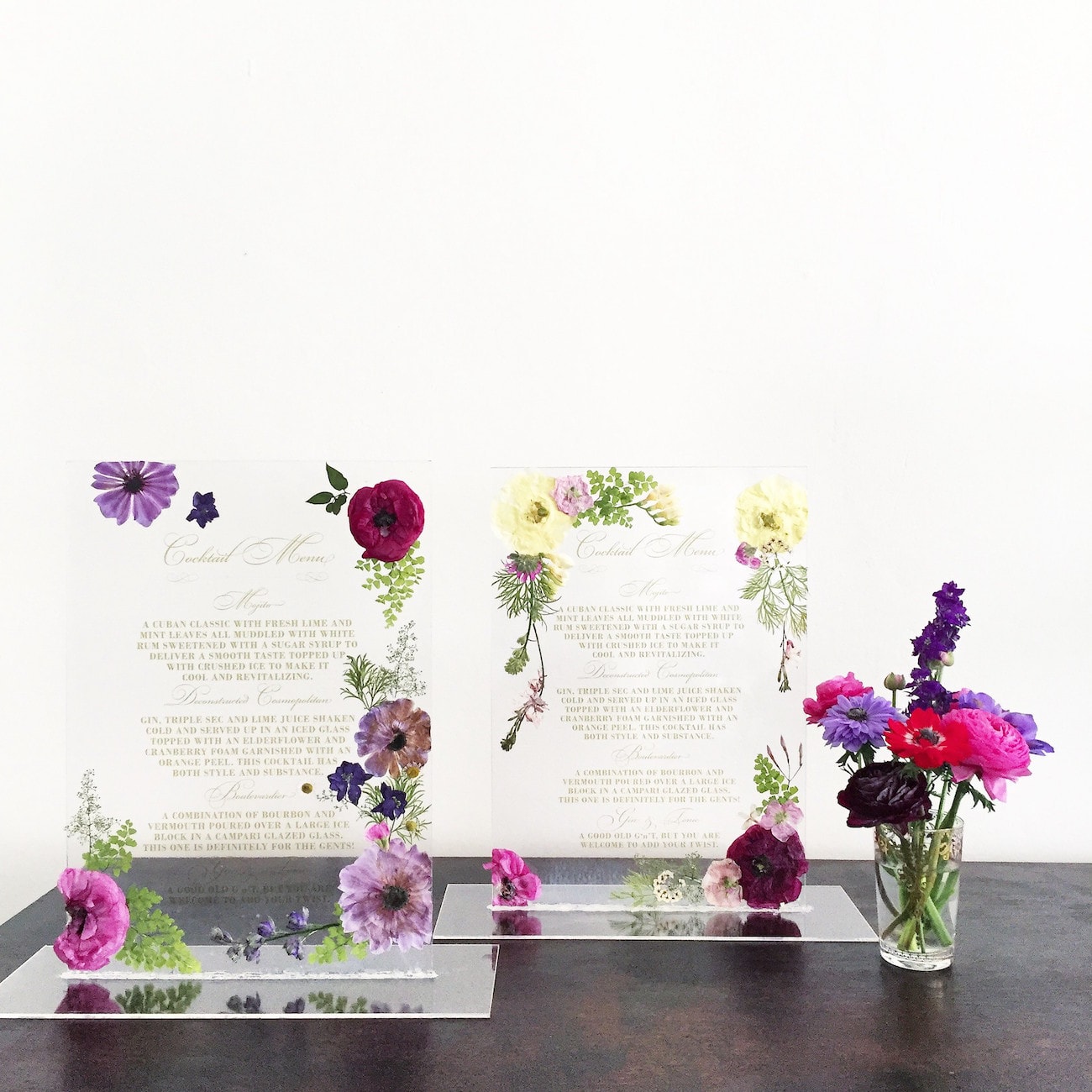 Wedding Details
Helgard and I love good music and so we went all out to ensure that every memory was accompanied by a melody: a string quartet for the ceremony, a jazz duo at pre-drinks, a live band to kick off the evening and a DJ to keep us dancing until late! It was important for us that guests had a good time at the pre-drinks while waiting for the wedding photos to be taken. Upon arrival, Polaroid cameras were handed out with which guests could capture their memories of the day. Deconstructed cosmopolitans with elderflower foam, mojitos and boulevardiers served in Campari-glazed glasses were conjured up by the talented SIP Exclusive team. A gin bar and craft beer station were also set up to keep the guests from getting thirsty. My absolute adoration for flowers was evident in the unique cocktail menus, made of real flowers pressed between sheets of Perspex, and seating plan of name cards scattered around a giant golden vase containing wooden branches draped in opulent florals. The surprise whisky and cigar lounge, revealed later the evening, was a huge hit among the gentlemen and provided the perfect haven for taking a breather from the lively dancing. The expressions on the guests' faces when the clock struck midnight and platters of McDonald's cheeseburgers made their appearance, were priceless. No matter how much of a foodie you are, McDonald's at midnight is always a winner.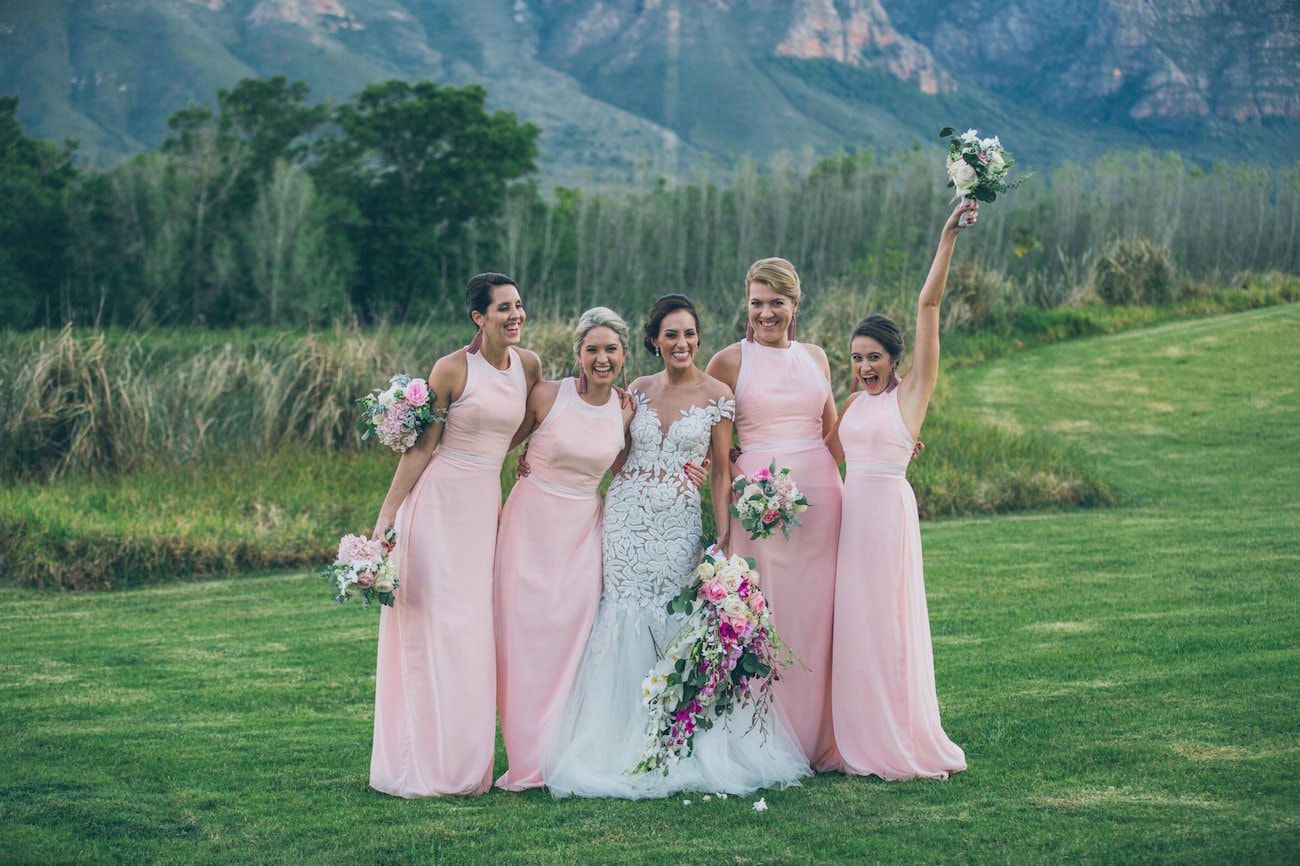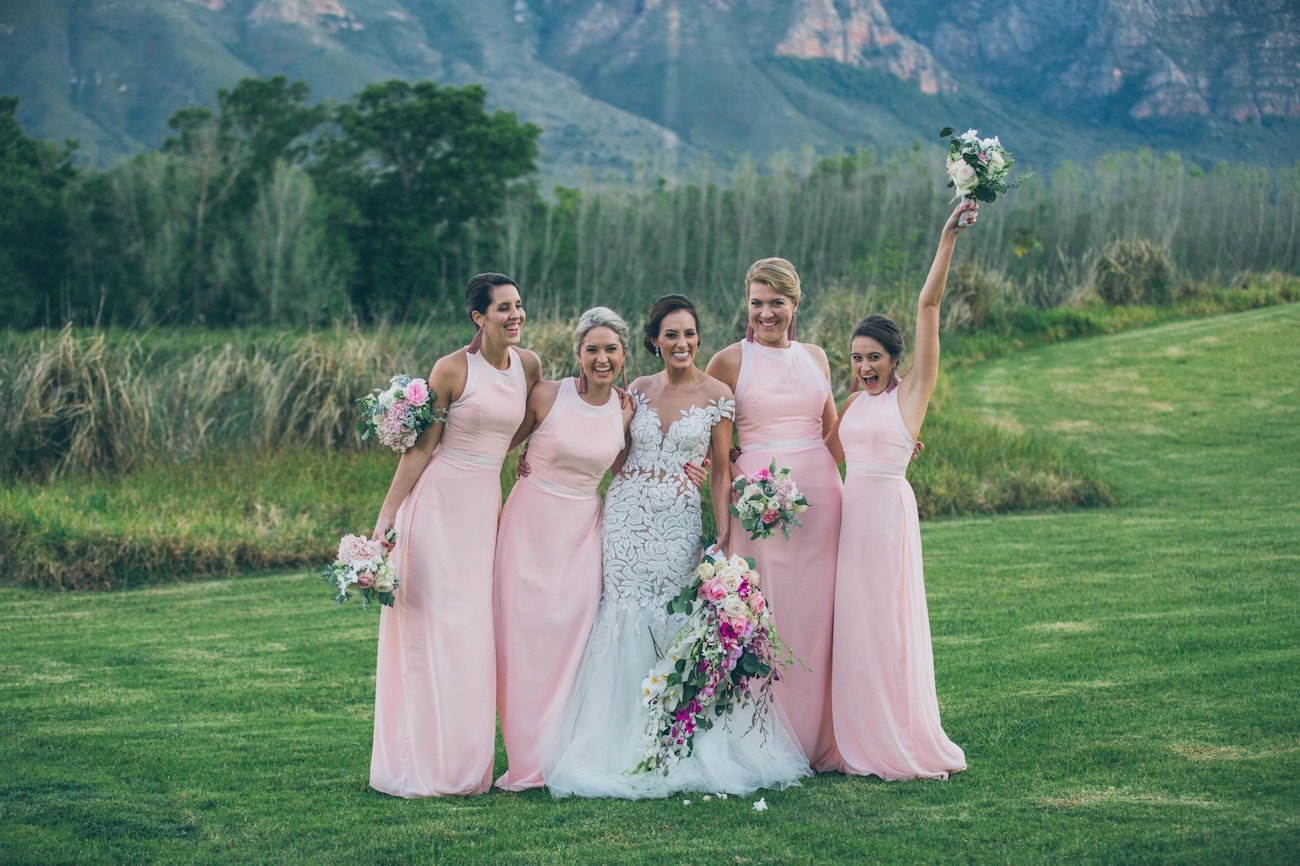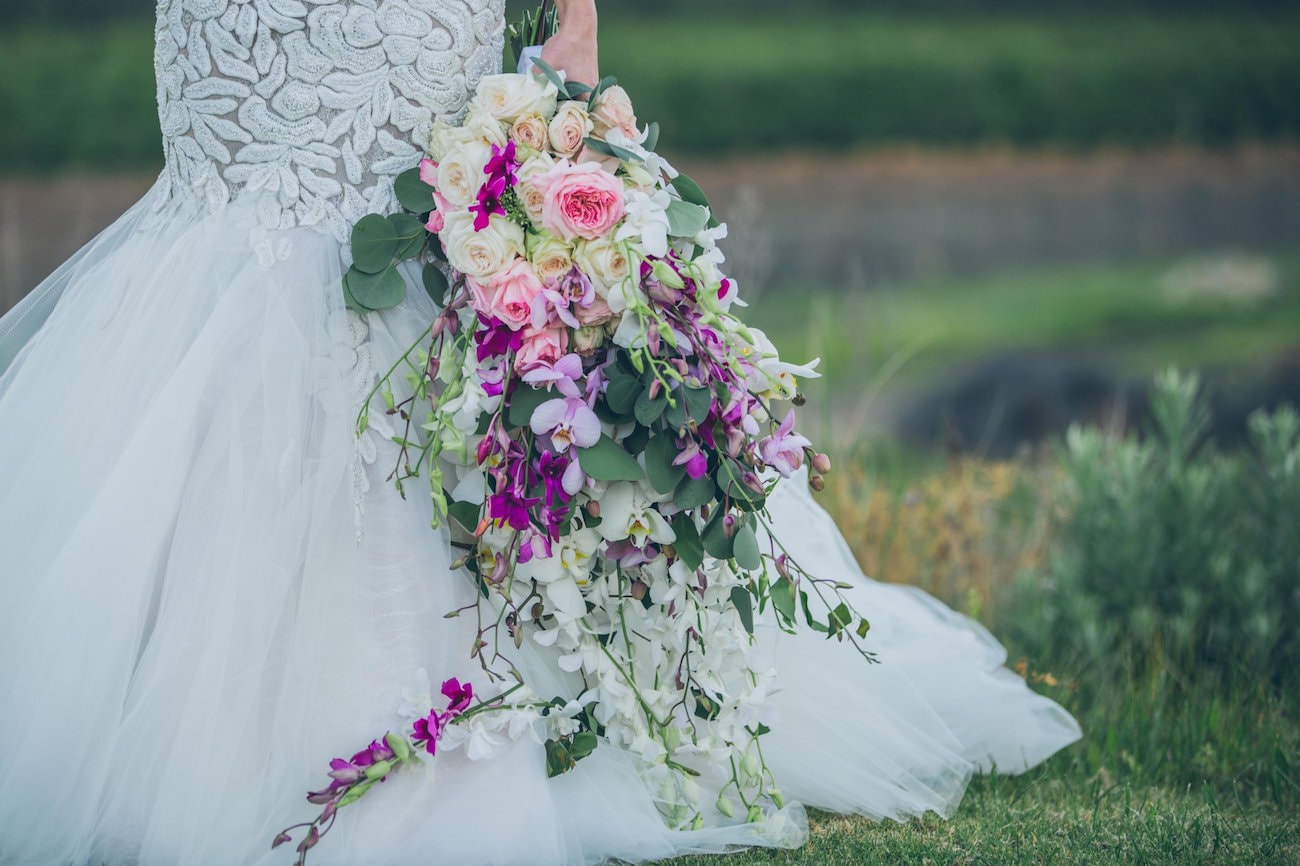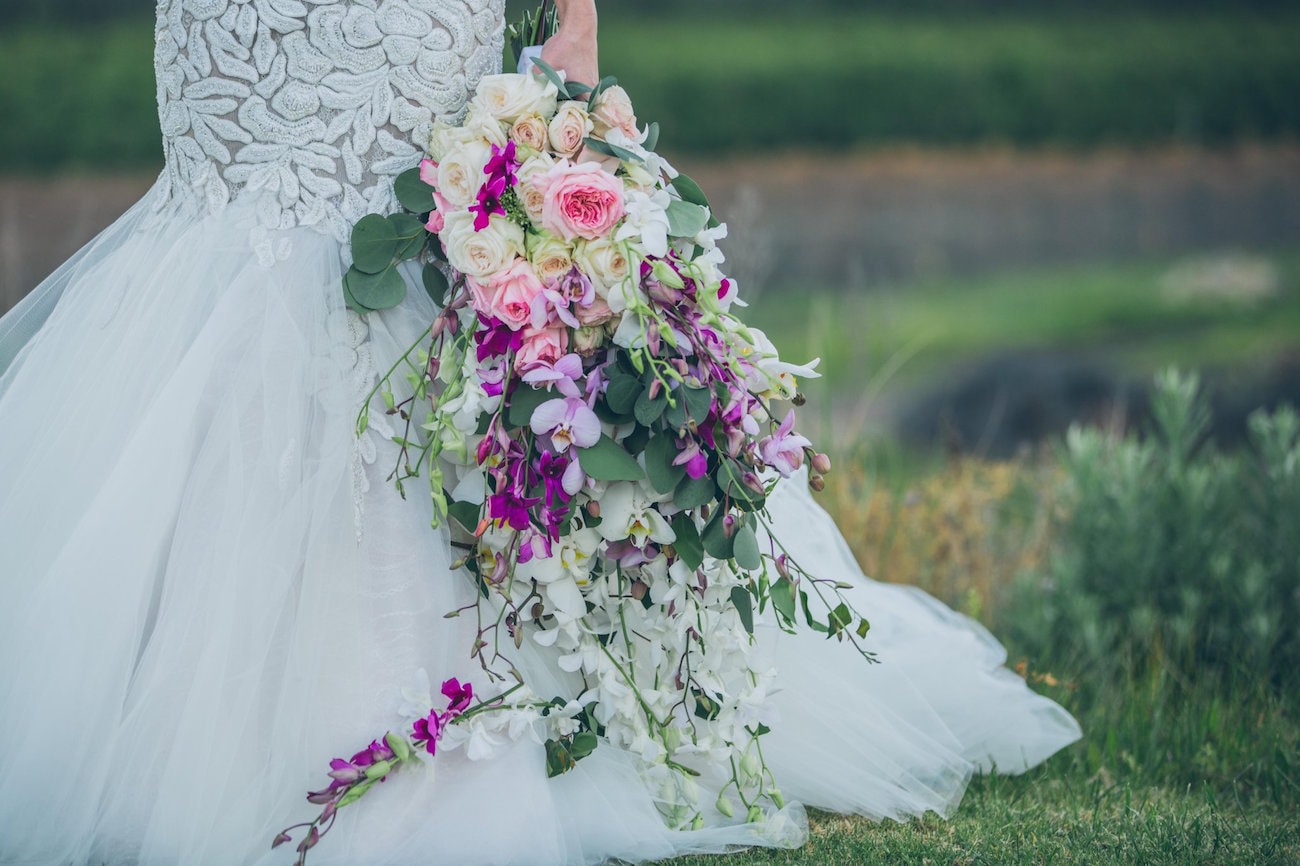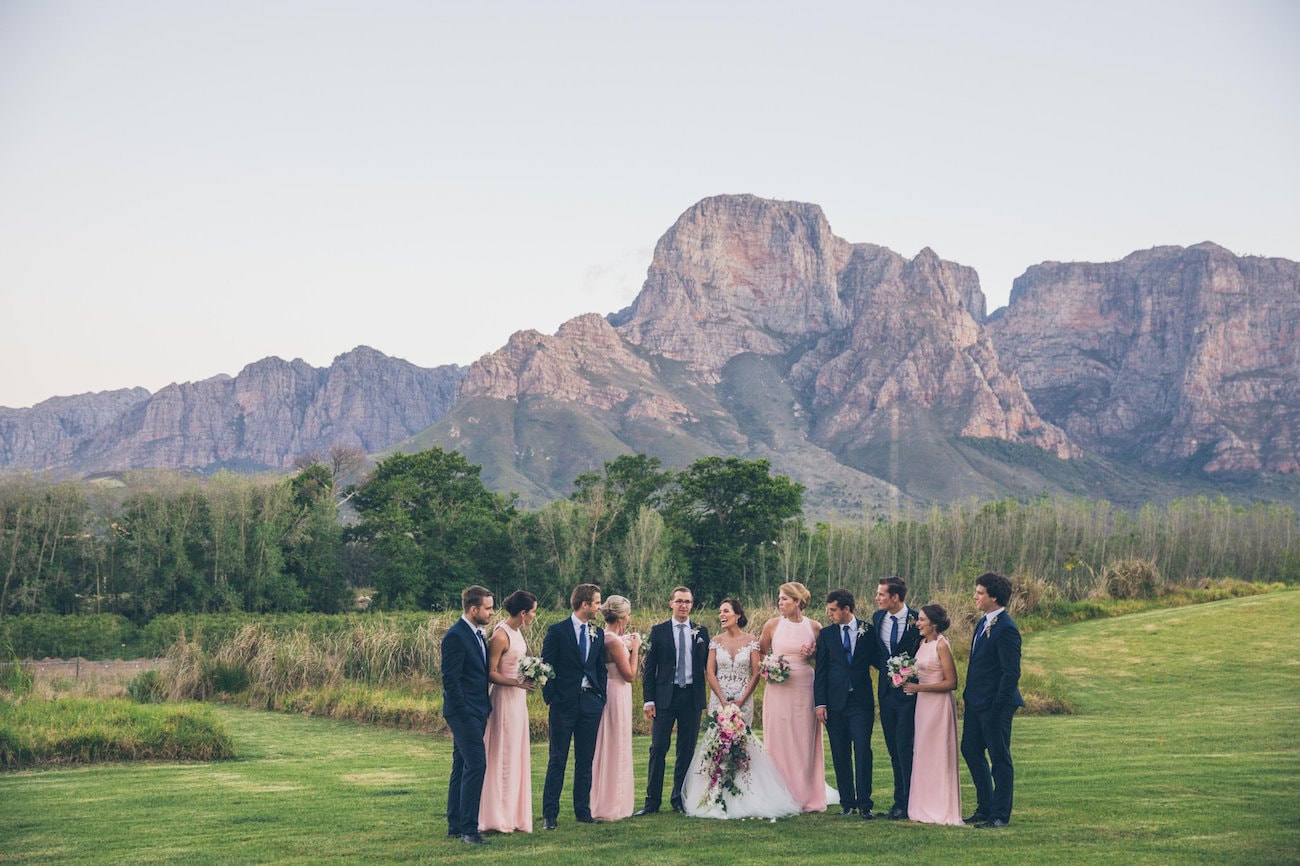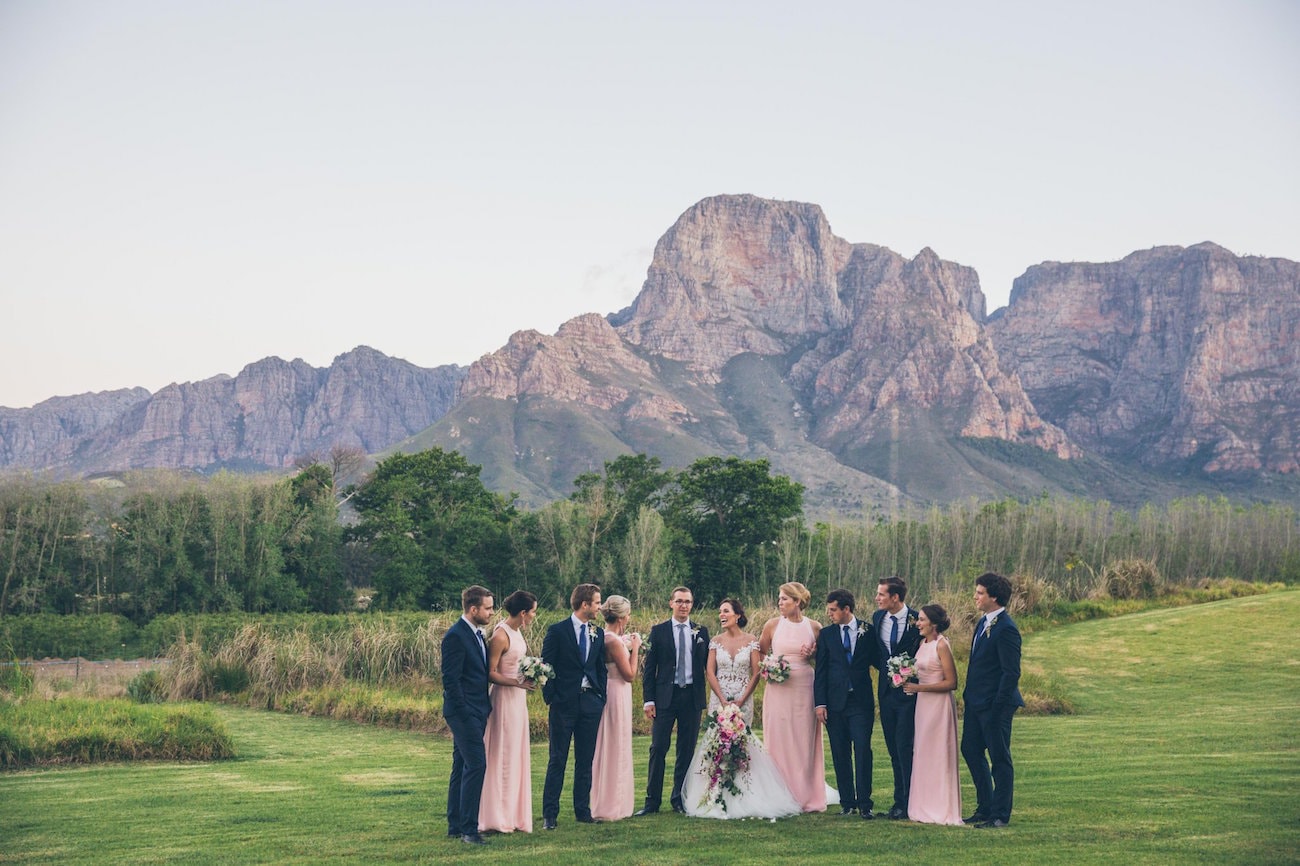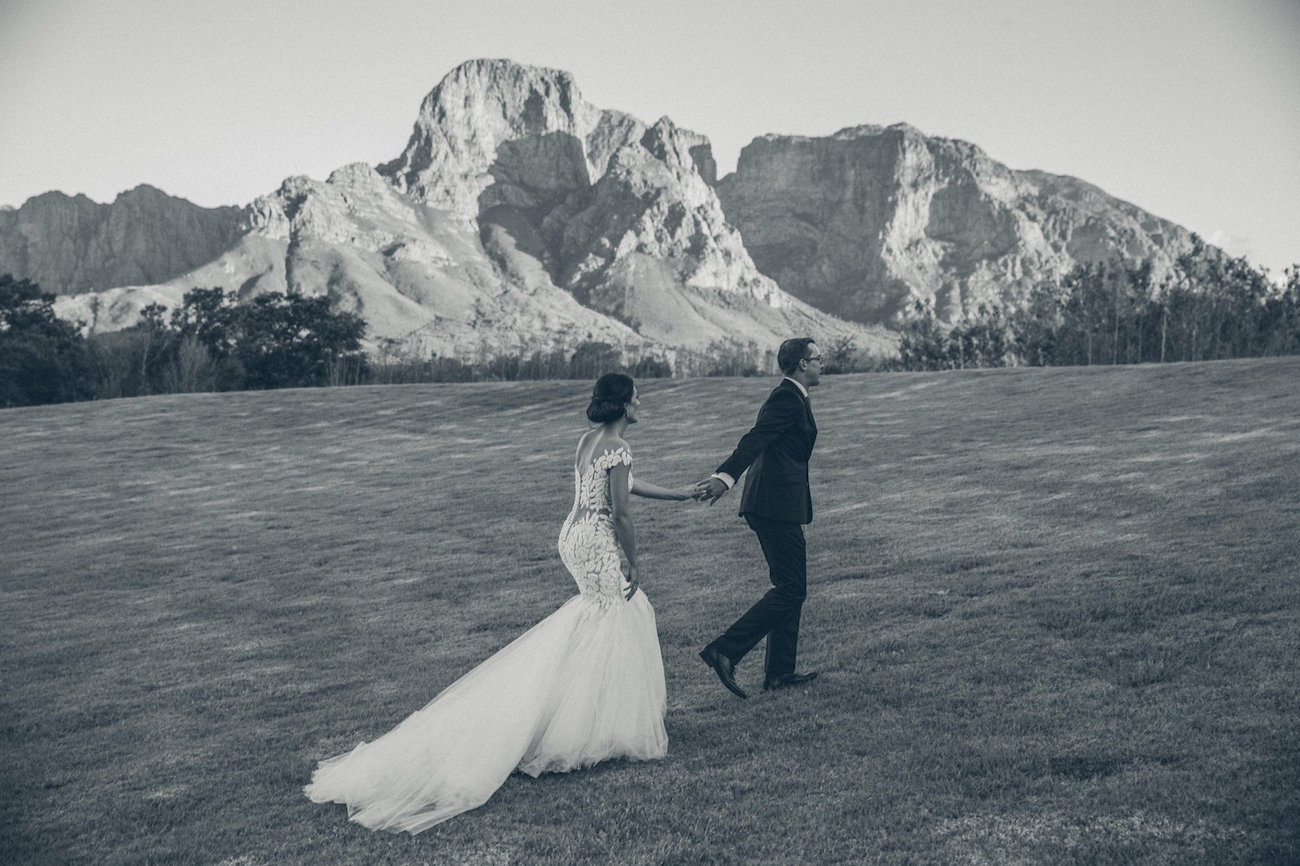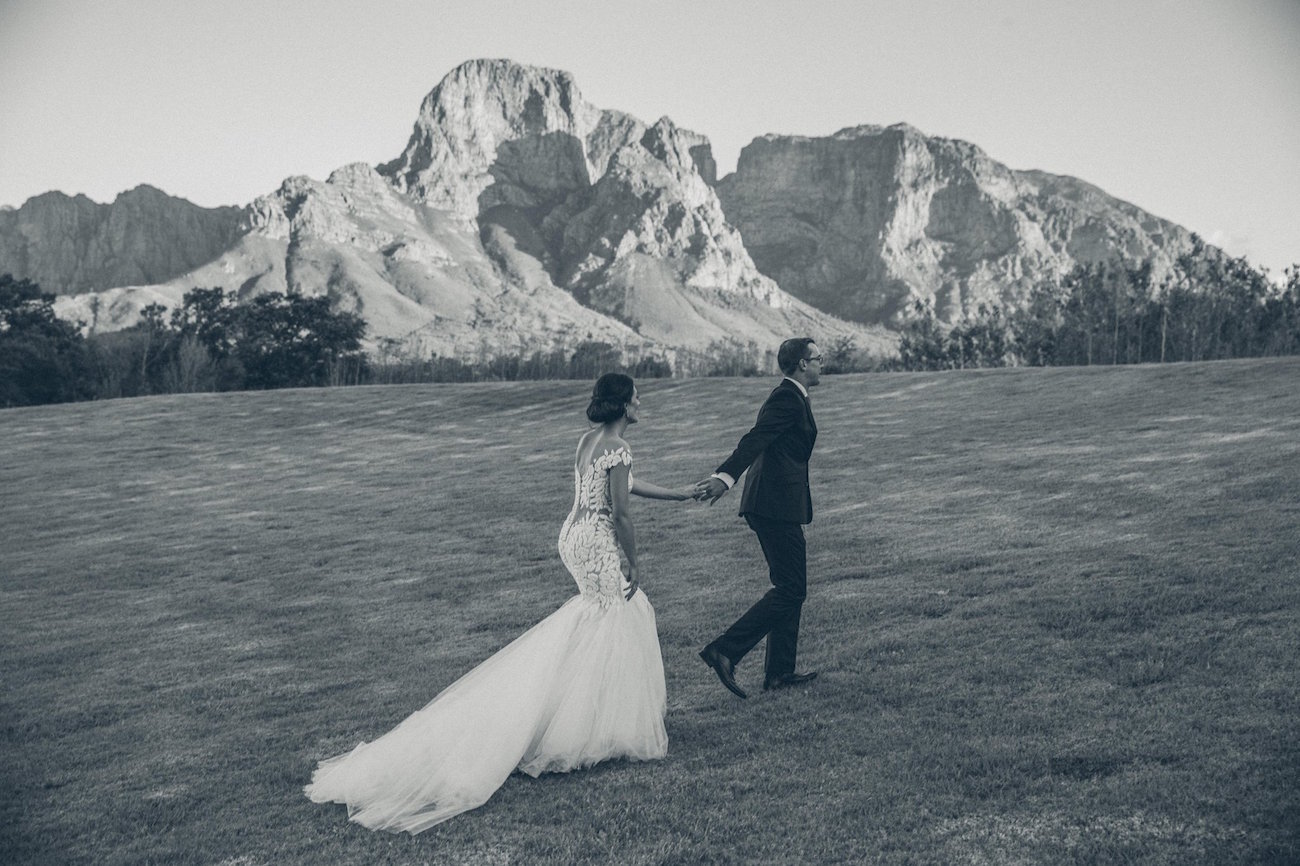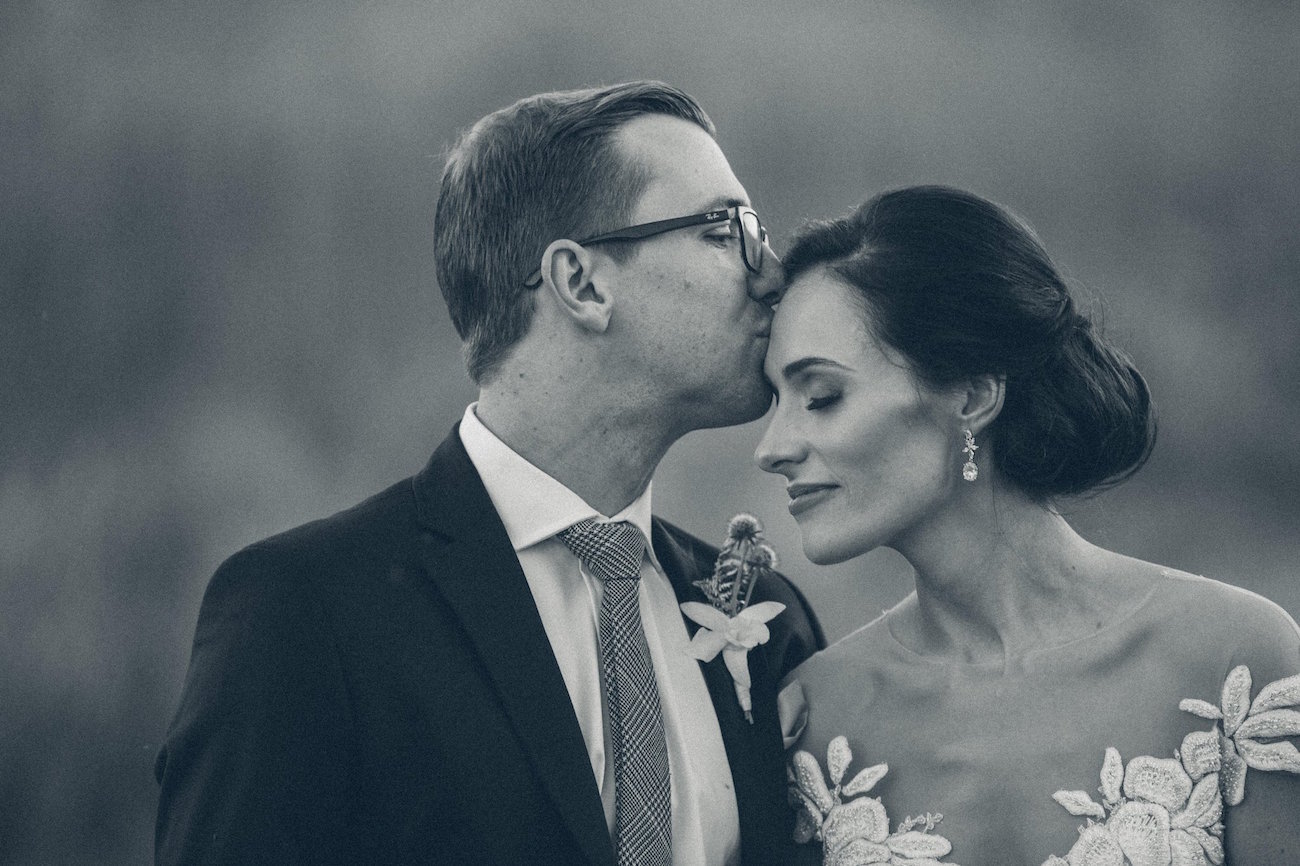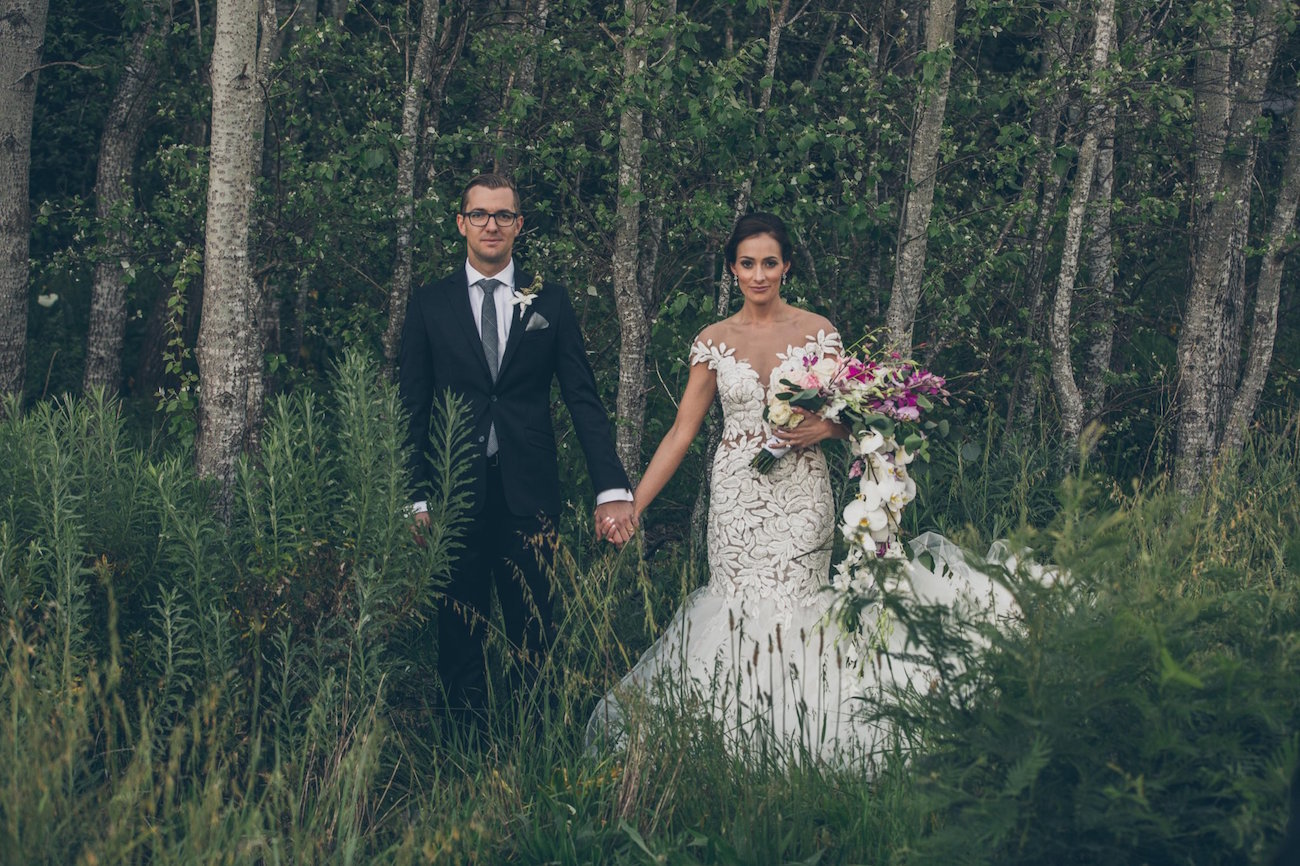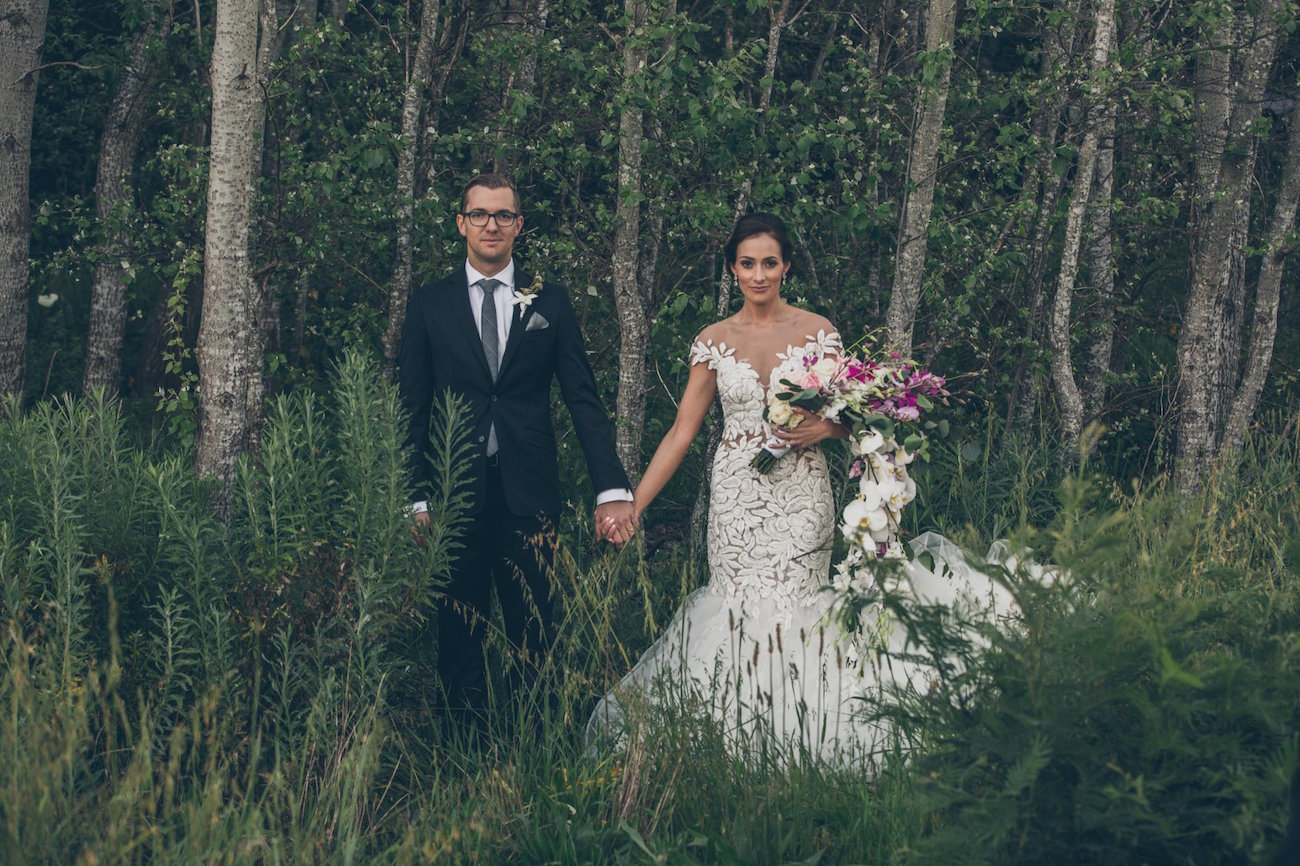 The Dress
My dresses were custom designed by South African designer extraordinaire and now good friend, Kobus Dippenaar. The main dress truly embodied the description of what the day should be like: "romantic, elegant and a touch of glamour". Every petal on the gown was hand embroidered and meticulously placed to ensure the vision – a dress that looks like flowers growing naturally on the body – became a reality. Layer upon layer of tulle engulfed the bottom part of the dress, creating the illusion of floating on a cloud. With the finishing touch of tiny pearls scattered for good luck, this dress was a true work of art. My second dress was a high neck lace dress, encrusted with fine beading on the bodice and neckline. Red lips and smoky eyes ensured the 1930s-inspired look in which I could dance the night away!
The Bridesmaids
I wanted the girls to be comfortable but still look beautiful and feel fabulous. The blush A-line dresses, created by designer Francisco Barreto, achieved this and so much more. We went for something very elegant and soft, but with an interesting touch – darker hued insets framing the bodice and a beautiful bow detail at the back neck closure.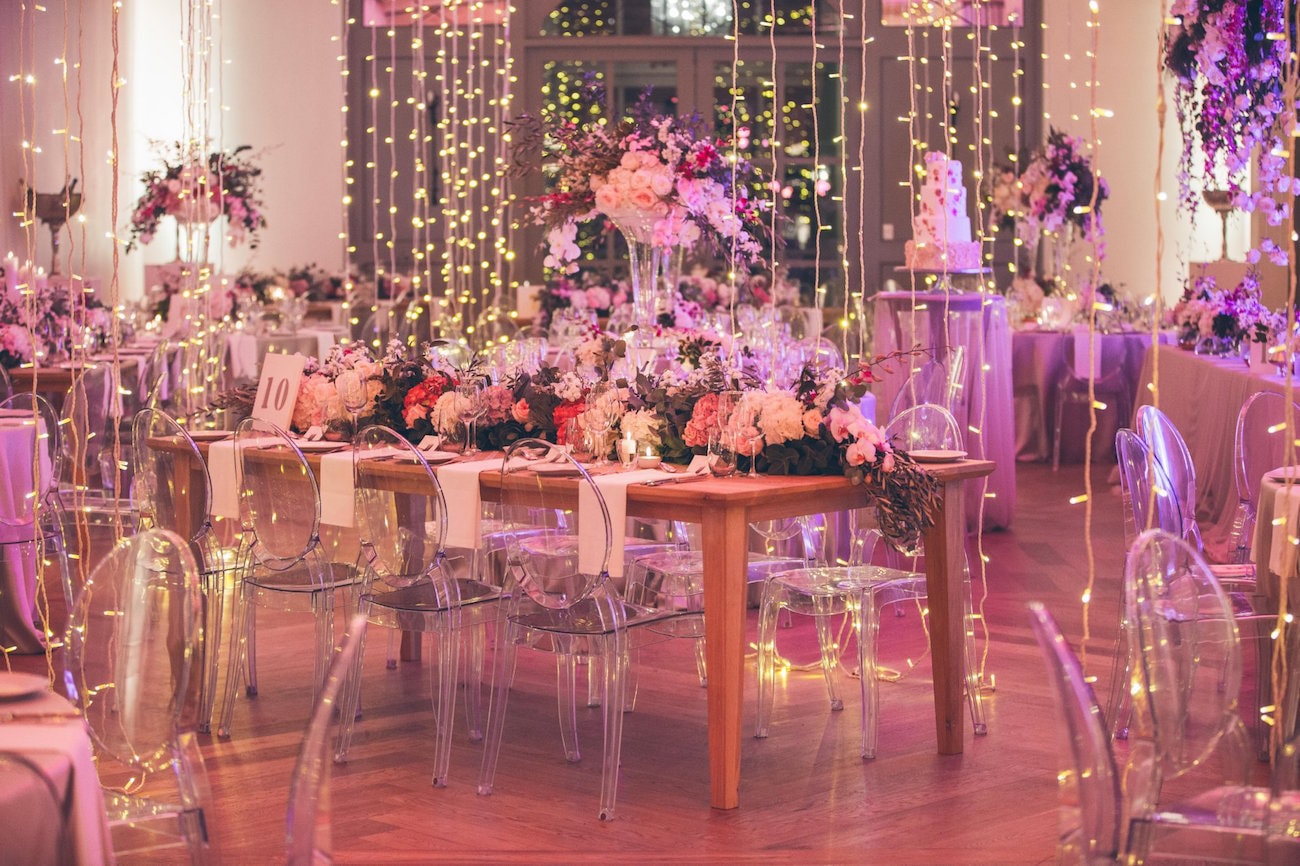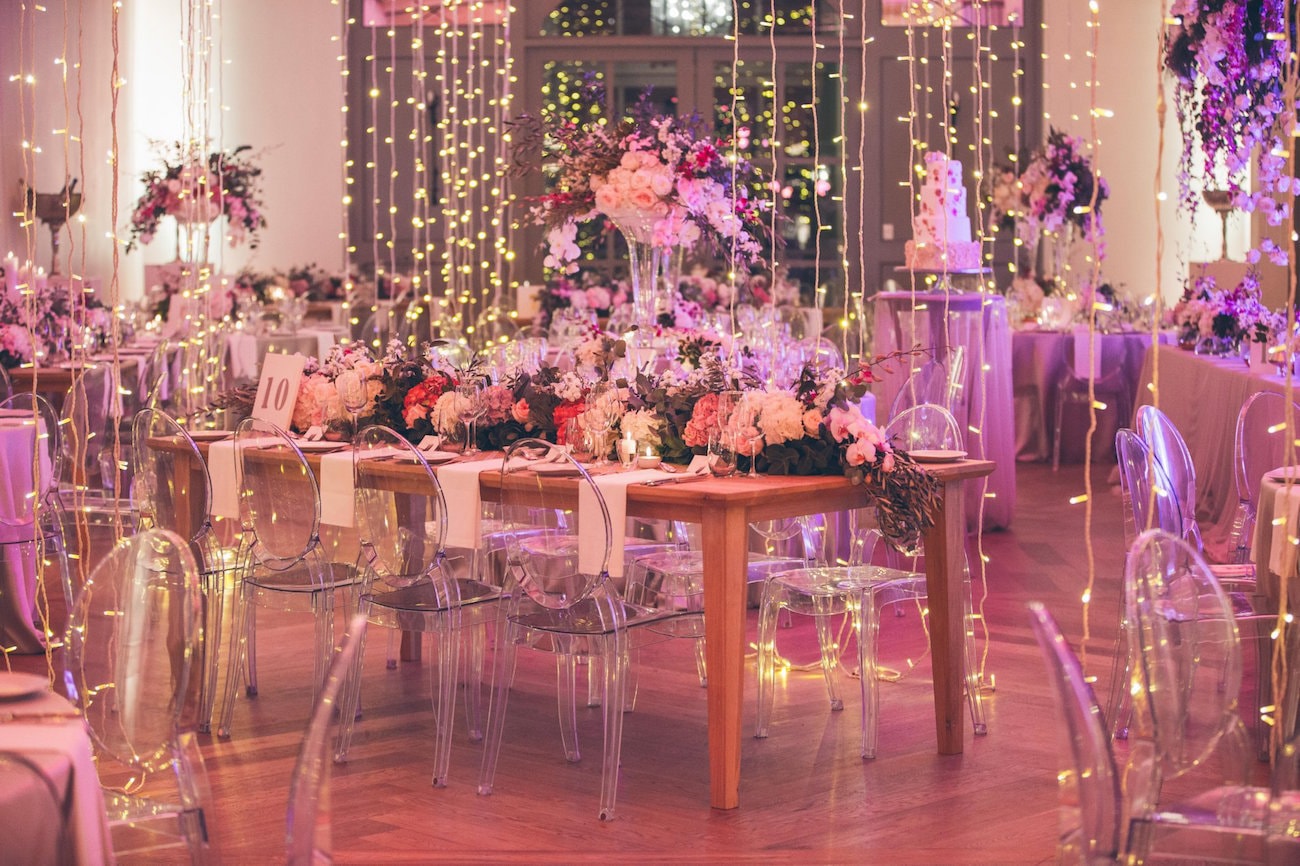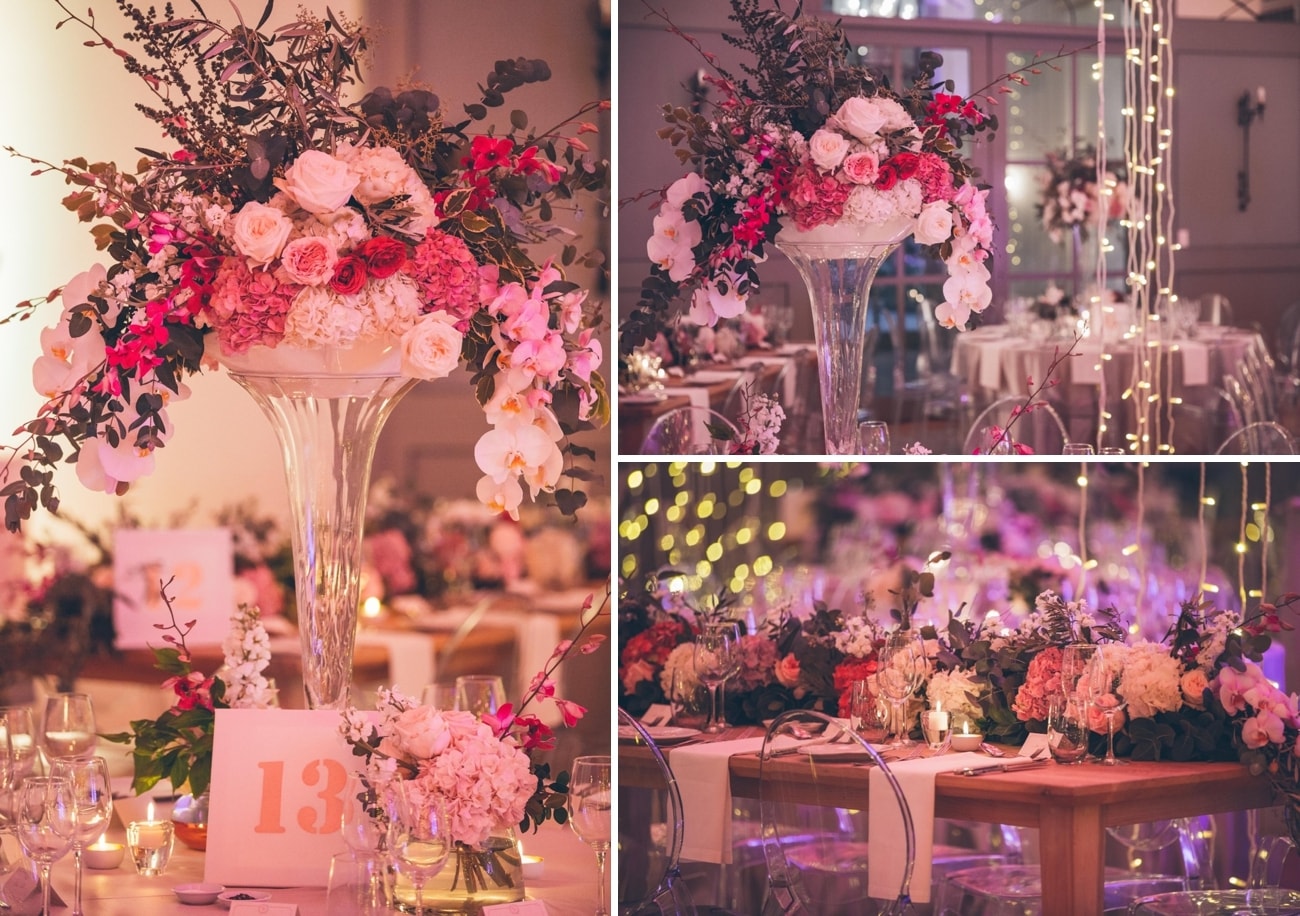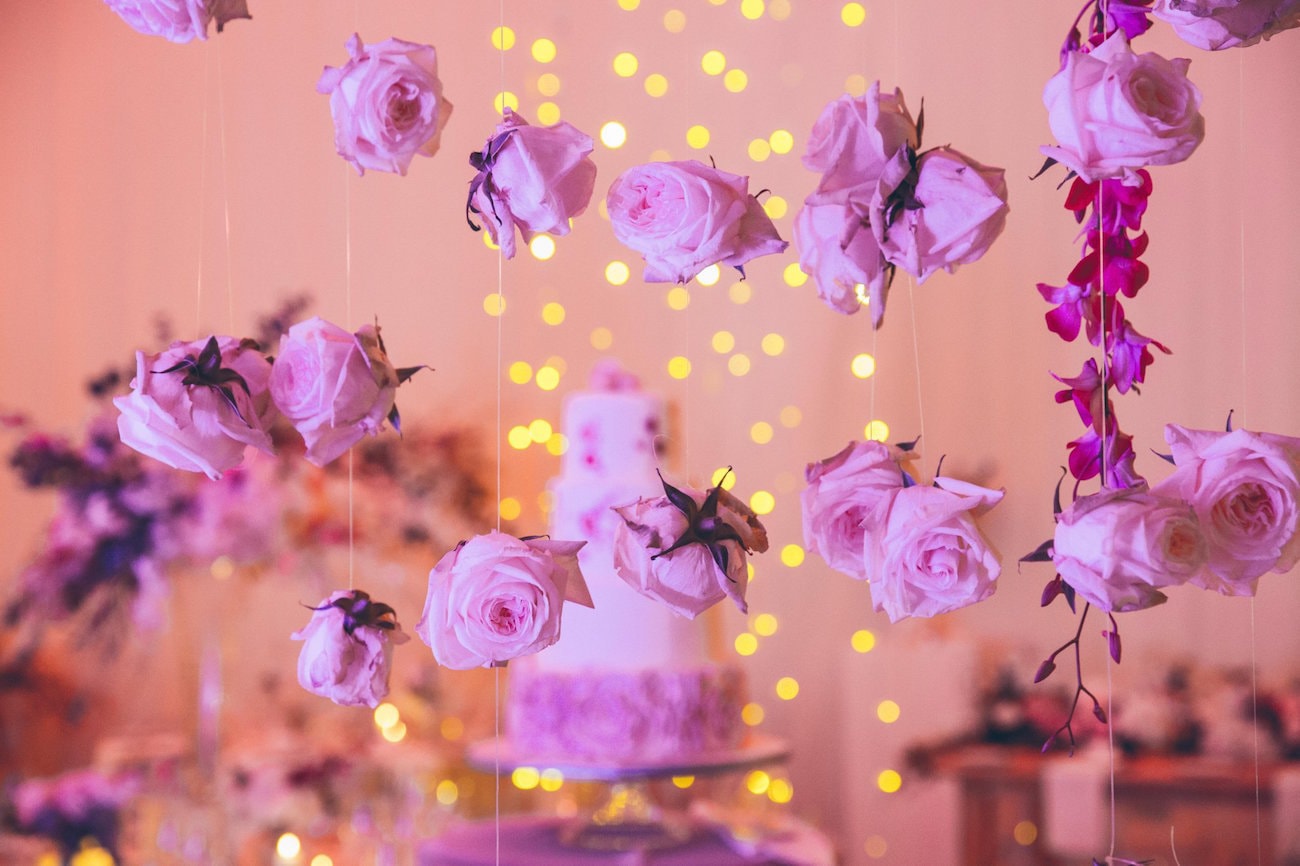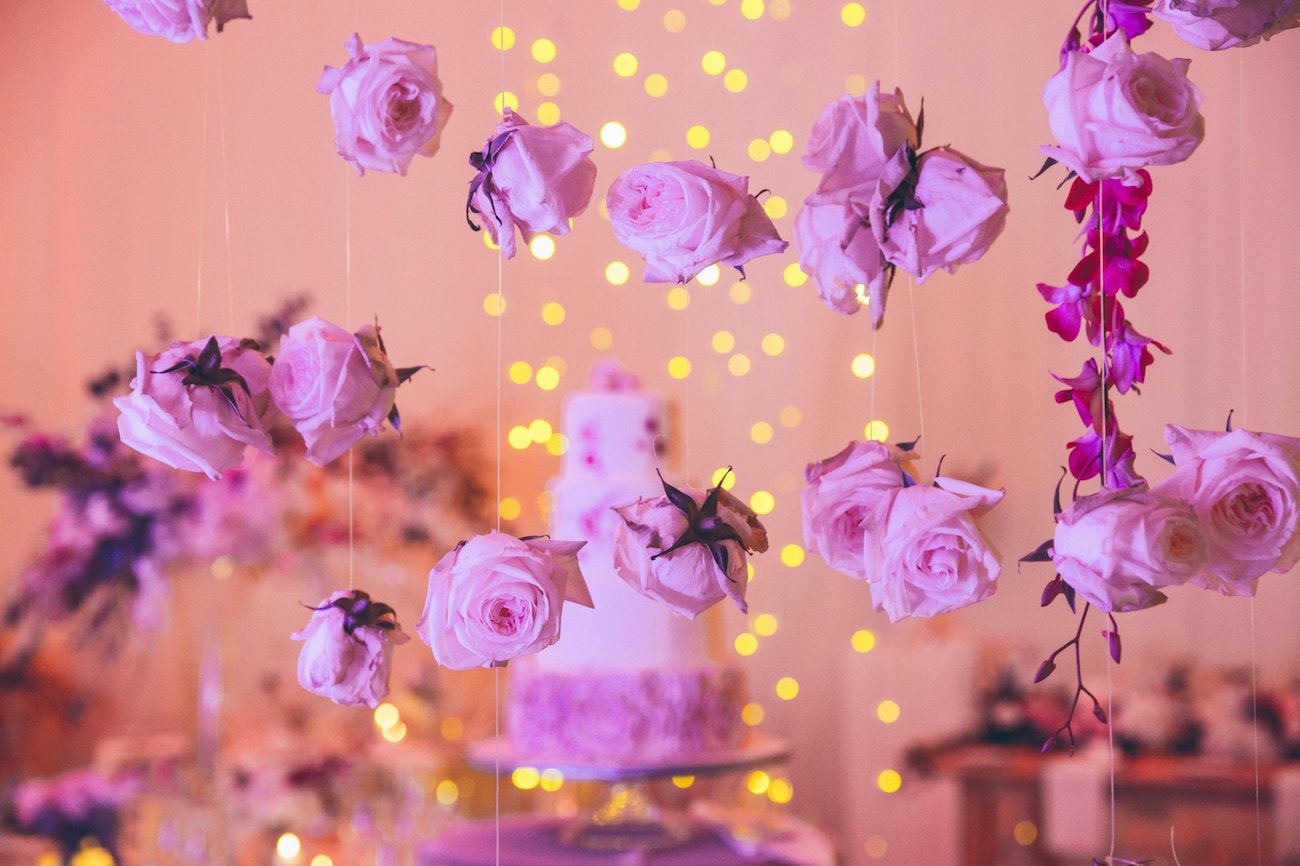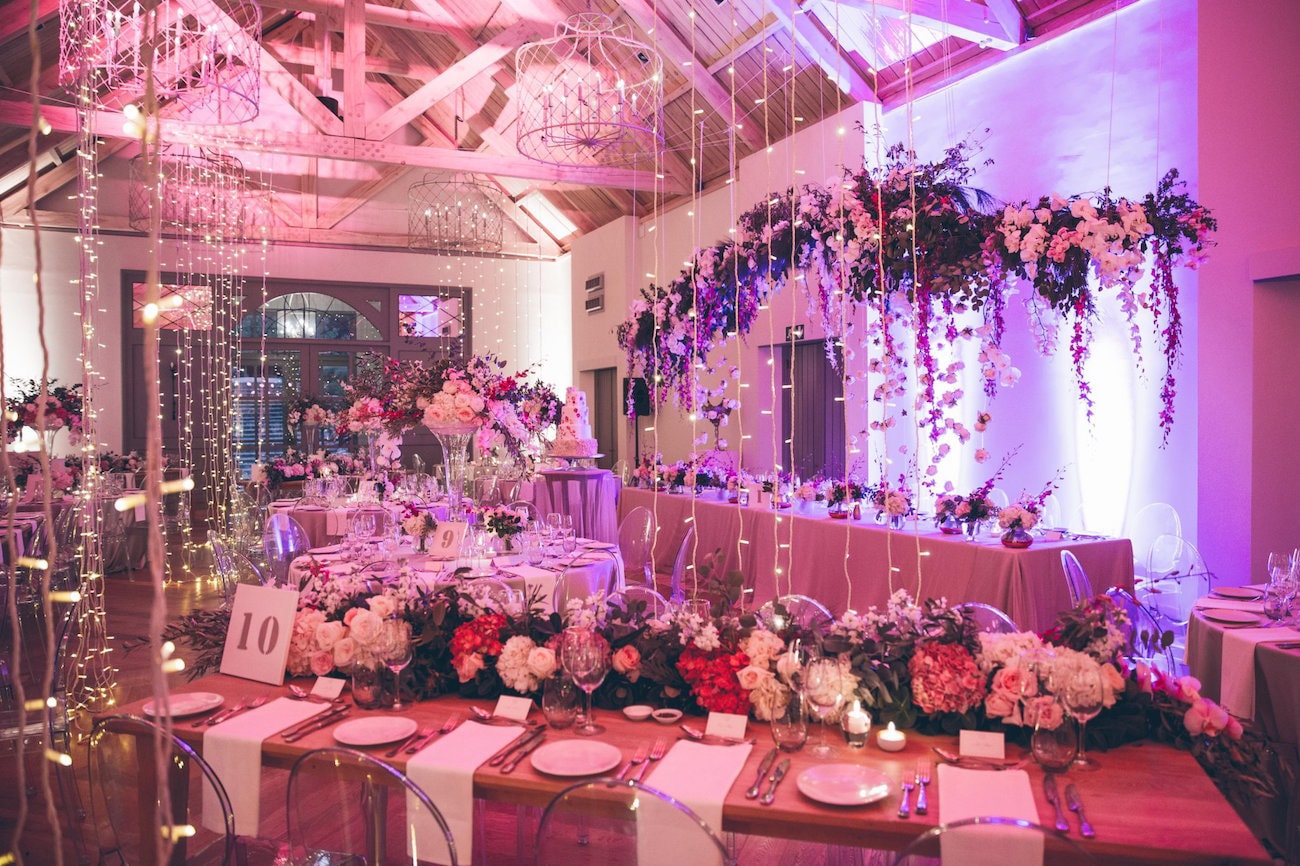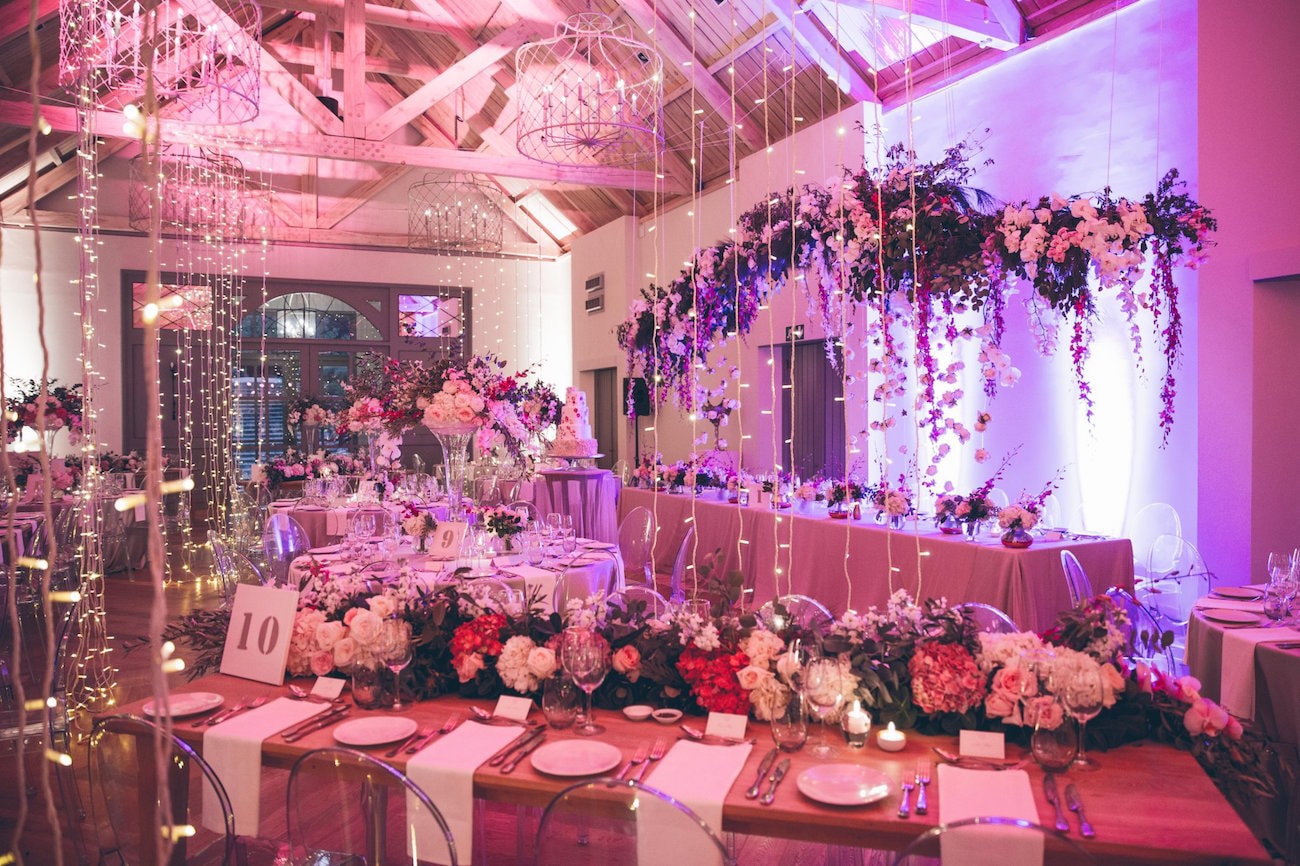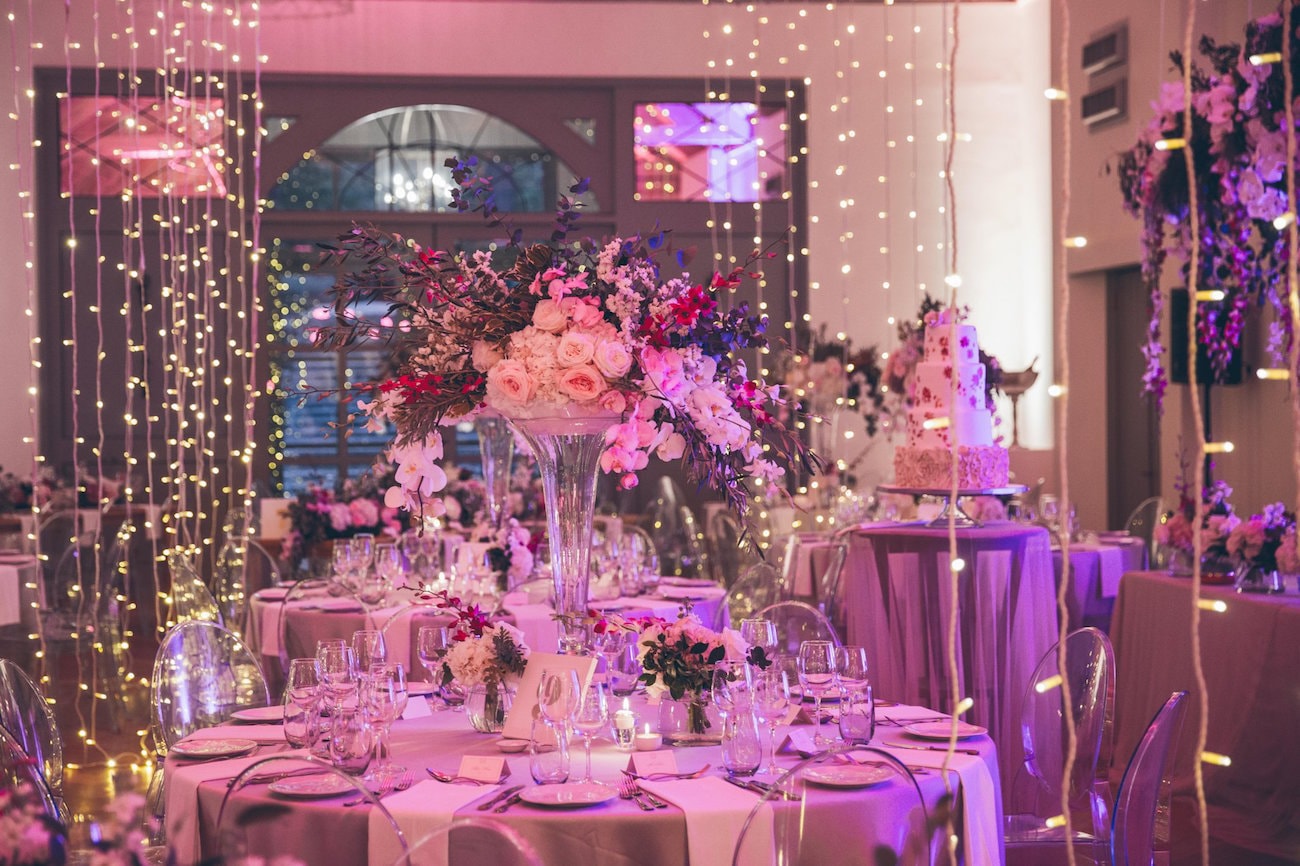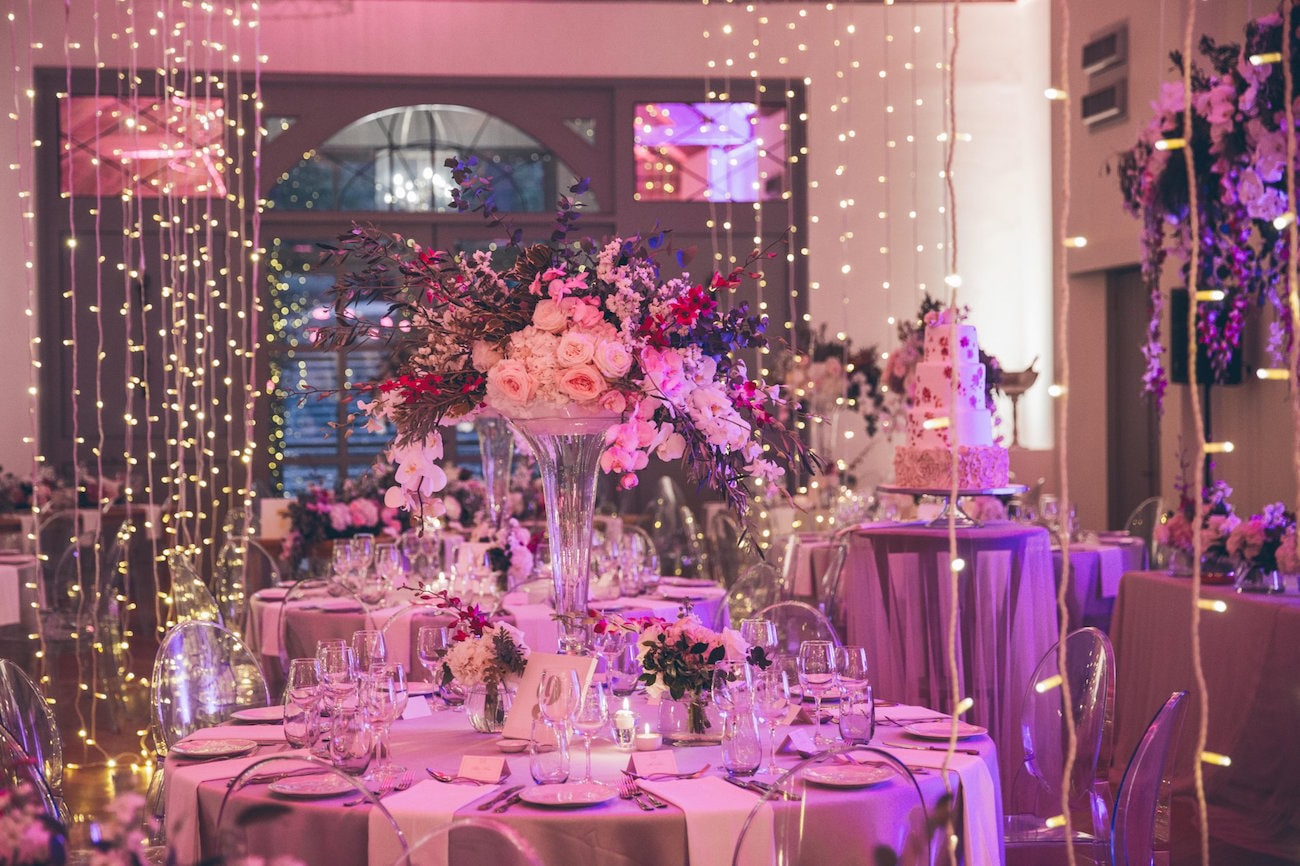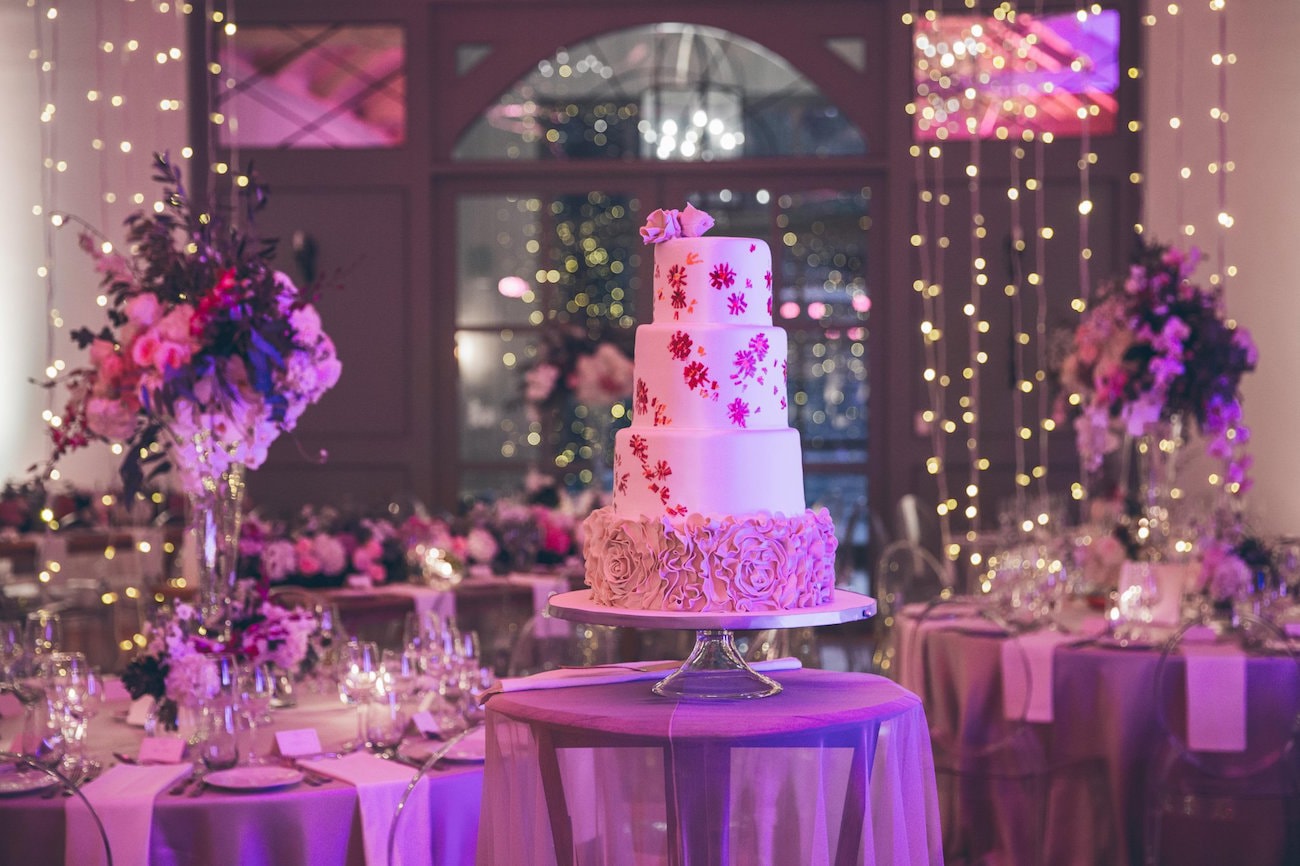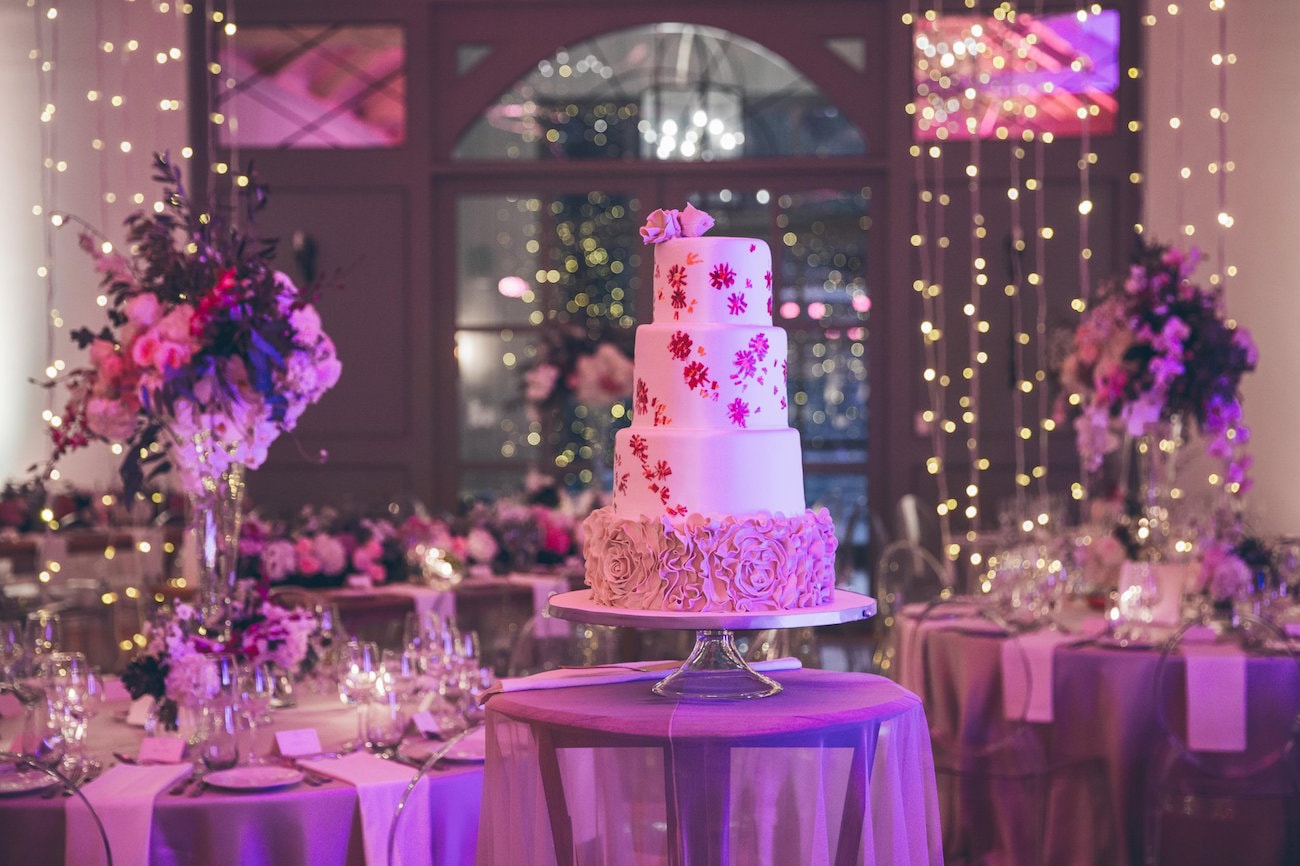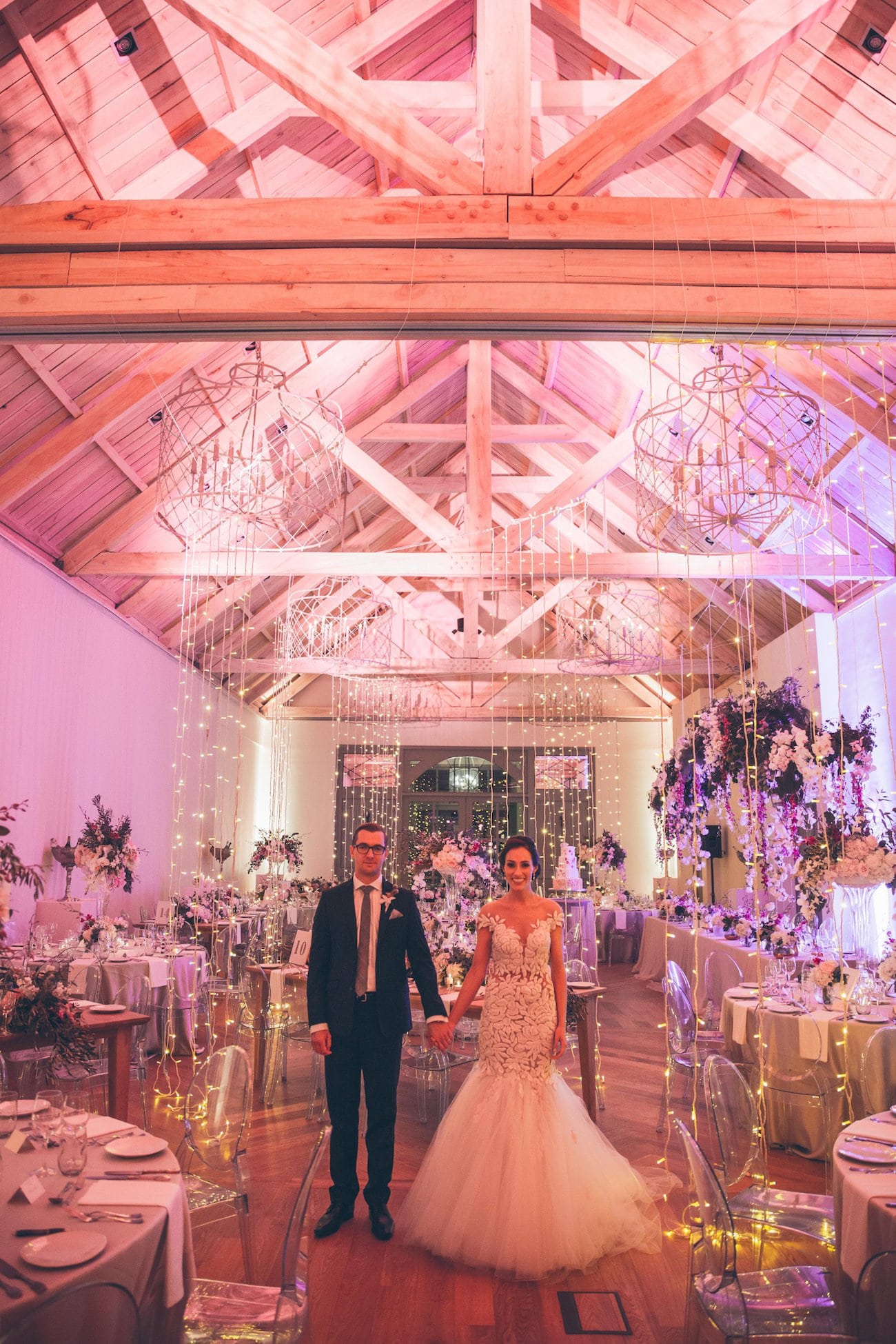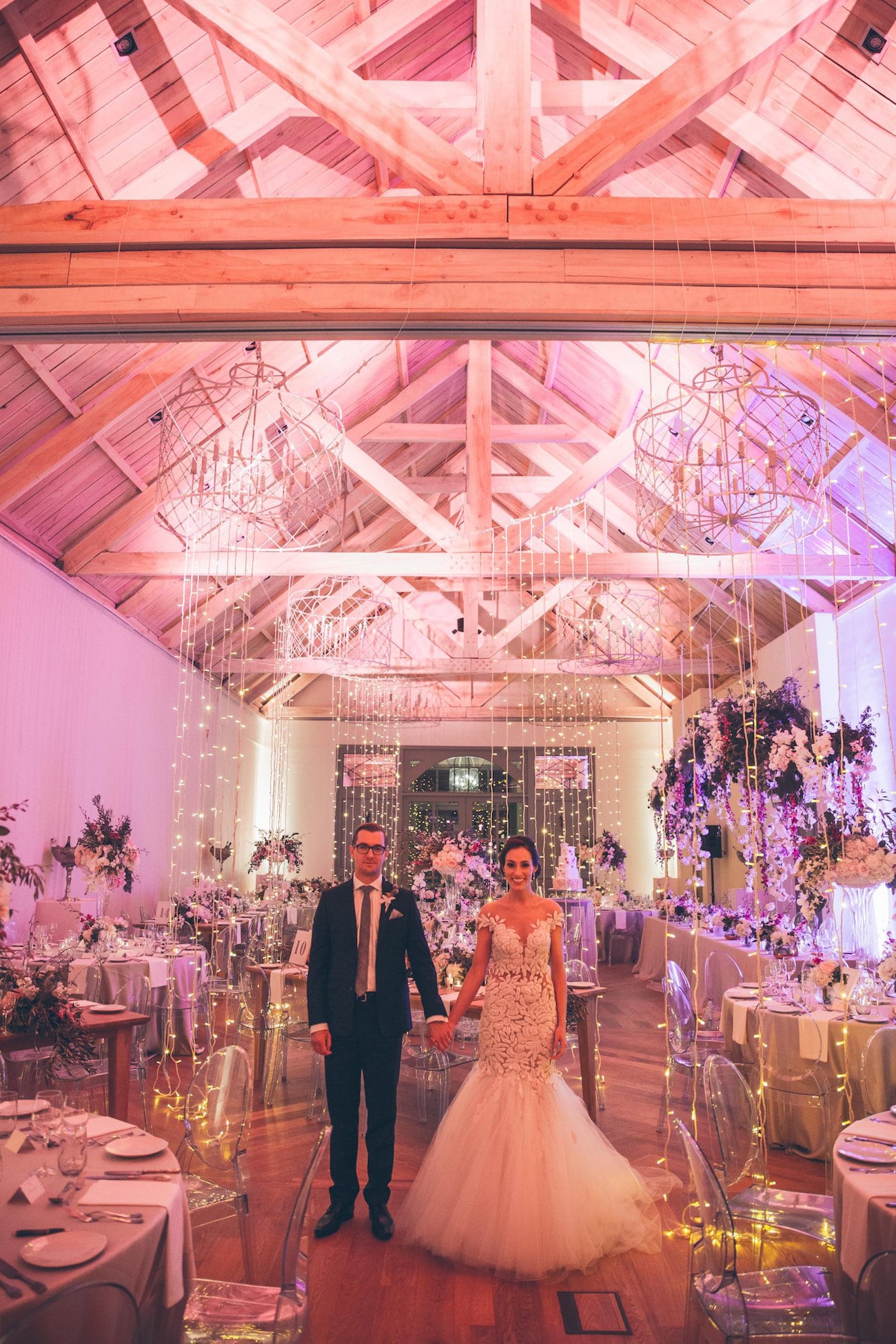 The Flowers
As the sun painted its last rays over the vineyards, the reception venue was revealed, with a floral explosion of roses, orchids and hydrangeas in tall arrangements, solid runners and the most majestic hanging installation in blush, purple, white and green. Ceiling to floor fairy lights tinkled down from the exposed natural poplar roof trusses and unique light installations tinted the air with hues of pink. It was like stepping into a world of magic and enchantment!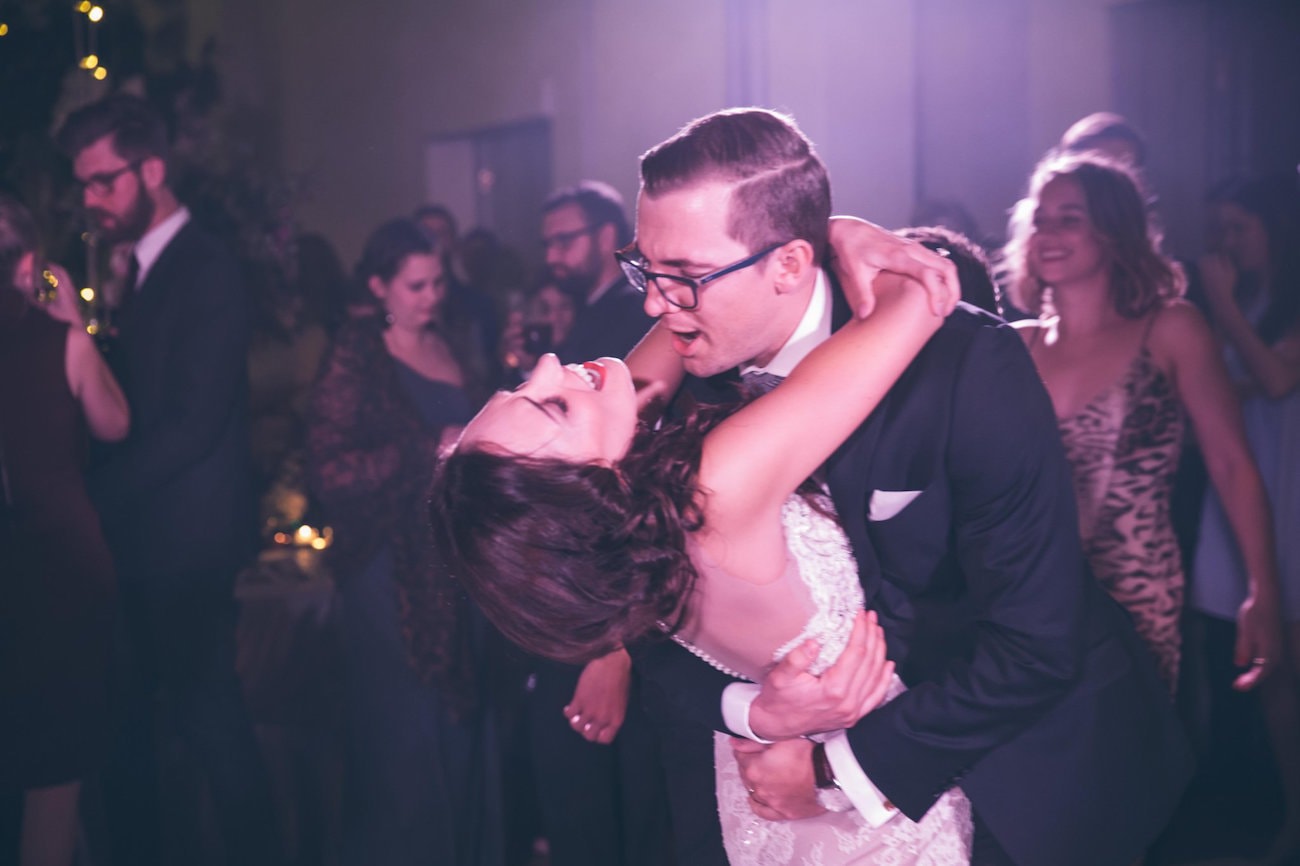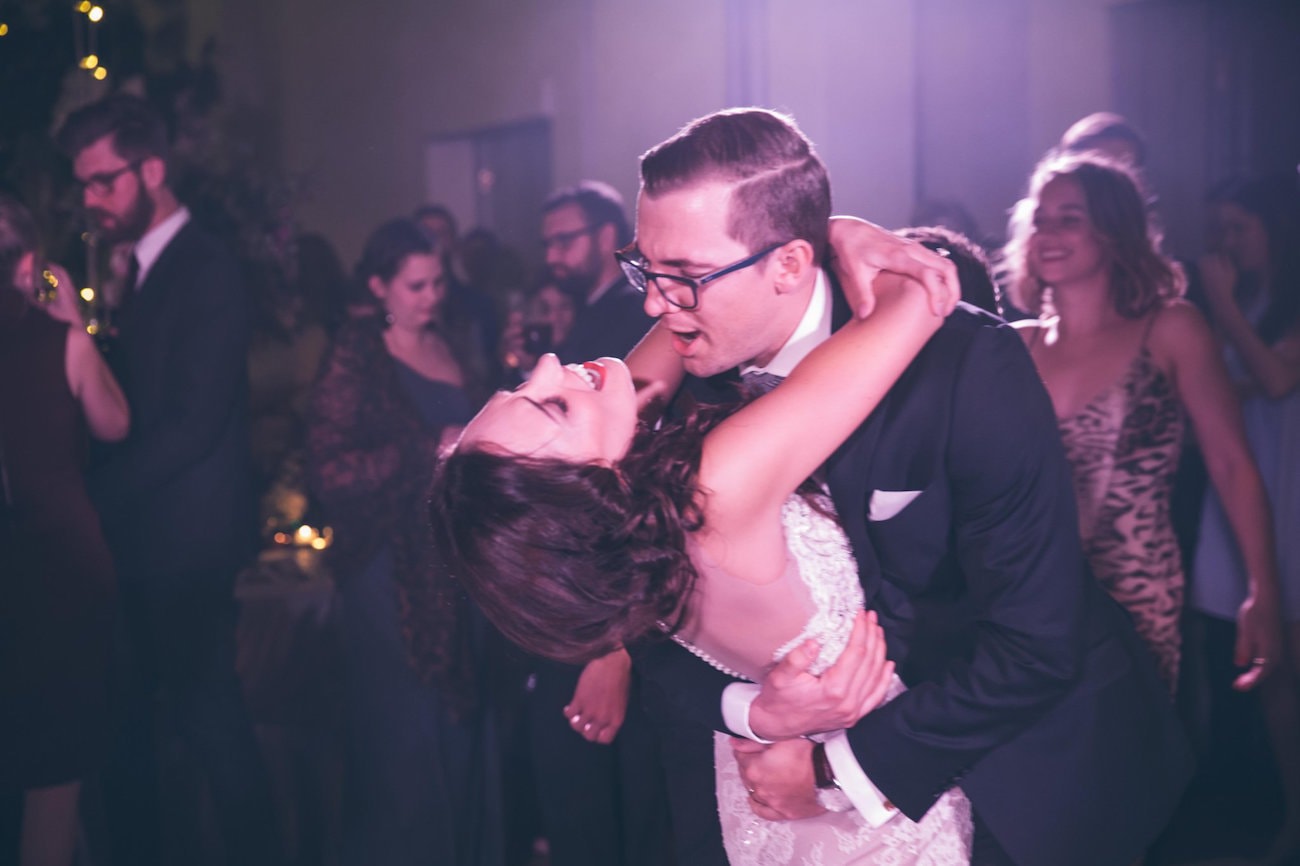 Best Decision
Making use of trusted service providers. It takes off a lot of pressure if you have someone that values their work and who you can trust will deliver their best.
You can see more from this wedding on Shanna Jones' blog.
SERVICE PROVIDERS
Ceremony venue: Dutch Reformed Church, Franschhoek | Reception venue & catering: The Olive Press, Boschendal | Photography: Shanna Jones Photography | Co-ordination: The Aleit Group | Flowers & décor: Fleur Le Cordeur | Stationery: Gera De Wet | Video: White Motion Films | Cake: M Patisserie | Bride's dress: Kobus Dippenaar Atelier | Bride's accessories: Jack Friedman (engagement ring) + Browns (wedding rings) + Gert van der Merwe (earrings) | Hair & makeup: Yolande Du Toit | Bridesmaids' dresses: Barreto Bridewear | DJ: DJ Chaz | Entertainment: Sound Image Band + Dan Shout Jazz Duo | Other service providers: SIP Exclusive + ABRU + DNG Presentation Staging + Fireworks for Africa + Something Different