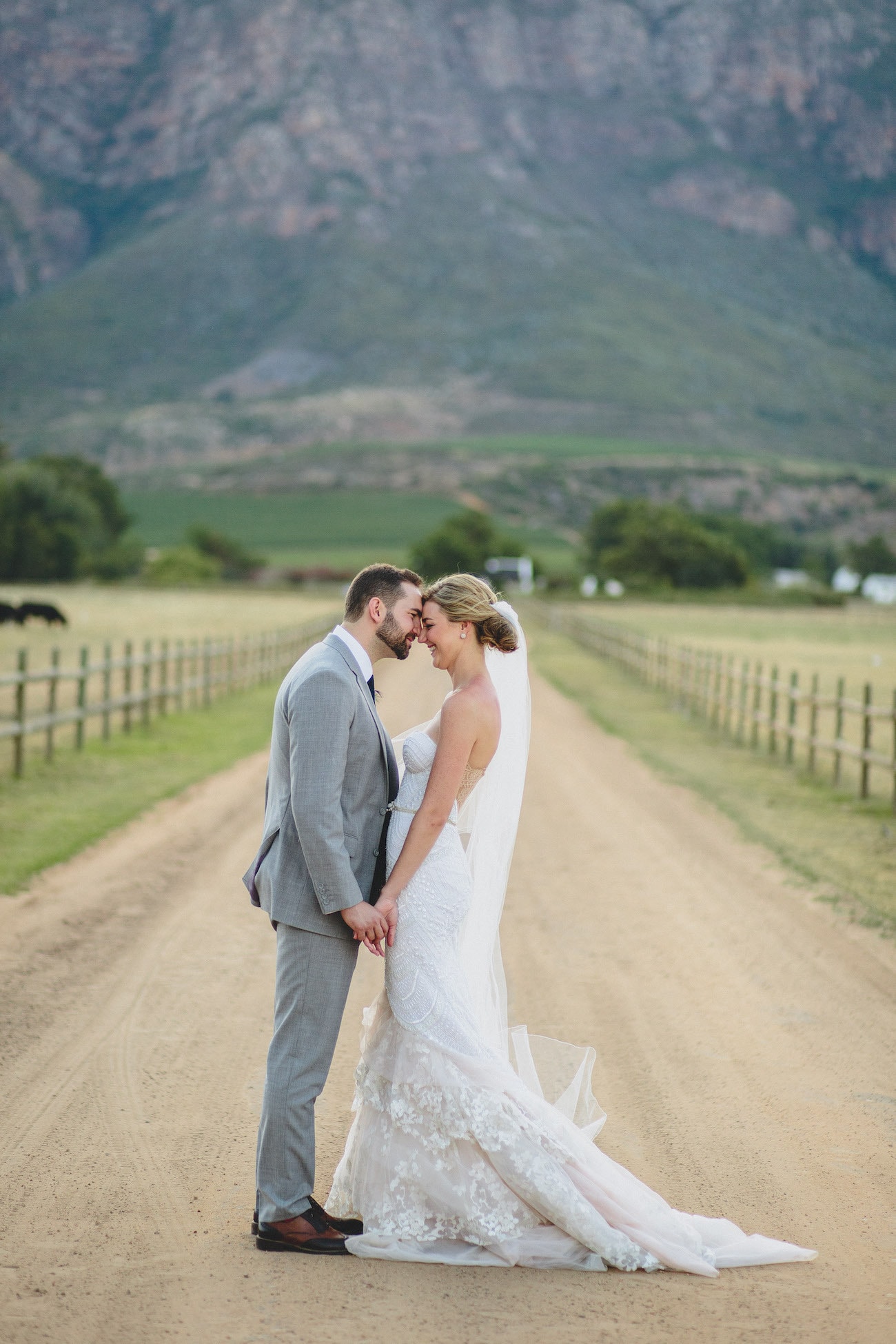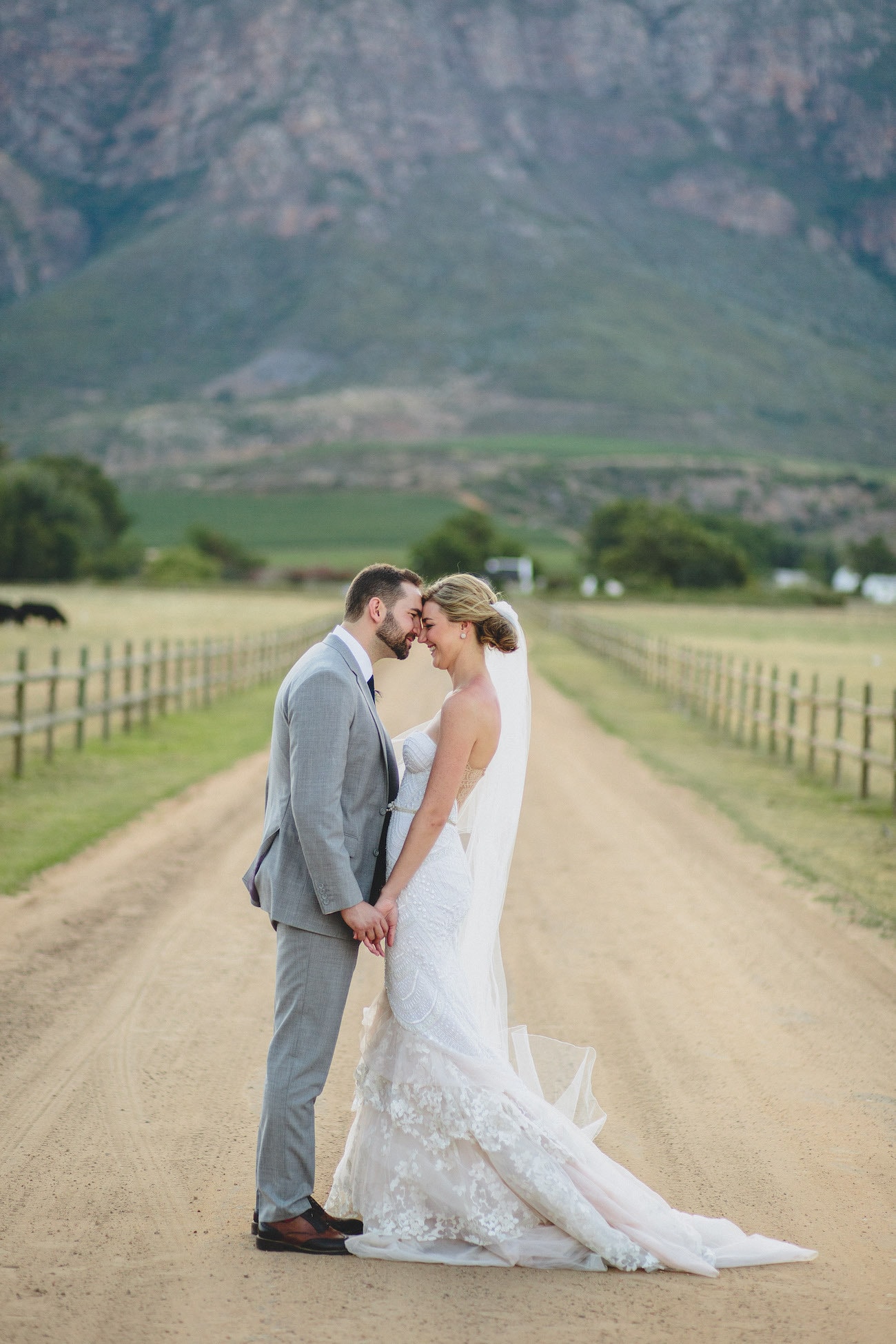 It always gives me a thrill to see South Africans who've made their way in the world abroad come home to celebrate their weddings in our beautiful country – I guess there's nothing quite like home soil! SA-born bride Gretchen, and her Canadian beau, Gabe, not only chose the gorgeous winelands for their celebration, but opted to have an intimate outdoor celebration showing it off to their dear friends, many of whom travelled from Canada to be with them. Imagine an elegant open air ceremony, followed by dining and dancing under the stars, in the shadow of a Cape Dutch homestead and under a festoon of fairy lights, and you'll be starting to picture the sheer romance of this wedding, which was designed to perfection by SBB faves, Wedding Concepts! And I can't not mention Gretchen's insanely swoony Inbal Dror gown, with its figure-hugging silhouette and intricate beading, or the groom's super personal boutonniere (fishing lures he created especially for his best men). All of it is captured with love here by the fab Kikitography (who even managed to keep their cool behind the camera in 40 degree heat!)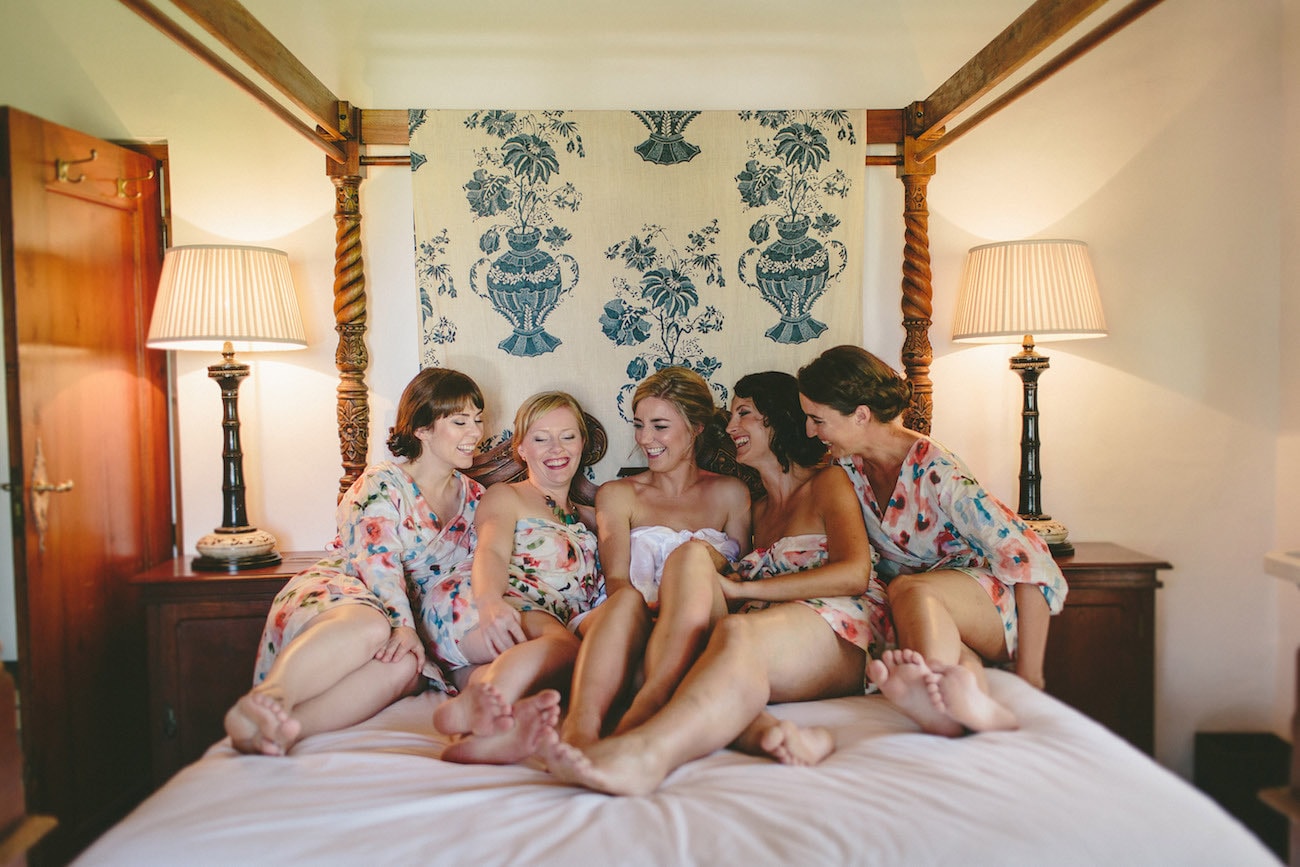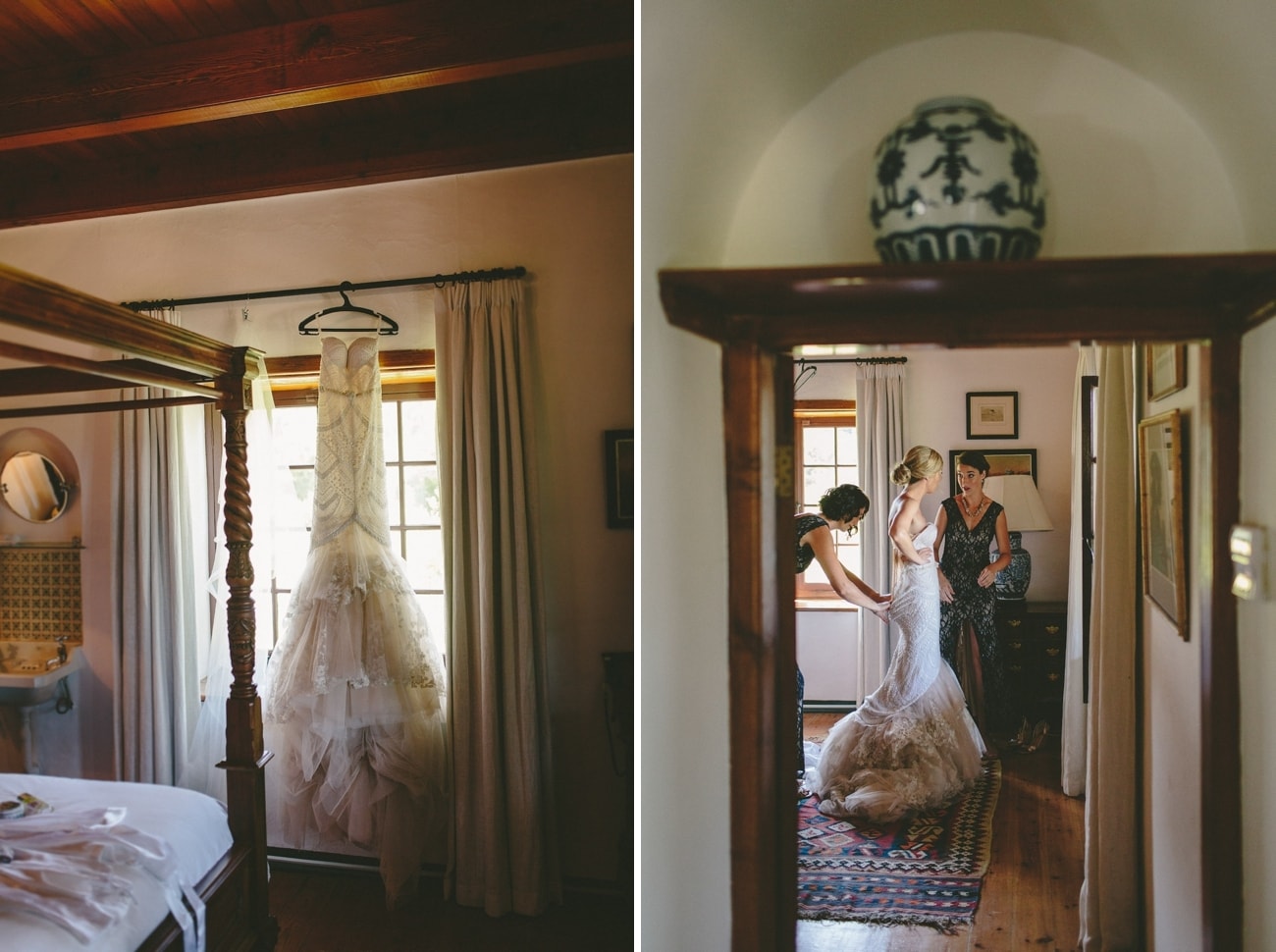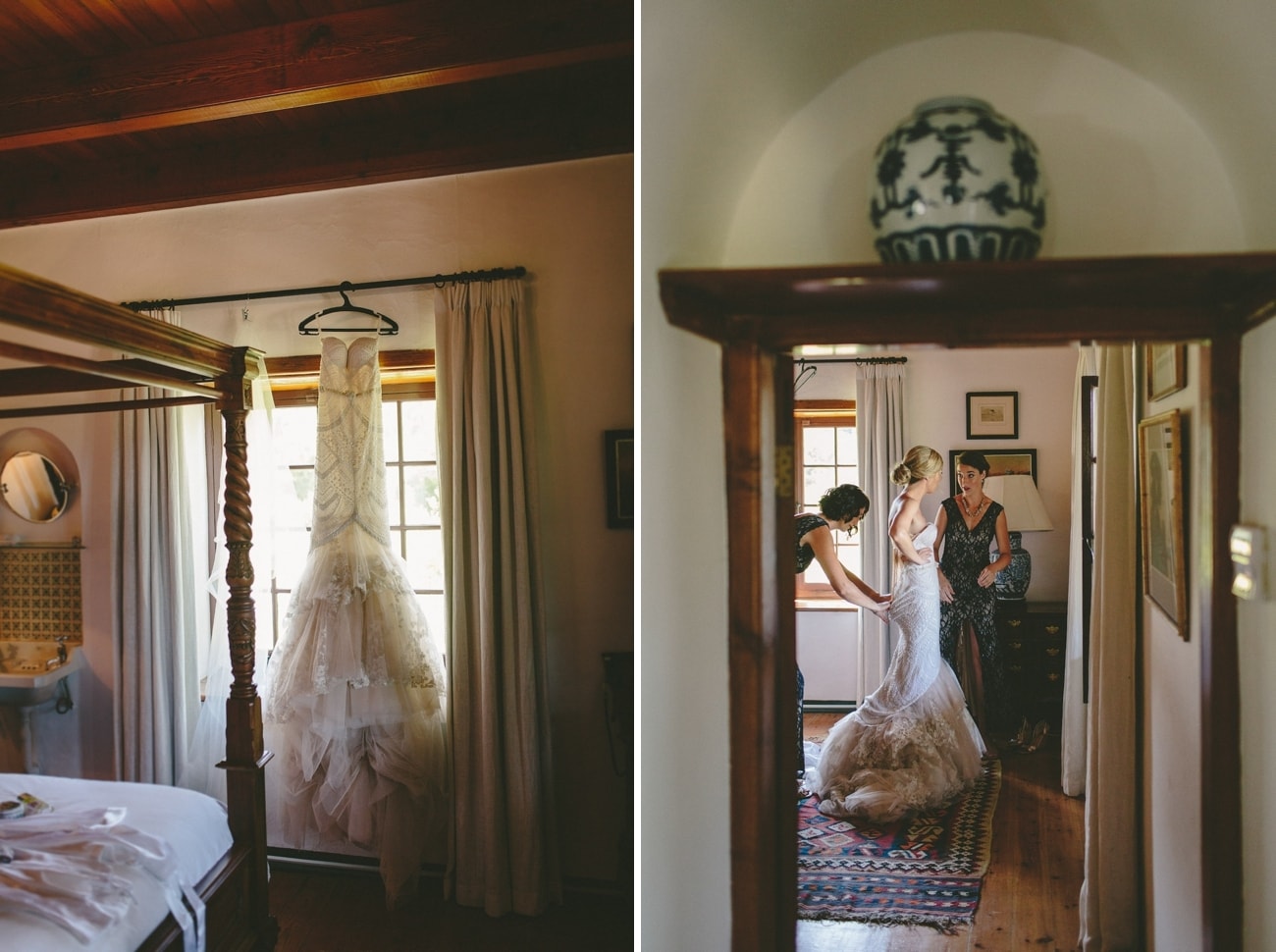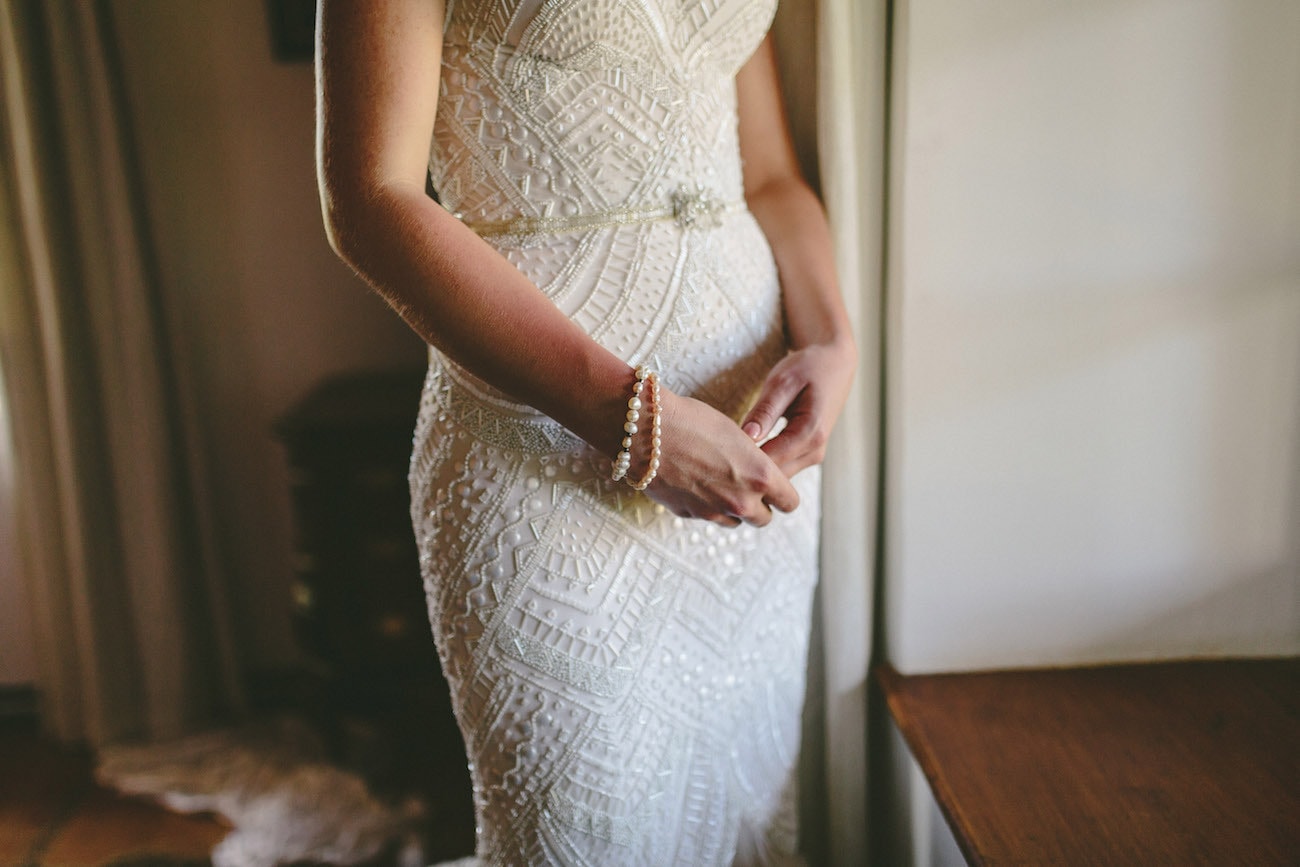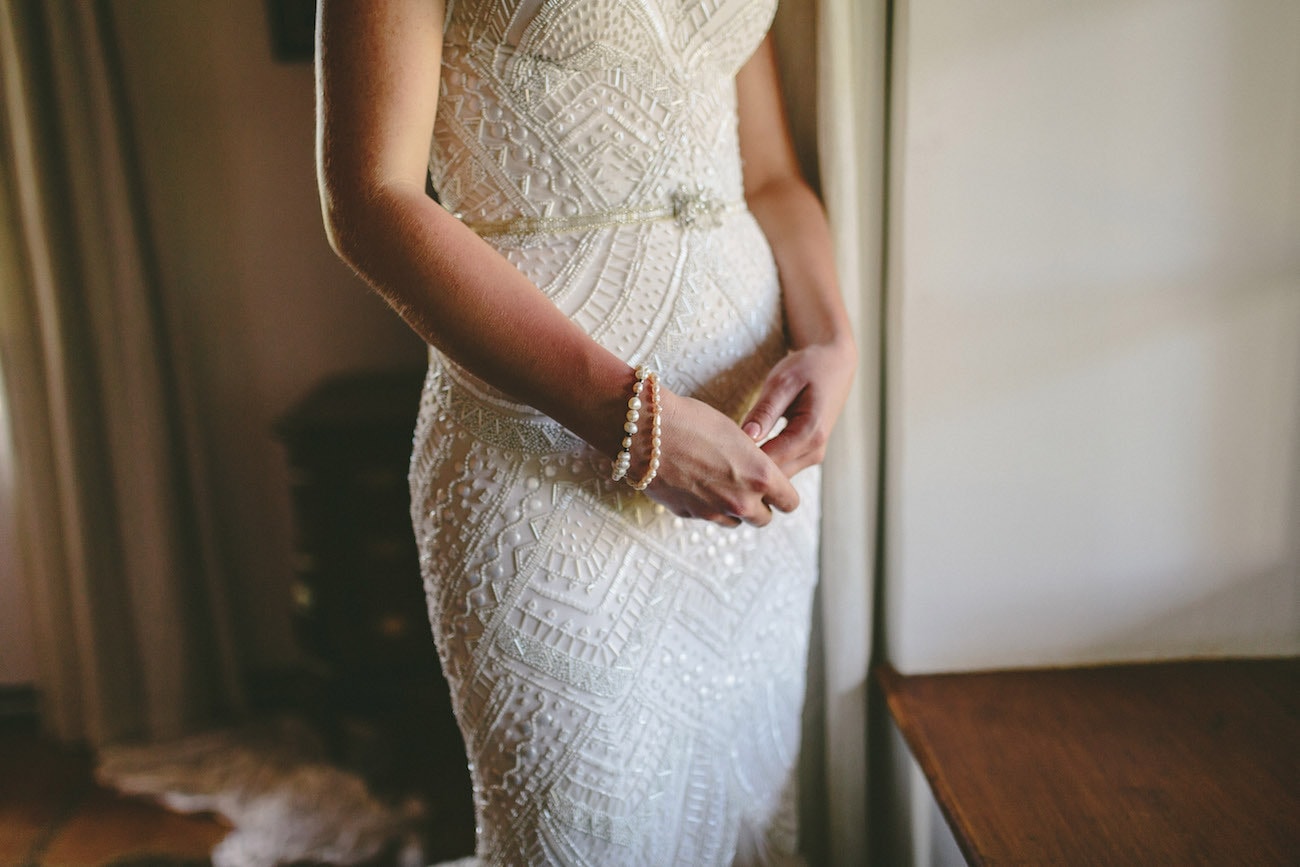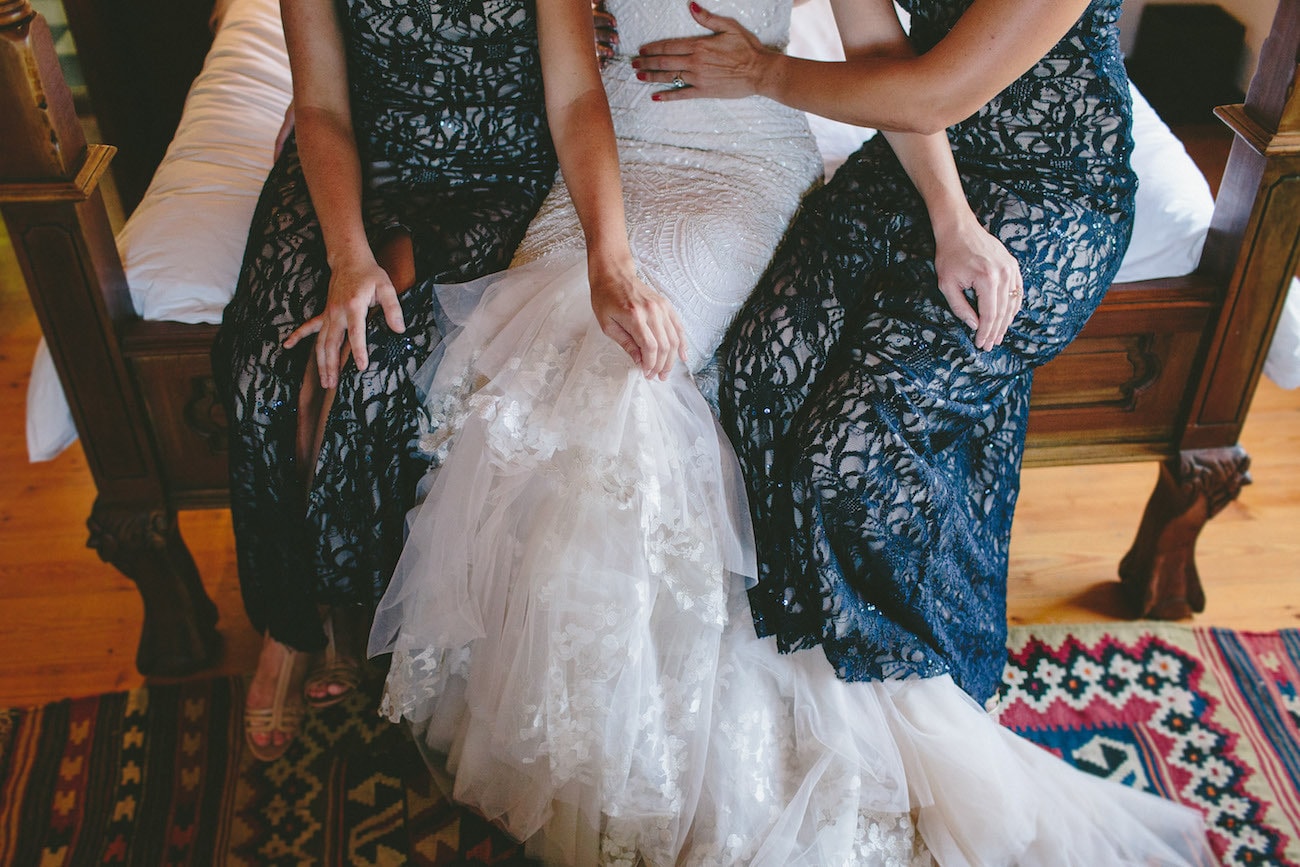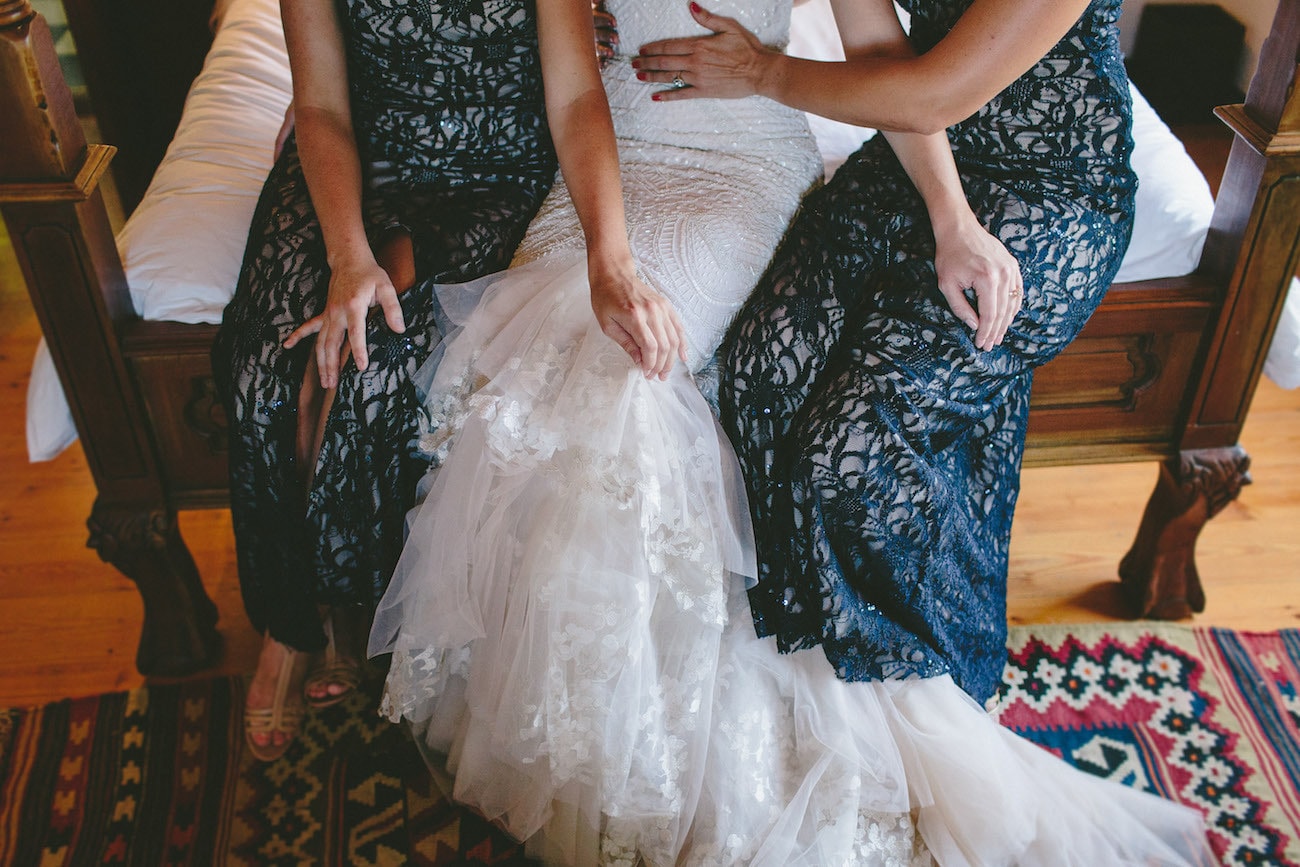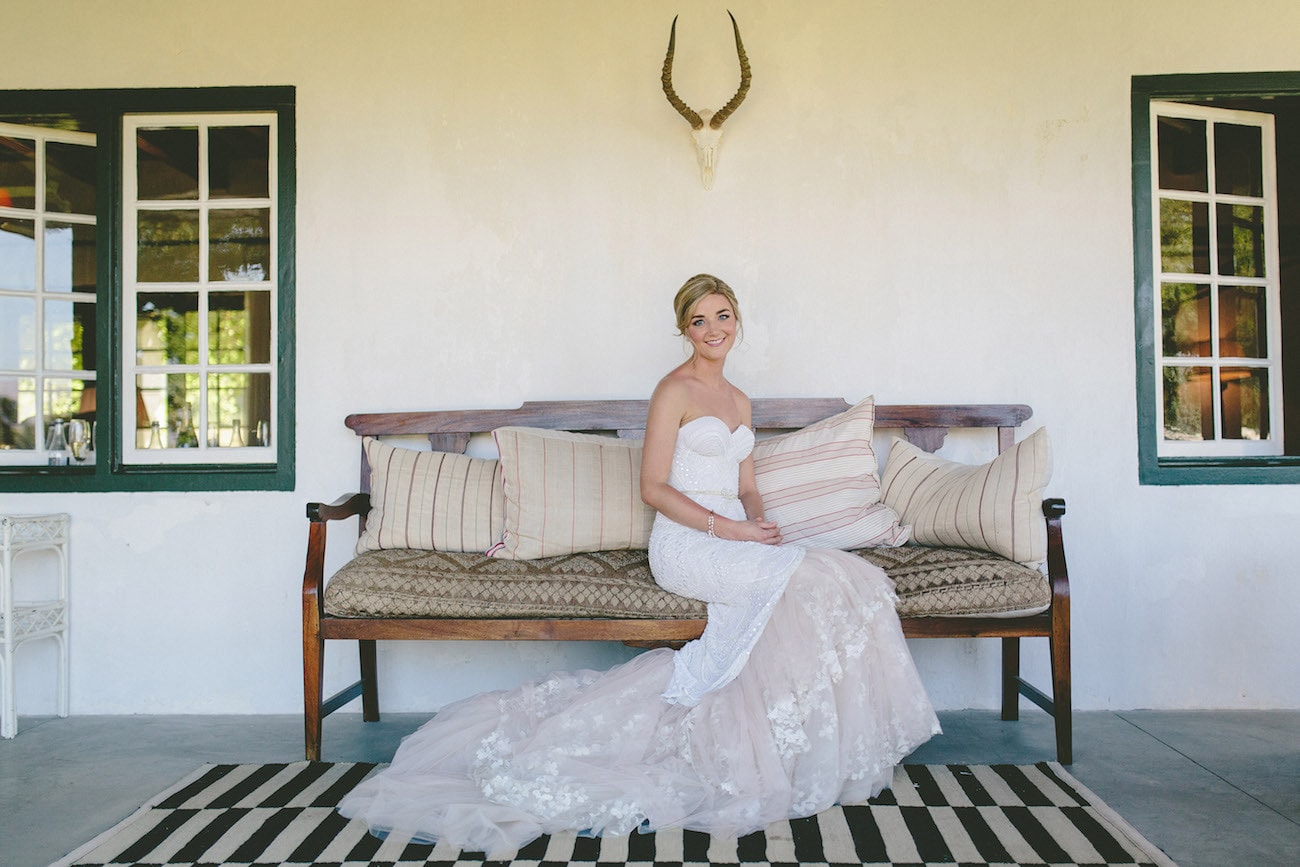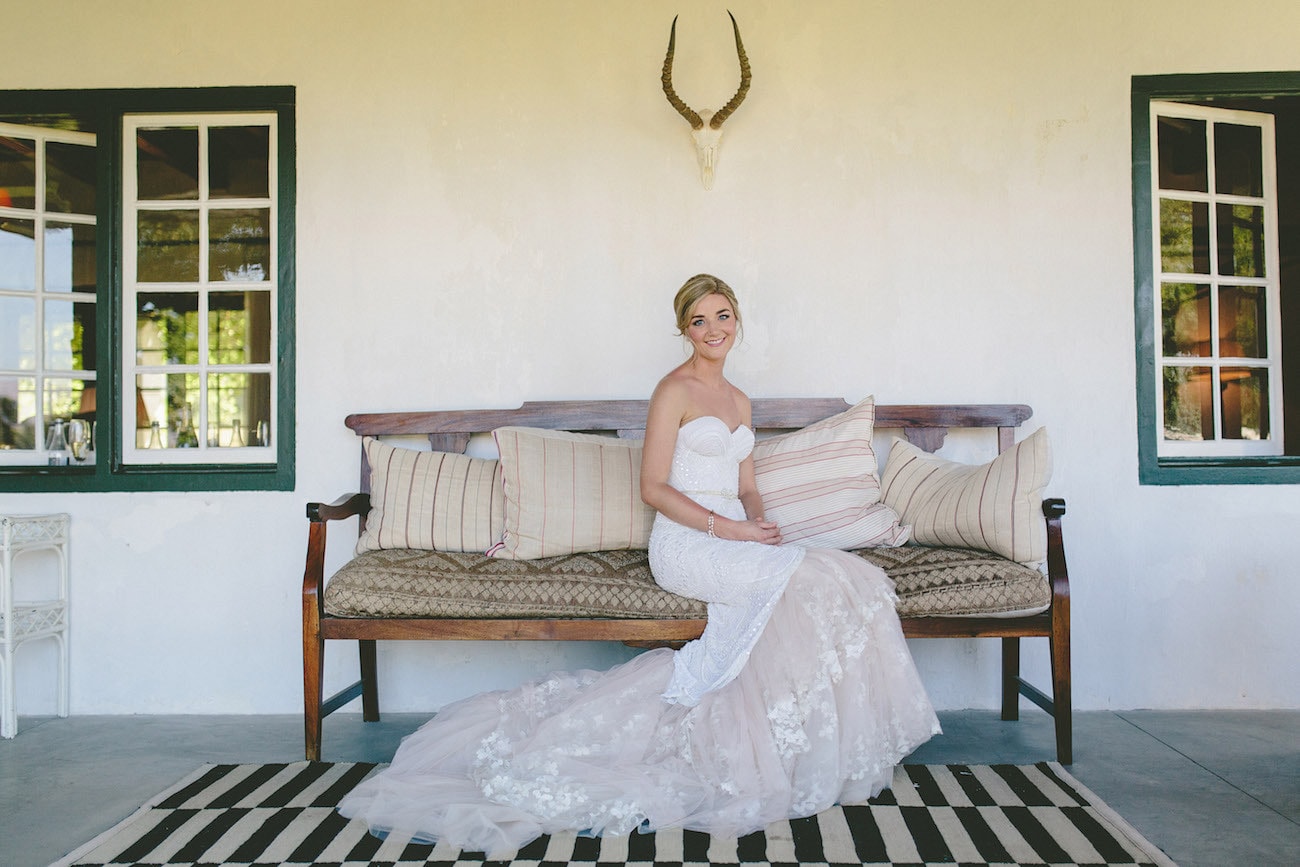 Love Story
Gabe and I met in the library at the University of Alberta Augustana during our undergraduate degree. I was working there that weekend and Gabe happened to be studying there at the same time. Our first official date did not happen until after our second meeting in the library a couple of weeks later. It took a number of years before we got to plan our wedding, as we were both finishing medical school, but the wait was definitely worth it.
The Proposal
Gabe wanted to make sure I wouldn't suspect anything. We were in the process of flying across Canada interviewing for clinical training spots when he decided to do it. I was napping on the couch when he woke me up with roses and proposed to me in Afrikaans. Gabe learnt how to say all the phrases with the help of Google Translate. It was so special!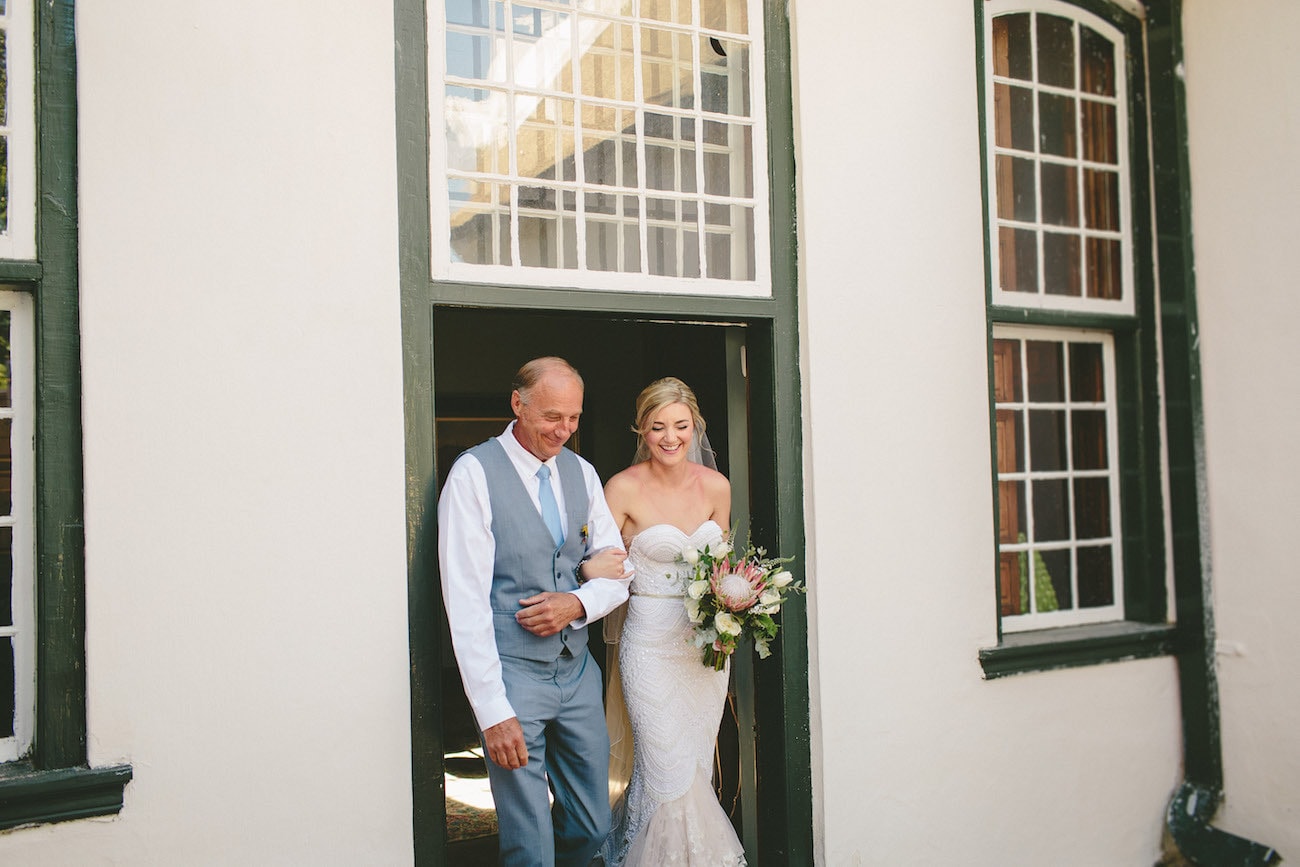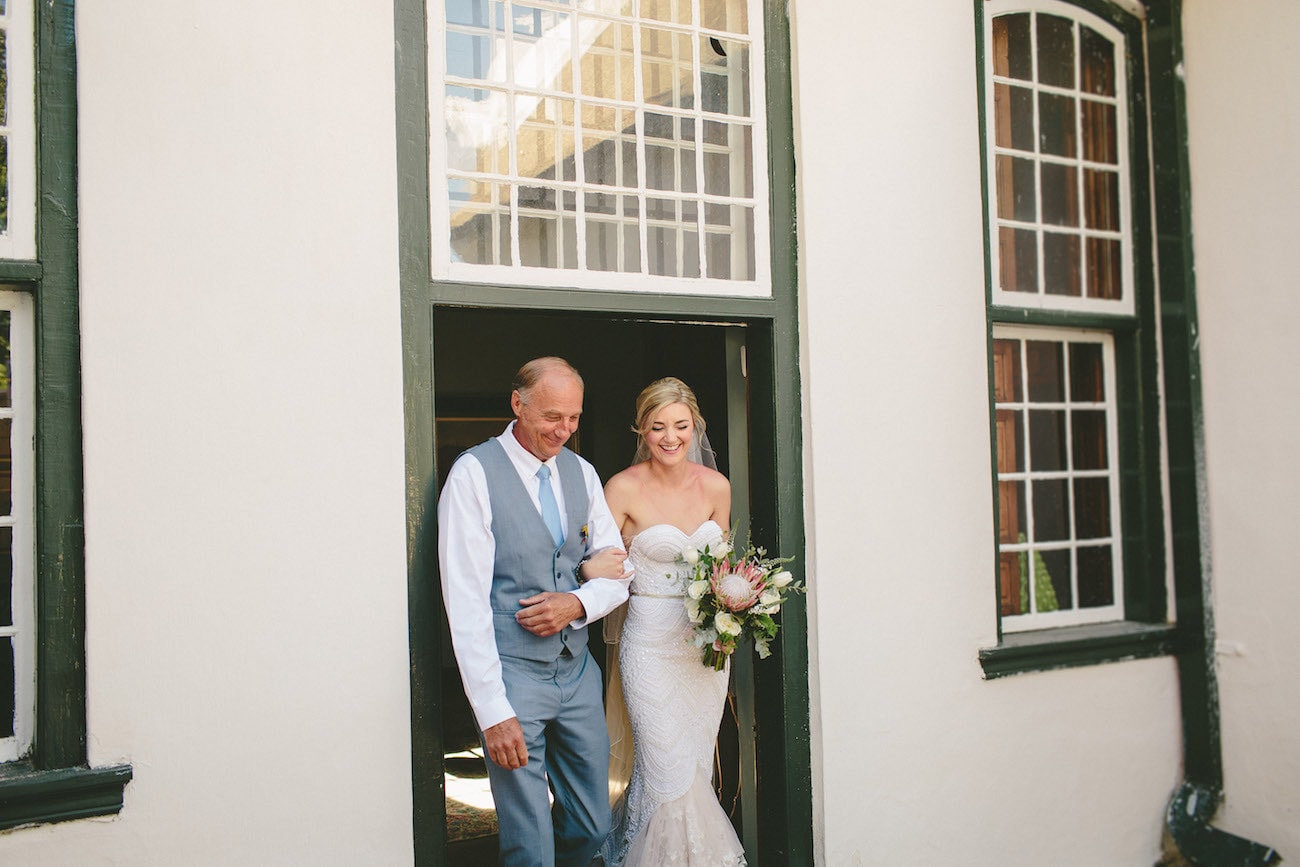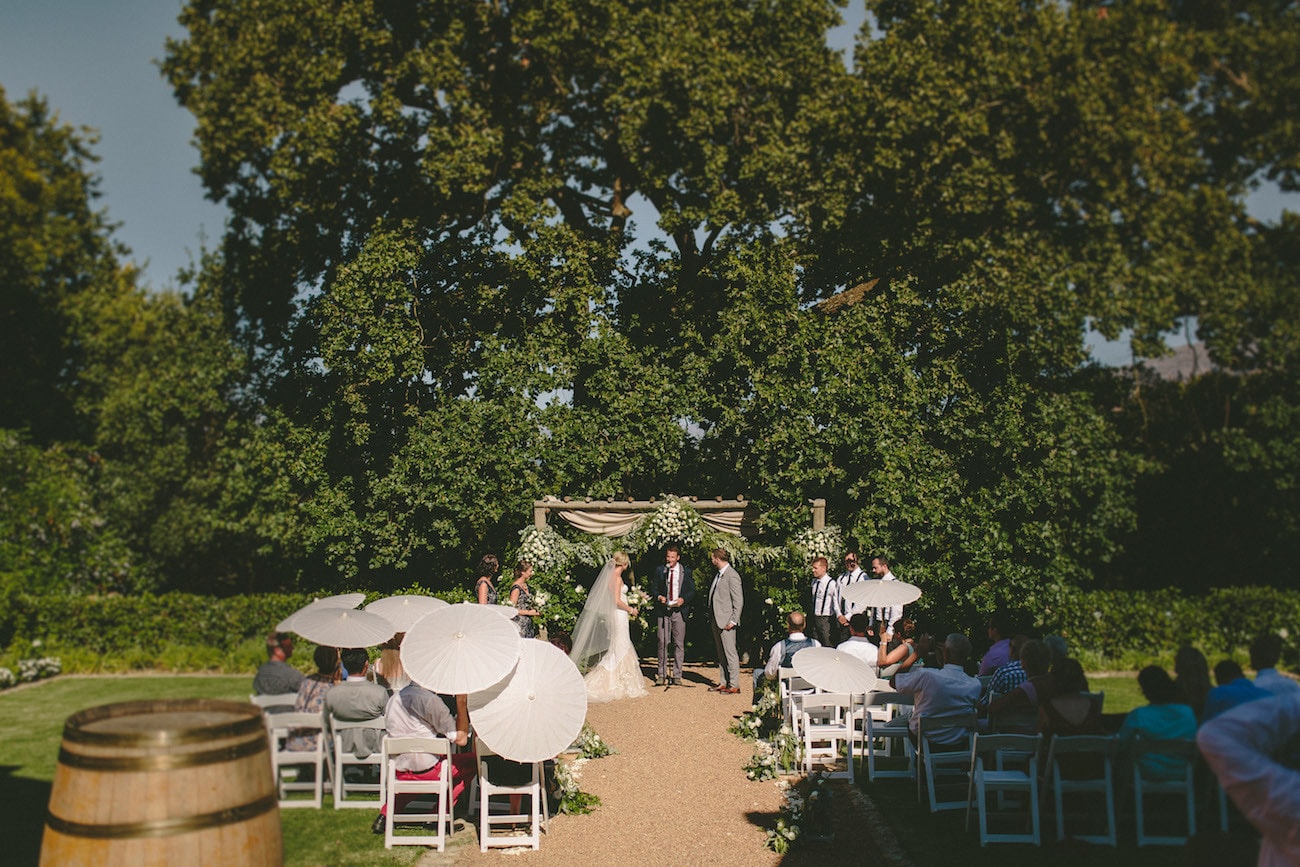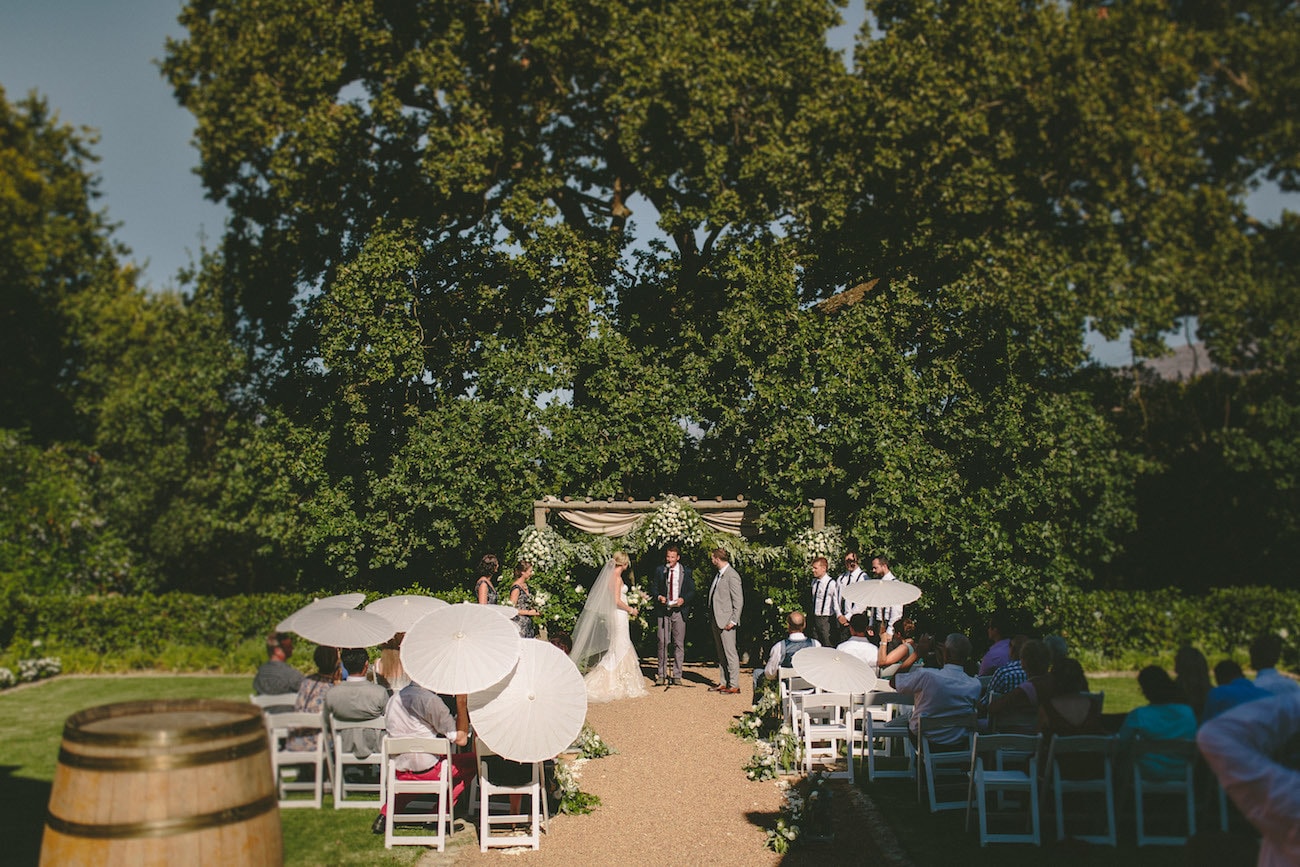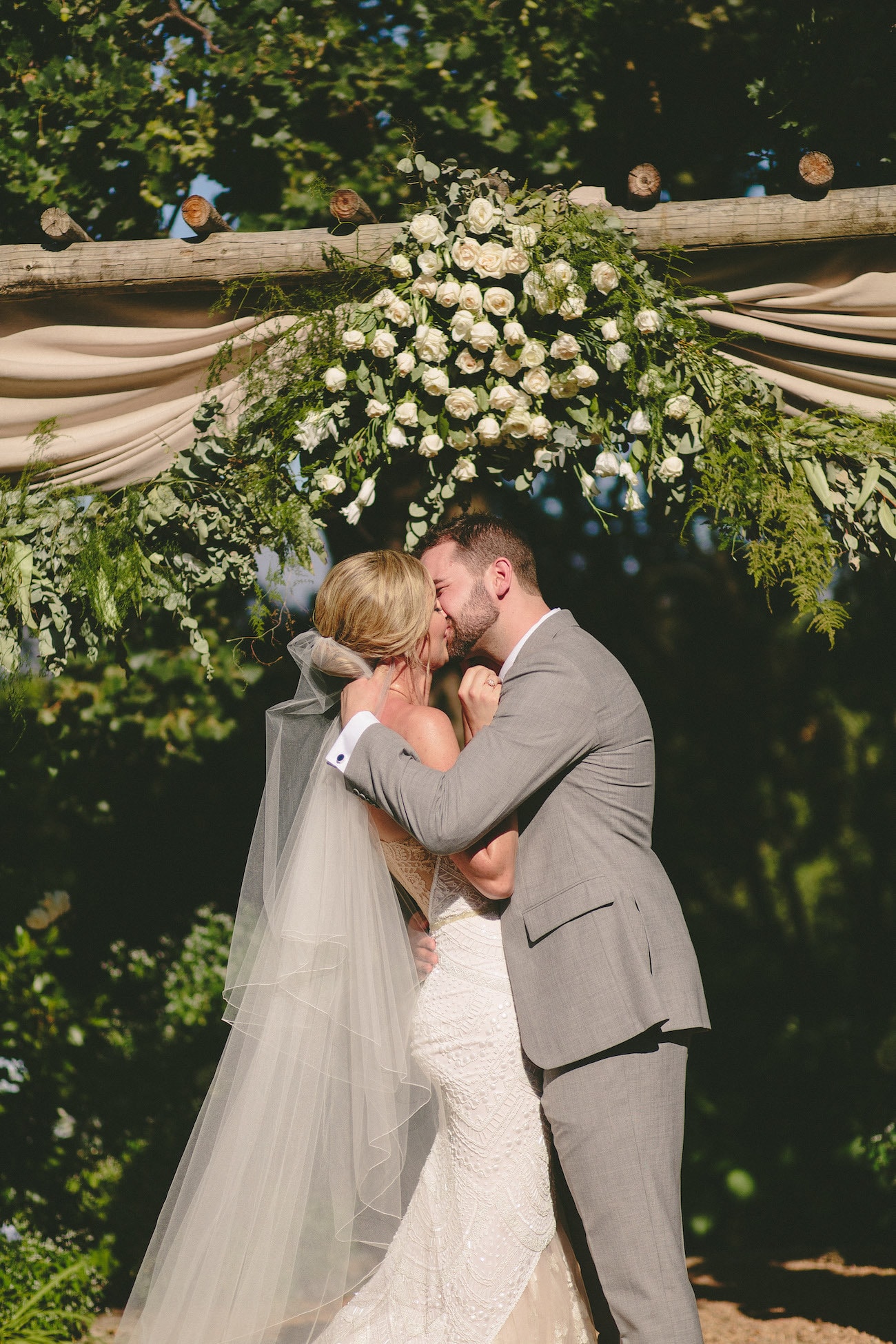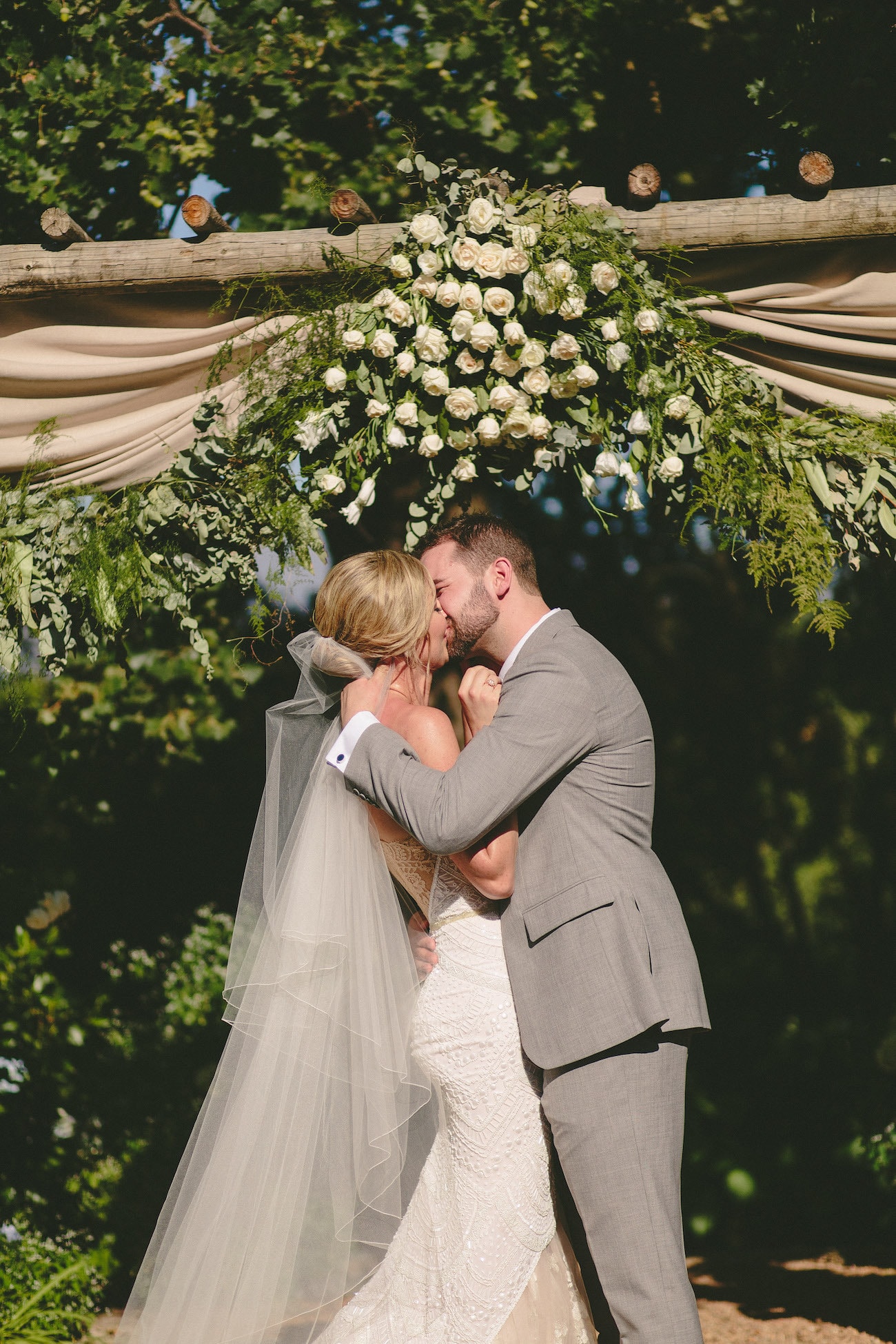 The Venue
Gabe and I knew we wanted to get married in the beautiful Franschhoek area and I have always wanted to get married on a vineyard. It was very important to us that the venue had enough accommodation available for all our guests since a lot of them would be travelling from Canada. We also wanted our wedding to take place outside and needed a venue that could accommodate that. When we came across Boschendal, we loved everything about it. It's a beautiful place with a farm-to-table menu and most importantly, could house all our guests. It also had a little fishing pond for Gabe and his groomsmen to go fishing on the morning of the wedding.
Wedding Style
I didn't have a specific theme in mind but my initial thought was 'fancy garden party'. I loved the idea of long deep wood grain tables, twinkle lights and lots of greenery. Our colours were green, white, gold and touches of navy blue. It came together so beautifully!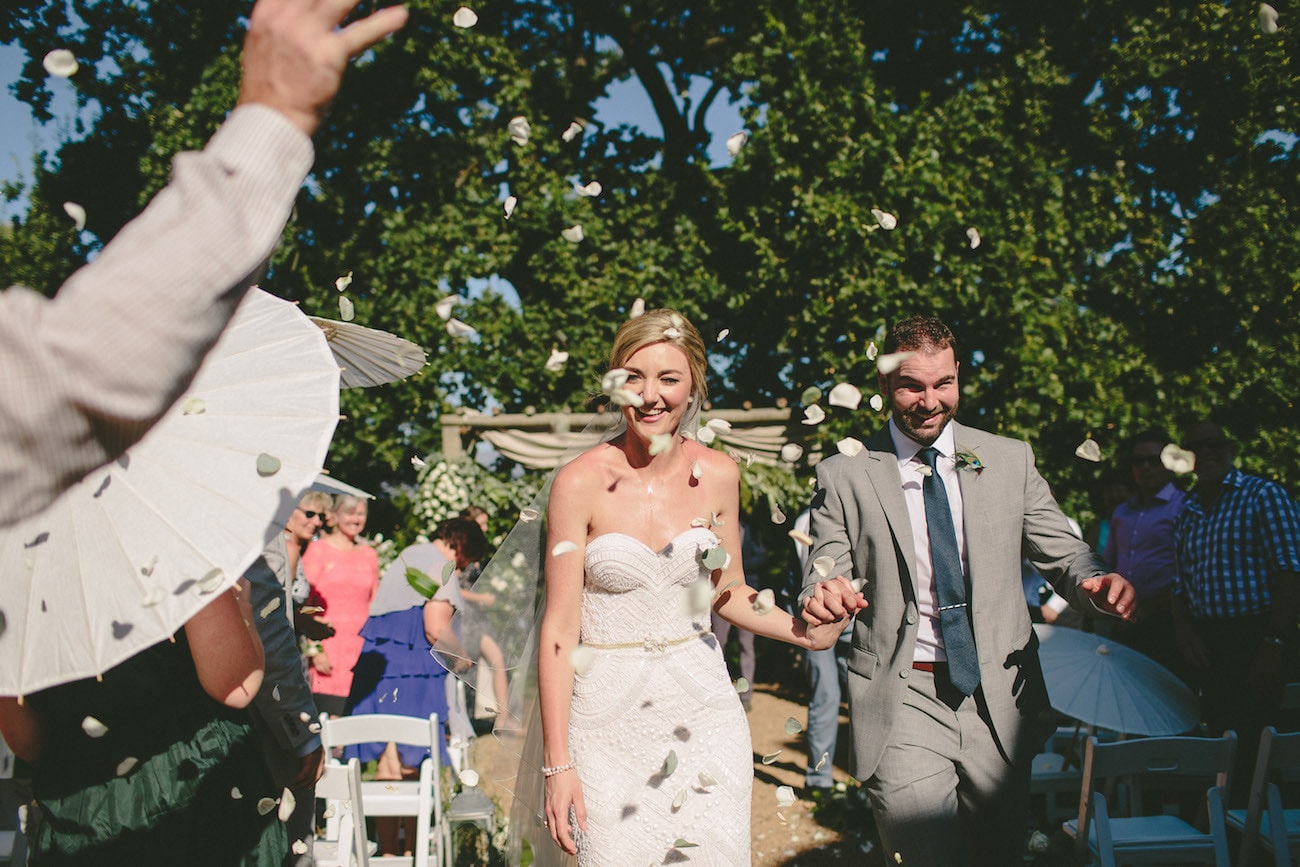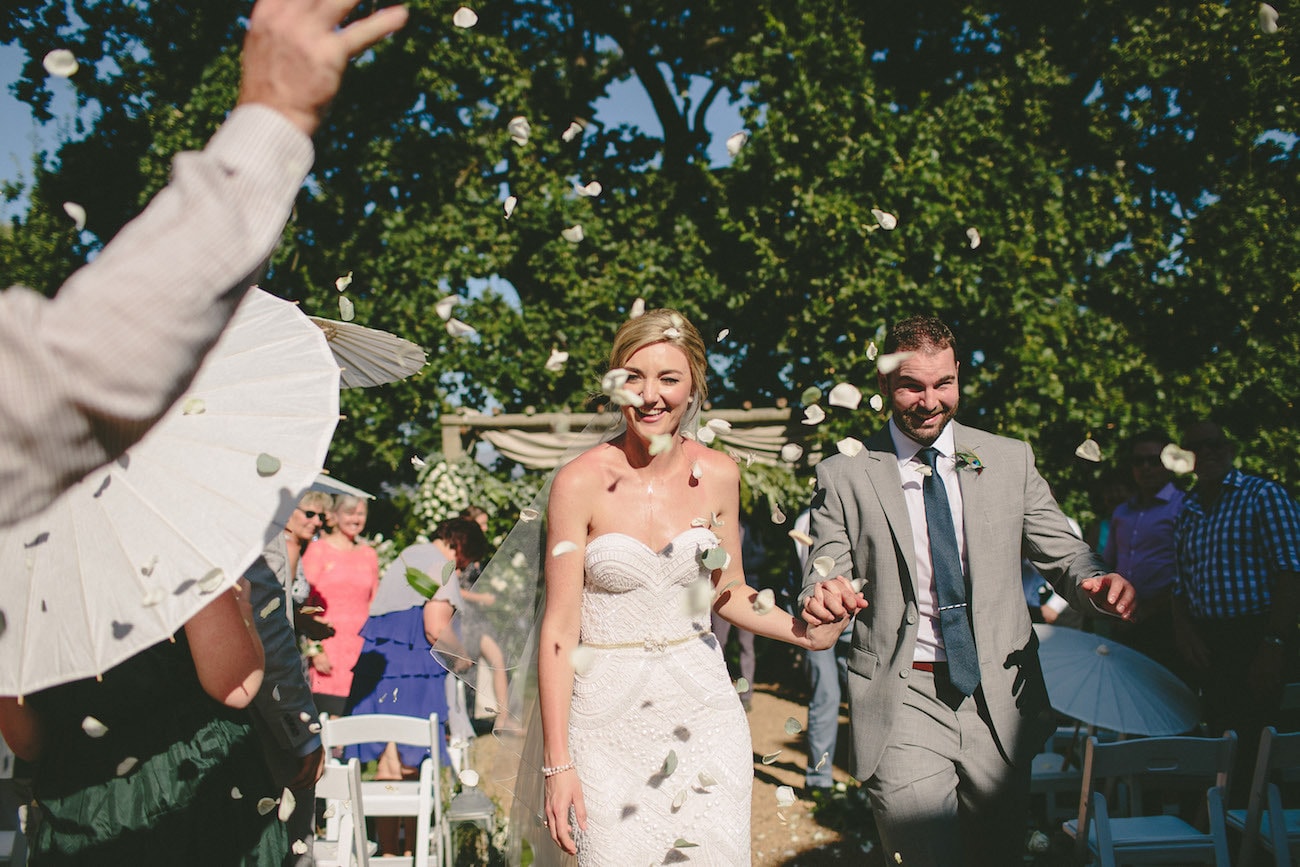 Wedding Details
One of our favorite wedding details was our emblem. Gabe met with a graphic designer in Canada and helped design it. We included the emblem on all our invitations, menus and the seating chart. It tied everything together very nicely. Another favorite wedding detail was the King Protea in my bouquet. My mom passed away when I was young and I wanted to represent her memory in some way on my wedding day. She loved flowers and therefore I chose to have the one coloured flower on our wedding day represent her.
DIY Elements
Gabe contributed the DIY elements. Instead of boutonnieres he made each groomsmen, the father of the bride and the father of the groom a fly fishing lure to wear on their lapel. He spent many evenings tying these lures before the wedding and personalised each one of them. He also hand carved the gift boxes that housed the lures.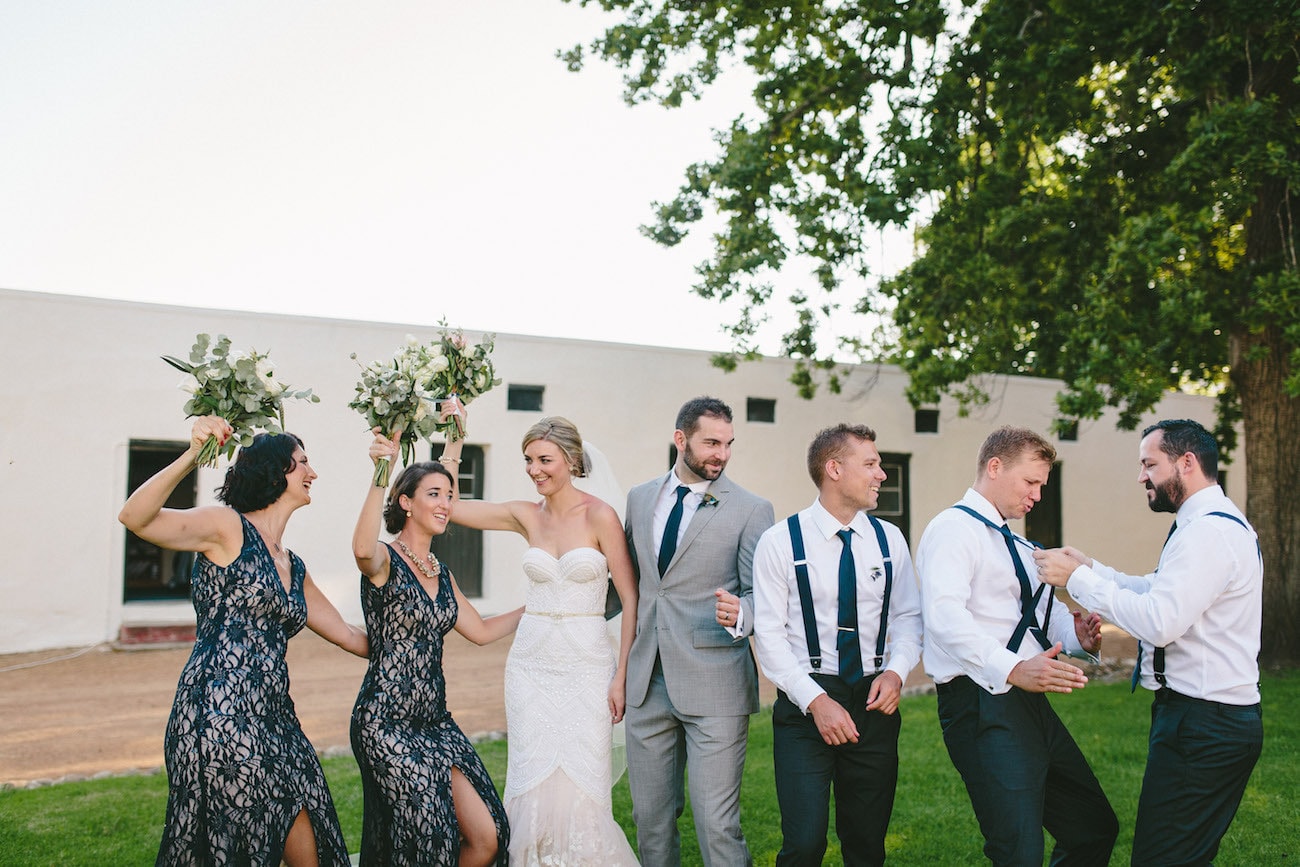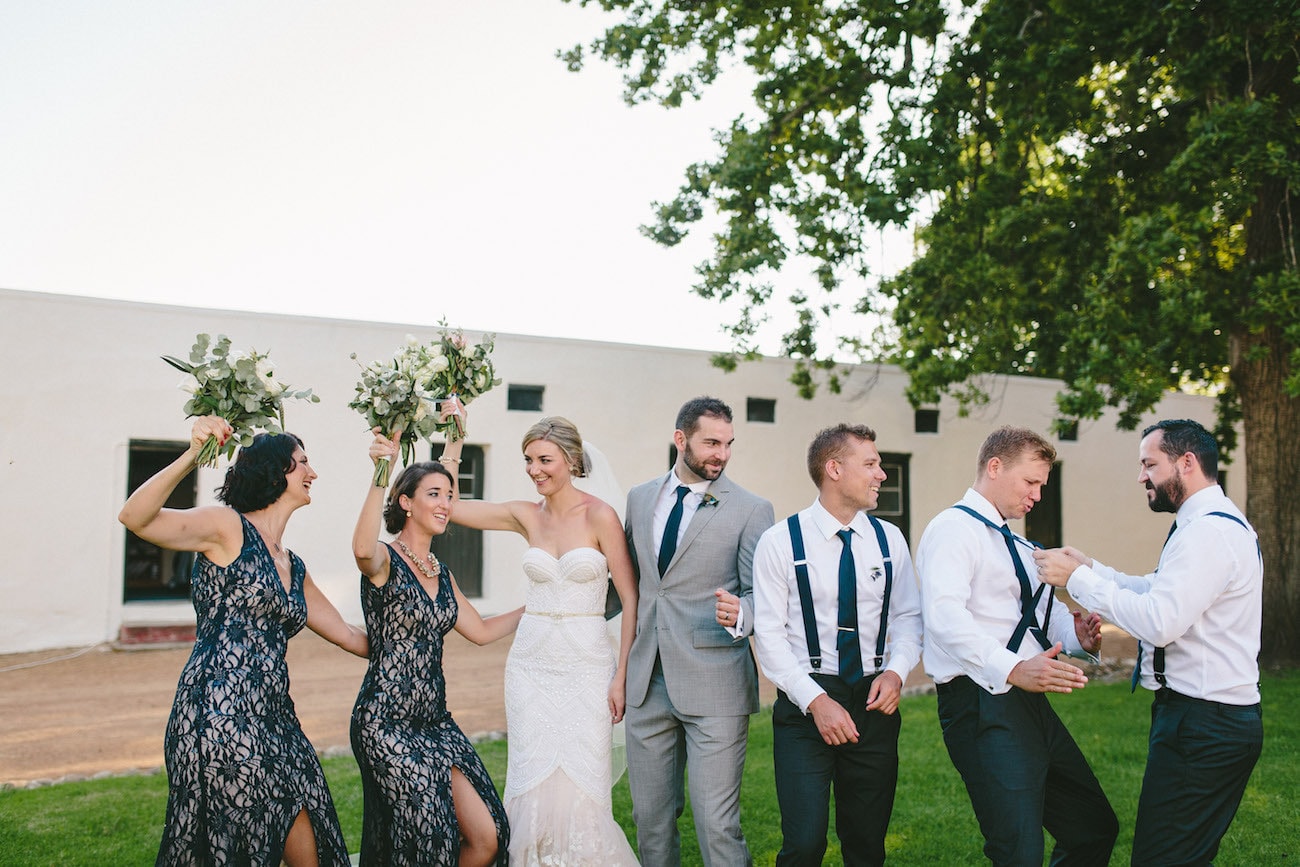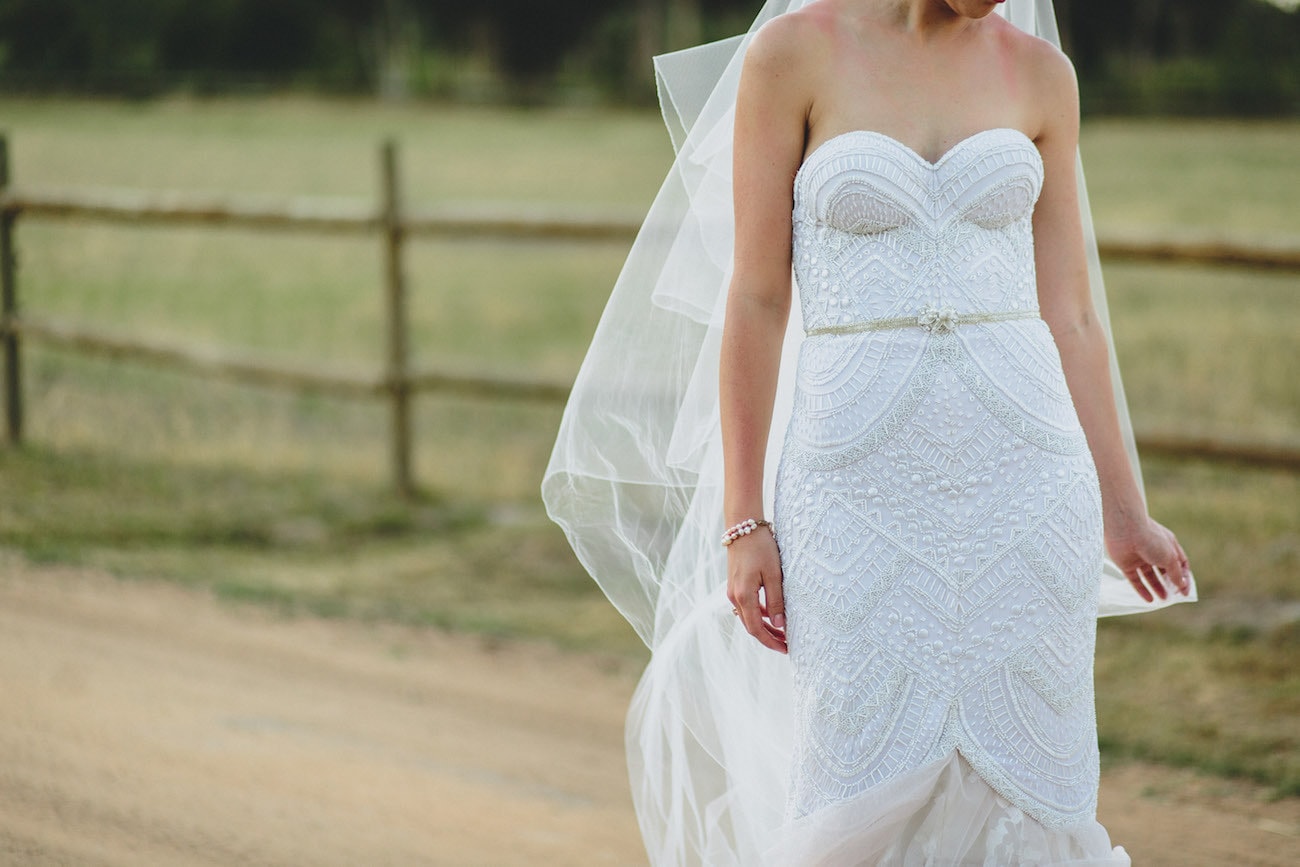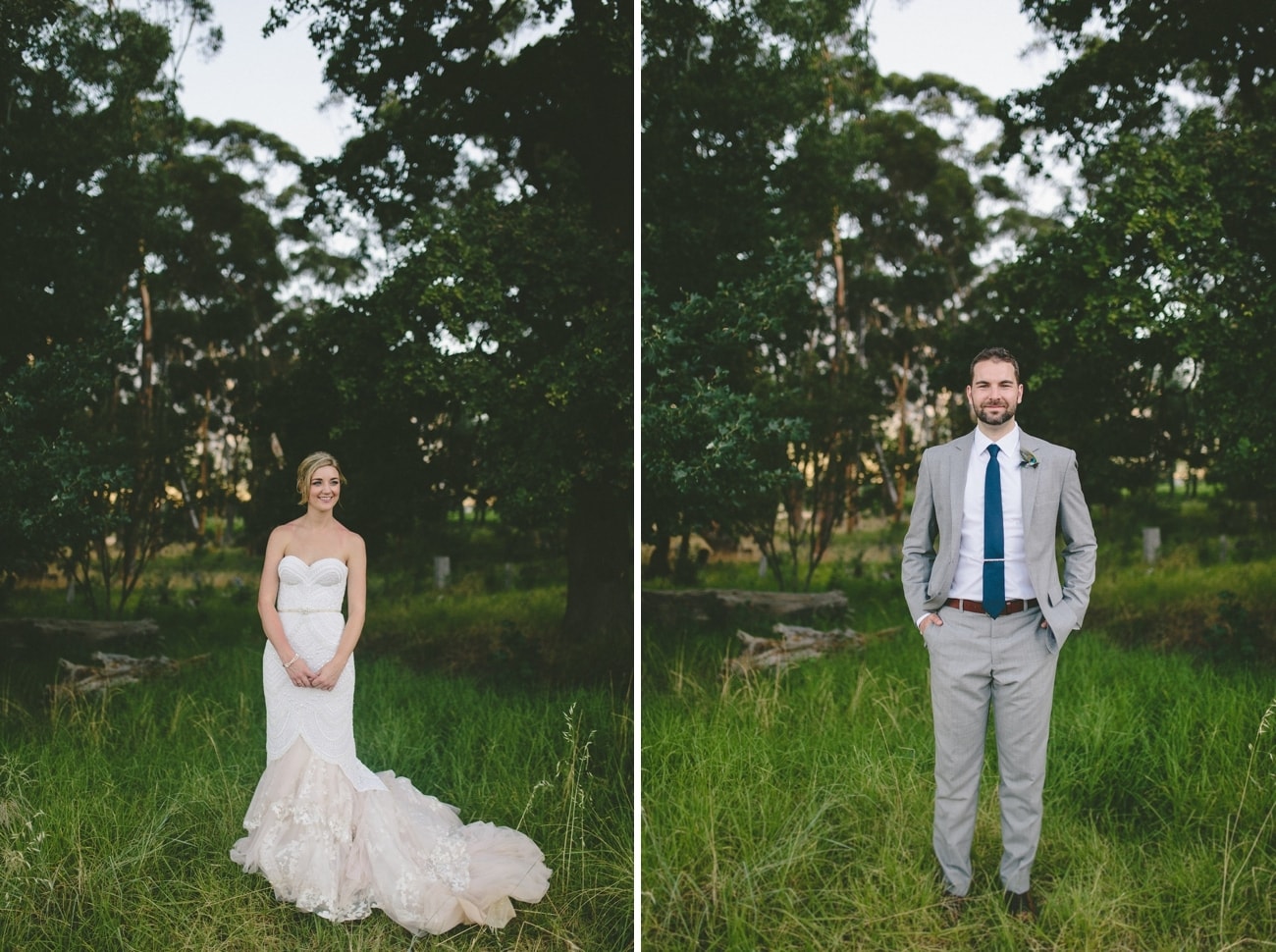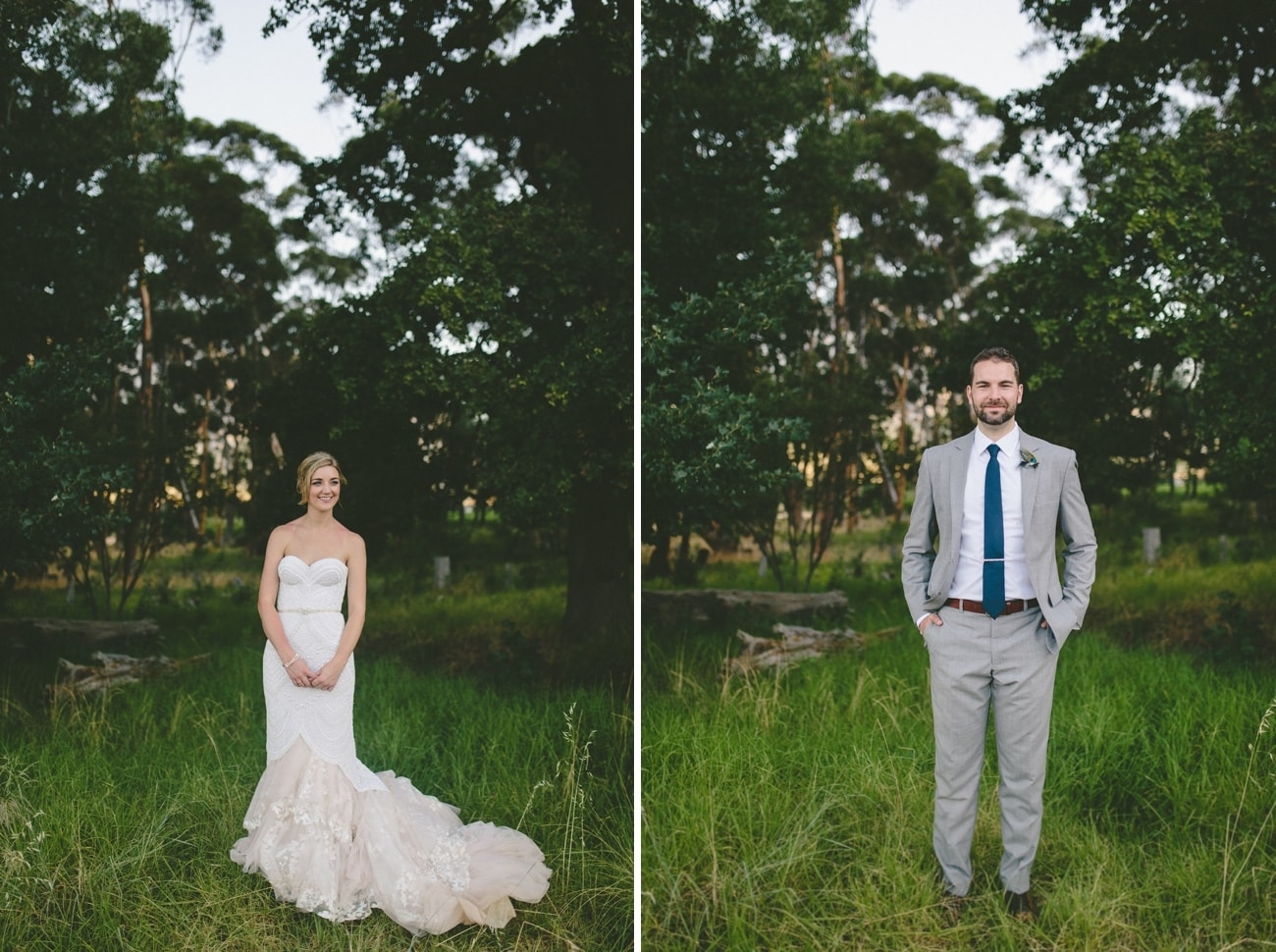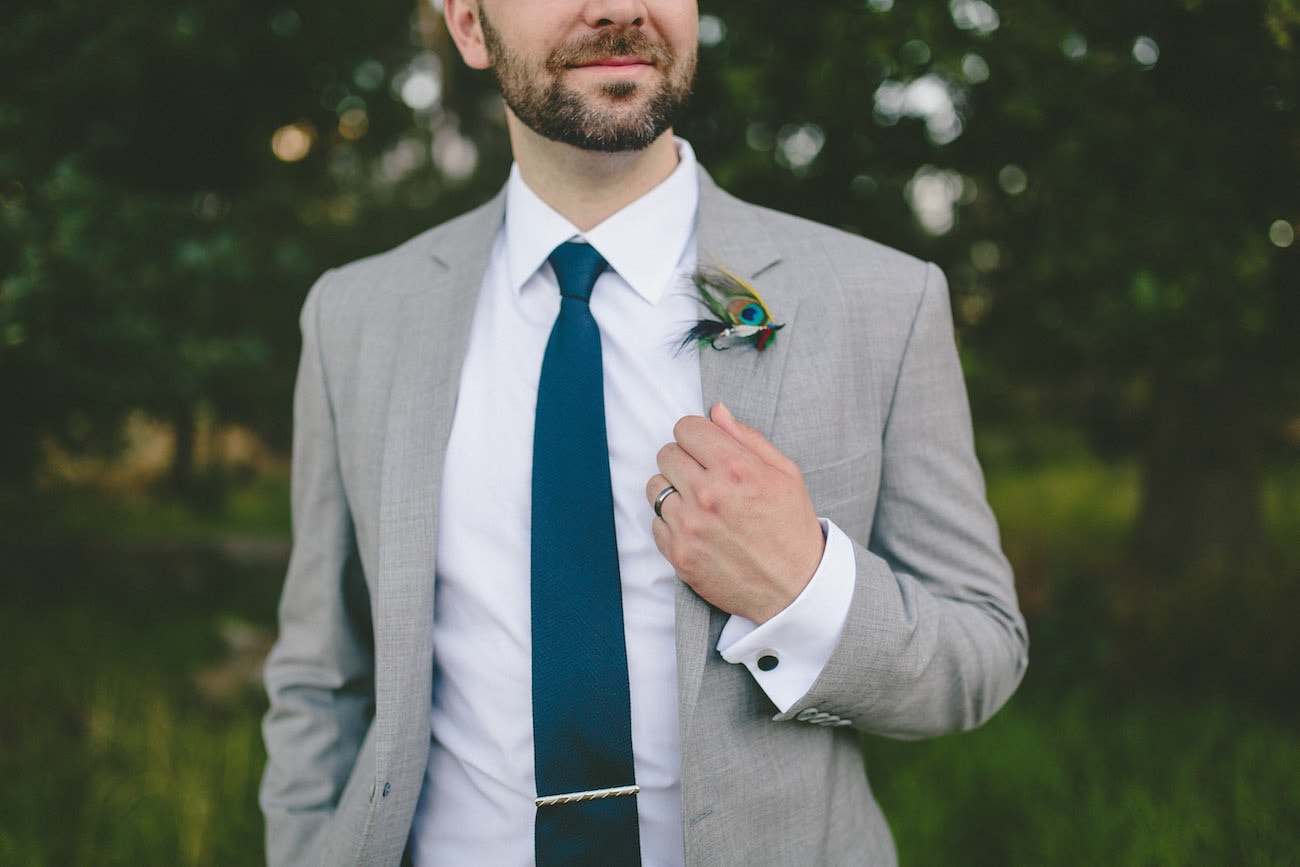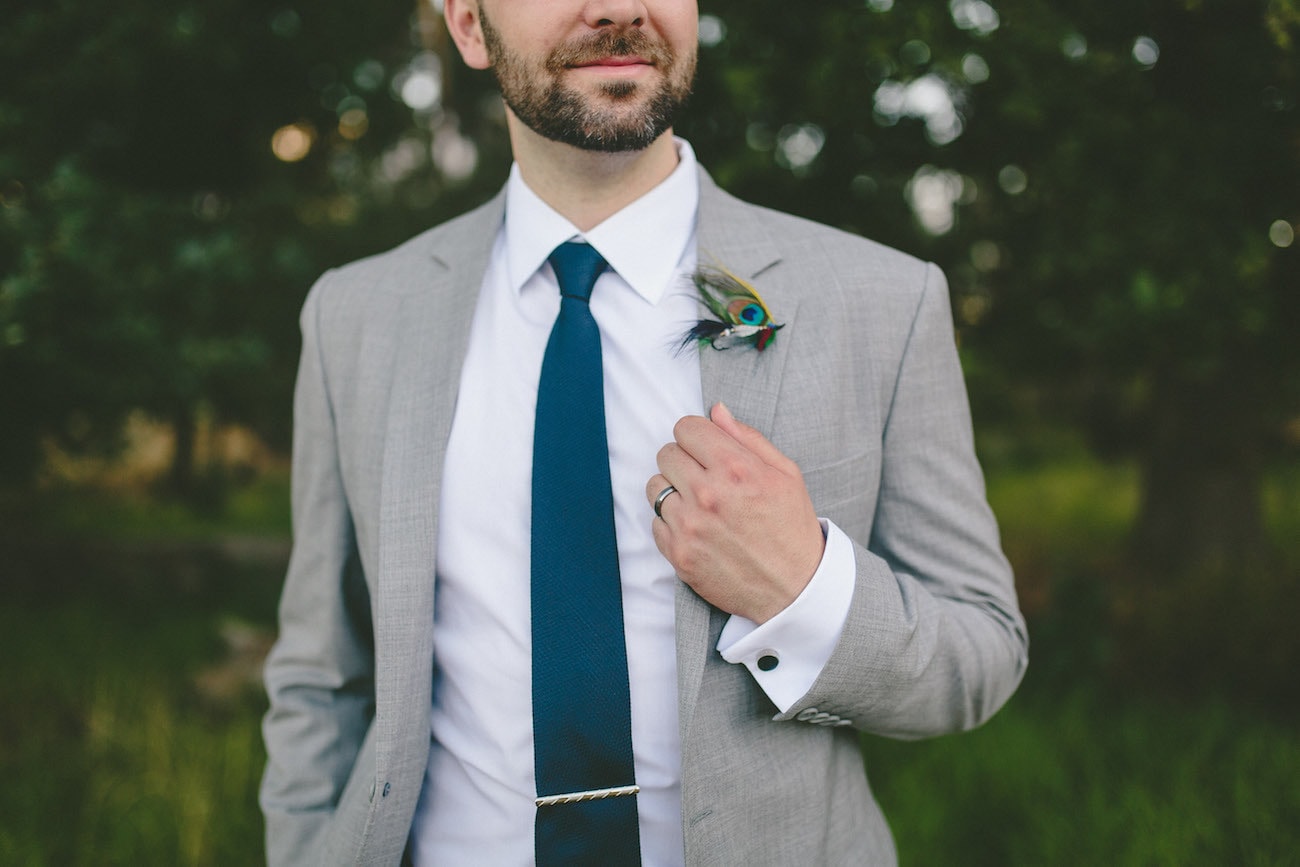 The Dress
My wedding gown was a dream! I knew I wanted something unique and I liked interesting beading. I found my dress at an Inbal Dror trunk show in Calgary (Canada). It was unique and nothing like other dresses I had tried on before. I absolutely loved it! I chose to have a long veil with it and it rounded everything off perfectly.
The Bridesmaids
The bridesmaid dresses were probably the easiest part of our wedding. My only request was that they be navy blue. We found them in the first store that we walked into and the dress fit both of my sisters beautifully.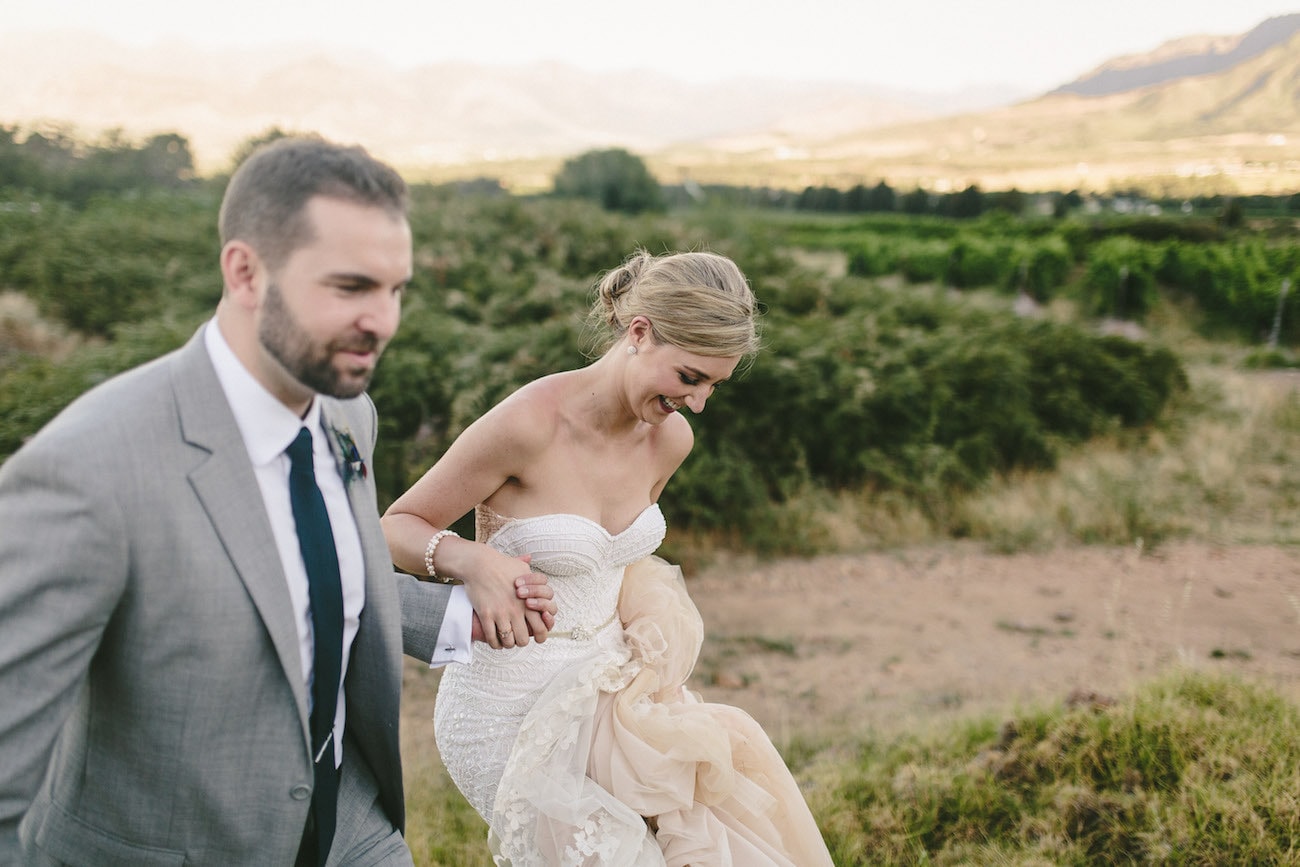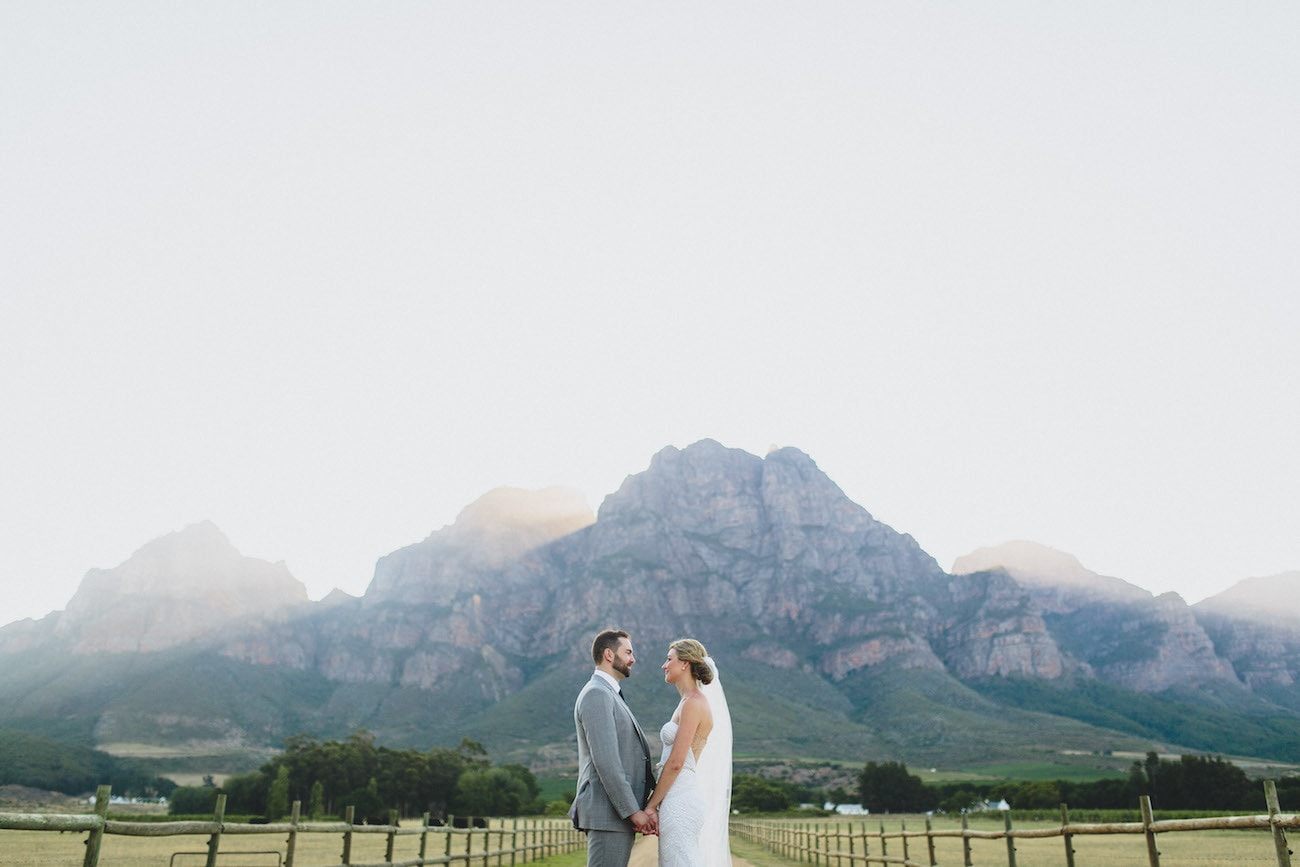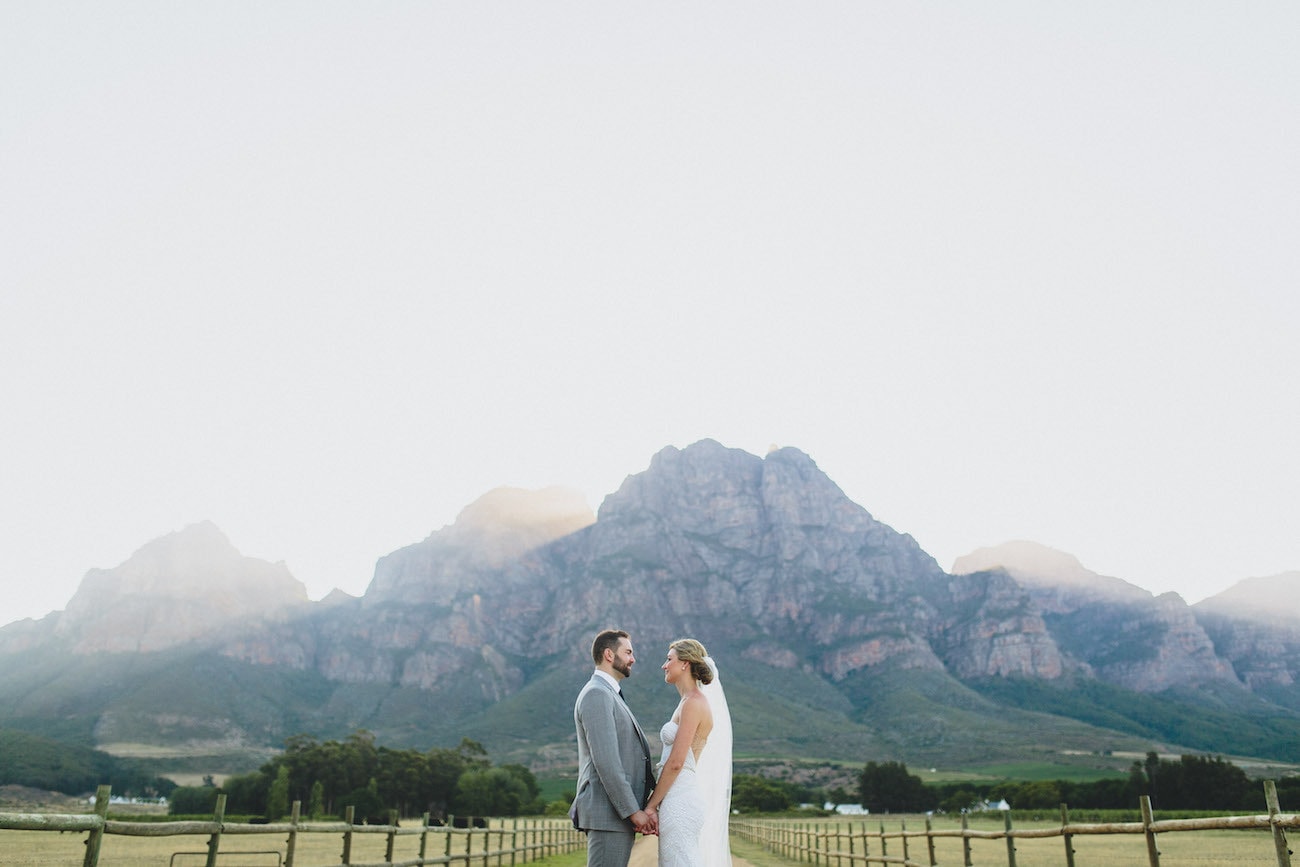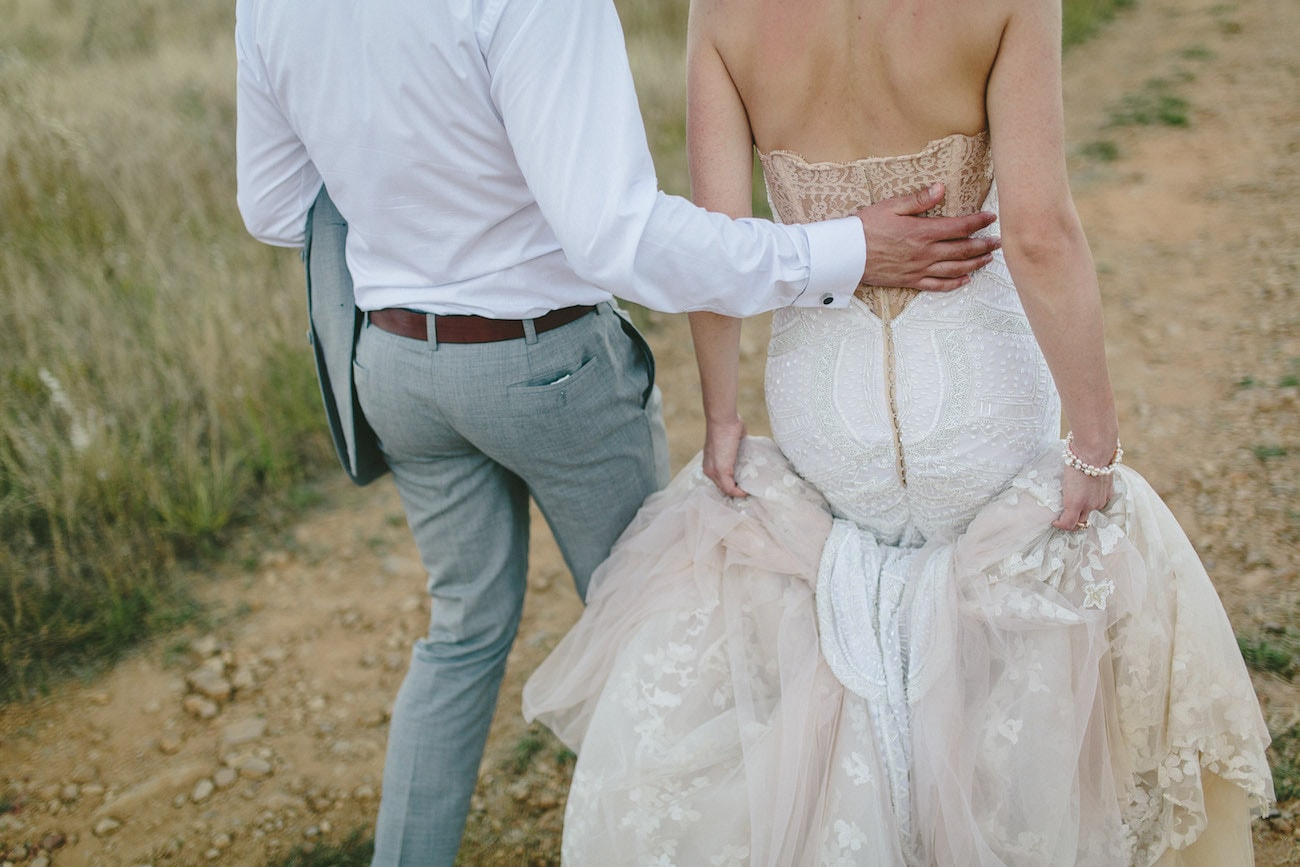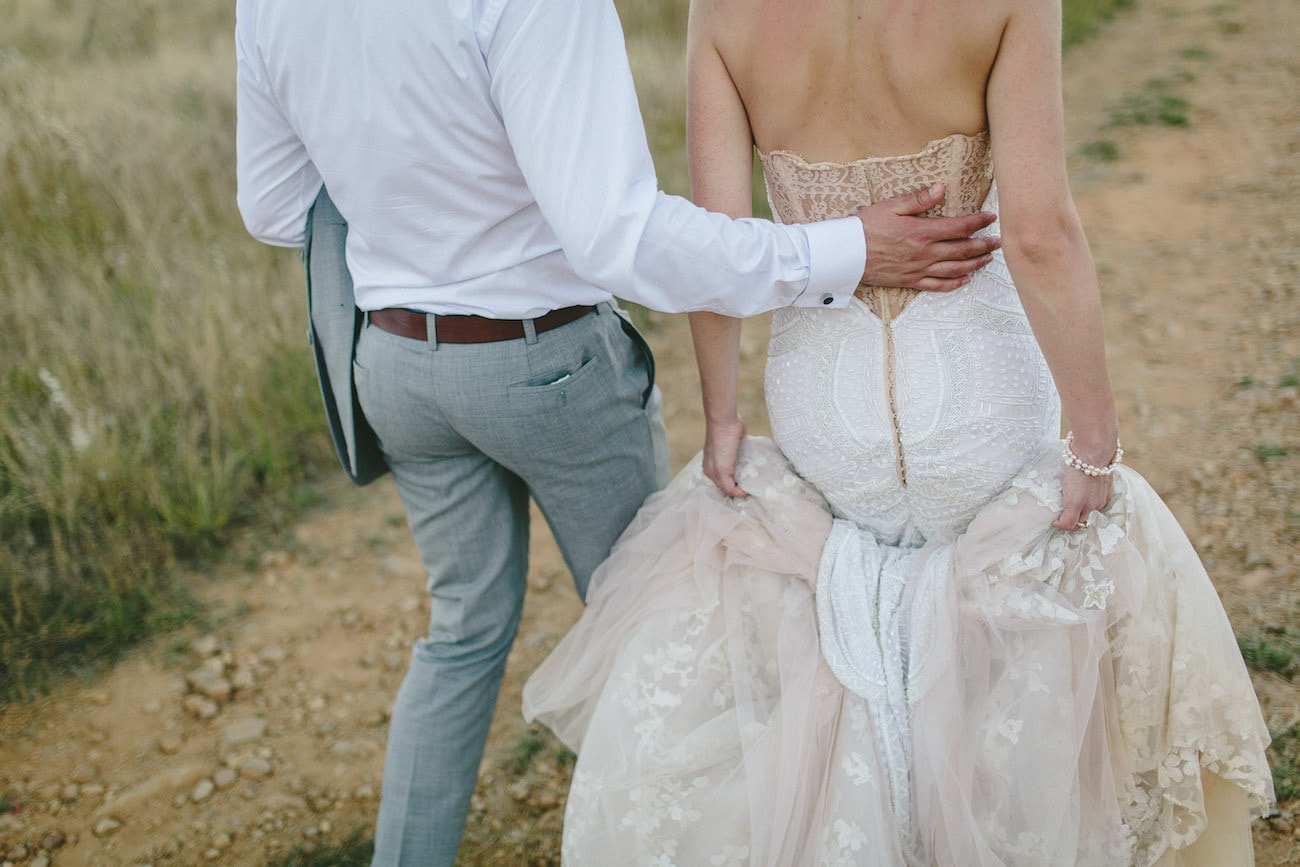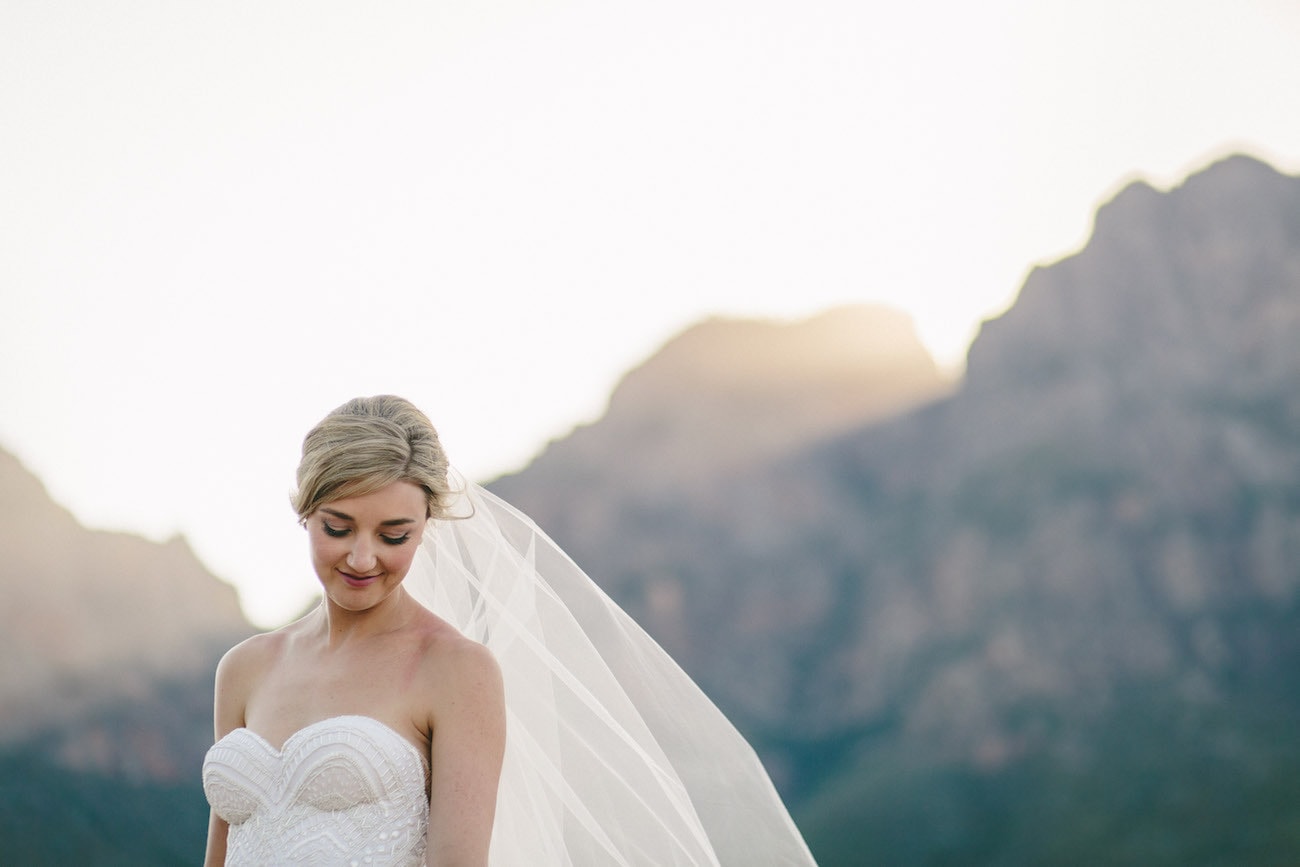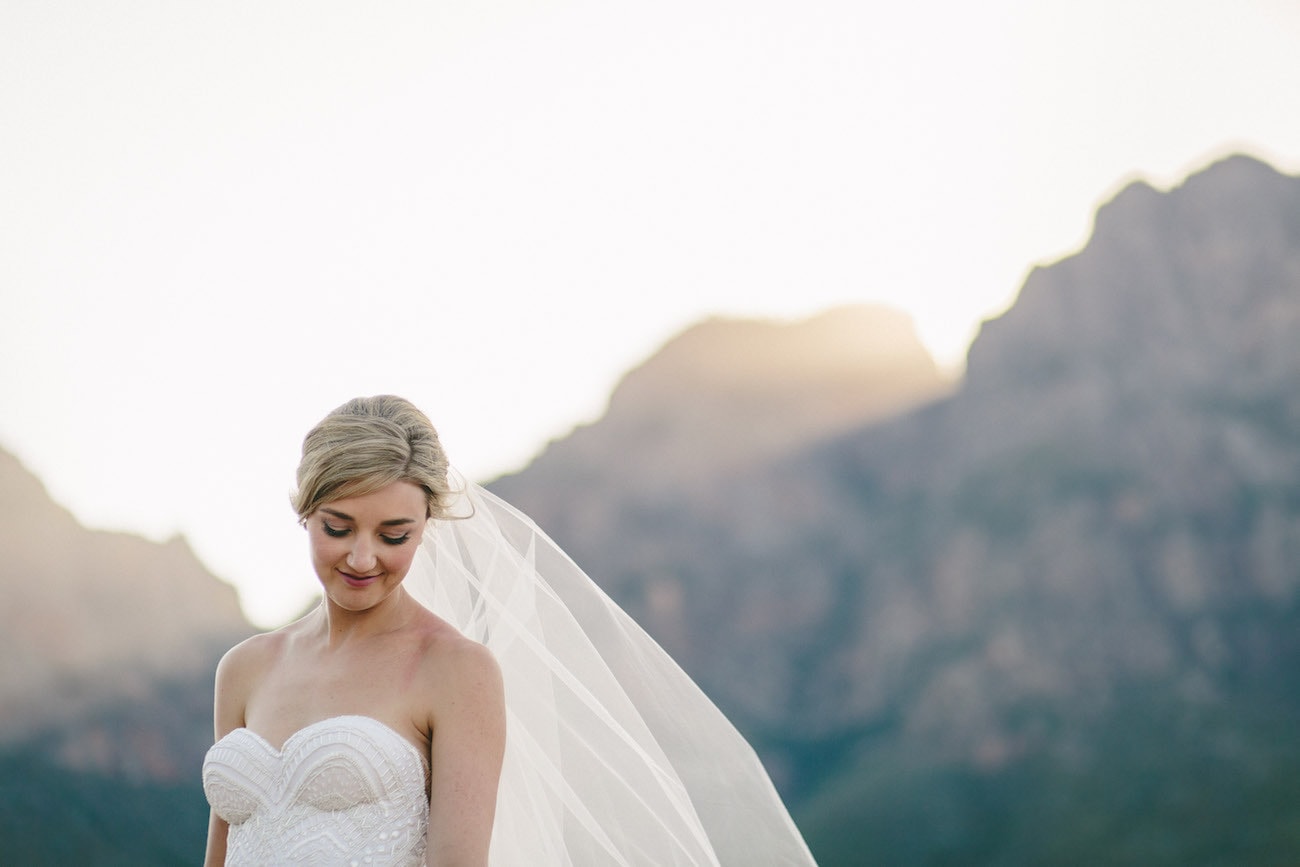 Memorable Moments
I have a couple of memorable moments but the most special part of the day was my brother officiating our wedding. He prepared a beautiful message about a God-centered marriage and I will never forget the words he shared with us.
Proudly South African Details
The meal was definitely the most South African detail we had. We had delicious Gemsbok steaks as the main. We also had a cheese and biltong late night snack.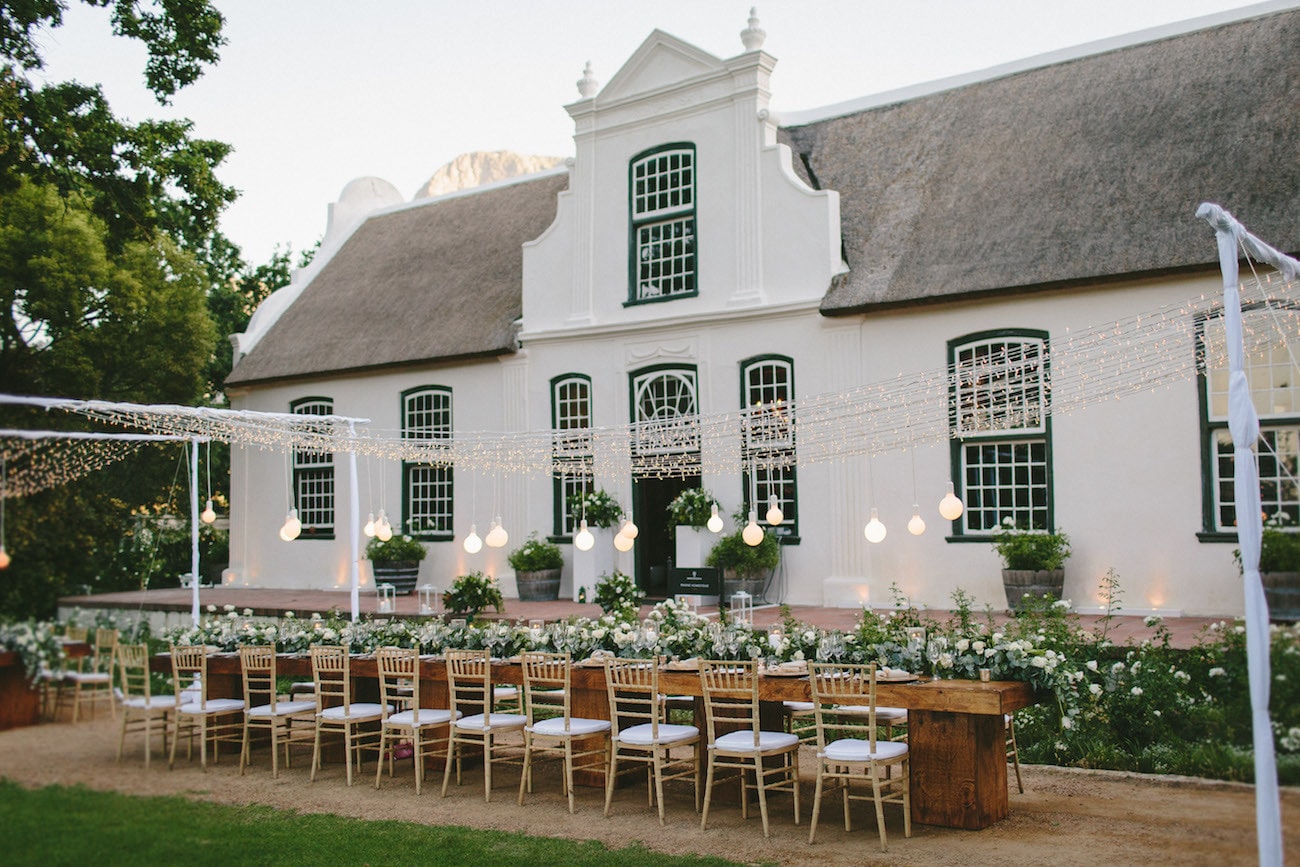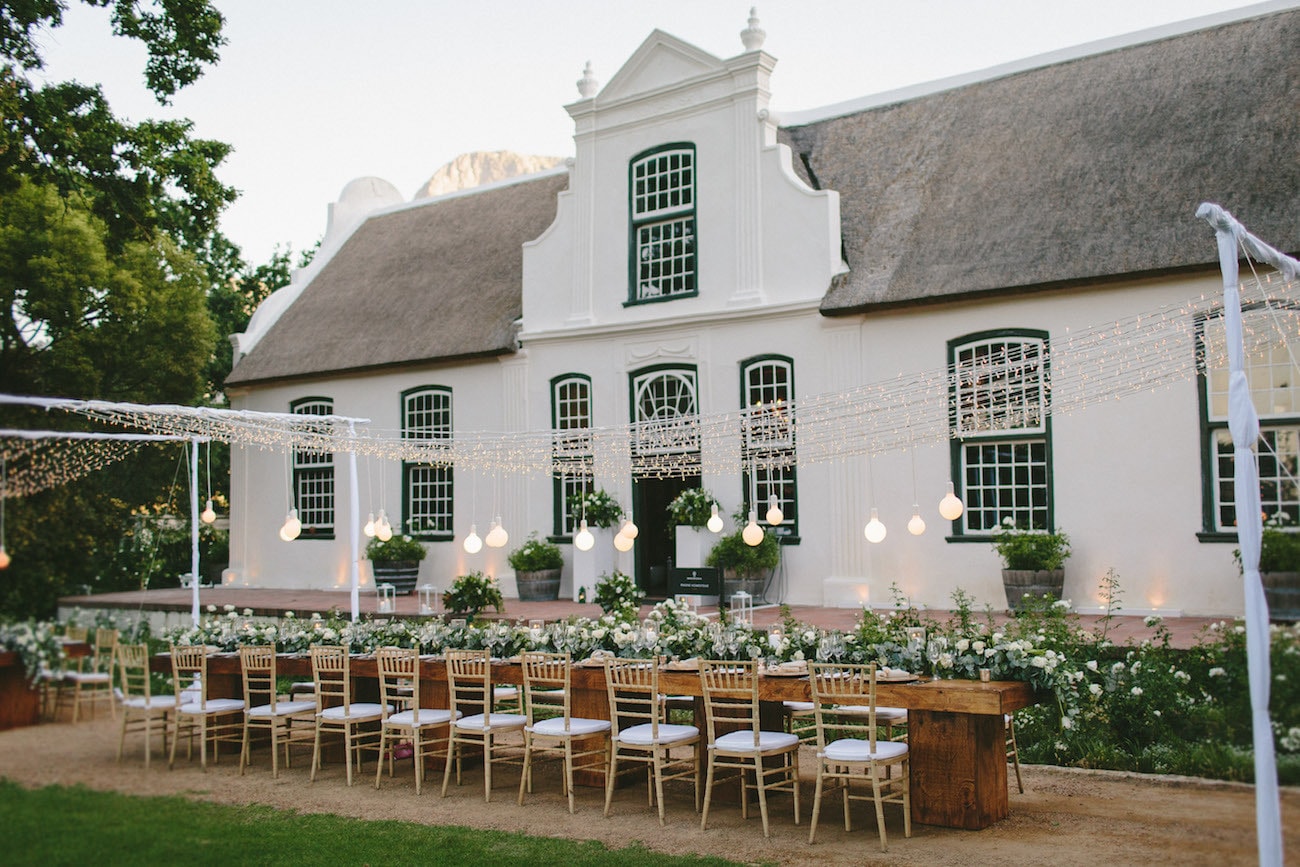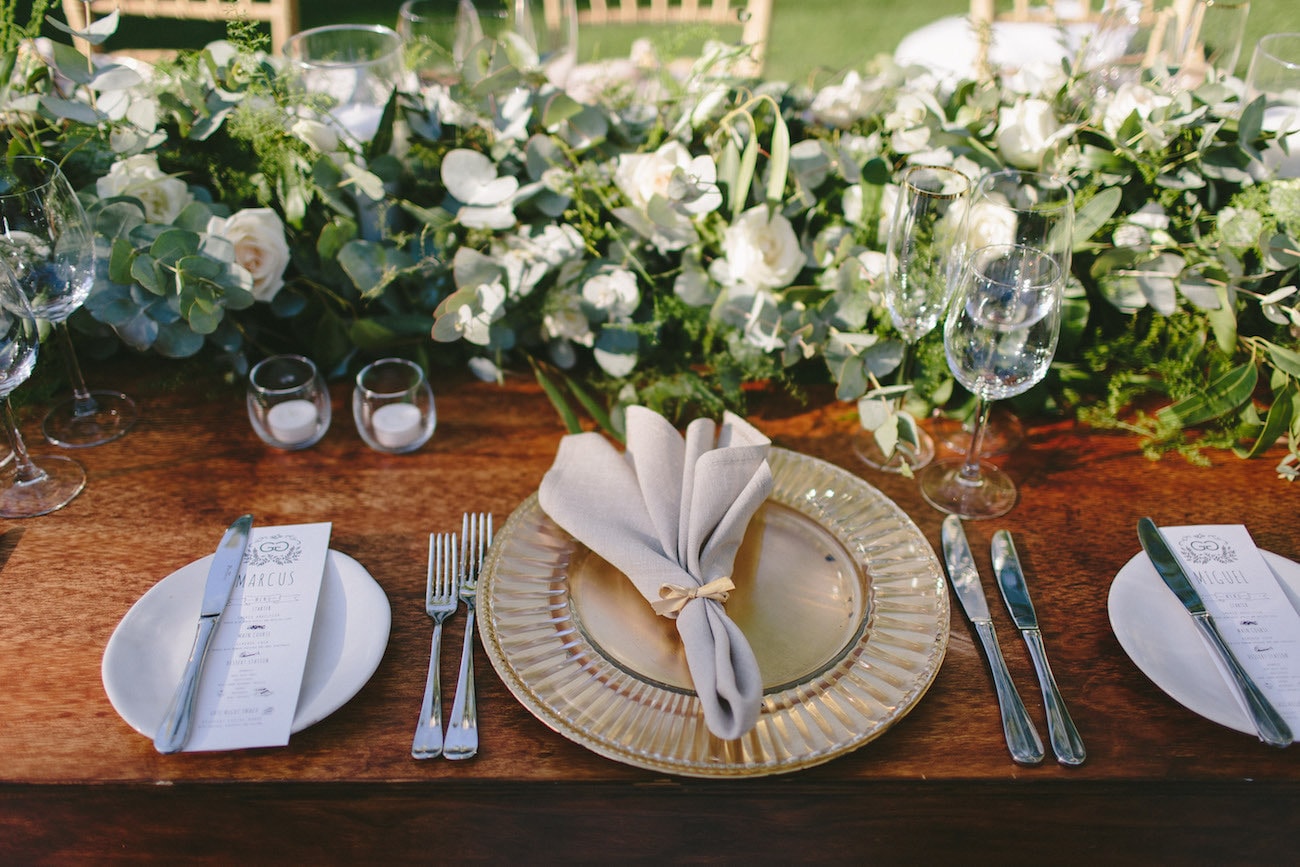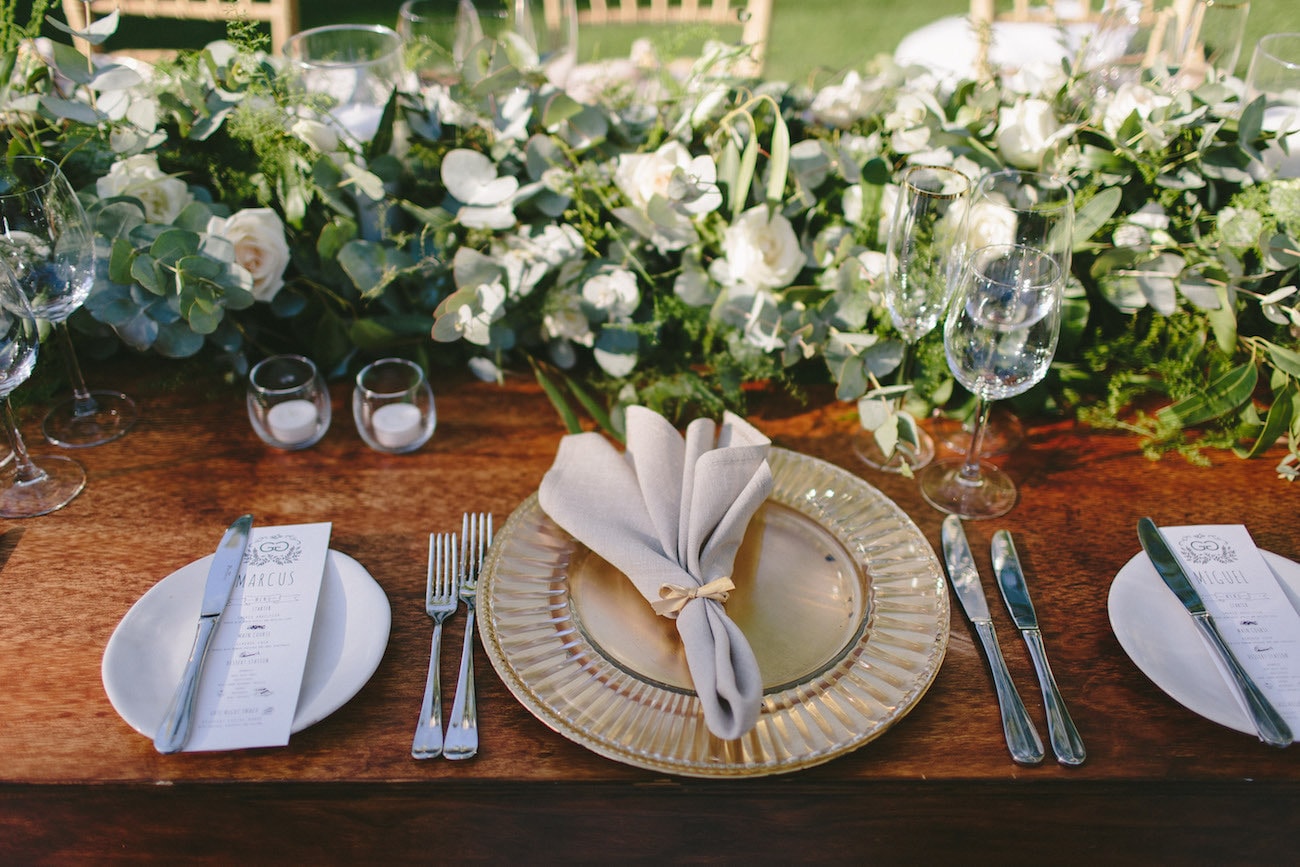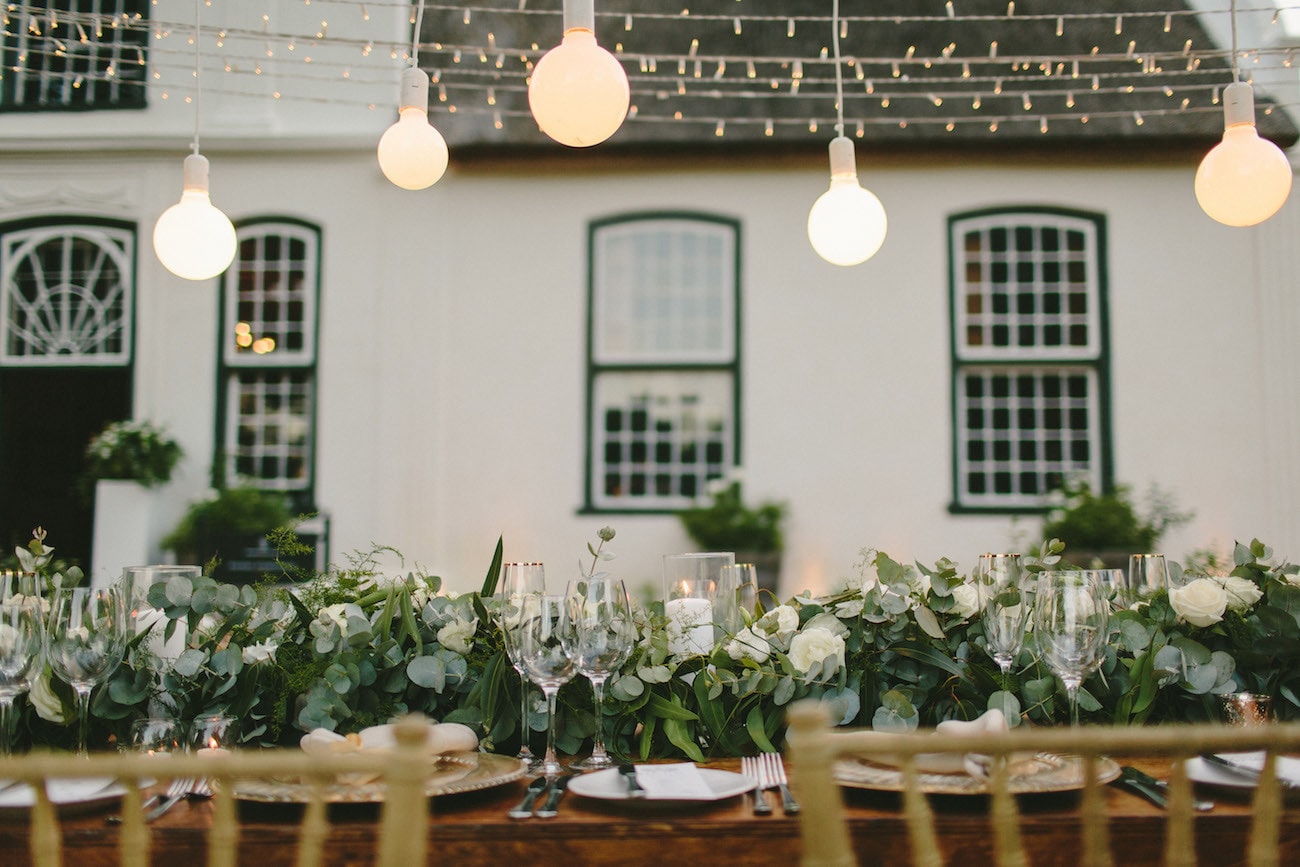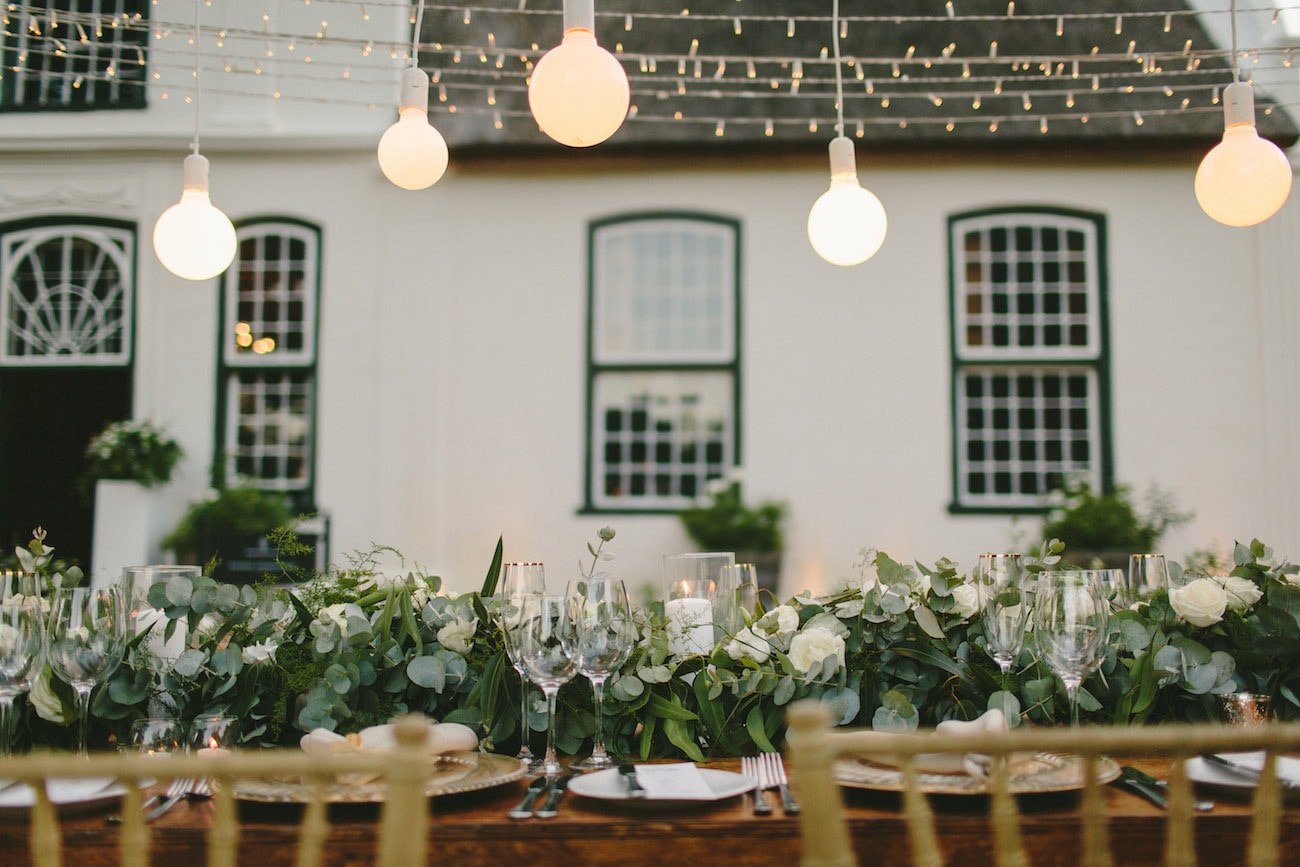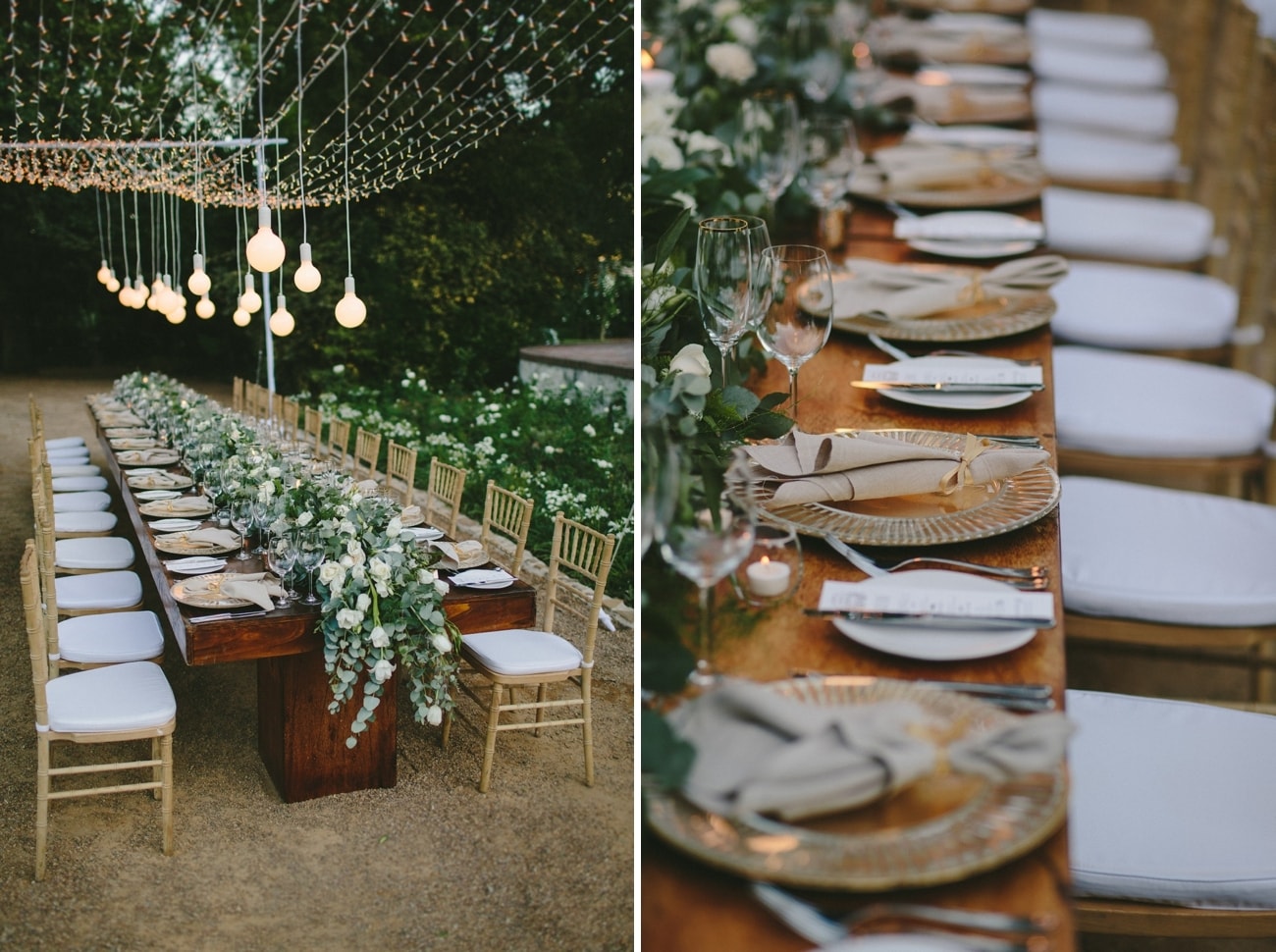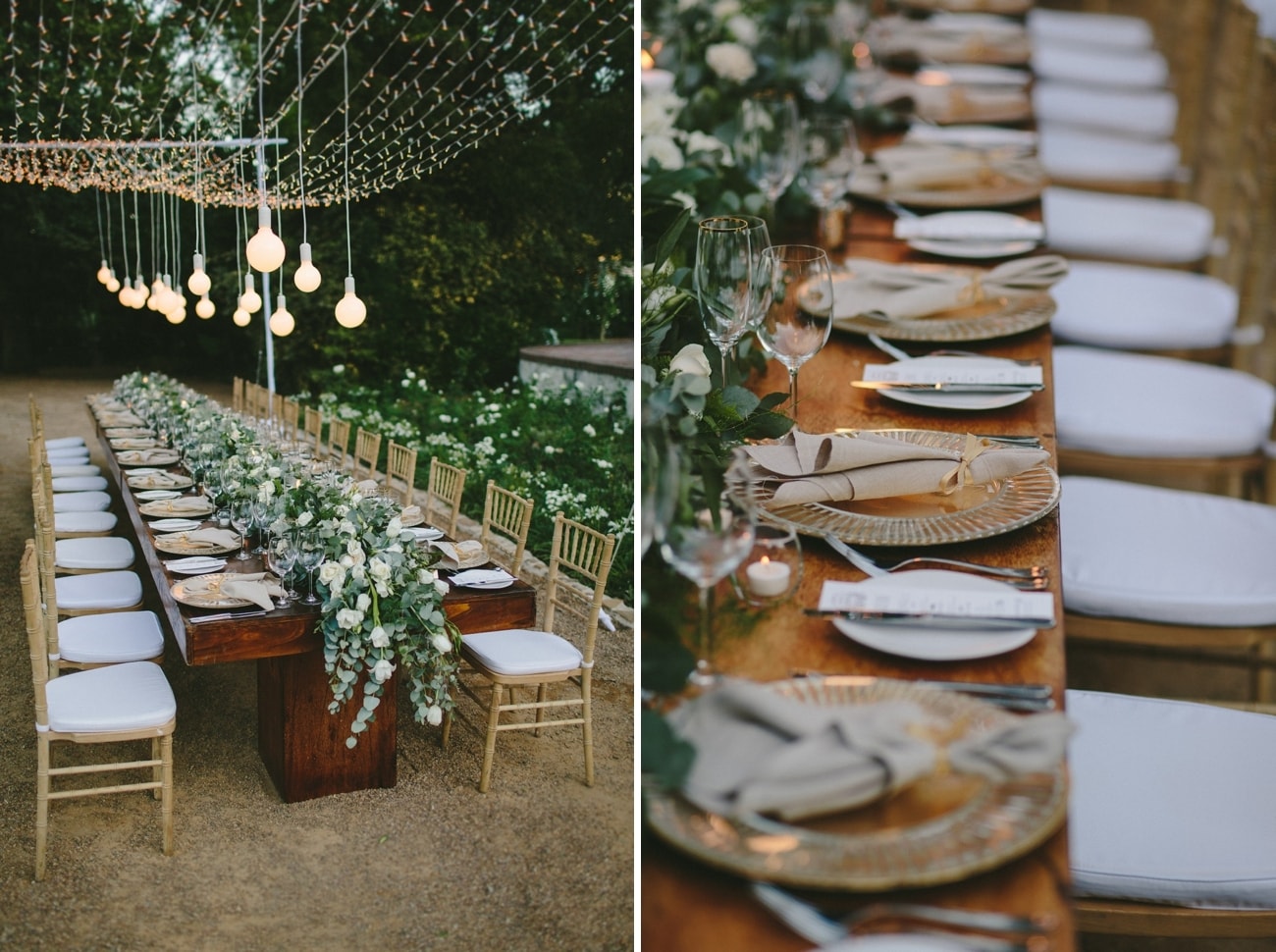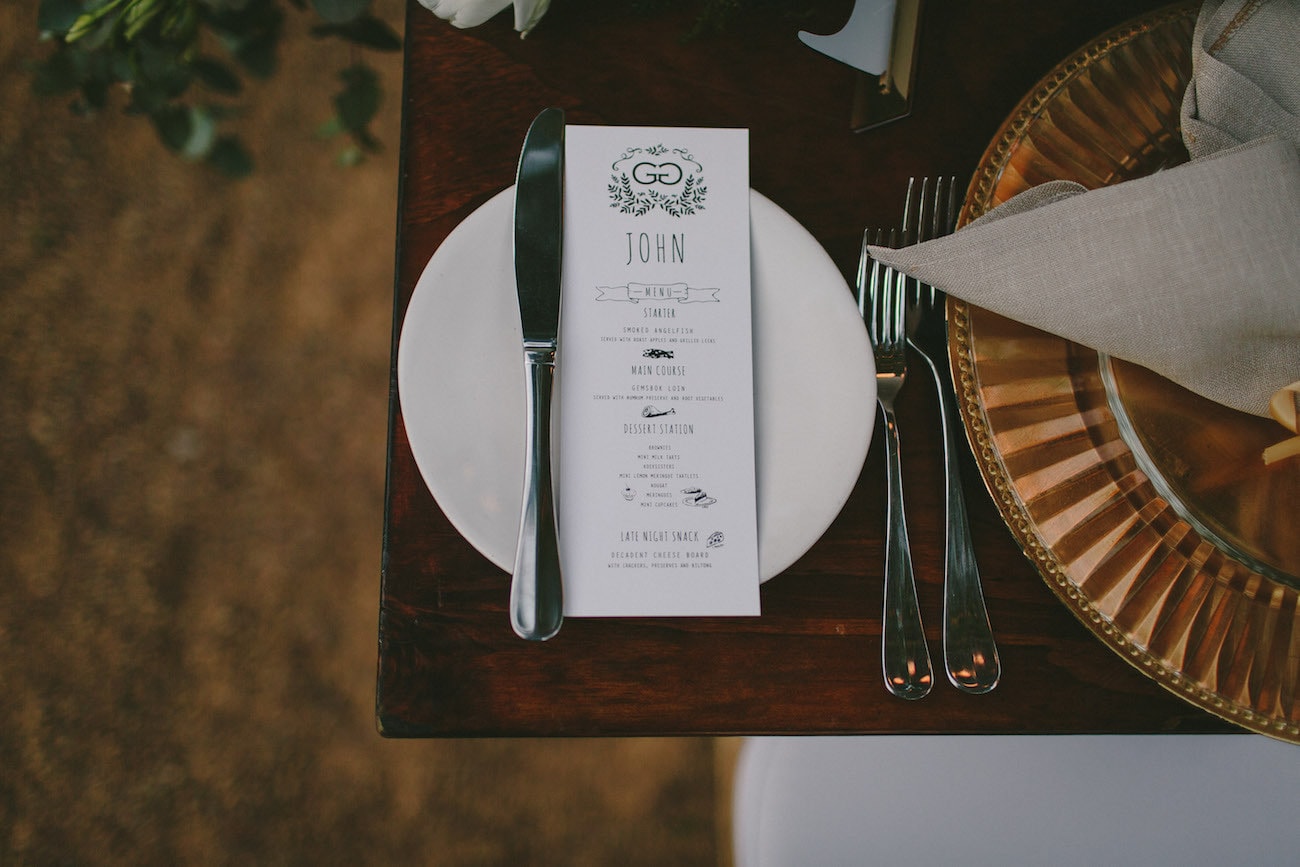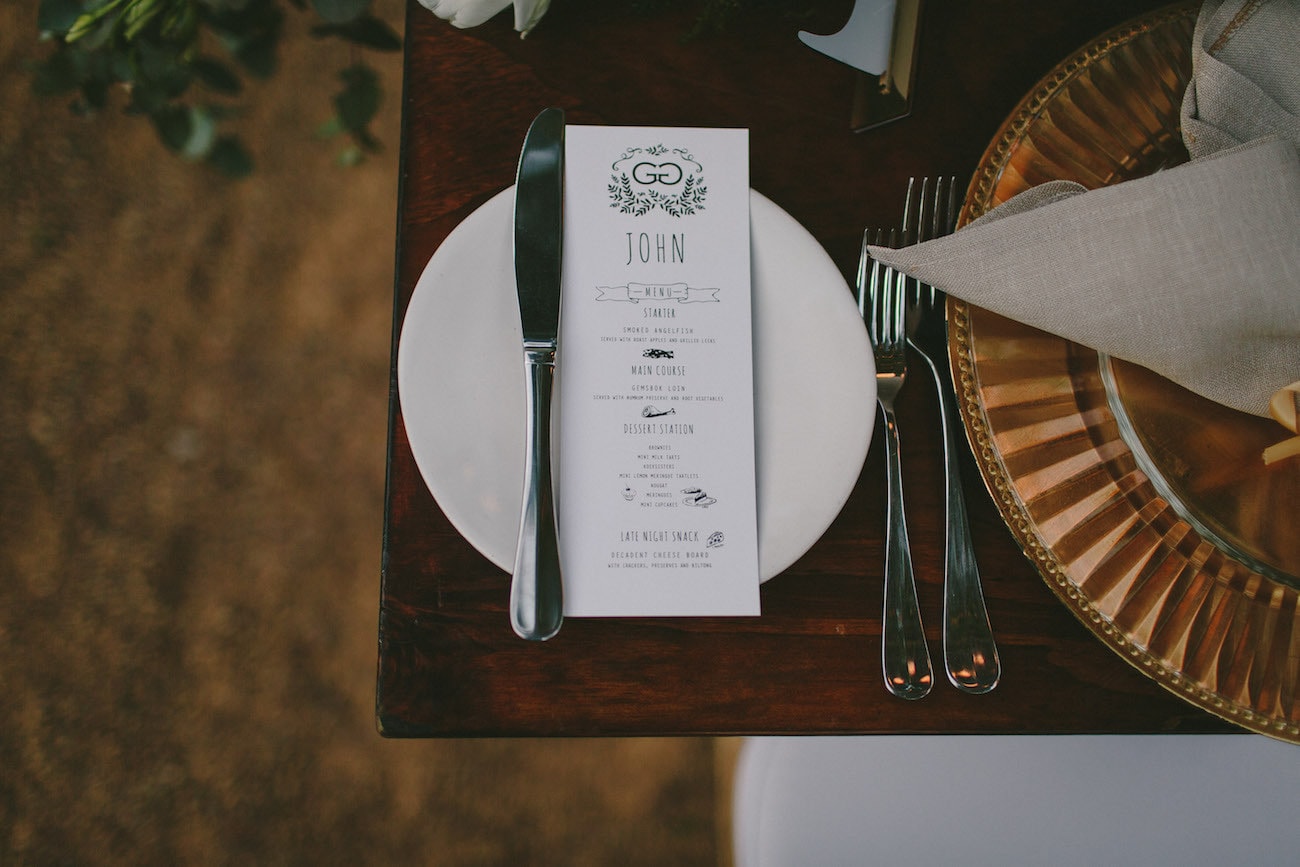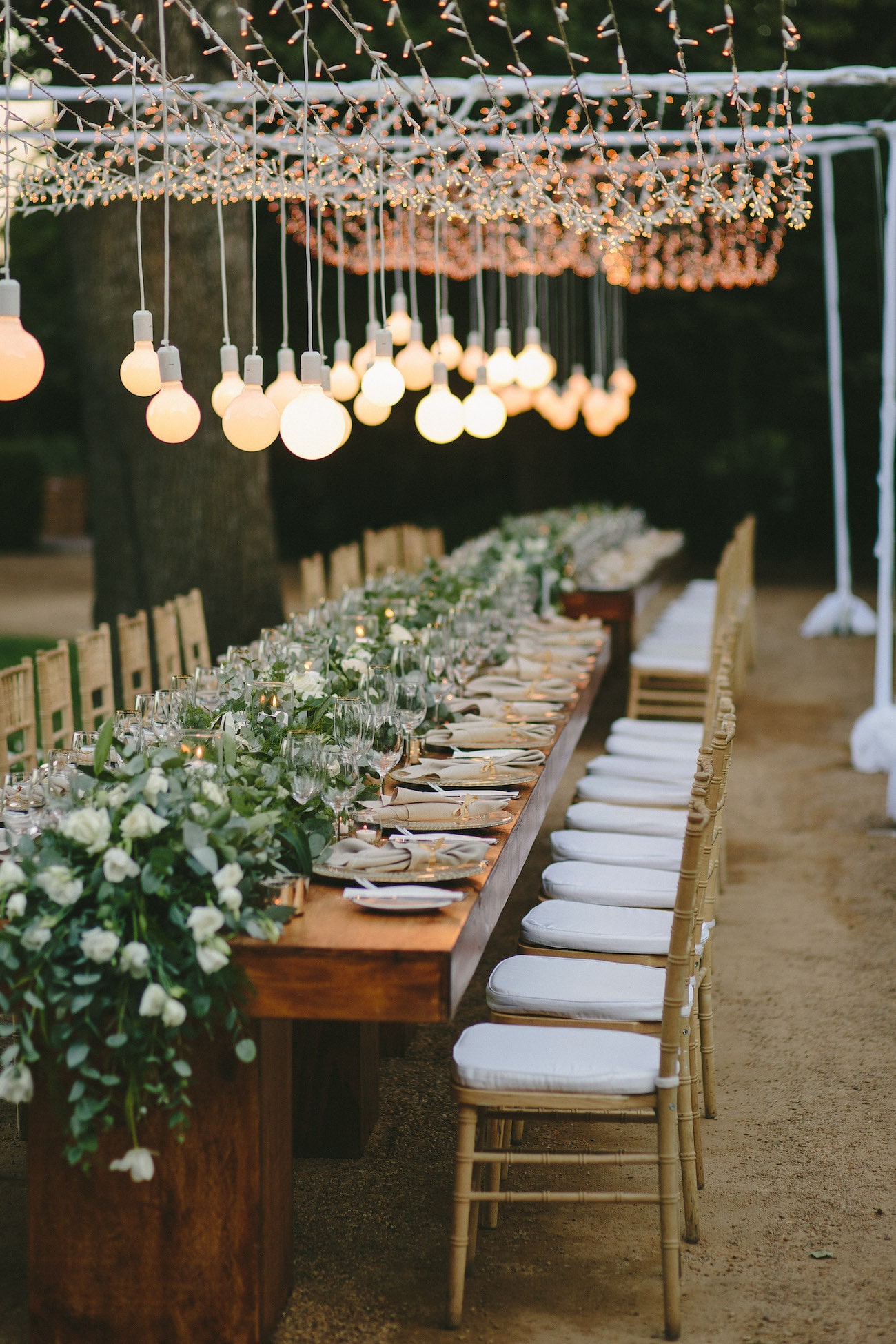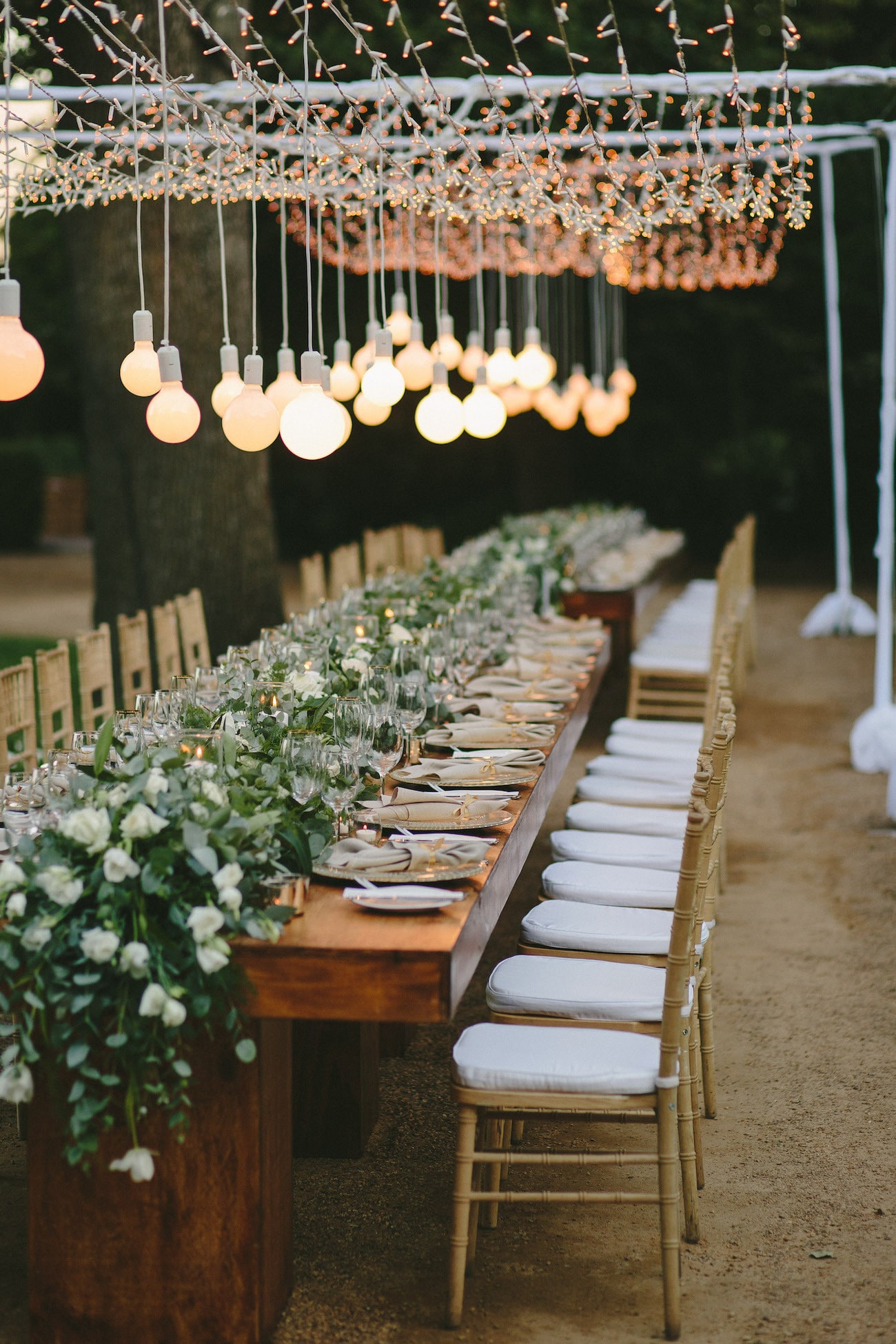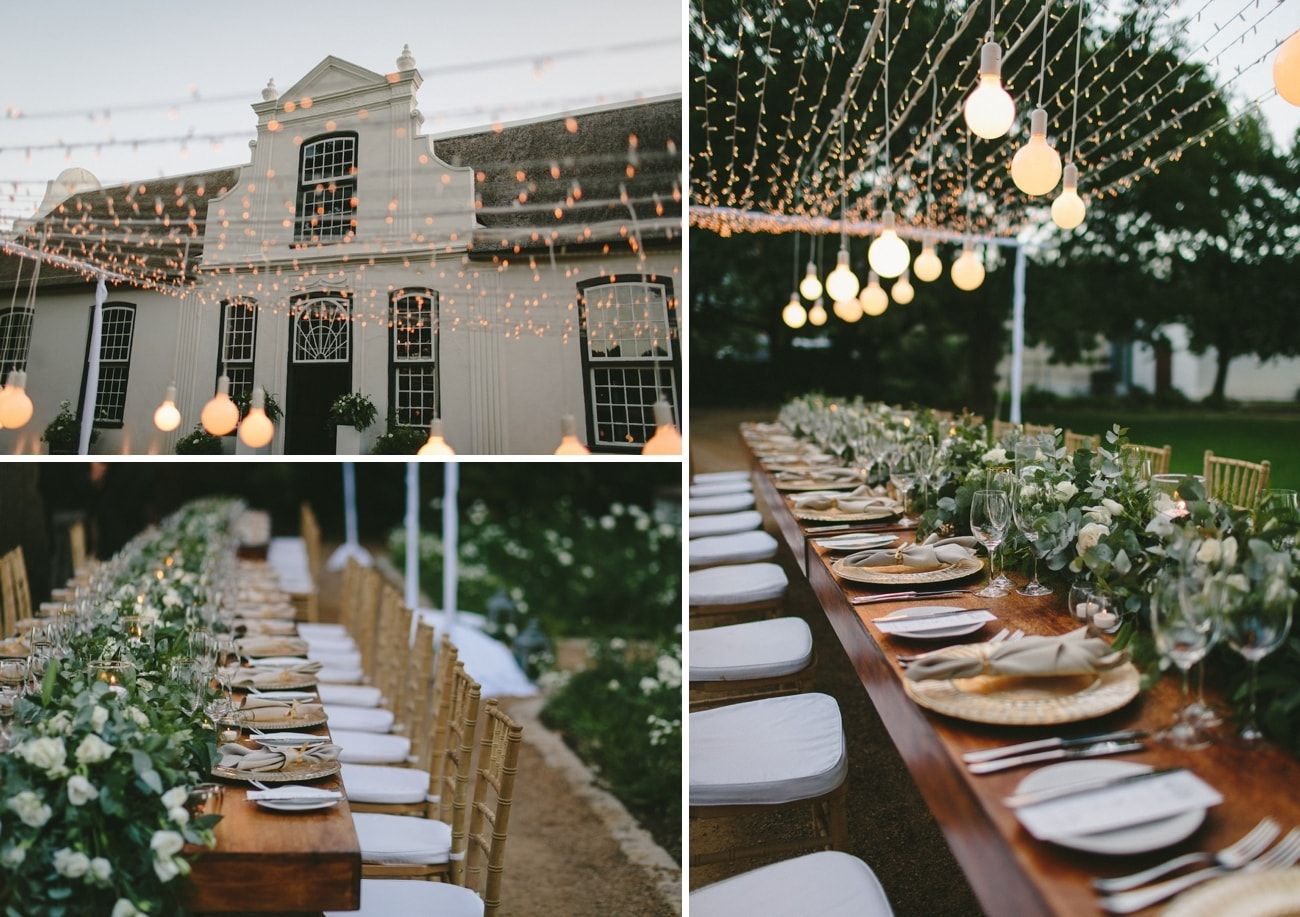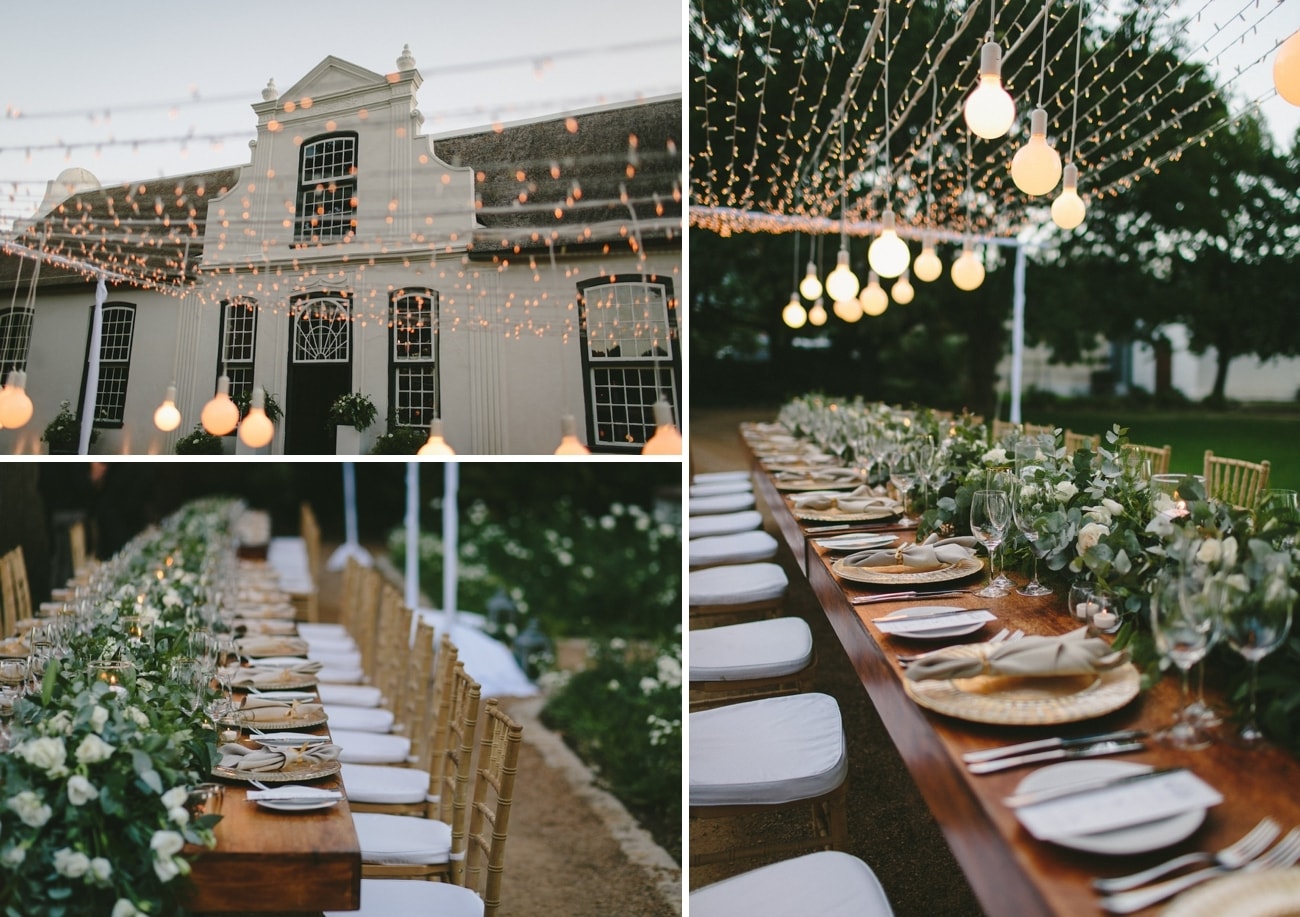 The Wedding Day
The morning of our wedding was so relaxing, and this is exactly what I wanted. I spent the morning visiting with my sisters and friends before getting ready for the wedding. It was incredibly hot that day so the pre-wedding preparations also included some skinny dipping. Gabe spent the morning fishing with his friends and even managed to take a nap before the ceremony.
Advice for Future Brides & Grooms
The best decision we made when planning our wedding was to get Wedding Concepts involved in the wedding planning! I have planned a few events in the past and I knew how cumbersome all the little details could be. I wanted to make sure that our wedding day was stress–free for both Gabe and I and that we could just enjoy all the moments. The second-best decision we made was to hire a photographer we loved! There is nothing more important than finding a photographer who captures everything about your day. Kikitography was our photographer and they did an exceptional job. They spent ten hours in 40 degree heat taking photos without any complaints and I am so incredibly grateful. My last bit of advice is to ask guests not to have their cameras out taking pictures all the time. You've hired a professional and they should just sit back and enjoy the day with you.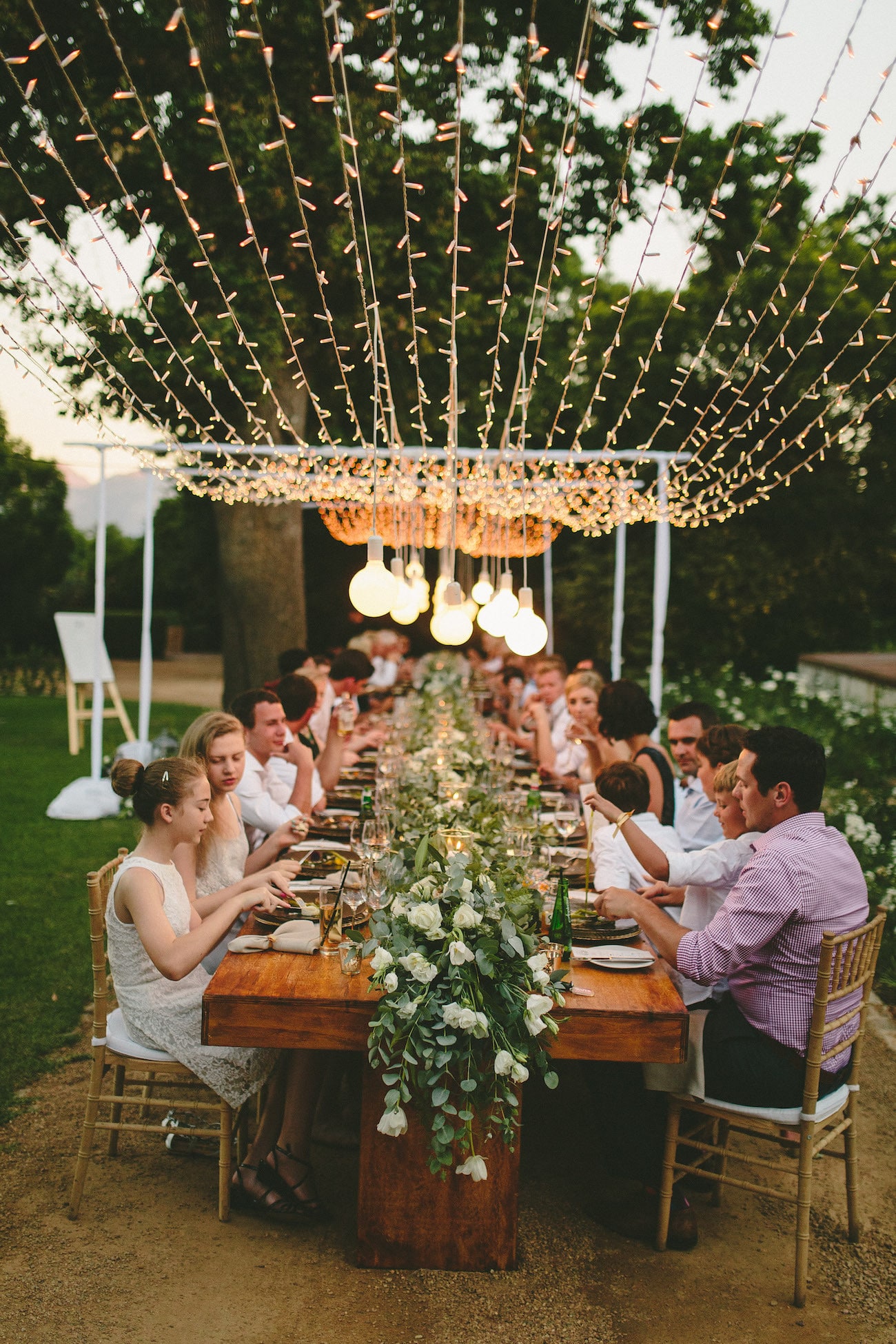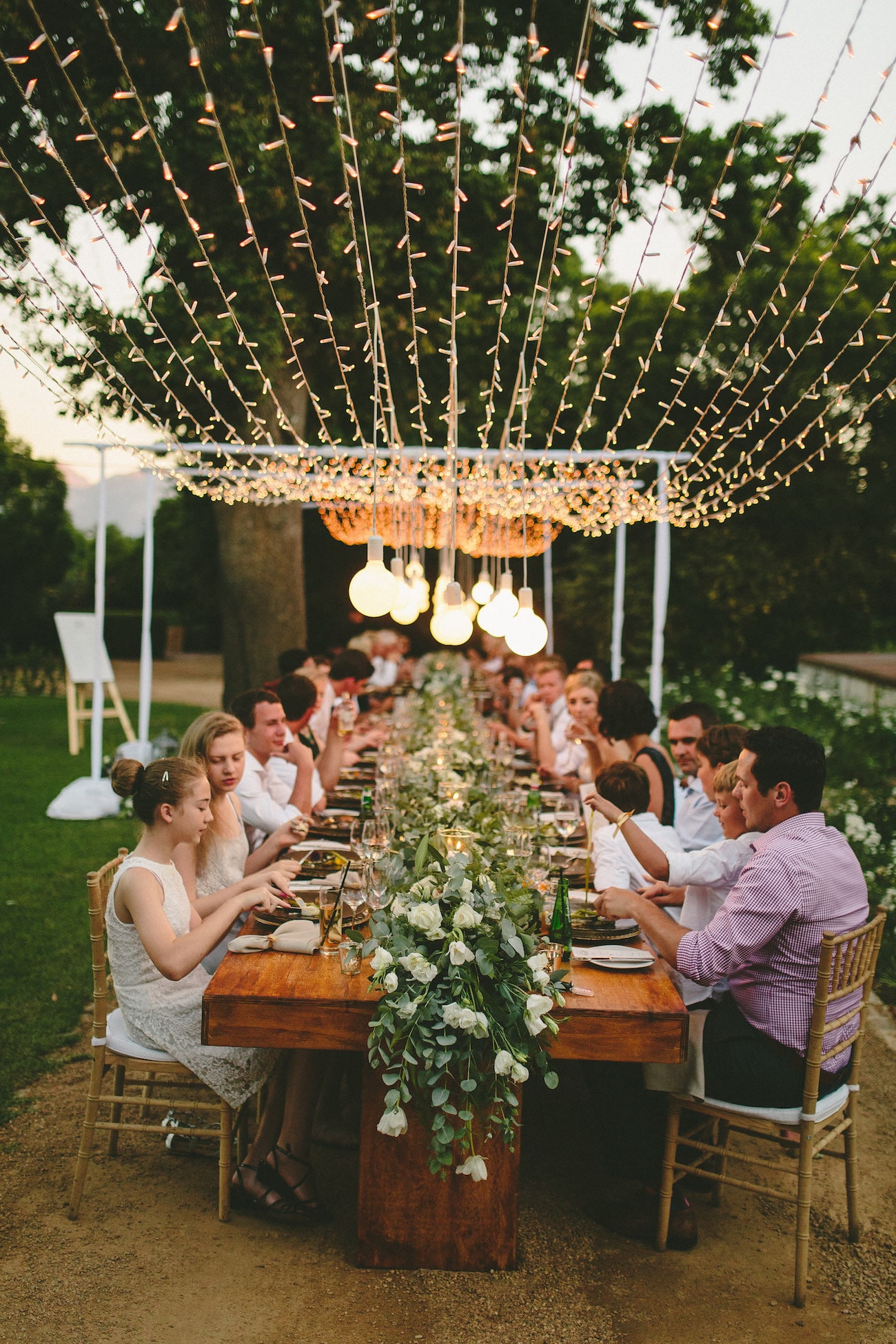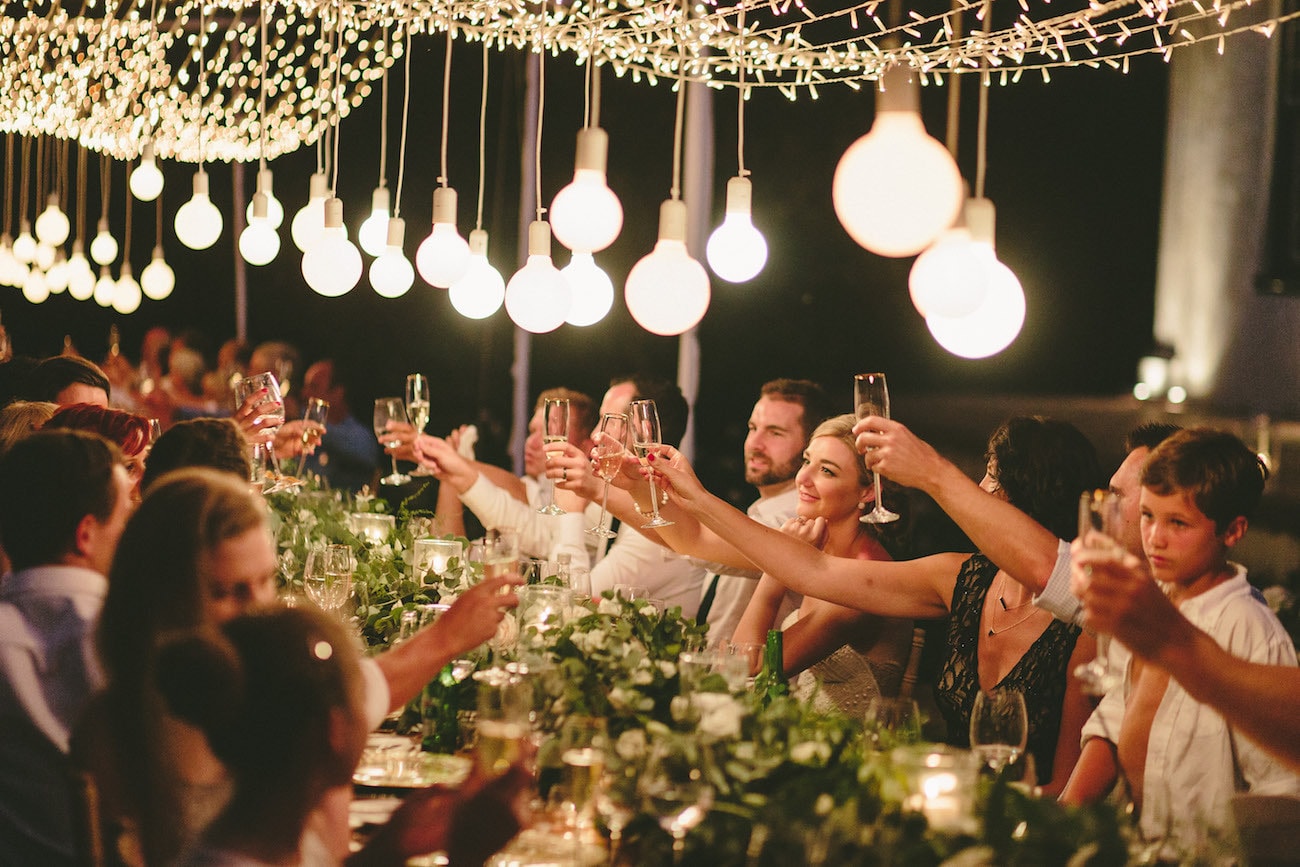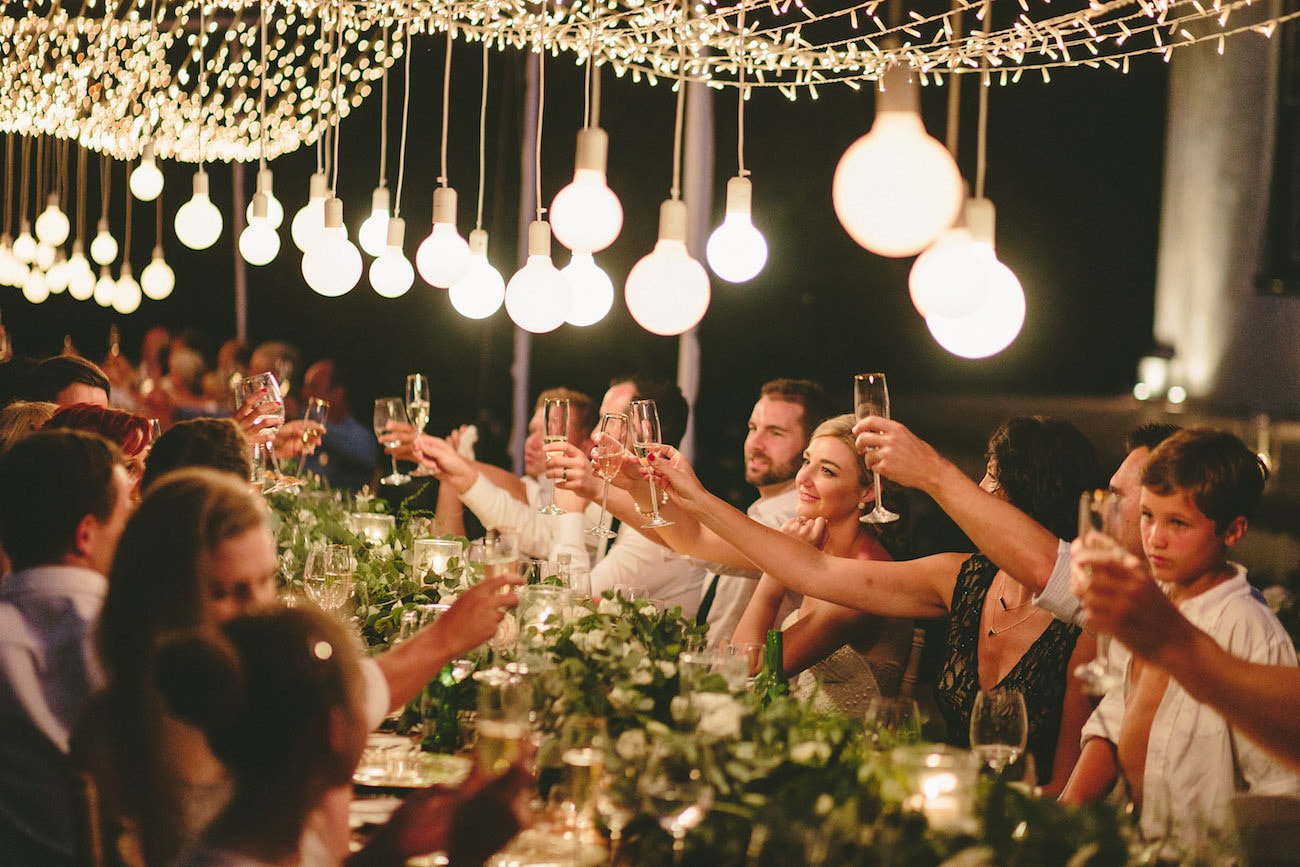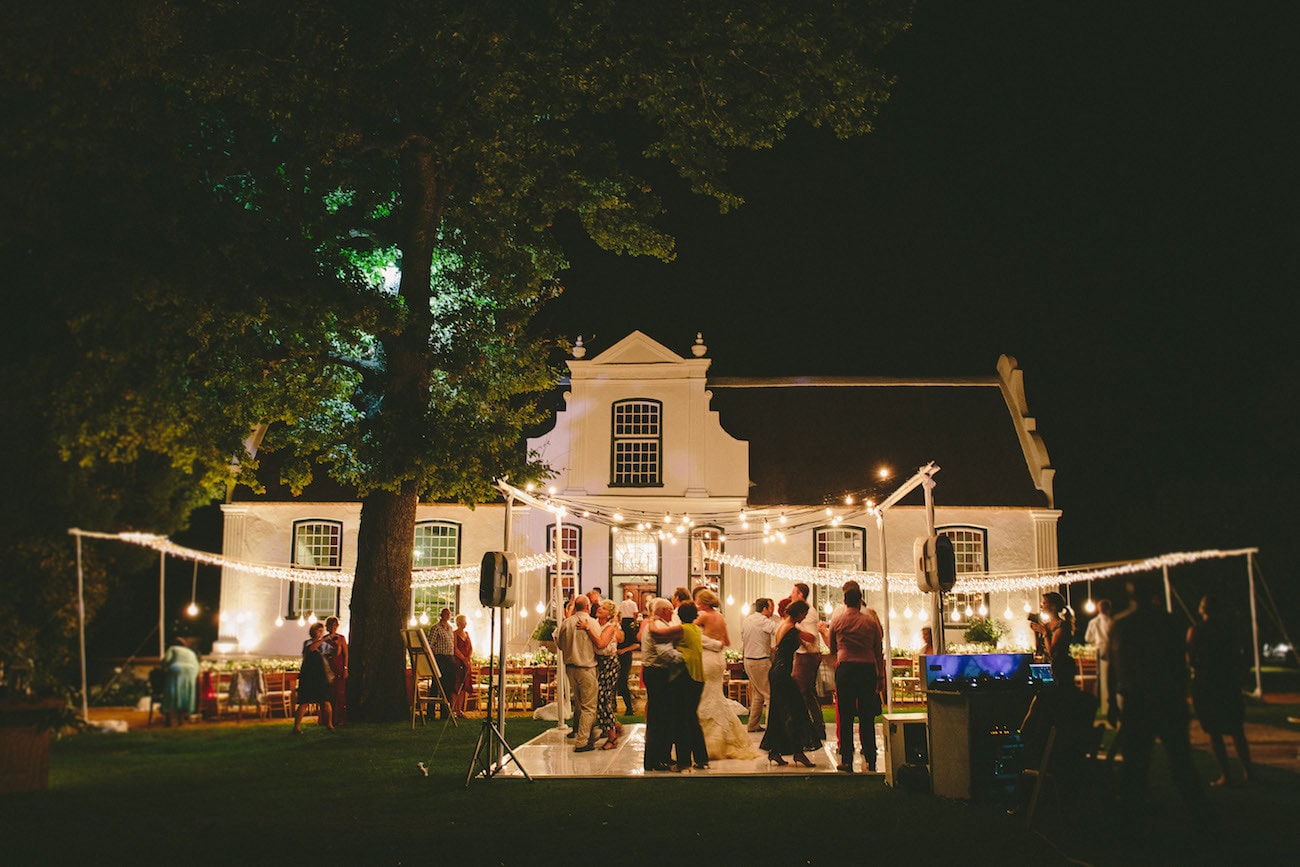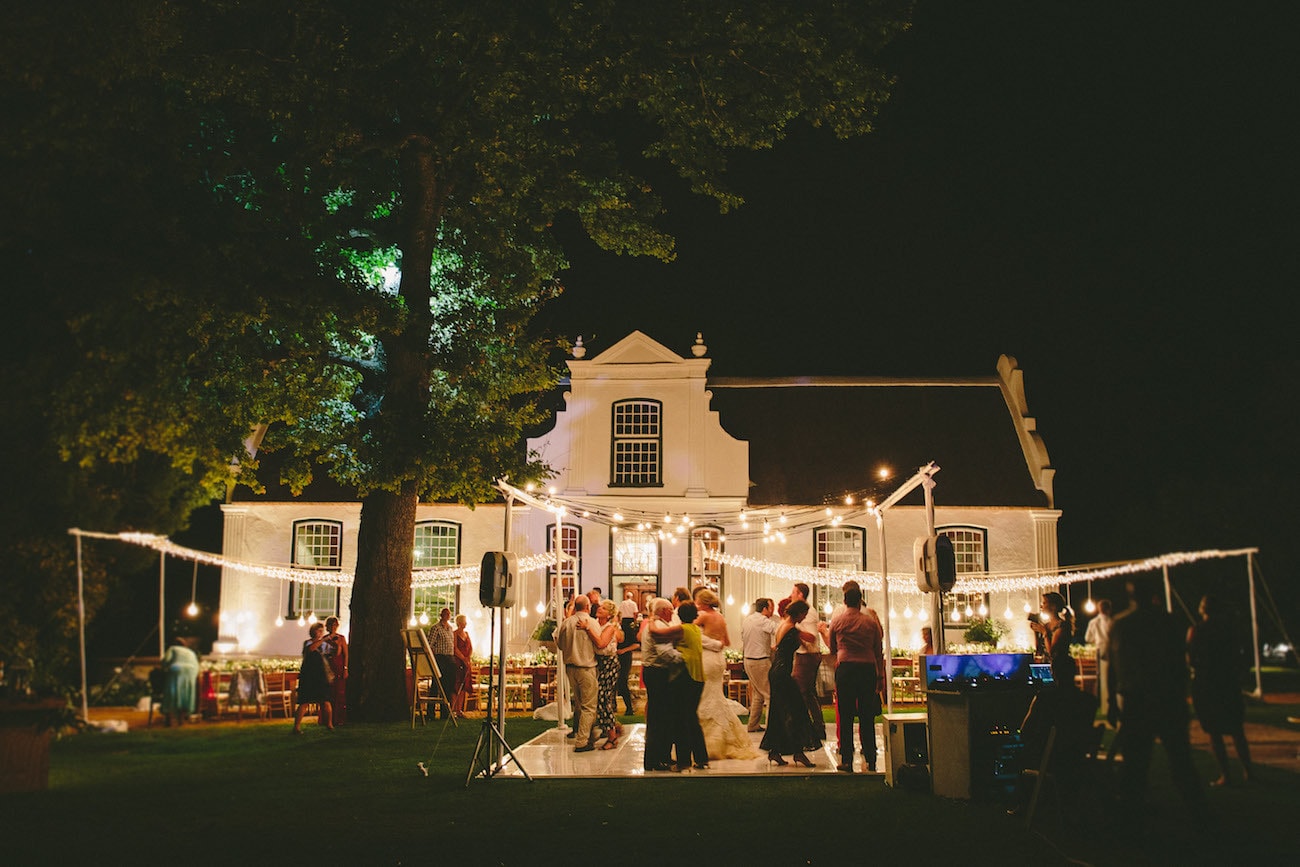 You can see more from this wedding on the Wedding Concepts blog.
SERVICE PROVIDERS
Wedding design & coordination: Megan Kenney for Wedding Concepts | Photography: Kikitography | Venue & catering: Boschendal Wine Farm, The Rhone Homestead | Flowers: Opus | Lighting & structural elements: Something Different | Stationery: Lara's Designs | Bride's dress: Inbal Dror | Hair & makeup: Corlé Barnard


Save