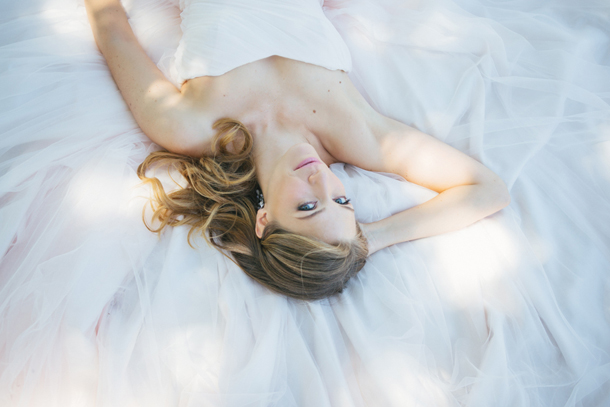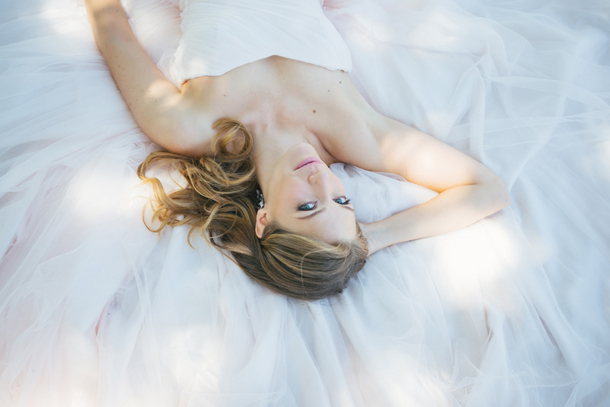 You know, some of my favourite stories about weddings are about the way that a community (even in our modern age) responds to a bride and groom – for example, the way all the neighbours came out to wave my friend Lee off to her ceremony, for example, or the spontaneous applause that can greet a couple during a city photo shoot. It reminds me of the way that in a European village wedding, the bride and groom might walk from church to reception with their guests following behind and strangers cheering them on – a happy and triumphant parade. Today's wedding reminds me of that spirit a lot – you can almost feel the sense of community at Sarah and Kyle's wedding in these lovely pictures by Marli Koen, as well as the couple's togetherness as they see each other for the first look and couple shoot, greet their guests, collect their waiting retinue, and walk down the aisle together. Their friends and family surround them, leaning in to hear their words of love, and afterwards, under the leafy shade on South Africa's oldest wine estate, there's the fluttering of fans, the drinking of wine, and the joy of a love story long in the making come to fruition. I also have to mention how much I love the lasercut pincushion proteas in coloured bottles on each table – such a sweet and fun South African detail!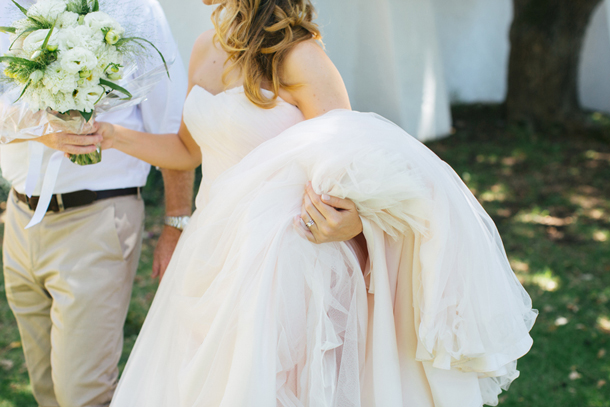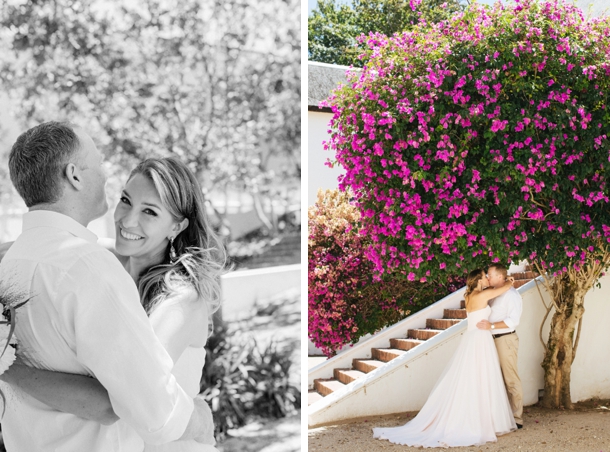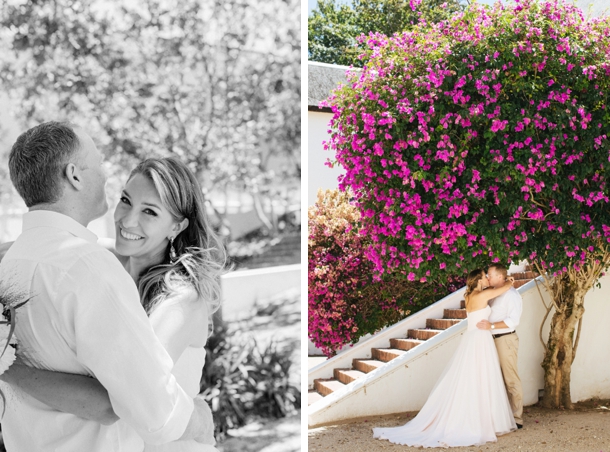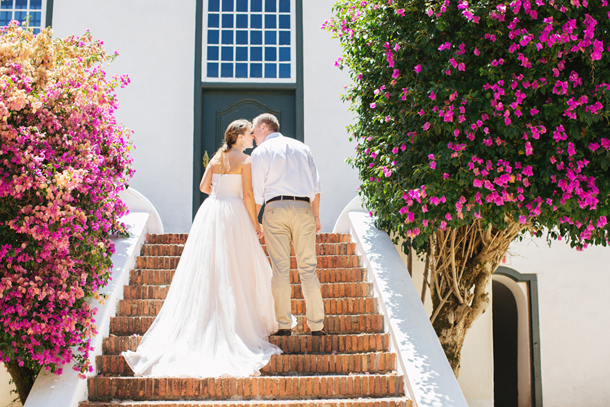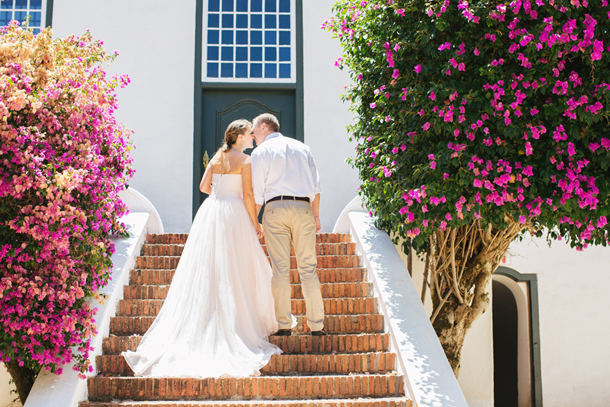 Love Story
Kyle and I have the same godfather. His mom and my mom were both bridesmaids at my Aunt's wedding in Fish Hoek, Cape Town, back in the day before either of us were even born. Although we had always lived in separate cities and countries, we were treated like distant cousins.
Although born in Cape Town, I'd been living in the UK since 1987, and in 2007, on one of Kyle's family visits to England, we shared a kiss or two and went on a date to the Tate Modern Art Gallery in London. Kyle returned to South Africa a week later, and our romance only picked up again in April 2013 when I was invited to his sister's wedding near Durban. The day I arrived at Durban airport, Kyle asked if he could kiss me outside a bar in Salt Rock. We wanted to spend more time together, so we spent the following week together in Cape Town with friends and my cousin who I was traveling with. By the end of that week we had said we loved each other and agreed that I would move from London, and he would move from KZN to Cape Town where we would be together. Three months later, I had quit my job in London, found a new job in Cape Town, rented out my London studio flat and flown to South Africa to be with the man I wanted to be with forever. A month after that, Kyle proposed!
The Proposal
It was the Saturday before my birthday in August 2013, and Kyle said he wanted to treat me to a special day doing things that I love. So we got up early to go on a hike in Tokai Forest. In shorts and caps, as it was a hot day for a Cape Town winter, we worked our way up the mountainside to a lovely viewpoint of False Bay and beyond. Kyle asked if we could stop for a water break so we sat down on a tree stump. He said he loved me and I said I loved him too, then he asked if I would always love him. To which I said yes, and then he asked if I would marry him, whilst holding out a ring box in his shaking hands. I said yes and hugged him with tears welling up in my eyes. Then I asked to see the ring, which was a complete surprise and I was so pleased that I loved it and he had chosen it by himself. It was perfect.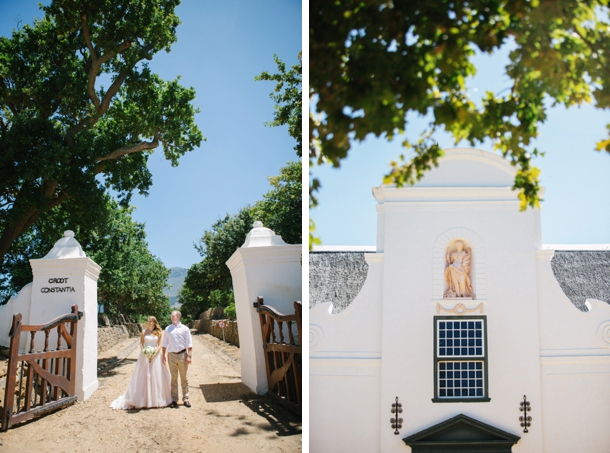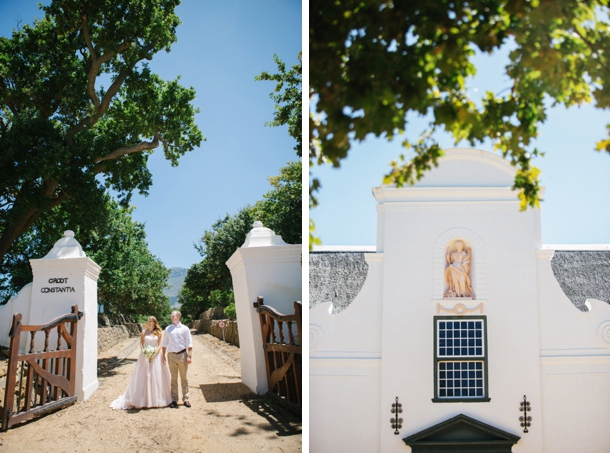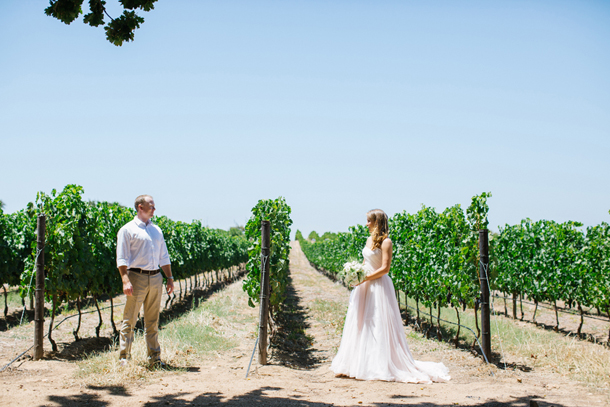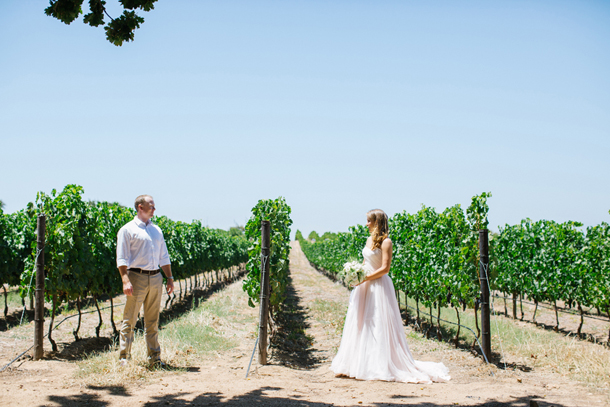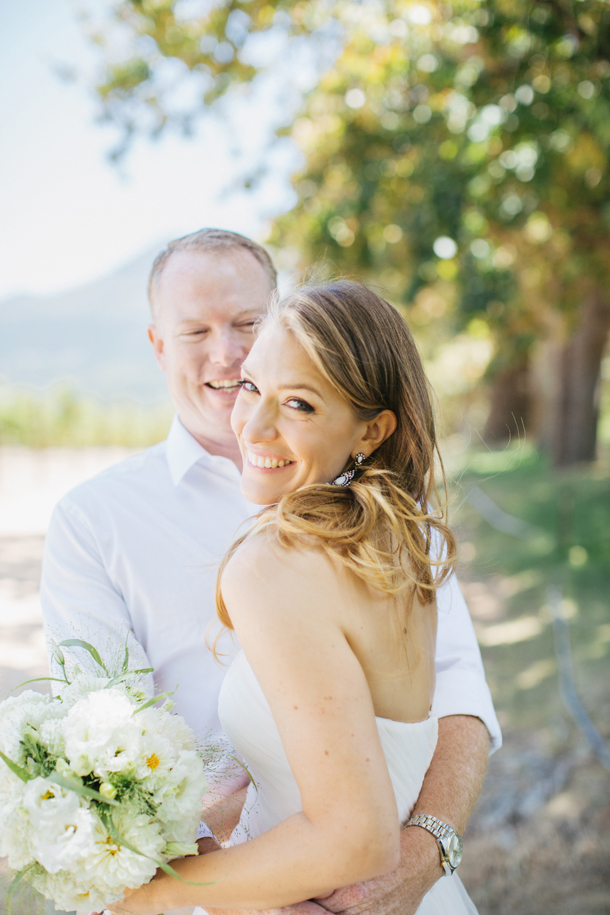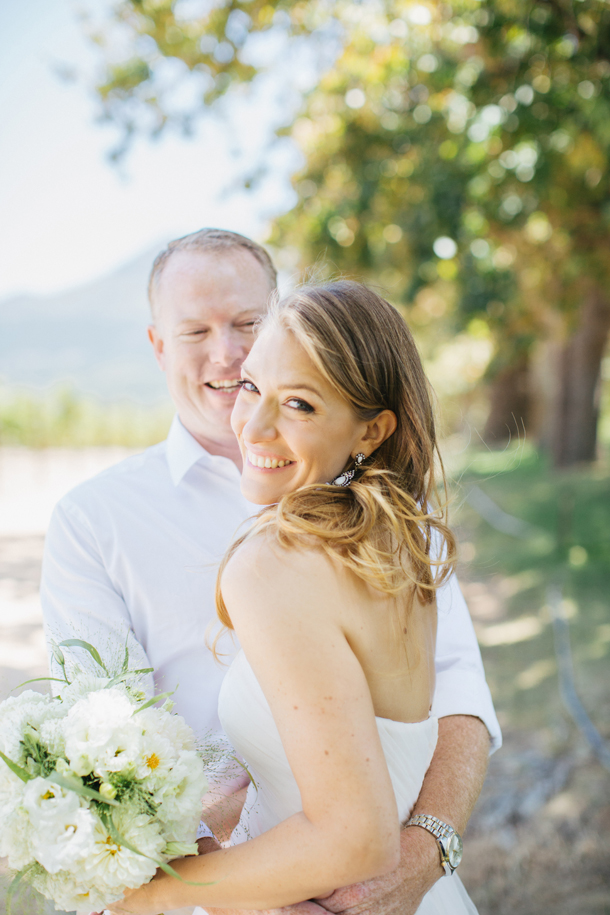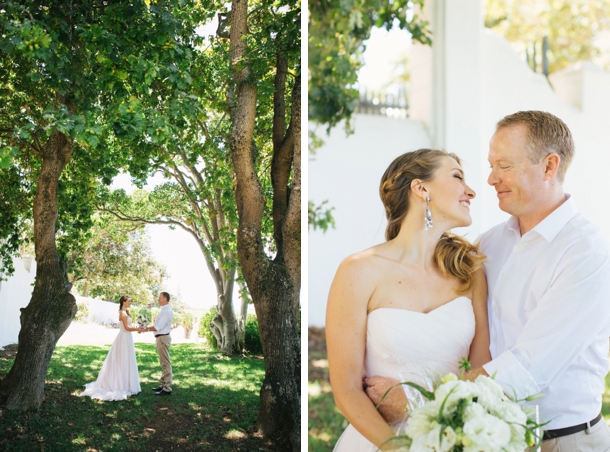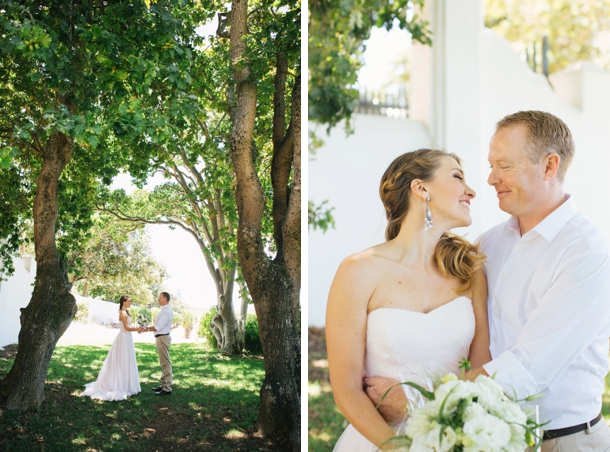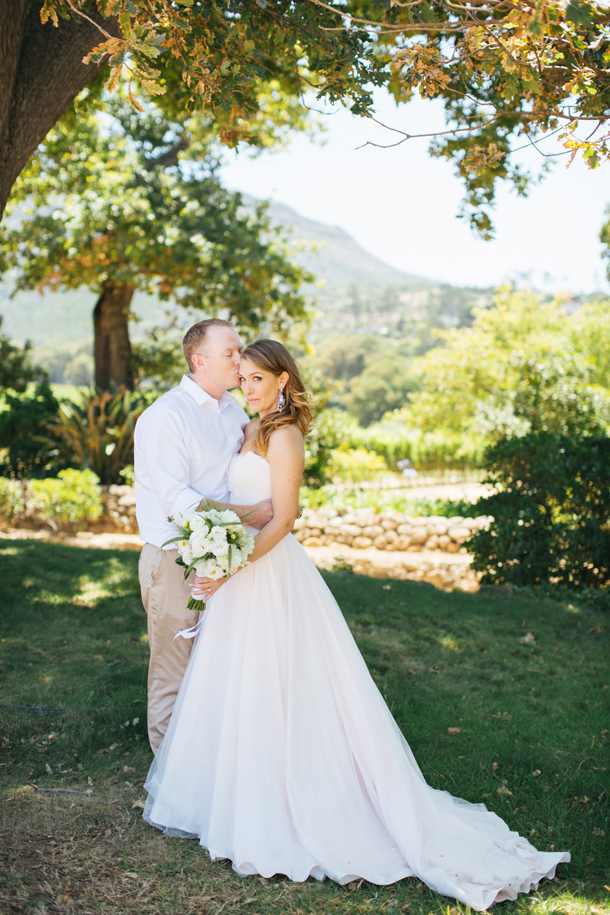 The Venue
We wanted an outdoor wedding with trees and grass as the flooring and backdrop. We were thinking of having our reception at home, but once we visited Jonkershuis Reastaurant at Groot Constantia Wine Estate, we fell in love with it. The venue was rustic and oozed charm and style! The estate had plenty of trees and grass for our ceremony and parking and facilities to look after our guests.
Wedding Style
Our wedding style was relaxed, a little rustic, a little Asian and a little fun. Our inspiration was an outside summer wedding, Chinese detail and our recycled wooden palette furniture that we love. We didn't want a specific colour scheme as I hate the standard chair ribbons and table runners in a colour that matches the bridesmaids type of thing, but the main colours we worked with were a deep coral, pinks, oranges, peaches and a little blue and green. A bit of a mix!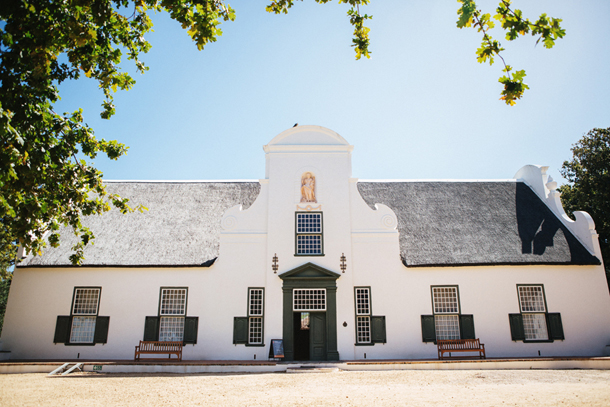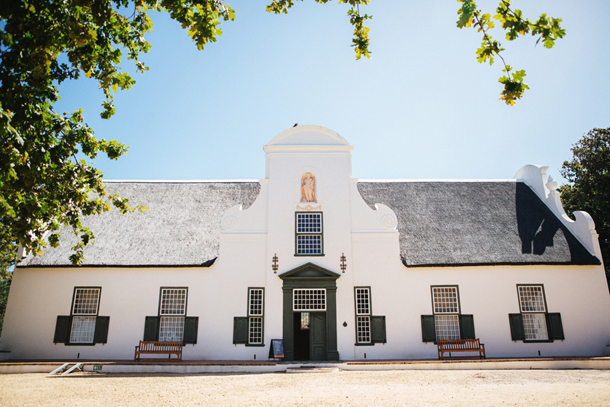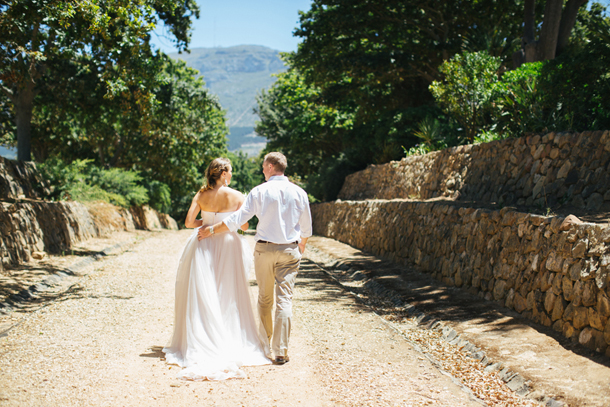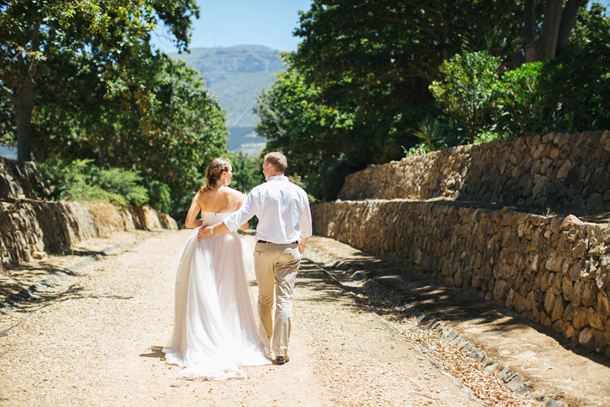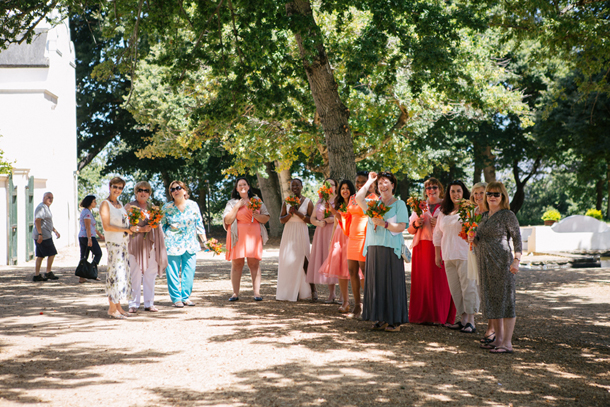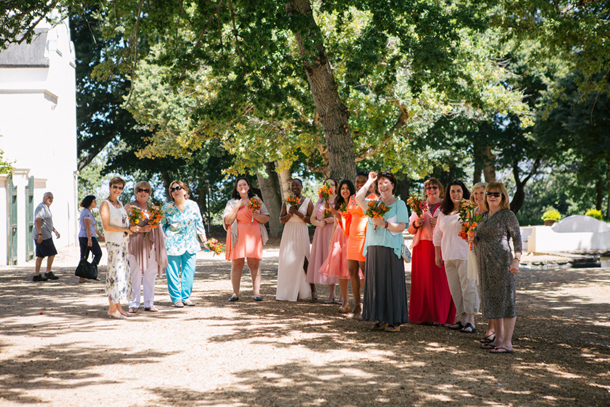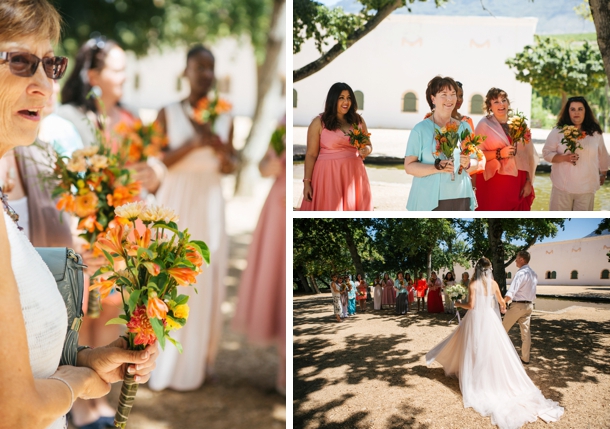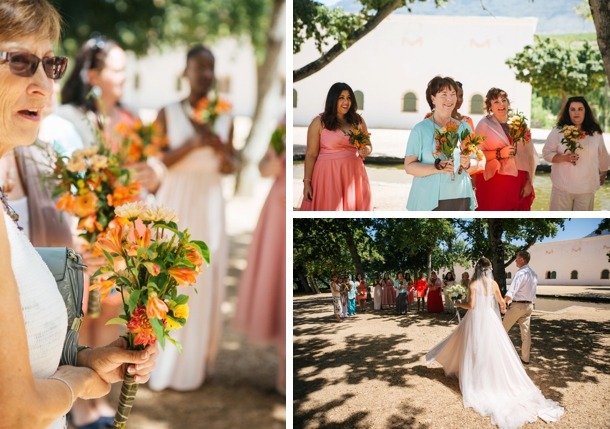 Wedding Details
Kyle and I love the rustic look, so we had rustic flower boxes and lanterns made by Goozberry (an eco-centric furniture company) to match our furniture at home, and we also LOVE Asian style. We added Chinese lanterns, fans and a few parasols, not because they are cliché at weddings, but because we wanted to bring the Chinese element into our wedding. Kyle's Dad, Norman, made a cake stand for us in a 'Zen' style that we love and Kyle's Sister, Tamsen, made our rustic cake in peachy tones.
DIY Elements
I made ribbon wands, table numbers, collected empty wine bottles, and found reasonably priced coloured bottles for our table décor to keep the costs down. We also made our own music playlist and used our own speakers and disco lights which Kyle and his Dad put up. The bridesmaids all made their own posies from fresh cut flowers the night before the wedding at my 'Posy Party' which my cousin catered, so that also kept costs down.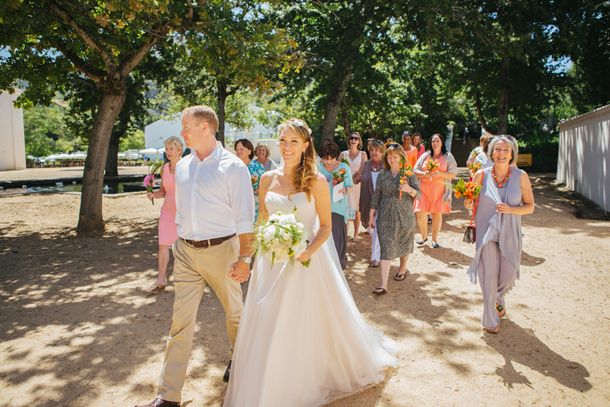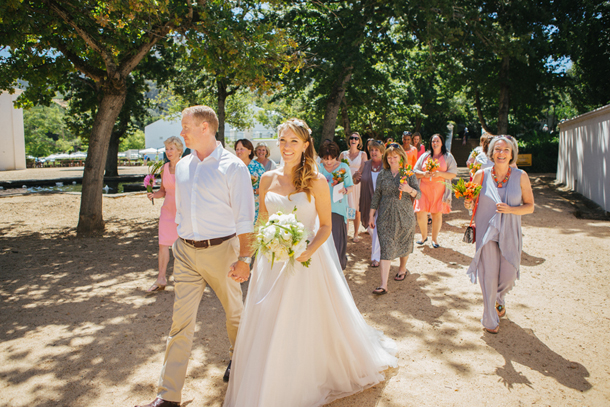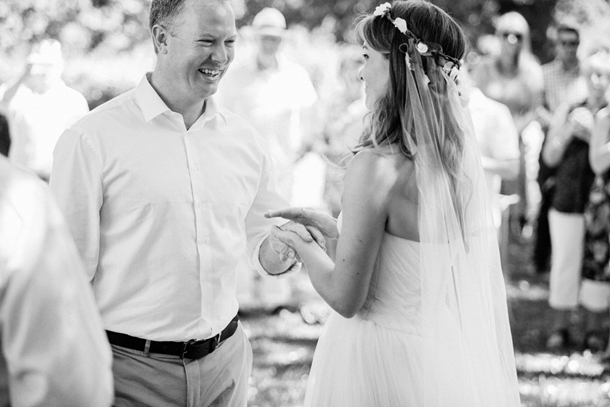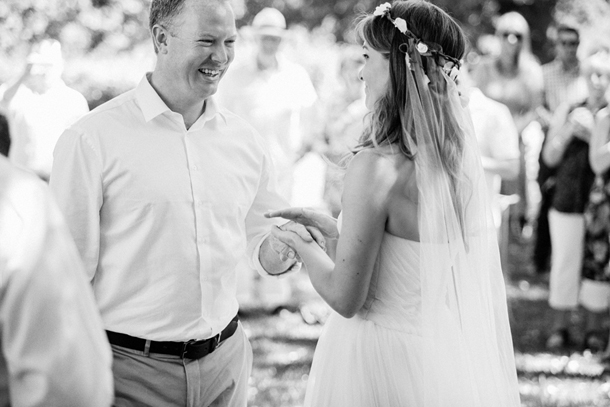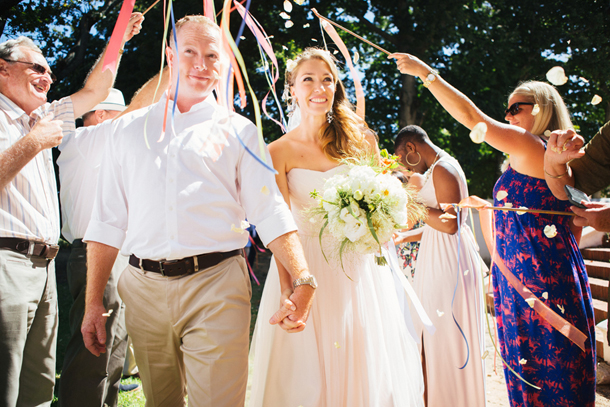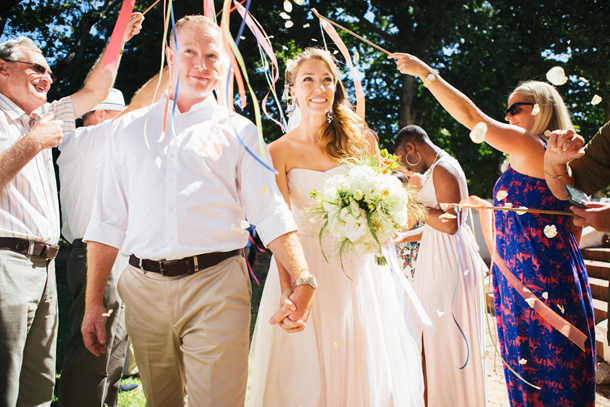 The Flowers
My Dad grows dahlias in his garden which I love. So we had orange, coral, pink and yellow dahlias from there, along with white dahlias from the florist, Bittersweet, who made each flower box arrangement a take-home posy for my guests. My bouquet was white. I asked for white lisianthus to match my veil crown design (by Kathleen's Bead Studio), white dahlias and green Asian style grass.
The Dress
My wedding gown took a while to find. Firstly, my mom started to make me a wedding style dress from pure silk, but we agreed that the style she was making wasn't what I wanted, so we opted to buy one. The dress I ended up with was a chance find. It was second hand from a website and I was surprised to find myself going to try on a peachy/blushy toned tulle dress with a big ball gown trail. It fitted perfectly, no alterations required and it made me feel amazing. I loved it. My Mom bought it for me. I didn't worry about my dress at all after that.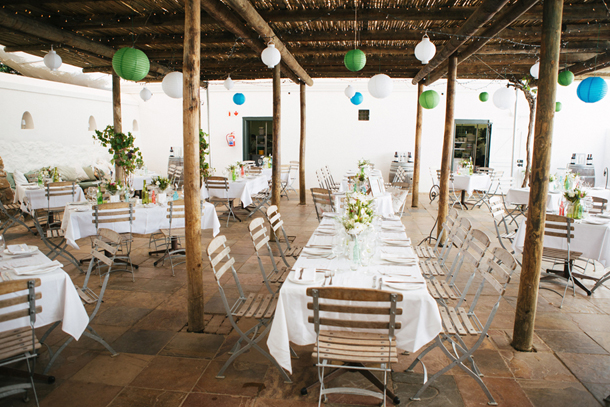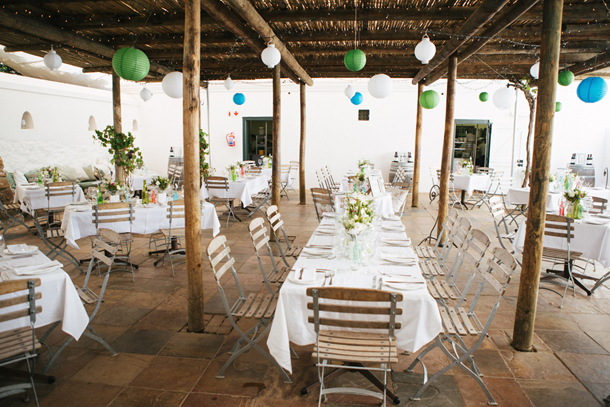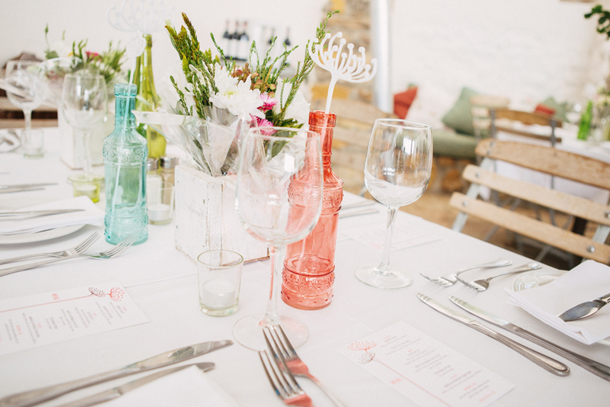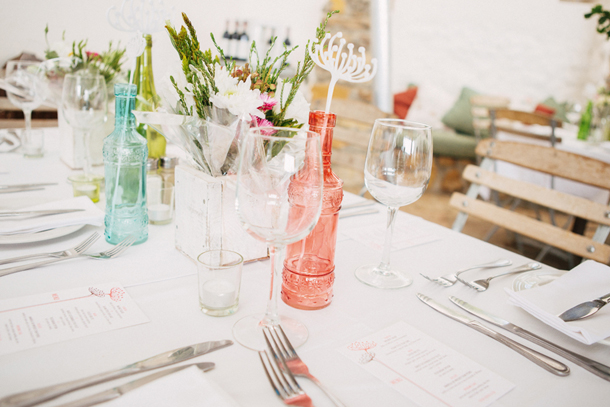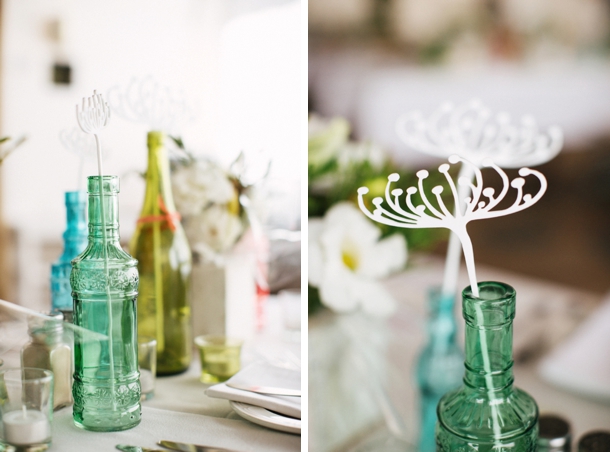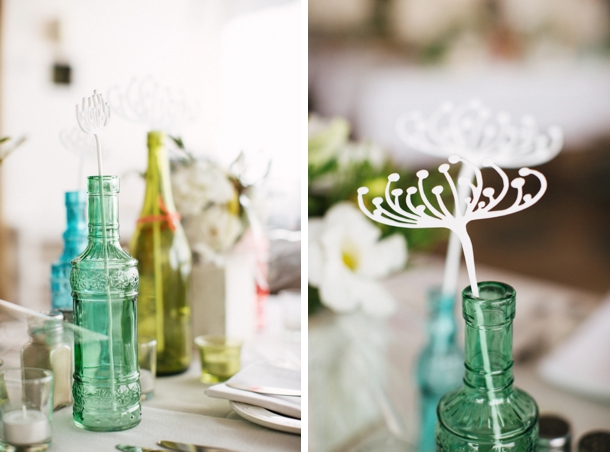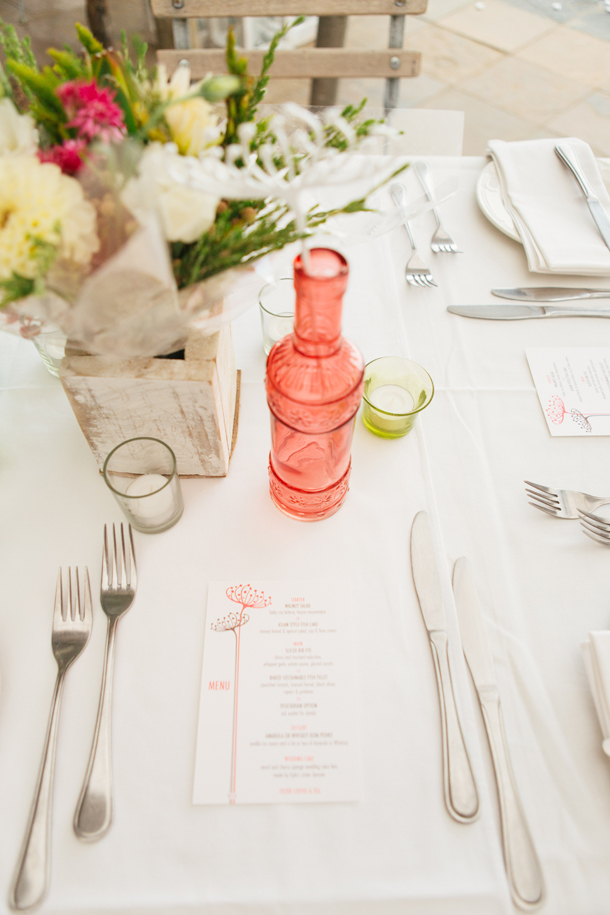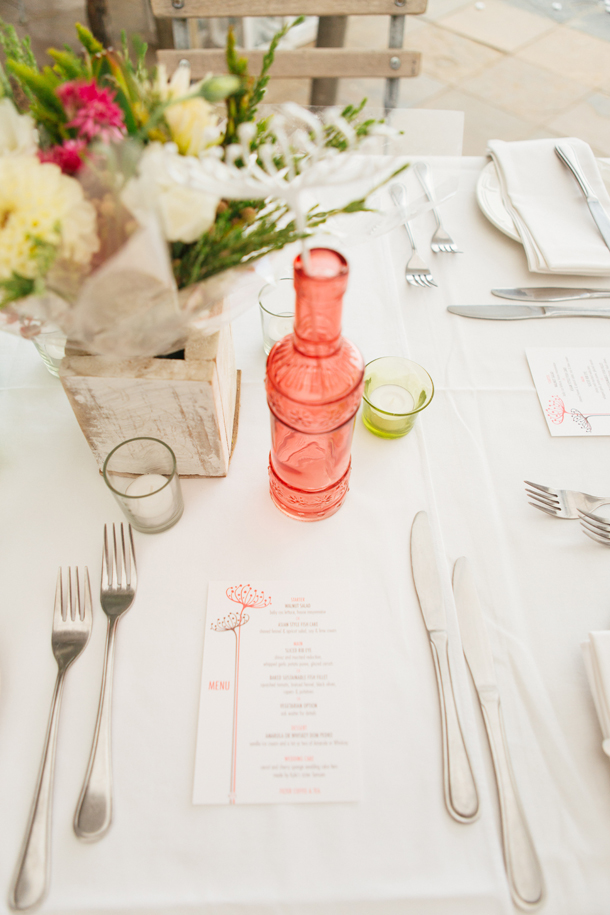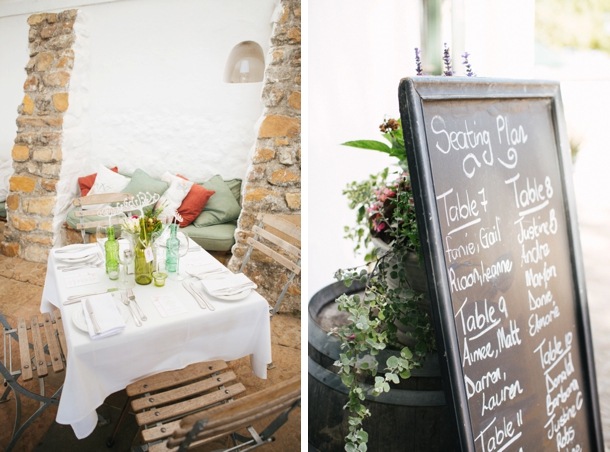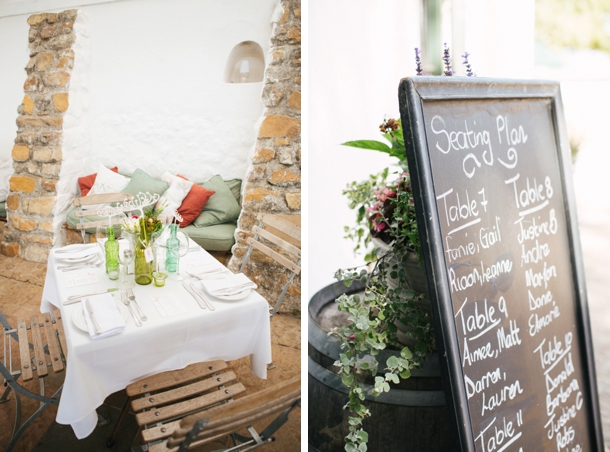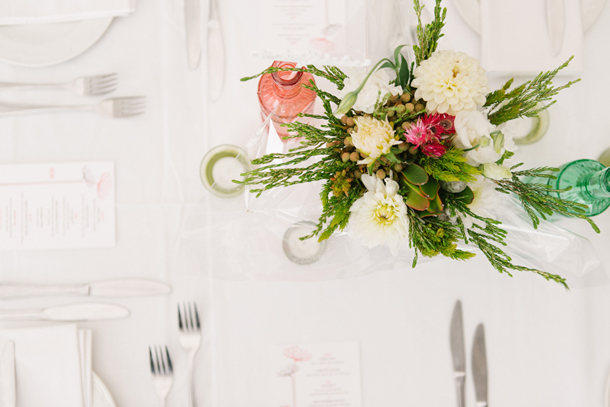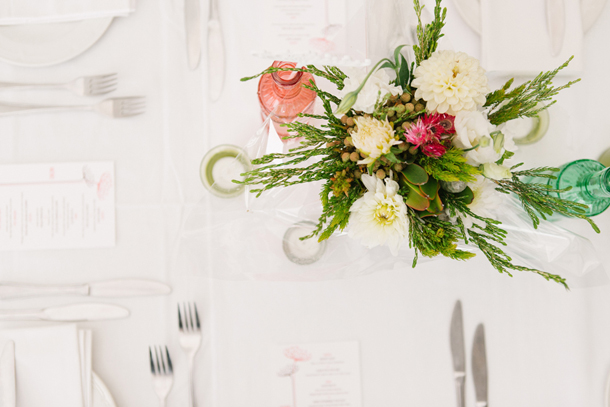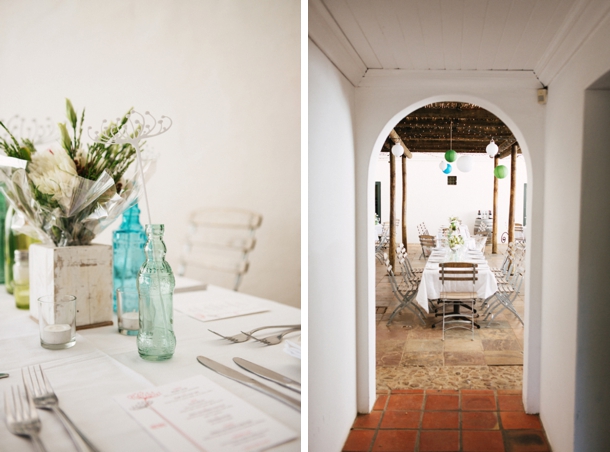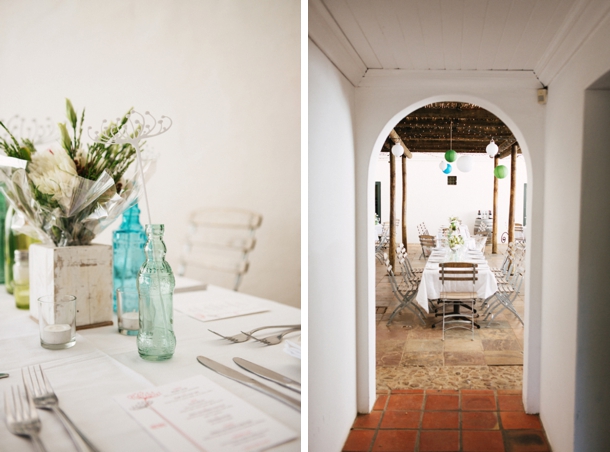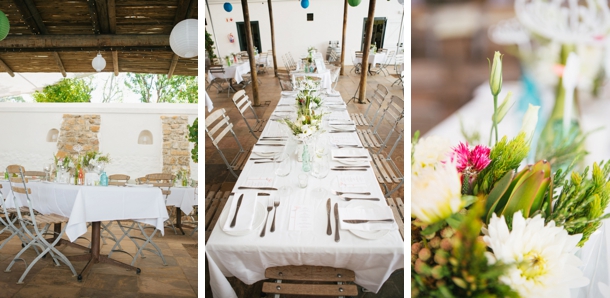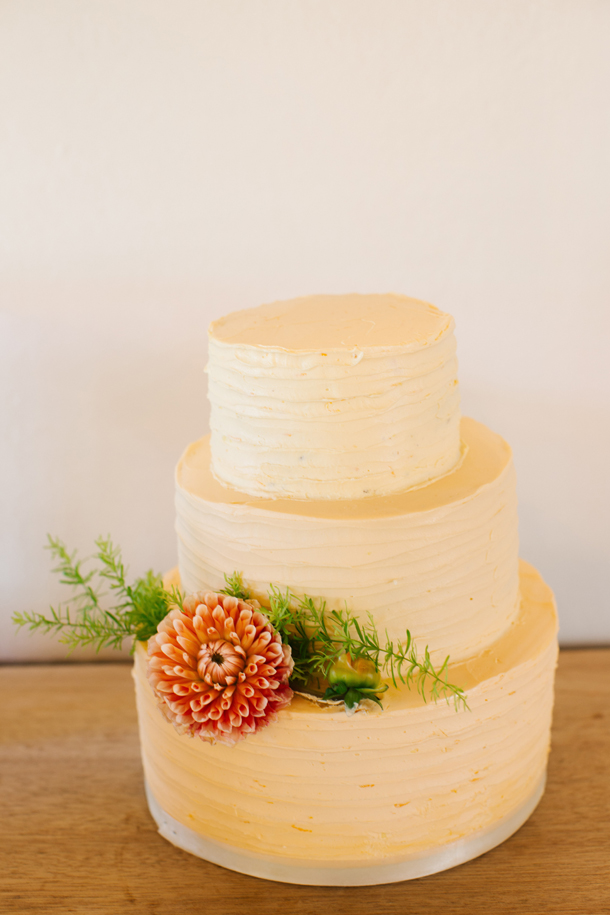 Favourite Detail
I loved the ribbon wands, as they created a lovely atmosphere and a lot of colour.
Memorable Moment
My favourite moment was having a beer with Kyle just before our ceremony, along with the couple photo shoot we had with Marli before the guests arrived.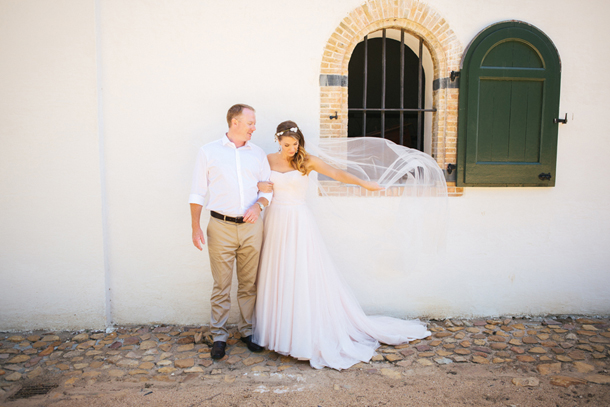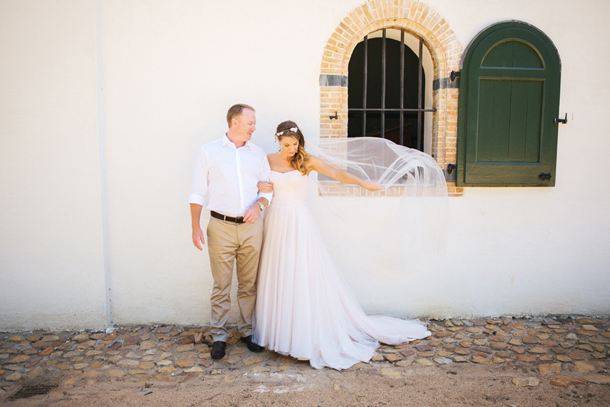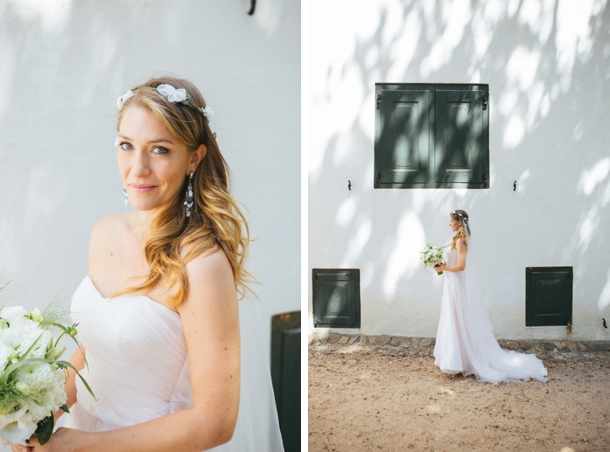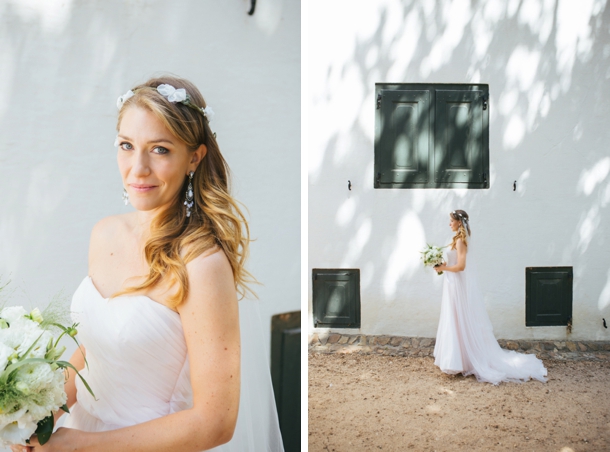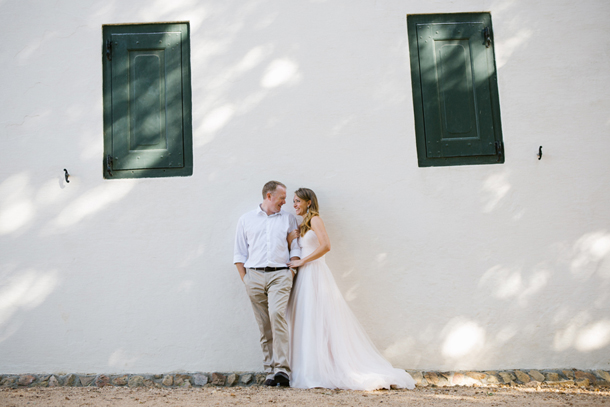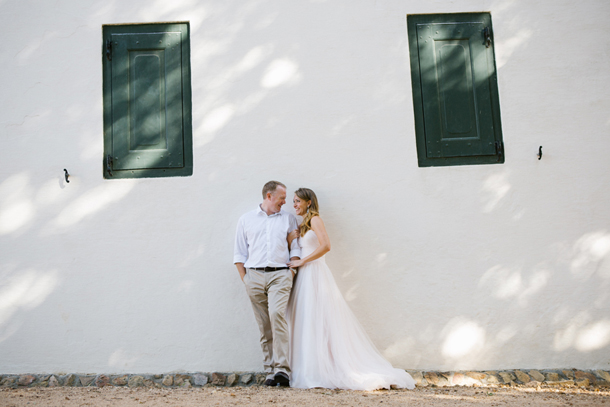 Proudly South African Details
We asked for fynbos to be included in our table flower boxes and pincushion protea designs made out of plastic by my friend Adam were used for table decoration. The pincushions were designed by my friend Ariane who also designed our invitations, menus and thank you cards.
The Honeymoon
We decided to stay in South Africa, as I'd not been on safari before! We spent a week just outside Kruger National Park's Crocodile River Gate, which Kyle's parents gave us as a wedding gift. We then spent a week at a private game reserve in KZN, where we spoilt ourselves with spa treatments and lots of champagne.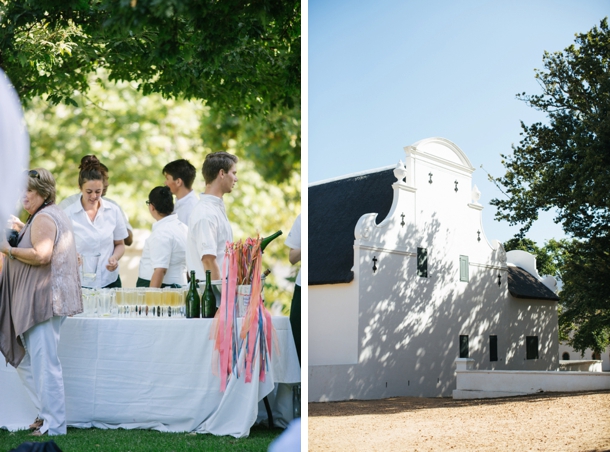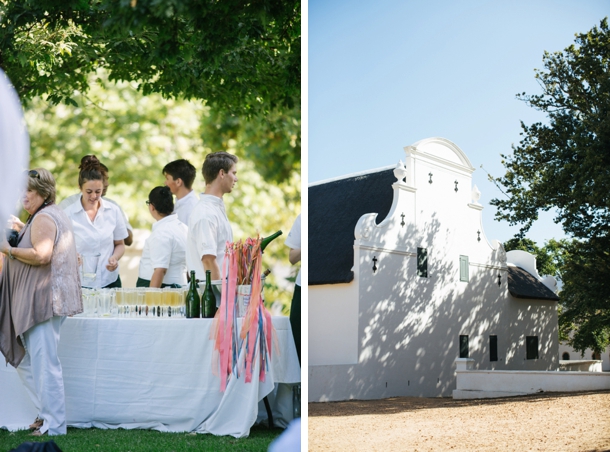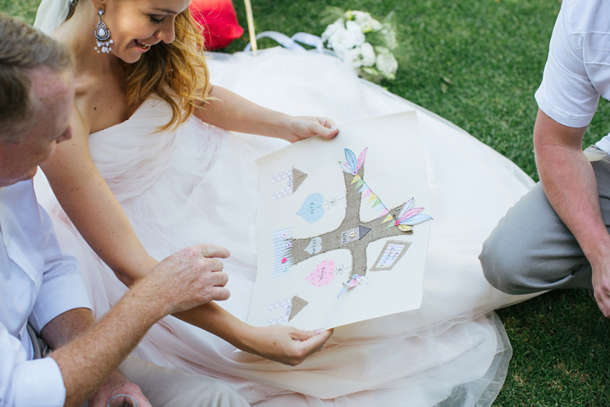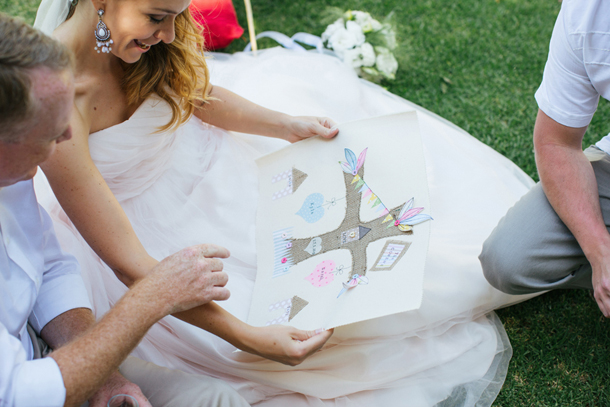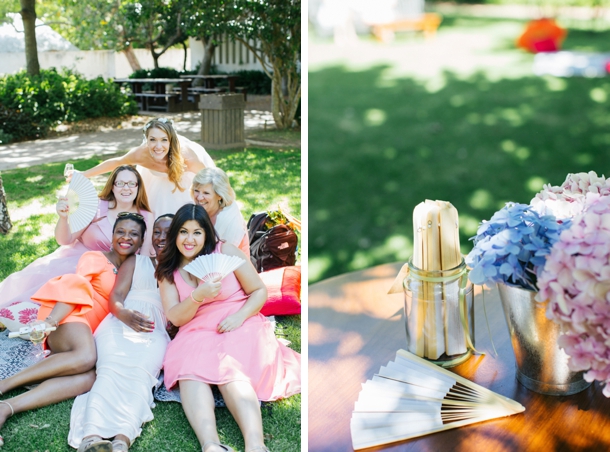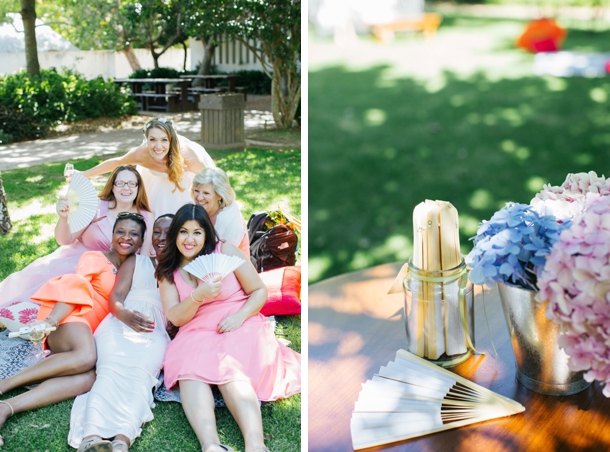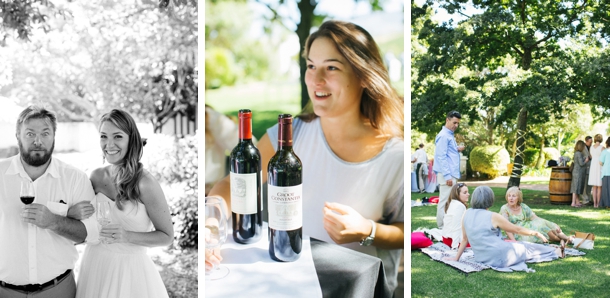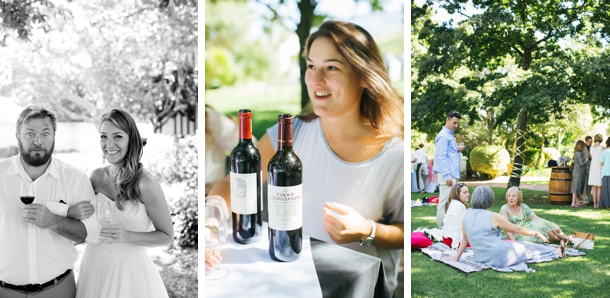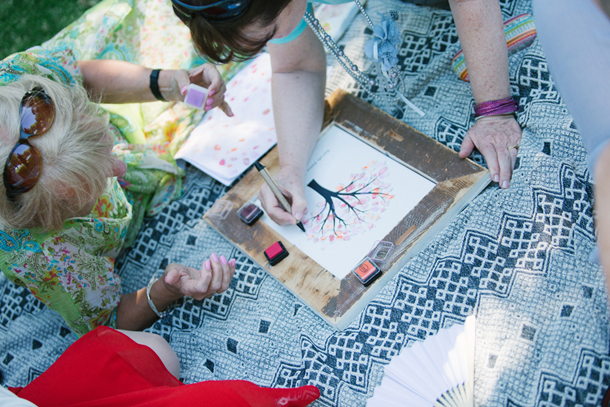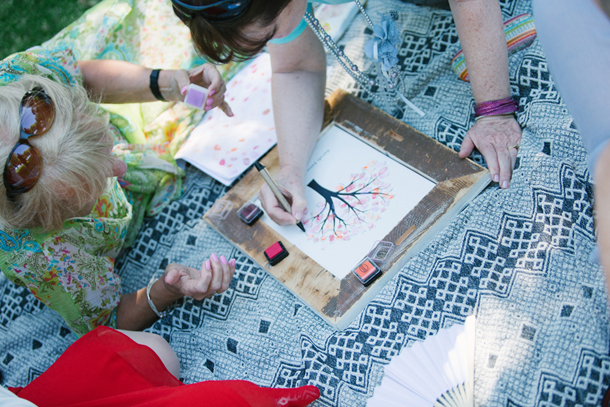 Advice for Future Brides & Grooms
My advice would be: don't go overboard. Our guests loved our relaxed wedding with no formality and so did we! It suited us to a T, so I guess plan it how you'd like it. Don't just do the norm. I also loved involving my friends and getting help from those closest to me. The personalised touch of designed pin cushions made into decorations made a big difference. Also, stay flexible – we changed our minds about things several times along the way, so don't feel forced into making decisions straight away.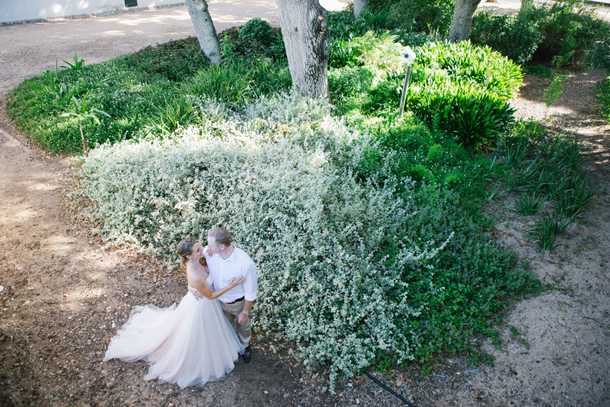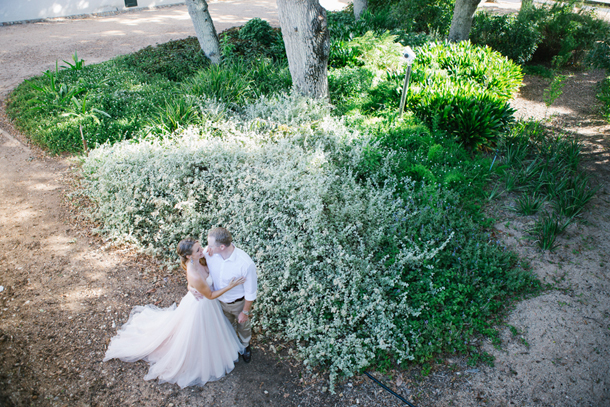 You can see more from this wedding on Marli Koen's blog.
SERVICE PROVIDERS
Venue & catering: Jonkershuis at Groot Constantia | Photography: Marli Koen | Flowers: Bittersweet | Stationery: Ariane Illustration | Ceremony venue: Groot Constantia Manor House Herb Garden | Bride's accessories: Kathleen's Bead Studio | Hair & makeup: Cindy Horton | Flower Boxes and lanterns: Goozberry