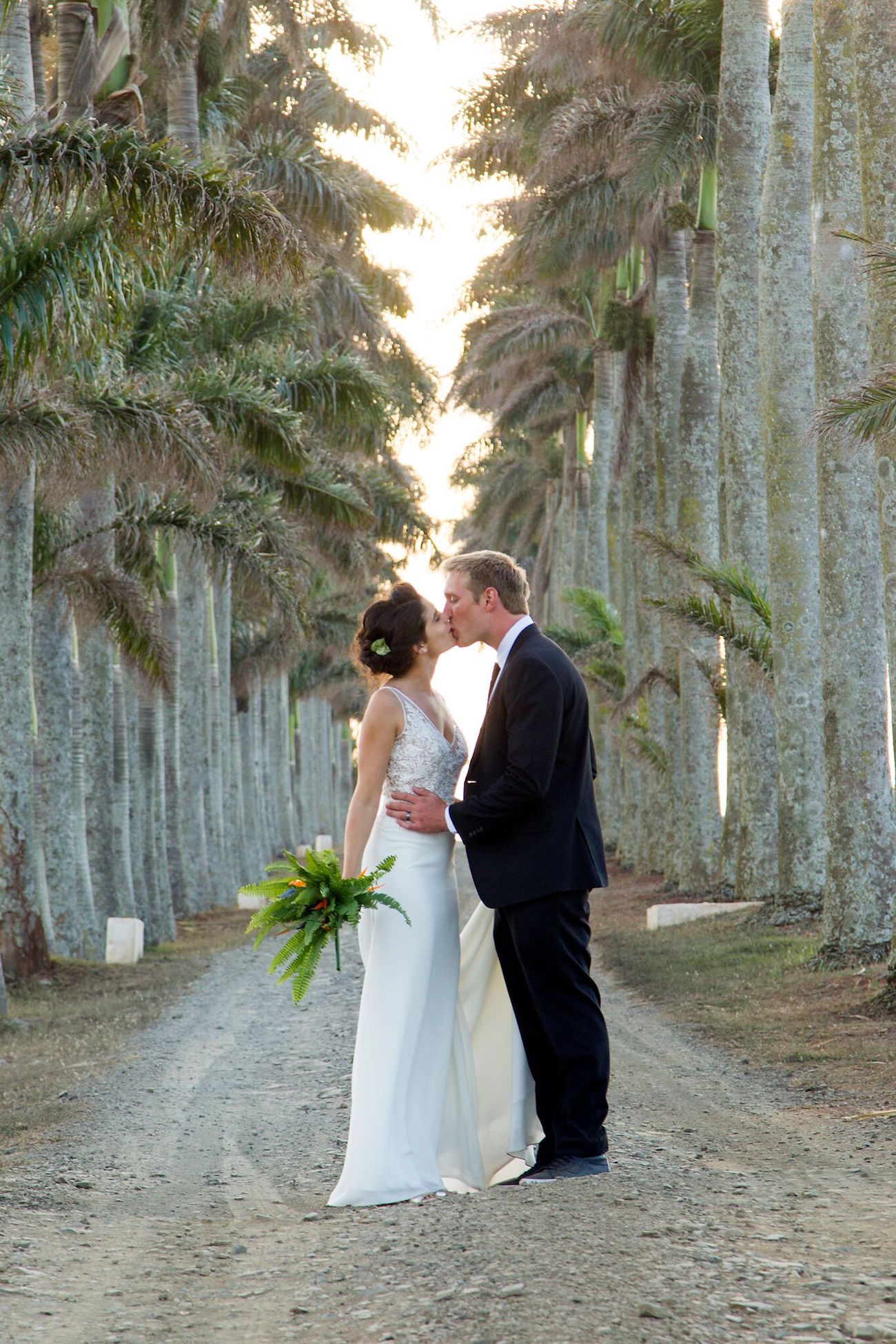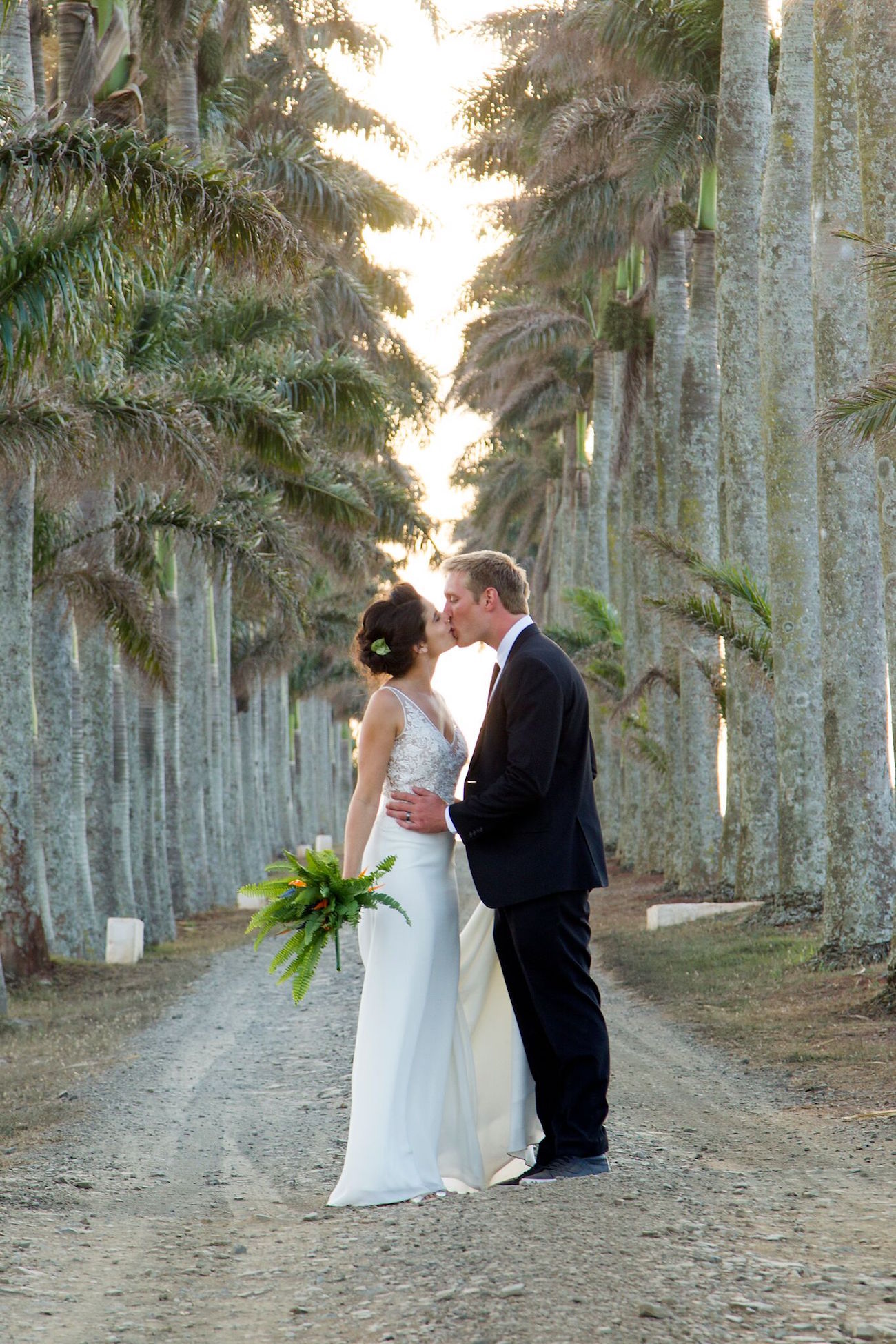 Sometimes I see a wedding and I immediately not only fall in love with everything about it, but with the couple as well. This is one of those. Maybe because I love Durban so, along with everything tropical, maybe because Dominique and Josh managed to not only pull off a totally unique, totally stylish, totally them (AND proudly South African) theme, and maybe because they chose to work with one of my favourite wedding pros ever, Joelene of Oh Happy Day. Whatever it is, I have a great big crush on this wedding and the couple who dreamed it up, and I have been absolutely dying to show it to you ever since I first spotted  it on Jo's Instagram feed. Basically, if you turned all the best things about the North Coast into a wedding, this would be it. Tropical print bridesmaid separates… strelizia bouquets… plenty of light and white and rustic texture. And the tropical greenery wall is everything. So get your pinning fingers at the ready coastal brides, because this is a special one!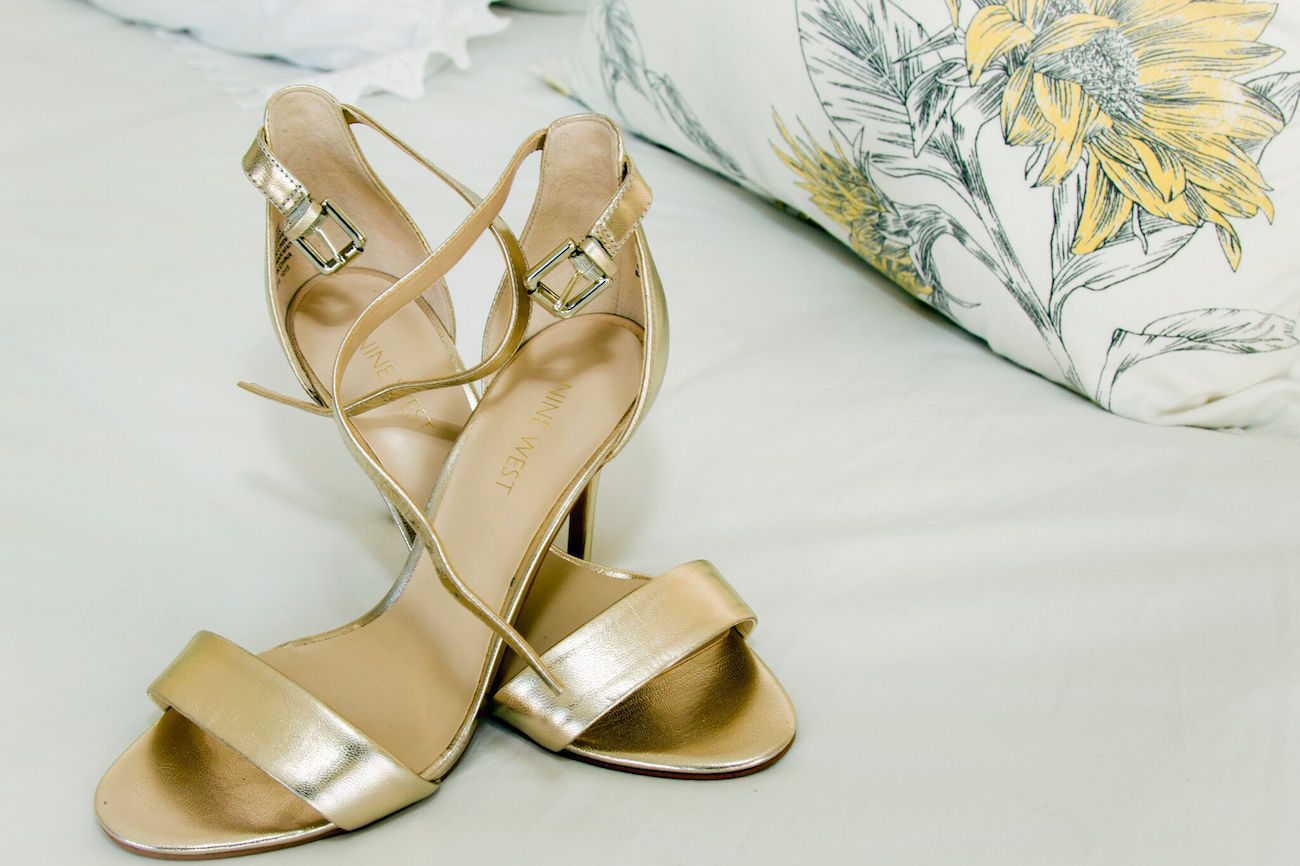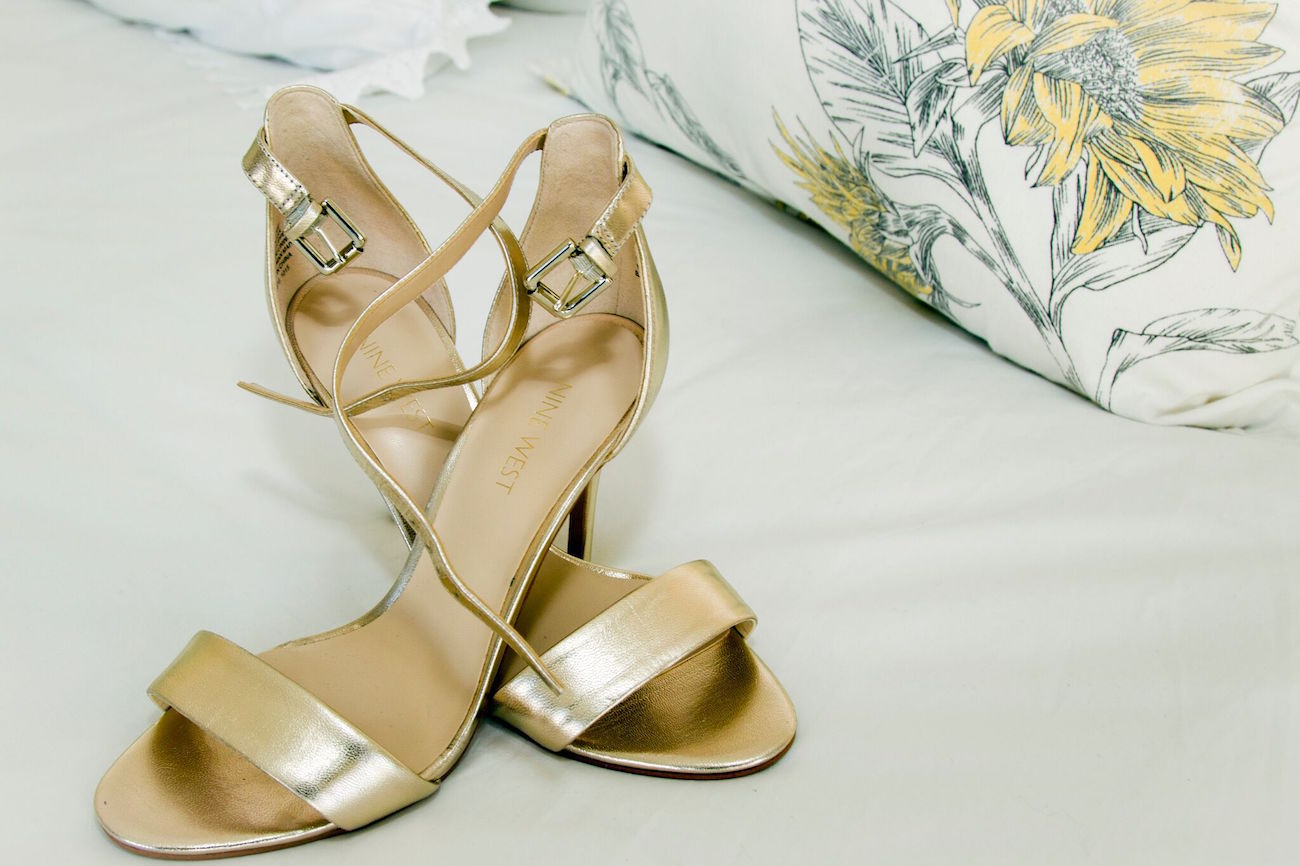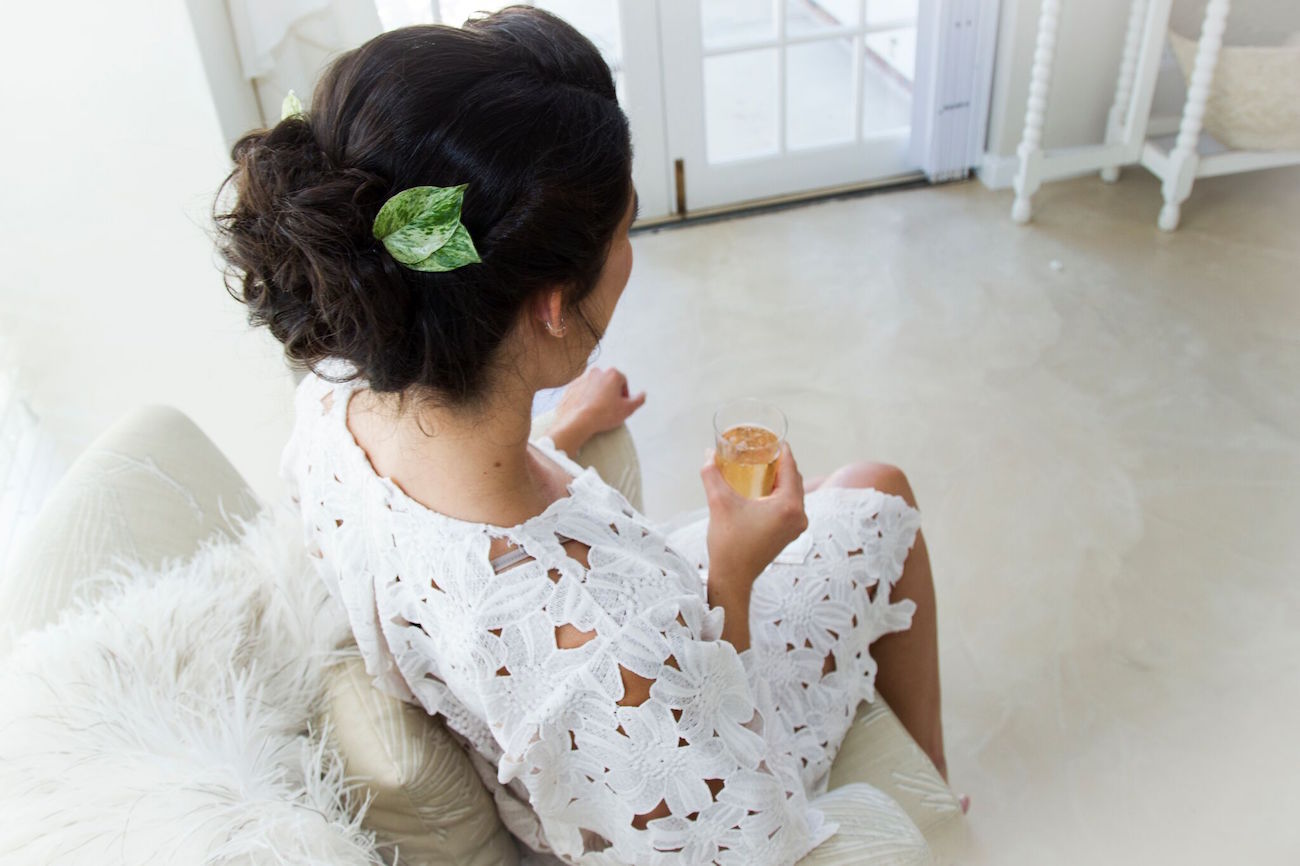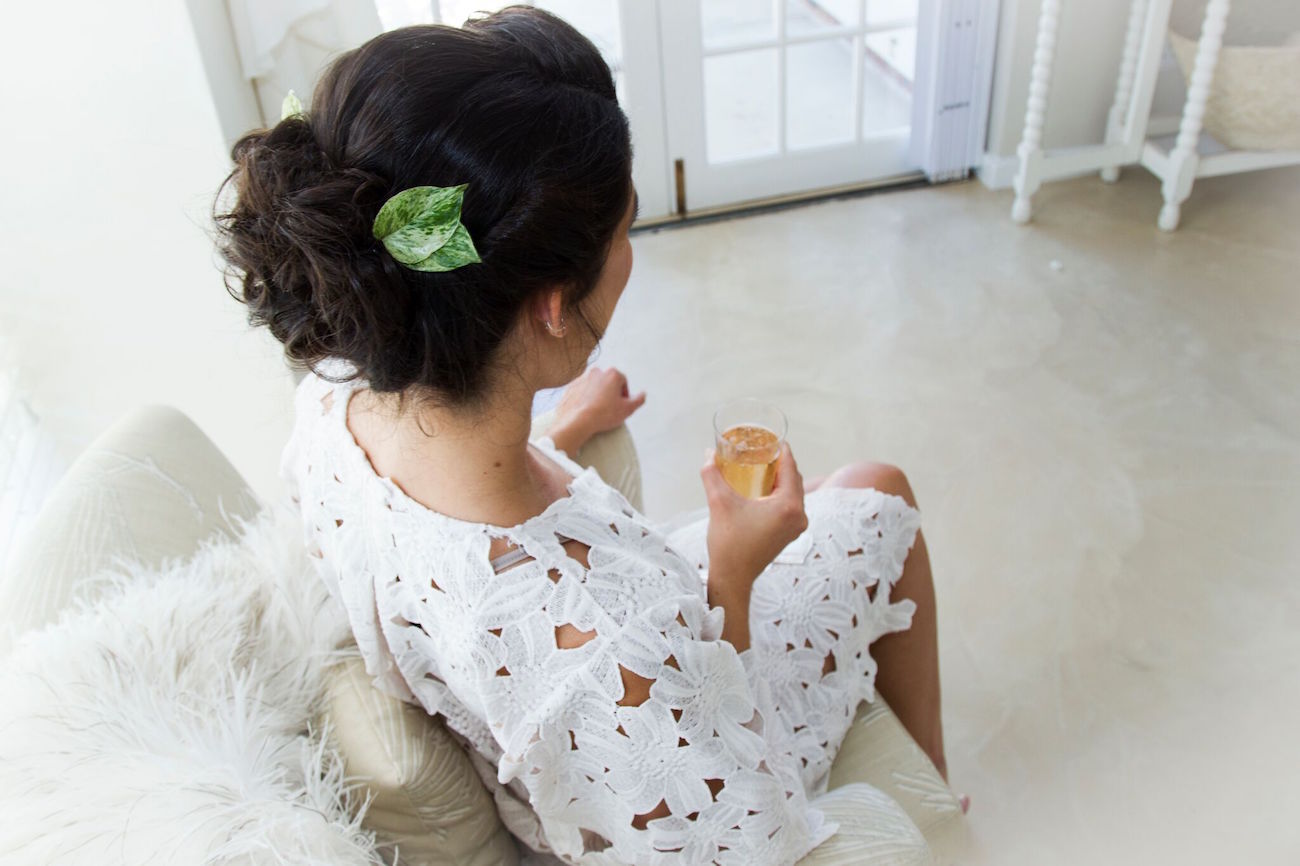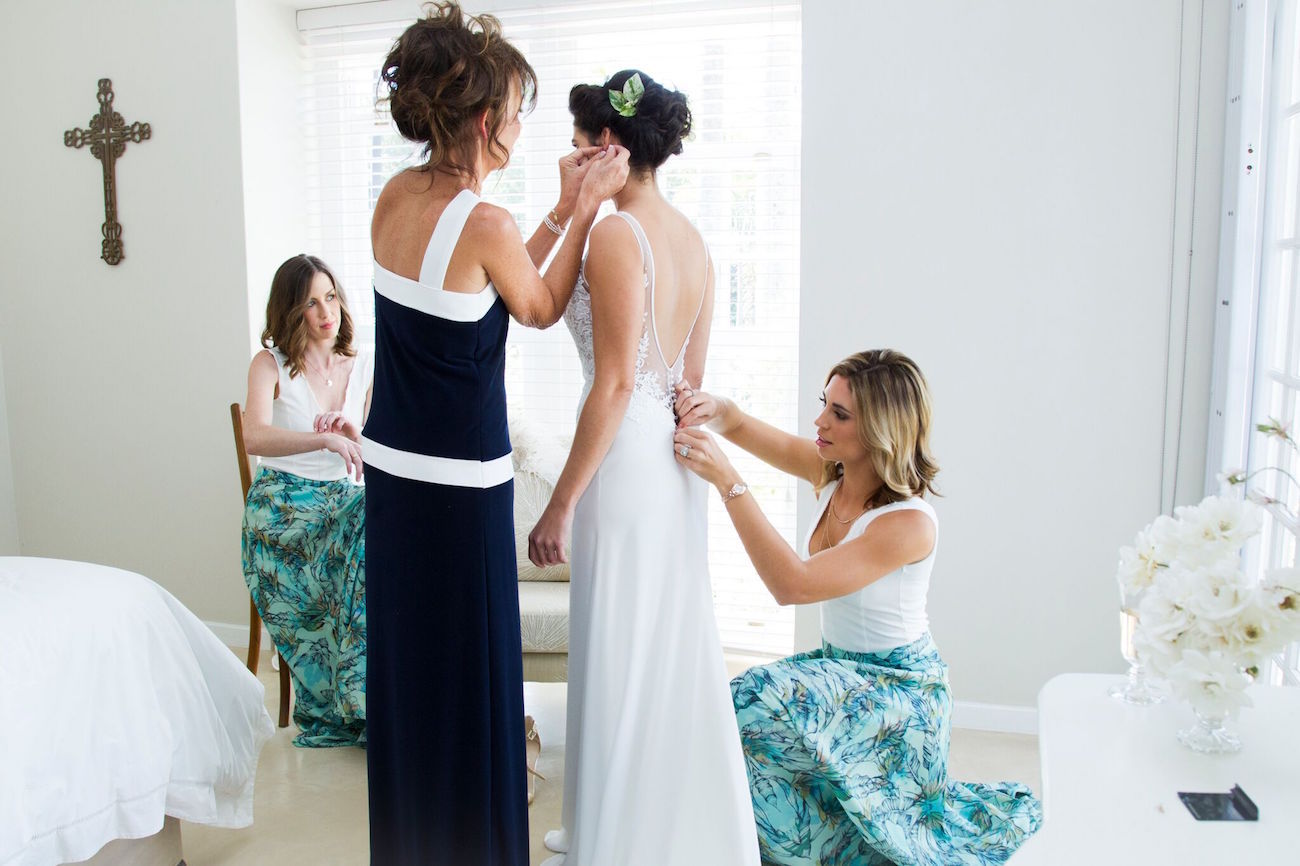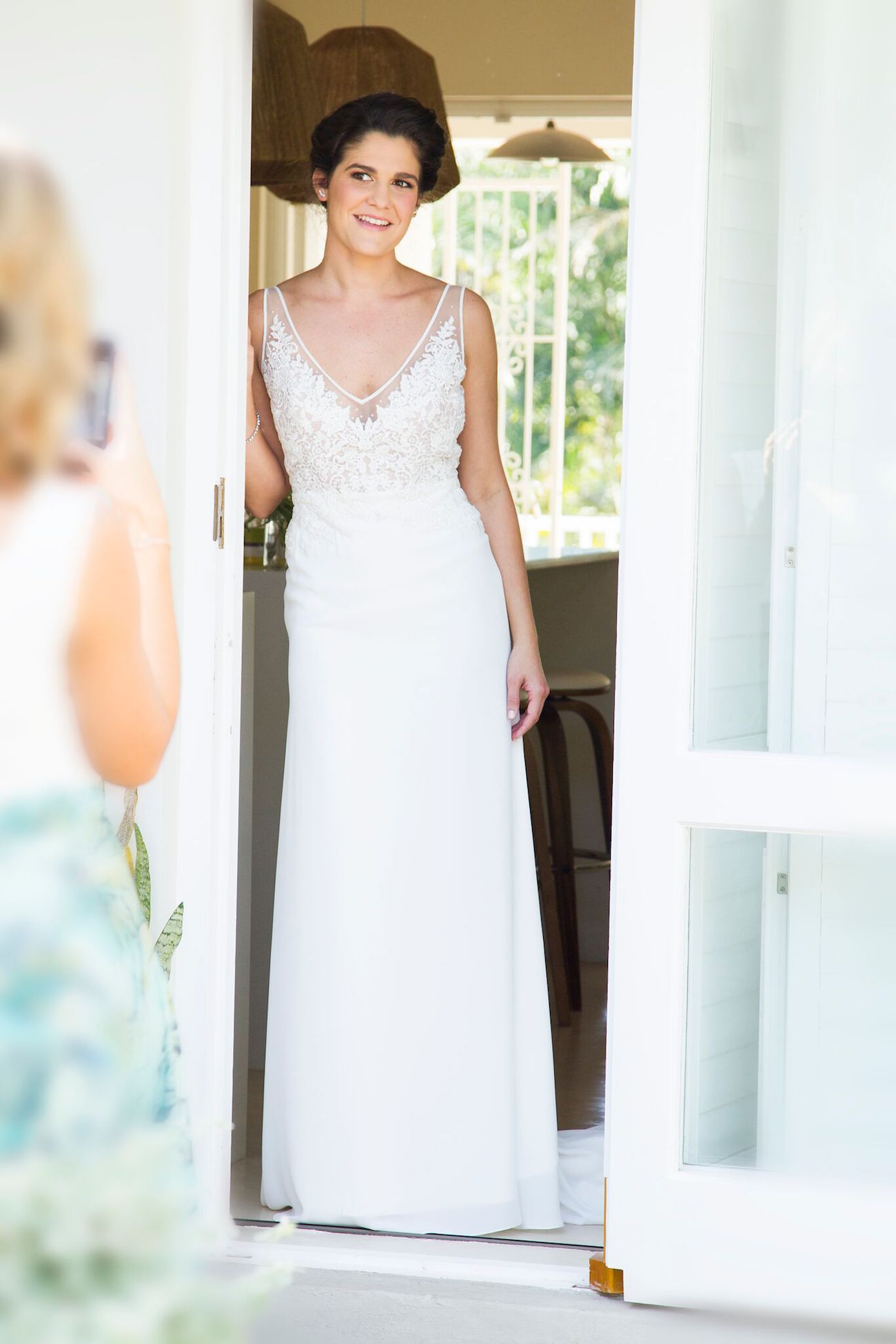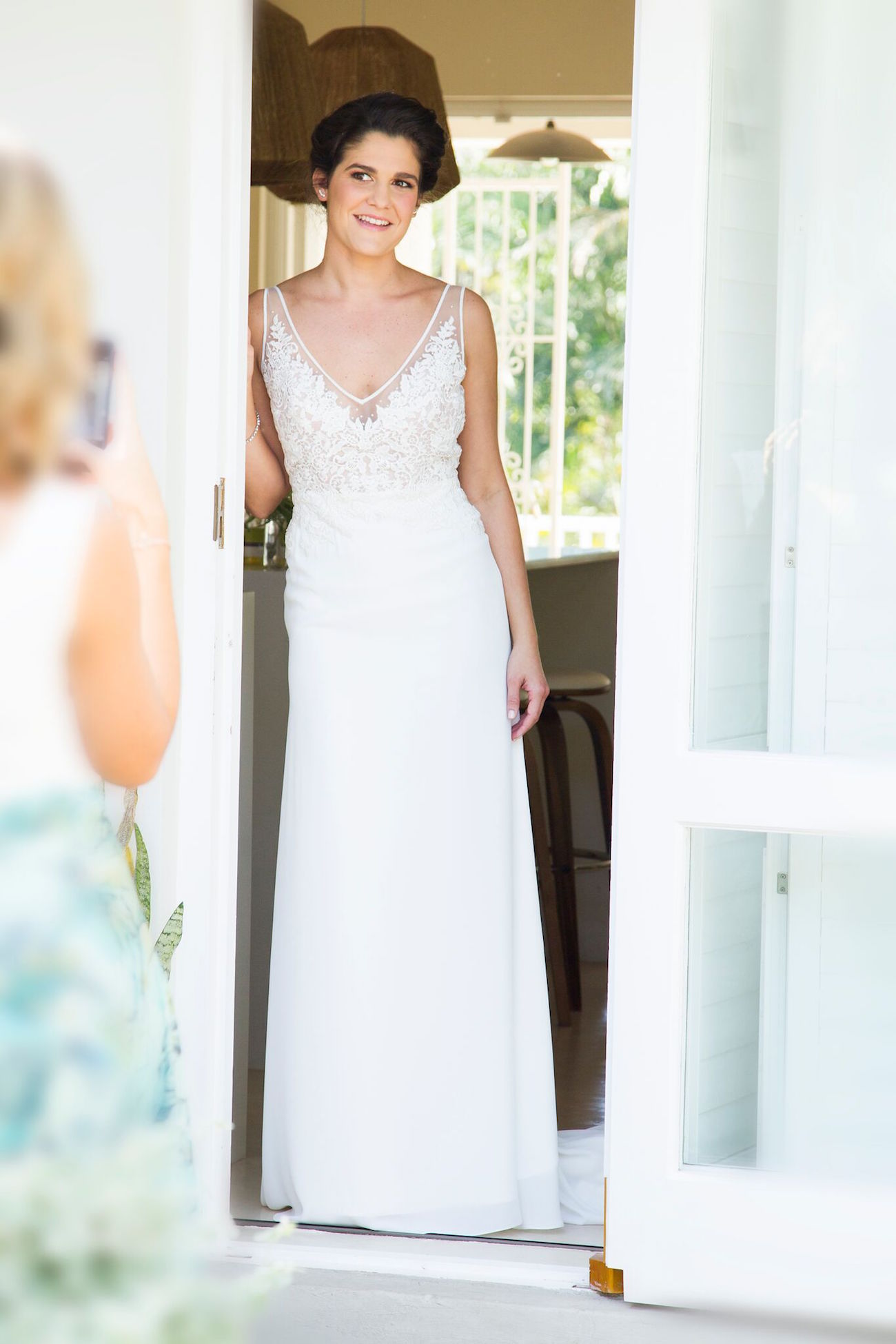 Love Story
We met at a cocktail bar during the 2010 Soccer World Cup. Josh asked me for my number and the rest is history!
The Proposal
We love the outdoors and we are also avid birders, so Josh had planned a trip to Giants Castle for us to go and see a very rare vulture. He proposed the afternoon we arrived (he couldn't wait another day) on the deck of our little cottage overlooking the mountains.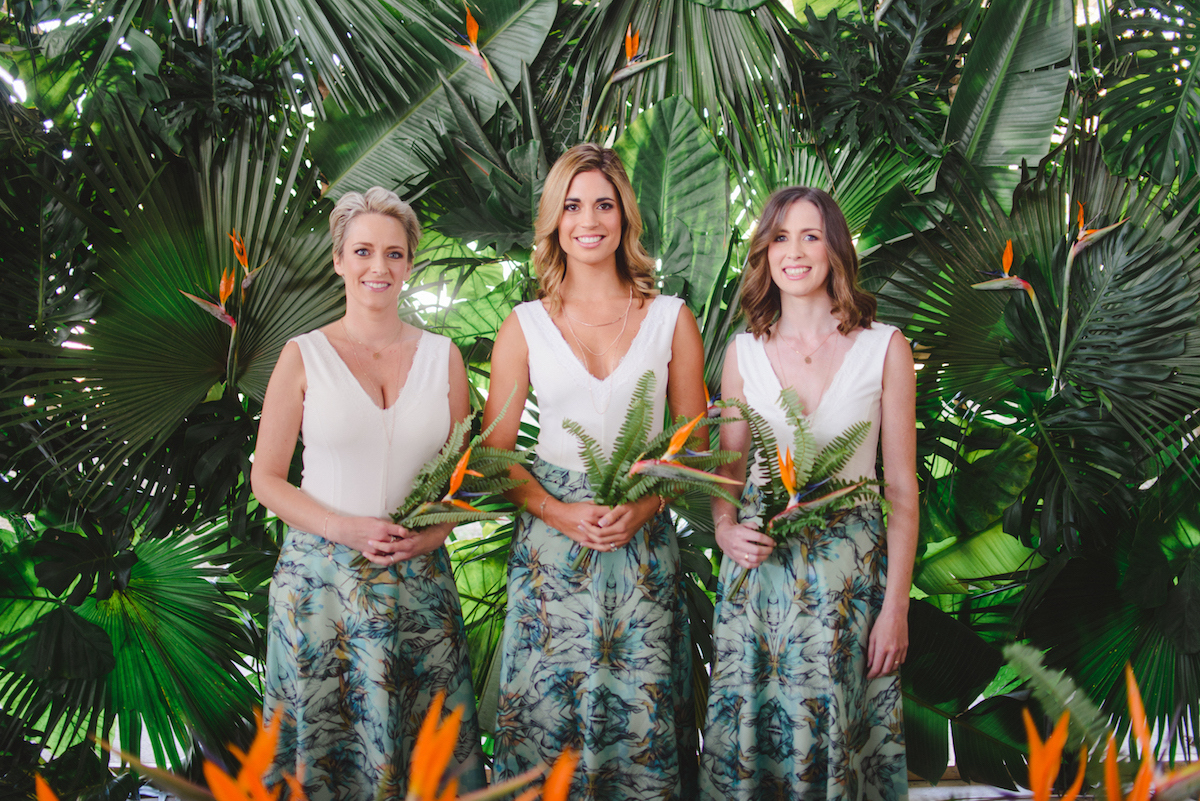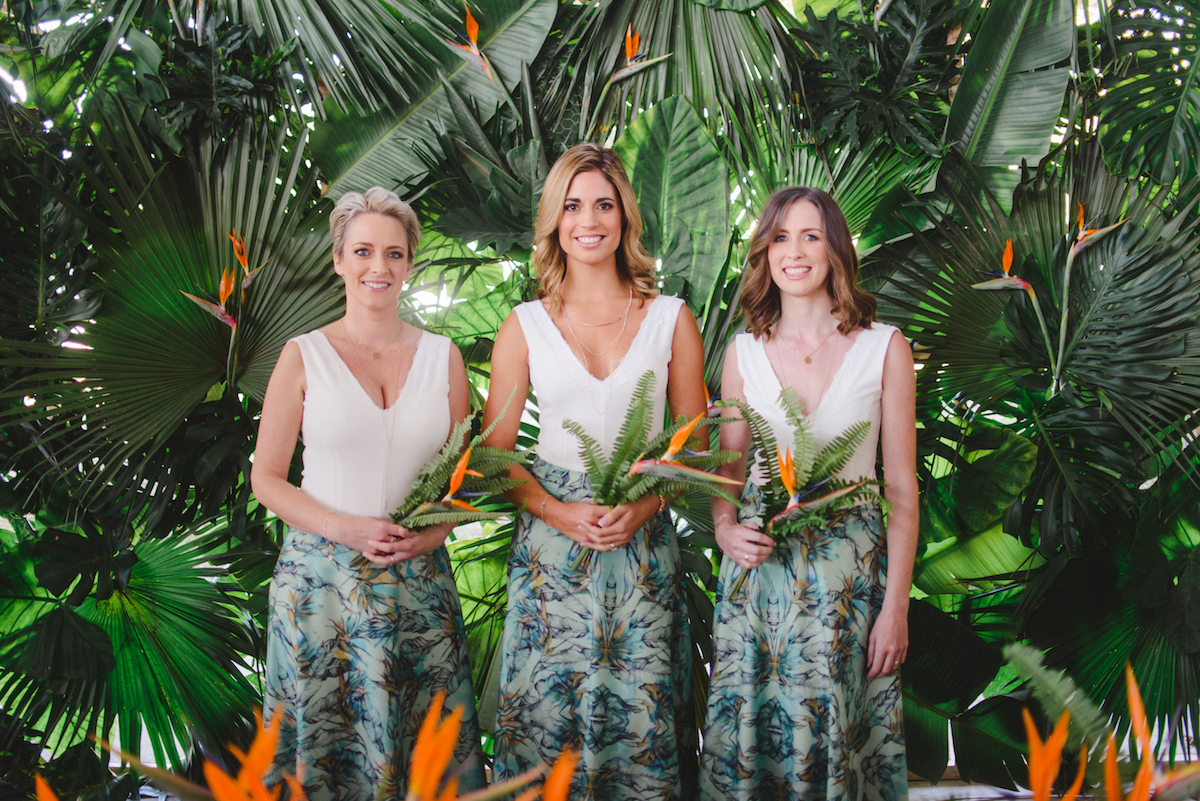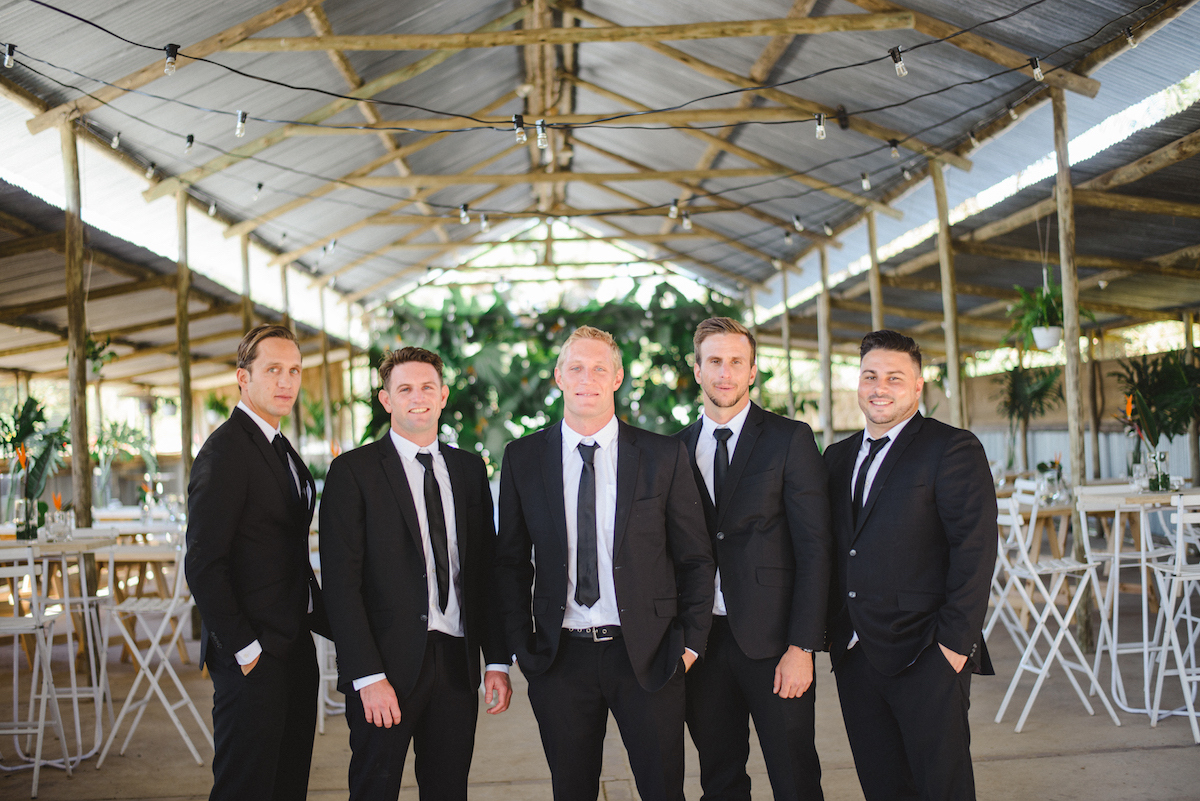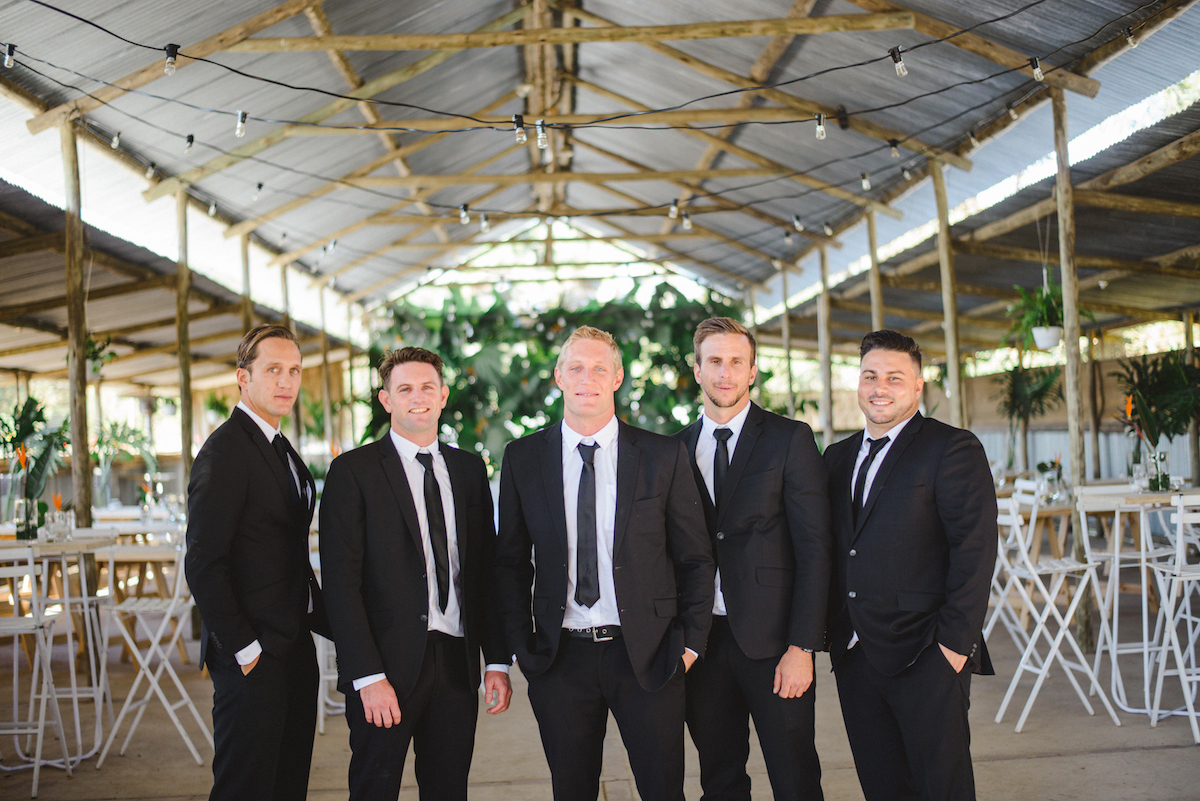 The Venue
We needed a venue that could hold around 200 people. We wanted all our family and friends to be there. We also needed a venue that would allow us to set up in a very specific way. We did not want allocated seating or a sit down dinner. Everyone had a seat for the speeches but we really wanted it to be very relaxed but organised… if that makes sense. We had pallet tables in the front, followed by some trestle tables with minimalist greenery and candles, and lastly cocktail tables and chairs at the back. We did have a main table that seated us and our immediate families. The venue we chose allowed us to play with this idea and was ok with us having a very relaxed food set-up as well.
Wedding Style
When I went for my first wedding dress consultation, the lady who ended up making my dress was asking me questions about what Josh and I were like, to try and get a feel for our character and how we would like the day to be. I said that we were outdoors people who loved the beach but also the costal forests and the lush bush of the North and South Coast. We also didn't want to get married on the sand. I pictured a beautifully set up venue, but keeping it as simple as possible. She coined the theme that day… 'North Coastal Chic'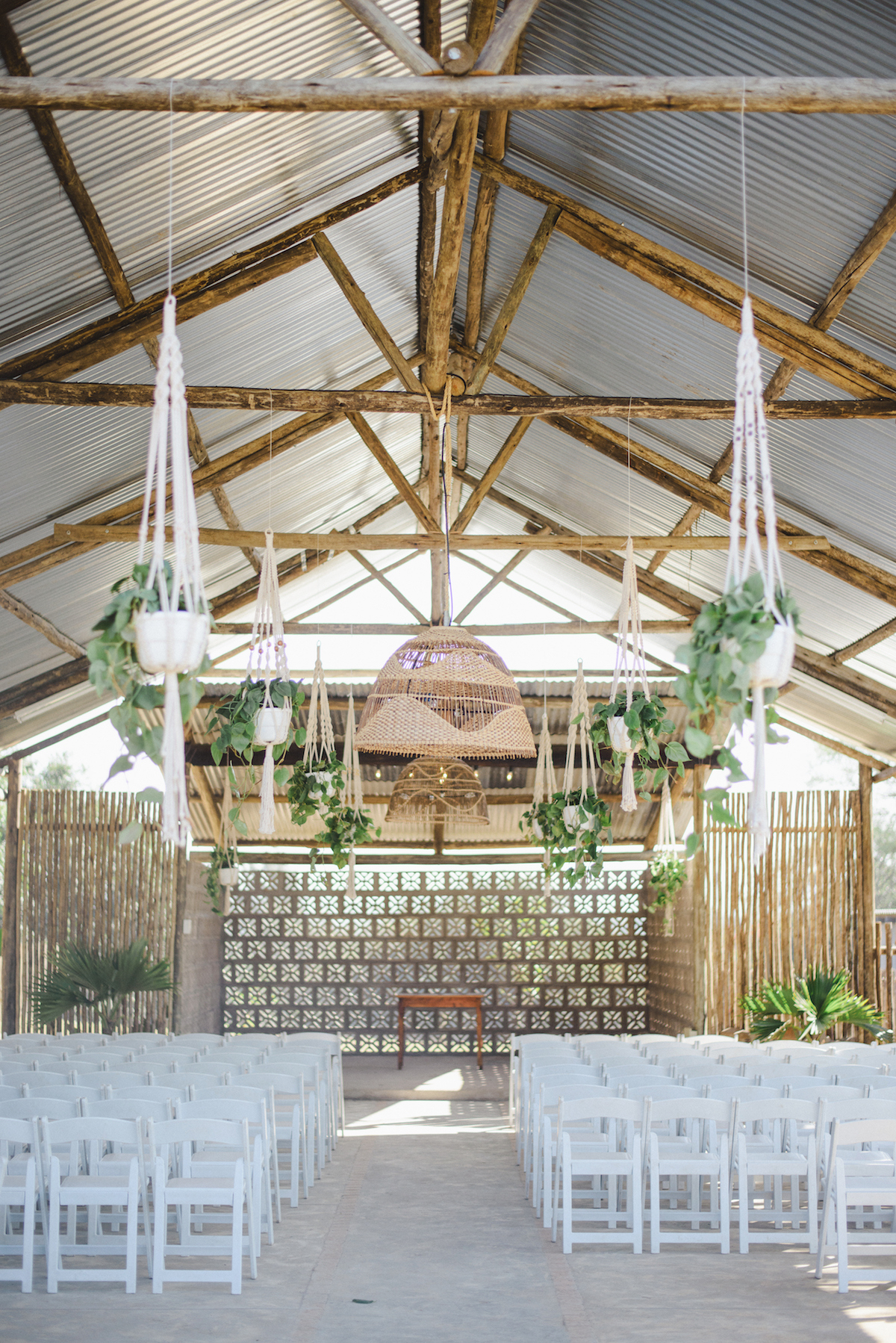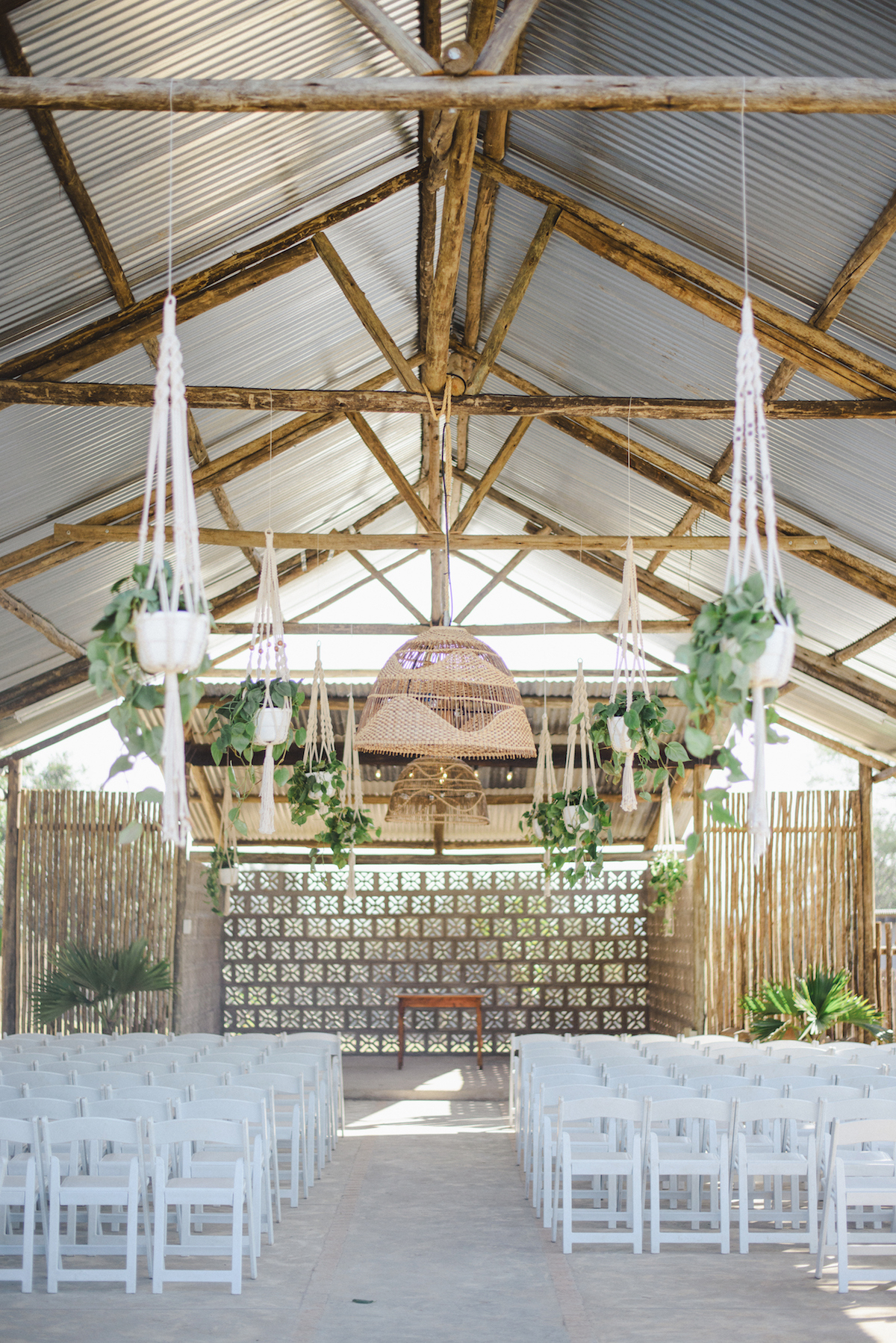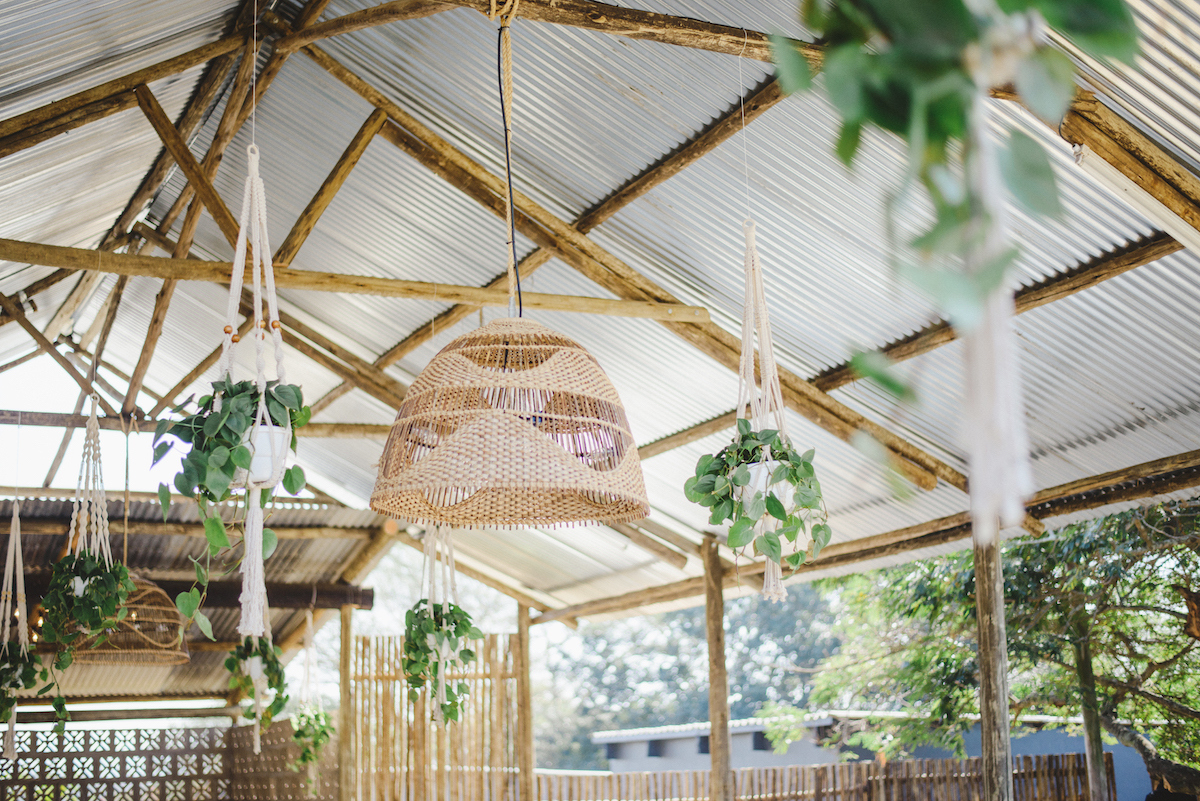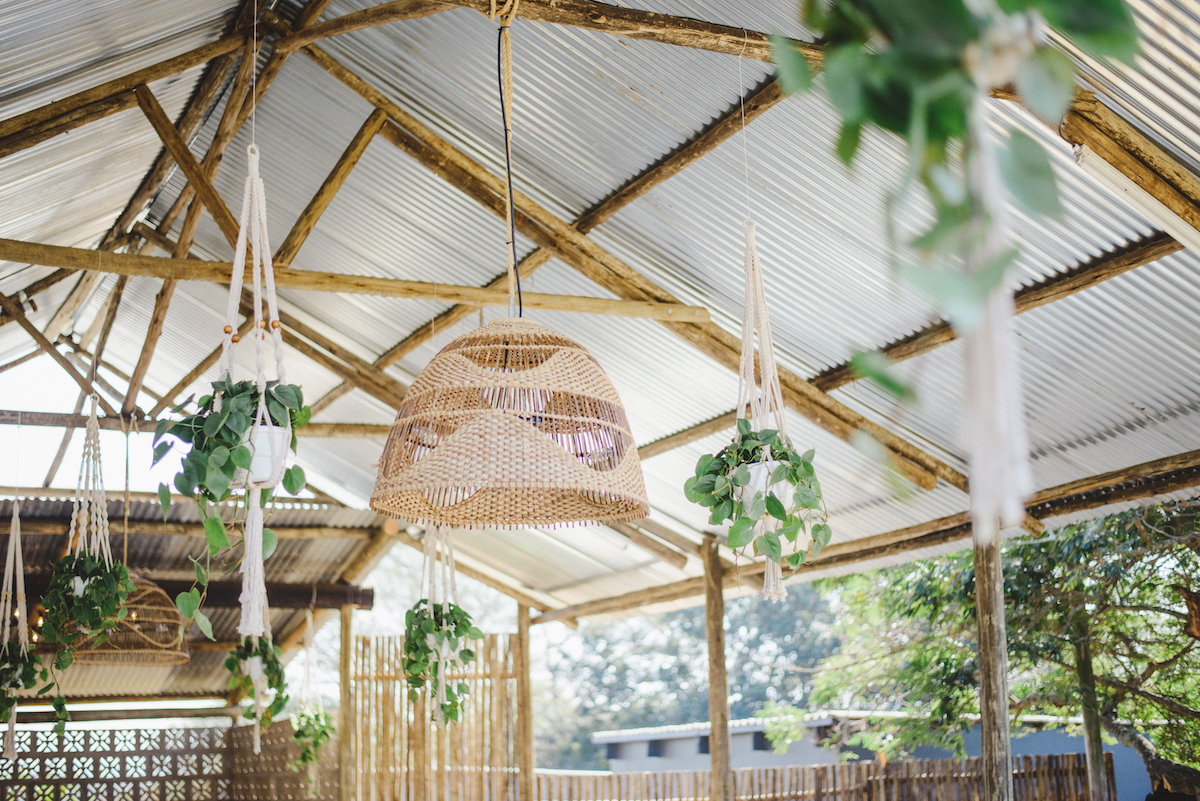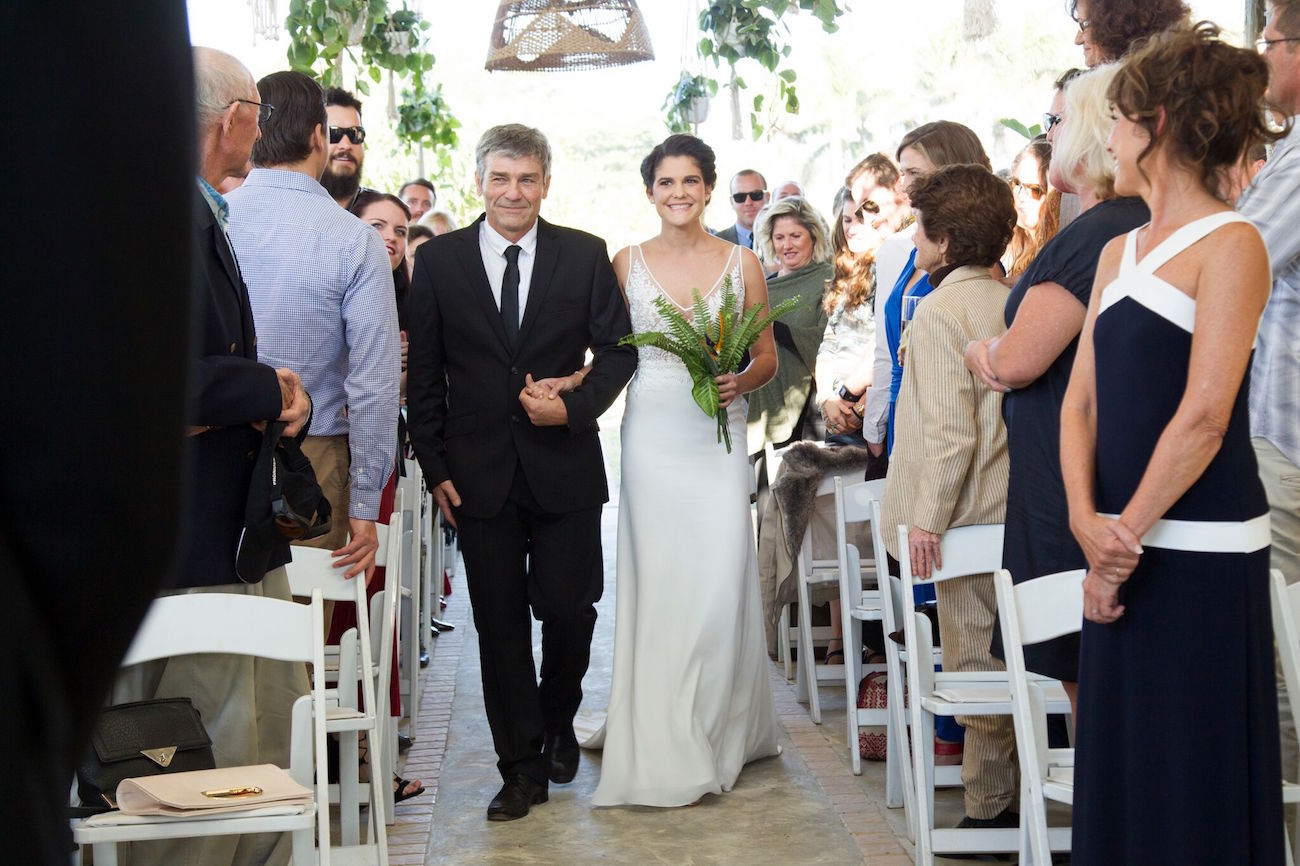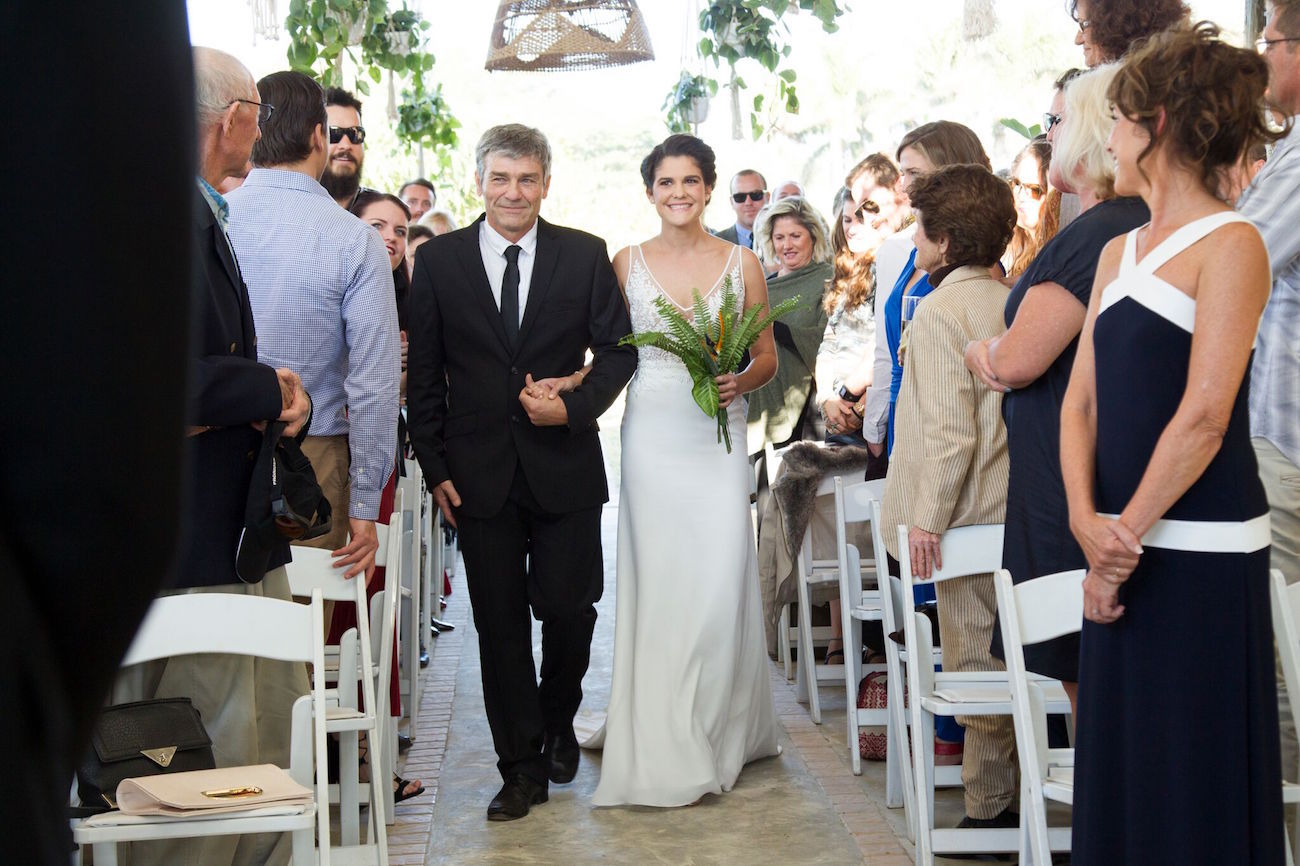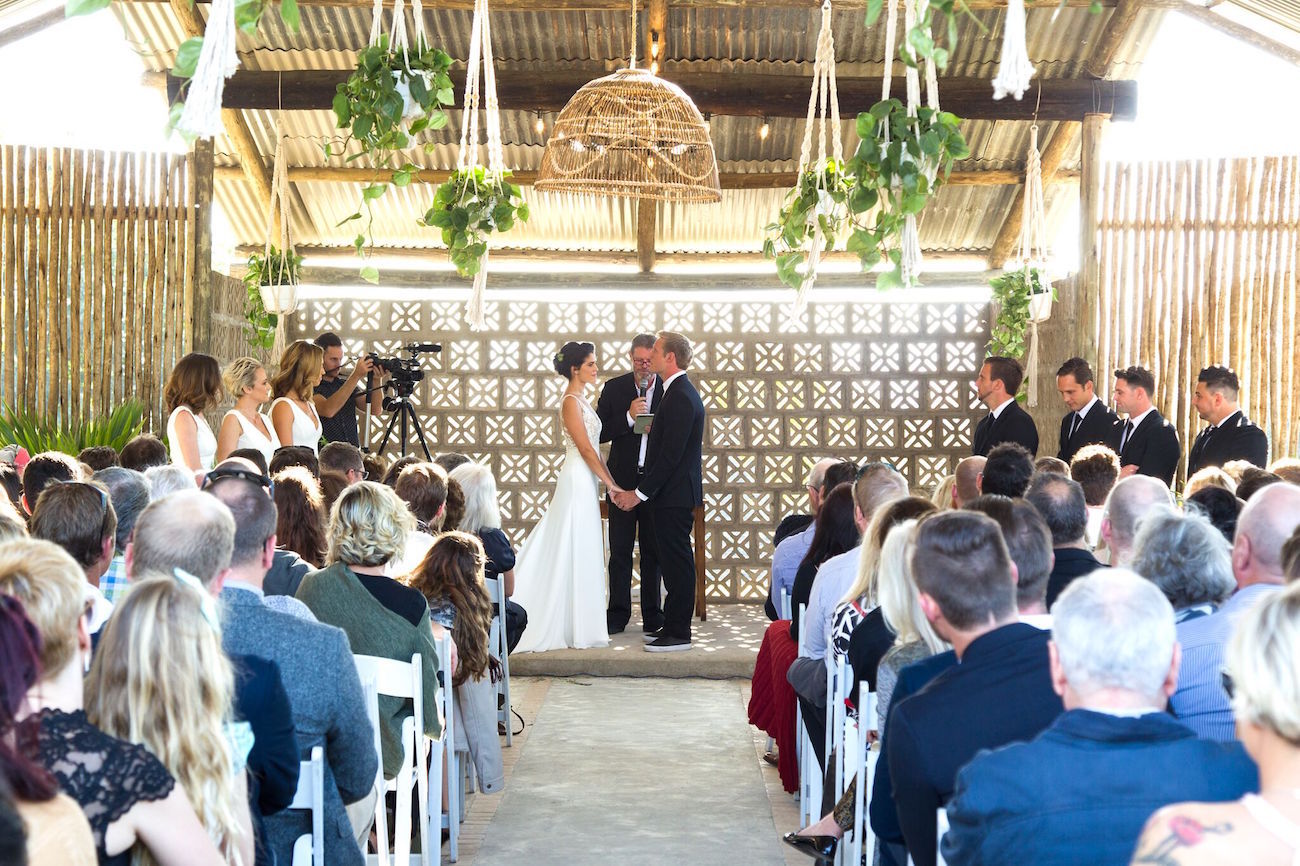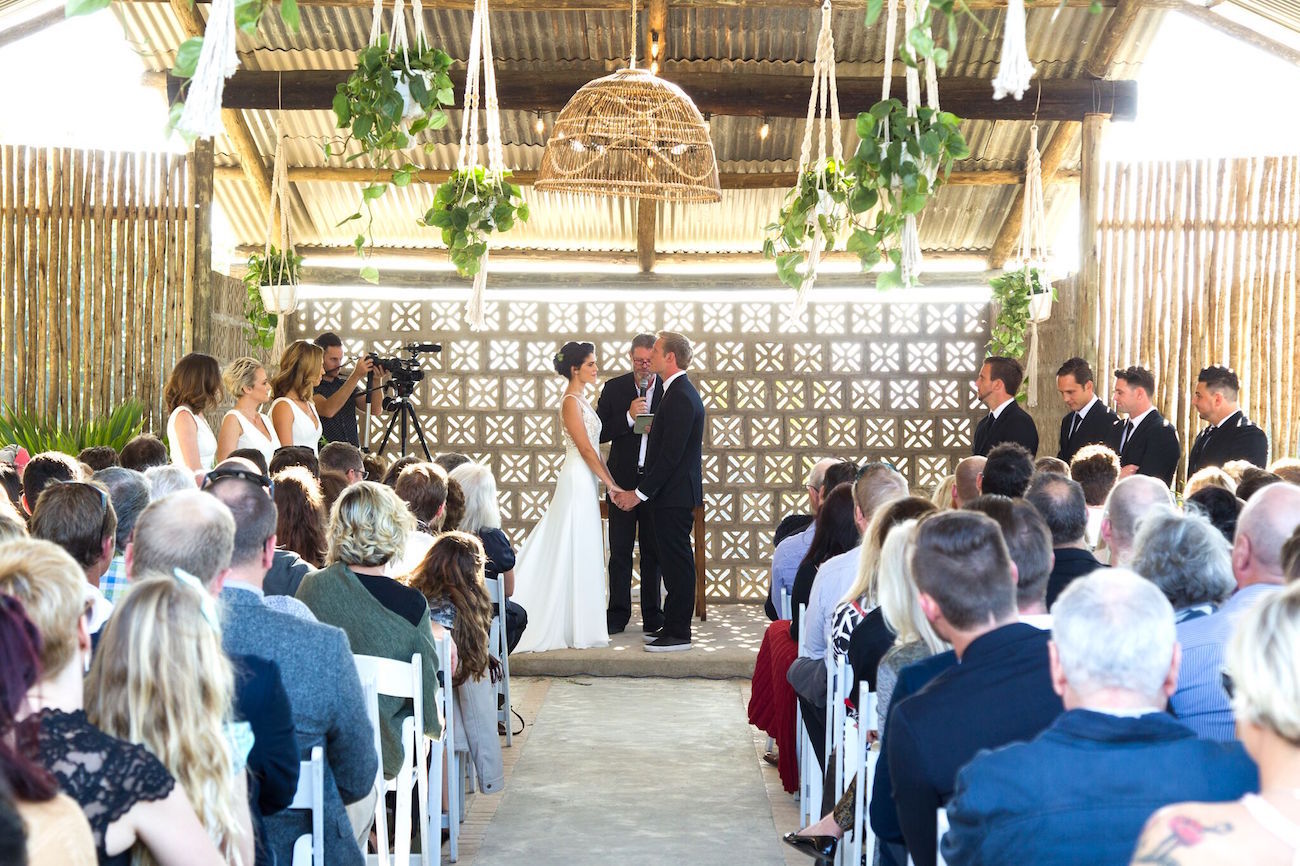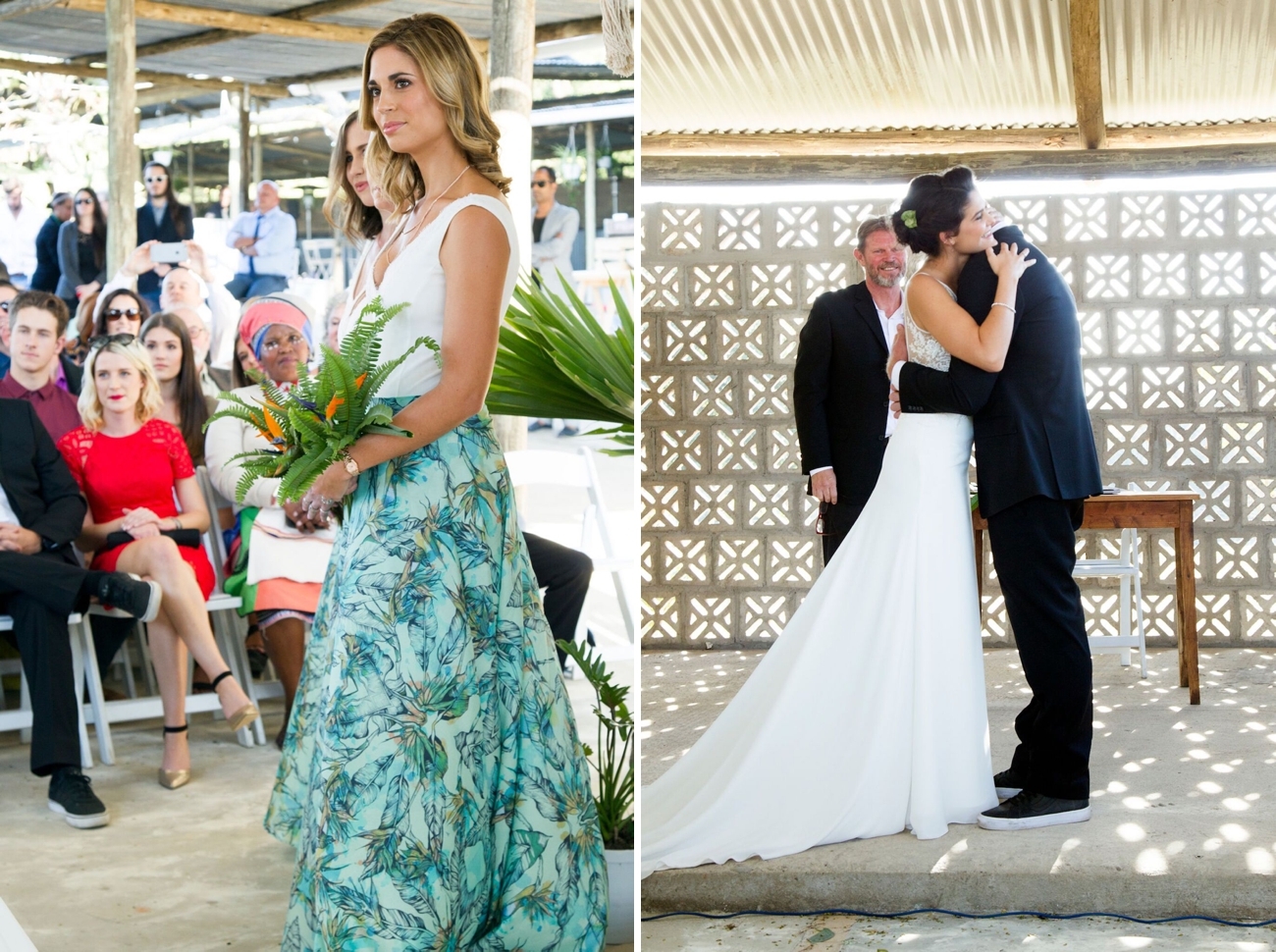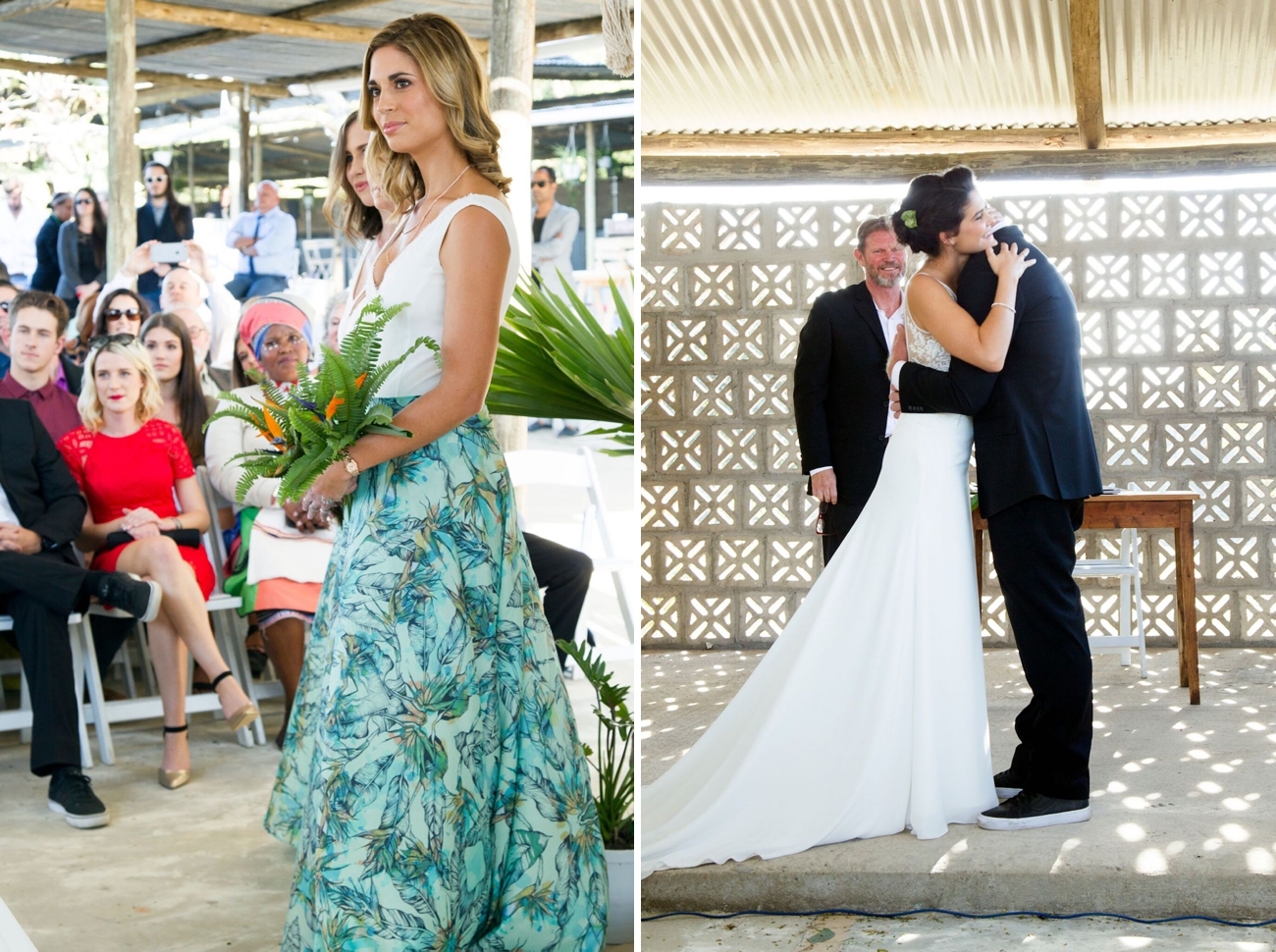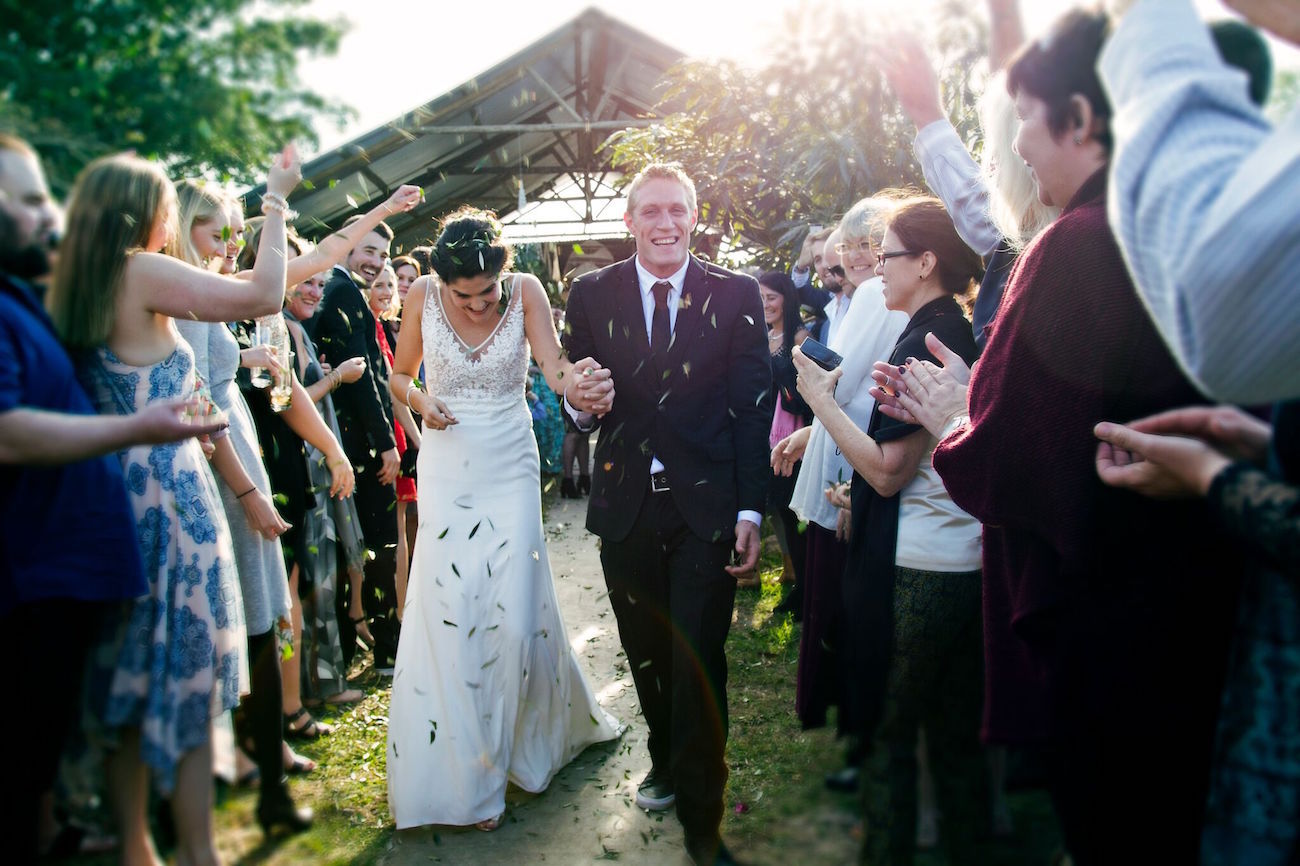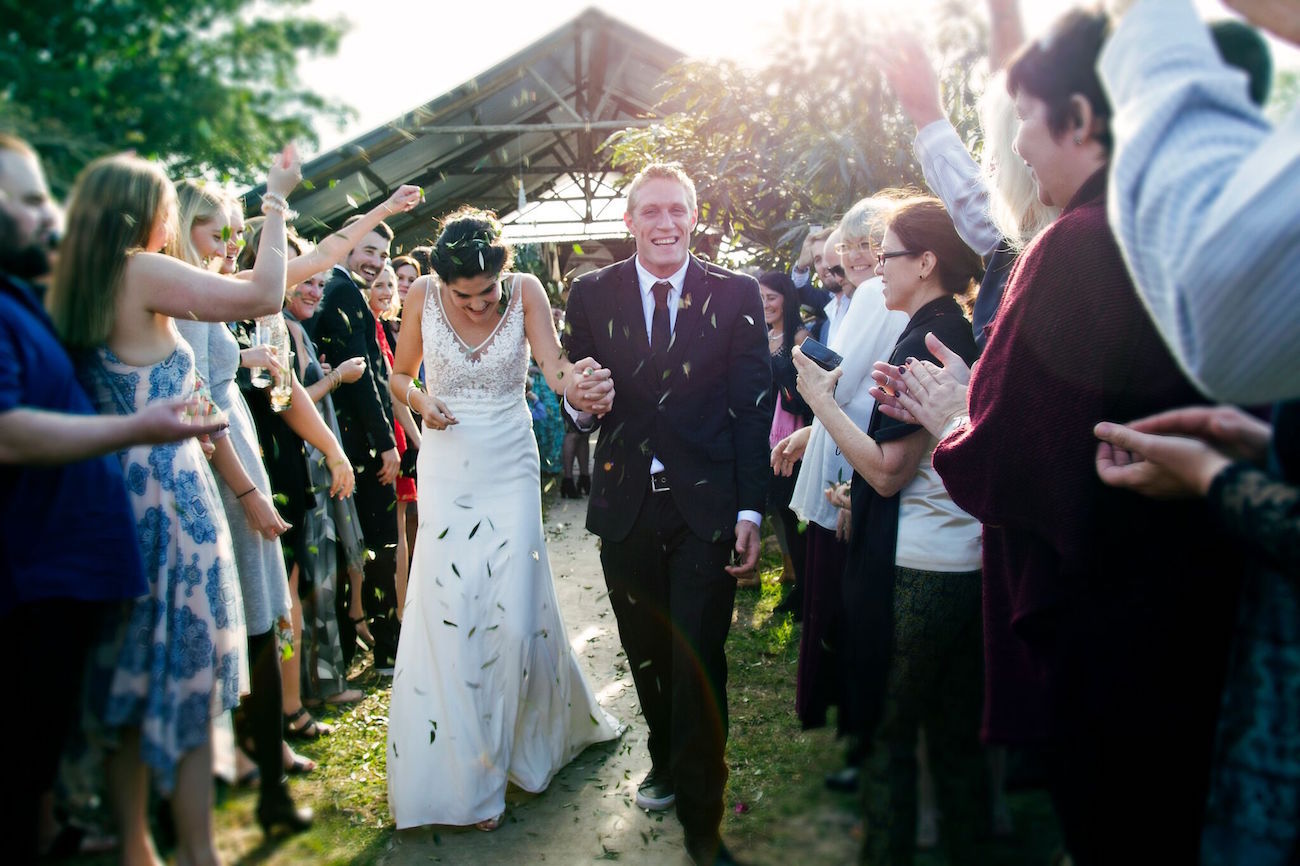 The Flowers
My vision was to use the vegetation of the North Coast to decorate the venue. I had very few flowers – I didn't want the hassle of flowers and I loved the greenery too much! Most of the decor was greenery, using palms, Delicious Monsters and Strelitzia leaves. The only flowers we had were the Strelitzia flowers. We ended up getting most of the plants sent over on a tractor from the nursery across the road. The living wall was by far my favourite. I had seen one on Pinterest and had shown it to my wedding planner and she absolutely fell in love with it. The only thing she said was: WE NEED TO MAKE IT BIGGER! It was a task, but once I had shown Jo the wall and she knew that was what I wanted, we went for it. My cousin came to the venue and erected the frame right there. My mom researched all the different types of leaves to see which lasted the longest and started collecting up to a week or 2 before the wedding.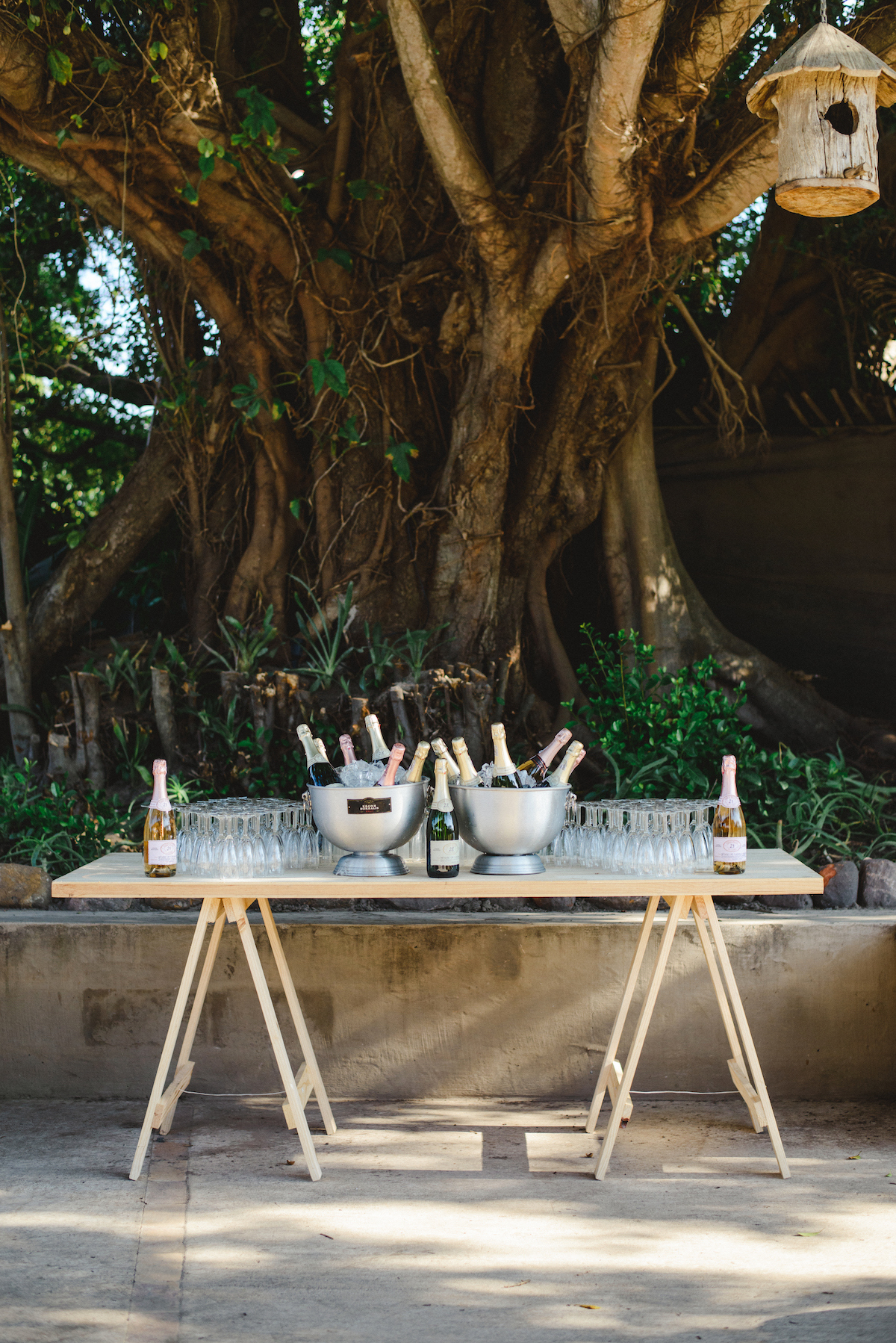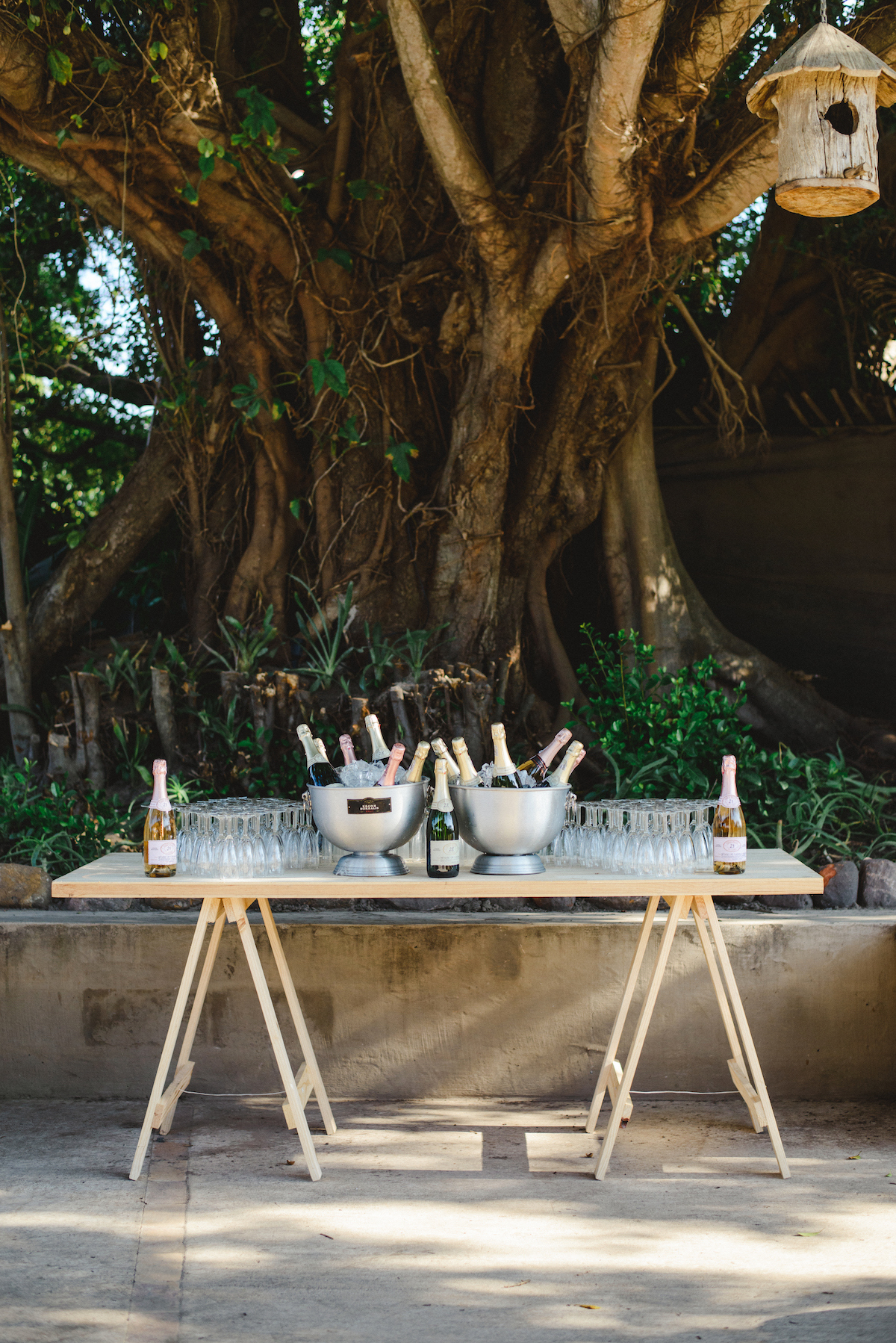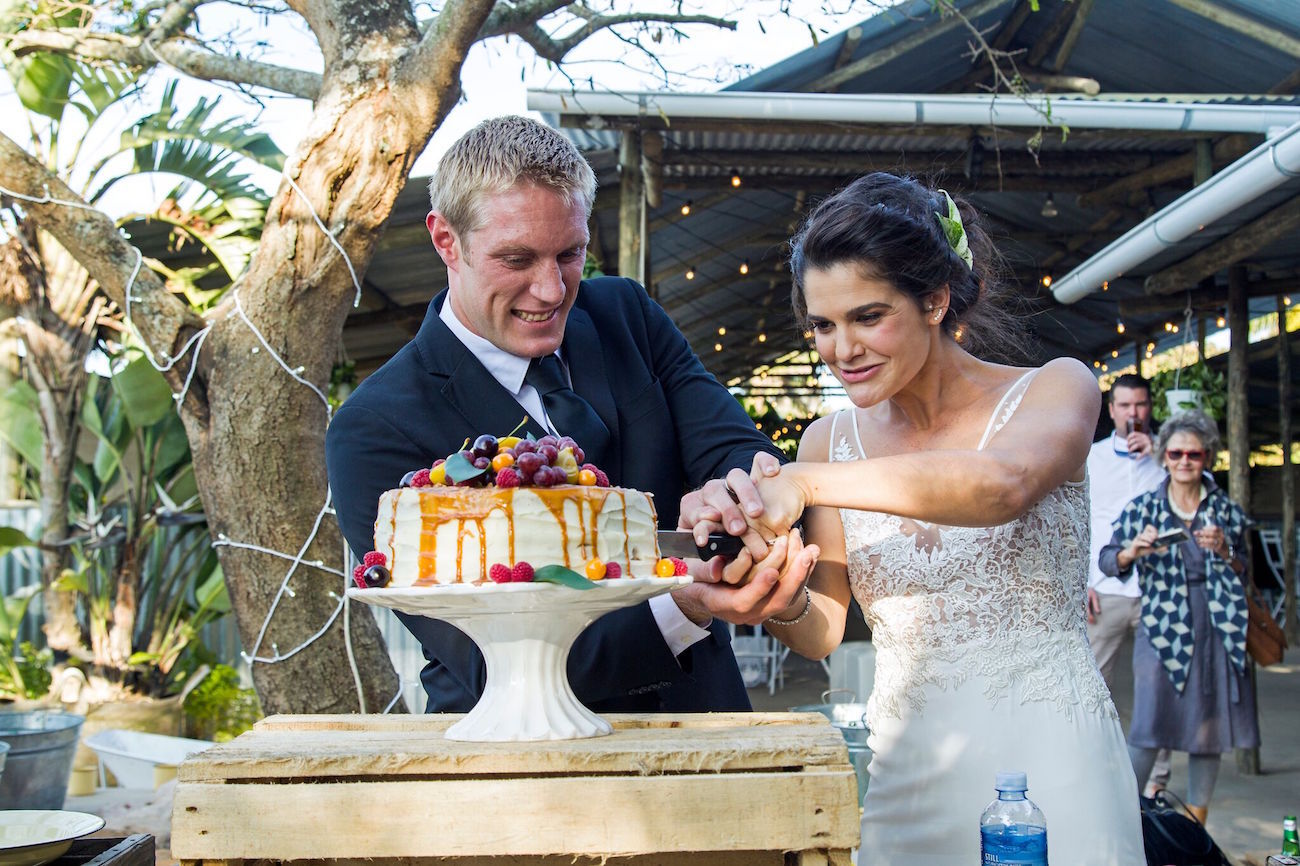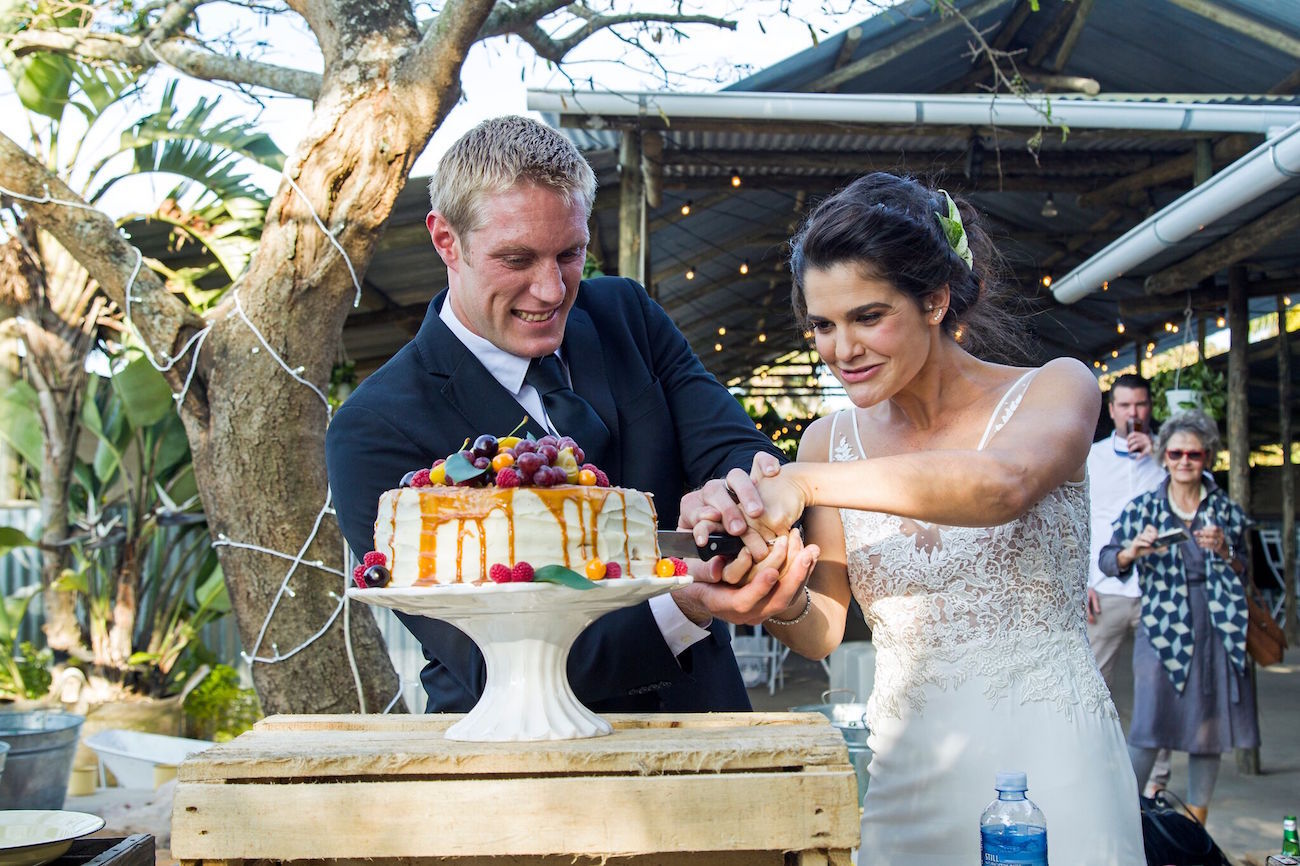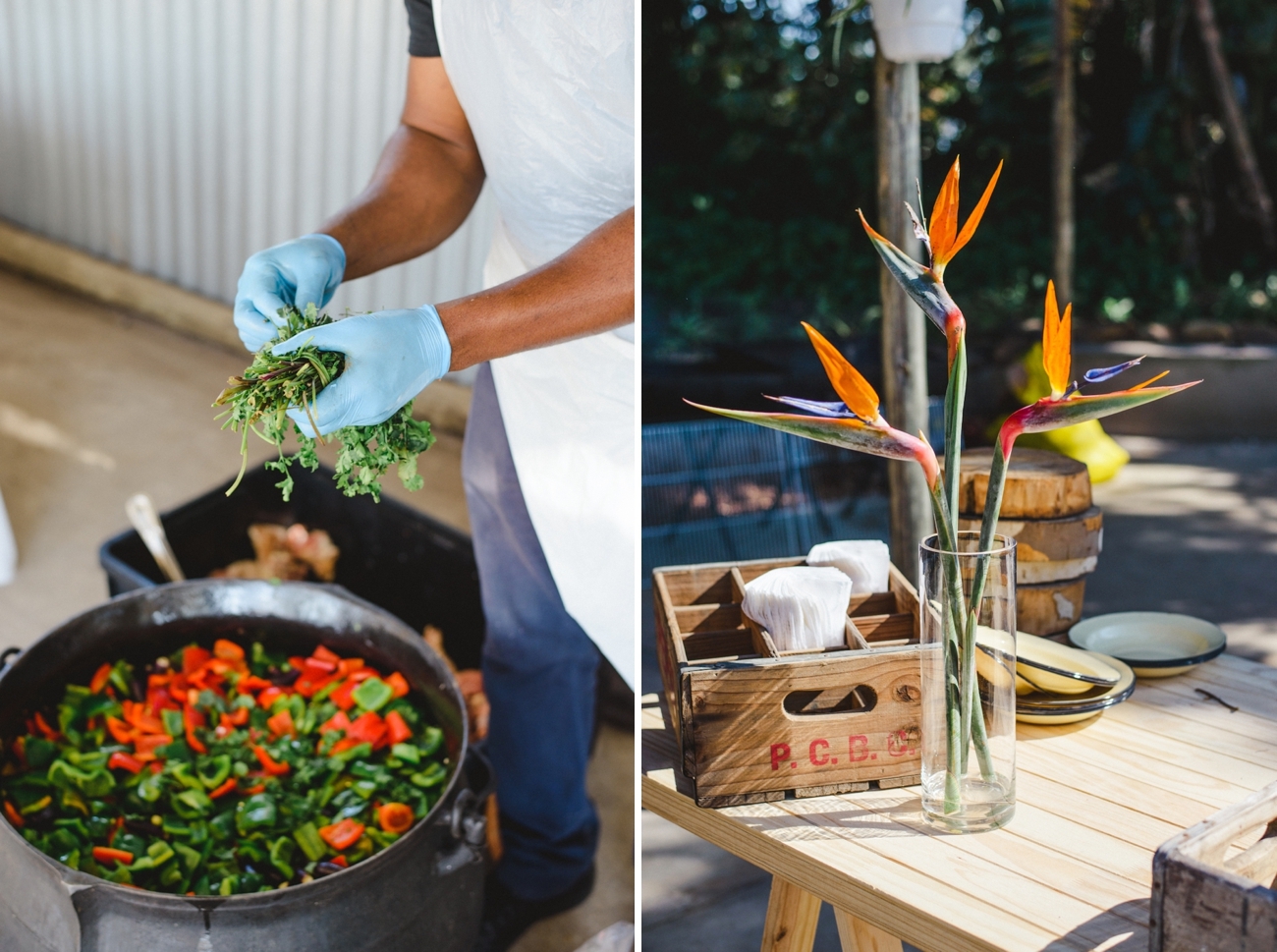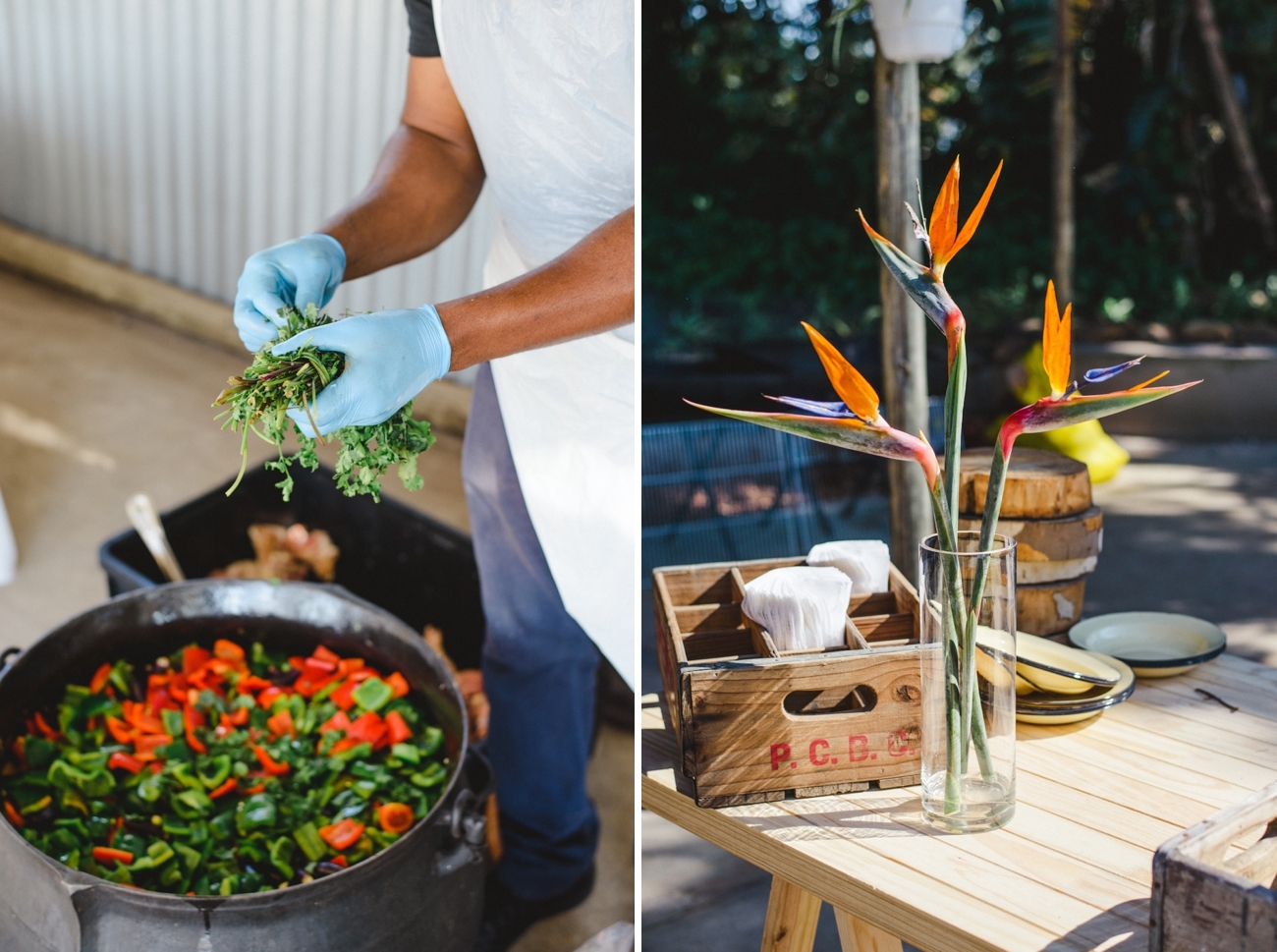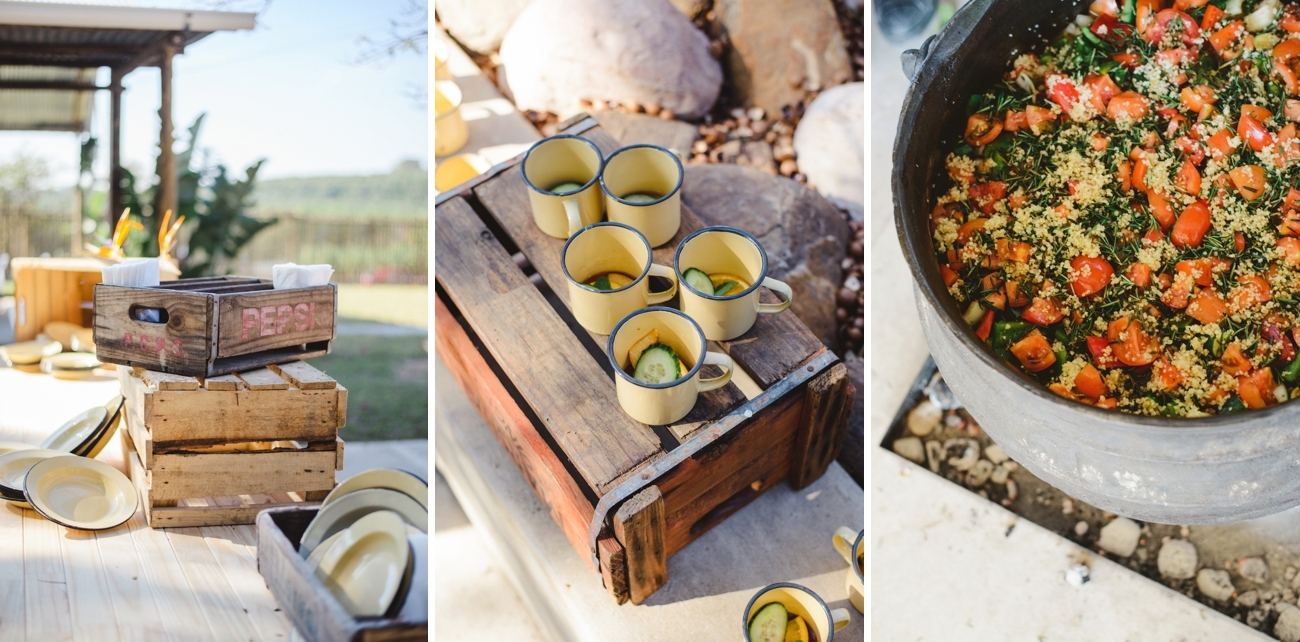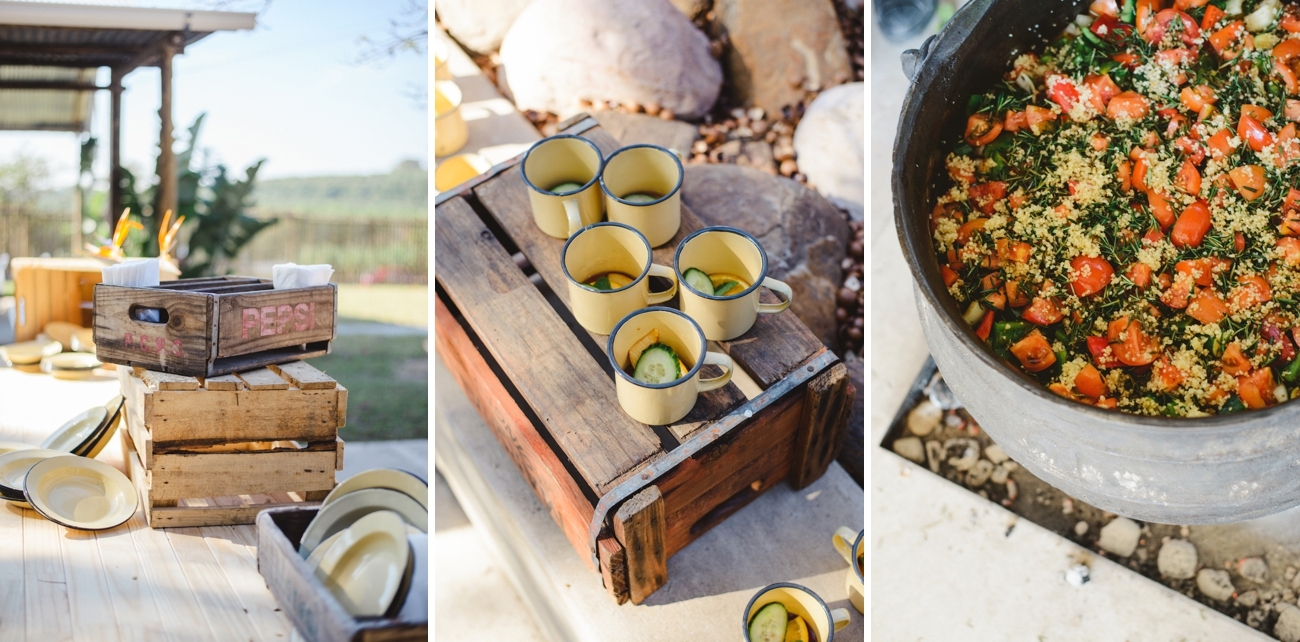 Wedding Details
We decided to do our food for the wedding differently. After the ceremony we cut our cake and had some snacks, and then from 4pm onwards, the main meal was served to those who wanted to eat early and was available throughout the evening for those who wanted to eat later. The meal was something special to us. We chose to serve three different types of potjie, since Josh and I love to make a Potjie, especially when we are away in the bush or just for the family on a long Saturday! This was special to us as it is something we like to do together, and we were able to have this favorite style of food for our guests!
DIY Elements
As well as the living wall, we also made our own benches for the pallet tables using wooden planks and breeze bricks, which we painted all-white.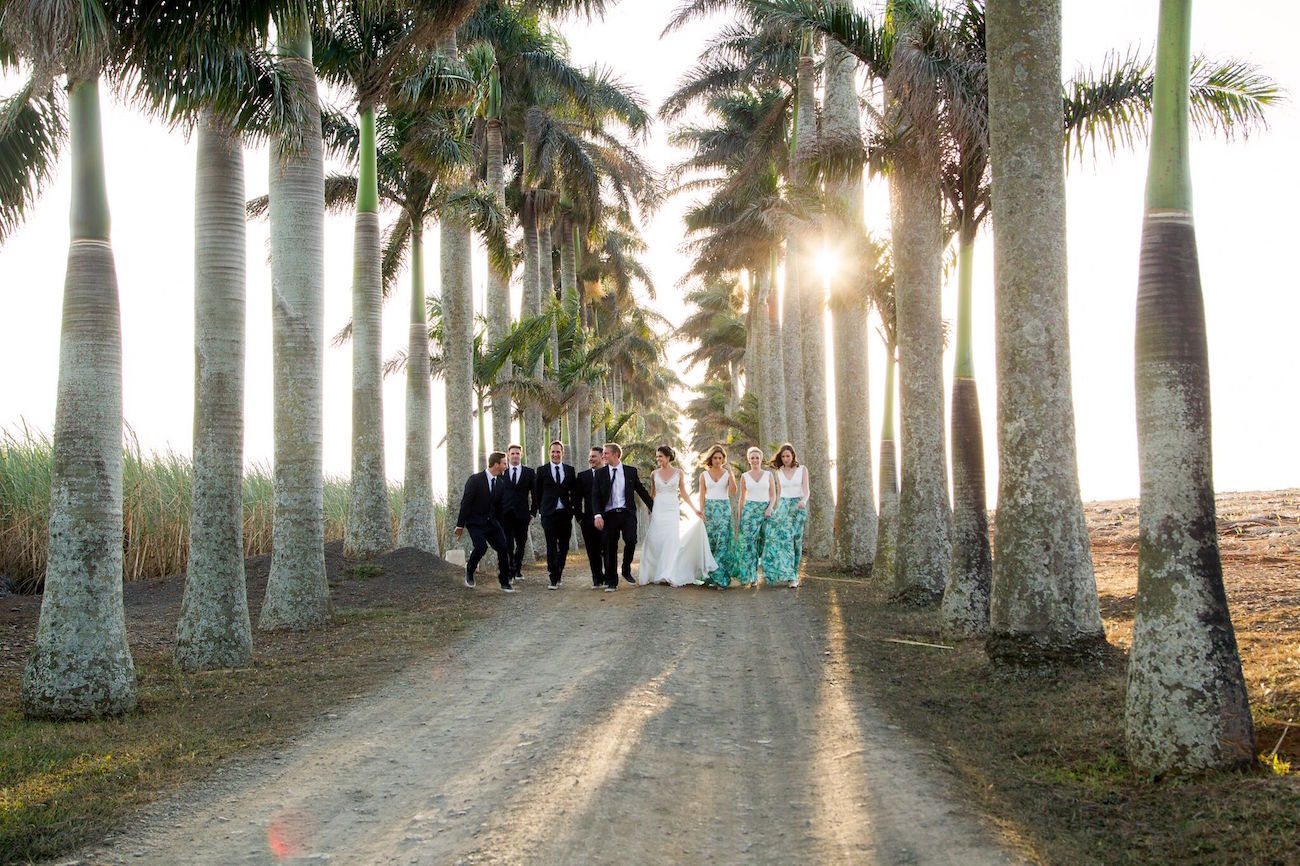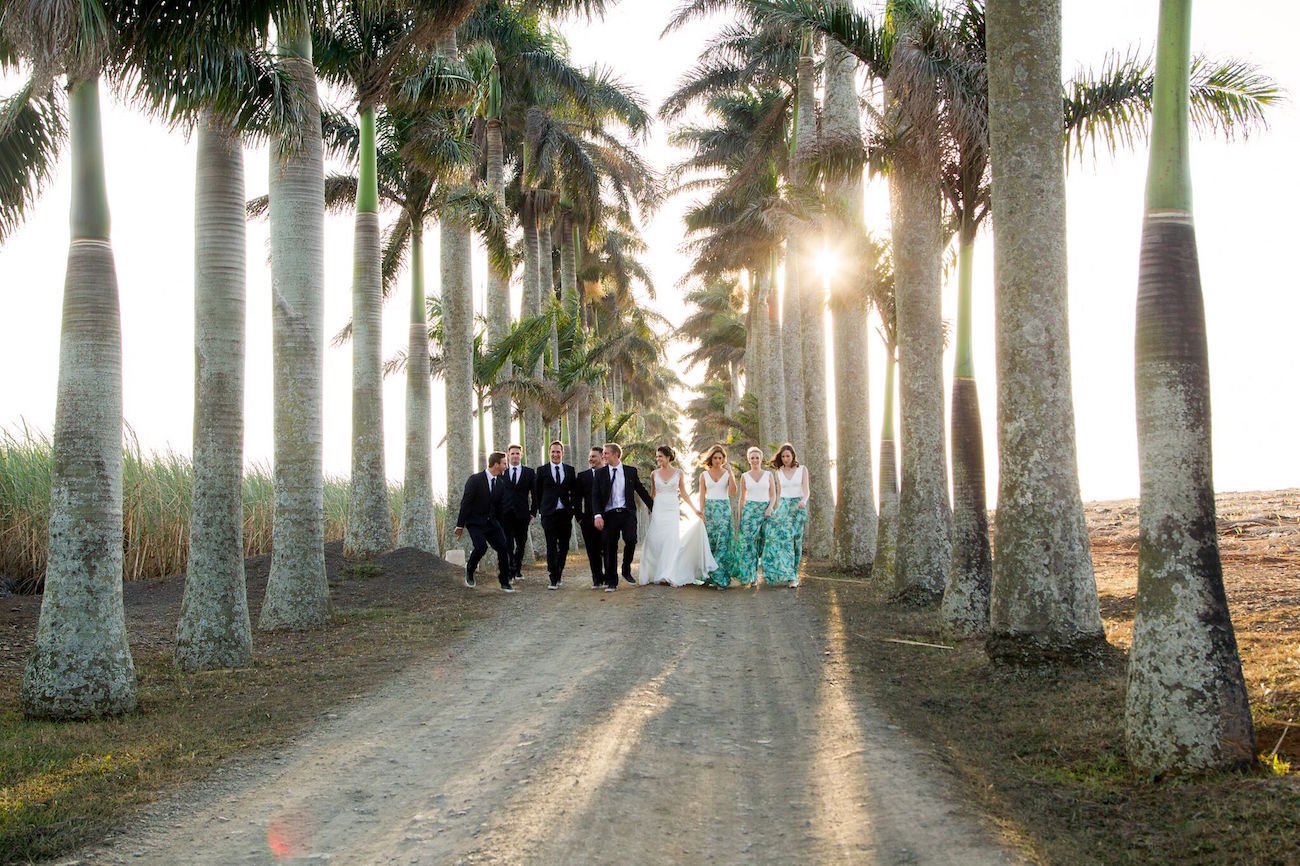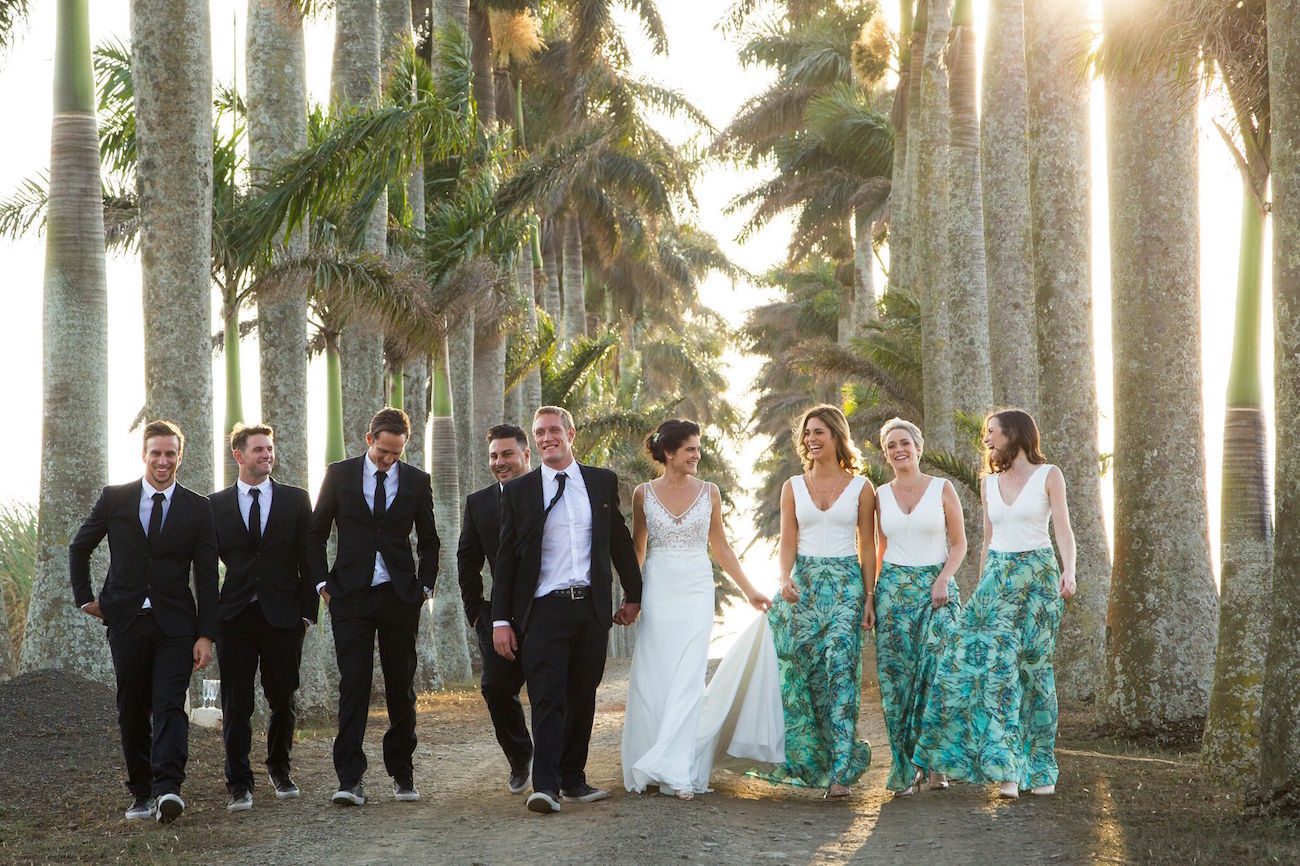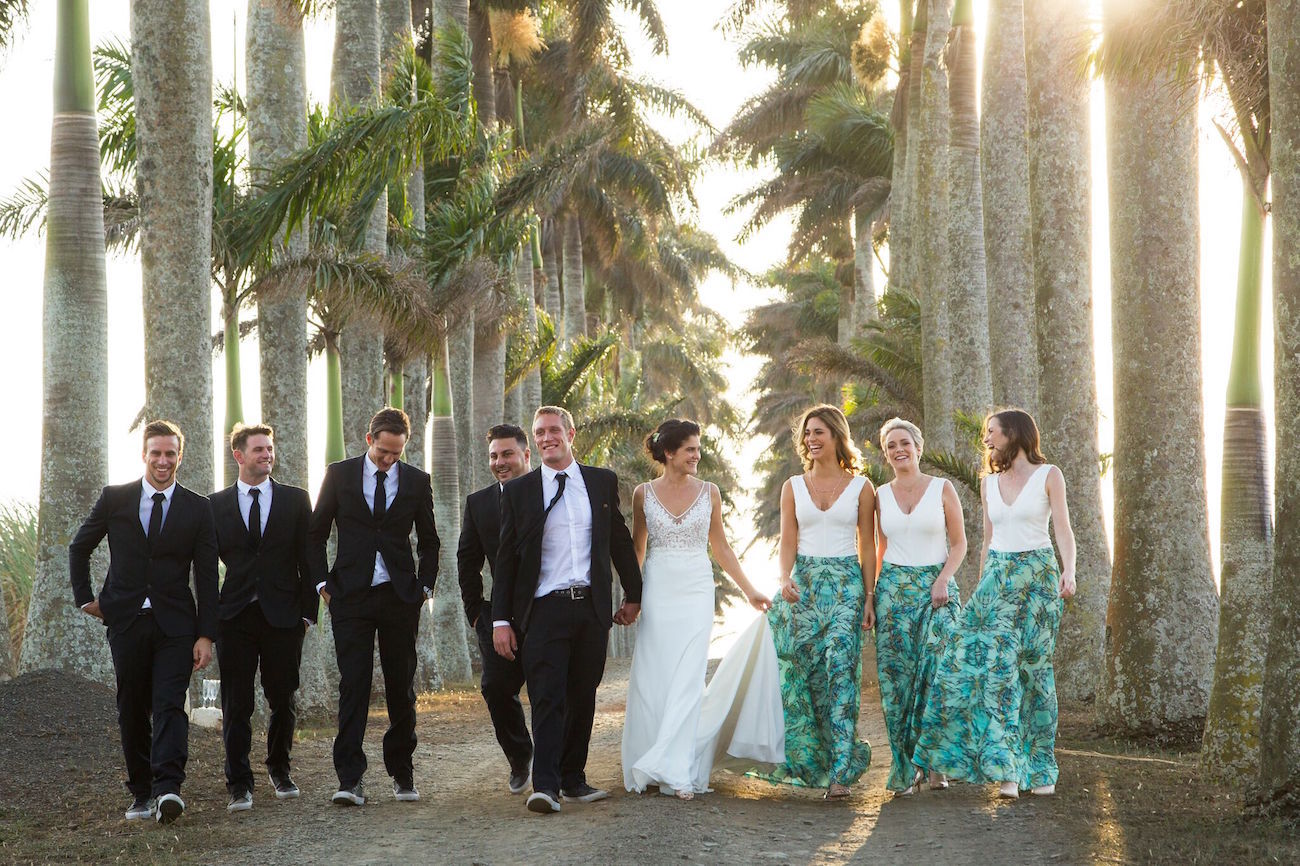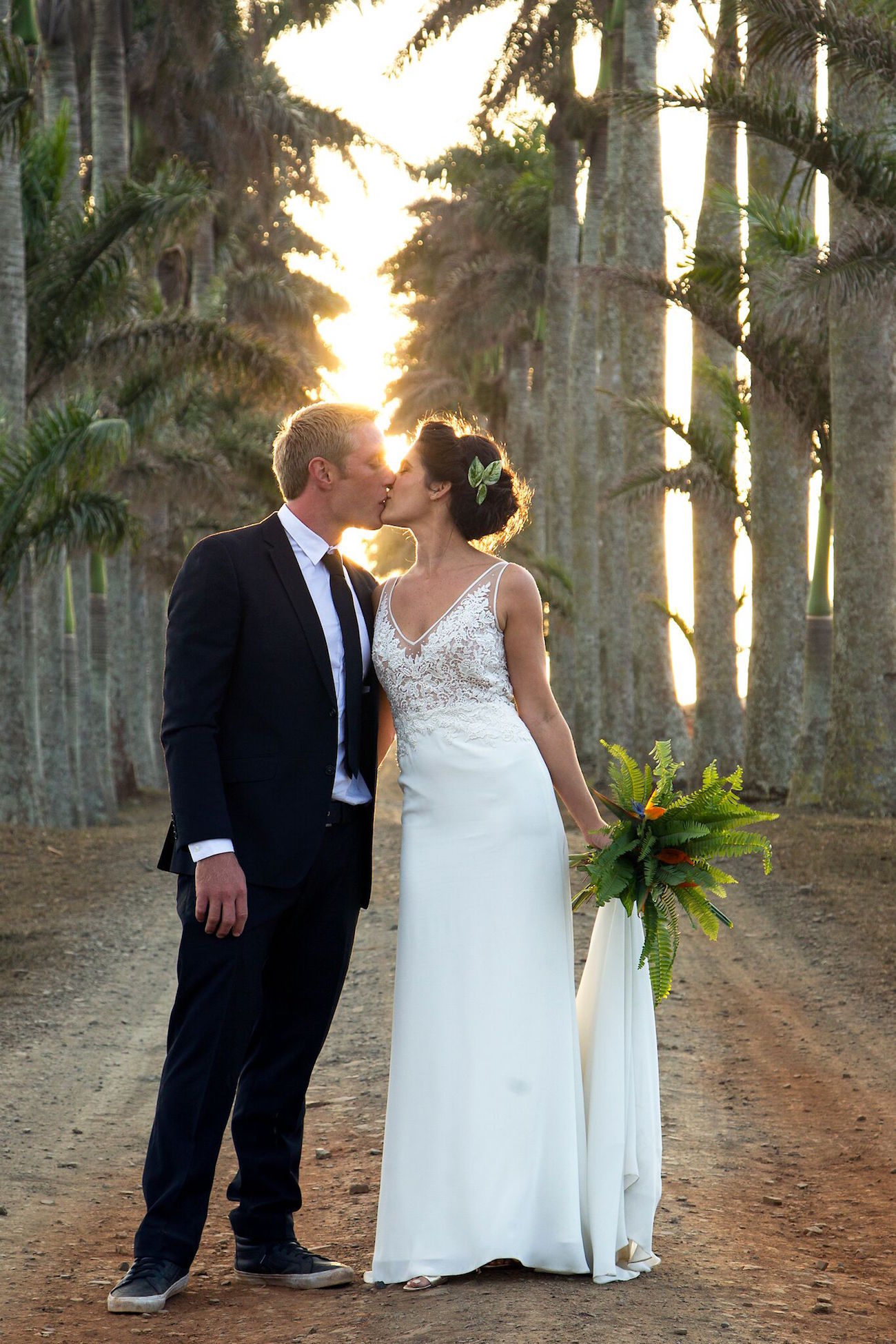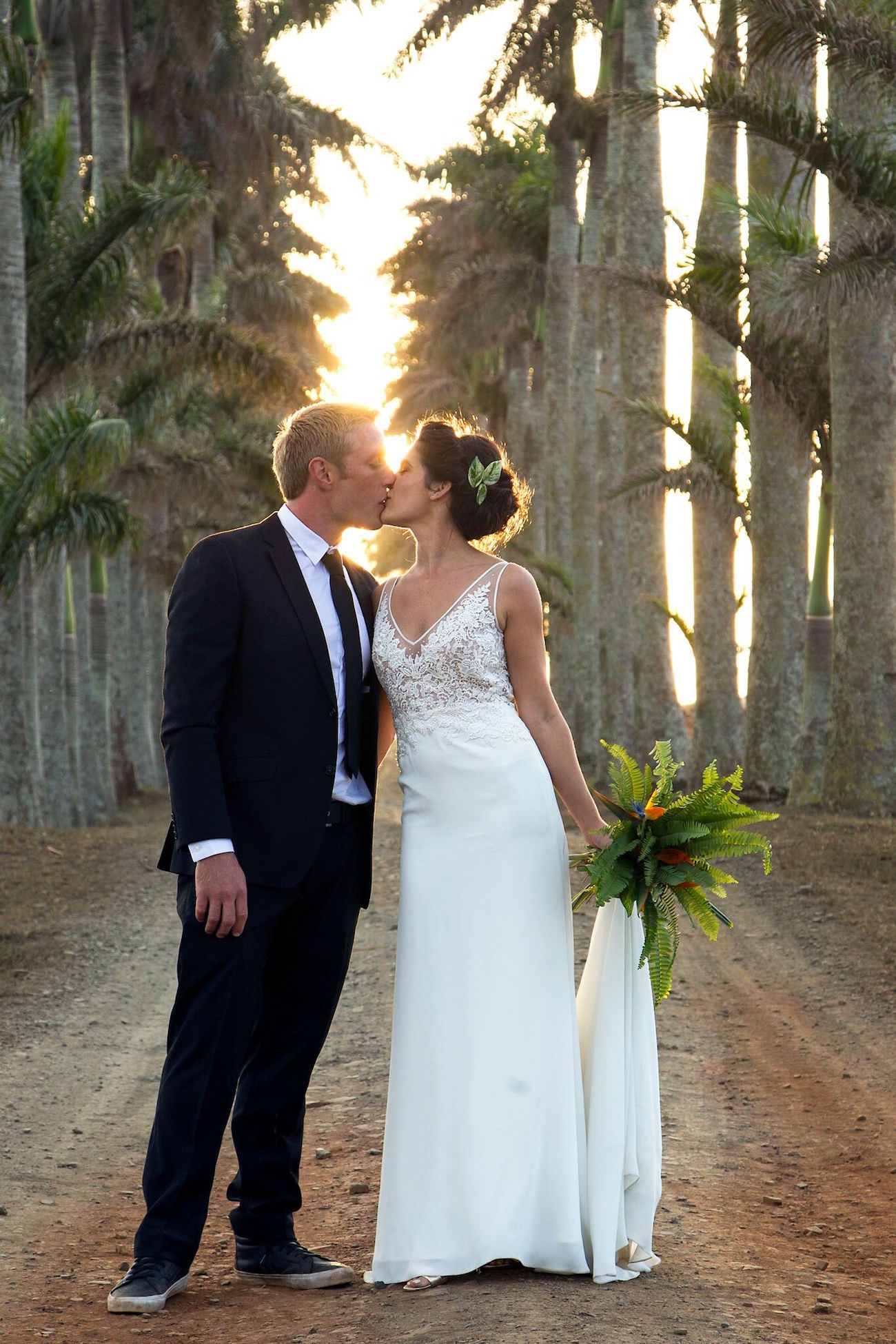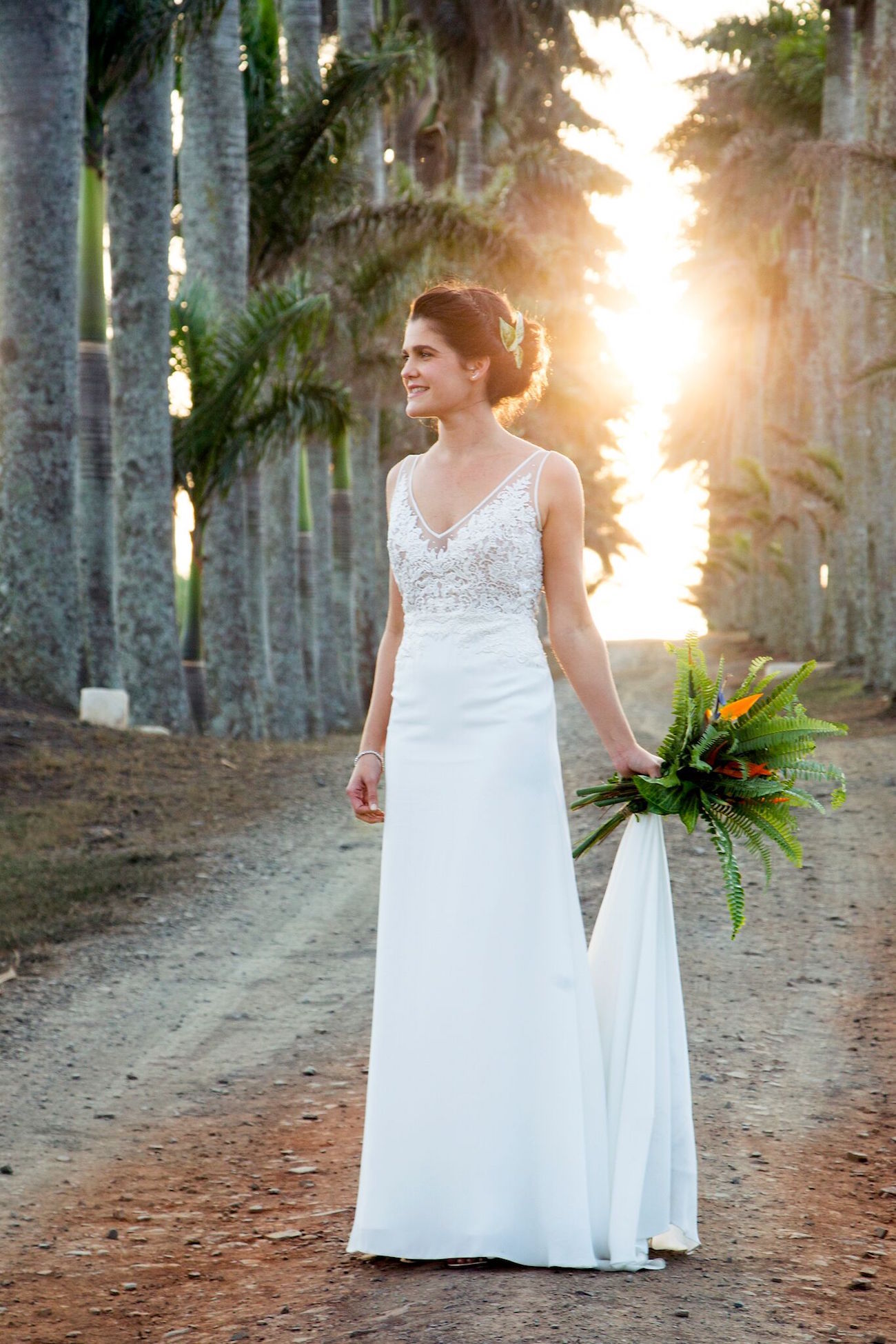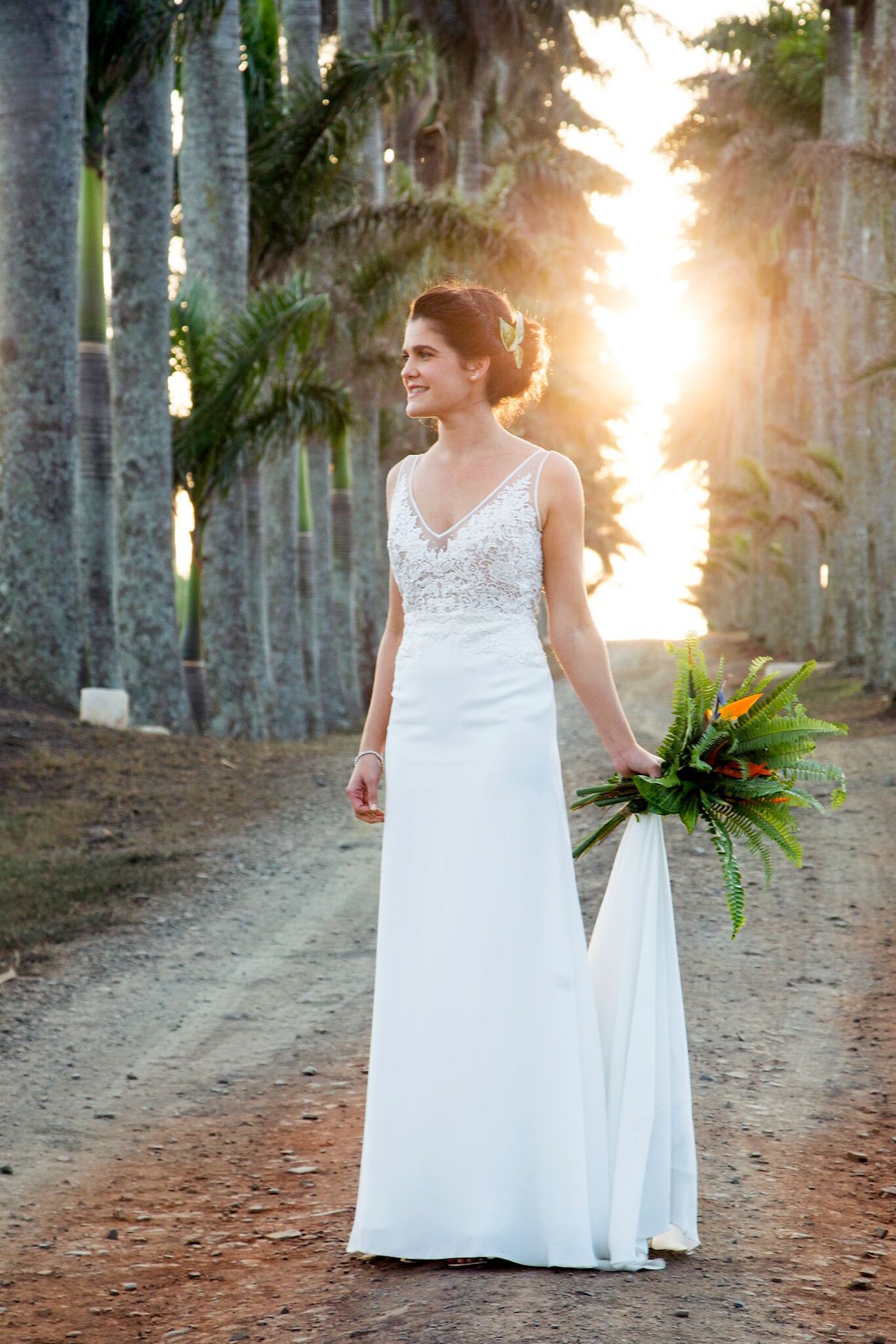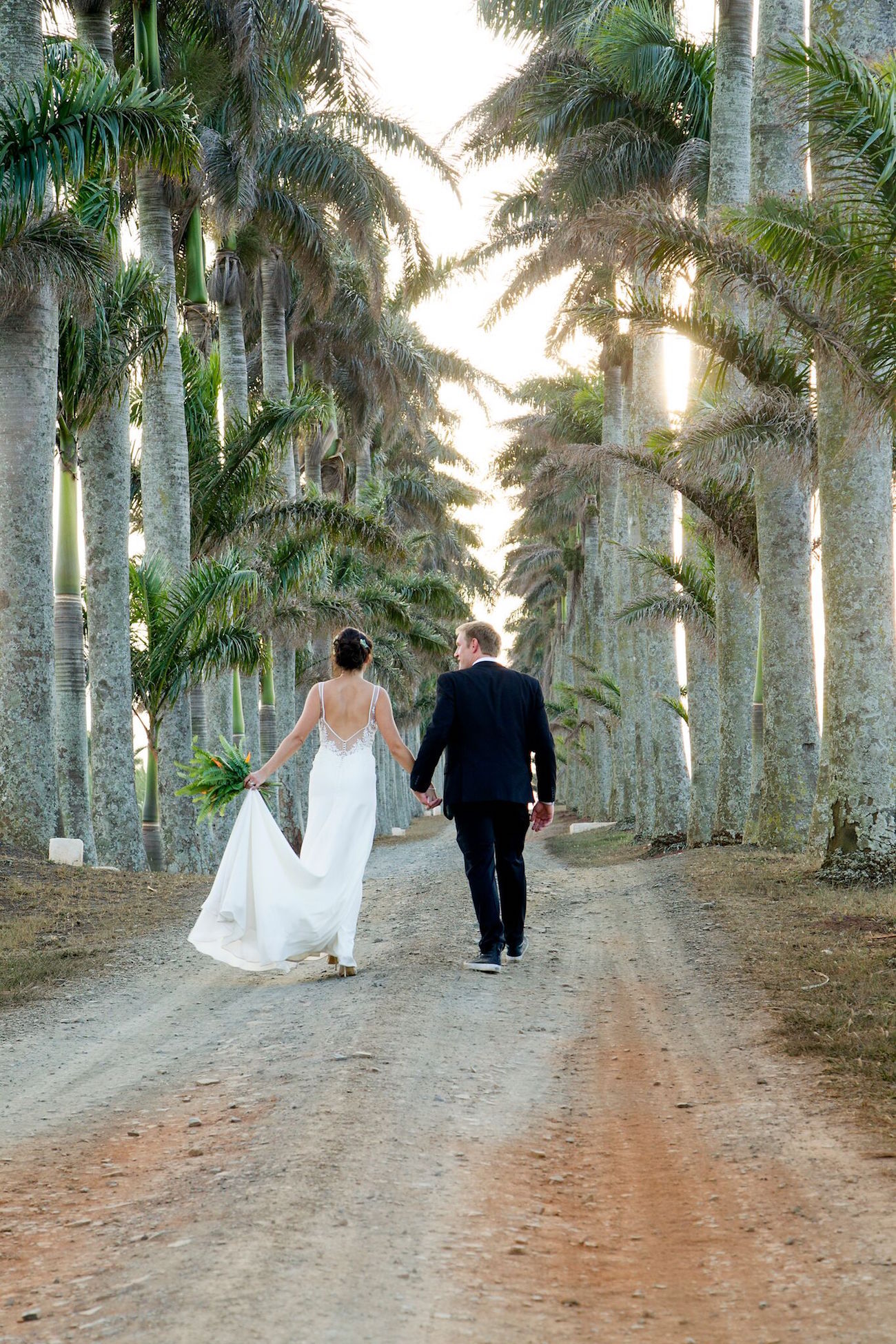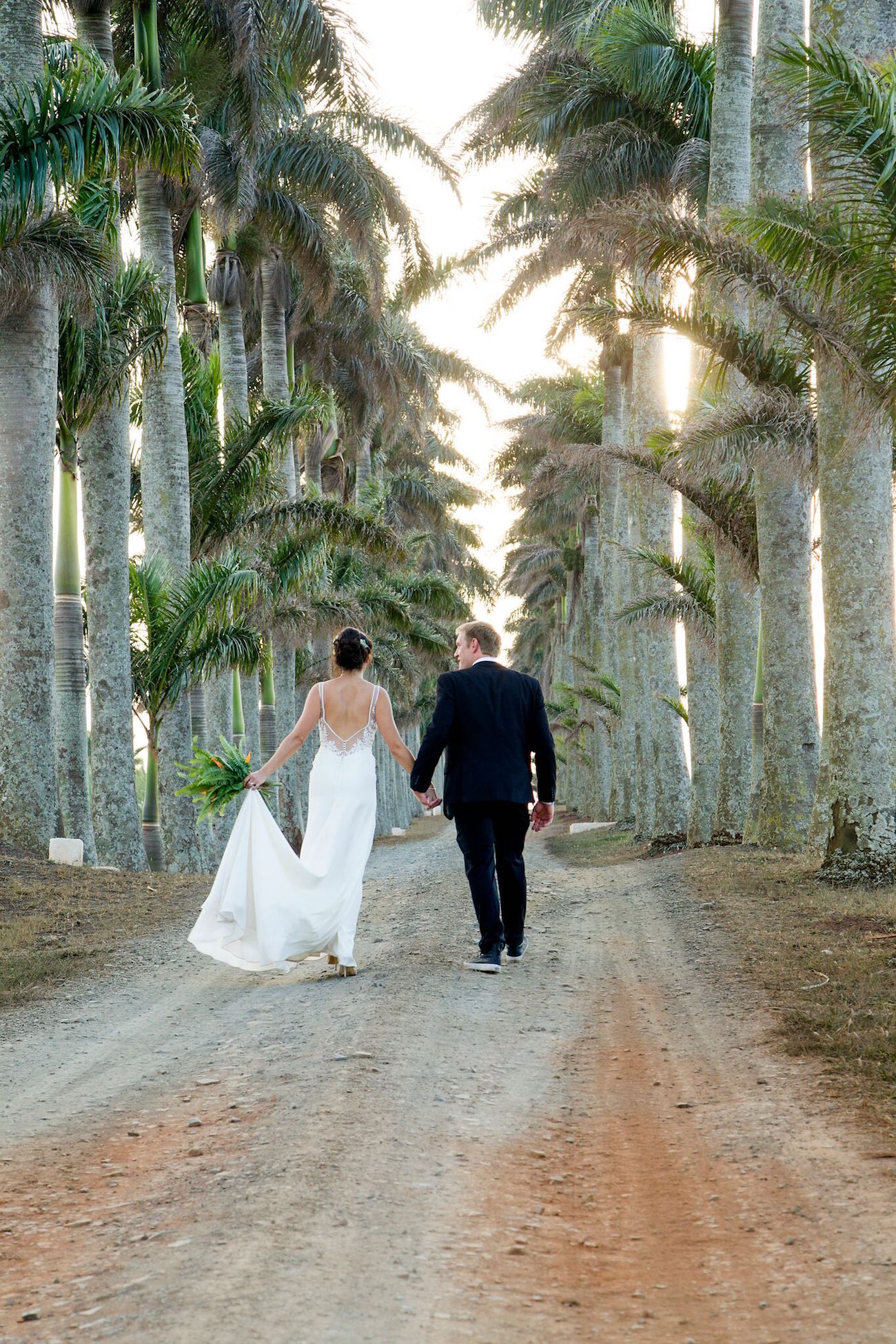 The Dress
I just loved my wedding dress and the whole process of creating it. I went to two consultations with different Durban designers and decided to go with Julia Ferrandi. All I knew was that I wanted a low back and something that was comfortable. With the help and guidance of Julia and her mother, I ended up with something that was so 'me'. The detail on the lace that I chose looks a little like leaves, fitting in with the greenery of the decor. I loved how it was fitted to my body with the beautiful low back… the feel and movement of the material was just how I pictured it, although at the time it was difficult to explain. It was a great project!
The Bridesmaids
I had three bridesmaids. I wanted them to be in a flowy skirt and a bodysuit top. The material of the skirt was another one of my favorite parts of the wedding. When discussing what I wanted them to wear with Jo she remembered a similar type of material that she had seen a Durban designer create (Tarryn Shepard aka Rooi Rok Bokkie). She gave me Tarryn's number and from there we just changed the colour pallet and printed the material specifically for the wedding. It was really special!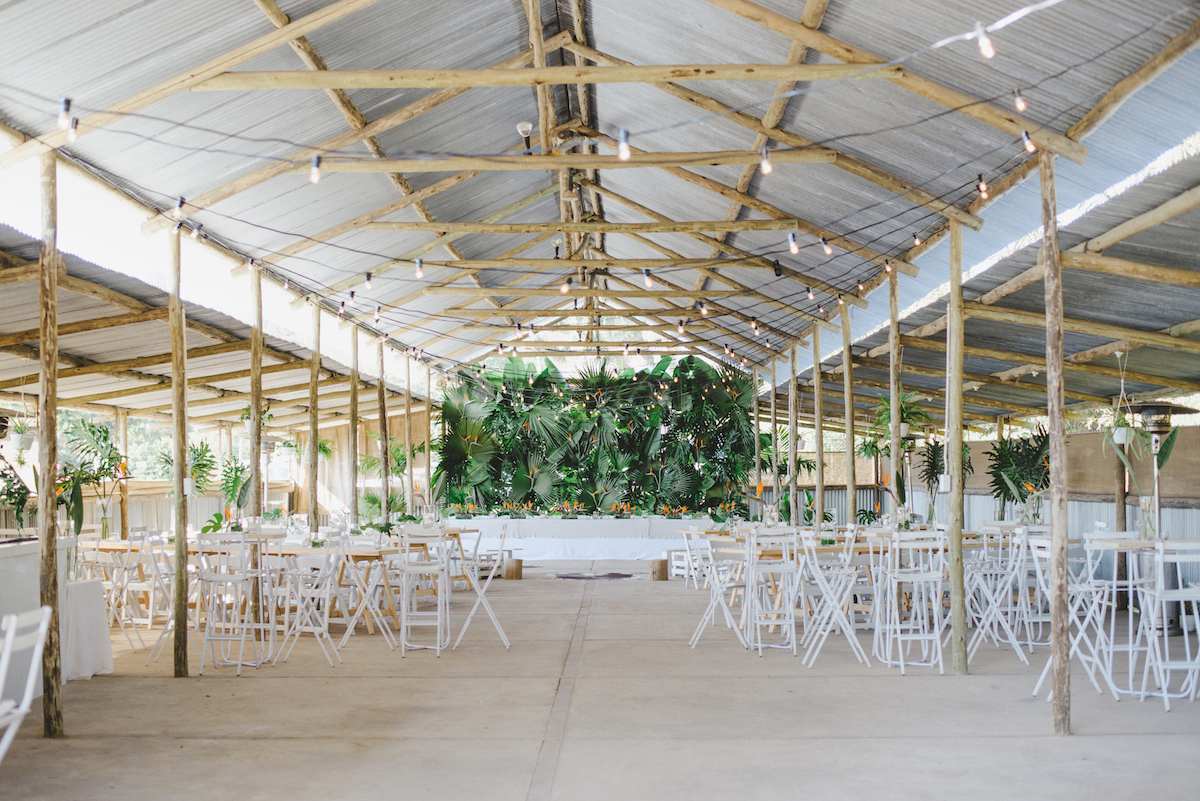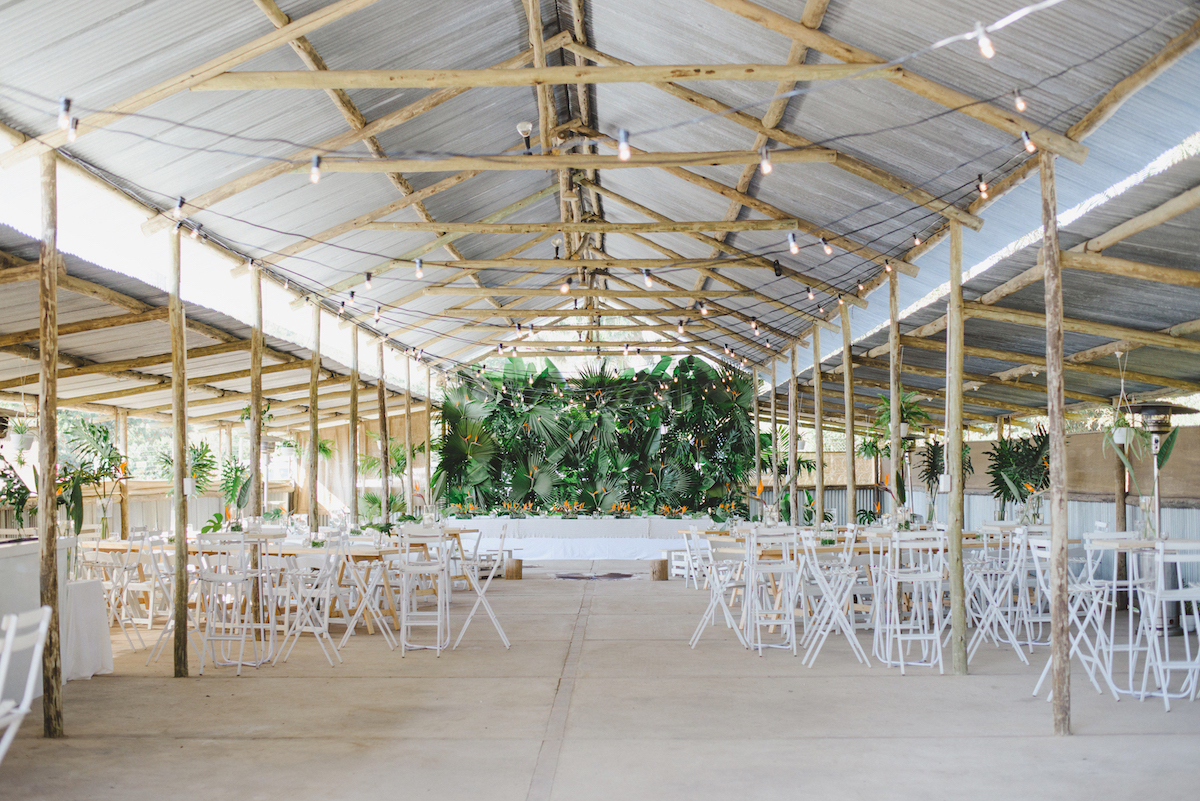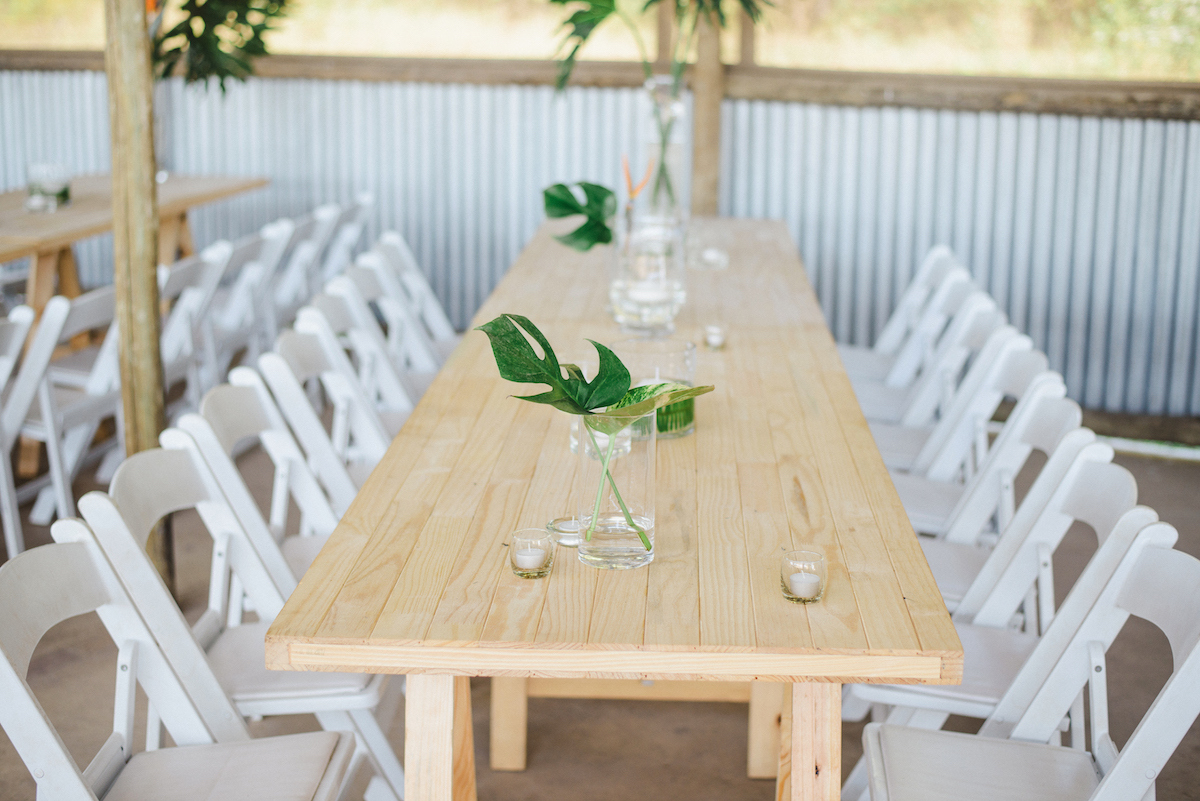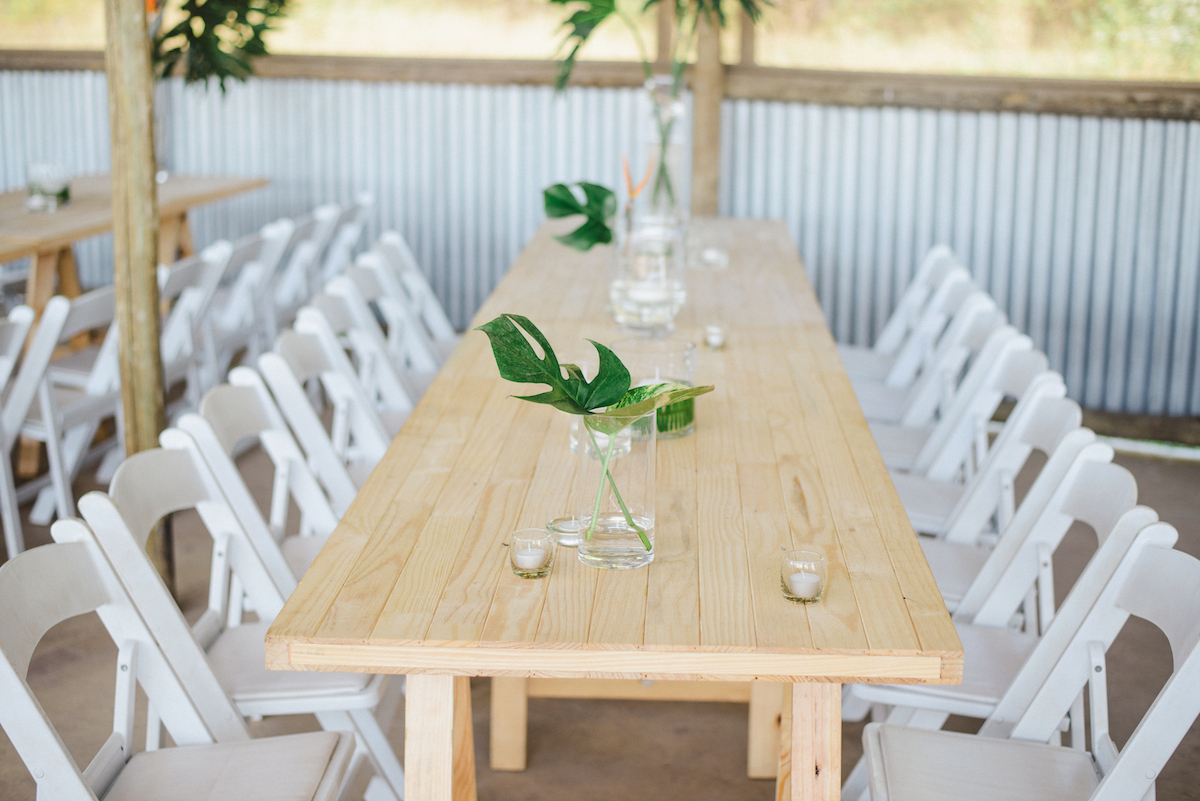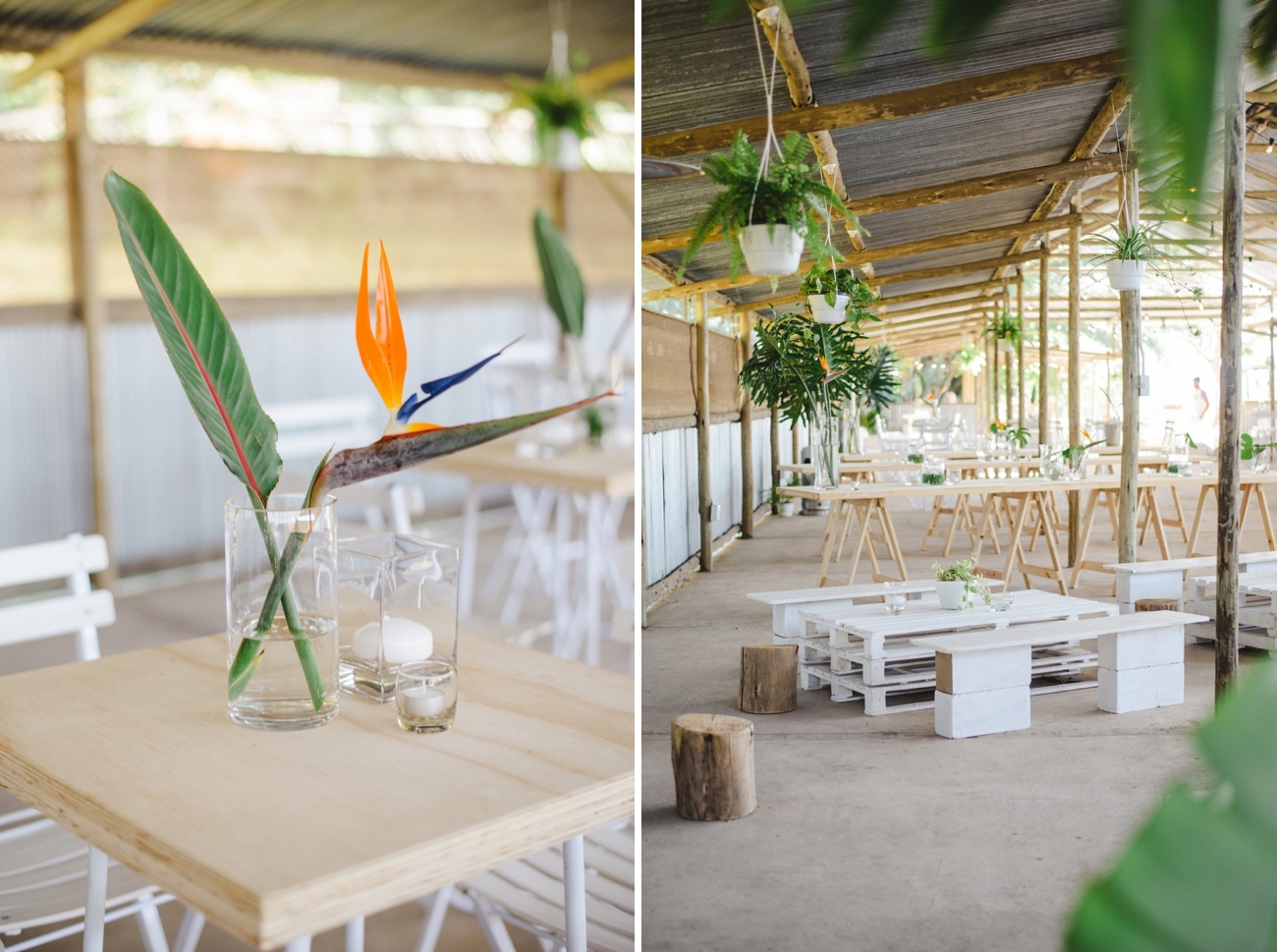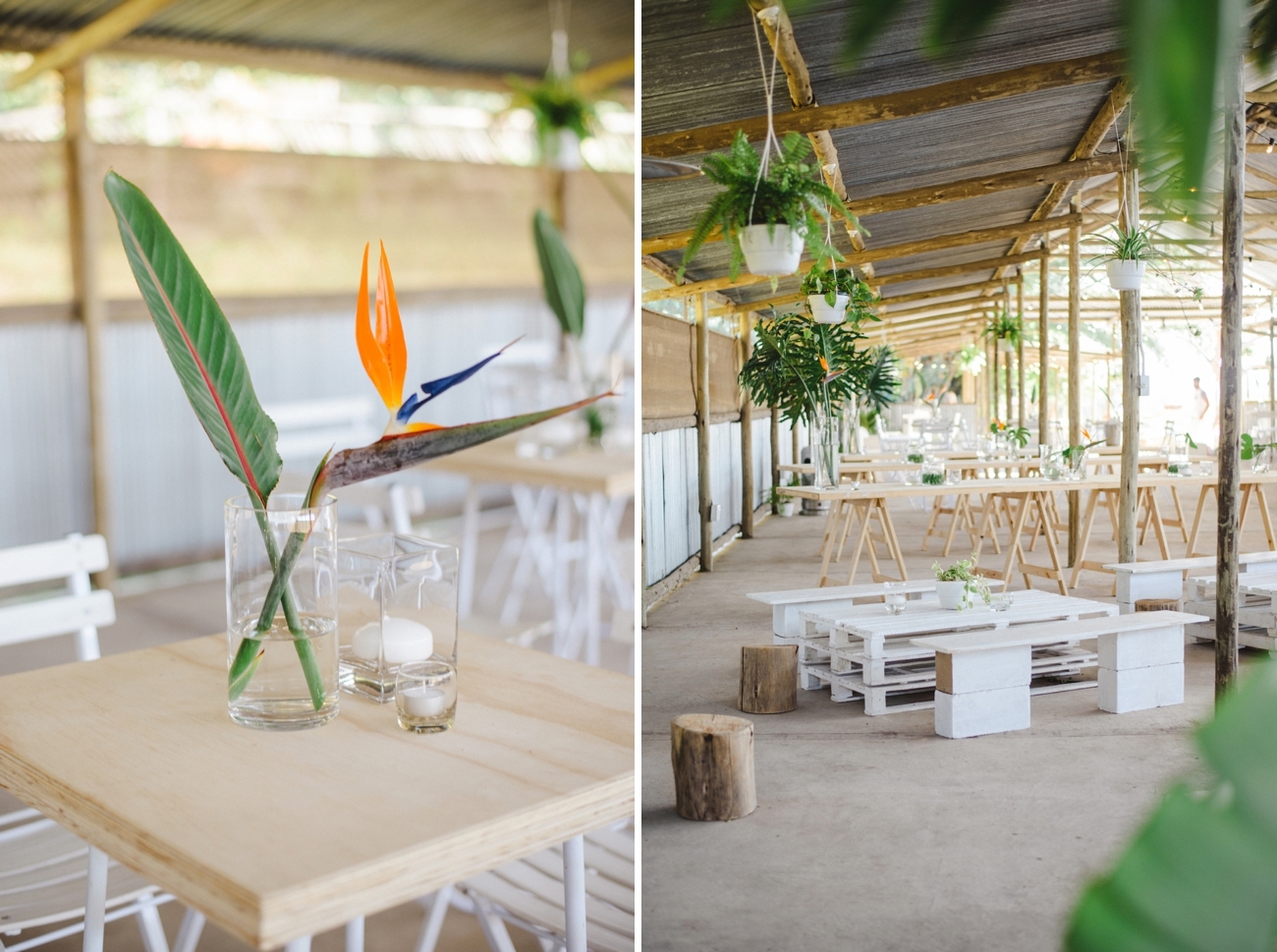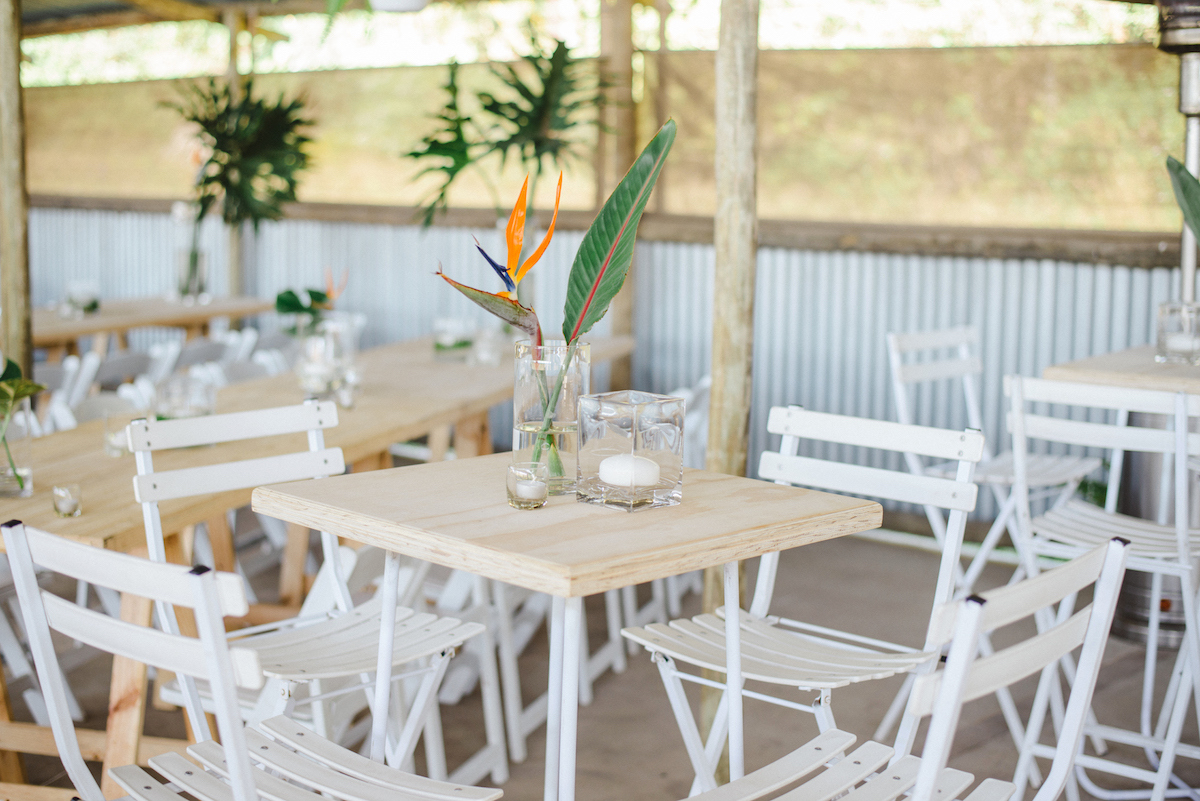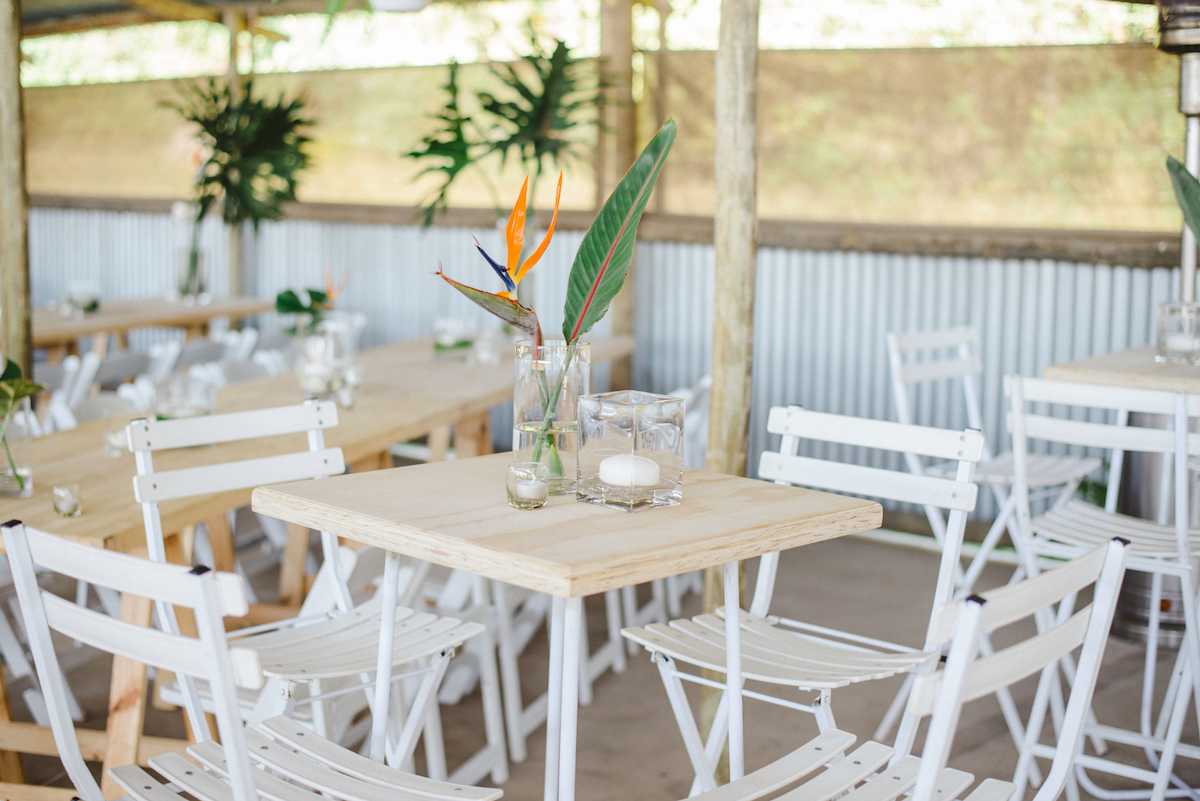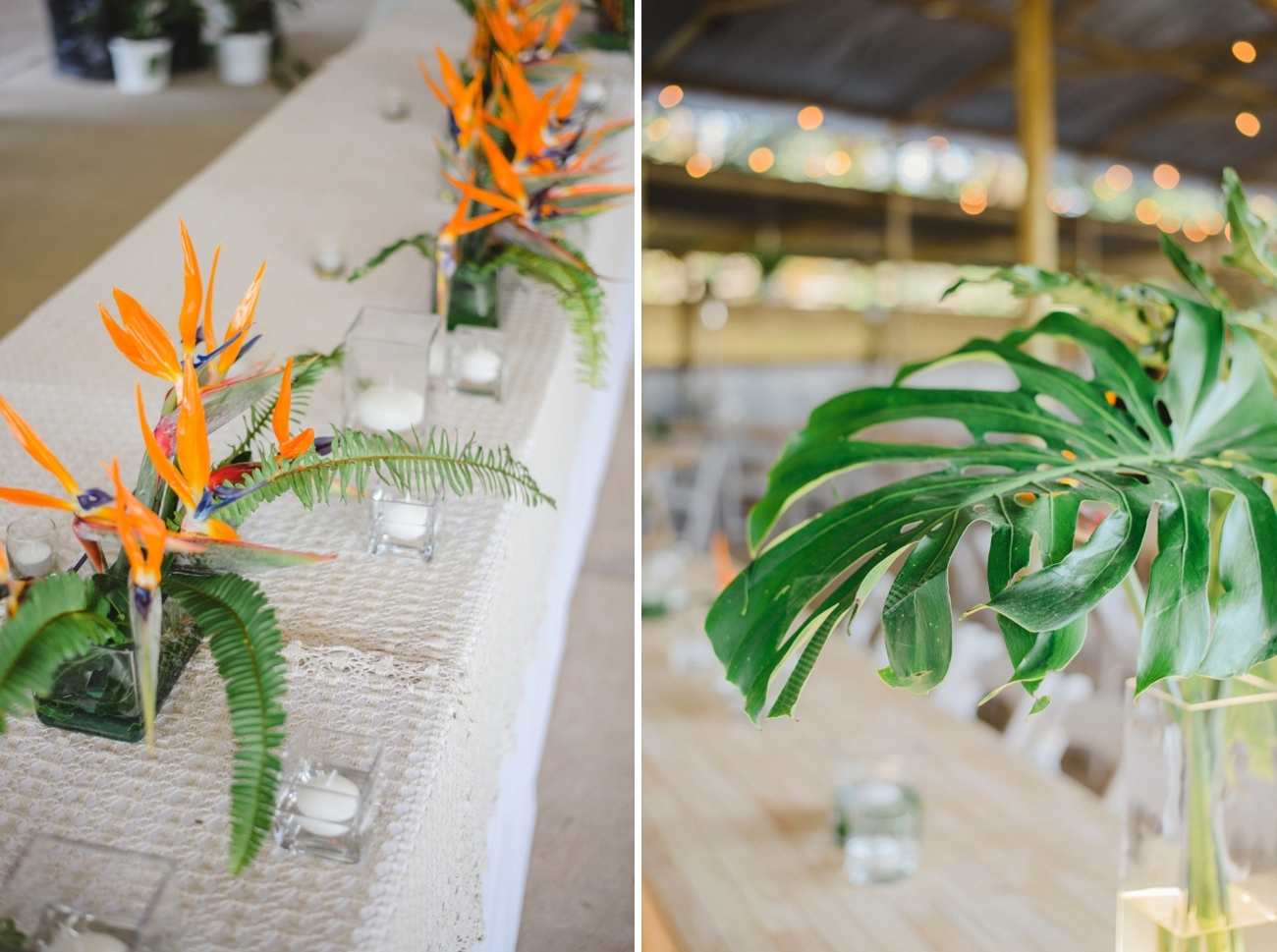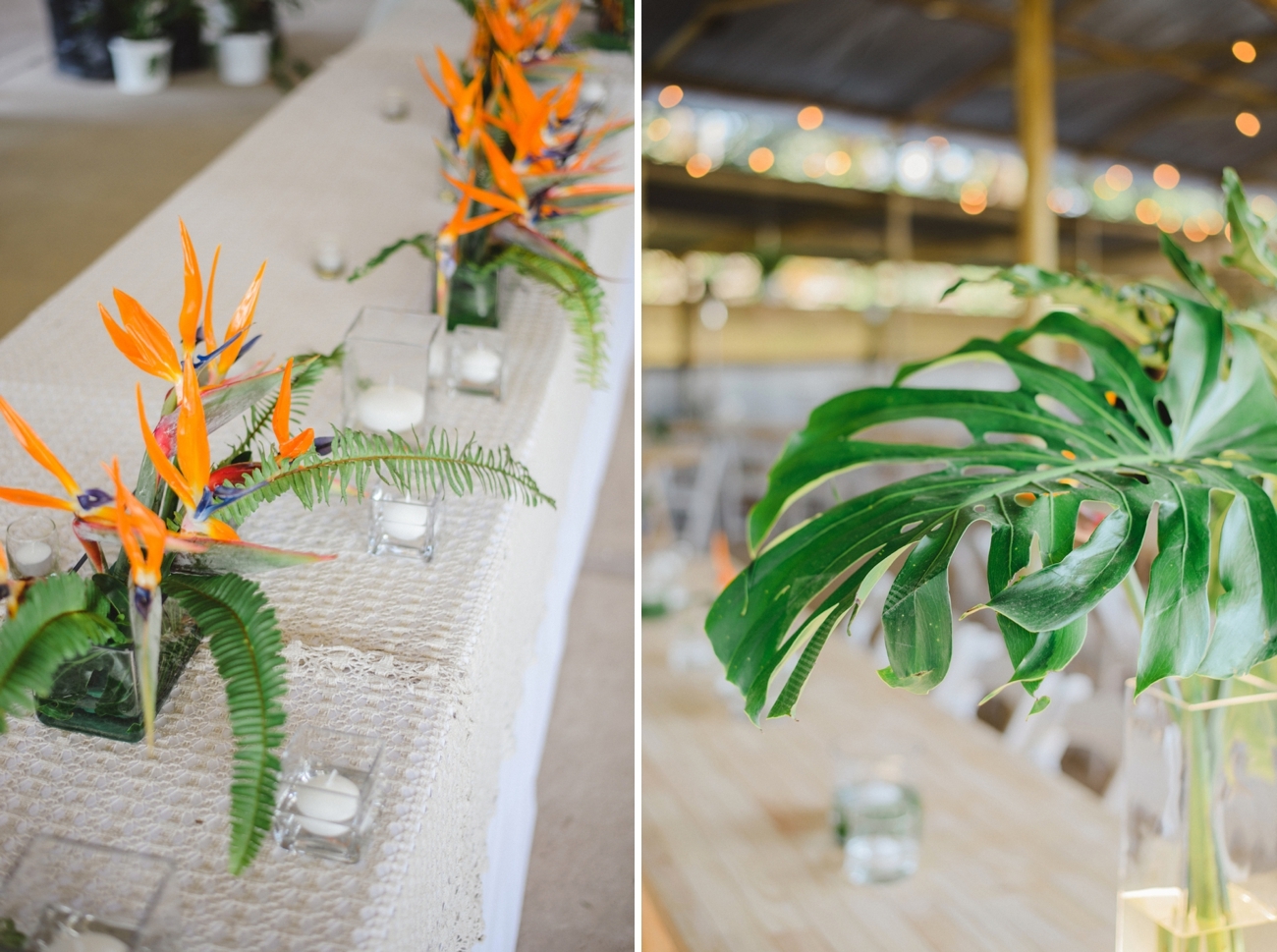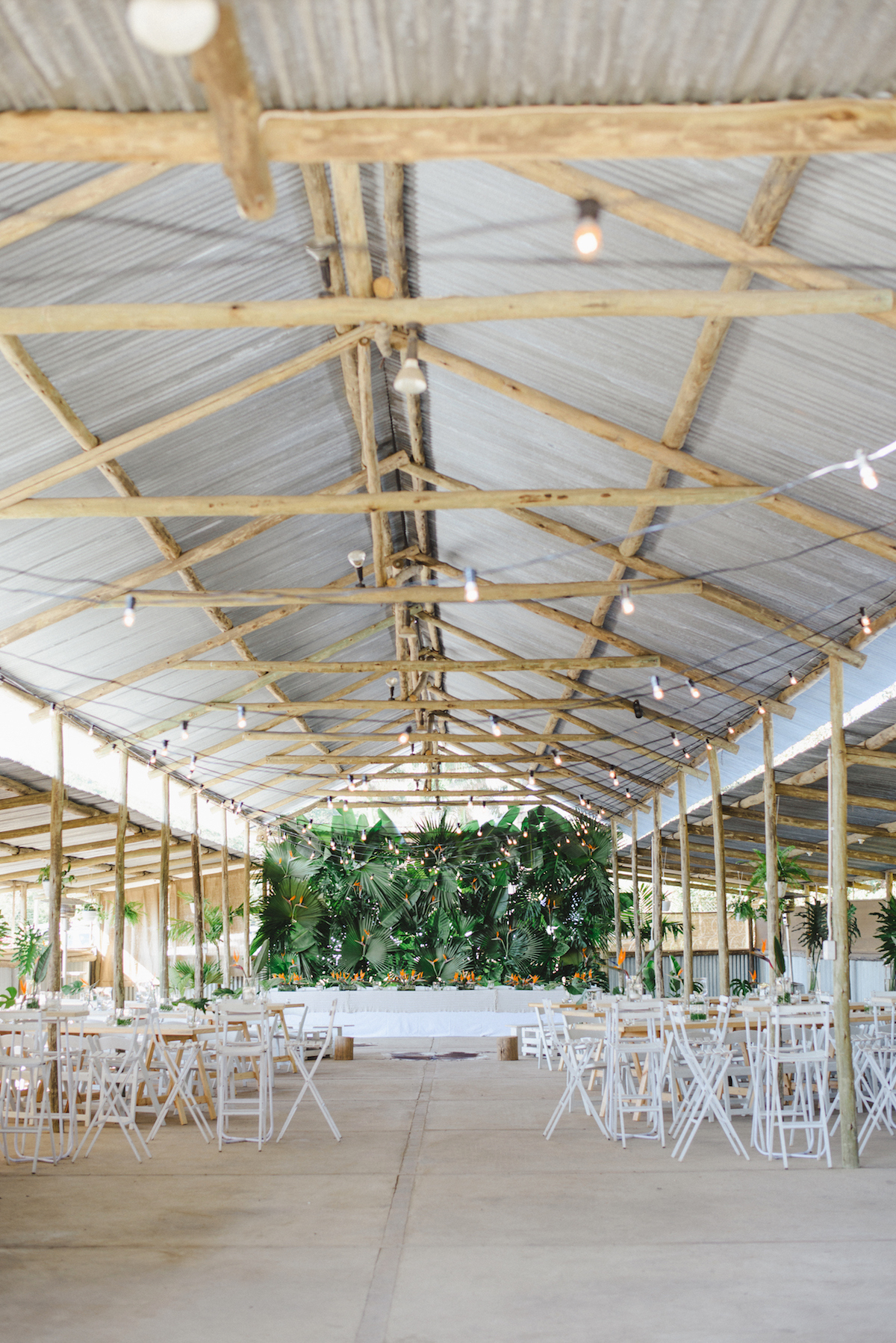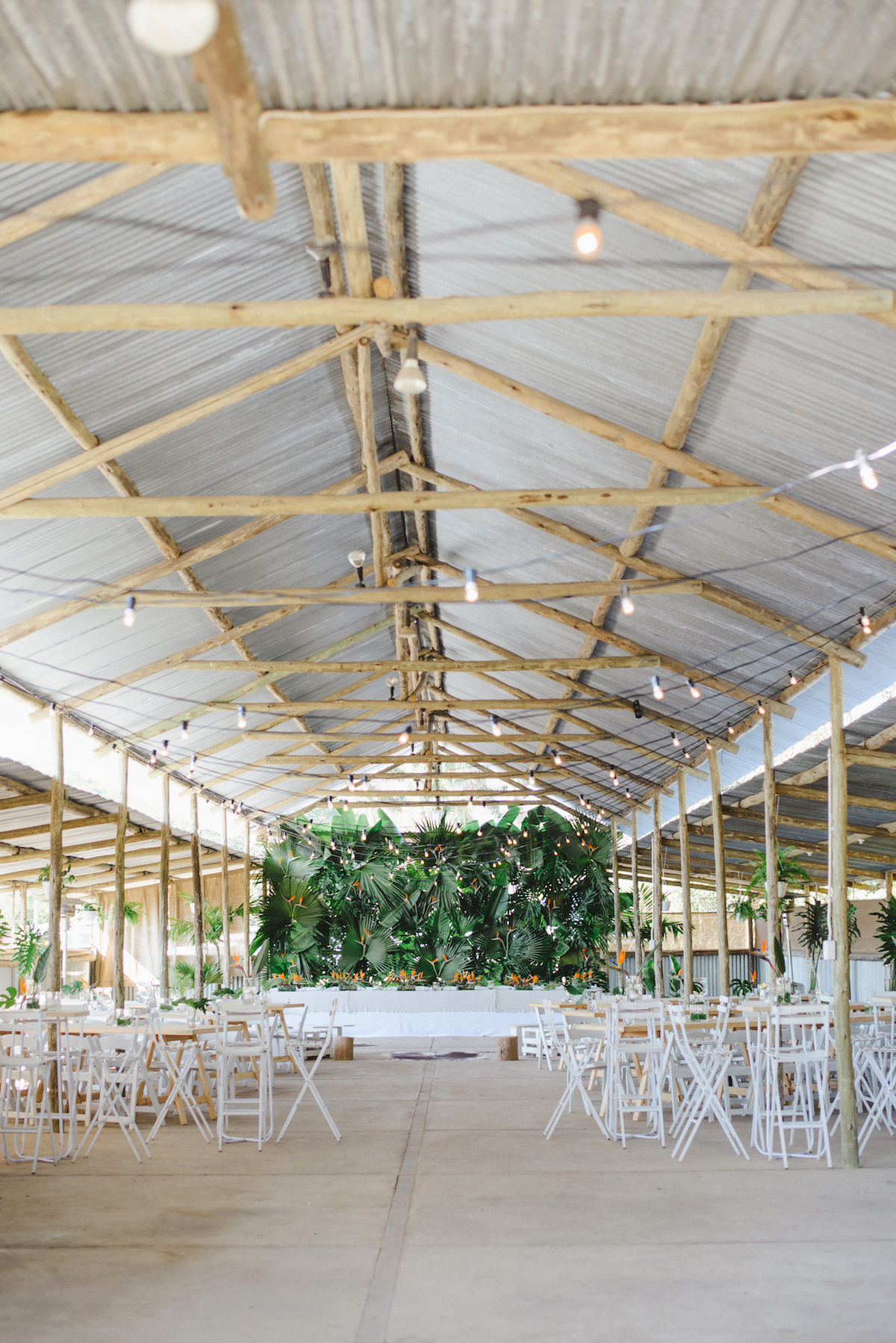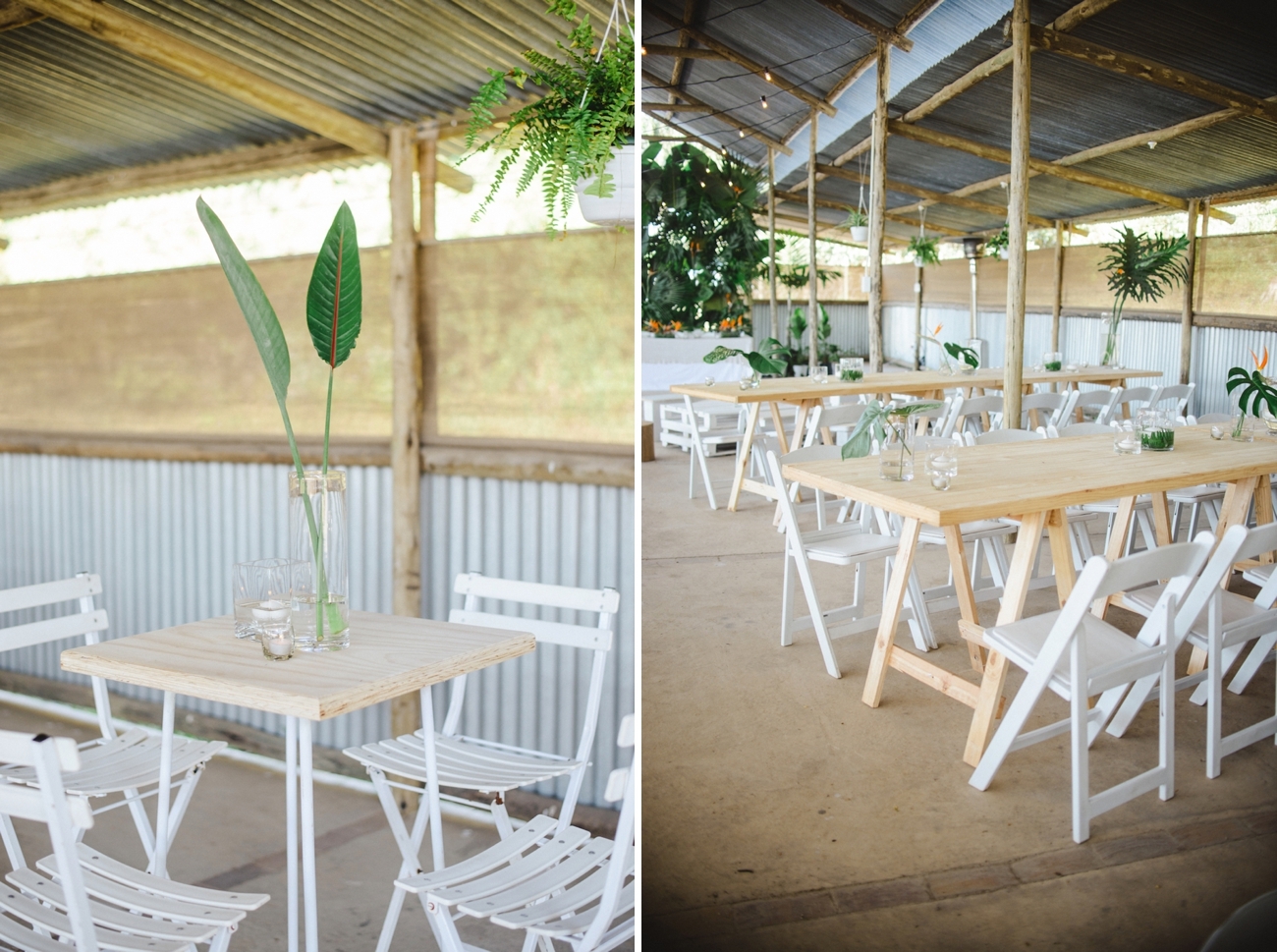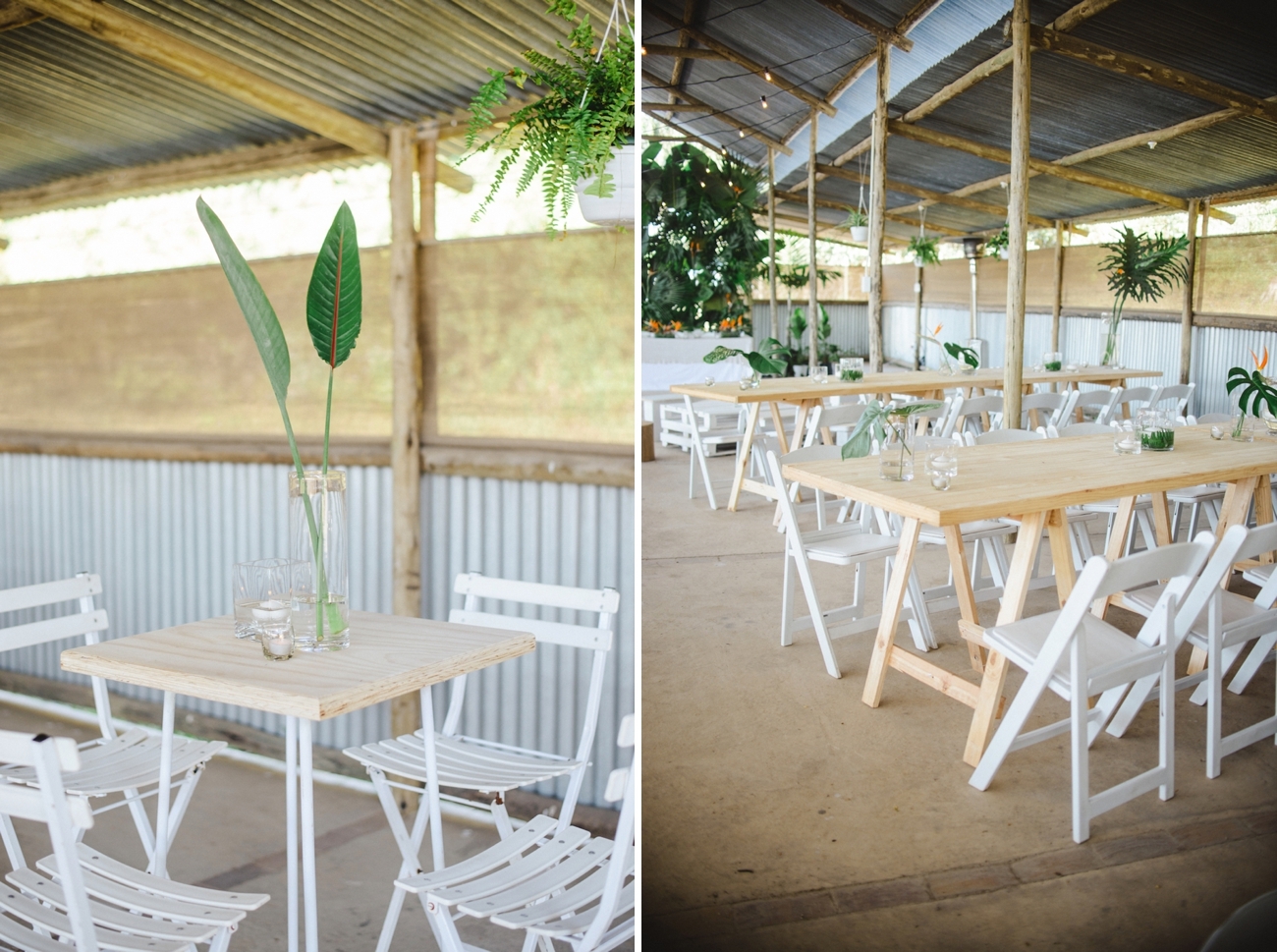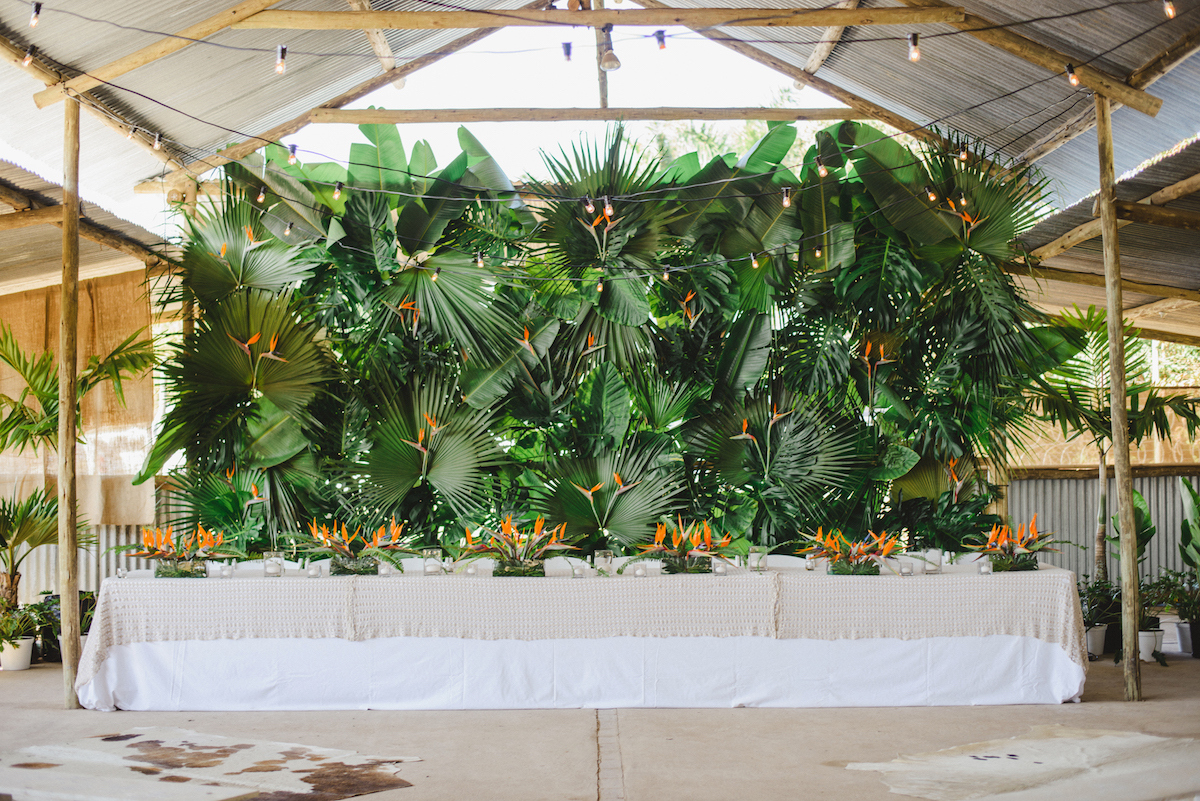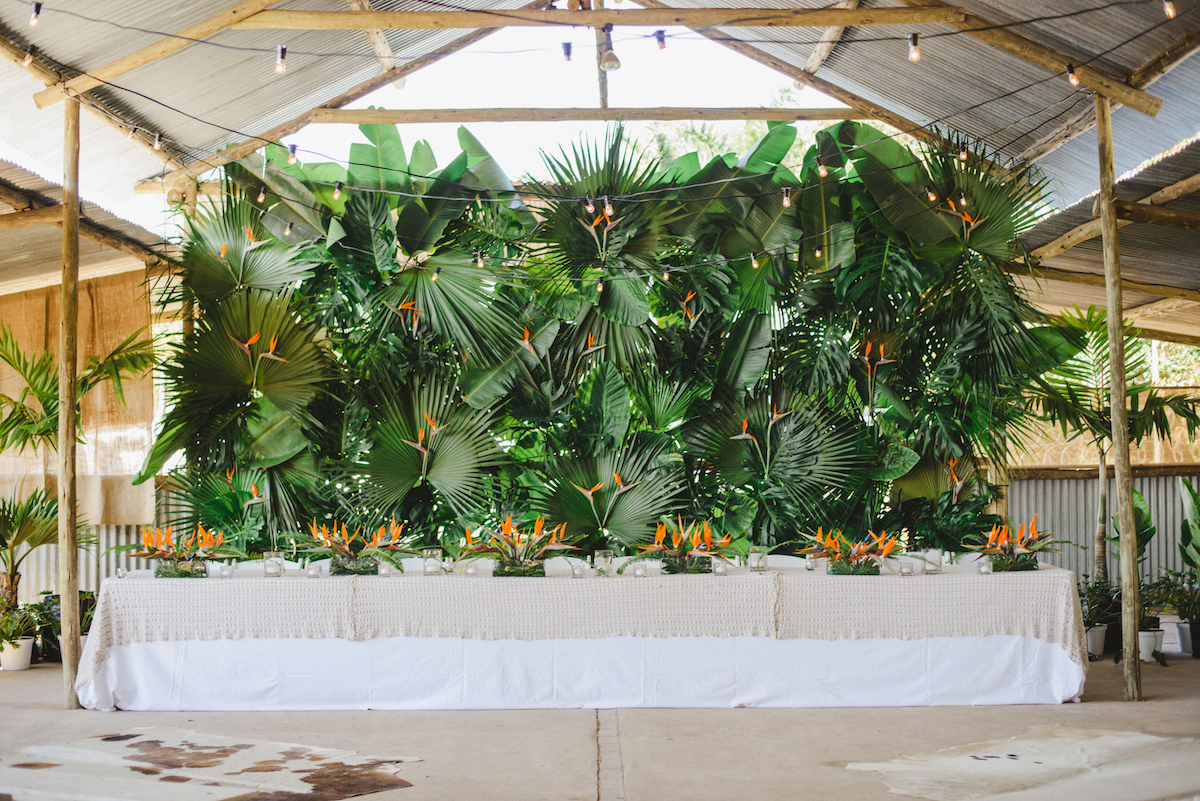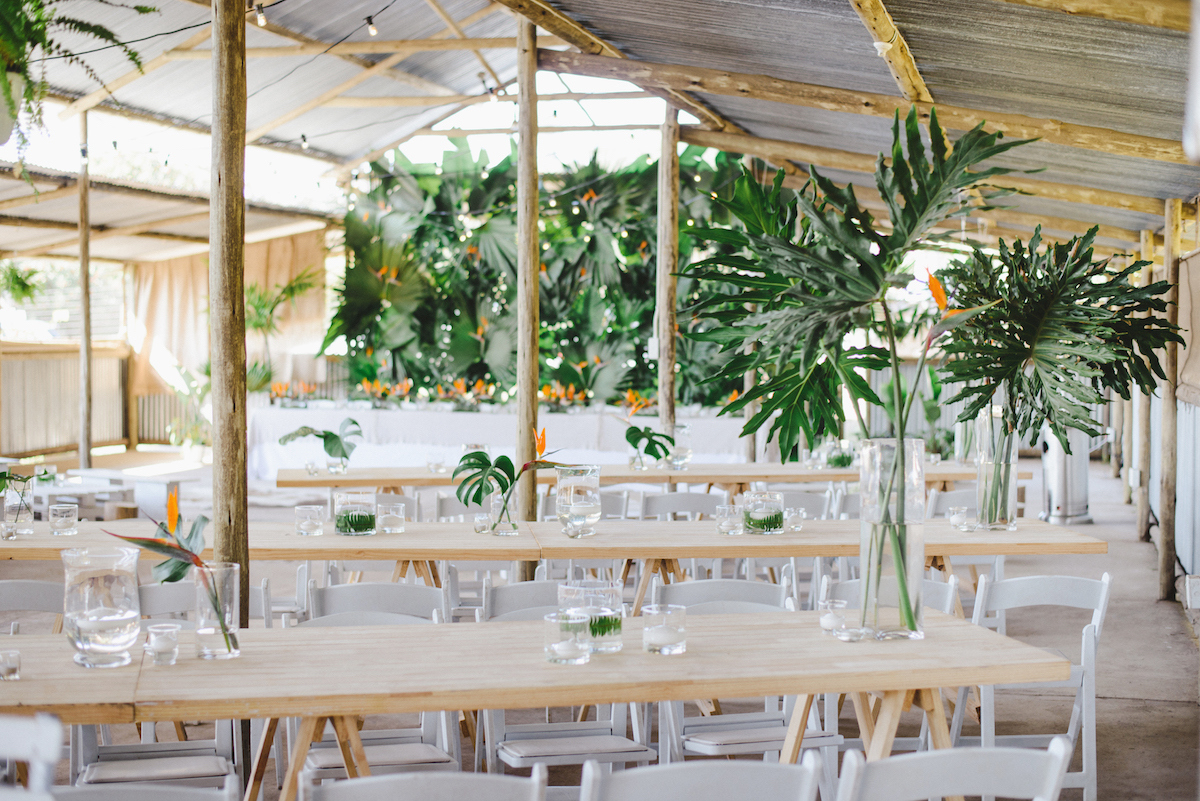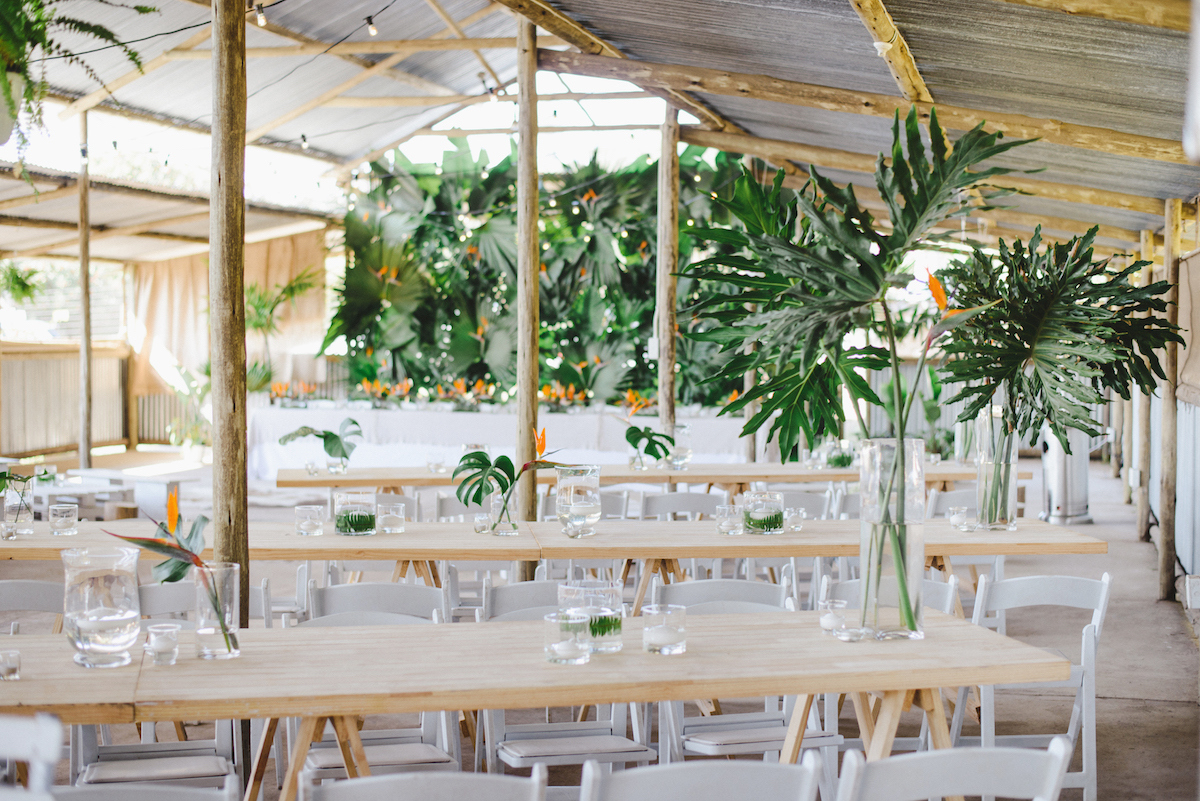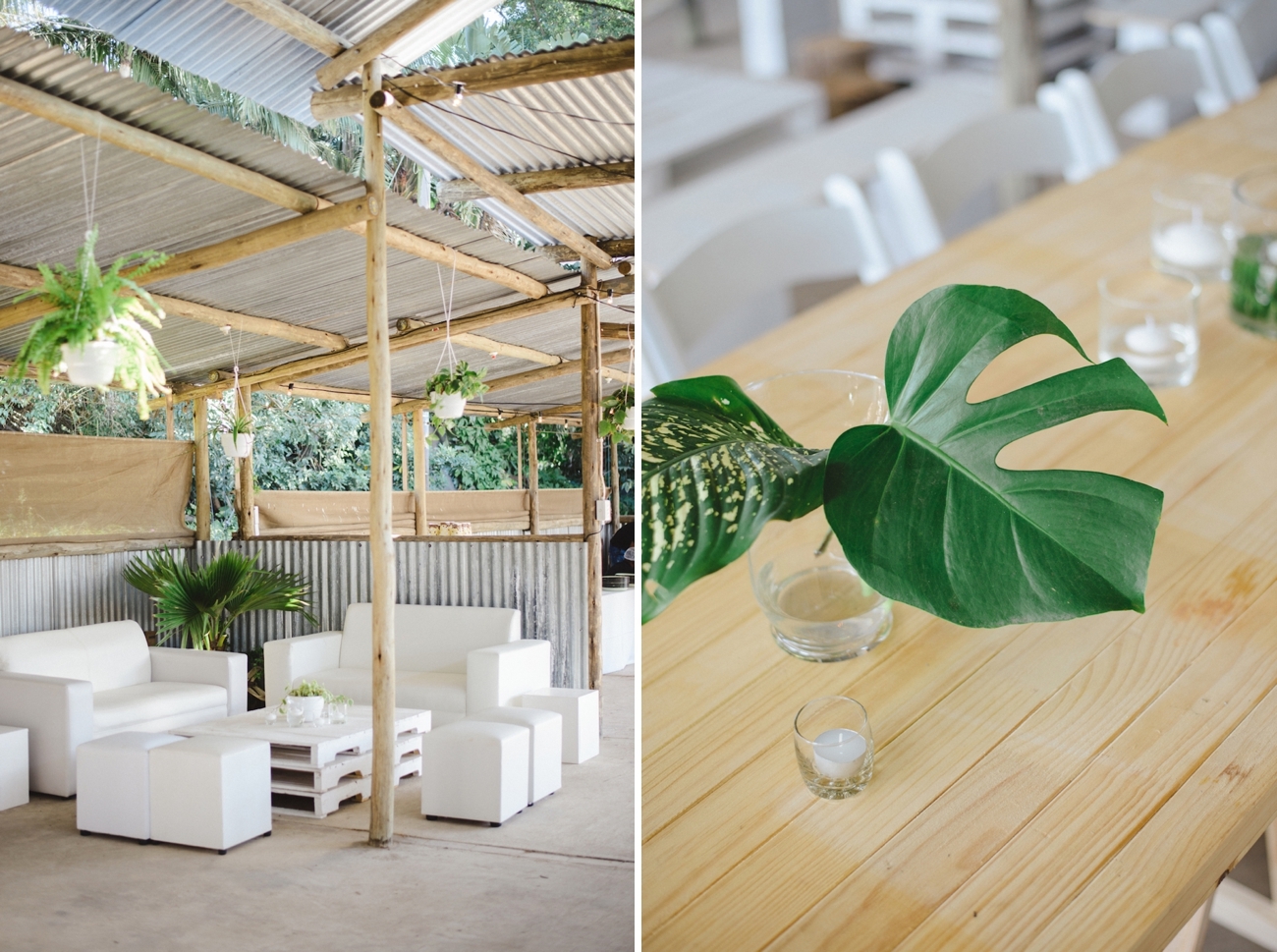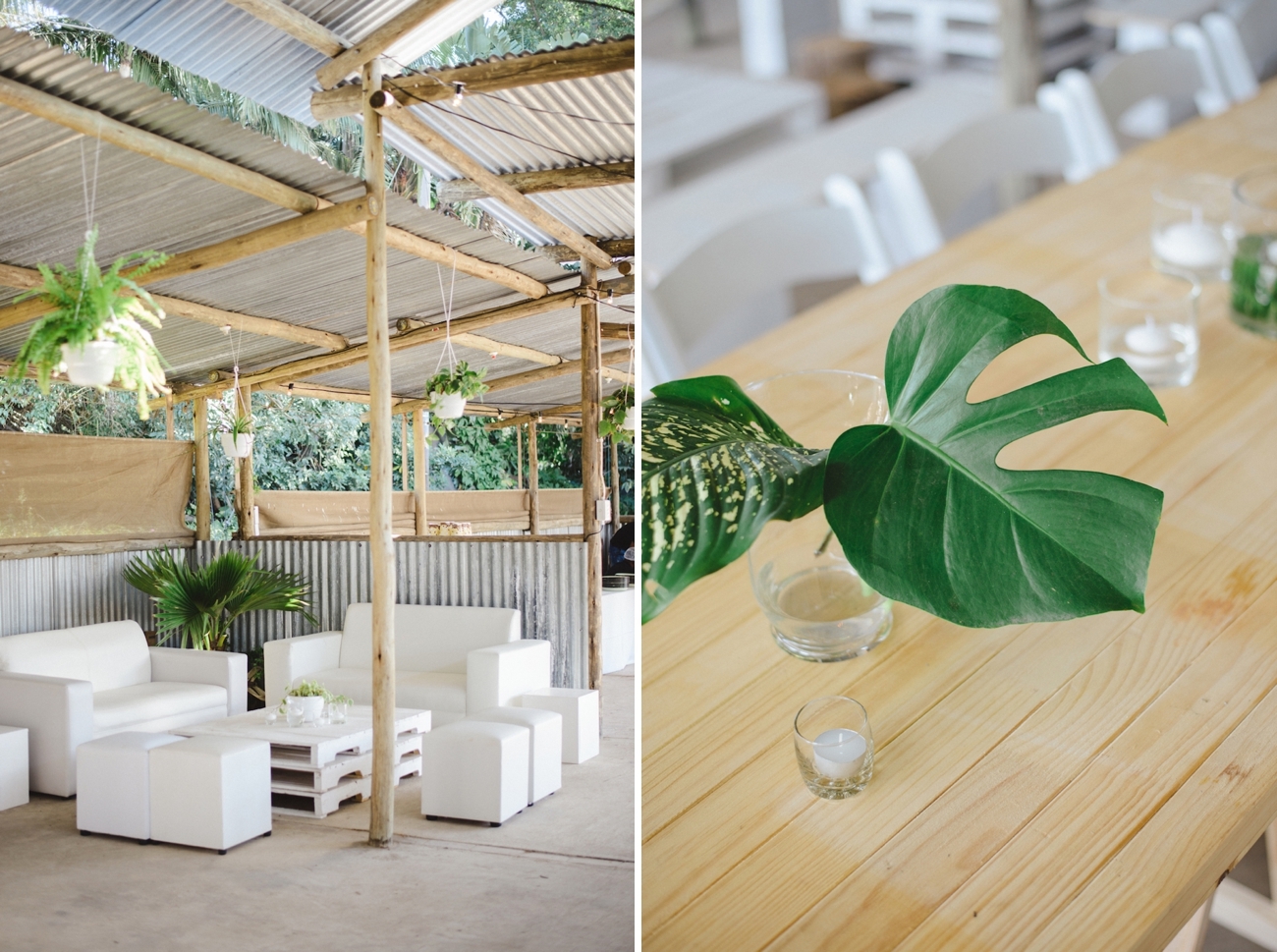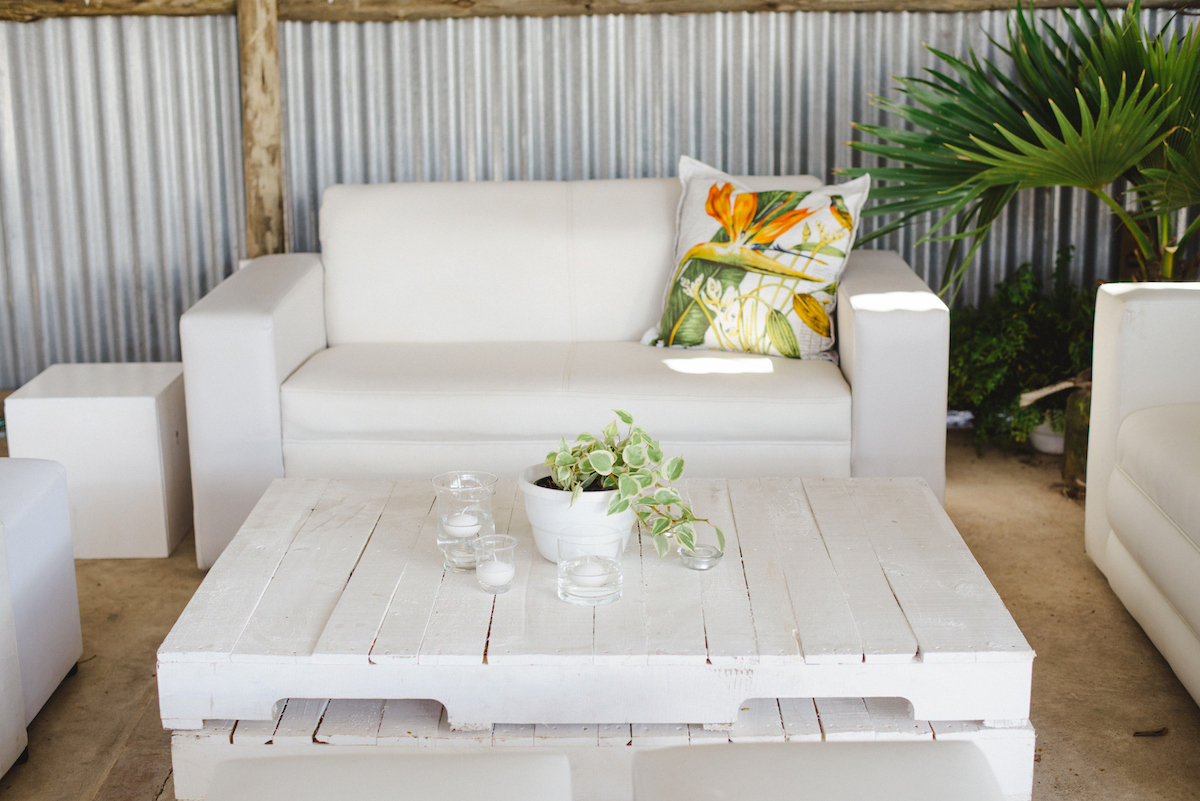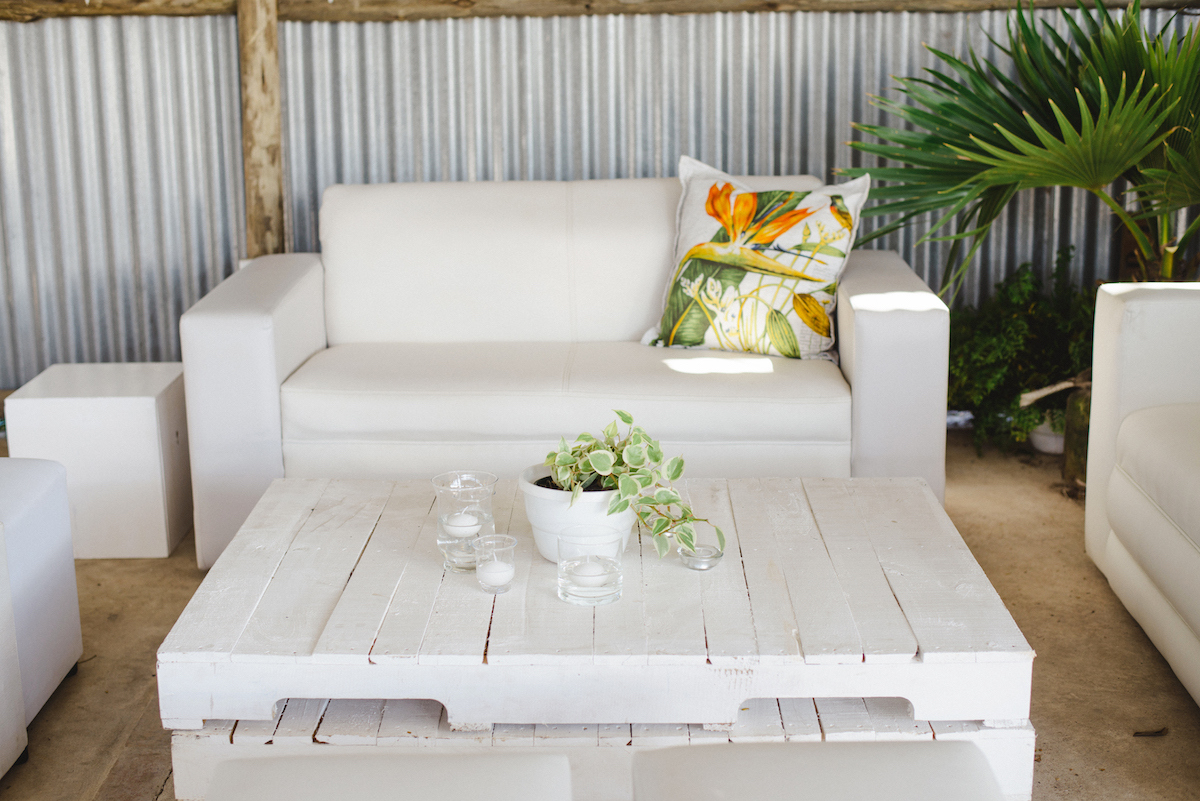 Memorable Moments
My most memorable part of the day was standing up in front of all of our family and friends, in the most beautifully created setting, actually getting married. Josh's dad is a pastor and a marriage officer so it was so special to have him marry us right then and there with all the people who we love around us!
Proudly South African Details
I think that the Strelitzia is a pretty South African flower, so I was really happy to have that pop of colour added to the greenery, along with the many many Strelitzia leaves creating the beautiful lush coastal look. And of course the potjie!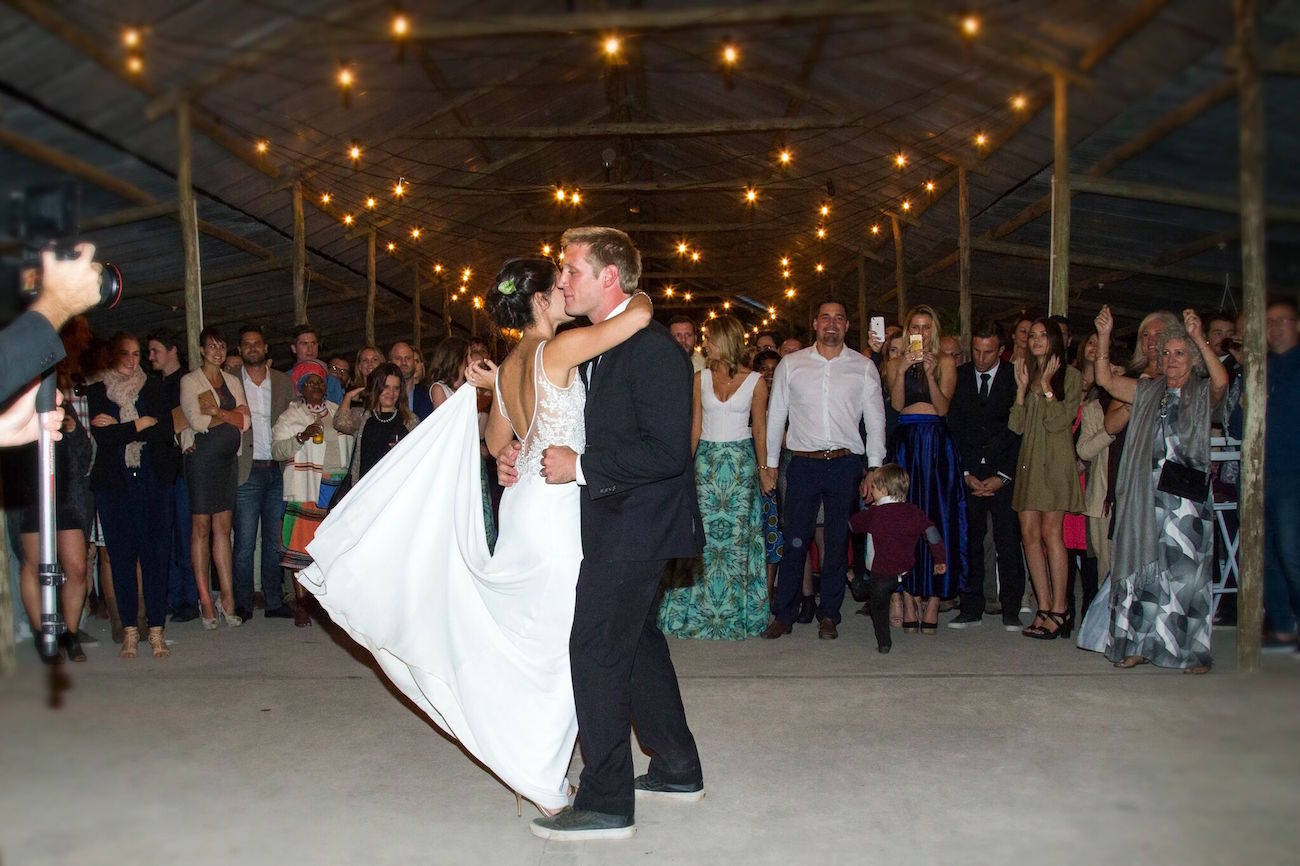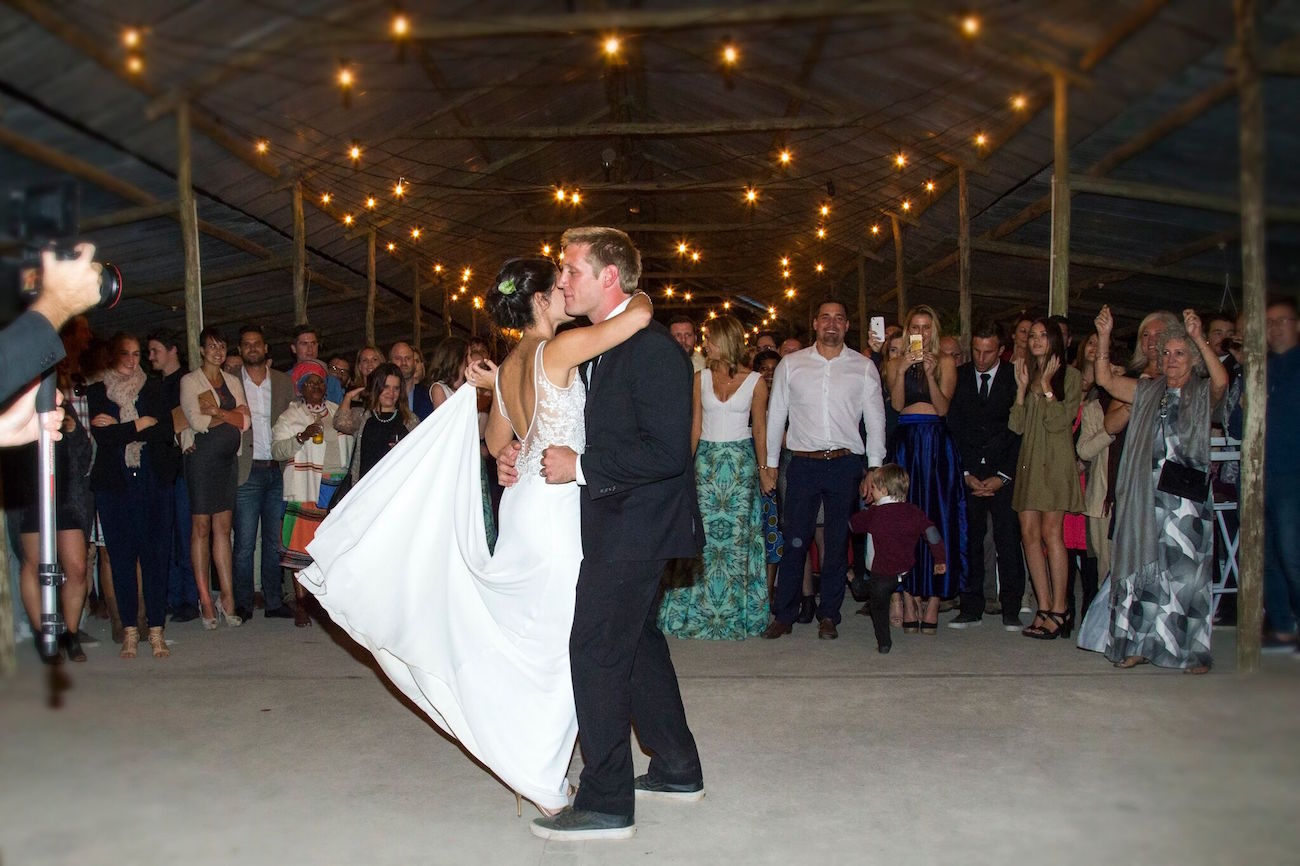 Best Decision
I think there were two best decisions – the one was when I decided to take on Joelene, my wedding planner, full time; the other decision was to go with Julia for my wedding dress.
Advice for Future Brides & Grooms
Enjoy it! Keep it simple but beautiful at the same time. Don't stress the small stuff!
SERVICE PROVIDERS
Venue: Burndale Wedding Venue | Photography: Luke Patterson Imagery & Roxanne Davison Photography | Video: Forman Wedding Films | Event design & co-ordination: Oh Happy Day | Bride's dress: Julia Ferrandi | Hair & makeup: Nixon Make Up | Bridesmaids' dresses: Rooi Rok Bokkie (Tarryn Shepard) | Groom's attire: Suit Yourself | DJ: DJ Funky G
Save
Save