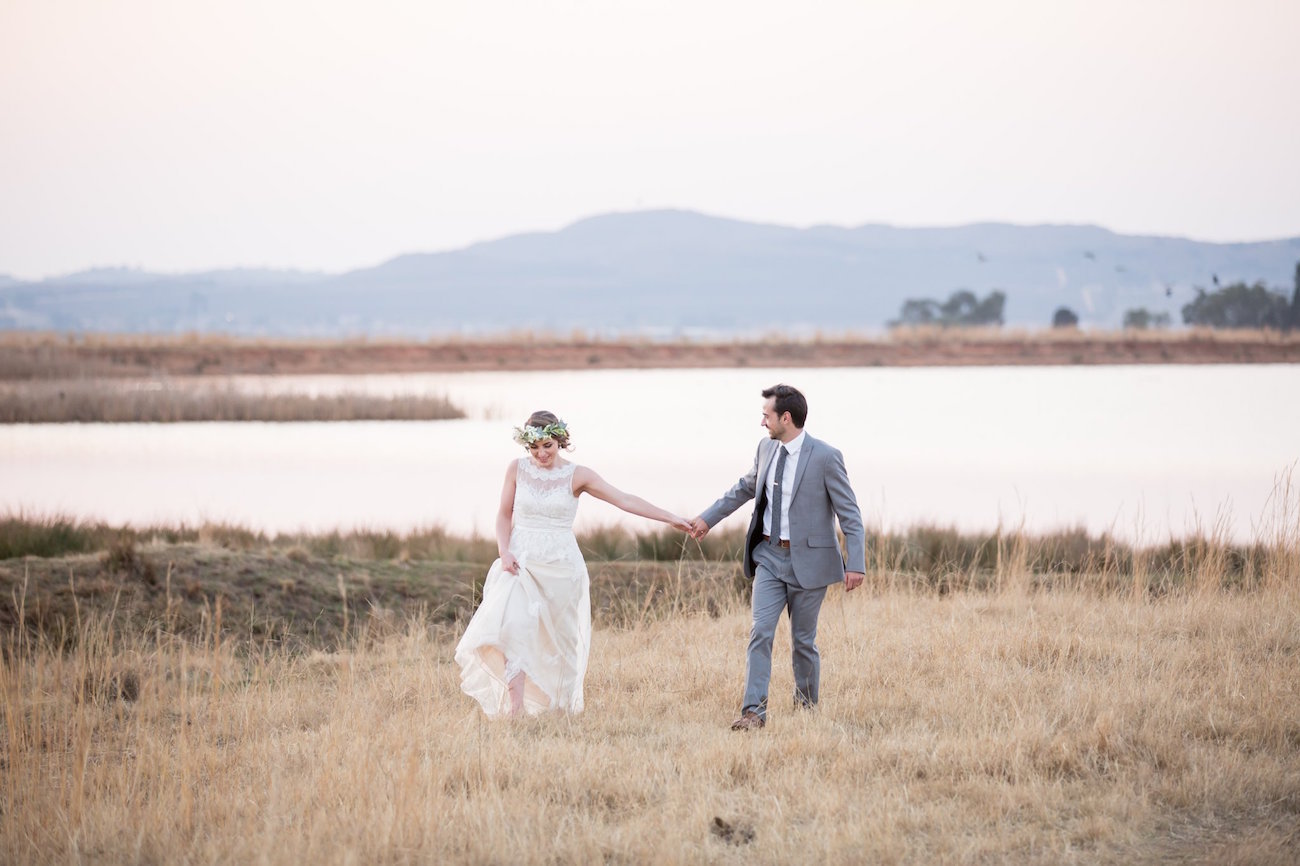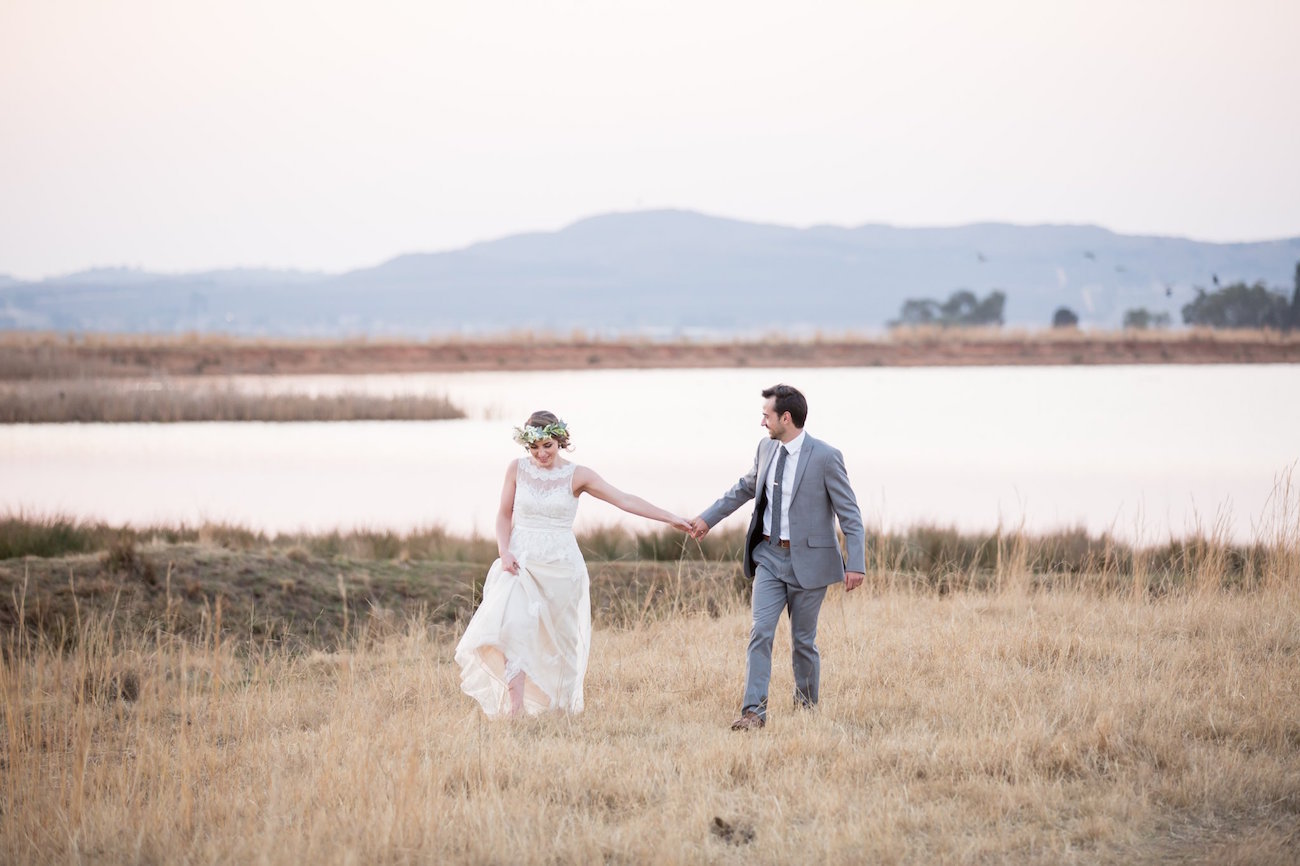 This wedding though! Riaan & Luzahn's big day is one of those beyond gorgeous weddings, the kind that I kind of have to pinch myself to remind myself is real and not a styled shoot dreamed up by talented photographers JCclick (who by the way, have taken the most beautiful, luminous shots of this celebration!). It starts with a setting that's super stylish – a touch of industrial in the middle of the countryside, decorated to perfection, but in a modern, natural way. It's filled to the brim with greenery, and from the bridesmaid dresses right down to the sunset, it's  painted in shades of soft blue-grey, blush and copper. And did I mention, a BHLDN dress? But beyond all the pretty, it's also the story of a family coming together to celebrate this most special of all days, with a couple who are head over heels in love. Bliss!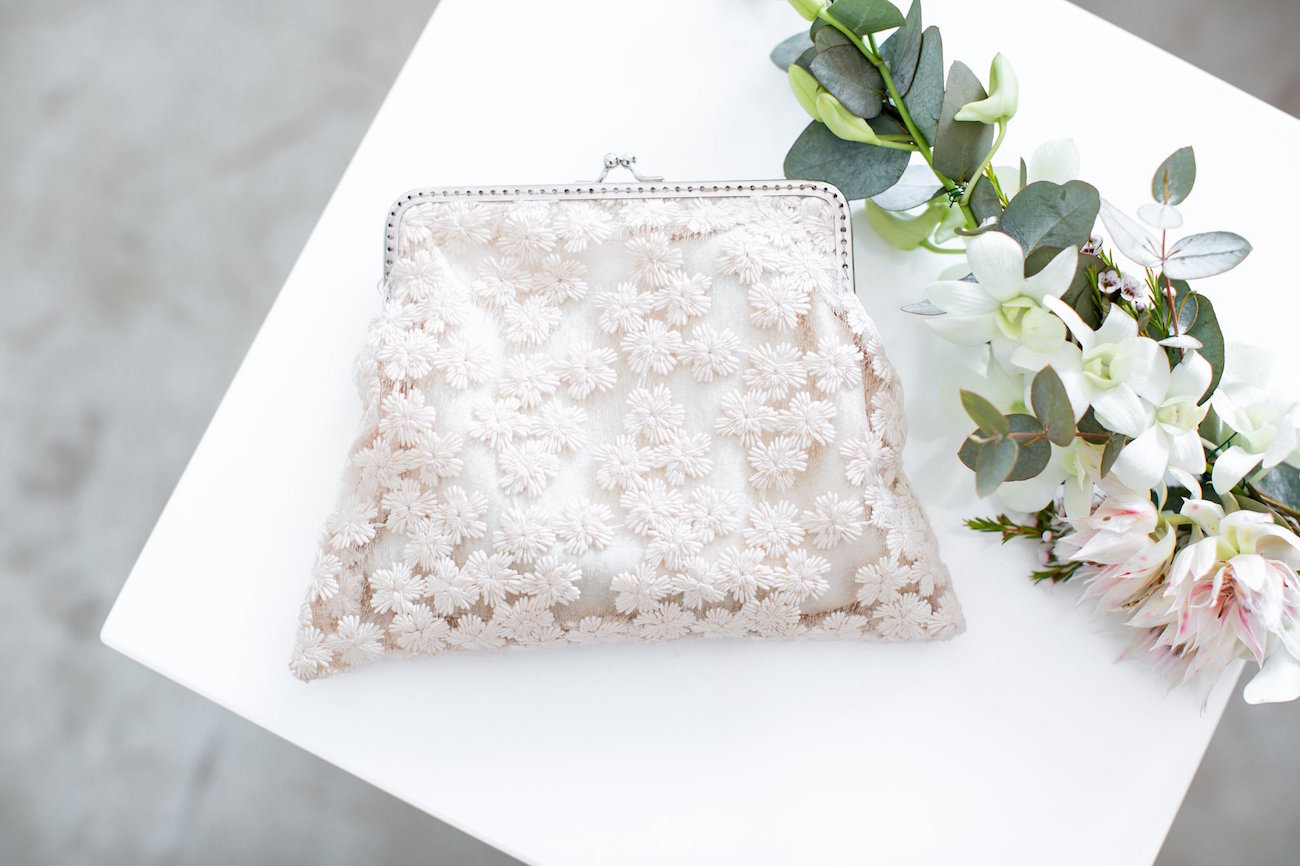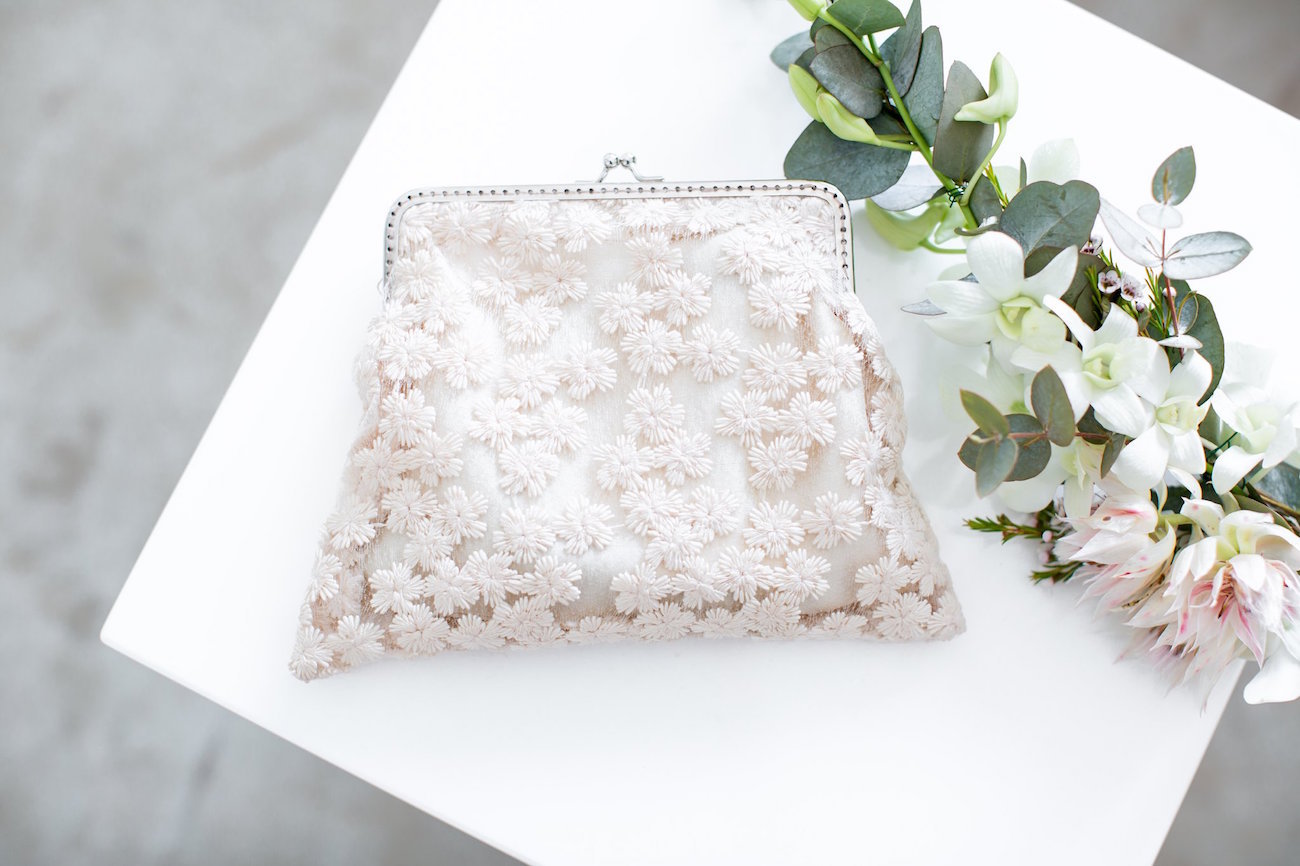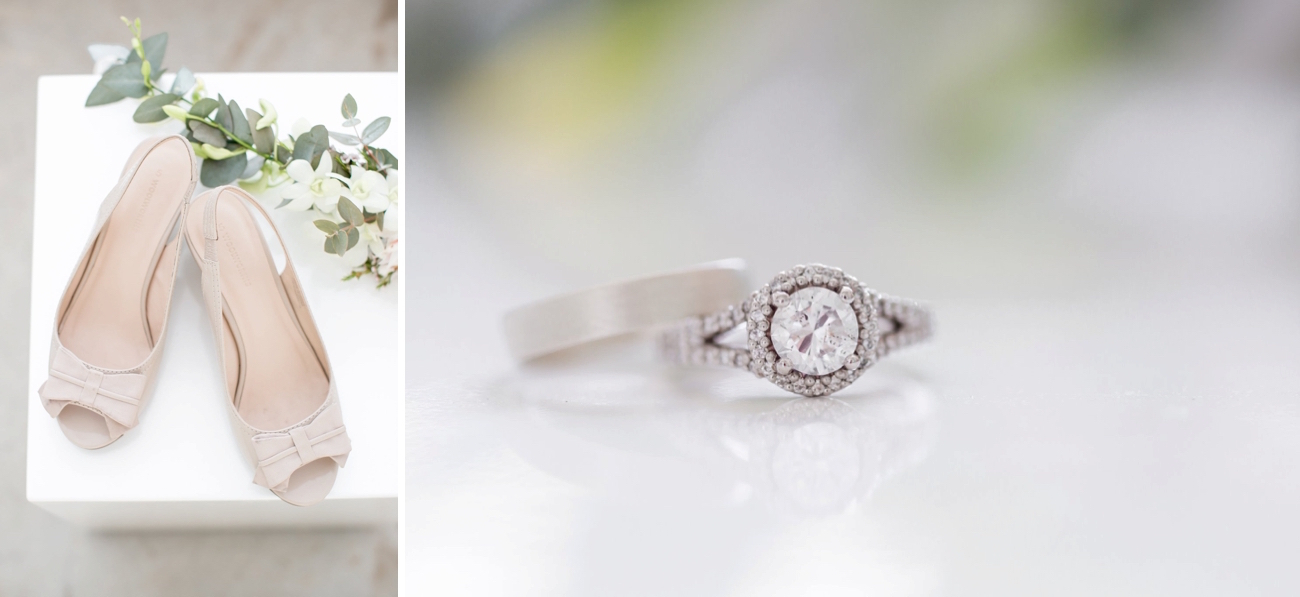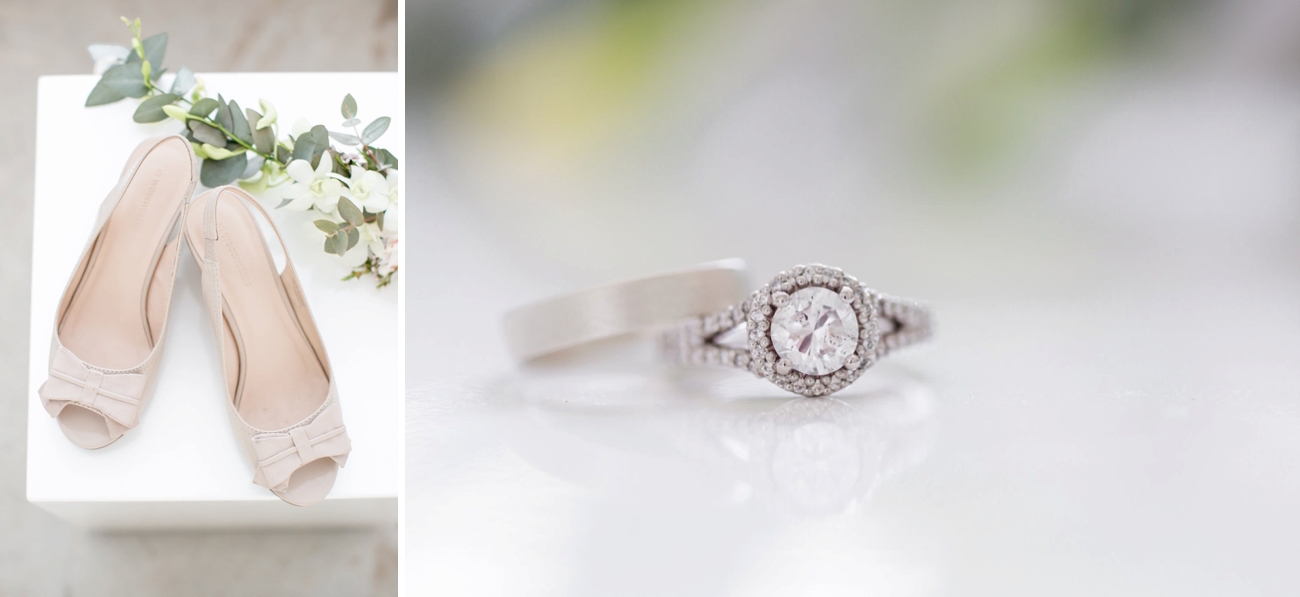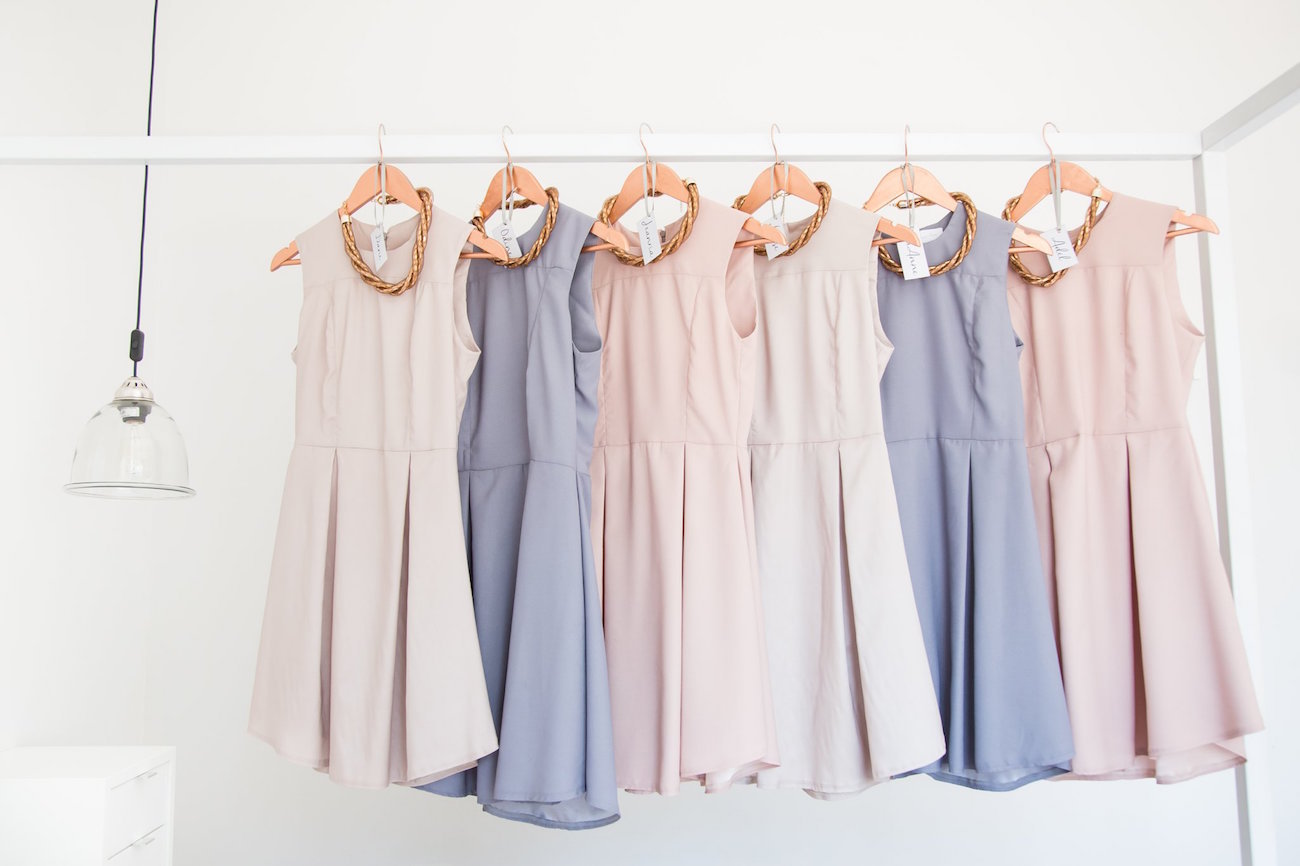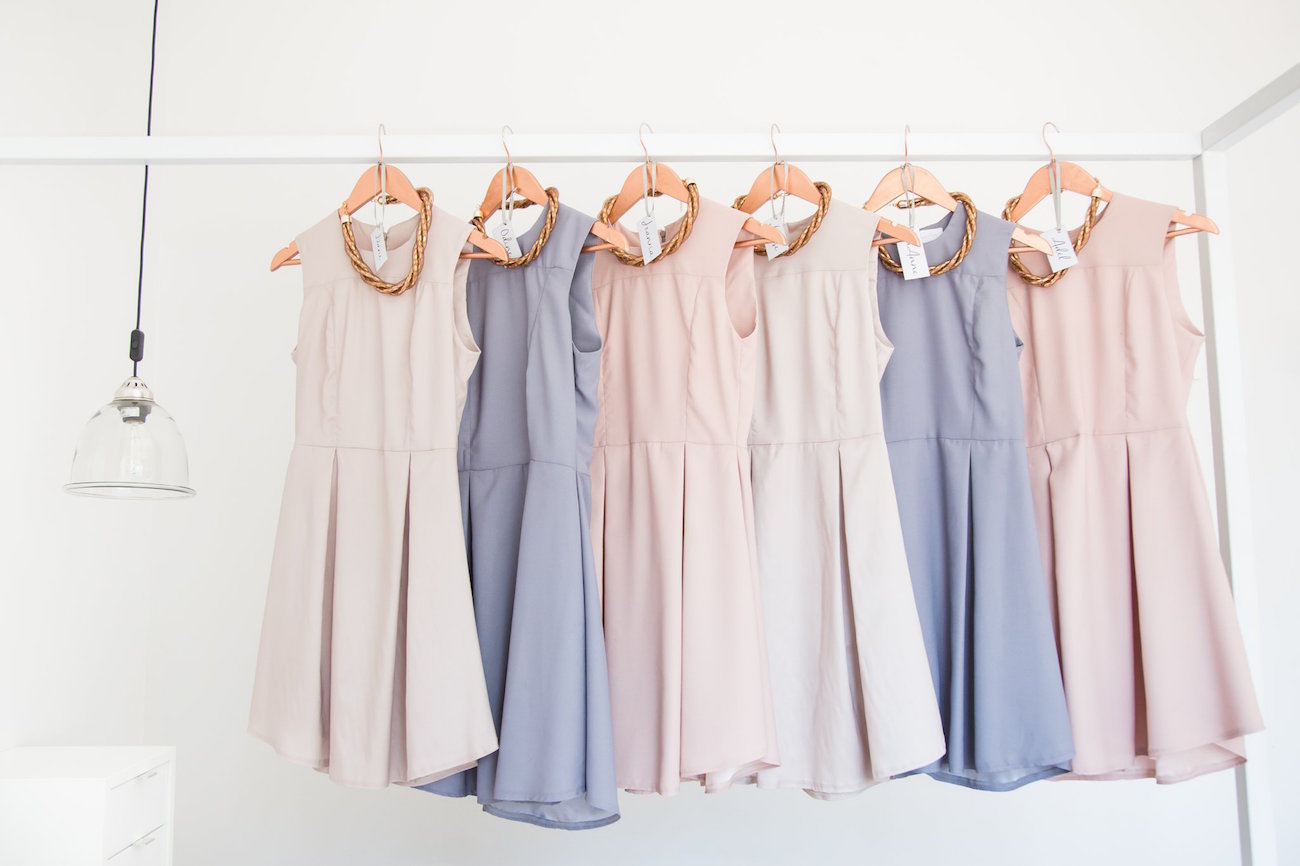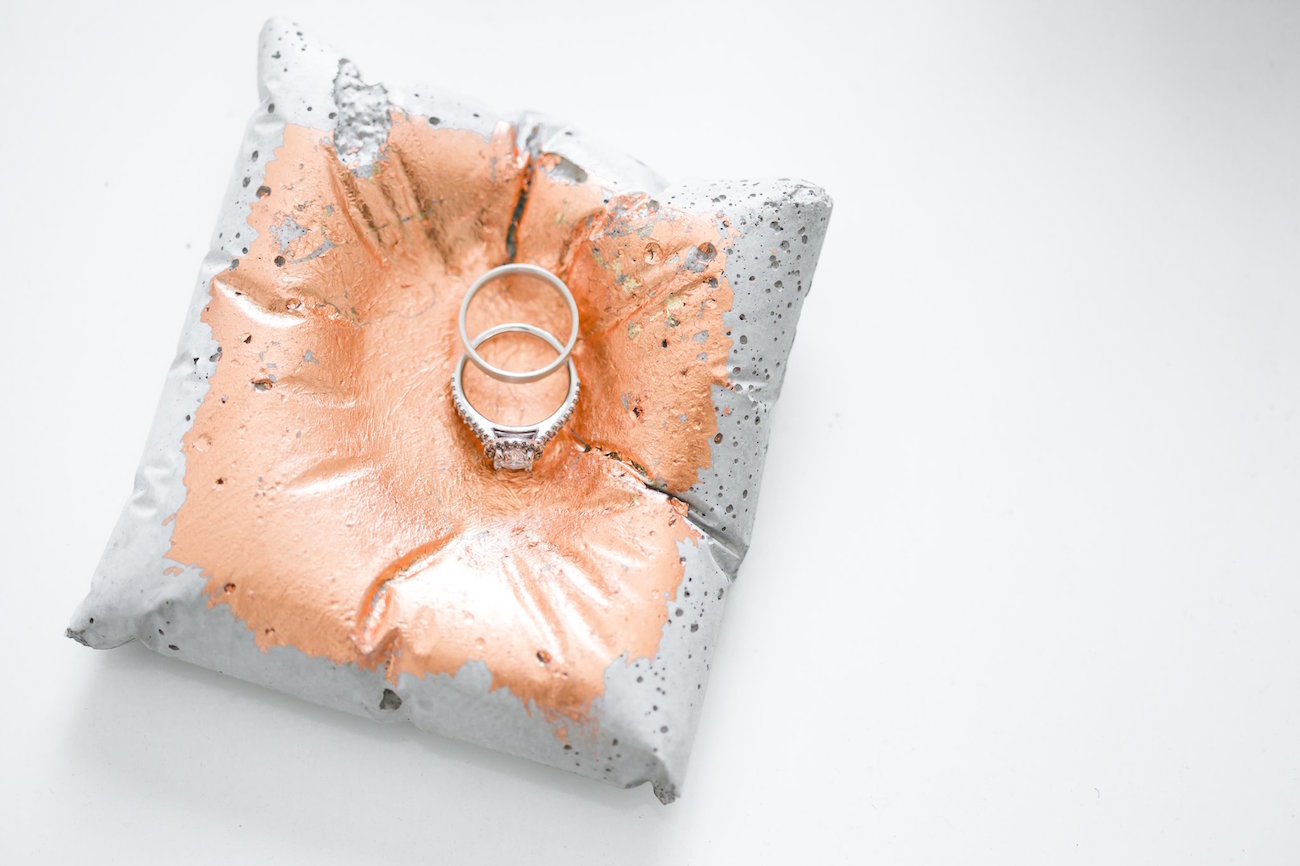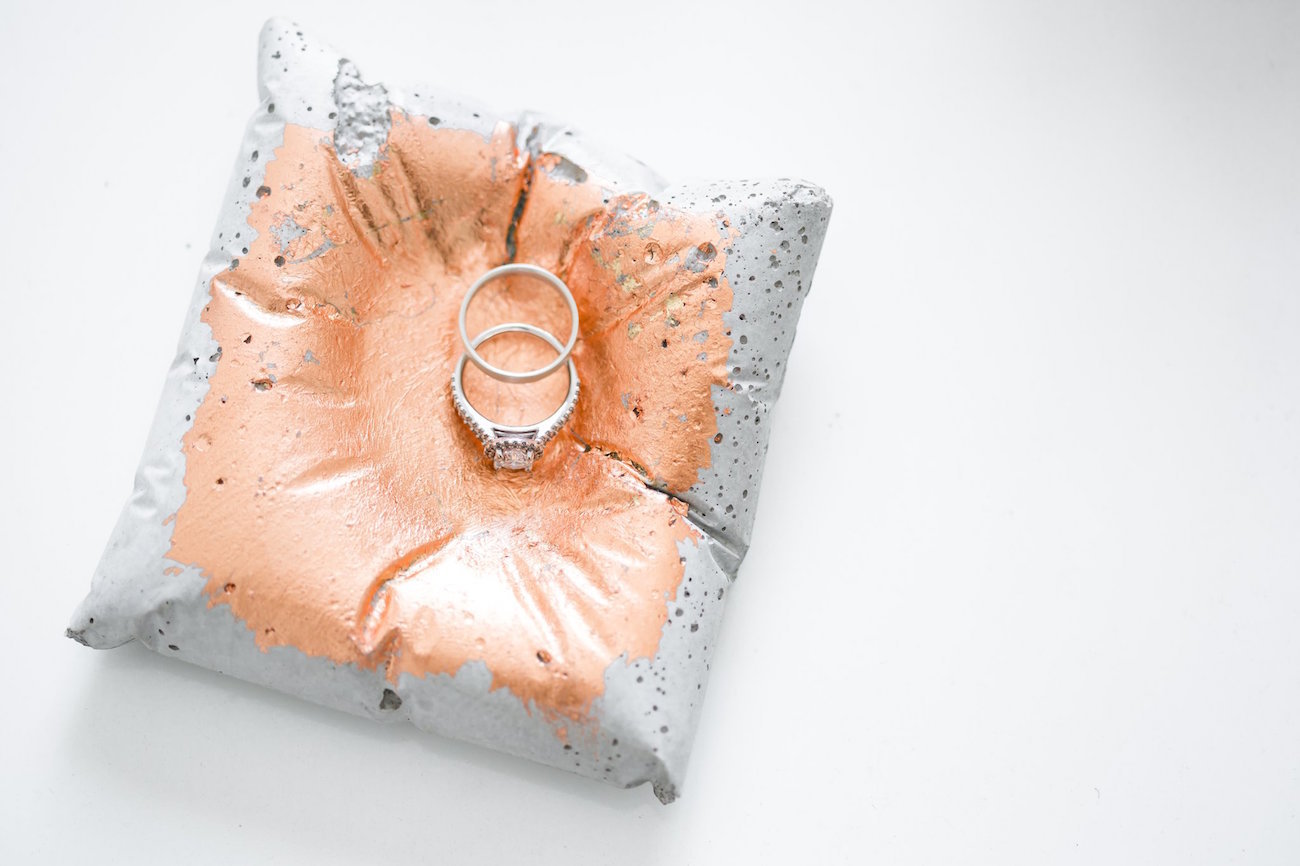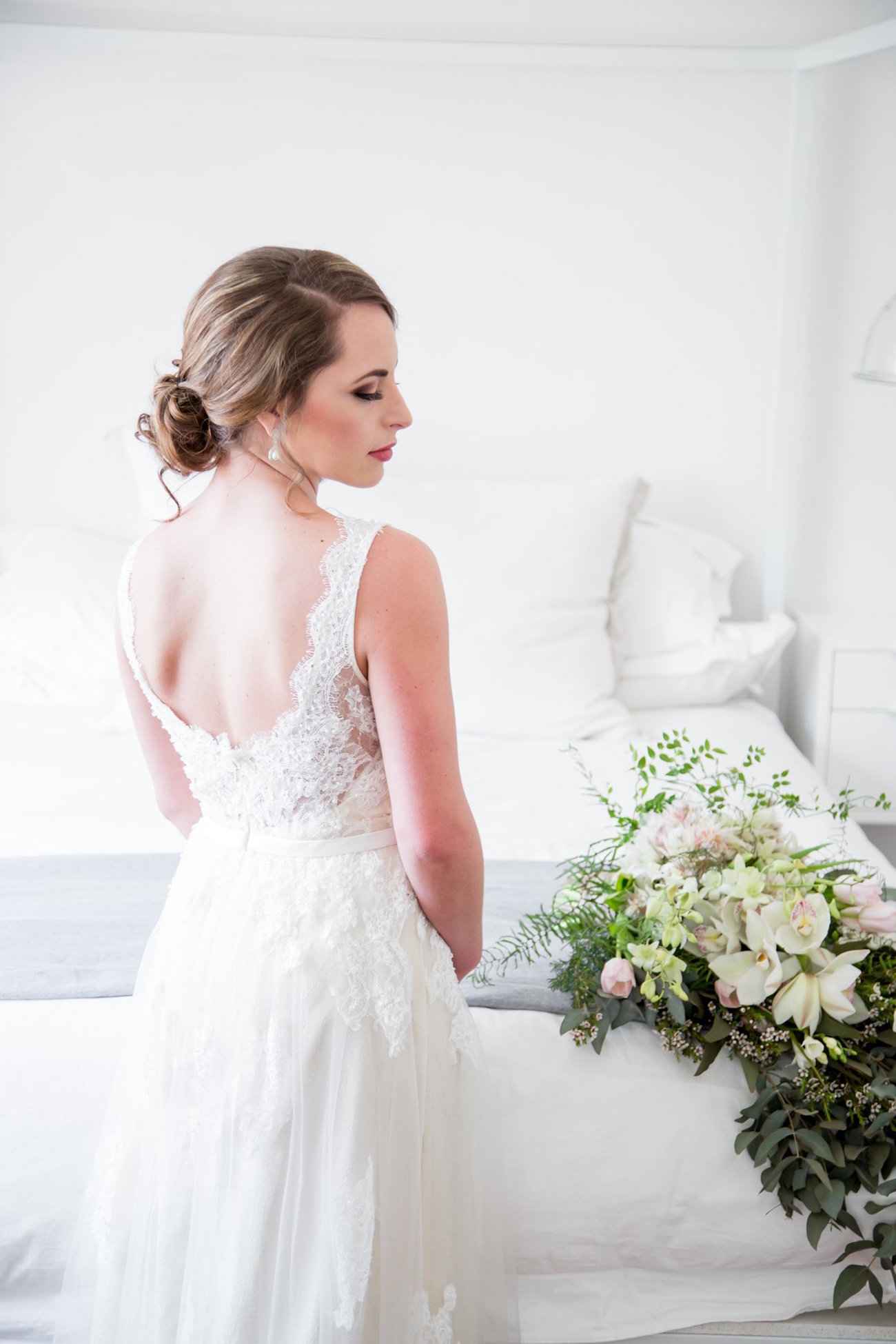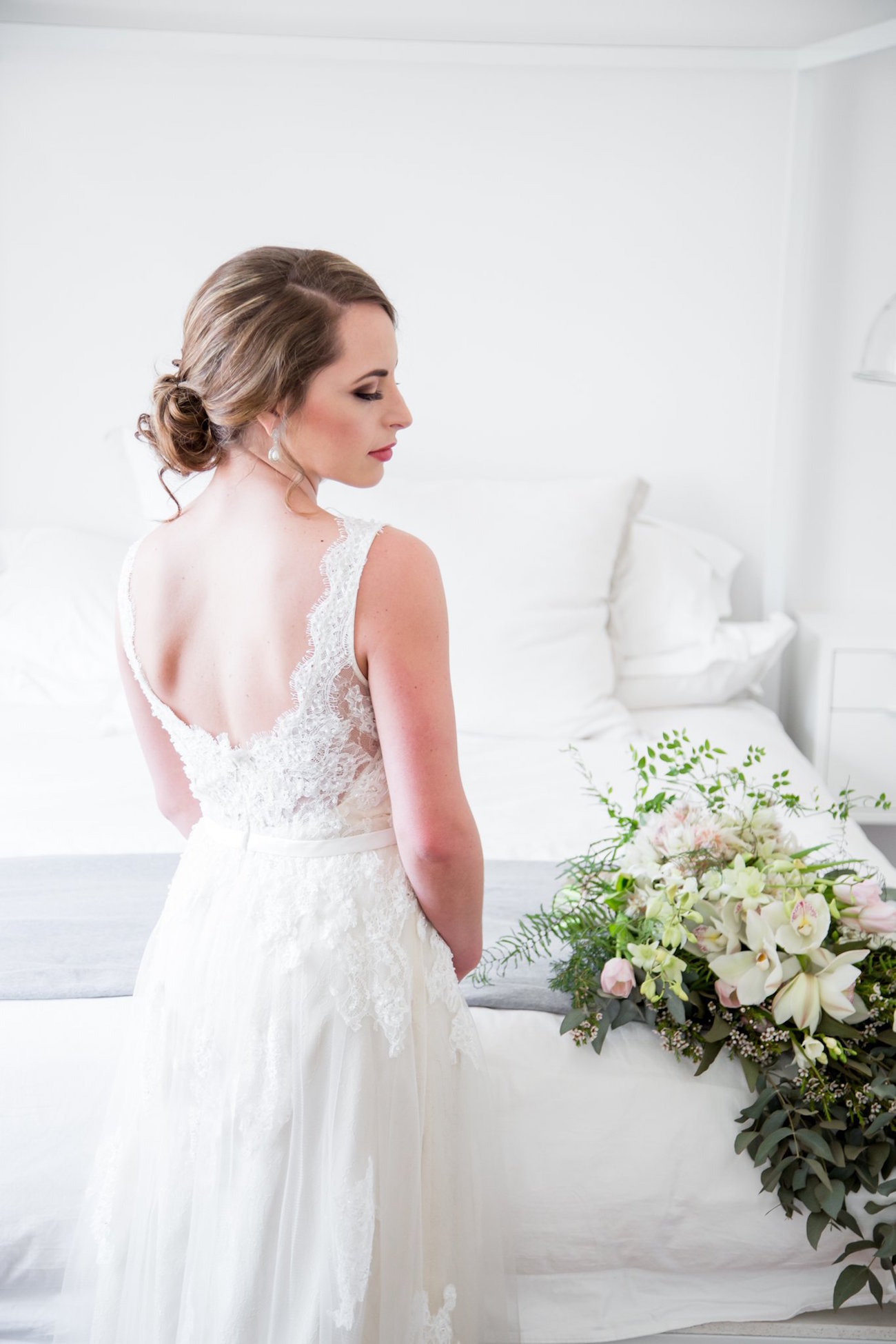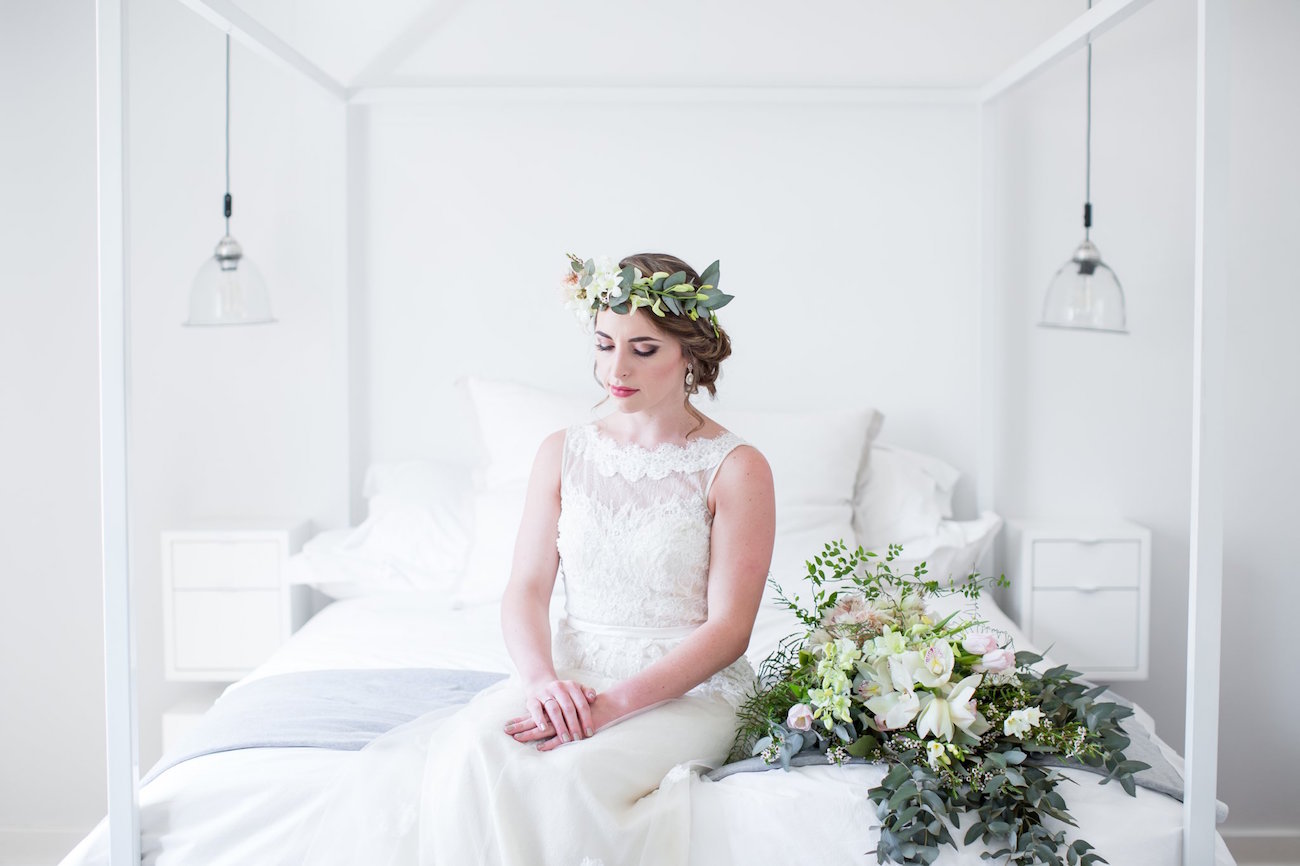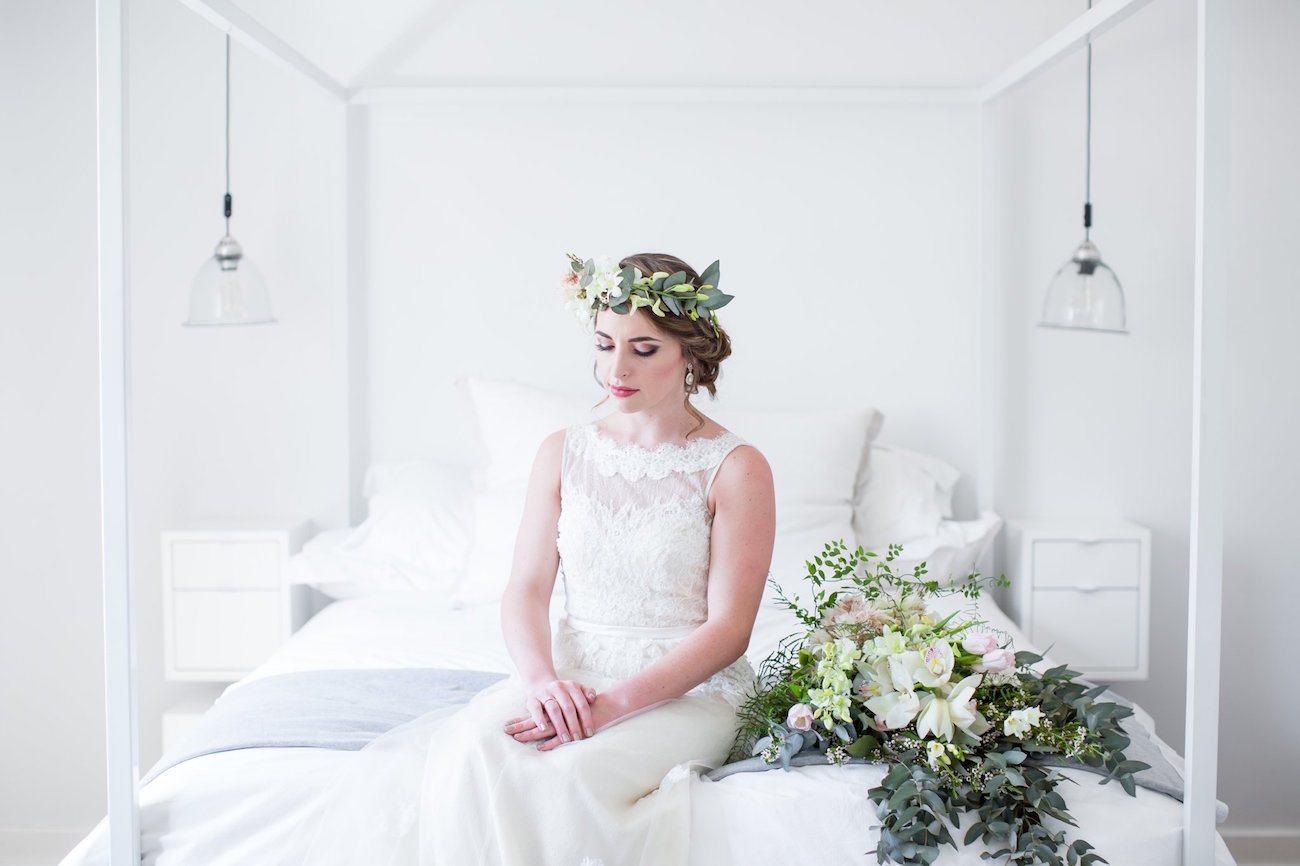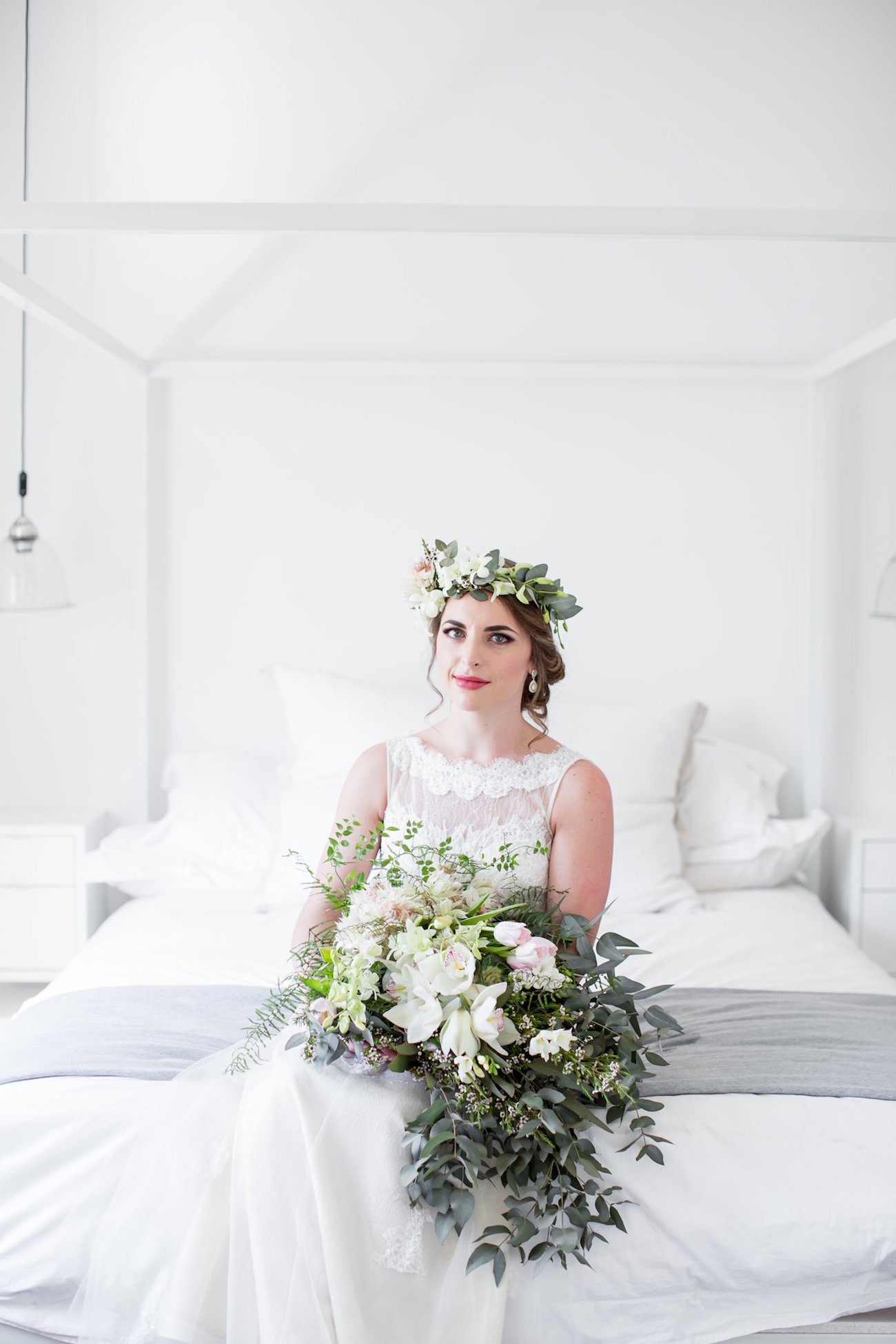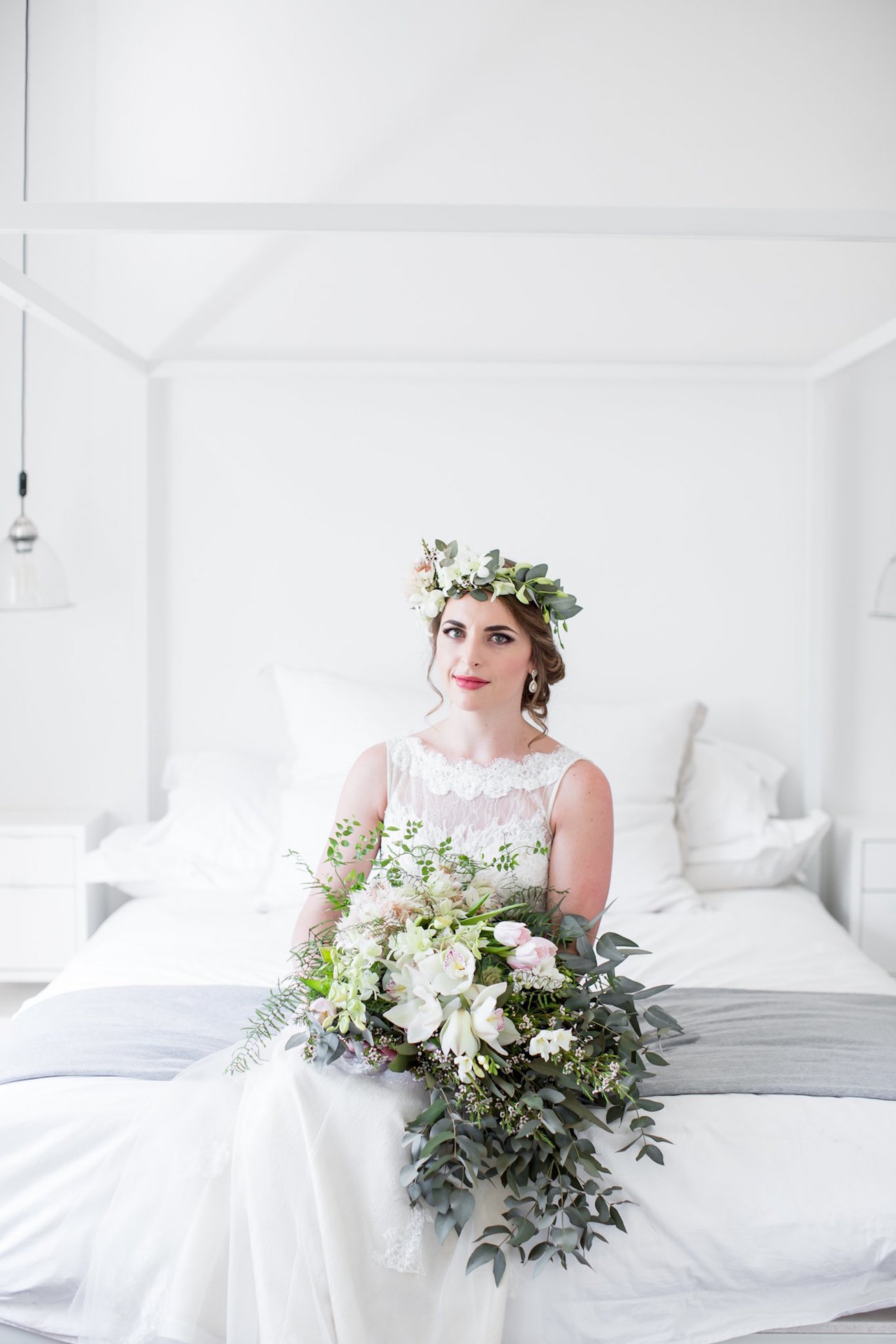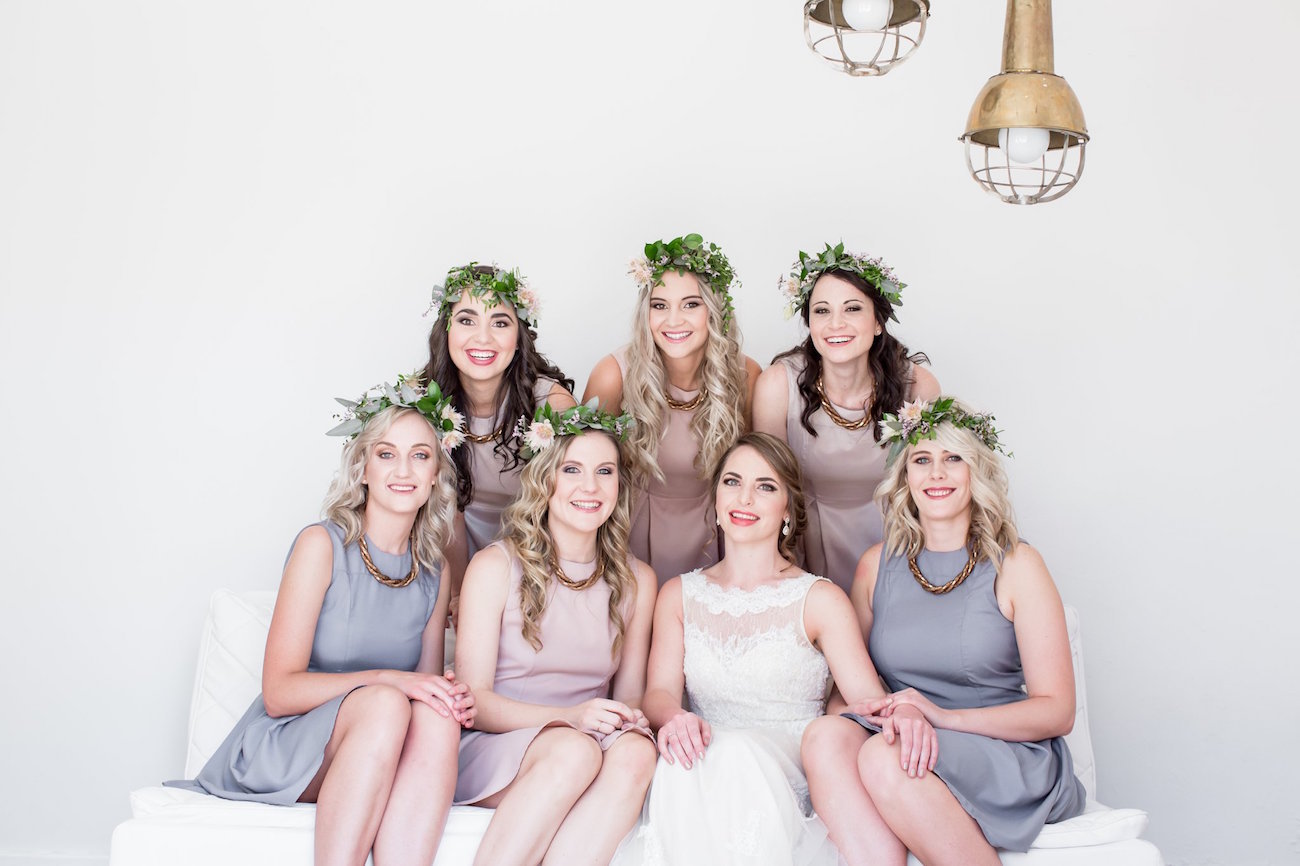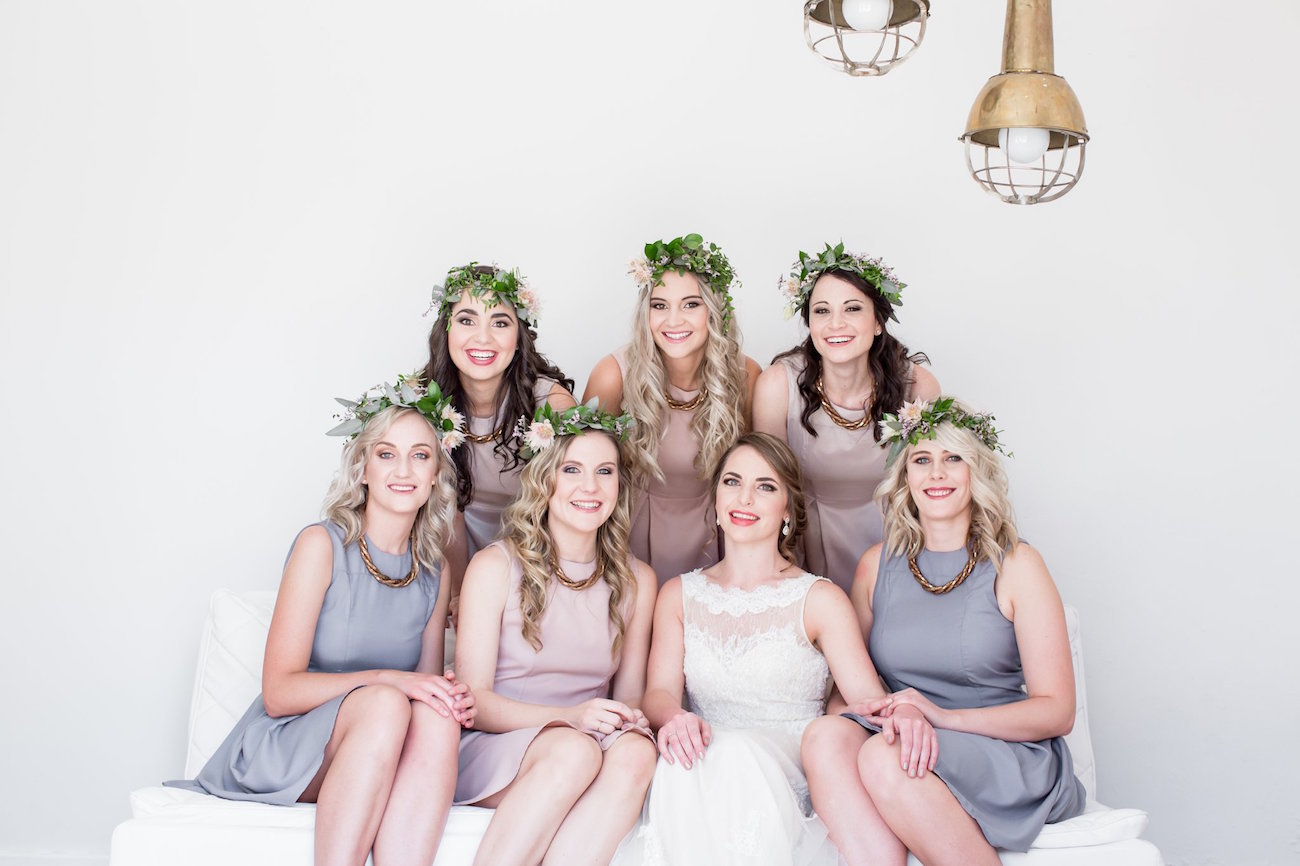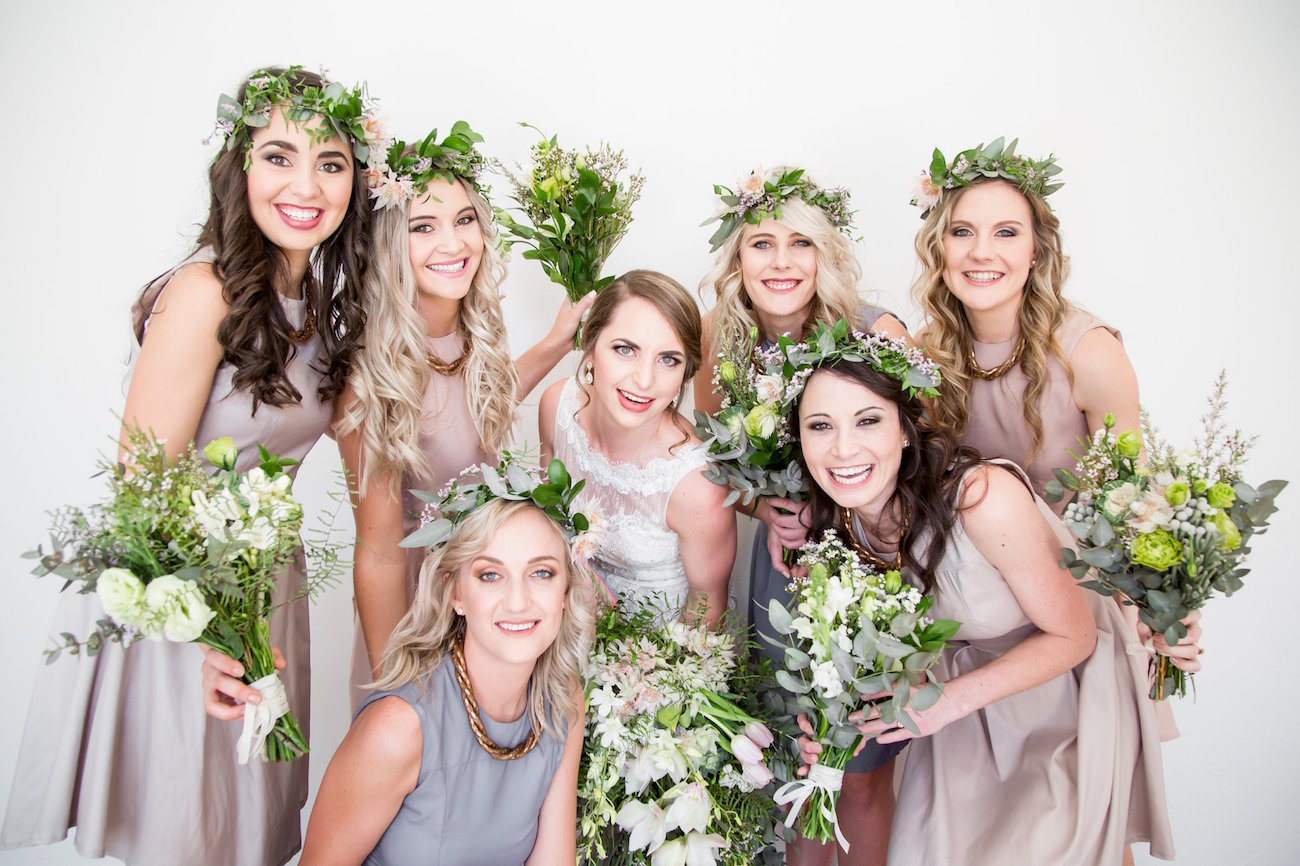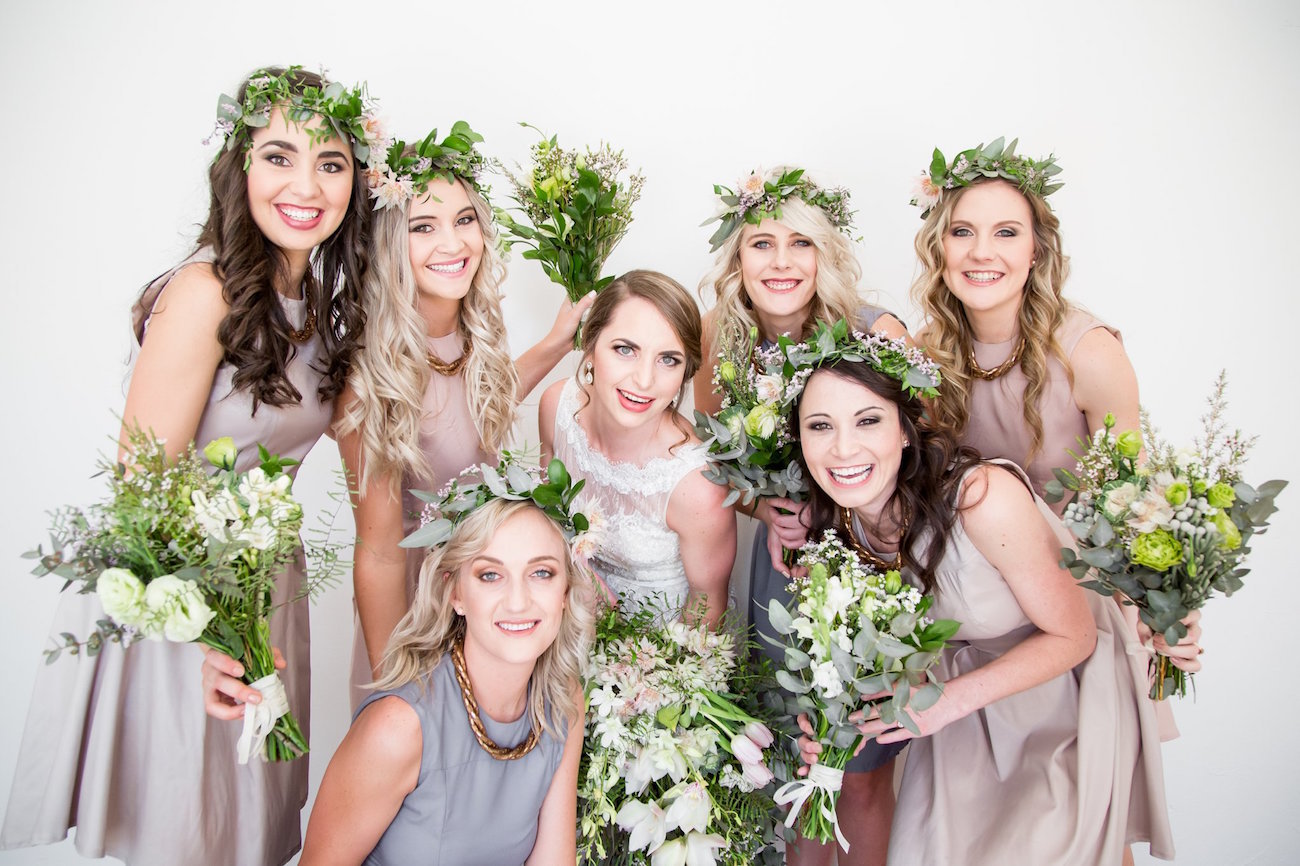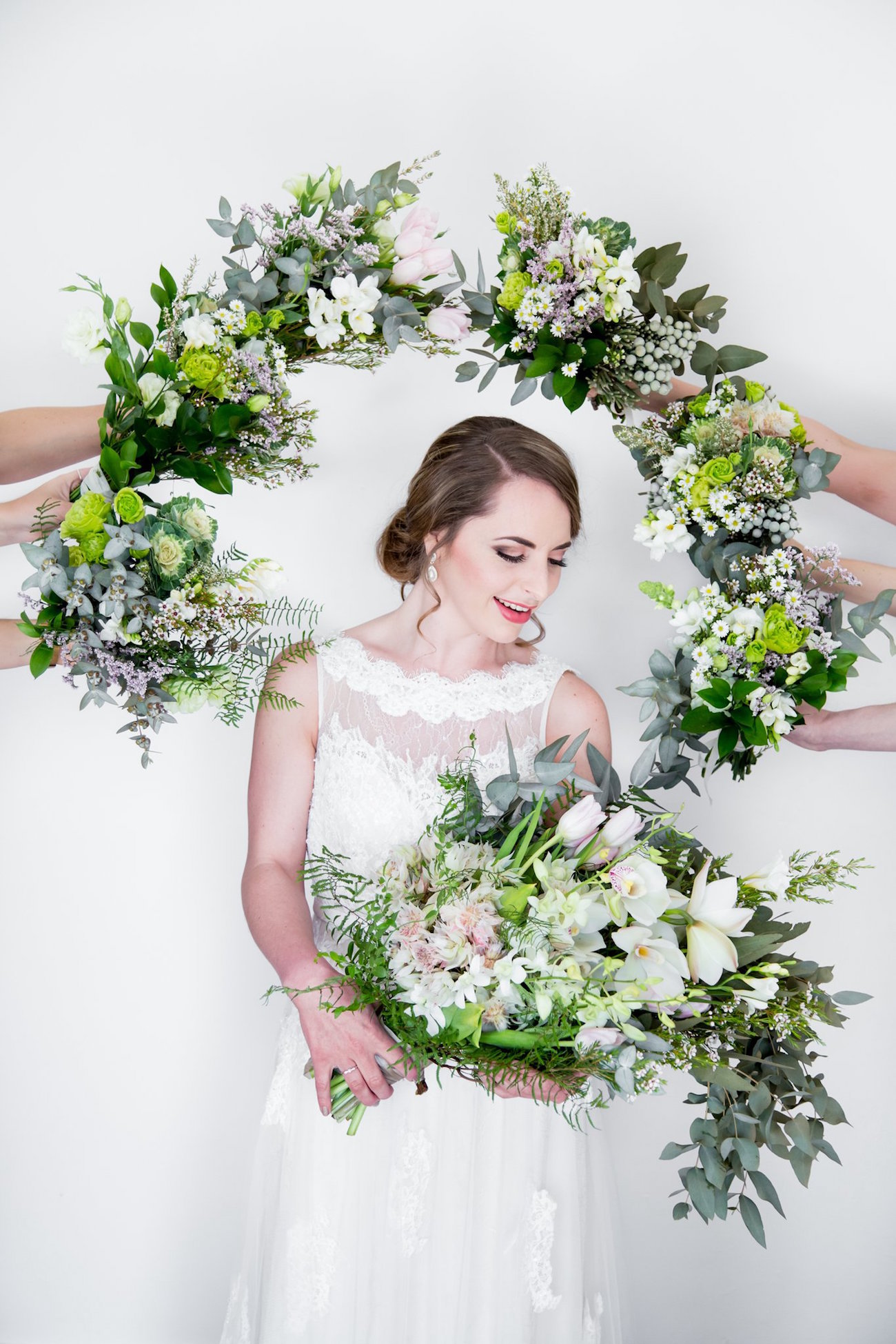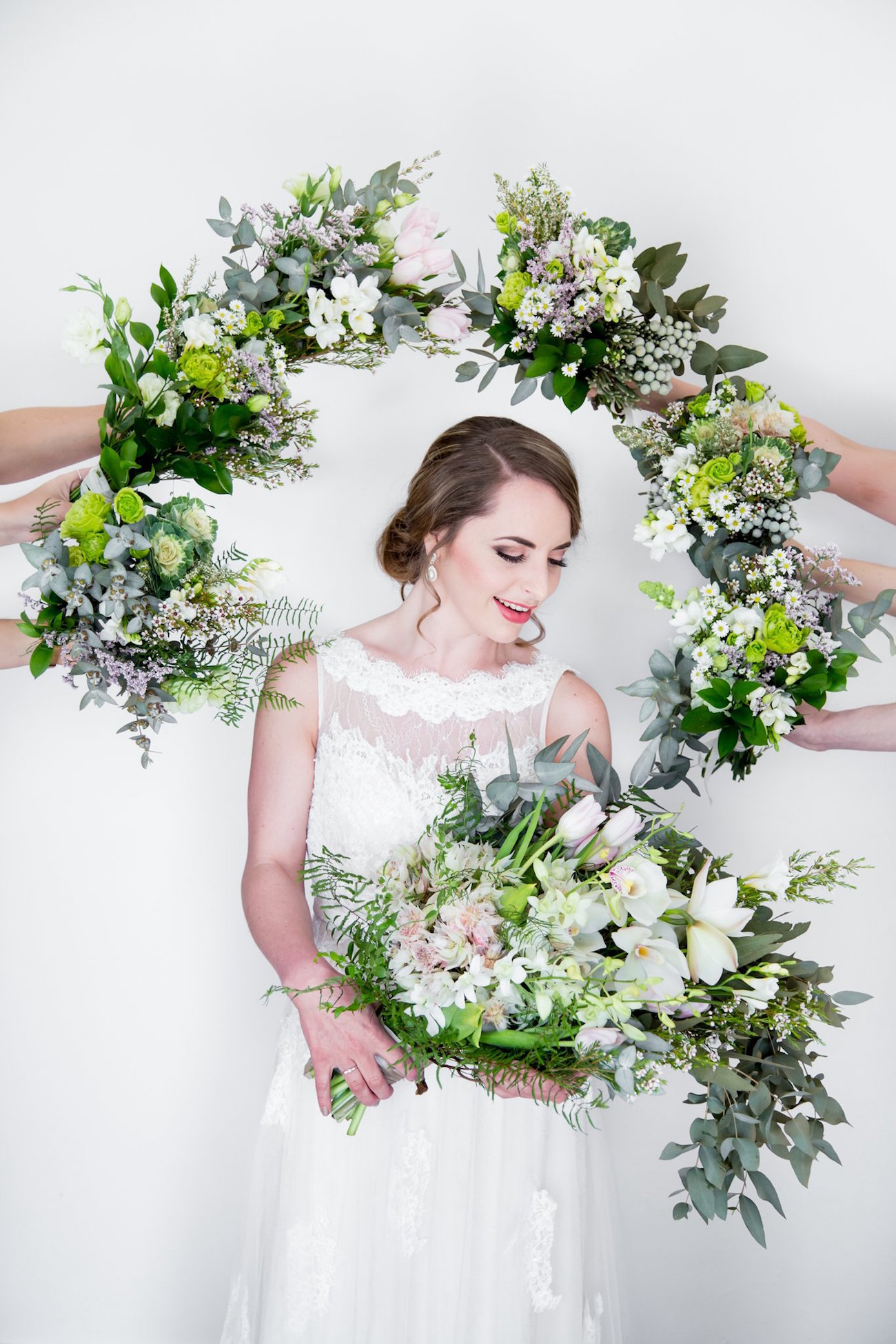 Love Story
Riaan and I met in 2012. A mutual friend invited both of us to a braai that night, but I was still dating another guy so didn't expect to meet my future husband! At a later stage, when Riaan heard I was single, he started messaging me and invited me on a date. One date lead to another… and another… After his year-end function later that year, my mom said she could see this guy put a sparkle in my eyes and that she thought he was the one. Things were getting serious and soon thereafter I realised I wanted to marry Riaan; he IS the one!
The Proposal
Riaan arranged with two of my best friends to 'kidnap' me after work on a Friday afternoon. They didn't tell me what was happening and said I wasn't allowed to ask questions – little did I know, they were taking me to the airport. Eventually, they handed me a huge gift box. Inside was a dress and five letters, each in an envelope with a specific time on it. In the first letter, Riaan explained the 'game' and what was expected of me. When we got to the airport, I changed into the dress and was allowed to read the next letter. Inside were my flight details. We had a glass of wine to calm the nerves (by now I suspected what was happening!) and when it was time to board, it was also time to open my next letter. Riaan had created a playlist on my iPod for the flight. The excitement was building! When I arrived in Cape Town, it was time for the next letter, where Riaan told me to look out for my friend's mother. She picked me up from the airport and blindfolded me. Riaan was waiting for me at Brenaissance Wine and Stud Estate in Stellenbosch. When we got to the wine farm I had to read the last letter, which told me where Riaan was waiting for me. He had gone to  such an effort to get a private spot ready with candles, flowers etc. – even a photographer hiding in the vineyards to capture the moment! He was all dressed up in a suit and proposed as soon as I arrived because he could not wait a minute longer. We stayed in Cape Town for the weekend and did all kinds of fun stuff to celebrate our engagement. Definitely a weekend I'll never forget! (And Riaan had thought of everything, including asking my mother to pack a weekend bag for me!)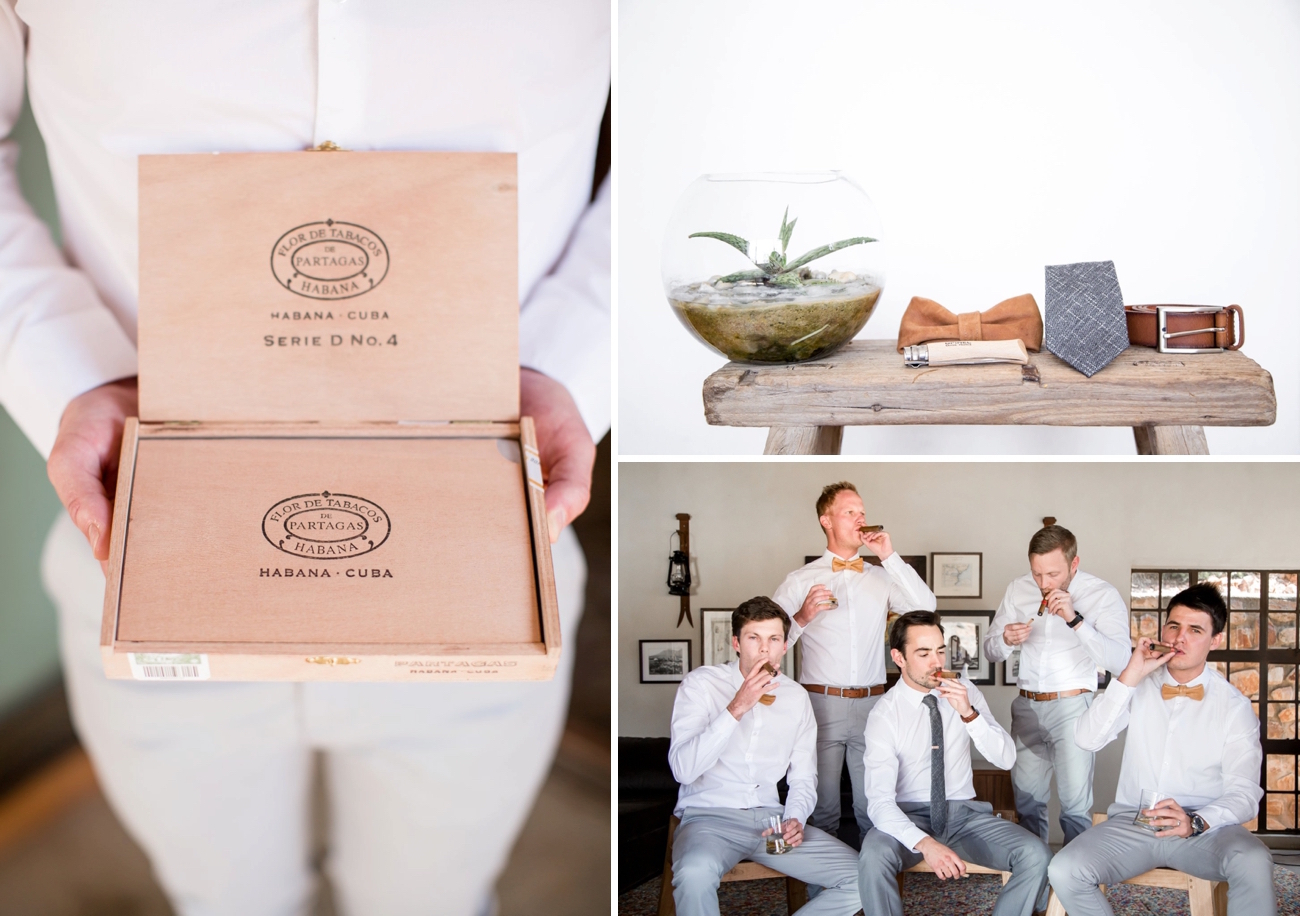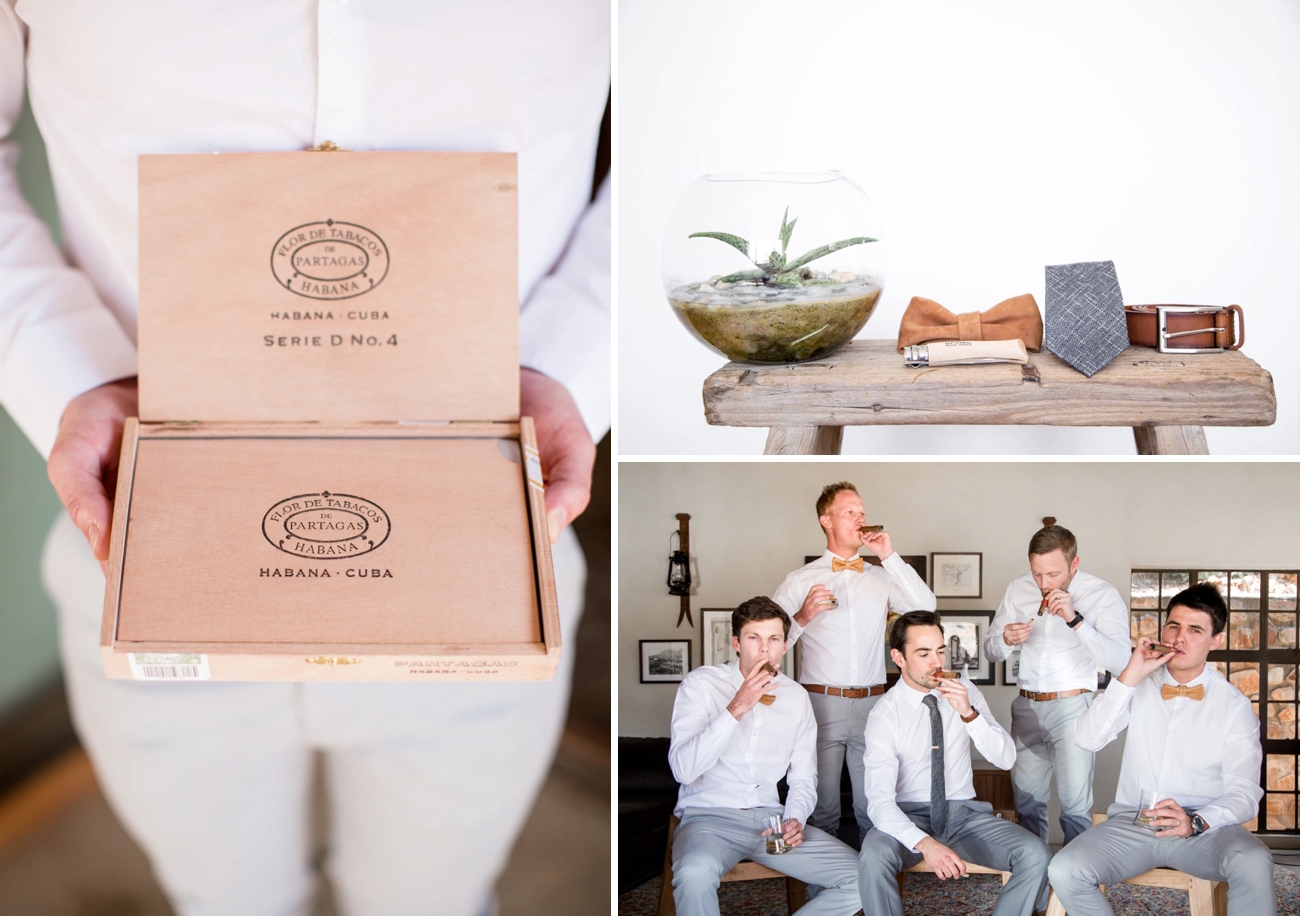 The Venue
Our venue was Poortjie Saal in Heidelberg. We knew that we wanted a wedding with all the important people in our lives present, and when we started listing them we ended up with 256 guests, so we needed a venue that could cater for that many. At the same time, we have a very simple style, so we wanted something that suited our look and feel. I had been to Poortjie Saal for a birthday party and didn't even know they hosted weddings there, but one day I saw a real wedding post and recognised it. I realised this was where I wanted to get married! Riaan and I drove through to Heidelberg one day to view it and meet with the owner, Katryn. Riaan loved the look and feel – industrial, with lots of concrete, steel and brick. We knew this was it. They offered everything we needed, from co-ordination to catering, decor/flowers etc. and Katryn is able to handle everything for you, so you enjoy your special day.
Wedding Style
We love the new trend of less is more. Simple. We also like the industrial look. Lots of concrete, steel and brick walls. My colour scheme was a soft blush pink and different shades of grey with a touch of rose gold/copper.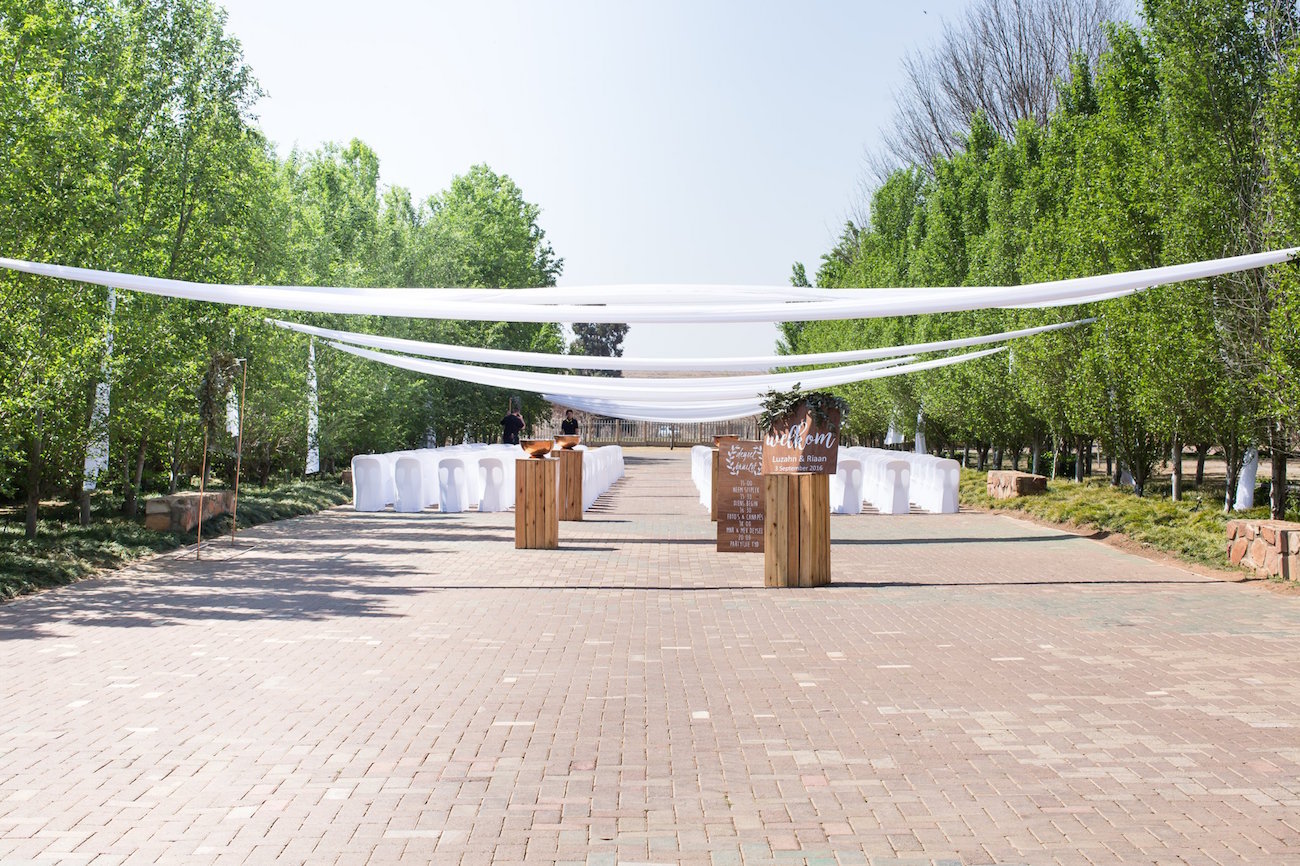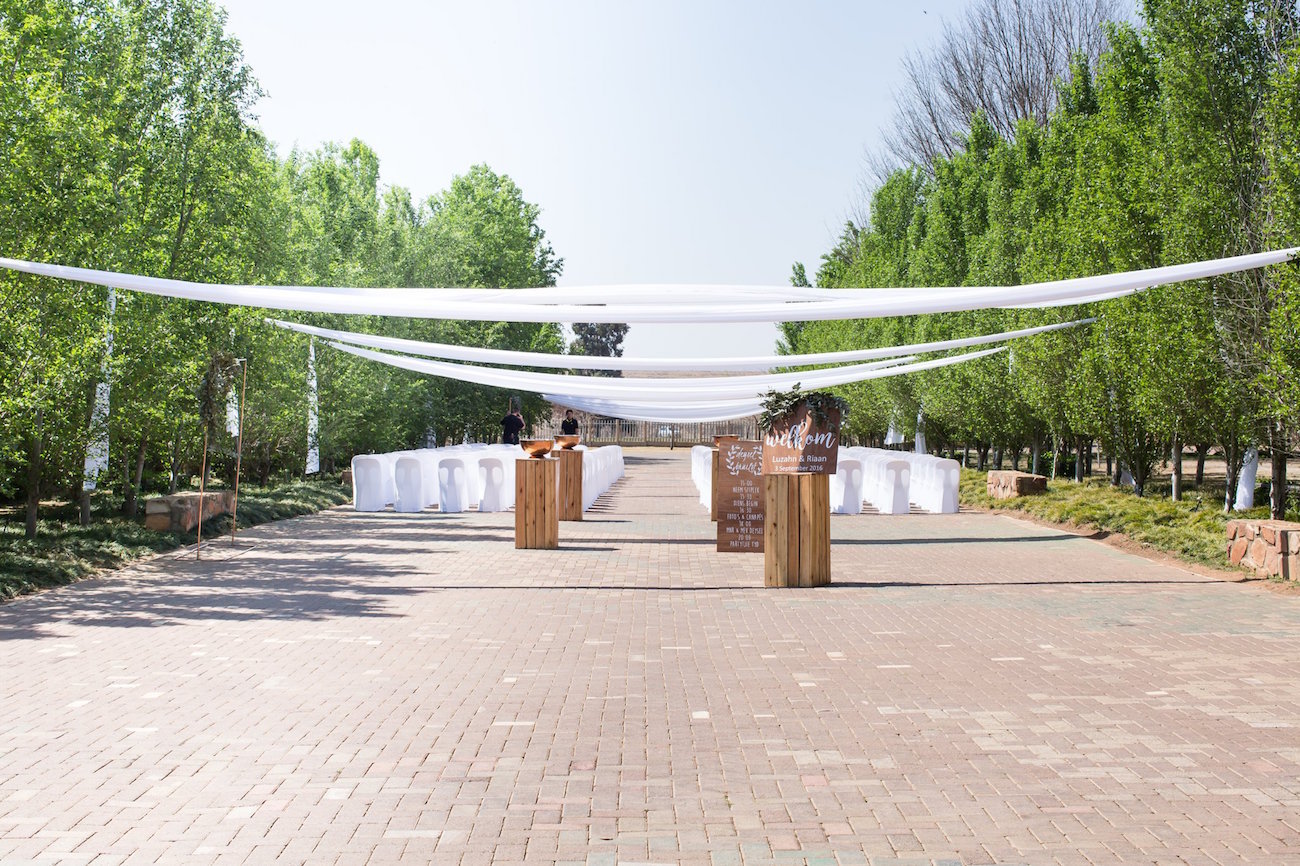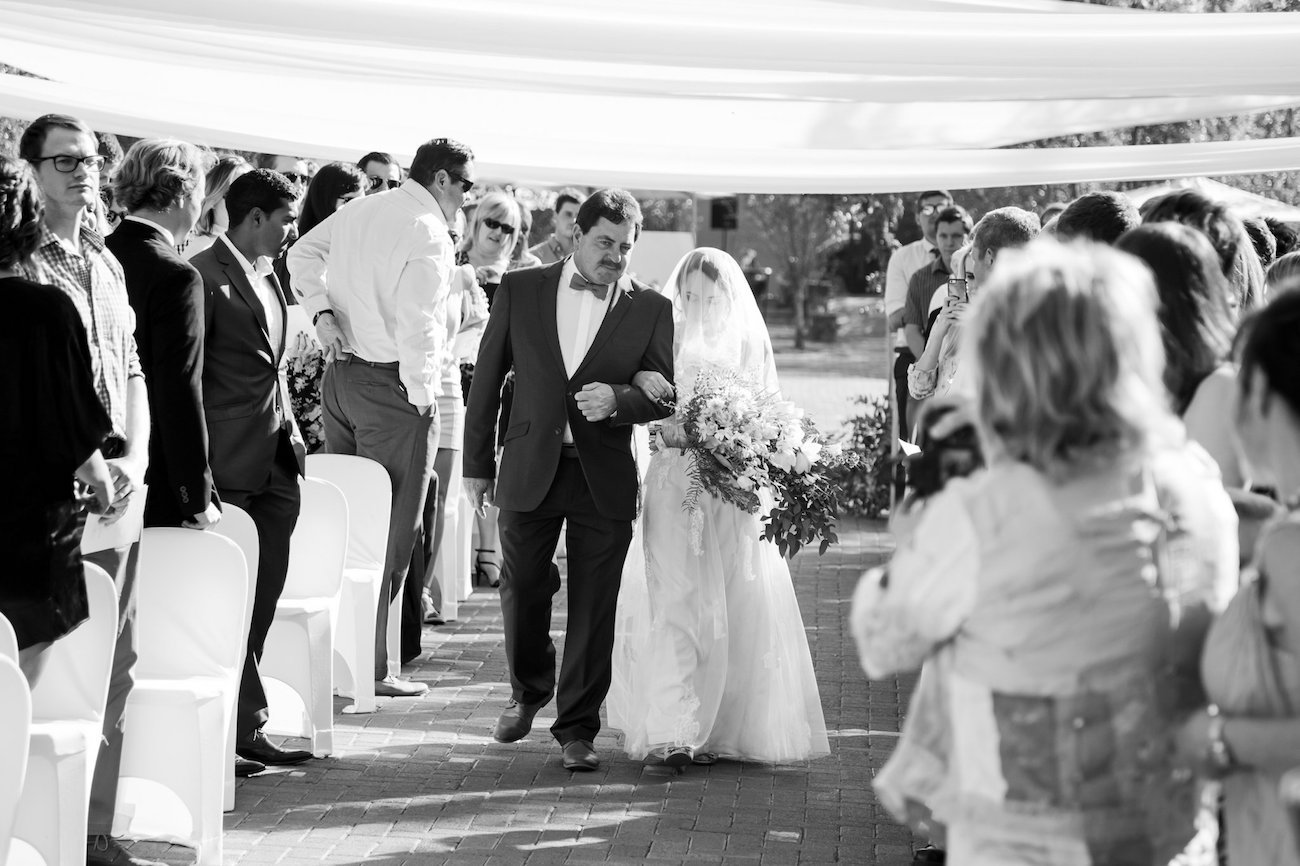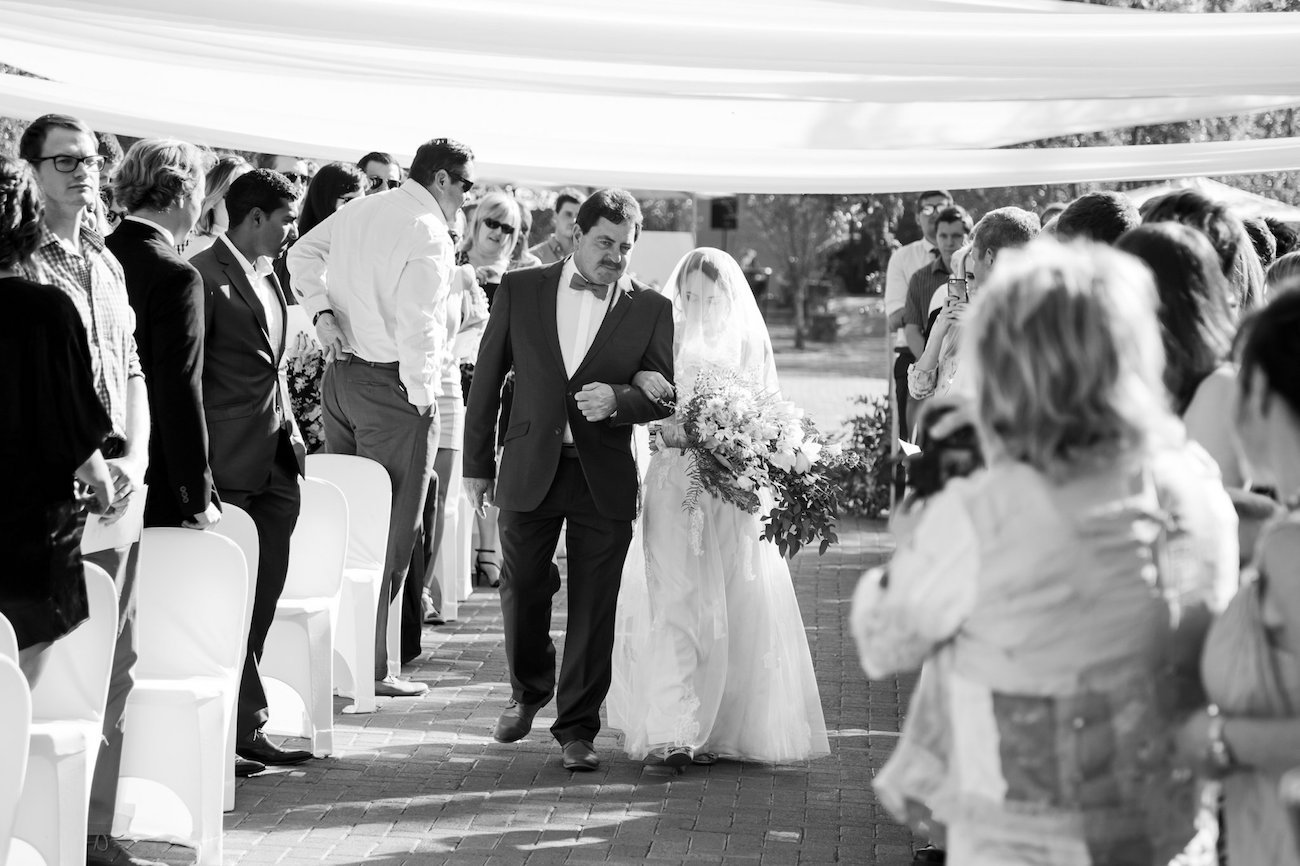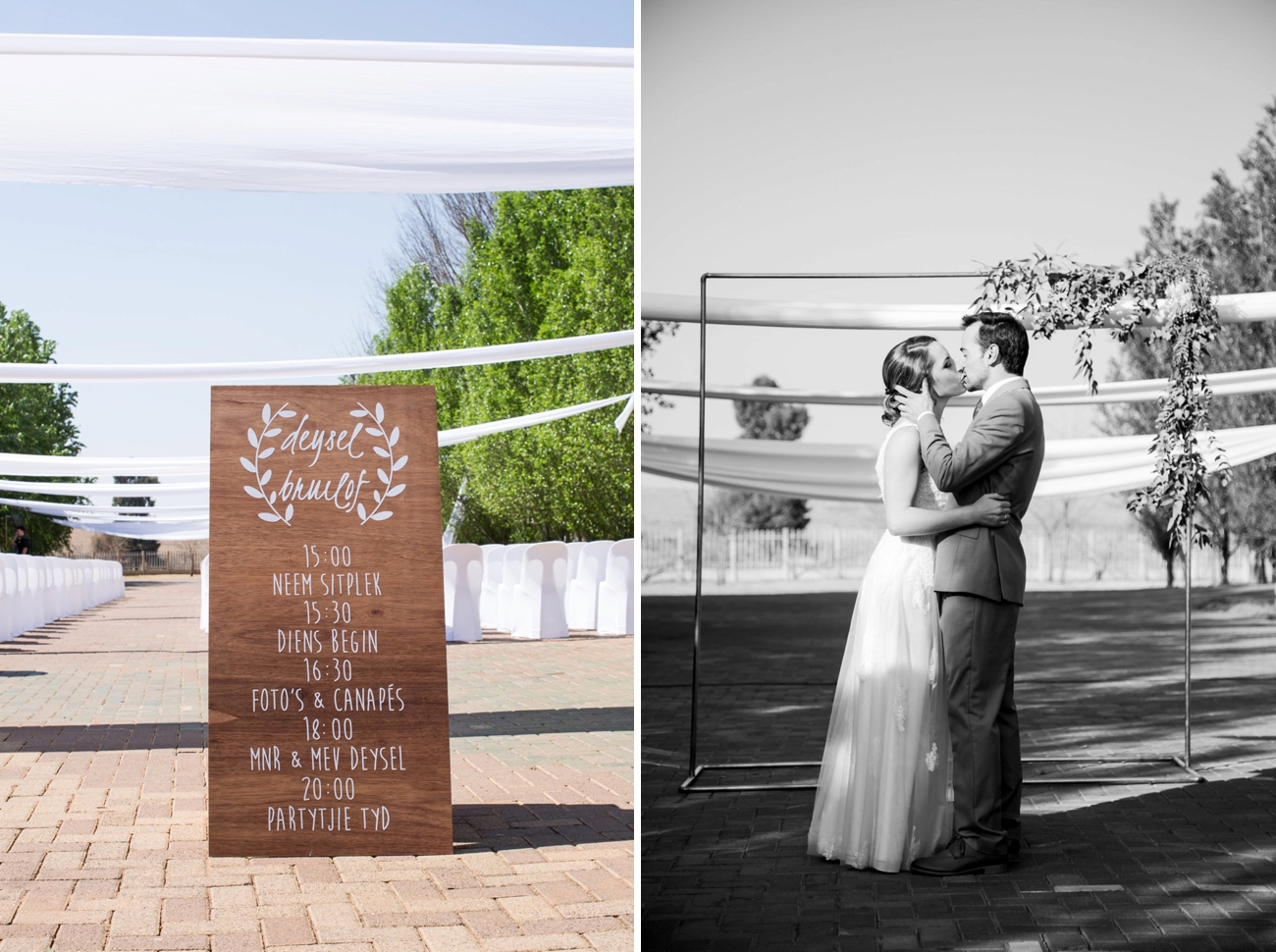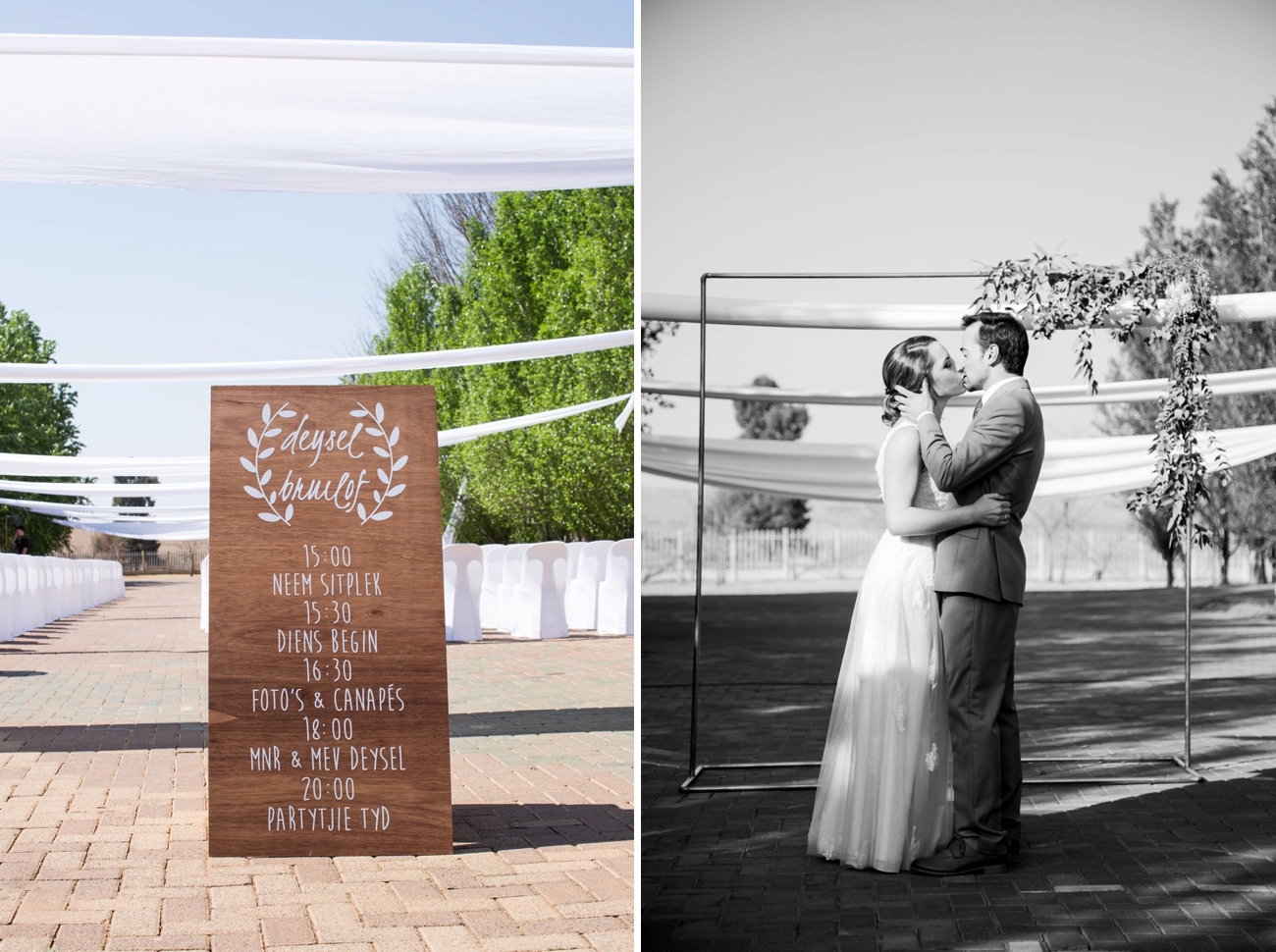 Wedding Details
Riaan and I love visiting markets over the weekends, so we decided to have a market-style main course menu for our guests. One other thing that was a bit different was the wedding cake. I don't like sponge cake, so I wanted something out of the ordinary. I decided to design my own cake made out of gourmet flavoured fudge blocks – best decision ever! The guests LOVED it! We love live music, so we got a band to play while everybody enjoyed their canapes. They also played background music while the main course was served, and for the rest of the night we had a DJ.
DIY Elements
Riaan is a mechanical engineer and very handy when it comes to creating things with his hands. He made lanterns out of copper pipes. I designed all my wedding stationary myself, from the save the date, to the website invite and all the on the day stationery (name tags, menus, ceremony pamphlets, table placement boards, vinyl stickers, etc.). I also designed (and built) my own gourmet fudge cake and I even designed the cake stand out of Perspex. A lot of planning (and calculating) went into that cake. We had to figure out how many blocks of fudge were needed for there to be enough pieces for the guests and at the same time I wanted the cake to look impressive!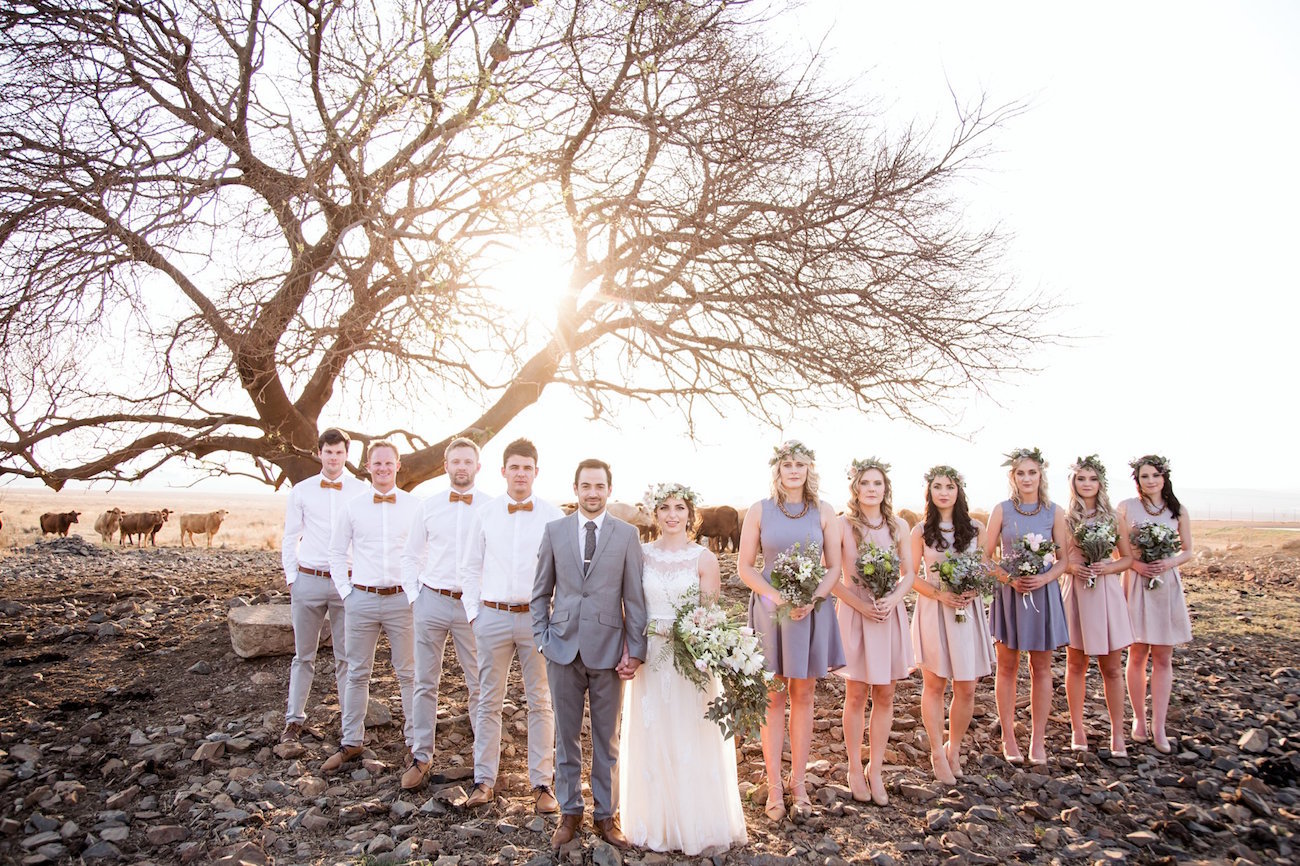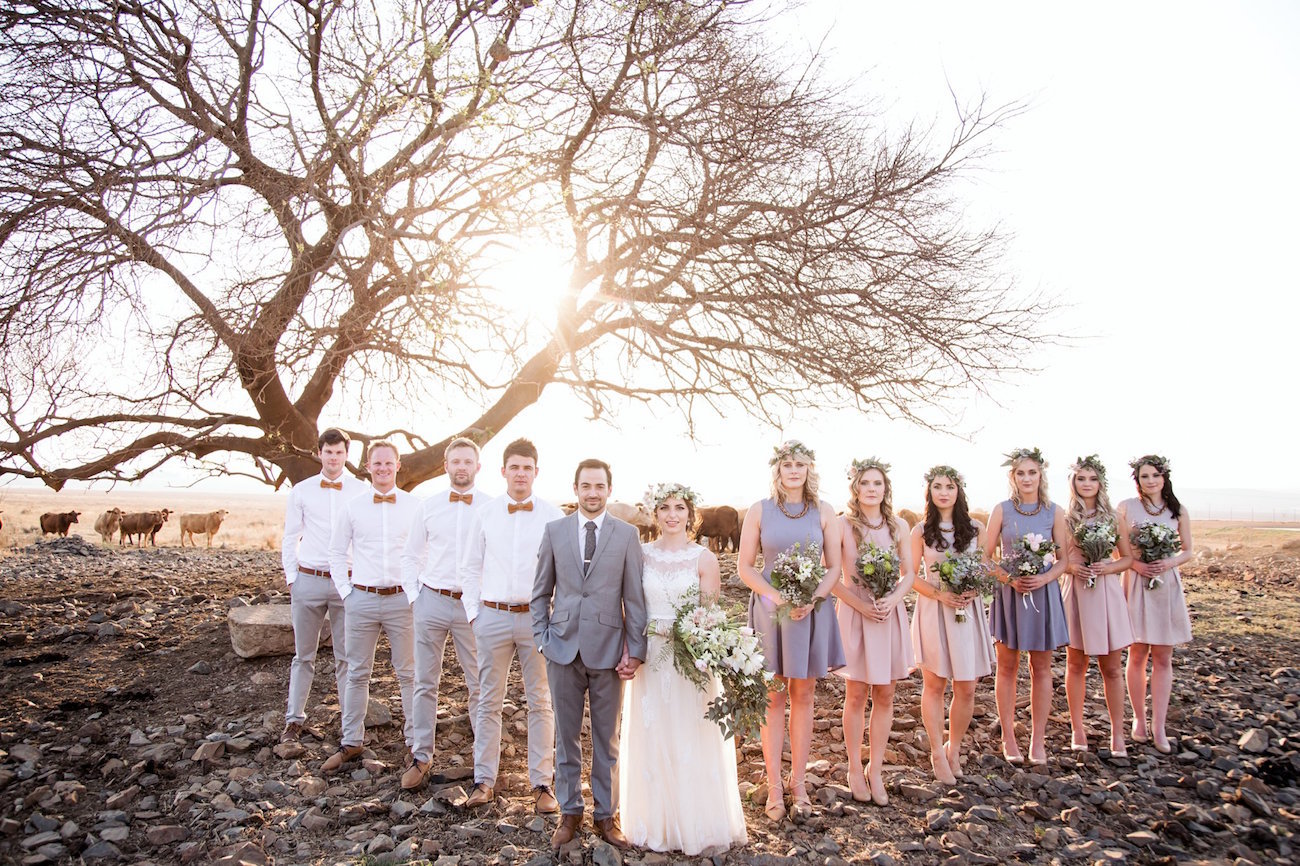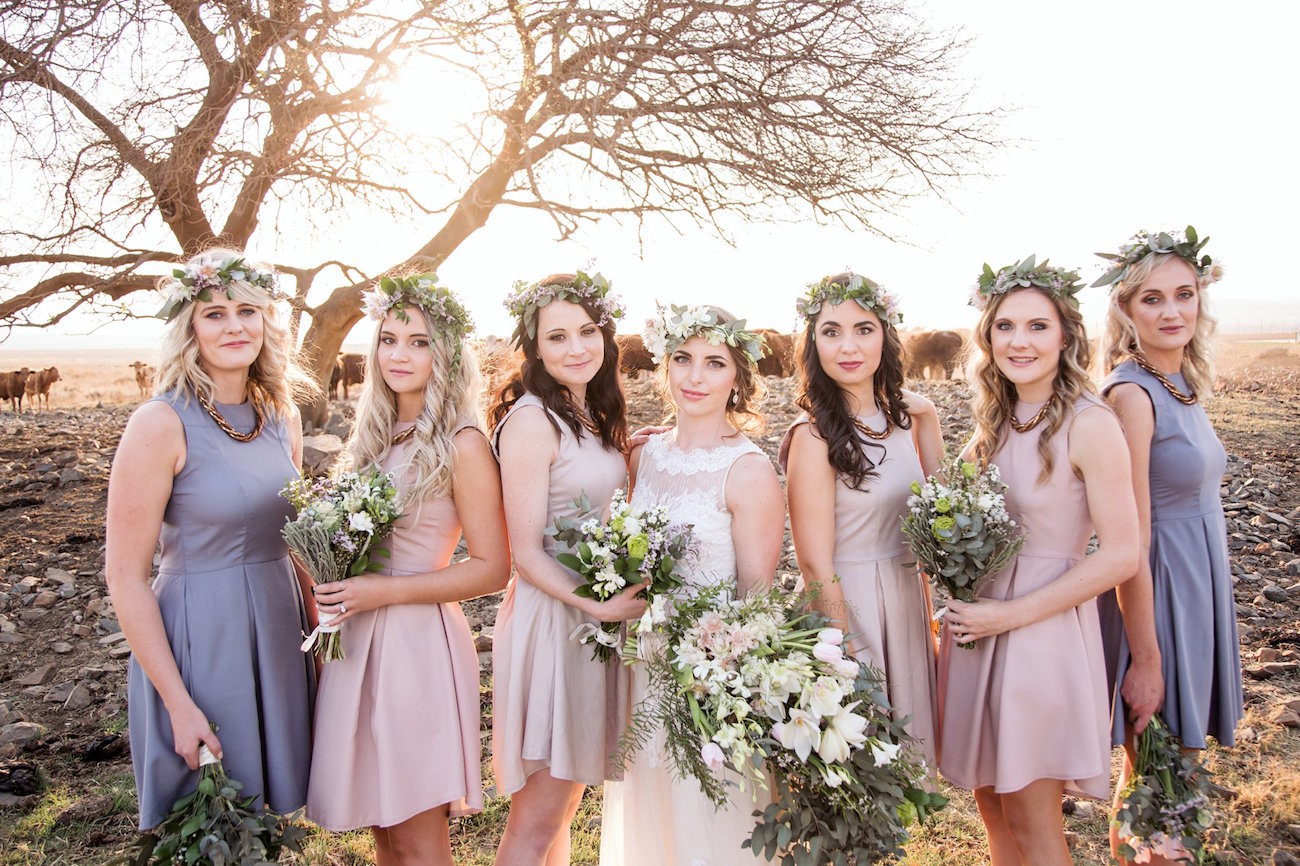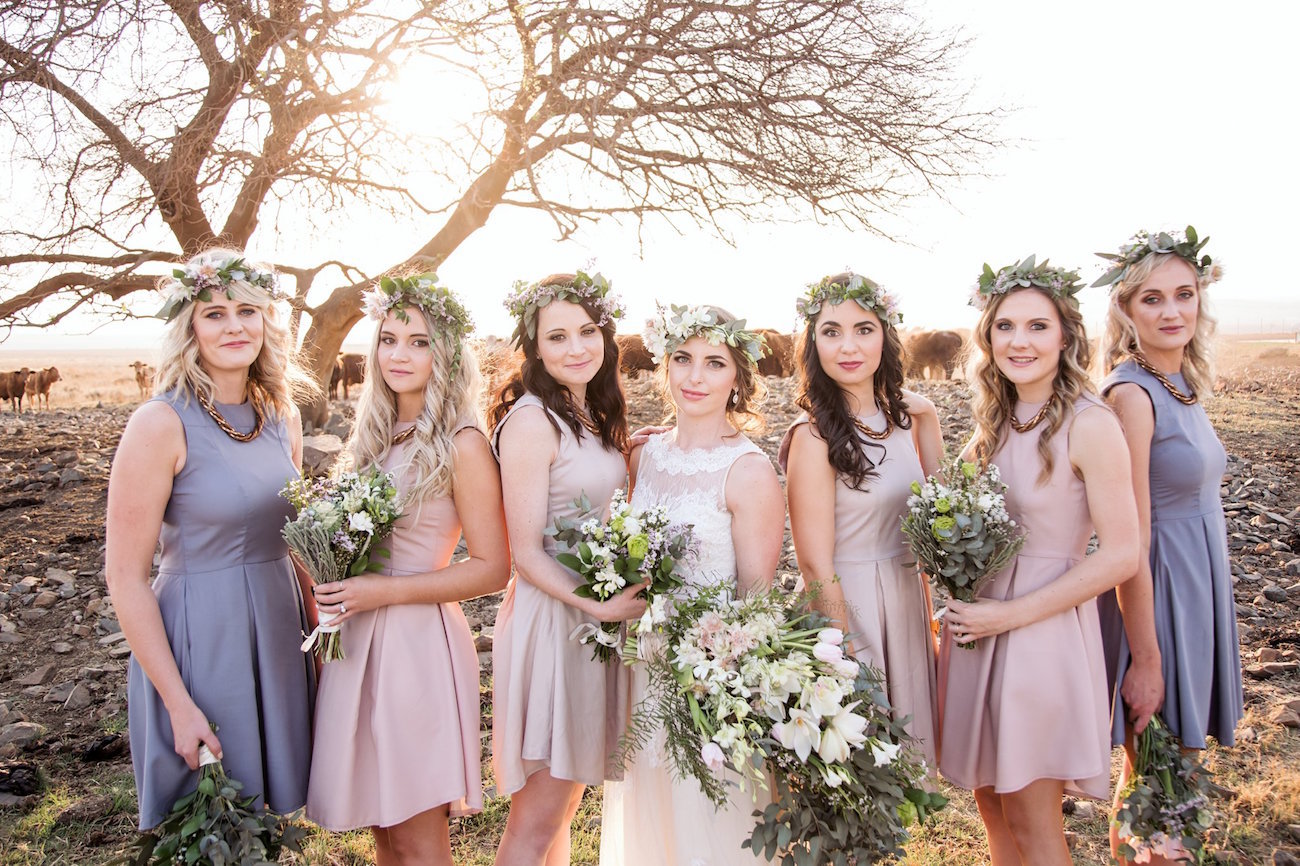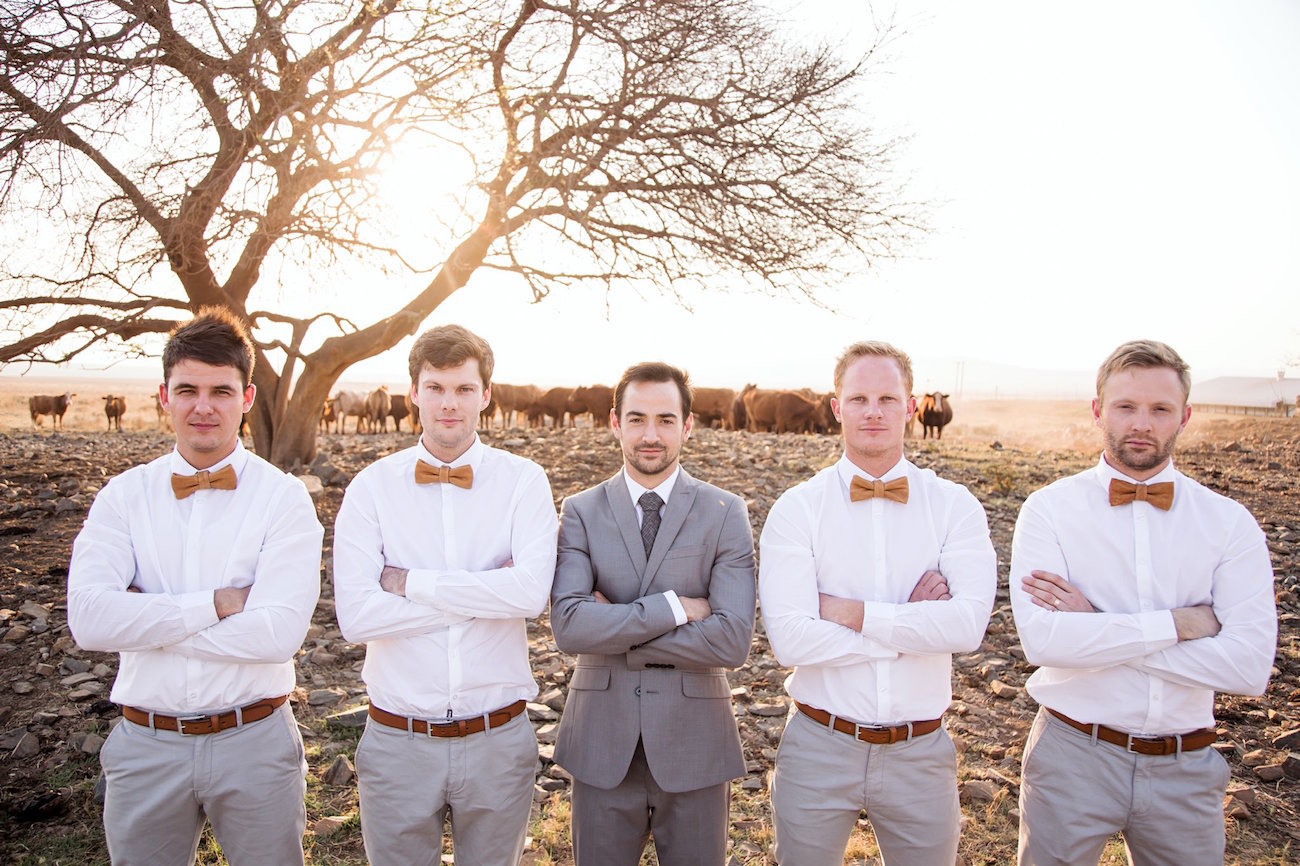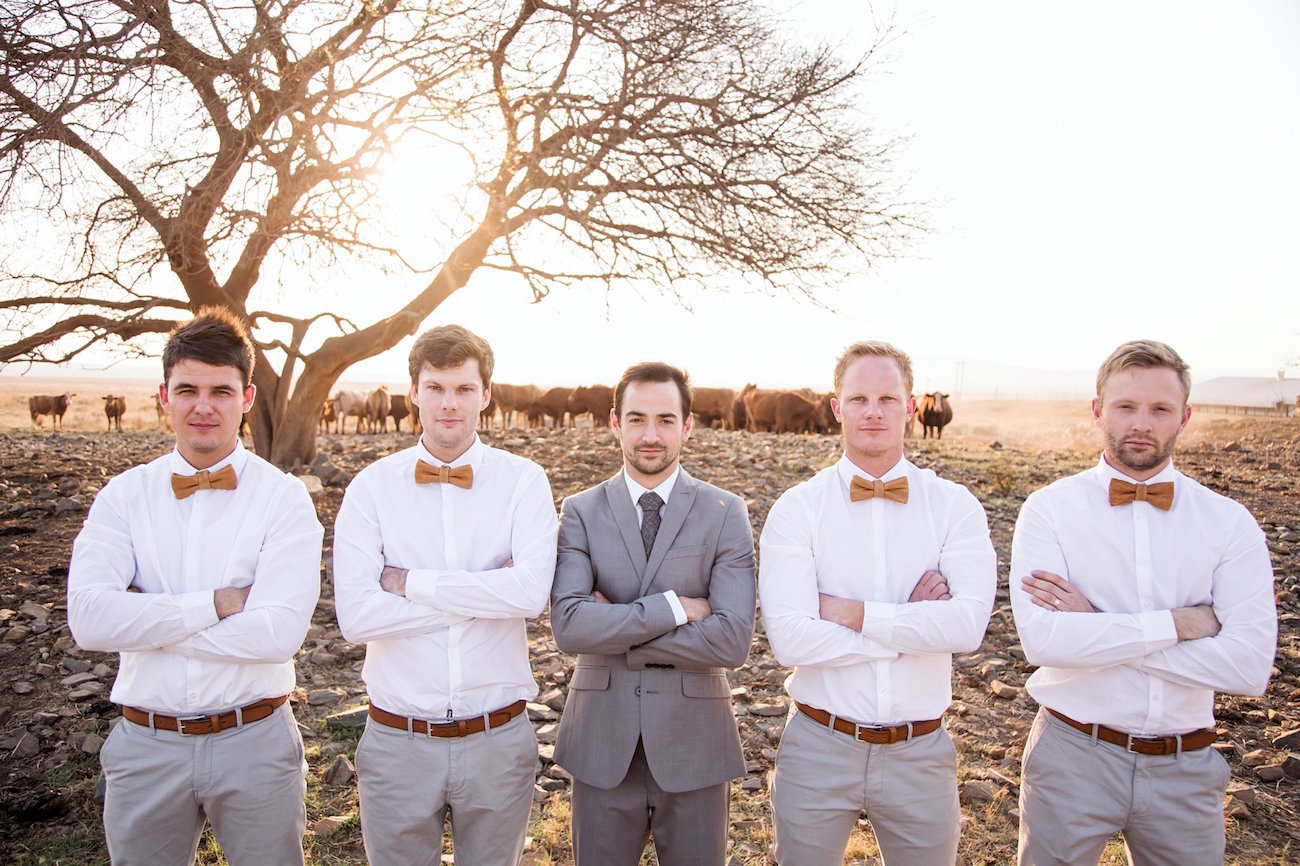 The Dress
I got my wedding gown from the website BHLDN, an online wedding store based in America. I must admit, I wouldn't have bought my gown from an online store if it weren't for two of my friends who've had great experiences on this site. This gave me confidence to make use of it and trust the process.
The Bridesmaids
I had six bridesmaids. I don't have a sister so all my bridesmaids were my best friends. Once again I wanted something plain and simple (to suit the theme/vibe of the wedding), yet modern and flattering for all body types. Something all of them could wear again after our wedding. I used the design of one of my own dresses in my cupboard to make their dresses. A good friend is a clothing designer with her own brand, called Hanni Design, and she made the dresses. They were in our colour scheme, with rose gold jewellery.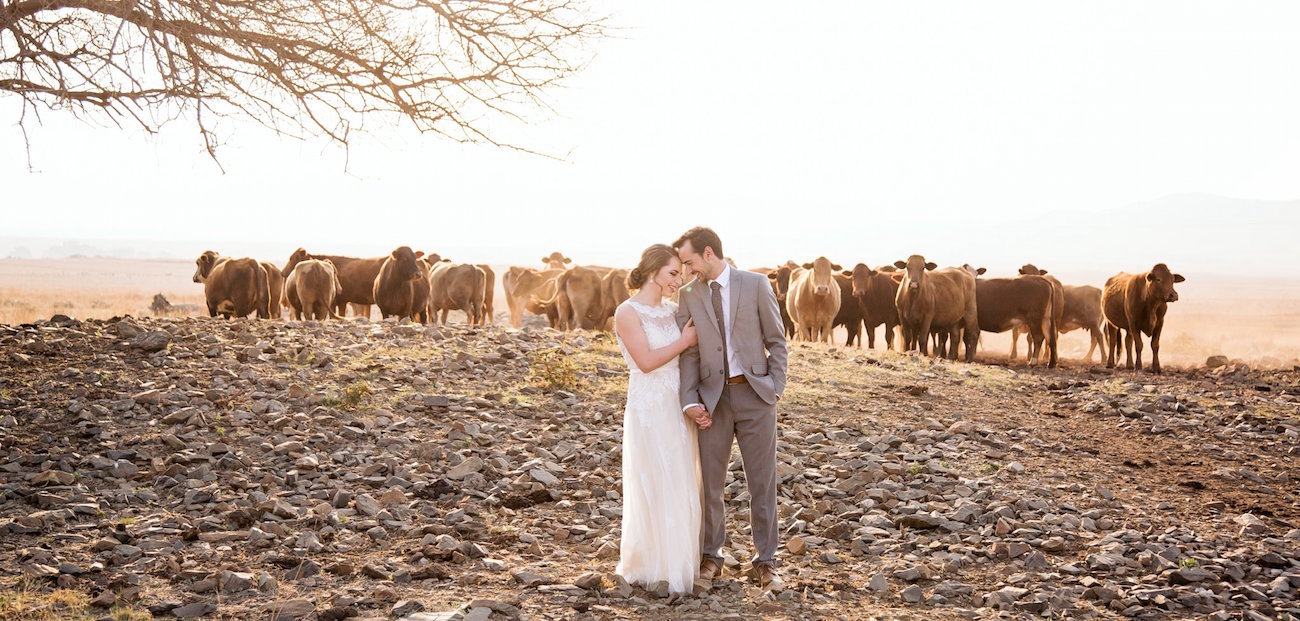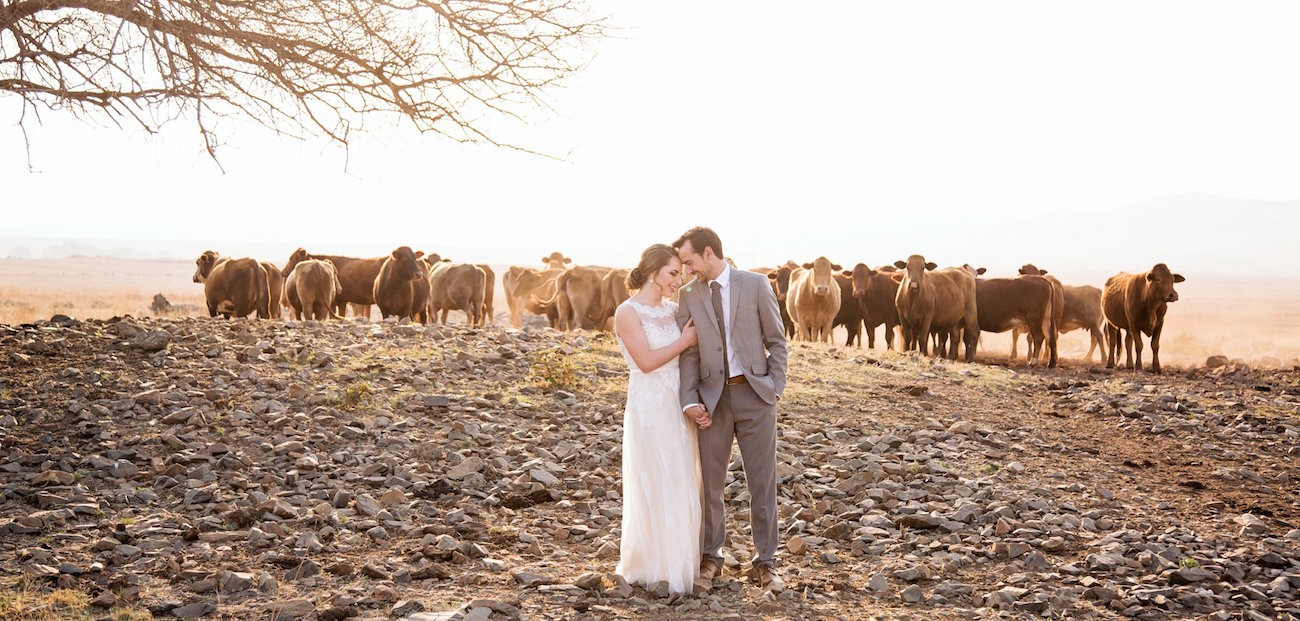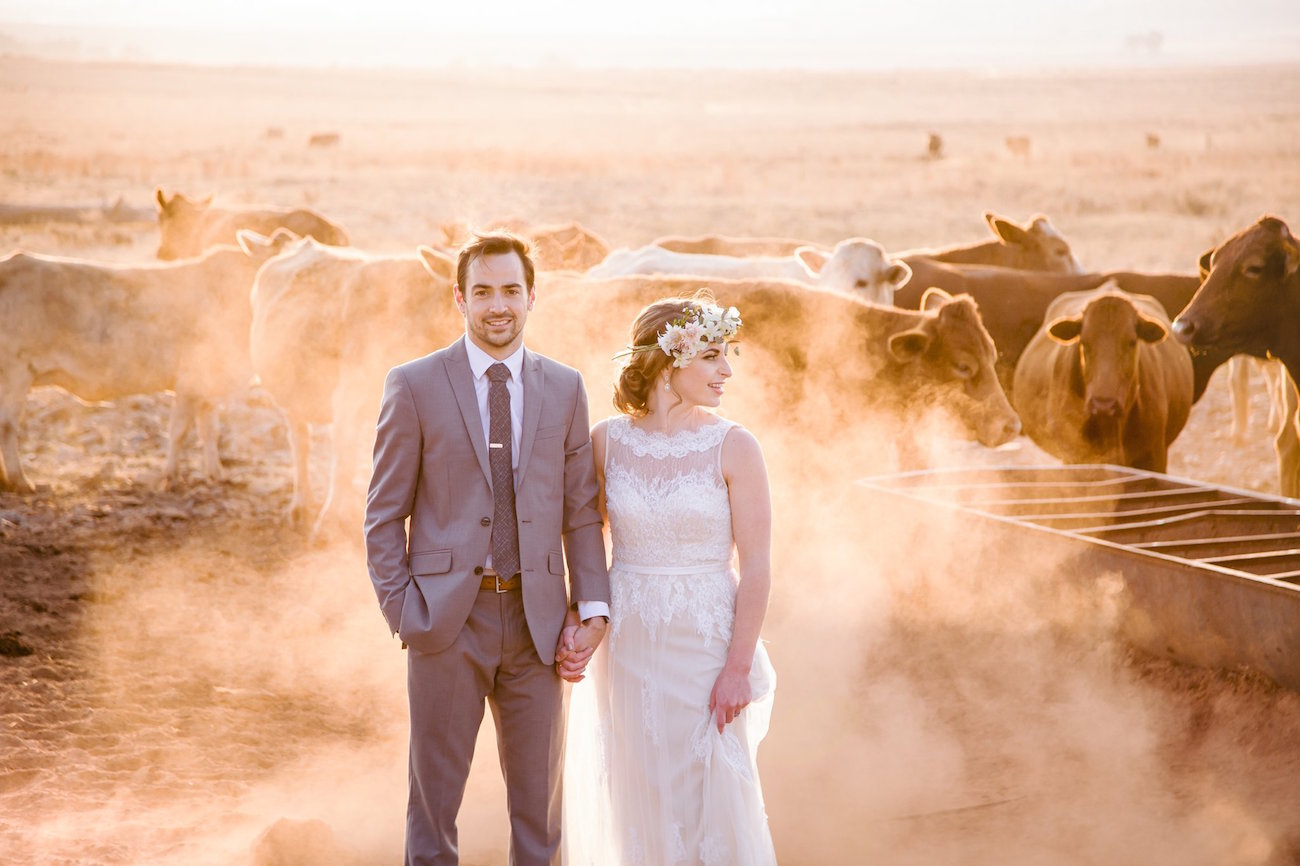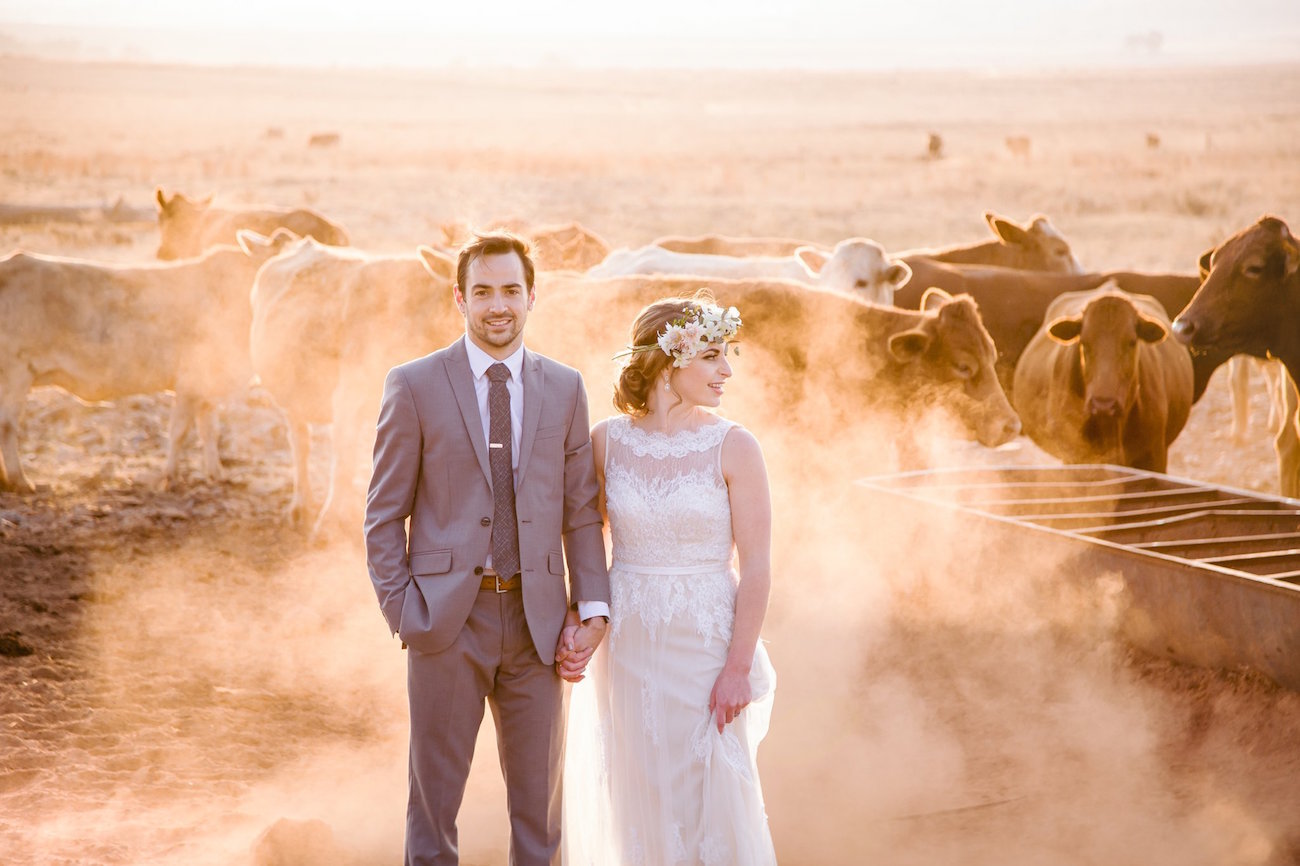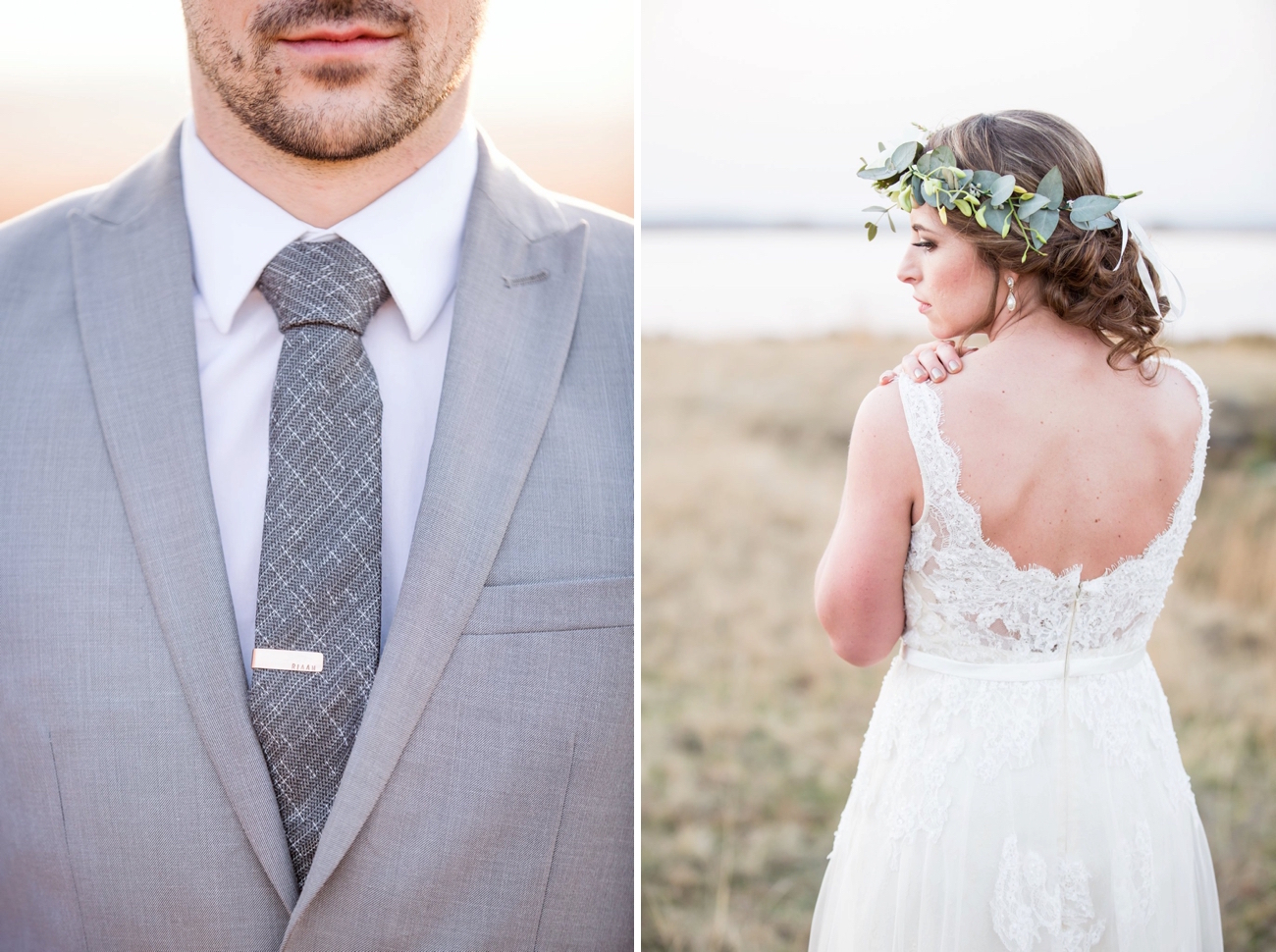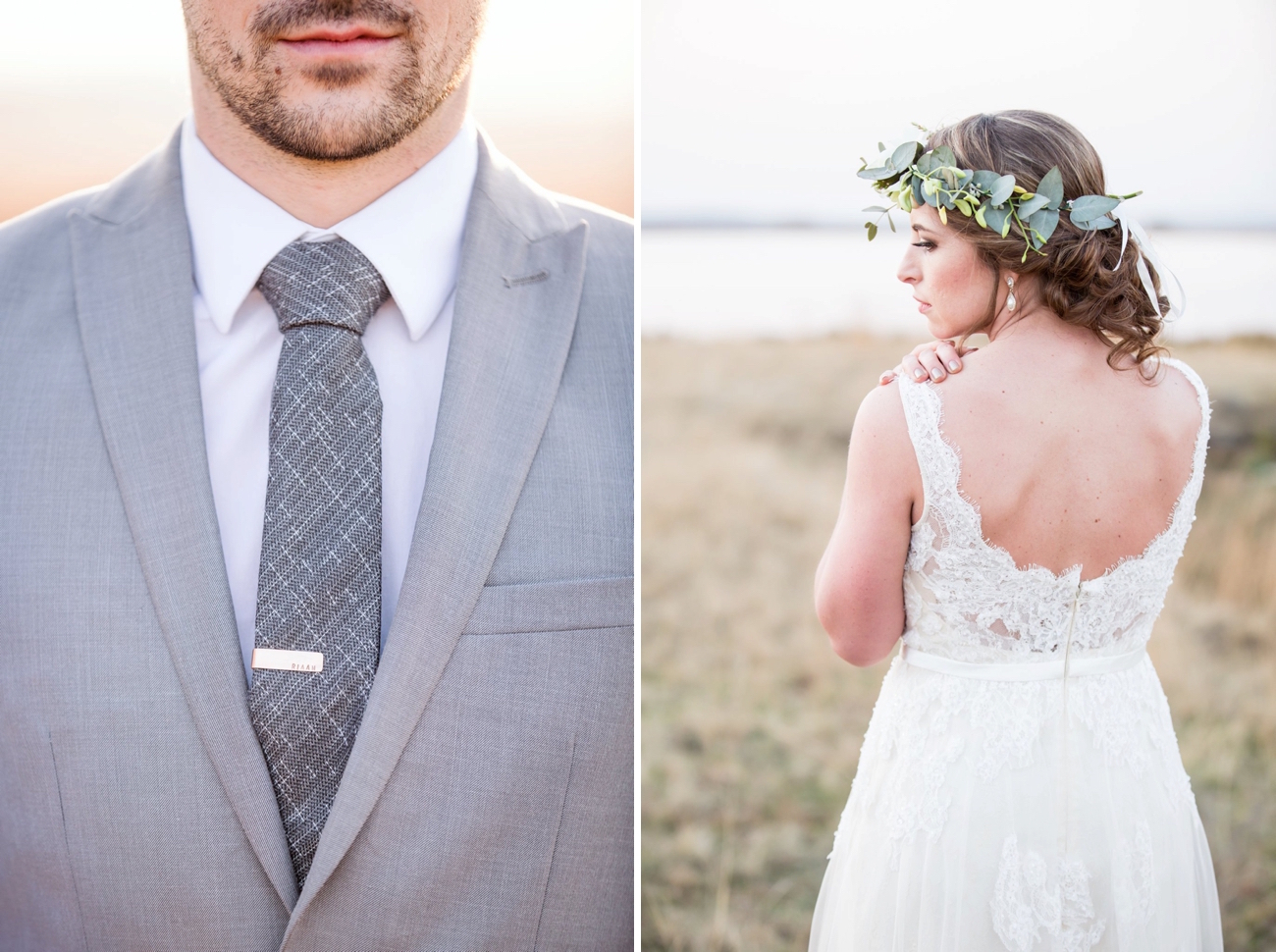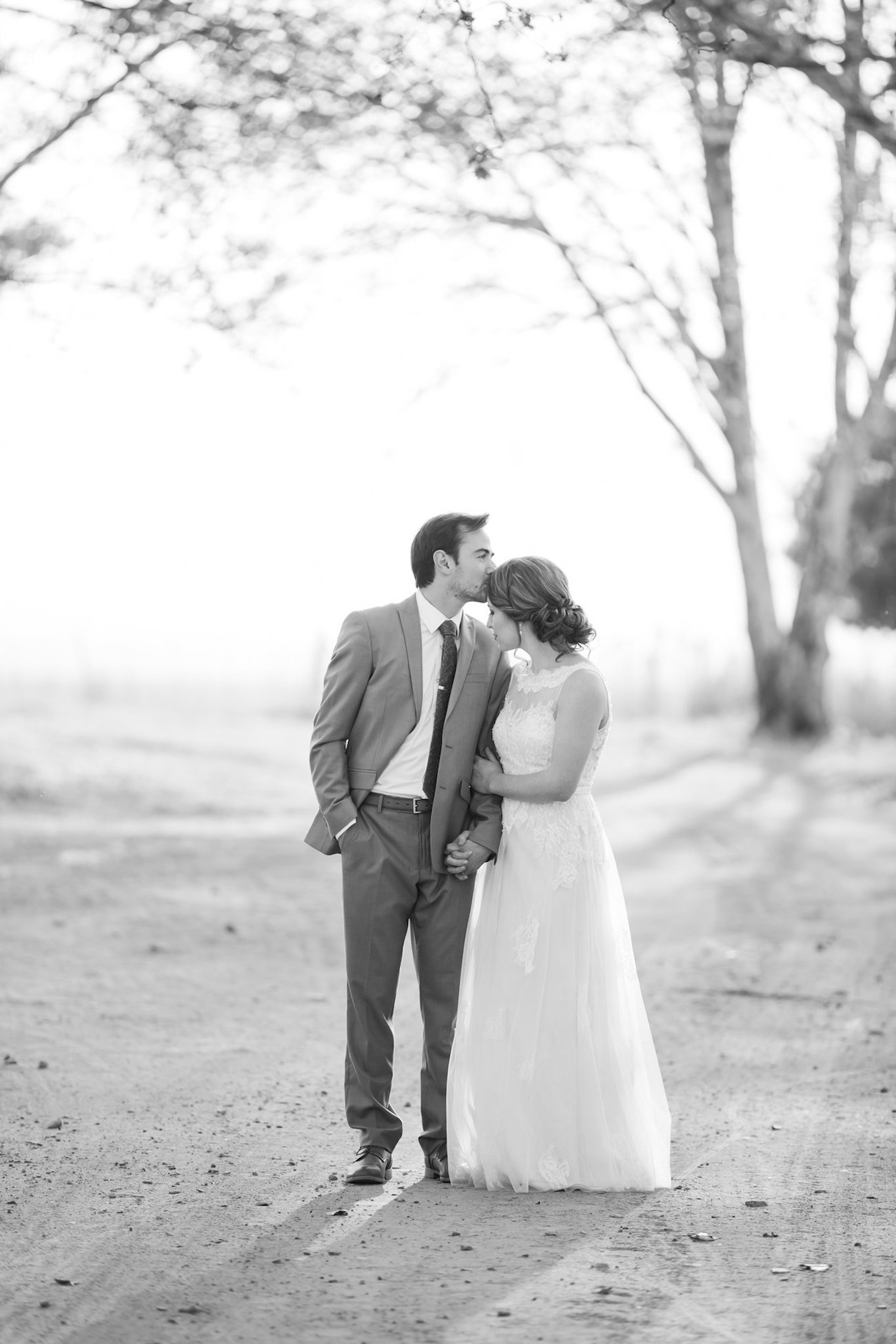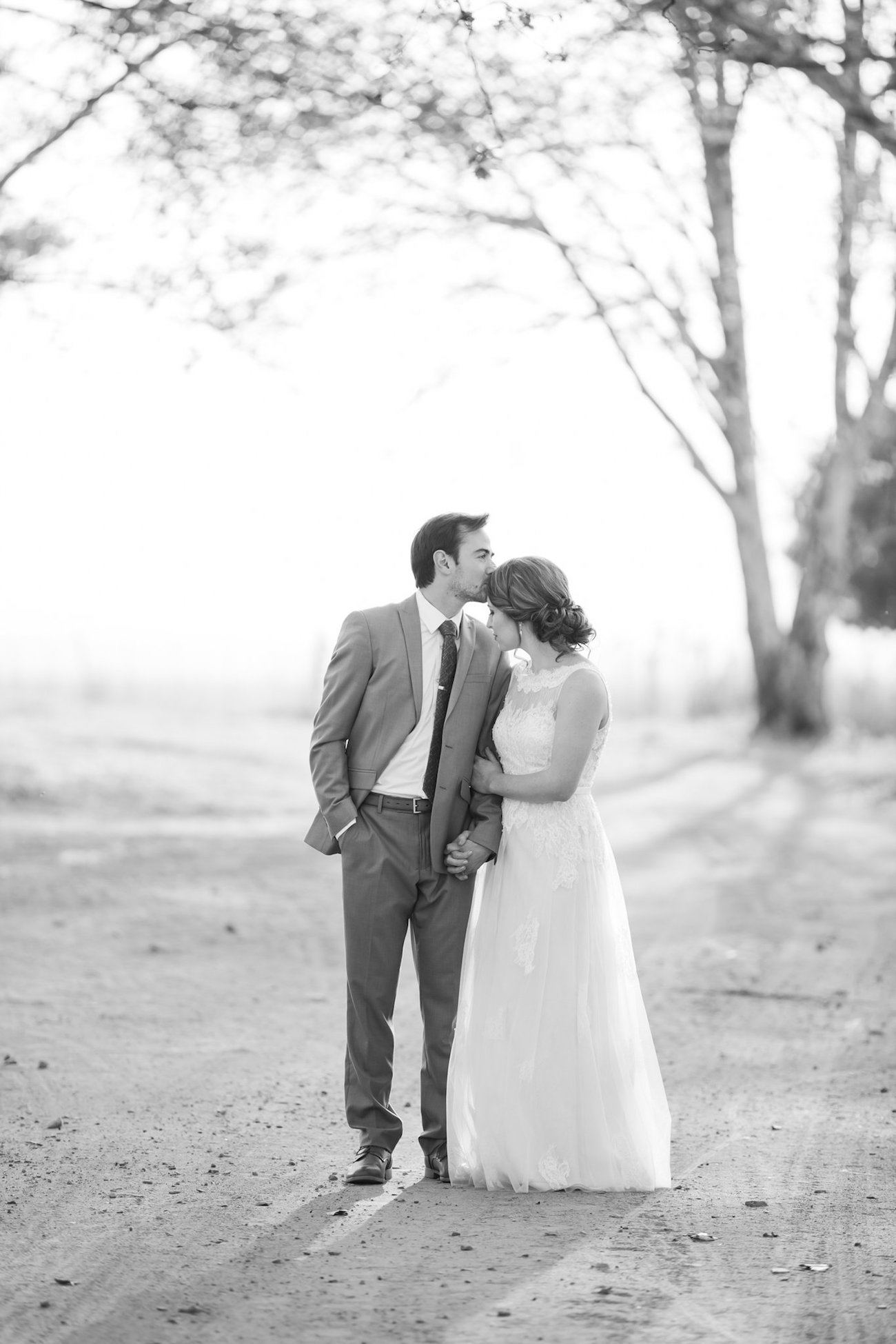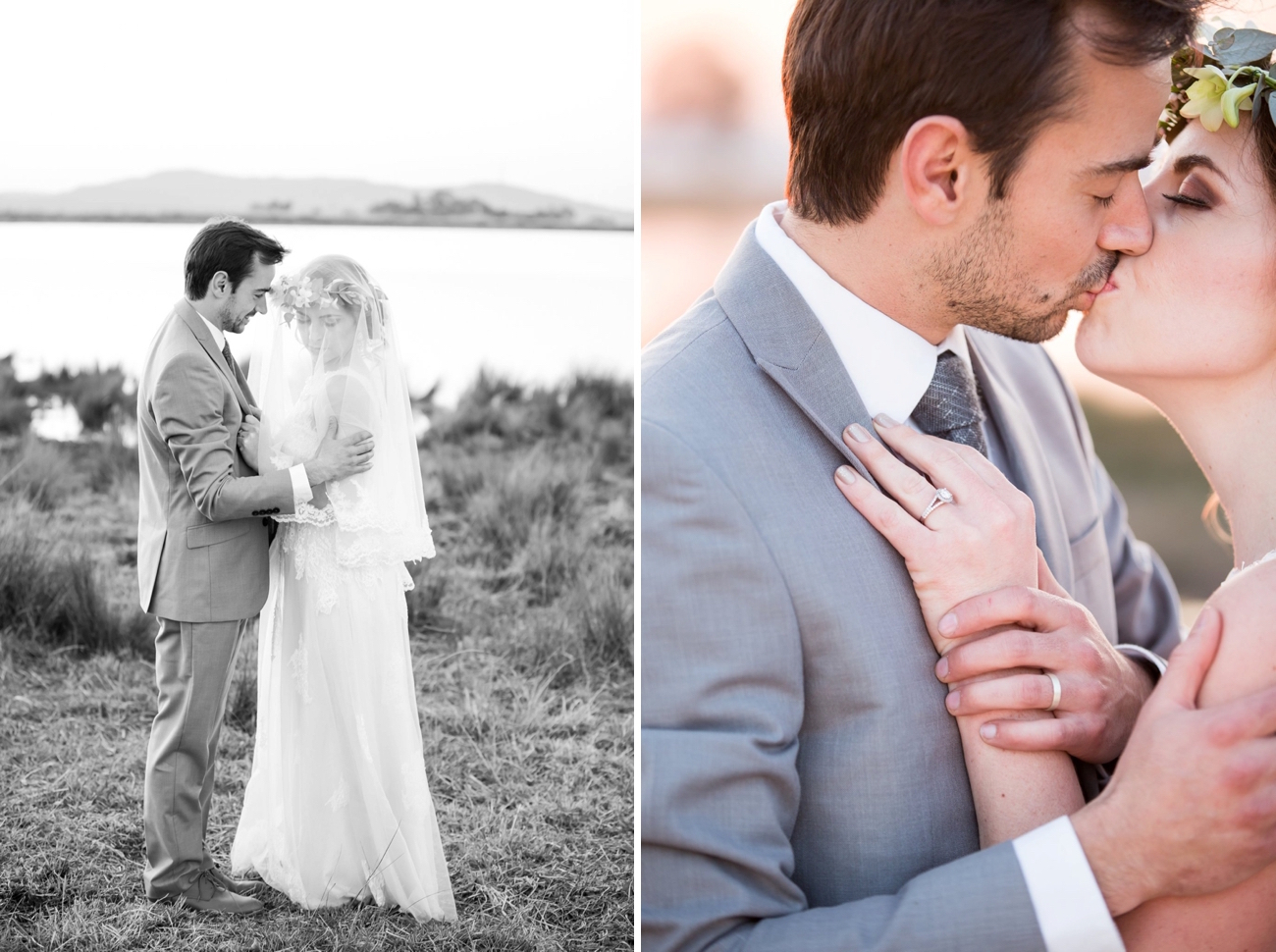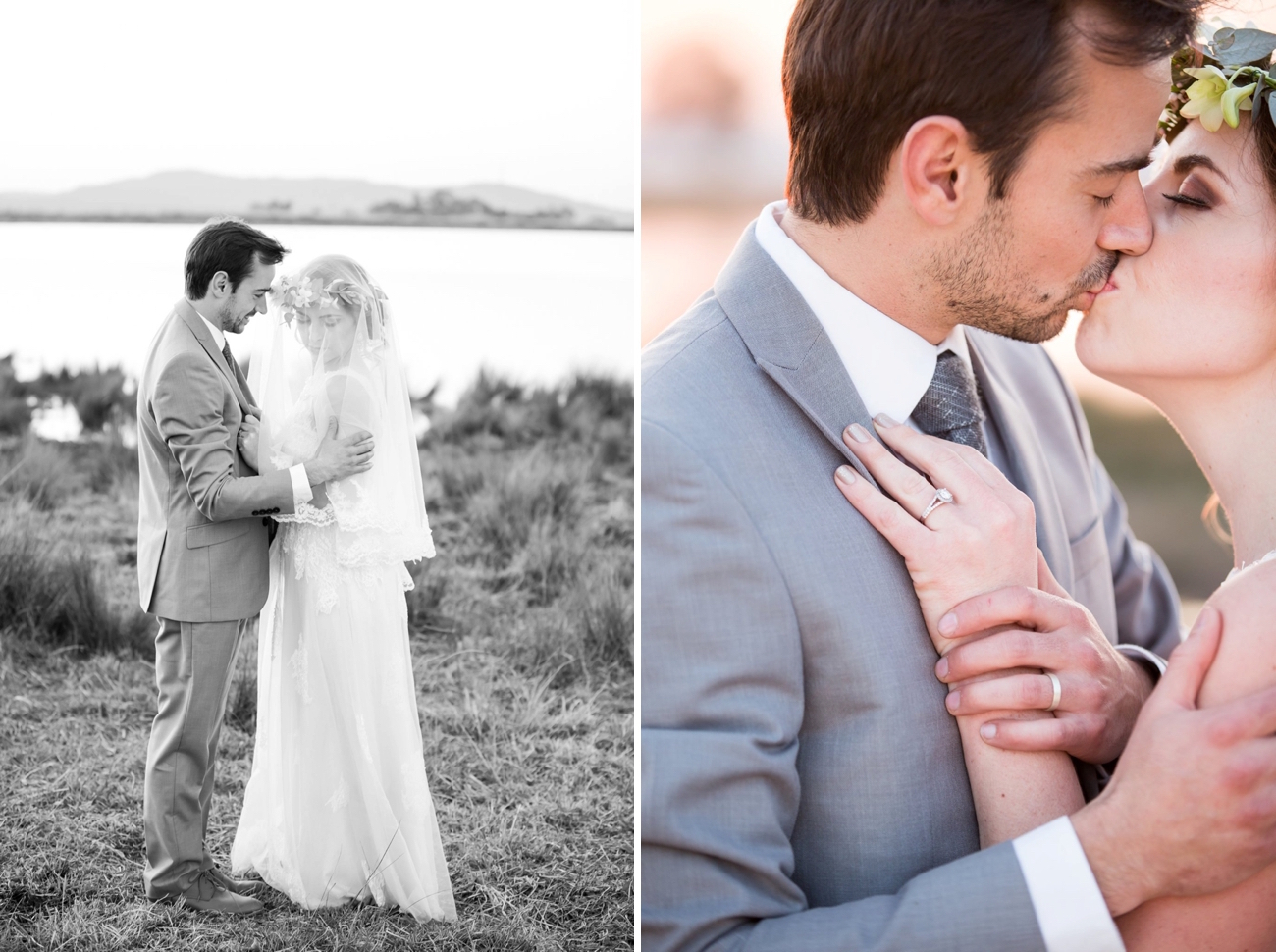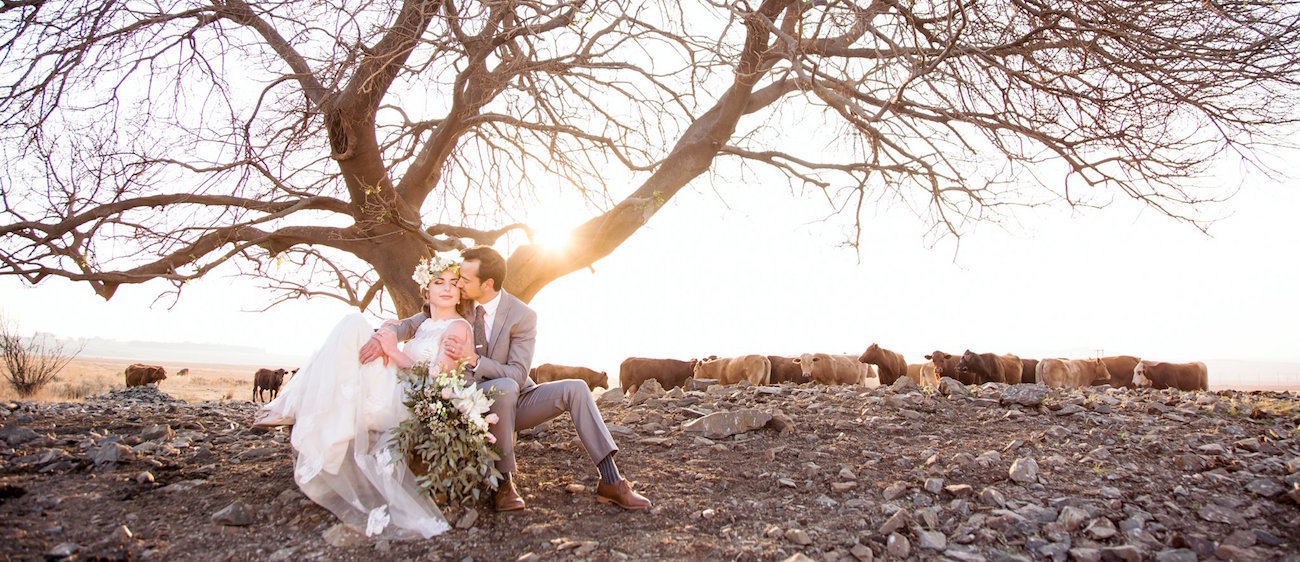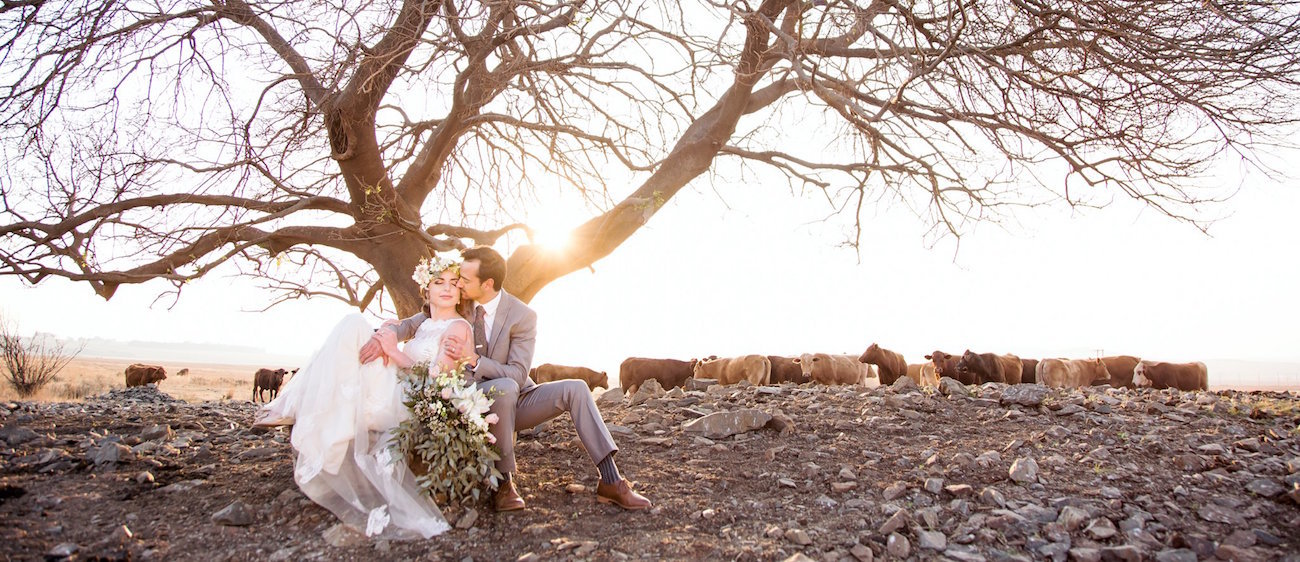 The Flowers
The flowers were all white with lots of greenery.
Memorable Moments
Our wedding day was filled with lots of memorable moments! To list a few; the moment just before my dad and I walked down the aisle my dad had tears rolling down his cheeks (he is a real Afrikaner man, who doesn't easily show emotions, so this was special). The next moment was when I saw Riaan on the other end of the aisle (also in tears). I'm very shy and don't like dancing in front of other people, but I realised I didn't have a choice on this day. We went for dance classes to ensure that I was comfortable with the dance. It ended up being the best dance I've ever had and I enjoyed every second of it. We opened the dance floor with one of my favourite songs, Shaun Jacobs' 'End of the Road'. Another special and different moment was the father and daughter dance. Four of my bridesmaids' fathers were also at the wedding, so I thought it would be special to ask all the fathers and daughters at the wedding to join my father and I for Tina Turner's 'Simply the Best'. The rest of the day was also very special and memorable; I would not change anything if I had the chance to do it again. I wish I could have the exact day over again.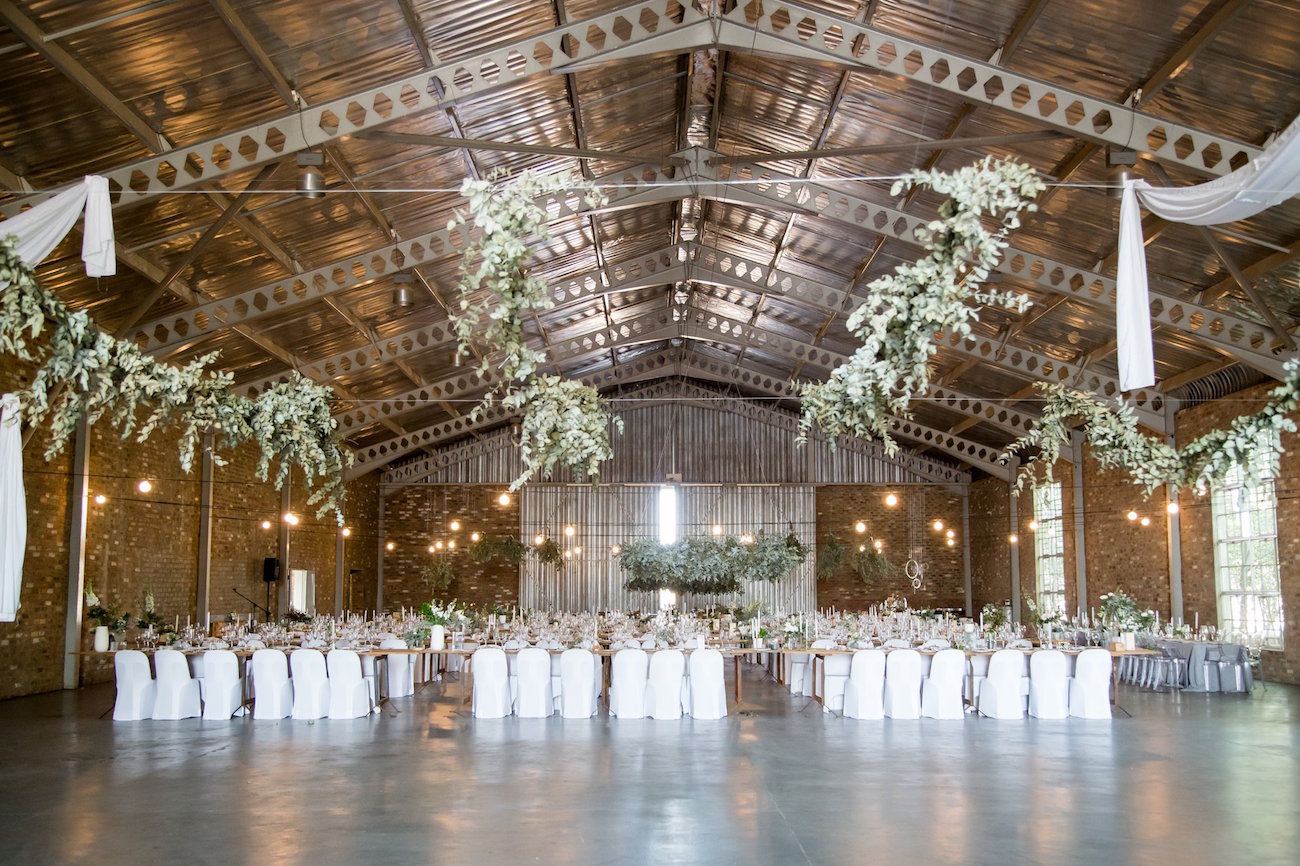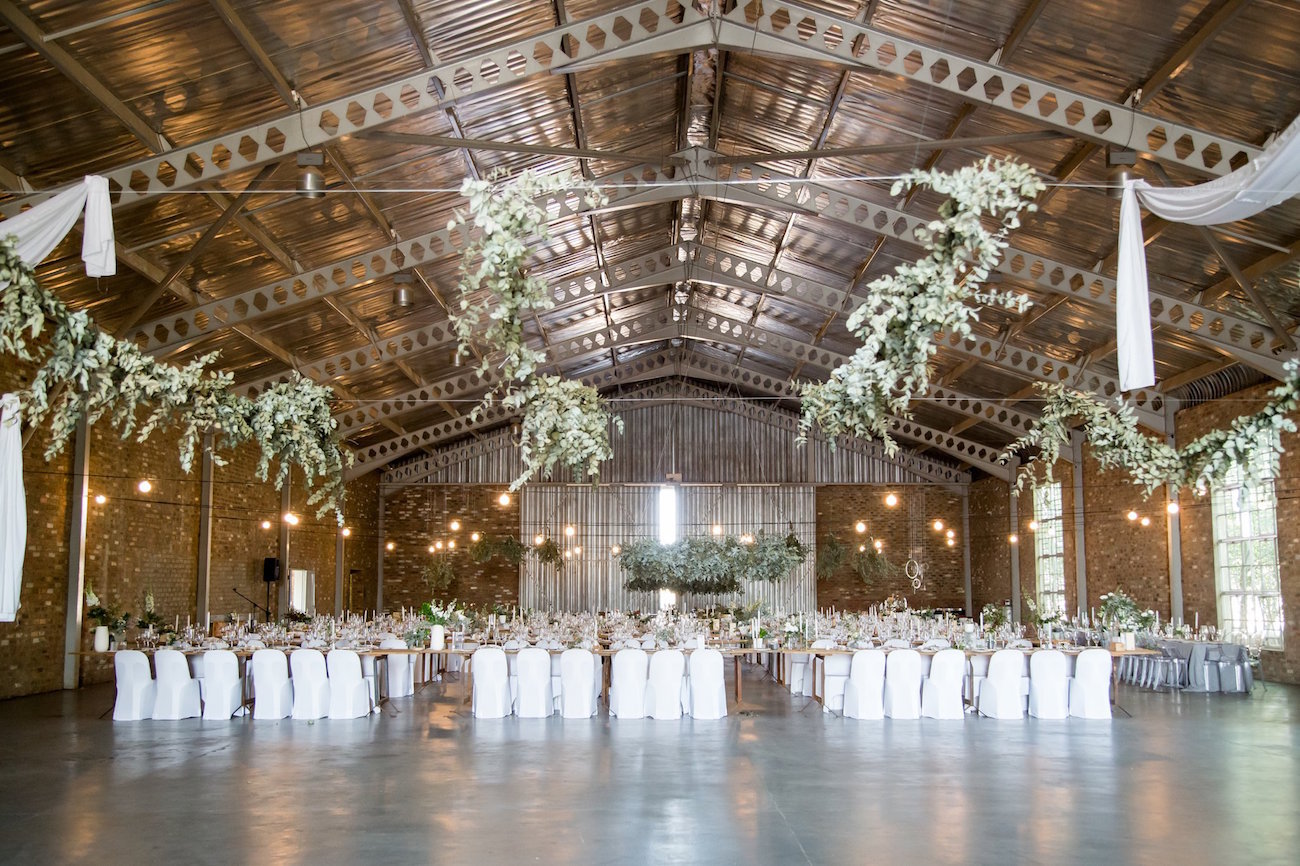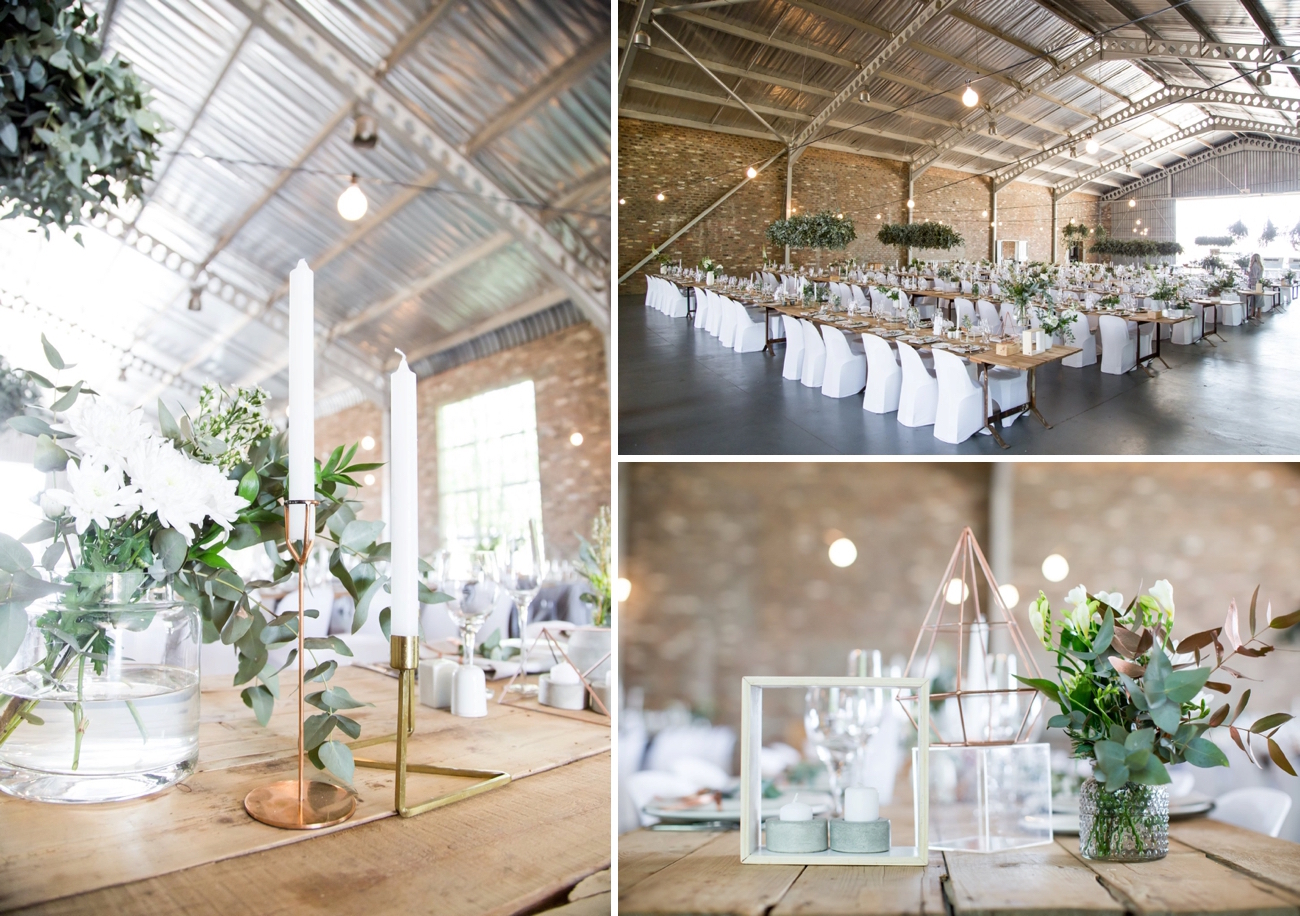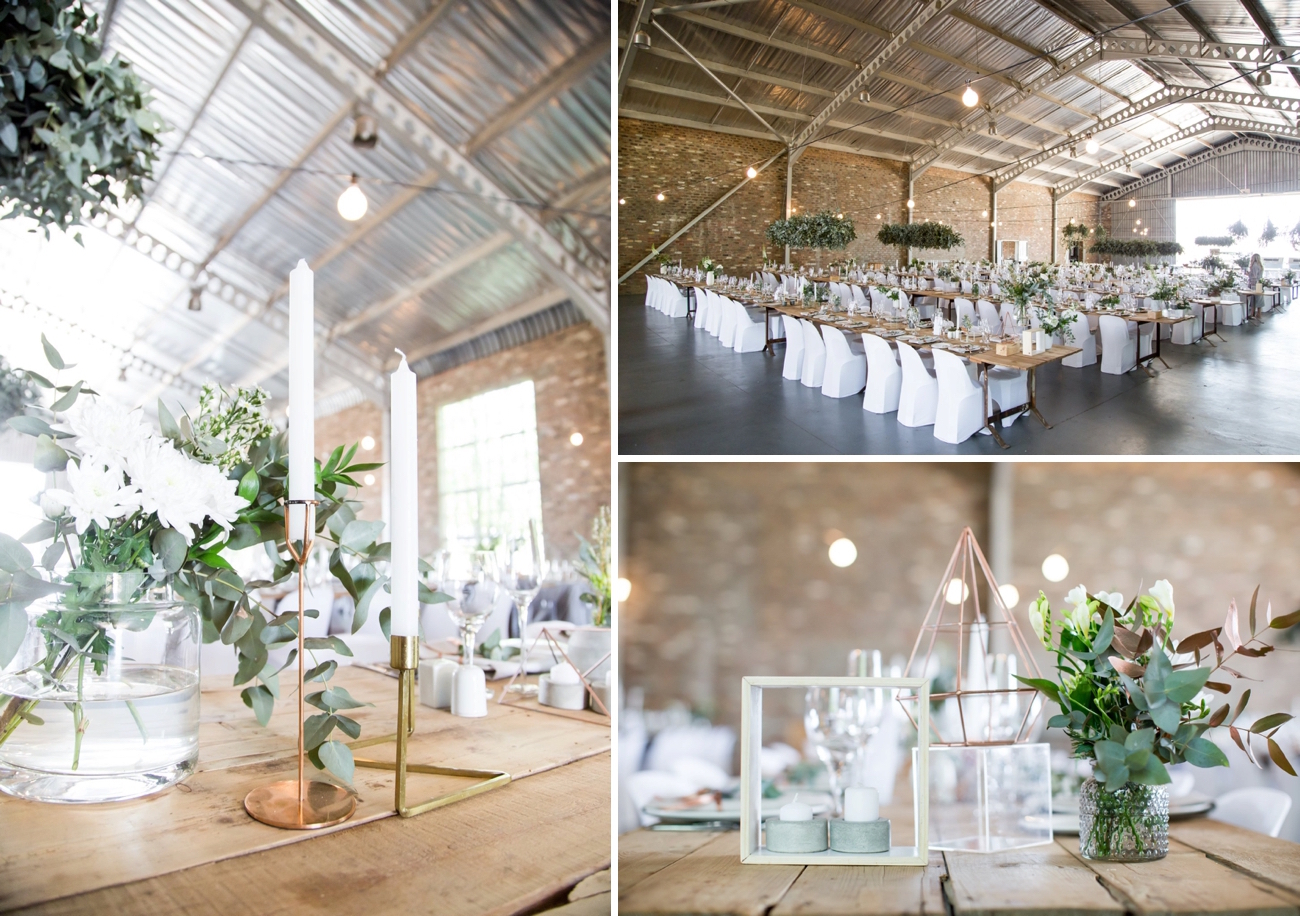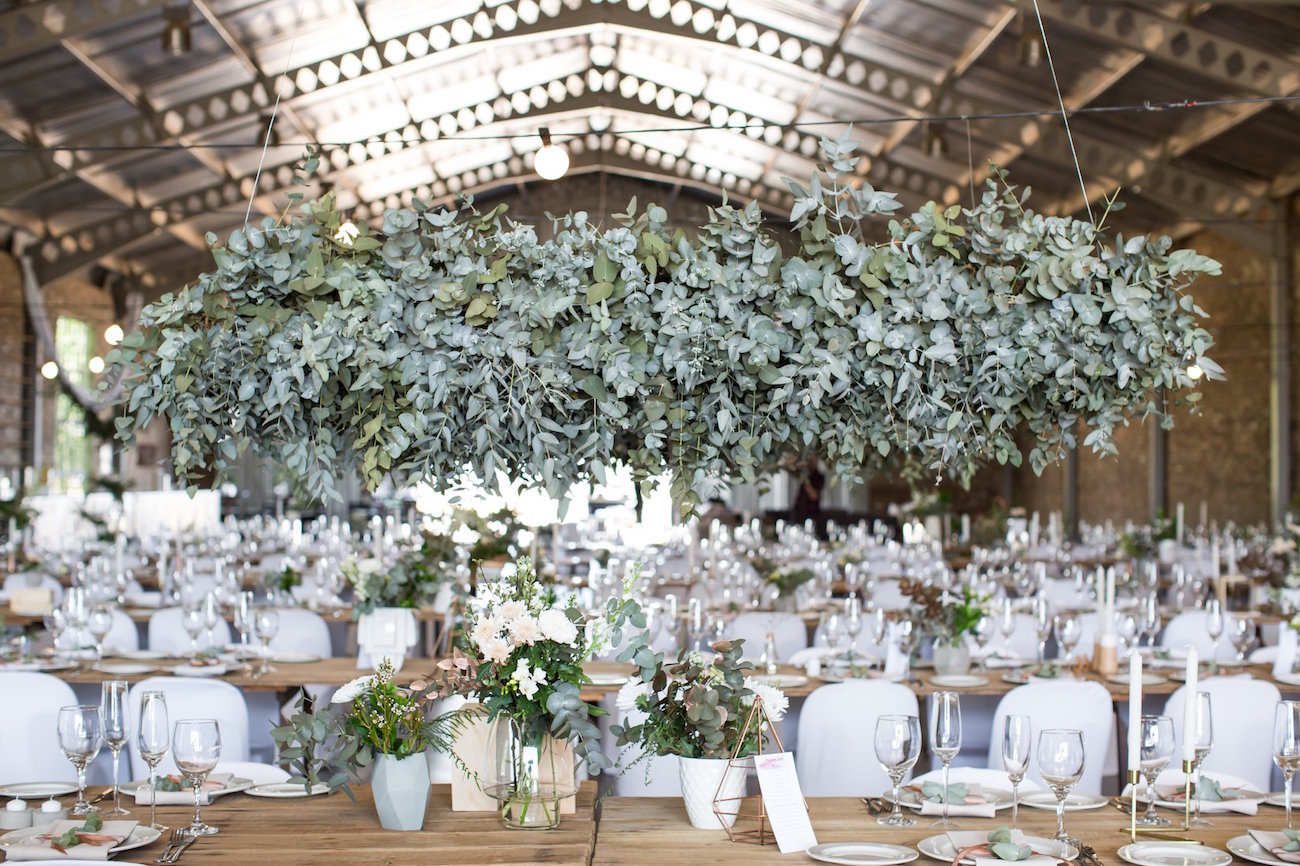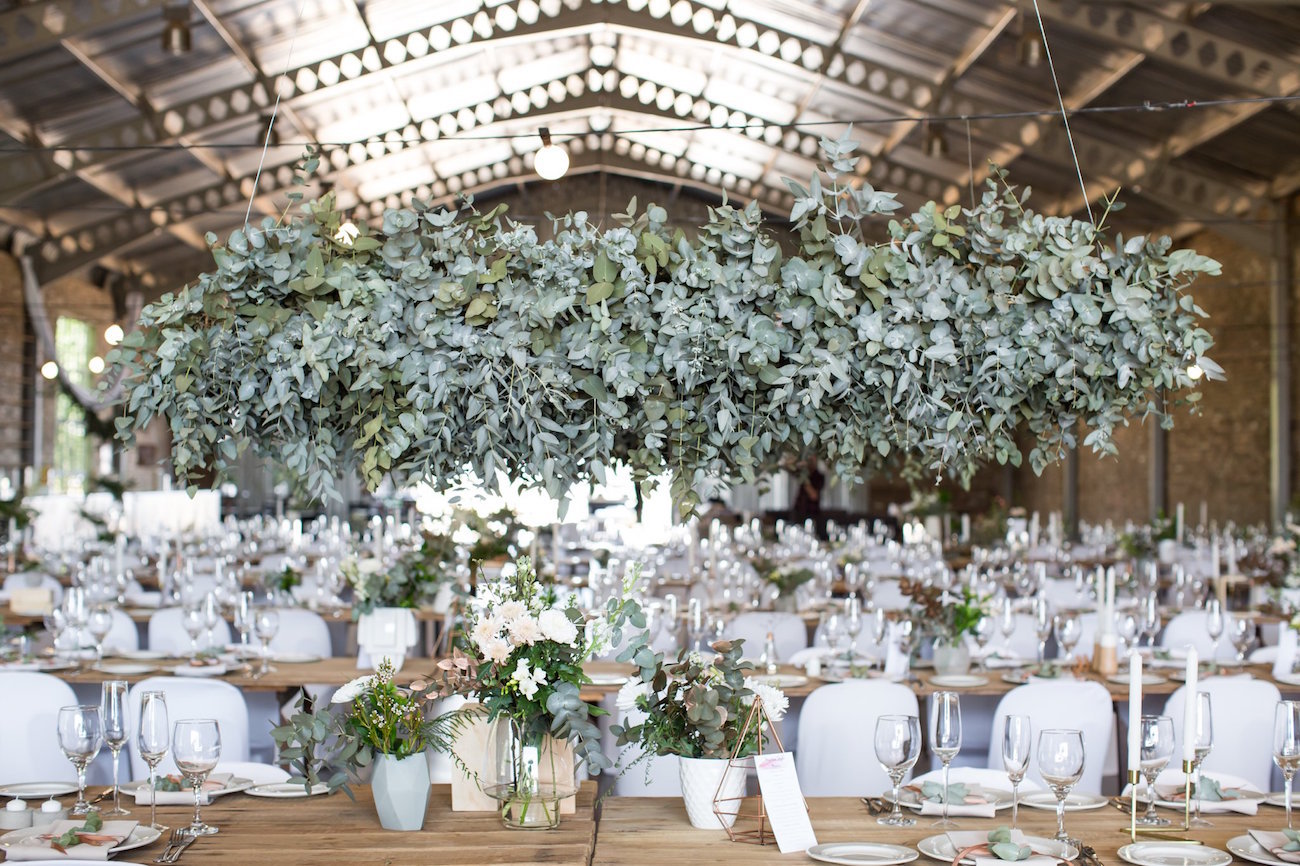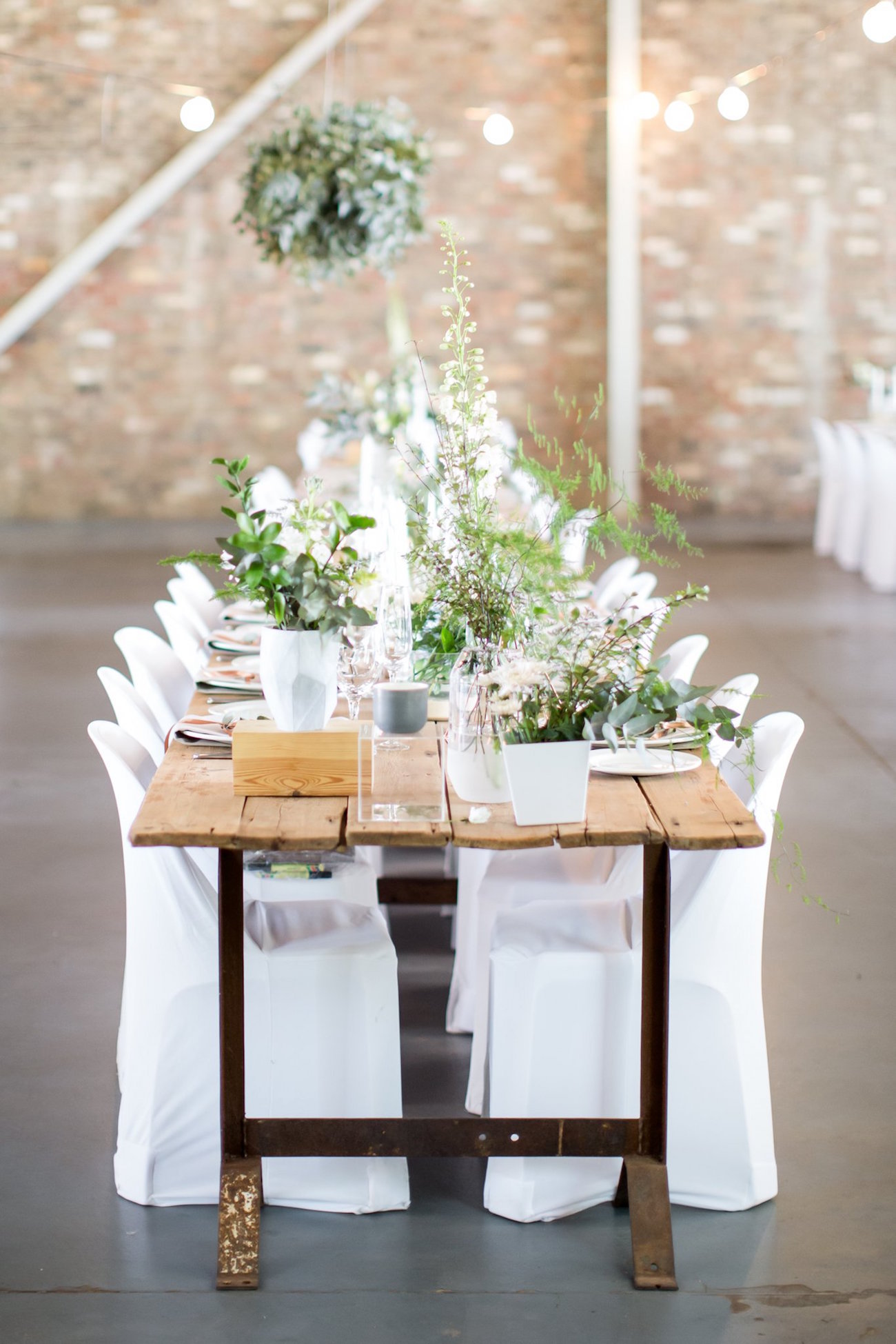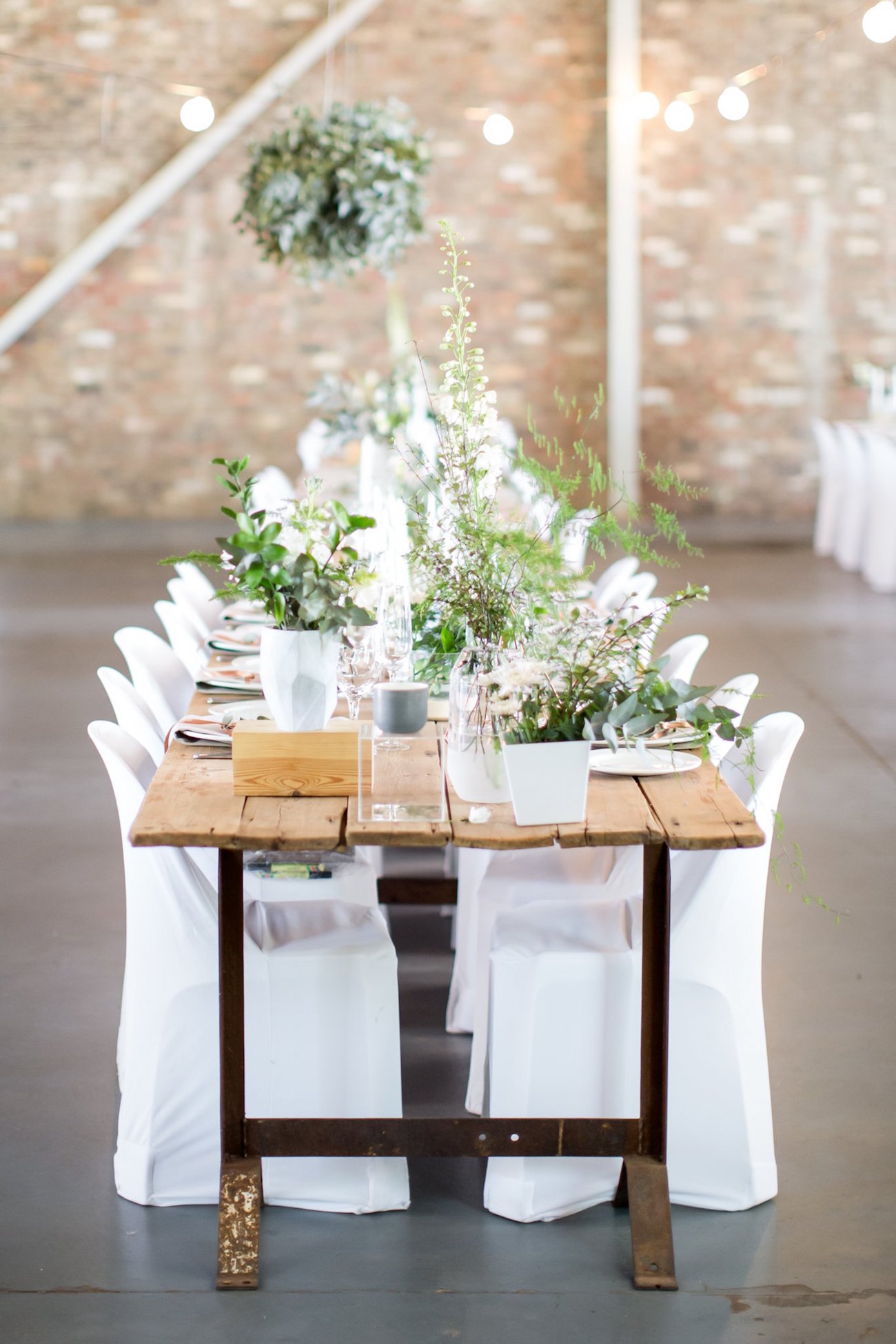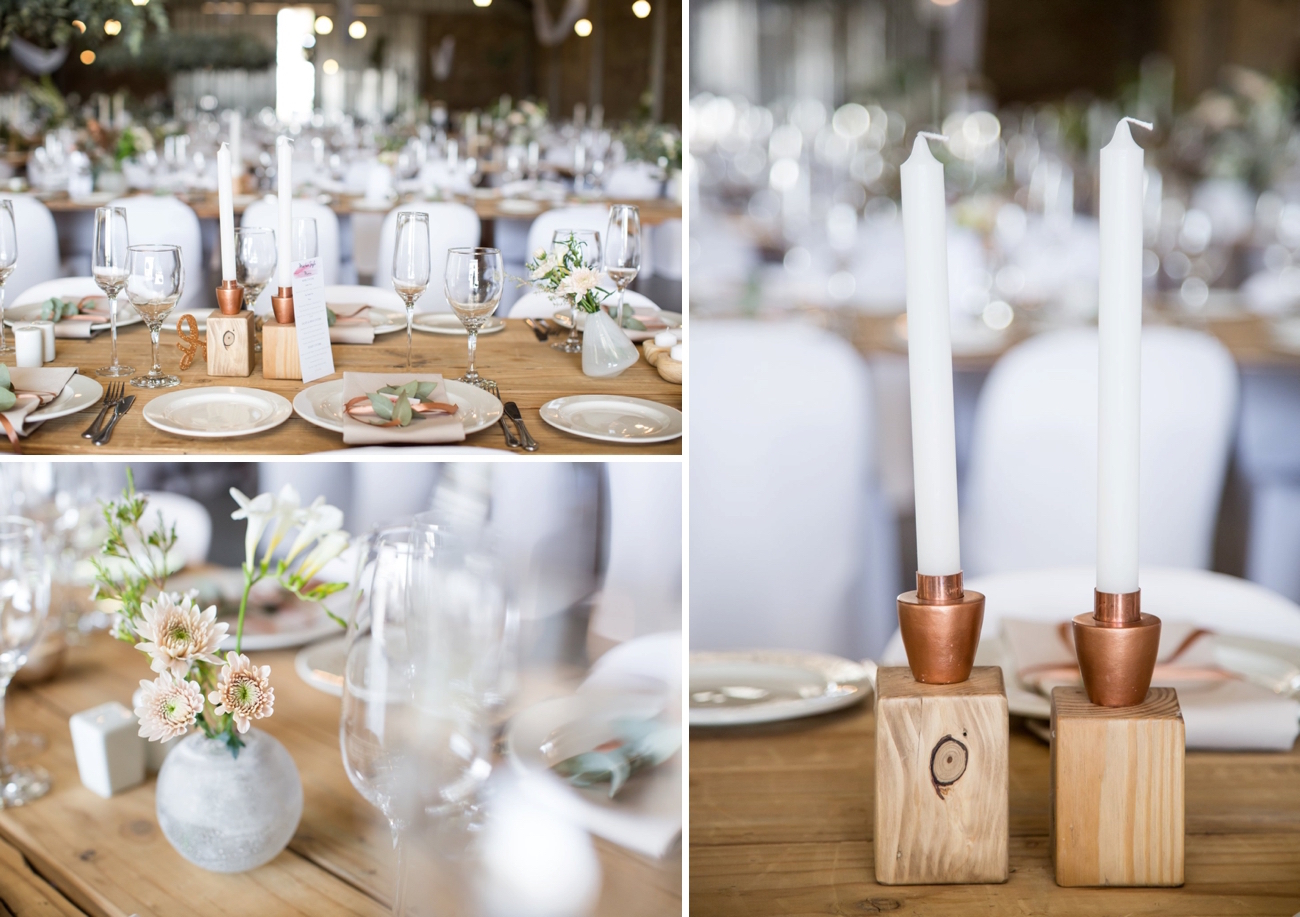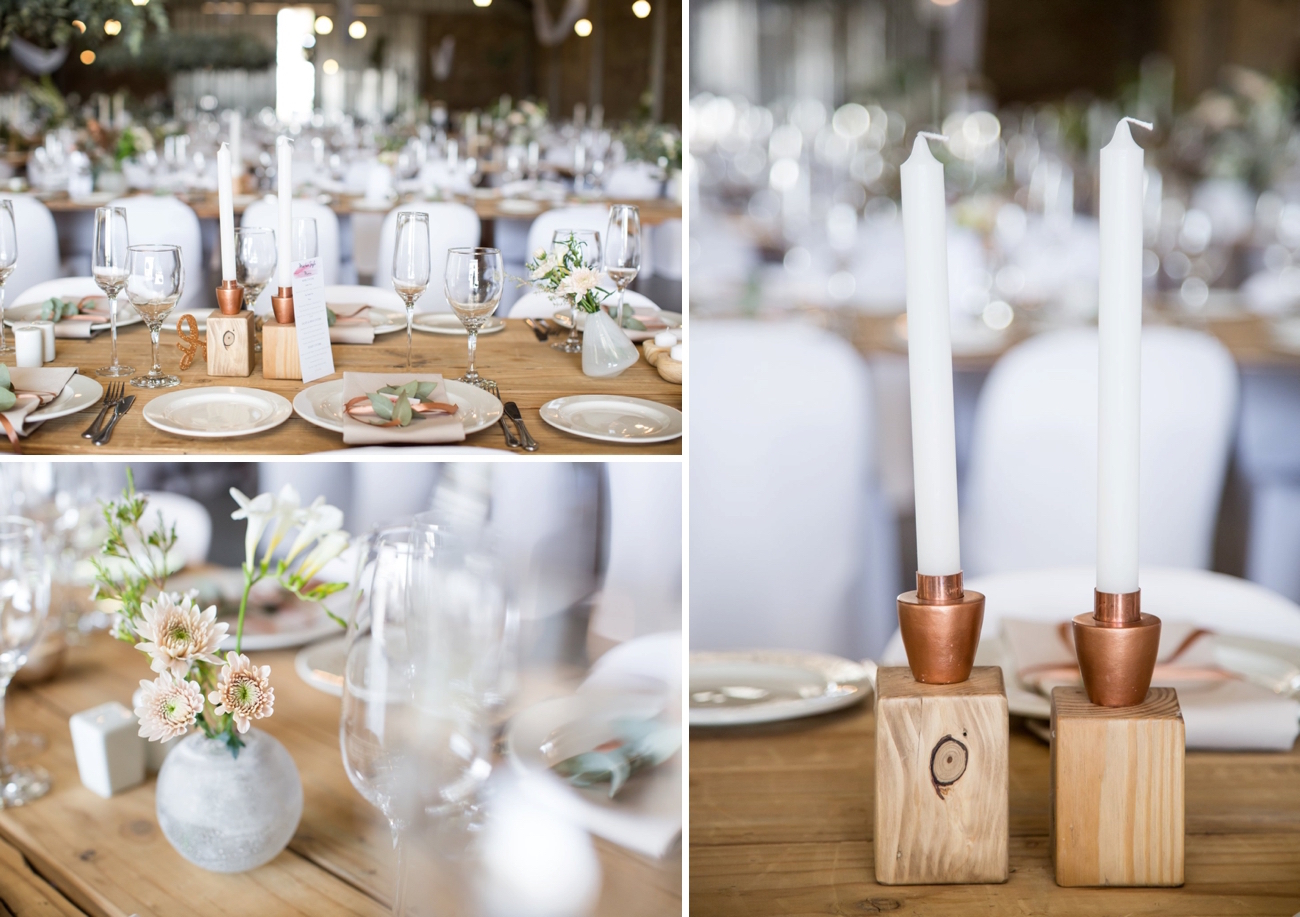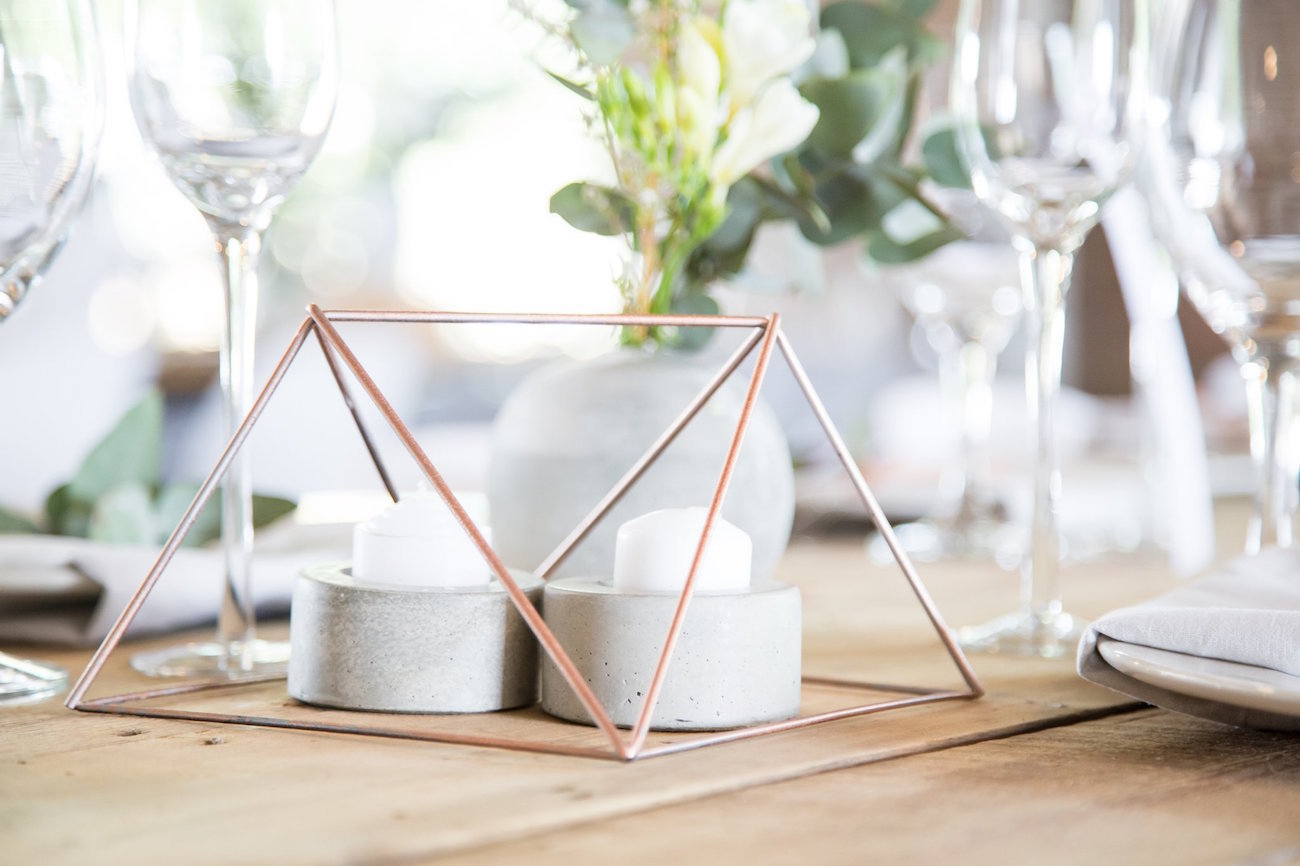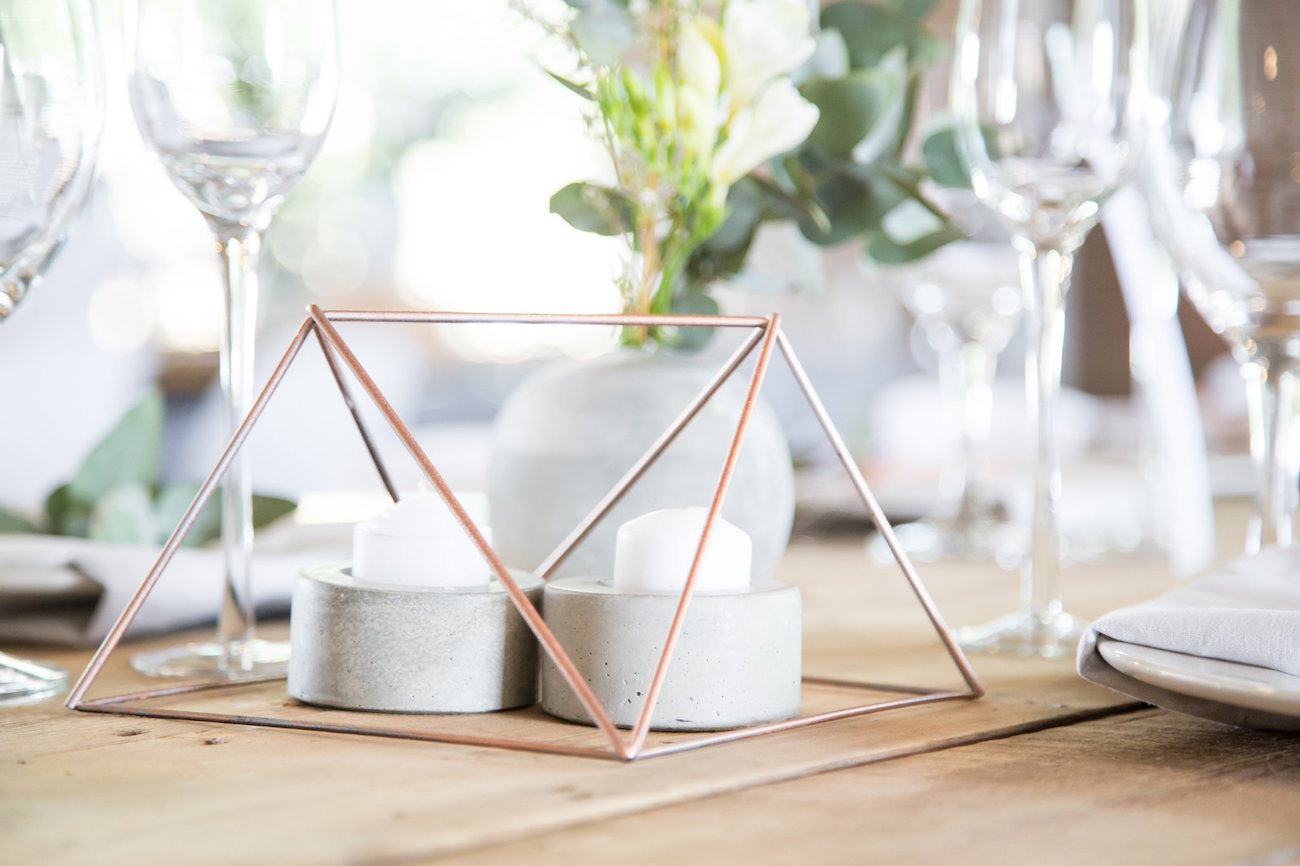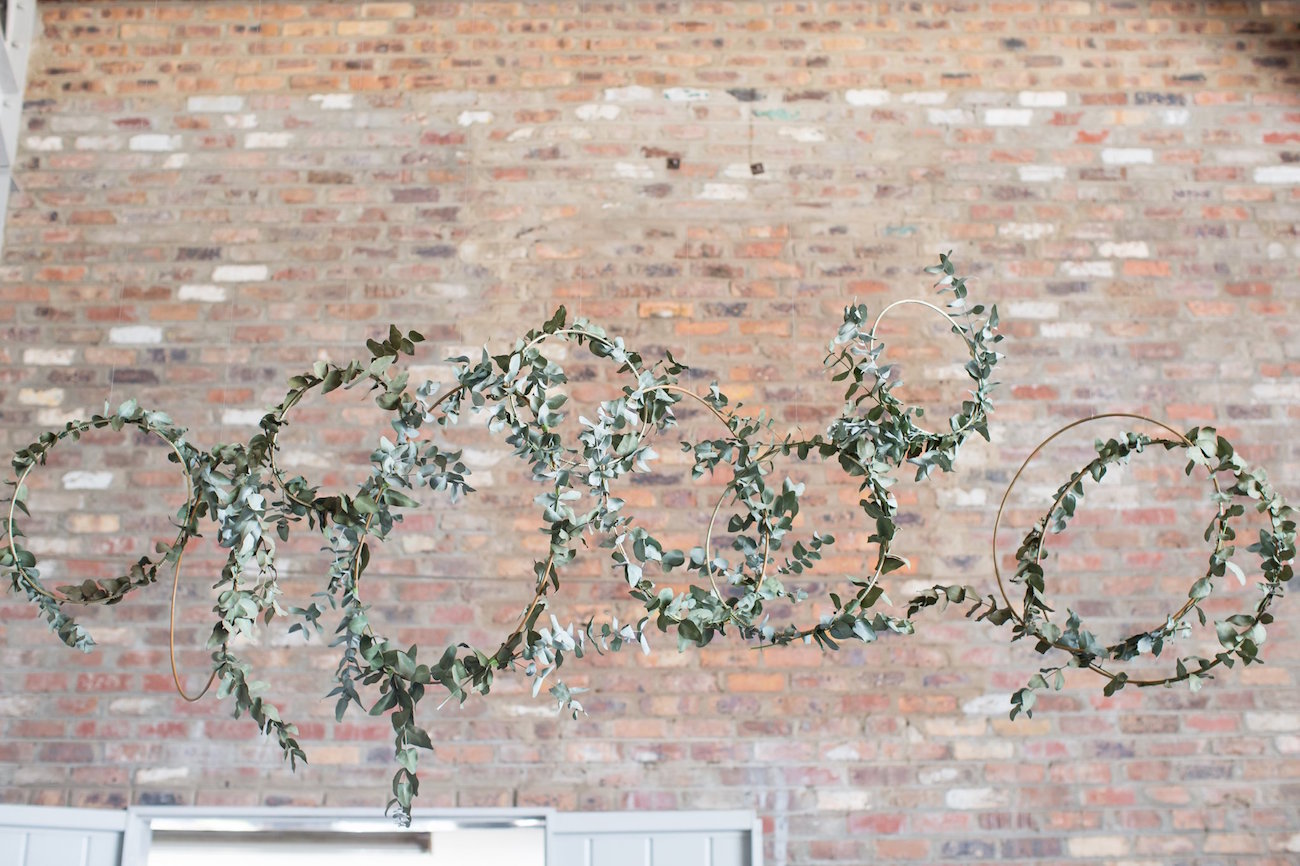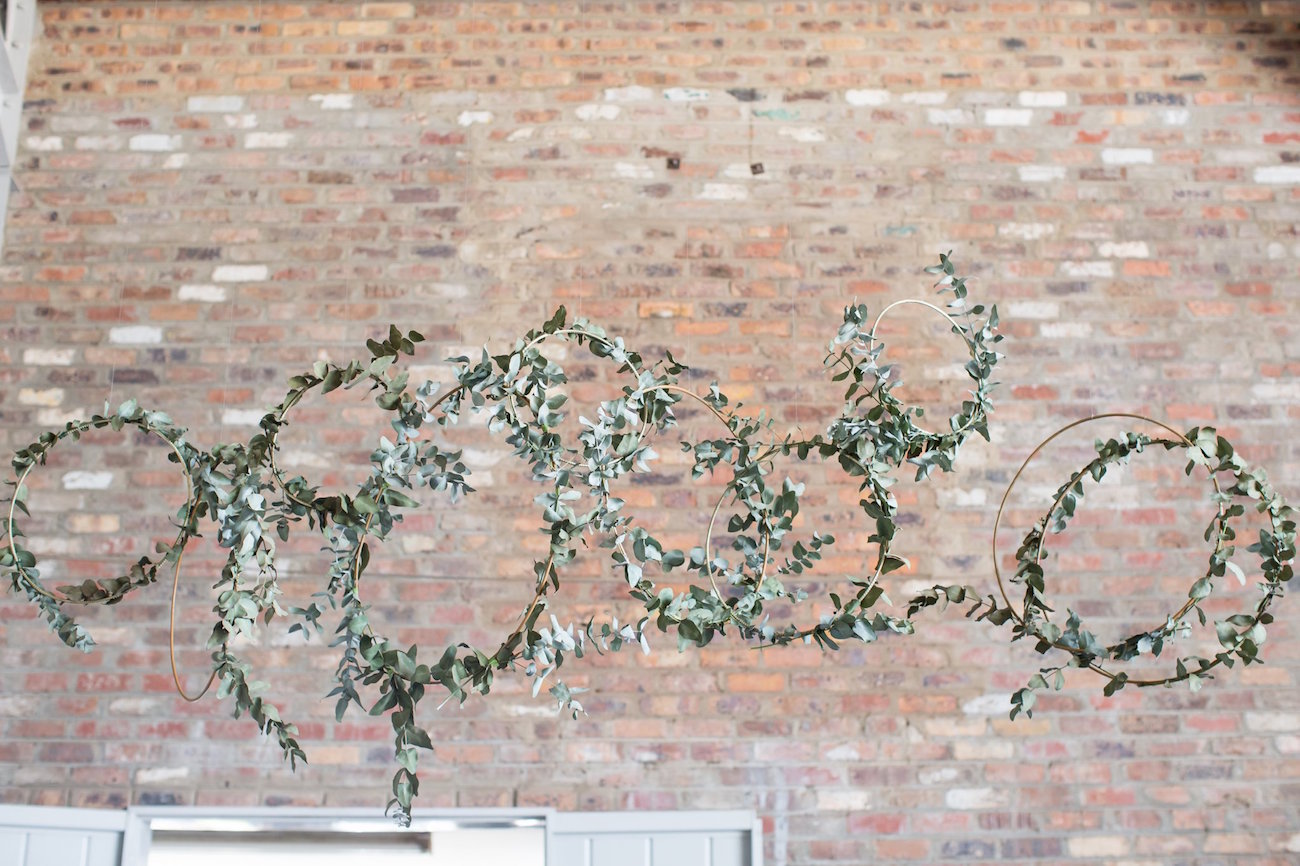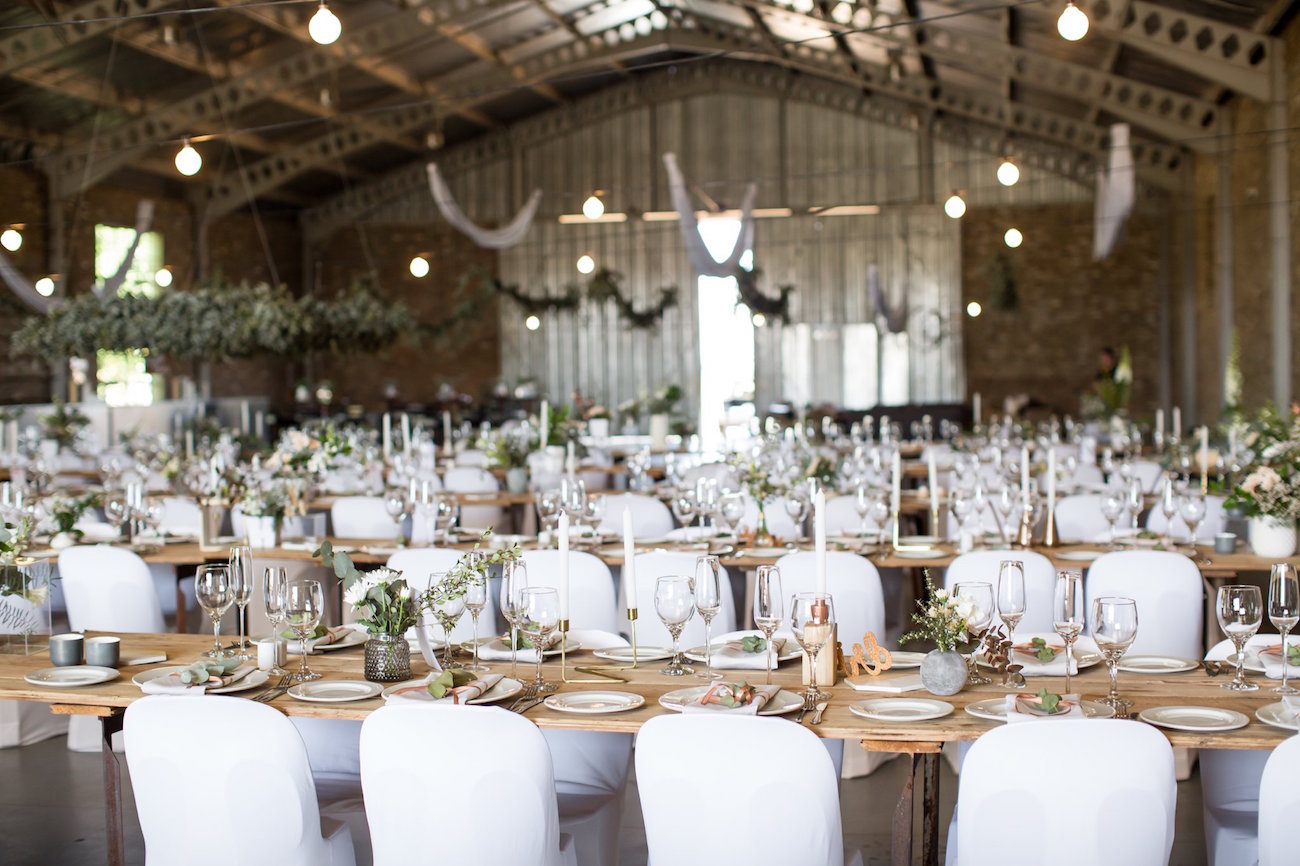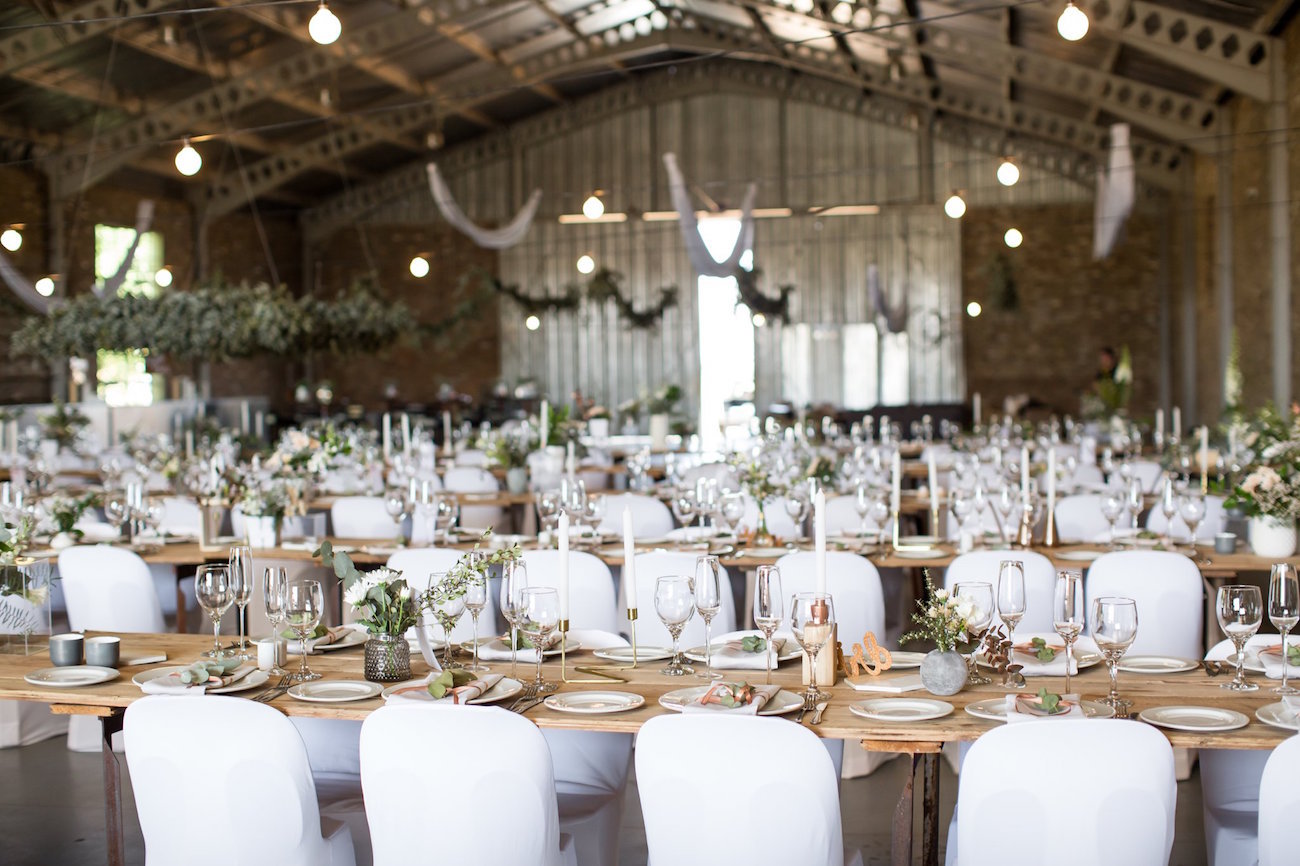 Proudly South African Details
I tried to support small/new start-up businesses in South Africa to buy our accessories and details from them. The bridesmaid dresses were made by Hanni Design. The groomsmen's bowties (and the fathers' and brothers' bowties) were from My Bro Tie. My clutch bag and cake topper were from JCclick Shop. I got Riaan's tie-clip made by Aroha Jewellery. We had a live band called Man the Fields. We also had a barista for fantastic coffee, Espresso Concepts. We got Everyday (catering services), to make homemade gourmet ice-creams for the dessert table. The gourmet fudge was made by a company in Johannesburg, called Gourmet Fudge. They are all proudly South African!
A Twist on Tradition
Riaan didn't throw the garter, we had all the single guys taking part in a dance-off to earn the garter. They all had brown paper bags over their faces! It was so funny! The girl who caught the flowers helped the MC to decide who was the best dancer.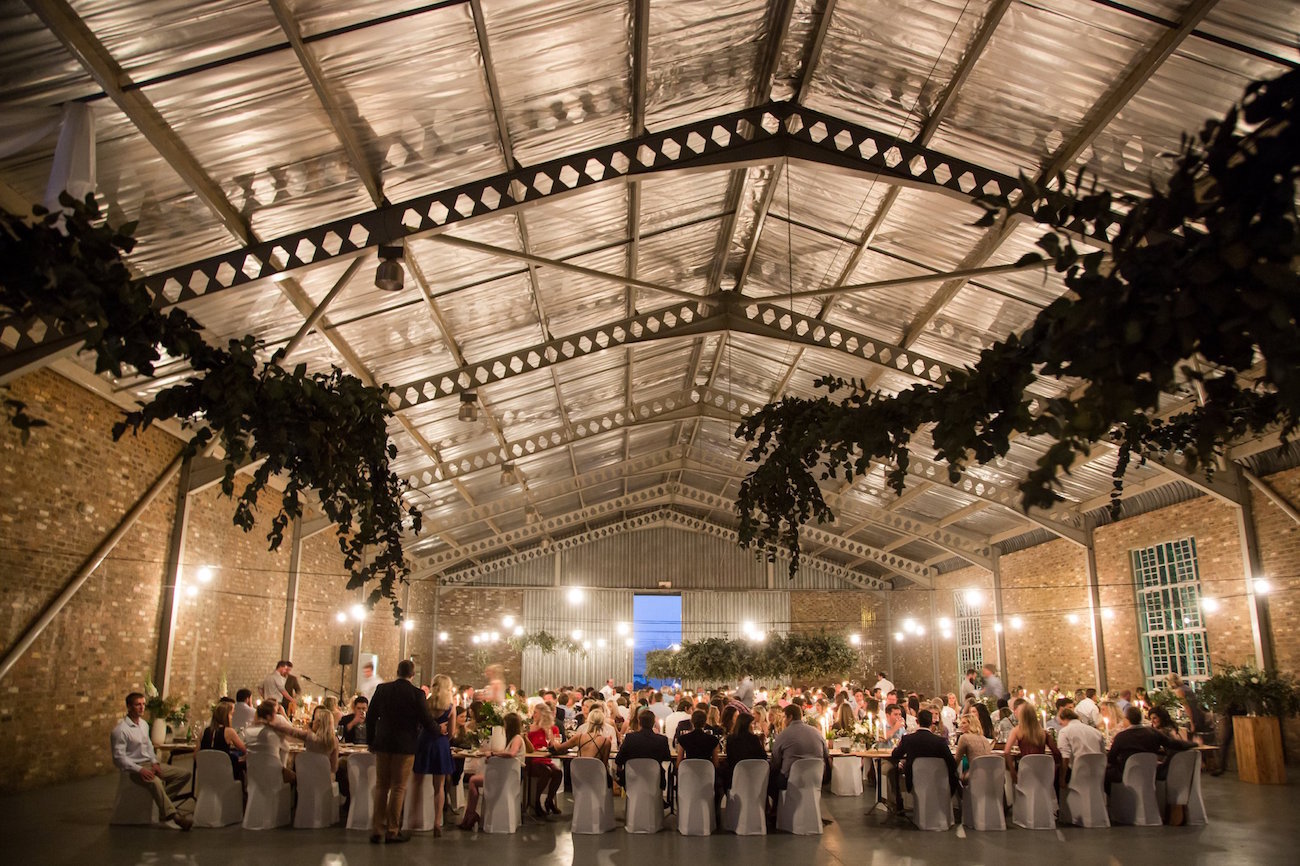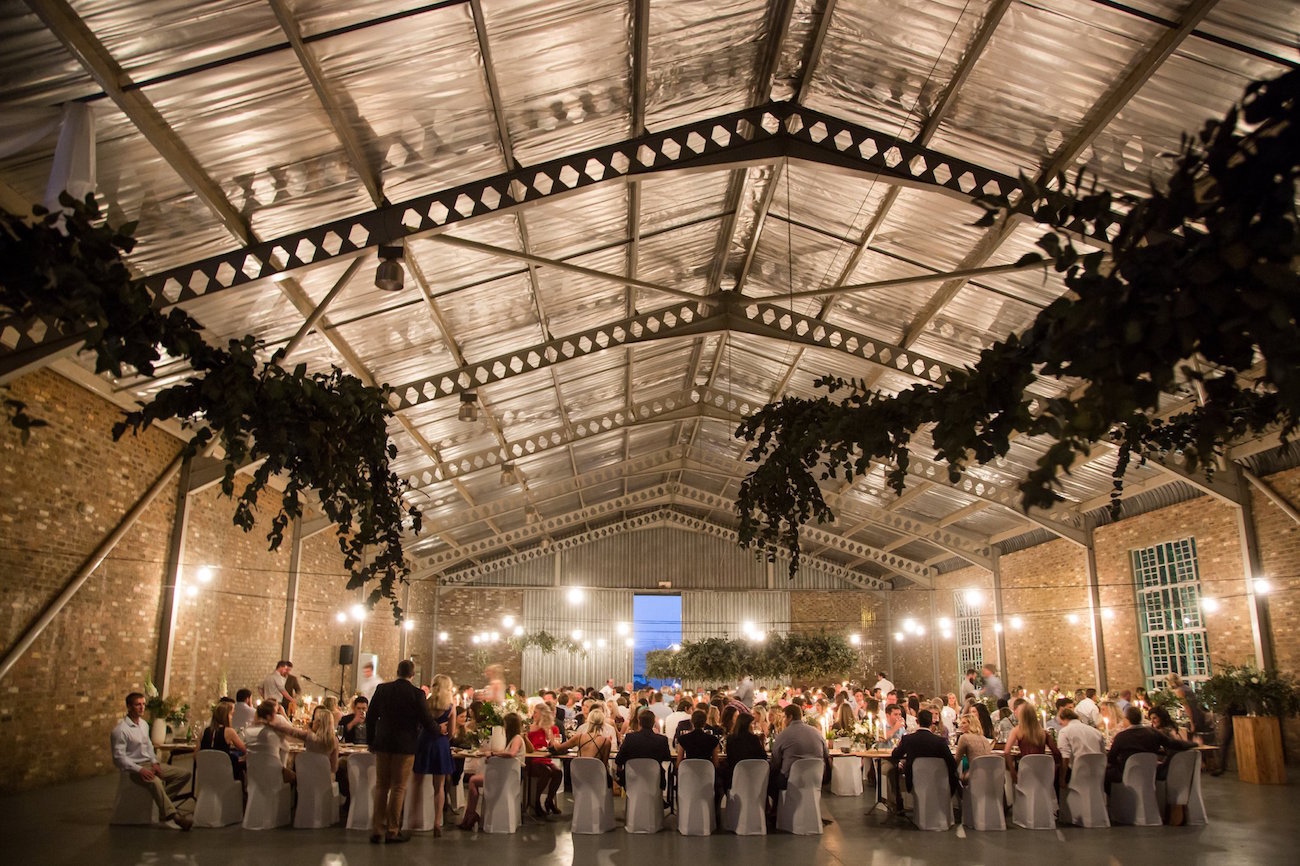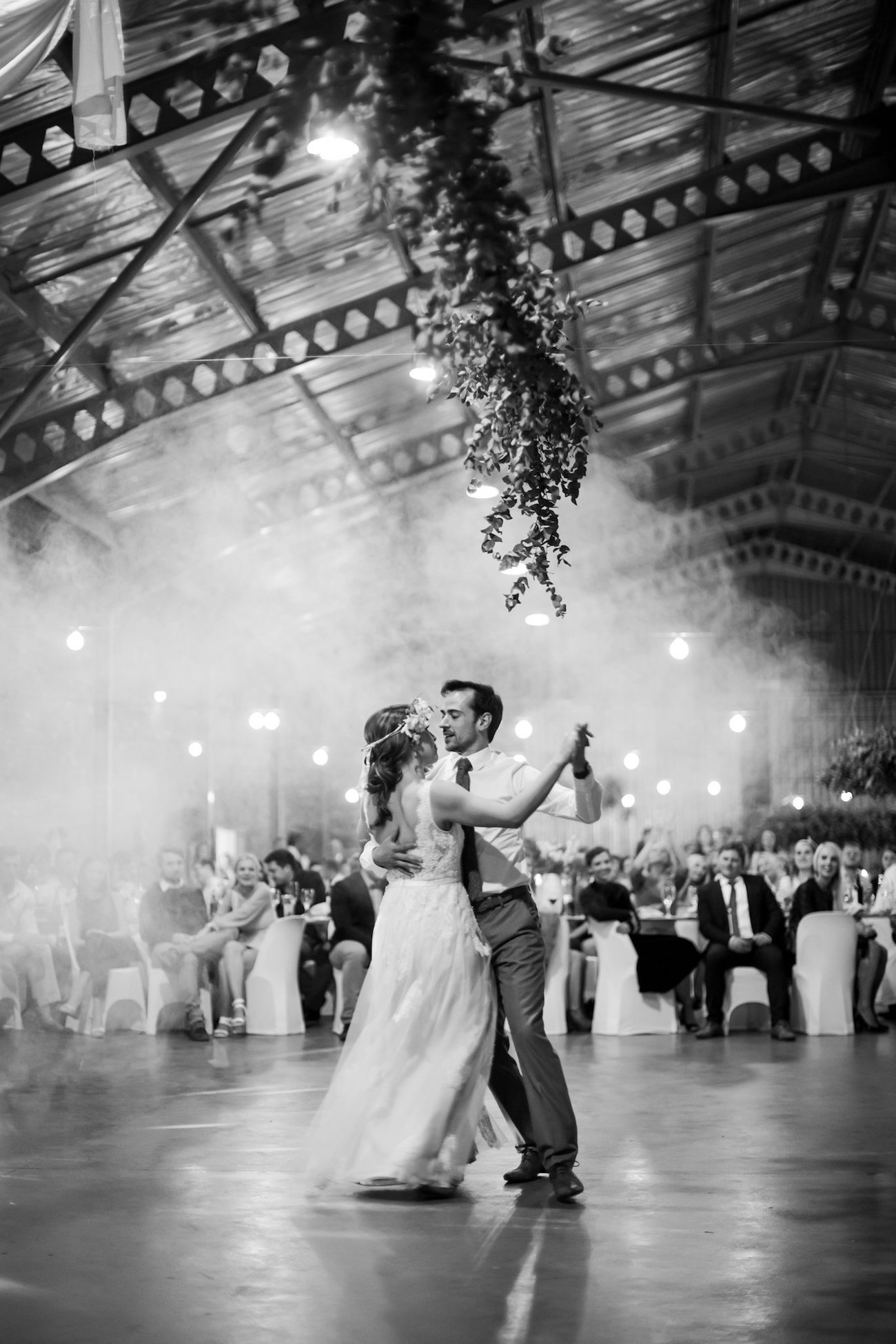 Best Decision
The best decision we made while planning the wedding was to start with a budget, so we knew what fitted into our budget before we started. The second thing was keeping things simple – don't overthink stuff.
Advice for Future Brides & Grooms
Enjoy every second of wedding planning, time goes by so quickly! Make an event of every moment while planning! Take champagne with you for every dress fitting with your girls! Take it in. It only happens once in a life time.
You can see more from this wedding on the JCclick blog.
SERVICE PROVIDERS
Venue & catering: Poortjie Saal | Photography: JCclick | Video: Schoeman Film | Cake: Gourmet Fudge | Bride's dress: BHLDN | Bride's clutch: JCclick Shop | Hair: Captivating Hair | Makeup: Beautiful Change | Bridesmaids' dresses: Hanni Design | Groom's attire: My Bro Tie (bow ties) + Aroha Jewellery (groom's tie clip) | DJ: FAME Production | Music: Man the Fields | Coffee Barista: Espresso Concepts | Gourmet Ice-cream: Everyday | Cake Topper: JCclick Shop | Decor hiring: Create
Save