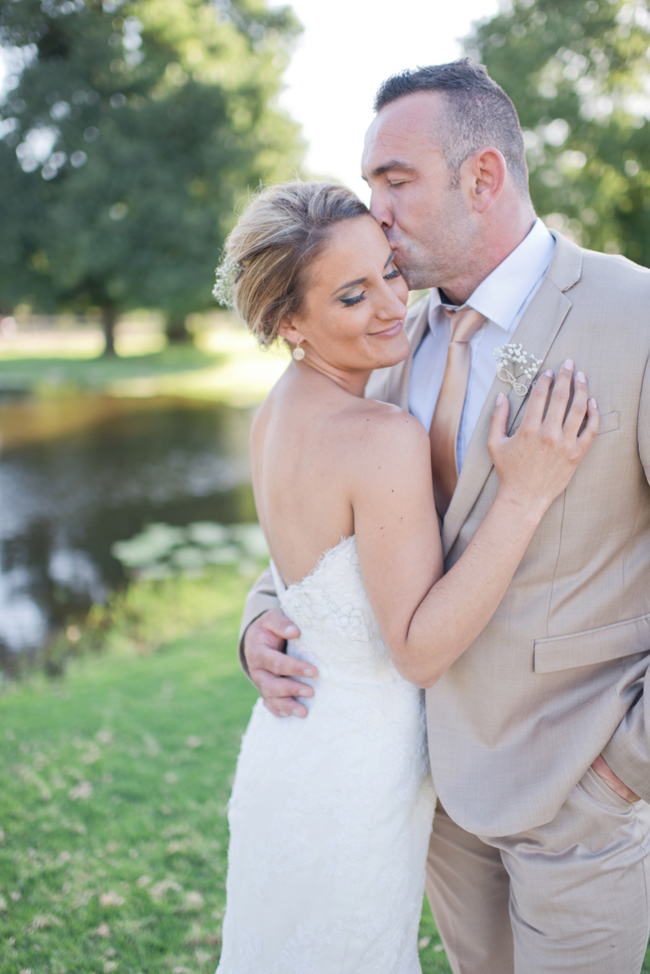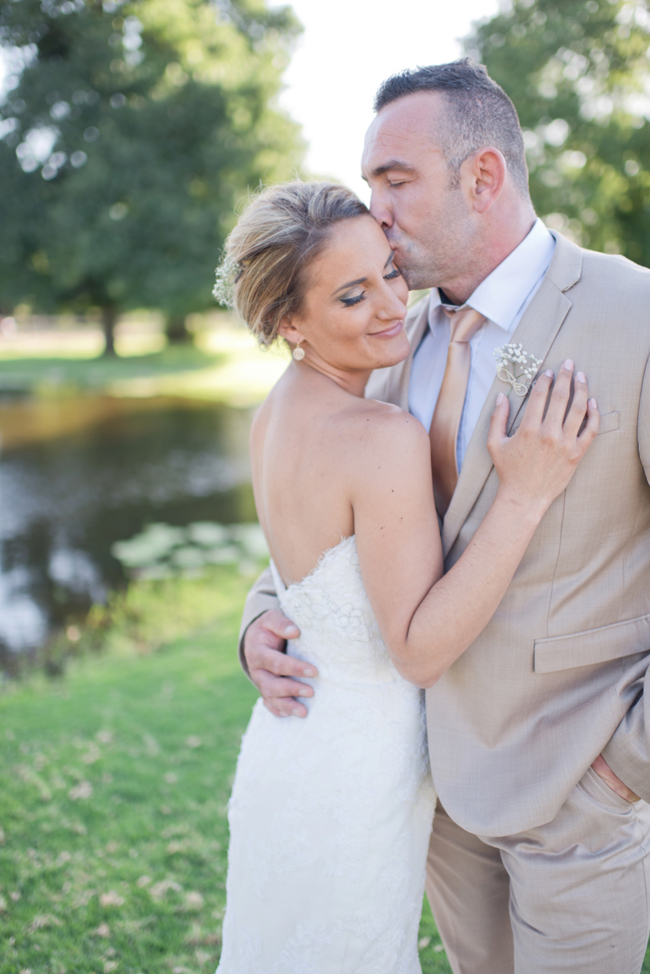 If you ever thought that planning a wedding on a budget meant sacrificing style for your big day, then take note, because today's wedding is budget beautiful. And that's partly because bride and groom Bianca and MJ made some seriously smart decisions. First, they picked a venue that had a lot of natural beauty going for it and didn't need a whole lot of dressing up, and that's immediately half the battle right there. Then Bianca followed her own personal style preference, for casual minimalism, and picked a palette of white, green and gold, which allowed the use of budget-friendly florals that still look super elegant, like paper white baby's breath and sage green eucalyptus. They still managed to add some adorable personal touches to the classic tables, like giant scrabble table 'numbers' and little terracotta plant pot favours. And finally, Bianca and MJ picked great suppliers they could rely on, and let them do their thing, including photographer Liesl Le Roux. The result? A perfect summer wedding day in the countryside, with all of the pretty but none of the fuss.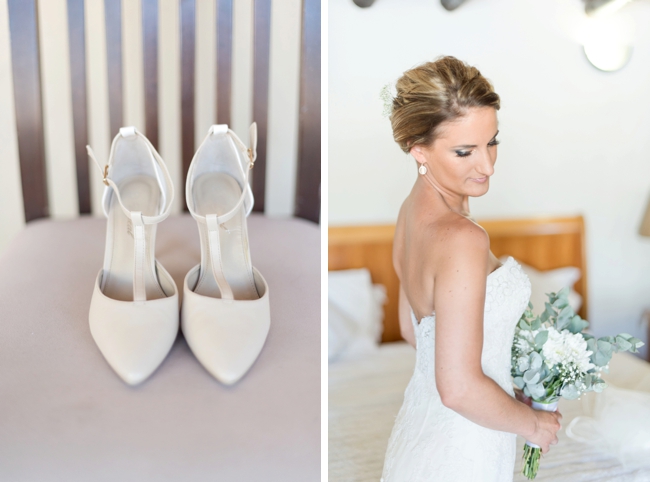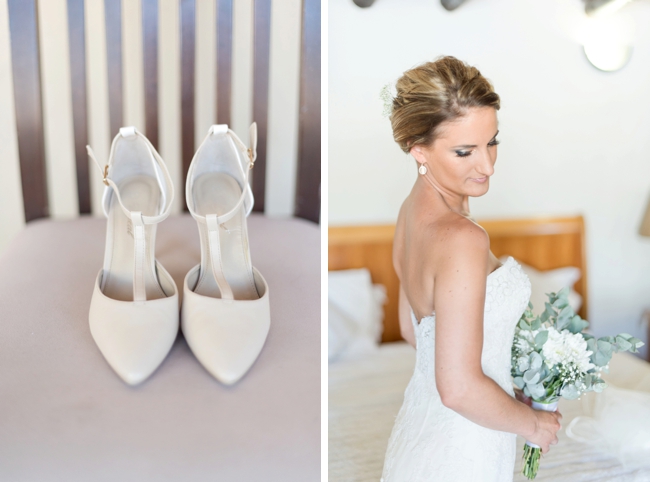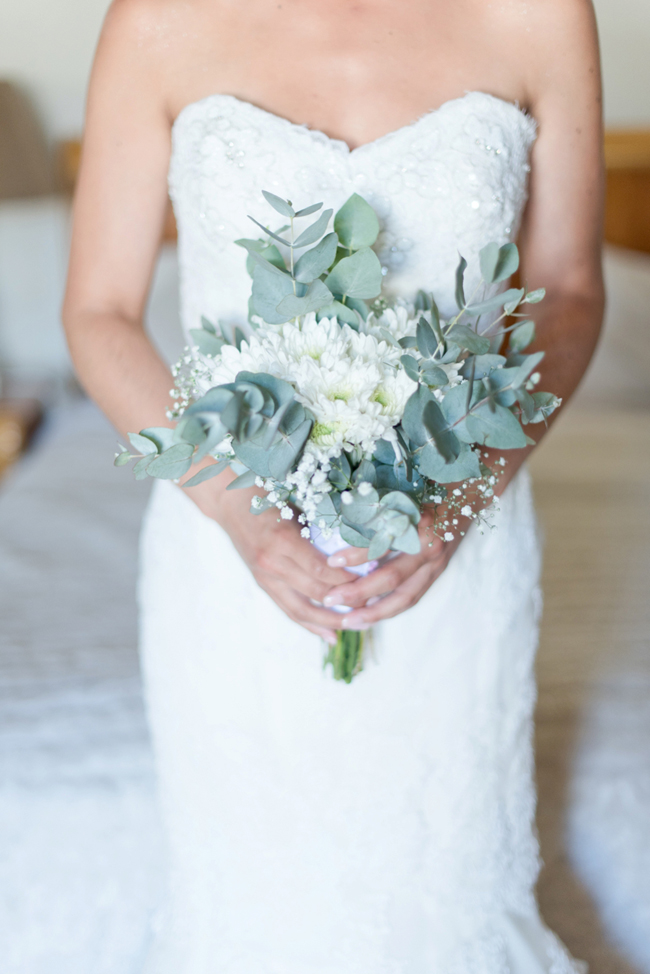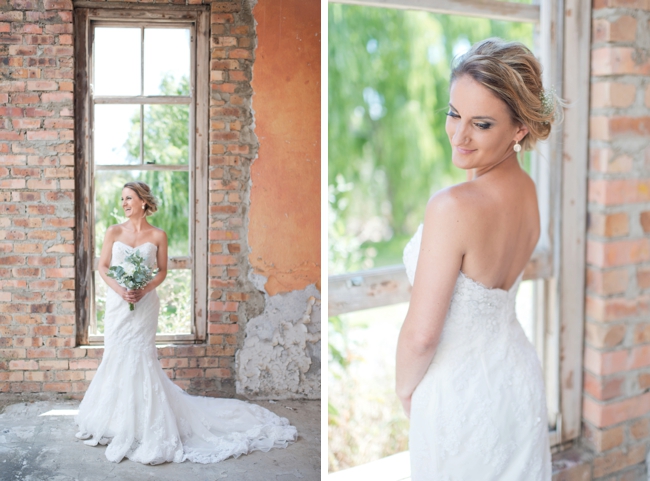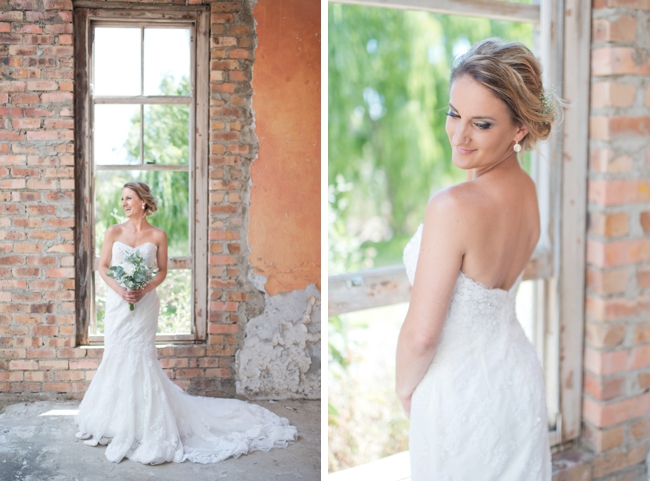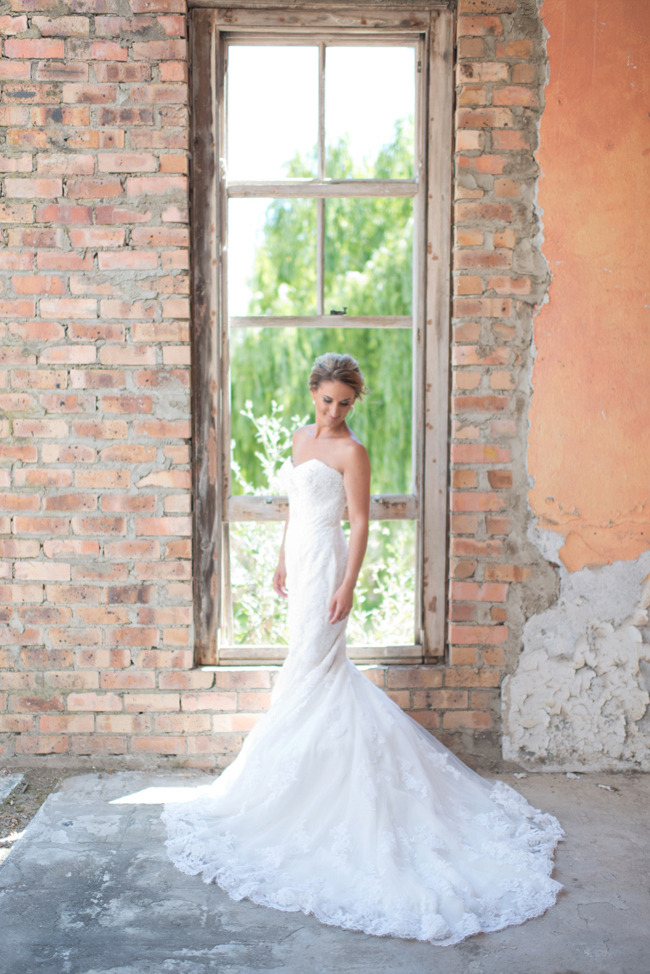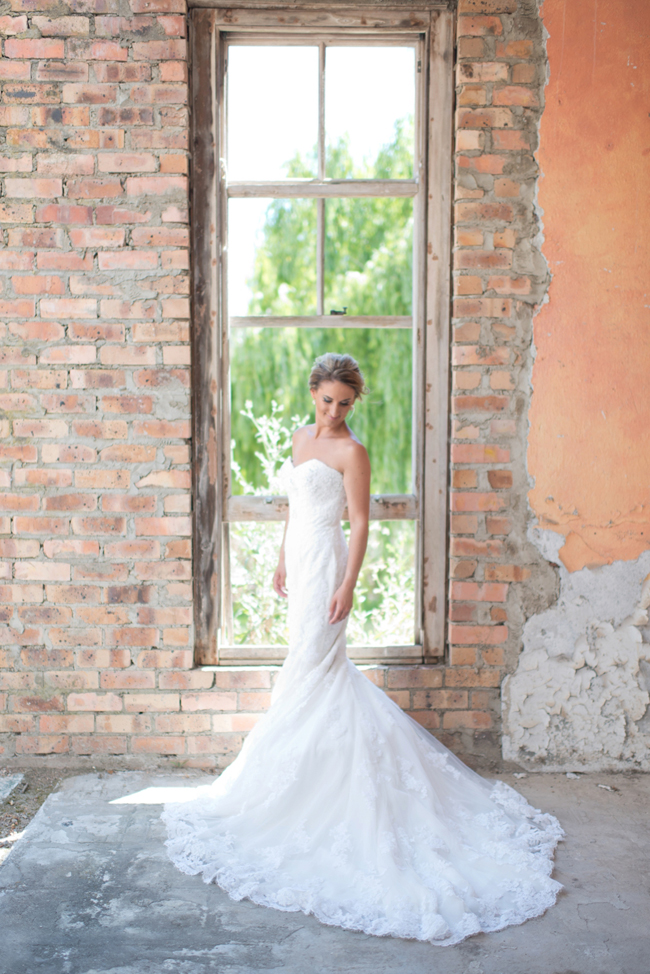 Love Story
We met through a mutual friend! It was love at first sight – I saw him and knew he was the one. A few months went by and we never had contact. One day I was at our friend's house and he encouraged me to make contact with MJ. As I reached for my phone, MJ messaged me and asked whether I would like to do something the following weekend. It was a friend's birthday that Saturday evening and all of us tagged along. My heart went crazy and I got butterflies in my stomach and I knew: this is it! We went whale watching in Hermanus and made our relationship official. It grew from there and within one month he started calling me his 'trouvrou' and, as we say in Afrikaans, " die koel was deur die kerk"!
The Proposal
We had been together for four years and had already chosen a ring. We went out to celebrate our anniversary on the Friday evening and just before midnight he informed me that when we got home I needed to pack my bags because we were leaving early the next morning. He didn't tell me where. The next morning we woke up early and drove, and when we passed Buffelsfontein Game Lodge I said I would love to go there (I adore animals) and he smiled and said: "Well, we are!" We took a game drive and had lunch (I later found out he'd planned to propose during the drive but they'd informed him we would be a group of ten). Afterwards we headed towards Langebaan, and it turned out we were staying over. After relaxing for the afternoon, we packed wine and snacks and drove to the pier in Langebaan and took a walk down to the beach. He started to take photos of me standing on a rock, and then, as he lifted me down, he went down on one knee and asked me to be his wife!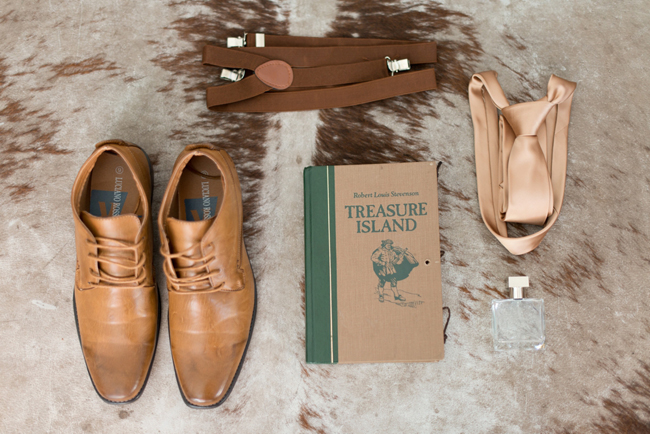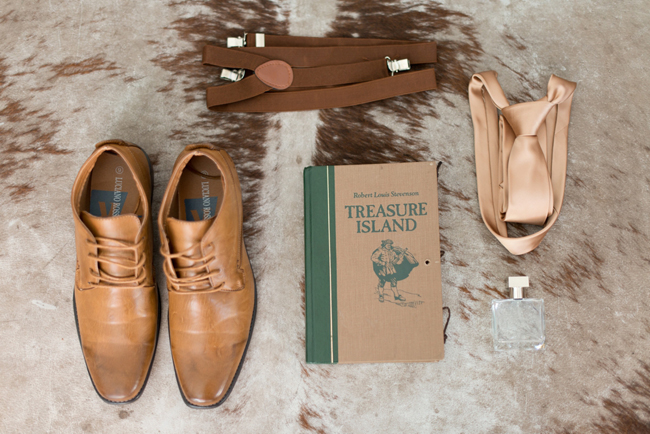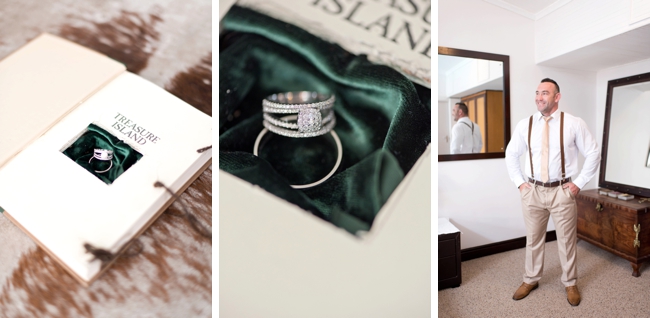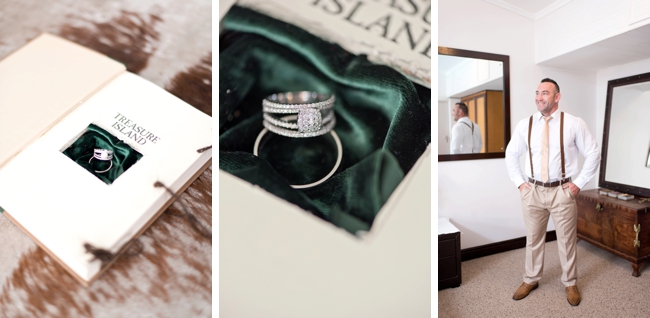 The Venue
We were going for a very rustic but elegant look and when I walked into the venue, I saw those large chandeliers, and knew I'd found my rustic/minimalist feel as well as elegant. The venue had loads of photo opportunities as well as ceremony venues, including a forest area, which is what I wanted. They also included a horse for photo opportunities on the day and I was very excited. The fact that the venue is in Stellenbosch made it easy to chose as it is in driving distance for many guests. The packages are also very budget friendly, and what they do to cater to your needs is incredible.
Wedding Style
At first we had planned on getting married in August, our anniversary month, so I had a colour scheme planned. However, we opted to get married in December, and then my colour scheme changed, as I fell in love with white and gold. Clean lines and a little bit of greenery in between. I saw an image of an elevanted centrepiece and sent it to our floral artist, and that was our centrepieces and place settings done. It was very easy to choose what I wanted as I worked with an amazing team and they saw my vision, which was for the guests to enjoy the day and have loads of fun, as that is what we are about!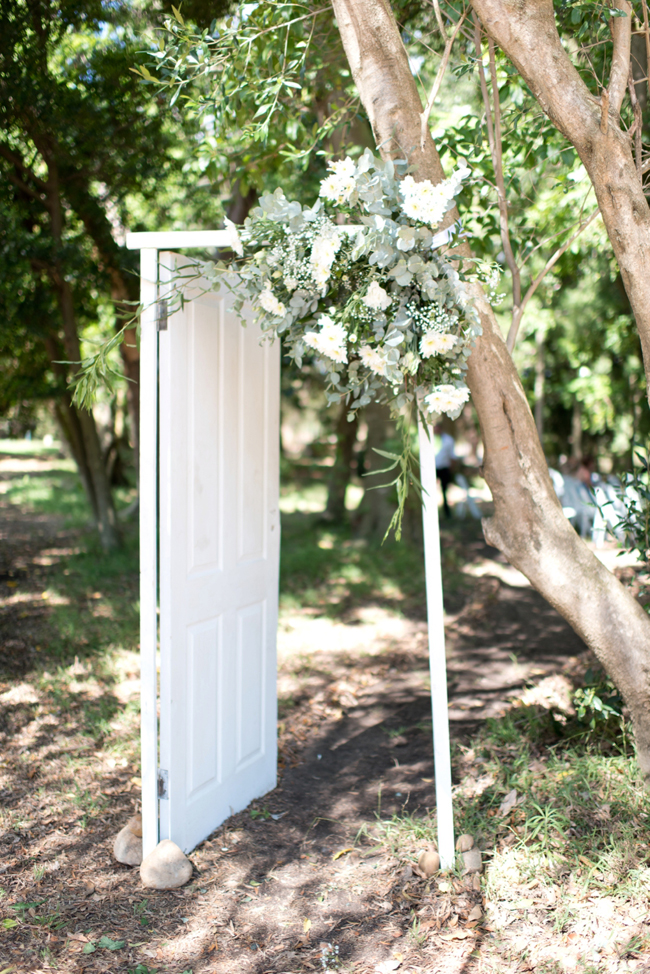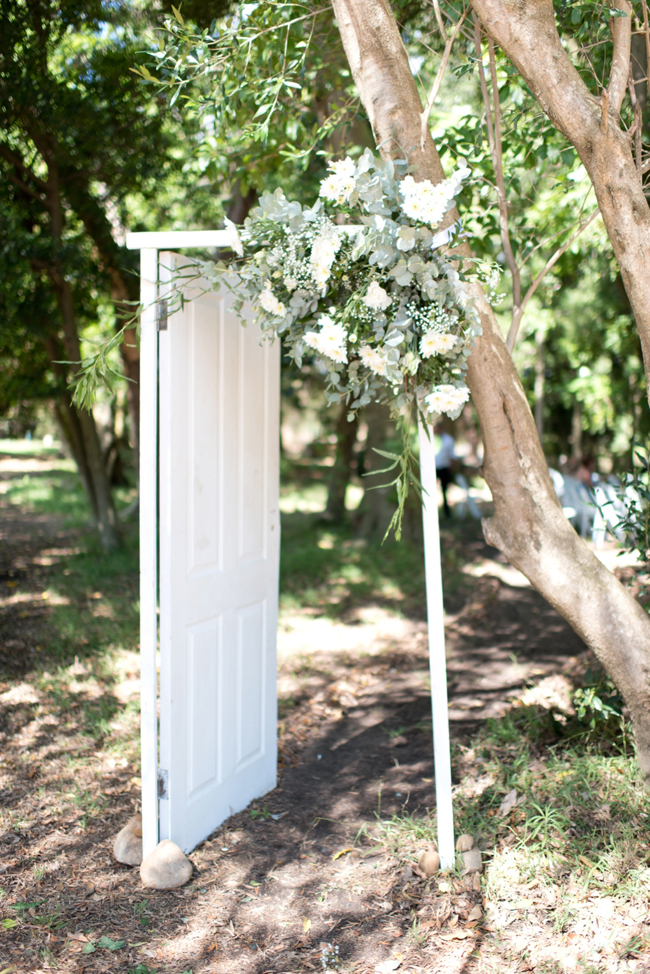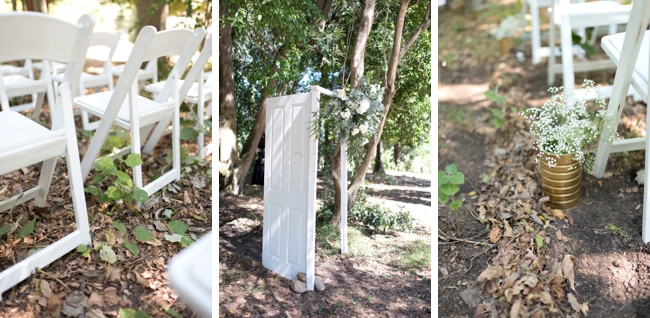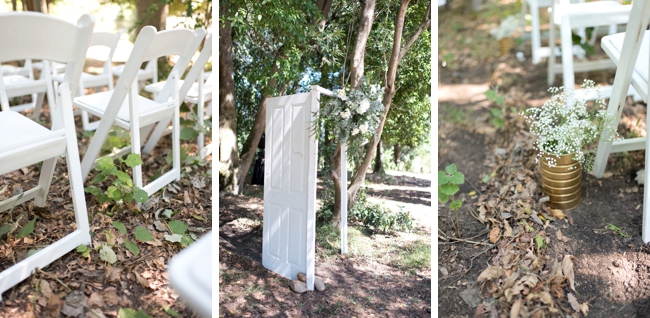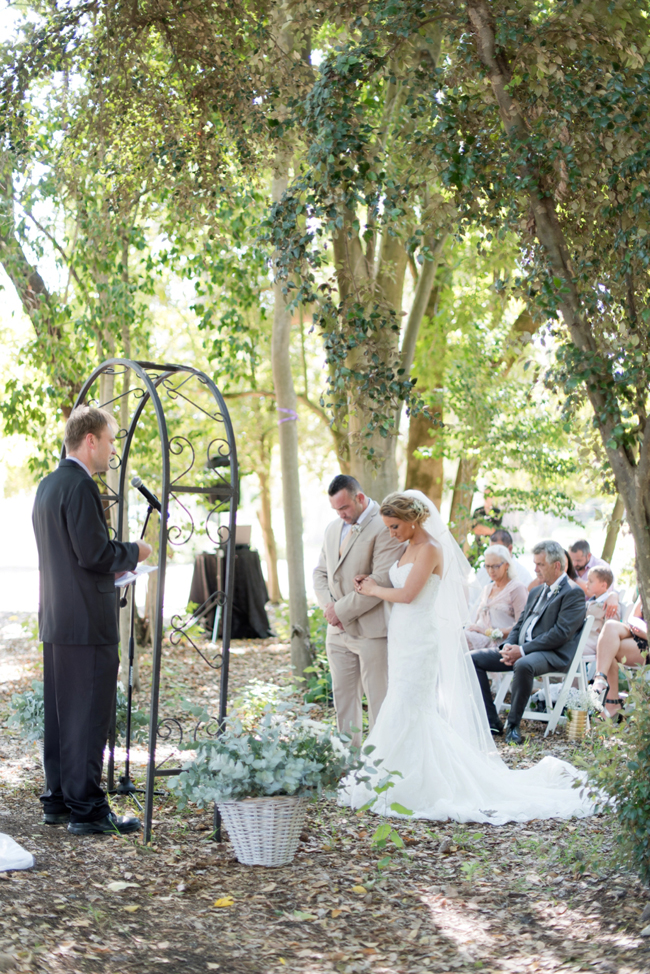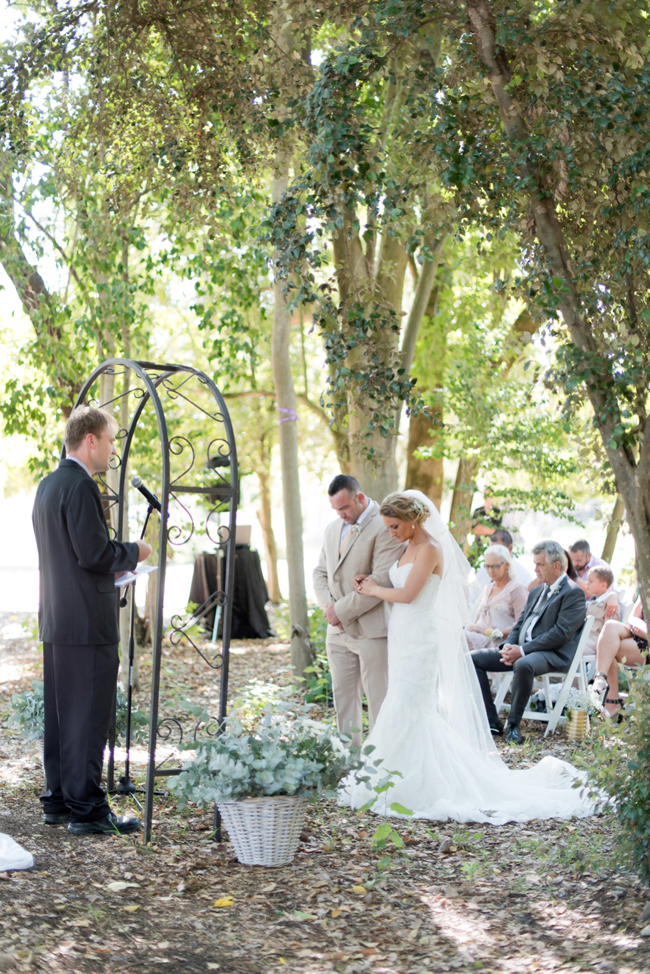 Wedding Details
My favourite detail was the door leading down the aisle. The pennygum and flowers hanging over the door were spectacular. It was a gift from our stylist, as were the fairy lights in the roof – it gave so much life to the evening.
DIY Elements
I made the gold aisle liners, and spraypainted the crates for the confetti gold and lined them with pennygum. I also made the wedding signs with normal pallet wood, with wording painted on them. I tried not to pack too much on my plate as planning a wedding and having a full-time job is not the easiest – but I wouldn't change it for the world!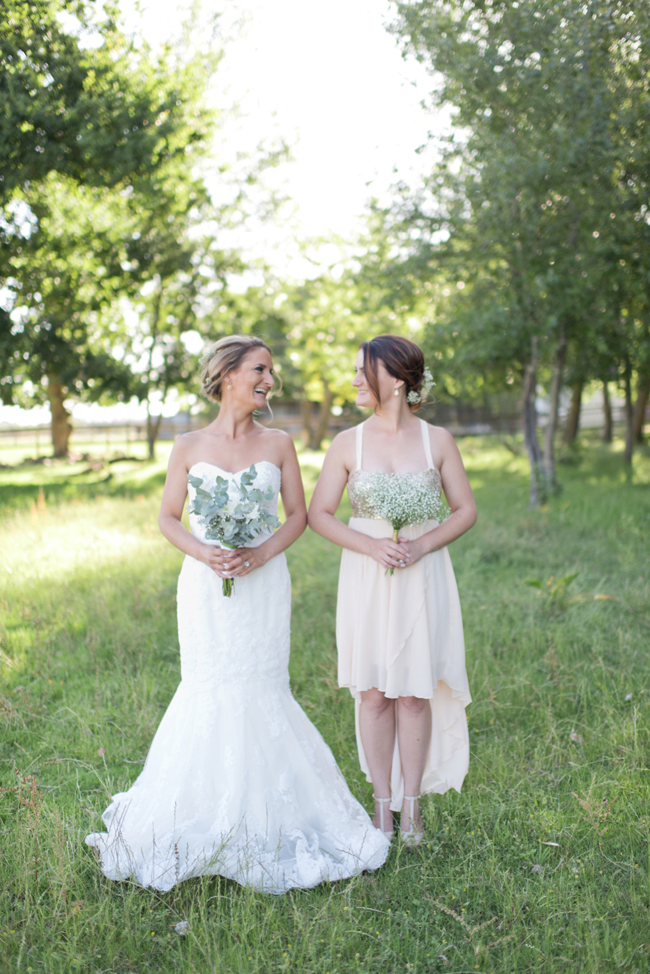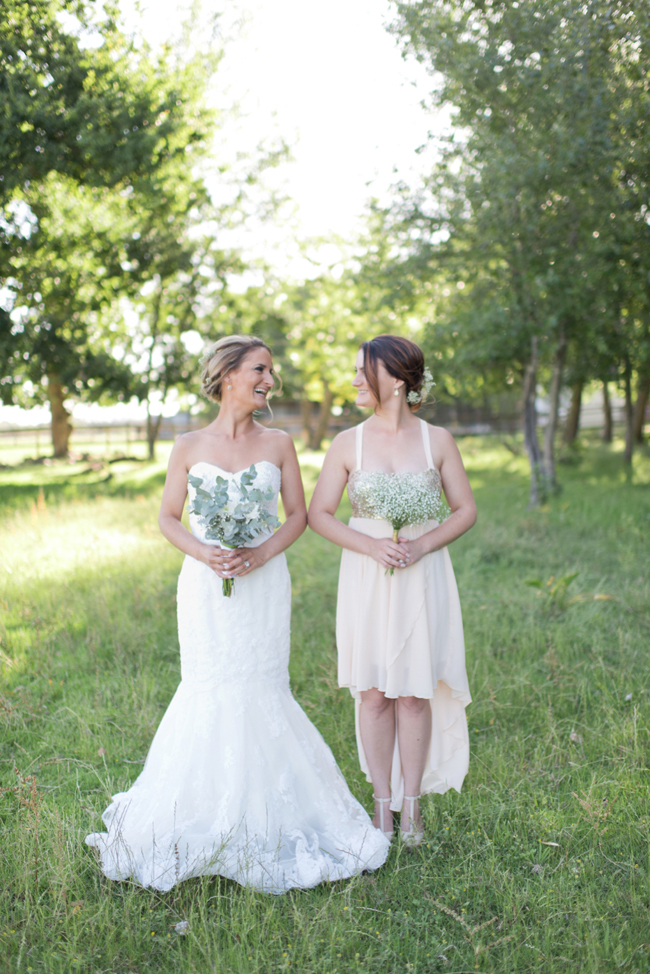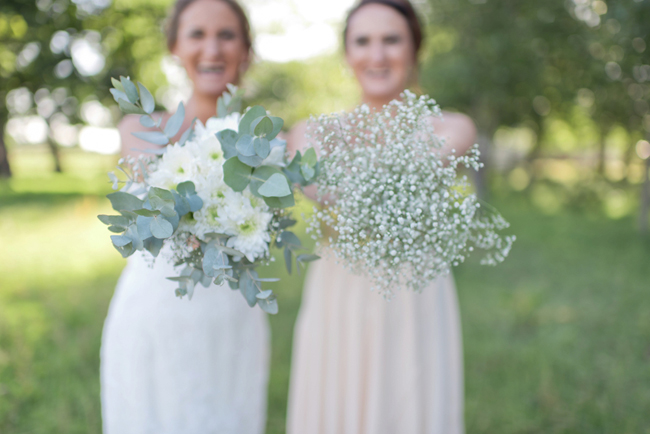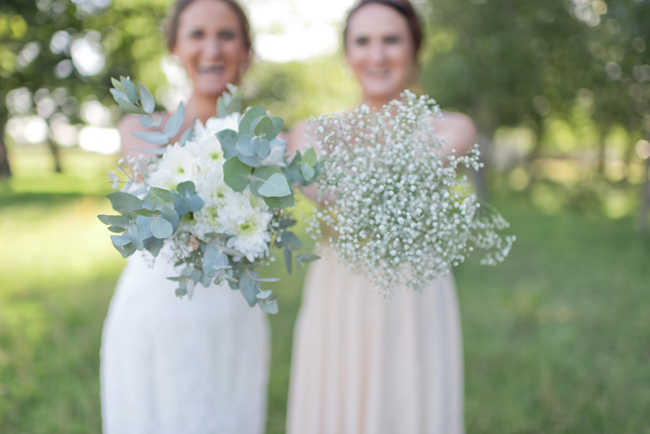 The Dress
When my sister got married she found her dress at a company in Durbanville. I was looking for a low back dress and drove up and down to consultations, but eventually decided to go to the same place where she had hired her dress. They handed me three dresses and the second one was MY dress! It had gold beading and the colour was an ivory/white mixture. It was so beautiful!
The Bridesmaids
I only had one – my twin sister and best friend. This was just to make everything easier on me and on the budget as well. Seeing that my wedding colour scheme was gold and white I wanted her to wear gold. I gave her full range of choosing her dress, but as it was a summer wedding didn't want it to be a long dress. We opted for a low front and long back with a gold sequined bodice. Our shoes were the same – practical and comfortable!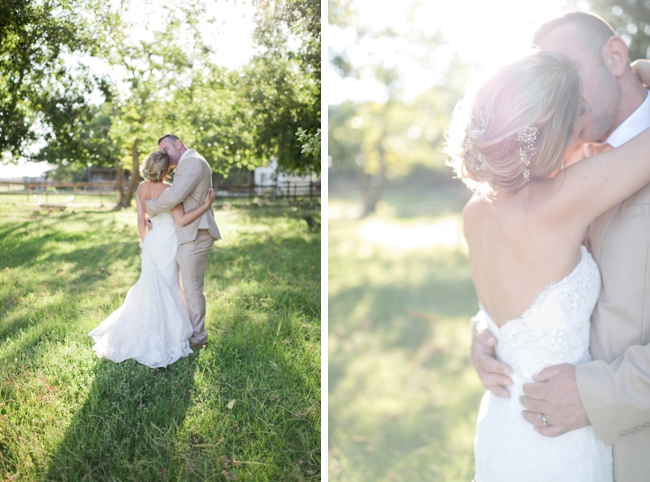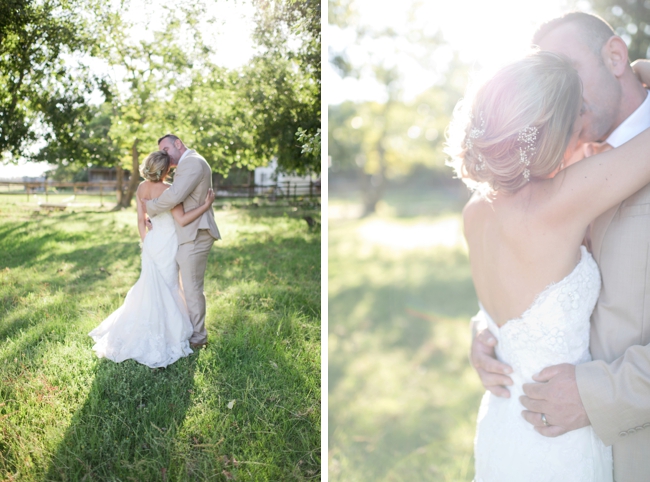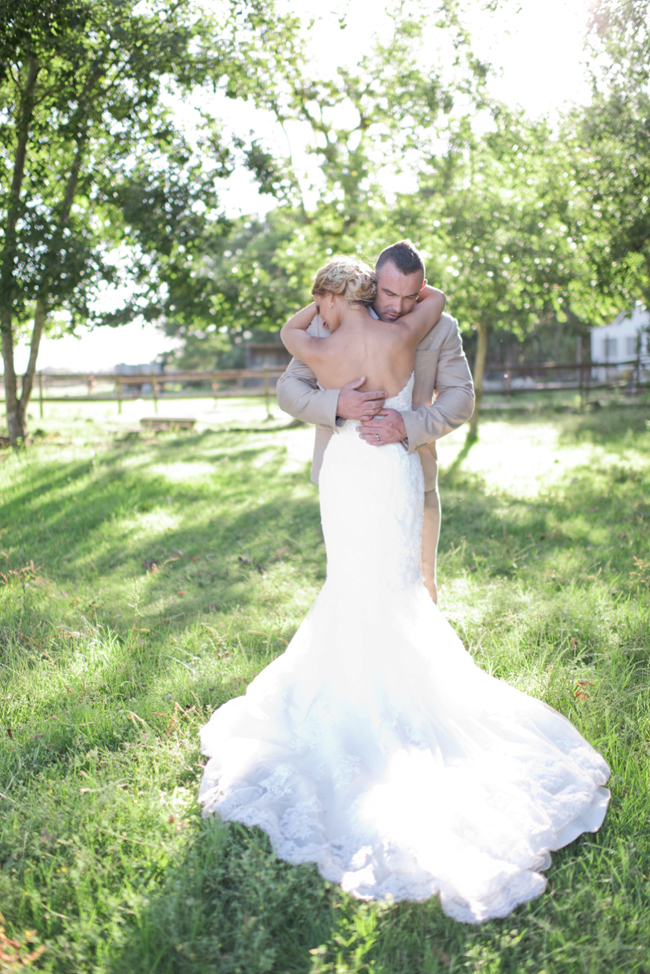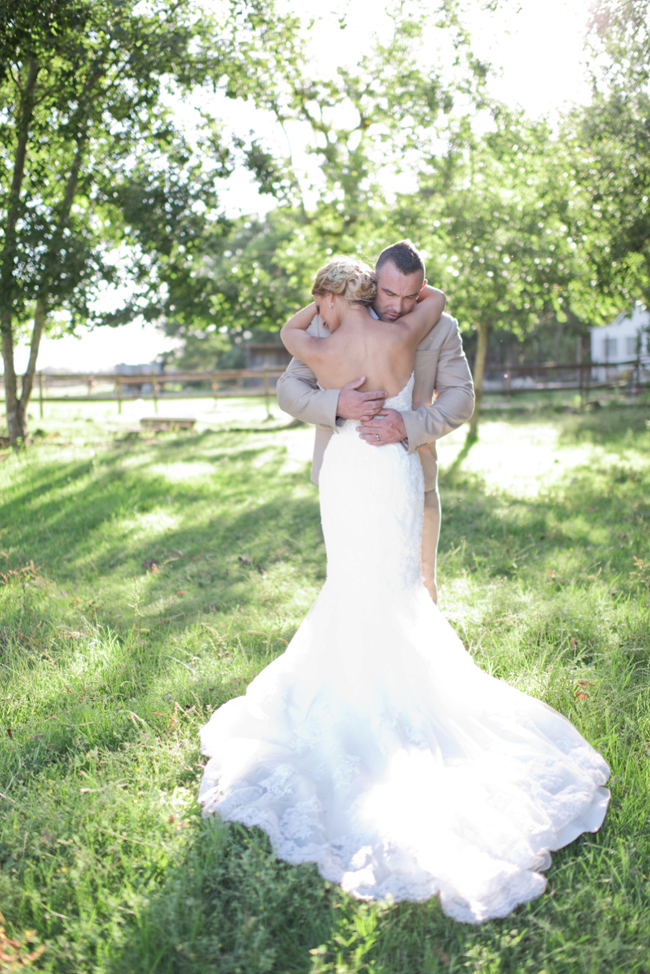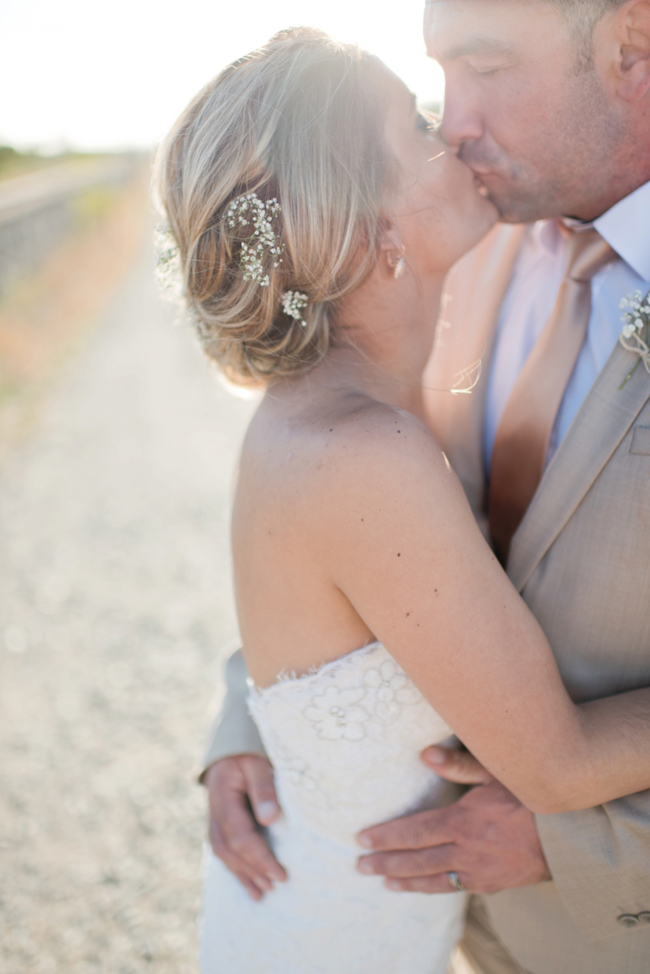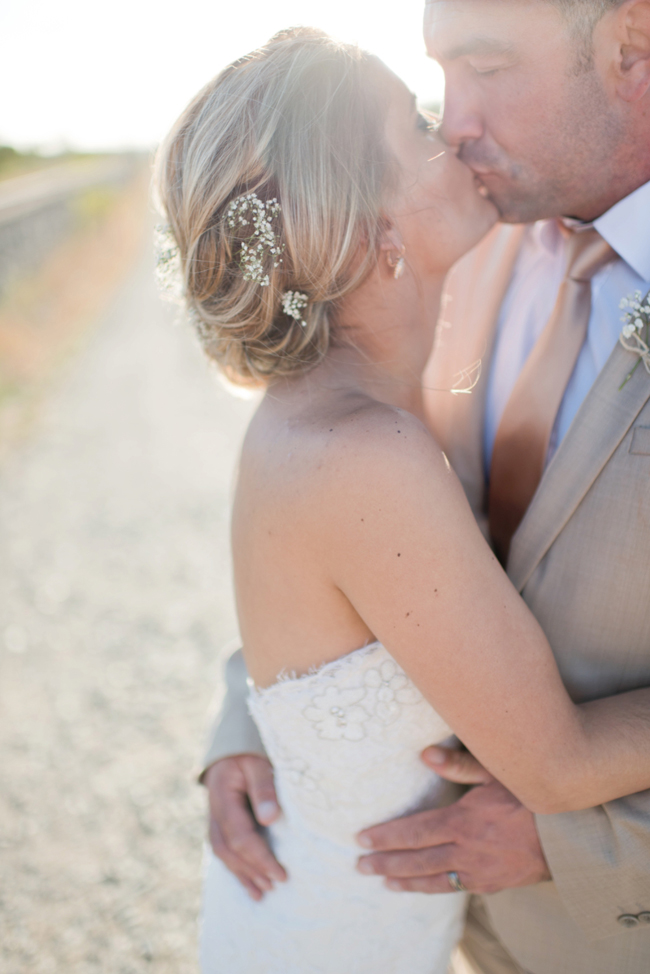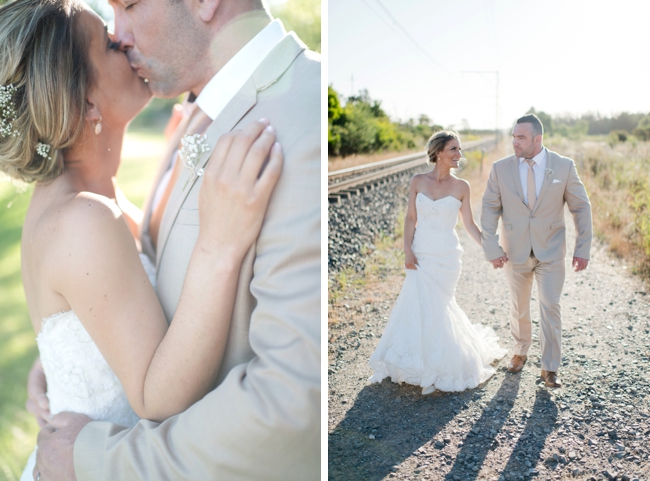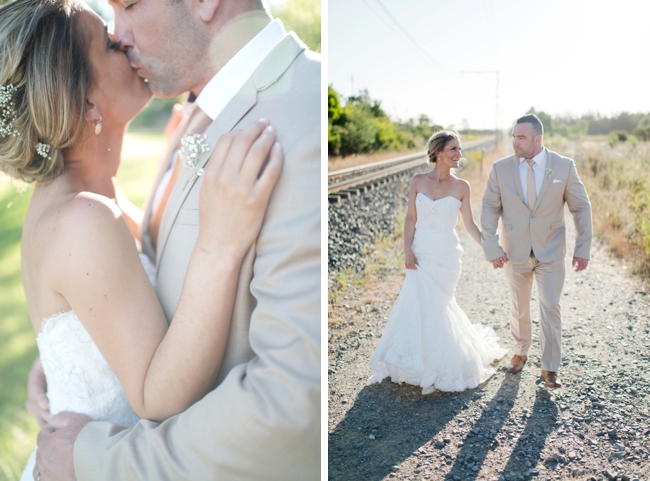 The Flowers
I wanted something very simple but elegant. I opted for pennygum (eucalyptus) as well as chrysanthemums (white), and also had baby's breath in my bouquet. My maid of honour just had baby's breath with a brown ribbon wrapped around it. My centerpieces were a mixture of all the flowers I wanted, elevated on the tables.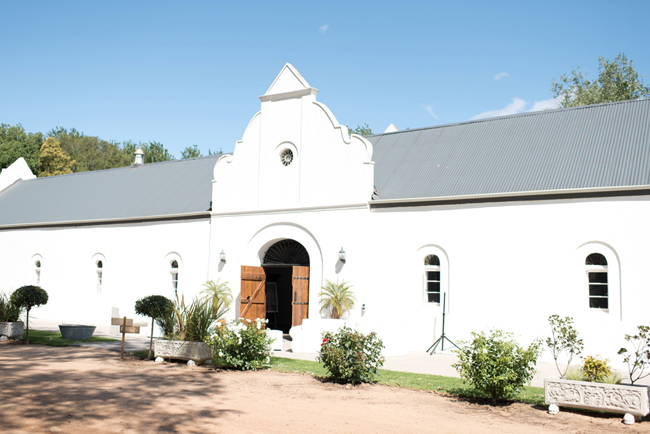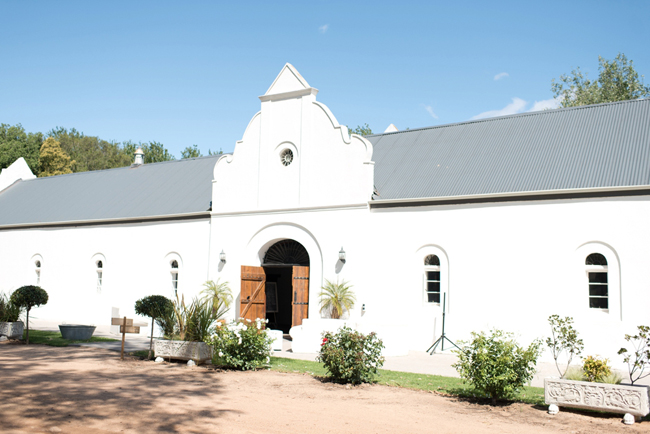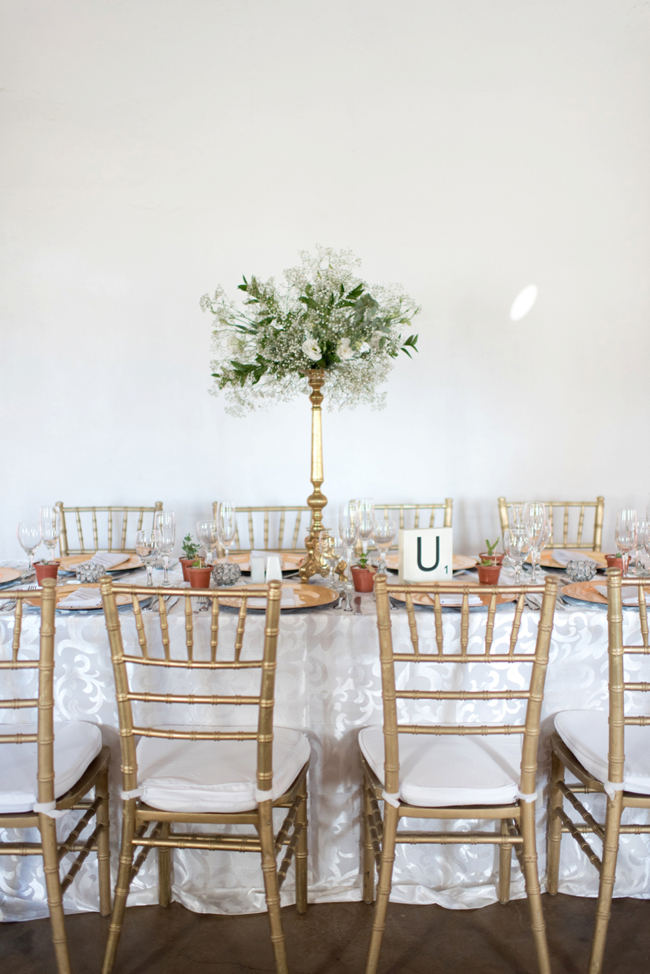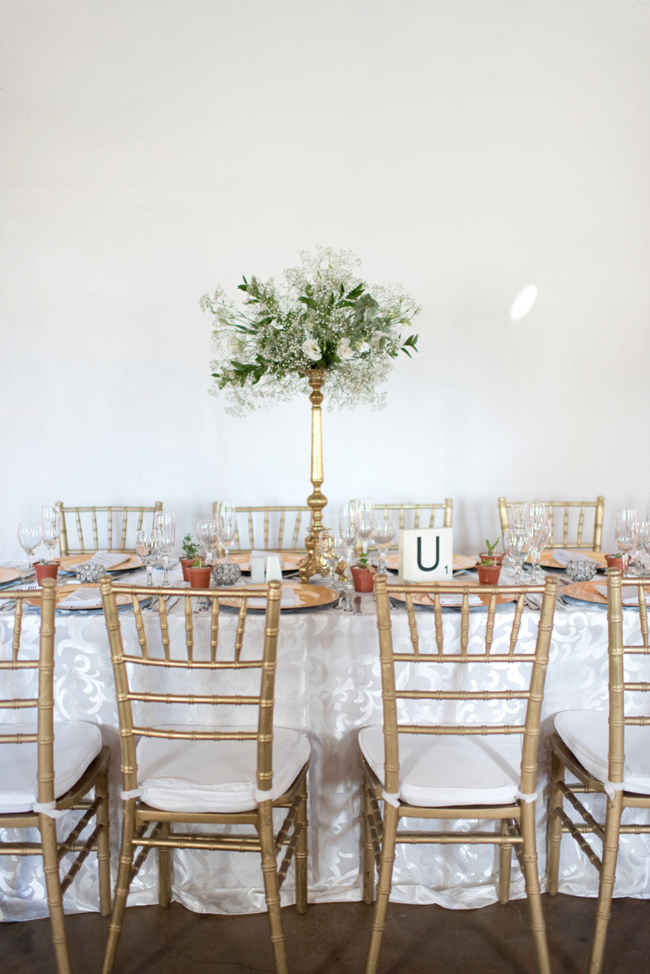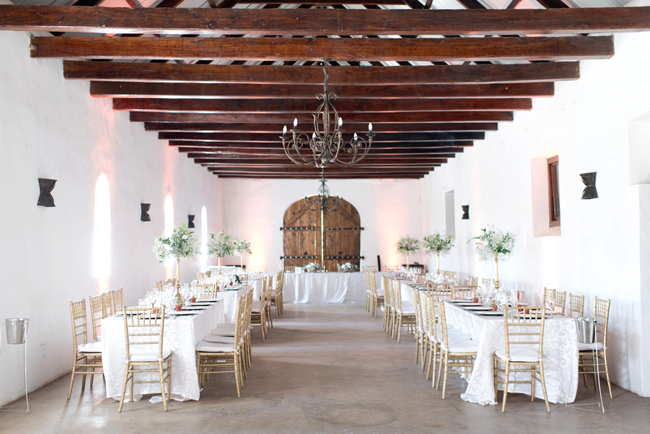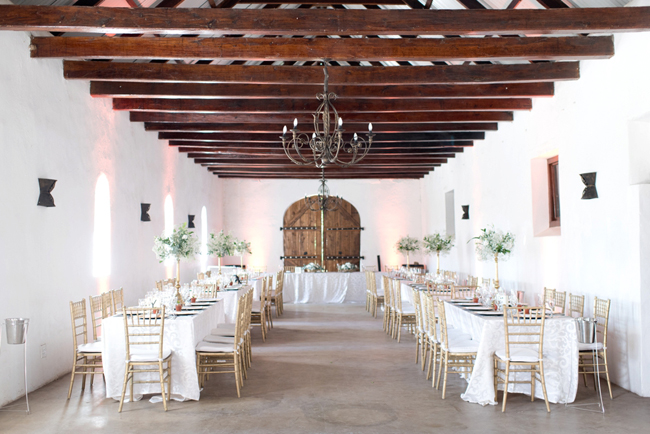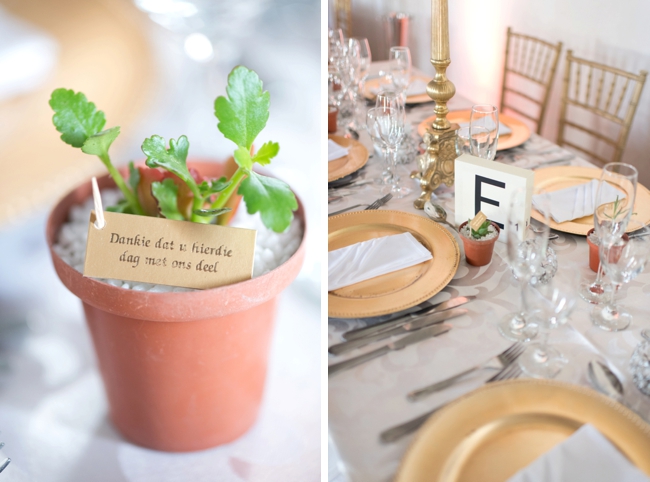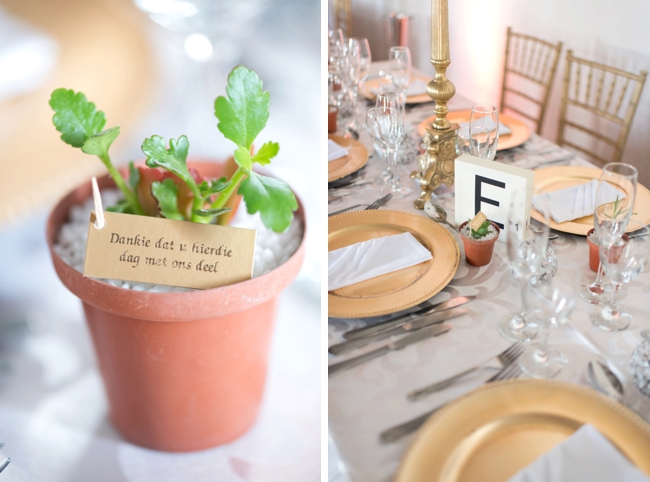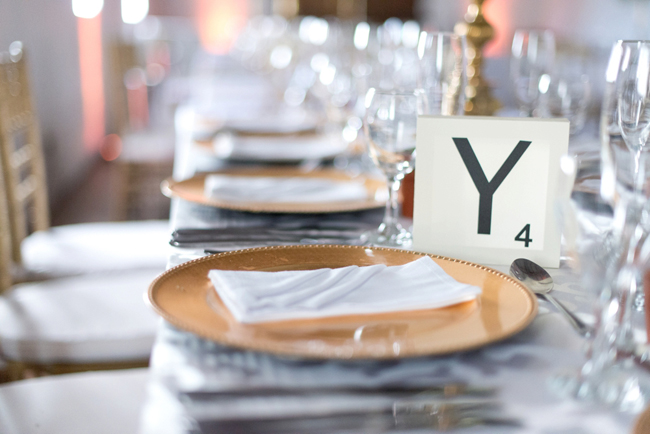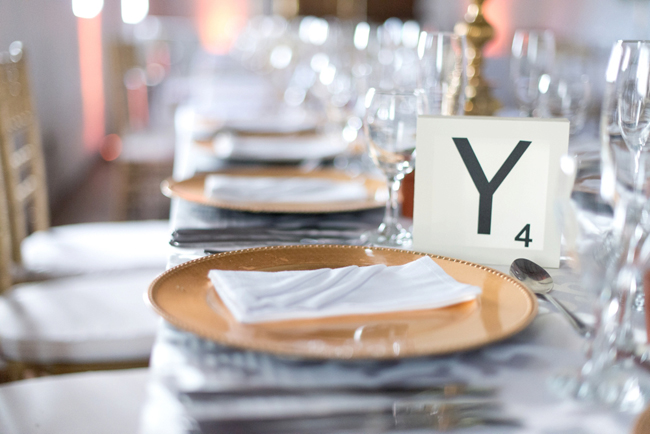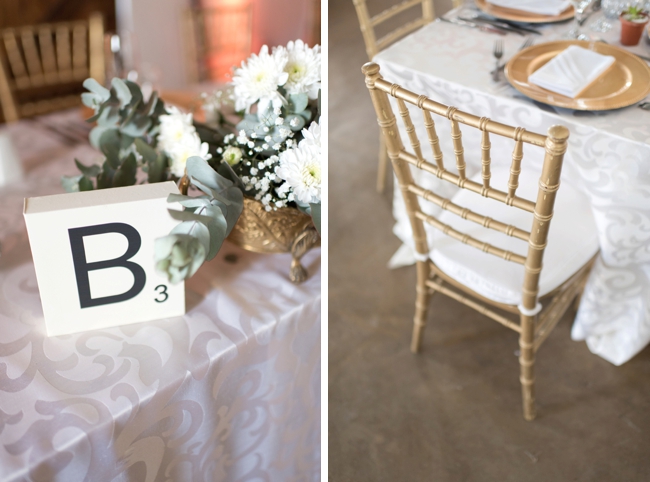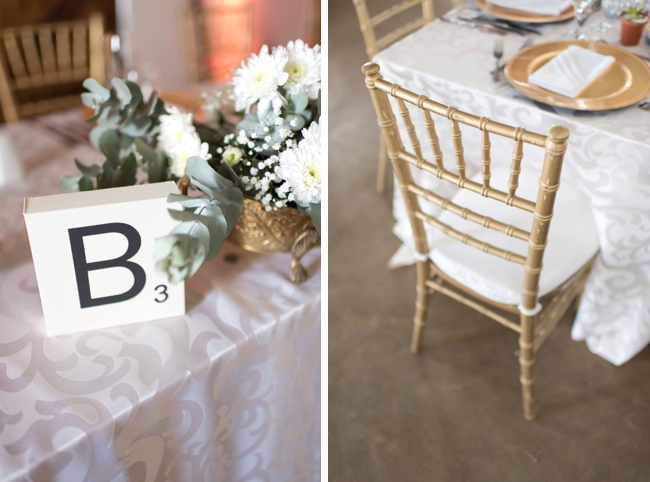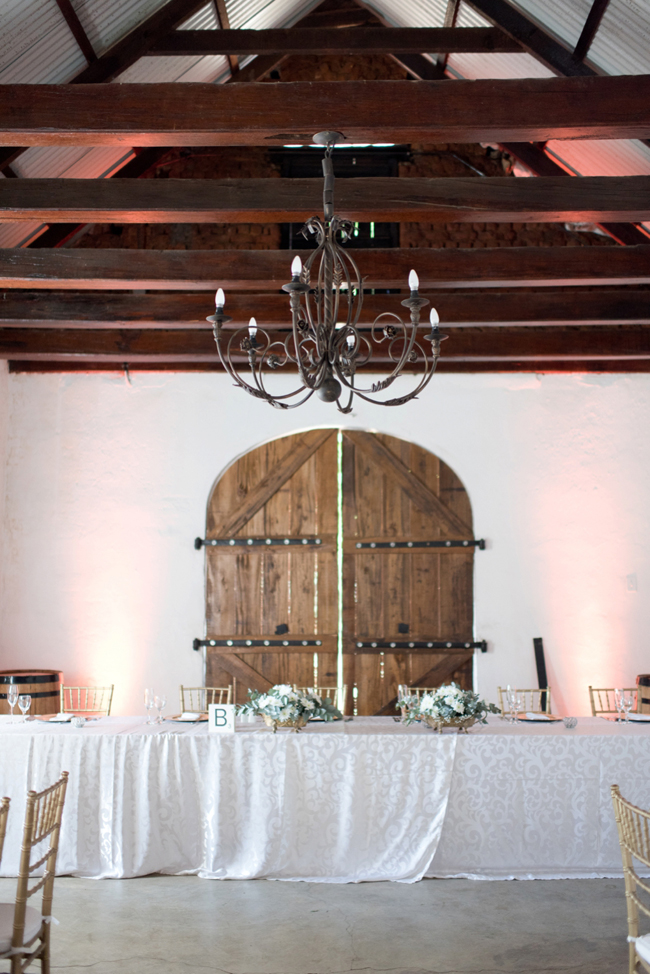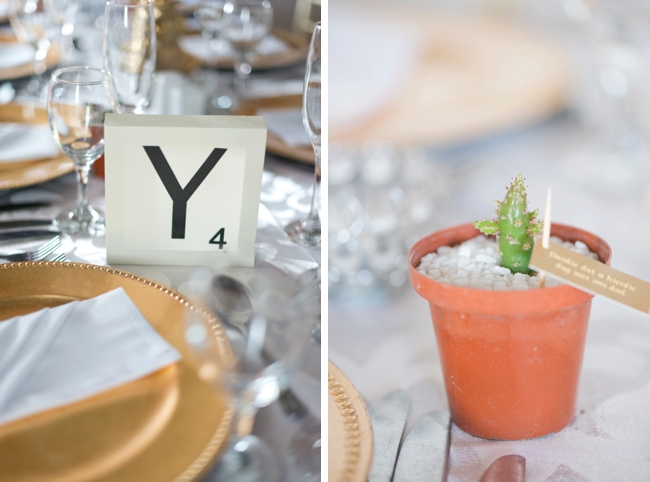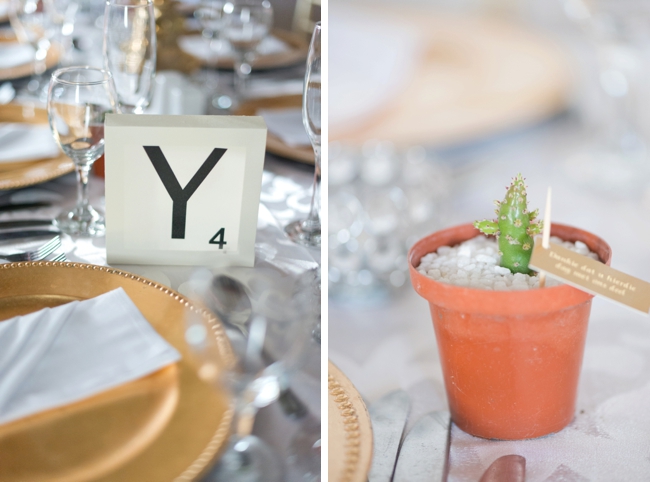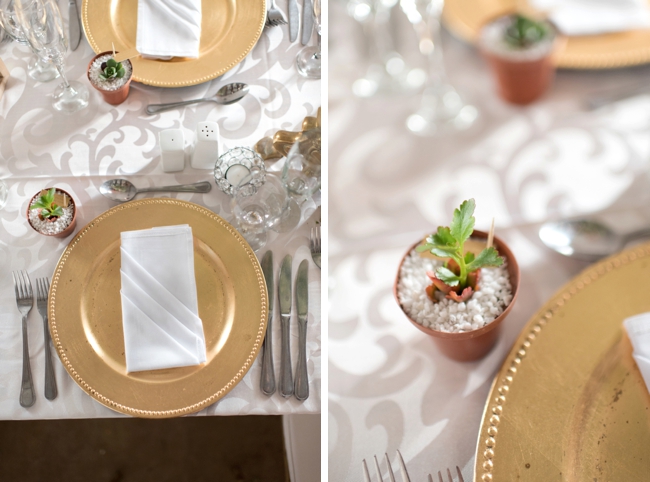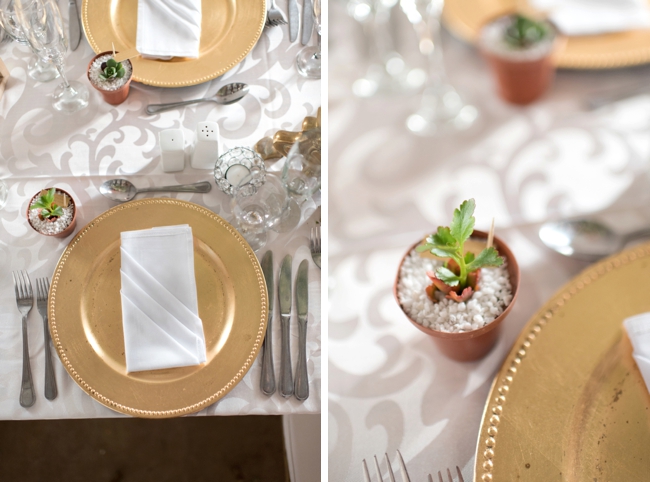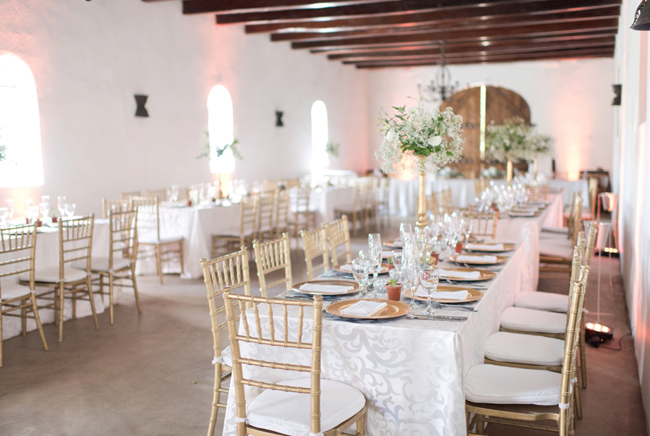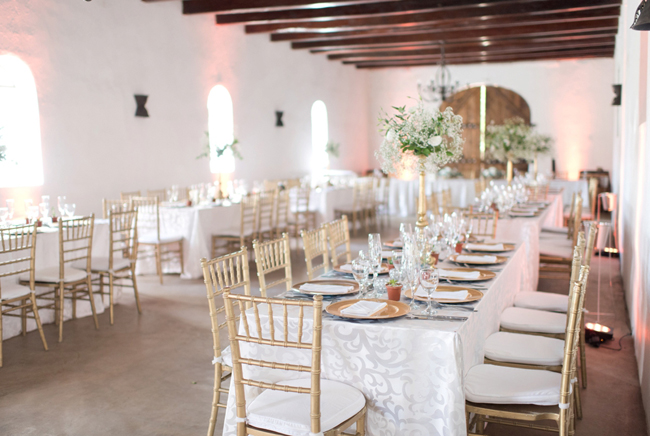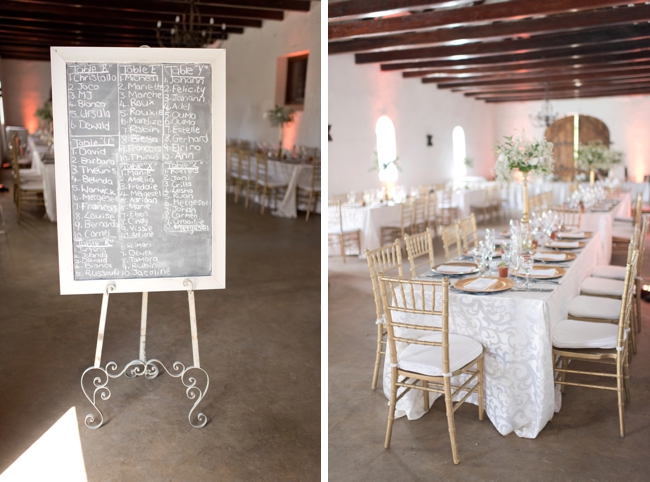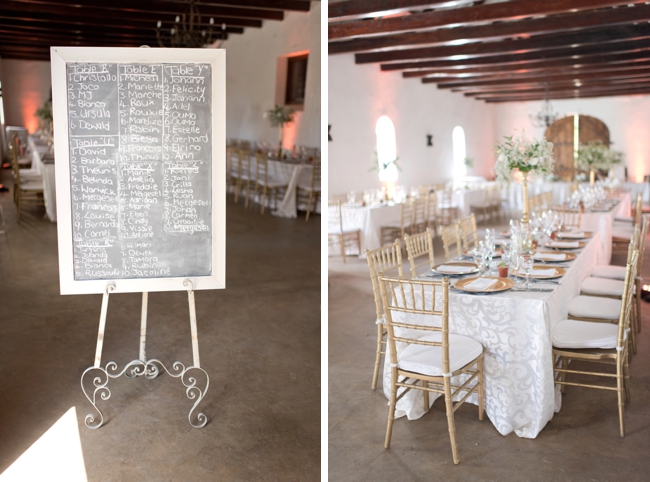 Memorable Moments
The part where my husband and I danced, as he is not so fond of dancing. A few weeks before our wedding he sent me a song that he requested was played for our first dance: David Fourie's 'Vandag maak ek jou my vrou'. It meant so much to me as the song had so much meaning. The second part was where my father and I walked down the aisle. It was a sign that my father was ready to hand me over to my future husband and he trusts in him that I will betaken care of.
Advice for Future Brides & Grooms
Dont stress! Limit yourself to two quotations when you weigh up the options – it will not help you to have ten when time is ticking. Most important, remember that the day is about you and your husband, include him in anything and make him feel that he also shares in decisions. Enjoy every moment as it goes by VERY quickly.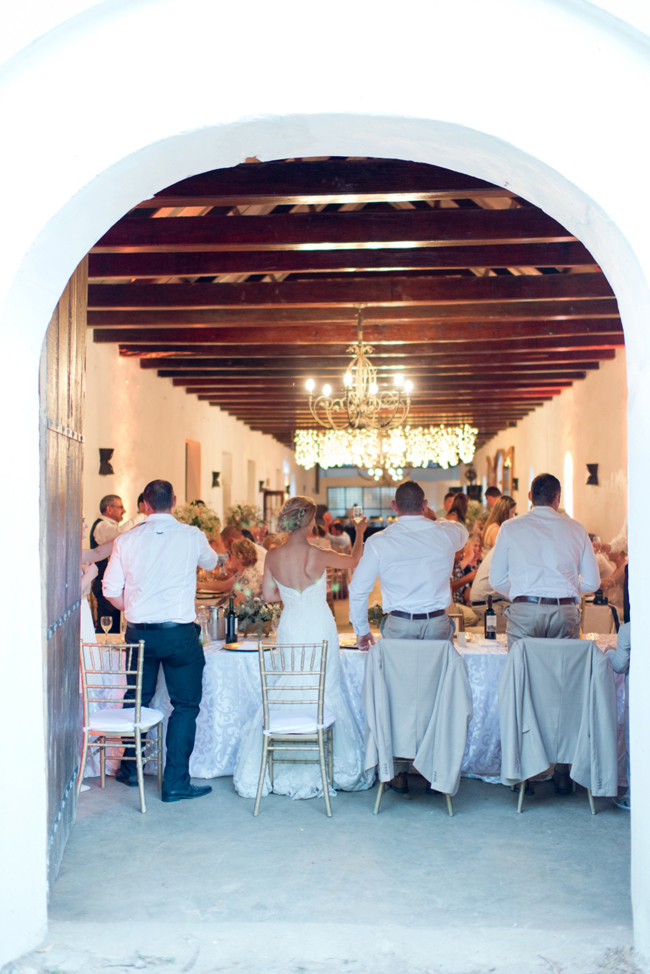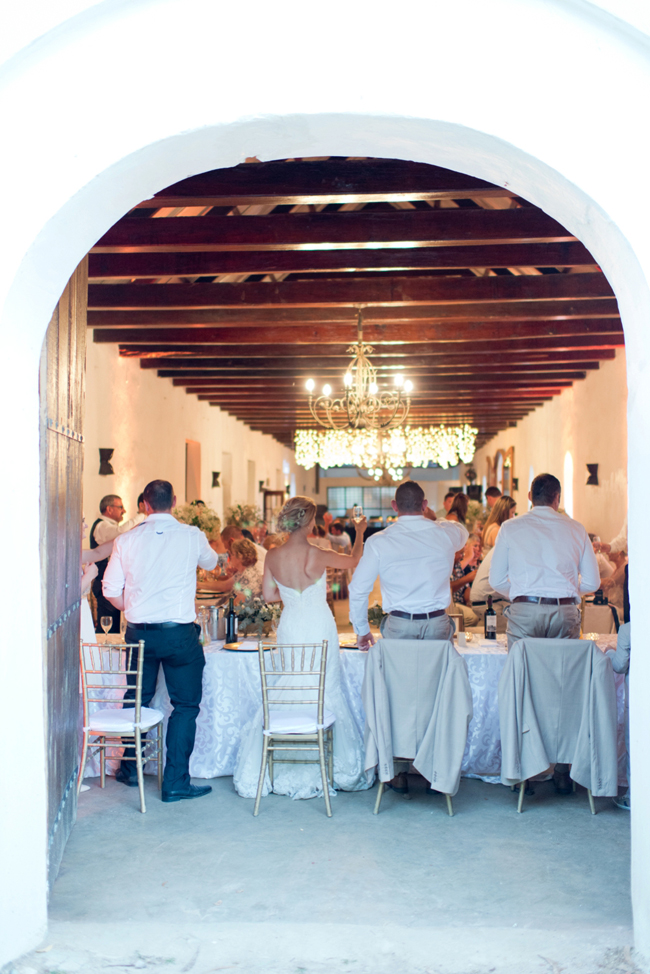 You can see more from this wedding on Liesl Le Roux's blog.
SERVICE PROVIDERS
Venue: Ou Stal Equestrian Estate | Catering: Beanstalk Functions | Photography: Liesl Le Roux Photography | Co-ordination, flowers & decor: Beanstalk Functions | Stationery: Laser & Craft Studio | Bride's dress: Weddings by Design | Bride's accessories: Woolworths (earrings); Shoes (Shoe City) | Hair & makeup: Brush Salon | Groom's attire: Mr Suit Hire (suits & ties); Shoe City (shoes) | Hiring: Jack and Jill | DJ: Xplode Entertainment