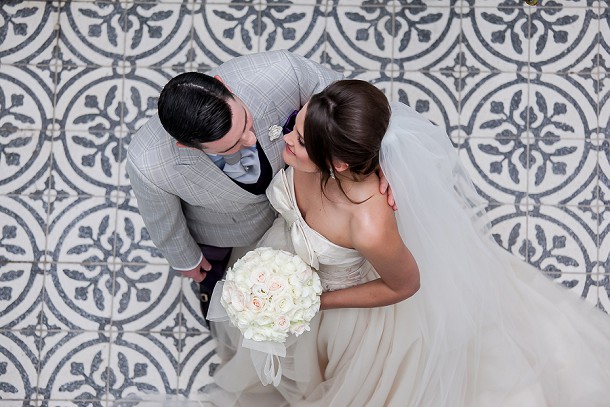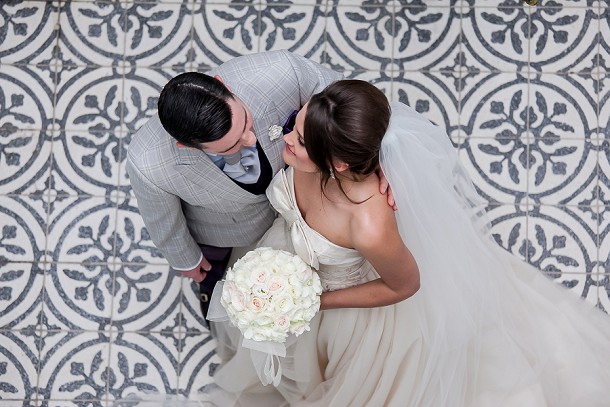 Living in Durbs as I have been for the last while, I definitely have my favourite places and The Oyster Box in Umhlanga is right on that list. I think it's the colonial-style decor (which I am total sucker for) or maybe the nostalgia I have for the area since my grandparents used to live there, but I'm never happier than when I'm sipping a cocktail at one of their elegant bars looking over the beach and the bright red striped lighthouse. So it's always a pleasure to feature an Oyster Box wedding, and what I love most about Claire and David's is that they totally embraced the venue's design aesthetic and built on it, to create the most cohesive and elegant tropical classic. From the lush tropical flower arrangements to preppy touches like grey striped linens and Kelly-green bows, it's chic and clean, and pairs beautifully with Claire's super romantic bridal style. I mean, this dress. Be still my Vera Wang-obsessed little heart. One of SBB's favourite photographers, the ever-lovely Just Judy, was there to capture all of this extreme pretty, and boy has she done herself proud. So get your Pinning fingers at the ready, and take it all in.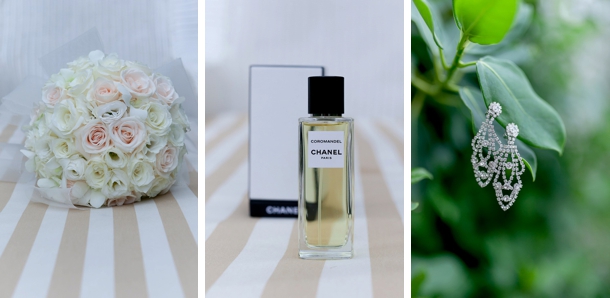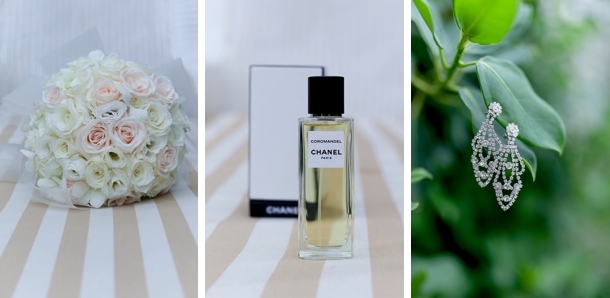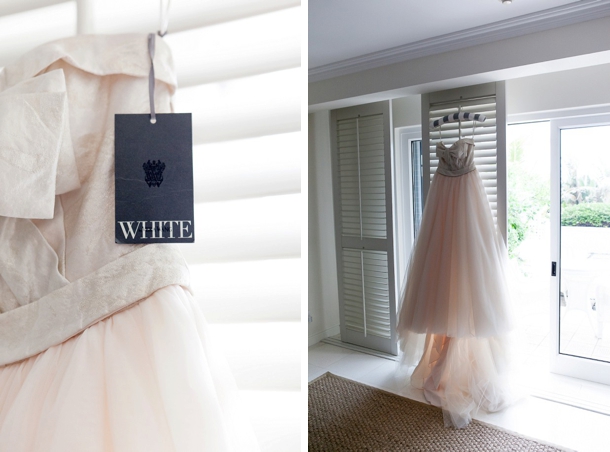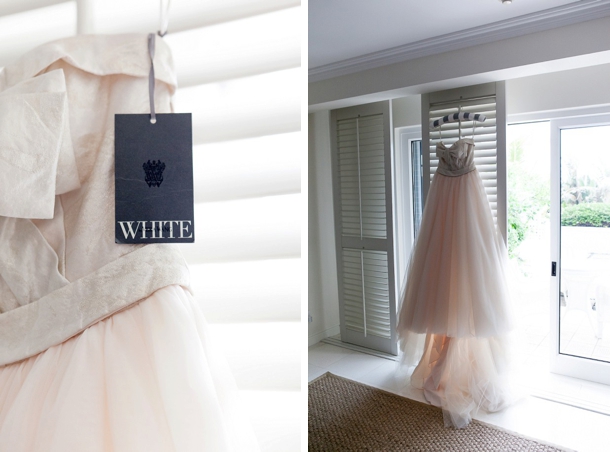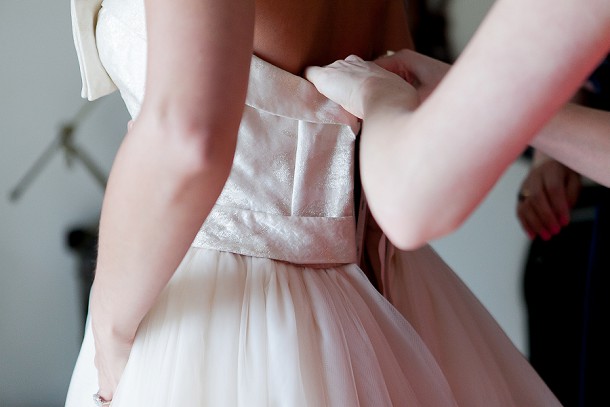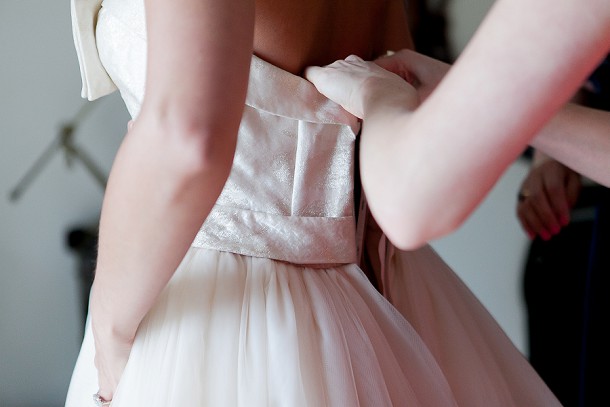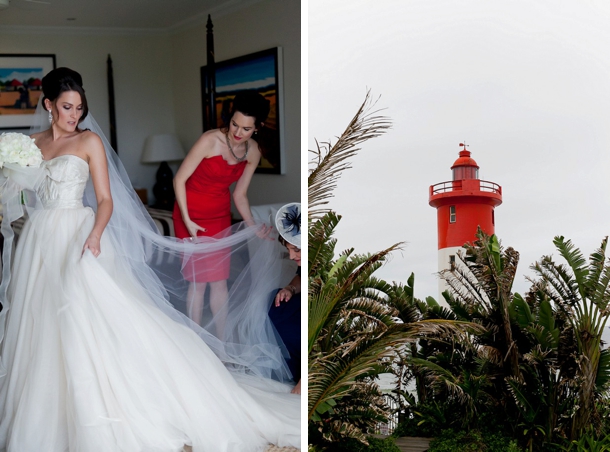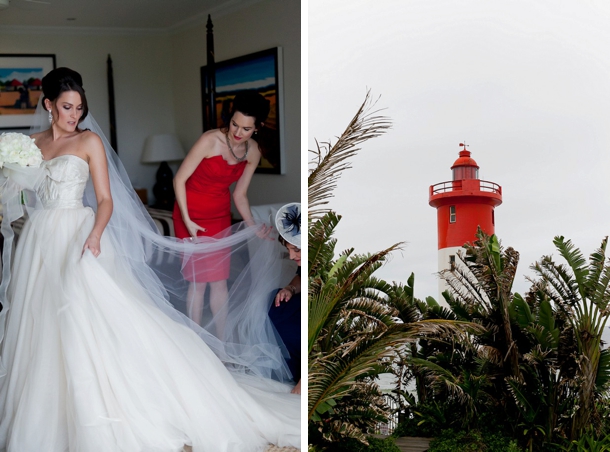 Love Story
David and I met eight years ago in London but only starting dating more seriously five and half years ago. Back in those days in London, South Africans tended to somehow converge together so inevitably we met up through a mutual friend. Dave asked me out on a date in Soho and we had a great night out on the town. Our relationship grew from there and the rest, as they say, is history.
The Proposal
It happened on my birthday, a Sunday. We woke up in the morning and Dave brought me a strong cup of tea, along with the presents our parents had couriered and some small gifts he'd bought me – he'd just taken me to Hong Kong the week before, so I'd told him not to give me any, but he hadn't listened. The first of his gifts was a little kitchen gadget that perfectly chops the top off a boiled egg, so I figured if they were all in this zone, he hadn't spent a fortune and that was okay. The second was a bracelet with small diamonds and an emerald dangling around the chain – I'm not a big jewellery person, but I really liked it. Dave made me get up and stand at the end of the bed and close my eyes, since he said the third gift was large and he needed to bring it through from the spare room. I had no idea what was coming. I opened my eyes to find him on one knee telling me how lucky he was to have me (usually he jokingly reminds me how lucky I am to have him) and presenting me with the most beautiful diamond ring in the shape of a flower – exactly what I wanted! It turned out that I'd seen the ring at our local auction house the previous year and, when I'd texted a photo to Dave saying that this was my dream ring should he ever be in the mood to propose, he'd gone and bid on it the next day. He replaced the central emerald (now in the bracelet Dave gave me) with a diamond. I was so touched by his thoughtfulness. After the excitement of the moment, we were off to Heston Blumenthal's Hinds Head in Bray for lunch and to spend the night at Raymond Blanc's mansion in Oxfordshire, Le Manoir – a very exclusive and special place in the UK. The moments that followed were the most indulgent and special of our lives – moments we will never forget.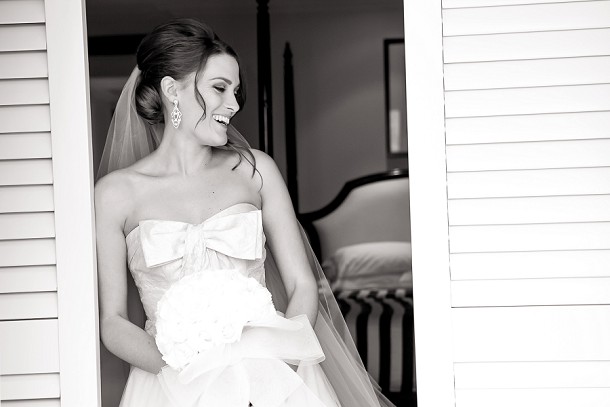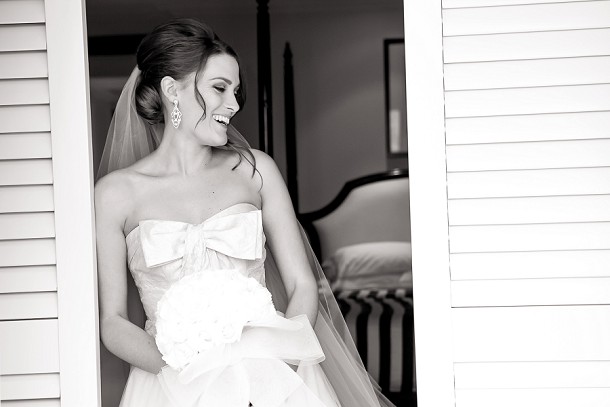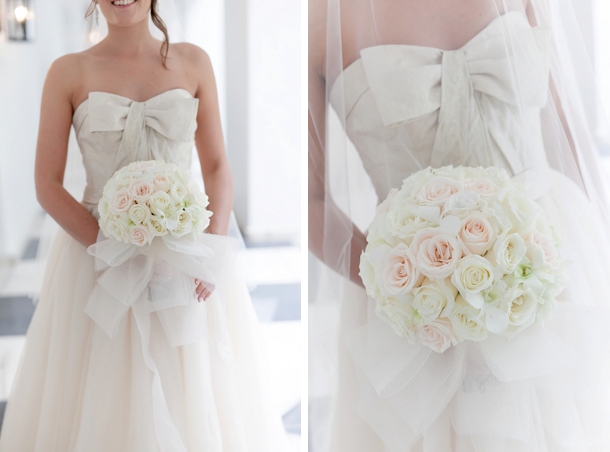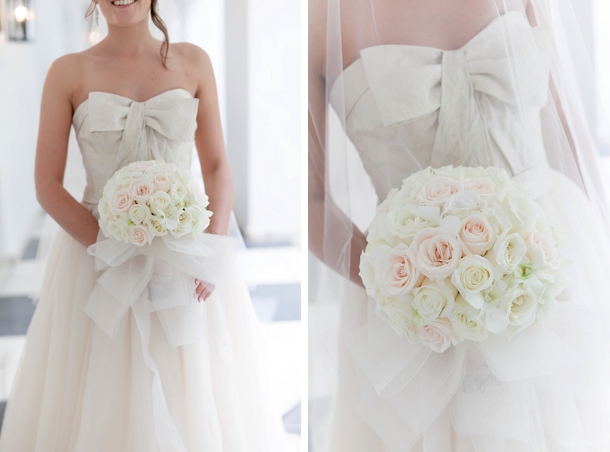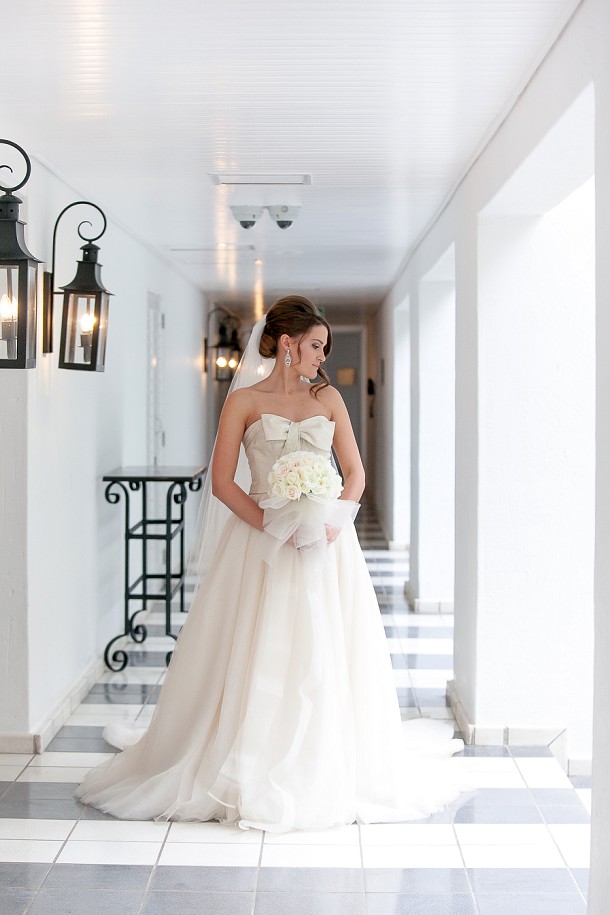 The Venue
We had earmarked a date over a long weekend in South Africa just before Christmas, planning to use the Christmas break to extend our time back home not only to enjoy the wedding, but also our honeymoon and Christmas and New Year with family. We needed a venue that was close to my parents so that my mum could help out with the planning. Everything had to be done online from London. The Oyster Box in Umhlanga ticked all of our boxes, provided accommodation for our guests coming from around the world and all the major cities in South Africa and above all else had the right 'feel' for both of us. The cherry on the proverbial wedding cake was the brilliant wedding planner that is magically included when you book your wedding at The Oyster Box – Ginny turned out to be our wedding planner extraordinaire and a vital addition, considering we were planning from abroad.
Wedding Style
Our theme picked up on the tropical nature of the Kwa-Zulu Natal coast as it evoked memories of us growing up there (Dave grew up in Durban and I grew up on sugar cane estates my entire childhood). Our theme fitted so well with the look and feel of the Oyster Box interior, which practically lives and breathes tropical colonial style. I chose a soft grey and off-white stripe to accompany the various shades of palm and banana leaf greens. We wanted our wedding to be classy but at the same time down-to-earth and evocative of the Durban we both know and love.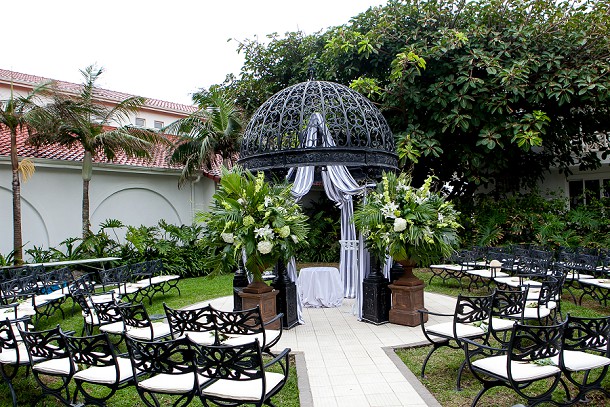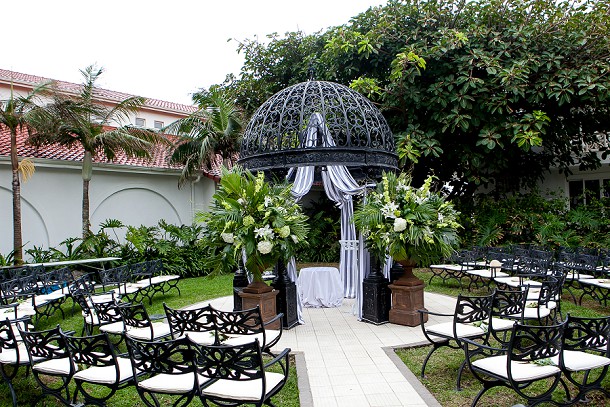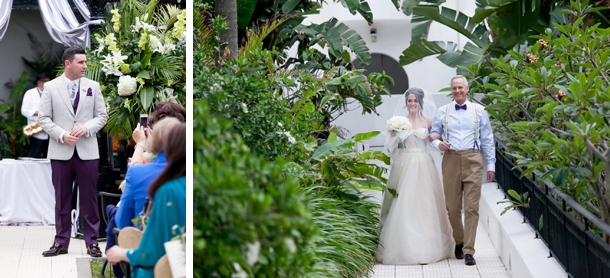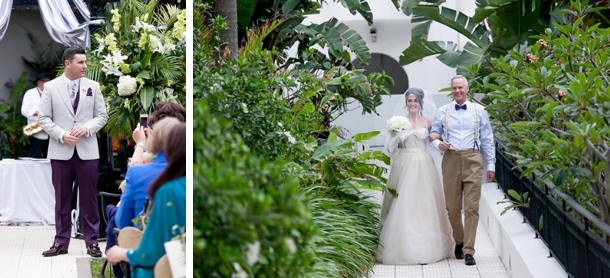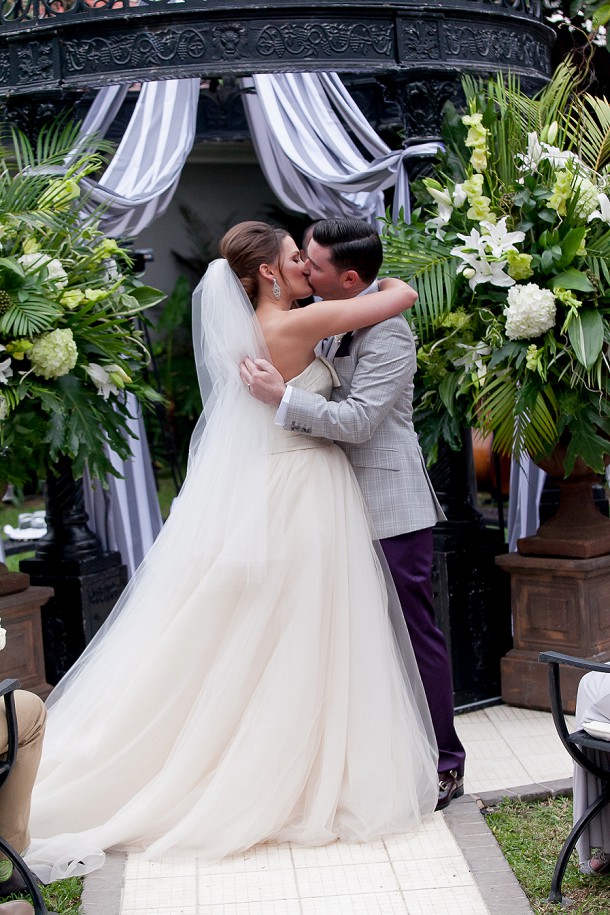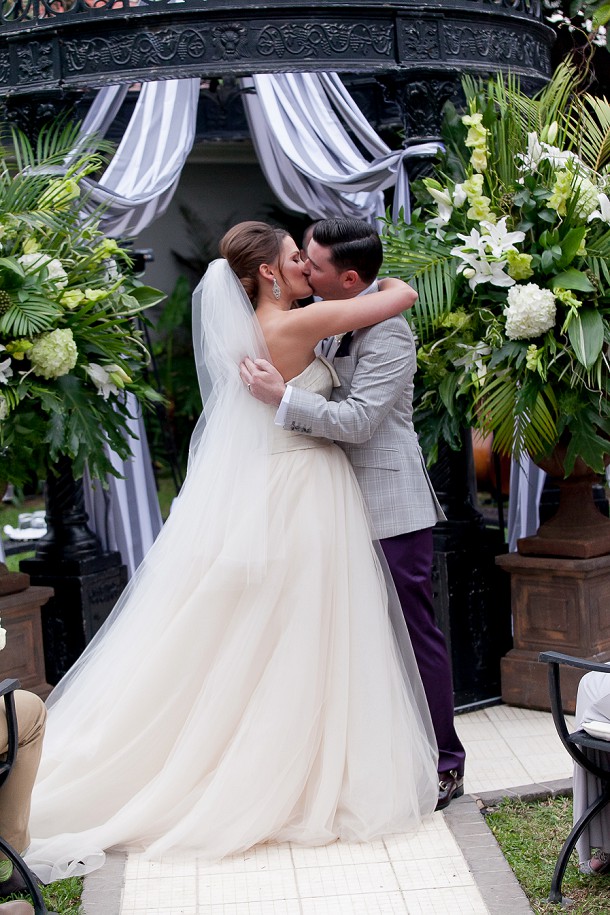 Wedding Details
The venue itself and the tropical theme we chose were very nostalgic in terms of our childhoods in South Africa. The personalised notes to each of our guests, as well as having individual names printed on top of their own menu meant that each guest hopefully felt special. It felt good to us that we had taken the time to write a special something to every single person, thanking each of them for their friendship, the effort they made to be at the wedding and a special mention that only they and us would know about each other. Dave and I also wrote our own vows, which made the ceremony less standardised and made it more personal to us and provided some intimate and funny moments for our guests to enjoy with us. We thought we'd surprise each other by exchanging gifts on the day, both of which were super thoughtful and very special in their own way.
DIY Elements
I work in the design industry and have an obsession with anything to do with interior décor and flowers, so I was not going to let these elements be an afterthought. I designed all of the stationery myself, which included the invites, menus and individual personalised note cards. Instead of having a table planning chart we included the guest's table number inside their note. In addition, my mum and aunts handmade all the bows that were placed on top of the menus at the tables. My mum and I tied all the tags and ribbons to the buri fans that we had for the ceremony chairs to combat the heat (it turned out to be an overcast day!) On the day of the wedding, Mum and I were also out very early crouching along the driveway at home, cutting a huge number of Echiveria and carefully placing them in bubble wrap to transport them to the venue to place on the tables under the main arrangements. These were just some of the little details that we did ourselves.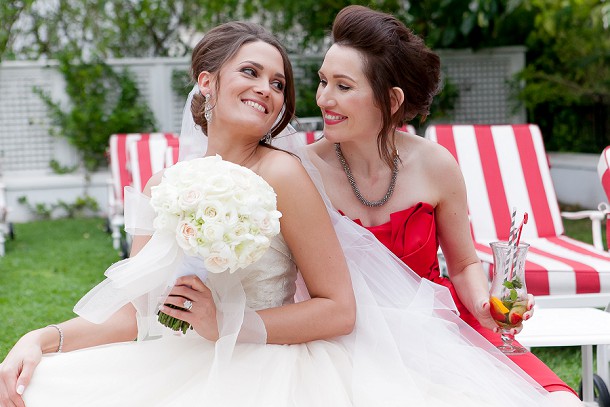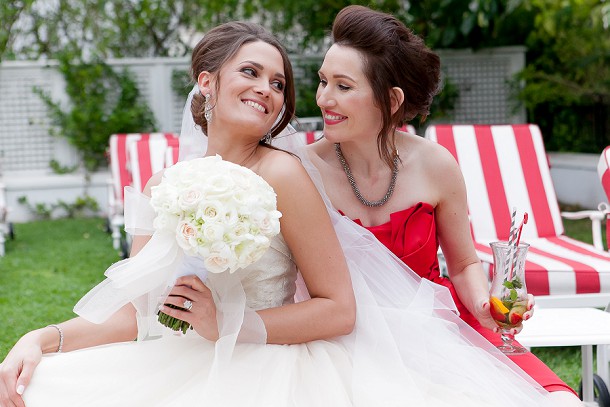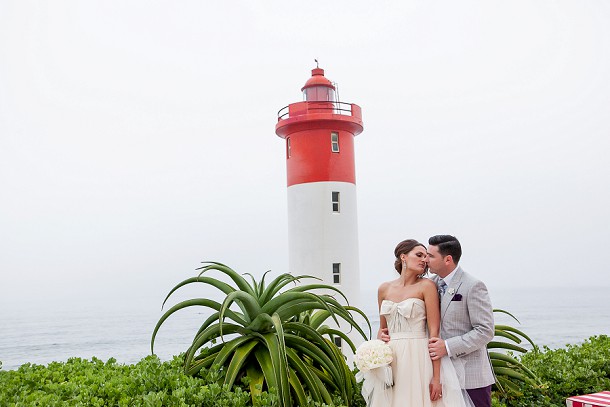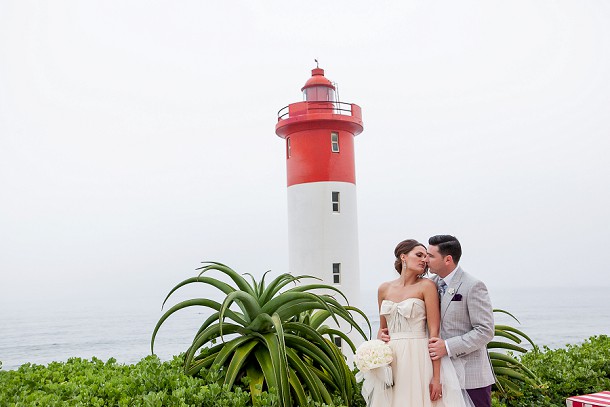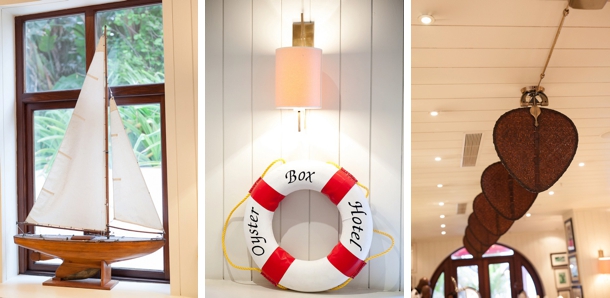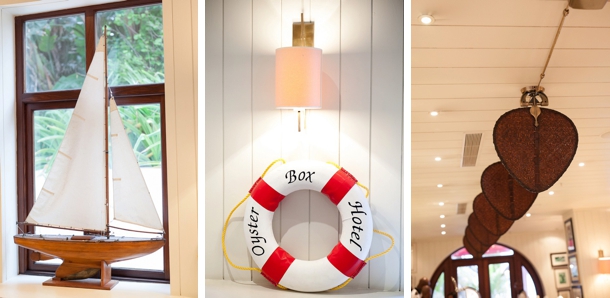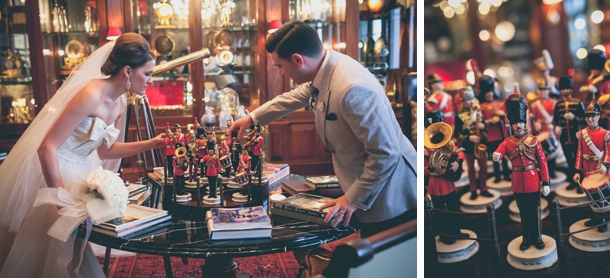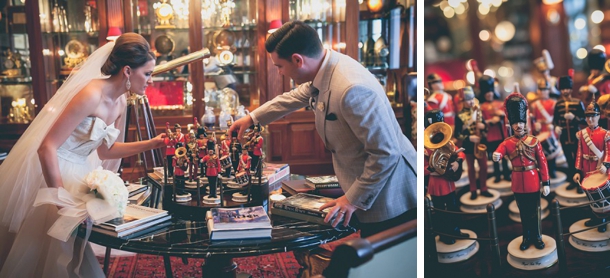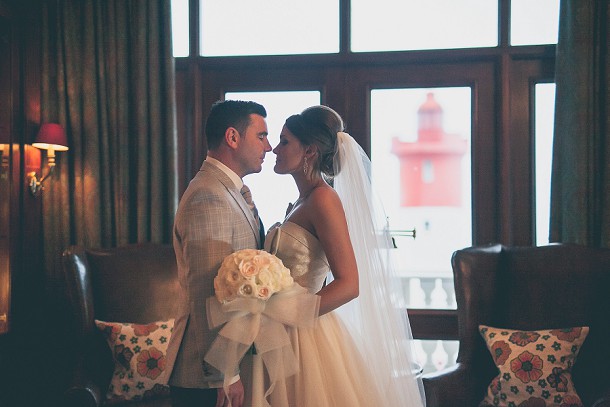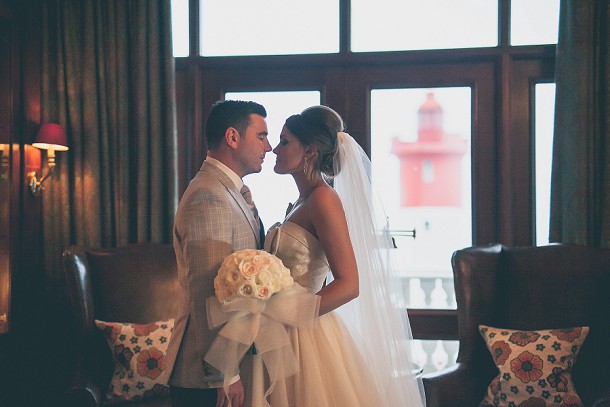 The Flowers
Big and tropical. We used various white florals with an array of green, through a wide variety of different foliage to create the drama I wanted on each table. We used moss around the base of the central arrangement, which seeped outward toward the place settings, and the table numbers were created with a wire frame also covered in moss. I wanted the flowers to start up high but then lead your eye down to the table. We had big palms at the top of the arrangements and weeping jasmine to lead your eye down to the smaller arrangements on the table. This was interspersed with candles placed at various heights. My only disappointment on the day was that the main white flowers for the arrangement were supposed to be amaryllis which is one of my favourite flowers, however the supplier just couldn't get hold of them so we had to replace the amaryllis with the more ordinary lily. This still gave us pops of white but didn't have the exotic feel that I had originally wanted. These things happen nearer the big day and you just have to move on and not let it bother you as you are the only one who knows about the smaller details.
The Dress
I decided to be a 21st century bride, so rather than buy copious amounts of wedding magazines, instead searched for inspiration online. I had always set my sights on a Vera Wang wedding dress but had thought it would be completely out of reach for little ol' me. Despite that fact, I was definitely going to indulge my dream by at least trying on a few. I set off with my close friend Julie for a store in London Westfield called David's Bridal – it was obviously meant to be, considering my future husband's name was the name of the shop! I knew exactly which designs I wanted to try on and as soon as I tried the dress, I knew in my heart that this was the one for me. They have a tradition whereby they ring a little bell once you've made your decision and that seals the deal – it's quite daunting as it feels very final on such a big decision. Aside from falling in love with the dress because of how it made me feel when I had it on and swished it from side to side, it was also very practical and really suited to the hot Durban summer. In addition to this, all the tulle meant it was light and would travel easily and not crease too badly. On top of all these positives I then found out the dress was on sale – my day went from great to amazing. Jules and I even went and had a sneaky glass of champagne after the event to celebrate such a successful wedding dress shopping session! Once the dress was bought, I went for one fitting thereafter and a couple of weeks later went back to try it on – the fit was perfect and that was that – my dress was ready. It was by far the easiest part of the wedding organisation.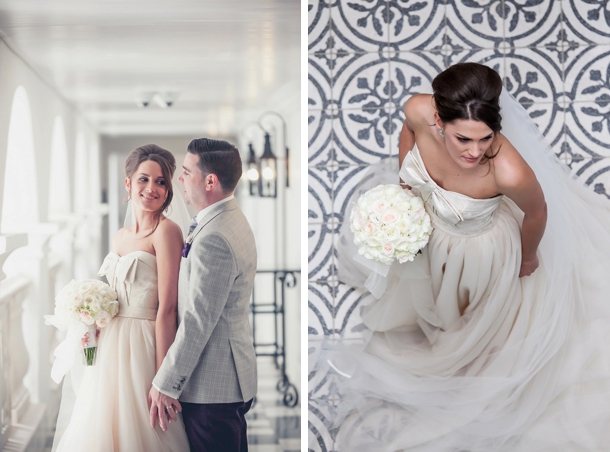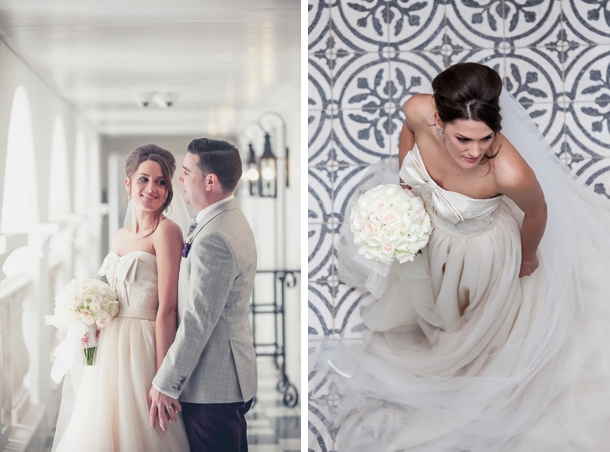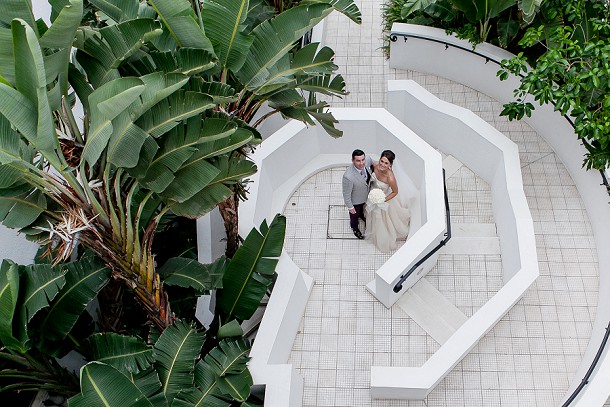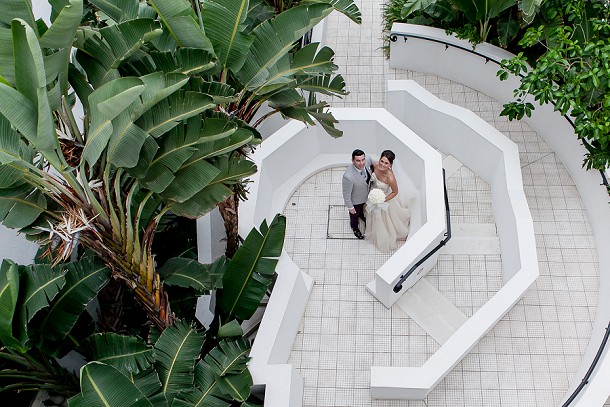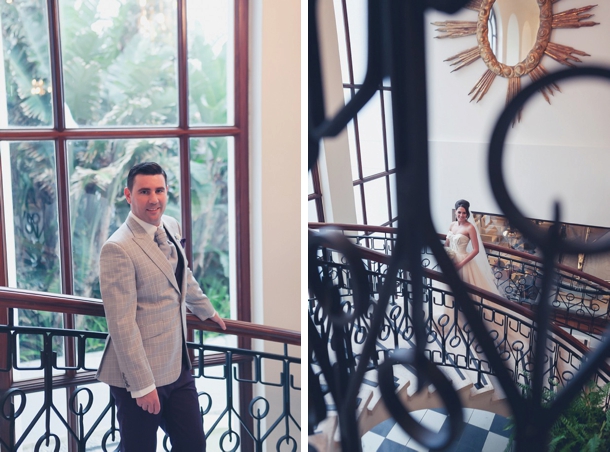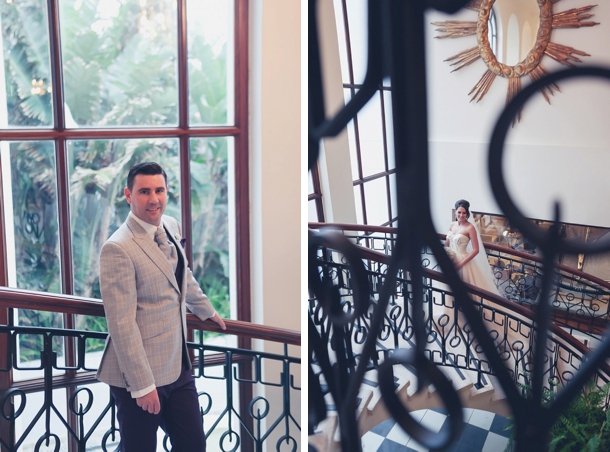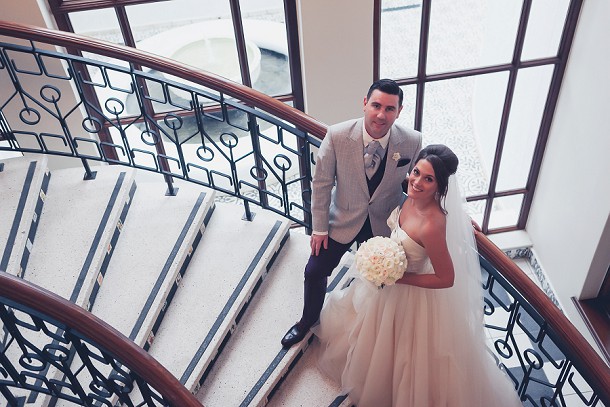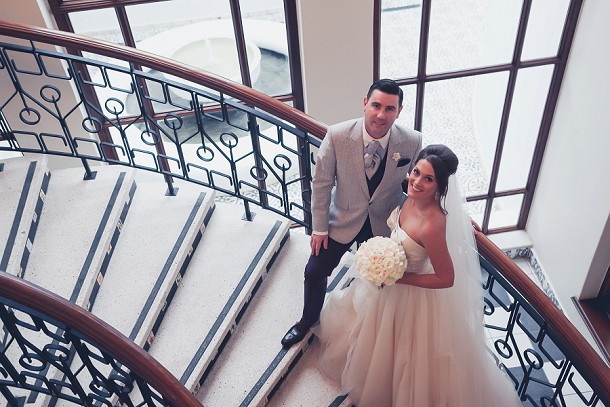 Favourite Detail
My favourite details were the things that Dave had done to his outfit. These little touches included having the date of our wedding and our names sewn in to the lining of his suit and his gorgeous porcelain flower buttonhole pin. This also had the date of our wedding and our names engraved on it – something he will use for years to come and will always remind him of our special day.
Memorable Moments
There were two memorable moments – one was the fifteen minutes I had whilst getting ready in the bridal room with my family before the ceremony started. We are an incredibly close family and so this time together with my parents, brother and Julie was a moment I will treasure always. The second special moment was straight after the wedding reception when the lights were turned on and David and I made our way back to our Bridal room – rather than go to sleep we kicked off our shoes and still dressed in full regalia, lay down on the sun loungers on our outside terrace, holding hands, chatting away about the days events – I think we finally went to bed at 3am!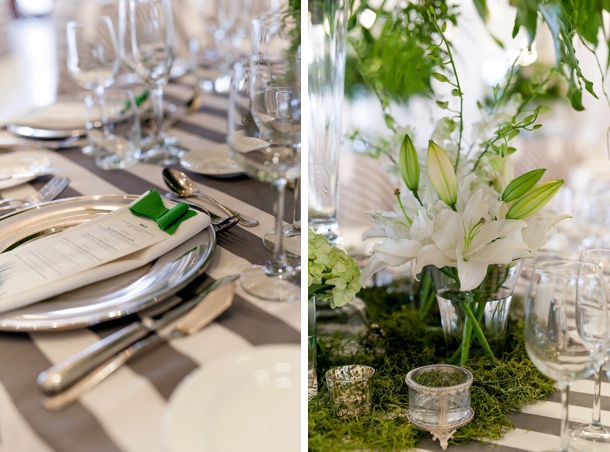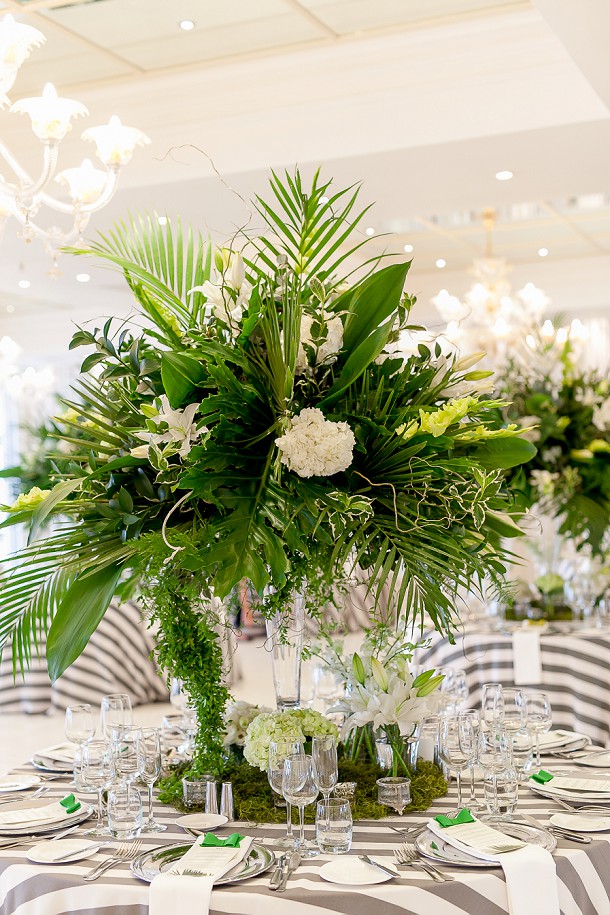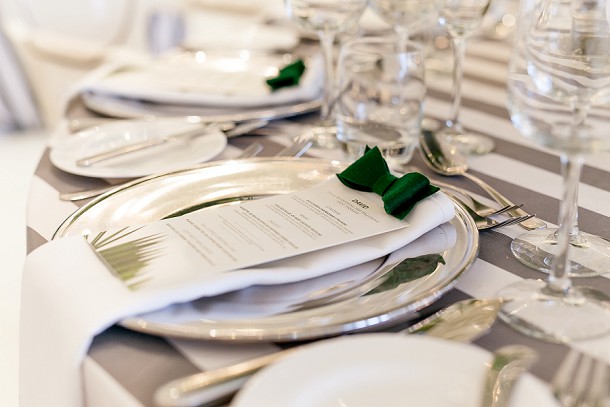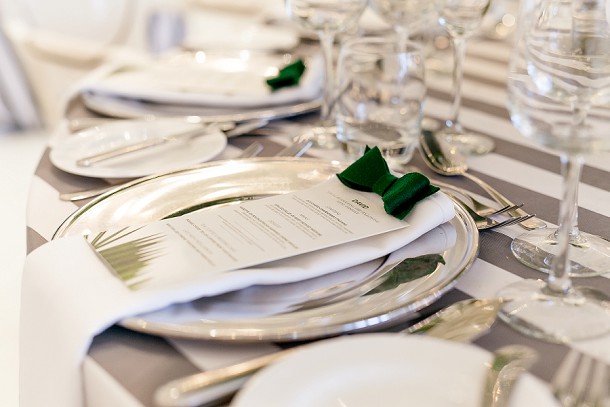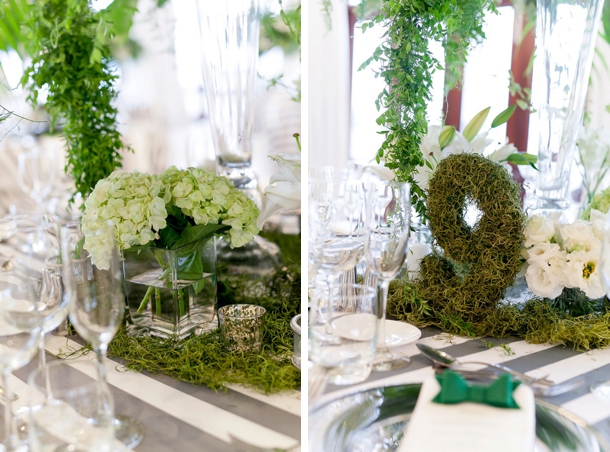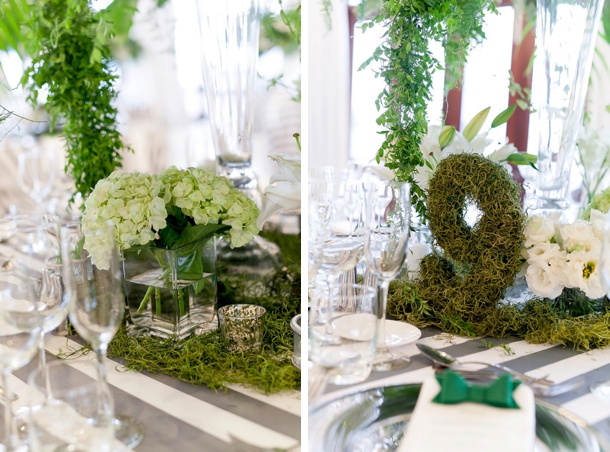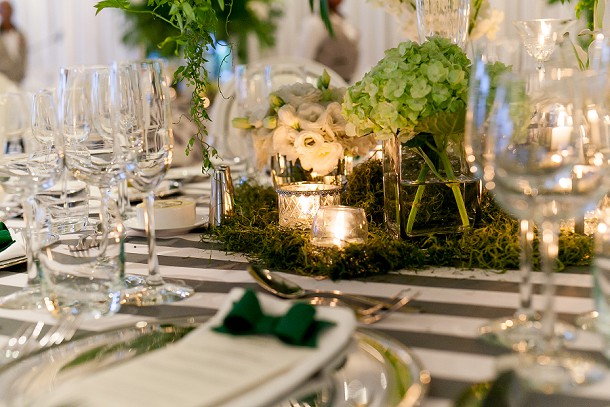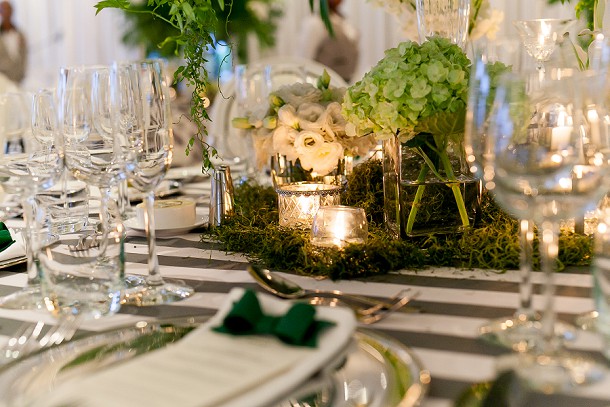 Proudly South African Details
Aside from the nostalgia of tropical Durbs, we chose a real South African menu, samoosas and calamari amongst other canapés, prawns to start, fillet for main and a koeksister inspired dessert and some really fabulous South African wine. Living in the UK means that whilst you can still eat and drink all the good South African ingredients – they are just not quite the same, so it felt rather indulgent for us personally to enjoy good food and wine.
The Honeymoon
Our honeymoon was a complete surprise for me. Dave organised the entire thing from start to finish and it was two weeks of fabulousness, interrupted only to enjoy Christmas with family in the middle. We did have one or two travel nightmares, which has made for some pretty memorable honeymoon stories. We started off by flying to Botswana and visiting the Okavango Delta followed by a stay in Chobe National Park and a border crossing over to Zimbabwe to see Vic Falls. David arranged for us to stay at the Victoria Falls Hotel which, unbeknownst to him at the time of booking, is a very special place in my parents hearts, as they enjoyed a weekend there not long after they got engaged some 36 years ago! Following our bush extravaganza, we unpacked and repacked our honeymoon bags with beach wear and spent a week with family during the Christmas break before setting off for the second week of our honeymoon on a truly stunning and beautiful private island off the northern Mozambique coast.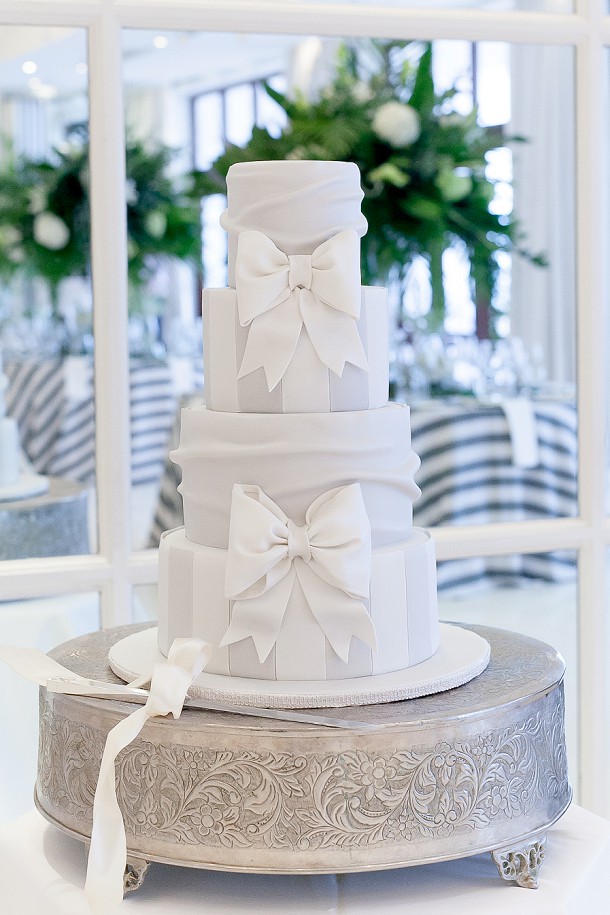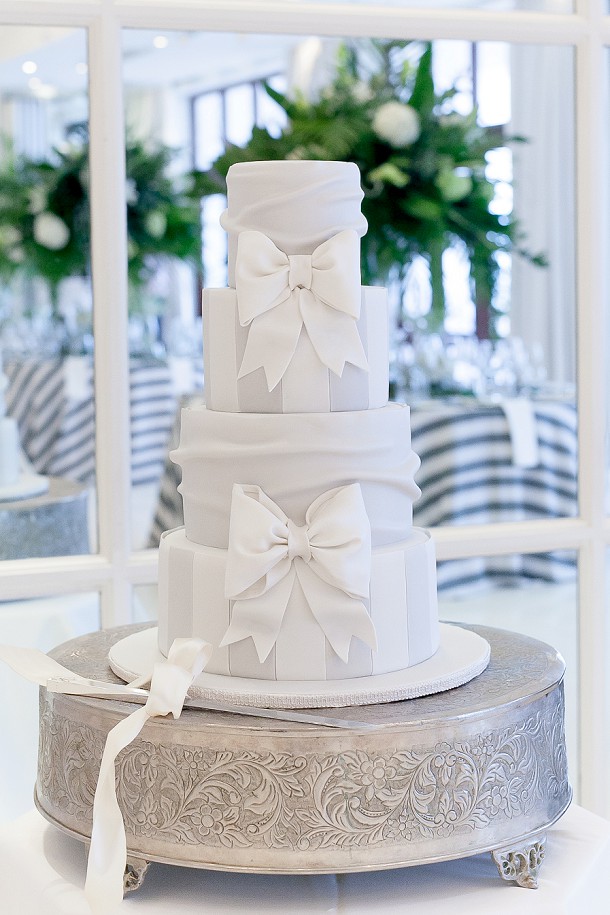 Advice for Future Brides & Grooms
Decide on a date and venue first and foremost – forget everything else until you have set these two things, as the time of year and the chosen venue will drive most other decisions. Talk to friends who have got married in the same area or venue and get tips from them – they will have a wealth of knowledge and contacts which will prove very useful!! If you are organising your wedding from abroad or are not good with stress – get a good wedding planner, they are really worth the extra money, not only in the lead up to the wedding but also on the day. By having a wedding planner I did not, for one second, worry about a thing on the day. I had the luxury of just turning up and having all the wonderful things like hair, make-up, champagne and mingling to do – I did not lift a finger in terms of organisation and actual work on the day itself which meant I was a very calm and spoilt bride! It is very important that everyone working with you on planning your wedding understands your vision – make mood boards, try to describe what you want from suppliers through the use of images – it's the best way to get everyone to understand your vision. Most importantly try to stay calm and remember your family and friends are there to help, it can be hard at times but ultimately everyone just wants you to have a happy day.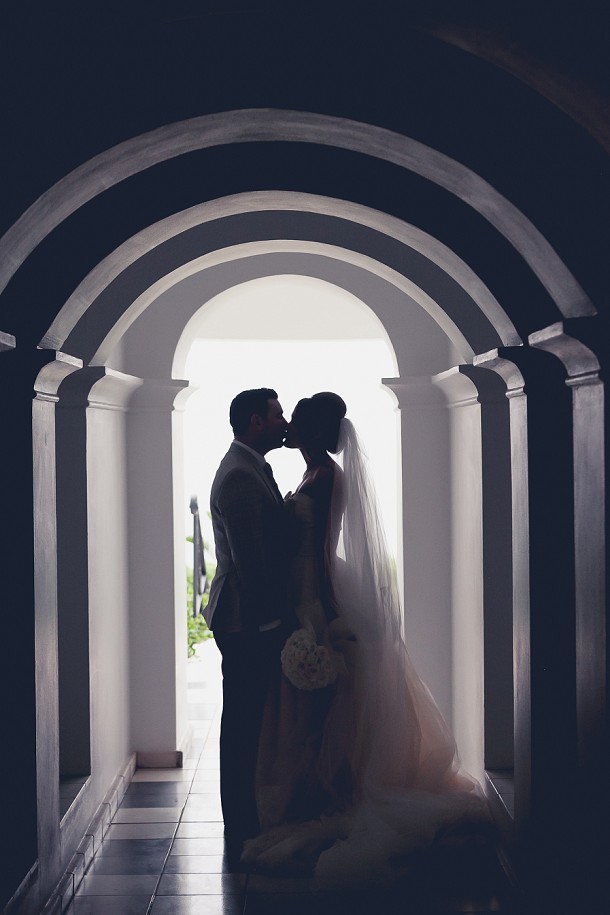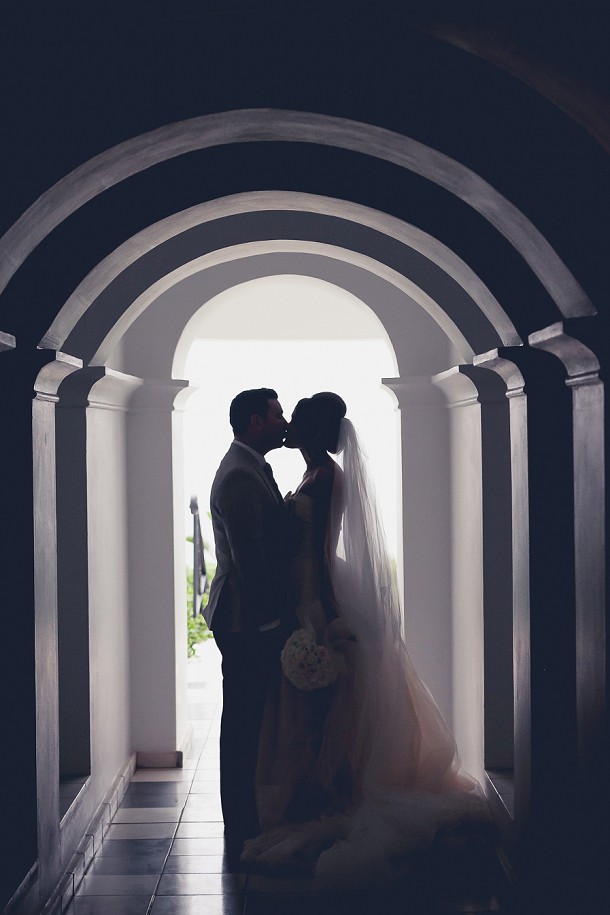 You can see more from this wedding on Just Judy's blog.
SERVICE PROVIDERS
Venue & Catering: The Oyster Box Hotel | Wedding Planner: Ginny Eslick – she works with the Oyster Box | Photographer: Just Judy | Videographer: James Gibbs | Cake: Cake by Nicole's Luxury Indulgences, Cake knife by Vera Wang | Flowers: Sue Baxter – Sue's Flowers | Stationery: Graphics designed by the bride and printed by Greenshires in the UK | Bride's dress: Vera Wang from David's Bridal, London | Bride's accessories: Earrings -Vintage from Rye, UK; Bracelet – present from Bride's parents; Shoes – French Sole, London | Hair: Drew at San Marco Hair, Umhlanga | Make up: Laura Potgieter, MAC | Groom's Attire: Suit – Dressed to Kill Tailors, London | Porcelain Buttonhole Flower: Boutonniere | DJ: Daniel Israel – Topjocks  | Jazz Band:Beat Route through 5 seasons entertainment
SBB ♥ Just Judy Photography, a featured member of our Directory