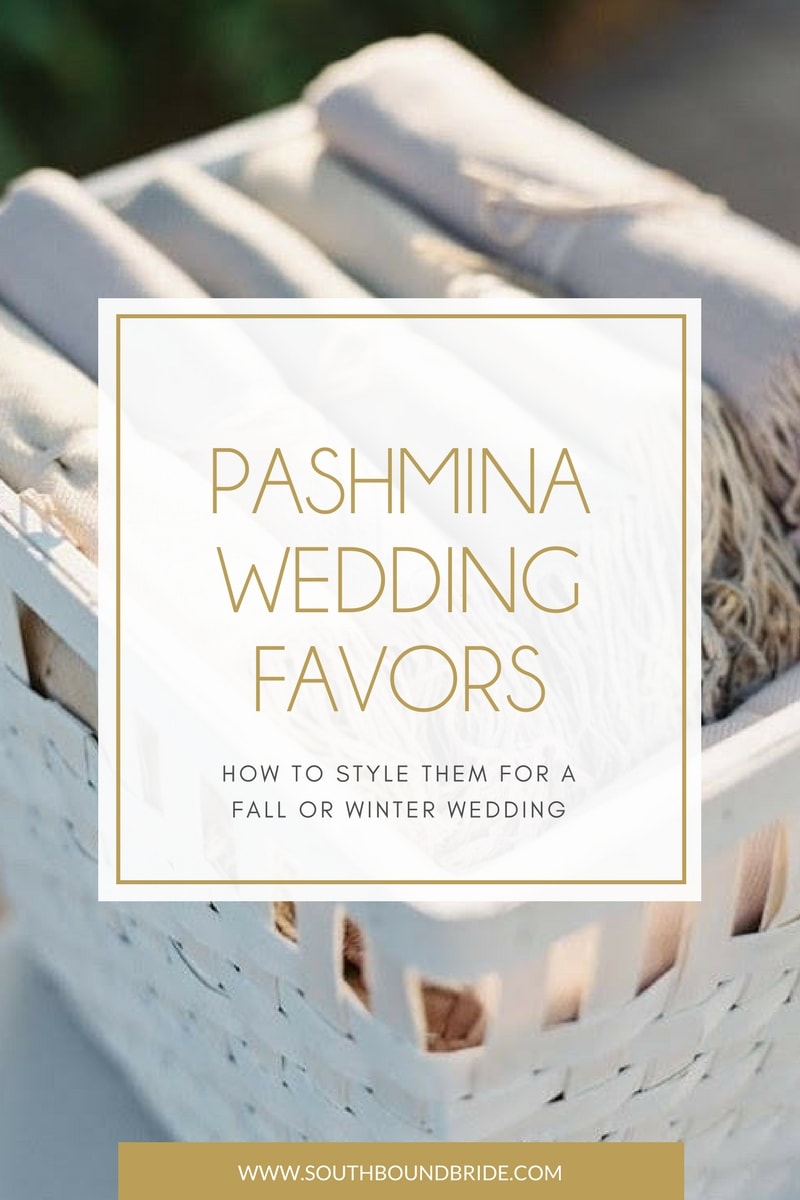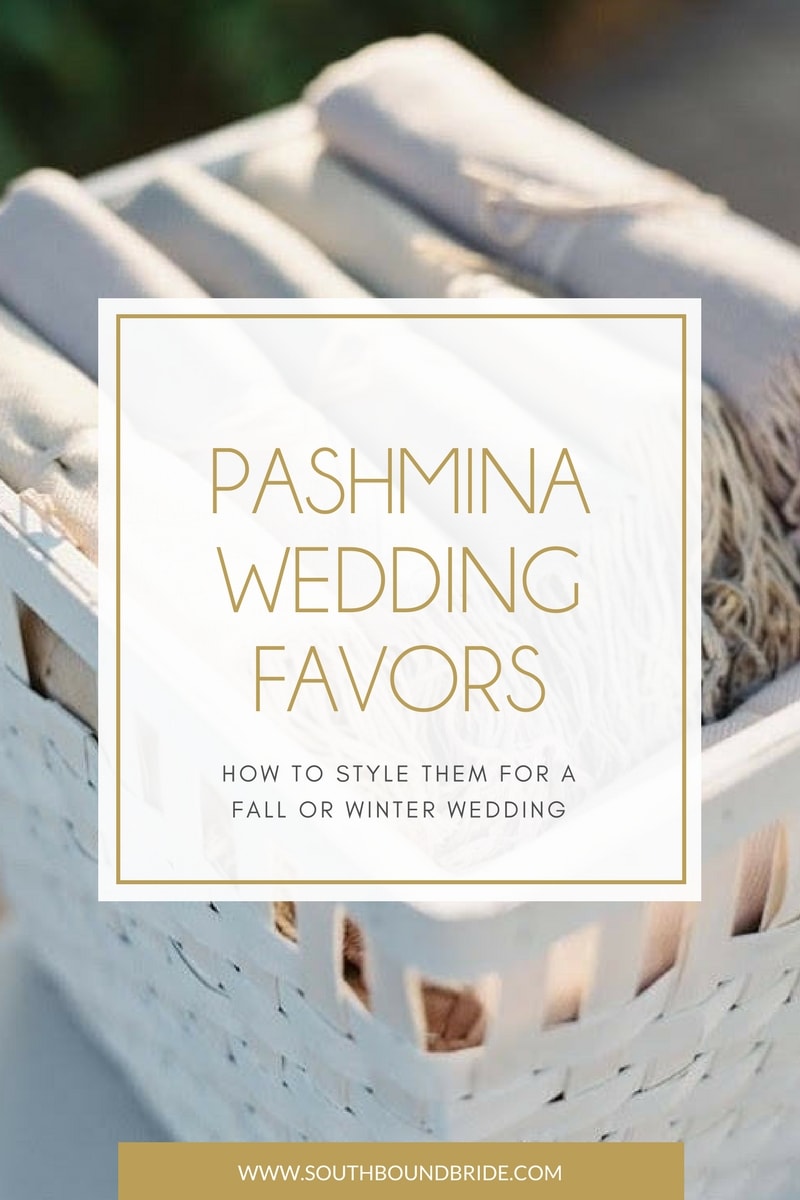 Pashmina Shawls by Mia Krafts Shop/Justin De Mutiis
In the last couple of weeks we've looked at options for keeping your bridesmaids and the bride warm in chilly weather, and today we're looking at one way of keeping your guests toasty and warm. Pashminas are a popular winter wedding favor, not just because they're lovely gifts that your guests will use on the night and beyond, but also because they can be a great addition to your decor either in soft neutrals or bright pops of your theme colours. Here's some ideas for presenting them in photo-friendly ways, and some options for pretty signage. Links in bold denote affiliate links. The cost to you remains the same, but SBB may receive a commission for any sales made.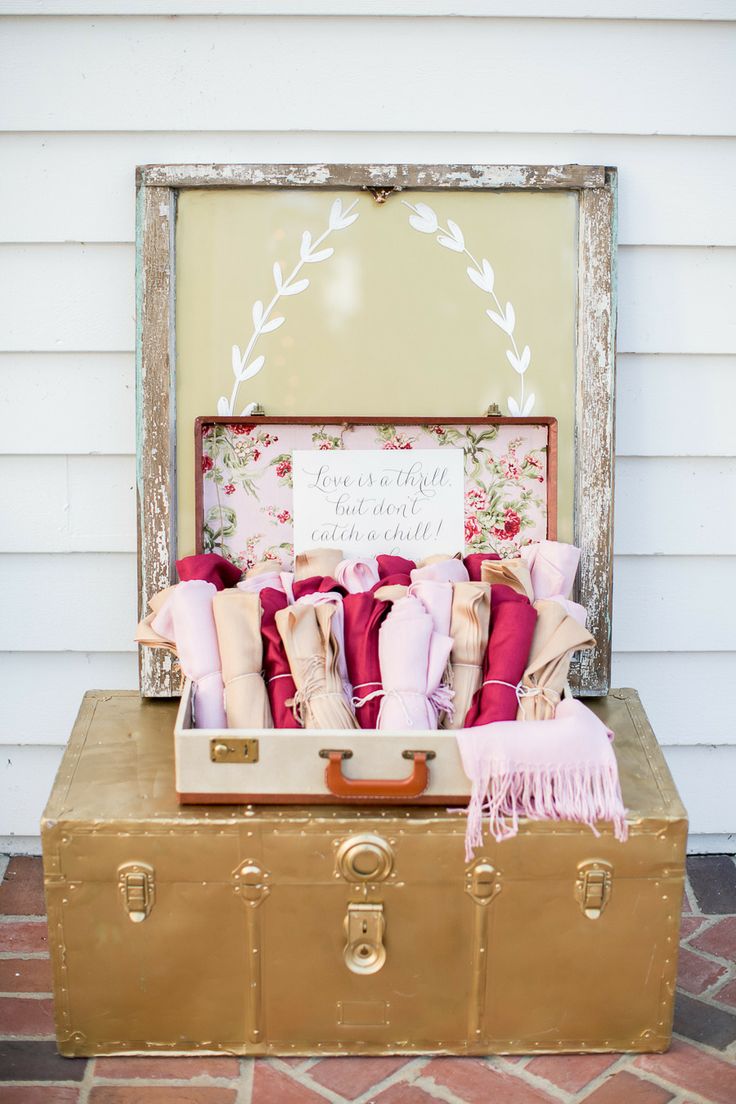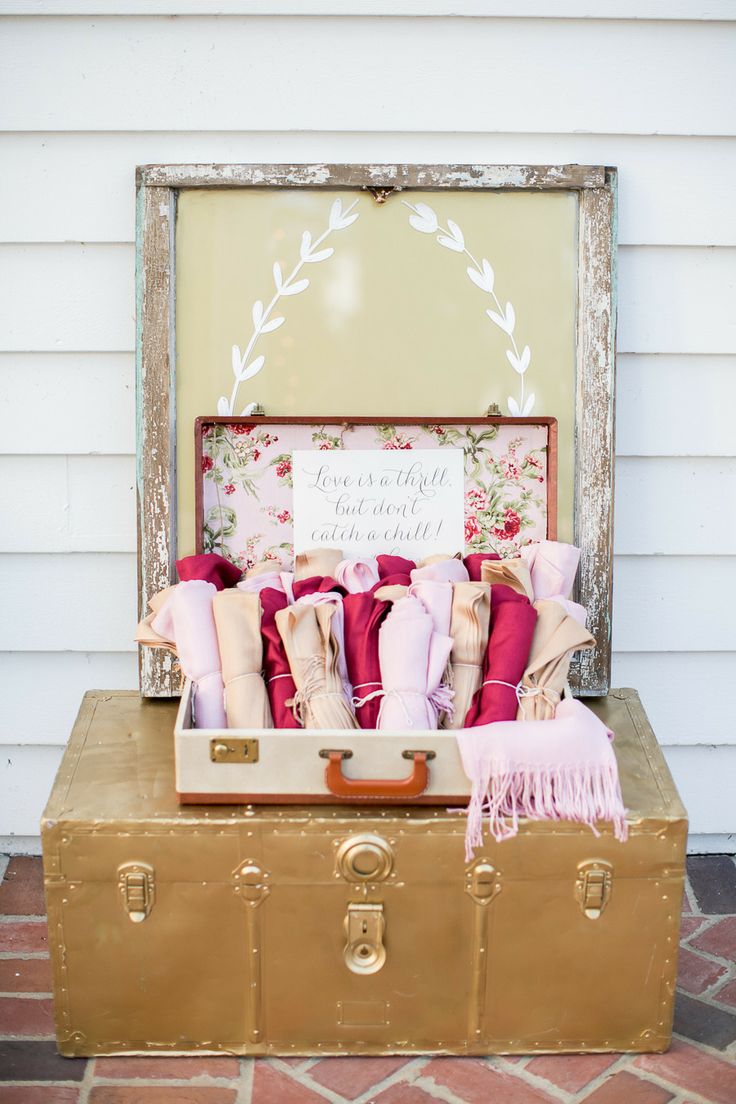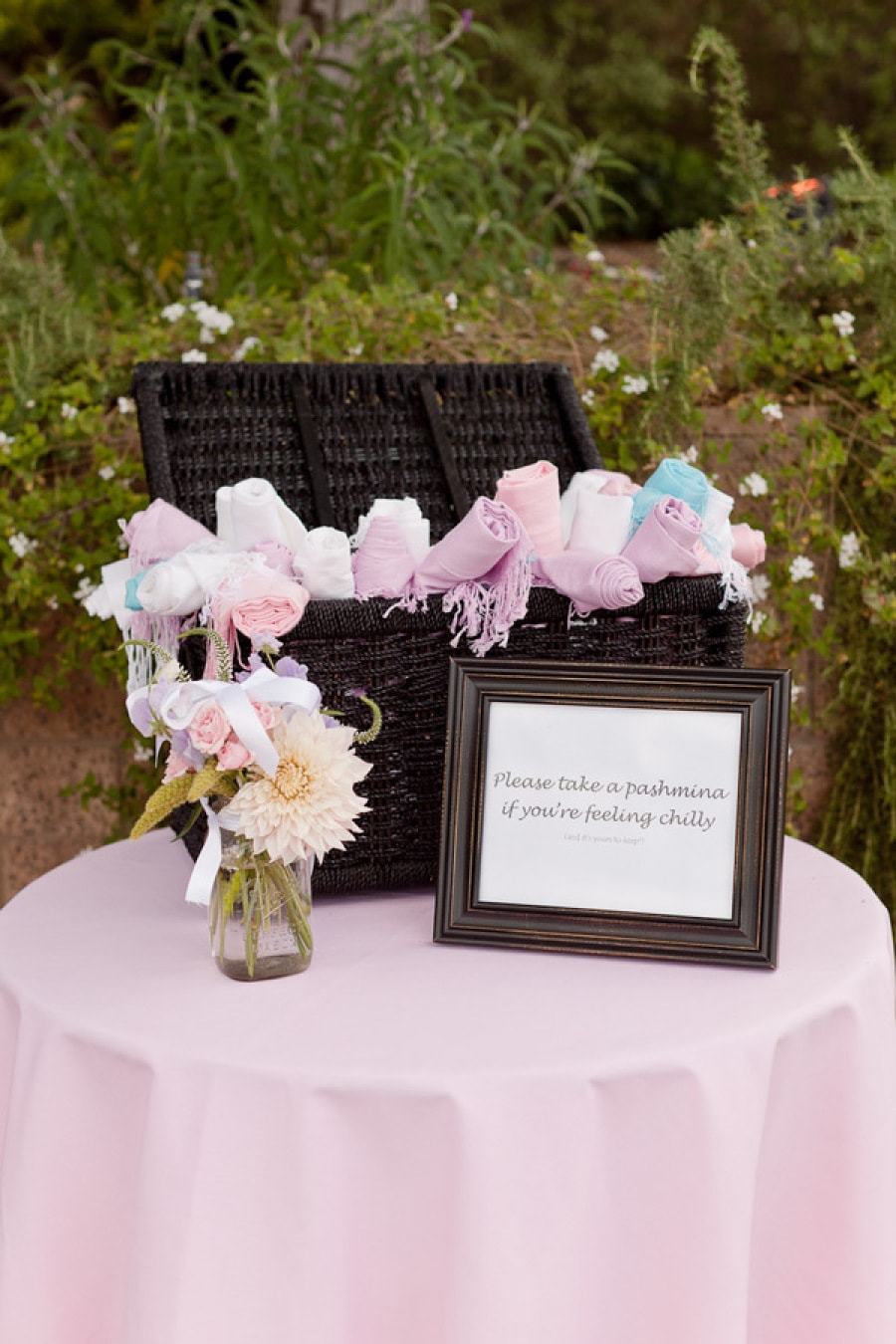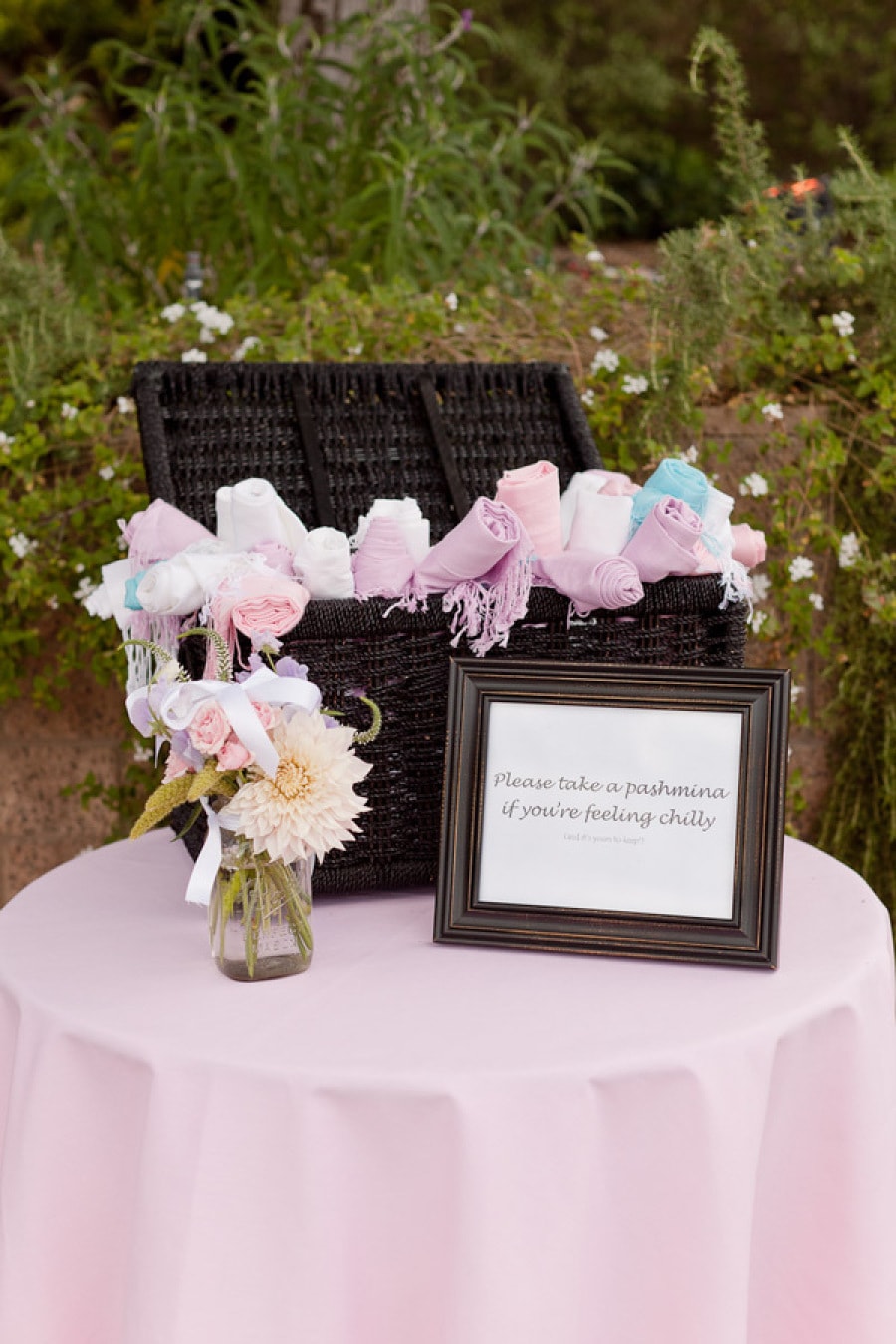 Credits: Ashley McCormick Photography via Brides (top); Erin Hearts Court via Style Me Pretty (bottom)
SUITCASES & CHESTS
Perfect for  the vintage bride, suitcases and linen chests make for a lovely display. Roll up or fold your pashminas and pack them in neatly, or allow a few to spill out prettily like real luggage.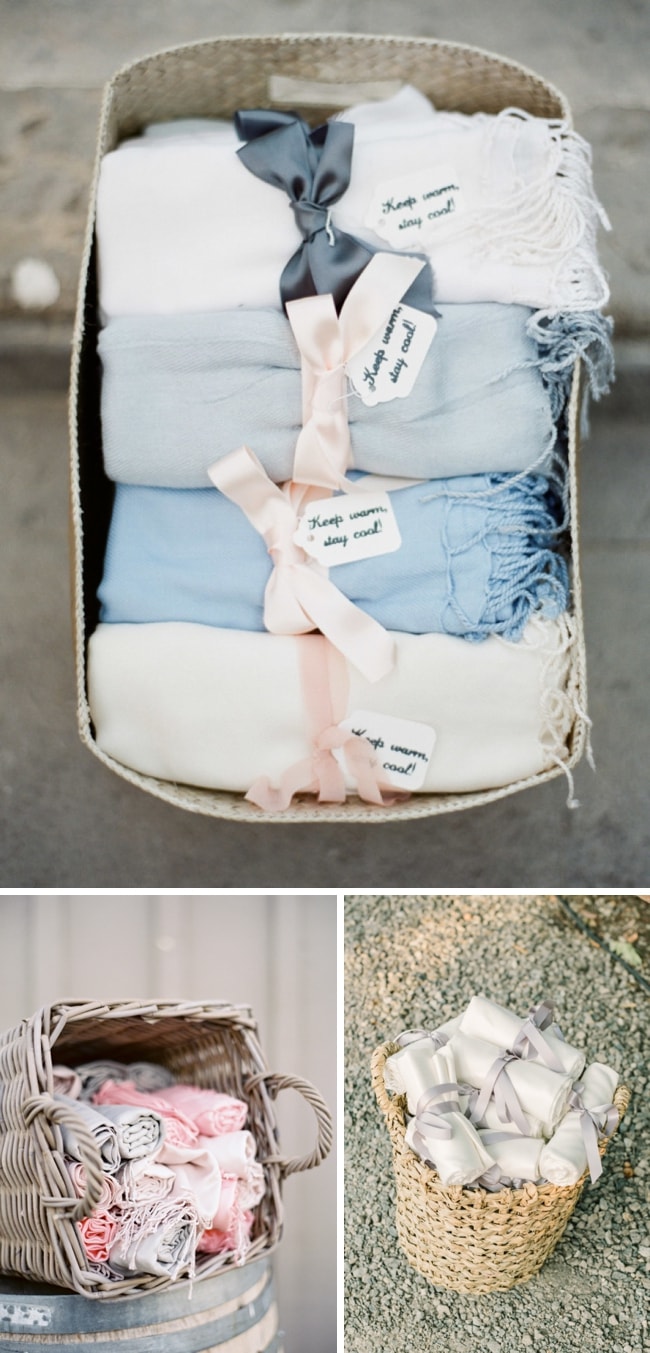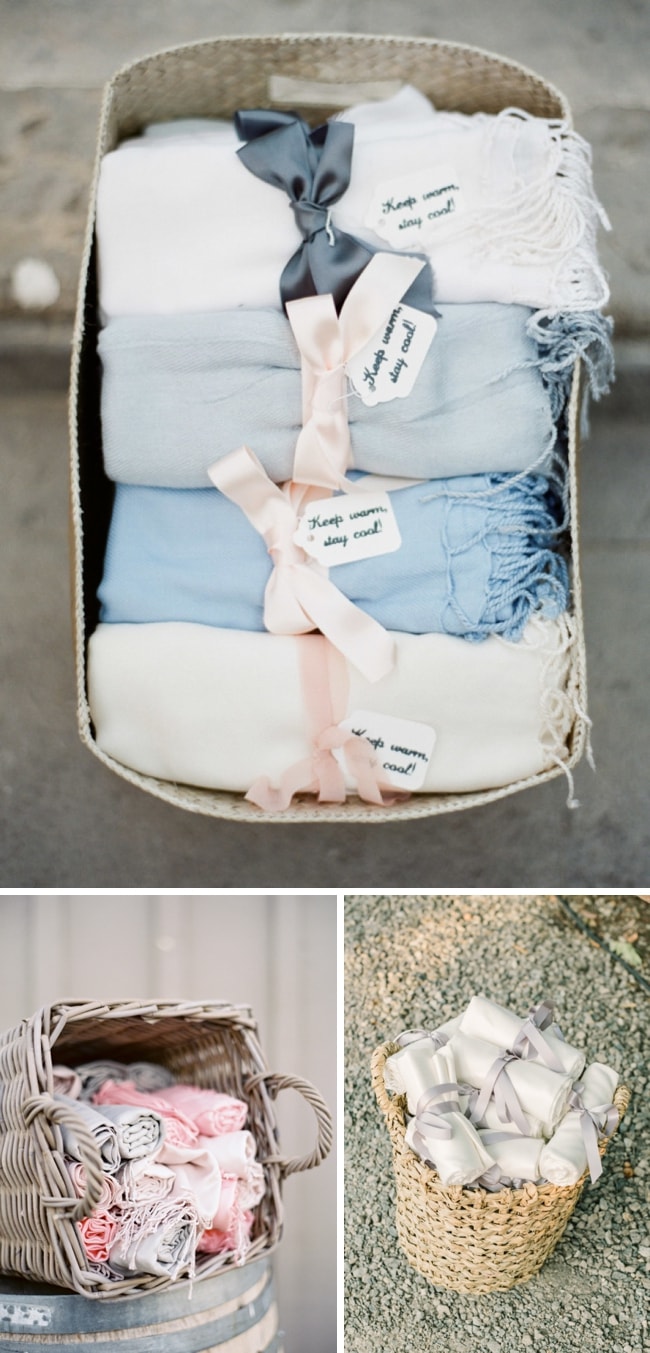 Credits: Greg Finck Photography via Style Me Pretty (top); Jose Villa Photography via Style Me Pretty (bottom left); The Edges via Style Me Pretty (bottom right)

BASKETS
Garden wedding? Have a basket of pashminas ready for the ladies during cocktail hour, or pop one on the side of the dancefloor (alongside a basket of flip flops, perhaps?)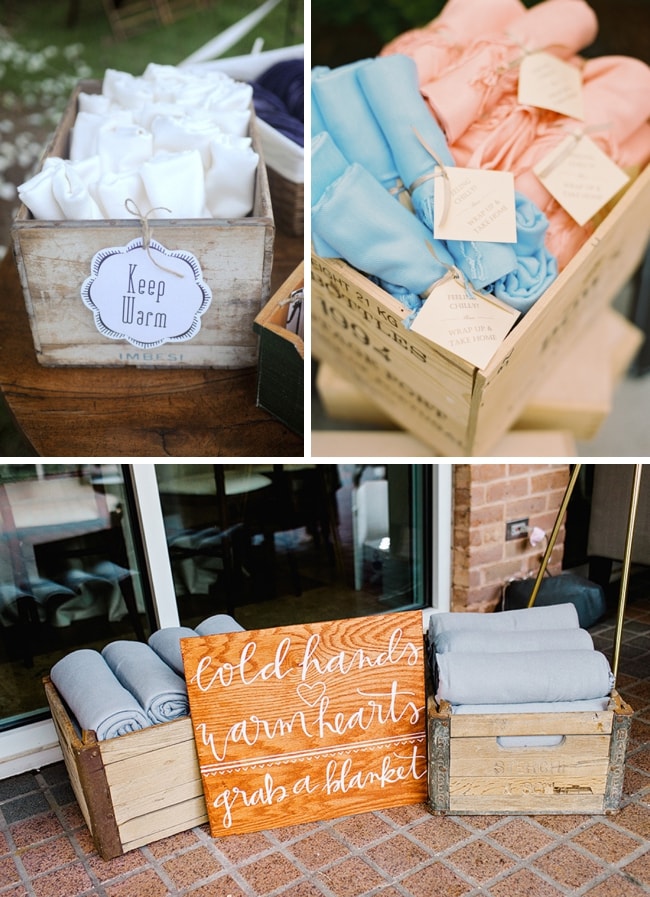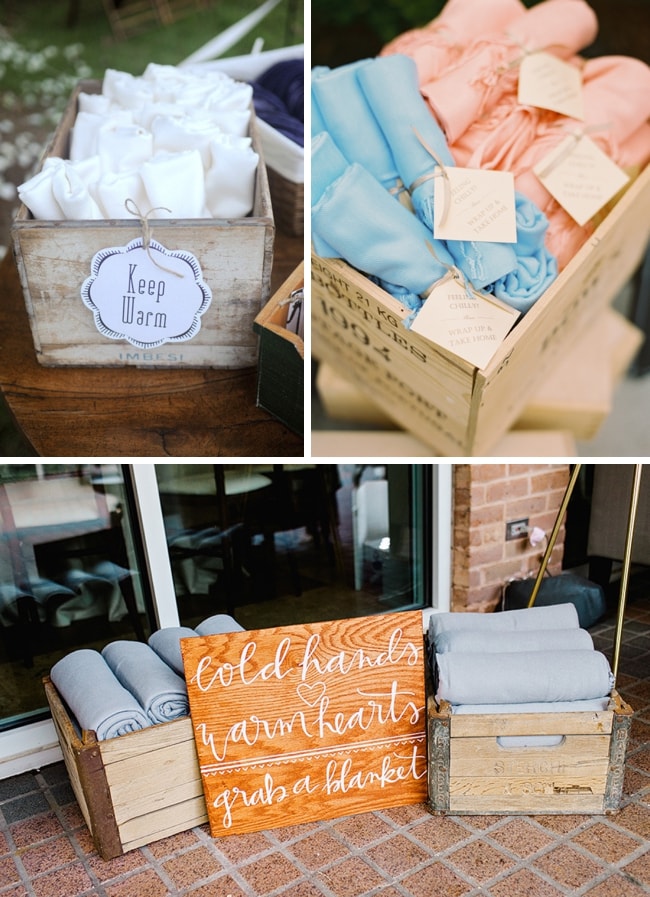 Shelby Leigh Photography via Style Me Pretty (top left); Jessica Burke via Style Me Pretty (top right); Amy Arrington Photography via Style Me Pretty (bottom)
CRATES
I'm thinking of you wine farm brides here – isn't this just a perfect look? Either use generic crates (or those from your venue) or have one specially made with your names. I just love the colourful table display below with a variety of pashminas spilling out – guests can choose one that goes with their outfit!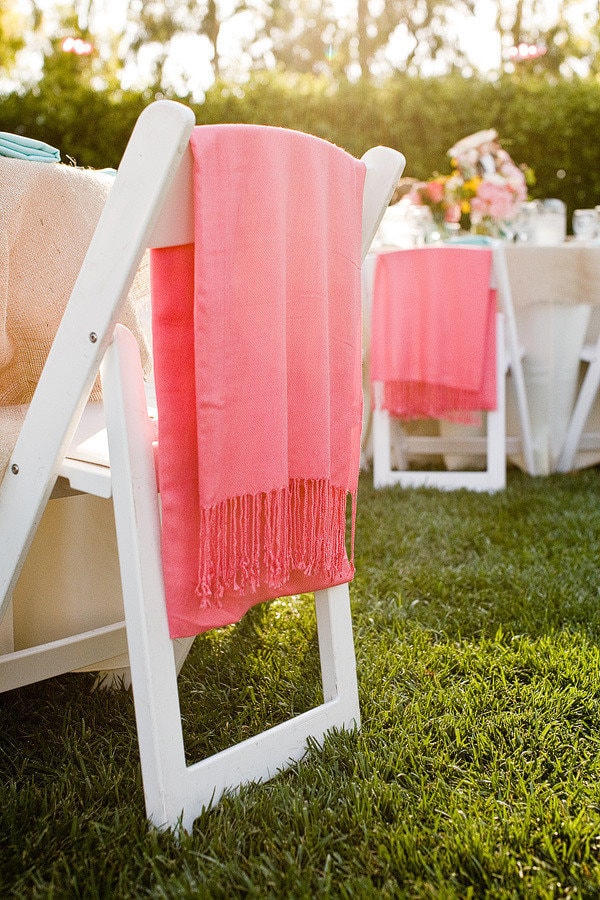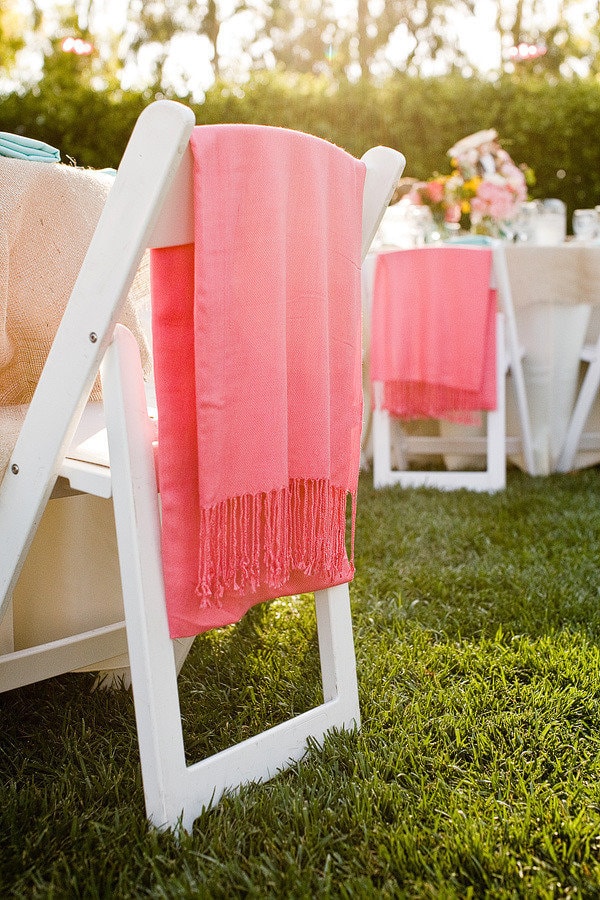 Jen Rodriguez Photography via Style Me Pretty
CHAIR BACKS
I really like this idea, because it's a great way of bringing a strong colour into your decor in quite a subtle way (see what our real bride Leigh did with her hot pink pashminas in this wedding). You could choose to do this either for the ceremony (if you're having an autumn outdoor ceremony) or at the reception. And if you really want to treat your guests, you could have their names embroidered onto the pashminas – definitely a favour to treasure!


Habitat Events via Style Me Pretty (top); Ryon:Lockhart Photography via Style Me Pretty (middle left); CWF Photography via Style Me Pretty (middle right); Michael + Anna Costa Photography via Style Me Pretty (bottom)
OTHER IDEAS
Colourful pashminas in a pail, pashminas in a display, a lovely programme folded into a pashmina on ceremony seats, or just piled up on a table. There's so much you can do! One last note about presentation: while you don't need to tie your pashminas, using ribbon, twine or a paper band can be a lovely touch.
PASHMINA SIGNAGE
Don't forget to make up a little sign, directing female guests to help themselves. Here are some examples I've found online:
Cuddle up and stay warm
To have and to hold, in case you get cold
Love is a thrill but don't catch a chill!
In case it gets chilly
Take one and snuggle
Take one and get cosy
Keep warm!
Wrap yourself up in some love
Stay warm under the stars
A warm thanks for joining us on this special day
Here are some cute examples from Etsy!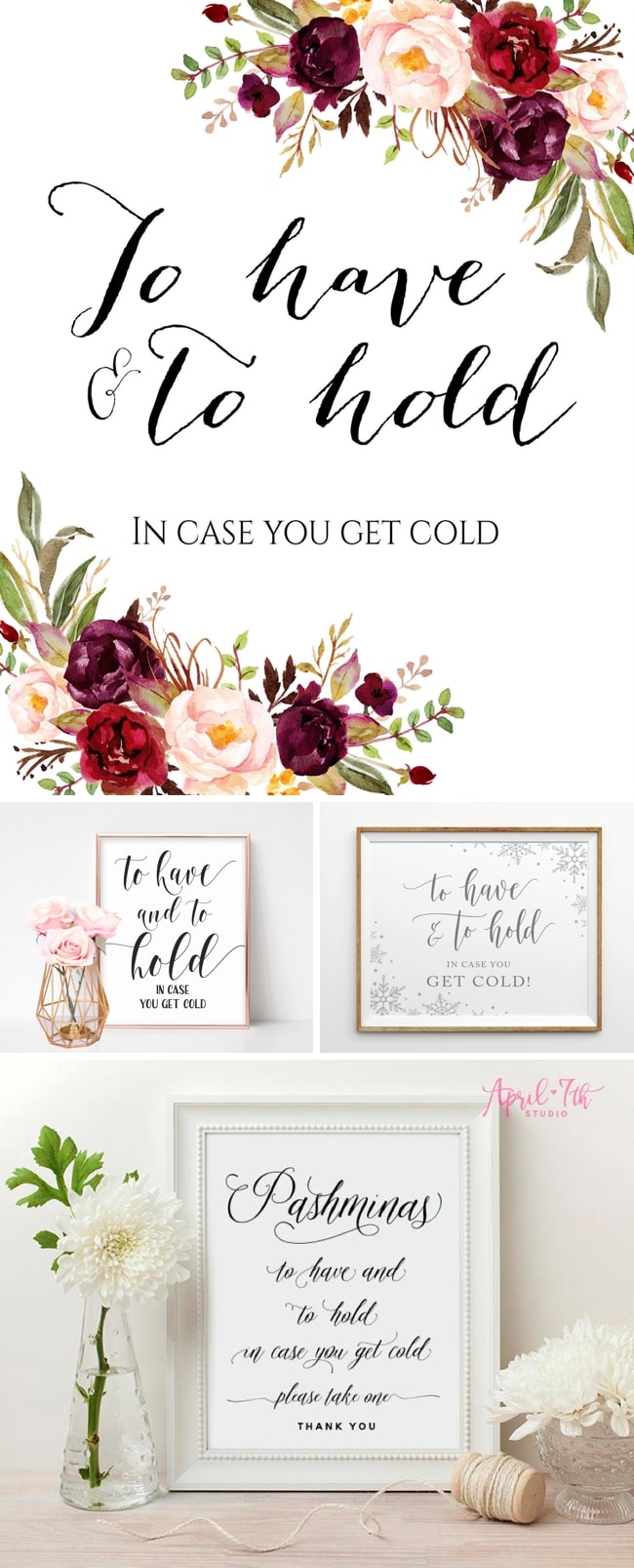 Blanket Printable from The Sunshine Garden (top); Outdoor Wedding Sign from Fancy and Flair (middle left); To Have and to Hold in Case You Get Cold Sign from Paper Tigress Boutique (middle right); Pashminas Sign from April 7th Studio (bottom)
Get more fun favor ideas on Pinterest: