*UPDATED FOR 2021* Sometimes I feel like I'm split between two halves, a foot on either shore. For example, this week has been boiling here in London (no complaints, summer is way overdue) and even as I write this I'm sweltering in front of a fan with a very restless cat stretched out on the cool floor at my feet. But I know that for my readers in South Africa, it's the middle of winter and thoughts are of cosy nights under blankets, walks in wellies and frosty mornings, and this post is just for you. More brides are now looking towards winter weddings for the cost savings and increased availability that the off-season brings, and winter itself can be a sort of wedding theme or motif. In the northern hemisphere, winter is all very Christmassy,  but fortunately you don't need to come over all Santa Claus just to harness the delights of the season. So I've put together ten gorgeous winter wedding favour ideas – with links to DIY tutorials and Etsy stores wherever possible!
*Links in bold denote affiliate links. The cost to you remains the same, but SBB may receive a commission for any sales made.
Winter Wedding Favours #1: Evergreens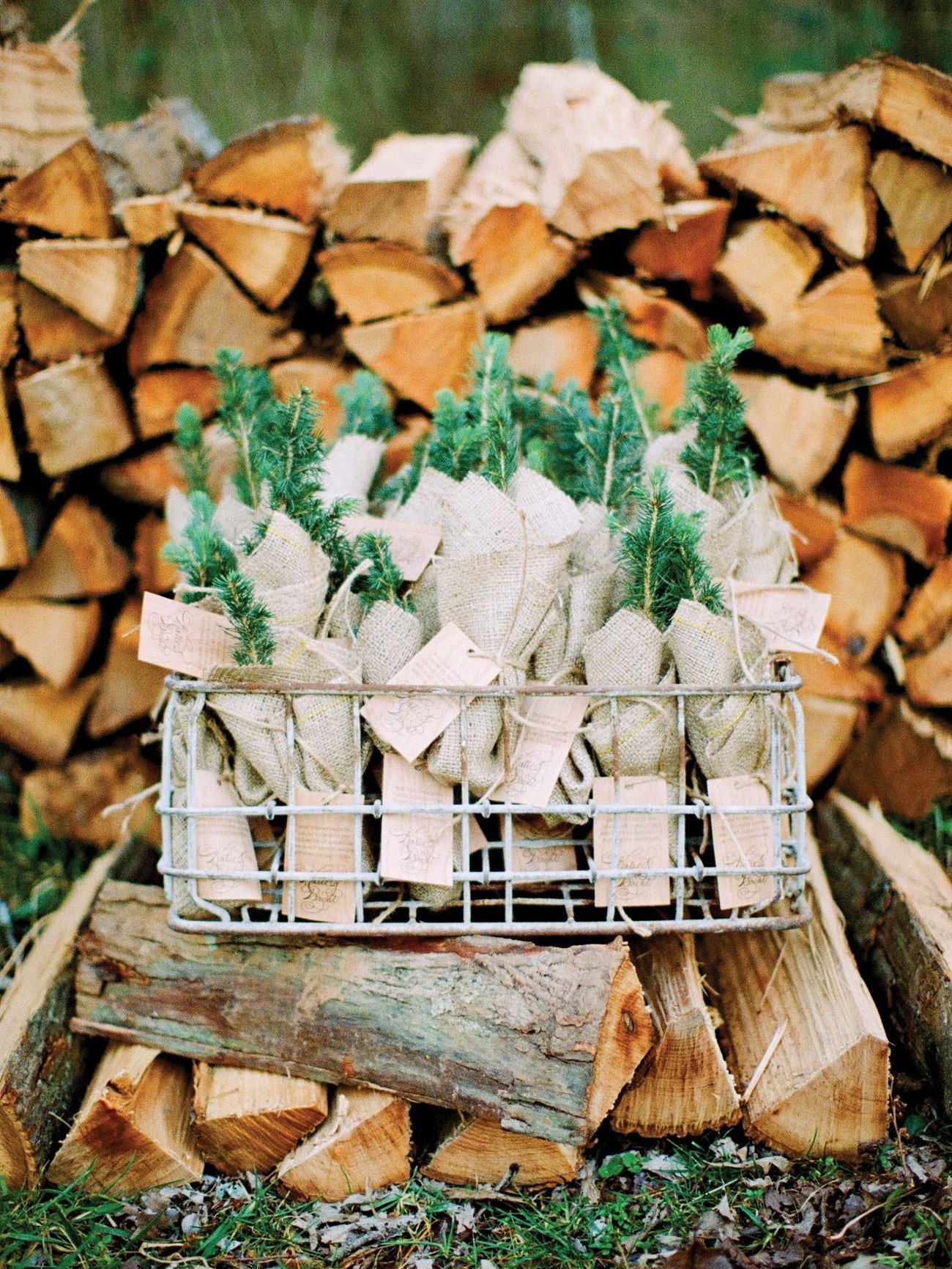 Image credit: Randy Youngblood Nursery via Southern Living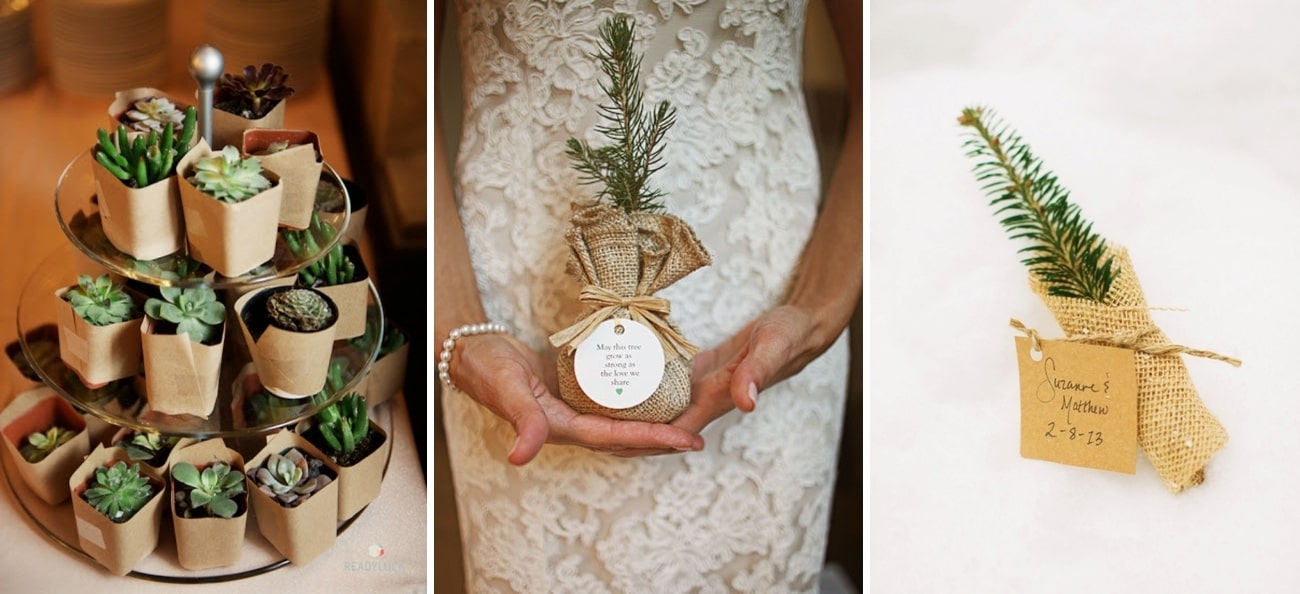 Image credits: Readyluck via Chic Meets Healthy (left) | Alison Conklin (centre) | Nicole Cassano Photography/Devoted To You via Wedding Chicks (right)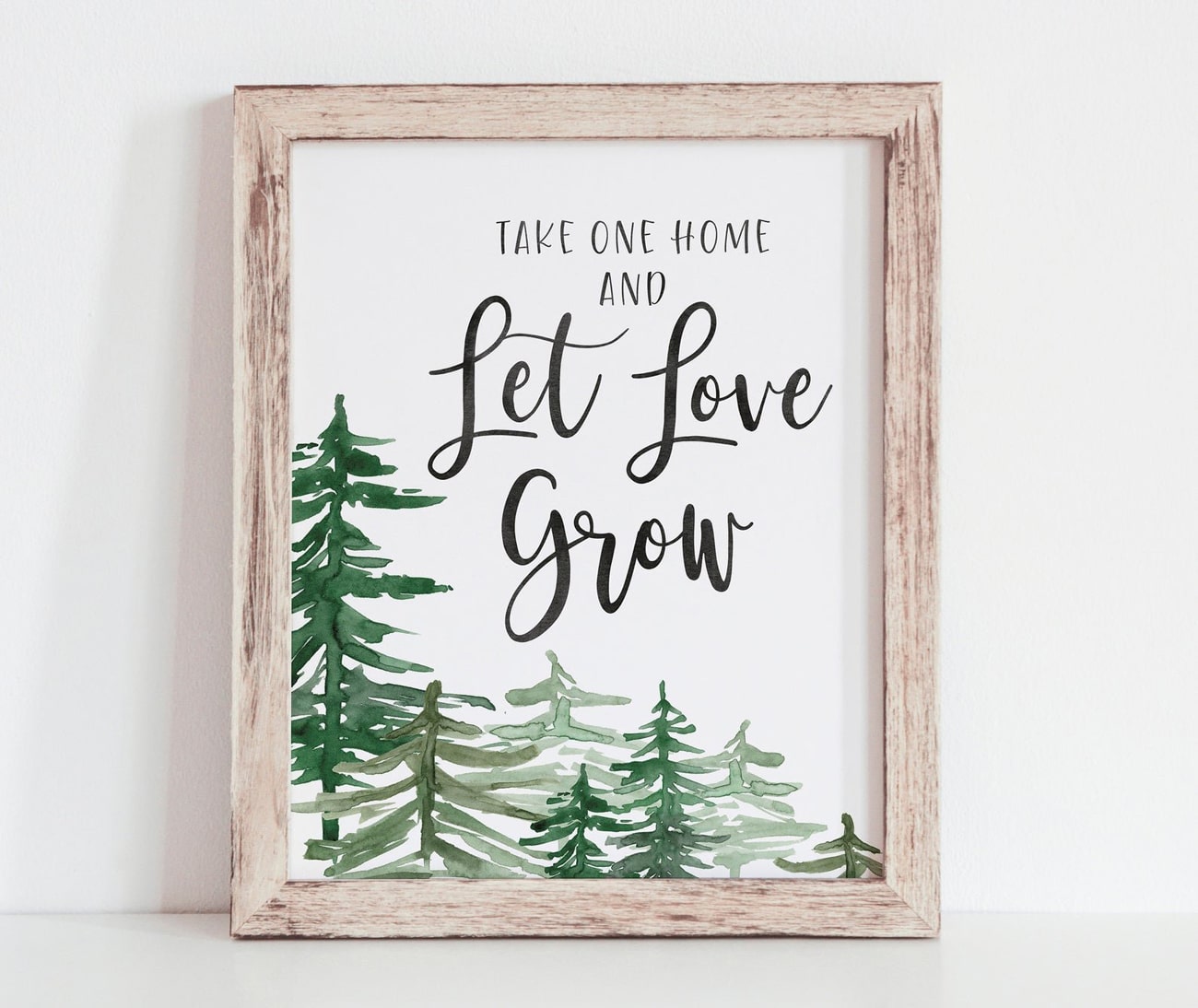 Let Love Grow Wedding Favor Sign by Little Creek Creative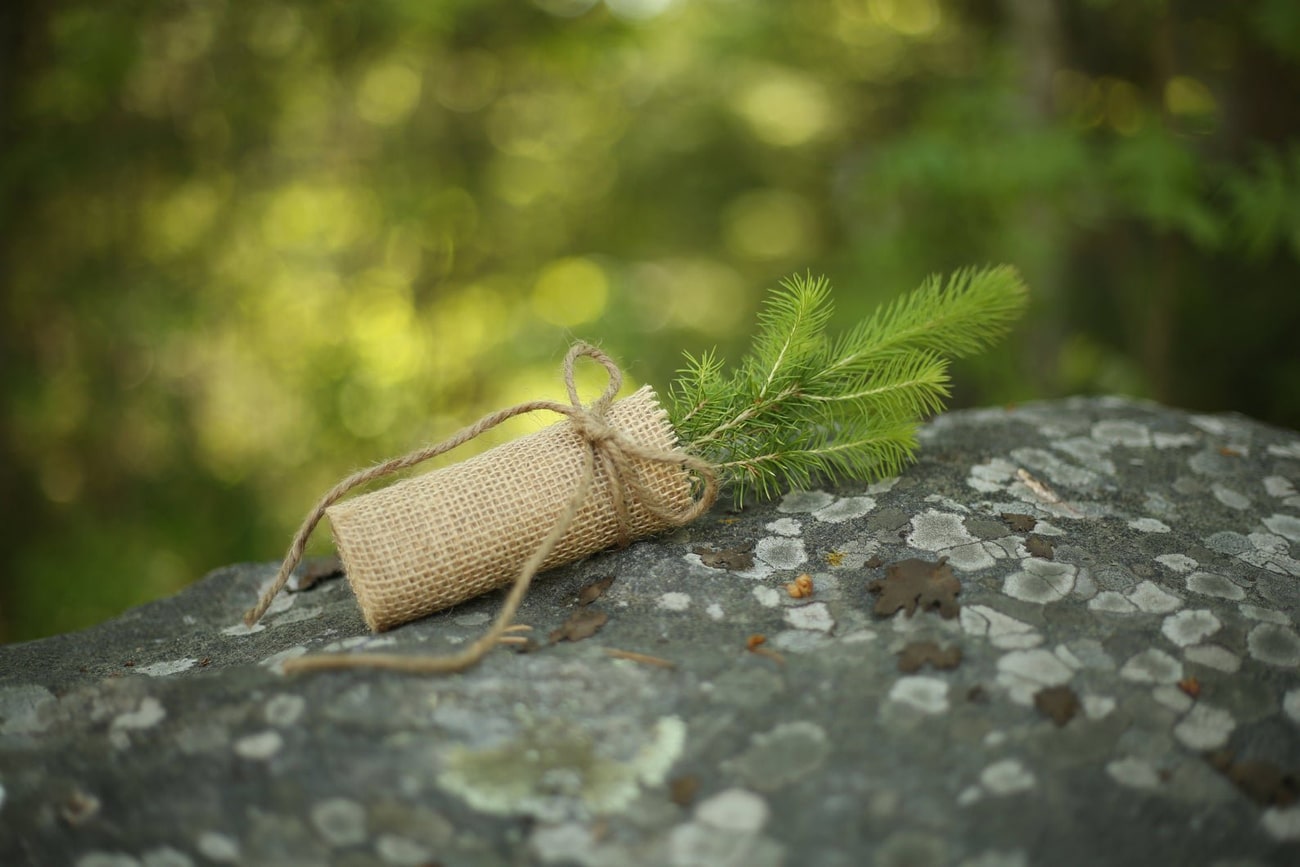 White Spruce Seedling Wrapped in Burlap by Wreaths by Green Gifts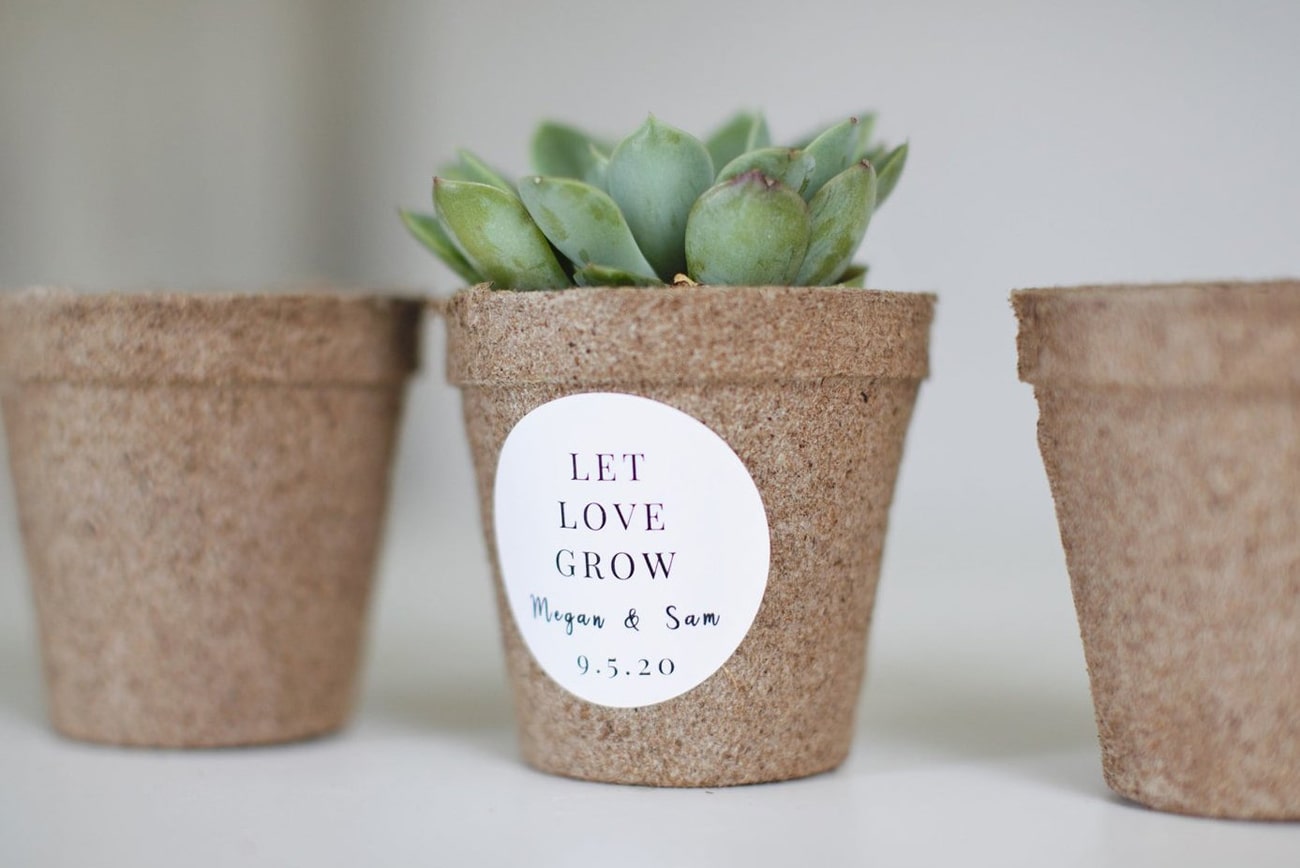 Biodegradable Succulent Favor Pots by Le Box Boutique
Evergreens make a lovely winter wedding favour, from pine saplings to succulents (although not all succulents are evergreen). Wrapped in burlap, presented in a tin or wrapped in brown paper, it's a lovely way to celebrate nature and send your guests home with a gift that will really last, and remind them of your wedding day for a long time to come. Bulbs are a good idea for autumn weddings, especially as they should be planted in the autumn for spring blooms. Seeds are another option – you could get your stationery designer to create pretty seed packets in the same design as the rest of your suite.
Winter Wedding Favours #2: Bird Seed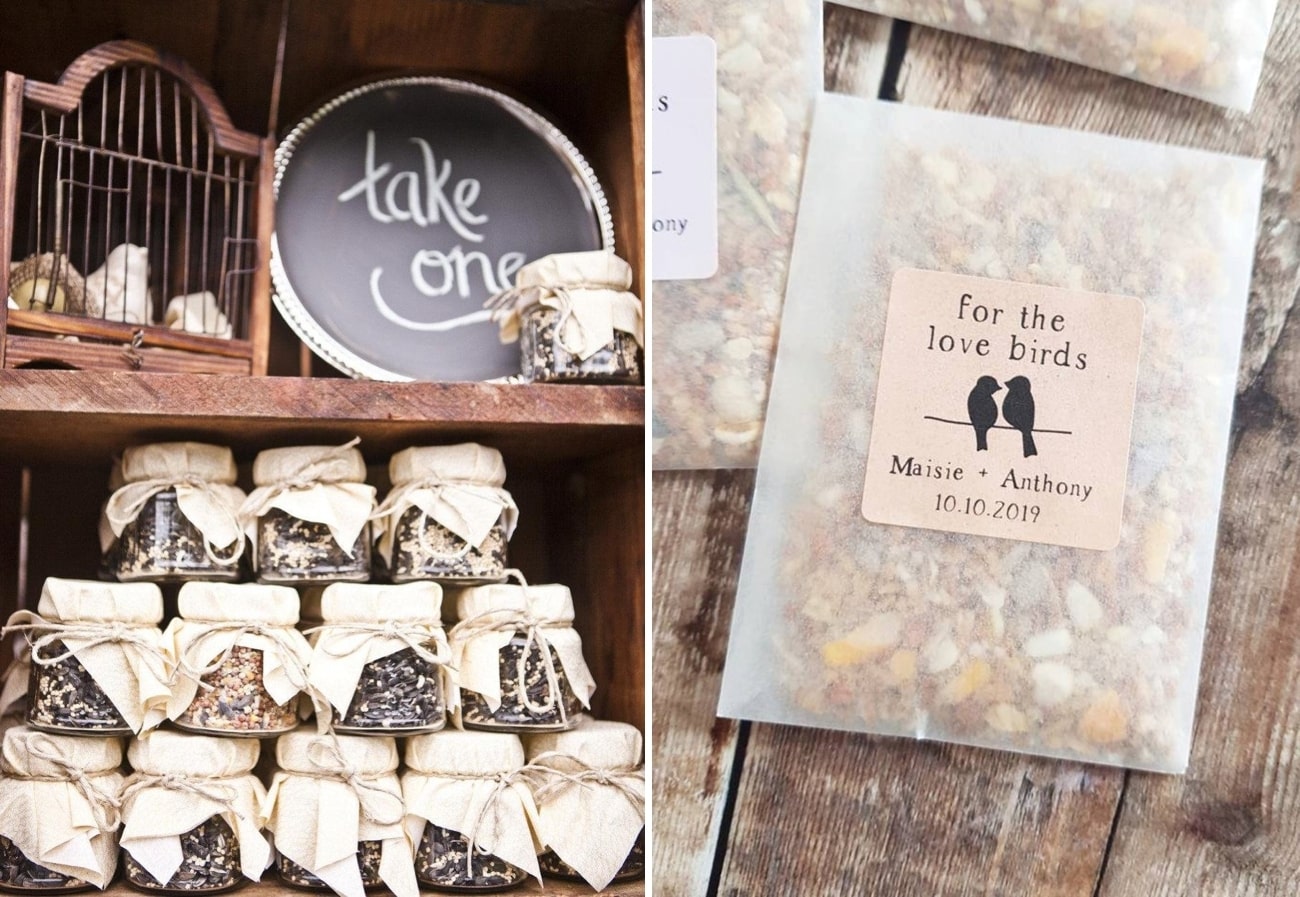 Image credits: Claudia McDade Photography via Style Me Pretty (left)  | For the Love Birds Wedding Favour by Bubble and Berry (right)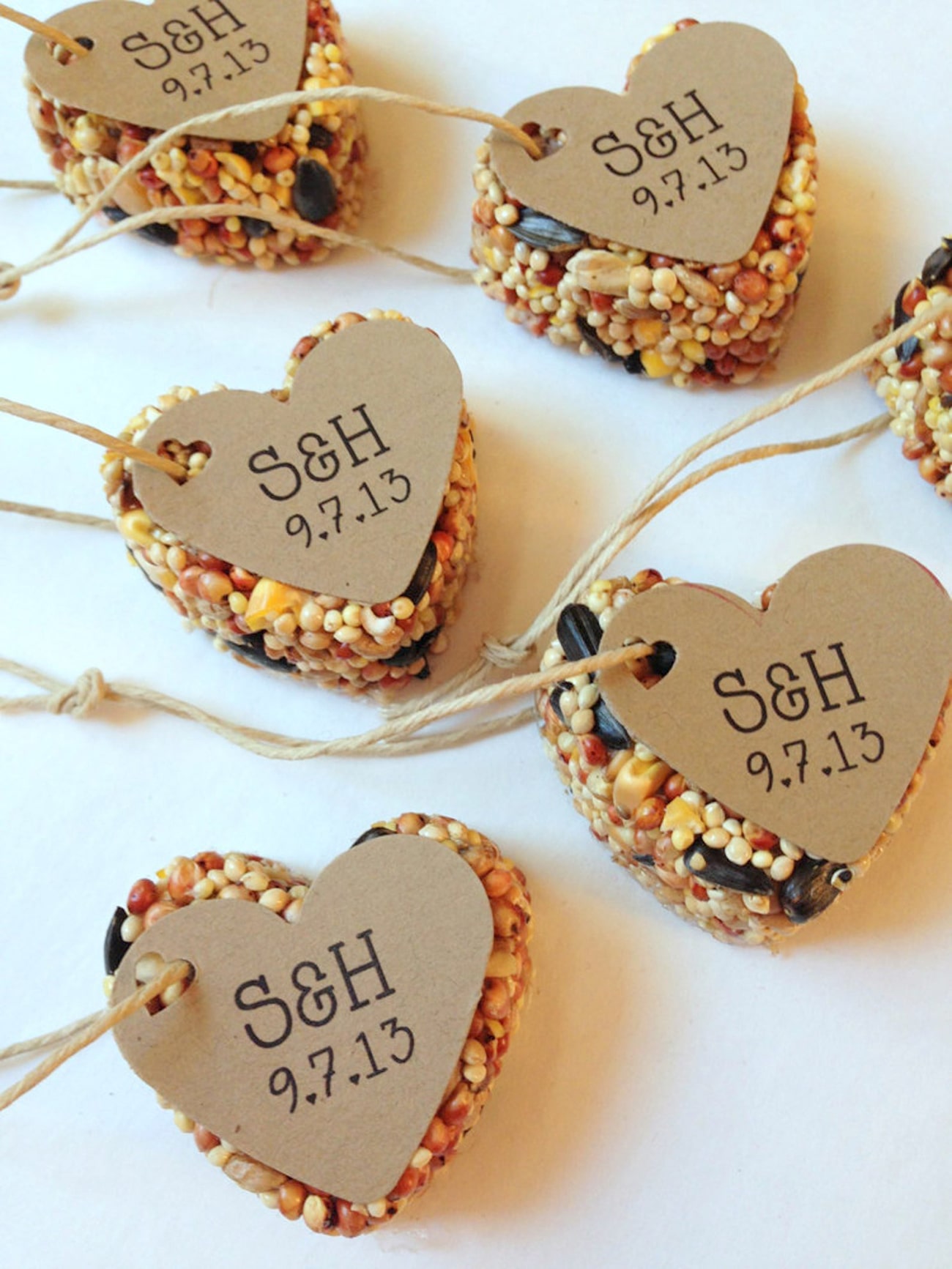 Bird Seed Favors by Vintage Blooming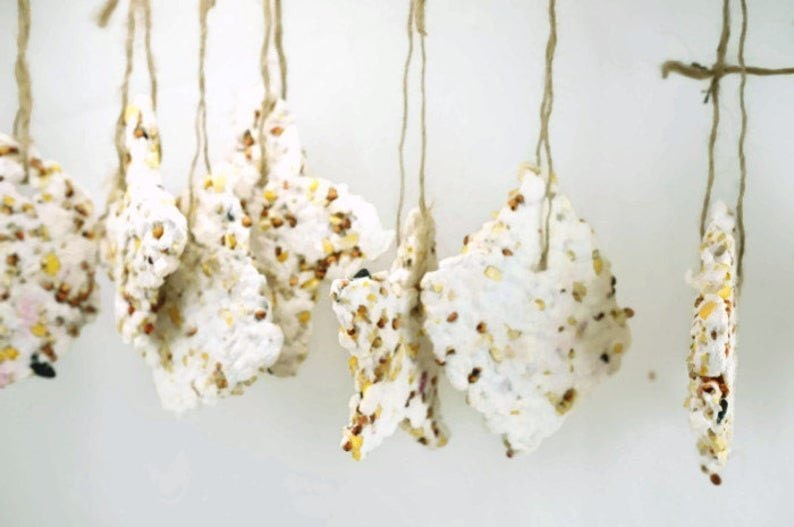 Bird Seed Outdoor Ornaments by Pulpa
Although if you're going to feed birds, it's a good idea to do it all year, winter feeding is when it's often most needed. Help bring life and song to your guests' gardens with little heart bird feeders, or jars or bags of seed as a pretty alternative. This can also be an eco-friendly confetti alternative!
Winter Wedding Favours #3: Seasonal Fruit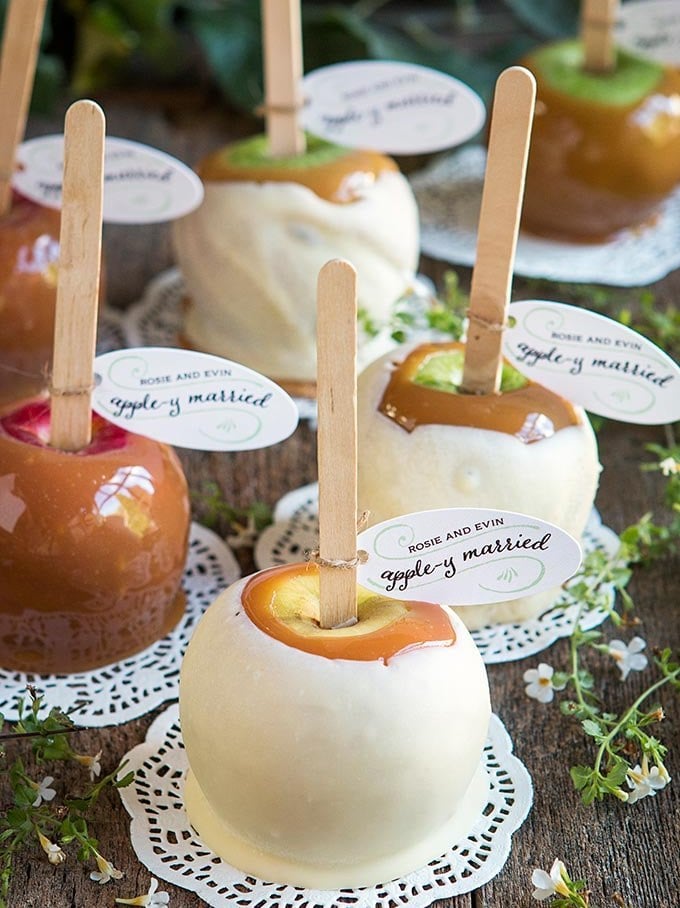 Image credit: Evermine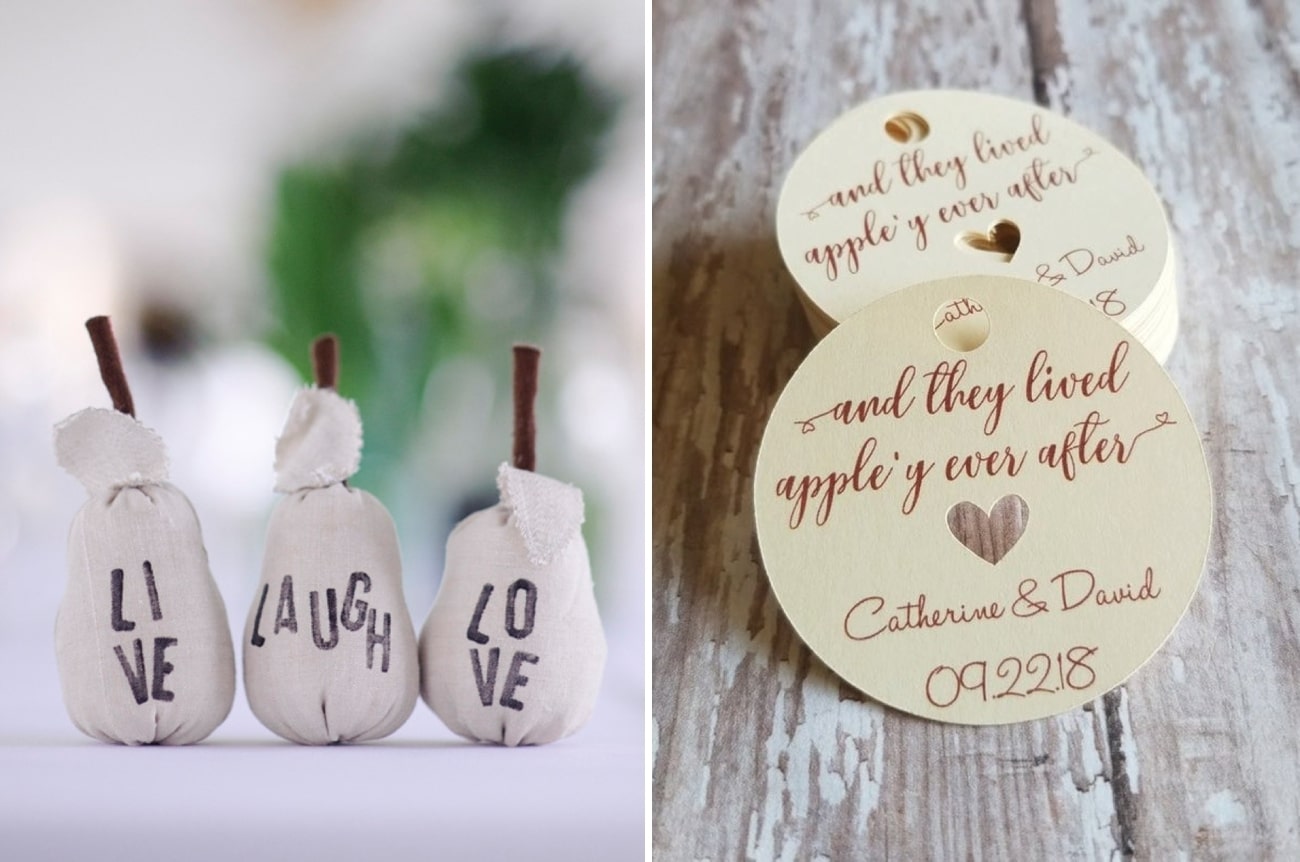 Image credits: Studio Sixty Photography via Polkadot Bride (left)  | Appley Ever After Wedding Tag by BW Paper Studio (right)
I always think food is one of the best favour options, as it's almost certain to get eaten instead of forgotten or lost or left behind. Winter fruits are a healthy way to bring the season to life for your guests – apples or pears in pretty packaging look great at each place, or make and wrap up some toffee apples for a bit of a nostalgic childhood touch.
Winter Wedding Favours #4: Snow Globes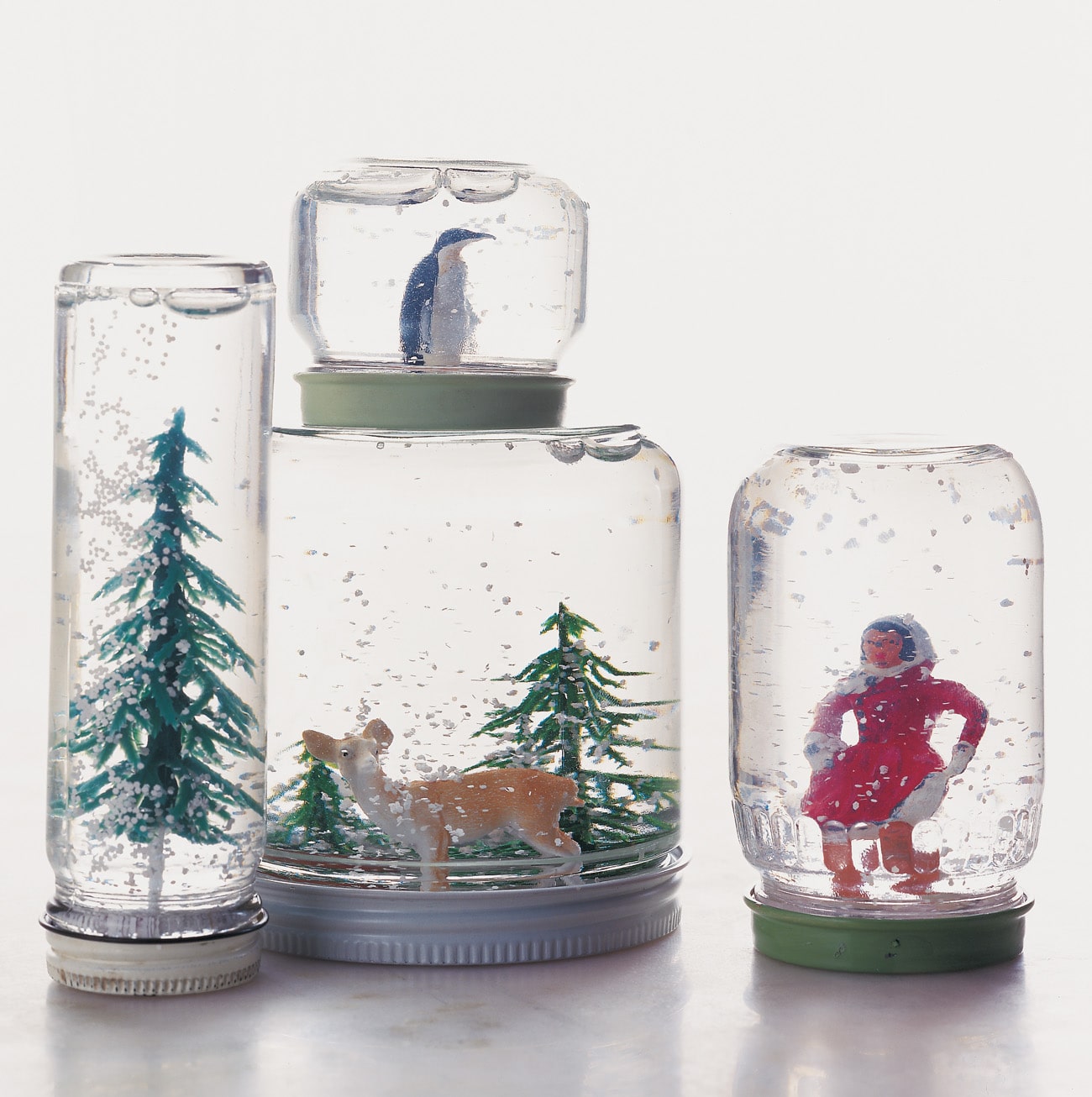 Image credit: Martha Stewart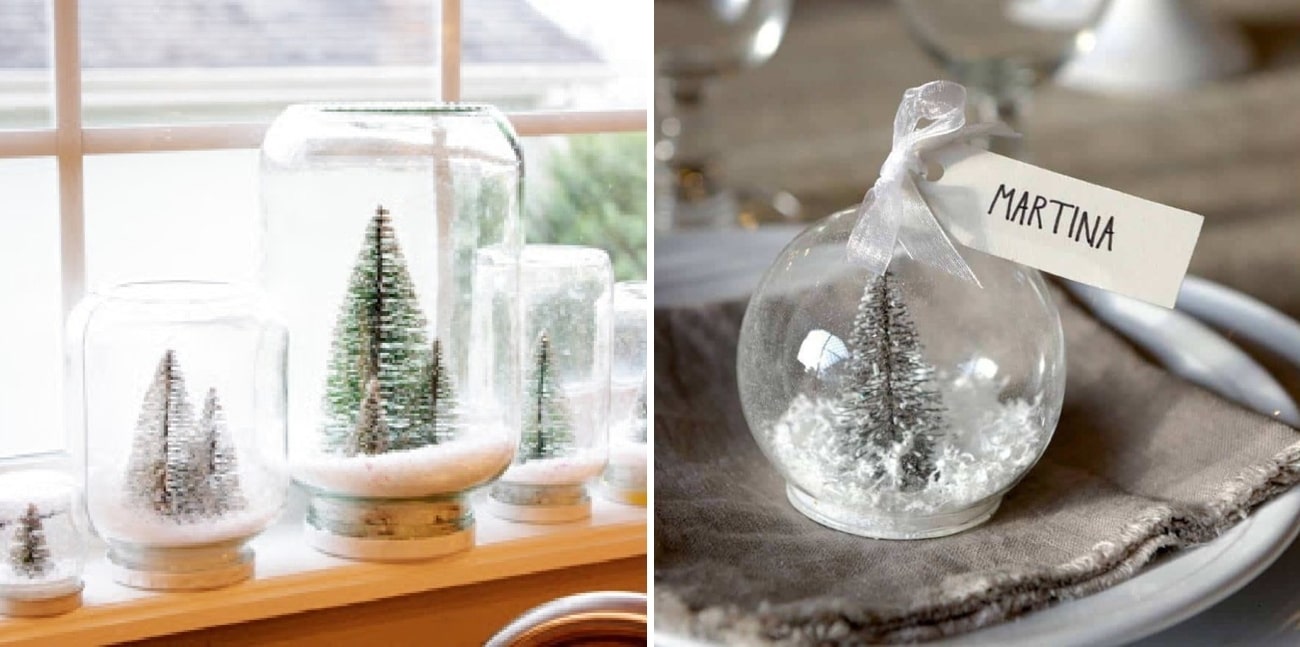 Image credits: Sweet Something Designs (left)  | via 5 Star Wedding (right)
Okay, these are just a liiiittle Christmassy. But they're also Anthro-fabulous, AND they're easy to DIY. Fun!
Winter Wedding Favours #5: Blankets & Wraps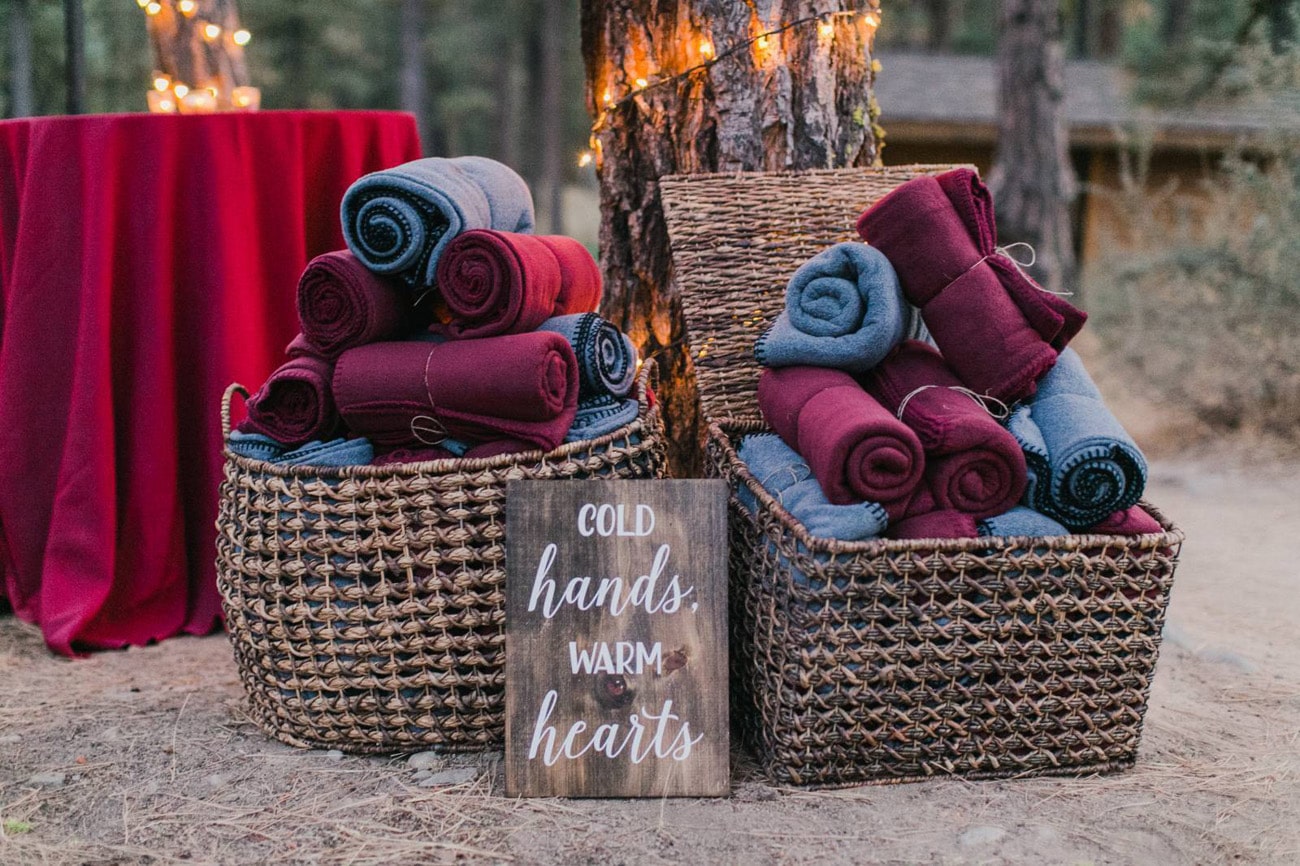 Image credit: Jasmine Lee/Jenn Robirds Events via Love in the Lost Sierra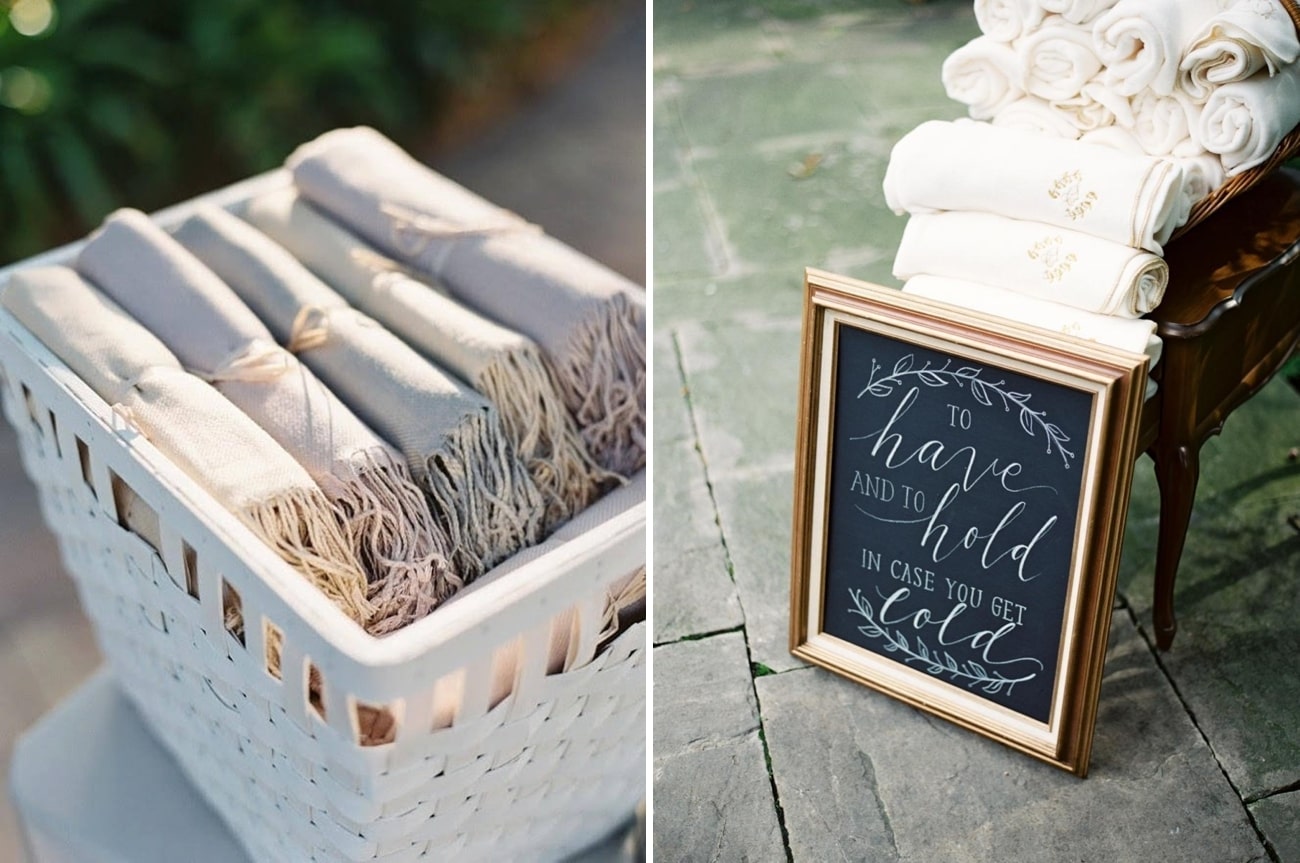 Pashmina 35pc Wedding Favors by Mia Krafts Shop, image credit: Justin De Mutiis (left)  | Will Reid Photography/Gush Weddings & Events via Style Me Pretty (right)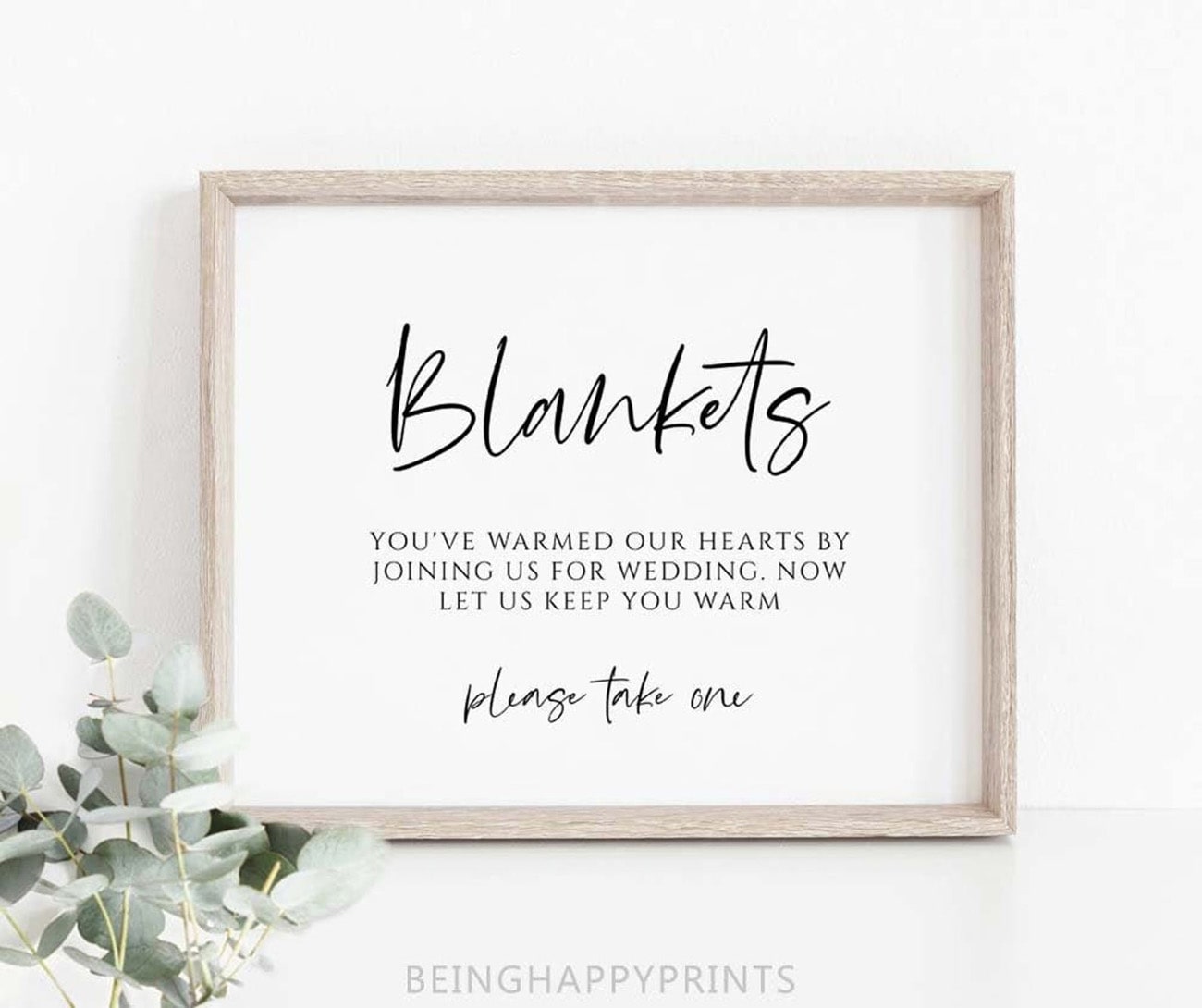 Wedding Blanket Favors Sign by Being Happy Prints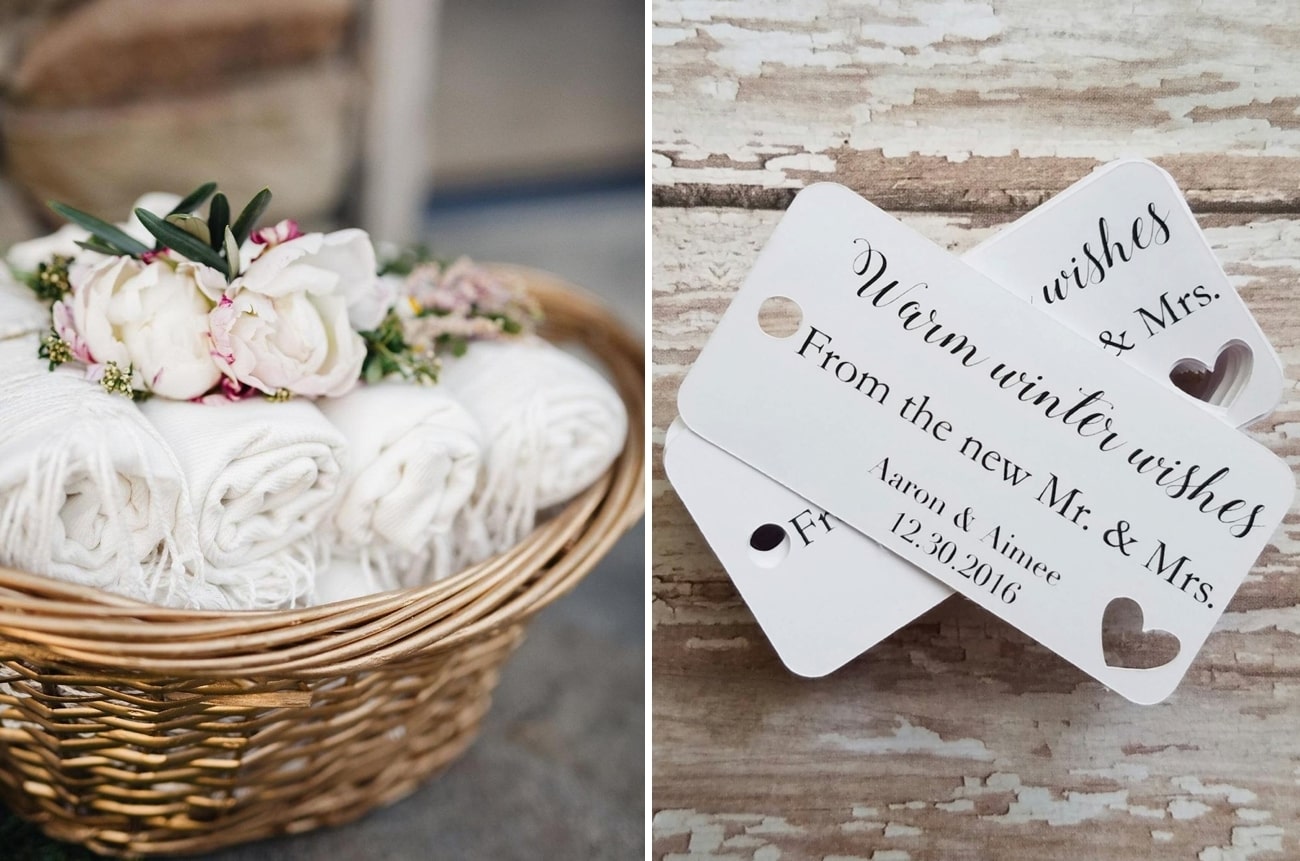 Image credits: Jana Williams Photography via Style Me Pretty (left)  | Warm Winter Wishes Favor Tags by BW Paper Studio (right)
If you have any kind of outdoor component to your winter wedding, blankets and pashminas serve a dual purpose in that they keep guests cosy while also making lovely gifts. You can find any number of styles, from snug as a bug campfire rugs, to fluffy white wraps or colourful pashminas. For more ideas on presentation, check out our feature on pashmina favours.
Winter Wedding Favours #6: Fire Starters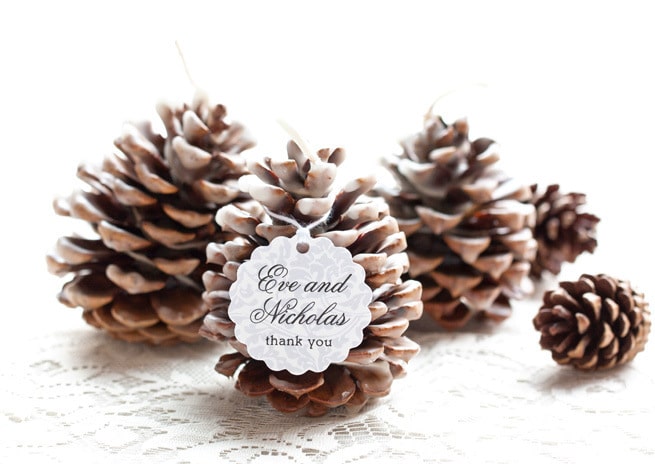 Image credit: My Own Ideas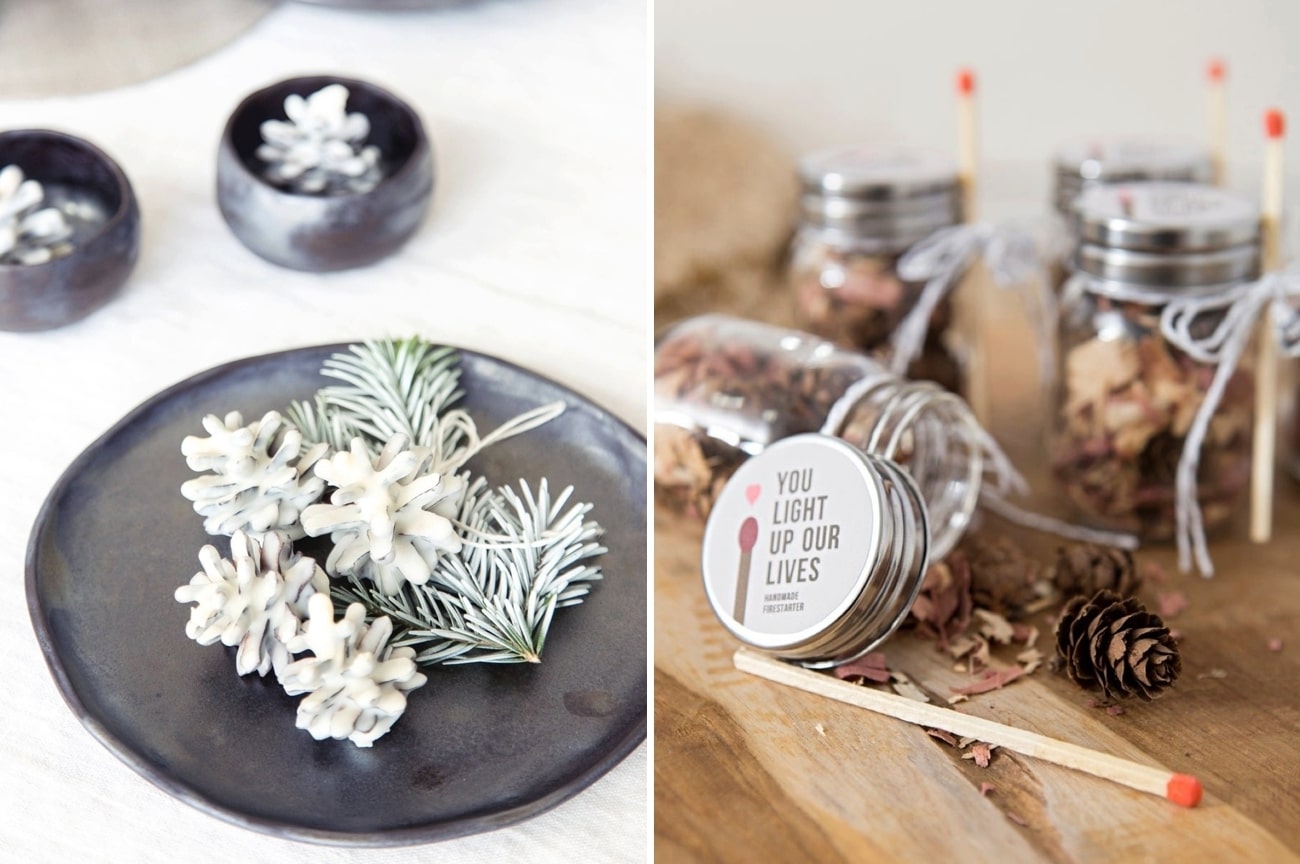 Fireplace Starters by Mi Li Crafts (left)  | Printable Fire Starter Favor Jar Labels by Jen Sea (right)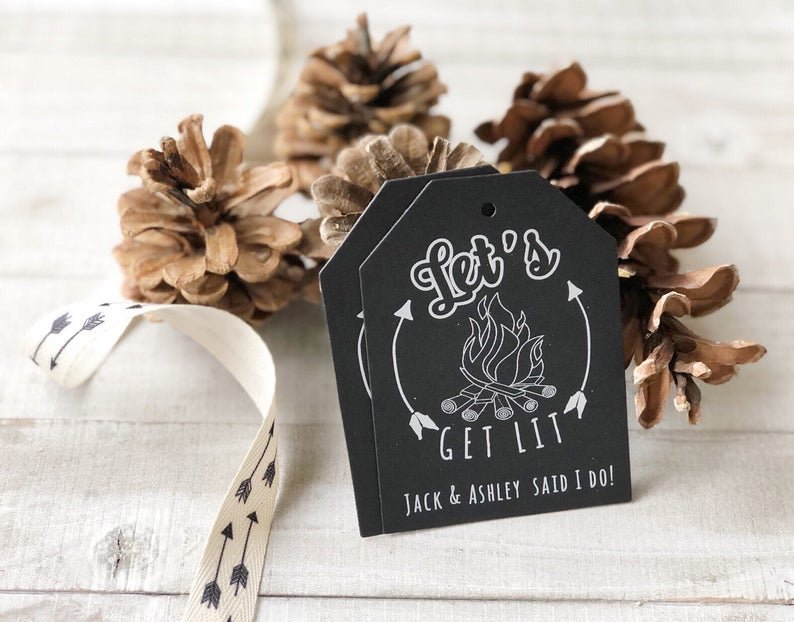 Fire Starter Tags by The Favor Loft
These campfire crafts look good enough to give just for their prettiness, but they're actually useful too. If you live near an area where pinecones are available, they make a simple DIY and fun seasonal gift.
Winter Wedding Favours #7: Lip Balm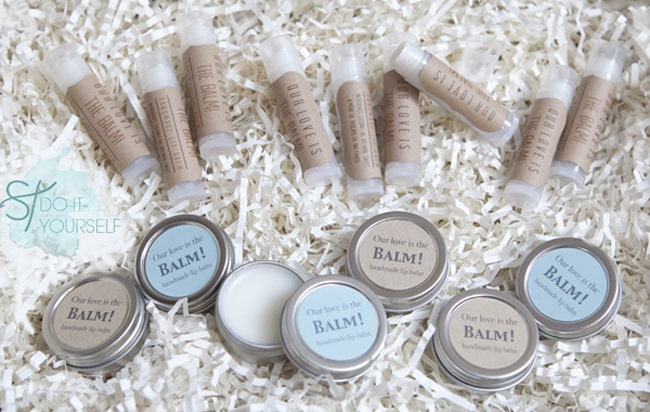 Image credit: Something Turquoise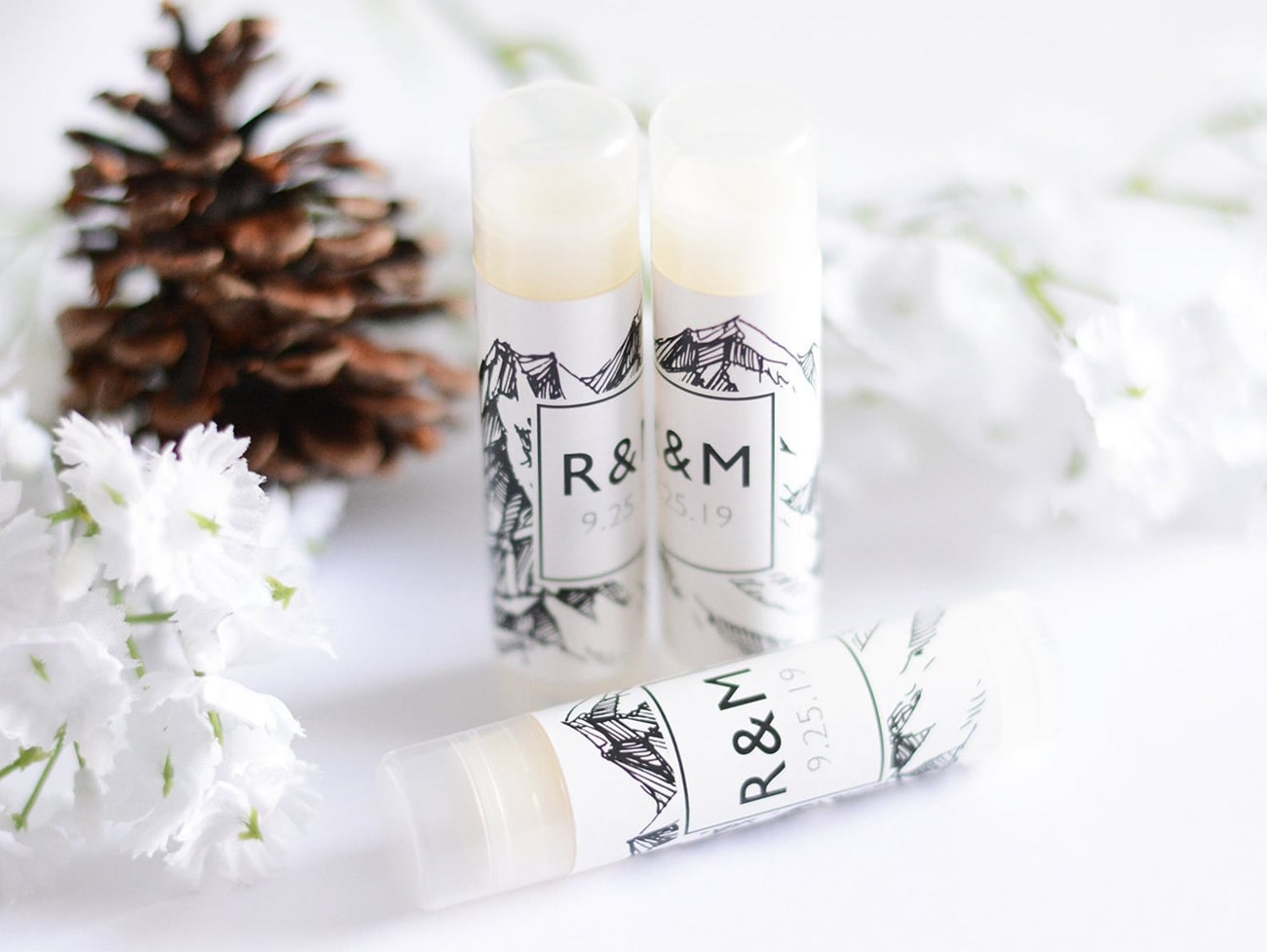 Wedding Chapsticks by Labels R Us
Lip balm! It's so obvious! And yet, I haven't really seen these before. I love the idea of customised chapstick and again, this is something you can easily DIY and customise to match your stationery. I often get goodie bags from wedding events, and I must say that the lip balm favours are usually my favourites, as they're the ones I continue to use.
Winter Wedding Favours #8: Knit Details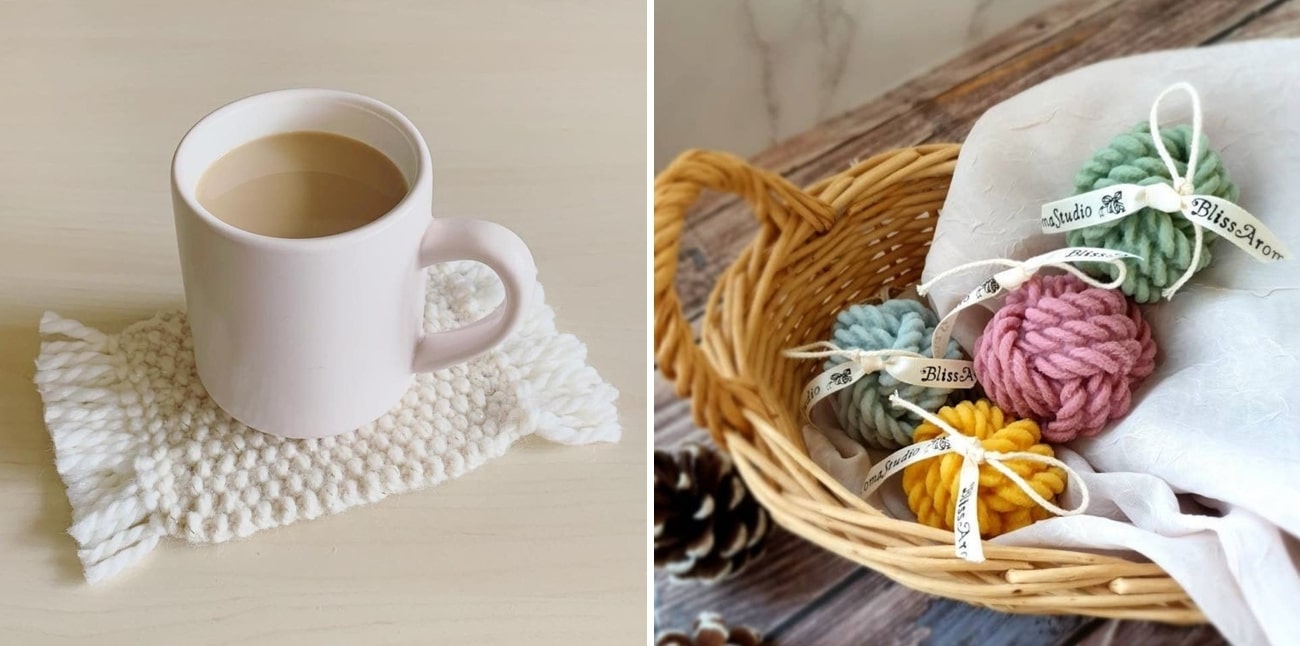 Mug Rug Wedding Favors by Calie and Co (left) | Soy Wax Candles by Bliss Aroma Studio (right)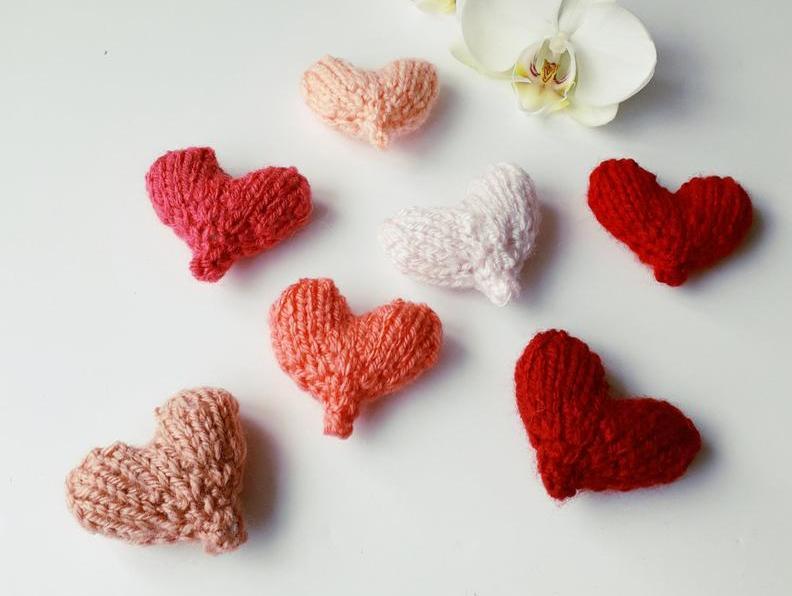 Easy Little Hearts Knitting Pattern by Claire Fairall Designs
Knitted details make for a really awesome winter wedding motif. For example, a little knitted heart at each plate setting is a no-fuss cute favour that adds to your decor and can be kept as a momento. Or how about a sweet coaster or yarn-style candle?
Winter Wedding Favours #9: Cookies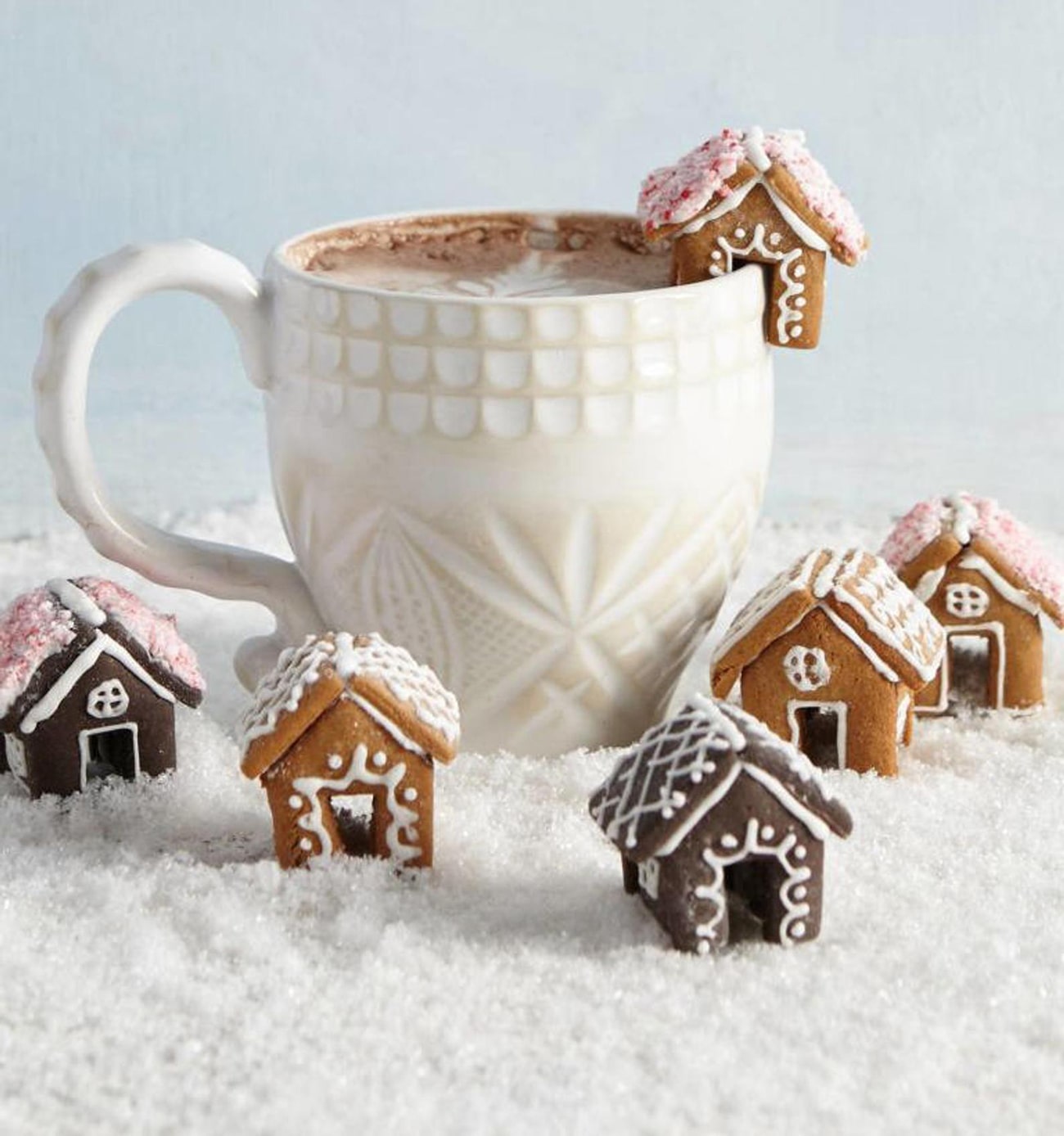 Mini Fairy Cottage House Cookie Cutters Kit by The Kawaii Kitchen Shop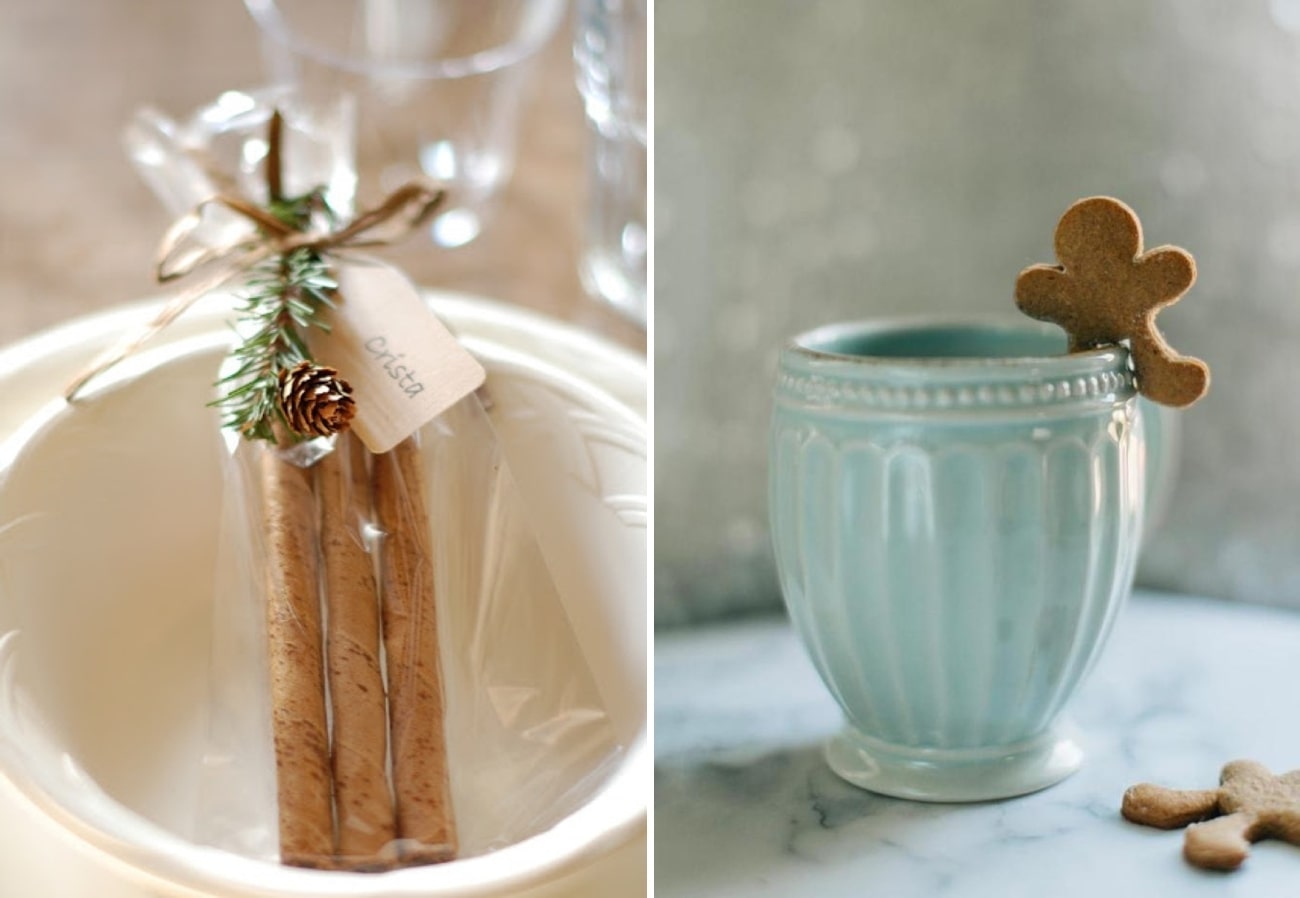 Image credits: Frog Goes to Market (left) | Mini Gingerbread Man Mug Topper Cookie Cutter by Sugar Dash Co (right)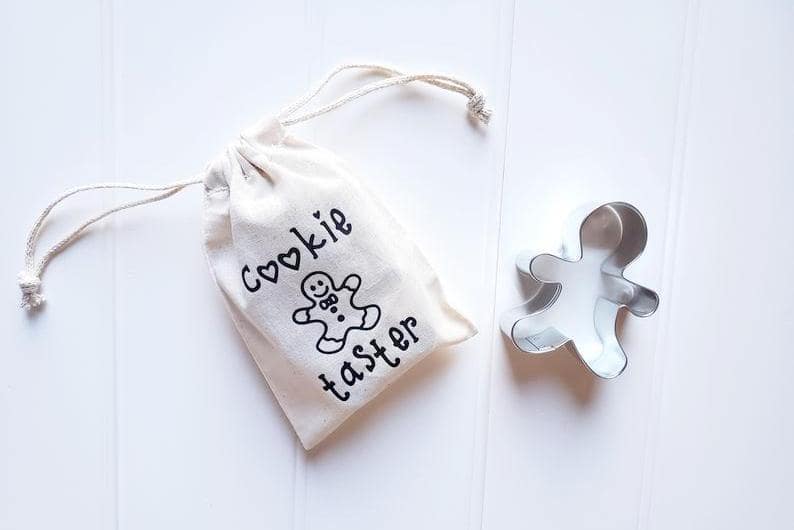 Gingerbread Cookie Cutter by Growing Roots Shop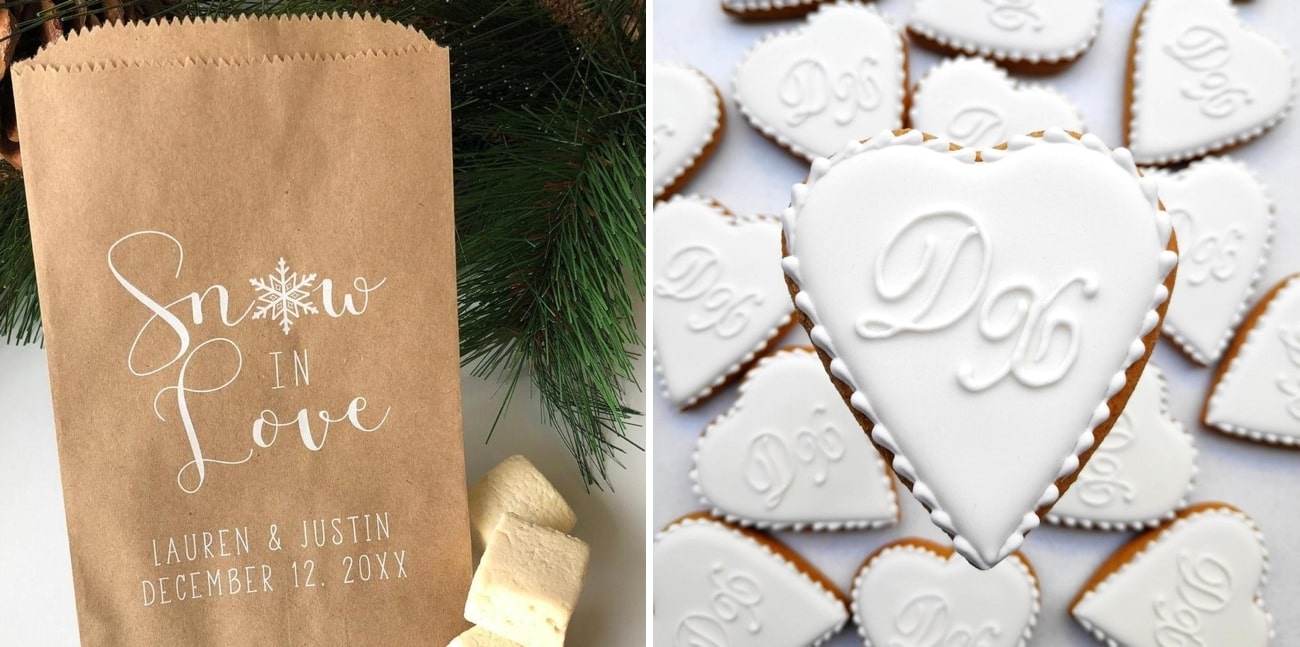 Winter Wedding Favor Bags by Details on Demand (left) | Personalized Heart Sugar Cookies by The Best Greek (right)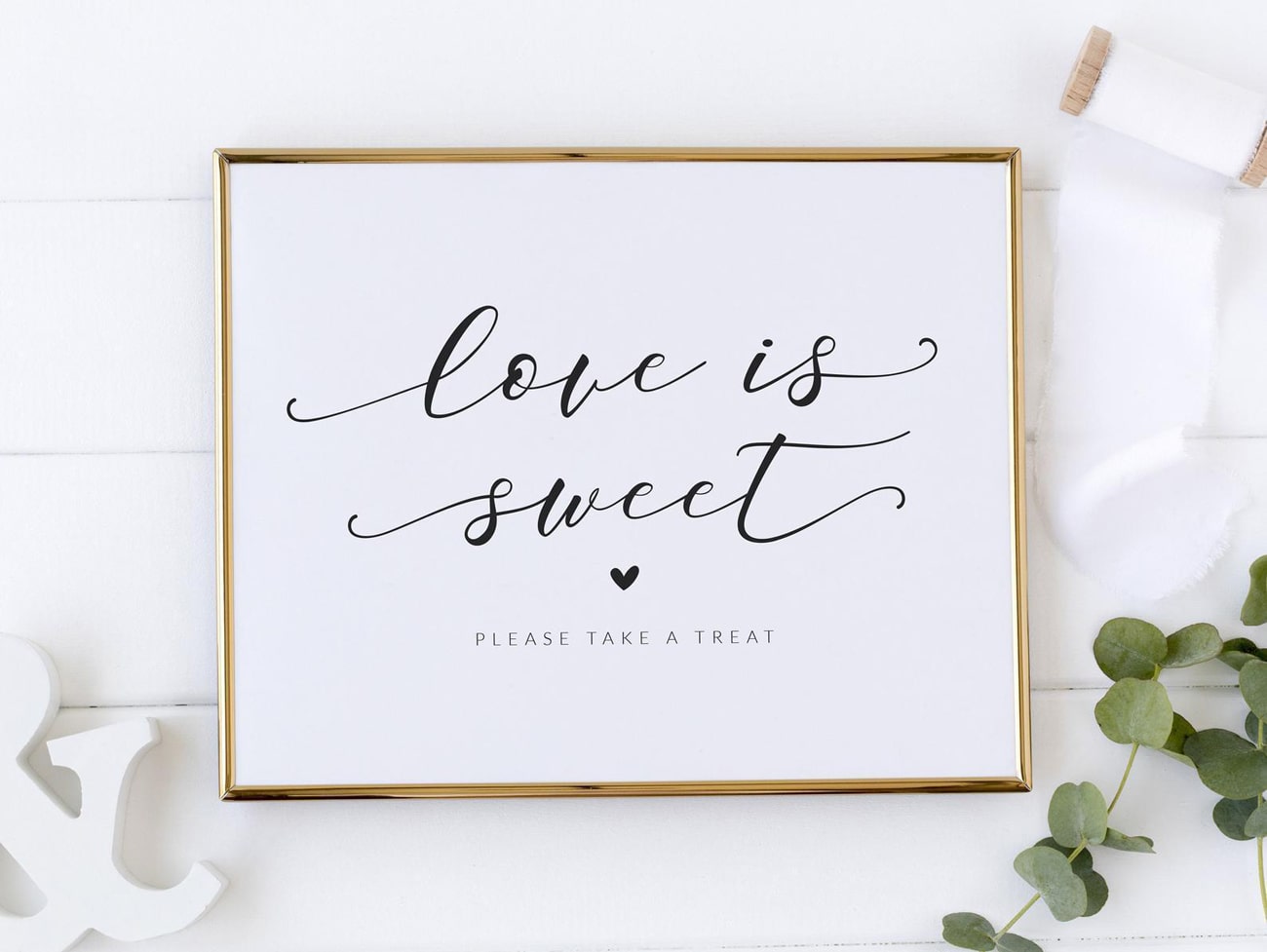 Love is Sweet, Take a Treat Sign by Little Creek Creative
As I mentioned, I think that edible favours are always a winner, and biscuits or cookies are awesome wintery options. They can be as simple as vanilla rolls tied with a bit of greenery to look like cinammon sticks, iced biscuits, or gingerbread for your guests' plate or cups. Adorable. An alternative is to give your guests cookie cutters – I especially like the idea of gingerbread boys and girls on your alternate male/female place settings. Tie a cute ribbon to each of them with the guest's name and you have place settings sorted.
Winter Wedding Favours #10: Hot Drinks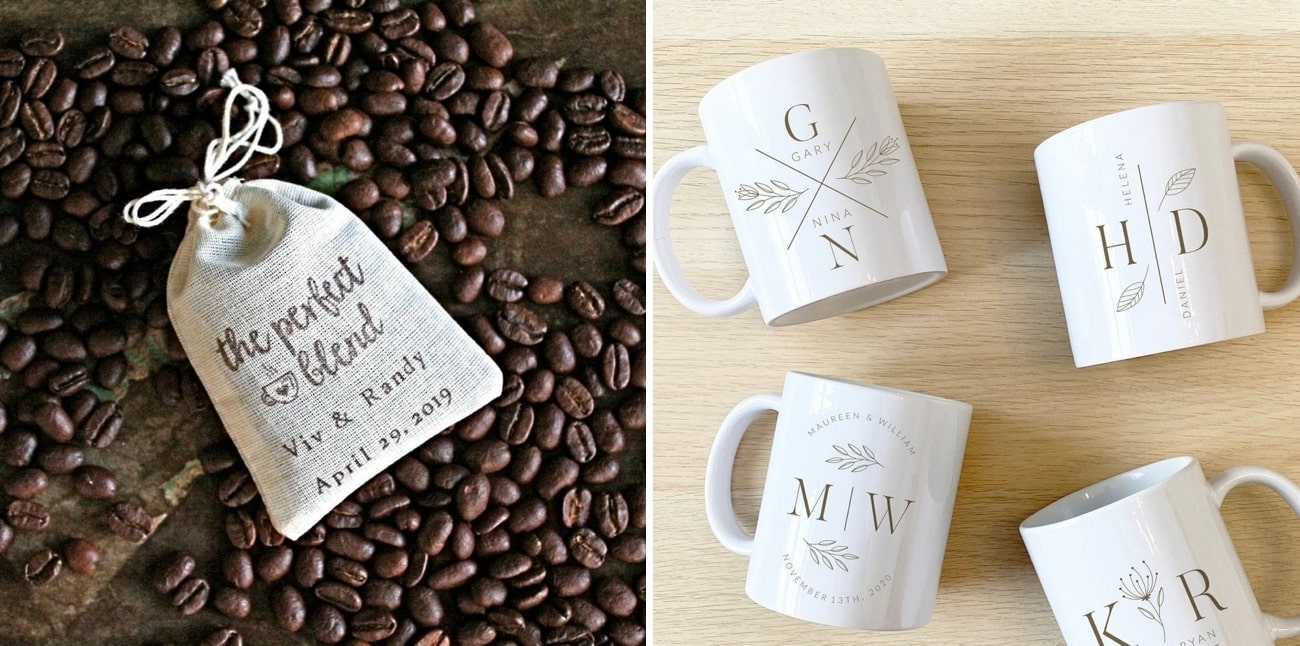 Personalized Coffee or Tea Favor Bags by Clementine Weddings (left) | Bulk Order Mugs by Bumble Co Handcrafted (right)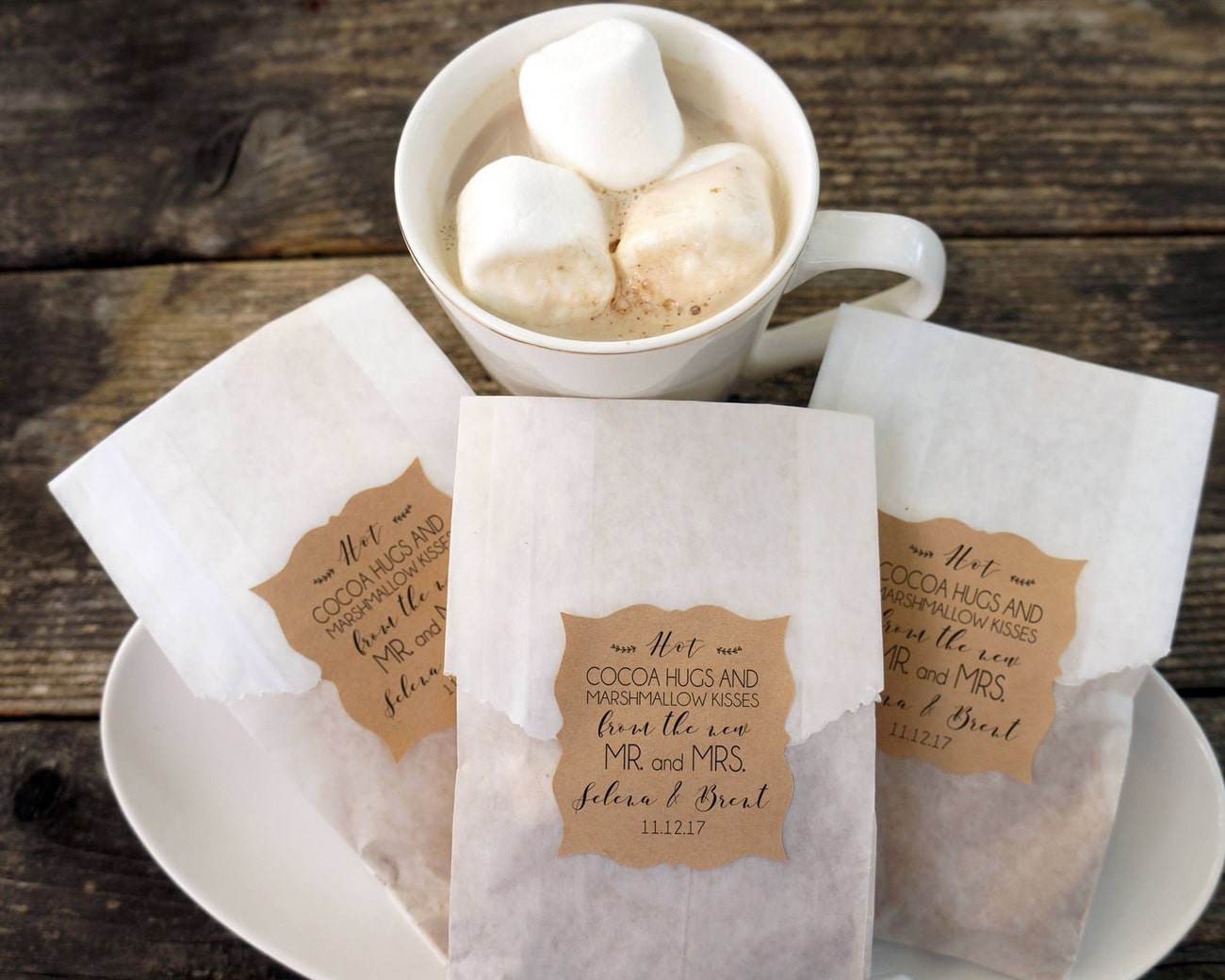 Hot Cocoa and Marshmallow Bags Wedding Favor by Nottingham Paper Goods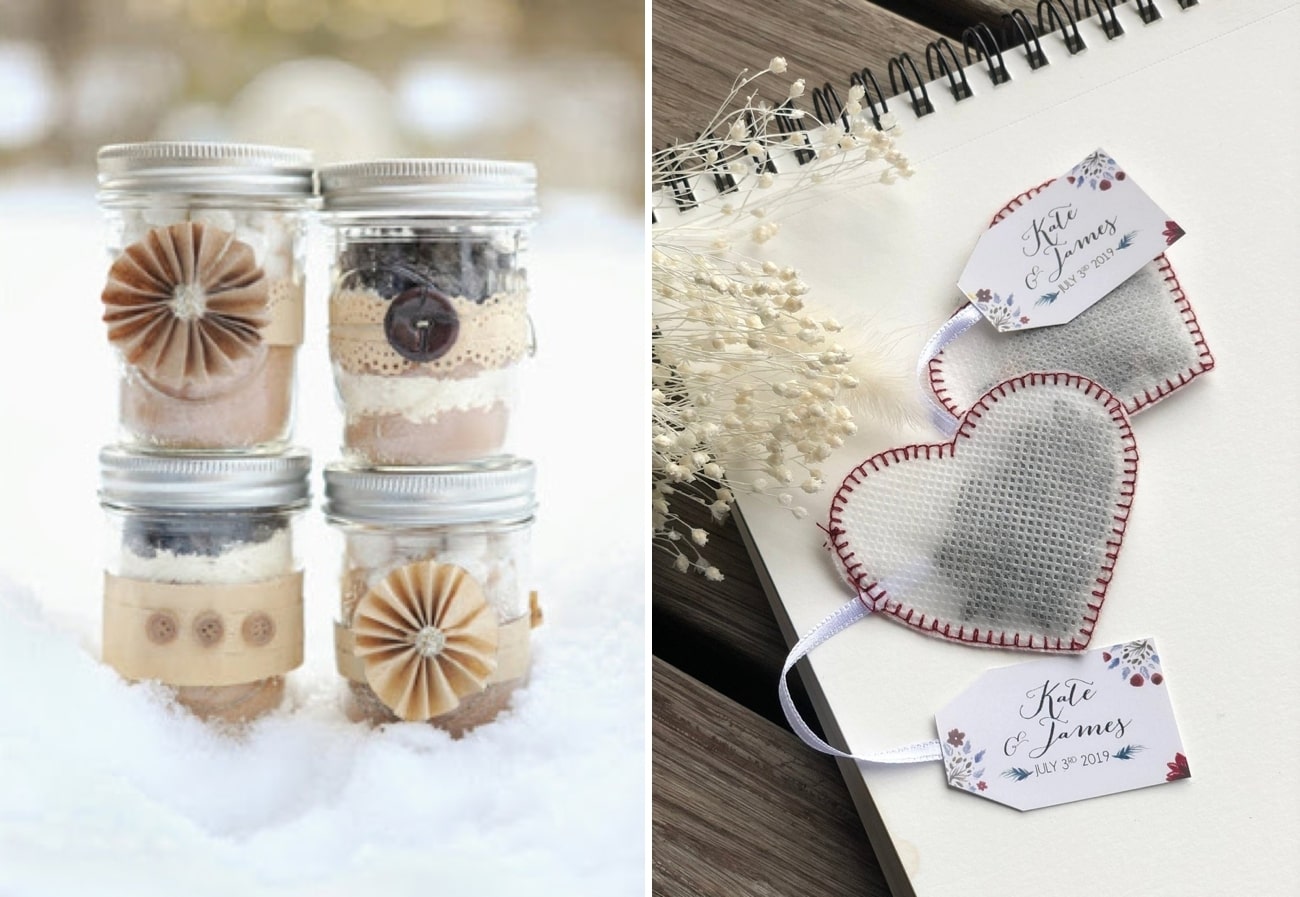 Image credits: Andrea Dozier Boutique Photography via Celebrations at Home (left) | Wedding Favors Heart Shaped Tea Bags by Tea Heritage (right)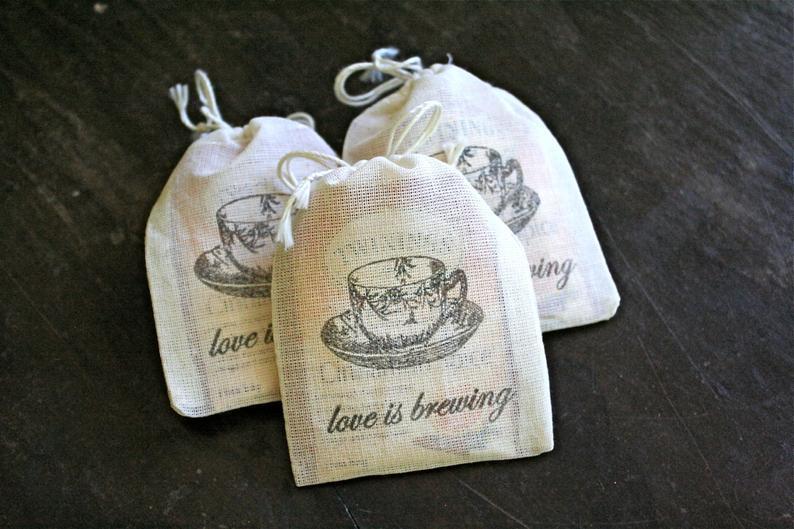 Tea Favor Bags for Wedding by Clementine Weddings
Hot drinks are synonymous with cold weather, so they make perfect favours. You could do hot chocolate or cocoa in pretty jars or test tubes, coffee in little bags (tie on a mini scoop as well) or custom tea bags. Make a little sign saying 'the perfect blend' and invite guests to help themselves. Or give them each a cute little mug – better than a disposable!
Are you planning a cold weather wedding? Which winter wedding favours are you considering?
Find more seasonal wedding ideas on Pinterest: