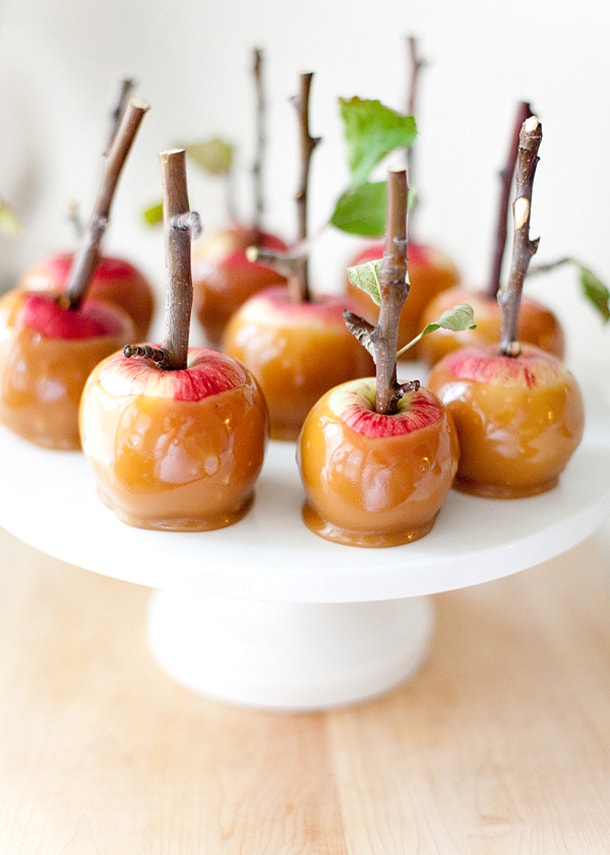 When I started putting together a roundup of autumn wedding DIYs, I discovered that lots of the ideas out there were for DIY edible wedding favours with a bit of an autumn twist. Since edible favours are a big favourite of mine (after all, guests are always less likely to leave something delicious behind at the end of the night), I thought it warranted a dedicated post! There are so many fun ideas here – the only bad part was trying to control my tummy rumbling and my sweet tooth crying out while I was sorting through them! Some of the links have packaging suggestions or even printables included, but you can always adapt the idea to suit your own colour scheme and look. Consider glass canning and jam jars, glass bottles, kraft boxes and paper bags, among your options, and pretty up with ribbon, twine and calligraphy.
*Shopping sources in this post use affiliate links. This means SBB may earn a commission if you make a purchase from our links.
1. Toffee or caramel apples (whatever you want to call them!) are probably the most obvious edible autumn favour, and I love that they add a childlike excitement to proceedings. But the twig mini caramel apples (top pic) take the idea to a whole new level of adorable! By Allyson Baker Design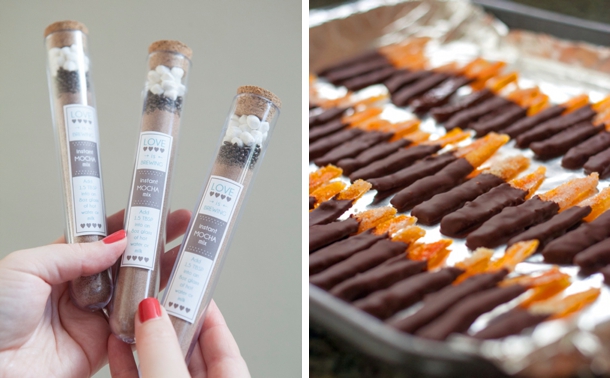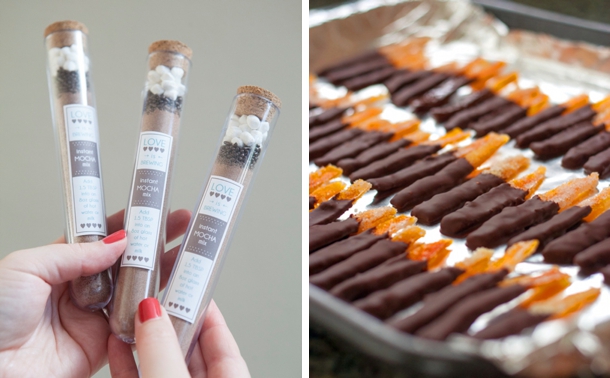 2. Hot chocolate mix is another idea we often see for cold weather weddings, but I absolutely love the idea of presenting it (or in this case, a mocha mix instead) in little test tubes. By Something Turquoise (pic by Studio 11 Weddings)
3. What's better than candied orange peel? Chocolate dipped candied orange peel! The perfect autumn colours too. By Red Shallot Kitchen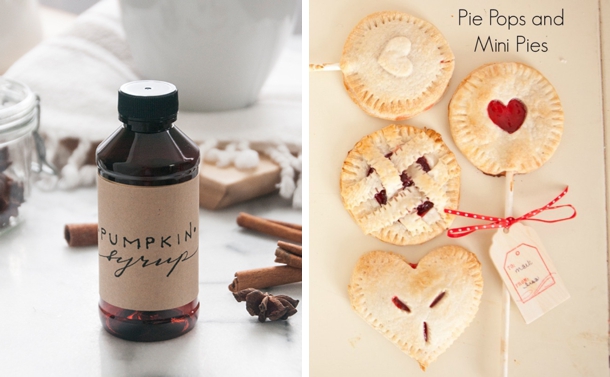 4. I know how many of you out there are obsessed with Starbucks' pumpkin spice lattes every winter season, so this is likely to be a popular gift among coffee lovers everywhere. Make a big batch of pumpkin spice latte syrup and decant into individual glass or medicine bottles for your guests. By Earnest Home Co.
5. Yesterday in our roundup of autumn wedding ideas, I mentioned a pie bar as one of my faves, but if you don't want to go that far, you can give your guests little pies or pie pops as a gift. By The Bride Link (pic by Danielle Evans Photography)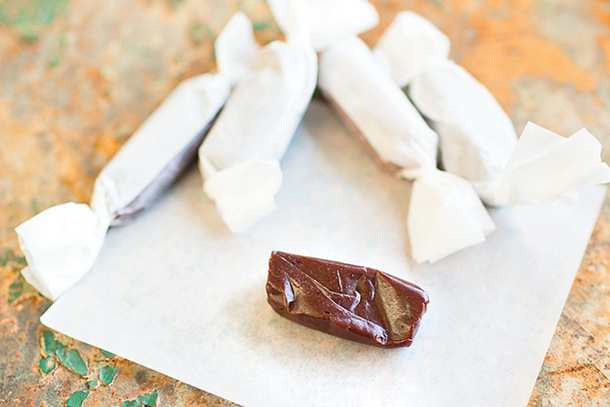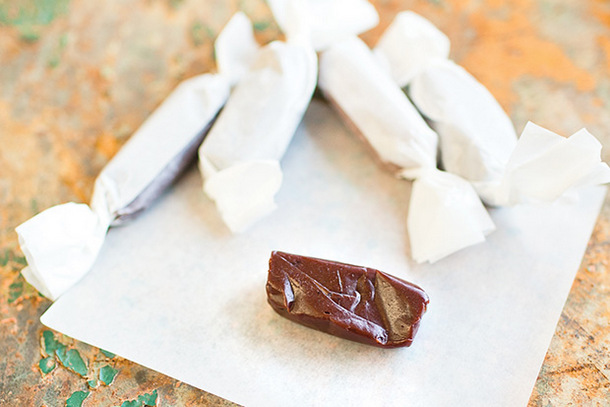 6. Salted chocolate caramels. Do I really need to say anymore? Via Epicurious (by Liz Gutman & Jen King, pic by Rachel Been)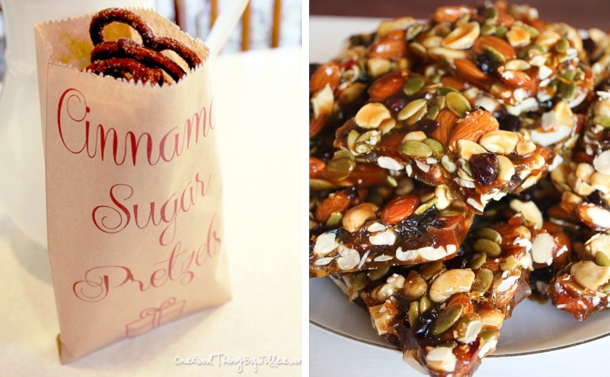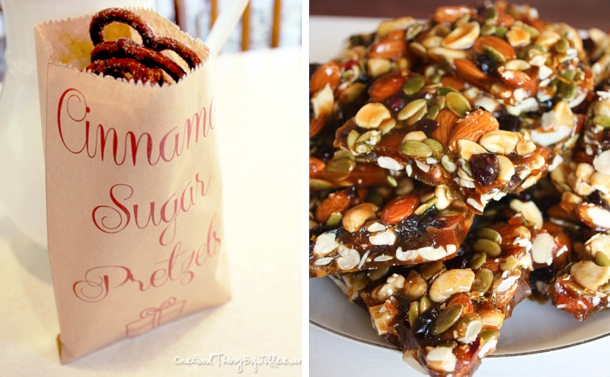 7. I love a mix of salty and sweet, so I'm dying to try this recipe for cinnamon sugar pretzels. I also love the idea of putting them in a custom bag (also part of the tutorial). By One Good Thing by Jillee
8. Brittle is another easy sweet to make and give away – cashews, peanuts, pumpkin seeds, whatever you like. This recipe for autumn brittle is the bees knees though, because it includes nuts, seeds and cranberries! By Adventures in Cooking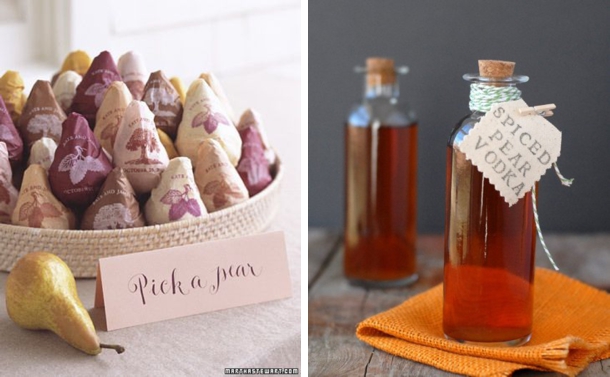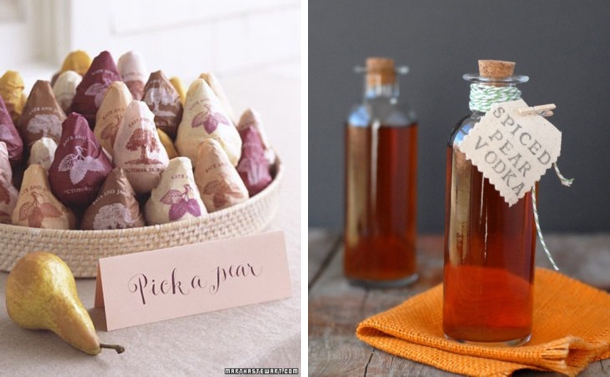 9. For a more natural approach, you can give away fresh fruit – apples, pears, pomegranates, etc. Wrapping these fresh pears in pretty tissue paper really raises the style stakes though. Via Martha Stewart Weddings
10. And speaking of pears, how about a shot of spiced pear vodka? Yum! Via Noshon (by Boulder Locavore)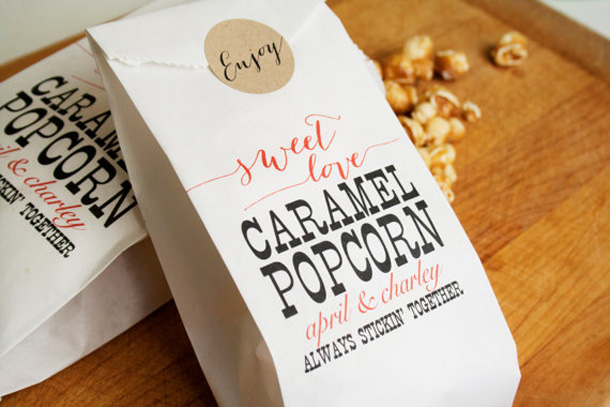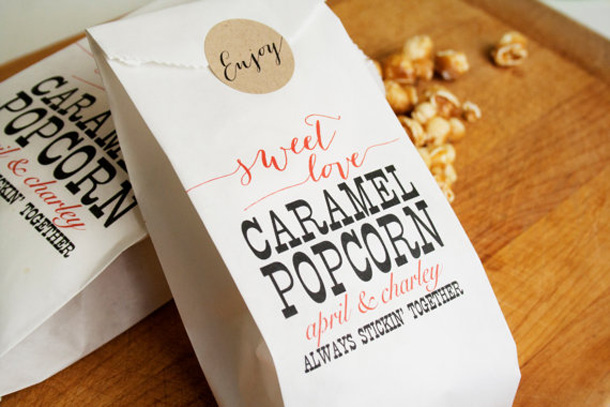 11. Sticky, sweet and delicious. Caramel popcorn is a delicious guest gift. Get the tutorial here, and then pop your corn into these fun little bags by Mavora on Etsy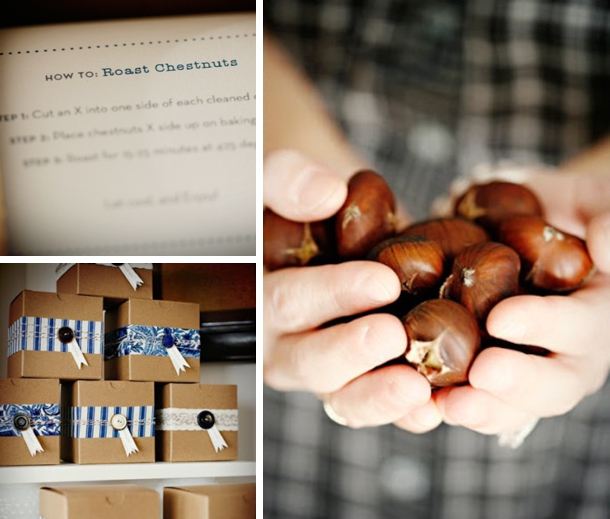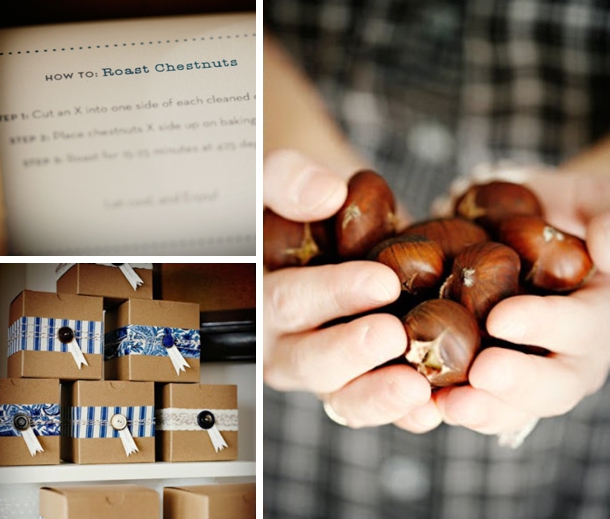 12. I'm more a fan of roast chestnuts in theory than in actuality, but if you disagree, then these make adorable seasonal favours. Simply present in a sweet little box with instructions for roasting. Via Sunday Suppers (DIY by 100 Layer Cake for Sunday Suppers, pics by Karen Mordechai)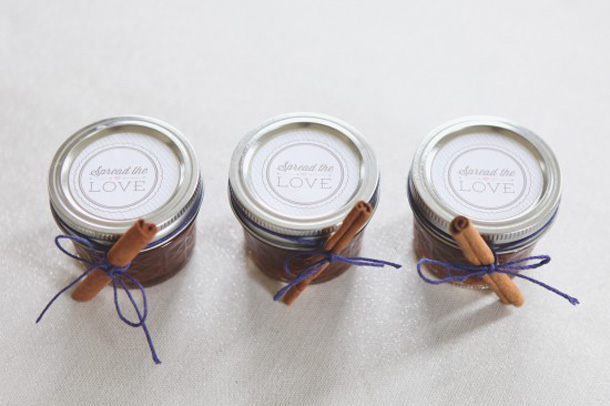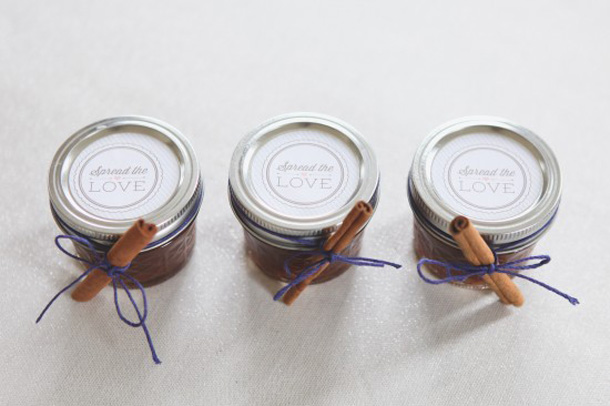 13. I just love the sound of apple butter, don't you? It has that cosy autumn feeling in spades, and I'm watering at the mouth to try it! Via United with Love (by City Bee Design, pic by Hannah Colclazier Photography)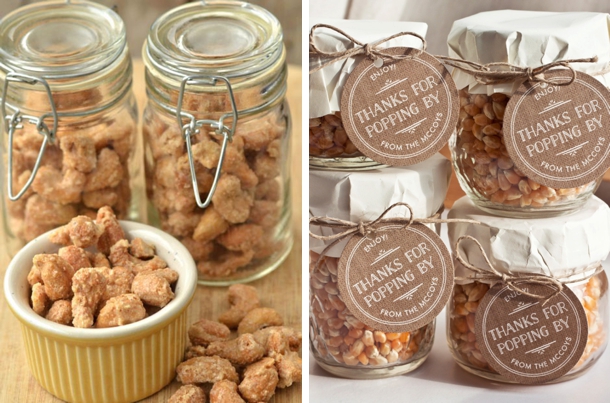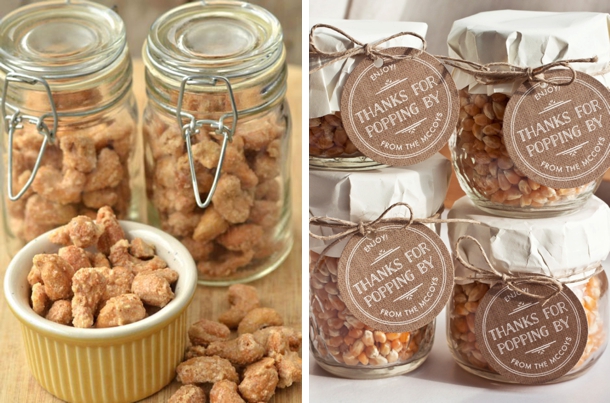 14. I dare any of your guests to get a jar of candied cashews and not finish eating them before they get home. Nom! By Intimate Weddings (if you don't like cashews, try this recipe for candied almonds)
15. Sometimes a favour is as simple as packaging a budget-friendly favourite in a fun way – like the labels for these popping corn jars. By Evermine