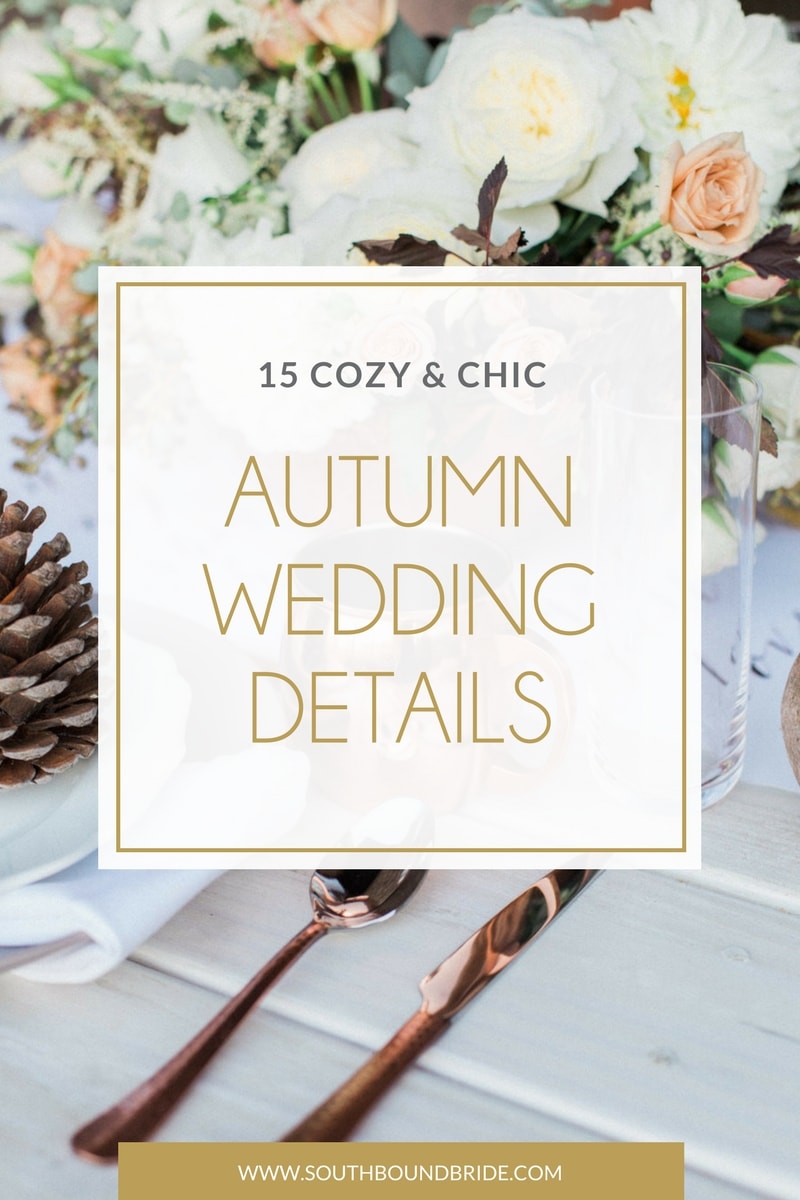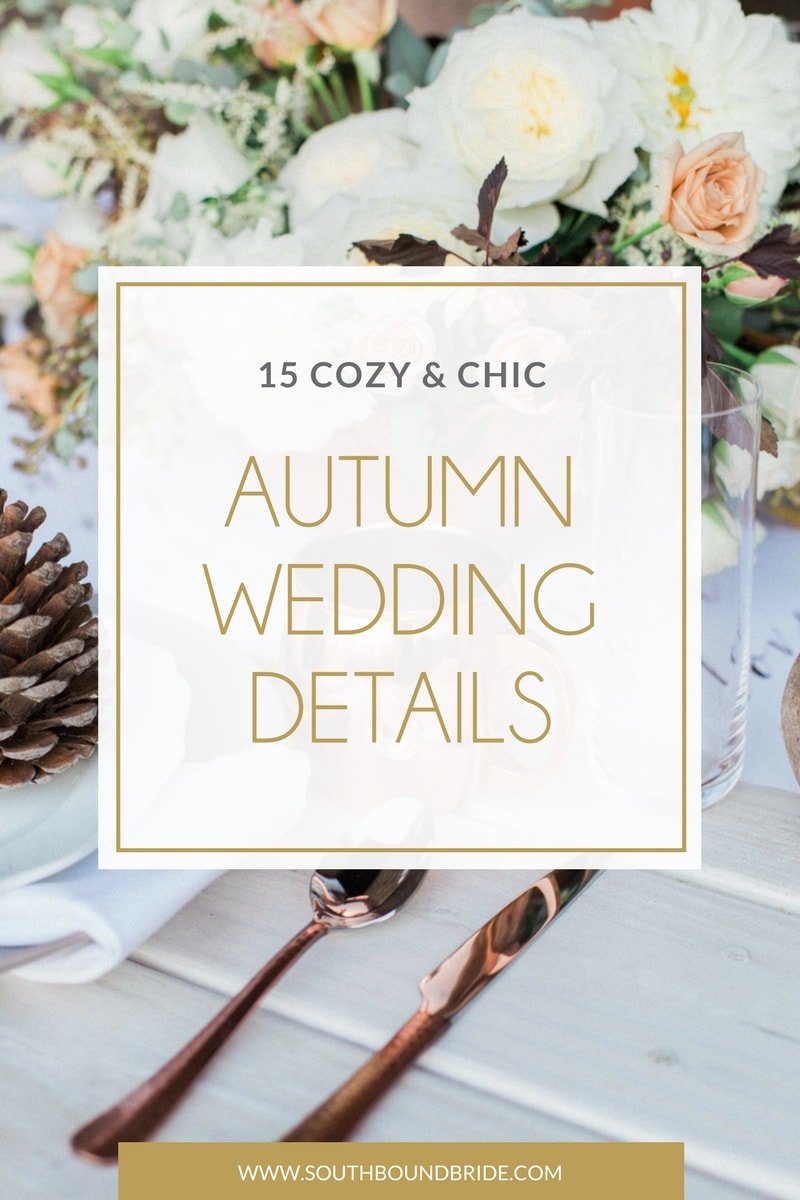 Image credit: Jenna Joseph Photography/Kelsey Rae Designs on SouthBound Bride
I'll tell you a secret. When I started wedding blogging, it wasn't the dreamy dresses or the rising trends or even the beautiful photography that first drew me in – it was the details. Those surprising little elements that I would come across and think "wow, that's a cool idea," and sort of file away in my memory in case I ever needed to use it. Five years and many, many real weddings on my own and others' blogs, and there are way too many of those details for me to ever try and store in my brain. And that's why I love doing these little roundups, because it gives me a chance to go back and remember some of those cool ideas, and share them with you all. This month, as you know, we're all about autumn weddings, and there's an absolute WEALTH of stuff you can do – fruits, vegetables and flowers that are iconic of the harvest season, cosy warm weather activities, autumn palettes, traditional change-of-season food. Adding a few of these elements and autumn wedding decorations into your own fall wedding is a great way to warm your guests, body and soul!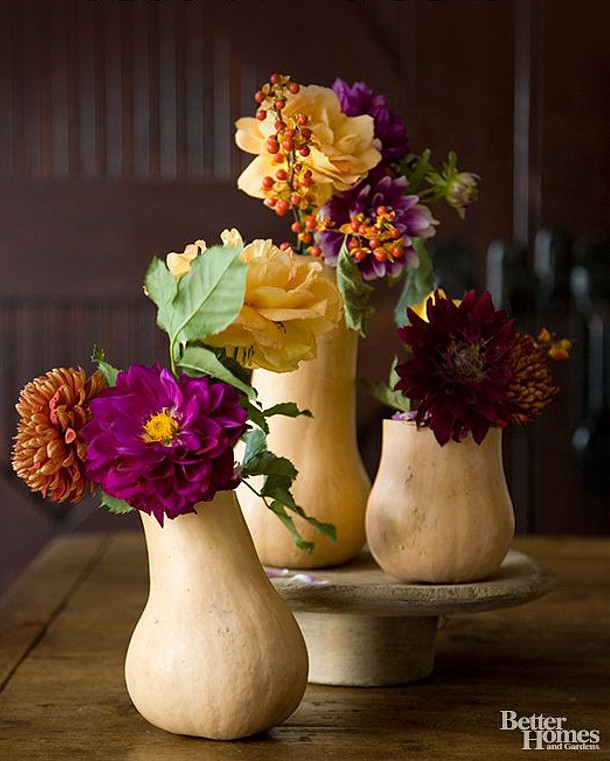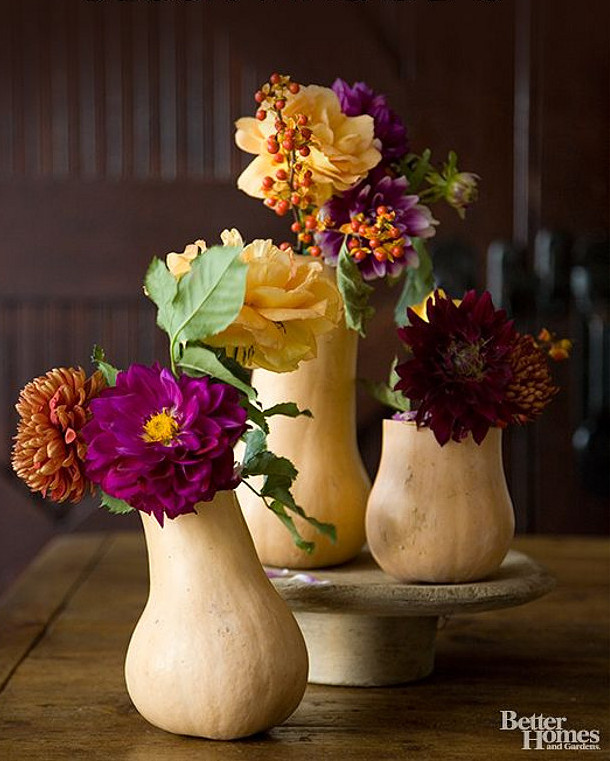 1. Butternut vases
Fact: South Africans are pretty much obsessed with butternut. It's a national crush, like rugby and avos and Jack Russells. I'm all for including butternut in your wedding menu, but why not include it on your table too? You've probably seen pumpkin and squash gourd vases in the past, but I absolutely love how these little hollowed out lovelies look as a quirky part of a centrepiece.
Image credit: Better Homes & Gardens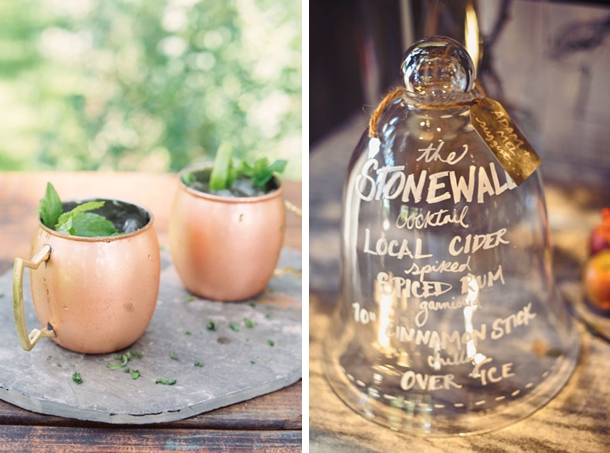 2. Autumn Signature Cocktails
We love signature cocktails in general, but don't assume they're just for summer. From hot cider to maple martinis, there are loads of gorgeous little cocktails you can find on the internet with an autumnal twist. And if you need ideas for serving them, you can't do better than these gorgeous brass mugs or a cloche painted with the cocktail ingredients. Your guests will love this idea!
Image credits: Michelle Boyd Photography/Southern Social via Grey Likes Weddings (left); Vantage Pictures via Brides (right)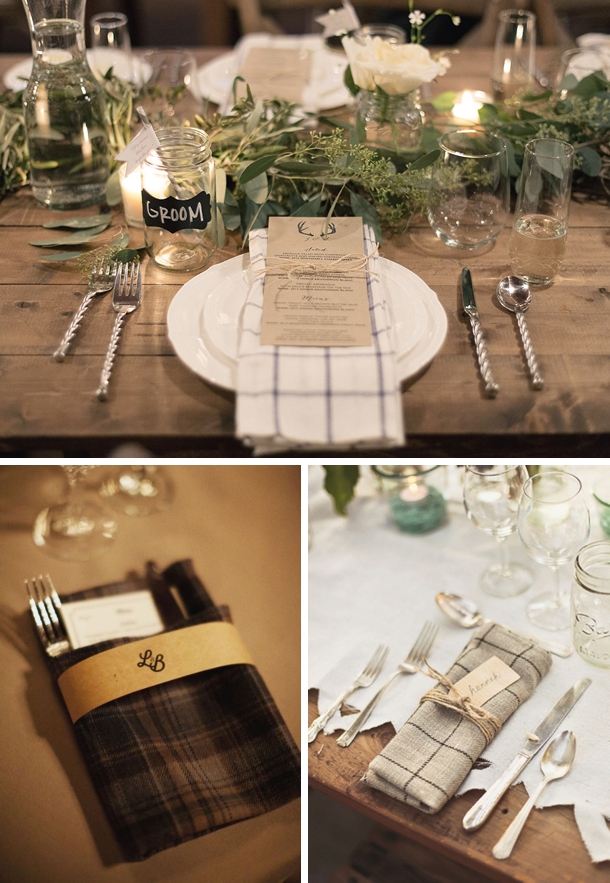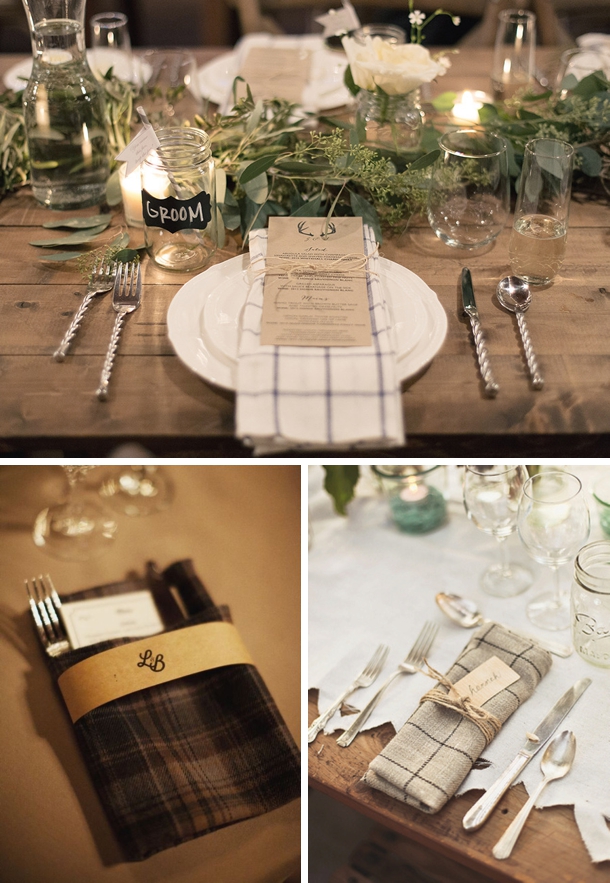 3. Plaid Napkins
I'm a big fan of napkins as decor elements, and having plaid pattern napkins is like having little blankets on your tables. Okay, that's an exaggeration, but they definitely add a cosy touch!
Image credits: Jeremiah and Rachel Photography/Habitat Floral Studio via Style Me Pretty (top); Honey & Jam/Terrain (bottom left); Christina Szczupak via Ruffled (bottom right)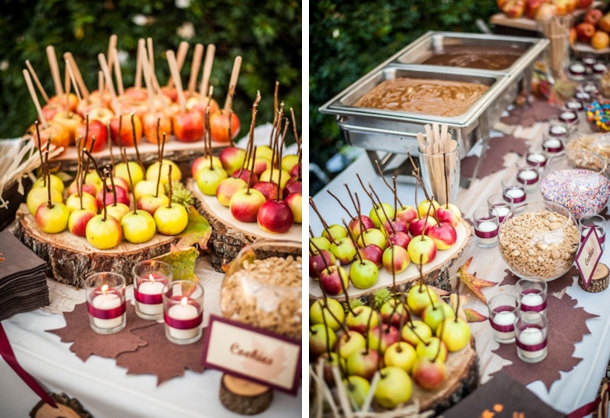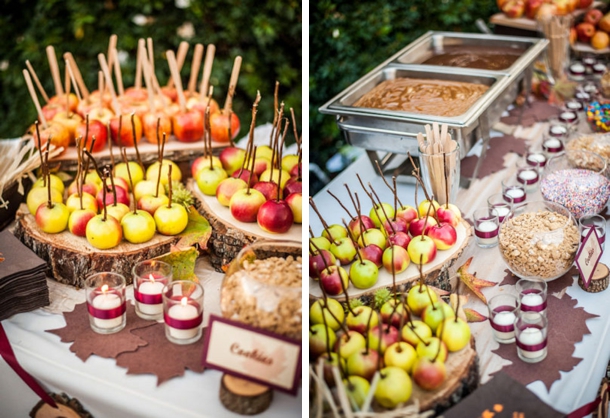 4. Toffee Apple Station
Awaken your guests' inner children with a table specially dedicated to making and dipping their own toffee apples, with a range of toppings and drizzles. Fun!
Image credits: Walter Wilson Studios via Bridal Guide (left & right)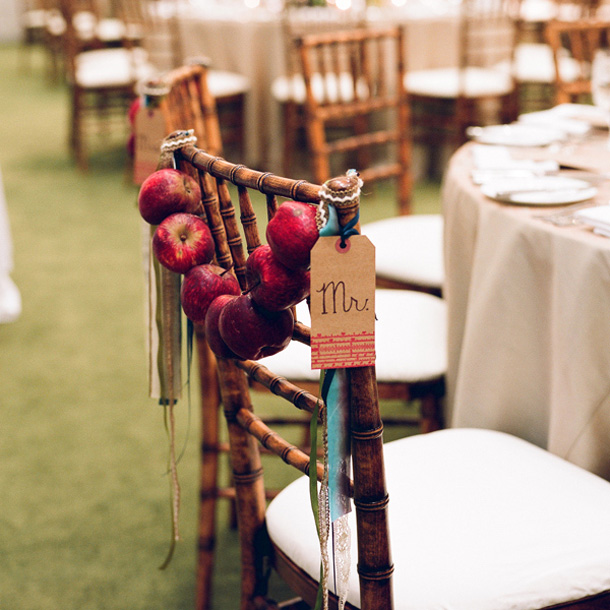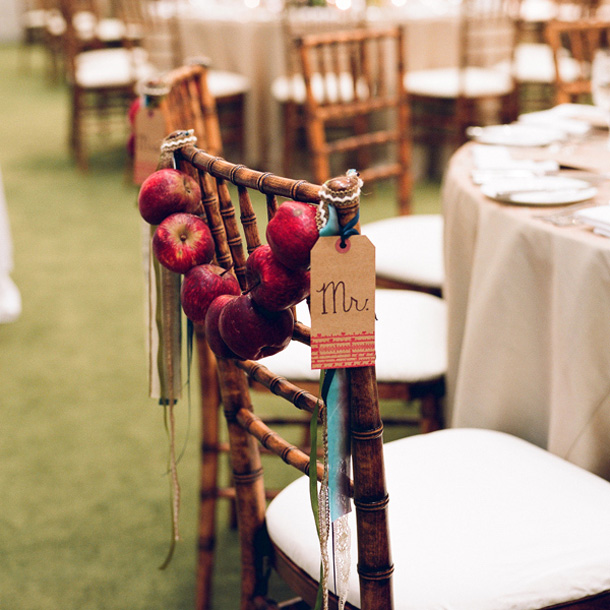 5. Apple Chair Swags
How. Cute. Is. This? A simple but totally adorable way to pretty up your Mr & Mrs loveseats, especially if you're hosting a rustic reception.
Image credit: Meg Smith/Emilie Kate Style + Design via Snippet & Ink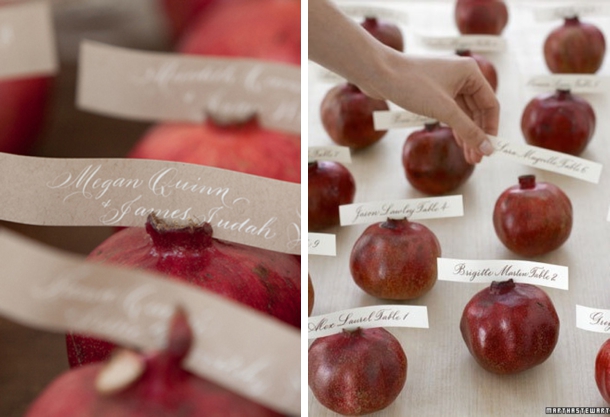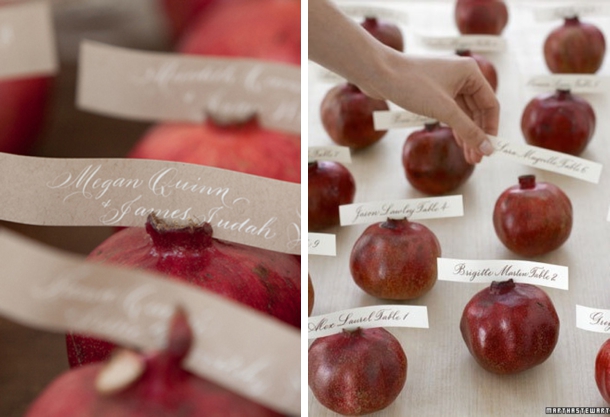 6. Pomegranate Escorts
Pomegranates are another lovely fruit to use for an autumn table, not least because of their beautiful jewel colour. Add calligraphy tags and you have wonderful place names or escort cards.
Image credits: Lauren Ross/Duet Weddings via Snippet & Ink (left); Martha Stewart Weddings (right)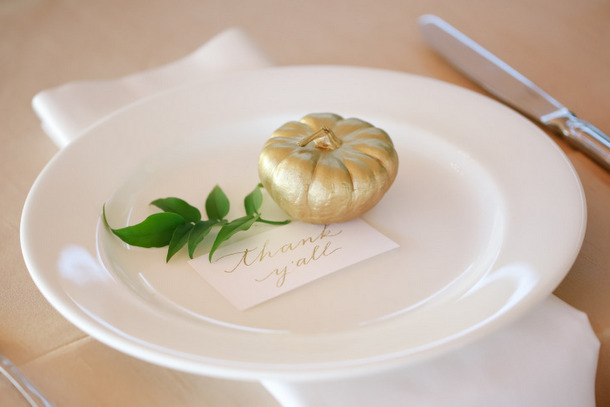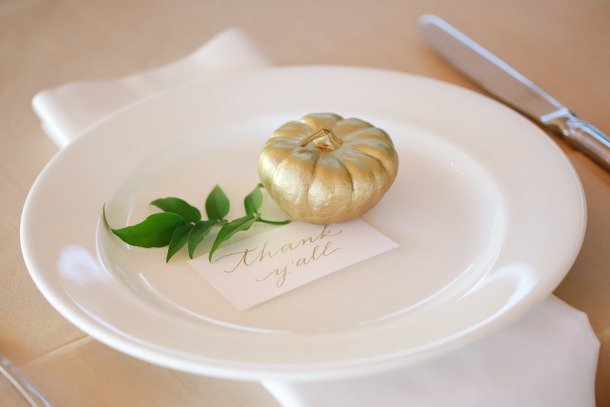 7. Mini Gold Pumpkins
There are so many uses for little pumpkins at autumn weddings (just do a search in Pinterest for hundreds!) but my favourite I think is painted gold and placed at each setting. A sweet little Cinderella touch.
Image credit: Kori & Jared Photography/Botanica Events by Audrey Chaney via Style Me Pretty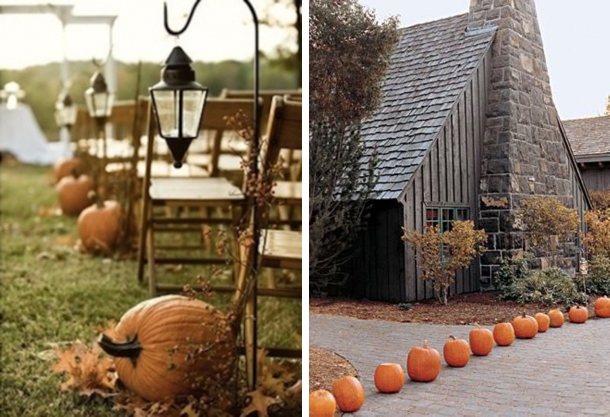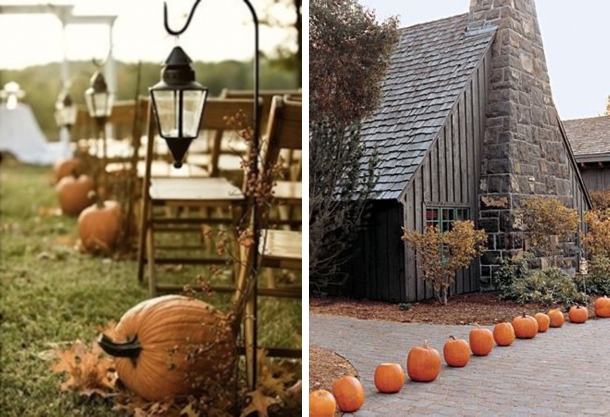 8. Pumpkin Runners
If you can't find mini pumpkins (I think our American friends are more fortunate in that department), then make use of full size ones to line the aisle, or guide guests like beams of orange light, to the reception.
Image credits: Charis Photography via Green's Hollow (left); via Martha Stewart Weddings (right)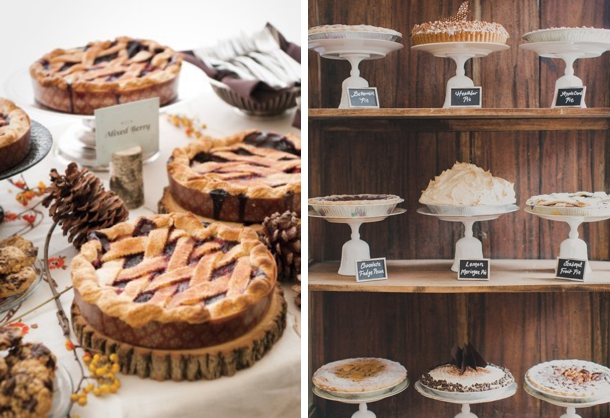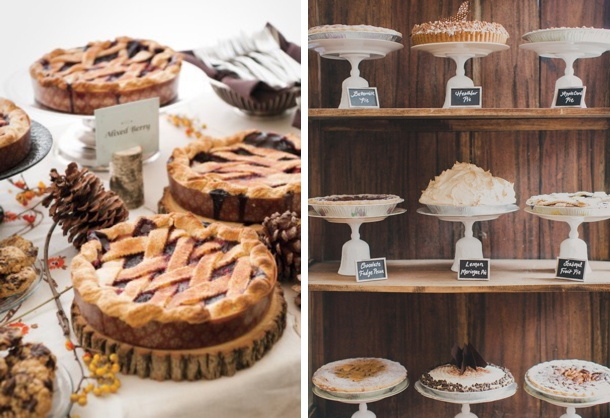 9. Pie Bars
There are actually lots of lovely desserts you could use for an autumn dessert buffet, but I think one of my favourite ideas is the pie bar. It's delish, sure, but I love the way that a whole bunch of pies lined up has that village hall feel to it.
Image credits: Taylor Glenn/Jackson Hole Event Company/Jackson Cake Company via Martha Stewart Weddings (left); Our Labor of Love/Amy Osaba via Ruffled (right)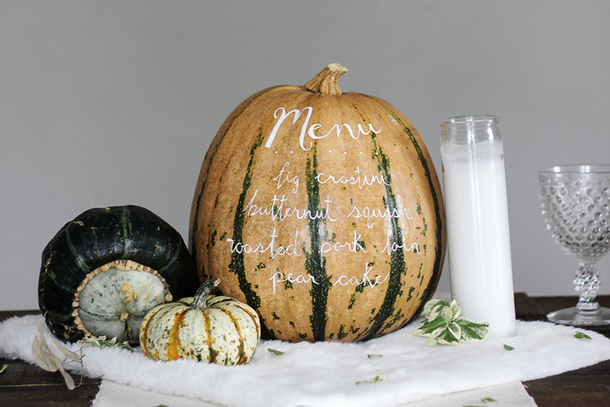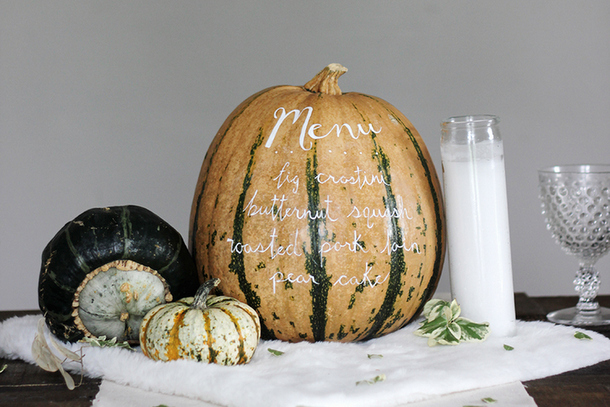 10. Calligraphed Pumpkin Menu
Okay, I basically love anything calligraphed, but how lovely is this idea? Pop one on each table as part of your centrepiece, or stand her over in a prettied-up corner. Find the DIY link in the credits below.
Image credit: The Merry Thought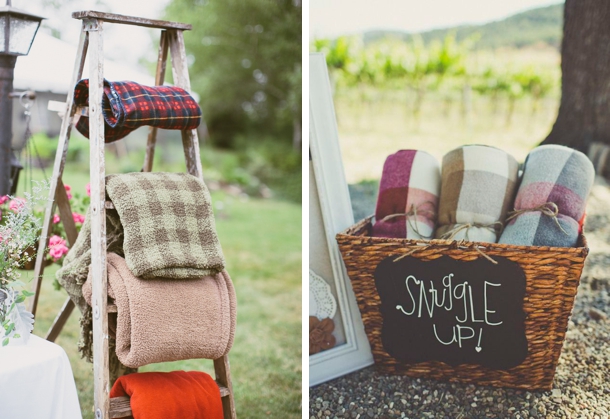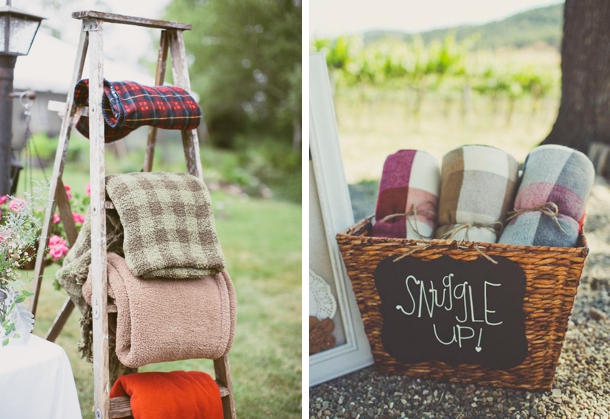 11. Blankets
Autumn isn't always super cold, but if you're having your ceremony or drinks outside, it's a great idea to have warm snuggly blankets available for your guests to borrow! You could also give pashminas as favours.
Image credits: Mango Studios/My Promise To You via Style Me Pretty (left); Sarah Kathleen Photography via Bridal Musings (right)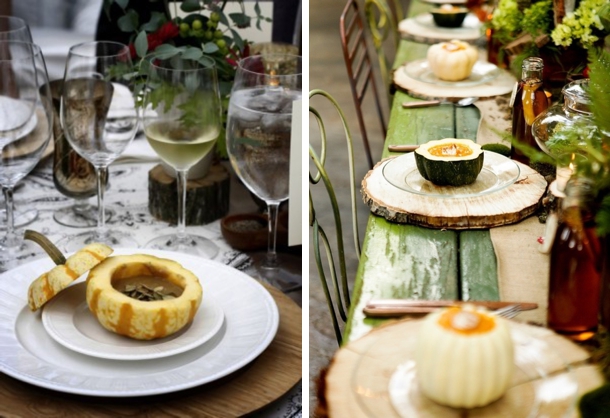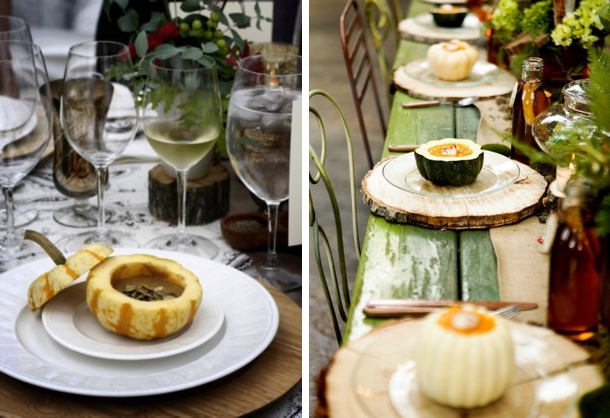 12. Soup in Gourds
This has to be the best starter for an autumn or winter wedding, no? Just think, creamy pumpkin or butternut soup, served in the prettiest and most appropriate of containers… It's a very stylish way to start off your meal, and one guests are sure to love!
Image credits: Orchestrated Grace/Cybelle Codish of Studio [c] via Martha Stewart Weddings (left); Camilla Binks/Brienne Poole via Elizabeth Anne Designs (right)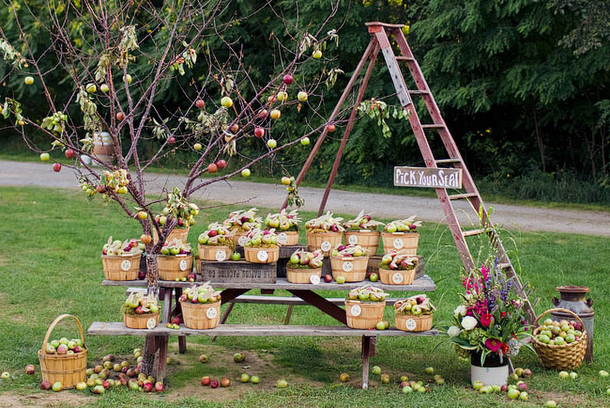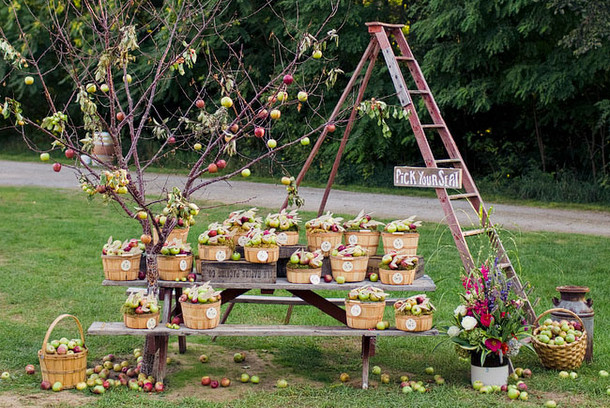 13. Apple Escort Display
It's apple pickin' time! Or at least, that's how your guests will feel when they see this adorable display in lieu of a table plan. Each basket represents a different table, and the apples are pinned with paper 'leaves' that have the guests' names and table number on them. Clever!
Image credit: Harrison Studio/orchestrated grace via Green Wedding Shoes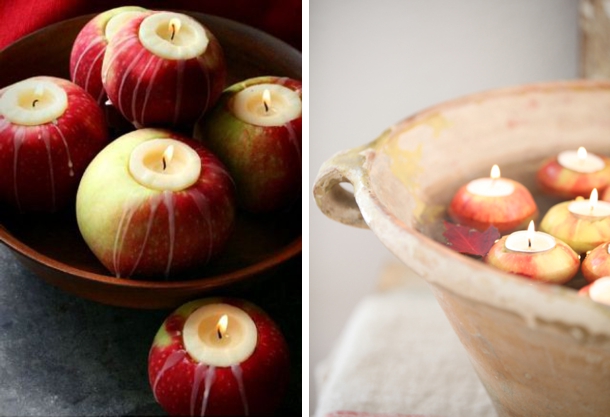 14. Apple Votives
More apples! I can't resist. But many of these ideas can tranfer to other autumn or winter fruit like pears. Apple candles are one of my favourite ideas – just make a hole for a votive candle to sit in, and you're sorted (love the floating candle/bobbing apple twist!). You can also put a small dinner candle in an apple (aka the cheap decor at my 21st that got a ton of compliments, haha).
Image credits: via eHow (left); Dreamy Whites (right)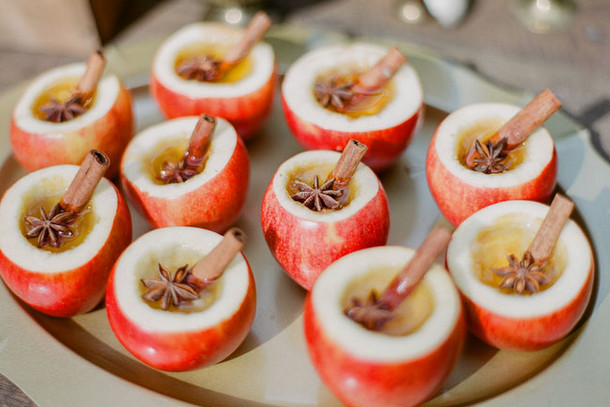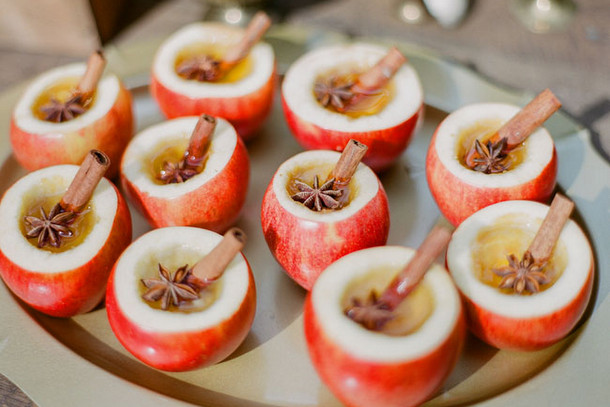 15. Apple Ciders
Here's another one for the cocktail bar, little hollowed out apple cups to hold warm cider and cinnamon. Warming AND pretty!
Image credit: Best Photography/Freshly Picked via Green Wedding Shoes