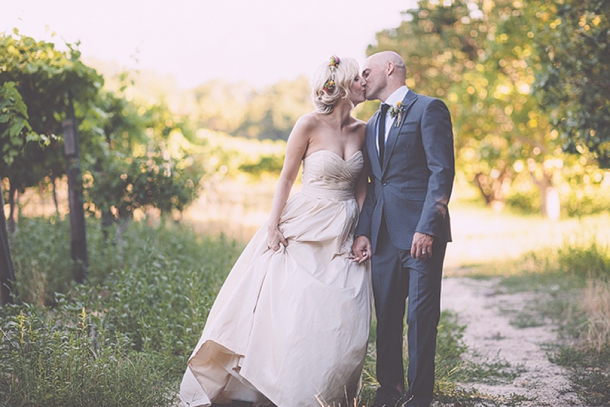 This is the kind of wedding I live for, the kind that makes me wonder why anyone would get married anywhere else but our beautiful country (take note, Clooney, although I'd rather you eloped with me). Being talented graphic designers, the bride and groom also have exquisite taste, turning a protea-themed, rustic slash boho style wedding into something more than I've ever seen before. For one thing, there's the floral arch – serious wow factor, and it has me falling in love with our big, bold, beautiful national flower all over again. Then Carlen's flower crown and soft curls, and graceful Elbeth Gillis dress (one of my personal favourites of Elspeth's designs, in fact). Succulent favours in tin mugs branded with the awesome protea logo the couple created. Tables filled with burlap and wildflowers and glass clear as the summer sky. A trio of fashionable bridesmaids. And to top it all off, dreamy pictures by the incredible Sybrand Cillié. In fact, the service providers list reads like a who's who of brilliant SA wedding suppliers (and I'm delighted that SBB was part of helping Carlen & Lynton put their team together and plan their big day from abroad!). I love every inch of this one, and I'm sure you will too – so enjoy!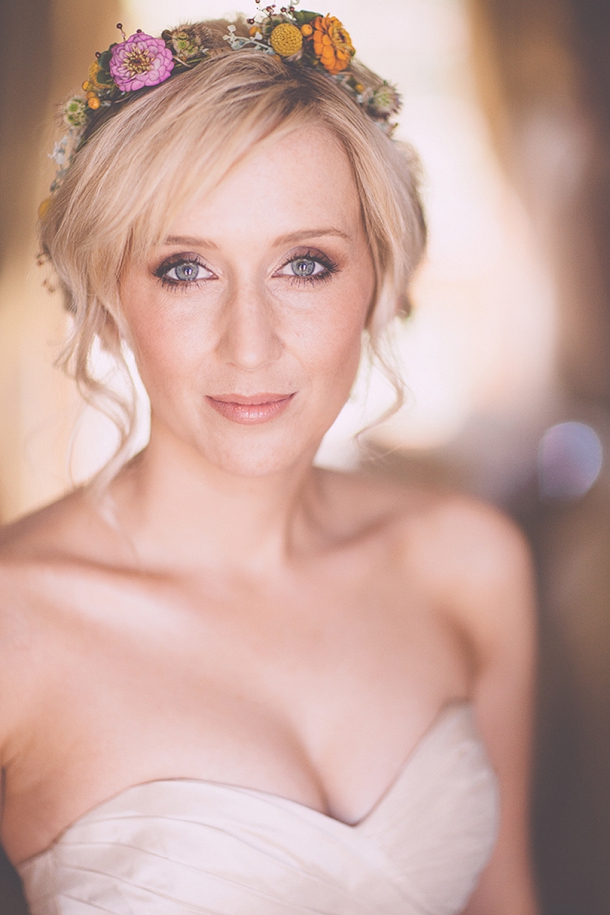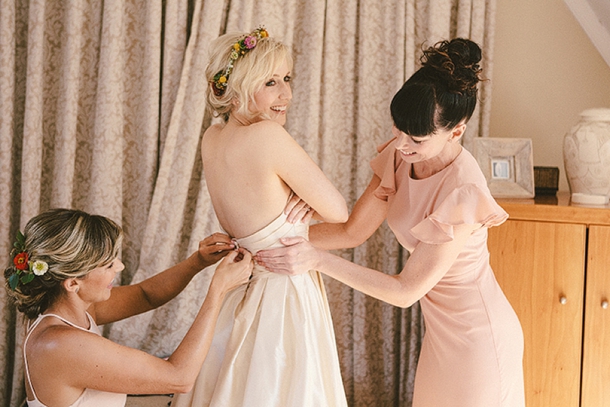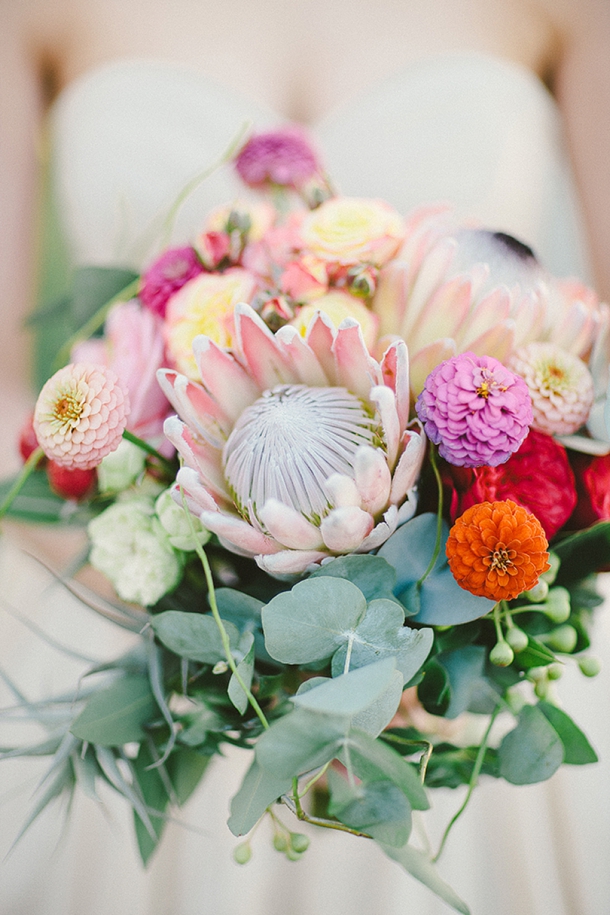 Love Story
Ours was a classic blind date. We met up at the Commercial Tavern in London and after the nerves had settled down we had a wonderful night getting to know each other. I think we both left that night thinking that we had so much in common and seemed to get on so well that a second date was a no brainer. On that date we visited the Wildlife Photographer of the Year exhibition (which we still do every year) and a dinner and again things ended with us knowing there was something special happening. Things moved quite quickly from then on and we moved in together six months later. The rest is history!
The Proposal
(From the groom) We went away on a weekend trip from London to Wales for Carlen's Birthday and stayed in a cute little boutique hotel/cooking school. I had saved a bottle of Zorgvliet Richelle red (all my friends and Carlen knew it was for the day I popped the question). On our walk that evening I spotted the perfect place on the river, but got greedy and thought we might come across an even better one – not to be! Back at the hotel I asked Carlen to choose either my left hand – holding a small bottle of complimentary Rosé, or my right – the champagne option. There was one other option at which point I reached down and pulled out the special bottle. At first Carlen was not happy that I wanted to open it on her birthday, until the penny dropped! After that initial confusion she thankfully said yes!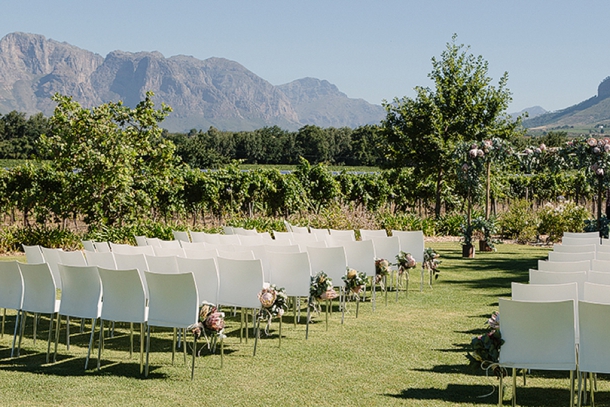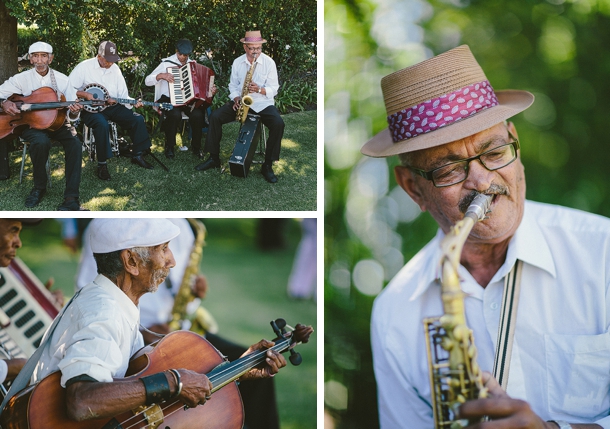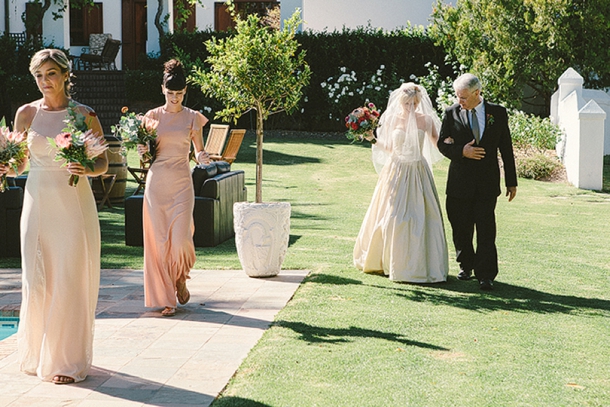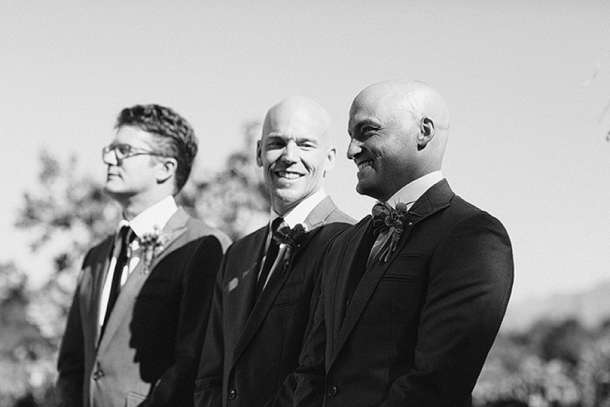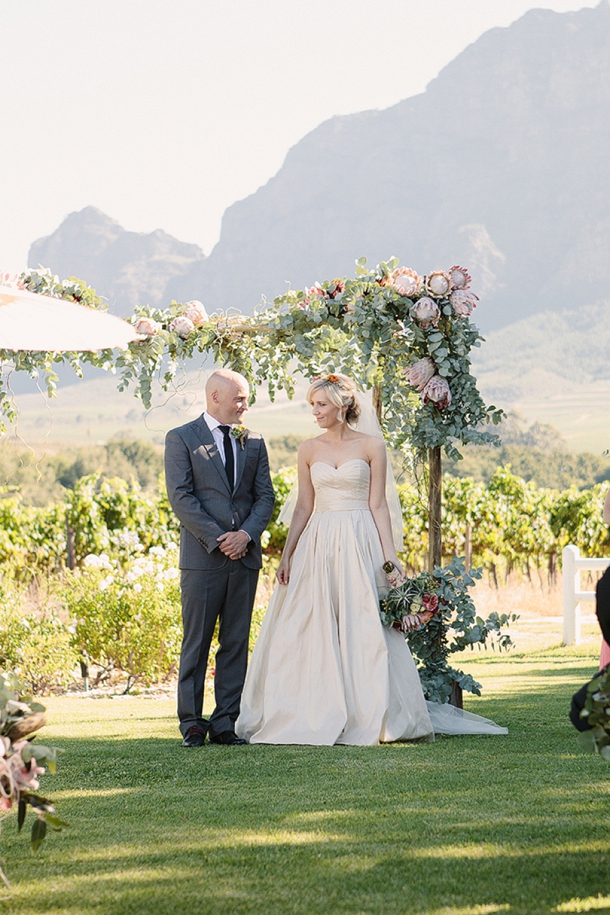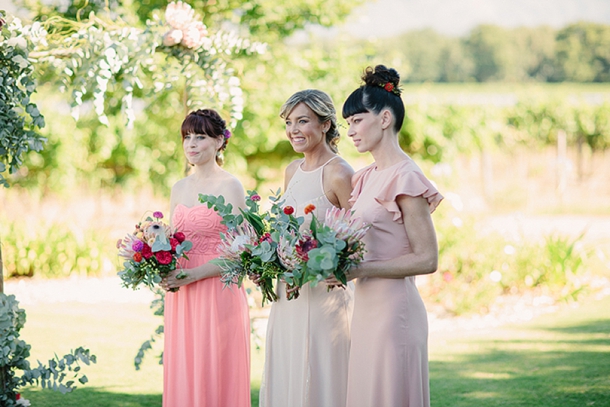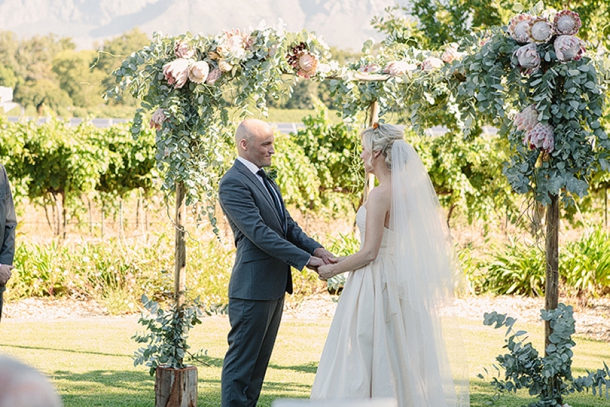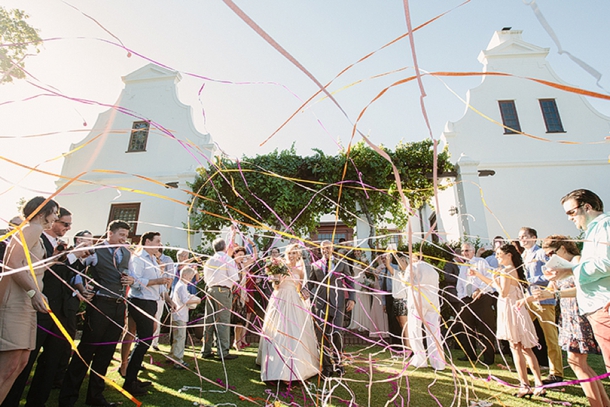 The Venue
It was tricky picking a venue from our London home and we had to go off the weddings we've seen on SouthBound Bride and other blogs. We had a few shortlisted and decided on Vrede en Lust on the fact that they had a very good rate for on-site accommodation and all weekend hire for the month of January, a late closing time and the obvious of an amazing setting, indoor/outdoor feel and prompt and very helpful email correspondence. We wanted a venue that represented the best of the Winelands for the out of towners, and great food and wine! We could not have been happier with Vrede en Lust. Such an amazing venue and the staff were just unbelievable! The venue is very close to my heart as I studied at Stellenbosch University and grew up with regular visits to the Winelands. Lynton was a little more keen for a beach wedding (Durban boy), but I was paranoid about wind!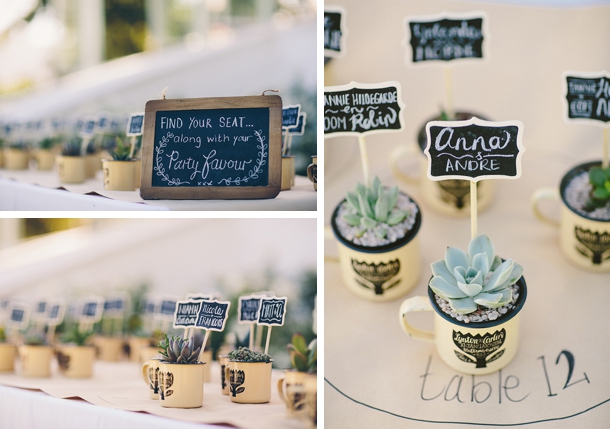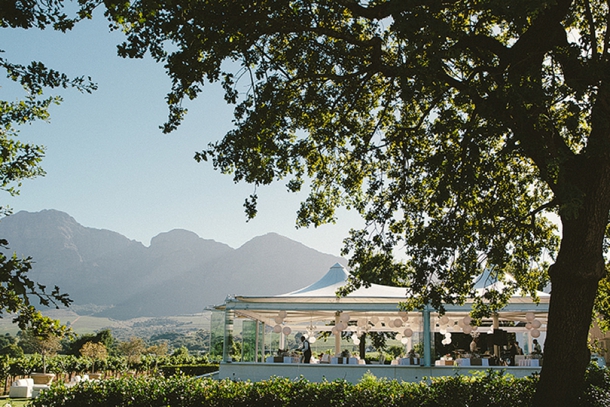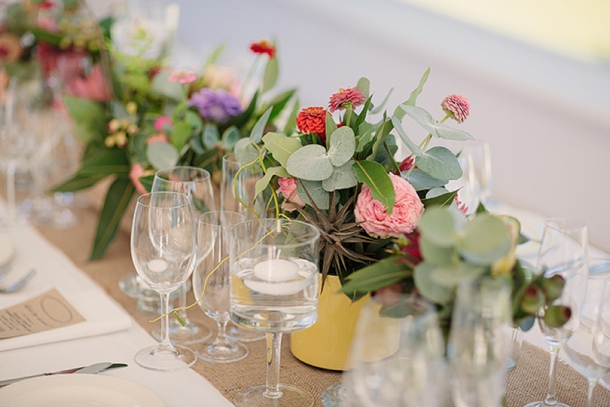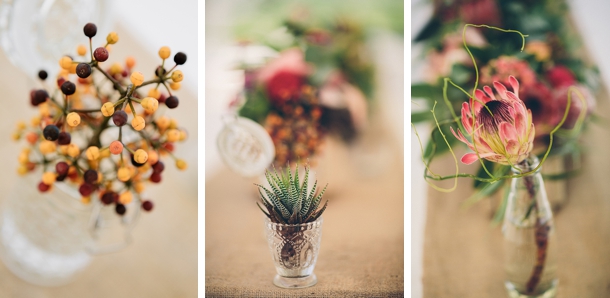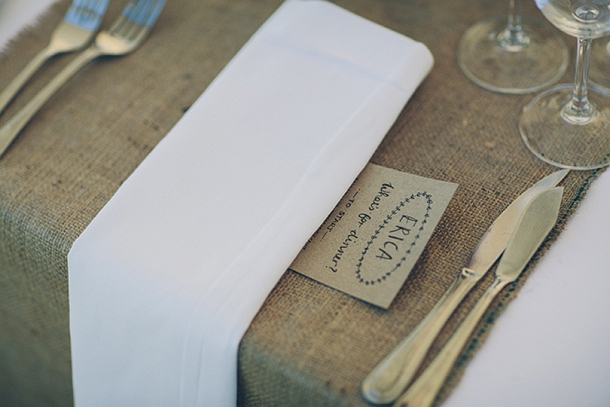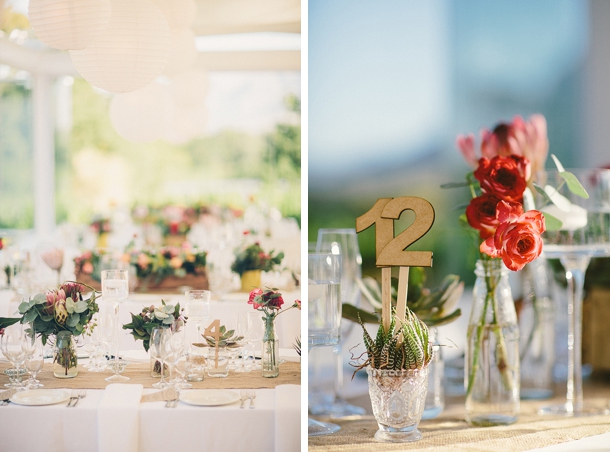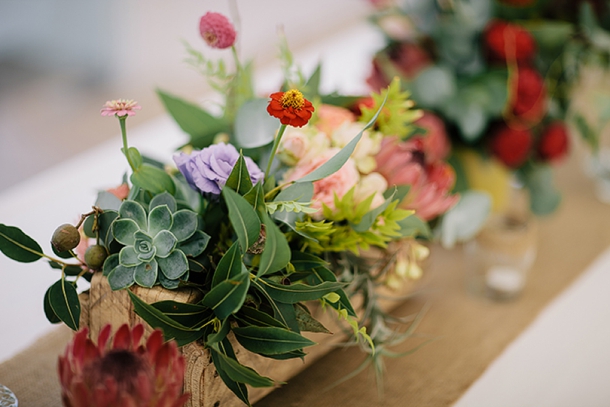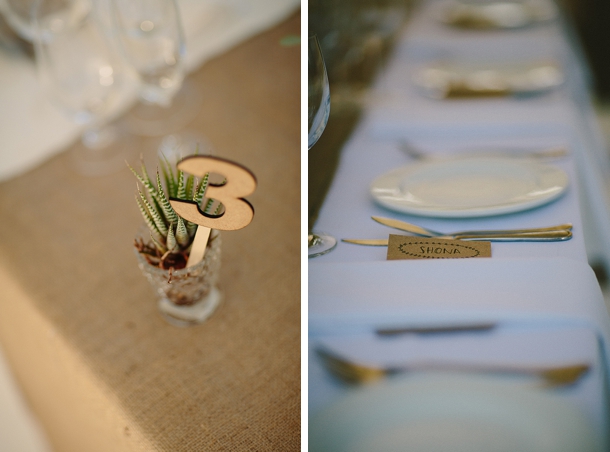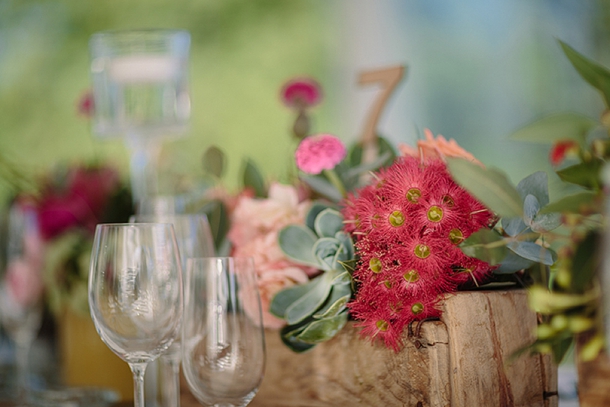 Wedding Style
I've always had an obsession with proteas and knew I had to incorporate them into the wedding even though they've already had their day as the wedding flower of the moment. We wanted to keep it endemic and as fynbos/South African as possible. So the colours were all based on the greens and pinks of the classic protea.
Wedding Details
We are both graphic designers so it was important for us to follow the theme from our 'save the date' and website invite through to the menu's, table setting, etc. It was also meant to be on the thank you cards, which sadly have not made it out of our door yet! [Look out for Carlen & Lynton's awesome Save the Dates on our Facebook page today! -G]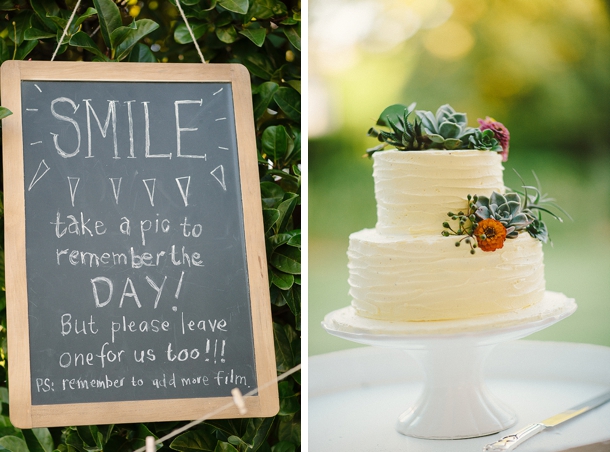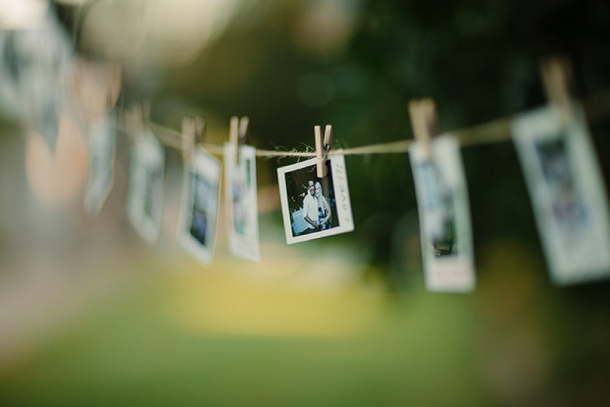 DIY Elements
As we're both graphic designers, we could do all the design elements ourselves. We designed little wooden laser-cut save the date magnets, but they ended up in a postal twilight zone for six months! So we decided on a website and Mailchimp invites, which was a pretty good way to see who opened the invites and at what time (we could even prompt those who received it but did not click through to the invites!)
My Mom, Dad and nephews made all the wedding favours, my brother and sister-in-law helped with the cake boxes and other last minute printing, cutting and delivering of bits and pieces. We also used some airplants and succulents from my Mom's garden.
The Flowers
We also had to book the flowers from London and Heike's personal response really stood out for me. We met up with a brief of what we knew we did not want and types of flowers we did want included and the protea as a design queue, but pretty much trusted her to deliver something amazing. I also really wanted a bespoke rustic wedding gazebo, but had no idea where I could find one. A week before the wedding she said that her husband, Andrew, would build it for me! I think it was the first one he made and it will definitely not be the last. I only saw it for the first time when I walked down the aisle and I was so impressed with what they created! It now proudly stands in my parents' garden.
Heike also put me in touch with her sister Silke to do our dessert table and with the help of her Mom decorated it in the same flowers. The table looked amazing and there were zero mini desserts left over. Heike also saved the day for us and organised new tablecloths when the ones delivered were way too small! Thanks Heike and team!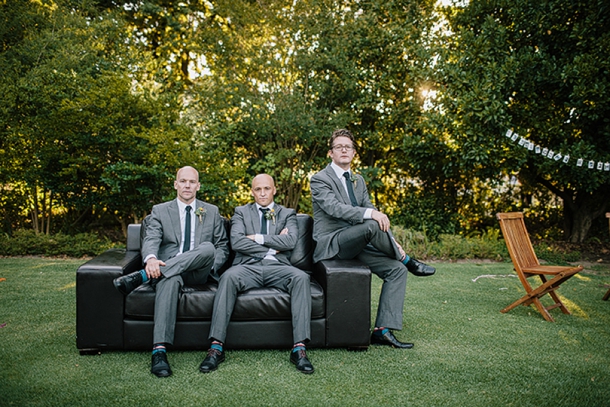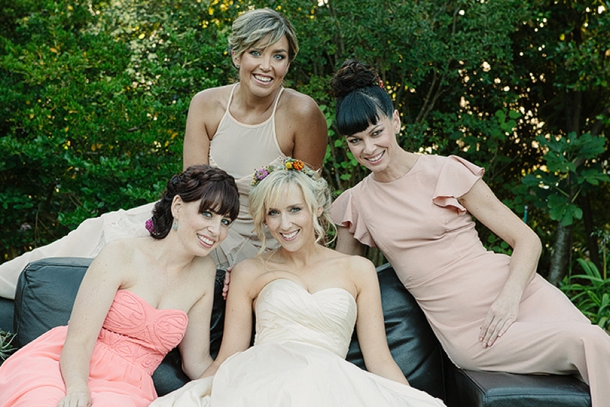 The Dress
I've always thought I wanted something very understated and just get a second hand "not too Bridey" dress off eBay as I'm quite a regular eBay shopper. We came back to Cape Town about nine months before the wedding and I did not want to miss out on the mother-daughter wedding dress experience so booked a couple of fittings in Cape Town. I did not expect to find anything I would love though. The trying on of dresses was amazing to quite quickly eliminate the styles and colours I thought suited me! I tried on my "Mom's Choice" at Elbeth Gillis and was surprised to actually really like it. It was a proper classic "bride" dress. I was still a bit shocked at the style and colour and did not place the order just yet. In the meantime I was offered a job in Sydney and we quite quickly had to relocate and settle in to Australian living and the wedding took a bit of a back seat. Three months before the wedding I realised I needed to organise a dress and revisited Elbeth's dress online and really loved it all over again. I sent her an email brief with slight adjustments to her original design. Lynton had to take my measurements with the guidelines from her. I went to see the dress a week and a bit before the wedding and it was perfect! Elbeth and her team had to take it in a few cm in a week and totally delivered!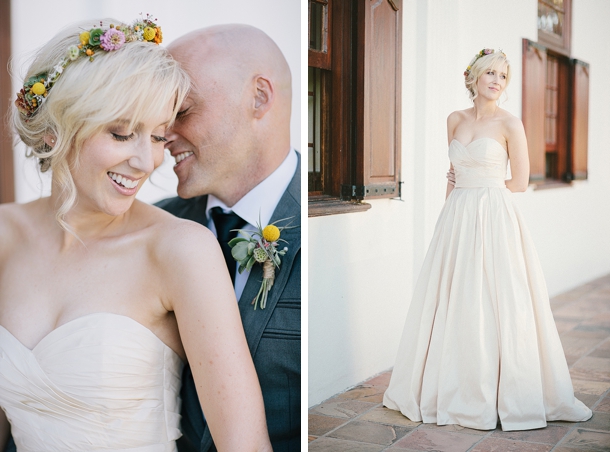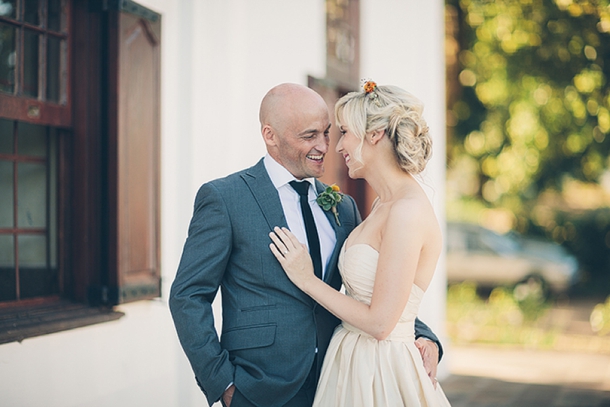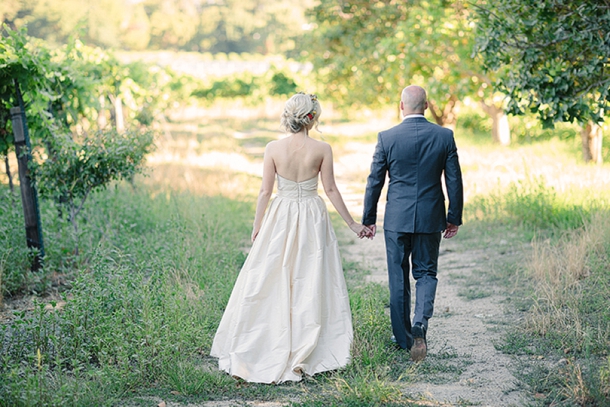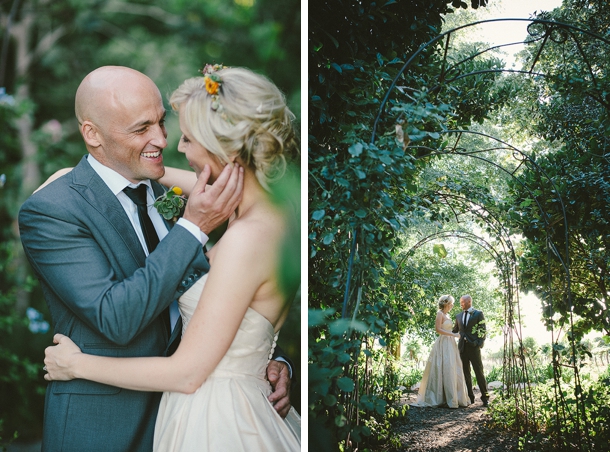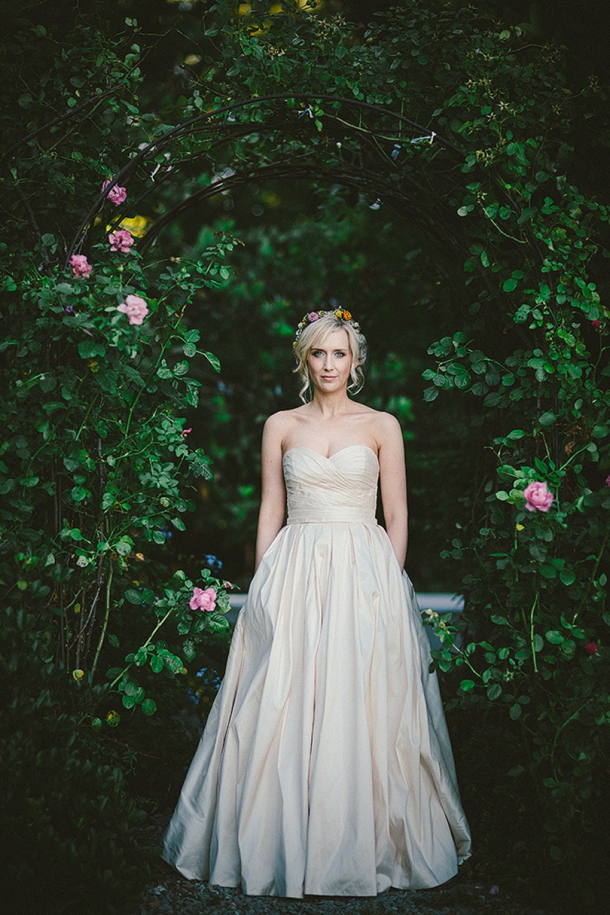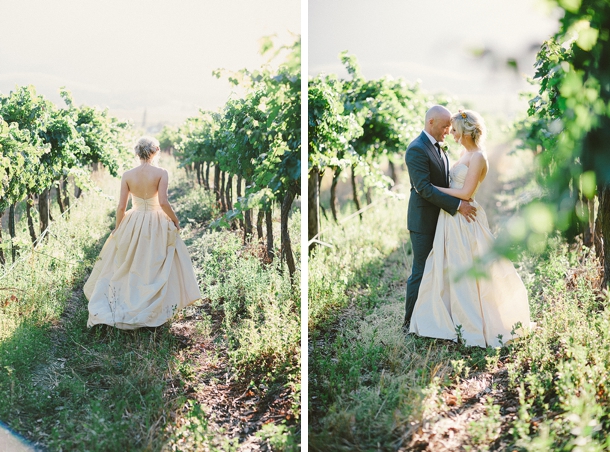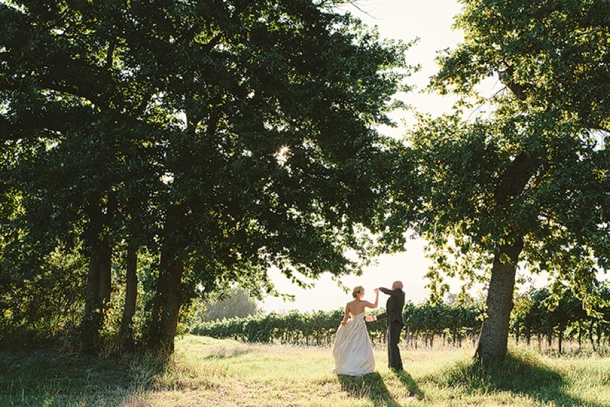 Memorable Moment
I think when we walked into the reception and saw all our lovely friends and family that had come from far and wide to enjoy our special day with us.
Proudly South African Details
Proteas were pretty much central to the whole day – including the engagement ring.
The Honeymoon
Bit belated but we are off to ……. (surprise) soon.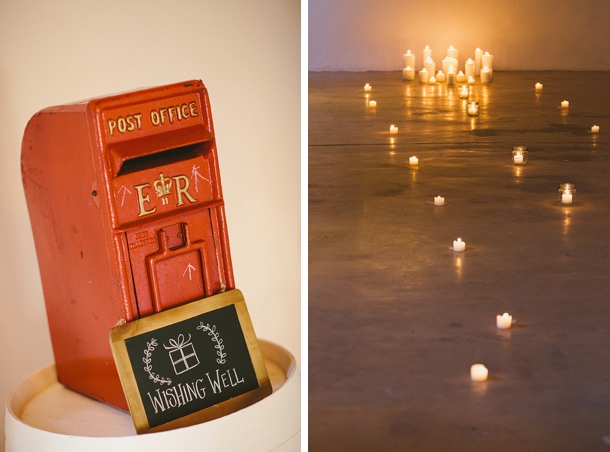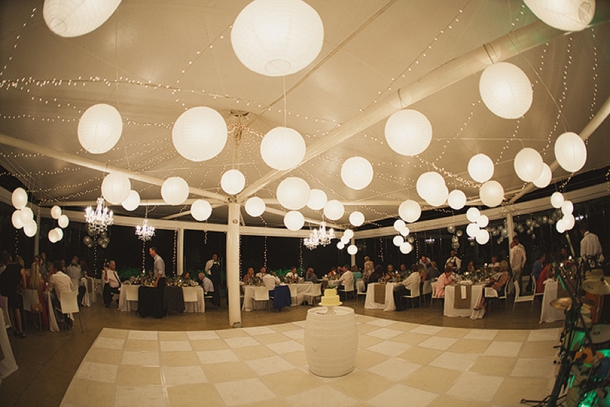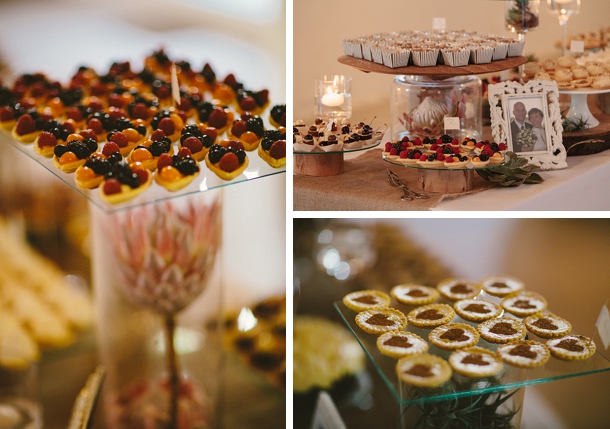 Advice for Future Brides & Grooms
I would say try to spend your money on venue, DJ, food & drink and photographer. They are the elements that will help make your wedding fun and unforgettable. Everything else you can make work around your remaining budget.
Find suppliers that have a good reputation and whose work you admire. They will try and work with the budget you give them.
Don't leave the little last minute details too late… they actually do take up a lot of time and can cause some late nights before the wedding!
Make a list of things to be done on the day and persons responsible. Brief them before the day and then trust that everything will be done without checking up. You don't want to be organising from your make-up chair or call around for things you just remembered to be done. You also don't want people of the bridal party to be running around too much.
But most importantly, don't sweat the small stuff and be present in every moment!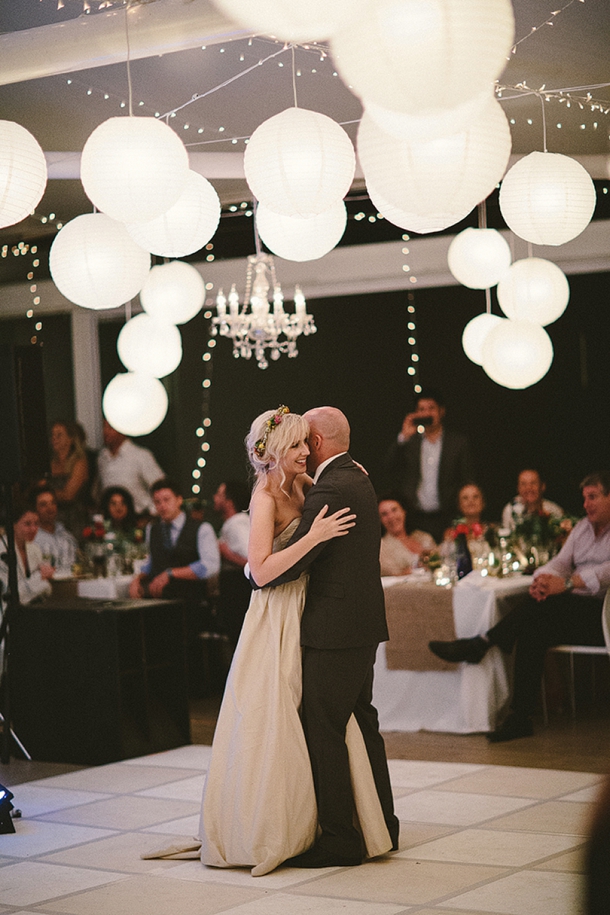 You can see more from this wedding on Sybrand Cillié's blog.
SERVICE PROVIDERS
Venue & catering: Vrede en Lust Wine Estate | Photography: Sybrand Cillié | On the day Co-ordinator: Willem Haasbroek | Videography: FJS Productions | Dessert Table: Silke Viljoen (number on request) | Cake: Delicately Different | Flowers & décor: Fleur le Cordeur | Stationery: Carlen Voigt | Bride's dress: Elbeth Gillis | Bride's shoes: J Crew | Hair & makeup: Jeanette Genis & Algria Fereira (number on request) | Bridesmaids' dresses: Ebay and ASOS | Groom's attire: Top Hat | Hiring: Something Different; My Pretty Vintage | DJ/Entertainment: DJ René | Entertainment: Mr Peterson and The Guys (number on request) | Minister: Patrick Boucher (number on request) | Babysitters: Holiday Nannies