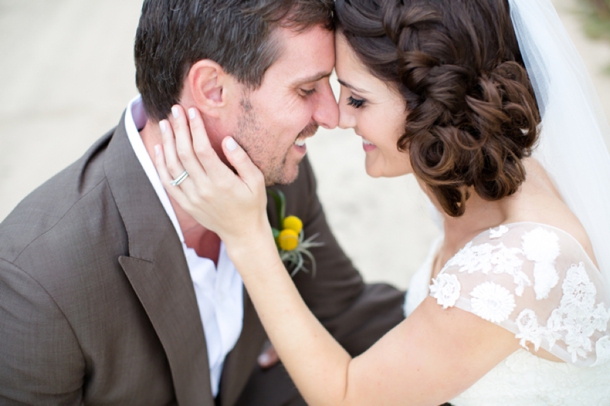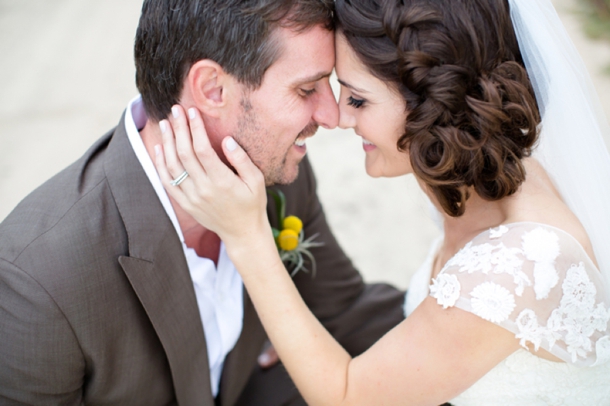 Get ready, friends. Some of you are about to have a new favourite wedding to inspire you. You're definitely about to wear out your Pin It button, or fall in love with a whole new colour scheme. I know I have. But back to the beginning… Today's wedding is the marriage of two winemakers, one from Australia and one from South Africa, who met in California (love it!). I'm honoured that Rienne chose her husband's homeland (and mine) as the venue for their wedding because of the love Johan has for South Africa, and Vrede en Lust rewarded them with incredible views and a light, bright, contemporary classic appeal. Which their decor more than did justice to. Long hessian/burlap runners, coloured glassware, a base of purples, blues and neutrals accented with spectacular pops of green, orange and yellow. Wow. Giant balloons. Little coloured eggs as favours. Oh, the list goes on! The spectacular Catherine Mac did an amazing job as always capturing every detail, from Rienne's drop dead gorgeous lace detail dress to the happiness radiating between bride and groom. As a sign at the reception said, this truly was "made with love".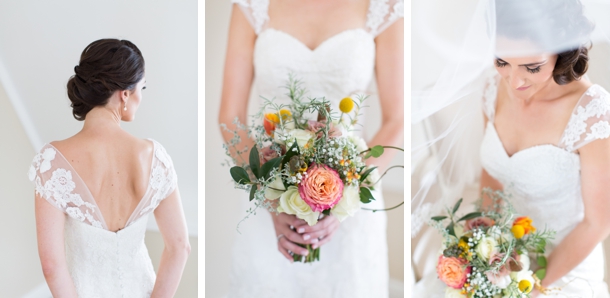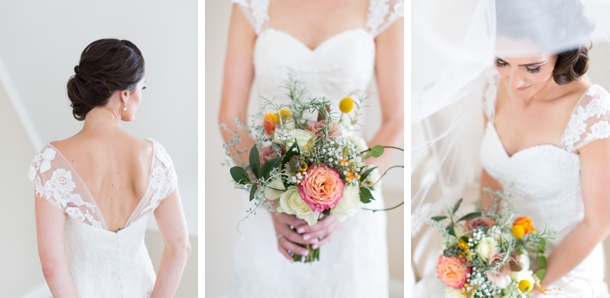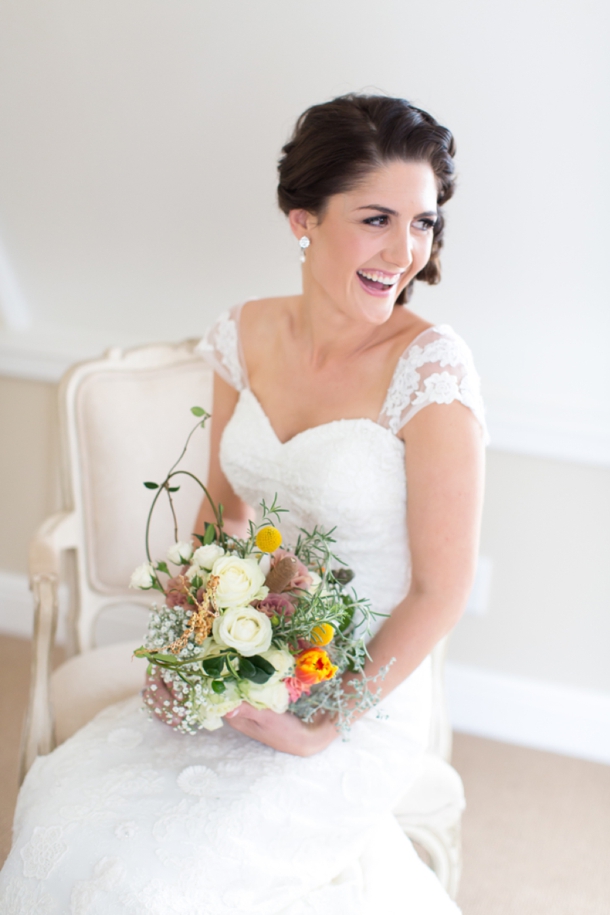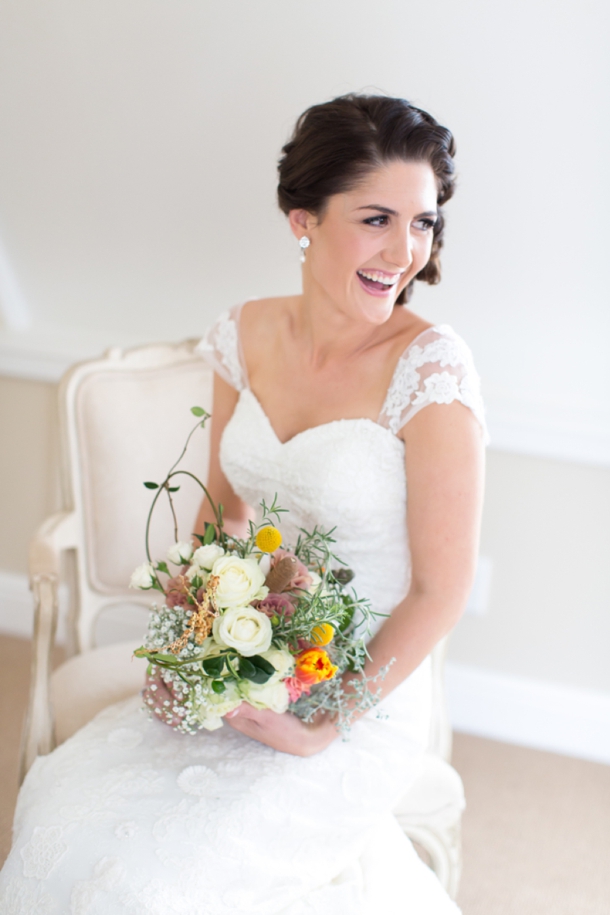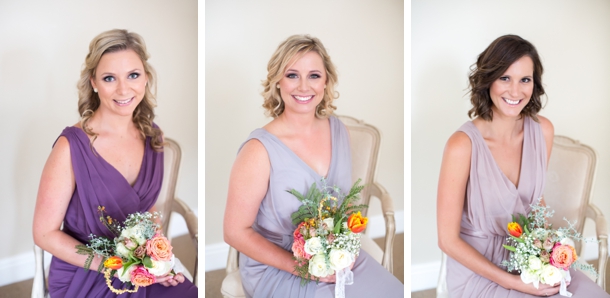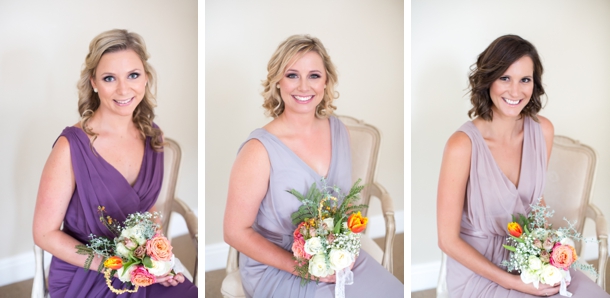 From the gorgeous bride:
Johan and I are both winemakers who met whilst working abroad in California. Our wineries were about 2 km apart on the same country road. We met at a pre-vintage function and it really was love at first sight. Corny we know!
Johan proposed five years on, after moving to Australia to make a life here with me. We were in New Zealand on a holiday he had planned around the Rugby World Cup. Little did I know it was actually planned around a diamond ring, which he gave to me high above the clouds in the Mt Aspiring National Park after a private helicopter ride into the mountains!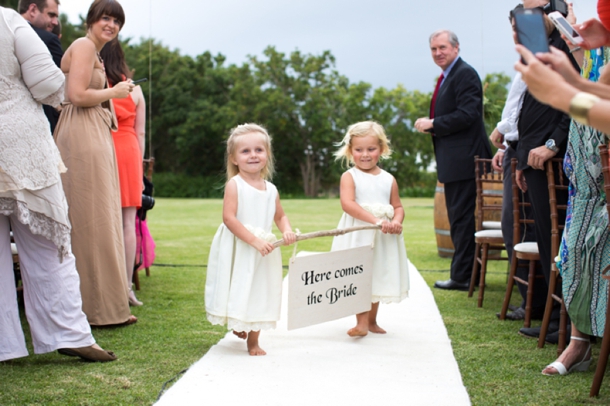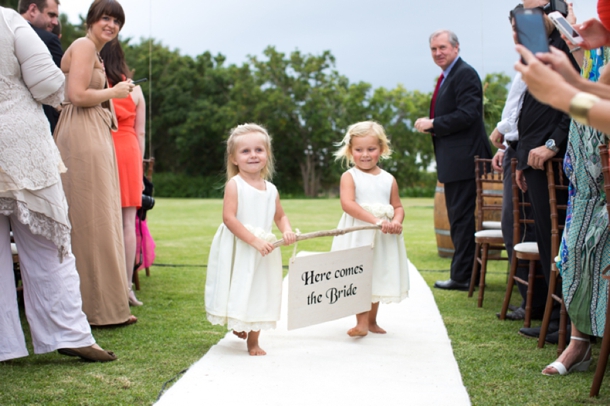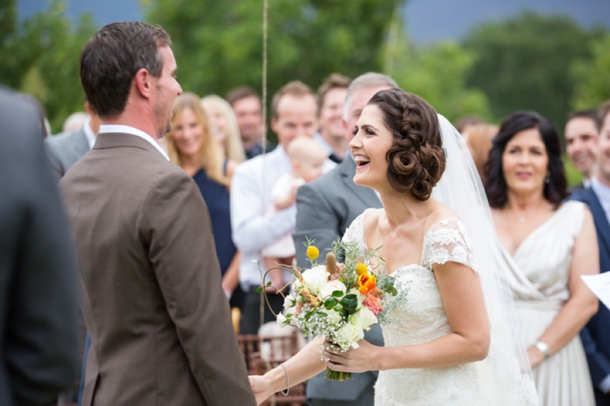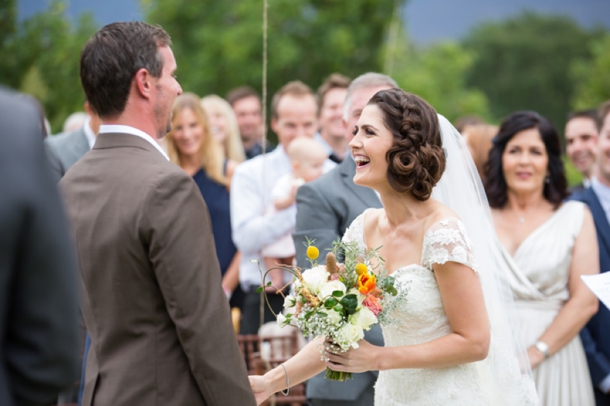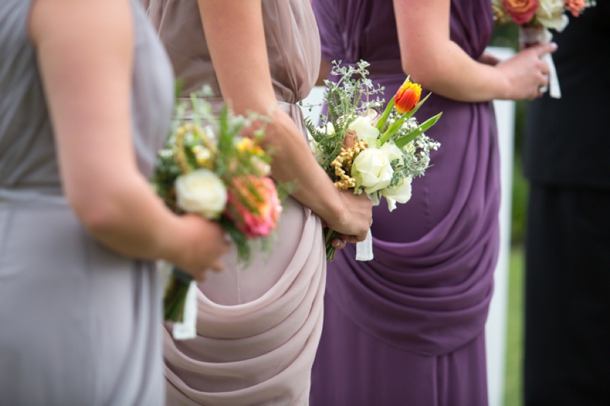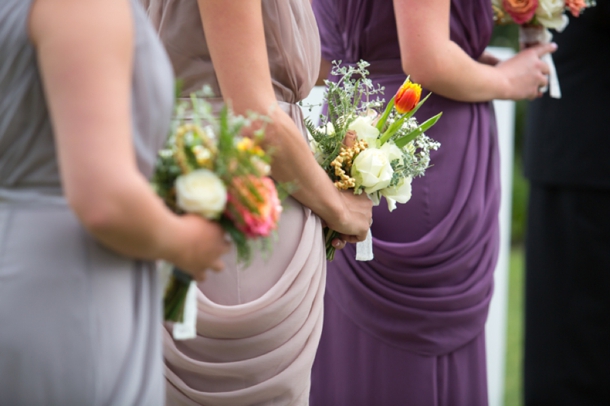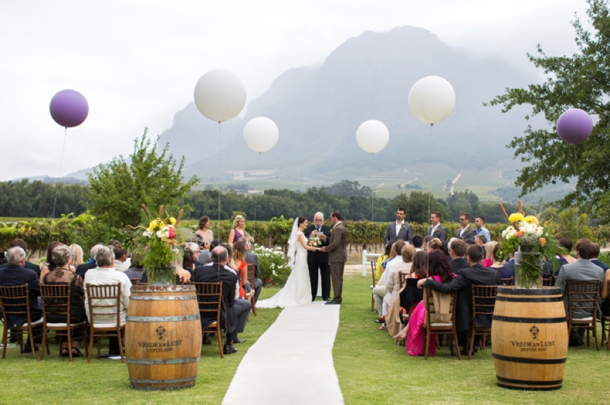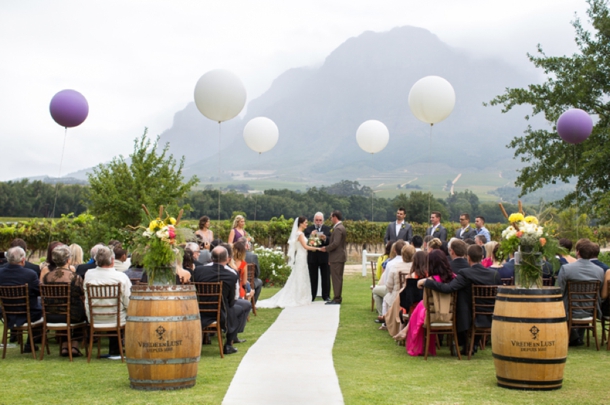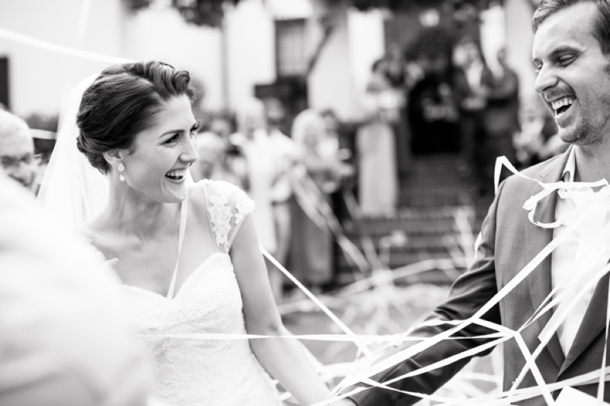 We wanted something relaxed, rustic, warm, comfortable and with authenticity. Vrede en Lust was the perfect venue for us as it encapsulated our story with vineyards, wine, mountains, historic buildings and a relaxed yet classic feel. It also had accommodation for our family to stay with us the night of the wedding! We chose Franschhoek and the Cape winelands as it wasn't until I visited South Africa and where Johan grew up that I truly understood what made him tick. His passion for South Africa and his love for nature are epitomised here!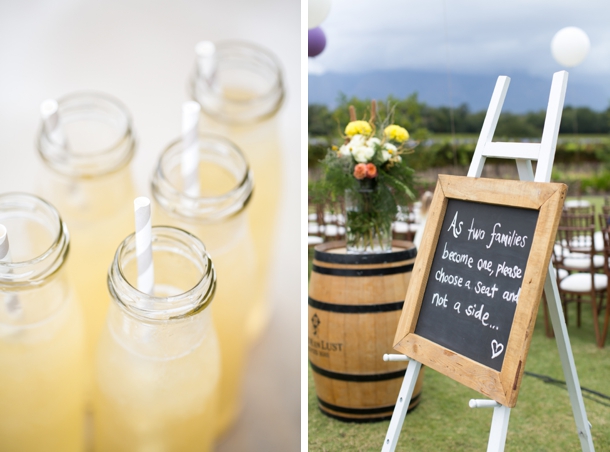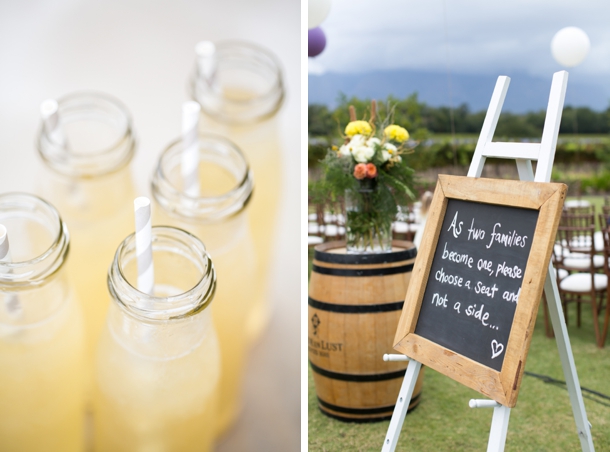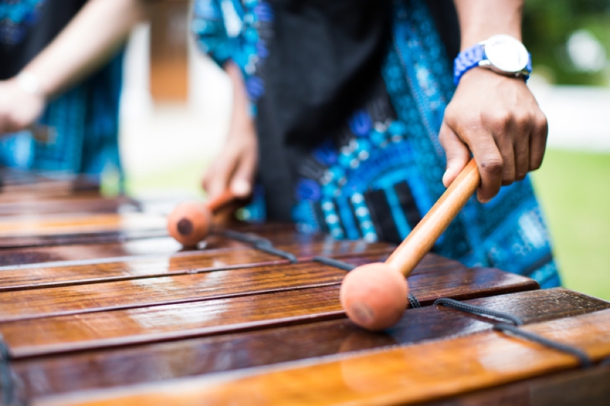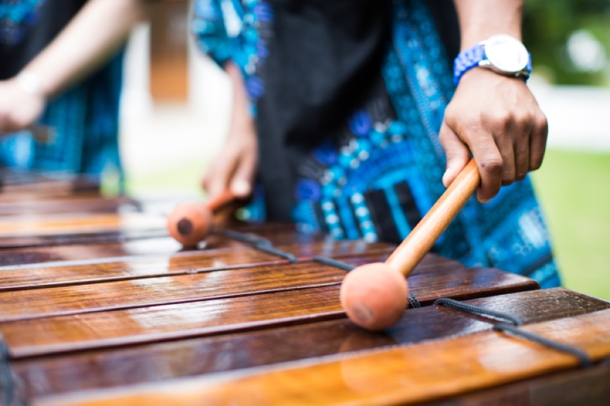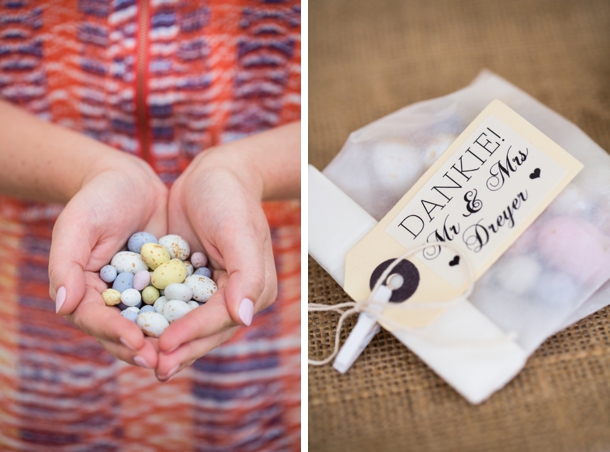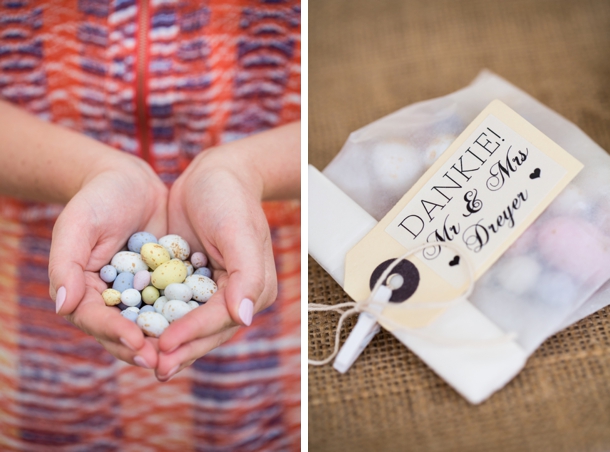 We didn't really have a colour theme but if I had to note a few colours they would be white, lavender, green and hessian brown. I loved the flowers and table decor, and the chill-out area with the fire baskets and hay bale seating. We also had marimbas, which really set the mood. Another highlight was the ice-cream van!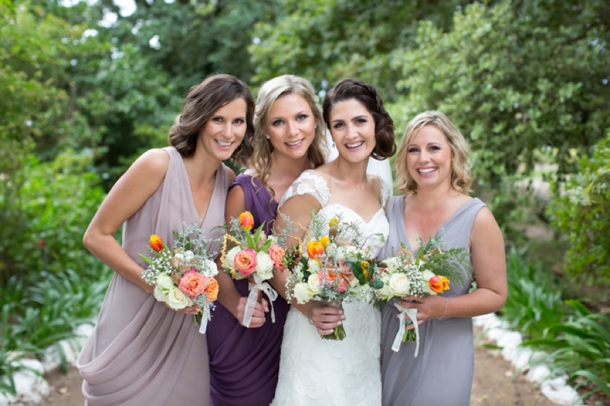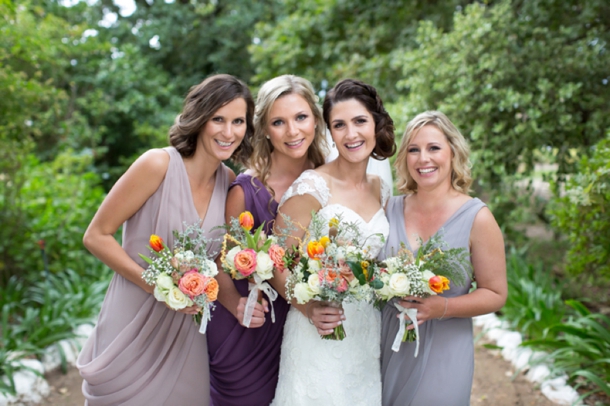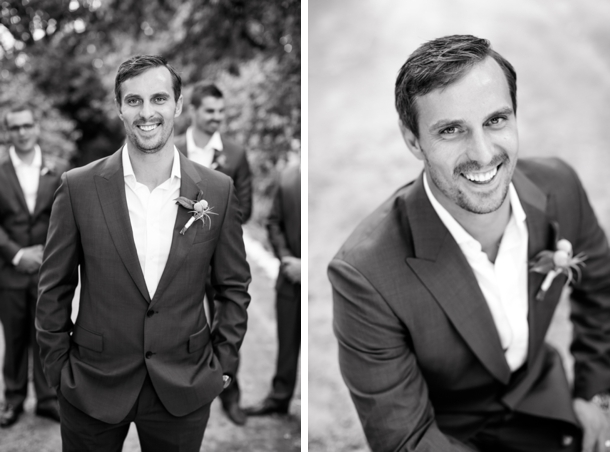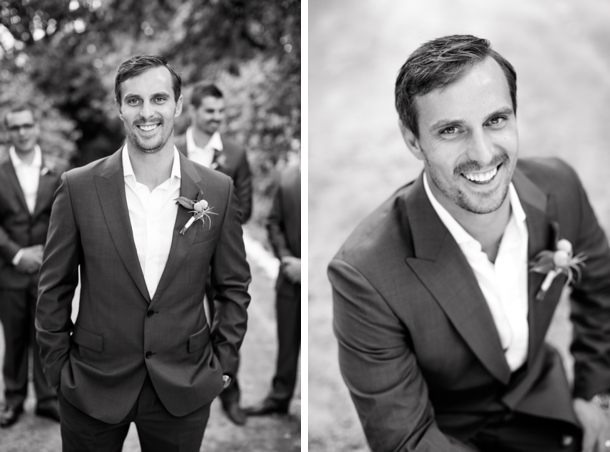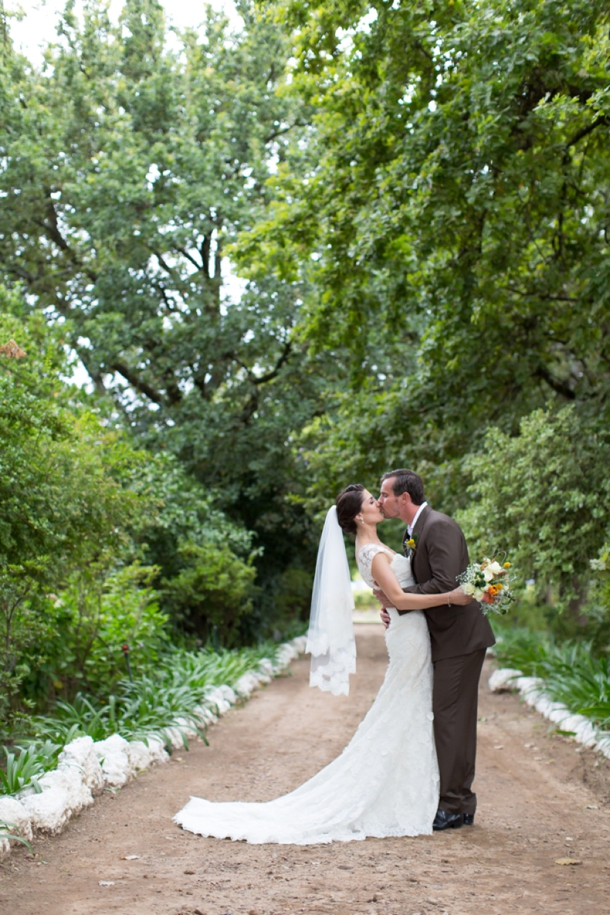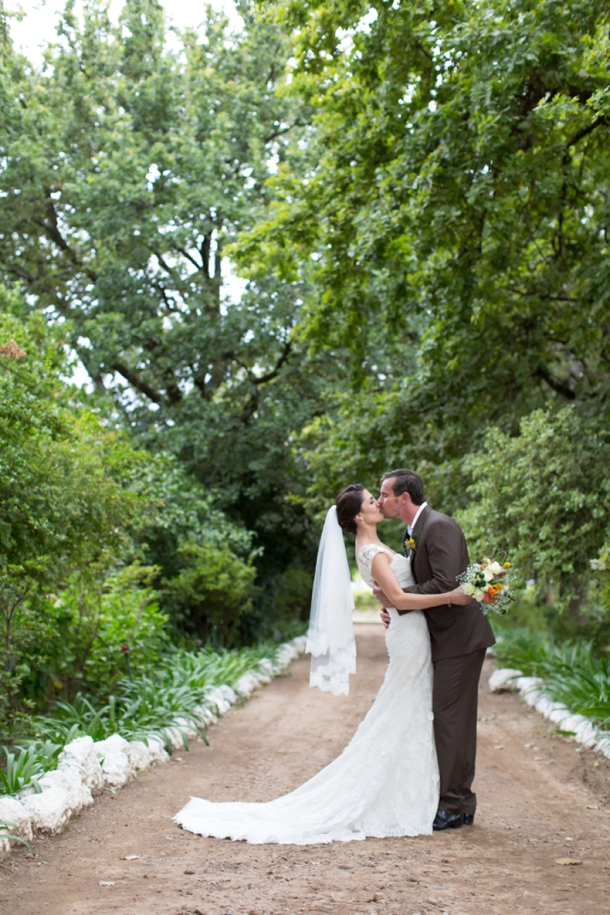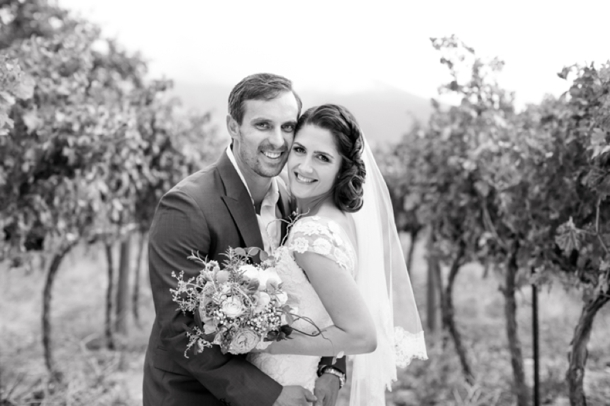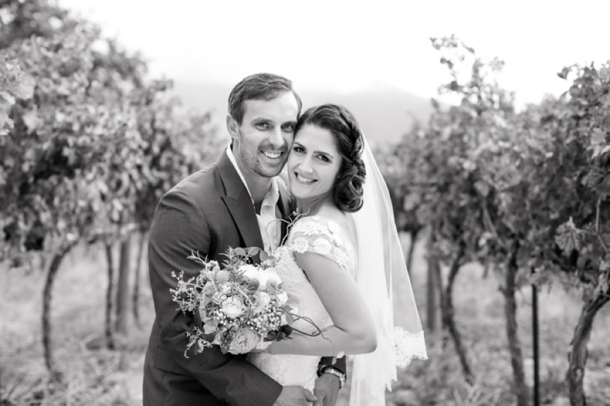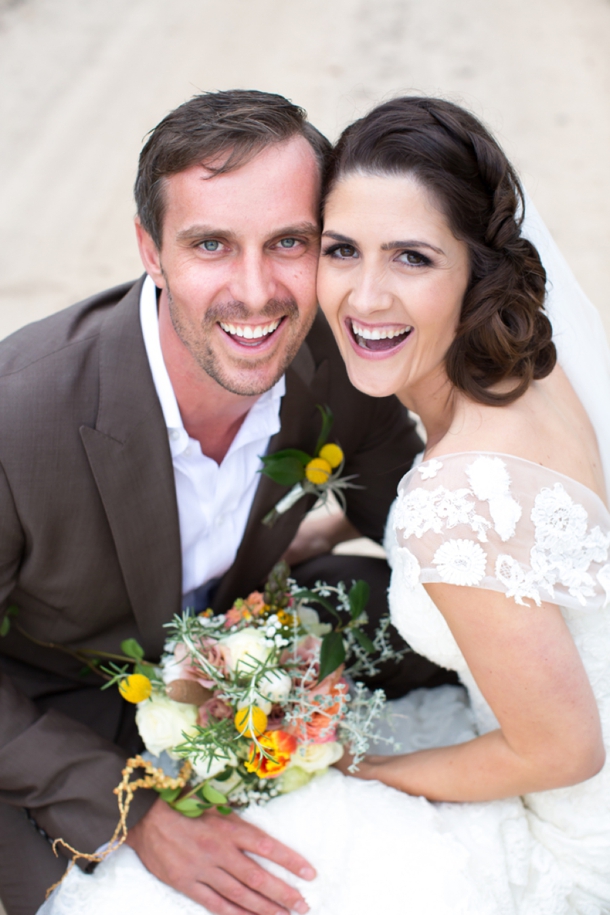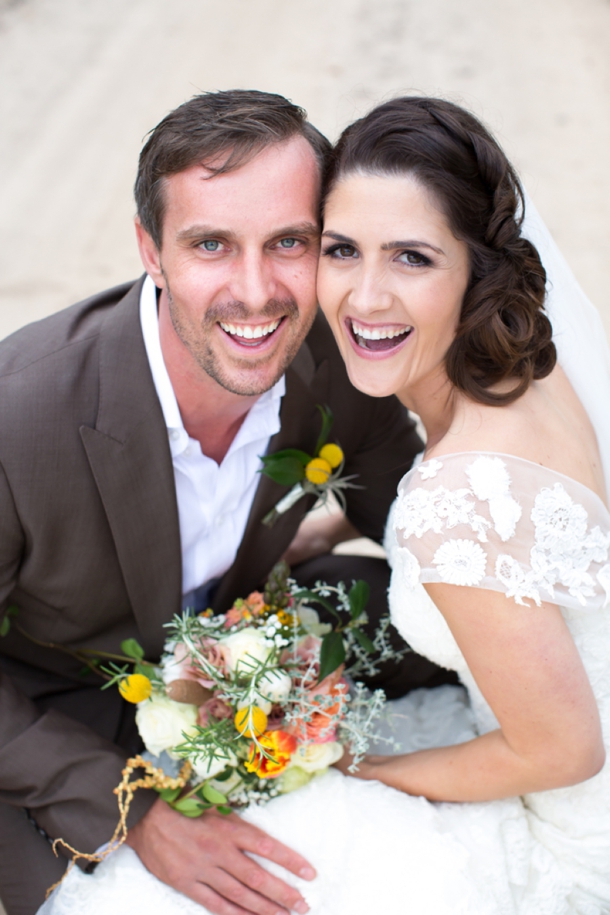 There were many details – assembling them in Cape Town when we only arrived nine days before the wedding was a challenge! Fortunately, we had plenty of help from our amazing family and friends. My now sister-in-law sewed the flower-girl dresses, my brother in law made the 'here comes the bride' sign, we made the blackboards and seating chart and the photo wall (our parents and grandparents on their wedding days), a good friend printed a 'guest book' canvas for us, my brother made our cake toppers, we made the cheese stack cake, my bridesmaids made the favours, we made the hessian runners and my now mother in law collected glass jars for months to make the cute little candle lights along the paths. We also transported two dozen bottles of our handmade Port bottles from Australia to serve with the cheese stack cake! Johan's eldest brother was our MC and he did the most sensational job, we couldn't have wished for anything more!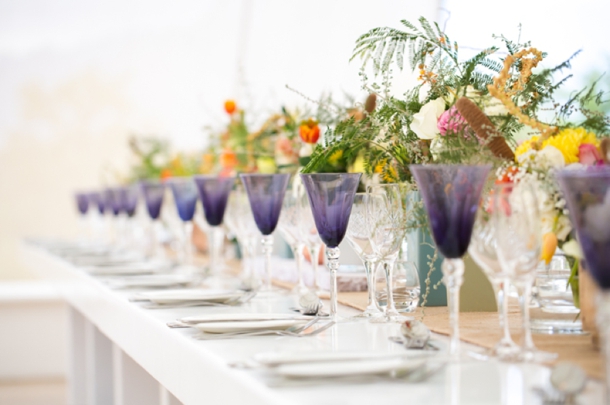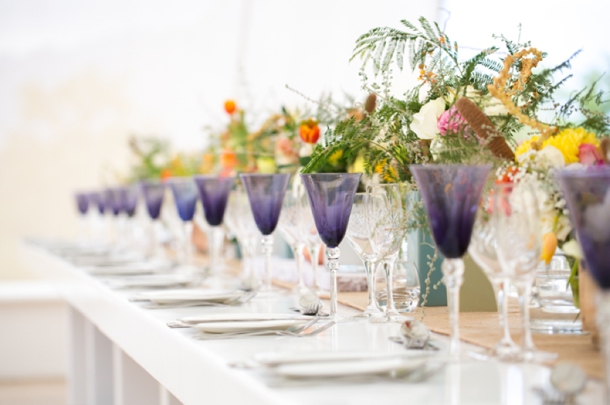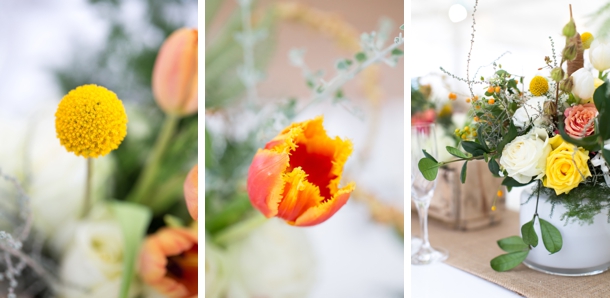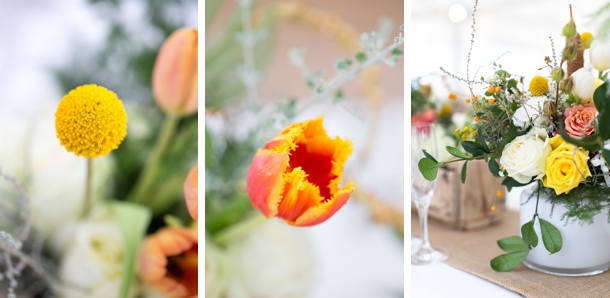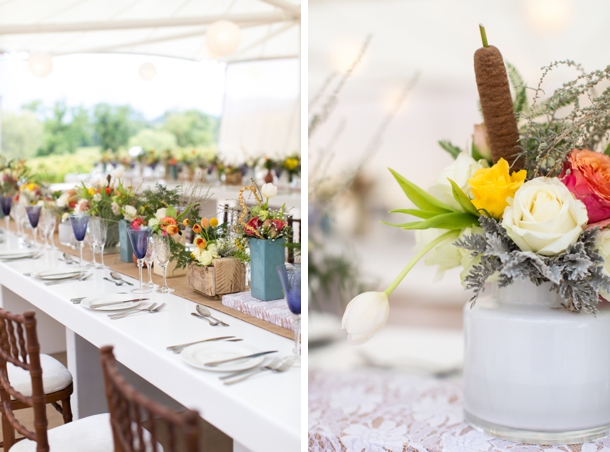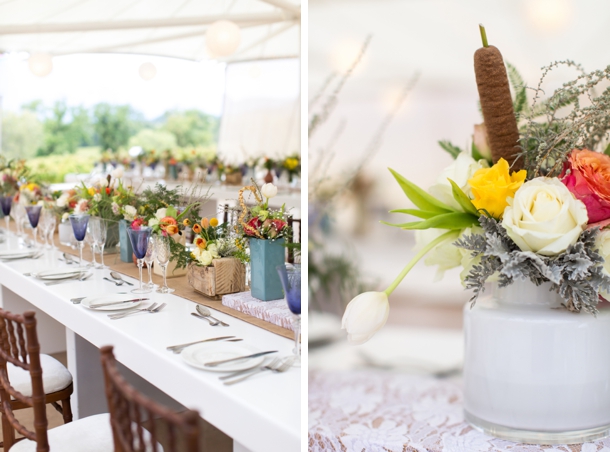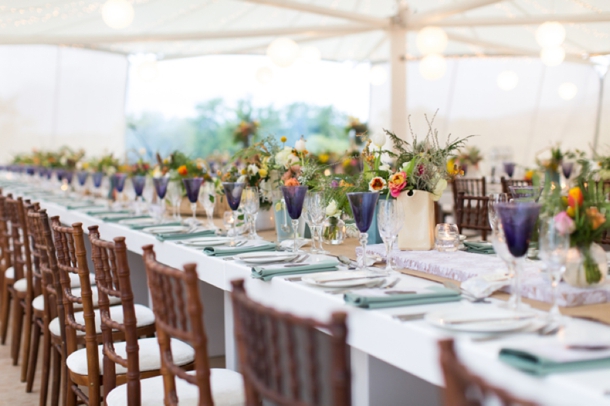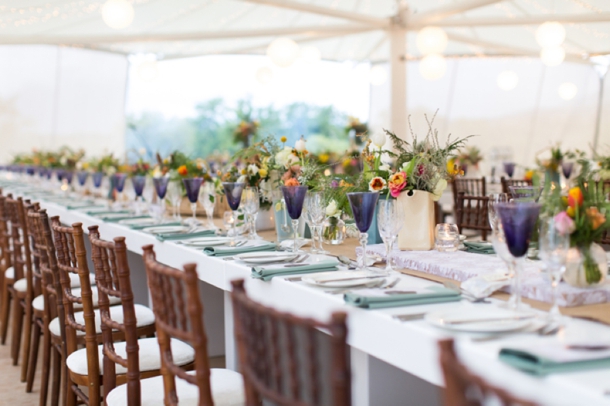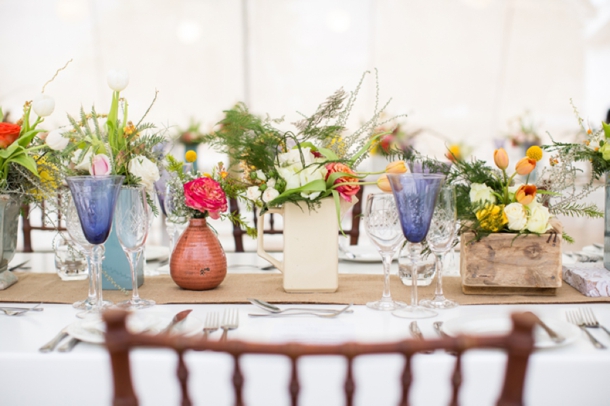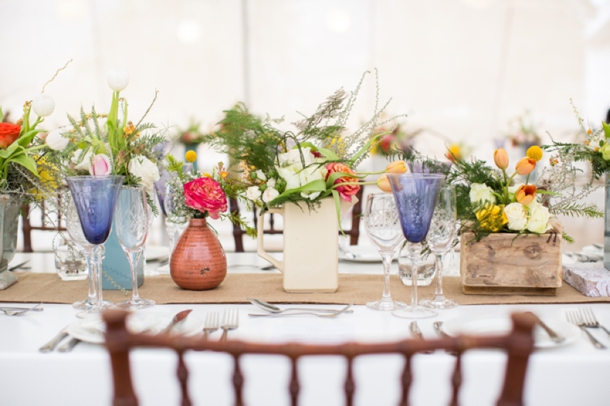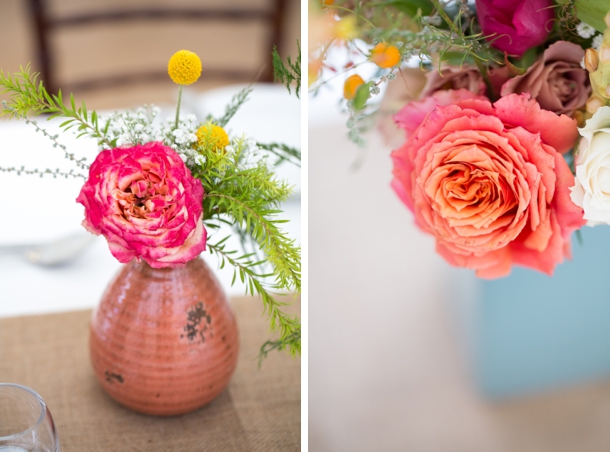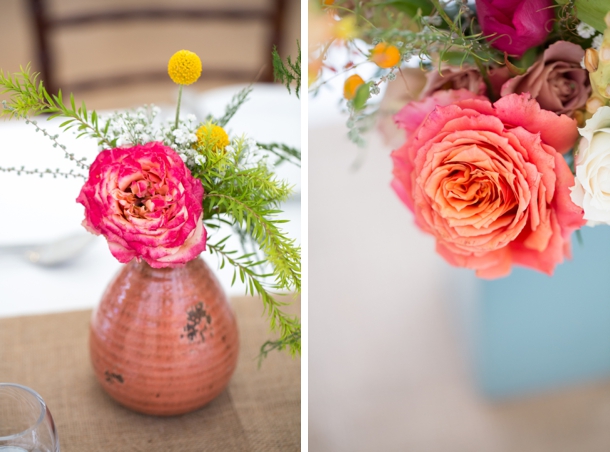 It was pretty darn special to have 40 of our nearest and dearest travel from the other side of the world (Australia mainly) to be there with us in beautiful Franschhoek while we said our "I dos"! It was totally touching and gave us a beautiful warm fuzzy feeling which lasted our entire wedding and honeymoon… in fact it's still there!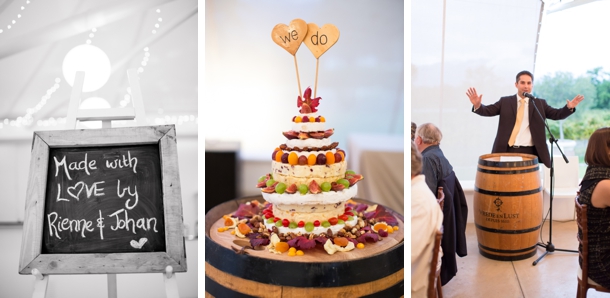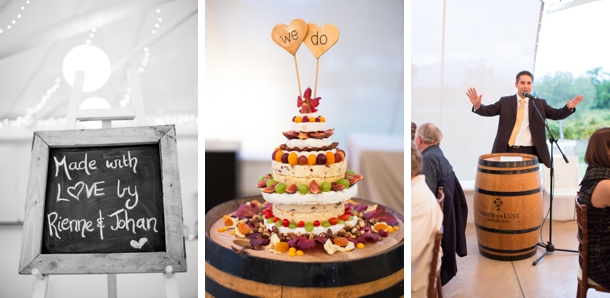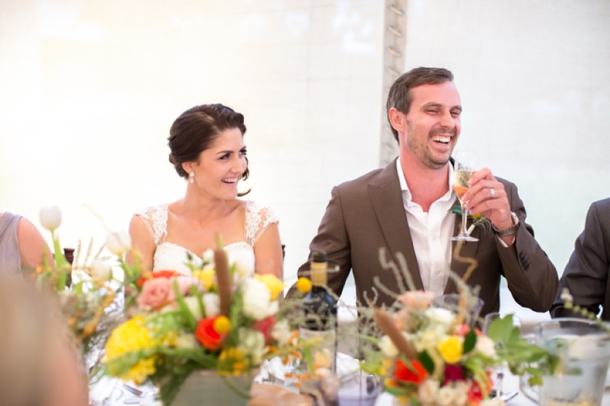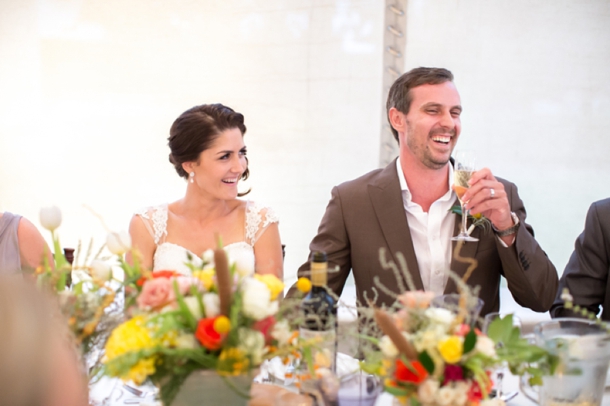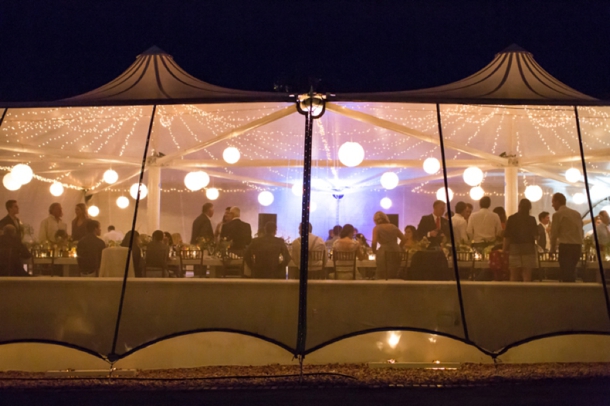 In planning the wedding, I became a little addicted to wedding blogs. I just loved seeing other people's ideas and this teamed with Google images gave me lots of inspiration! My advice to future brides is to organise as much as you can in advance. Confirm your service providers at least two weeks before, so you don't spend the week before doing this or stressing they won't be where they are supposed to be! The one person I didn't get to confirm was my dress steamer – and she forgot to come on the day! Don't let anyone bother you for at least a day or two before the wedding, refer them to someone else: your groom, your mum – anyone! You need time to relax and become excited. If you don't use a videographer get someone to film your speeches! We wish we had! Finally, remember that being a bride only happens once – savour it!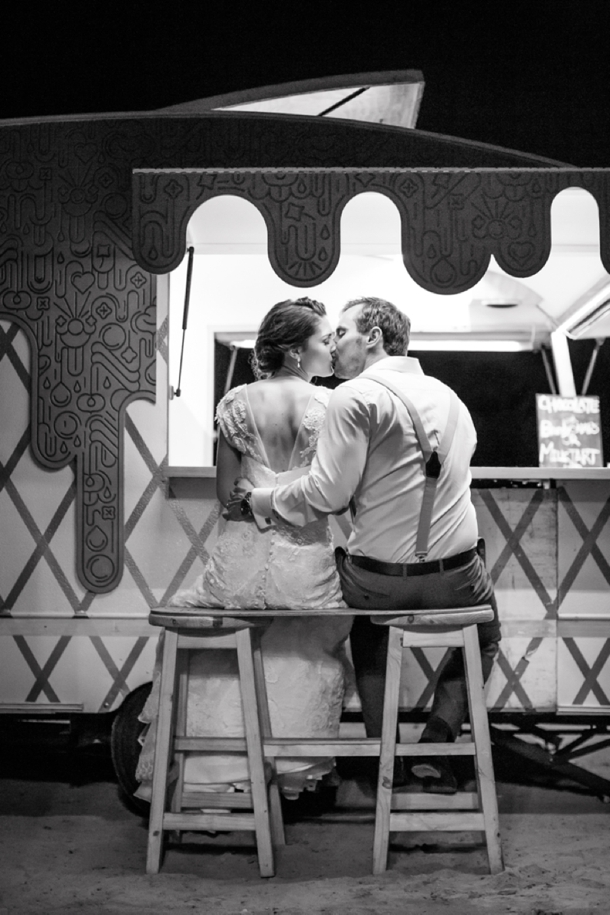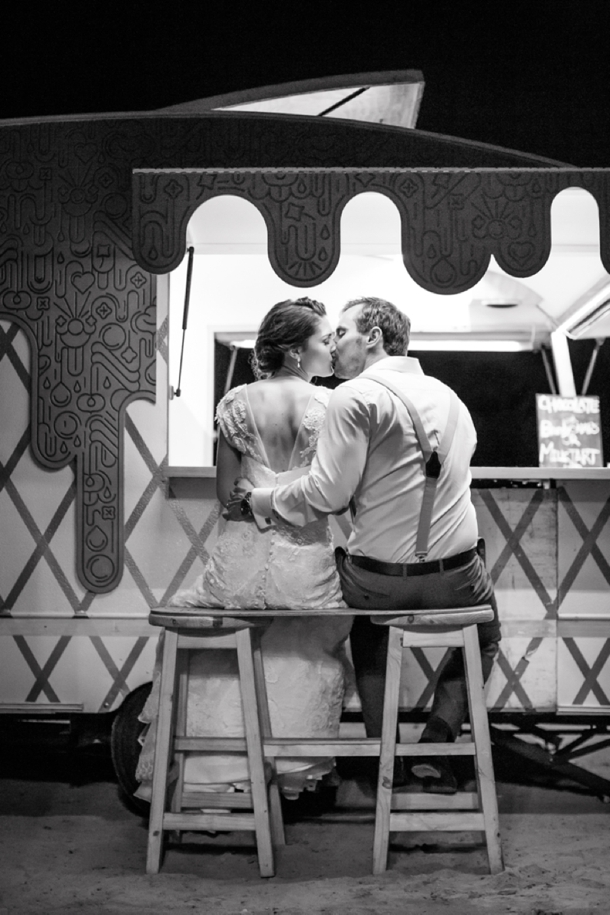 Thanks so much, lovely Rienne and Johan! So excited to share your beautiful wedding. Huge thank you shoutout to Catherine also – do yourself a favour and check out the rest of the wedding on her blog.
SERVICE PROVIDERS
Venue & catering: Vrede en Lust | Photography: Catherine Mac | Flowers & decor: Fleur le Cordeur | Cheese cake: Fairview | Stationery: Hen & Co | Bride's dress: Martina Liana | Bridesmaids' dresses: Lela Rose | Hair & makeup: Alicia Buckle | Hiring: Urban Tonic | Hiring: All Events Hire | Hiring: La Maison | Entertainment: amaAmbush Marimbas | Entertainment: Me & Mr Brown | Ice cream van: The Soft Machine | Photobooth: Retro Photobooth Hire | Lighting: Something Different