Oh stationery…it really is a beautiful thing. It has the ability to set the tone for the whole wedding journey. It is that first glimpse that guests get to see…that first little taste of the magic that awaits them; our enchanting golden ribbon that ties our wedding together from start to finish. Not only has it allowed us to introduce our look and feel, but also let our creative selves shine! We have had SO much fun dreaming up the designs and exchanging endless happy emails with Seven Swans to get our pretties looking absolutely stunning. Colours, types of paper, fonts…oh the joy! Here are some of the inspirations I started with…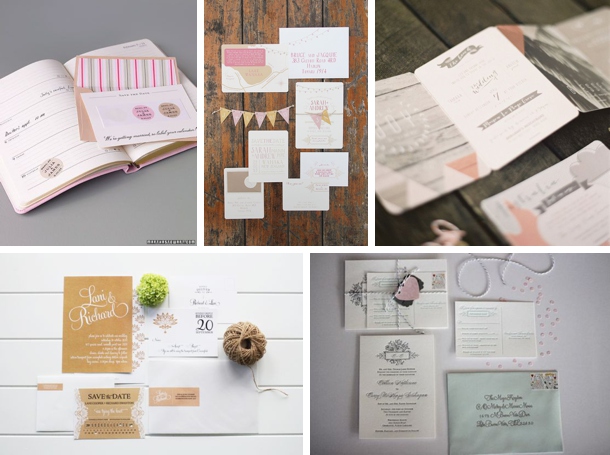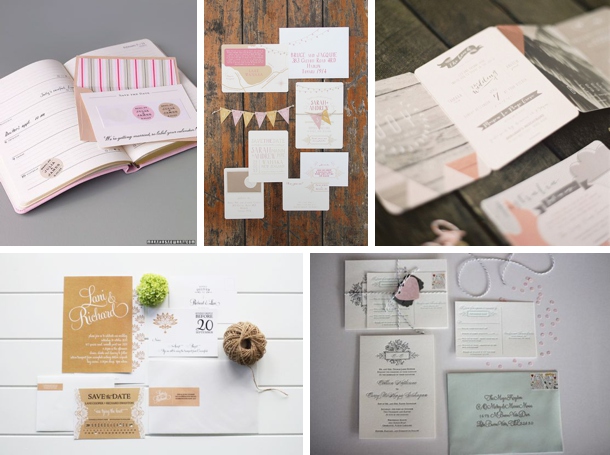 Image sources (clockwise from top left): 1- via Martha Stewart; 2-Ruby & Willow via Magnolia Rouge; 3- Byron Loves Fawn/One Lantern via 100 Layer Cake; 4- Abigail Seymour Photography/The Aerialist Press via Wedding Chicks; 5- Starry Night Paperie
Our wedding logo
Apart from us having our dreamy, fairytale wedding style, we felt that there had to be a specific theme (or rather a logo) running throughout the wedding. Something that could act as our stamp from start to finish; Almost to give us an opportunity to brand our special day, but in a very personal and meaningful way. Cape Town has captured our hearts and we want to share this love with our family and friends. We soon realized that there is no better way to visually show this 'love' and represent our special day, than the stunning African continent with a heart over Cape Town. Even further fitting since 90% of our guests are traveling to Cape Town from other continents! And that is how 'Robin and Stella's wedding logo' was born. Believe me, this won't be the last time you come across this beauty. We have included it throughout the whole wedding through sweet little touches here, there and everywhere!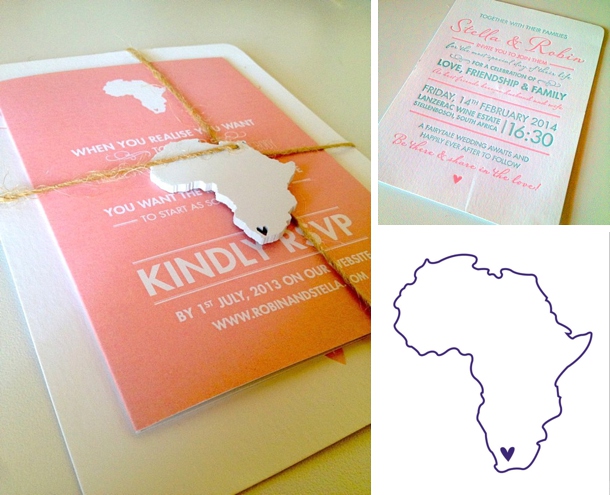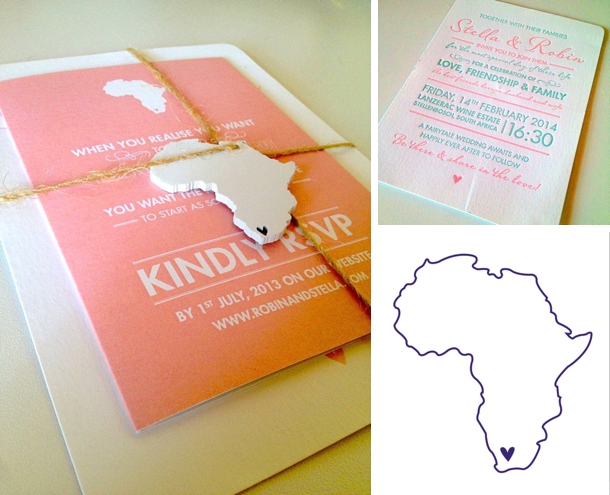 Our Save the Dates
Who doesn't like a bit of storytelling!? Because it gets engrained in our precious little heads from very early in life (especially the fairytales!), I'm sure we all have a love for it. That is one of the main reasons we decided to take the storytelling route for our first stationery item and transformed our love story into our Save The Dates. The second main reason for going this route is that our relationship has been nothing 'normal' since the beginning. We felt it necessary to capture, both verbally and visually, the journey we have been on so far. We couldn't be happier with how our beautiful creations turned out. Notice the two stickers at the back…those are meant to be placed in our guests' diaries/planners. Our guests absolutely loved them and they make us smile from ear to ear every time we look at them.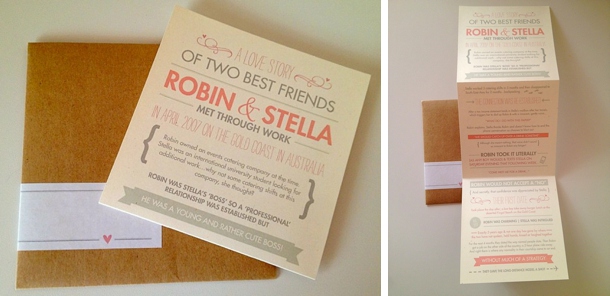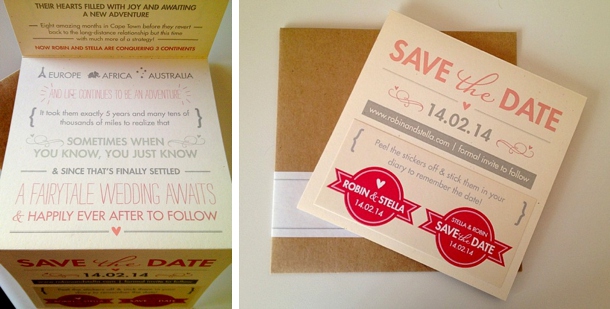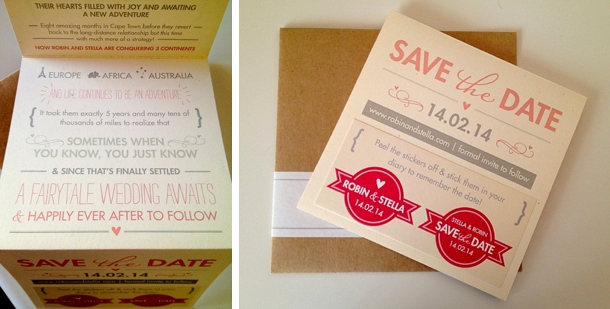 Our invitations
Think romantic, not too formal but very delicate in nature. A lot more elegant than our Save the Dates but both pieces of stationery tied together through our wedding colours – ivory, blush, mint green, grey and coral. A bit of twine to bring in the rustic feel and finished off with a little wooden African continent (with heart of course!). I am in love ☺ We also included a mini information pamphlet for our guests, which covers our 3-day wedding itinerary, a checklist for what our guests need to do, as well as some information on the wedding gifts. Practical, yet beautiful.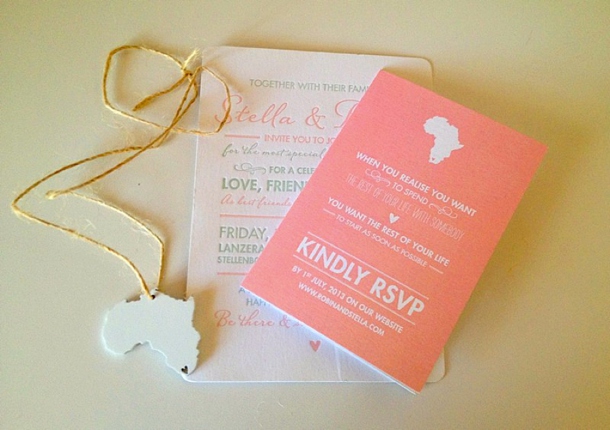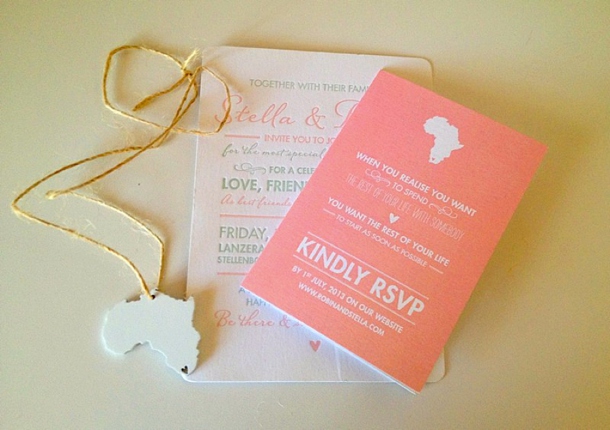 My top stationery tips:
Find a stationer that you fall in love with by not only looking at their work but also by meeting them (virtually or in person). You want someone that will get excited with you in the planning and design process because they love what they do so much. We certainly did. Thank you Anelle and Ella from Seven Swans for your unrelenting happiness and positive attitude. It has been an absolute joy working with you!
If planning a wedding where a lot of your guests are traveling from near or far to be there, create a wedding website! Don't replace your paper stationery with a website but include the web address in your stationery. It will save you so much time as you can direct guests to the website for any questions and updates.
All other stationery above, Seven Swans. Images: Bride's own
The series so far: The Proposal