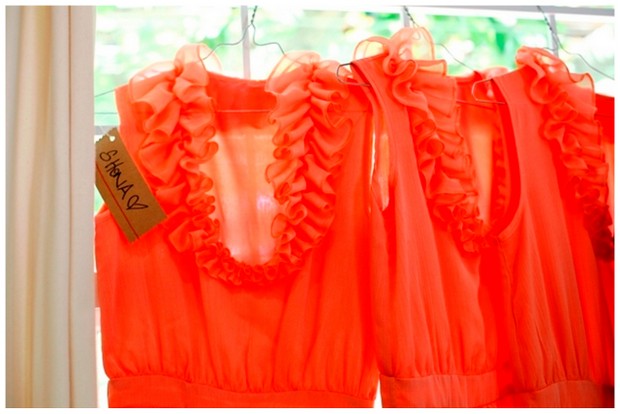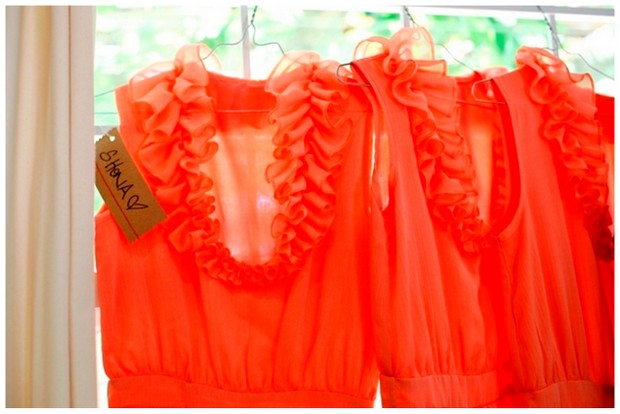 Coral, you guys. I have been preaching coral (along with my fellow wedding bloggers) for the last year, and I've seen it in inspiration boards and inspiration shoots and weddings on other people's blogs. But today, coral is making a personal appearance here on SBB and let me tell you, get ready to do some Beatles-style shouting and crying, because it is everything I thought it would be and more. Of course, the colour scheme's not the only reason I fell in love with Sarah and Peter's beautiful Constantia Mist garden wedding (shot in glorious colour and detail by friends and SBB sponsors Andre and Selma of Expressions), but it's the first one. Close behind were super sweet details like button badges, wooden tableware, divine stationery, sweet white folding chairs and paper pom poms. It's like the posh version of a country picnic, and manages to be charming and sophisticated and a little bit retro all at the same time. It is LOVE. More like this one please, people. Make a blogger happy. ;)
From the lovely Sarah
Peter and I met four years ago, when I joined Colourworks, a marketing agency in Green Point. He was the Print Production Manager and I the Studio Manager – his boss, really. His magical, wicked sense of humor caught my attention, and it wasn't long before we were romantically involved. Working together wasn't always ideal – but it was so awesome to see each other every day and we actually made a great team at work.
He proposed on what had to be one my most stressful work days – I got home with a screaming headache and in a foul mood. He had cooked me a three course meal, and had the ring ready and waiting in his jeans pocket… Let's just say the headache lifted.
Our colour scheme was coral and grey. It was an "elegant vintage" wedding – if there is such a thing – and was very relaxed – informal, yet sophisticated. Whimsical, if you will… We wanted to have a garden wedding – and we hunted high and low for the perfect venue. Constantia Mist is up on the hill in Groot Constantia – and has the most unbelievable view. After visiting it for the first time – it was really a no-brainer. Yes, it took a little more planning, some extra hiring (ok everything had to be hired) but it was SO worth it. The day started off windy – but ended off being perfect in every way. We had hay bales for people to relax on and sit around the fire bins – drinking cocktails from chutney jars and eating the delicious canapés…
The people, the atmosphere and the love that surrounded us were the best part of the day. It was a very "hands-on" occasion and we were so blessed to have our family be so involved and had so much help from everyone, our mothers especially! My mom, Jenny, made the flower girls' dresses, all the buntings, the chicken liver pate starters (served in vintage tea cups that the ladies had given to me for my kitchen tea party), chocolate Lindt balls, sewing and more sewing! Peter's mom, Jane, made all the jams that we gave away, she also sewed & embroidered my garter. Our sisters, Robyn, Shona and Helen helped with making the tissue paper pom-poms which hung from the tent, tied ribbons, cut, stuck, glued and sewed anything that needed to be made… I couldn't have done it without their help! My dad made the "I have the rings" sign – which gave him sleepless nights and numerous problems… ha ha. Shame – It was perfect in the end, Dad!
We also had an amazing cake made by Sue Scott (Peter's best man's mom) – carrot cake at the bottom and red velvet on the top tier and my good friend, Megan Du Plessis's husband, Wayne and father in-law, Charles, generously drove us in their two vintage cars – a Ford Fairlane and a 1946 Ford Super Deluxe. I did all the graphic design myself – from invites to order of service, tags, seating plan, menus, etc.
Helen, Peter's little sister, is also an amazing musician, and she and one of her friends played the clarinet & saxophone in the church. We walked down the aisle to "Come away with me" by Norah Jones and left the church to "When a man loves a woman" by Percy Sledge.
Our personalities really came through in the "Photo booth" we had set up. The guests had the time of their lives, dressing up and having the group shots taken. The speeches were also hysterical, with our MC, James Dickie Clark calling on the groom for his speech in his famous Hugh Bladen voice.
My advice to future bride is don't sweat the small stuff. Something is bound to go wrong. But the most important thing is to enjoy your day, and take it all in – because it goes so quickly. I am proud to say that I didn't have one bridezilla moment!
Many, many thanks to Sarah and Peter, and of course to Andre and Selma for sharing their pictures. You can see even more on the Expressions Photography blog.
SERVICE PROVIDERS
Venue: Constantia Mist | Catering: Michele Koopman of Gourmet Catering | Photography: Expressions Photography | Flowers: Lol's Flowers | Cake: Sue Scott | Bride's dress: Carol O'Reilly (0828902242) | Bridesmaids' dresses: Louis Barstow Klopper | Makeup: Smudge Makeup | Hiring: Exclusive Hire | Tent hire: Tentation | Entertainment: Graham Jarman | Entertainment: Coda