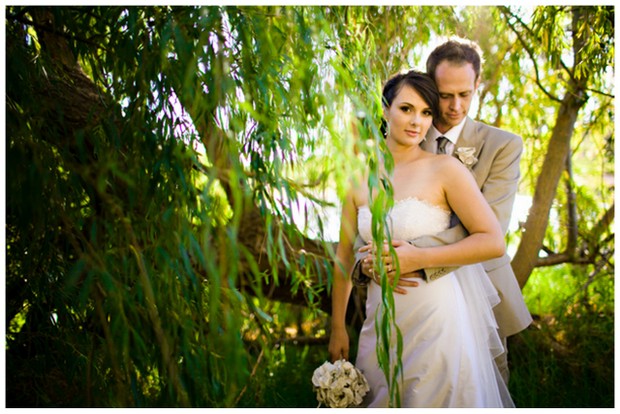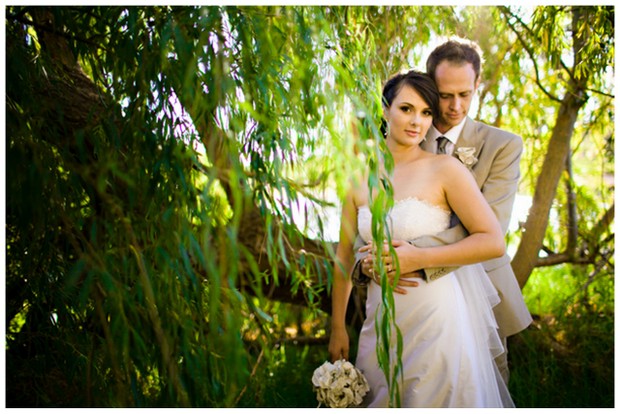 We often use the word 'inspiration' on wedding blogs, but today's bride and groom really are an inspiration. It's not just the love story they share (and wait till you hear what the groom planned for the reception – it actually choked me up properly!), but the way that they succeeded in ensuring that their wedding would leave as little impact on the environment as possible. They made sure that nothing was unnecessary or in excess, and they used recycled or recyclable materials as much as they could. Which sounds terribly sparse, but in fact, the decor at this wedding is some of the prettiest I've seen. There are so many original touches, and then hearing where they come from and often, where they will be re-used, is really enough to make even the most extravagant bride think. So I hope that as you look through Annemari Ruthven's gorgeous pictures, that you will be inspired beyond the pretty, and maybe take something away for your own wedding as well.
From the lovely Ruenda:
Sean and I both worked at a community radio station in Stellenbosch: my show was the first Sean observed in his training programme (it's safe to say I taught him everything he knows about radio – in fact, I taught him so well that he now has a drive time show on Good Hope FM!) I'm a green biomimic scientist. Sean and I were colleagues-turned-friends-turned-secret-crushes for a long time. His proposal was very much like our relationship: simple, real and honest – candles on the floor of his furniture-less flat.
We wanted an intimate celebration with our closest people. Our original venue went bankrupt three months before the wedding, so we went from having everything planned to having to no venue to finding an even better venue in 24 hours! Our service – performed by a close and dear friend – was special and personal and filled with emotion and nervous laughter.
We believe in treading lightly on the earth and wanted our wedding (and our marriage) to be true to that motto. Nothing in excess, nothing "just for the sake of". With that in mind, we tried our best to reduce, reuse and recycle as far as possible. Our e-vites were designed by the best man (who designed everything on his iPad so that it was a truly paperless invitation). My aunt crocheted hearts from bamboo wool (local product that uses organic dyes): they were used as décor at the service and we plan on making a blanket out of them. The bouquets were made from old moth-eaten Mills & Boon novels. We had a vegetarian starter and served the wedding cupcakes as dessert (nothing in excess) – our family and friends helped us collect tin cans that were used to build tiers for the wedding cupcakes; our cake toppers were inspired by Skippie and Gorgeous, two penguins we adopted at SANCOB. We also encouraged guests to wrap gifts in newspaper and asked them to write messages in our guest book (made recycled paper) rather than using gift cards. We had a photo booth with a linen backdrop (now being made into a table cloth) and props made using old cardboard boxes, which we donated to a local creche afterwards. The paper windmills were made from laboratory chemical boxes by my one of my bridesmaids, who's also a scientist for my kitchen tea – we loved them so much we had to feature them again at the wedding!
For our tables, a local small farmer grew organic herbs in tins and my mother grew succulents in tins as well, which doubled up as favours. The name tags (as well as ceremony programmed) were printed on recycled paper from a local company Growing Paper. The wood came from old vegetable pallets found in my other bridesmaids' cellar (we'll be using it for photo frames now). We wanted to have fairy lights on the tables but realized it would mean buying 20 strings with batteries (just for the sake of) so we opted for candles instead: Classy Hire hires out candles and then melts them down afterwards to be reused. I made a paper-mâché piggy bank from a Sprite bottle and newspaper for… well, really just for fun.
At the reception, our best man opened the speeches with a story about an old couple who wrote SHMILY notes to each other (Google it if you haven't heard it before). It's kinda corny but makes most people go 'aww'. This was followed by more speeches. And then the groom's. We had decided not to make toasts to each other (for fear of crying) but as Sean said: "you never said anything about dancing". (Side note: Sean is a really good dancer). Queue Usher & David Guetta – Without you. Sean broke into spirit fingers and then busted a (couple of) moves… it turned into a flash mob with the best man, a bridesmaid, her dance partner and his news reader! And it ended with them holding up letters spelling: SHMILY. See how much I love you.
The night we got engaged we decided to enjoy that feeling for a while before planning anything. A month later we sat down, and took five minutes to each write down words to describe what we wanted for our wedding. We both wrote down most of the same things: intimate, sustainable, simple, unique. (I'd advise future brides to always go back to these to check that you're still doing what you want, and not what blogs or magazines or silly little books are telling you to do). Then we both had 60 seconds to write down the names of people who we wanted there. Guest list of 80 people done in one minute.
Don't lose perspective: it's just a wedding. It's special because it's yours. But the days before and the lifetime afterwards matter more.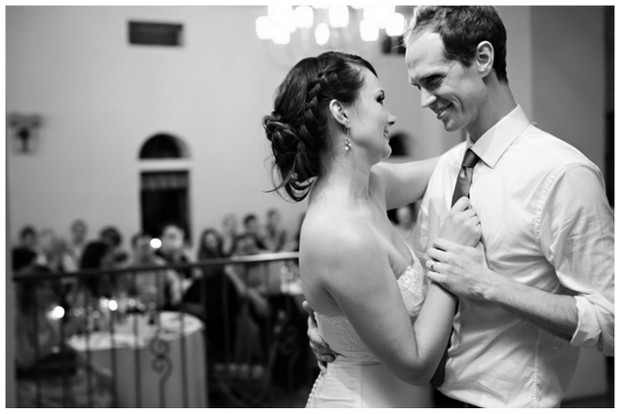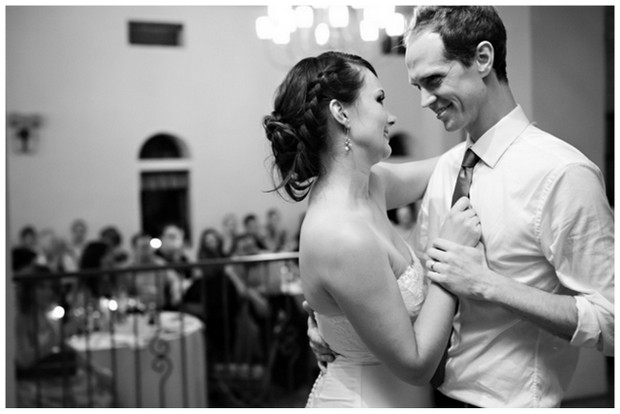 I couldn't have said it better myself! Congratulations, you two, and thank you for sharing your inspiring day with us! Big love as always to the amazing Annemari – check out her blog for more.
SERVICE PROVIDERS
Venue, catering & co-ordination: Ongegund | Photography: Annemari Ruthven | Cake: Mother-of-the-groom | Cake toppers: Sophia's Cakery | Stationery: Growing Paper | Bride's dress: Robyn Roberts | Makeup: Iza Cloete | Candles: Classy Hire | Hiring (chairs): To-Nett's | DJ: Your DJ | Entertainment: Mathew Moolman ([email protected])