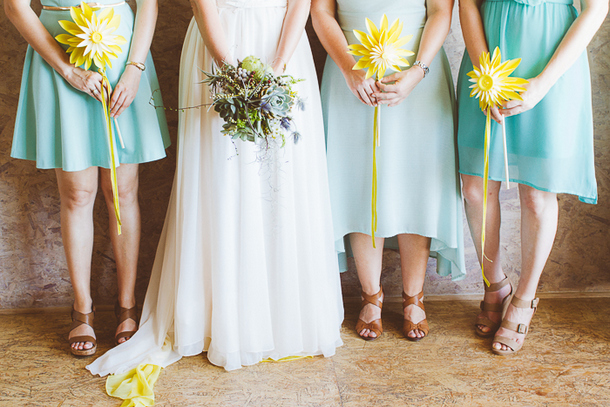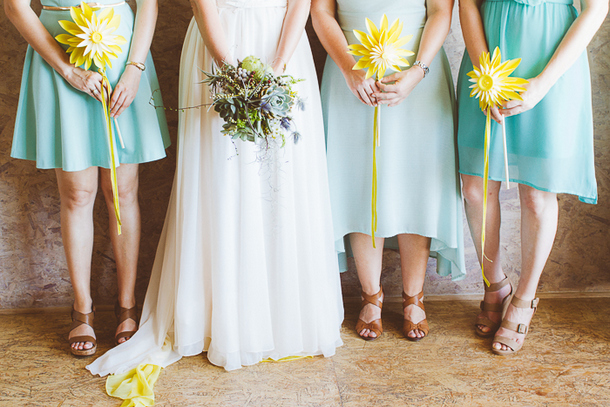 There's just something so fairytale-surreal-lovely about oversize paper flowers, and this wedding is full of 'em. Cornelia and Paul's Old Mac Daddy celebration was a labour of love, quite literally – together with friends and family they created their gorgeous decor from scratch, every petal and every origami fox (yep, foxes – this couple loves them, and they made an absolutely adorable motif woven through the wedding in unexpected places!). With bright pops of yellow, blue and orange – including a peekaboo yellow train on Cornelia's dress – as well as the sunny Elgin weather, this was a wedding that was full of cheer, and as fun and laid-back as it was original. Lindsay of Dear Heart Photos took these amazing pics!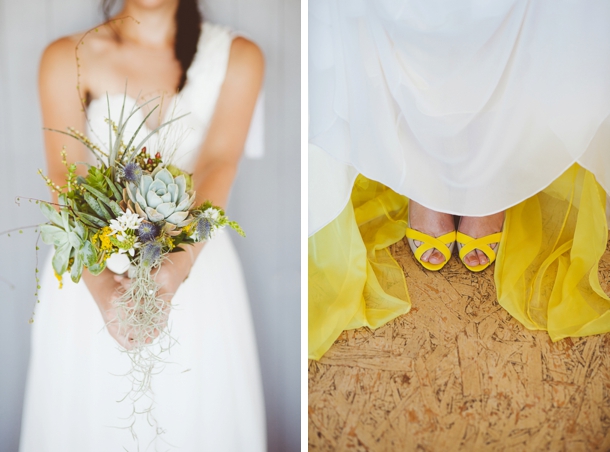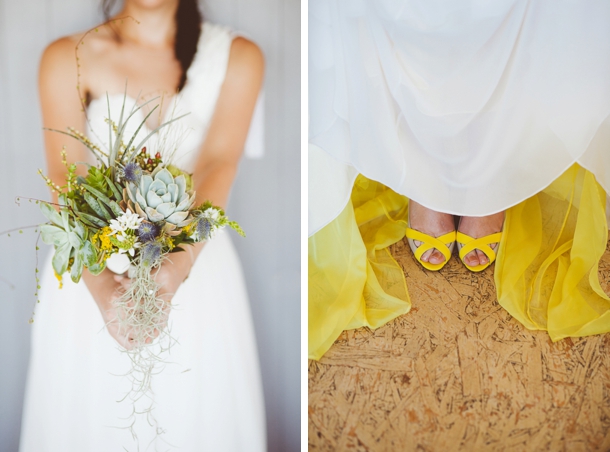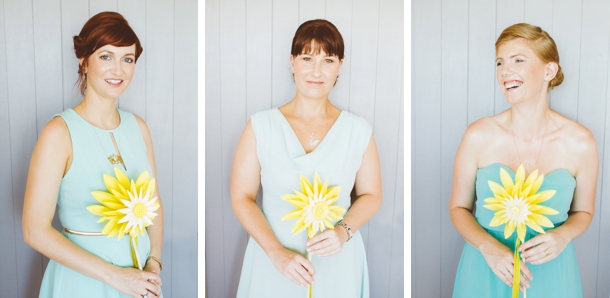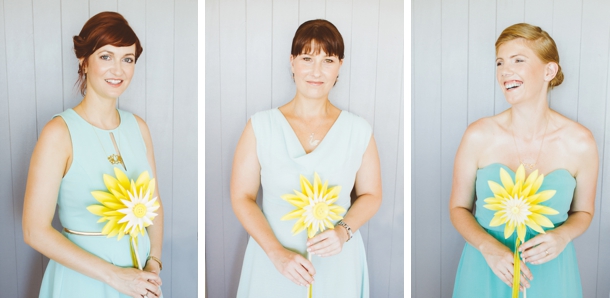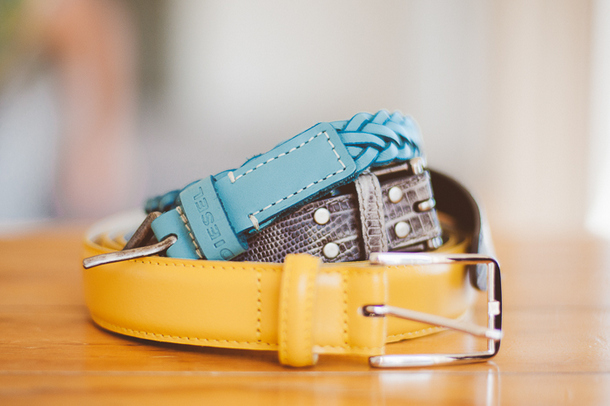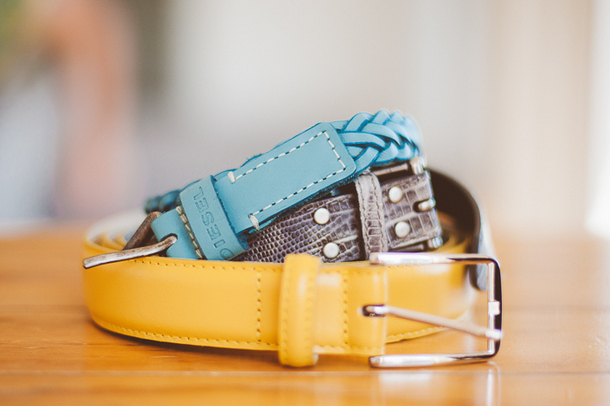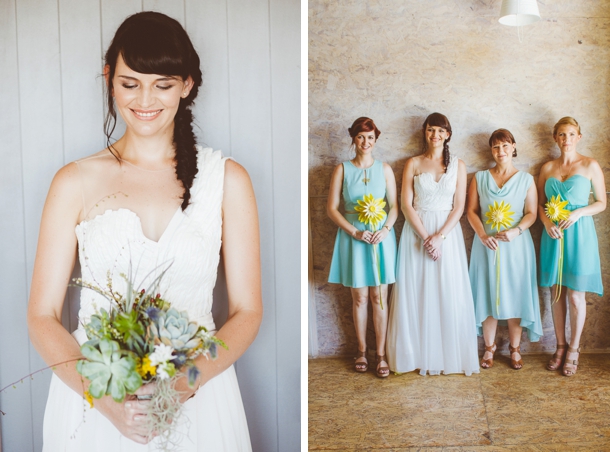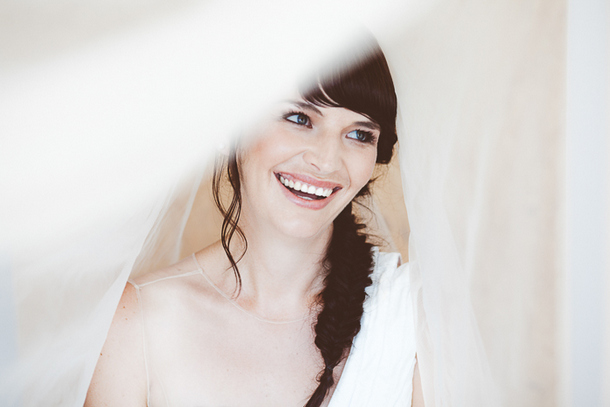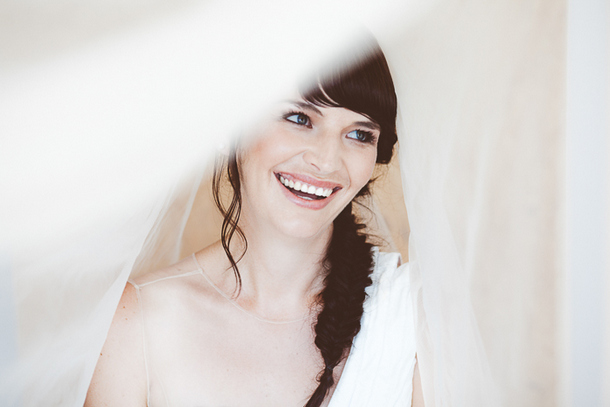 Love Story
Paul and I are both architects and worked at the same architectural firm. The project was intense and the hours long, and so we struck up a friendship. After sharing many design ideas, meals and movies, we fell in love and have since been inseparable!
The Proposal
A couple of days before my birthday, I awoke during the early morning hours, with Paul sneakily trying to put the most beautiful ring on my finger while I was sleeping! As I awoke, he immediately asked me to marry him and of course I said yes (with sleep in my eyes!) He had French Champagne and cupcakes ready on our balcony, where we watched the sun rise together. It was magical!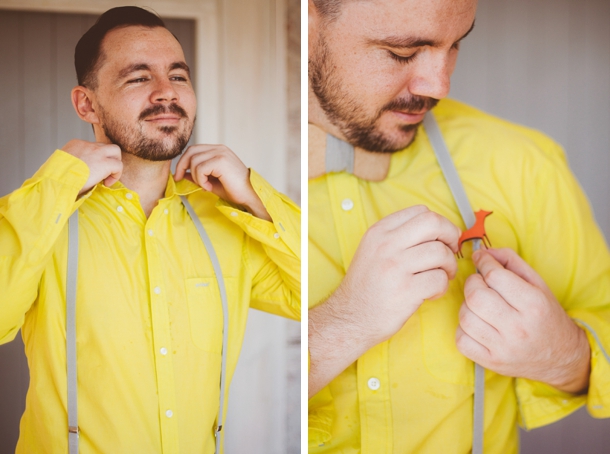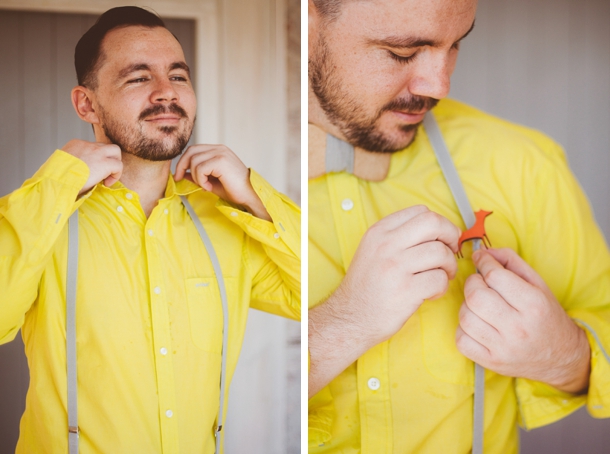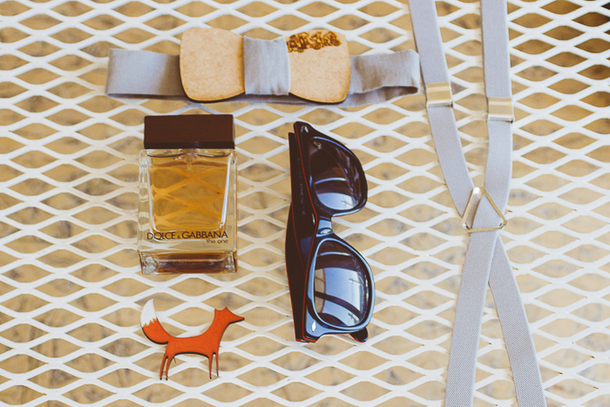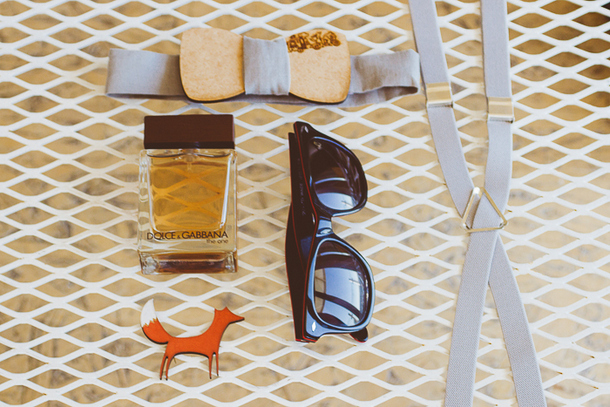 The Wedding in 3 Words
Happiness, fun and paperjoy
Wedding Style
We wanted a relaxed, summer wedding weekend in the countryside. Our other key idea was to hand make all the decor ourselves, with oversized paper flowers as the main decor feature. The ideas translated into a wedding with a handmade, modern feel, with some fox inspired accents. Our colours were shades of yellow, minty blues, misty grey and touches of bright blood orange.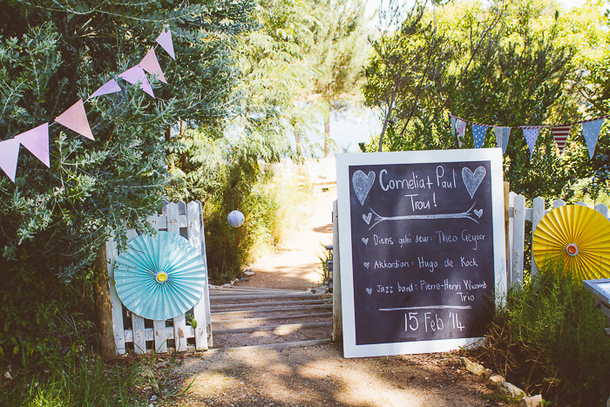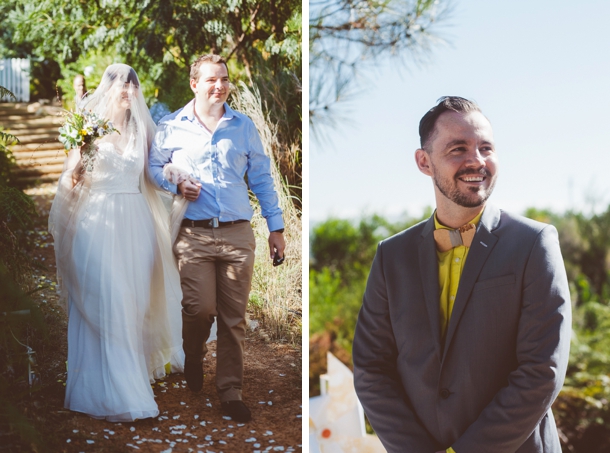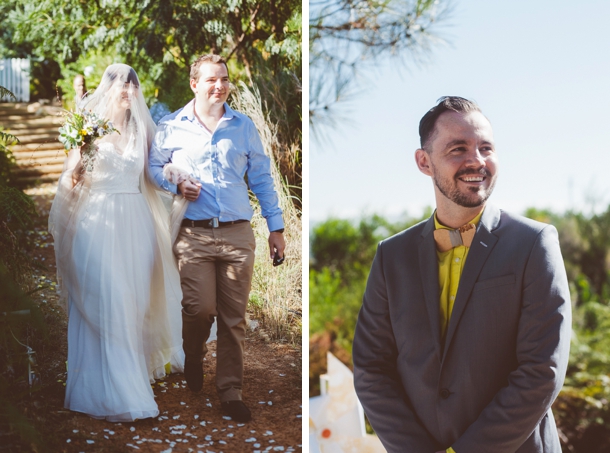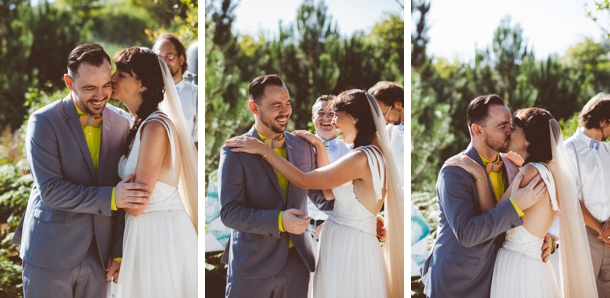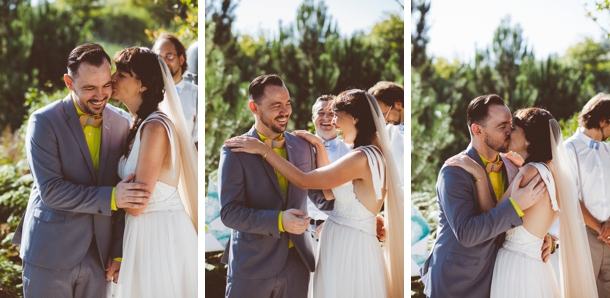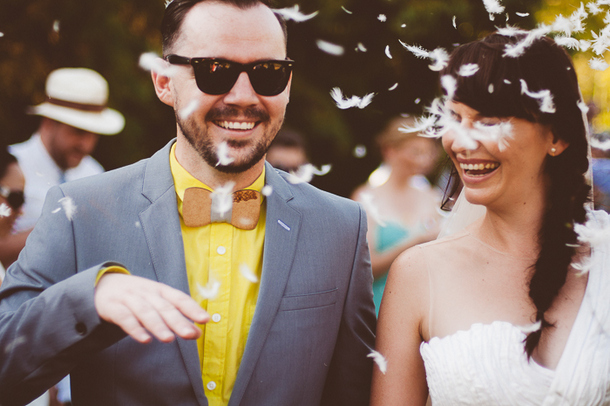 The Venue
We were so privileged that so many of our dearest friends scattered all over the world came to our wedding. We loved the idea of extending the celebration over a weekend, and our venue was perfect to accommodate us and our close family and friends for the whole weekend in beautiful, fun, artist-decorated airstream caravans on an apple farm!
Wedding Details
Our wedding reflected our personalities and interests. I've always loved making crafty things, and this was a fantastic excuse to get creative. At times, Paul was concerned that we were too ambitious in making the decor ourselves, but we worked hard and spent our Christmas/New Year holiday cutting out paper petals and painting blocks! Paul & I both love foxes, and included some touches of foxy details in our wedding decor and stationery. I'm so lucky to have such wonderful husband that supported and helped carry out all my crazy ideas.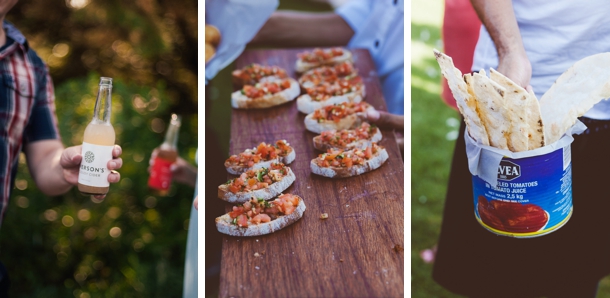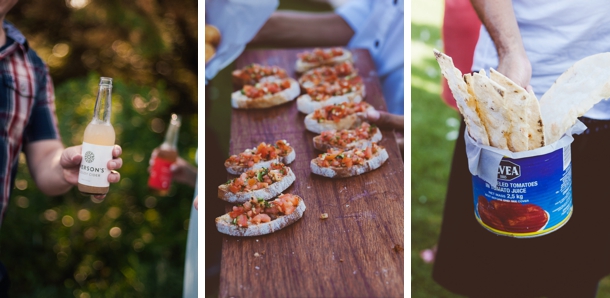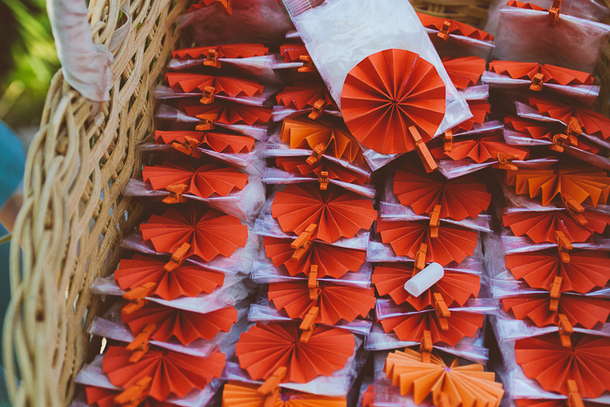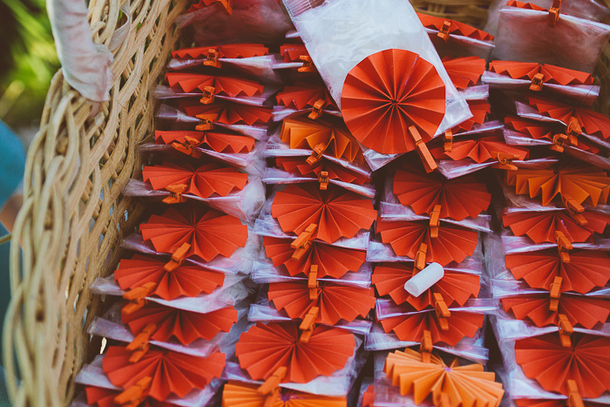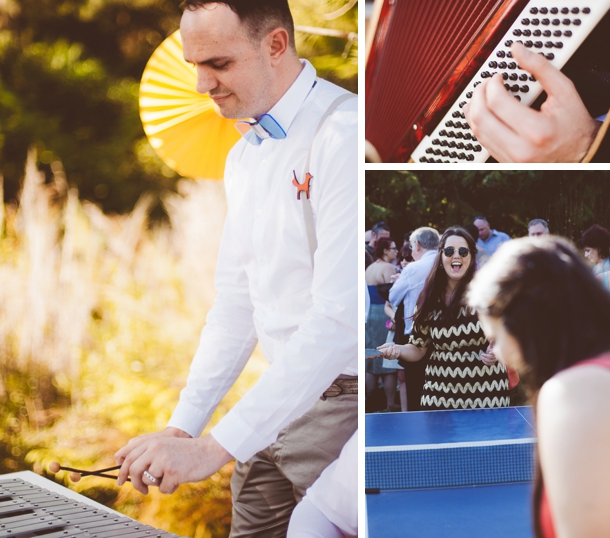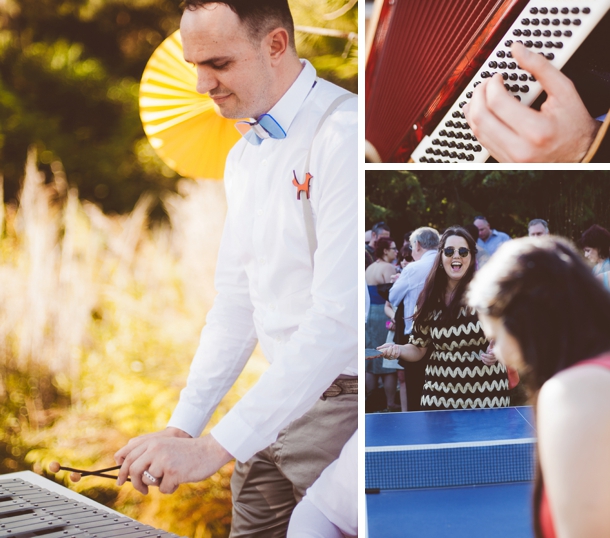 DIY Elements
Paul and I, along with amazing close friends, Carin and JP, made all the paper flowers, pinwheels, origami foxes, confetti, table plan board, paper menus etc. Our flat was in total chaos for six months prior to the wedding, as we hosted a number of craft days with our friends, making various items. The parties were filled with laughter, glue gun fumes, and sparkling wine, because the intention was always to have fun! My maid of honour, Therese, and one of Paul's groomsmen, JP, arrived from overseas a week prior to the wedding to help with the final touches of the handmade items. My mother was amazingly supportive in so many ways, I'm so grateful for all her hard work- she also made many programme pinwheels and helped in sourcing various materials (paper, oversized buttons, collecting plants from friends' gardens, etc) for our DIY projects.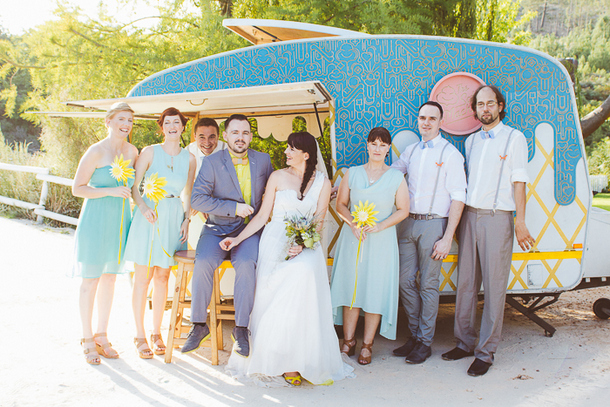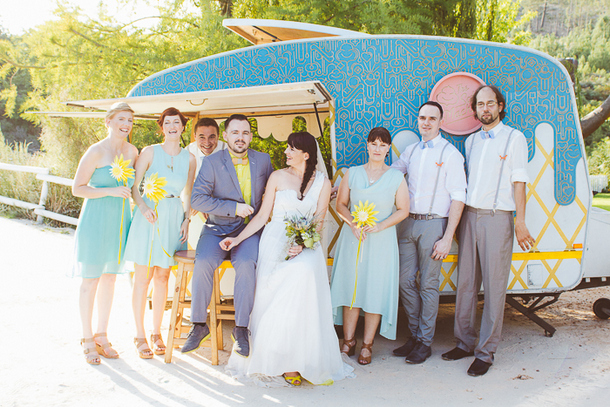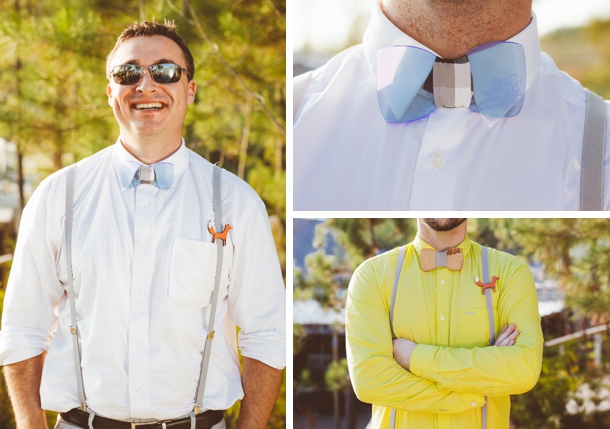 The Flowers
All the flowers were handmade paper flowers. The only 'real' flowers were used for my bouquet. My mom's very creative florist/friend, Elma Erasmus, made the bouquet. My only instruction was that it should not contain any flowers- she did an amazing arrangement using milkwood, bachelor's balls, Echeveria elegance, chincherinchees, air plants, etc.
The Dress
My very talented and patient artist/fashion designer/friend, Saskia Wicomb, brought my ideas for a beautiful dress to life. It was such a fun process designing and changing the dress until it was perfect!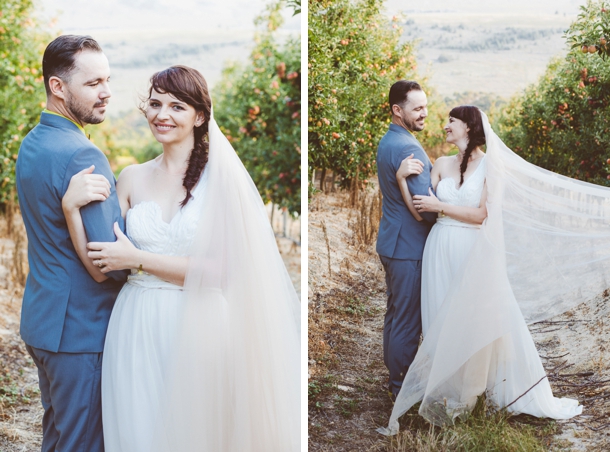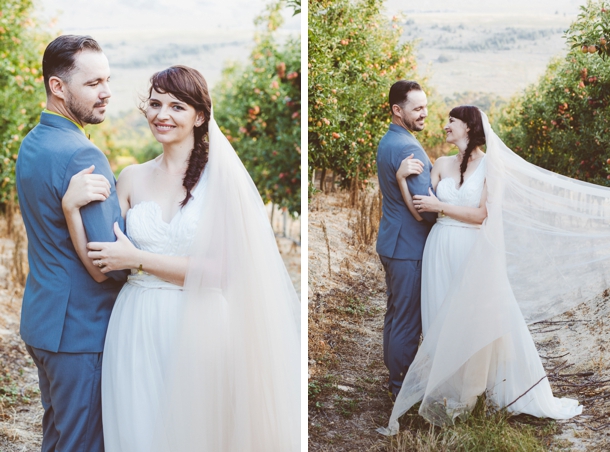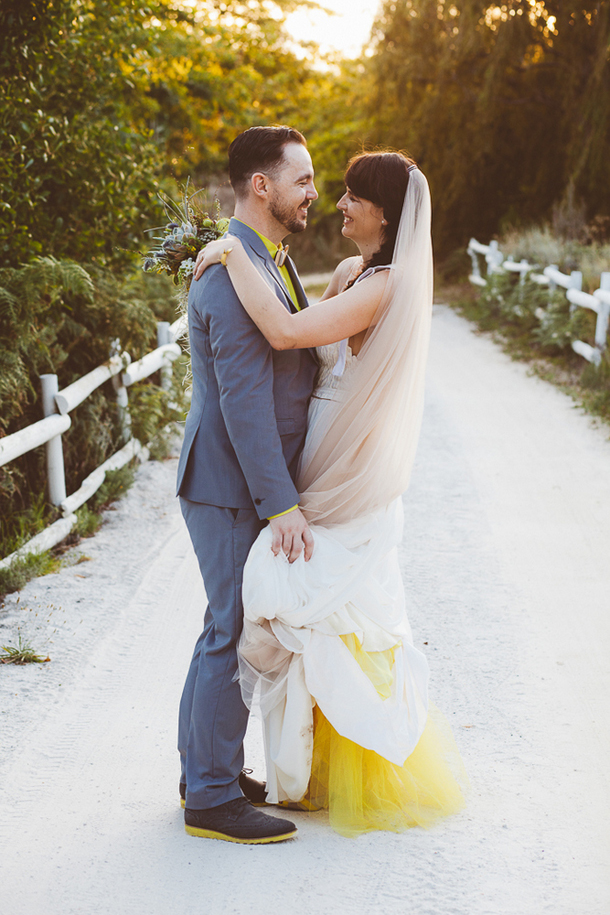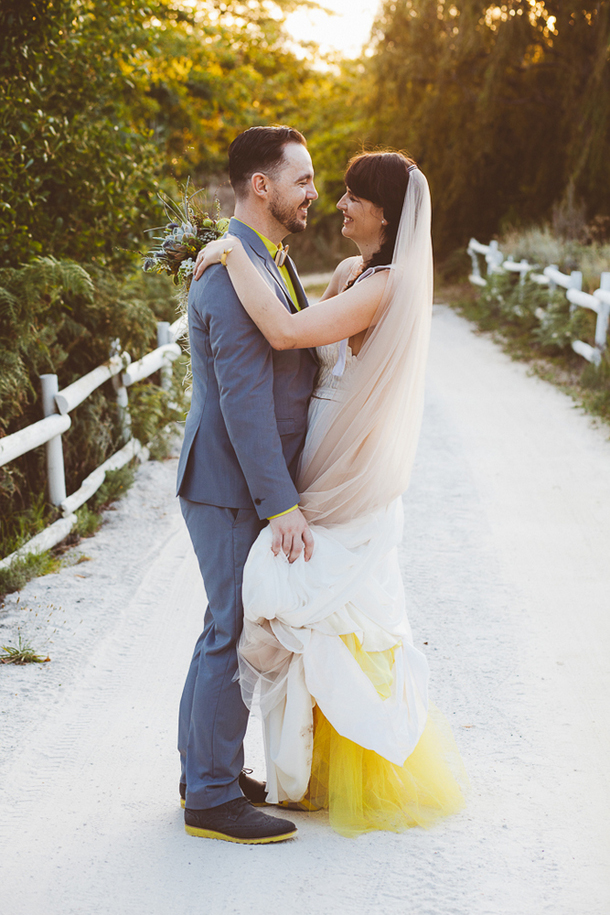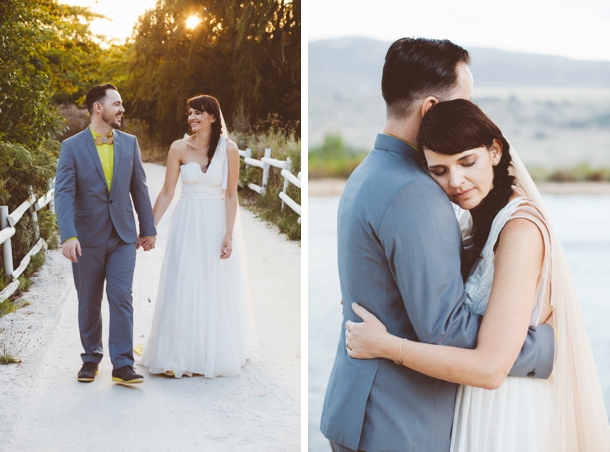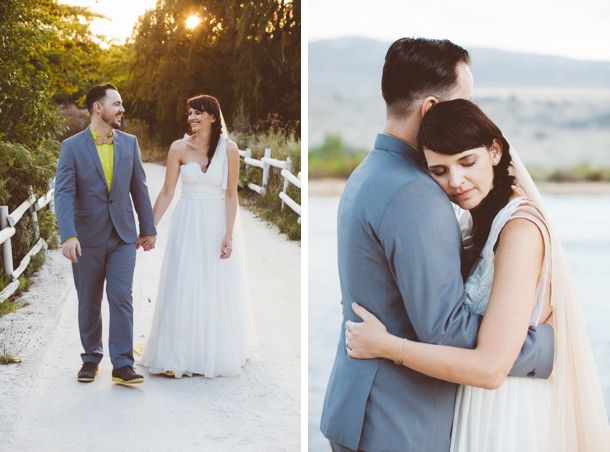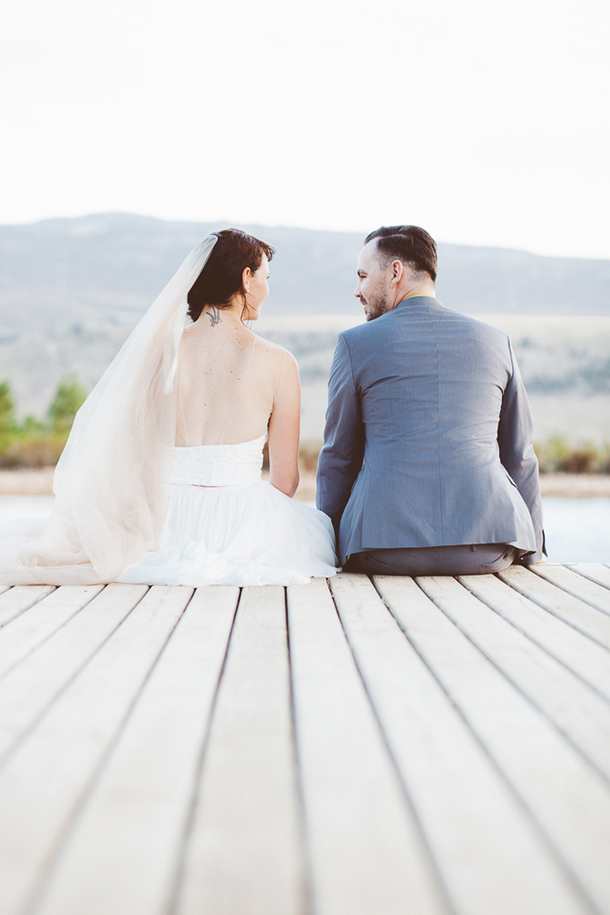 Memorable Moment
Our ceremony was so special and beautiful on the timber deck at the water's edge, my brother walking me down the aisle and our good friend, Hugo, playing the accordion. It was amazing to share our promise to each other with everyone we love.
Proudly South African Details
We tried to use local produce for the food and drinks. The pear and apple ciders produced in the Elgin valley were a hit on the hottest day of the year!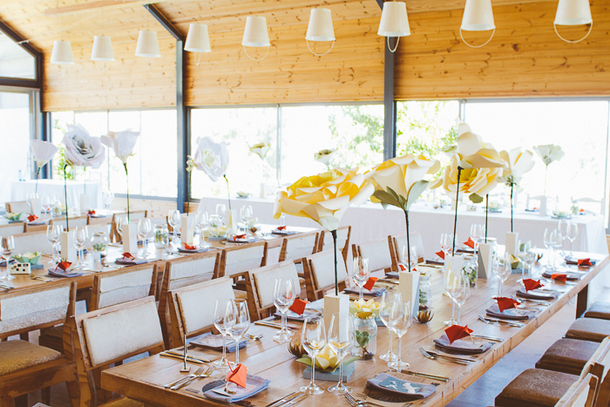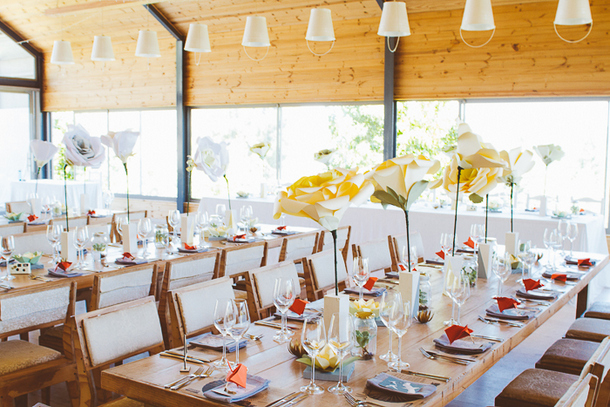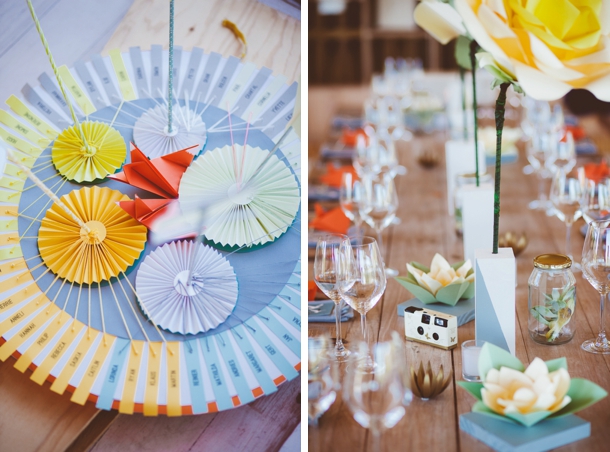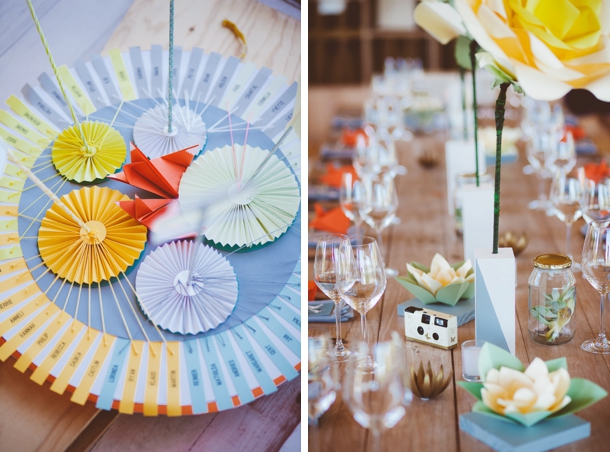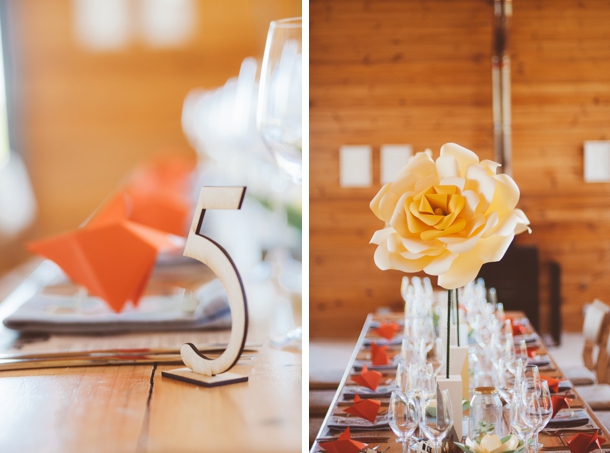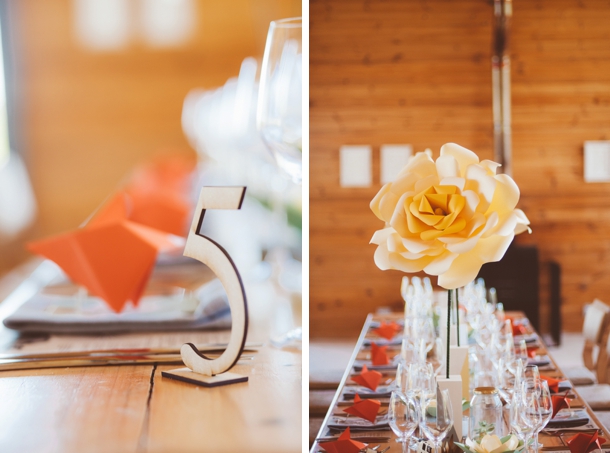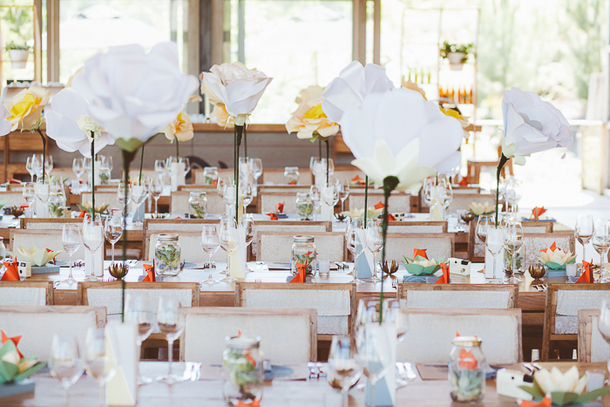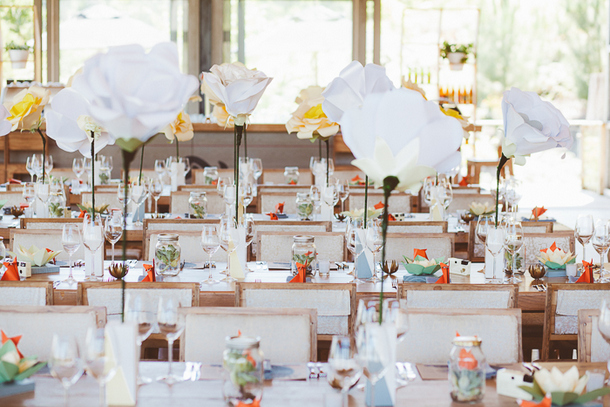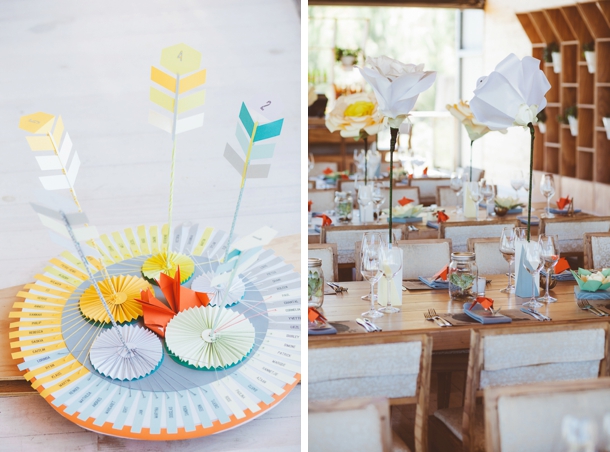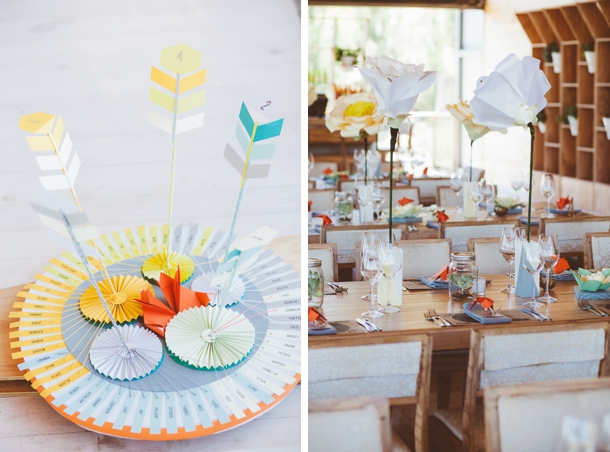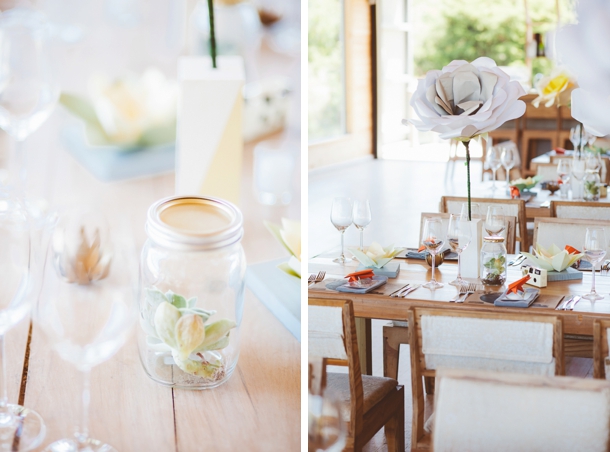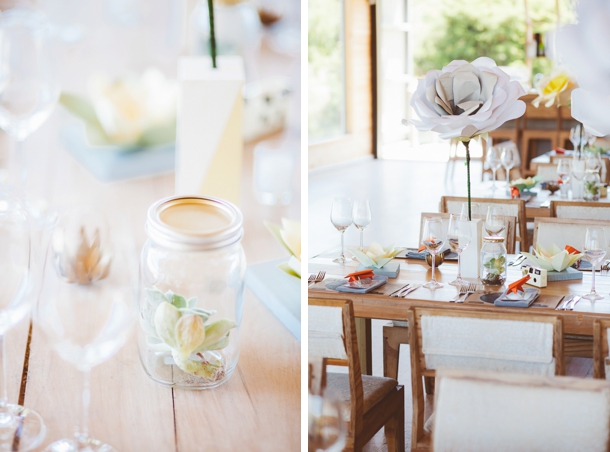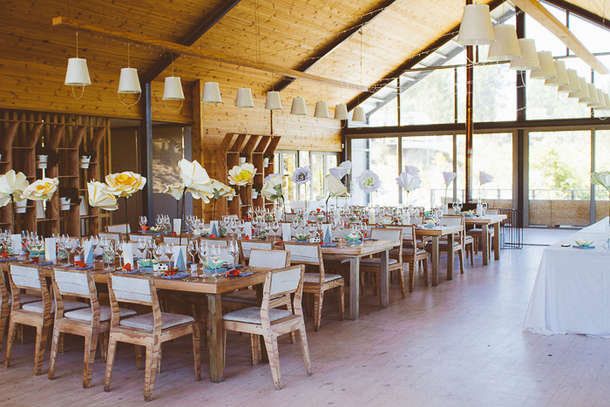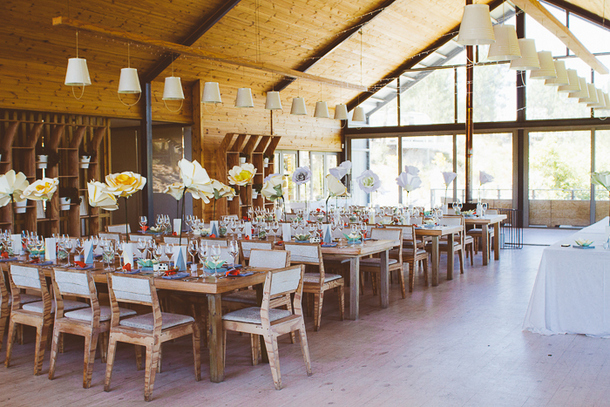 The Honeymoon
Paul planned the honeymoon and we spent an amazing and romantic week in the Knysna Forest. We stayed in a beautiful log cabin overlooking a valley of trees. It was fantastic to rest and just enjoy each other's company after all the hard work of planning and executing the wedding!
Advice for Future Brides & Grooms
Enjoy the planning of your wedding- it's fun to spend time and brainstorm ideas with your fiancé.
Accept help, and ask friends and family to help, especially with DIY projects!
Try to obtain references for service providers you want to use.
Prior to the wedding, we had an engagement shoot with our wonderful photographer. We would recommend it, as it helped us to practice being in front of the intimidating camera.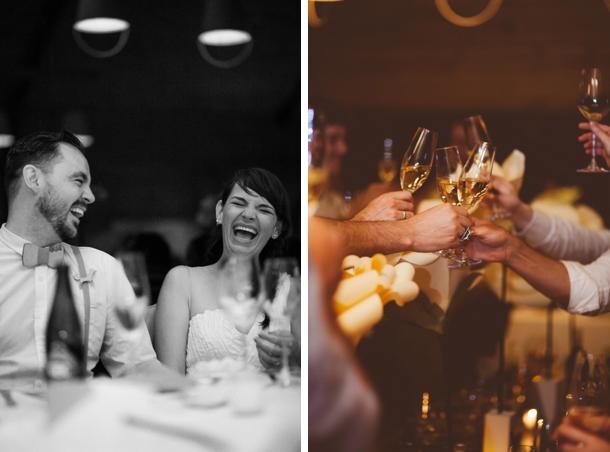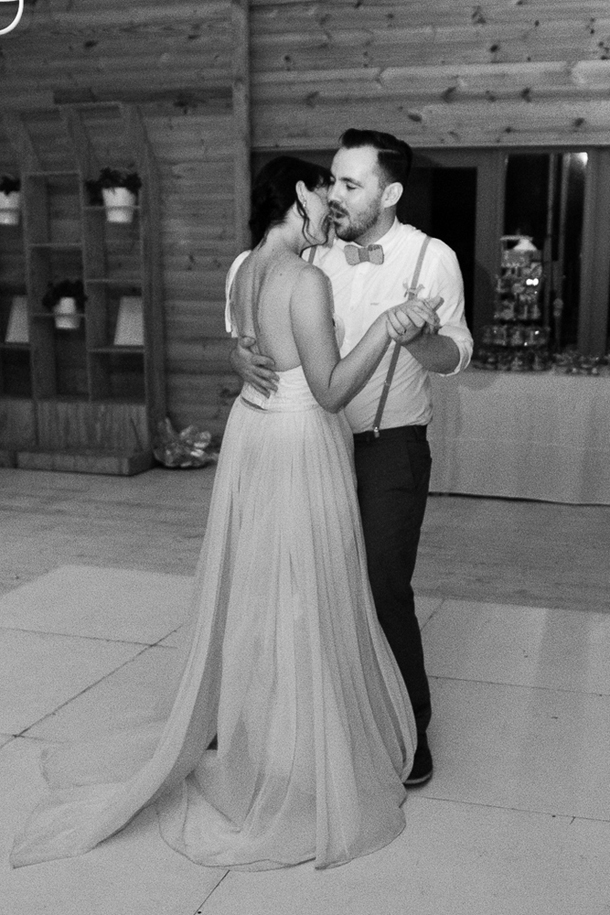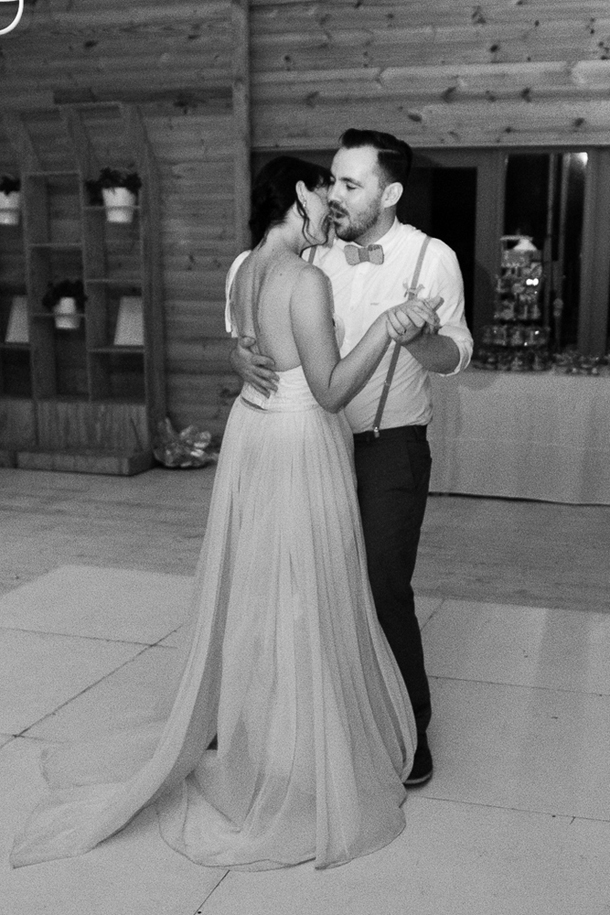 You can see more from this wedding on the Dear Heart Photos blog.
SERVICE PROVIDERS
Venue: Old Mac Daddy Luxury Trailer Park, Elgin | Catering: Briny Breezers | Photographer: Dear Heart Photos | Co-ordinator: Wendy Simpson from Old Mac Daddy (on-day wedding coordinator) | Cake: Nelle Cakes | Bridal bouquet: Elma Erasmus (+27 (0)21 913 1462) | Invitation design:  JP van Jaarsveld | Lasercutting: Boyd Models | Bride's dress & veil: Saskia Wicomb | Bride's accessories: Keith and Charles (shoes); Kirsten Goss & Milame (jewellery) | Hair: Verushka Naiker from Scar | Makeup: Danielle Jacobs | Bridesmaids' dresses: Forever New, Canal Walk Boutique, YDE | Groom's attire: Csquared; Zara (shoes); Tied Up (bespoke bowties) | DJ: Tommy Gun | Jazz band: The Real Wicomb Trio | Ceremony music: Hugo de Kock and JP van Jaarsveld