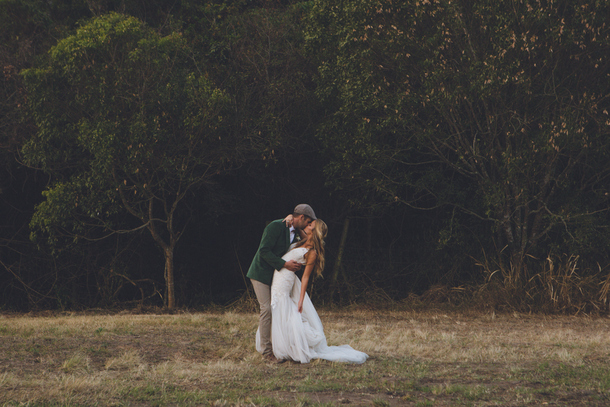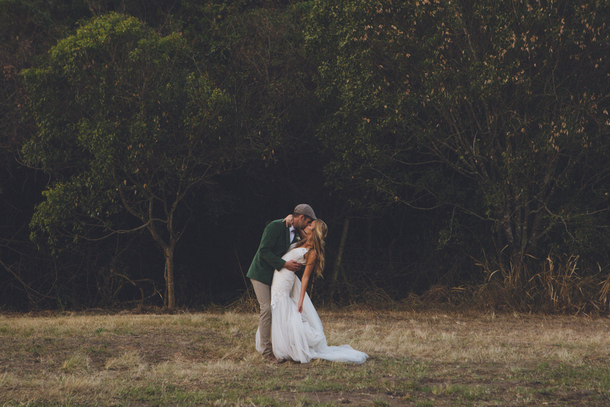 Do I ever have a gorgeous wedding for you all today! You know, I'm always fascinated to see how people in the wedding industry choose to design their big day – we all see so many weddings, that it can be difficult to choose just one style. Today's bride and groom are both KZN industry peeps, and instead of worrying too much about colour or theme, they put together all their favourite things – gorgeous decor from the bride's personal collection (complemented with copper and brass bottles and candleholders – love the gypsy feel of this!), food from all the many local suppliers who stock their market, and an absolutely magical forest location. The ultimate feel is relaxed and organic, with a real bohemian flare – not least from the bride's beautiful dress and styling! And the bouquet… oh, the bouquet – an amazing job from planner Carolyn of Adore Weddings. I have spent a lot more time poring over these absolutely breathtaking images from Summertown Pictures than I care to admit – and now it's your turn!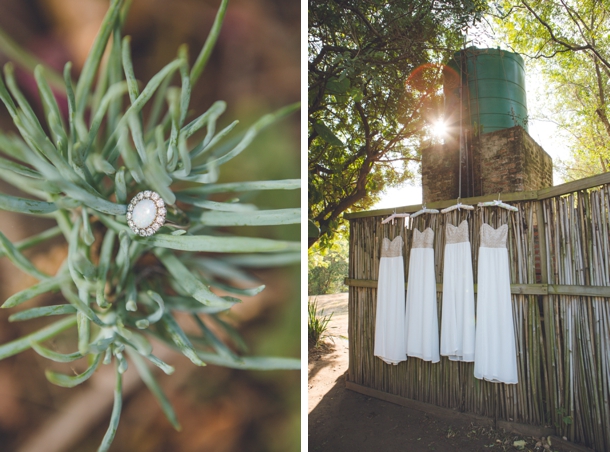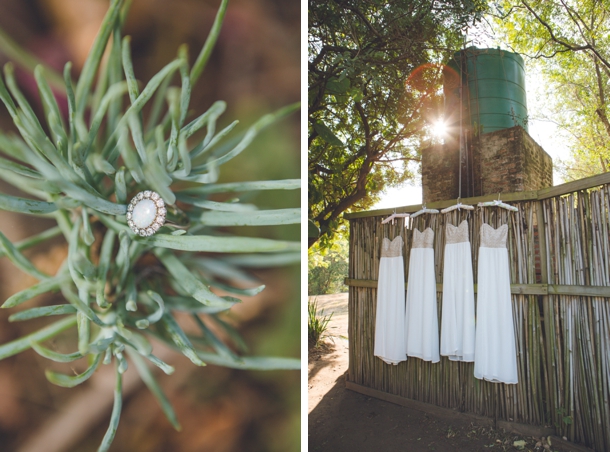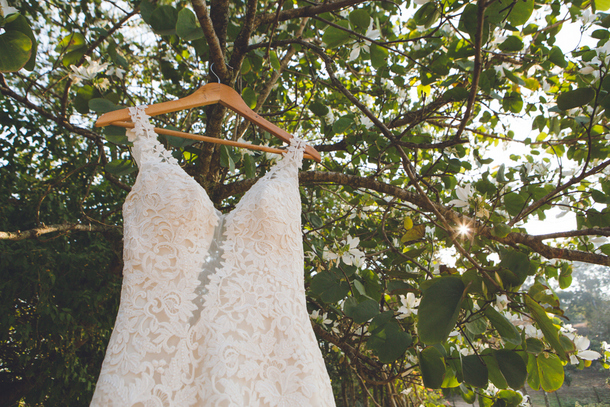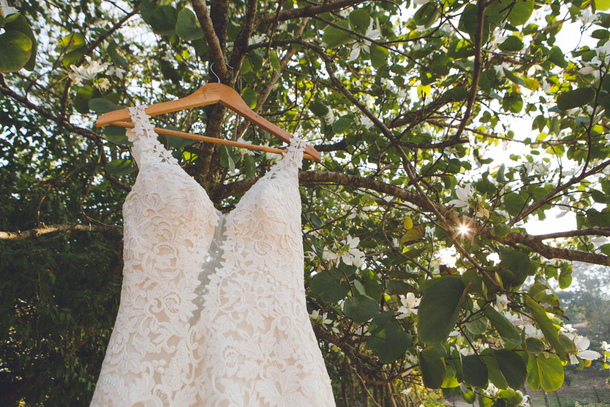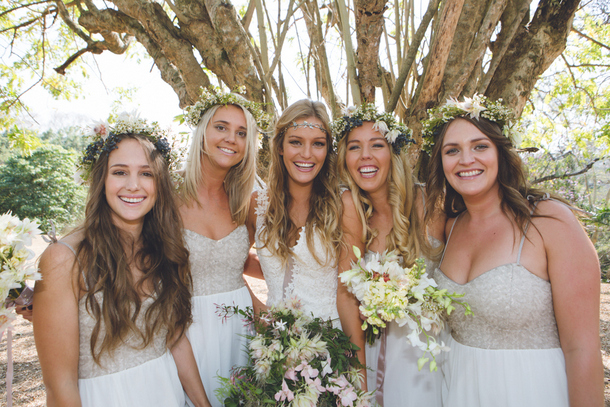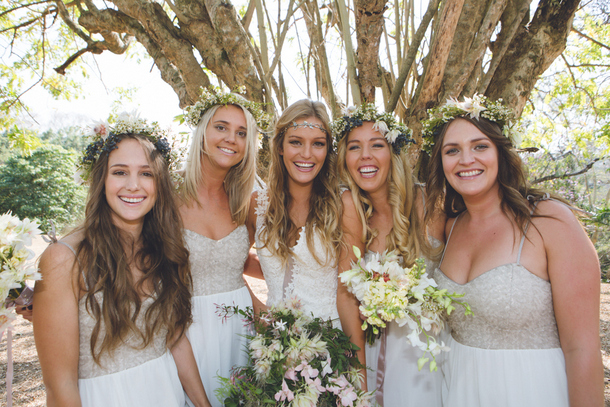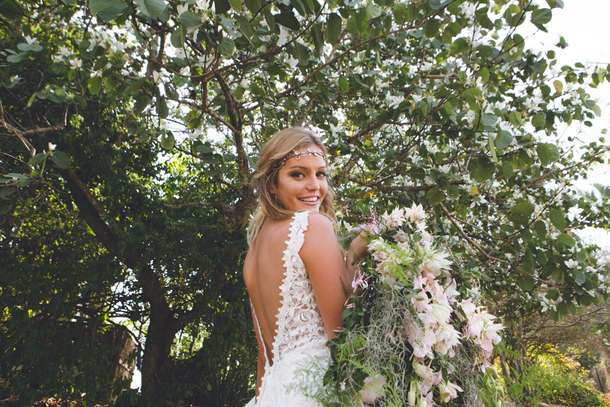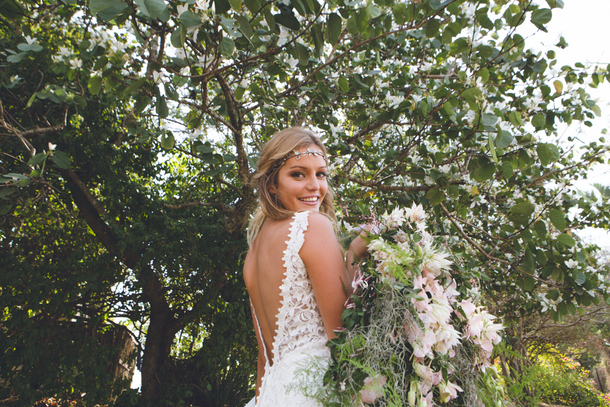 Love Story
I have known Jem and his family my whole life as we grew up in the same area. We started working together at the Litchi Orchard where my cake bakery runs and Jem manages this beautiful destination. We work together on the property and have grown together through the daily challenges that face us. We have the same vision and outlook on life in general and it was inevitable that we would be husband and wife.
The Proposal
We love the outdoors, especially the dramatic Drakensberg. We went up to Njisuthi to a camp called Solitude and did a day hike up a valley. There were millions of white butterflies everywhere – which made it feel like it was snowing in the height of summer. We had a picnic near a river and had a little swim – there is something about swimming in a Berg mountain stream that leaves you feeling cleansed and refreshed. He asked me to marry him and presented me with a gorgeous, old fashioned ring with an Opal set in the centre. I have always loved opal and it is my birthstone, so I was blown away at how much research and attention to detail there was! We spent that night feasting at Hartford House which was incredible as we both love food and local produce and Hartford captures both of those elements!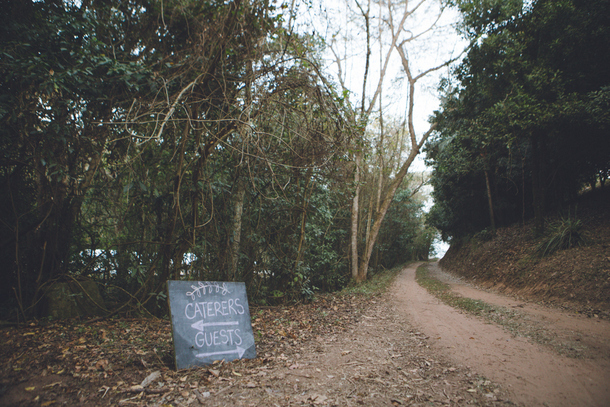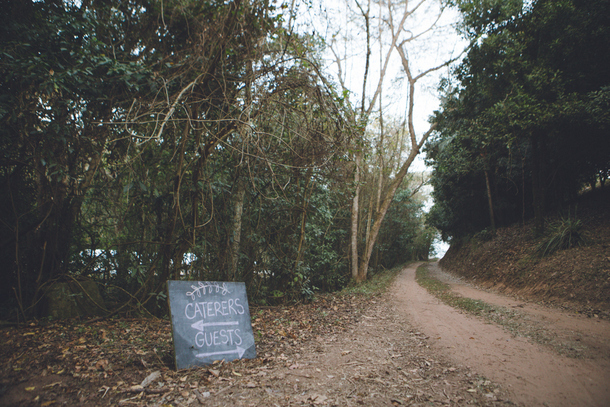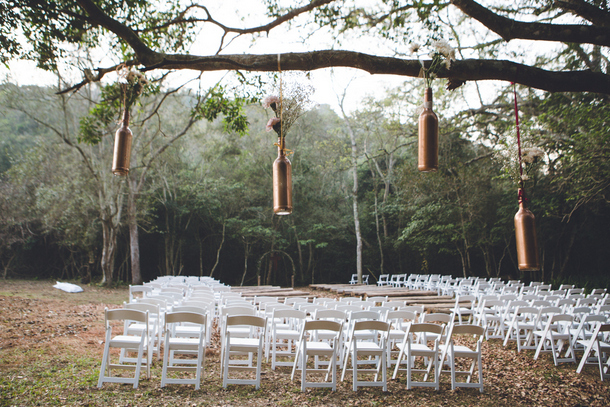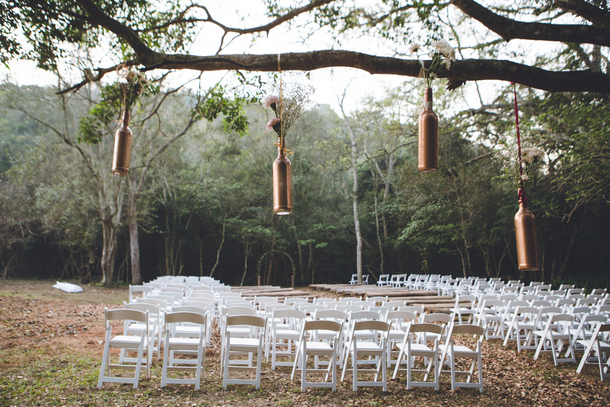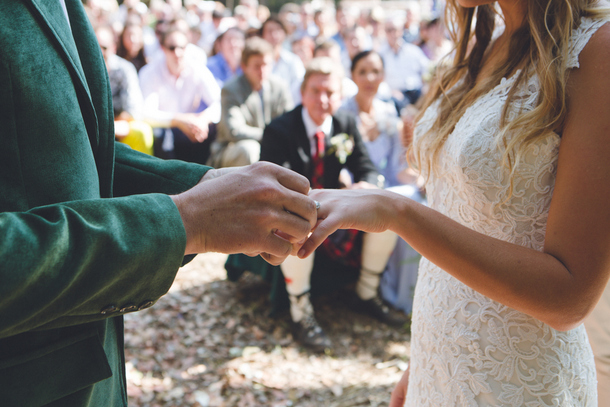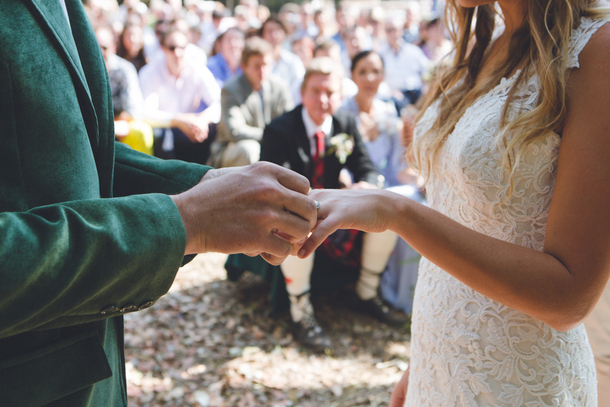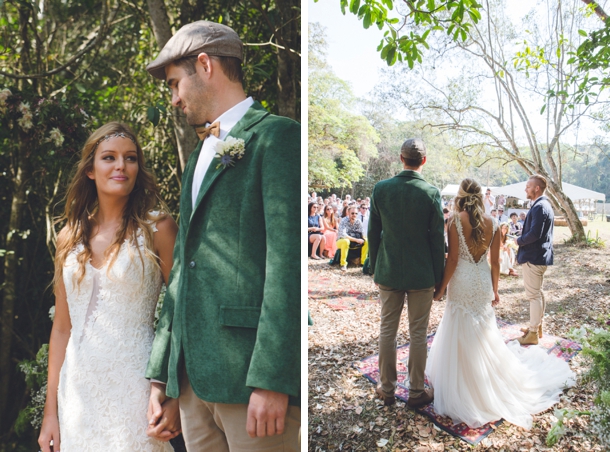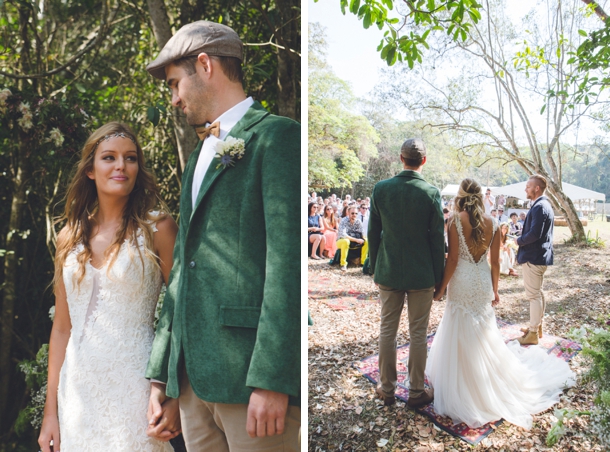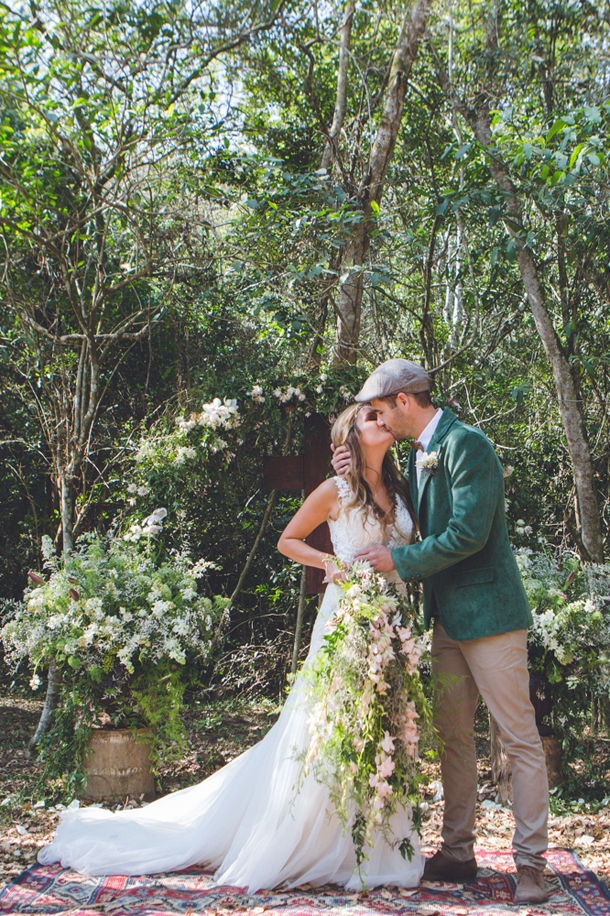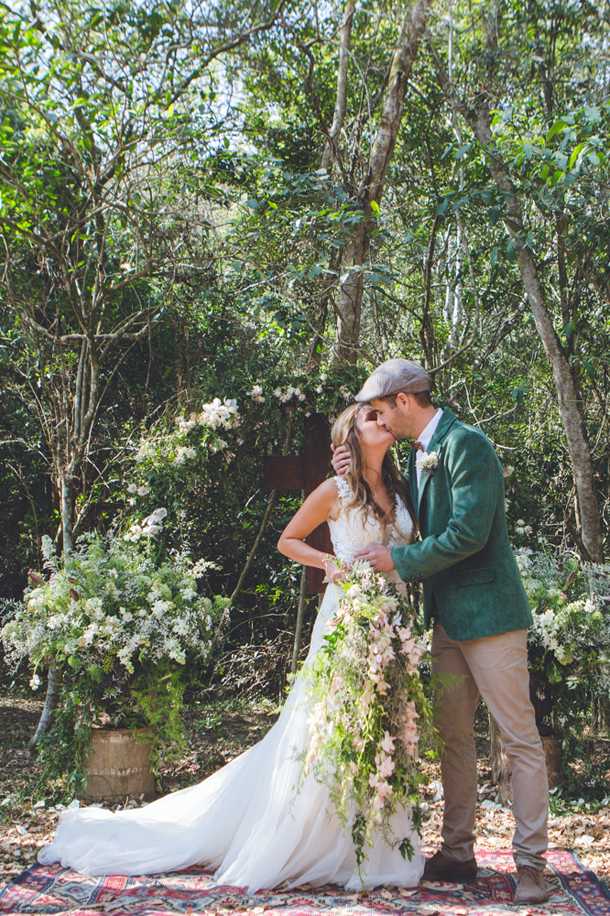 The Venue
We are both involved in the wedding industry and have attended our fair share of weddings recently. We wanted something different, relaxed and refreshing. Jem's parents have a farm in quite an unexplored area of KZN. It is situated about 30 minutes inland from Ballito and they have preserved all the natural forest and grasslands. At the bottom of one of the valleys lies a beautiful forest. There is a natural clearing in this forest and we decided to be VERY ambitious and have our dream wedding amongst the mossy trees, next to a beautiful stream in this clearing. The logistics were crazy, we even had to grade roads, put in water pipes and electricity and hold our thumbs that the weather would be good!
The Wedding in 3 Words
Forest. Feasting. Merriment.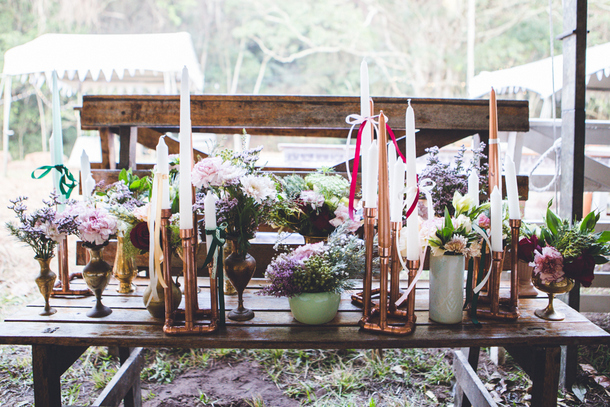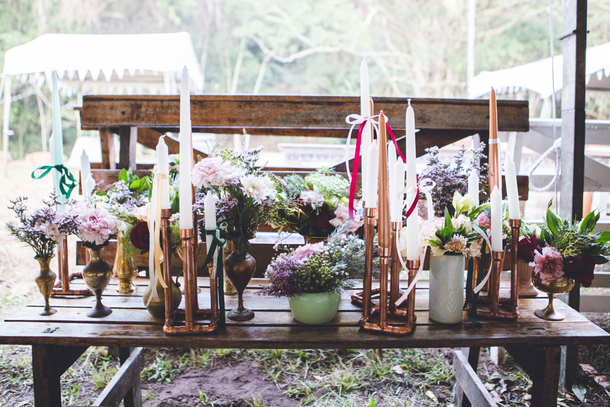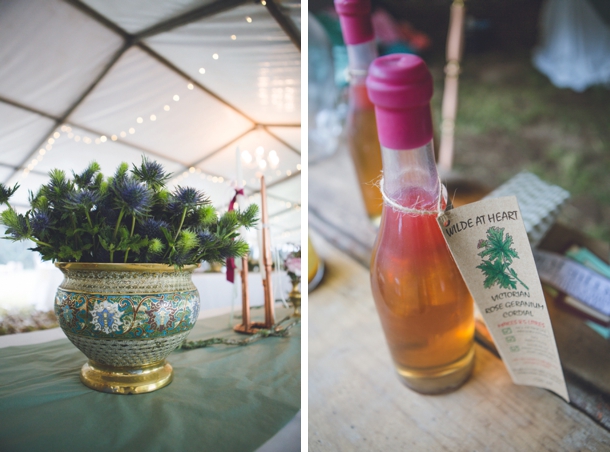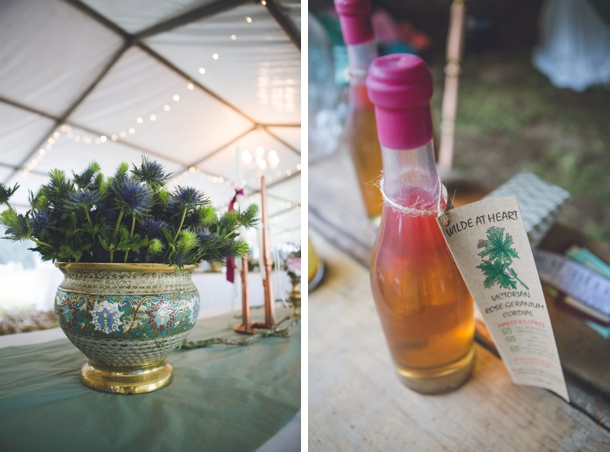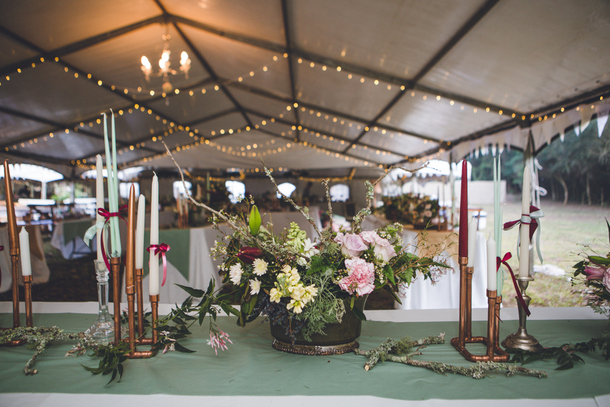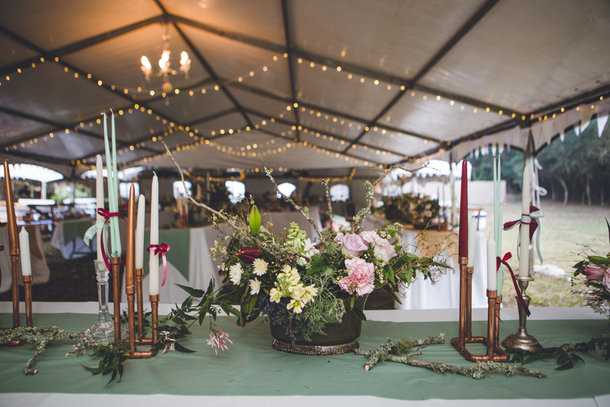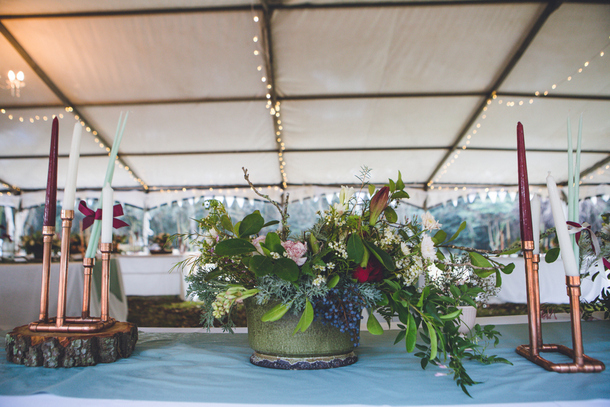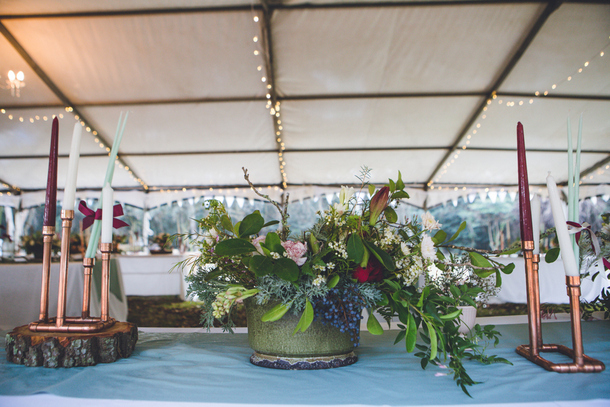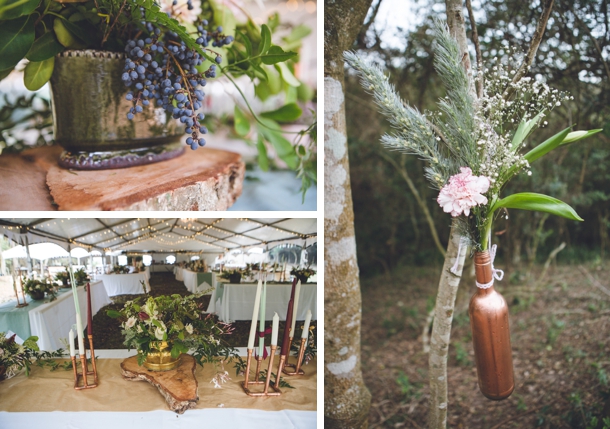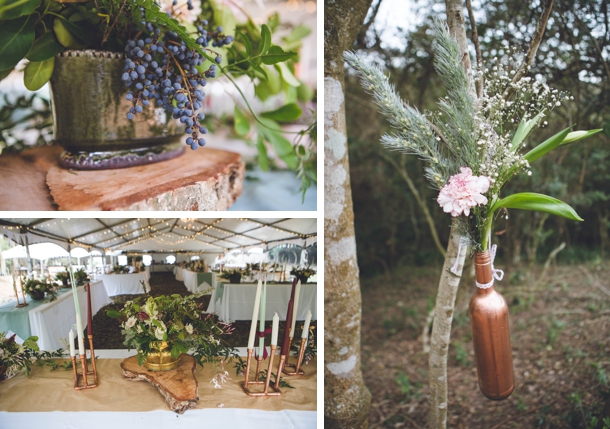 Wedding Style
We were very relaxed in terms of décor and colours. I wanted a forest baroque theme and our colours ranged from brass and copper, to maroon, dusty pink and greens. I am inspired by nature – the textures, shapes and form and as we had our wedding in a forest I drew inspiration from things like fern fronds, berries, feathers, moss and orchids.
Wedding Details
The wedding being on the farm was very special, as I have been going to the trail that runs through this particular forest since I was a child.
DIY Elements
I am a hoarder and have been collecting anything old and beautiful for a few years now. From china, to copper and ceramics. I just had to gather all my treasures together to make up most of the décor and had all my china teacups set up on the tea table which looked beautiful. In terms of wedding favours, we used the produce from the farm and had wooden crates of clementines, lemons and limes as well as some potted Yellowwood trees for folks to plant when they got home. It is one of my favourite trees and fitted in with our forest theme.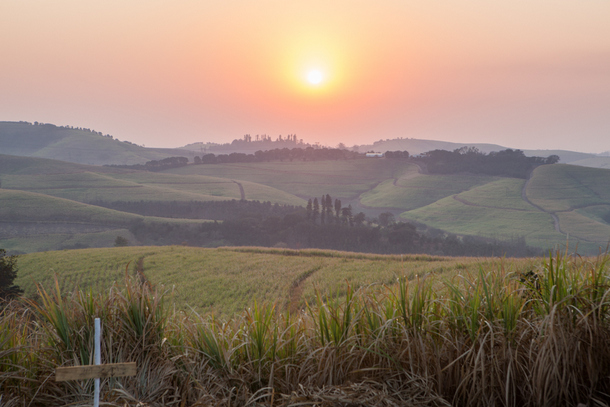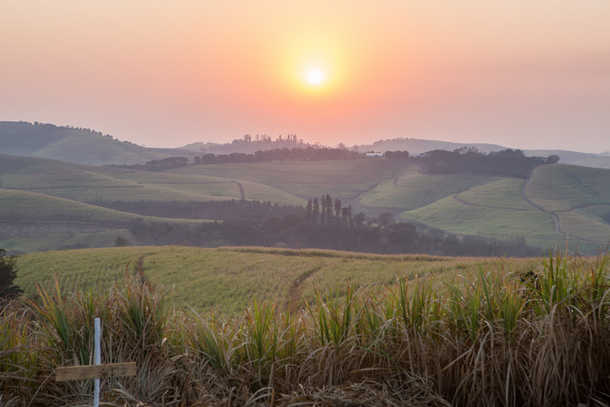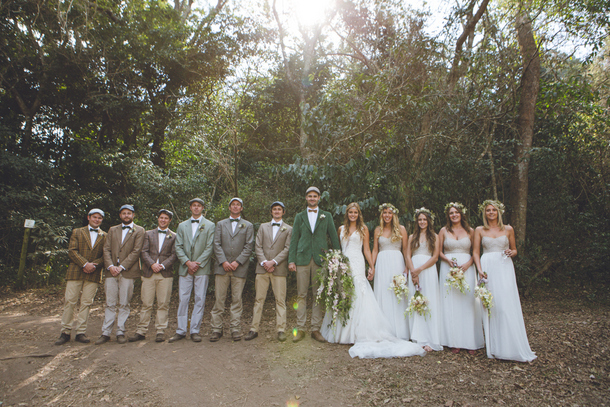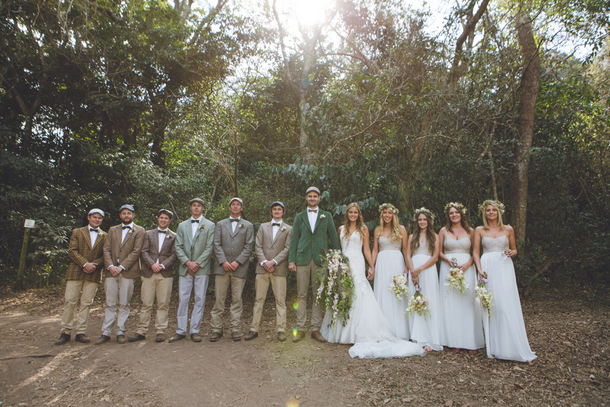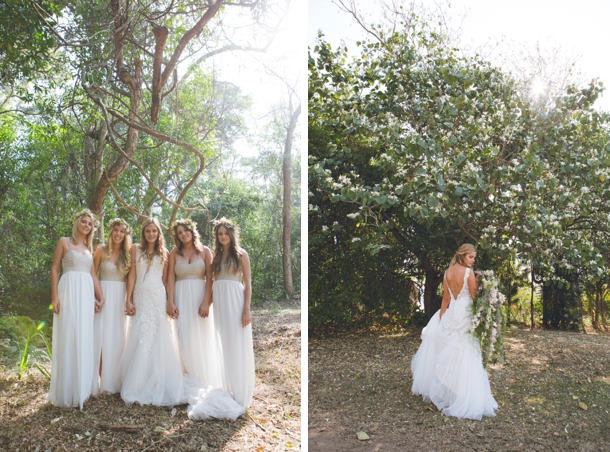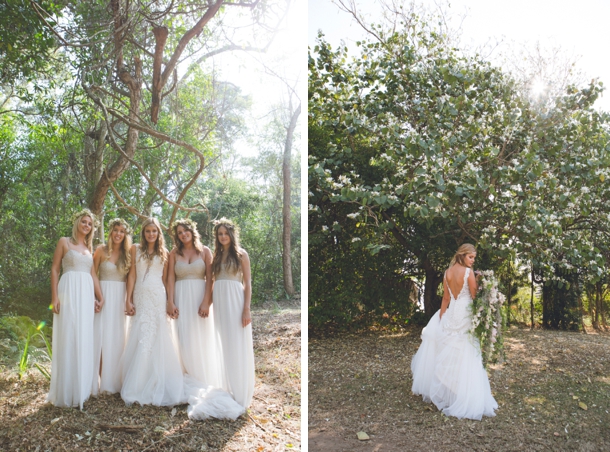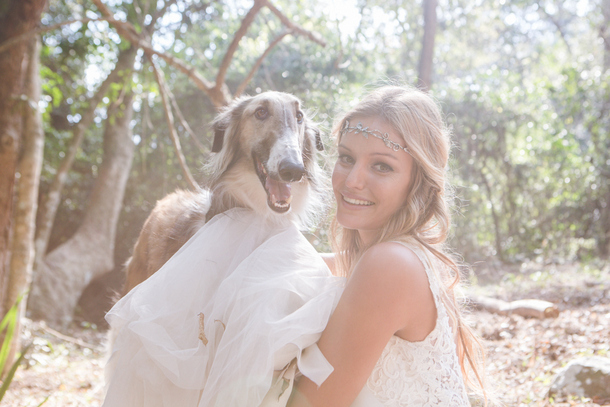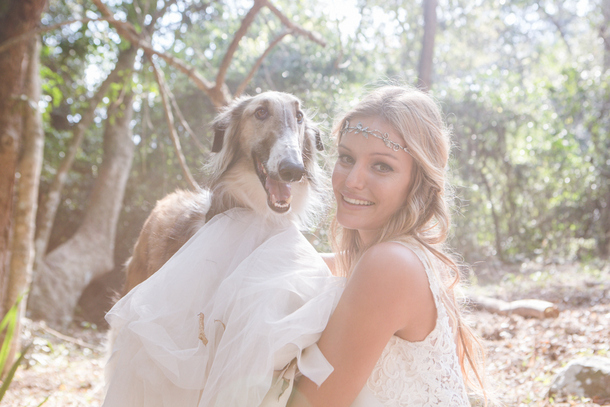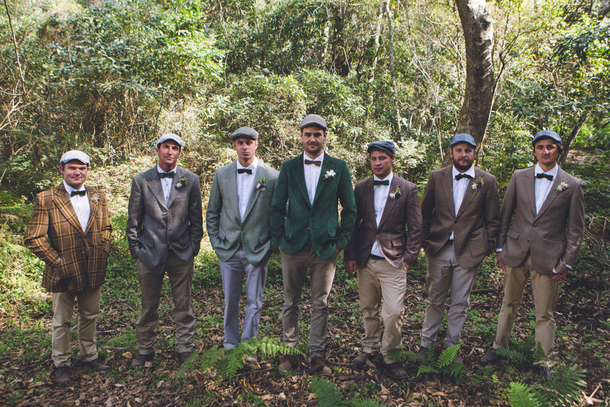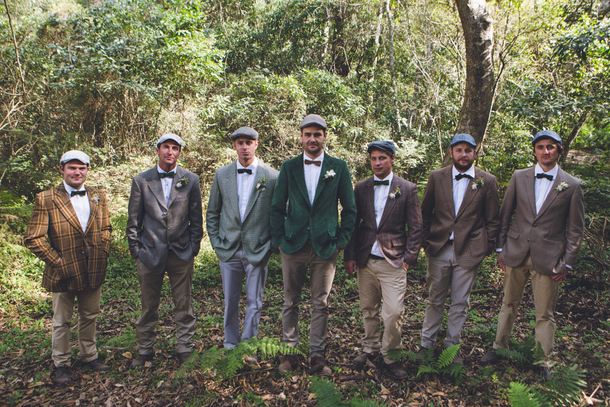 The Flowers
I am crazy about flowers and Jasmine is especially my favourite. One of the reasons we chose the beginning of August was so that I could have my jasmine fix. We had friends bring car loads down from the Midlands and the scent was just heavenly. My good friend, co-ordinator and floral genius, Carolyn, has the most amazing talent with flowers. She is whimsical and with her, the more outrageous the better. Carolyn, myself, mum and my sister all went to the flower market together on the Wednesday which was such a calming, inspiring experience. We all got to choose flowers and ummed and ahhed and spotted interesting berries, orchids, etc. Carolyn then worked her magic! I had an aunt bring down mossy branches from their farm in the Eastern Cape and we added these to the arrangements. I also picked some ornamental oranges off a few trees on the farm to bring in the fruit detail, especially on our harvest table.
The Dress
I was very relaxed about my wedding gown. It is not the most important aspect for me at a wedding and I did not want to spend a lot of money on this. I went to buy fabric at a bridal shop in Durban and ended up spotting a beautiful, different dress. I tried it on and that was that. It was an easy decision and it was the first time that it actually sunk in that I was getting married!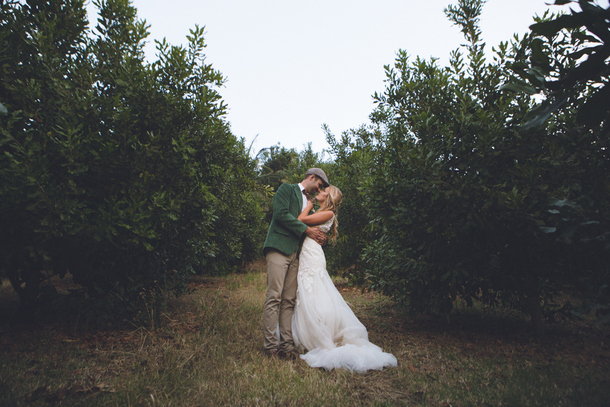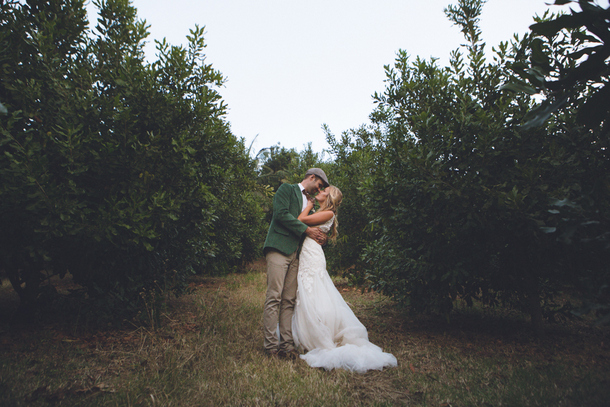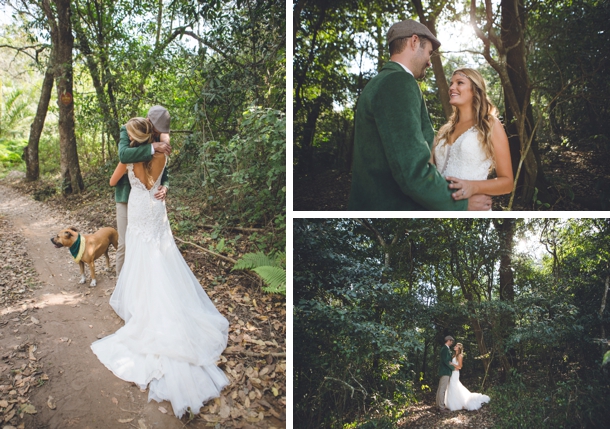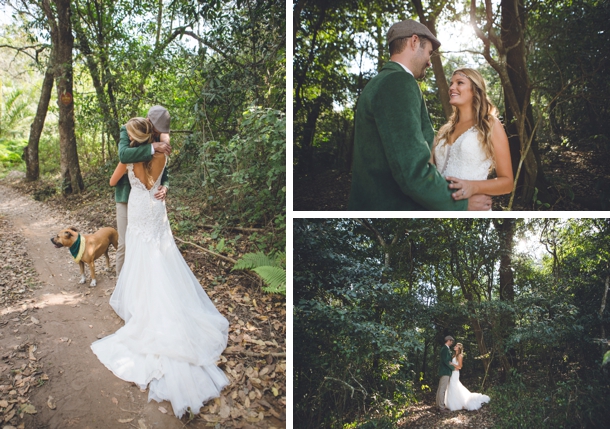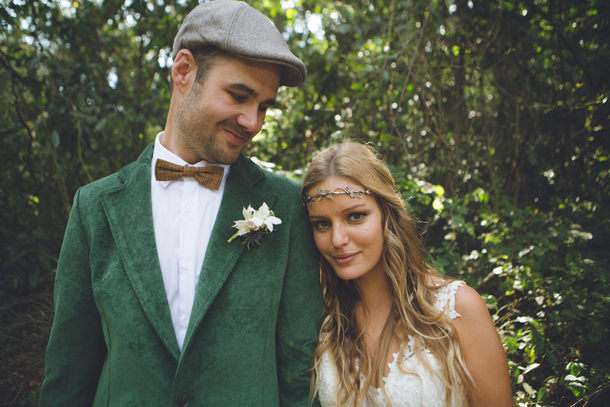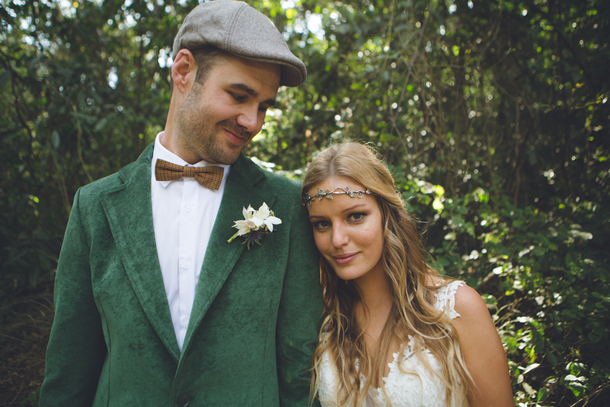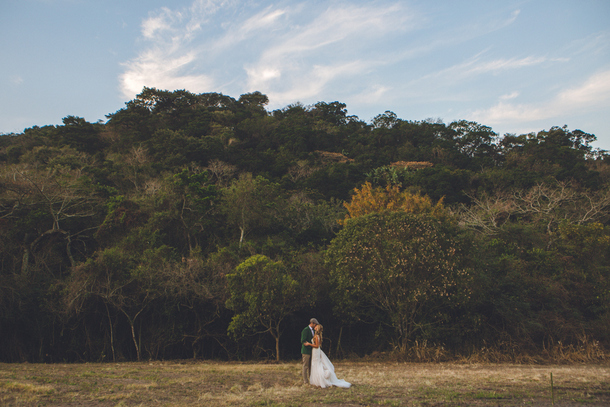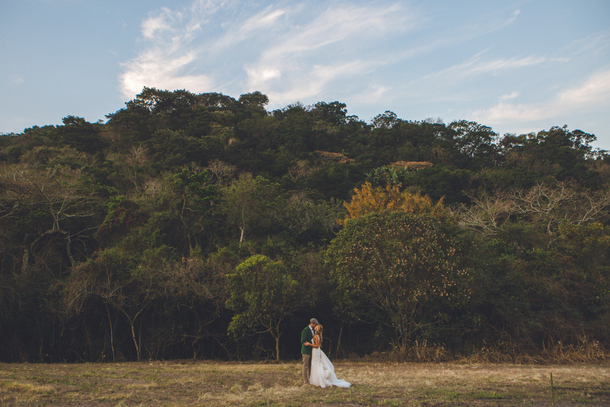 Memorable Moment
When Paul, Jeremy's father, read out a letter I wrote to him in 1997 when I went on their farm trail, through the exact forest we were getting married in. I had drawn pictures of indigenous plants, mossy rocks etc and told him how I loved the forest and how many birds I had heard (not seen!) I didn't know he had kept this and it was such a surprise. He had framed the letter and hung it up afterwards so that all the guests could have a look.
Proudly South African Details
As we run a farmers market and are really passionate about local producers in every aspect, all of our food was from our traders at the market – charcuterie, olives, bread, cheeses, preserves, vegetables and fruit (organic where possible). One of our traders even made us a beautiful rustic table out of re-purposed wattle which we used for our cordial table. The cordials came from a friend who makes them down in the Cape and our wines came from another friend's wine farm. We had to have bottled water as the tap water is undrinkable. So we had this locally bottled about 30km away on another family friend's farm. It was a real group effort and we used as many local producers as possible! Our plates were all recyclable and made from Bagasse which is a by-product of sugar cane. Our cutlery was all bamboo. We recycled all of this afterwards.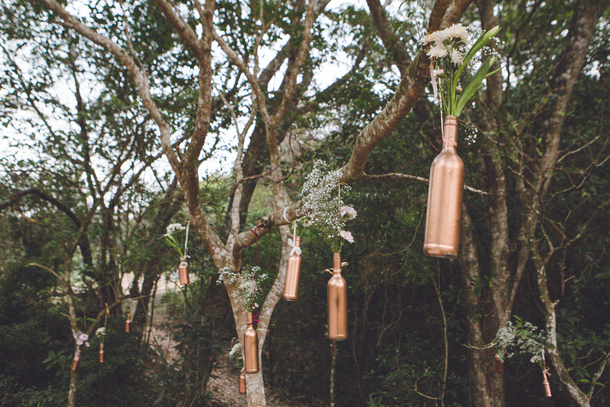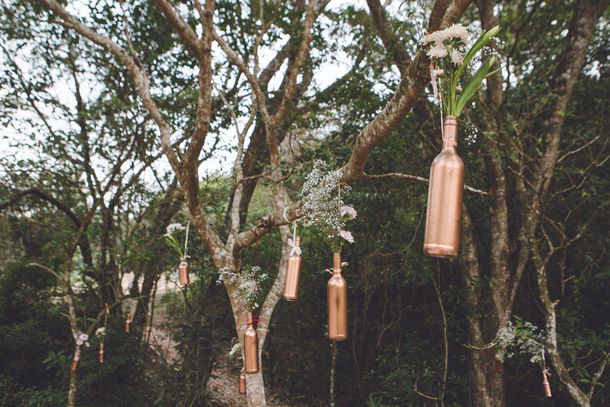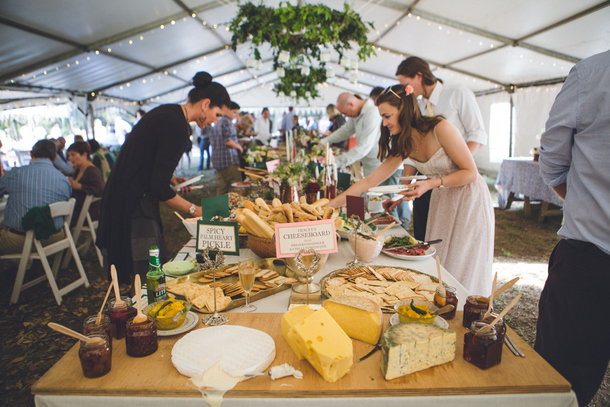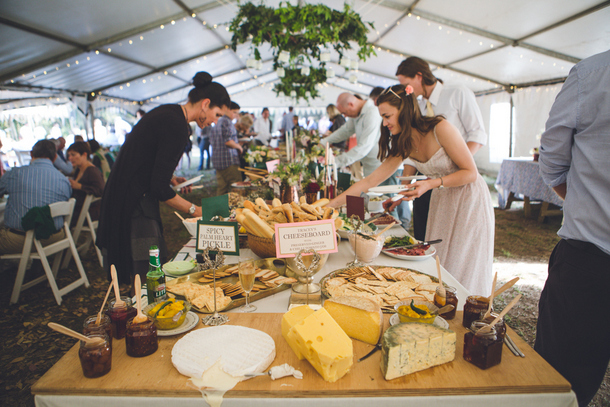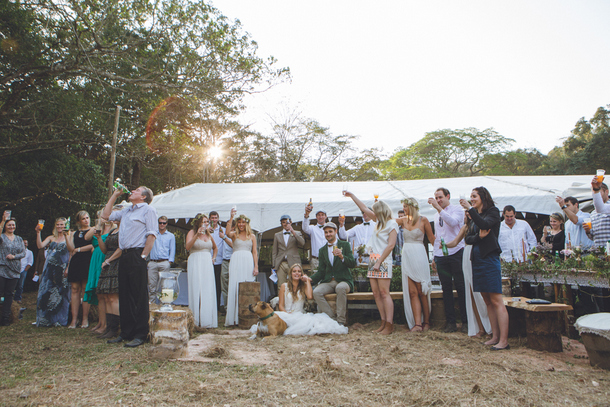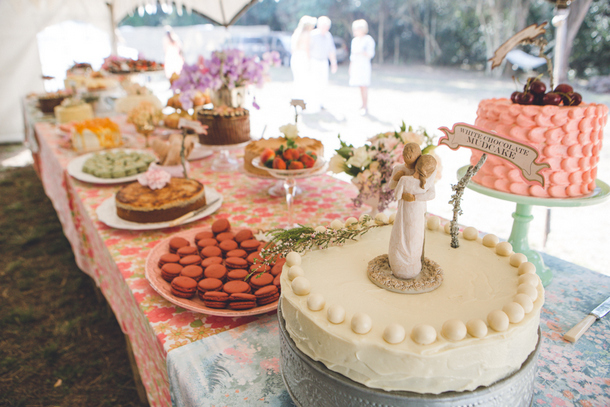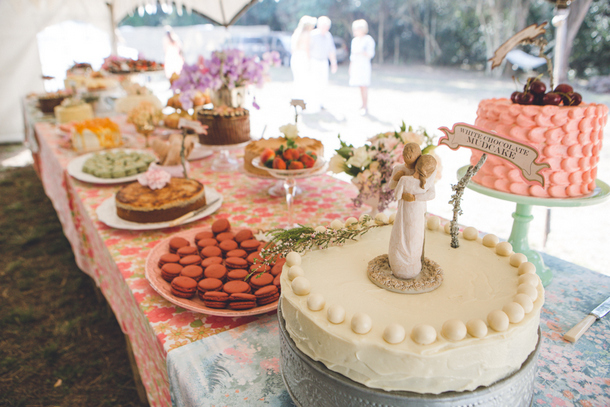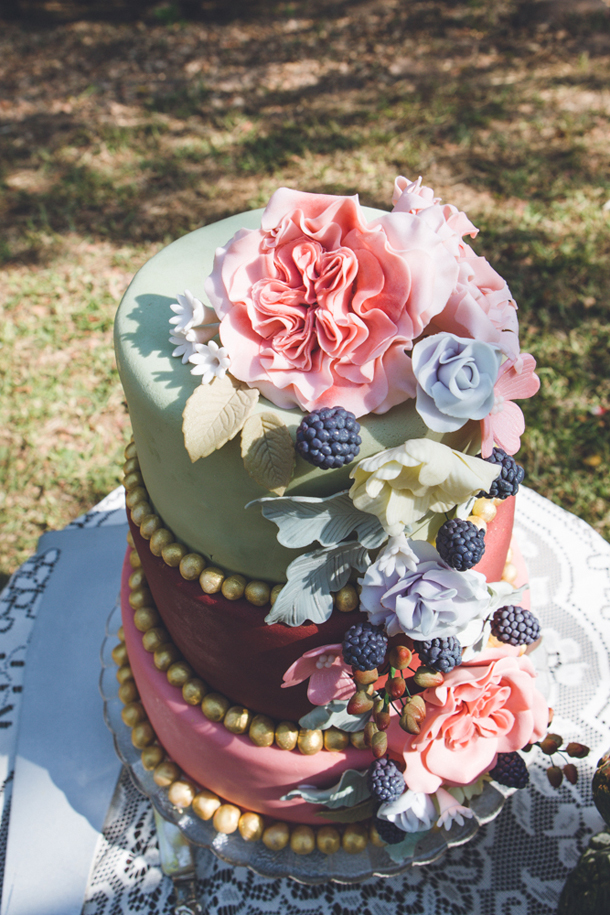 The Honeymoon
We went to Mauritius – it wasn't a surprise but where we stayed was. We really made the most of our honeymoon and slept for the first week as we were so exhausted and then we explored the island and went to many rum distilleries, markets, chateaus and my favourite, the vanilla plantations, as I am a pastry chef. It was a truly memorable experience and a much needed break!
Advice for Future Brides & Grooms
Just be true to yourself. It is your day and you are not trying to impress anyone. There are so many things that people get so caught up on in the "wedding process" when it is actualy quite simple. You are getting married because you love another person and you are celebrating this love with your nearest and dearest. Use local producers and talent – don't pay out your shoes, yes it is your big day – but there is no need to go over the top. Don't try and impress, just have fun and remember why you are getting married in the first place!


You can see more from this wedding on the Summertown Pictures blog.
SERVICE PROVIDERS
Venue: Private farm | Catering: Hannes from Deli News – from our farmers market ( 082 6516881) | Photography: Katie Lee Wisdom from Summertown Pictures | Co-ordination, flowers & decor: Carolyn from Adore Weddings & Events | Cake: Lemon Canary Bakery | Bride's Accessories: Antique Fusion | Hair: Sophie Slater from Curl up and Dye (072 4367889) | Make Up: Made up by Kylie (082 3265171) | Bridesmaids' dresses: YDE | Groom's attire: Custom made and sourced from hospice shops | Entertainment: Little Fish