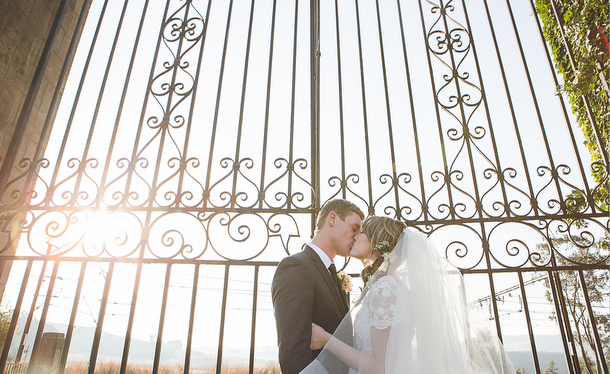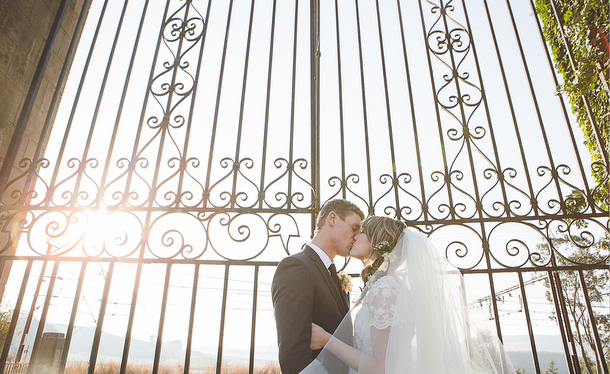 Some weddings just remind me of the simple, wonderful pleasure in life – a cool breeze on a hot day, a new sundress, melting butter on fresh, hot bread. Today's wedding is like that – pure happiness and country casual chic. Ash and Peter chose a palette of soft neutrals with a touch of peach and a little glimmer of gold (I love how subtly this metallic is used throughout, it's so perfect), with lovely lace showing up in both the bride and the bridesmaids' stunning dresses. The florals are a beautiful mix – I especially love the blushing bride proteas. And speaking of these blooms, I just loved how they were used to decorate Ash's naked cake, and would you believe it, she made it herself! Clever bride, beautiful wedding, happy days. Ooh, and let's not forget the swooney images from Summertown Pictures too!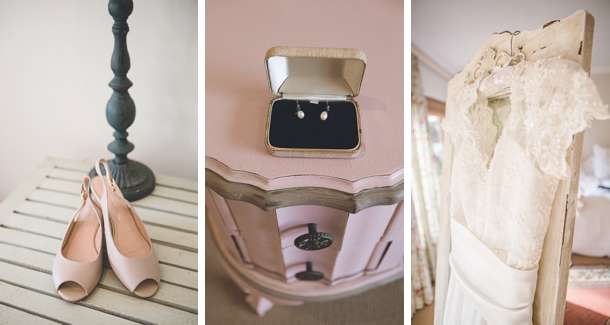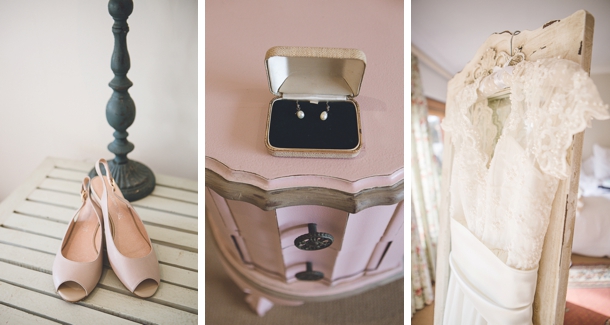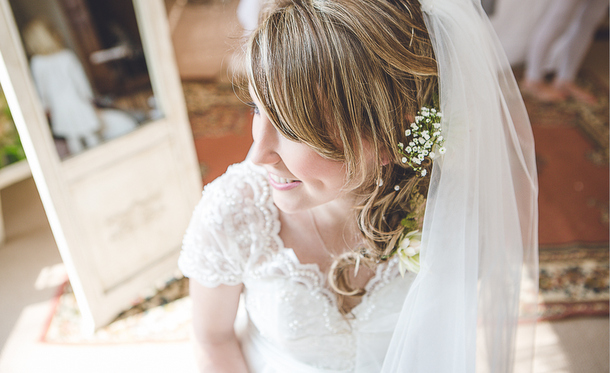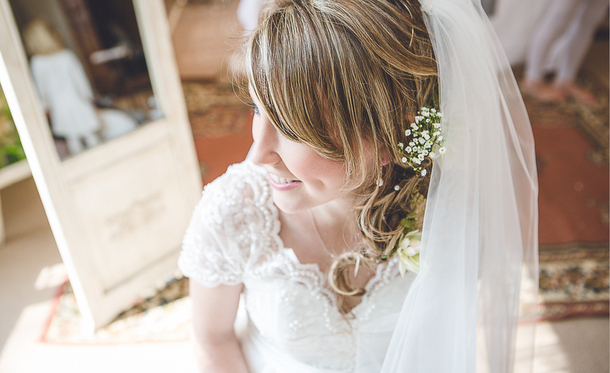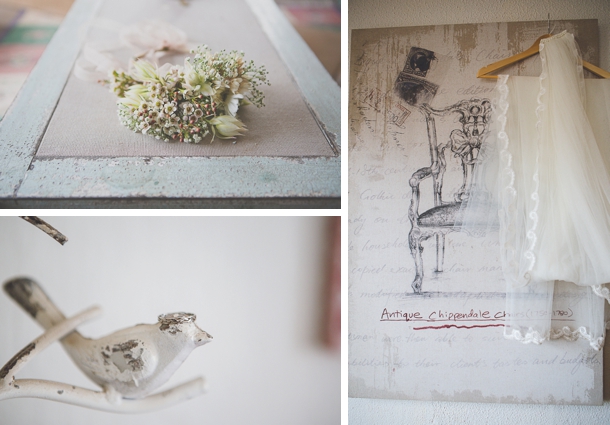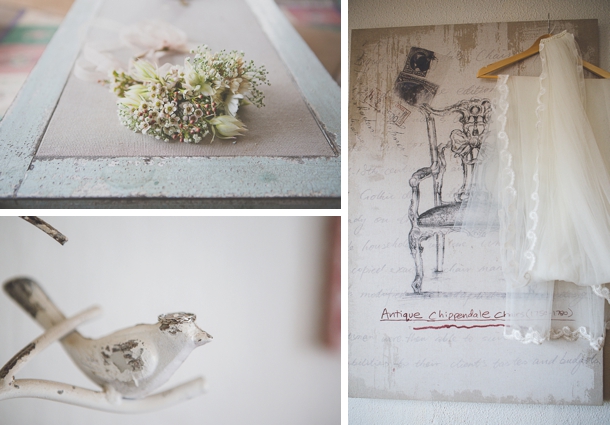 Love Story
Peter & I met in my first year of studying engineering at TUKs at our friends' game farm in Bela Bela. Marelize was in res with me and her sister Elize studied BSc with Peter. We were both asked to join the two sisters for the weekend away, so it seems that fate was conspiring against us! From the time we met, we got along extremely well and ended staying up the entire night only for Peter to take me fishing at 5am in the morning – what a great catch it was ;) From then on, Peter and his family were a home away from home for me in Pretoria (my home town being PMB). Eventually we even ended up "swopping folks" as Peter moved down to KZN and we did long distance for approximately a year and a half. Peter has been my 'bub' ever since.
The Proposal
I can be quite a "control freak" as some might call it especially when it comes to what's going on, etc. so I really thought I had it all planned out in my head… but Peter did extremely well to surprise me! We were going away at the end of September last year and of course, this is when I thought it was all going to happen as we had spoken about it before (and Peter, very innocently – had told me that he had asked my folks! It was quite hilarious!) To my total and utter surprise, in early September Peter got my housemate to get me out of the house for the afternoon. He drove up from KZN to JHB, ordered my favourite meal from my best restaurant (The Green Peppercorn in Morningside) and set up a romantic dinner for two in my townhouse. I saw one candle light inside and before I knew it, he was down on one knee.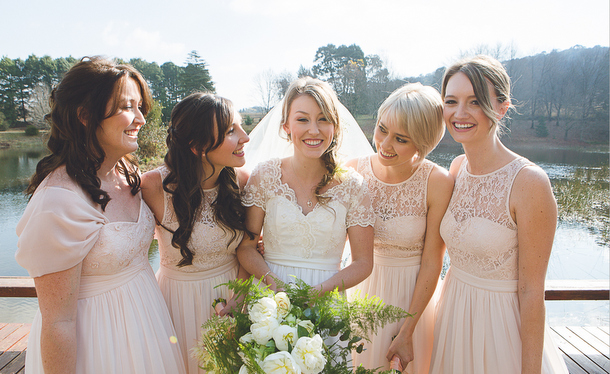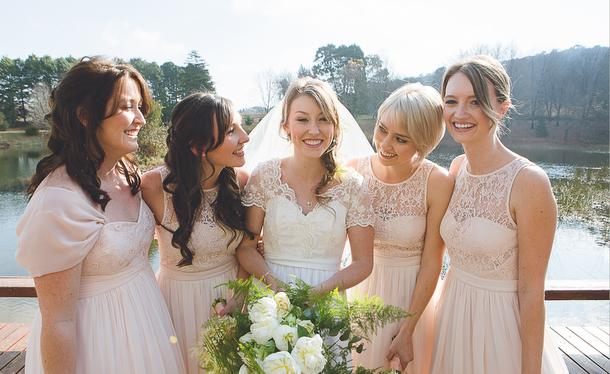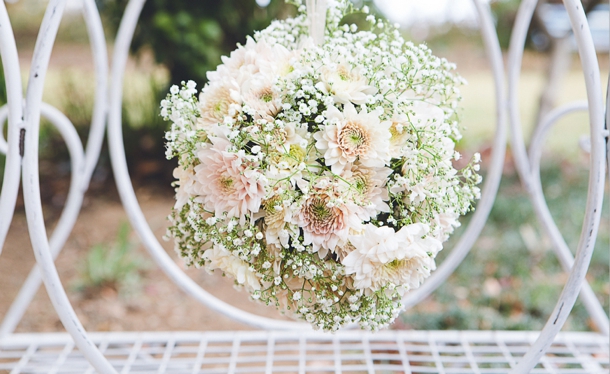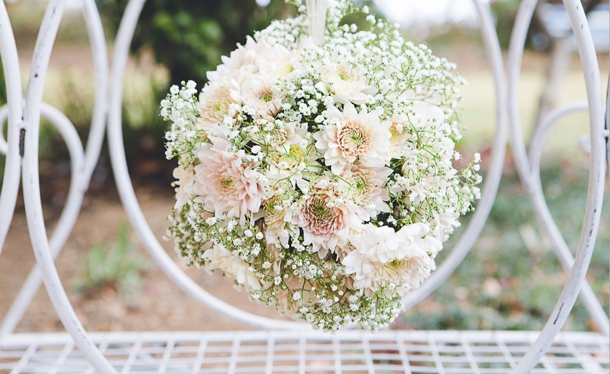 The Venue
Initially I was set on having a "forest" wedding with a transparent marquee. I wanted to feel like I was in nature, under the stars, etc. Not only was this almost impossible to find but it was also a logistical nightmare and would attract massive costs! We were so lucky to find The Glades as it offers you an amazing and yet simple venue which is so close to what we was looking for. It is still very "untouched" and has a great feeling of uniqueness without any of the commercial stereotypes. Additionally, the oversized window at the far end of the venue reflected the fairy lights that we had hung from the rafters so beautifully, creating a magical atmosphere.
Once we had found The Glades, we decided to get married at Michaelhouse Chapel. Peter went to school at Pretoria Boys High School, and the schools have similar values and traditions. We both knew we wanted to get married in a historic chapel with beauty and grandeur, as it makes the occasion special for everyone attending as well. We also had to be practical and needed something would accommodate 150 people. Luckily, Michaelhouse did allow "non-old boys" to make use of the facilities and we even managed to get the resident organist to play at the ceremony, which added to the magic.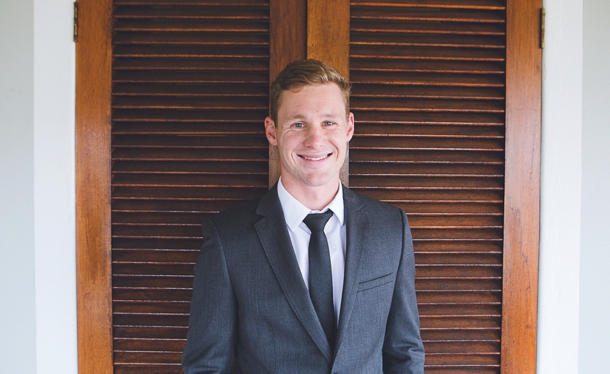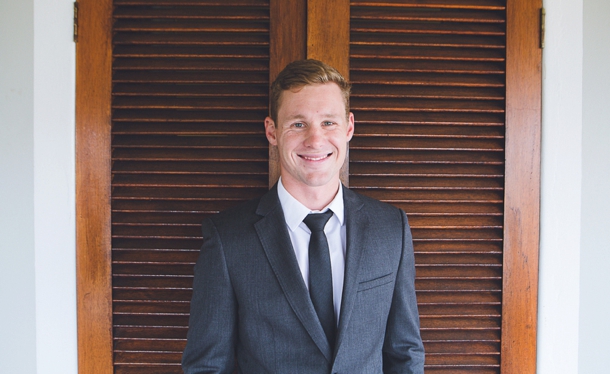 Wedding Style
I wanted my wedding to be as relaxed as possible. I have always been a fan of neutral, subtle colours so we basically went with a neutral palette with a touch of peach, gold and mint. We also didn't have a particular clichéd theme but rather elegant simplicity with vintage inspired undertones. Everything was very soft and "natural".
Wedding Details
The one thing that I am so very proud of, is MY cake! The first thing I decided when Peter and I got engaged is that I wanted to make the wedding cake. It was actually so simple! I love baking. It comes from my Gran who I baked with growing up. She taught me some of her old-time favourite recipes when I was growing up which made it that much easier and more meaningful to make for the big day. It was a four tier, naked, layer cake comprised of one chocolate sponge layer, 1 vanilla sponge and 2 carrot layers with all sorts of yumminess in between. I got a very cool Cake topper from a stationery place online (based in Cape Town) and The Flower Shed added the final touches of some beautiful flowers. To add to the baking bit, I made the fudge for the favours too!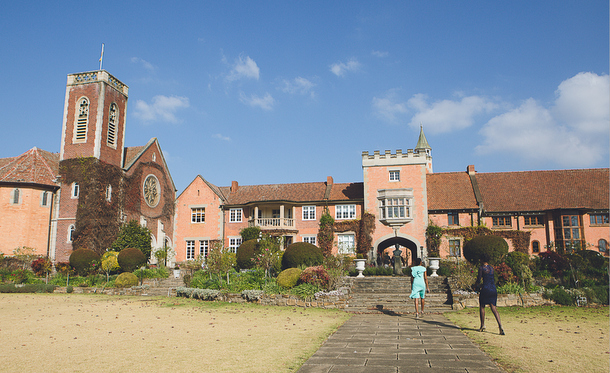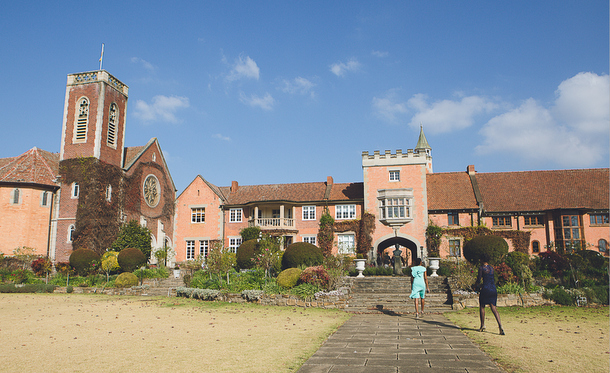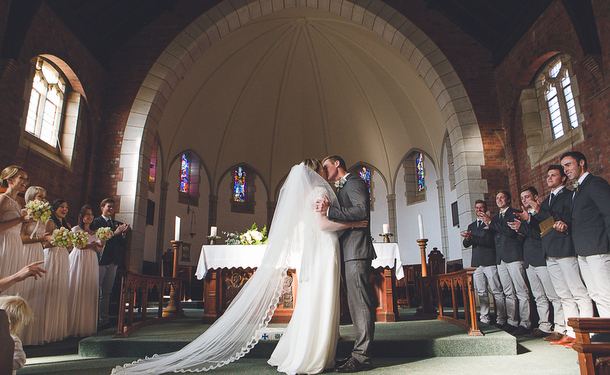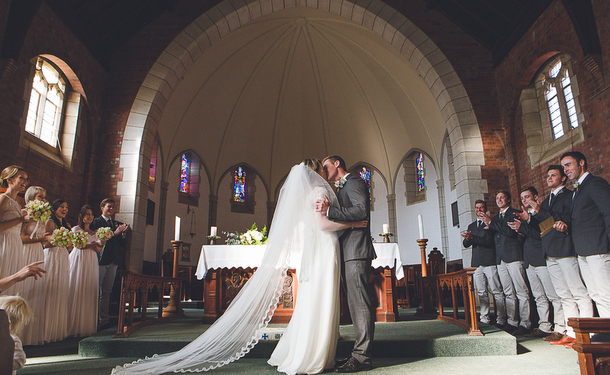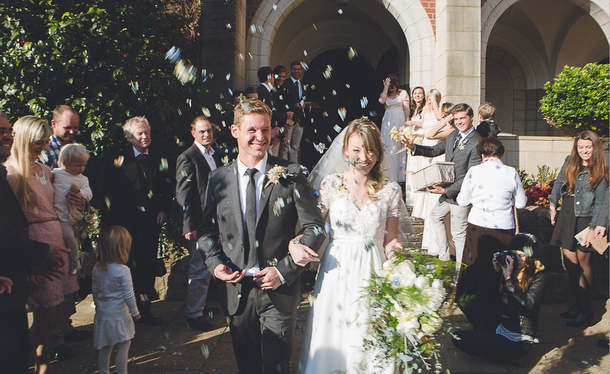 DIY Elements
Most of the elements were designed or made by myself and my bridesmaids (or bro-maid – yes, there was one boy bridesmaid!). My best friend and I designed and made all the stationery ourselves. Stu – AKA THE BRO-MAID – made me a cool arrow "pallet light" just for fun and we had a few other things like the seating chart which was made out of peg board and twine, brown bags with old school tags done up with washi tape for the table names and favours, signs and chalkboards made from shutterboard and lastly, an outdoor photo-booth constructed from a pallet bench we have at home and a mosquito net, to keep everyone entertained during snacks & drinks.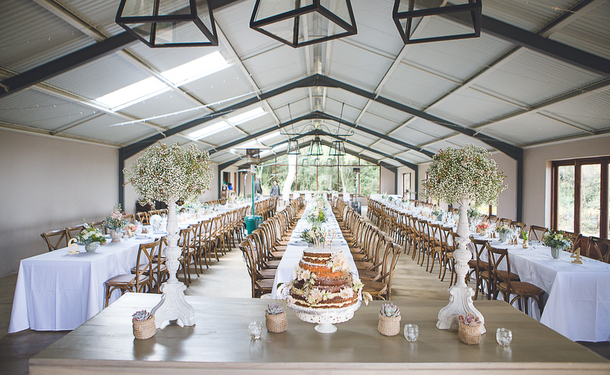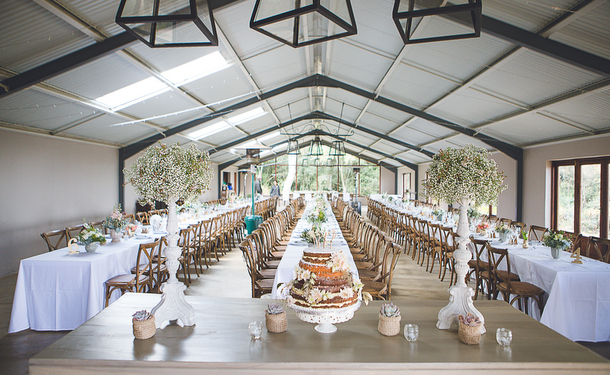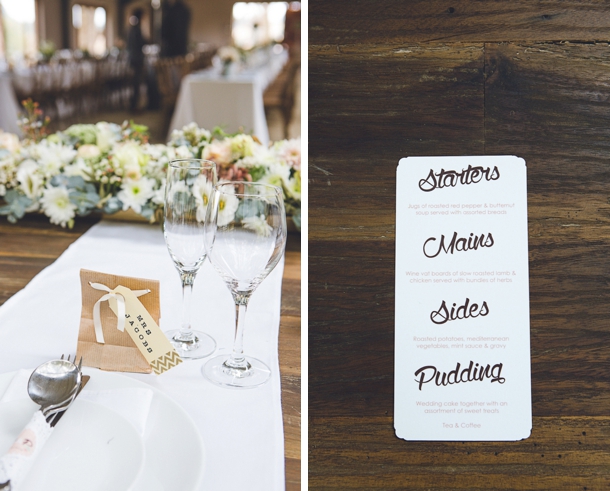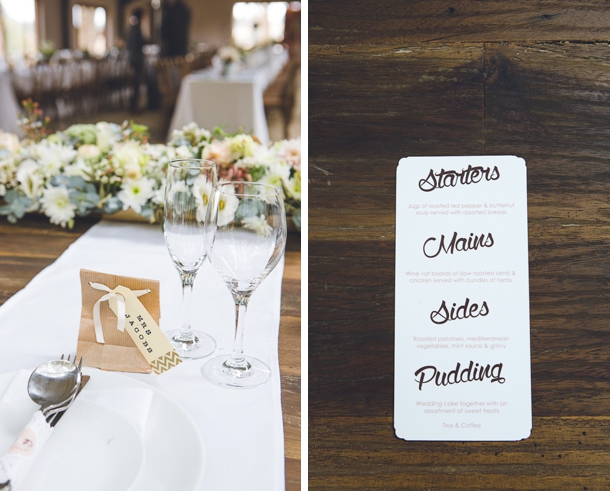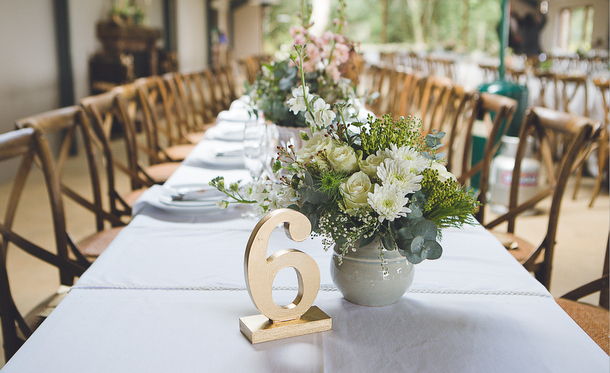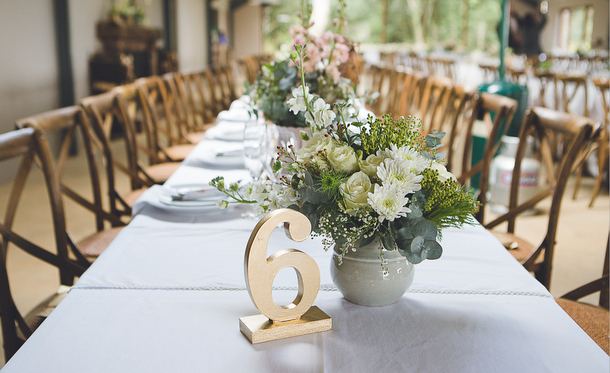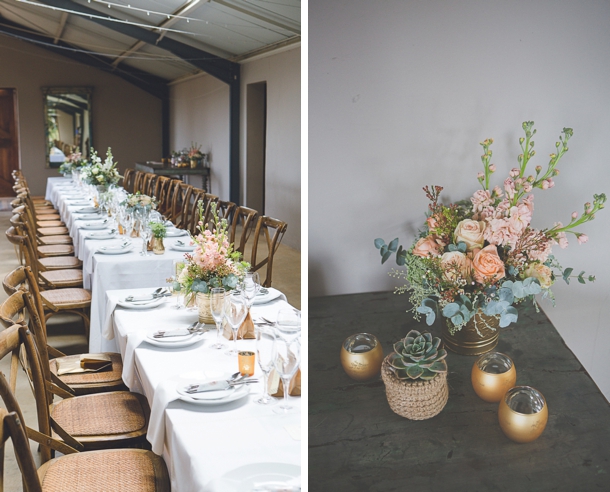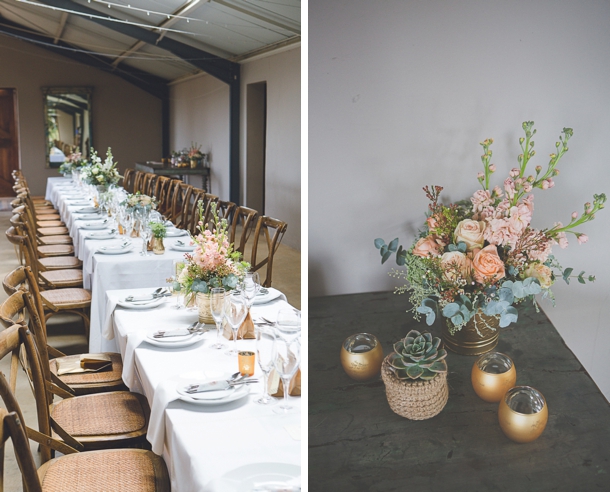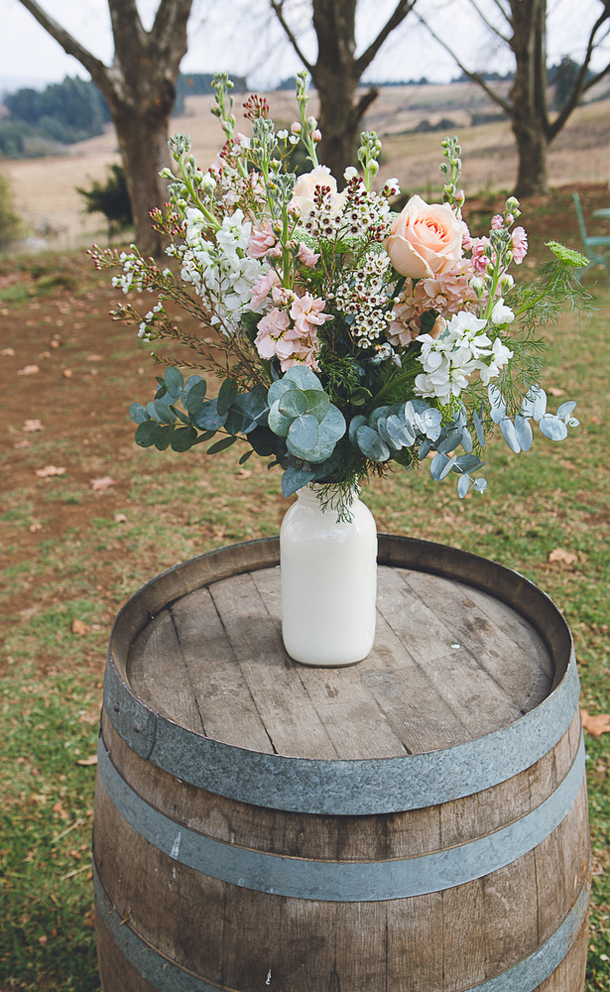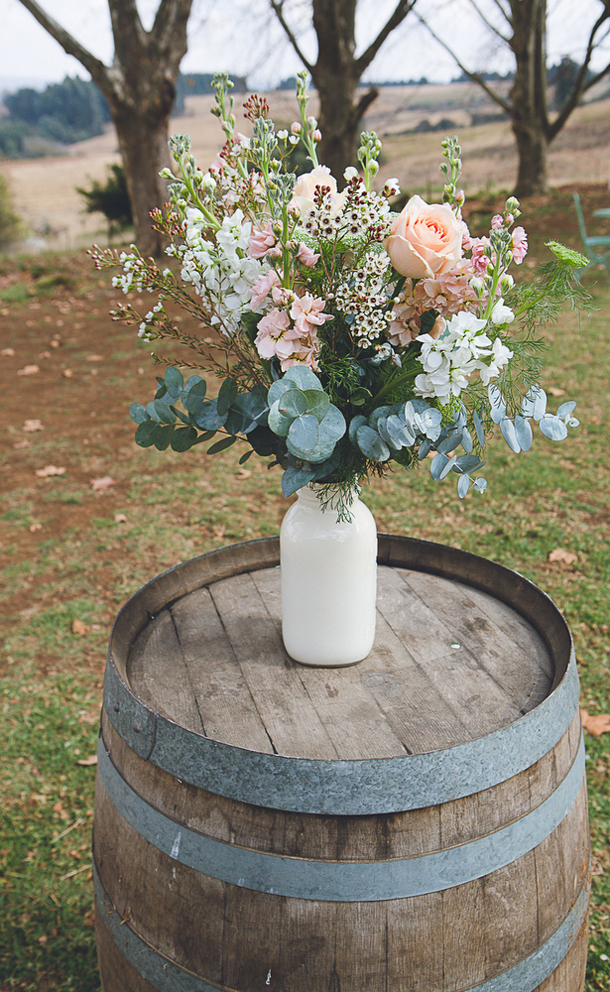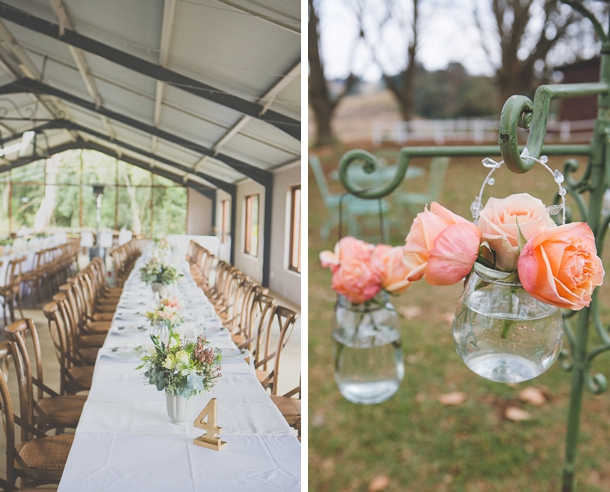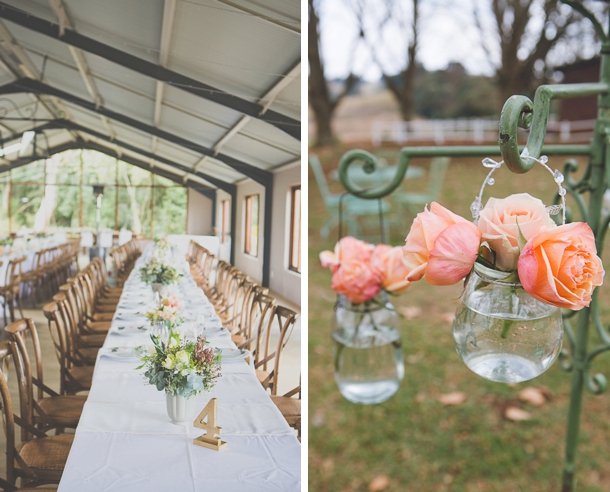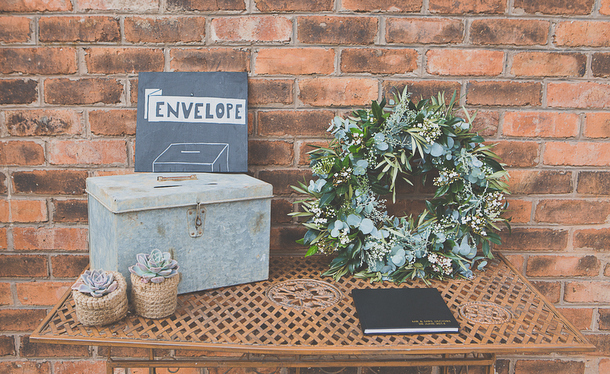 The Flowers
Our flowers were absolutely incredible and I have to give all of the credit to Jen and Kim from The Flower Shed. They ran with my thoughts and ideas and created an absolutely beautiful atmosphere. I really didn't have to say too much as they understood exactly what I wanted and my personality. (Jen having been my high school biology teacher may have helped too!) The flowers were full and felt as if it they were overflowing, even given the fact that we couldn't over-crowd the tables as food was to be served "banquet style" on the table using wine vat boards. There was such complexity when you looked at them as Kim had managed to source all kinds of flowers from all over the show. By far my favourite was my bouquet. Just like my dress, I wanted something natural and flowing. I had seen a "cascading" bouquet on Pinterest and absolutely loved it. As soon as Kim knew this, she couldn't resist! There were bits of greenery with a tint of gold spray, baby's breath and stunning peonies all mixed together. She even made some bits and pieces to add to my hair which just made it all tie up so well!
The Dress
I started by trying on a couple of dresses but had a very particular idea in mind of what I wanted (like all brides-to-be) and everything was just a total and utter disappointment. Most of my ideas had come from a collection of pins off of Pinterest – a girl's best (or worst) friend in wedding planning! I finally found a dressmaker by the name of Lindy George in Hilton. She helped and guided me through "what to wear, what not to wear" until eventually I had "my perfect dress". I wanted something very simple that I could dance around in and feel comfortable. I am not one for fancy dress ups, etc. so the simpler, the better. I absolutely loved my dress. It was simple, soft and flowing. Lindy had given me some of her lace collection to use for the bodice, giving it a true vintage style. She also added some pearl beads to the detail for complexity and a bow at the back for a bit of fun ☺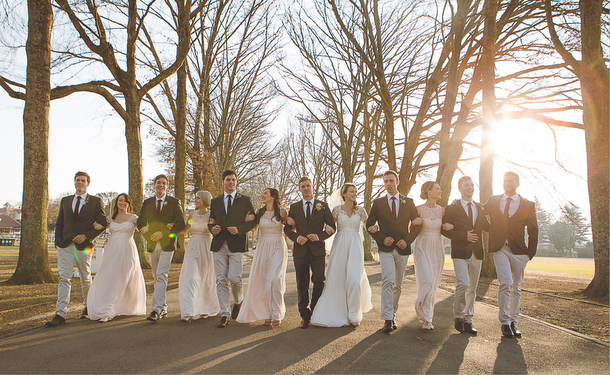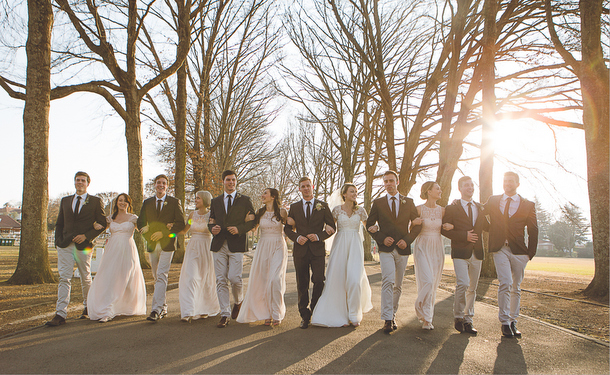 Memorable Moments
The fact that Peter forgot his wedding band in Durban and had to use his best man's on the DAY OF the wedding for the ceremony speaks volumes to his sometimes forgetful personality. This made for a good laugh amongst everyone, including our best man/matron of honour (married only two years ago in Michaelhouse themselves) as they enjoyed their 'illicit' relationship for the weekend ;)
My most memorable moment of the day was when Peter and I were walking out of the chapel. We sneaked into the Vestry so that everyone could leave the church and we could run out as the newly wed couple. This was our five minutes of quiet time to gather our thoughts and actually realise what we had just experienced by saying our "I do's". Another similar moment was when we sneaked off with Katie, in the middle of the reception (after a few glasses of wine), to take one or two piccies in the absolutely stunning light created by the big barn doors of The Glades reception barn.
Proudly South African Details
Our wedding car was a LandRover with a custom "Just Married" sign. I made homemade fudge with my gran's traditional South African recipe as favours on the table. I also bought a range of Consol jars for pre-drinks and water on the table as well as some enamel mugs and bowls to serve soup and roast potatoes in. My sister & brother-in-law have just started a craft brewery in Gordon's Bay by the name of Red Sky Brew and we were lucky enough to be given all the "wedding beer" for the night. Lastly, we had a proudly south African Durban-based live cover band to keep us entertained for the night – No Fly Zone. They were spectacular!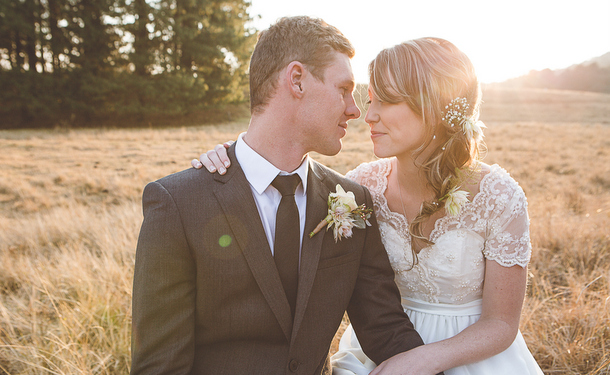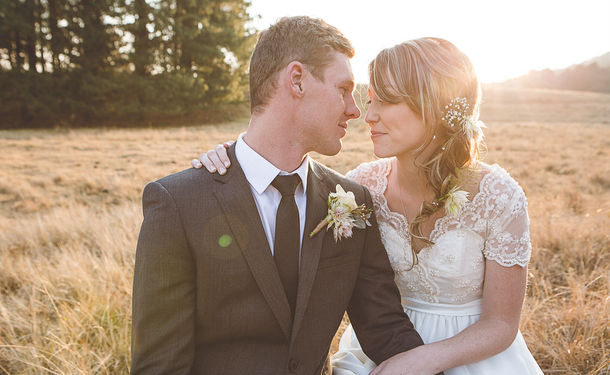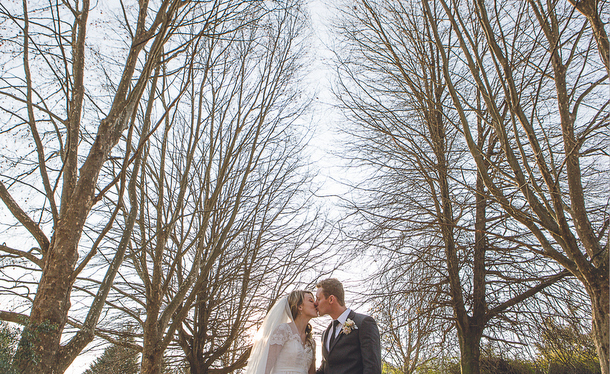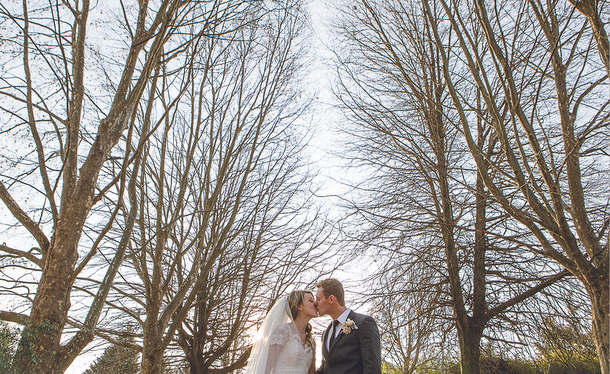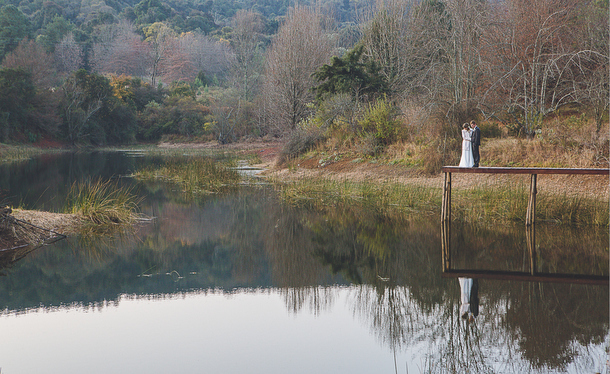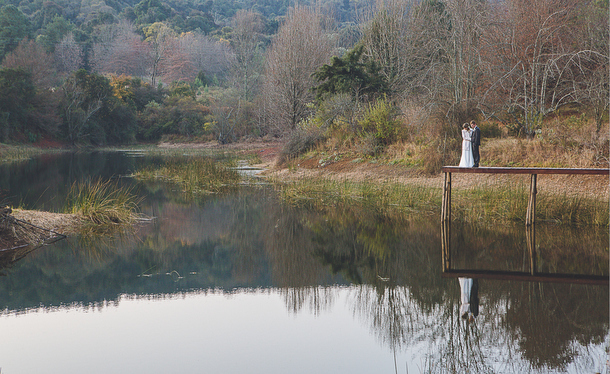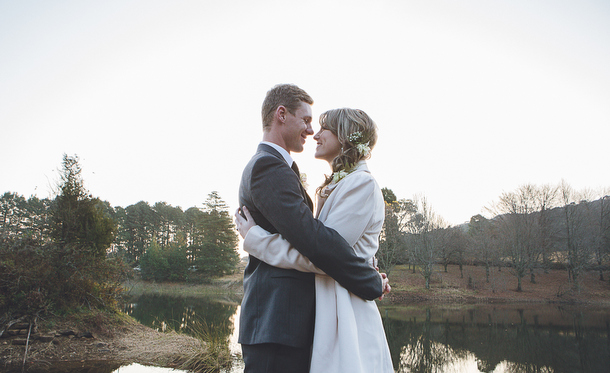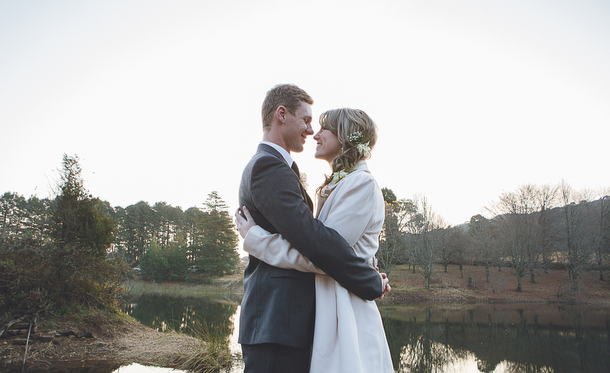 The Honeymoon
We went to Bali. It was a "part surprise". Peter had asked me if I wanted to plan with him so I knew where we were going but had no idea of the accommodation or itinerary for the trip. I realised the reason for this was purely because he was unable to hide the two surfboards that he managed to take with him! We first went to Ubud for a few days which is in the centre of Bali and then moved down to the tip of the coast – Padang Padang. Ubud is filled with tropical rainforests and loads of culture. Padang Padang on the other hand (close to Uluwatu) is full of beautiful cliffs, beaches and some of the best waves in the world for Pete to play on. We spent numerous days riding around on a scooter exploring and soaking up the sun. It was an incredible experience and a very well deserved, relaxing holiday!
Advice for Future Brides & Grooms
Have no regrets – a budget is important but we realised that some things we wanted were worth more than the money that people were asking for. After all, someone helping you also has to make a living. It is one day and one day only (we all hope☺), so make the most of it within your reach and try not to get stressed about it all. I had a car accident the week of the wedding and realised that as much as I had tried to plan that last week down to the second, it was out of my control. You will always have loads of hands from friends and family to help, so the best is to just trust and delegate – friends are amazing!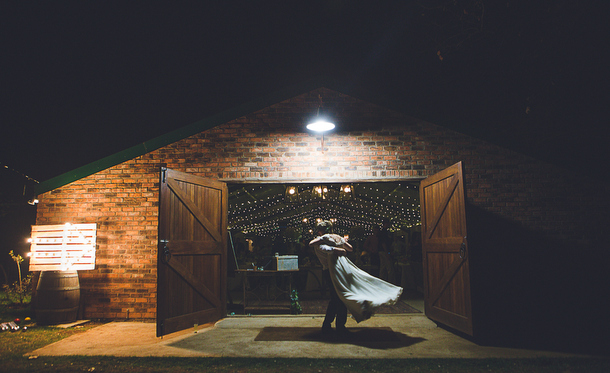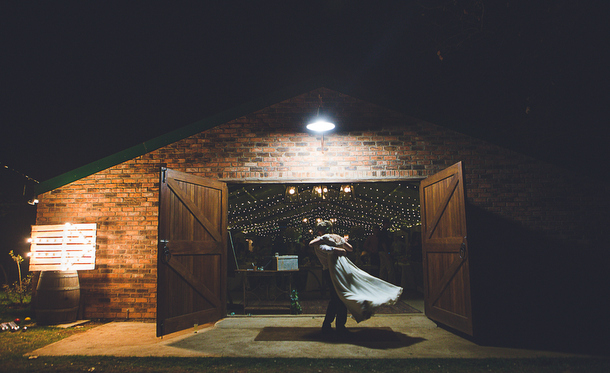 You can see more from this wedding on the Summertown Pictures blog.
SERVICE PROVIDERS
Venue: The Glades (Balgowan) | Catering: The Aubergine (Margeret Harel) | Photographer: Katie Wisdom of Summertown Pictures | Cake: Bride | Flowers & décor: The Flower Shed | Stationery: Bride & friend (Fran Neal, Indesign Studio) | Ceremony venue: Michaelhouse School | Bride's dress: Lindy M Clothing Design | Bride's accessories: Chey Michau Jewellery | Hair: Keanen Carpede | Makeup: Tanya (from Blu Gel), Bridesmaids' dresses: Forever New + Lindy George | Groom's attire: Hilton Weiner | Cutlery: Muirheads | Glasses & Crockery: Exclusive Hire | Garden Games: Tracy Martens | Entertainment: No Fly Zone