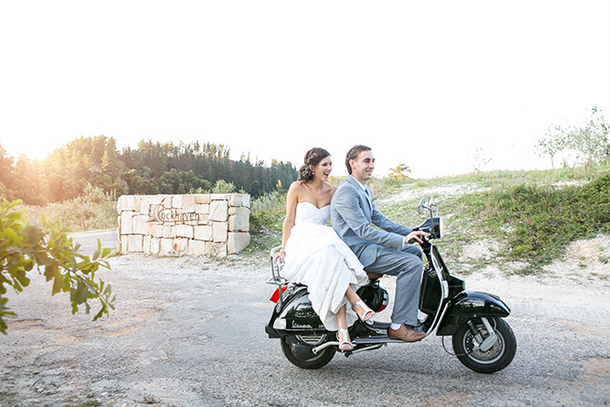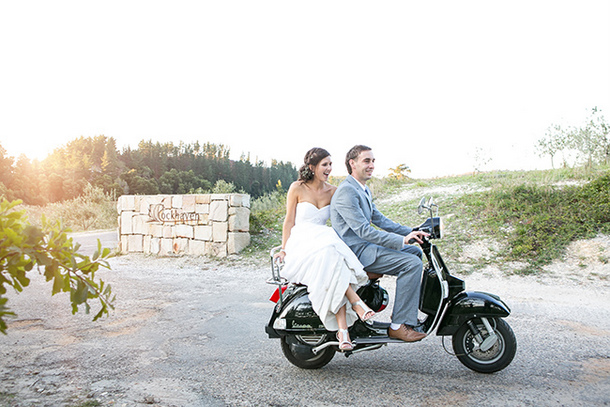 How is it already a year since I was in Italy? Those weeks on a vineyard in southern Tuscany were absolute bliss, and I've been missing Italy soooo much recently  (especially since every Instagram account I follow seemed to have an Italian trip this year, jealous is not the word!) But today I get to flirt with my love of Italy again, with this lovely little Rockhaven wedding sent over by the talented bunch at Bright and Beautiful, which was inspired by the groom's Italian heritage. I just love the way that a fresh white and green palette was used – especially the ferns, so pretty! – and all the fun little activities that the couple set up for their guests (including a vespa 'photo booth'), not to mention Cinzano and Prosecco cocktail hour! Leanne Evans, the Picturess, was there to capture every lovely moment of la bella vita.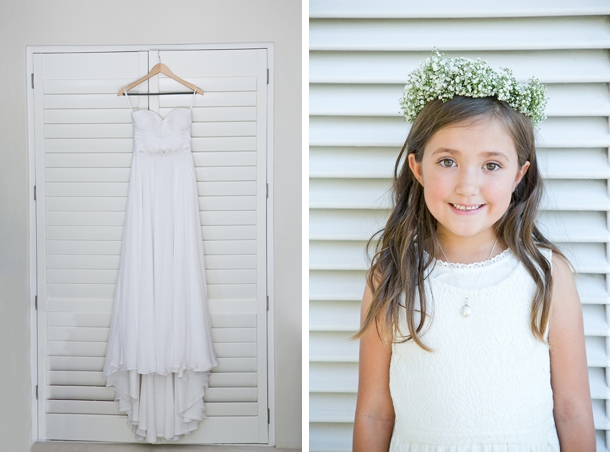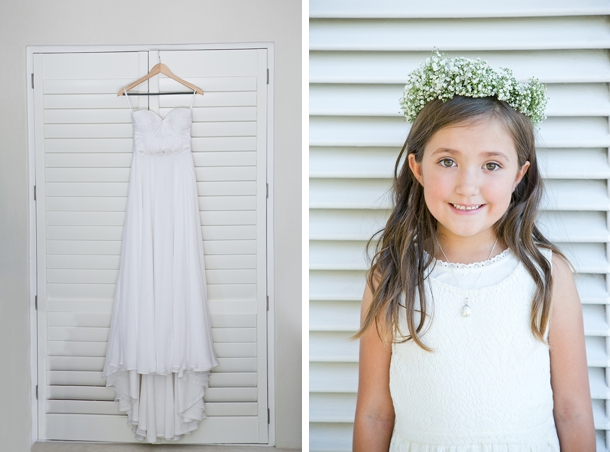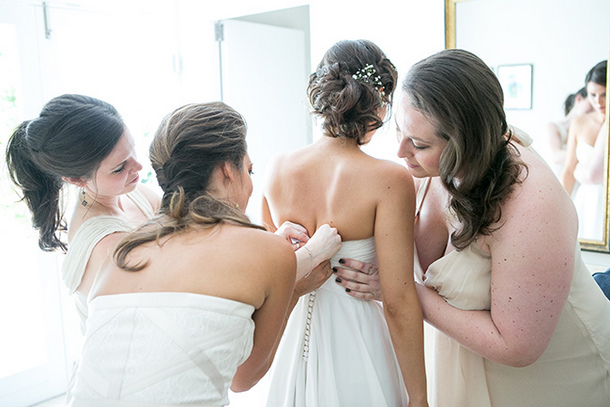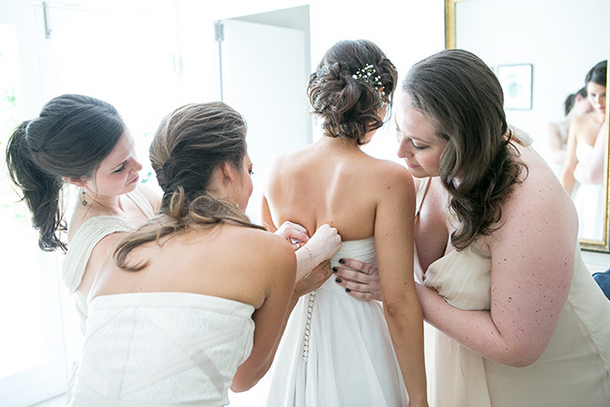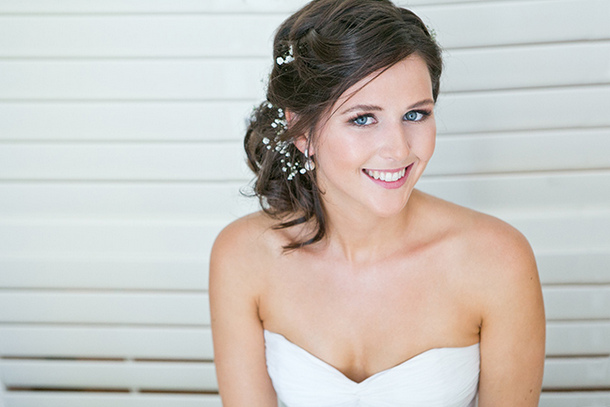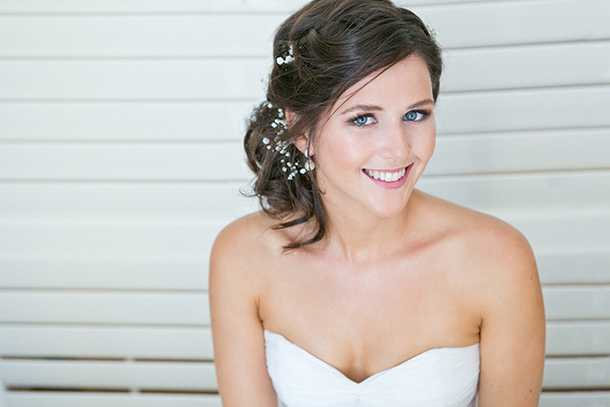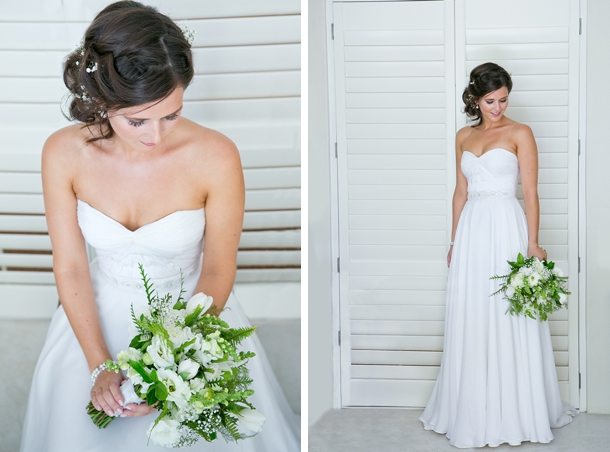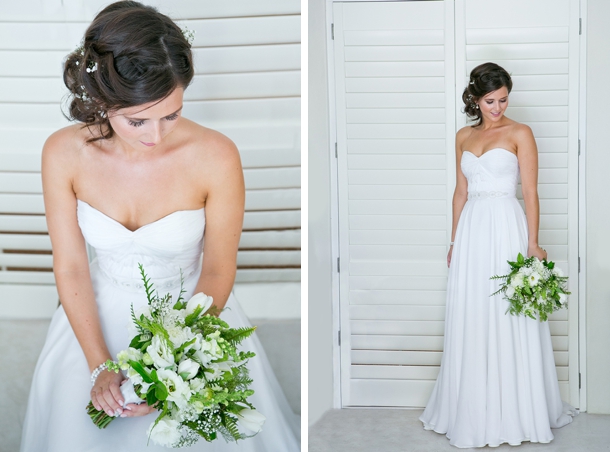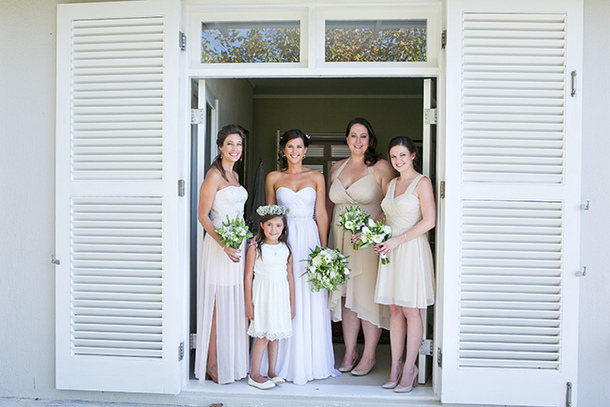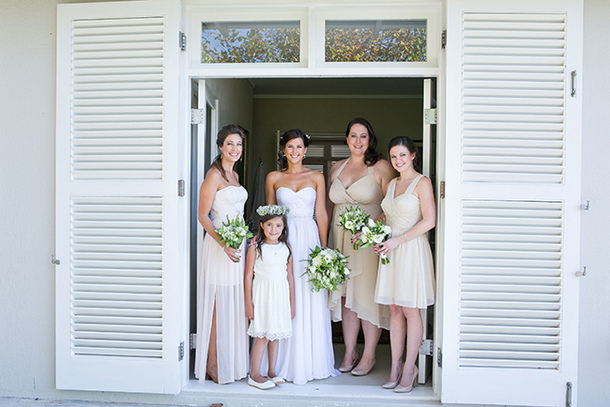 Love Story
Chris and I actually met at work – Chris joined the agency I was working at as my manager. As we worked together we formed a great professional relationship which slowly developed into a romantic relationship. We used to sit next to each other at the office and I used to get butterflies in my tummy every day before he arrived for work. I knew that Chris was the man I wanted to marry before we even started dating. We share the same set of values and just had such a natural connection I had never experienced before. He knew me better than anyone even after a matter of knowing each other for a few months.
The Proposal
To celebrate our one year anniversary, Chris had a whole day of surprises lined up for me. I was told I had to pack a pair of takkies and long pants so I had no idea what I was in for. First, he took me to the Vineyard Hotel for breakfast where he gave me a quirky poem about our relationship (what I didn't notice is that the poem was incomplete!). He then took me to a game reserve in Stellenbosch where we enjoyed a horse-back safari – which explained the need for long pants and takkies. Chris then blind-folded me and drove me to an unknown destination where I was told to get out of the car and jump on his back. He carried me into a building and took off my blind fold and dropped to one knee and completed the poem finishing with "Will you marry me?" It took a second for me to realise that we were in the house we had recently signed an offer to purchase and were due to move into in a few months' time. He had designed and printed a massive banner which spanned the courtyard saying "Marry Me!" to which I could obviously not say no. We left for a romantic holiday in Zanzibar the next morning – I was on Cloud 9!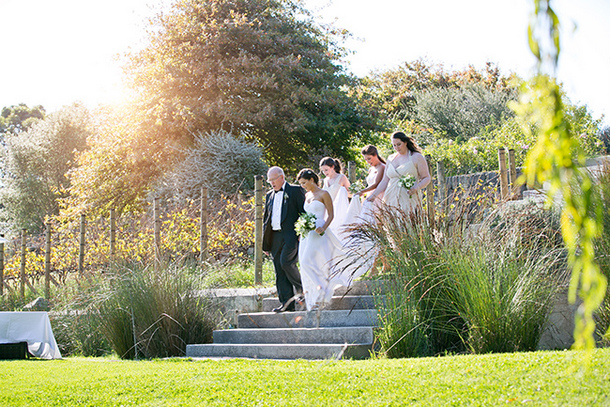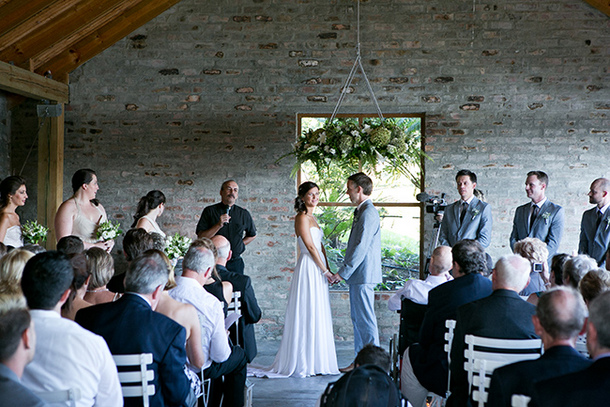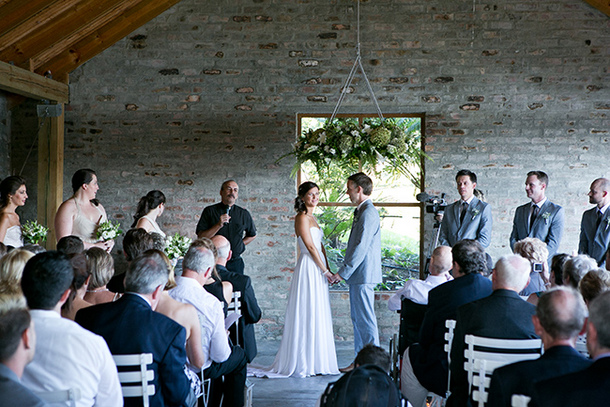 The Venue
We decided up front that we did not want to get married on a wine farm and we wanted to get married outside of Cape Town. The Elgin Valley is beautiful and Rockhaven is especially picturesque with its olive groves and apple orchards, lake and views. The venue offers the perfect package – a boathouse next to the lake for the ceremony and a stylish barn suitable for large weddings as well as accommodation for the wedding party – the farm is yours for the whole weekend. Rockhaven also provides top-notch catering which is completely customisable depending on your preferences. Guests stayed in and around the Elgin Valley – there is surprisingly a lot of really nice accommodation in the valley.
Wedding Style
We chose a relaxed yet sophisticated style with an Italian flair owing to the fact that Chris's family heritage is partly Italian and our venue was set in such beautiful natural surroundings. Cinzano apertifs and Prosecco were our drinks of choice after the ceremony while guests could help themselves to a spread of authentic Italian antipasti consisting of meat platters, caponato, aubergine rolls with ricotta, marinated courgette, stuffed mushrooms, roasted peppers, cheeses, etc. We stuck to green and white for our colour palette and kept things simple with chalkboards for signage and table names.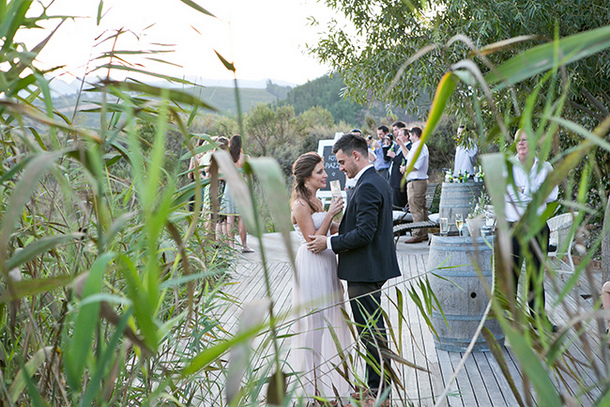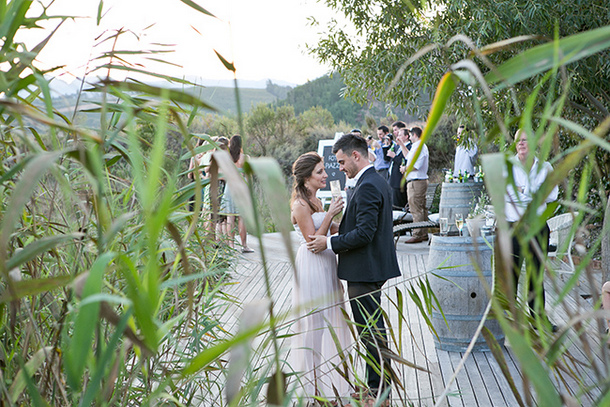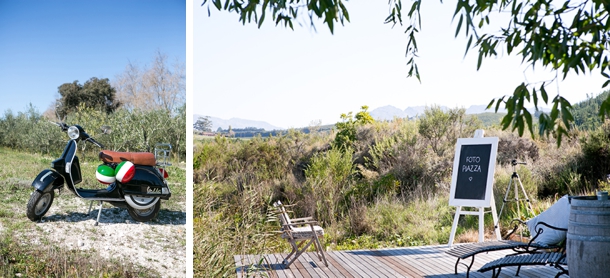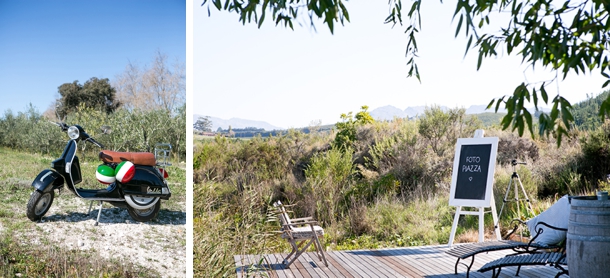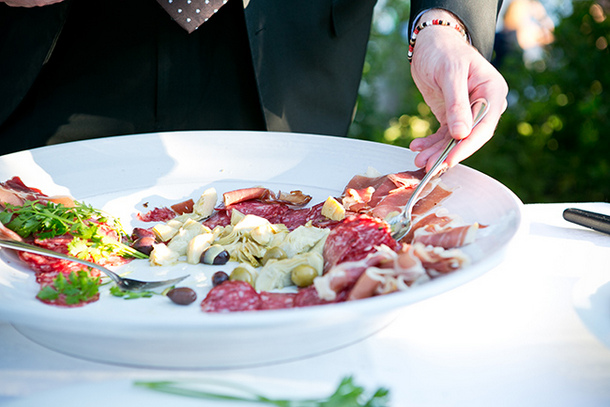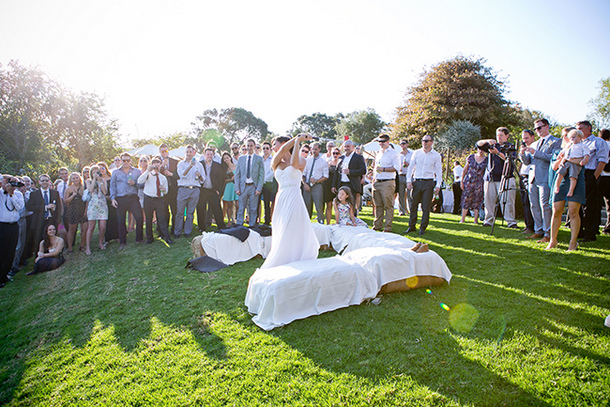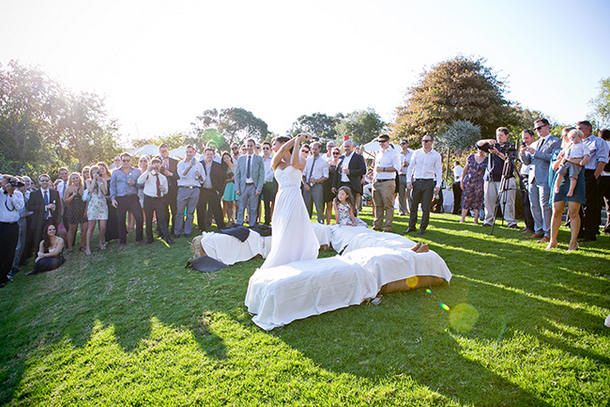 The Wedding in Three Words
Relaxed, simple and full of love.
Wedding Details
In keeping with our Italian theme, Chris drove up his beloved Vespa to include in our photos. The guests loved posing with it and my dad even took it for a spontaneous spin around the lake before dinner. Two very special friends sang and played guitar before and after the ceremony while guests were relaxing in the sun. To keep guests entertained, we hosted the "Limoncello Drop": guests had to try their best to hit a golf ball into a canoe anchored in the middle of the lake. If they missed the boat, they had to take a shot of Limoncello (no one got it in – clearly we are not a good bunch of golfers!).
DIY Elements
Chris's sister is an art director so we were very grateful to her for designing all of our stationery. We saved money by largely making use of flowers and greenery from our garden or ferns from the nursery.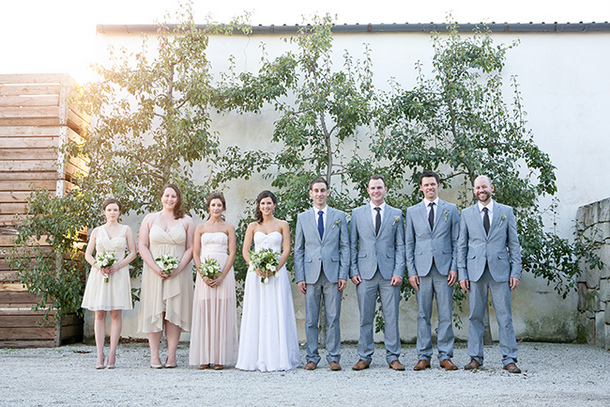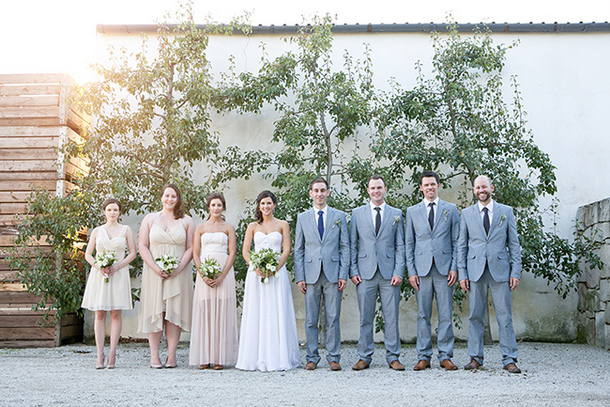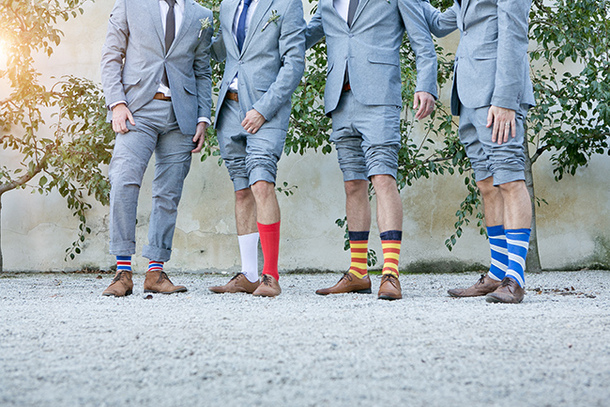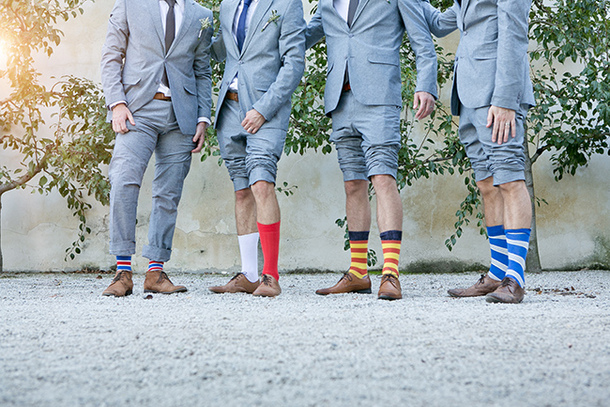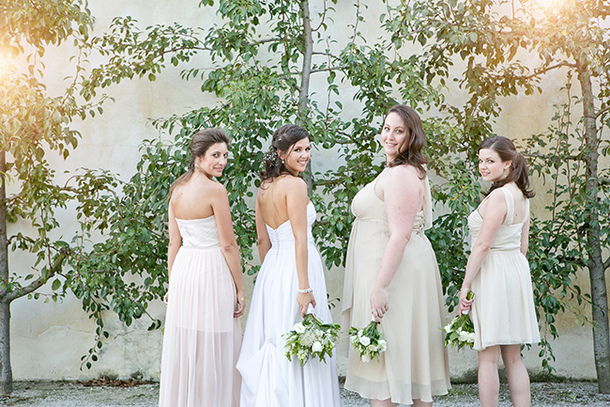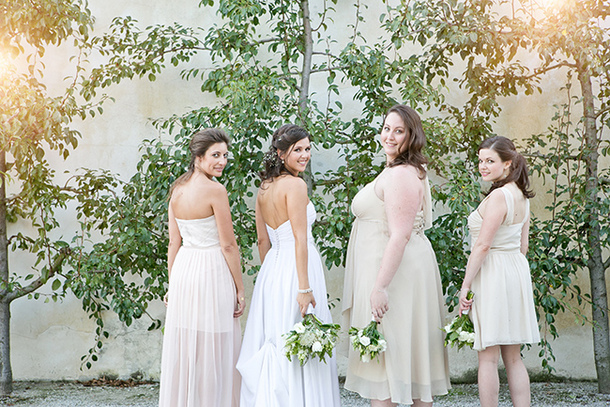 The Flowers
We really wanted a clean, sophisticated, fresh feel for our tables, sticking to our green and white palette. Our brief to our stylist was fairly unique: no bows, no frills, no roses, lots of candles and to incorporate our Italian feel. We used sword fern which we cut from our garden, green hydrangeas (also from our garden), maiden's hair ferns, bunches of white lisianthus and white snapdragons. We created a greenhouse effect with the various ferns placed under glass domes and topiary arrangements on the tables. Our stylist also created a unique hanging arrangement which finished the the boathouse off nicely.
The Dress
I knew that I wanted something timeless and simple and that I wanted to support a local designer. I had heard of Elbeth Gillis through friends and made an appointment to see her and try on various designs. I was immediately drawn to my dress as I loved the way the chiffon skirt moved and the silk ruching detail on the bodice.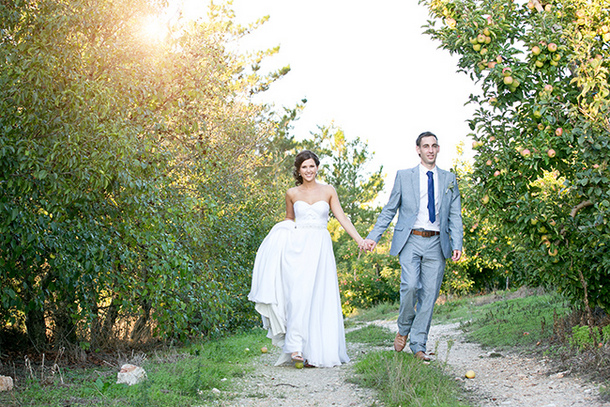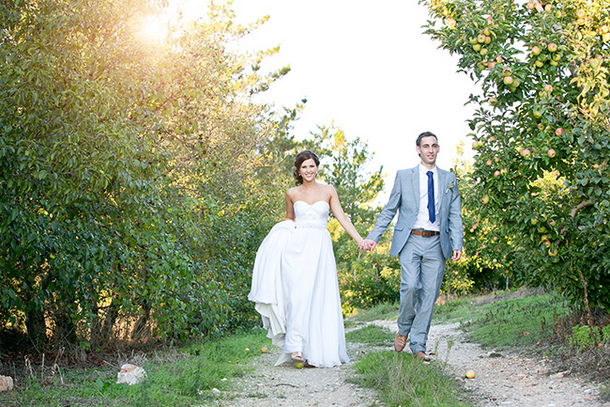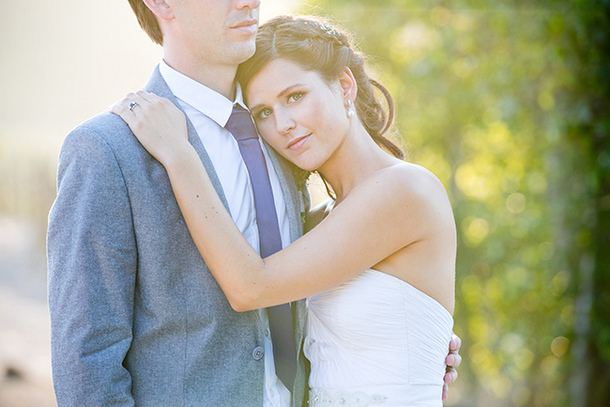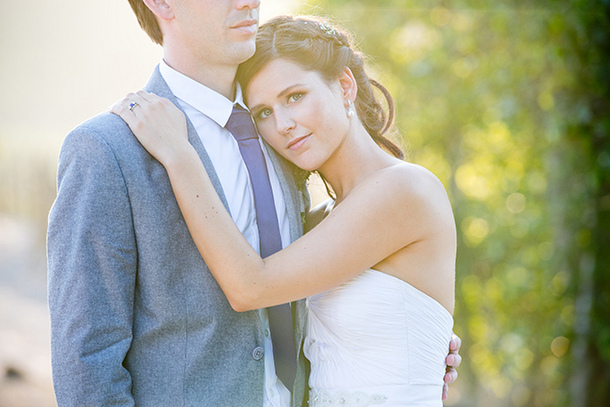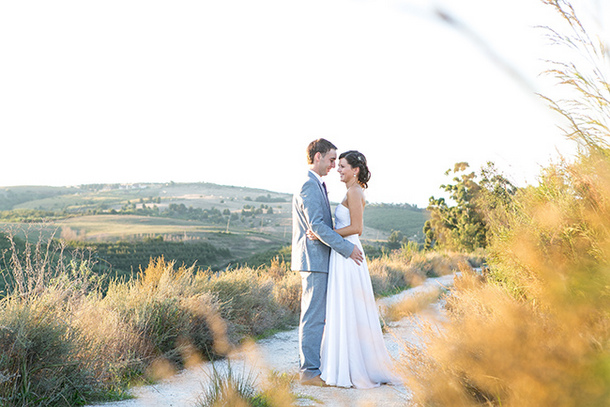 Memorable Moments
The most memorable moments were the heartfelt and emotional speeches. Chris's father was very sick at the time and we were extremely grateful that he could witness our marriage and be a part of the celebrations.
Proudly South African Details
We used local pink Fynbos confetti called 'scatterlings' which got stuck in my hair until the end of the night!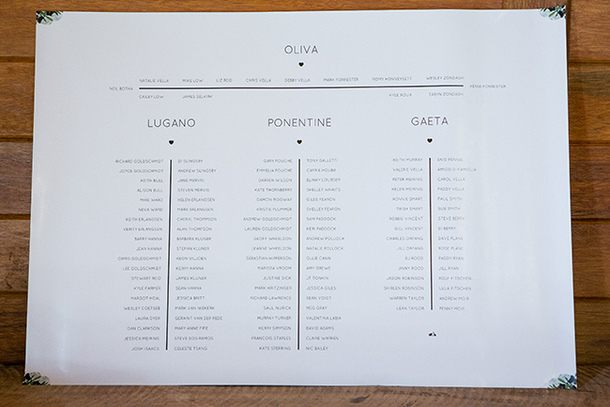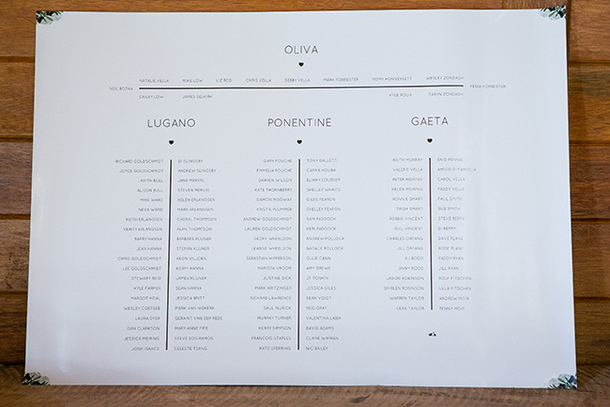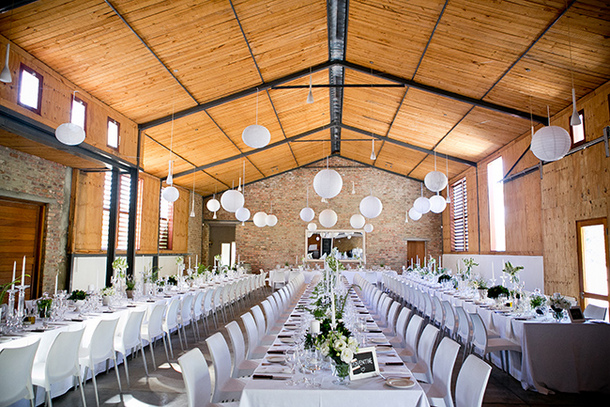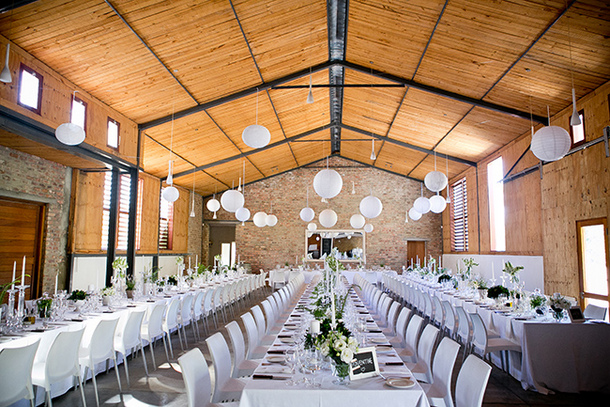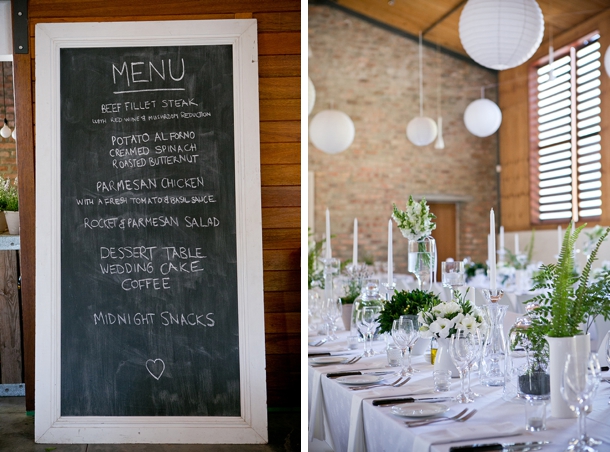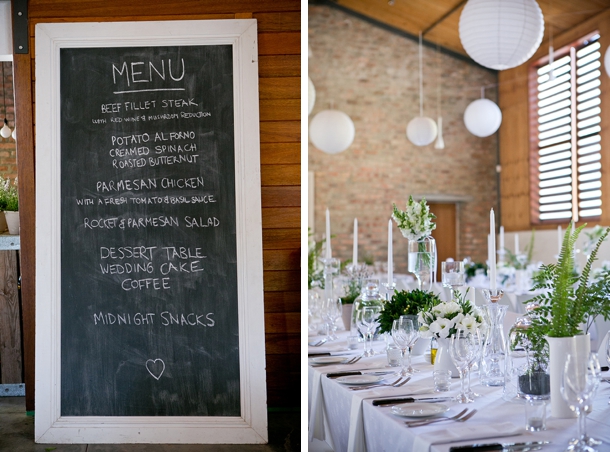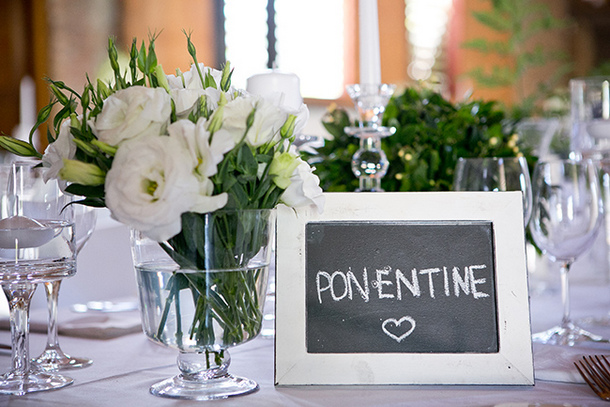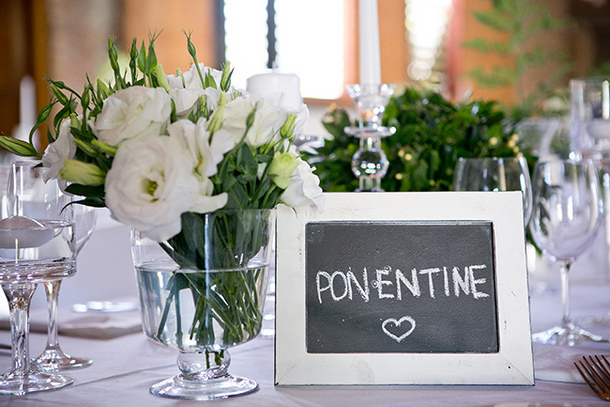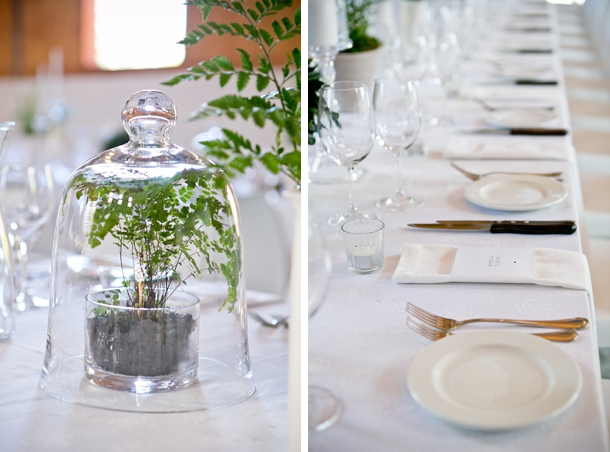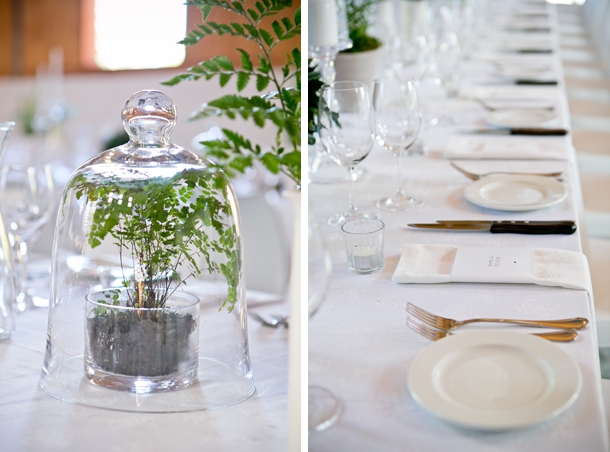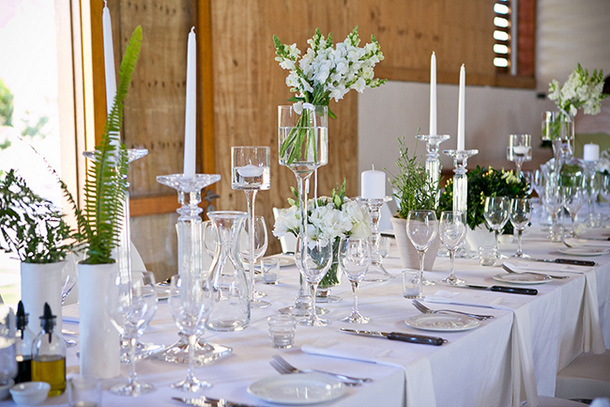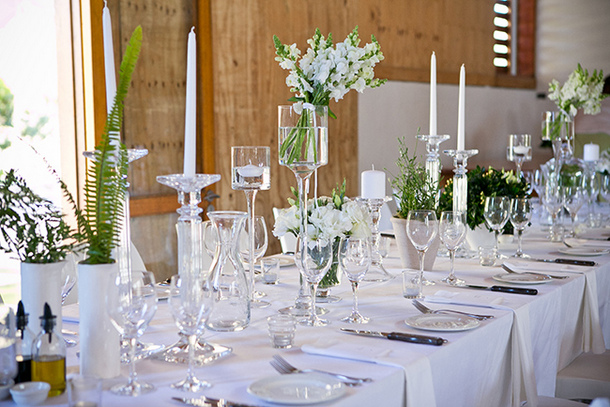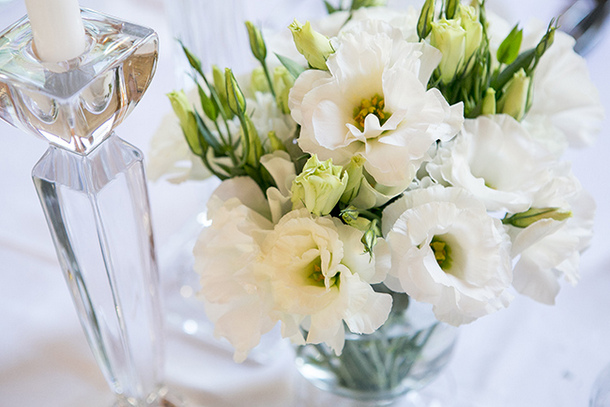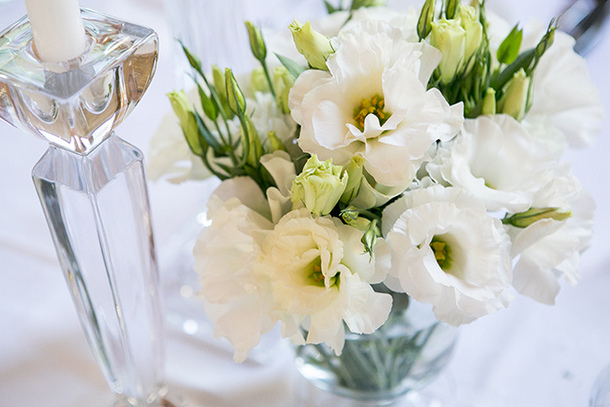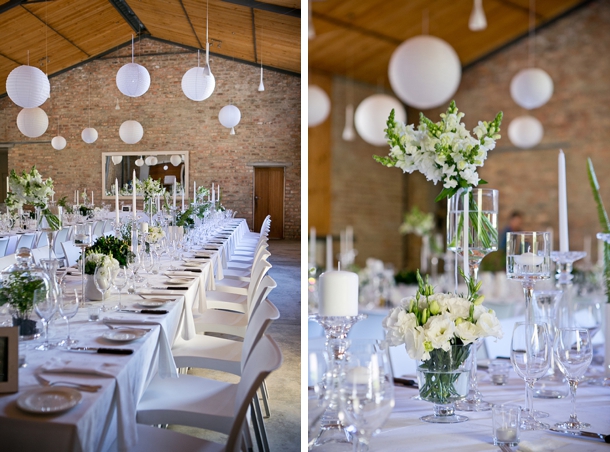 The Honeymoon
We have a Thailand trip planned for January. We are heading to Koh Sumui, Koh Tao and Koh Panang for a relaxing island holiday!
Advice for Future Brides & Grooms
Don't sweat the small stuff and keep focused on what the day is really about – family and friends coming together to witness and celebrate your marriage.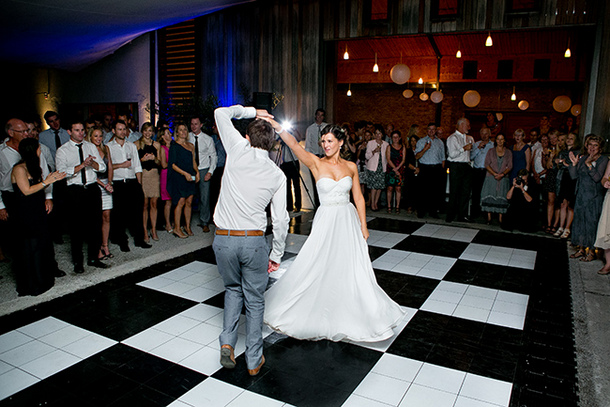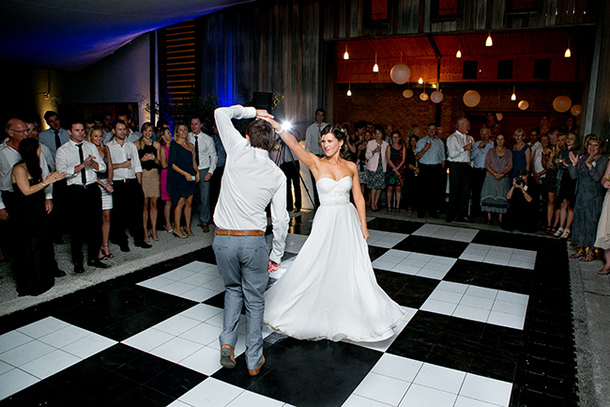 SERVICE PROVIDERS
Venue & catering: Rockhaven Farm, Elgin | Photography: The Picturess | Cake: Sugar and Slice | Flowers & décor: Bright and Beautiful Flowers | Stationery: Natalie Vella (groom's sister) | Bride's dress: Elbeth Gillis | Bride's accessories: Bella Chiara Bridal Accessories & Peter Gilder Jewellers | Hair & makeup: Liz Kaplan & Massimo Spazzoli | Bridesmaids' dresses: Bride&Co, Forever New & Occasions | Groom's attire: Edgars | Hiring: 4 Every Event | Videography: Cape Video | DJ: Legacy of Sound
SBB ♥ Bright and Beautiful Flowers & Table Decor, a featured member of our Directory