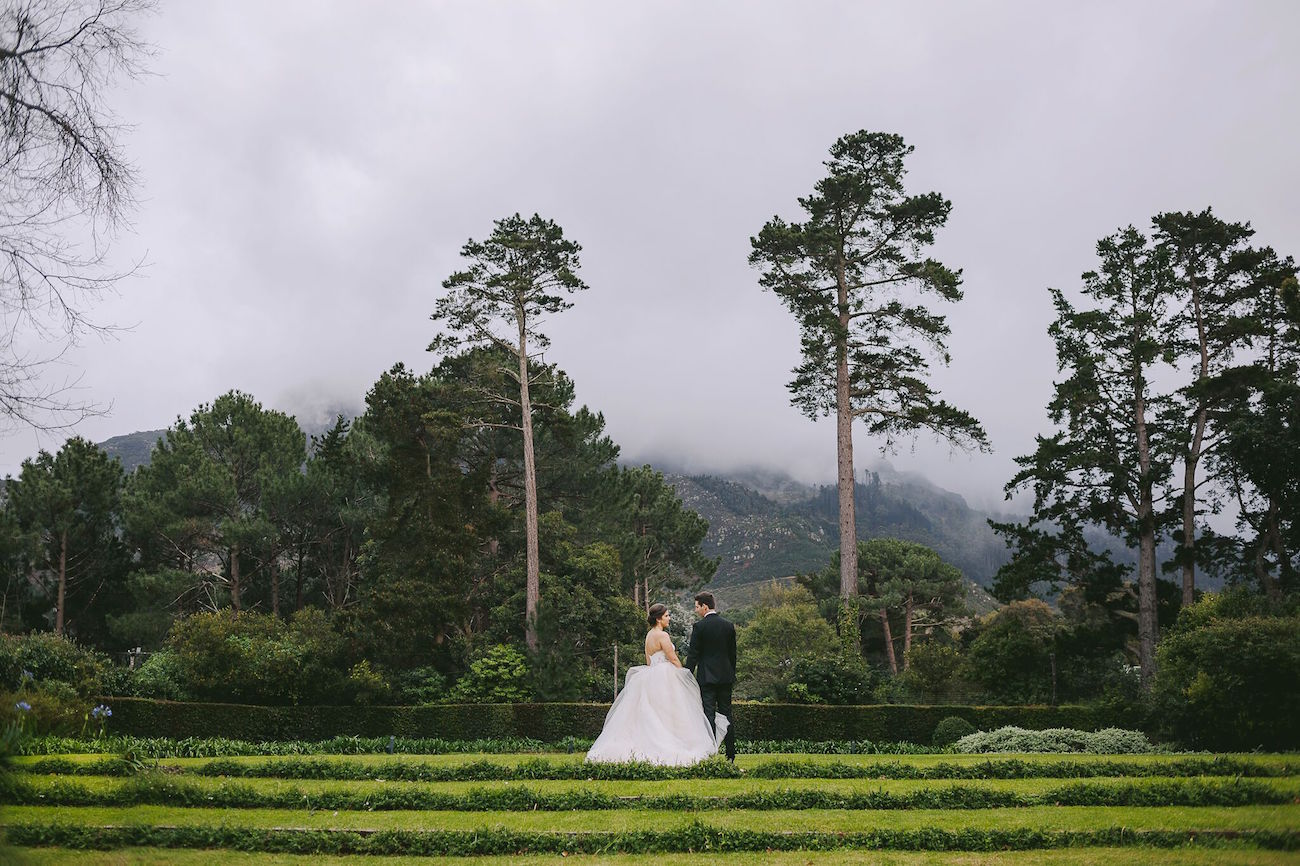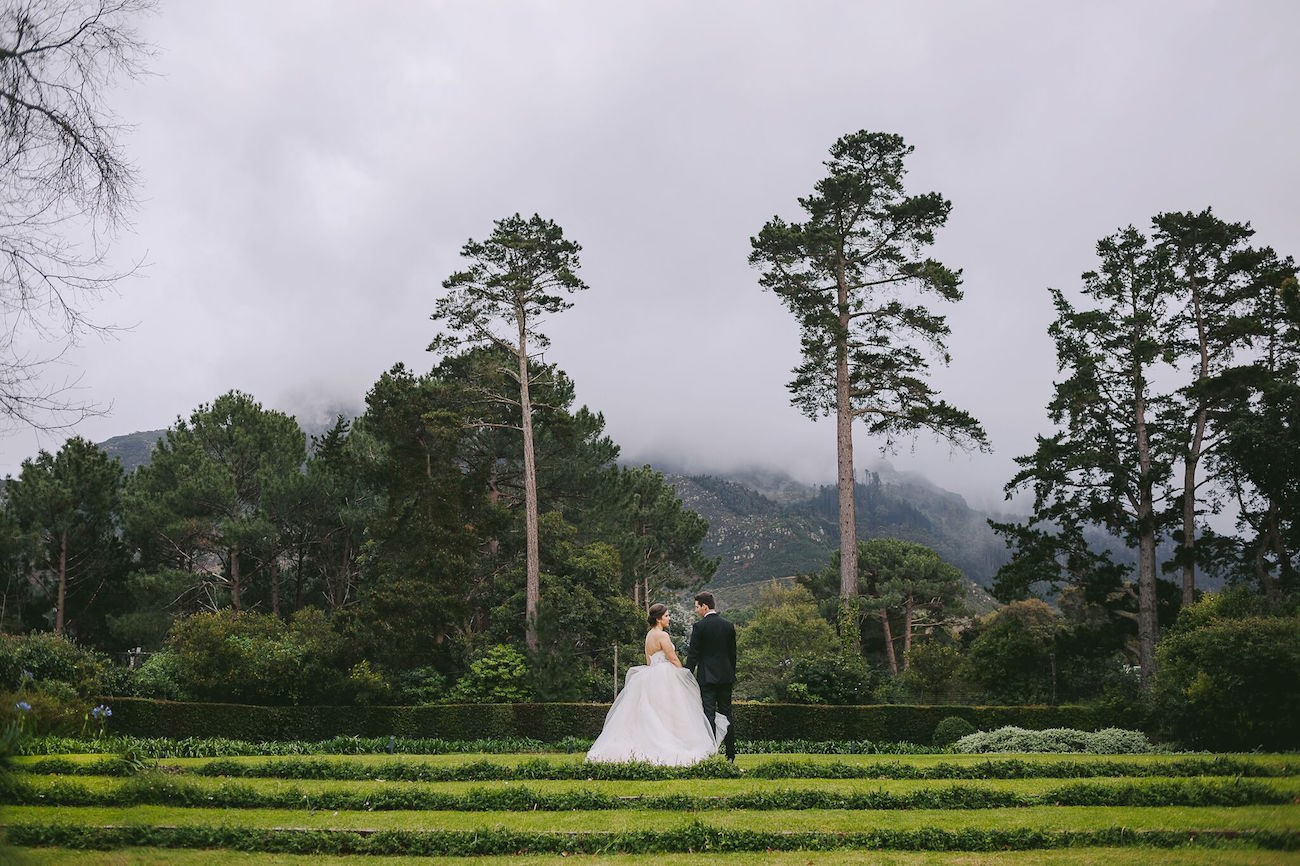 I'm a summer girl, it's true – despite having lived in the UK for more than a decade, I'll always choose being too hot over too cold. But there's something about a winter day – not the grey nothing winter days, but the really seasonal ones – that is so special. When you can curl up under a blanket (or better yet, by an open fire!) and listen to the rain, and drink hot chocolate or mulled wine and just feel cosy and happy. That's what today's wedding reminds me of – it's a PROPER winter wedding, with all the elements that make a winter wedding so special, from those fireplaces and candlelight to gluhwein and blankets for the guests. Add in a great big dose of glamour, of the very elegant, slightly antique kind – think foiled Art Deco menus, candlelight and roses, a bride in a ballgown and bridesmaids in the most fabulous old gold dresses. Coordinated and styled by SBB fave, Neva of Bright & Beautiful, there are so many graceful touches to love, like the hanging frames with gold sprayed branches and fairylights that really made the venue's high ceilings feel intimate. The end result will make your heart beat a bit faster, especially when you look at it through the lens of photographer Jani B, who took these wonderful images.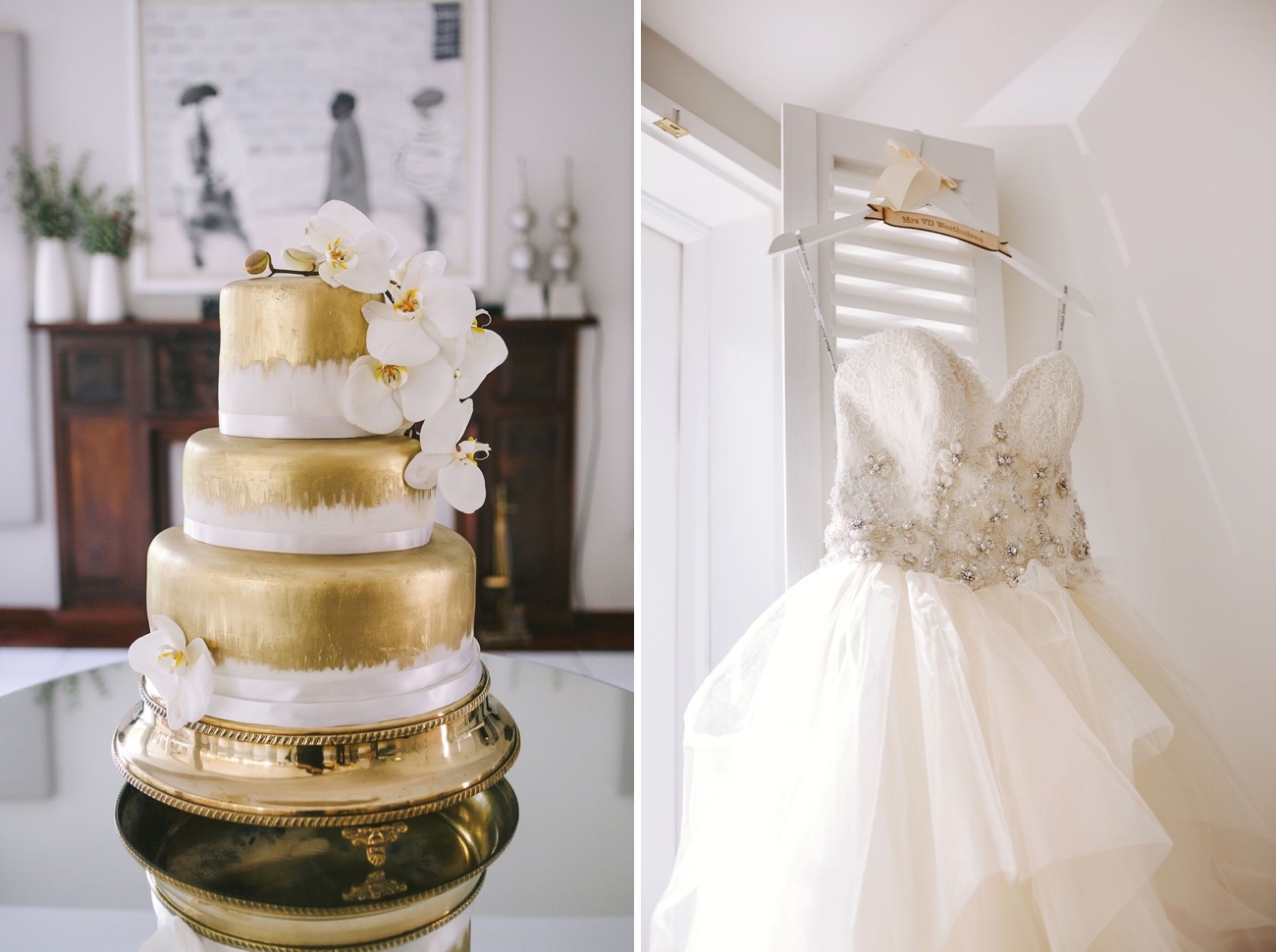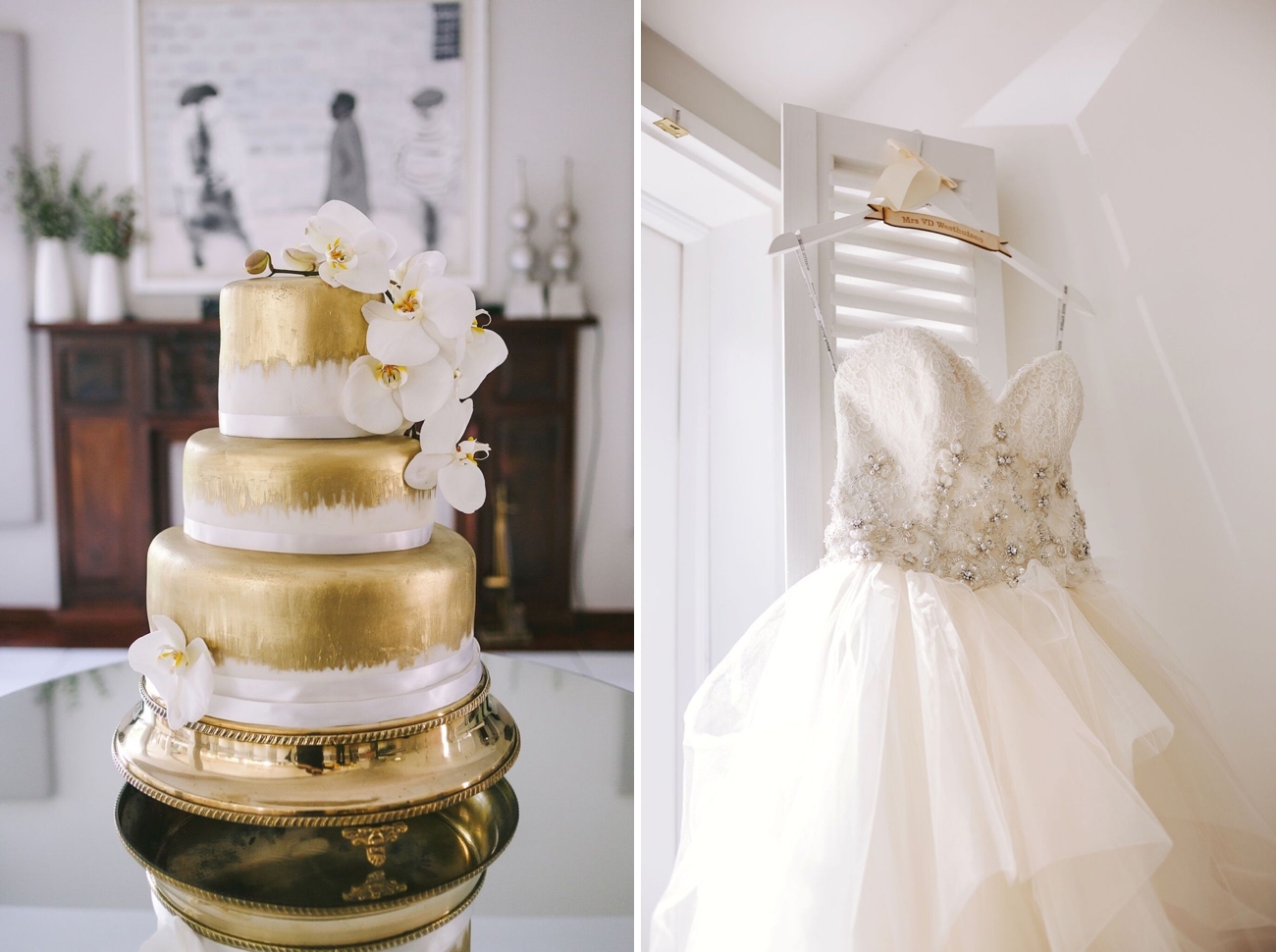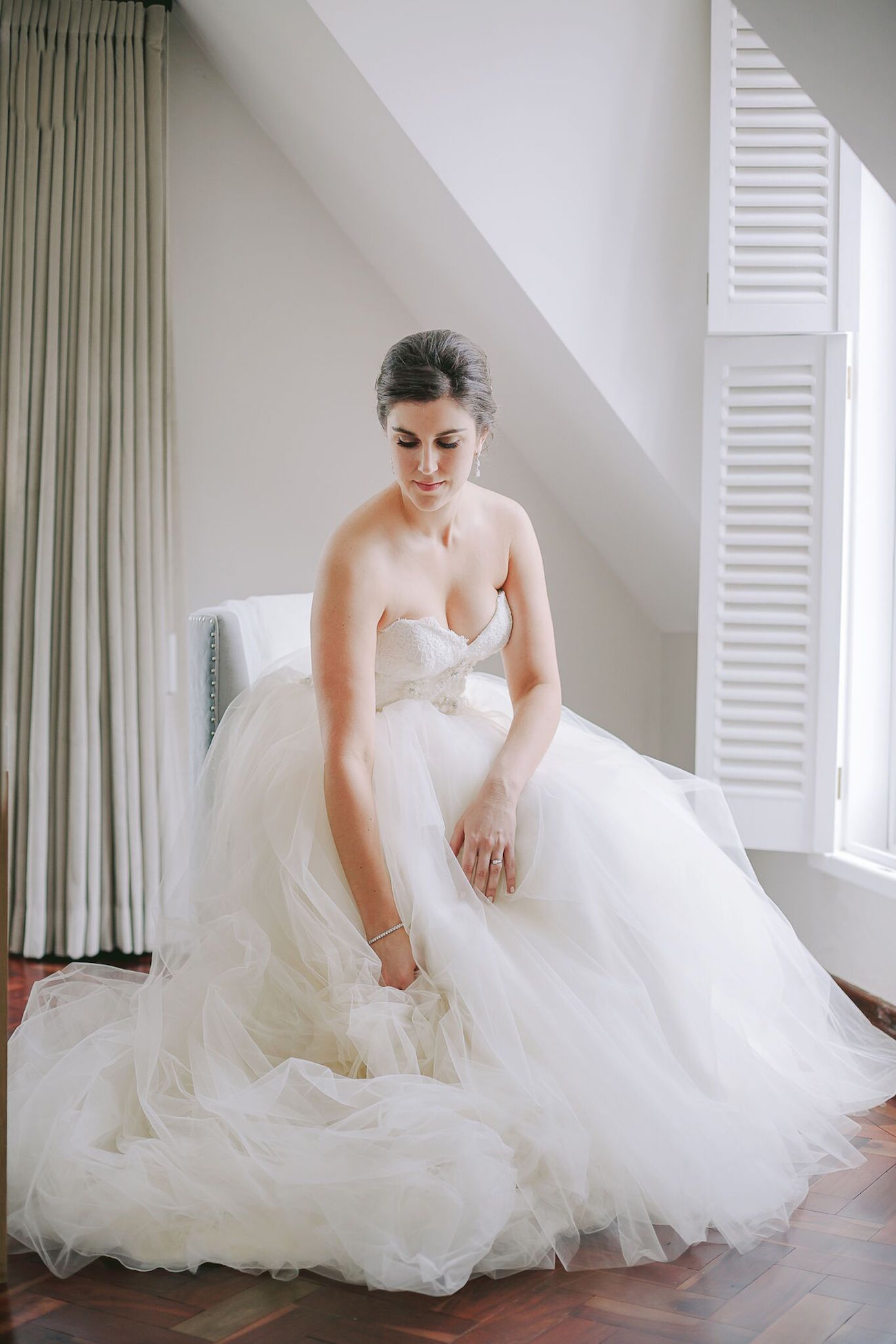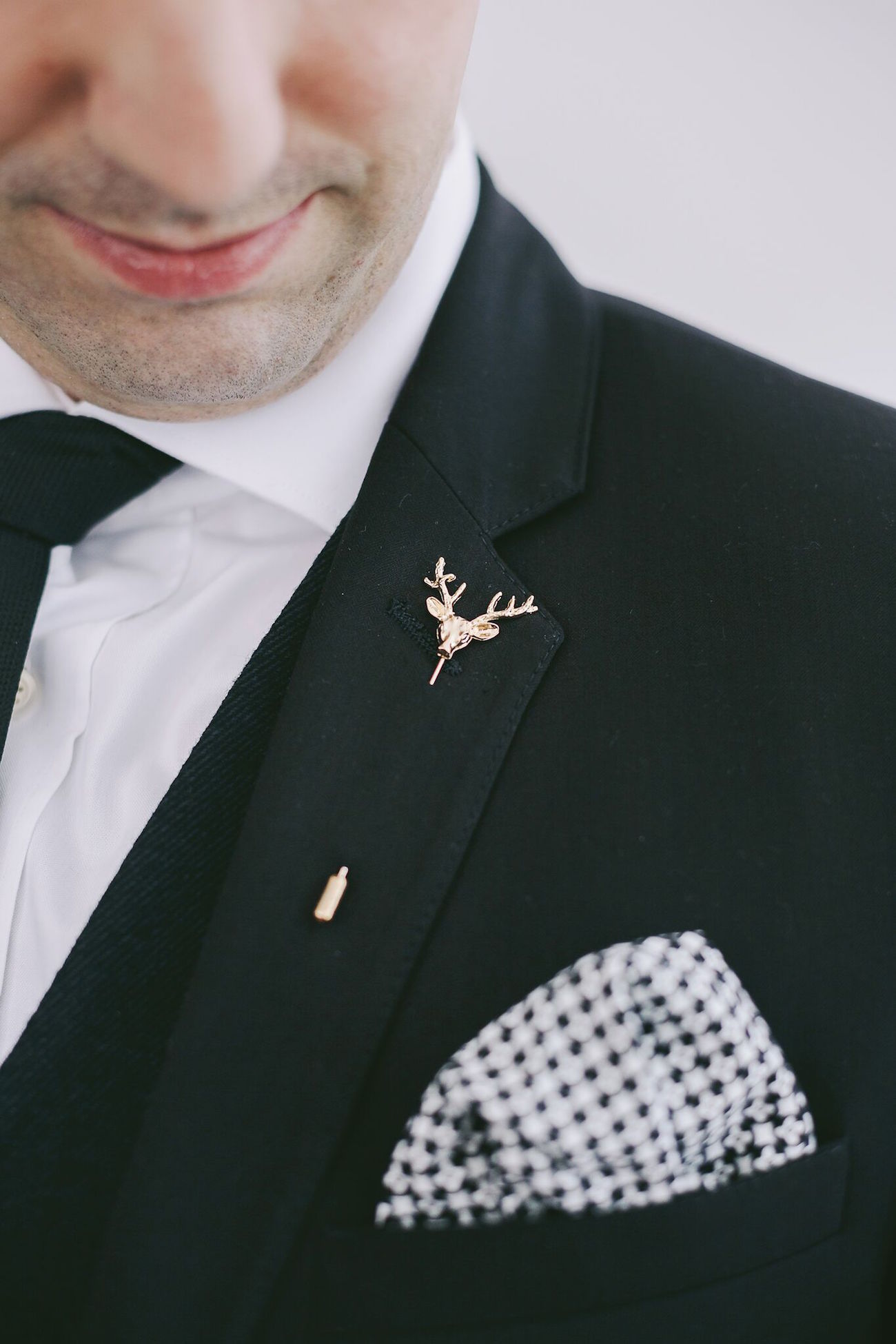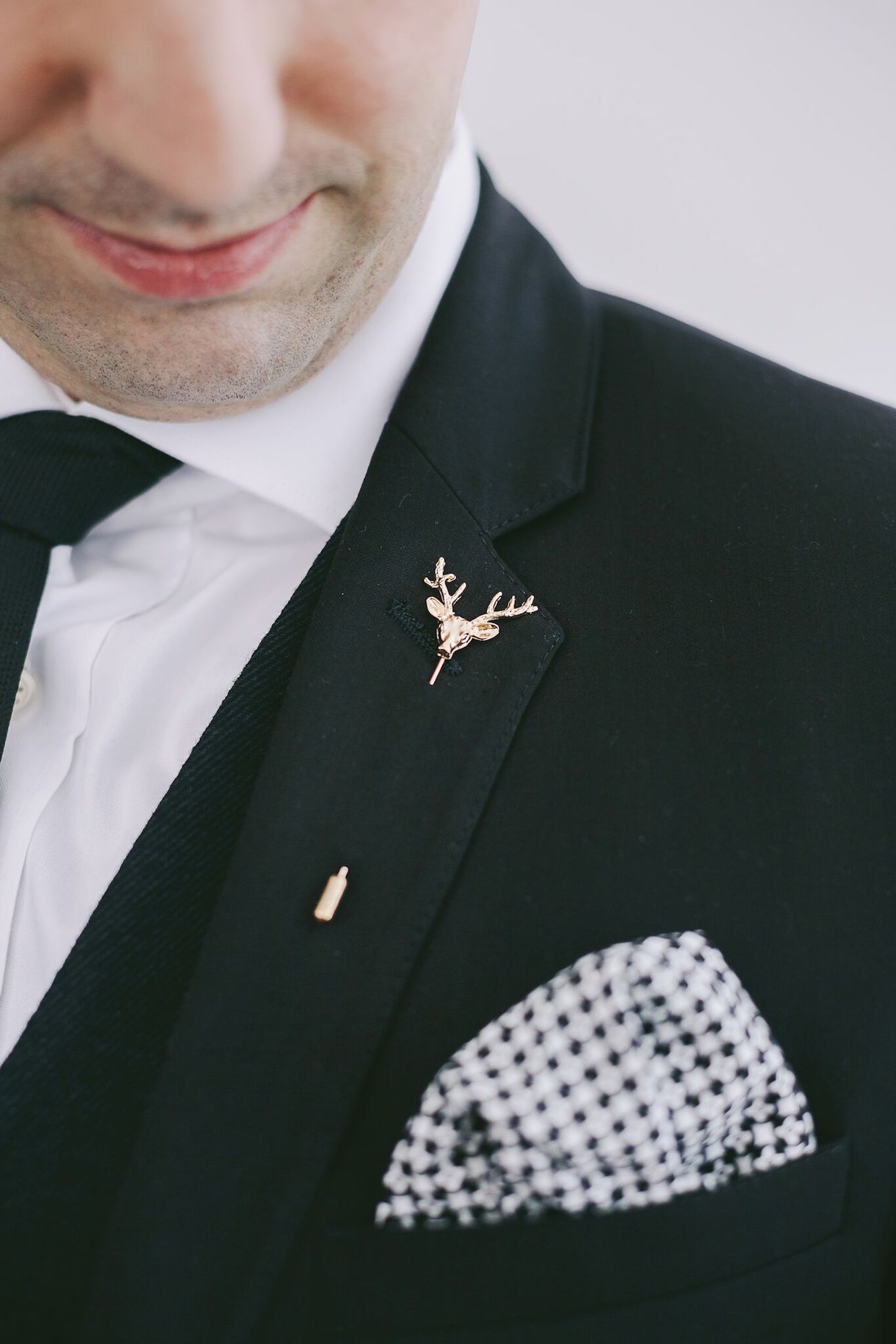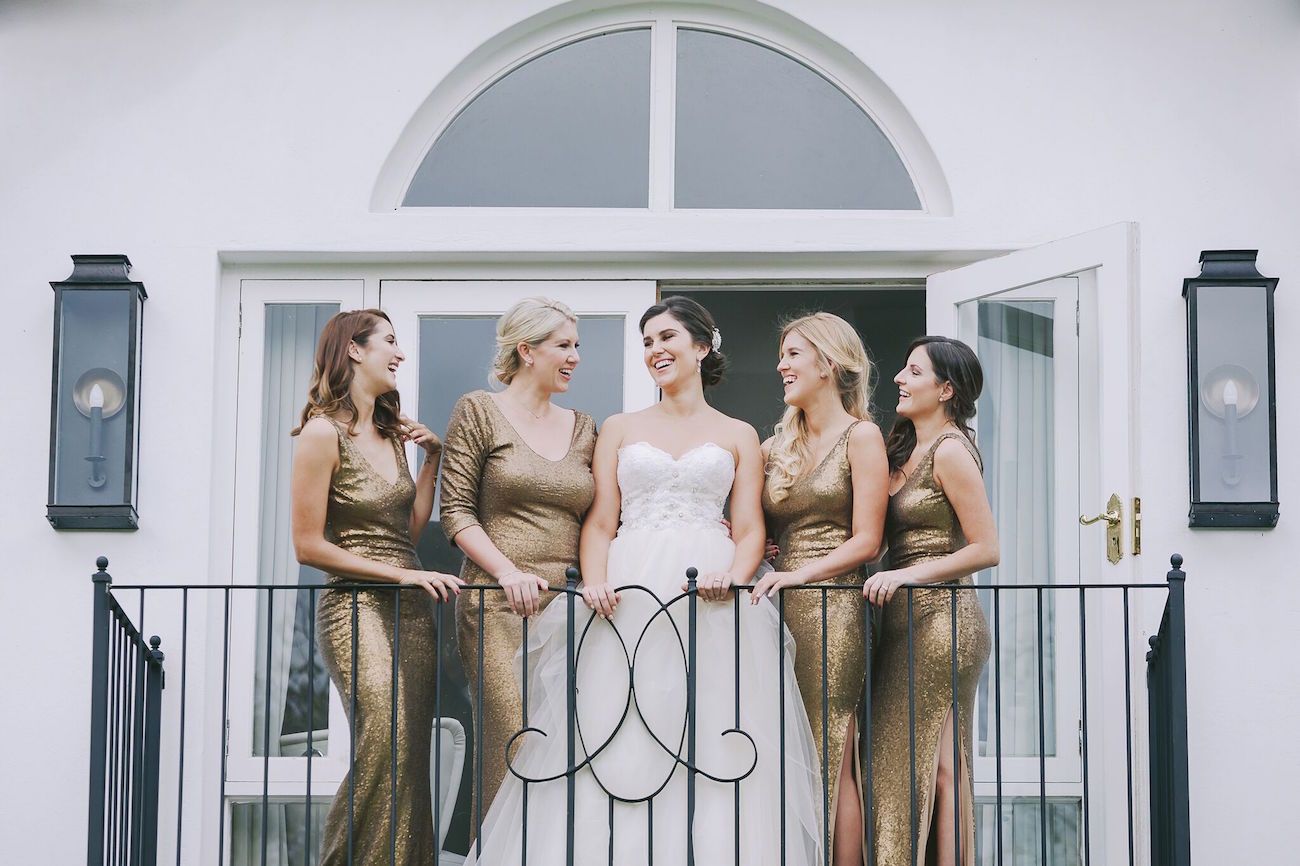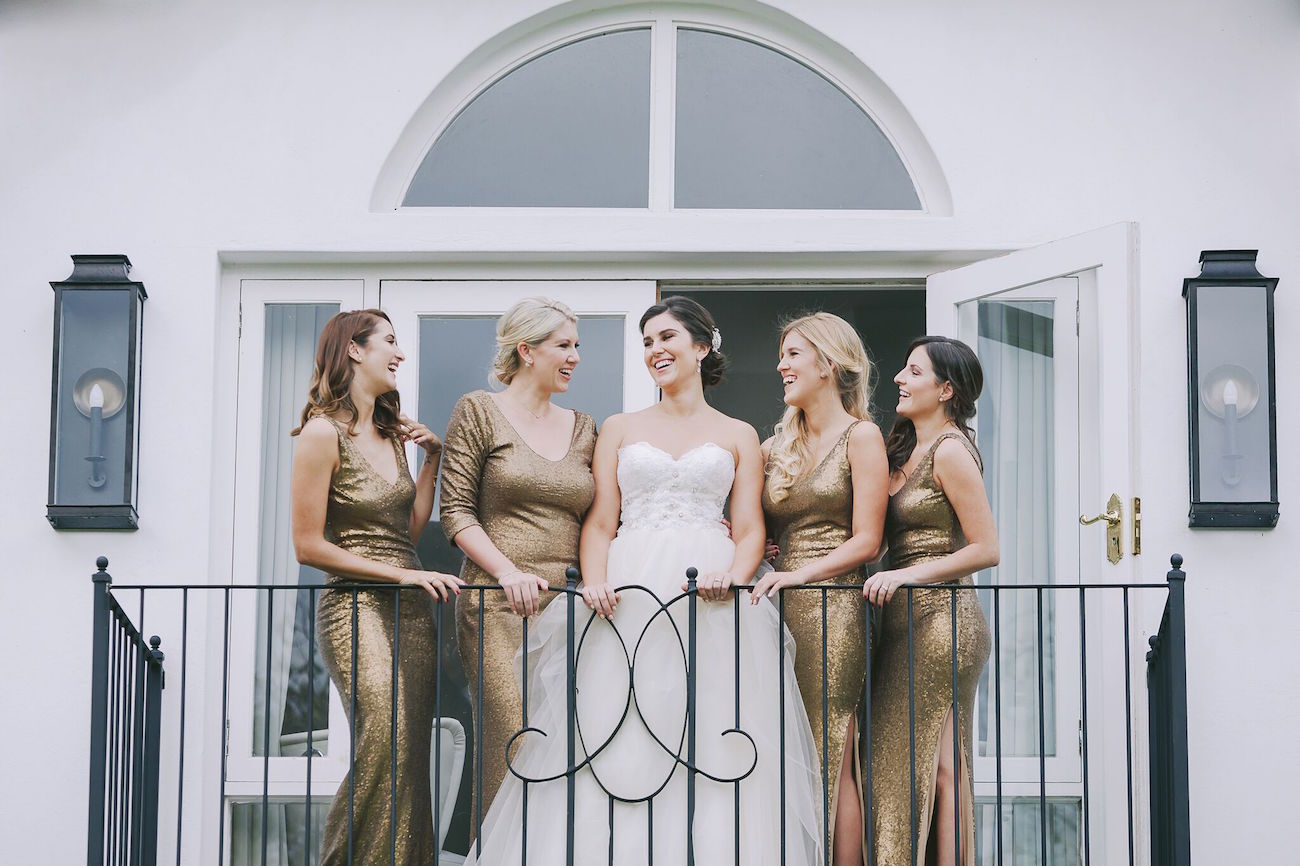 Love Story
Mike and I actually first met in high school when a friend of his and a friend of mine were "dating" and I went along to a little shindig at Mike's house. We didn't speak to each other that night, but our groups of friends stayed in touch through varsity until eventually, fuelled with a lot of Dutch-courage at Tiger Tiger, he randomly tried to kiss me! Being a lady I politely declined, but a seed had been planted and I developed a little bit of a crush! Fast forward a year and a bit of drama, Mike finally took me on our first date in 2010 and the rest has been blissful history!
The Proposal
We take turns to surprise each other for our anniversary celebrations, and our fifth anniversary happened to be Mike's turn to organise! We almost always end up going to Franschhoek for our anniversaries, so when we headed that way on the rainiest Friday evening I have ever experienced in Cape Town I already kind of knew where we were going. The downpour made us run late, so I didn't think anything of Mike being a little on edge, especially when I discovered he had booked us a table at The Tasting Room at Le Quartier Francaise for a ten course wine-paired meal! We had the most amazing meal (SO much food and wine!) and it was still POURING when we left, so when we got back to our hotel I went straight to the bedroom to take down my hair, take off my make up, get into my comfy winter pyjamas and jump into the big beautiful bed. It took me a few minutes to realise Mike hadn't followed me into the bedroom so I went back into the living area to find out what he was doing, and he had opened another special bottle of wine and was watching the rain. It seemed a little strange but still fun, so I poured myself a glass of wine and we started chatting – the next thing I knew he was on one knee! I was in so much shock I just kept on asking him if I should change out of my pyjamas! But eventually I came to my senses and accepted his proposal! We decided to keep our engagement a secret until the end of our weekend away, so we put away our phones and enjoyed chatting about what we hoped our wedding and marriage would be like without the distraction of getting congratulations, and it was one of the best decisions we have made! On the Sunday morning before we hit the road for home we called our parents and siblings, and allowed them to spread the news!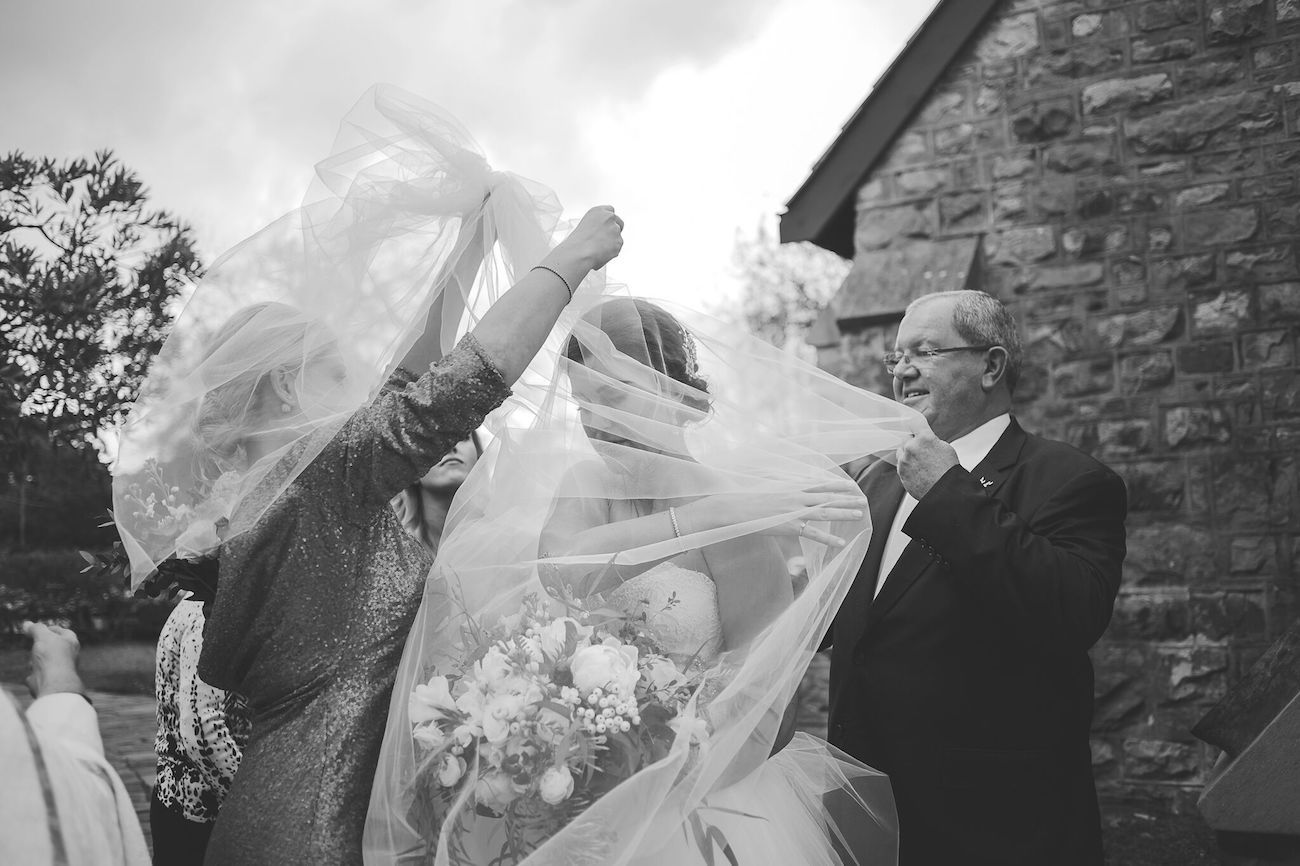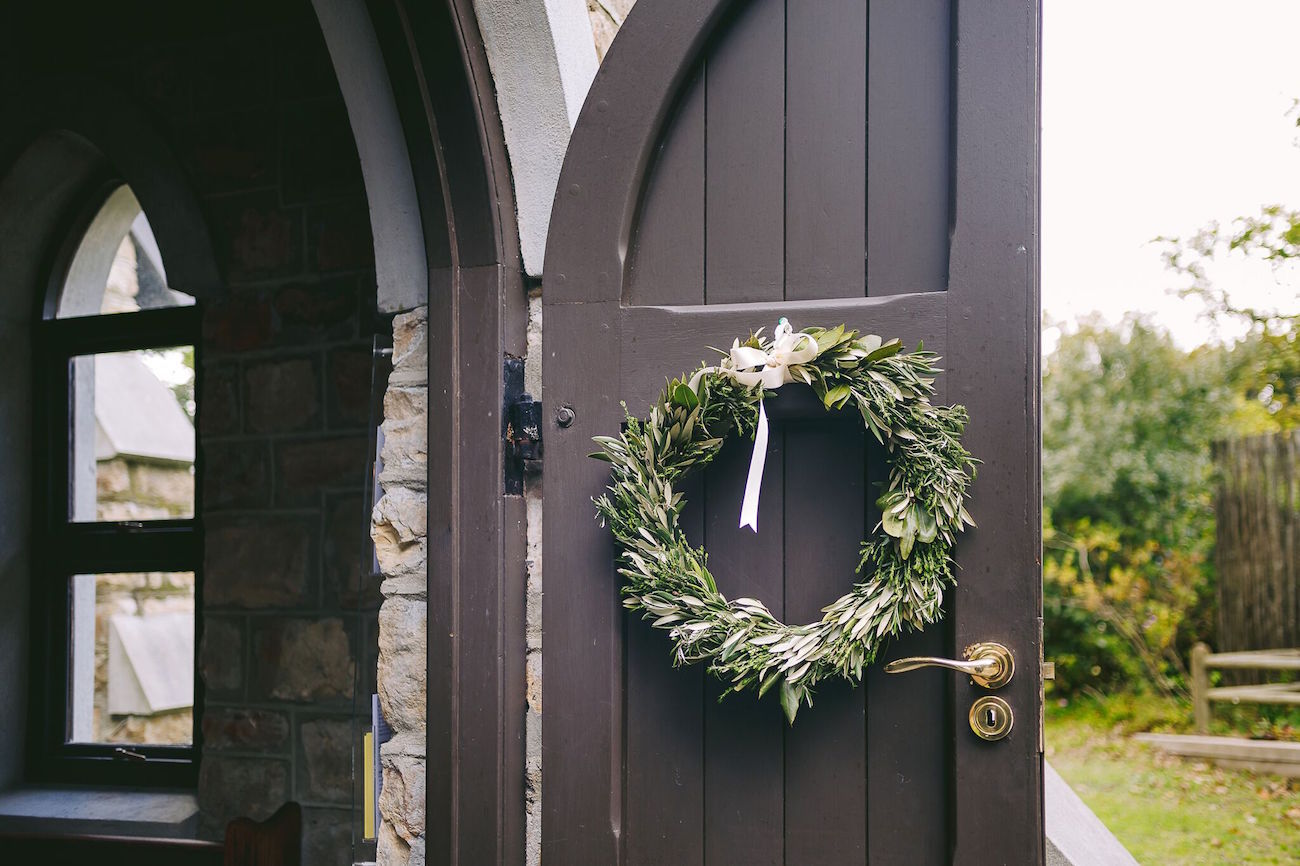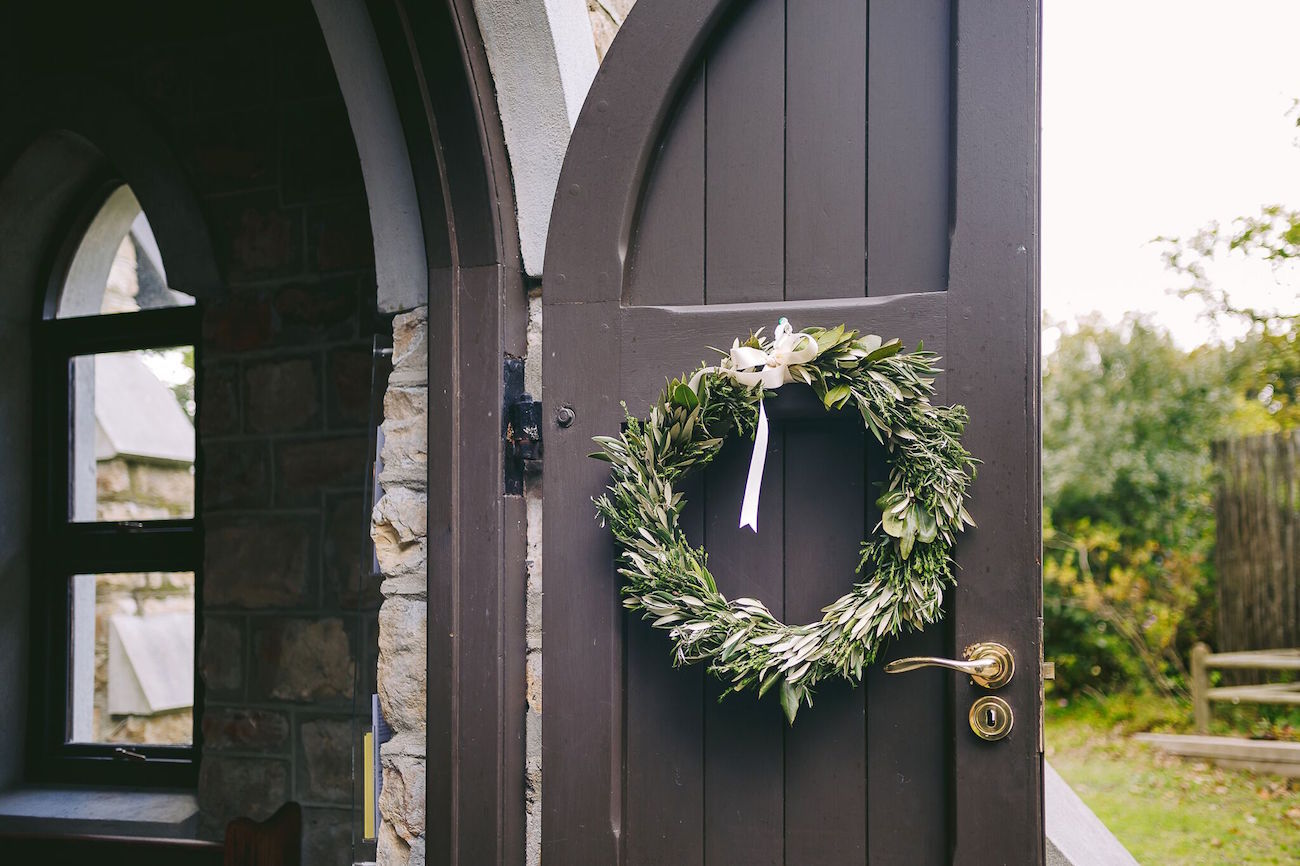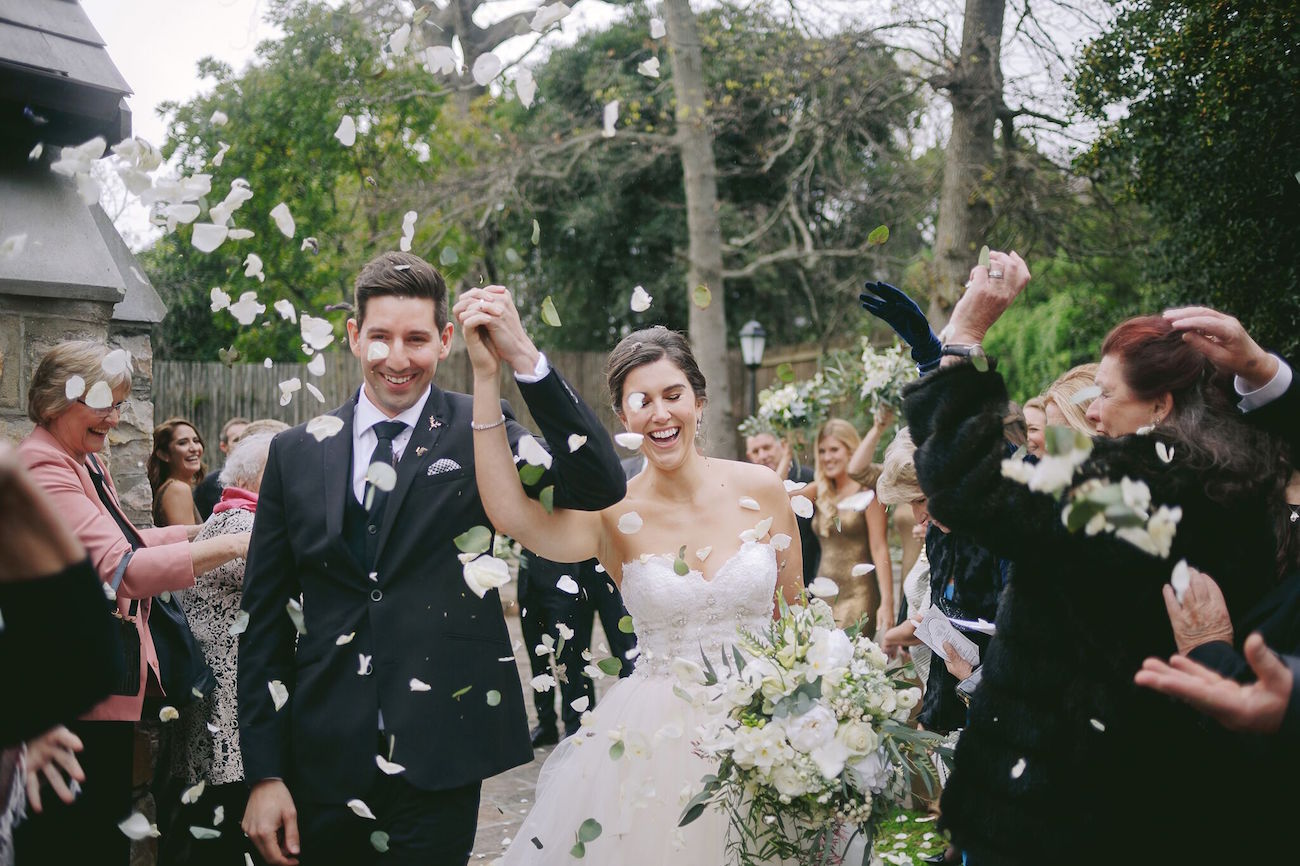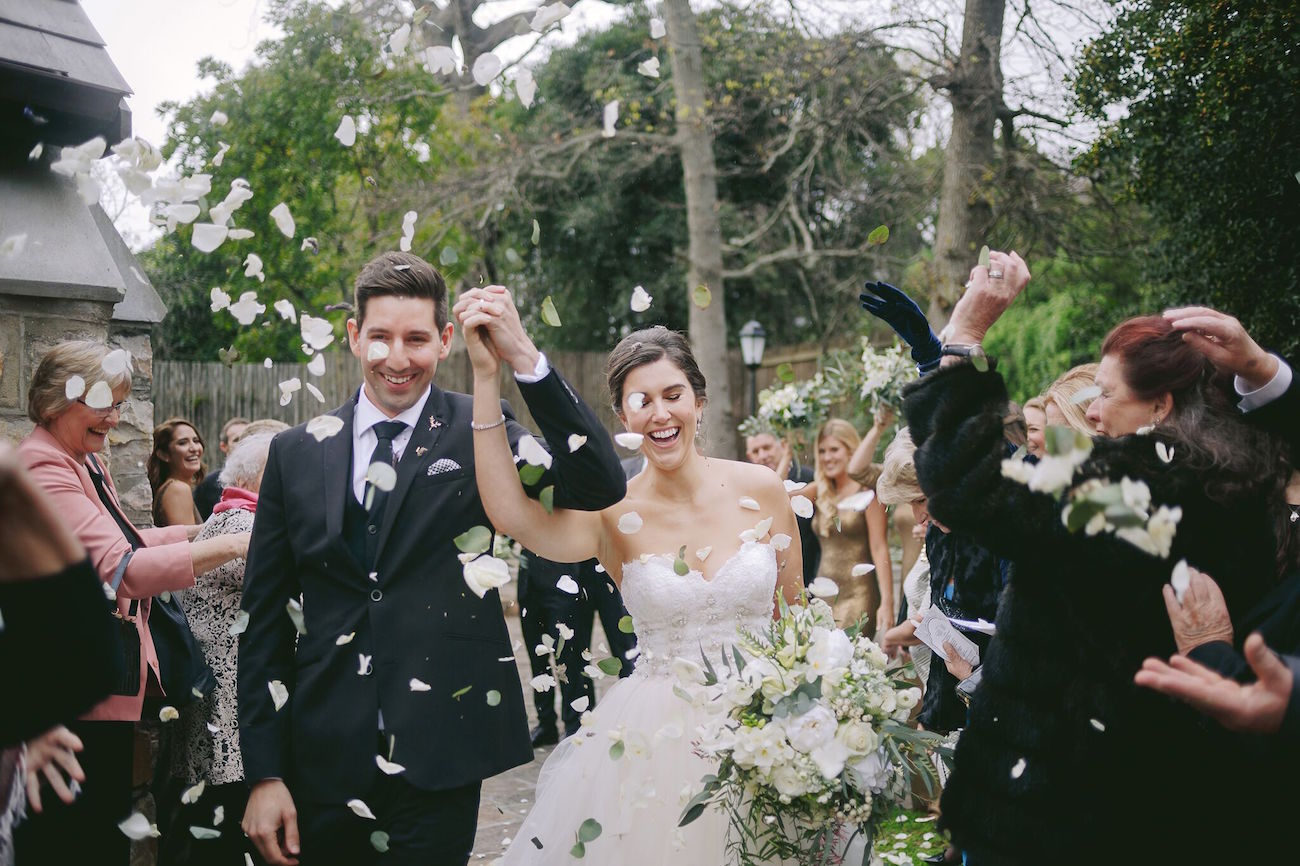 The Venue
Mike and I wanted a winter wedding, and we wanted it to be IN Cape Town. We struggled to find a space big enough to accommodate 120 people that was also geared for bad weather. When we eventually found Embassy Hill, we immediately fell in love with the beautiful ballroom with its huge vaulted ceiling and fireplaces in every room.
Wedding Style
I wanted to keep things as simple as possible, but since we had envisaged a winter wedding I wanted it to be very glamorous and warm, with women in long formal evening gowns and men in suits. To warm things up we had gluhwein served as a welcome drink, and roaring fires in all the rooms our reception took place in. I always wanted a bit of sparkle for the evening, and once I found the perfect bridesmaid dresses in gold sequins, I decided that the colour scheme would stick to gold and white, with the groomsmen in sharp black suits with black ties and gold tie-clips and lapel pins. I had always envisaged having loads of greenery and loose runner arrangements that draped off the edges of the tables. Neva from Bright & Beautiful had a HUGE hand in refining my vision and making it come to life. We kept the palette white with gold accents like gold cutlery and candlesticks. I had a wild assortment of white flowers, with loads of white roses (and other flowers whose names I'm not sure I ever knew), and lots of penny gum greenery.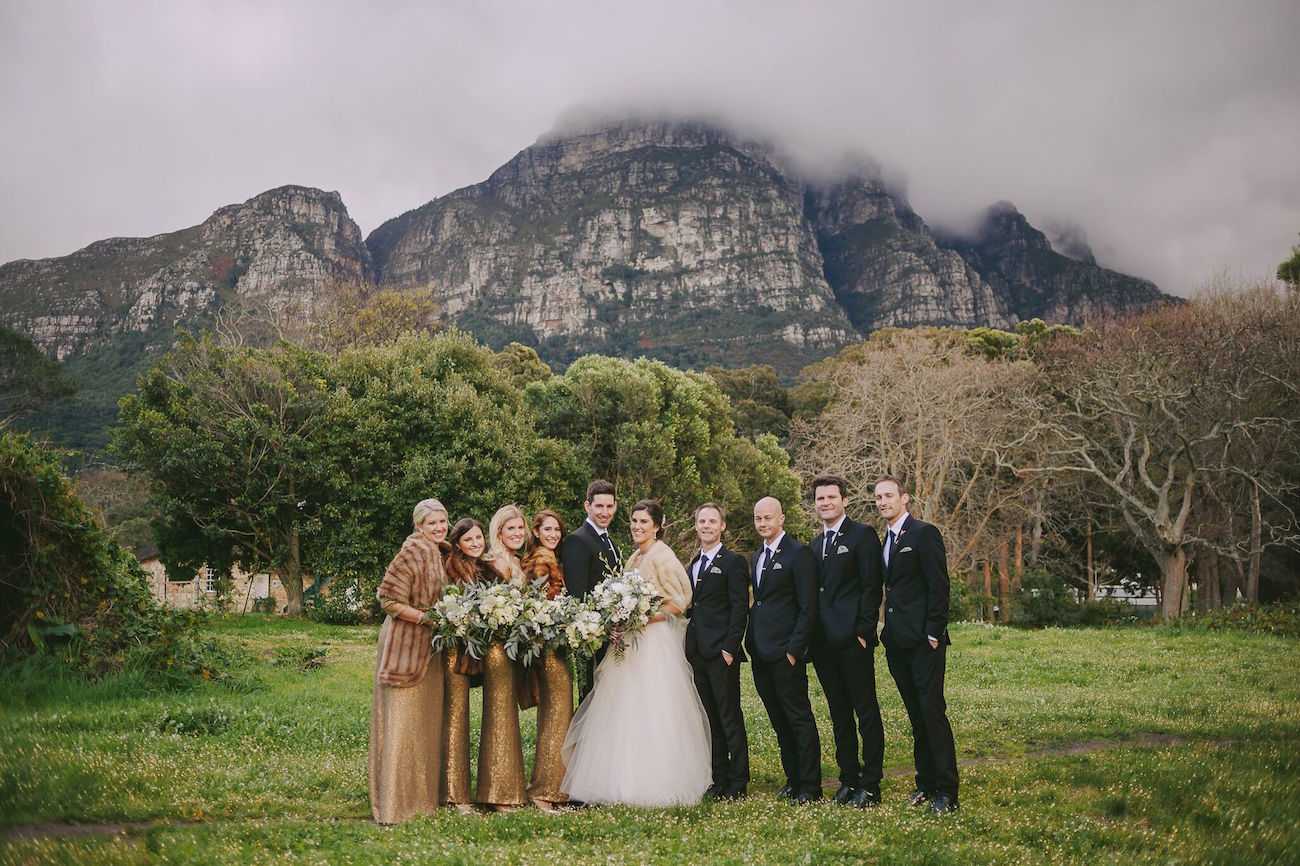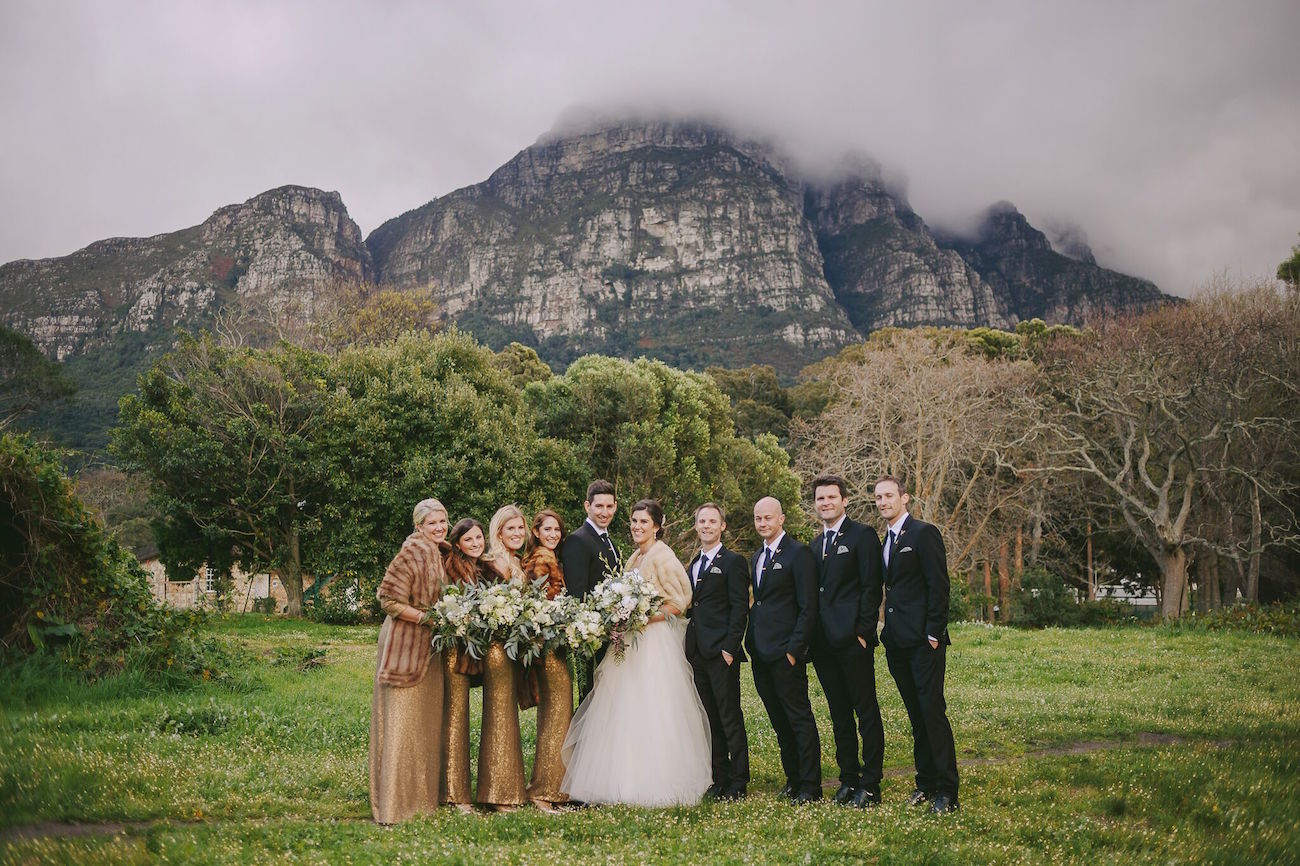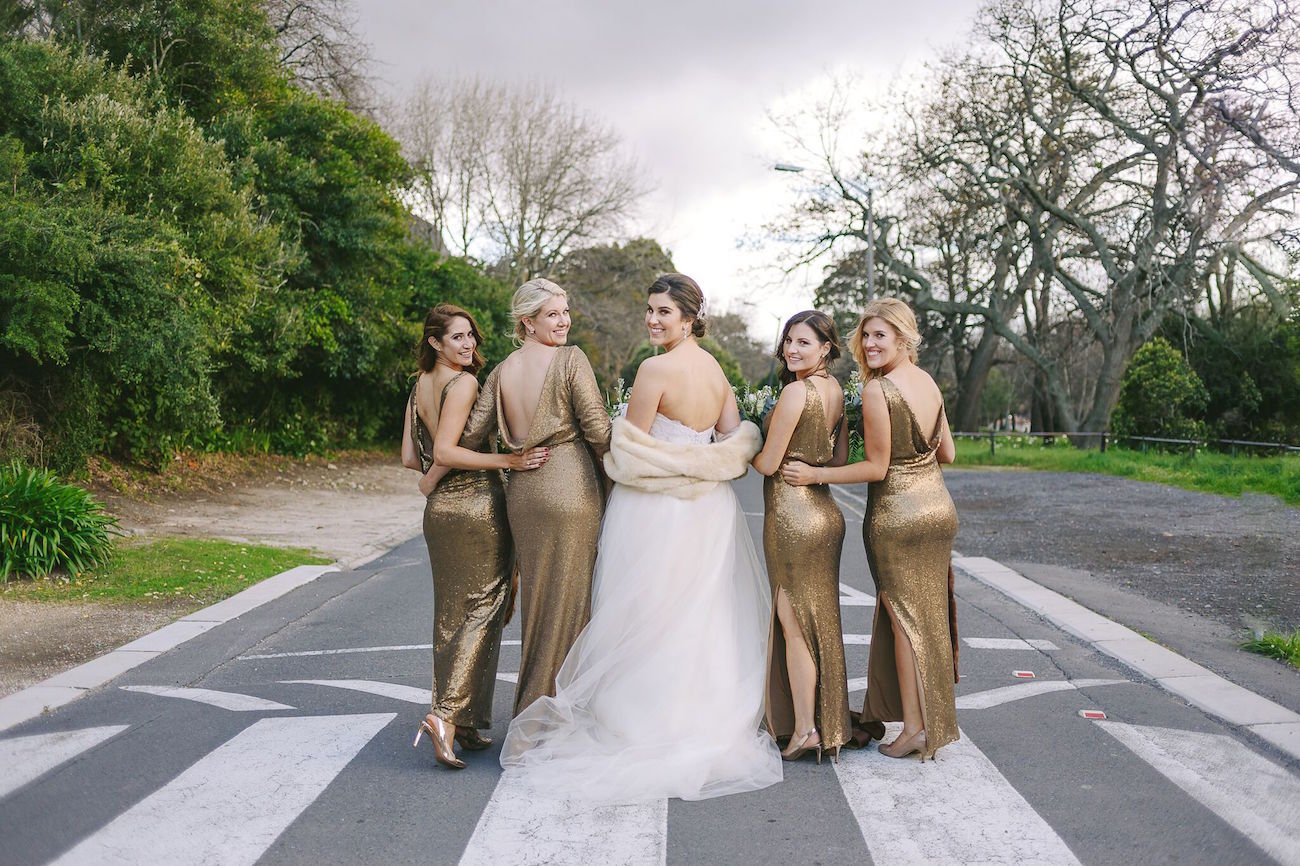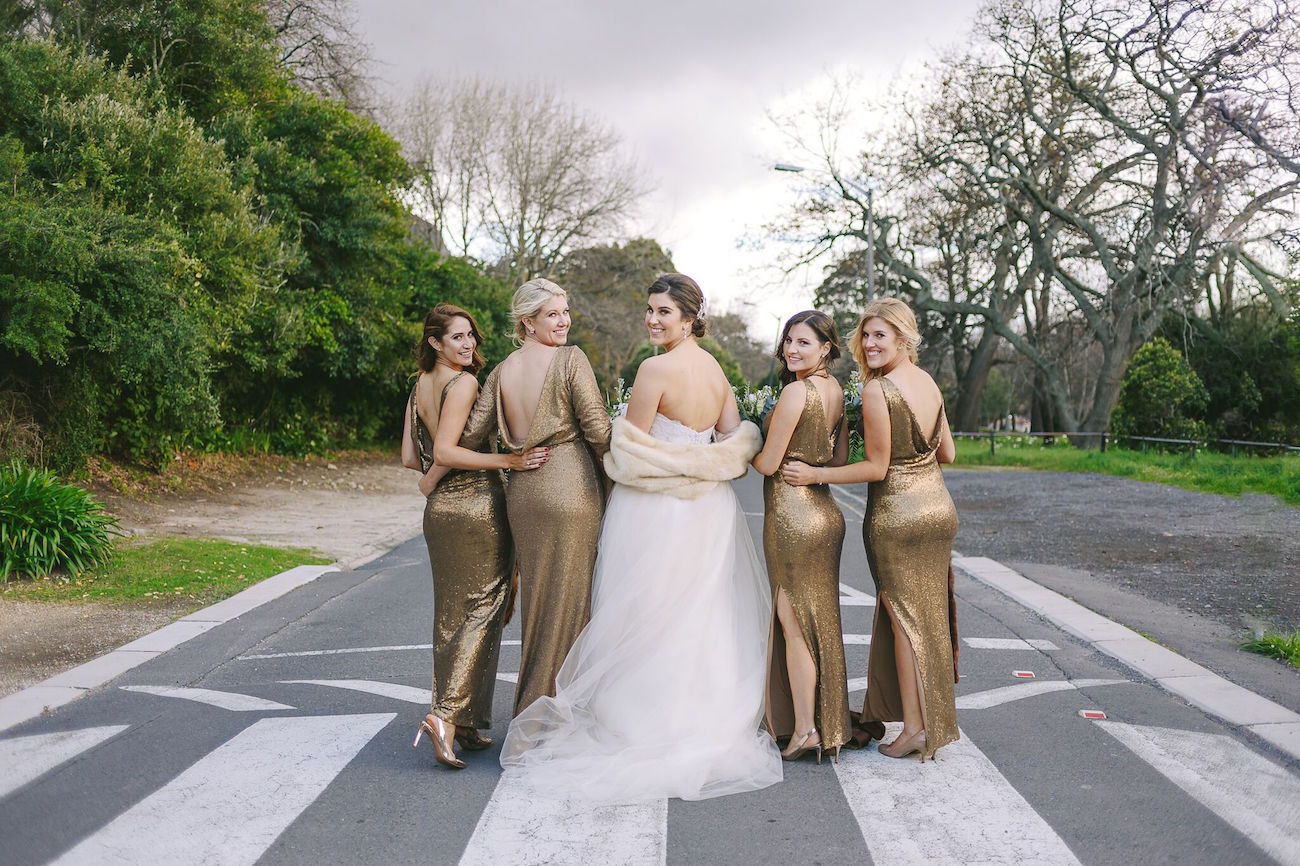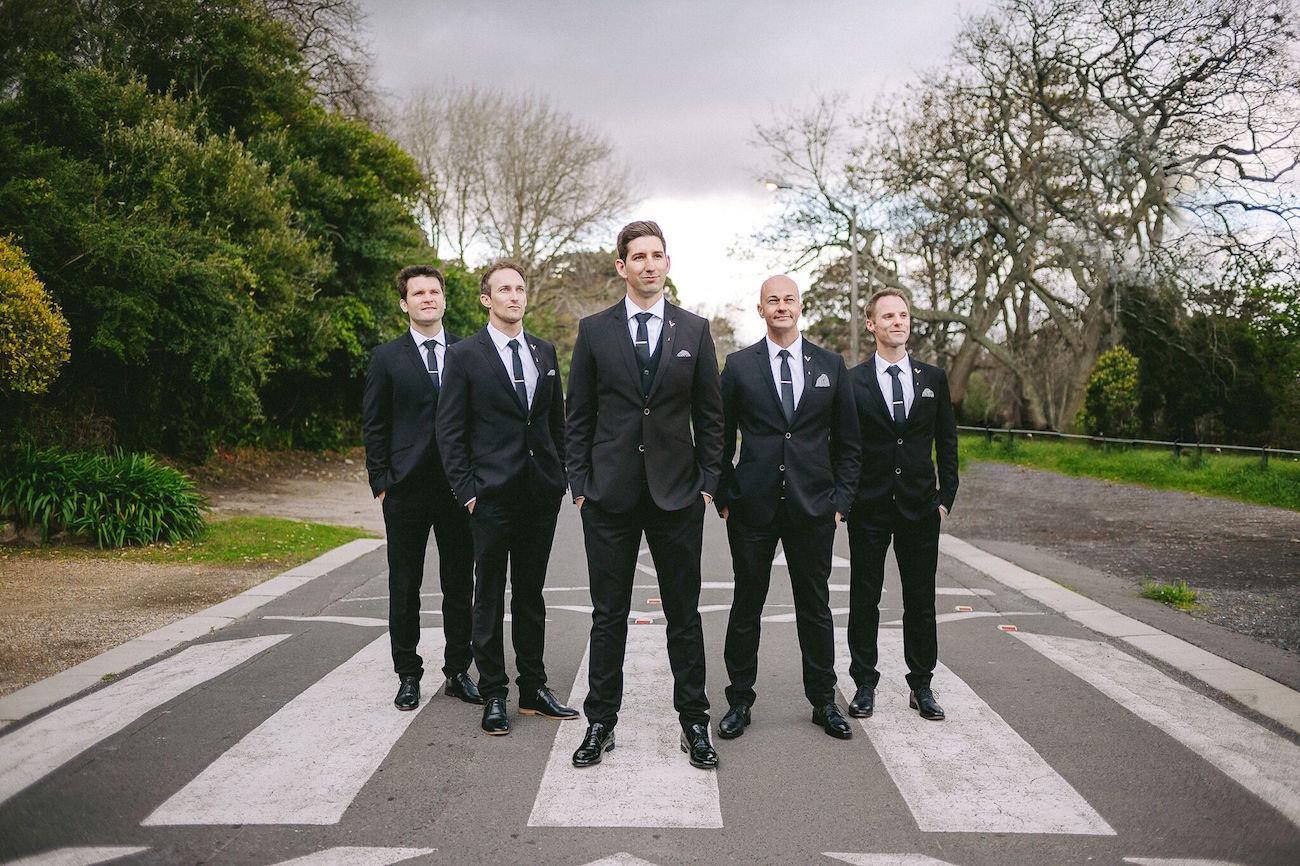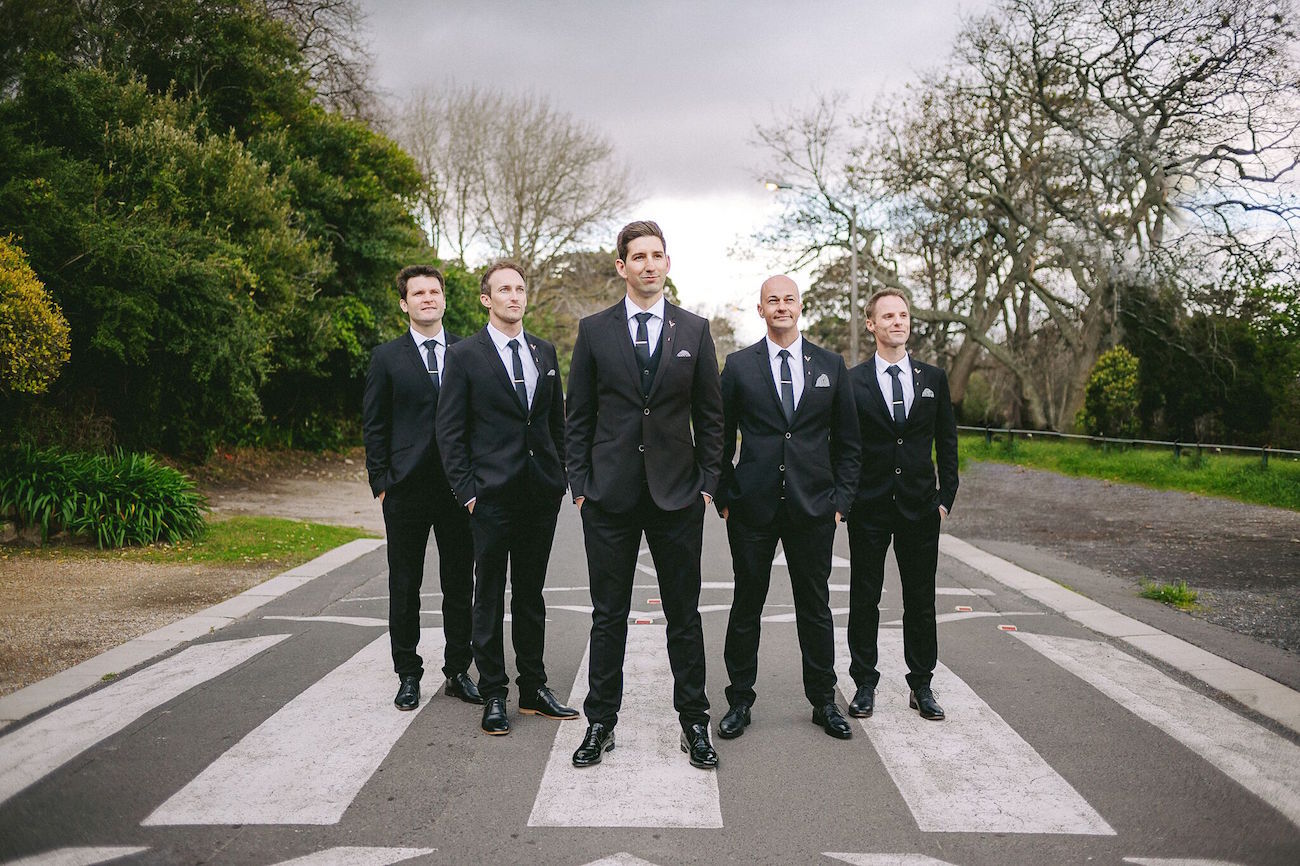 Wedding Details
Some of my favourite touches were the little gold bokkie lapel pins I ended up importing in bulk from China for the bridal party – I have always loved collecting skulls and horns and things that belong in museums, which Mike has always thought very odd but he's always been very accommodating about it! The bokkies were perfect because I specifically did not want floral boutonnieres, and also didn't want to introduce a whole new colour scheme by having silk lapel pins. I still LOVE that we had those! It was also incredibly special that I used my sister's veil from her wedding – as briefly as it was on me, it was a very special moment having her and my dad put it over my head outside the church.
We decided to cut our cake as we made our entrance, and also decided to skip the garter and bouquet tosses. There were painfully few of our guests who were single, and disrupting the dancing to have everyone watch my husband creep up my skirt just didn't seem like fun to me, so we gave it a skip and I don't regret it one bit! Cutting the cake as we entered also made the evening flow better, and meant that we could have the cake cut up and served as our dessert instead of having another dessert and then wasting an amazing cake! We also had the most amazing speeches – our MC was incredible and the groom, best man and father of the bride all did such fantastic speeches! If I had one regret it would be that we didn't get the speeches on video.

DIY Elements
My dad handmade 180 porcelain tea light holders that glowed SO beautifully and had Ms and Cs embossed on them. They were absolutely exquisite and made with so much love and care. They were meant to be wedding favours, but at the last minute I asked Mike to "forget" to mention that people could take them home in his speech…so we now have about 140 tea light holders in our home, and as bad as I feel that people didn't get wedding favours I'm still secretly thrilled that I get to have them all! My mom also made pocket squares for the groomsmen, blankets for those who wanted to sit outside, a gold sequinned photobooth backdrop AND our amazing wedding cake, which had 3 enormous tiers, each with a different flavour sponge and icing! Thank goodness Mike and I had a mouthful when we cut it, because the entire thing was polished off in a flash…we had a guest who literally cried because she didn't get enough and it was all finished!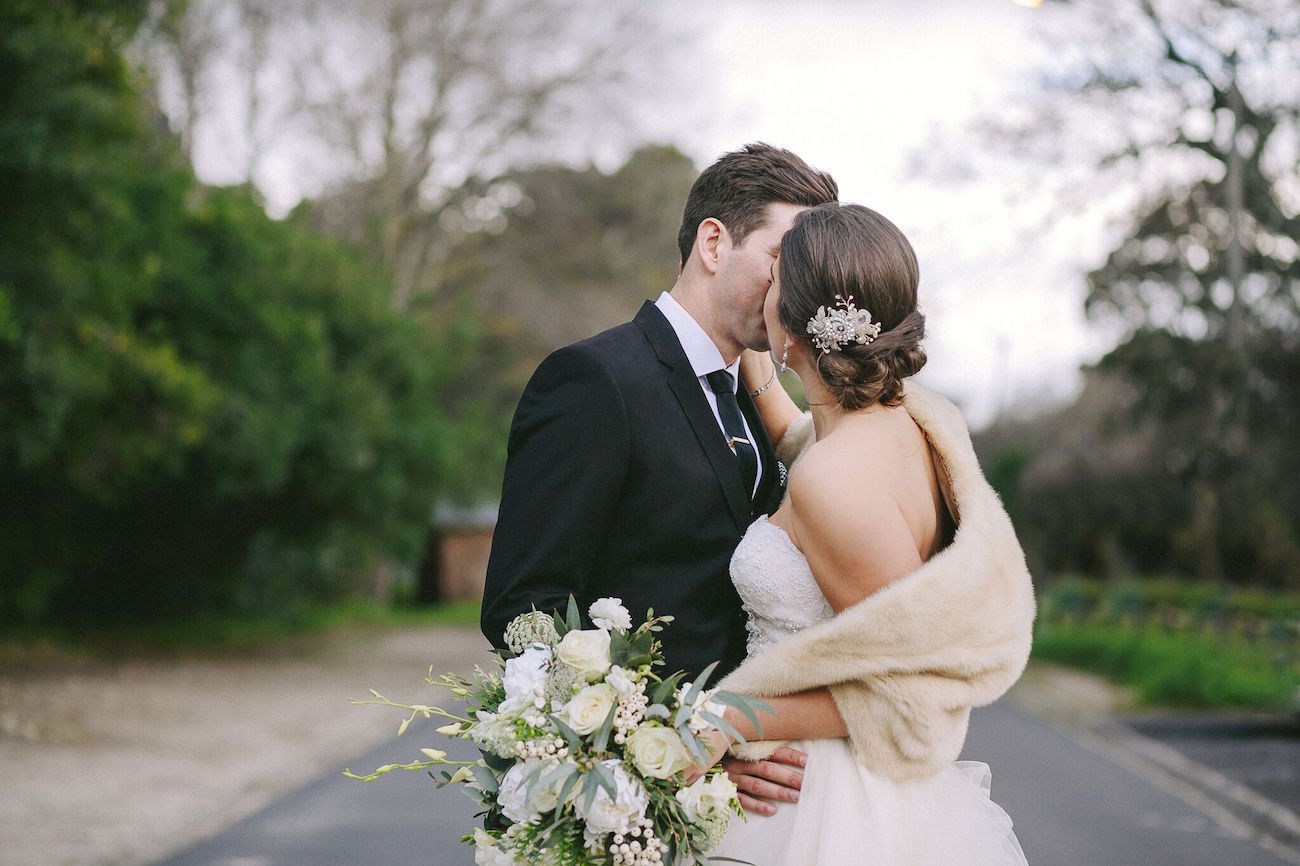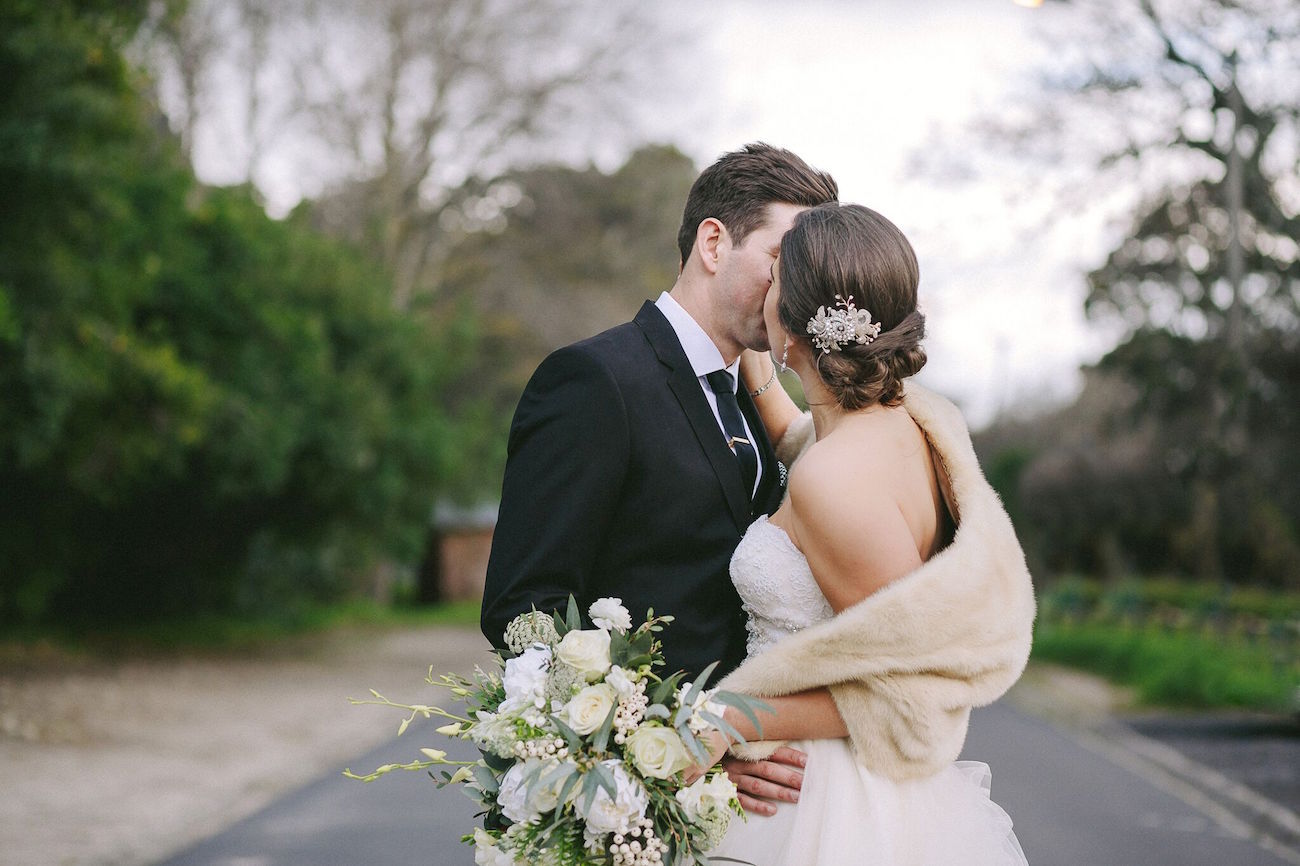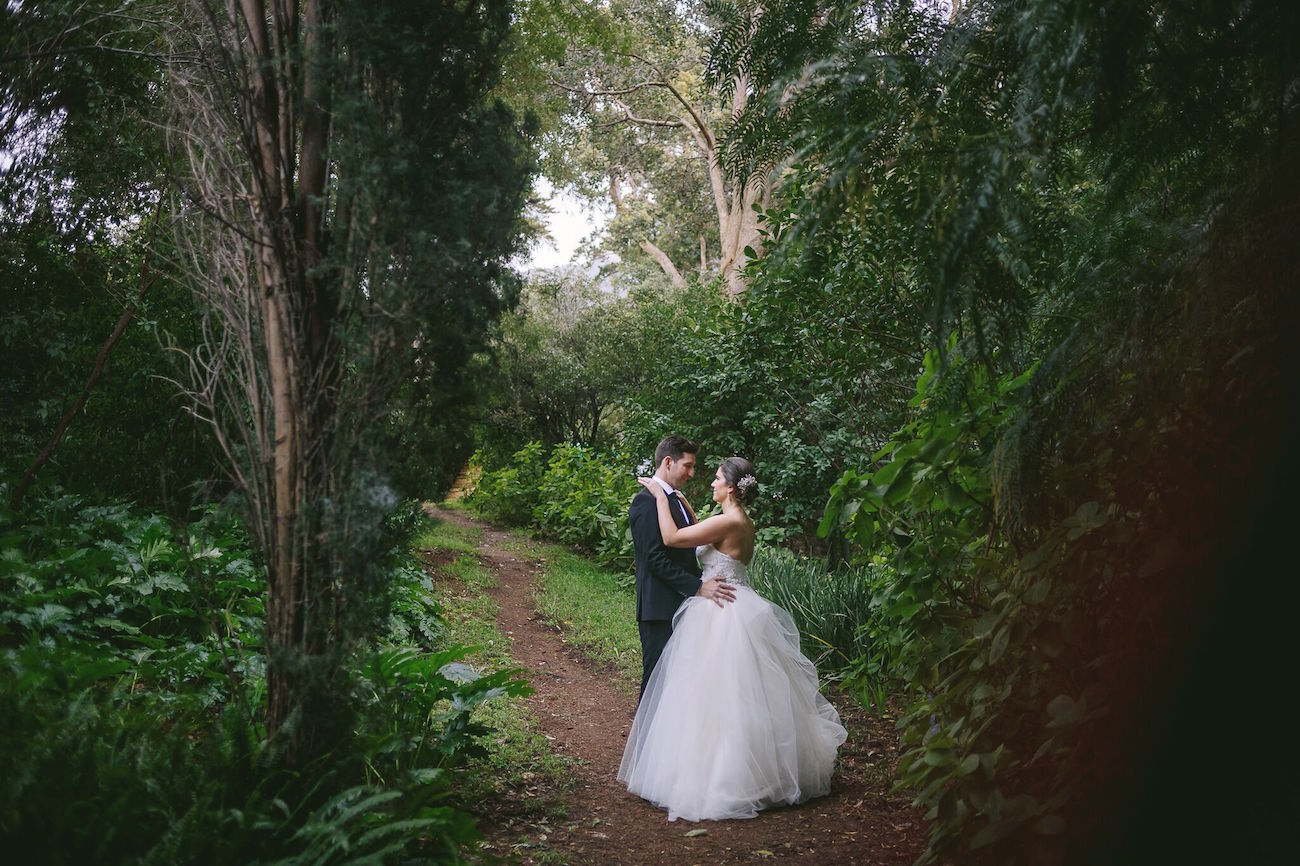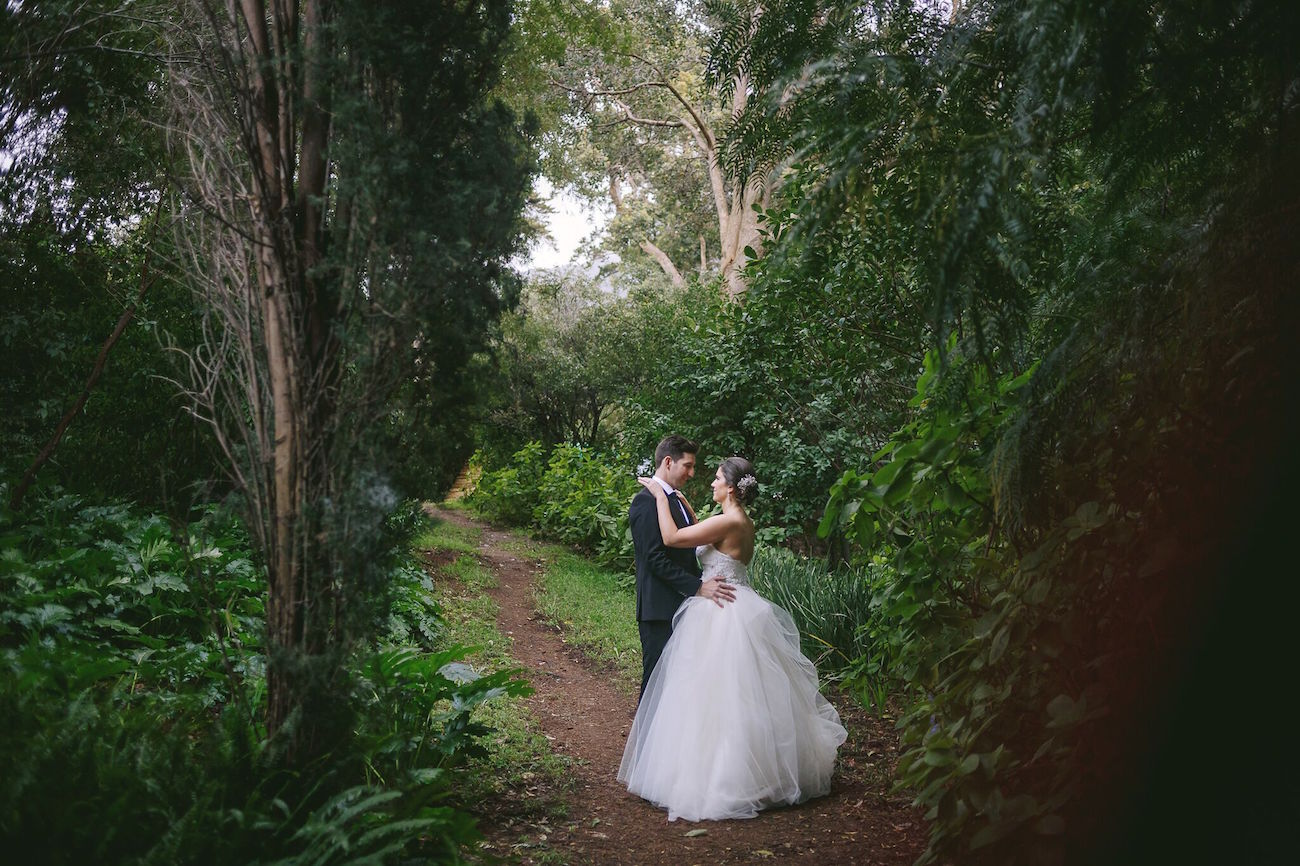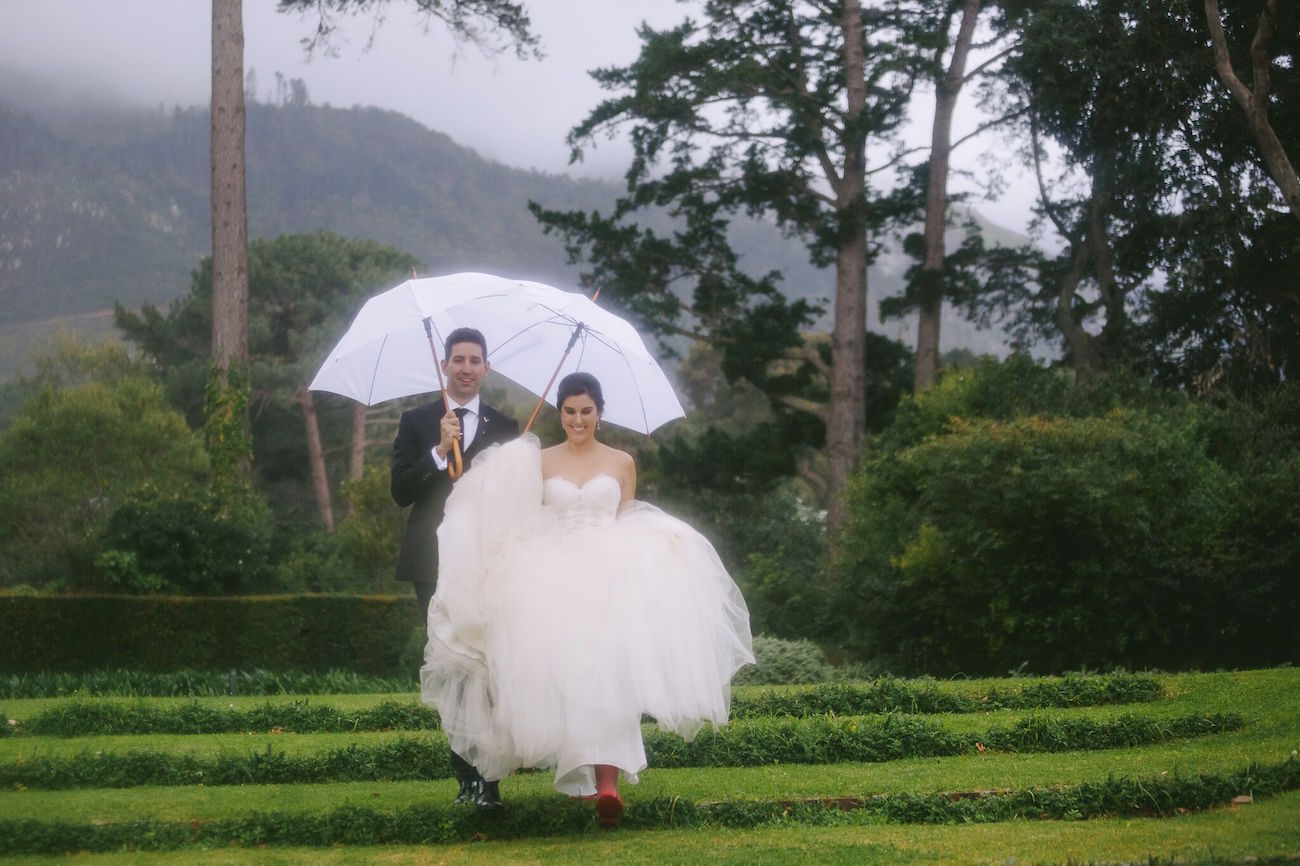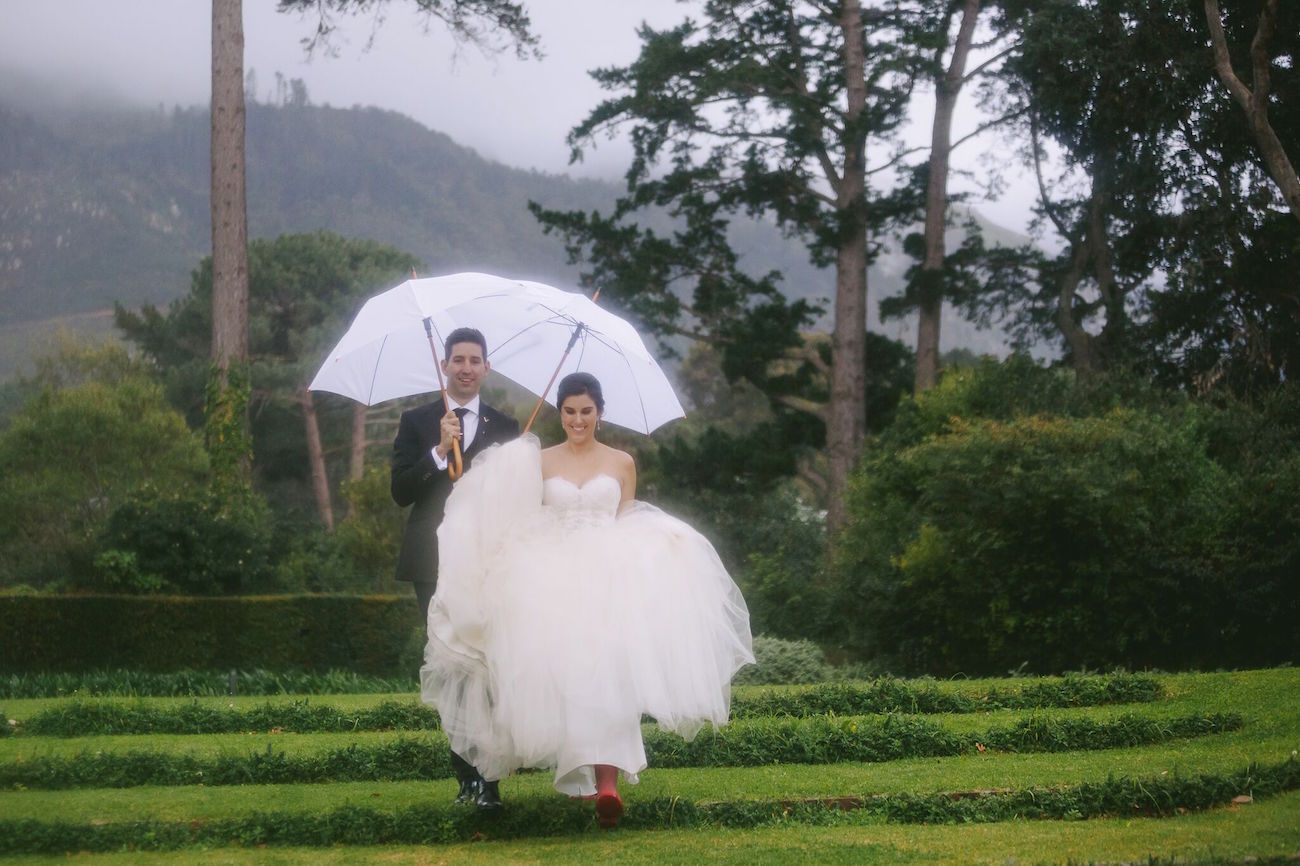 The Dress
I spent ages going to all the different designers I had been recommended, but I have always had an awkward relationship with my body and didn't want to go through the process of having something made, so I landed up renting a gorgeous Maggie Sottero dress from Eve's Bridal that had fit like a glove and made me feel like a princess the first time I put it on. It was everything I thought I didn't want and I absolutely loved it!
The Bridesmaids
My bridesmaids were my two sisters and two of my besties from high school. I think they are all the fiercest, most glamorous, gorgeous girls that ever walked the planet, and their dresses needed to show them off! I chose full length gold sequinned gowns that were basically both backless and frontless… and with a slit! They all looked absolutely incredible in their dresses and it made me so happy every time I caught a glimpse of one of them at the reception!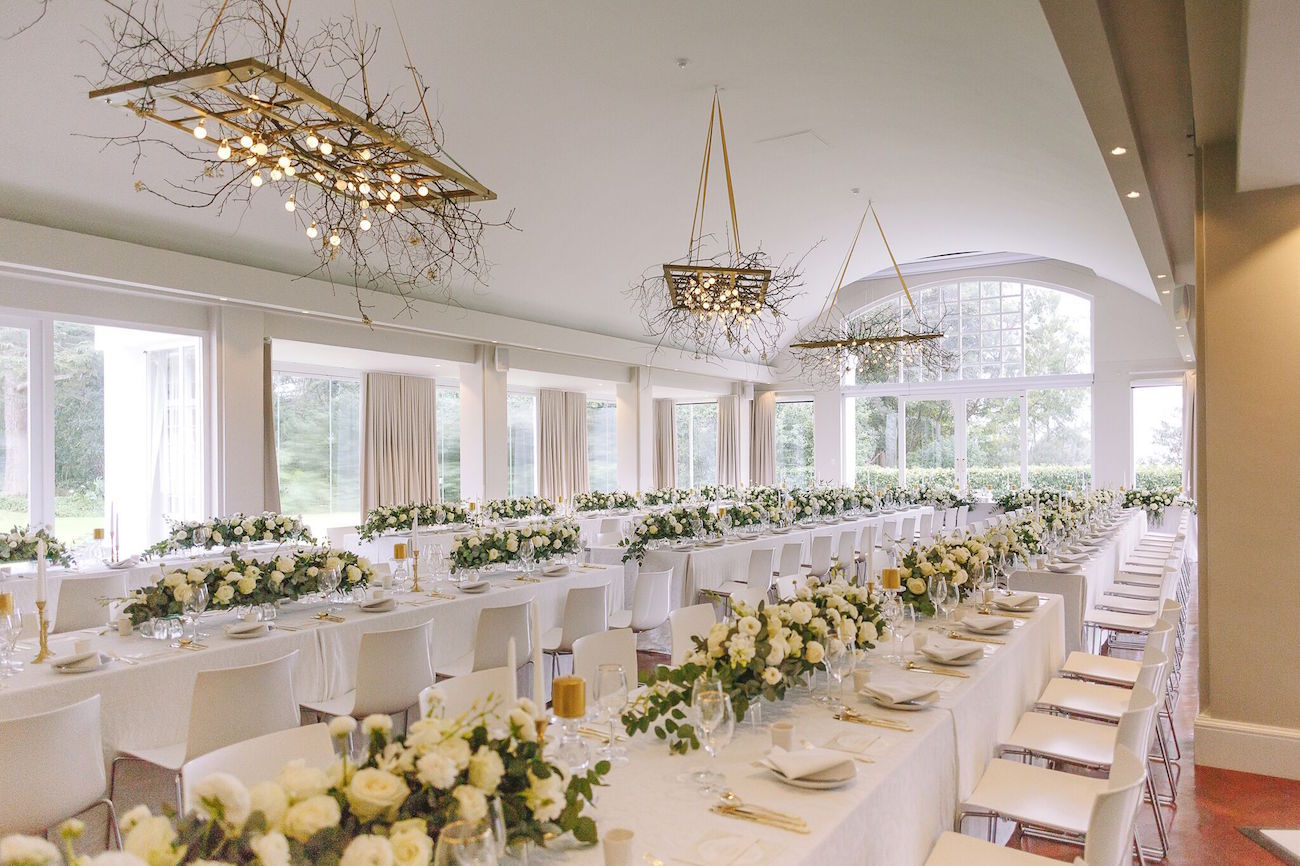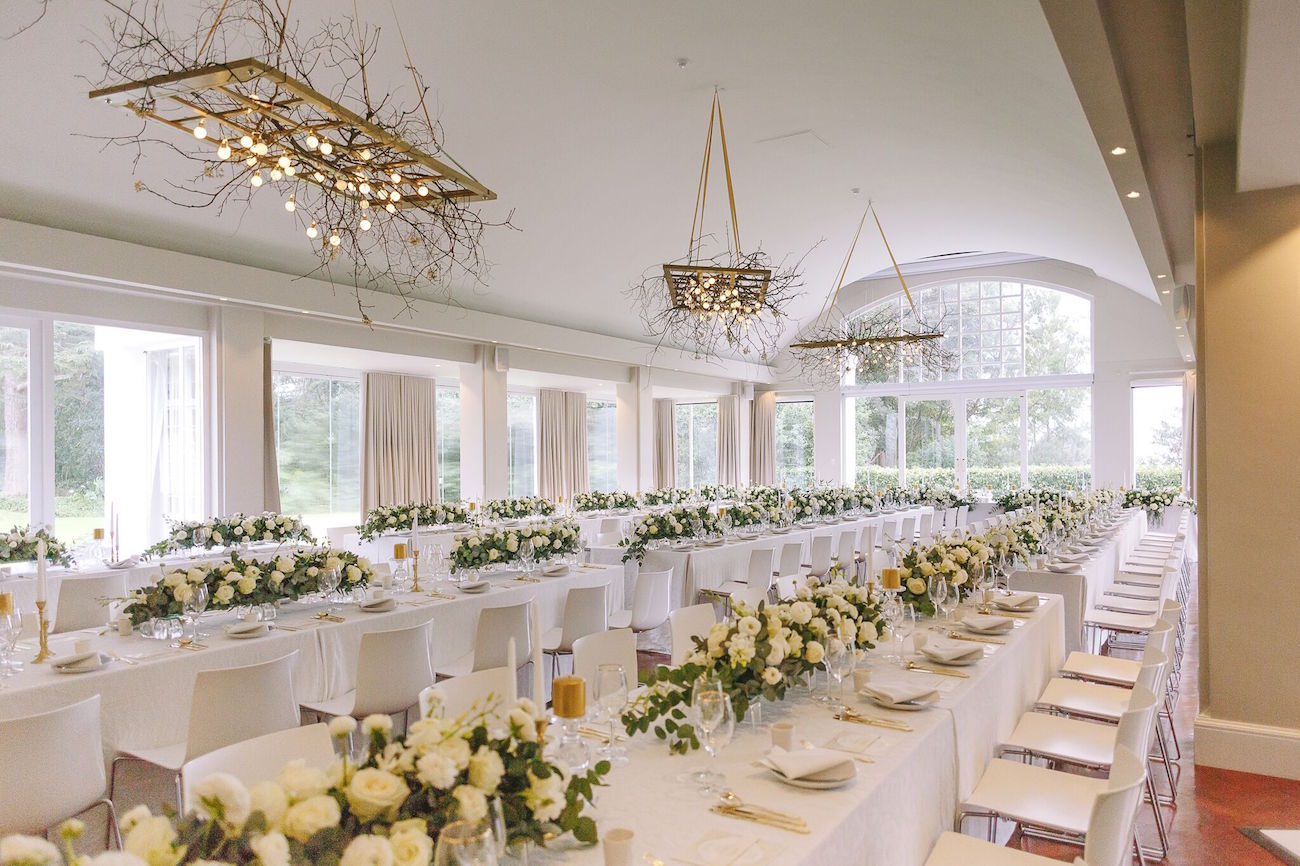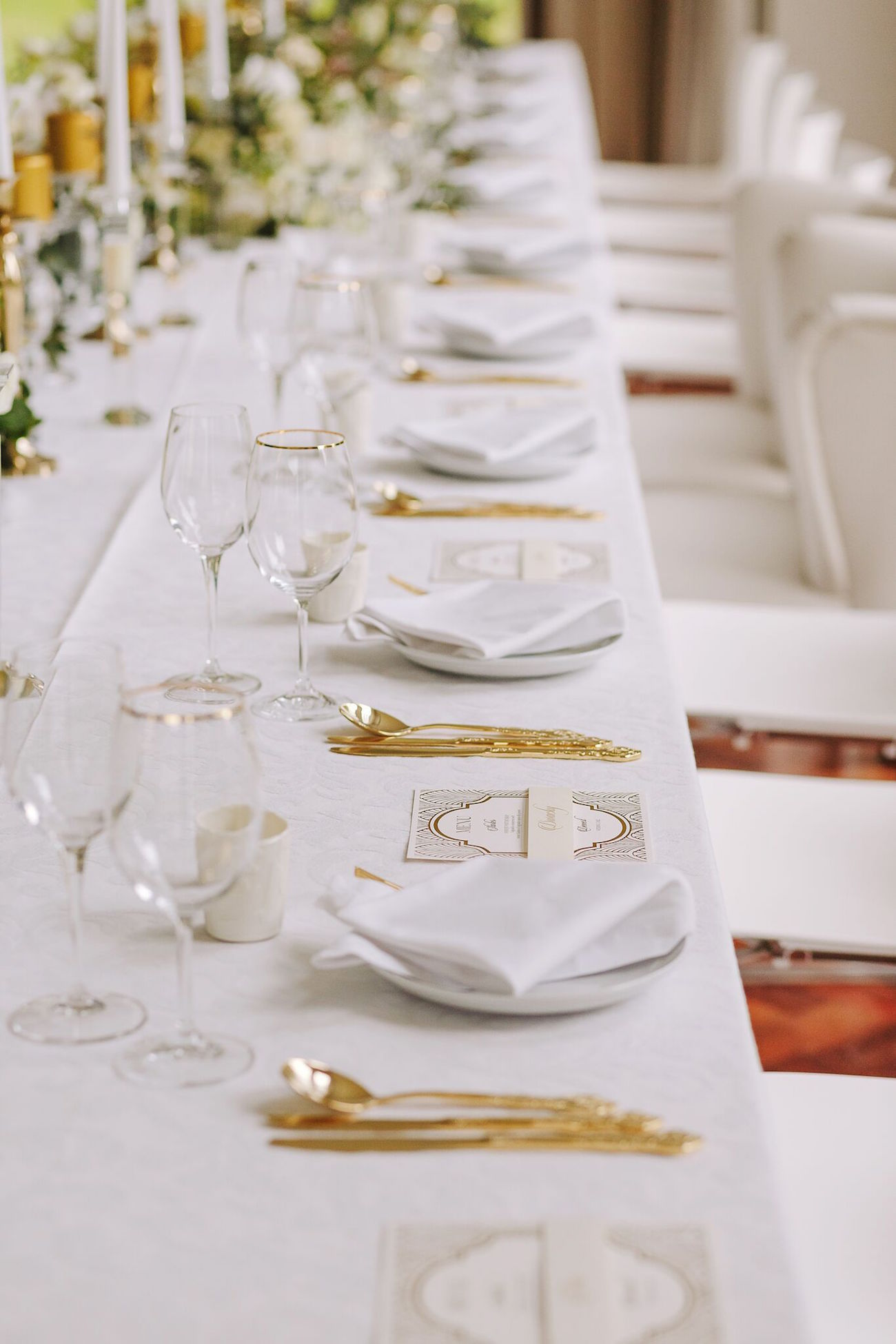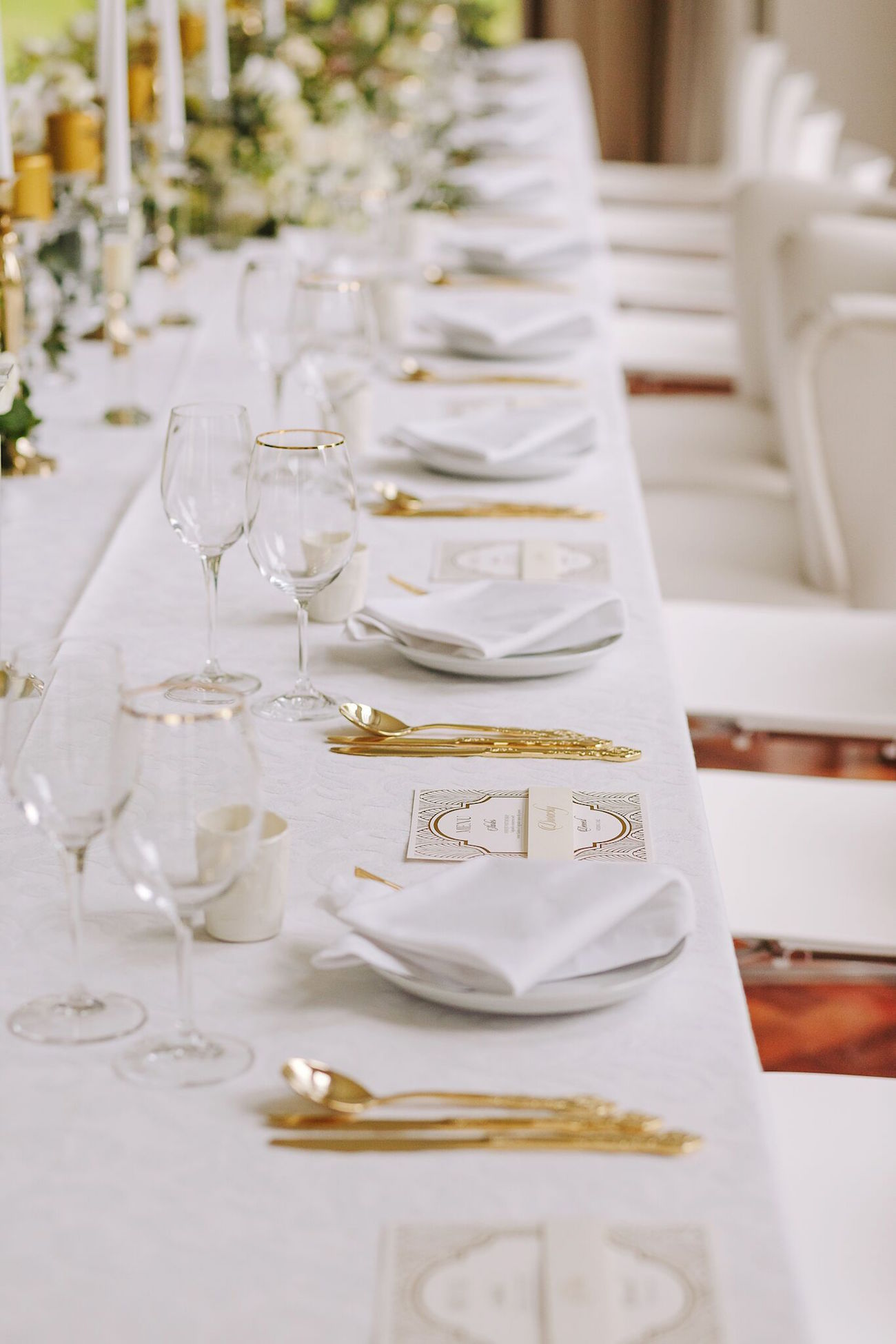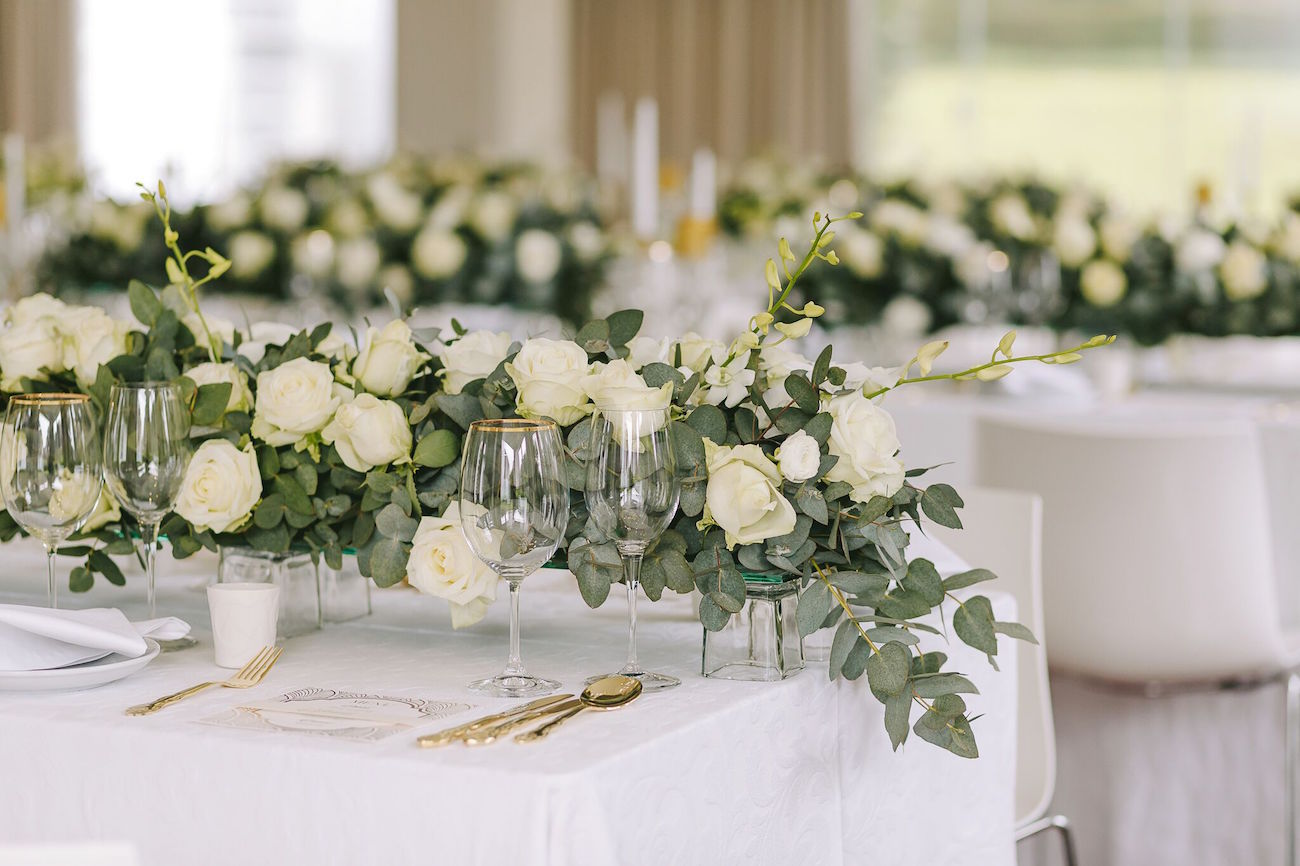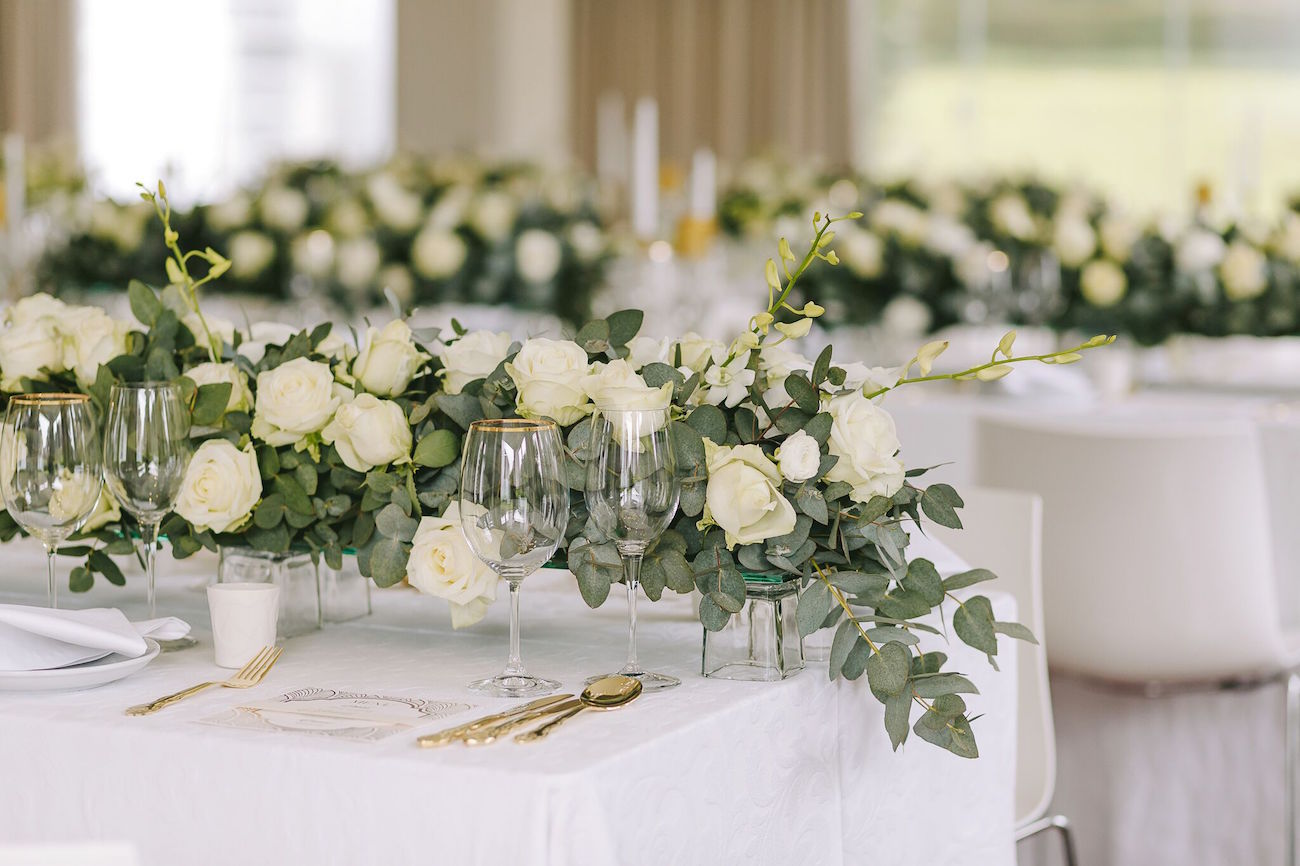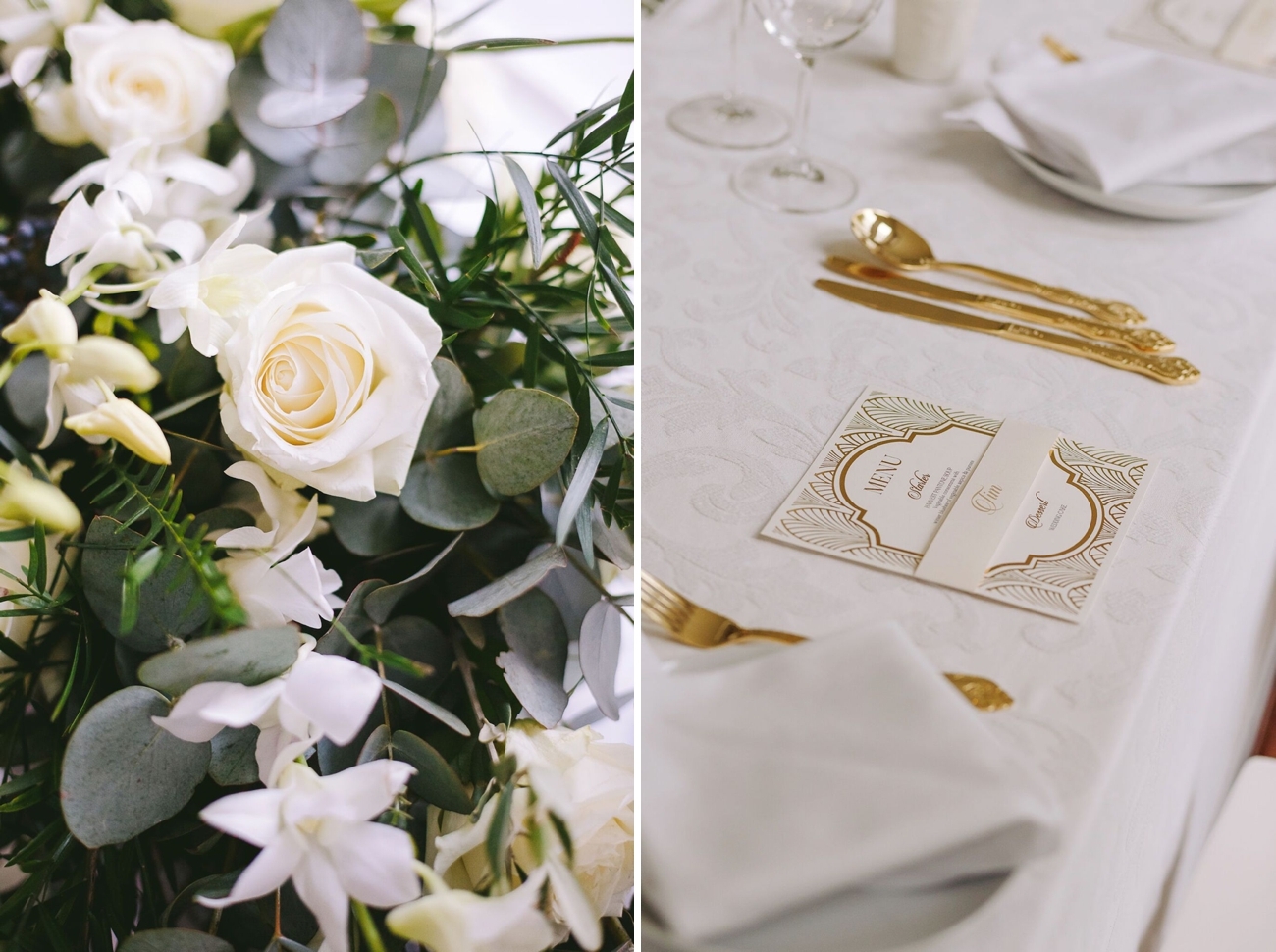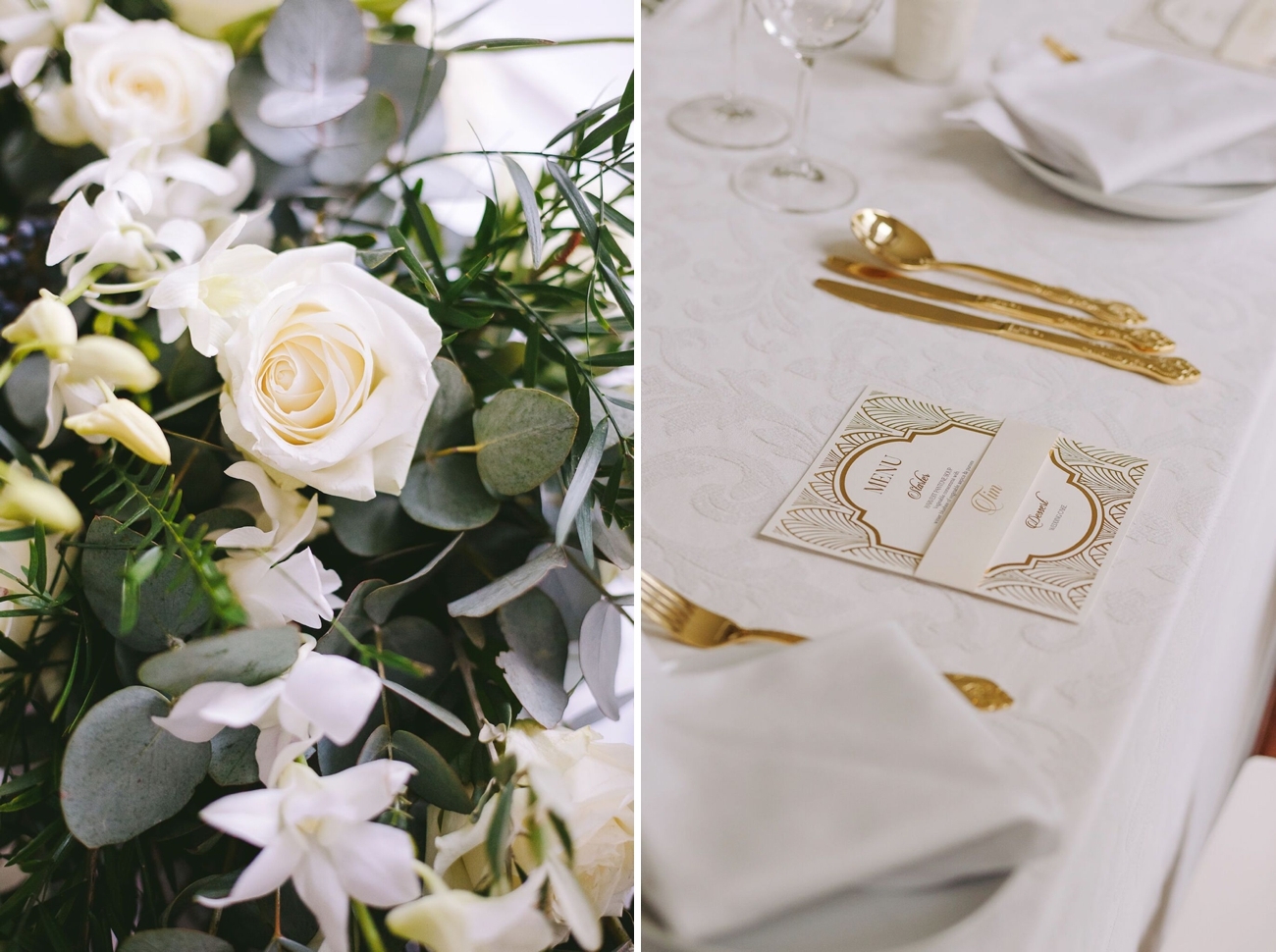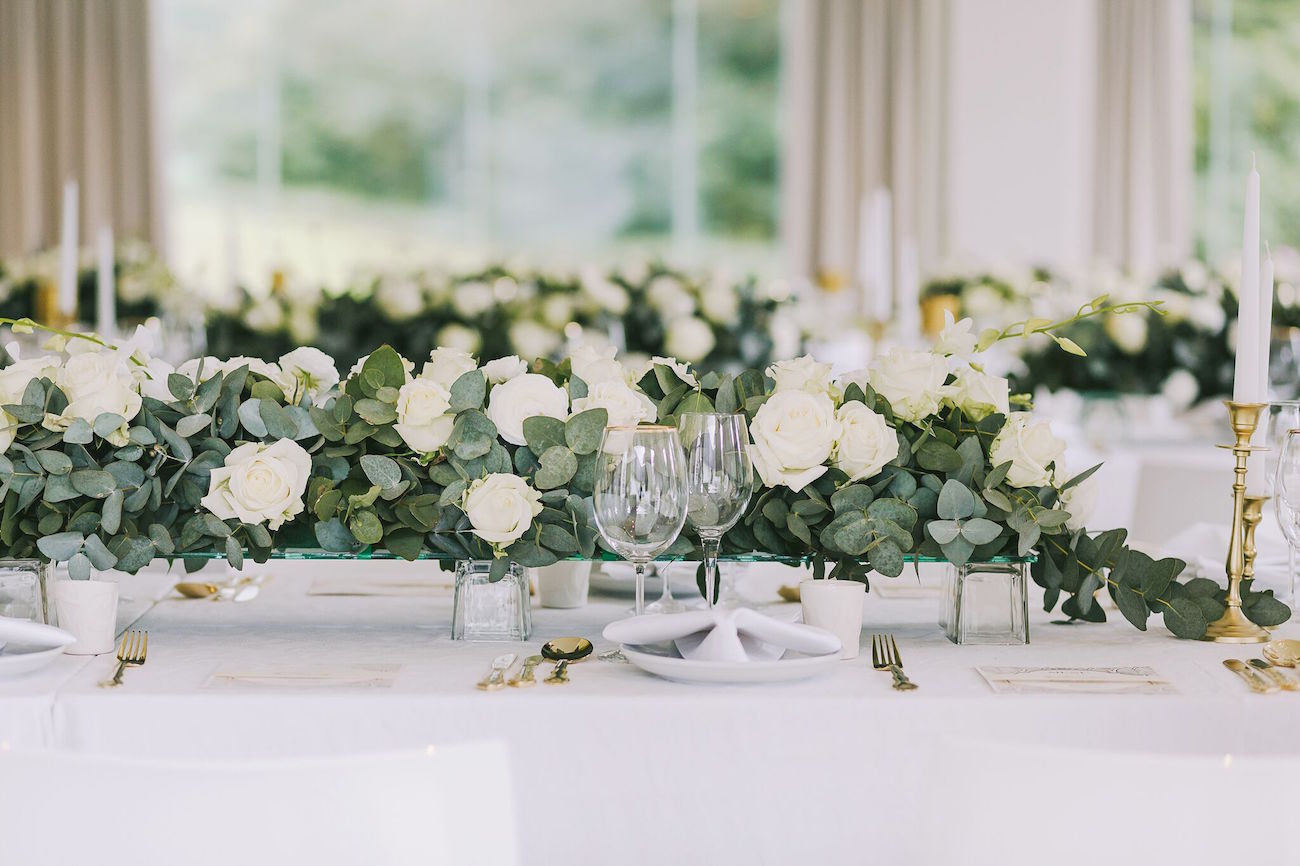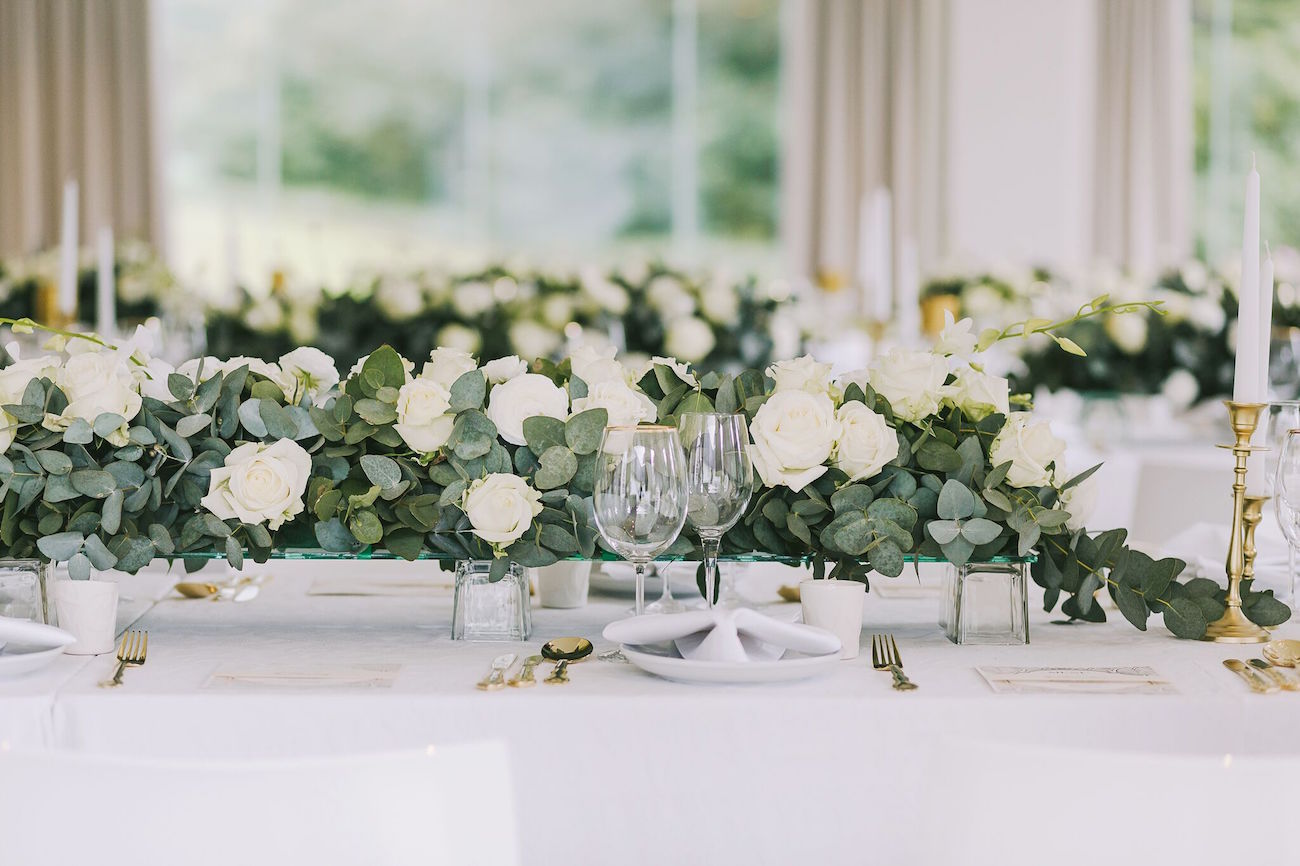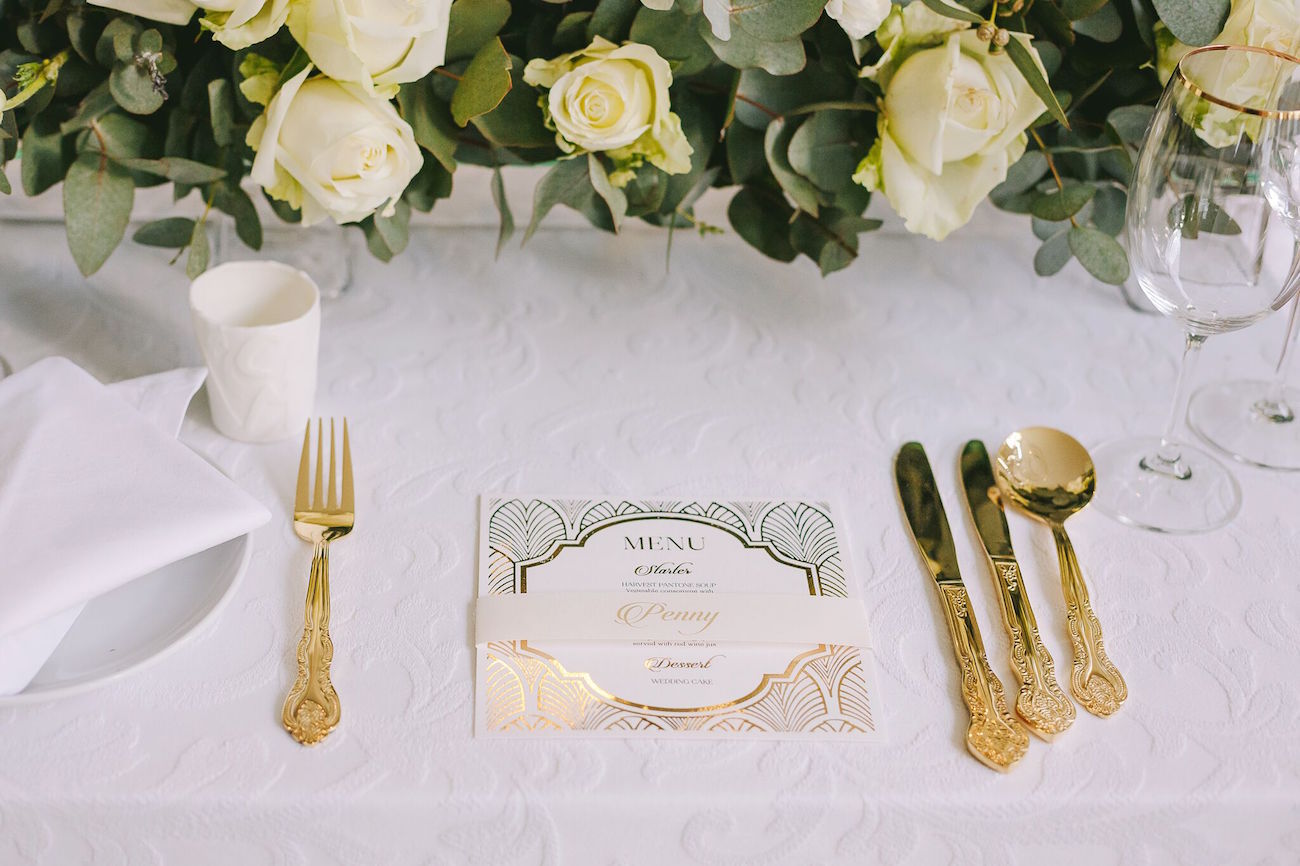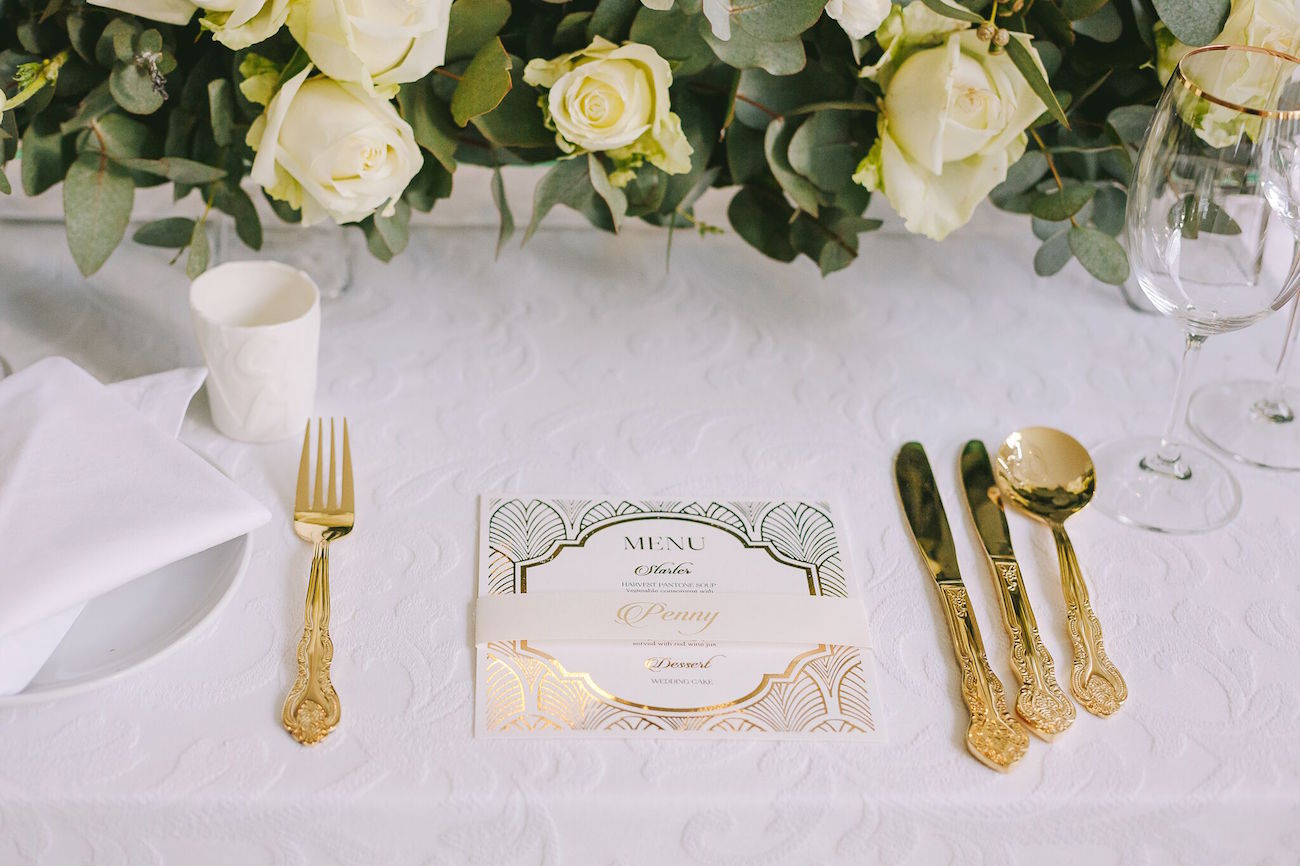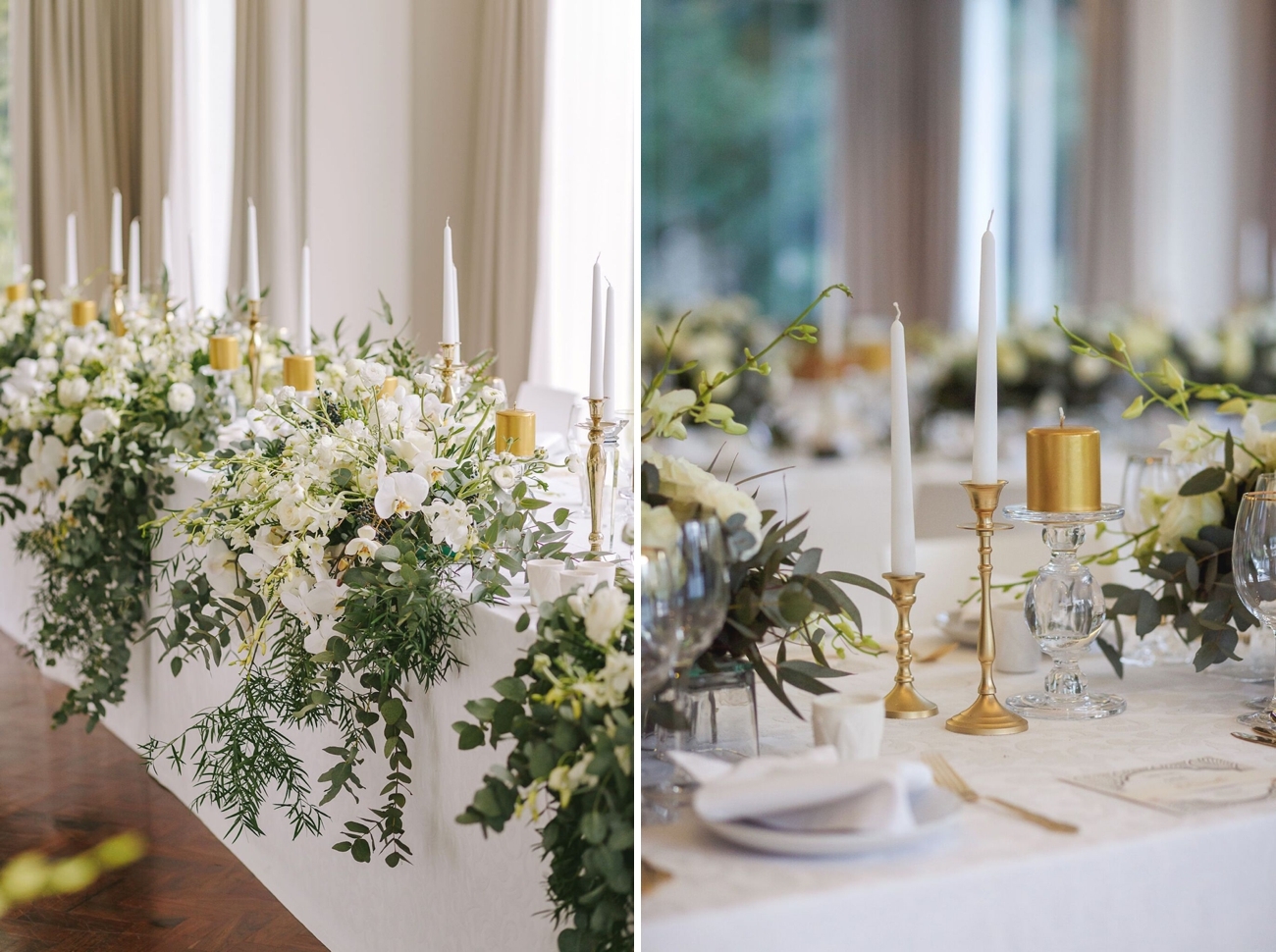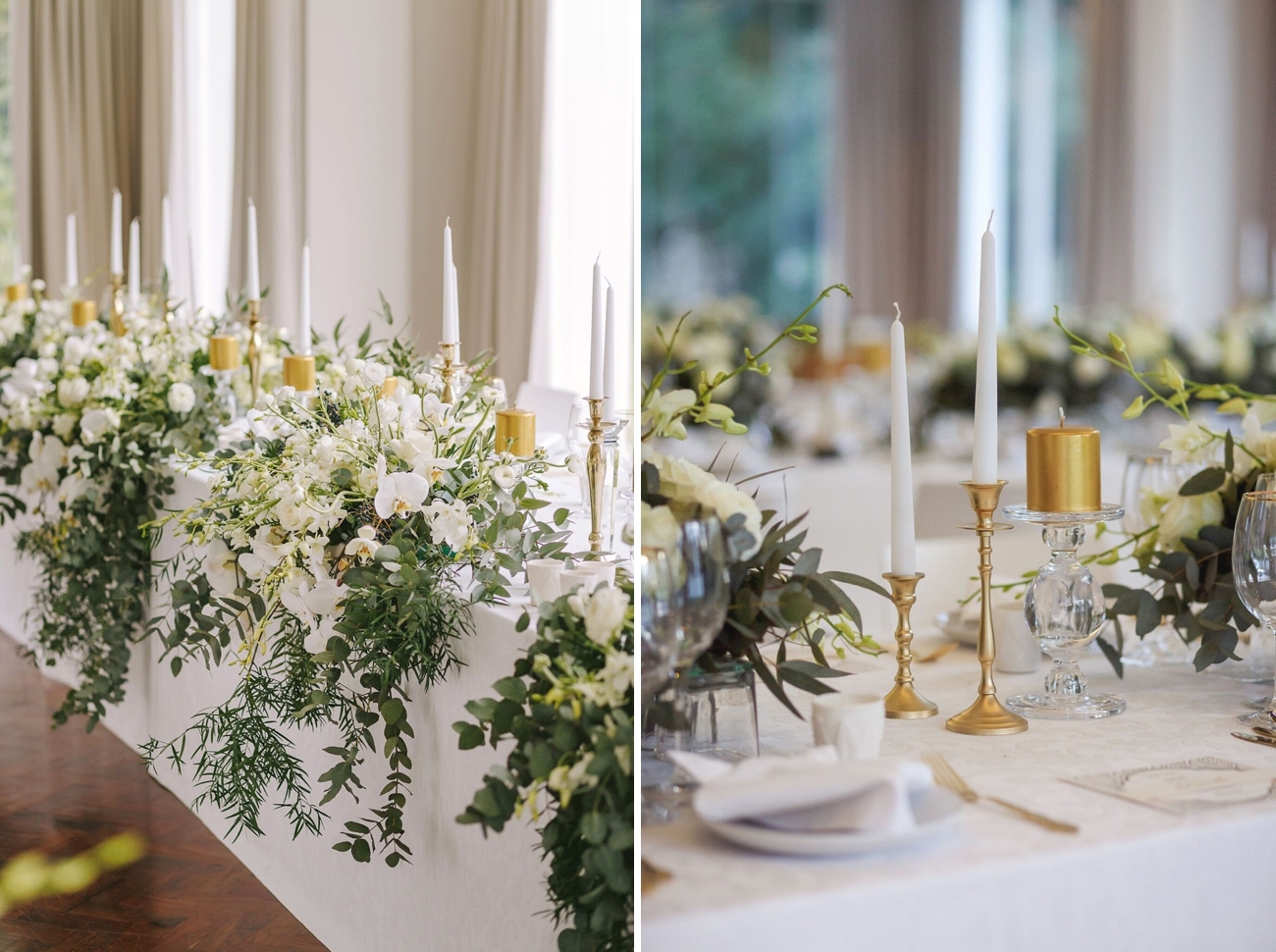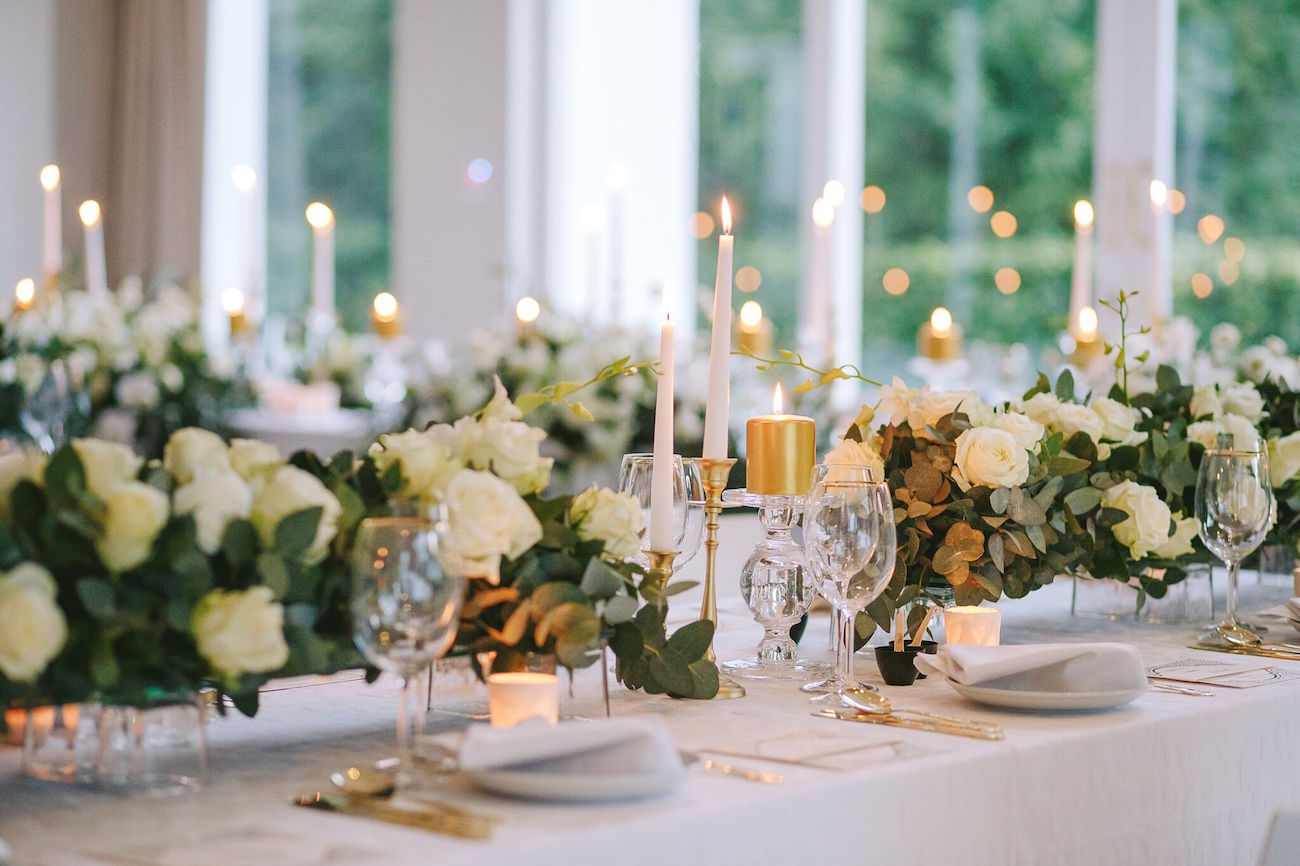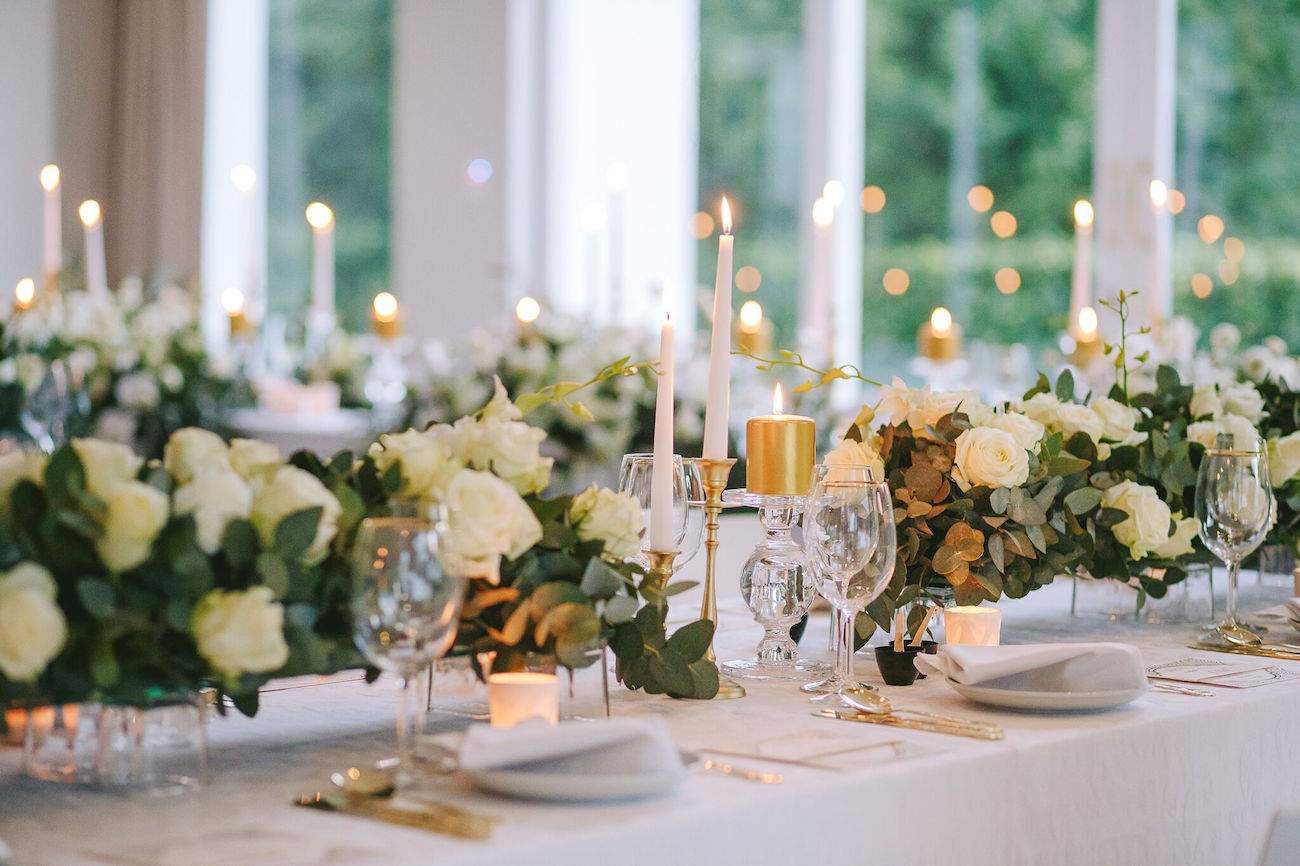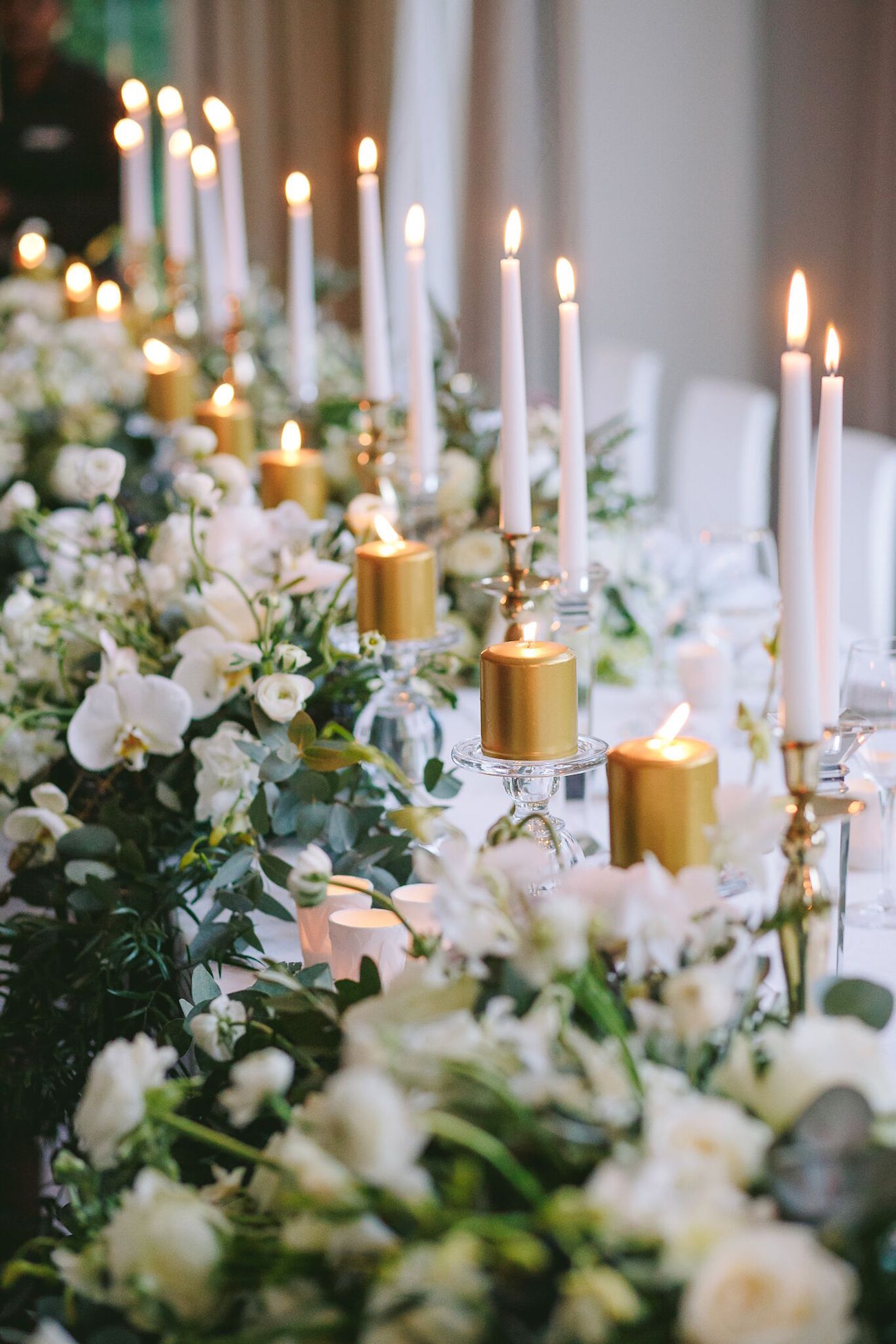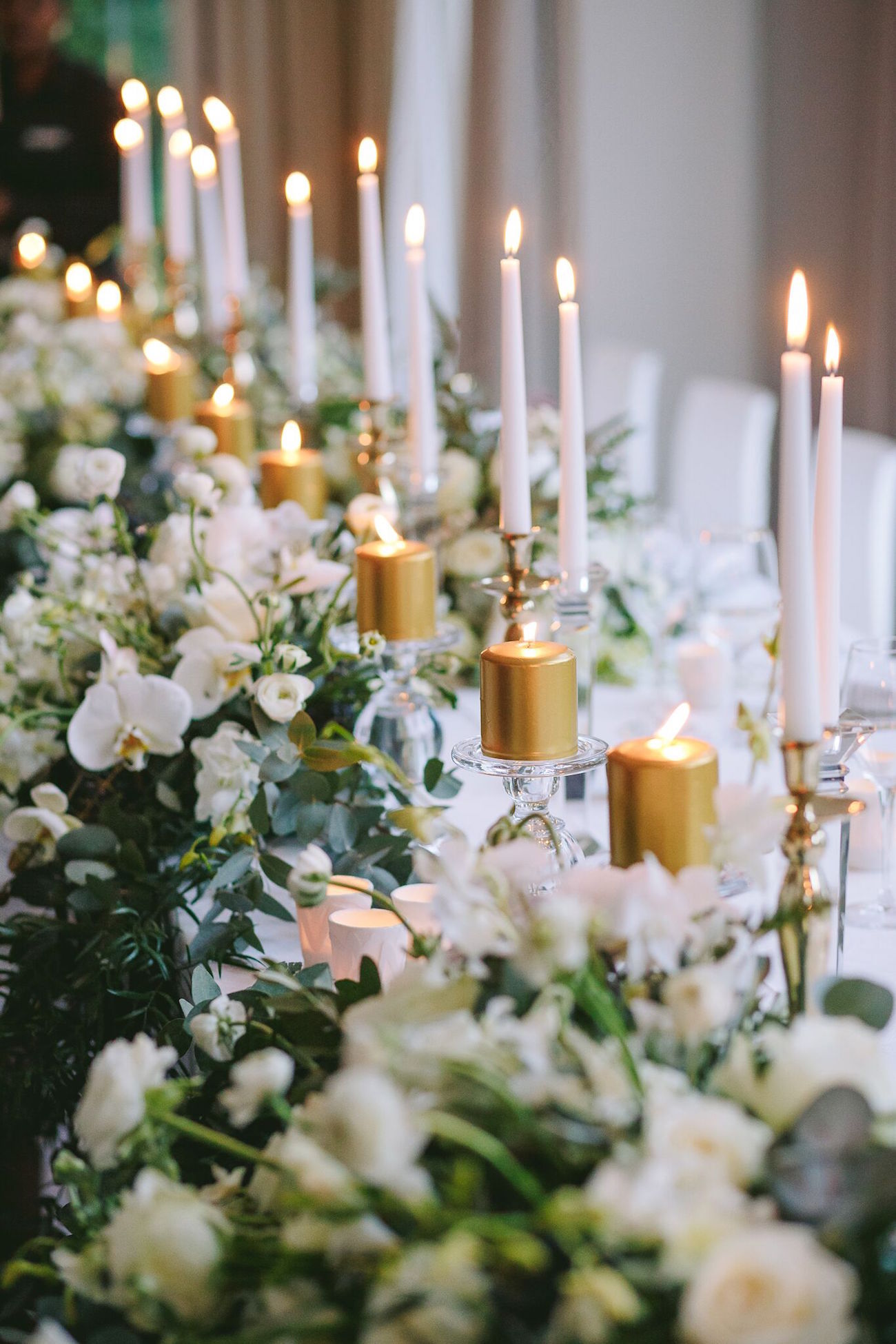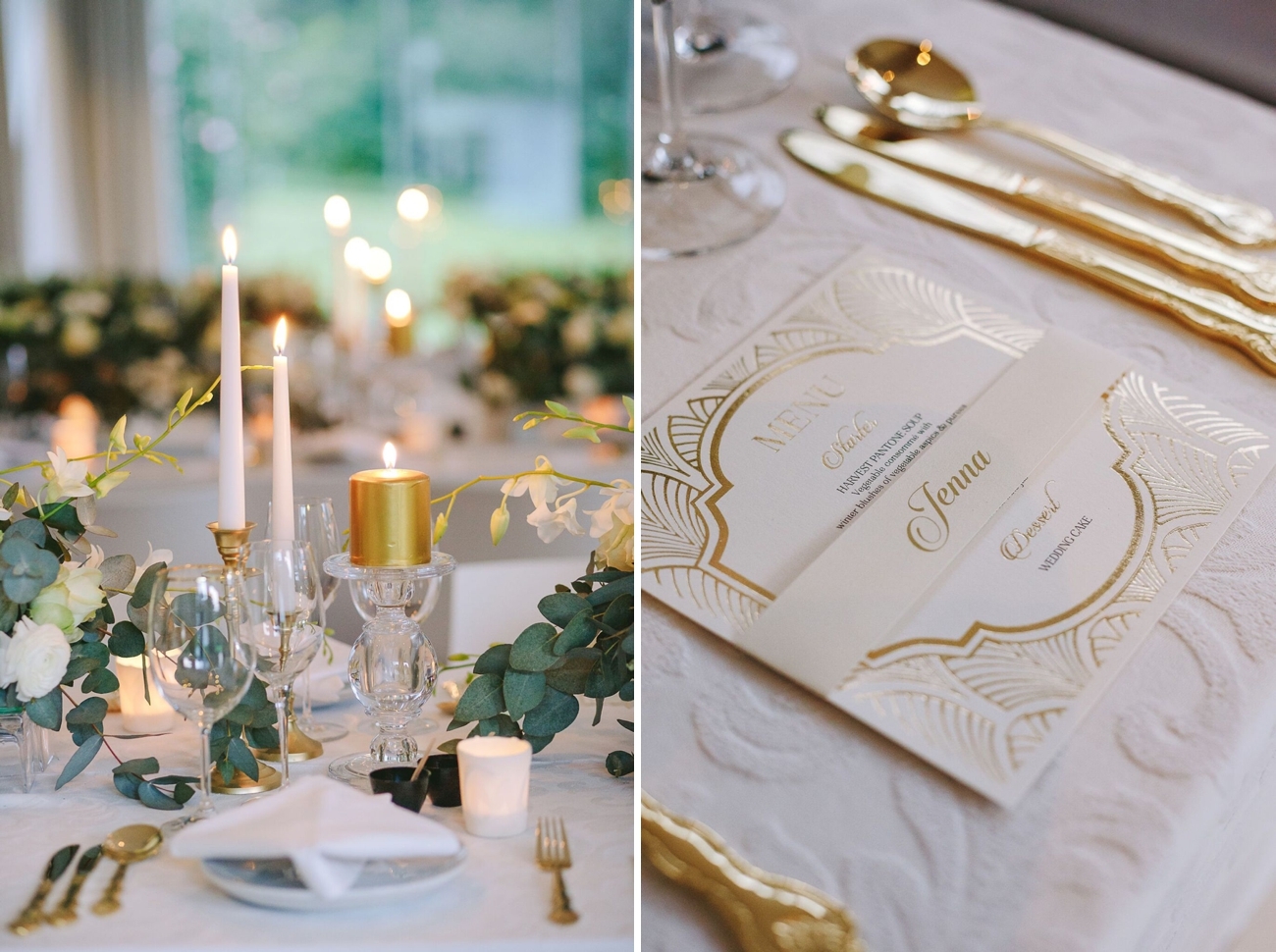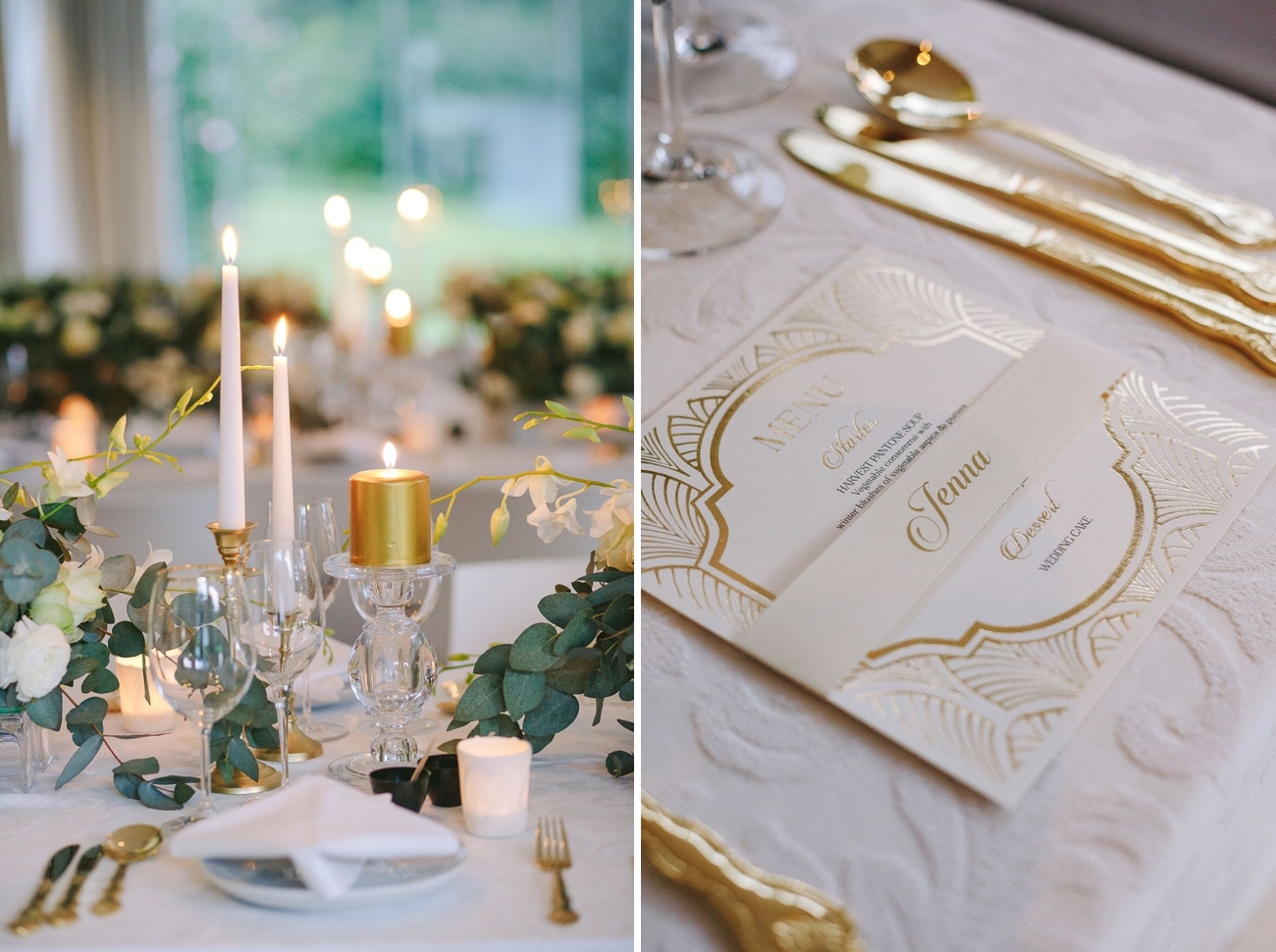 The Flowers
My bridesmaids' bouquets were loose and wild with penny gum fronds emerging at all angles and white flowers and berries in them. Mine was enormous and heavy, with white peonies, orchids and roses in it. My florist invited me to watch her make the bouquets the day before the wedding so that I could guide her, and it was such a lovely experience watching someone make art out of flowers! The tables at our reception had amazing, dense runners down the centre of the table, full of huge white rose blooms, phalaenopsis orchids and a few other flowers that looked absolutely exquisite. Because the vaulted ceiling at the venue was very high and dramatic, we decided to try to adorn it in some way, and after my attempts at hiring chandeliers failed due to inadequate power supply, my co-ordinator, Neva, came up with the ingenious solution of building a trellis, spraying it gold and suspending foraged twigs and brings from it interlaced with fairy lights. It looked magnificent on the day!
Memorable Moments
Mike and I planned to take a bit of personal time every two or three hours during our wedding, starting with having a dance to a special song on our own outside the reception before making our entrance as husband and wife. We then planned to meet again at specific times during the evening to take a five minute walk alone or just sit together and debrief for a few minutes before joining the celebrations again. For me, these were some of the most special moments of our day, to be quiet away from the joyful madness, touch base with each other, know that we were both having a wonderful time, and then go and immerse ourselves in the thick of it again! Mike insists that the most memorable part of his day was seeing me walk down the aisle, but I think we both found the speeches that were made absolutely amazing, especially the best man, who rapped the entire thing!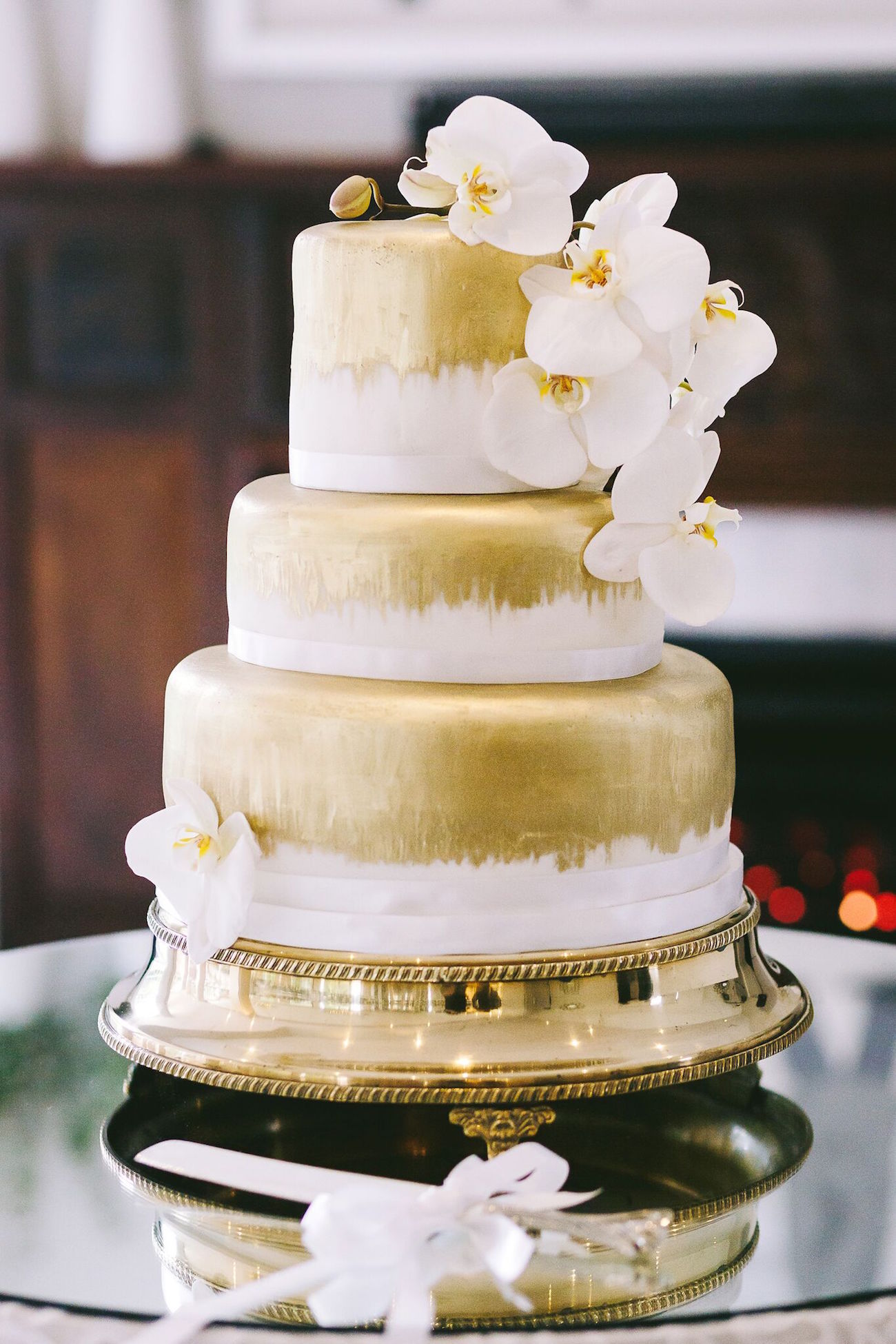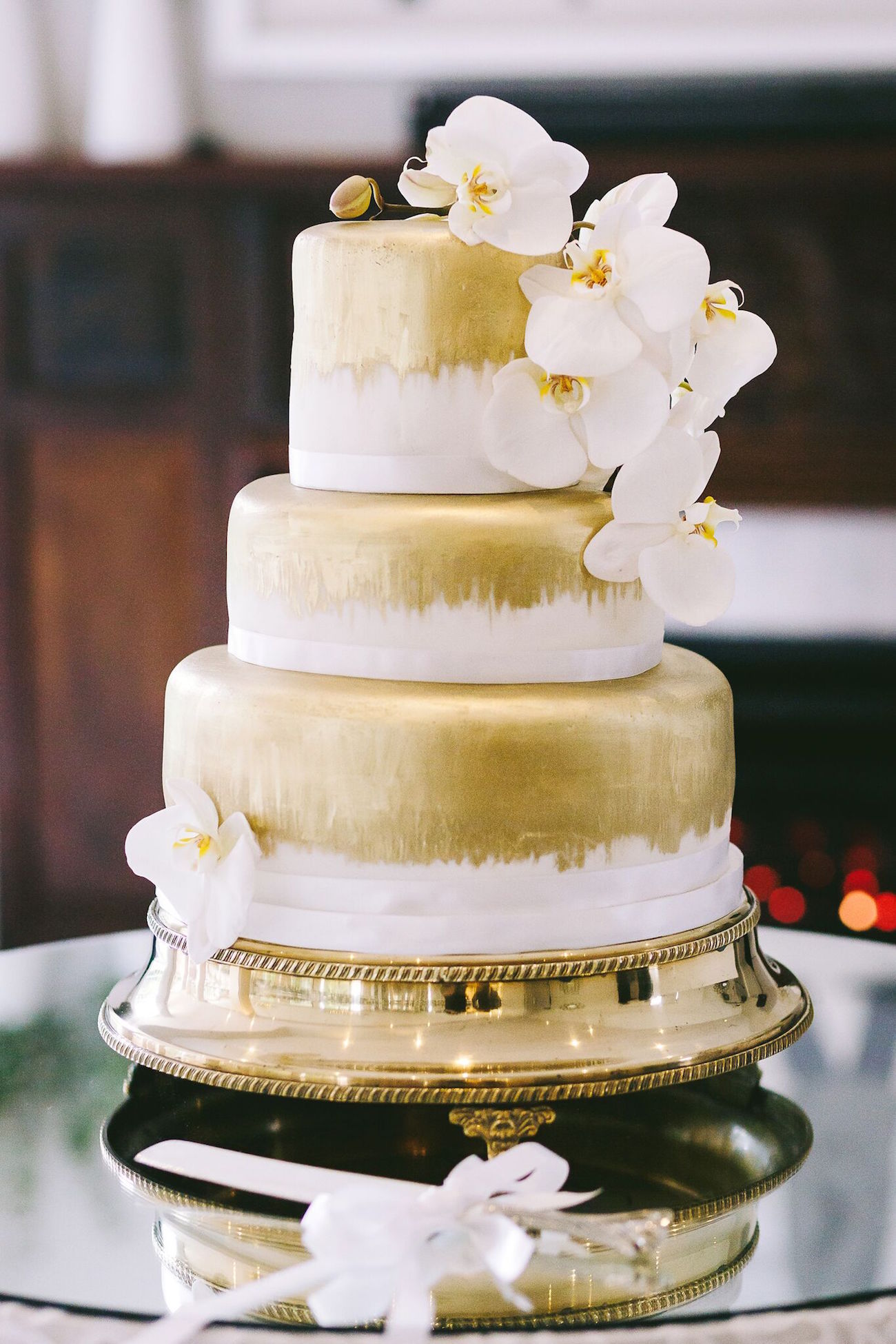 Proudly South African Details
We insisted on local seasonal produce for our menu!
Best Decision
Choosing a coordinator who knew what our vision was and was willing to go above and beyond what was required of her to ensure it was fulfilled was the best thing we ever did.
Advice for Future Brides & Grooms
Trust your instincts – if something or someone gives you a bad vibe, don't allow their energy near your wedding day! People tell you that stress is the reason for your indecisiveness, but in our experience those niggly little feelings turned into the only real issues we had on our day!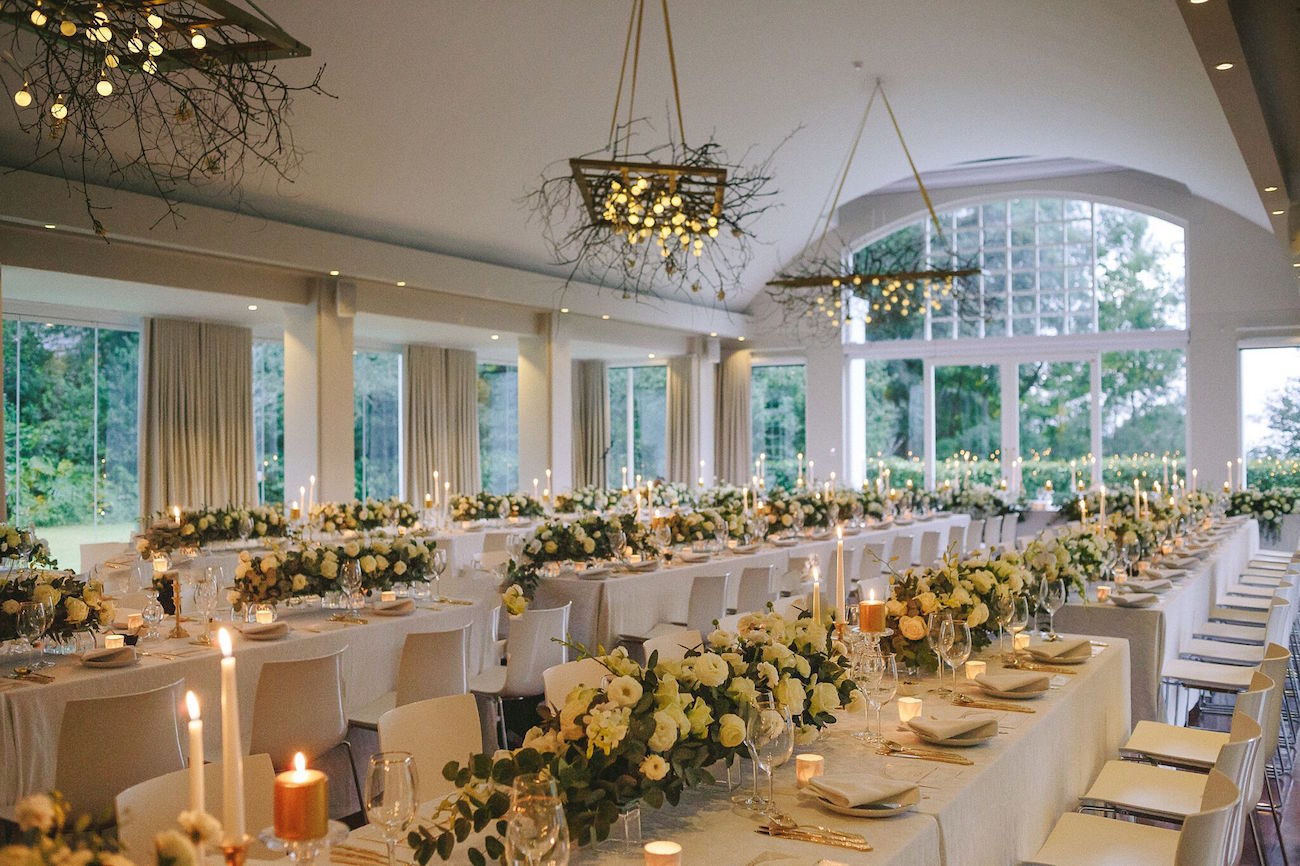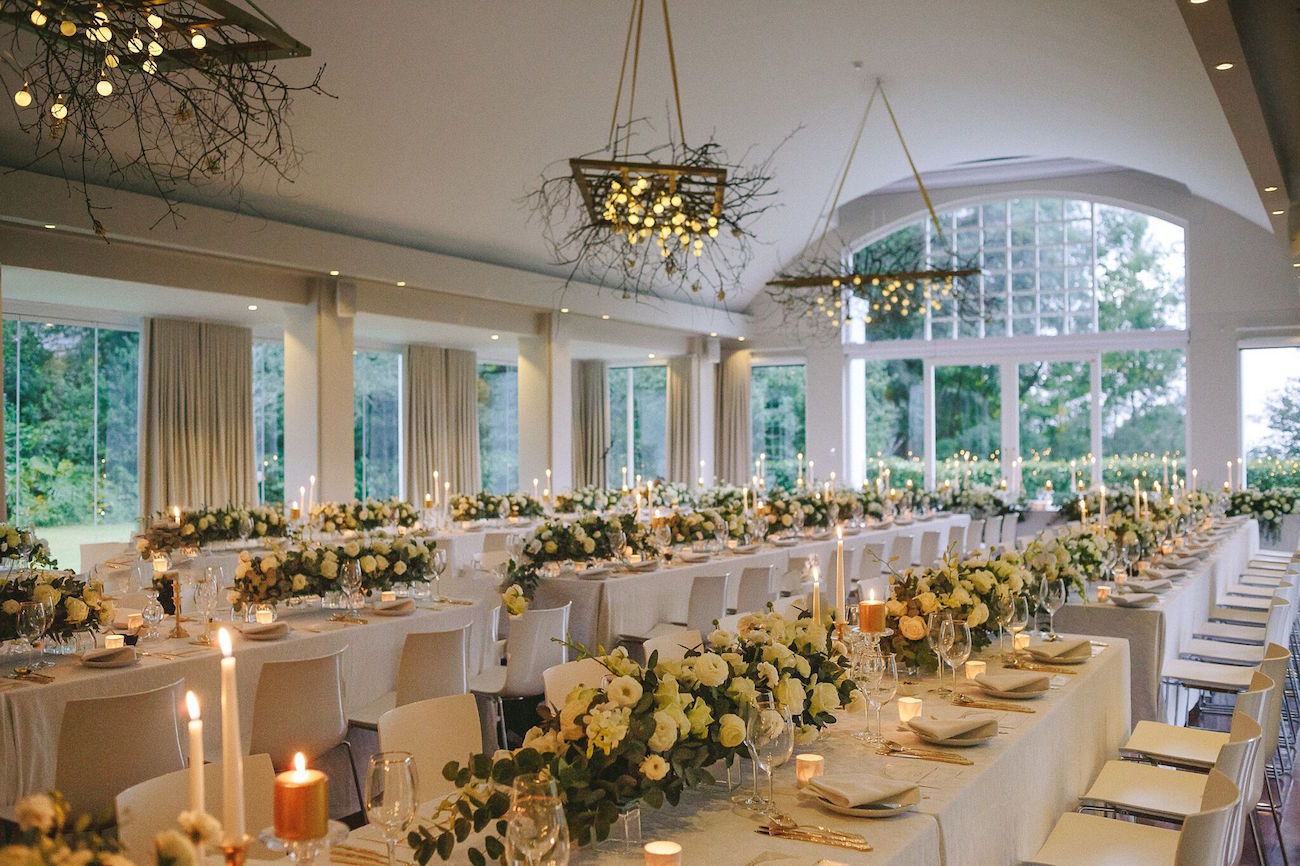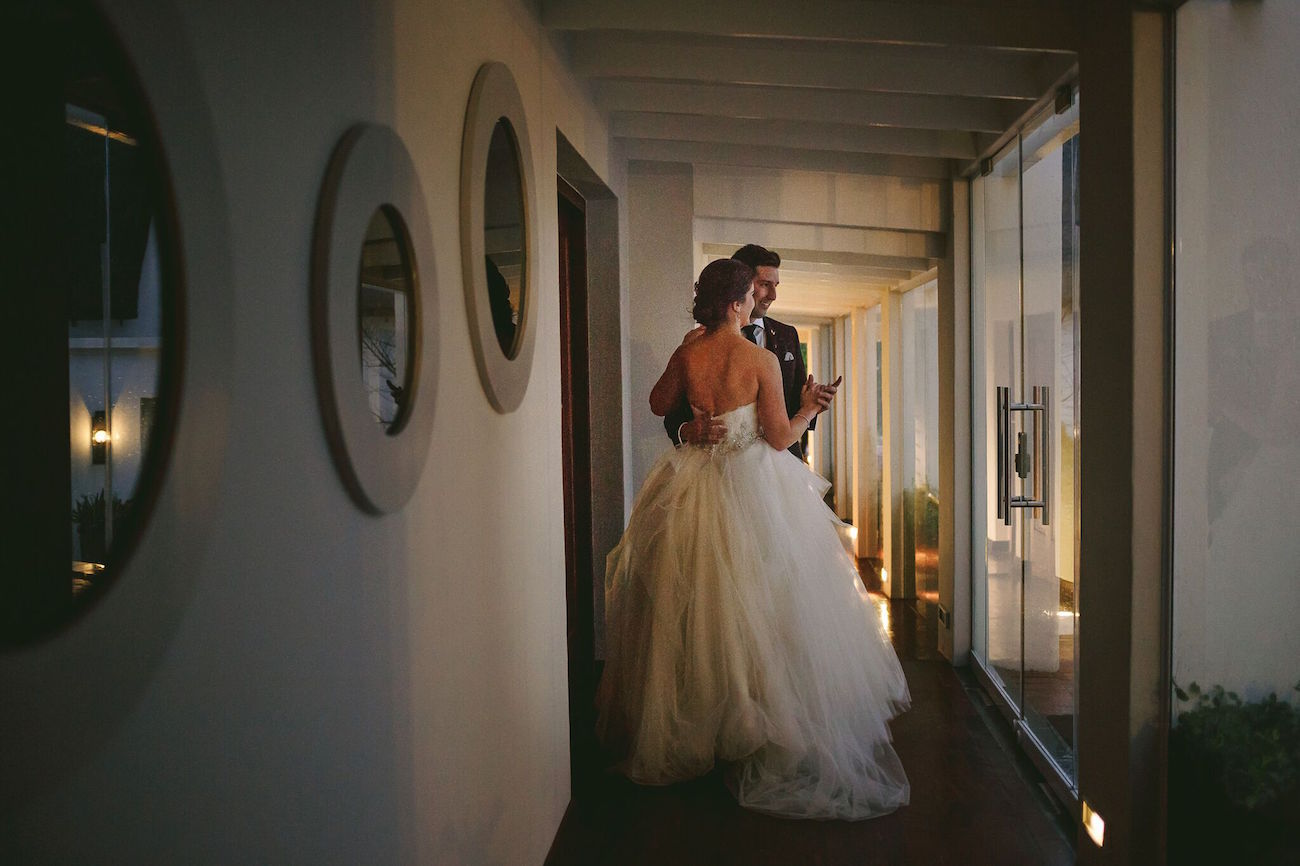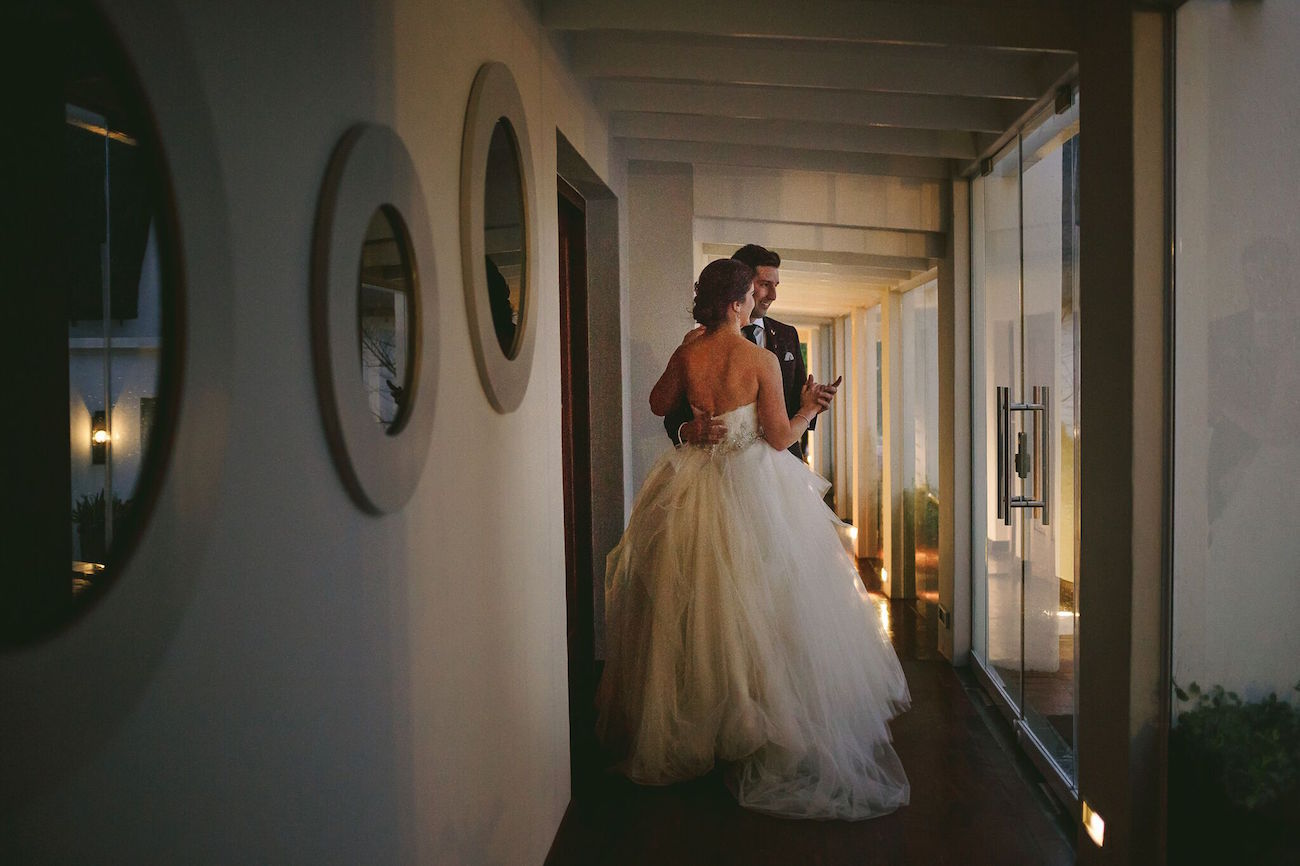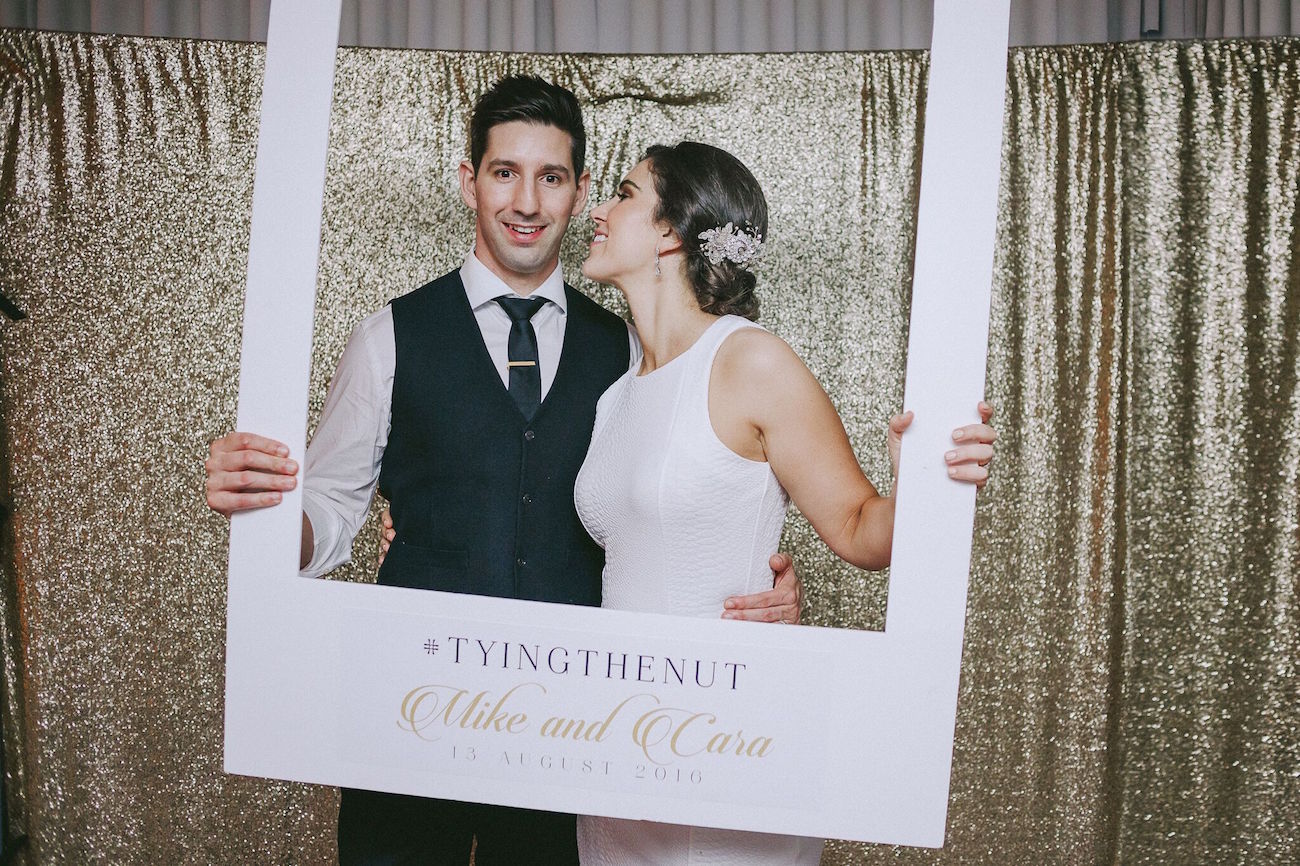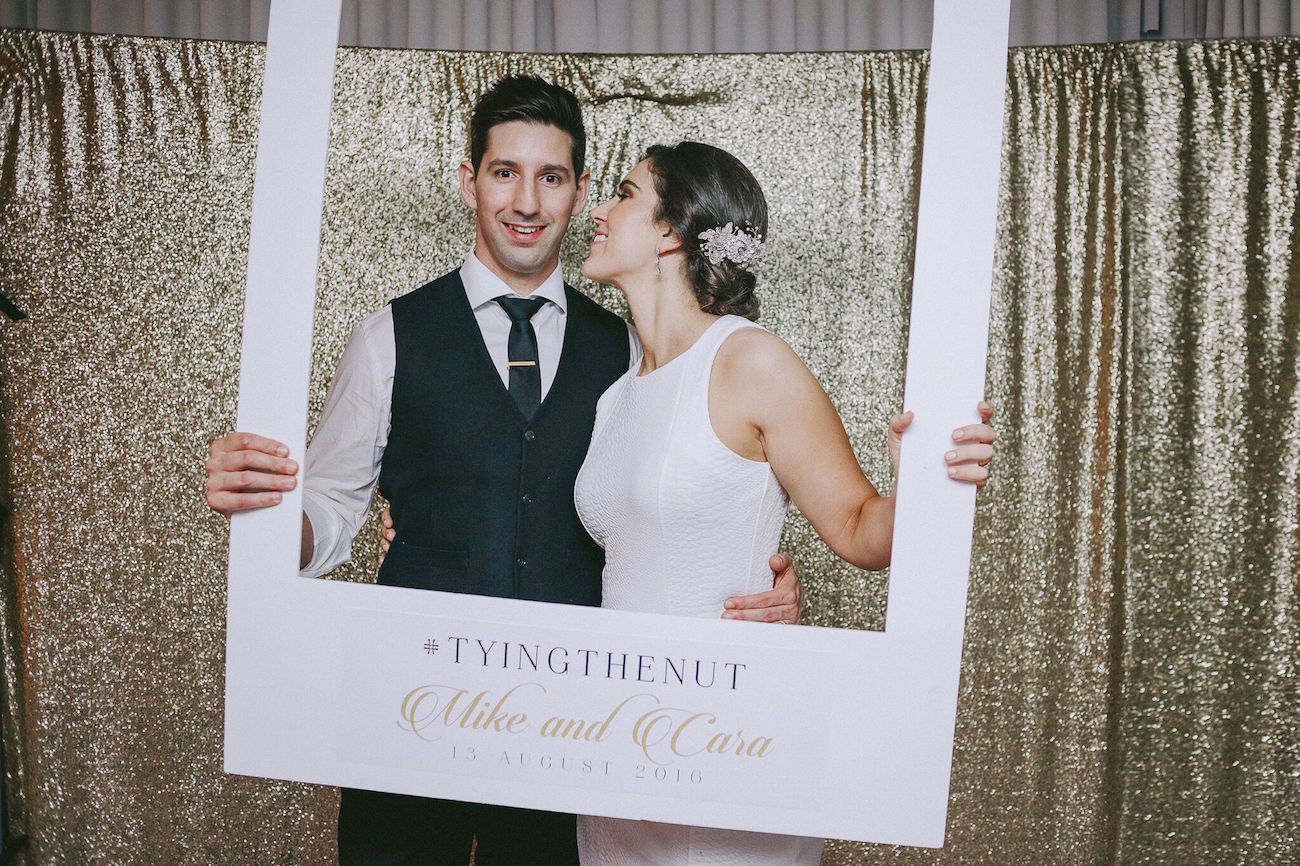 You can see more from this wedding on Jani B's blog.
SERVICE PROVIDERS
Reception venue & catering: The Forum's Embassy Hill | Ceremony venue: The Church of The Good Shepherd | Photography: Jani B | Co-ordination, flowers & décor: Neva Ward for Bright & Beautiful | Stationery: Lara's Designs | Cake: Ingrid Duminy | Bride's dress: Maggie Sottero at Eve's Bridal Wear | Bride's accessories: Kathleen Barry + Lovisa + Michael Kors | Garter: Agent Provocateur | Hair: Carlton Hair Cavendish | Makeup: Camilla Corder | Bridesmaids' dresses: Phenomena at YDE | Groom's attire: C-squared (suits) + Moi Styling (waistcoat) + Fabiani (shoes) + Happy Socks (socks) + W.Collection at Woolworths (ties) | Hiring: Something Borrowed + Functions Decor & Hiring | DJ: Legacy of Sound | Entertainment: Kai Connor 




Save
Save