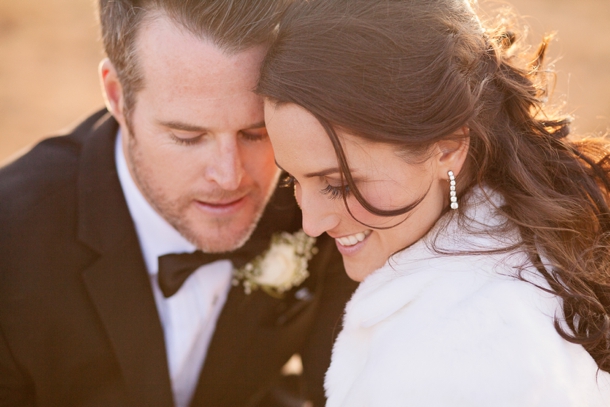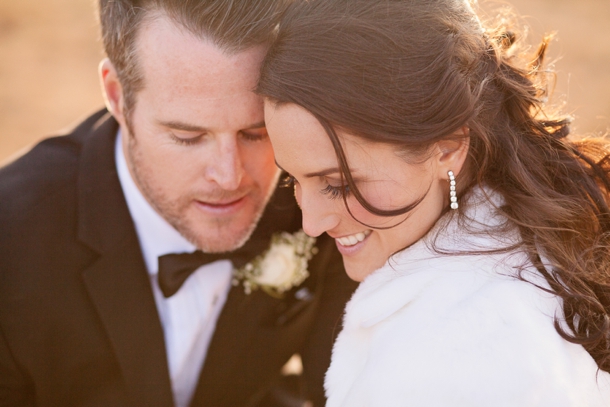 You know it's going to be a good day when a wedding from Fiona Clair is on the schedule. I love everything about her images (which is why I asked her to do my last portrait shoot) – so crisp and gorgeous and full of colour and light. Plus, she seems to attract some of my favourite brides and grooms, couples who are beautiful inside and out, and whose weddings are equal parts personal, romantic and stylish. You don't need to look further than today's elegant winter wedding to see what I mean – this really is both how to rock both a monochrome colour palette and a cold weather reception (fireplaces and gluhwein, yes please!). And to top it all off, bride Tamara is wearing a breathtaking gown from another SBB favourite, Casey Jeanne. Sigh. Yep, it's definitely going to be a good day.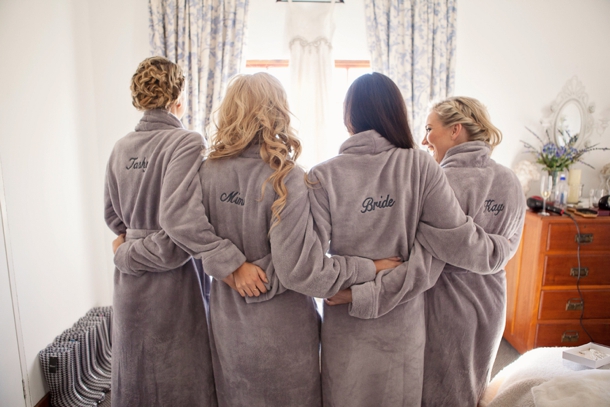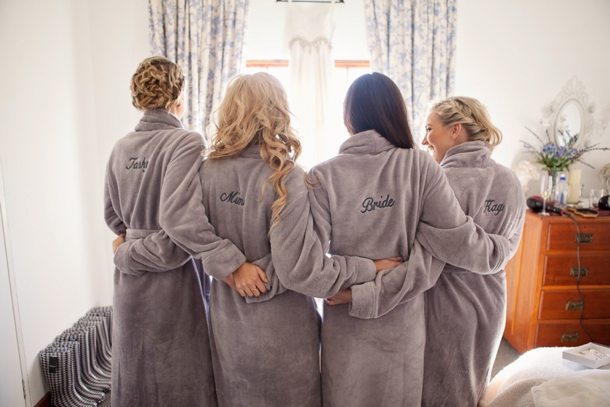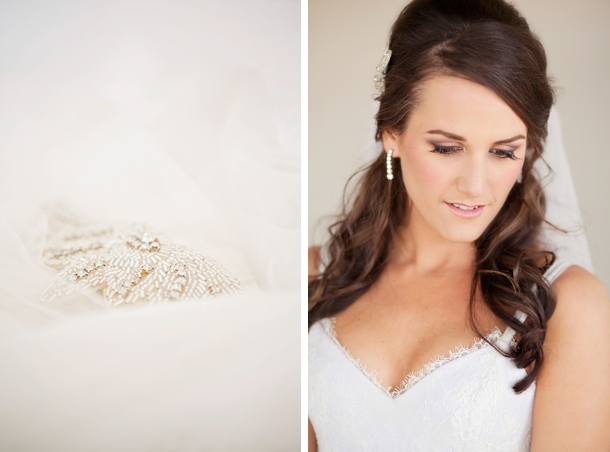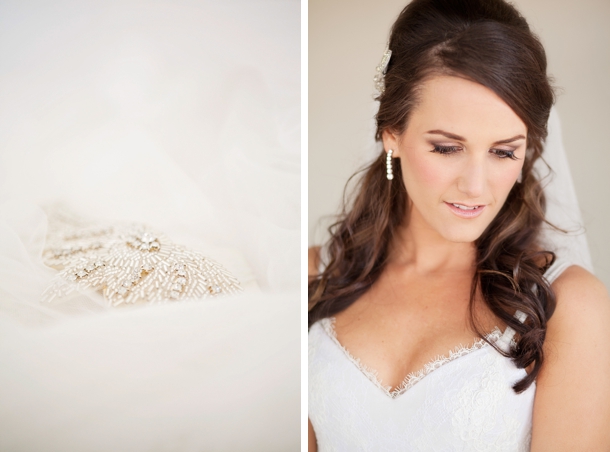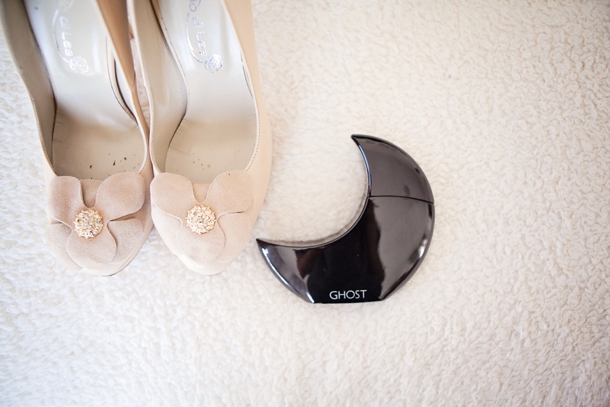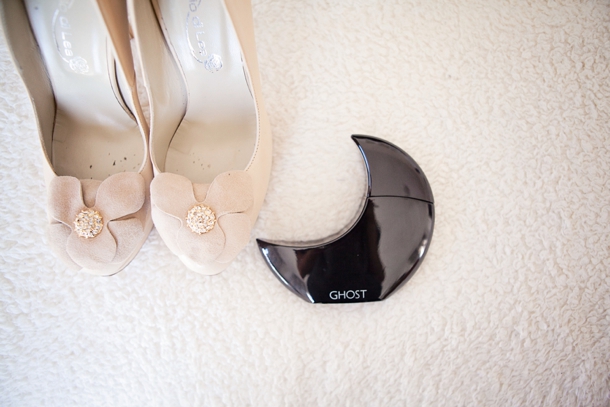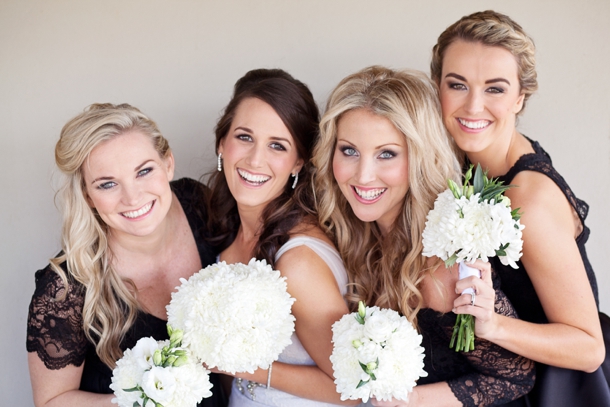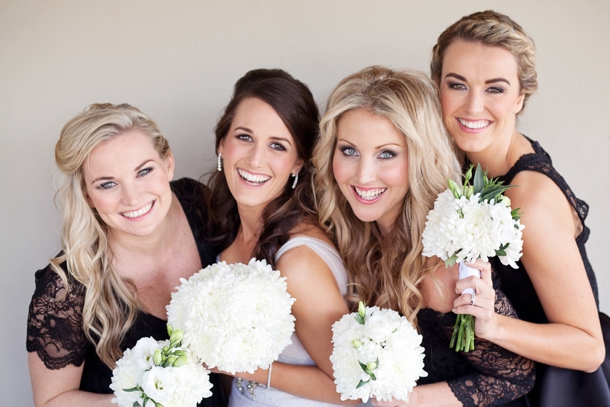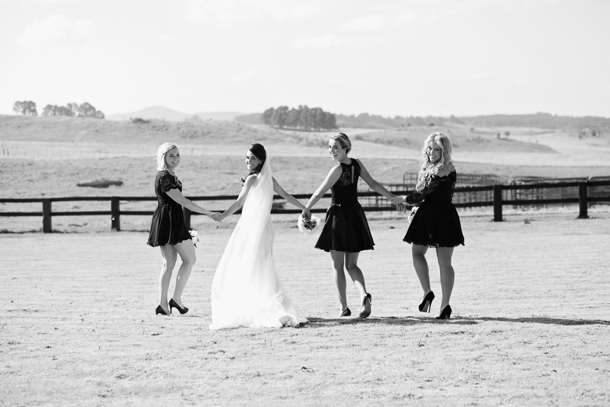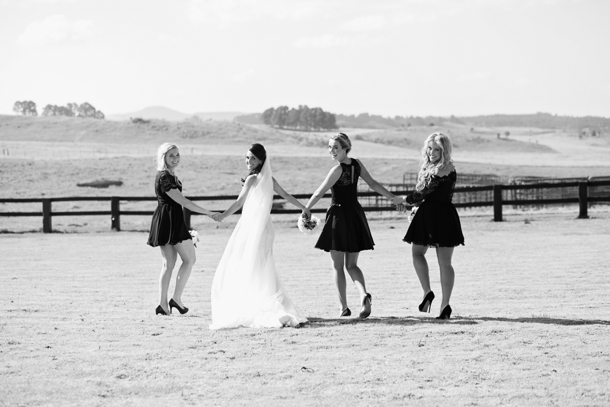 Love Story
I first met Paul when I started working for his promo company; we were both in long term relationships at the time. But apparently Paul had such a crush on me… I had no idea! Three years passed before we saw each other at an event where a mutual friend of ours won a trip to Cape Town and took us away that very day. There was instant chemistry as we shared our first kiss while the sun set over Camps Bay. I knew very soon into our relationship that Paul was The One.
The Proposal
The proposal was something out of a dream for me. I was hoping that he would ask but had no idea that he was going to do it on a ski trip. We planned to go to Livigno to snowboard with a group of close friends. The one evening we all went on a snowmobile ride. It was the most perfect evening: clear skies with a huge moon lighting up the mountain. At one point the guide stopped on a frozen lake for us to get off and walk around before heading off to a restaurant for dinner. It was freezing, and I didn't want to get off the mobile, but Paul asked me to take a little walk with him. Not thinking anything of it, we walked in front of where all the snowmobiles had parked in a half moon shape with their lights turned on. He then stopped me and hugged me, and began to tell me how much he loves me, still at this point I had no idea! Only when he got down on one knee did I realise what was going on! I was completely shocked! I just kept nodding my head and saying yes. I couldn't get my gloves off quick enough for him to put on the ring! It was so special and meant to so much to me that he had chosen to ask me with our close friends around us, in the snow, on the most beautiful evening.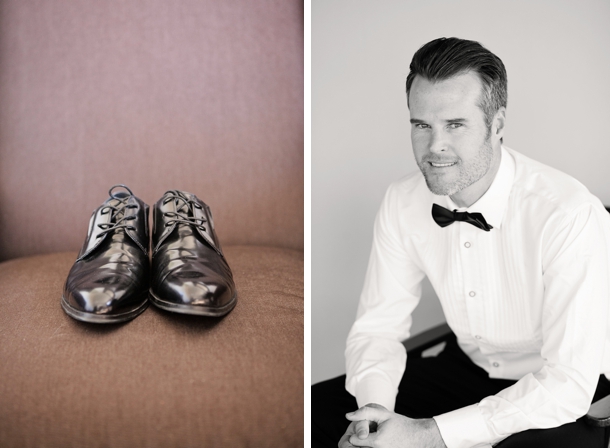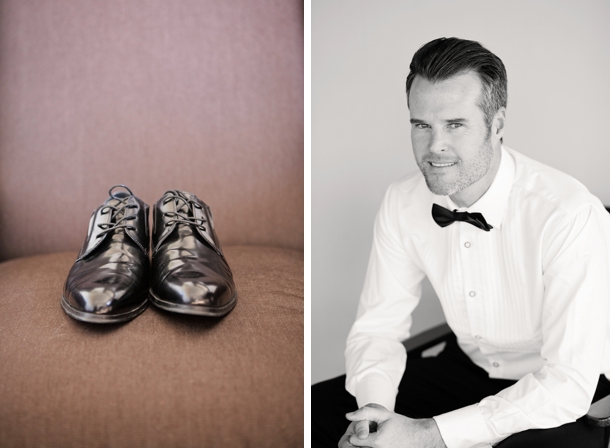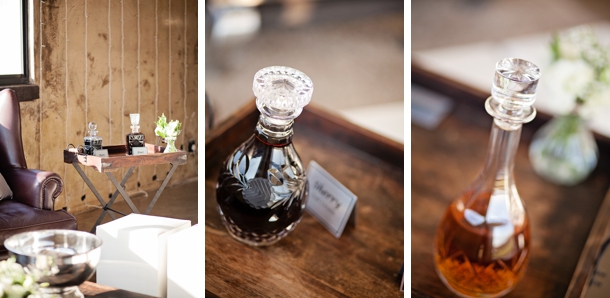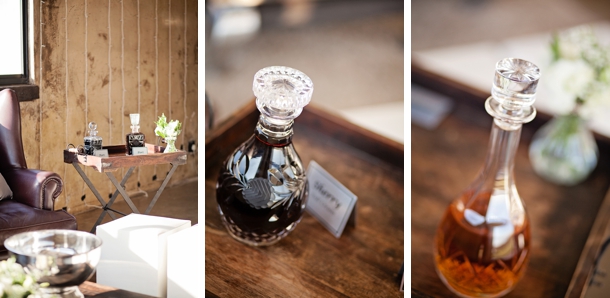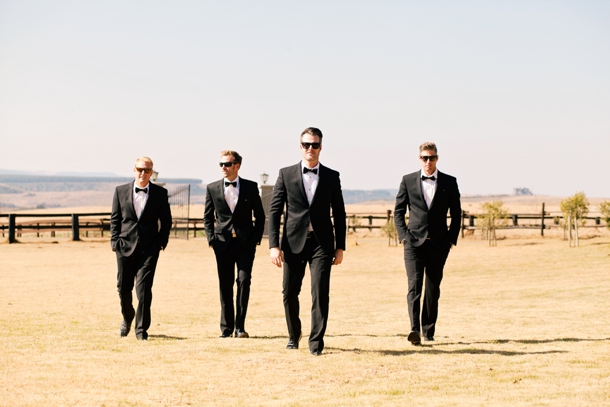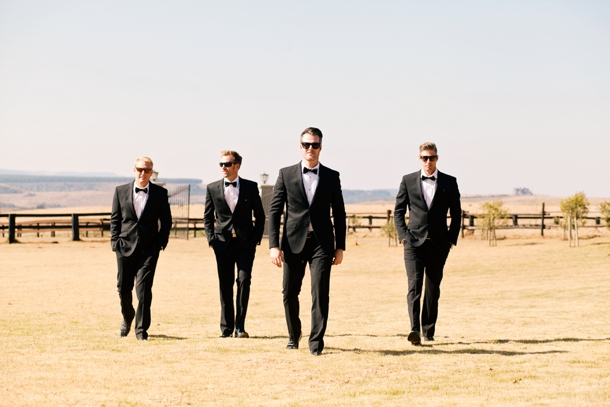 Three Words to Describe Your Day
Family, love, commitment.
Wedding Style
Paul and I both knew that we wanted a winter wedding. We both love the idea of the cold and snow. And it would be in keeping with the theme of our engagement. Winter to us is our favourite time of the year; there is something so romantic and beautiful about it. We wanted our friends to enjoy a winter's day with big faux fur blankets, gluwein, and fireplaces.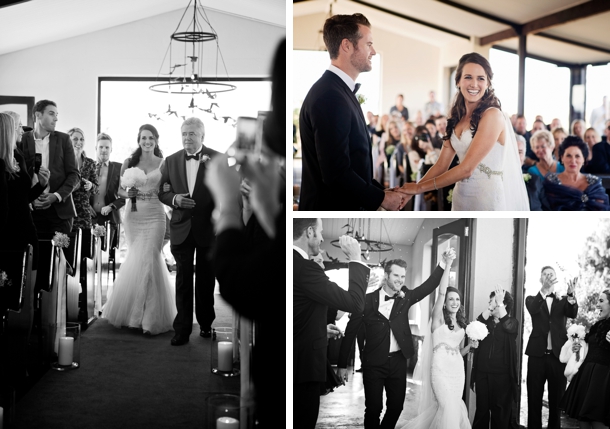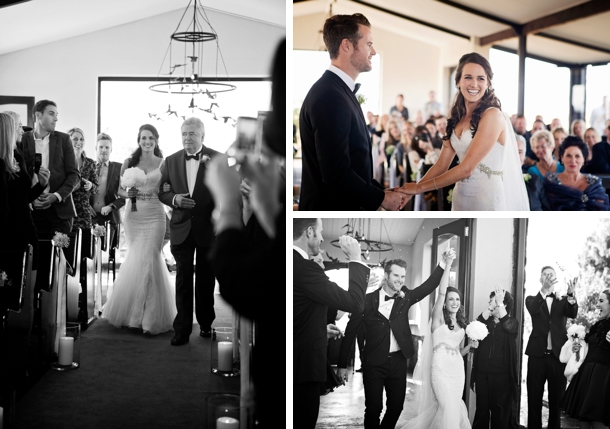 The Venue
I have always imagined having a Midlands wedding. The countryside is so beautiful. It's so gorgeous in summer with all the green fields and trees, but it's even more spectacular in winter. The air is so crisp and clean, you have beautiful clear skies and the fields almost look creamy in colour. So when we went to see Netherwood I knew instantly it was the right place. The manor house was something out of an old movie. It was beautiful and regal with a big fireplace and wooden floors. It was also so inviting and homely which was the perfect place to be staying in during on a cold winter's night. The church is set on top of a hill; it has glass doors all along the sides, which overlooks the whole of the Midlands. You can see the mountains in the distance with their peaks topped with snow and all the beautiful farm lands and stables.
The reception area was also gorgeous! Its high ceilings and beautiful long flowing white curtains and chandeliers were perfect. The glass doors from the ceiling to the floor overlooking the garden and their little dam were magical. We pictured our guests on the lawn warming themselves up with blankets, gluwein and snacks watching the sun go down, then enjoying the warmth of the four fireplaces in the venue in the evening. It was exactly what we wanted!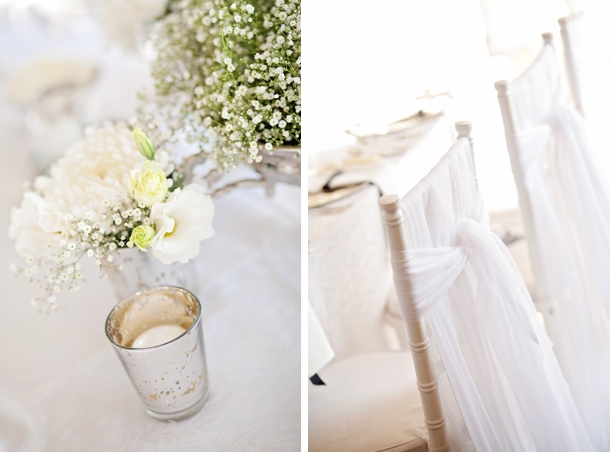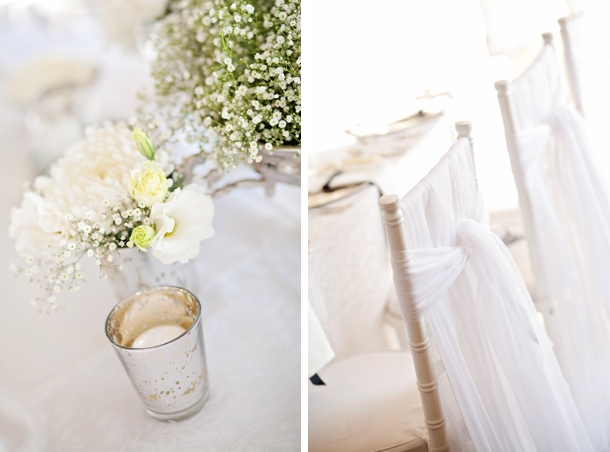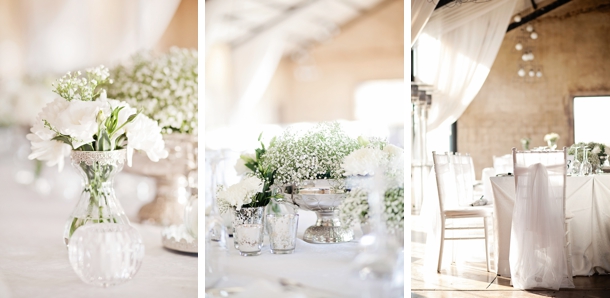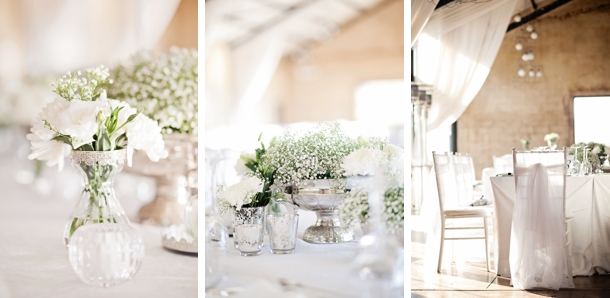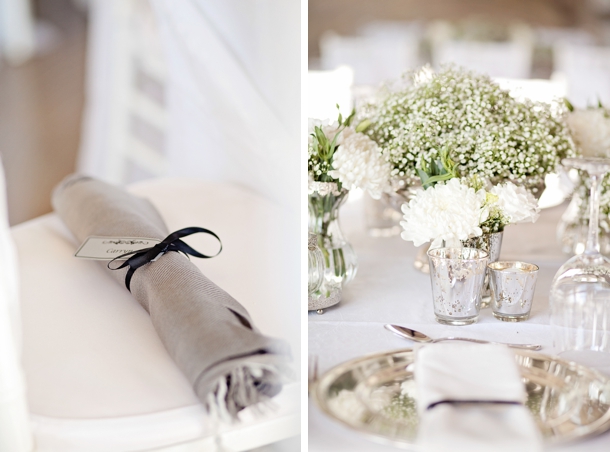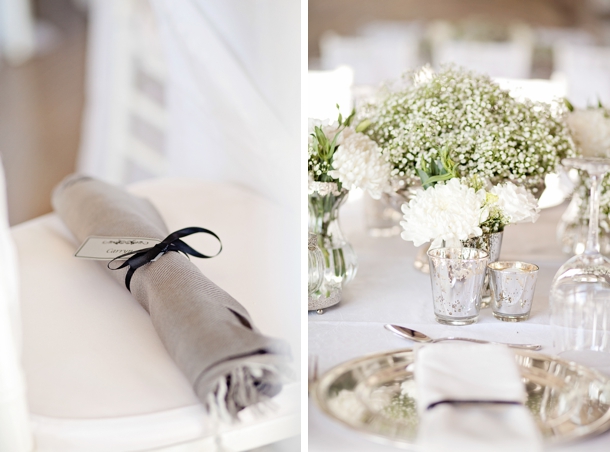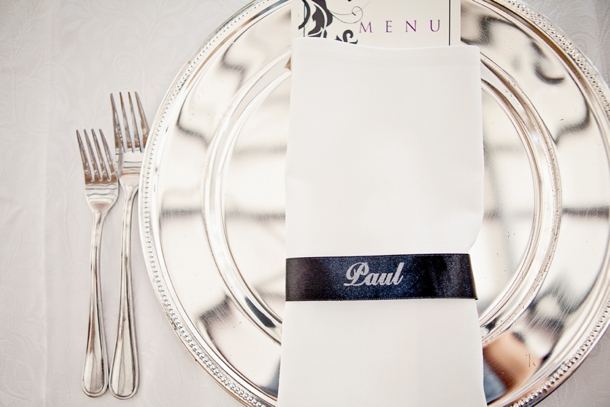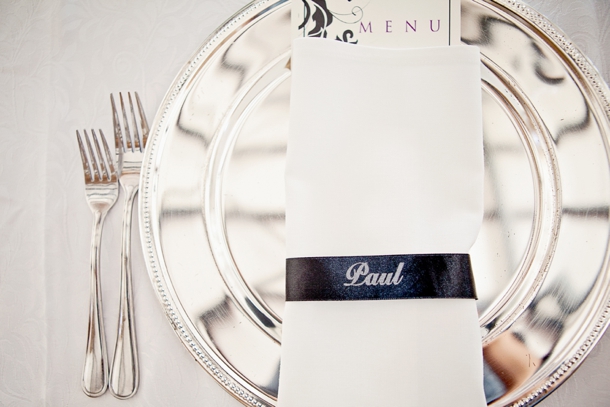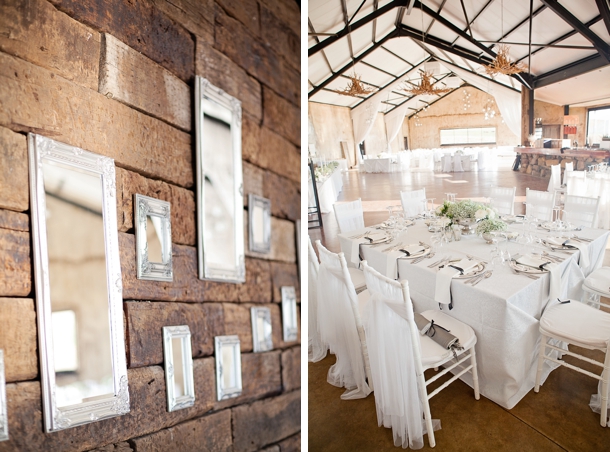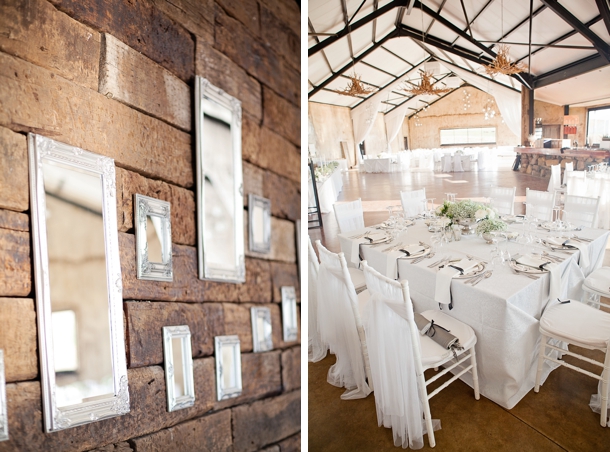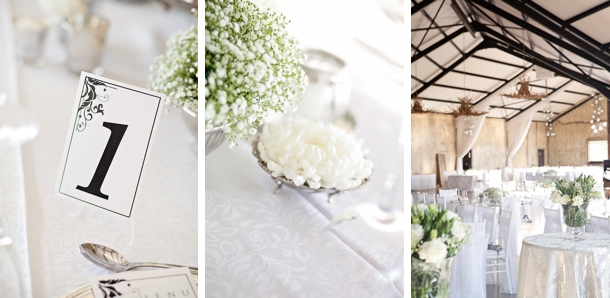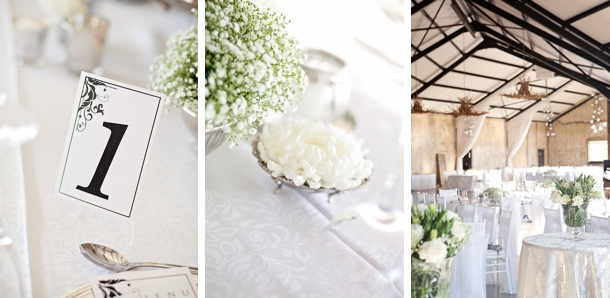 Wedding Details
I think our wedding day definitely showed our love for our family and friends, and of course our fun side. We wanted out guests to relax and enjoy themselves and tried to keep the formalities short and sweet. Our main goal was to make sure our guests were happy and warm. Both Paul and I have Scottish blood in our family so we knew we definitely wanted to include Scottish bagpipes. My parents had one at their wedding so I kind of wanted to keep with that tradition. We had a band of about eight big pipe players that led the guests down the stairs from the ceremony to the drinks and snacks on the lawn by the reception.
Paul and his friends also love golf! So we got a set of clubs and a lot of golf balls and let the boys show off their stuff while the girls chatted and enjoyed the winter sun on blankets. Paul and I both had lost a family member before the wedding and we wanted to make sure they were remembered on the day. We had their pictures framed and placed them in the church and at the reception. I also think our first dance summed up our personalities well – it was quirky, fun and romantic. We danced to Jason Mraz and Colby Caillat – "Lucky I'm in love with my best friend".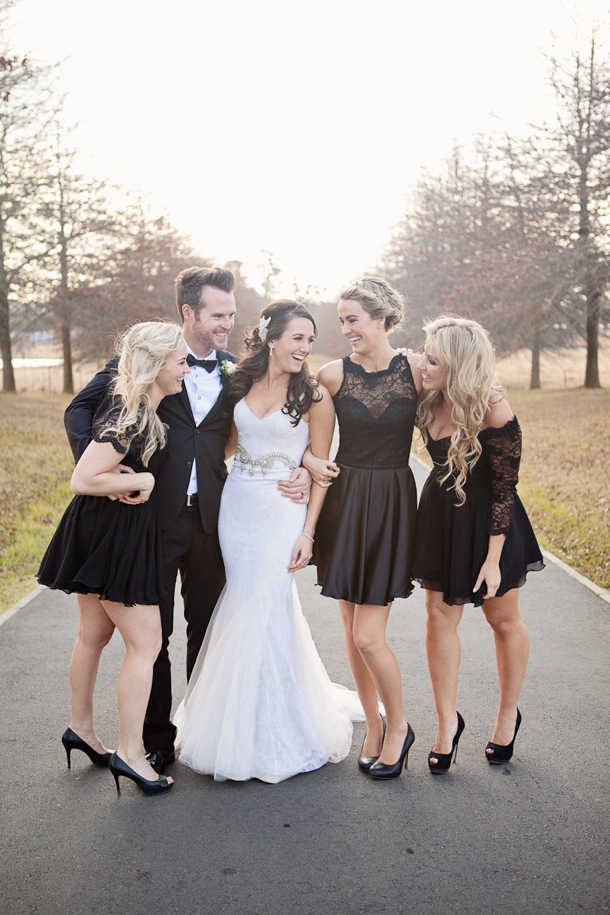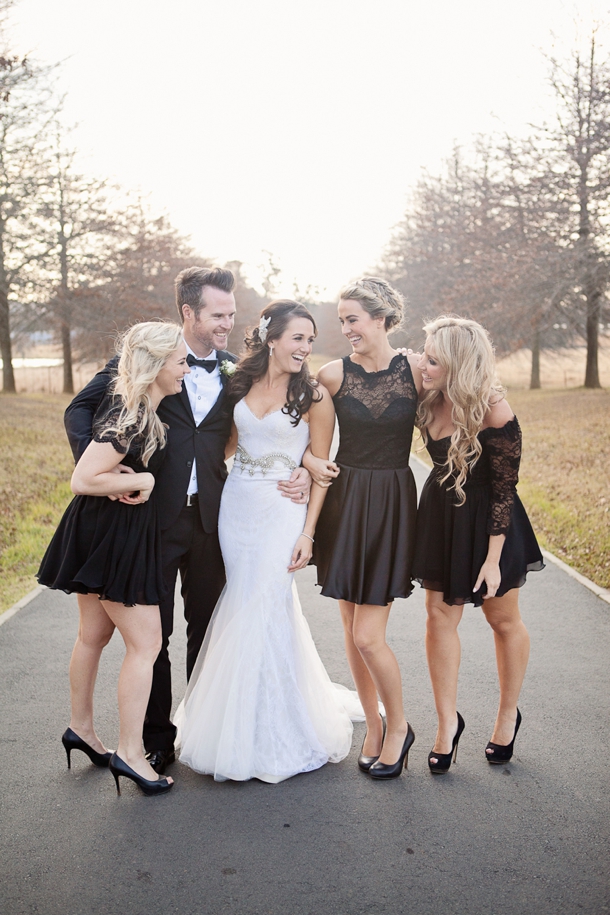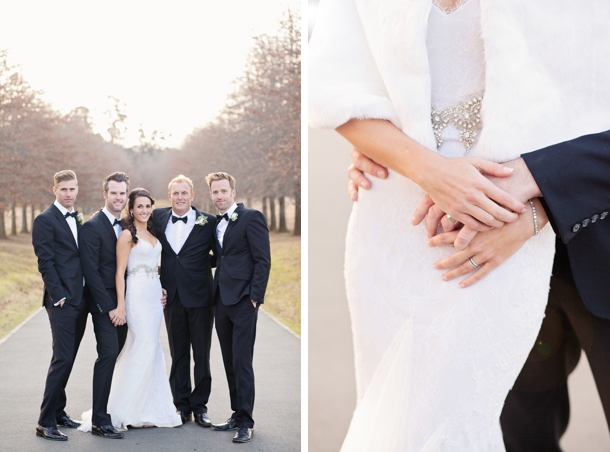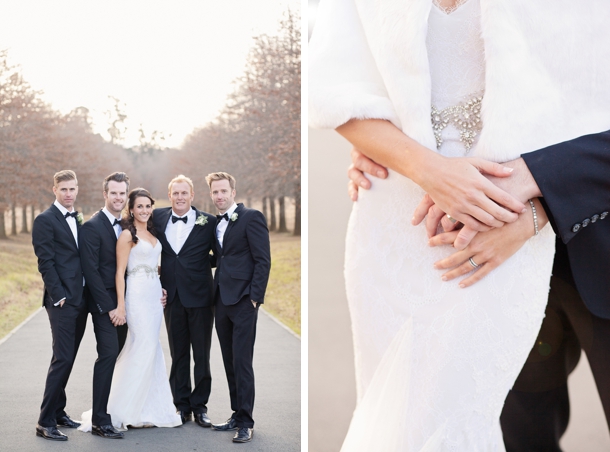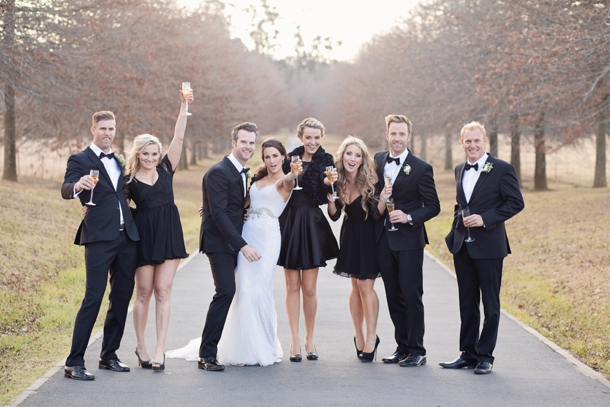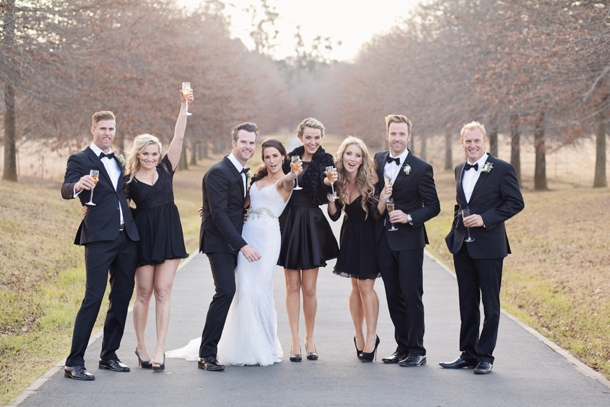 Budget Elements
We had a budget to stick to. My mom was amazing, she knows me better than anyone else. She is brilliant at putting décor together and as soon as we got engaged and decided on the theme for the wedding she started buying little glass and silver antique looking vases, all shapes and sizes, and lots of stuff was bought on sale, so we didn't have to rent too much décor. Afterwards we sold most of it to the wedding coordinator. We also went to a fabric waste centre, where we got a very soft netting to drape and wrap around the chairs so that they had a very romantic feel. The fabric was cheap as we bought in bulk. This we also sold to the coordinator as she can use this for other weddings. The girls at my work were also so helpful in printing all the names for the place cards, the menus, the table numbers, the seating plan and all the cup sleeves for the hot chocolate cups. We also transported as much as we could ourselves and didn't use too many roses; we used other flowers that were in season.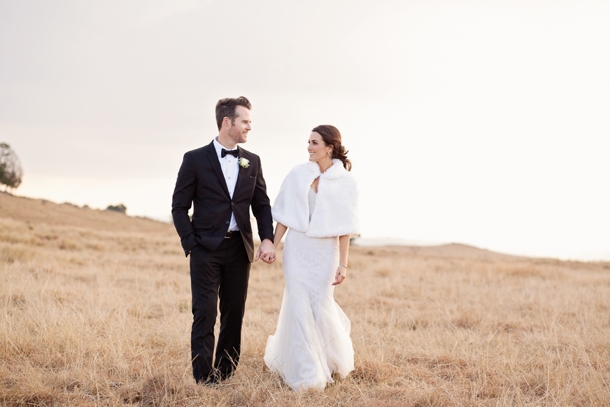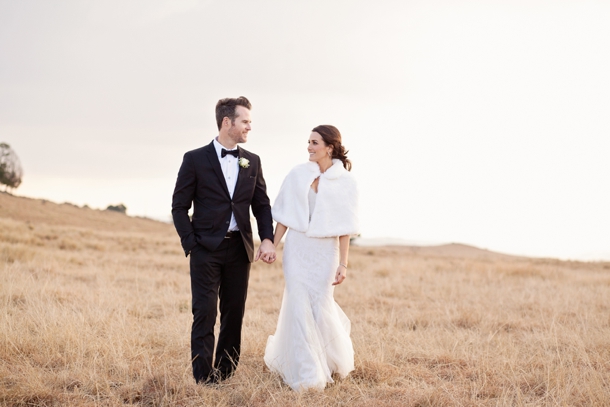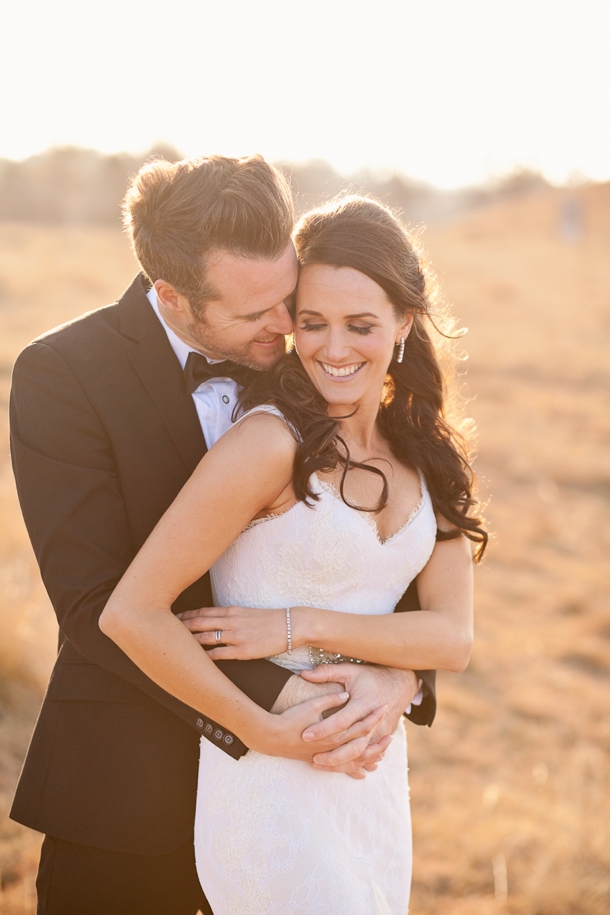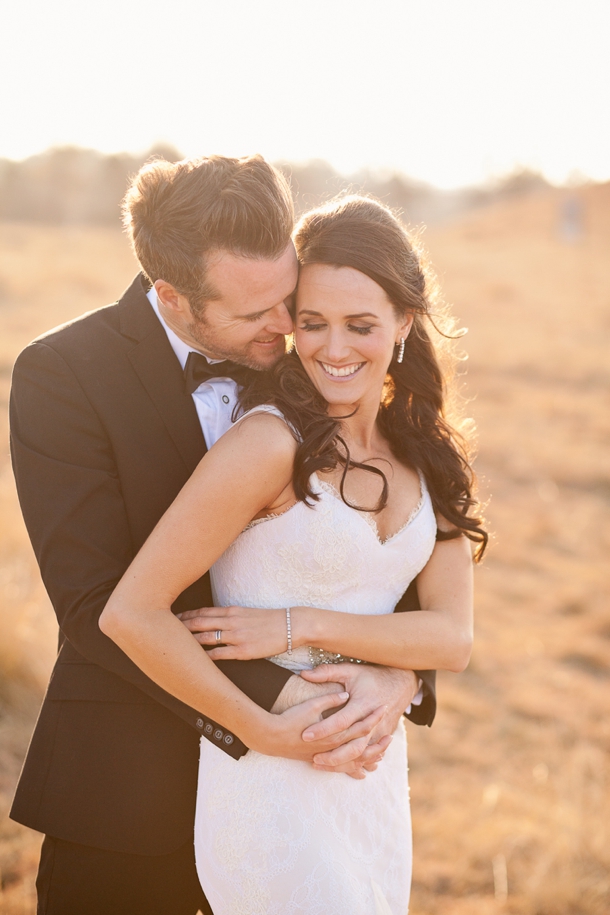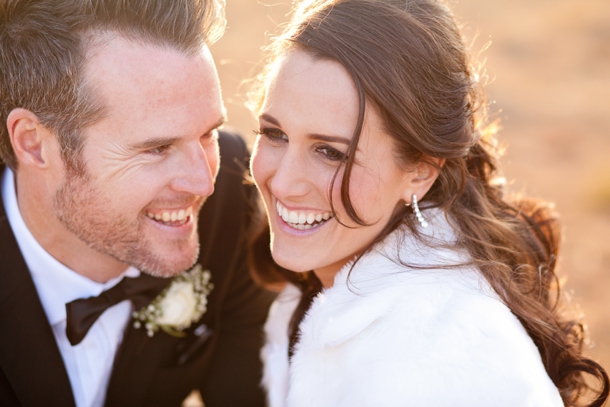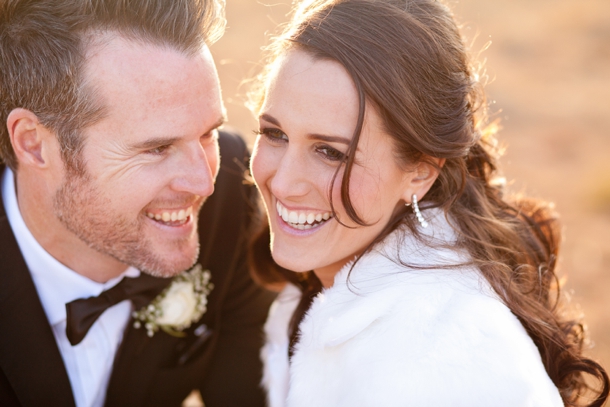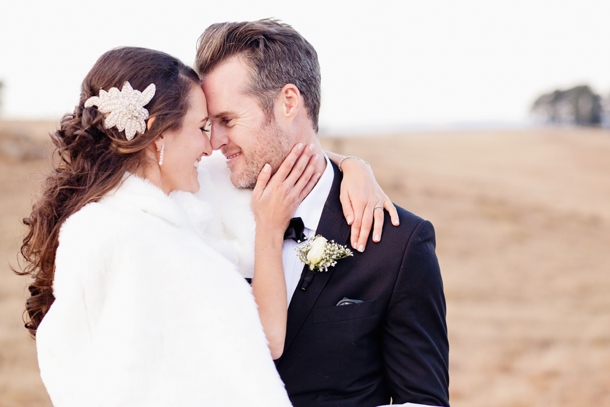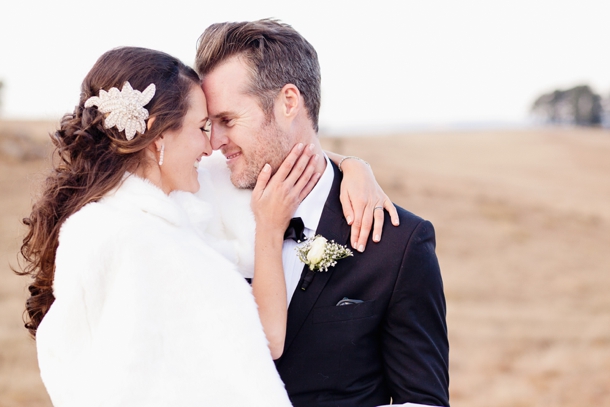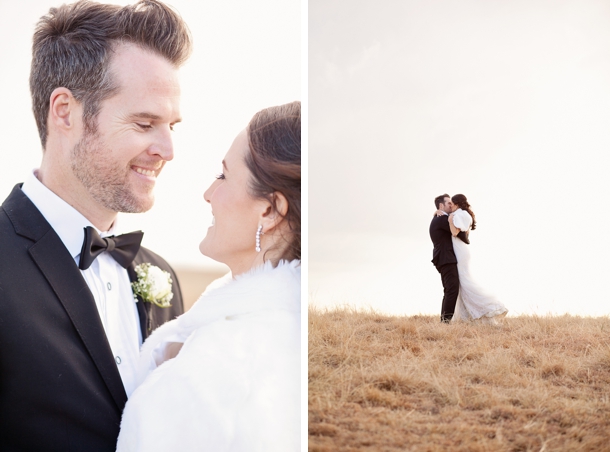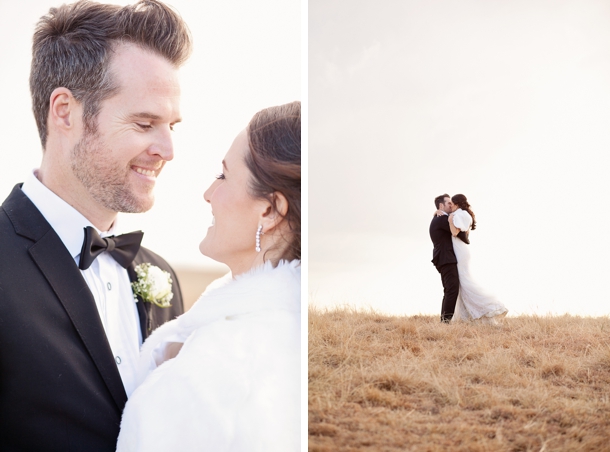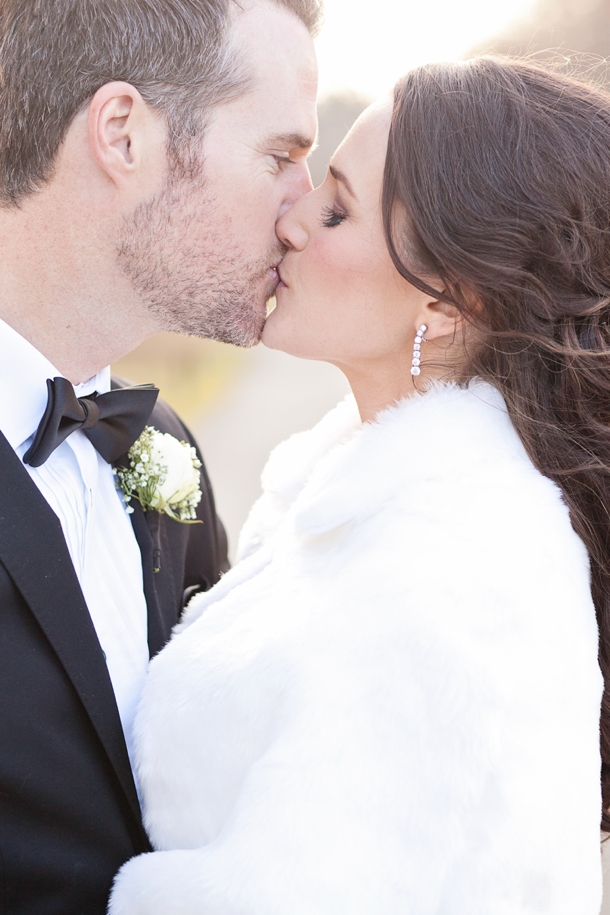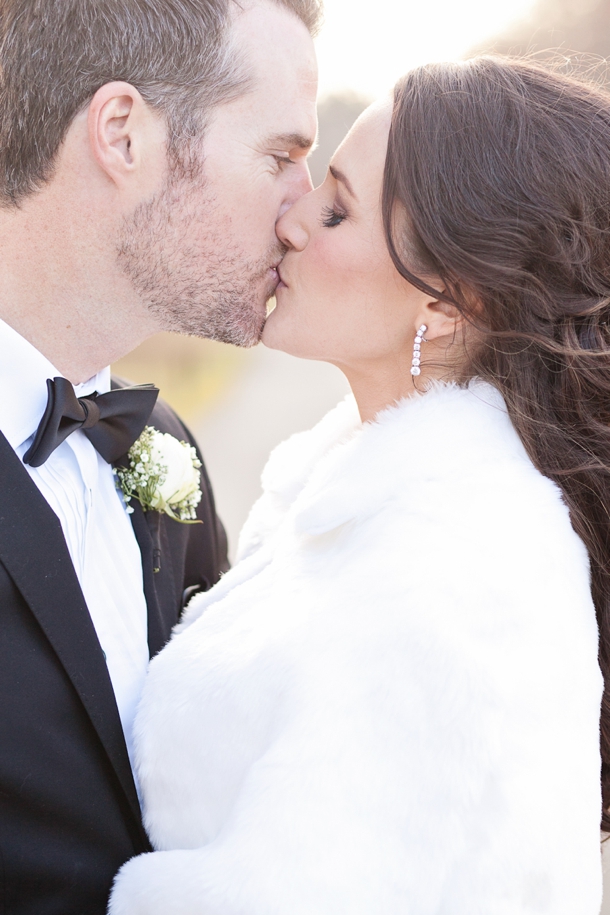 The Flowers
We had an array of different kinds, which were all white. Some were bunched together in an arrangement and some single flowers were placed in tiny glass vases. I love babies breath! I think it's so beautiful. It reminds me of snow so I knew we had to incorporate that into the wedding as much as possible. And we did! It was everywhere.
The Dress
I loved the style of a dress I had seen by a young designer, Casey Jeanne. I met with her and we both just clicked. She knew exactly what I wanted. She found the most incredible lace and fabric. My dress was not all white. The fabric that the lace was on was almost a nude colour, it made the detail of the lace stand out so much. An encrusted jewel belt in a tear drop design finished off the dress perfectly. I also asked Casey to add one special piece of fabric from an item of clothing from my Aunt who passed away shortly before the wedding. We were very close and I wanted to have something of her with me on the day. She cut out a heart from the fabric and sewed it in to my dress right where my heart would be.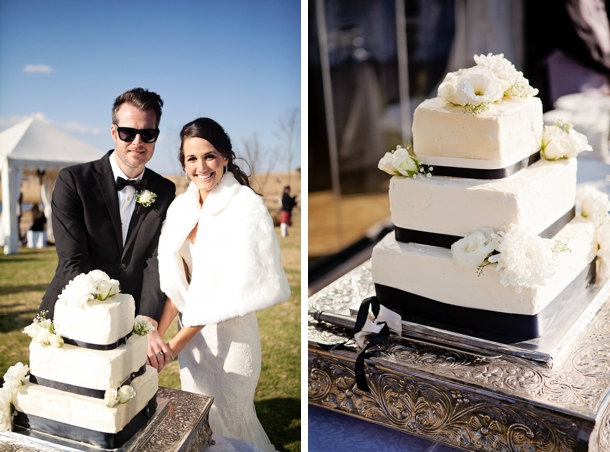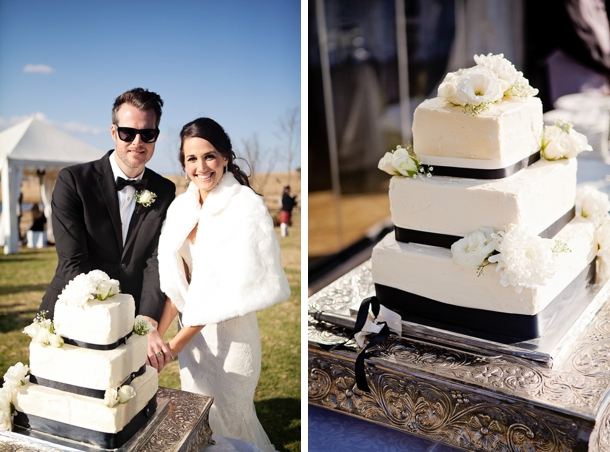 Memorable Moments
It's so hard to pick one part as the most memorable. The day was just amazing, and we loved having all our family and friends in one place and celebrating with them. But there was a moment, just before we entered the church, where my dad and I were outside waiting to go in. It was so quiet, and I could see my dad was nervous and a little emotional. When it was our cue to go in, I just looked and him and said: "Are you ready?" He didn't say anything; he just had the biggest smile. And it just made me realise how lucky I was to be able to share this moment with him, and the rest of my family. Of course kissing my husband was definitely also at the top of the list! I am extremely proud to be able to call Paul my husband. As clichéd as it sounds, he makes me want to be a better person. He is everything I could have ever asked for in a partner.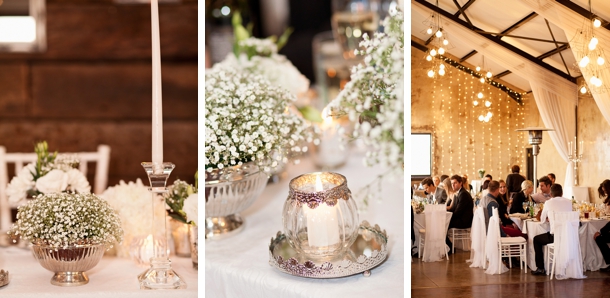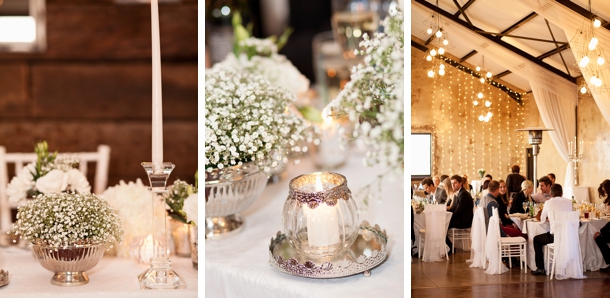 The Honeymoon
I am an animal lover through and through. So Paul and I thought it would be great to work in an animal shelter in Zimbabwe. We were going to road trip to Zimbabwe, work at the shelter for a week and then drive to Vic Falls. Unfortunately our plans were thrown a bit off course as the elections in Zimbabwe were on during the time we wanted to go, and the people who run the animal shelter said it was best not to come then just to be on the safe side. The plan is to still go, hopefully this year. We made a quick impulsive decision to go to Zanzibar instead. We thought a week away relaxing would be great! And it was. We enjoyed being together, just the two of us, enjoying a very chilled beach holiday.
Advice for Future Brides & Grooms
Don't stress! I know easier said than done, but honestly your guests are there to celebrate with you and no one will even notice when something doesn't go exactly the way it's supposed to. Also don't leave things till the last minute! Even when you think you still have time left, things creep on you when you don't even realise. Get your family and friends involved as much as possible. I loved knowing that they helped make our day so perfect and memorable.
We didn't want to get a videographer at first, but then we changed our minds and I am so over the moon that we did! Every time we watch the video of our special day it takes us right back to that moment. Having a video of your day, whether it be by a professional or a family member or friend, is definitely a must.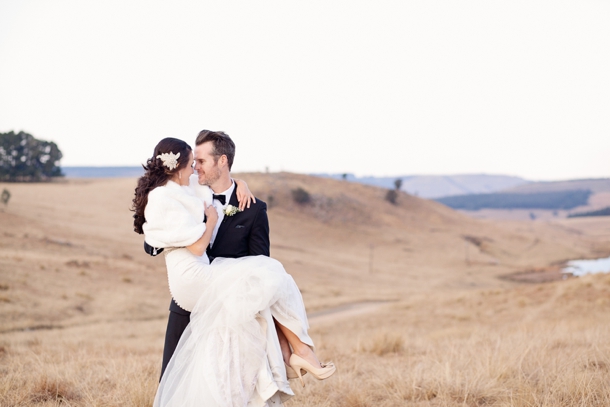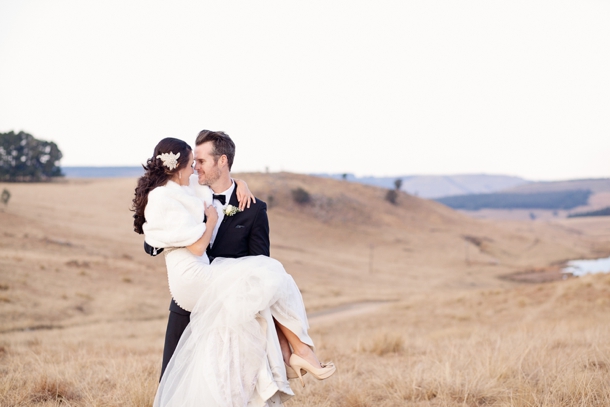 You can see more from this wedding on Fiona Clair's blog.
SERVICE PROVIDERS
Venue: Netherwood | Catering & cake: Food Matters | Photographer: Fiona Clair Hedges | Co-ordination, flowers & decor: Ester from Midland Style Events | Videographer: James Gibbs Studios | Stationery: Crystal Print SA | Bride's dress: Casey Jeanne | Hair & makeup: Lindsay Nixon | Bridesmaids' dresses: Carol (dressmaker in Durban North) | Groom's attire: Suit Yourself | DJ: Silver Back Production | Tents: Timeless Tents