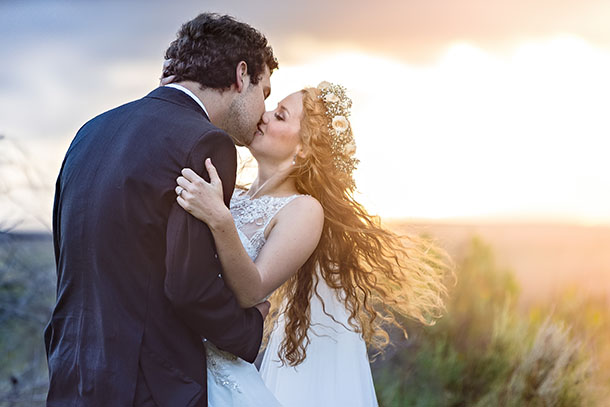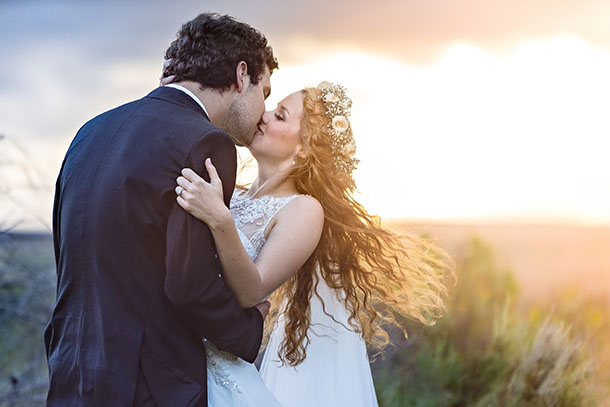 Every wedding we feature here on SouthBound Bride is special, but some are absolute heart-melters, like this gorgeous boho forest fairytale from the lovely Jo-Ann Stokes, which includes the most spectacular couple shoot images! You won't believe this, but it was pulled together in SIX WEEKS. As in, total. Which is pretty incredible by anyone's standards. Of course, the only way to accomplish such a feat of wedding planning is to get friends and family involved, and that's exactly what Chris and Christine did, right down to Christine's amazing dress made my her mother-in-law and crown of flowers made by her sister-to-be. These two have such a lovely, earthy vibe, right down to the words Christine used to describe their big day: "Love. Bliss. Petrichor." Even I had to look that last one up, and it's my new favourite word – it means the smell of rain on dry earth. Which, I thought to myself, in some ways is exactly what love is. The coming of rain – a blessing, a miracle. And the perfect way to sum up the boho perfection of these childhood sweethearts' big day.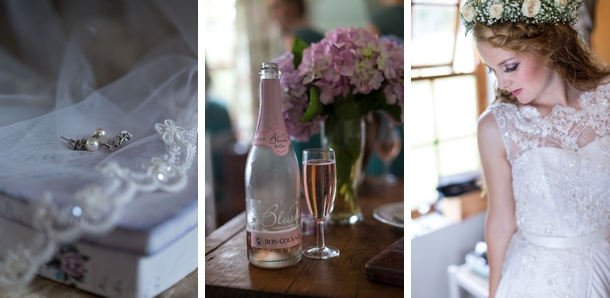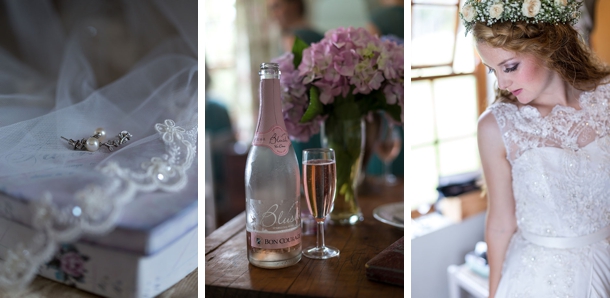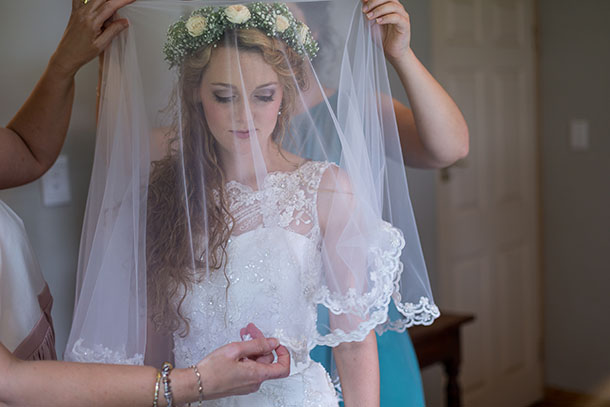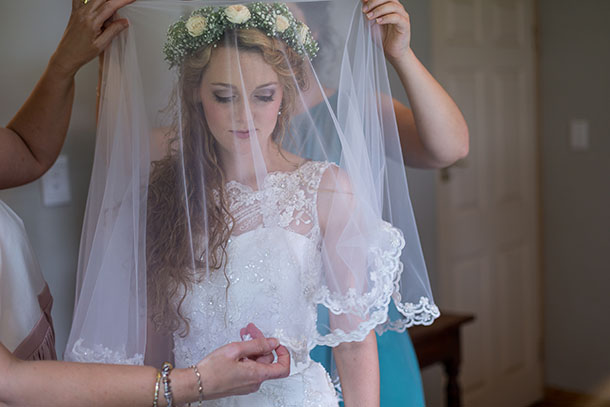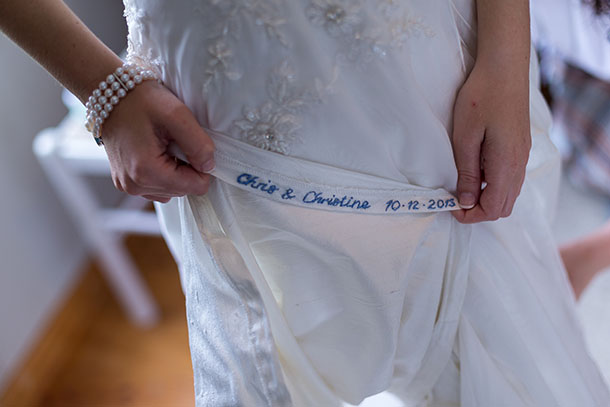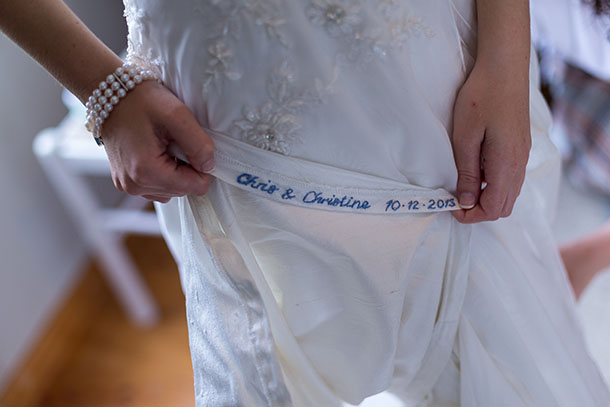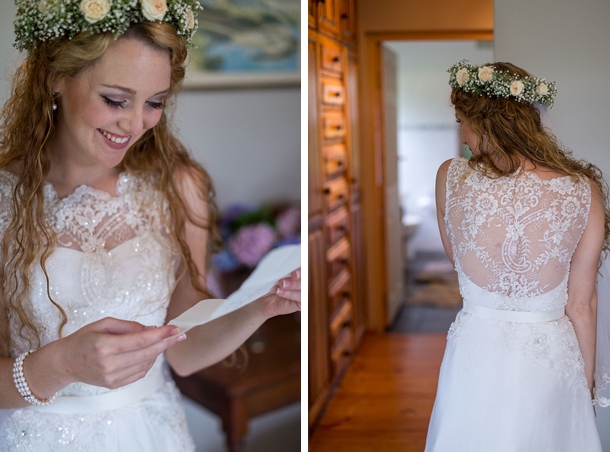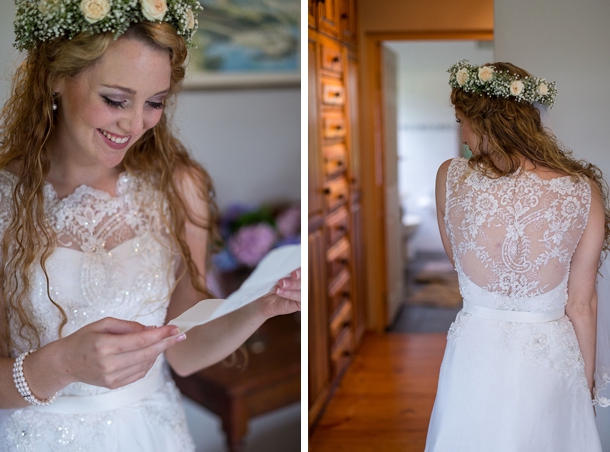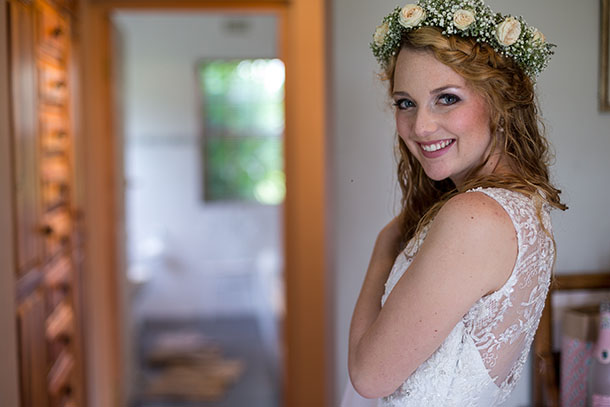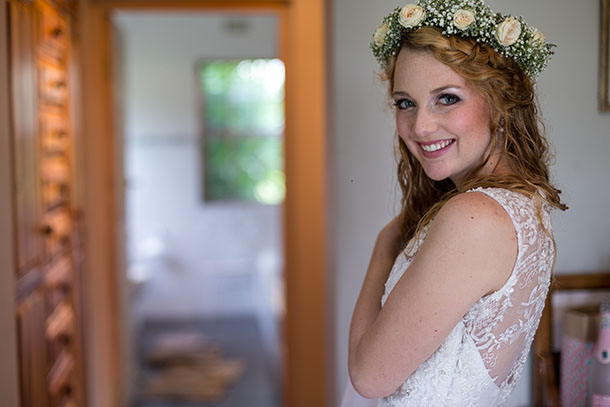 Love Story
Chris and I first 'met' on the preschool playground but our love story only started years later when we discovered we had beach houses at the same sleepy seaside town. There we walked around the block for hours and hours, absorbed in each other's company and totally losing track of time. When it was time to go back to school we never knew how to handle the obvious mutual crush, but I always knew that we were meant to be; I even told my mom three years before Chris and I started dating that I was going to marry him one day. Chris and I always laugh about a school play we did together as part of a group; lets just say we did not see eye to eye and I had my revenge by organising a silk soldier suit for him. Chris (finally!) asked me out in Matric and almost five years later he proposed. Even after all this time, he still gives me schoolgirl's butterflies!
The Proposal
Chris actually proposed twice! The first time it was an unofficial proposal, as he did not have a ring yet. It was so out of the blue. We were hiking up Lion's Head after coffee with a very inspiring married couple. Halfway up, when I was totally out of breath, red in the face and sweaty (regretting not exercising enough) Chris asked me to turn around. When I looked he was down on one knee. It was such a beautiful moment, we both cried.
The second time Chris popped the question was when we had chosen a ring. It was outside a little country church in the pouring rain – and like a scene from a movie. What I loved about the proposals was that they were spontaneous, no stress and super romantic.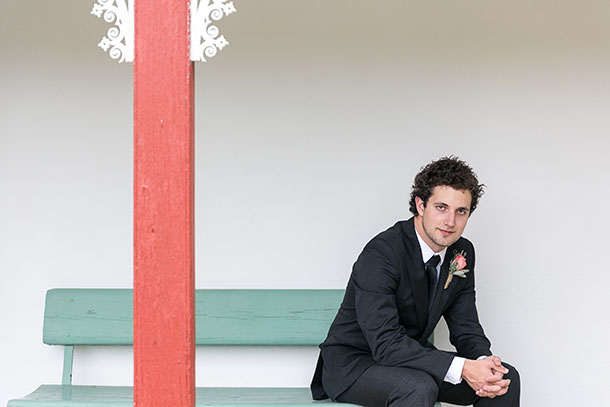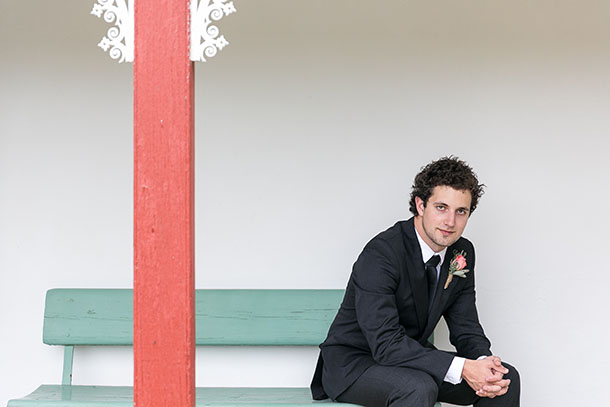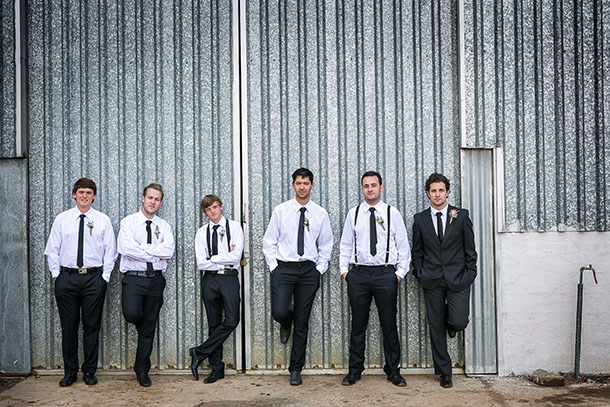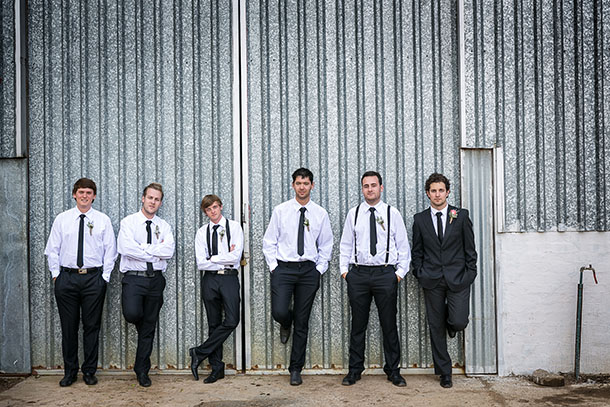 The Venue
Beloftebos is truly such a special venue. I found it on the internet a while back and fell in love. When we had to choose, this was my first choice. I don't think you can get a more personal, rustic, yet very classy and romantic wedding venue. The fairytale setting beneath age old oak trees transports you to a dream world and guarantees a magical wedding day.
Wedding Style
We did not decide on a theme, but when I asked my very talented sister in law to help out with stationery designs, she did an amazing job, which immediately set the tone for our wedding. The exquisite wedding invitation with a tree with little hearts for leaves worked for the wedding program, the menu and the wedding favours. It echoed the beautiful woodland venue we chose. After hours on Pinterest I had many teal and coral palettes I liked, but decided I wanted natural greens and blush, and it toned in perfectly in the fairytale forest of Beloftebos.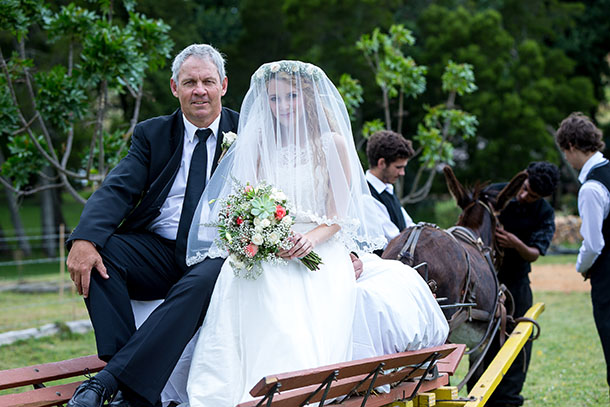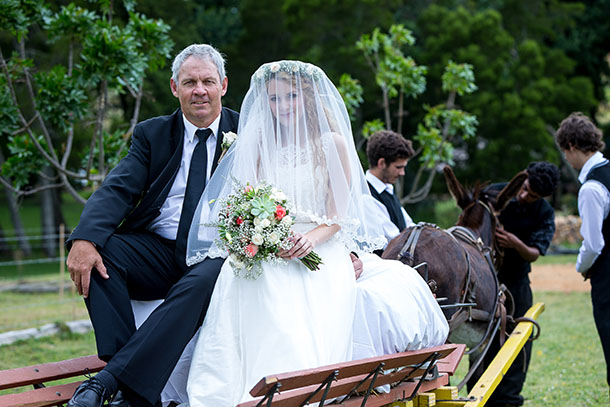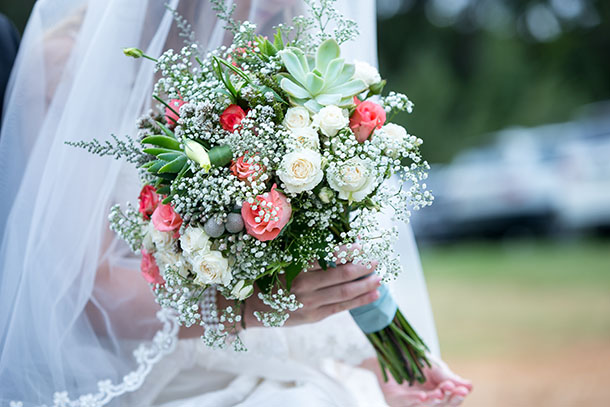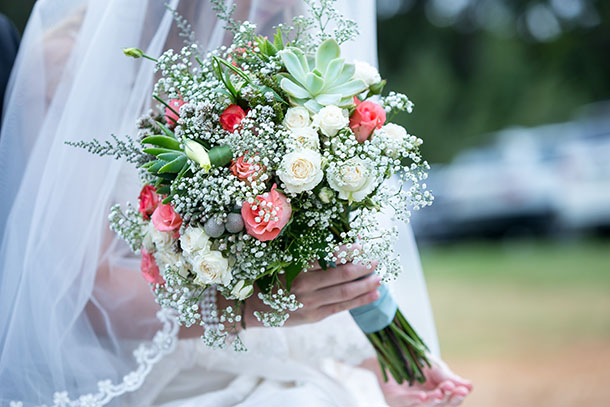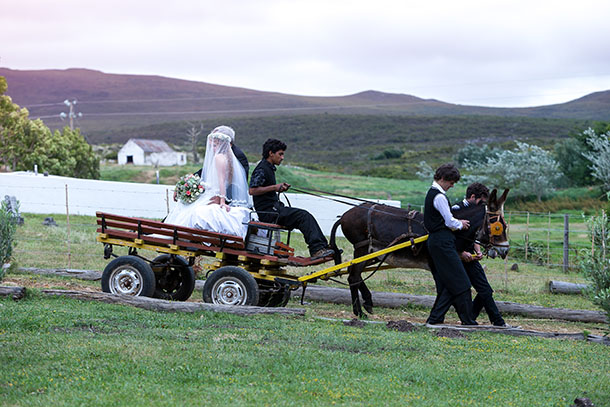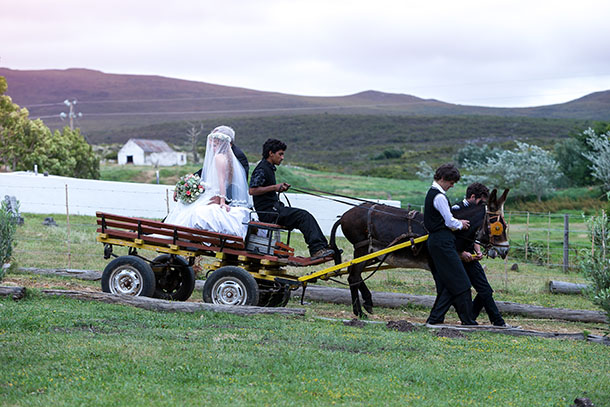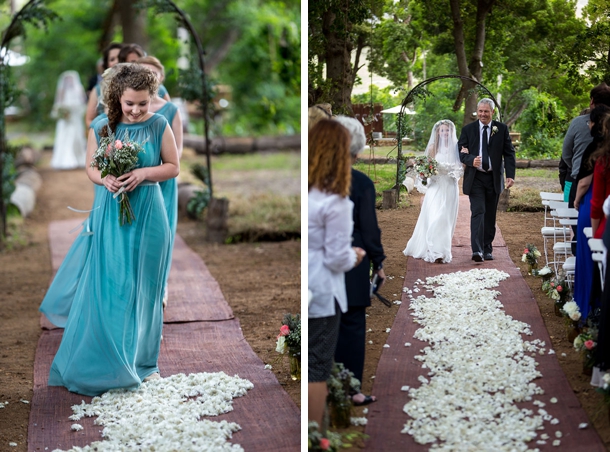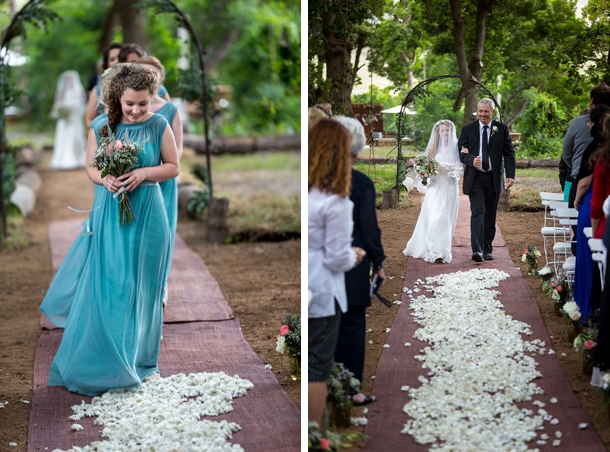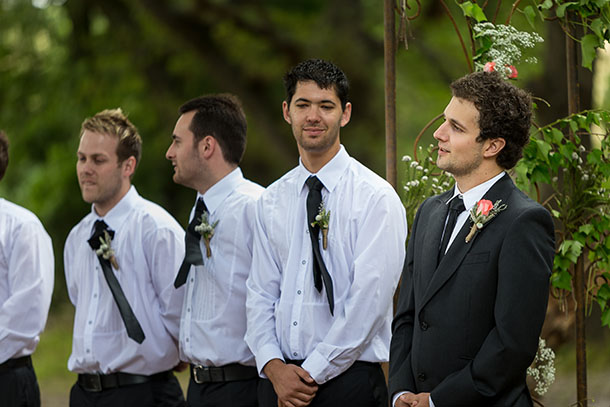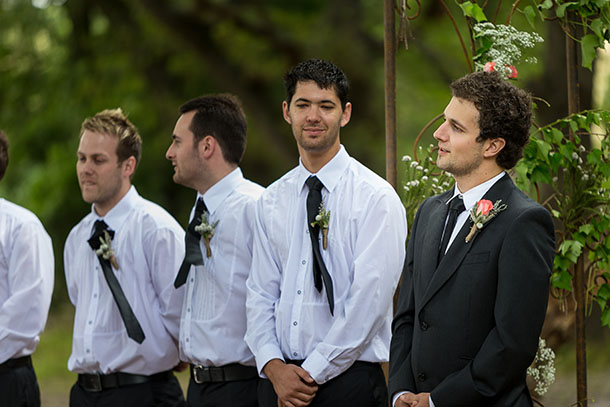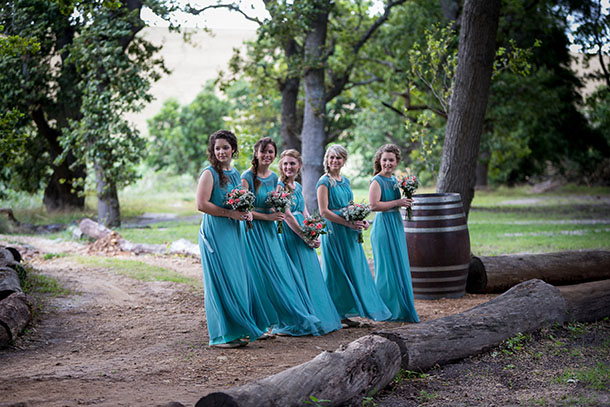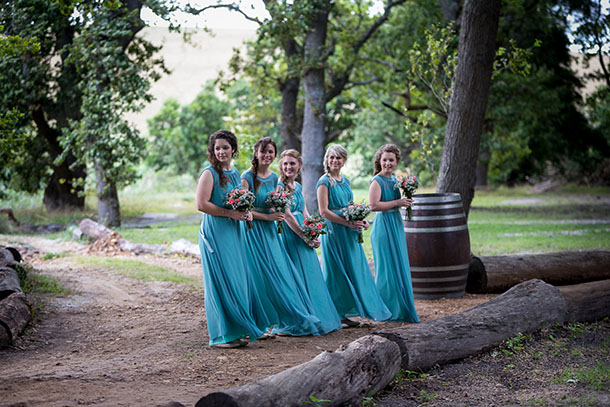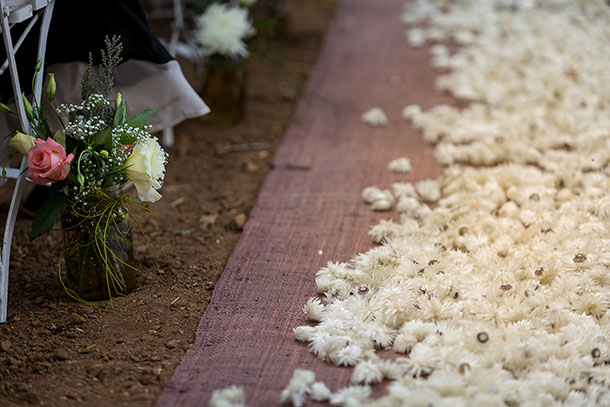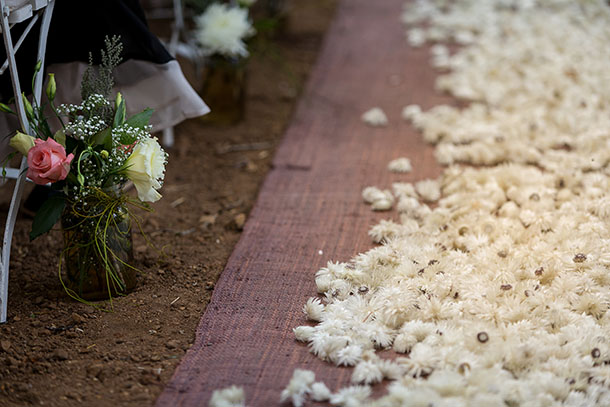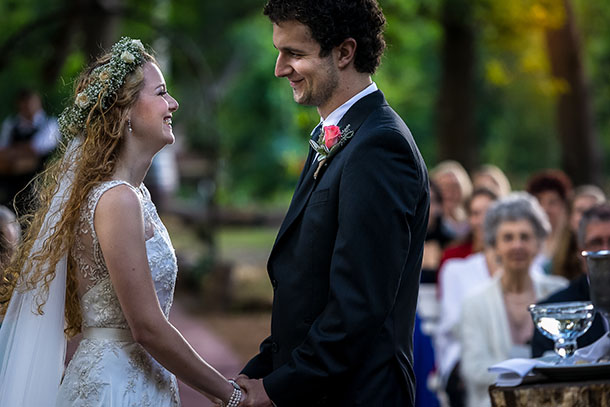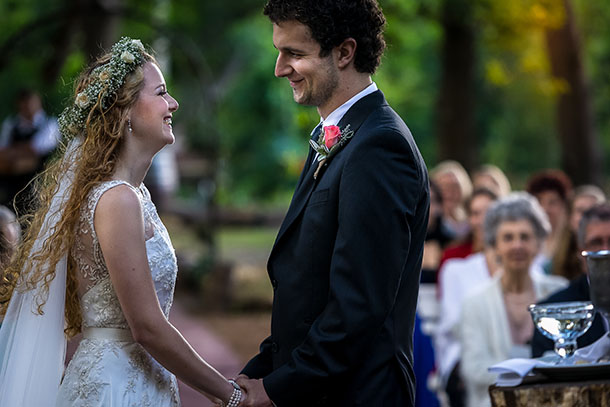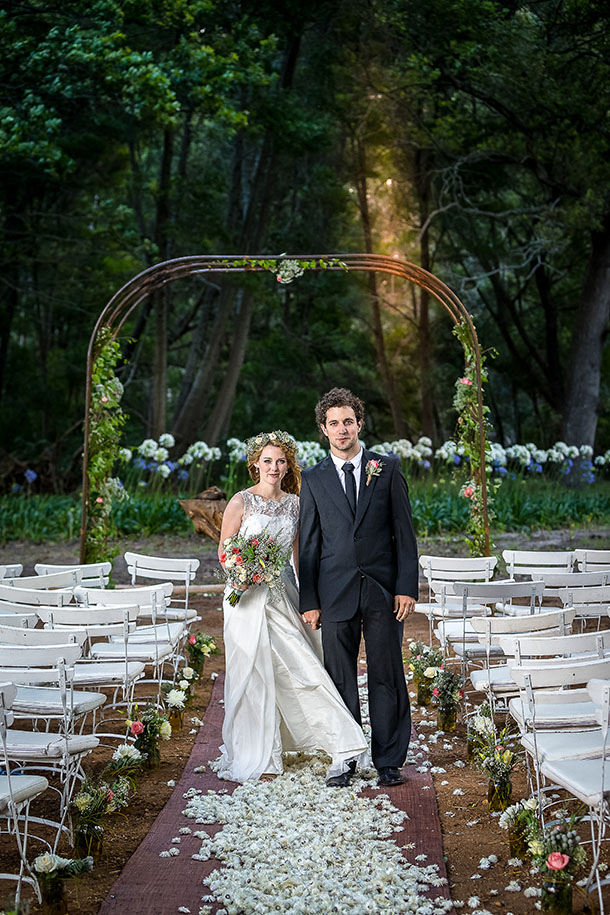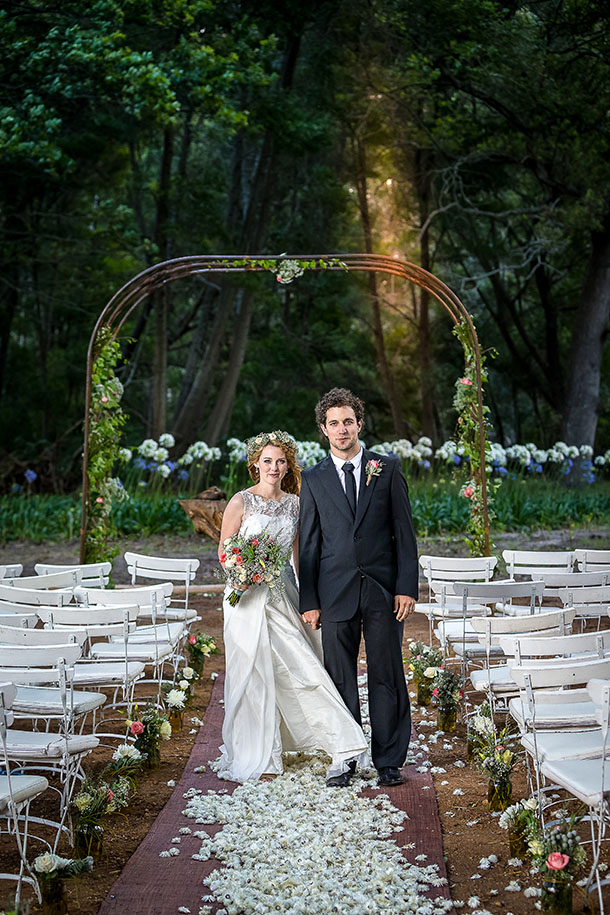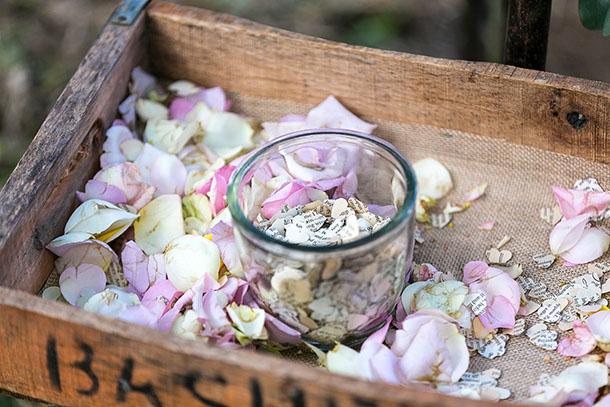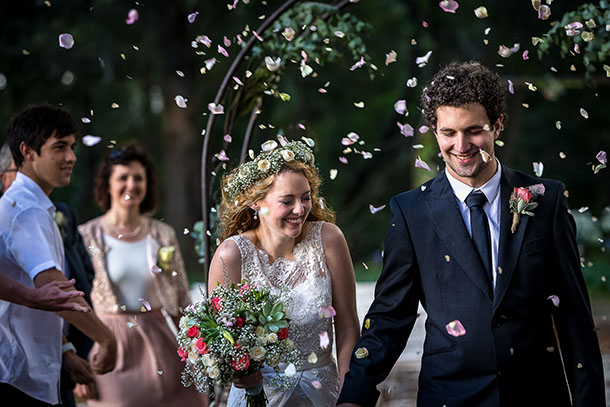 Wedding Details
Julie, my wonderful sister in law, was responsible for all the small details and designs. Everything was very "Chris & Christine" as she knows our taste so well. I have to add that she has now started her own wedding stationery business – her website will be up and running soon and I highly recommend her. We used elements that Chris and I adore: many flowers, candles, fairy lights and succulent favours. It was rustic, romantic and refined.
DIY Elements
We did most of the wedding ourselves as we preferred to make sure it was exactly what we wanted. My parents-in-law were responsible for the flowers, and my mother-in-law made the dress. My father has a chocolate company and he made beautiful chocolates as guest favours, and there were all the design elements provided by Julie. My mother made ceramic place settings, and we made leaf lanterns with our laser machine. And since we only had six weeks from the engagement to the wedding day, I think we did very well.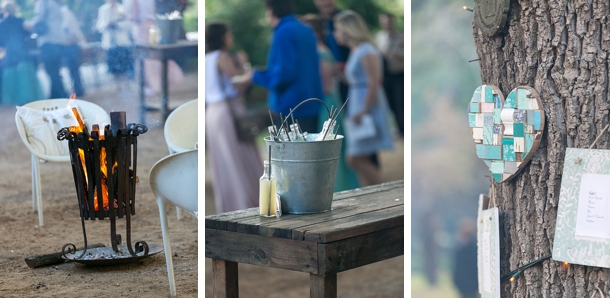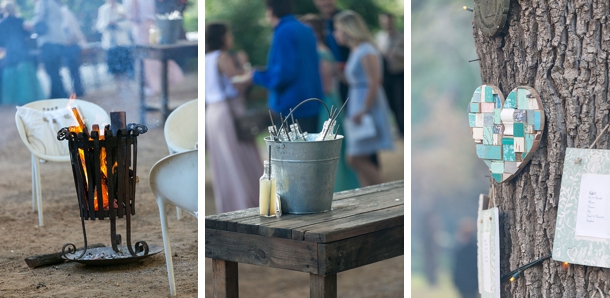 The Flowers
The flowers were central to our wedding theme as they carried the colour palette. It contained natural greens, blush roses and splashes of white. We decided to use desert roses (succulents) as focal points with the roses, and desert roses in ceramic pots were also very popular guest favours. The bouquets also contained little desert roses with the blush roses, and lots of fine gyps for softness.
The Dress
My mom-in-law made my wedding dress. She made it according to a few ideas I had and it turned out to be my dream dress. I loved that she agreed to make it for me, as it was just so special to have her involved in such a big aspect of the big day. We laughed when she paper mâchè'd my torso, pricked me with pins and finally finished my dress thirty minutes before the wedding ceremony. I wouldn't want it any other way.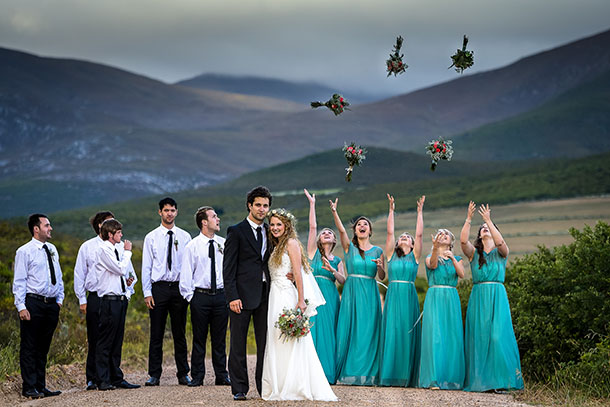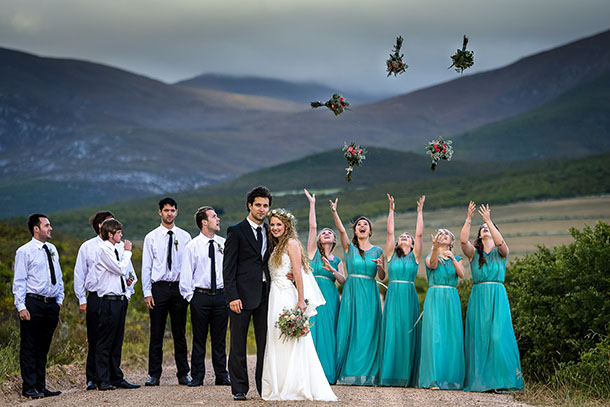 Memorable Moment
The moment when Chris forgot half of his part of The Lumineers' "Ho Hey" lyrics – in the middle of our surprise performance. It was hilarious; we had to dance until we remembered the words.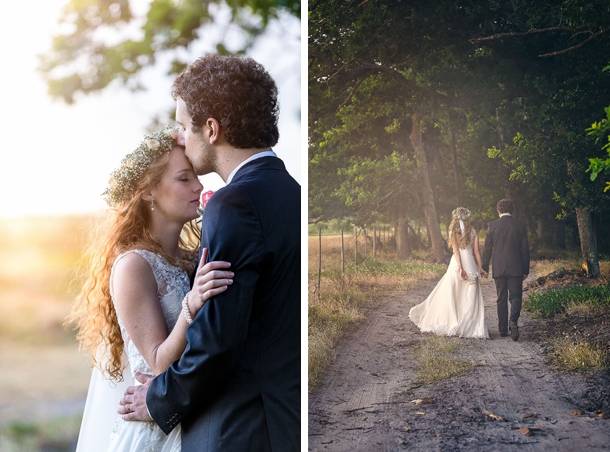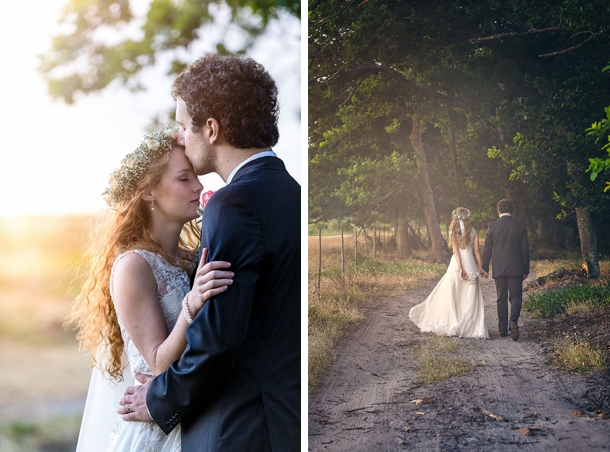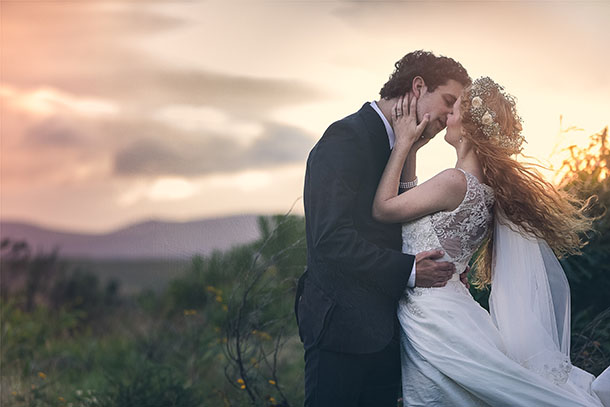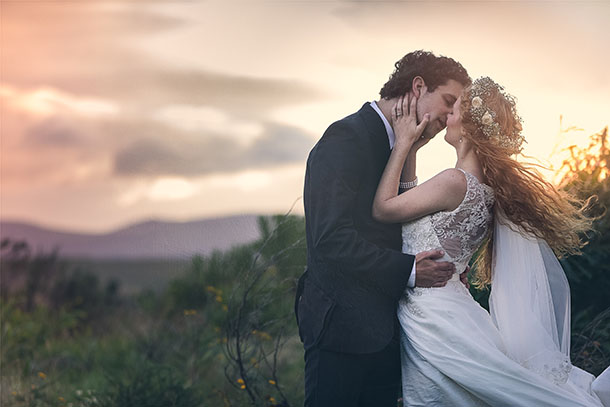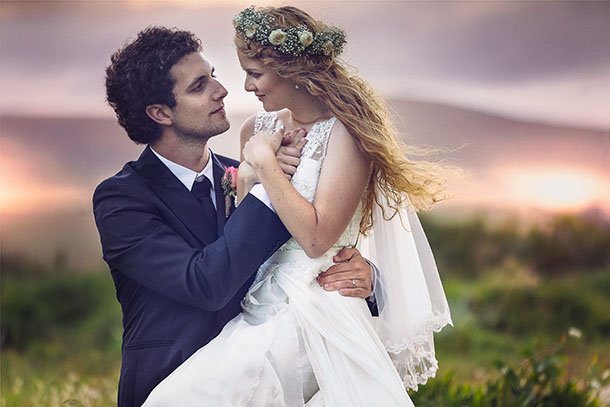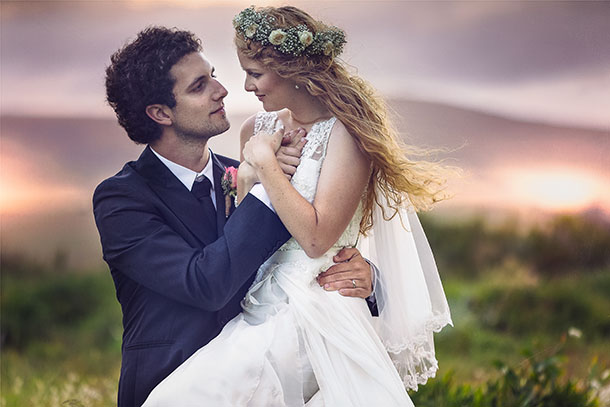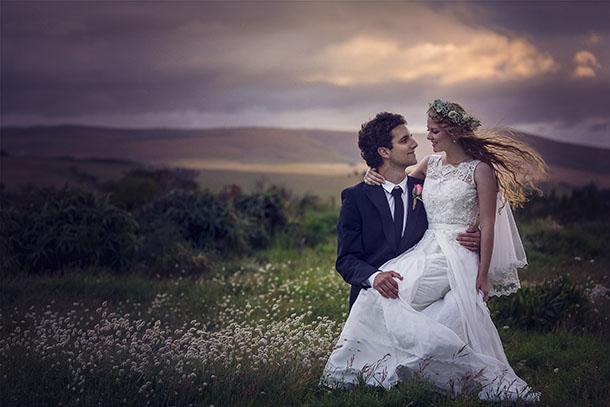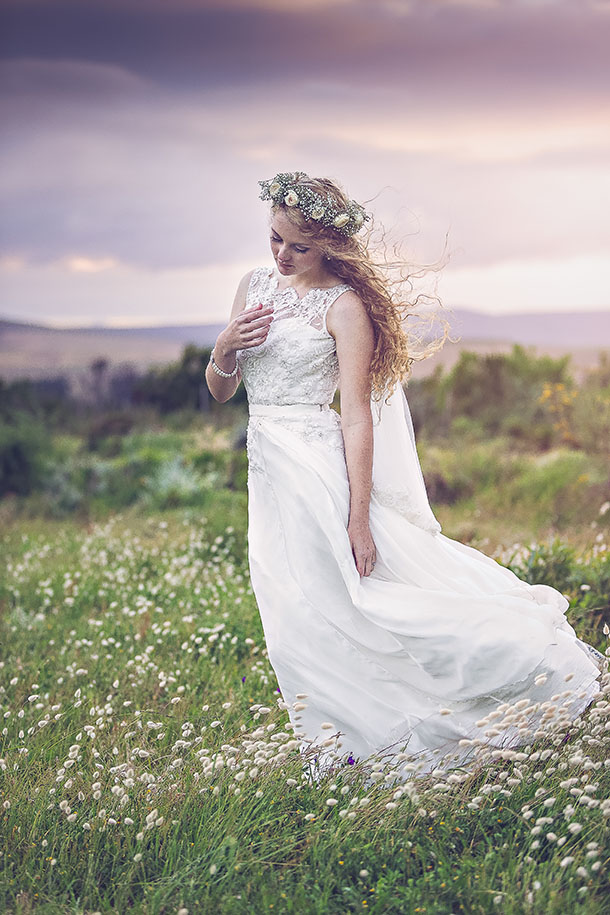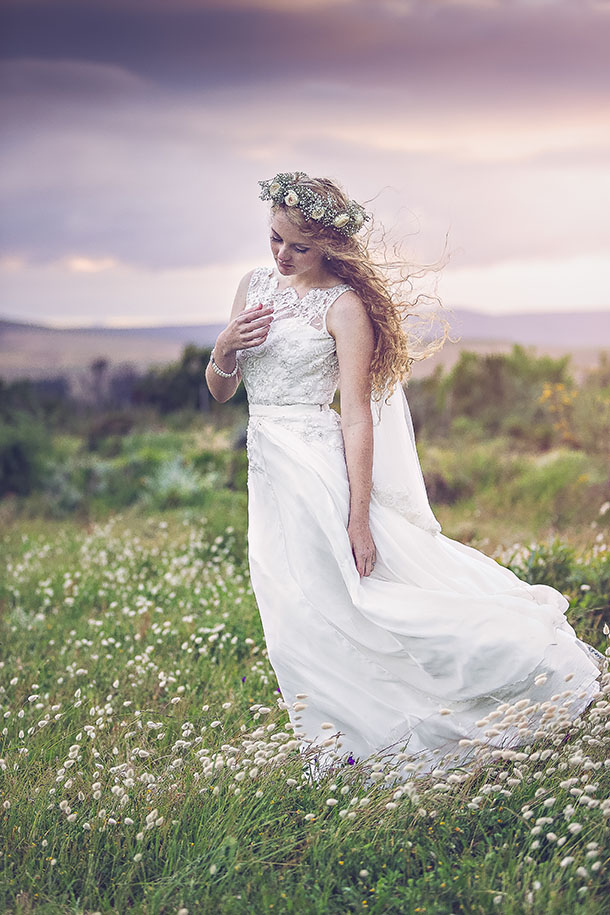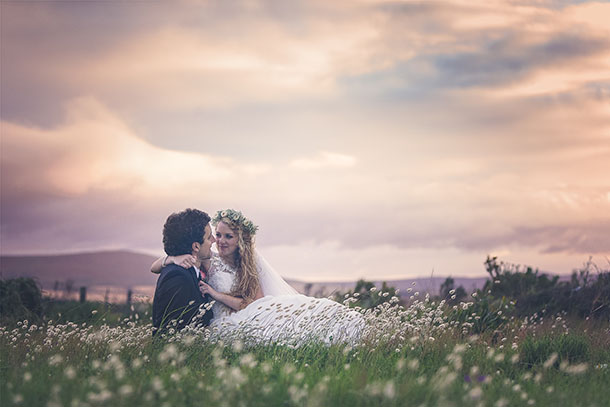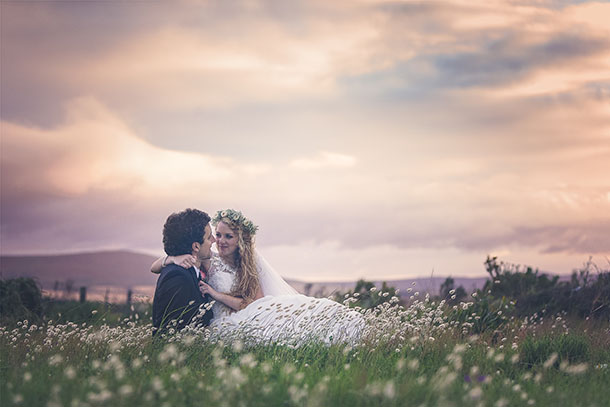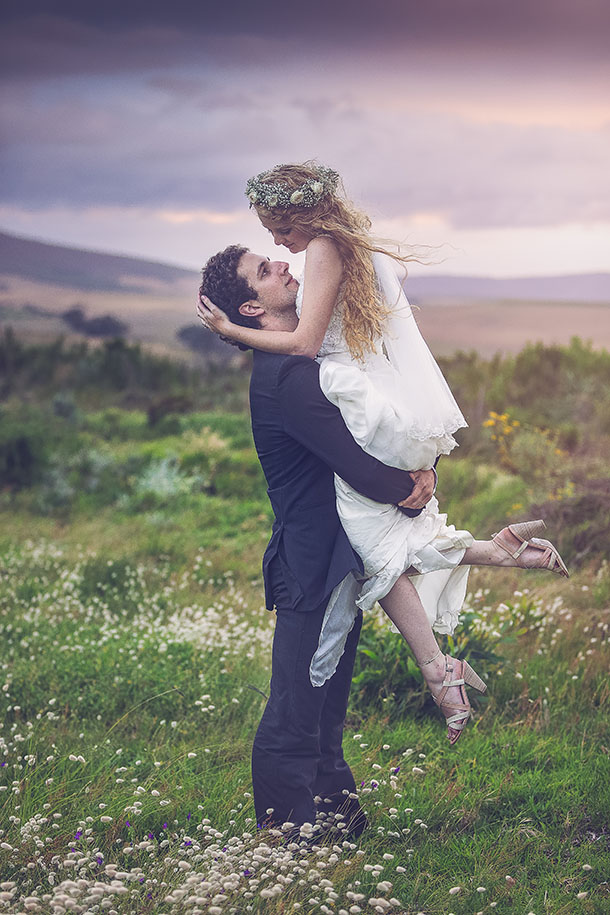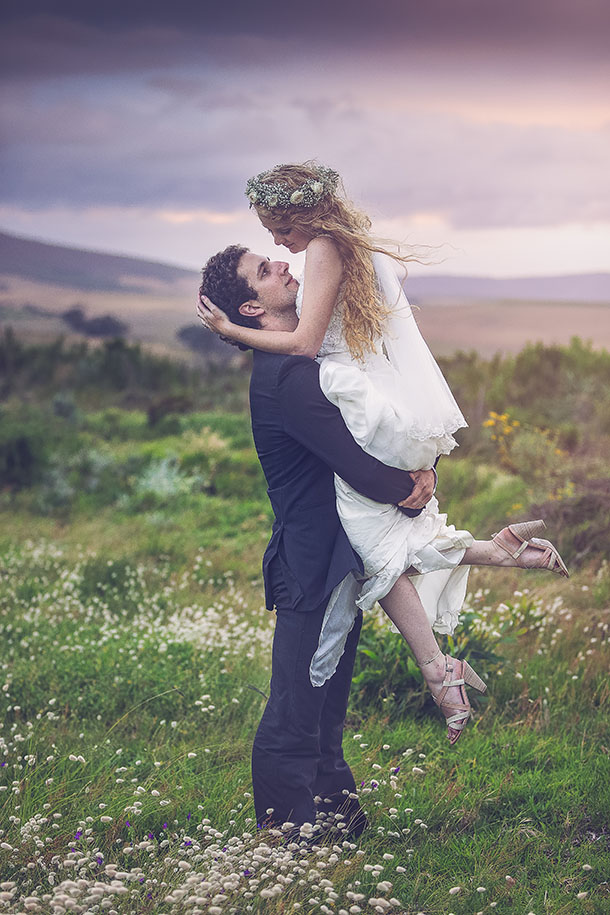 Proudly South African Details
Thanks to Beloftebos we had delicious roosterkoek straight from the fire available for the guests just after the ceremony. This was served with homemade apricot jam and cheese from the neighbouring Kleinrivier Cheesery. We also had the bouquet and garter toss with lots of fun and laughter.
I also used a proudly South African (Capetonian) company called Ladies & Gentlemen. They make the cutest, custom-made cake toppers in the world! We had to send photographs and they made a miniature Chris and Christine, complete with a blush rose boutonnière in miniature Chris's lapel, and a lace back for my miniature wedding dress.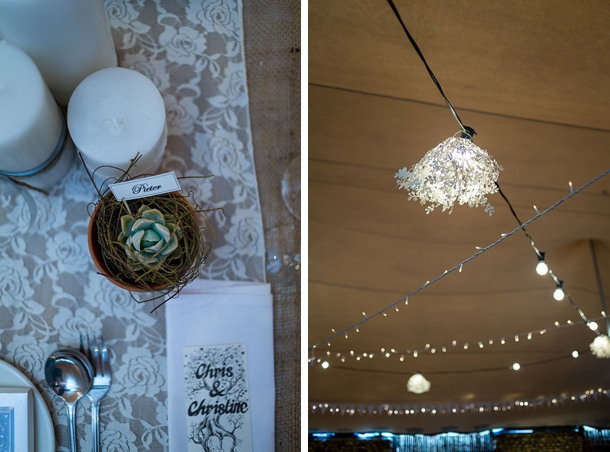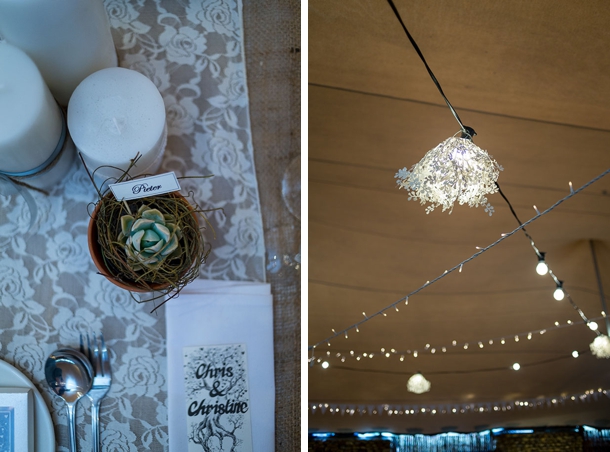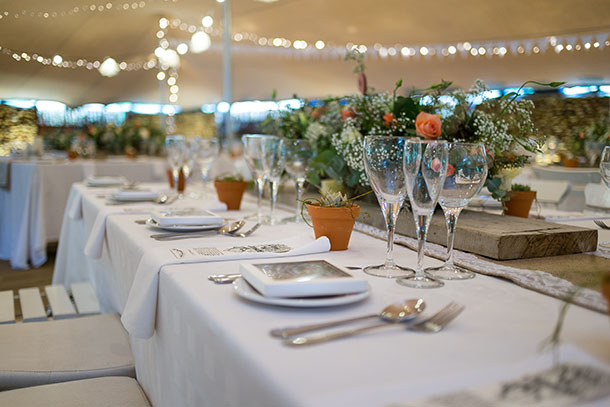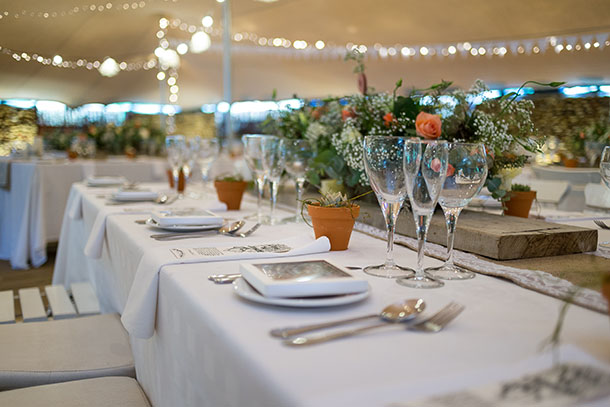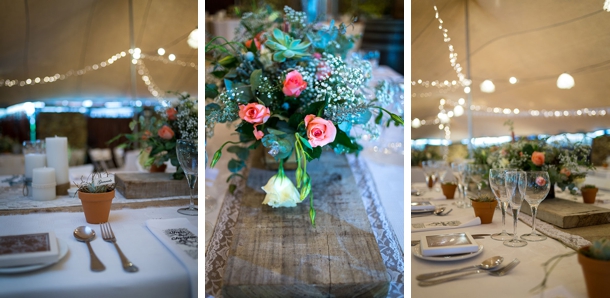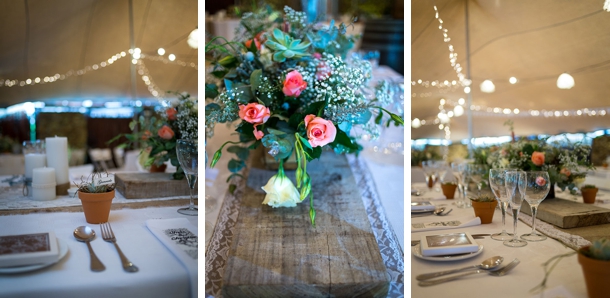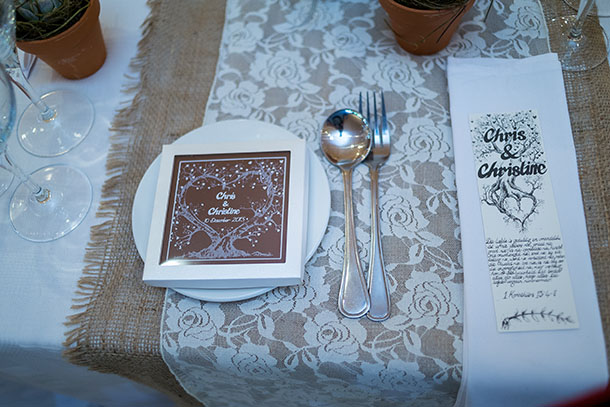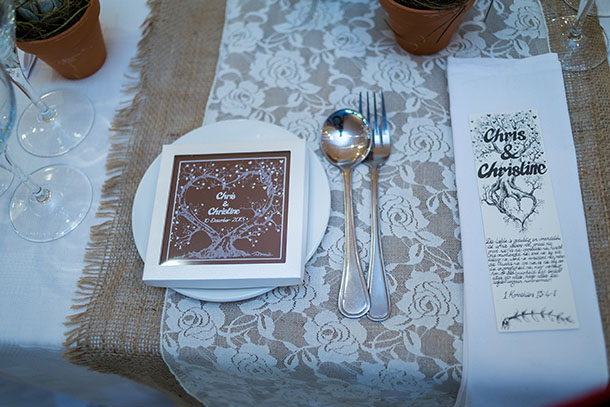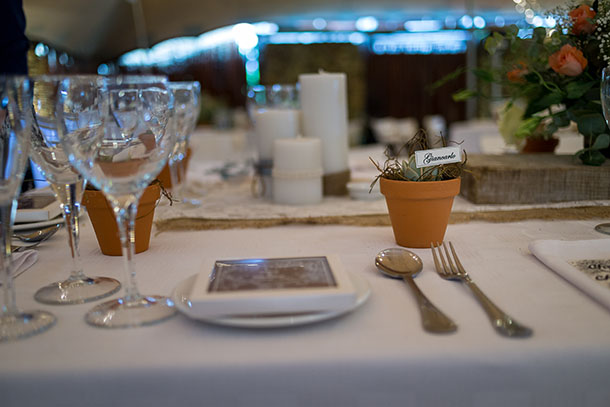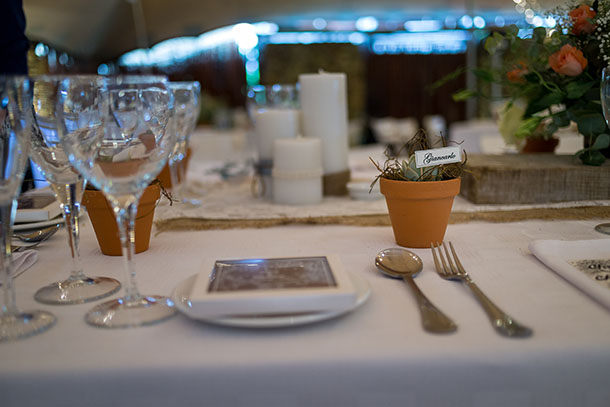 The Honeymoon
Chris kept it as a big surprise for me. We went on a Wilderness road trip and it was perfect.
Advice for Future Brides & Grooms
Make sure to escape the wedding reception for just ten minutes to spend time with your new husband. Take that time to drink in everything, appreciate each other and create a special memory.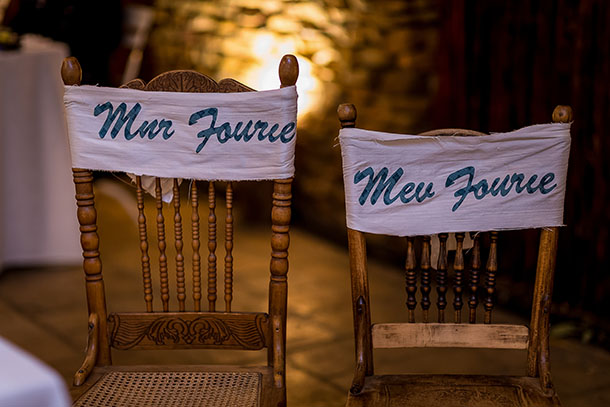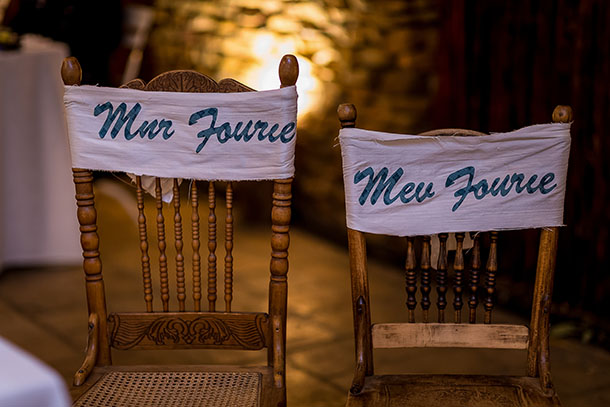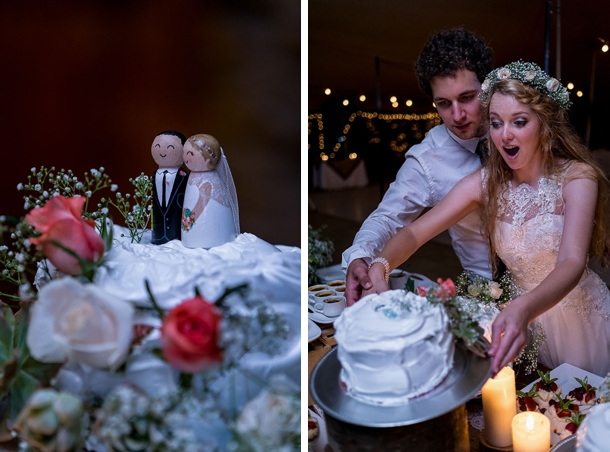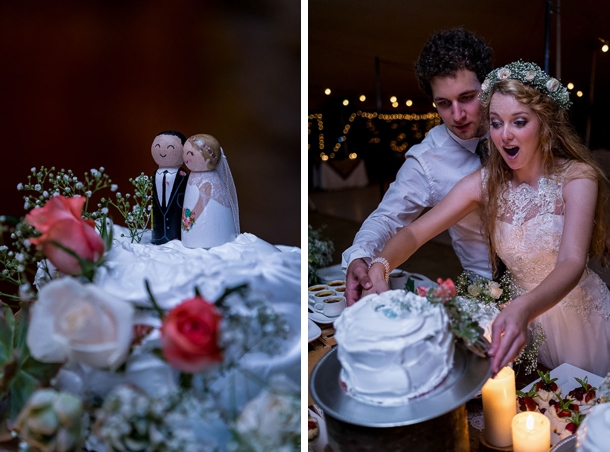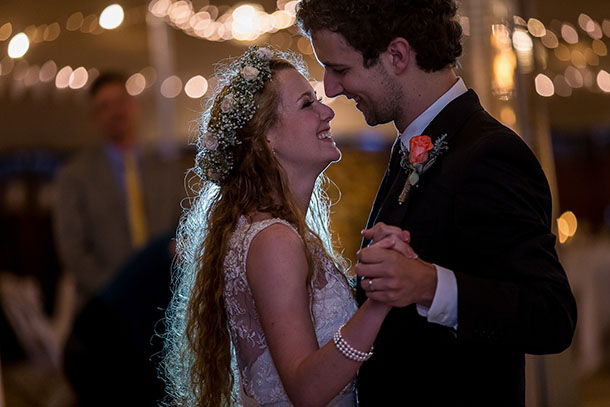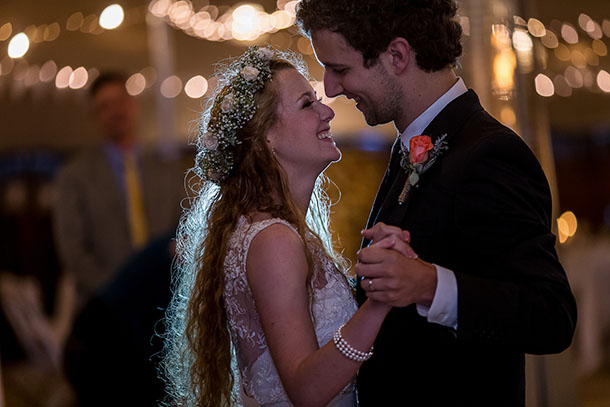 You can see more from this wedding on Jo-Ann Stokes' blog.
SERVICE PROVIDERS
Venue & catering: Beloftebos | Photography: Jo-Ann Stokes | Cake: The Velvet Cake Company | Flowers & décor: Bunches4Africa, Hannetjie Lammers, Julia Fourie, Saffron Functions | Stationery, hair & makeup: Julia Fourie | Bride's dress: Louise Fourie | Bridesmaids' dresses: Suzanne Strydom, Abitude Designs | Groom's attire: Hilton Weiner | Cake topper: Ladies & Gentlemen