It's lovely Irene's last post today, and she's chatting about one of our FAVOURITE things – dresses! Here's wishing you an amazing wedding day Irene, and we can't WAIT to see the pictures! xox
************************************************
Our wedding is now less than one week away, and I still have so much to do! So much for not leaving things 'till the last minute. We'll be leaving for the venue on Thursday already, so I have even less time to get things done. This will be my last post before the big day, and I thought it would be appropriate to dedicate it to the most important element of the day.
Despite all the stressful issues related to this 'last minute last week' business, I am looking forward to getting my dress on Wednesday! My very own personal designer (read: mom) will be arriving from East London, with my wedding dress and all four bridesmaids' dresses that she made herself. Five dresses on her own is a daunting task, as you can imagine, so I'm very glad that she managed to get past a series of minor panic attacks about my dress along the way, and that everyone will finally be able to see the end result on Saturday.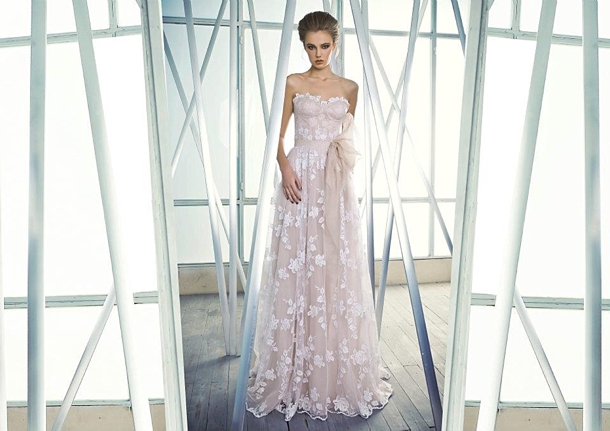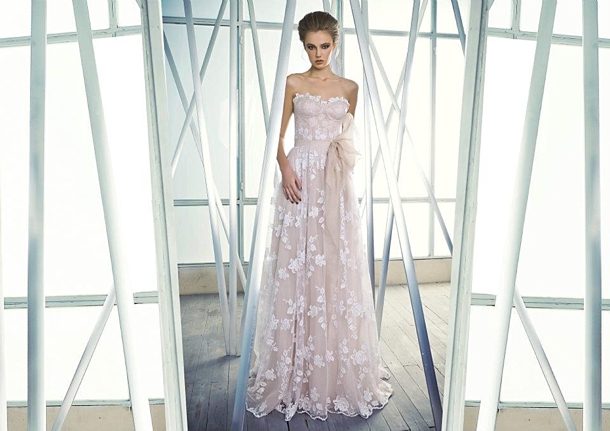 Source: Mira Zwillinger | for more from this collection click here
I started looking at dresses on Pinterest practically the moment we got engaged, and I went to try on some dresses earlier last year, but nothing really stood out for me as The Dress until I finally stumbled upon one late one evening whilst stalking Pinterest again. It is a nude/champagne coloured dress with a layer of white lace – very romantic and different from any dress I've seen before. With that dress in mind, my mom and I looked at patterns and fabric (I found the satin at Fabric City in Cape Town and my mom found the lace in East London), and after a very stressful few months for my mom, I can honestly say that it is so beautiful and I can't wait to put it on on Saturday! My favourite part about it is probably the lace and the dress's train at the back. I'll be wearing the veil that my mom used when she got married, and I got some pearl earrings at Lovisa. Still frantically looking for something for my hair, and a bracelet!
My mom also decided (or maybe felt forced!) to make the bridesmaids' dresses after I couldn't find any that I liked. As mentioned before, I originally started out with a colour scheme of mint and pink, but that eventually exploded into various pastel colours. The bridesmaids will each be wearing a different coloured dress – mint, blue, pink and purple. I found a lot of pins on Pinterest with this colour scheme and also some pins on bridesmaids with different pastel coloured dresses. The dresses look very pretty in the photos so I'm sure my bridesmaids' dresses will make for pretty pictures as well!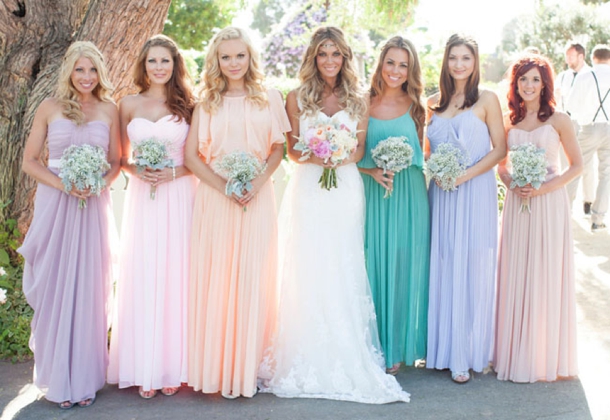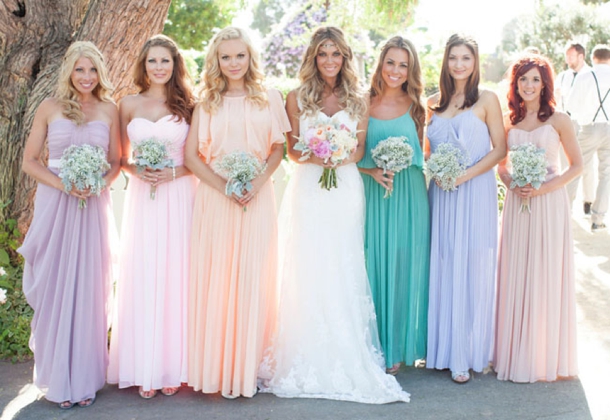 Source: Skyla Walton/ via Green Wedding Shoes | for more pastel bridesmaid dresses click here
Looking forward to sharing the photos of my dress, the bridesmaids' dresses and of the big day with you on SBB soon!
Irene's story so far: The Proposal | The Suppliers | The Ceremony | The Decor | The Cake Table