After a crazy busy week (and a trip to my cousin's wedding in Brits), I'm finally sitting down to write this post! With two weeks (and only one weekend) to go, things are getting a bit more hectic and crazier, and I sort of just want the wedding weekend to get here already so that I can just RELAX.
I only really started thinking about a cake/cupcake table display last week, when Carica from Kiki's Cakes and Bakes reminded me that I still have to give her samples of the cupcake holders that I'll be using. The cupcakes will be served as dessert, so I really want to try and make an effort with the presentation.
I ordered red velvet cupcakes with cream cheese icing – my favourite! My mom and I bought the cupcake holders at Merrypak, and I made some cupcake toppers from the pages of old books. I'll also be tying some ribbon around the holders to round off the look. I've ordered a red velvet cake on which to put the awesome lasercut cake topper that I bought at a Christmas market last year. I got a cute vintage mint coloured cake stand for the cake (at a pharmacy of all places), which is one of my favourite decor props for the wedding.
In fact, the cake stand has its own story to tell, and I'm sure a few of Du Toit's friends will have a laugh about it when they see it at the wedding. See, my beautiful, all time favourite cake stand almost met its end the night of Du Toit's bachelors. I had bought a cake that day from Carica (with the purpose of testing my cake topper), and had left the cake on the cake stand in the kitchen that morning when I left for my kitchen tea. Luckily I was out with my bridesmaids when all this went down, but long story short, it seems that when the guys brought Du Toit home that evening, he noticed the cake and thought it would be funny to SMASH it (watched Nacho Libre too many times me thinks….). Unfortunately, the cake stand also suffered some injuries in the process, but by the time I got home, everything was cleaned up, the cake secretly disposed of in one of the guys' wife's rubbish bins, and my cake stand sort of repaired. Of course the guys made sure they made themselves scarce before I got home, leaving one poor groomsman to do the explaining!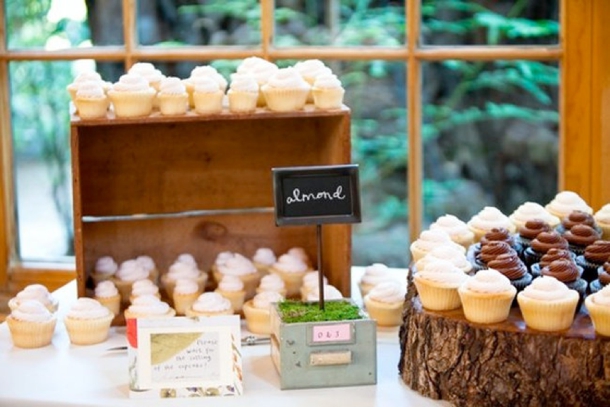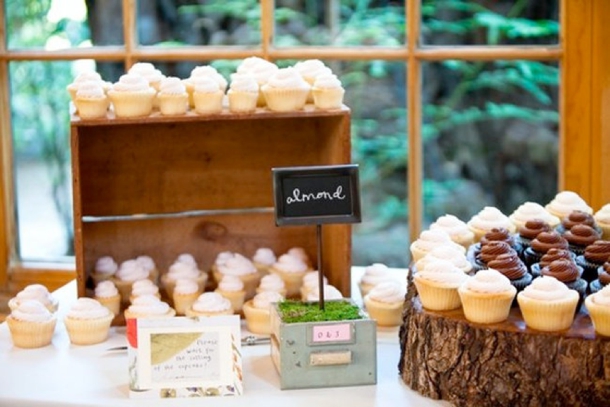 Source: Kate Harrison via Love and Lavender
So with this in mind, I'm thinking that the cake table idea probably deserves some special treatment, and so I turned to my ever faithful friend, Pinterest. I love the rustic look, so I'm thinking of using some wooden crates that I have, some minimal decor like wooden words and maybe some crochet doilies, etc., and stacking the cupcakes with mini (book) paper heart toppers all around. In my mind all of this looks really pretty, but as some of you might know, not everything works out as planned, and not all ideas found on Pinterest turn out as envisioned, but holding thumbs… And will probably just make sure Du Toit stays away from the cake table on the day of the wedding, at least until dessert…!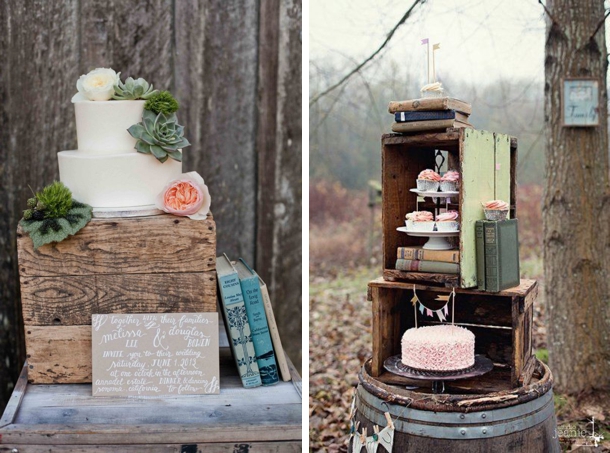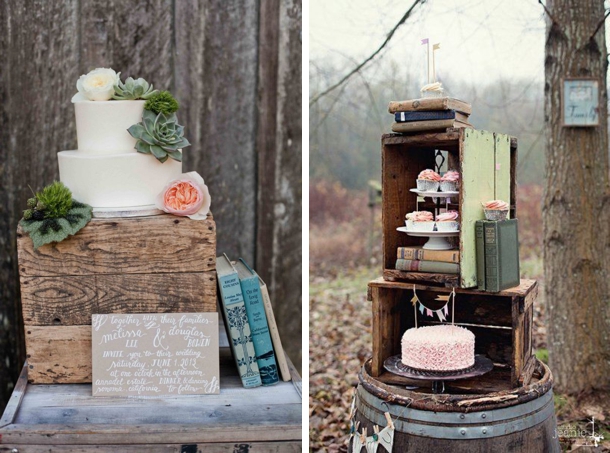 Source: Retrospect Images via Ruffled (left); Studio Jeanie via Kailey Michelle Events (right)
Irene's story so far: The Proposal | The Suppliers | The Ceremony | The Decor