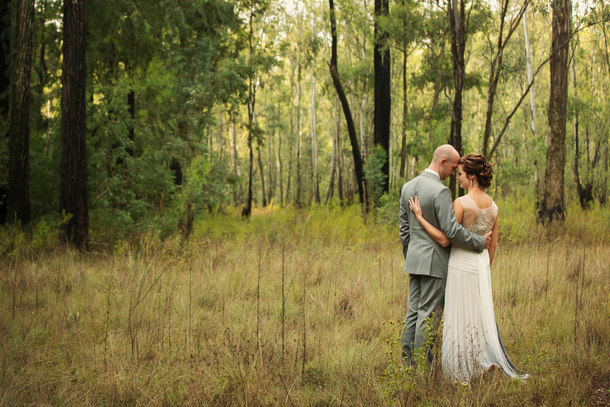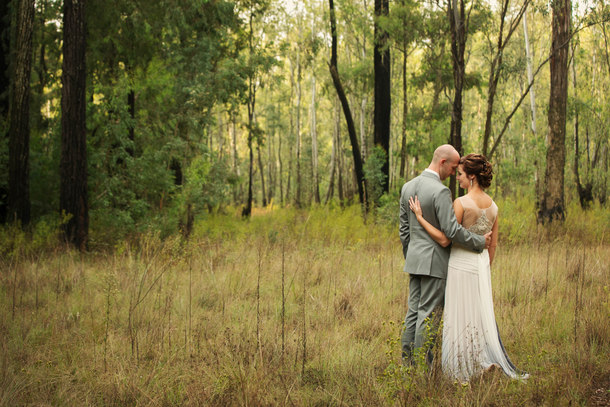 If you go down to the woods today… well, today you'll find no teddybear's picnic, but the big surprise you're in for is a beautiful forest wedding from the fab Stella Sassen. Carien and Hannes perfectly combined the handmade look with an unusual palette (slate, mustard and white – love!) and an amazing rustic, forest venue for a perfectly pretty country wedding right in the middle of Gauteng. And I love Carien's bridal style too, including a stunning portrait back dress (with very special meaning, dreamed up by the bride herself!). In fact, there are so many elements to love – paper flowers, succulents, buckets of proteas… And of course, those beautiful, serene trees. What a perfect place to promise your forevers.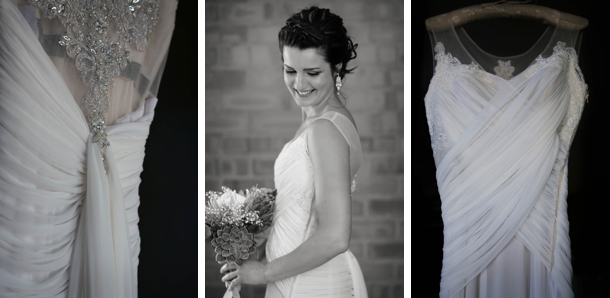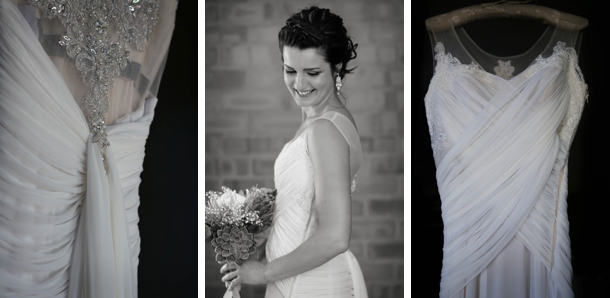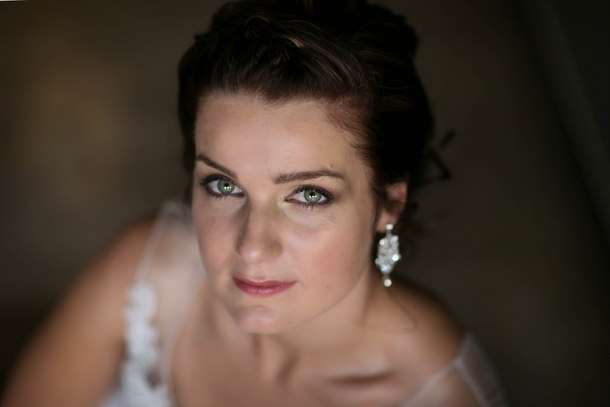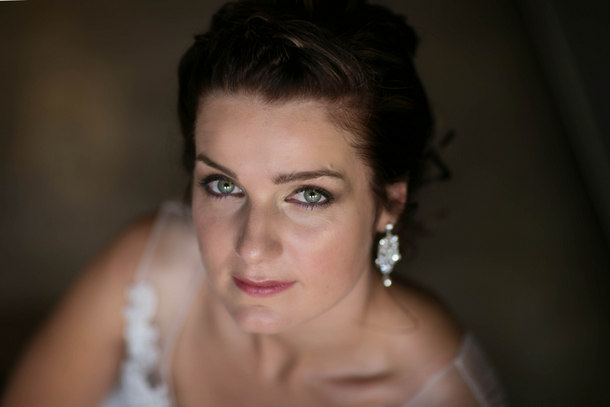 Love Story
We have a looong and yet short and sweet story. I saw Hannes for the first time at Doxa Deo Church. He shared something in a group that really impacted my heart. I thought he was really interesting, but we never met. Over a year later, I was at a friend's party and he walked in – I recognised him immediately (a really strange phenomenon to me). However, we only met briefly. The following year, we saw each other again when I started going to small group meetings at church, and we became really good friends and fell for one another. Hard! Still another year later, he 'kidnapped' me and took me to Fort Klapperkop – as we watched the sunset over the beautiful city of Pretoria, he asked me if we could date. I thought he would propose right there and then, and I was ready to say yes! I just had this complete peace that he was the one. So we dated! And two months later, we got engaged.
The Proposal
Hannes and I went to Ballito for the weekend. He woke me up EARLY… He's a complete morning person, and I am the opposite – he was like: "Let's go watch the sunrise!" You must know that I love him to have got up so early! We went for a 'picnic' on the beach, but I started getting suspicious when I saw how nervous he was, since he is hardly ever nervous, and when he took out wine glasses for pomegranate juice. He share pieces from the Bible with me that accompanied our journey together and then got on one knee. I was shocked at first, so after the ring was on my finger he asked: "I'll take that as a yes?" I could only nod! After that we had some good wine for breakfast…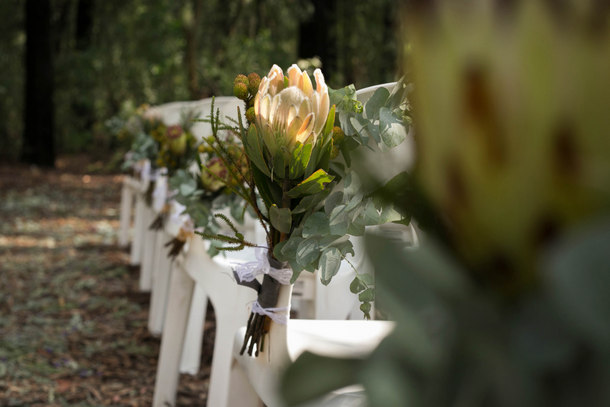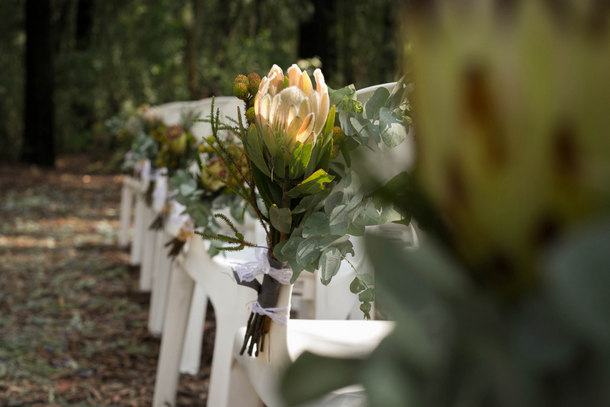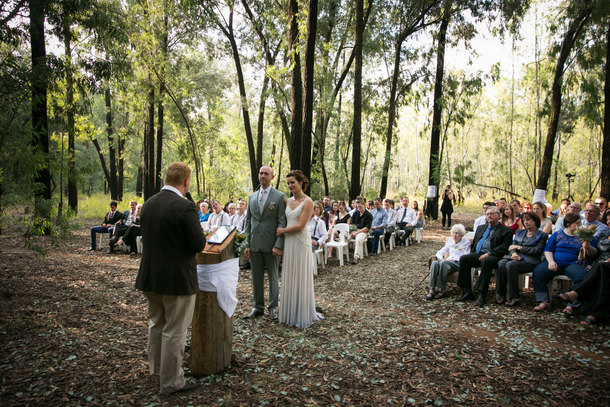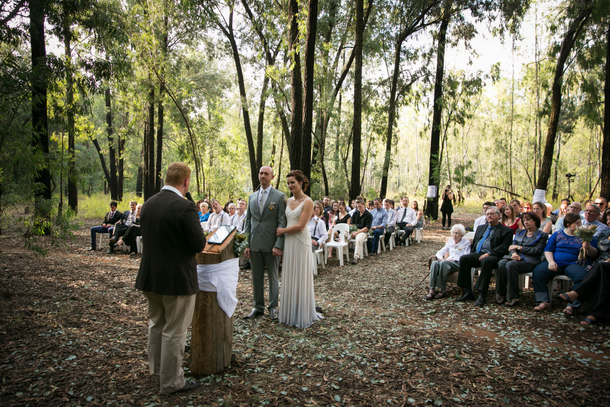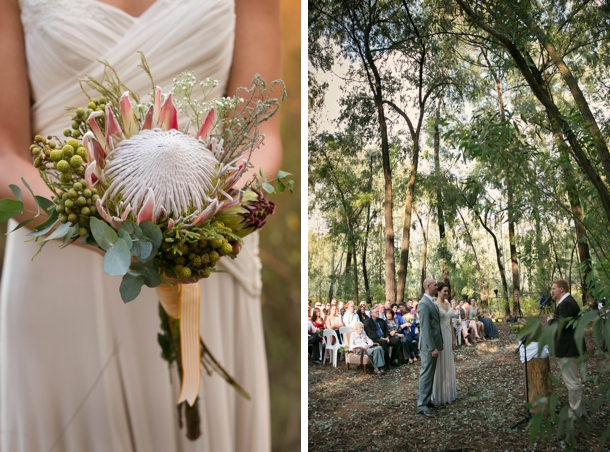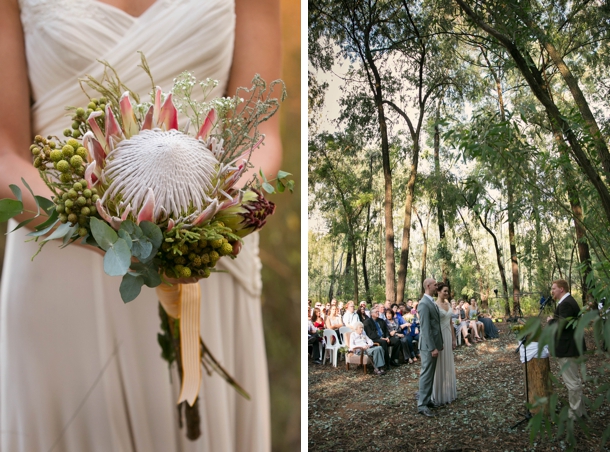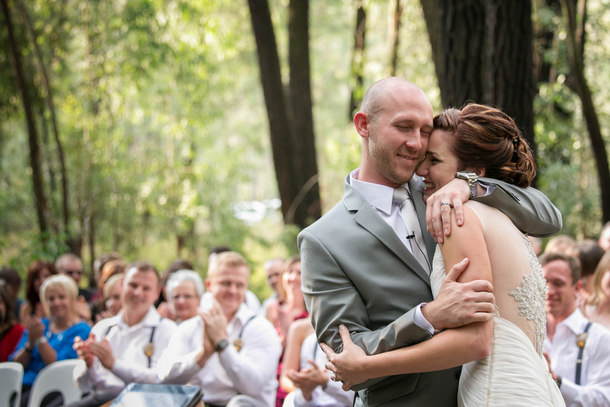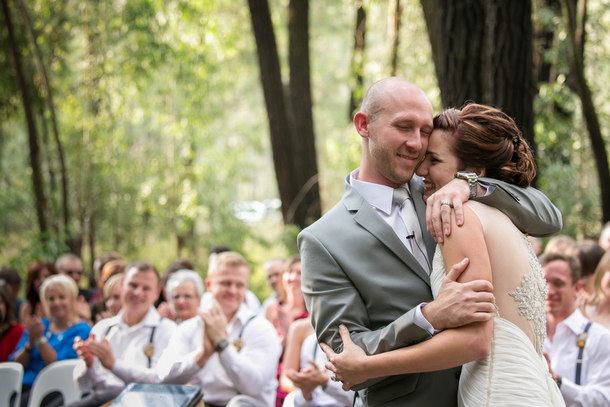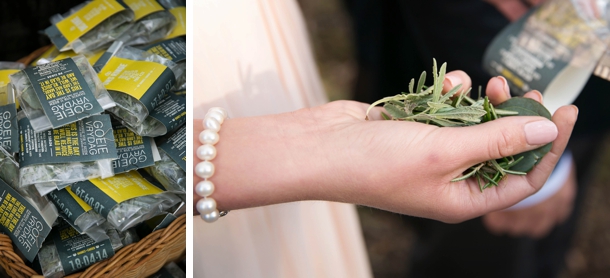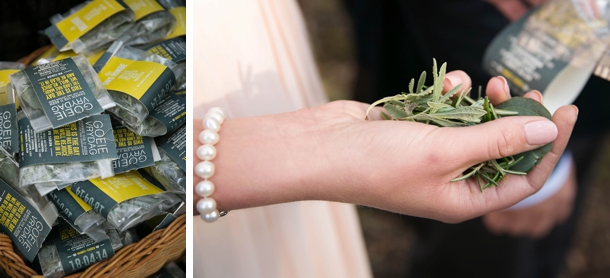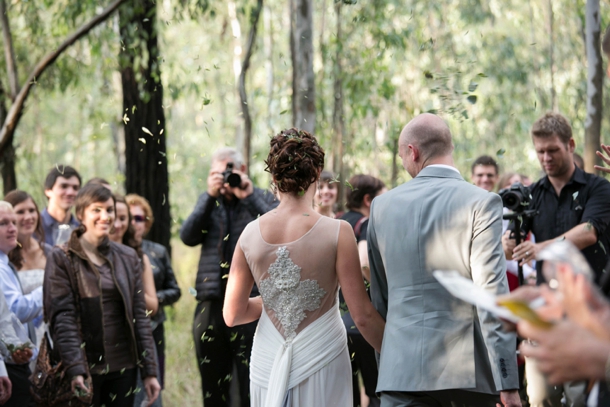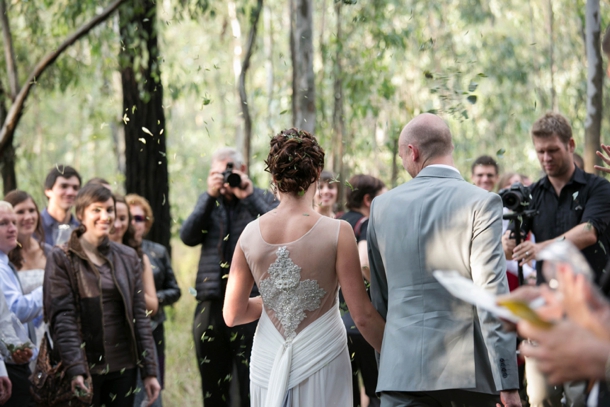 The Venue
In Pretoria, most of the places have the Africa theme going. Thatch roof and Big 5 EVERYWHERE… This just wasn't us. We were looking for something homey, fun, open, in nature, rustic. We were looking at venues online when we came upon Florence Farm in Chrissiesmeer. We wanted something like that, so we called the photographer of that wedding. They informed us that they had shot an event in Pretoria at a similar place, The Big Red Barn. We were so surprised, happy and relieved when we got there, it was perfect! AND we did not know about it because it was not listed as a wedding venue. We were the first wedding there, EVER! :)
Wedding Style
We wanted it to be simple and earthy. Our colours were white, charcoal and mustard yellow.
Wedding Details
The table numbers were the dates in our story. Each person received a personalised table placement, stating the date and what happened on it.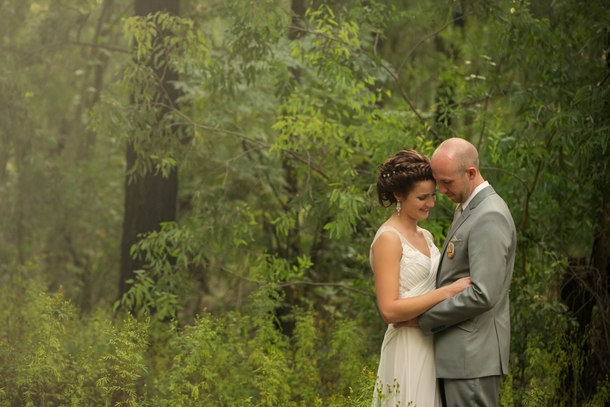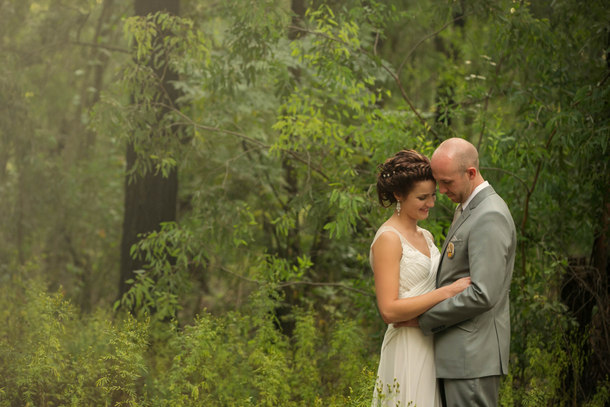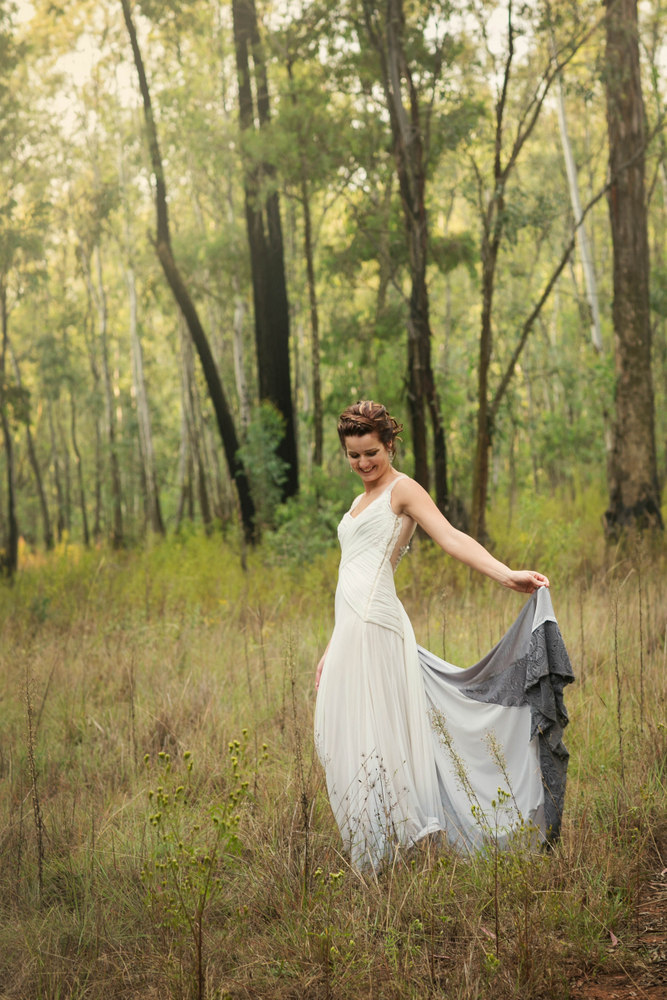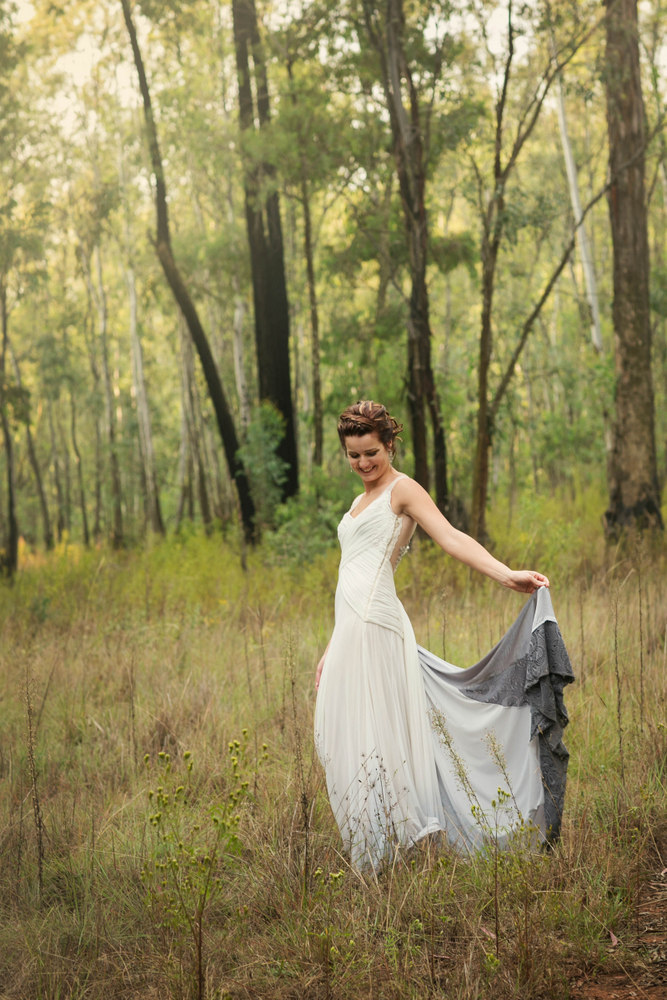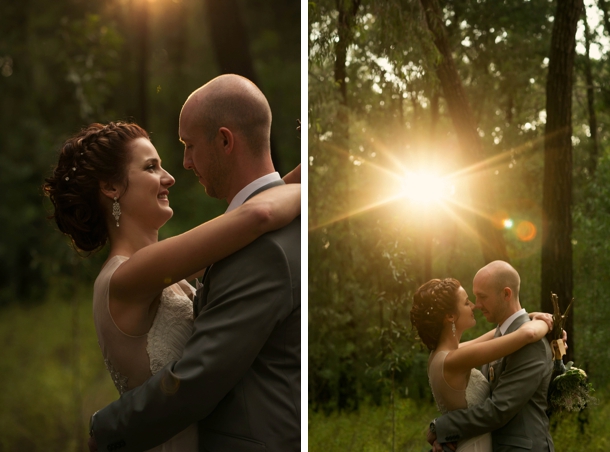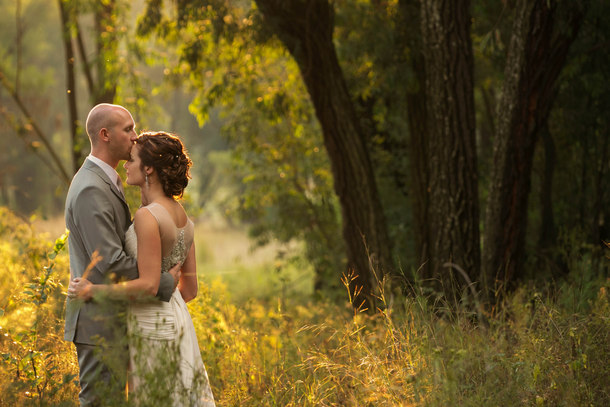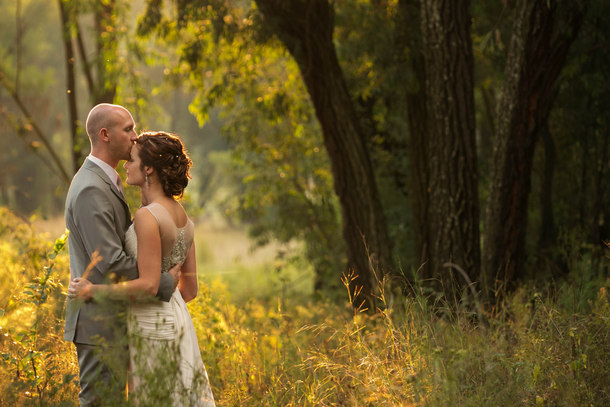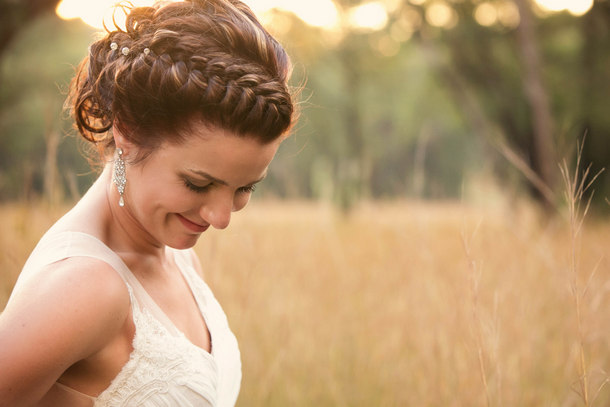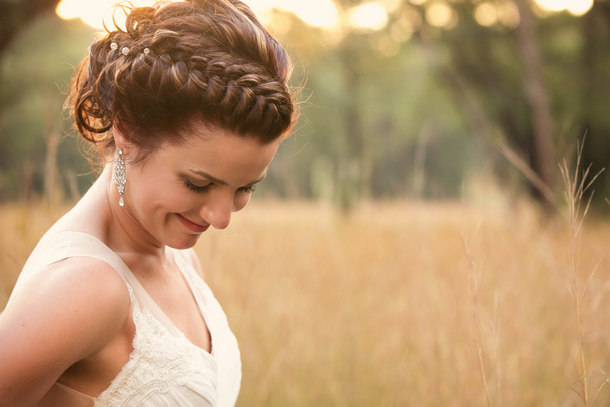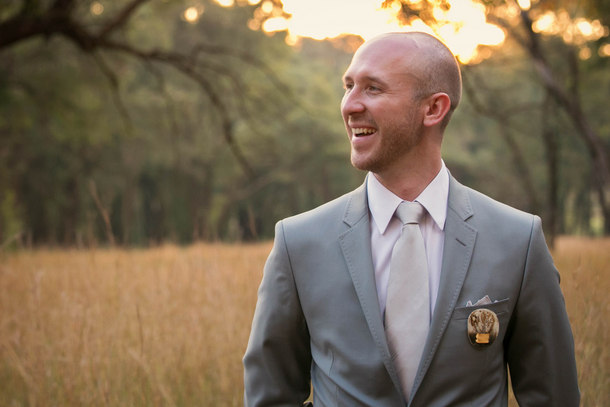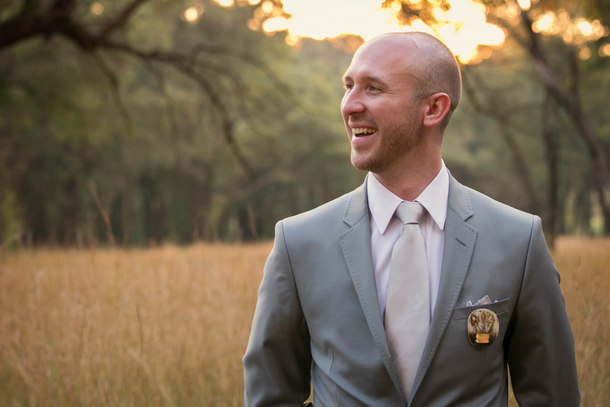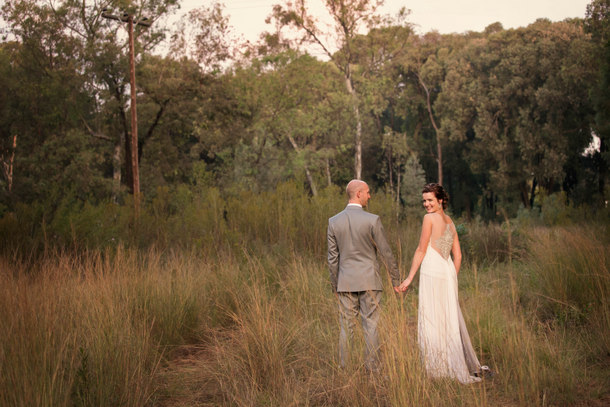 DIY/Budget Elements
Everything was DIY. I am a graphic designer, so I designed all the stationery, and we made the confetti, etc. Everything was hand-cut and 'spoeg en plak'. Our awesome friends from church helped too. We had a day called 'operasie decor'. It was held at our house. My awesome mom, Stephanie Bester, came all the way from Natal to support us, cooked for us and made sure we were all taken care of. During the 'operation' we made those origami flowers, the heart-shaped paper clips for the confetti, painted the mustard bottles (we did not have vases, everyone helped us to collect all types of glass bottles), stuck the stickers on the match favours… everything! I also made my and Hannes' seat placement names on our table saying 'Braided' and 'Groomed'. We took branches and stuck the origami flowers on them. The tables at the Big Red Barn were all different sizes, so my mom had the table runners specially made, as well as the charcoal napkins. The table numbers were also designed by me and cut out by Tharien from Swagger. We also made the candles, melted and set into different sizes of glass containers. It was so MUCH fun!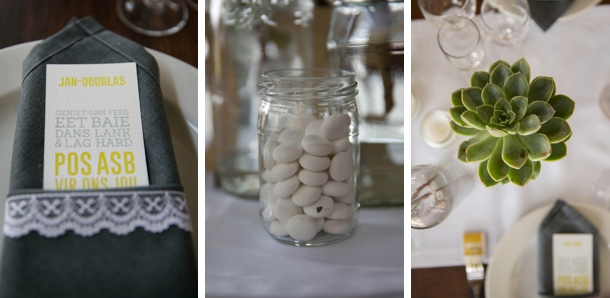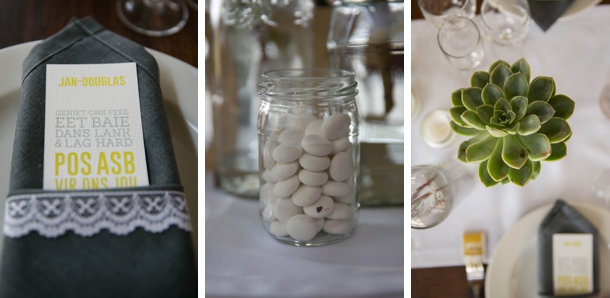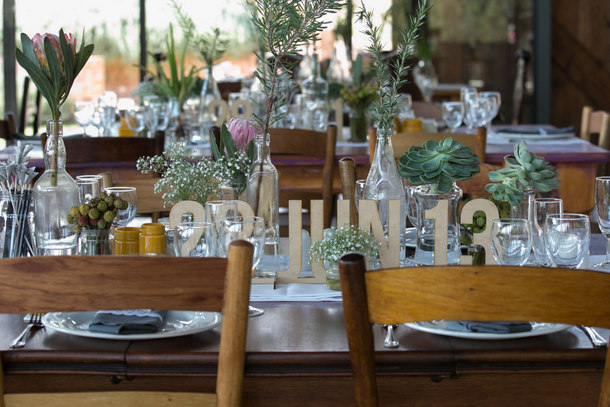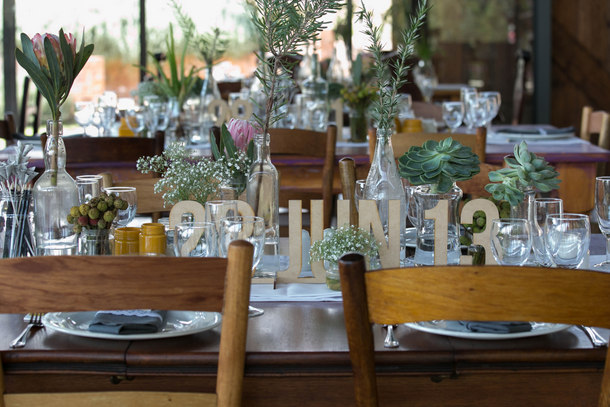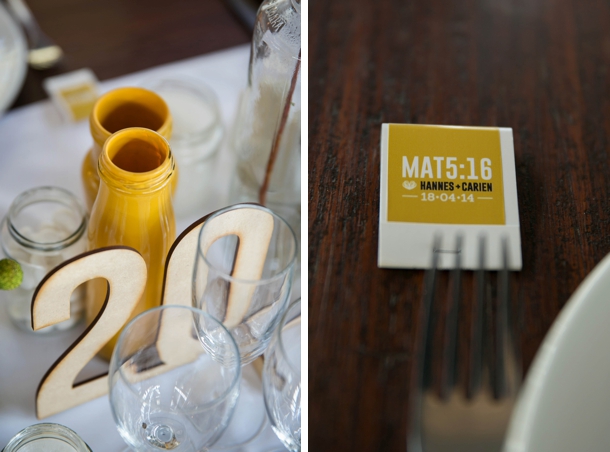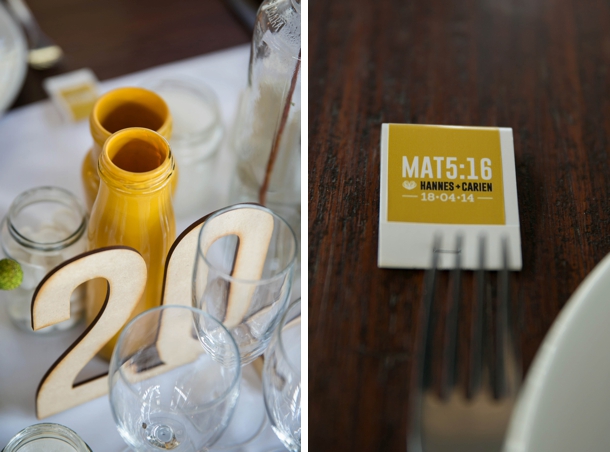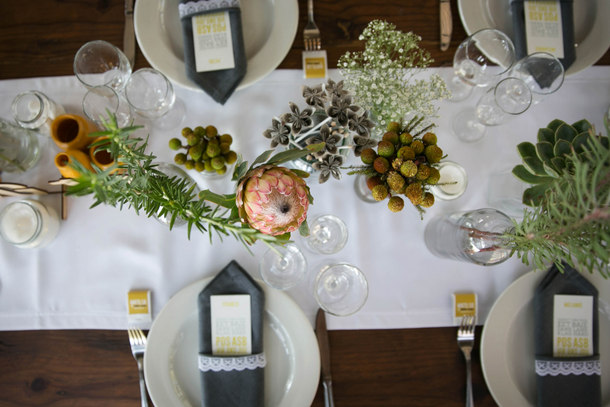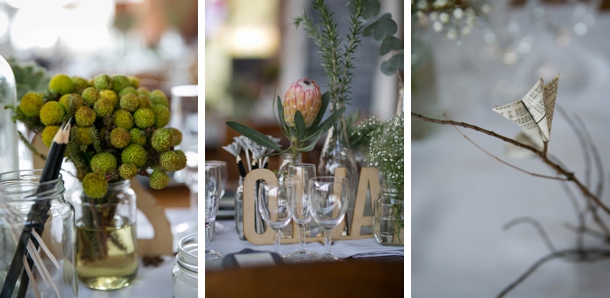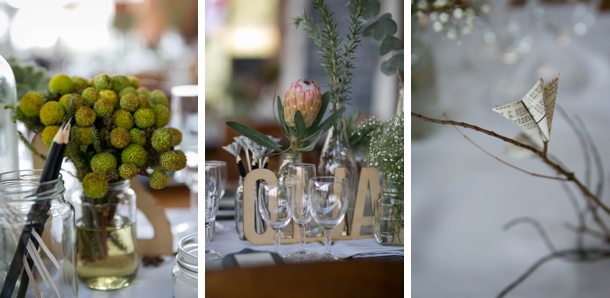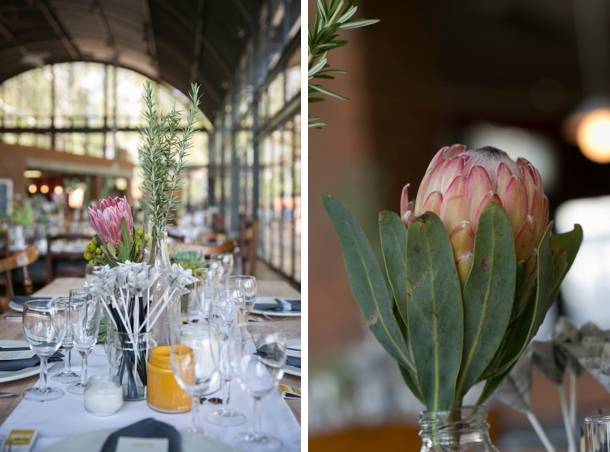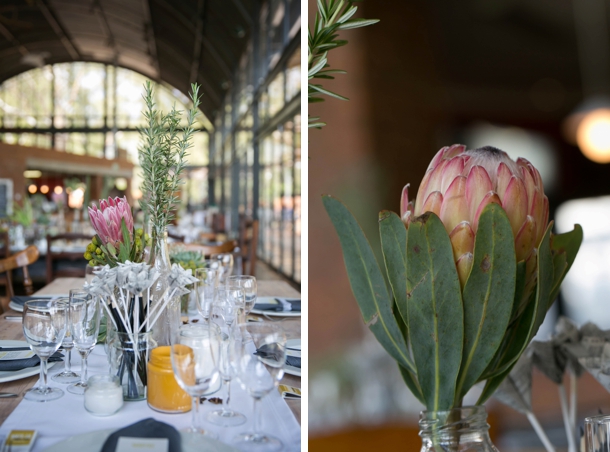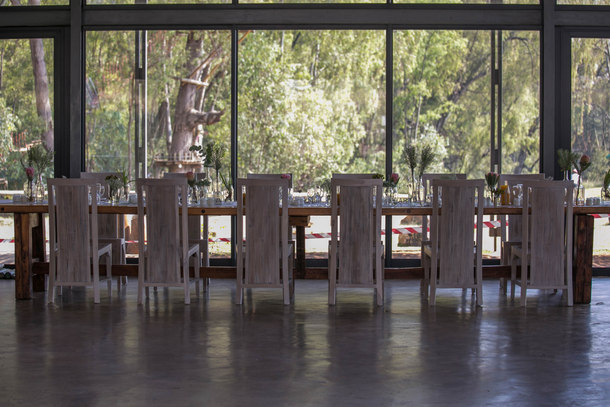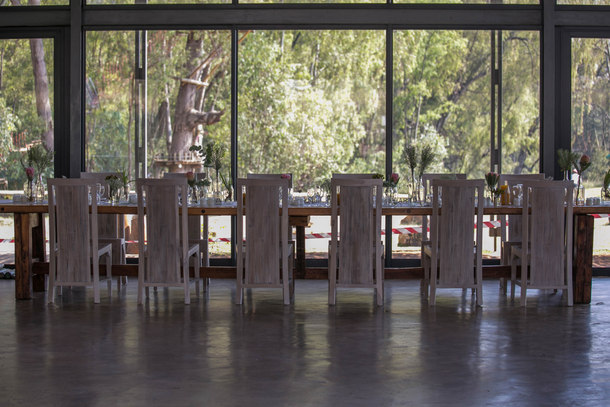 The Flowers
Lavender, Proteas (by Doornkraal Proteas, ask Japie, he is GREAT), Rosemary, Kol Kol, Jibb and 'Loof'. These were bought by my beautiful parents in law, Cecile and Koos Pretorius. They even collected them everywhere. On the day the were packed out by my aunt Betsie van der Spuy, my mother in Law Cecile and by Annaliza Swart (this lady is also very dear to my heart, and without her guidance and hard work on the day a lot of things would not have been so beautiful).
The Dress
This is a story and a half. I looked through magazines and there were quite a lot of dresses I liked, but I had no peace about a single one. One day I was in Metro, looking for material for bandannas for a friend. I saw this one material I really liked. I went home, but it kept nagging at me. In the end, I drew my own dress, inspired by the Holy Spirit, with a cross on the back and grey at the back symbolising walking out of sin. Jana Robertson from Silver Swallow made the dress for me, much better than I could have ever dreamed. She is absolutely amazing.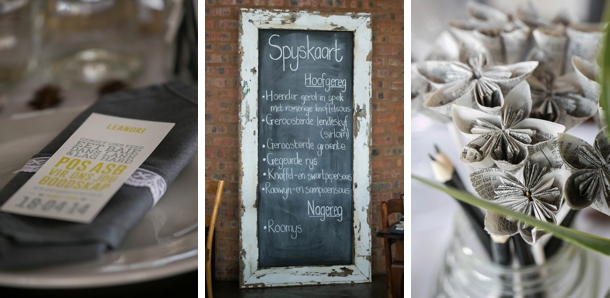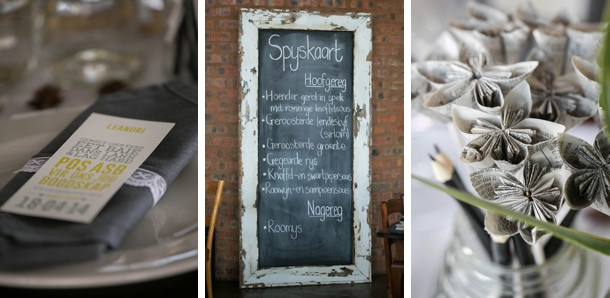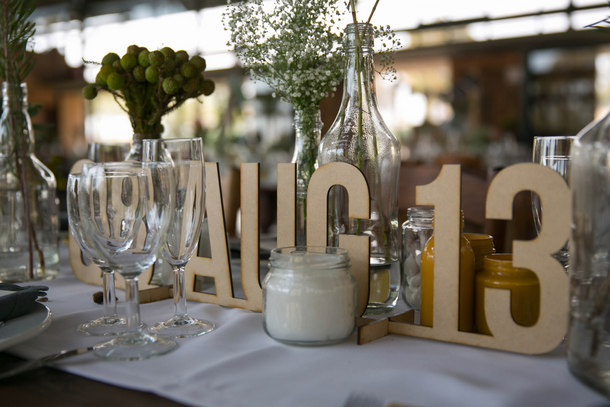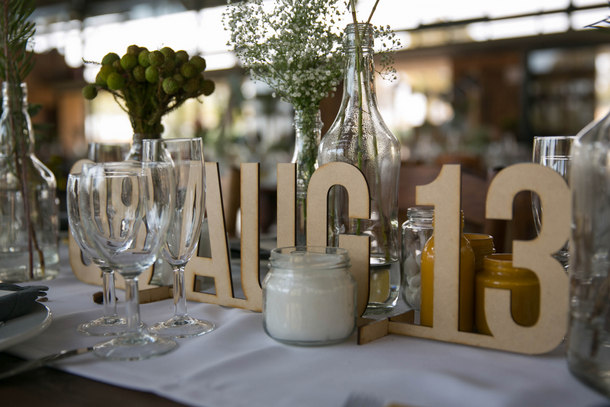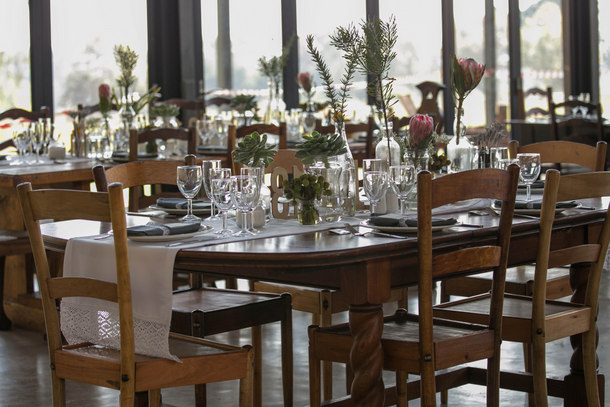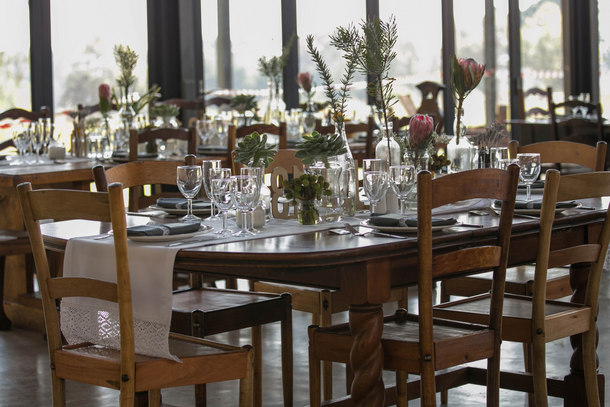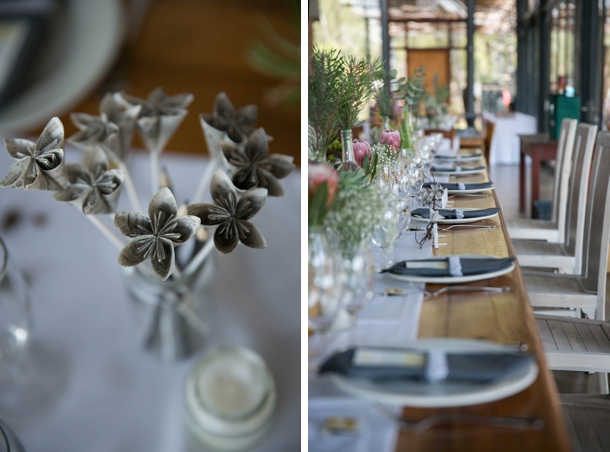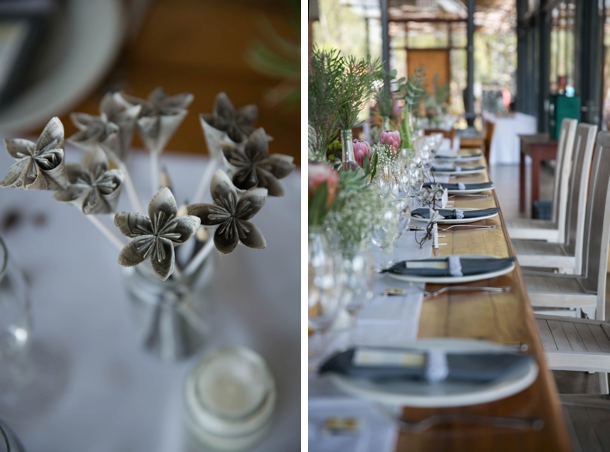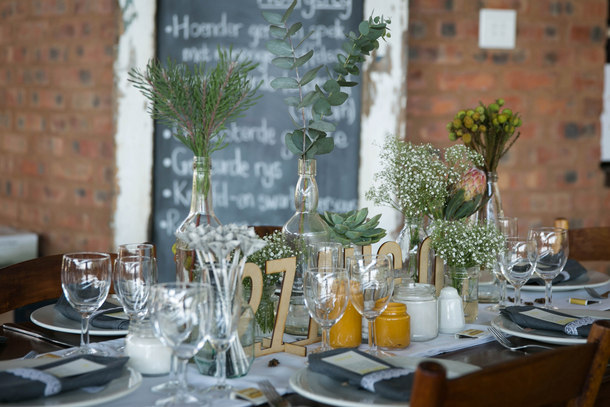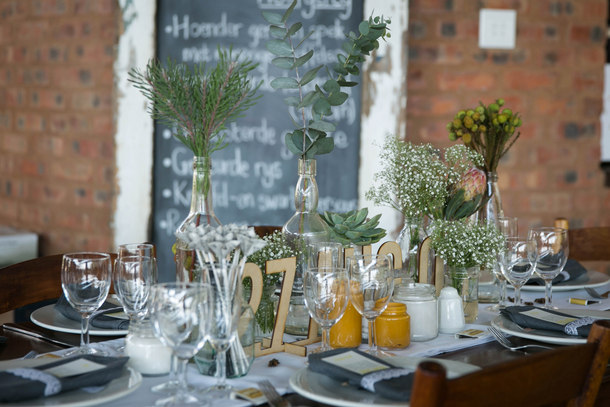 Memorable Moments
Our vows and Hannes's face when I walked down the aisle. The rest was just sharing the day with our family and loved ones.
Proudly South African Details
We had Proteas as part of our wedding flowers and biltong as part of our snacks.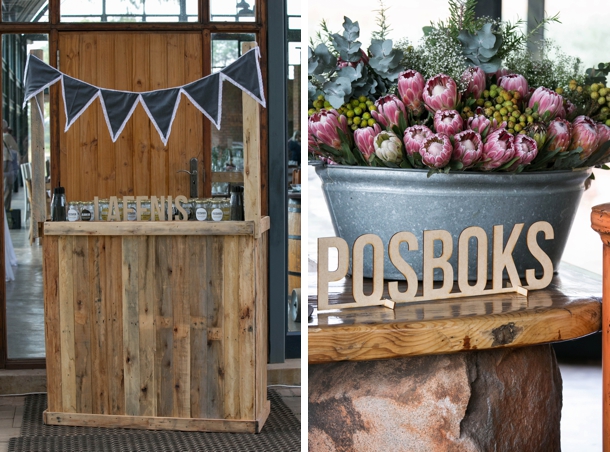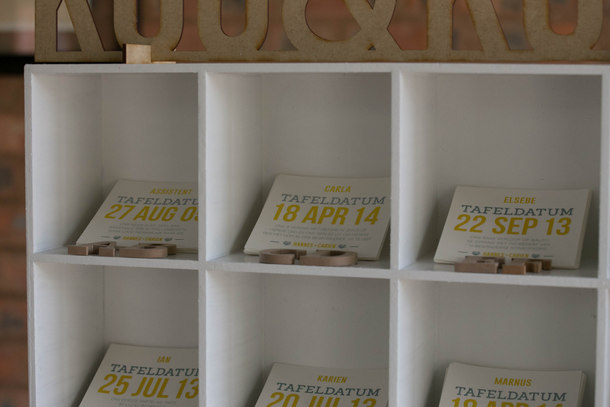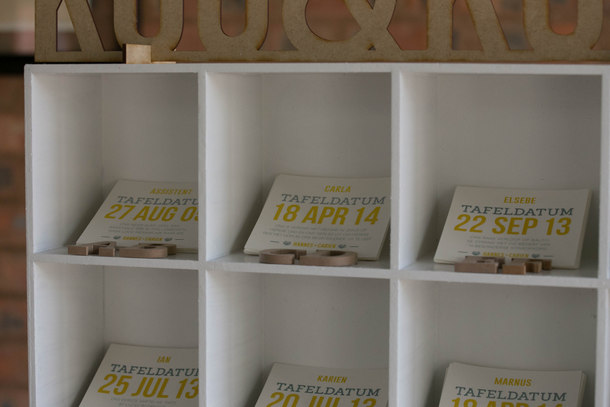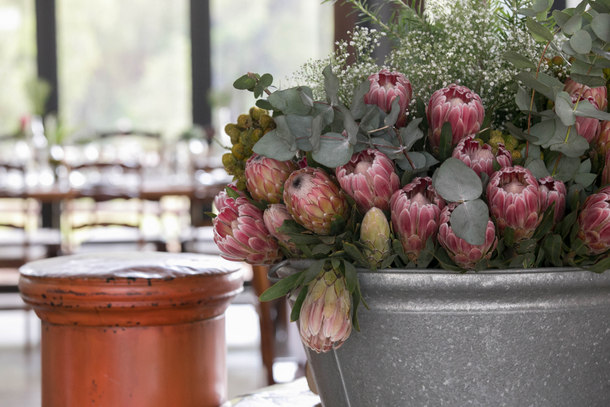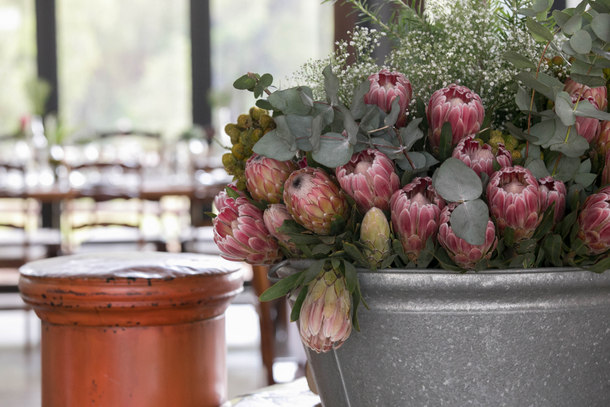 The Honeymoon
It was a complete surprise. Hannes only told me what to pack. He sorted out everything and bought everything that could give anything away. We went to Walkersons Estate, just outside of Dullstroom for the first three days. Then we went to Hazyview for the next five, admiring nature like the Pinacle, the Potholes, God's Window and the Kruger National Park. Then we left for JHB airport and departed for Meeru Island in the Maldives for the last week. It was GORGEOUS and everything was perfect. What a privilege, thanks to my man ;)
Advice for Future Brides & Grooms
REALLY don't sweat the small stuff. Hand everything over to family and friends to organise that you can't finish off the day before the wedding so that you can take everything in on the day itself. Bride, keep eye contact with your man all the way down the aisle, it is one of the most precious moments. Also, somewhere during the evening, take some time to stand away from everyone and just watch everyone enjoying themselves to take it all in.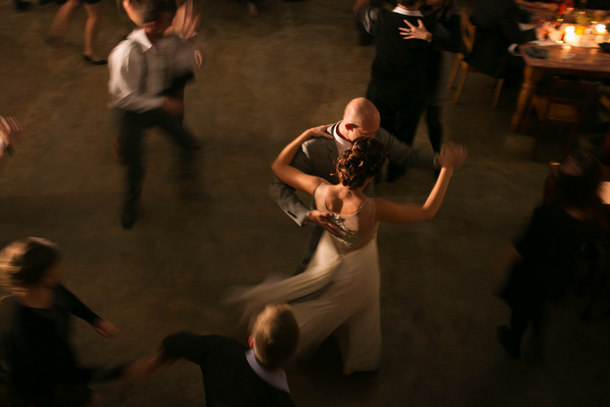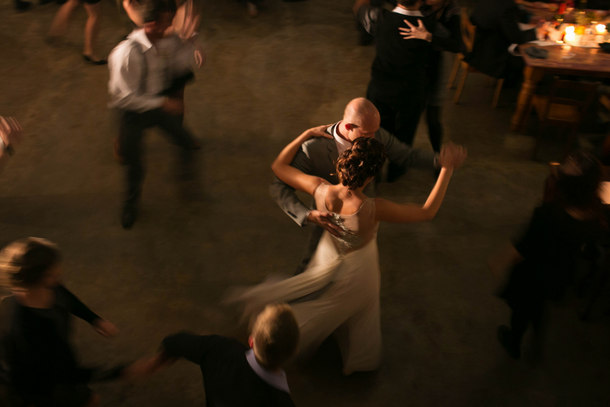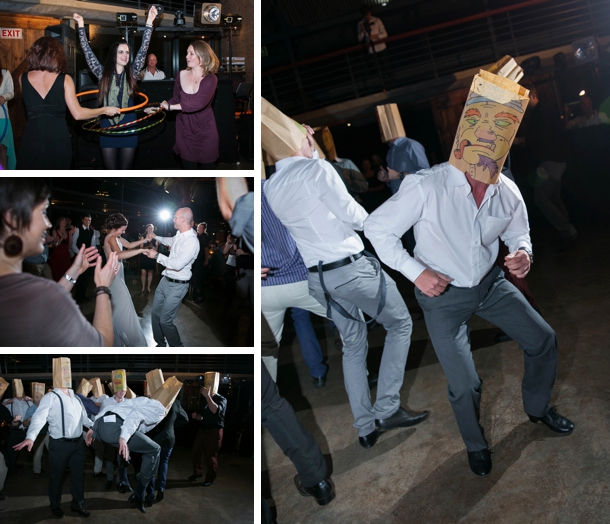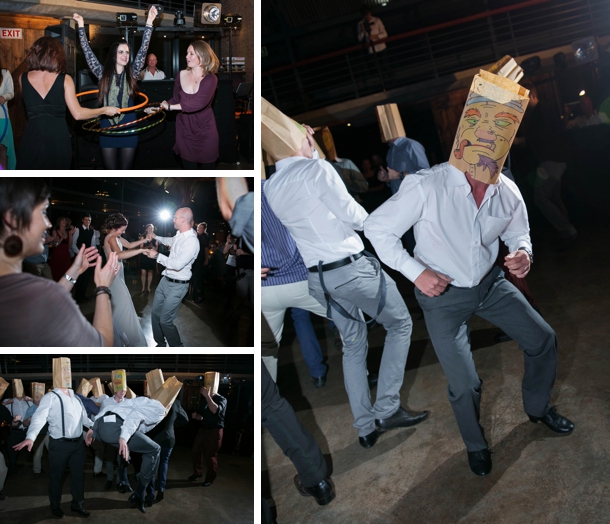 You can see more from this wedding on Stella Sassen's blog.
SERVICE PROVIDERS
Venue: The Big Red Barn | Catering: Vibe Catering | Ice cream: Whiskaway Icecream | Photography: Stella Sassen | Video: White Motion Films | Cake: Marilize Lombaard | Flowers: Cecile Pretorius, Betsie van der Spuy, Annalize Swart, Wilmarie Swart | Flowers supplied by: Pretoria Blommemark & Doornkraal Proteas | Stationery: Bride | Printing: Red Block Digital and Plancom | Bride's dress: Silver Swallow | Hair: Carla Strydom (072 839 0168) | Makeup: Constance Strydom (082 773 0495) | Groom's attire: Your Pall in Brooklyn Mall, Pretoria | Lanterns: Centurion Party Hire | DJ: Party Boyz, Zak Prinsloo (076 171 2315) | Lasercut: Tharien Lotz