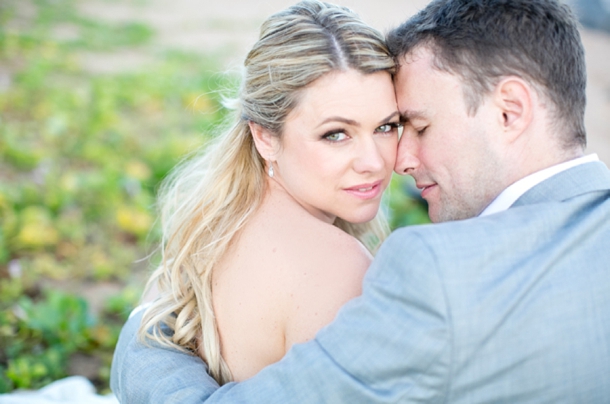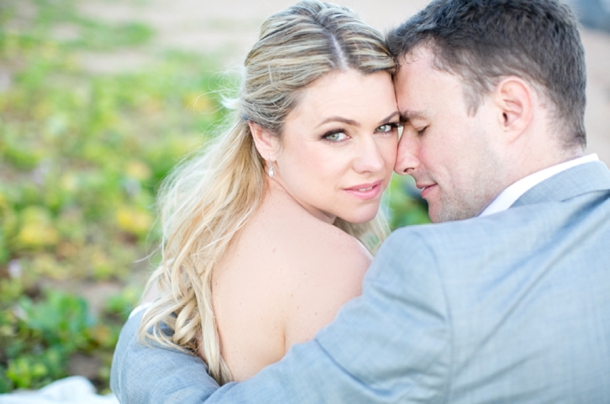 Any good photographer will tell you that the relationship they strike up with many couples goes above and beyond what's on the contract. Not only do they share your excitement ahead of the wedding and keep things calm (and moving) on the day, they're also there to share some of the most incredible, intimate, personal moments, the biggest of your lives. Many become like a member of the family or bridal party, and often friendships are formed along the way. It's a special relationship for sure, but usually, it only begins once there's been a proposal – it's not often that the photographer is there right from the word YES. But that's what happened with today's gorgeous, laid-back couple, Sarah and Oded, and their photographer, the fab Laura Jane. She was a surprise witness to their proposal (see the shoot here)! Laura Jane was also there to see Sarah and Oded's love story cumulate in a beautiful, blissed out beach wedding in Ballito (try saying that after a few cocktails). I love all the little details, from the succulent and peacock feather bouquet (brilliant combo, who knew?) to the adorable favours. A wedding as sweet, fun and in-the-moment as that proposal.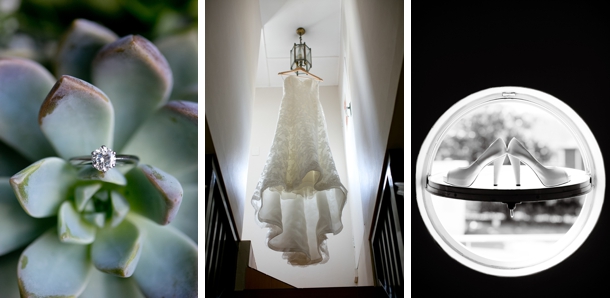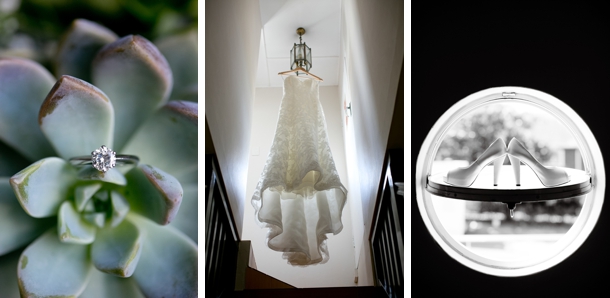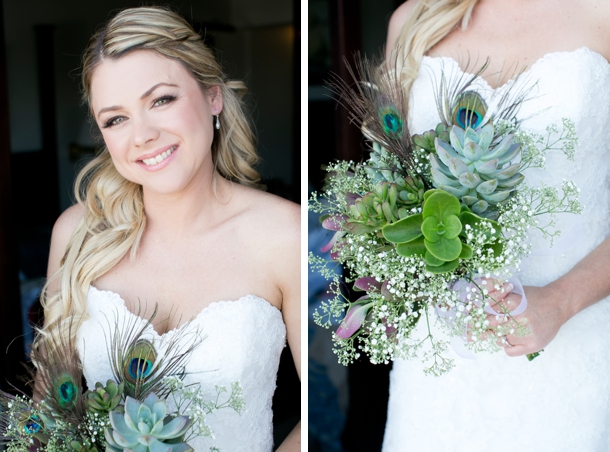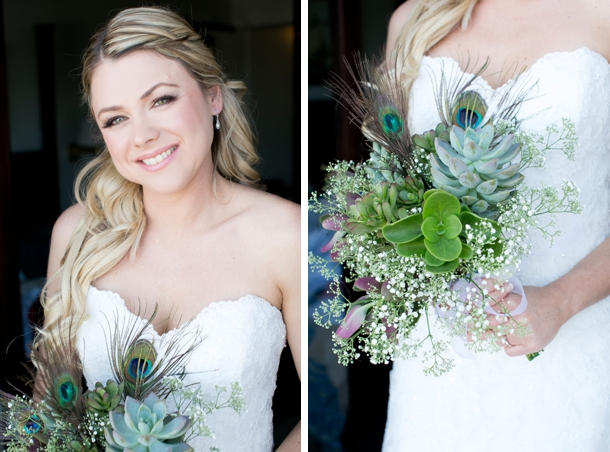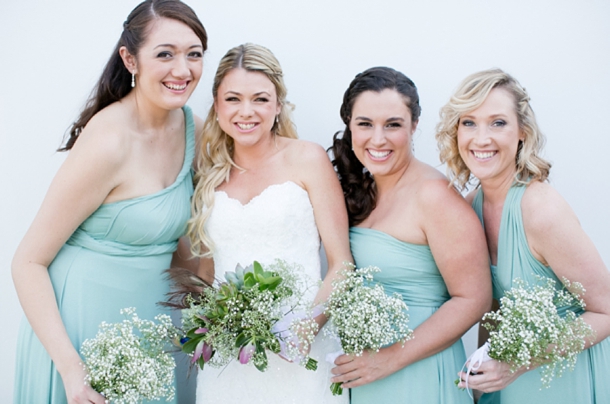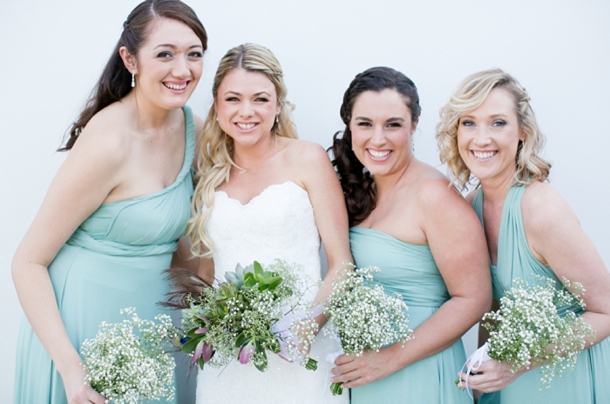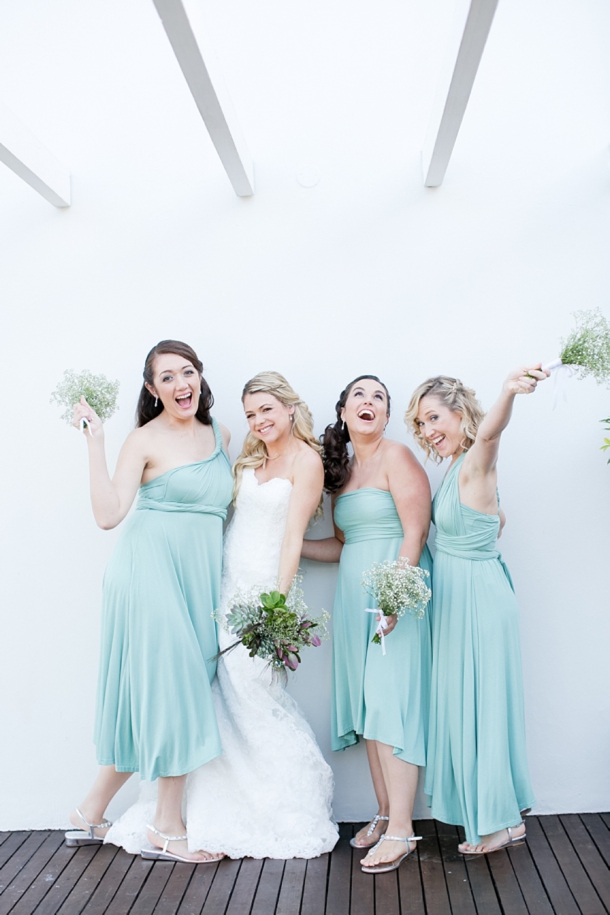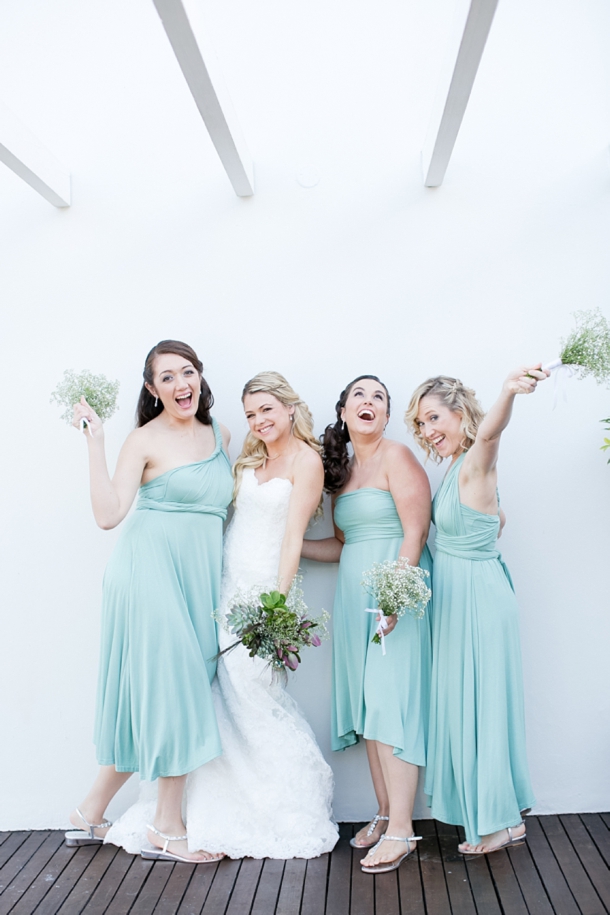 From our lovely bride, Sarah:
Oded and I met in July 2009. I had been living in London for seven years before we met and been teaching at a school in northwest London. I was asked to teach a lesson for three new teachers to observe as they would be joining the school from September, and I was to show them the procedures that we had. When I first saw Oded I got butterflies in my stomach and I was extremely nervous teaching the lesson. I thought I would definitely keep my eyes open for him when we started the new term, especially when I heard that he was South African! Oded and I taught at the same school for almost a year before we saw each other again (it's a very big school). He later moved to south west London where I lived and so I offered him a lift to school in the mornings. He accepted and over three months of driving the one and a half hour journey into school we became good friends. By this time I had developed a crush on Oded and really hoped he felt the same way. One Friday evening we went out with some other staff and finally he kissed me!
He proposed two years later in the sweetest way… My brother and sister -in-law had hired Laura Jane as their photographer for their wedding. She was coming to London and we arranged to have a couple shoot with her. We chose Primrose Hill as the location as it was where we had our first 'date'. It worked out that the only day we could do the shoot was on 18 June – 2 years since our first kiss. While we were having our photos taken on the grass, Oded dropped to one knee and asked me to marry him. Laura Jane and I were in total shock! Neither of us had expected it! It was so great as she was able to record our special moment.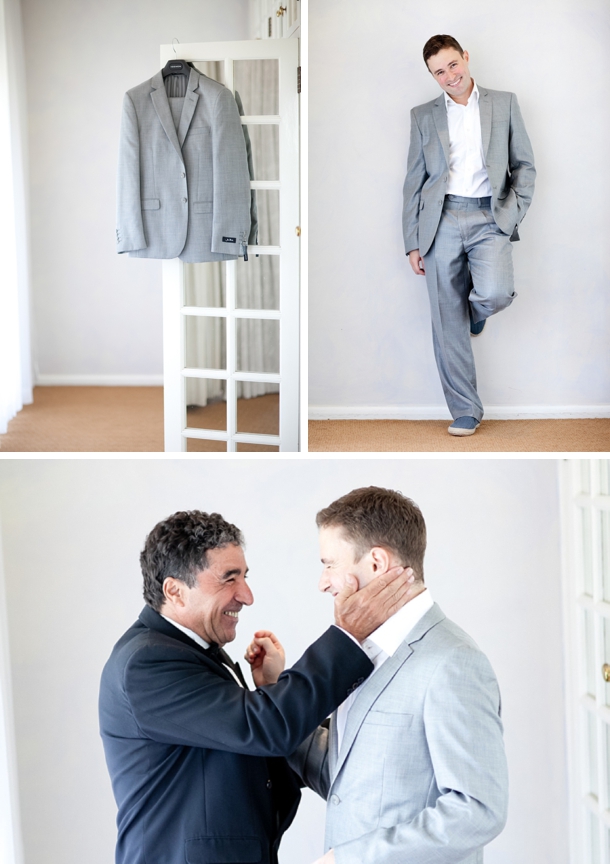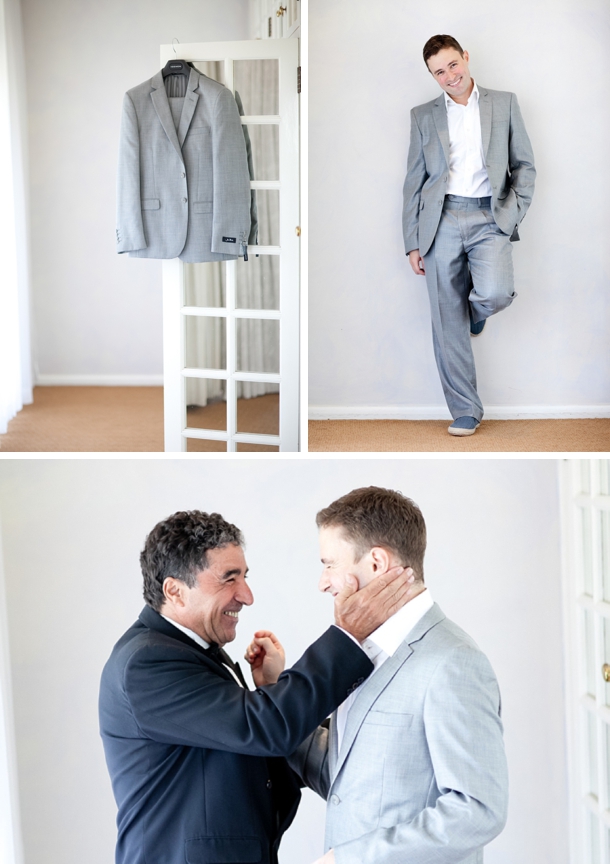 I am not a very girly girl and had no idea up until a few weeks before the wedding what colours I wanted – even for my bridesmaids' dresses. All we knew was that we wanted to get married on the beach. After battling for a few months to try and organize the wedding in Durban from London I decided to call in the help of an expert: Noreen from Timeless Weddings, who was amazing and a total lifesaver! Noreen found The Boathouse for us and arranged for us to have our own set-up and menu – which was different to what they usually offered.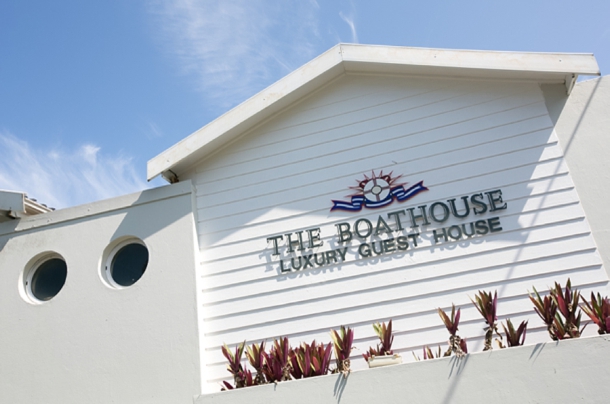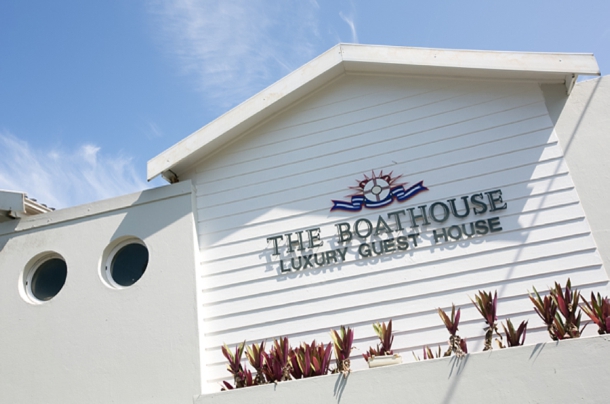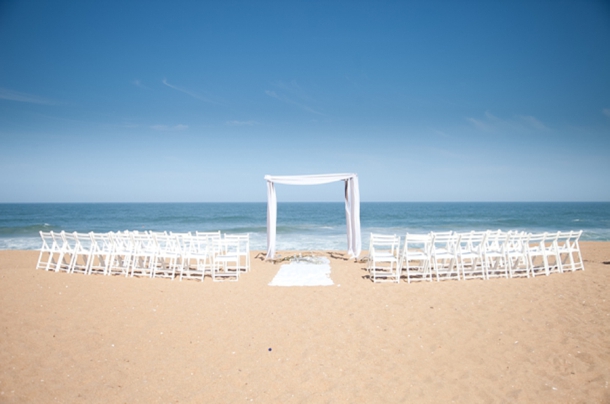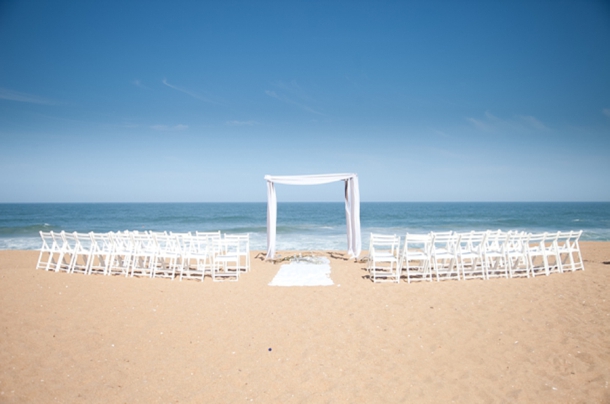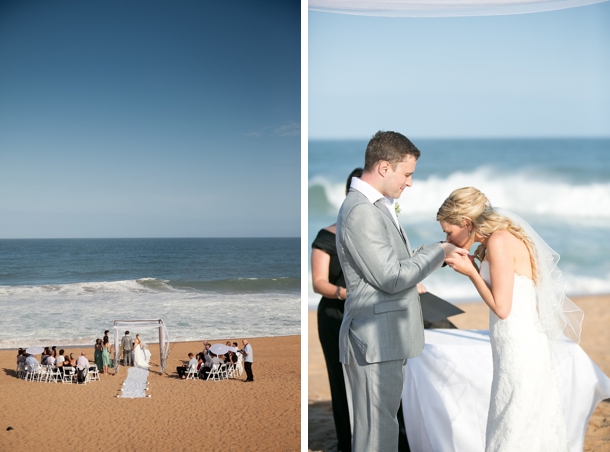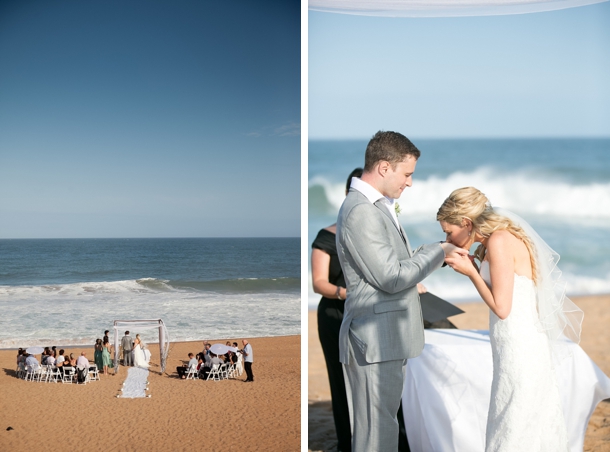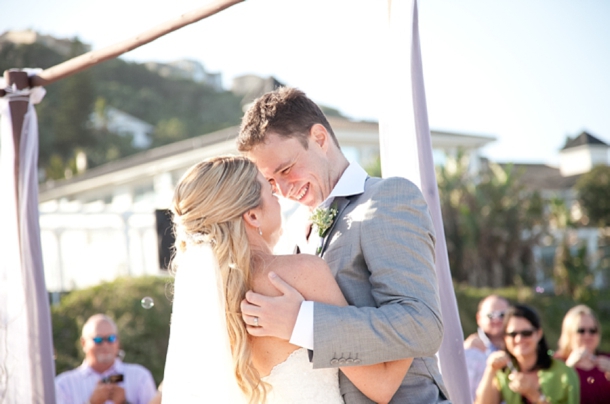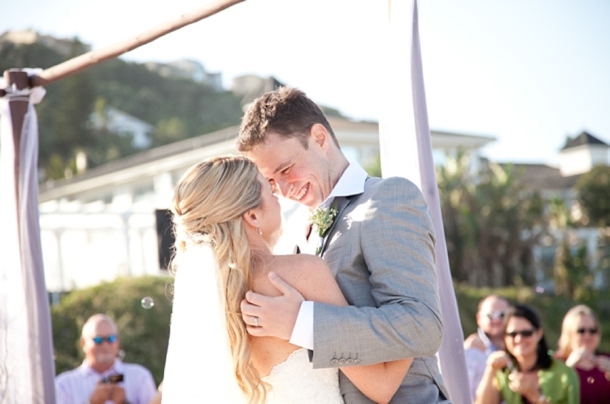 Our ceremony was on the beach in a semi-circle, so we were surrounded by the people we love, and my brother walked me down the aisle, which was so special. Our officiate, Fiona Briggs, gave the most wonderful ceremony, especially our hand ceremony, and our brother and sister-in-law gave such heartfelt readings. We had also written personalised vows for one another which showed our own little quirkiness. After the ceremony, ice creams were brought out to the guests, and we also gave them sunglasses for the beach and messages in a bottle favours with sand from the beach we married on.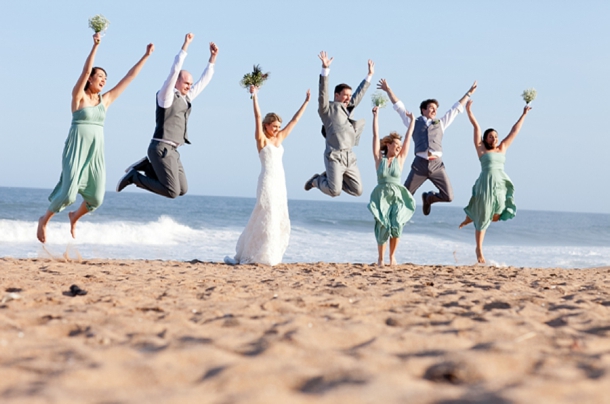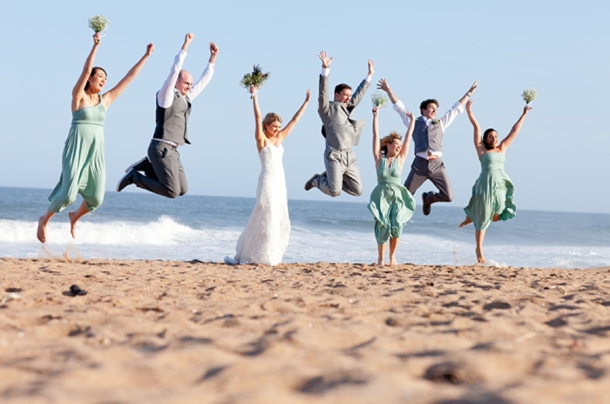 We wanted the day to be quite informal and relaxed – no sit down meals and table plans. We had lounge areas with couches and cocktail tables scattered around. We had nibbles like mini bunny chows and noodle pots brought out at different times so that guests always had something to eat and could try lots of different, little things. The colours turned out to be white with a sage green, inspired by the succulents in my bouquet. I couldn't decide on flowers and as my favourite plants are succulents I chose to have them in my bouquet with some peacock feathers.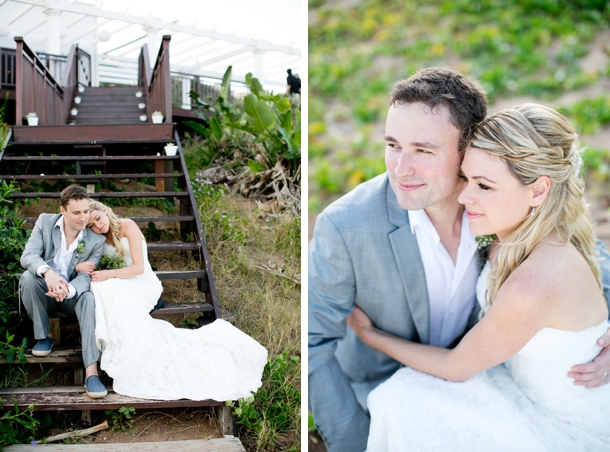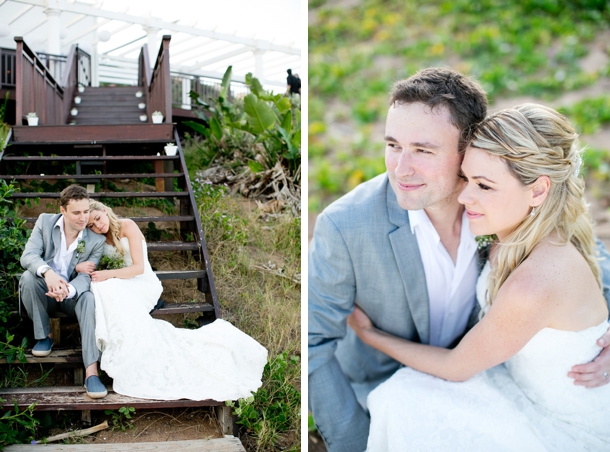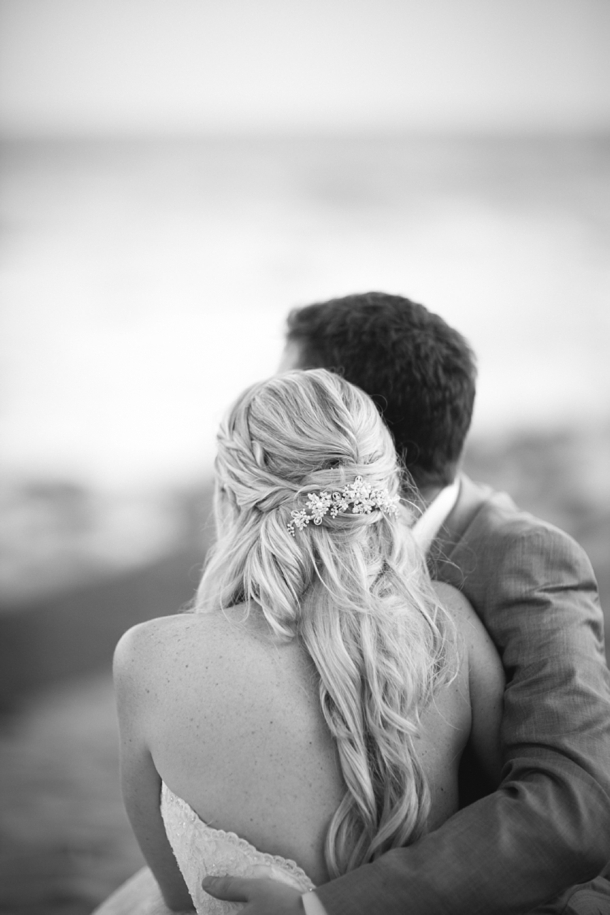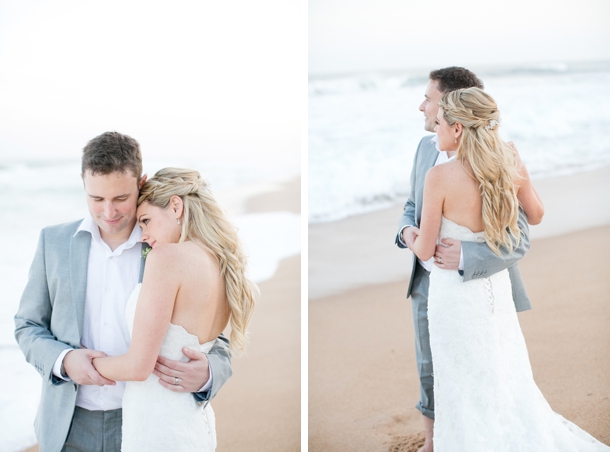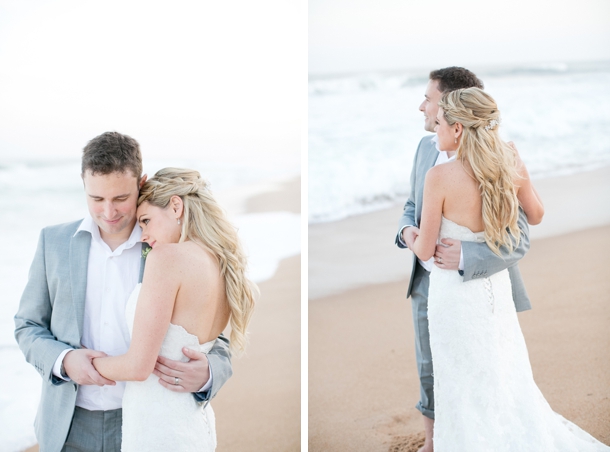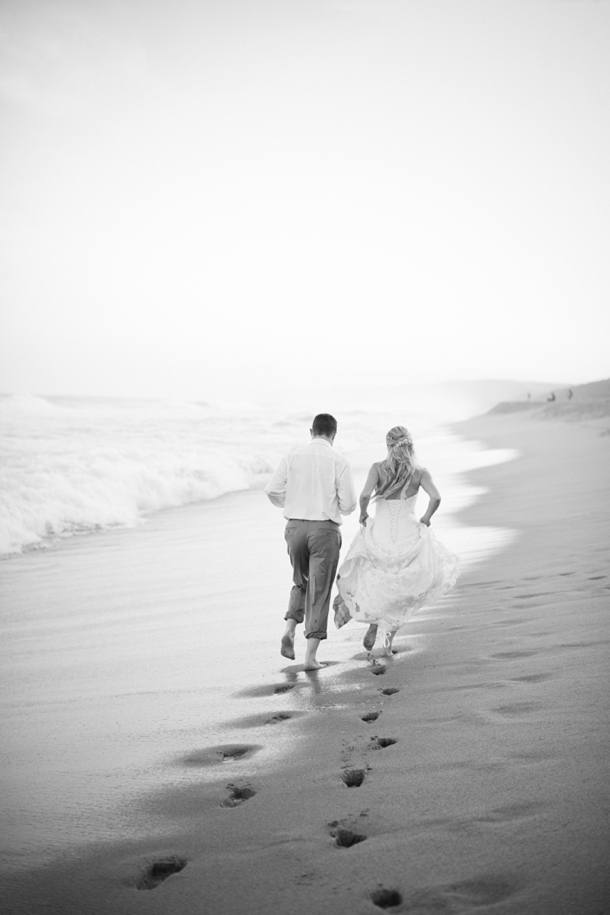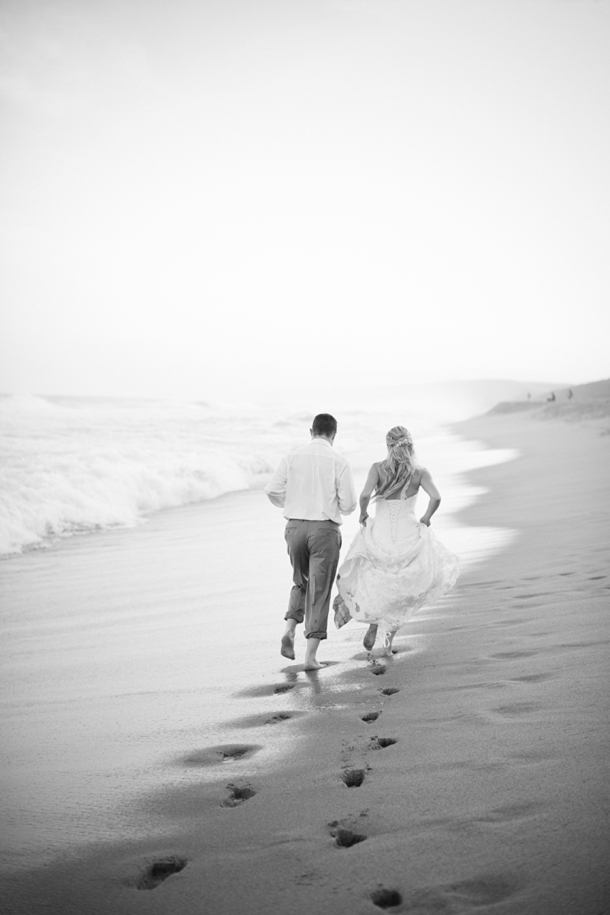 Oded's dad sang for us to dance to after our first dance, it was very special. We also played the shoe game, which was fun – we prepared cards so that the guests could write a question about who does various things in our relationship; we had to answer either me or Oded by lifting the relevant shoe. It involved the guests and they could be a bit naughty, so it also helped break the ice. Our DJ, Vivienne, knew how to get things going – everyone was on the dance floor, including some friends I have never seen dance.
Apart from marrying the most awesome, kind and loving man in the world, the most important thing to us was the outpouring of love from our friends and family. It was so humbling to be showered by all their love and they made our day all the more memorable by being there with us.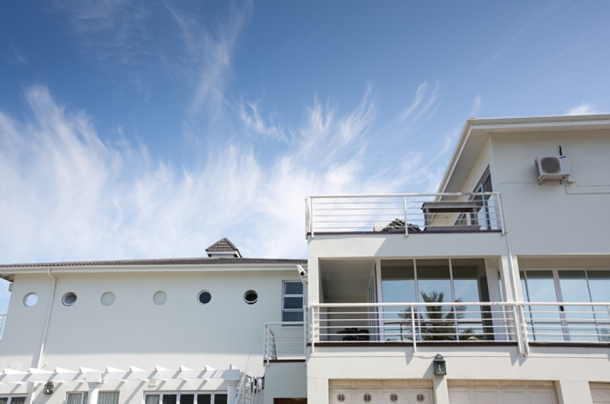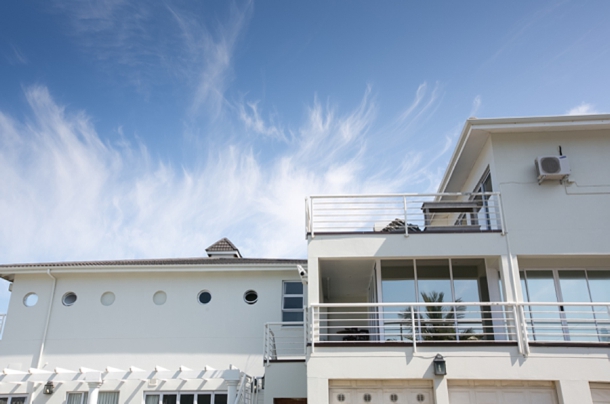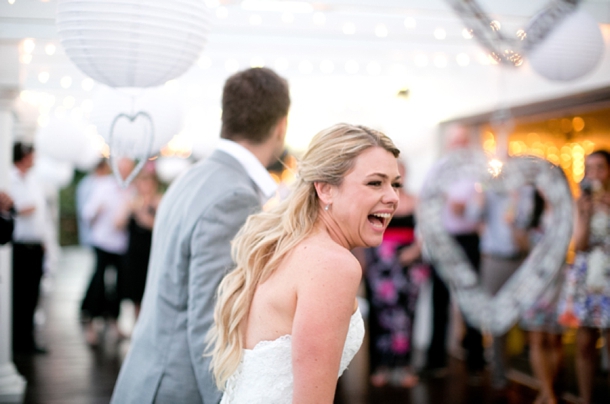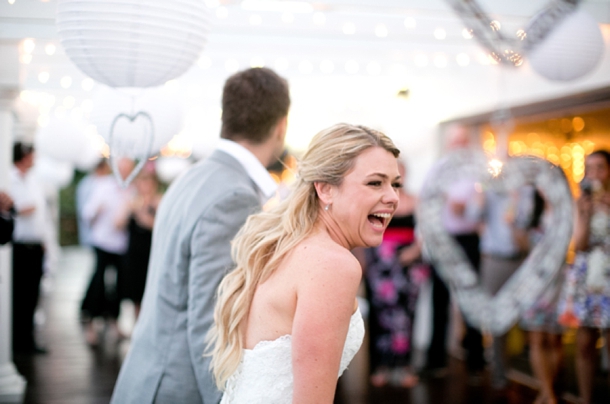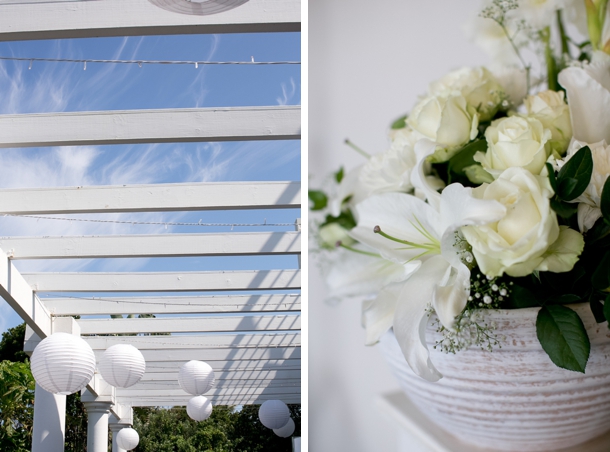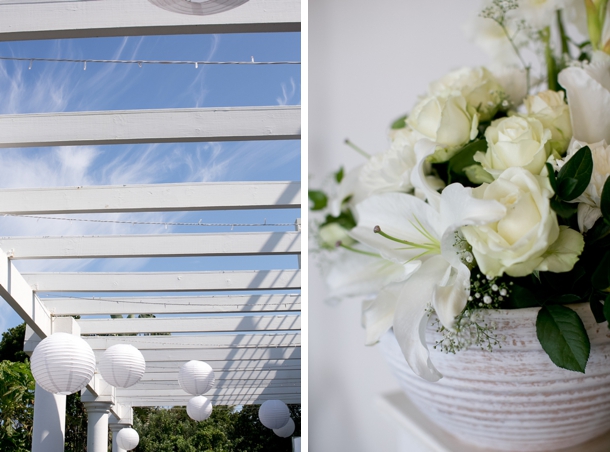 For us, planning a wedding from another country, a wedding planner was an absolute lifesaver – we were close to calling the wedding off and getting married at a registrar before we found Noreen. Oded's dad was MC and he entertained our guests while we went to have our couple's photo shoot which they absolutely loved. I highly recommend having someone do that. Finding a great photographer who makes you feel comfortable is also essential. Laura Jane and Jaco helped make our day amazing as they captured it all, all the while making us feel at ease and comfortable. We didn't have a videographer as I don't like watching myself on film. I am not sorry as Laura Jane and Jaco captured our day perfectly and we had such fun all day – these guys rock!
The number one piece of advice I would give future brides is finding people to work with that you are comfortable with. Our DJ made us smile from the second we met him, our florist reassured us every step of the way, my make-up and hair artist was fantastic, our officiate was accommodating and took the time to get to know us and our wedding planner was professional, efficient and always available and friendly. Nothing was too much for her. It took all the stress out of the wedding knowing that we had professionals working to make our day perfect.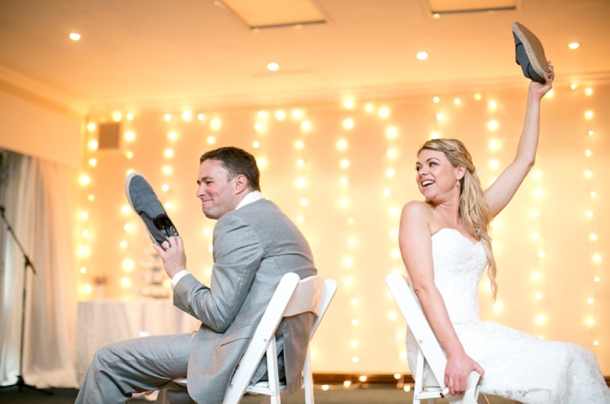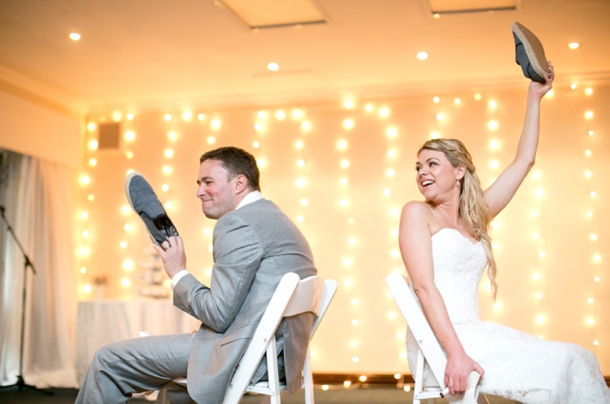 Thank you so much Oded and Sarah, and the lovely Laura Jane! See more from this wedding over on her blog.
SERVICE PROVIDERS
Venue & catering: The Boathouse | Photography: Jack and Jane Photography | Co-ordination: Timeless Weddings Co. | Flowers & decor: Mokka Blooms | Bride's dress: Maggie Sottero | Bridesmaids' dresses: Josephine Clothing | Hair & makeup: Nixon Makeup | DJ: : Vivian Westergreen, Topjocks
SBB ♥ Jack and Jane Photography, a featured member of our Directory