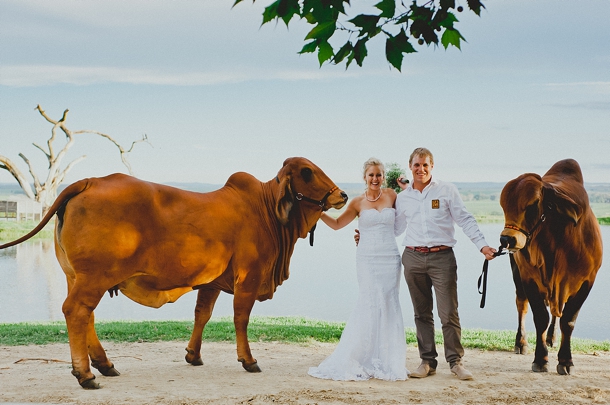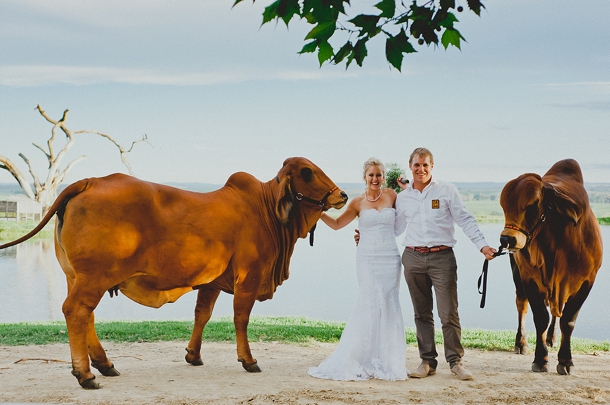 Succulents, bright festival stripes and a dollop of glitter and gold – what's not to love about this Winterton farm fête from the awesome Casey Pratt of Photo Case Photography? Suzaan and Pieter built their tented wedding reception from scratch, with a focus on their guests, a loose palette of mint, coral and gold, and buckets of personality. From the colourful bridal party (each with a little touch of sparkle) to the gold-dipped jars and bottles on the tables, to the striped runners, to the fox-topped, succulent-surrounded, gold meringue cake, it's full of vibrancy and fun, and with a bride and groom who closed the dancefloor at 5am no less, it's no surprise. I just love couples who have fun planning their Big Day, and who make it a reflection of their relationship – and these two even invited the prize Brahman cows in for a couple of pics. It's farm wedding fabulousness all the way.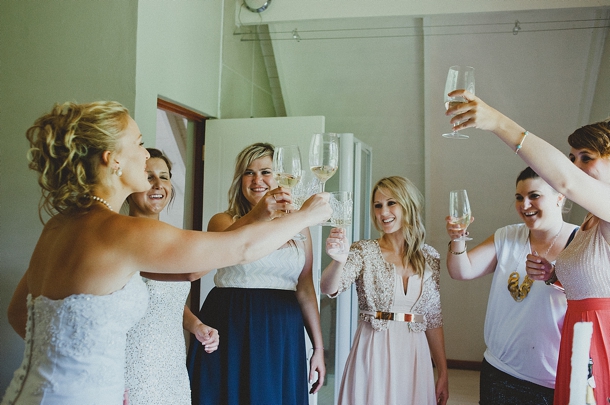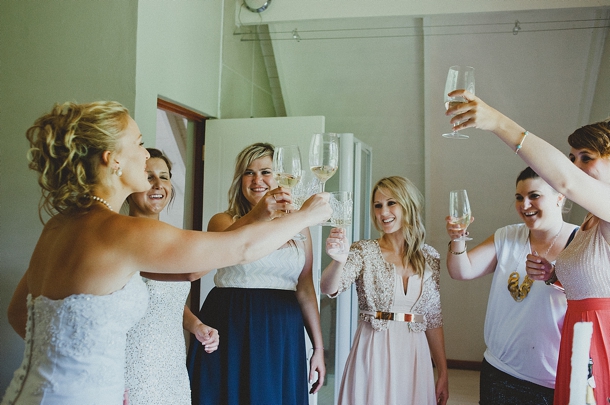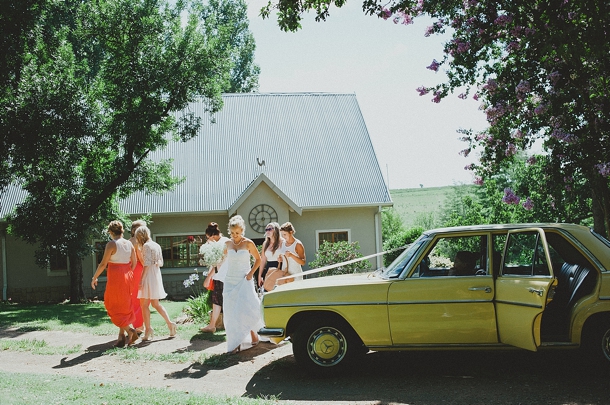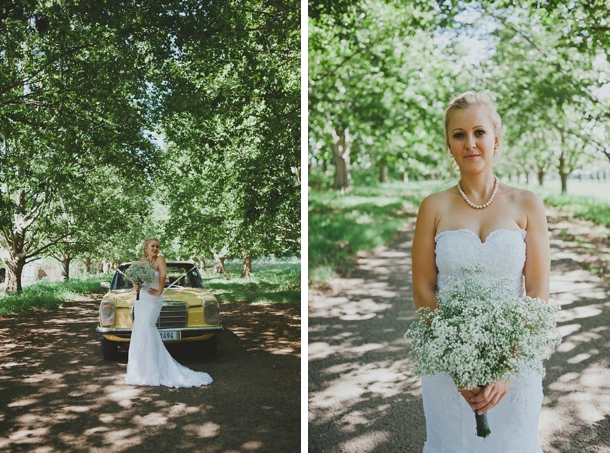 Love Story
We met in November of 2009 in the most beautiful town, Winterton. I was living, working and studying in Bloemfontein at the time and had just broken up with my ex-boyfriend of three years. My very good friend, Marcel, invited me to visit her step dad's family in Winterton for a weekend. 'Coincidently' her cousin, Pieter, also lives and works on the same farm as her "step" family and I got to meet the blond, blue eyed, tanned farmer in his PT Shorts, Cheetah rugby jersey and tekkies. I wasn't very impressed with his dress code, but I attributed it to fact that it's a small town and maybe they don't know better. We went to the local pub to watch the rugby that evening and a couple of drinks turned into bar hopping and exploring the Berg's night life, and we ended up playing pool until 3AM. The more Pieter and I conversed, the more he 'sucked' me in with his honesty and sincerity. I let all pretences go and tried my very best to get a moment alone with him. Unfortunately the already empty Honda Jazz did not strand us beside the road and I got a hug and a "nice to meet you" at the end of the night. The following day Marcel and I drove back to Bloemfontein and that's when I decided I'd take matters into my own hands, I sent him a text and since that day there hasn't been a single day that has gone by without us talking to each other. We knew that the distance (450kms) would be a challenge and for the first six months we weren't really sure if it would work, but I knew that God introduced me to this man for a reason and I also knew that guys like him do not appear around every corner. So we stuck it out for four years, spending thousands on travelling and hours and hours on the road. Appreciating every long weekend, because that would mean one more day together, until he asked me to marry him!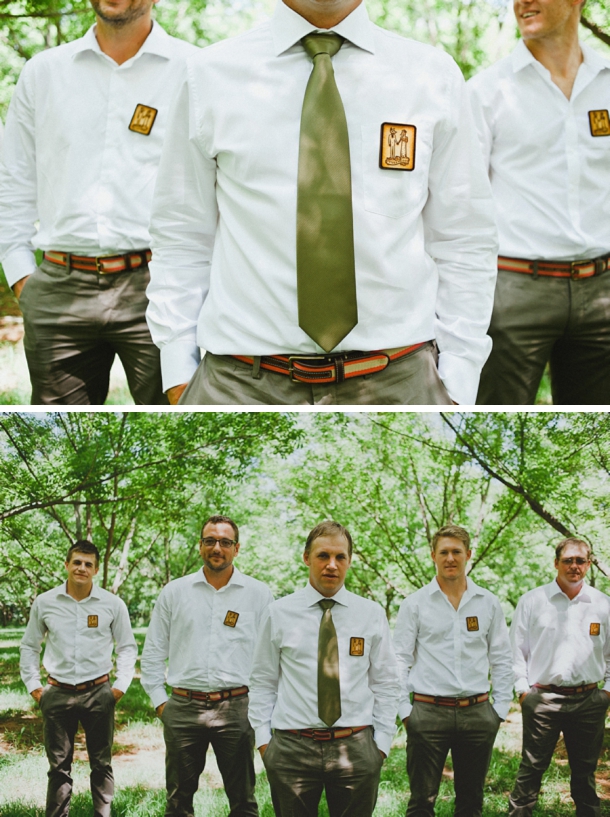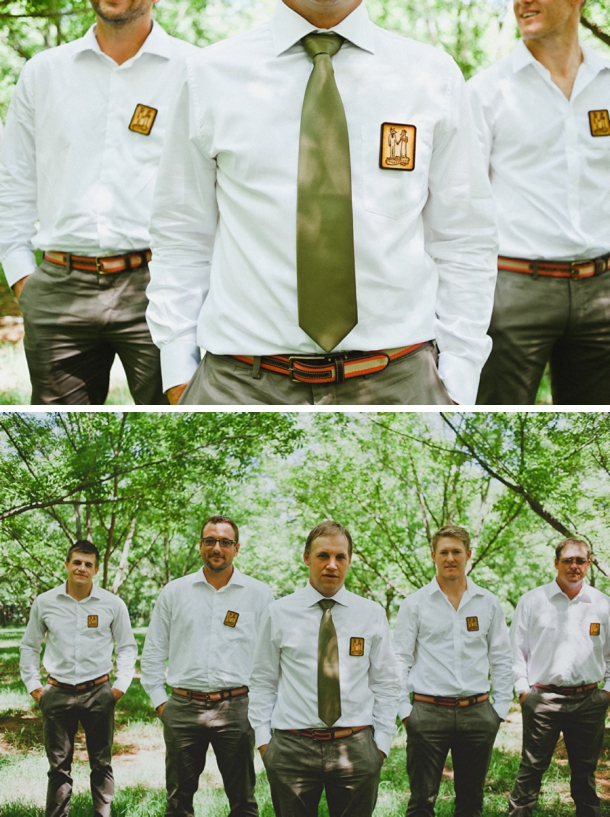 The Proposal
If you knew me, you'd know I LOVE surprises, simply because it's difficult to surprise me. I'm one of those who spoil my own surprises by acting like Nancy Drew and digging up information, picking up on small nuances, etc. I knew that Pieter had asked my parents to marry me but I did not know when or even if he really wanted to. I was part of an action netball team in Bloemfontein at the time, and that Thursday, we had a 6pm game. My best friend, who owns the most wonderful deli and coffee shop, Marmelade Deli, had phoned earlier that day and asked if I would pick her up after work because she had a flat tire – I didn't suspect a thing. I got there, saw her car (no flat), and thought to myself "Oh my word, Sarique, sometimes you can be so paranoid!". As I was entering the deli, 'On Top of the World' by Imagine Dragons began playing. There were big balloons and the most handsome man, dressed to impress I might add, on his knees asking me to marry him. We were both so nervous and emotional that I couldn't say anything else but YES! It was so special to spend that amazing moment with the people I love so dearly – and I have never been that surprised in my life! They did a really good job :)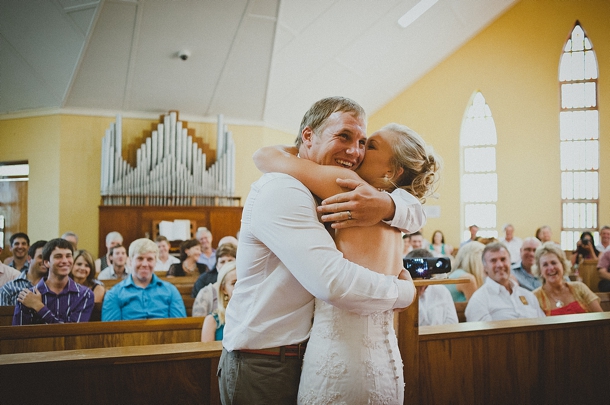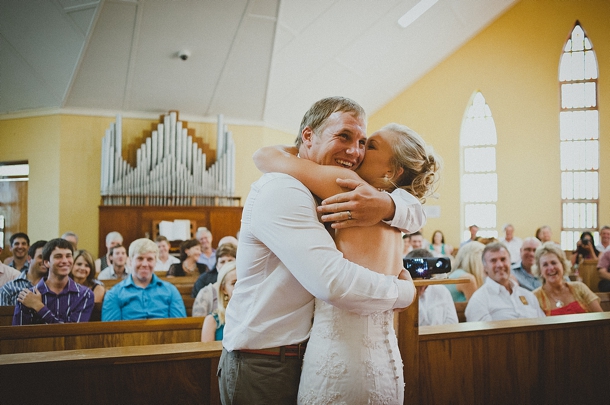 The Venue
I wanted to get married in a church – I believe in God and so the church has a very romantic and significant meaning for me, especially for a wedding. I had the DJ play Vitamin String Quartet (a favourite of mine) while the guests waited and then walked down the aisle to the wedding march. Our reception was in a tent on the farm my husband works on in Winterton. We decided to have it here because this is where we met and also where we'll be starting our lives together. I wanted my friends and family to see my new home and also, who doesn't want to get married at the foot of the Drakensberg?! The view from our venue is just breathtaking!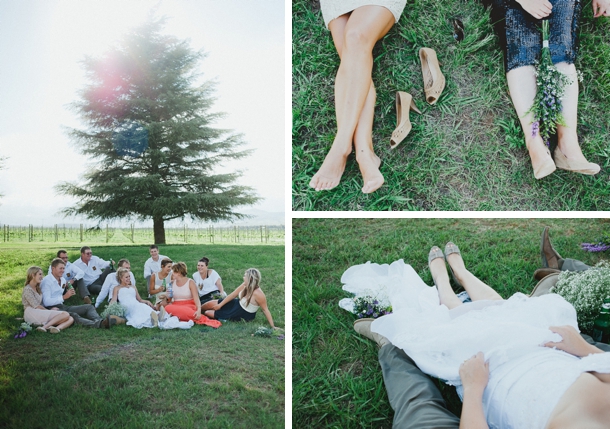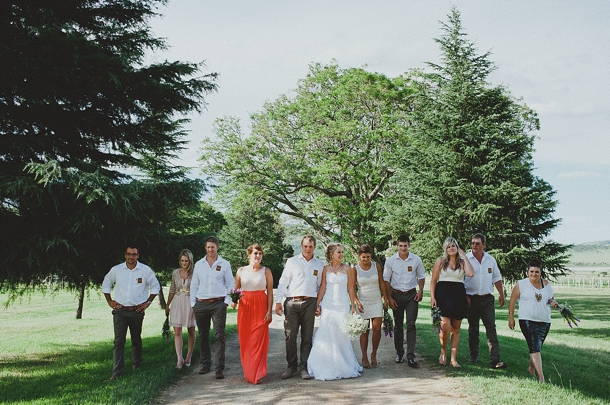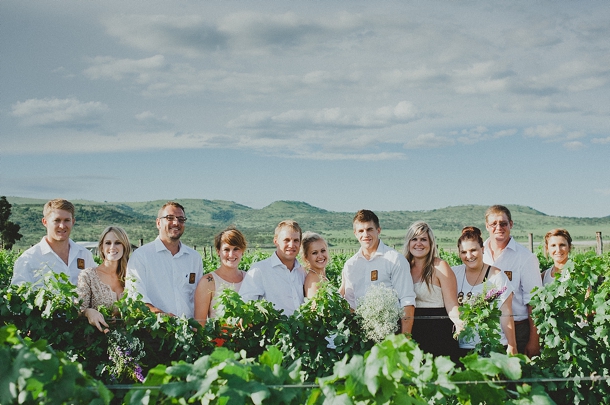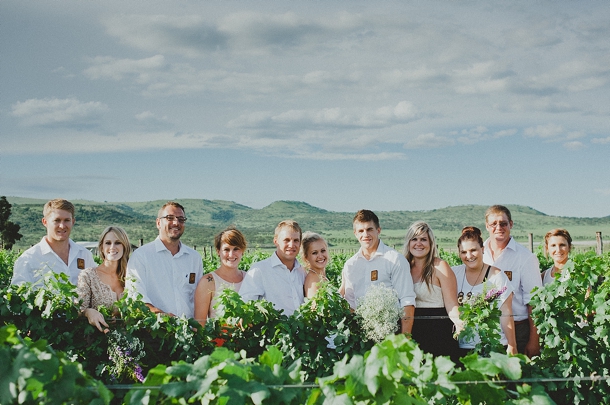 Wedding Style
From the beginning I wanted a small intimate wedding, but my mom convinced me otherwise and we had 190 guests attending. I wanted to get married in summer because I wanted it to have a festival and party feel. I like pretty, unique and different. I also knew that I wanted to incorporate stripes, gold and desert roses (succulents). Our reception was in a tent which really contributed to the festival theme and I chose a bright colour like coral (which I LOVE) and mint green to bring it down a notch. At the end of the day, I was obsessed with the guests and making sure that the feel of the wedding was that of a "party". We really wanted everyone to have a good time!
Wedding Details
The wedding itself had a very relaxed vibe, I think the fact that the DJ was a friend of ours and she's really, REALLY great at what she does helped a lot at setting an atmosphere that felt like a party. We made use of a website to give information to our guests, we had a design company design a "logo" for our wedding which ultimately featured everywhere. I'm a very spontaneous and self-assured person, my husband is a very relaxed and laid back type of person, so yes – I think the wedding reflected perfectly on our individual personalities but also on our relationship.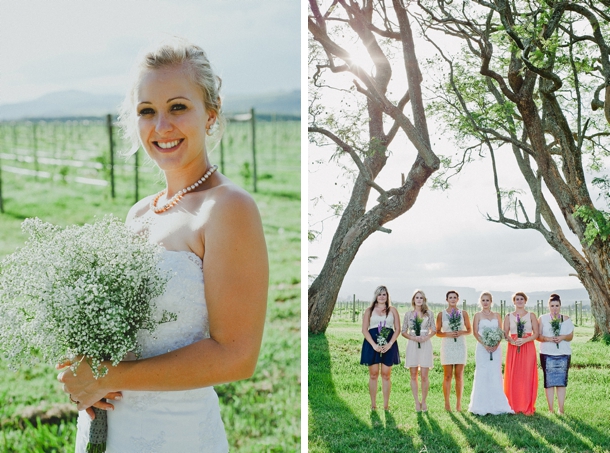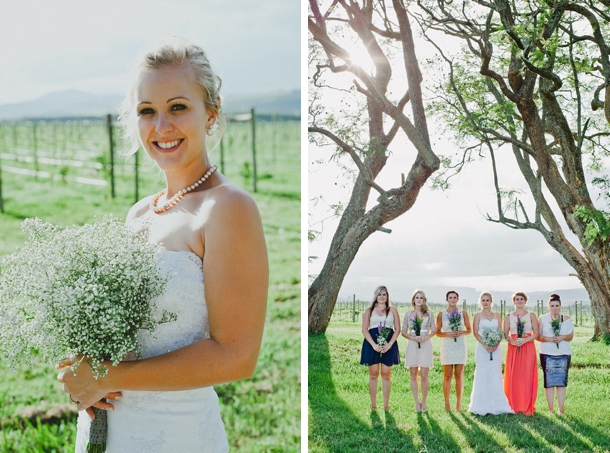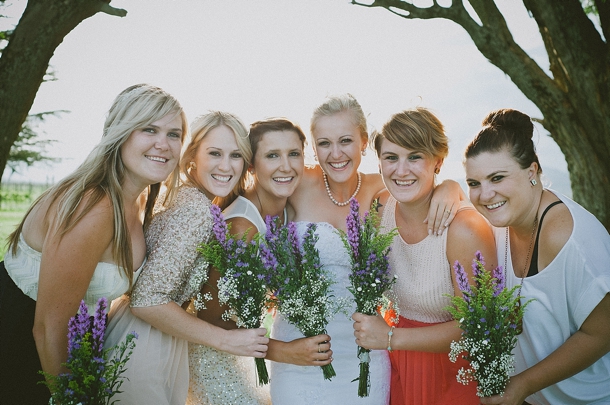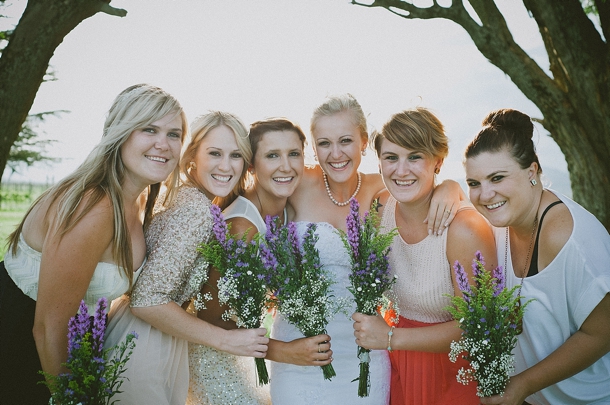 DIY & Budget Elements
Oh my word, the whole wedding was DIY! We had a total of R 80 000 for our wedding, and we had a 190 guests which meant we needed to work smart! My mom made the overlays for the tables, my mother in law made sure that I had more than enough desert roses. I painted bottles and paraffin lamps with gold and my dad sawed a tree trunk so that I could use it for centrepieces. My husband made the table numbers and we made a dance floor out of plywood and pallets. We had breads, patés, cheeses and marmalades as snacks and 'starters'. We had a spit and a 'pancake cake' for our guests. The chef at Marmelade Deli made our wedding cake, a Chocolate Stout cake with a surprise inside – it was filled with Chuckles and Smarties when you cut it open! She also blended in with the golden colour theme and covered the cake in golden meringue. I didn't spend too much on flowers, I've always wanted to use Baby's Breath and I did. We hired our tables and chairs, we got our caterer to handle the bar and bought wine and champagne whenever there was a special on at a store. Because our wedding was slap bang in the hottest time of summer, we bough Pieter's outfit from Trenery & Country Road at Woolworths. I wanted him to be as relaxed as possible. We needed to arrange for the assembly of the tent, we were responsible for cutting the grass, folding and unfolding tables and chairs. We pretty much did everything ourselves, our caterer draped the tent and did all the catering, but we did the rest.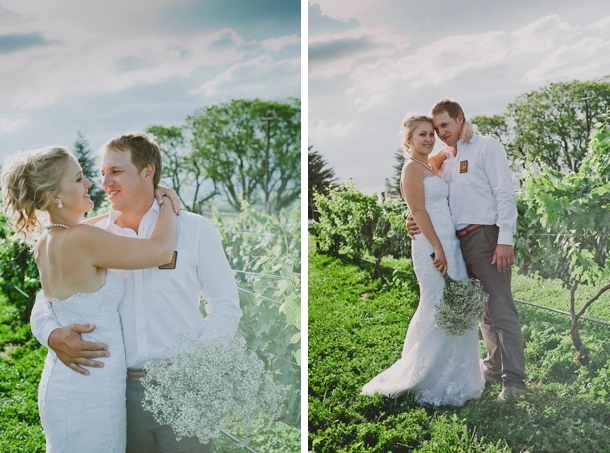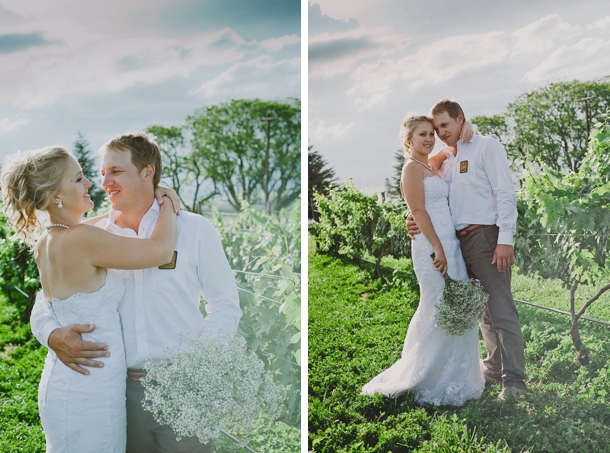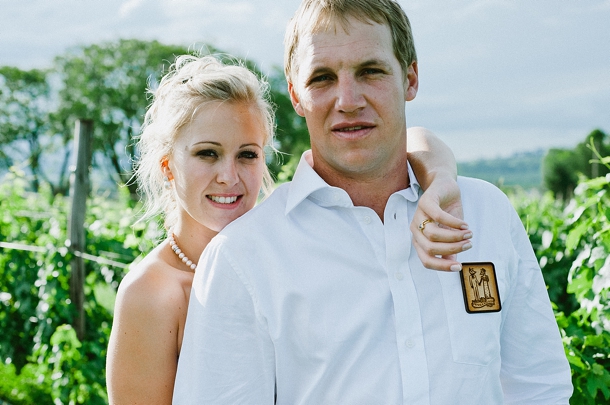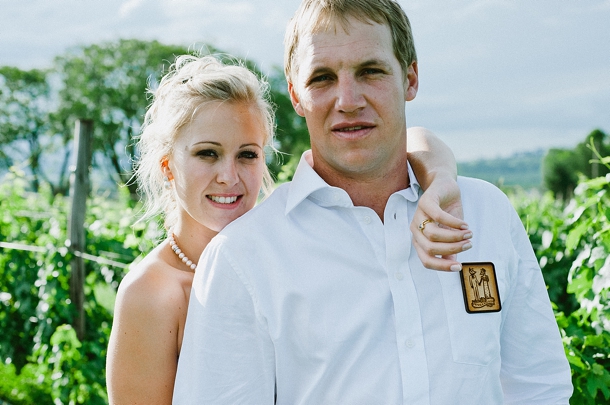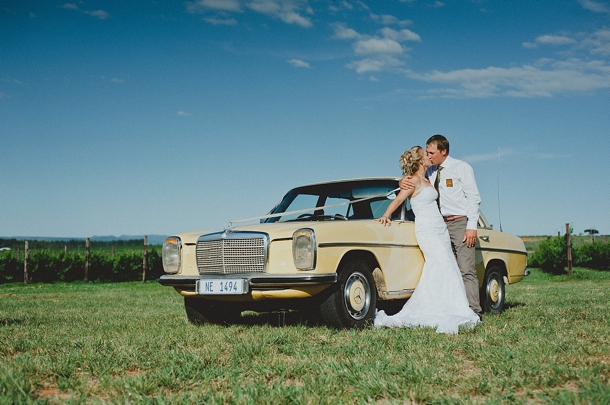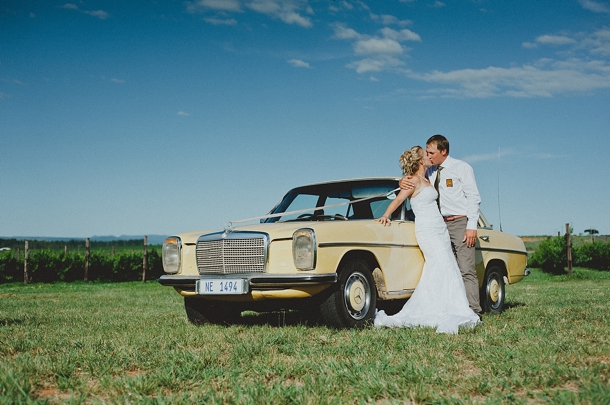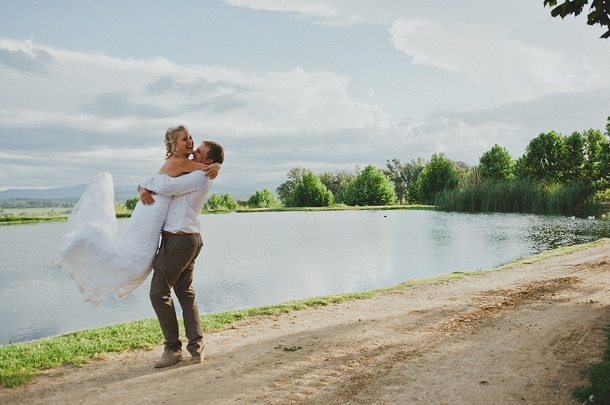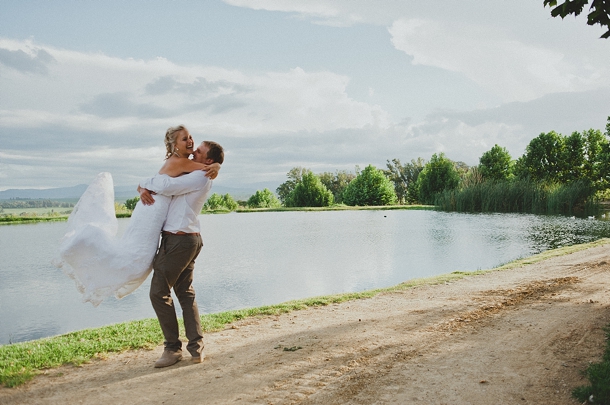 The Flowers
We didn't have much to spend on flowers, so the September before the wedding Pieter and I planted our own flowers. The weather was a bit strange and we didn't have enough so I went to the local florist and bought the most beautiful wild flowers and lots and lots of Baby's Breath which I used as my bouquet. My flowers weren't set, they were placed as randomly as they'd grow and that is exactly what I had in mind.
The Dress
I appointed my friend, Sarique, as a my wedding planner and advisor. She studied design in Stellenbosch and she's extremely creative. She saw my dress online and I ordered it from a website. She advised me that a mermaid fit would probably look best. I have small shoulders and big boobs, a very small waist with hips (that don't lie) and I'm quite short. I had gone dress shopping with my then future mother in law, but didn't see any sense in me paying R20 000 for a dress that I'll only wear once. I rather wanted more guests than a very expensive dress. The dress arrived and it fit like a glove. But I was in tears, the details were atrocious! They used yellow beading and cheap lace – it turned out that they don't order the dresses from the US, they replicate them. So, Sarique to the rescue! We fixed the things I didn't like and at the end of the day I was extremely happy!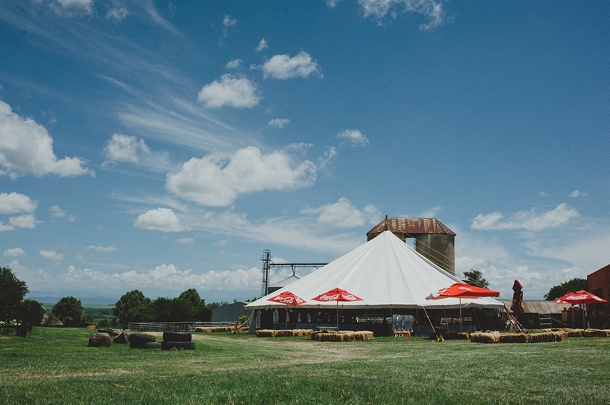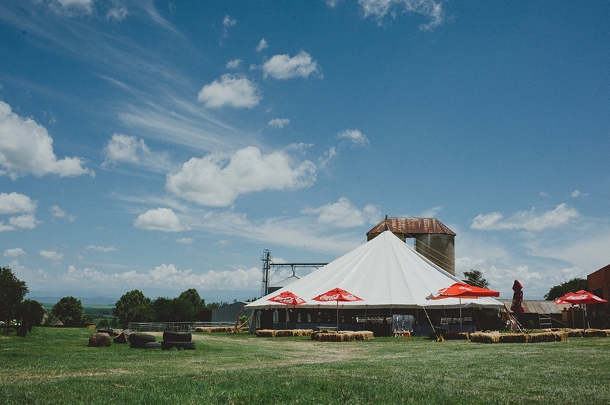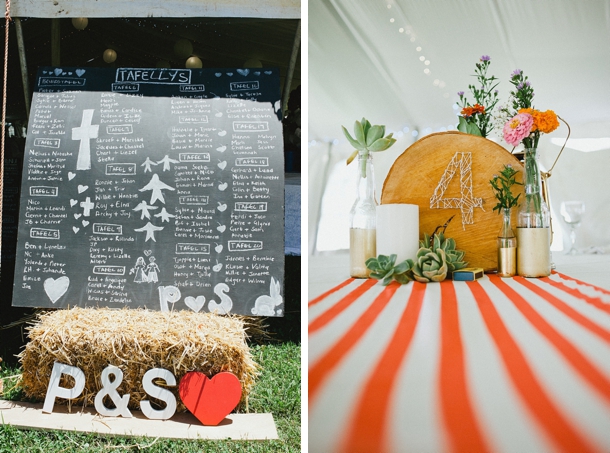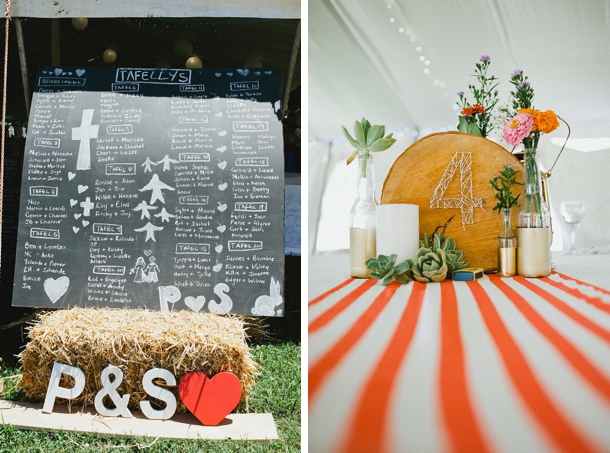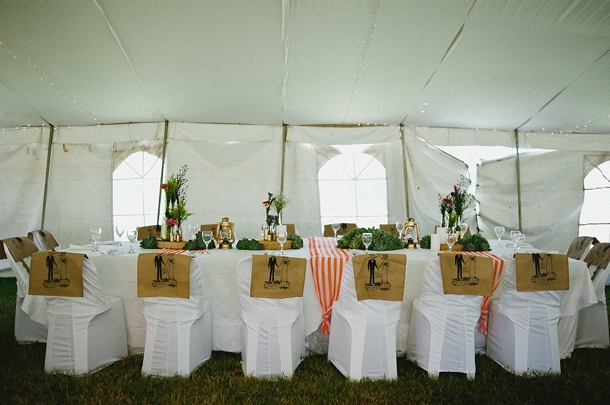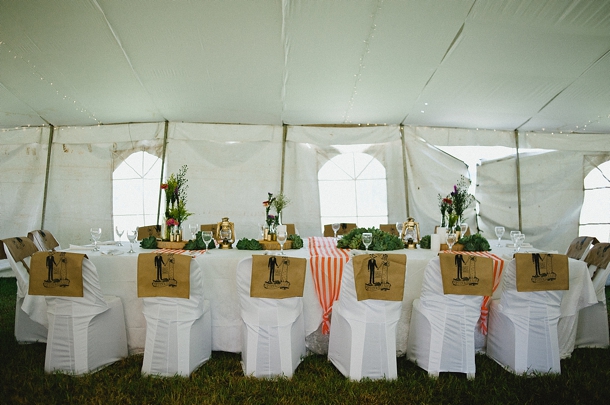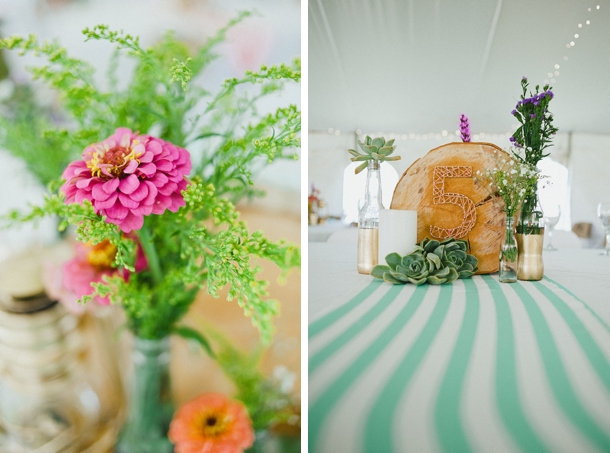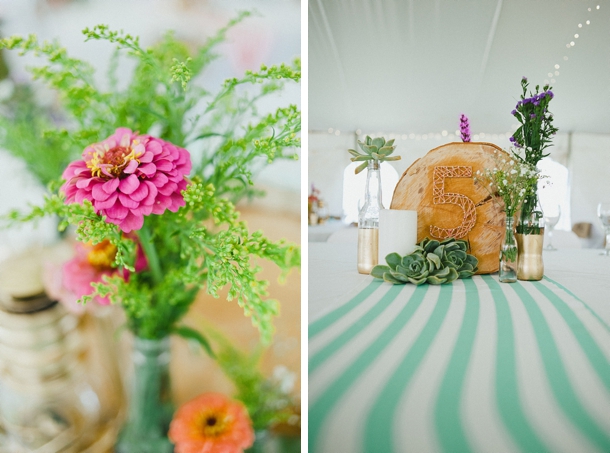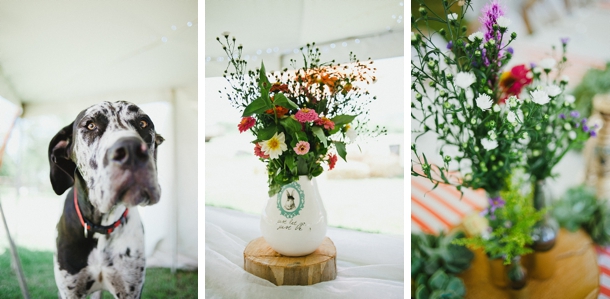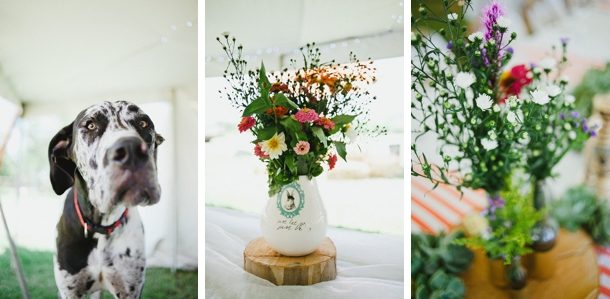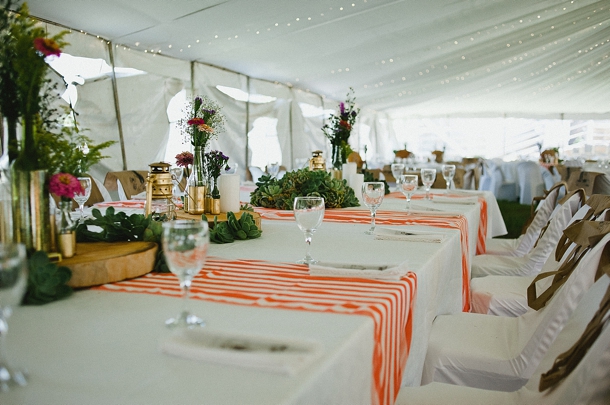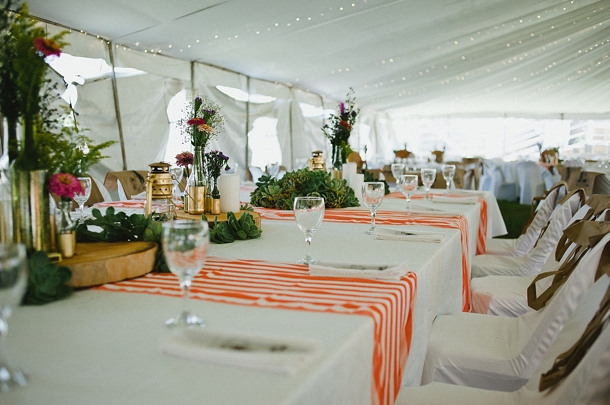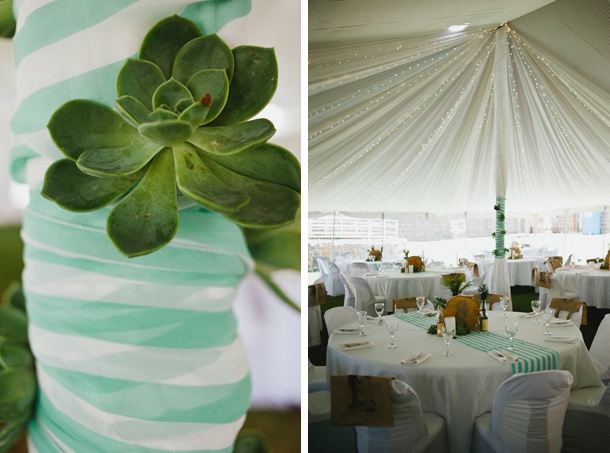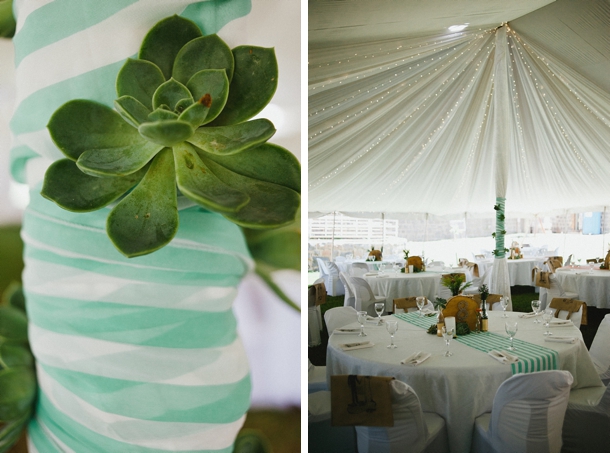 Favourite Detail
My most favourite detail was the incorporation of the desert roses into everything – the cake, the tent poles, they were everywhere.
Memorable Moments
Walking down the aisle with my dad and watching the sunrise with my new husband. (That's right, I've always said that I'd be the last to leave my wedding! We partied until 5AM and were the last two to leave!)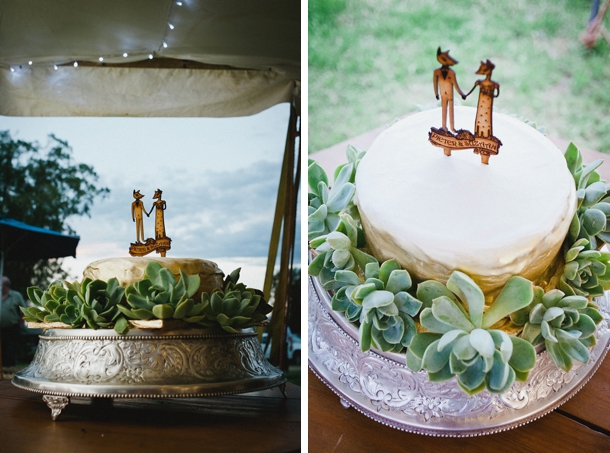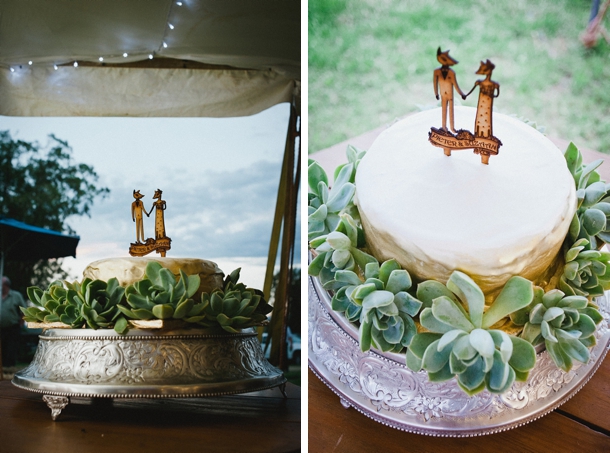 The Honeymoon
Because we didn't have a lot money to work with for the honeymoon, we stayed in South Africa. My husband had planned a ten day holiday in the Kruger National Park, which is a day's drive away from Winterton, two weeks after the wedding (it was the middle of high season). He also surprised me with a two-night stay at the Drakensberg Sun Resort just after the wedding. Which helped, after working and planning your own wedding and then partying until 5AM, it takes its toll! We eventually decided not to go to the Kruger and opted for a ten day stay at Umhlanga Sands instead. We lazed around the pool, went jogging every morning, sightseeing in Durban and had a wonderful, wonderful time. Now we're saving for a proper trip to Thailand.
Advice for Future Brides & Grooms
It depends if they're DIYing all the way and if they've made use of a venue, but I'd say – PINTEREST! PINTEREST! PINTEREST!
Make sure that you put your guests first. They come a long way to celebrate with you and most of them need to arrange accommodation and they usually give you a gift as well – it's worth it making them feel special and appreciated!
Don't fret too much about the small things, at the end of the day it's mostly about the people you invite and the love you and your new husband share. I have never been that in love with anyone as I was on my wedding day – relax and enjoy it! It really does go by so fast!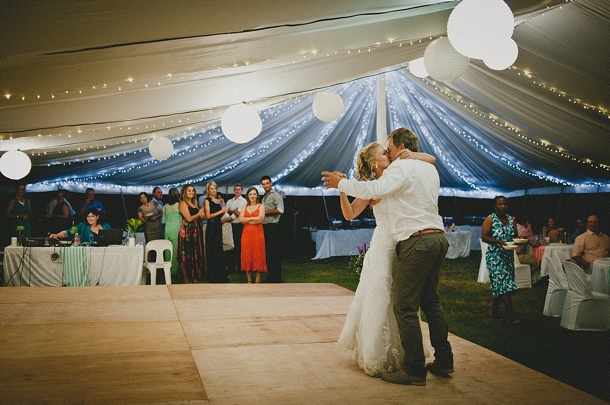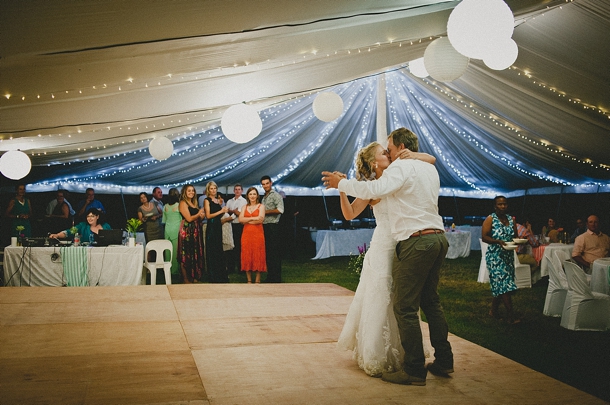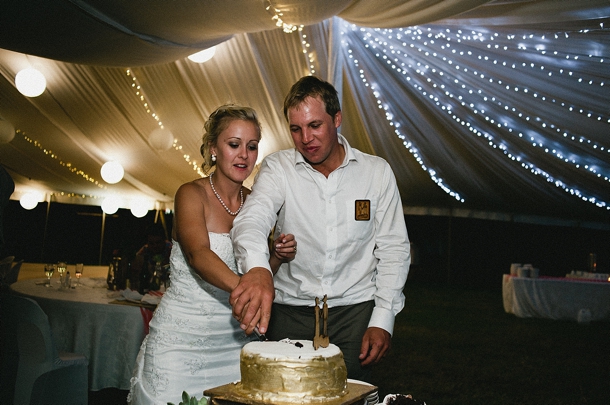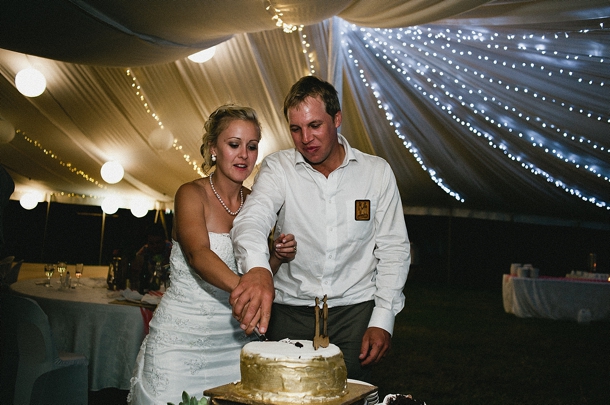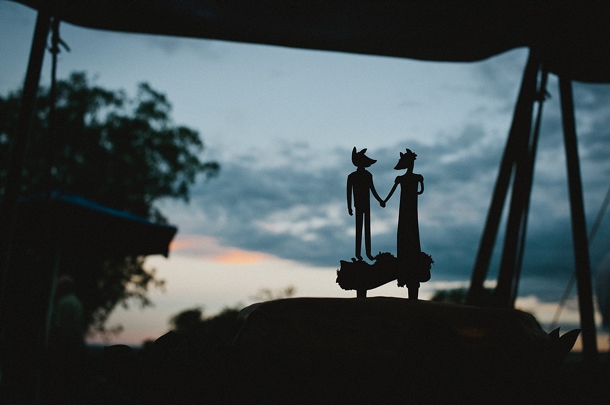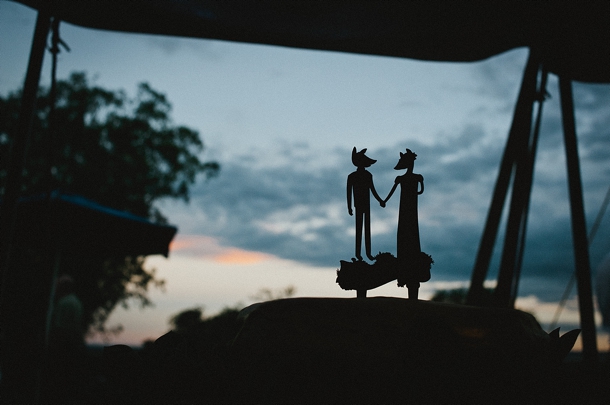 You can see more from this wedding on the Photo Case blog.
SERVICE PROVIDERS
Catering: Winterton Catering Services (Wilma Bondesio 0722478967) | Photography: Casey Pratt at Photo Case Photography | Co-Ordinator: Sarique Wilken @ Marmelade Deli (082 945 7667) | Flowers: Prairie Roses, Winterton | Cake: Marmelade Deli | Stationery: Brandology | DJ: Margaret Whitfield | Boutonnieres & cake topper: Net 'n Kameel