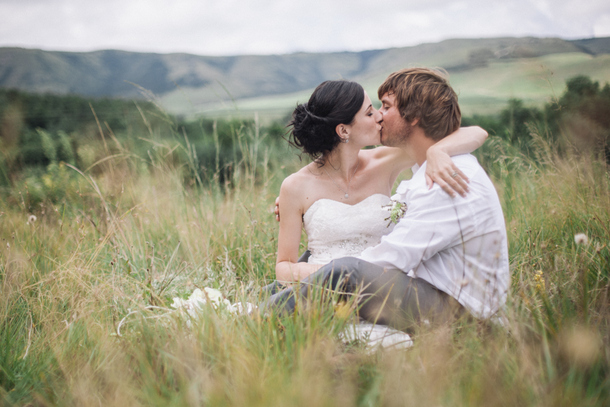 I love hearing stories of high school sweethearts who grow up and get married, don't you? Although, I should add, that I also thank the good lord for not making me personally end up with any of the boys I liked in high school. Let's just say… well, let's not just say. But no. Today's couple, on the other hand, are one of those sweet success stories – and eight years down the line they tied the knot on the same farm where they built a home, the same home where Jacques proposed. Isn't that so lovely? And even though this was a farm wedding with a touch of rustic, Sherri had the romantic wedding style down to a tee. Amongst many, my favourite detail is the little calligraphed glass cloche table numbers – the sort of special touch that makes my heart happy, and perfectly finishes off a perfectly wonderful day. The always-awesome Vanilla Photography were there to take these super dreamy pics.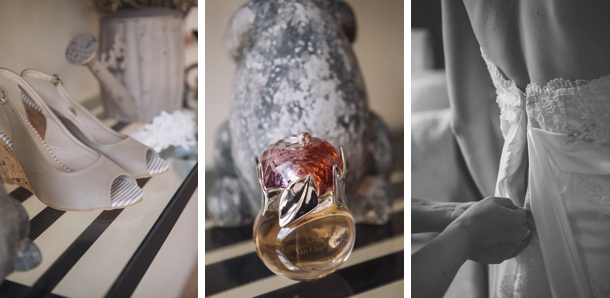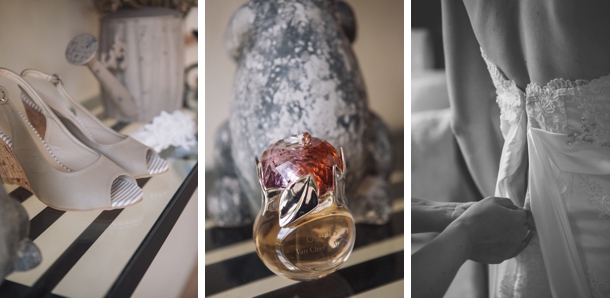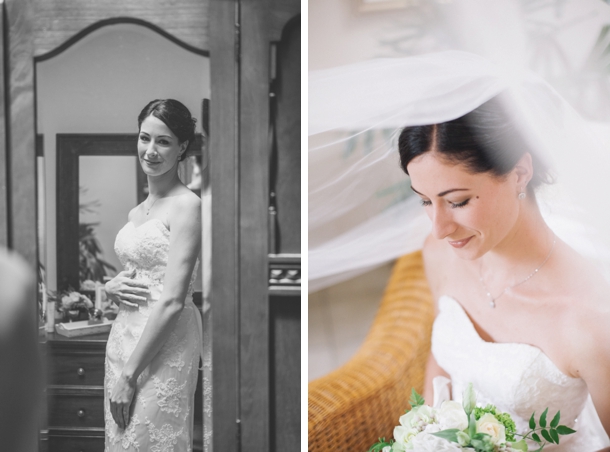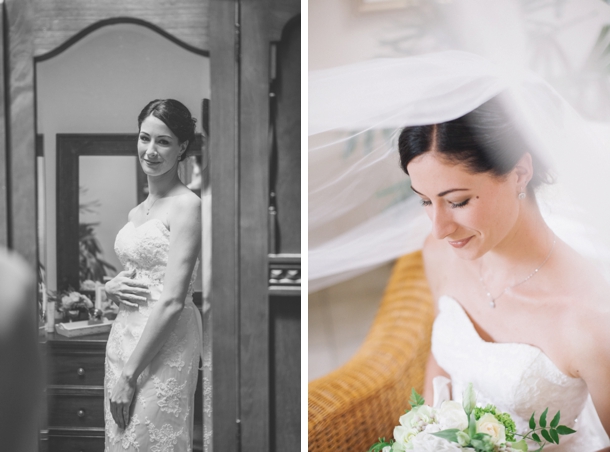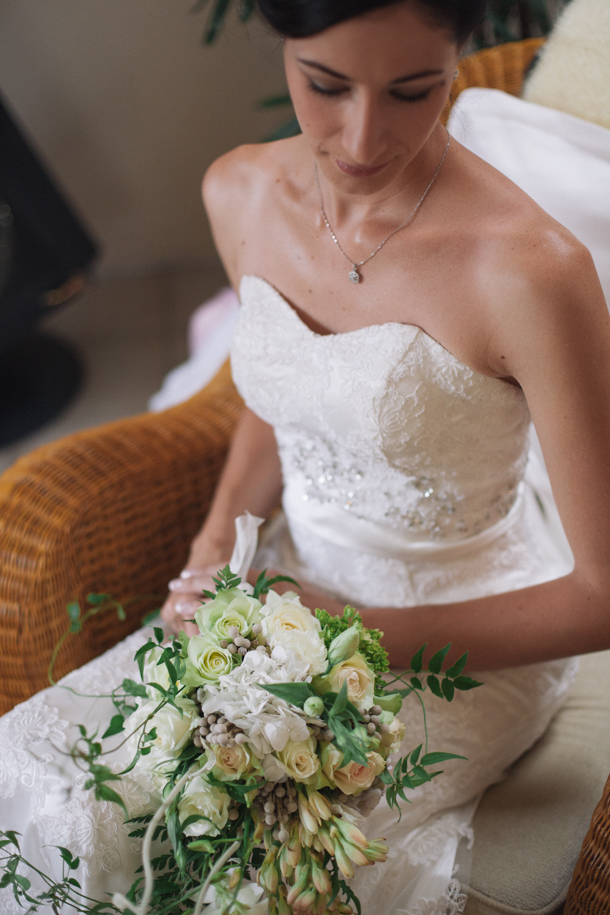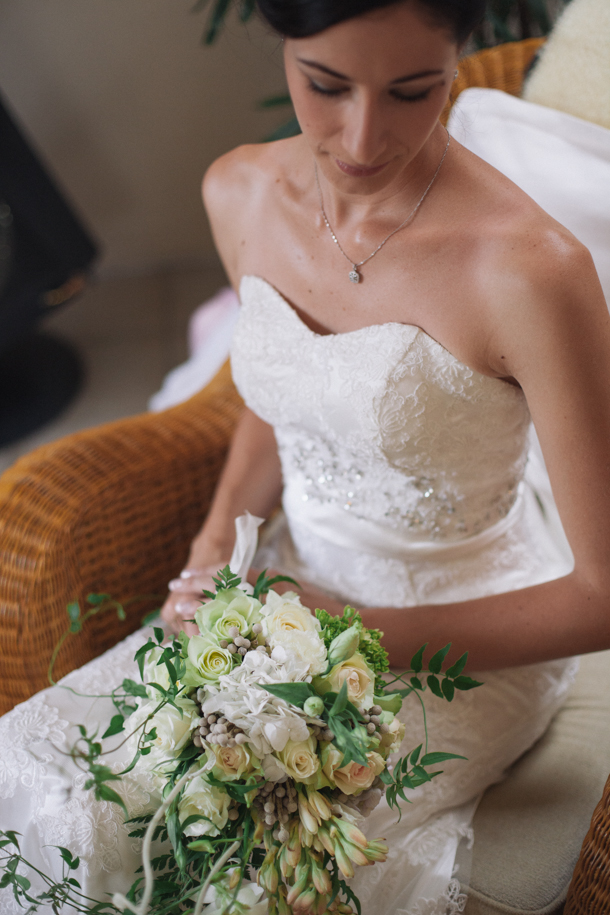 Love Story
We went to the same high school and dated for a short while when I was in Std 6, then got together again at our high school debutante's ball on a Saturday night when I was in Std 9 (he was in Matric) – that following Monday at school we decided to make it official, and we've been together since. 
The Proposal
On a Monday last year, Jacques picked me up from work and took me to our house which we were in the process of building (he said he needed to fetch some building material/tools there). We climbed the stairs up to the second level where our bedroom would be and we were standing in the doorway of the deck (our bedroom has a deck with a magnificent view overlooking the dam). I was looking up at the beam rafters of the roof which was in the process of being erected and smiled while admiring his hard work, when he said 'Babe', and I replied 'Yes?', and that's when he asked me to marry him. He had had the ring (which I had designed) in his pocket the whole time. I said YES!!! and just jumped on him hugging him and kissing him and crying and laughing. It was nothing excessive, just special, natural and intimate – just us. It was so cute – he was so nervous –it's nice that I can still make him feel nervous even after being together for almost eight years. I cried and laughed and cried and laughed for like an hour afterwards! I felt like the happiest girl alive!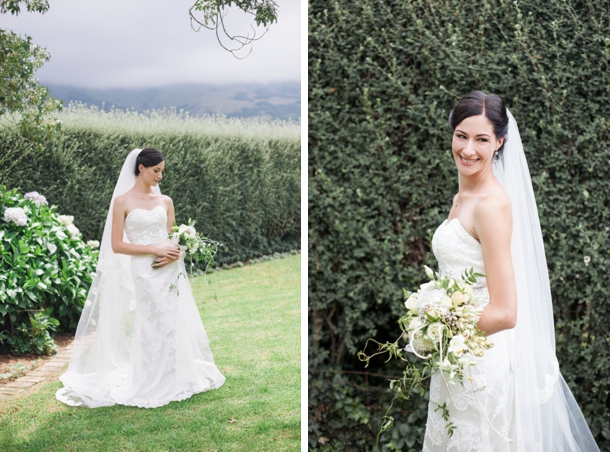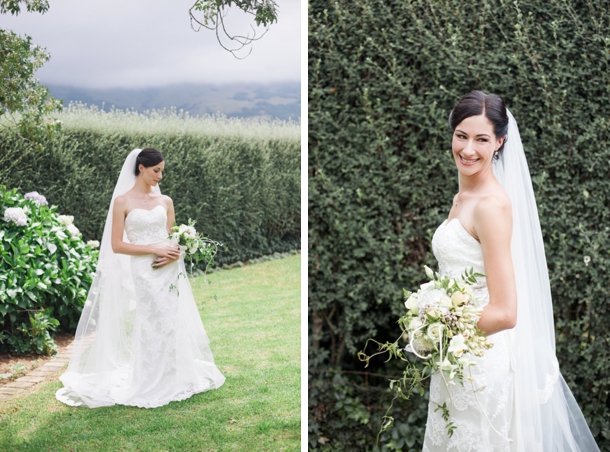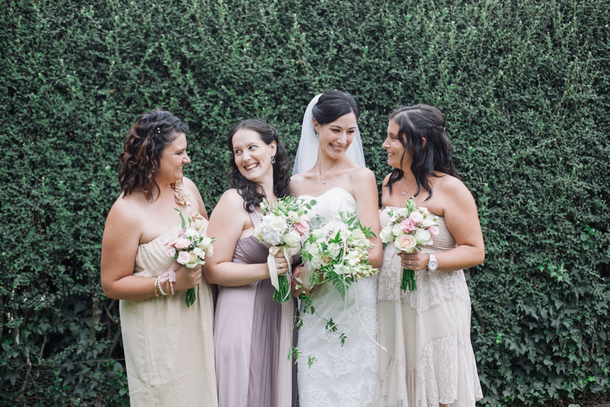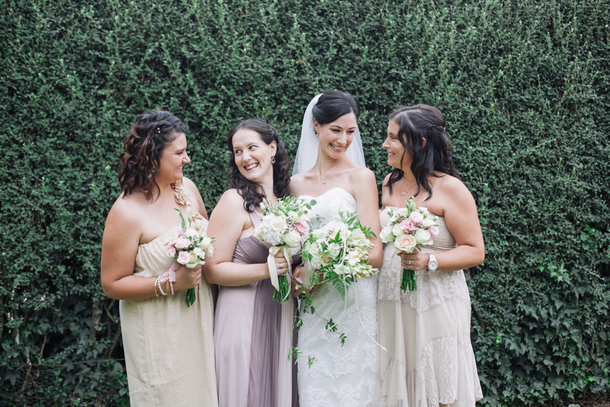 The Wedding in 3 Words
Unforgettable, intimate, moving
The Venue
We wanted a relaxed feel for our wedding and we knew that we would be happiest getting married on the farm where we were building our home together – it just seemed fitting. We can look out of our window for years to come and see the spot where we exchanged vows and be reminded of what a beautiful and moving day it was. 
Wedding Style
The style I had envisioned for our wedding was romantic, shabby chic, natural/rustic, with a vintage feel. I didn't have a specific theme in mind – I just knew that I wanted it to be soft and romantic, nothing over the top. The colour palette was a combination of white, cream, grey, blush pink and silver.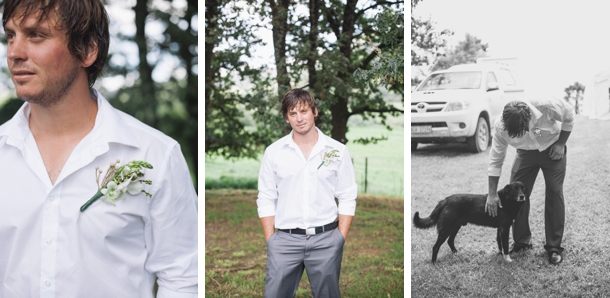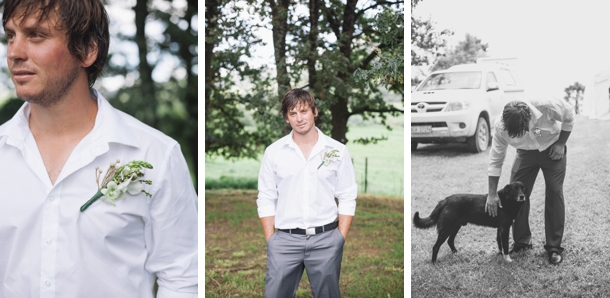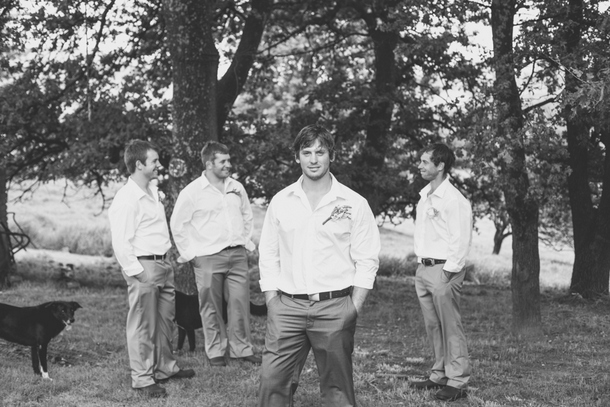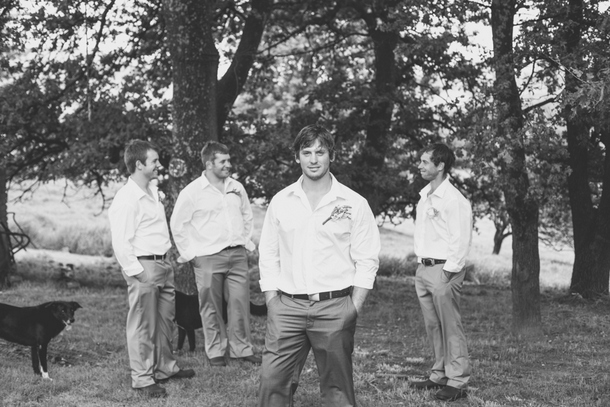 Wedding Details
We both love a good braai, so that's exactly what we had as our main course! Delicious sosaties and all sorts of side dishes. We also both love baked goodies and sweets, so I had to have a 'sweetie station' – we had home-baked fudge, crunchies, koeksisters, cupcakes, chocolate brownies, carrot cake, fruit cake, meringues, nougat, toffees, marshmallows, mints – the works!
DIY Elements
Almost everything was DIY – I work as a graphic designer and I had a clear vision of what I wanted all the stationery to look like, so I designed everything and printed and made our invites up myself, as well as the programs, menus, thank you tags, etc. All the fabric hearts that hung in the trees during the ceremony were sewn by my mom. I put together the bridesmaid and moms' favours. The little wooden hearts that hung around the ladies' chair-backs were handmade and a friend helped paint them.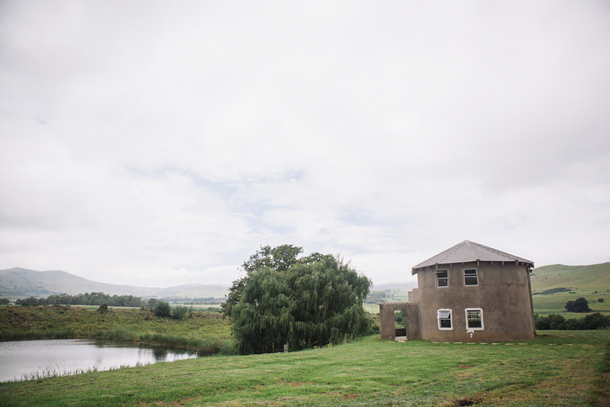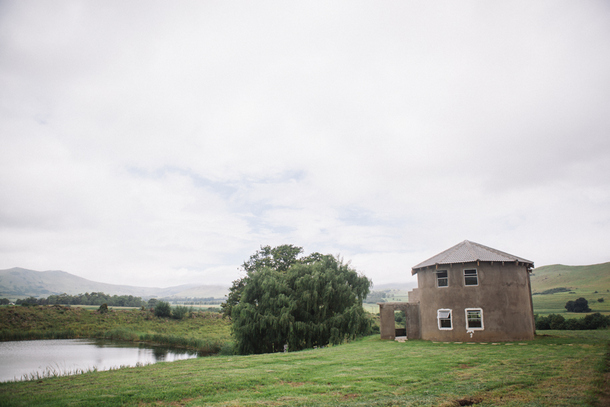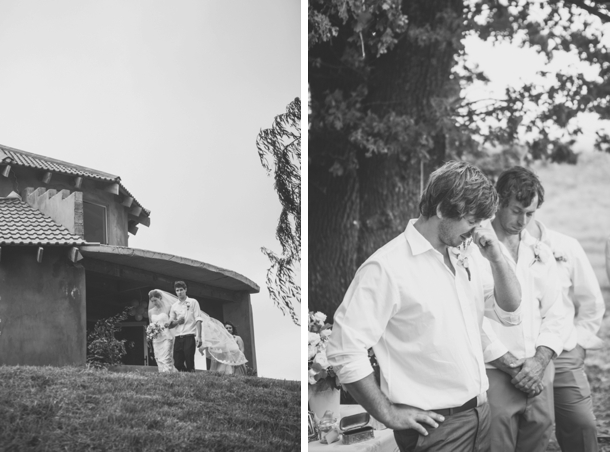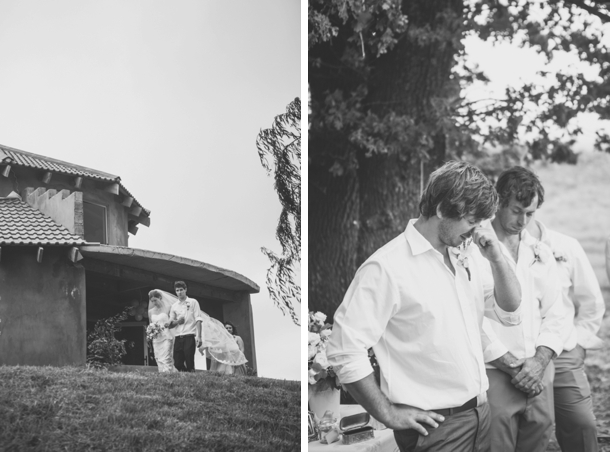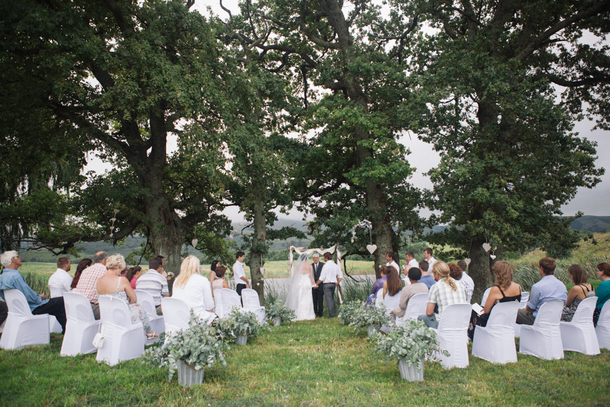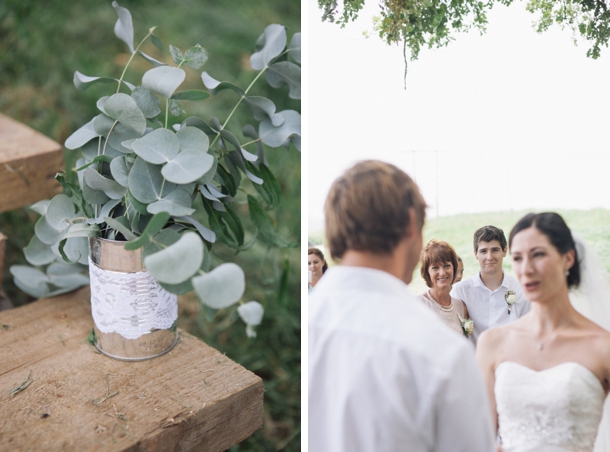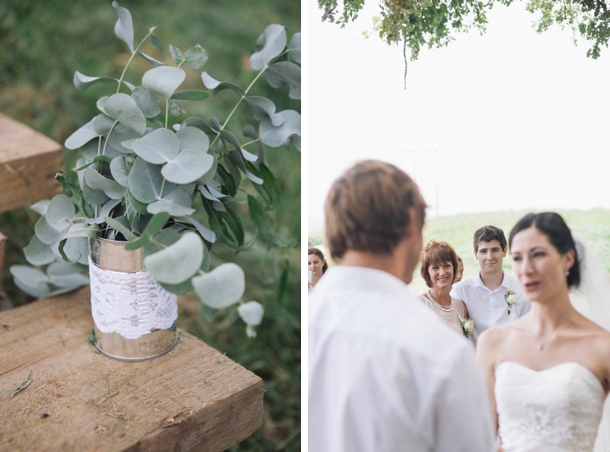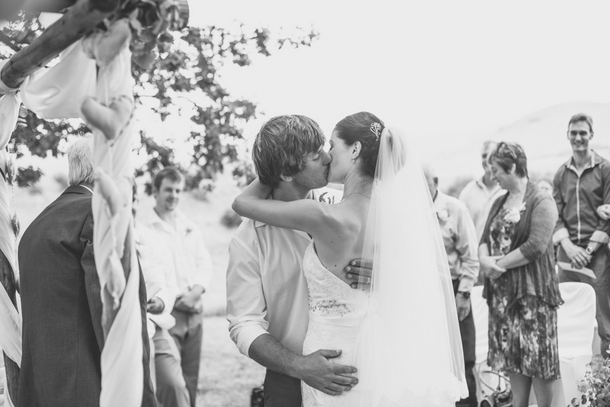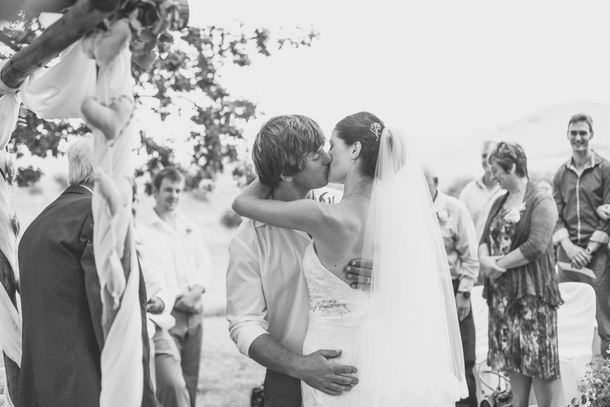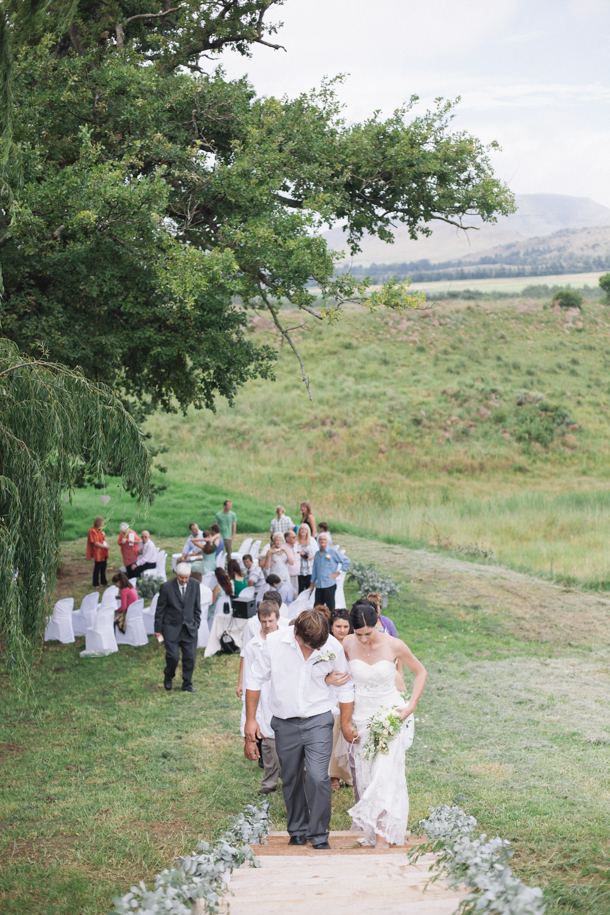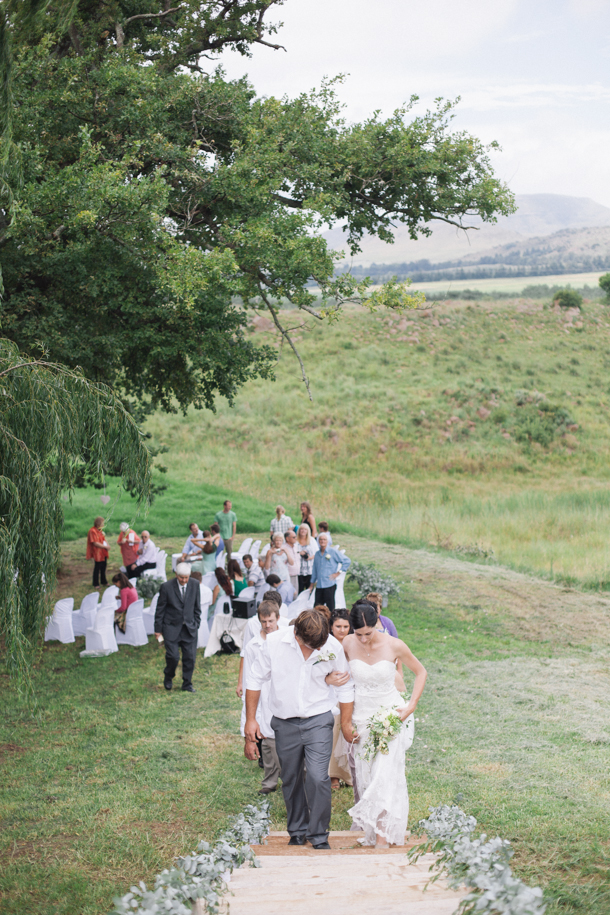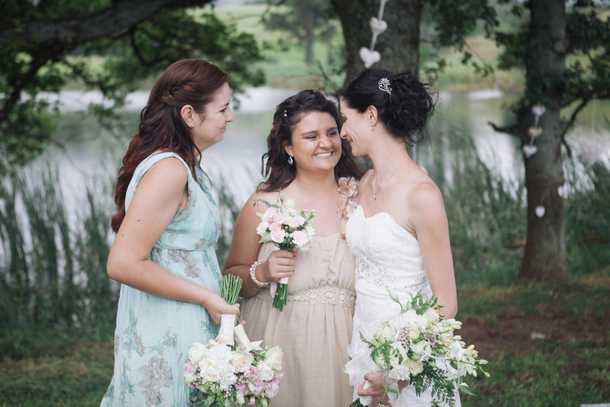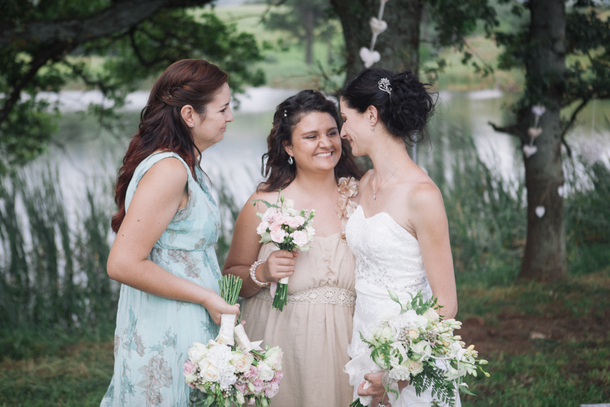 The Flowers
Our wedding flowers were absolutely breathtaking! The florist truly made my vision a reality – my bouquet was naturally shaped and was made up of white avalanche roses, white hydrangea, white lisianthus, tuberoses, dendrobium orchids, silver brunia, fern and jasmine vine, finished off with ivory ribbon and lace, as well as a photo charm of my Dad and I. The bridesmaid bouquets and table centrepieces consisted of the same type of flowers, with a touch of pink to bring in the 'blush pink' and additional elements such as penny gum, chincherinchee, and tortured willow for a rustic feel. 
The Dress
I actually bought my wedding dress about a year before Jacques even popped the question…! We had spoken about getting married years before he asked me to marry him and my heart was set on this dress I had seen in a magazine (a Jim Hjelm dress), and when I found a replica of it on Bid or Buy, I just had to have it! It's a trumpet style satin dress with a lace overlay and sweetheart neckline, beaded detail at the waistline, a satin ribbon which tied at the back , and a short lace train. I had a few alterations done by an amazing seamstress and my dress fit me like a glove. I absolutely loved it!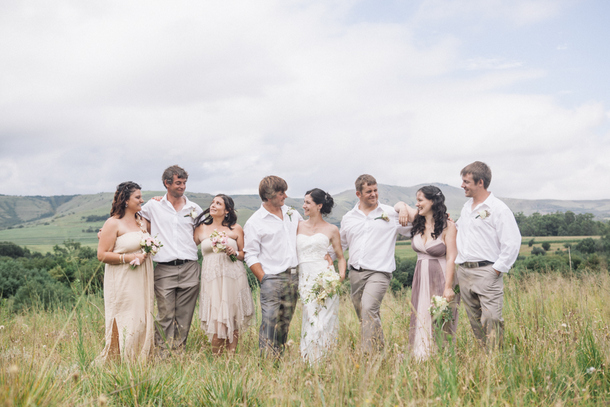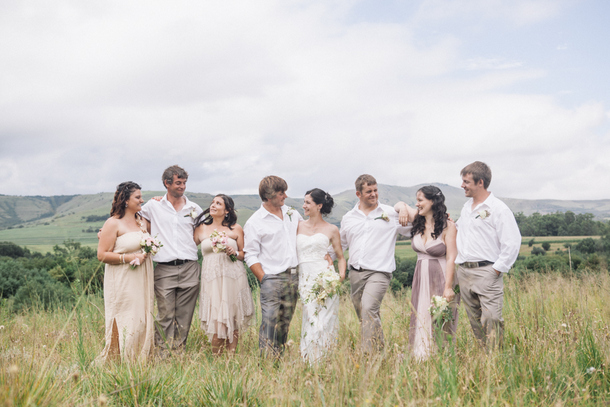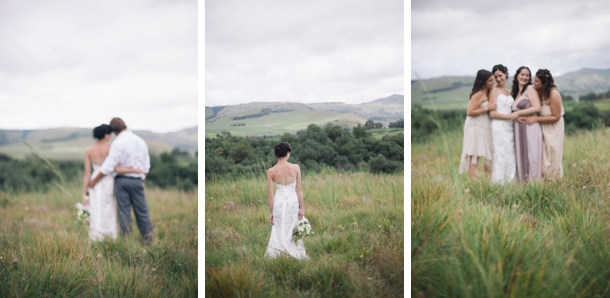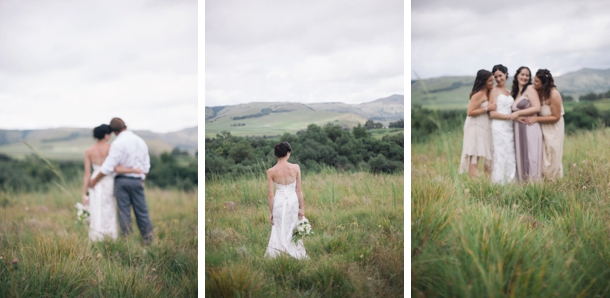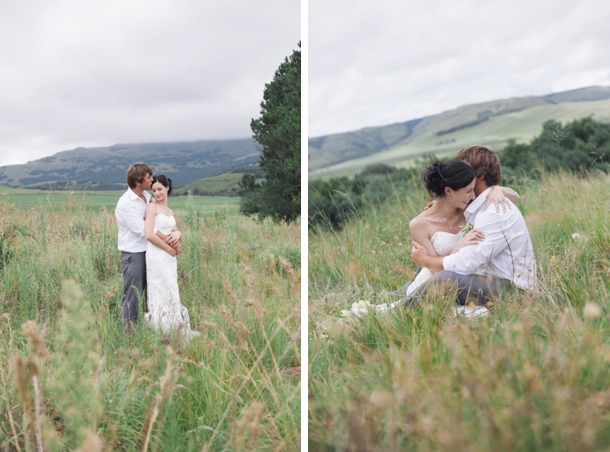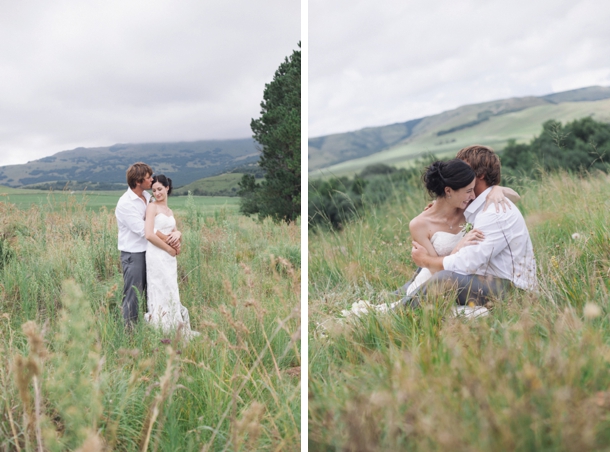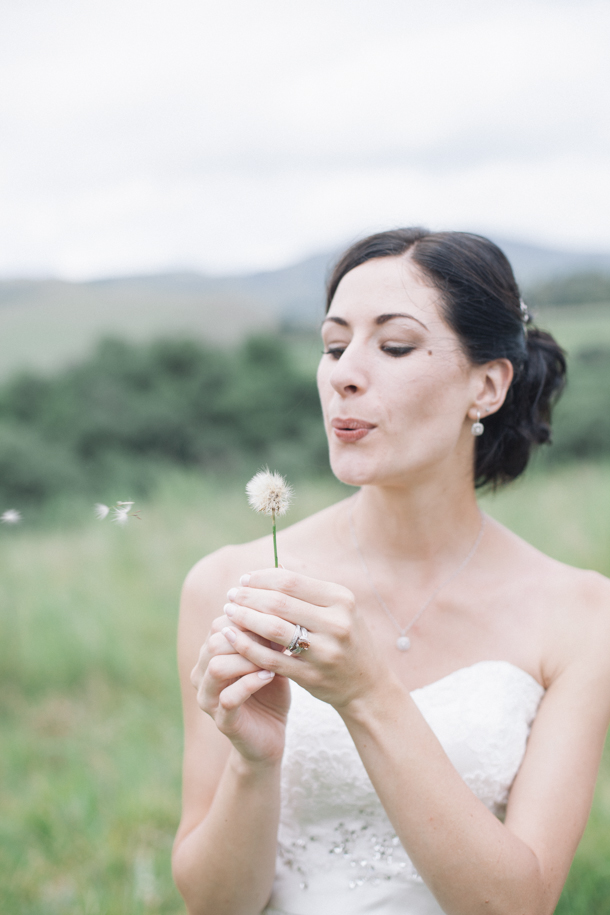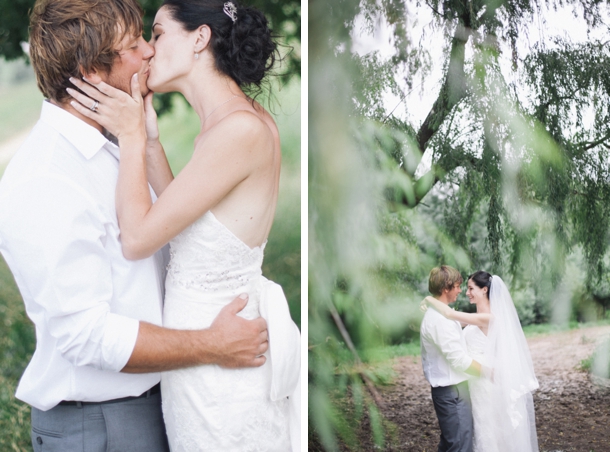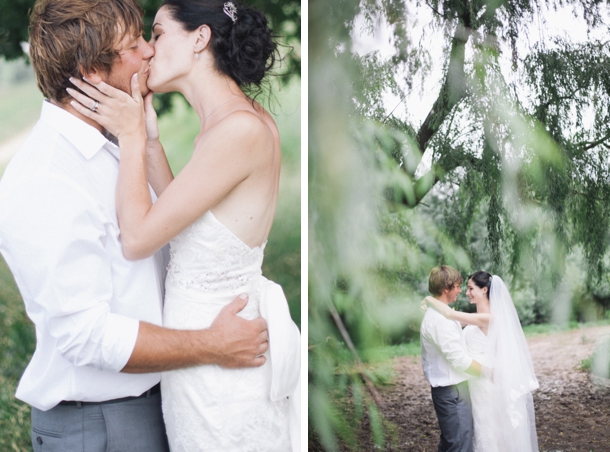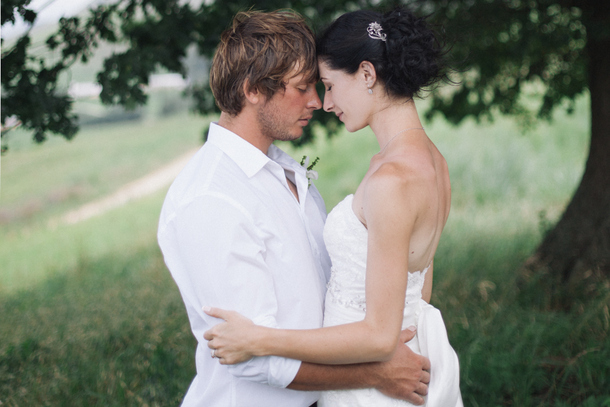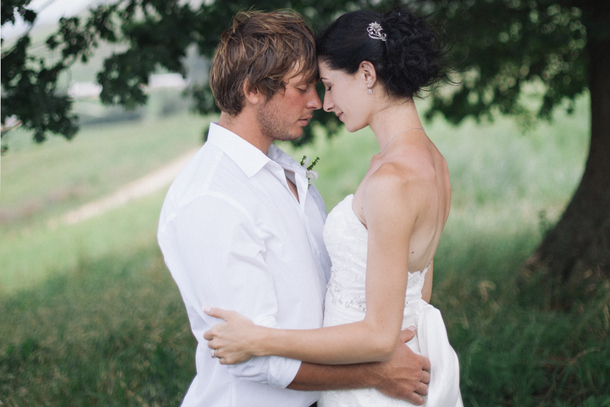 Memorable Moment
The most memorable moment of the day for me was seeing Jacques' face as I walked down the aisle toward him – it felt as if my heart was going to burst – in that moment I felt just how much he loves me and how much I mean to him and it was evident to everyone there too. Our kiss was also a very memorable moment for both of us. It was a very emotional and intimate ceremony.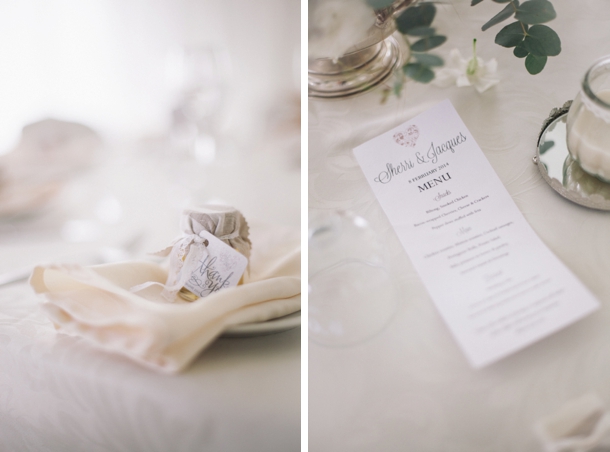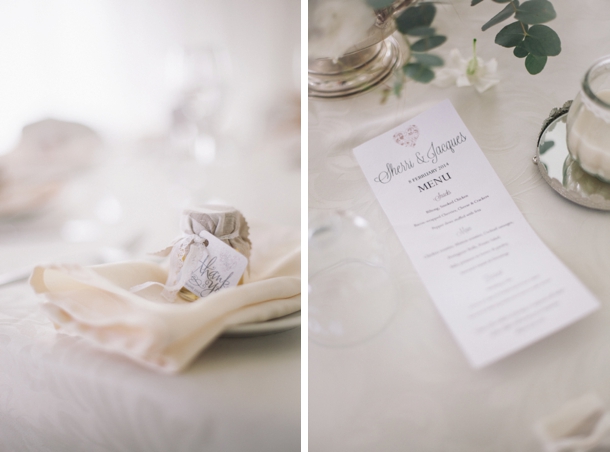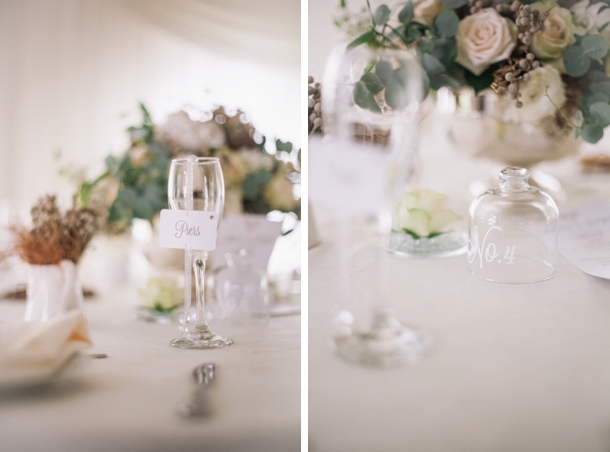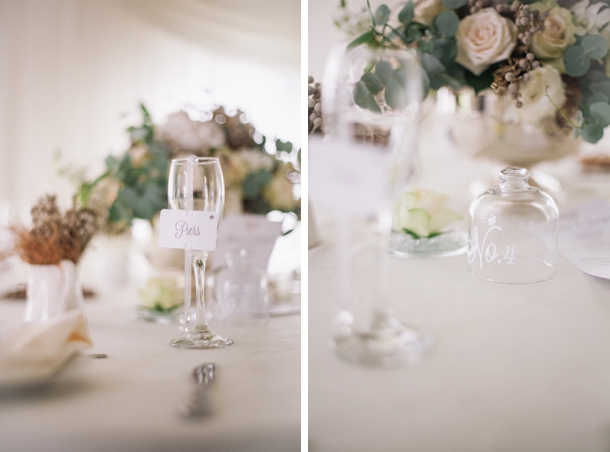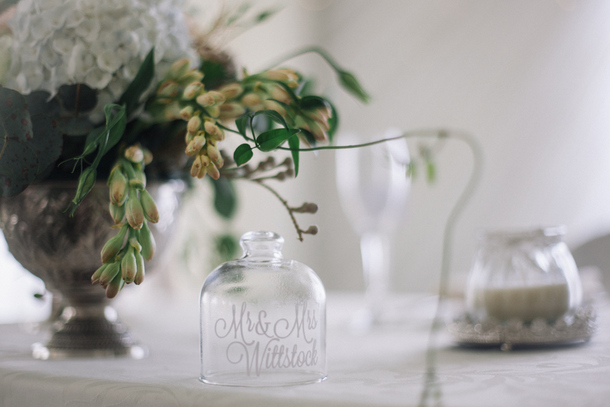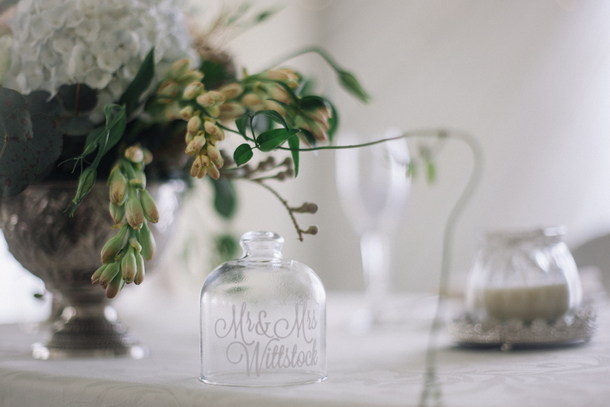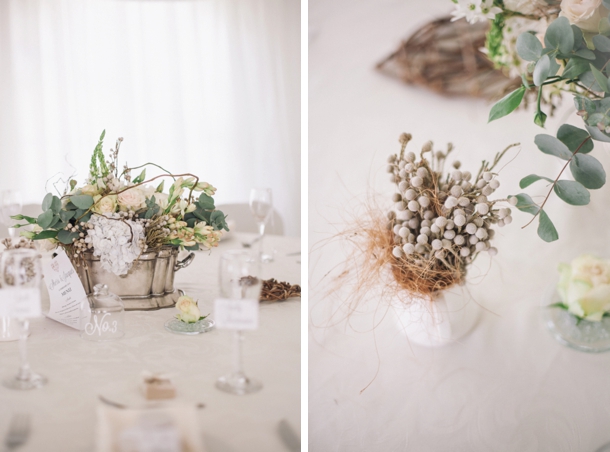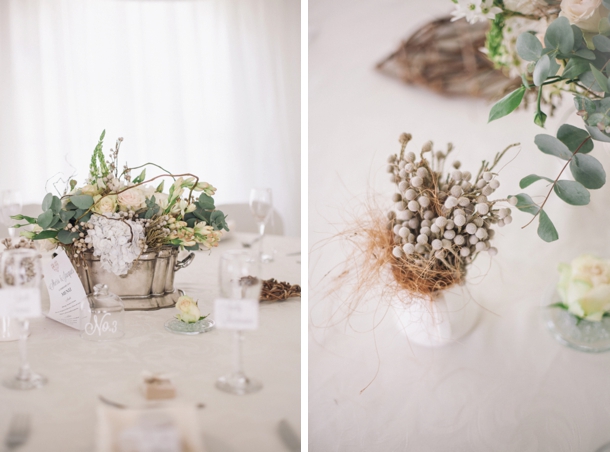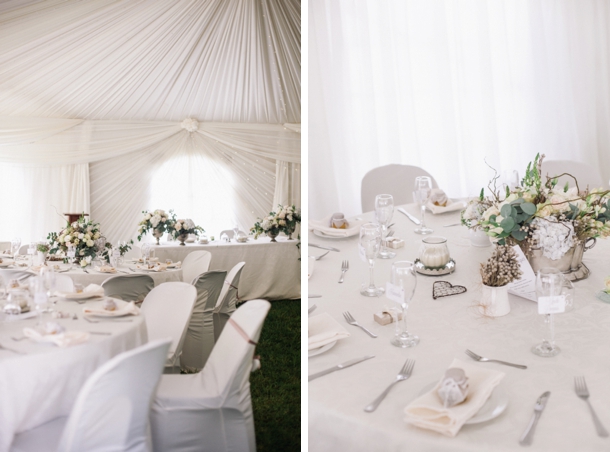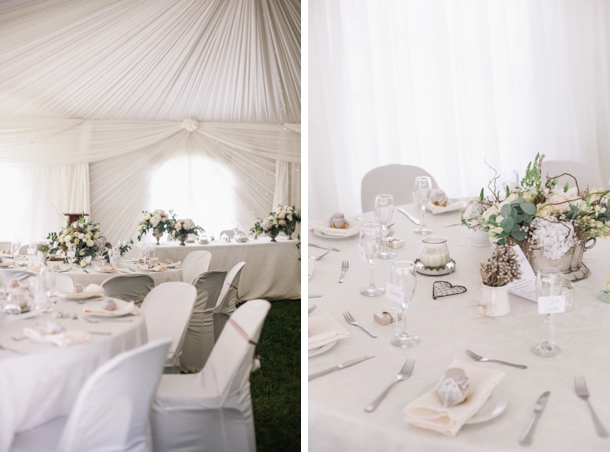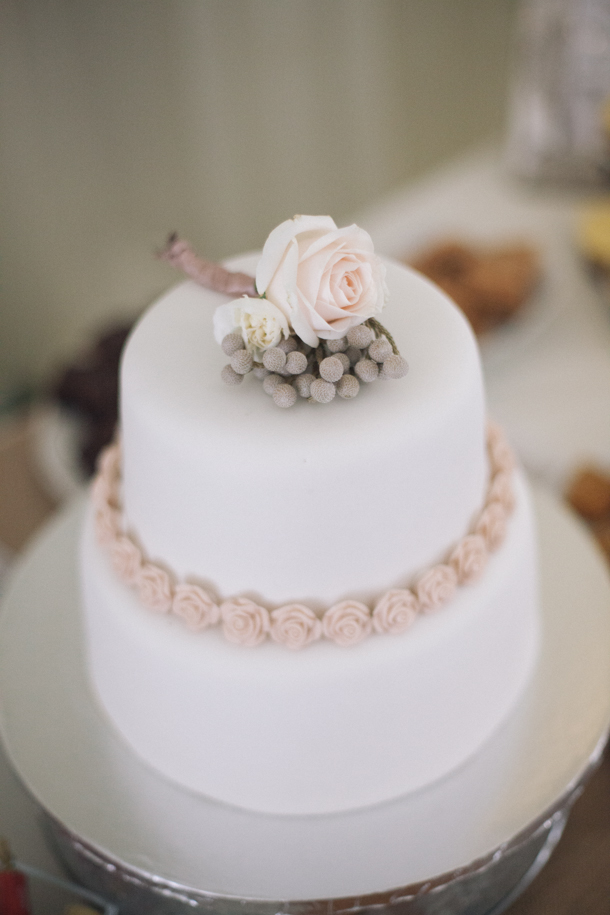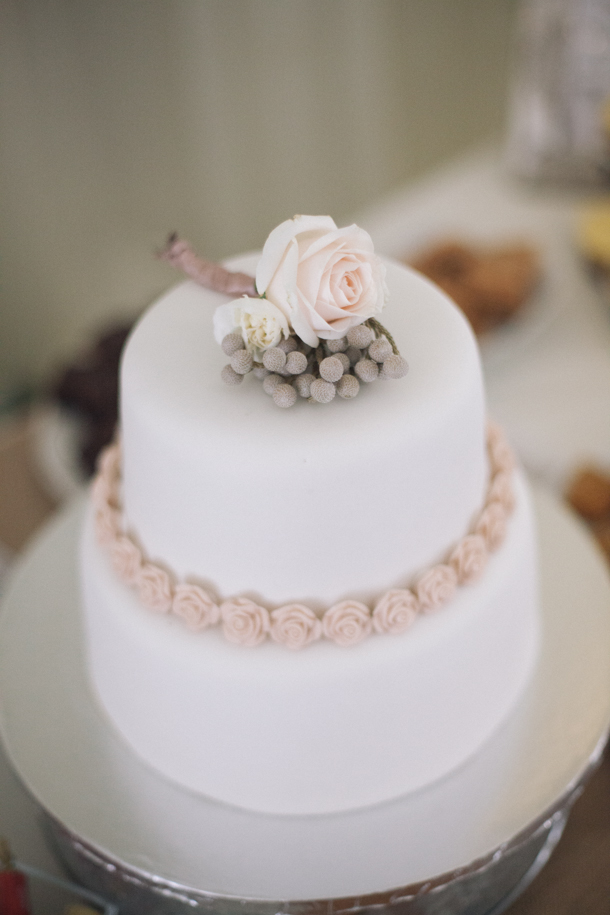 Proudly South African Details
We had biltong as one of our starter snacks, and the main course was a braai, and we had koeksisters as part of our 'dessert' at our sweetie station. 
The Honeymoon
We stayed at iNsingizi Game Lodge & Spa for four nights – it was lovely, we were the only guests there for the first few days, it was quiet and so nice to have the place to ourselves! We had romantic dinners every night. We then spent two nights at the beach at TO Strand in Port Edward.
Advice for Future Brides & Grooms
Don't stress about the small things that might go wrong which you have no control over, such as the weather, jumbling up your vows, or a fly buzzing around underneath your veil – those kinds of things become good memories and will probably go unnoticed anyway! If by the end of the day you are married to the person you love, then it all went exactly as it should have!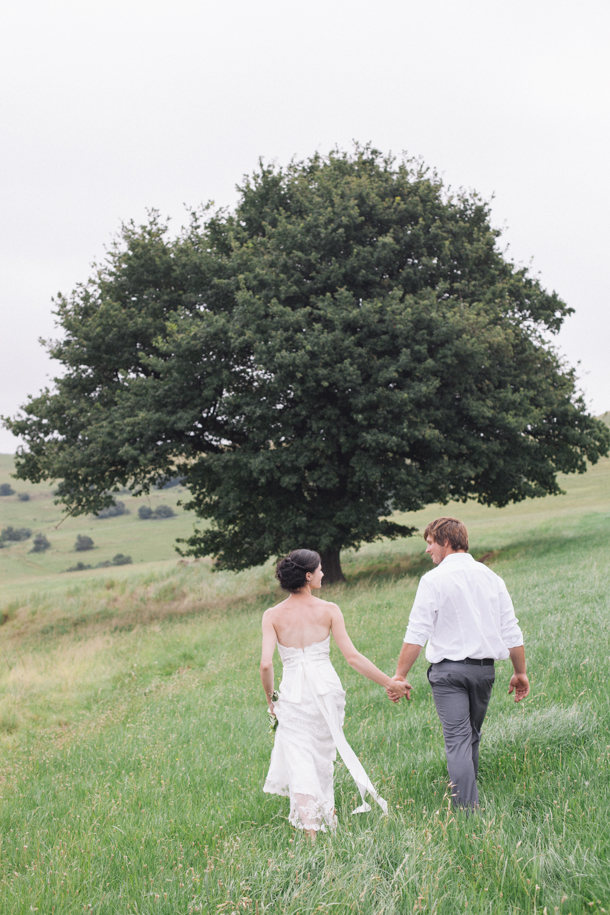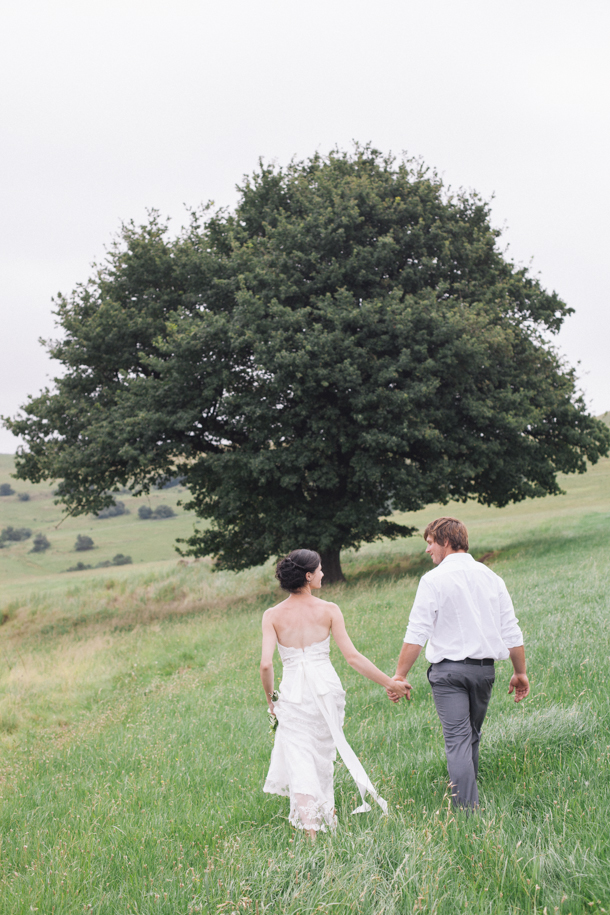 You can see more from this wedding on the Vanilla Photography blog.
SERVICE PROVIDERS
Venue & catering: Private farm | Catering: Family & friends | Photography: Bron Fourie of Vanilla Photography | Cakes: Couple's mothers | Flowers & décor: Hannelie McDougall for The Flower Room | Stationery: Bride | Bride's dress: Jim Hjelm replica (alterations done by Maxine Willemse) | Bride's accessories: Bride's grandmother (hair brooch); Game (earrings & necklace); Woolworths (shoes) | Hair: Adri Lezar (Salon Cheveaux) | Bridesmaids' dresses: Truworths | Groom's attire: Woolworths | Hiring: Wild Orchid Events (tables, chairs, cutlery, crockery, linen and draping); Bella's Decor (marquee)