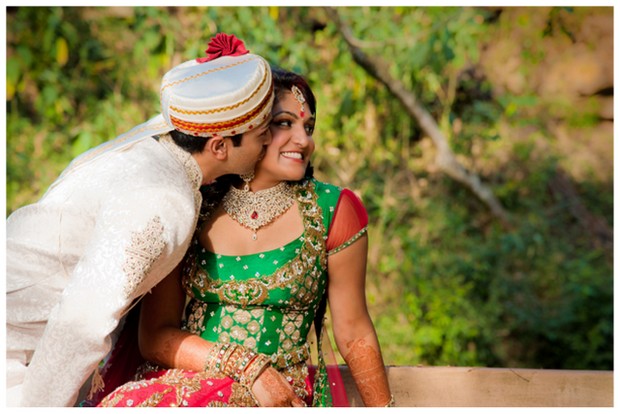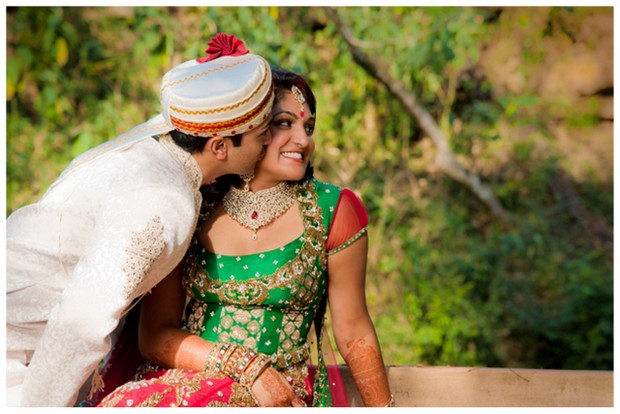 I have such a feast for the eyes to share with you today! When Vashnie of Bodhi Vision Photography sent over the pictures from today's modern Indian wedding at The du Boirs in Hillcrest, Natal, it was like my inbox was having a party. This wedding is so full-to-the-brim of colour and life, I couldn't wait to share it with you! Nicolene and Krishen took the traditions of their Hindu heritage and put their own, more modern spin on them, resulting in the kind of personal ceremony and reception that we love most here at SouthBound Bride. They opted for not just one colour scheme but two, using more traditional red, green and gold at the ceremony and surprising their guests with a rich peacock palette at their reception – what an amazing experience it must have been walking in and being greeted by the second vibrant look of the day! Other elements I love: their cake – how gorgeous is that cake? I don't know how they made themselves cut into it! – and the patterned rose petals on the aisle. Fancy!
From the beautiful bride, Nicolene:
Krishen and I met at university. We were both studying Dentistry and he was a year ahead of me. I still remember him winning my heart by making me a rose out of dental wire and wax! We are both dentists and now live in Malelane near the Kruger National Park.
I am usually a person who always knows what is going on but Krishen managed to keep our proposal a huge surprise. I had no idea. It was our four year anniversary and he took me to Cape Town for the weekend. We love fine dining and after a day of good food and lots of laughter he surprised me with a couples' spa day and a special dinner. I had no idea where we were going to. He drove to the centre of the town to a building that was originally a bank of Cape Town. I was so oblivious I had noticed the red carpet at the entrance but had no idea that it was just for my arrival. The maître d' had taken us down flights of stairs, left, right and down what looked like dark alleys within the building until we got to what was once the bank's vault. He opened it and to my surprise there was a table for two with candles and rose petals everywhere. It felt as if I was in a dream. I still had no cooking clue that he was about to propose! But he reached for his suit pocket and went down on one knee and asked me to spend the rest of my life with him! Aaawww! To which I responded… you'd better have asked my parents first… followed by a whole lot of tears and the answer is YES! I couldn't stop smiling!
Krishen and I did not want a traditional Indian wedding – I would say it was a 'modern' take on an Indian wedding. We wanted it to be personal and describe who we are, and to host a special day for our family and friends to enjoy. We had a simple garden Hindu ceremony and a high tea while our photoshoot took place, followed by a reception with Indian-style fine dining.
The venue we chose was The du Boirs in Hillcrest. We loved the charm and splendour of the venue and of course their beautiful gardens. The wedding ceremony was in tradional hindu colours of red , green and gold. We decided to go with a completely different theme for the reception of teal blues and purples (peackock colours). We wanted our guests to be shocked and in awe and something that they would not expect when they walked into the reception.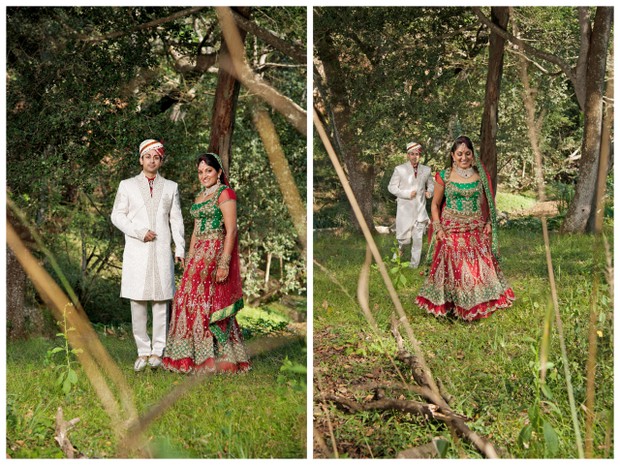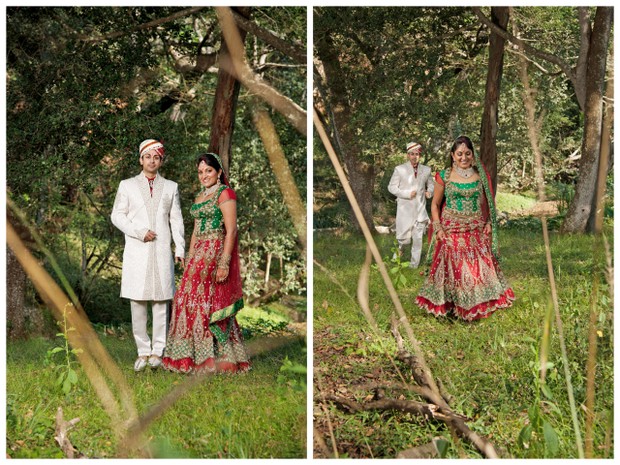 Before the big day, I took a trip to India with my mum. We spent a whole week dedicated to the wedding shopping and of course special mother-daughter time. Lots of shopping, plenty of massages and just such an amazing experience. We have so many memories that I will cherish forever. One of which was searching for a peackock feather centerpiece just hours before our return flight, just so that we could have them on our reception tables. We could tell a story about each item on our wedding day :)
Our wedding was even more thanI expected it would be. I especially loved my outfits, our delicious cake and of course my groom! Each aspect of our wedding had something special that described us, and many of our family members helped with, from the personalised labels on water bottles to the Indian chevda in little bags. We also did a first dance, which believe it or not, is not common in Indian weddings. Krishen and I went for ballroom lessons and learnt the foxtrot to Michael Bolton's song 'Sajna'. 
My advice to future brides:
Good planning, good planning, good planning. And stick to your budget but be realistic. Weddings are not as cheap as you may think they are. Take the time to just breathe, take in and enjoy every moment. It all goes by so quickly!
When it comes to the guest list, invite people who actually mean something to you. It makes your wedding that much more personal and special. We had a guest list of 200, which in " Indian" terms is a small wedding.
I was addicted to wedding blogs and was the first to buy bridal magazines the minute they were released. There are so many ideas out there it is difficult to choose from. A couple's wedding day should be personal and should be a day that the bride and groom enjoy. Krishen and I loved our wedding day – we had an awesome time and did not want it to end! It was our perfect fairytale wedding!
Thank you so much for sharing your fairytale with us, Krishen and Nicolene! And a big thanks to Bodhi Vision for allowing us to feature their images.
SERVICE PROVIDERS
Venue & catering: The du Boirs | Photography: Bodhi Vision Photography | Flowers & decor: Dazzling Events | Cake: Cupcake D'Lights | Bride's dress (ceremony): Seasons, Mumbai | Bride's dress (reception): Sheetal, Mumbai | Hair & makeup: Faeza (084 478 6046) | DJ: The Sound Factor