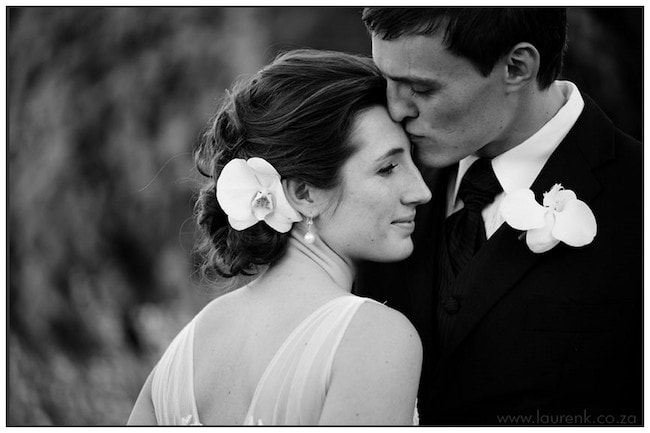 Kevin and Kirsty's wedding was referred to me by a friend, and as soon as I saw it I knew it was something special. It manages to be chic and sophisticated but soft and personal all at once. Every time I looked at Lauren Kriedemann's swoon-worthy images I found another clever detail to fall in love with – the collection of silver containers, the little trees covered with fairy lights, the champagne and Guinness welcome drinks – I could go on and on! A black and white colour scheme could have been quite harsh, but with a little dash of plum and a variety of flowers and textures, this was 100% romance. And you couldn't find a couple that look more in love – and like they're having more fun together! Congratulations Kirsty and Kevin, and thank you for sharing your day with us!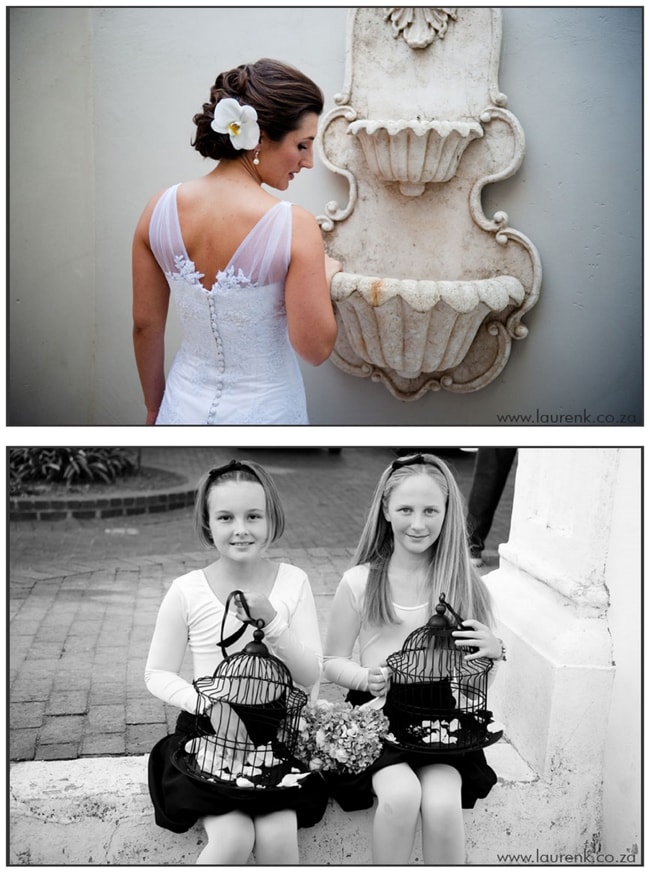 Our overall aim with our wedding was to create an ambience where our guests would feel appreciated. We wanted to create that initial wow-factor with the décor, and then provide good, plentiful food and music to keep the dance floor packed all night long!
Choosing our venue was probably the biggest ask of our planning. After three weekends of driving the winelands flat, our very last stop was Nooitgedacht Wine Estate on the R304, 5km from Stellenbosch. The minute we drove in we knew that this was the place we would celebrate our marriage! The beautiful oak-lined avenues (oak trees have a particularly special meaning for me as they remind me of my late Grandpa), rustic manor house and high ceilings convinced us immediately that we had to book it. Getting ready there was a highlight of my day – I arrived at 8am and had a long bath where I could let the significance of the day sink in. The rest of the morning was a happy blur of family, friends, a delicious lunch and bubbly! I just remember feeling so very blessed and cared for! I was particularly moved when my mom was buttoning me into my dress. She also made a garter for me out of her wedding headdress. It was my something old and my something blue and I have kept it in the event that I have a daughter one day.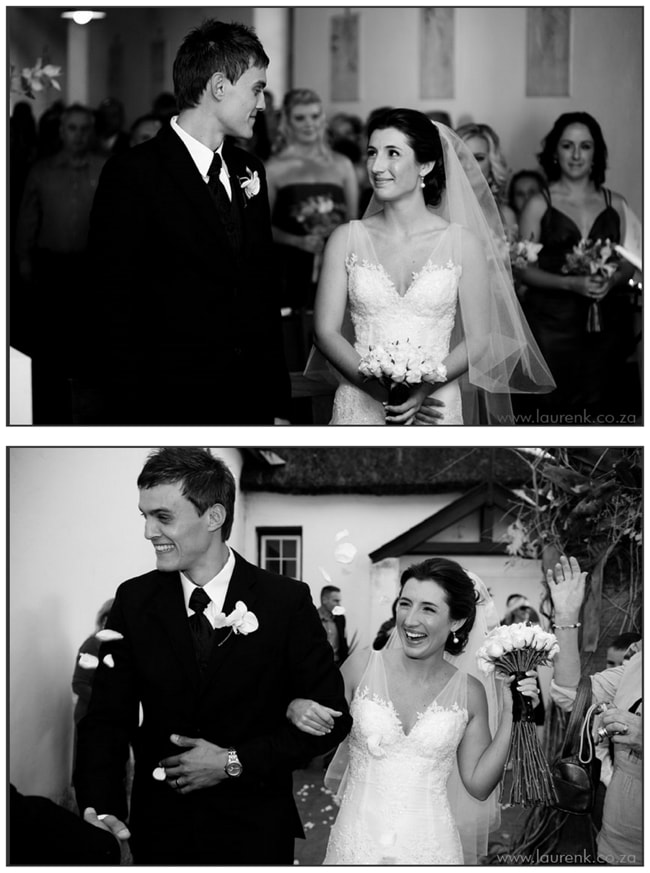 Another highlight for me was saying my vows. After nine years of being with my incredible man, we were finally committing ourselves to a lifetime together in front of our special friends and family. Standing beside him at the altar was a moment I will never forget.

In terms of the decor, I absolutely loved the black and white baroque print which had become so popular in the past season. I however wasn't a fan of the heavy draping and chandeliers that often accompanied this so we opted for a bit of a cheeky twist with white Chinese lanterns and orchids. It worked perfectly! We decided to add a bit of colour with the bridesmaids' dresses to move away from an all black and white theme. I bought the material for them and asked them to have them made as they were scattered across the globe. I wasn't fussy on style and my only stipulation was that they were cut above the knee. This ensured that my special girls were comfortable and in a style that flattered each of them. The dark plum colour perfectly complemented the chic black and white suits worn by the best men.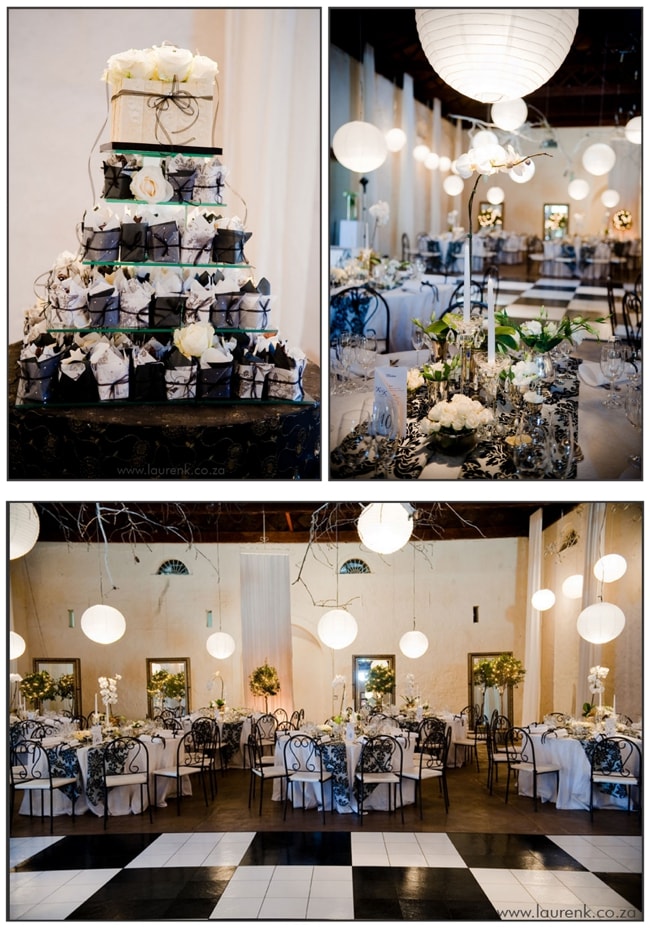 I never considered myself a flower person but when we began planning our wedding, I found myself wanting such a variety of blooms including avalanche roses, hydrangeas (unfortunately out of season in April!) and Casablanca lilies. Flowers are definitely what sets a wedding apart from any other function and I'm so glad we went all out in this regard. I am not a fan of heavy arrangements and the result was casually gathered bouquets in fish bowl vases at the church and around the edges of the venue, and simple arrangements in beautiful, unique silver containers which my mom and a friend did for us (my mom had been on the hunt for silver pieces for months beforehand!) with a single orchid on each table. You can do this much more cheaply than you would think, and getting married in Cape Town you have a wealth of flower sellers in Long Street who are very organised. We received so many compliments on the different silver pieces which included an old tennis trophy and a silver piggy bank! As welcome drinks, we offered our guests the traditional bubbly for the ladies with a black grape in the bottom (because we were on a wine farm – Kev's idea!) and Guinness draughts for the guys to tie in with the black and white theme.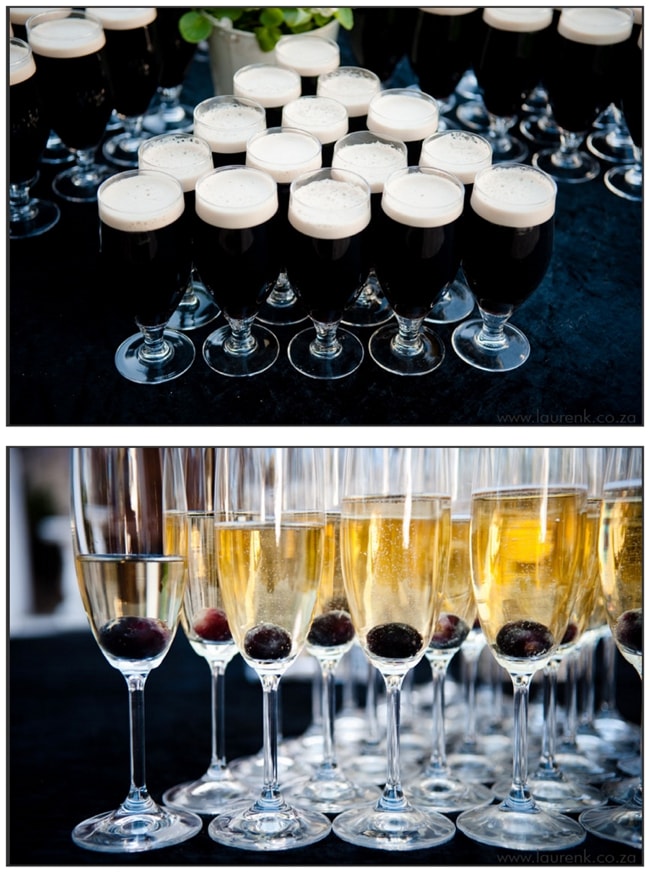 Kev and I wanted to include small special touches in our day to reflect our nine year journey. Our brilliant MC, Kathryn, who set Kevin and I up on a blind date all those years ago, was able to add her anecdotes on our first date and the beginning of our relationship. Black and white prints of our parents and grandparents on their wedding days were displayed around the buffet table, together with our framed Lobola (when Kevin asked my dad for my hand in marriage, he presented him with 'Lobola' consisting of plastic farm animals, fake money and a cheque made out for 1 daughter. It had been a running joke in our household for some time, and was a very special gesture). On the morning of the wedding, I sent Kevin a new pair of mohair socks from Country Road with the message "Just in case you get cold feet" which he found hilarious! Kevin's mom is Jewish by birth and some of our guy mates surprised us by lifting us up on chairs and singing as they do at traditional Jewish weddings. It was an incredible moment and so very much appreciated by the Jewish side of Kevin's family. Another unique inclusion was a description of each of our bridal party (including their relationship to us and one or two anecdotes) in our Order of Service for the church ceremony. So many people commented on how nice it was to know who was who. Our guestbook was also a bit different in that we had a book printed including photos of all our guests taken at special times over the years with us, so everyone could then write their message on their own special page. Some of the messages are hilarious as they were written in the early hours of the morning at the bar!

Kevin and I are very blessed to have some incredible friends and we are not known to shy away from a party. That was our only wish for our wedding – that everyone could join us in the party of our lives to celebrate this milestone. I loved partying up a storm on the dancefloor with my new husband, surrounded by love, excitement and laughter. It was truly magical!
Kirsty has some fantastic advice for brides:
Draw up your guest list before choosing a venue – you will be surprised at how quickly this adds up! Don't feel pressurised to invite people who you or your fiancée aren't particularly close to – generally, people will understand.
Make up a story board. I was amazed at what emerged when I started compiling mine. My idea for my wedding in my head turned out to be completely different once I had put it down on paper.
The most important thing for me during our planning was how involved Kevin was. He was in charge of the budget (something all guys can do) and it was such a bonding experience to plan our day together as opposed to it being all about the bride.
Keep a small wedding book in your handbag. Your thoughts are going to be constantly on your wedding so make sure you have a dedicated book where you can jot to-do's or ideas down.
Take your time choosing a venue – it is your biggest expense and you need to make sure you have costed in all the extras. (There are always extras!) Choose service providers based on your rapport with them. Our service providers were all fantastic and I felt like we were in the best hands on the day.
Stay focused on why you are going through all the planning-to marry the man you have chosen to spend every last waking day with. Kev and I tried to dedicate wedding free time in the weeks leading up to the wedding-it kept us sane!
Things are going to go wrong (our flowers went to the wrong church!). There is nothing you can do on the day so take a deep breath, focus on your very handsome groom and the people who have come far and wide to spend this special day with you, and smile!
Most importantly, soak up every single minute of the day and the build-up to it. It does go by so quickly but is without a doubt the best day of your life. It is so easy to get swept up in the excitement of the day and not take a breather to enjoy the happiness which surrounds you, but make sure you have a moment where you step back and take it all in.

SERVICE PROVIDERS
Venue & catering: Nooitgedacht Wine Estate | Photographer: Lauren Kriedemann | Videographer: Andrew Alexander of Alexander Photography | Décor: Gerrit Snyman from Royal Blu (together with Kirsty's mom) | Dress: Cindy Bam Couture
Cake: Vanilla House | Make-up & bride's hair: Candice Leigh | Bridesmaids' hair: Le Hair Lounge, Stellenbosch – 021 883 8323 | Stationery: Papermaster