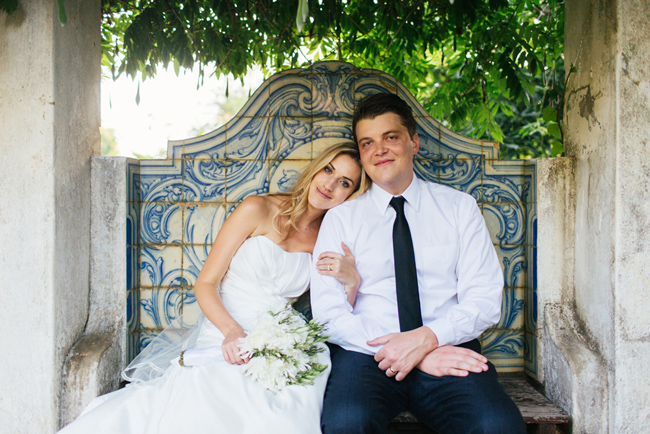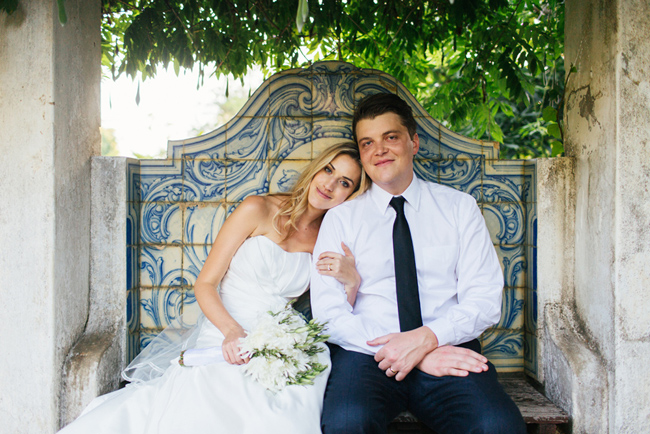 I love a good trans-continental love story, and while today's gorgeous wedding took place in the Cape Winelands, it was against the far off bright lights of Los Angeles that local boy Heinrich met his California girl! Rochelle and Heinrich decided on a destination wedding in South Africa, with a simple, elegant, country vibe, and chose New Year's Eve for their date. But instead of the kind of flashy, blingy New Years-themed weddings many couples opt for, this one was all about the understatement – white flowers, wooden tables, summery black tie attire, a meal under the trees and dancing beneath the stars. Just beautiful, and I can't think of a better way to ring in both a new year, and a new life together! Marli Koen took these truly lovely pictures of the gorgeous couple and their ever-so-happy day.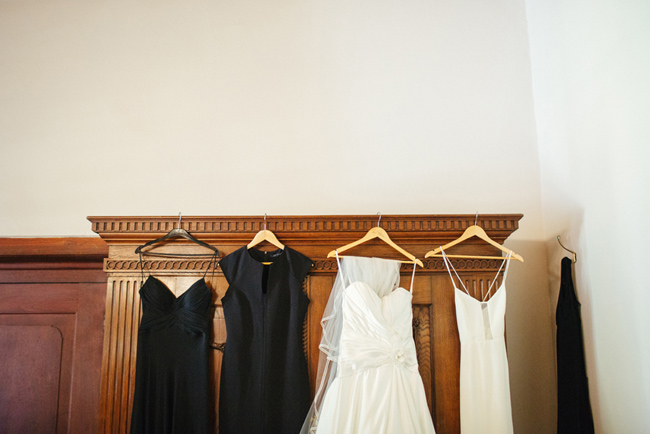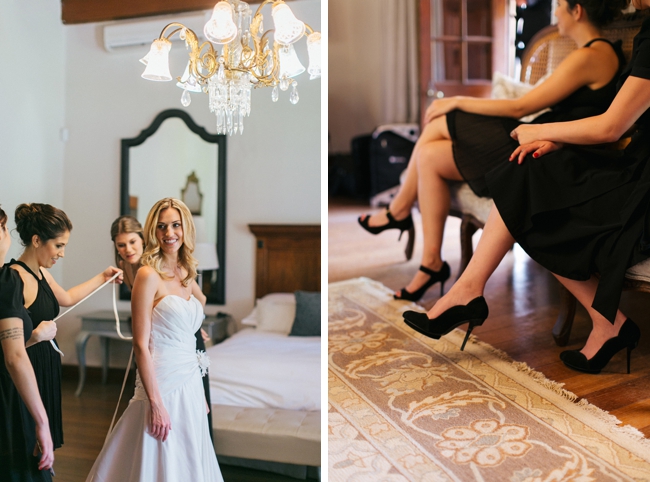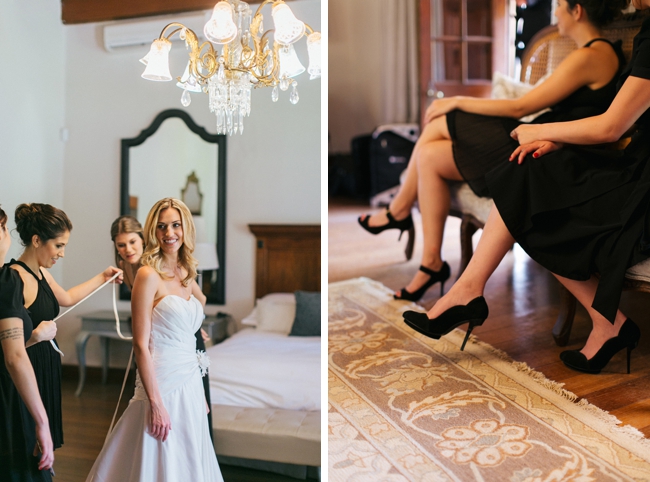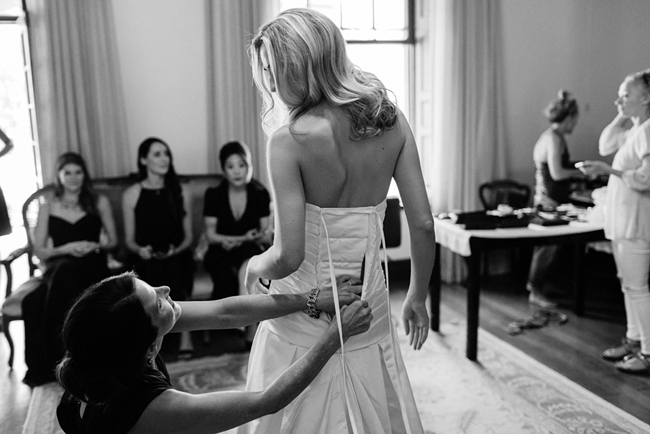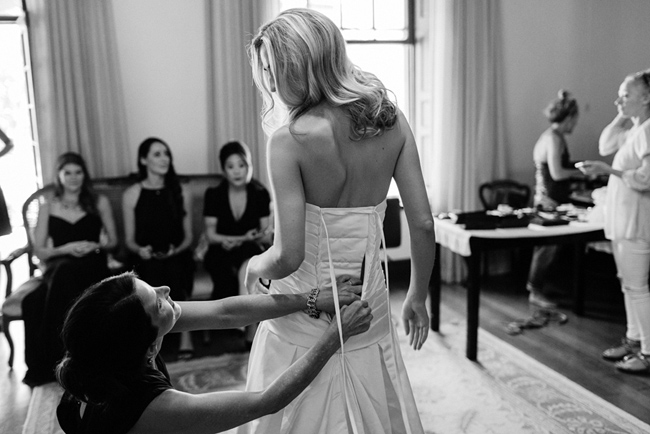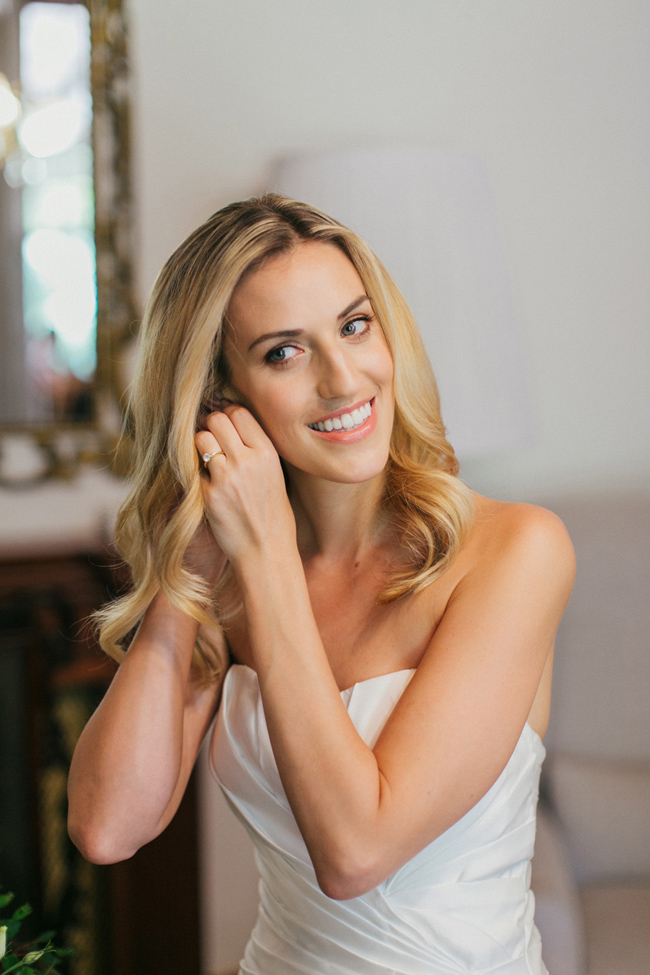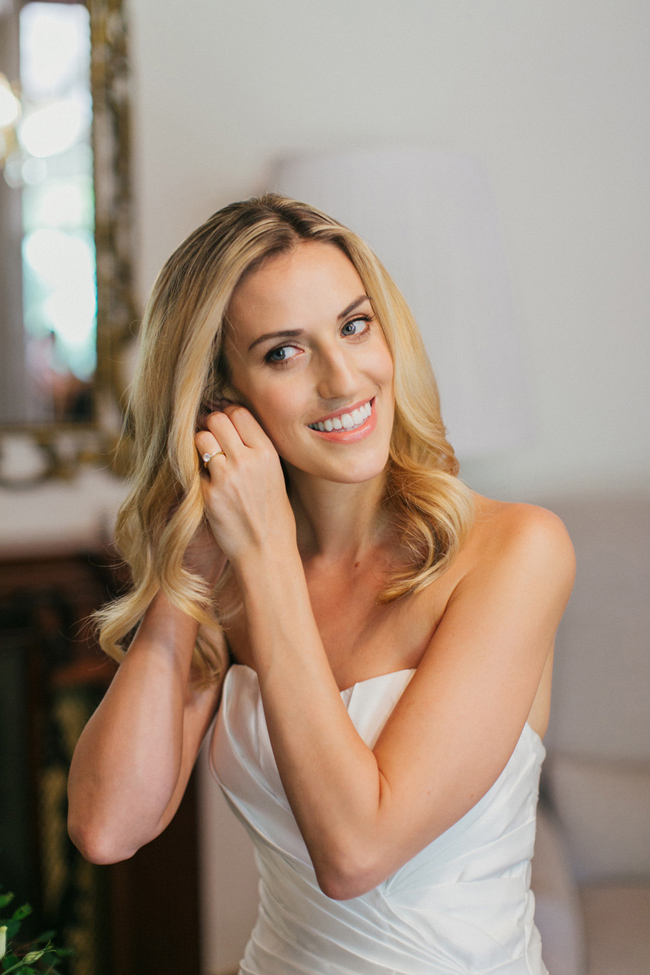 Love Story
We met through a friend and we immediately liked each other! I worked out of town on and off for months at the time so we were just friends for five years. Finally, when I was back in town, Heinrich invited me out to a movie. We were having a drink and talking afterwards and I realised I had to kiss him! After that, Heinrich called his parents and told them he was going to marry me (unknown to me)! We started dating and I changed jobs so I could stay in LA and be with him (something I'd been wanting to do anyway but I obviously knew we were heading that way as well). It's pretty amazing to us that he's from Umdloti and I'm from California and we still found each other.
The Proposal
Heinrich did a fantastic job! We went on a weekend trip to San Francisco and he took me to the Muir Woods, which is a beautiful redwood forest. We were walking through the trees and Heinrich started acting a little strange – he kept complaining about all the people walking by us. Finally he told me to sit down and close my eyes so he could "pick me a flower". There were no flowers but I played along and when I opened them he was down on one knee with a ring. I almost pushed him over and yelled "shut up!" in disbelief – I couldn't believe he had totally surprised me. I thought I would know it was coming! After that I got my act together and immediately said yes.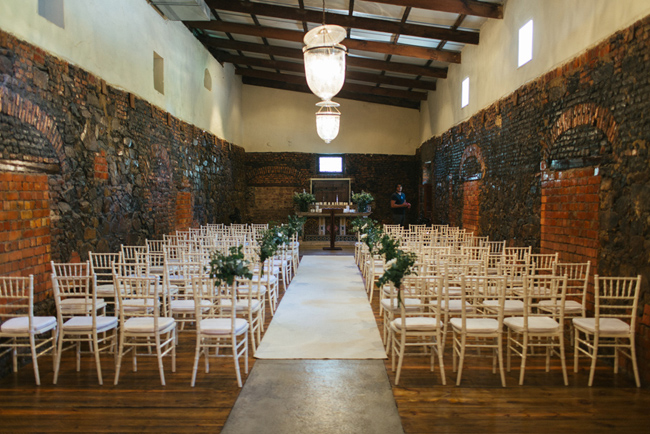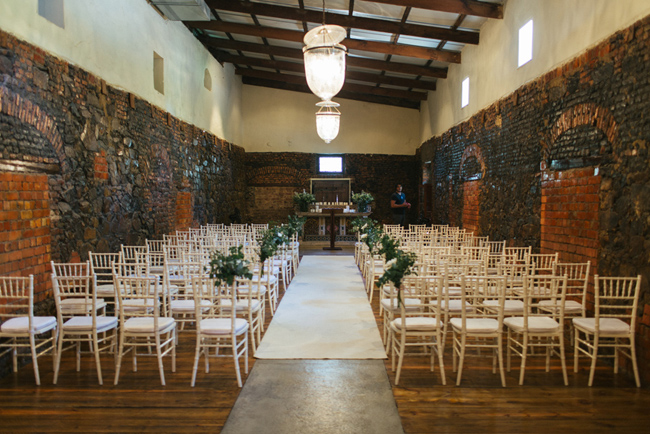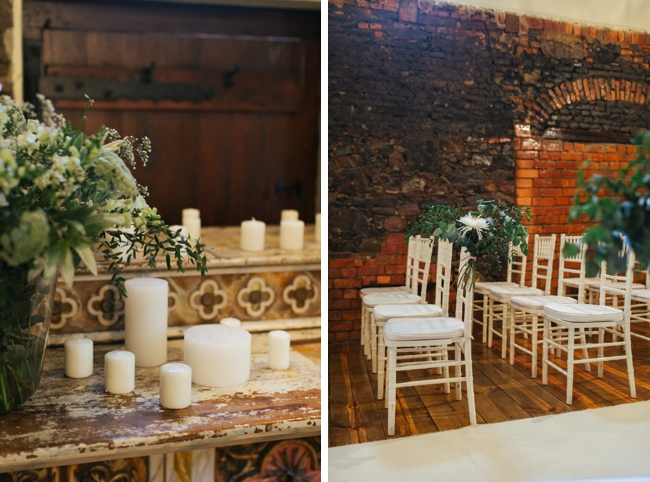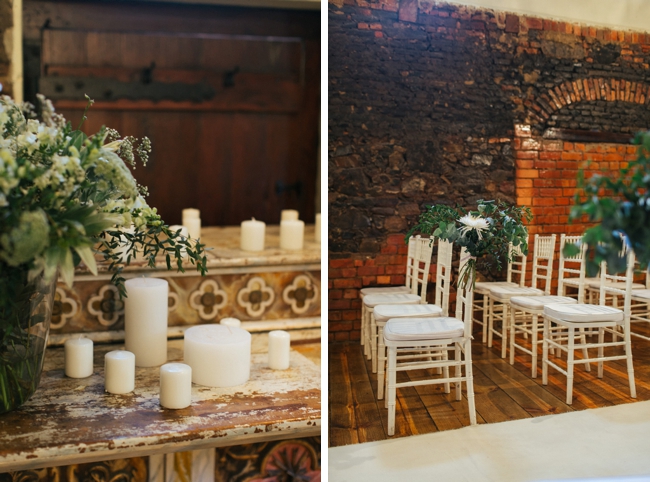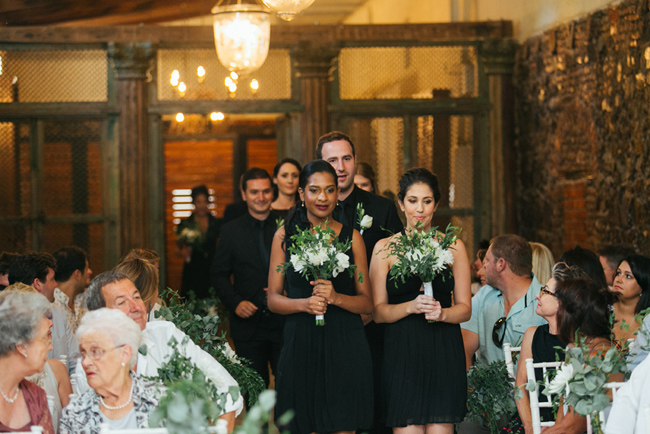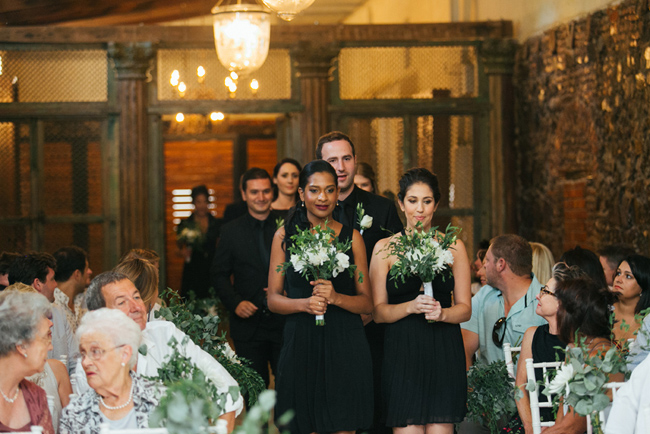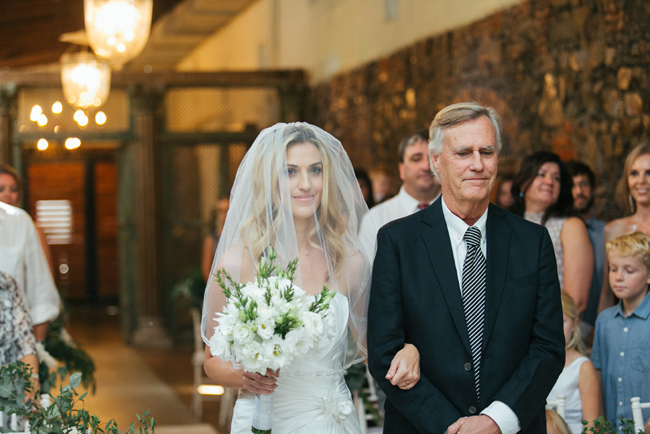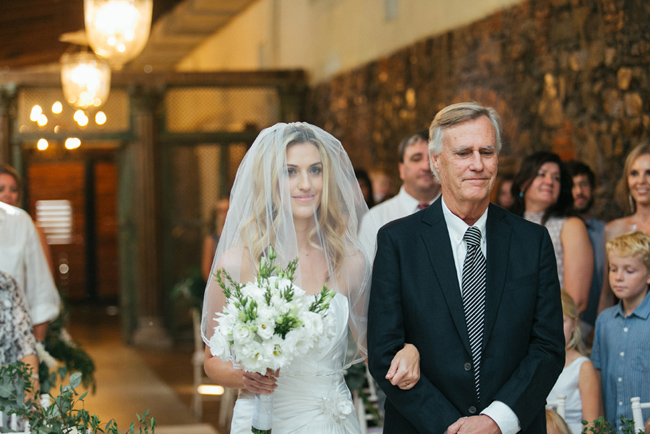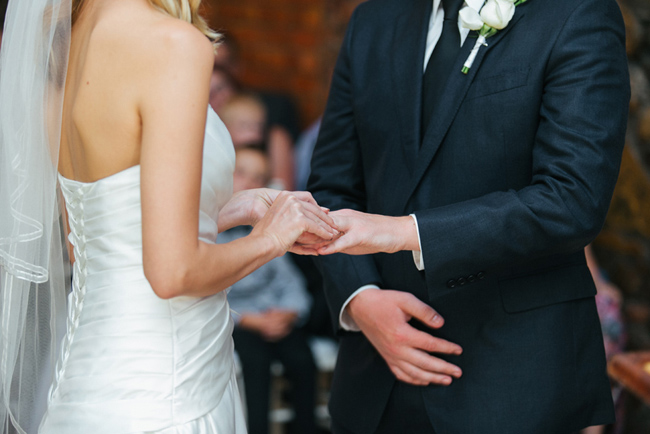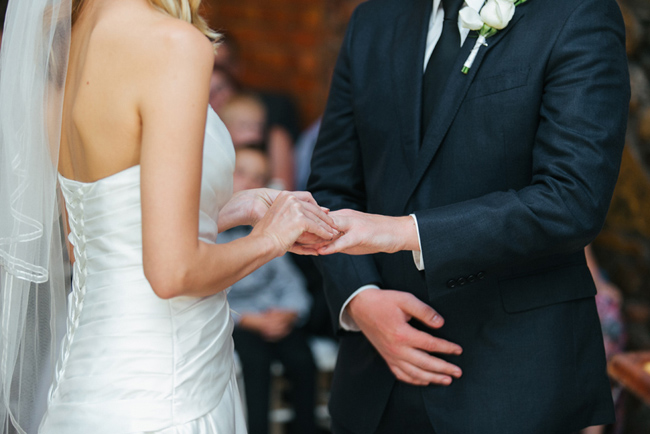 The Venue
We knew we wanted to do it in South Africa – my family had never been before and we knew this would be the perfect reason for them to come and meet Heinrich's family and see how beautiful the whole country is. Once we knew that, I trusted Heinrich to narrow down where to go. Stellenbosch made sense because it's so naturally beautiful, and we love good wine and food. Nooitgedacht had the perfect combination of those things – plus Heinrich had seen the venue before and knew it would be perfect. They were even kind enough to do the wedding on New Year's Eve for us! It would not have been the same without that venue…
Wedding Style
We didn't want a theme but we did want to create a 'feeling', which was relaxed, natural, modern, and summery. Nooitgedacht's grounds are so beautiful that we felt it would be a shame to have dinner inside, so we set everything up under the trees which made it incredibly magical. We kept everything simple – lots of white, natural materials, candles, and some fairy lights. After that, I think great music, lots of dancing, and a good bar are the most important things to make sure everyone enjoys themselves!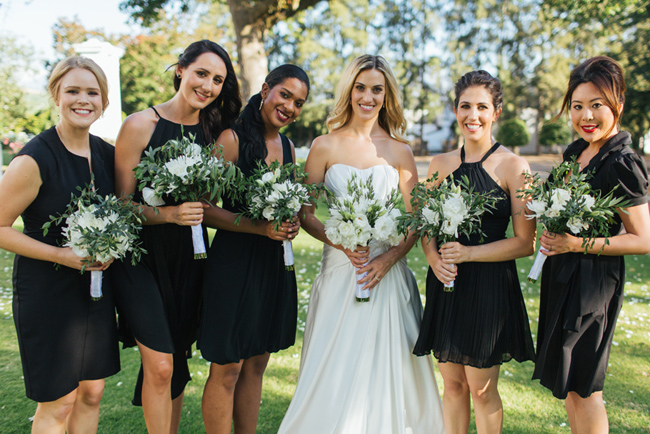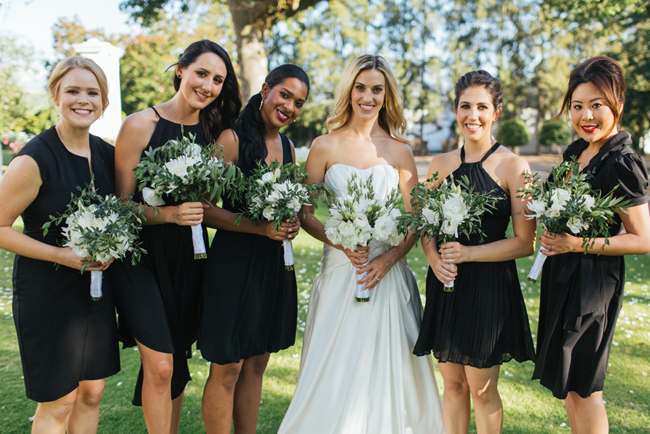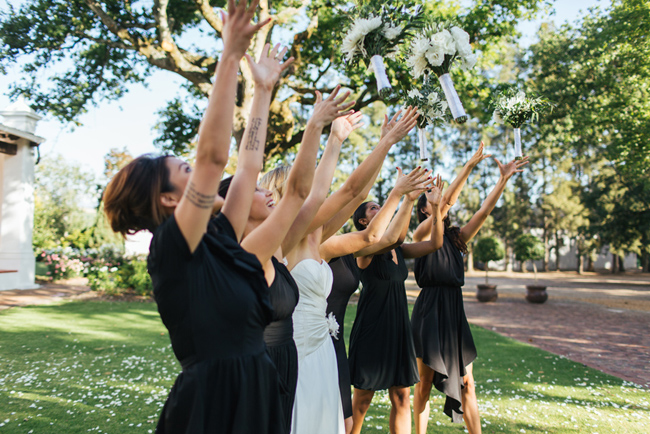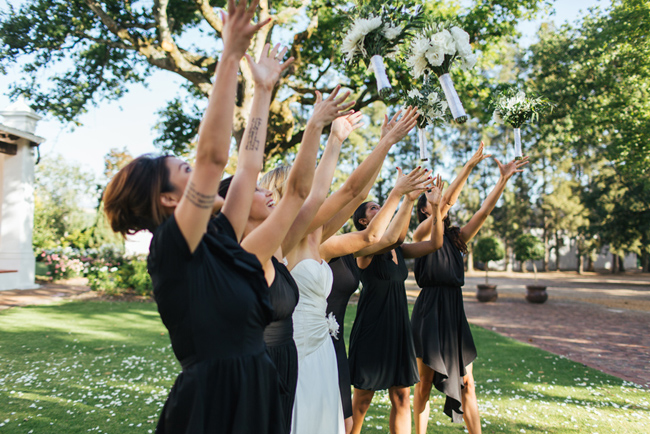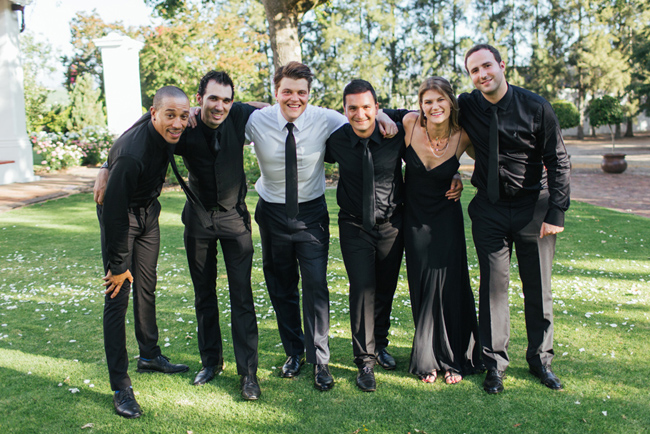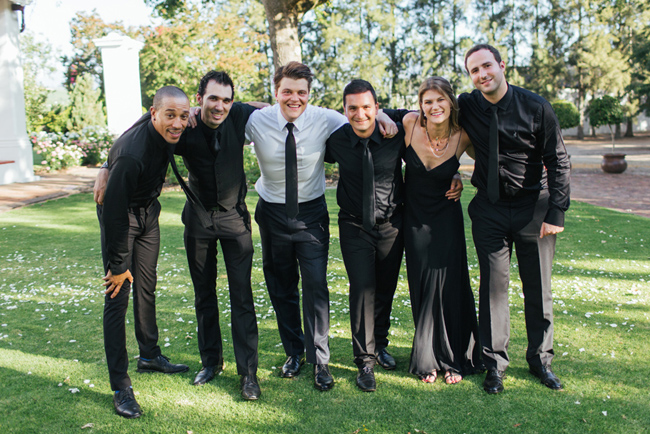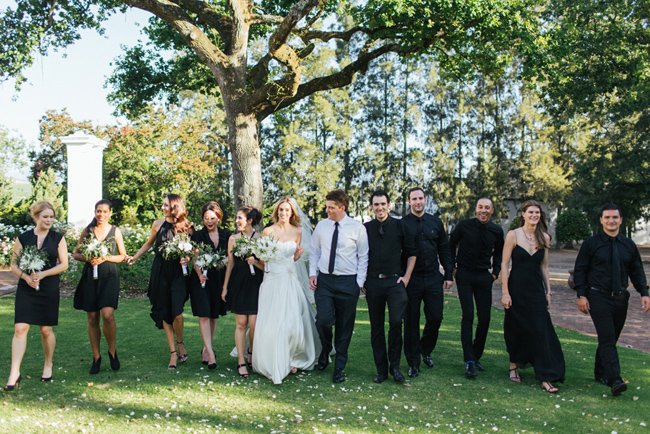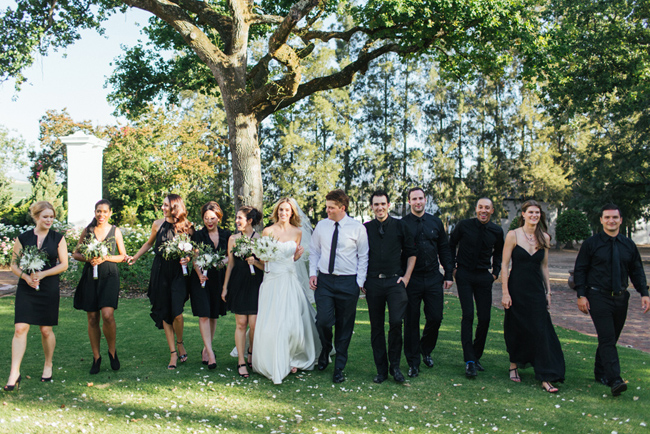 Wedding Details
We really loved our wedding favors (wine opener sets engraved with our names and the date) and use it all the time! We felt it was a perfect memory of the winery setting, travel-friendly, and of course, Heinrich and I love a good bottle of wine! We had a great photo prop area that Heinrich thought of. We just let everyone take their own photos but the props box was filled with viking swords, feather boas, everything you could think of. My brother somehow wound up on the dance floor with a sailor hat. It was pretty fantastic. And we had a cheese tower instead of a traditional wedding cake. It was more summery and fun! The leftovers got served as a little midnight snack with champagne at midnight.
The Flowers
We wanted white, simple, and budget-friendly. We said we liked herbs, ranunculus, peonies, dahlias, sweet peas – the flower and decor company took it from there. We weren't too caught up about the type of flowers as long as they were mostly white and in low vases so guests could speak easily across the tables. The bouquets were the same – just white, simple and beautiful!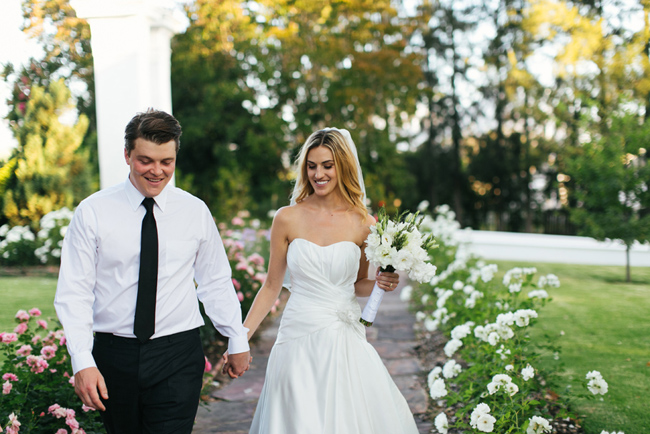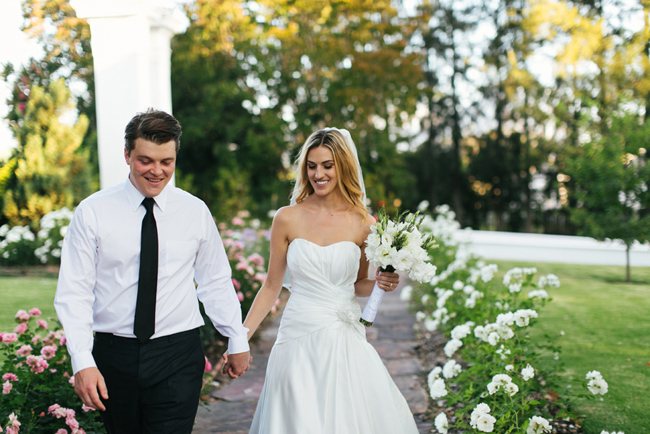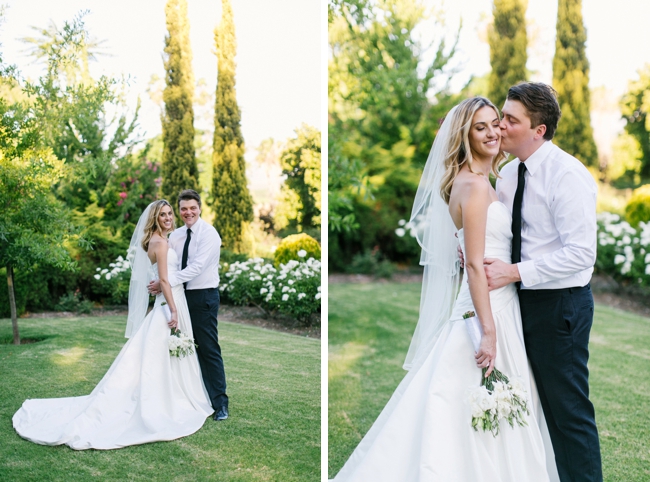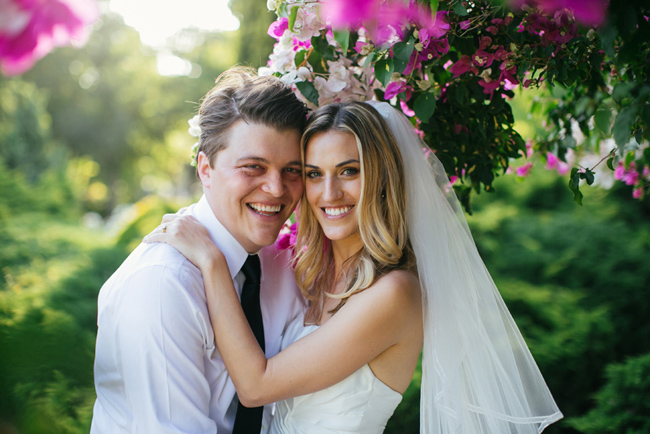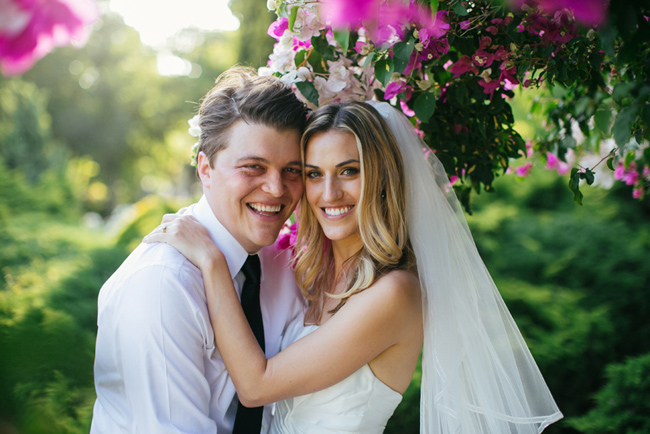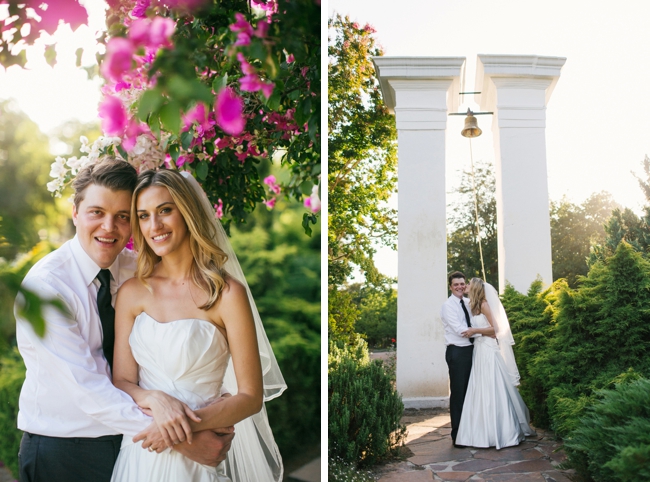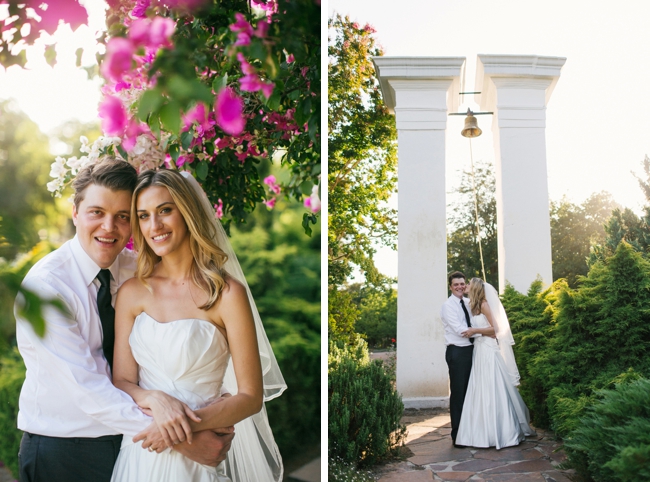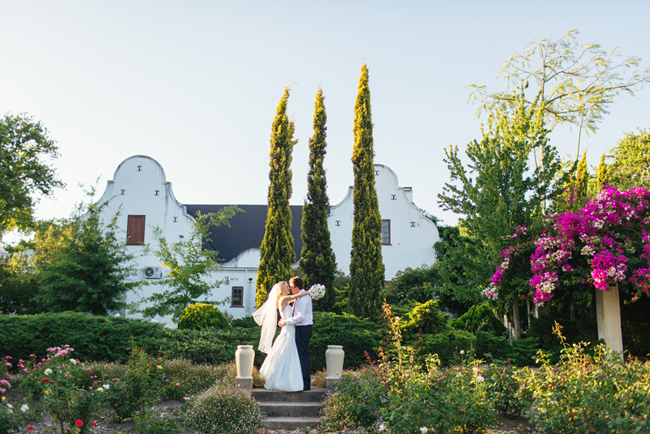 The Dress
I found it in downtown Los Angeles. I wanted something formal and simple but not boring. I went shopping an entire day with my mom and sister and felt pretty overwhelmed with all the different styles and how different everything looks once you try it on. The second day I found the dress. It combined everything I had liked in other dresses – it was structured, and had an interesting fabric draping on the top… and it avoided what I didn't like – it wasn't blingy and didn't have a monstrous train. I was so relieved to not have to shop anymore – after one day I was already exhausted! The second dress was something I had bought online for the rehearsal dinner but my mom and sister convinced me to save it as my second dress for after the ceremony – it saved me! It was infinitely cooler and allowed me to dance without knocking anyone over. It seemed excessive to have a second dress but I don't think I could have enjoyed the party the same way in the big ceremony dress!
The Bridesmaids
I did have bridesmaids. Heinrich and I thought it would look classy if we wore white and our bridesmaids and groomsmen were in all-black. As long as they stuck to black, the bridesmaids wore whatever dress they liked. I wanted everyone to feel beautiful, not have to spend a ton of money (they were already flying across the world to be in the wedding), and be able to wear the dress again if they wanted to. Everyone looked gorgeous and the different dresses allowed everyone's personality to stand out!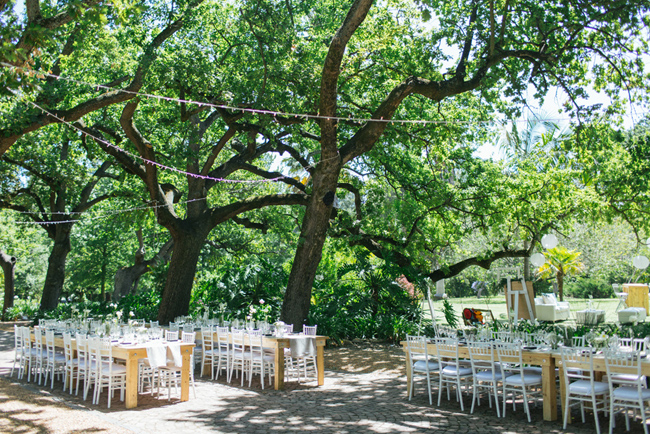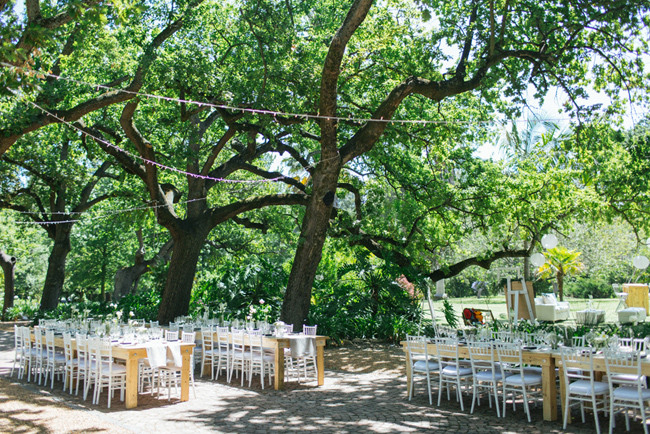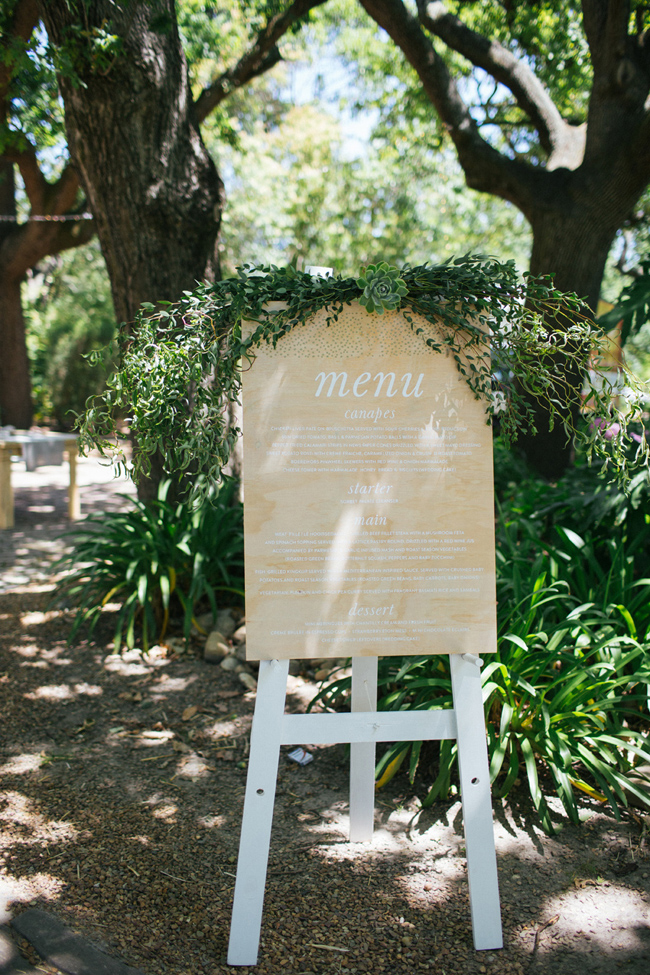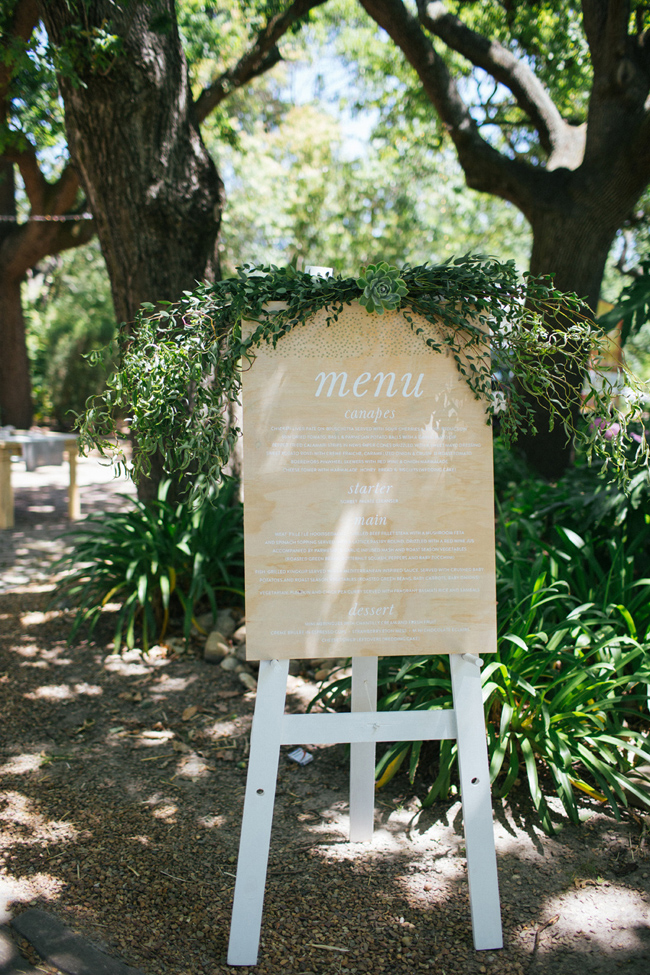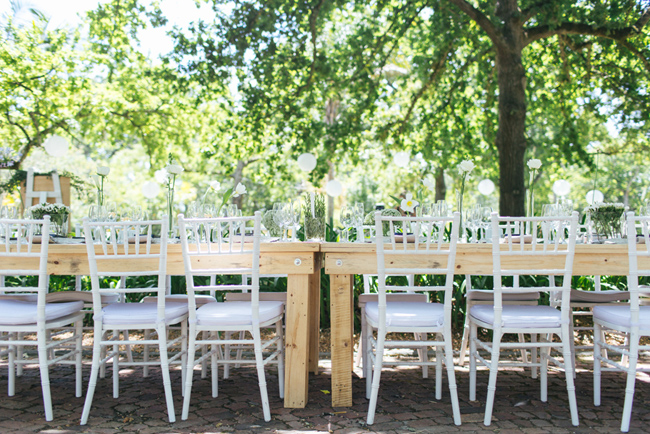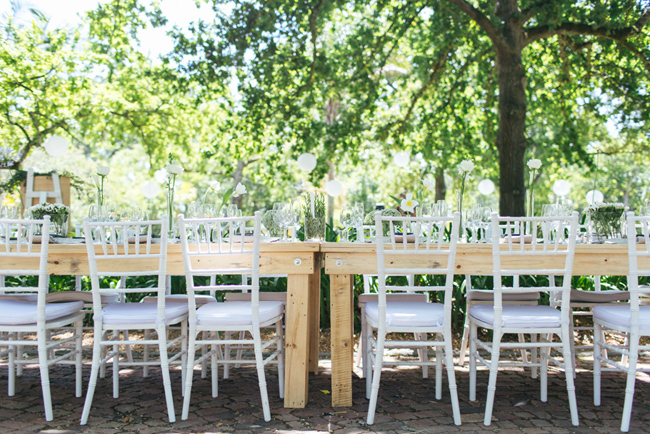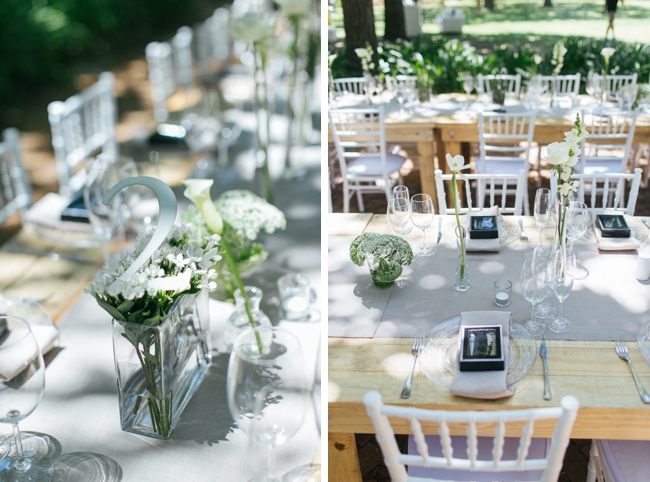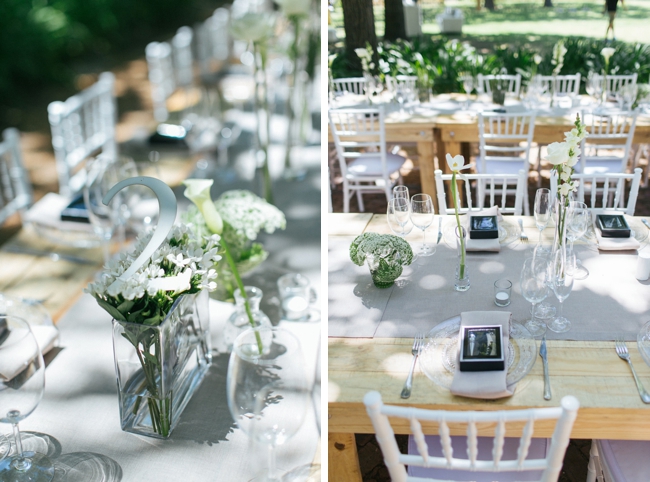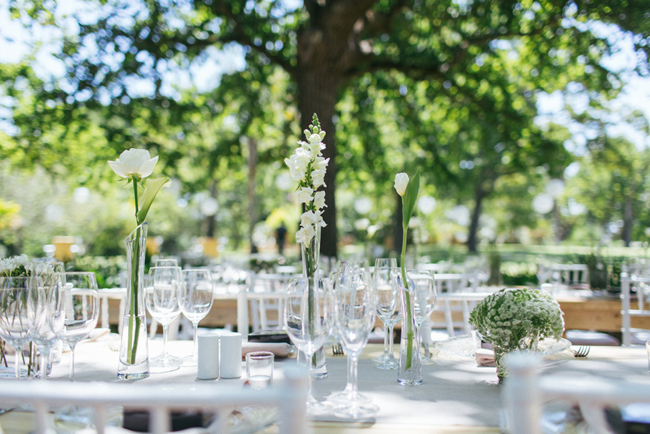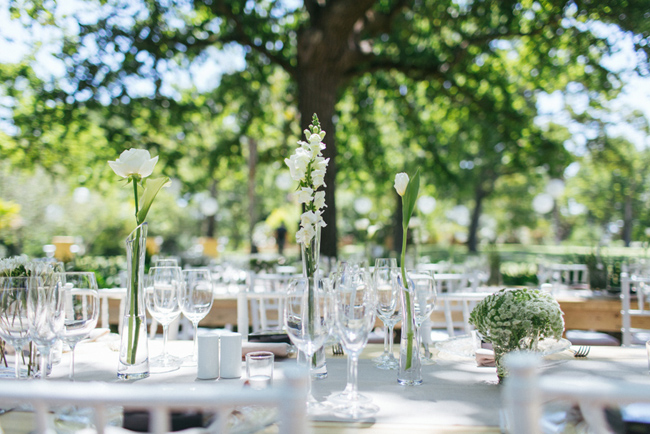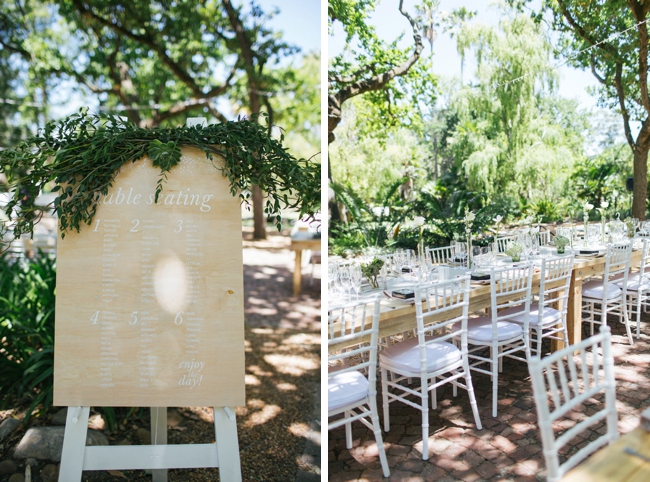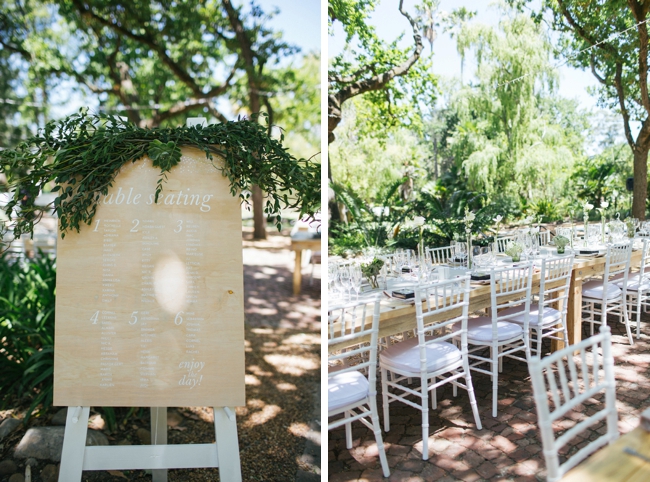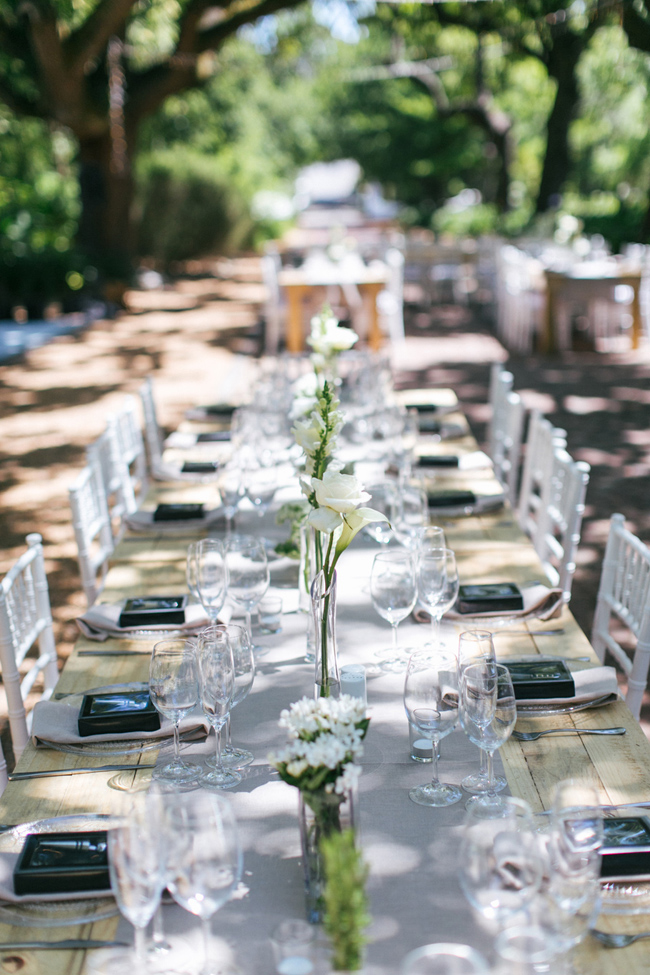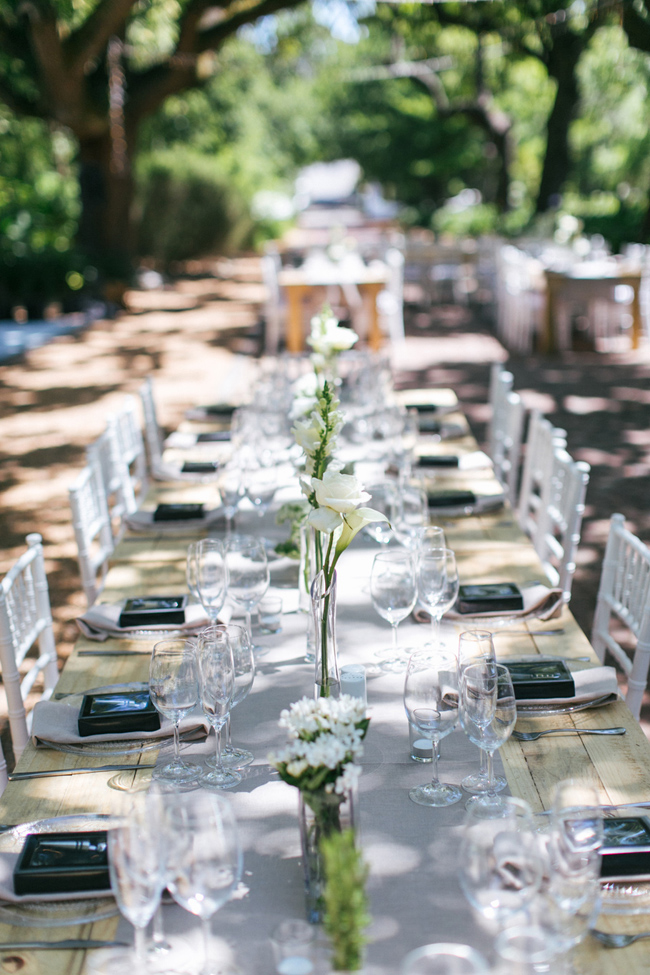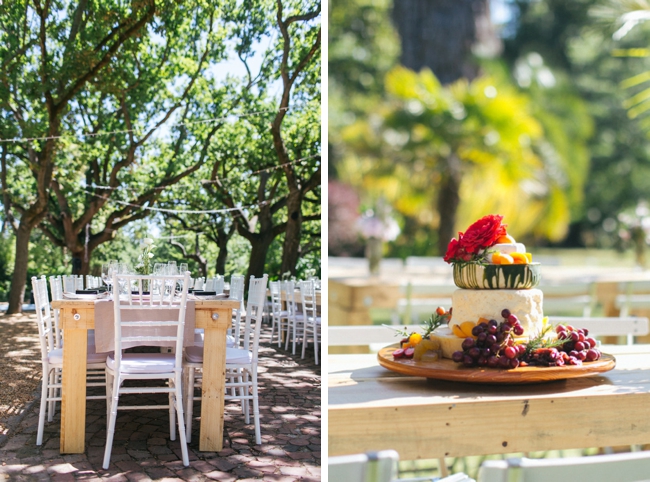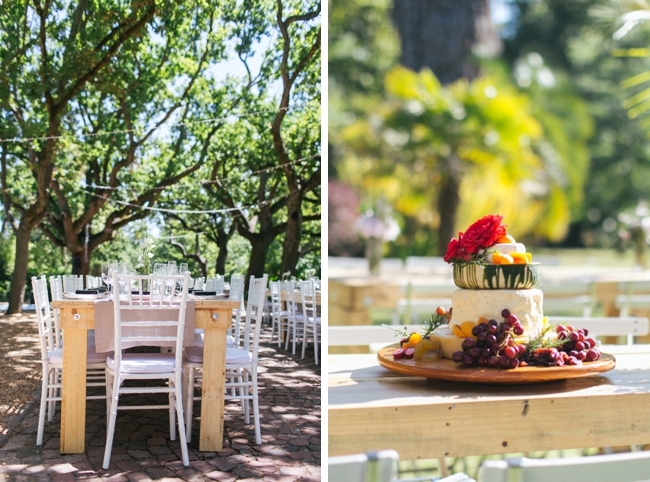 Memorable Moment
Saying "I do!" and becoming Mr & Mrs Meyer. I managed not to cry until after the ceremony!
Proudly South African Details
Getting married in the Nooitgedacht chapel was beautiful and felt very traditional and intimate. And serving Nooitgedacht's own wine was important to us. We wanted to honour the South African guests and also give our international guests a chance to experience the true South African way! We also debated having a potjie sitting area for night time but the summer was too hot!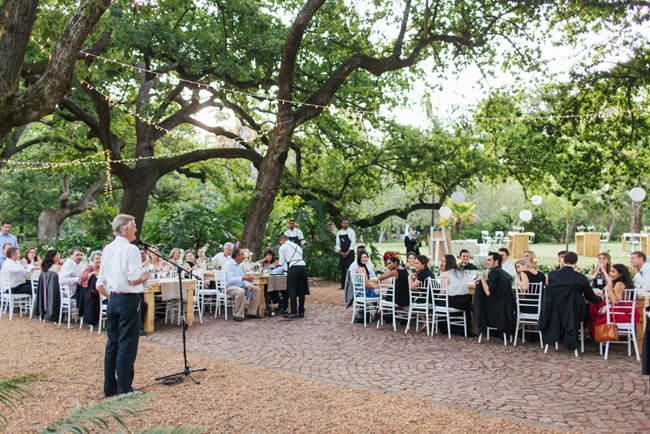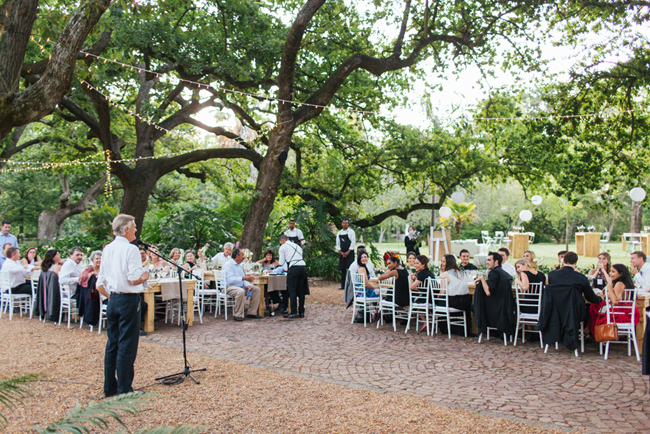 The Suppliers
Planning everything from the States was really difficult and limiting so we relied on our coordinator for everything we weren't able to do ourselves. We weren't able to do DIY so she made sure all the details important to us were there. Our photographer, Marli Koen, was also fantastic. We would like to thank her for all the beautiful memories she captured!

Best Decision
To have a wedding planner – it would have been impossible without Izandi helping us. And I think it allows you to focus on what's really important on the day instead of stressing out about whatever is going wrong (there is always something!)
Advice for Future Brides & Grooms
Heinrich and I joked about eloping a LOT while planning – I'd say whenever you get stressed just remember the most important thing is you're getting married and you want to share that moment with the people you love! Being flexible and focusing on the big picture will help you figure out where to spend money and where to sacrifice. I think enjoying your big day is also essential – appreciate spending time getting ready with your family and bridal party, and take time to sip a glass of champagne – the wedding can't start without you!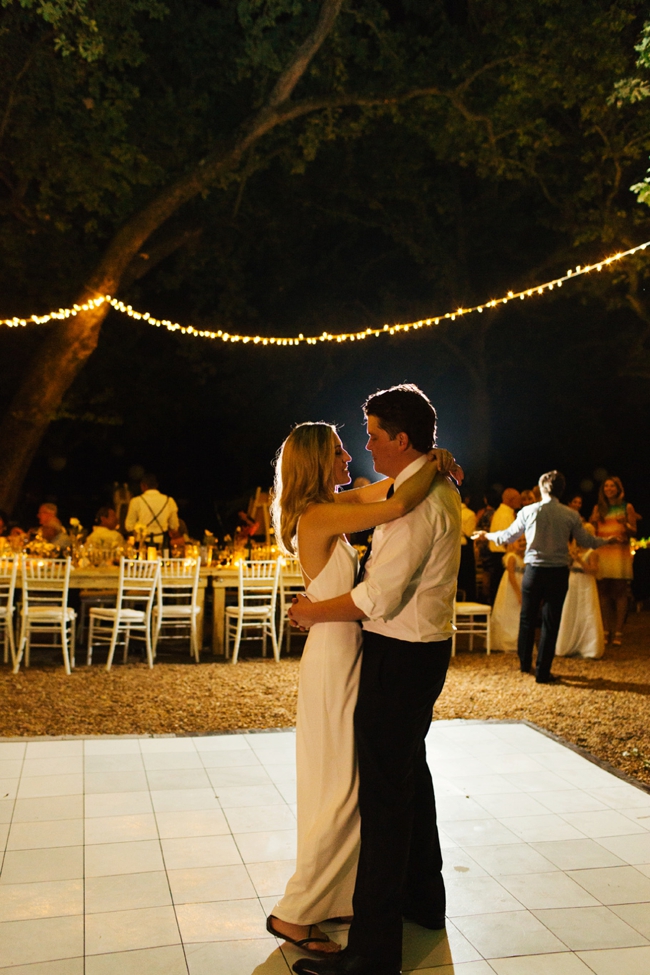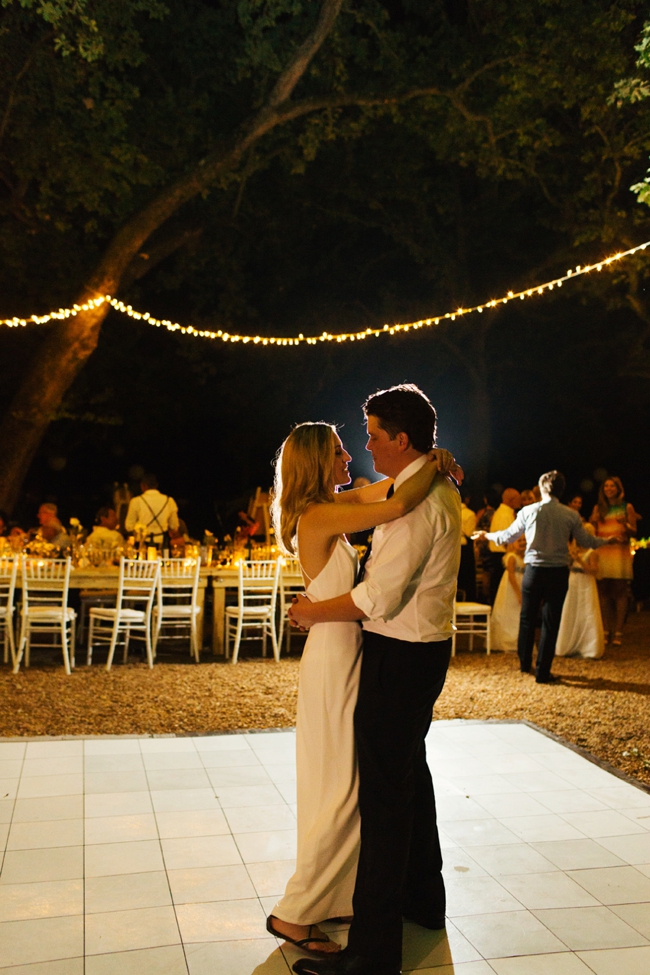 You can see more from this wedding on Marli Koen's blog.
SERVICE PROVIDERS
Venue & catering: Nooitgedacht Wine Estate | Photography: Marli Koen | Co-ordination & cake: Izandi at IDO4U | Flowers & décor: Authentic Planning | Video: FJS Productions | Hair: Jeanette Genis | Makeup: Algria Ferreria | DJ: DJ Werner
Save