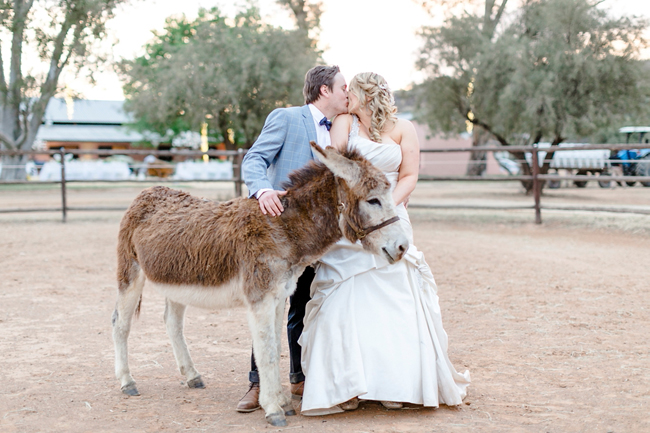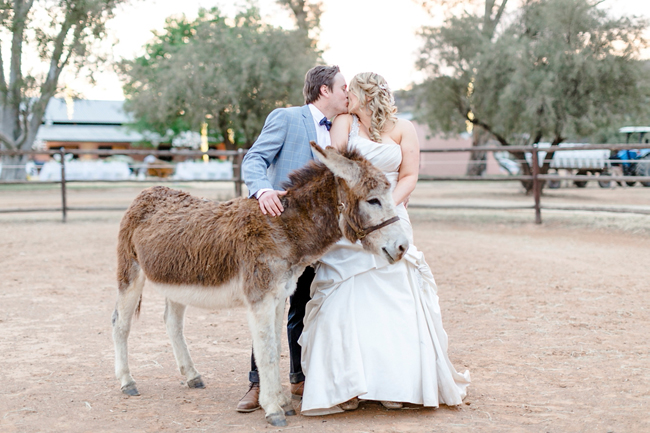 There's something special about home weddings – they have such a sense of warmth and comfort and happiness about them, and I love picturing the couple returning time and again over the years and always thinking of their special day, and how this tree is the one they got married under and that spot is where the marquee was, or whatever it is. Today's home-on-the-farm wedding is all that and more, because it also includes a very personal theme, perfect not just for the Karoo stud farm location, but for the horse-mad bride and groom. As well as getting married in a paddock, having their reception at the stables, and having plenty of their four-legged friends included as part of the day, Alex and Jess opted to include sweet equestrian elements in their decor, from horse shoe escort cards, to rosette table numbers, to tack and trophies on the tables, to 'grass' centrepieces. So fun, and so personal. And I can't not mention Jess' blushing bride bouquet, or the blushing bride-bedecked cake! My FAVE. Christine Joy took these lovely pictures that really capture all the down-home fun and happiness.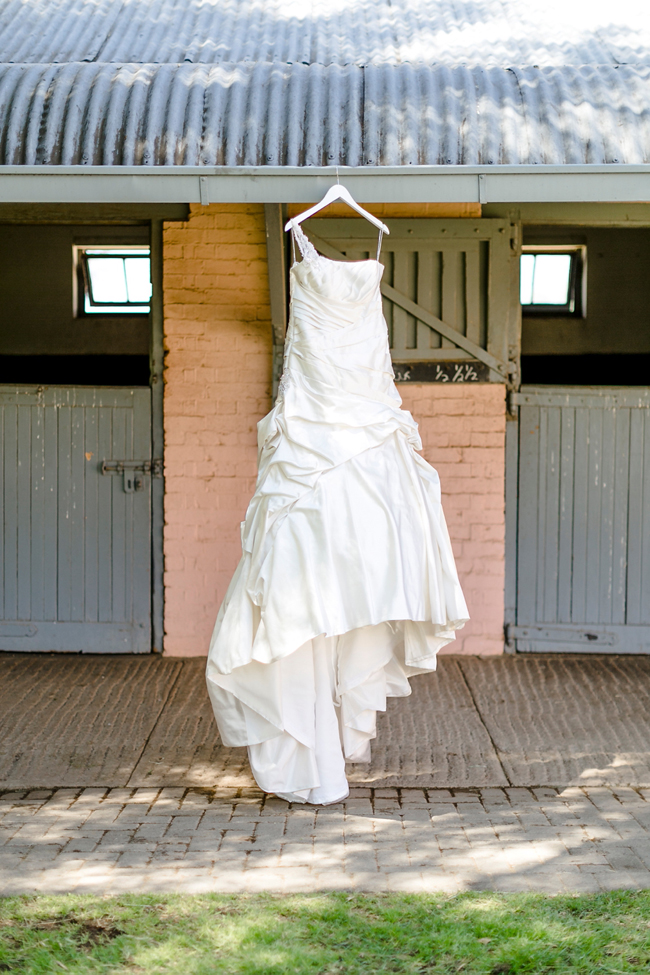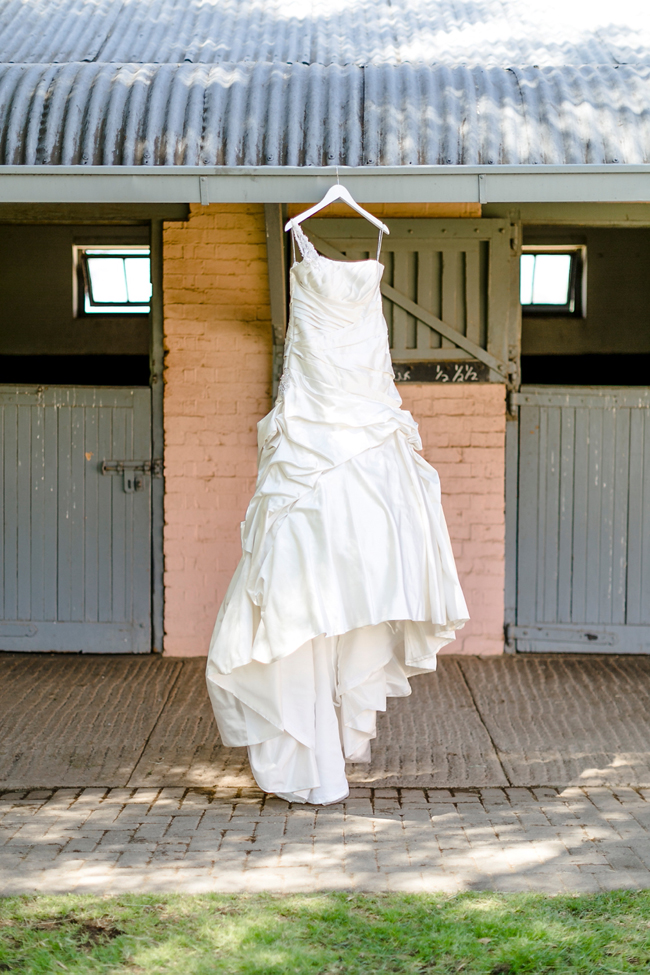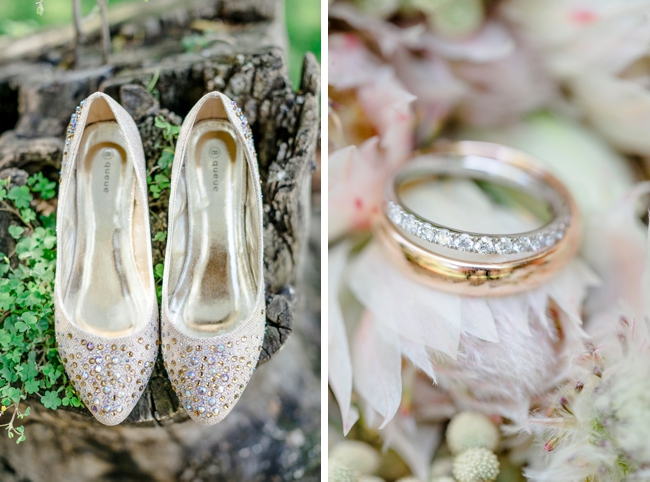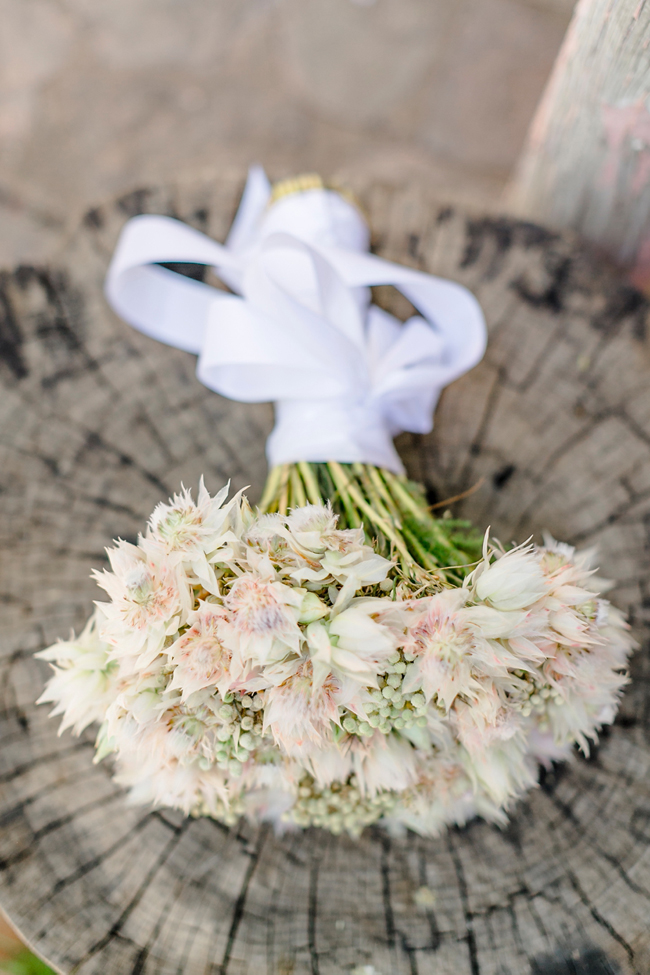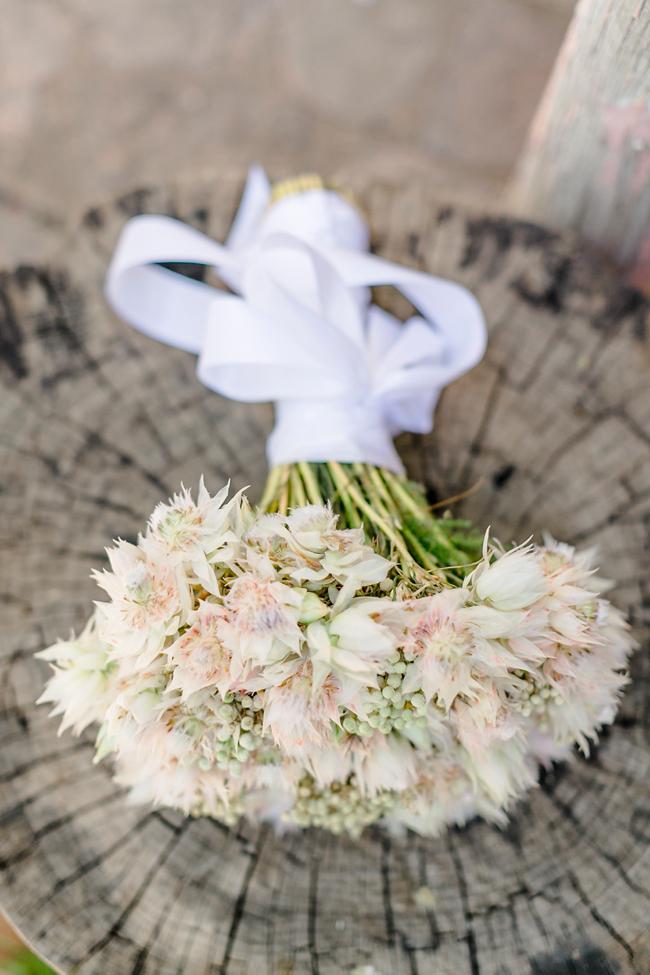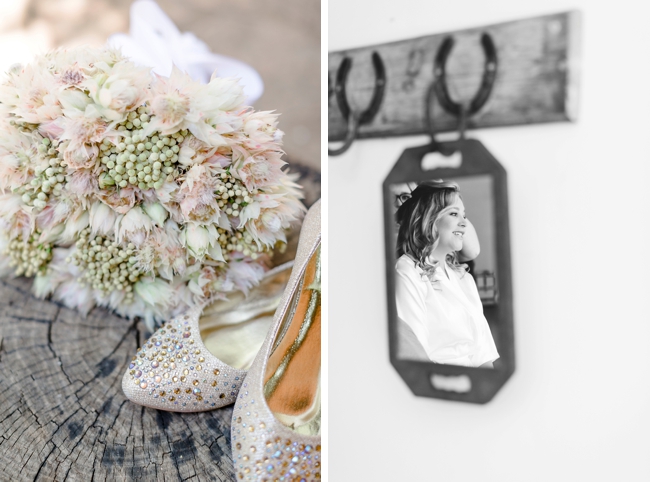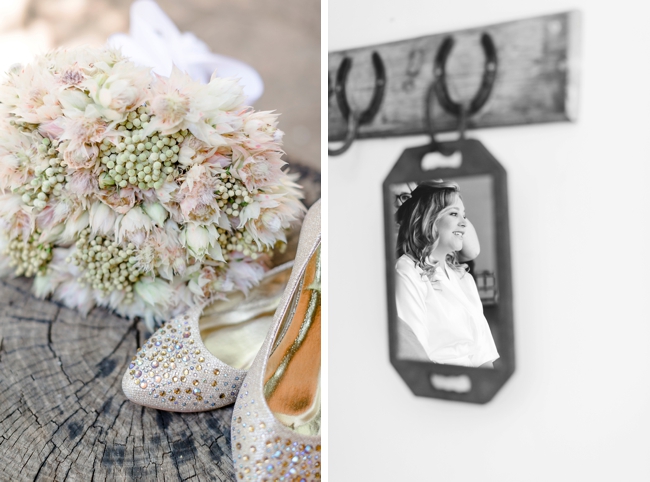 Love Story
Alex and I were both back home – he was visting his grandparents on the farm next door to mine. One day I went next door and, after a case of mistaken identity where I got him confused for a guest staying on the farm, rather than the 'boy next door' I had been avoiding meeting, somewhere between sitting by the fire under the Karoo skies, laughing till our stomachs ached,counting game and him trying to win over my horses and dog, we fell in love. He asked my Dad if he could ask me to marry him and six and a half weeks later, while we were at Madikwe, he did. Exactly one year later we were married on the farm, with all our loved ones and beloved horses around us.
The Proposal
We went to Madikwe on safari with Alex's family. He was acting so odd on the Friday. After an evening game drive we walked the lantern-lit road down to my room and found that the balcony was lit with every lantern available, the most beautiful wild flowers were scattered around, and my Alex got down on one knee as the sun set. After five minutes of happy crying he put the most beautiful ring on my finger.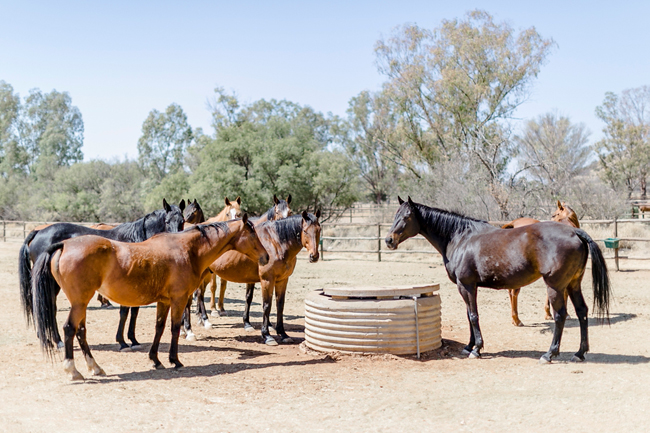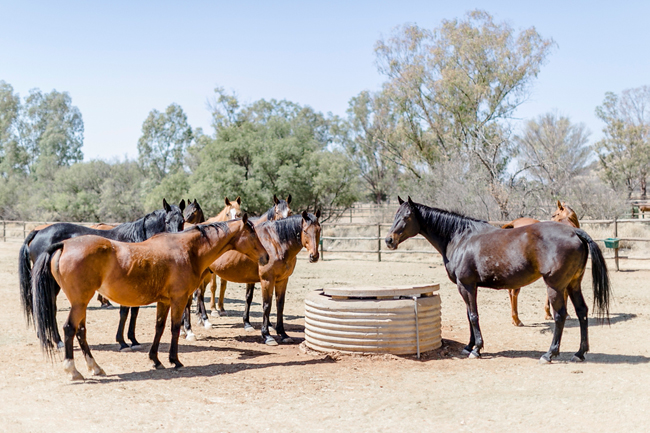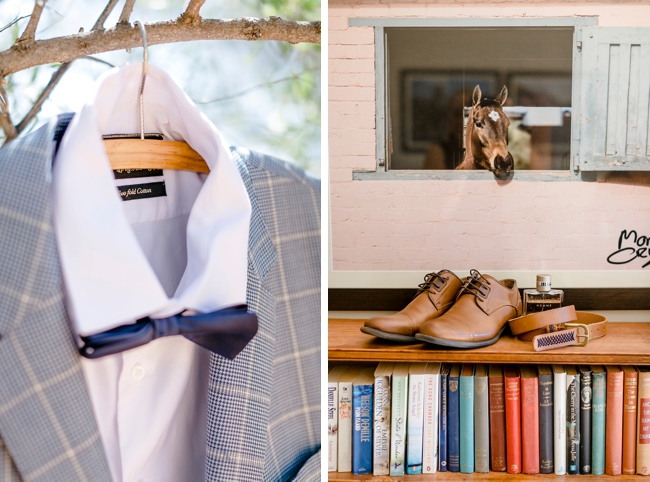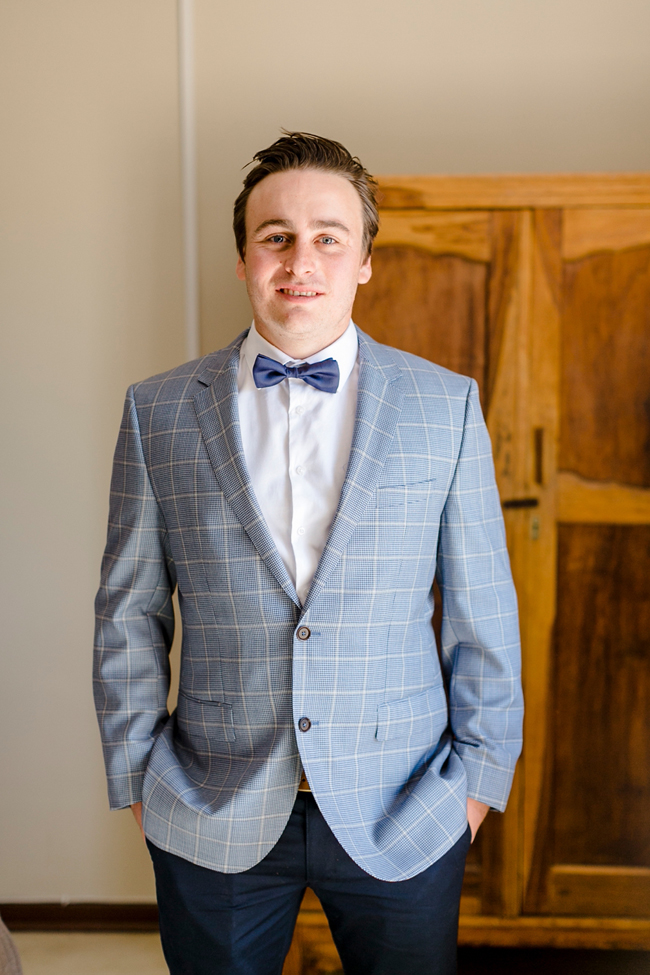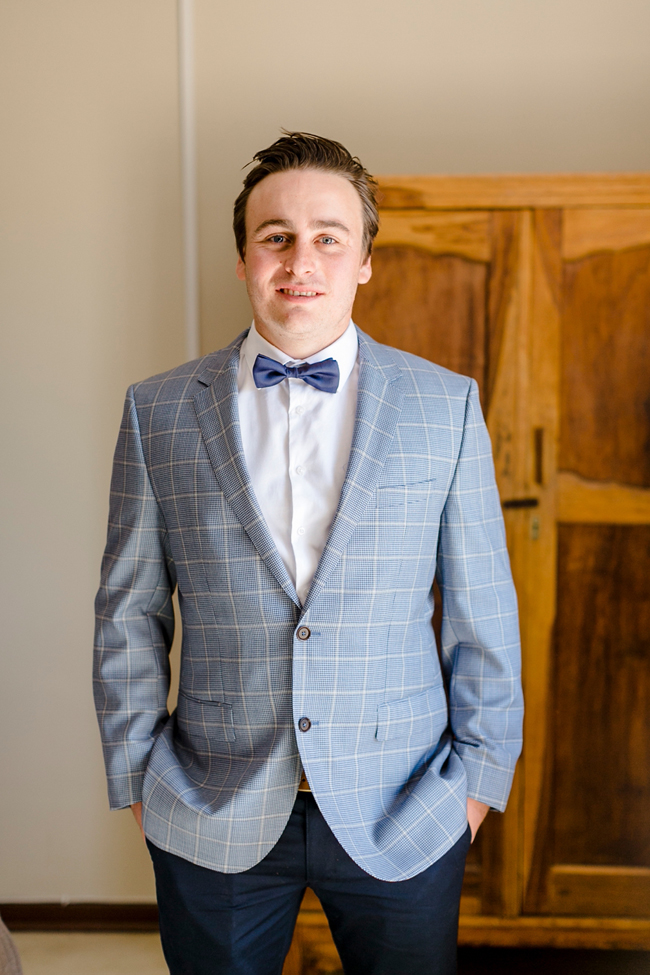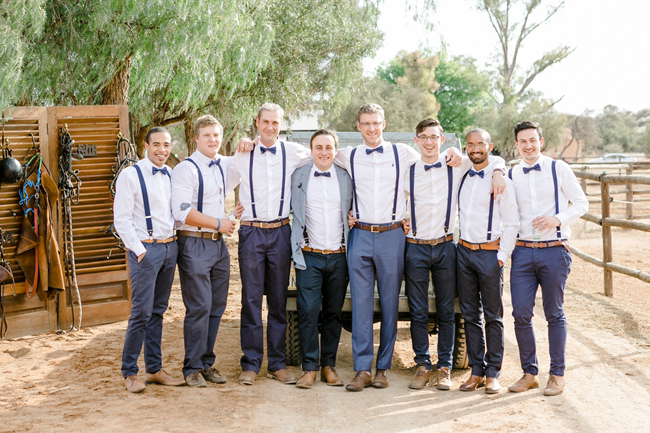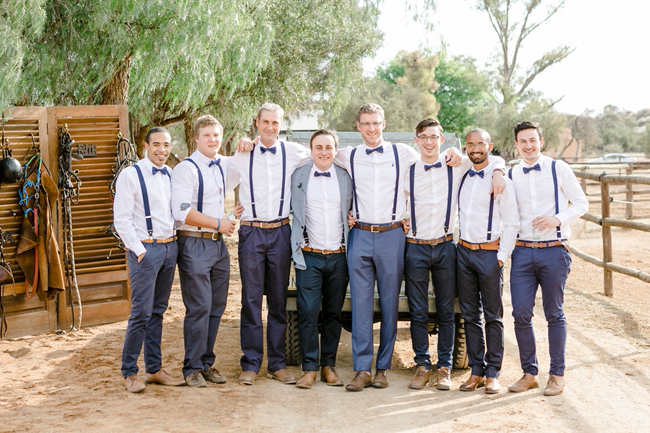 The Venue
I had always wanted to get married at home. We got married in a horse paddock, drinks and appetizers were in a next door paddock, brought in with our band on the back of the tractor, and the reception was at the stables.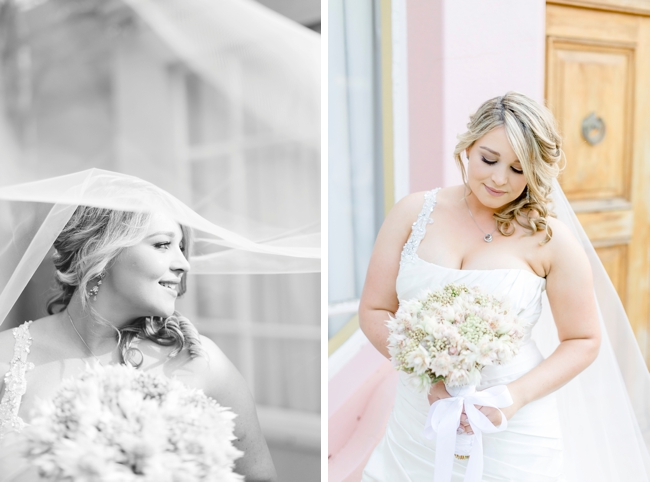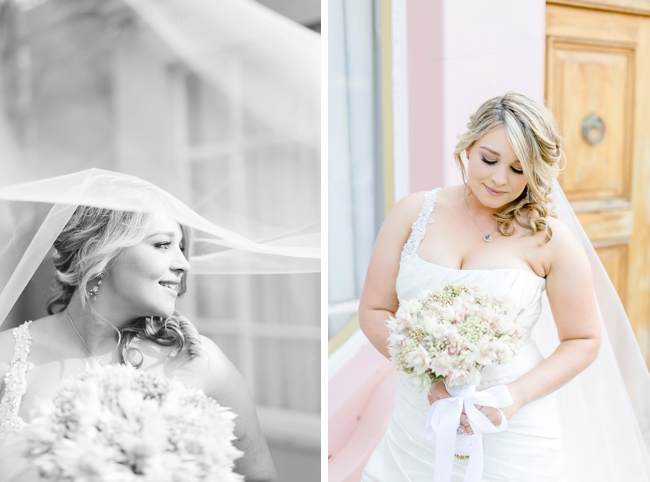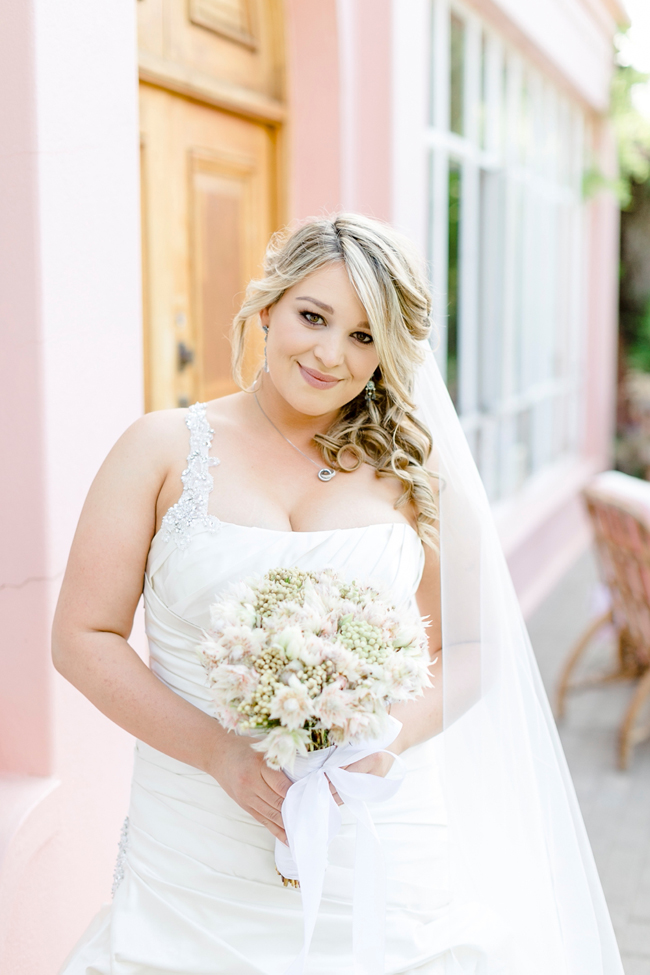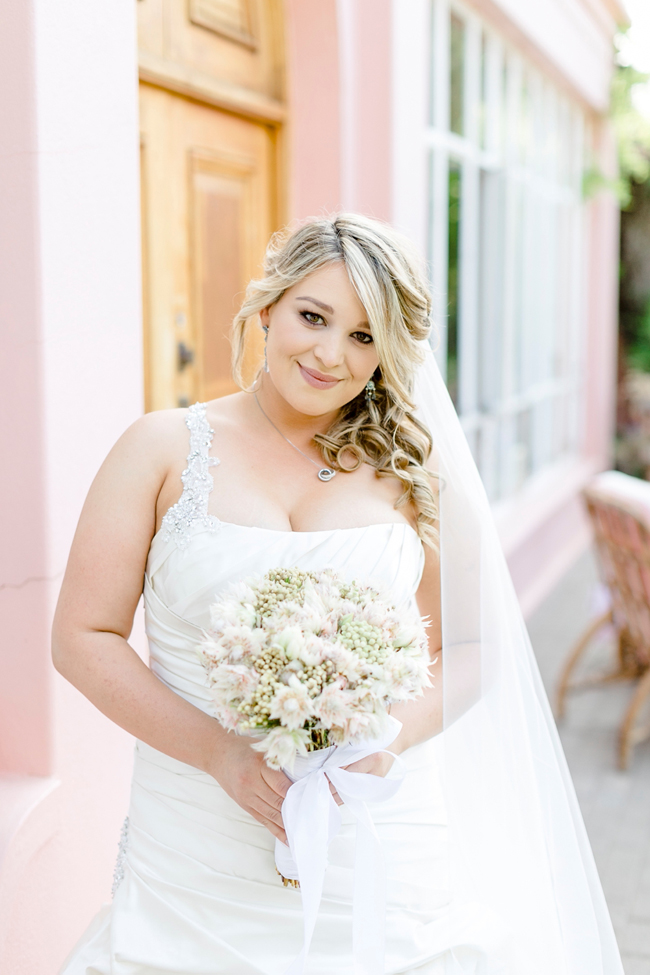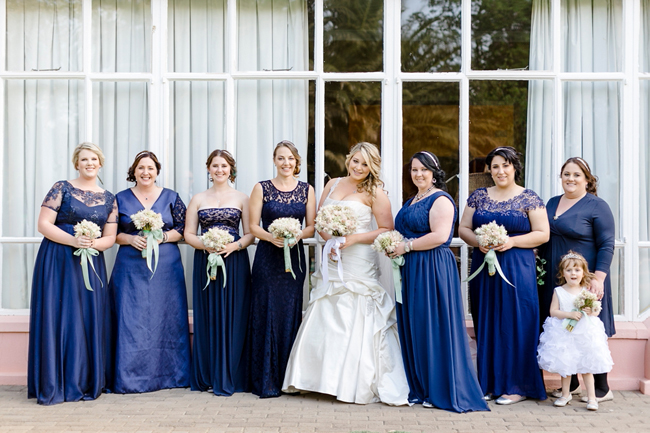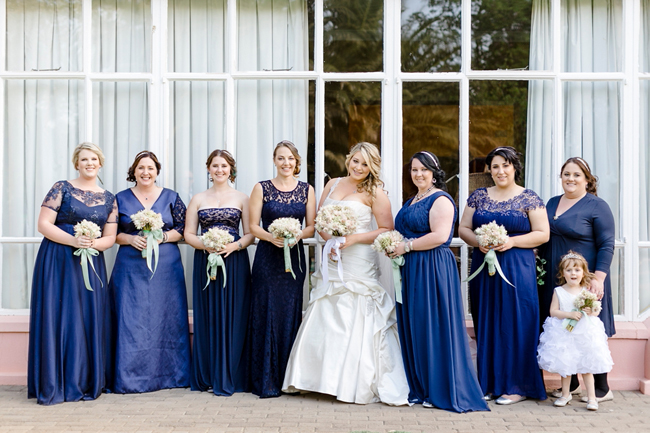 Wedding Style
I was never the type to picture my wedding, so I left this in the very capable hands of Otto de Jager and his amazing team of Sven and Meredith. After one meeting with us they understood that all I wanted was a true Karoo stud farm wedding, with everything as locally sourced as possible.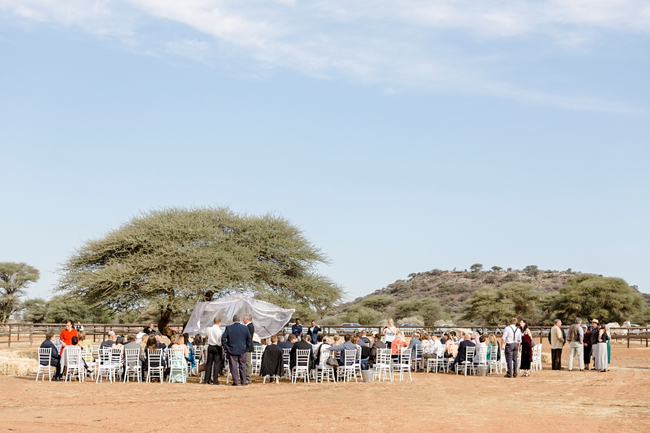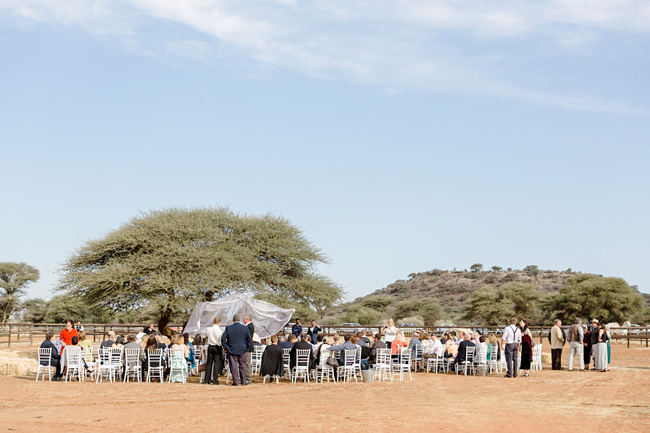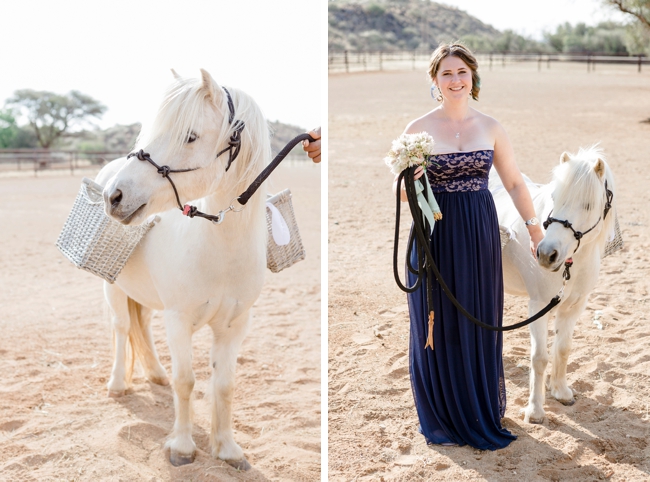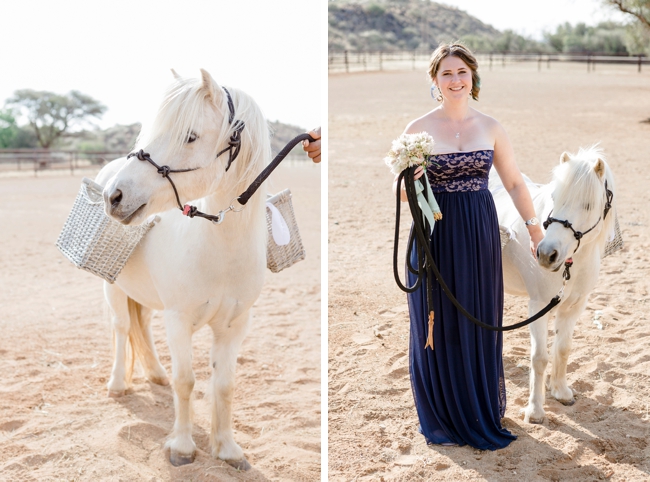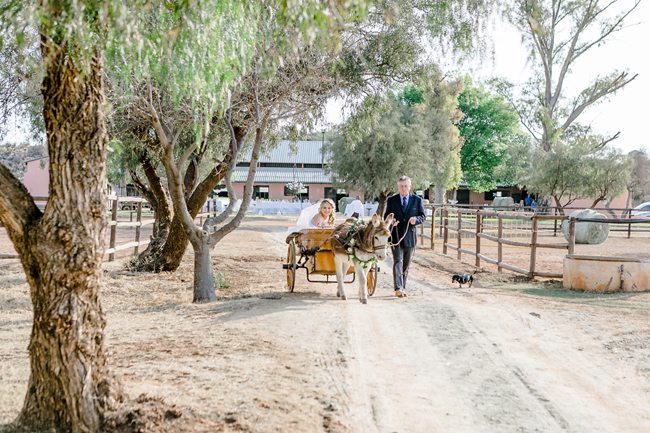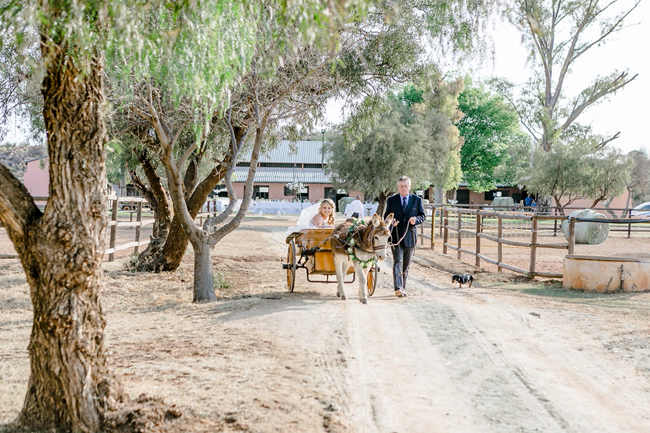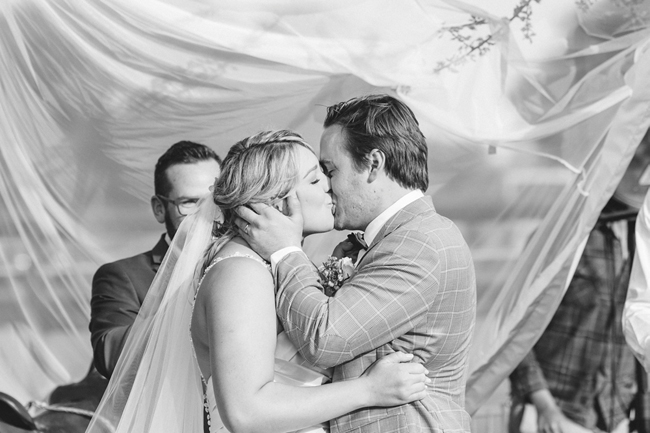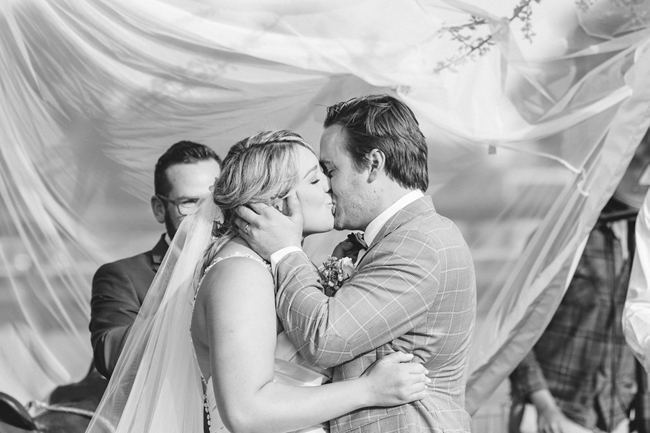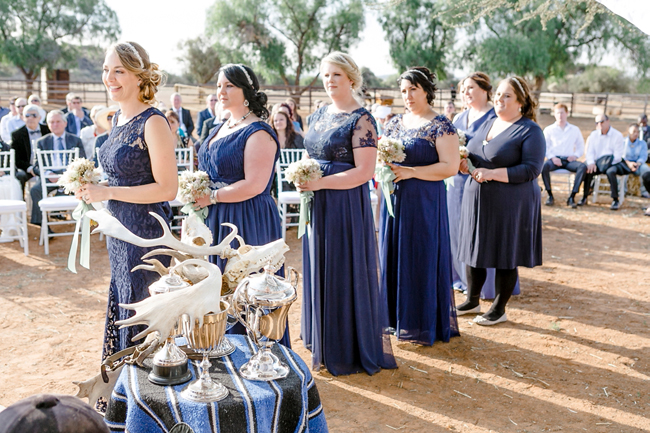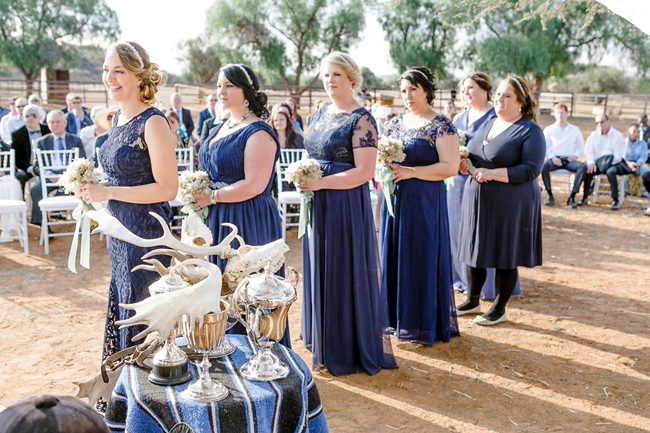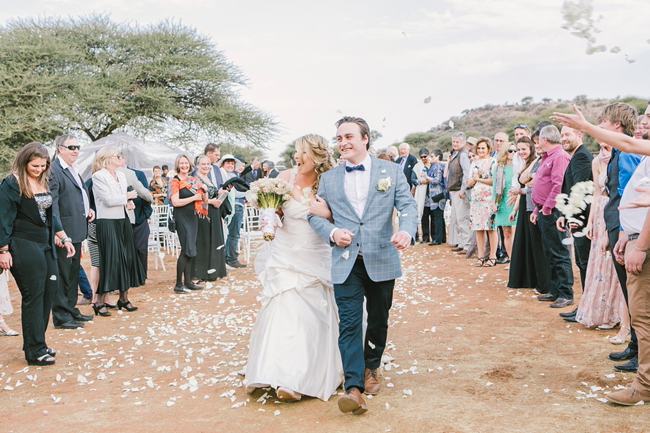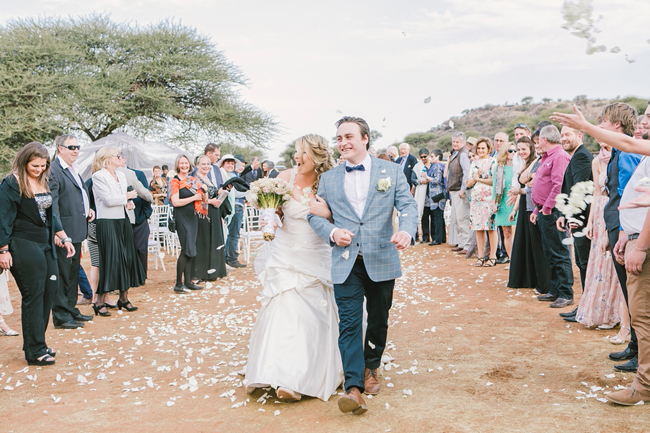 Wedding Details
I arrived at the ceremony on a donkey and cart with my flower girl, led by my dad. We had rescued him a week before the wedding. Having my family's tack scattered around the ceremony was also so special to me.
DIY Elements
My mum did the flowers for my donkey and the flowers Alex wore.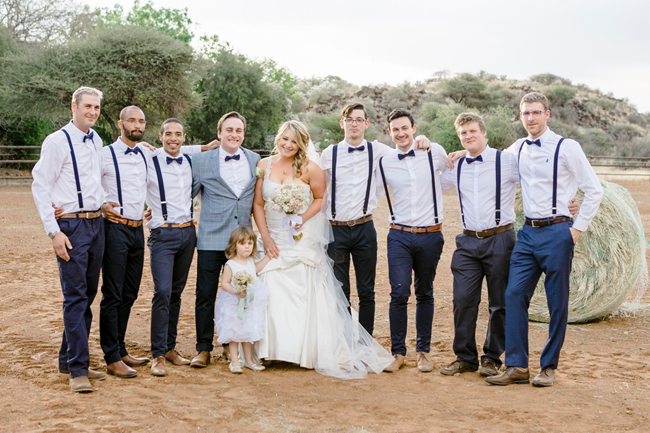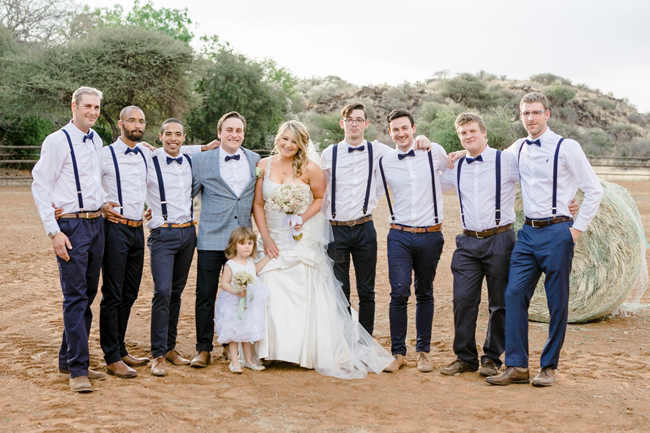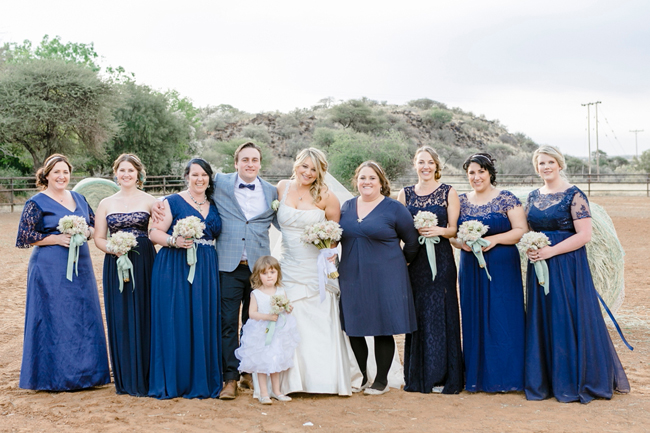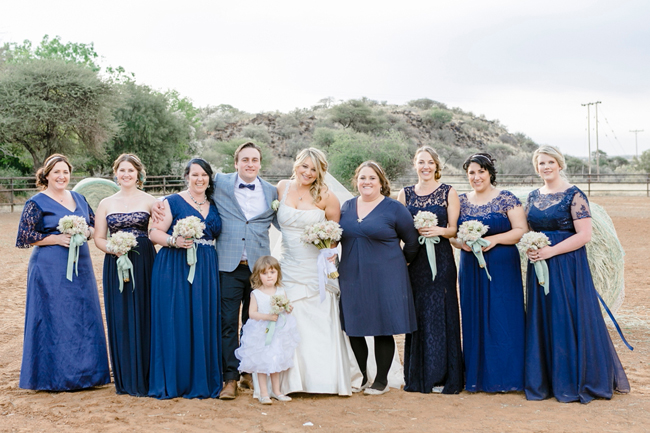 The Dress
I think everyone was expecting me to be in a lacy flowy gown with a flower crown, aand even though that's exactly what I almost went with, Otto and Sven suggested I surprise everyone. My Maggie Sottero from Olivelli Bloemfontein did just that. Its champagne colour was complemented by the red Karoo sand and the sun caught the jewels.
The Bridesmaids
I had the best bridesmaids a girl could want! As they are scattered around the world, I asked them to wear a long navy blue dress, and to be true to themselves when picking it. They were tied together with the same makeup, hair, hair accessories and flowers. I loved how my girls were to true to themselves but somehow all fitted perfectly. My motto was 'I love these girls for the things that make them who they are, why change that?'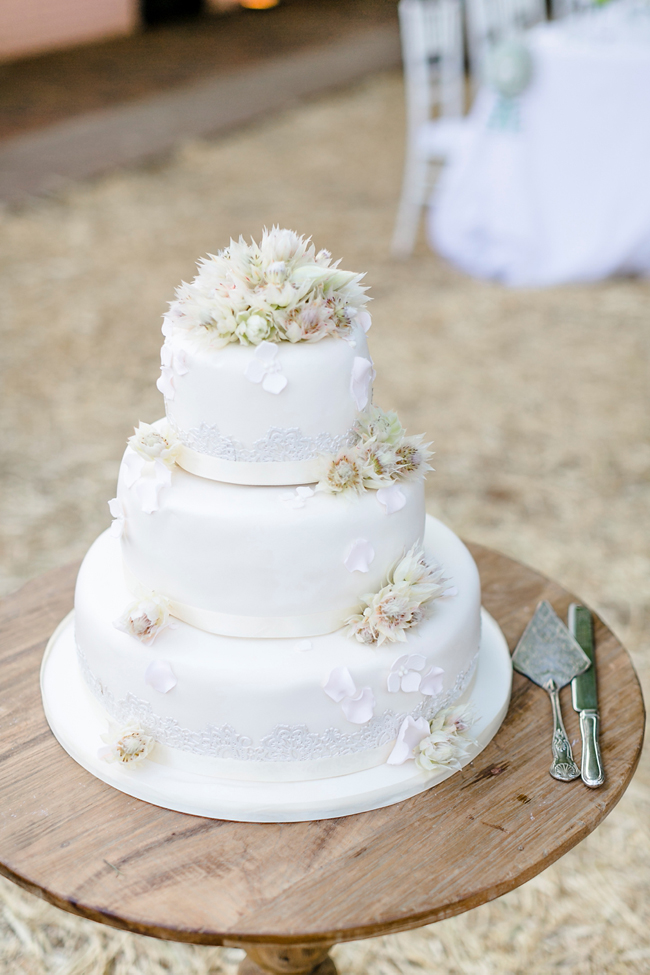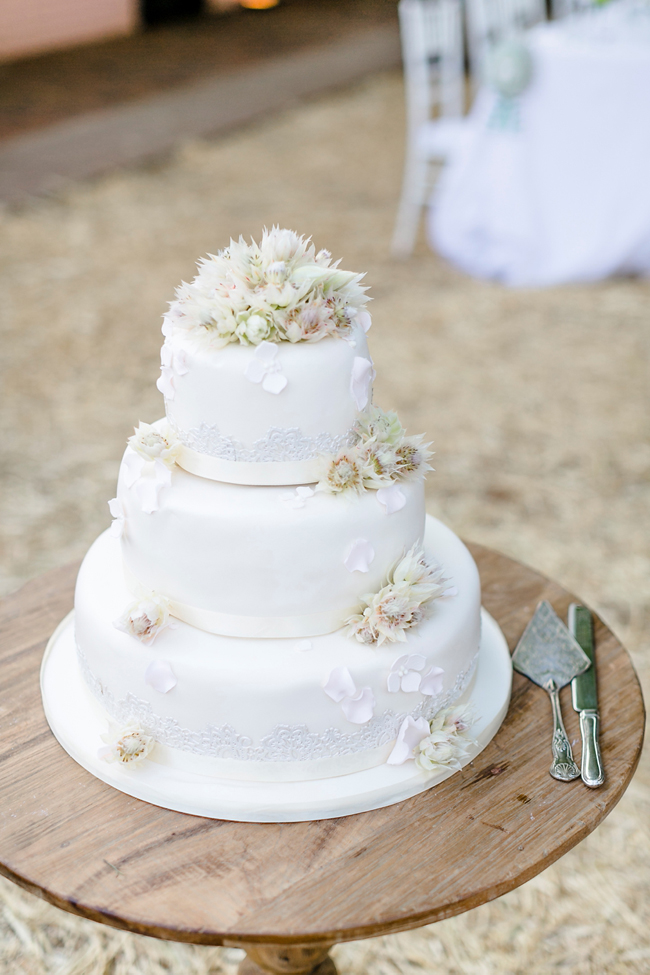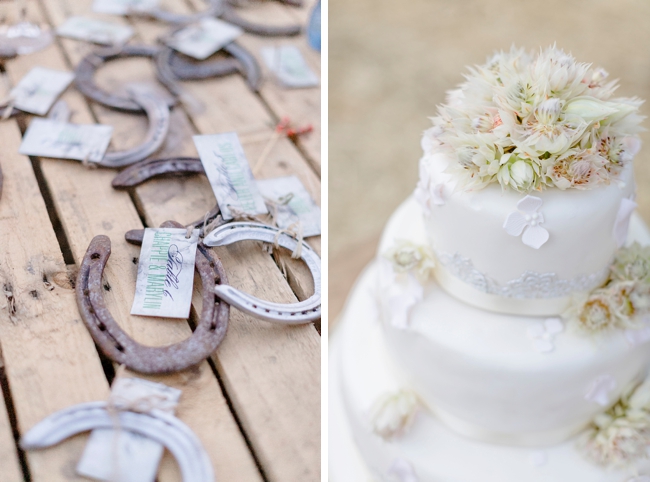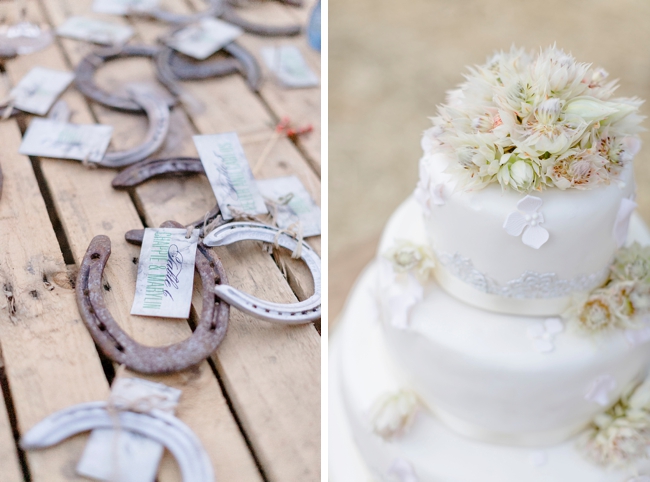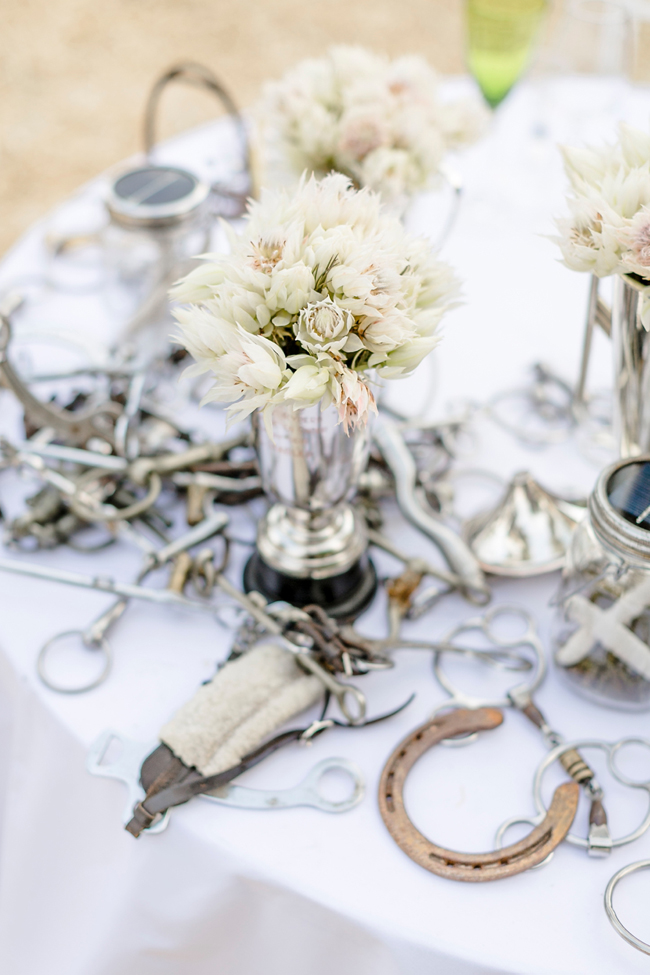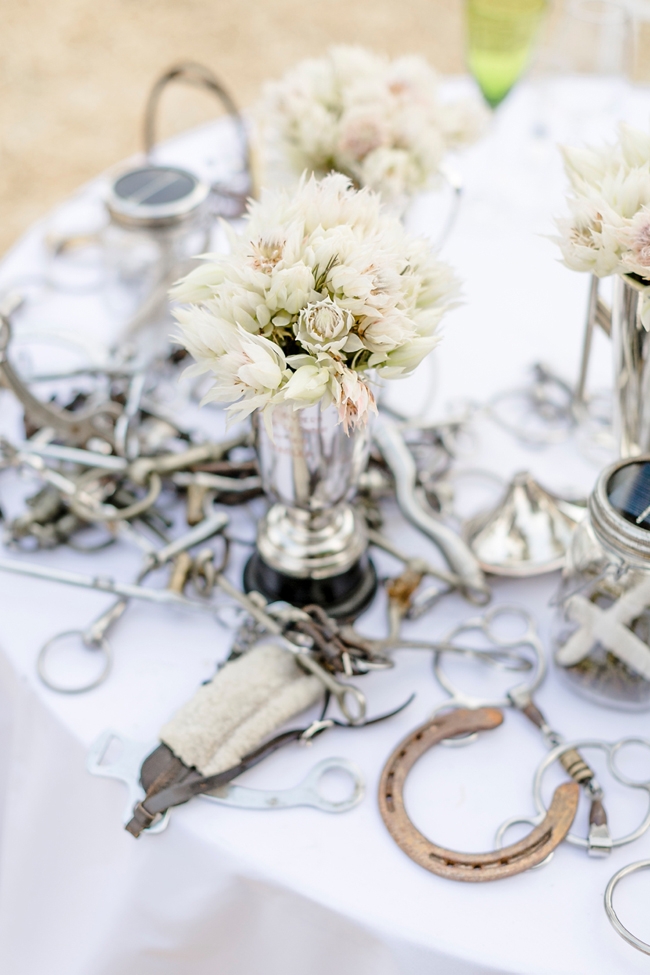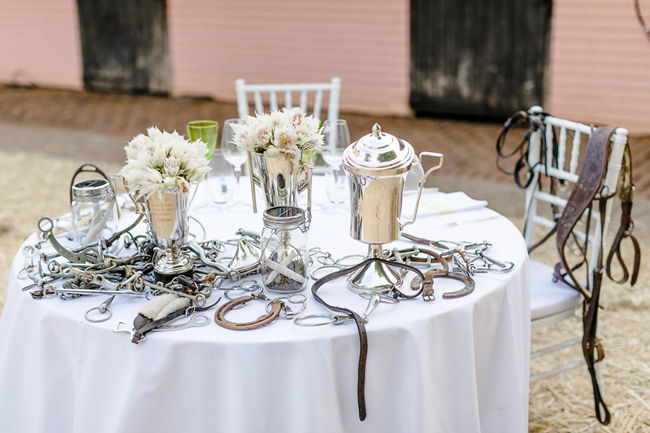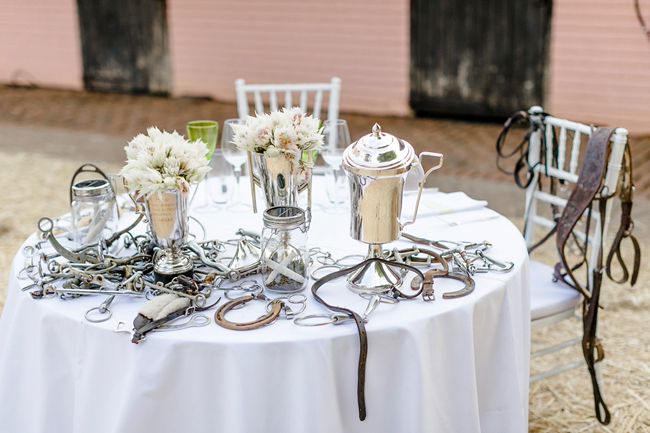 The Flowers
Well… as we are in the Karoo, flowers are a rare thing! We had magnolias in big urns and on the tables we had wheat grass, and the flowers my girls and I carried were blushing bride proteas, as well as the cake decor and the flowers in the lanterns.
Memorable Moments
My last minitue decision to get our hair and make up done outside at the pool, petting my donkey as my Dad put me in the cart, laughing and crying when I heard the song playing while walking down the aisle, seeing my Alex on his toes looking over the crowd, looking back to my girls to make sure I put the ring on Alex's correct hand! The speeches and the song my Dad surprised me with for our father daughter dance.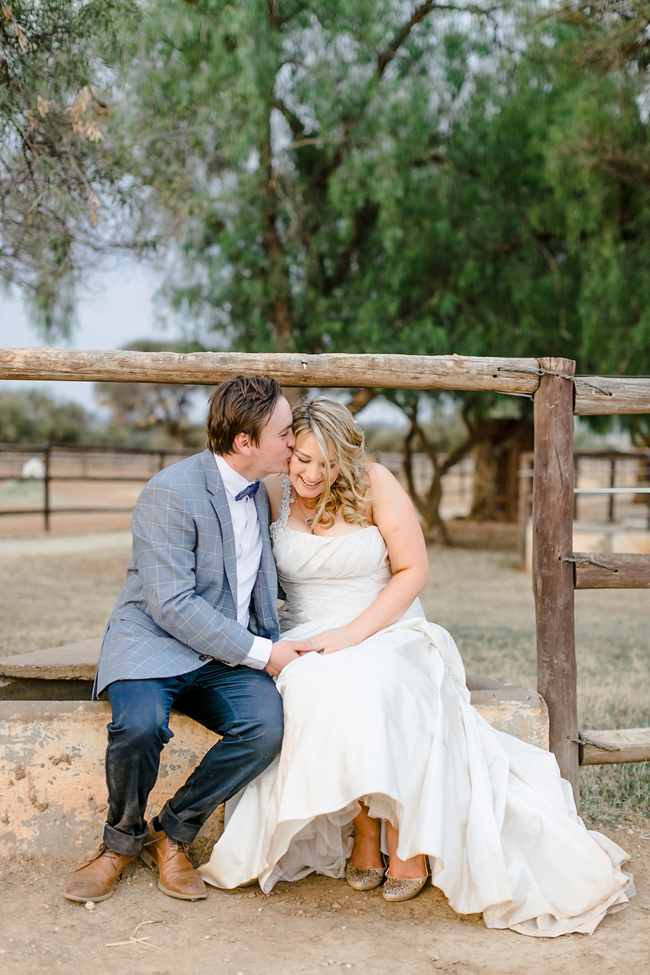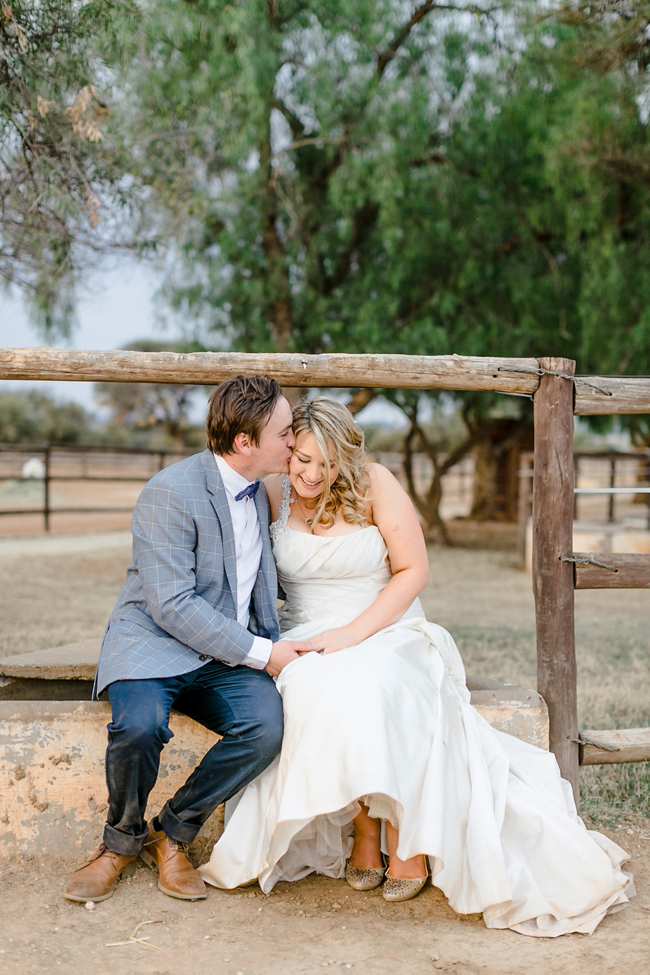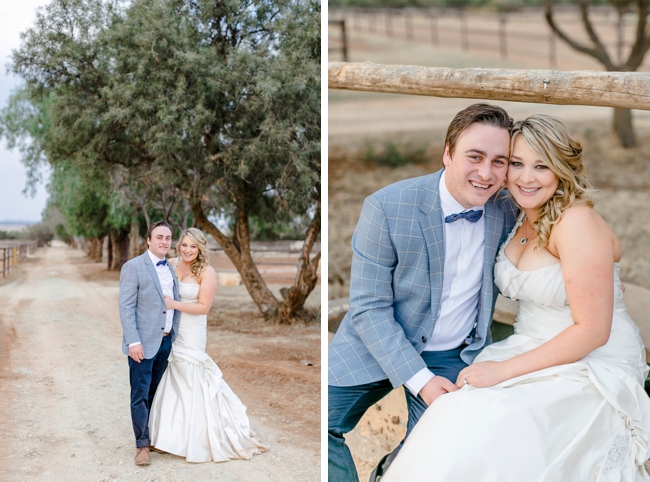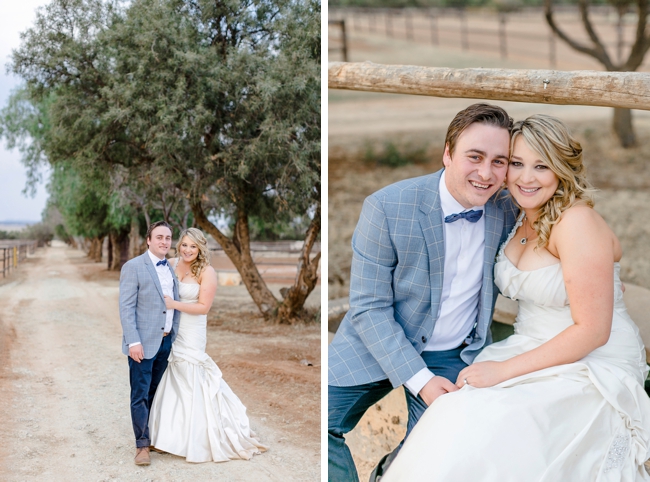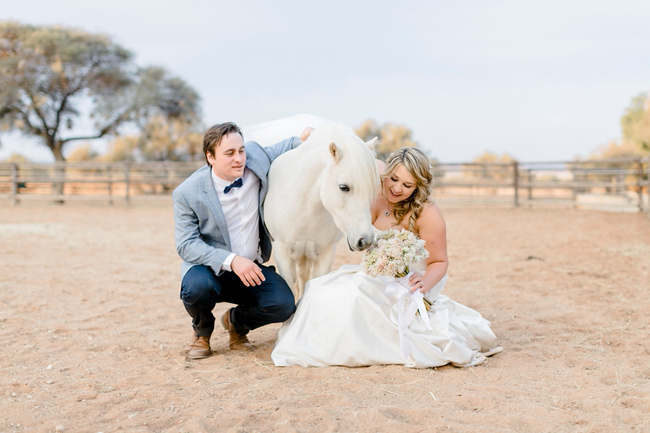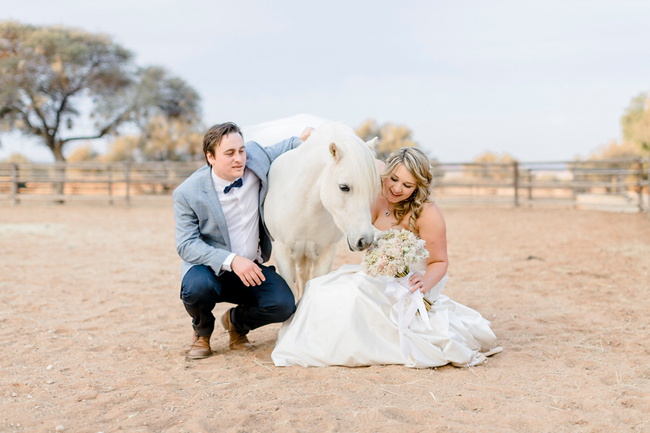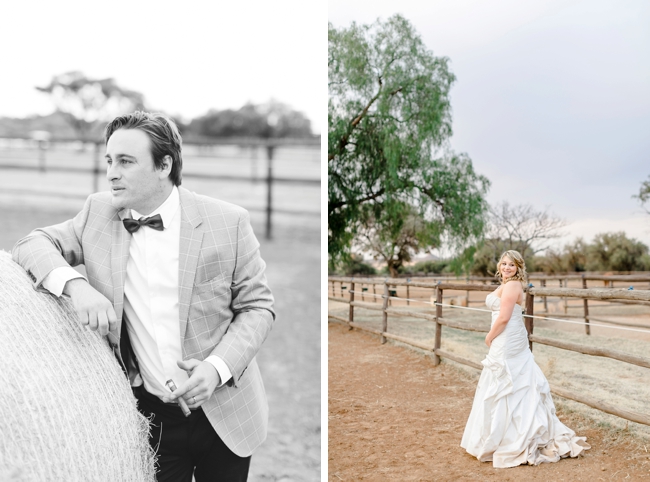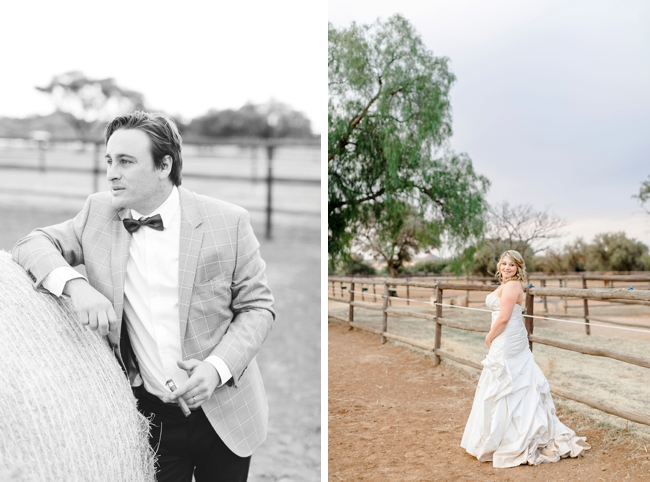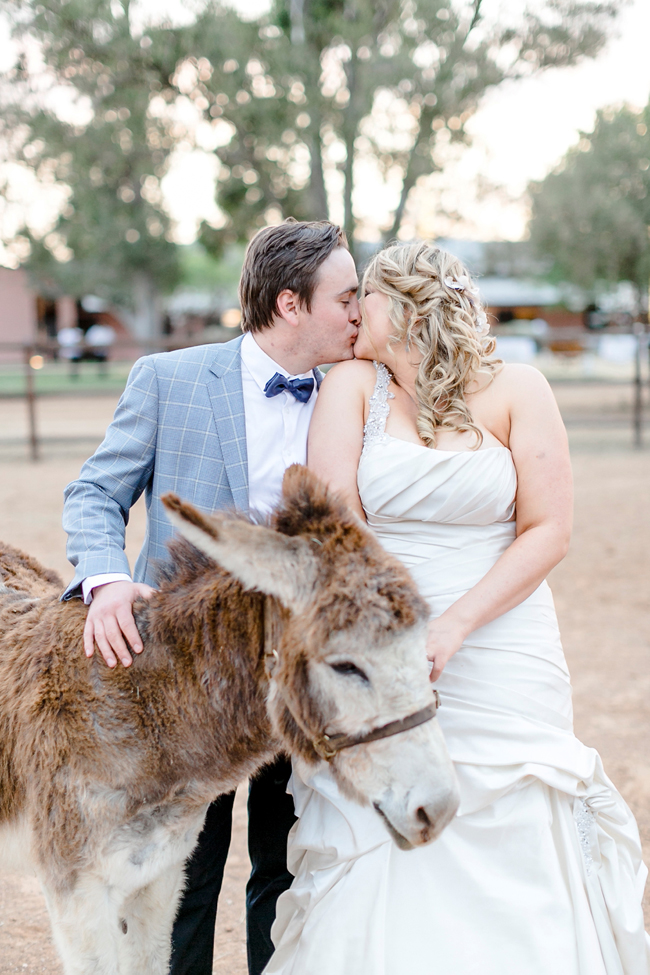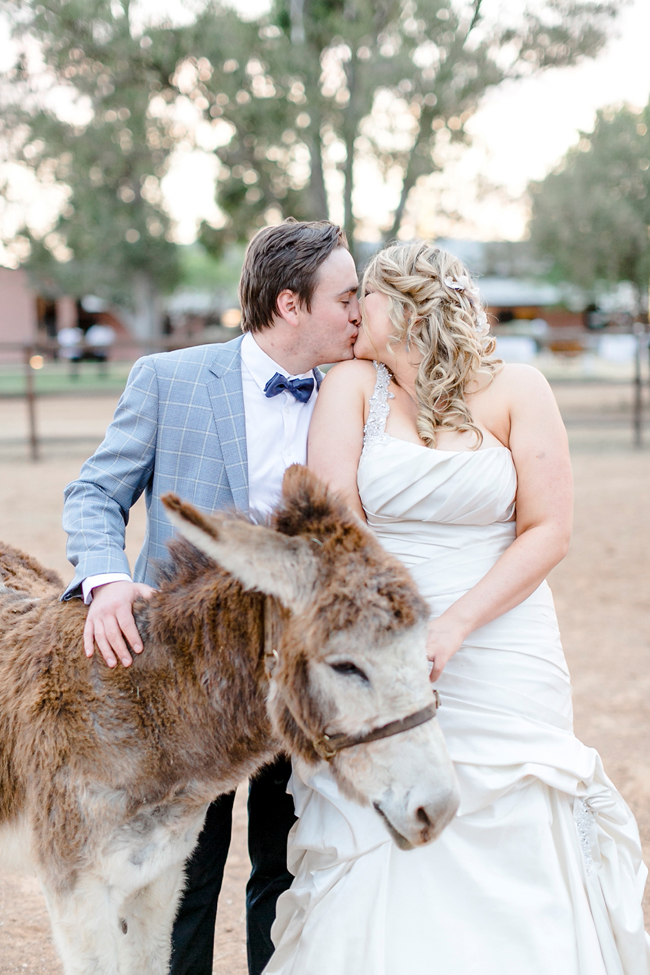 Best Decision
Going to Otto, staying true to who we were, doing our day exactly as we wanted.
Advice for Future Brides & Grooms
Stay true to who you are, individually and as a couple, wear comfy shoes and do as we did and only invite the people who matter most. If you have an open bar, like we did, brace yourself for a big party!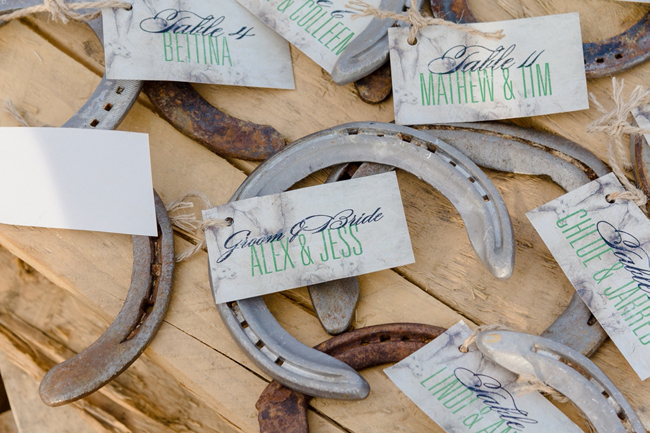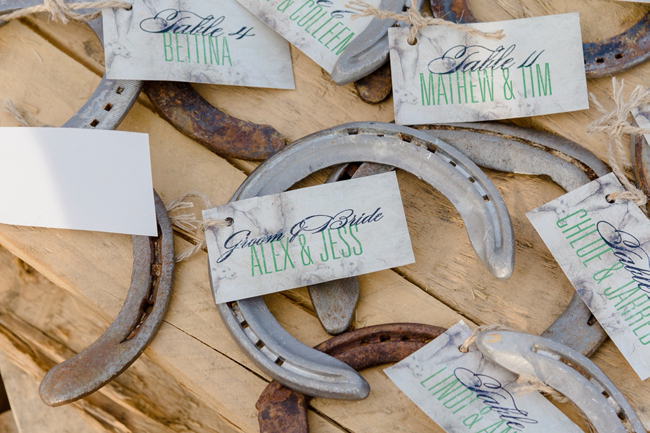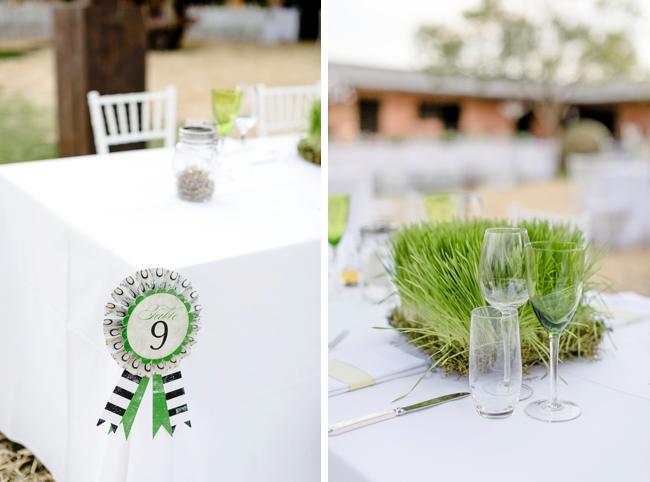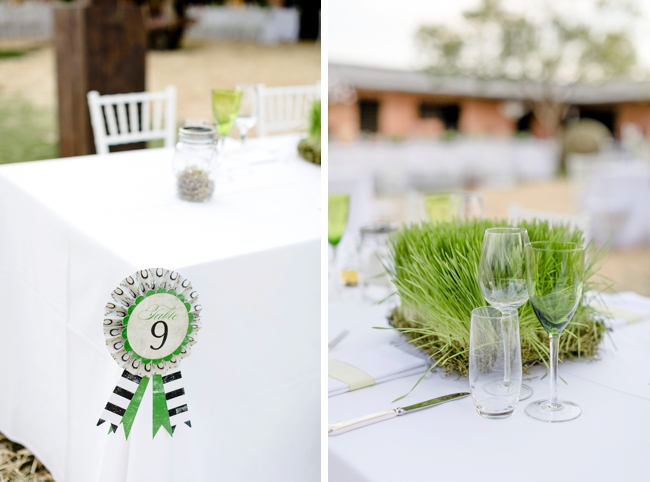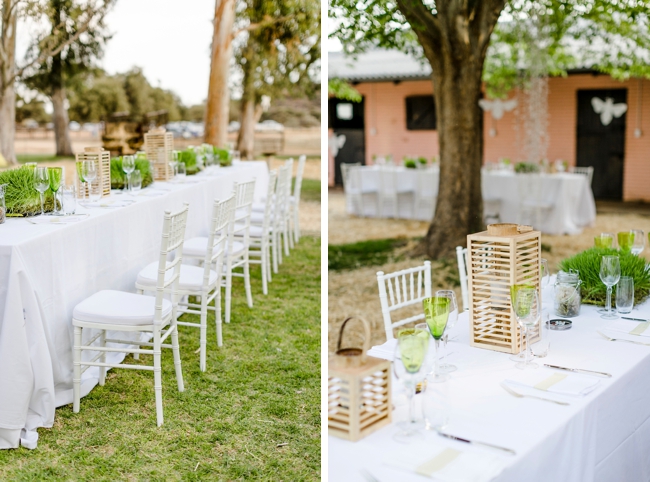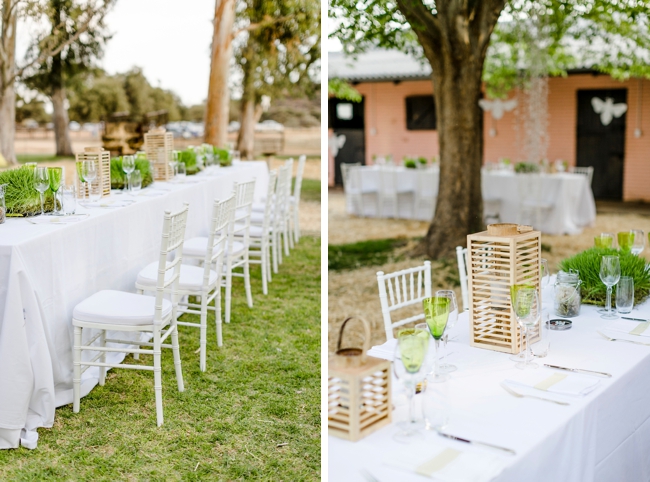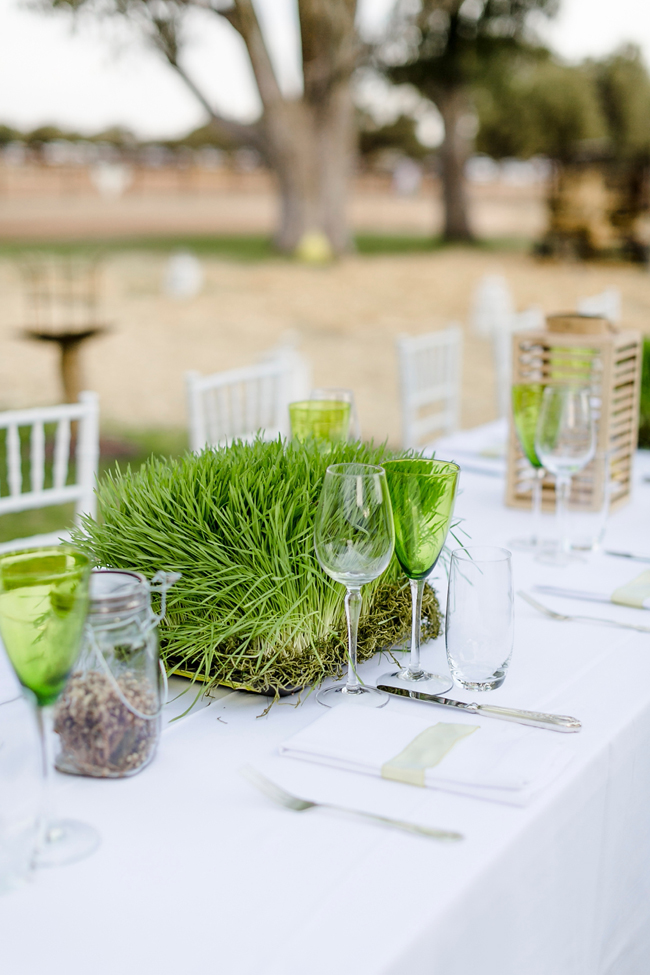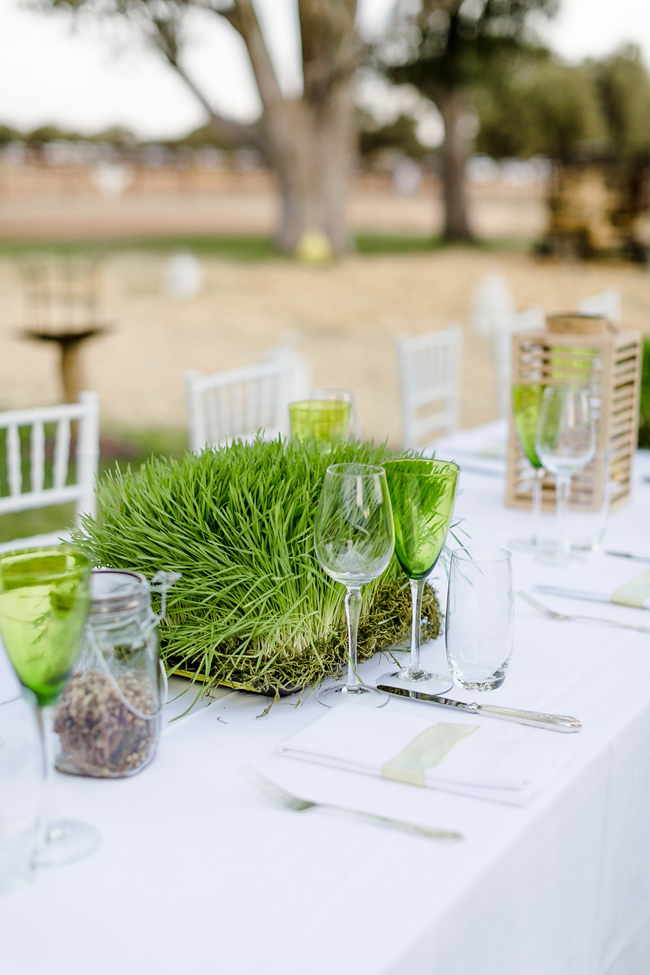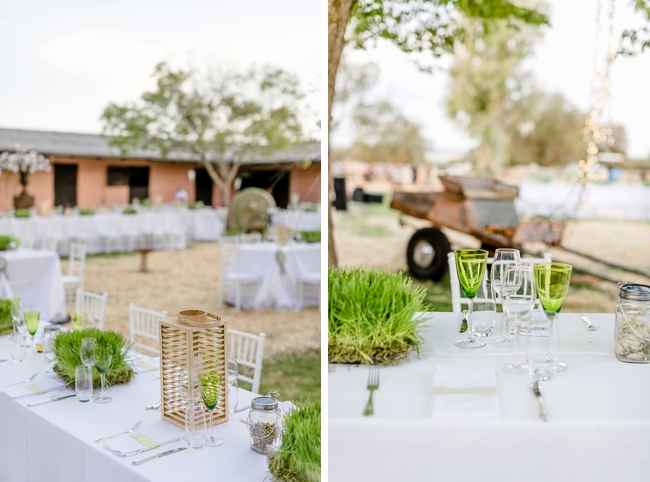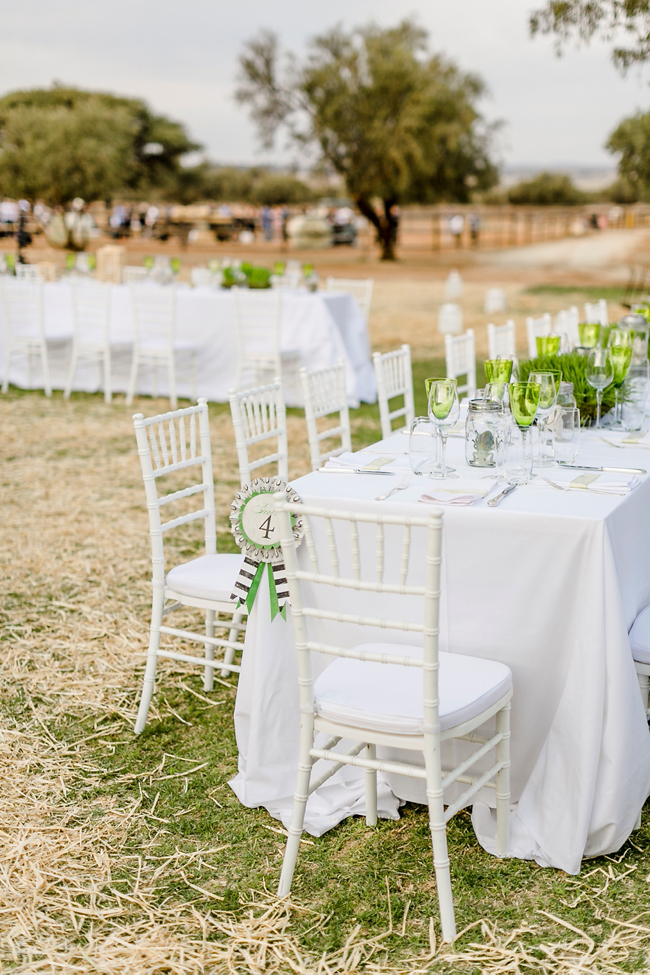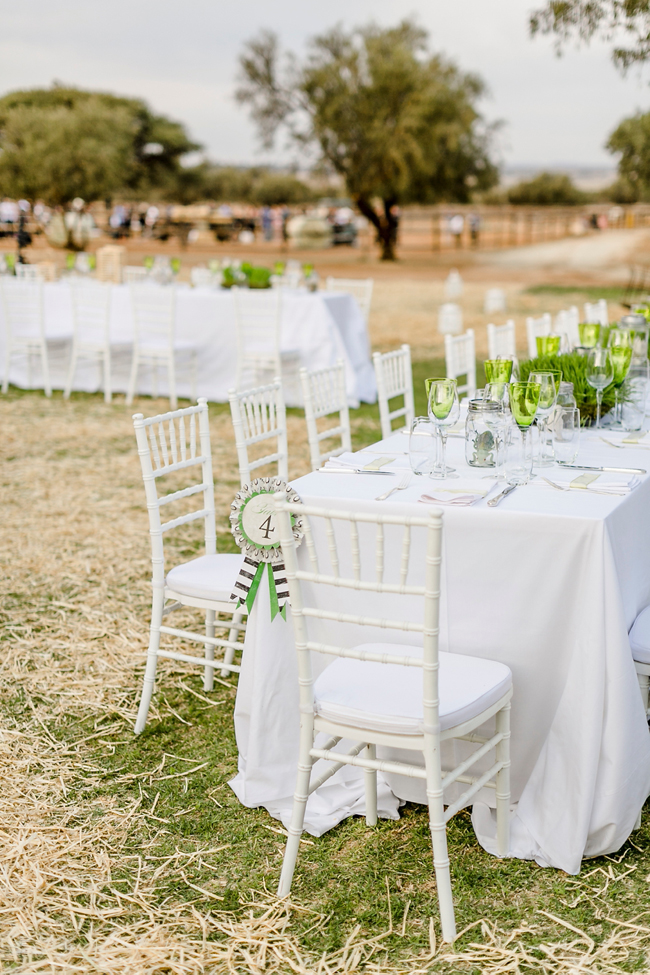 You can see more from this wedding on Christine Joy's blog.
SERVICE PROVIDERS
Venue: Private farm | Photography: Christine Joy Photography | Co-ordination, catering, stationery, flowers & decor: Otto de Jager Events | Video: Video Excellence | Cake: Sugar and Ice | Bride's dress: Olivelli Bloemfontein | Hair: Bernia | Makeup: PS Sanri | Groom's attire: Hugo Boss (blazer); Country Road (trousers); Green Cross (shoes) | Entertainment: The Motherland Band