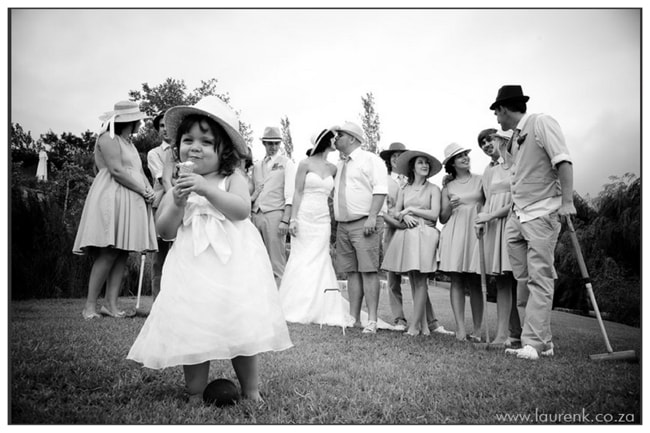 When the very lovely Lauren Kriedemann offered to send over one of her favourite weddings from last season I was pretty excited. I am, after all, a huge fan of her work. But when I opened up the file I actually gave a little squeal of joy, because this wedding just bursts with pretty, rustic details! In fact, it's so perfect that if you couldn't see the very palpable joy and love between Lauren and Riaan in every picture, I might have mistaken it for a magazine shoot. It's hard to narrow down, but my best bits: the fresh green signature colour (perfect for a wedding in apple country), the venue (how much are we loving Rockhaven right now?), the fun lovebird stationery, Lauren's pearl bracelet and the clip in her hair, having afternoon tea for dessert and moving it outside, and of course the lawn games. And I'm not always sold on flower girls, but this has to be one of the cutest little girls ever, no? I love how Lauren K has caught her cheeky smile in the photos (especially the one above)! Many thanks to her, and to the happy couple, for sharing this amazing wedding – enjoy!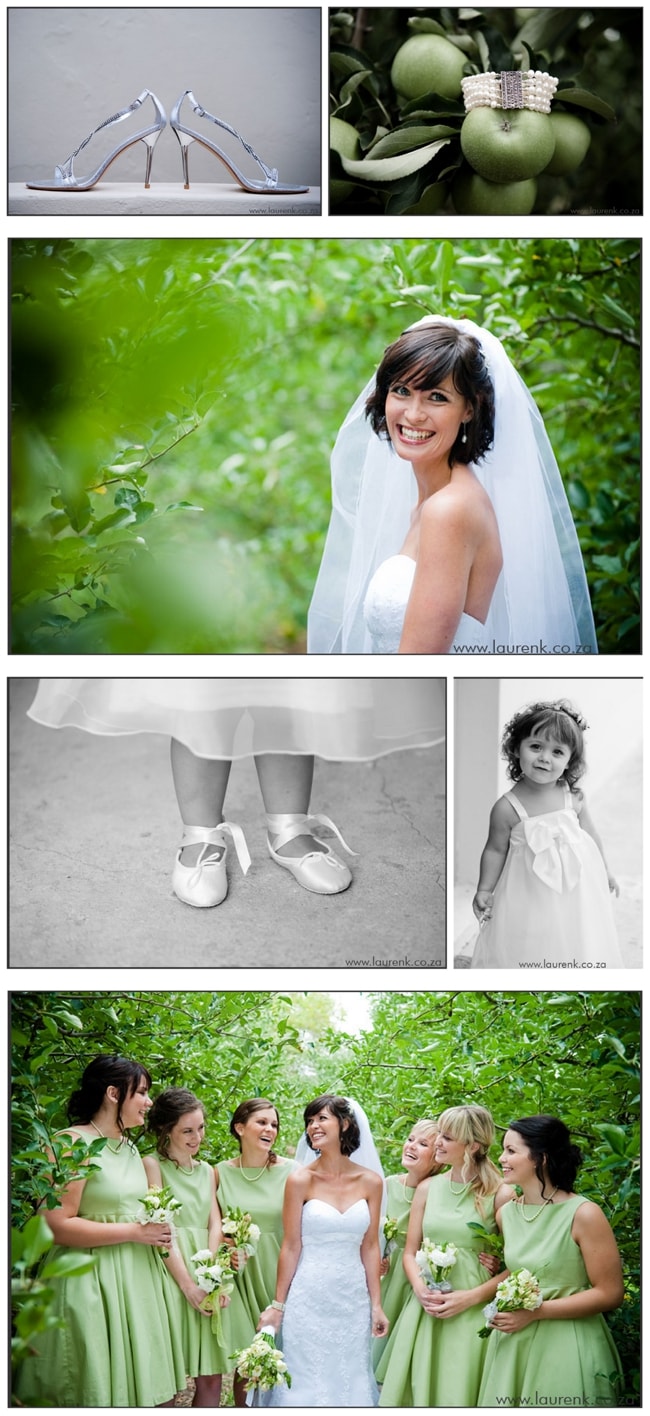 From Lauren and Riaan:
Our concept for the day was a natural, earthy feel with a slight rustic touch. We really wanted our wedding day to personify who we are as a couple and also have a relaxed atmosphere, so we didn't want to limit ourselves to one idea or concept but rather wanted to bring in elements of our personalities. This made the day even more special for us and we were so relaxed because we weren't trying to aspire to anything which we were not.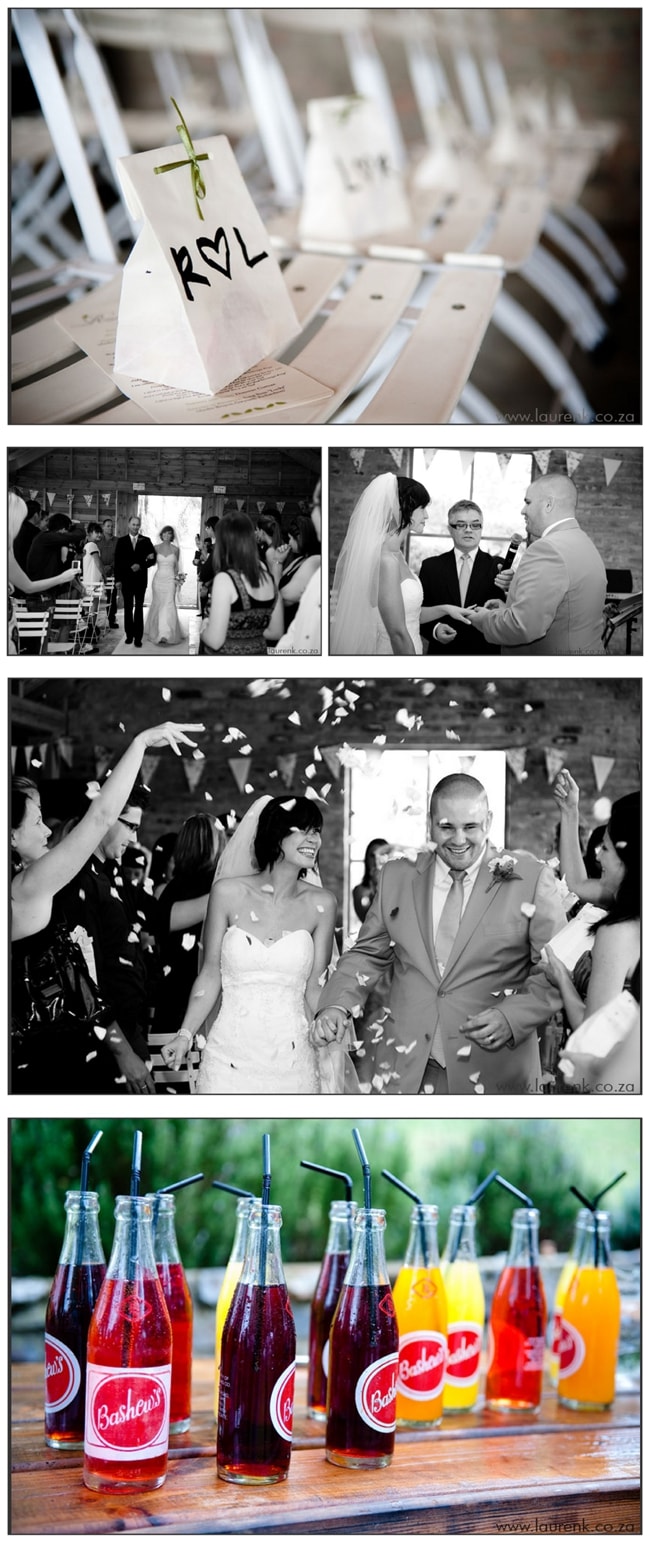 The venue was quite a lucky find. We had decided to do a long drive from Grabouw, through Hermanus and then all the way up to the West Coast through the mountains. We had looked at a few venues around Stellenbosch, Paarl and Franschoek, but none of them really suited us as a couple. Either they were too uptight for Riaan's liking or they were too scruffy for Lauren. On the way to another venue, we missed a turn and got lost. On an absolute wing, we decided to go into Rockhaven, not even knowing that they catered for weddings. On the drive up Lauren didn't like it at all and said that we should just turn around, but after a gentle coax, we decided to take a look around. From the moment we stepped out of the car, it was no longer a question: Rockhaven would be our venue. It was absolutely perfect and so beautiful and it had that slightly rustic feeling that we wanted.

The choice of colour was an easy one for us. Green is a favourite colour for us both and a lot of the décor which was used at our engagement was green, so we decided to stick with it and bring in some natural stone-type colours to give it a light earthy feel. Décor-wise on the day, we wanted a personal touch from both of us. For Lauren it was the delicate patterns and the soft textures and colours and for Riaan, it was more about the little quirks that personified us as a couple. We decided on birds as the main accents which would be added to the décor to create a common theme. We incorporated them into our invites, name tags, the paper bags for the confetti, and bird shaped shortbread gifts for our guests. The décor was natural and earthy, but also pretty with a slight rustic touch.

We wanted our guests to feel comfortable, involved and know that they mattered to us. We only invited people who really mattered to us and we kept the annoying "courtesy" invites at bay which was great. In our invitation, we incorporated the story of our relationship from the day we met on the school field to our engagement and finally our wedding date. We had fantastic help from our massive bridal party and our family which really made all of us feel part of the wedding. We also decided to have lawn games for the guests when we were having our couple photos so that they did not get bored. We played bocce and croquet on the lawns next to the dam. It was really fun and we ended up having such lovely photos of the bridal party playing.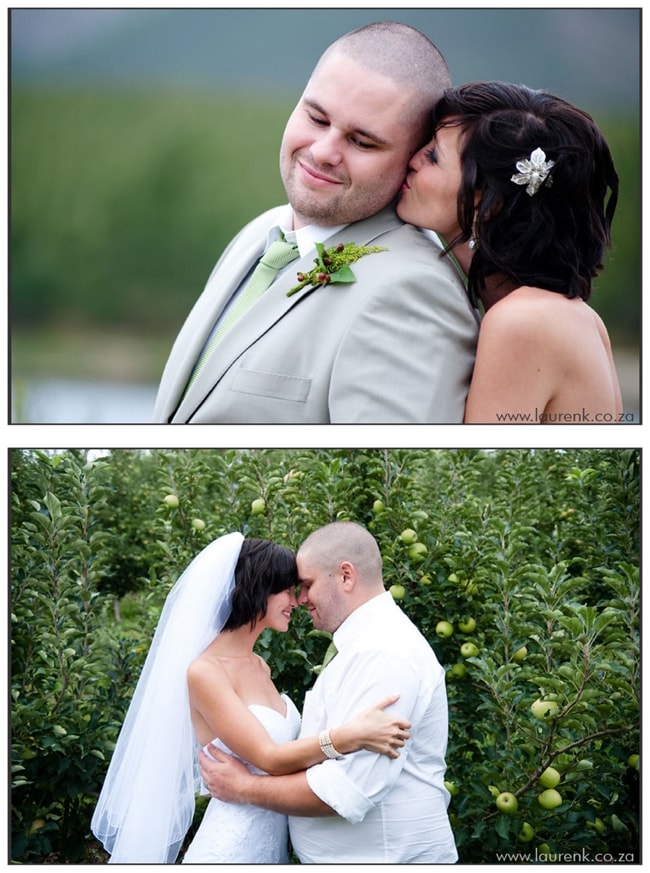 SERVICE PROVIDERS
Photography: ​Lauren Kriedemann | Venue:​ Rockhaven Farm | Cake:​ Cakes by Wade | Flowers:​ Lauren's mom (Diane Ter Morshuizen) | Décor:​ 4 Every Event | Tablecloths:​ The Tablecloth Hiring Company