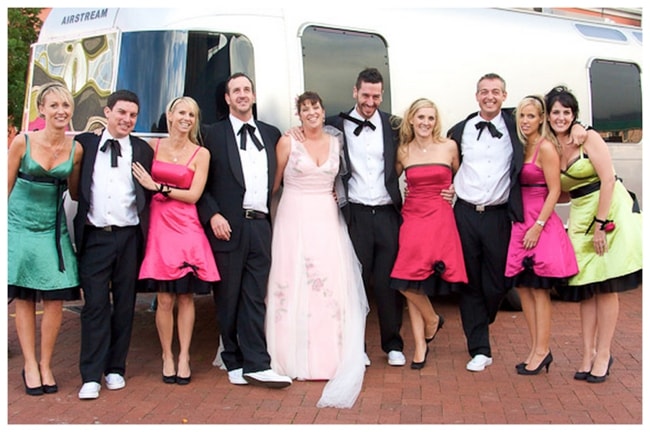 I seriously don't know where to start with this wedding – I'm in love with the whole thing. It just looks like so much FUN! And I kind of have a big crush on Mexico in general, even though I've not been there yet, so the Mexican theme really tickles my toes. Not to mention Philippa's beyond beautiful dress. And her shoes. Oh the shoes! Even the boys have cool shoes in this wedding! And also, the poppies. And the lottery tickets. And the flags. And the kiddies' rides. And… you know what, I'm just going to shut up and let you look at it yourself, and then you can love it as much as I do. Which you will, because it is awesome. Muchos. (Oh, and PS, in case you're wondering who took these incredibly vibrant and lovely photographs, it was Brenda Wardall from Hearts in a Shutter. Thanks Brenda! Check out more of her work here.)
Philippa gave us the inside scoop on the big day:
Mark and I were the last of the late bloomers! Our best friends were married and we had been friends for a while but had both been in relationships or travelling. Ten years later, all of a sudden things aligned perfectly, and we fell in love and have not been apart since. We went out for a year before getting engaged, and our wedding was on our two year anniversary.Mark and I are fun sort of people so we didn't want anything too formal, just a festive wedding/party to celebrate the event. We didn't want a church wedding and had been to so many wine farm weddings and beach weddings and wanted to do something more urban and original. We had attended a number of functions at The Old Biscuit Mill and I thought it would be a great venue where we could hold the ceremony and party together in one place.

We wanted to have a very festive atmosphere and we had chosen to go to Mexico on our honeymoon, so we used Mexican fiesta elements as the inspiration on the colour choices and some of the details. We used simple, cheerful design elements like the flags we had specially designed and laser cut (a staple at Mexican festivals and parties), the oil cloth runners which had Mexican designs, the place cards (which were Mexican lottery tickets with fun images on), simple poppy flower arrangements, Mexican candles and one of my best details were the little silver Mexican hearts and feathered birds we put on the napkins.

Our whole aim was to create a fun event for everyone so we had mechanical rides for the kids and their own table with crafts and eats and sweets, a photo booth as a fun favour for our guests to take home (another favourite), and a lounge area for people to relax at.
We also had great lighting – giant balls which were white during the day which was ideal for the ceremony, and then as it got darker the coloured bulbs got brighter and brighter which was so amazing and changed the whole look from ceremony to party.

Mark loves converse sneakers and decided he and the boys would wear them with their suits. I painted designs on them for him, the groomsmen and the page boys – they were our gifts to them and I think they were great, one of my favourite things!
Another one of my best bits was the part of the ceremony where my very musically-talented cousins performed my favourite Lenard Cohen song, 'Hallelujah', and a song they chose for us called 'Slow Burning Flame', which they thought suited our relationship. It was very moving and definitely a big highlight for me.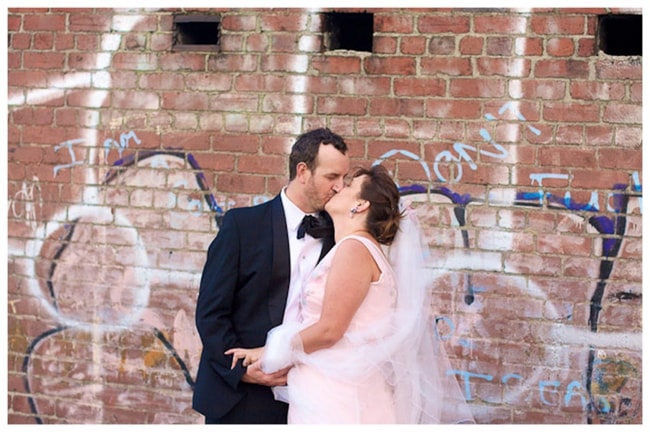 My only advice is to try to have the wedding reflect you and your groom's personalities – it makes the day more memorable I think and more individual. It does take a bit more effort to have a shell venue but then you can really make it your own as every detail needs to be thought of and planned. Also try to have a week before the wedding put aside for just focusing on your relationship – maybe try to go away if possible. It gets so crazy stressful before that I think its a nice break before the event but not always easy to do.
Thanks so much for sharing your day with us, Philippa and Mark! And congratulations again!
SERVICE PROVIDERS
Venue: The Old Biscuit Mill | Catering: Richard Chamberlain of Out of this Planet Catering | Photographer: Brenda Wardall from Hearts in a Shutter | Dress: Paul van Zyl | Lighting: The Effects Company | Hiring & staff: Urban Tonic | Bar: Liquid Chefs | Tent & dancefloor: Tentastic | Rides: Kiddie Rides | Photobooth: Photobooth inc. | Lounge: LoungeAround