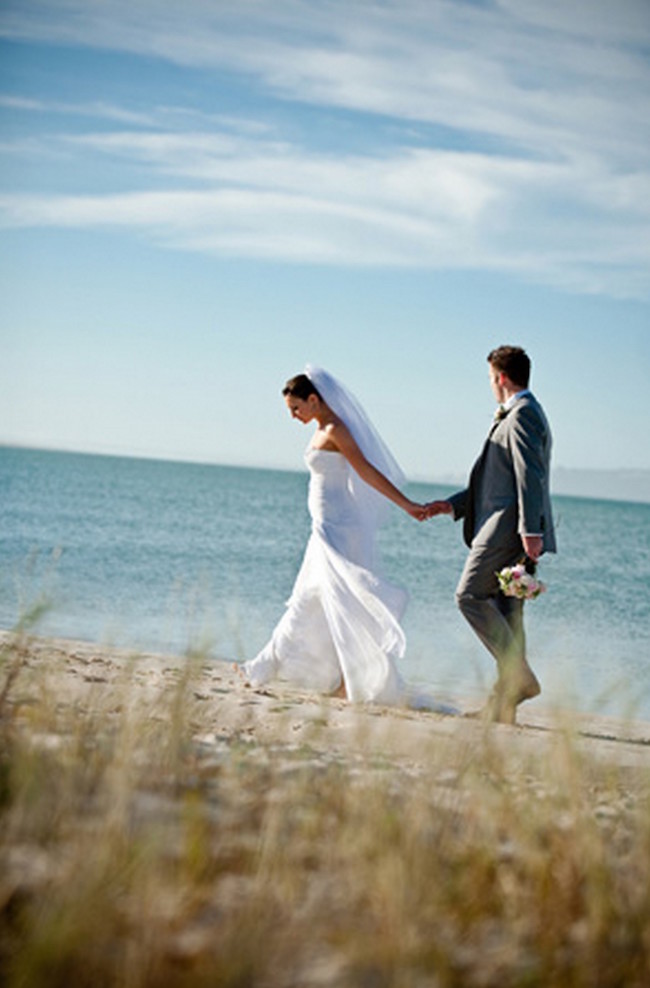 I have such a gorgeous wedding for you today! Three words: it has Louboutins. Deliciously perfect, deliciously blue, Louboutins. I'm completely in love with these shoes, and I'm completely in love with the rest of Tamryn and Jeandre's rustic West Coast setting, not to mention the gorgeous decor, much of which the bride DIYed herself (the seating chart treasure chest is my personal favourite, although the tea cup planters are a close second!) – particularly impressive since the couple planned their wedding from the UK. This is clearly a gal with an eye for detail, so you won't be surprised that she also picked a fabulous photographer. I've been a fan of Christine Meintjes' work for so long, that featuring her pictures here makes this kind of a big day for me. Yay!

Tamryn sent over some background on the big day:
Jeandre and I met through a mutual friend and after the first time we met it was months before we got the opportunity again. I'm English and Jeandre is Afrikaans, and we had different circles of friends, so the likelihood of us bumping into each other often was slim. This time we both made sure to exchange numbers and keep in contact. We have been together for nine years and every year teaches us something new and gives us a different level of understanding. I think that growing up together has been the best experience for both of us – we were young when we started going out (16 and 17), so I feel like we know each other inside and out, nothing is off limits and I trust him completely to always make the right decisions for us.

We chose to get married in the West Coast National Park, as it was close to my family's home in Yzerfontein and there is no better place for us to go away and just relax than the West Coast – it's got that laid-back and relaxed feeling that we wanted for our wedding. We wanted our guests to chill with us on the happiest day and just take all the wild romantic scenery in and enjoy it. The ceremony was held at the chapel in Churchaven and the reception at Geelbek Restaurant. We loved the wide open space and seclusion of Geelbek, and the view took our breath away. The reception was held outdoors in their marquee and outside garden. I really couldn't have asked for a more picture perfect setting for us to have a party! The church, the view, the wildlife in the park, everything about it really. I am so glad I took my dad's advice and went there for lunch. On the day we viewed the venue, it was the middle of winter, the West Coast was having a storm and even then there was something magical about the place for us.

I wanted my wedding day to look classic and very clean. I love things to be light and airy, open spaces and natural light, so I went for grey and white as my colours, with a hint of peach in the flowers just to add something to a flat background. I also incorporated a bit more colour in my accessories, such as the vintage hand-tied books and the colourful teacups that we planted with flowers. I loved my little eBay finds that I lugged over from the UK with me to add to the table, my teacups and books and ribbons, they all made such a difference to the look I wanted to achieve on the evening. It all came together beautifully and I was very happy with the choices that we made.
All my bridesmaids and I stayed in Yzerfontein the night before the wedding to pot up my teacups and make my seating chart which was housed in the vintage cases I stole from Jeandre's family. Making it up the night before was so much fun, it gave us something to focus on and by the end of the evening we were so tired that we fell into bed – after a good chat of course!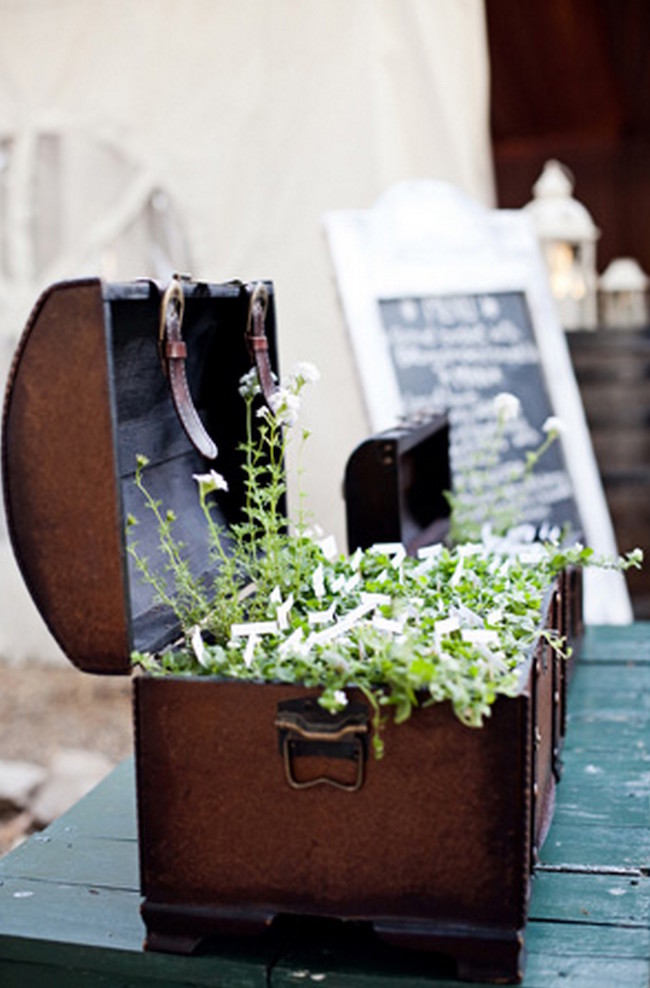 We were so blessed to have all of our family there together and all of our closet friends. They all know how crazy we are, and how crazy we are for each other, so it was awesome that so many people flew and drove hundreds of kilometers just to be there for us.
My advice to other brides is DON'T stress out – you are marrying your best friend and having a once-in-a-lifetime party with all your favourite people. Dont pepper that experience with getting upset over the small things. Stuff WILL go wrong – shrug it off and fix it to the best of your ability, it happens to everyone, so keep smiling and remember the end goal, the beginning of your everafter.
For more pictures, head over to Christine's blog.
SERVICE PROVIDERS
Venue & catering: Geelbek Restaurant | Flowers, decor & co-ordination: Elmarie Leonard | Photography: Christine Meintjes | Cake: Shareen Hermanus, Yzerfontein – +27 (0)83 2549 081 | DJ/Music: Rockstar Productions (Sean Young) – +27 (0)83 417982 | Hair and make up: Ronel Smith