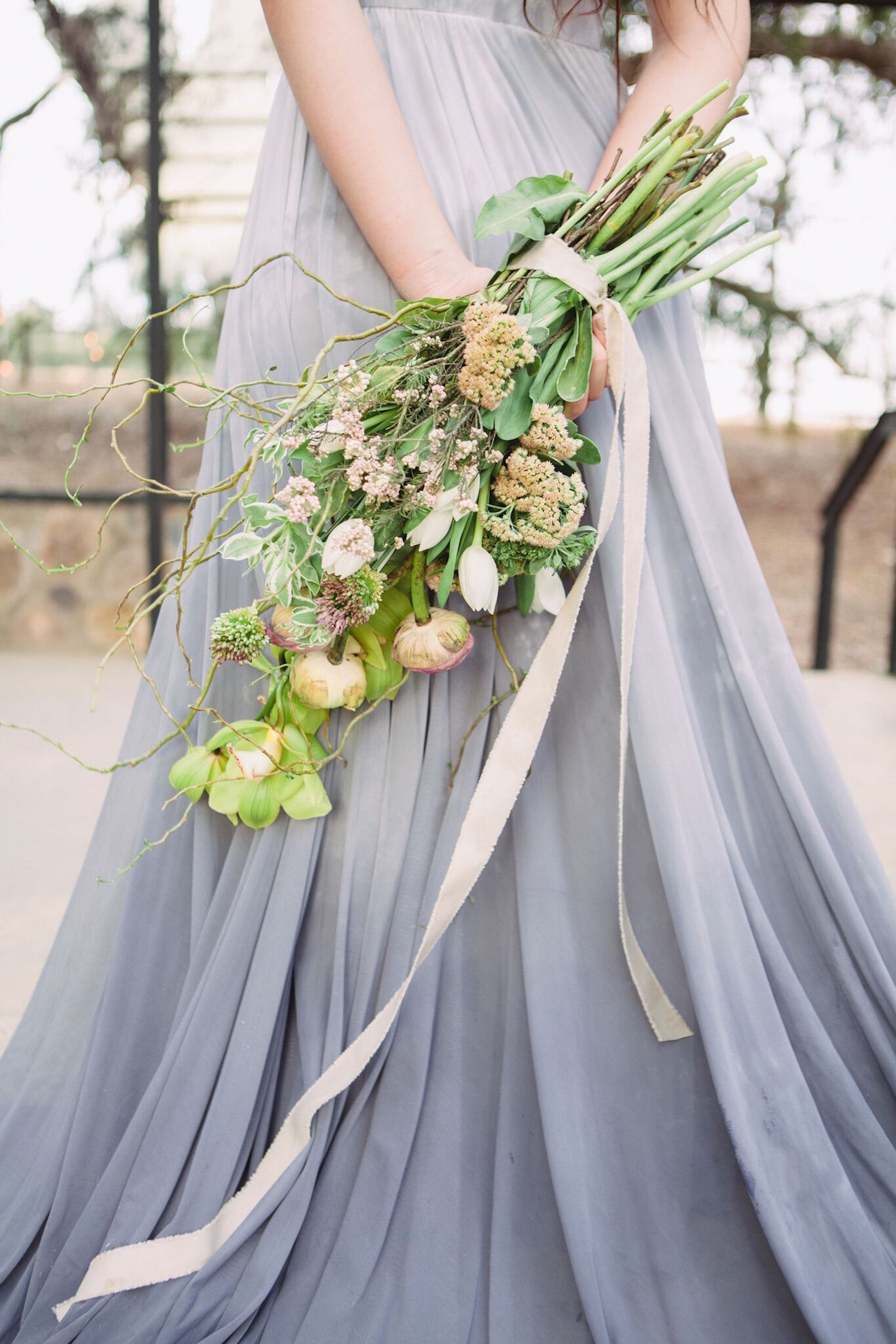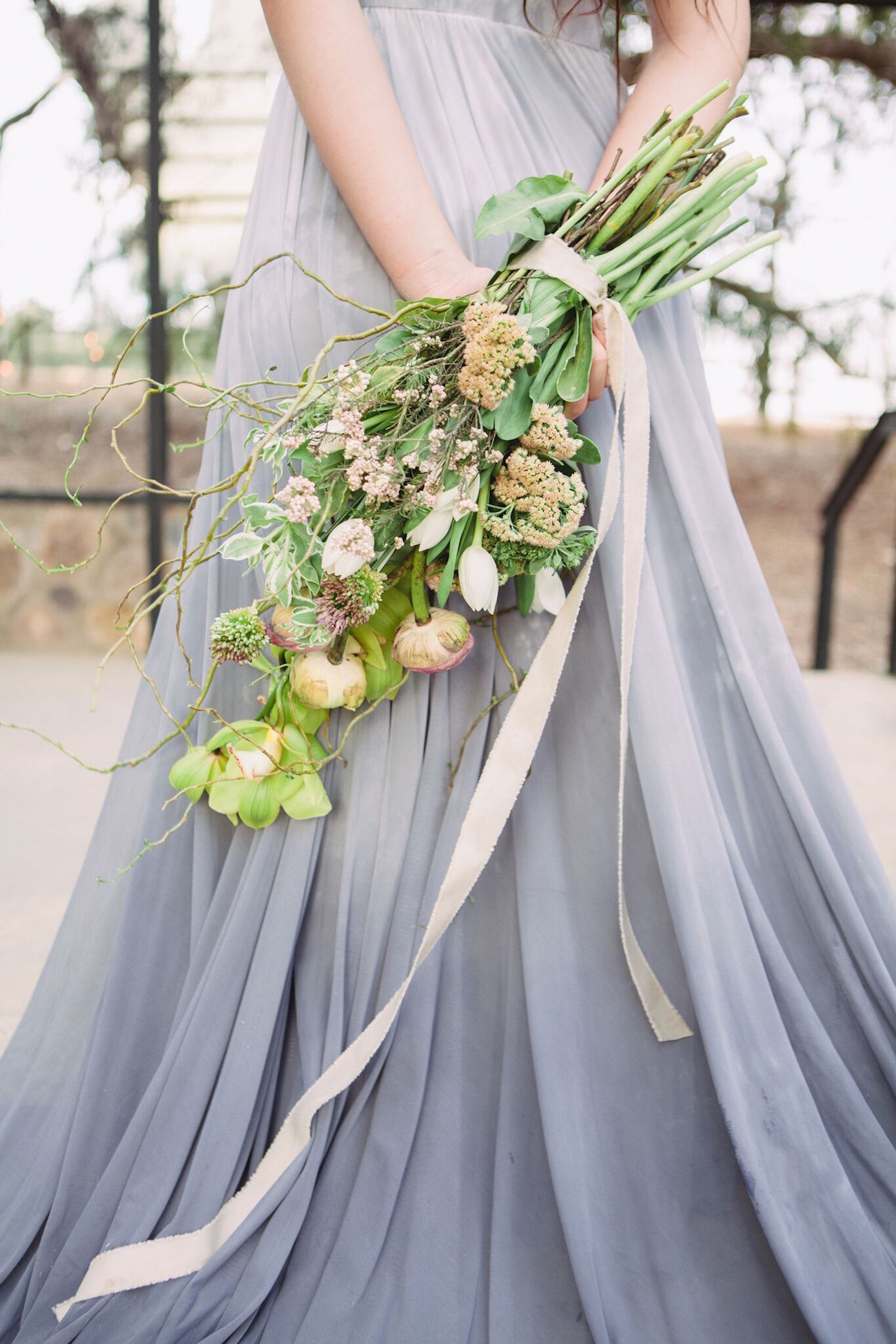 When I started SBB (waaay back when, haha), one of my favourite things to do was create moodboards putting together some beautiful and unexpected shades. I still do (although less frequently), but what years of creating those boards gave me was a deep appreciation for colour, and it's that part of me that stood up and cheered the minute today's styled shoot hit my inbox. Picture the scene – rustic, woodsy (thanks to the incredible Cabbage & Rose glasshouse venue), a mixture of rough and smooth (the shoot was inspired by the idea of 'perfect imperfection'). Then infuse all of that with a range of blues and greys, ranging from soft smoke right through to the most beautiful indigo, complemented by soft matte metallics and flecks of gold leaf. Pretty doesn't even cover it. From the delightfully eclectic table setting to the dresses (Oh! The dresses! What I wouldn't do to see one of these beauties on a real colour-loving bride!), to the cement-like cake (sounds weird, is actually totally awesome), I just want to wrap myself up in it and sing the blues. In a good way. Dust and Dreams Photography took these dreamy pics.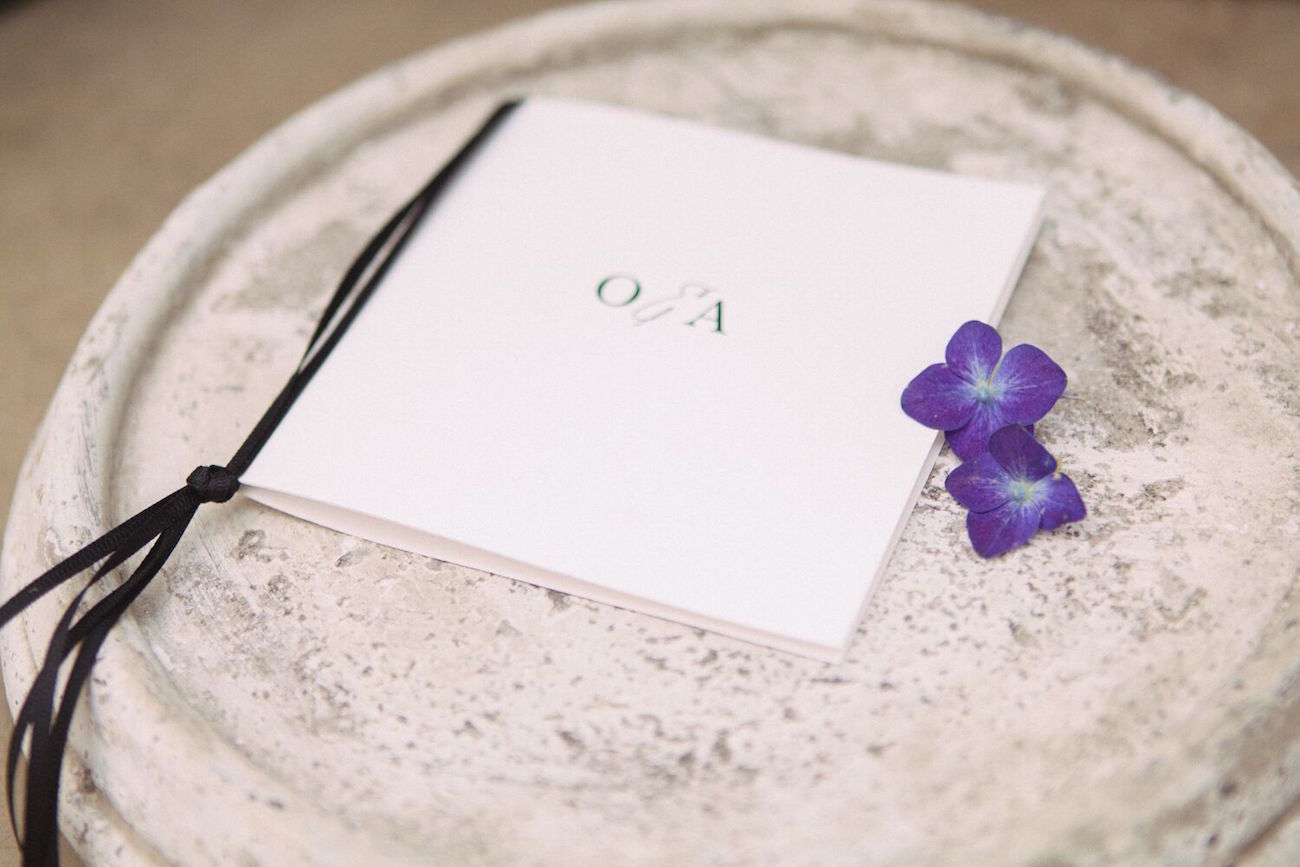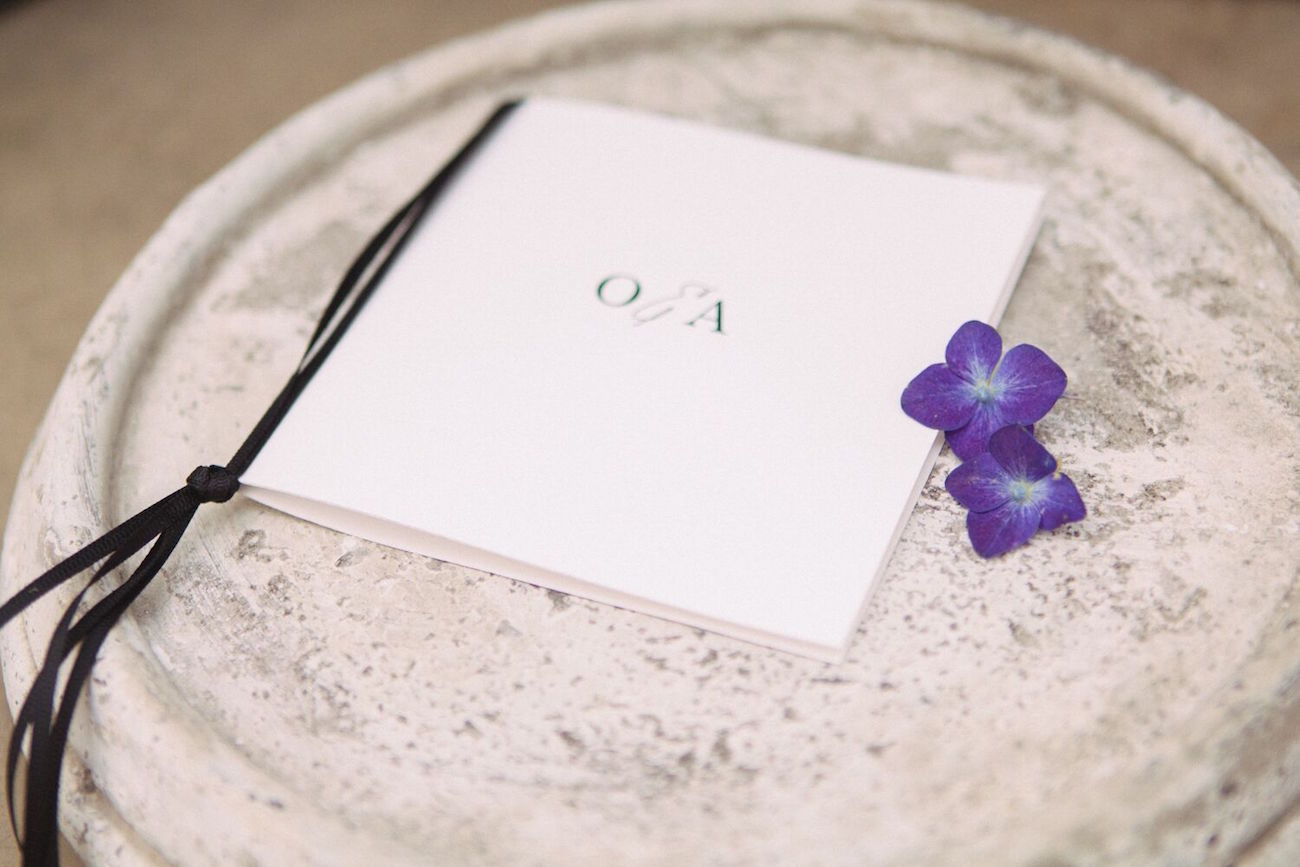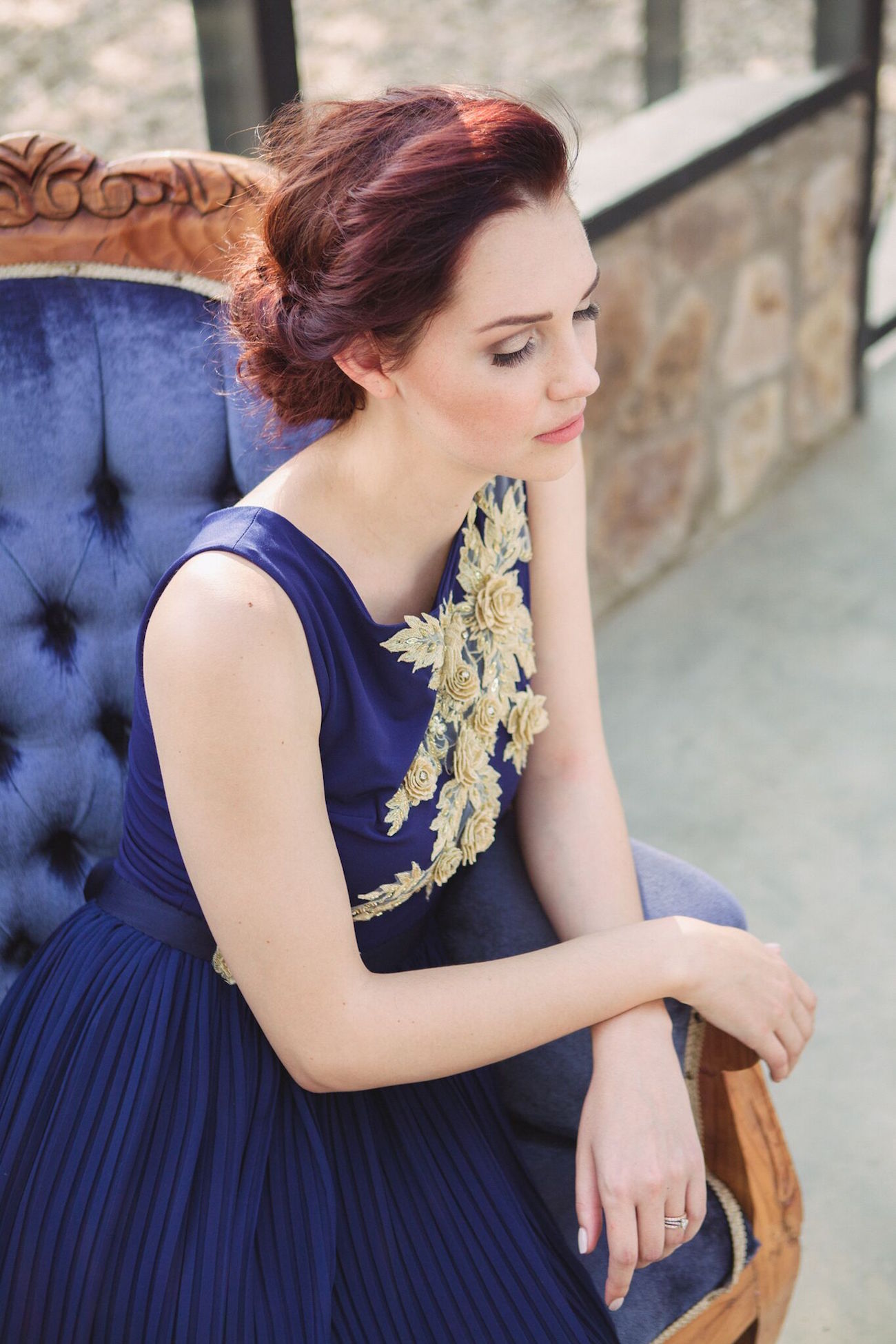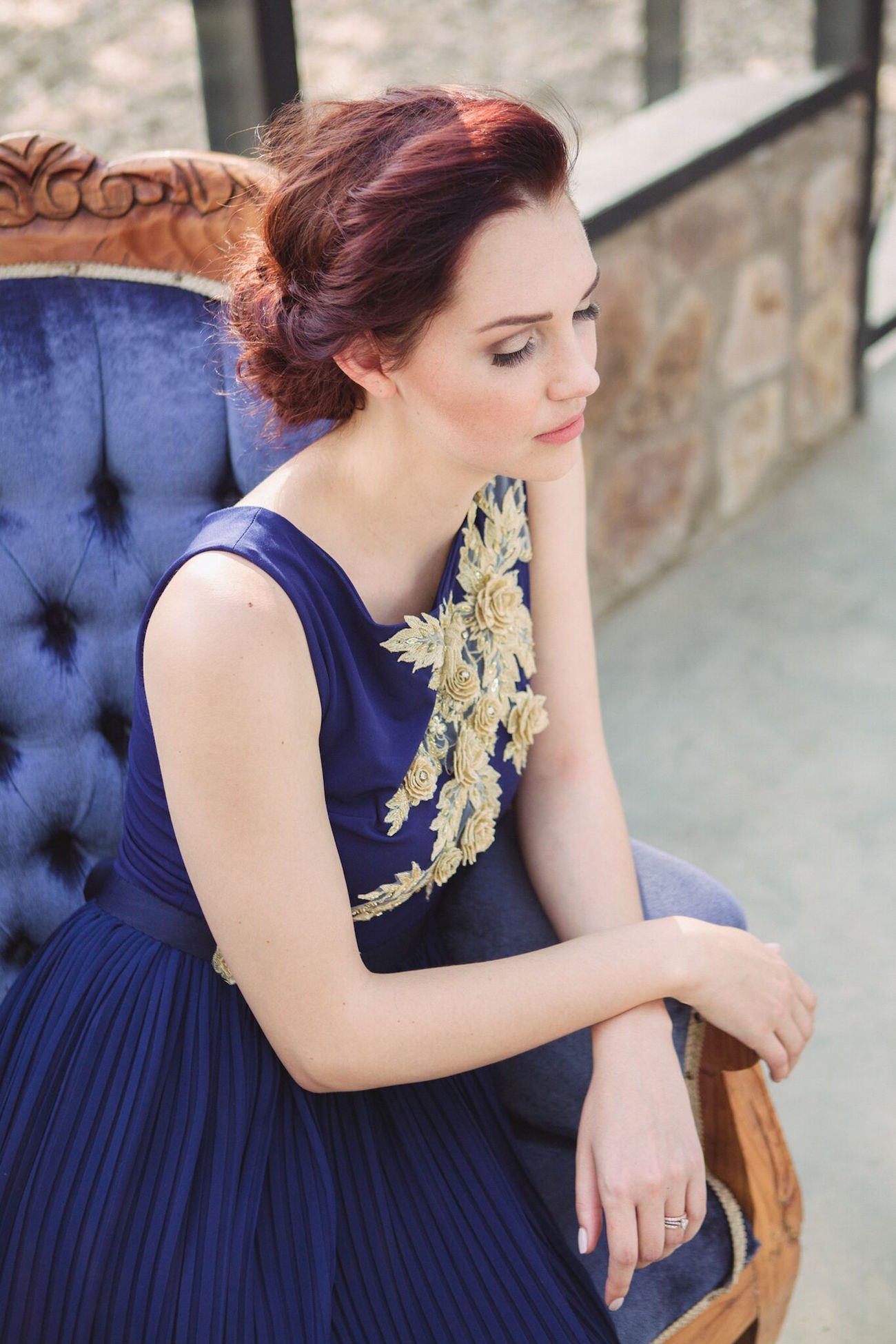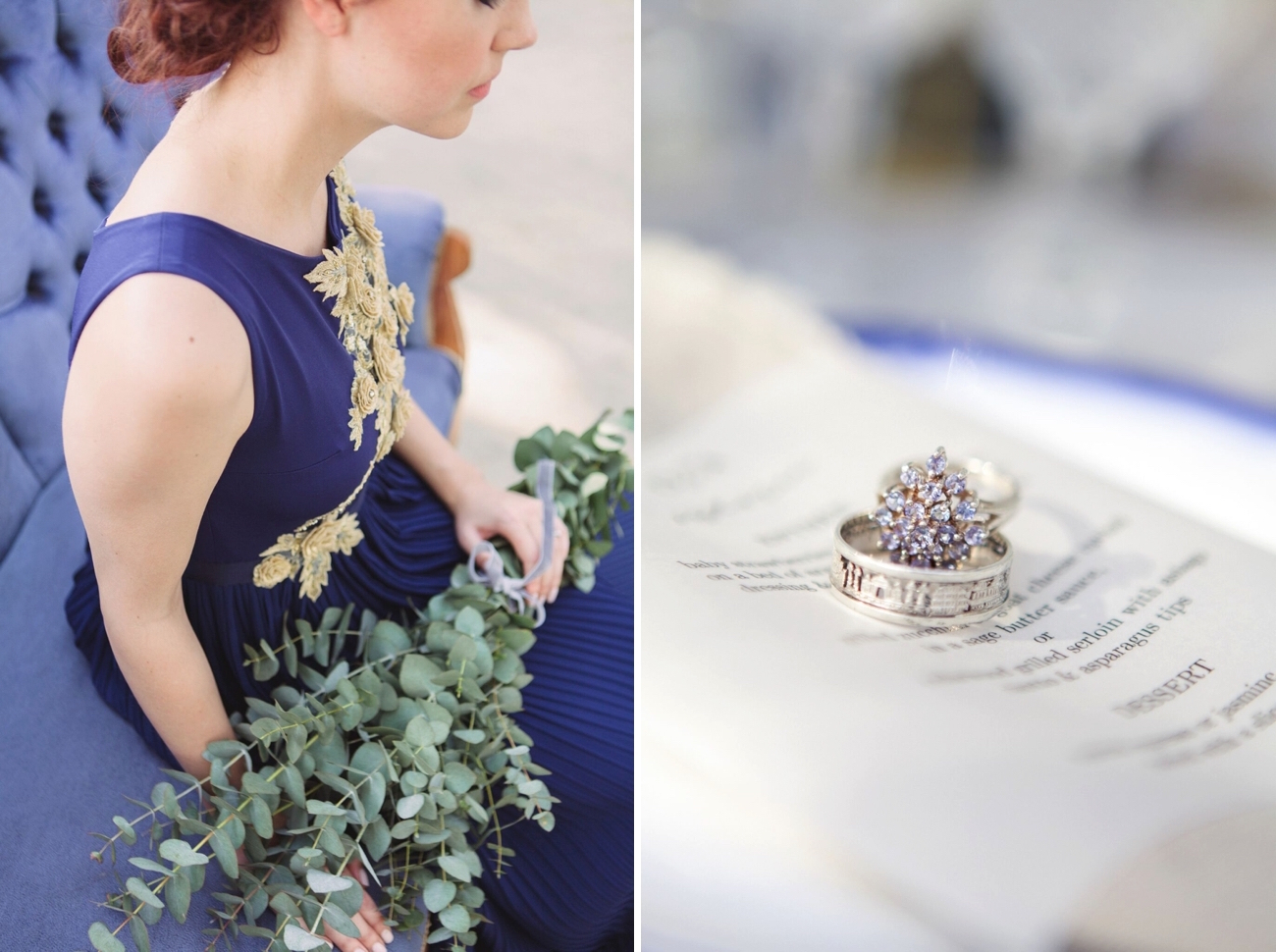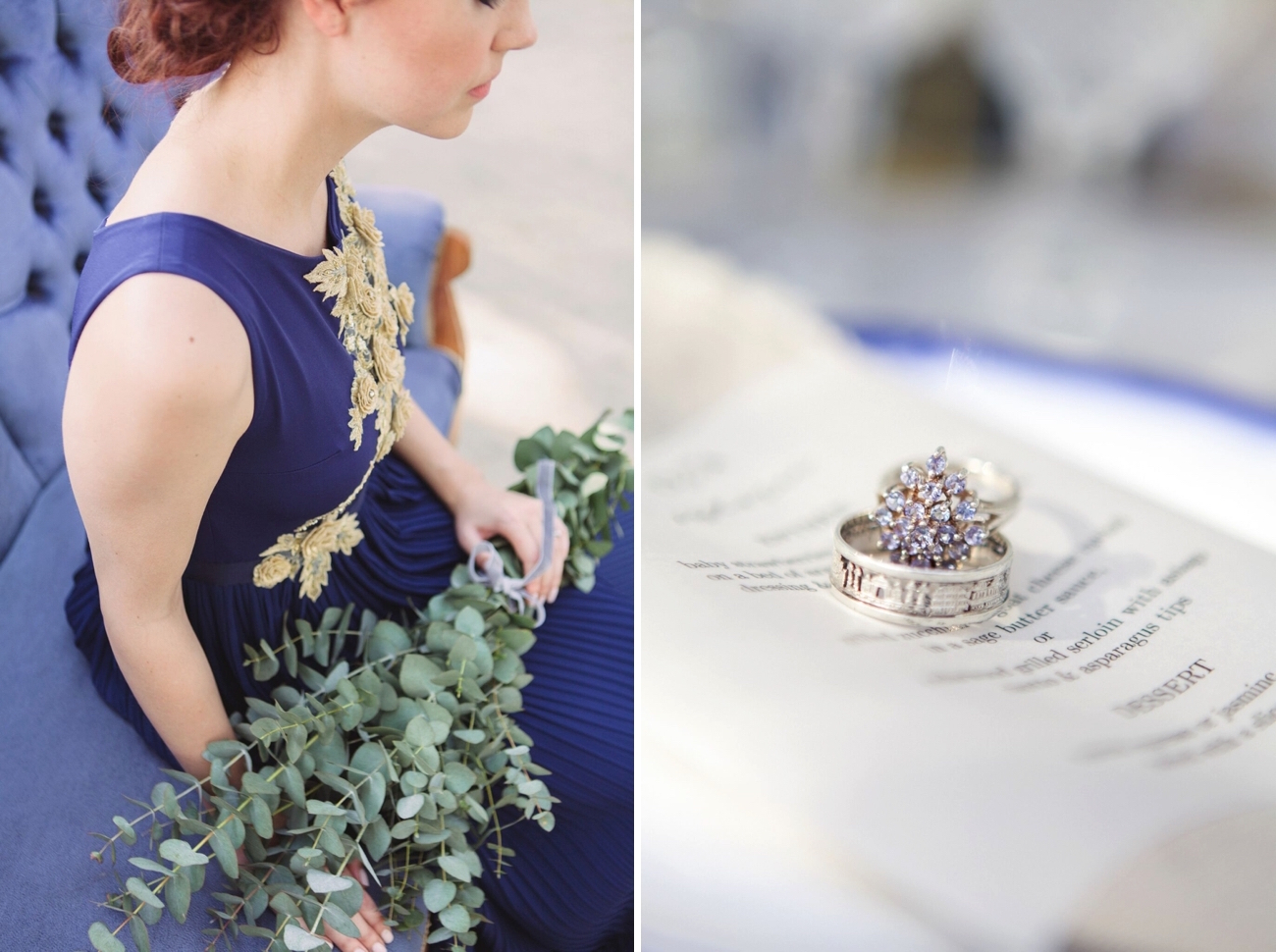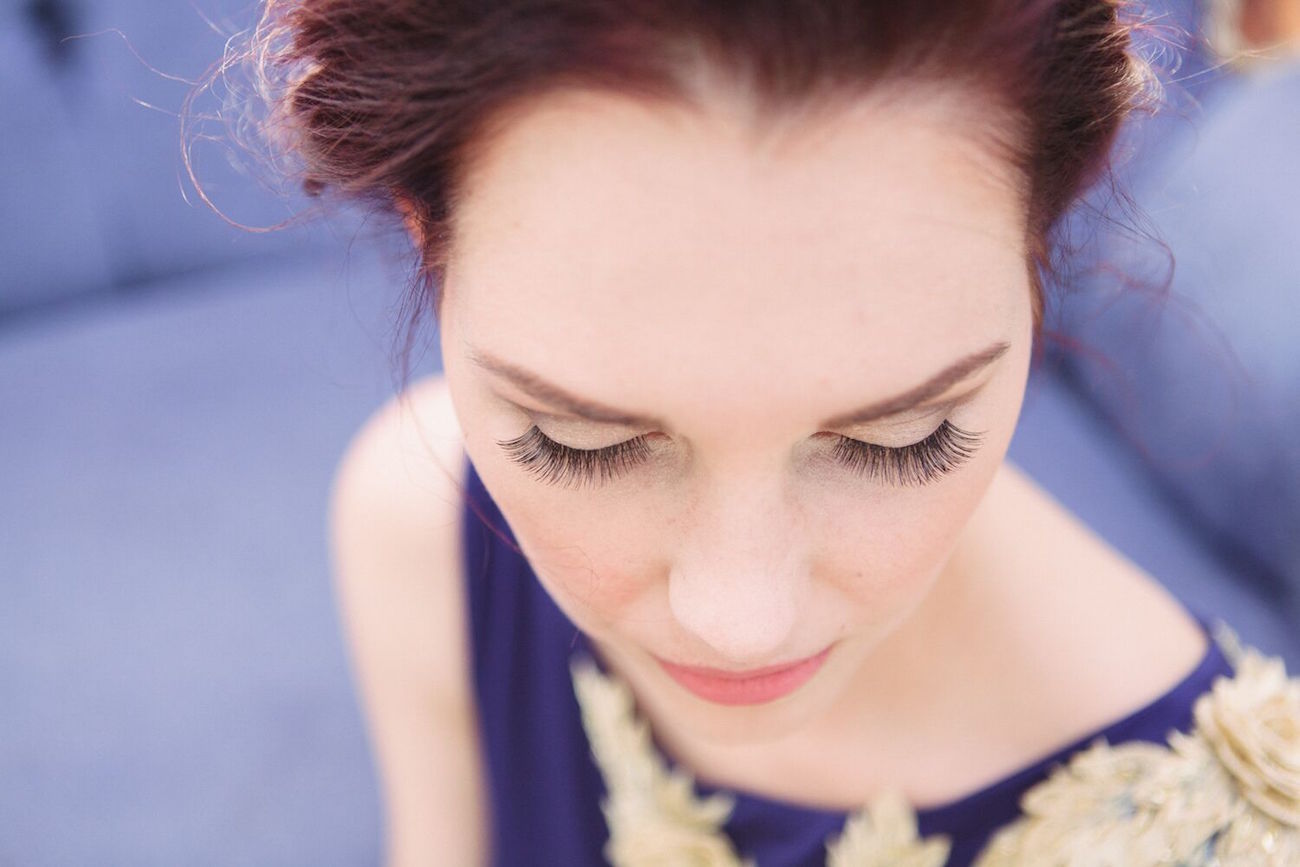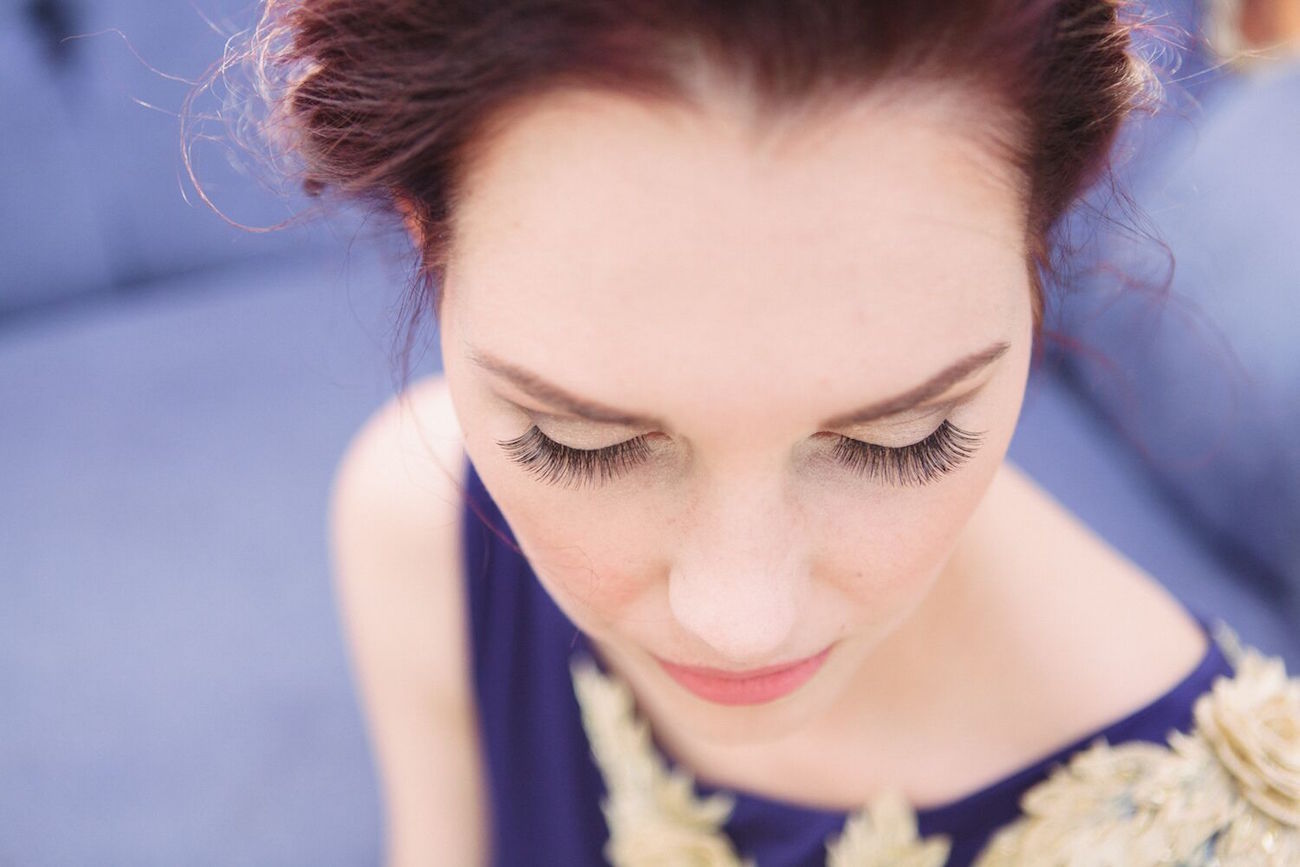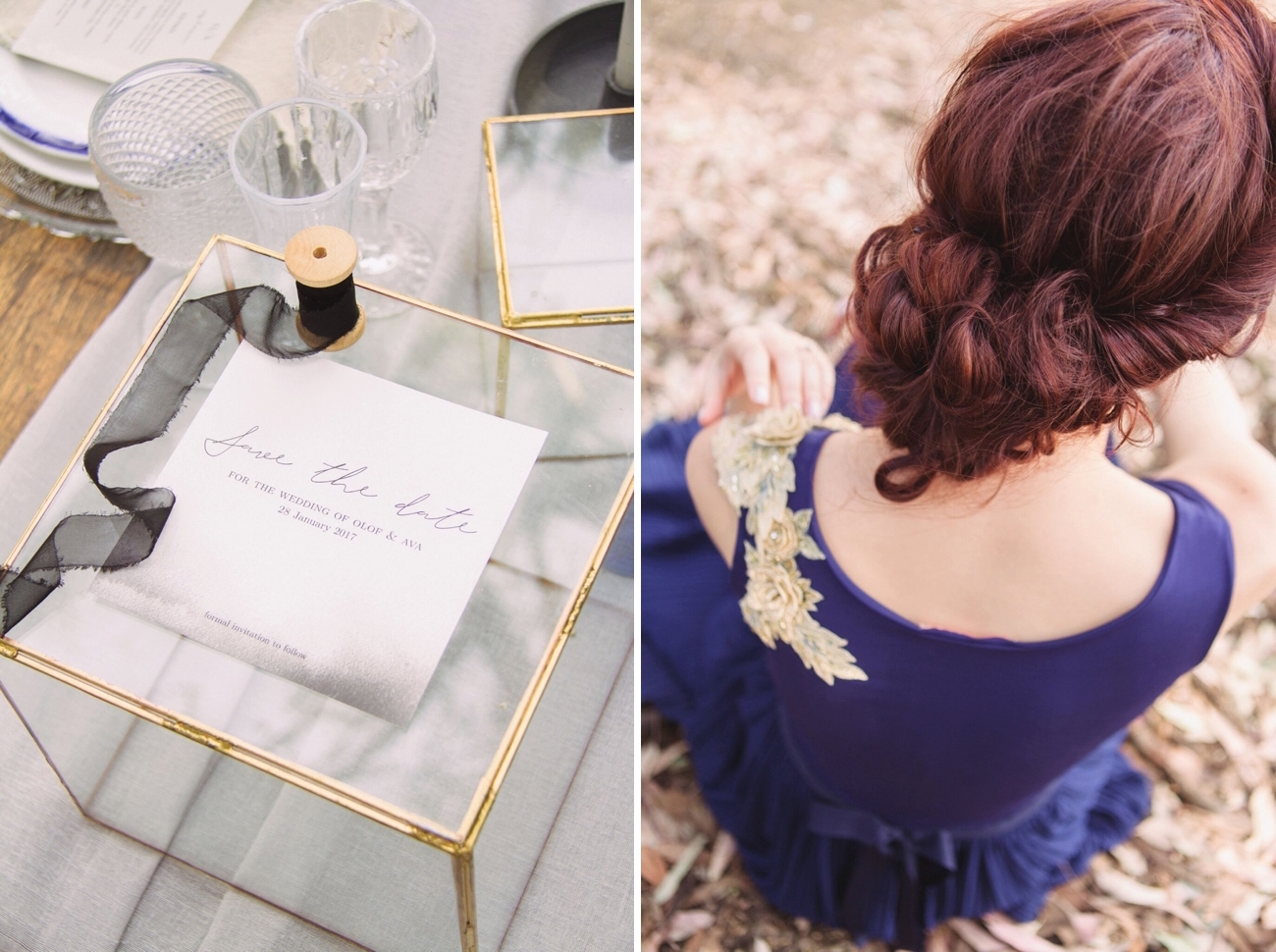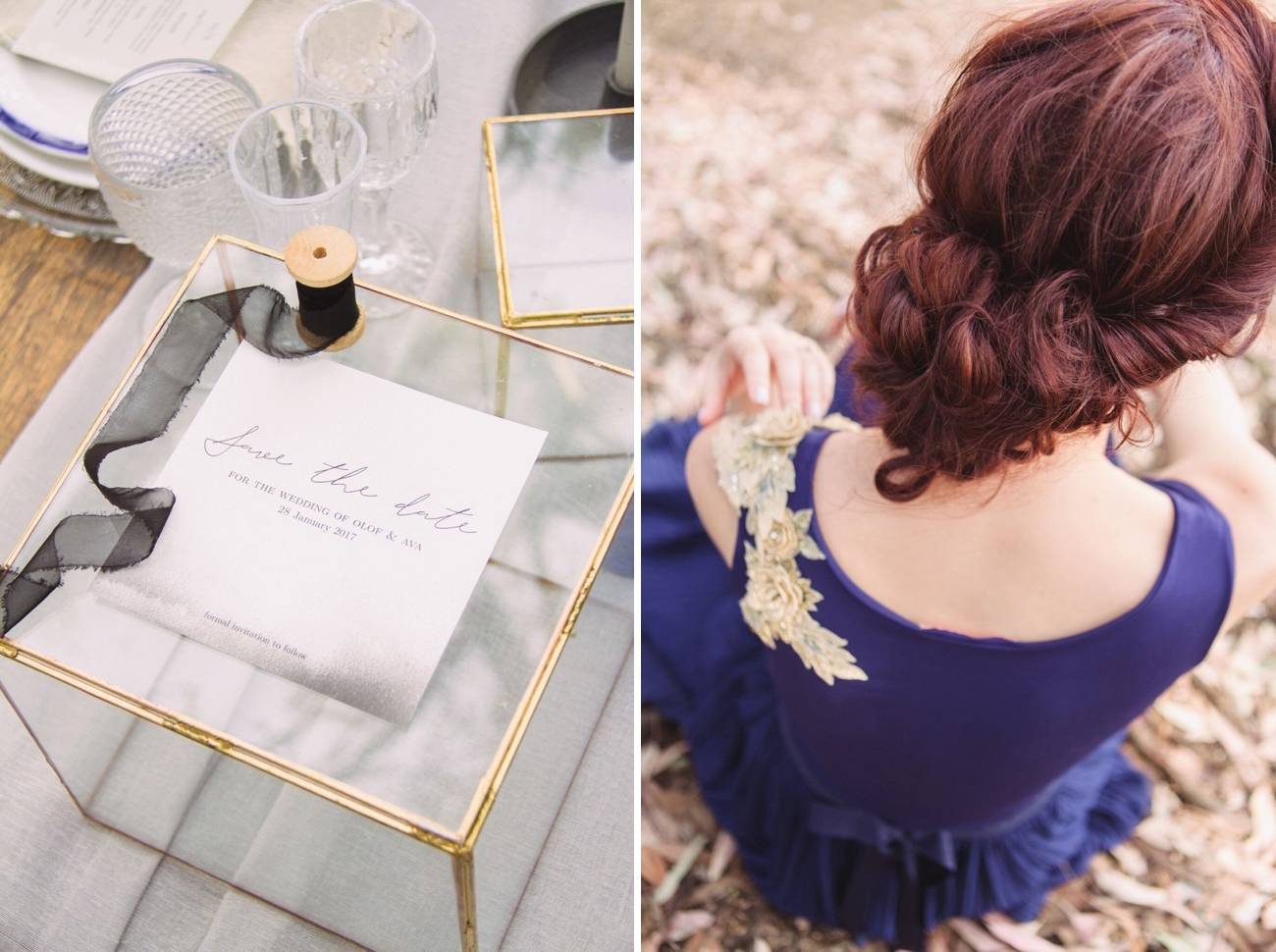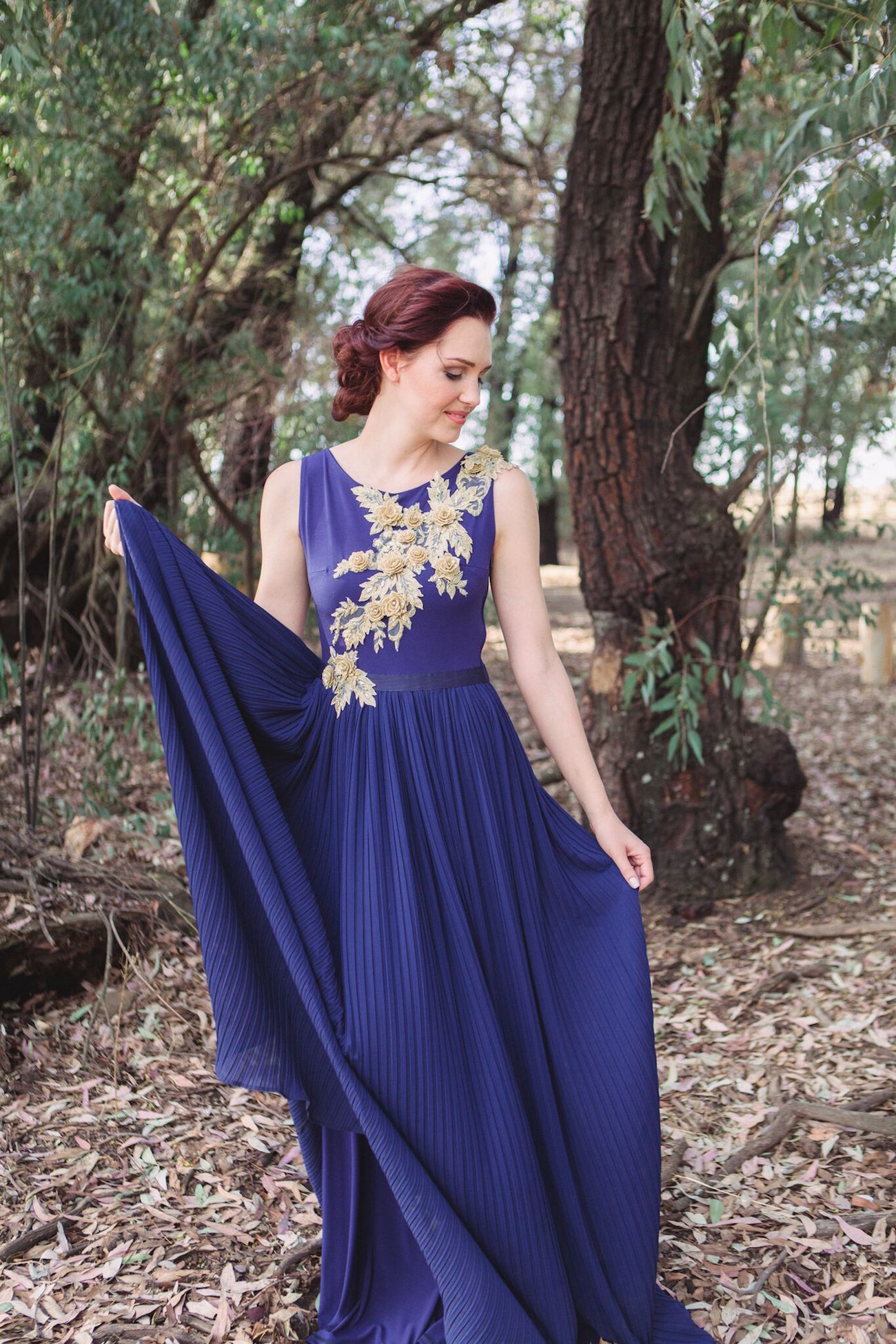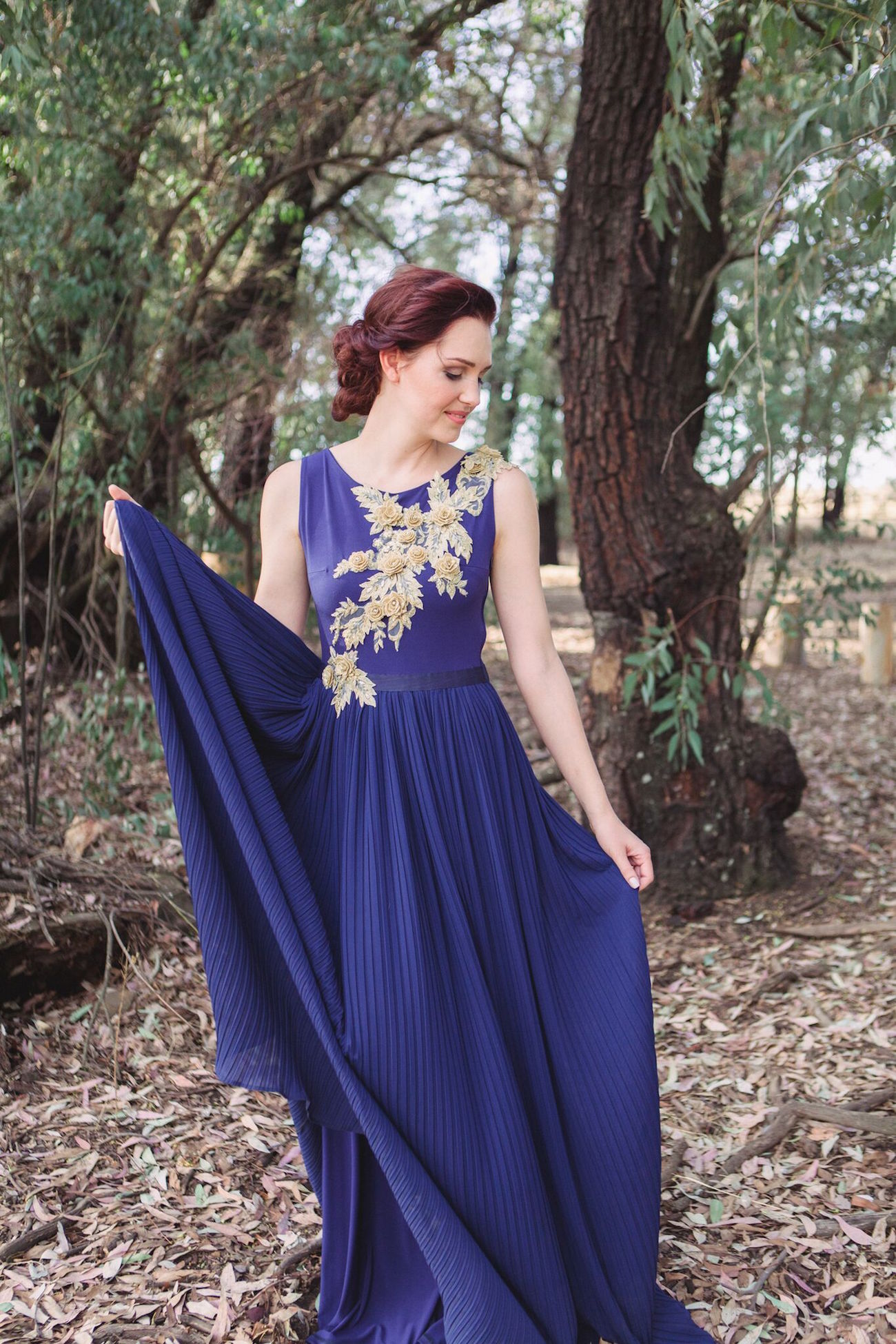 We have all the details from behind the scenes…
The concept for this styled shoot grew out of the essence of 'perfect imperfection' and by wanting to create a celebration that is not only visually appealing but invites all the senses, something a little different from the average bridal inspiration but that still conveys an atmosphere of tenderness and beauty. It was styled for the more adventurous bride; a woman who might choose and collect items with sentimental value for her décor, adding interesting & unique pieces, yet stay quite minimalistic and modern. Shades of grey, hues of blues with flecks of gold, black and white made up our colour palette. We added small wooden elements to add depth to the scene. For the tables, Leriche from You & Me Décor chose a variety of greens and flowers ranging from hydrangeas to lotus flowers, delicate white and blue florals and tulips, giving the impression that the blooms were gathered randomly from a secret garden. Candles and a unique selection of tableware, ranging from blue glass vases to a more modern tea set, completed the table décor and a soft, grey linen canopy created an intimate atmosphere in our perfectly imperfect setting.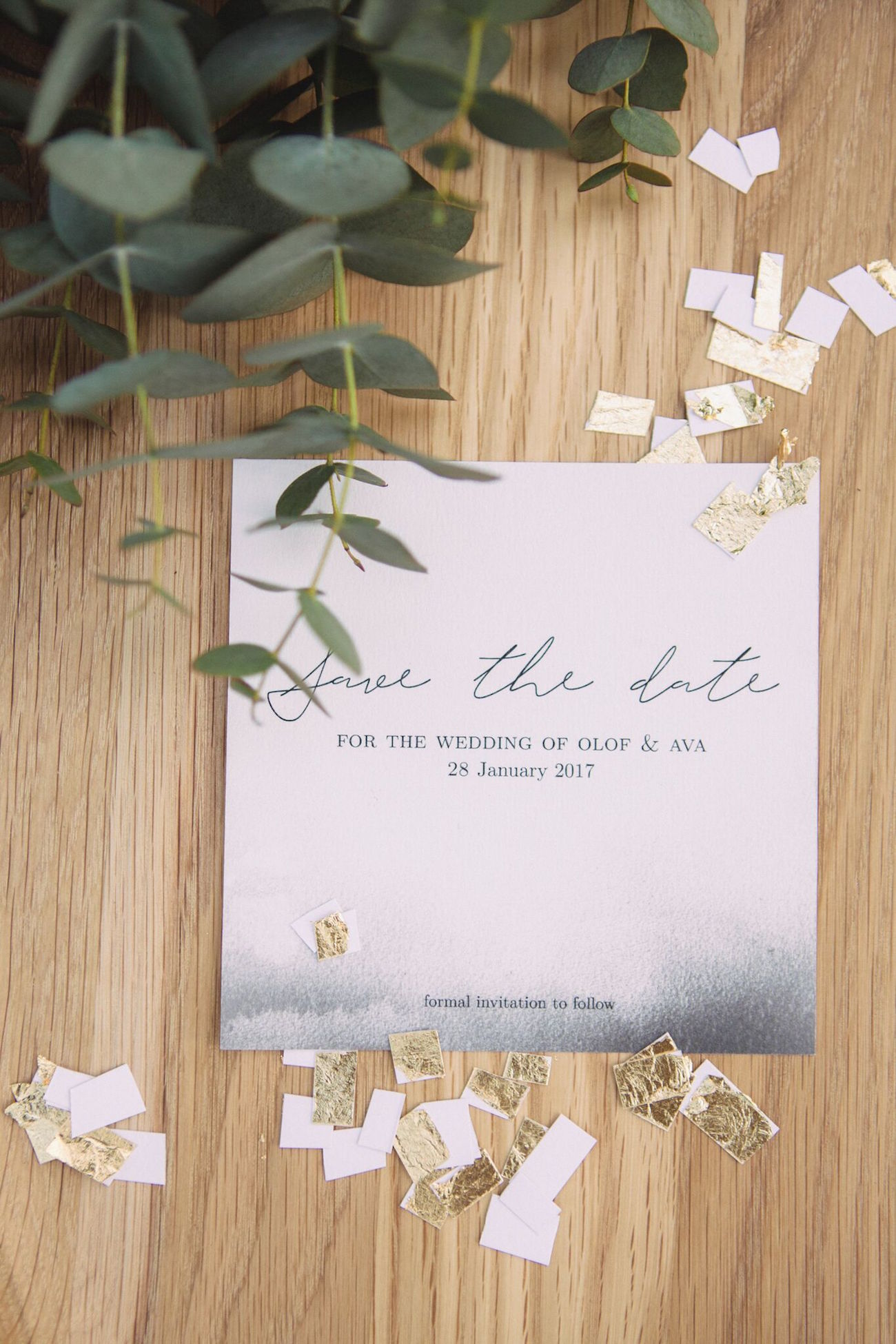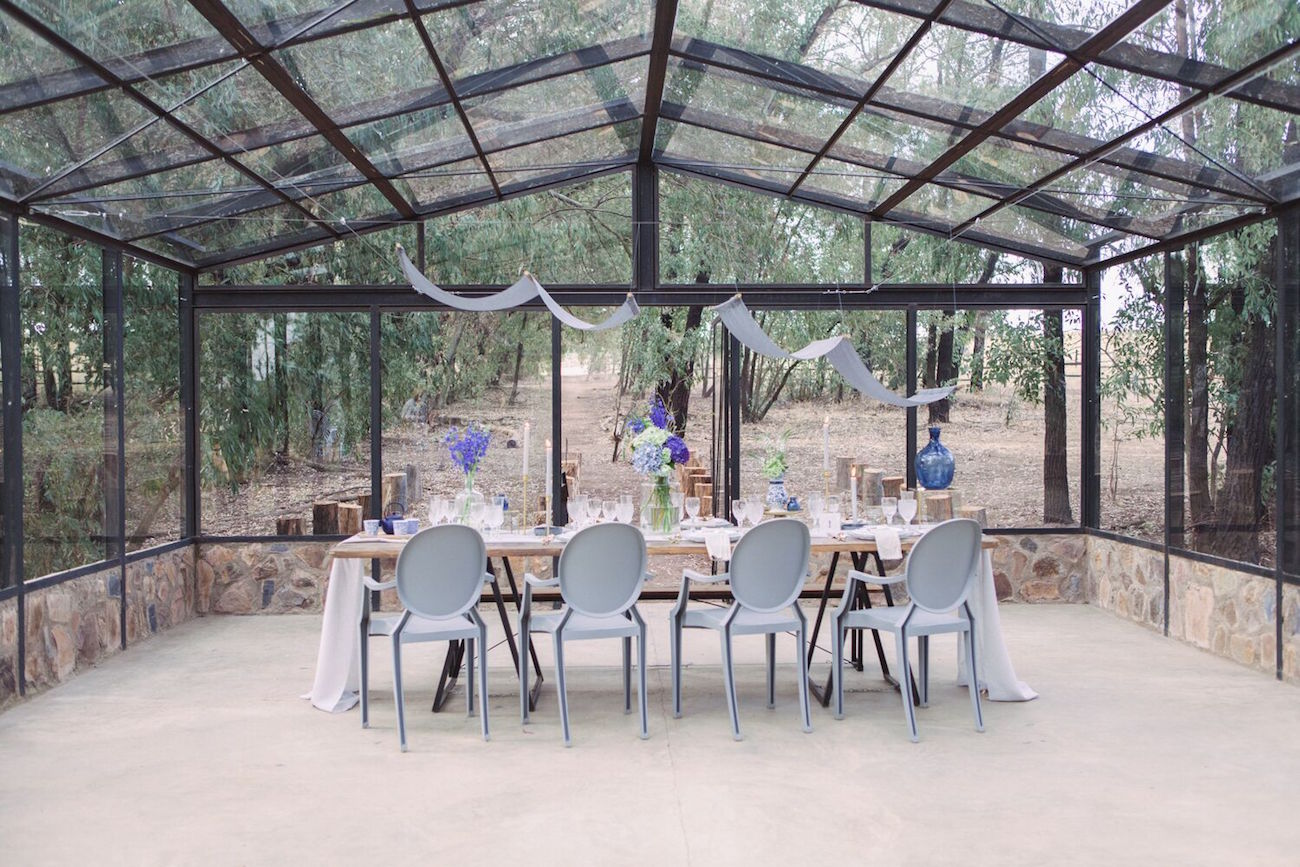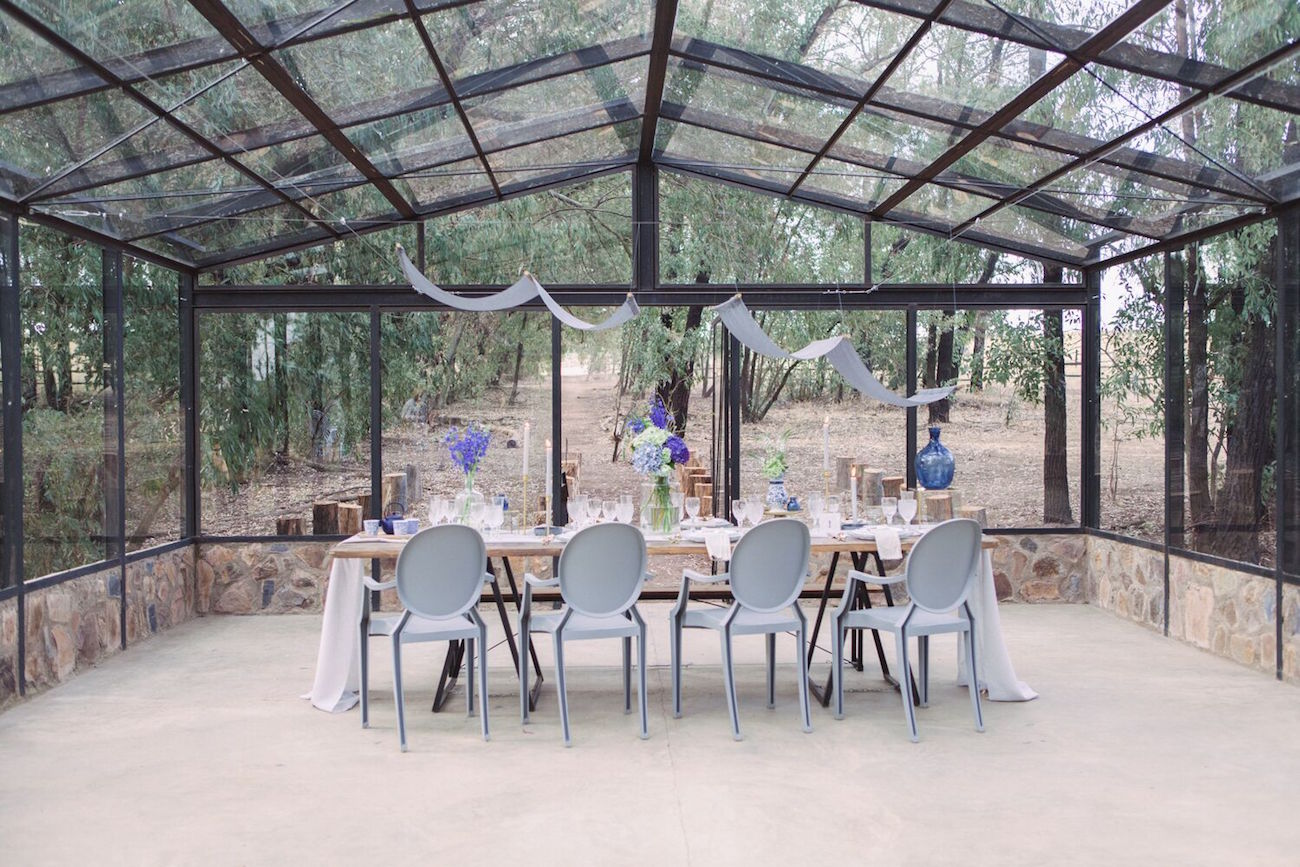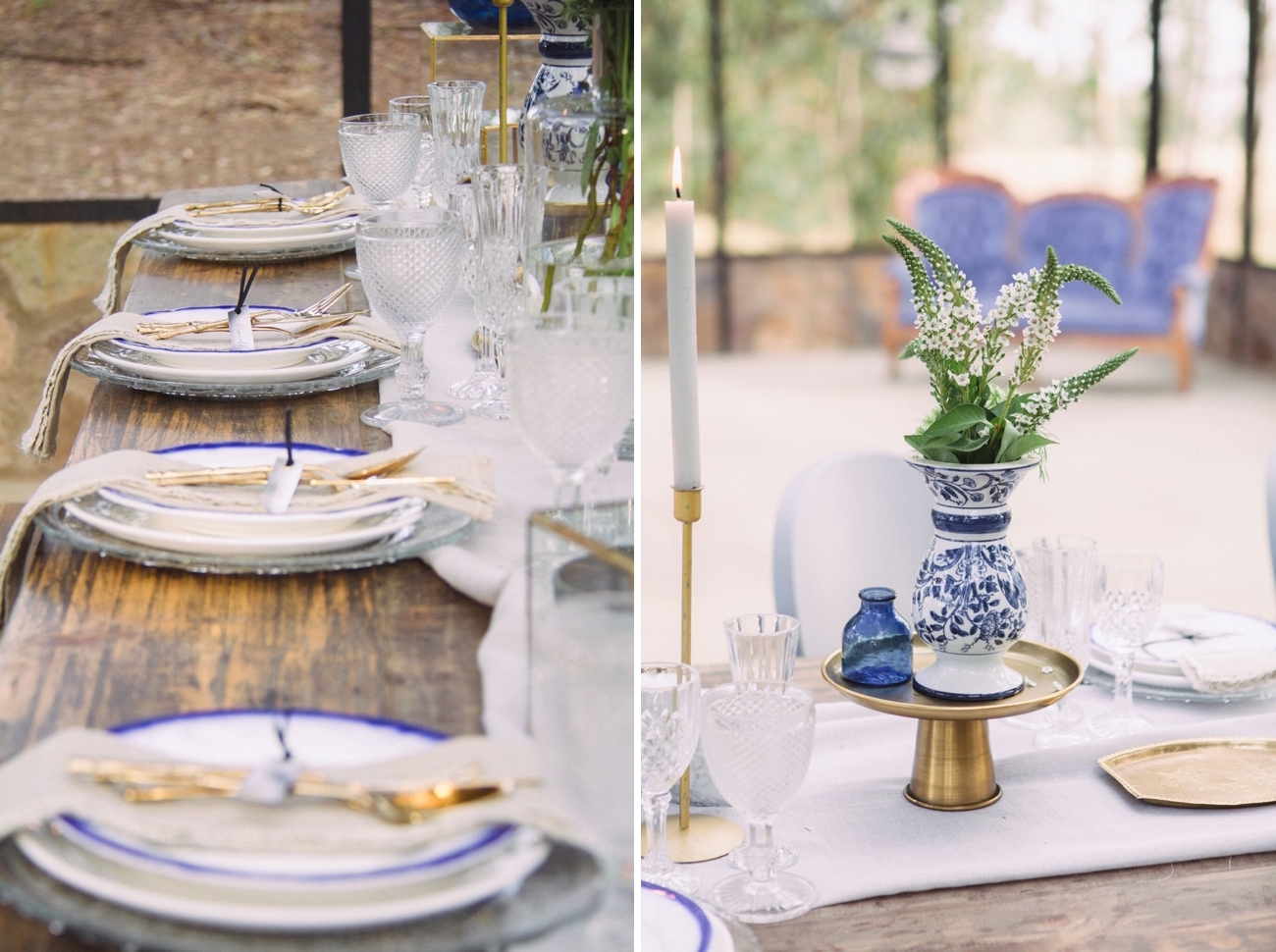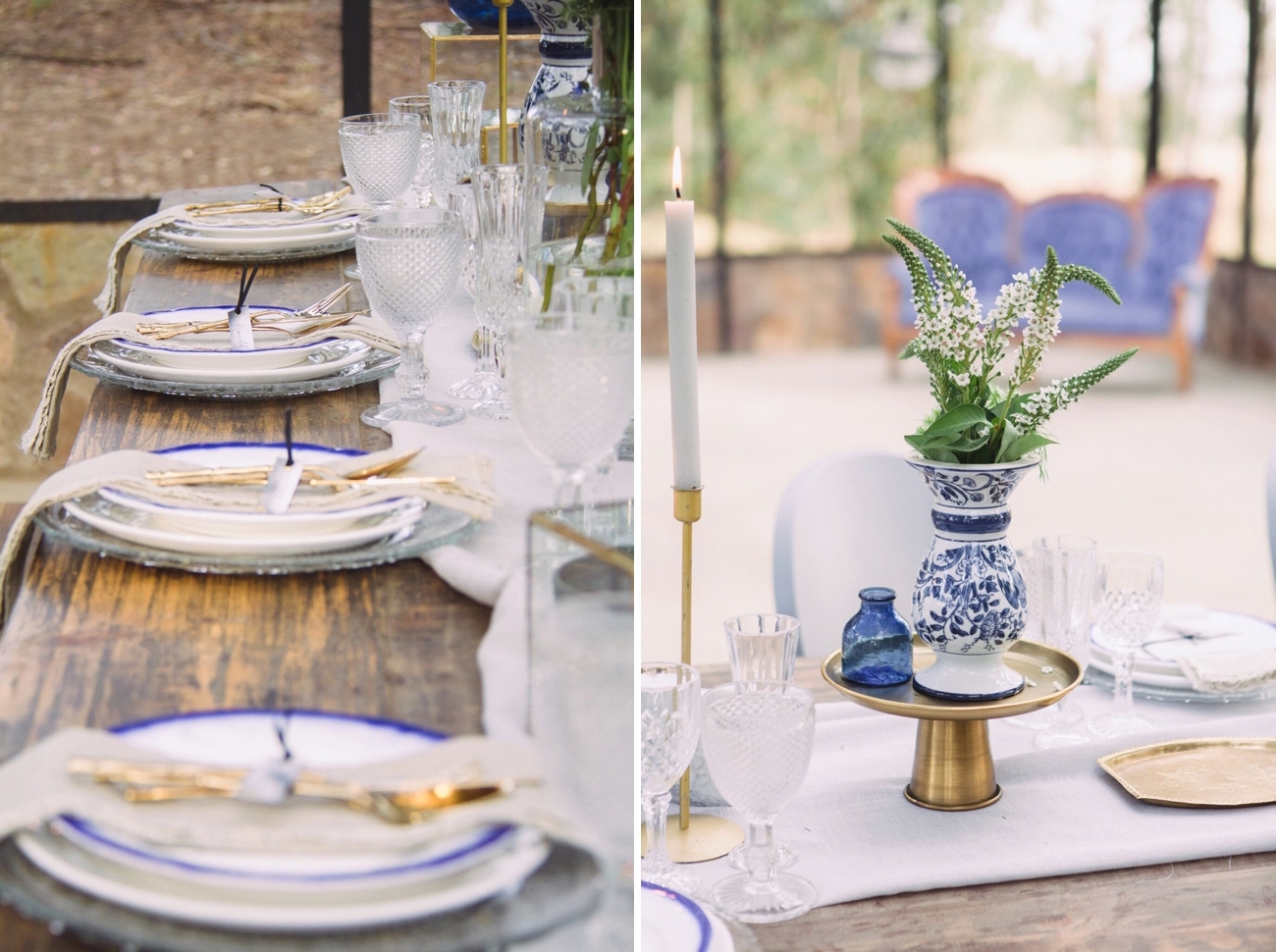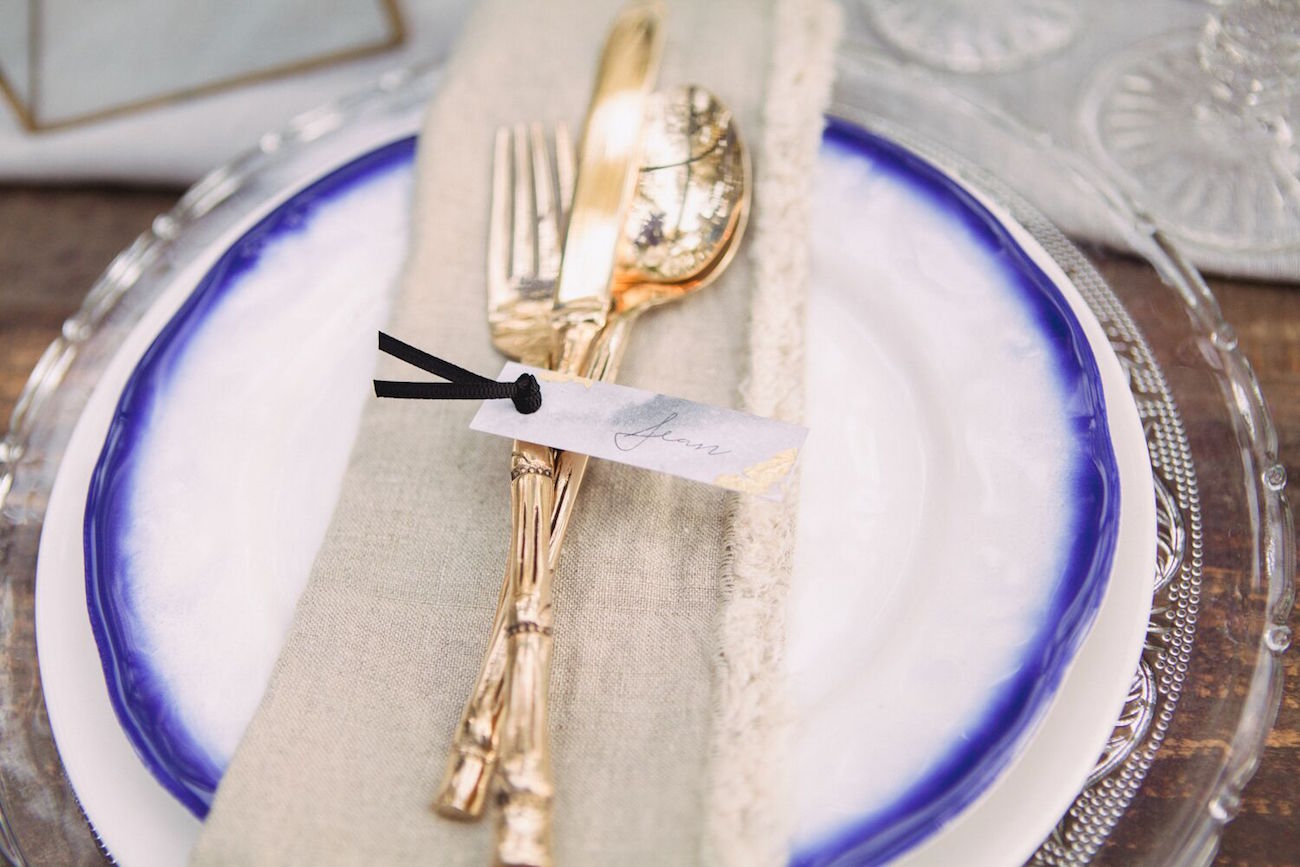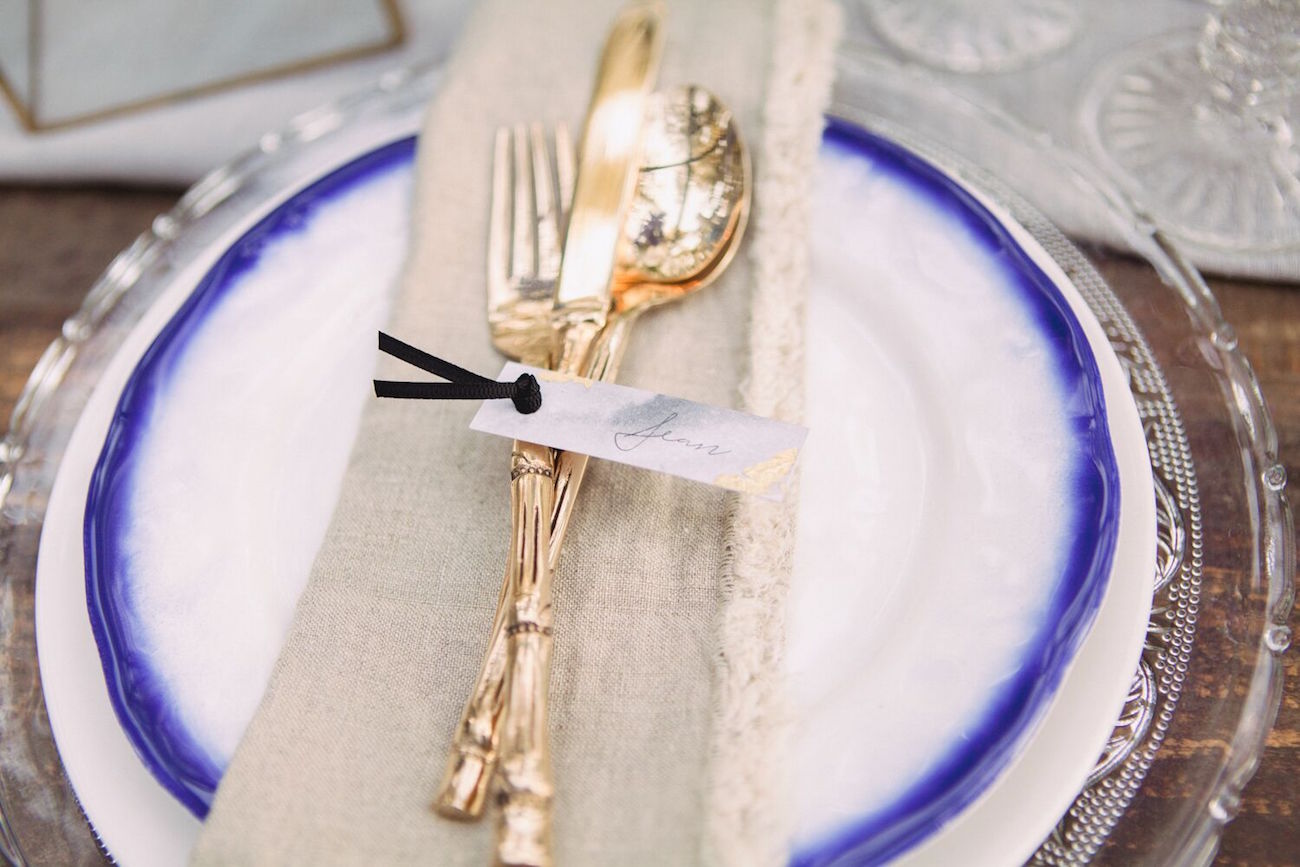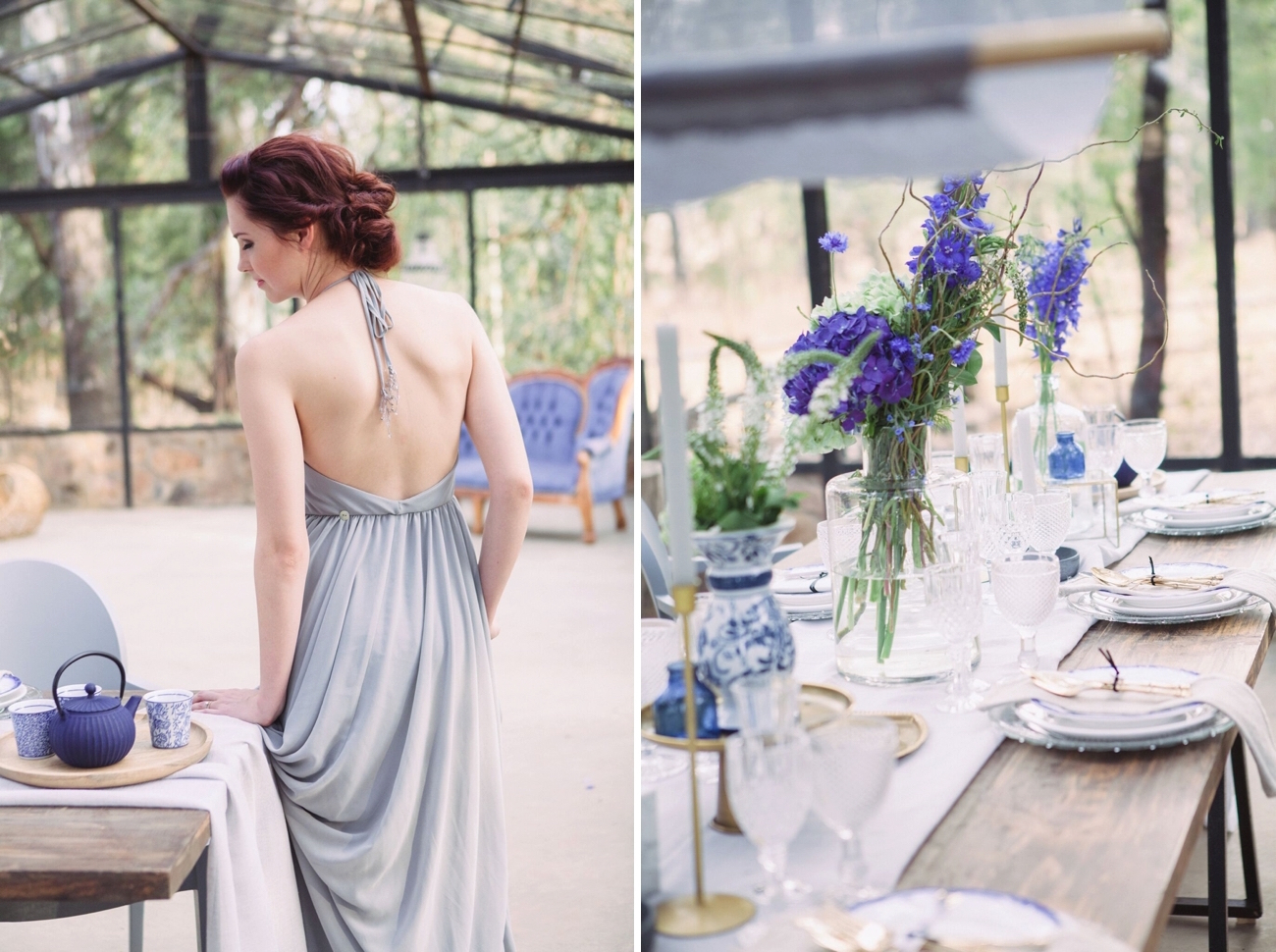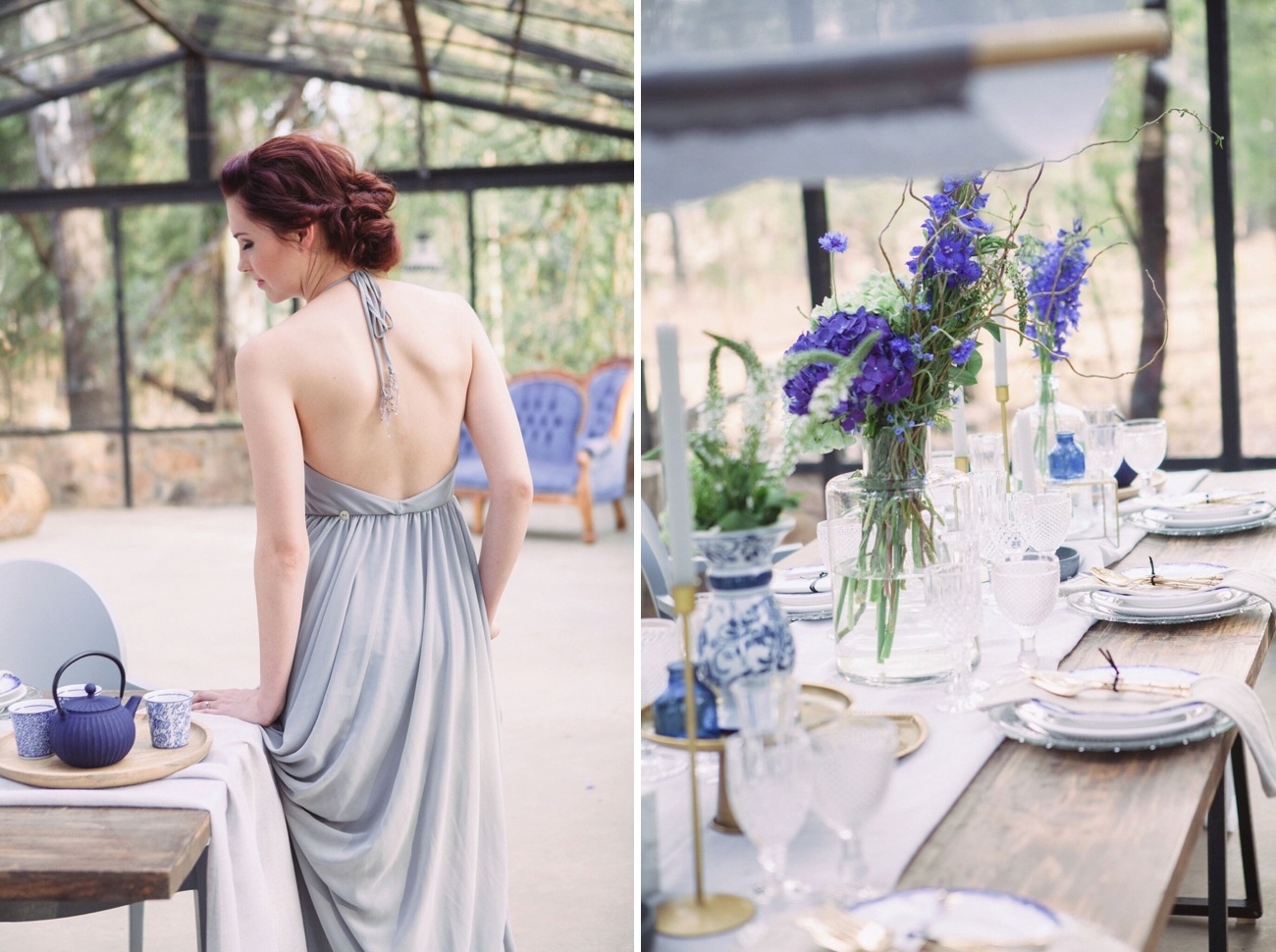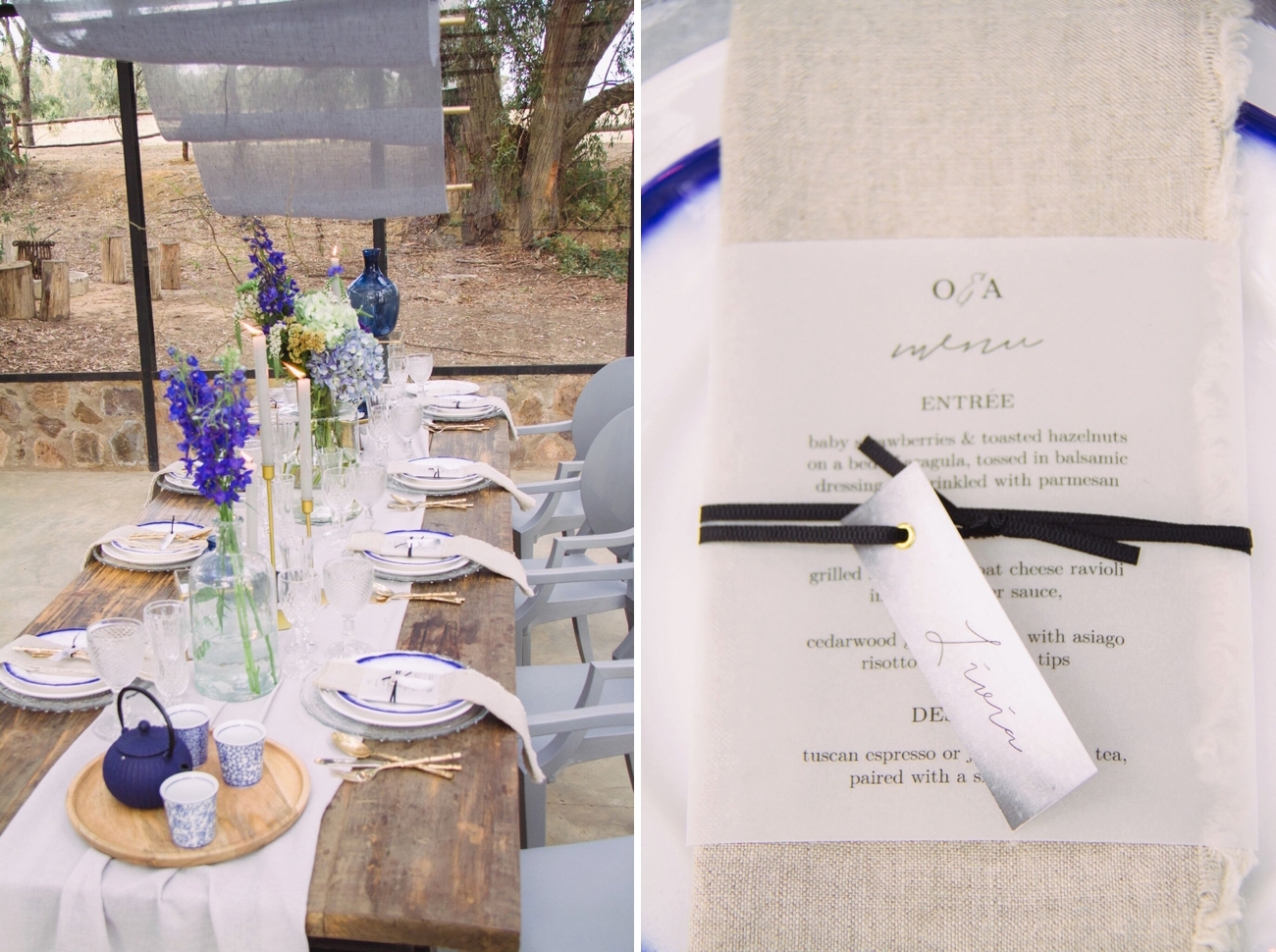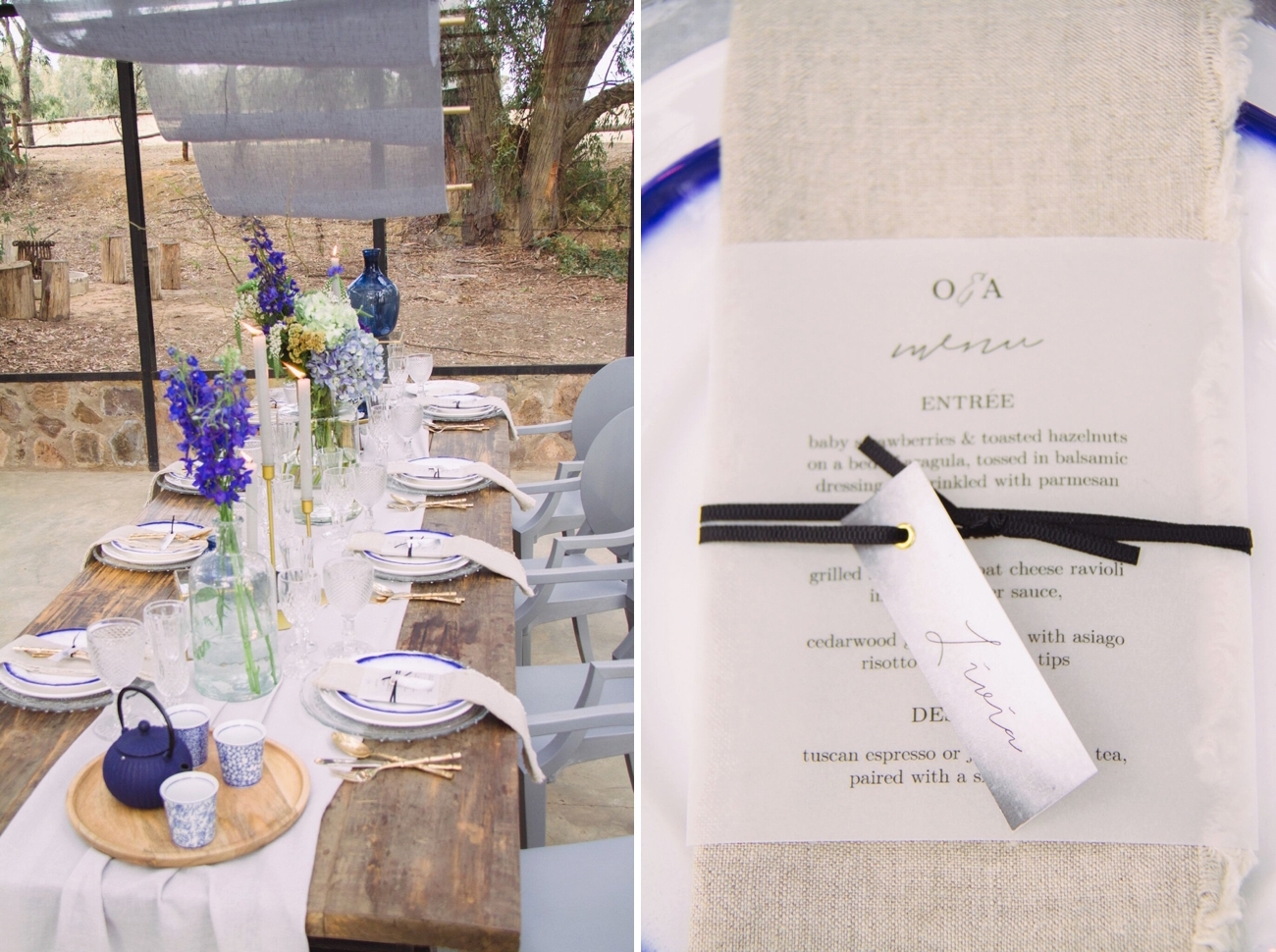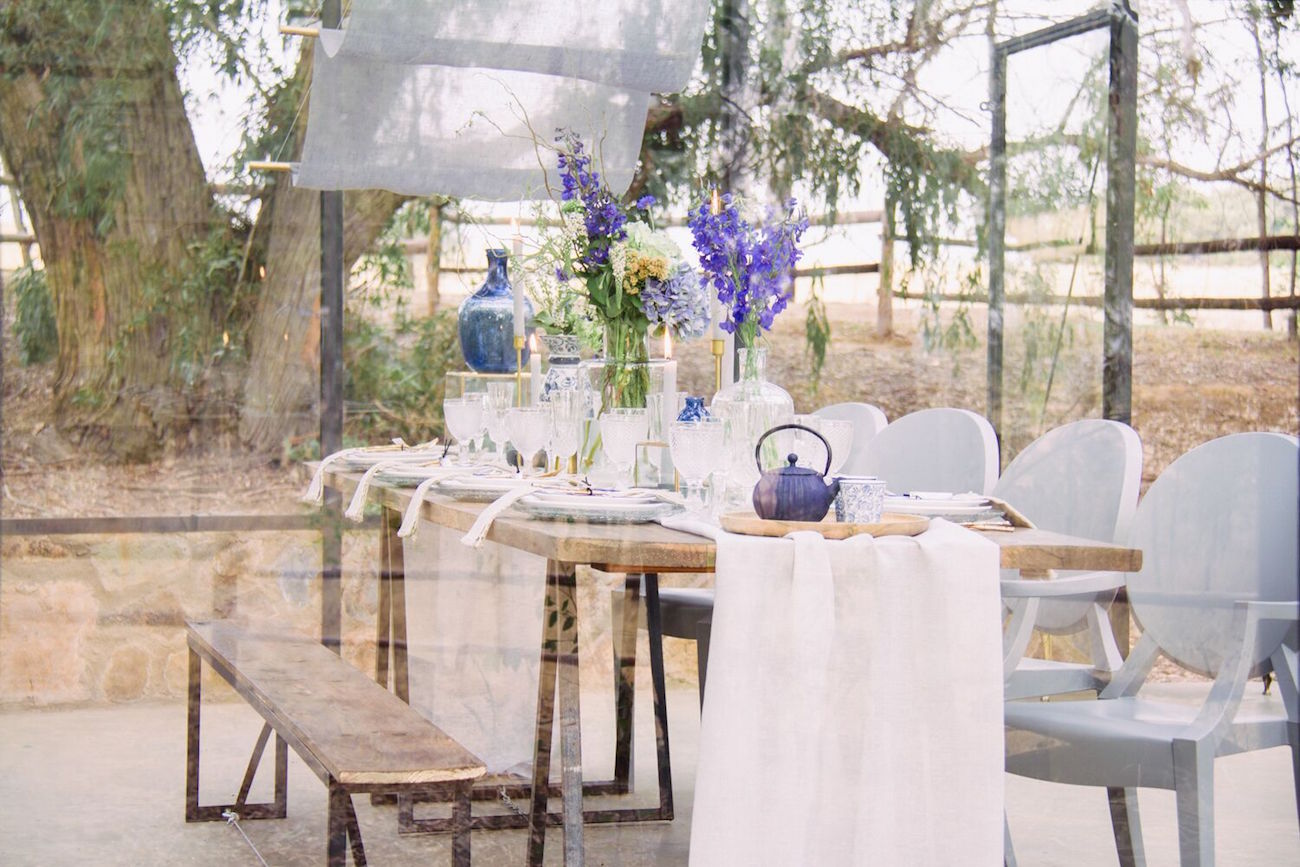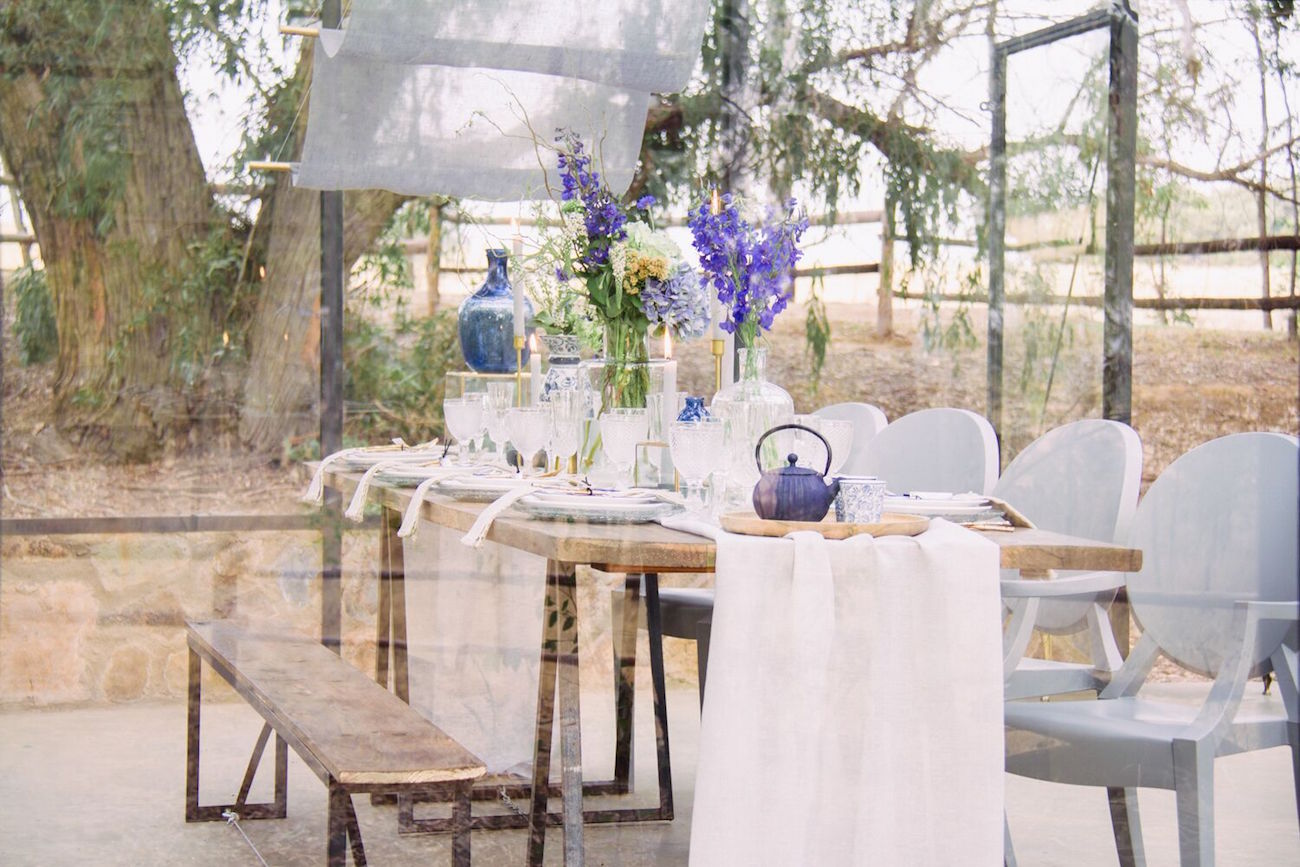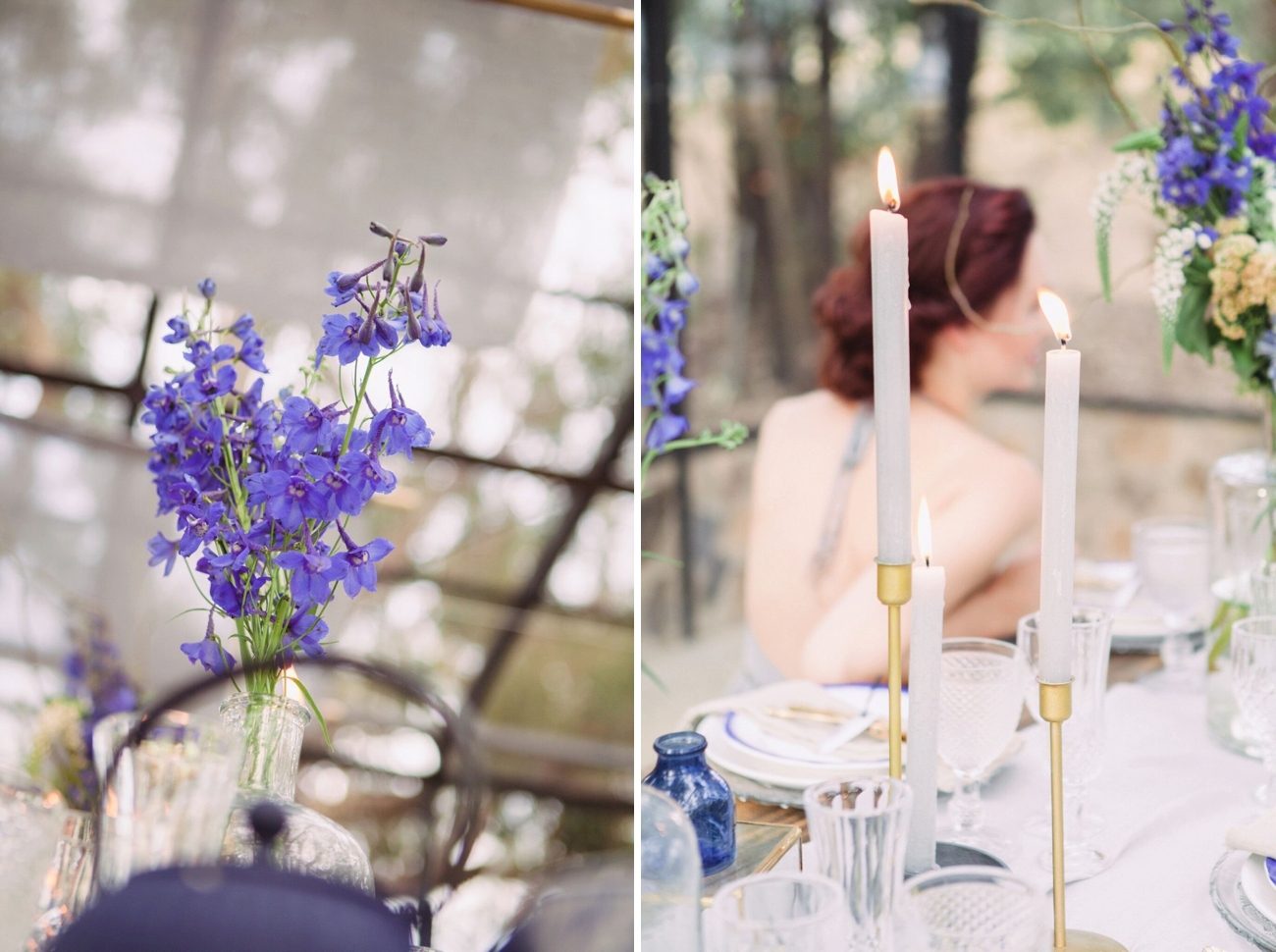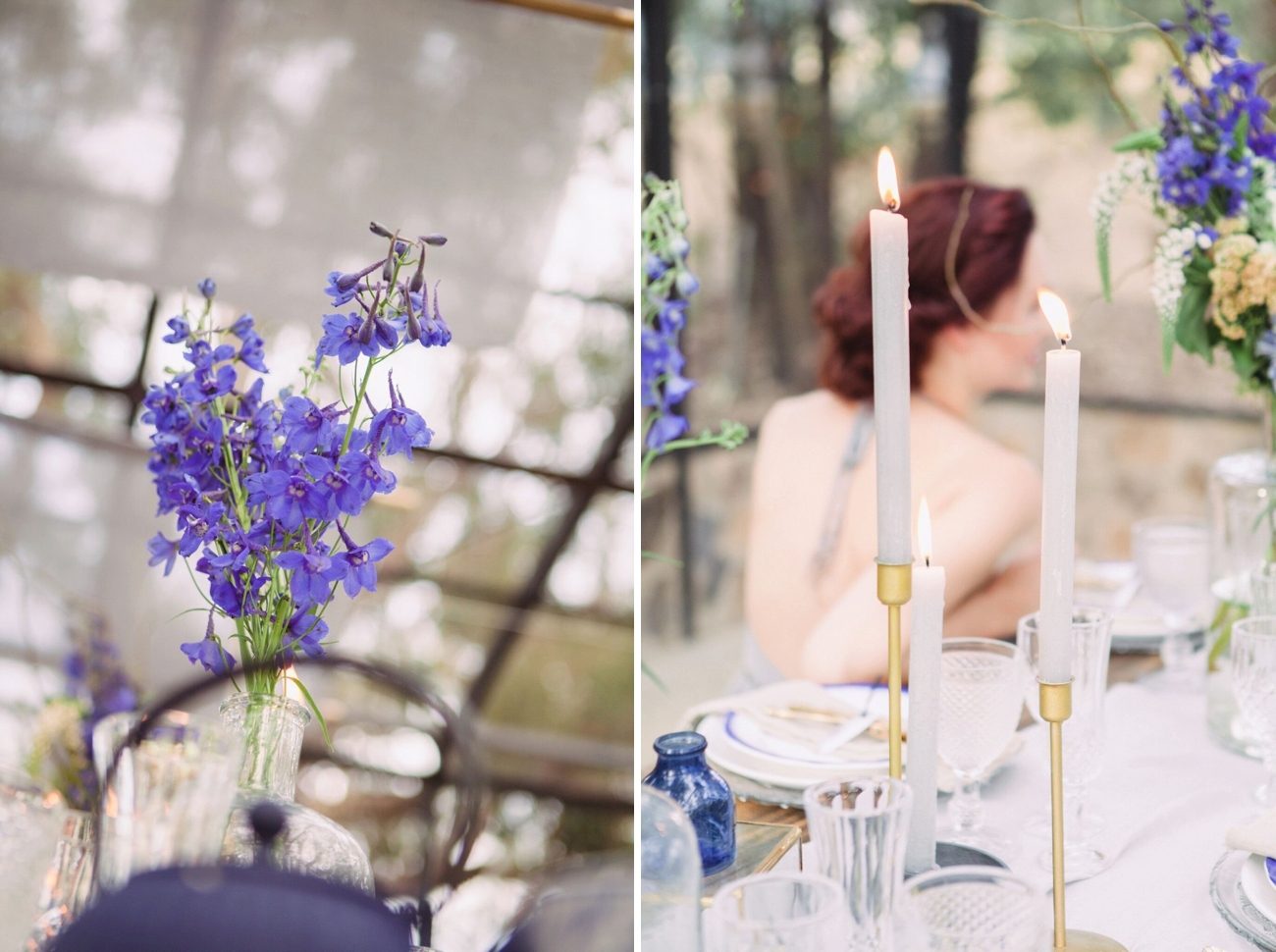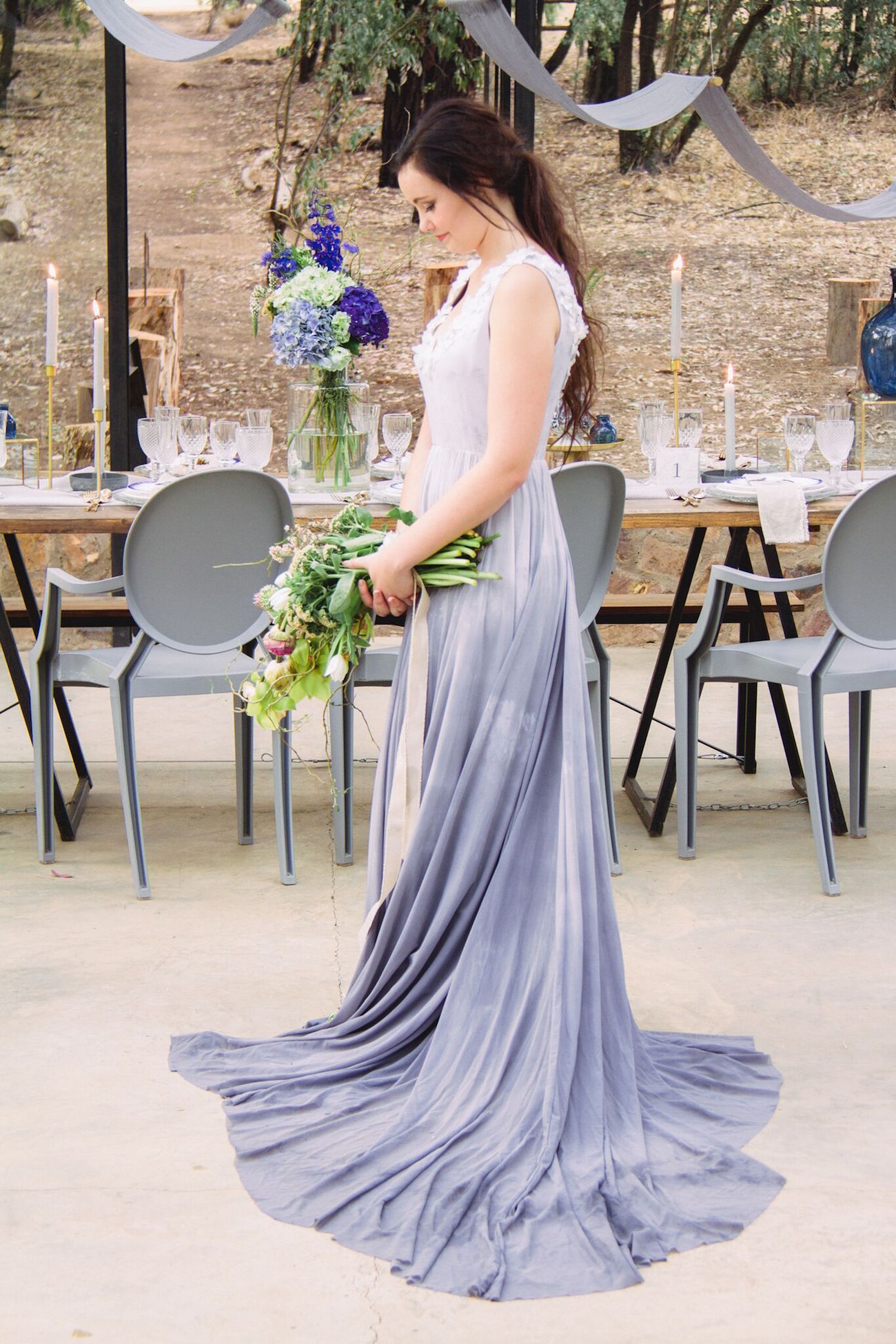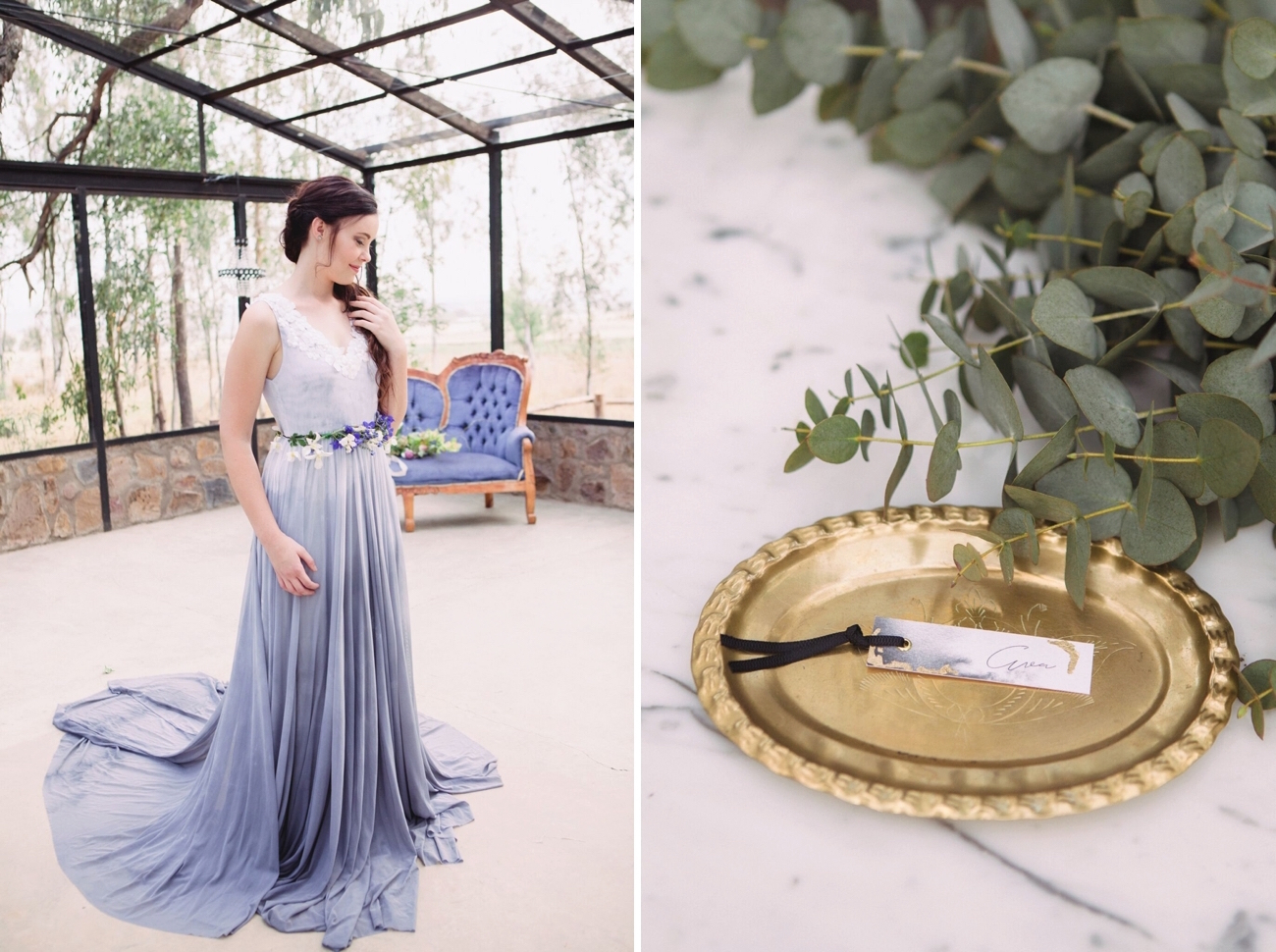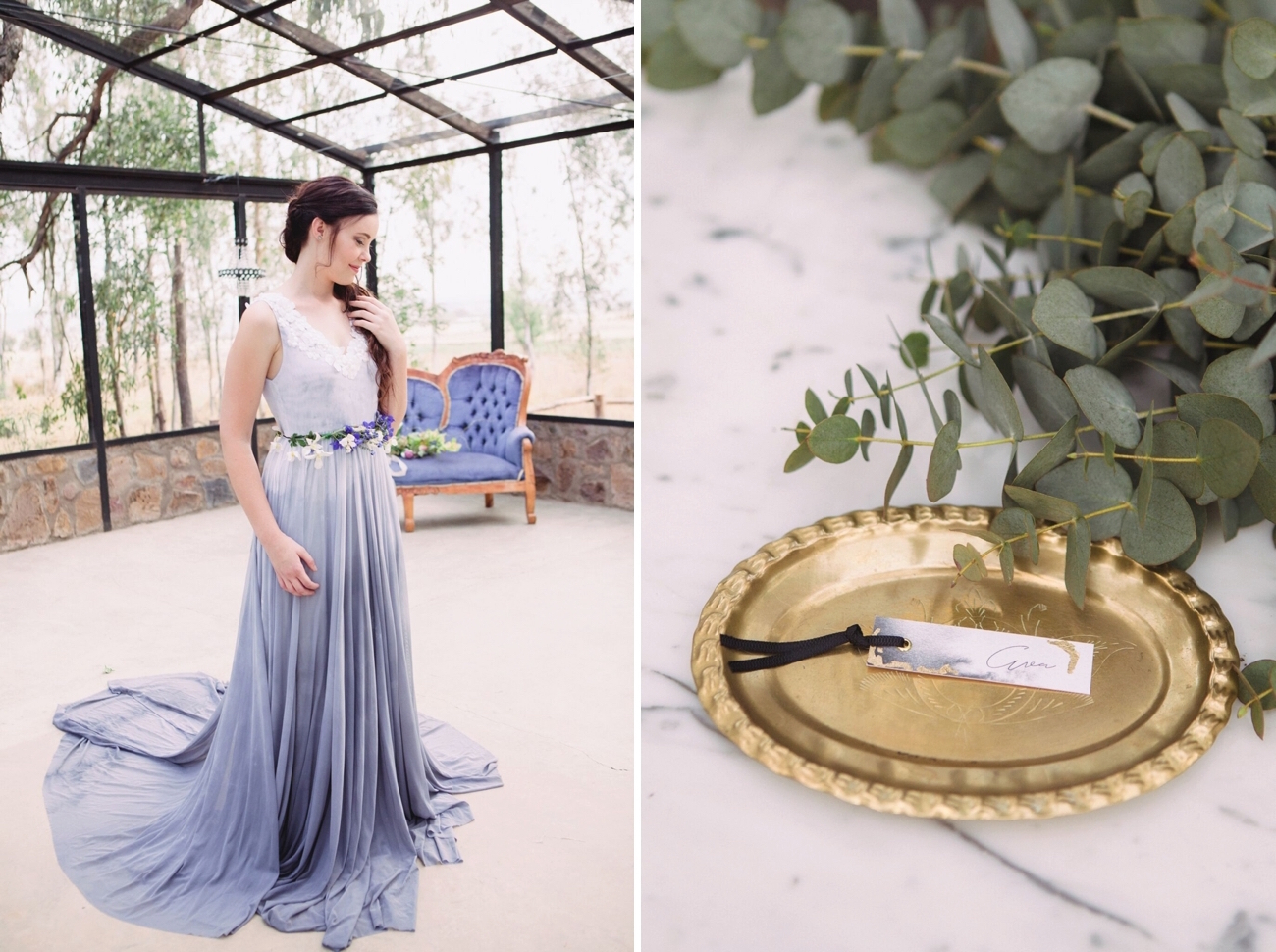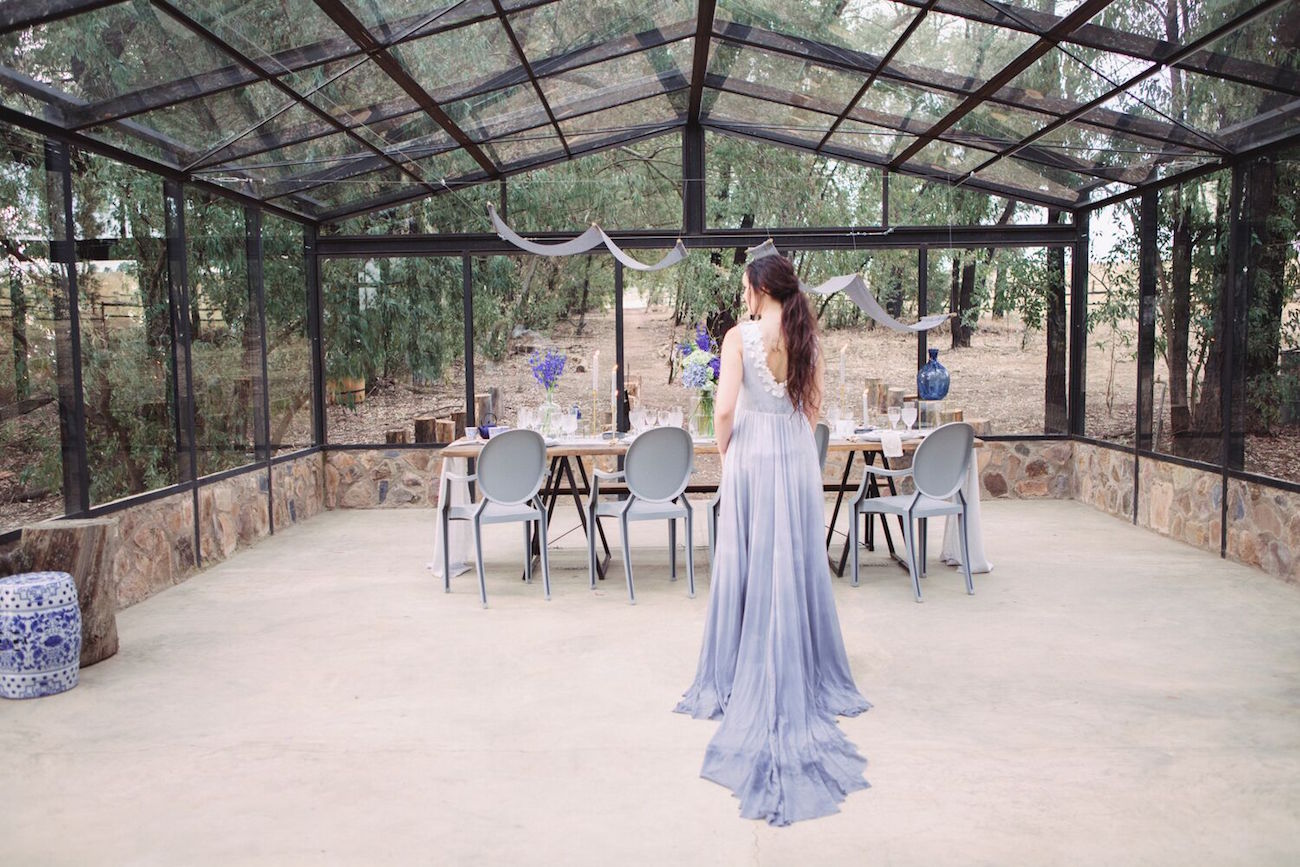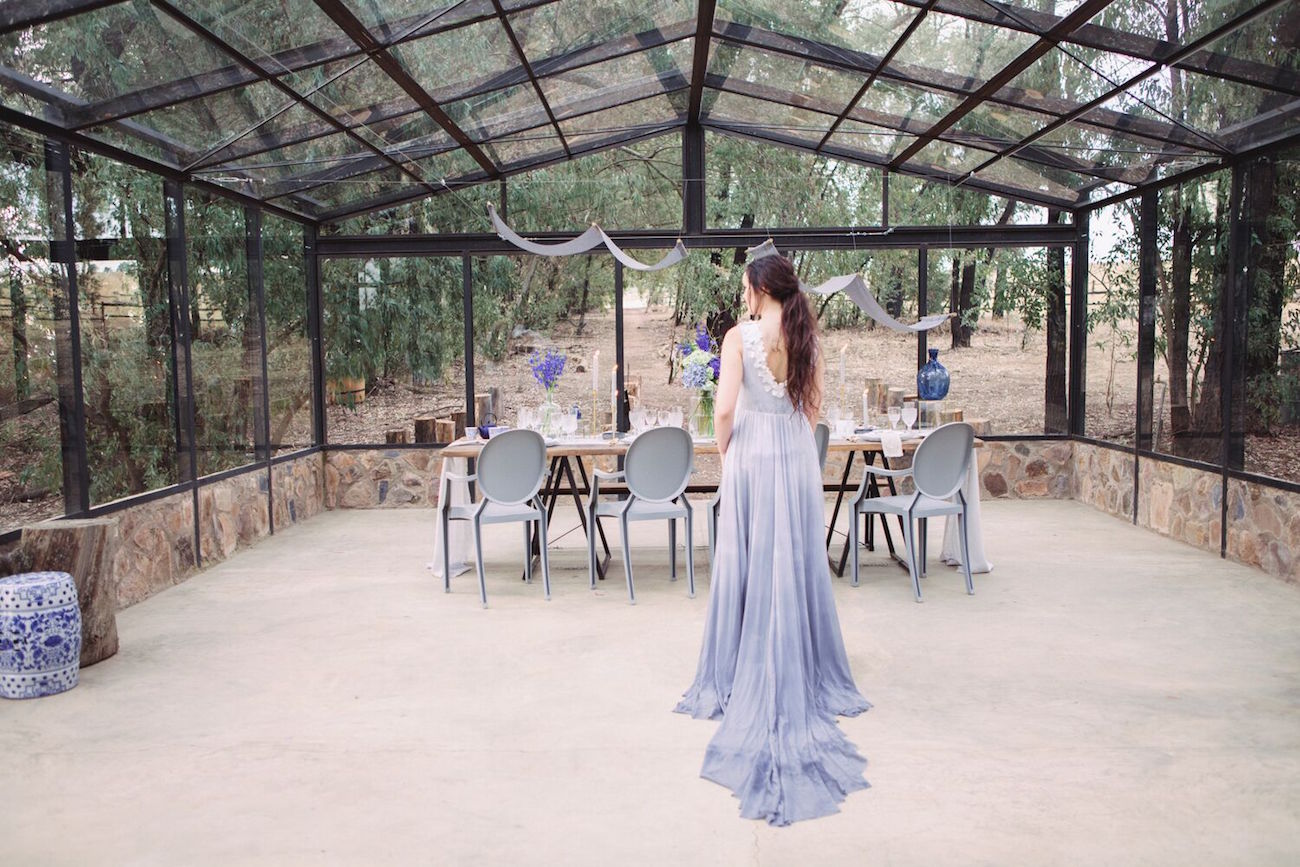 Our sensory experience included a cement inspired textured cake which was softened with hydrangeas, incense lifting our more traditional bridal bouquet to another level and candles casting soft reflections in the glass. Imagine the smell of the bride's florals as she drifts through, visiting with her guests, the intricate details on each of the gowns, the feel of the feint sunlight falling through the glass and the sound of the rustling leaves. The dresses by Alana van Heerden (navy) and Silver Swallow Design (both of the grey gowns) were specifically chosen for a bride who would like to push the boundaries both in terms of colour and comfort and yet feel sophisticated and unique on her wedding day. For the wedding bands, two unique pieces, handmade in India, were chosen, with the groom's band engraved with the seven wonders in India by a craftsman in Jaisalmer. The bride's band features a set of light blue tanzanite stones. For our unique bride we also wanted to showcase alternatives when it came to her own flowers, so apart from our incense bouquet we also used both a wrist floral piece and a waist-garland as different options instead of carrying flowers on the day. Our stationery focused on minimalism and purity of design, utilising black, grey and white with an elegant touch of hand-crafted gold leaf detail.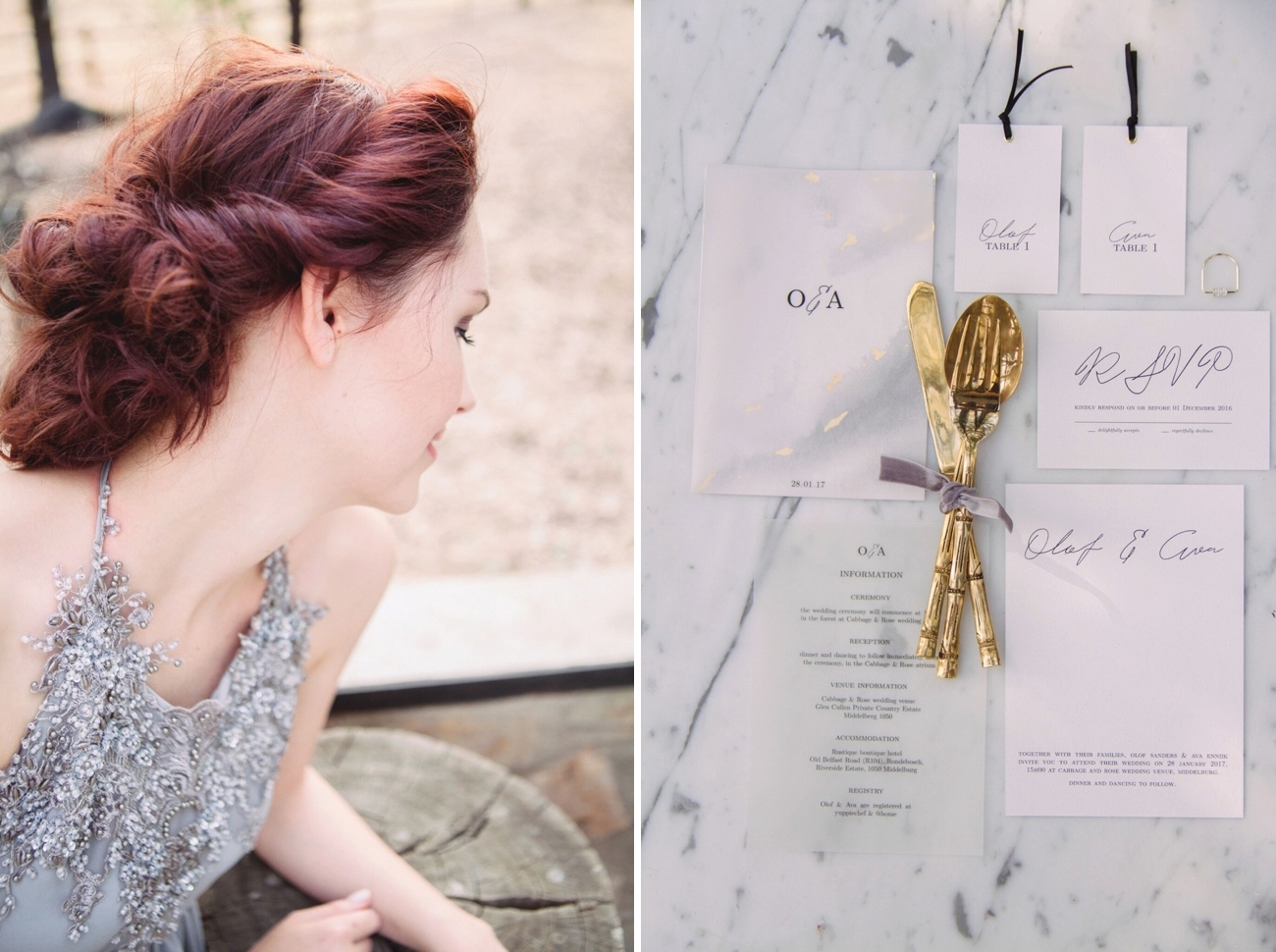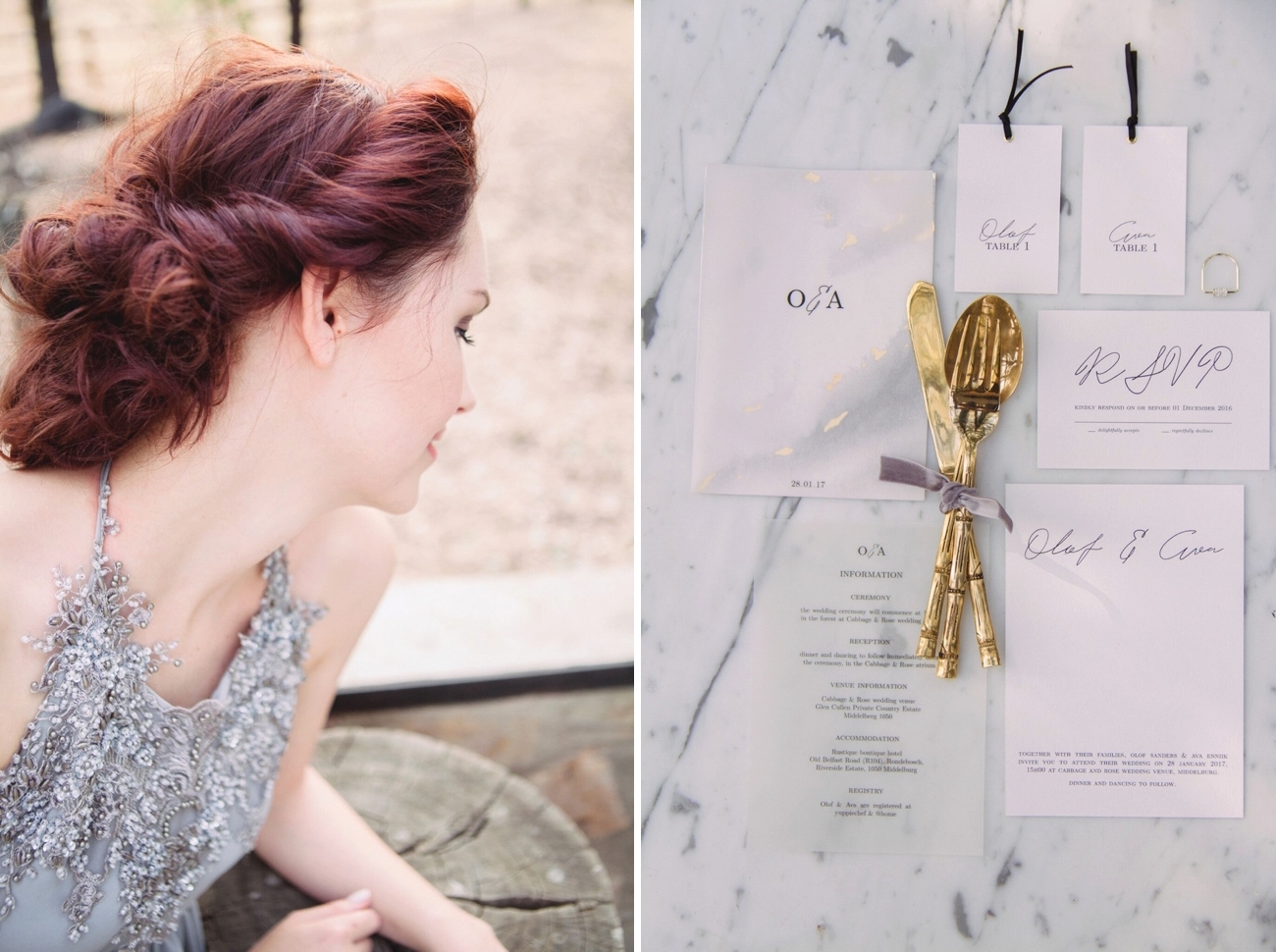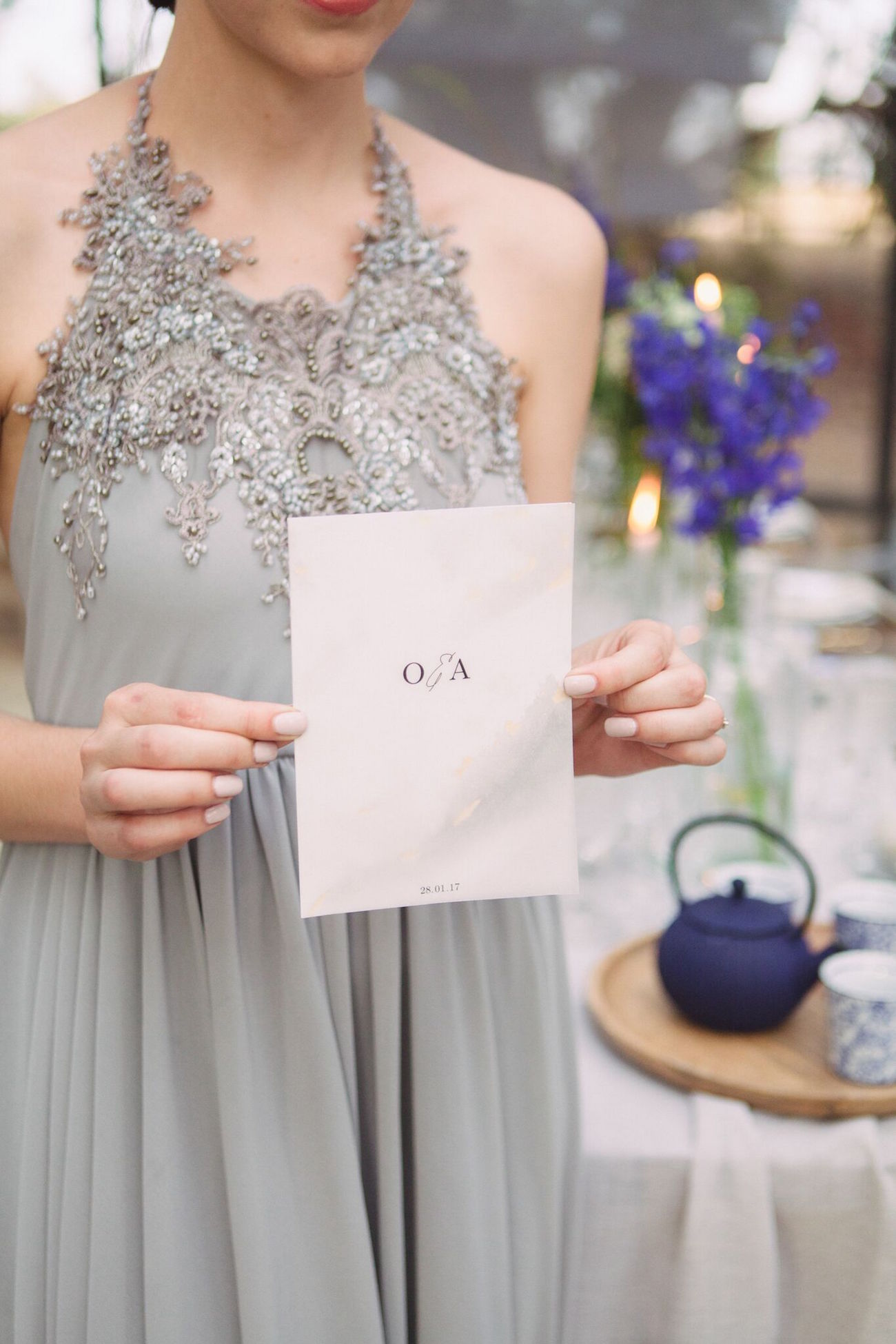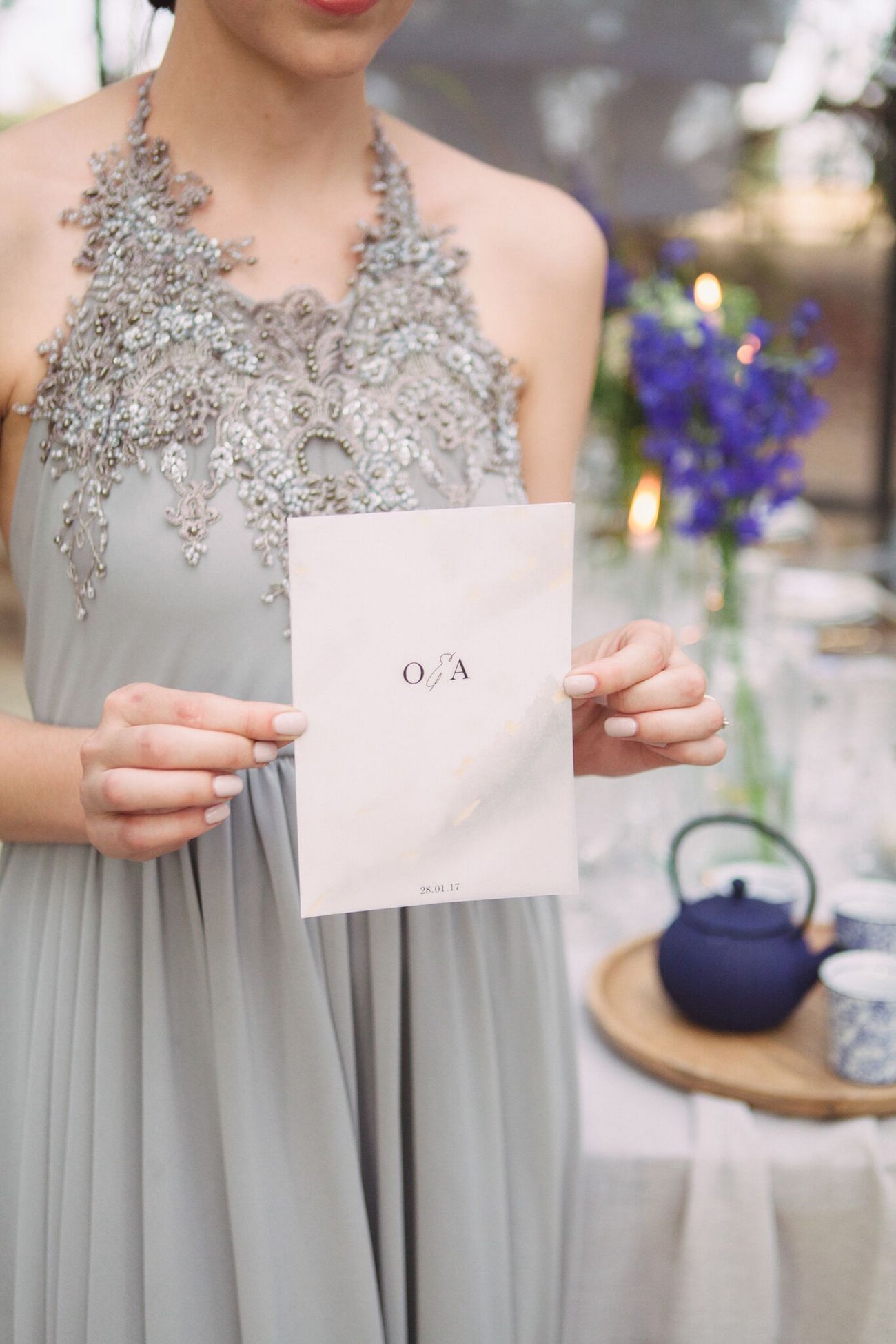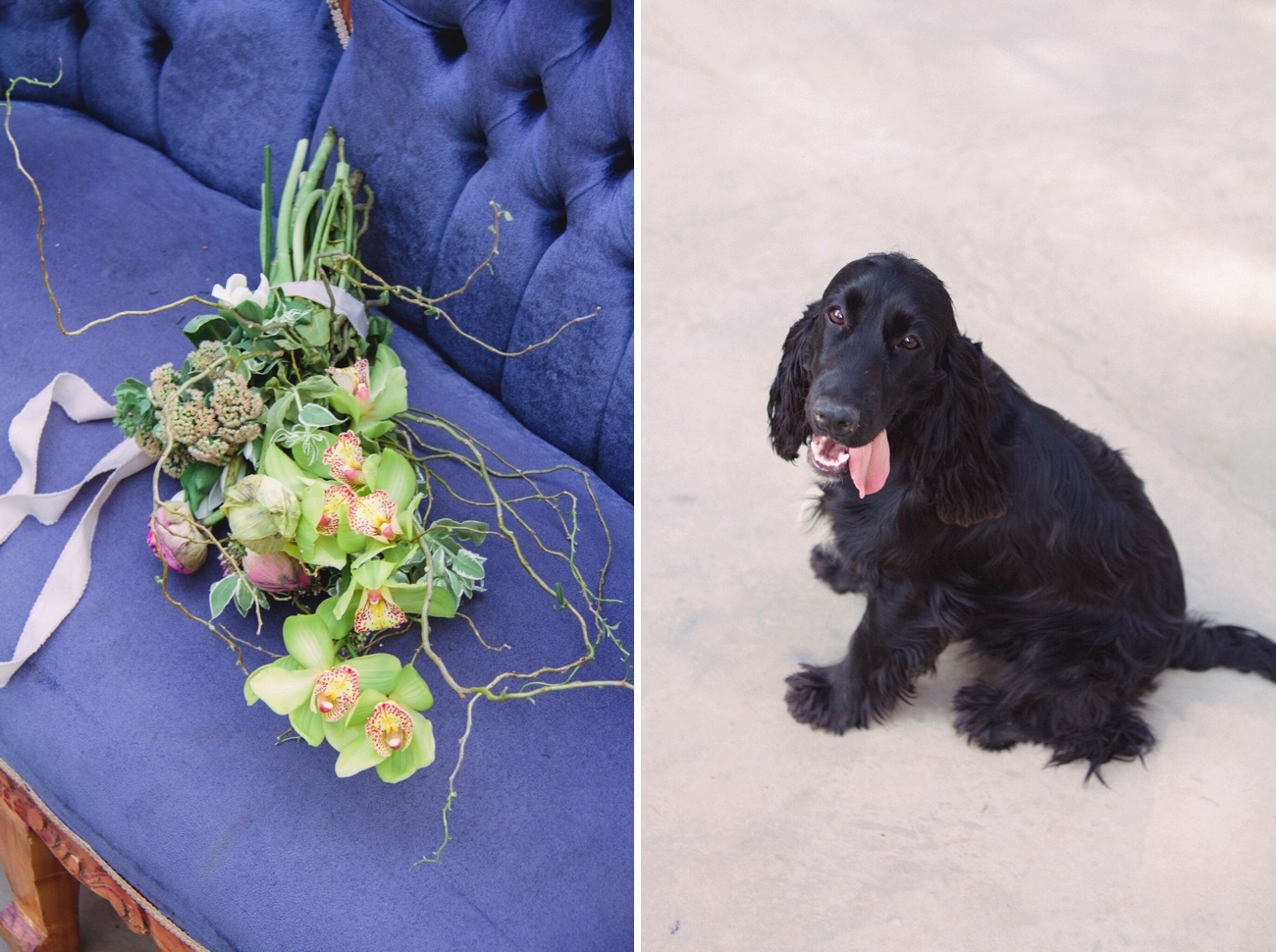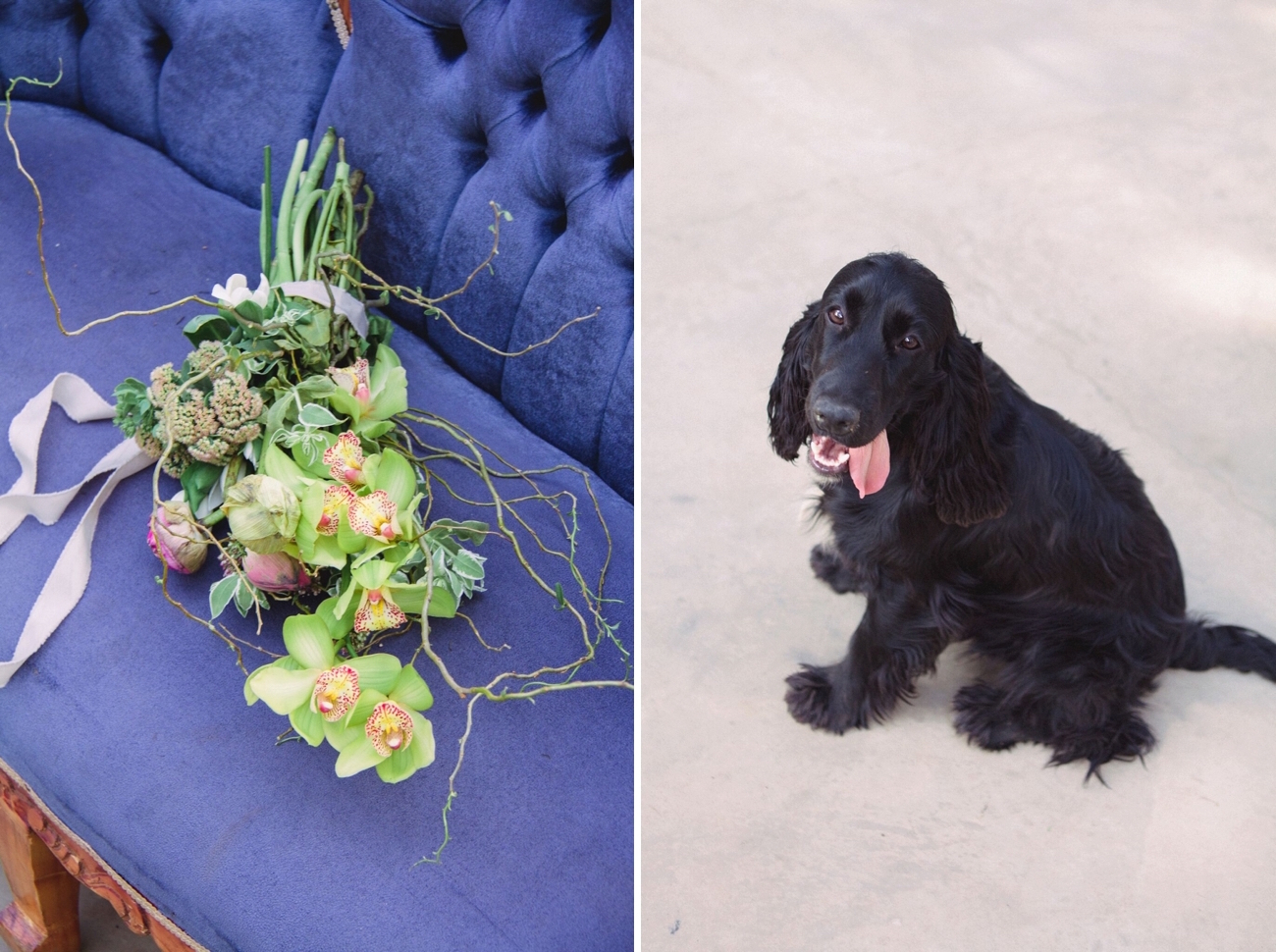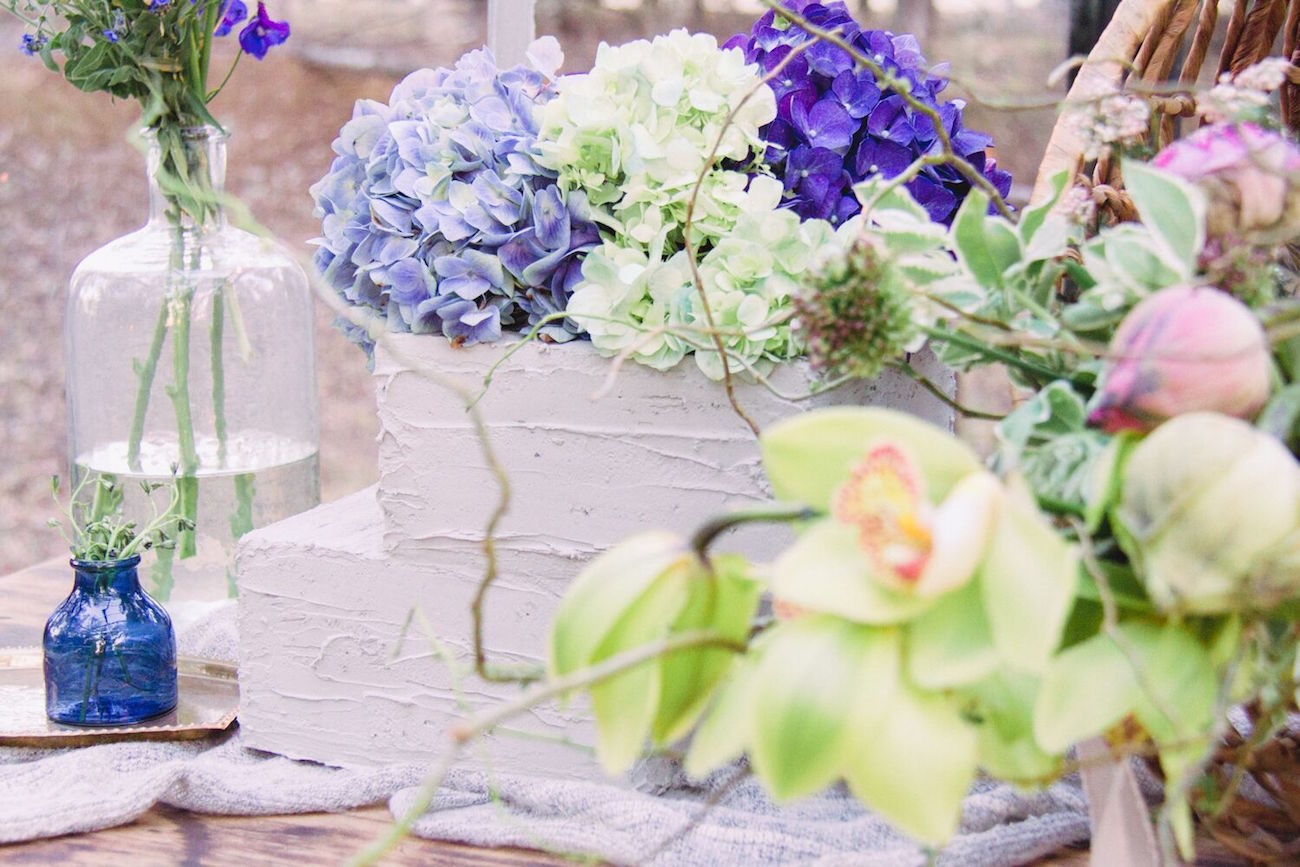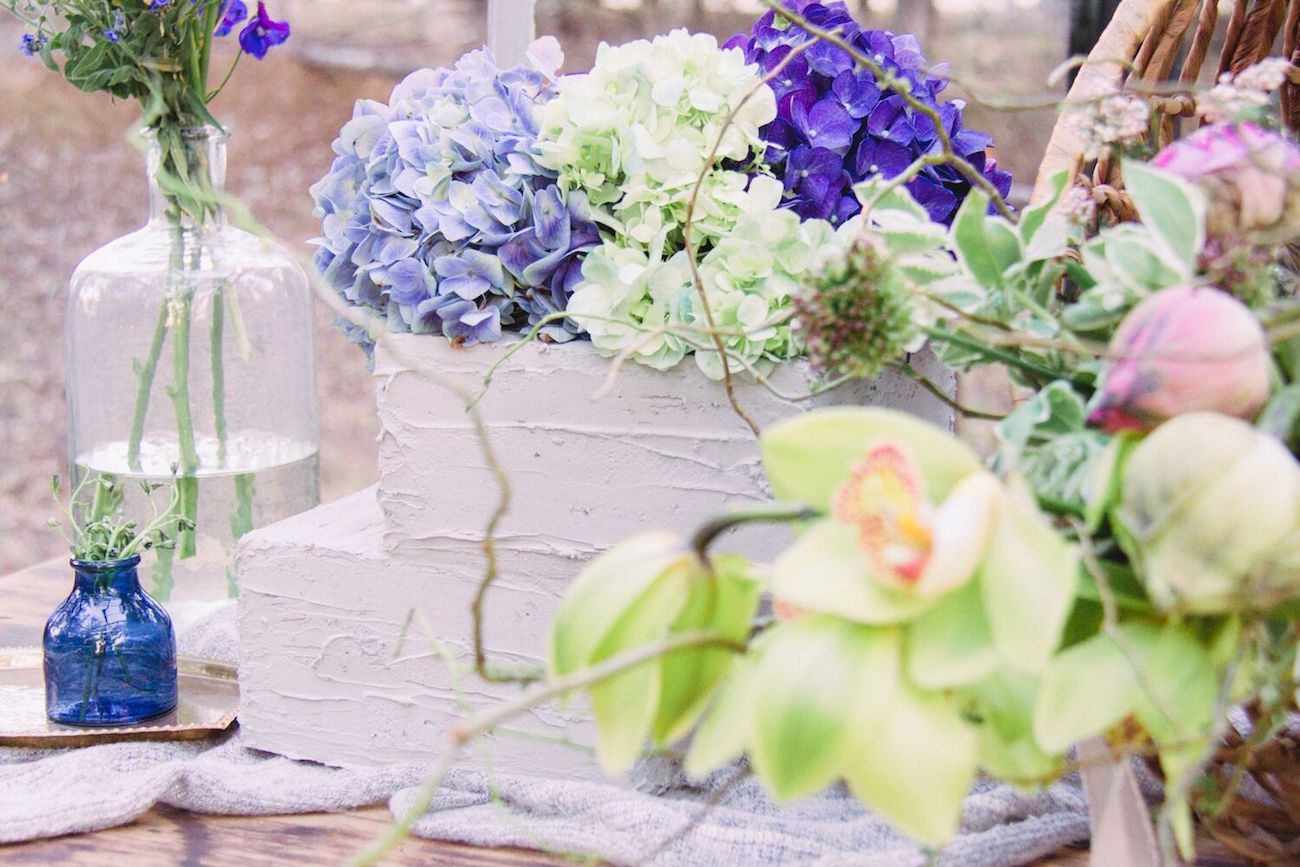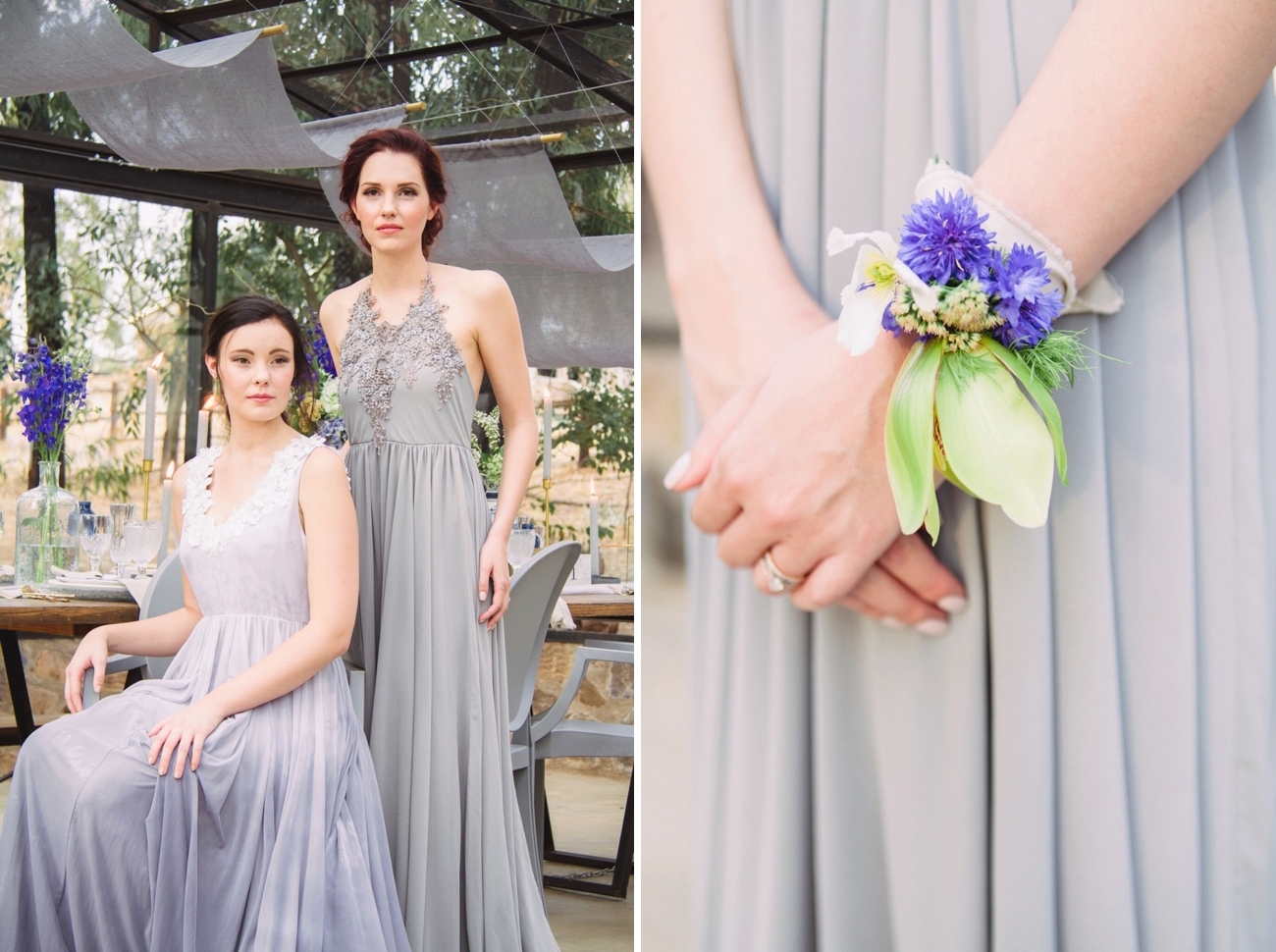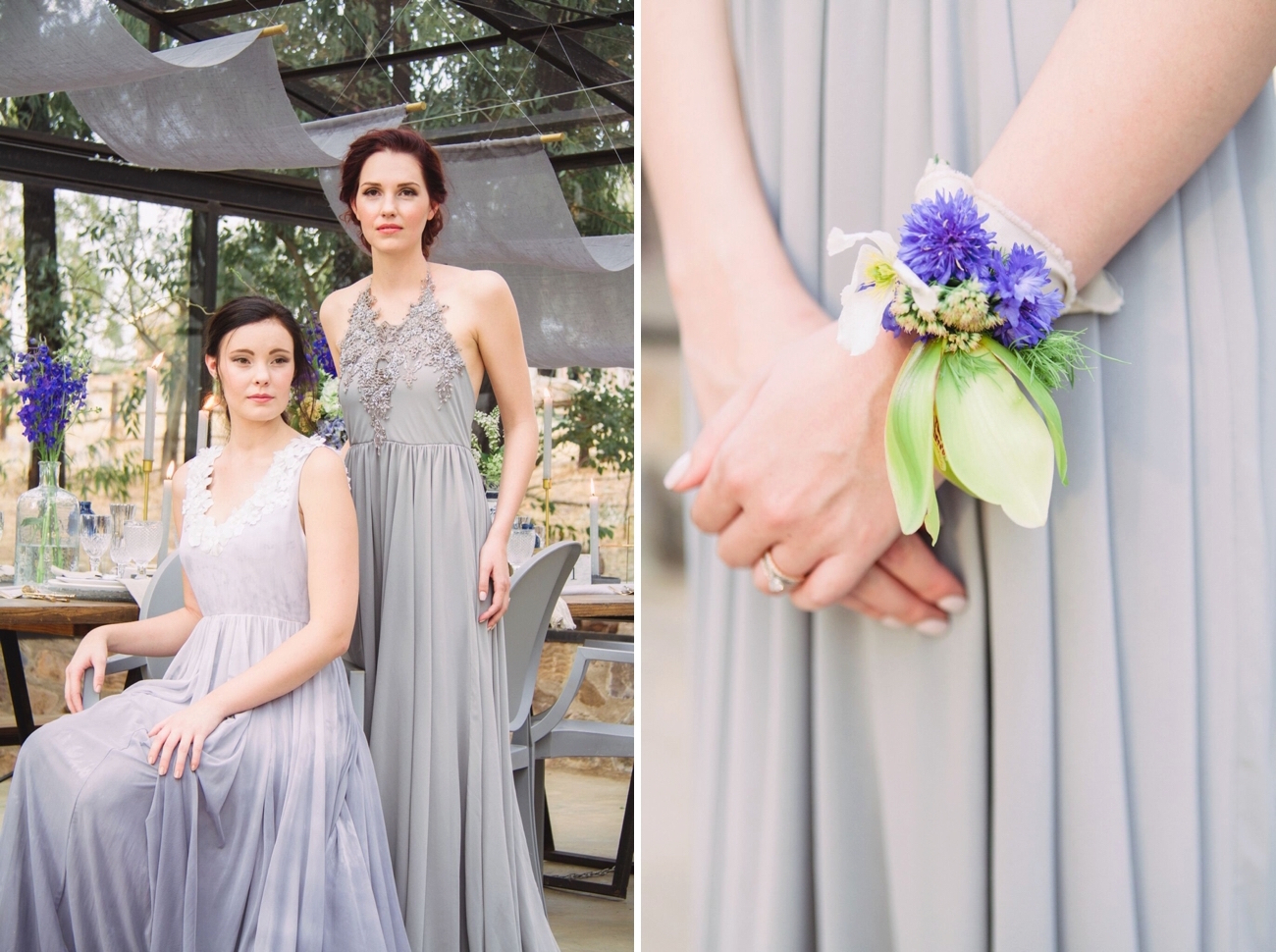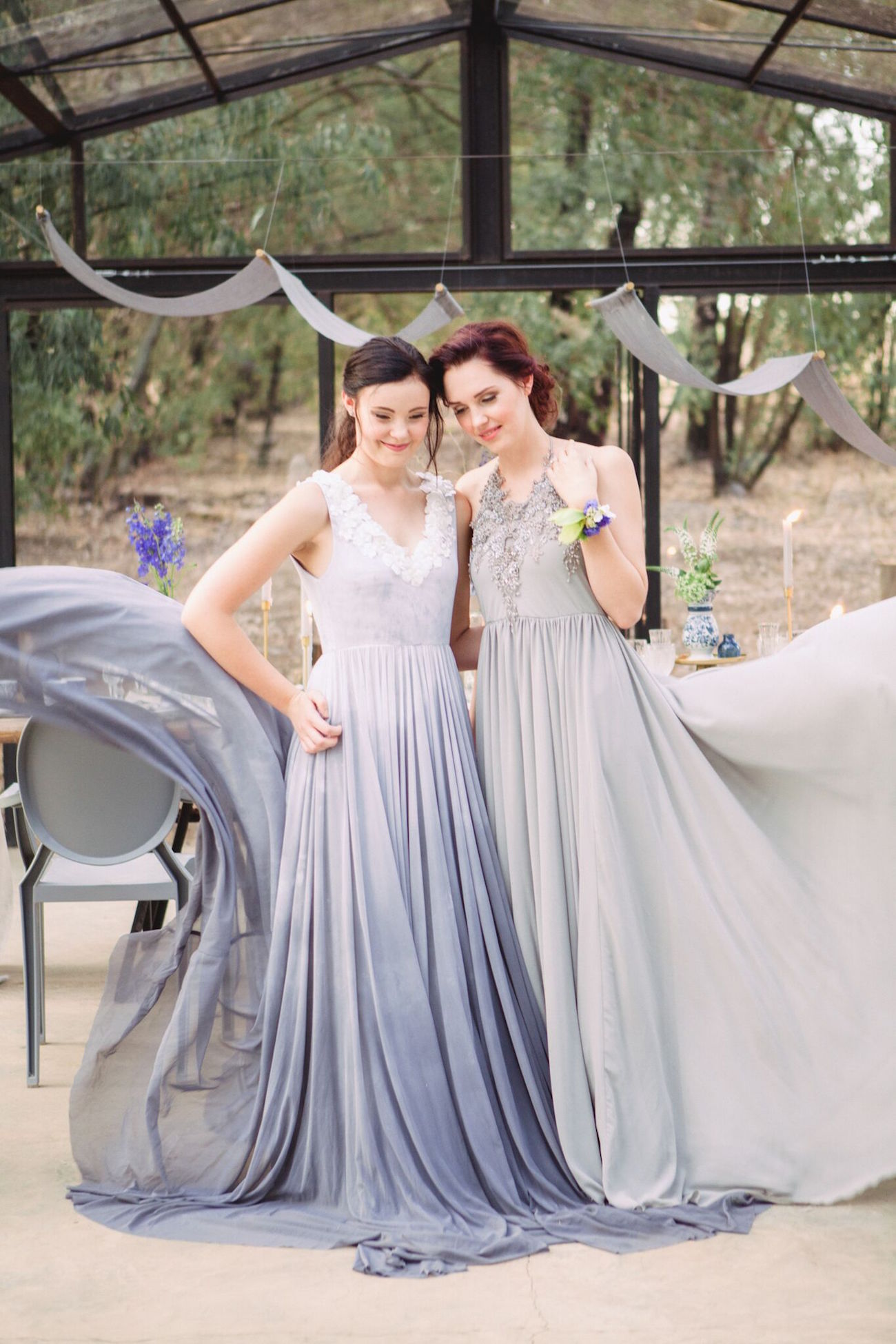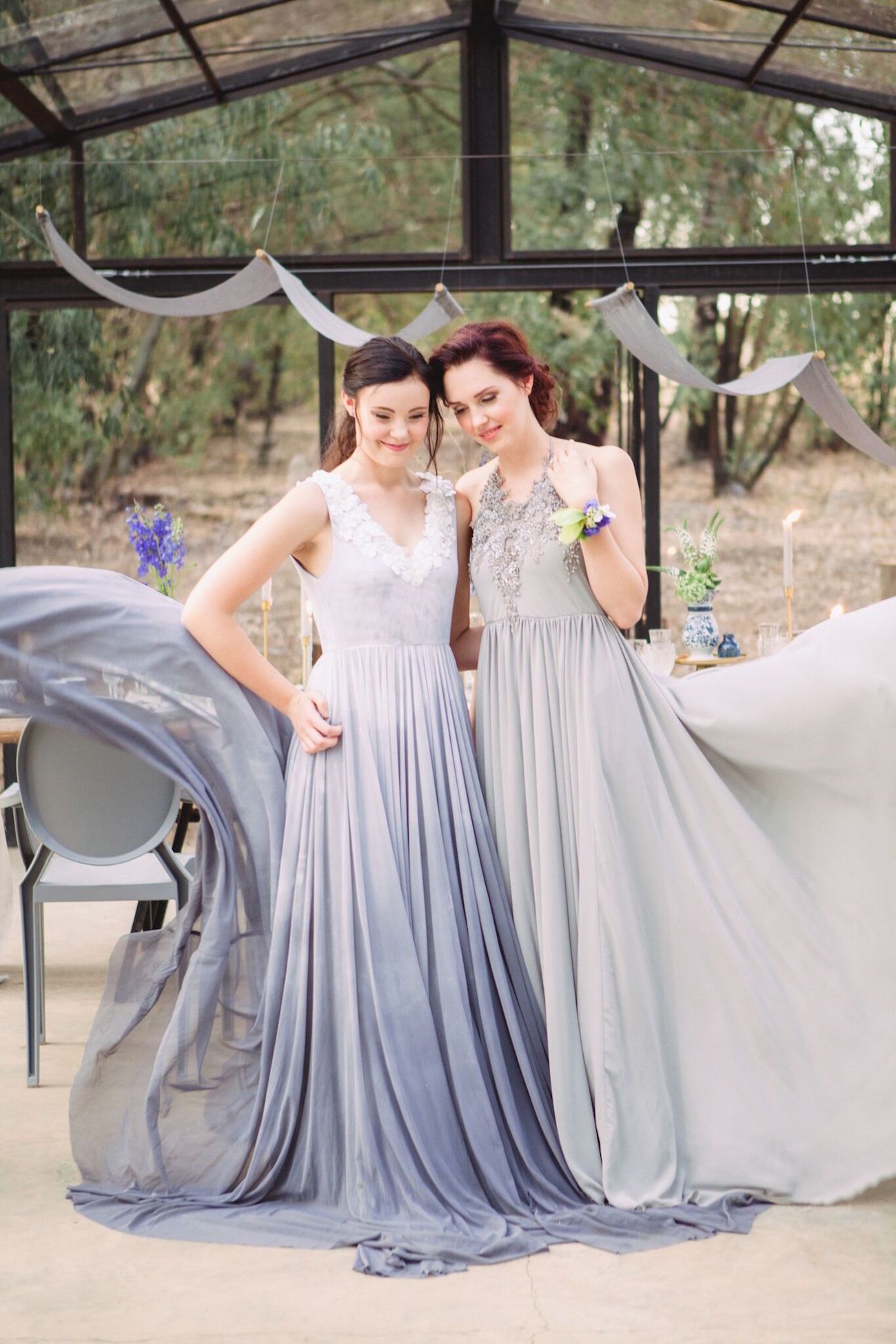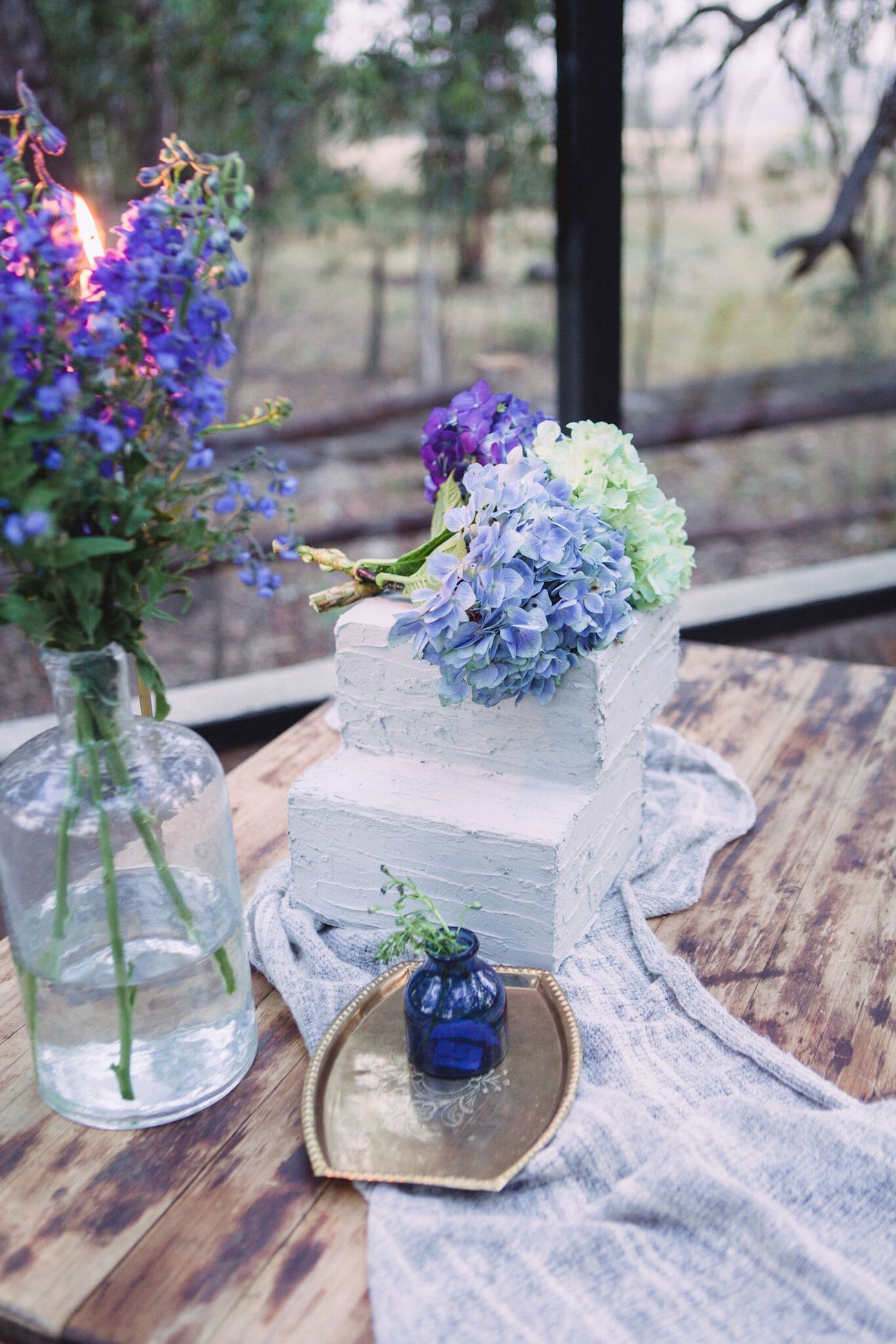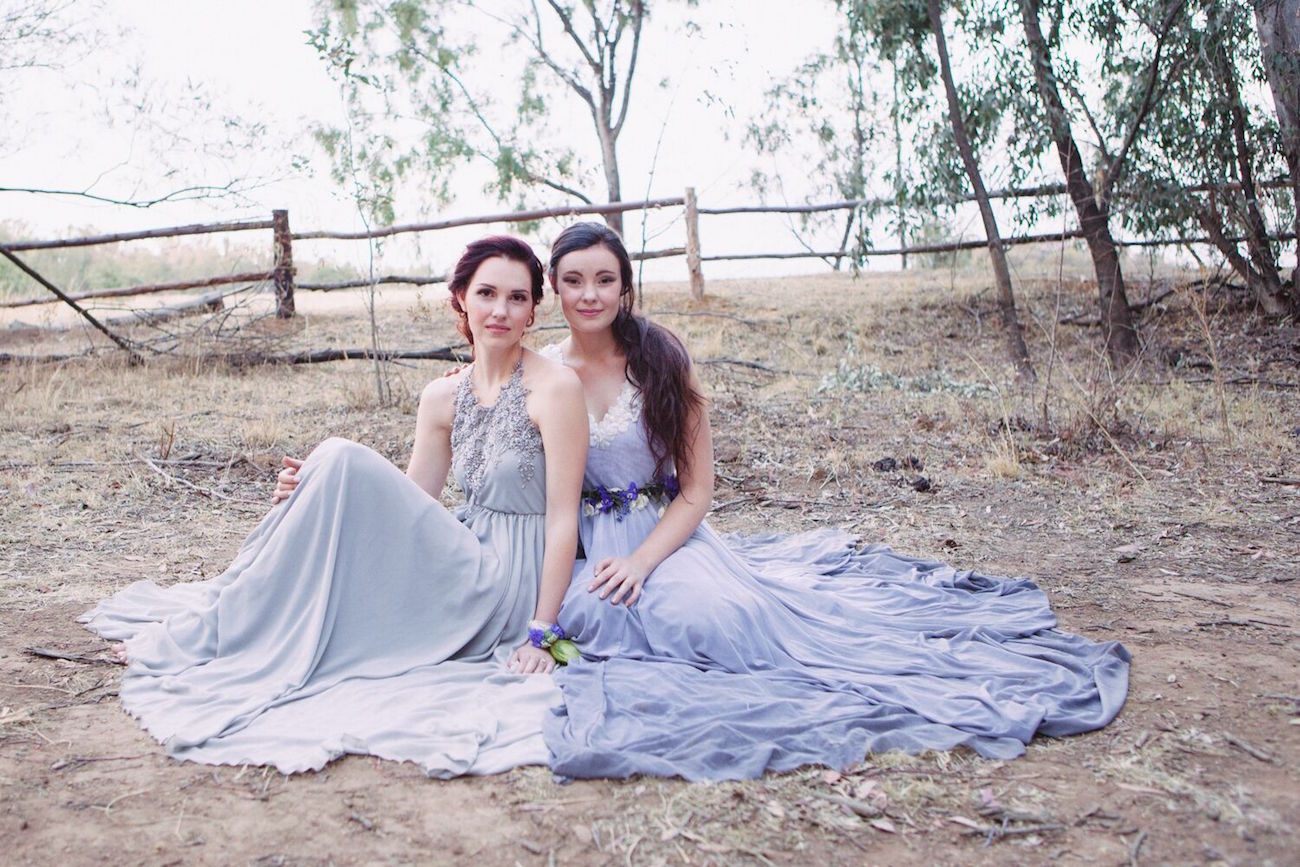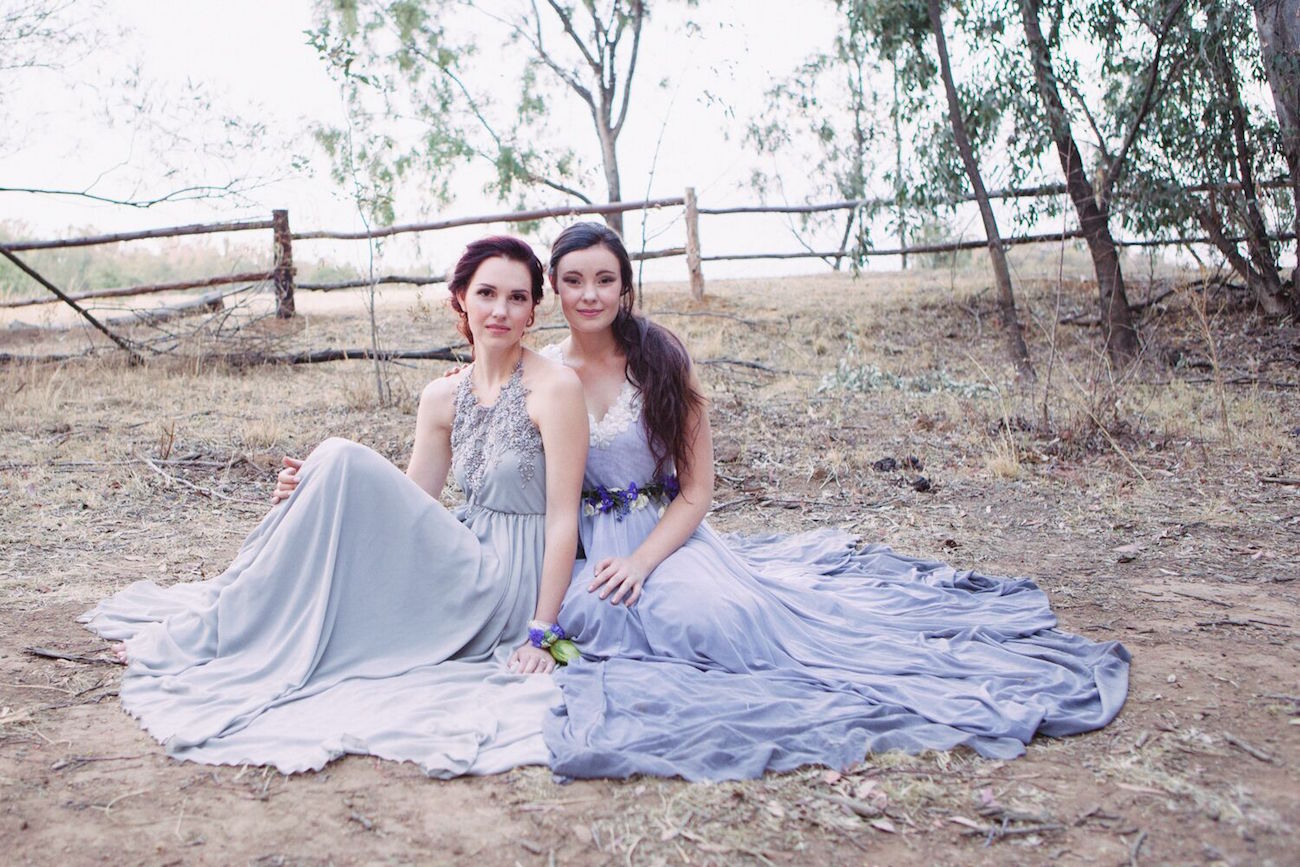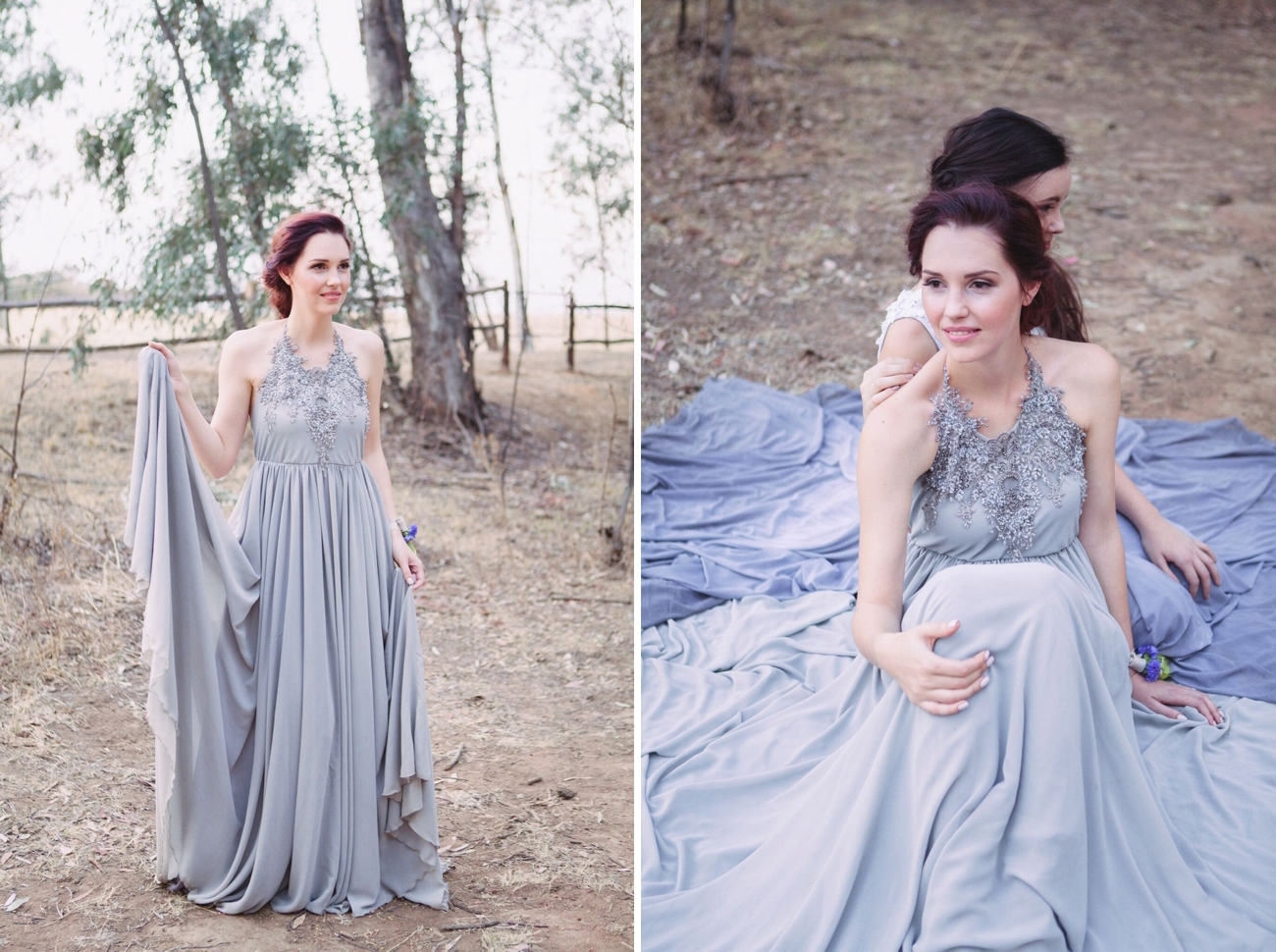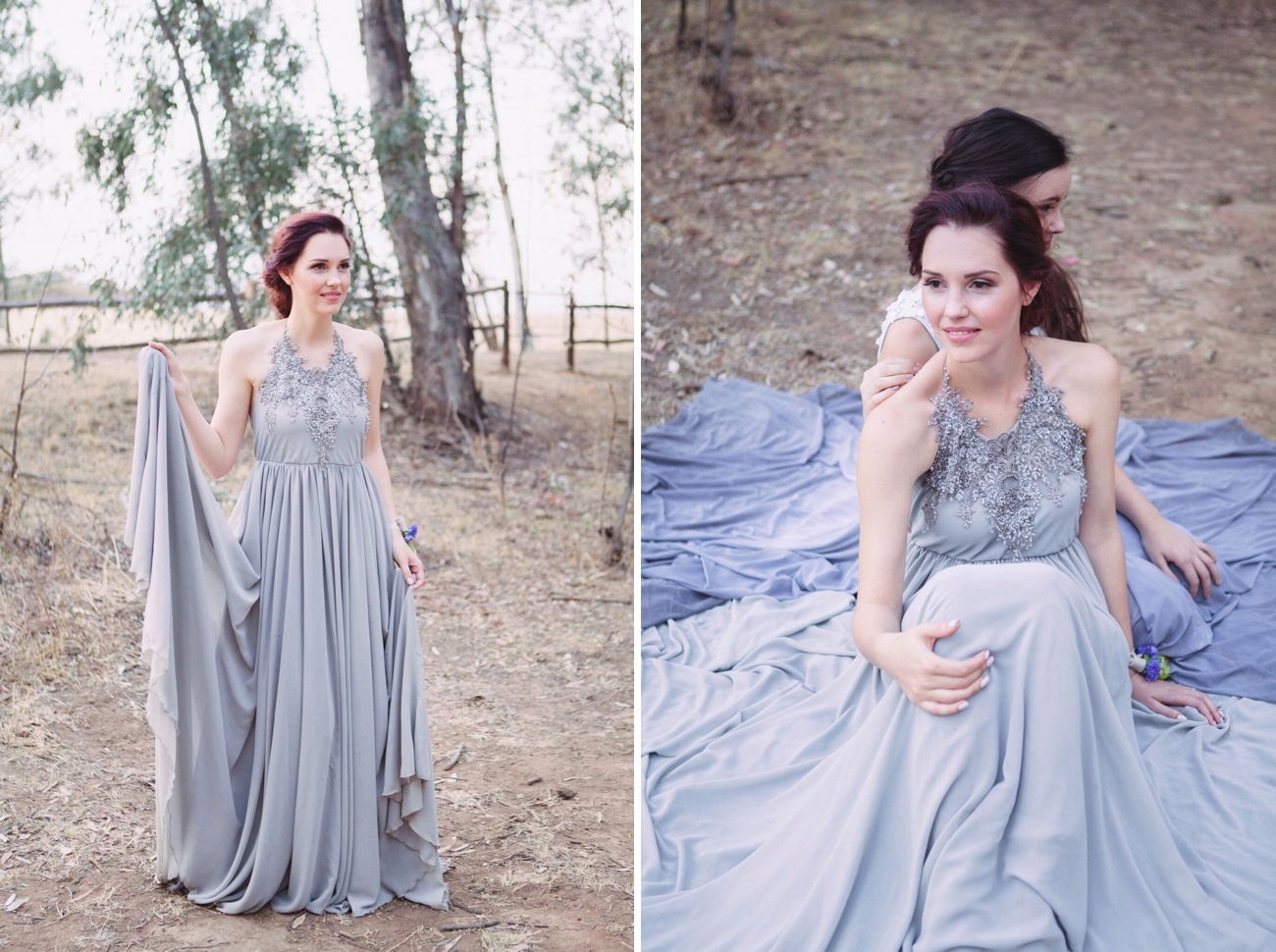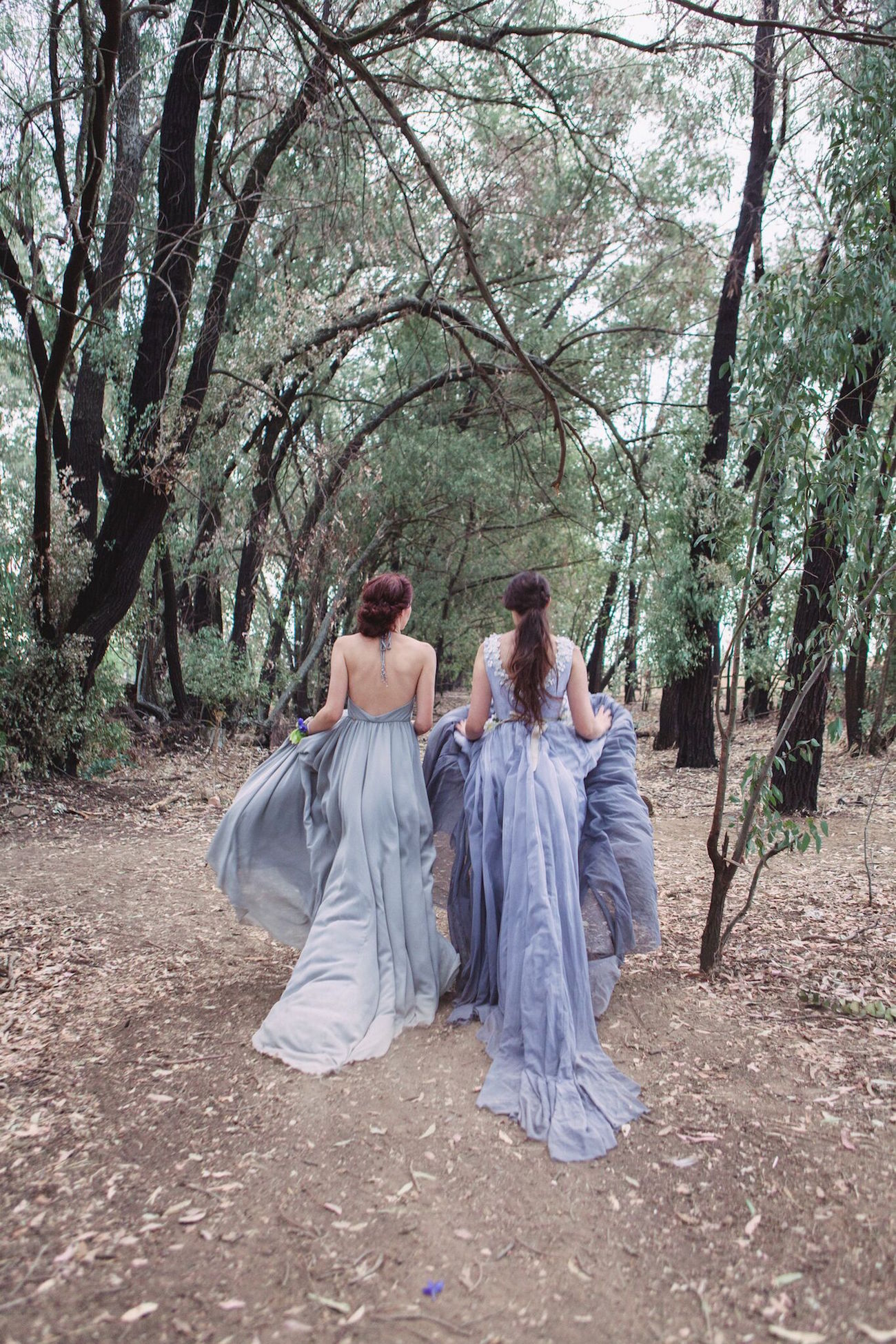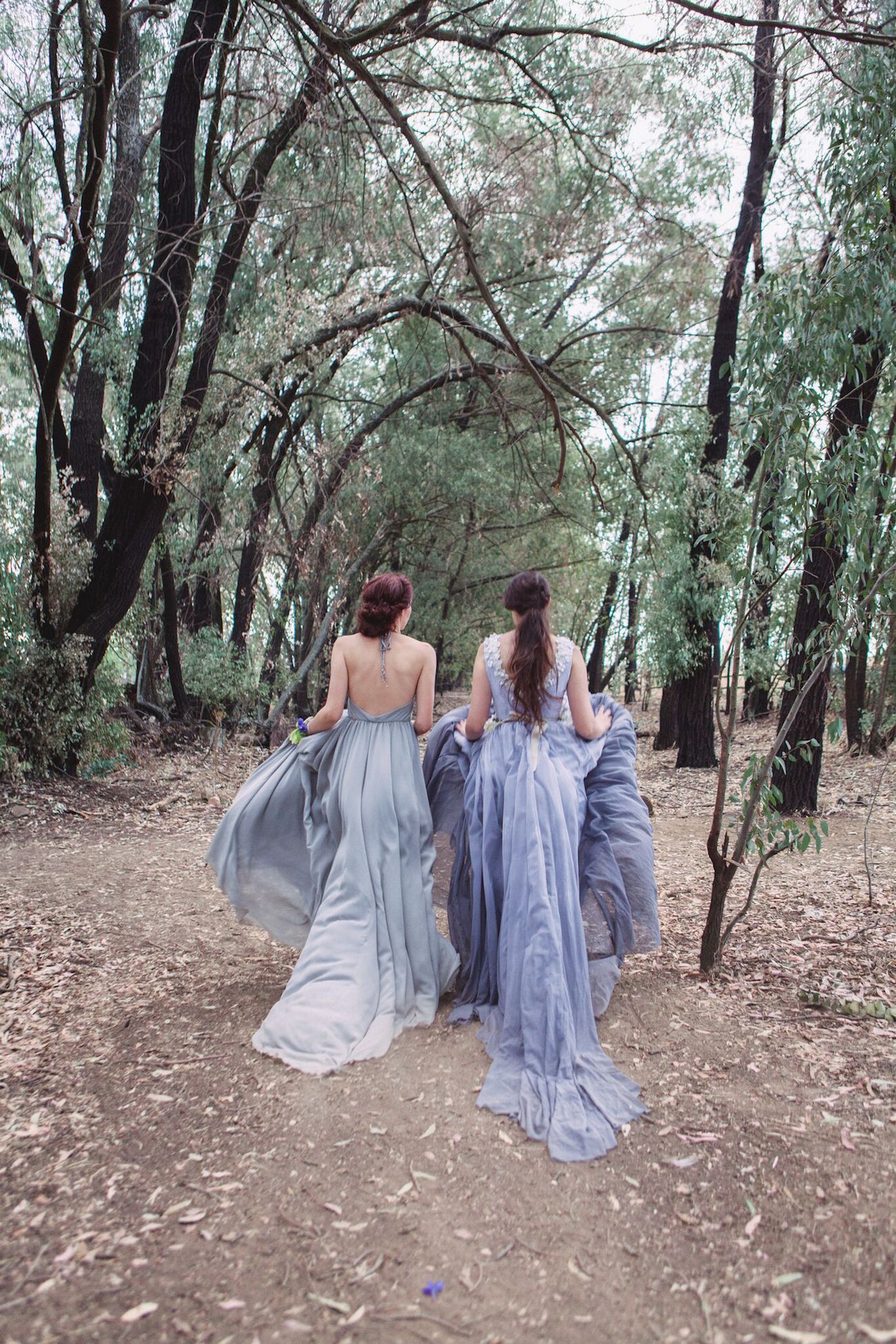 SERVICE PROVIDERS
Photography: Dust and Dreams Photography | Concept & co-ordination: Elaine van der Merwe-Louwrens for Dust and Dreams Photography | Floral & table design: You & Me with Cabbage and Rose | Stationery & stationery styling: Silk & Twine | Venue: Cabbage and Rose | Cake: Rickie van der Merwe | Dresses: Silver Swallow Design + Alana Van Heerden | Rings: Stylist's own | Hair & makeup: Sketch & M | Models: Unine Kritzinger, Nadia Lourens