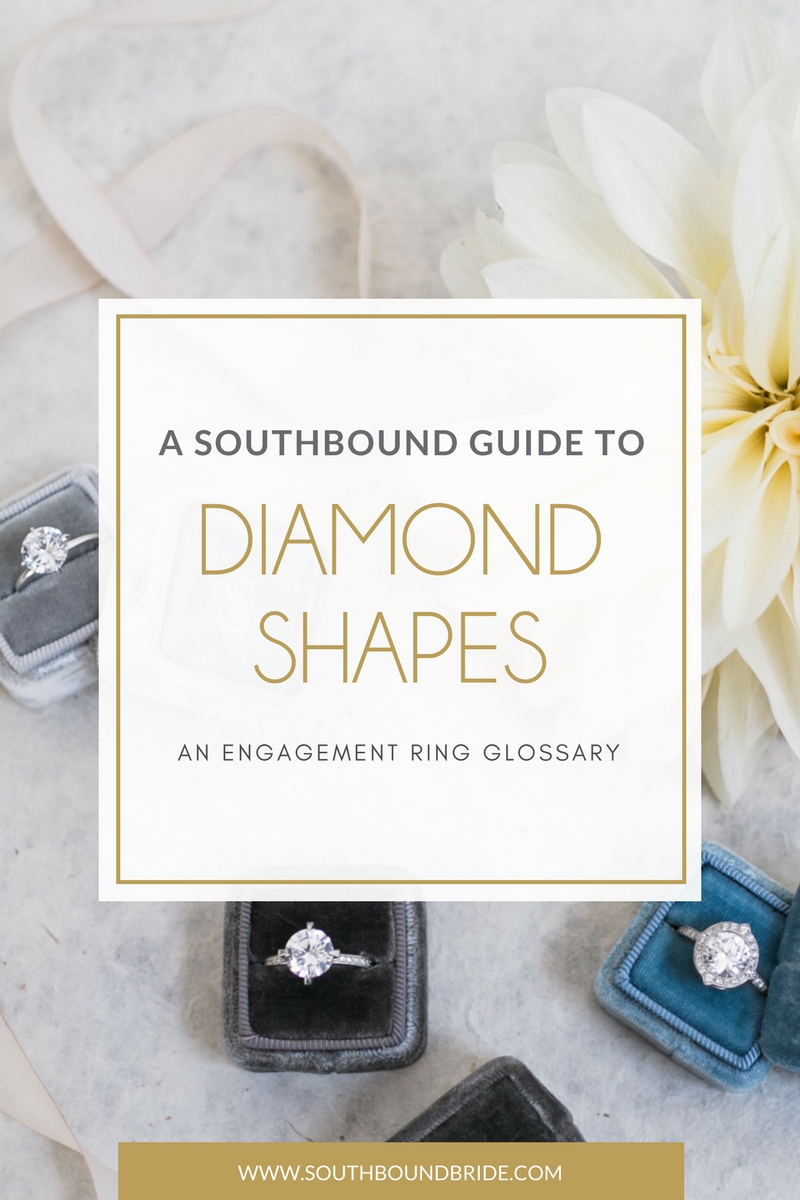 Image: Alexis June Weddings /Aisle Society/Susie Saltzman on SouthBound Bride

The French are said to die for love, they delight in fighting duels. But I prefer a man who lives and gives… expensive jewels. So sang Marilyn Monroe, and so I agree (plus, isn't that a fabulous lyric?) and that's why year after year, alongside all the pretty dresses and details, I find myself sighing at the diamond rings on our brides' elegant hands. And while I'm a sucker for a classic round solitaire, I love the variety that modern brides have in their choices – different settings, different metals, and for many, non-traditional stones (because diamonds may be a girl's best friend, but I also love hanging with morganite, sapphire, etc.) Another area of choice if you're on the engagement ring hunt right now is shape (sometimes called cut, but not the cut referred to in the Big 4: Cut, Colour, Clarity, Carat, which is rather the reflective quality of a diamond). There are actually a huge range of diamond shapes or cuts that you can choose. And, while the ones best suited for sparkle are the old classics (round, cushion), the fancy cuts, as they're called, can make up for it in uniqueness (after all, how many of your friends are rocking a trillion?) We've rounded up some of the more popular shapes in this comprehensive guide to diamond shapes, along with lots of pretty, pretty rings from Etsy to show them off at a range of price points.
*Links in bold denote affiliate links. The cost to you remains the same, but SBB may receive a commission for any sales made.
ROUND BRILLIANT CUT
The round brilliant cut is by far the most popular, accounting for 75% of all diamonds sold. It's also the one with the most fire and brilliance (aka sparkliness!) A classic, and for good reason – its 58-facet design reflects light like no other.
Rings: 1.00ct Round Brilliant Cut Diamond by JeVieUK (left) | Double Halo Engagement Ring by GerryTheJeweller (centre) | Round Cut Solitaire Engagement Ring by GerryTheJeweller (right) – all via Etsy

CUSHION CUT
The cushion cut is a cross between an oval and a rectangle with rounded corners, producing the pillow shape that gave it its name. They were once the standard (the same way that round cuts are now) and so are sometimes referred to as 'antique cut'. Much loved for their sparkle!
Rings: Cushion Cut Engagement Ring by ArmanteDesign (left) | Cushion Cut Engagement Ring 14k White Gold CZ by wandj4Less (centre) | 2.82ct Cushion Cut Diamond Engagement Anniversary Ring by Mark Broumand (right) – all via Etsy

EMERALD CUT
The emerald cut was originally developed for actual emeralds, and is sometimes called a step cut because it has long, stair-like facets which, together with its open table, produce a hall of mirrors optical effect. It's rectangular shaped with cut corners, and while it showcases a diamond's clarity beautifully, inclusions and colour are much more apparent.
Rings: Emerald Cut 7 Stone Diamond Ring by NewCenturyCreations (left) | 3.70ct Emerald Cut London Blue Topaz & Diamond Three-Stone Engagement Ring by JewelryPoint (centre) | Simulated Diamond Solitaire Engagement Ring by aptE (right) – all via Etsy

OVAL CUT
A beautiful, modern alternative to the classic round shape, oval cut diamonds only started appearing in the 1960s. They have a similar brilliance to the rounds, but their elongated shape is particularly flattering to give the illusion of long, slender fingers.
Rings: Stone Vintage Diamond Ring by DiamondsMine (left) | Oval Aquamarine & Diamond Halo by McCallsJewellers (centre) | Oval Moissanite Engagement Ring by cldiamonds (right) – all via Etsy

MARQUISE CUT
Shaped like a rugby ball and said to have been named after the smile of the Marquise de Pompadour, the marquise diamond is a modified brilliant cut, usually set with prongs on either end to protect the points from chipping. It's great for maximising carat weight – i.e. perceived size.
Rings: Marquise Diamond Ring by NeenasTwinkle (left) | Platinum Engagement Ring Marquise Engagement Ring by DiamondsMine (centre) | Platinum Diamond Engagement Ring by capucinne (right) – all via Etsy

PEAR CUT
If a marquise and an oval diamond met and had lots of little diamond babies, they would be pear cut. Their teardrop shape is a unique look and one which, like the marquise, elongates fingers when the point is worn facing away from the body. Look out for excellent symmetry when purchasing a pear shape – the point should line up with the apex of the round end.
Rings: 0.3 carat Pear Diamond Ring by MinimalVS (left) | 2.10ct Pear Shaped Diamond Engagement Ring by Mark Broumand (centre) | 1.26ct Pear Shaped Diamond Engagement Ring by Mark Broumand (right) – all via Etsy

PRINCESS CUT
A square cut with pointed corners, the princess cut is a modern favourite, having first been created in the 1980s. It has a unique colour distribution, and can be cheaper as there's minimal waste produced when cutting them from a rough diamond.
Rings: Platinum 0.50ct F SI2 Princess Cut Diamond Solitaire Engagement Ring by WGJewellery (left) | Princess Cut Engagement Ring by Diamonds Collection (centre) | Princess Cut Engagement Ring by PristineCustomRings (right) – all via Etsy

RADIANT CUT
If you like the shape of a rectangle or square diamond but with the vibrancy of a brilliant, then the radiant cut is your best choice. These diamonds feature emerald cut-style trimmed corners, and combine well with a variety of other shapes.
Rings: Radiant-cut Moissanite & Diamond Engagement Ring by Kobelli (left) | 2.25ct Radiant Cut Diamond Engagement Ring by Mark Broumand (centre) | Three Stone Radiant-cut Diamond Engagement Ring by Kobelli (right) – all via Etsy

OTHER SHAPES
Heart shaped: needs no explanation! The heart shape is a universal symbol of love, making this modified brilliant particularly romantic – however, it's much harder to see the heart shape in a smaller diamond, so bear this in mind when making your selection.
Trillion: Triangular shaped diamonds, more commonly used as accents, but which make a striking solitaire. They do need extra care and cleaning, however.
Asscher: Currently popular with celebrities, the Asscher cut is similar to the emerald cut, with cropped corners and stepped sides, but is a square shape instead of a rectangle.
And just because we love you, we've made you a pinnable graphic to keep all this info handy when you go shopping!

Save
Save
Save