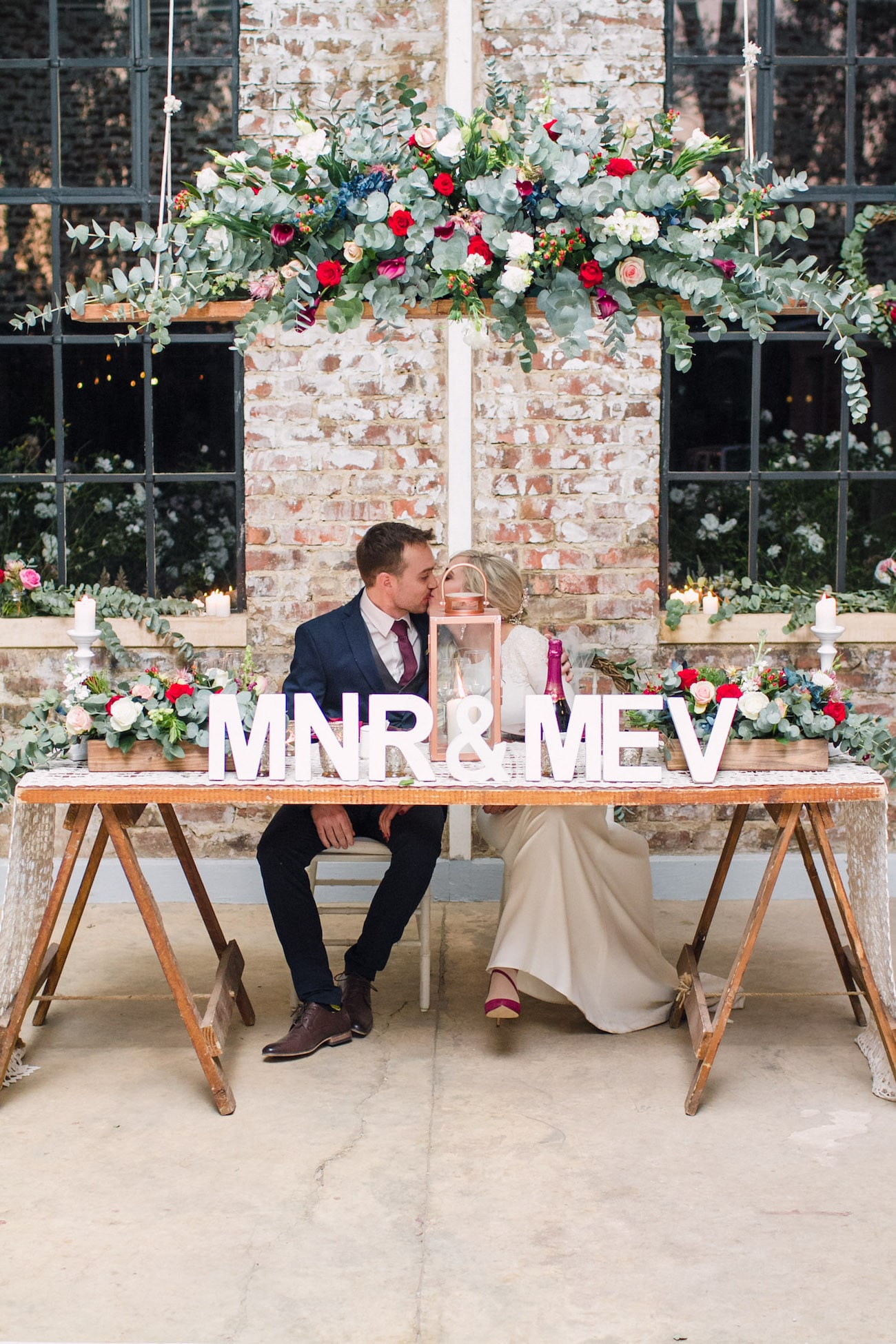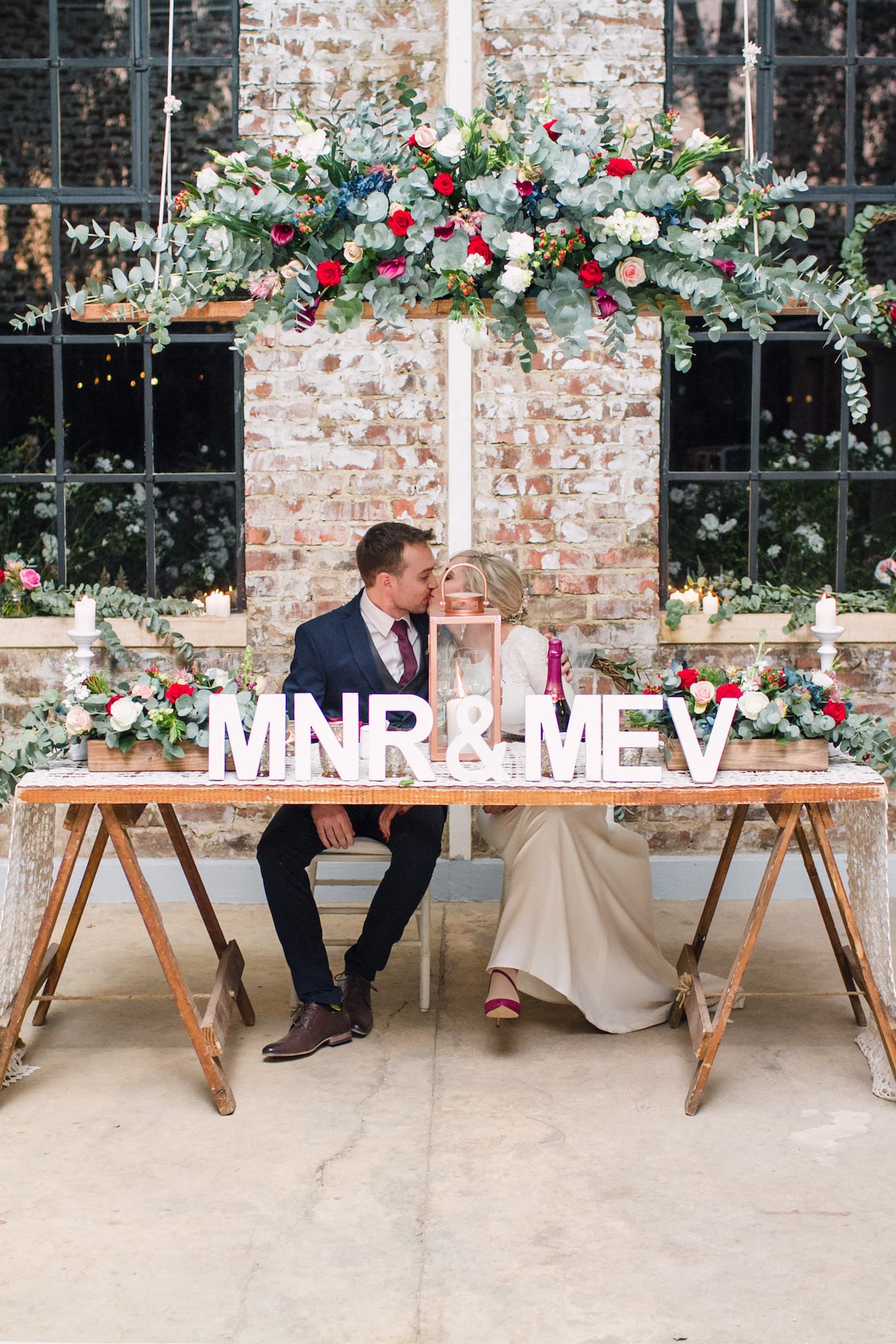 Winter weddings are finally having their day in South Africa you guys, and I could not be happier! Not that summer weddings aren't fabulous, but winter has such a different and lovely vibe, and I adore weddings that take this and turn it into a beautiful celebration. Anja and Christiaan's wedding is one of them. A ceremony in amongst the trees, tables decked in jewel tones, hanging boxes overflowing with florals, evergreen wreaths, not to mention the bride's winter-perfect wedding dress – all tucked inside a July wedding that's enough to make you not even mind a bit of a chill in the air. ust and Dreams' stunning images combine with the palette of warm burgundy, cream, blush and maroon to prove that cold weather weddings might just be the fairest of them all.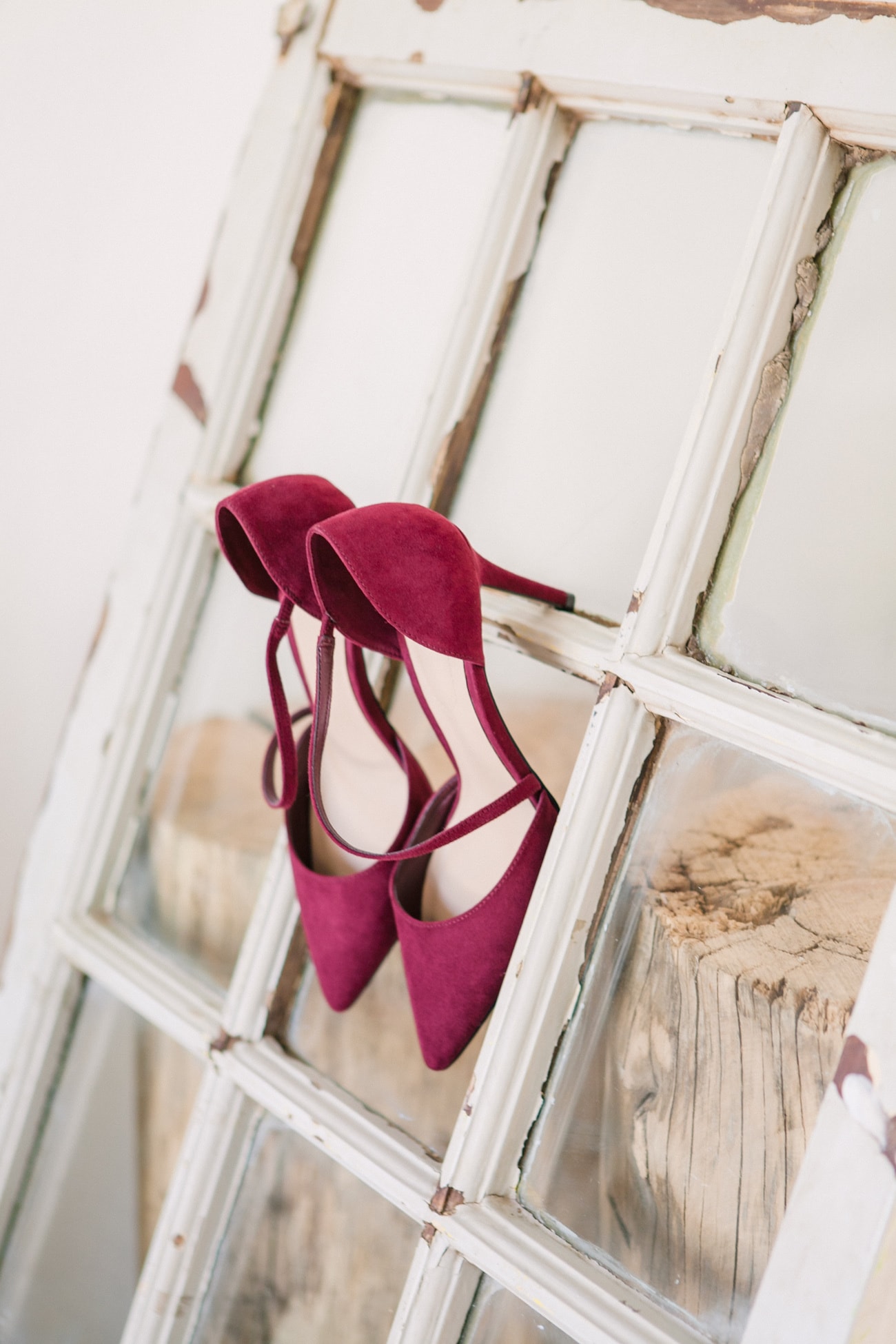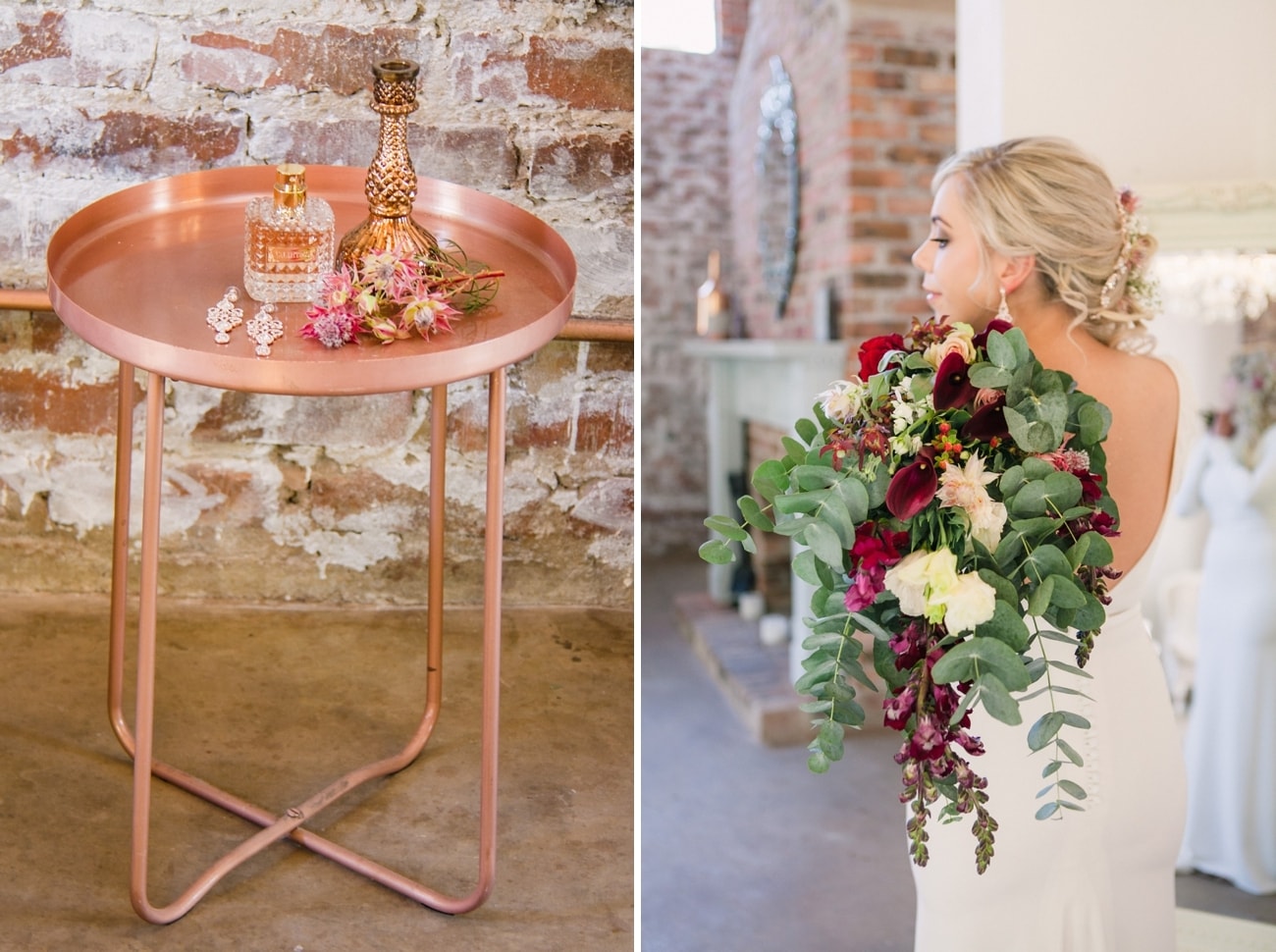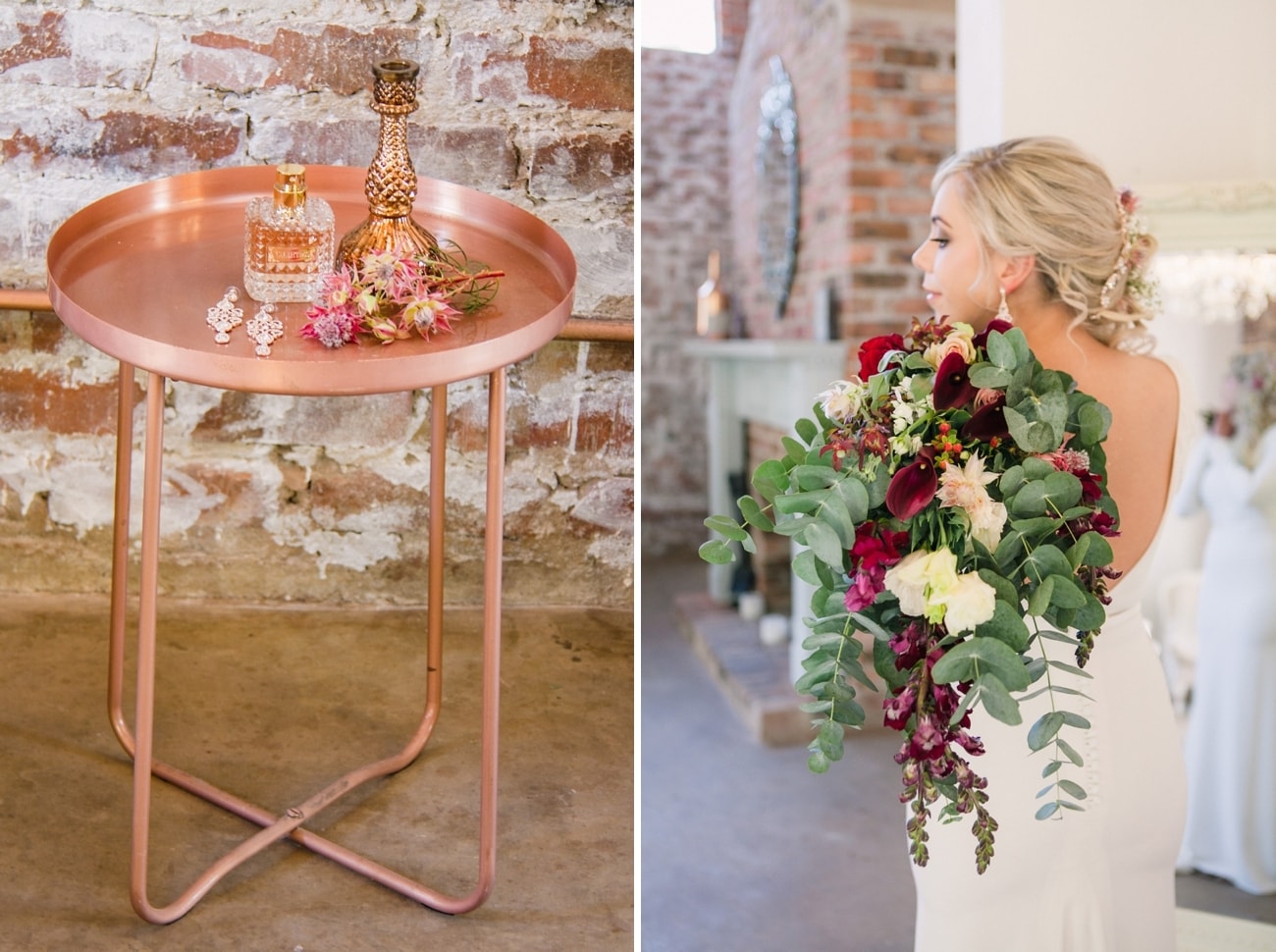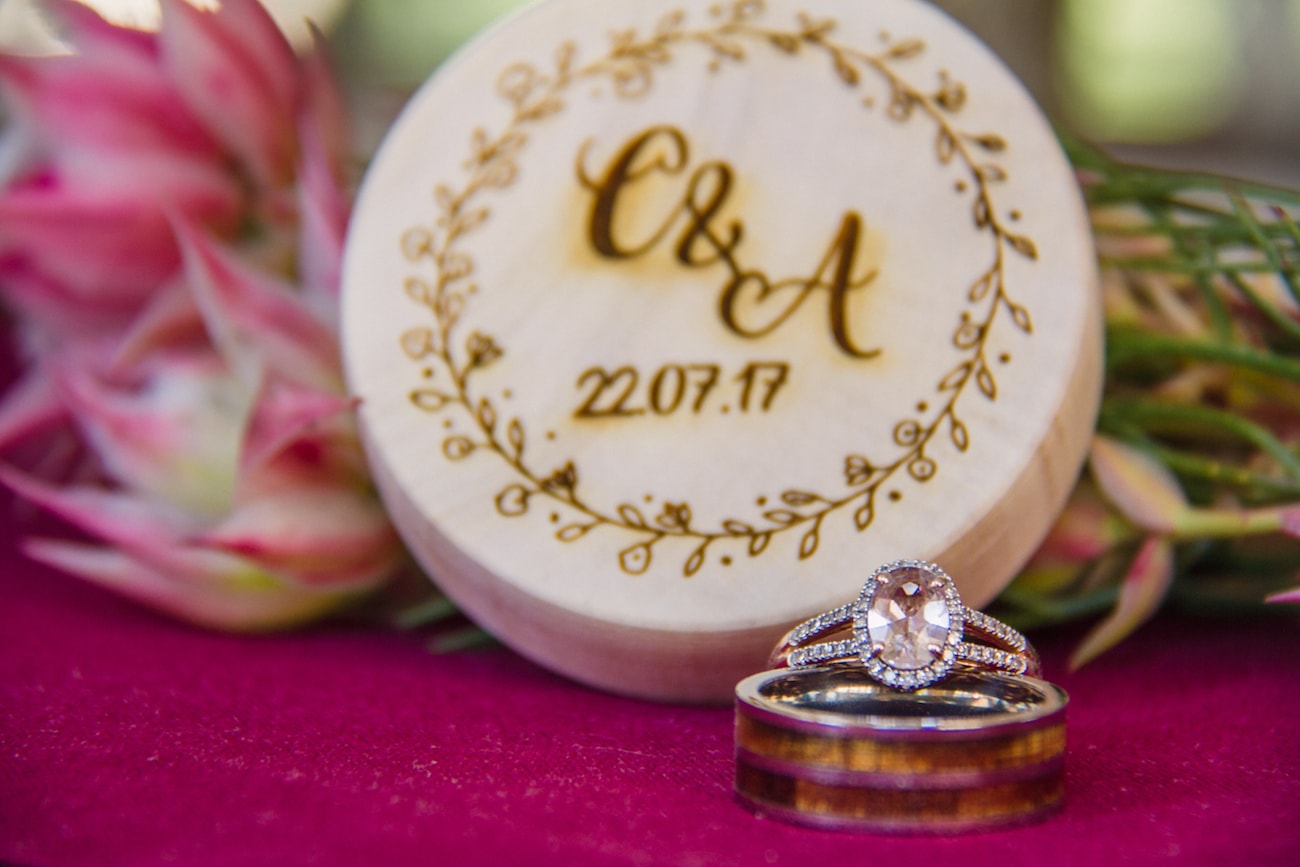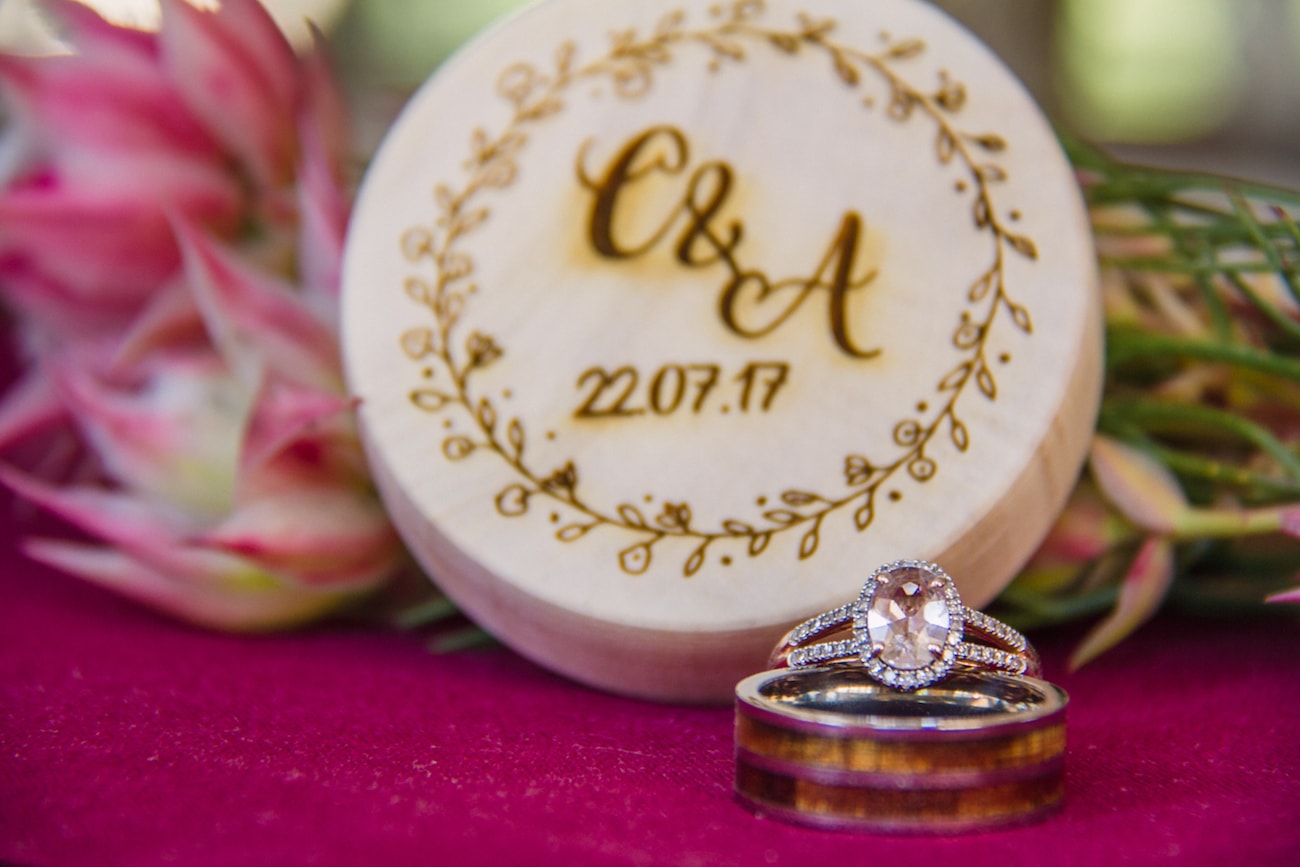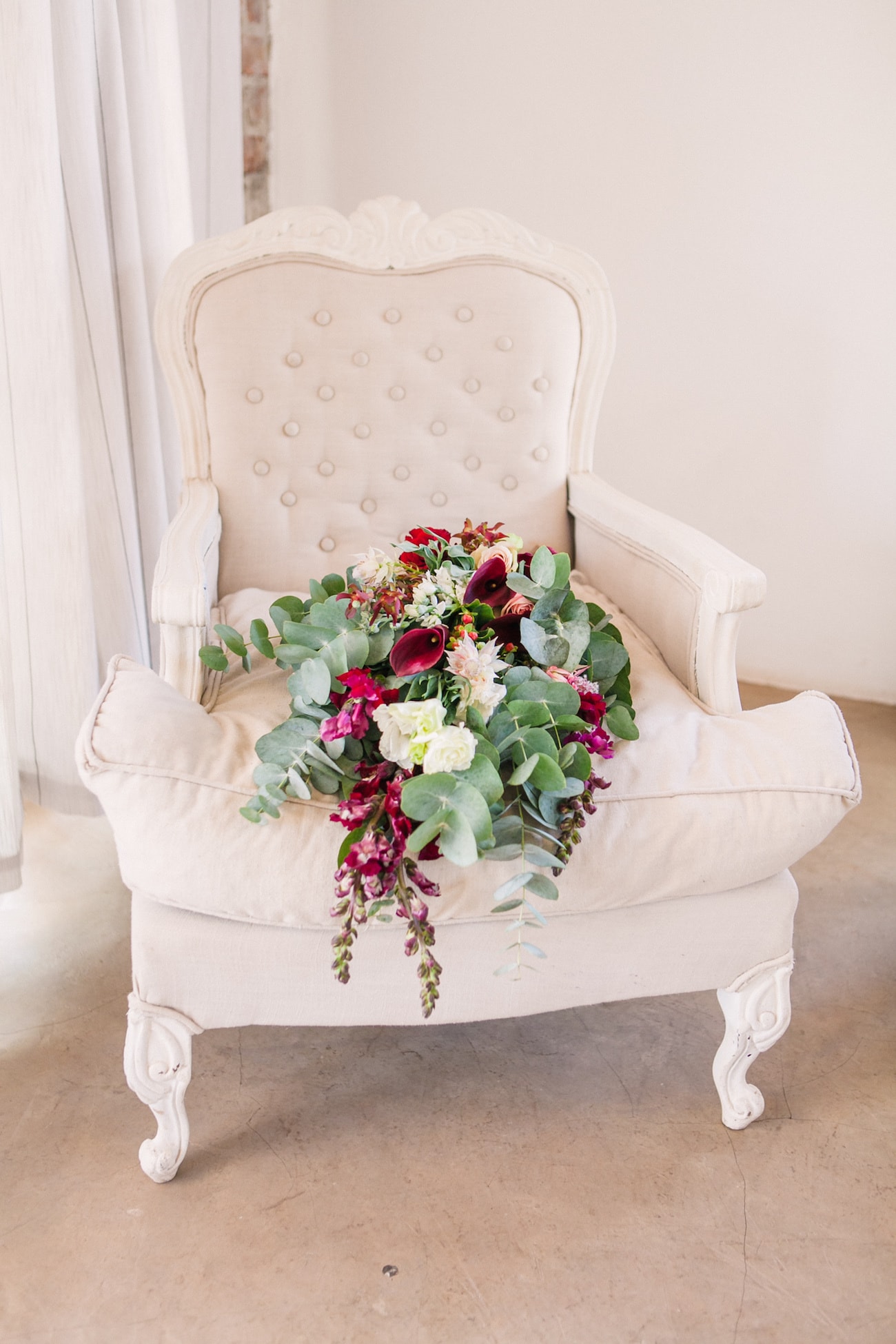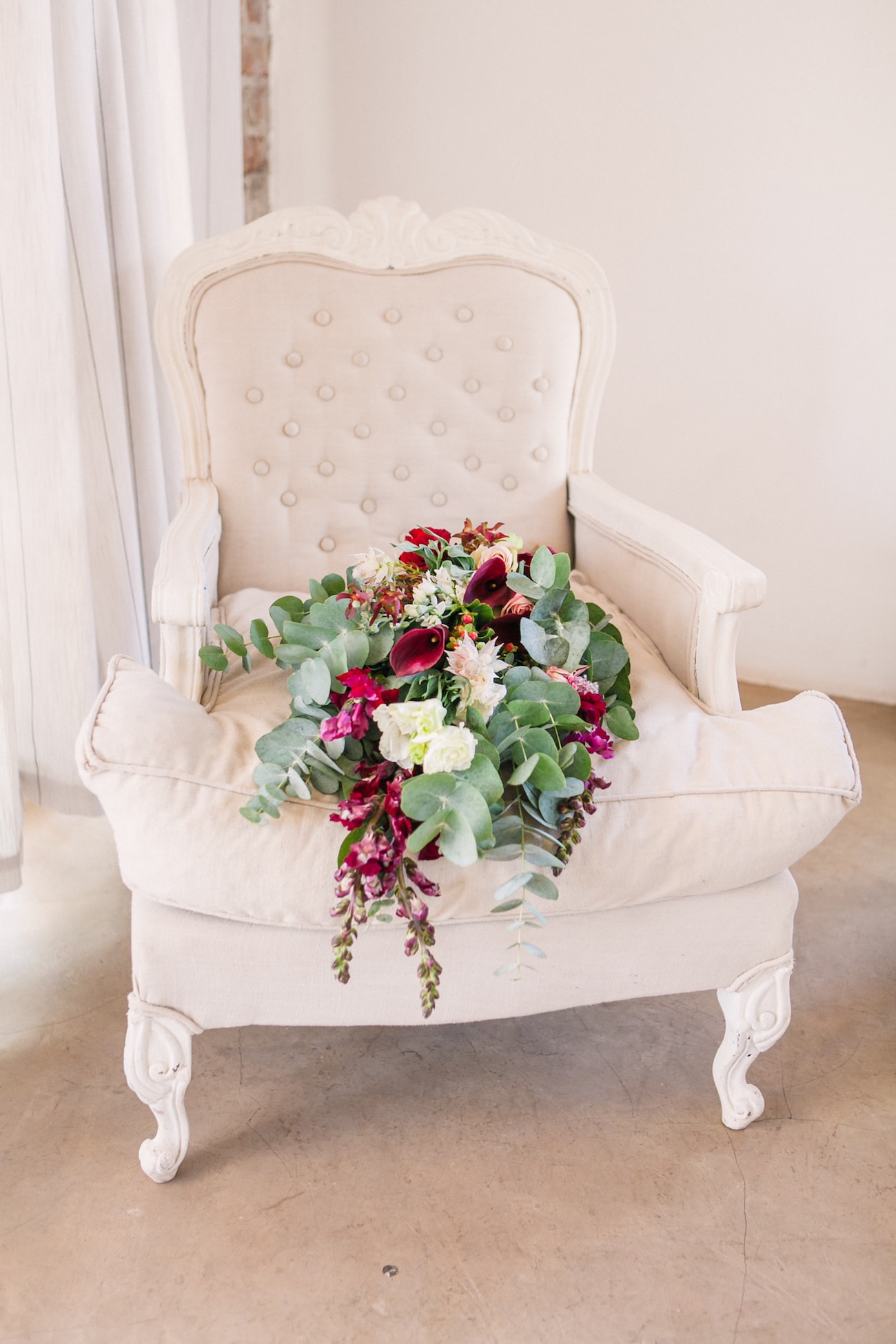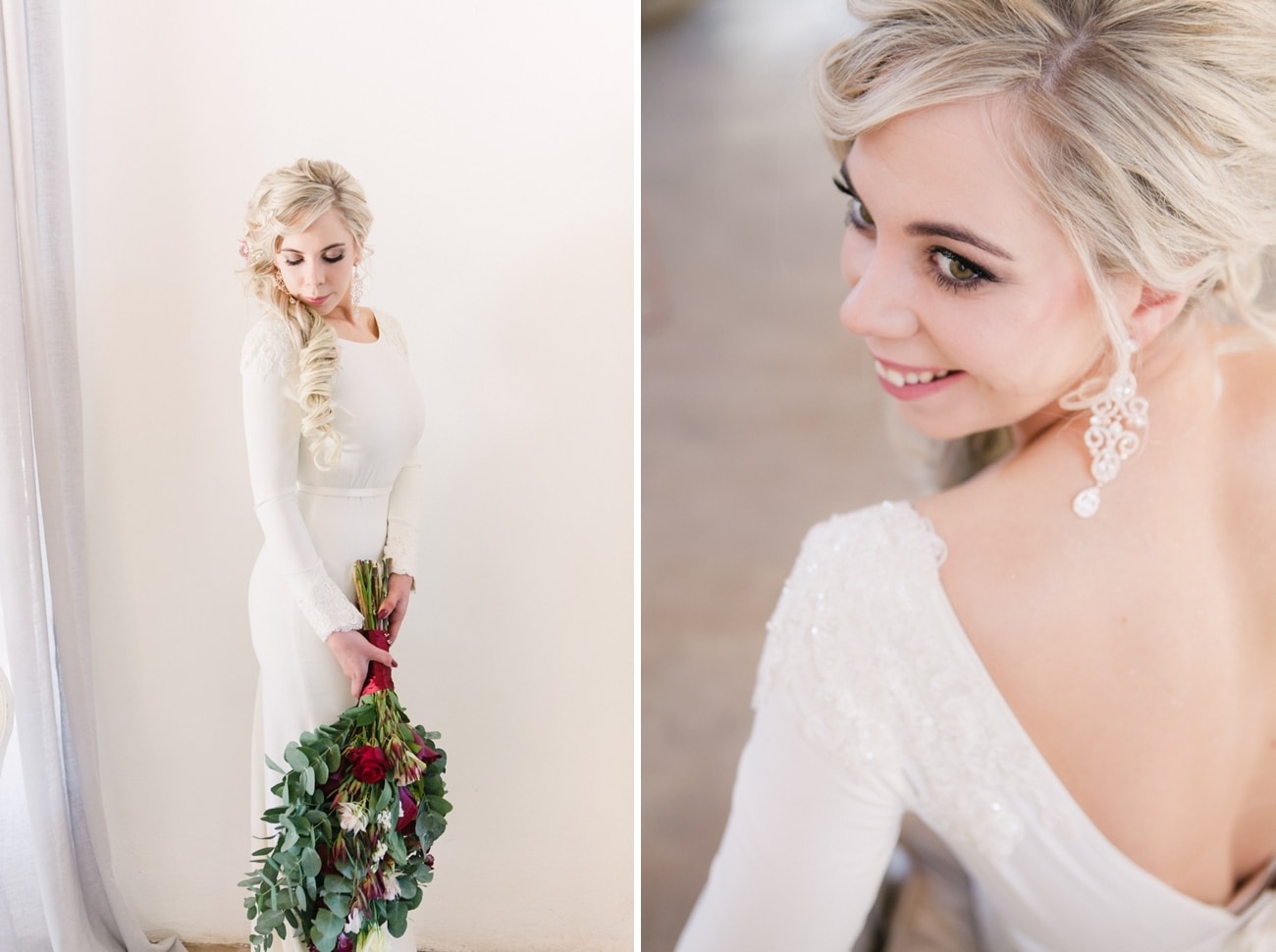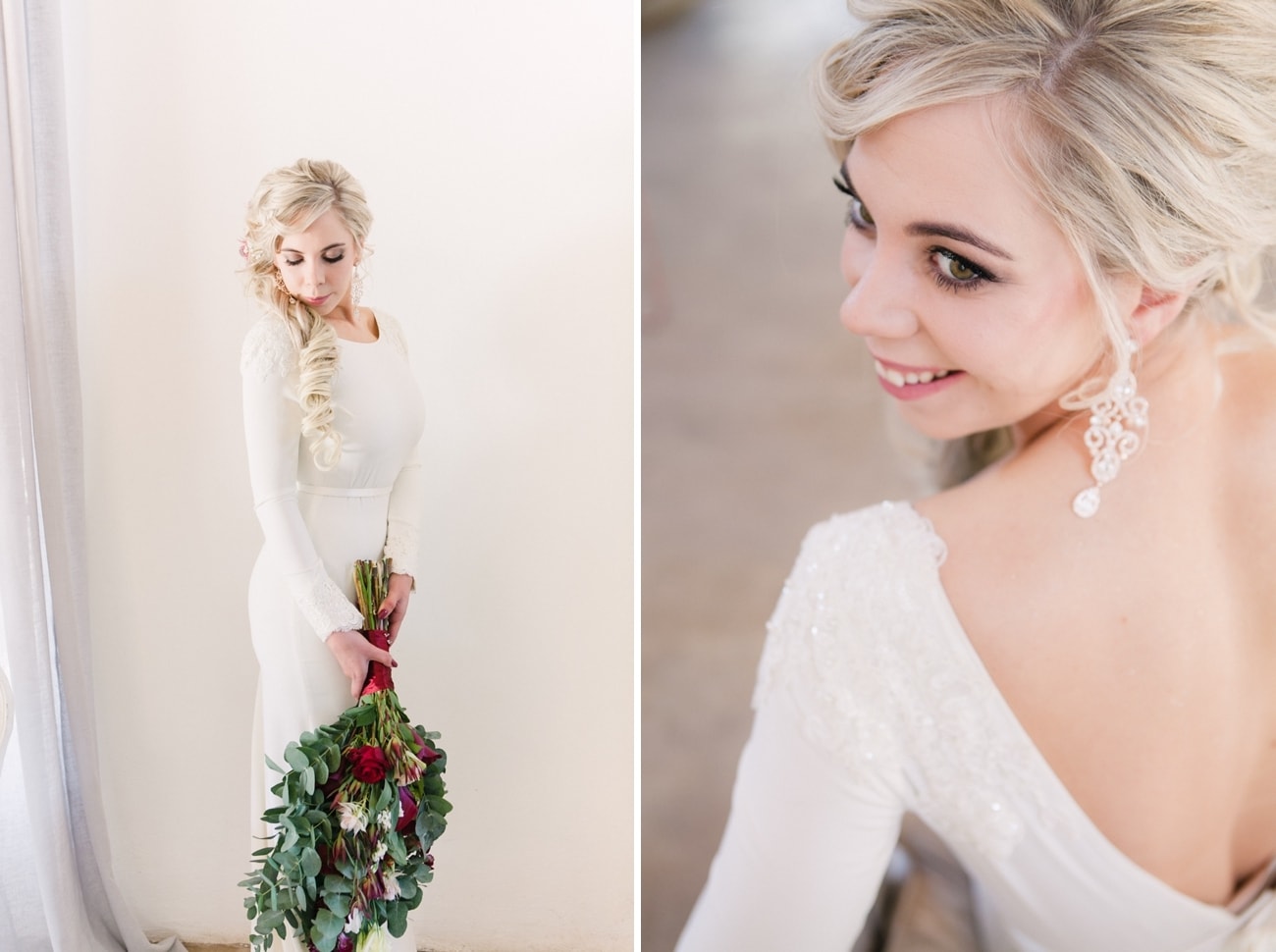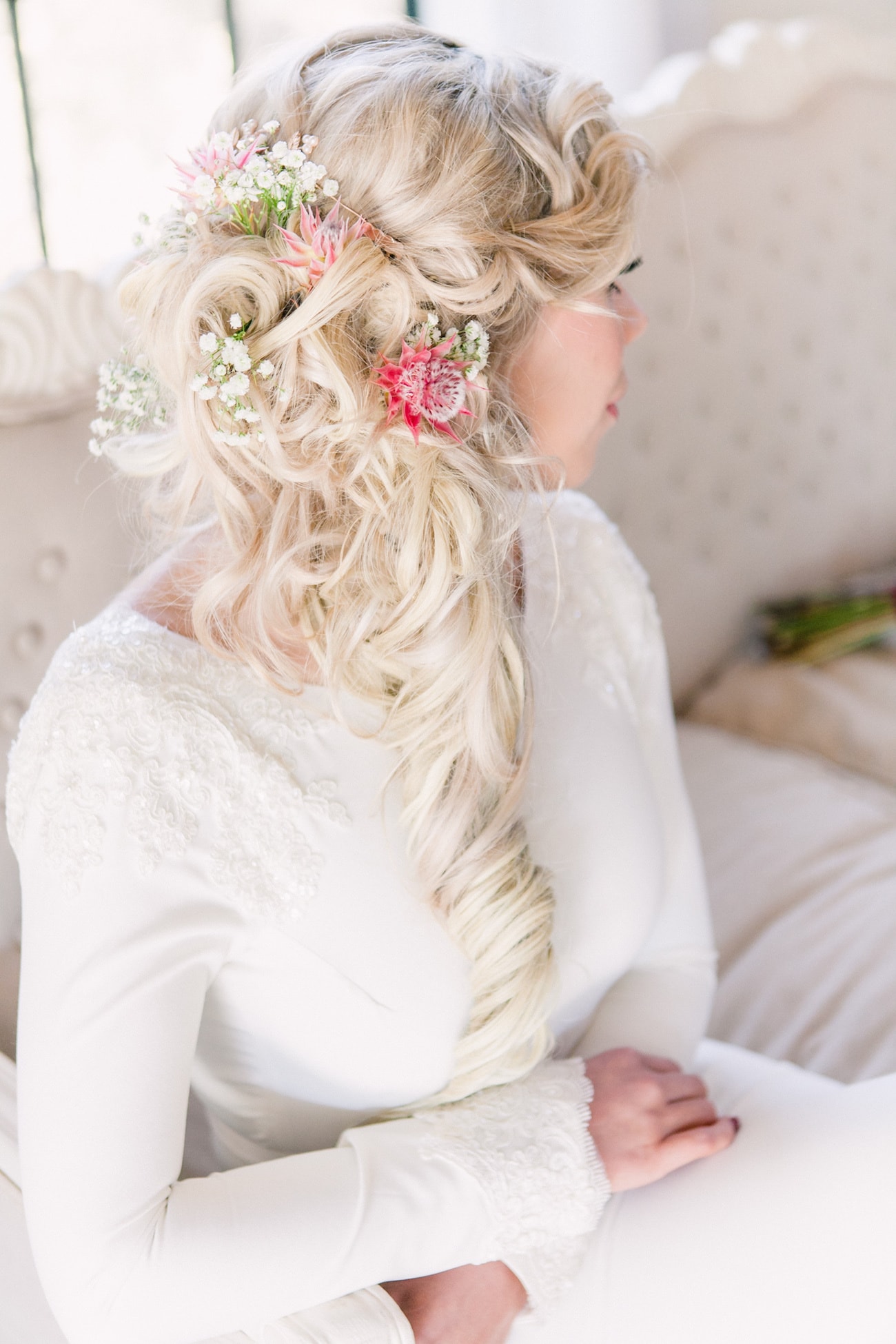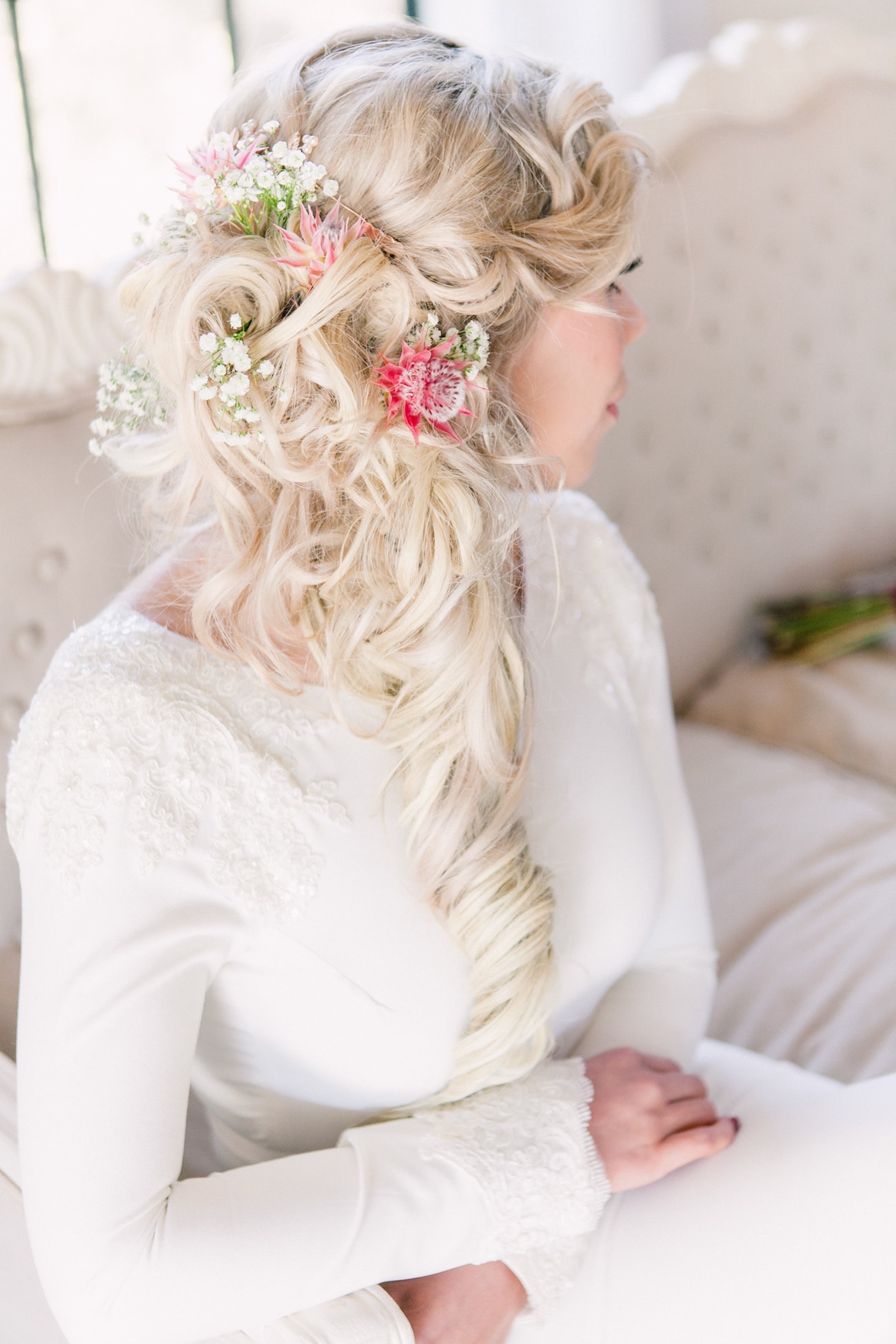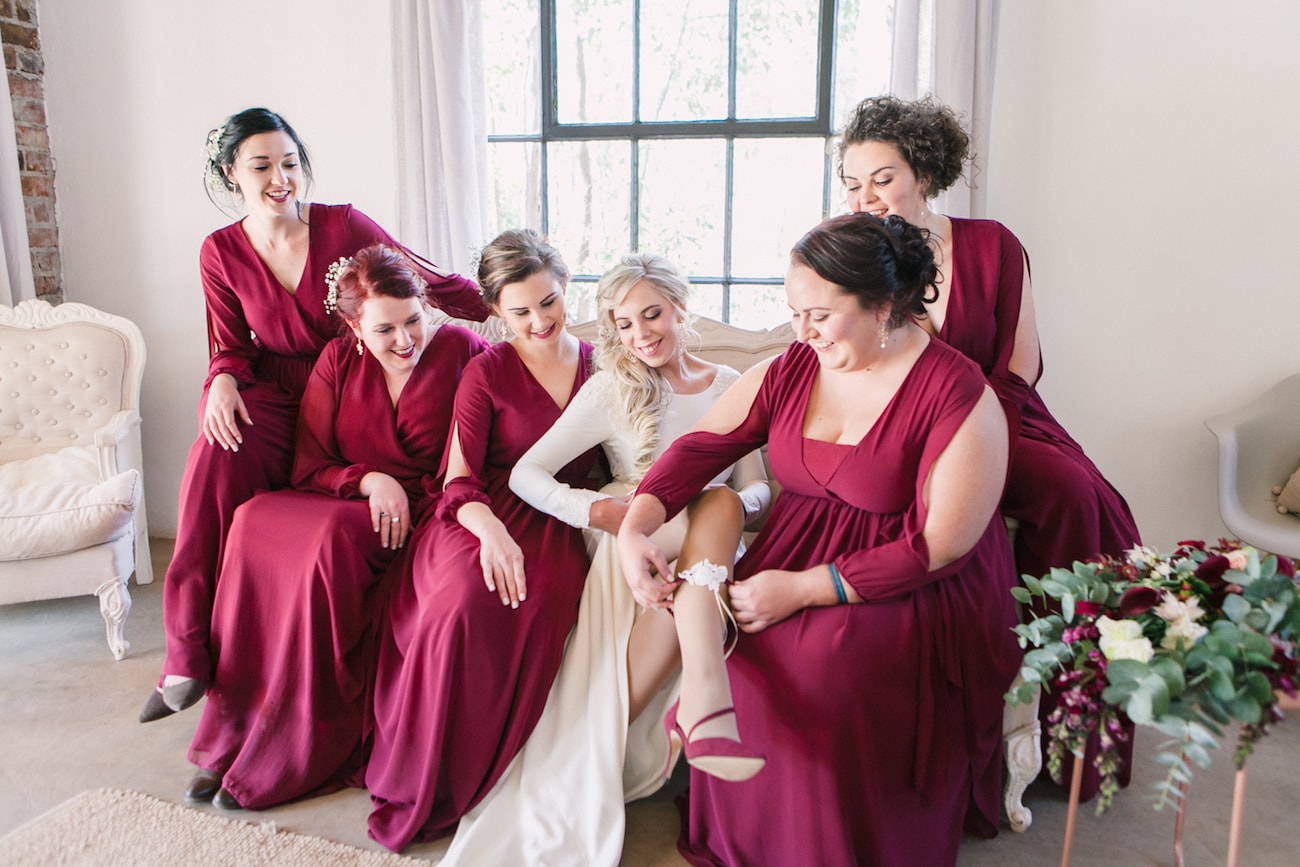 Love Story
The first time we met each other was at my first years' camp. Christiaan signed up to be a group leader, as he was in his second year of study, and I was placed in his group. The next five days we came to know each other quite well. We literally came to know each others best and worst in just a few days. I was mesmerised by his soft and calming nature, and his always-friendly smile. He was mesmerised by my extroverted personality and friendliness. I never thought our paths would meet again thereafter, but we started talking on a regular basis. A few months later, we officially started our lives together. Since then we have been inseparable.
The Proposal
We had been talking about getting married for an entire year, and I had to wait nine months before all the talking became a reality. Christiaan likes taking his time on big decisions, while I'm more the impatient type, so for me it was torture. Then finally, in September last year, we went on our monthly date-night. I had planned the whole evening and because of that, had no suspicion of a proposal although I thought it would have been perfect. We booked a night out at Klein Kaap Boutique Hotel, where we had a lovely picnic reserved under the stars with good food and wine. To top it all off, I was surprised to see one of my favorite films of all time (Chocolat) showing, ensuring one of the most romantic backdrops of my entire existence. We enjoyed our evening together, and as we were about to pack up and head home, Christiaan suggested a night walk in the gardens, just to soak up the evening a bit more. I had no idea what was waiting for me! During our romantic scroll Christiaan started asking me questions such as: "Was this evening perfect for you?" I answered: "Of course it was perfect!" He continued and asked: "What would make this evening more perfect?" I started feeling butterflies! He then continued and said: "Well I know what will make this evening more perfect" and in that moment he went down on one knee and asked me to be his wife for eternity. I obviously said yes without any hesitation!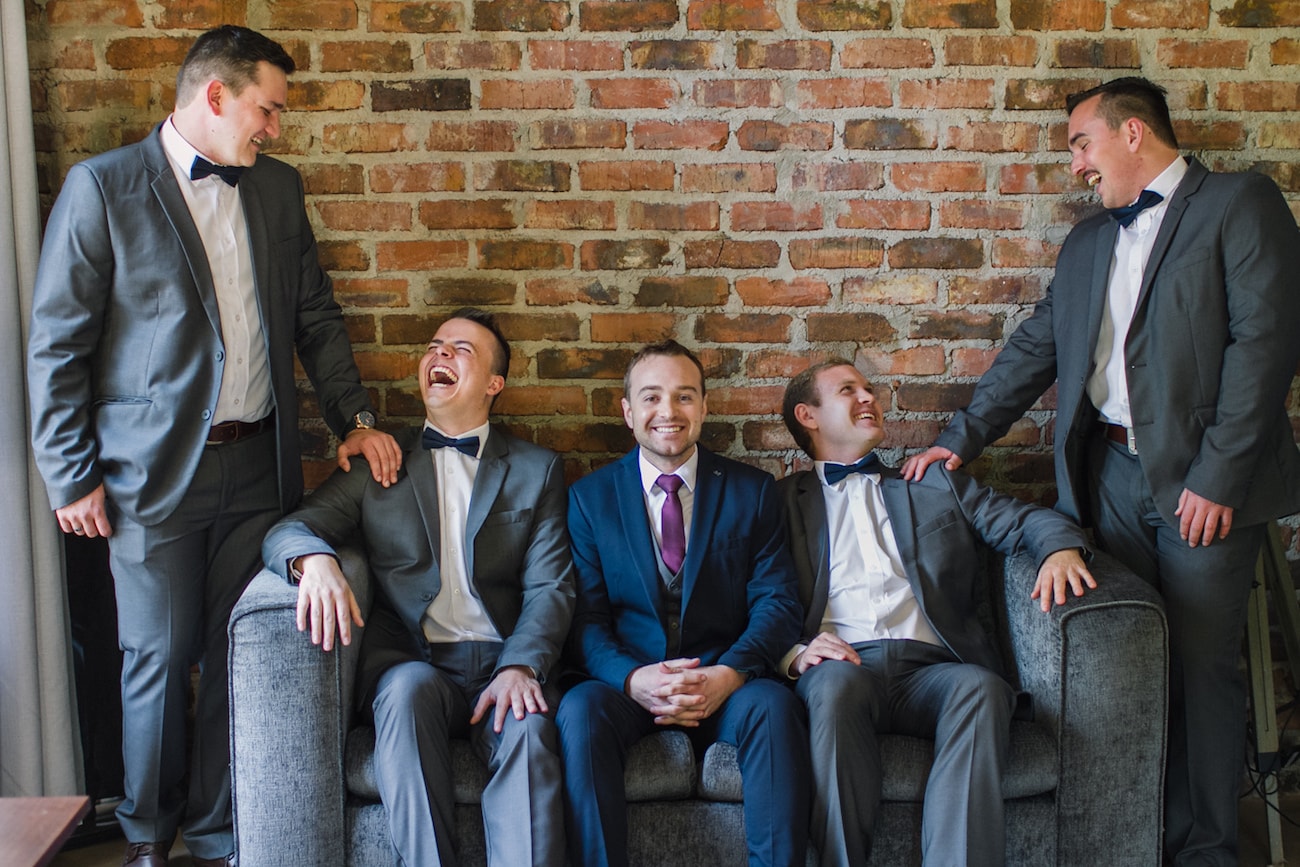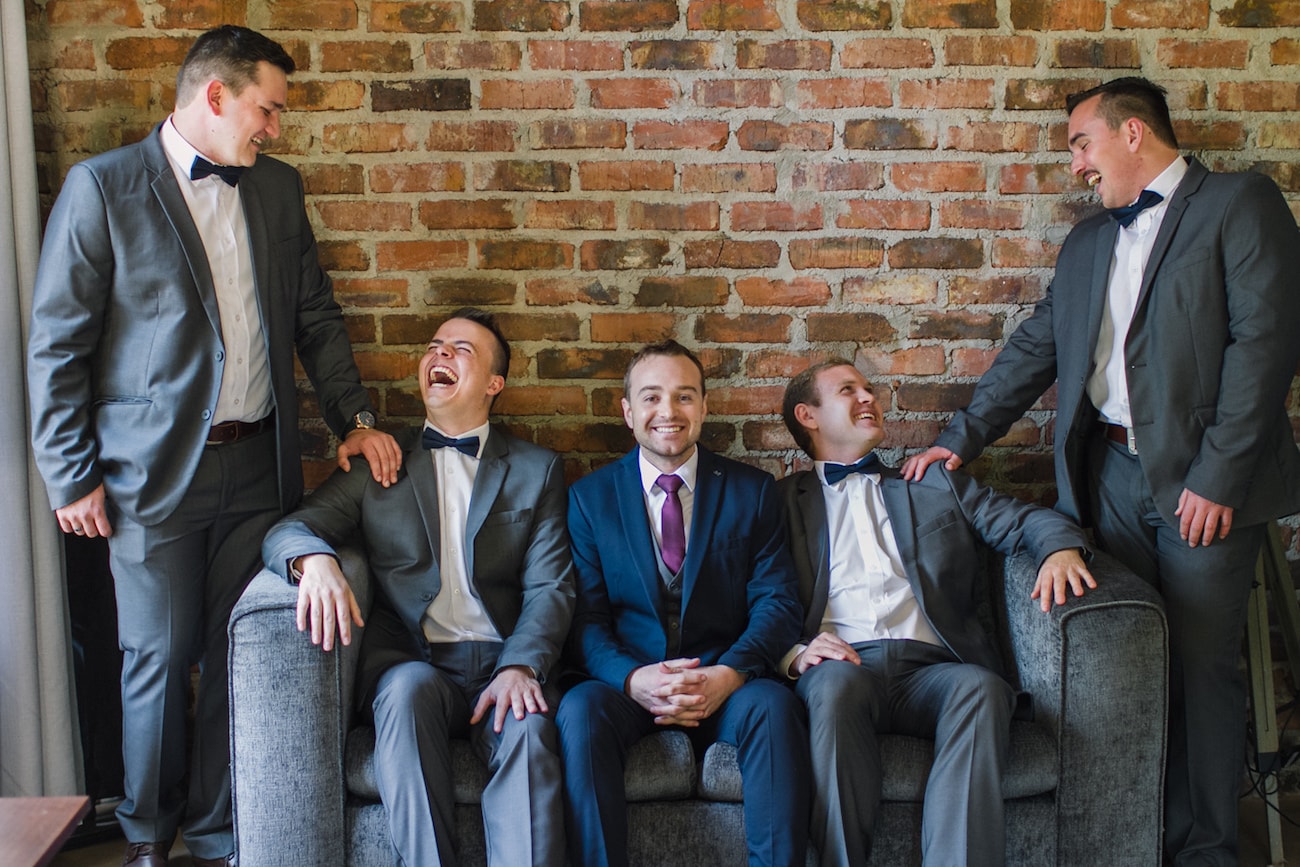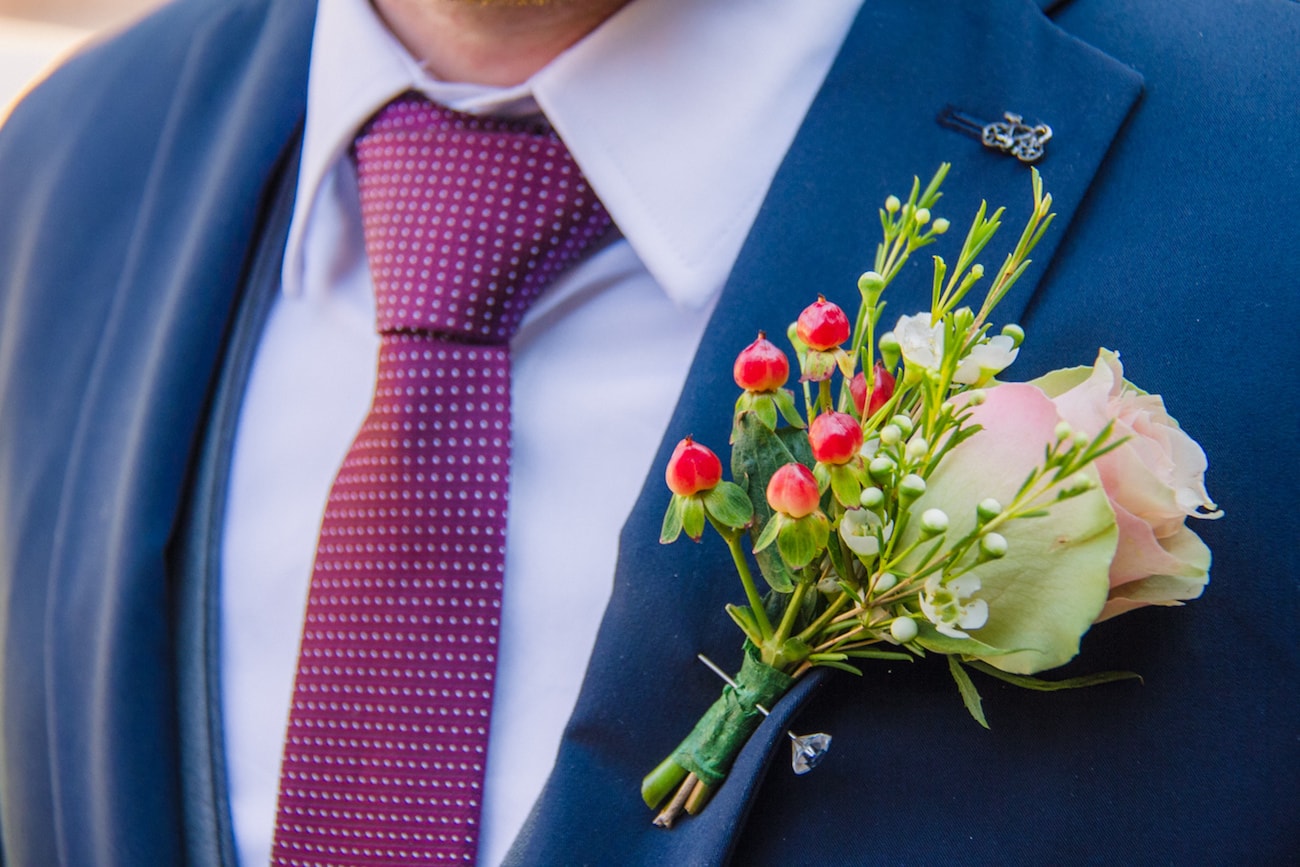 The Venue
Despite the fact that I wholeheartedly wanted a winter wedding, I also wanted an outdoor ceremony with a touch of luxury and minimalism. Since before the engagement we had started to look around for venue possibilities not too far from home  that suited all our needs. Lace on Timber at that stage was coming up quite frequently in every search. At last I recommended we book a viewing at Lace on Timber. When we arrived I was instantly fascinated by the contrast between the industrial and the romantic. The venue was perfectly painted into my vision for the wedding. Everything about this venue represented our perfect picture and also accommodated our style and personalities. We didn't look elsewhere. And as it was meant to be, the only available date they had left for 2017 was in July – our perfect winter wedding!
Wedding Style
I wanted to bring in some cooler navy and greys and contrast them with warm burgundy and a soft touch of blush pink and pieces of rose gold. I really wanted to capture the elegance of warm and cooler colors and contrasting textures.I was also fascinated by berry tones, which I also wanted to showcase throughout the wedding. The hints of rose gold emphasized my wedding ring, which is a rose gold setting with a pink morganite stone and beautiful white diamond halo. We also wanted to draw a distinction between vintage and romantic, and industrial and minimalist styles, but also incorporate both themes throughout the wedding. Our main theme was based on elegance; winter elegance.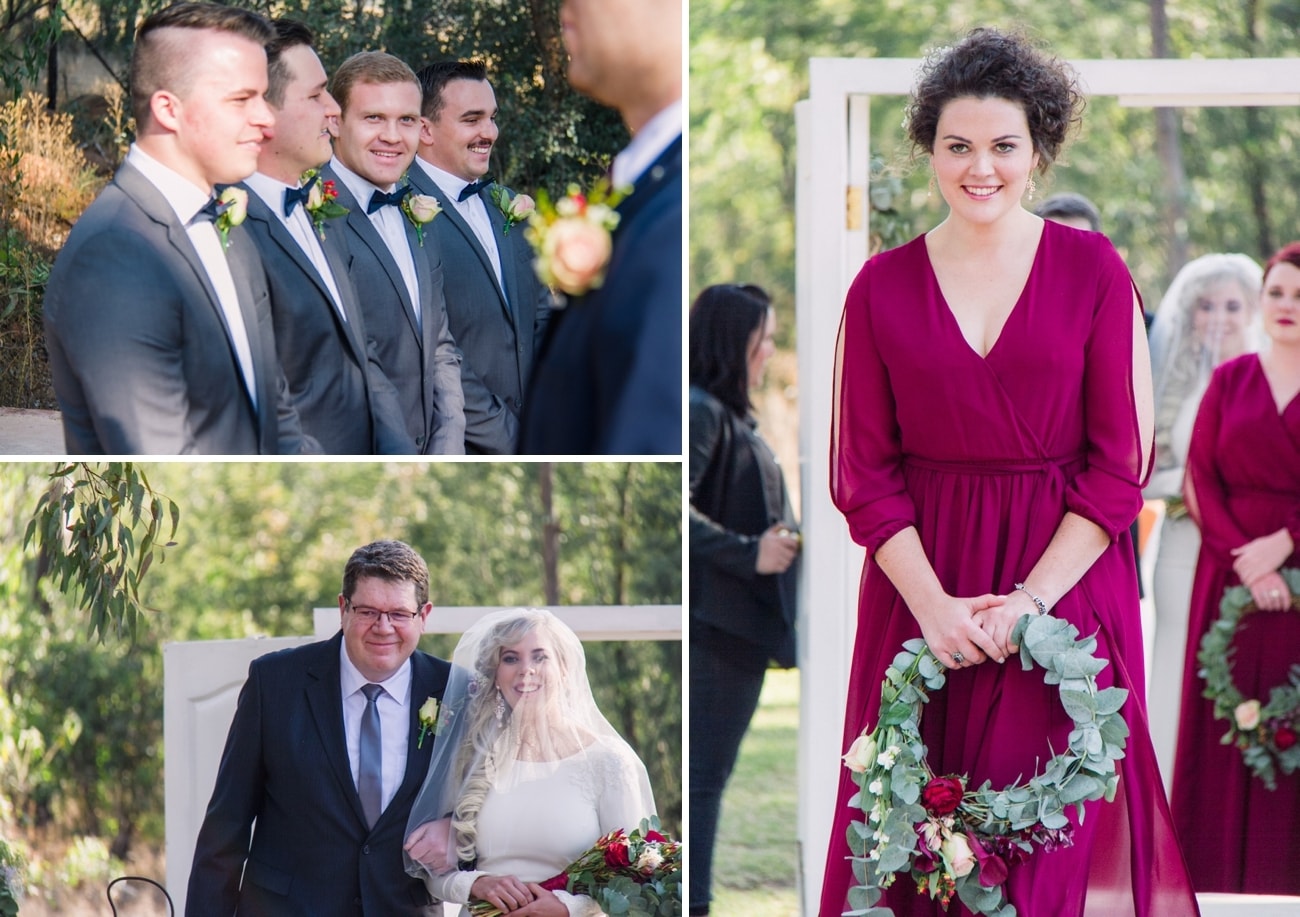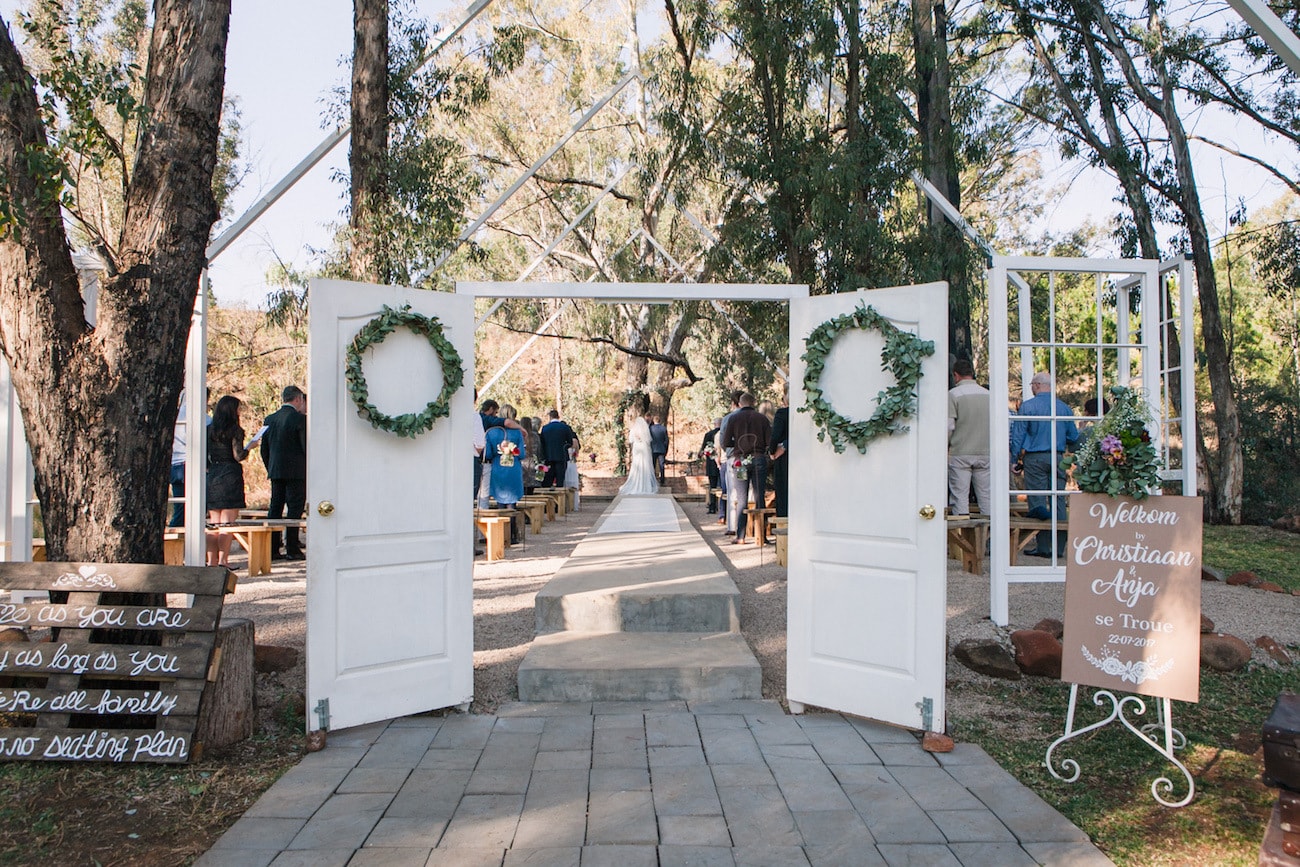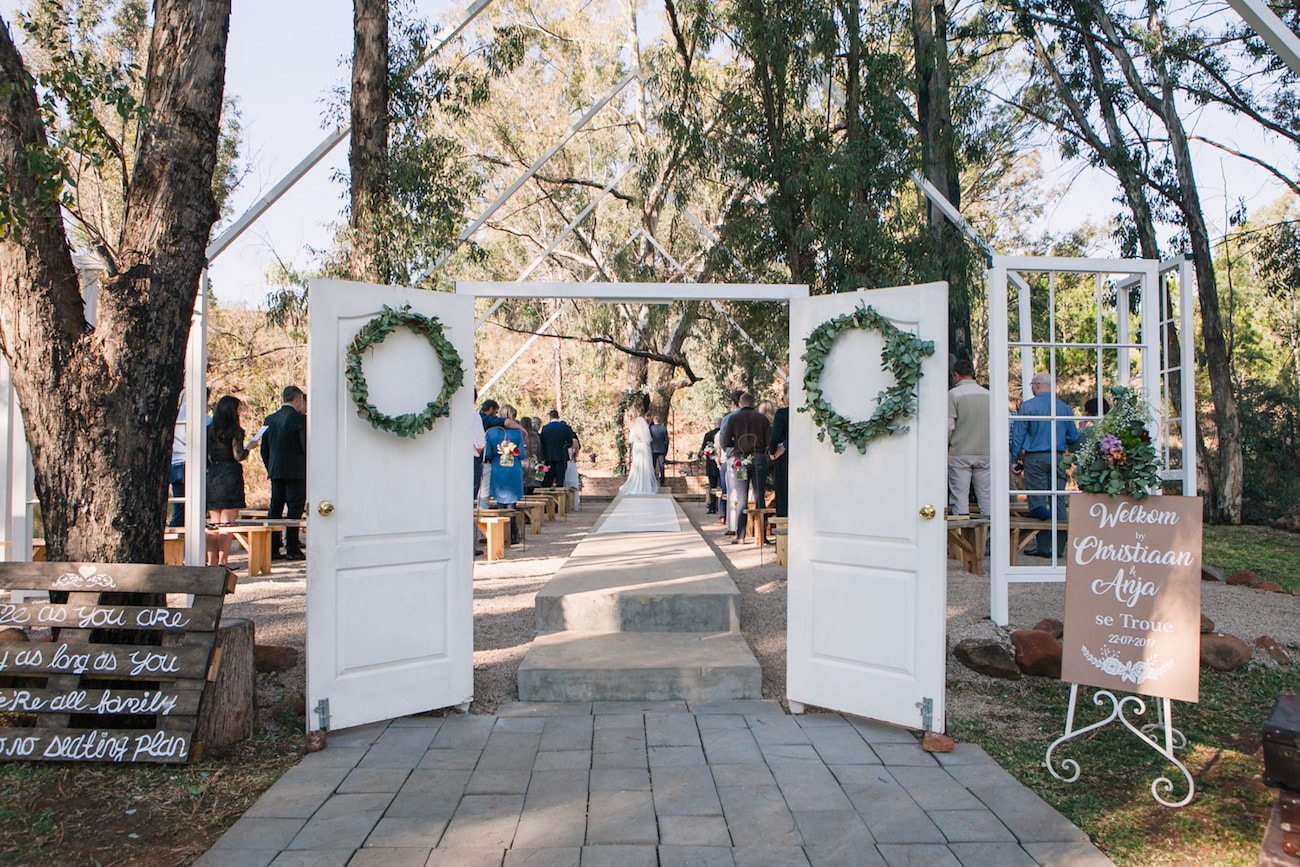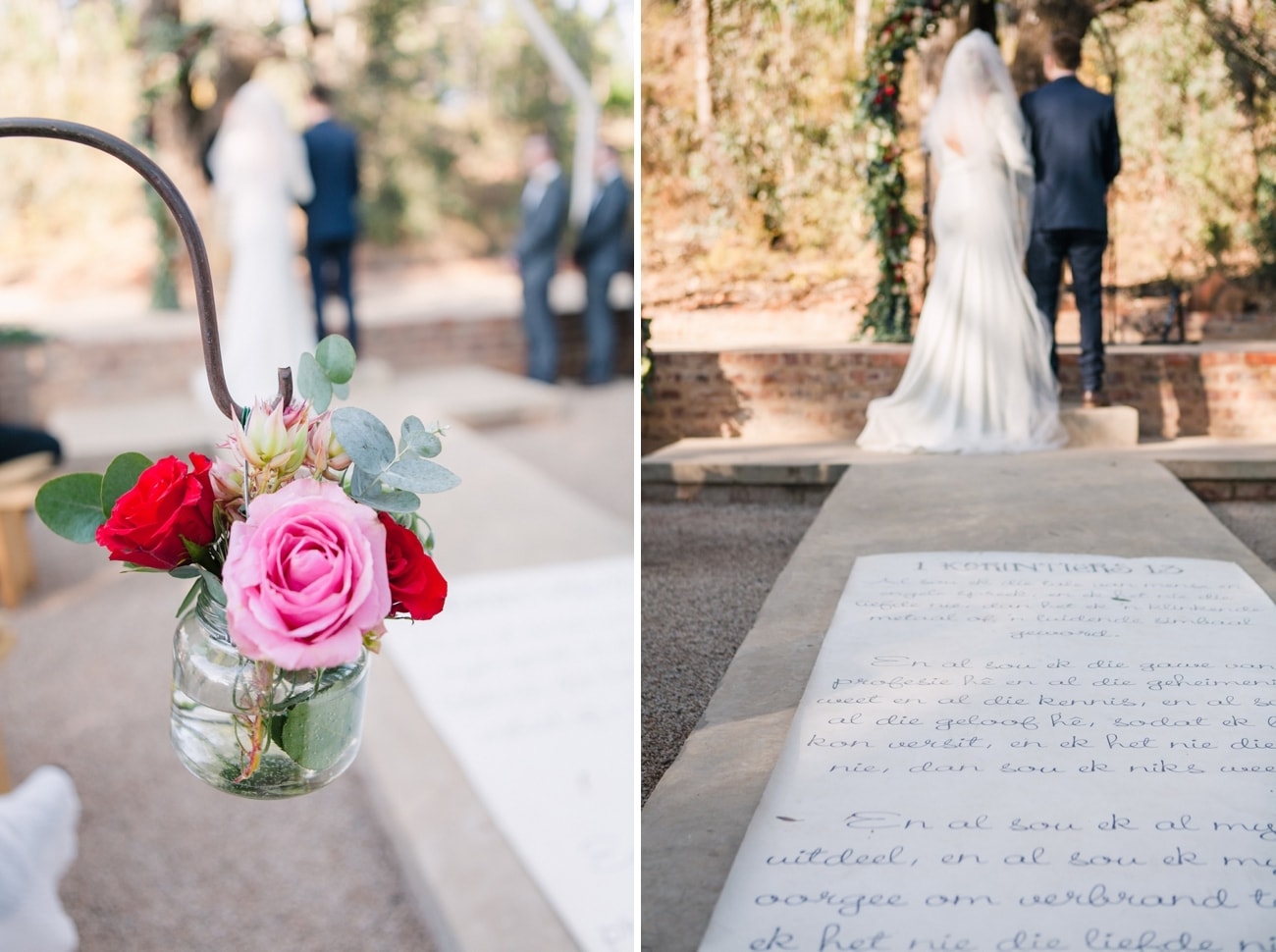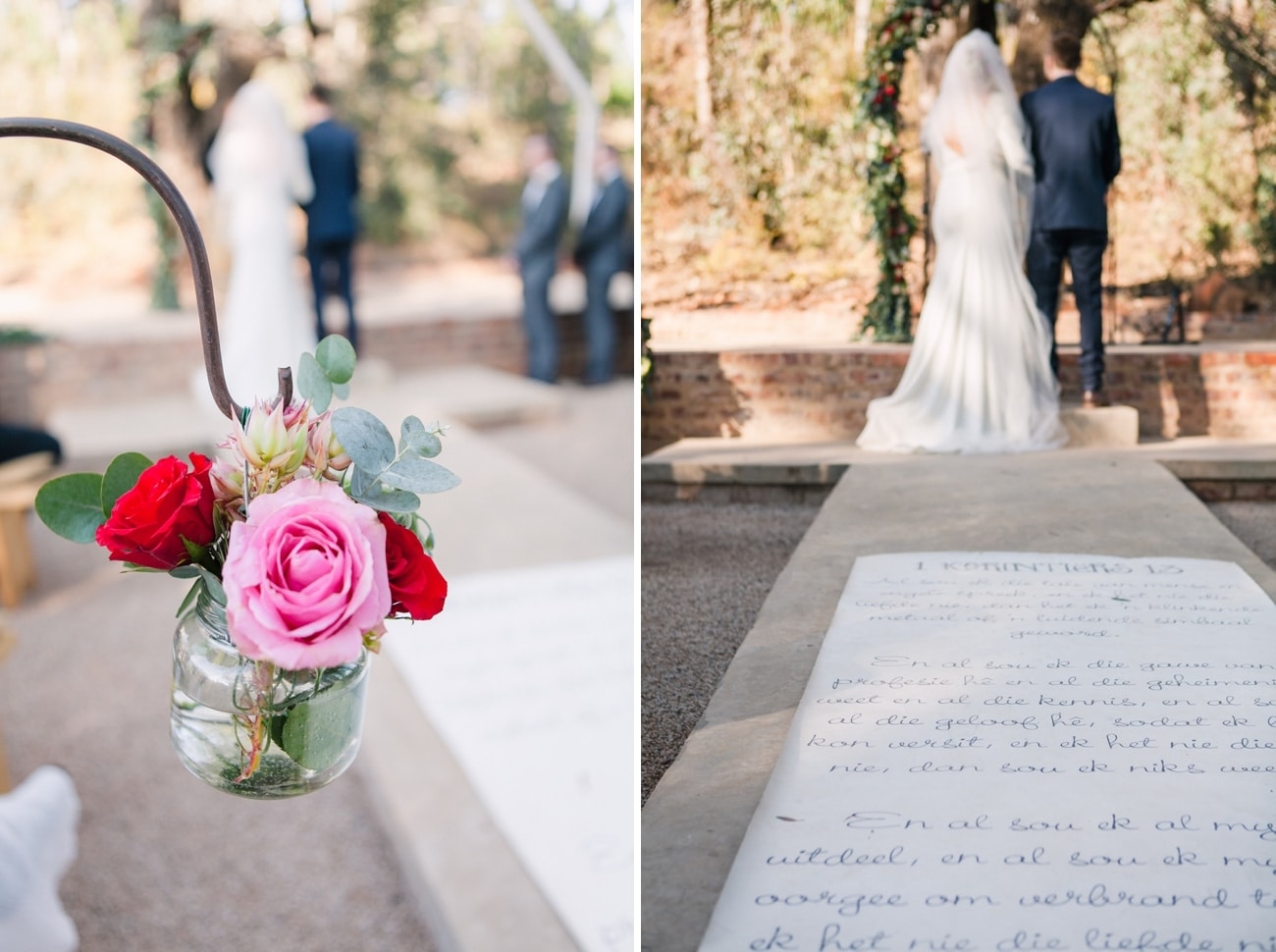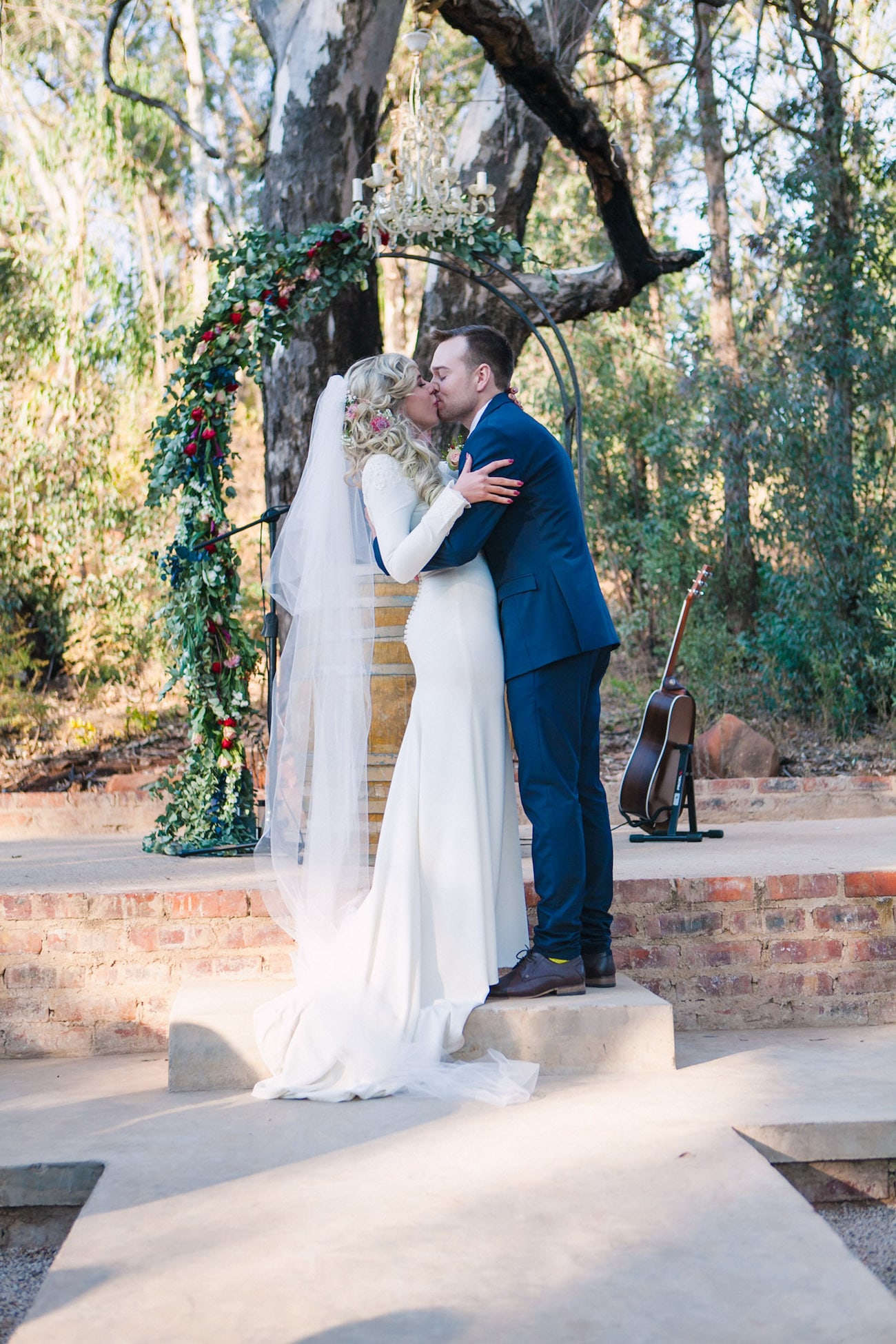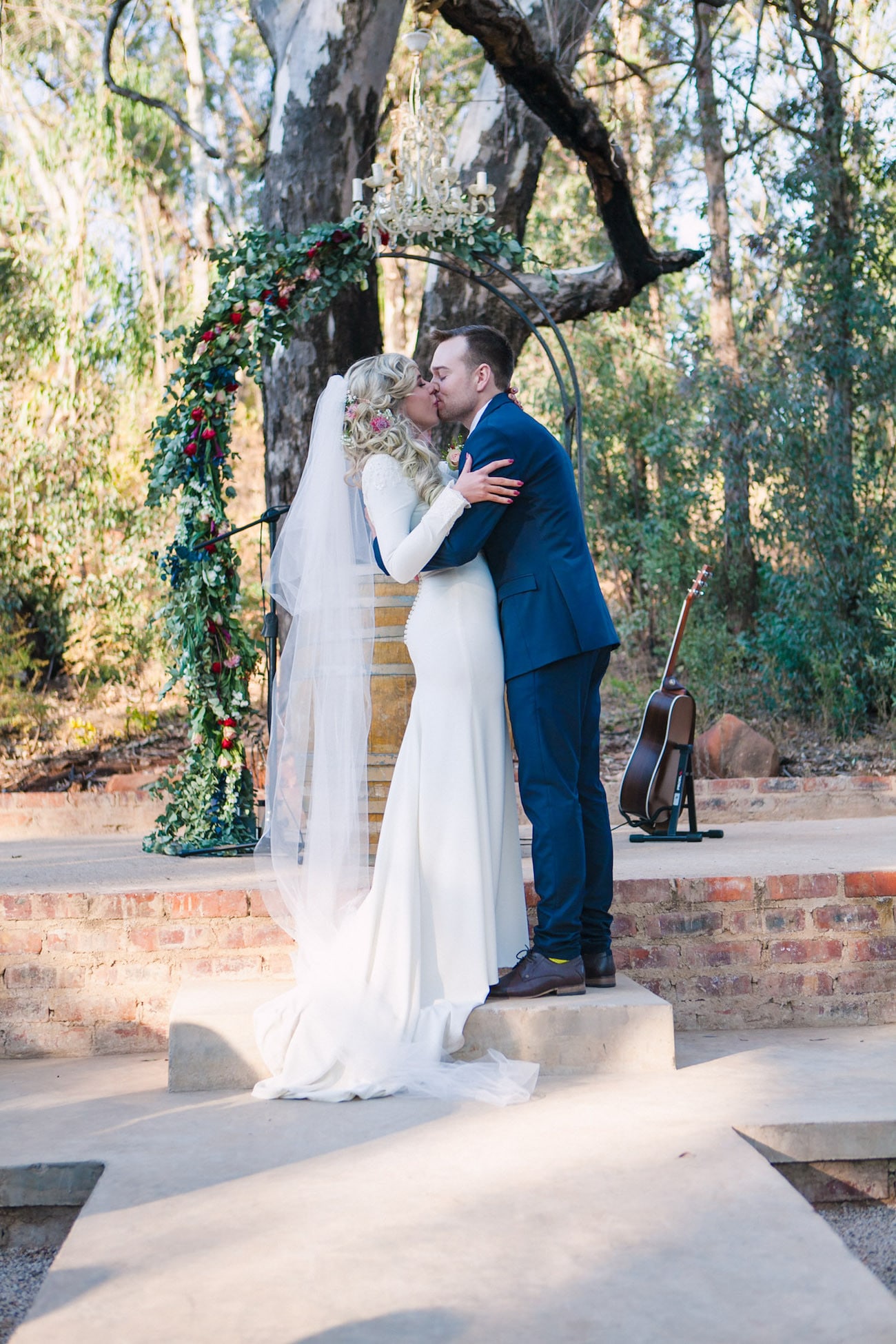 Wedding Details
One of our favourite wedding details of the day was our ceremony and all the symbolism throughout, that really captured our relationship and our goals for our marriage. It was truly moving.

DIY Elements
We handmade our unique guestbook a week before the wedding. We used one of our engagement photos, enlarged it to an A2 sized board, and cut it into little postcards placed faced down and pinned with clothing pegs onto a board. Each guest could write us a special note and when done, flip the postcard and pin it back face up so that at the end of the evening our photo would be complete. We still use this in our house and it is a wonderful memoir to have. We also DIYed sign boards and painted some pallets with the program of the day.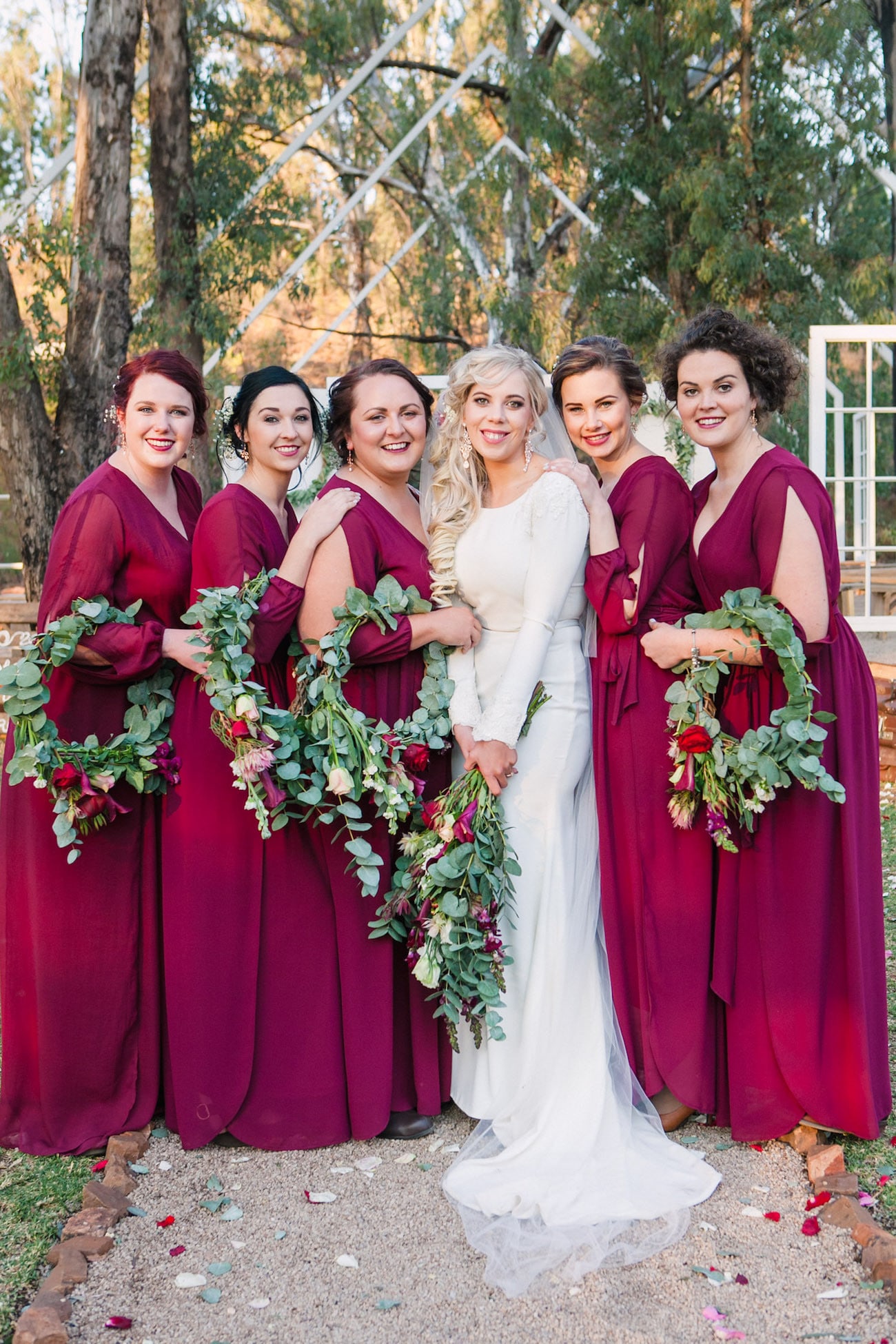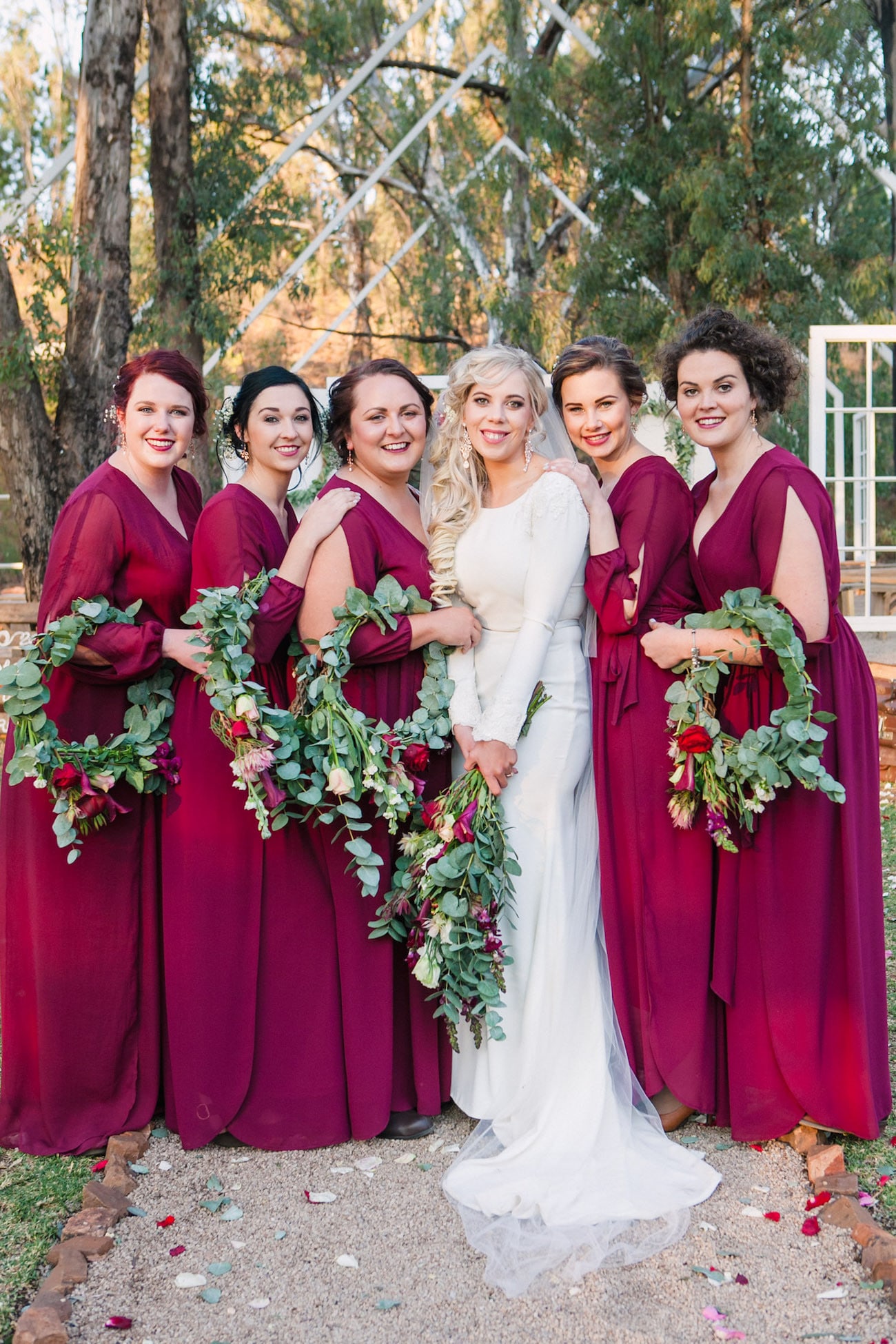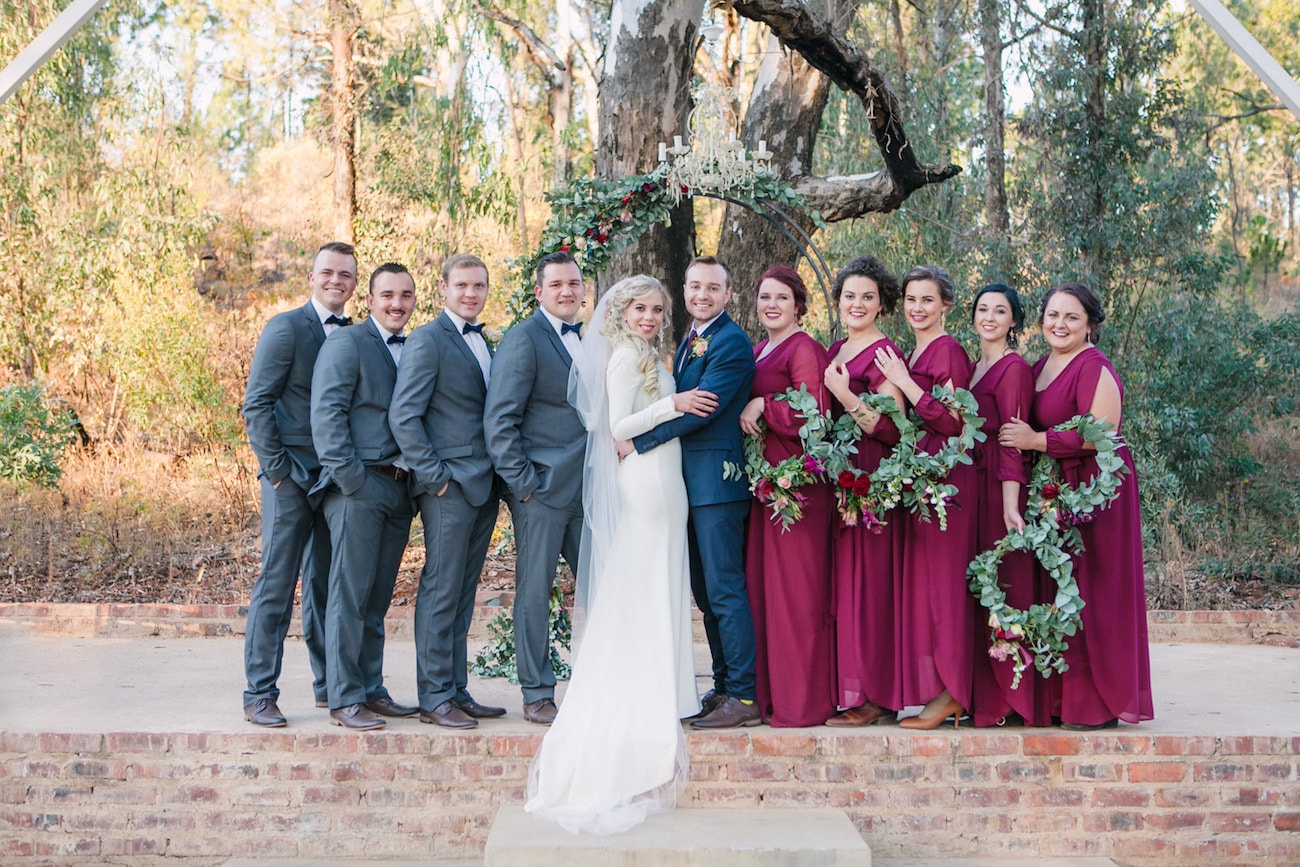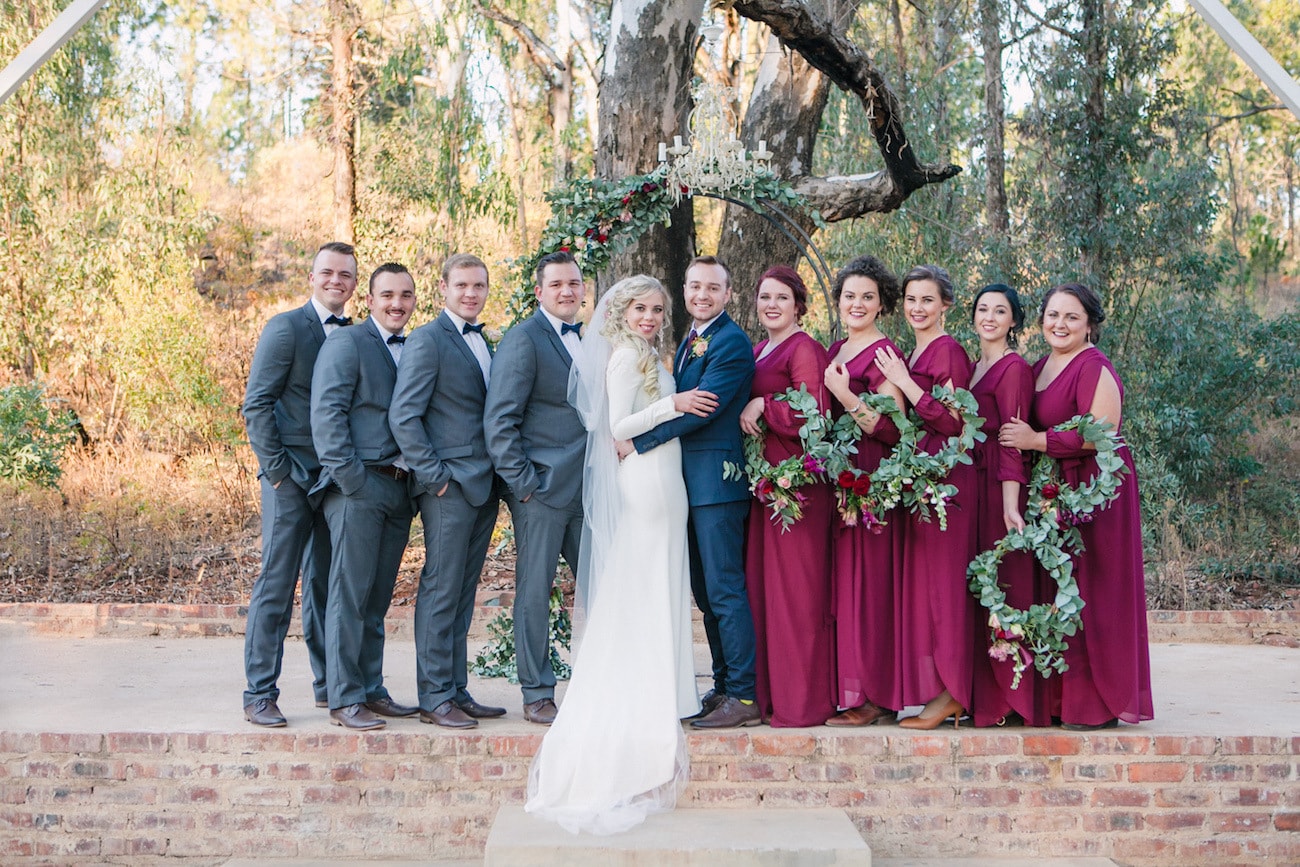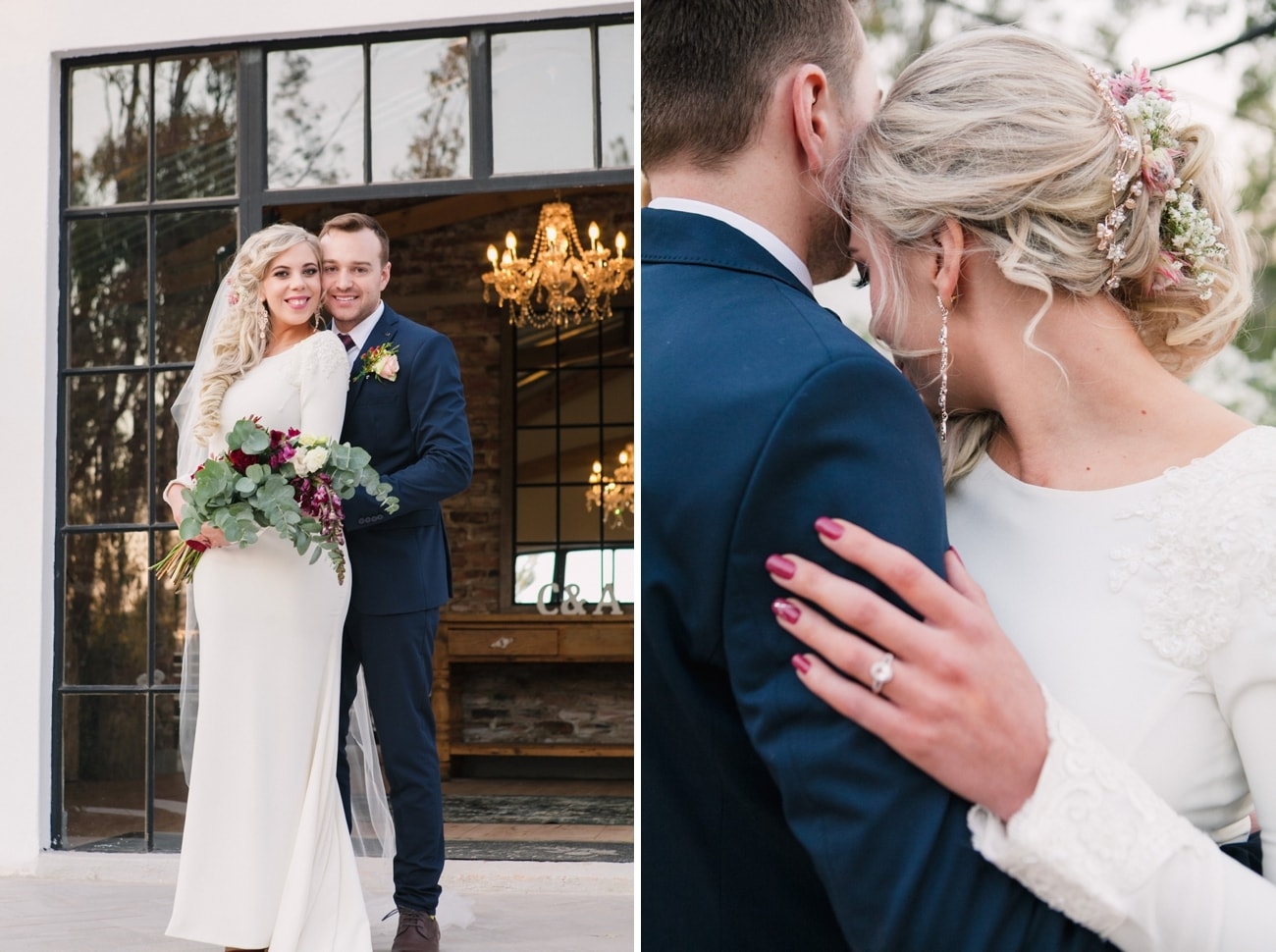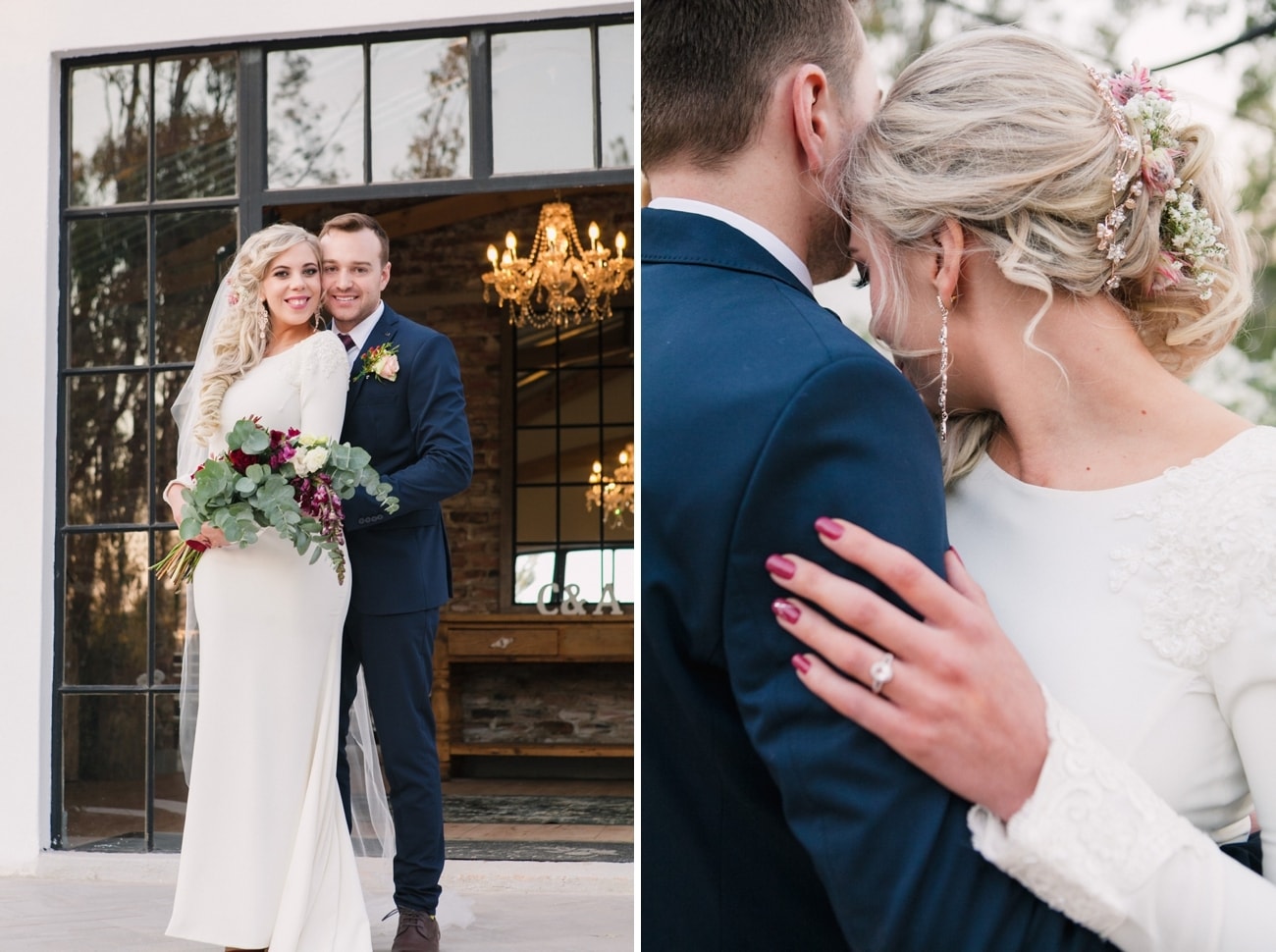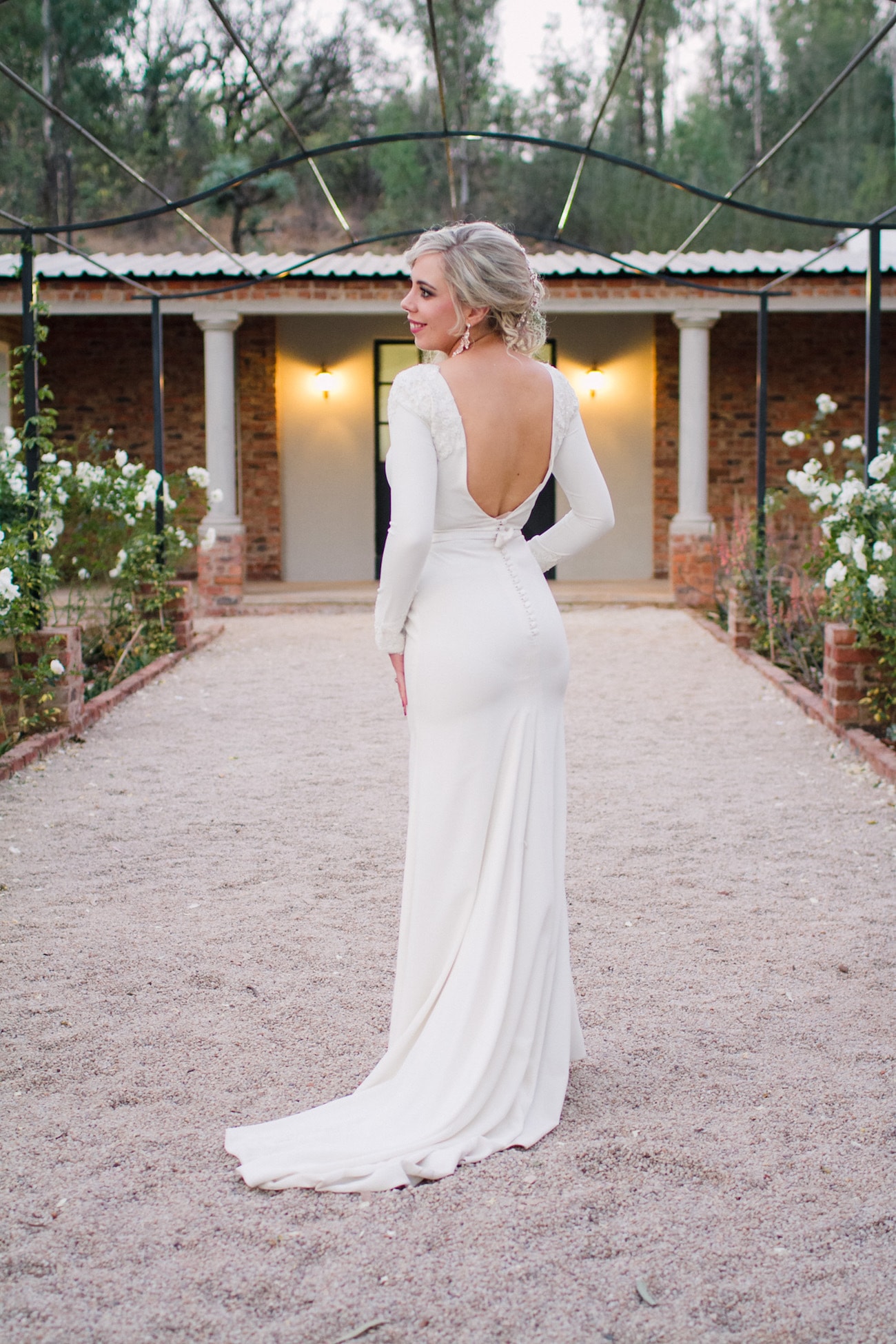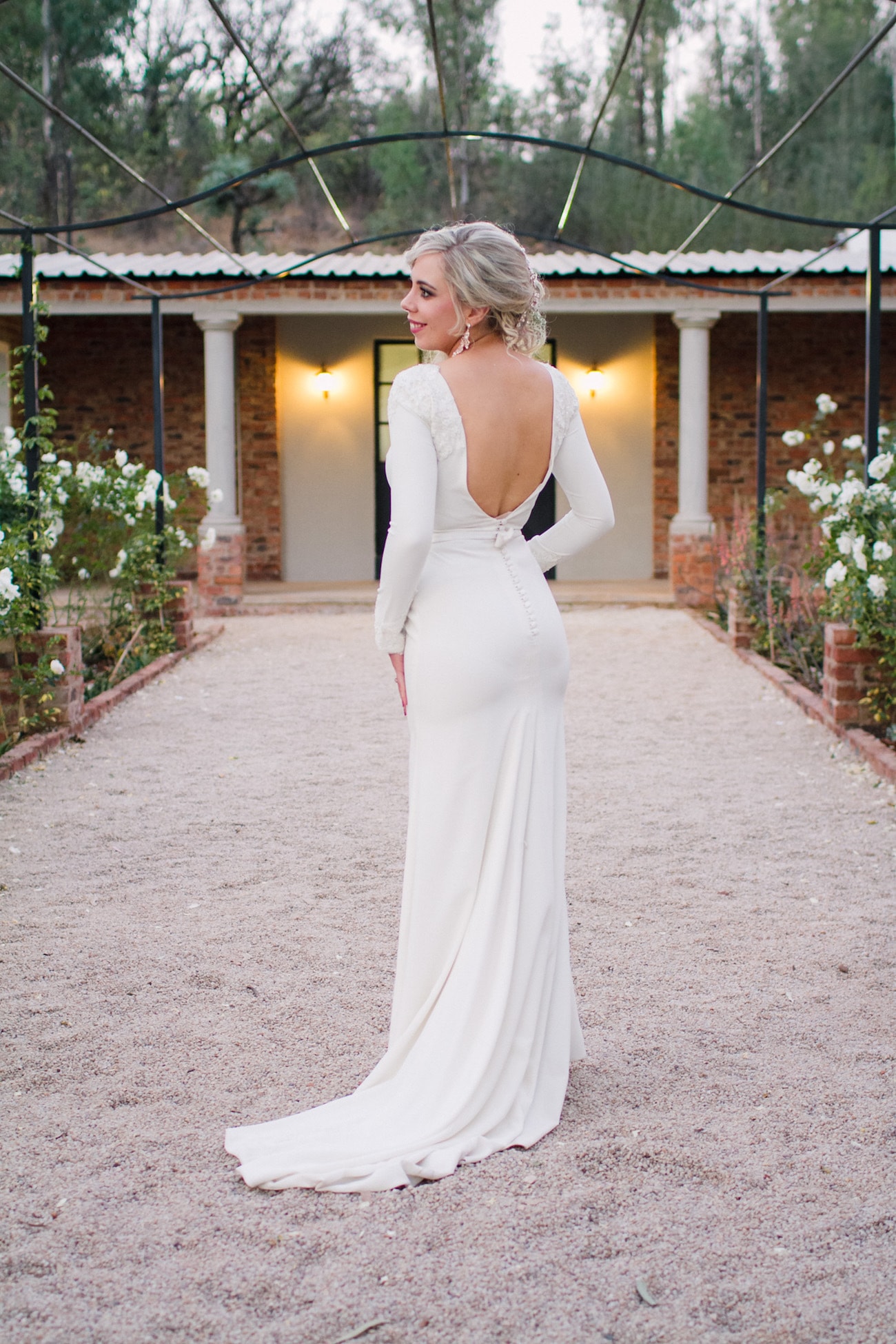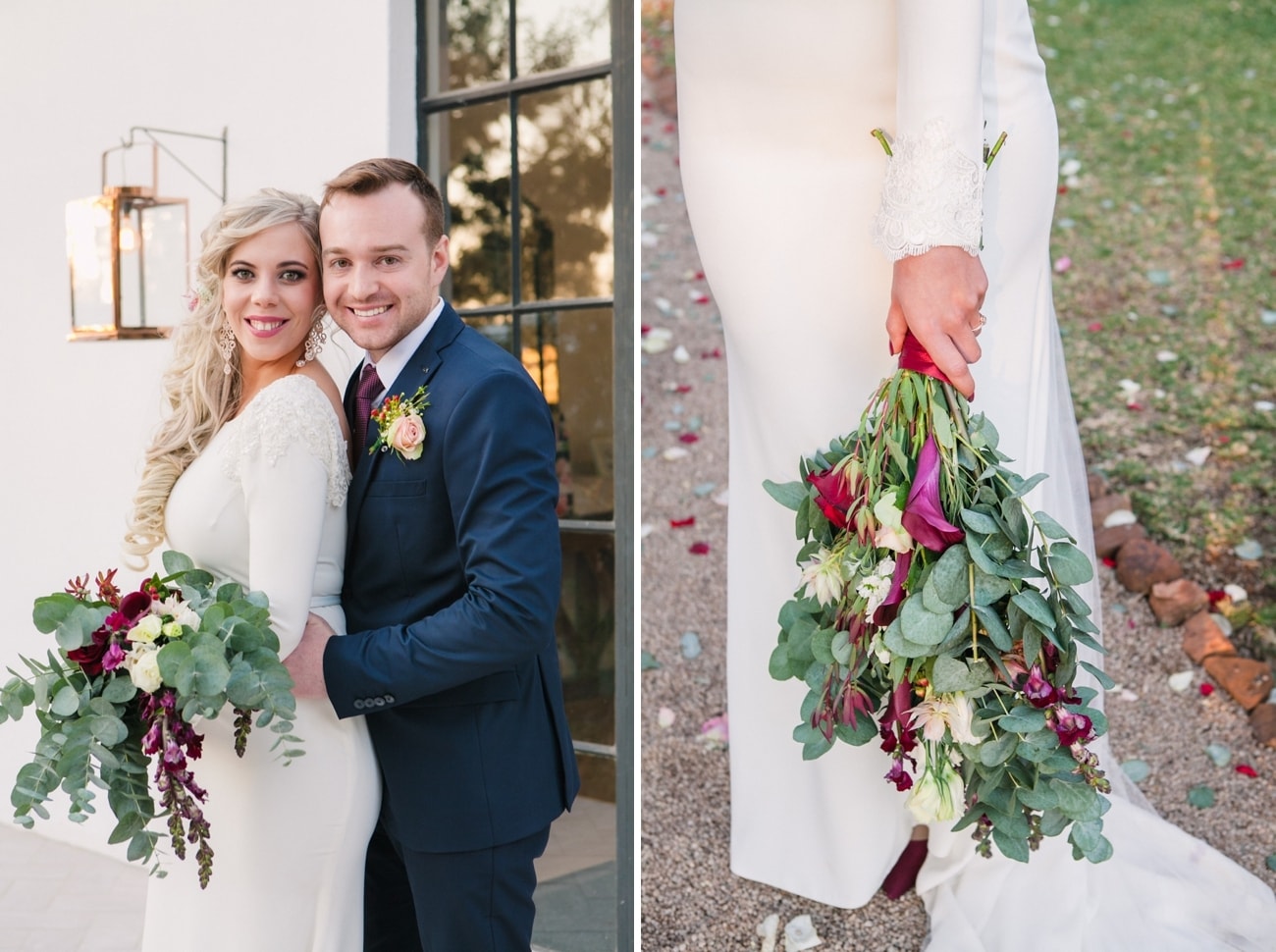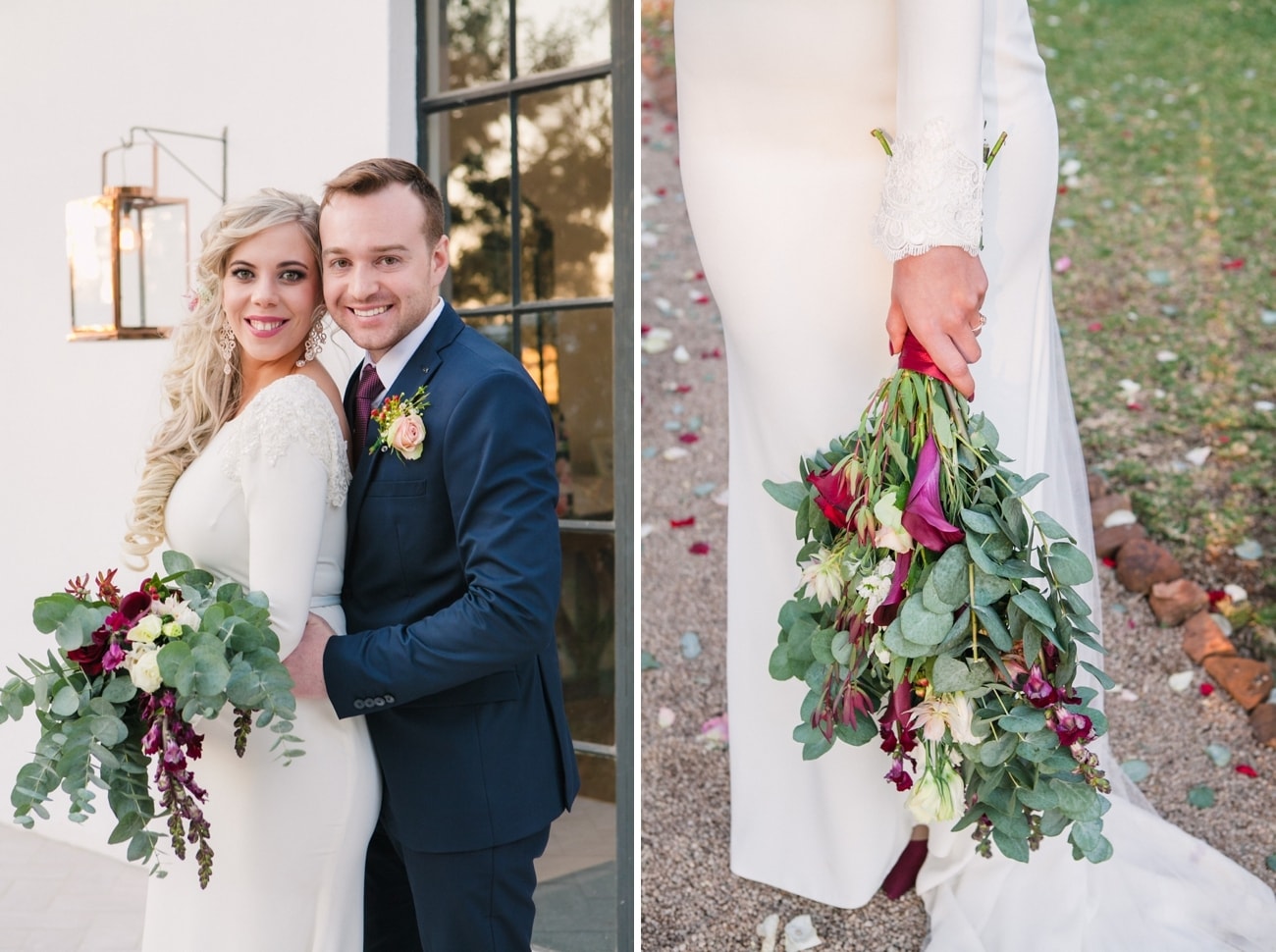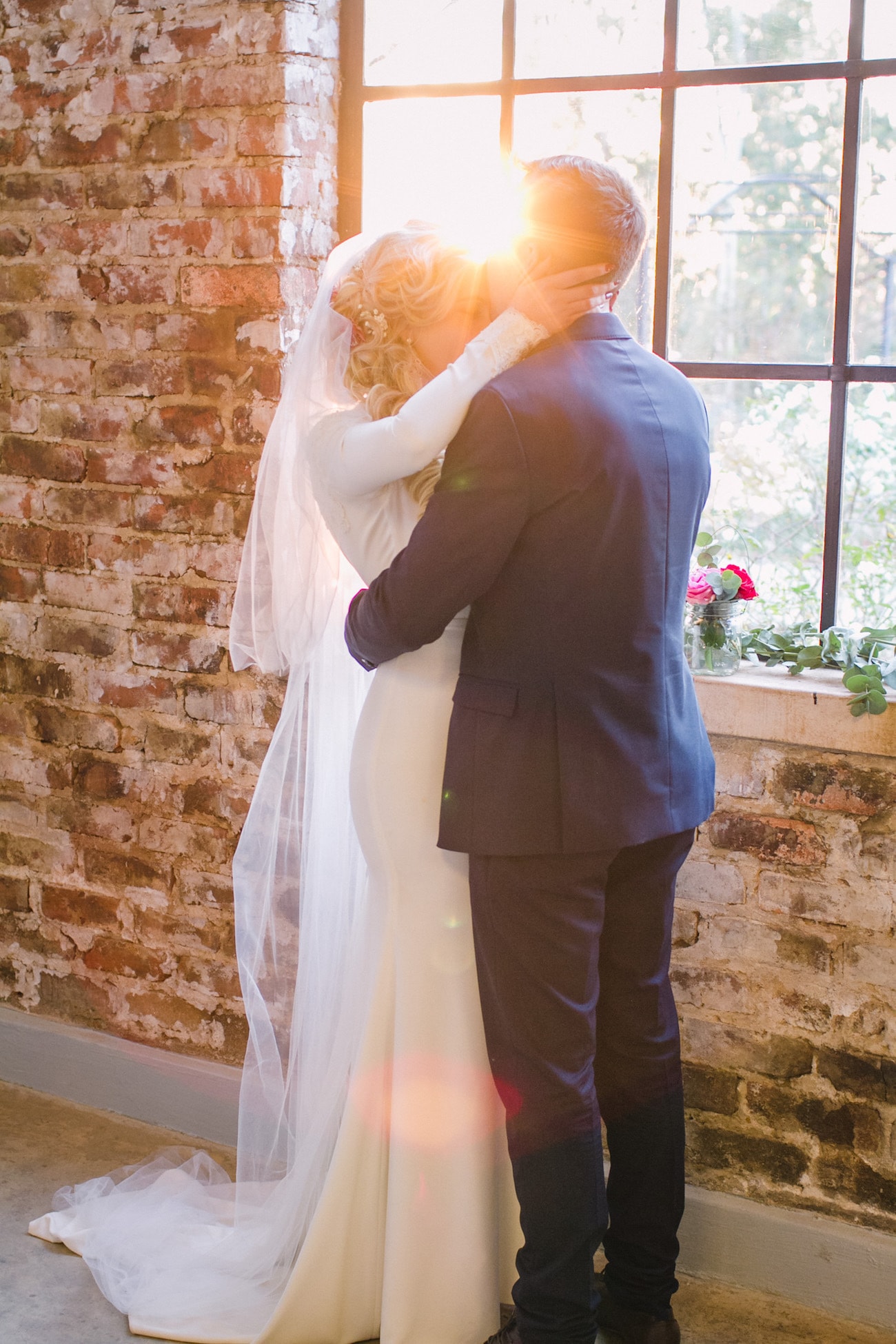 The Dress
I found my wedding gown during a fitting at The Wedding Collective in Pretoria. This was also at the time of the White Lily Atelier Wild Hearts Collection trunk show, where I had the privilege of meeting with the designer Jacelyn Gozadinos and receiving professional advice. This was one of the most memorable moments of the entire wedding experience. At first I pictured an entirely different style, but after trying on multiple beautiful bohemian-inspired dresses, Jacelyn suggested I try on the Ally dress since she thought it would suit my shape well. I was hesitant at first, but after I took that first glance I immediately knew this was the dress!
The Bridesmaids
I wanted my bridesmaids to contrast with my wedding look, thus really wanted the berry tones of warm burgundy to be very prominent in the dresses I chose for them but still of a minimalist nature. I also wanted something more loose-fitting and flowing, which contrasted my own wedding dress. I saw the perfect dress at YDE and it suited each of my bridesmaids' shapes and sizes and looked gorgeous on all of them. This was also a very important factor for me; I wanted my bridesmaids to be comfortable and feel beautiful.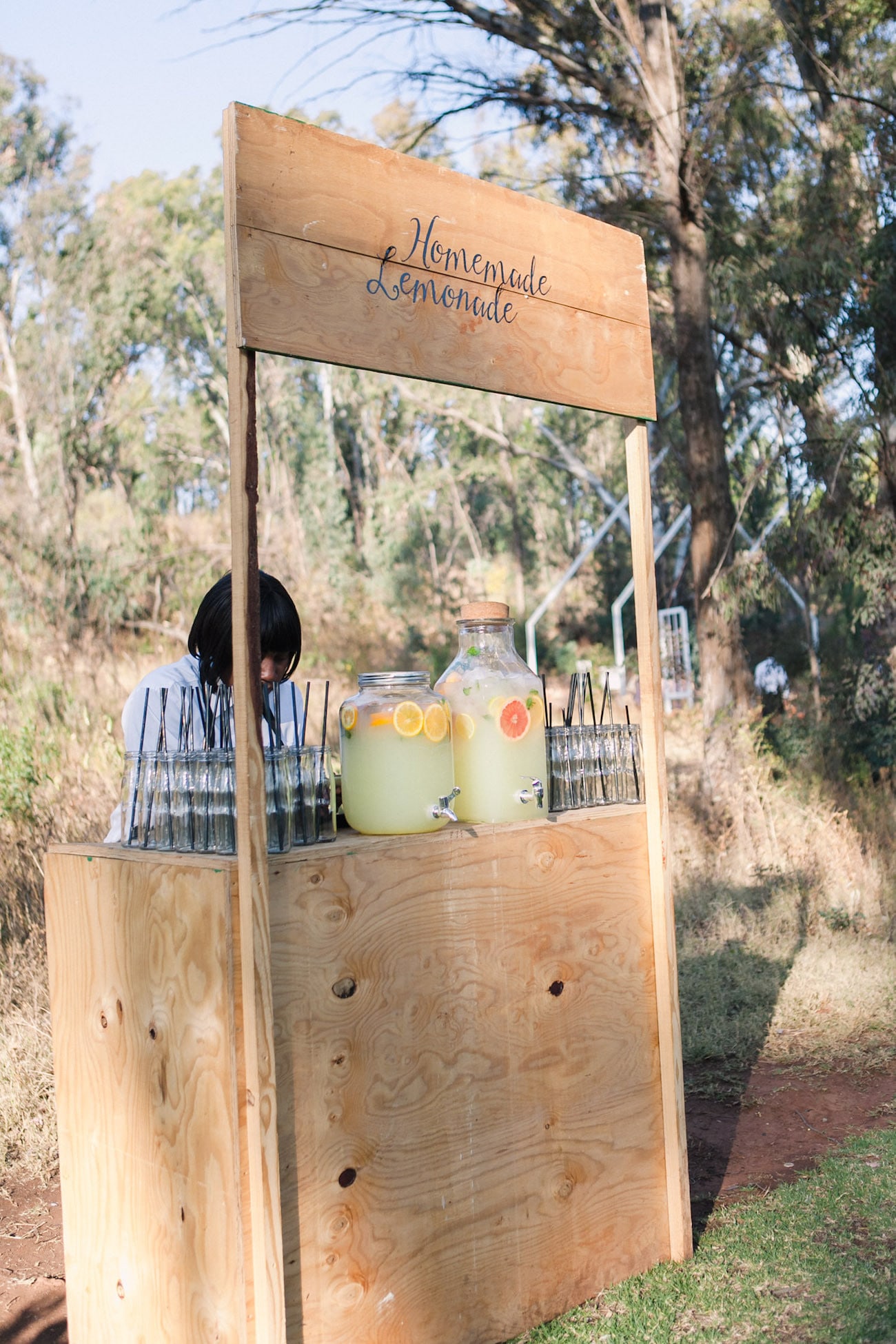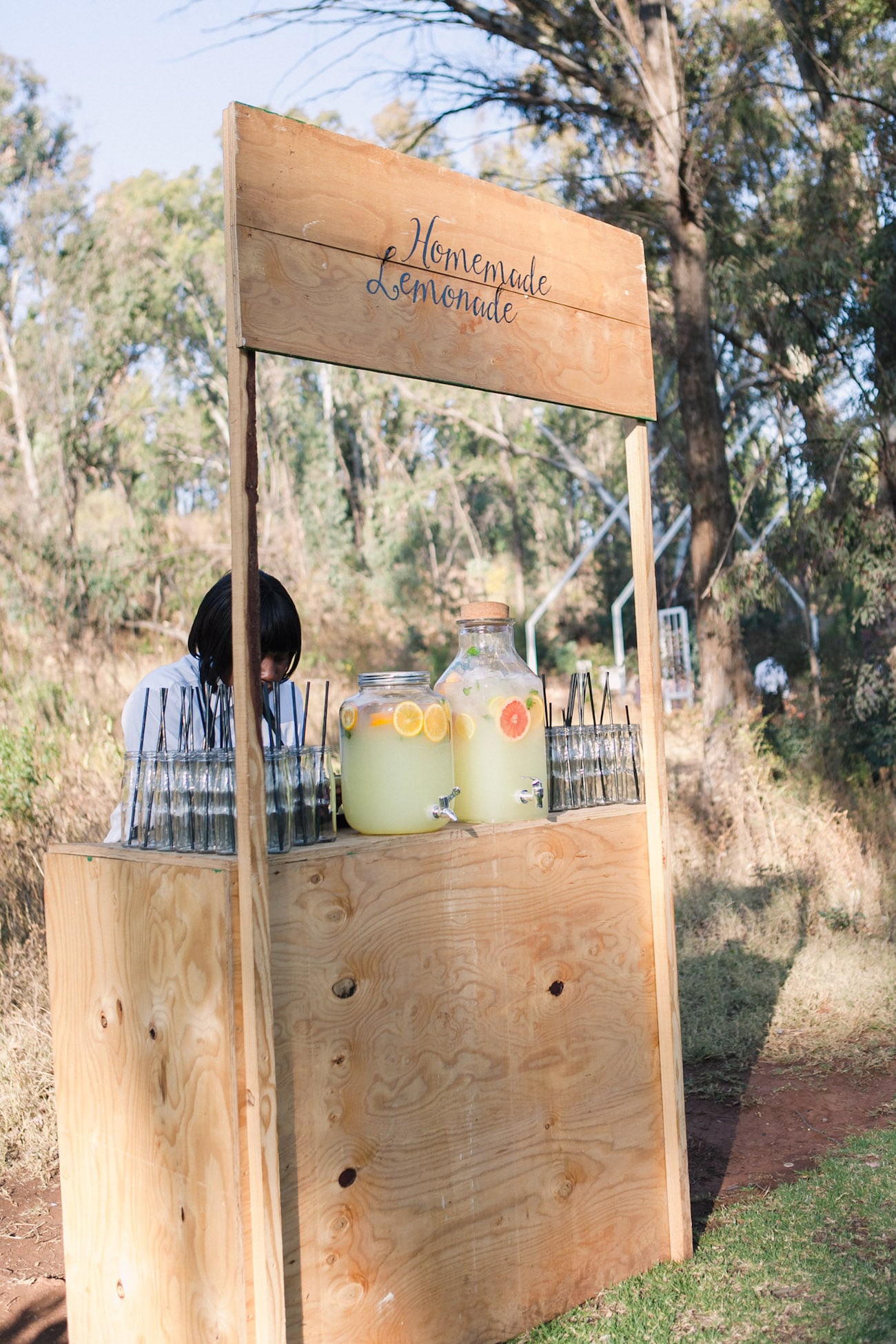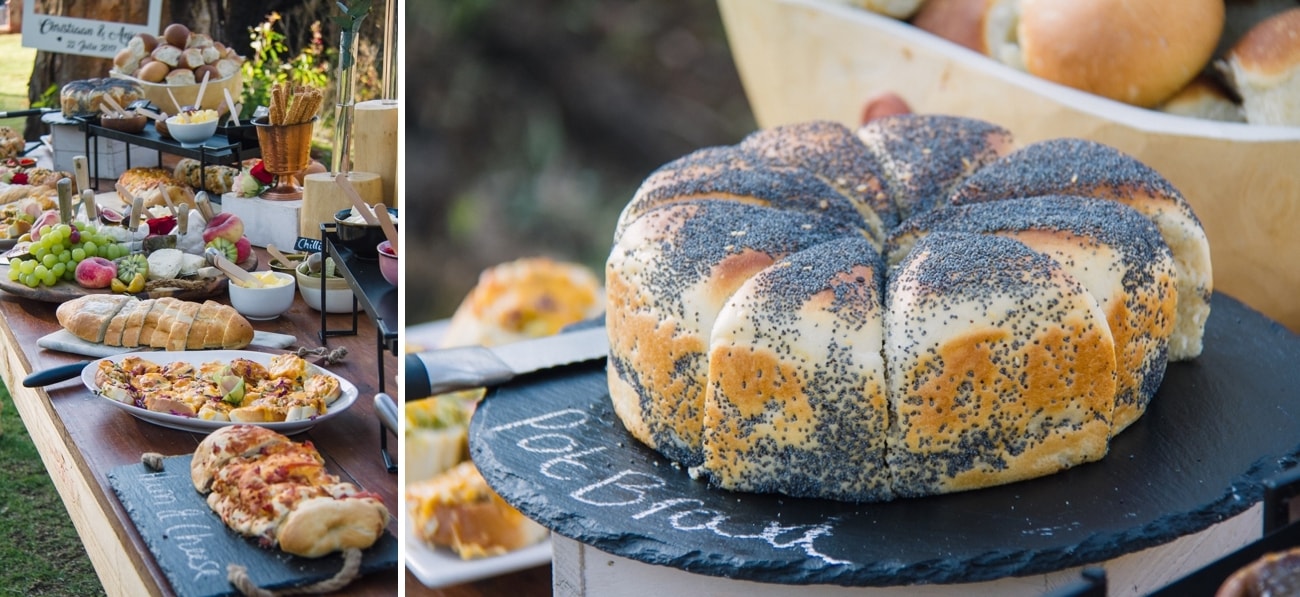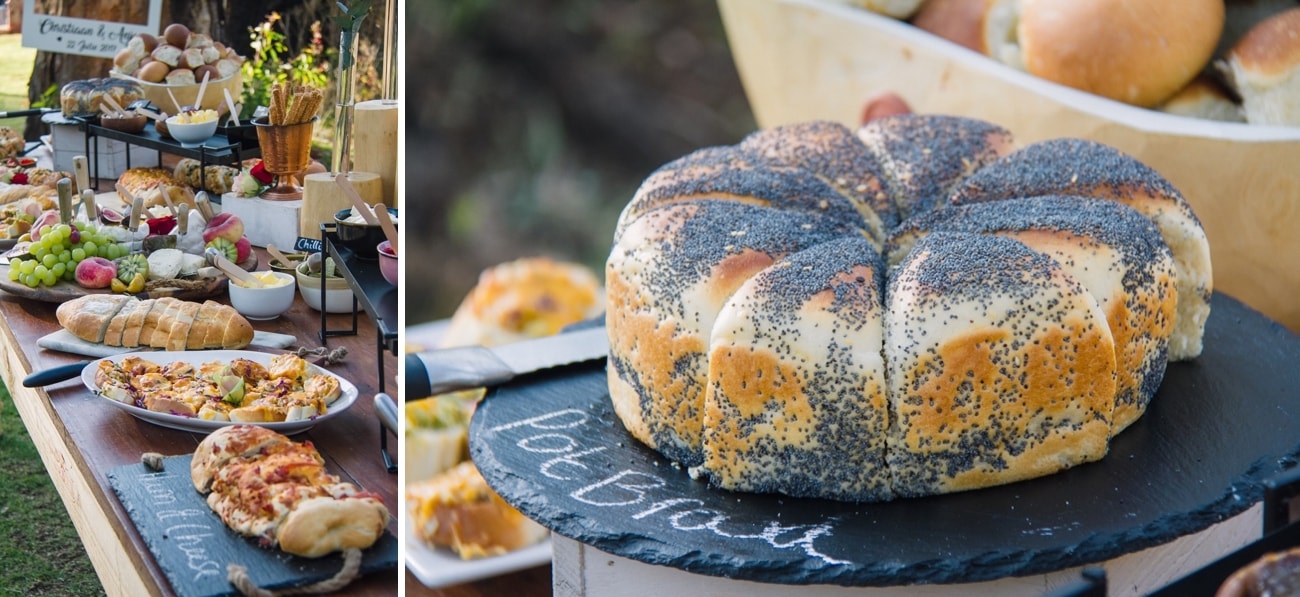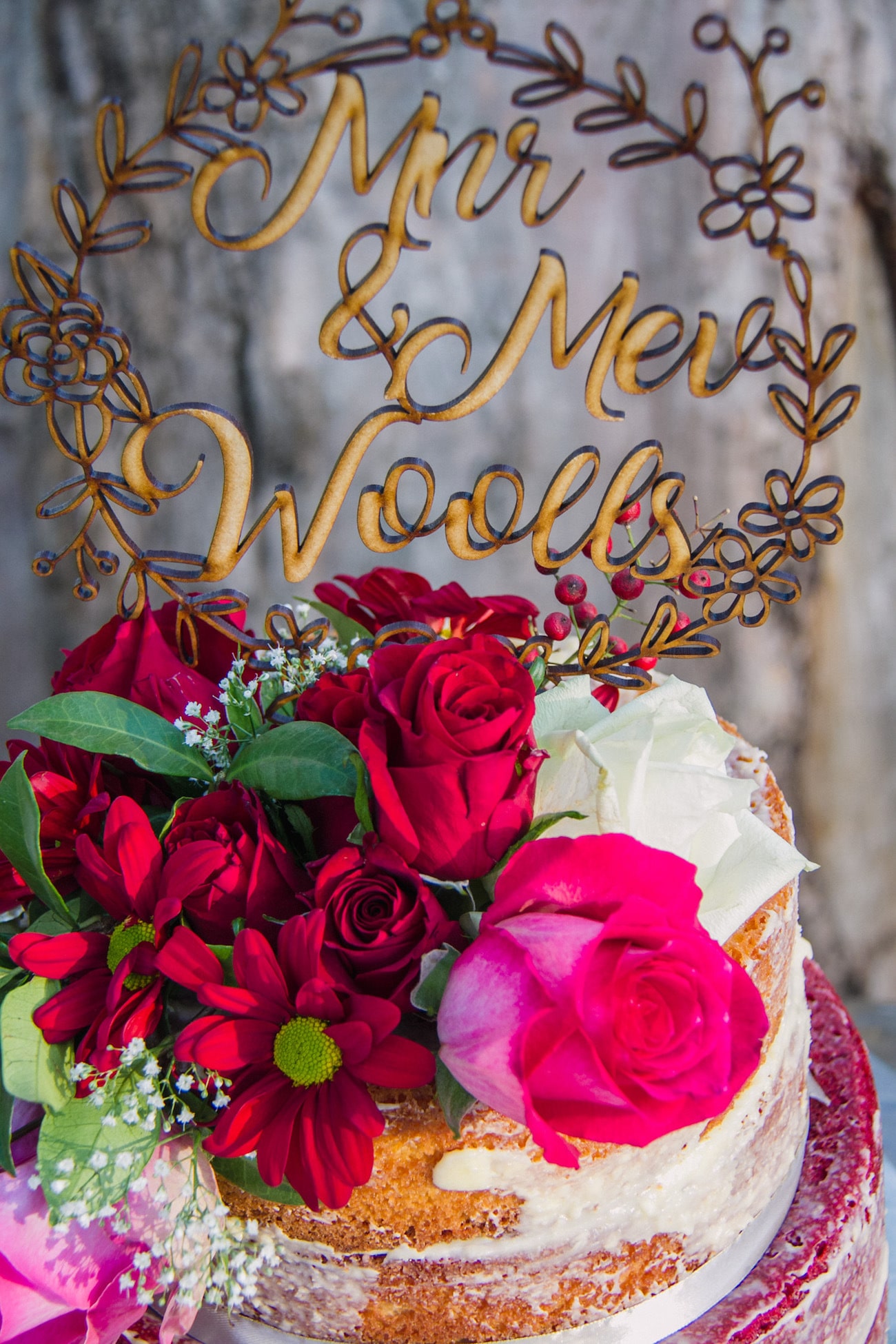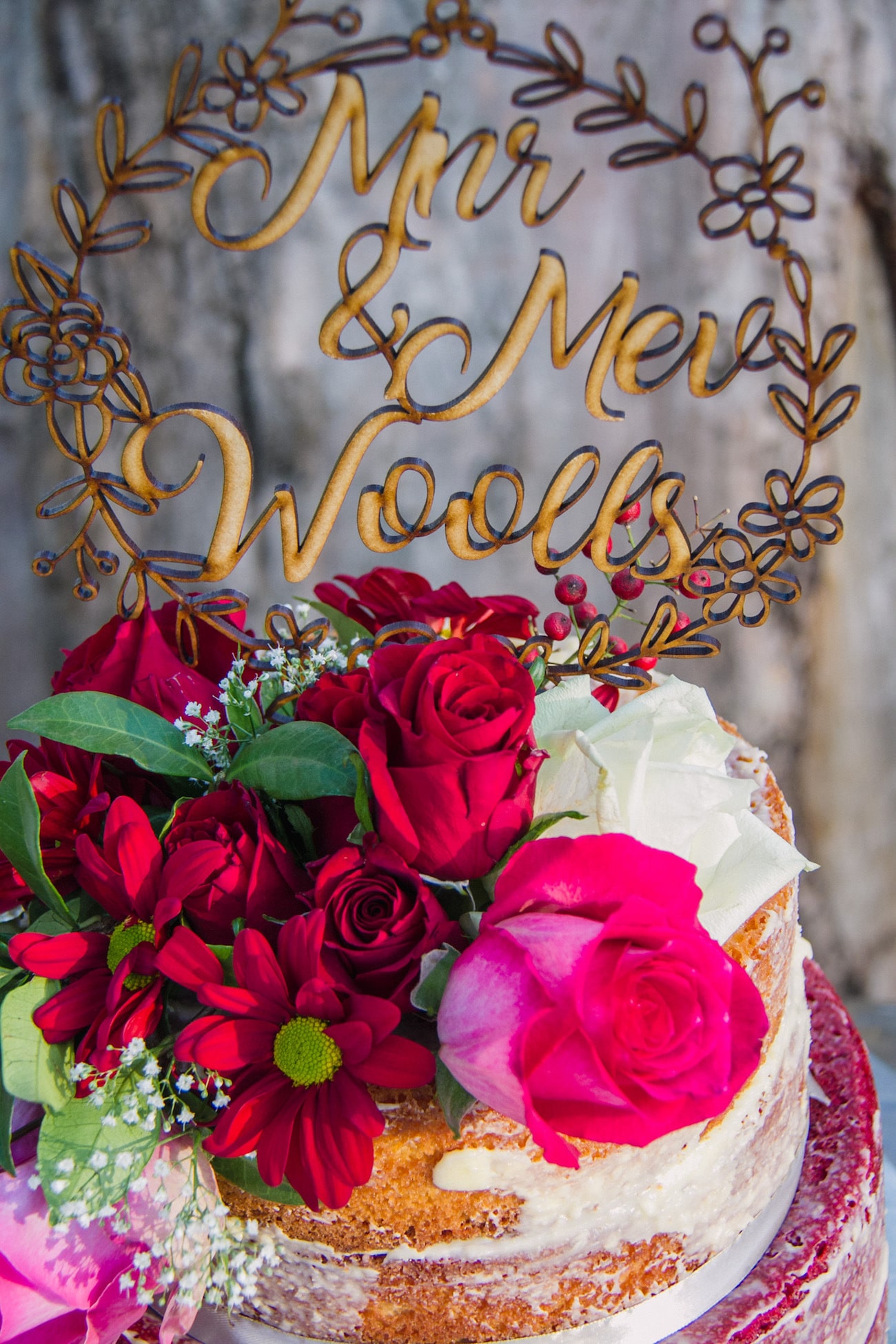 The Flowers
Once again, due to the contrasting nature of my wedding theme, I really wanted to incorporate the greenery trend into my flower arrangements and then incorporate bright berry-toned flowers to complement the earthy greenery. The flowers we mainly used were of course loads and loads of eucalyptus (which enhanced the minimalist and fresh feel of the wedding) with blue tints as well as deep red and cream coloured roses, blushing brides and maroon Arum lilies.
Memorable Moments
Some of my favorite moments were the ones just before I entered the church. All of the emotions rushed through me and of course the moment we were officially a married couple there is just no such feeling. My dance with my father, and with Christiaan, was also such a special memory shared and lastly the moment after everyone had left and they started to clean up the hall, and the realisation sank in of being able to spend the rest of my life with the one person I love the most.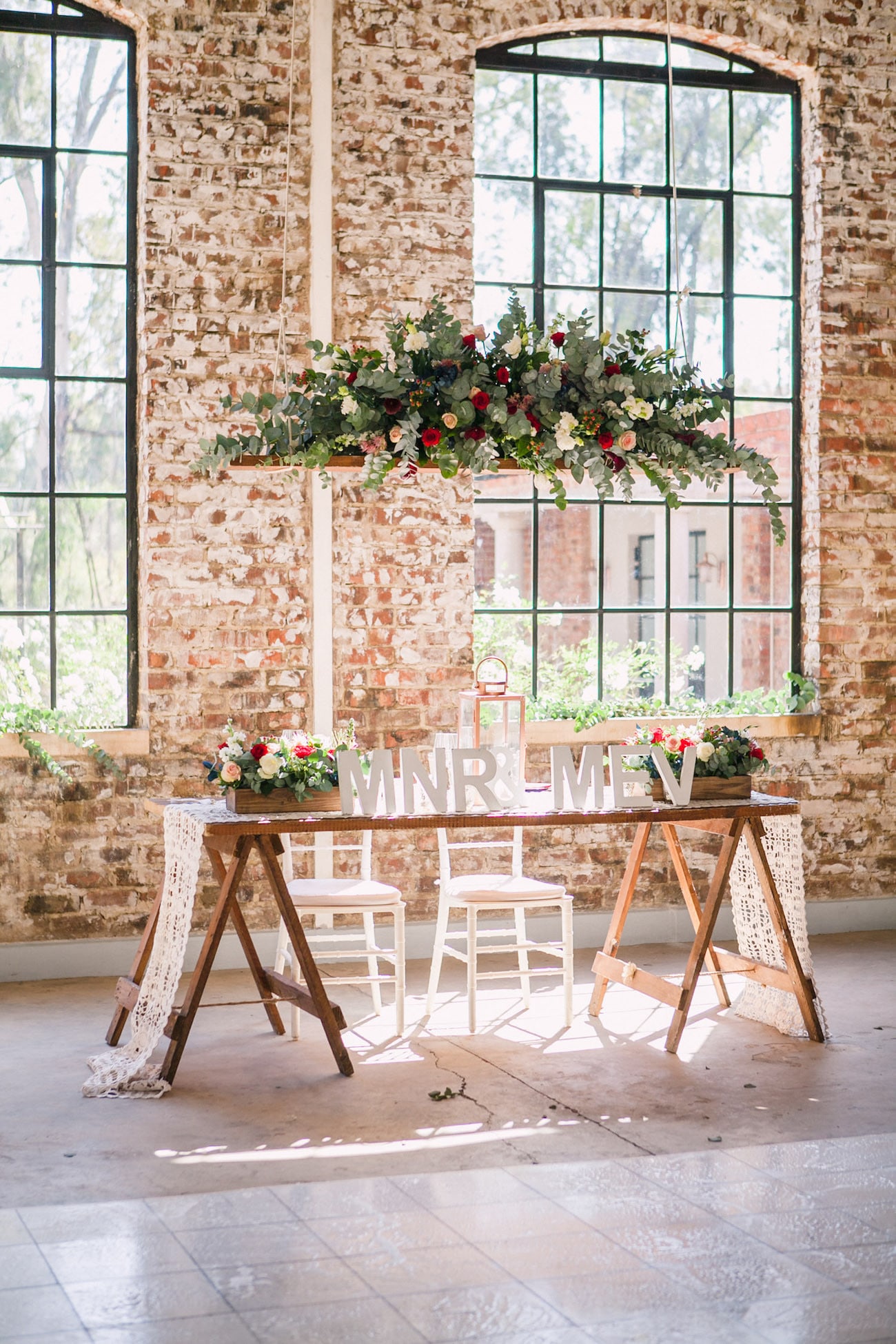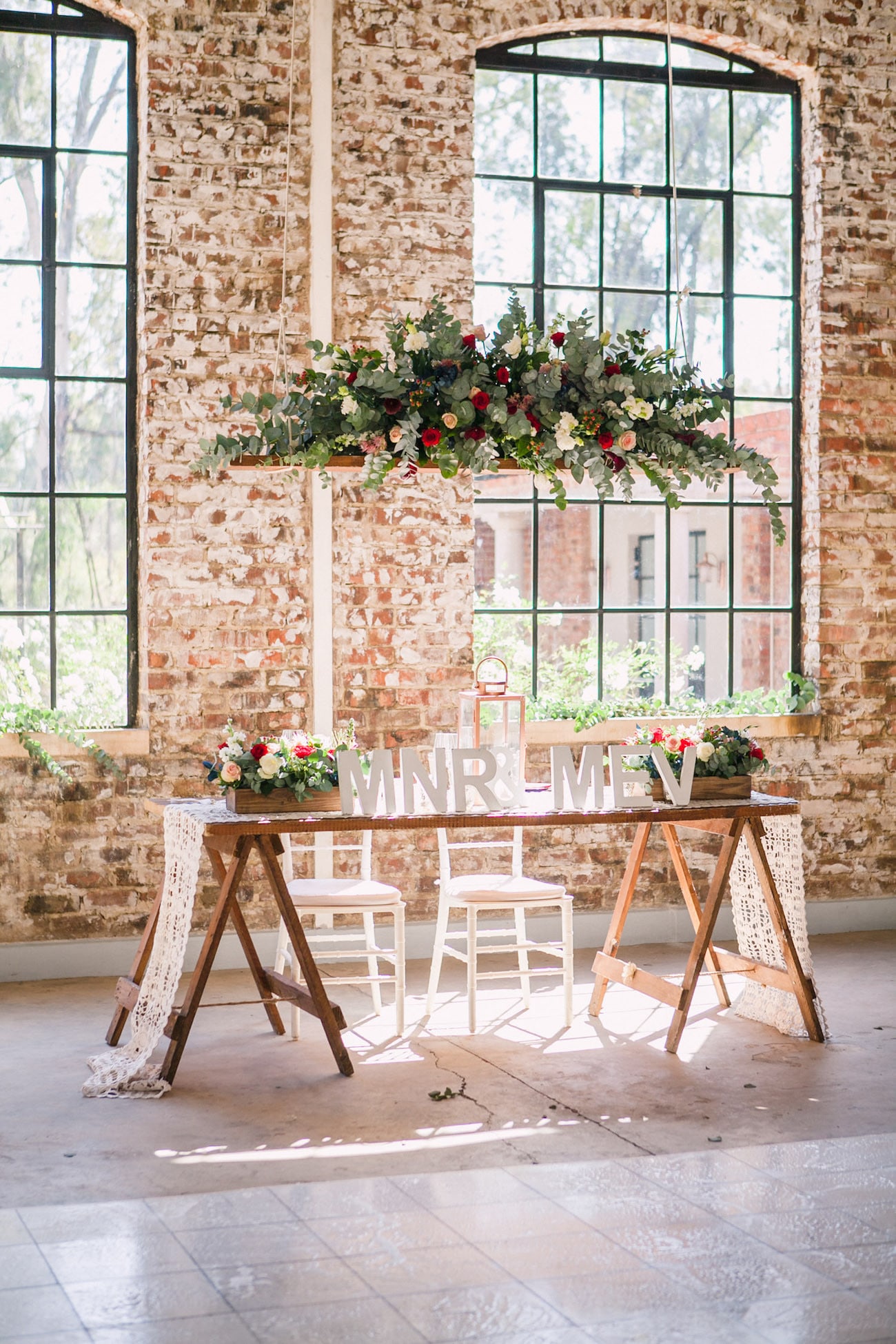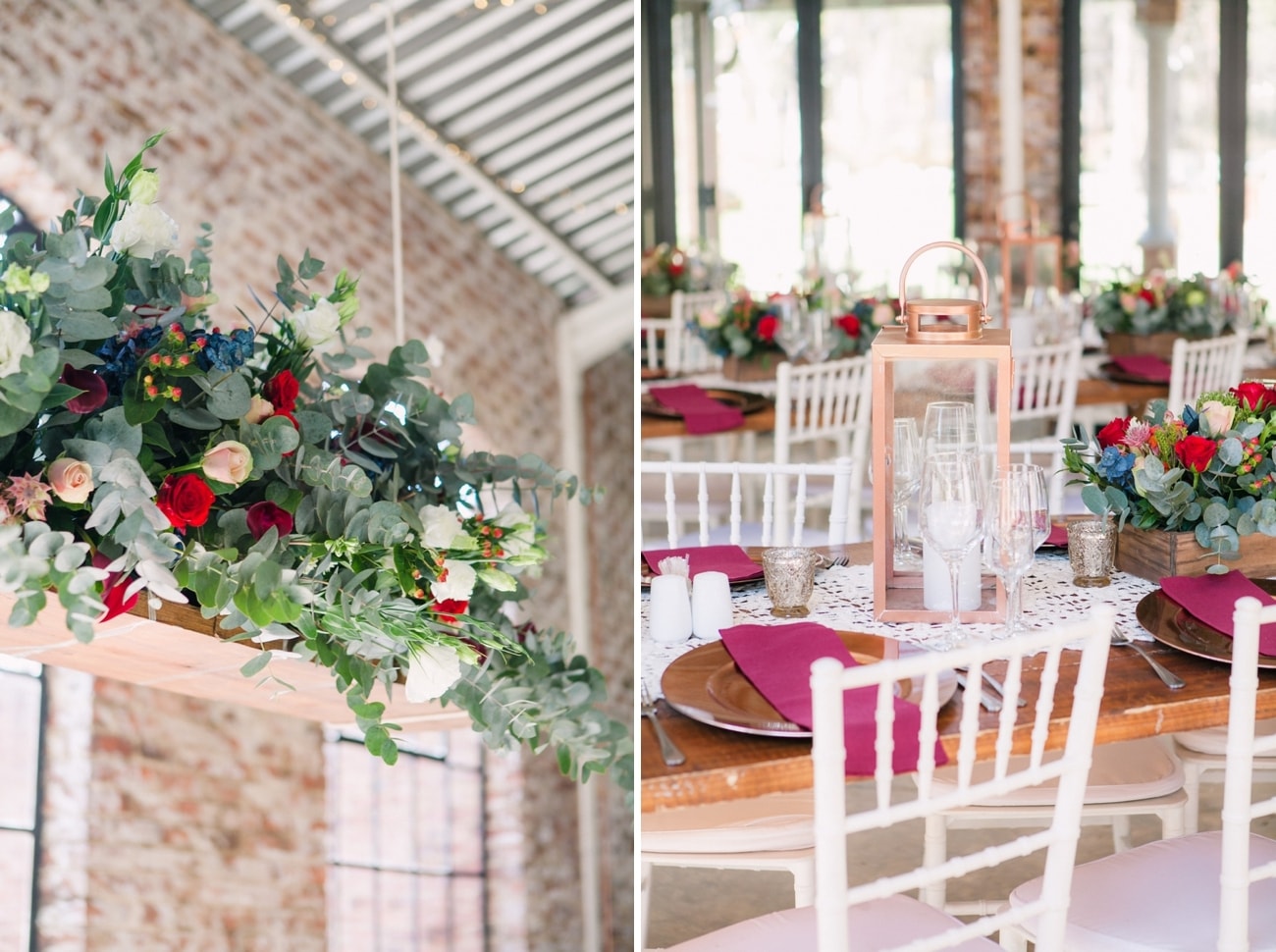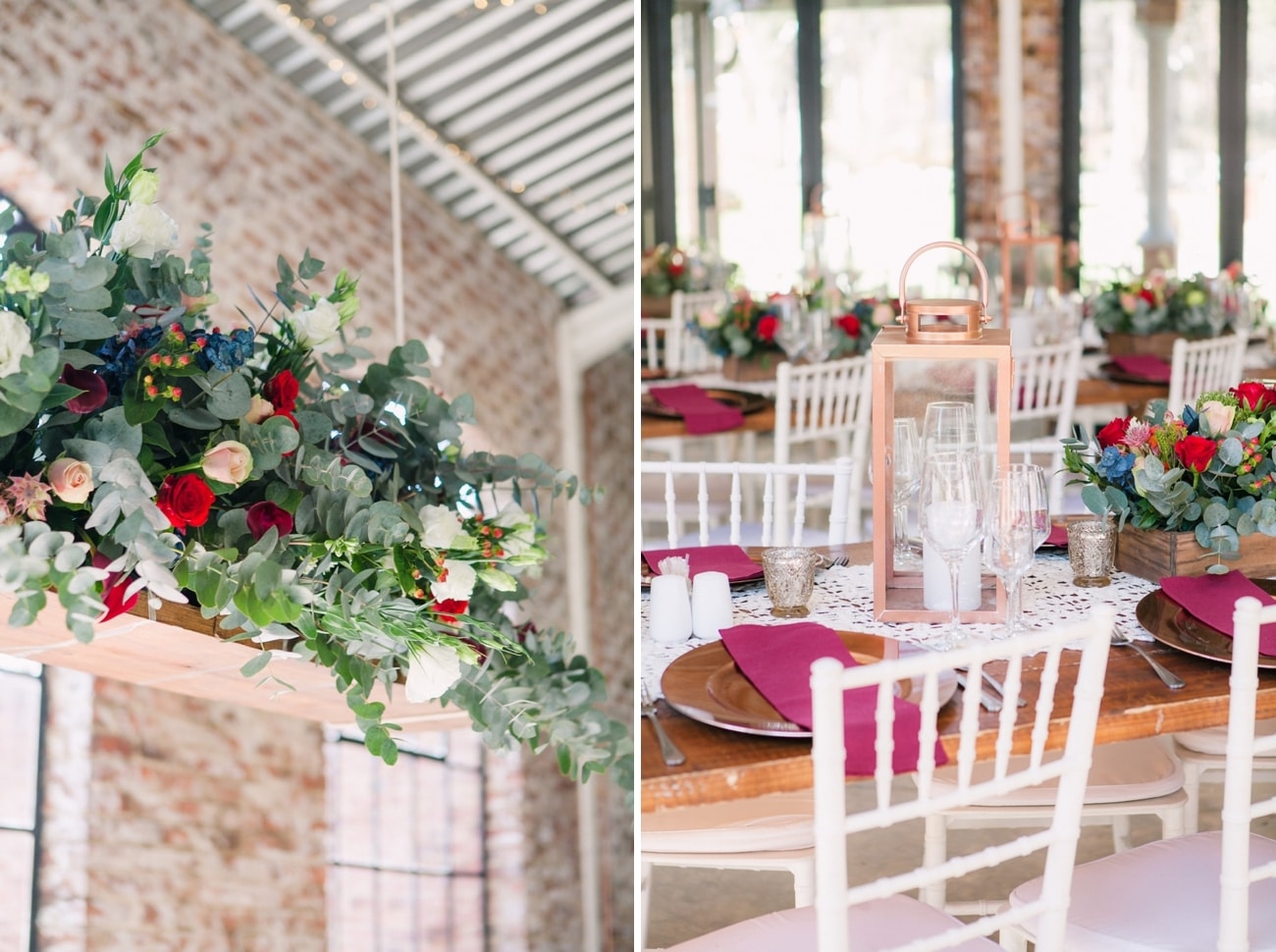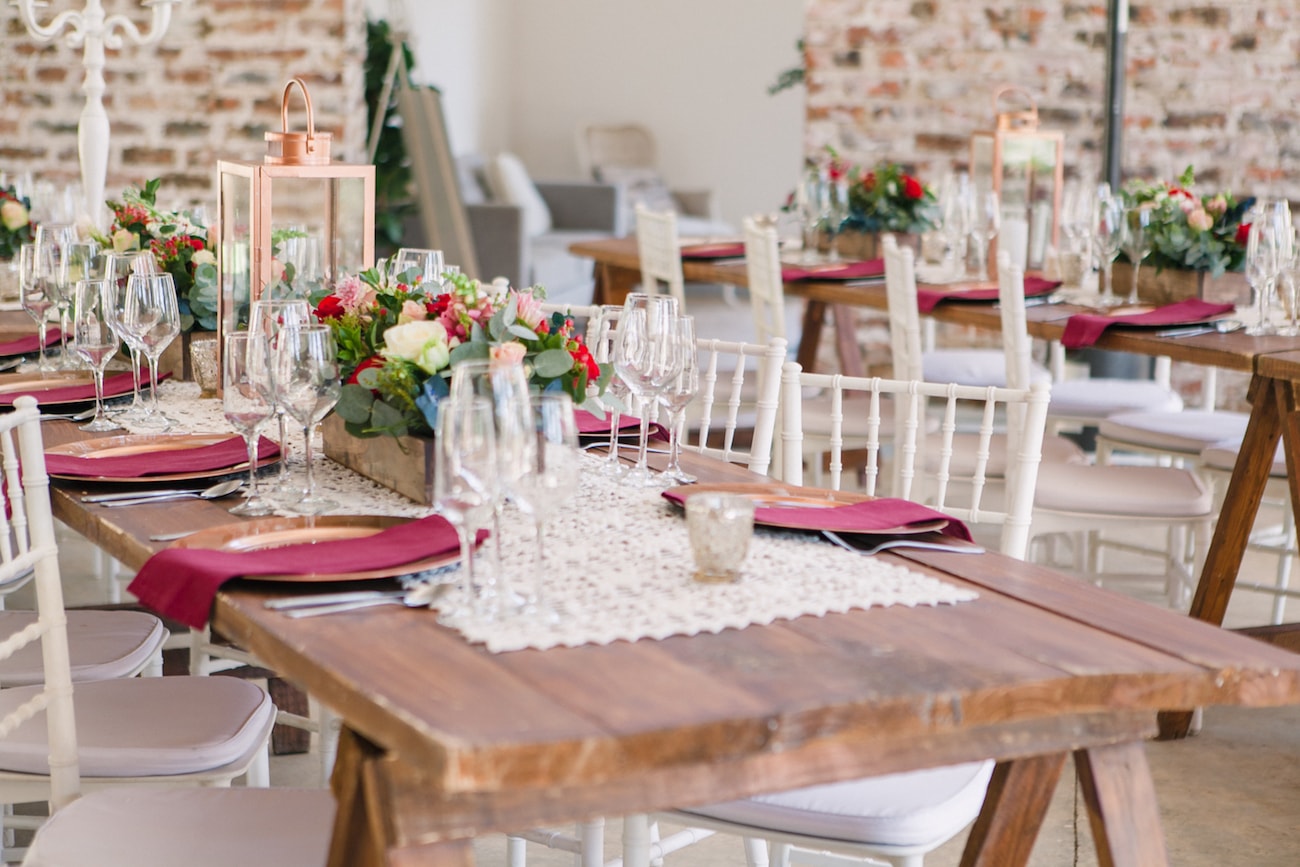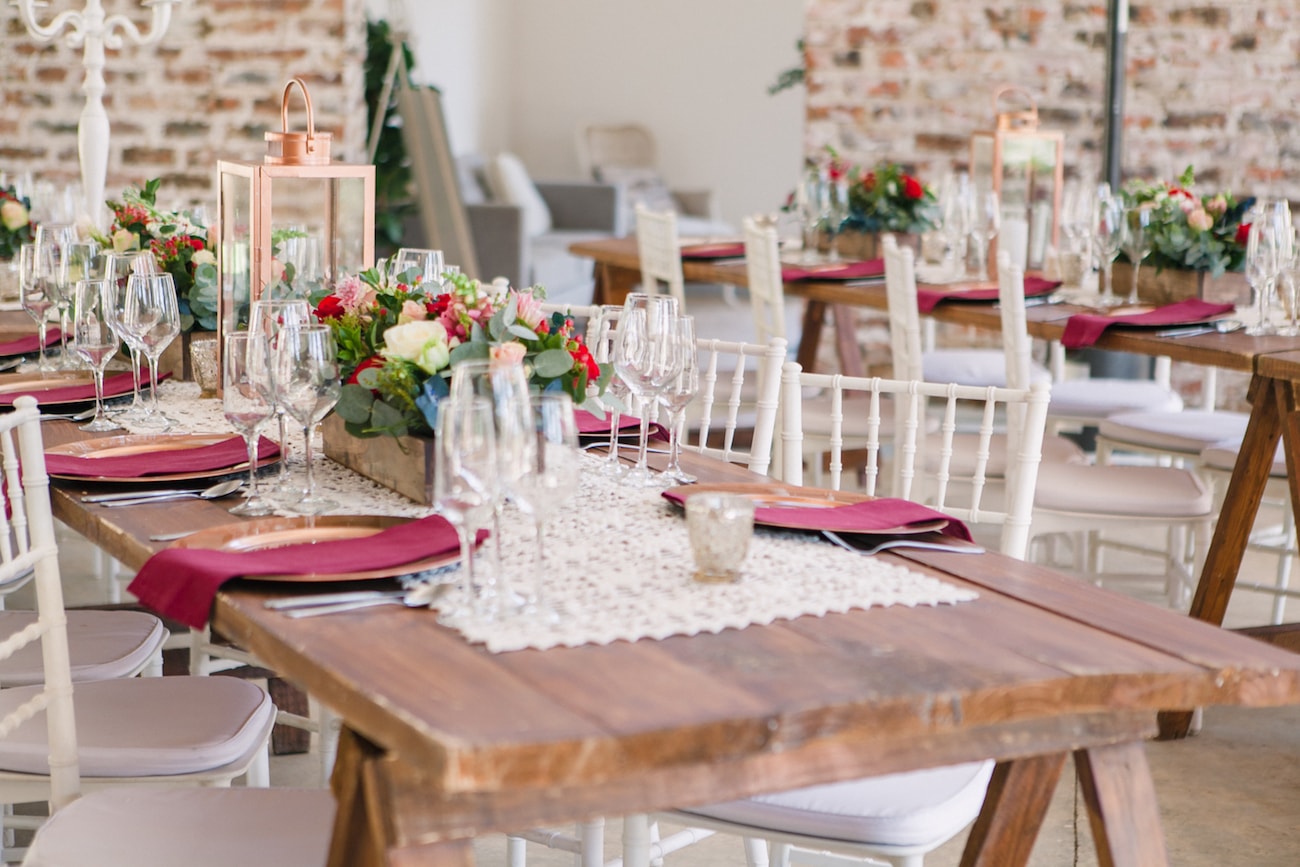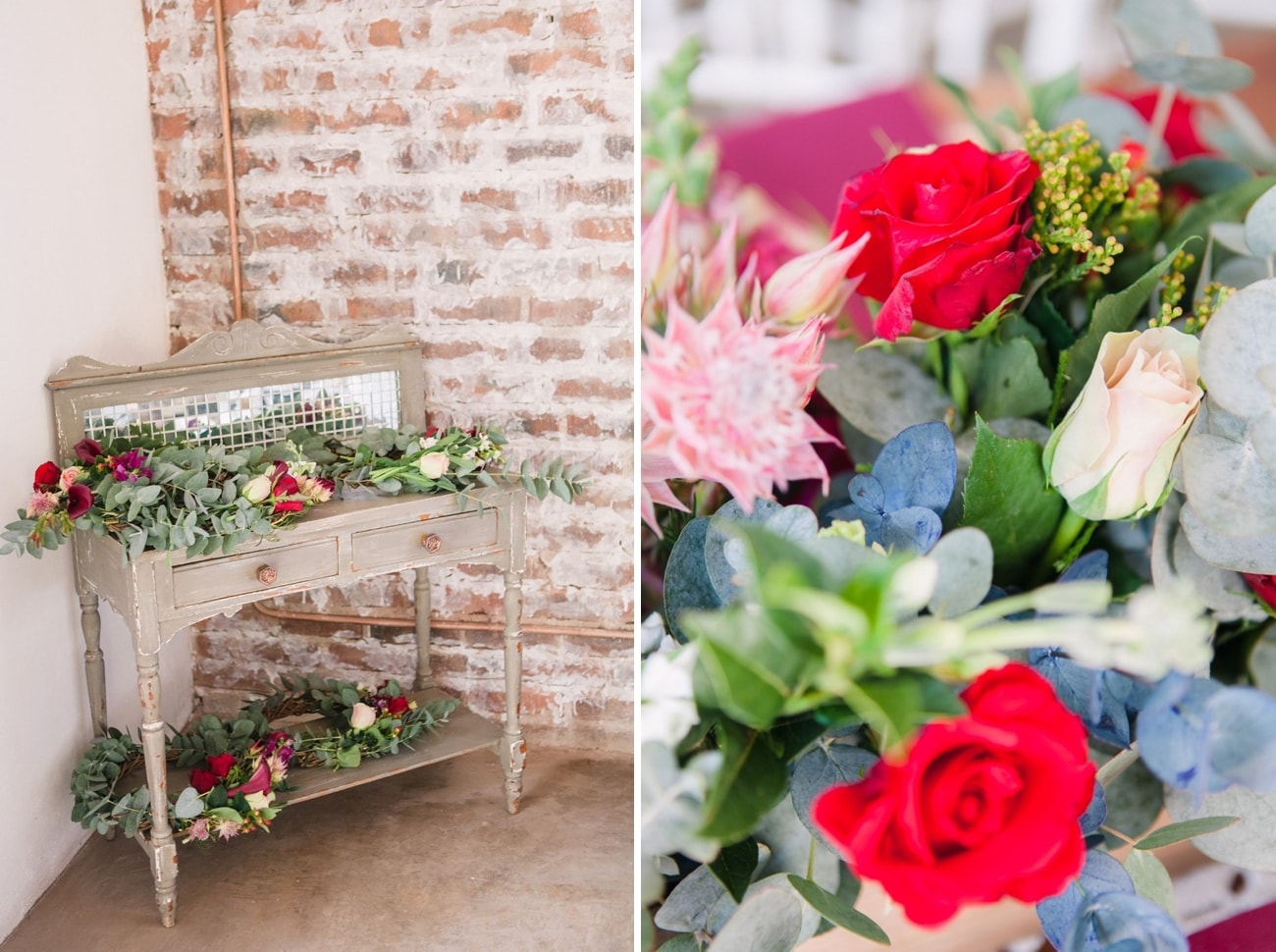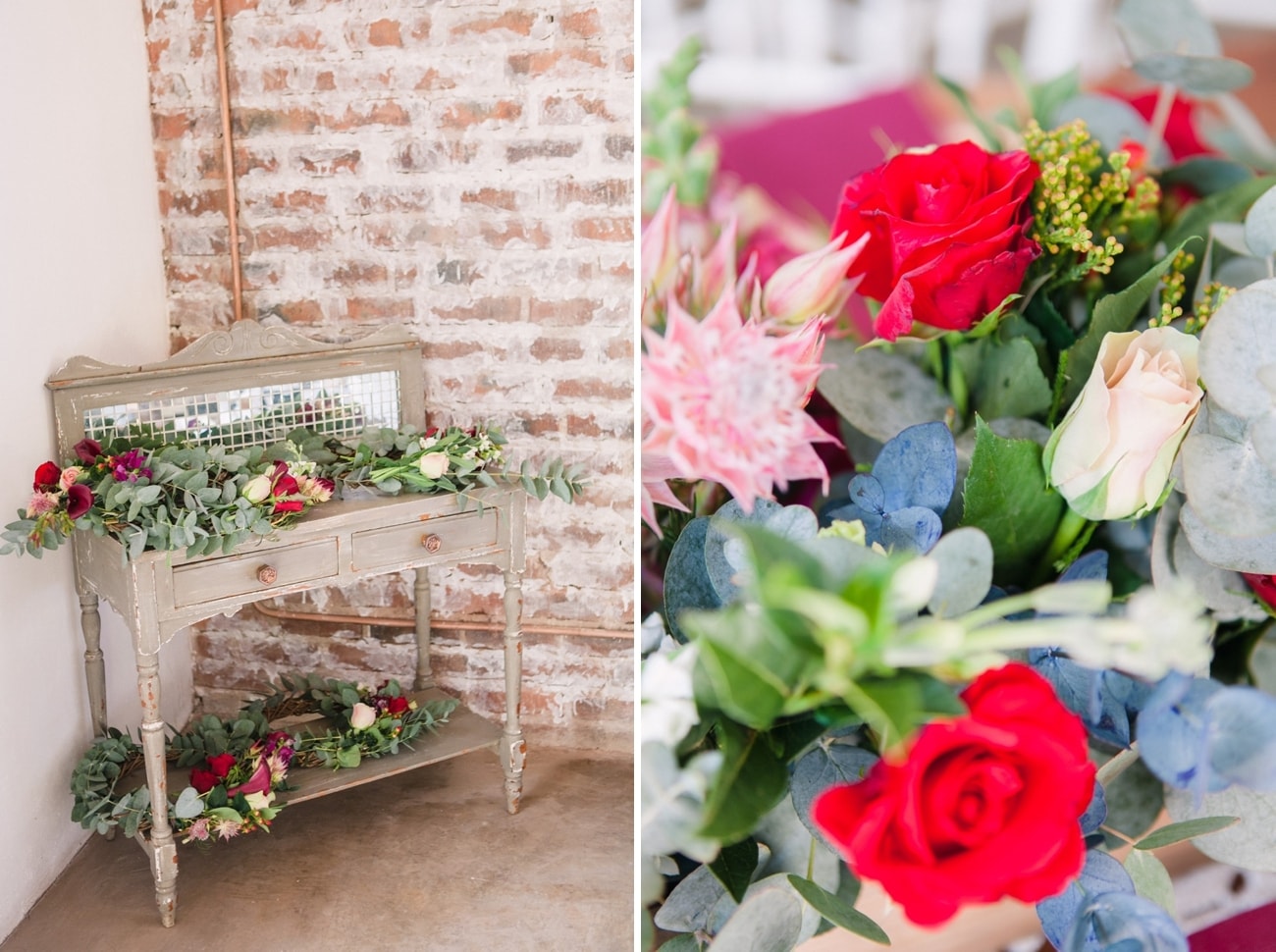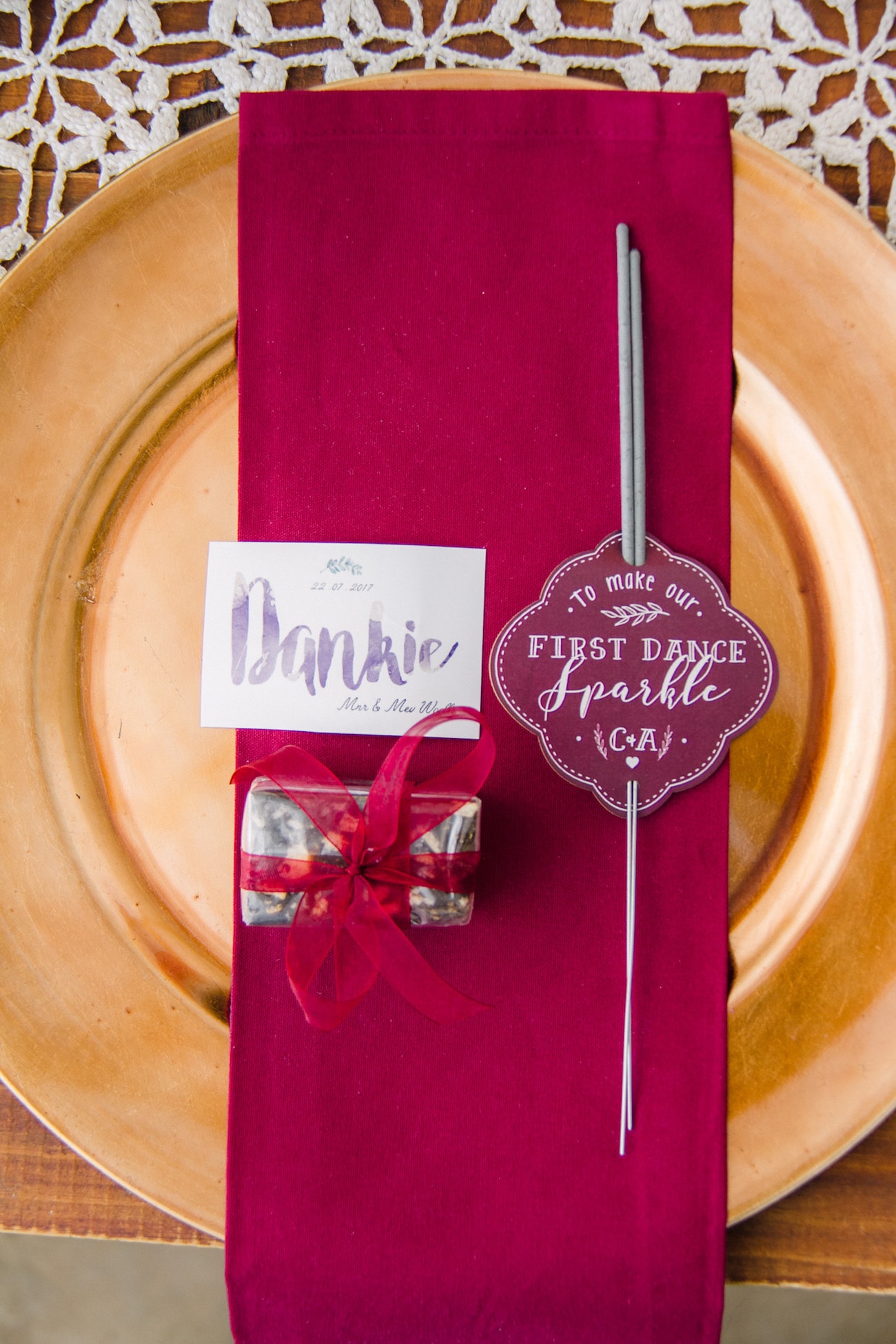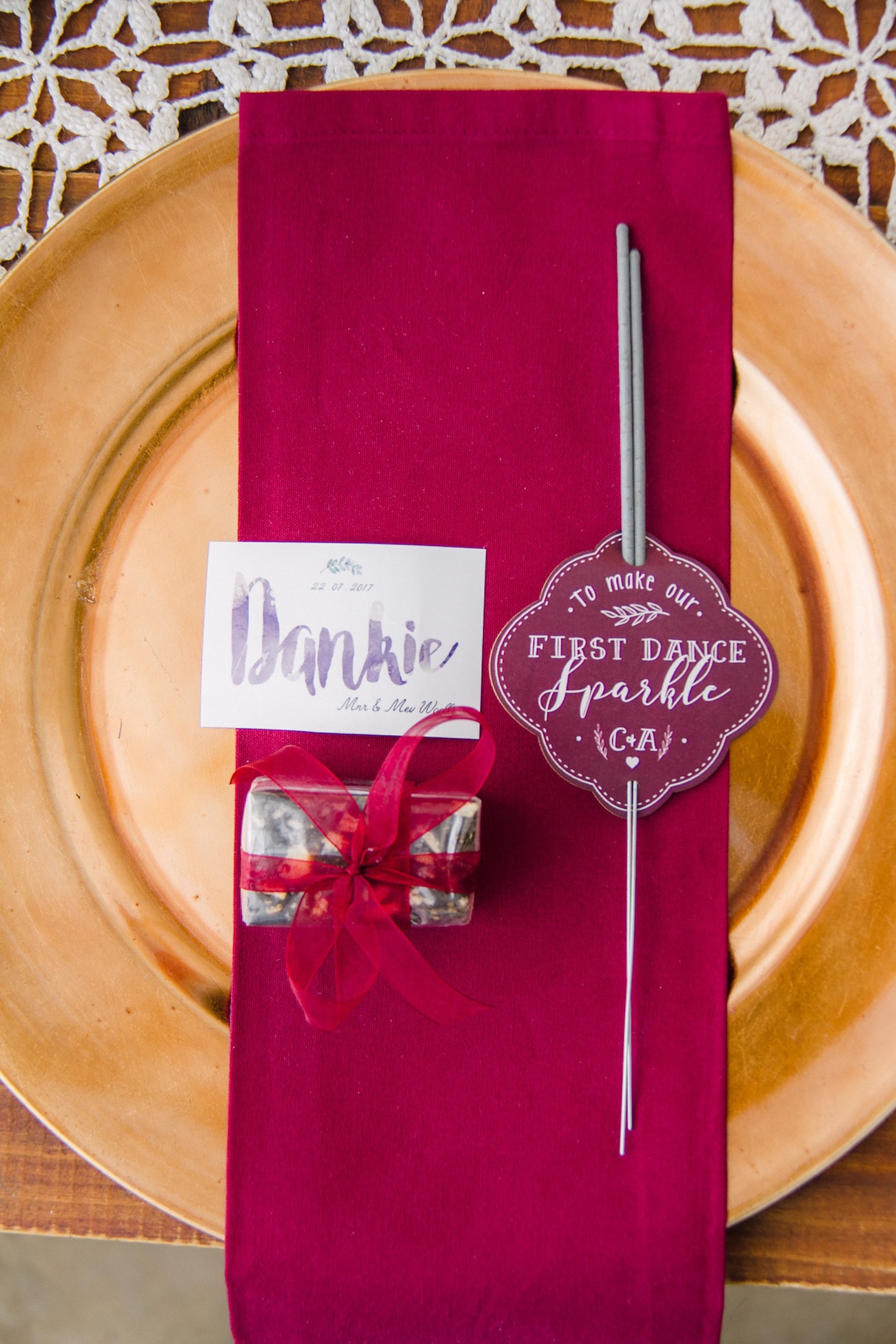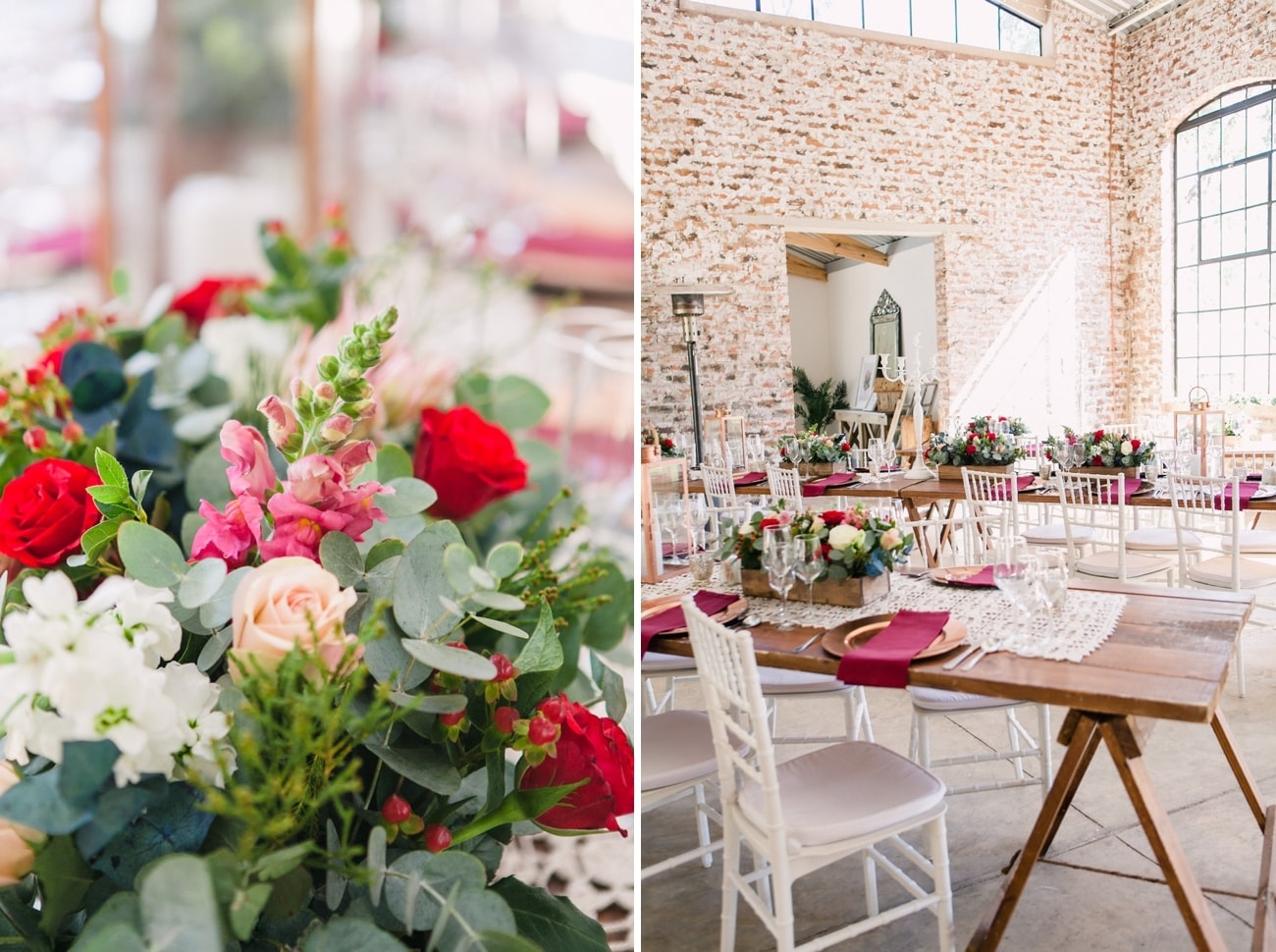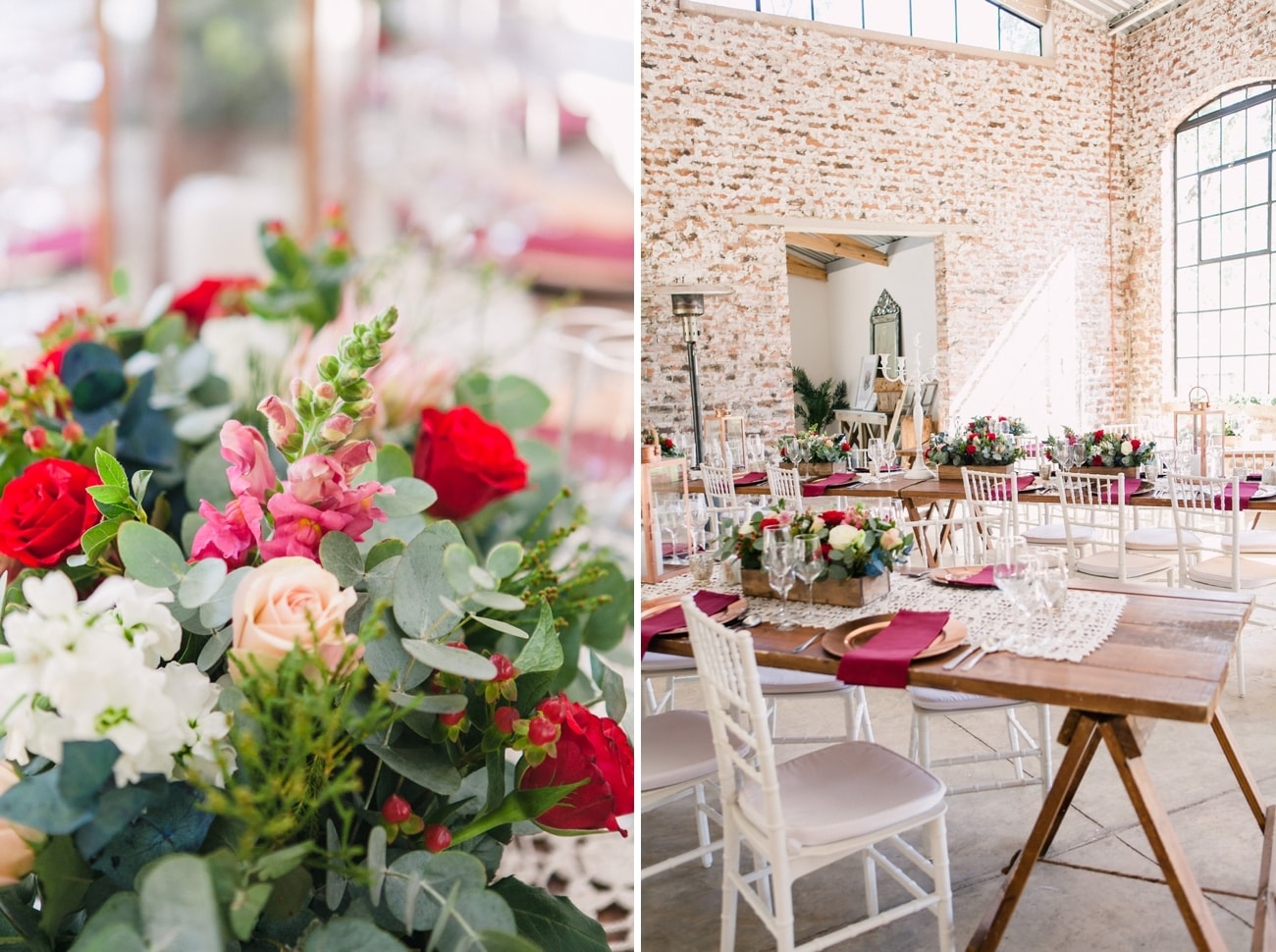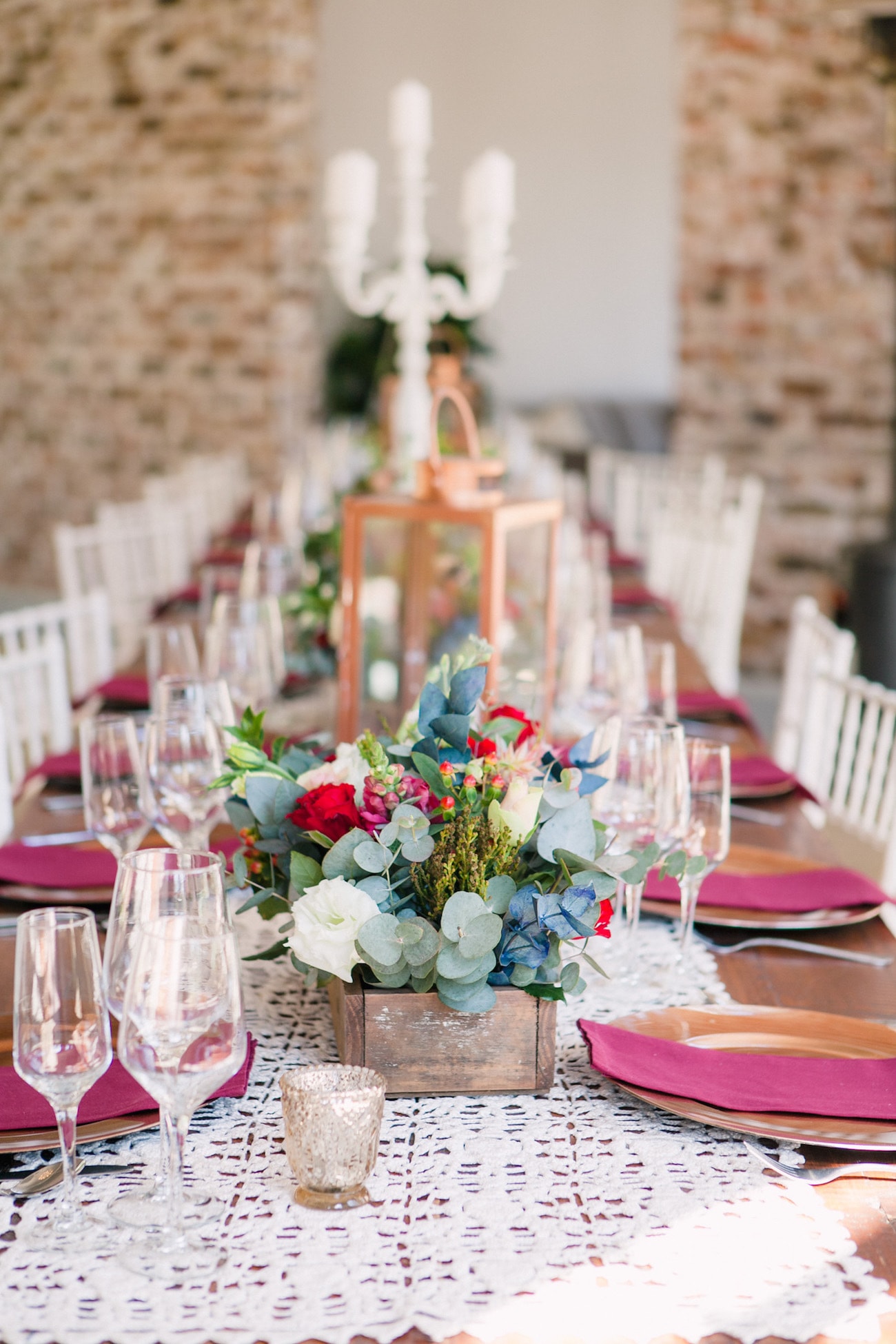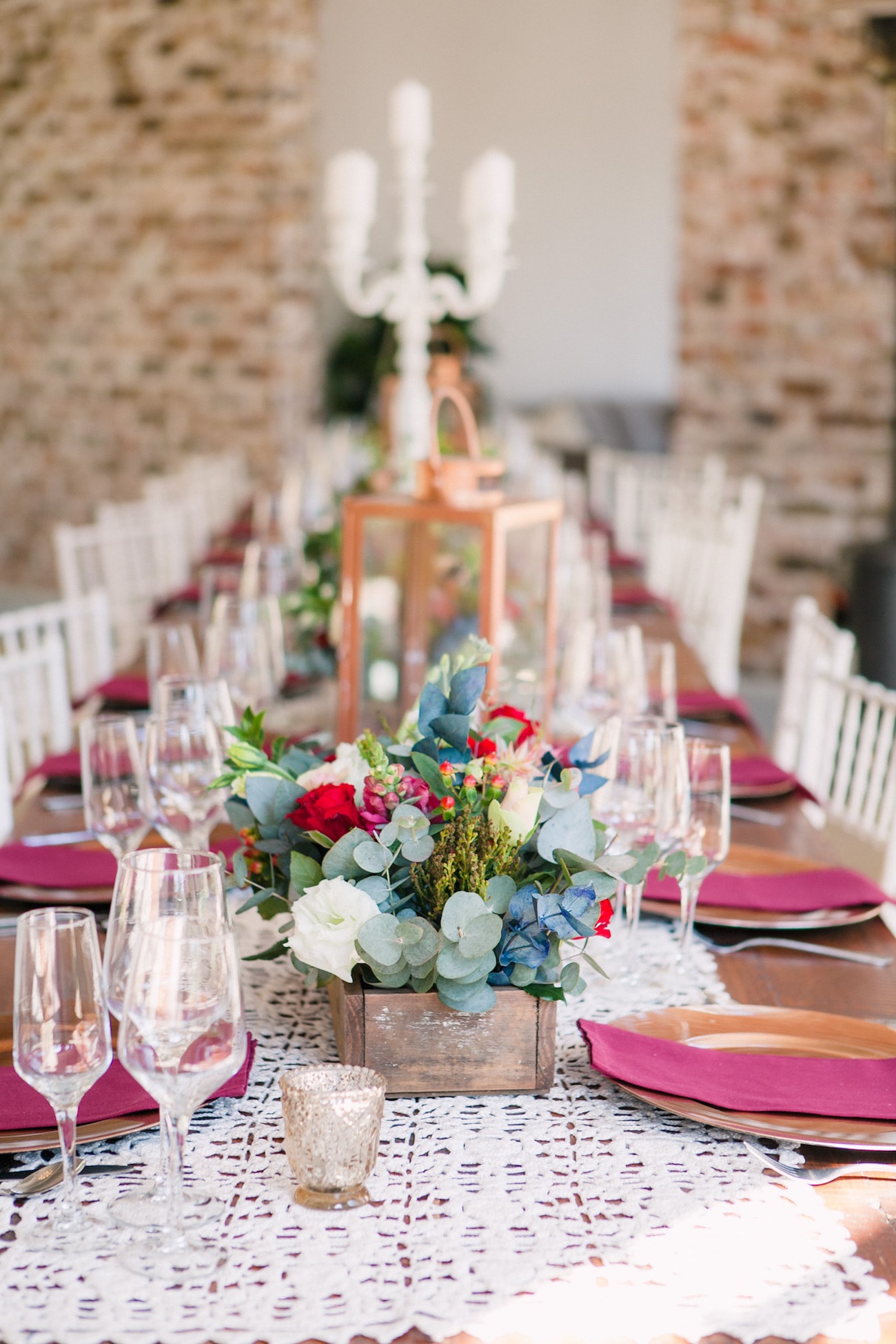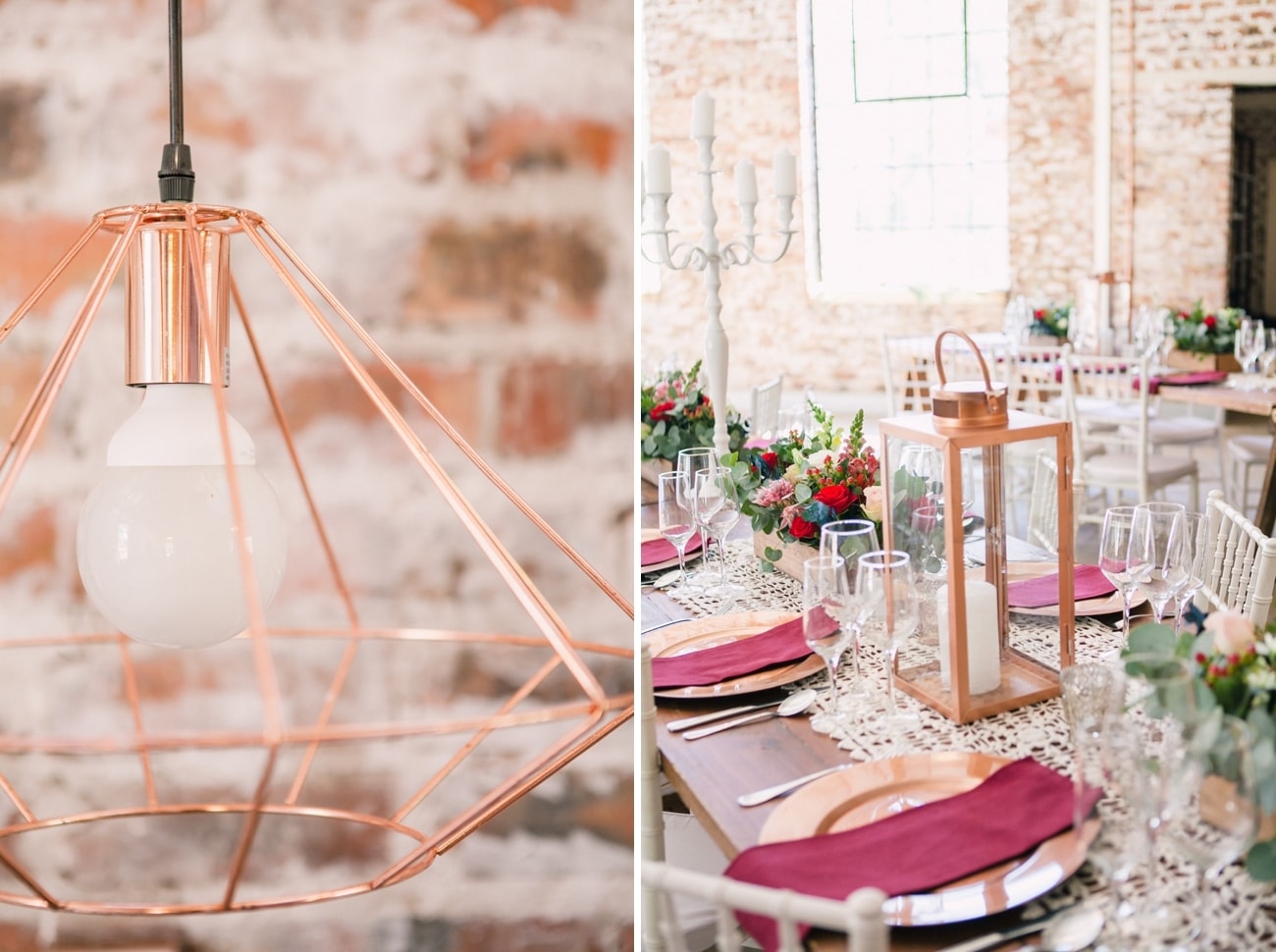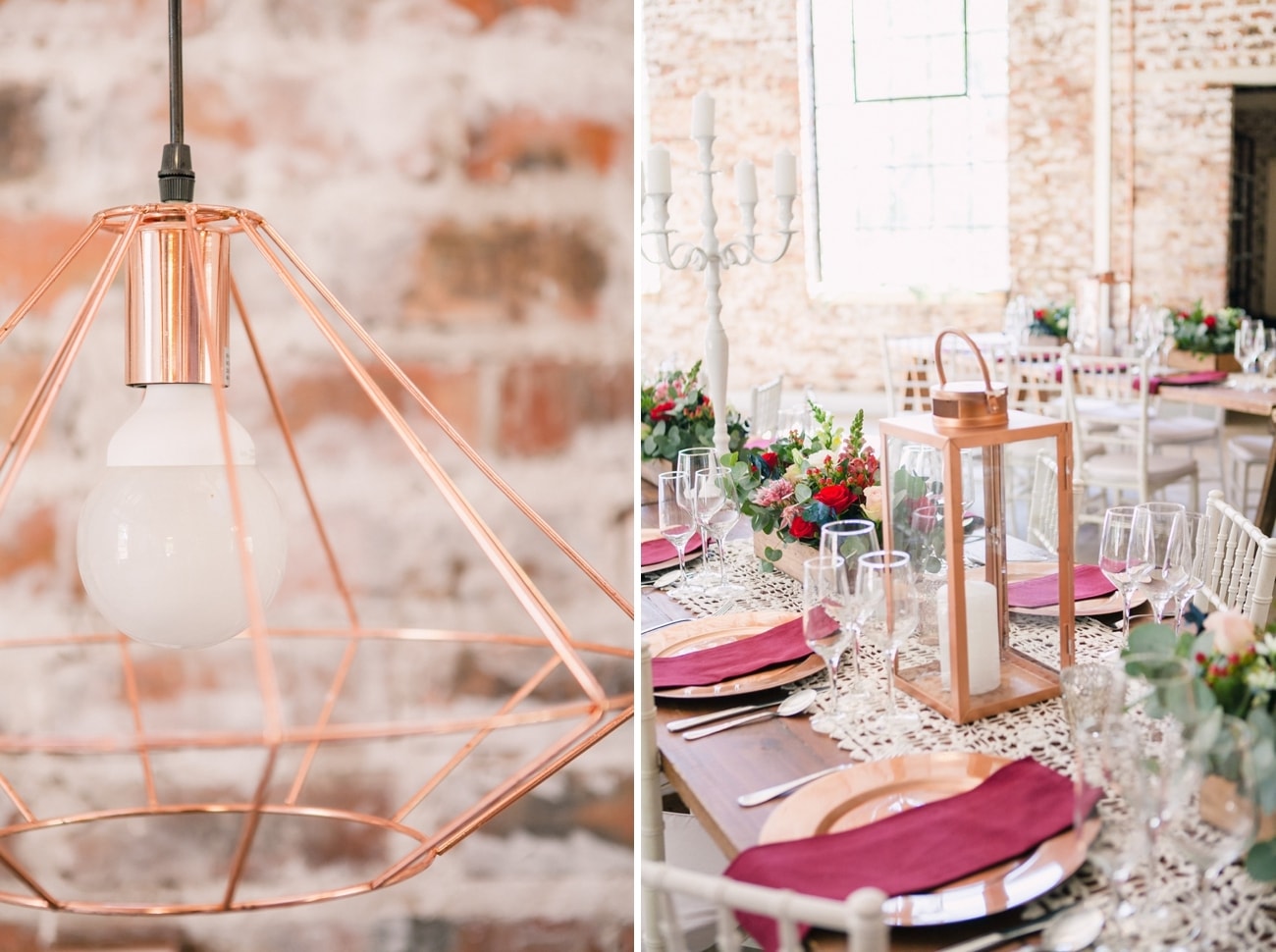 Best Decision
The best decision was to plan ahead, before the engagement. It helped us a lot regarding expectations and expenses. We also booked the venue and photographer we wanted as quickly as possible, since they book out fast. As soon as we established a theme and feel for our wedding, we kept to it and always thought about the bigger picture at the end of it all; it really helped us to keep sane, when things got tough.
Advice for Future Brides & Grooms
Some of the best advice I could give a young couple is to always stick to your gut instinct, don't overthink things and don't overreact to situations where things don't go as planned. Most of all, enjoy every moment and soak it all in, it goes by more quickly than you think.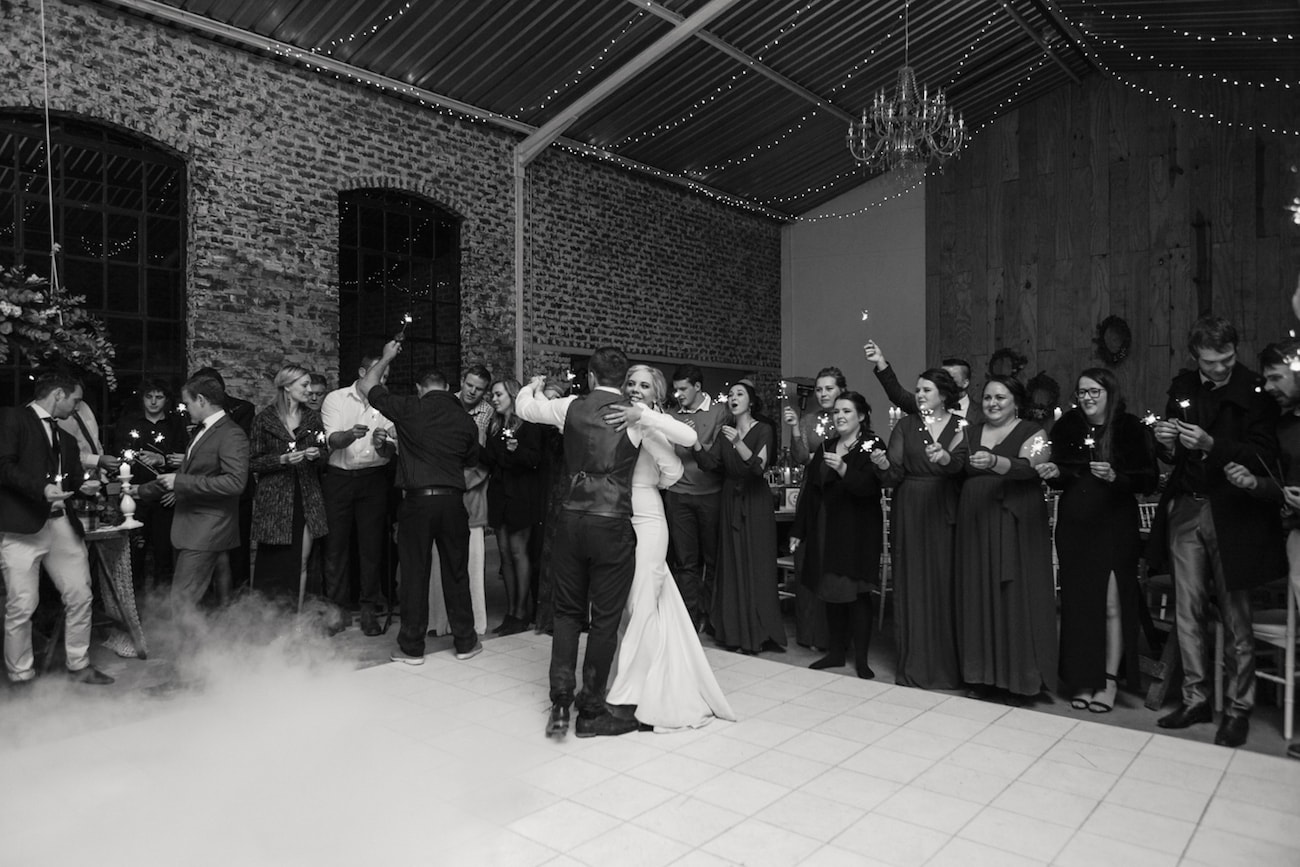 You can see more from this wedding on the Dust and Dreams Photography blog.
SERVICE PROVIDERS
Venue & catering: Lace on Timber | Photography: Dust and Dreams Photography | Co-ordination: Jannel Bezuidenhout for Lace on Timber | Flowers & décor: Pebble and Lace | Invitations: troulandtyntjies | Additional stationery: You and Me | Cake: Let Them Eat Cake | Bride's dress: White Lilly Atelier from The Wedding Collective | Hair & makeup: Madeleine Louw Moller | Bridesmaids' dresses: YDE | Groom's attire: Zara | Groomsmen's attire: Markham | DJ: Starlight Sounds | Entertainment: Niel Markgraaff