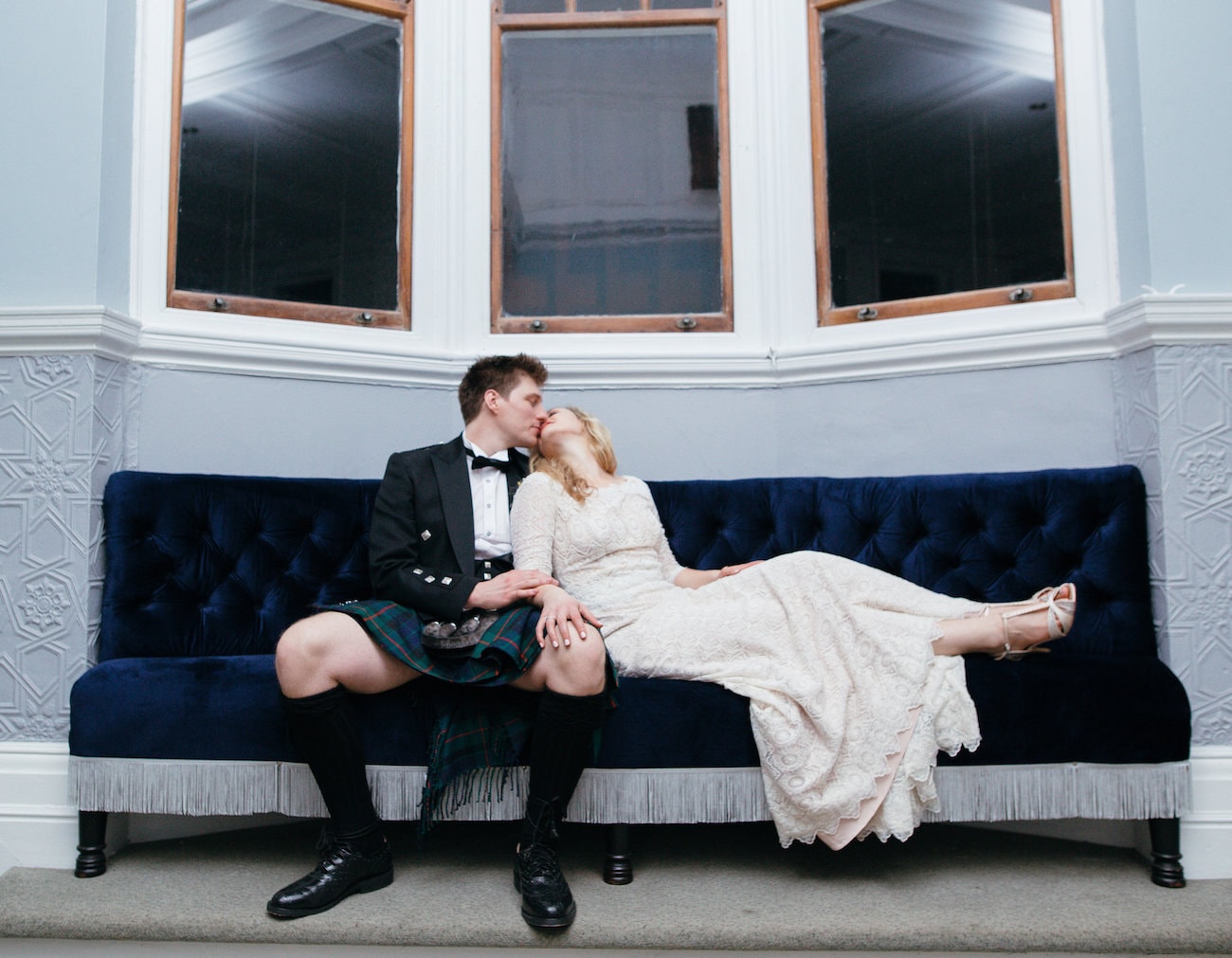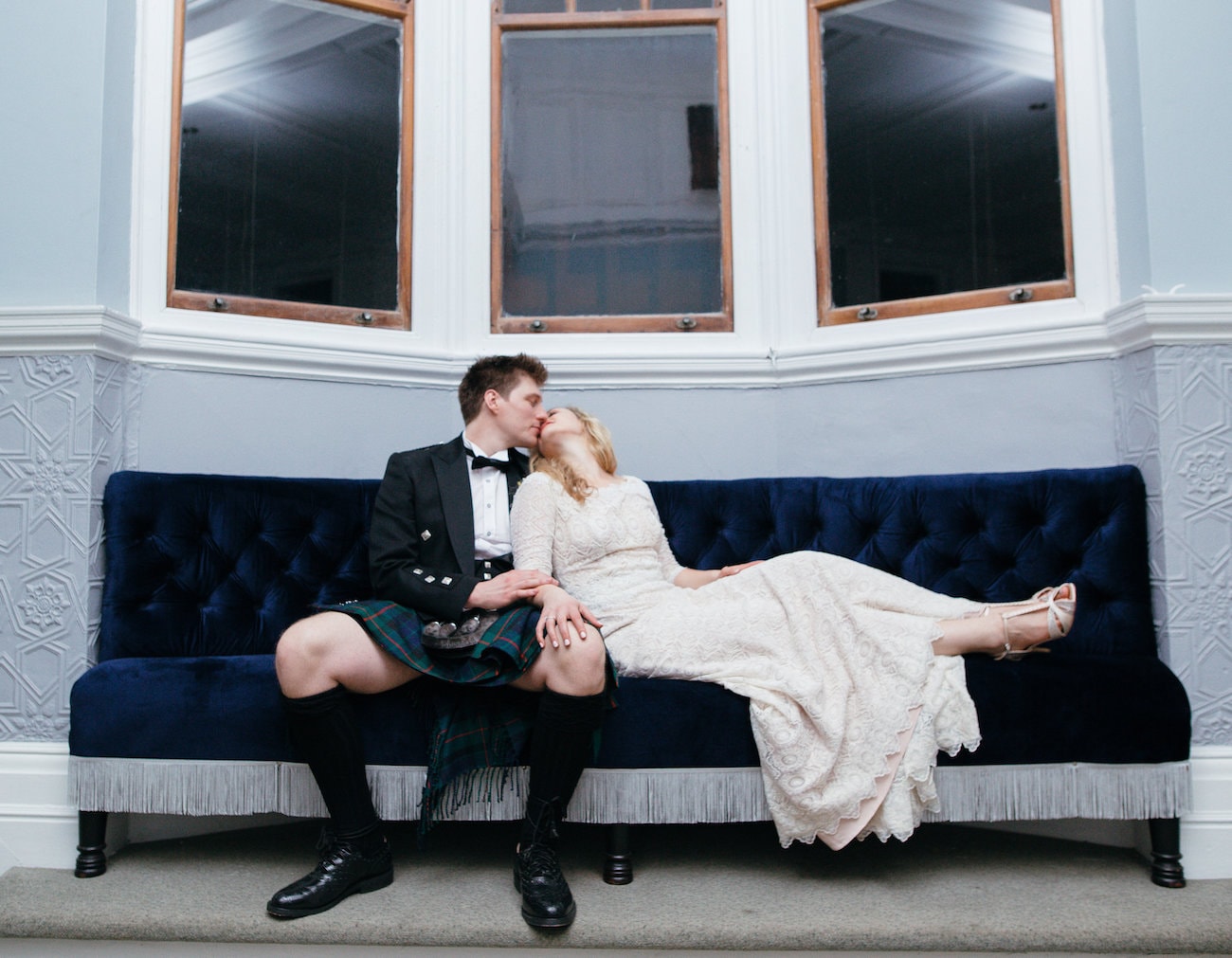 I've heard of saying it with flowers, but when it came to his proposal, today's groom said it with coffee! Which is kind of the perfect city living touch for Henrietta and Ross, who also picked a classic city location for their wedding (the historic Cape Town Club) and took it as their cue for a celebration that was infused with 1920s vintage style. The reception was class all the way – candlelight bouncing off wood-panelled walls from the elegant black tapers, gorgeous arrangements of white flowers from the amazing Neva at Bright & Beautiful (who actually DOES know how to say it with flowers!), and the sweetest menus with a dog motif from our friends at Blooming Wonderful. All captured perfectly by Duane Smith.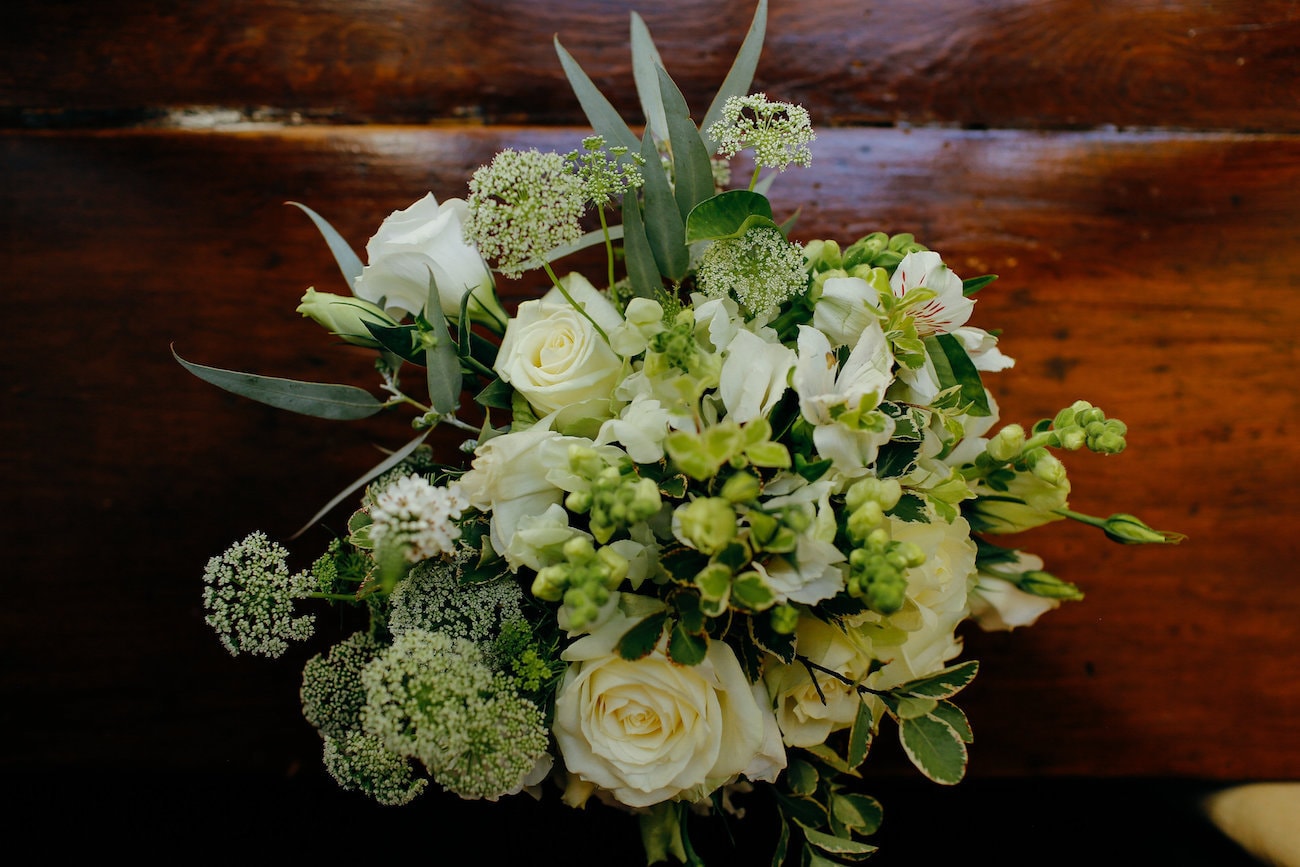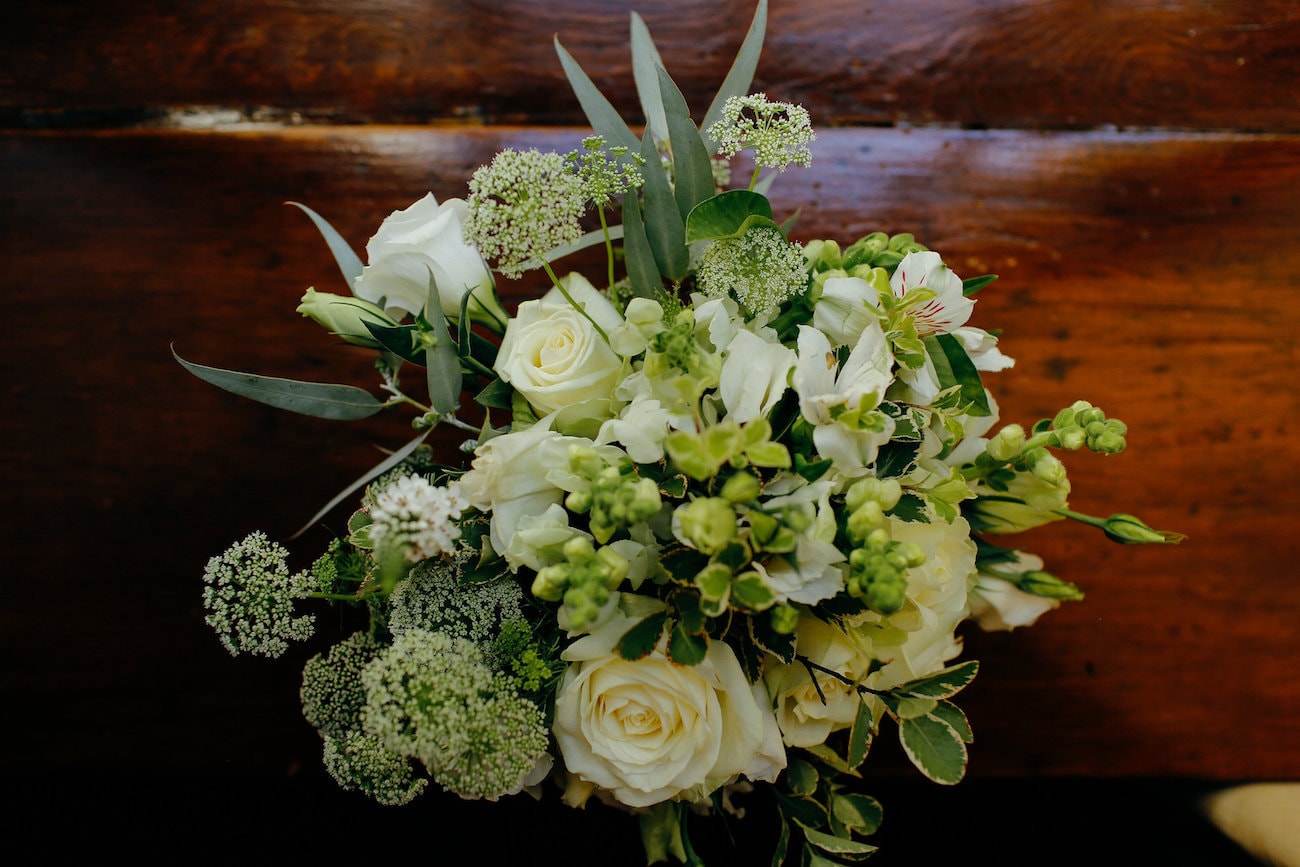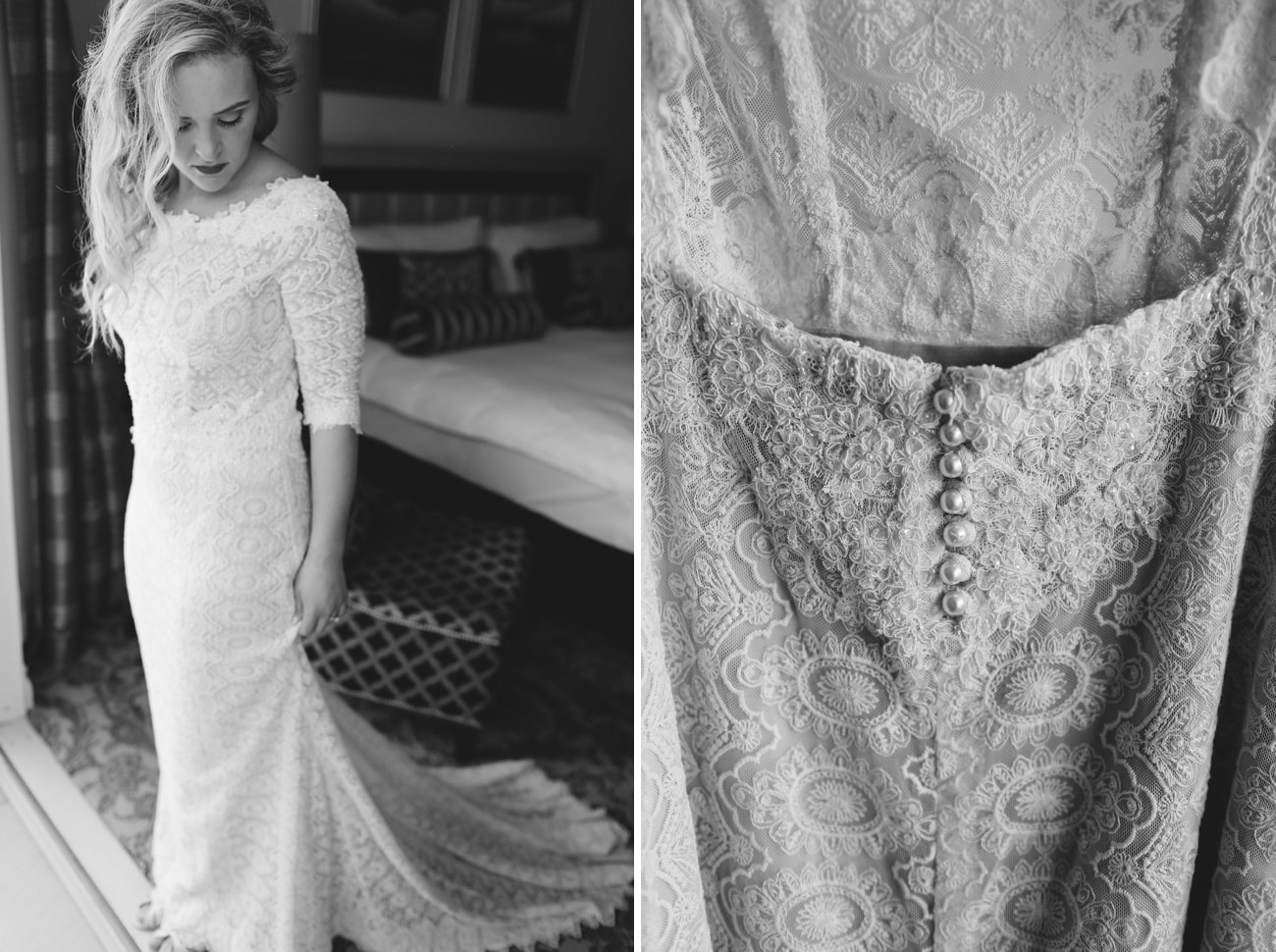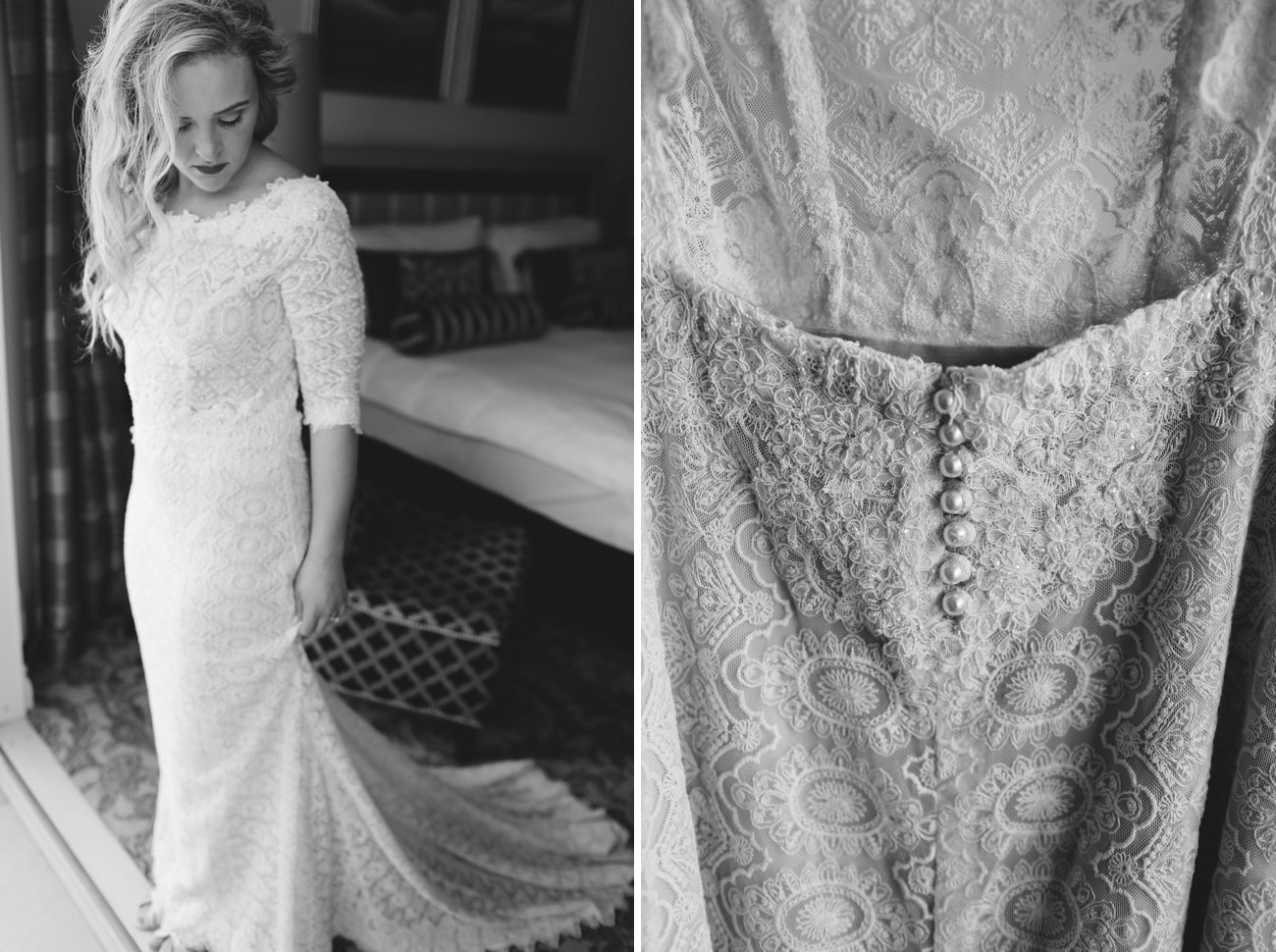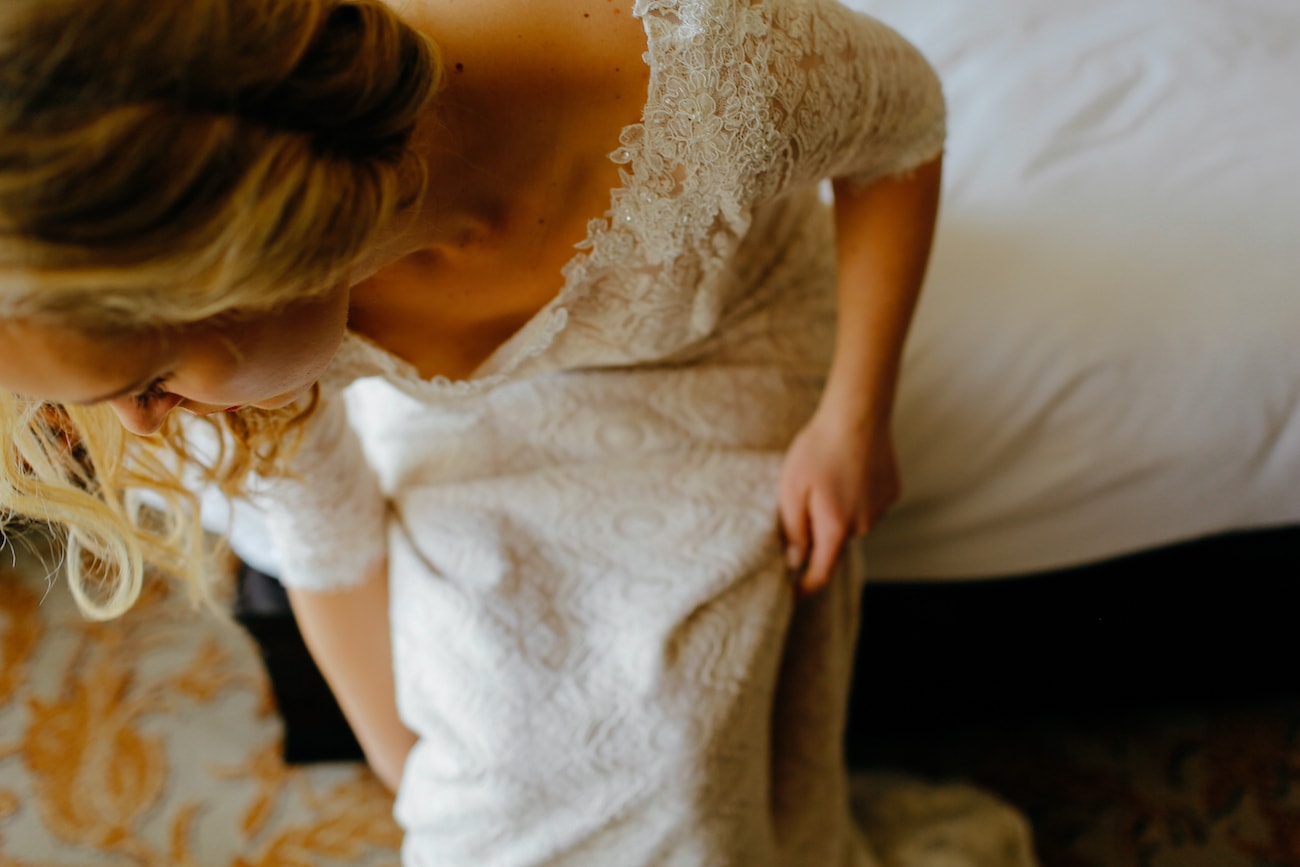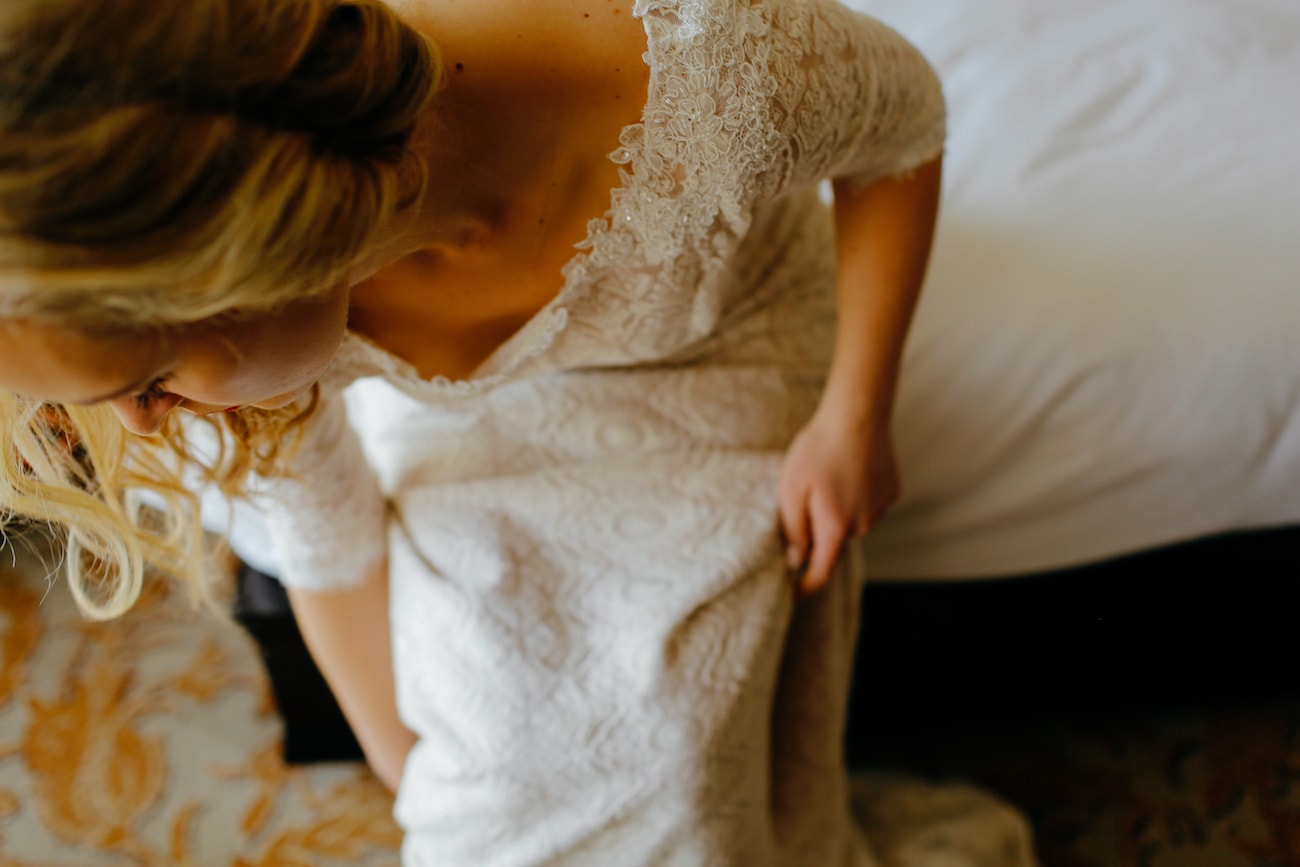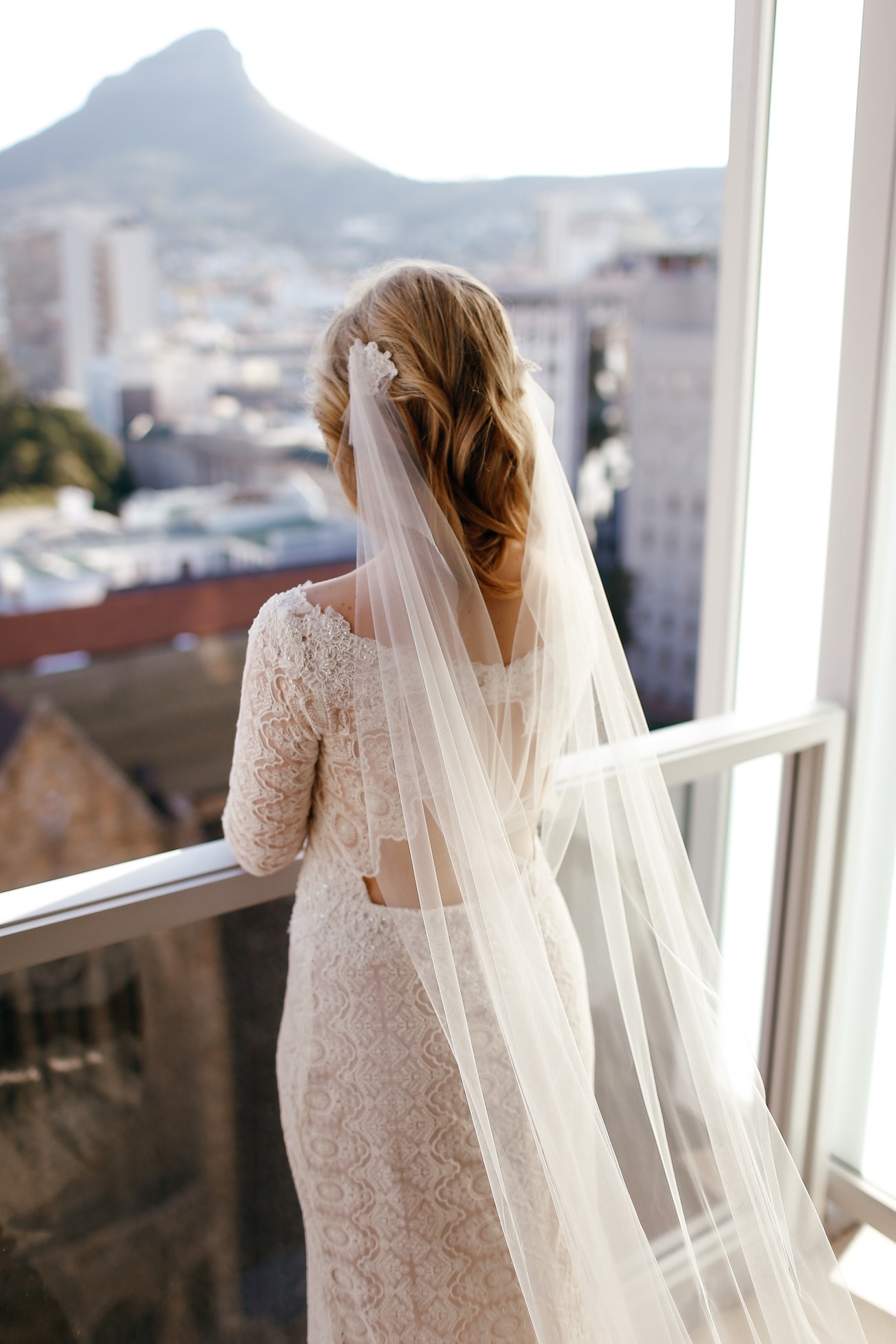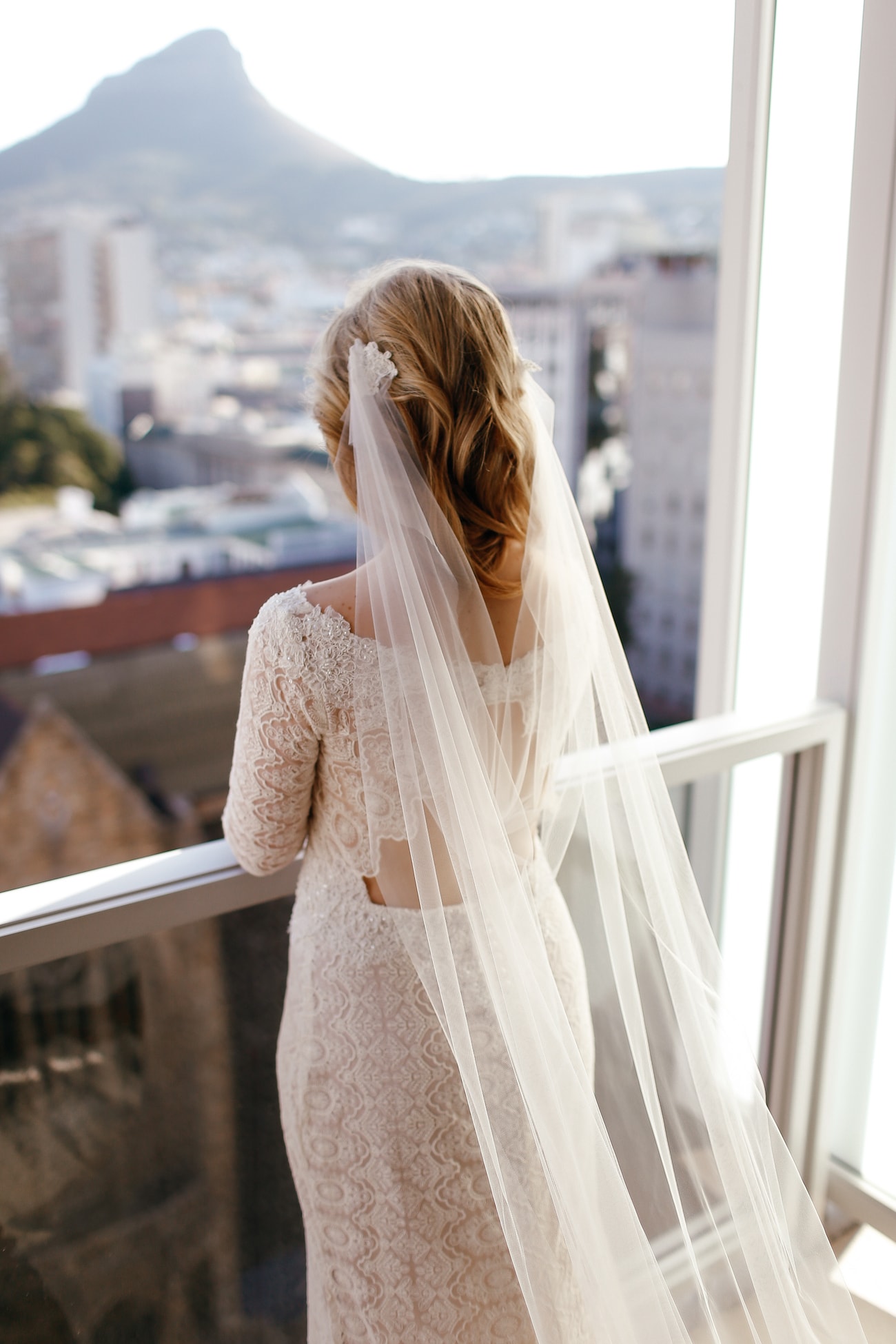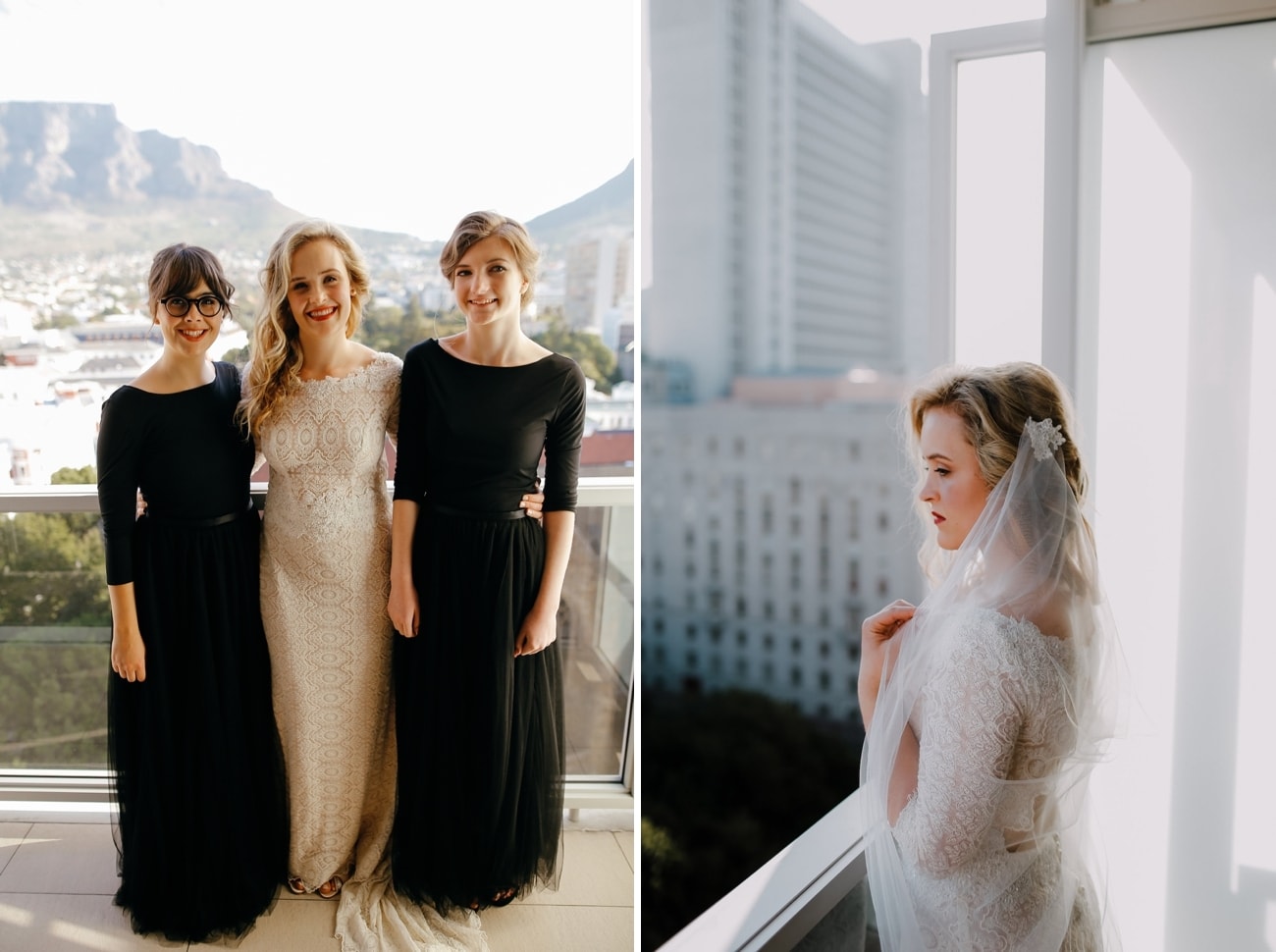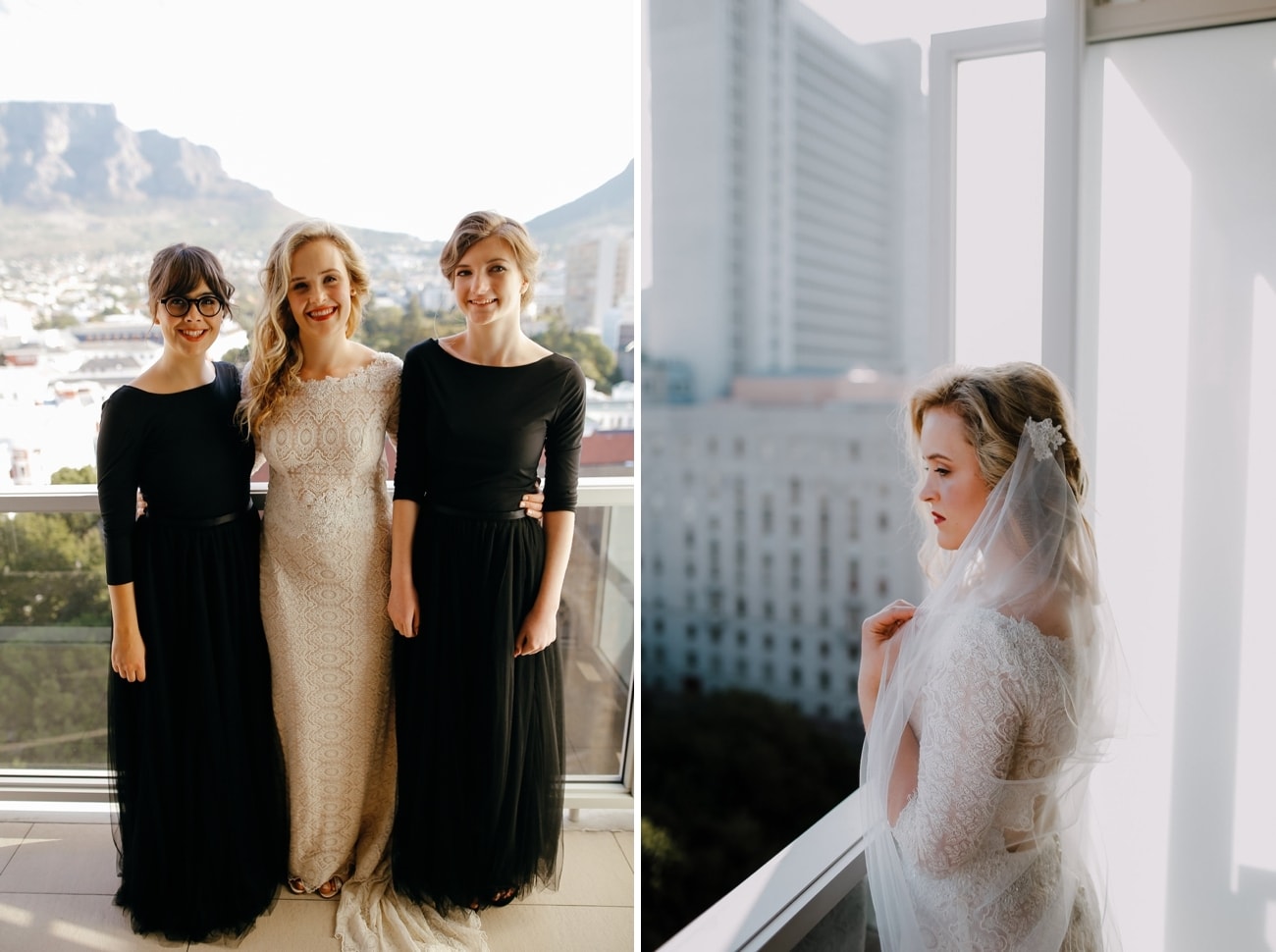 Love Story
We first met at a wedding when we were ten years old. We grew up in different cities (Henrietta in Johannesburg and Ross in Cape Town) so it took another eleven years until we met again at a mutual family friend's braai during the 2010 FIFA World Cup. We hit it off and never looked back. Our families have been friends for years and it is wonderful that friends have now become family.
The Proposal
To set the scene: there is nothing that irritated me more than when Ross makes coffee and leaves grounds from the grinder all over the kitchen counter. Early one Saturday morning I left the house to run some errands. Ross had convinced me that he had to be present at a stock count for a few hours that morning. Sometime afterwards, Ross sent me a voice note to say that he had received a phone call informing him that the stock count was to start earlier than expected and, as he was now running very late, he had to drop everything and dash out because he couldn't miss the count. He went on to say that he was making coffee at the time and that he had just made a huge mess when he got the call, which meant that he had to leave coffee grounds all over the kitchen counter and could only clean it up when he returned. I made my way home in somewhat of an irritated mood, not knowing that Ross had just spent the last hour frantically rearranging the house for the proposal and moving his car down the street. As I pulled into our driveway, I received another message from him again apologising for the mess, bracing me for how bad it was, and assuring me that he would clean it all up as soon as he got home. I made my way into the kitchen to see how bad a mess he had left, and my head sunk as I noticed a large amount of ground coffee all over the floor, but as I turned the corner and walked further, there were photographs of us all over the wall and there, written on the counter in massive amounts of ground coffee, were the words "WILL YOU MARRY ME". Flabbergasted, I just stared at the coffee as a recording started playing from behind me, detailing all our moments together, before Ross walked into the kitchen, dressed in a suit and with a bouquet of flowers. He got down on one knee and asked me to marry him. Needless to say, I don't mind the coffee on the counter as much anymore!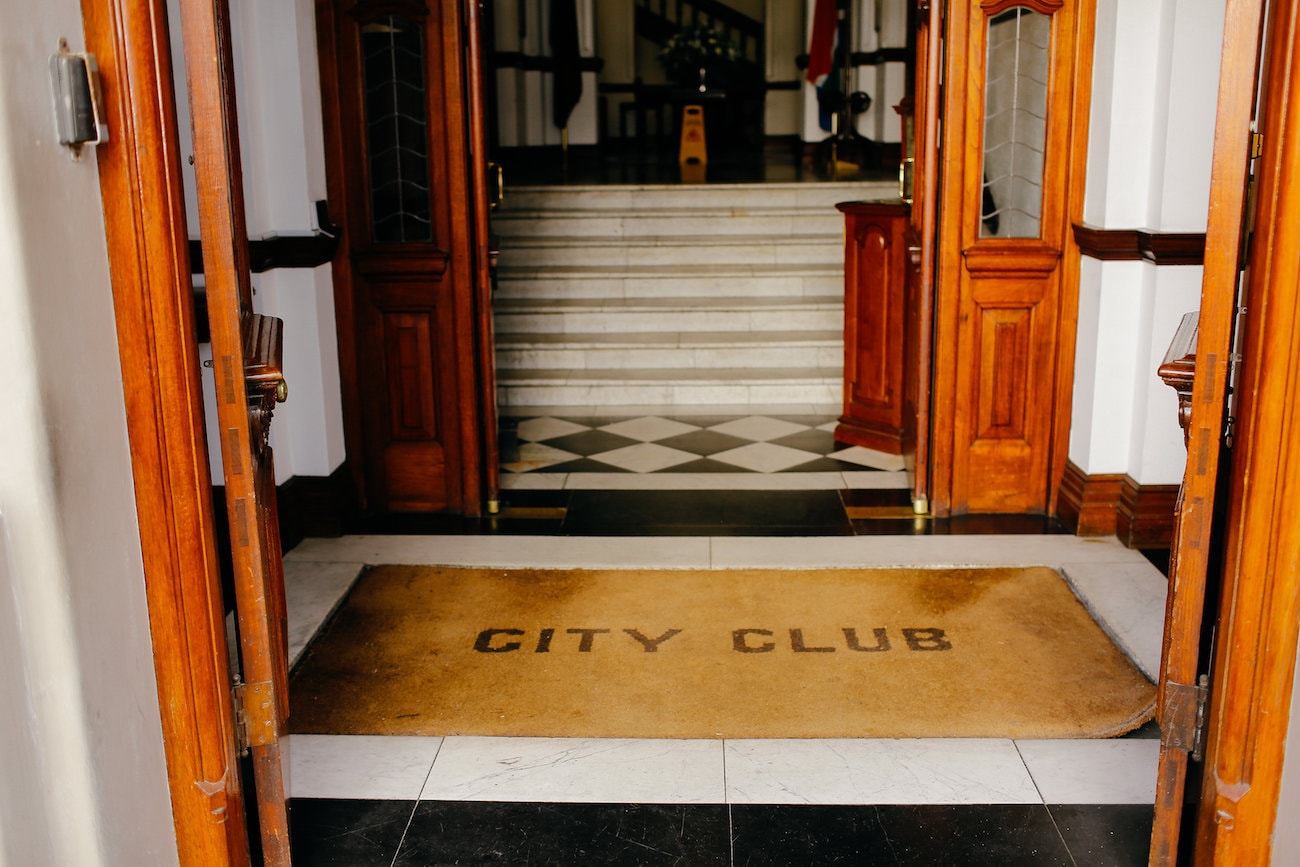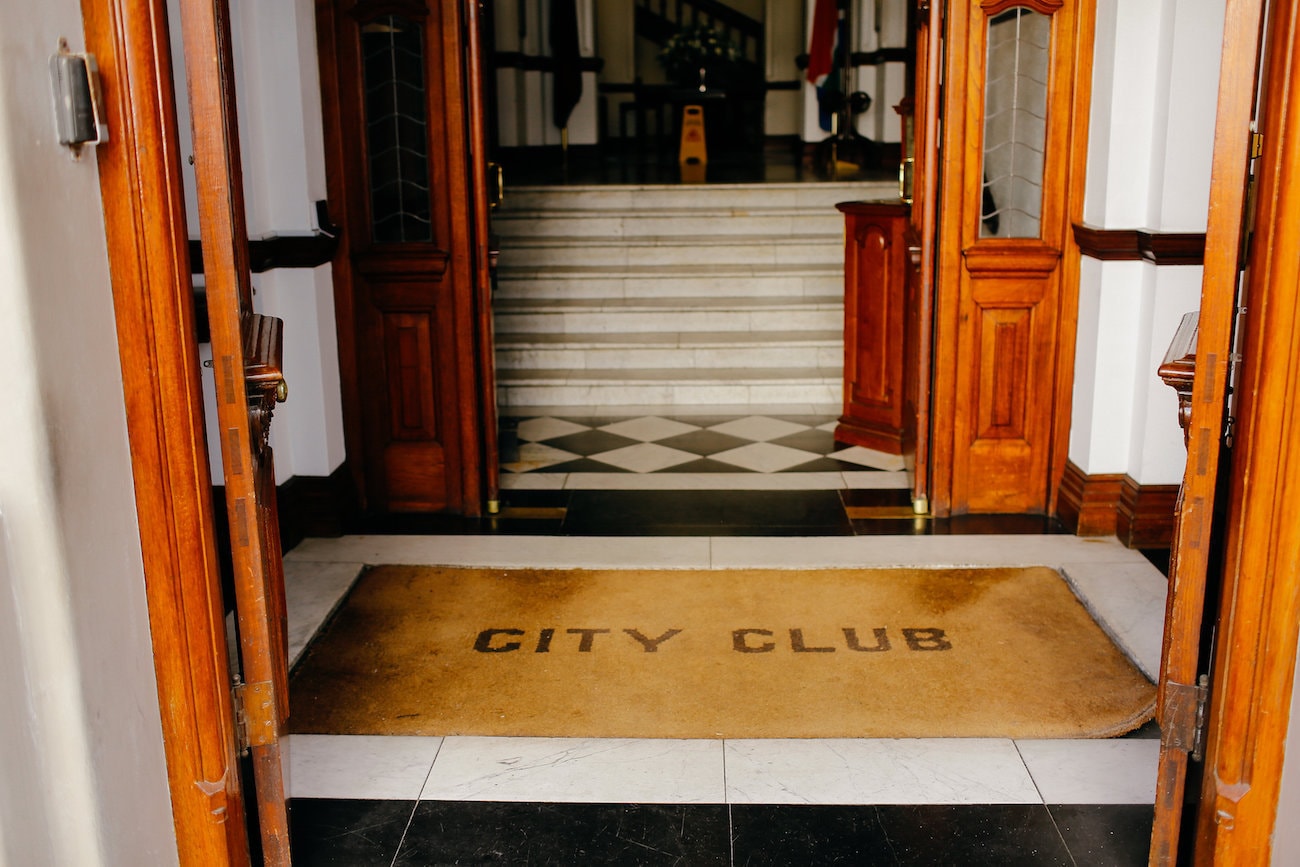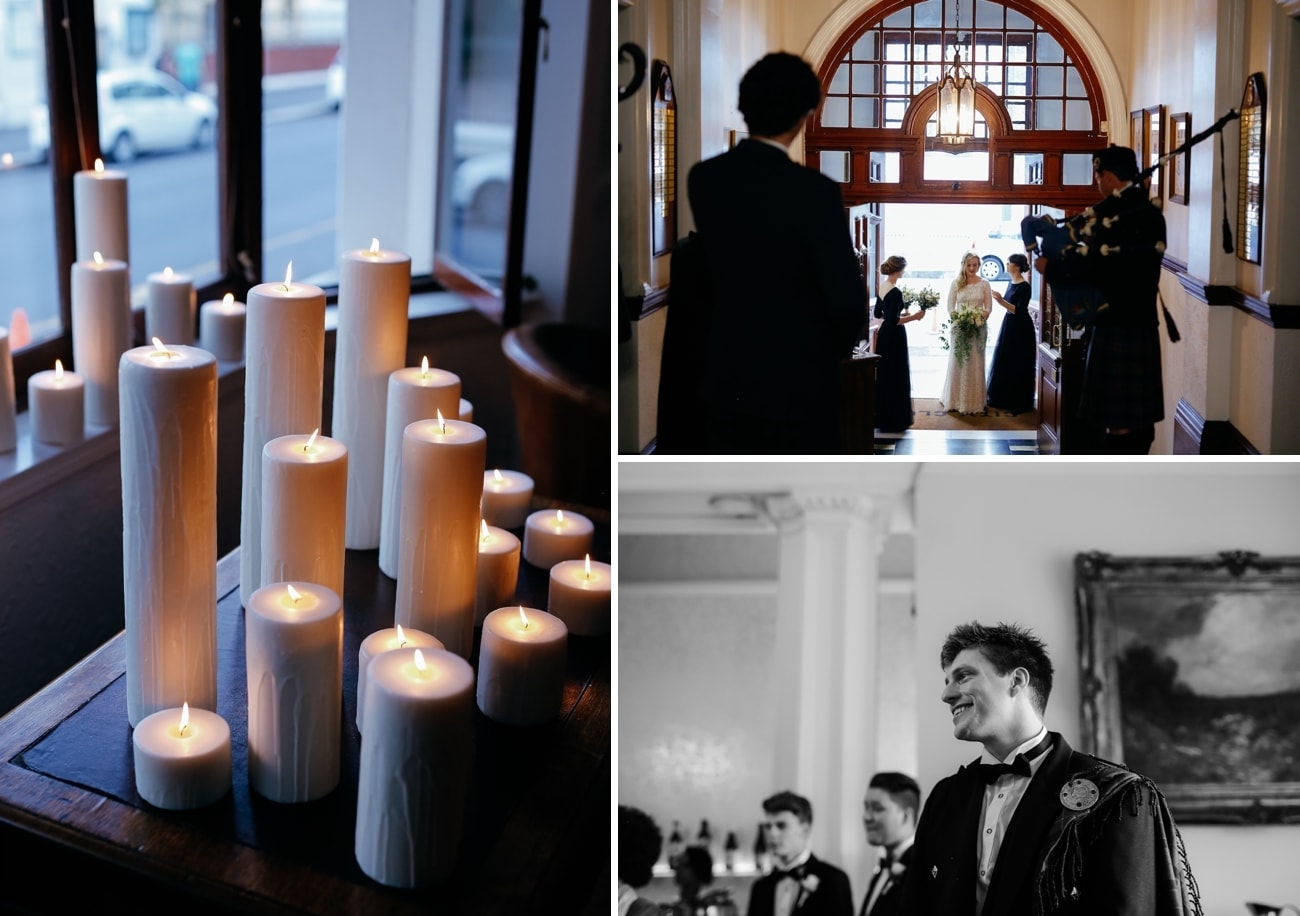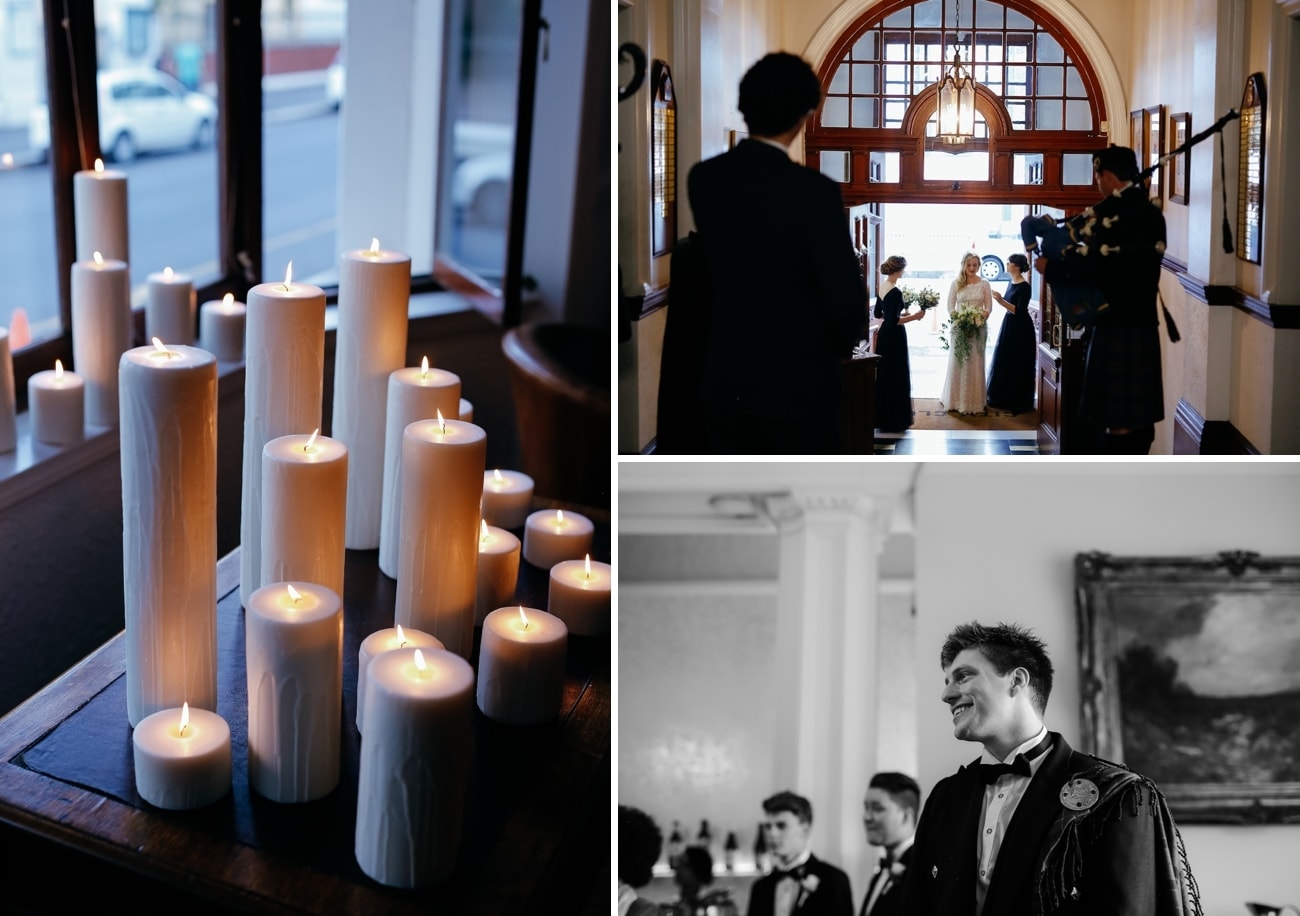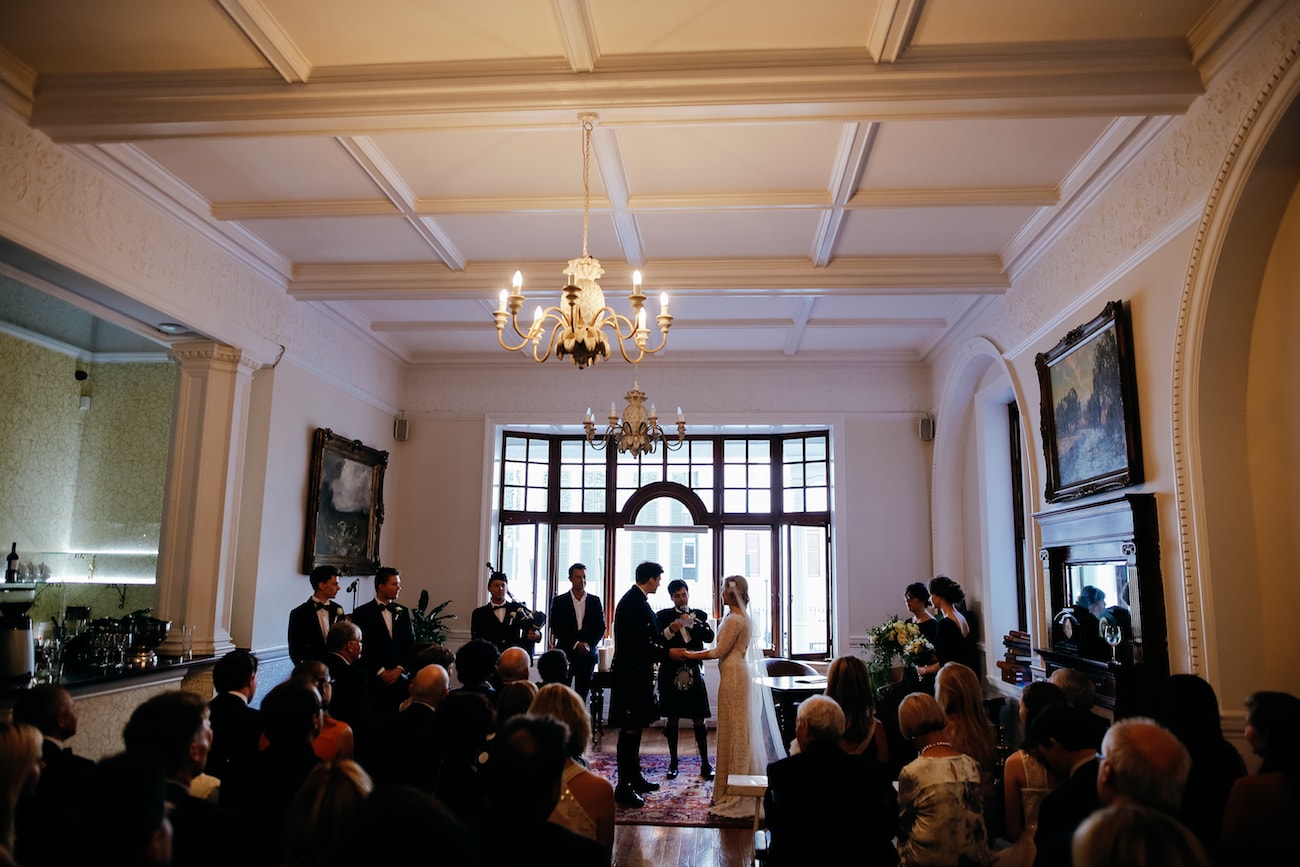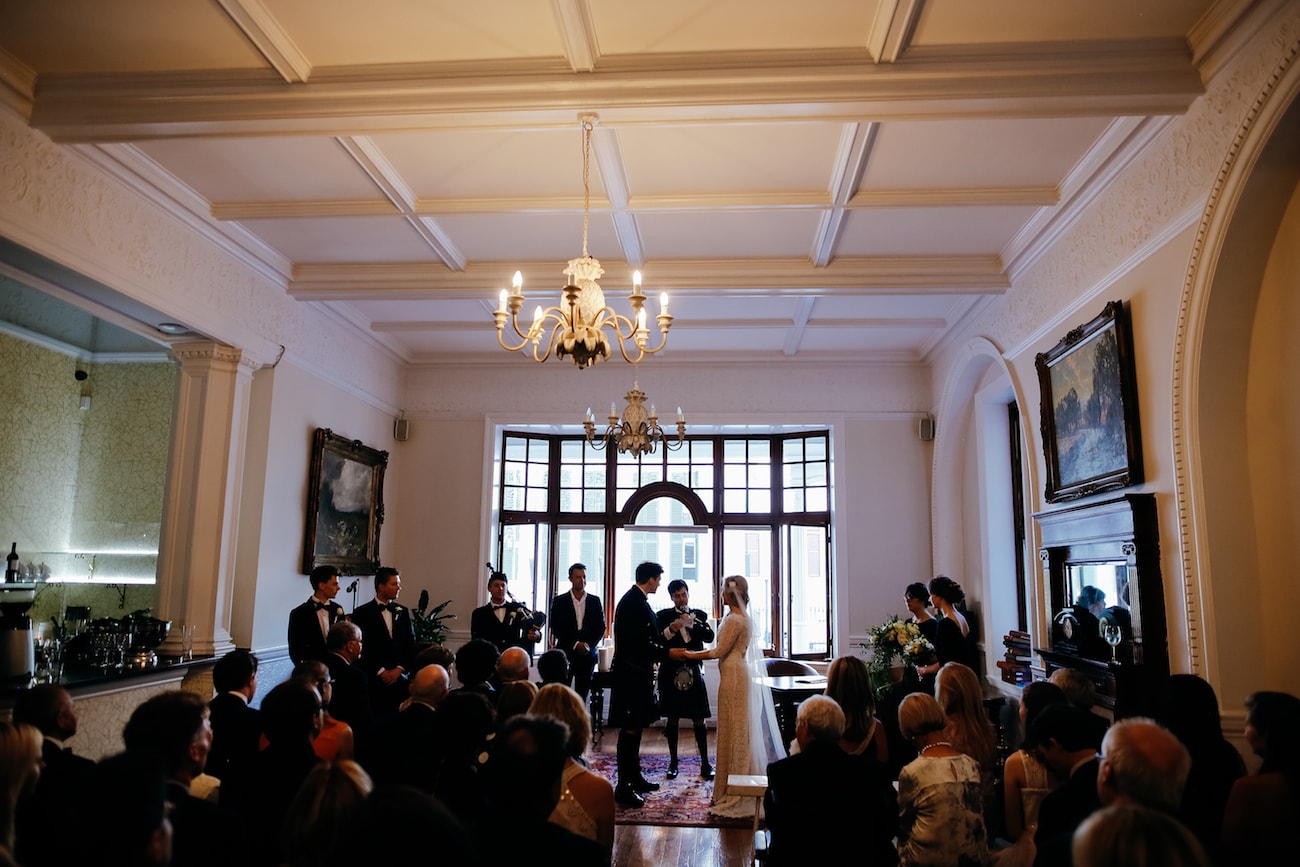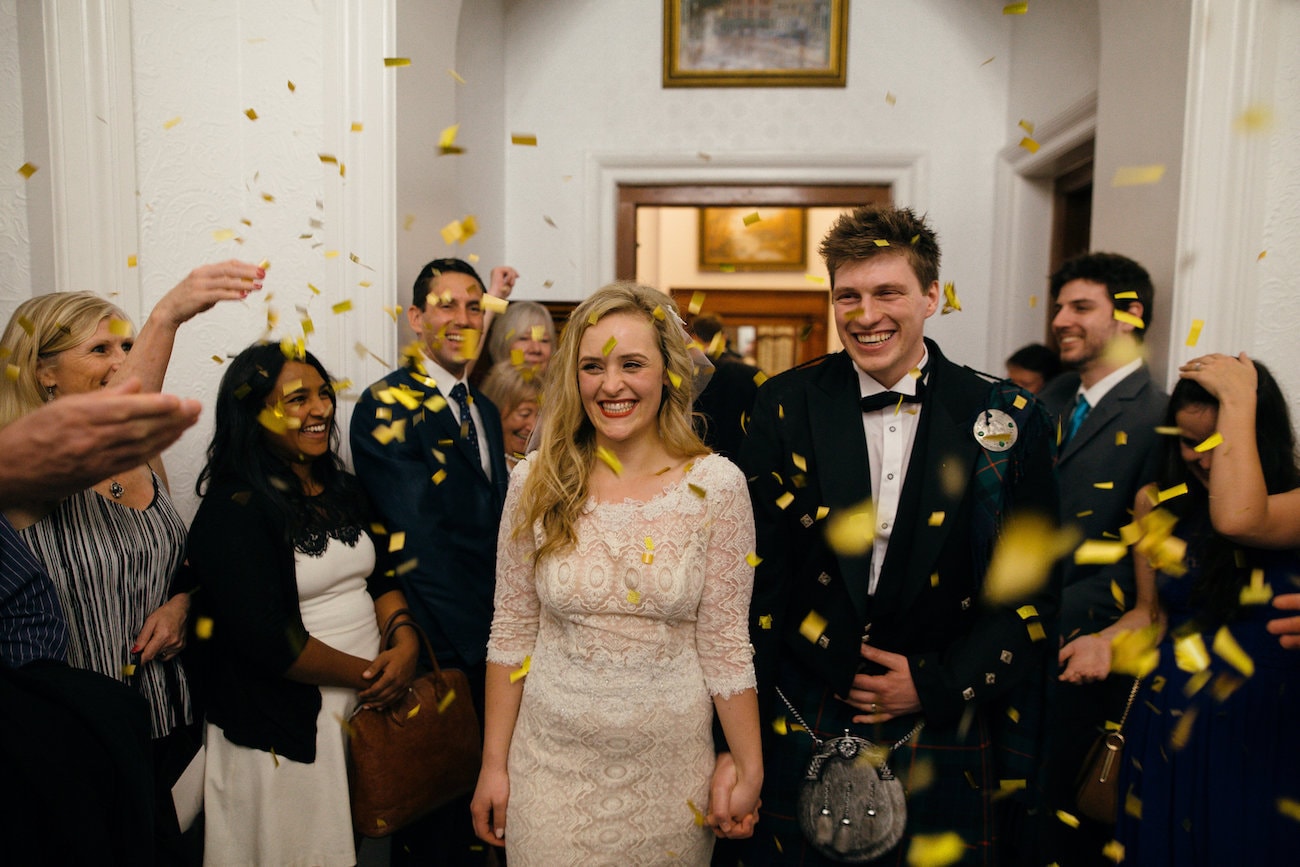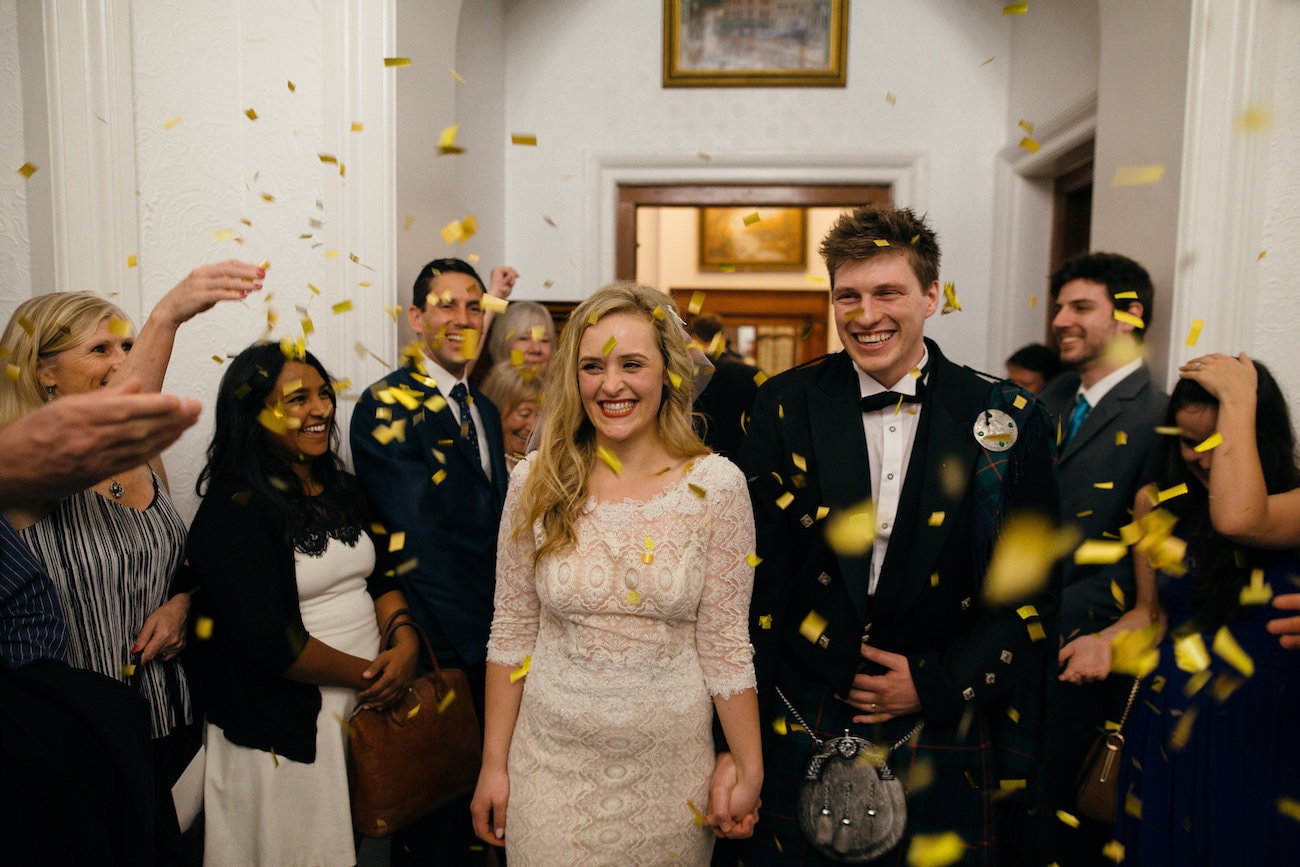 The Venue
We had our minds set on a city wedding and the Cape Town Club was perfectly positioned in the heart of Gardens and close to many hotels and B&Bs for our out-of-town guests. Not only did we want our ceremony and reception to be at the same venue, but we also wanted our guests to be able to explore and walk around, rather than being tied to their dinner table for most of the evening. The Club has many beautiful rooms, including many seating areas and a library, so we knew that our 127 guests would be relaxed and entertained in between events.
Wedding Style
When we visited the Club for the first time we knew that it was our venue and the theme of our wedding developed very much from its style. I love the elegance of the 1920s and I was inspired by the series 'Downton Abbey'. We wanted to use the characteristics of the Club as much as possible and the flowers and decorative elements that we added tended to complement the venue and bring out its natural charm, rather than imposing our own theme. The bridal party's clothing also emulated this and the bridesmaids wore classic black dresses, while Ross and two of his groomsmen wore traditionally styled kilts, each in their own family tartan. My mom, sister and myself spent many weekends in Johannesburg and over the phone discussing details of the day. This was such a special time and their creativity, patience and honesty was invaluable.
Wedding Details
For us, it was the combination of minor details that all came into play during the evening, from the lace detail in my wedding gown, which was repeated in the Queen Anne's lace of my flowers, to the minor tartan detail that we added to many parts of the wedding, including my garter and on my bouquet. Many of Ross' family members travelled from Scotland and other parts of the world to be there on the night, and it meant a lot to us to include a Scottish element in our wedding.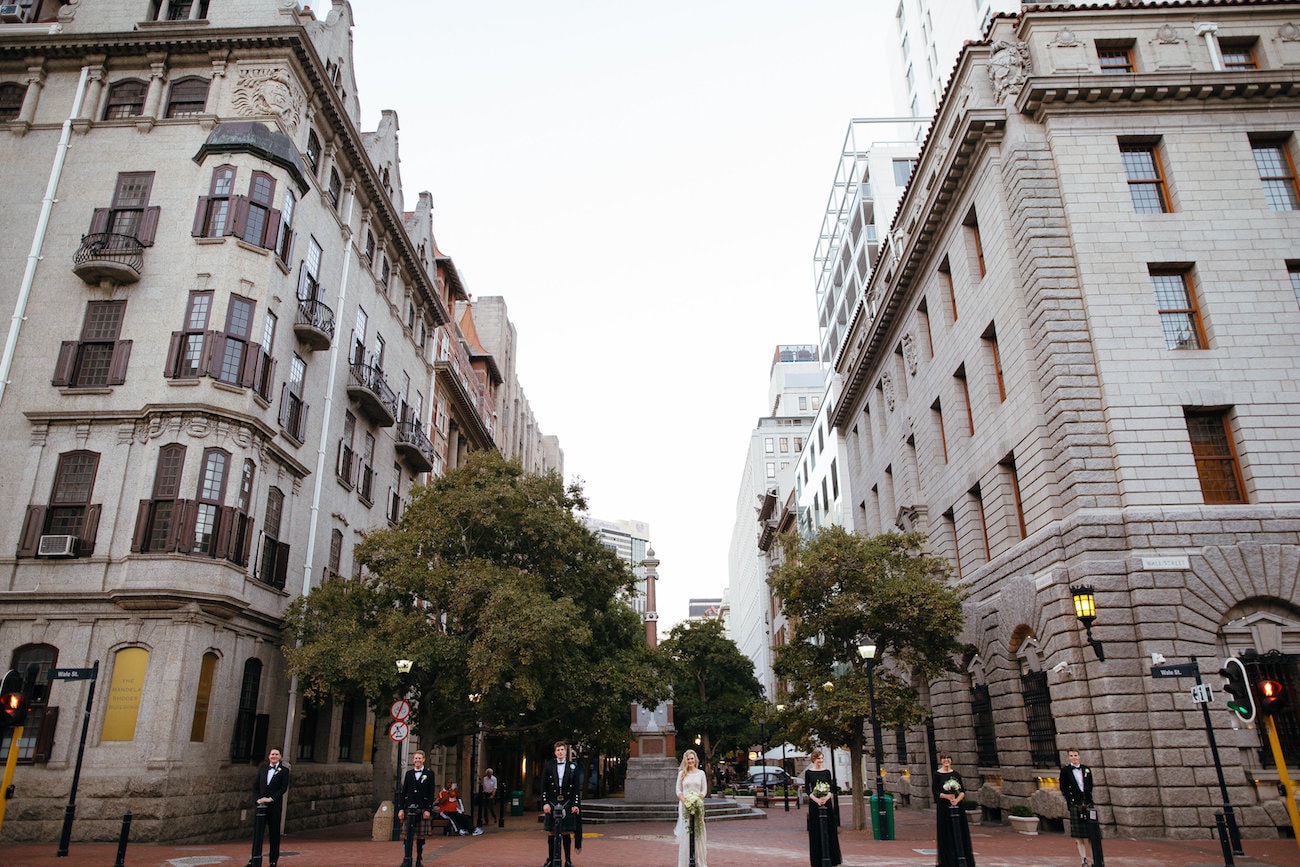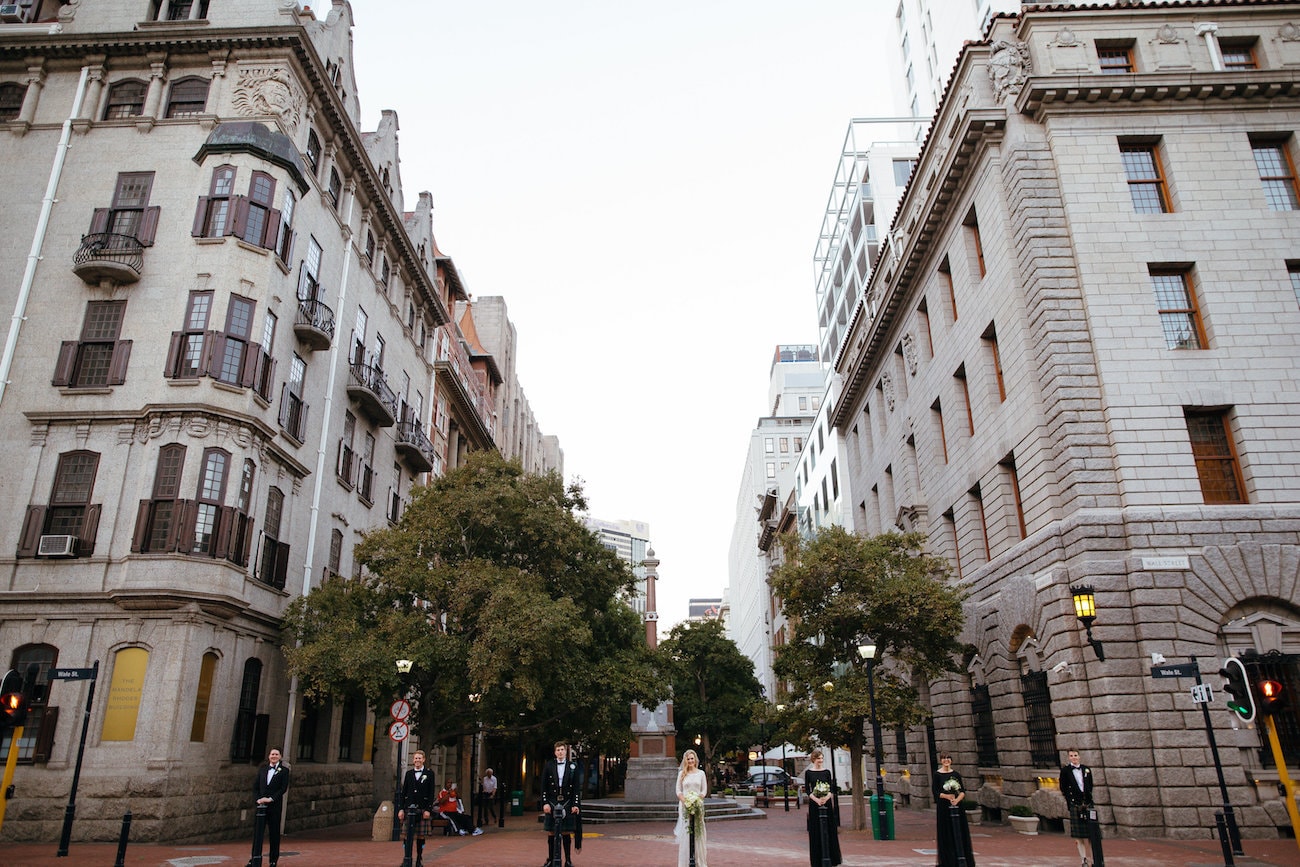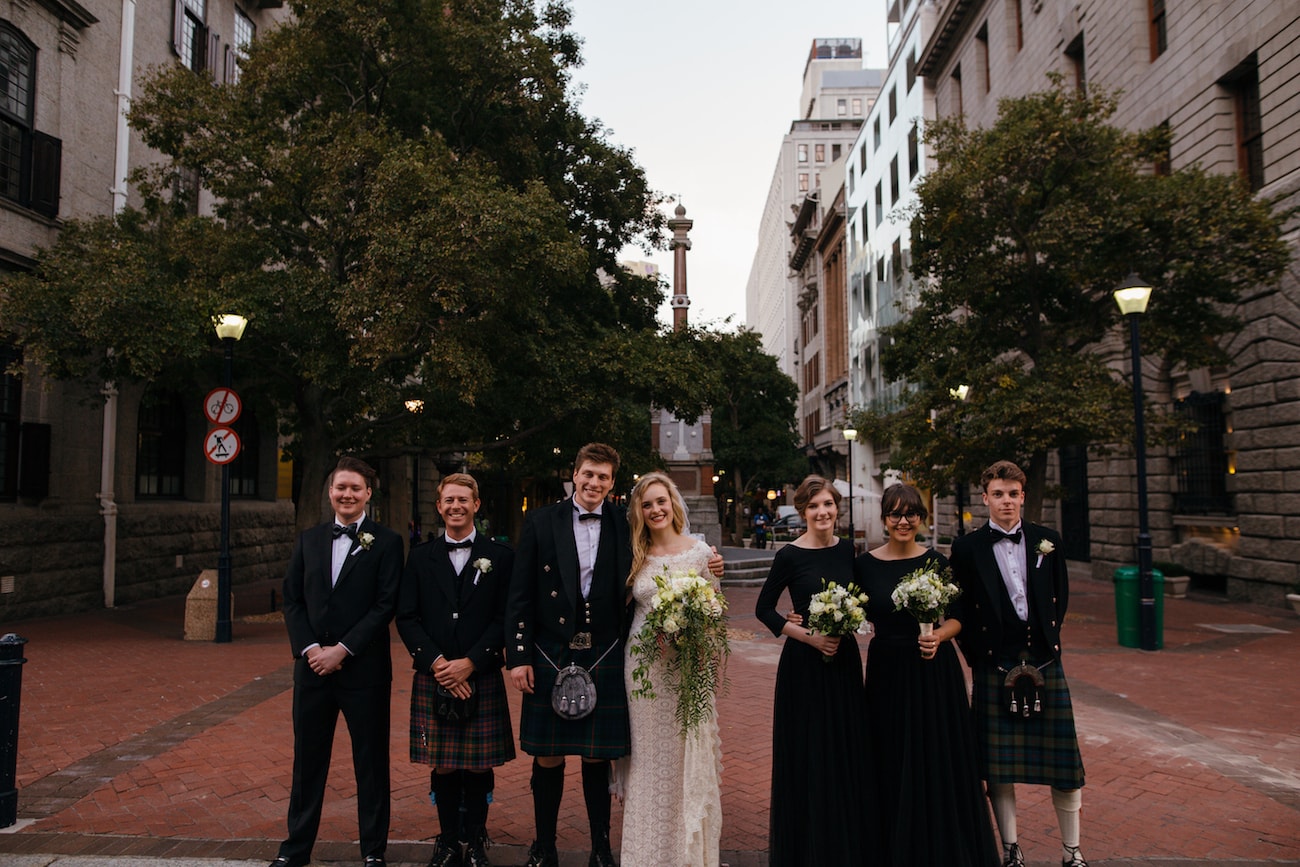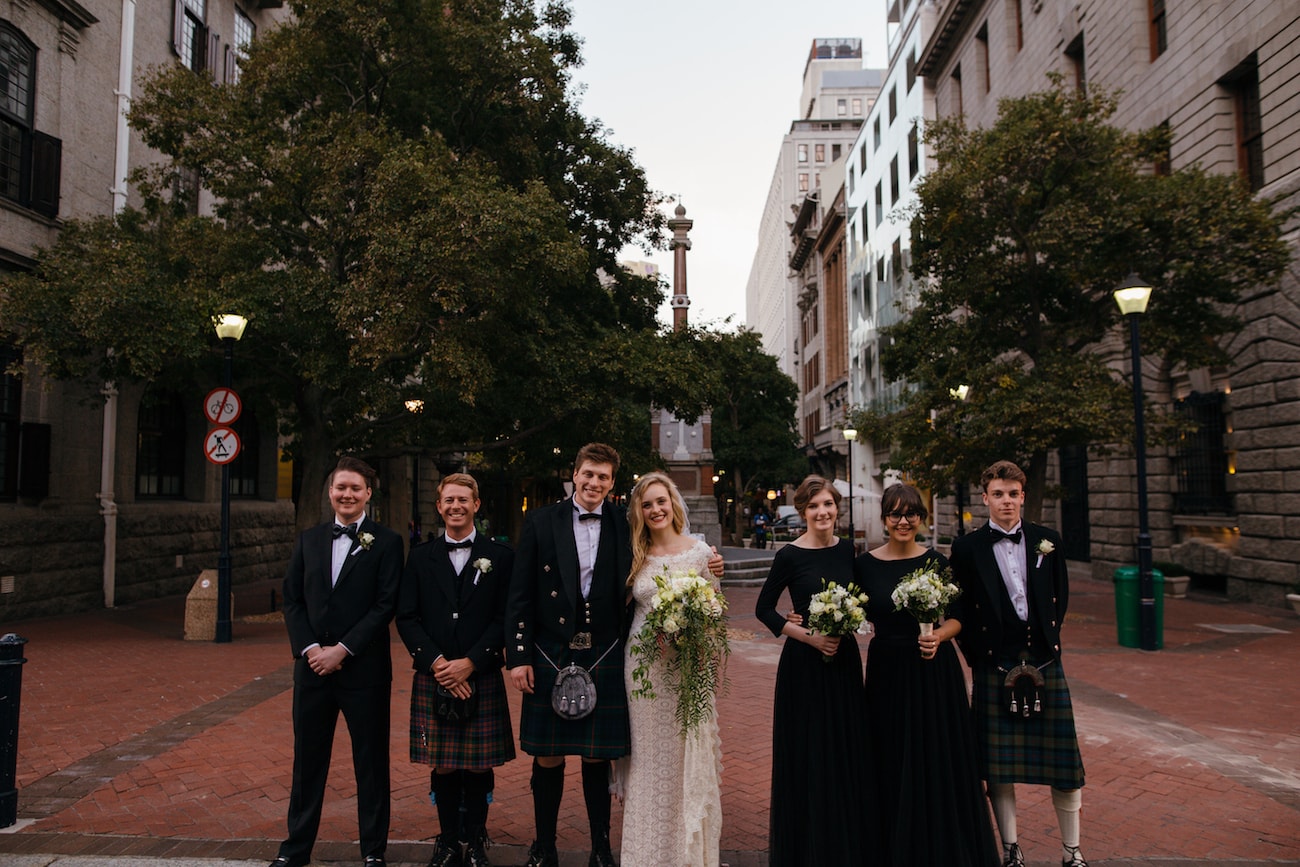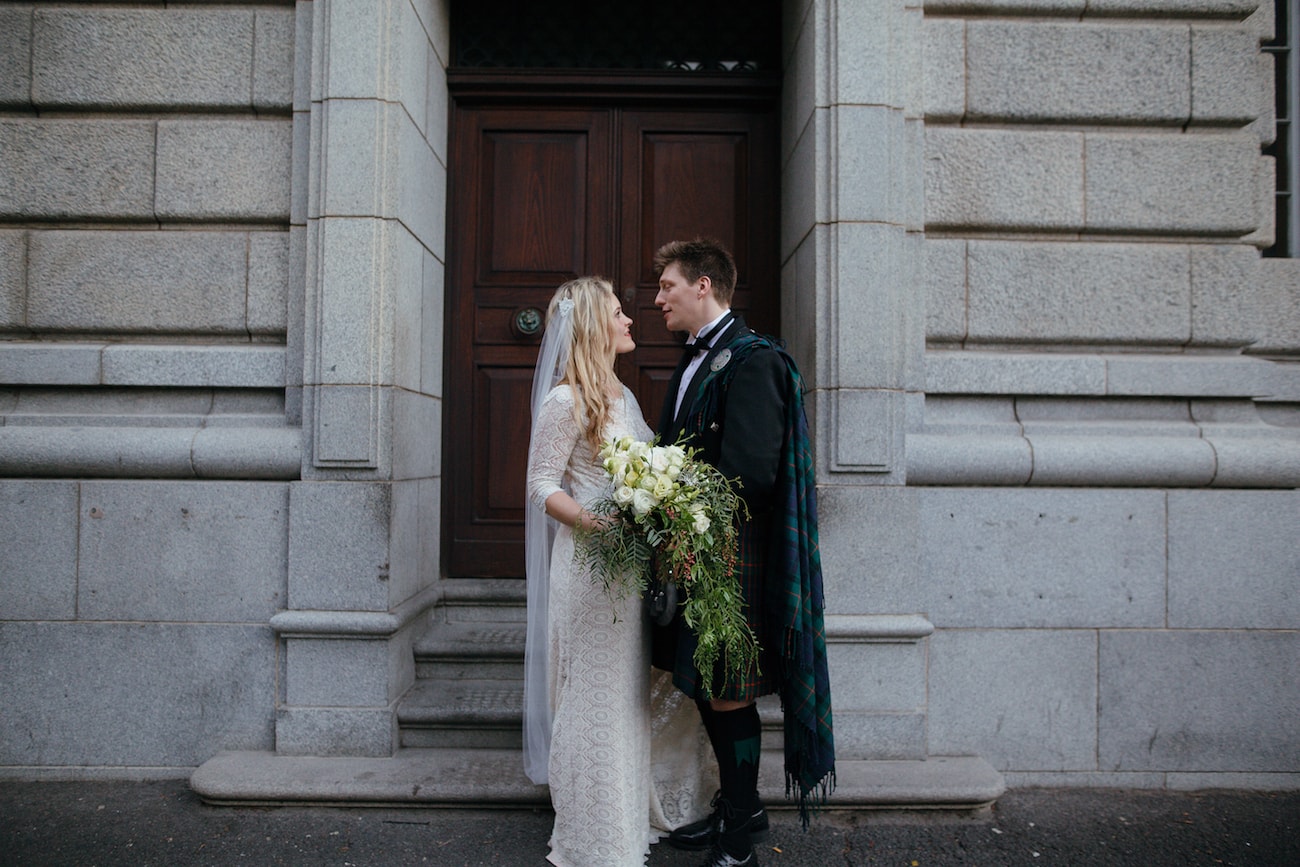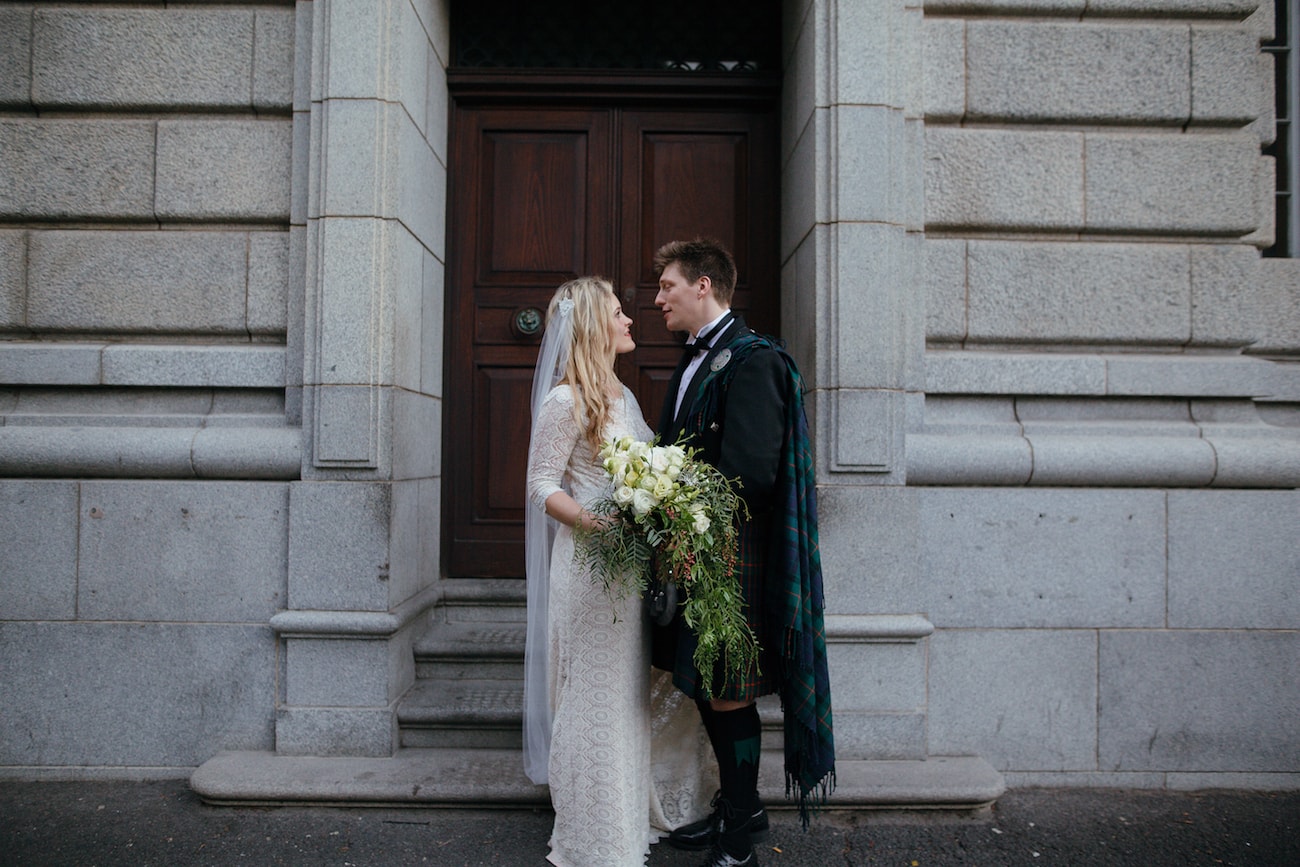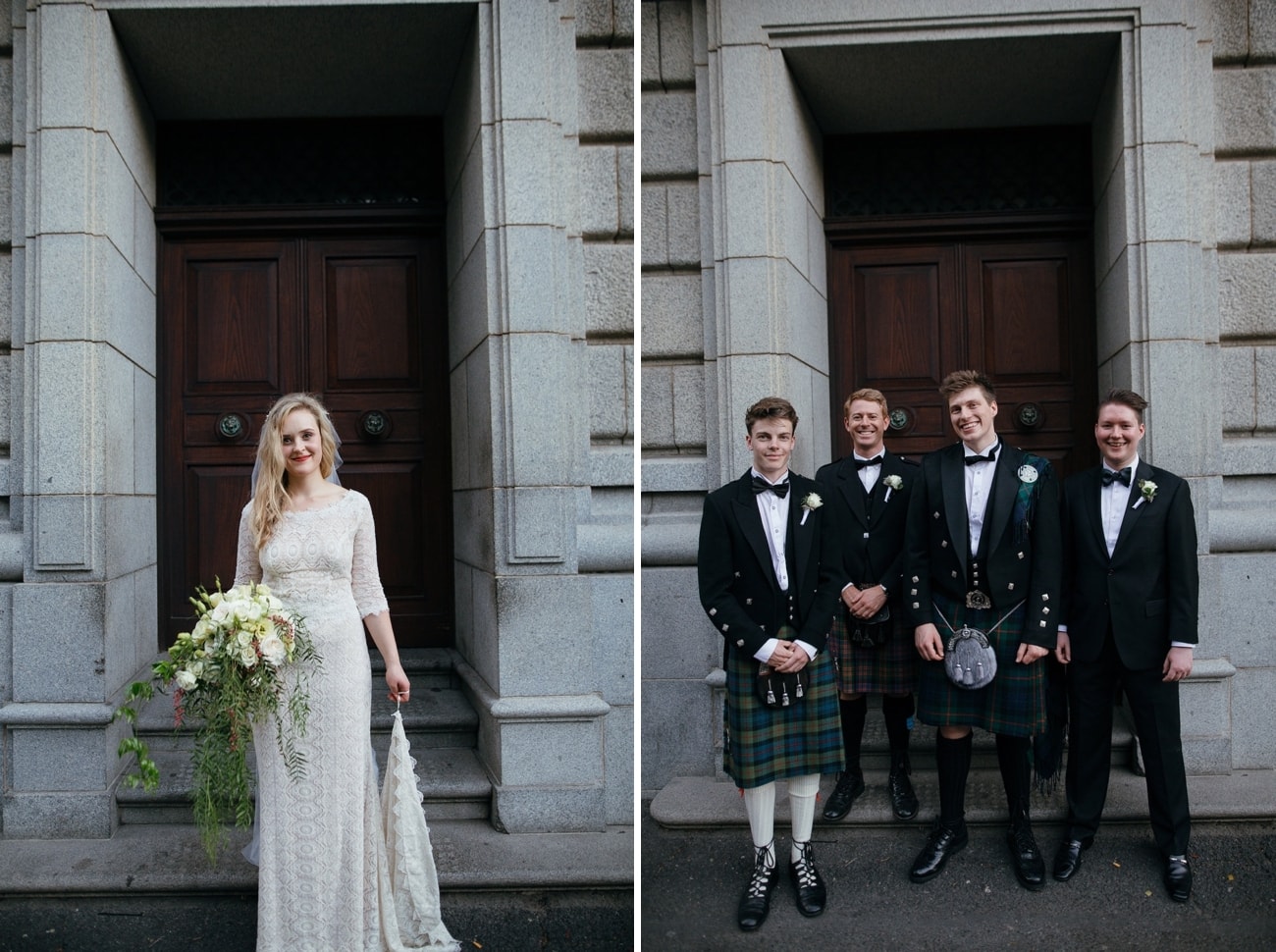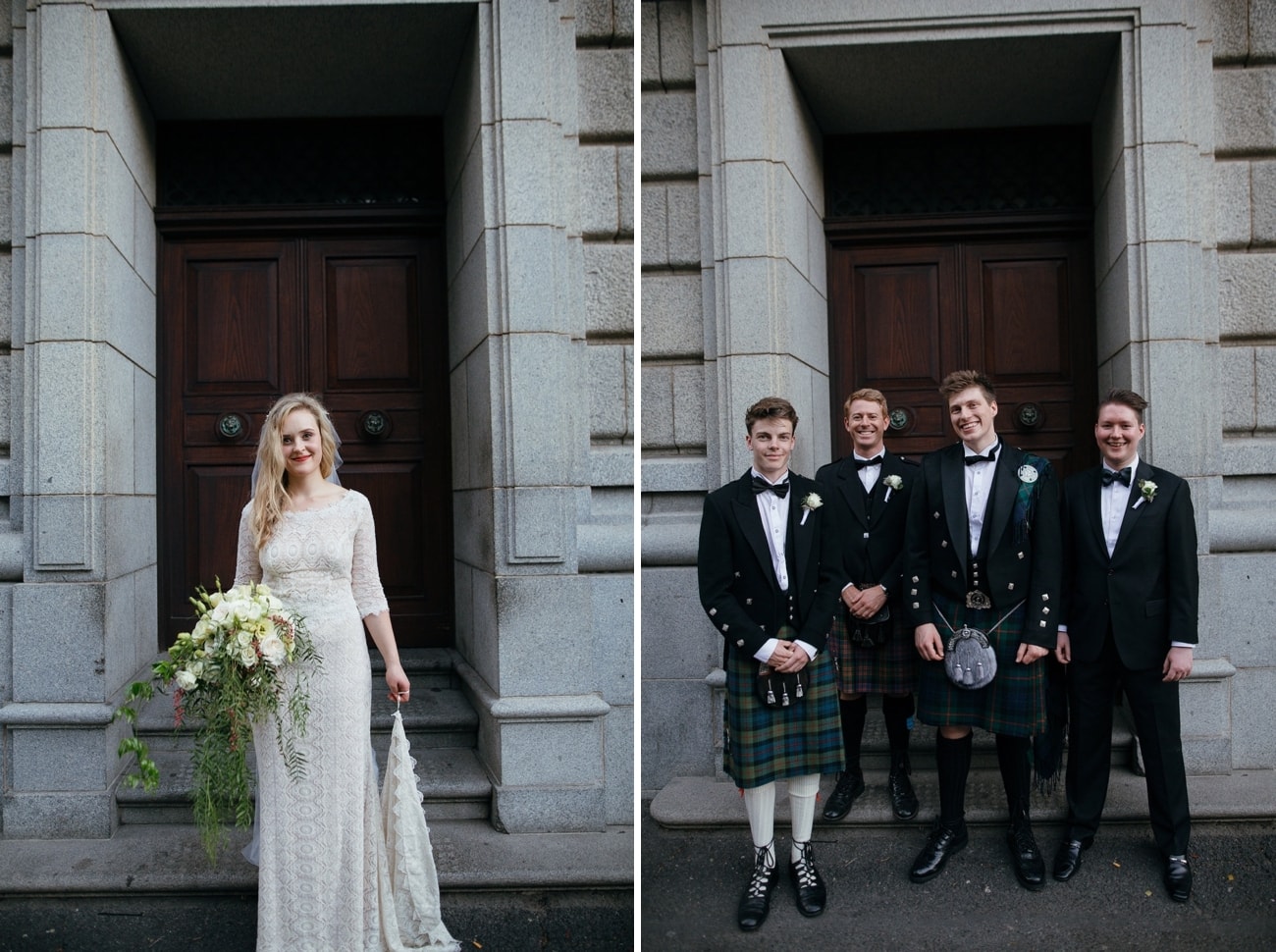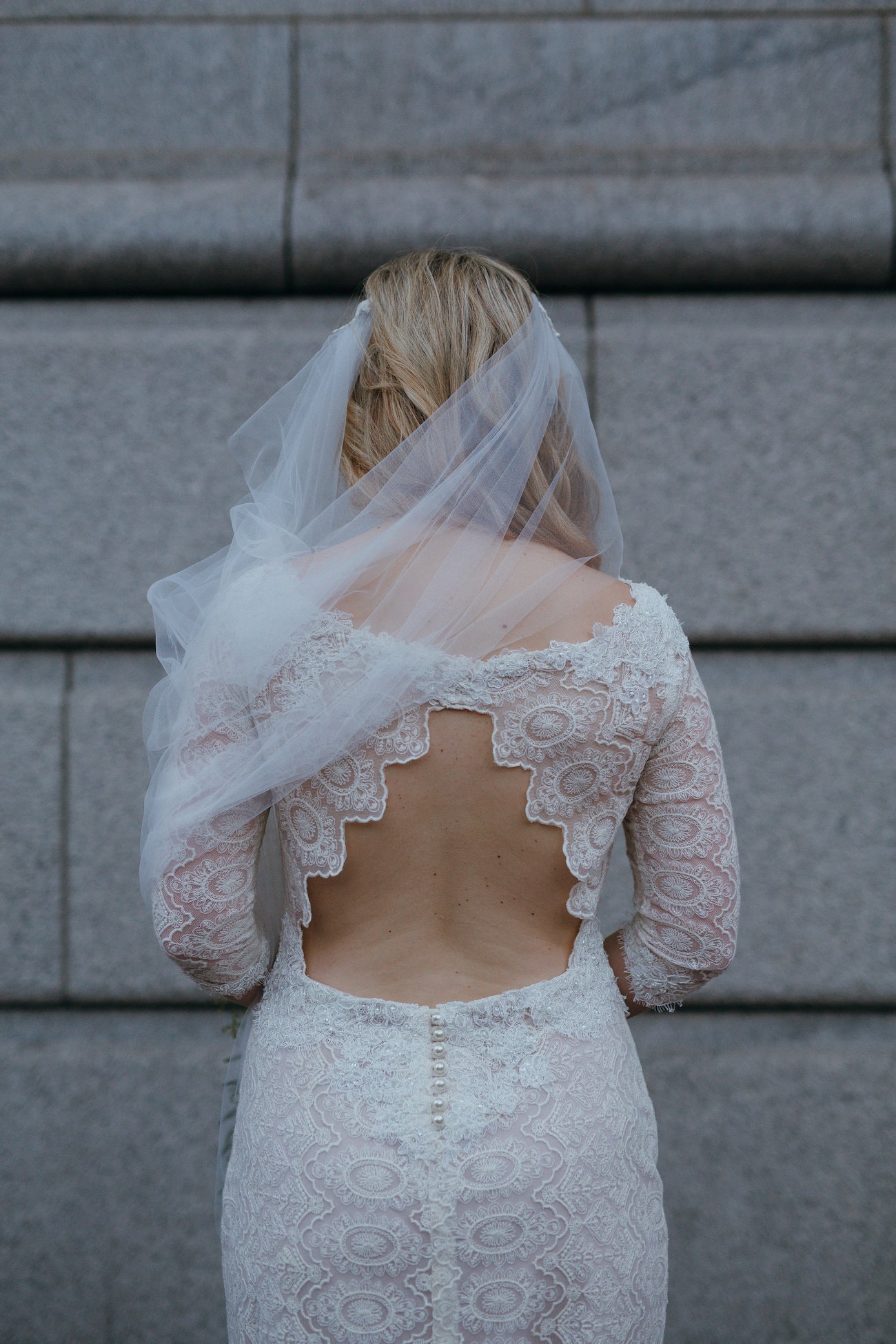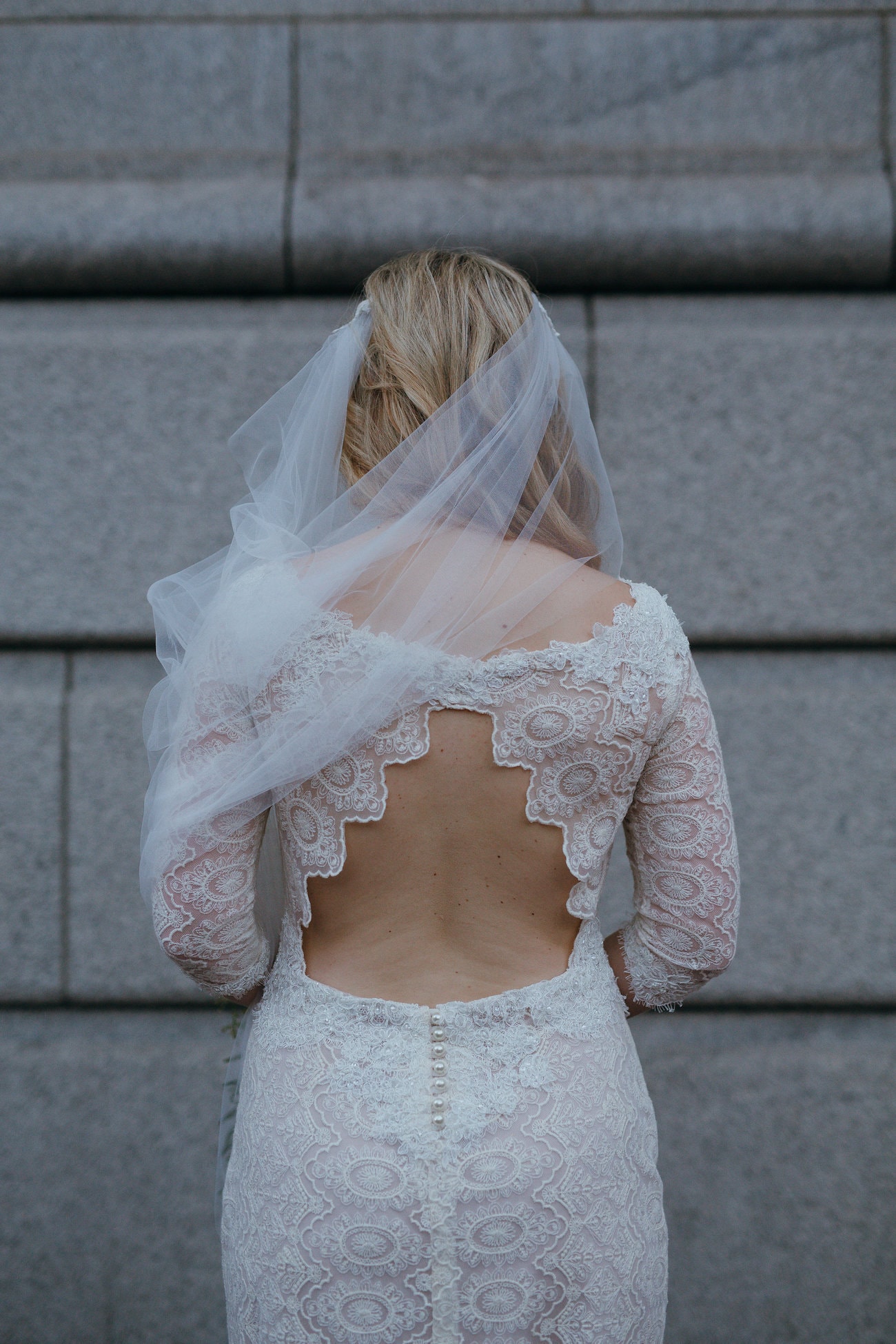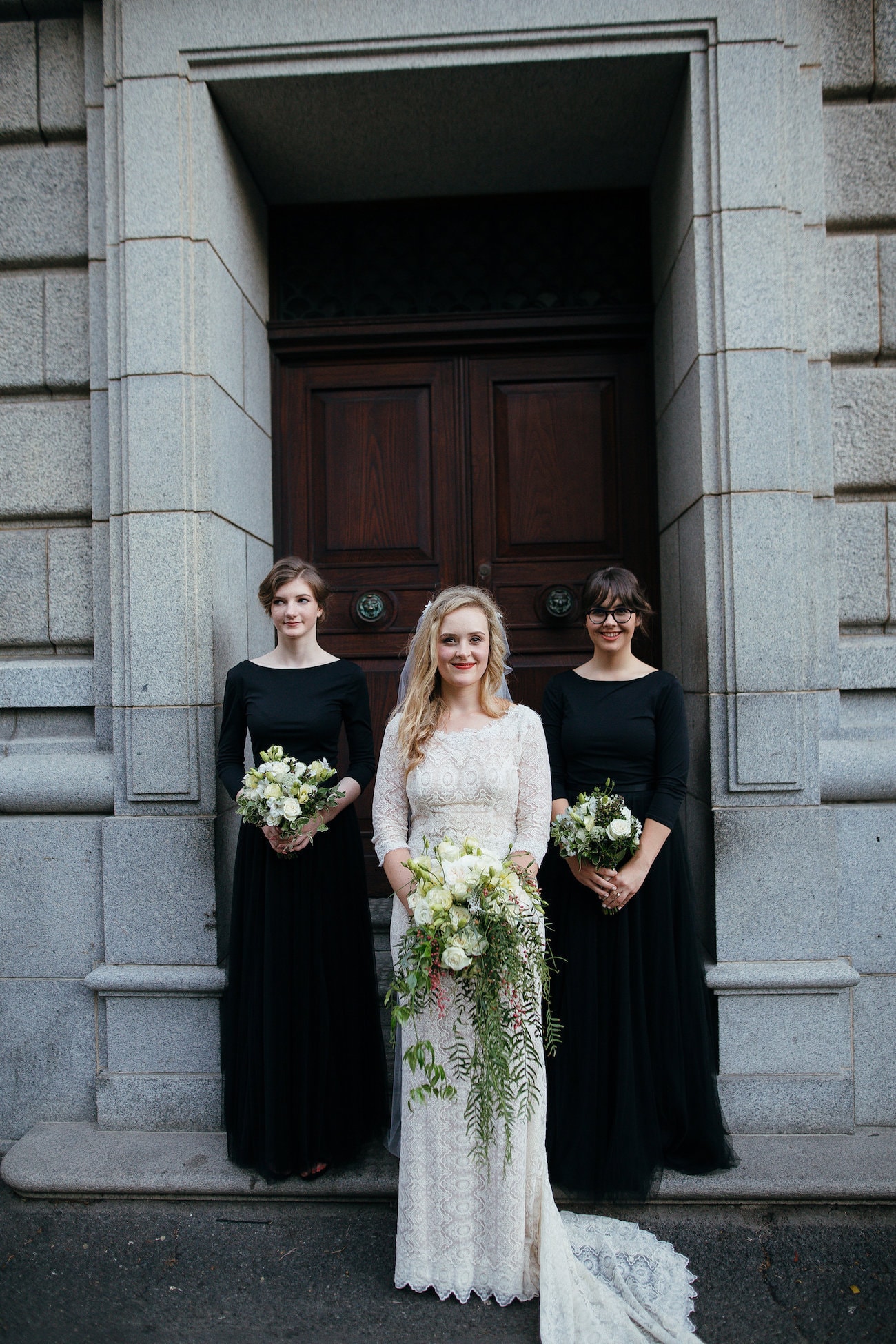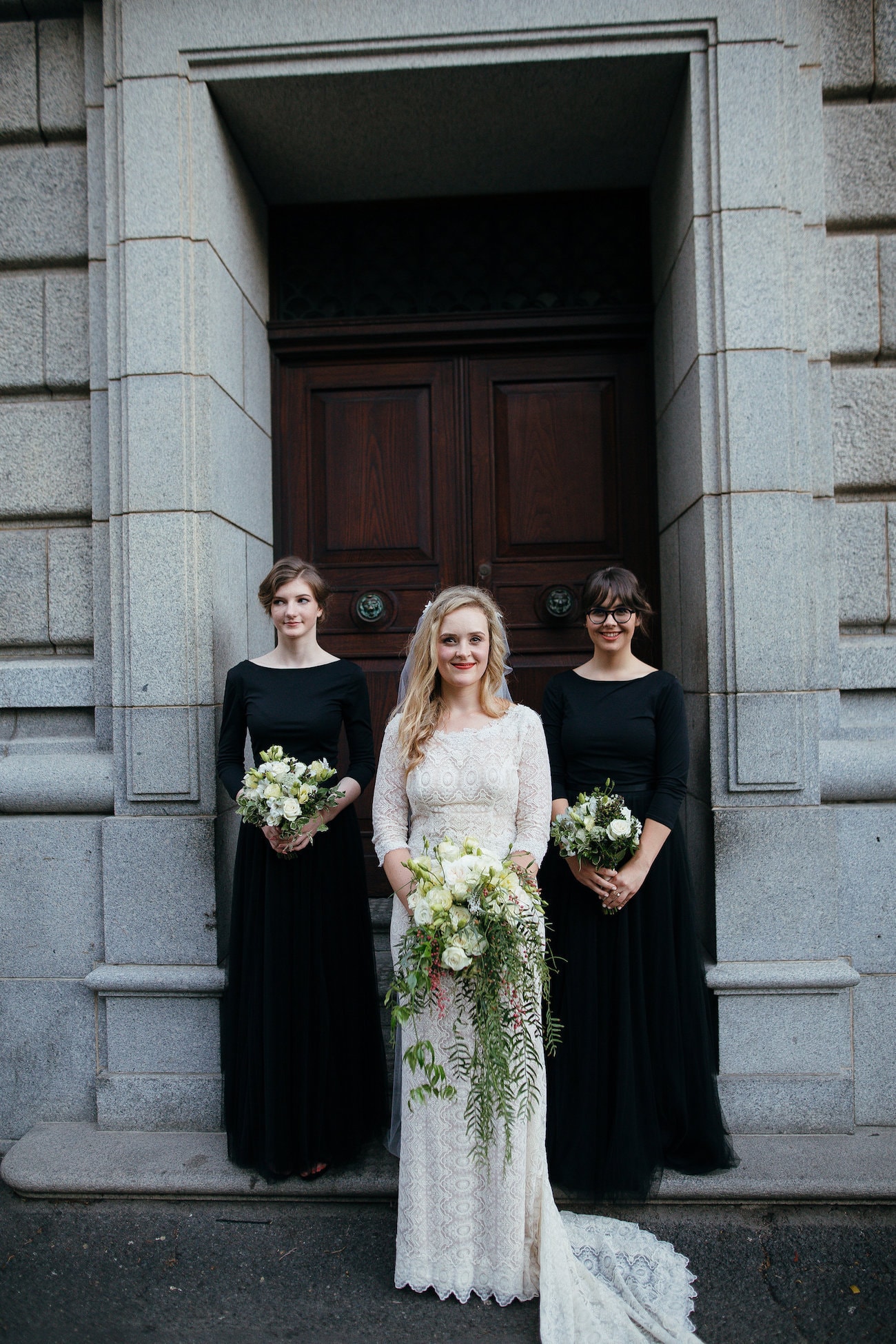 DIY Elements
We had set a budget for each and every single element of the wedding, and we found that stationery was an area that we could cut back on, as we found that it wasn't necessary to print too many items. For example, we used Paperless Post for our save the dates, wedding invitations, kitchen tea invitations and thank you notes, which not only allowed us to save, but also made the management of RSVPs very easy. We also designed ten of our own paper invitations to send to grandparents and close family members. I bought some rose themed envelope liners from Etsy that I also ended up using for our table numbers. I also spent hours cutting up pieces of gold ribbon as I had my heart set on gold ribbon confetti and could not find any stockists. After I saw the photos of us walking out of the ceremony venue and our guests throwing the confetti, I was happy that the all the cutting was worth it! My sister, who was also the maid of honour and the MC (very busy lady), designed and printed our beautiful seating chart, which we brought to the venue on the day.
The Dress
I live in Cape Town and my family lives in Johannesburg. I really wanted to experience the wedding gown fittings with my mom and my sister, so as my mom told me of White Lilly Bridal in Parkhurst, which was recommended to her by a colleague, I booked my flight to Johannesburg and made an appointment. It was the first boutique that we went to and the gown I chose was the second one that I tried on. My gown was classic and feminine with geometric mesh and hand-beaded French lace, which I loved. It had sleeves, a long train and pearl buttons, all of which I had on my list of "must haves" for my wedding gown. When I put it on, my mom and sister proclaimed that I could not possibly have any other wedding gown, and I knew that it was the one. The experience I had at White Lilly Bridal is what wedding gown shopping should be like. It is a beautiful, natural space with exquisite gowns, veils and other bridal items. Jacelyn and her team were so attentive and accommodating and with their emphasis on quality, fabric, and comfort, I felt like myself on my wedding day and was reluctant to ever take my dress off!
The Bridesmaids
My sister and Ross' sister were my two bridesmaids. I wanted them to wear black, as it fitted in with the classic feel that we wanted for our wedding, and I wanted them to wear a dress that they could wear again. Jacelyn and her team repeated my wedding gown sleeves in their dresses, which consisted of a tight fitting black top and a long black tulle skirt. The bridesmaids' white and ivory bouquets also looked beautiful against the black dresses.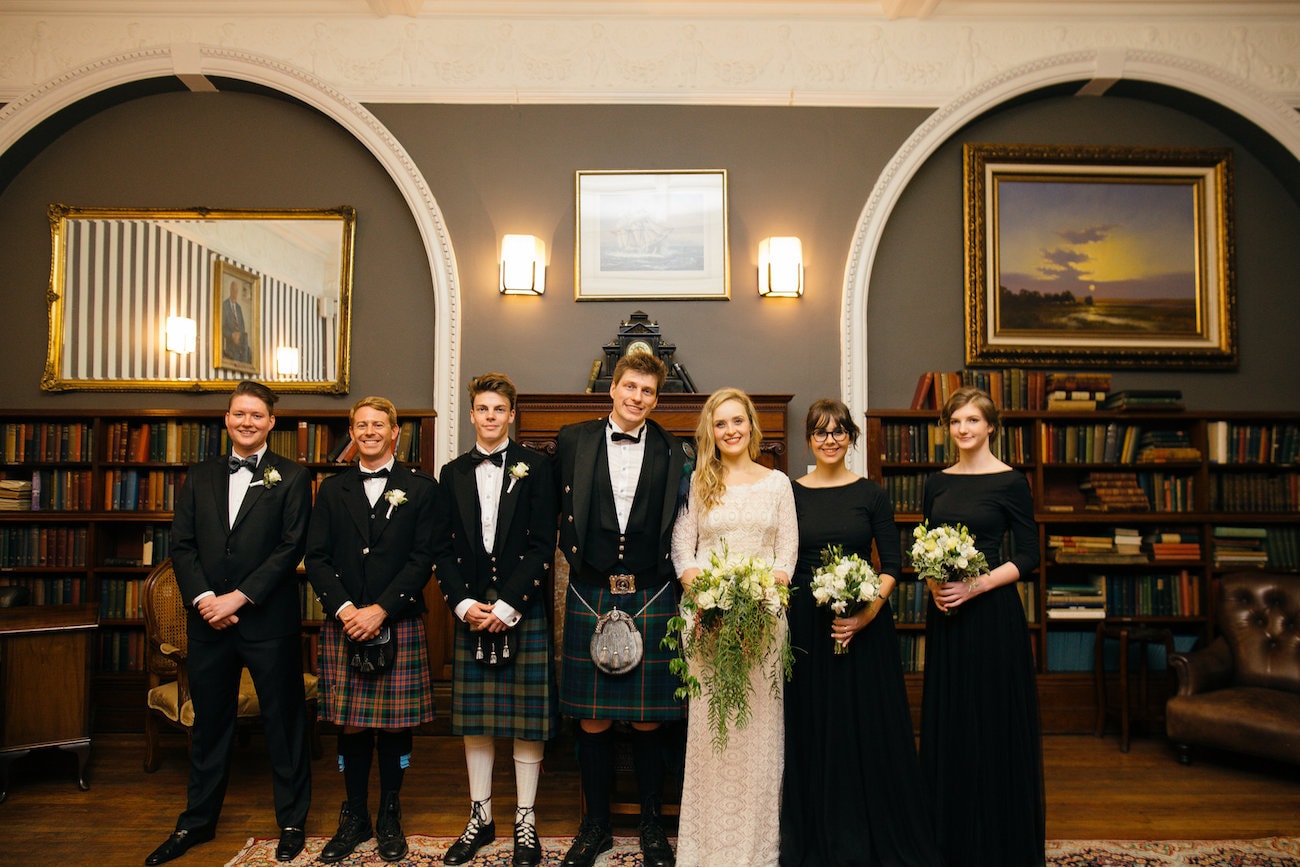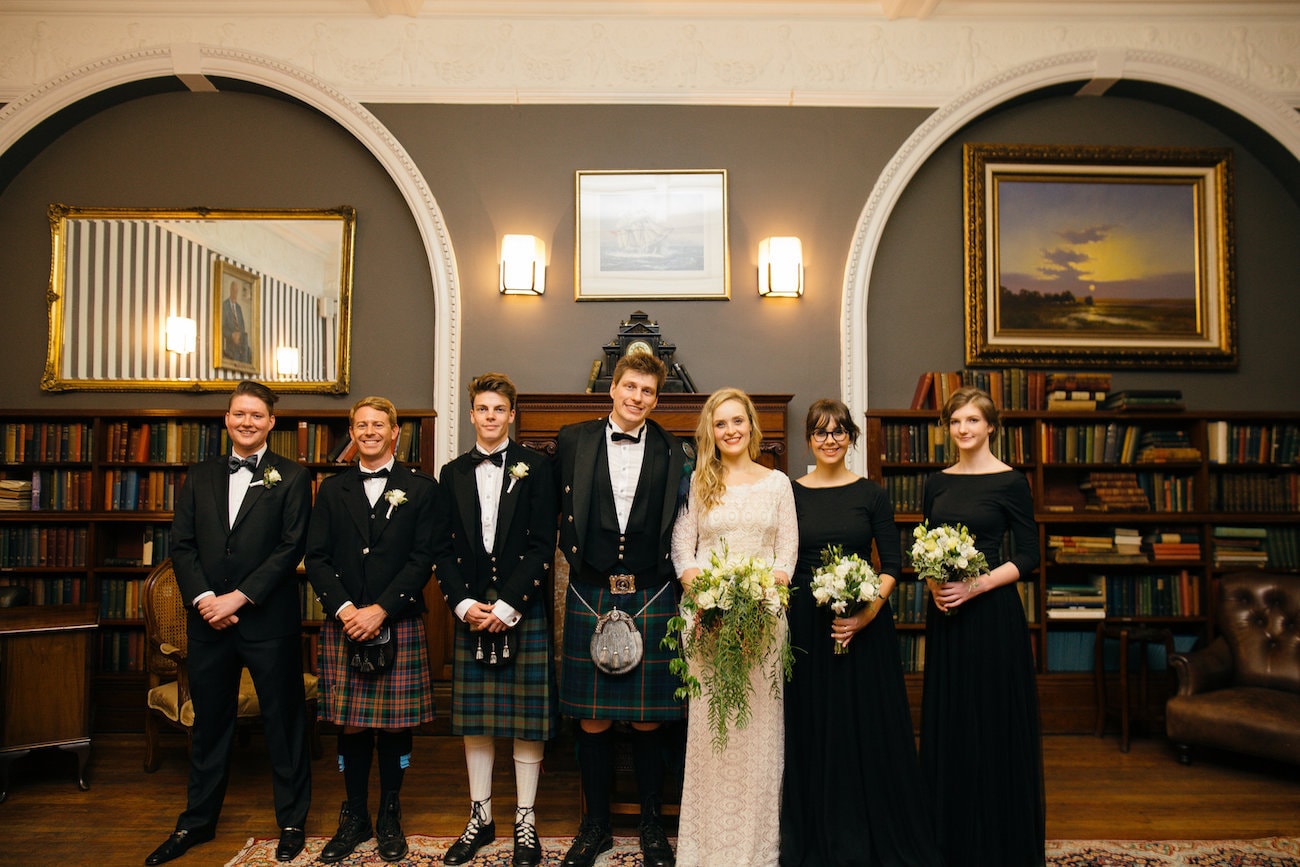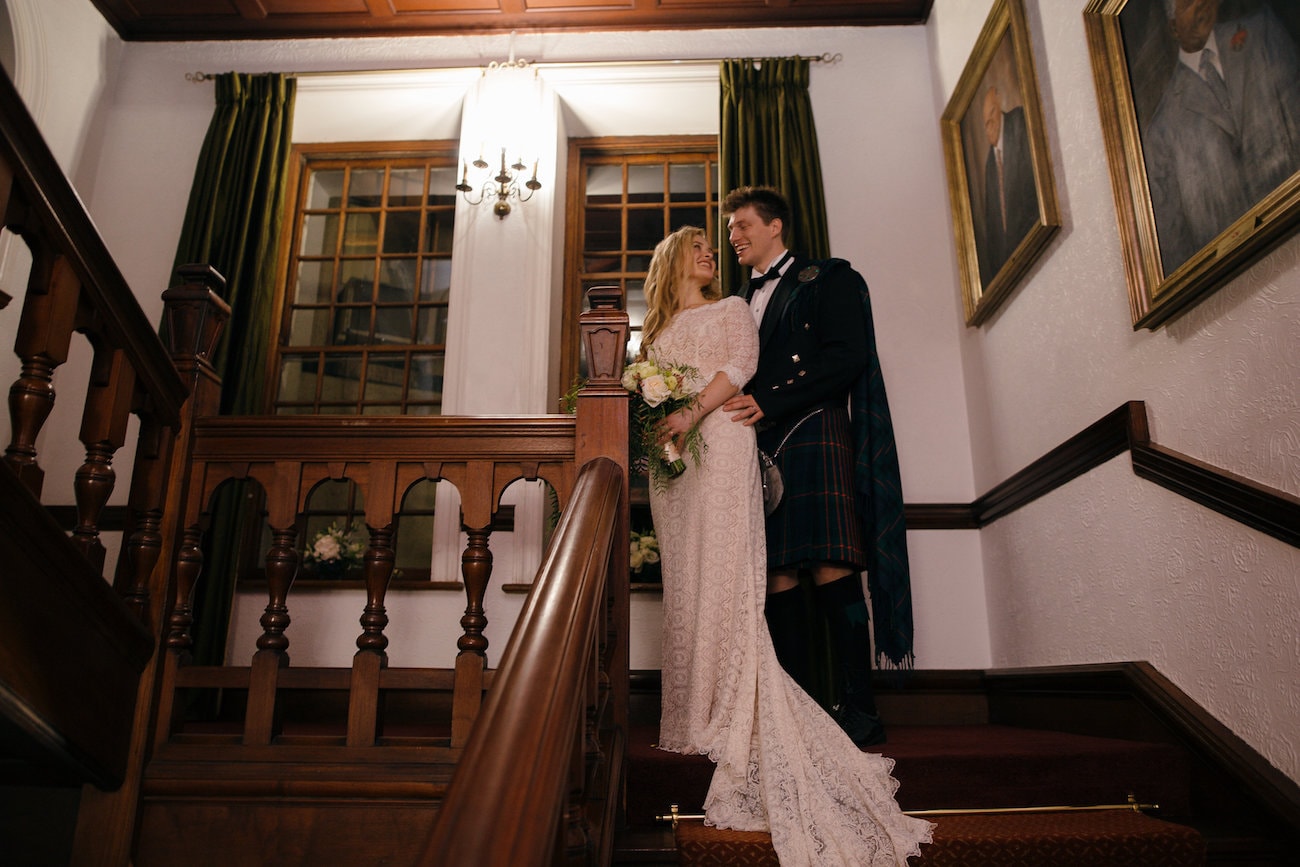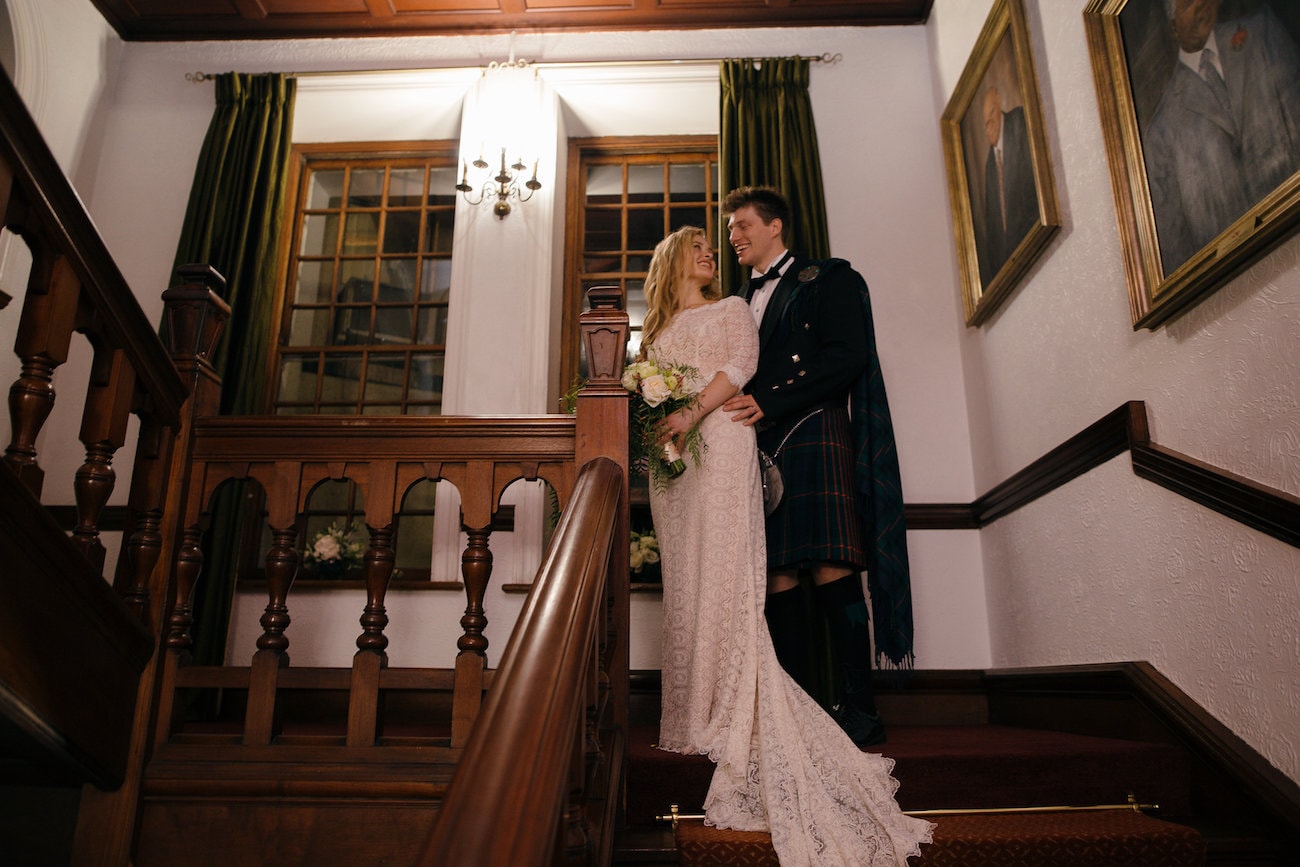 The Flowers
Bright & Beautiful managed our décor and flowers, and Neva and her team delivered EXACTLY what we had envisioned. I wanted the classic cream roses look but with an element of wildness and did not want the arrangements to look too stiff. For the flowers on the table, they combined cream roses, Queen Anne lace, pennygum, variegated pittosporum, and white latifolia along with my favourite flowers, alstroemeria. Neva invited me to watch my bouquet being made the day before my wedding (which was a very special experience) and it was the most beautiful cascading bouquet I had ever seen.
Memorable Moments
We have three special memories of which we cannot determine which is our favourite! First, I am not sure if many brides get to experience this feeling, but as I stepped foot into the Cape Town Club and looked up and saw my parents and Ross' best man (who was also the bagpiper) waiting to walk me in, I was taken aback at how the setting was exactly as I wanted it. After planning a wedding for a good part of te year, this was a great feeling. Secondly, having all of our friends and family in one place at the same time, celebrating such a joyous occasion, is something that we will never forget. It had been years since we had seen some family members and overseas friends, and having all of them celebrating together was unforgettable. Finally, we're not big on dancing, as we felt that having a dancing element would also exclude some of our guests, so we opted to not have a dancefloor or a DJ. This meant that we did not have a first dance, but towards the end of the evening when many of the guests had left, our bagpiper (best man) and violinist (friend) were playing highland music together in one of the bars, with many guests clapping and dancing around them. Having been in the dinner hall at the time, we were pulled down stairs into the bar where everyone stopped dancing to circle us and clap us on as we had our own first dance to the bagpipes and violin. It was so spontaneous and very memorable.
The Food
The food that the Club provided was phenomenal. Many of our guests still talk about it. We were very selective in deciding on our menu, as we felt that it was important to ensure that all guests would be accommodated. Our wedding cake has also been ranked as one of the best.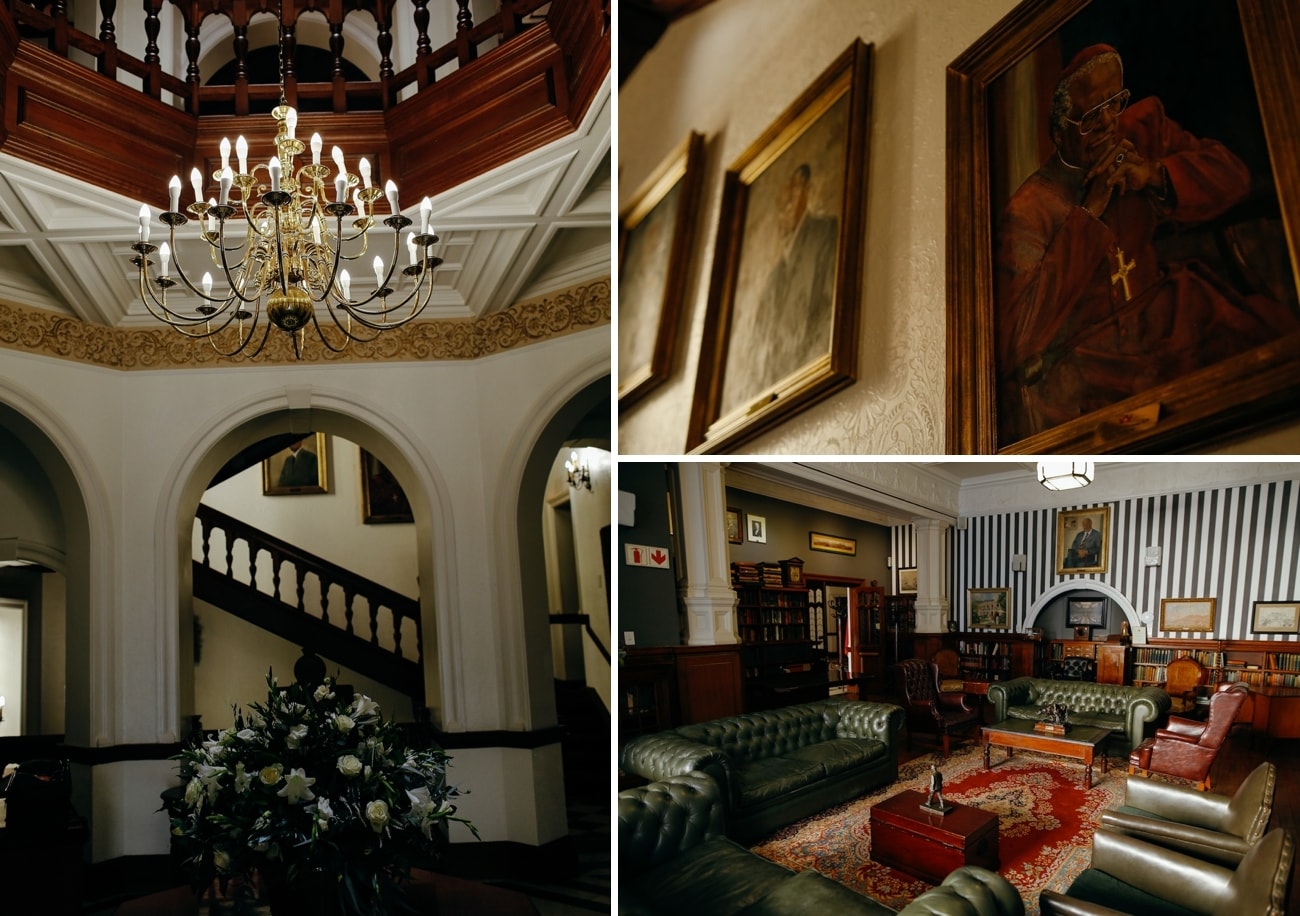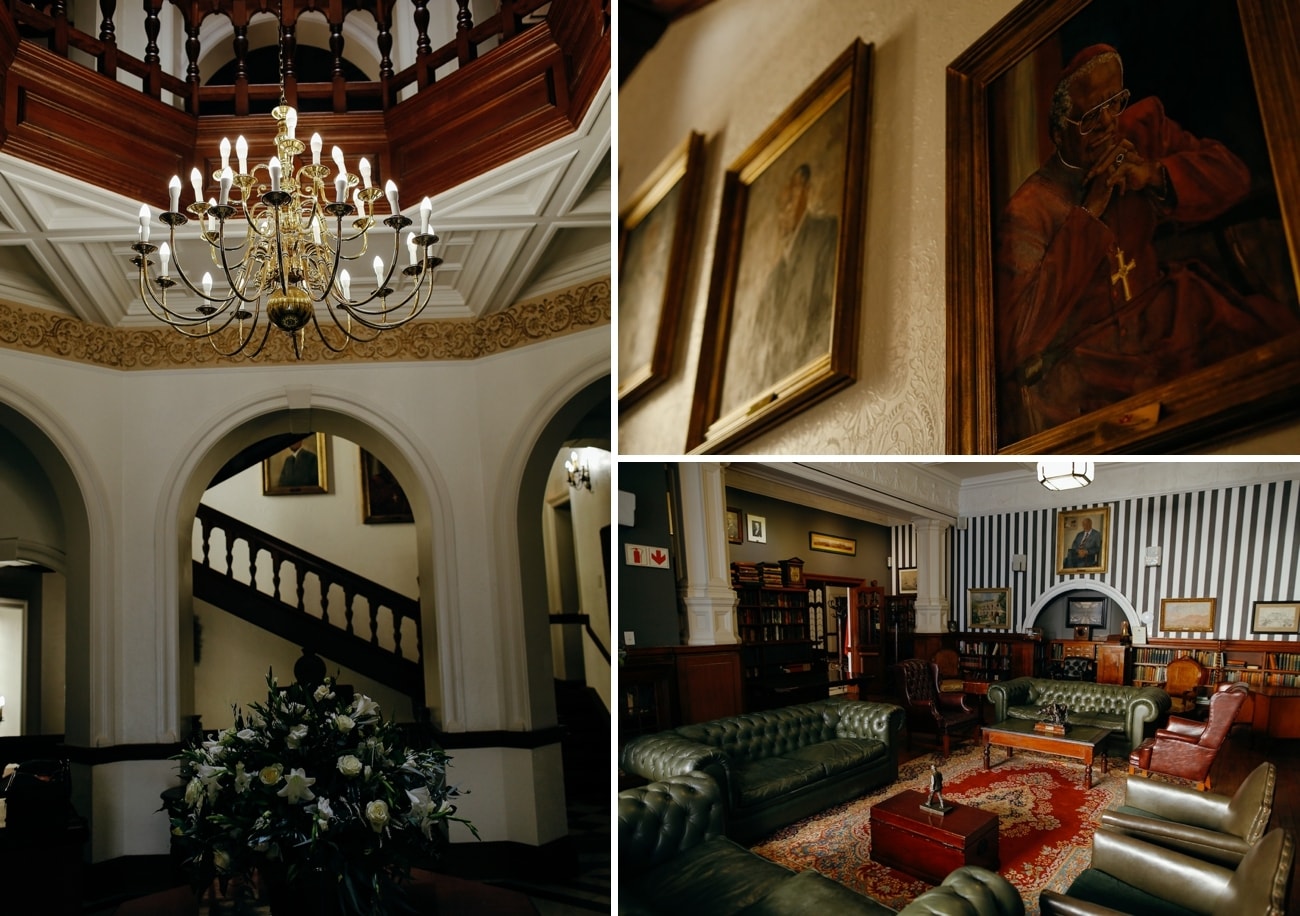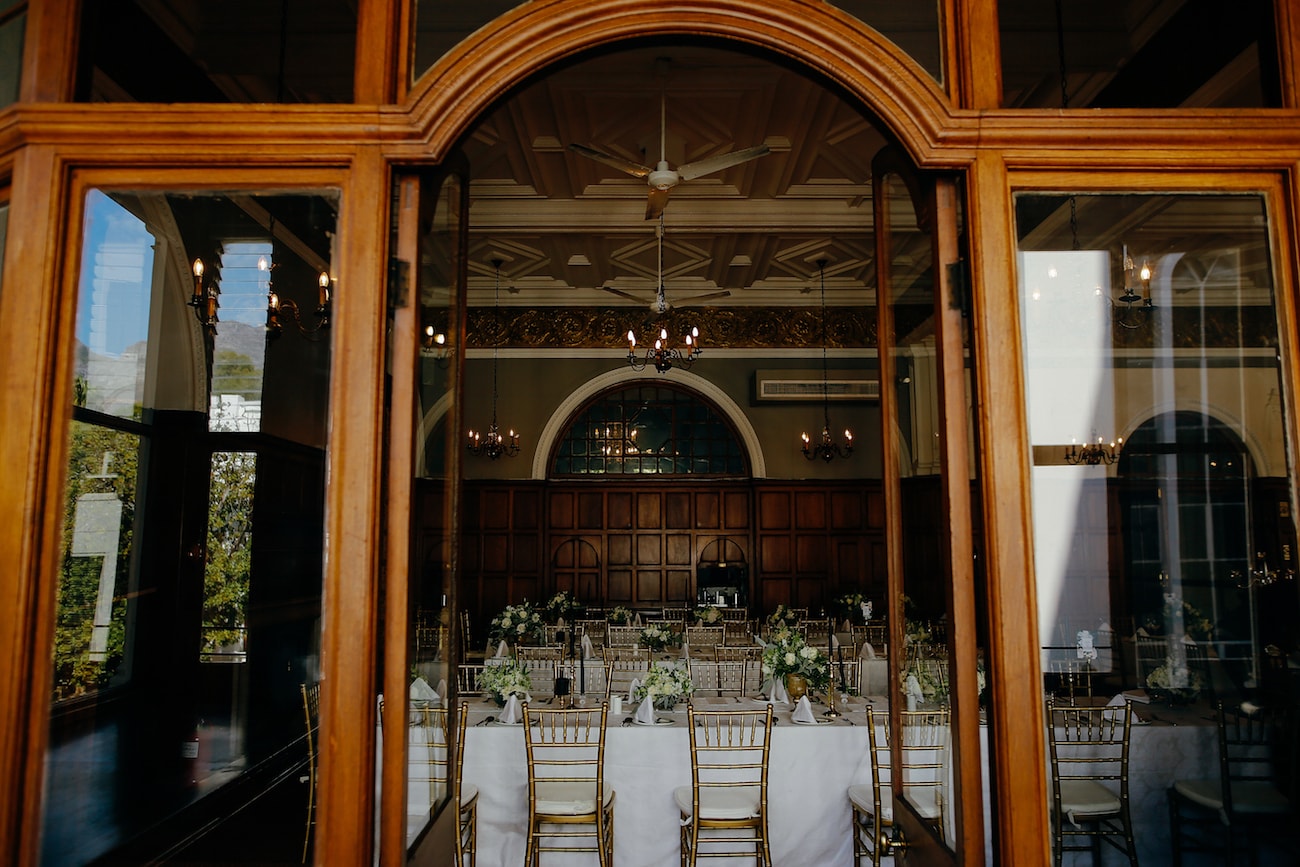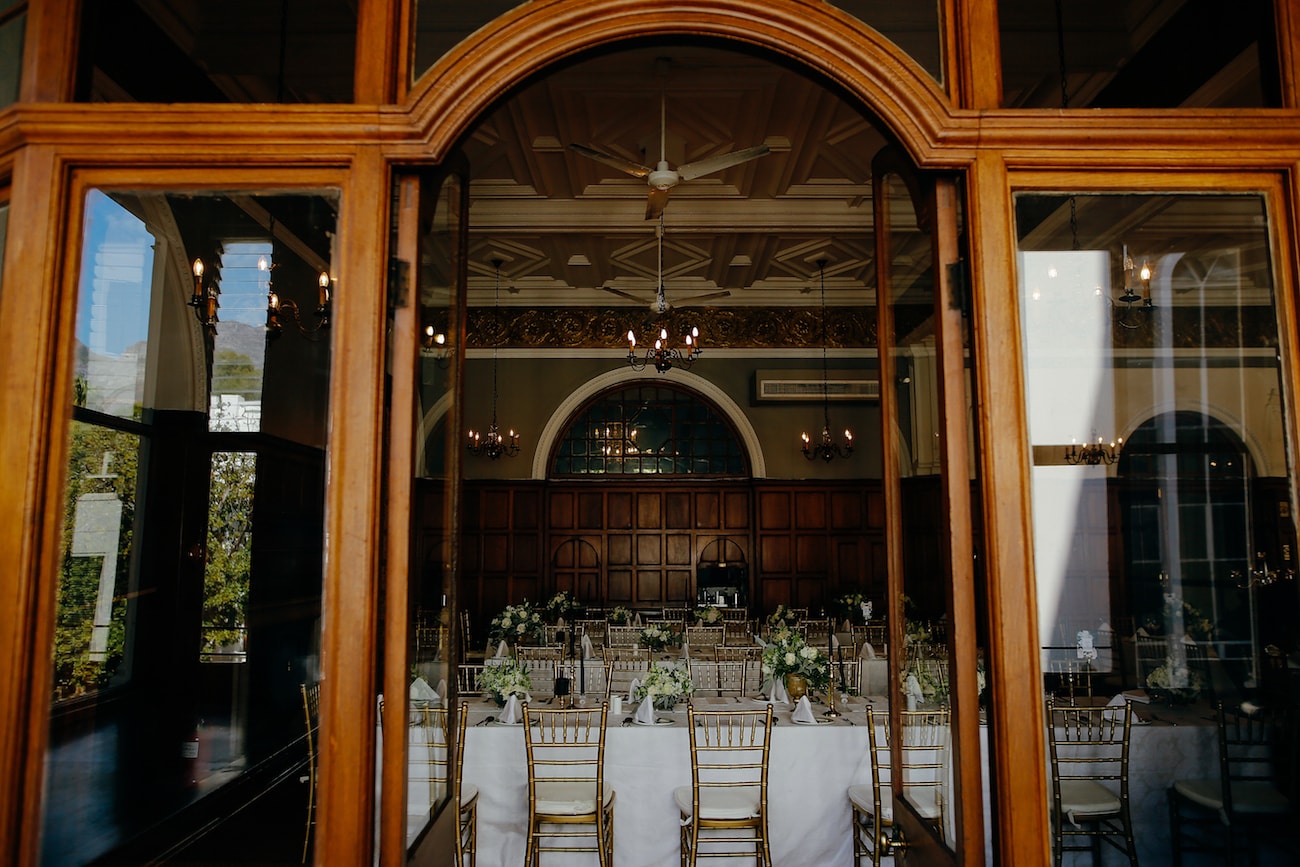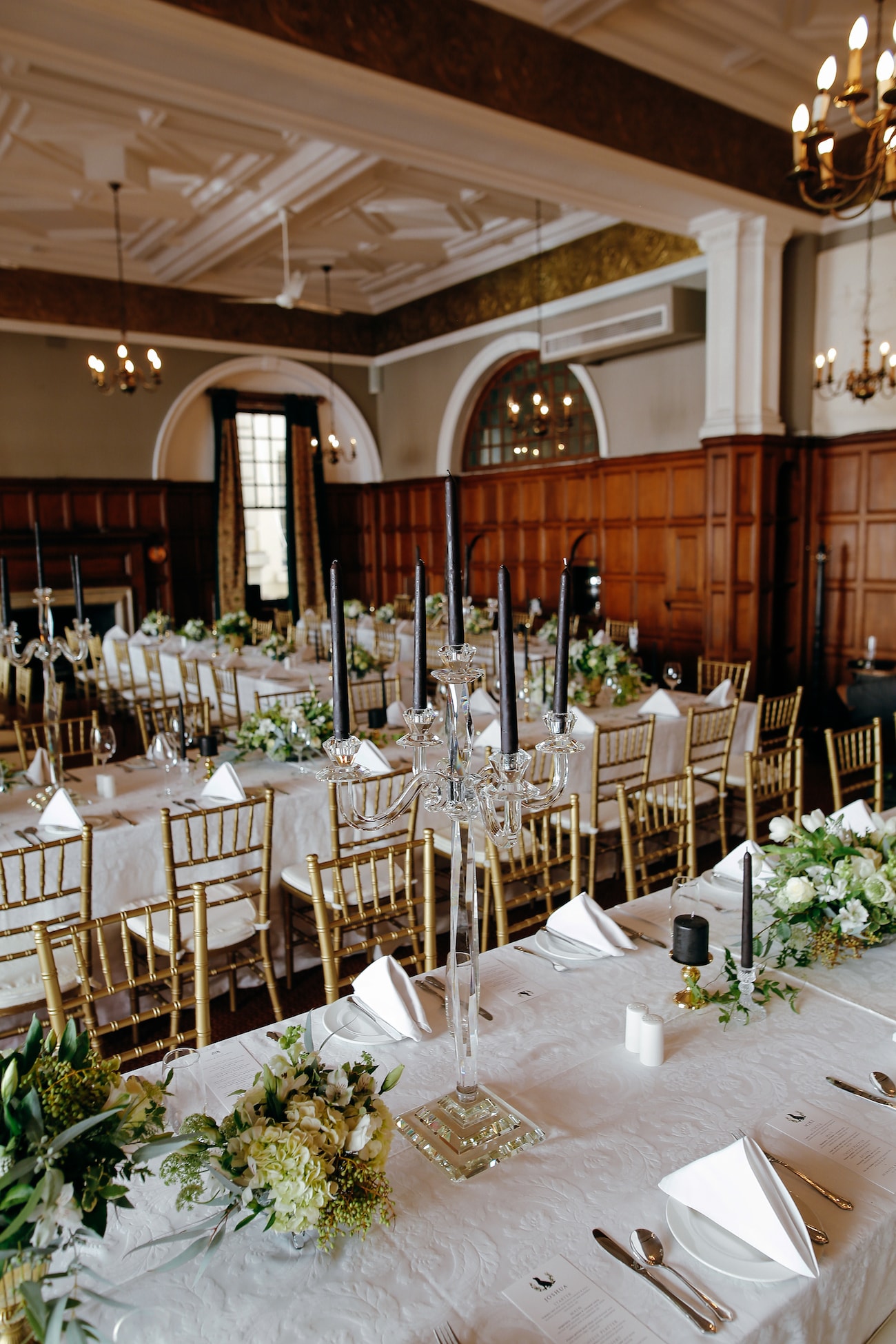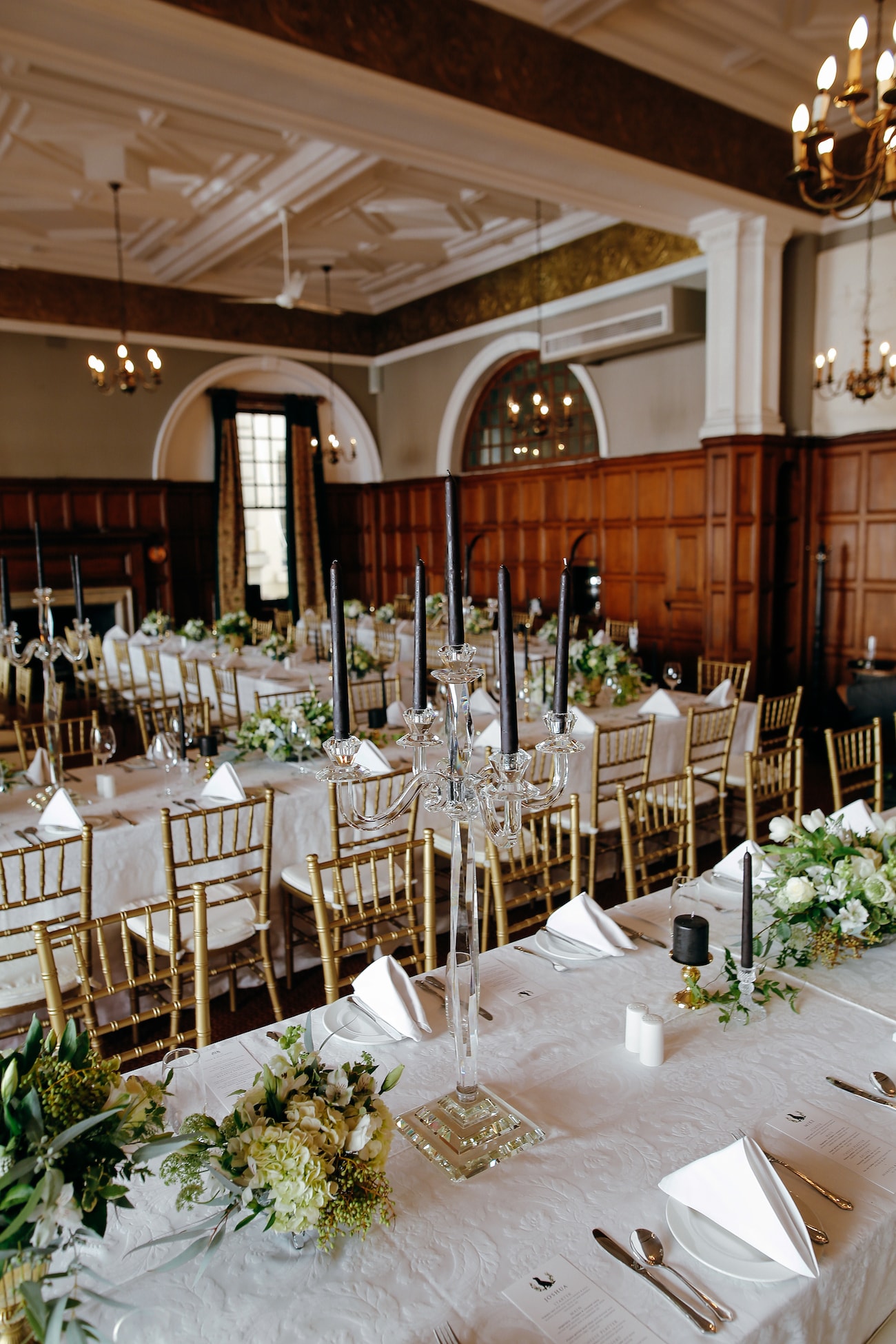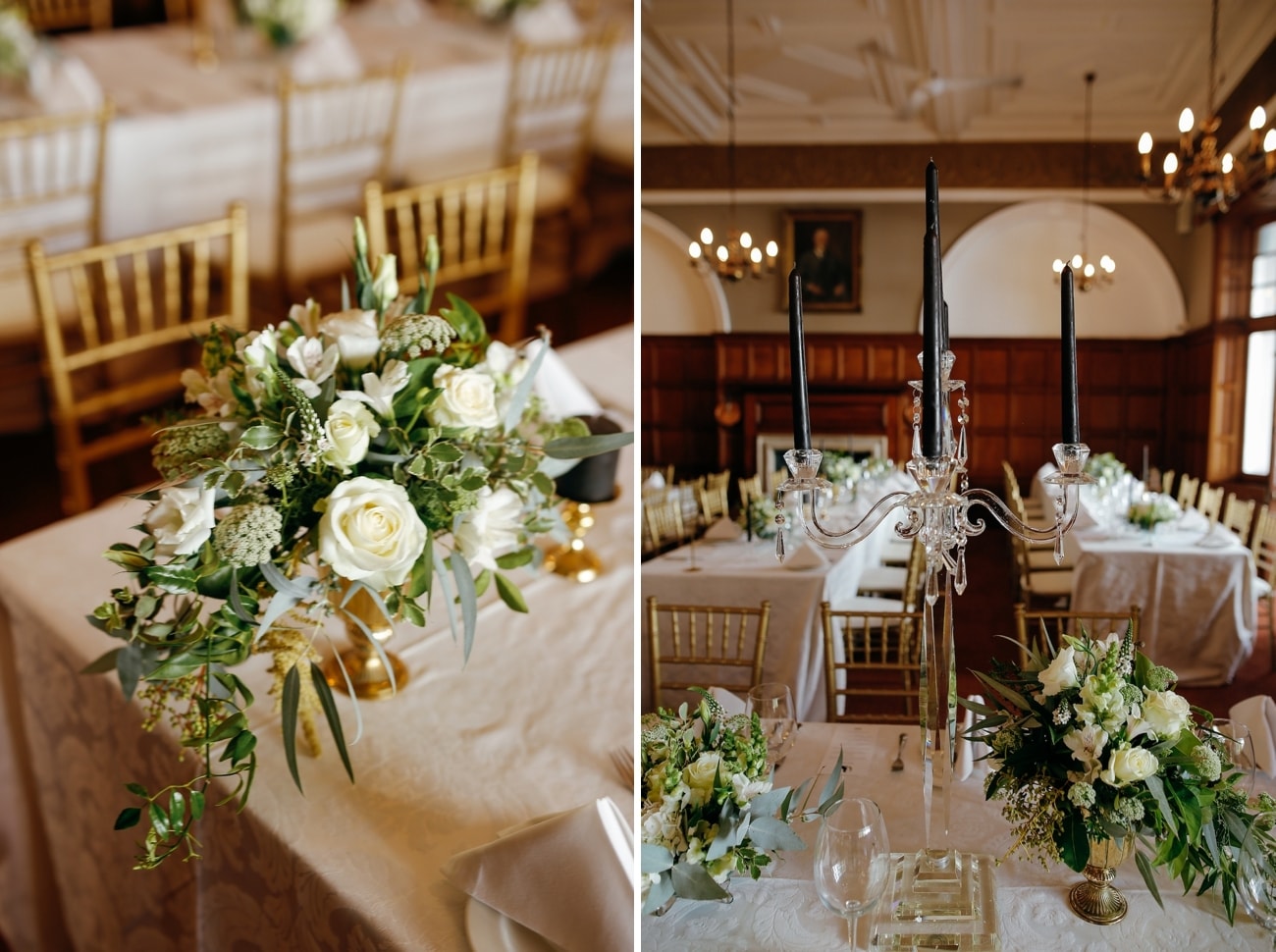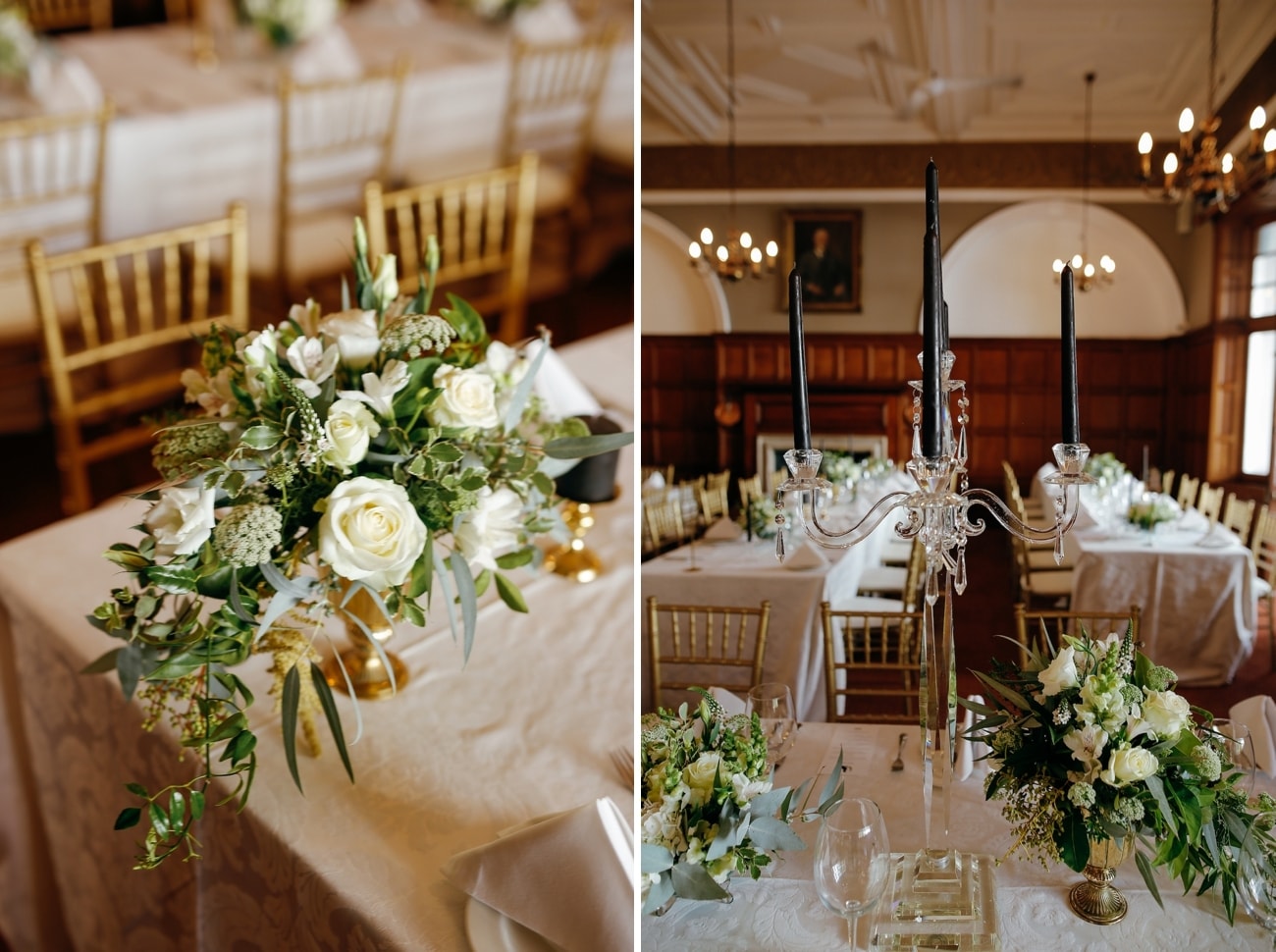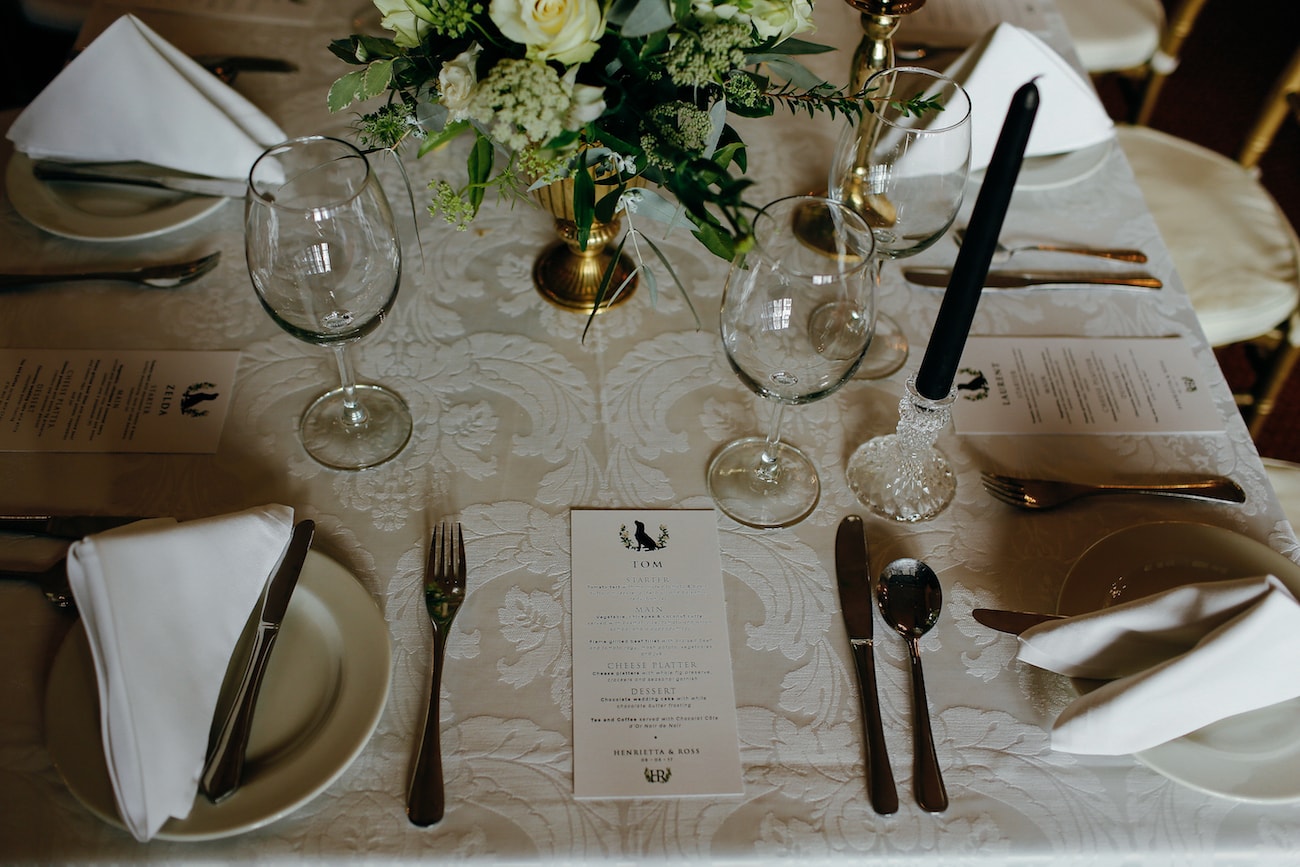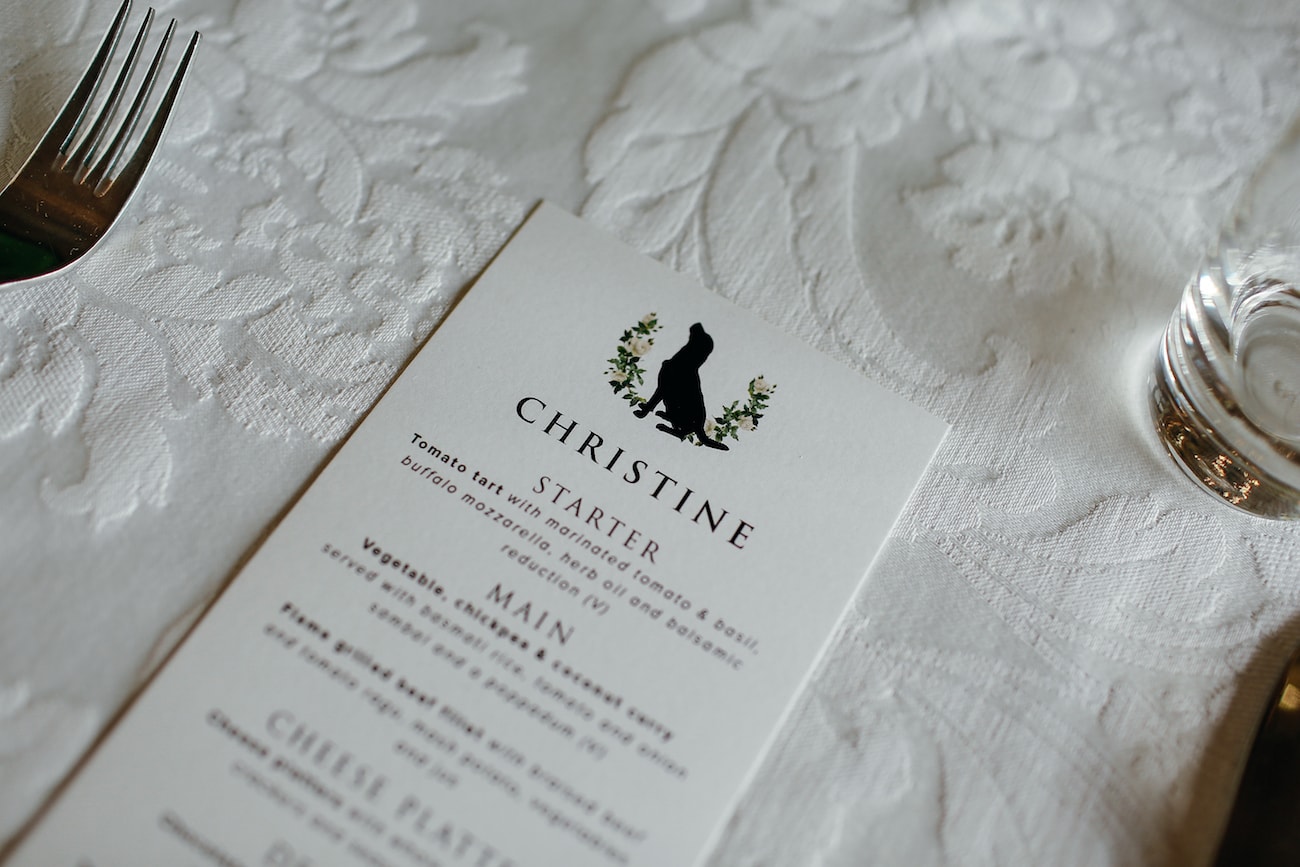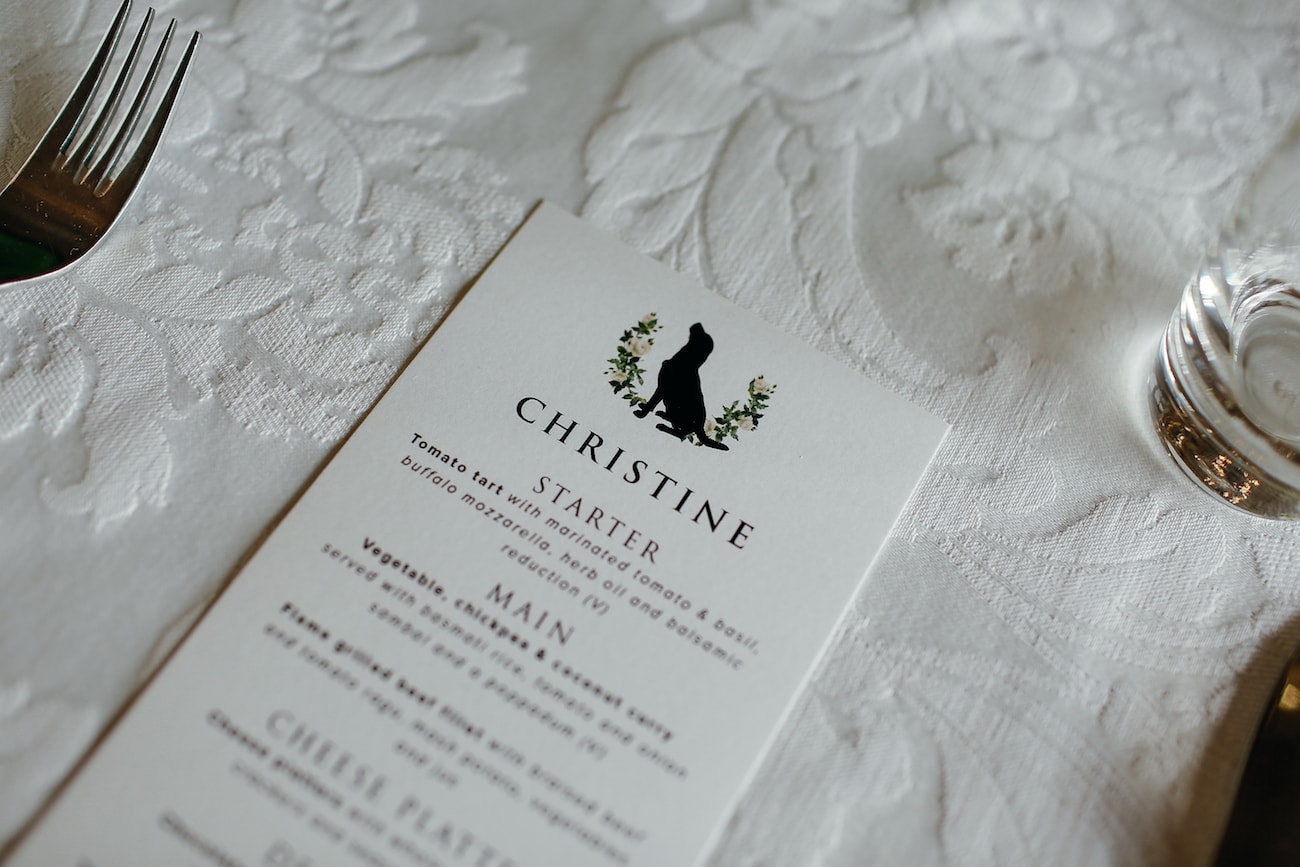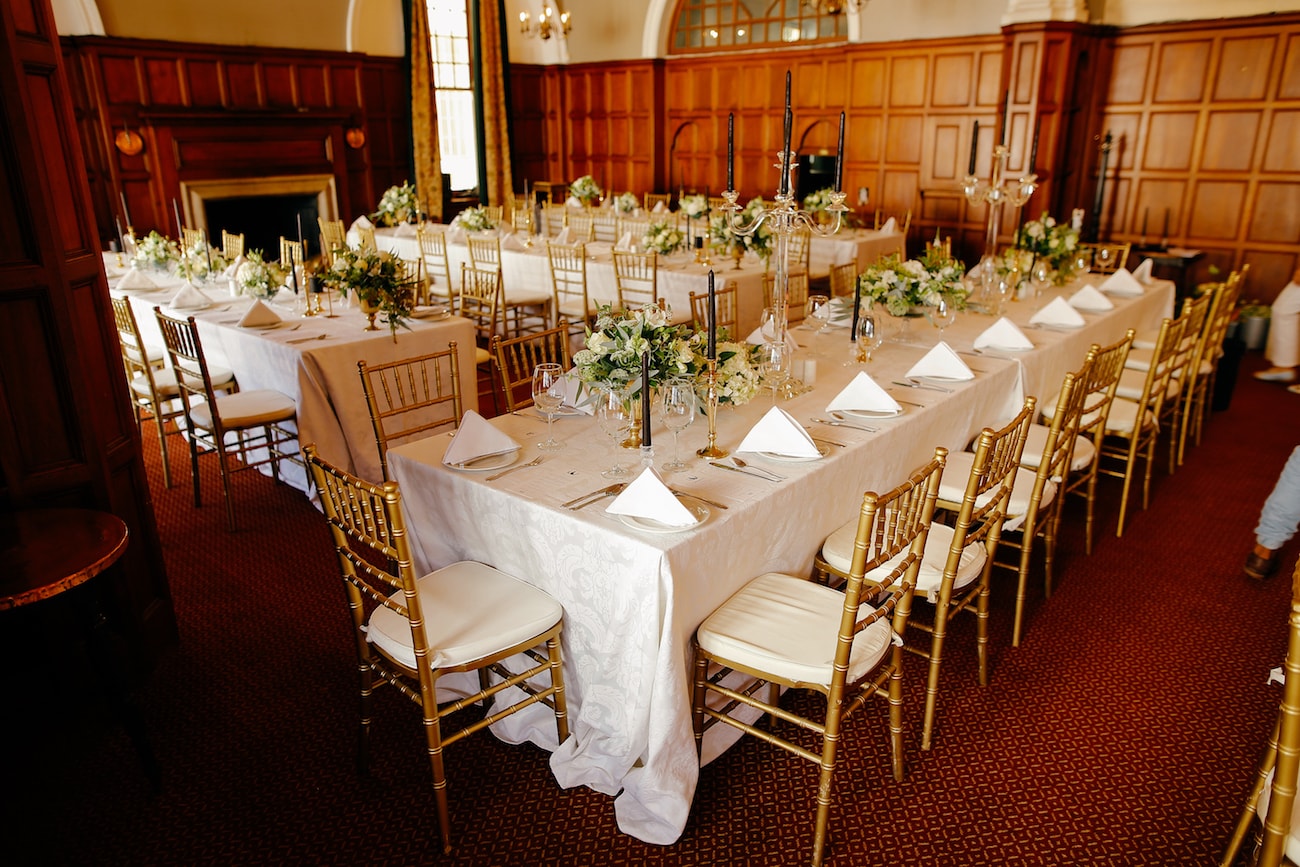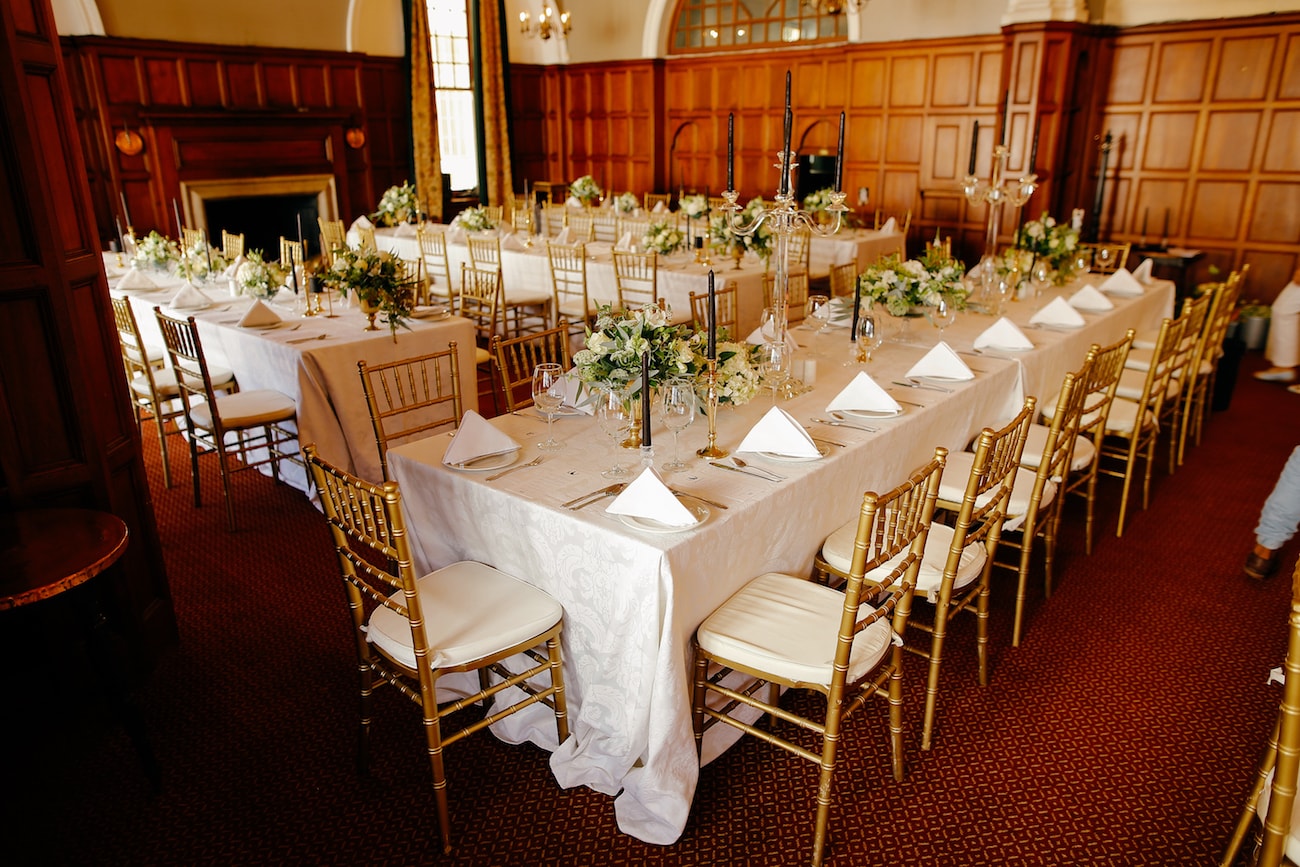 Proudly South African Details
We did not have any South African details at the wedding, but in his speech Ross, who comes from a family of Scotsmen and is not too fluent in Afrikaans, spoke in Afrikaans to my Afrikaans mom and promised her that he would look after me from this day until his very last day. You can only imagine how the Afrikaans-speaking family and friends loved a man in a kilt speaking to them in their taal!
Best Decision
Taking our time in making decisions, with the suppliers that we used and especially with the venue. We wanted to secure a venue as soon as possible, as we felt we couldn't really start planning a wedding until we had a venue secured, but we took our time and were able to realise other benefits of using the Cape Town Club after having visited other venues. For example, we would not need to hire too much of our own décor or furniture, as the Club is a beautiful and detailed venue, with plenty of tables and chairs. What's more, it is very central, which would cut down on unnecessary accommodation costs for the bridal party. Duane, the photographer that we chose, was simply brilliant. We know of a lot of friends who have had problems and delays receiving their wedding photos, but Duane has been nothing but professional. He really understood what we wanted from our city wedding theme and took time to capture the detail on the day, as well as the beautiful and spontaneous photos of guests throughout the night.
Advice for Future Brides & Grooms
We thoroughly researched all of our suppliers, and took the time to make sure that they were what we wanted. Our suppliers were all great and the vision that we had for our wedding was 100% delivered. Make sure that you communicate clearly to your suppliers, it is difficult to understand what is in another person's head.
Always think of the relevant costs. You may have a good deal on a venue, but make sure to get a quote for the cost of décor, tables and chairs needed for that venue before signing the venue contract.
Planning a wedding is a wonderful experience that we thoroughly enjoyed. It was an opportunity to host our family and friends and give them an insight into who we are as a couple. By the time it comes to the day of the wedding you have really poured your heart and soul into the day. We were adamant that no matter what happened on the day we were going to enjoy and savour every moment. We would advise that on the day of the wedding the bride and groom focus on the meaning of the day, not on the minor detail that did not go as planned. This also adds an element of spontaneity to the day.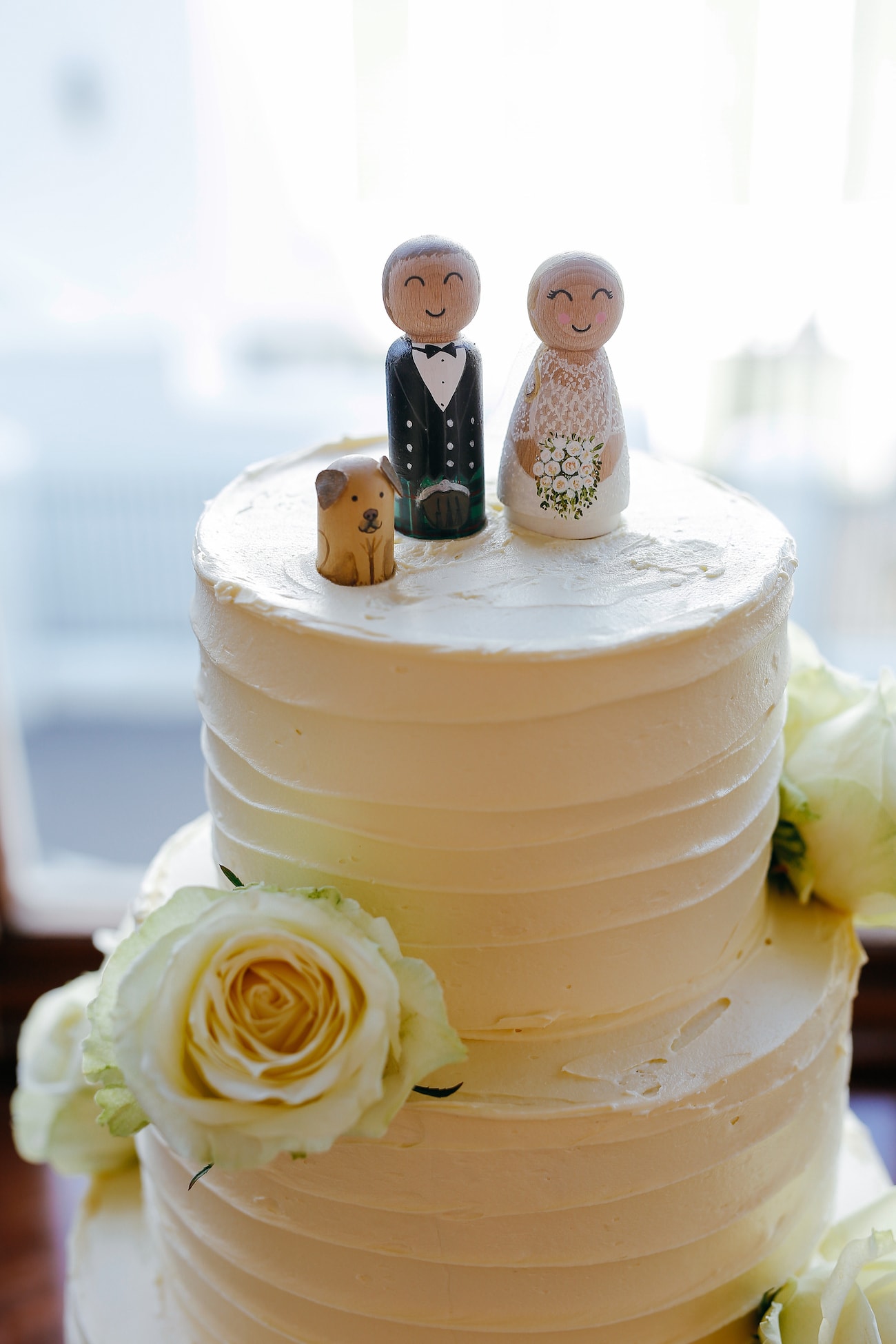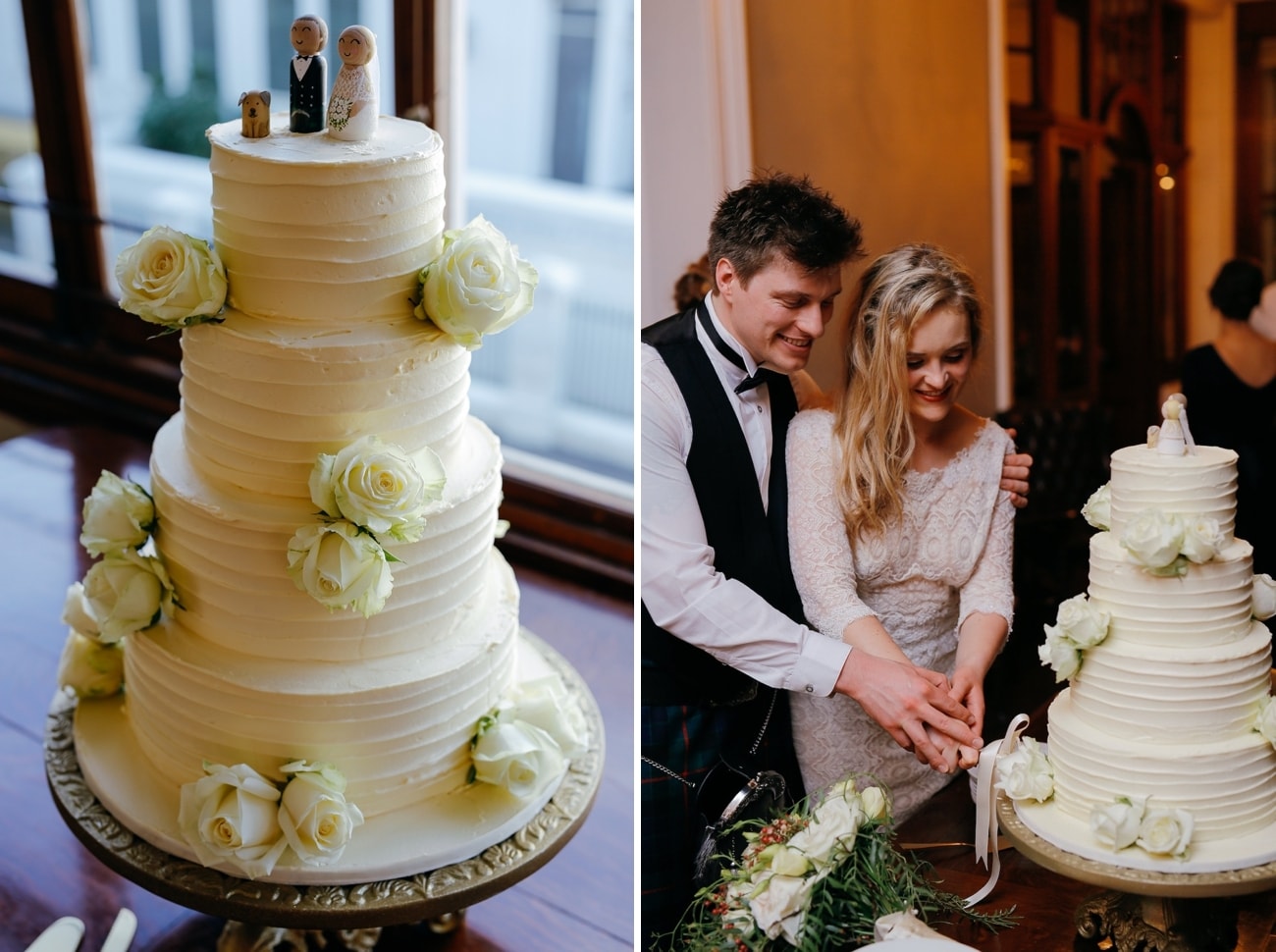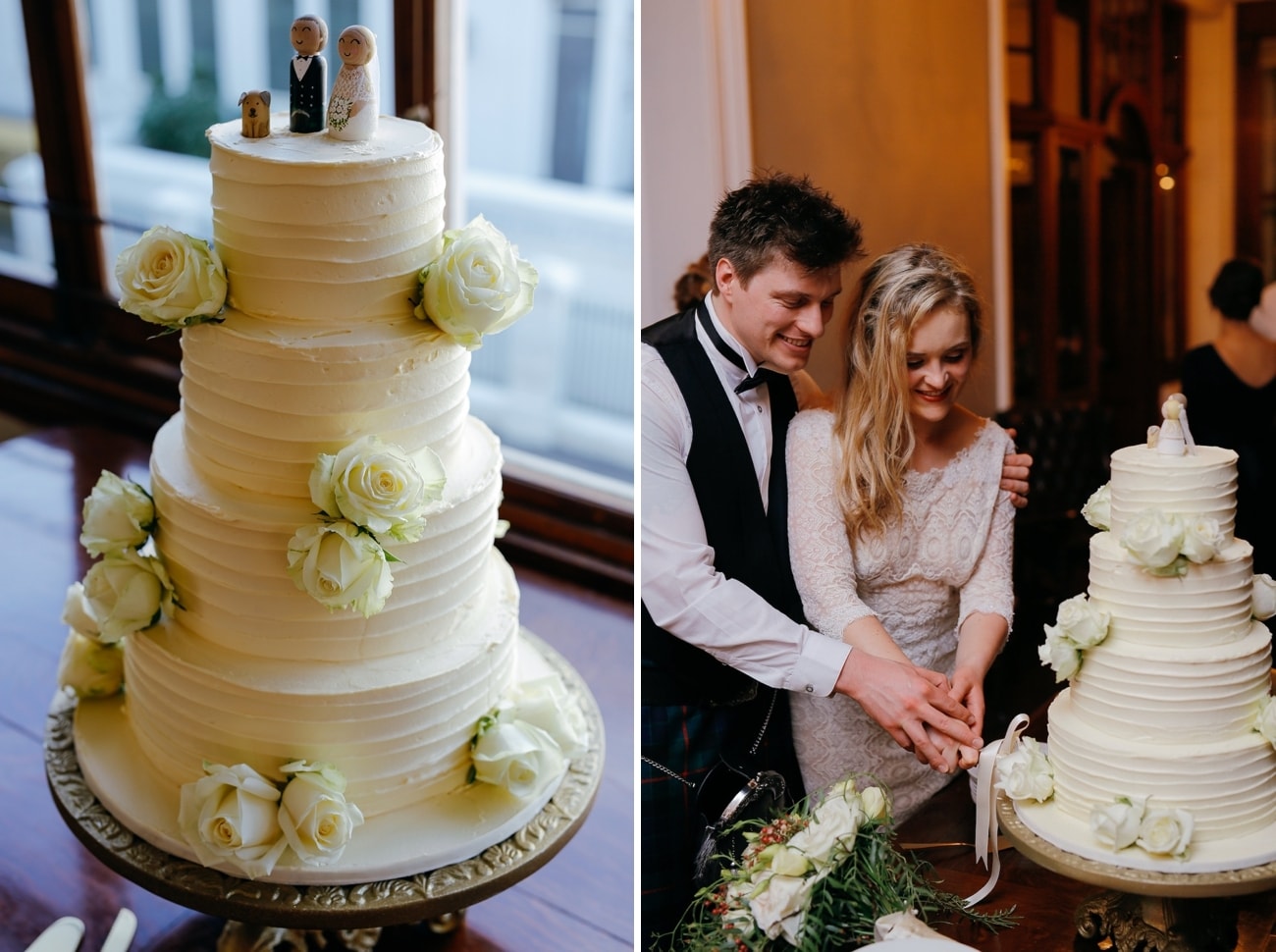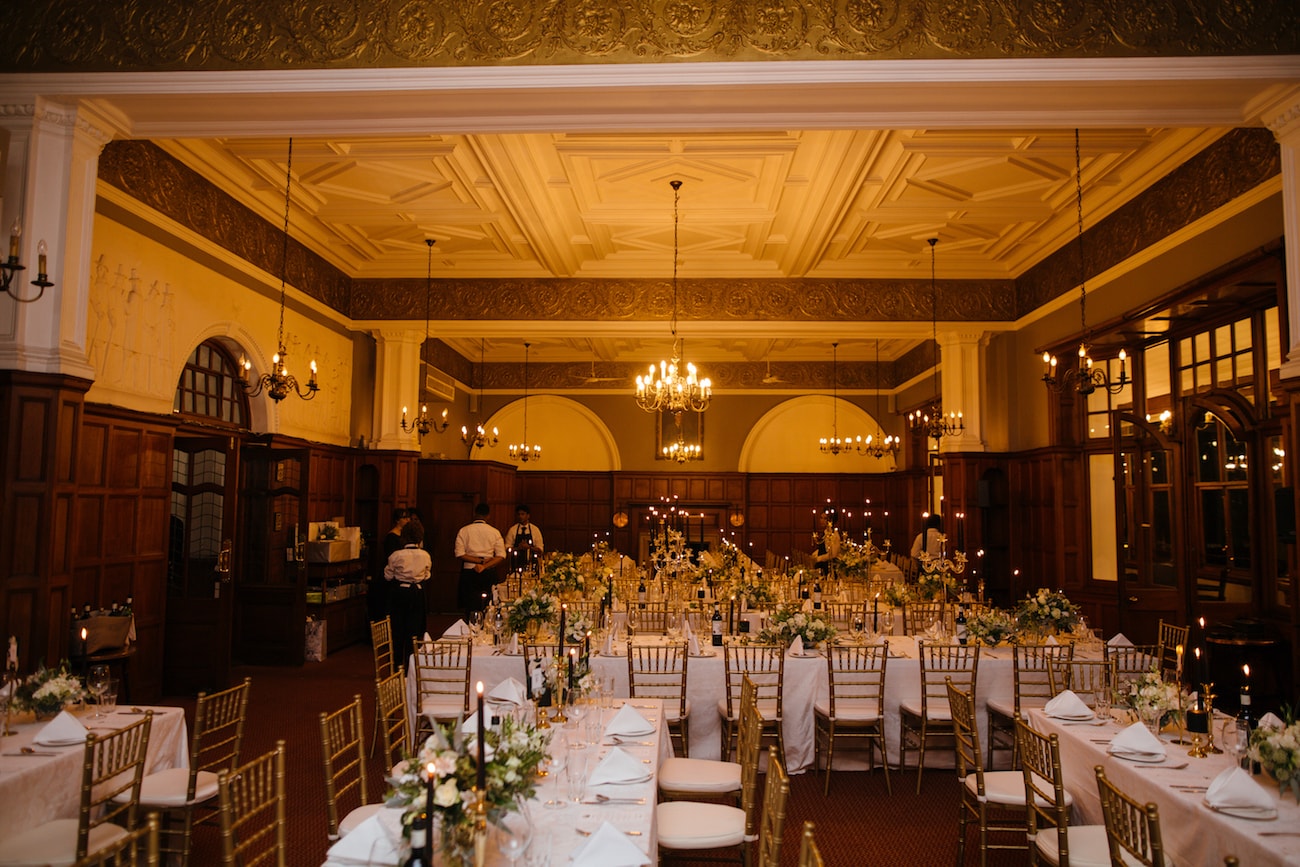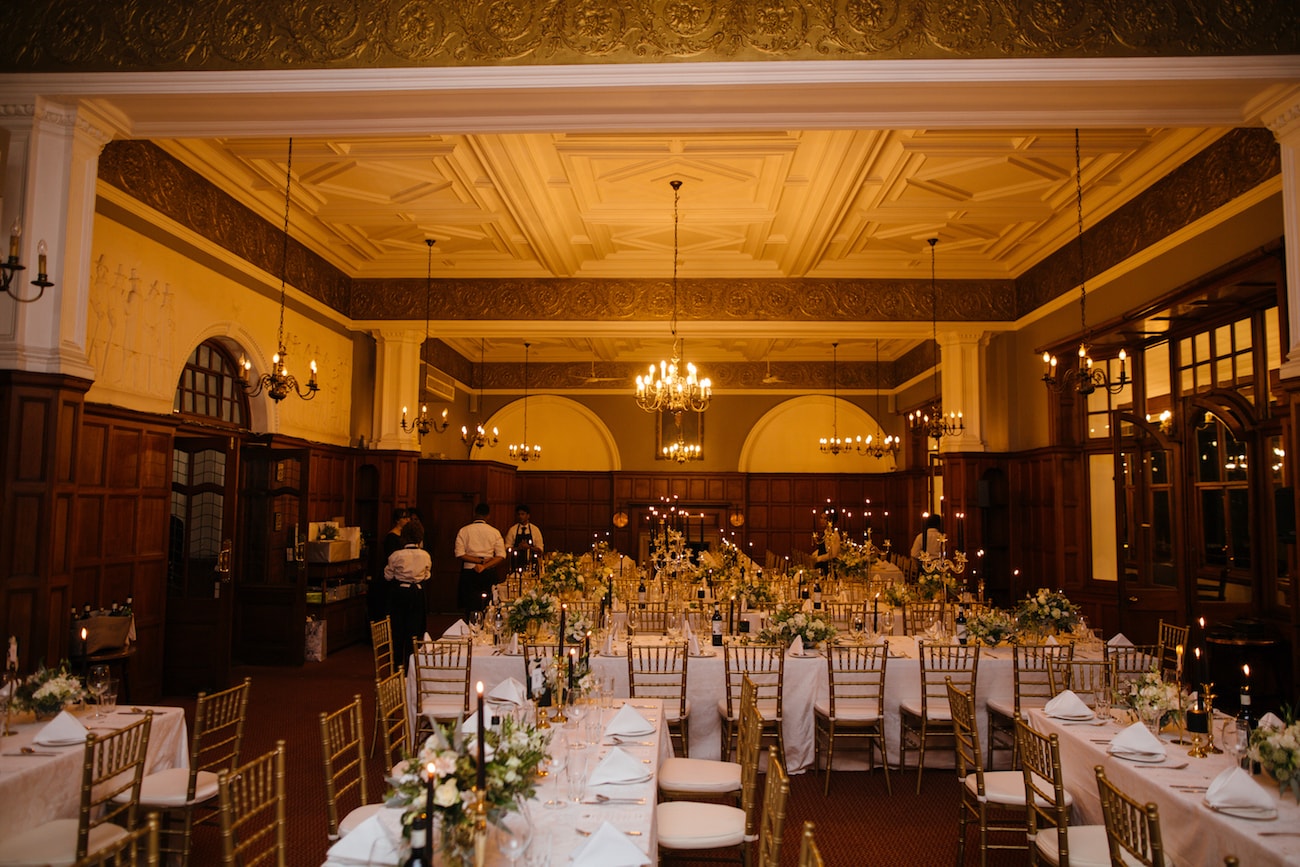 You can see more from this wedding on Duane Smith's blog.
SERVICE PROVIDERS
Venue & catering: Cape Town Club | Photography: Duane Smith Photography | Flowers & décor: Bright & Beautiful | Menus: Blooming Wonderful | Cake: Cakes by Wade | Bride's dress, veil & garter: White Lilly Bridal Atelier | Bride's accessories: Eve's Bridalwear (shoes) | Hair & makeup: Luhanie Ehlers | Bridesmaids' dresses: White Lilly Bridal Atelier | Entertainment: Piper Mike (bagpipe) & James Hall from Jenny and the James (violin) | Wedding rings: Prins & Prins | Cake topper: Ladies & Gentlemen Custom Made Wooden Cake Toppers