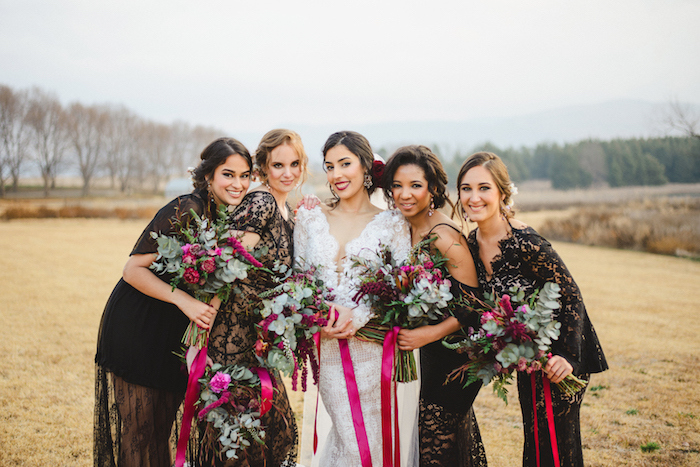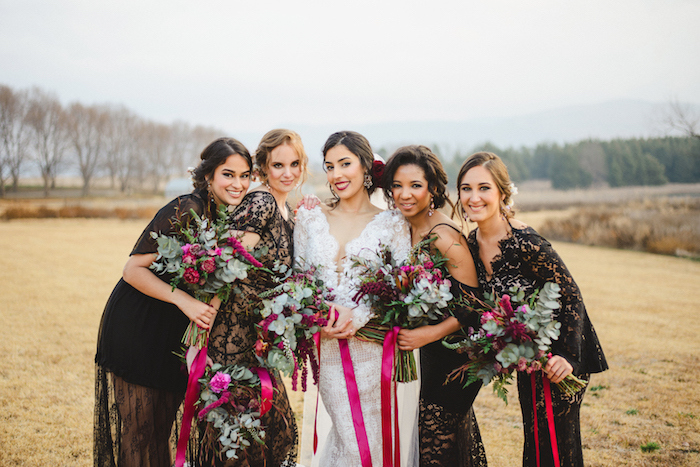 I always feel like I'm opening a village fete at the start of the year, like I should be standing in front of this feature in a big hat and a Sunday dress, with a comically large pair of scissors. I declare this wedding season OPEN! Well, I do. It's our first real wedding of the year, and I can't think of a better way to begin than with this dramatic, drop dead gorgeous celebration from Roxanne Davison. Jessica and Brent were inspired by red roses, and art (specifically still life) and a touch of Baroque opulence in creating the design for their Midlands wedding, and wow, is it a showstopper! I love everything, from the fruit and flower-decked tables, to the bridesmaids in Spanish-style black lace, to the bride's amazing Casey Jeanne gown. And I spy one of our favourite venues too, with some of the couple shoot taking place at the incredible Crystal Barn, part of the SBB Collection of venues. So much pretty in one place, beautifully captured by Roxanne. Let's do this!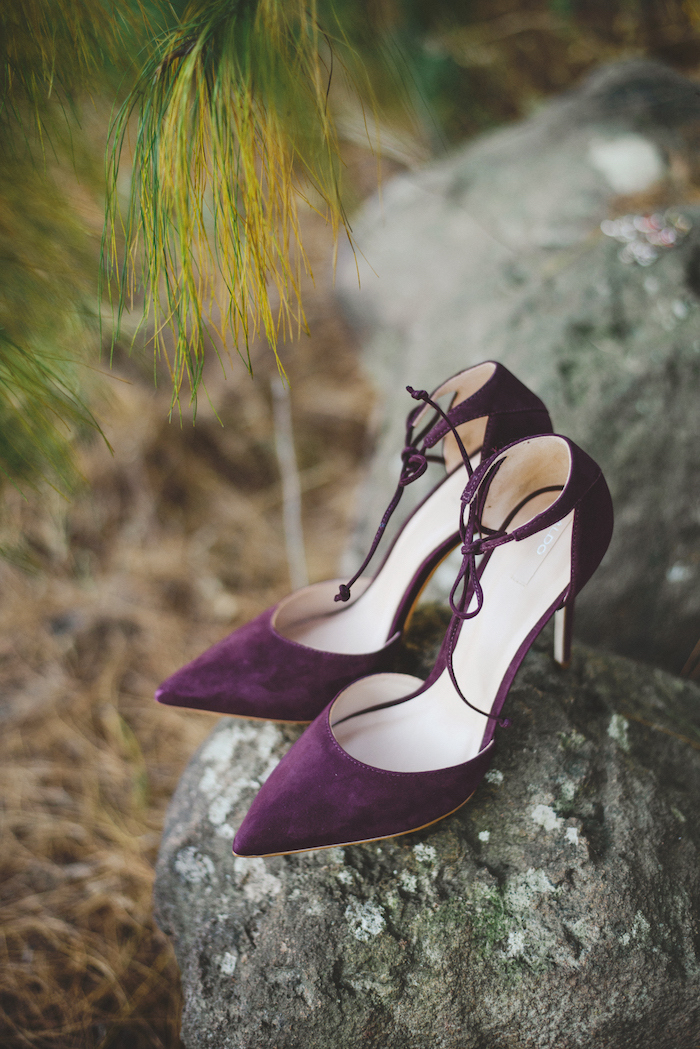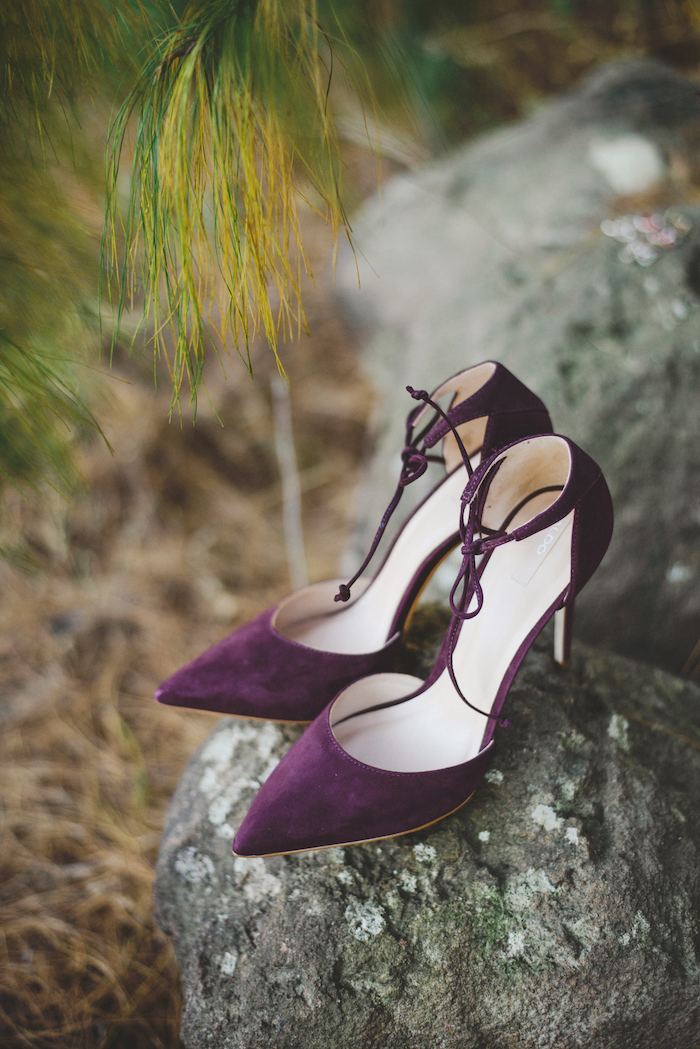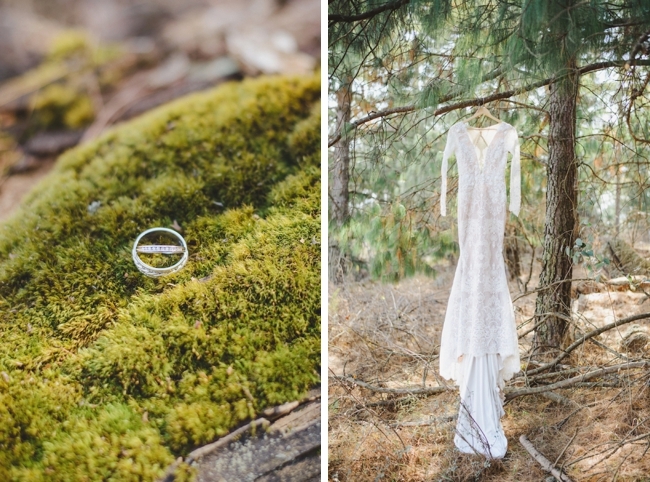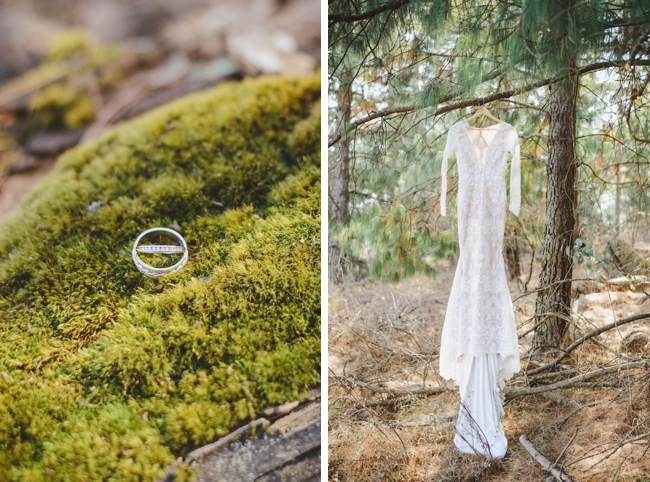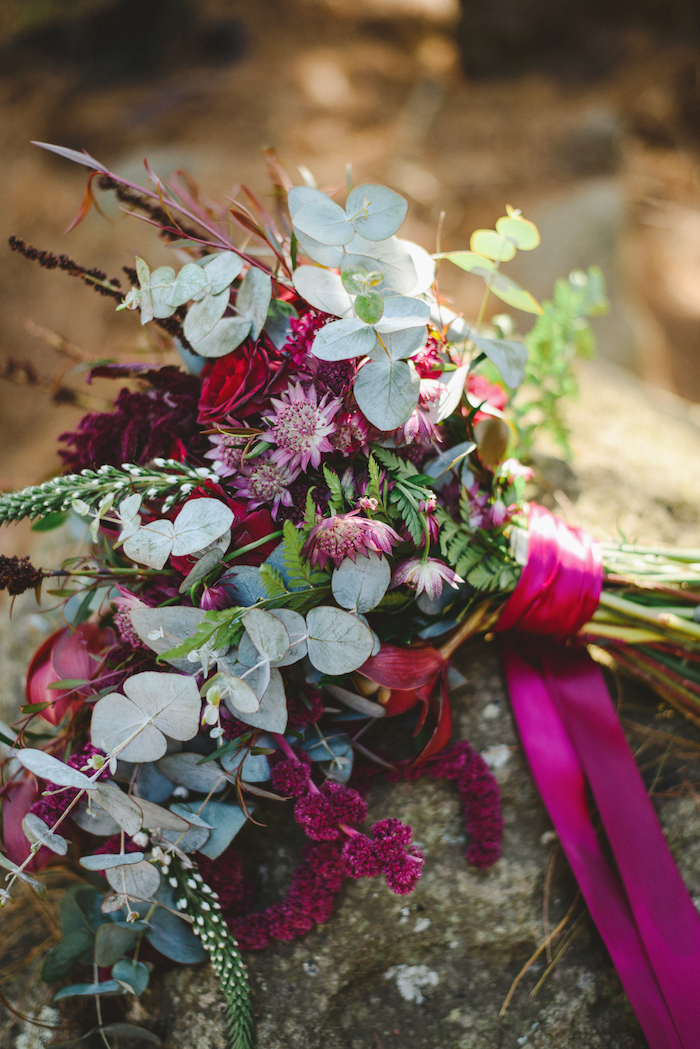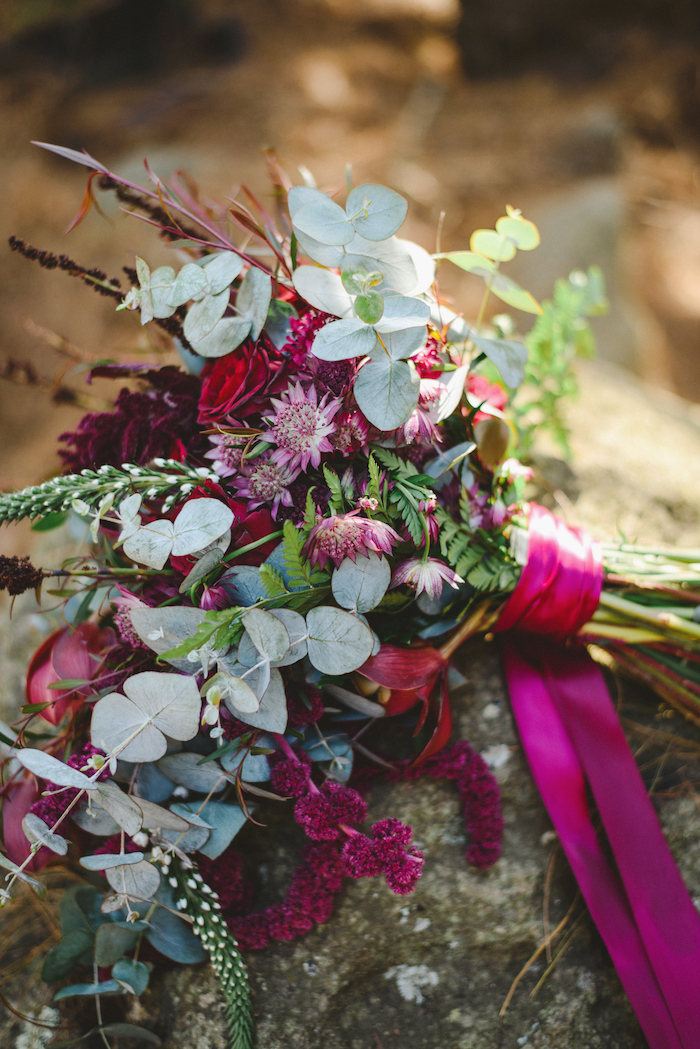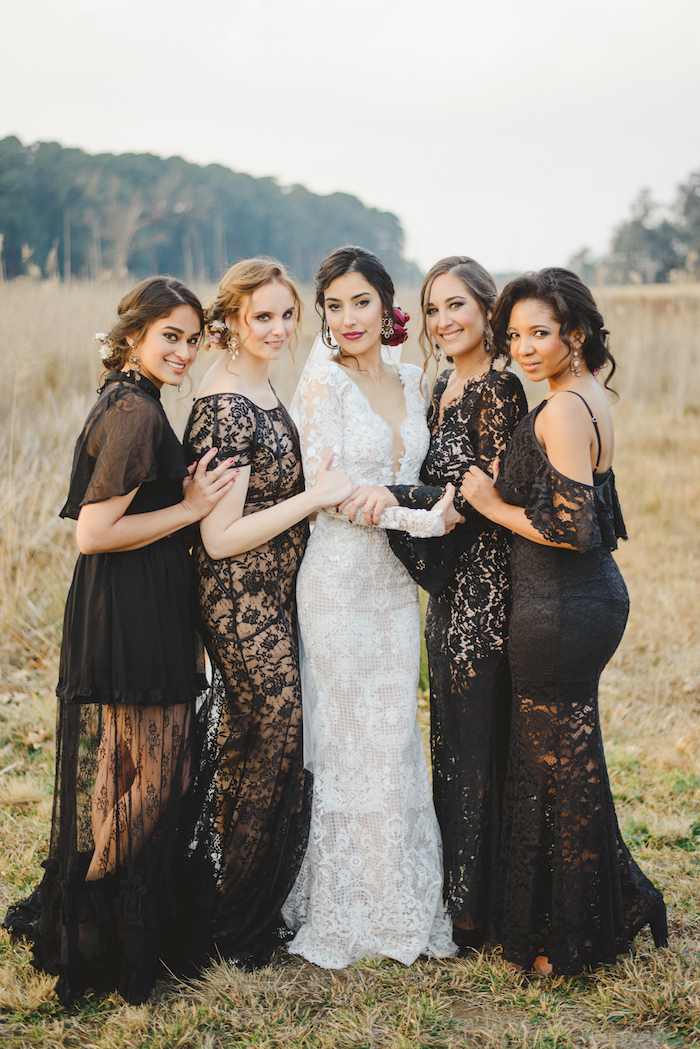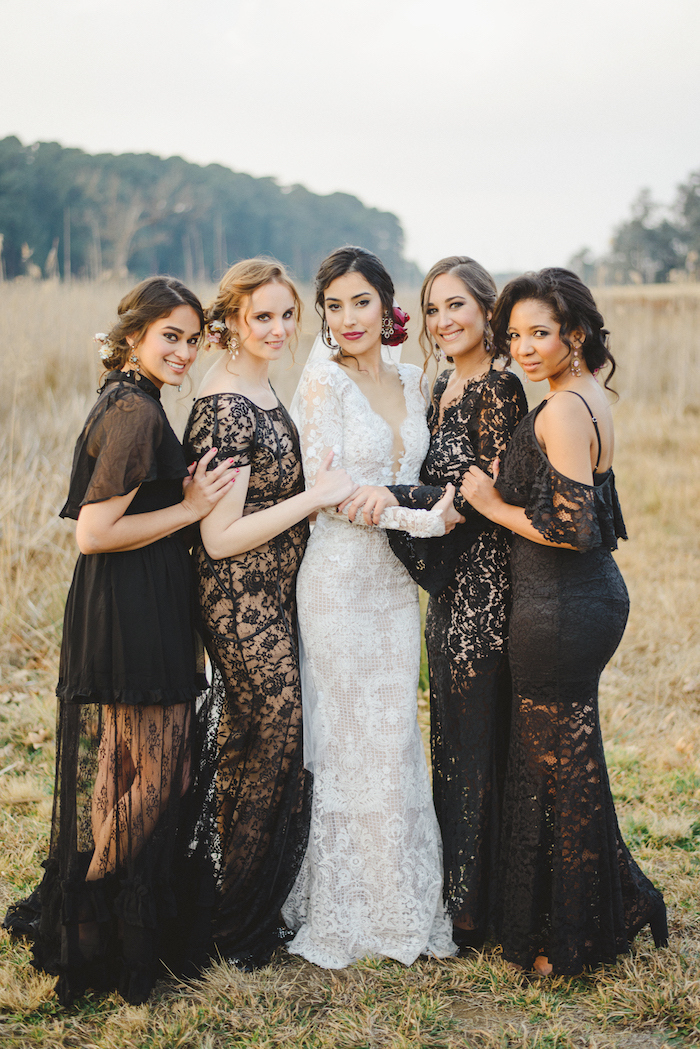 Love Story
We met when I was 17 years-old at a cafe that he was working at in Durban North. I was friends with the manager at the cafe and needed a lift to my ex-boyfriend's house. He recommended Brent. On the way to my ex's house we spoke the entire time, and when it came time for us to part ways, he asked for my number and the rest is history.
The Proposal
Brent kept it a secret the whole time he was planning the proposal and on New Years day he surprised me with a helicopter ride to the top of a mountain overlooking Inanda Dam. When we landed on the mountain we shared a bottle of champagne and indulged in a picnic prepared by the pilot. During the picnic he got down on one knee and popped the question. Romantic vibes :)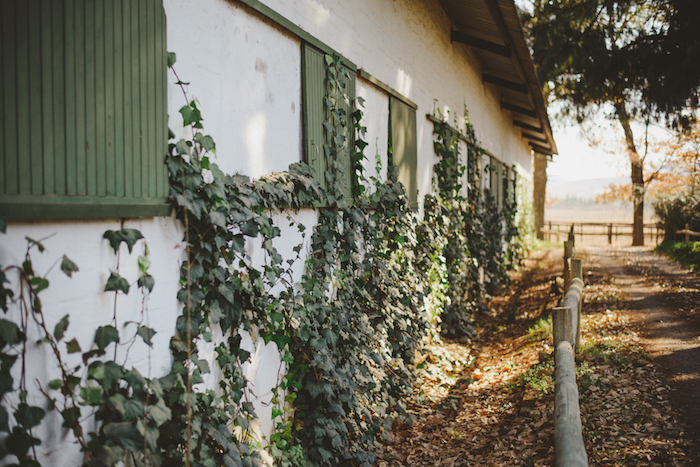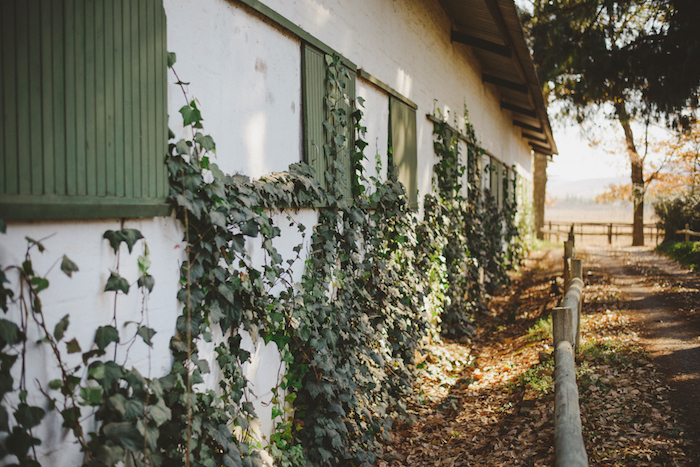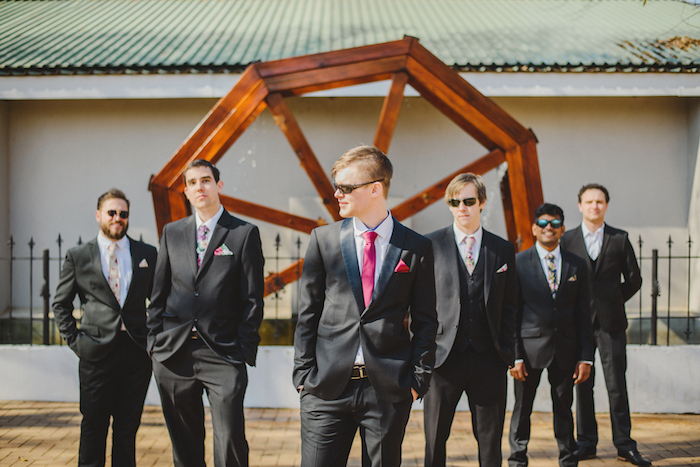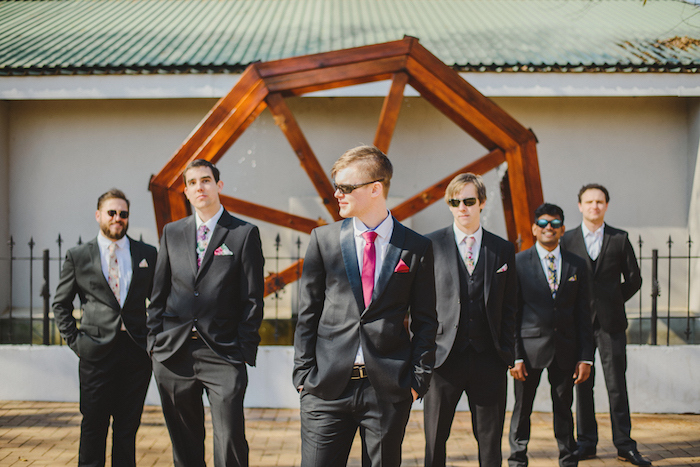 The Venue
I had always loved the idea of getting married in a chapel with a long, dramatic aisle and inevitably fell in love with the classical features at Waterwoods. It was a blank canvas that we could put our own personal stamp on. The affordability of the venue was also a plus.
Wedding Style
I started planning our wedding a year and a half before the big day, and as a result my initial vision adapted over that time into something less 'themed' and rather one that featured more timeless qualities. My initial idea was a heavily Marie Antoinette inspired setting which eventually translated into something more 'undone' and organic from a still-life perspective. We kept elements like gold touches which could be seen from the candelabras and cutlery, but wanted deeper, moodier shades to be reflected in the flower arrangements (which would normally be pastels if you're sticking to a Rococo palette).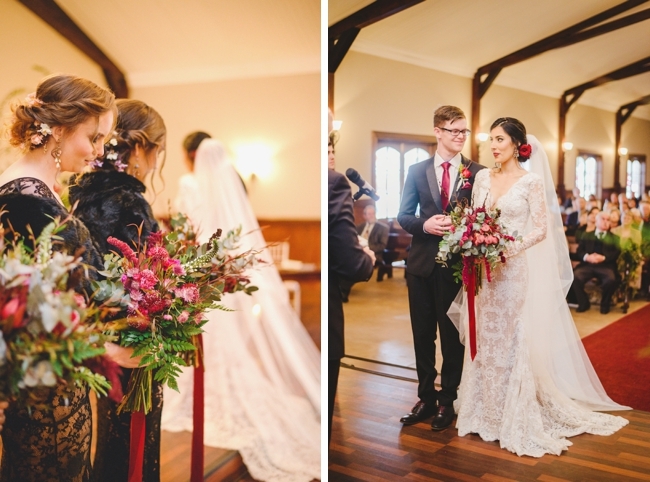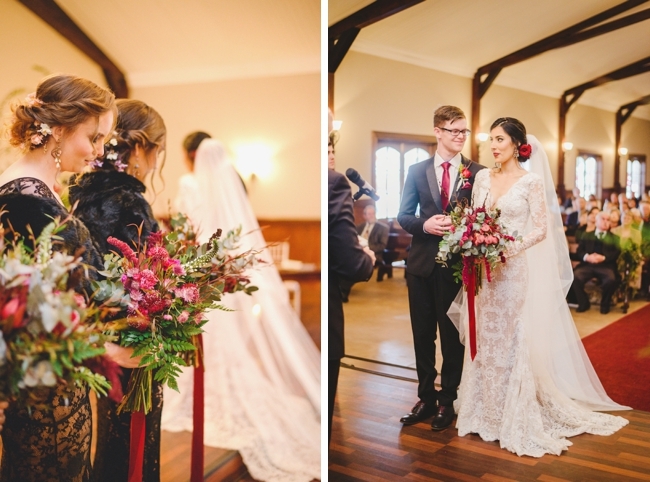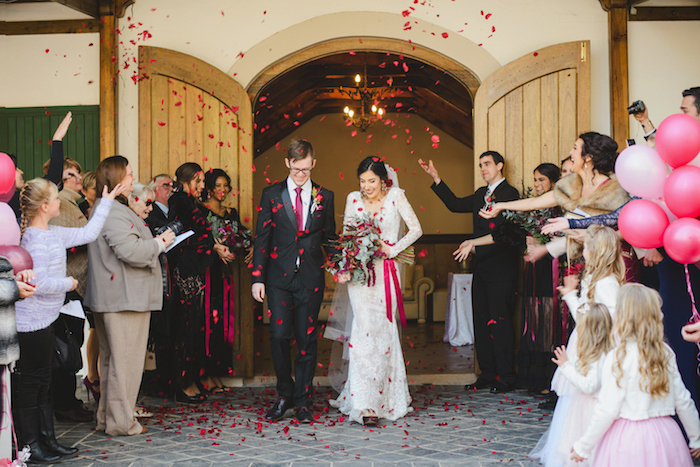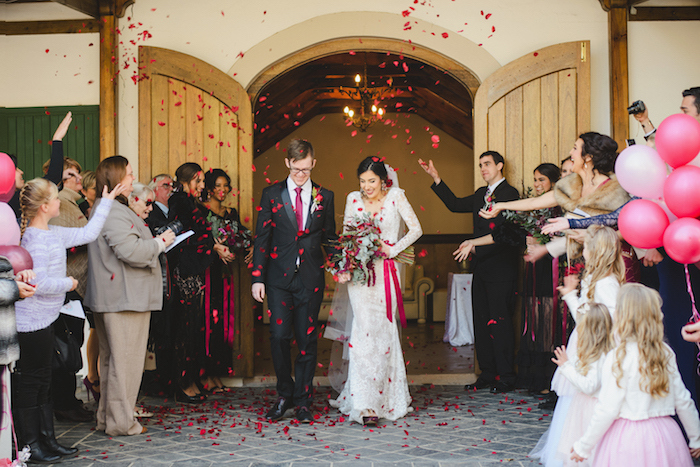 Wedding Details
One of my favourite details from the wedding was the deep red roses that were used in many of the arrangements. It was special to us as Brent gave me a bunch of red roses on our first date about ten years ago. We also loved the vintage crockery and furniture mixed with modern elements, as it was a reflection of our eclectic style. The fruit on the tables added a still life portrait effect to the vignette and was a hit with everyone, as it not only served as decor but an edible feature for our guests to enjoy.
DIY Elements
We designed our wedding stationery ourselves.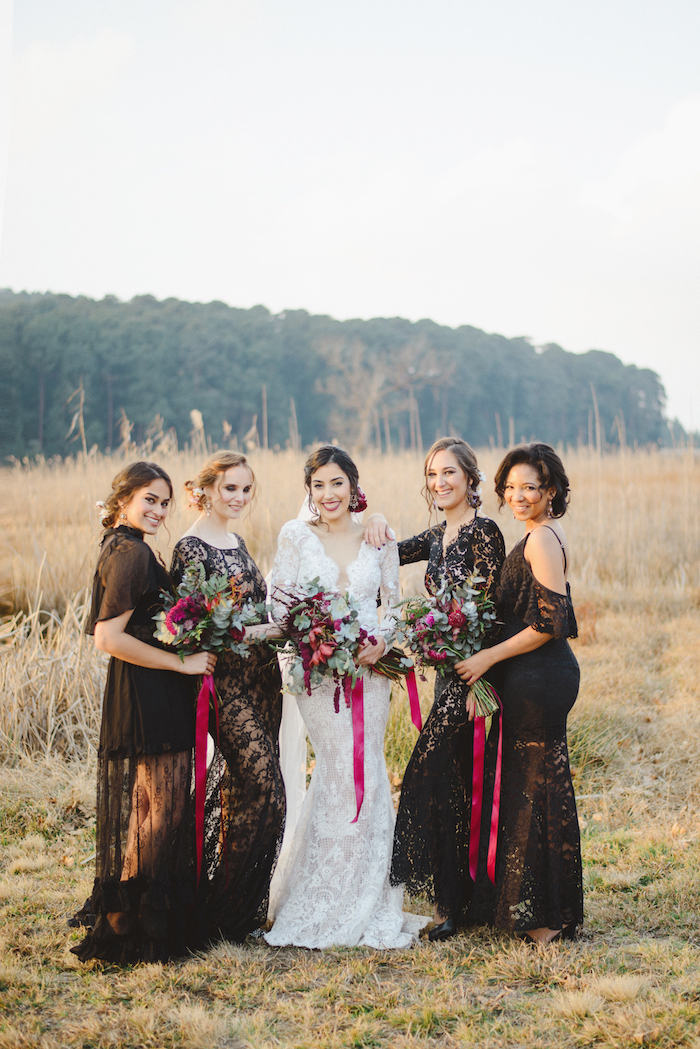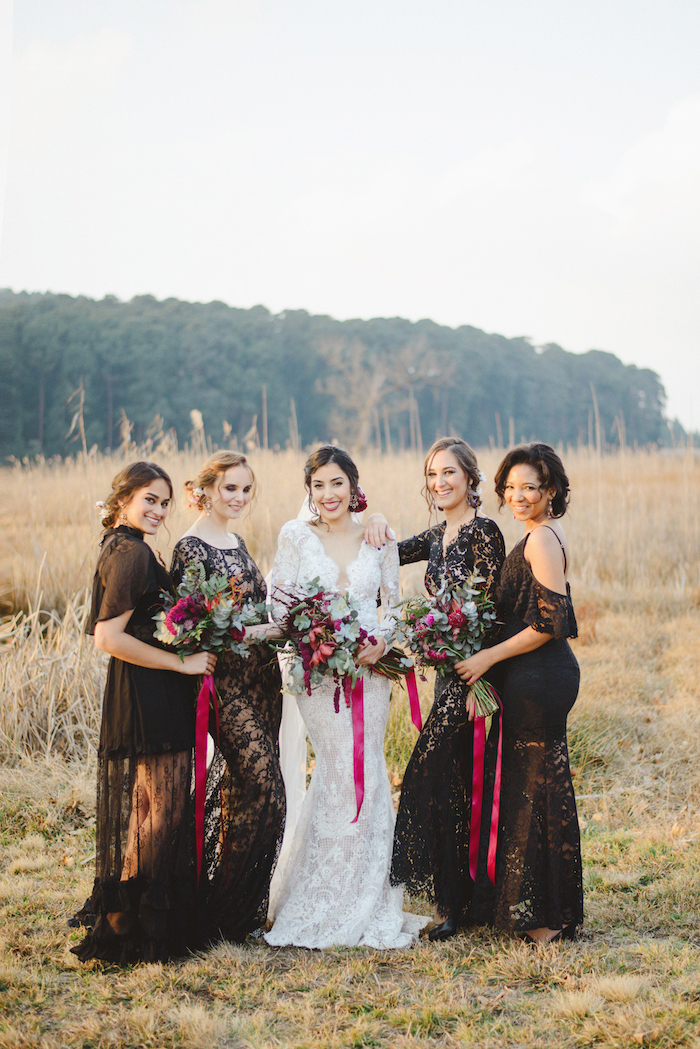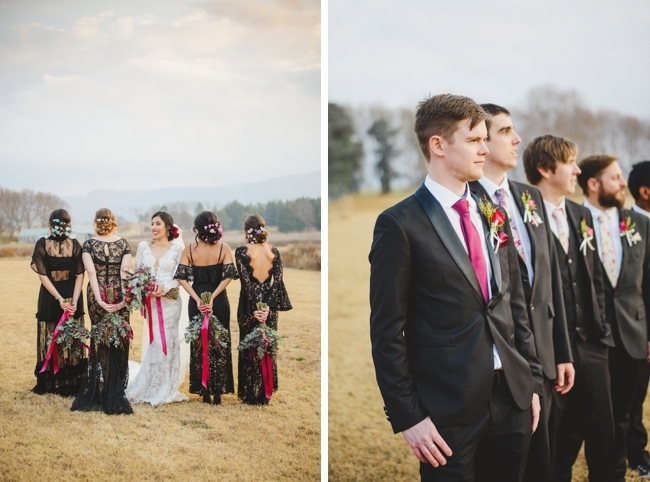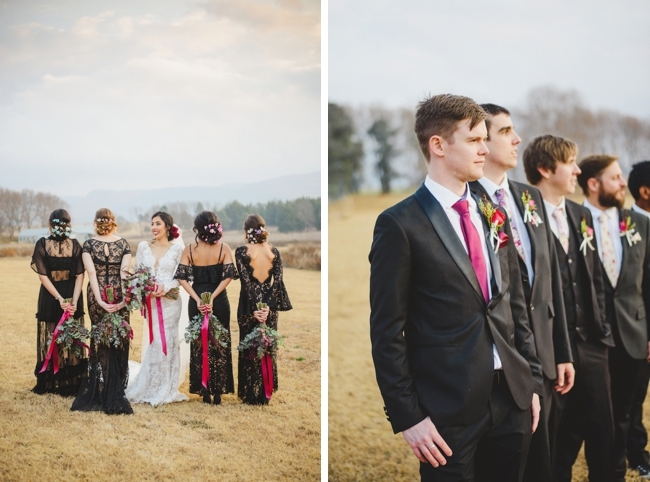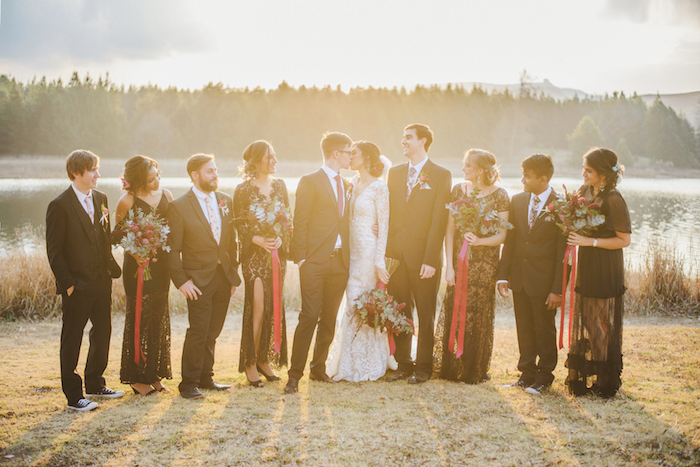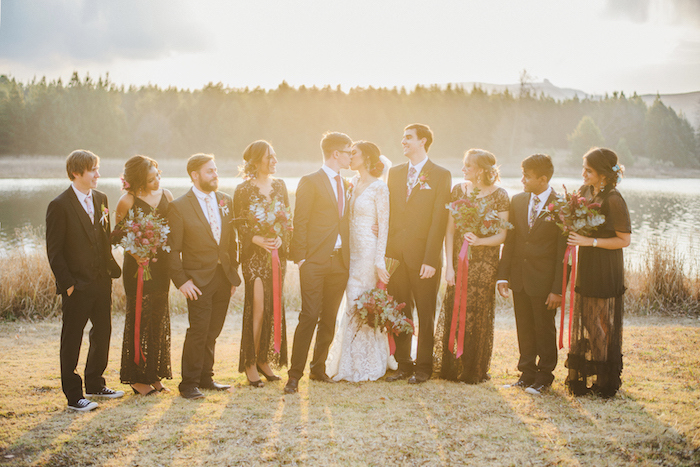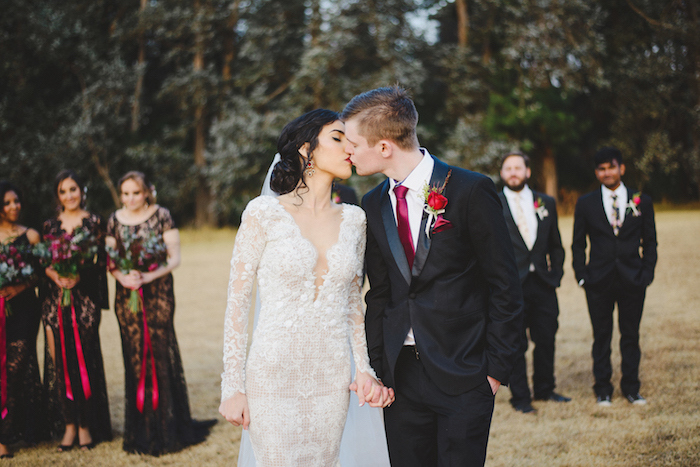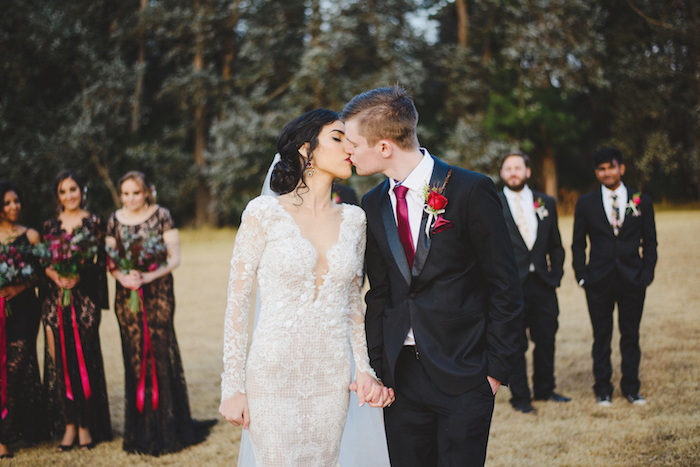 The Dress
My wedding gown was probably one of the easiest choices for me to make during the whole process as I knew I wanted Casey Jeanne from the start. I had followed her progress as a designer over the years and knew that with her impeccable attention to detail, creative genius and pure skill, the outcome would be nothing short of perfection. The dress featured a tan base and a beautiful sequined mesh layer which shone through the lace. It had everything I hoped for – from the low back to the long train – it's a work of art that I'll be able to treasure forever.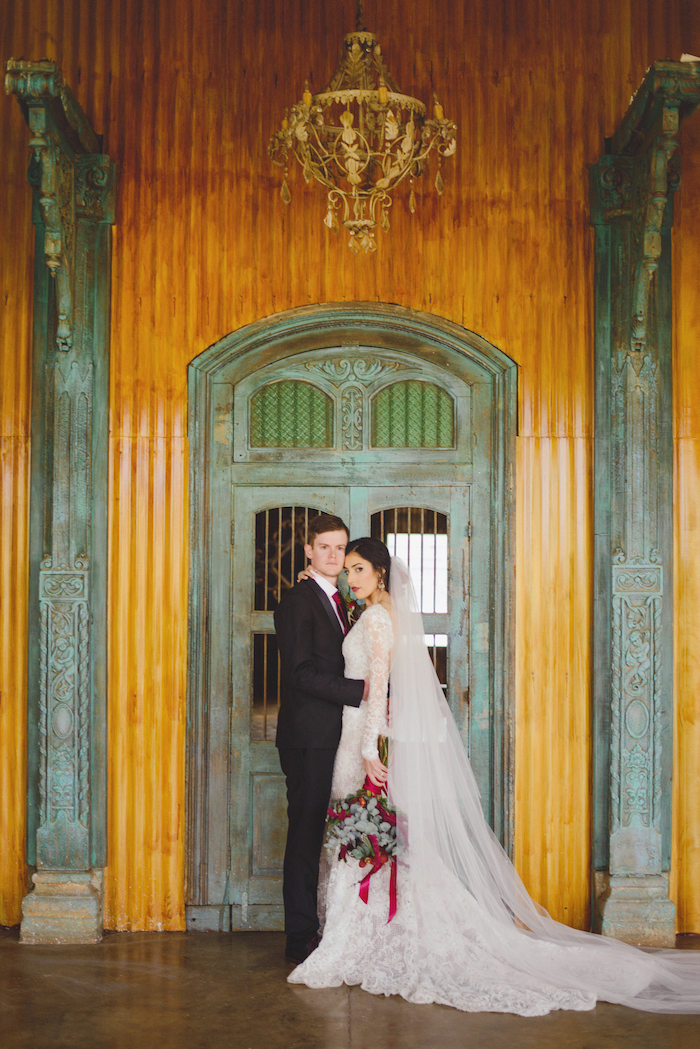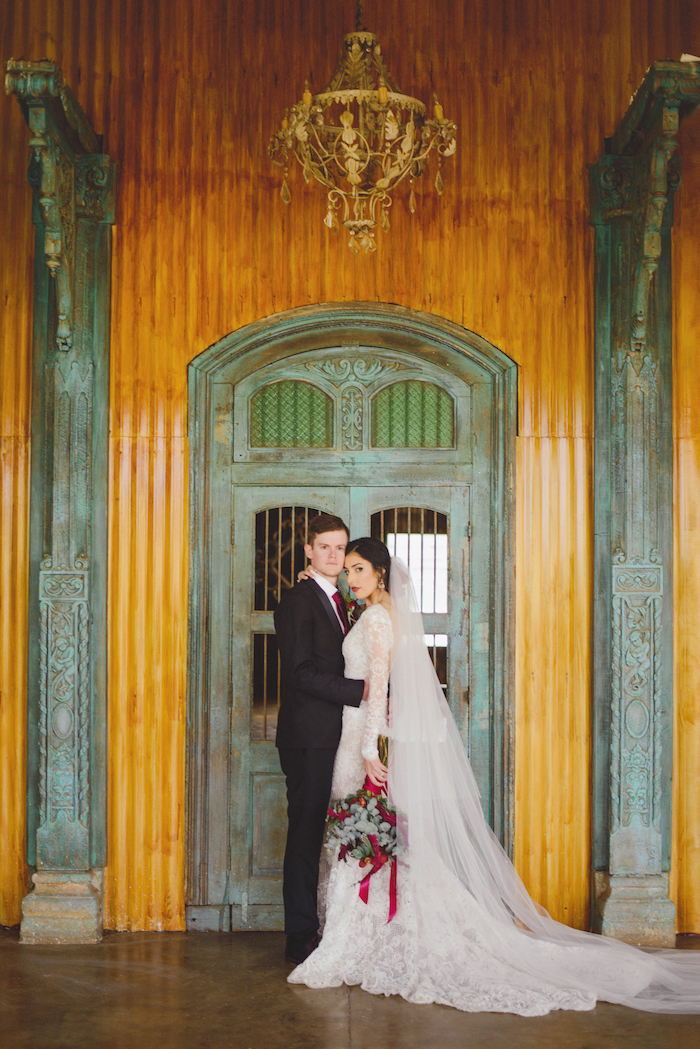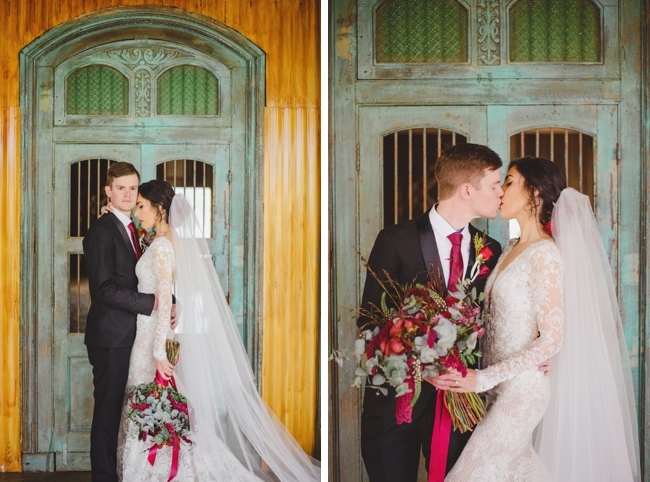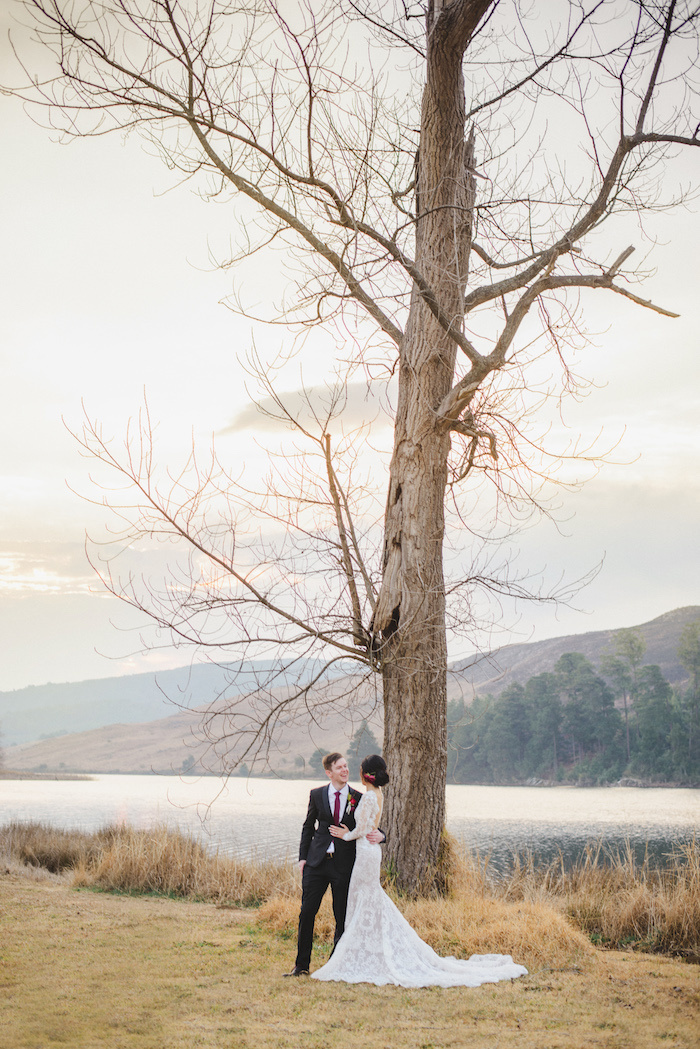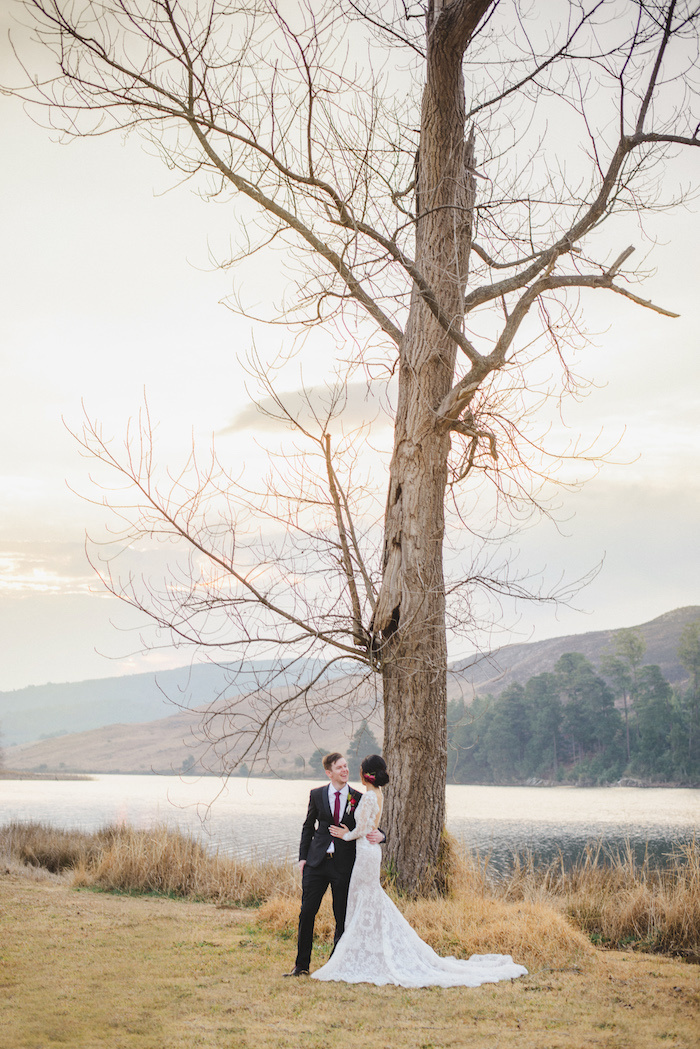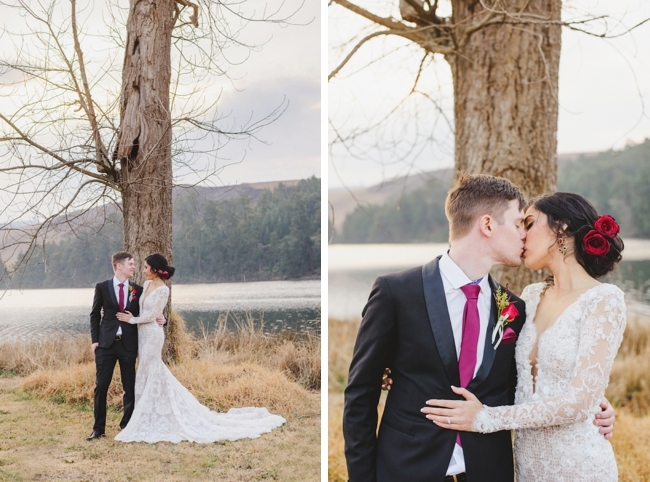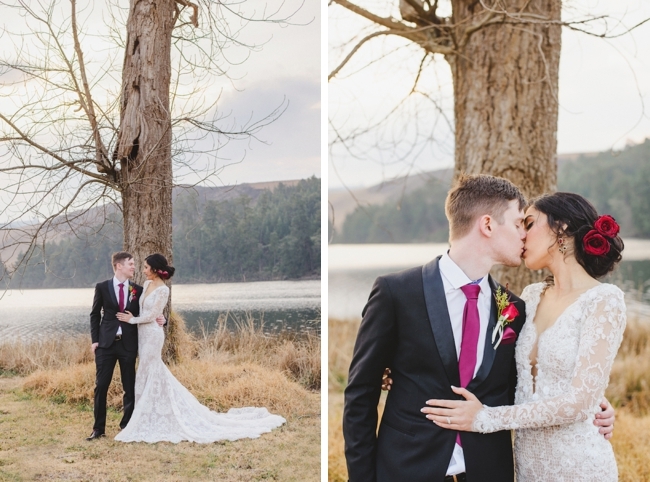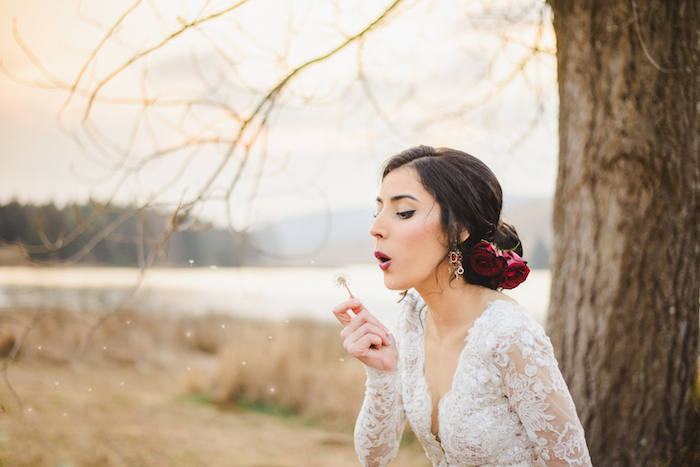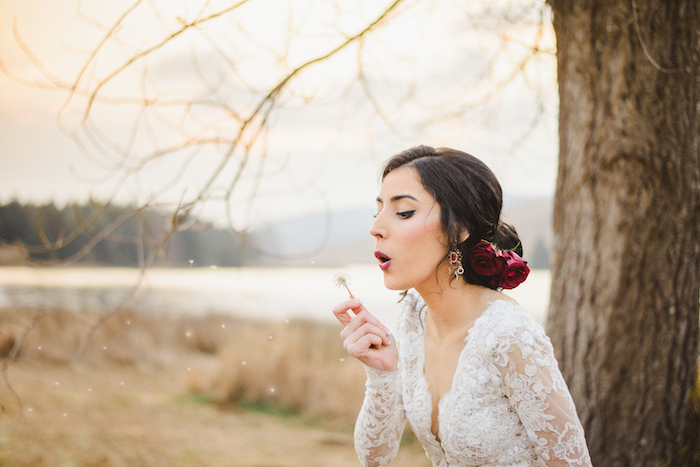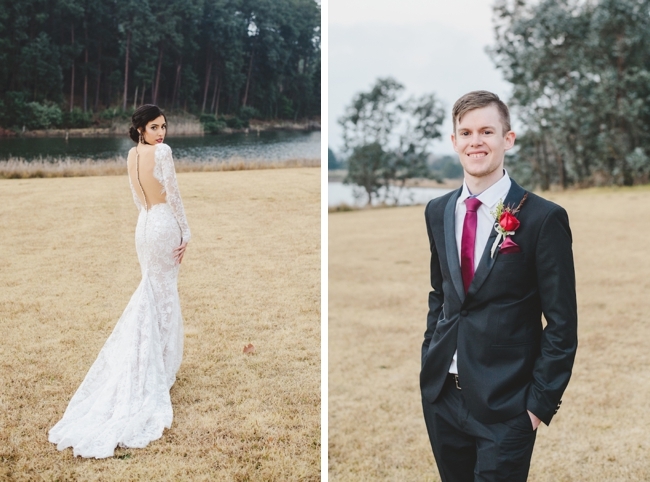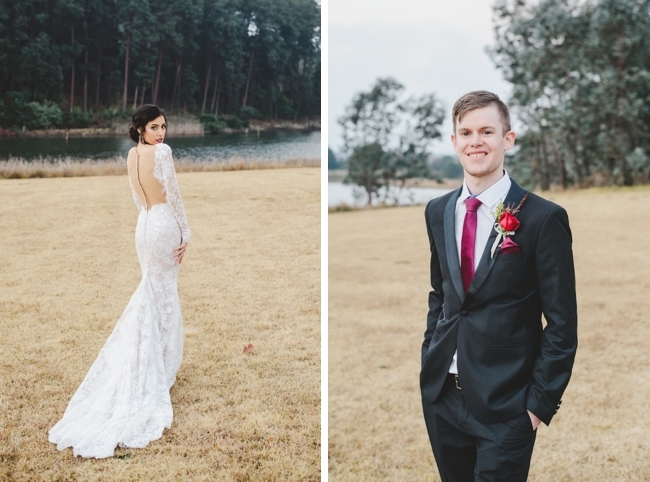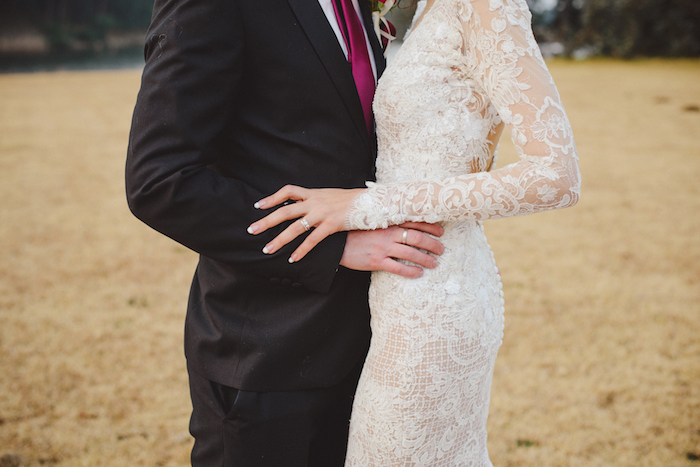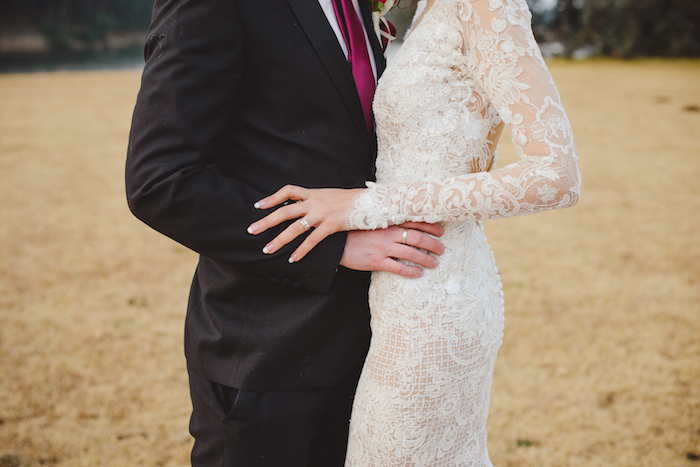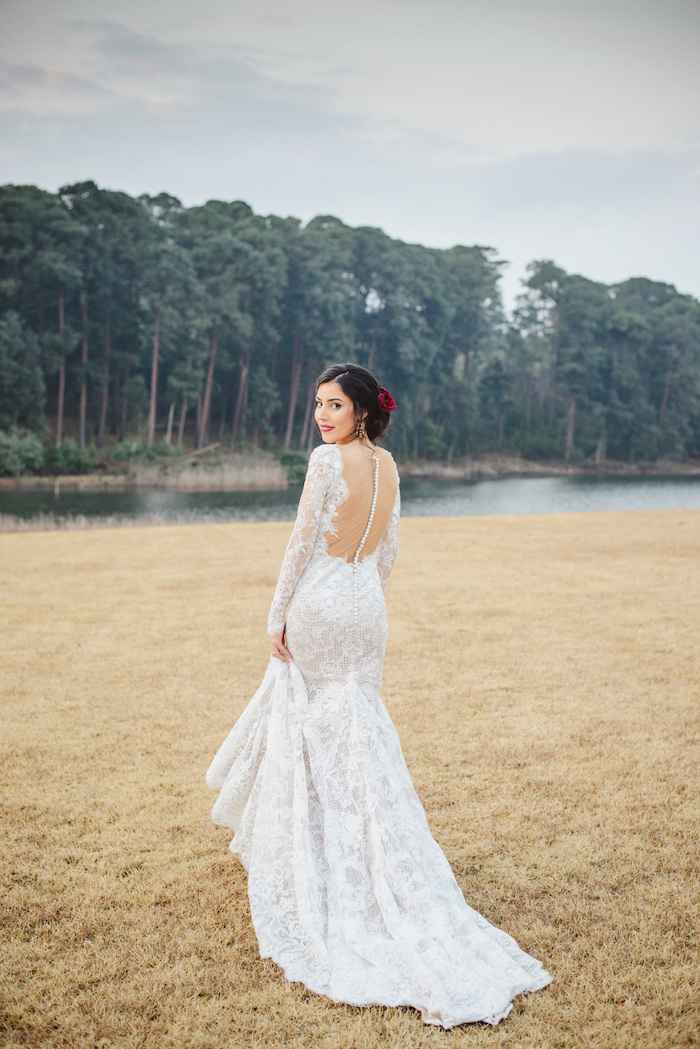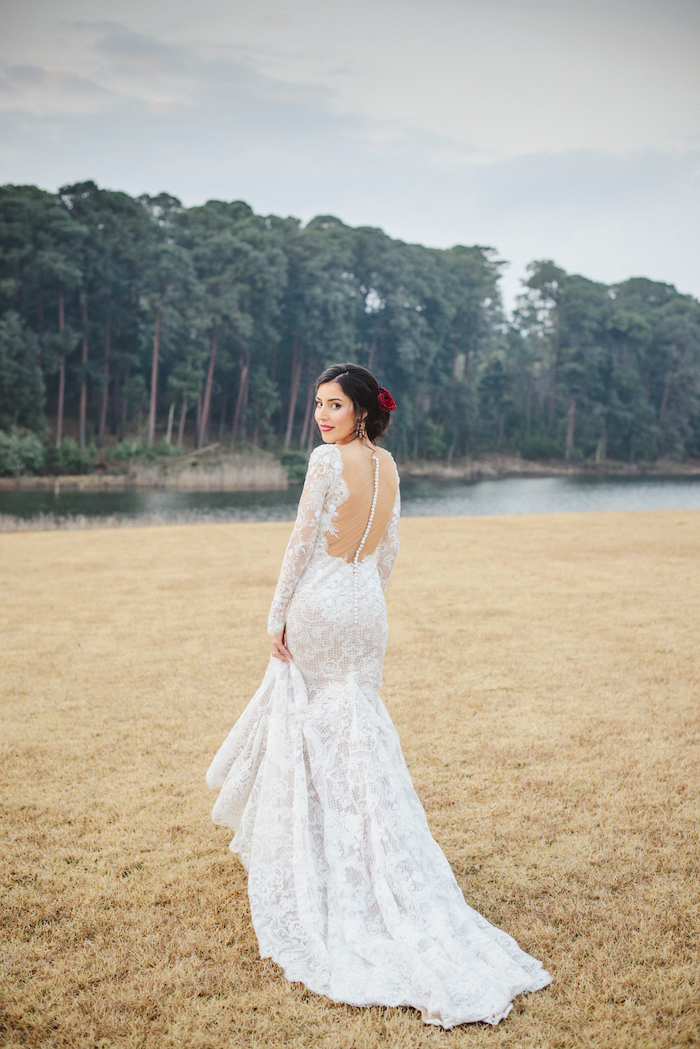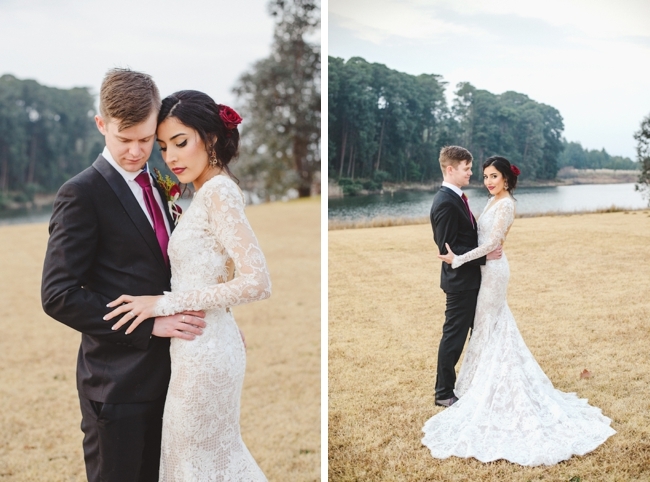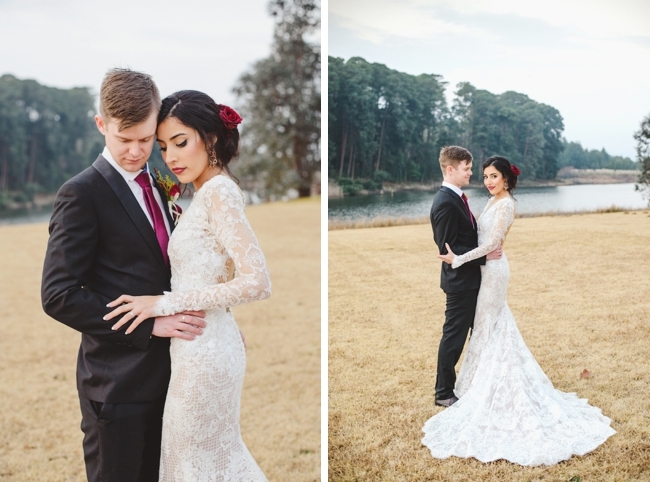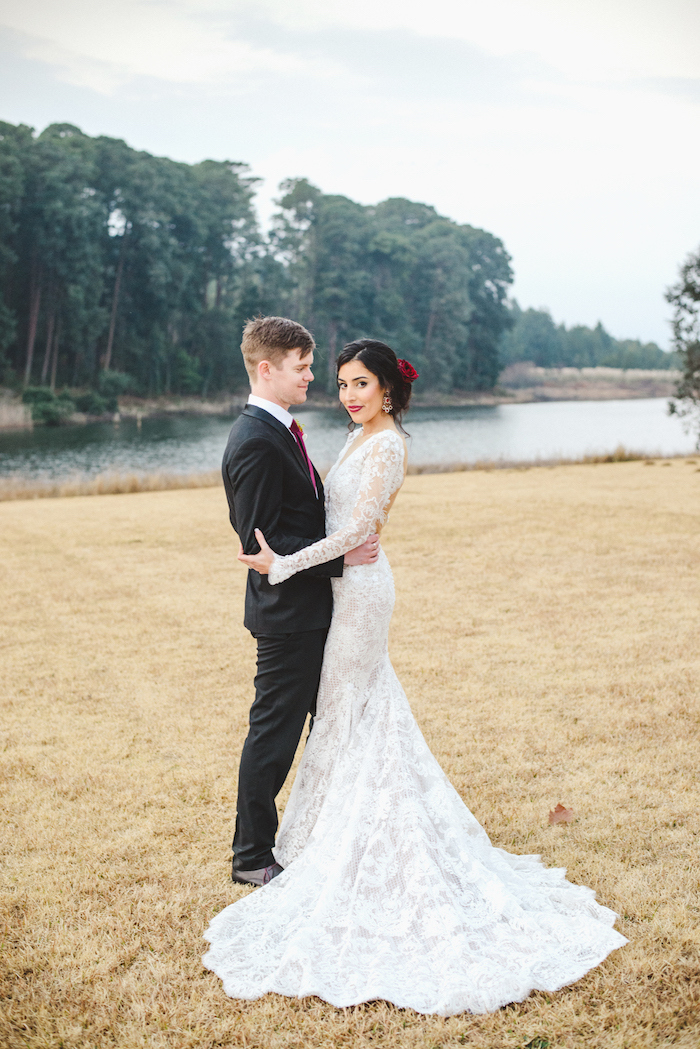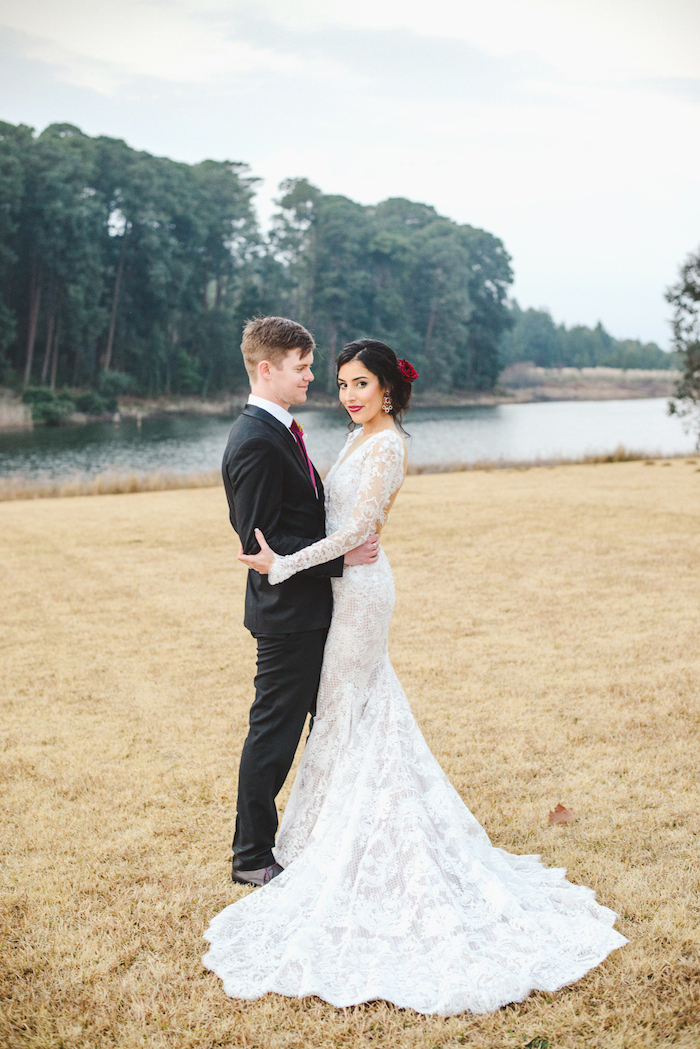 The Bridesmaids
I had four amazing bridesmaids, each with their own personal sense of style that I wanted to showcase through their dresses. For this reason each dress was different but followed a similar design – long, black lace with plenty of drama. I wanted the dresses to evoke the romantic moodiness that permeated the wedding on many levels.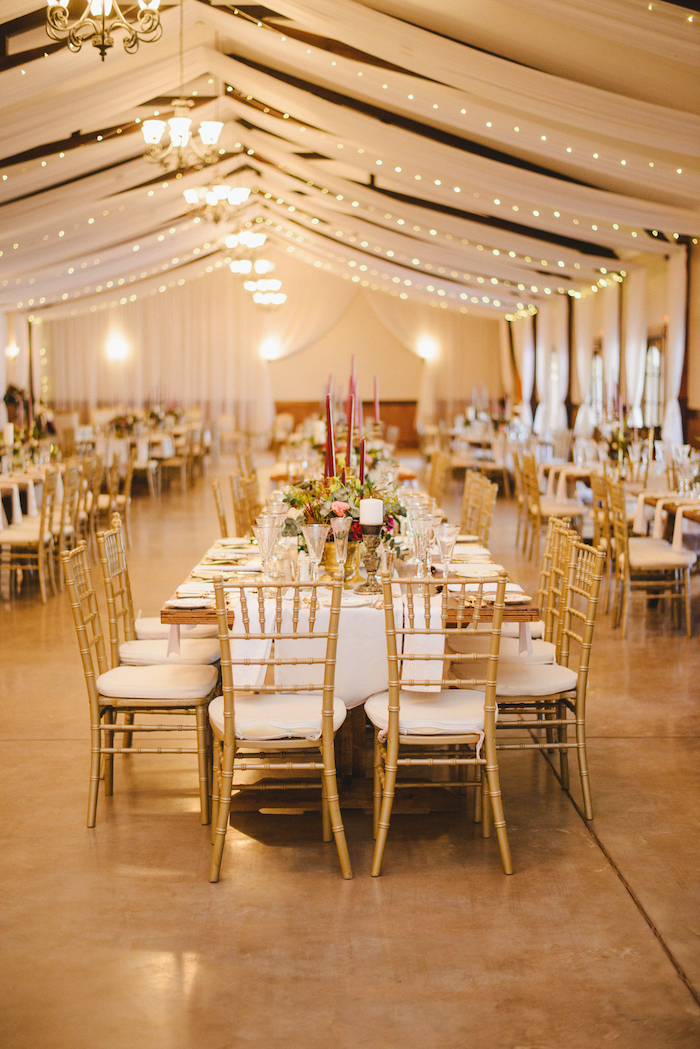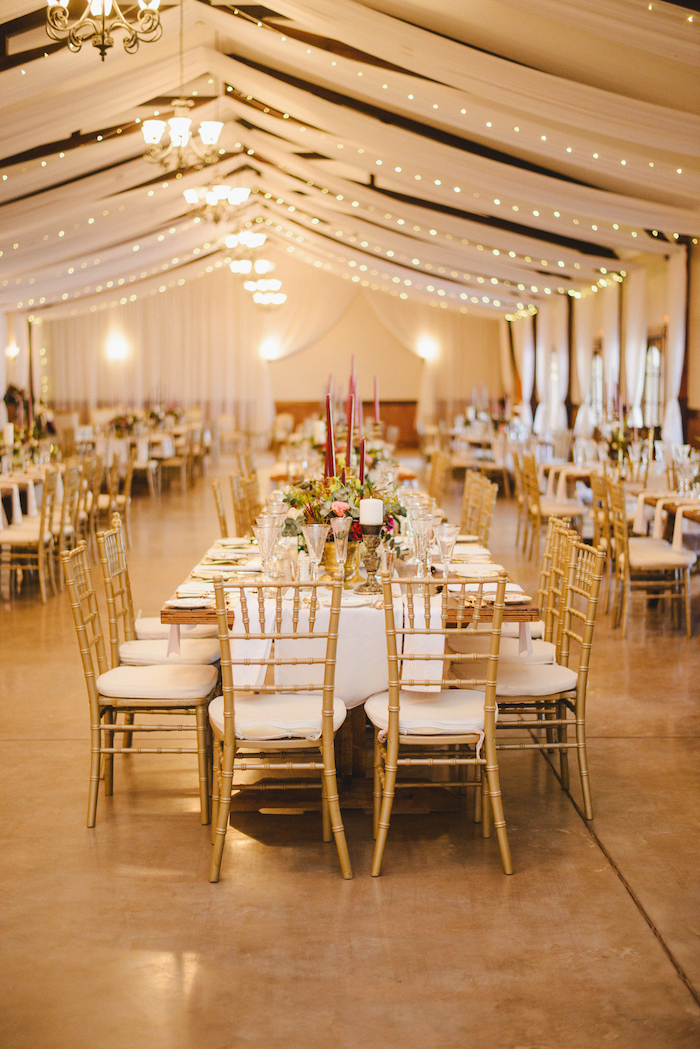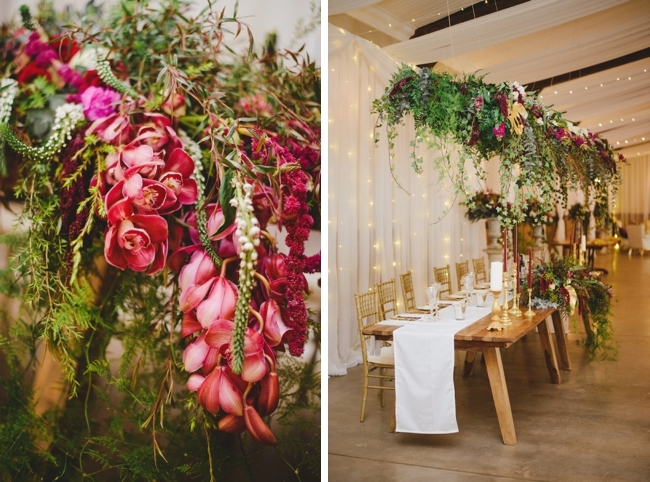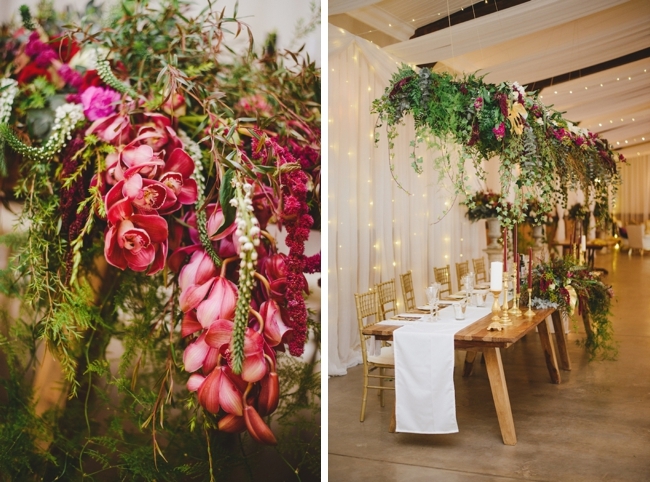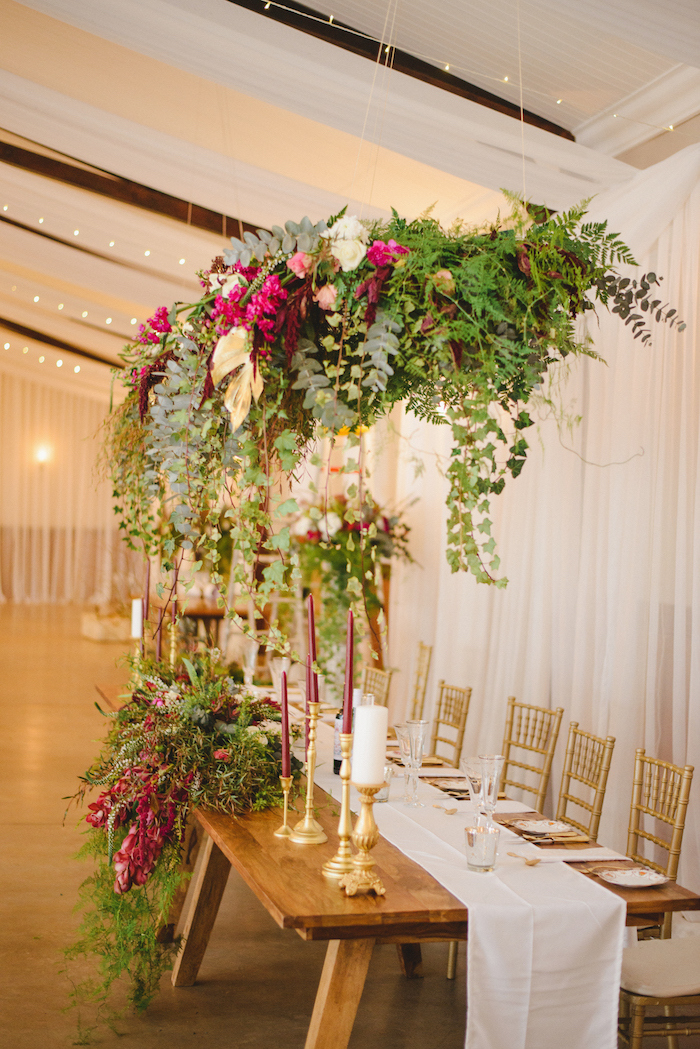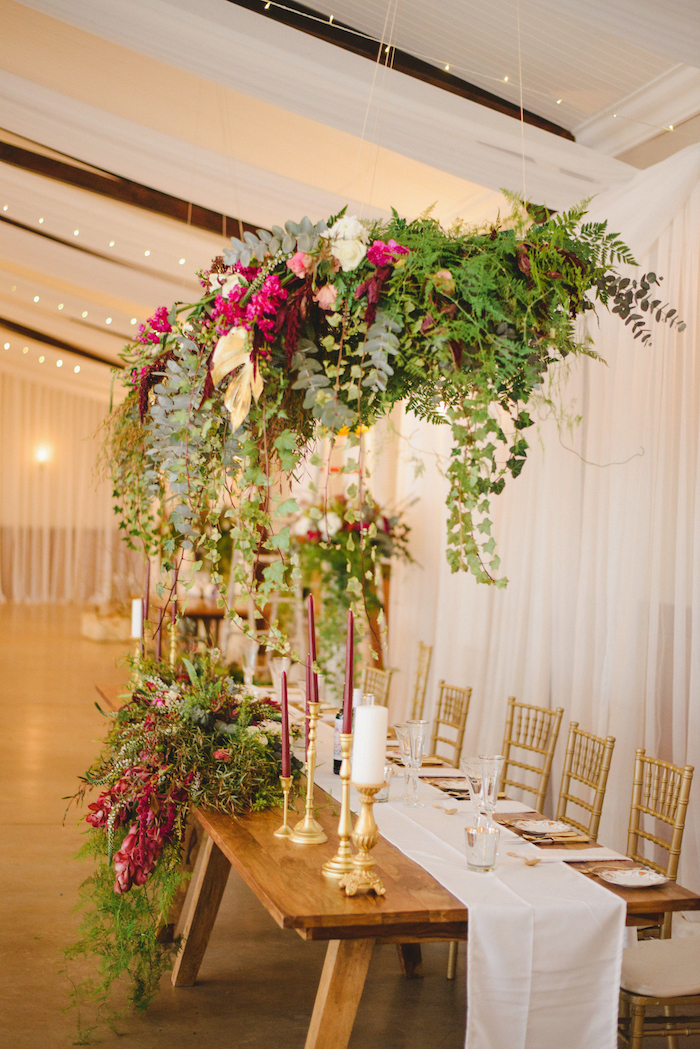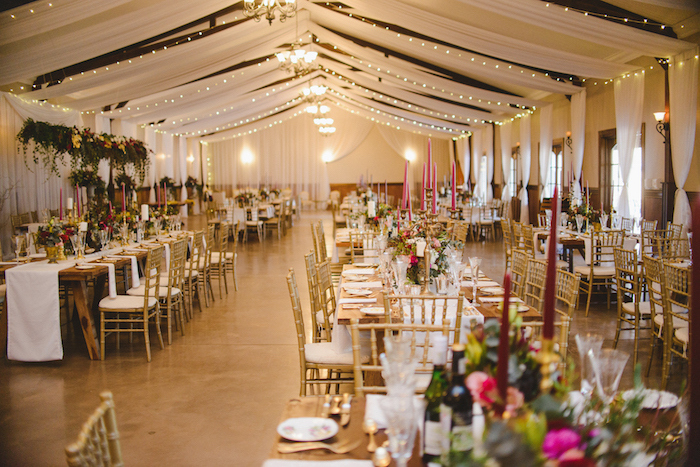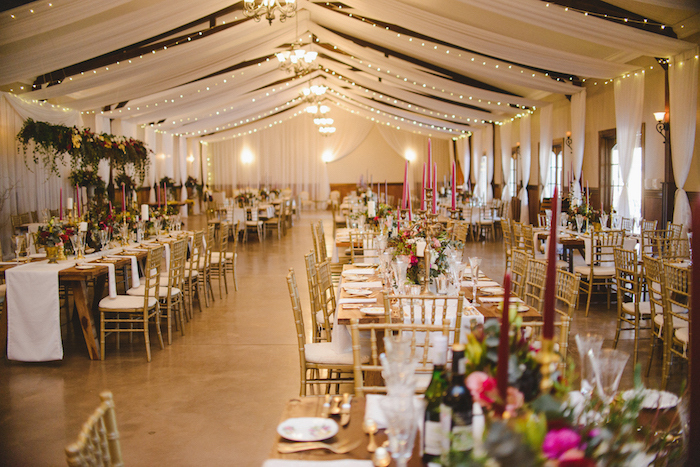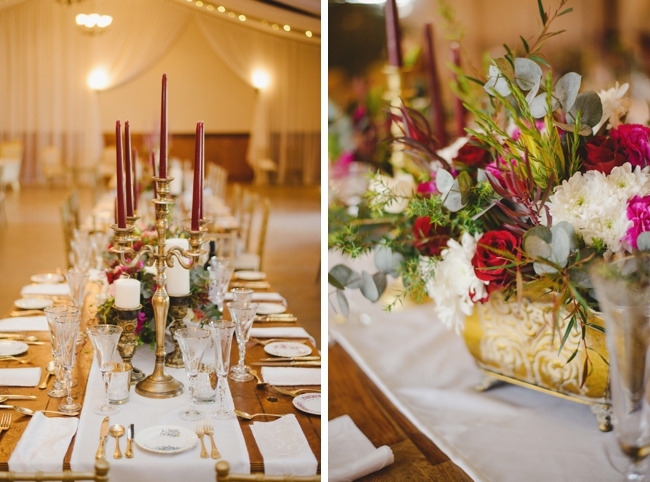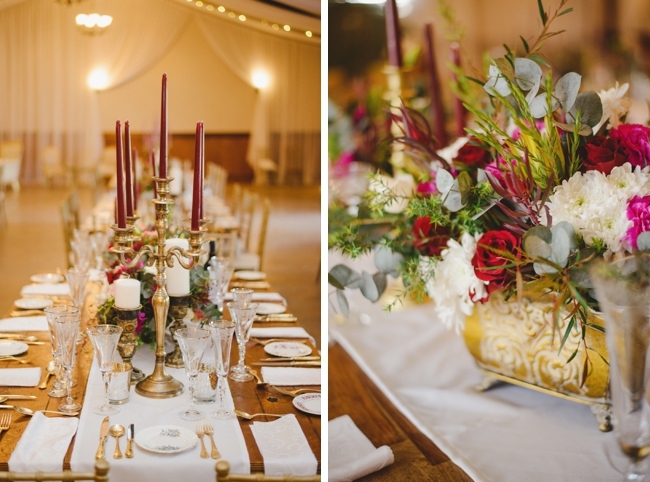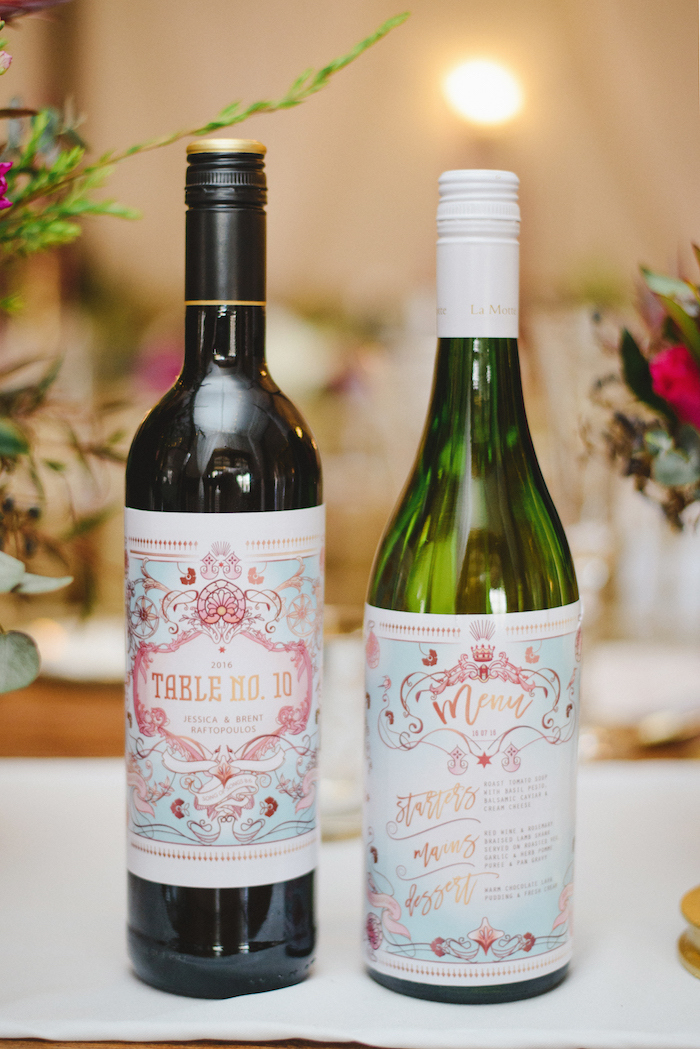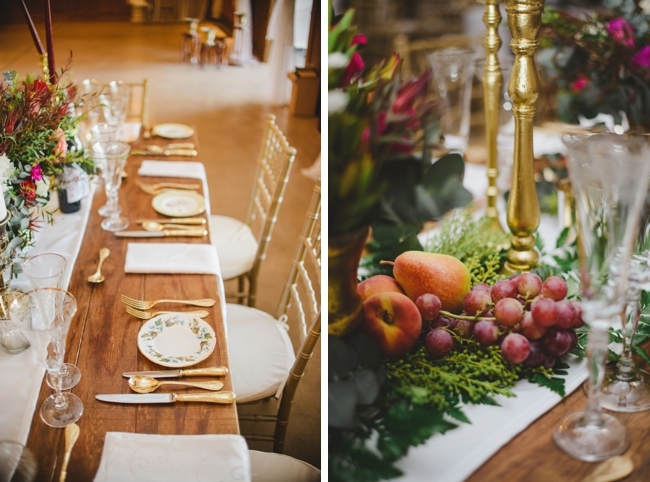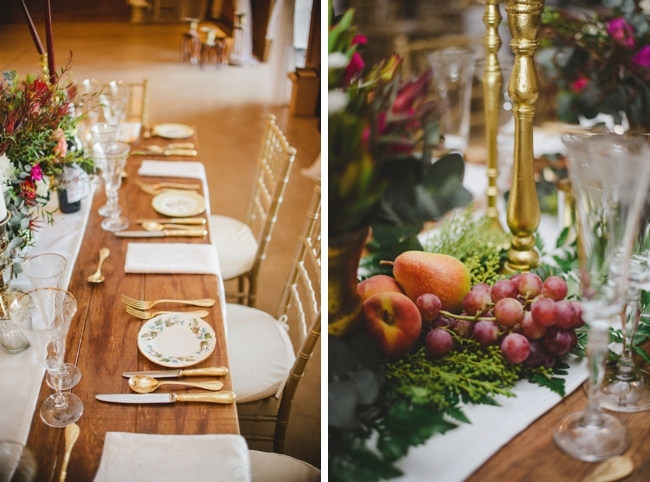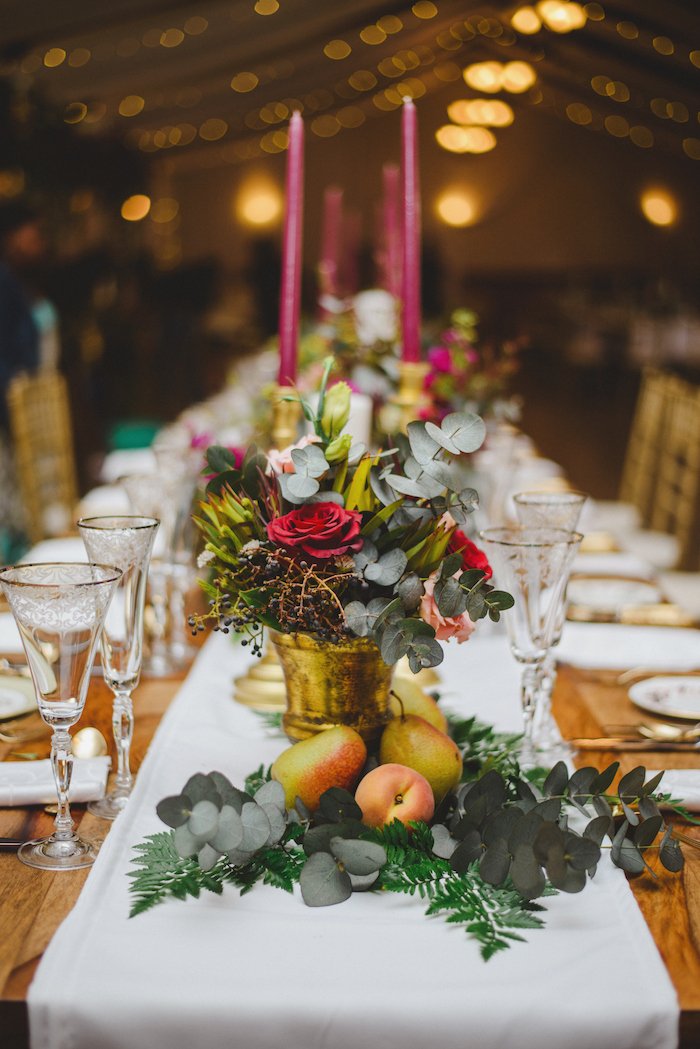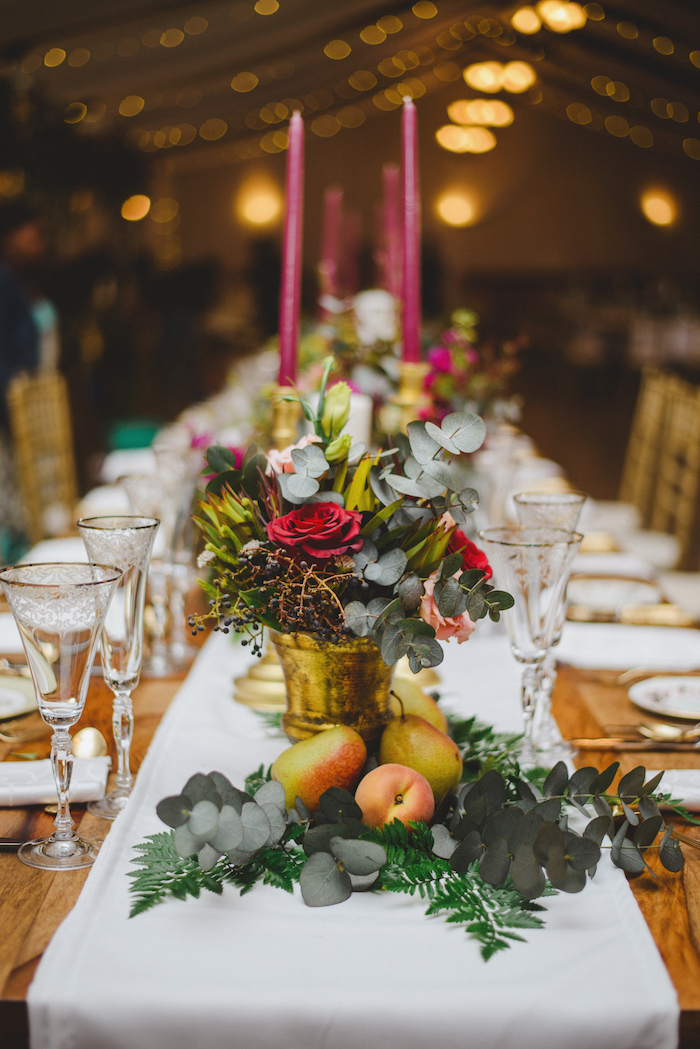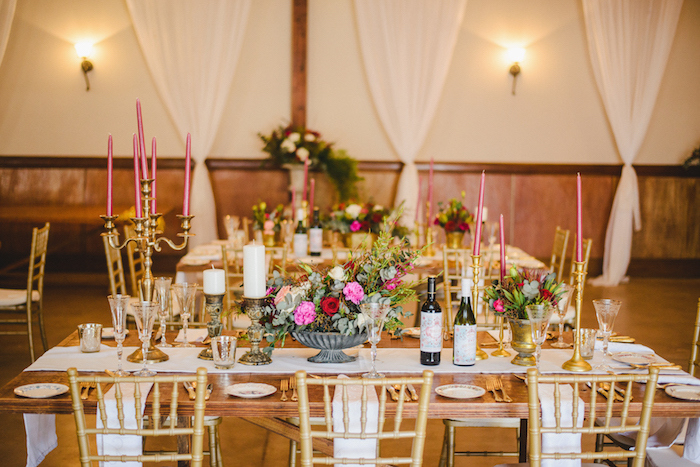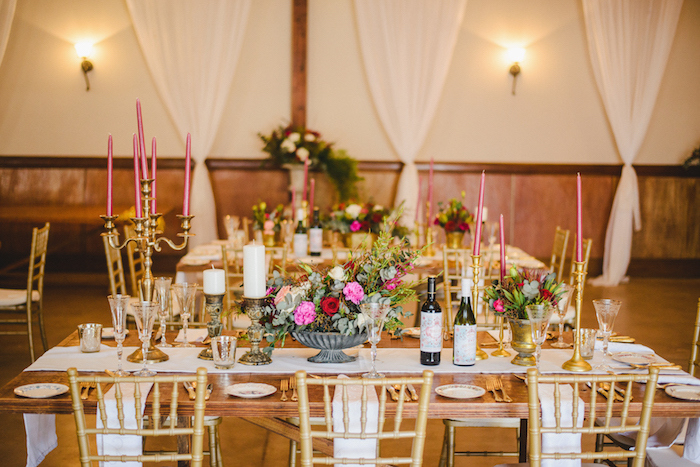 The Flowers
My bouquet was largely comprised of roses (of course), orchids and amaranthus, which infused gorgeous shades of red into the bouquet. The wedding flowers themselves echoed my bouquet with the addition of various pink roses and splashes of white for contrast.
Memorable Moments
The most memorable part of the day would have to be exchanging vows with the love of my life. Nothing could ever compare to that moment. I mean, it's what its all about, right? Also, my brother (Brent's best man), singing Billy Idol's 'White Wedding' as a surprise at the end of his speech was epic.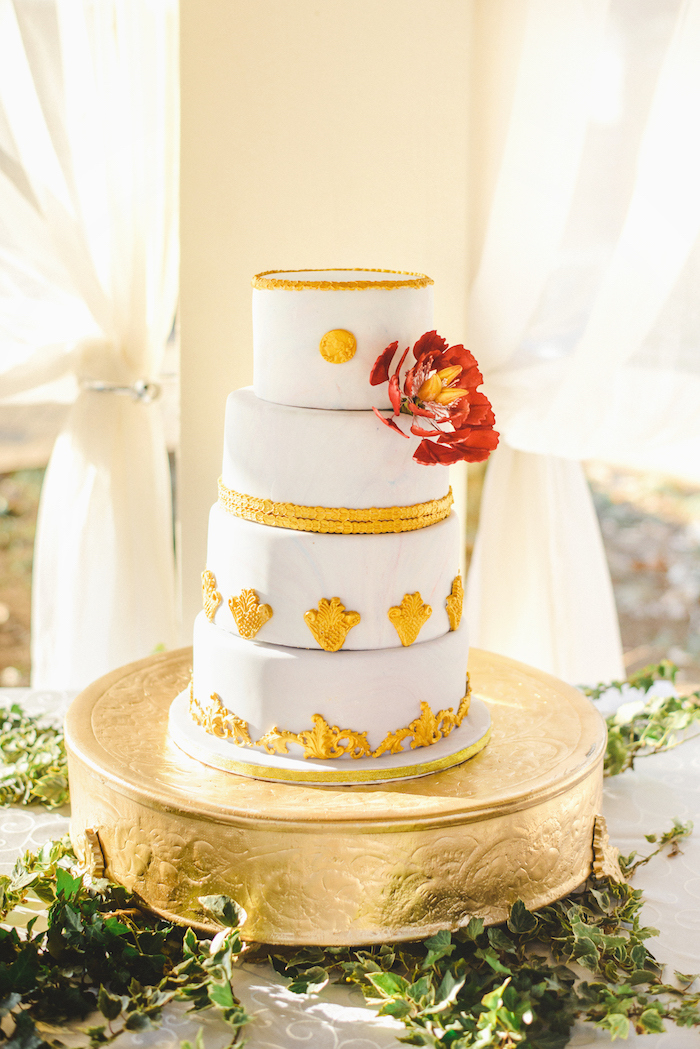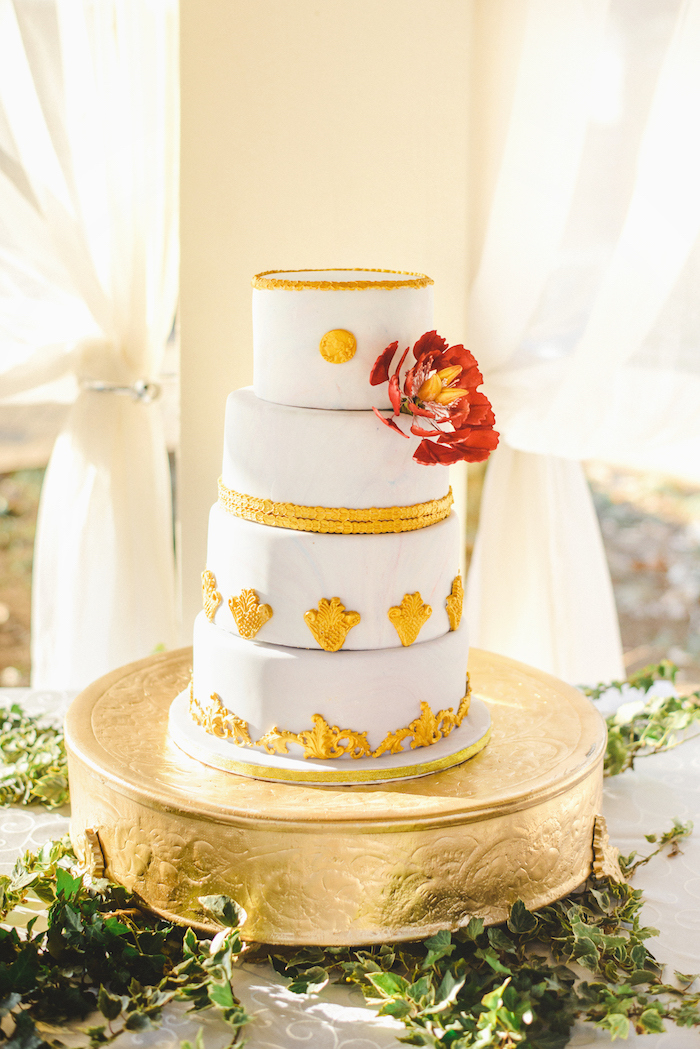 Best Decision
One of the best decisions we made in planning our wedding was giving ourselves plenty of time to prepare for the onslaught ahead. Also, staying true to our own eclectic flair ensured that our wedding was a real representation of us as a couple.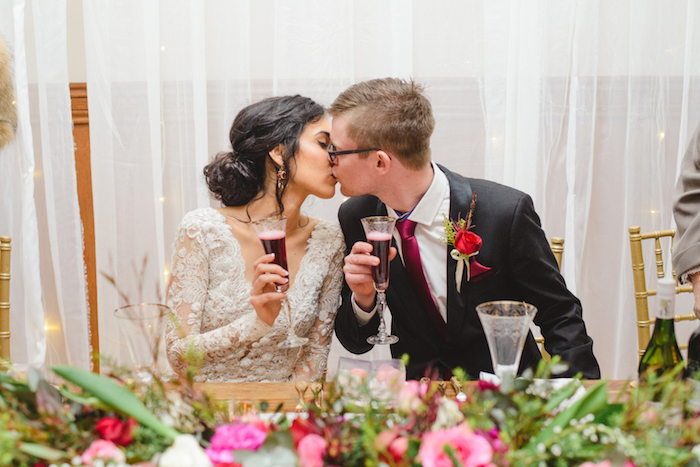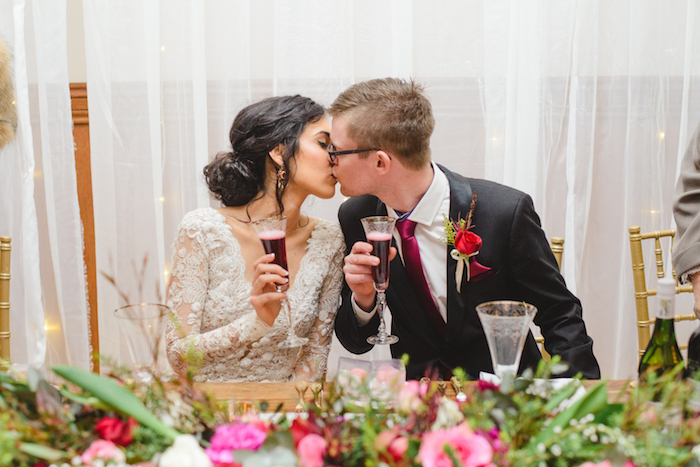 Advice for Future Brides & Grooms
Choose a wedding venue that corresponds to your envisaged style for your wedding. This will make it a lot easier to achieve the look that you desire without having to overcompensate with decor. Also, don't sweat the small stuff prior to the big day or during. Things may not go according to plan but the day will be amazing nonetheless.
You can see more from this wedding on Roxanne Davison's blog.
SERVICE PROVIDERS
Venue & catering: Waterwoods Cottages | Photography: Roxanne Davison | Flowers & décor: Natural Nostalgia | Video: The Shank Tank | Cake: Love and Laughter Cakes | Bride's dress: Casey Jeanne | Bride's accessories: Aldo (shoes) | Hair: Sara-Kate Holden | Makeup: Charelle McAllister | Groom's attire: Suit Yourself (suits); Aldo (shoes) | Hiring: Seating Plan; Crystal Barn | DJ: Pierre Venter-Maher






Save