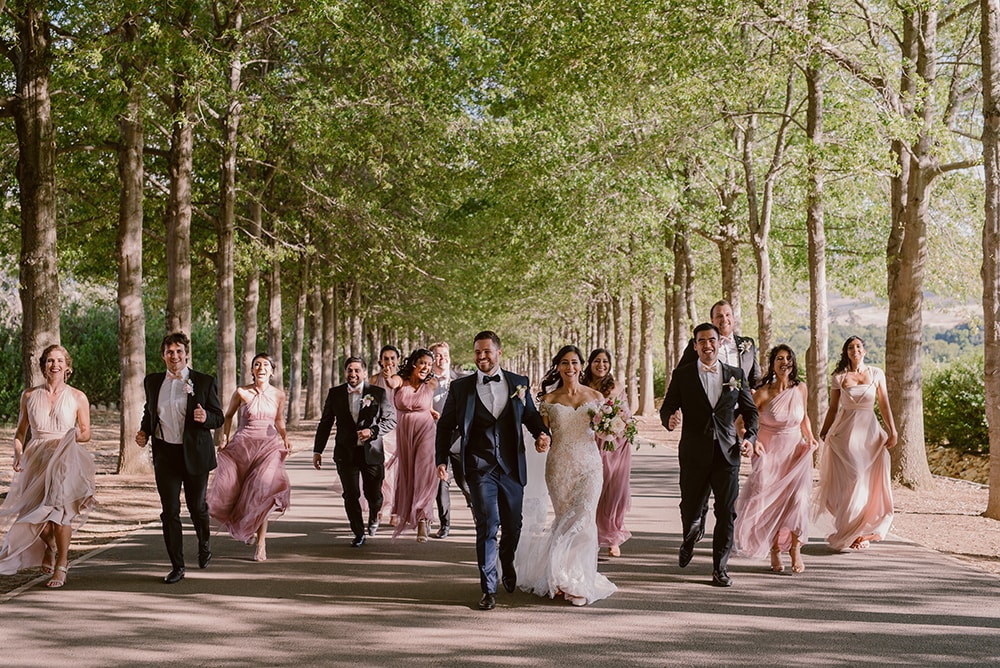 When some of our favourite wedding talents join forces (in this case the fabulous Cara of Mosaic Wedding Company, along with Botanica Flowers and photographers Lad & Lass), there's just no telling how gorgeous a wedding will be. And in the case of Shanta and Gareth, VERY. When I saw this adorable couple's modern, romantic, heartfelt, and (quite obviously from the pictures) super fun day, there were all the oohs and aahs. The bouquet, the tables, Shanta's gorgeous dress, the blushing bridesmaids, the floral arch, the portraits, the semi-naked cake… it's pretty at every turn! And as I mentioned, it looks like a blast. Having read the dynamic couple's story, another thing I absolutely loved is the way they brought their families and traditions together throughout the day, and really made it all their own. Let's take a peek!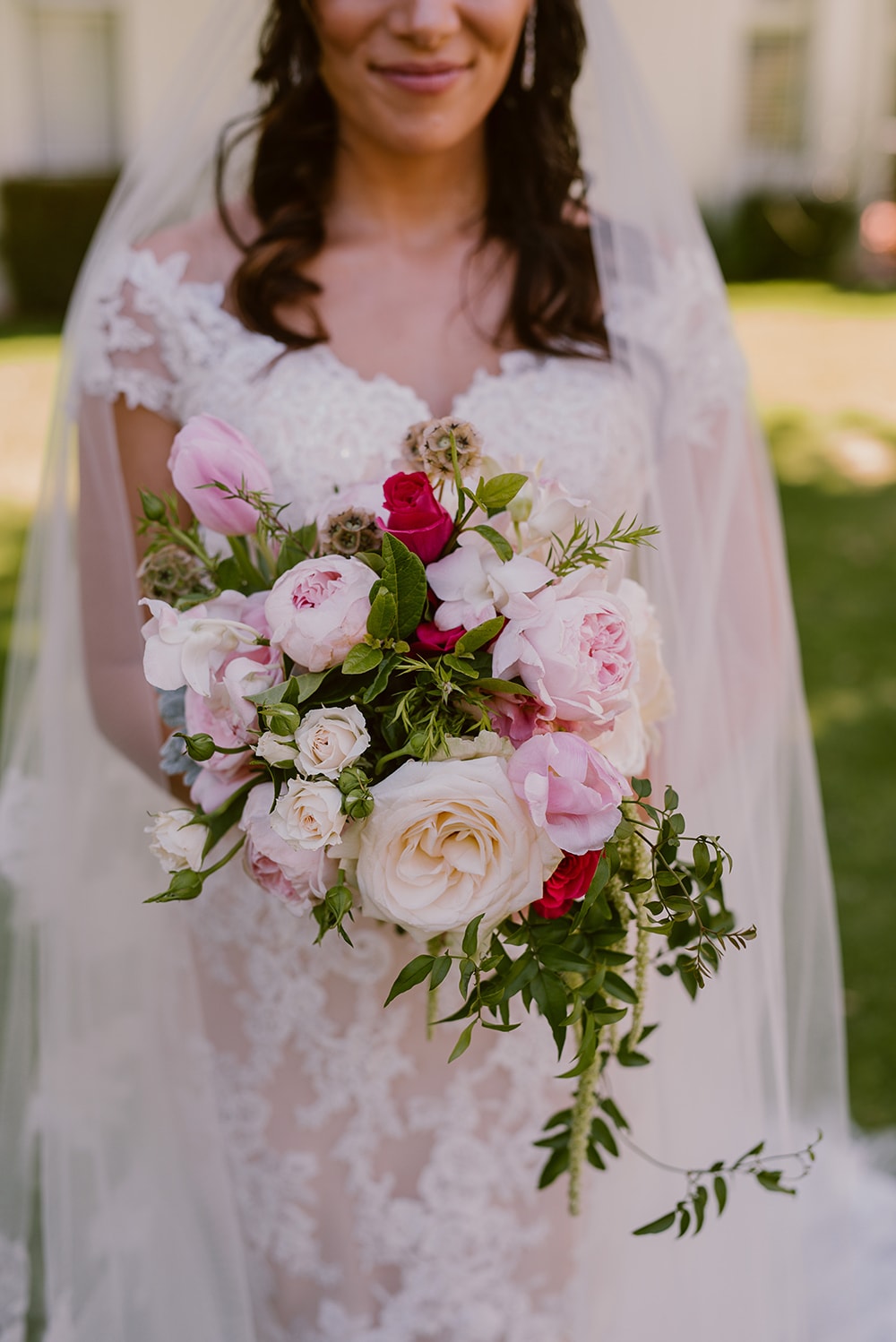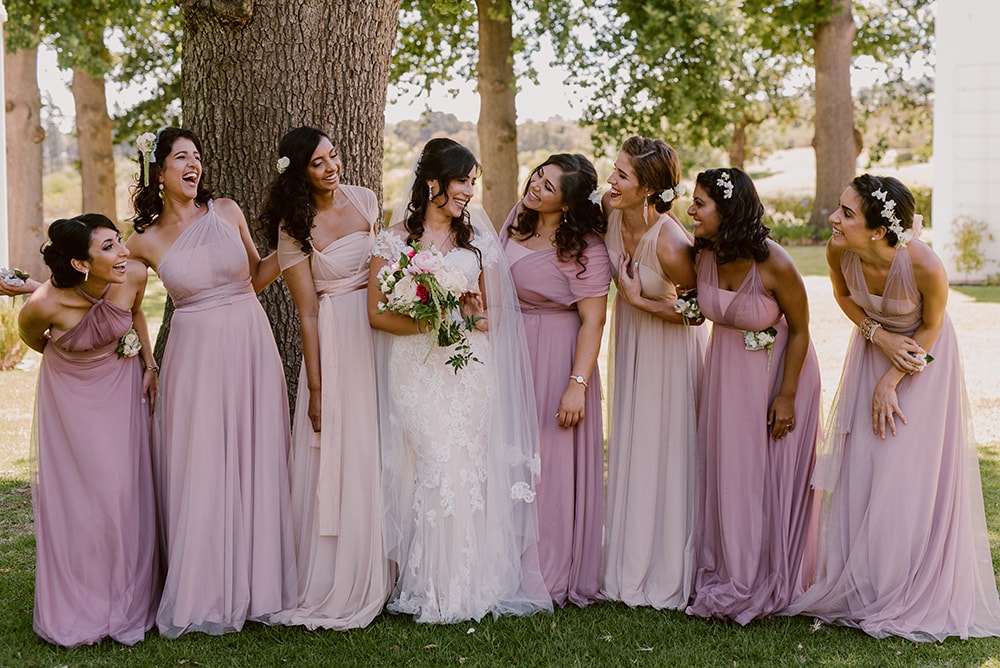 Love Story
We met at a PwC work function in Cape Town, they wanted the staff to be part of the entertainment and Shanta was asked to sing. From that moment Gareth says he was hooked. We instantly clicked and chatted all night, and the rest is history!
The Proposal
As we are now living in Rome, the proposal took place in Italy. Gareth took me on a surprise birthday weekend away. We ended up in the beautiful, romantic setting of Lake Como. After an amazing meal, he told me to wait while he set up my 'birthday gift'. This turned out to be a treasure hunt (which I loved!) decorated beautifully with hundreds of red cut out hearts. He had hidden 15 envelopes and I had to find all of them before I could open them. Every envelope contained a photo of Gareth at a special location related to our relationship and each picture had a letter in it, as a clue to solve the puzzle. For example, the first photo was of Gareth standing outside the PwC building, holding two pieces of cardboard over the 'P' and 'C' letters of PwC, so the only letter that was visible was the 'W'. I had the task of putting the photos in chronological order of the events that took place in our relationship. When I did, it spelt out 'Will you marry me?'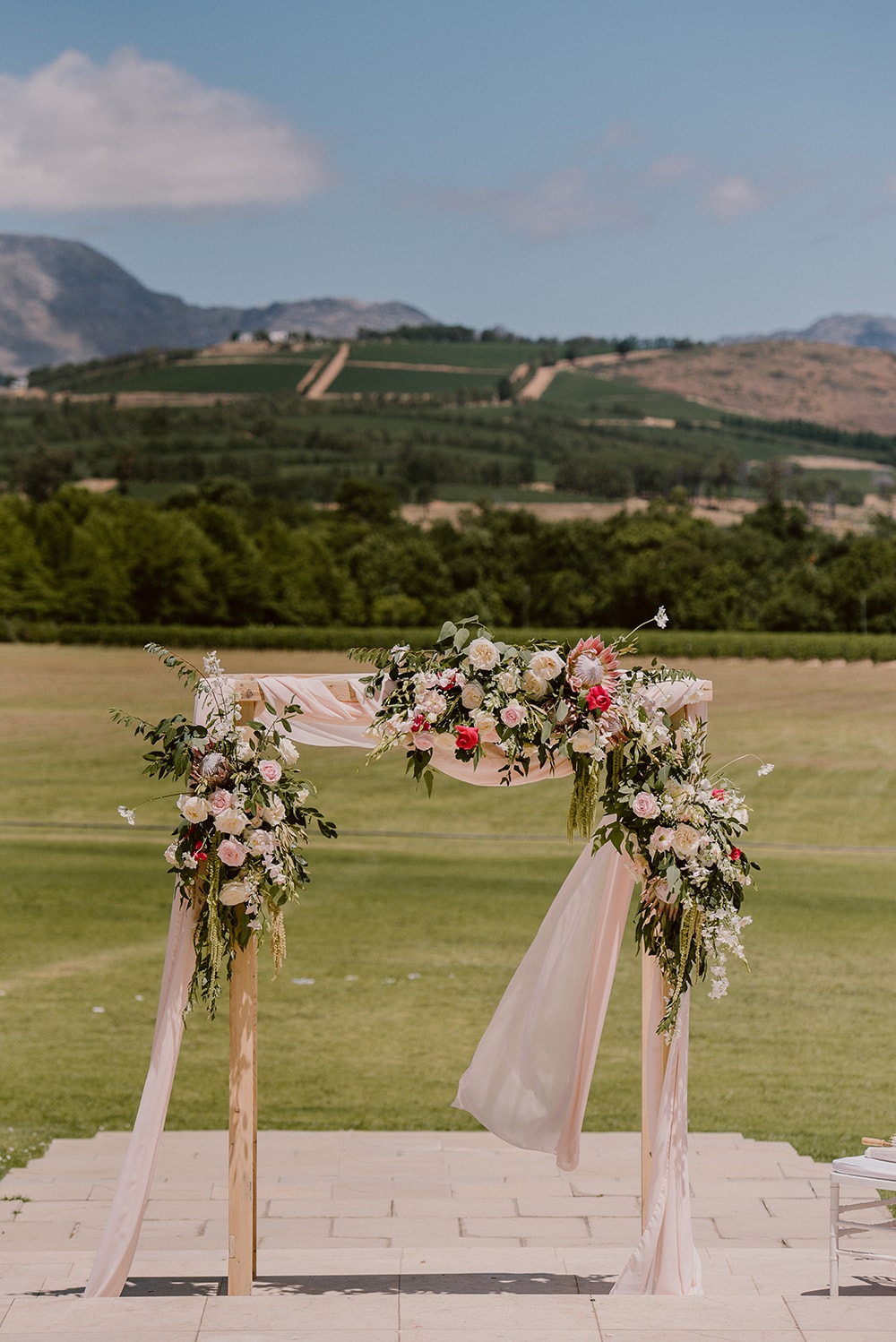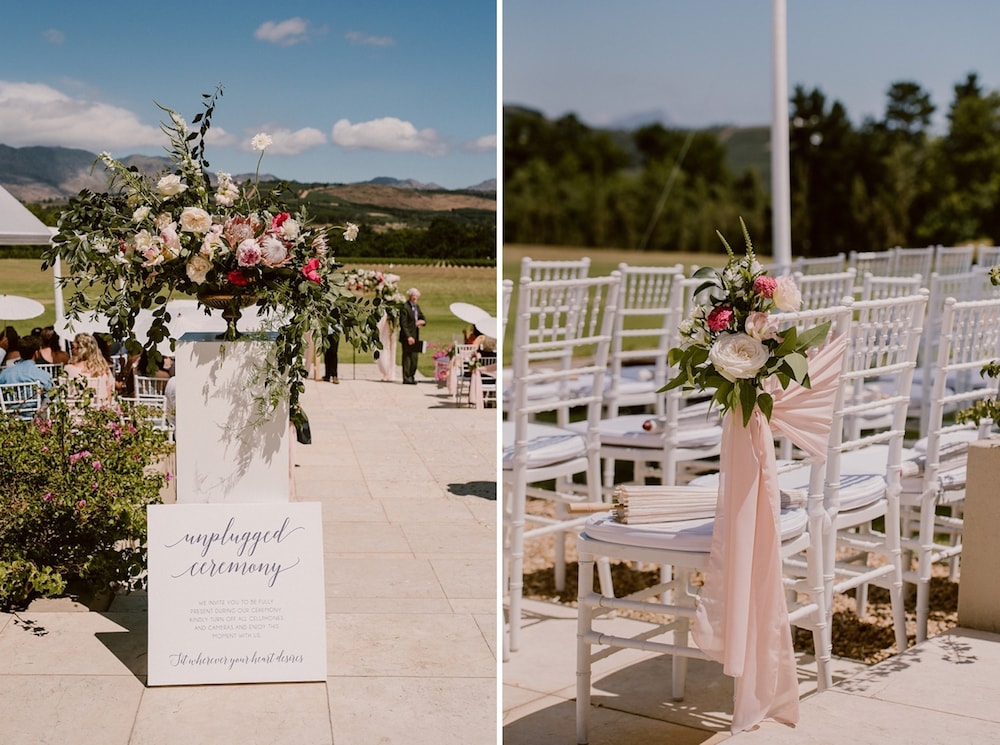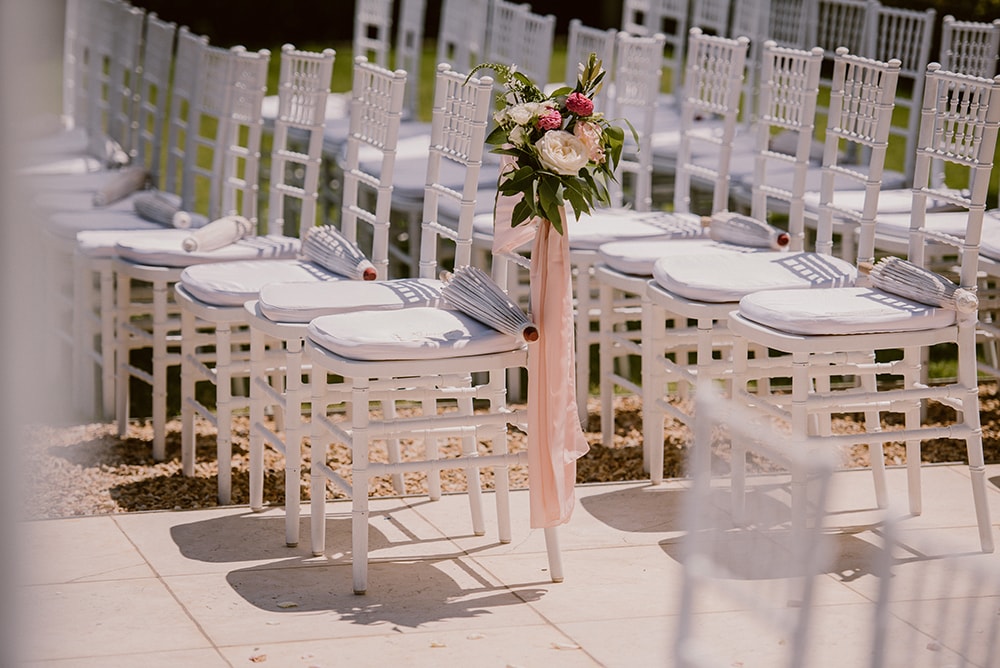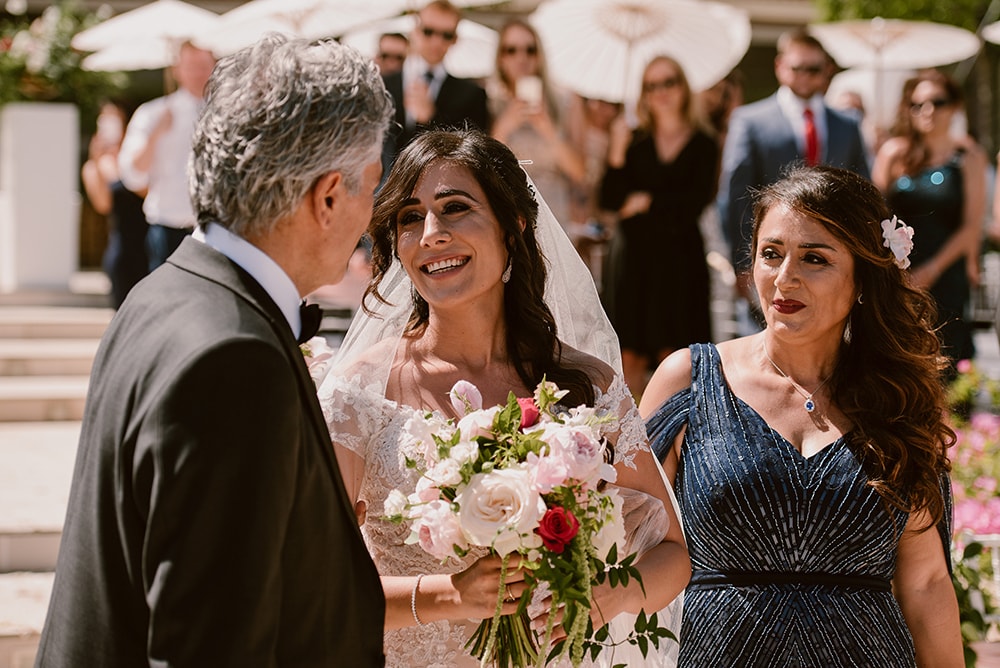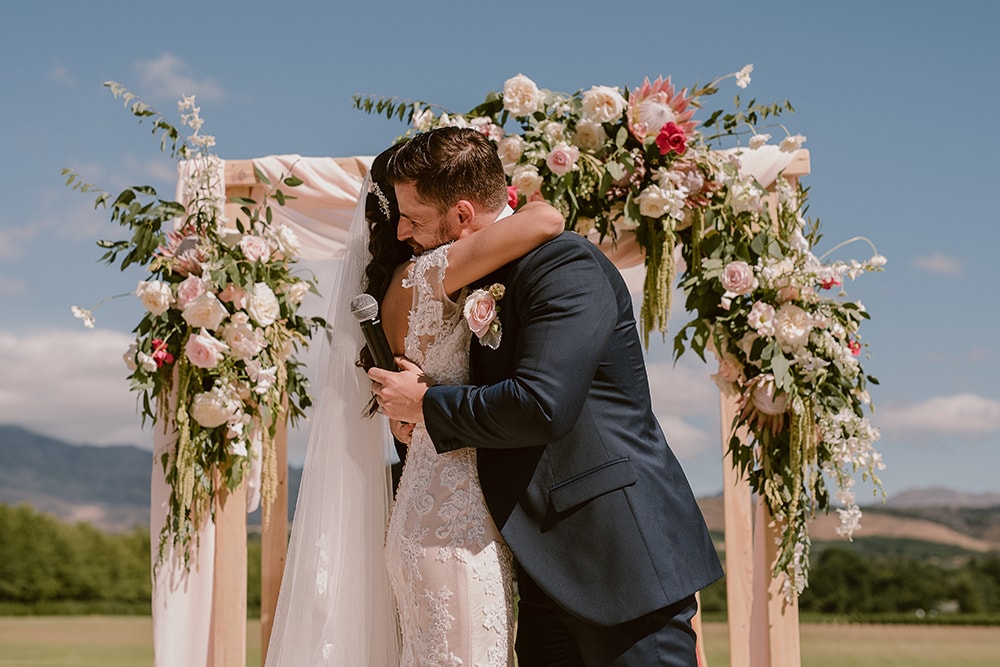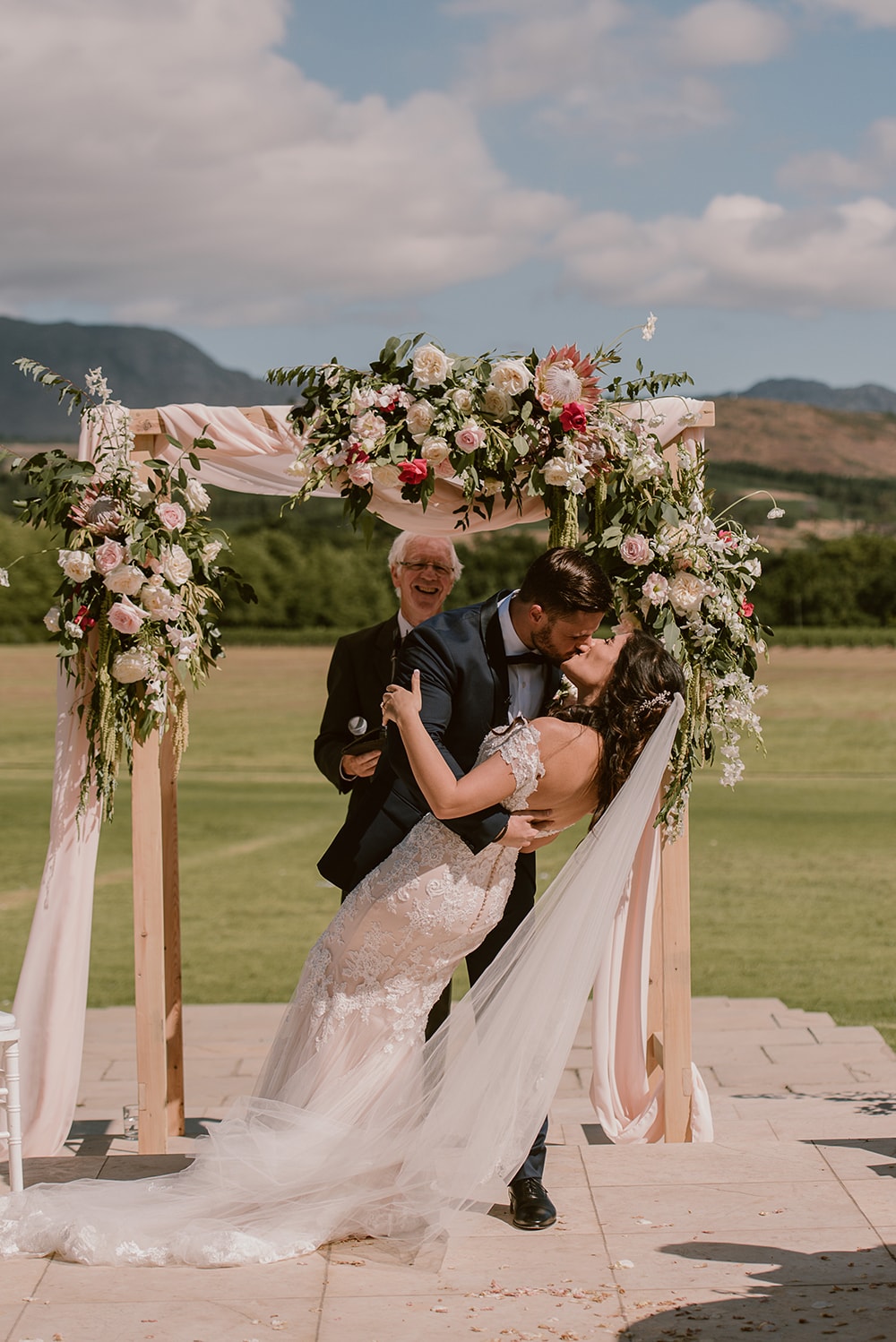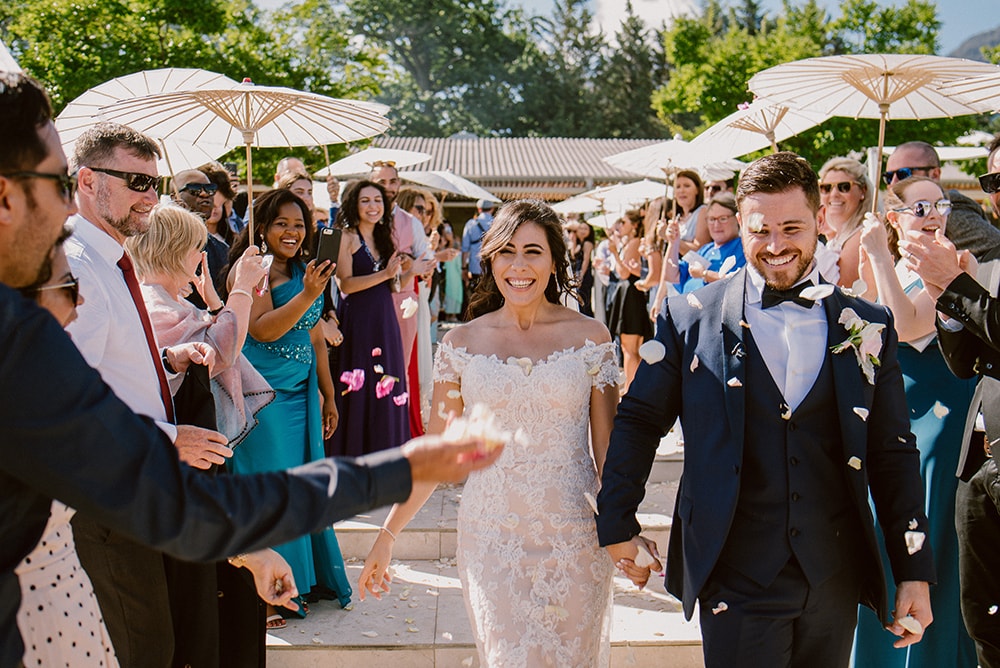 The Venue
We knew we definitely wanted to have a summer wedding in Cape Town. We loved the idea of mountains, greenery and ocean, but as our numbers were a bit bigger, the options by the ocean were more limited. One of our best friends suggested the venue at Lourensford. Although we had never heard of it before or been there in person, we were blown away by the photos and videos we saw online and were confident to move ahead with our decision from Rome.
Wedding Style
We both come from completely different backgrounds: I am of the Baha'i faith, with Persian parents and born in Brazil, and Gareth is Christian with English/Afrikaans parents and born in South Africa. We really wanted our wedding to be a celebration of this diversity, and to create a joyful atmosphere that unified these differences in a beautiful way. Instead of having two separate faith ceremonies, we decided to incorporate both elements of the Baha'i faith and Christianity into one ceremony, which was officiated by Reverend Gordan and a dear Baha'i family friend, Tahirih Matthee. The ceremony reflected our artistic sides, which included a special poem written for us by Gareth's grandmother, and lots of music and songs performed by our dear friends and family – and even the bride singing and the groom on the drums! We also integrated aspects of the Persian and South African culture throughout the reception, in terms of the food, music and dancing, which our guests very much enjoyed.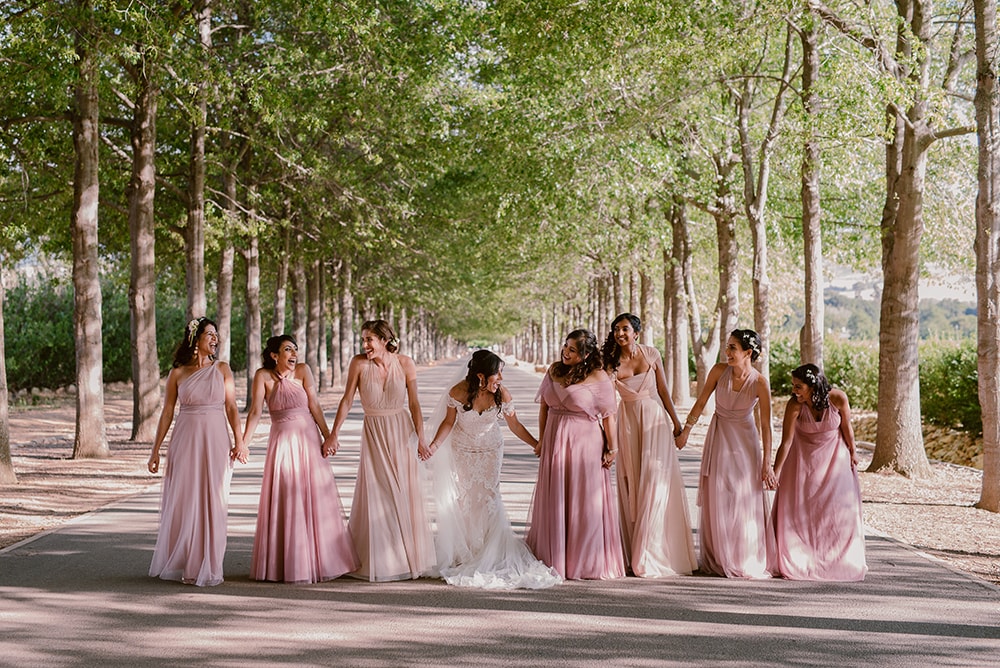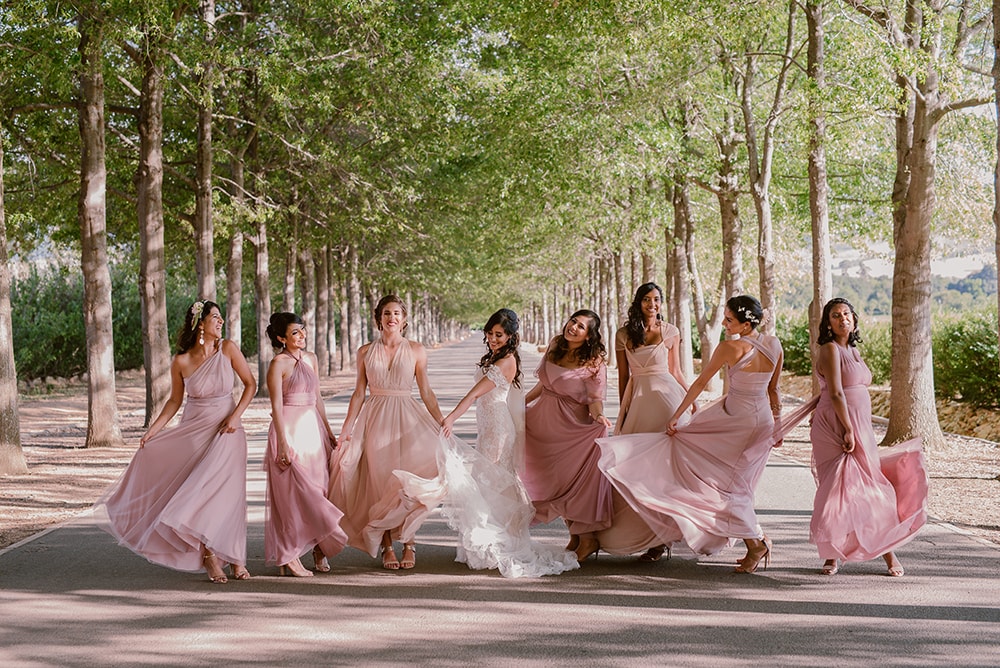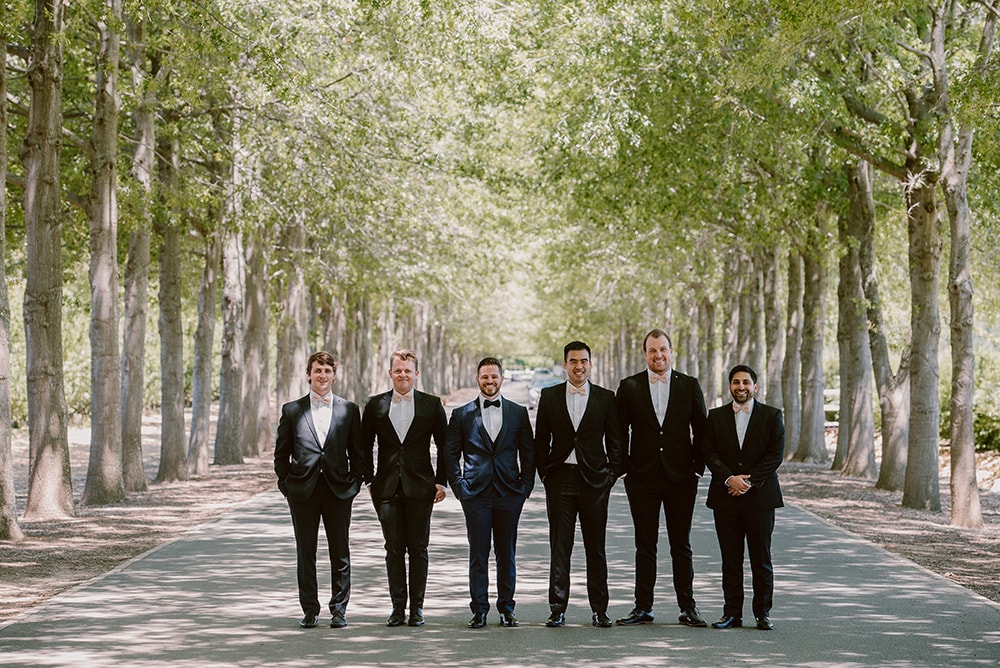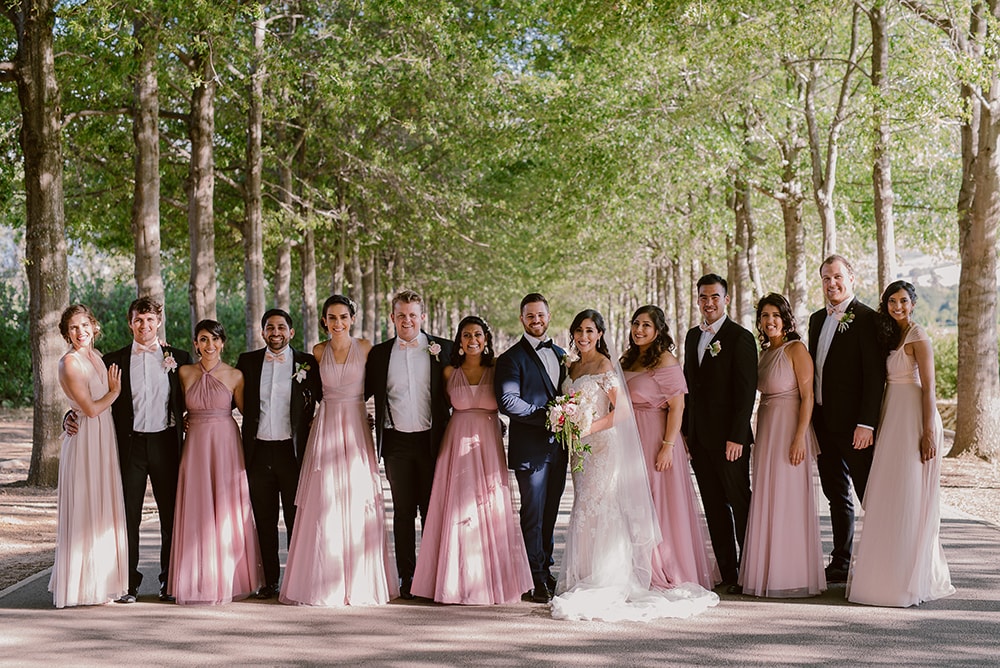 DIY Elements
As we were planning our wedding from overseas, we weren't able to do too many DIY items, although we would have loved to. Gareth's sister very kindly offered to create our seating plan, which was constructed out of wood and had a nice rustic feel – it was elegantly decorated with fresh flowers on the day.
The Flowers
Ourselves and our wedding guests absolutely loved our flowers! They really transformed the look and feel of the venue. Botanica (our vendor) completely nailed it! We wanted a whimsical, romantic feel that was trendy and classy at the same time. We incorporated the protea flower to give it a nice South African feel, and used creams, champagne, leafy greens, blush pink and pops of dark pink. Our favorite components were the fairy lights, coupled with the cascading flowers off the ends of the tables and hanging flower installations above the tables, which were just dreamy.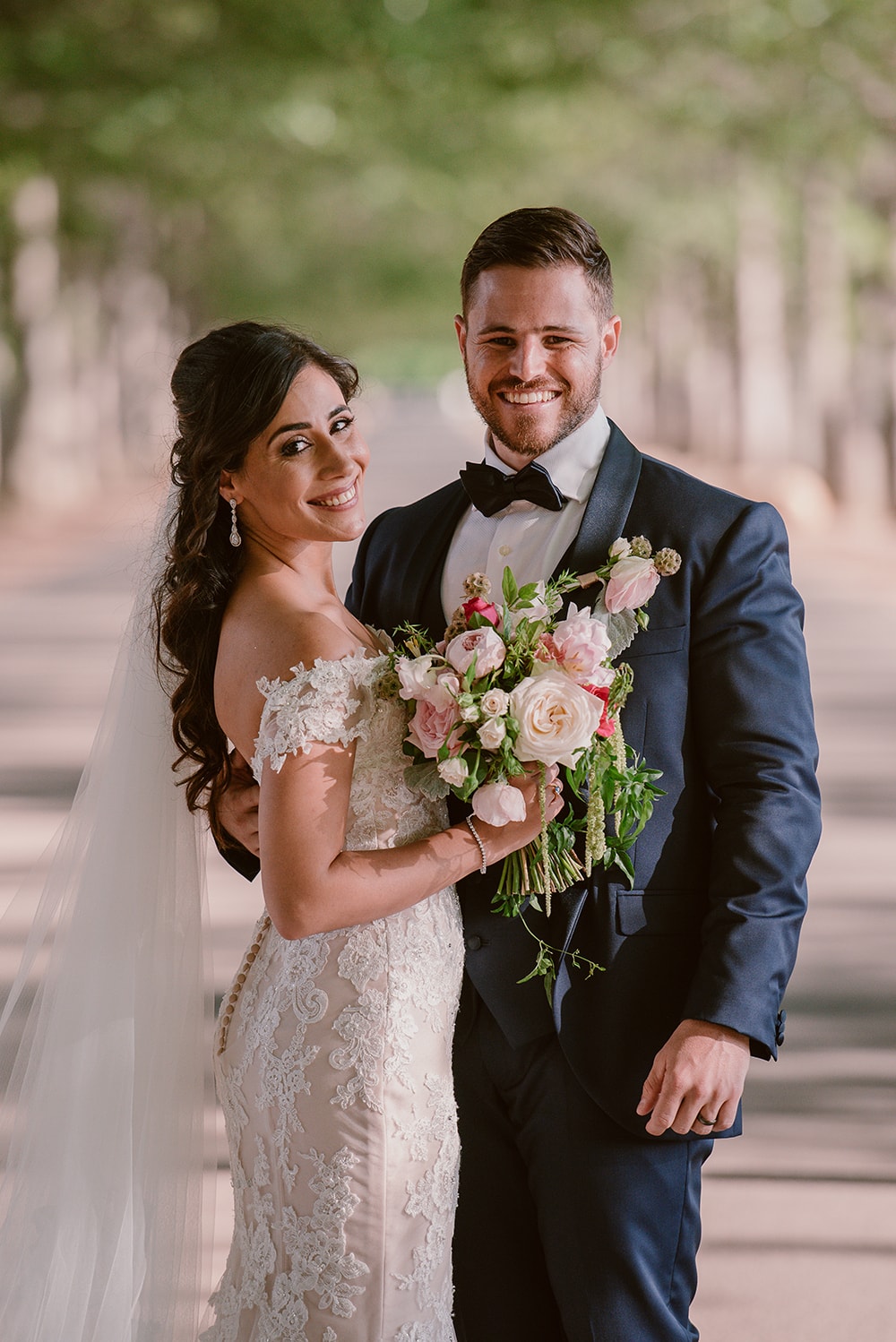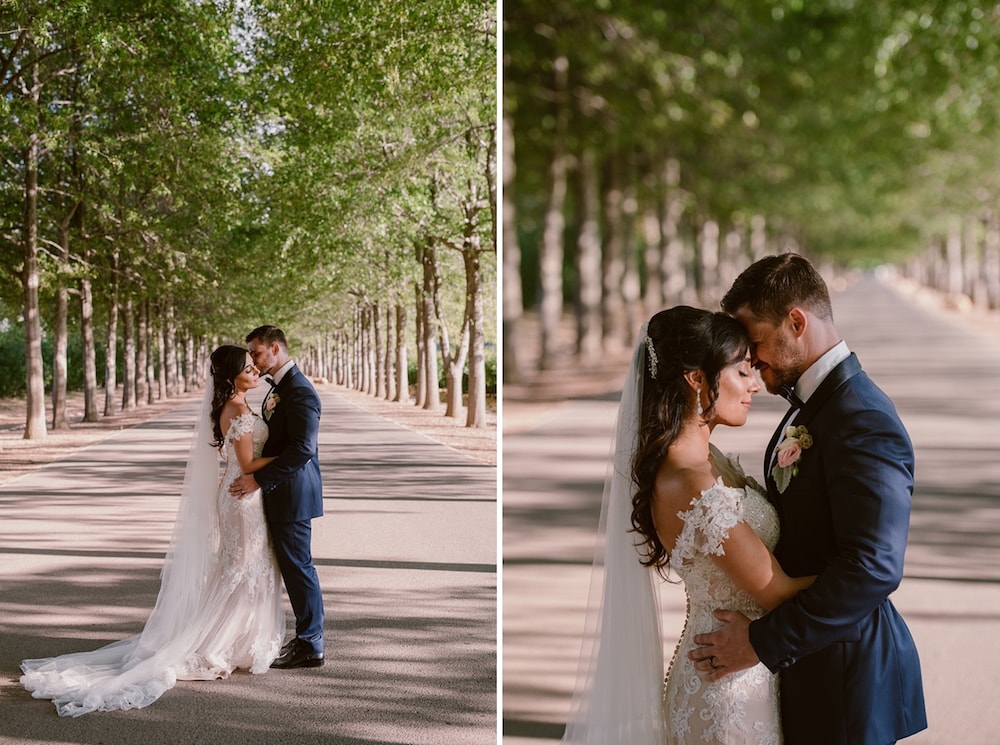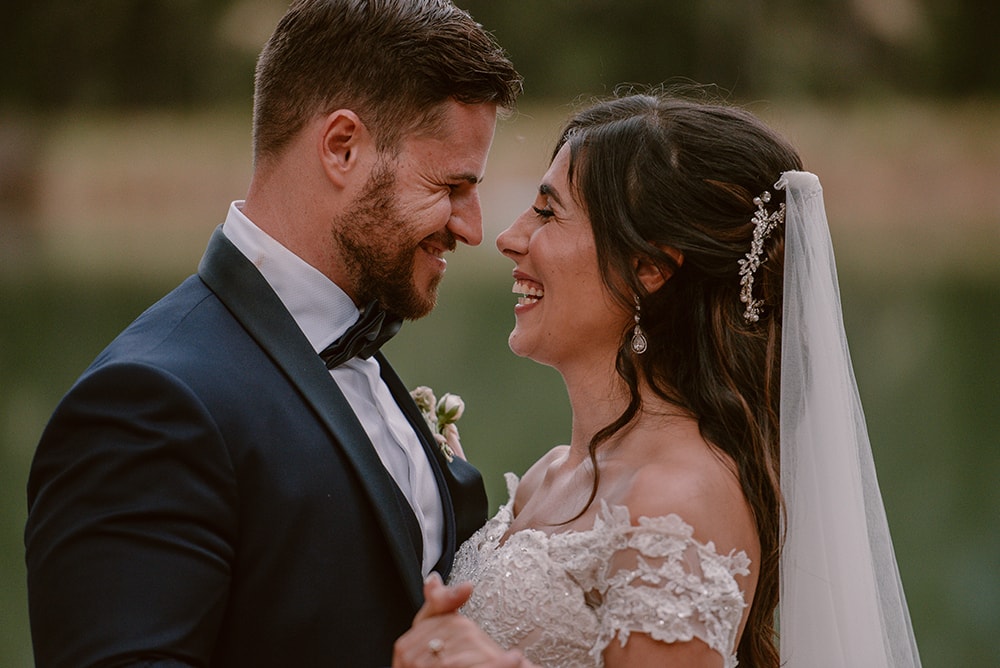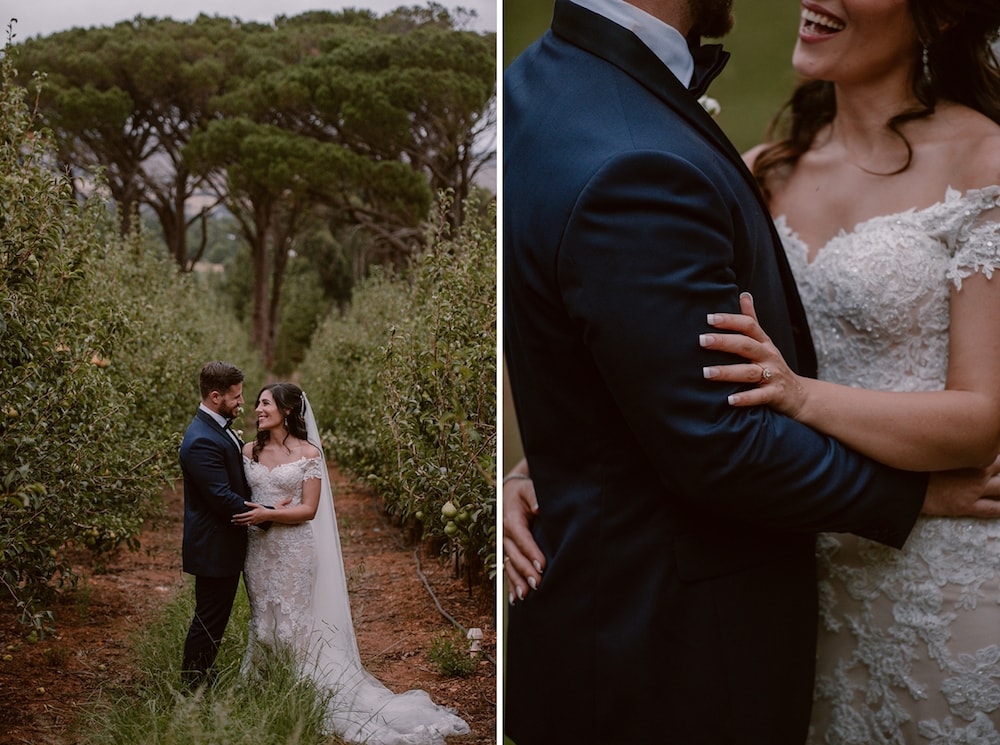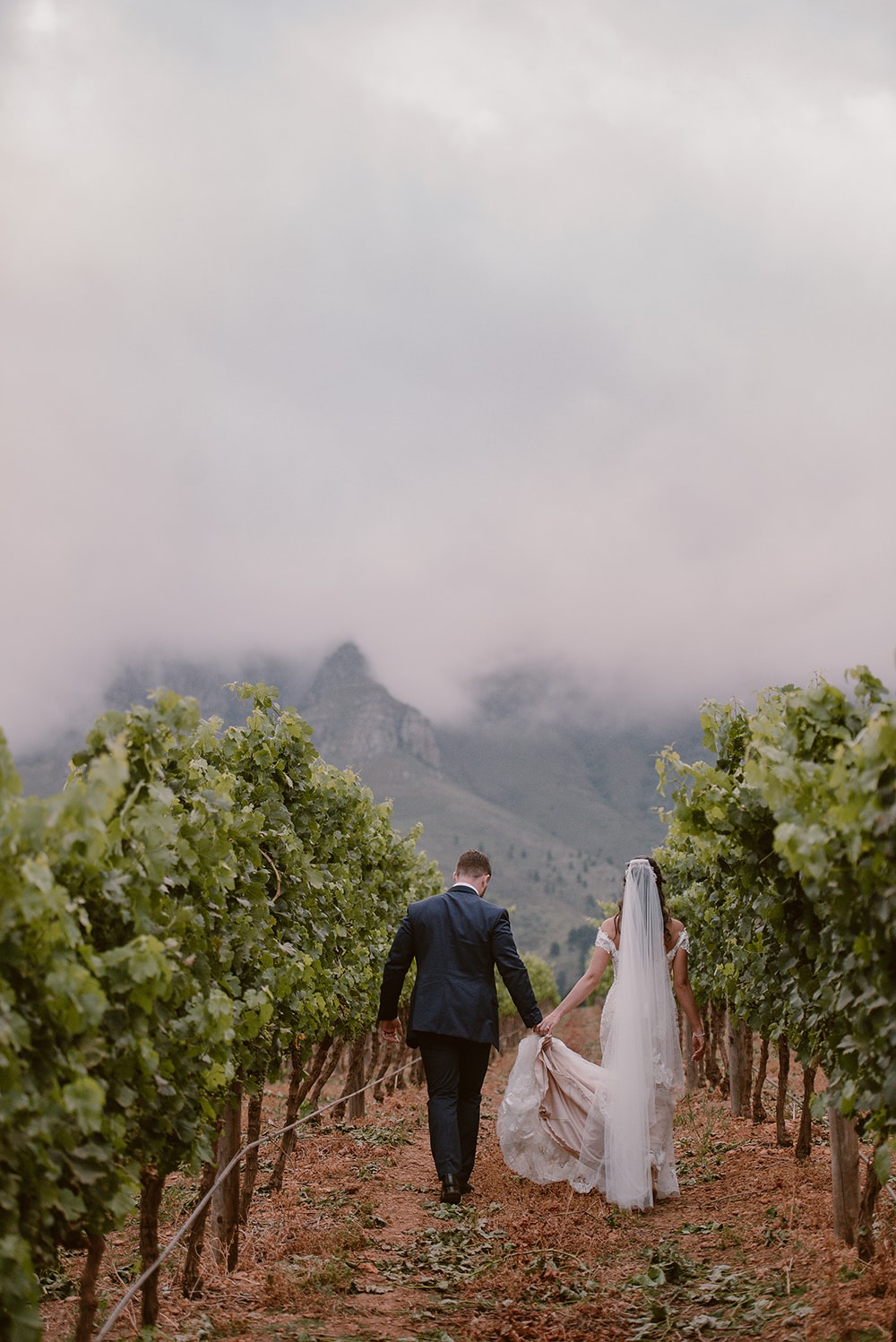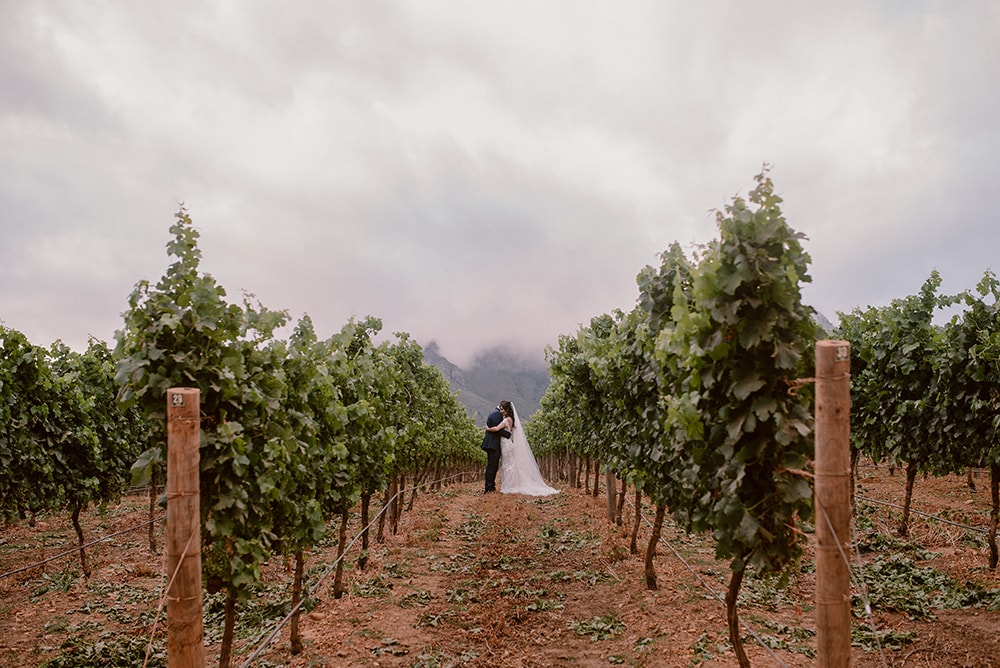 The Dress
In September, we made a trip down to SA before the wedding to finalise some of the planning and find a wedding dress with my mom and bridesmaids. I went to a number of places in Cape Town and Joburg. The last day before my flight, we went to Enzoani in Melrose Arch and I found my ideal dress! It was champagne tone with white lace, which suited me well as it complemented my complexion nicely. I was really happy that they were willing to do some alterations, as I wanted to lower the back slightly, add off-the-shoulder removable sleeves, and include an illusion feel using additional lace, as well as adding some extra embellishment and beadwork. The veil was long and kept more simple, with a few lace trimmings on the edges.
The Bridesmaids
I had seven incredible bridesmaids: my three sisters and four best friends. As everyone was scattered across all parts of the globe, including Brazil, Malawi, Australia and all over South Africa, we decided to get everyone to send in their measurements and have infinity style dresses made in a colour pallet that went with the décor and wedding theme (champagne, blush and dusty pink). We included chiffon material to give it more of a flowy, formal feel to match the wedding, and it turned out to be really pretty! The bridemsaids were able to style the dress according to their preference, which worked out very nicely. Instead of the traditional bridesmaid's bouquet, I wanted to do something a little more different and fun, to also match the whimsical feel of the wedding. Our florist made ribbons with floral pieces and each of the bridesmaids chose where they wanted to tie it – in their hair, around their arm, waist, etc.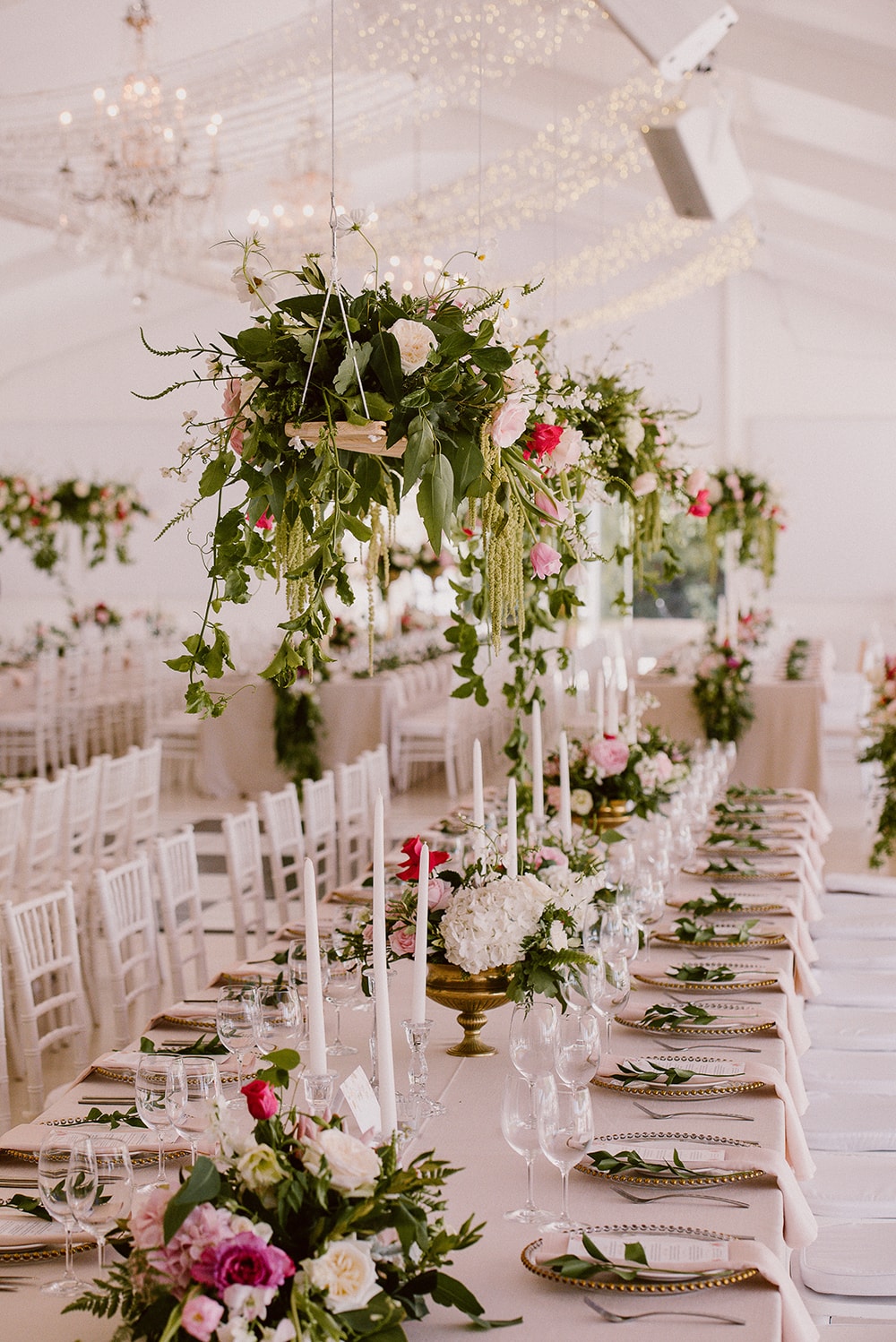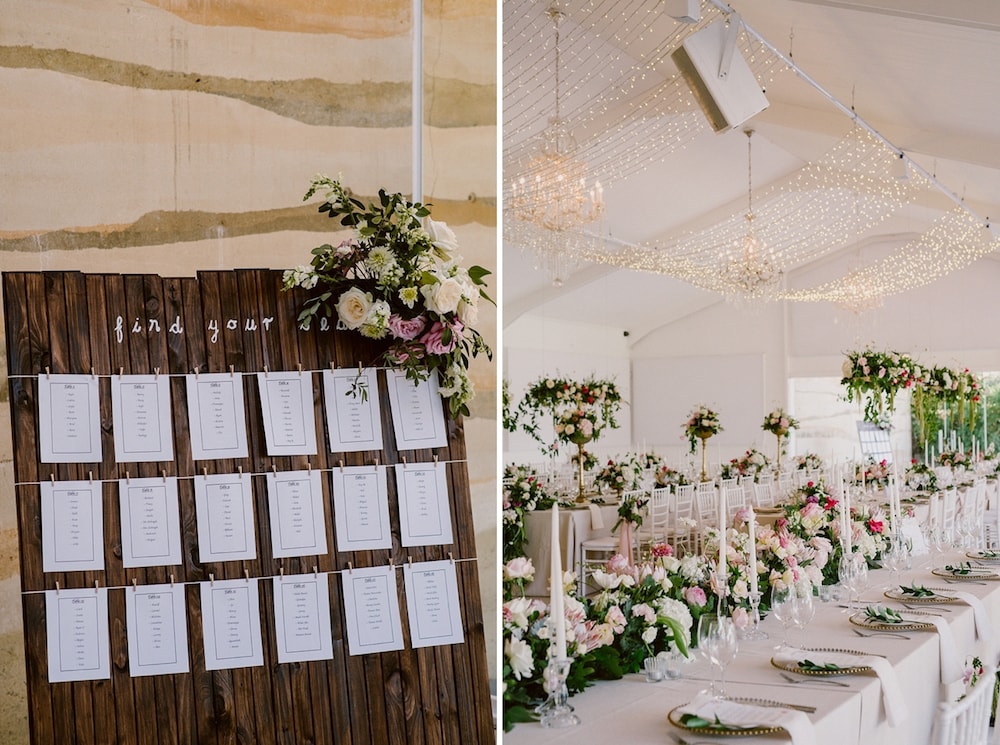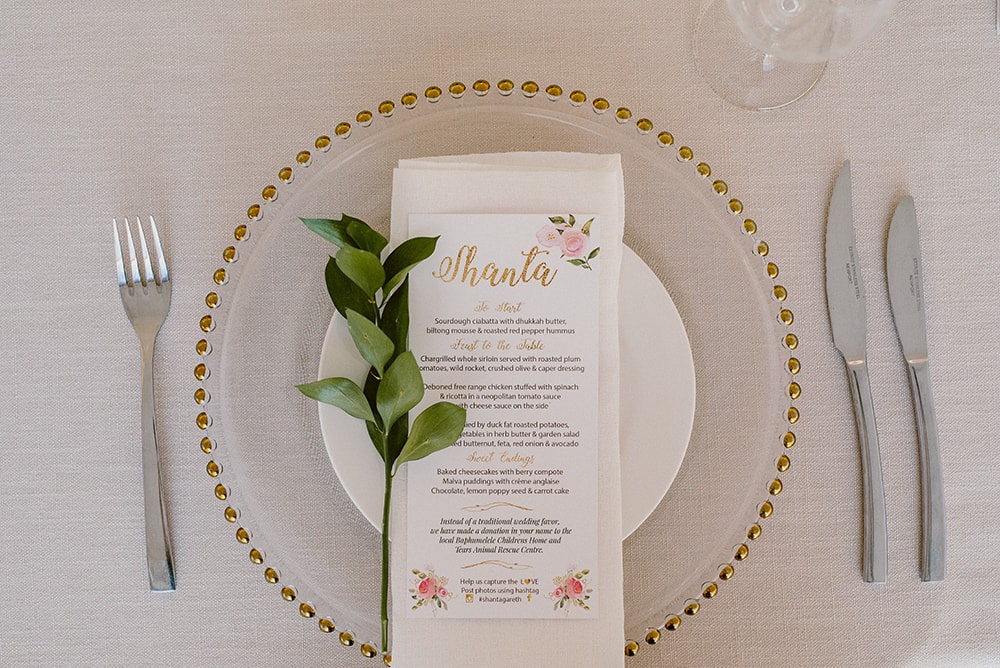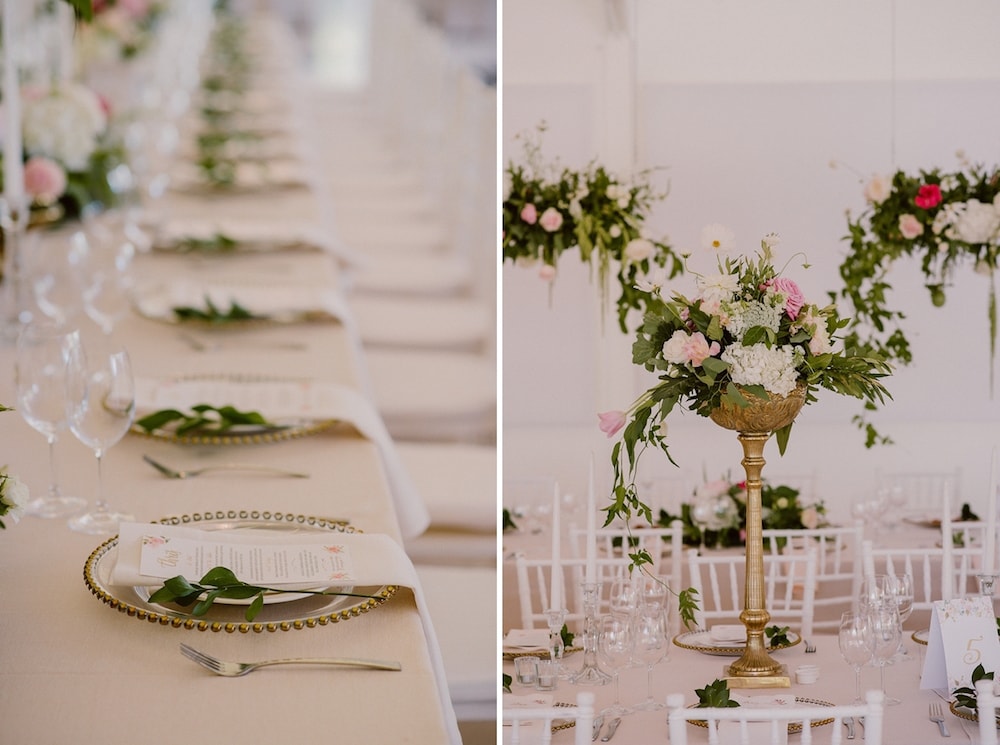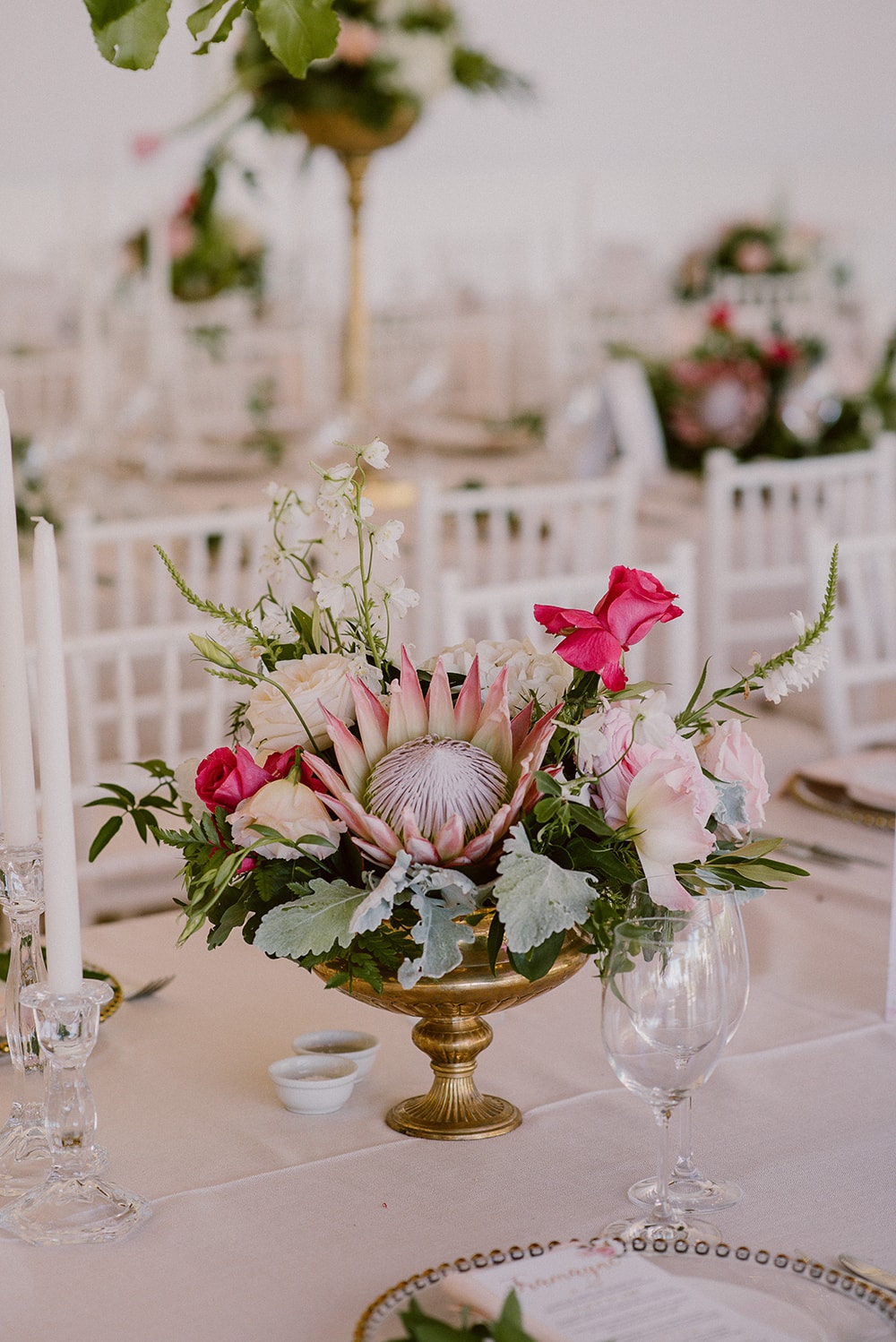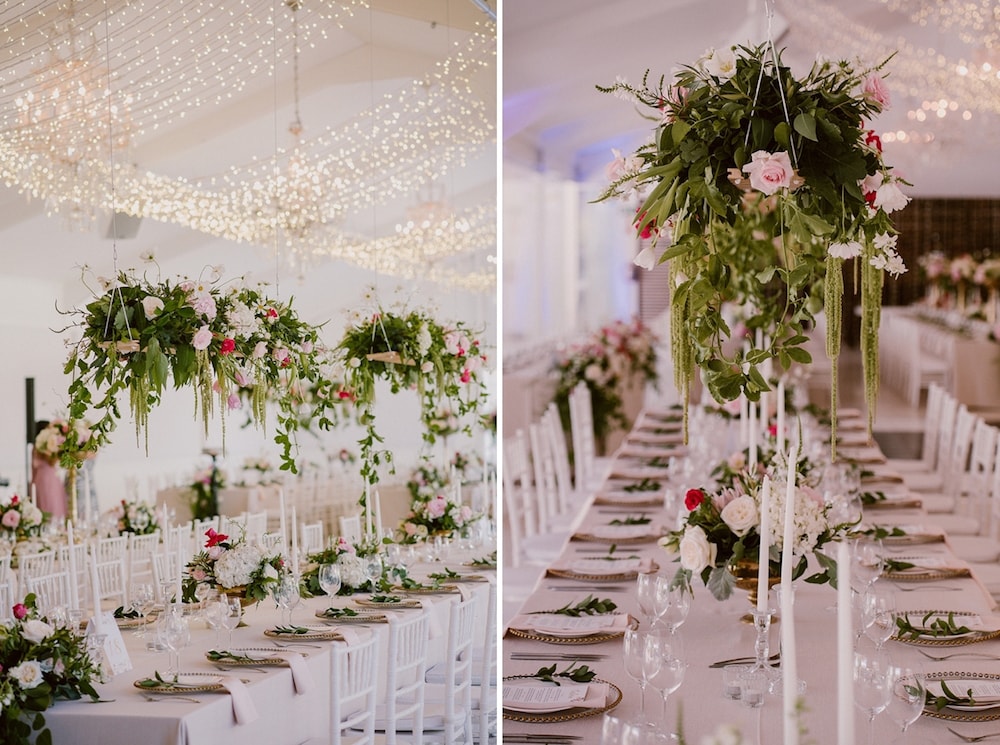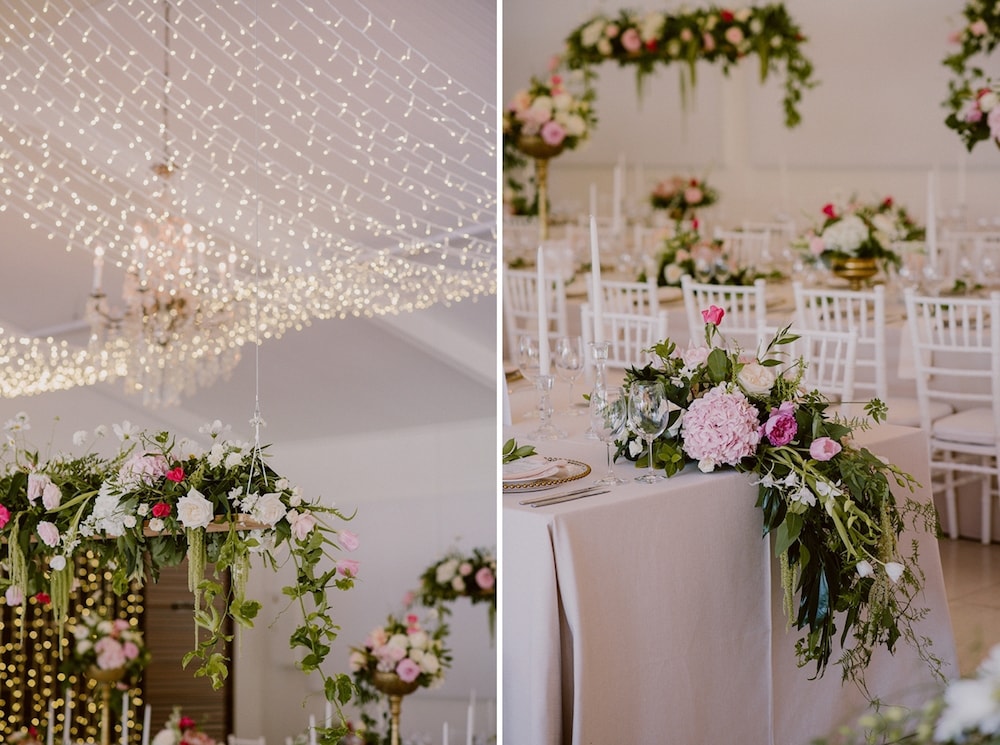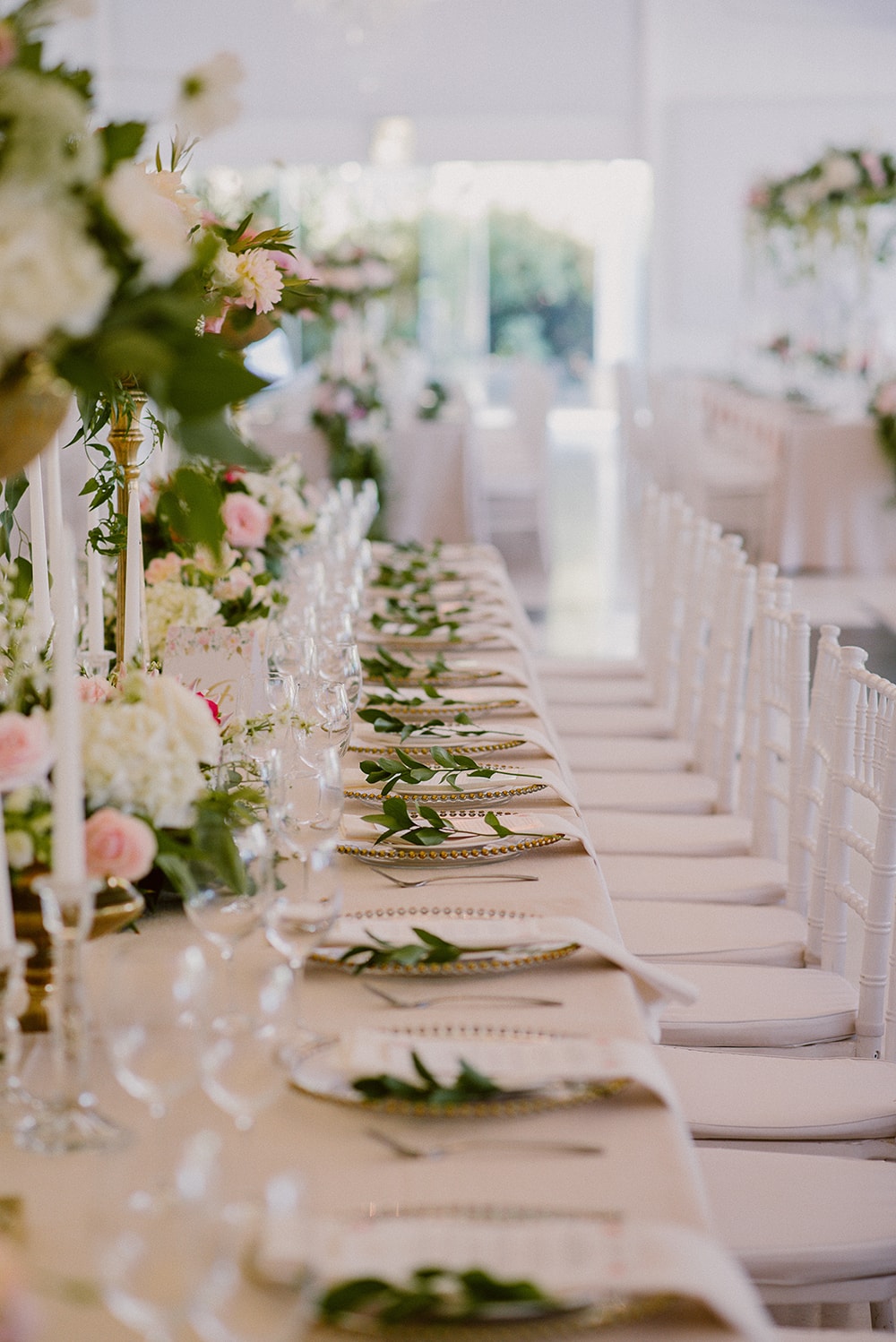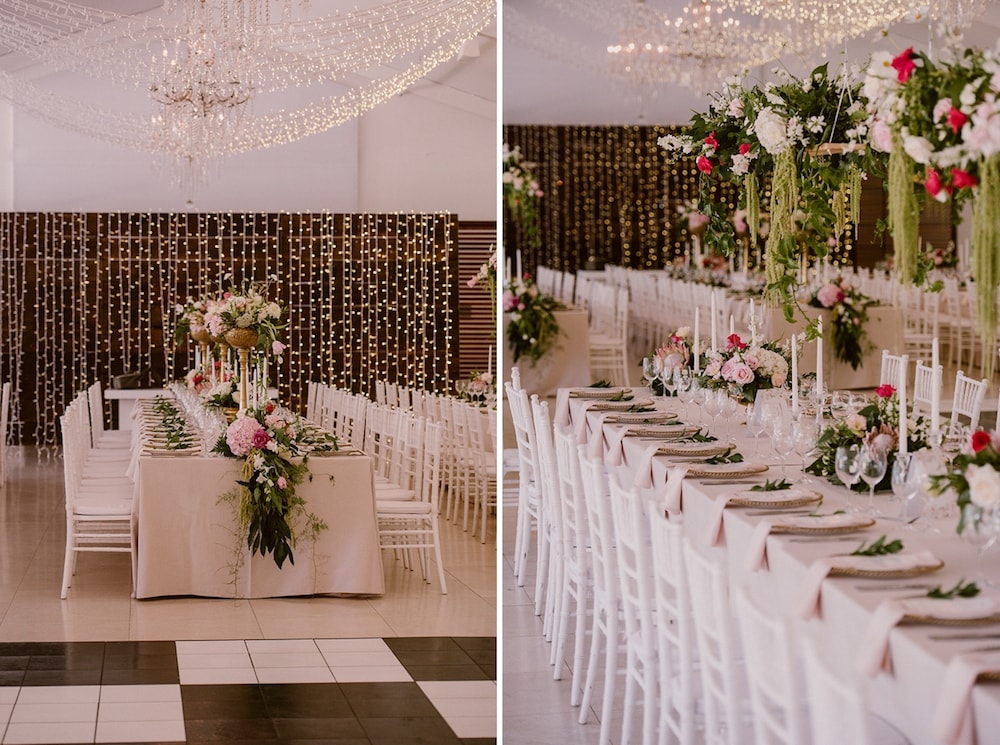 Memorable Moments
Honestly, every moment was a highlight for us, it truly was the best day of our lives. Our interfaith ceremony was very special and intimate, and we really enjoyed exchanging personal vows traditionally done in the Christian faith, and the Baha'i vows. We had choreographed a short group dance together with the bridesmaids and groomsman which was loads of fun. Shanta's dad surprised us with a caricature artist (which was a huge hit with our guests!) and sparklers during our group dance which was quite special! In the Persian culture there is a traditional knife dance that takes place before the cake cutting, which was lots of fun as our friends from different backgrounds danced along with various dance genres/moves!
Proudly South African Details
Our menu was inspired by South African cuisine: we had a braai station and bobotie samosas during the canapes, as well as delicious malva pudding for desert. Protea flowers were also incorporated as part of the floral décor to give it a South African feel, as well as South African music during the reception and dancing.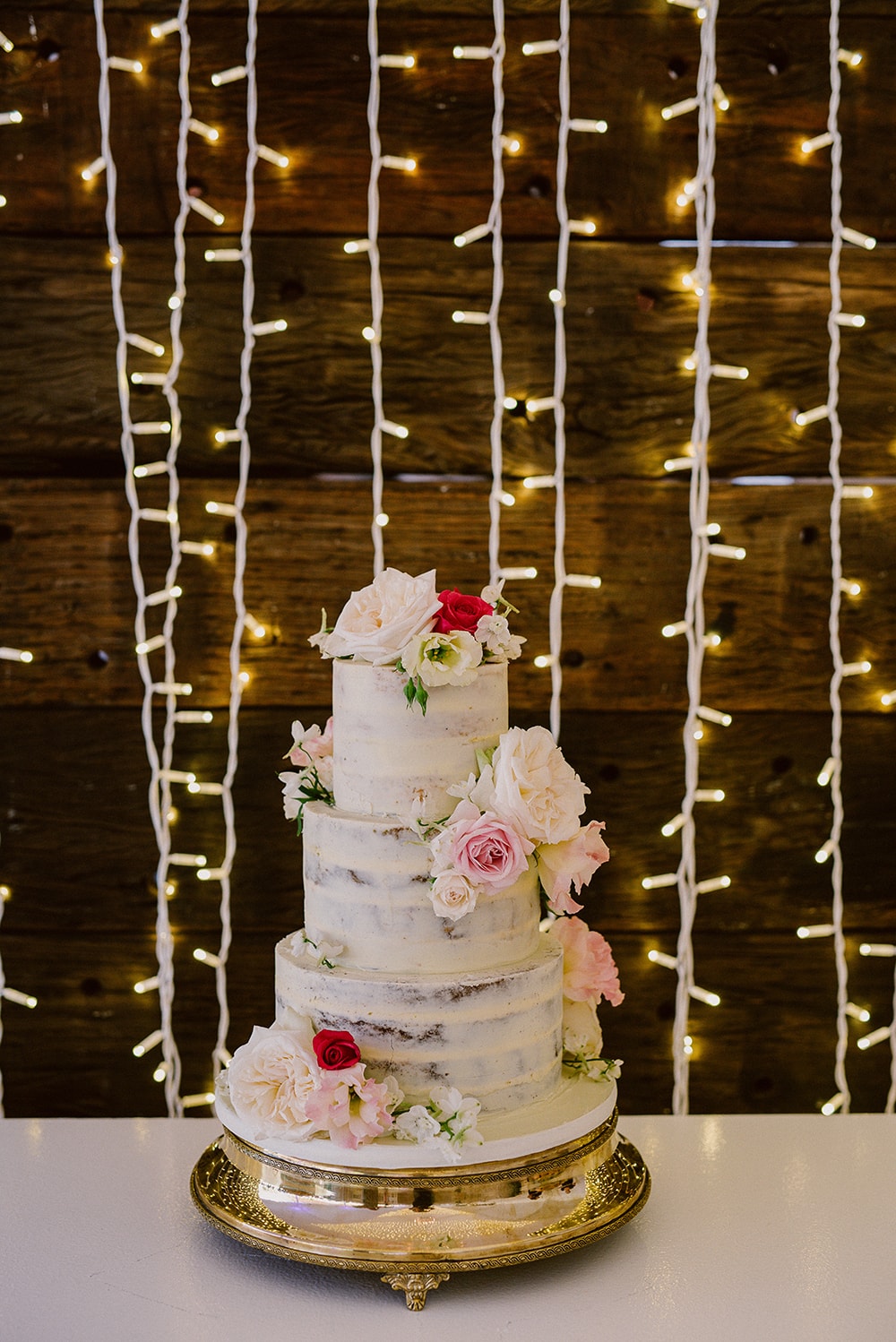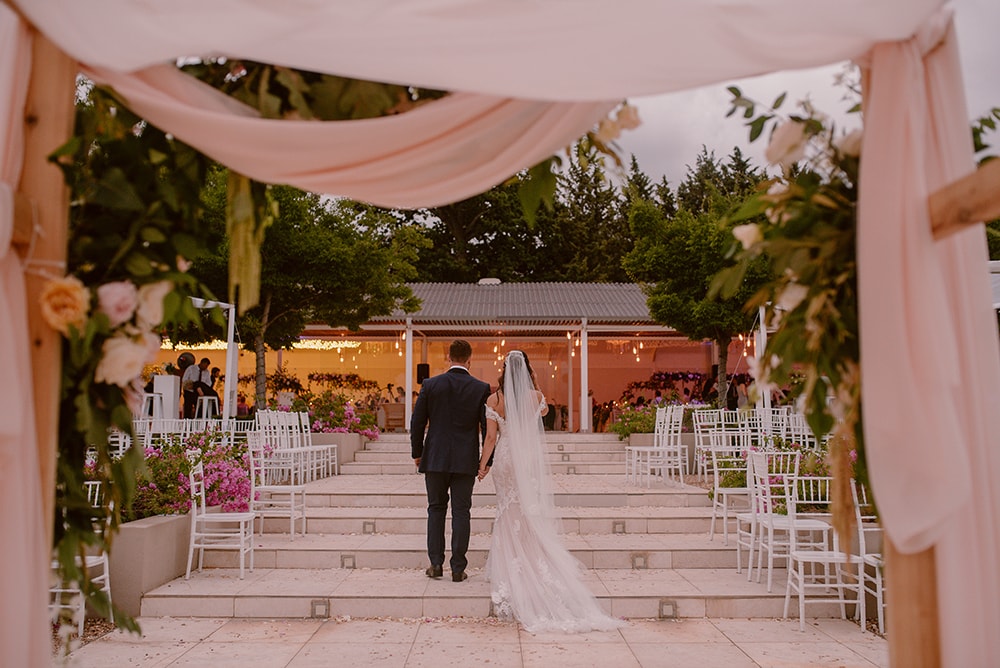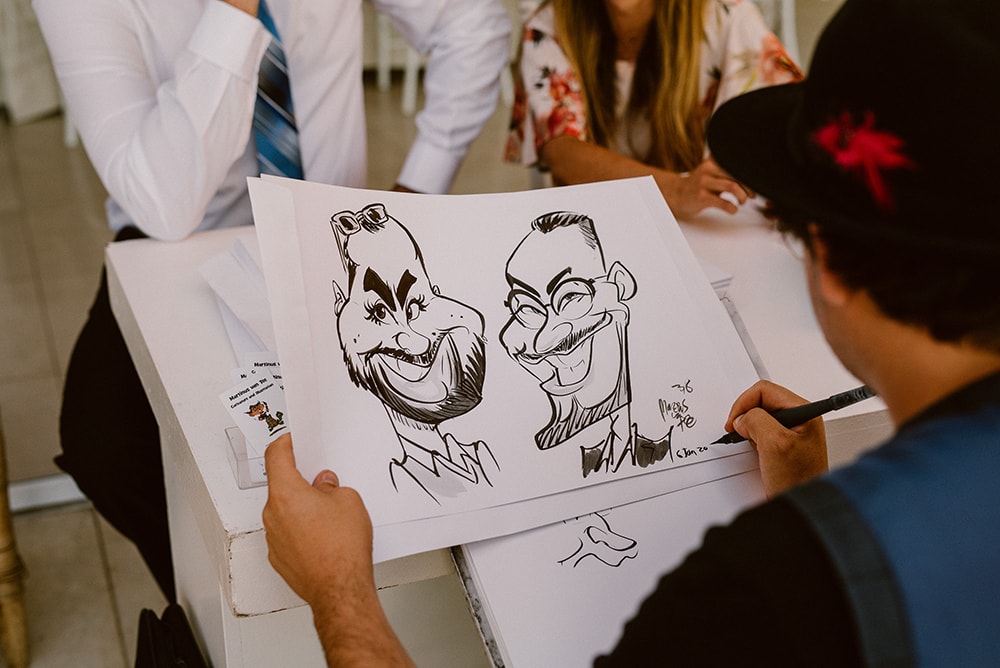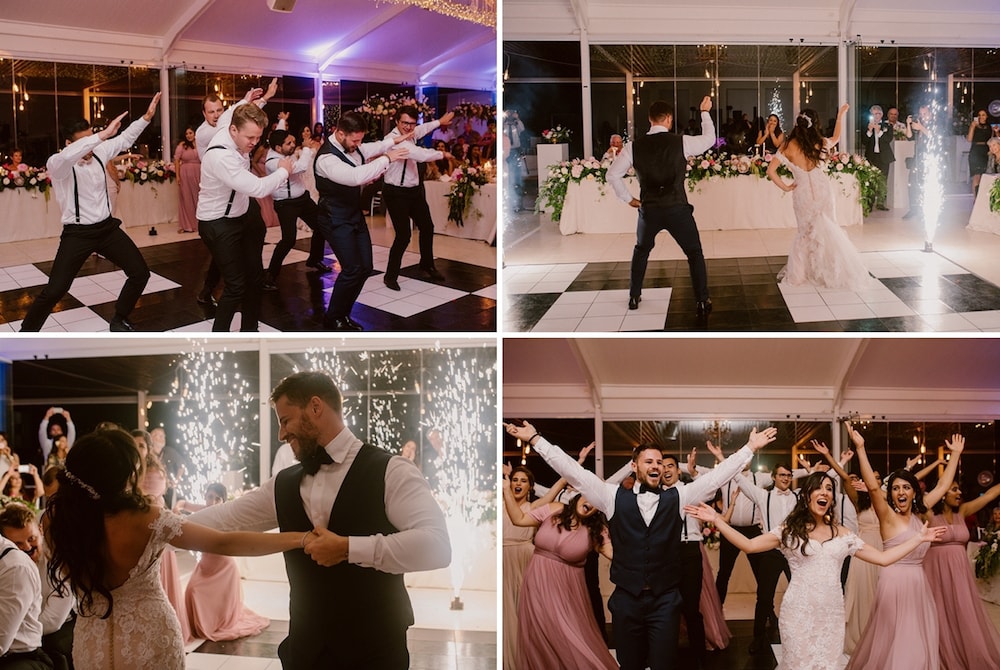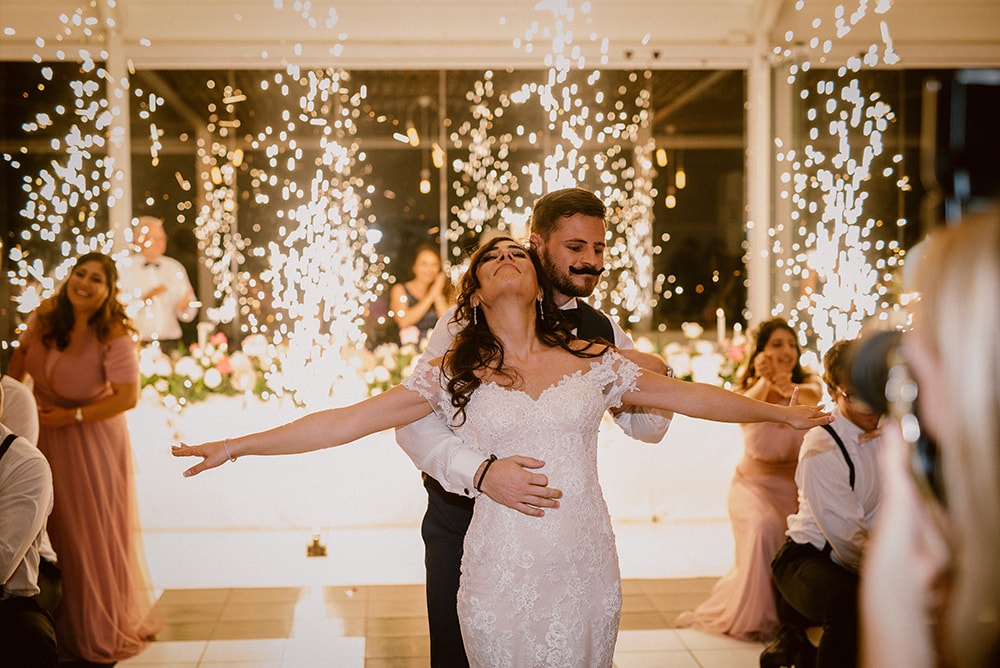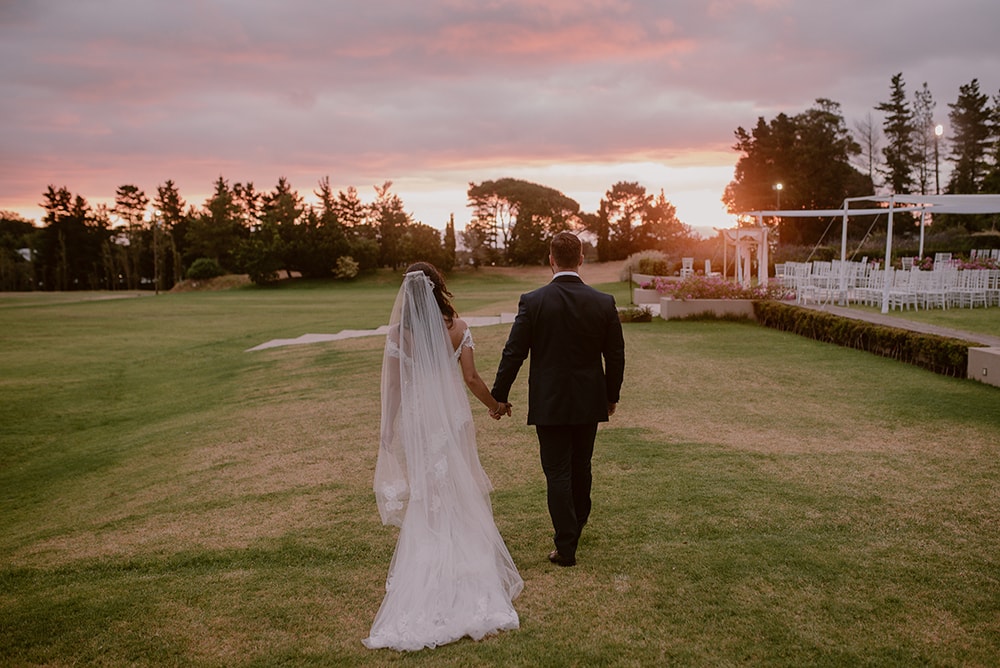 Best Decision
The best decision we made was getting our wedding planner! Cara from Mosaic Weddings did a phenomenal job. She was super-efficient, incredibly organised, very quick at responding to emails and making things happen which we loved. Especially since we were planning a wedding from abroad, we would have been lost without her.
Advice for Future Brides & Grooms
Enjoy the process and have fun with it. Try to be as present as possible on the big day – it's so precious and goes by really fast! It really is the best day ever! We were very happy that we chose to get a videographer in the end, because we were able to share the day with our family and friends who couldn't make it to the wedding, and it's also been something really special that we can look back on and relive the day.
SERVICE PROVIDERS
Venue: Lourensford Wine Estate | Catering: Stir Food | Photography: Lad & Lass | Co-ordination: Mosaic Wedding Company | Flowers & décor: Botanica Flowers | Stationery: Kerrith Coleman | Video: White Lines | Cake: Wade's Cakes | Bride's dress: Enzoani | Bride's accessories: Bridal Wardrobe | Hair & makeup: Kirsten Murphy | Bow ties: Raphael M. | Hiring: Shake & Serve | DJ: Next Dimensions Entertainment