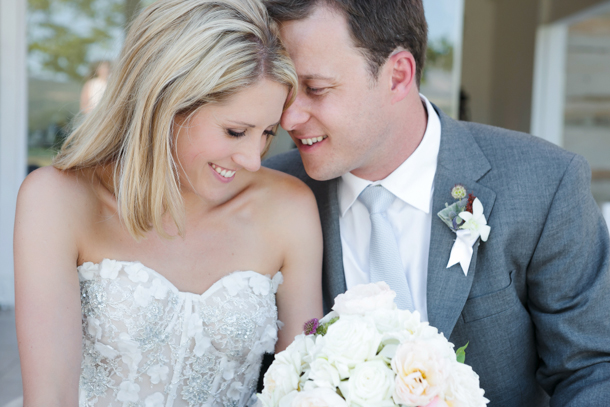 Do I ever have a pretty wedding to share with you today! It had me at hello. Hello breathtaking and unusual bridal gown, hello soft lavender bridesmaids' pleats, hello muted pastel blooms against grey tablecloths and rustic wooden boards at the reception, hello bang on trend calligraphy details, hello lacy cake. So you won't be surprised to know that some of South Africa's finest service providers are involved, including photographer Jani B., Wedding Concepts, Okasie and Roxanne Floquet (who just happened to be one of the bridesmaids!). And of course I was delighted to hear that SBB was one of bride Tessa's favourite blogs – what can I say, the girl's got taste ;) Pour yourself a cup of your favourite something hot, settle in and enjoy.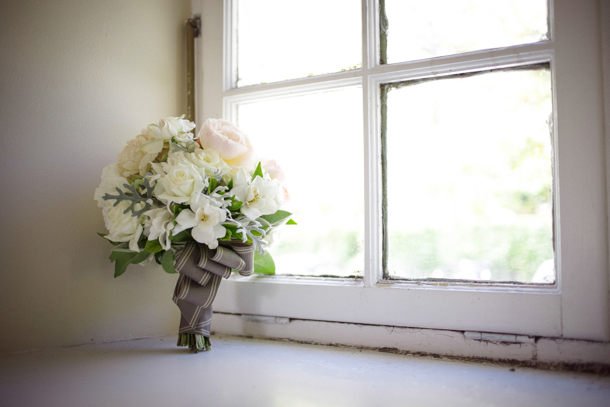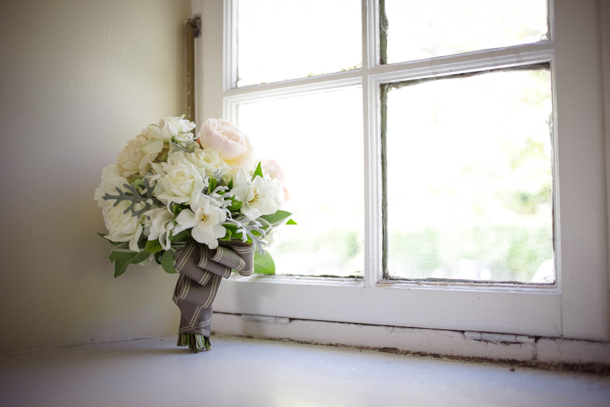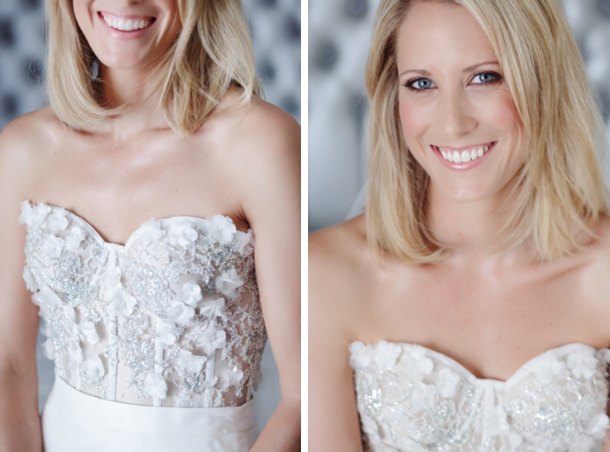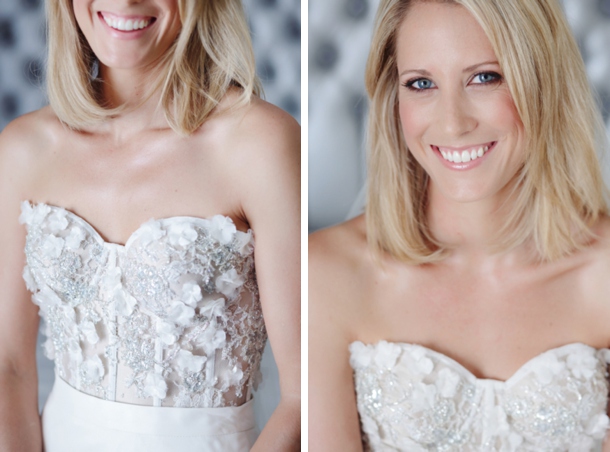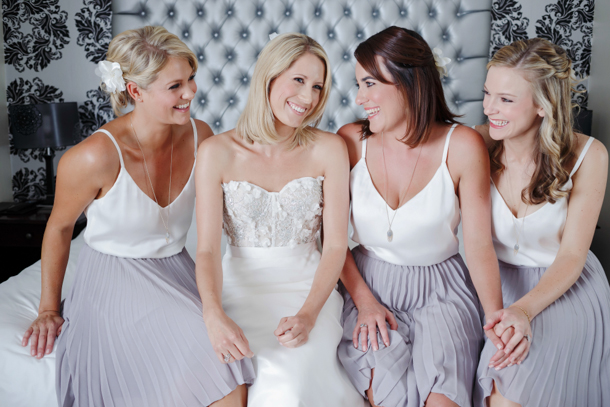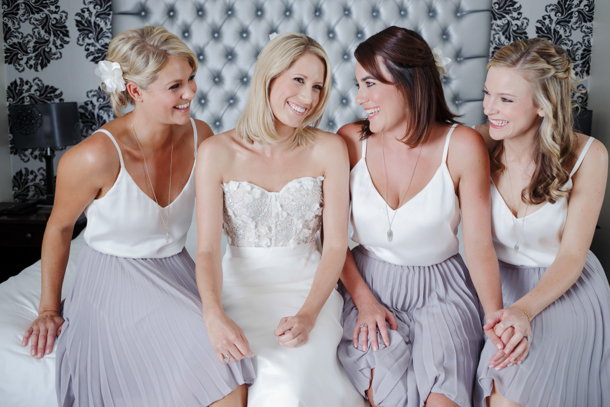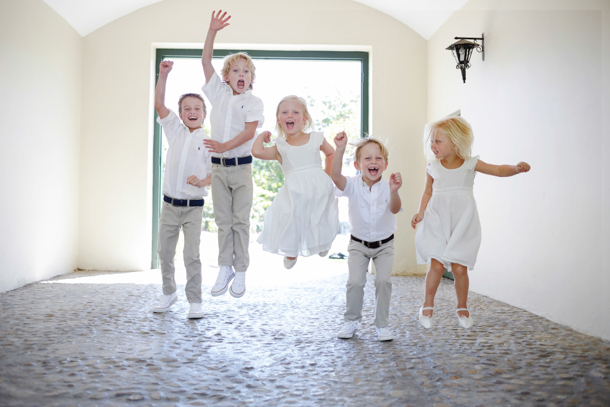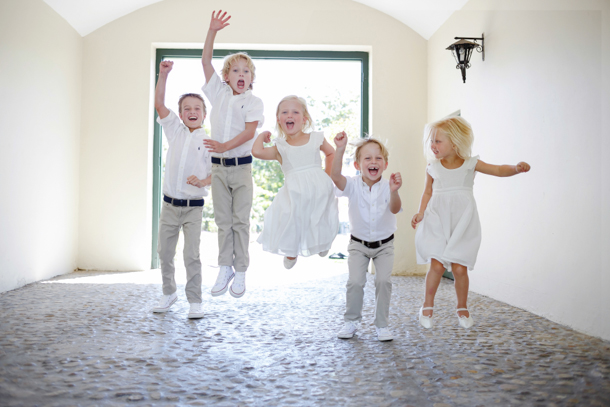 From beautiful bride Tessa:
Nick and I have been together for twelve years – we met in St Francis Bay the December before we both started university at UCT but it wasn't until half way through our first year at university that we got together. We had an amazing four years in Cape Town, before moving to London so we could travel and experience life outside of South Africa. Eight years later, we moved to Hong Kong.
On one of our trips home to South Africa, Nick and I went away to my folks' place at Olifants Private Game Reserve. I have been going since I was little and it's just one of my favourite places in SA. On the final day of our trip, Nick took me out on a mid-morning game drive. We had a lovely drive, despite it being about 35 degrees Celsius, and on our way back to the house, Nick suggested stopping at one of our favourite look-out points, which looks down the Olifants River. We parked the Landy near where we had remembered it being but it was quite overgrown and unrecognisable. After walking around for a while in the middle of the bush, Nick getting increasingly agitated, we decided to give up trying to find it and carry on home. After climbing back into the Landy and driving up to the top of the hill, Nick suddenly pulled over where we had a similar view (although only if you looked up and over the roof of the house in front of us – we had parked in someone's driveway!). After offering me a drink and the binoculars (an attempt to distract me from him fiddling around with his pocket), Nick told me he had something to show me. He pulled out a larger-than-usual black velvet box and placed it on the dashboard, and said: "Open it…" Taken by surprise, and a little confused by the size of the box, I answered 'No!……You open it!" So he then lifted the lid of the box to uncover the most beautiful engagement ring I could imagine, and simply said: "I want you to marry me". I of course said yes!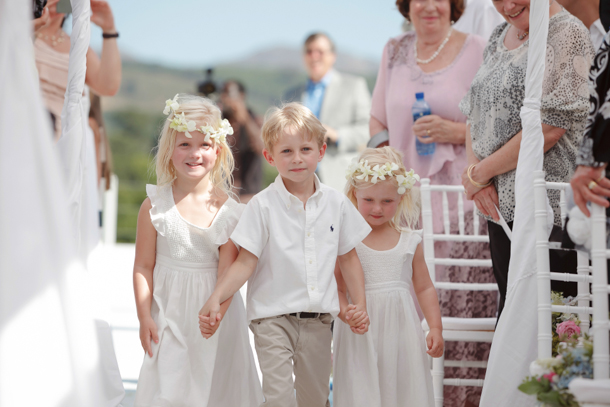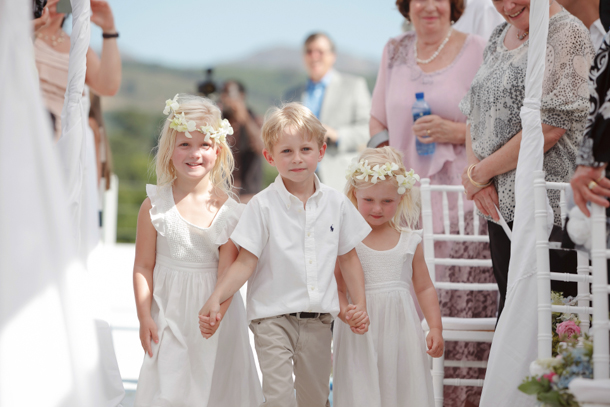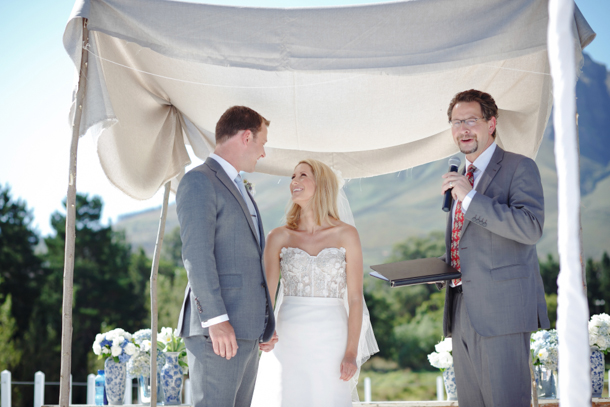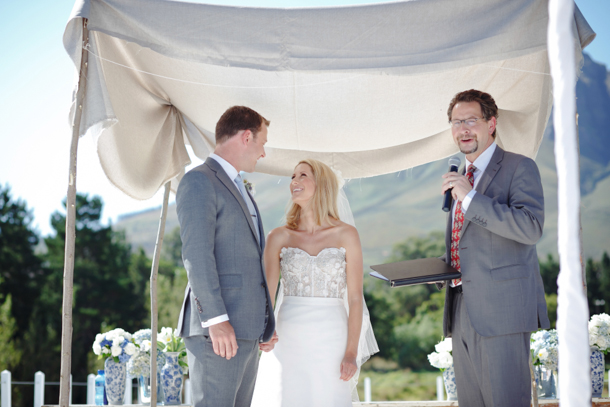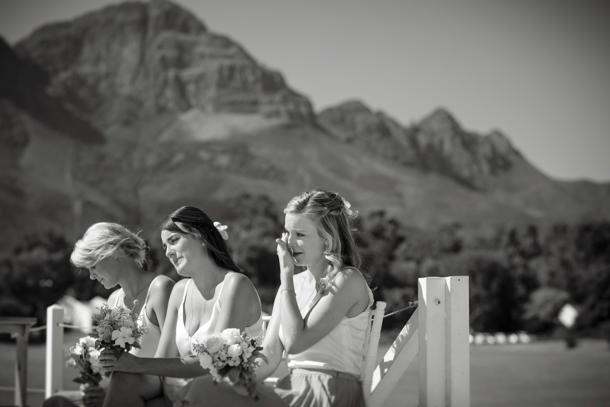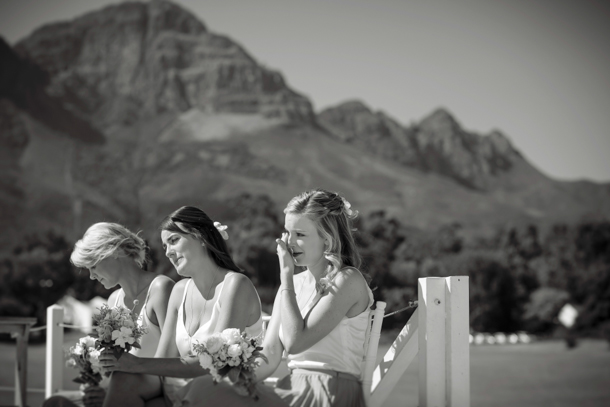 Nick and I knew that we wanted to get married in or around Cape Town as it holds a very special place in our hearts. We really wanted to get married outside and wanted to hold it somewhere that was surrounded by the beauty of the Cape. We also wanted it to be close enough to Cape Town so that guests didn't need to travel too far and so that they had the option to either stay close by or travel back to CT after the party. Convenience was really important to us as people had already travelled from overseas and different parts of SA to be there. We knew it would probably end up at one of the many beautiful wine farms, but we were determined to find somewhere that was a little bit different and unique. Lourensford ticked all the boxed – we loved the dramatic views of the mountains, and the idea of getting married on the Polo viewing deck. It looked more like a house with a big verandah, pillars and a tin roof, instead of the typical Cape Dutch manor house – modern and minimalistic but still homely. I also absolutely loved the venue's use of wooden slats as the verandah roof and fell in love with the railway sleeper partition in the reception room, which ended up being a bigt inspiration for our decor. The room is smart but also a blank canvas, which allowed us to create our own look and feel.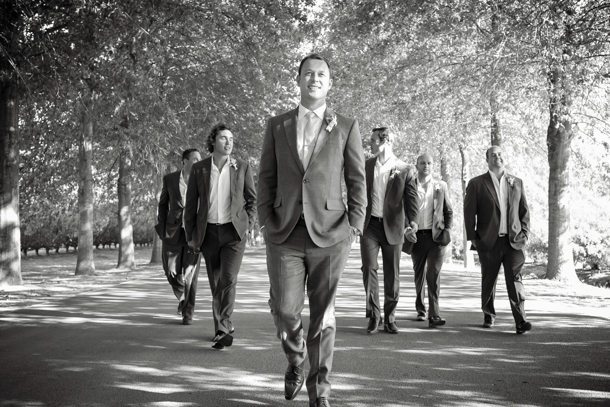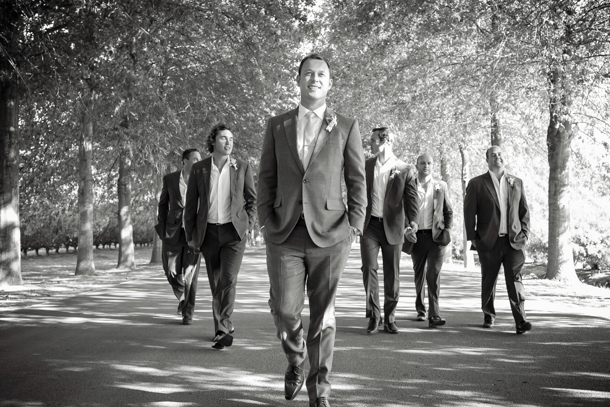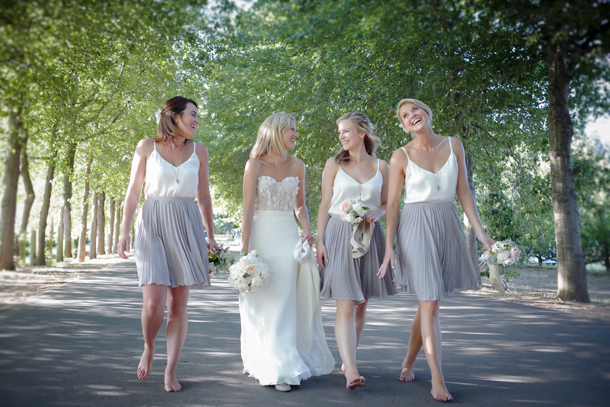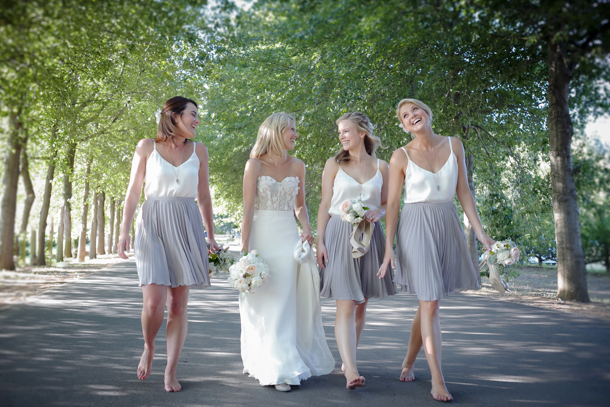 Our theme was a French-inspired garden party, casually chic and with a understated elegance. It was important to us that it feel laid back, like a homely summer garden party. We chose a palette of neutral colours such as cream, beige, taupe and grey and added touches of french navy. Instead of using white table cloths, we used thin striped navy and cream table cloths with white underlays. Drawing inspiration from the wooden partition, I wanted to incorporate plenty of wood as well as other textures into our decor. We used mahogany Tiffany chairs, had distressed wooden plans as runners, and used a selection of seasonal flowers in neutral colours with a hint of soft peach, blue and grey. I wanted to incorporate herbs such as mint, thyme and rosemary, not only for their smell but to add to the homely feel and give the arrangements texture. There were a selection of glass, ceramic and silver vases on each table, and we had four olive trees in beautiful wooden pots dotted around the room.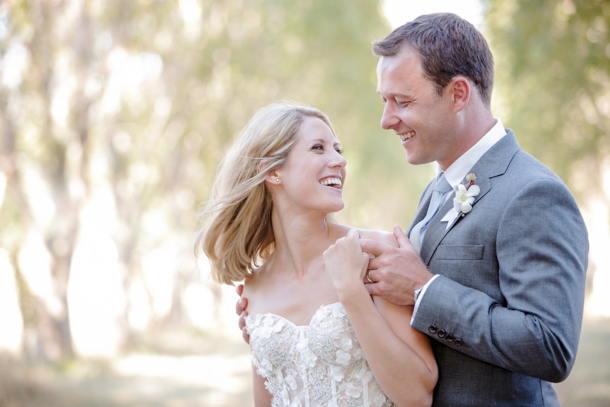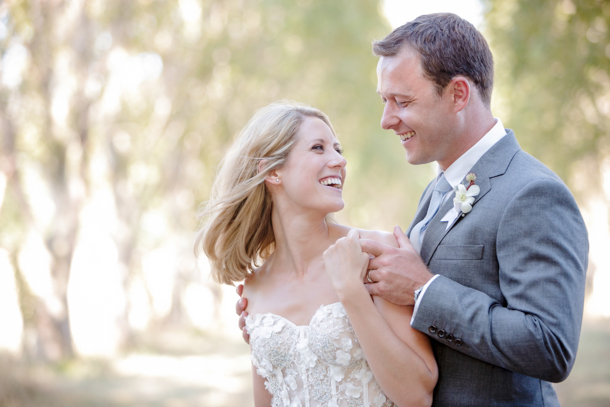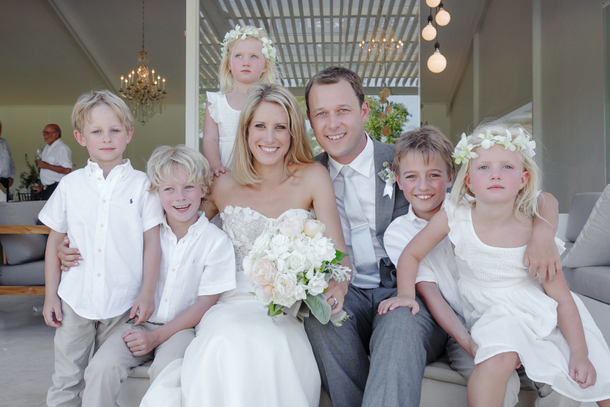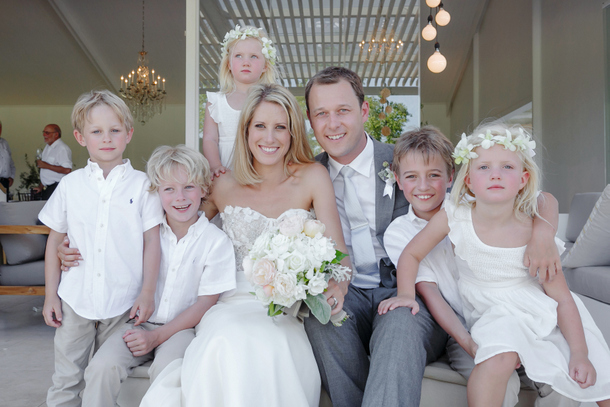 As a backdrop to the ceremony altar, we had blue and white Ming-style vases, which I love, filled with flowers and placed along a rustic wooden table. We moved these into the reception venue and had them feature as a backdrop behind the head table, which worked really nicely with the wood in the room. We also had lounge furniture that was a mix between old and new – the venue's modern, minimalist furniture and then a selection of colonial, wooden side tables and a Riempies bench that we hired. Over each lounge 'pocket', exposed bulbs hung in clusters.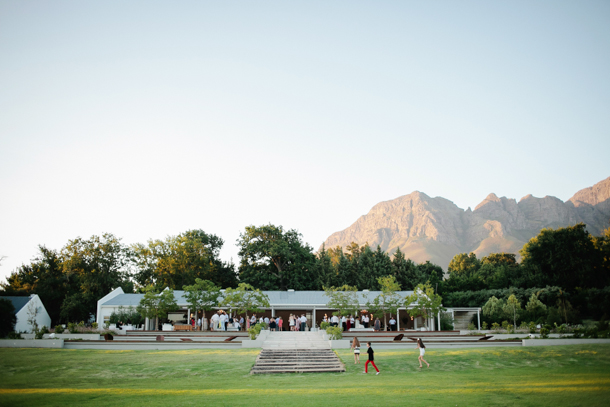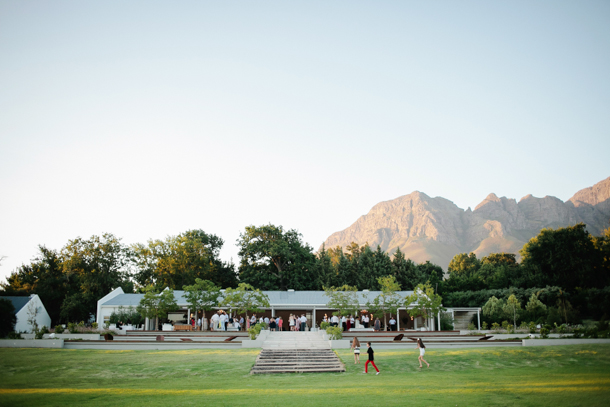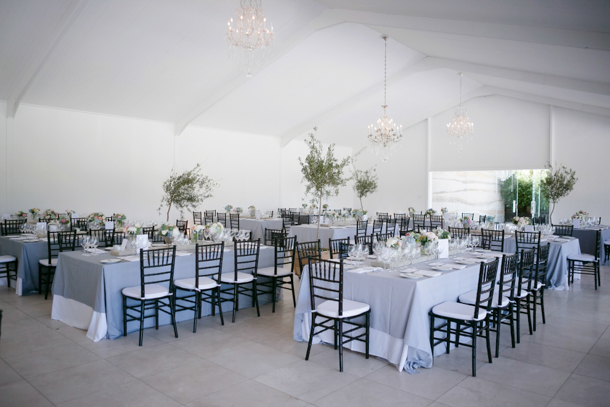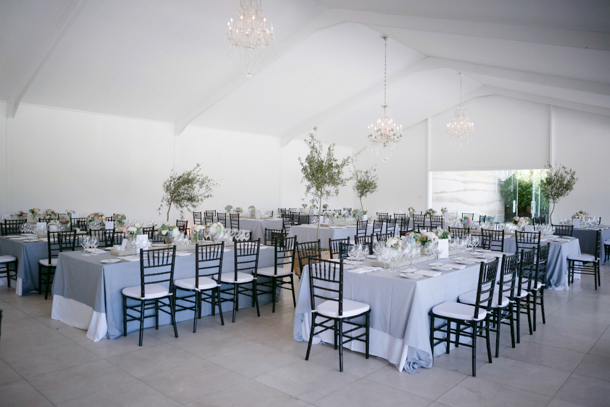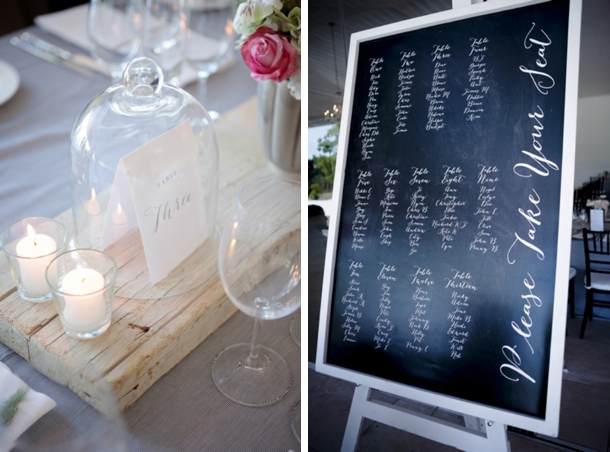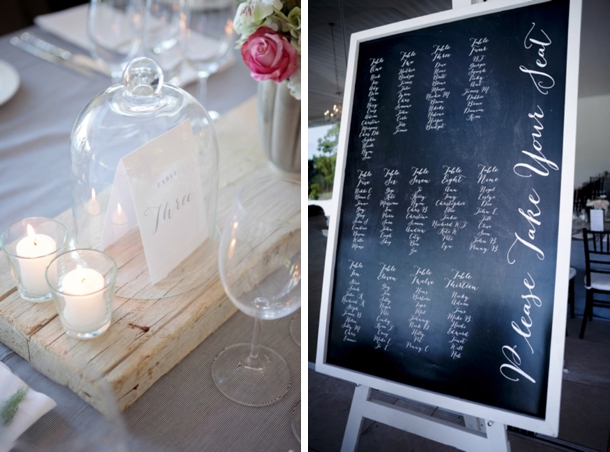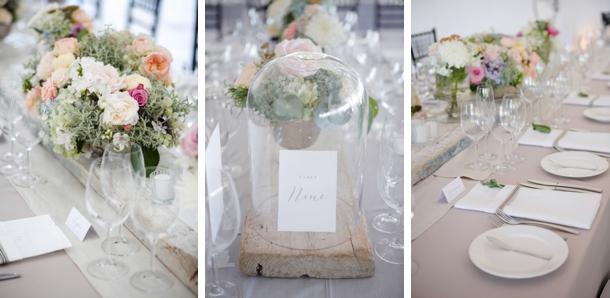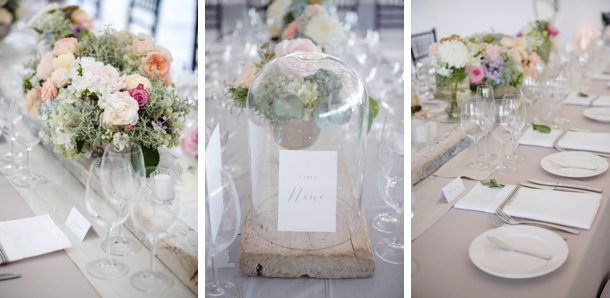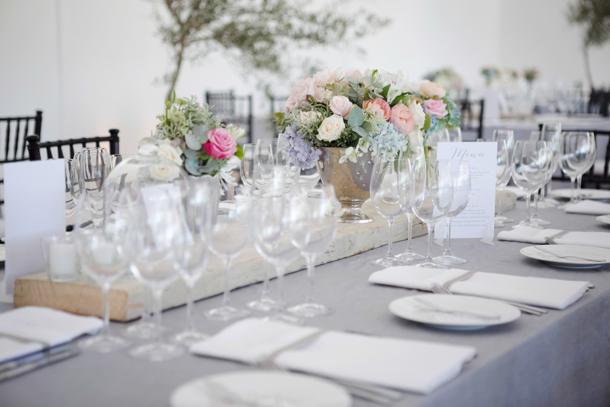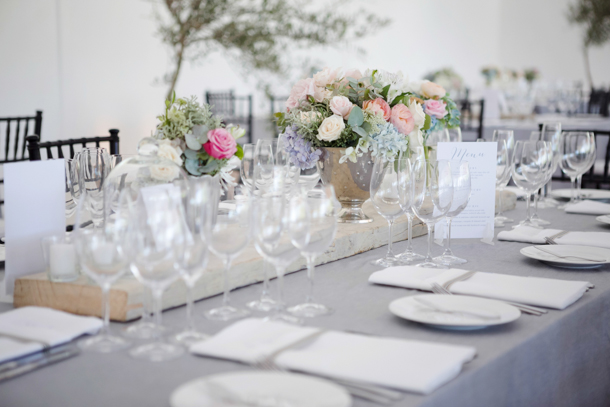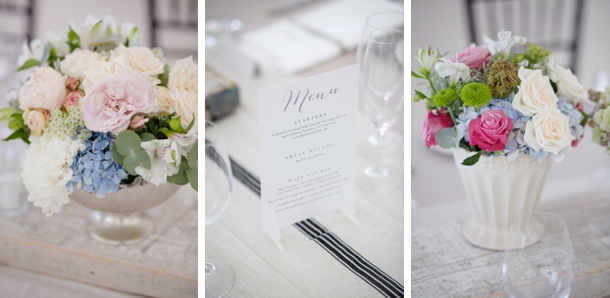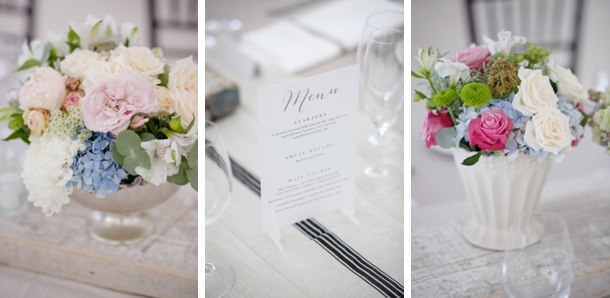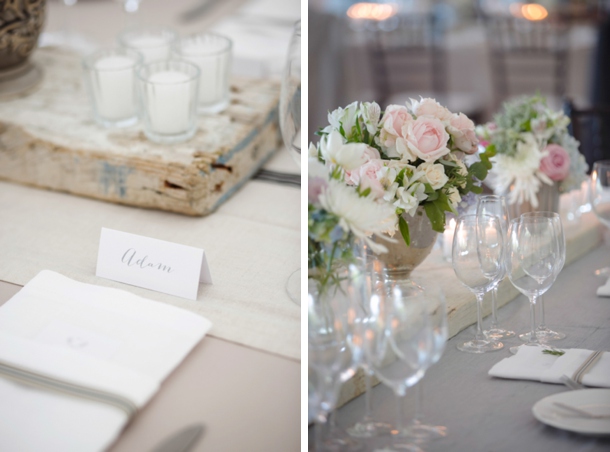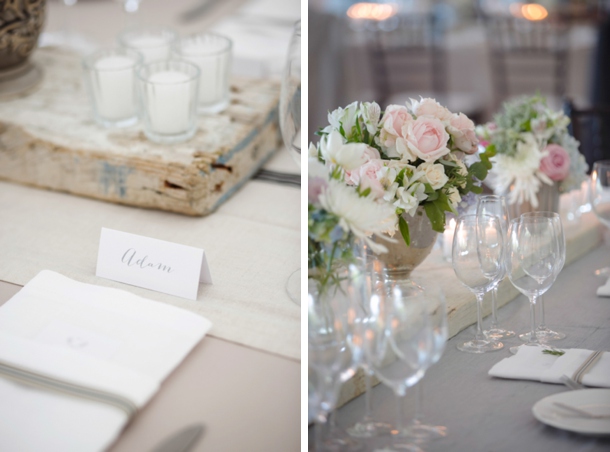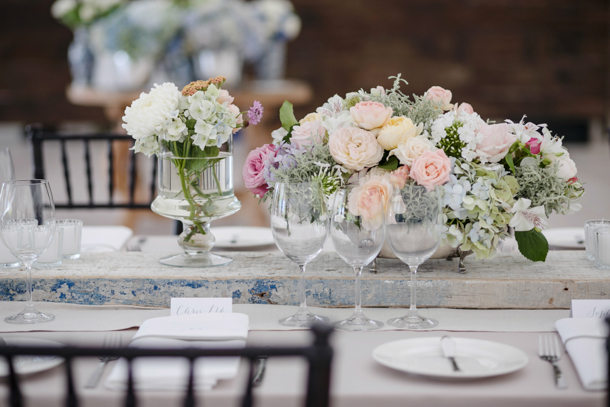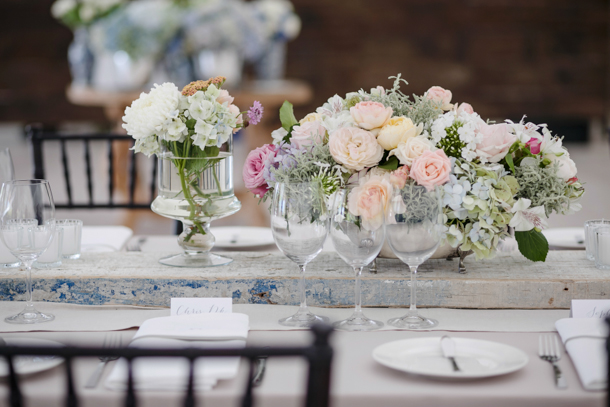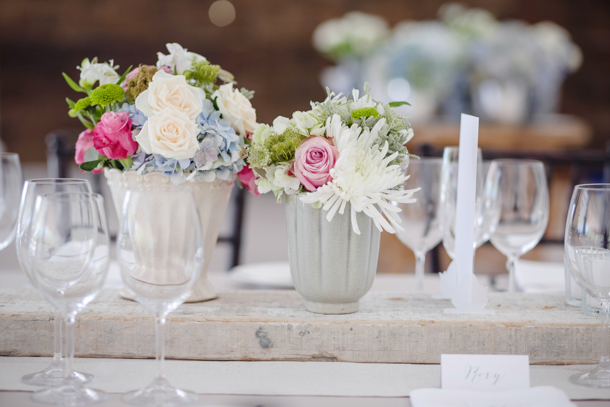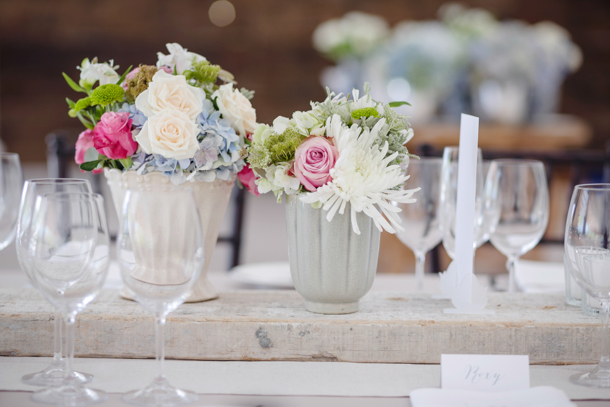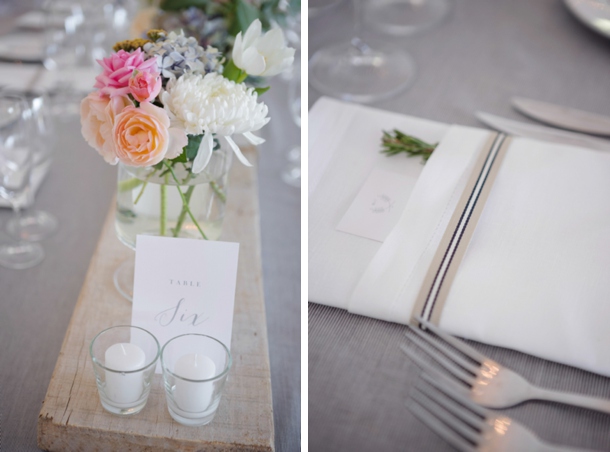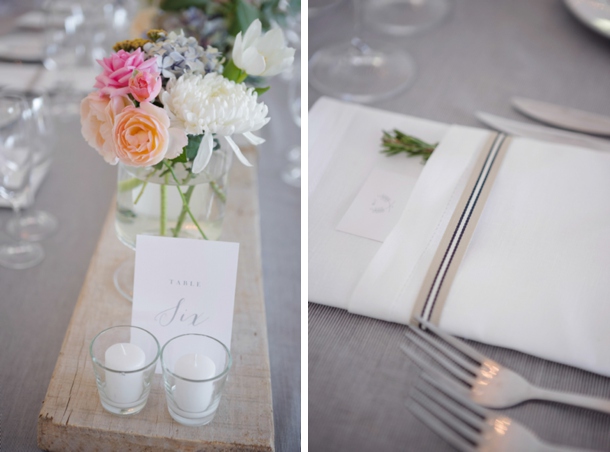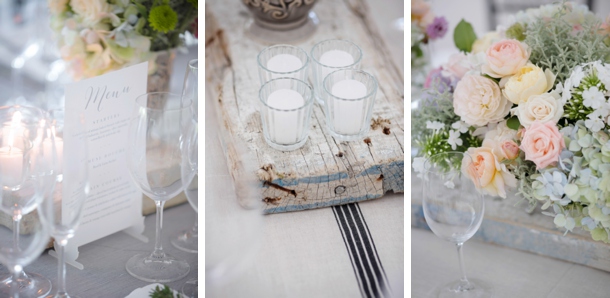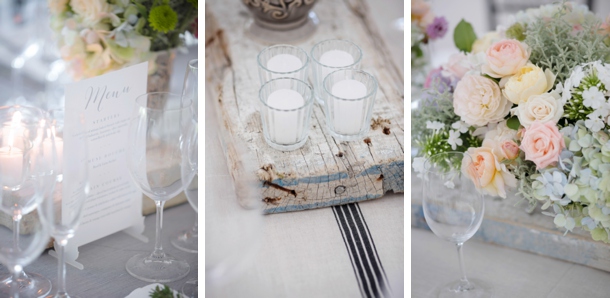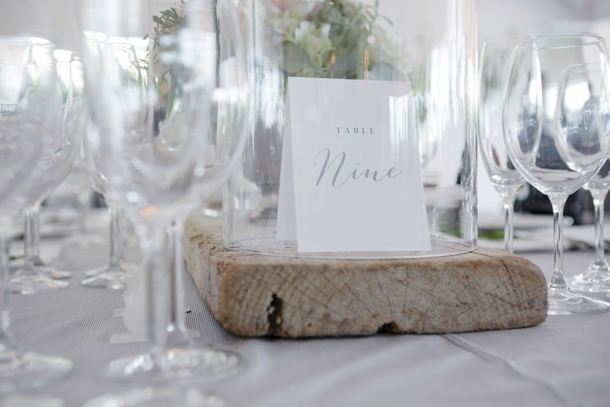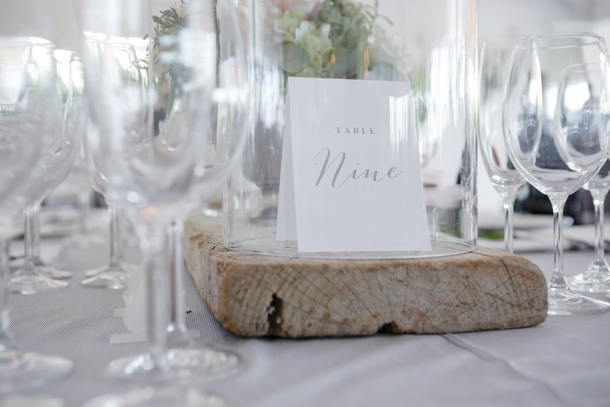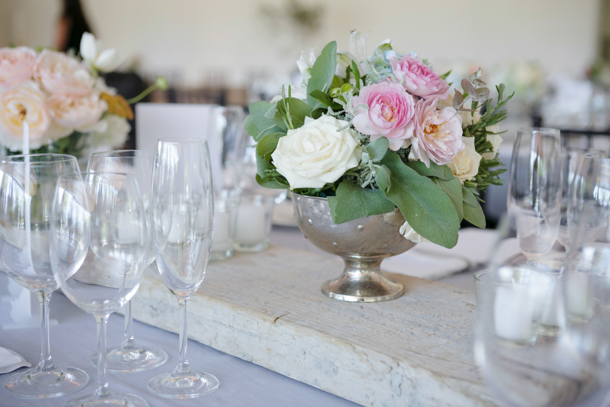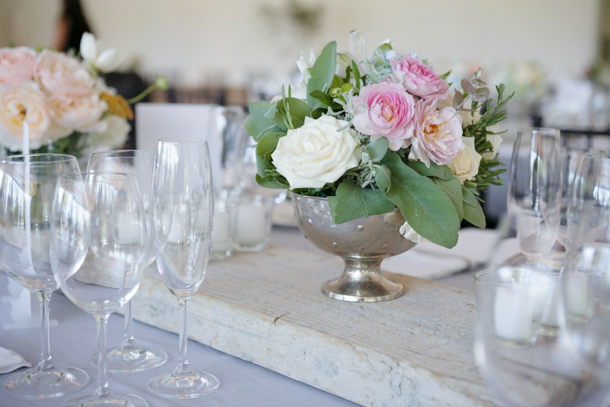 I think the ambience at our wedding reflected our personalities and relationship ie. we wanted to make everyone feel at home and comfortable. We didn't want it to feel too formal but it absolutely had to be elegant and chic. I think a major factor in making it feel this way was how we arranged the menu and food. We loved the idea of having big 'sharing' platters that were brought to each table for people to help themselves. It worked so well as guests really got stuck in and you could see everyone happily passing the platters around. It really did make it feel like a summer garden party. I loved everything from walking down the aisle and seeing Nick waiting for me (I don't think I've ever smiled as widely!) to watching my nieces and nephews doing Gangnam Style on the dancefloor. The highlight was having everyone we love under one roof!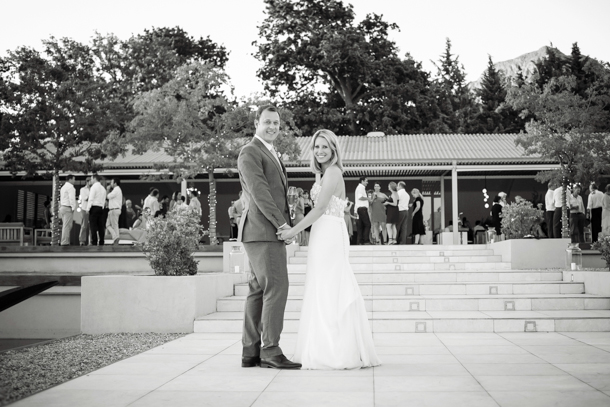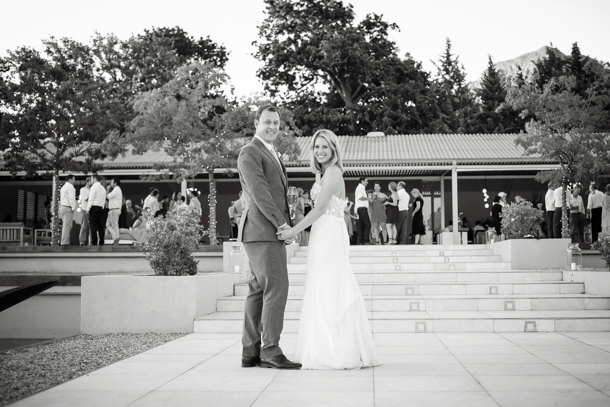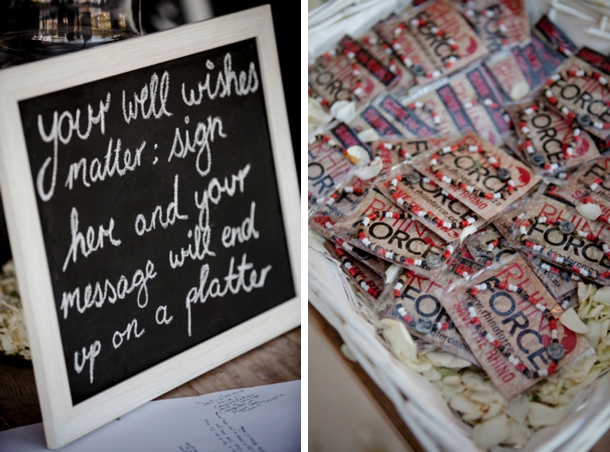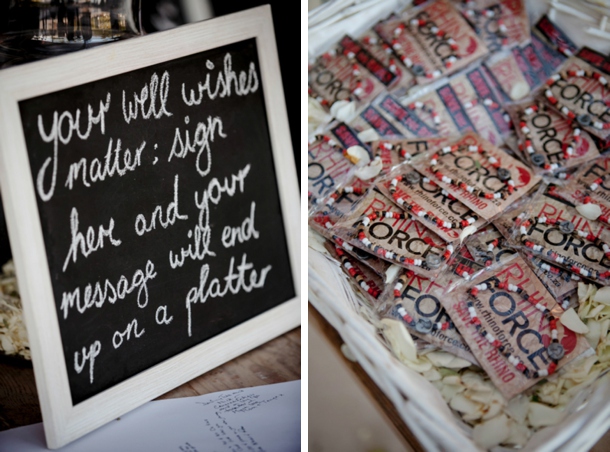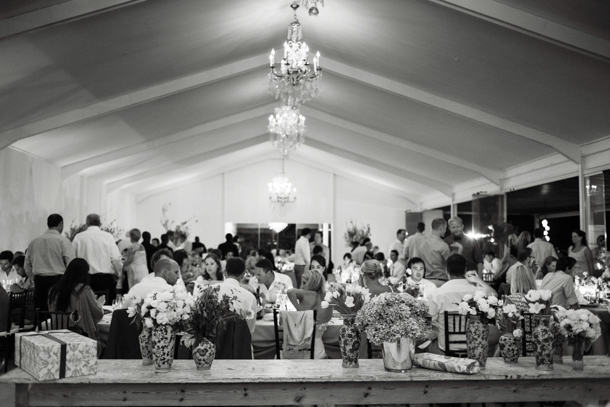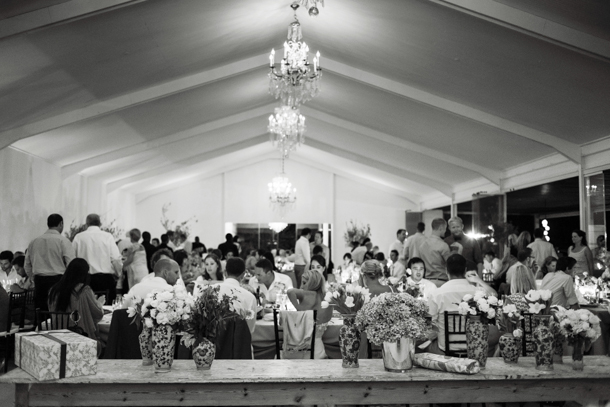 If your budget allows for it, definitely hire a wedding coordinator. Especially if you are planning a wedding from abroad. It really was money well spent and not only did it take the stress out of the planning but it meant that we could completely relax on the day itself and leave the worrying and organising up to someone else. I'd also advise you to have a pre wedding event so that you can spend some time with some of your guests before the big day – especially those who have travelled from afar. Then also plan something to look forward to a few weeks or months after the wedding and honeymoon. We had the most amazing honeymoon but post-wedding blues set in when we got back to a cold and rainy London after five weeks off in the sun! We very quickly planned a trip to New York for Easter.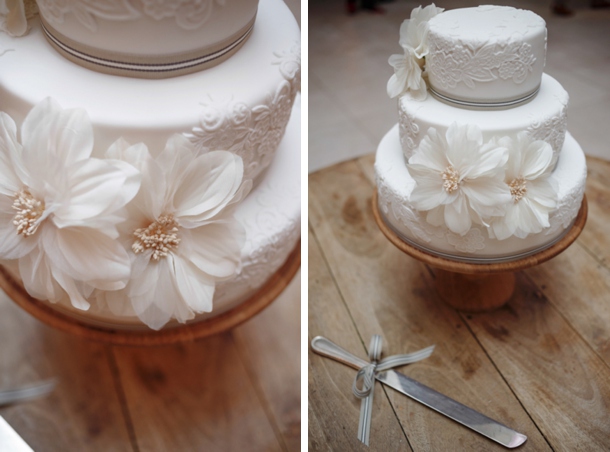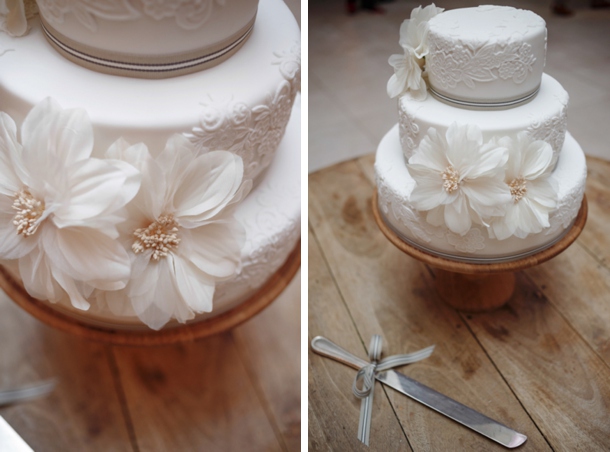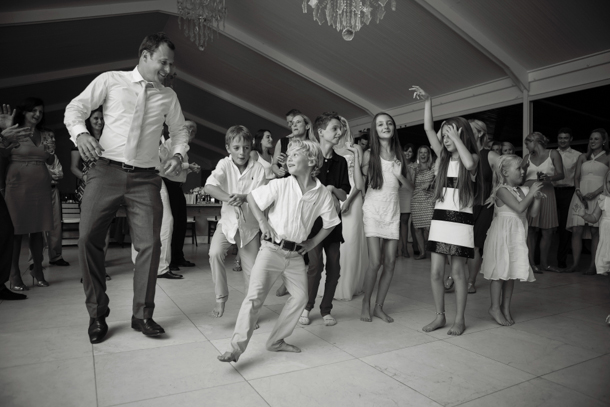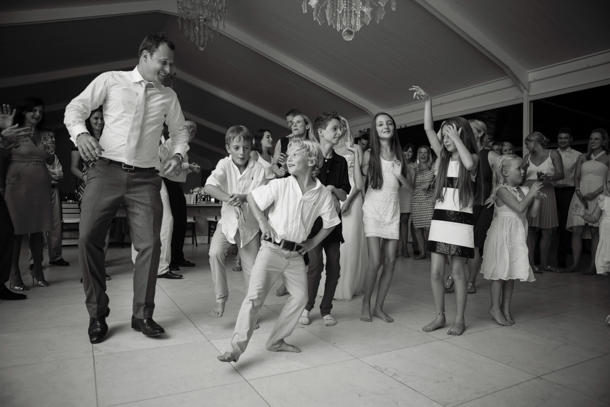 Thank you so much Tessa and Nick, for sharing your beautiful, beautiful day! Huge thanks and credit must as always go to Jani B., who graciously shared these stunning wedding pics with us. Check our her blog for more.
SERVICE PROVIDERS
Venue: Lourensford Wine Estate | Catering: Stir Food | Photography: Jani B. | Co-ordination: Kim Werner for Wedding Concepts | Flowers & decor: Okasie | Stationery: Lara's Designs | Bride's dress: Emma Victoria Payne | Bridesmaids' dresses: Marion Mellor (+ 27 83 384 9755) | Hair: Chantelle Thackwray | Makeup: Rose Bruins | Hiring: Urban Tonic | Hiring: Something Different | Entertainment: Shout Music Company | Entertainment: Me & Mr Brown | Ice Cream Stand: The Creamery | Video: Goosebump Productions | Cake: Roxanne Floquet
SBB ♥ Wedding Concepts, a featured member of our Directory