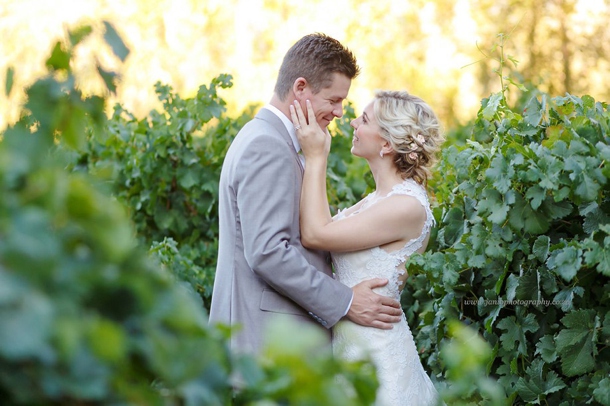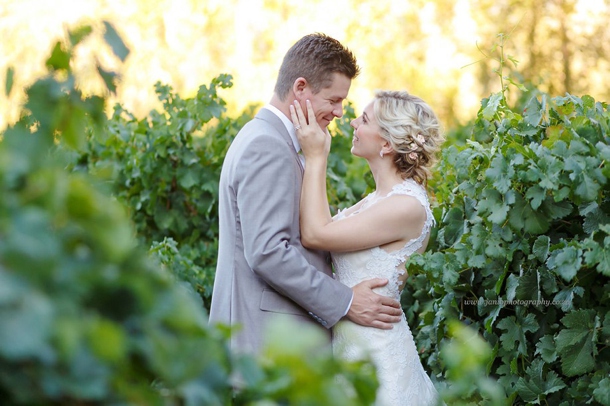 Happy Tuesday SouthBound brides – hope your week has got off to a splendid start! Mine certainly has, being in Joburg for a flying visit and seeing a couple of friends before I head to Kruger on Thursday. Can. Not. Wait. I am such a bush baby. Anyway, to make your week even more splendid, I have another beautiful winelands wedding from the fab Jani B. I absolutely adore the bright citrus palette that Amie and Cristoph used, their understated rustic styling, and my goodness, Amie's dress! Not to mention a macaron tower decorated with succulents to match the stunning bouquet – how gorgeous is that? Grab yourself a mid-morning cuppa, and settle in for a big fat dose of lovely.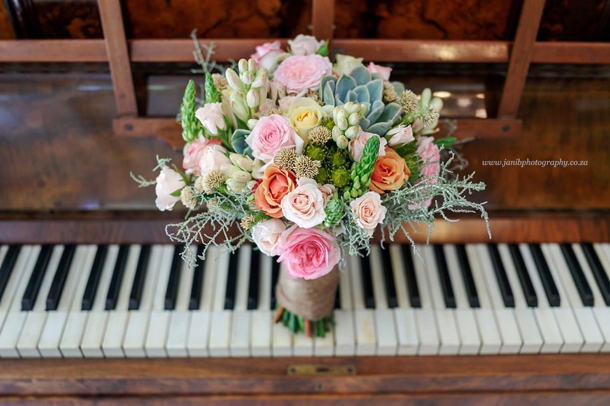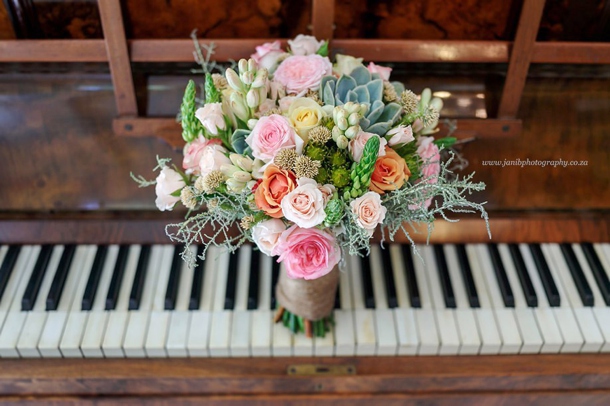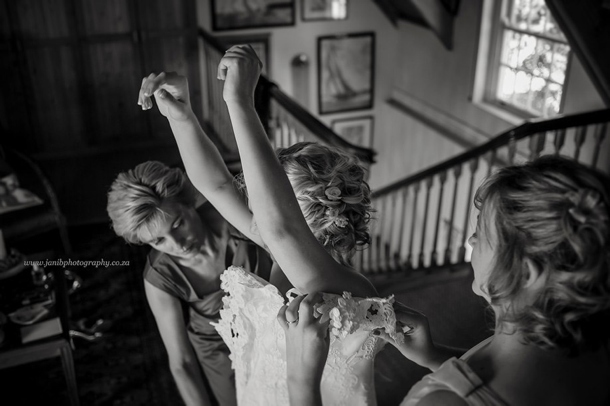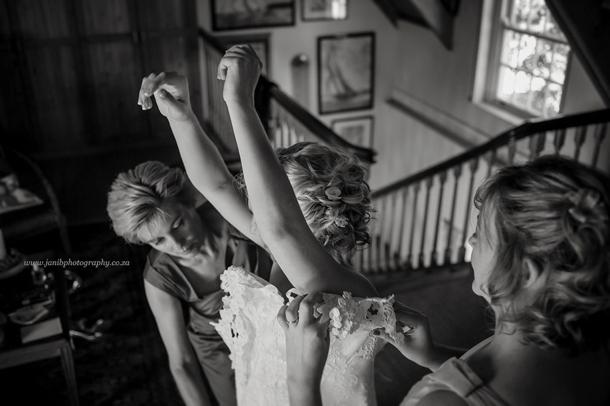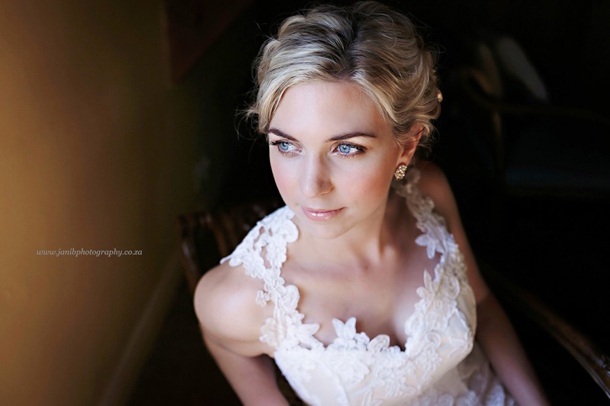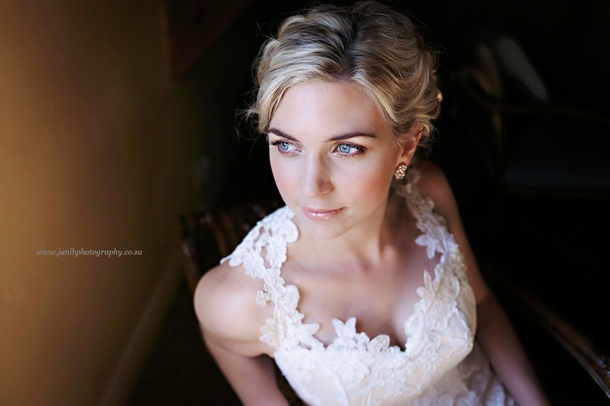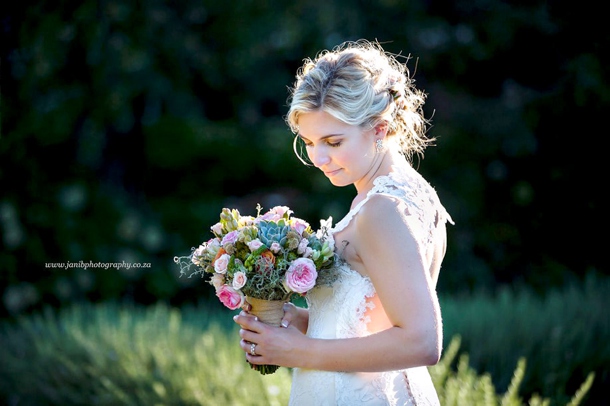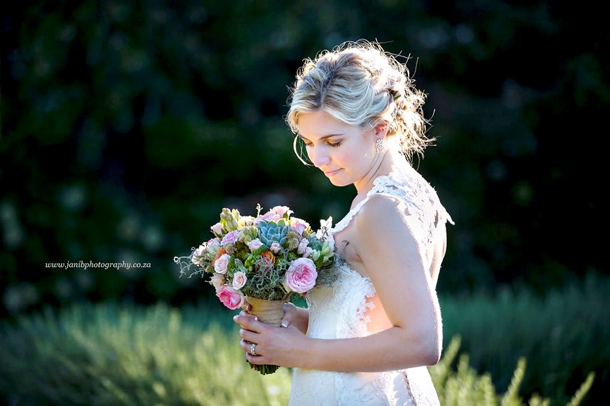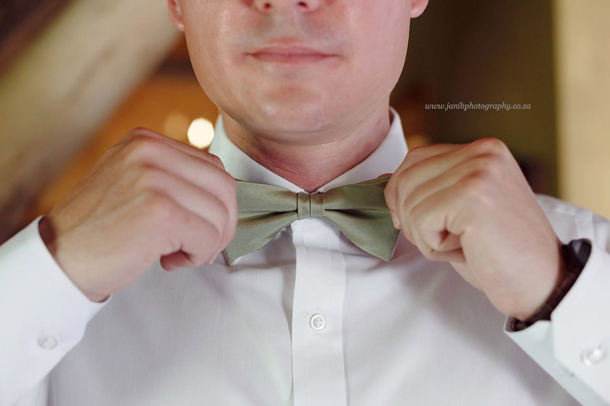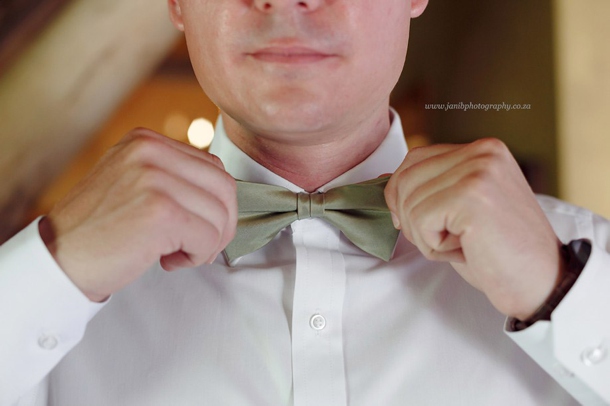 From the bride, Amie:
Christoph and I met on a dating website back in March 2009. I had joined the website for fun with my best friend Kelly. We only signed up for a month with the motto of 'if we're meant to meet someone, we will". Christoph had joined the website looking for true love, hoping that the love of his life was out there somewhere (those are Chris's words – not mine!). We chatted online a week before my subscription was dueto expire – we were a 99% match according to our profiles! I invited him for a coffee on a Friday evening. He declined due to prior arrangements. Not to be put off, I woke up early on the Saturday morning and decided to take the plunge and invite him for breakfast. He said he was pleasantly surprised at my spontaneity and we met at 9 am for coffee. The coffee turned into breakfast, which turned into more coffee and by 12 we reluctantly called for the bill due to prior engagements. Later that afternoon, he invited me for dinner and that evening whisked me away for dinner under the moonlight at Zoo Lake. This was truly the start of a beautiful friendship and love.
Christoph had placed an order for a beautiful engagement ring in July 2010. He had been thinking about when the best time would be to surprise me with a proposal and spontaneously decided that Christmas Day was it. A sparkly white box wrapped in ribbon was lovingly hidden under all the other gifts under the tree at his sister's house where we were spending Christmas Day with his family. There was a flurry of wrapping paper, and laughing and sharing as Christmas morning began with everyone opening gifts. There was one last one waiting to be unwrapped under the tree. I didn't think anything of it until Christoph was down on one knee beside me with the white box in his hand, with the family sitting closely around smiling knowingly. He asked me to marry him; the imminent 'Yes!' soon followed and the rest, as they say, is history!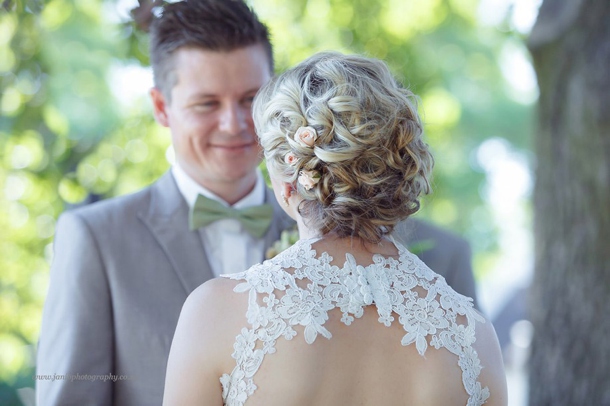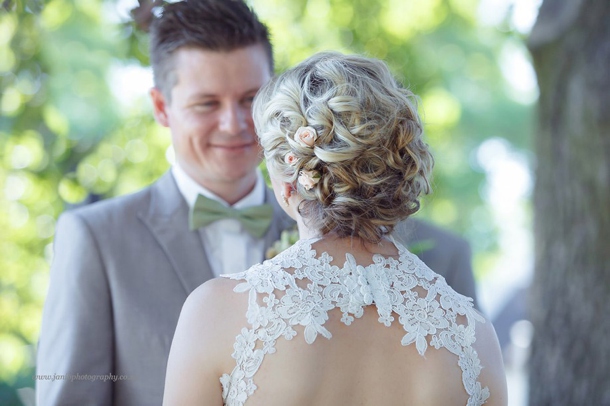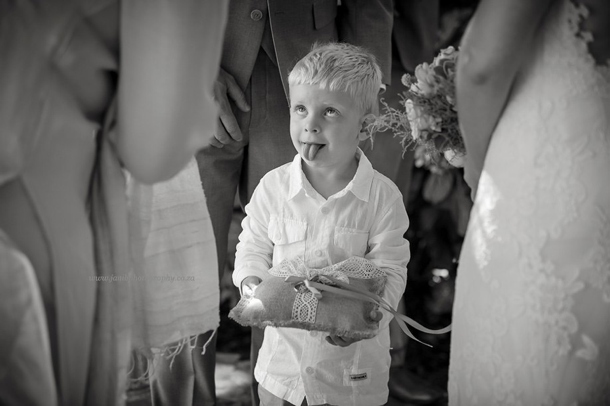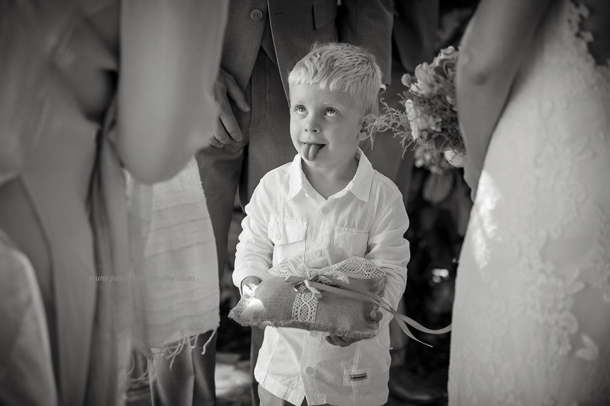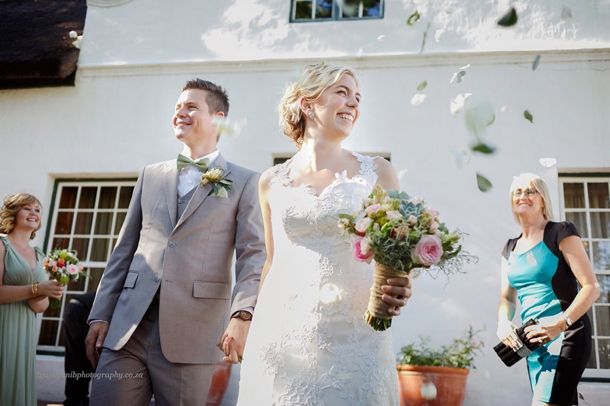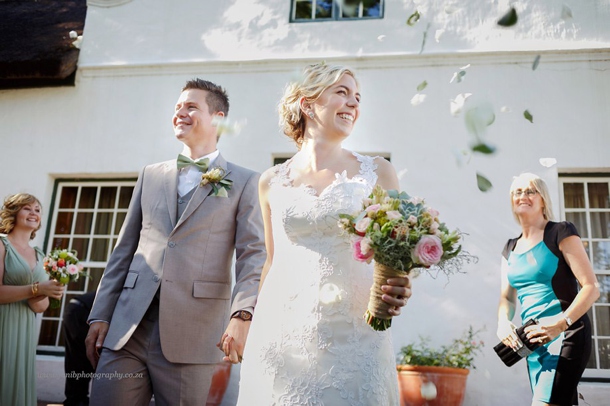 After going to a number of friends' weddings over the last few years, Christoph and I were in agreement that we wanted a small, relaxed wedding. We wanted a rustic setting and to have our ceremony outside as opposed to in a church or chapel. We were engaged for two years so we had time to save up and also find a venue. We are both wine enthusiasts and after a few laps of the 'Muldersdrift Mile', we decided to search further afield and looked for a venue in the Cape. When we drove into Palmiet Valley Estate, we knew it was the venue we were looking for, with a gorgeous ceremony area under three huge oak trees and a reception venue 'underground' in a wine cellar. The estate is surrounded by vineyards and beautiful scenery.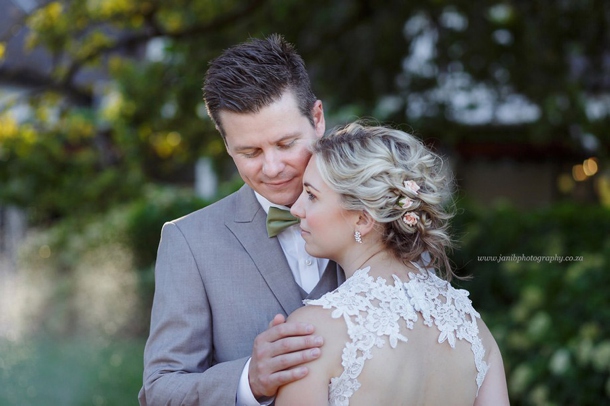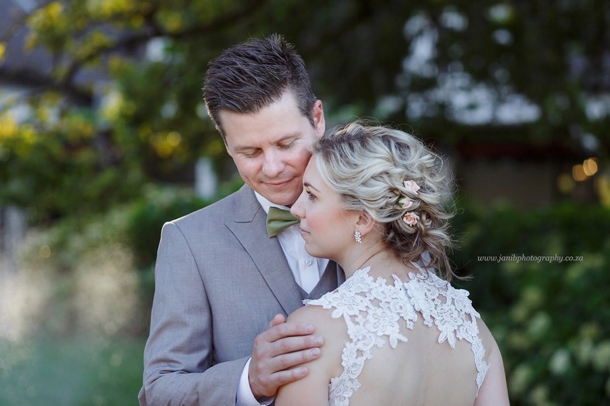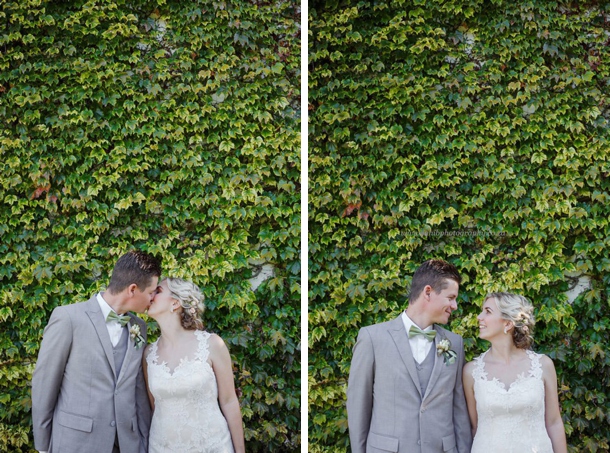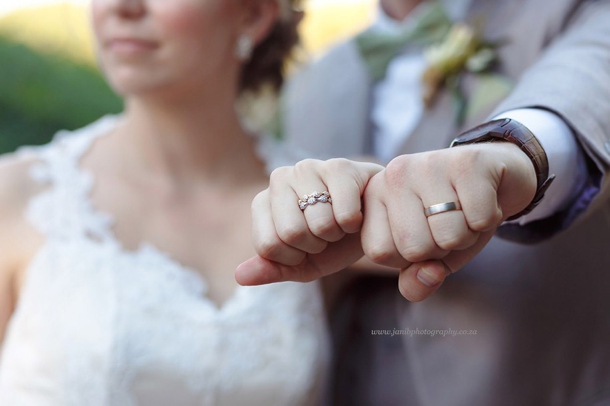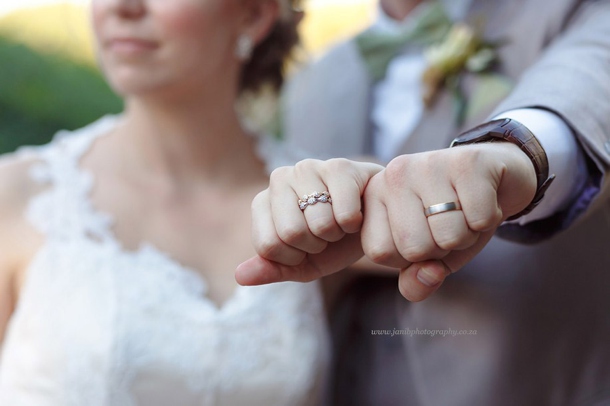 Christoph has real green fingers so we wanted to incorporate nature and natural elements in our wedding décor. I love the flower cacti (echiverea) as well as soft coral colours. We also wanted to have elements of cork, wood and chalkboards in the wedding. Above all, it had to be intimate, relaxed and comfortable with an elegant finish. We also wanted candlelight and glass jars in the wine cellar to create a beautiful soft light. A key word for our wedding décor was texture – I wanted the candlelight to pick up all the elements of our décor. Tanya Odendaal from Studio Bloem met with us and took all of our ideas and thoughts to the next level. I could not have imagined our décor being as stunning as it turned out. Every additional detail that Tanya added or finishing touch that she brought on the day only enhanced our original ideas.
Our photographer Jani Breedt from Jani B Photography was the first tick off the long list of wedding things to do. I saw her website and knew immediately that this photographer was the one. She played an integral role in creating the feeling we wanted for our day – she was relaxed, took candid shots, didn't make us pose too long or too much, made our guests laugh and always got their best sides. She really just captured the essence of our day. We both felt so relaxed with Jani and loved her work.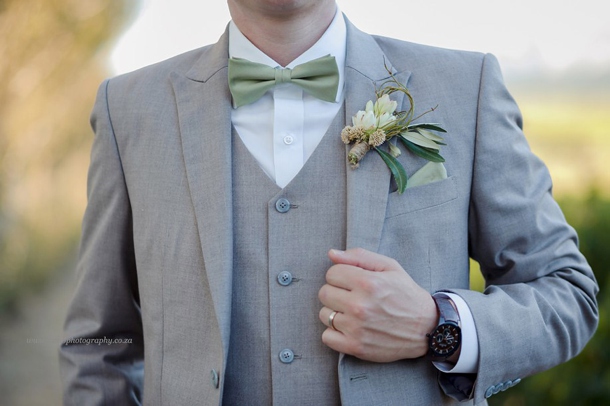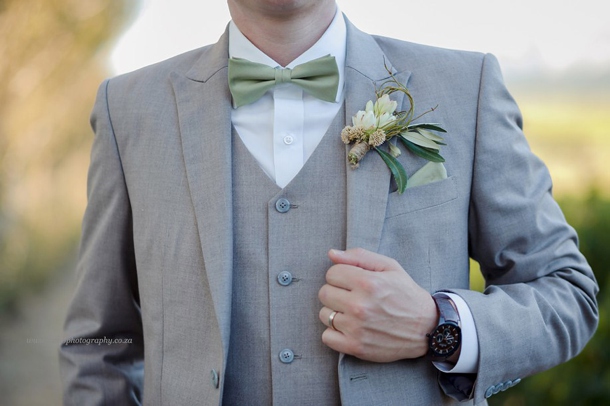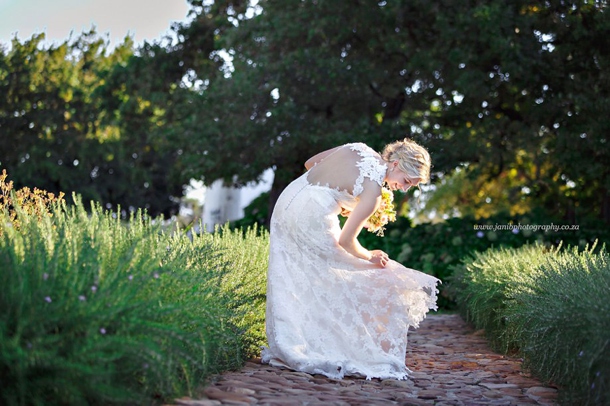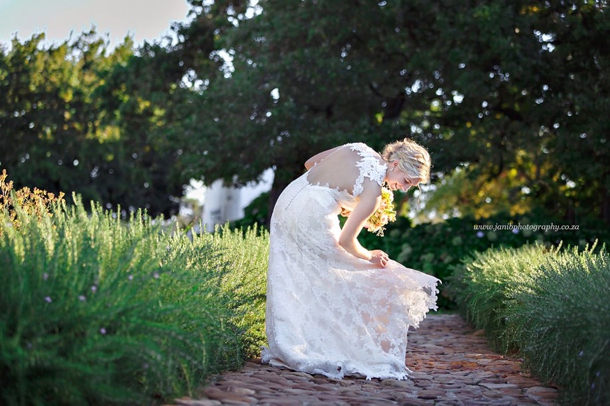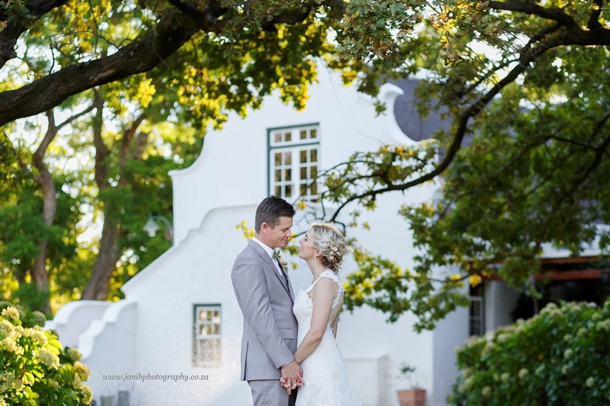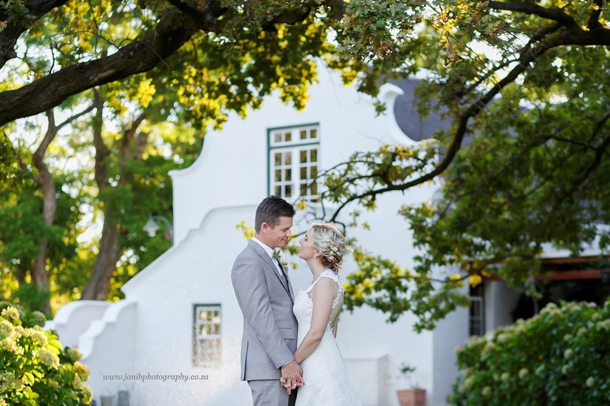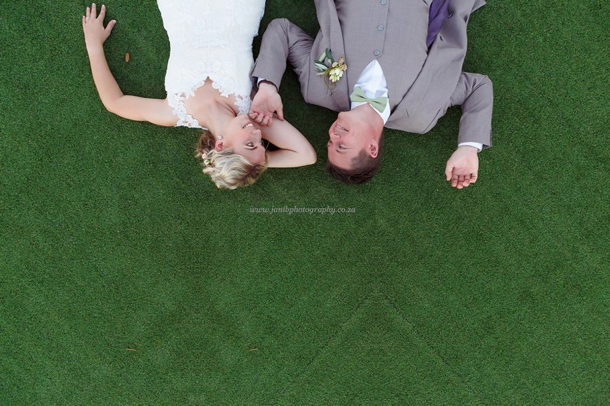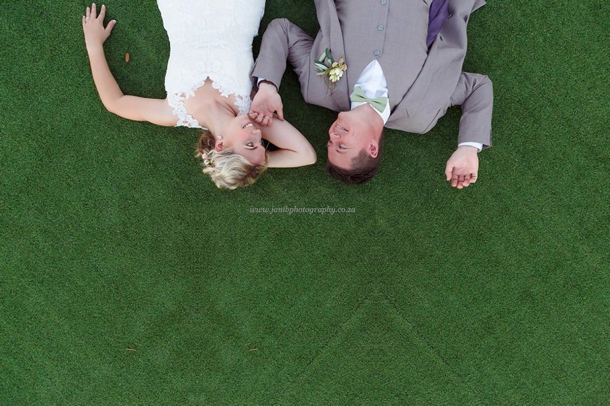 The place names were one of the first things we chose to do when we got down to the business of planning our wedding. As I mentioned, we're wine enthusiasts and the cork place names went perfectly with our wine cellar wedding reception. My best friend (bridesmaid), husband to be, my brother and my mother made them a few days before the wedding. We collected corks for about a year before the wedding and Palmiet Valley were kind enough to collect a whole lot for us as well. Christoph and I chose the thick 'lace' at a fabric shop in JHB. While we were there, Cristoph turned to me and said: "Why don't we make our own ring cushion?" (I had been looking for one for a while). I'm not the sewing or knitting type so I was a bit skeptical, but we made an afternoon project of it and after buying the hessian, stuffing, ribbon and thread, we made the most beautiful ring cushion! Also, because we made it together, it holds a lot of sentimental value for us.
We'd noticed at other weddings how some couples spend a fortune on wedding favours that either get forgotten, squashed or broken and we really wanted something different. We also wanted to donate some money to a good cause instead of just pouring more of our hard-earned savings into the endless bucket of wedding expenses. I stumbled upon The Heartfelt Project in a bridal magazine – they make little felt wedding favours in colours and designs of your choice (we chose the heart magnets in ivory with green and coral detail and got the animal magnets for the kids attending the wedding). They arrived within 48 hours of ordering them and the best part is all of the proceeds go to supporting the ladies of a rural community in Makapanstad.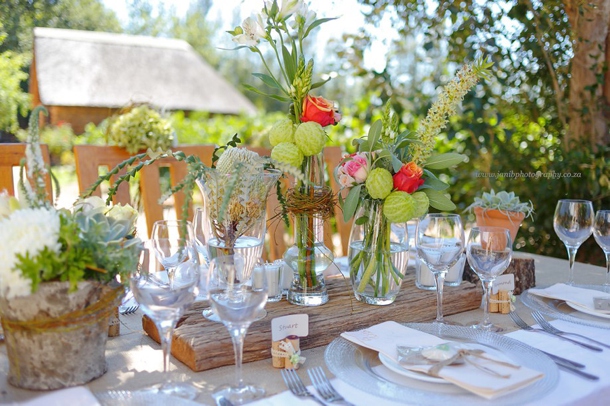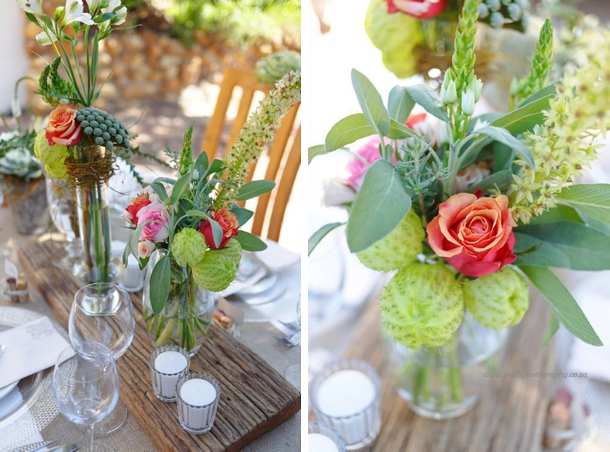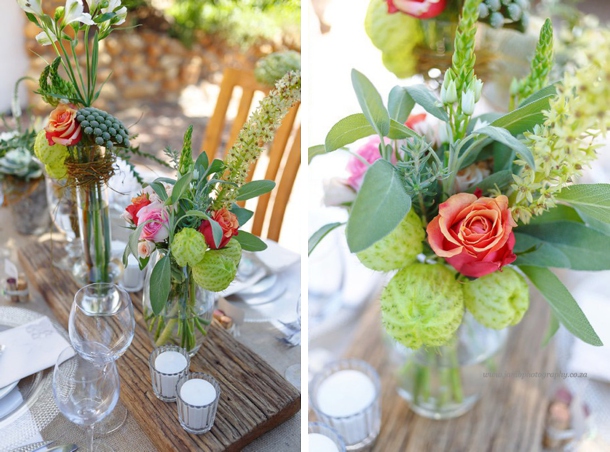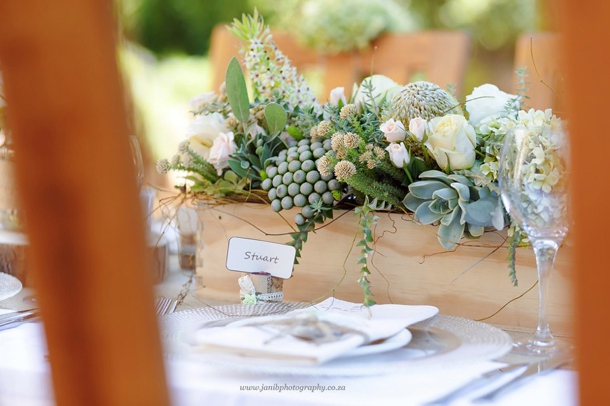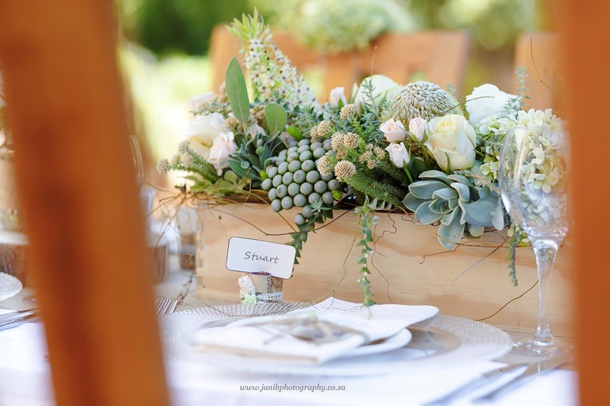 I have never been a girly-girl, so I never had the 'picture' of my dream wedding dress in my head. After going to a few boutiques and not liking the 'meringue' style, I found a picture online that took my breath away. I worked with a friend of my hairdresser's to design and make my dress, picking out the satin and lace with my Mom (a really special memory). When I finally got dressed on the day, I felt absolutely incredible. I have never felt so pretty in my life.
We loved having a destination wedding where children were invited. Most of our guests travelled from Johannesburg and made a long weekend of it, so everyone was in relaxed holiday mode. I arranged babysitters for the evening reception so that parents were relaxed. We also got to spend time with friends and family who had travelled from abroad both before and after the wedding – it was a very special time!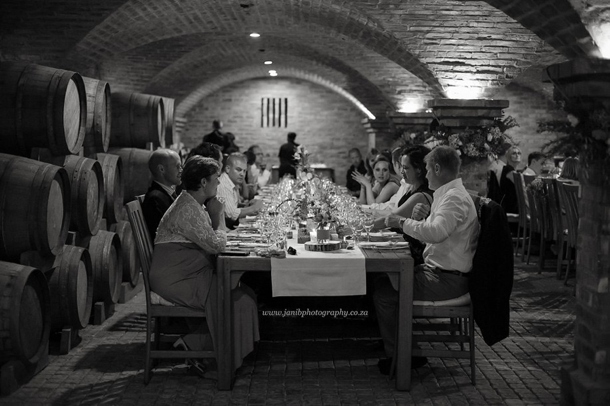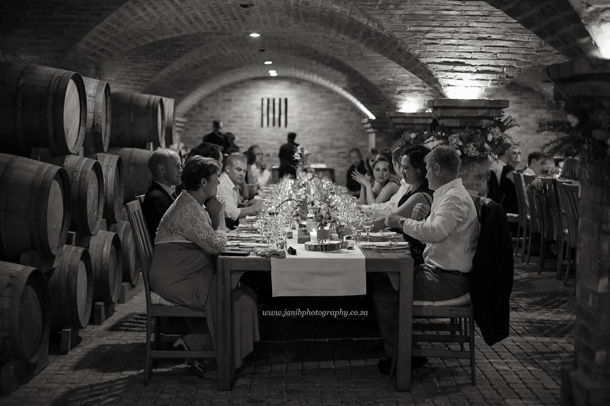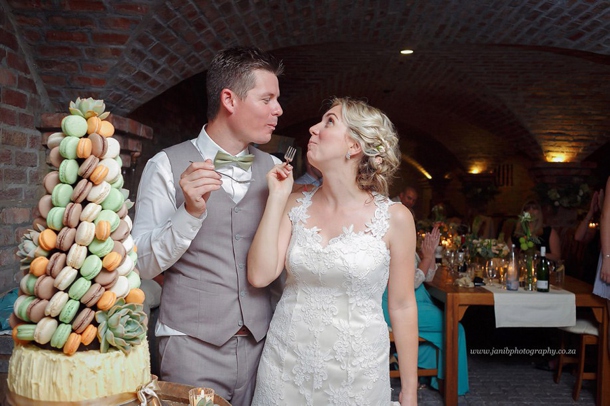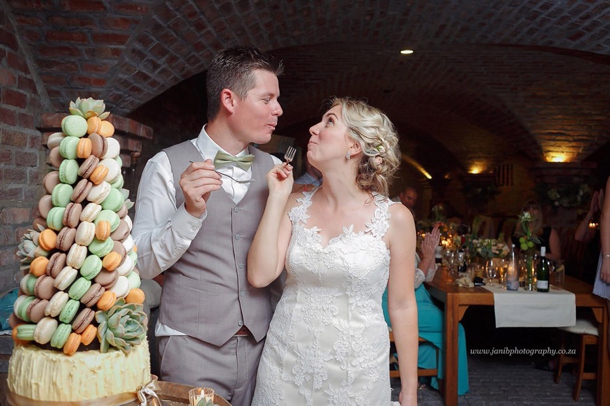 There is so much information available these days on weddings and while this is wonderful, it can become incredibly overwhelming. My advice to future brides is to take time out together to decide on what is important and what is not. While there may be some traditions you will want to include, there may be some that are less important – pick and choose the ones that suit you and your partner and stand strong on those things – you will have a lot of people trying to give you their two cents worth! Remember that you don't have to be the bridey-bride from the most glamorous magazine – be yourself – because that is the person your partner is marrying and that is the person your friends and family know. Have fun on your wedding day and be gracious – there are a lot of people there who have gone out of their way to spend the time with you. Most importantly (and say this to yourself over and over again!), remember why you are there – to marry the love of your life – don't lose focus on that!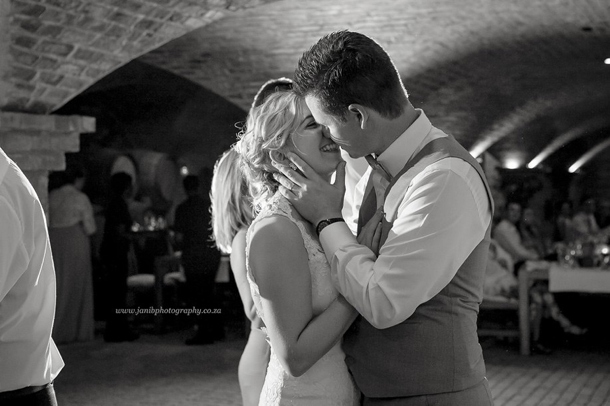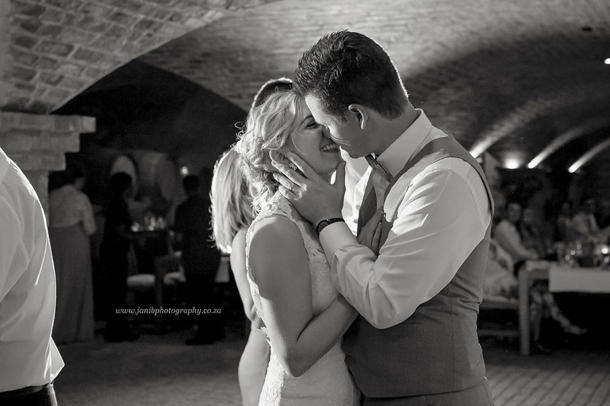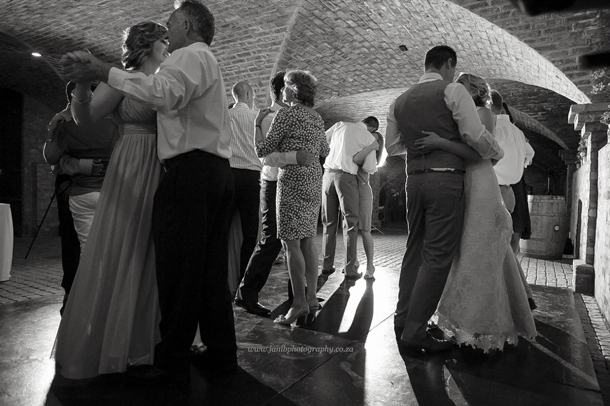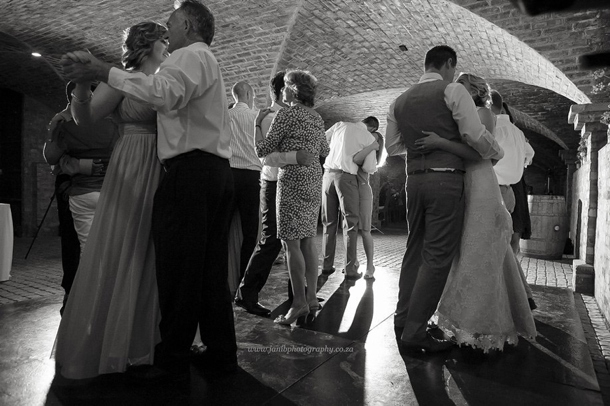 When we hit a wall in our wedding planning, a friend of mine from work gave me this little gem of a book (The Irreverent A-Z Wedding Guide: South Africa). It gives practical advice like how to work out your budget for the first time (all brides struggle with this) but it also has some really hilarious sections that make you laugh at yourself or understand why your family/friends/bridesmaids/best men/partner etc. are doing what they are doing and why. It also helped make some of those important decisions. Because it gives a view from the bride and the groom's side with a funny twist, it really helps take the edge off the stresses of wedding planning – and yes, we all eventually read that page about 'eloping'!
I'll second that recommendation for the A-Z Guide, and Amie's fab advice about being yourself as a bride. Or, as Shakespeare may have put it, to thine inner bride be true. Nope, he wouldn't have said that. But I am. ANYWAY, huge thanks to both our lovely couple today, and to Jani B for the gorgeous pics! You can of course head over to her site to see more.
SERVICE PROVIDERS
Venue & catering: Palmiet Valley Estate | Photography: Jani B. | Flowers & decor: Studio Bloem | Cake: niela's Deliciously Decadent | Bride's dress: Shirley Wing-Delpaul | Bridesmaids' dresses: Debenhams | Hair: Jess from CUT Hair Salon | Makeup: Nadia Calitz | DJ: Soundprint | Favours: The Heartfelt Project | Wedding website: Mod Wedding