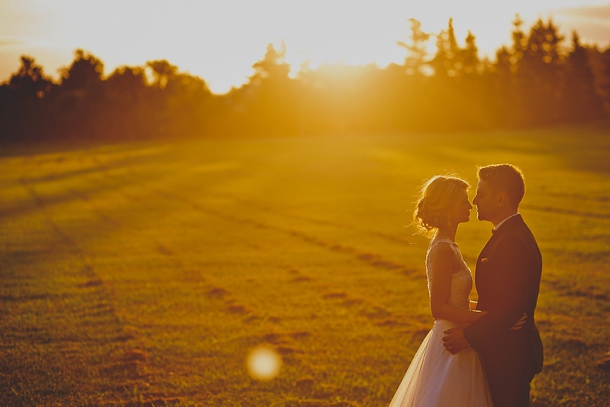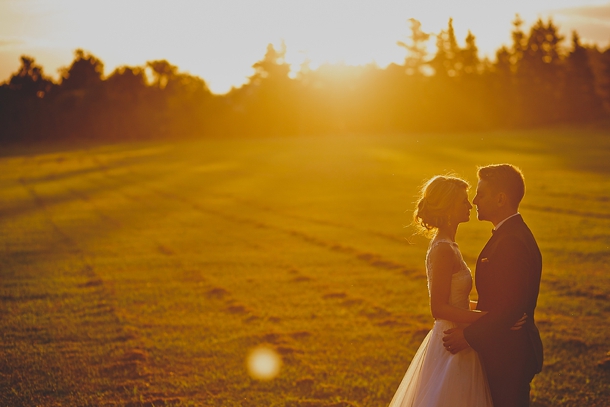 Today's wedding is extra special, not just because it's gaaaahwjuss (in different shades of glittering gold, I die), but because it features a couple who I feel are part of the SBB family. I've been working with photographer Bernard Bravenboer since the early days of SBB, and from his tweets I picked up that he had a sweetheart called Grethe (who assists him often at weddings). Fast forward a few years, and Grethe got in touch to ask my advice on some of her hiring, and when she told me what they had planned for their big day, I knew it would be beautiful! Seeing the breathtaking images by Du Wayne Denton, I wasn't disappointed – it's not just the sparkly, shiny loveliness, but the whole day seems bathed in a golden glow that can only be true love. There are some fantastic ideas here to inspire – I loved the dummy cakes, the white flowers against sequin linens, and the way that the couple wove a favourite CS Lewis quote into their day especially. Congrats Grethe & Bernard!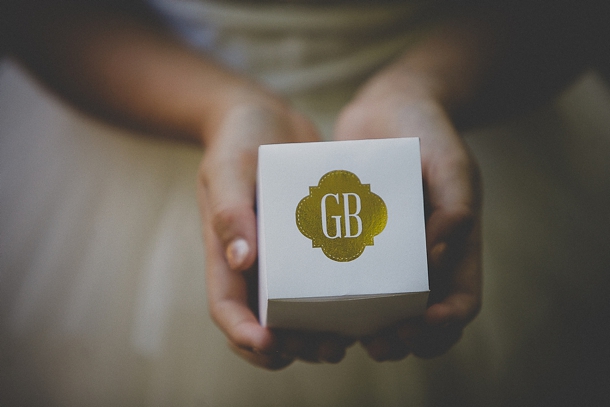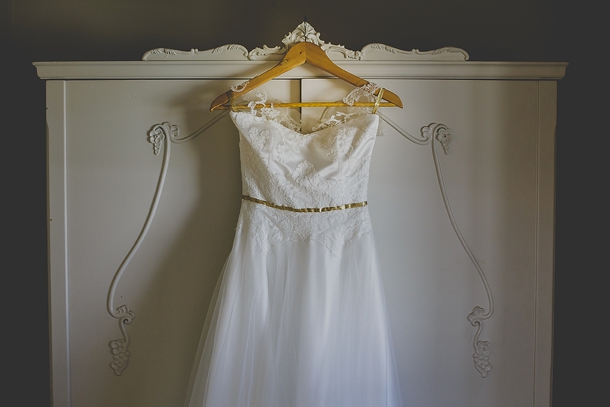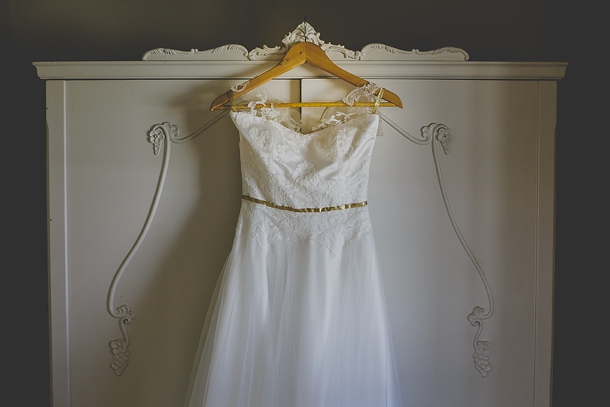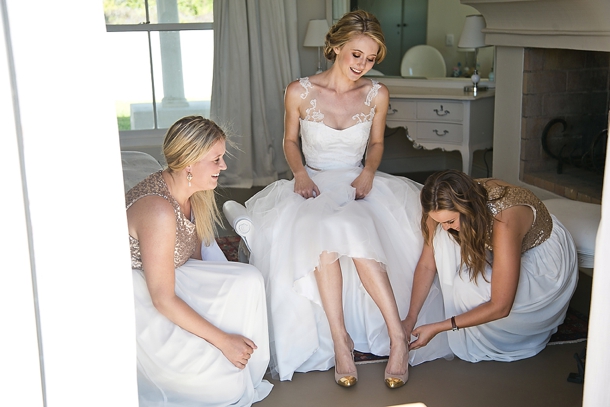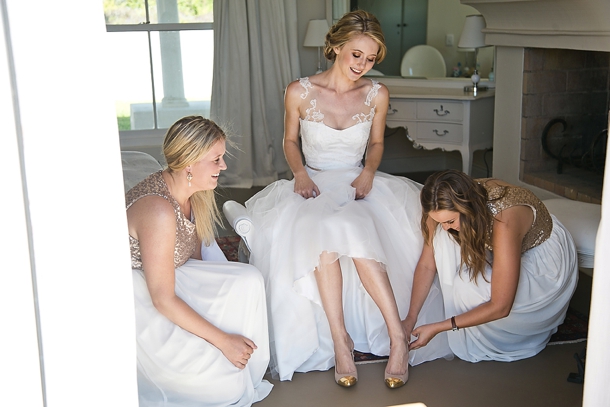 Love Story
We met during an outreach programme to Botswana with the church we were attending at the time. I (Grethe) was still in high school and Bernard was a student at the University of Stellenbosch. Although we grew up in the same neighbourhood, our paths never really crossed until the outreach. We became friends fairly quickly but decided not to pursue a relationship as I was on my way to university myself and wanted to focus my attention on my new life and all the joys First Year could bring. However, I realised soon enough that love cannot just be put on hold whenever I saw it fit and so in the middle of my first year at Stellenbosch University, we started dating. We dated for the next four years. Needless to say, we made it through a number of very hard and very wonderful life experiences and it made us even surer that we want to spend the rest of our lives together.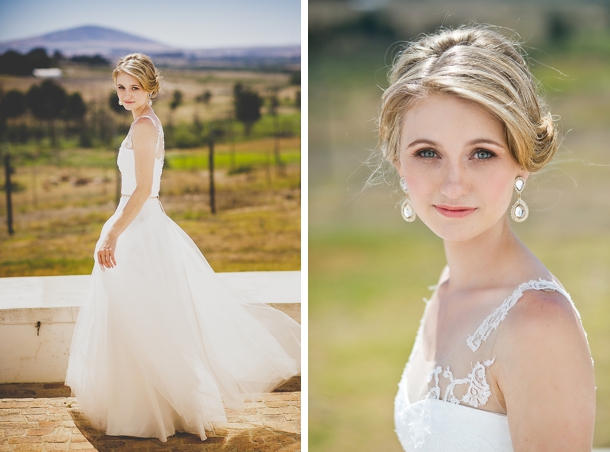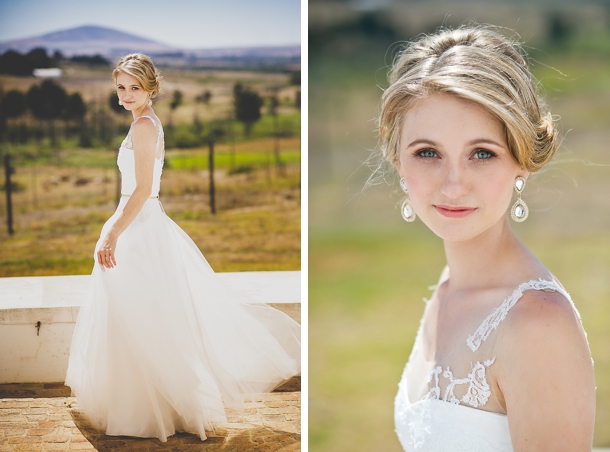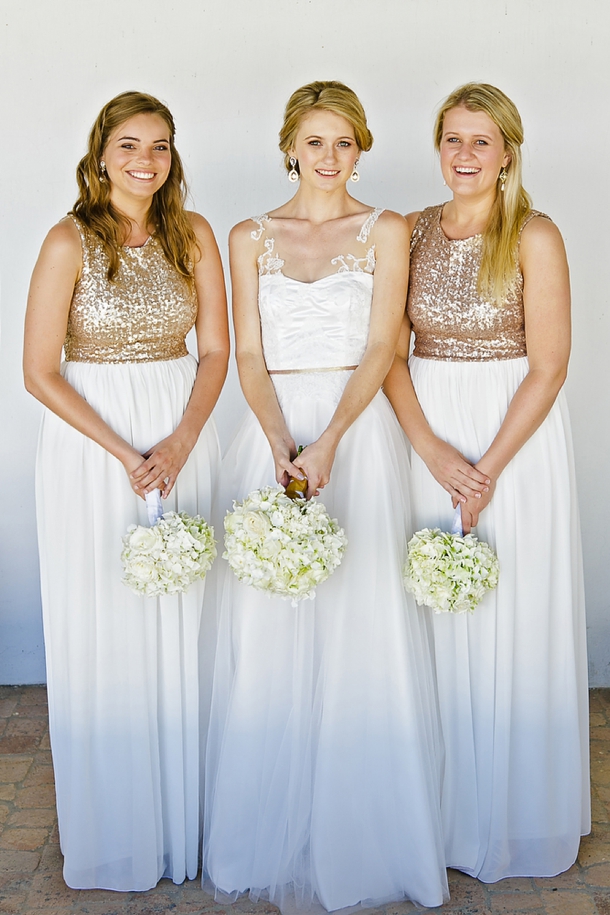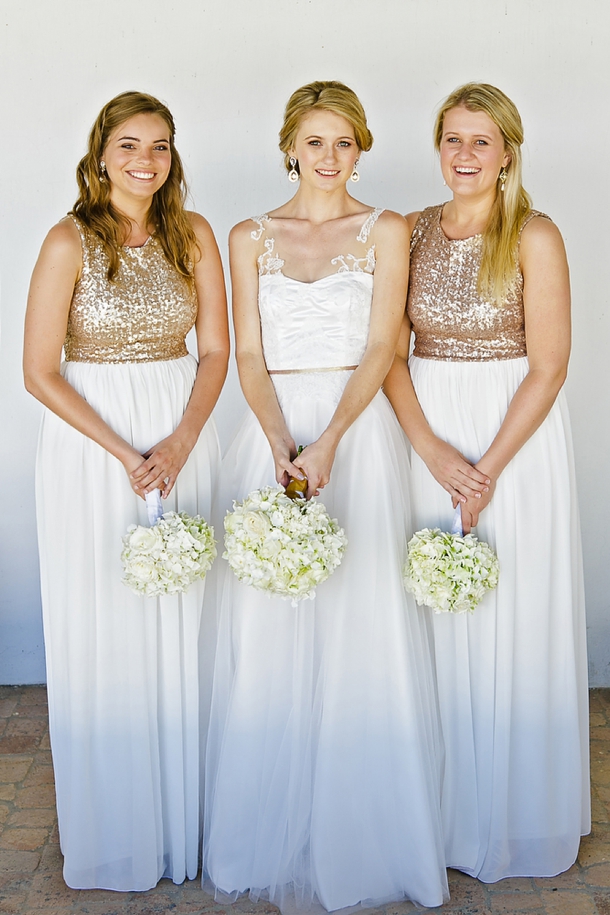 The Proposal
On a beautiful Sunday afternoon, Bernard announced that we were going out for lunch. After a bunch of arrangements he made (without me knowing) we finally got to our lunch booking on time. For quite some time, he has been telling me that he wants to start taking more pictures with his professional camera (he is a professional photographer) and so, he also took his camera bag along. Meanwhile, to steer me from suspicion, he took the ring box out of his camera bag and hid it in his car. Therefore, I thought nothing of it when I took the camera out to take a picture at the restaurant.
After having a wonderful lunch, he suggested that we take a drive around Chapman's Peak (my favourite route!). He even checked the weather while we were at the restaurant to see whether there was a chance of going up Table Mountain. Little did I know that his initial plan was to ask me in the cable car and that he in fact already bought tickets and was watching the weather for the last few hours! Unfortunately, Table Mountain was closed for the day. Eventually we decided (well, at least I thought it was a unanimous decision) to drive up Chapman's Peak. We finally stopped at a lookout-point where quite a few people have been stopping to get out and take pictures of the view. I thought nothing of it when Bernard also took out his camera bag and a tourist-looking couple with their two children stopped behind us, doing the same. I went to sit down, when Bernard suddenly requested that I should stand up for a picture. As I got up, he got down on his one knee and asked me (in the most beautiful Afrikaans I have ever heard) if I would be his wife. I was overwhelmed with emotion. Only later did I realise that the camera bag was an excuse to keep the ring box in and the tourist-looking people behind us, were actually an arranged photographer to take pictures of the whole thing! It was the most special moment in my life and I was astounded by my fiancé's creativity.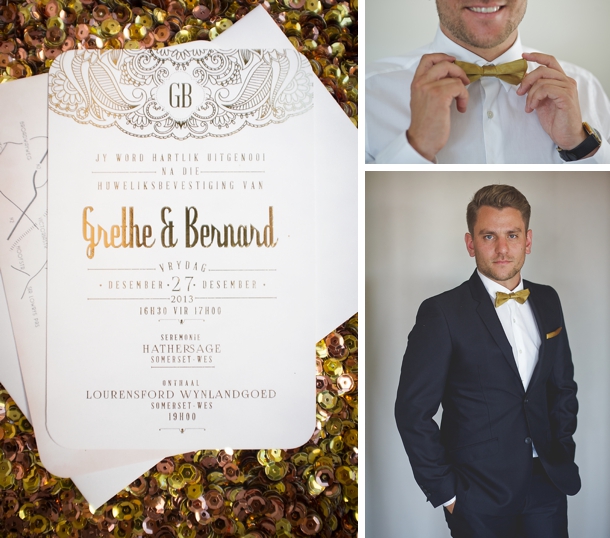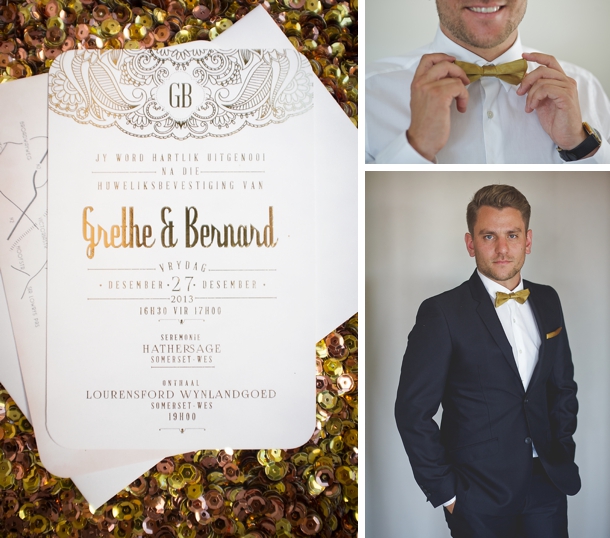 (pic above left by Bernard/Grethe Bravenboer)
The Venue
We wanted somewhat of a white canvas with which we could do anything we want, but I also have a great big chandelier fetish. I always imagined getting married in the mirror hall at the Palace of Versailles, so that was entirely the look I wanted to create, but with a bit less 'over-the-top'ness ;) Of course, I also love big oak trees like the ones found all around Stellenbosch, reminding me of when we first fell in love. When we drove into Lourensford and saw the lane of trees, I fell in love with the place. The glass panes of the venue hall cascading open onto the beautiful veranda overlooking the open, neatly-mowed field and the surrounding scenes were just too perfect to say no to.
I also really badly wanted to get married outside, but it proved (quite honestly) to be a bit too expensive at Lourensford. So we found this wonderful, beautiful place tucked away next to the river less than 5kms away from Lourensford – Hathersage. They had the best facilities and enormous tree under which we already imagined standing from the first time we saw it. It also had this fairytale forest to the edges that made the most beautiful pictures. 
Wedding Style
Being people who have both worked at numerous weddings and have been guests at quite a few as well (being the youngest in both our families), we wanted to have something timeless and elegant with a few 'original' touches. I say 'original' because when you've had so much exposure to the industry as we've had, you know that nothing is truly original, although every bride would like to think that way.
We decided on a gold and white colour scheme with various shades of gold (rose gold, bright gold, old gold) complementing our big white canvas (which was the venue). I really loved all the theme boards on Pinterest with this colour scheme and it also went very well with my ring, which I absolutely adored.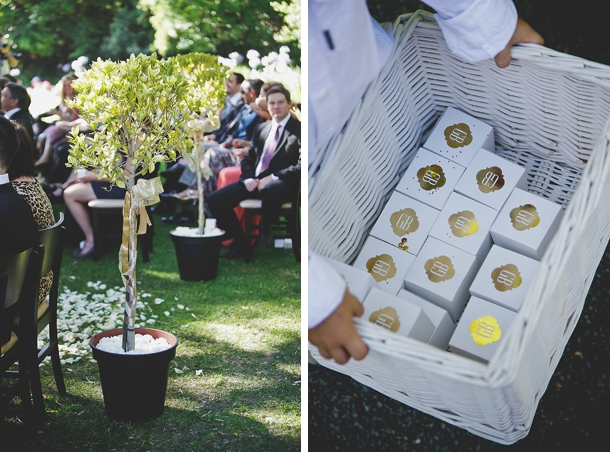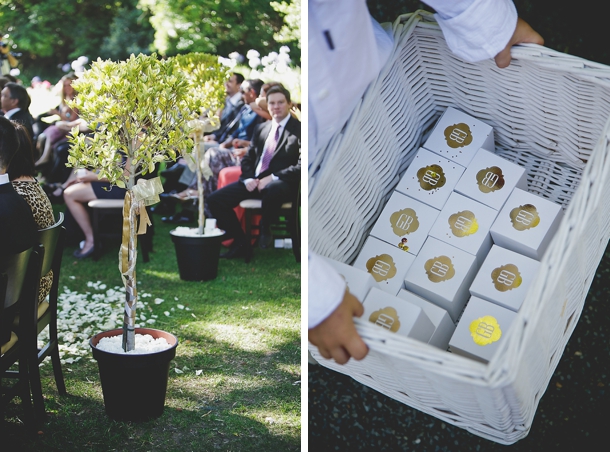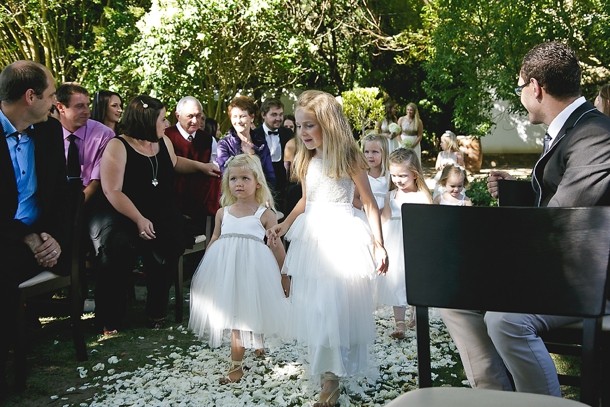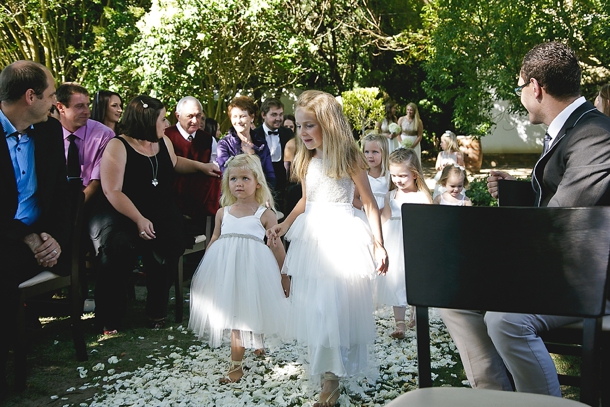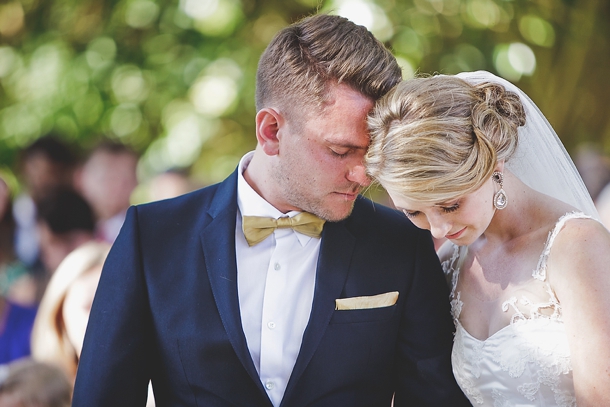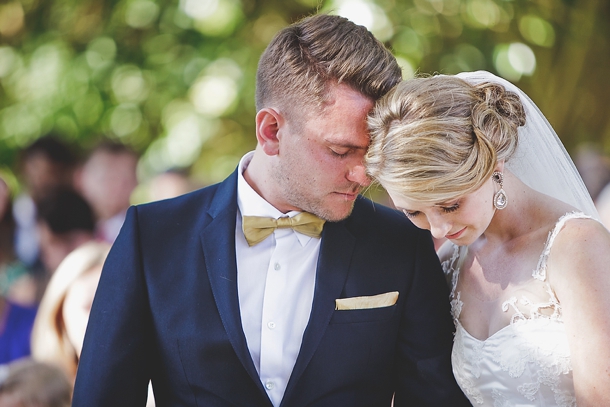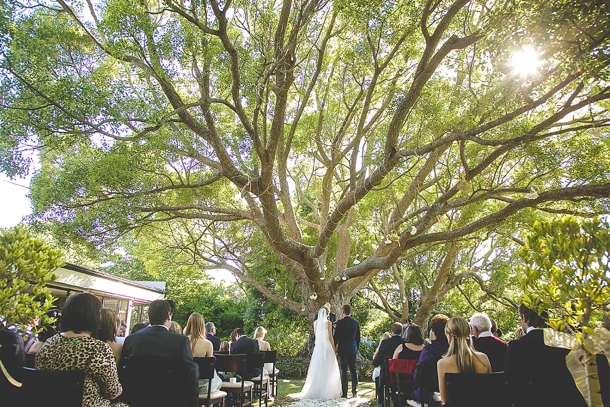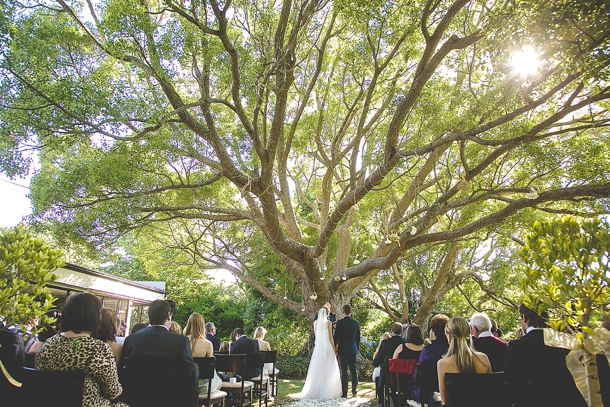 Wedding Details
Since we made it through what feels like a very big part of both our lives, we really wanted to tell the story of what it means to truly 'love' someone and not merely just 'be in love' with them. A big part of the pastor's message emphasized this, as well as the importance of a community of friends who must be sincerely interested in both parties' wellbeing and support them as such. We chose a CS Lewis quote to tell this story, putting versions of it on various items related to our wedding – the invitations, the banner for the reception, etc.
Another thing that was really important to Bernard, is not having guests ruin pictures because they themselves want to take some – especially during the service. So we decided to make the service an 'unplugged' one where guests were not allowed to take pictures or use their cell phones.
Both our families already have many kids of their own and so we wanted to make use of their children to make our day special, seeing that they are also a special part of our lives. My sister-in-law made them the most beautiful dresses and they were all my flower girls (7) and the boys helped handing out confetti (3). We also had a special section for them during the reception that my mother prepared with goodie bags and lots of things to keep them busy. The big lawn also helped!
We were really set on our tablecloths from the beginning. Bernard has a bee in his bonnet about white tablecloths being ironed and folded and then spread open on the tables on the morning of the wedding. The creases normally still show and although it seldom bothers anybody, to a photographer, this is very annoying! Therefore we thought having a very heavy weight fabric that happens to look like a glitter-explosion (exactly what I was going for), would be perfect! Seeing it all over the internet and Pinterest, we really didn't think it would be hard to find in South Africa, but it was. We even considered at one point to buy the fabric (VERY expensive) and have it sewn up and hire it out ourselves afterwards to pay it off. Luckily we did not have to go to such measures as we found the tablecloths at Uber Chic but this is certainly a great story of our day.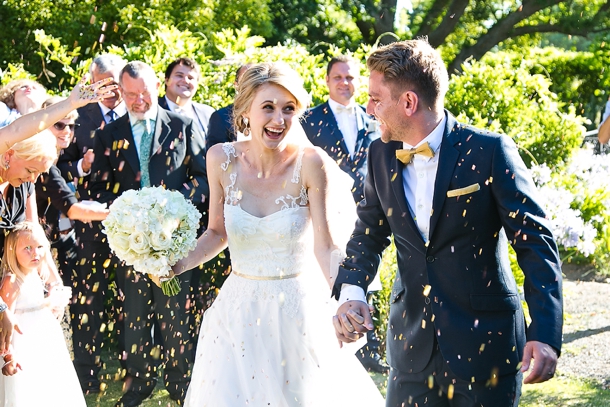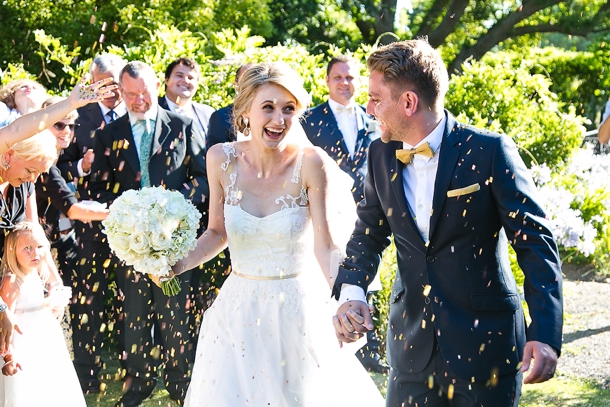 DIY Elements
Idon't know if this counts, but we didn't have a wedding planner. Since I have been a little girl, I wanted to plan my own wedding and Bernard (being in the industry) helped tremendously with this task! We planned our own wedding :) We also had a few DIY projects: the banner mentioned above, the monogram signs on the coffee tables used with the canapés, ALL the candles dipped in glitter (we had to spray them with a special adhesive spray and roll them in loose glitter – it took us about two days to do all 90 candles!), the sequin confetti (we had little boxes made but then had to divide a bucket full of confetti between them), the diamonds on my veil comb, stickers with our menus on the venue walls (it took five people to get it up there in a straight line – so grateful for these wonderful people in our lives to help with things like these!). We had pens and matchboxes for our sparklers which my mother spraypainted – quite an impressive task! We also asked my mother and soon-to-be mother-in-law to make dummy cakes instead of having a cake made when we realised we had to cut our budget. They really did a wonderful job, especially considering that they had never done it before! We were so proud of them.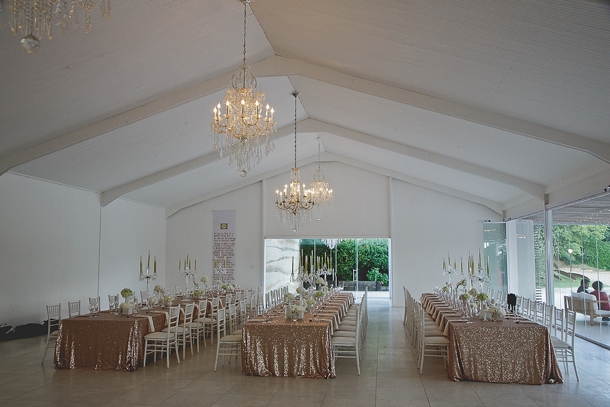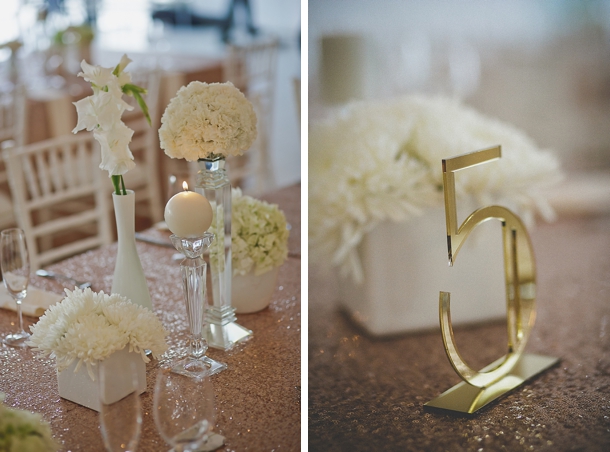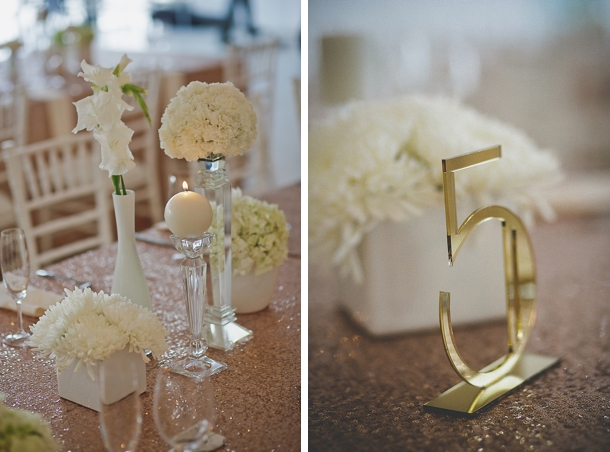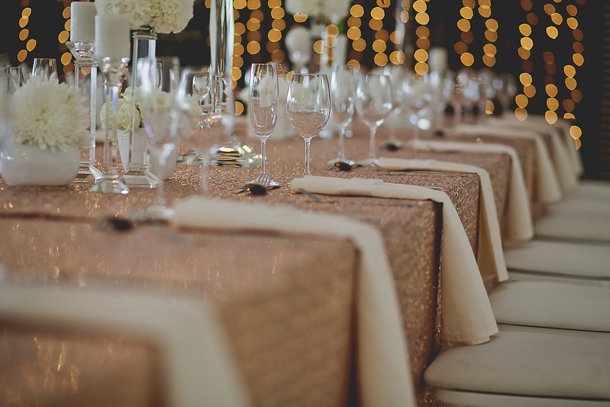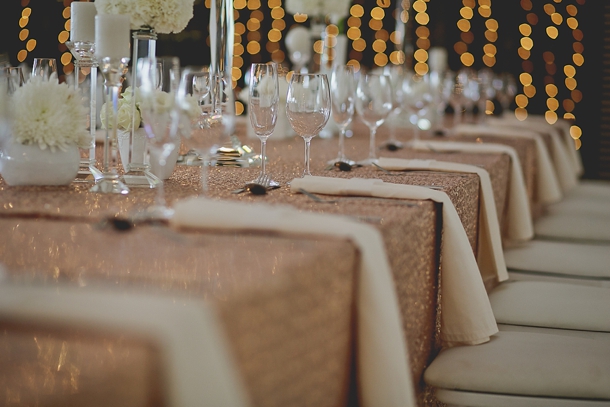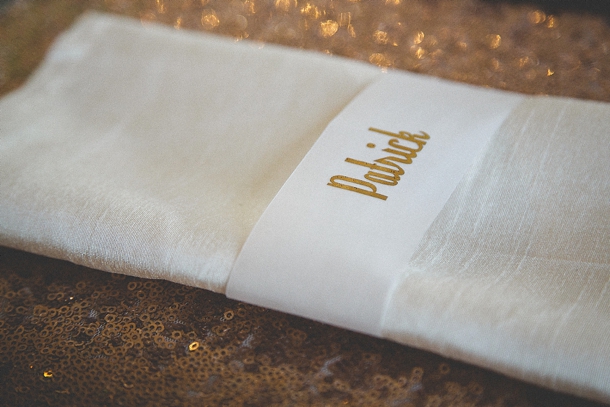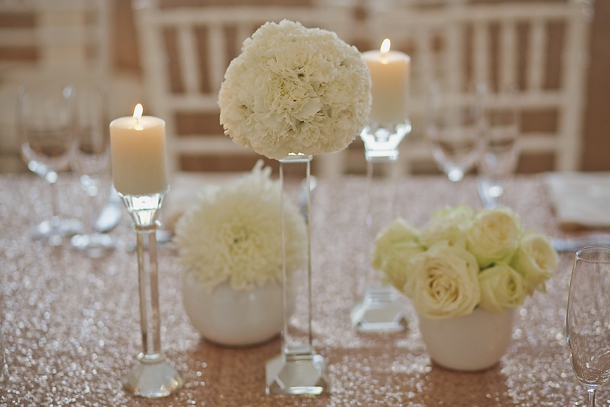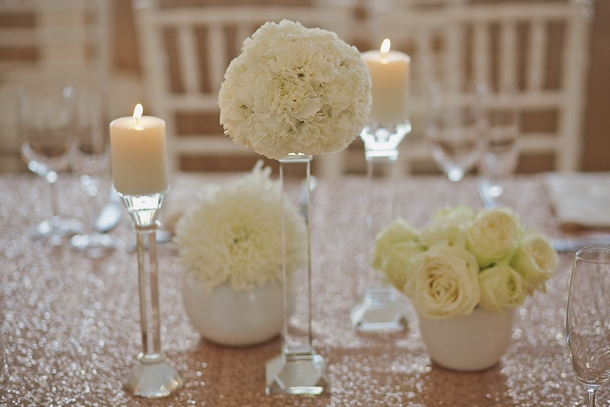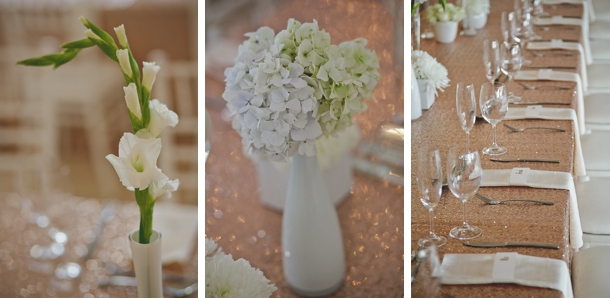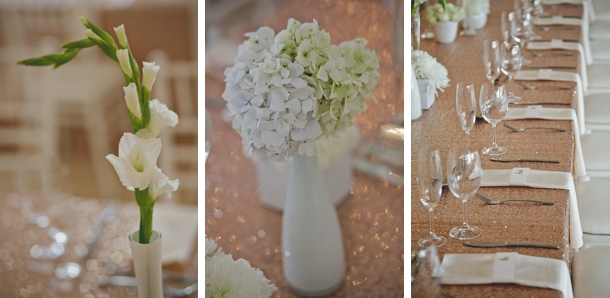 The Flowers
Because of the tablecloths being so exuberant, we did not want many other colours and items on our tables. We asked for opaque white vases to hold crisp white hydrangeas, roses, gladioli and antirrhinums, some of which were sprayed gold as well. We wanted neat arrangements with crystal chandeliers & small votive candles in between. 
The Dress
My mother, sister, soon-to-be mother-in-law and I made a range of appointments at various different dress-hiring and dress-making places one Saturday. It really helps to try and go to places where you are allowed to take pictures so that you can look at them again when you are struggling to decide. Sometimes, you might like the idea of something but then you don't like how you look in it. I wanted a mermaid-cut dress but realized that I actually look better in a more modern creation like the one I eventually decided on. Afterwards, I realised that my ideal dress does not yet exist and so I compiled a short description of my perfect dress as well as a few pictures taken with the fittings and sent it to a few dressmakers to see if their quotations match my budget. And that's how I discovered my dressmaker, Zani Denton – who also happened to be our photographer's wife. :)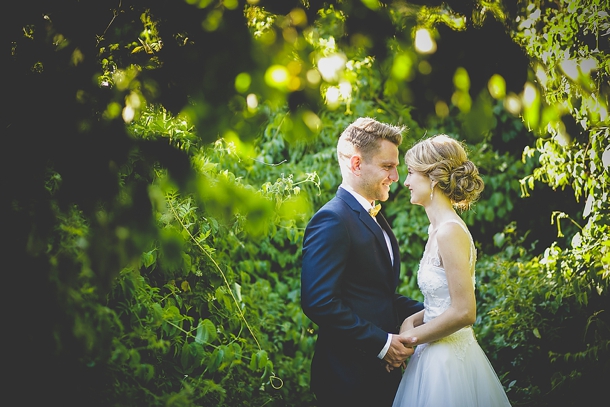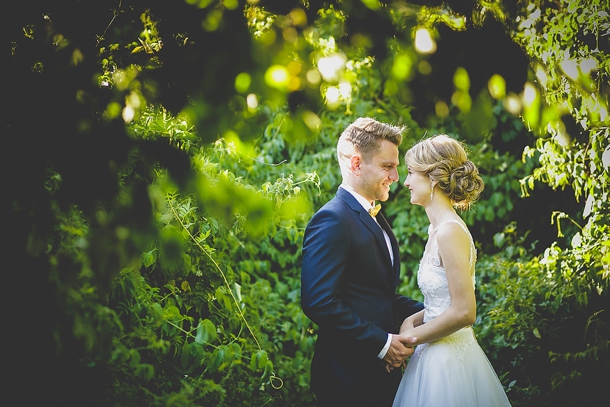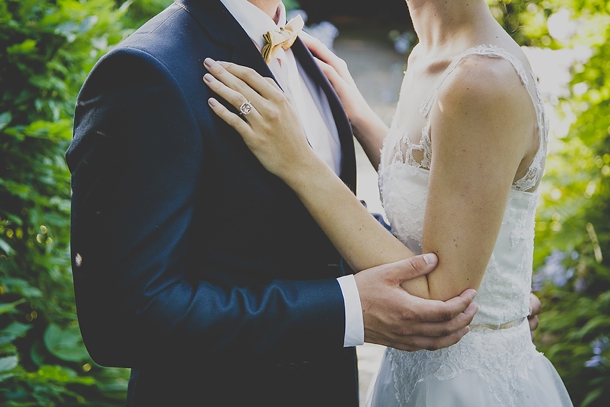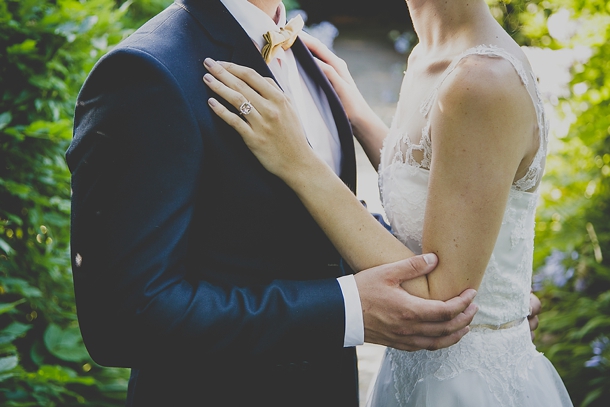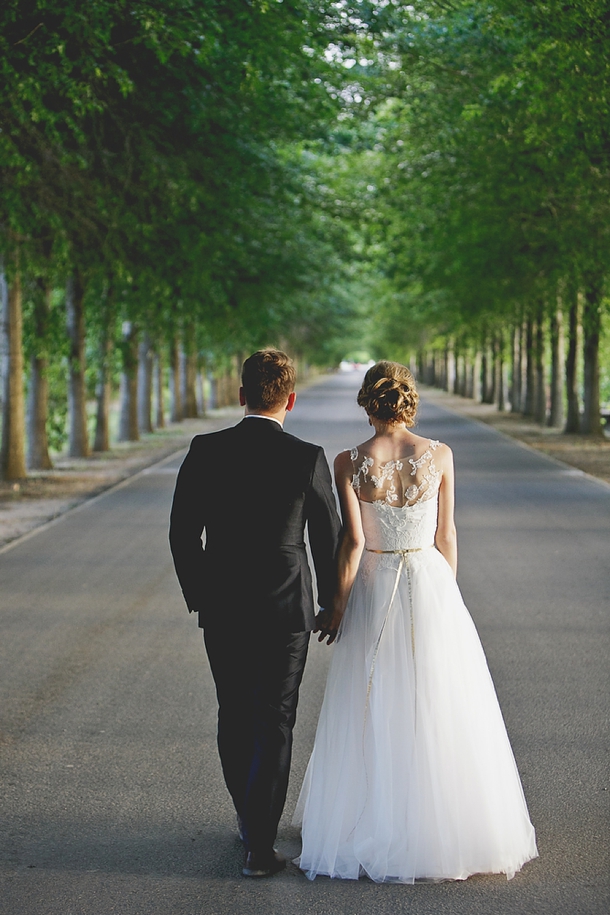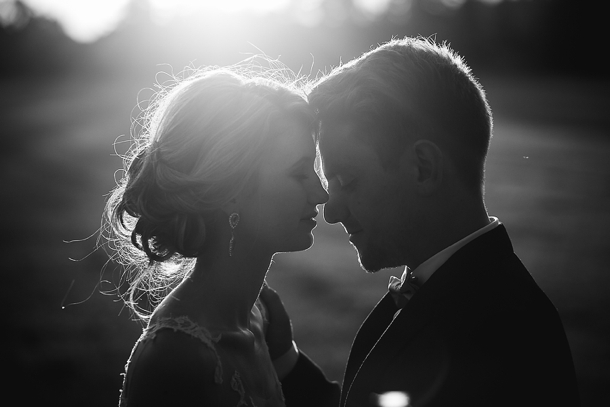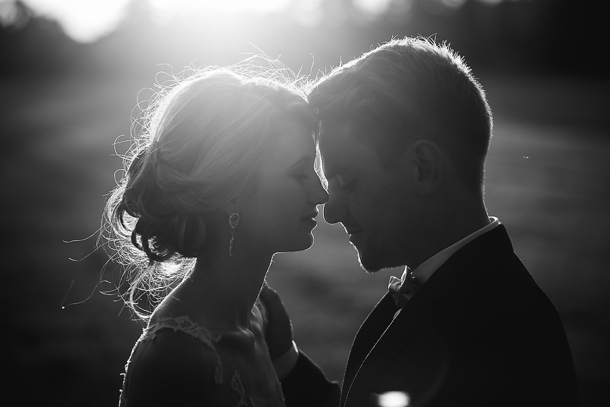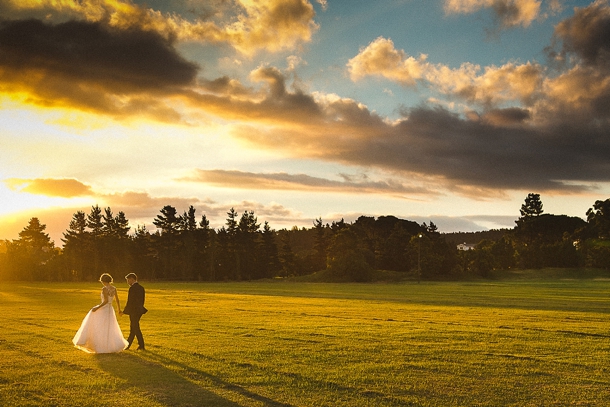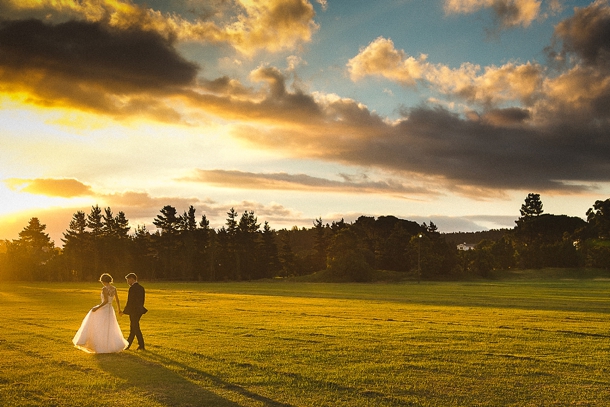 Memorable Moment
Bernard is a very good guitar player and I have often heard him play. Although he can sing, he has always been too shy to sing for me – even in the four years that we'd dated, I had never heard him sing. On the night of our wedding, just at the end of his speech, he put down his champagne glass, picked up his guitar, and started singing to me. Turns out, he'd been taking singing lessons from the live band we had playing, and then sang me a song that eased into our first dance with the band taking over from him. I was at a loss for words. This was by far the most memorable moment of the day.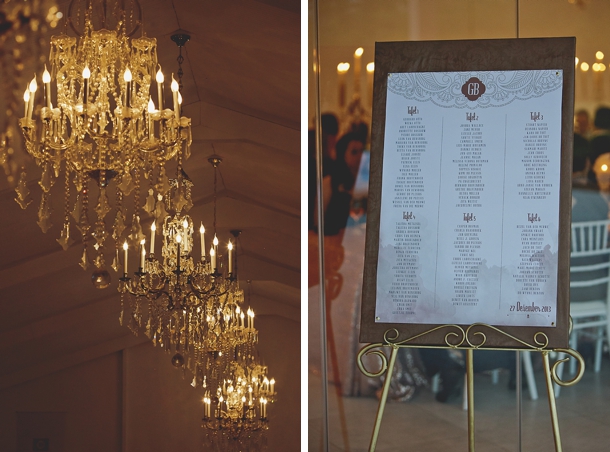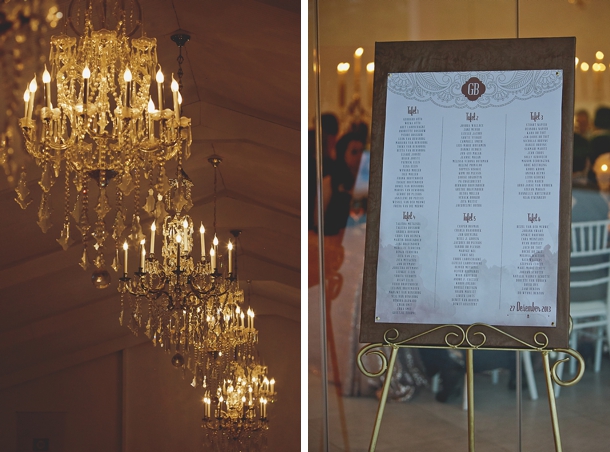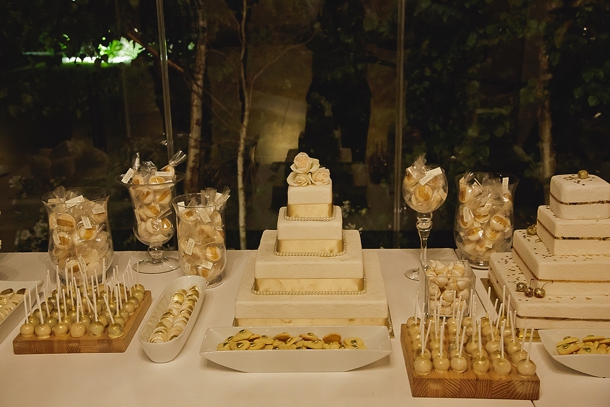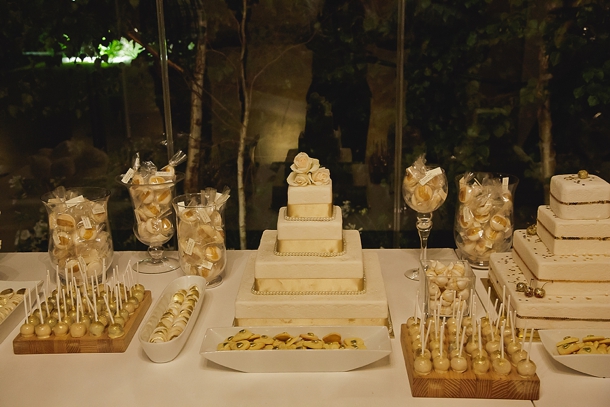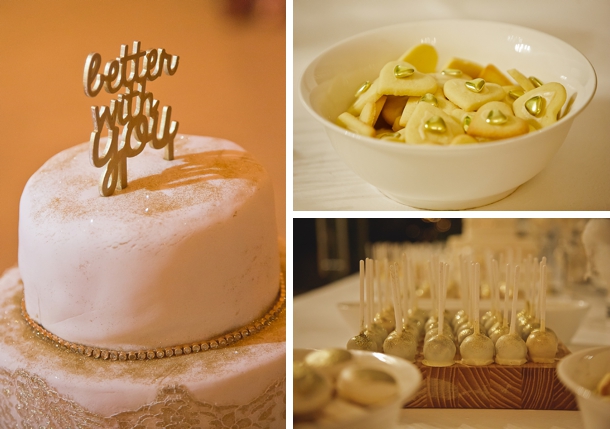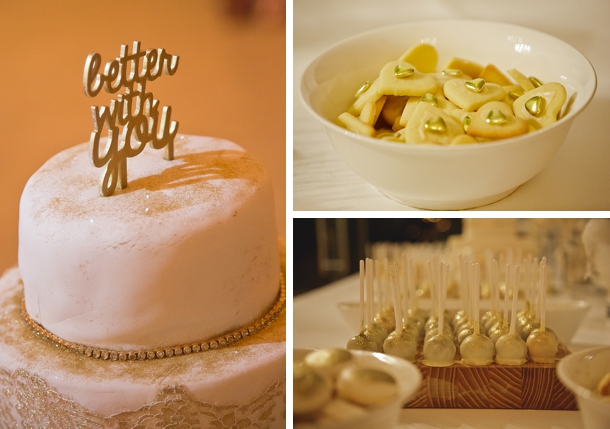 The Honeymoon
We went to Thailand for our honeymoon! It was not a surprise, but I really preferred it that way. I am a keen traveller and I love to read up on the places before I visit them, planning trips and sightseeing beforehand – call me a control-freak but so it is! We spent a week in Bangkok and a week in a small town in Phuket – Kamala. It was really the best of both worlds and we were amazed at all the sights.
Advice for Future Brides & Grooms
I am a total wedding freak and love everything there is to love about weddings. I think that is what made all the planning worthwhile for me – you need to remember that this is (hopefully) the only time in your life where you will be at this point, being able to plan a wedding with the guy you want to spend the rest of your life with. Celebrate every single detail – from cake tastings, venue hunting, dress hunting, family discussions, guest list planning, etc. It helped me to take pictures of everything to remind me of the special time in my life.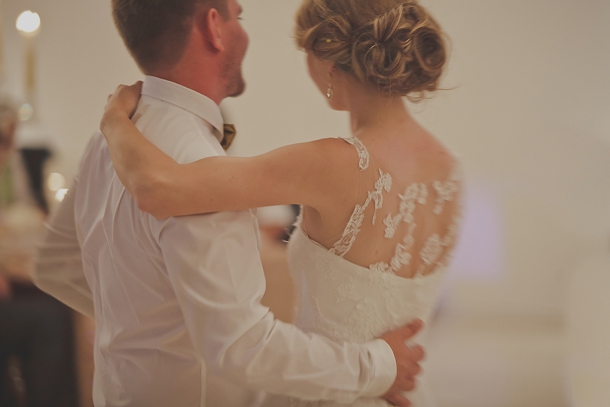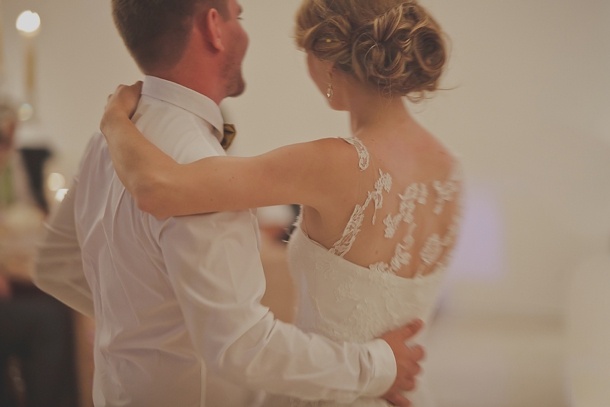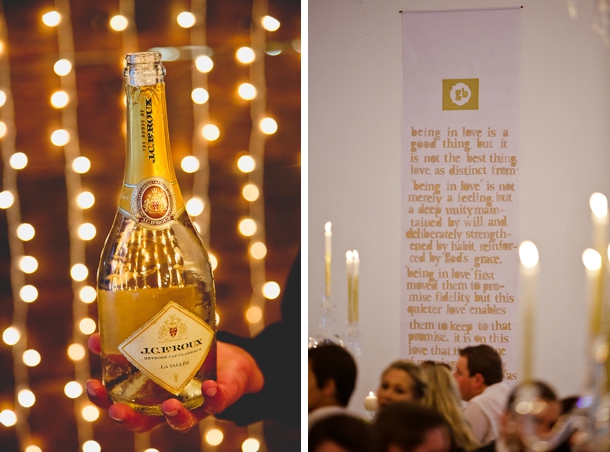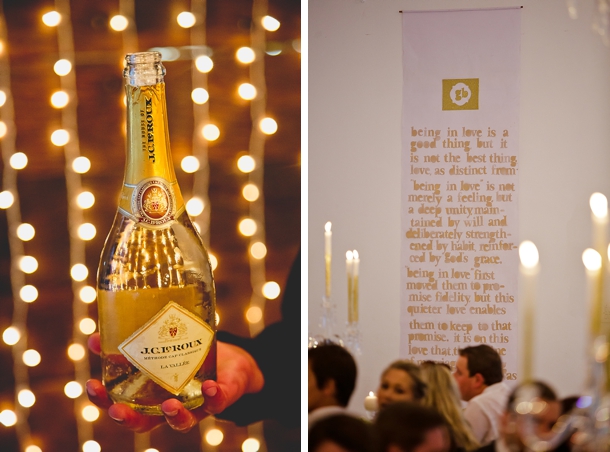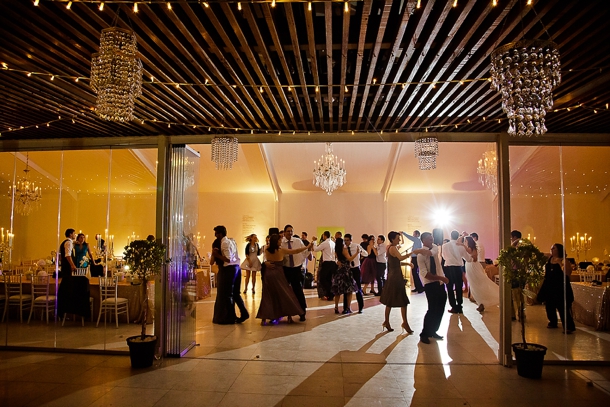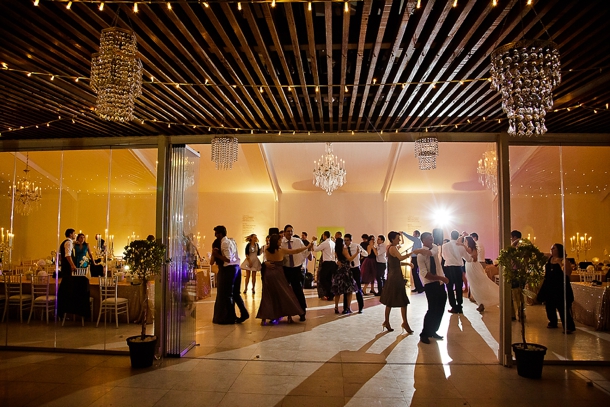 You can see more from this wedding on Du Wayne's Facebook page.
SERVICE PROVIDERS
Ceremony Venue: Hathersage | Reception Venue: Lourensford | Catering: Jessica & Luke from The Table Restaurant (friends of ours) | Photography: Du Wayne Denton | Videographer: Dewet from Sweefilm | Cakes: Our mothers | Flowers & décor: Karen & Berena (they are wonderful!) from Mint & Magnolia | Stationery: Lezanne's Designs (also fantastic) | Bride's dress: Zani Denton (she did it as a last favour for me and doesn't have a company anymore) | Bride's accessories: Charles & Keith (shoes); Forever New (earrings); Jo Malone (perfume) | Hair & makeup: Helga from Helga Bridal | Bridesmaids' dresses: YDE | Groom's attire: House of Monatic (suit); Café Cotton (bowtie) | Groomsmen's suits: Mr Suit Hire | DJ: DJ Ashley