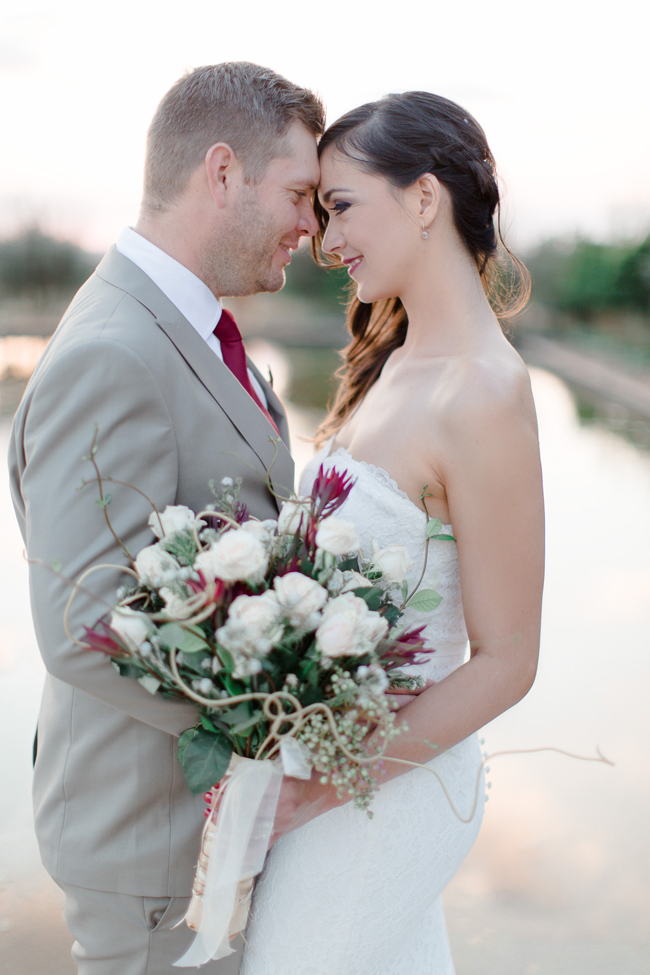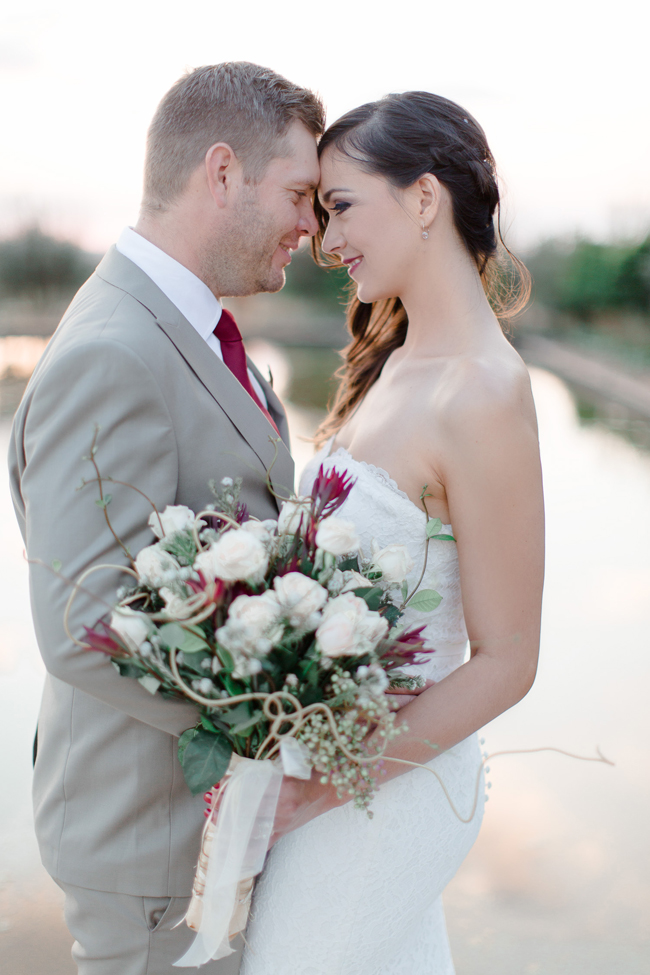 Oh my! I just want to wrap myself up in this wedding, with its neutral backdrop, romantic textures and pops of bright colour from the most gorgeous florals. Throw in magical elements like a trio of cakes (one dusted with copper dust), a cathedral length veil, floral runners, sparkling chandeliers and soft flutters of fabric dancing in the breeze, and you have a mix of rustic and elegant wedding style that is equals romance. WJ and Chantelle also just happen to make the most adorable couple, and Clareece Smit's beautiful pictures of their big day are such a pleasure to behold!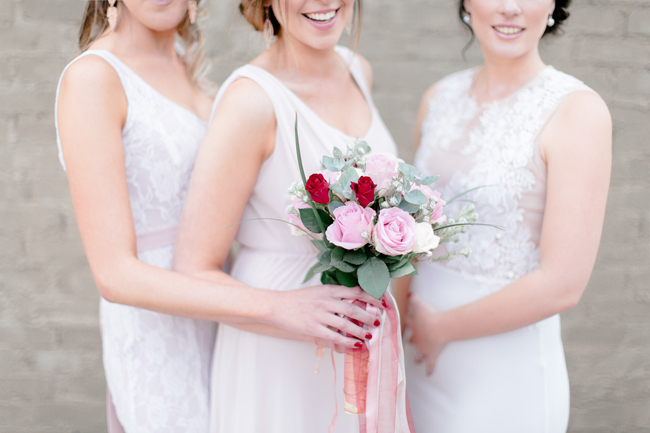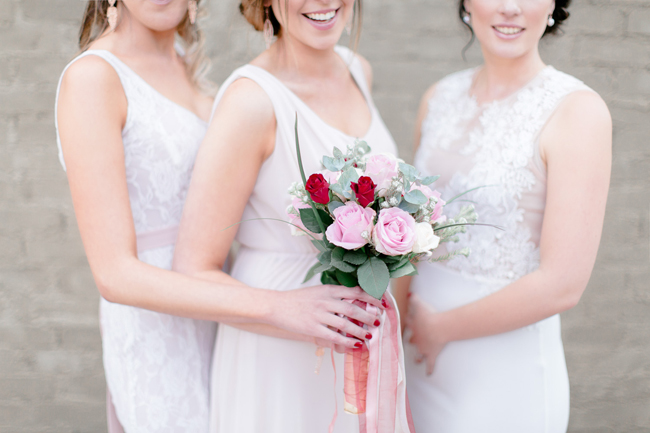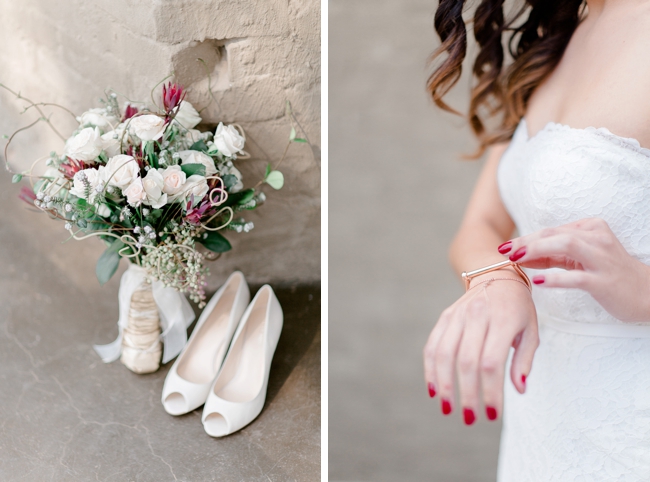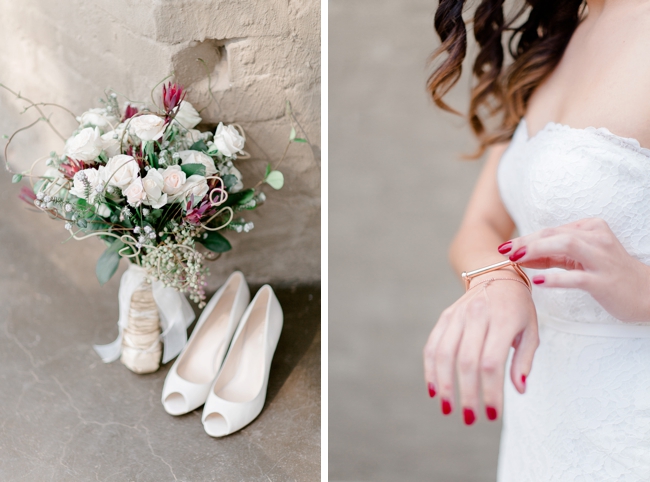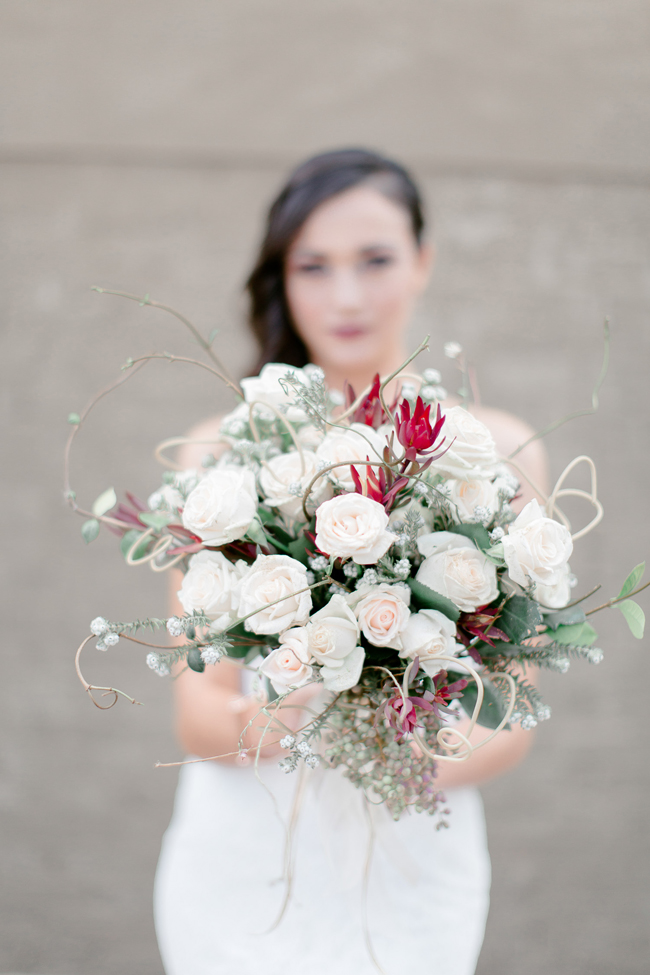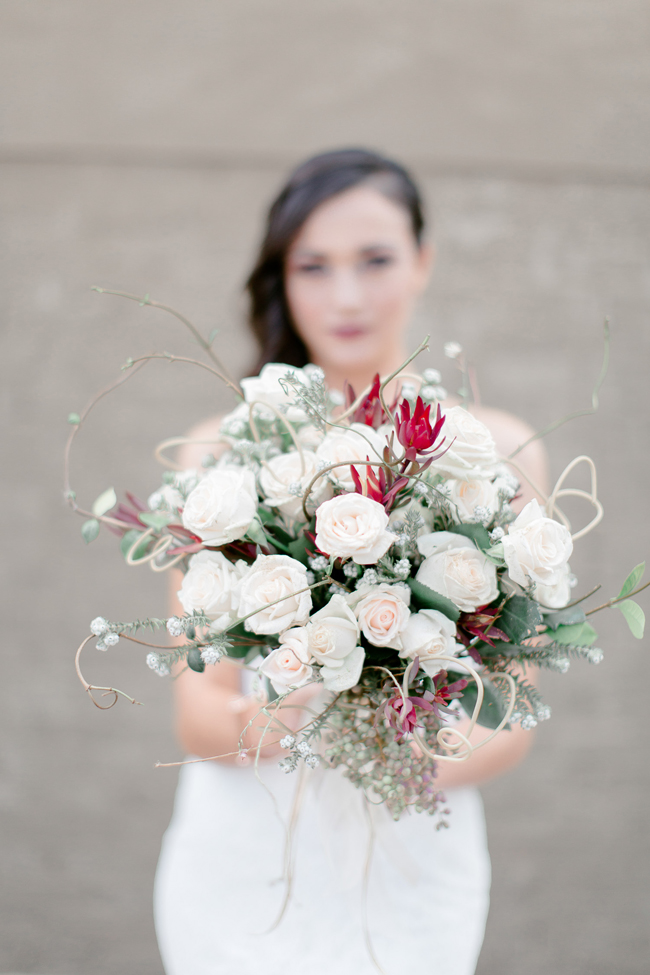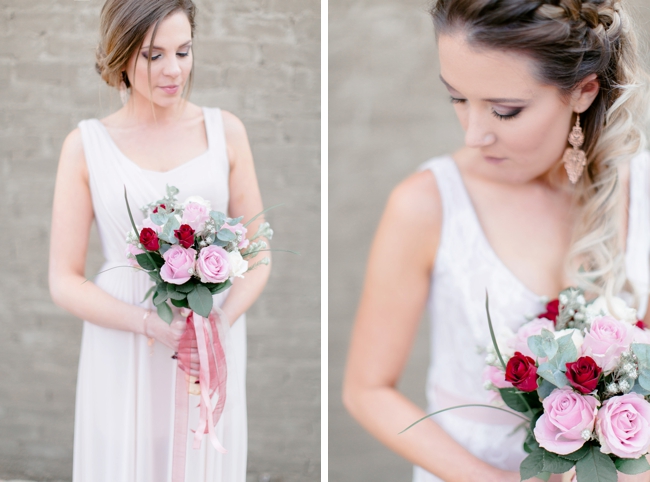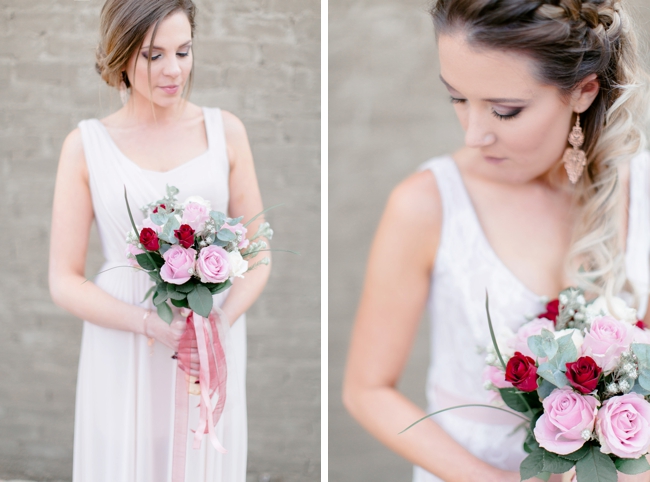 Love Story
We met in 2008 at a mutual friend's 21st birthday. We didn't know each other but had heard of one-another through friends. Our first encounter was a little bit awkward and we didn't have very much to say to each other. Facebook was still relatively new those days and he randomly after a week or two started sending me messages on Facebook. We started chatting and he asked me out on a date. At the time I was still studying in Pretoria. He was from a farm near my hometown in Lichtenburg in the North West Province. So the first weekend I could go home we arranged our date and we went out for dinner and drinks and we've been in each other's lives ever since.
The Proposal
We spoke about the idea and, soon after, WJ took me to see the lady that designed and made my ring (Liezl Kearney). So I knew that we were getting married before he preposed to me. I saw my ring only as a sketch and picked out the diamond, but after that I didn't know anything about when it would be ready or what the final ring looked like. A few days before New Years Eve he asked me to go with him to his mother's friends house to drop off some flowers. When we got there and went to the garden, it was decorated with lights and looked magical. I saw this setup and it hit me that this was it. I almost ran to the table, where I saw the ring box, opened it and immediately put on the ring. He asked and I of course said yes (it would have been a little late for no, haha). We had a three course meal that he had prepared earlier for the occasion, sat for a while, talked and took in the moment.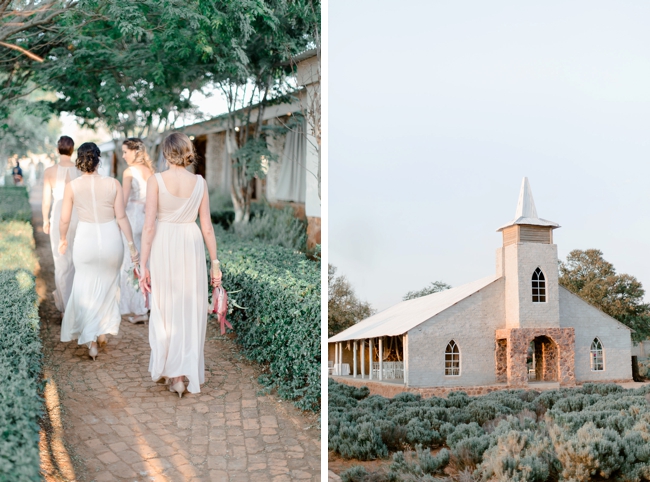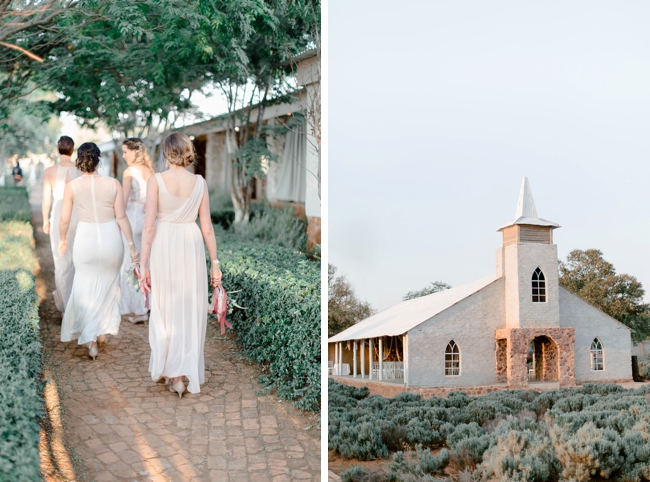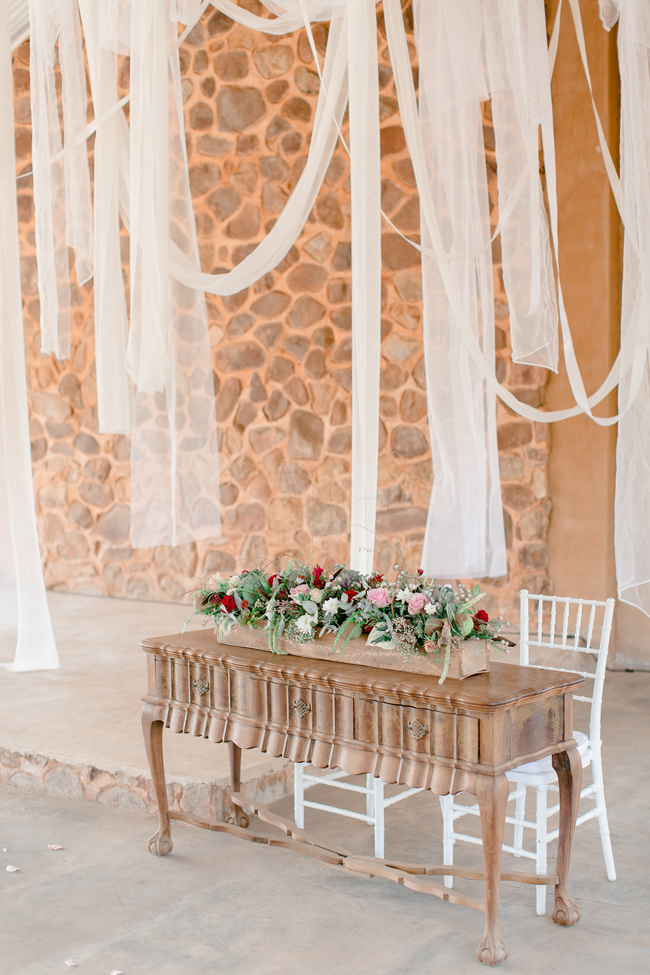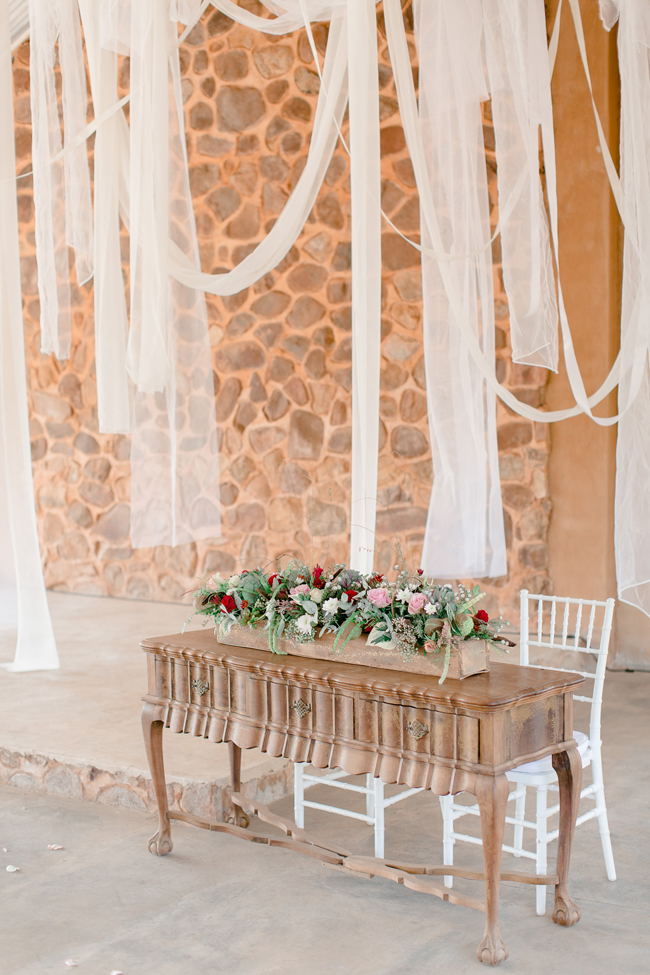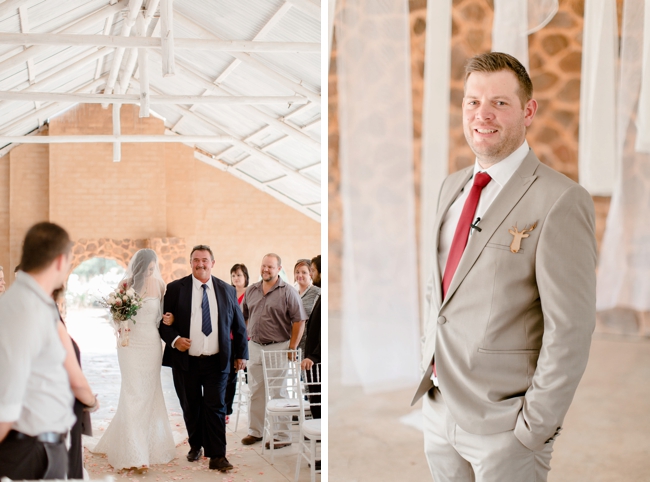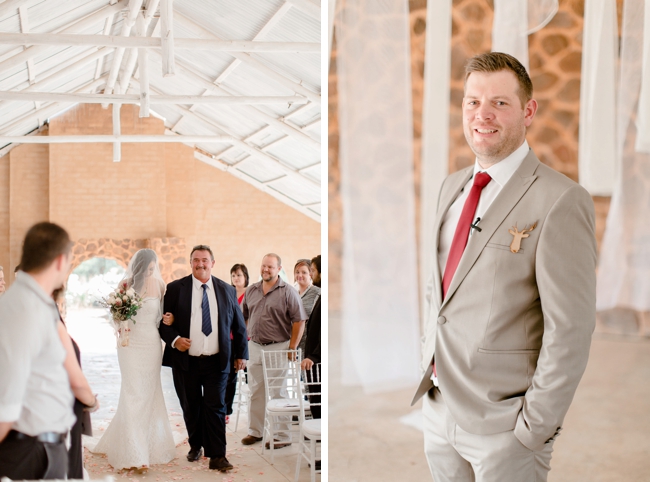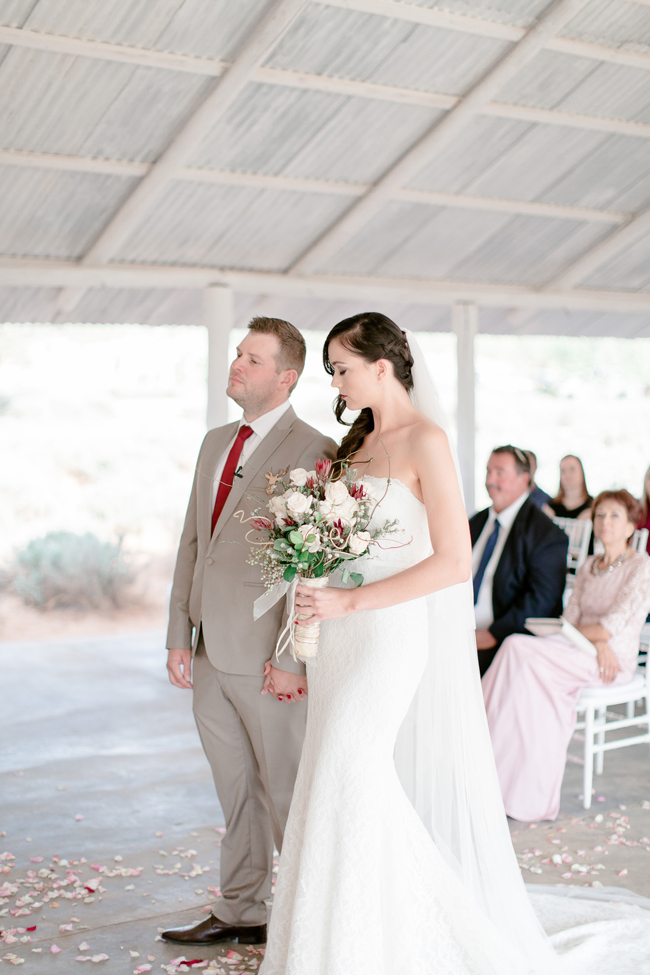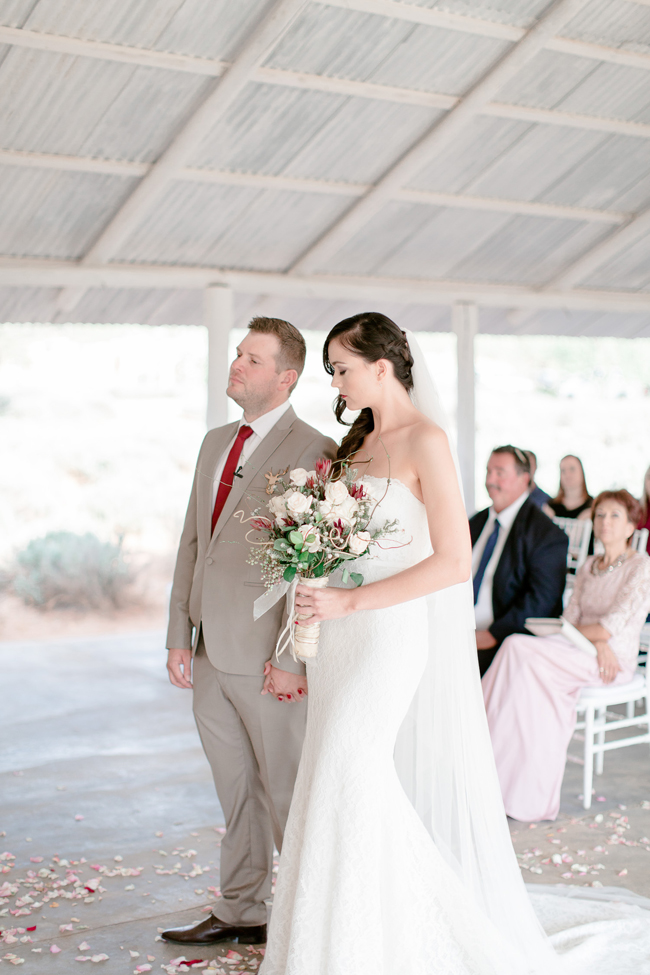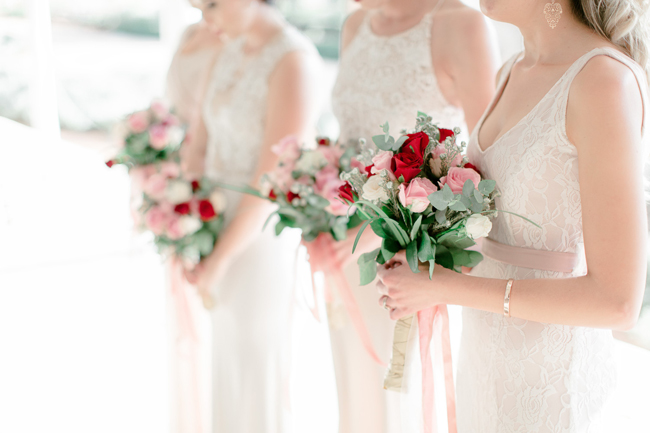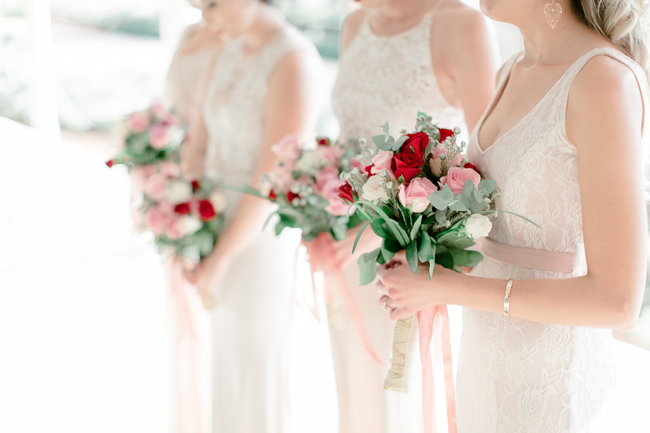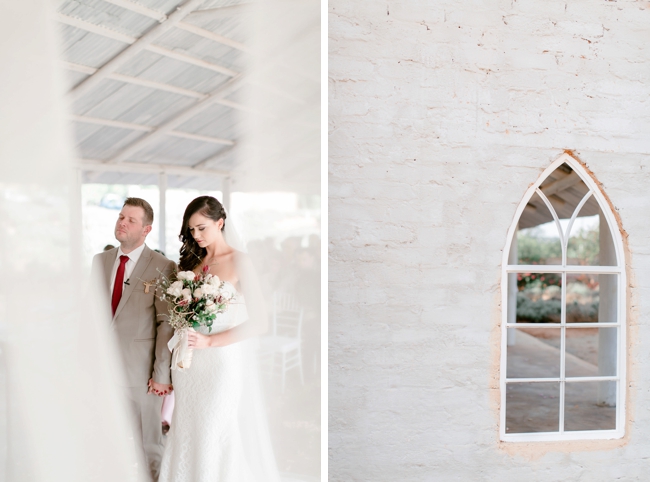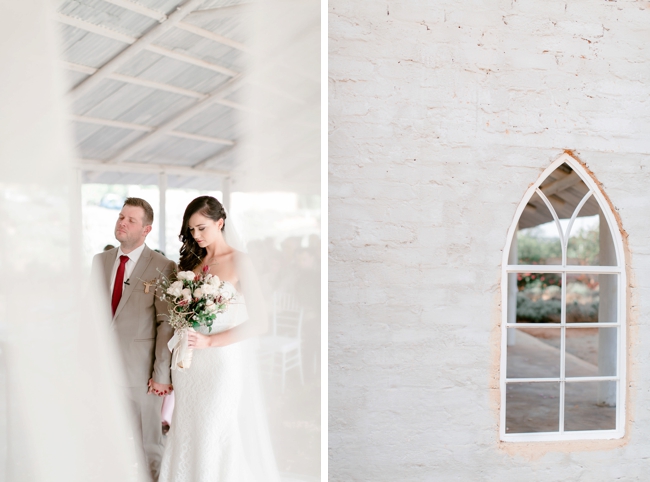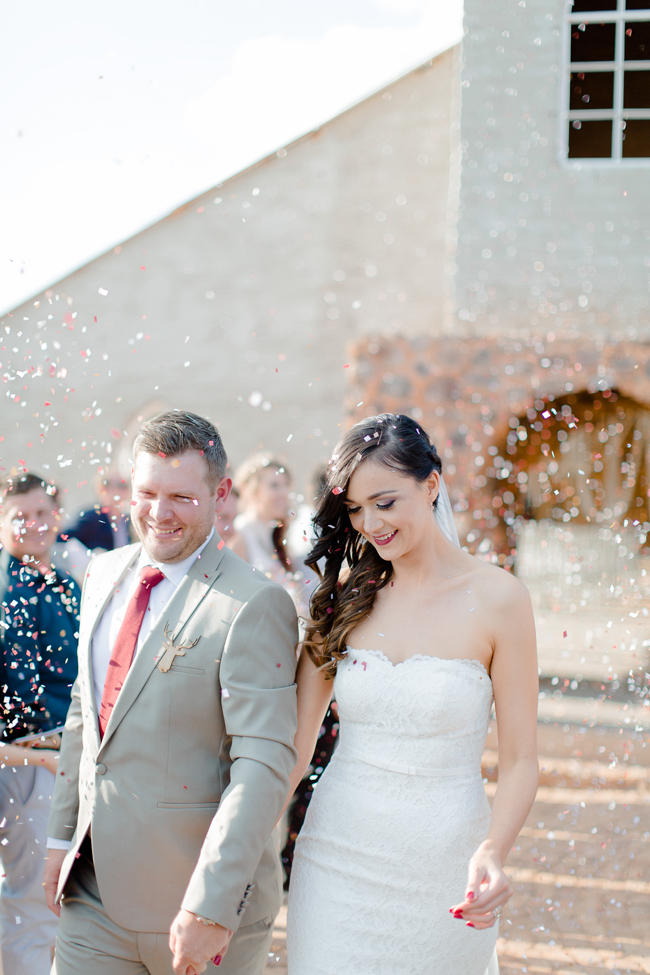 The Venue
I was looking for a space that would not bind us to a specific theme. These days it's so hard to do something original. I wanted a place where we could choose any palette and it would work. We wanted a venue where the atmosphere would be lively, open and relaxed. We were also looking for a venue where none of the people we knew had had their own weddings. After a while struggling, my sister came across Bell Amour just outside of Pretoria. We made an appointment, met with Ronel the owner and booked the venue there and then.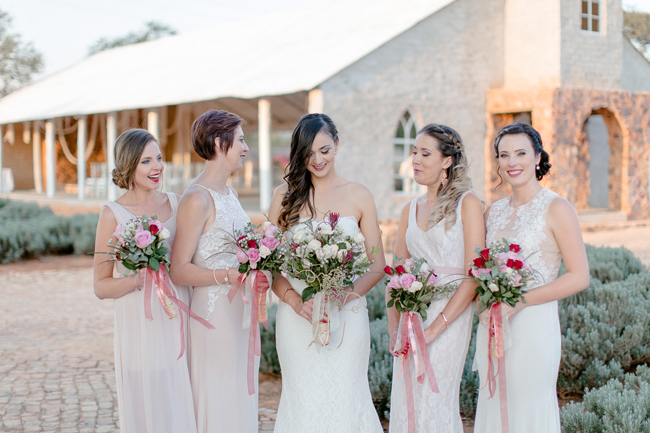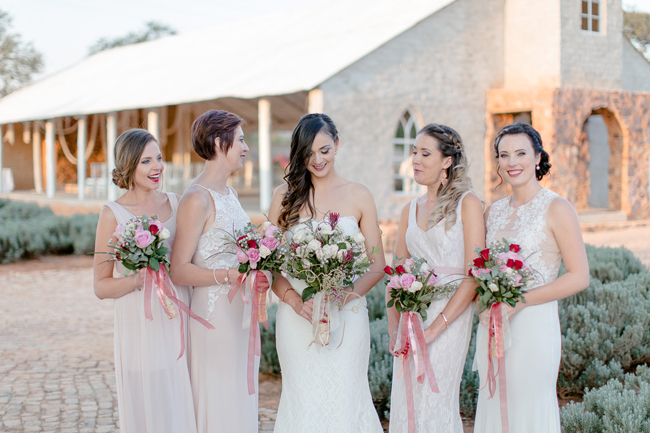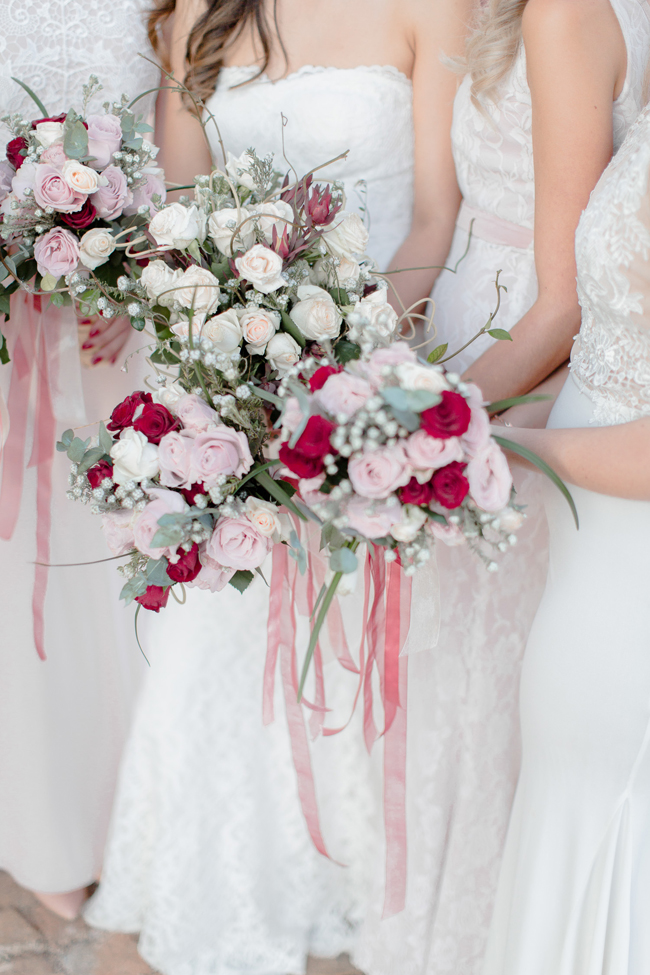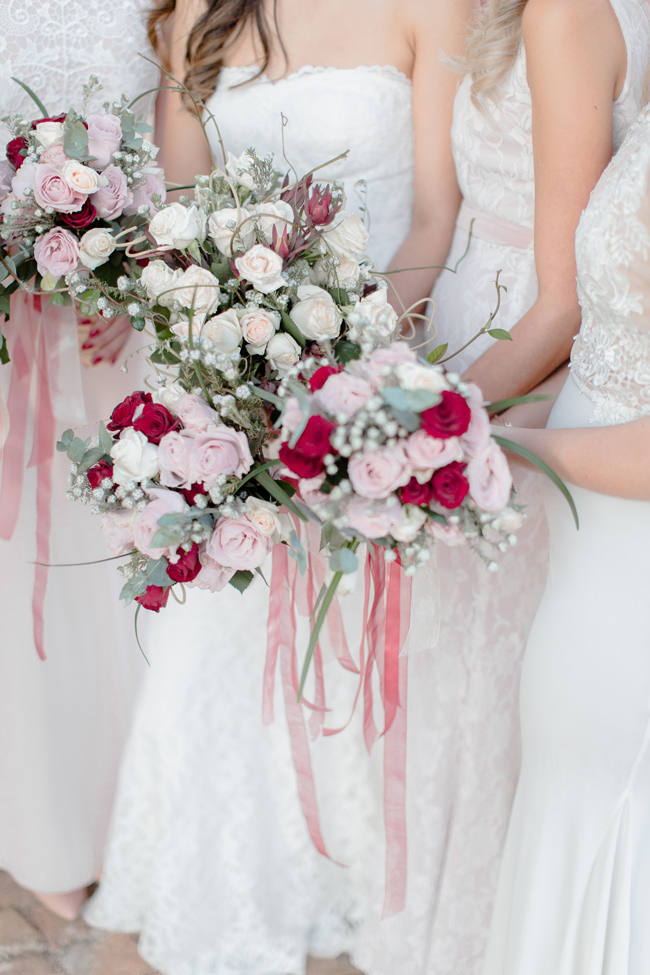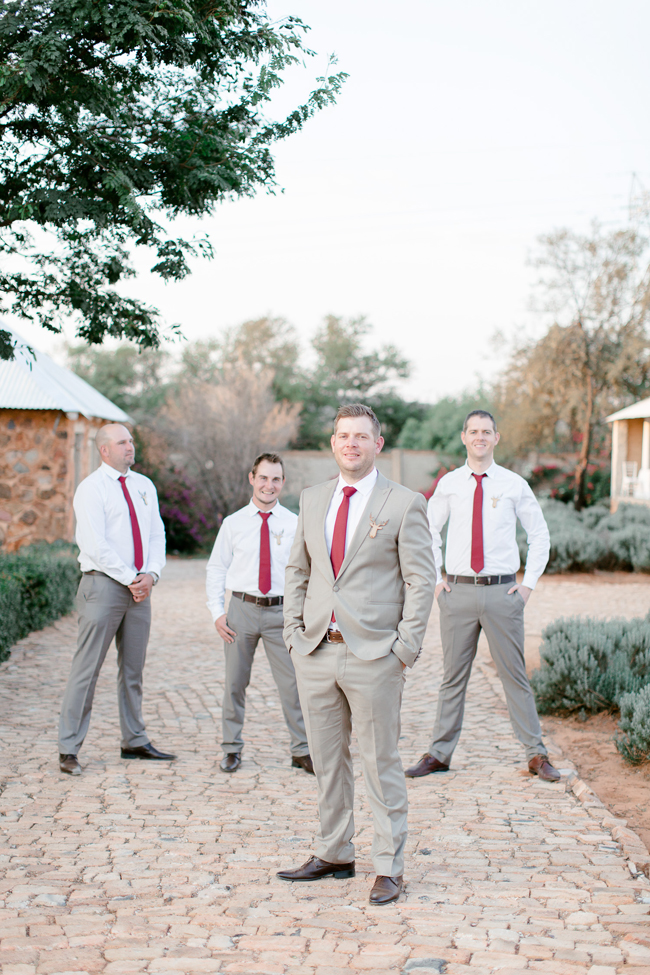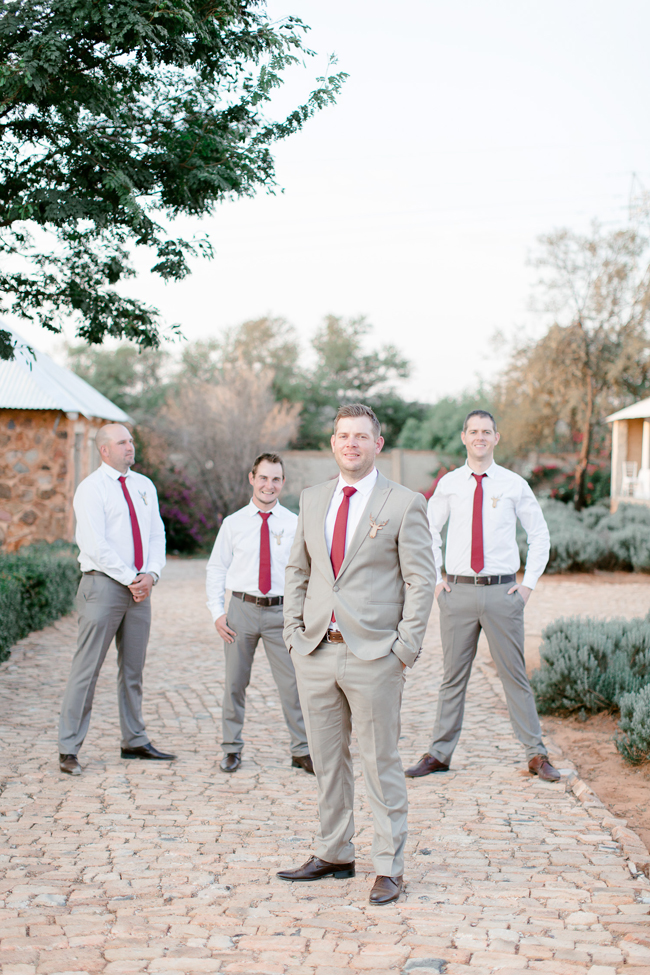 Wedding Style
We have a mutual love of deer and so included elements of deer and doe in our invitations, stationery, etc. – it meant a lot to us and was something any guest at the wedding could see and immediately make the connection. It also brought a little bit of masculinity to the wedding – not just pretty flowers and pastel colours. The palette was mainly white with burgundy, pink, and copper/rose gold (I am totally drawn to anything in this colour so without a question it was something we had to incorporate). We tried to keep the look very clean and used a lot of glass elements to show off the combined textures of linen, wood and flowers on the table. I also loved the small details, like the cards on the bridesmaids' and groomsmen's coat hangers.
DIY Elements
Almost everything I did myself. From the linen used on the table (I couldn't find anything I liked so I bought the linen and made it the way I wanted it to look), to programs, menus, table placements, cards for the wedding party and more.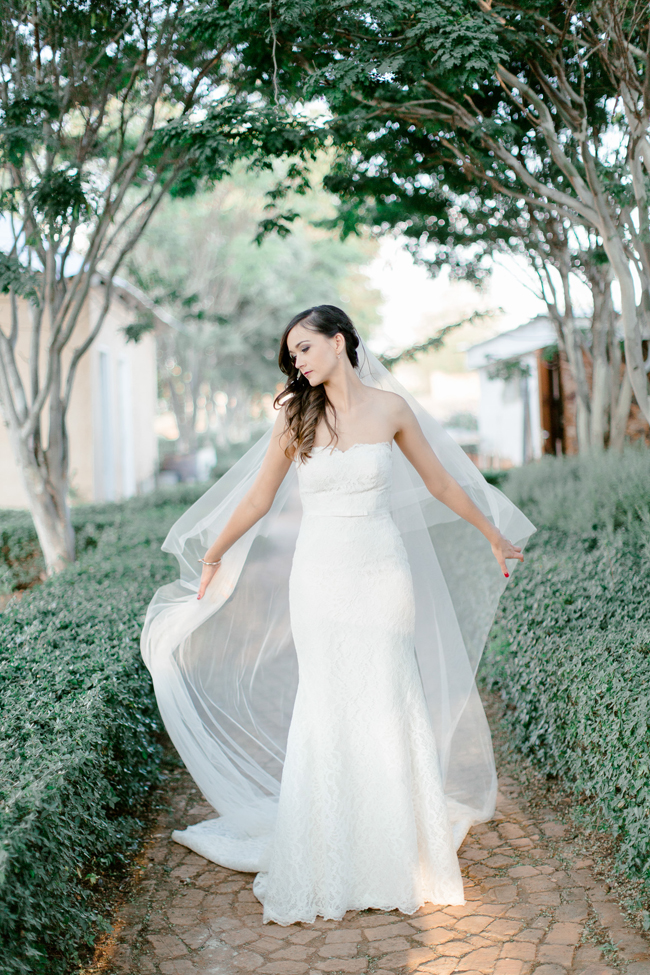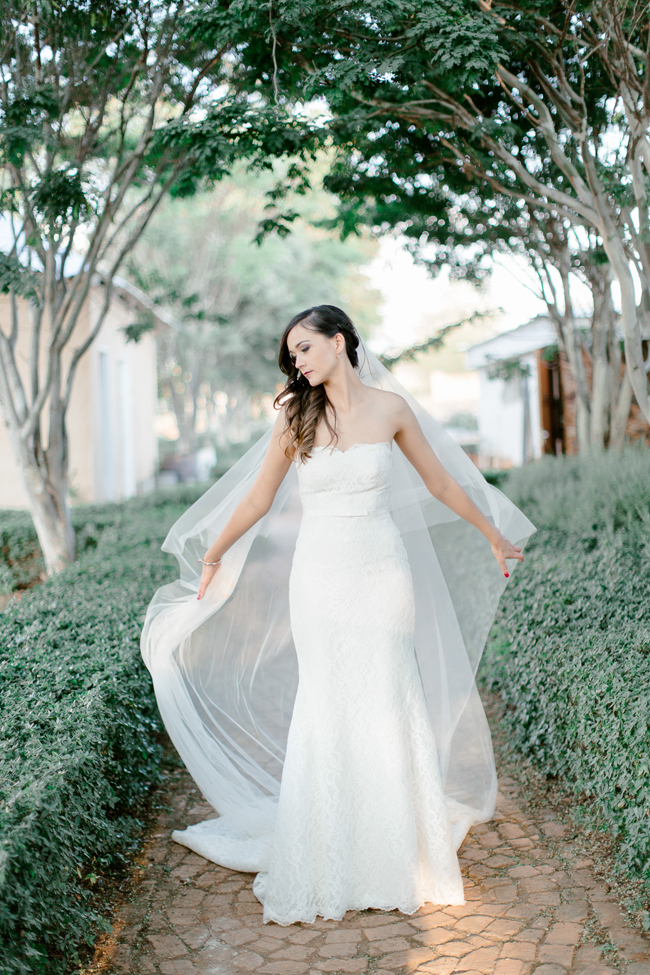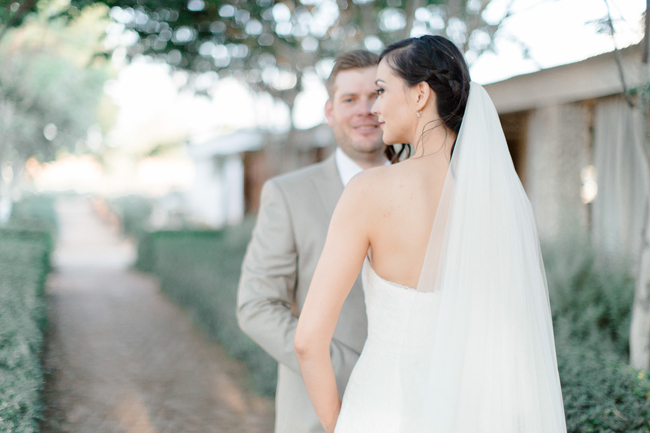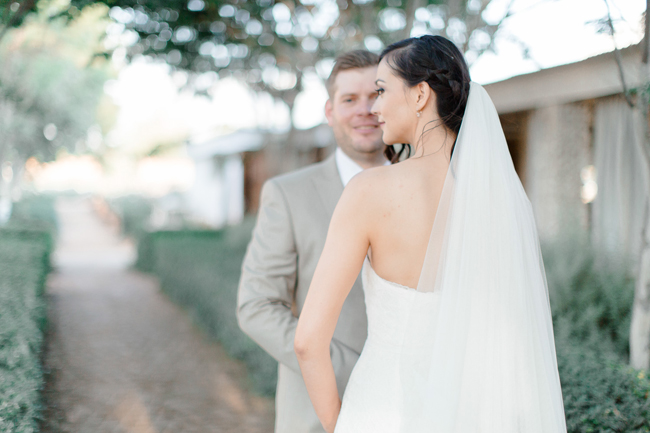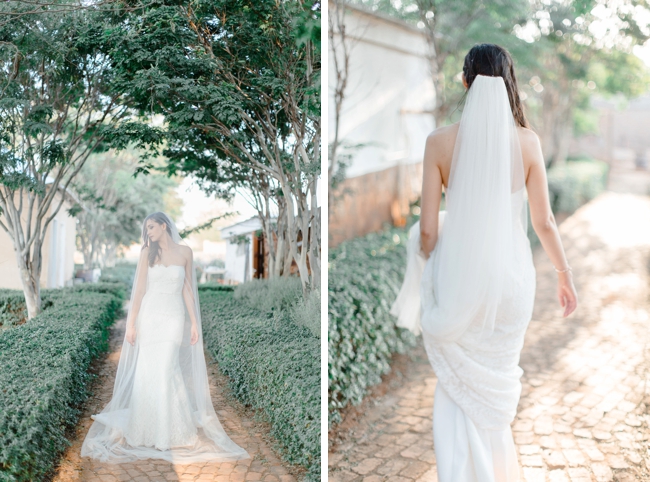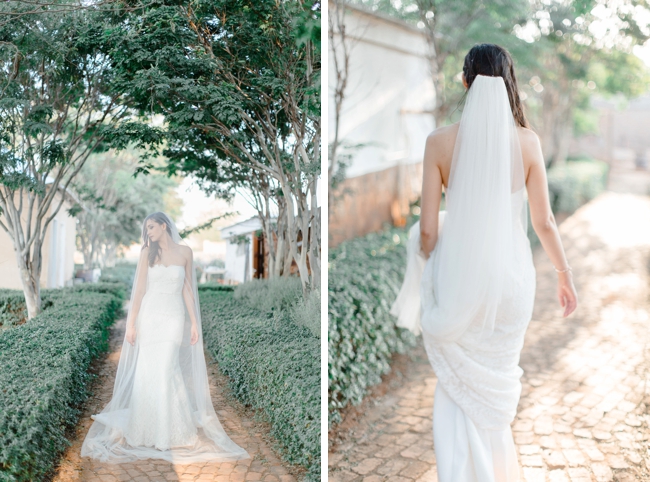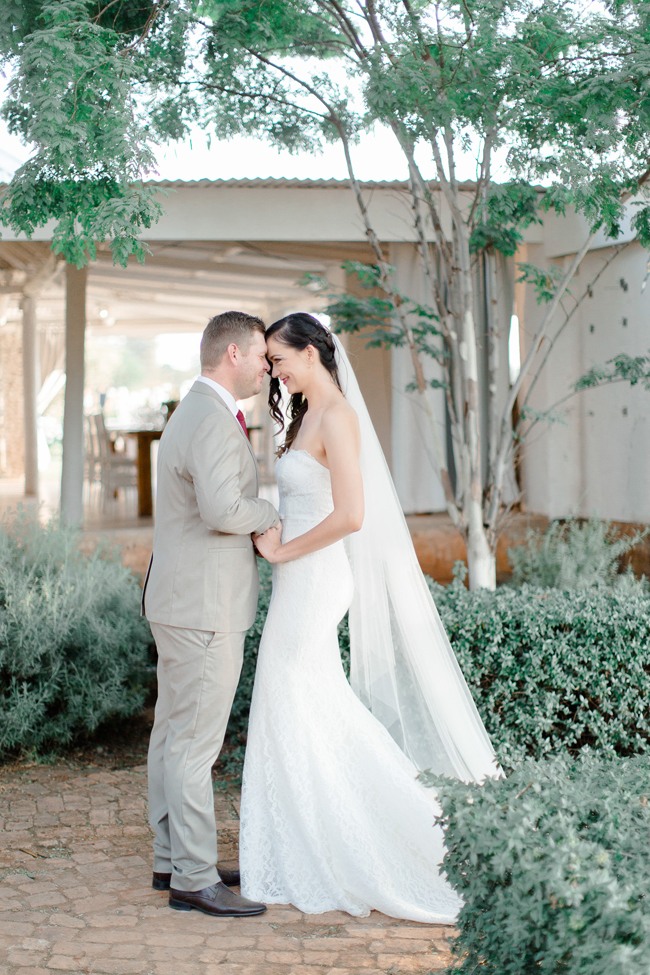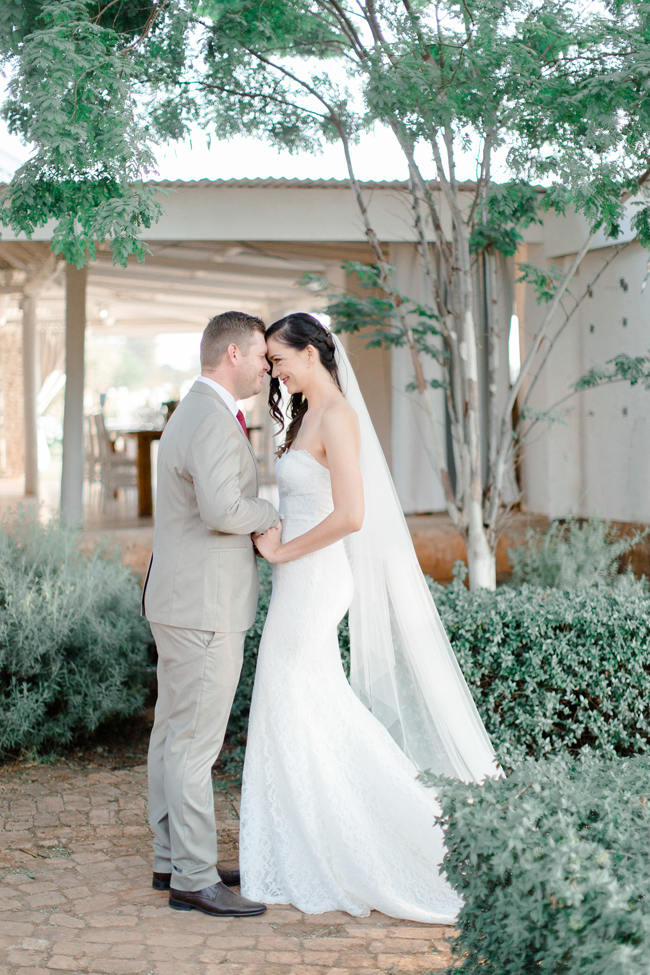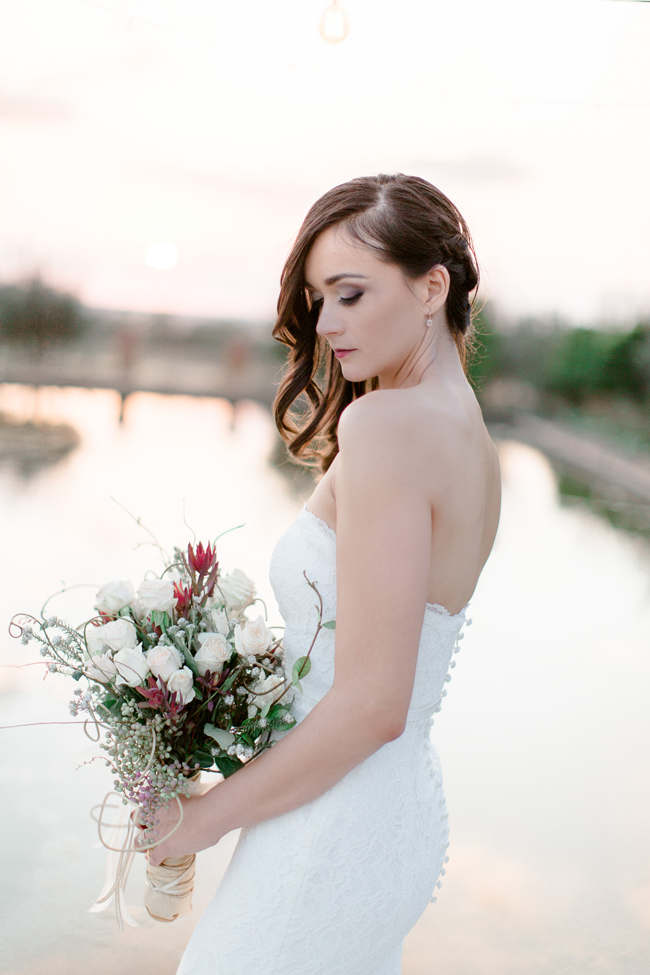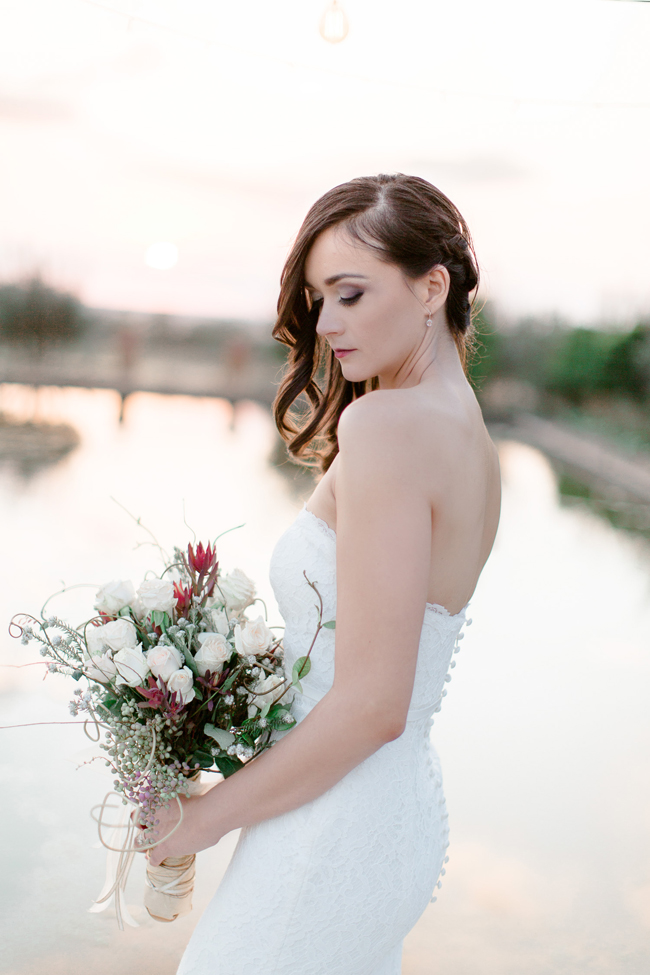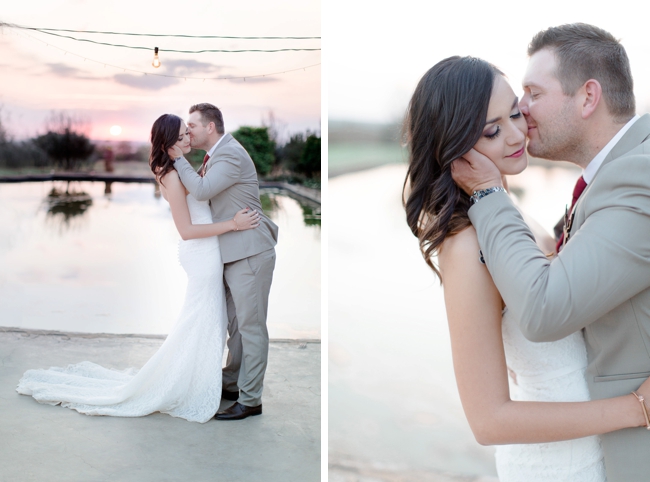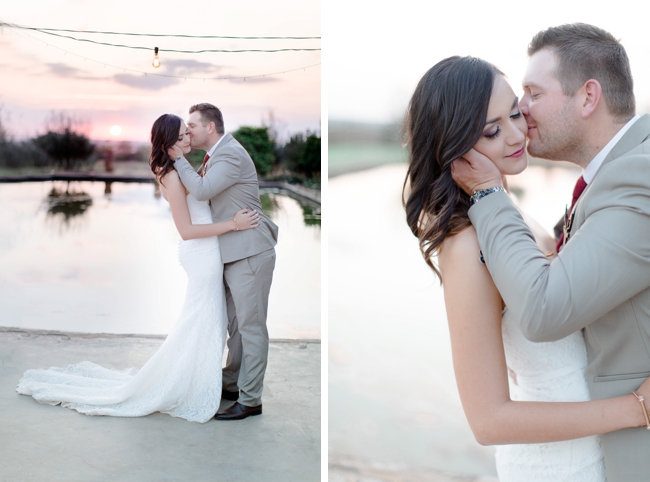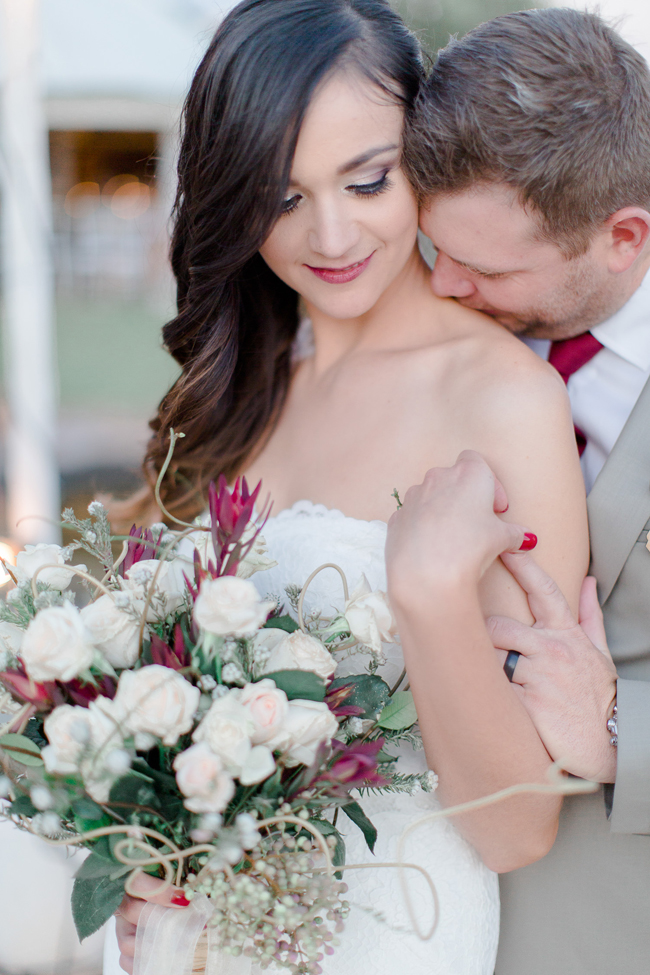 The Dress
My wedding gown was love at first fit. I wanted something plain and elegant. I wanted a full lace gown without patchwork, netting, etc. The gown was bought at De La Vida from the San Patrick range by Pronovias. She is called Zoa. She fit like a glove, complemented my figure and felt like a dream while wearing her. I arranged for a fitting at a few bridal stores and looked through their catalogues and picked the dresses I liked – however, it was a suggestion from the lady that helped me on the day. She asked if I would mind fitting the dress because they'd had a few ladies interested but the dress needs a specific type and she thought it would look good on me. So I thought, what's another dress, I've fitted about 15 so why not. When she zipped me up and I stood in front of my sister who came with me for the fitting, I had my bridal moment. I just knew. And that's the story of the dress!
The Bridesmaids
I had four. The colour of the dress had to be the same but I let them choose the style that fit their personalities best. I bought about ten dresses that I liked and they had to chose from those.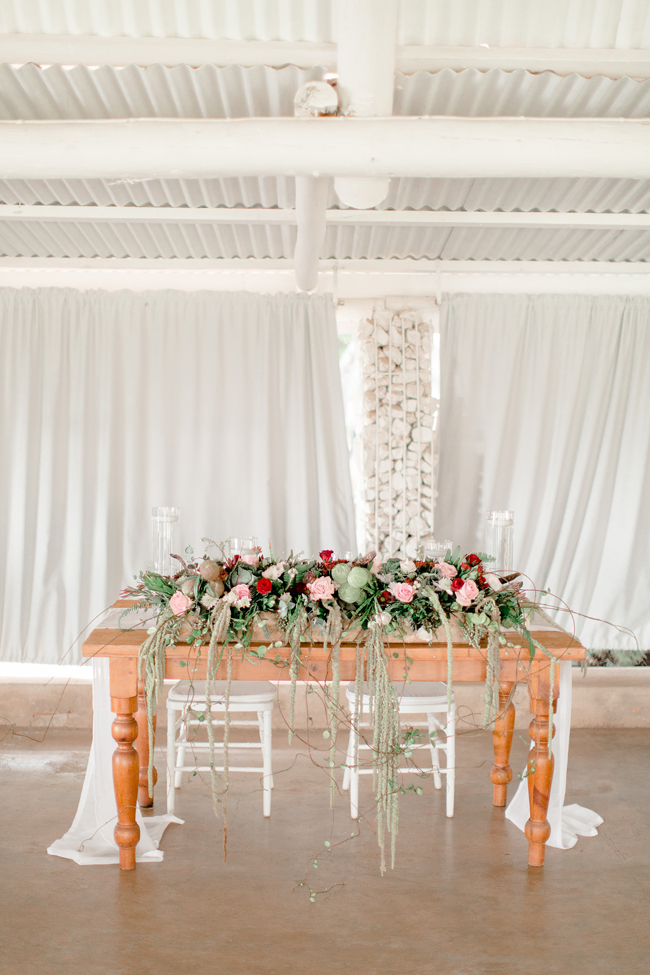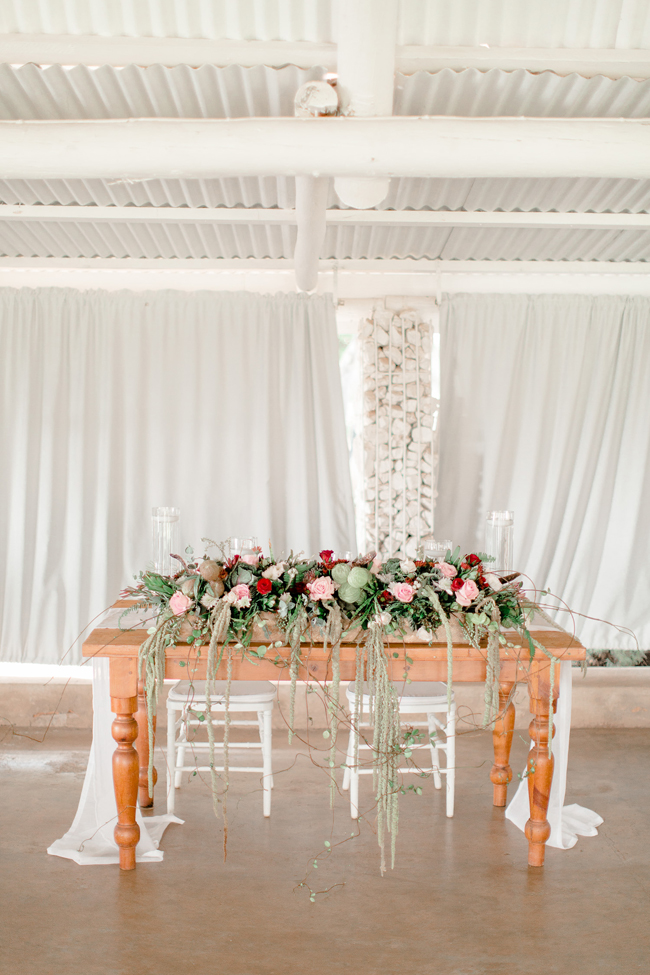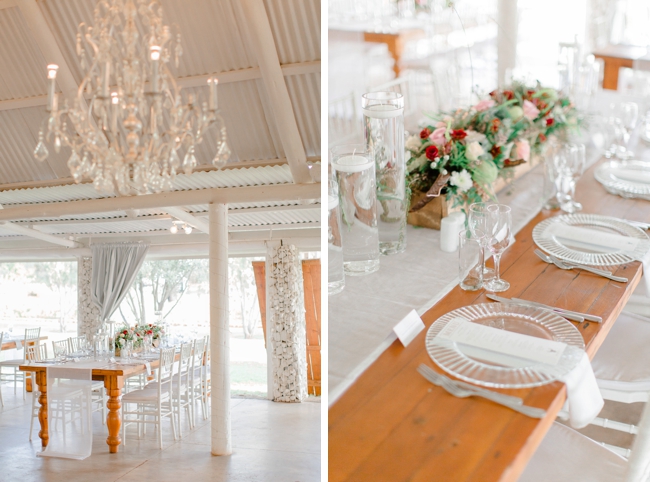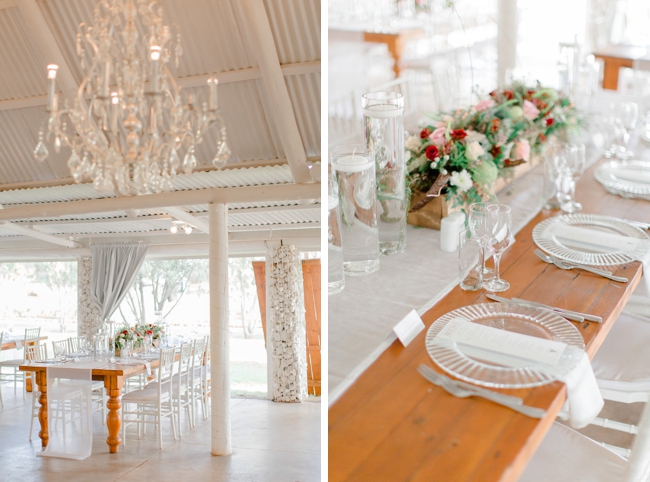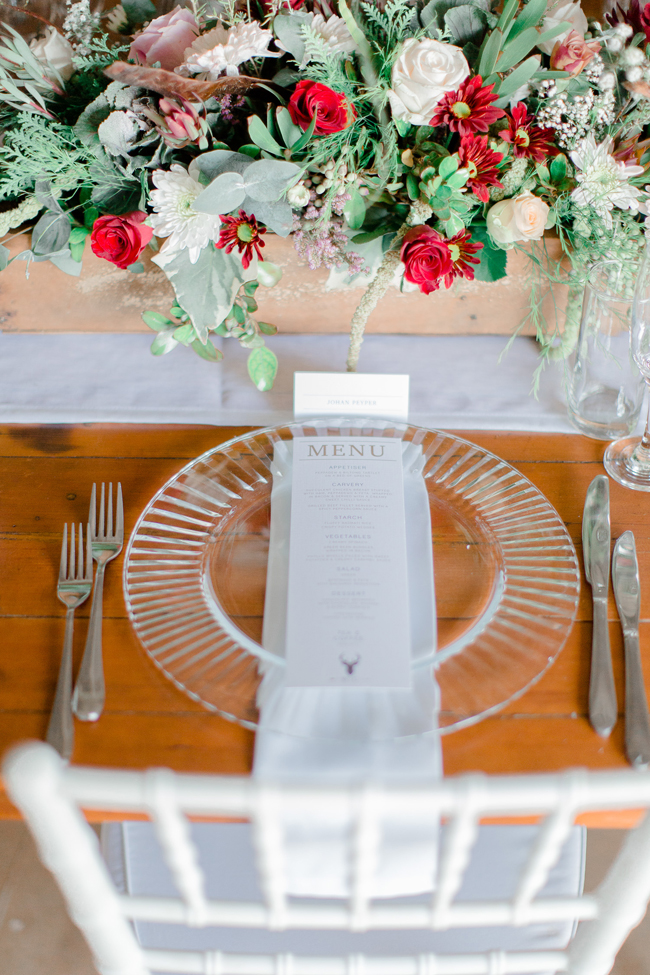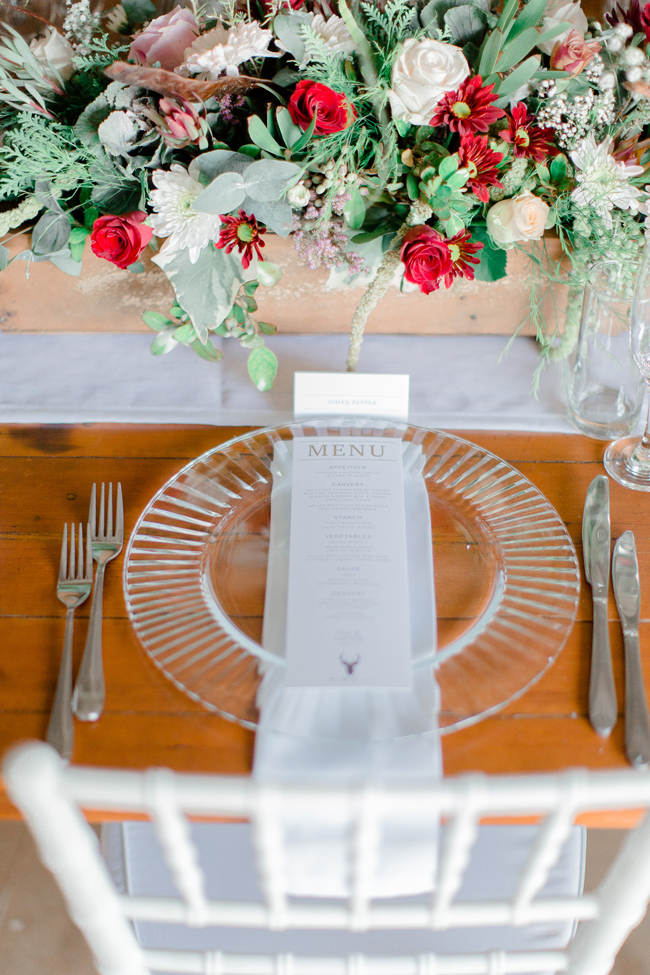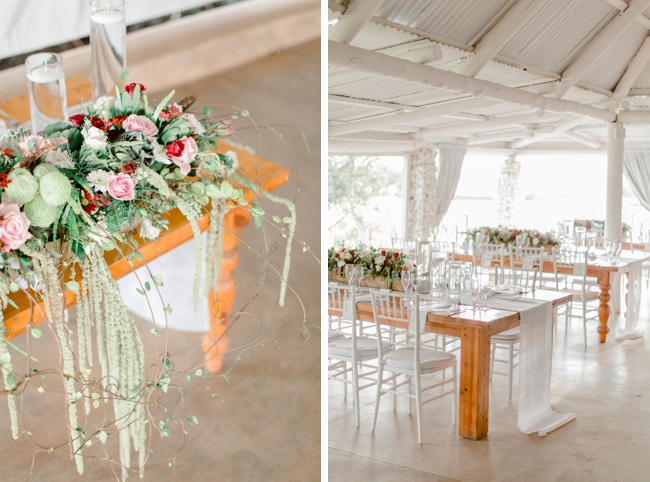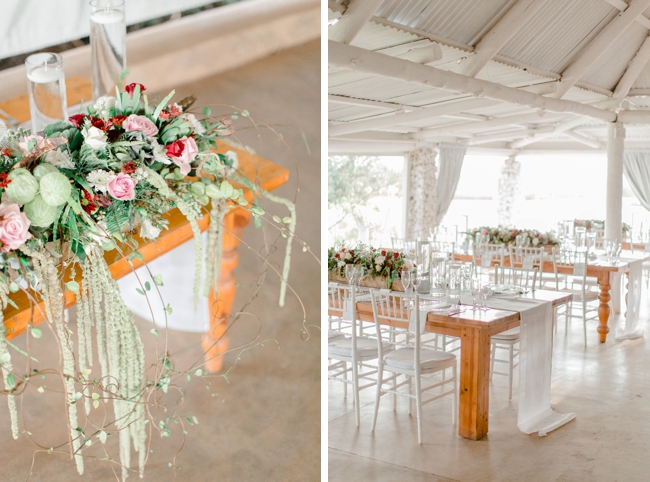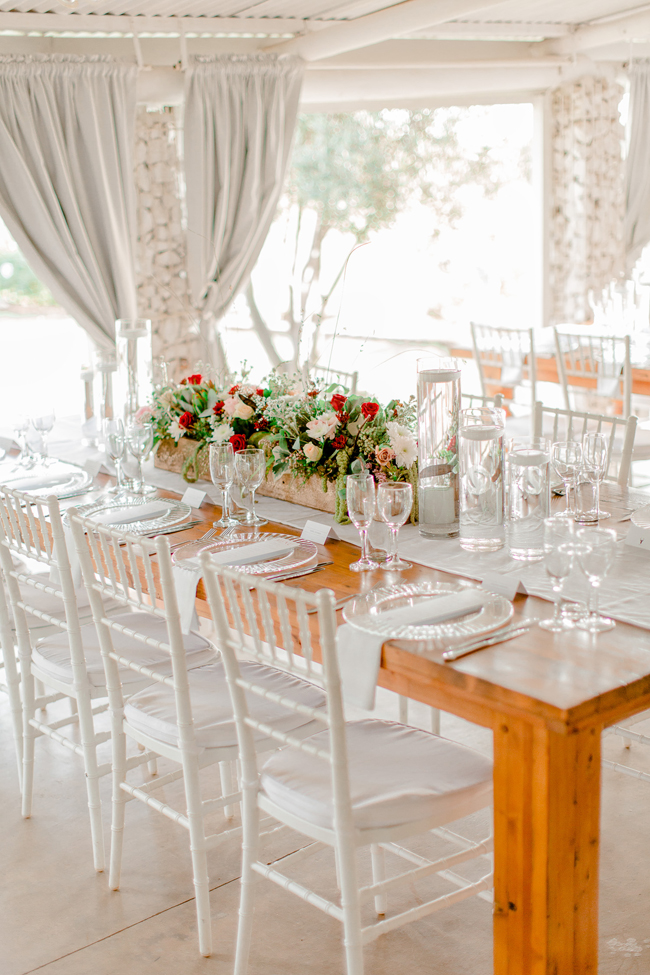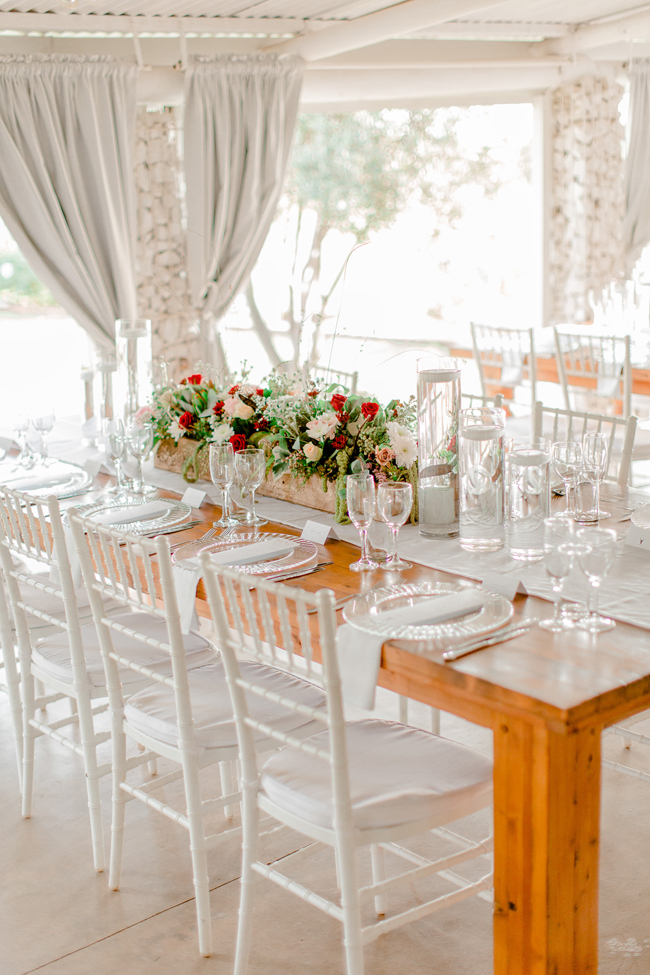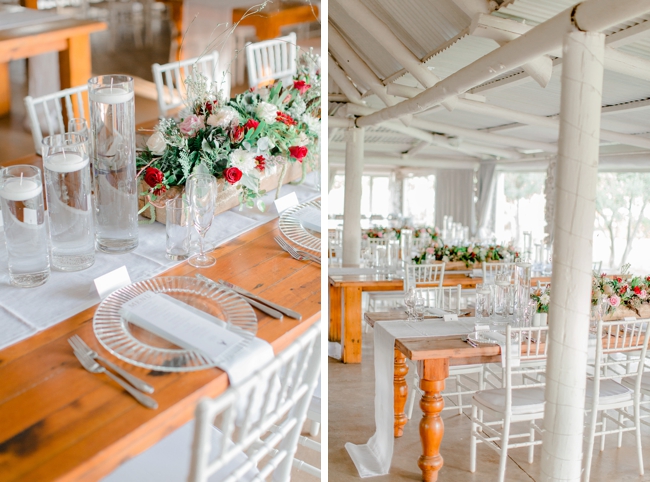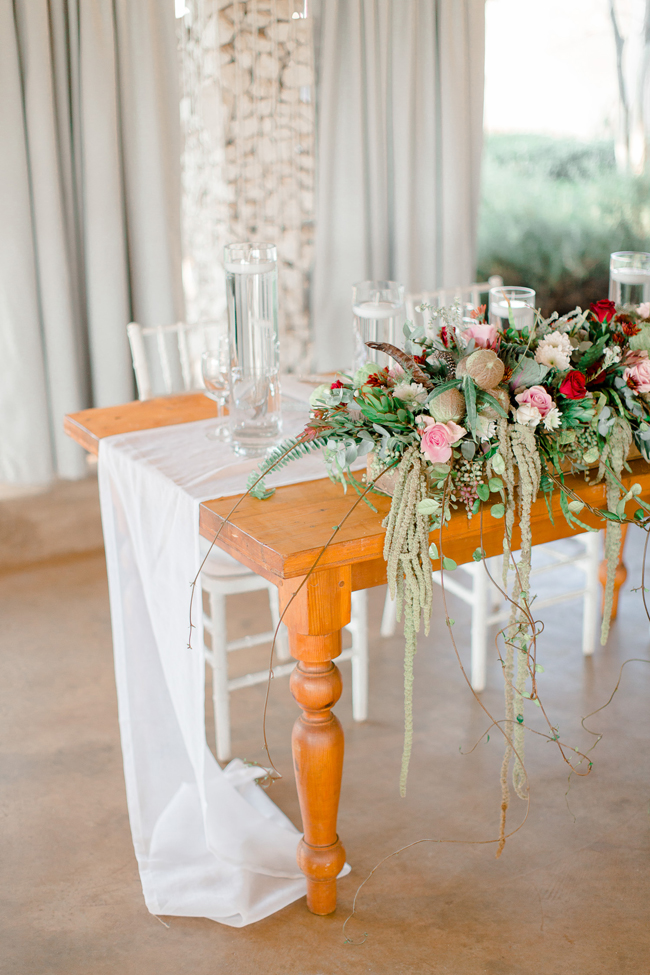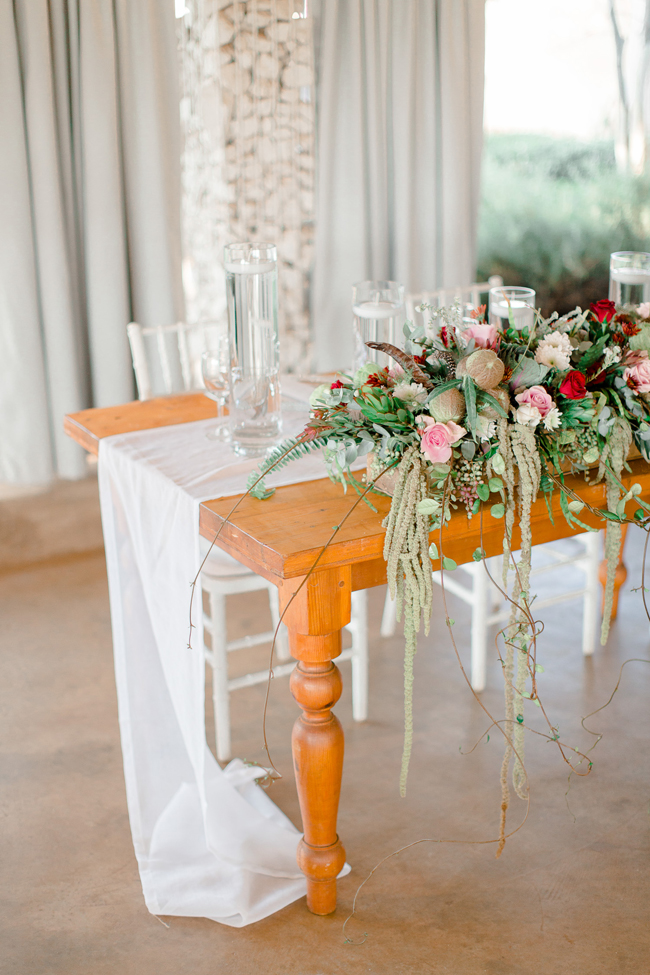 The Flowers
Wild, free spirited, untamed – not in a perfect little formation. Different textures and unusual elements like feathers, pods, things you would not usually see in centrepieces. But it still had to incorporate the colours of the wedding and had to be natural. It had to be inviting to the senses.
The Food
The food at our venue was amazing. We loved our cakes, they were not only gorgeous but delicious as well. They were done by Engela at La Koeka Racha.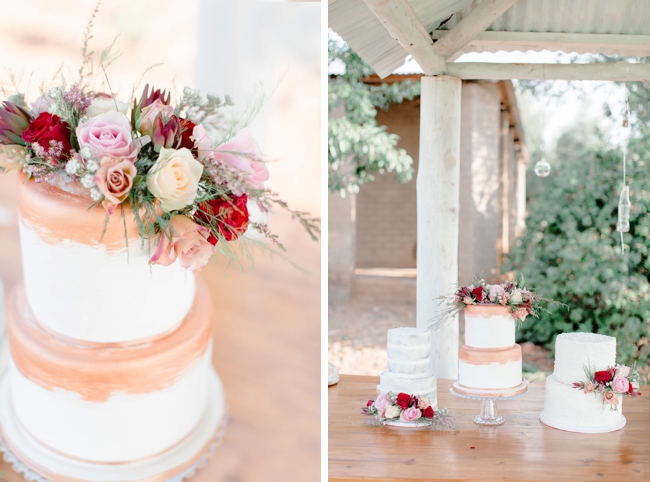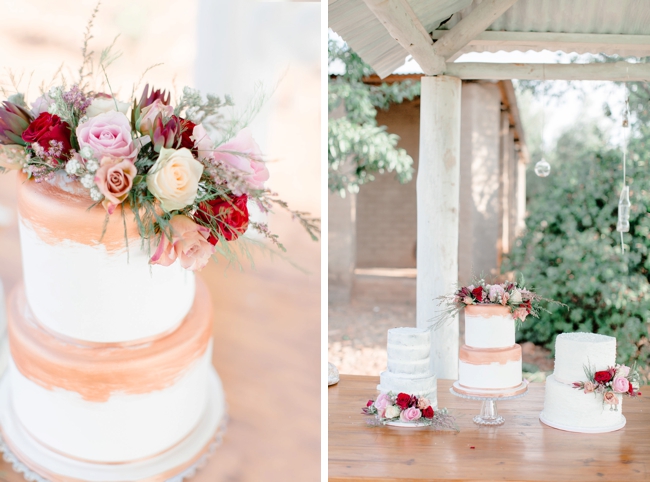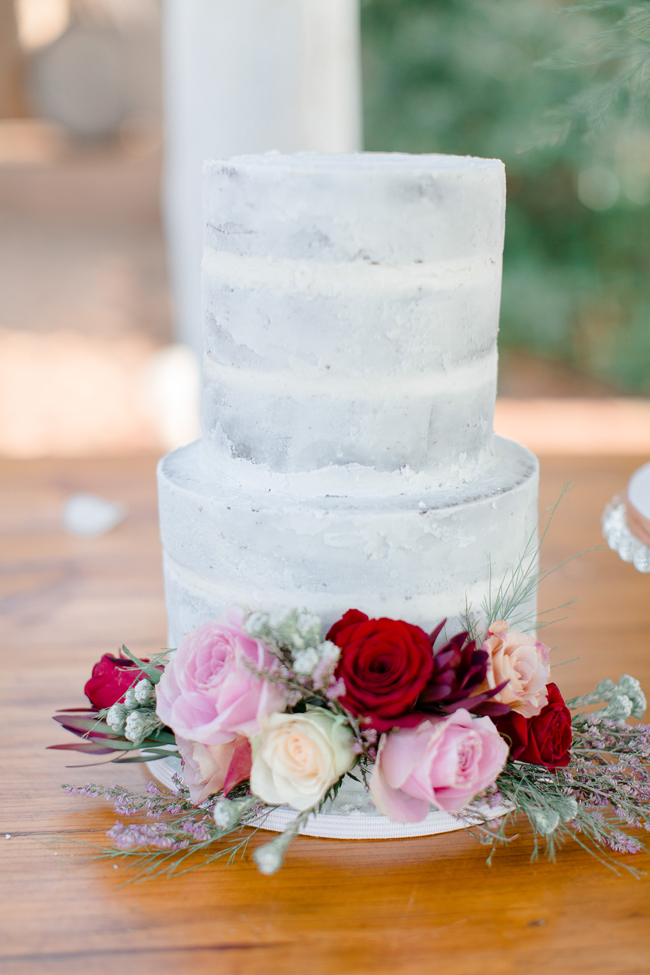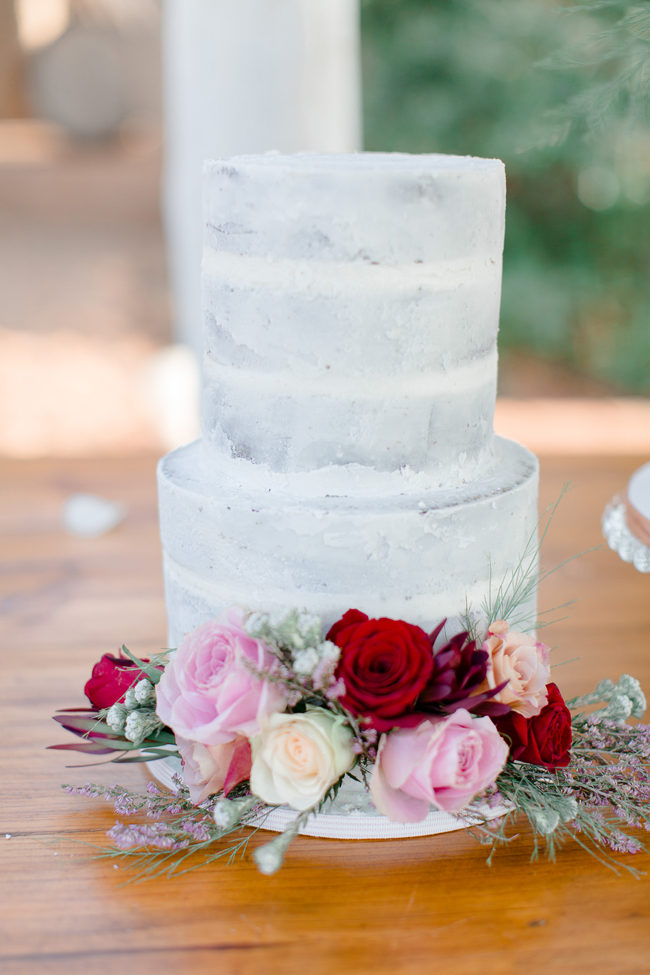 Memorable Moments
Well WJ says his most memorable moment was when he saw me for the first time. Mine is when I took his hand and could breathe in and out, knowing this was the start of our new life together as husband and wife, our next adventure.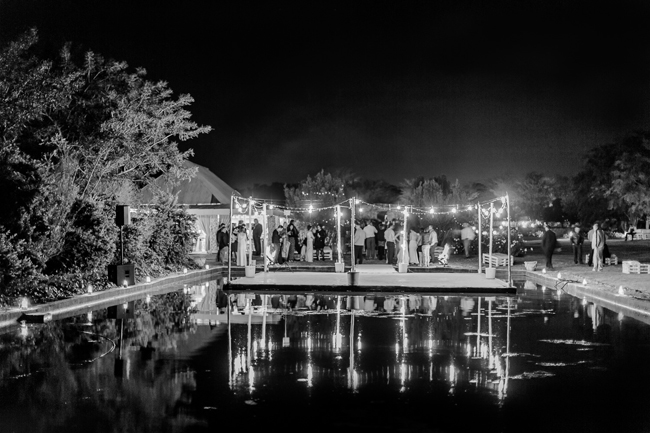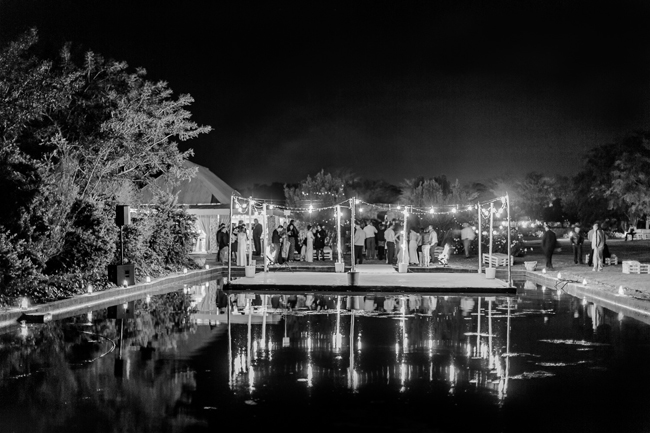 Best Decision
Doing my research. Taking the time to go through blogs, reading comments about vendors, services, etc. Deciding beforehand what you expect from each person that plays a role in your day and not settling for anything less than that.
Advice for Future Brides & Grooms
Take time away from planning and organising. Making lists of lists will drive you insane. On the day make peace with the things that happen that you can't change. There will be incidents and things that you have no control over; breathe and move on, this day is actually about you and your husband/wife. 99% of the time it will only be you that knows something is wrong or out of place.
Be sure to have a look at this sweet video, from First Kiss, of Chantelle & WJ's big day!
You can see more from this wedding on Clareece Smith's blog.
SERVICE PROVIDERS
Venue & catering: Bell Amour | Photography: Clareece Smit | Flowers & décor: August Schnepel | Stationery: Blanc Papiere |
Video: First Kiss | Cake: La Koeka Racha | Bride's dress: De La Vida | Bride's accessories: Nine West (shoes); Country Road (bracelet); Arthur Kaplan (earrings); Country Road (hair clips) | Hair & makeup: Angelic Allure | Bridesmaids' dresses: YDE | Groom's attire: EuroSuit (suit); Polo (shirt, shoes & belt); Edgars (tie) | Groomsmen's attire: Old Khaki (shirts); Woolworths (trousers); Markhams (shoes & belt); Edgars (ties) | Hiring: Pebble and Lace | DJ: Fame Productions
Save