Hello lovelies! Tomorrow we officially kick off our end of year blog schedule, but for this morning we're going all Christmassy in honour of the fact that I'll be tree trimming all day. I know that budget is a constraint for so many brides, and I can't help but think about weddings when I see some of the decorations that are available these days – they're definitely not of the cheese-tastic Santa's grotto variety! With most of them being on sale at huge discounts from Boxing Day onwards, I got to thinking about how this was a good time for 2014 brides to stock up on some of their decor items in a brilliant stroke of forward planning. Some of these are more obvious, some require some creative thinking, but all of them will enhance your wedding, which doesn't necessarily need to have a winter or a Christmas theme. Here are my Top 10 finds to look out for.
#1: CHRISTMAS LIGHTS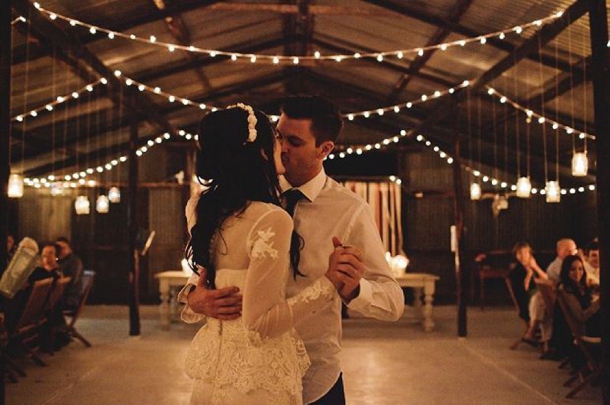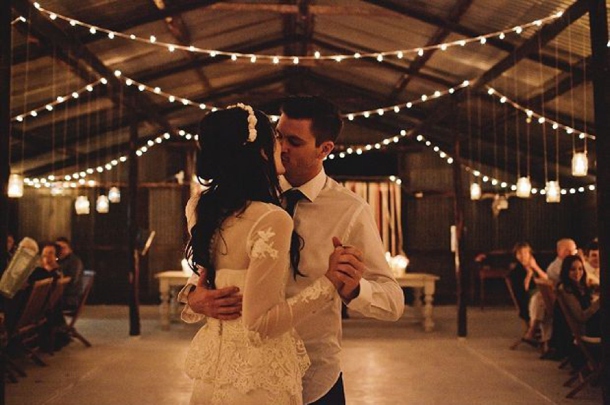 Source: Modern Hearts via The Pretty Blog

This is an easy one – fairy lights always make a lovely addition to wedding decor, whether strung up above the dancefloor, hung in the trees, or wound around a sign or two. So pretty! Getting lights at a discount could make the difference between a smattering of bulbs and a real statement installation! Be sure not to buy the coloured lights, which tend to look more festive.
240 Multi-Function LED Christmas Tree Lights (left) // 480 Multi Function LED Christmas Light (centre) // 160 Multi-Function LED Christmas Tree Lights (right)
#2: BAUBLES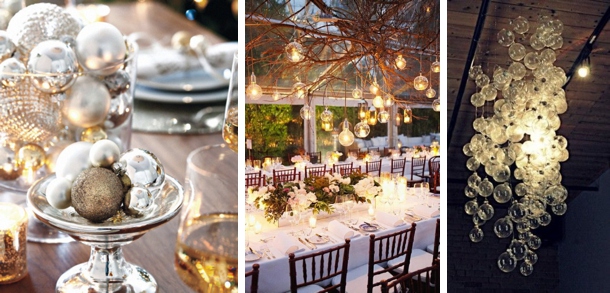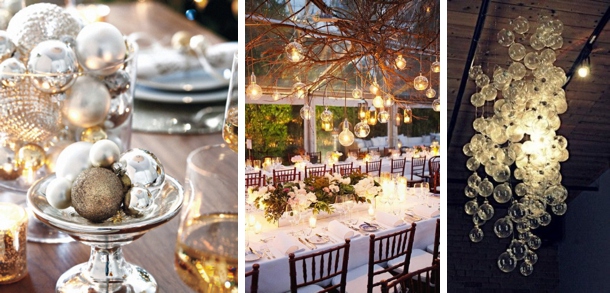 Sources: via Pinterest (left); via Bridal Snob (centre); via DIY Time (right)

I love Christmas baubles, but they are very… well… Christmassy. But if you use some creative licence, you can have fun with these outside of the festive season, especially if you focus on the matte white or clear baubles. You could use them in centrepieces, fill them with succulents or herbs and have them as little terrarium place settings, but I love them most as hanging decor – just look at the amazing shower of bubbles above!
Snowdrift Feather in Glass Bauble by John Lewis (left) // Open Front Christmas Tree Bauble with Stag by Homebase (centre) // Snow and Pine Bauble by Graham and Green (right)
 #3: BAUBLE PLACE NAMES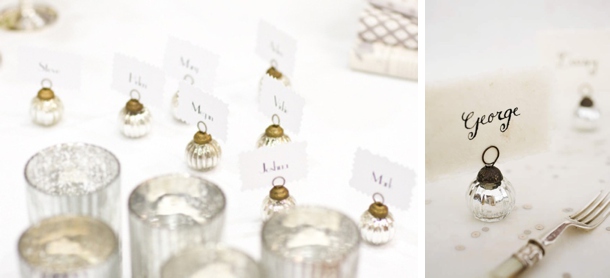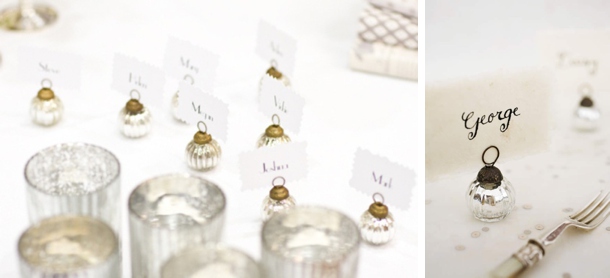 Sources: Theresa Furey via Love My Dress (left); Cox & Cox via Bride & Chic (right)

Place name holders can be an expensive (if pretty) addition to the wedding table, but you may find some gorgeous Christmas versions like the silver ones above on sale after the 25th that would look just darling.
#4: WISHING TREES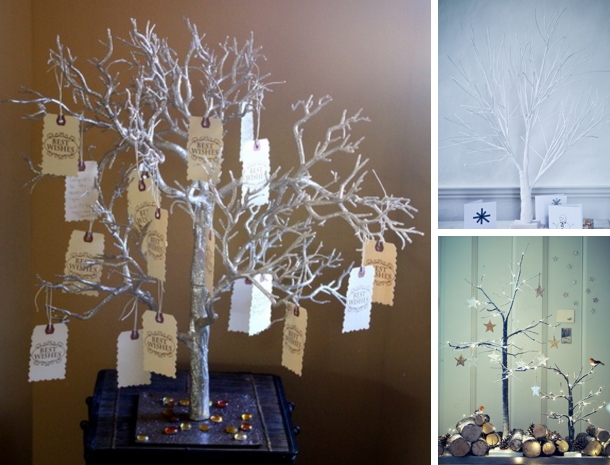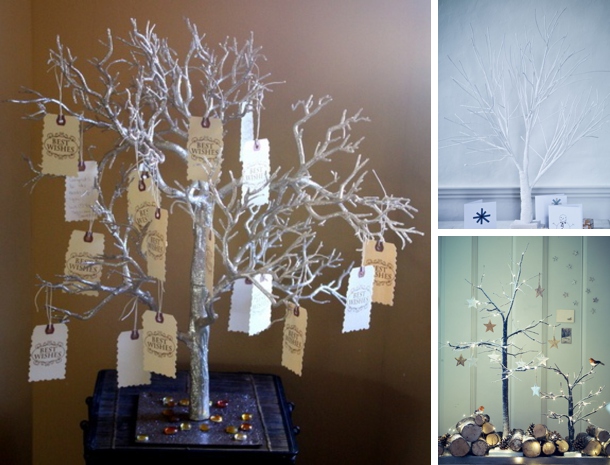 Sources: via Weddingwire (left); Cox & Cox (top right); Cox & Cox (bottom right)

Festive trees are a great decor item to re-use as wishing trees (a lovely tradition where guests are invited to write a wish for the couple on a label and hang it on the tree). I especially like this idea because it can be quite hard to find cute wishing trees outside of the festive season, so grab 'em while they're hot! ;)
Twig 36 LED Black Christmas Tree by Habitat (left) // Twig 36 LED Green Christmas Tree by Habitat (centre) // Cherry Tree with LED Lights by Camilla And Marc (right)
#5: MERCURY GLASS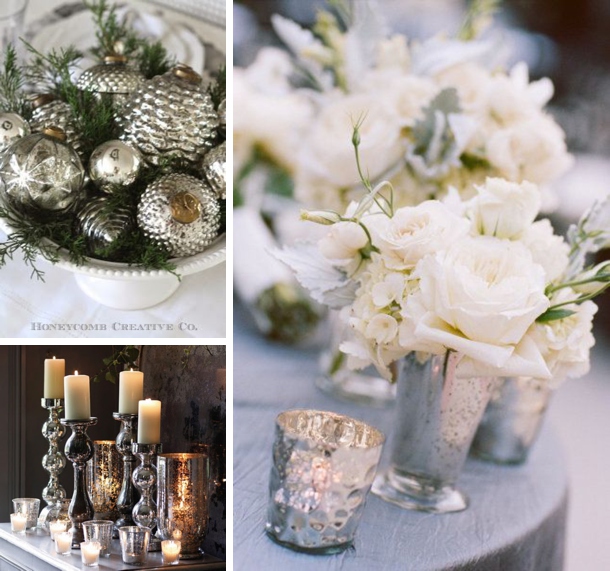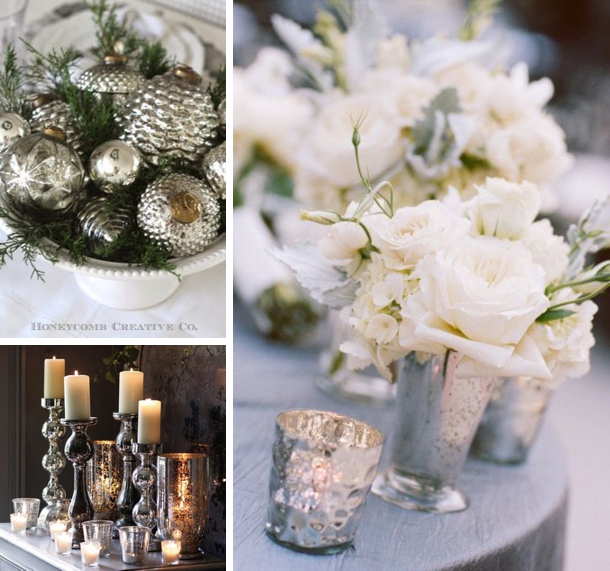 Sources: Honeycomb Creative Co. (top left); via Southern Chateau (bottom left); Picotte Weddings via Be U Weddings (right)

Gosh but I love mercury glass! I'm seeing a lot of this in decor items for the Christmas table, from candleholders and votive holders to hanging decor. Mercury also makes an amazing decor item at a wedding, paired with lush flowers at a summer wedding or soft white ones at a winter one!
Mercurised Silver Finial Drop Christmas Tree Decoration (left) // Silver Mercurised Round Ribbed Christmas Tree Bauble (centre) // Mercurised Glass Bird Tealight Holder (right)
#6: CANDLES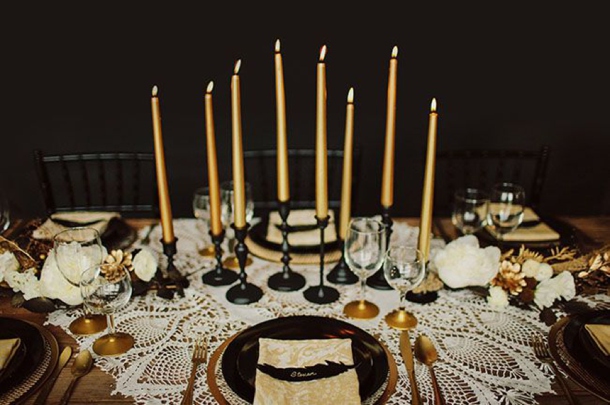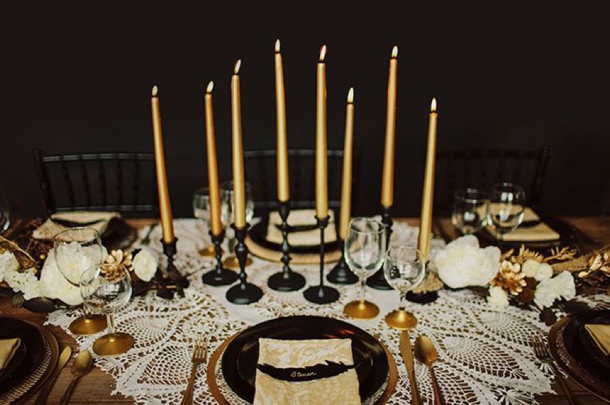 Source: Love Is a Big Deal/Vintage My Wedding via Green Wedding Shoes

A few weeks ago, I mentioned candles as one of the top decor trends for weddings in 2014, and candles are another standard Christmas decor item, so stock up for your wedding table! Votives or tapers, and don't forget the candelabras and candle holders.
#7: COOKIE CUTTERS


Sources: via ZDouf (left); Kristin Shyla Photography via Every Last Detail (right)

Once all the Christmas cookies have been made, this is another item you may find on the discount shelves, but they're an adorable wedding favour, especially if you're foodies. Pick hearts, stars, gingerbread boys and girls, or even something that fits your theme, tie name tags to each, and they double as place names.
#8: CINNAMON STICKS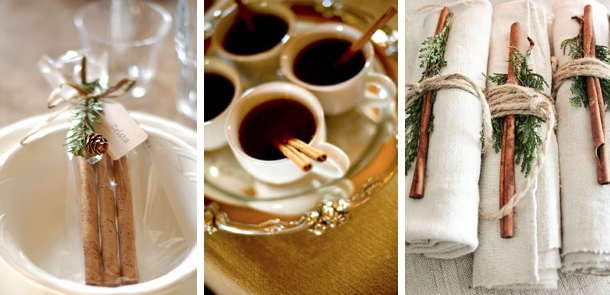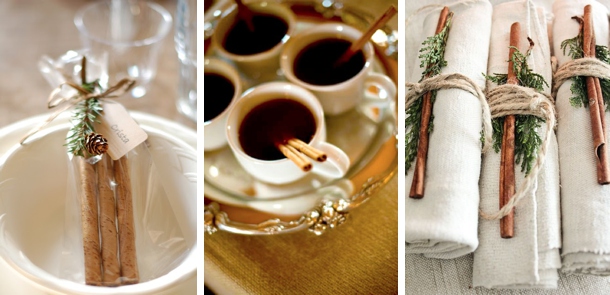 Sources: via Pinterest (left); Etsy via Inspired By This (centre); via Vintage House (right)

Whether you're using them as pretty additions to your napkin ties, or stirrers for winter cocktails, cinnamon sticks are a very festive element that also translates well to rustic weddings in general.
#9: CRACKERS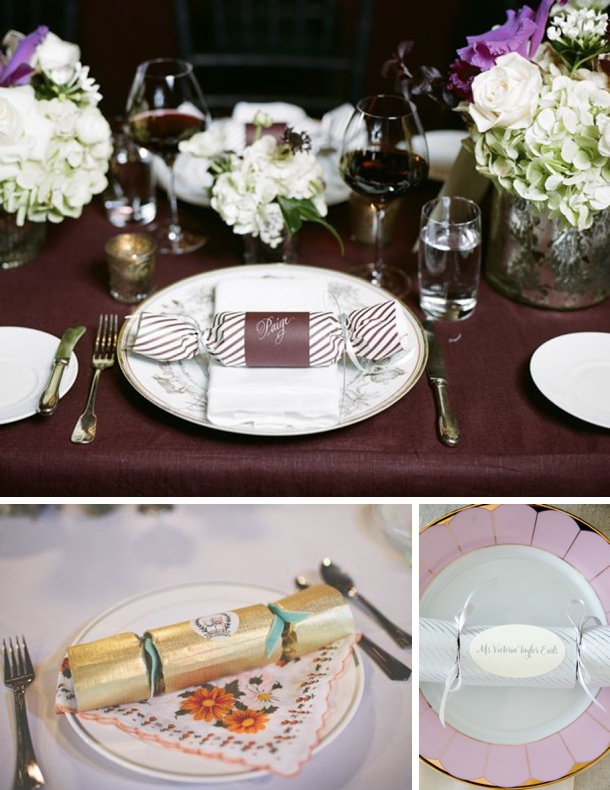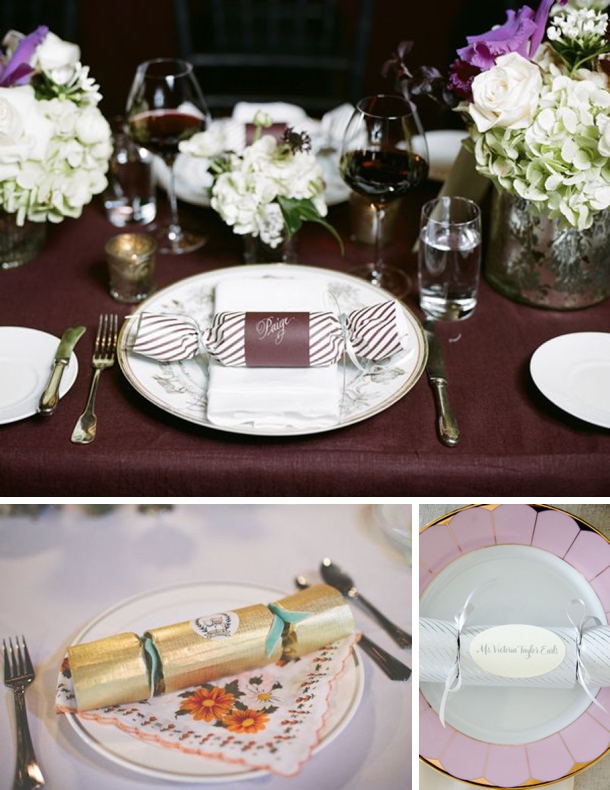 Sources: A Bryan Photo/Calder Clark Designs via Snippet & Ink (top); Tin Sparrow via Hi-Fi Weddings (bottom left); Brian Tropiano/Amber Karson Events via Full Bouquet Blog (bottom right)

Nothing more Christmas-like than a cracker, but as far back as a few years ago, Martha Stewart was including these in her wedding designs. And if Martha says it, then I believe it. It can be customised to your colour scheme, and it adds a little element of child-like fun, doesn't it? Plus, it's the ultimate ice breaker for guests!
Linea Set of 10 gold and black dotty crackers (left) // Baylis & Harding Midnight Fig & Pomegranate Christmas Crackers (centre) // Harrods of London Folk Craft Christmas Crackers (right)
#10: WREATHS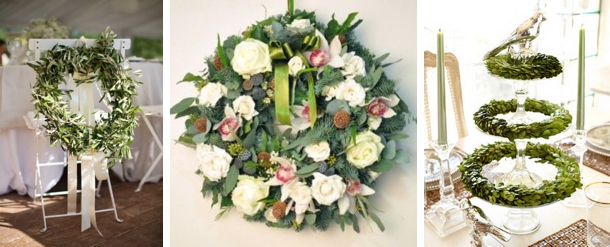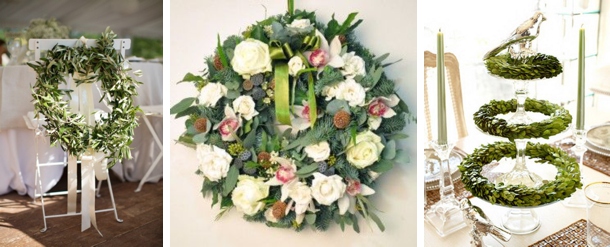 Sources: Caught the Light/Lavender & Rose (left); Green Parlour (centre); via Better Homes and Gardens (right)

This is another one we've covered in the past – wreaths really do make pretty additions to your decor. Obviously you're not going to hang the full holly and mistletoe versions in amongst your wedding props, but why not strip the more festive elements from an artificial wreath base and add some flowers, or hang a wreath of greenery tied with ribbon at the back of your bride and groom chairs? So pretty.
Mixed Green Wreath by John Lewis (left) // Croft Collection Frosted Birch Wreath by John Lewis (centre) // Snowdrift Cone & Berry Wreath by John Lewis (right)
Save