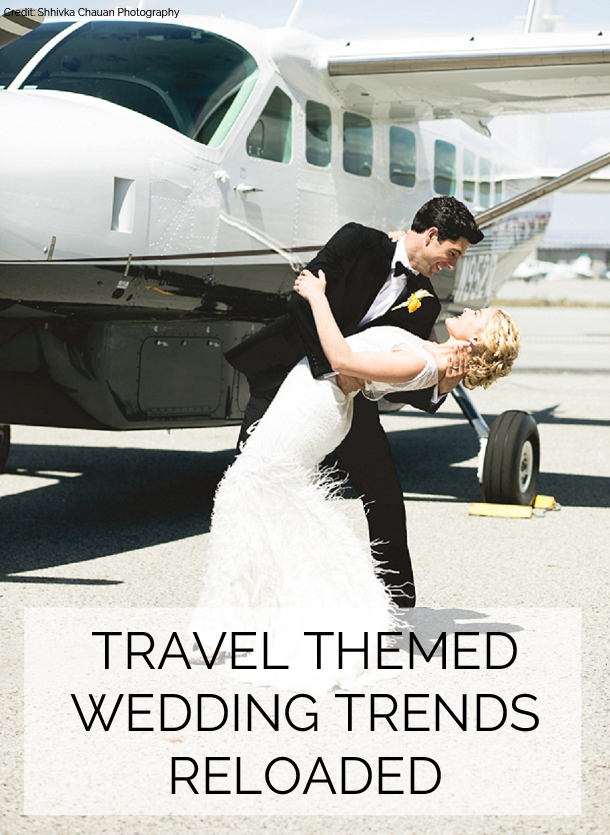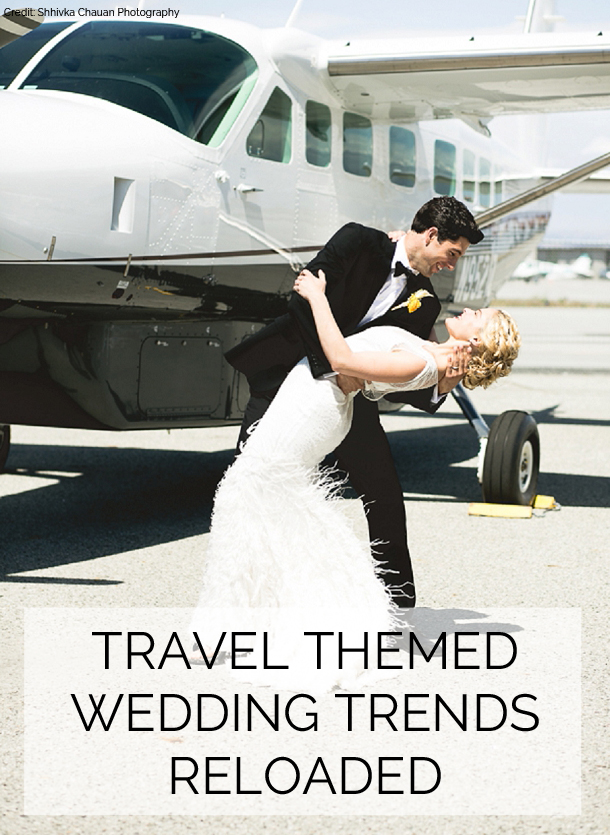 I've heard planners calling it the wedding trend that just won't die – and it's true, in that I've been writing about travel-themed weddings for about as long as I've been blogging. But there's a reason why this motif isn't going away, and that's because it's meaningful. You guys – i.e. the only people who really matter when it comes to planning your big day – love travelling or you've travelled together, or you come from different places, or you've done long distance. Travel is part of your story, and it's the story you want to share with your guests. We get that, and that's why November is dedicated to travel themed weddings. BUT. SBB is in the business not only of helping you tell your story, but doing it with style. And sure, we could just reshare all the same ideas (the ones that have made this roundup, and this follow-up two of our most popular posts), but you only have to search Pinterest to find any of those. We're all about fresh takes and new angles, and that's what I hope to bring you through November. So there's no better way to kick things off than with a reload of the travel-themed wedding ideas that have been around the longest and are a little… done. Of course, if you love them, that won't matter – but here's some food for thought in creating the same effect in an updated way.
Top image: Shhivka Chauan Photography via B.LOVED
1. Instead of passport invitations… consider custom maps
Passport wedding invitations and save the dates were one of those adorable novelty ideas that took the internet by storm, but that's the thing about novelties – once you've seen them a couple of times, they stop being novel. The latest (completely lovely) wedding stationery trend is custom maps – and yay, we'll be looking at more of these later in the month!
Credits: Atheneum Creative/Chelsea Davis Photography via Oh So Beautiful Paper (left) | Jessica Wright via Gathering (right)
2. Instead of a map seating plan… consider an arrivals board

Map seating plans are fun (and a great way to connect up with your table names if you've chosen destinations instead of numbers), but for something new, I'm loving this airport-style arrivals board. So fun!
Credits: Cristiano Brizzi/Weddings in Tuscany by Chiara Sernesi via Rock My Wedding (left) | Inecke/Secret Diary/Blank Canvas via Special Events (right)
3. Instead of filling suitcases with cards… consider stacking them into an altar

I'll be honest – suitcases filled with cards or used to house escort cards or a table plan are something I have literally seen hundreds of times. In fact, I was kind of tempted to just relegate all suitcase decor to the 'instead of' list. Except that when I started looking, I found some pretty cool uses of suitcases and trunks, including co-opting them for cocktail hour furniture, stacking them to make a bar, or best of all, this utterly unique ceremony setup.
Credits: Maria Mack via Wedding Chicks (left) | Our Labor of Love/Green Apple Wedding via Snippet & Ink (right)
4. Instead of postcards… consider a globe guest book

Guest book alternatives are so fun, and I've always loved the idea of a postcard bar where guests can write a message to the bride and groom (I've seen some couples even mail these to themselves, so they have fun mail when they get back from honeymoon!) But there's no denying that globe guest books are travel weddings' new darling – and with the variety of pretty globes available nowadays, you can see why. Plus, instead of getting filed away in a cupboard, this is one 'guest book' that can become part of your post-wedding home decor.
Credits: A Bryan Photo via Calder Clark (left) | Byron Loves Fawn/White+white Weddings And Events via Style Me Pretty (right)
5. Instead of vintage … consider luxe

The travel theme fitted perfectly into the vintage trend of a few years back, but now that the antique look is a bit dated, don't feel you need to hang on to it just because you want a travel theme. Opt instead for luxe and lovely – a look that's very much of the moment for 2016 weddings. Swap sepia and airmail stripes for monochrome and shiny gold and battered old suitcases for Chanel-style luggage.
Credits: A Guy + A Girl Photography/Alicia K. Designs via Wedding Chicks (left) | Melanie Rebane Photography/The Social Rose/Fab Fete Event Planning Boutique/The Cake Museum via Berkeley Events Blog (right)
6. Instead of vintage postcards… consider quirky illustrations

Hand drawn illustrations are hugely popular and influential at the moment – just look at the phenomenon that is Rifle Paper Co. So why not bring some of that awesomeness to your decor? You can use cards in a variety of ways, from Save the Dates to place cards to (framed) table name markers. We also just love the city postcard collections from Hello! Lucky.
Credits: Sarah Yates via Before the Big Day (left) | Rifle Paper Co. (right)
7. Instead of signposts… consider creative wedding signage

I admit, I still think that signposts pointing to the places where the couple has been, or where their guests have come from, is pretty cool. But don't let that stop you getting a bit more creative with your travel-inspired wedding signage. We especially love the way couples have used quotes that express their wanderlust – "Darling, let's be adventurers", "Come away with me", "You are my greatest adventure", etc.
Credits: Josh Gruetzmacher Photography/Diana Hernandez Event Designs via Style Me Pretty (left) | Natalie Franke/Caitlin Moran/Laura Hooper Calligraphy via Style Me Pretty (right)
8. Instead of map runners… consider map-wrapped vases

For a more subtle take on map decor, ditch the map runners or tablecloths and opt instead for this sweet and simple DIY.
Credits: Elizabeth Messina via Martha Stewart Weddings (left) | Martha Stewart Weddings (right)