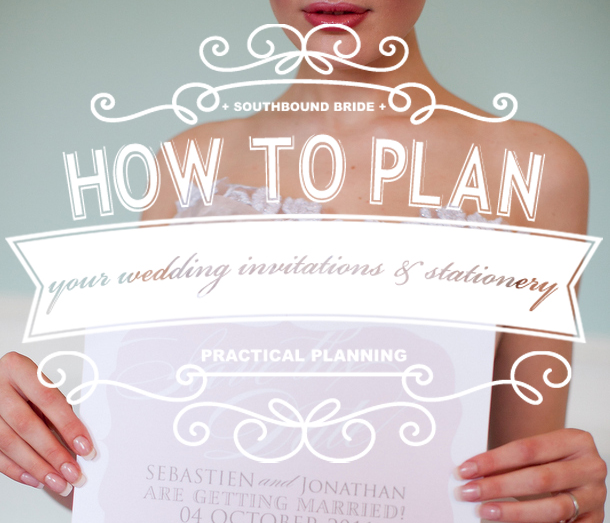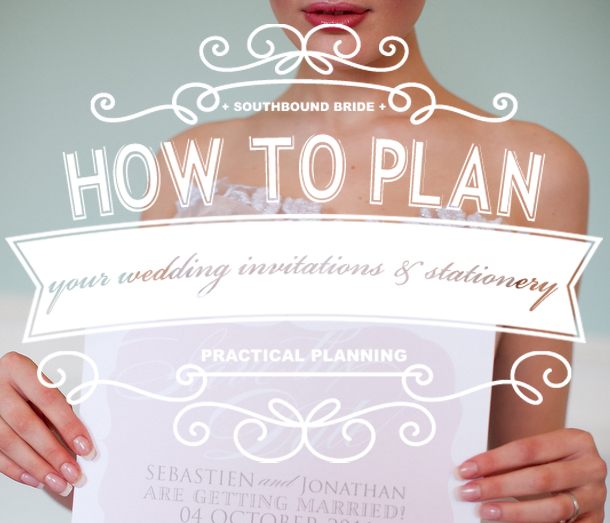 Before we round off our Friday afternoon (yay, Friday!), it's time for a bit of practical planning advice. There's so much to think about when planning a wedding, but one question I get a lot is about when to send invitations, and when/if to send Save the Dates. So I thought I would compile everything into a simple guide and quick (pinnable) reference.
GUEST LIST
One of your very first tasks as an engaged couple will be to work out a guest list. The number of people you're hosting will usually determine the size of venue you book and sometimes the overall style of the reception (when coupled with your budgetary limits). You don't need to finalise the list until you're ready to send out your Save the Dates, but start collecting email and postal address as soon as possible to make sending invitations out as smooth as possible.
Depending on your venue, you'll need to confirm final numbers 2-4 weeks before the event, so make sure you allow plenty of time for chasing non-responders after your RSVP date!
SAVE THE DATES
The great thing about Save the Dates is that they're just that – a way of letting your guests know about your wedding well ahead of the time when you're ready to send out invitations. This is especially important when you're planning a destination wedding, or when your big day falls on a public holiday or a weekday (or even a Sunday). Give your guests as much time as possible to plan so that as many as possible can attend.
Of course, you can go as simple or as fancy with your Save the Dates as you like – it can be something beautiful and bespoke (check out these creative ideas, for example), or a simple email. The earlier you send them the better, so in general you'll want to make or order them as soon as you have your date confirmed (between 6-12 months before the wedding, depending on your timeline).
INVITATIONS
How long invitations take to design, print and deliver will really depend on what you choose – obviously the more intricate and involved, the longer you'll need to allow. Designers need between 4-6 weeks for custom invitations from start to finish (assuming that you send them your corrections on time!). In busy periods this may take longer, so be sure to talk to your designer about their availability at around the 6-8 month mark.
Your first order will be the invitations themselves, and you'll need to order all other enclosures (such as RSVP and registry cards) at the same time. Allow extra time for letterpress printing (2 weeks) and at least 2 weeks for calligraphy after the invitations are delivered. You should have the final product in your hand, ready to go out 6-8 weeks before the wedding.
OTHER STATIONERY
The point at which you send out your invitations (6-8 weeks before the wedding) is a good time to order your other stationery – table numbers, programs, escort cards, place cards, menus, etc etc etc.
THANK YOU CARDS
Emily Post says you have three months after receipt of a gift to send out a thank you, so it's best to get your Thank You cards ordered when you get back from honeymoon. In the US, many brides order their cards at the same time as they order invitations, so that they can thank guests who send gifts early, but in SA most gifts are received at or just after the wedding. Waiting until afterwards also allows you to include a picture from your big day (although you may need to wait longer if you're including your professional pics – be sure to let your photographer know if this is the case).
SHORT ENGAGEMENTS
Most timelines are built around a one-year engagement, but if yours is significantly shorter, there are some things you can do to speed up the process. One is to have email-only invitations, or use a wedding website. Another is to go for a pre-designed invitation rather than a custom one, which is something most designers offer. You should still work on a guideline of getting invitations out a minimum of 6 weeks ahead of the Big Day, so work out how much time you have on top of that, and get creative with your options!
Sound confusing? Not really. But here's your quick and easy SBB guide to help you remember!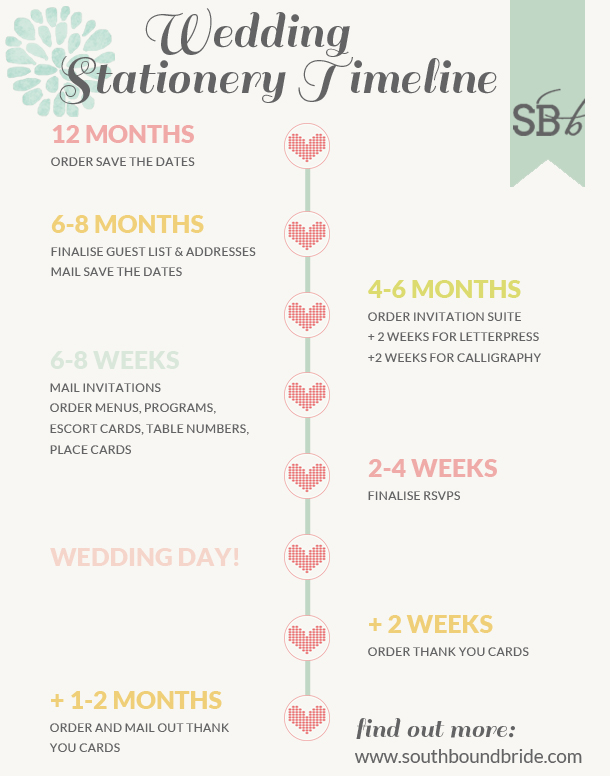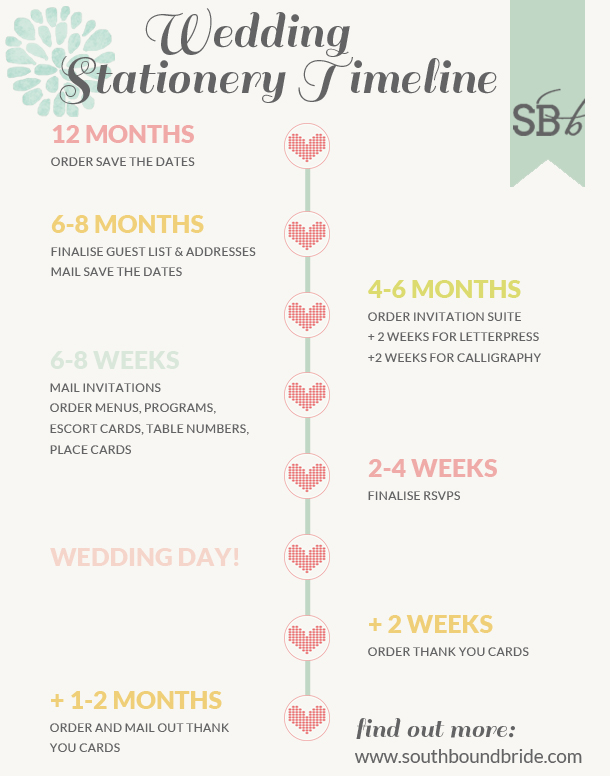 Top image: Chanelle Segerius Bruce | b.loved Weddings & Southbound Bride